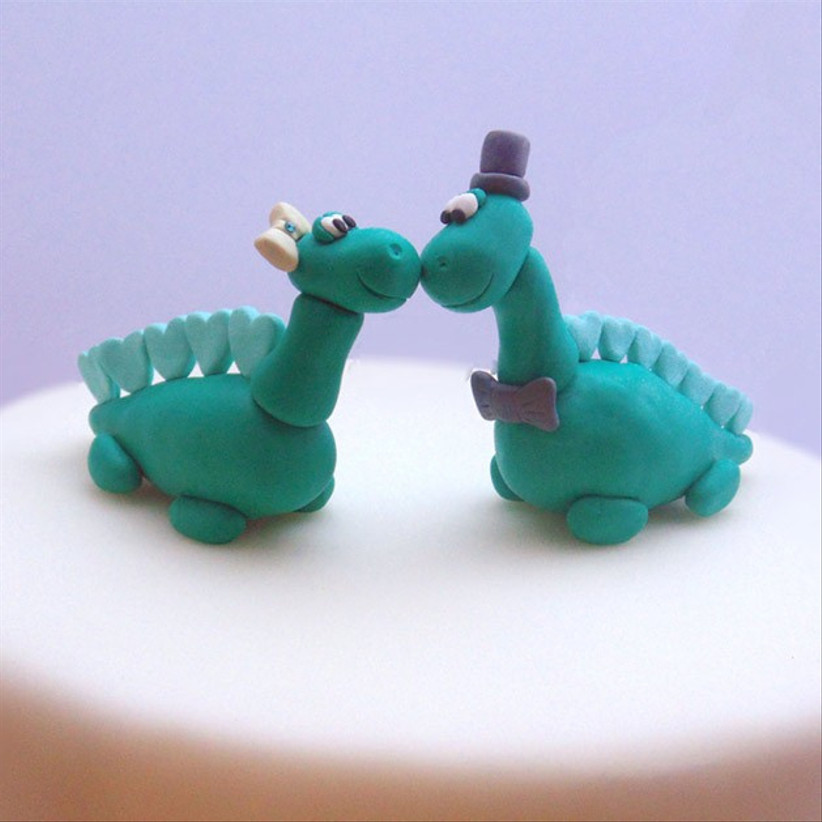 If you and your partner love nothing more than a cosy night in watching Jurassic Park or you just really identify with Ross from Friends and his passion for the prehistoric then perhaps you need to consider a dinosaur wedding theme. A dinosaur wedding day doesn't have to be garish and can actually be really pretty and elegant – take a look at some of our favourite ways to include this unusual wedding theme in your day.
Send a Jurassic Save the Date
Give your guests a little hint towards your wedding theme by choosing a save the date to suit. We love this cute style that features two romantic little dinosaurs.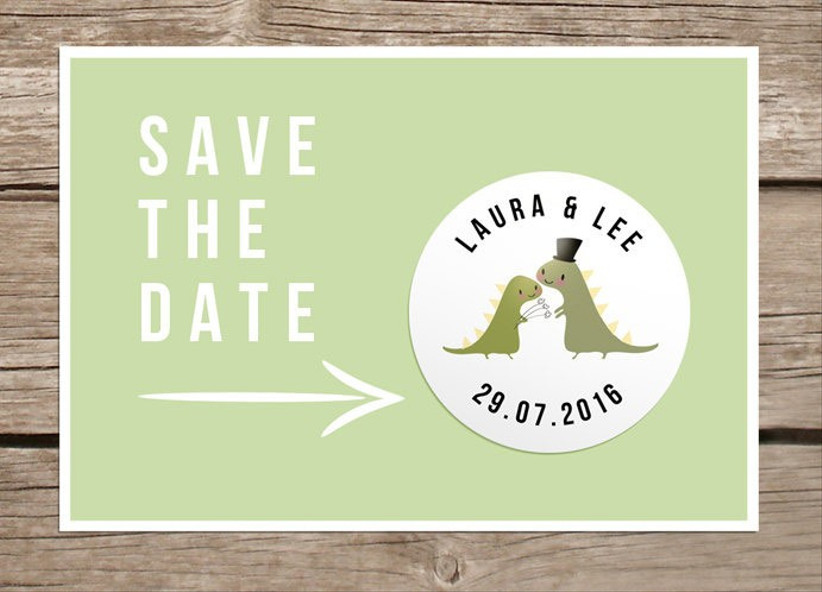 Get Hitched at the Natural History Museum
Go all out with your dinosaur wedding theme by choosing to hold your reception in the Natural History Museum – how amazing does this reception amongst dinosaurs look!?
Include a Dinosaur Inspired Reading
If you are looking for a romantic reading and still want to include your love for dinosaurs then we have the perfect reading for you! A Lovely Love Story by Edward Monkton is one of our all-time favourite wedding readings and talks about two dinosaurs who are different but fall in love and spend a happy and calm existence together.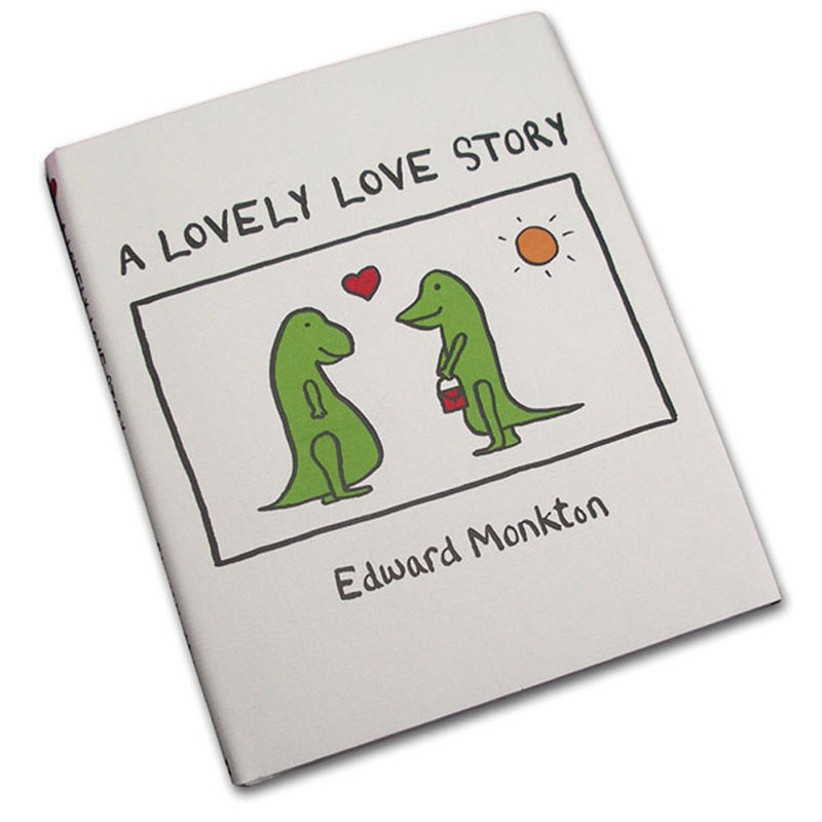 Some of our favourite quotes from this reading include:
"The fierce Dinosaur was trapped inside his cage of ice. Although it was cold he was happy in there. It was, after all, his cage.
"Then along came the Lovely Other Dinosaur. The Lovely Other Dinosaur melted the Dinosaur's cage with kind words and loving thoughts.
"I like this Dinosaur thought the Lovely Other Dinosaur. Although he is fierce he is also tender and he is funny. He is also quite clever though I will not tell him this for now."
Wear Dinosaur Bridal Jewellery
Yes you can dinosaur themed bridal jewellery that is still beautifully elegant! Alexis Dove has a range of gorgeous jewellery, from pretty pendants to simple bangles.
If you want your dinosaur theme to be bold then the T-Rex pendant is a perfect nod to your theme and is available, in silver, gold or rose gold.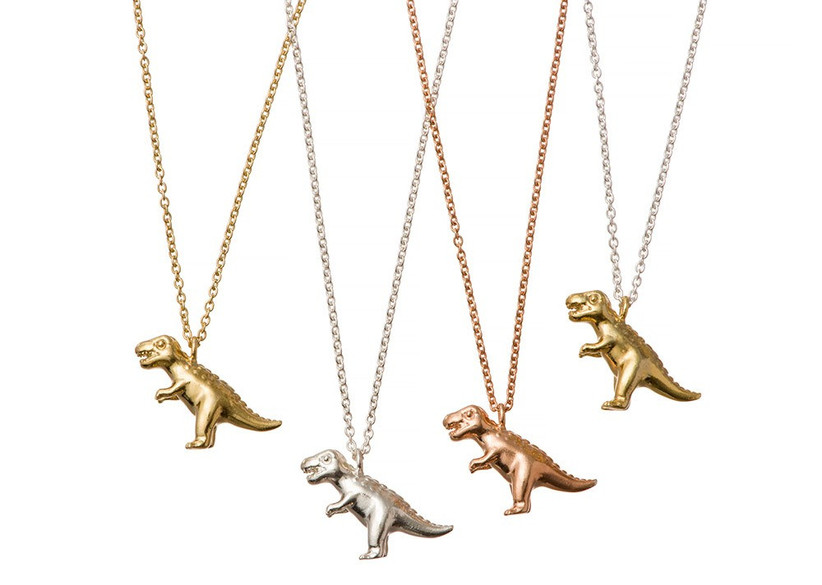 For the perfect gift for your bridesmaids – this T-Rex bangle is a cute gift that all your maids can wear on the wedding day.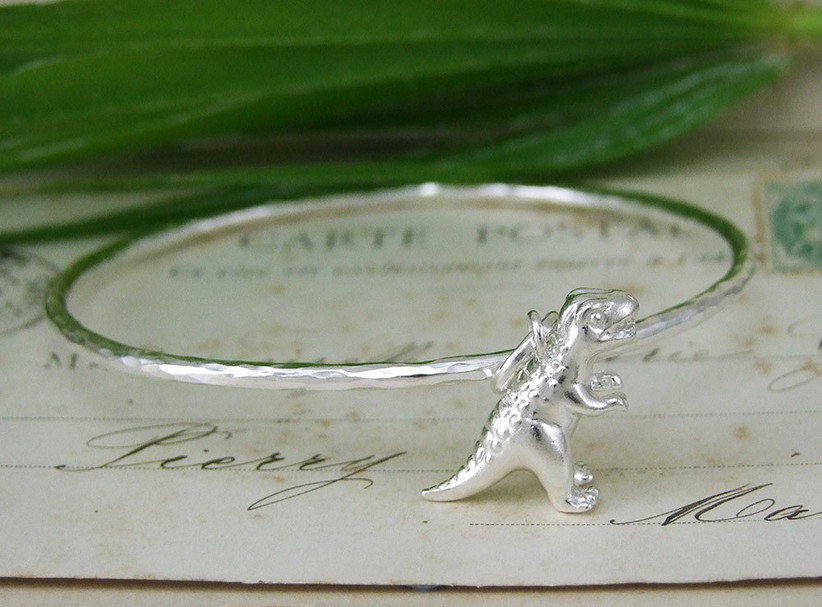 Dinosaur wedding jewellery doesn't just have to be reserved for the bride and her bridesmaids, Alexis Dove also have cufflinks – choose from a stegosaurus, a t-rex or a triceratops – or have a different dinosaur for the groom, best man and ushers.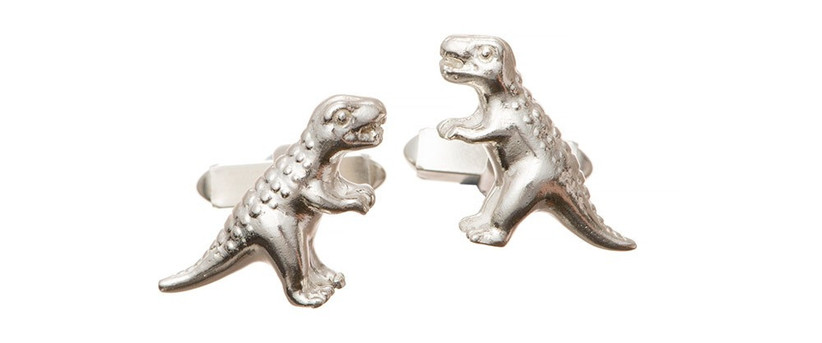 Take the Perfect Posed Photo for Your Wedding Album
If you are planning a dinosaur themed wedding then it's pretty much the law that you have one of these awesome Jurassic Park style photos of you and your bridal party running away from an escaped monster! We love this amazing wedding photo idea from Chris Giles Photography that will be the perfect addition to your wedding album.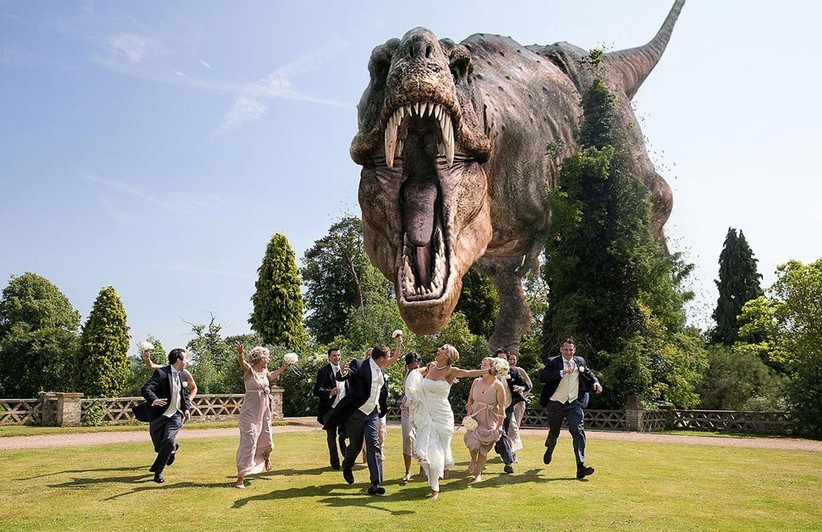 Choose a Dinosaur Wedding Cake Topper
Your wedding cake is always going to be a fun focal point of your wedding reception where you can embrace your wedding theme, so make sure you include an awesome cake topper. These dinosaur cake toppers styled as a bride and groom can be a fun finishing touch for your wedding dessert – we adore the groom's tiny bow tie!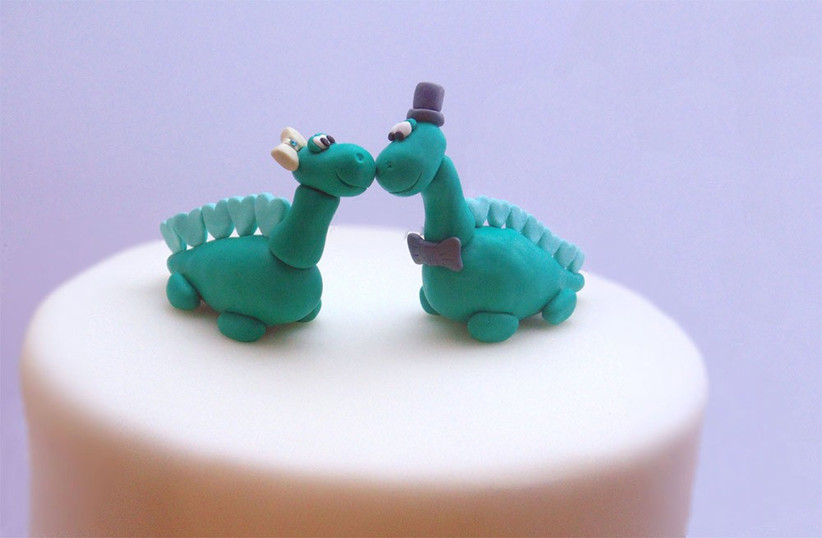 Wear a Prehistoric Wedding Band
This tungsten wedding ring available from Etsy is perfect for dinosaur lovers and you can still keep it romantic with a personal engraving on the inside of the ring.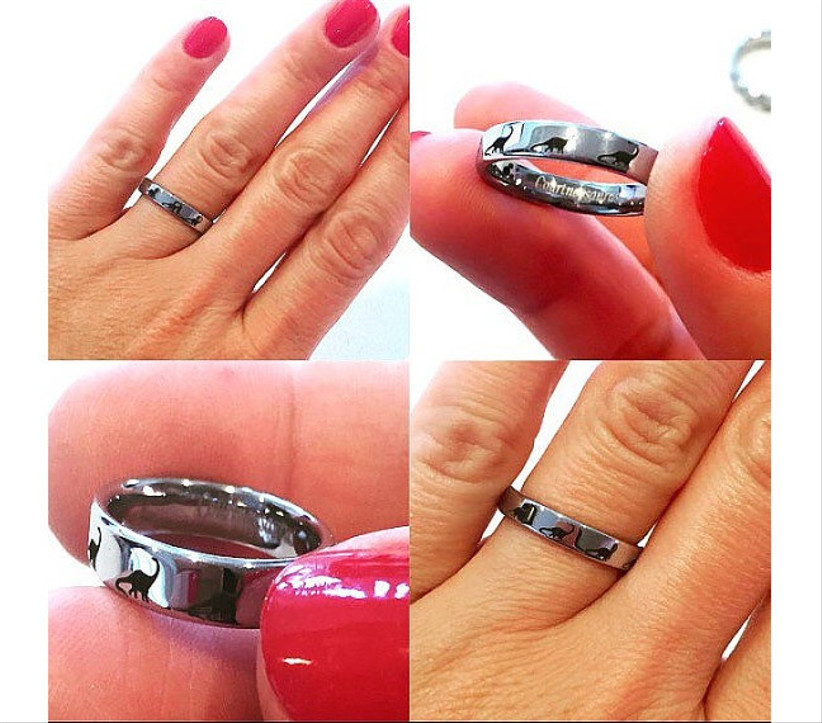 Give Mini-Guests a Dinosaur Colouring Book
If you are having children at your wedding and want to keep them entertained during the speeches then we have the perfect children's wedding favour for you. This dinosaur colouring book will keep them quiet and entertained and still beautifully matches your wedding theme.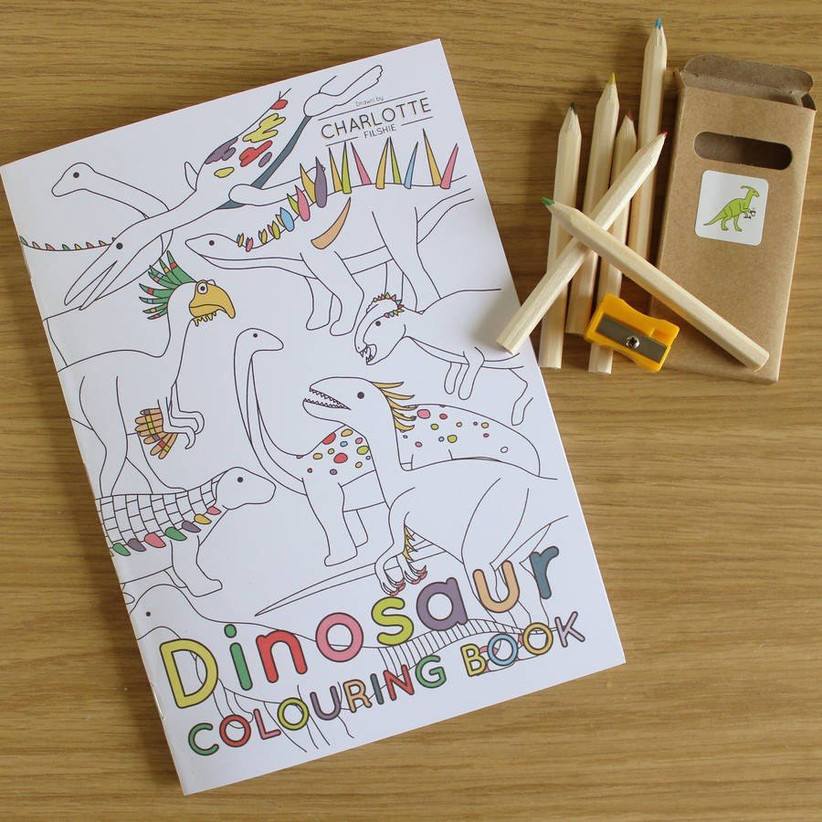 Buy a Romantic Dinosaur Print
As well as a cute décor item for your wedding reception, a dinosaur print would also make a great paper wedding anniversary gift for your other half – we love this one from Not on the Highstreet that can be personalised. Visit our first anniversary gift guide for even more paper anniversary gift ideas.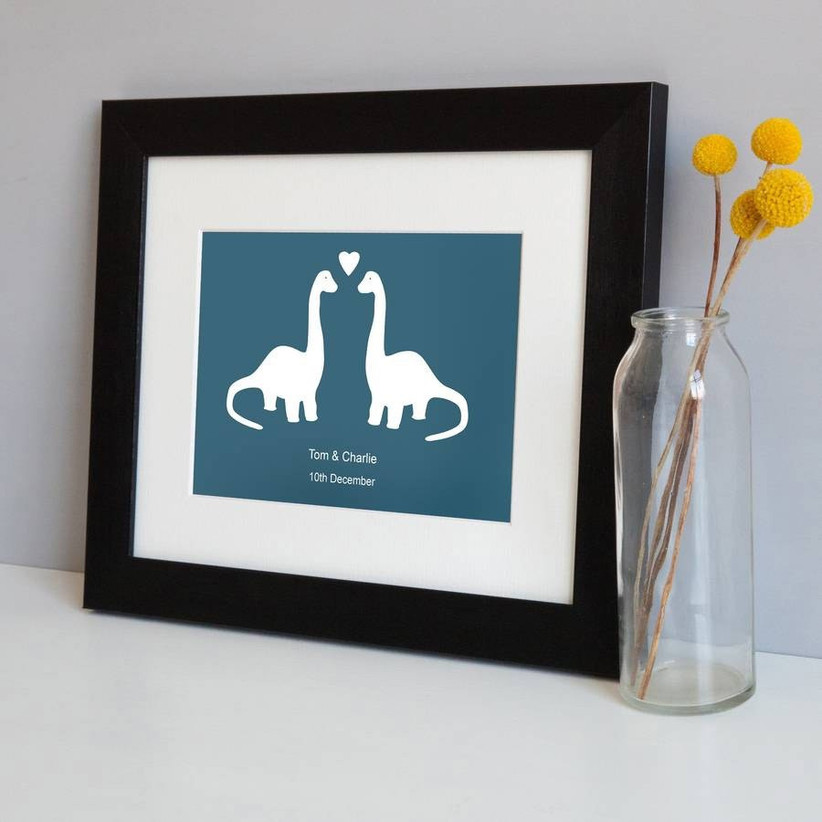 If you love the idea of an alternative wedding theme but you just can't think what to have – take a look at our latest article exploring the most unusual wedding themes.