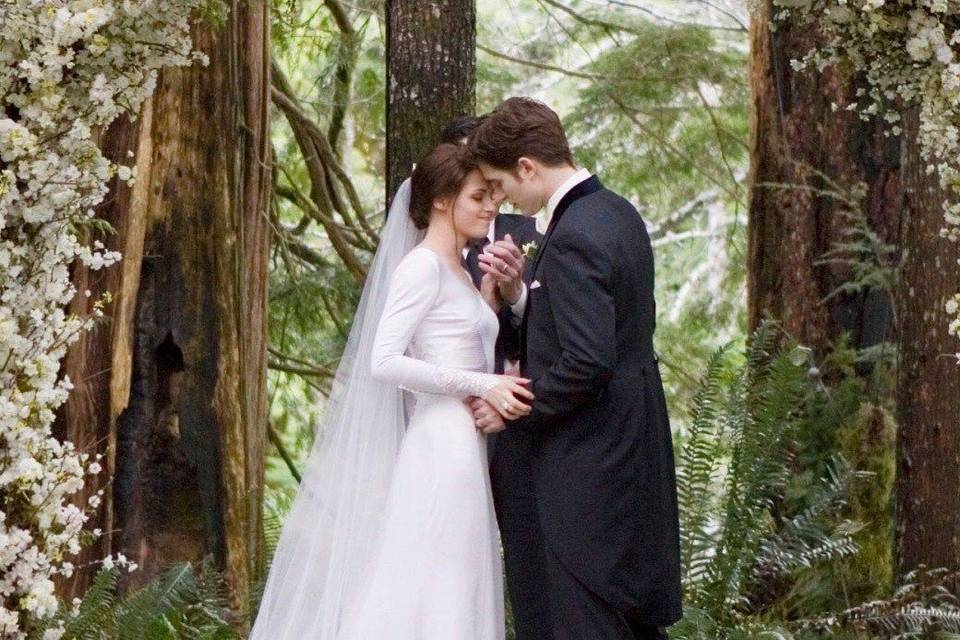 The Twilight books and movies were truly phenomenal, and Bella Swan's marriage to the vampire, Edward Cullen, was a pivotal moment in the saga.
Twilight fans across the globe waited with baited breath to see Bella's wedding dress in the third instalment of the movie franchise, Breaking Dawn Part 1. Played by the actor Kristen Stewart, who has modelled for fashion brands including Chanel and Balenciaga in real life, Bella looked utterly beautiful in a one-of-a-kind wedding dress. The bewitching gown was specially designed for the movie by Carolina Herrera in crepe satin and French Chantilly lace.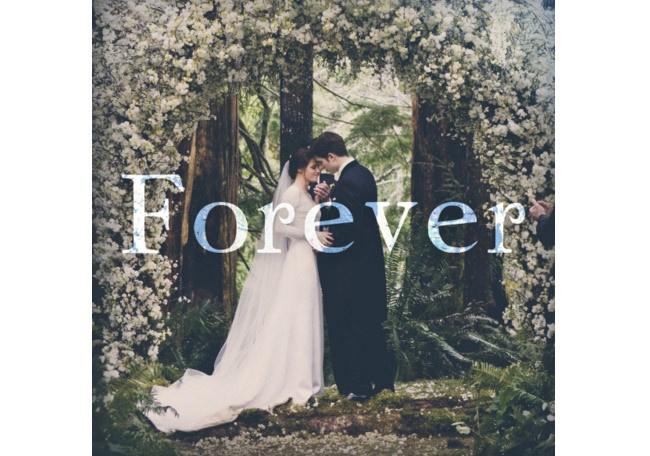 Image Credit: twitter.com/twilight
Although Bella's dress was unique, you can be inspired by the lace wedding dress details, V-neck, modest sleeves and simple, sweeping silhouette.
Consider one of these 14 Twilight-inspired wedding gowns (plus one veil); then you just need to add a low, loose bun, ultra-natural make up and your own version of Robert Pattinson…
Bella – with a Twist
You can take inspiration from Bella's style and still add a hefty splash of sex appeal. This long sleeve wedding dress includes a v-neckline and an unstructured, sweeping silhouette, this dress by Tara Keely has many Twilight-tastic ingredients: it also has a daring plunge neckline that will make your own fairytale sizzle.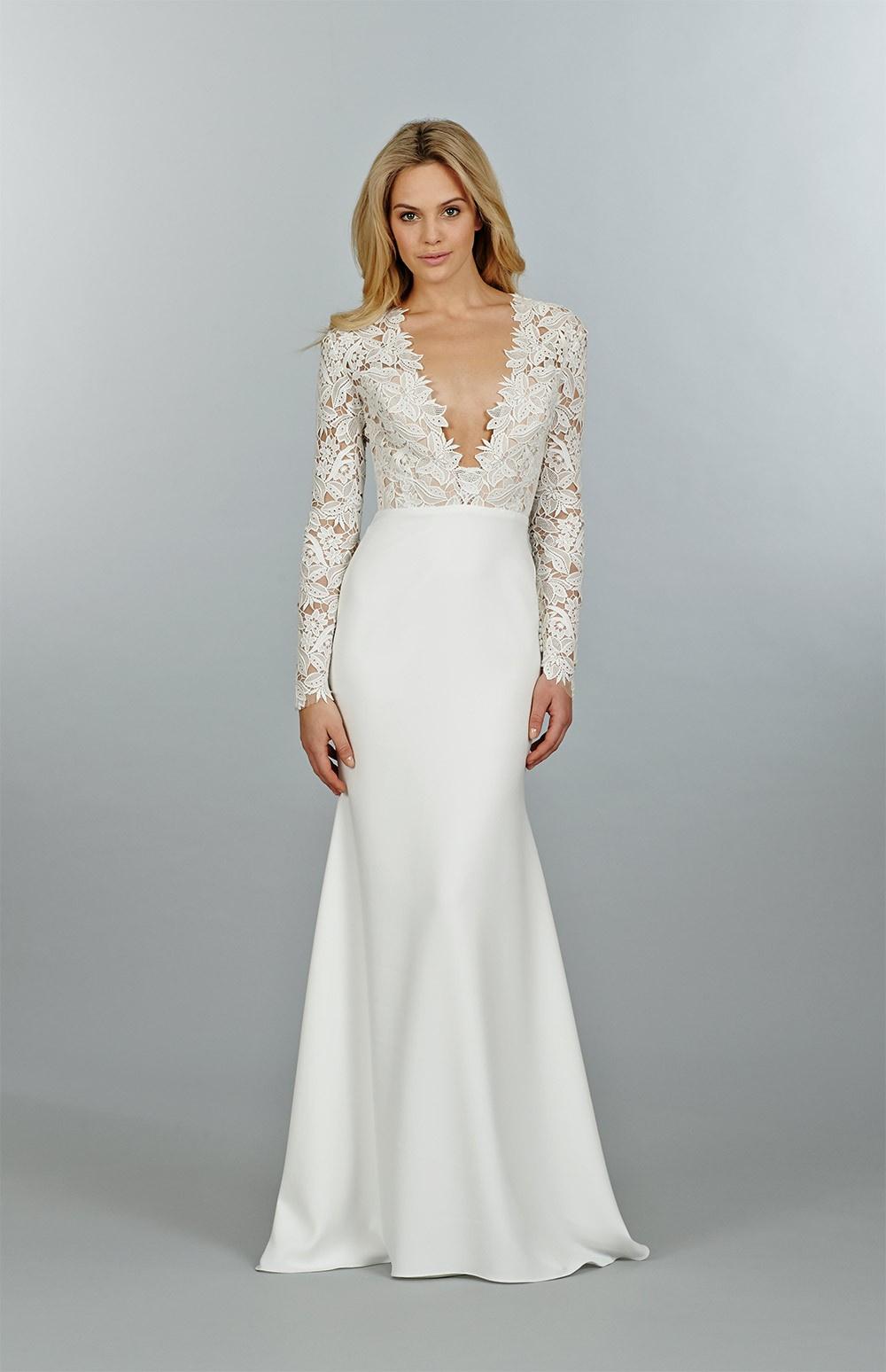 Classic Simplicity
The classic Clara gown by Elizabeth Stuart is very close in design to Bella's dress: it is modest, romantic, simple and breathtaking – it even has a vertical line of buttons down the back, just like Bella's. Brides bursting with beauty – inside and out – can rock this number with confidence.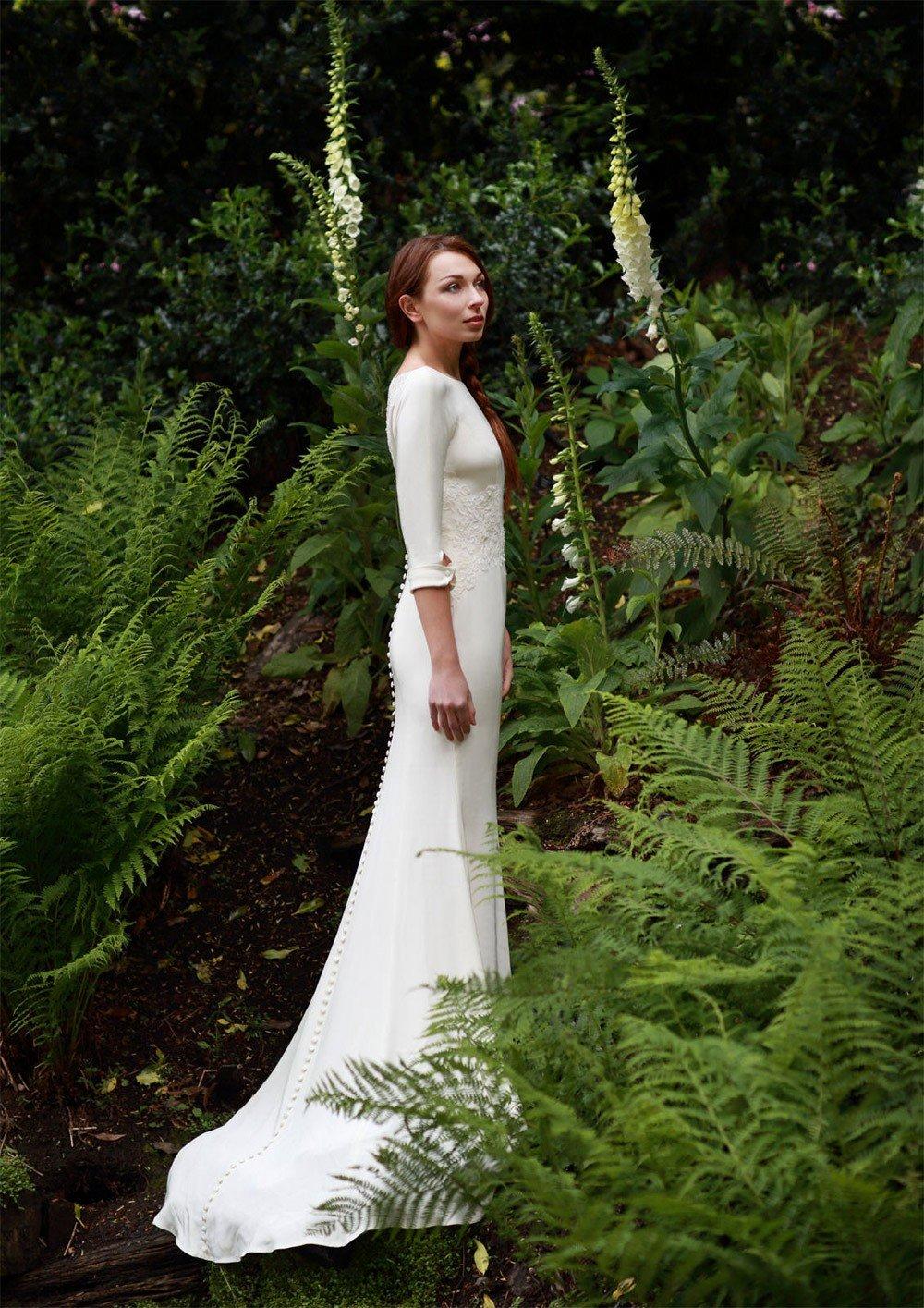 Dare to be Different
Bella's dress was one of a kind – but you can follow her lead with a dress that dares to be different. As long as you avoid meringues at all costs, and look for romantic details, you can totally channel your inner vampire bride. Designed by Claire Pettibone the Lily dress is ideal for a ravishing, alternative bride.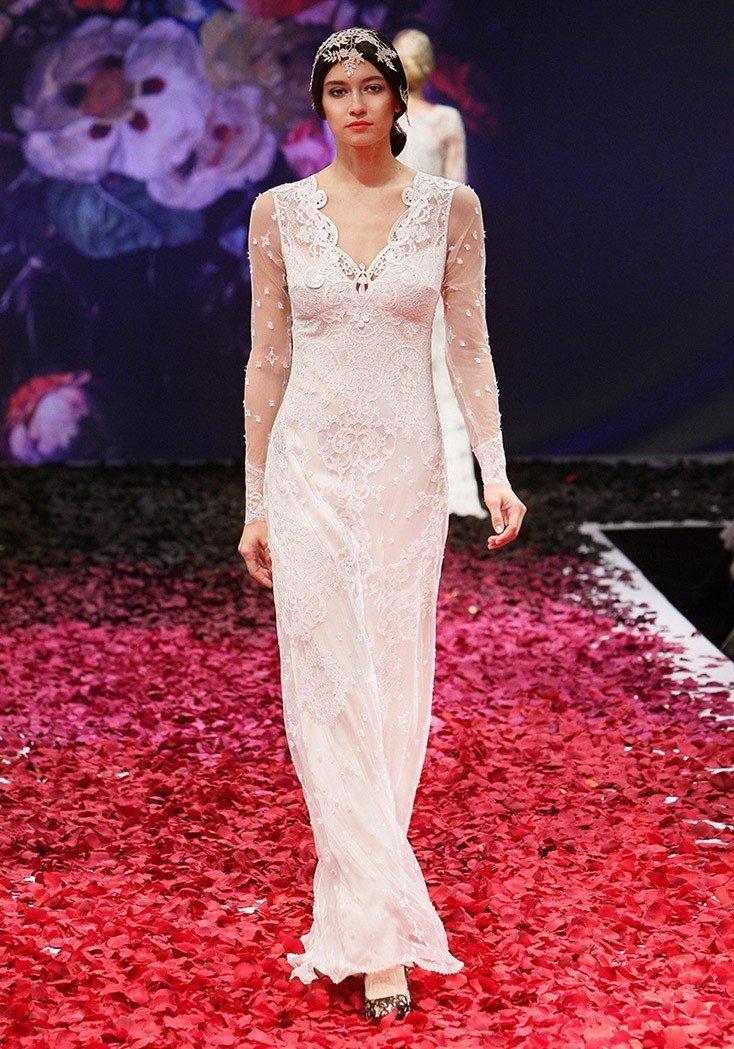 Viva Vintage!
When you're marrying a vampire, timeless style is a good idea: Bella's dress certainly had a vintage feel. Designed by Ellie Lowe this lovely Bella-style dress captures a sense of eternal glamour.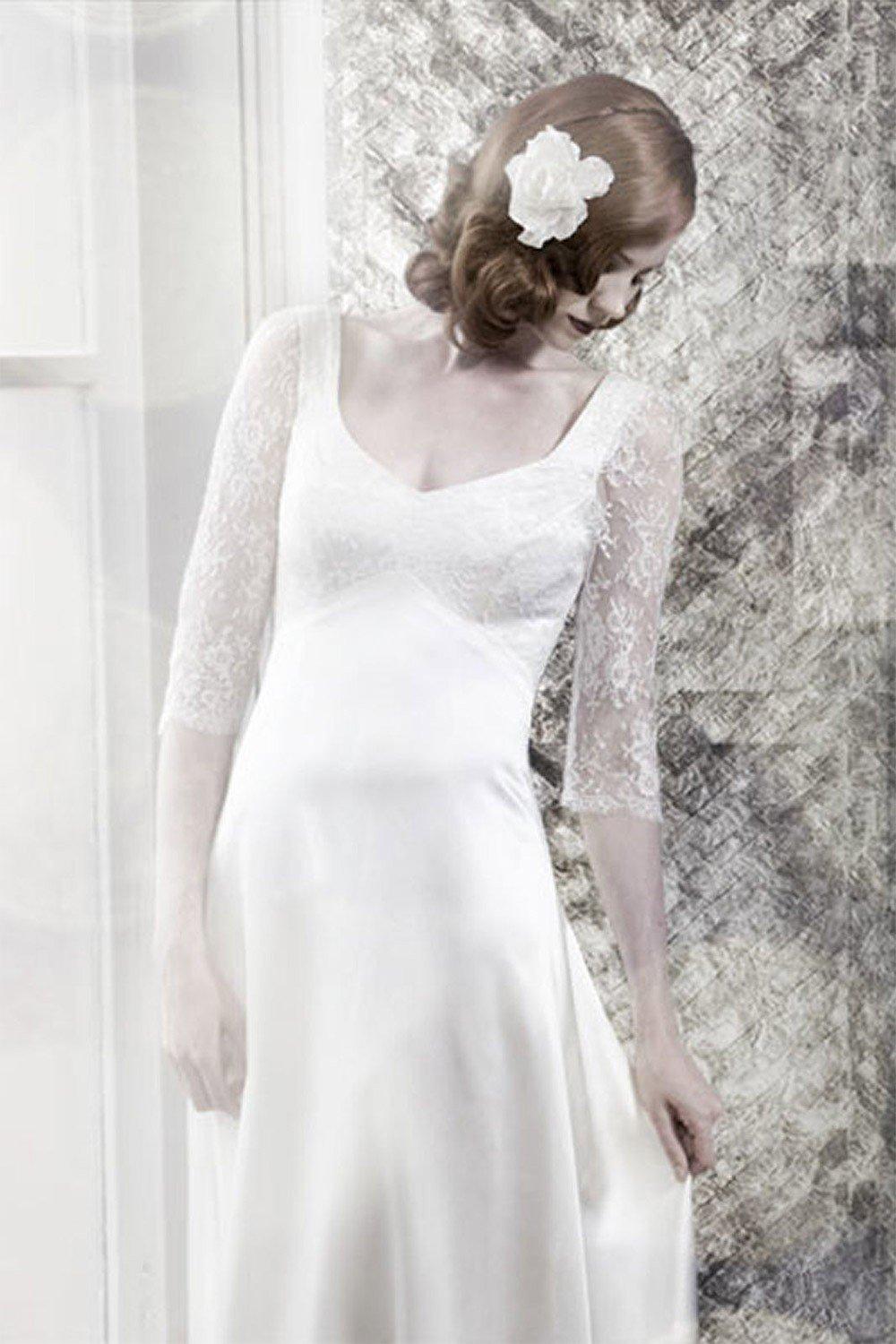 Bella by Name…
Blushing Bella brides take note: the very appropriately named "Bella" dress by Lilly Lou Bridal is pure white, with long sleeves and has a very similar back to the dress Kristen Stewart wore in the Twilight movie…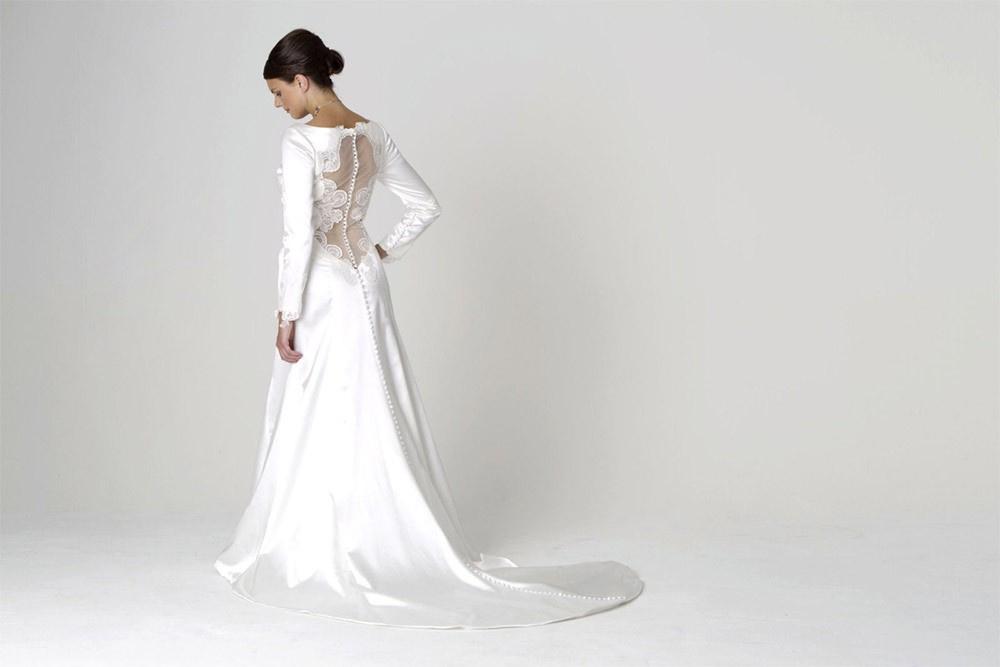 Rear View
Although Bella's dress was demure from the front, the illusion cut-out back gave the design a modern, fresh edge, perfect for a young bride. Take things a step further by losing the illusion and opting for a fully cut-out back: we love this Regency design by Suzanne Neville.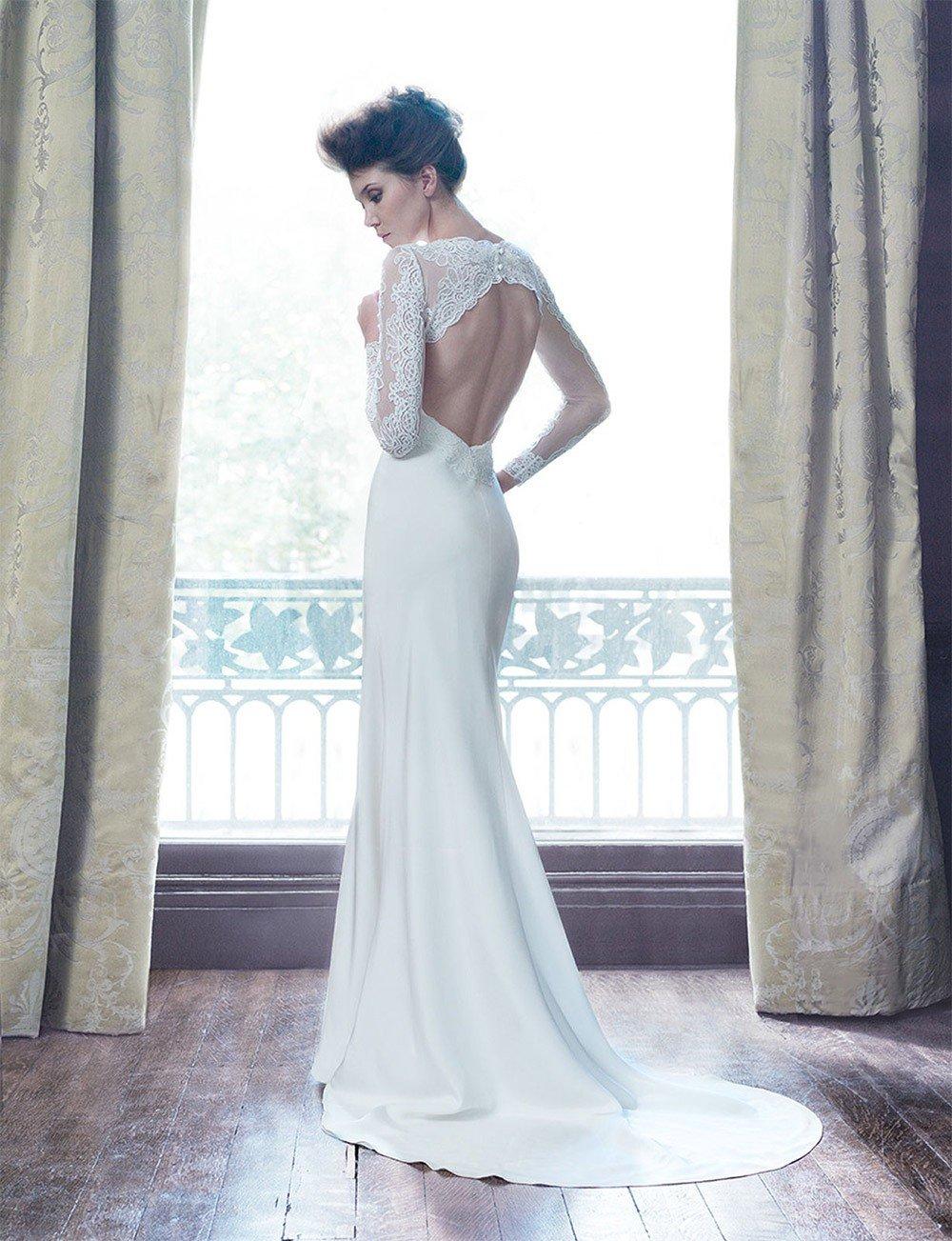 Full Sleeves
Accident-prone Bella was – in many ways – a tomboy bride, and her modest dress reflects her personality. Long sleeves were a faithful touch to her character, but if you want the look with a more feminine impact, opt for full-length illusion sleeves with lace detail, like this Benjamin Roberts design.
Captivating Column
This simply stylish dress by celebrity favourite Badgley Mischka captures the clean column effect that Bella Swan's wedding gown created. Best suited to a bride with a slender silhouette, the neckline also echoes illusion details on the Twilight wedding dress.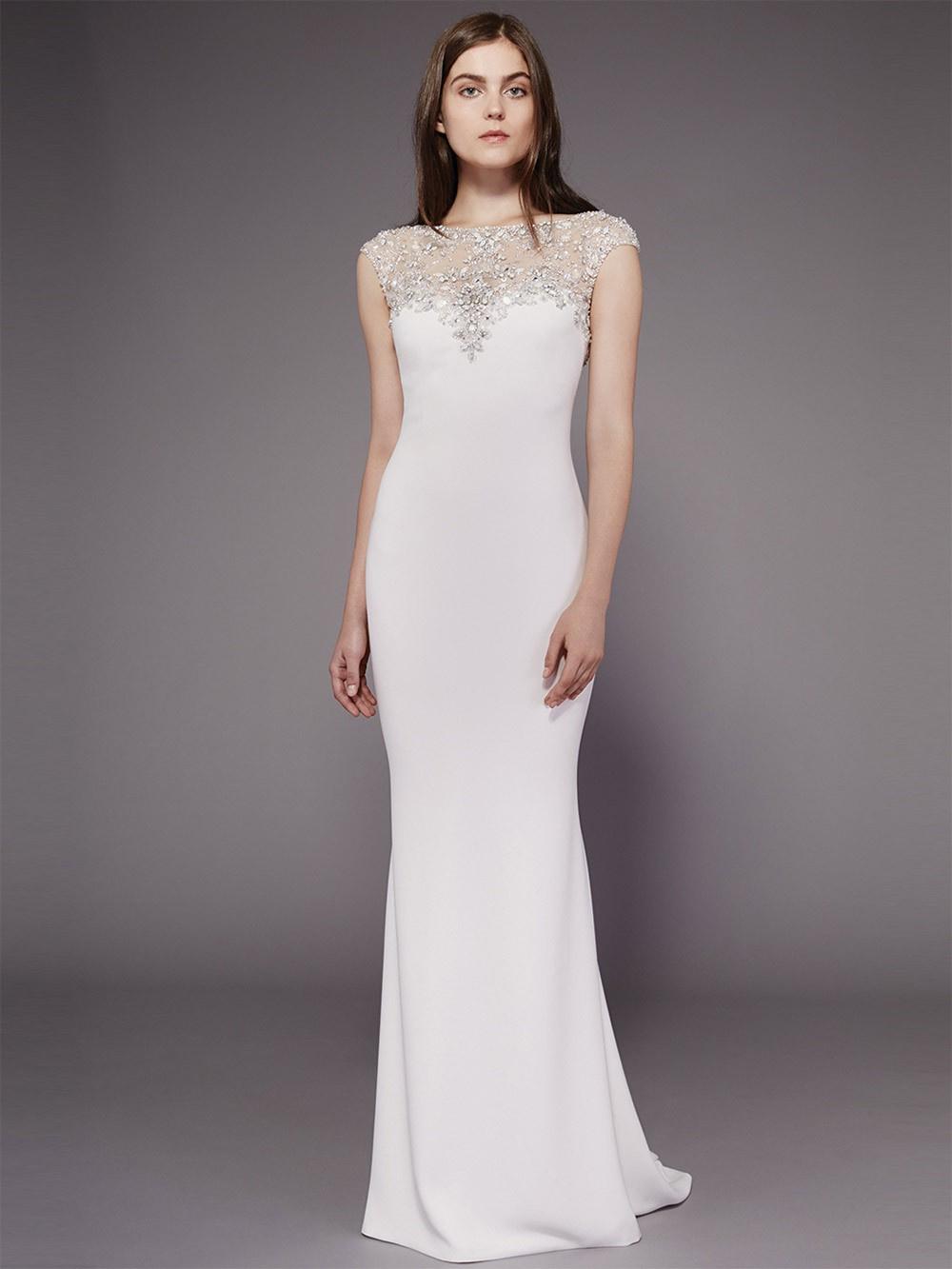 Fairytale Experts
There's no doubt that the designers at Alfred Angelo are the masters when it comes to fairytale dresses: the company even released a replica of Bella Swan's gown at the time the film came out. This beautiful fairytale wedding dress, with long sleeves and captivating lace, would look wonderful on a Bella Swan-inspired bride.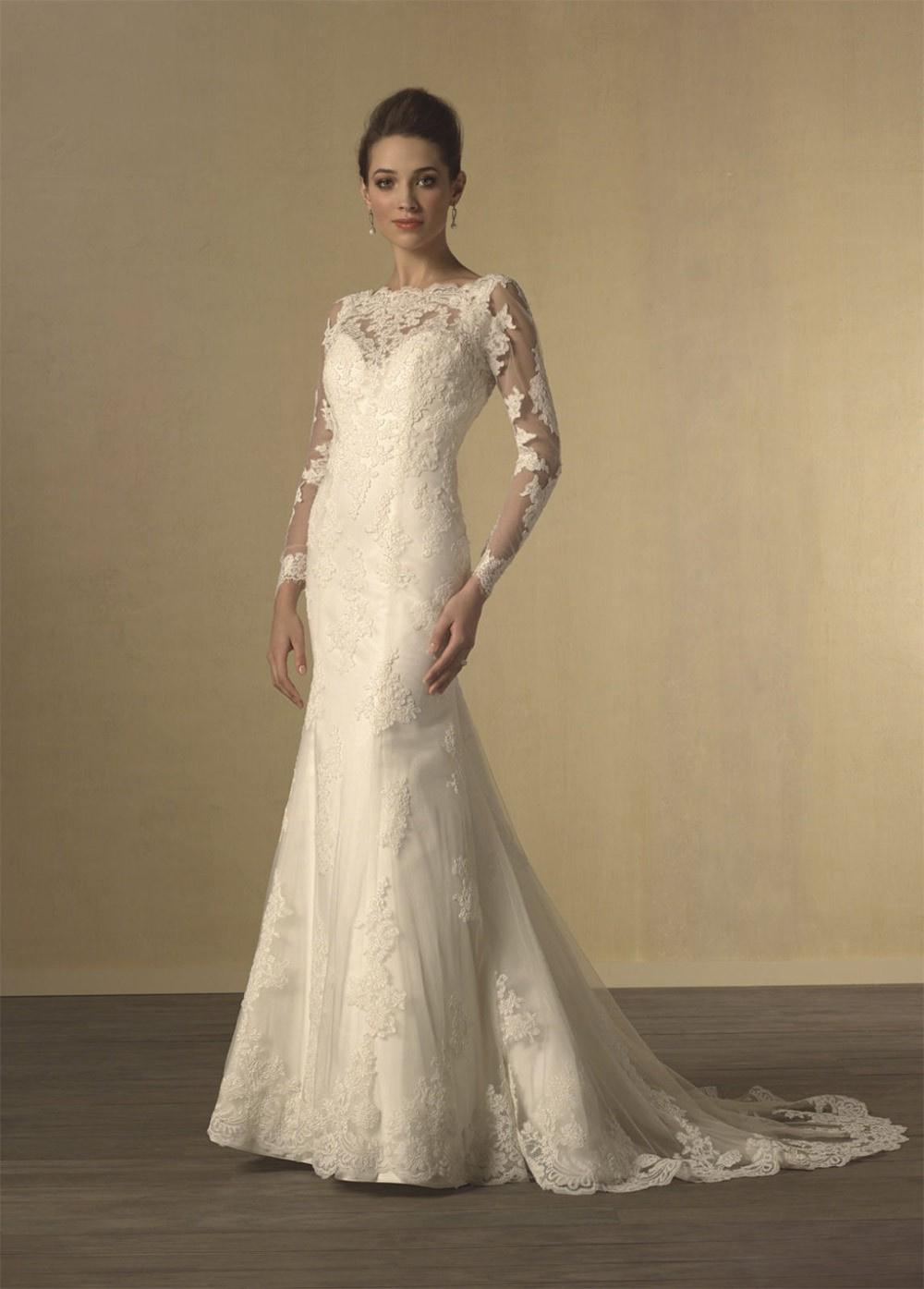 Good Grace
The sheer elegance of this dress by Justin Alexander reminds us of Bella's beautiful gown. Graceful, timeless and totally captivating, the lace appliqués give the effect of a modest v-neck, even though the dress has a sweetheart neckline.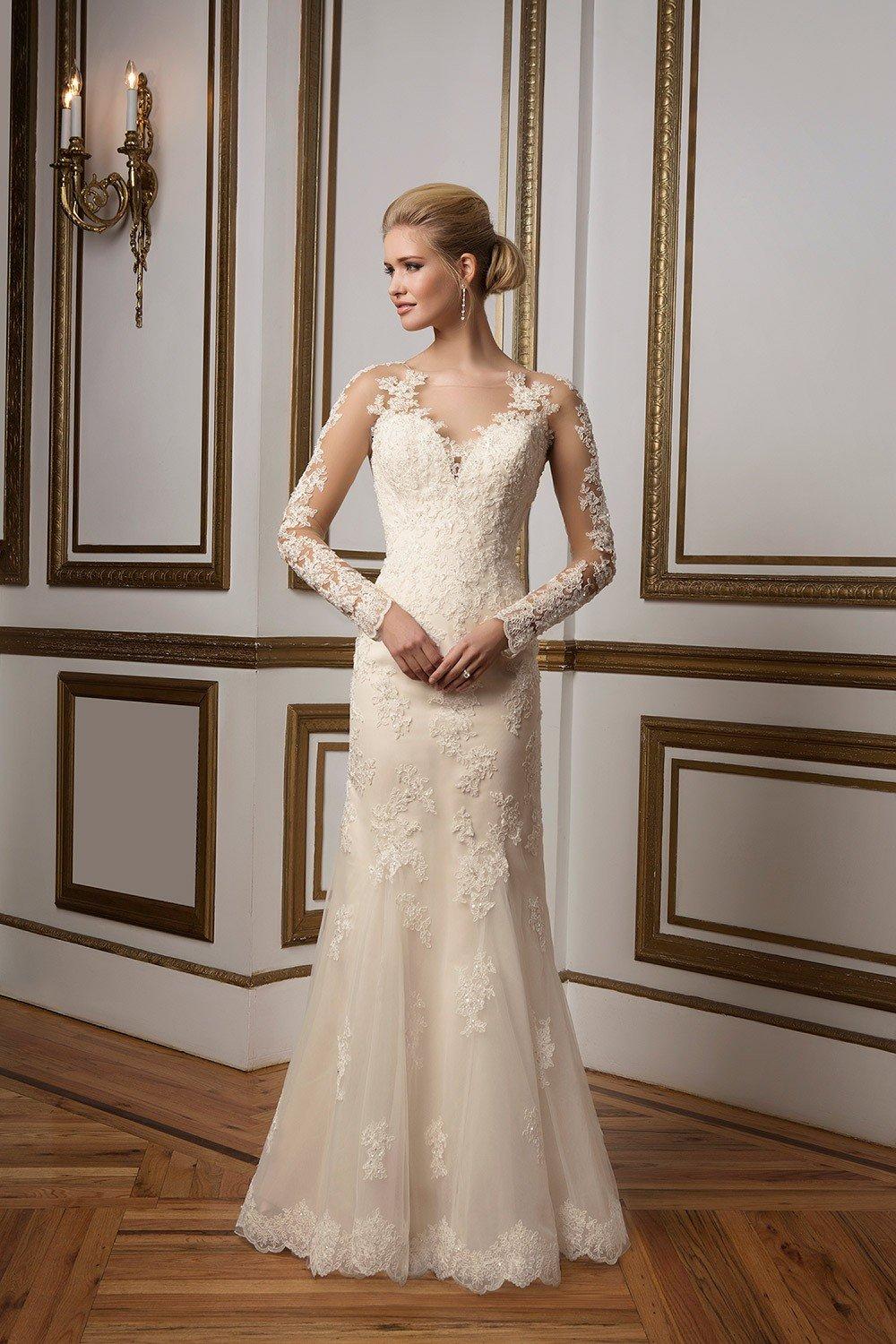 Lovely in Lace
This elegant dress by Kenneth Winston creates a very "Bella" silhouette. With long, fluted sleeves and a V-neckline, the lashings of lace are effortlessly romantic.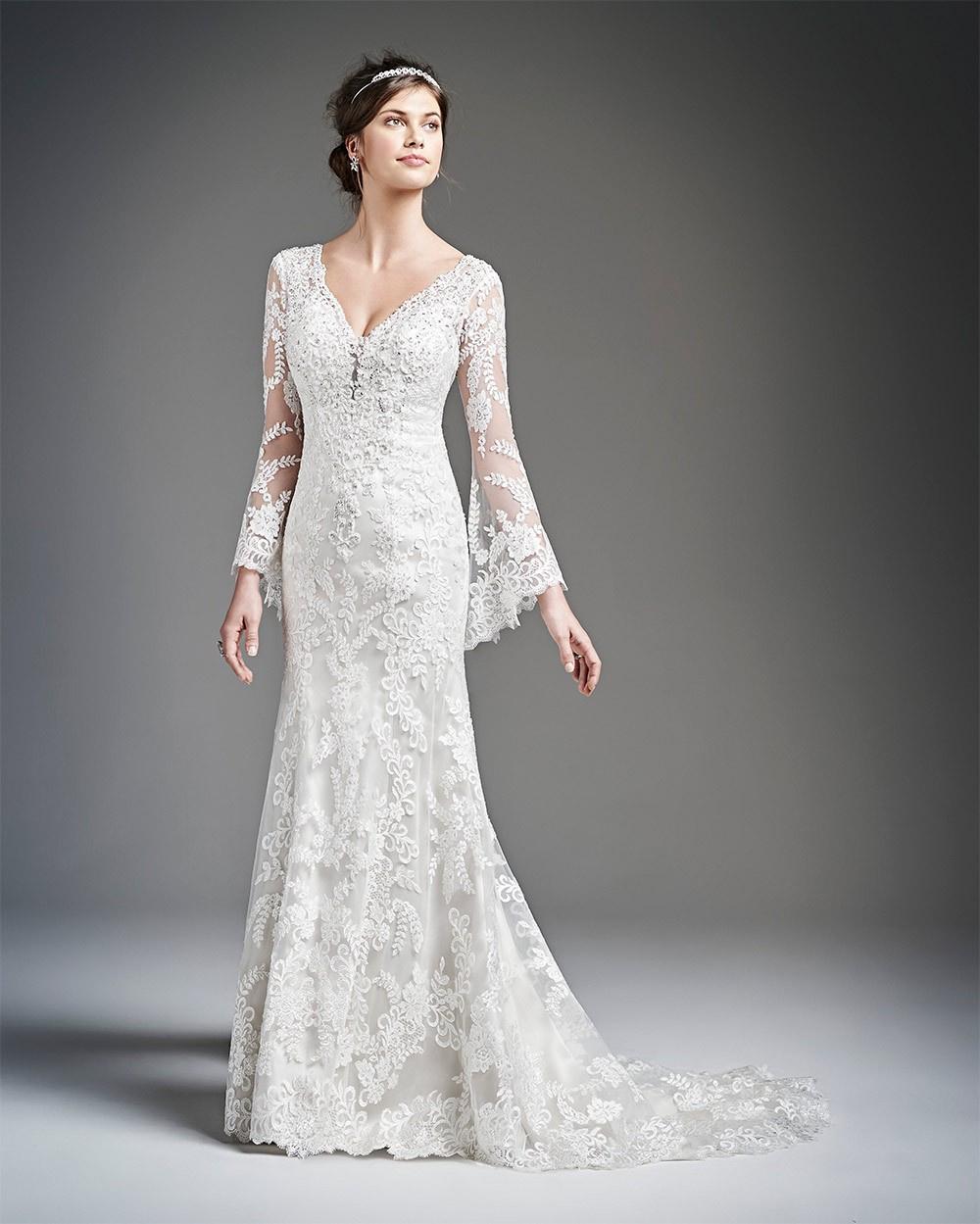 Fabulous Fairytale
Fit for a princess, this long, lace dress by Demetrios has the Bella Swan neckline, the long sleeves and a dramatic, low cut-out back that evokes the same impact as the rear of Bella's gown. It also features gorgeous lace appliqués and a chapel train.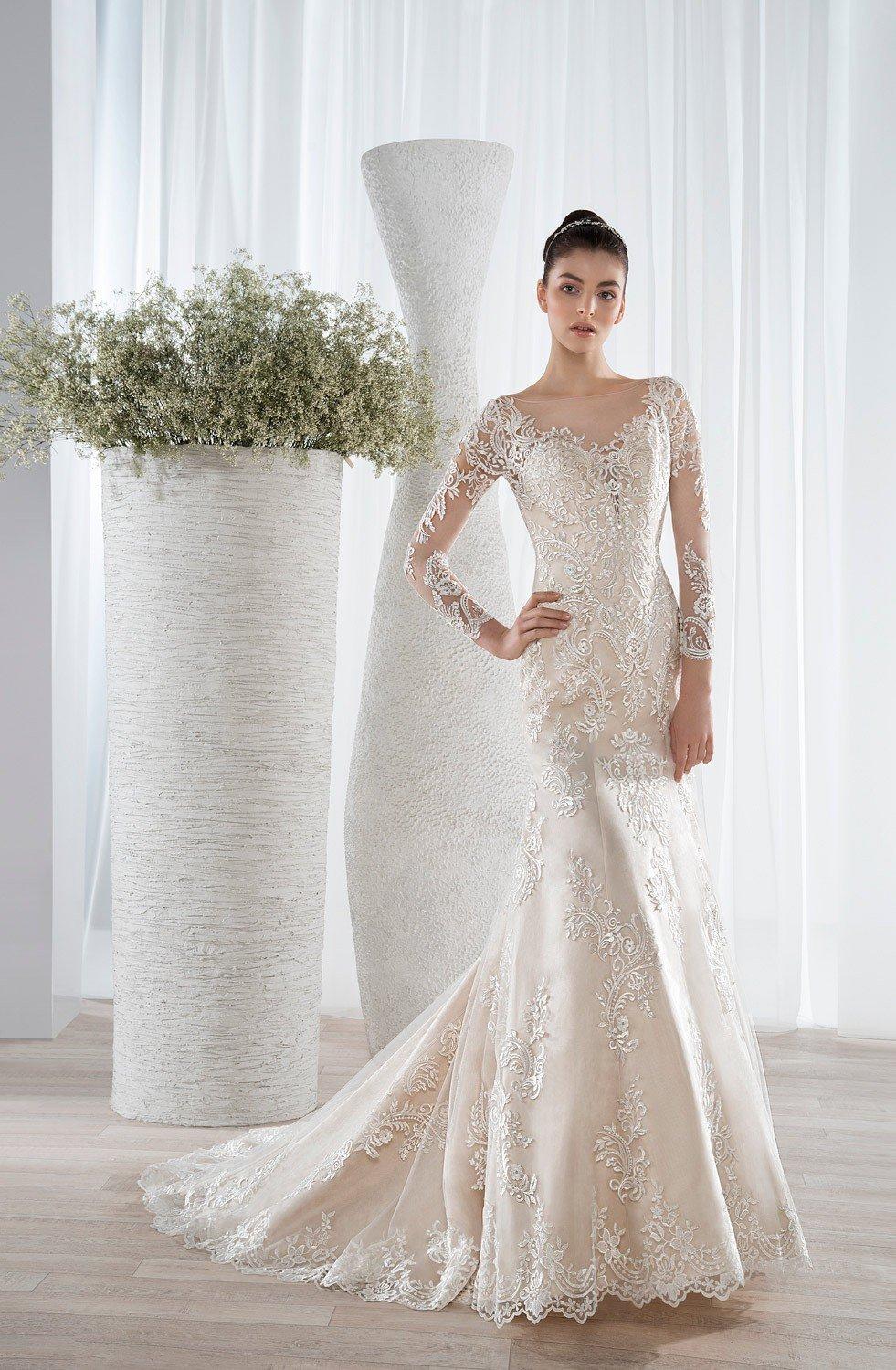 Sheer Beauty
By Sincerity Bridal, the sheer sleeves and lace details of this beautiful gown mirror Bella Swan's wedding dress. Keep hair and make-up minimal and stay true to Bella's bridal style by resisting the urge to add jewellery to the simply stunning look.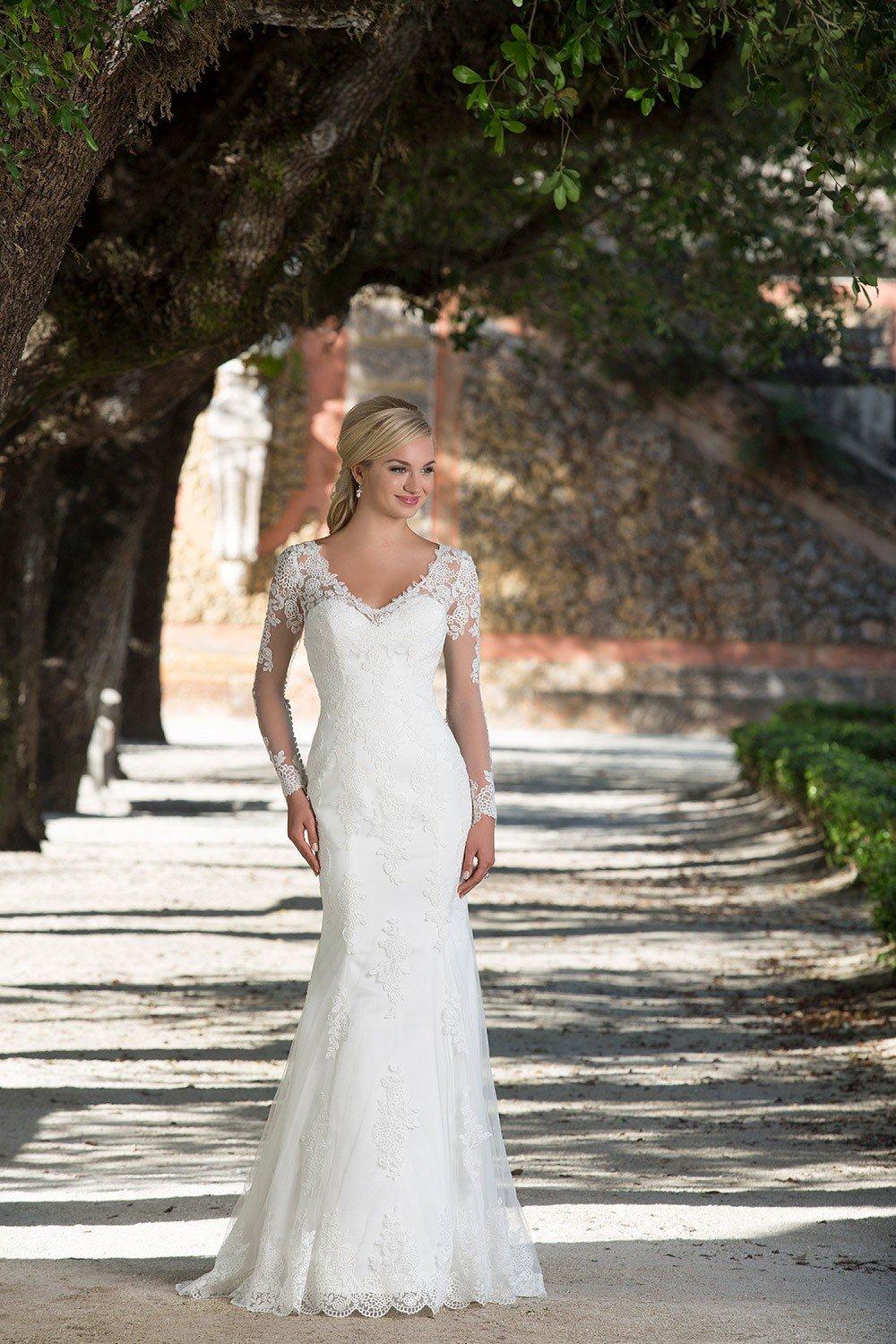 Bella-style Bolero
If you're having a high-summer wedding, Bella's long sleeves might be a little much: you could add a bolero to achieve the look for the ceremony and then take it off for the reception. The snug fit of the stylish Tess Bolero by Sanyukta Shrestha, seen here over the Bella-esque Audrey dress, could fit the bill.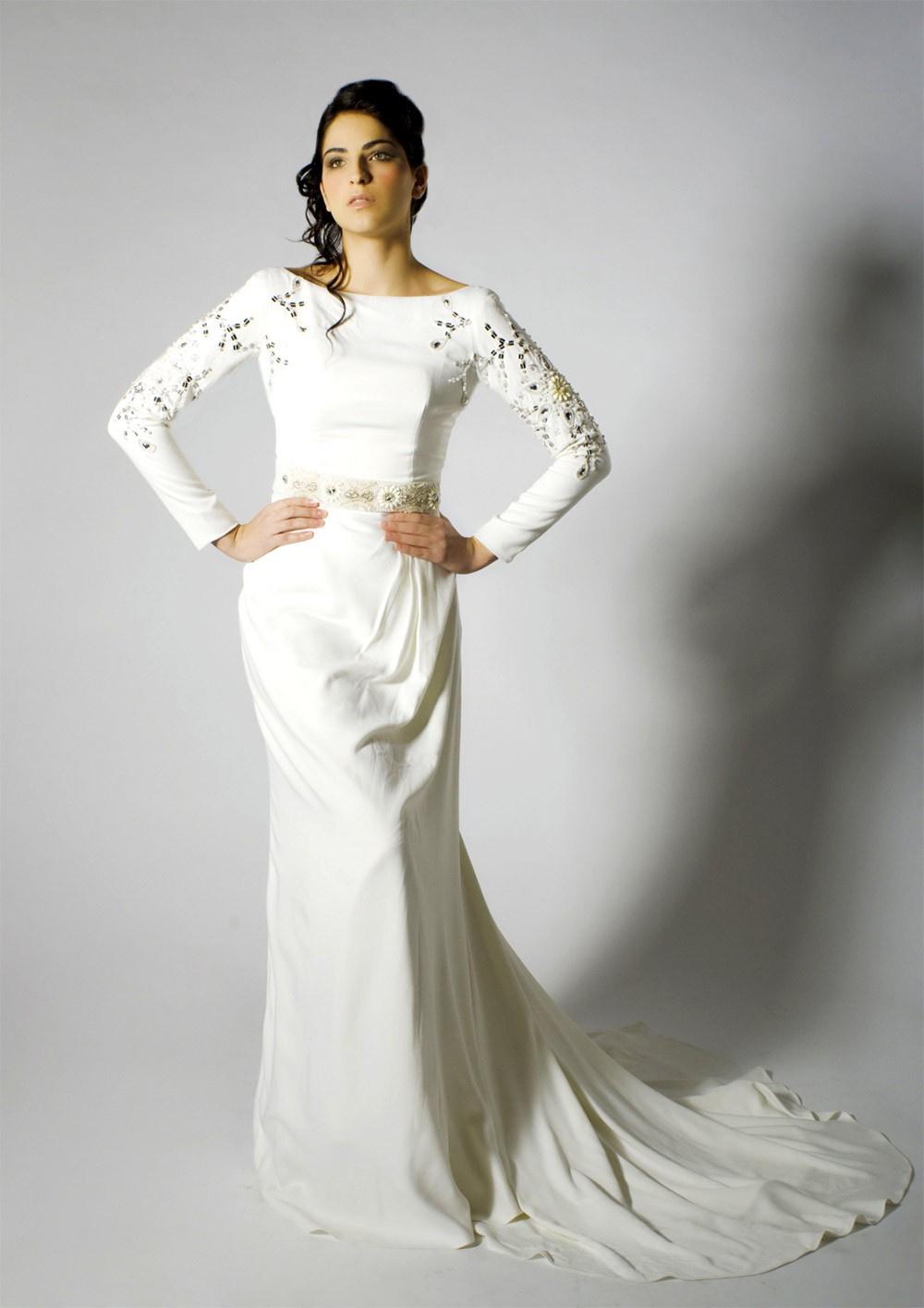 Finishing Touch
Bella Swan's wedding dress was accessorised with a full length veil, giving the simple dress a feminine – and traditional – twist. We love this simple long veil from Monsoon Bridal, the perfect finishing touch to your Twilight wedding style.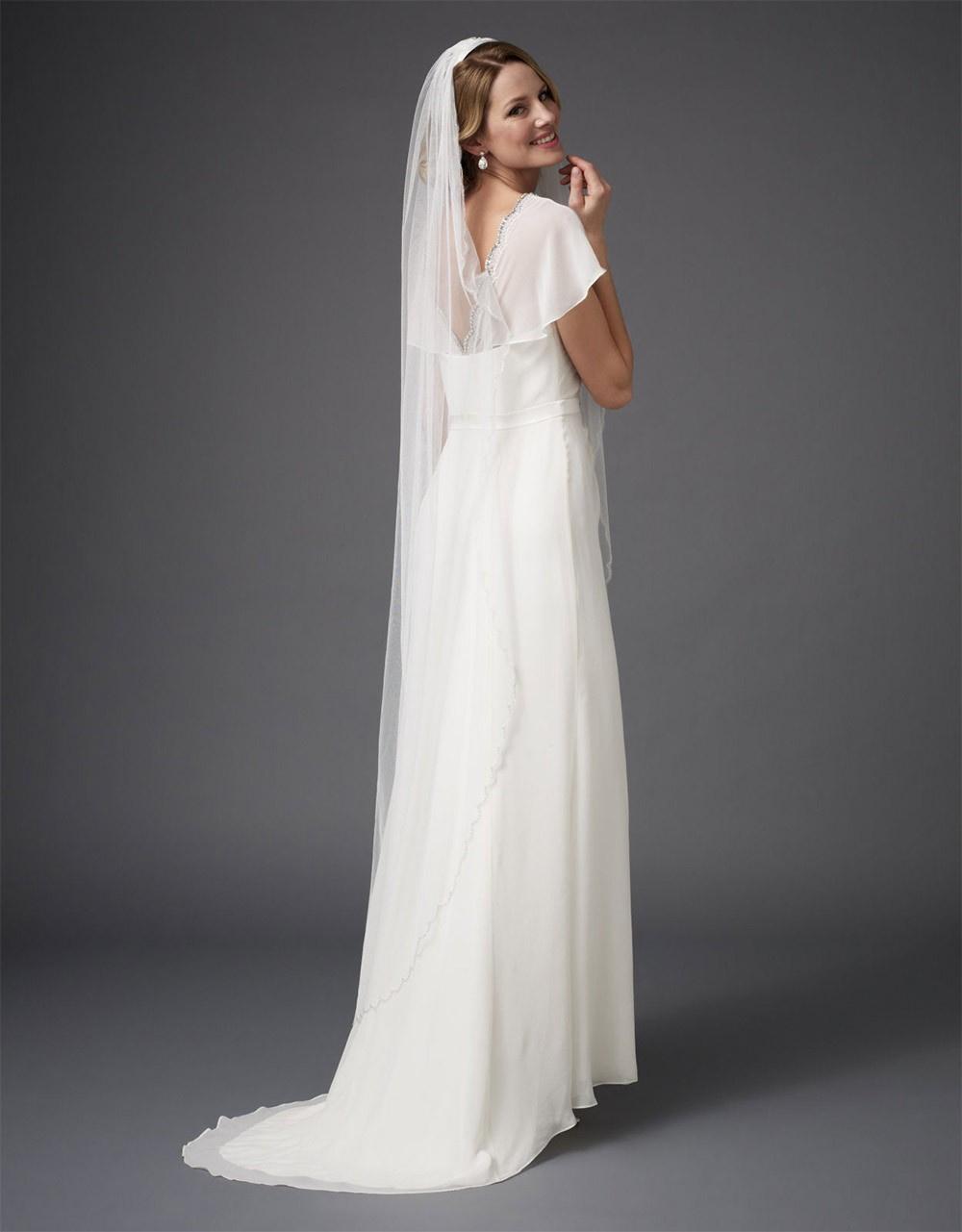 If you love the idea of a wedding dress inspired by a film then you might also want a wedding venue that has been seen on screen – take a look at some of our favourite wedding venues from film and TV.