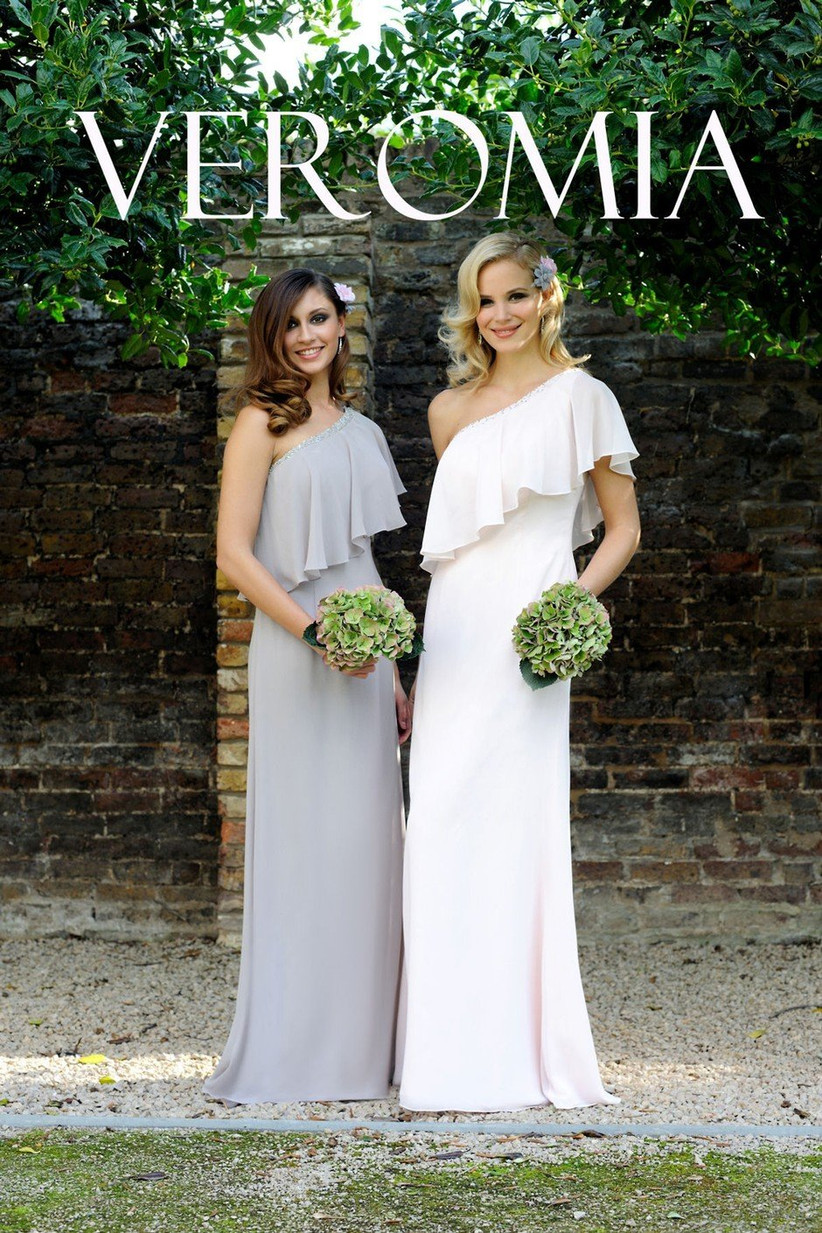 The beauty of a one shoulder bridesmaid dress is that they suit any kind of wedding all year round, plus they are super flattering on most body shapes – what's not to love? Whether you're looking for an enchanting winter bridesmaid dress or a short and sweet number, an asymmetrical neckline adds a unique and stylish touch to any gown. Check out our favourite one shoulder styles that you and your maids will love.
Style 1366 – Mark Lesley
To highlight a wedding colour scheme with hints of ravishing red, this sleek and simple style from Mark Lesley would be an ideal red bridesmaid dress for your girls. The one shoulder style would lend itself well to a side swept hairstyle and the cinched waistband creates a lovely hourglass figure.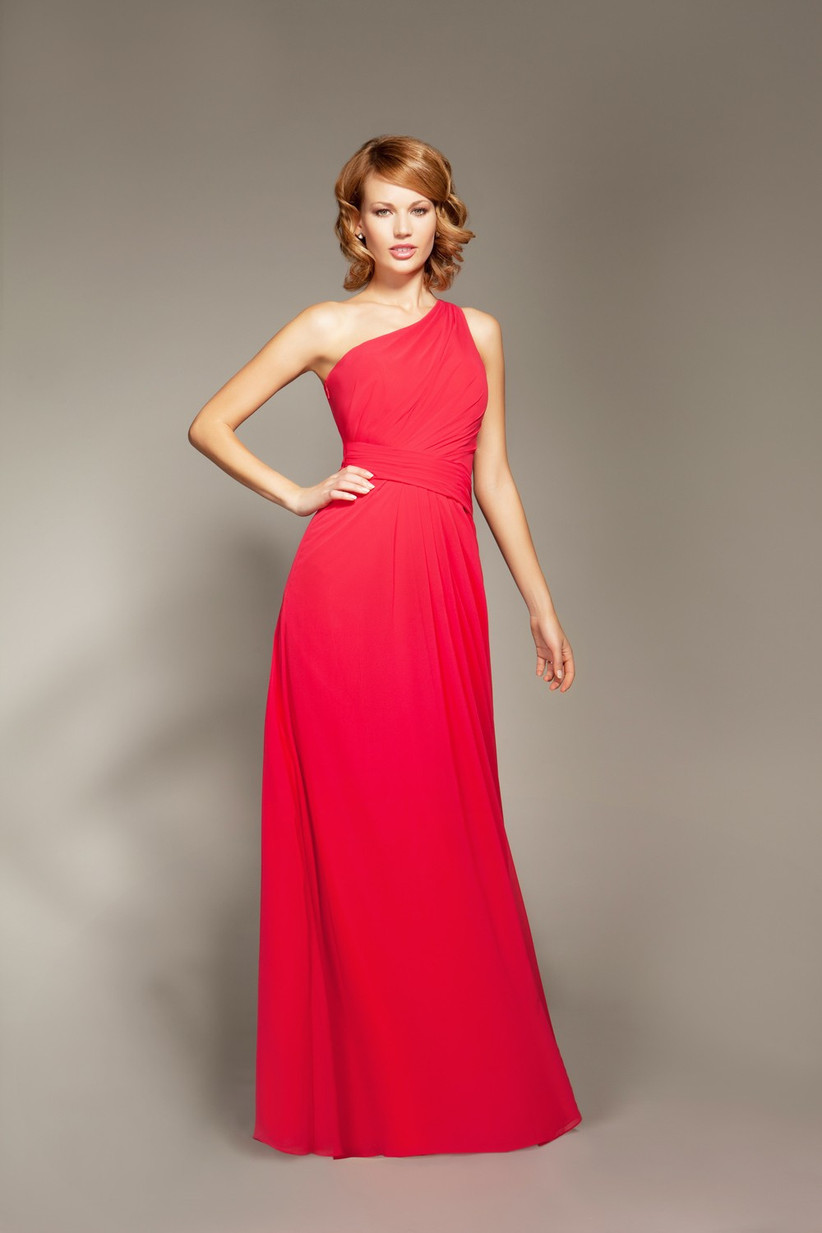 Style 5378 – Jim Hjelm Occasions
This gorgeous grey bridesmaid dress has a lovely long column skirt which would add height to shorter bridesmaids. The great thing about style 5378 from Jim Hjelm Occasions is that you wouldn't need to pair it with many accessories as the ruched bodice detail and asymmetrical neckline does all the talking.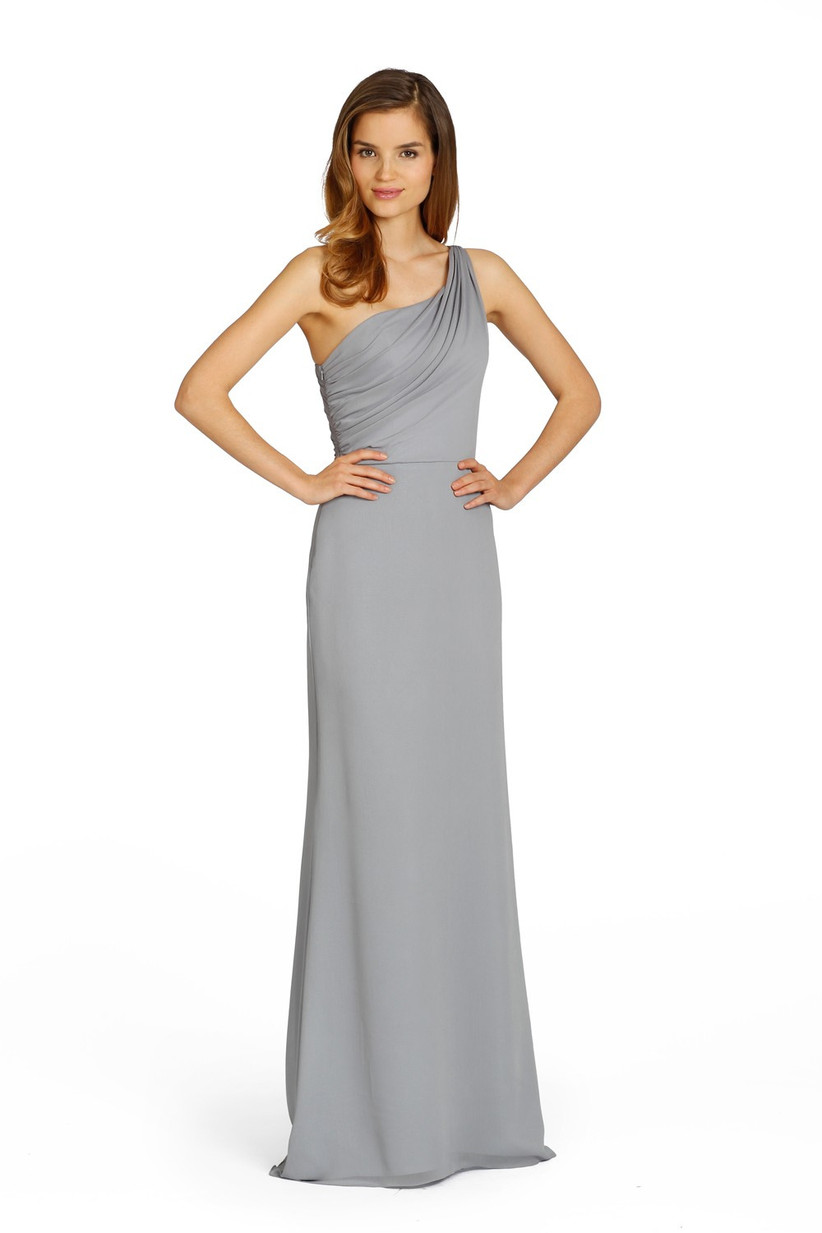 Style B173003 – B2
A fun and flirty style for your best girls, this pink one shoulder bridesmaid dress from B2 is perfect for a spring or summer wedding. The corsage detail at the waist beautifully sets off the dress plus the asymmetrical neckline keeps the look demure without flashing too much flesh.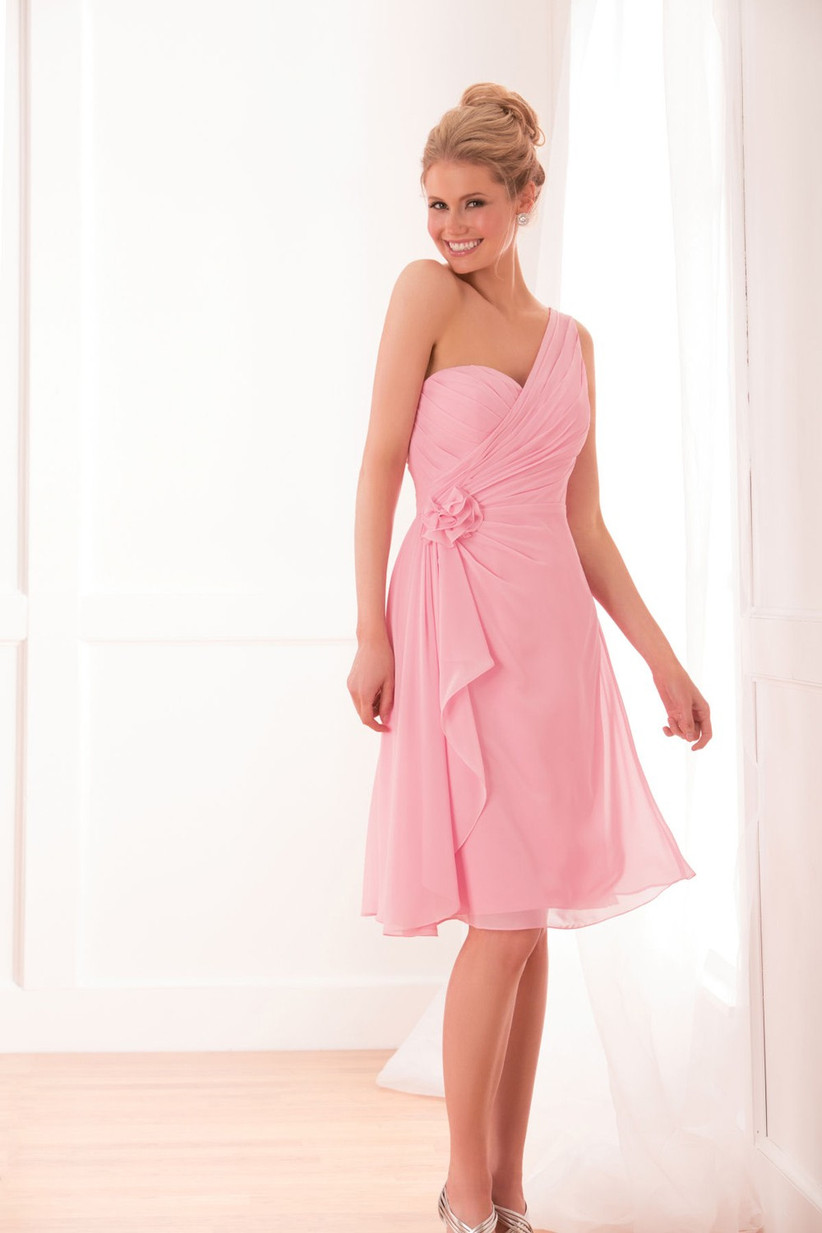 Style 1369 – Mark Lesley
If you're planning a wedding with an icy blue colour scheme then this beautiful blue bridesmaid dress would be an ideal choice for your bridal party. Displaying Mark Lesley's trademark grown up elegance, style 1369 has a lovely draped sleeve that is complemented by silver embellishment.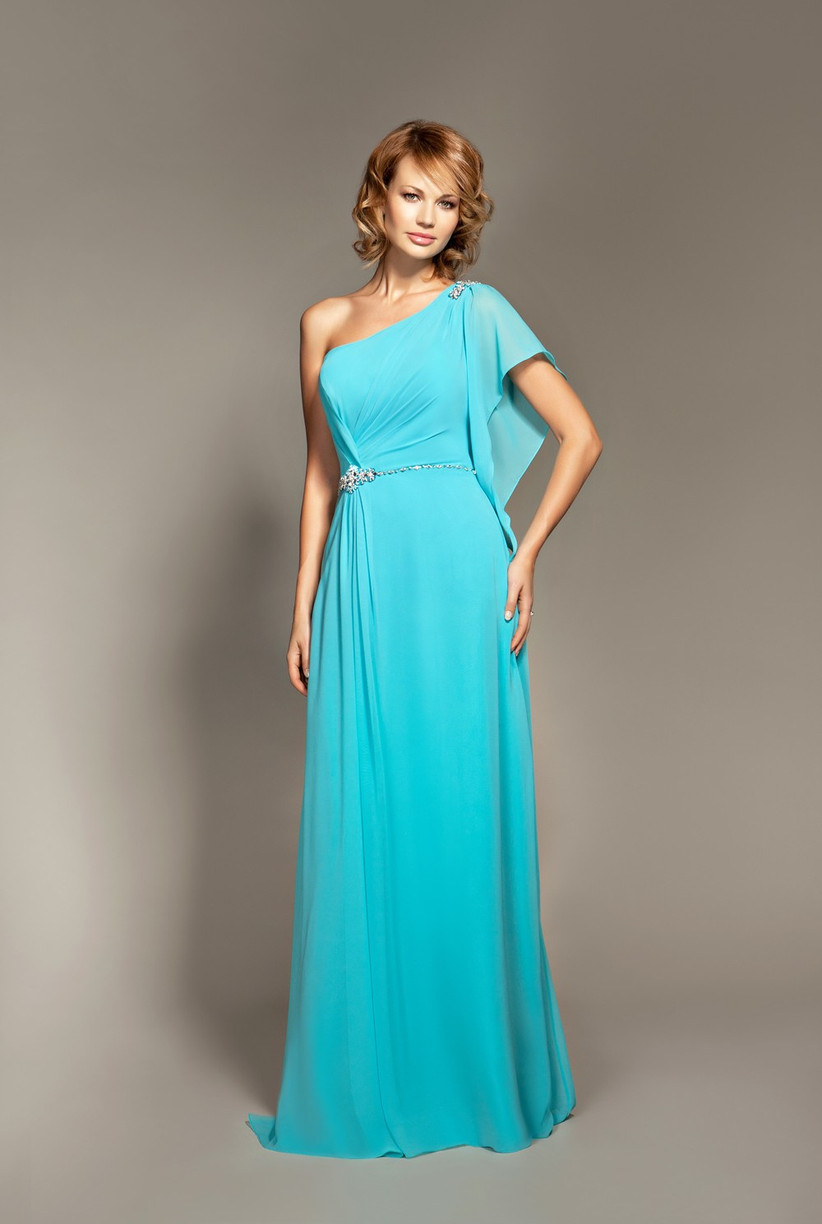 Style 5414 – Jim Hjelm Occasions
Style 5414 from Jim Hjelm Occasions is a sumptuous deep purple shade that works well with curls tumbling over one shoulder. This purple bridesmaid dress is bold enough to be worn without accessories but would also be complemented by silver jewellery if you need to pair it with something.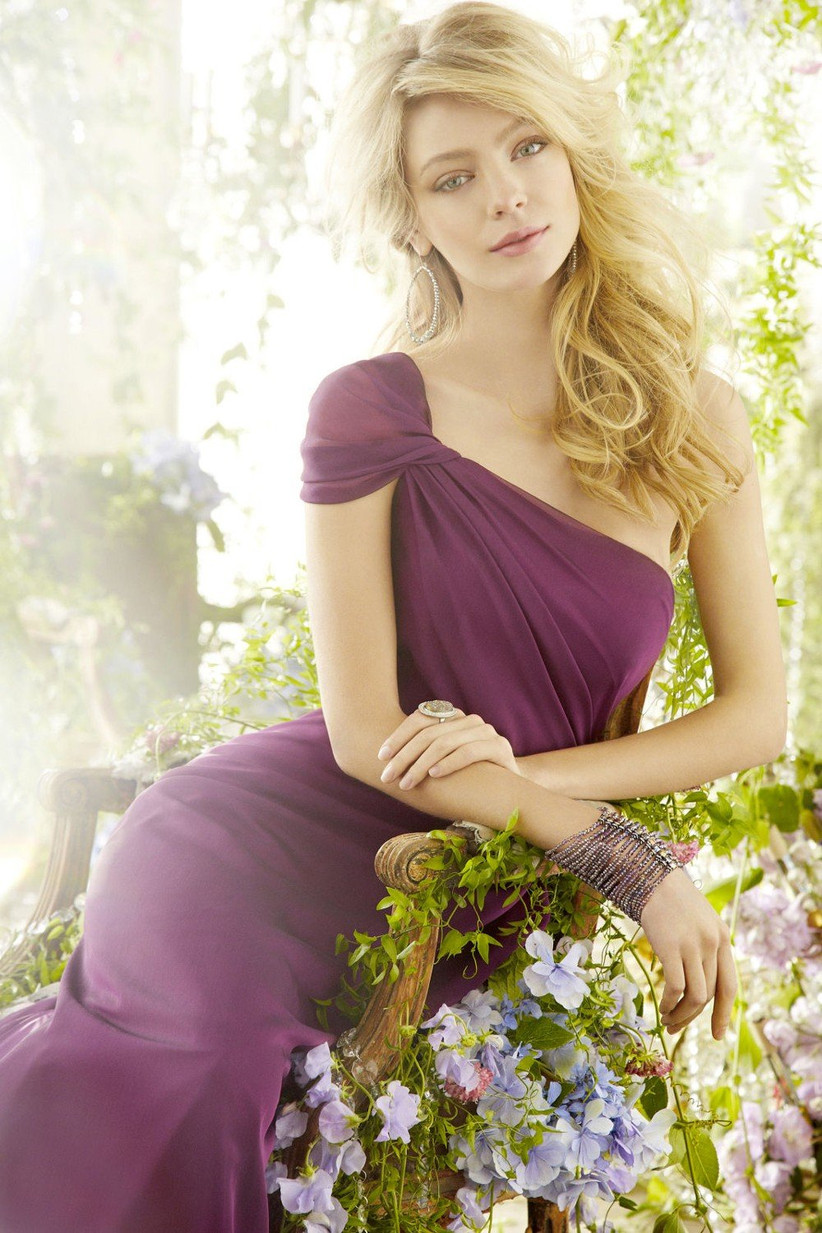 Style B173020 – B2
This luscious lilac style from B2 is a glamorous full length dress that your bridesmaids will love. Style B173020 has just enough detail on the shoulder to create a stunning and eye catching look, however the simplicity of the dress means you won't need to worry about being upstaged!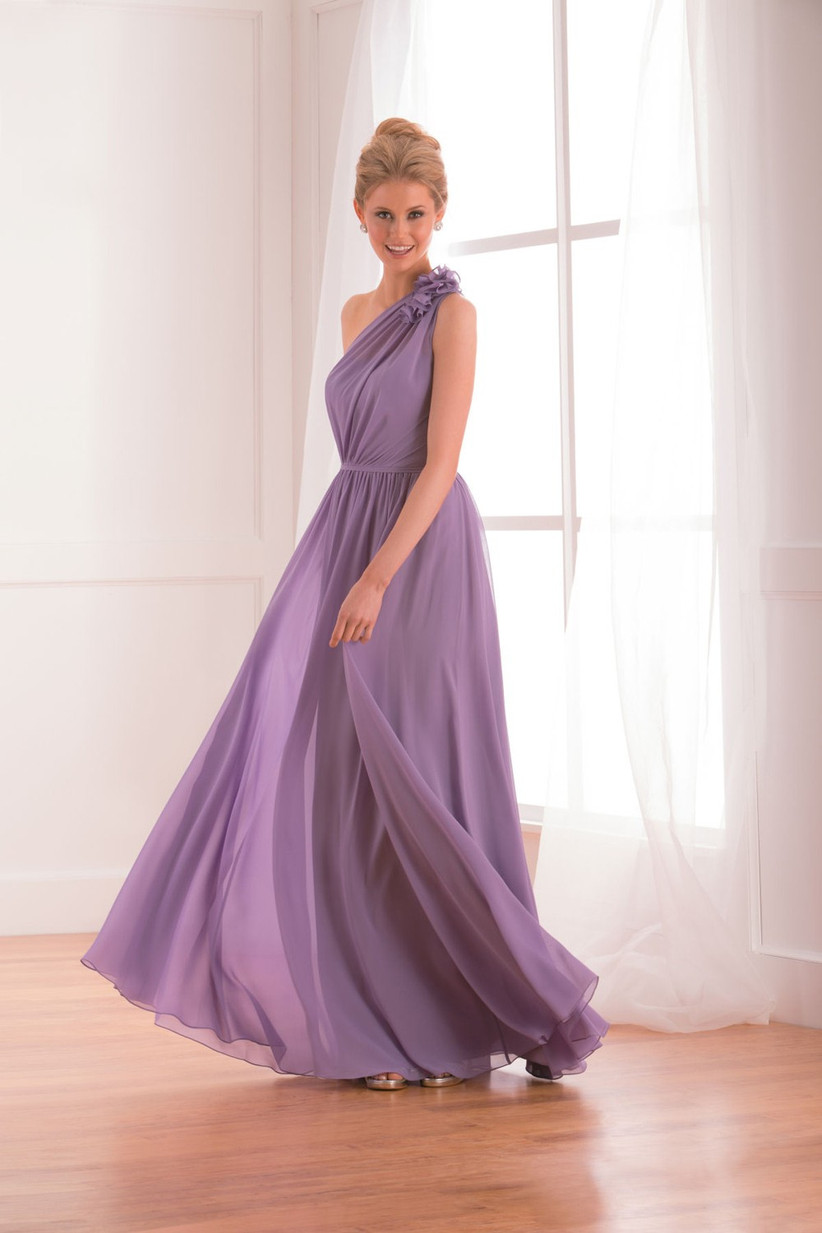 Style 7288 – Alfred Angelo
Style 7288 from Alfred Angelo is a rich burgundy colour and comes in a cute, shorter length. This dress can conform to any style of wedding whether you're having a summer garden party or a refined, formal gathering. The empire waist means that this dress would suit maids with smaller busts.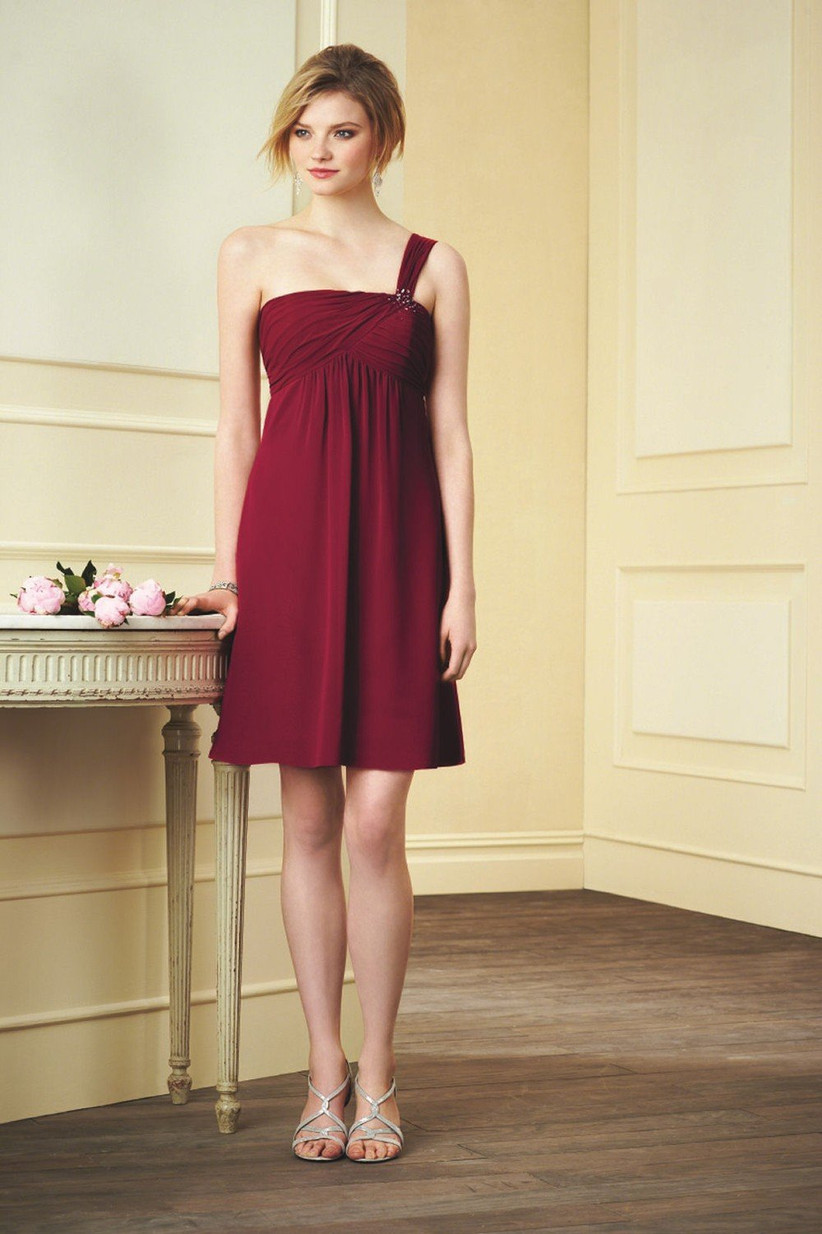 Beth – Bridesmaids by Romantica
We love this Bridesmaids by Romantica dress which comes in a lovely lemon hue. The ruched bodice creates a flattering figure and leads into a gorgeous strap with floral detailing. Don't be fooled by the bold colour, this one shoulder bridesmaid dress is actually quite versatile and can be paired with a chic updo or a half up half down wedding hairstyle.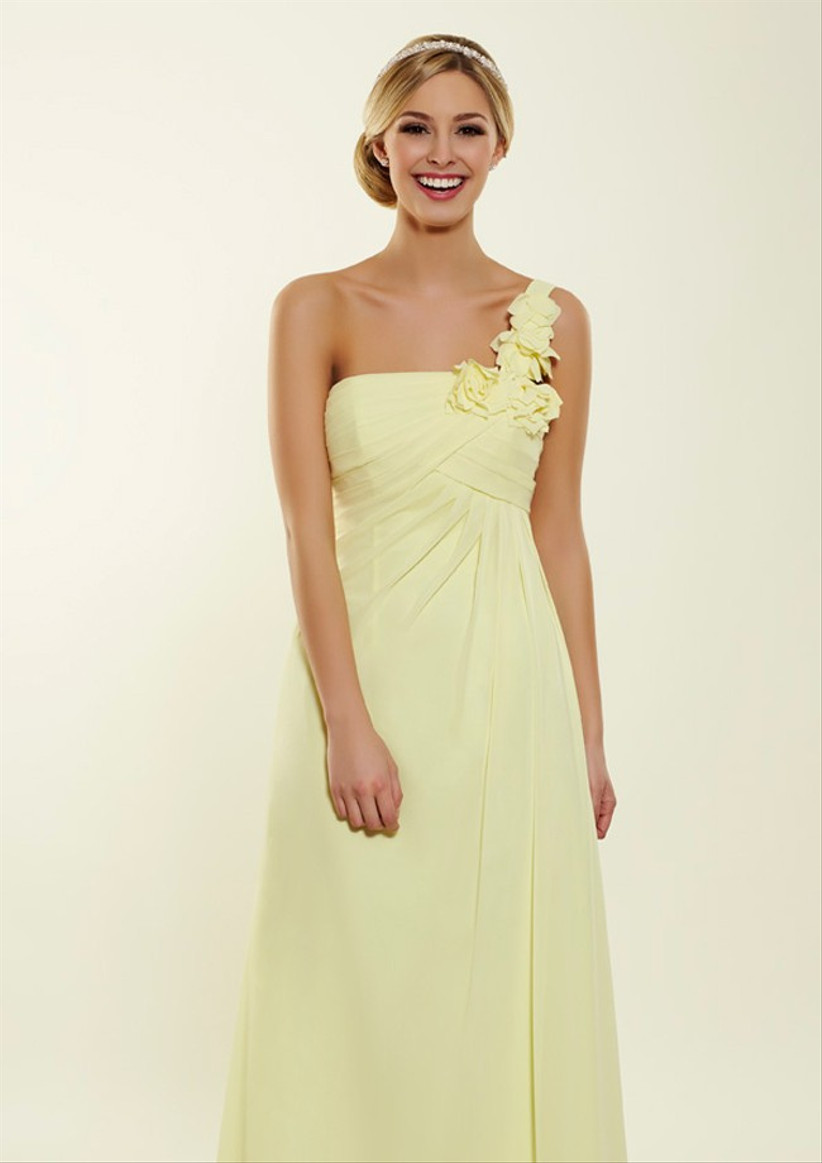 Style 5374 – Jim Hjelm Occasions
This dusky blue number would be ideal for maids who wouldn't feel comfortable in a fussy, floor length dress. Although the skirt sits just above the knee, style 5374 from Jim Hjelm Occasions remains demure with its illusion, asymmetrical neckline. Pair this dress with some silver bridesmaid shoes for extra wow factor.
Gracie – Bridesmaids by Romantica
If you're incorporating orange details into your décor or bridal bouquet, then a vibrant one shoulder orange bridesmaid dress would certainly highlight this. Gracie from Bridesmaids by Romantica comes in a deeper, more wearable shade of orange that would suit all skin tones. The black waistband gives a more formal feel to the dress and breaks up the block colour nicely.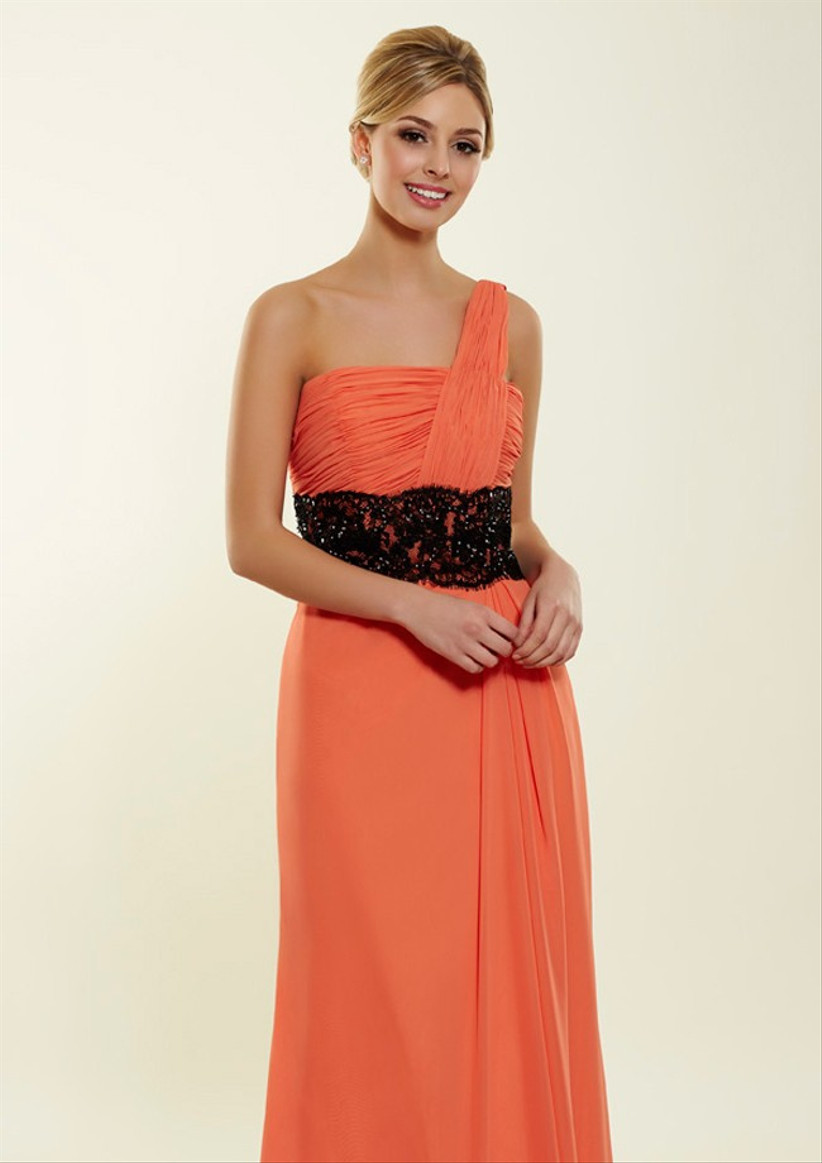 Style 2881 – Dessy
Style 2881 from Dessy is a gorgeous one shoulder bridesmaid dress would give your bridesmaids a lovely, statuesque figure with its empire waist. The double strap puts a unique spin on the asymmetrical neckline, leaving alluring cut out detail on the shoulder. Style your maids hair into a sophisticated chignon so that the shoulder detail is shown off – minimal accessories will be needed.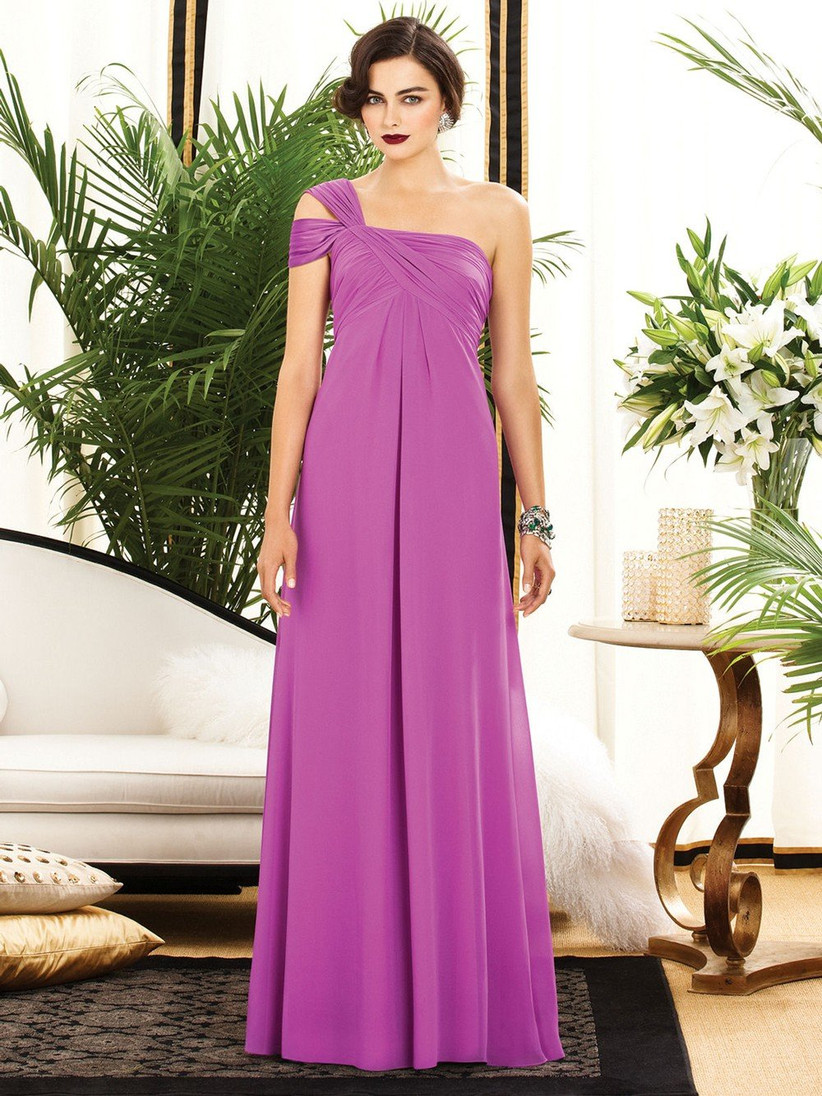 Style 152S – Alexia Designs
A one shoulder dress that is more than worthy of a gorgeous outdoor wedding, style 152S from Alexia Designs ticks all the boxes when it comes to pretty pink bridesmaid dresses. The crossover bodice and sweetheart neckline is flattering on the bust and the fabulous ruffled strap detail looks like a trail of romantic pink blooms. The shorter length also means your maids won't overheat if you're getting married outdoors in the depths of summer.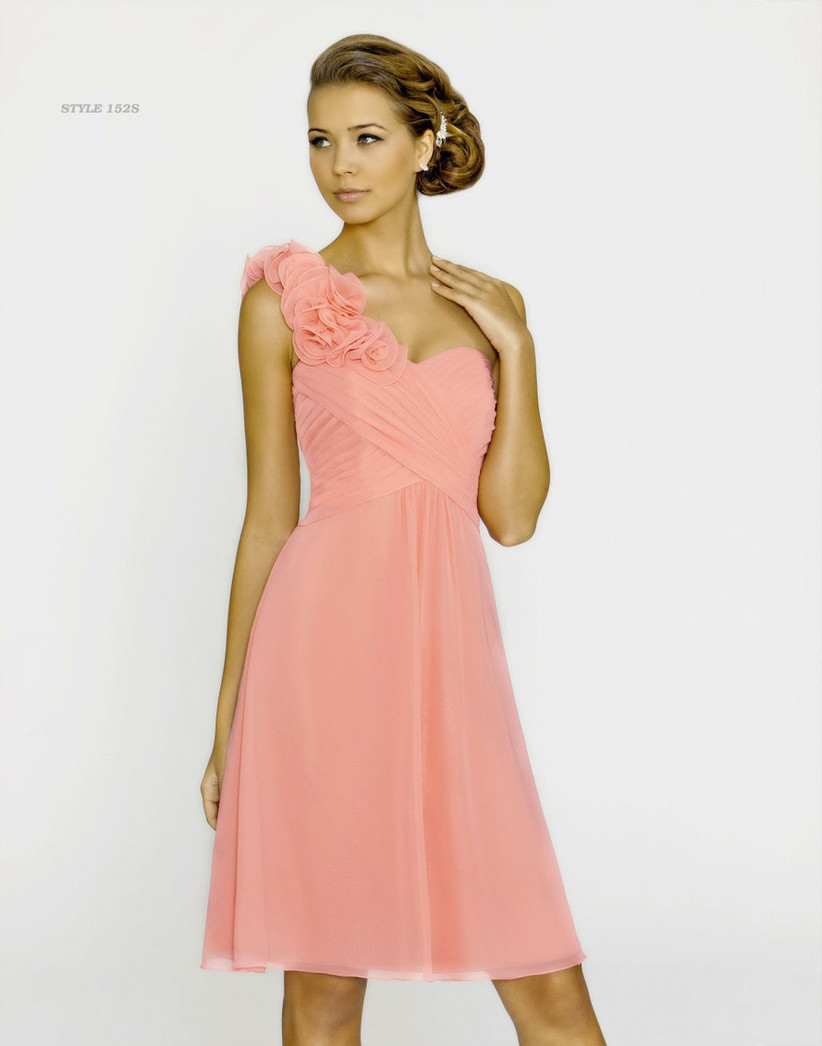 Style 2885 – Dessy
Emerald green is a stunning colour for weddings and is a versatile hue that suits all skin tones. If your bridesmaids have pretty green eyes or dark hair then style 2885 would certainly flatter these features. If you want to mix and match the dresses in your bridal party to suit their different styles then a mint green bridesmaid dress would also pair well with this Dessy number.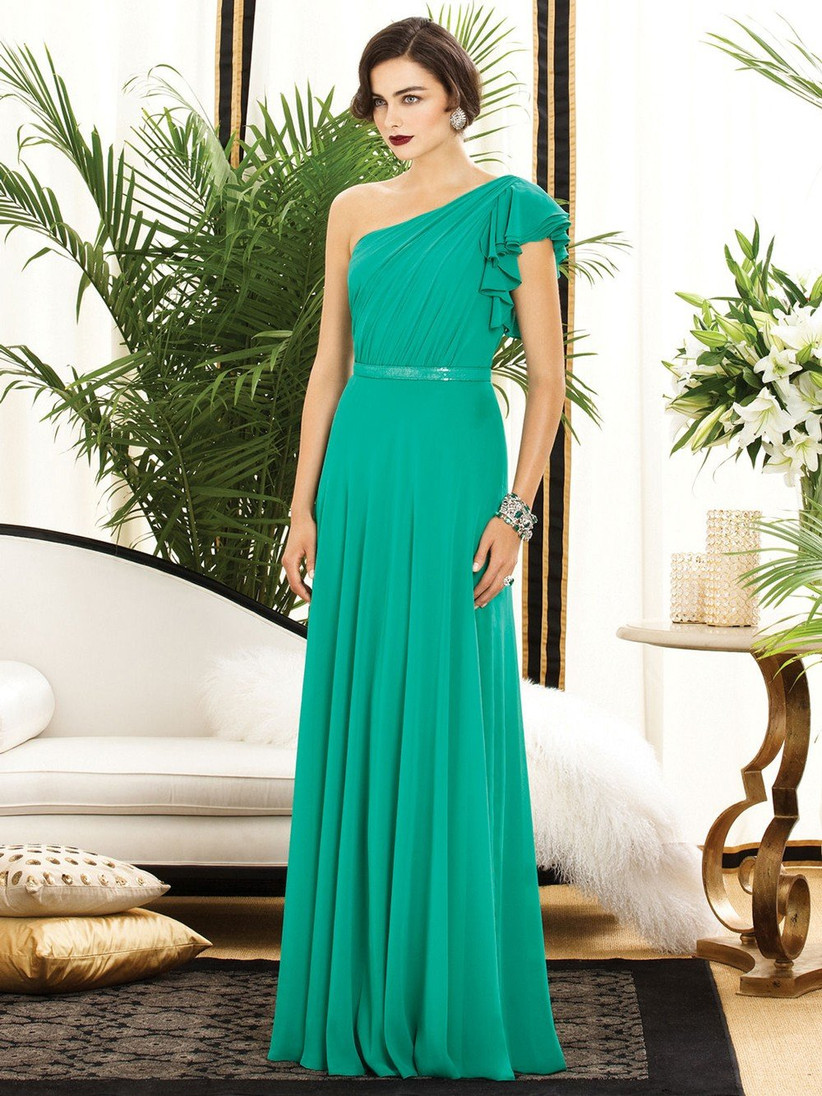 Style 5245 – Jim Hjelm Occasions
This style from Jim Hjelm Occasions is the epitome of glamour! The deep Cadbury purple hue is another popular wedding colour and the fit and flare style would create a lovely silhouette with curves in all the right places. The corsage detail on the asymmetrical strap would complement a statement wedding dress such as a ball gown or a dramatic mermaid wedding dress.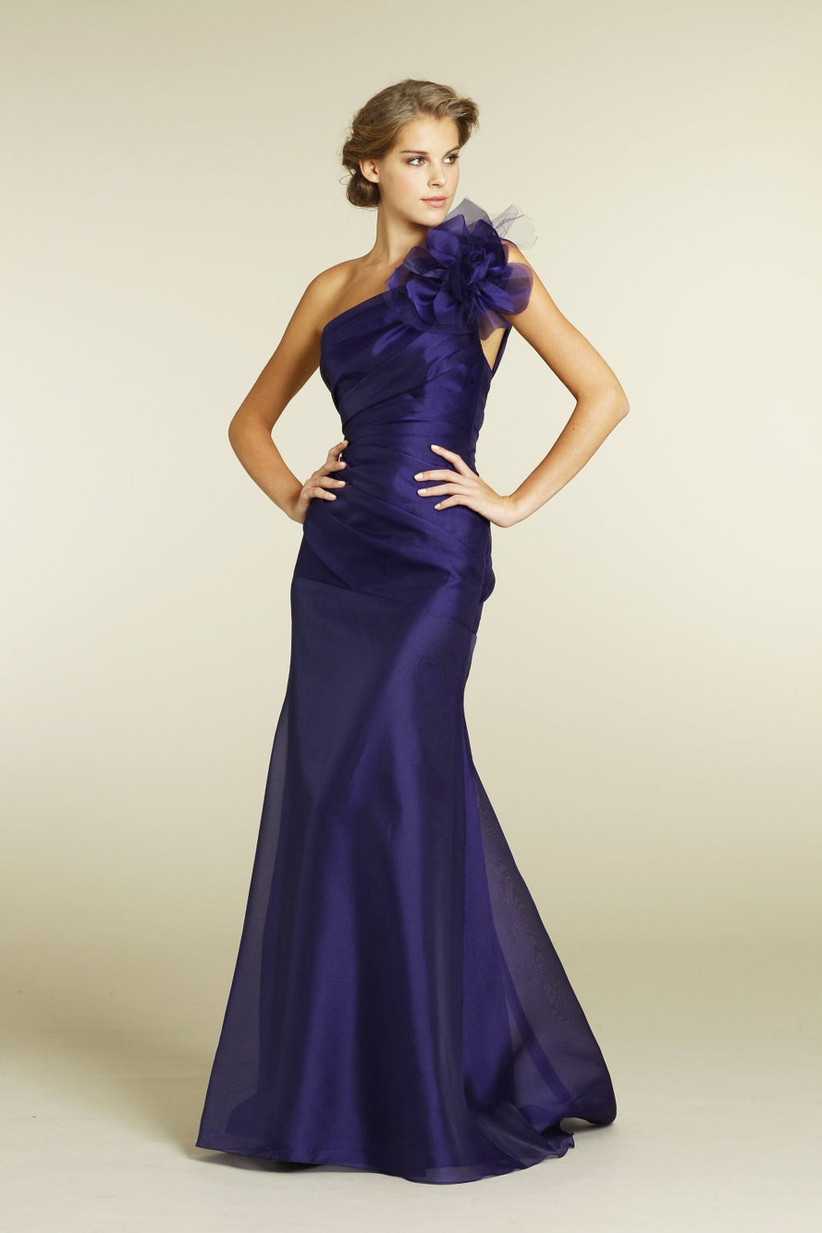 Style VRB71459 – Veromia Bridesmaids
If you want to mix and match the one shoulder bridesmaid dresses then these Veromia Bridesmaids gowns are an ideal choice. Offering a choice of lilac or a delicate pale pink shade, these pretty dresses have a sleek column skirt and a ruffled overlay on the bodice which leads into a flattering asymmetrical neckline. Pair the dresses with a small and simple bouquet to finish.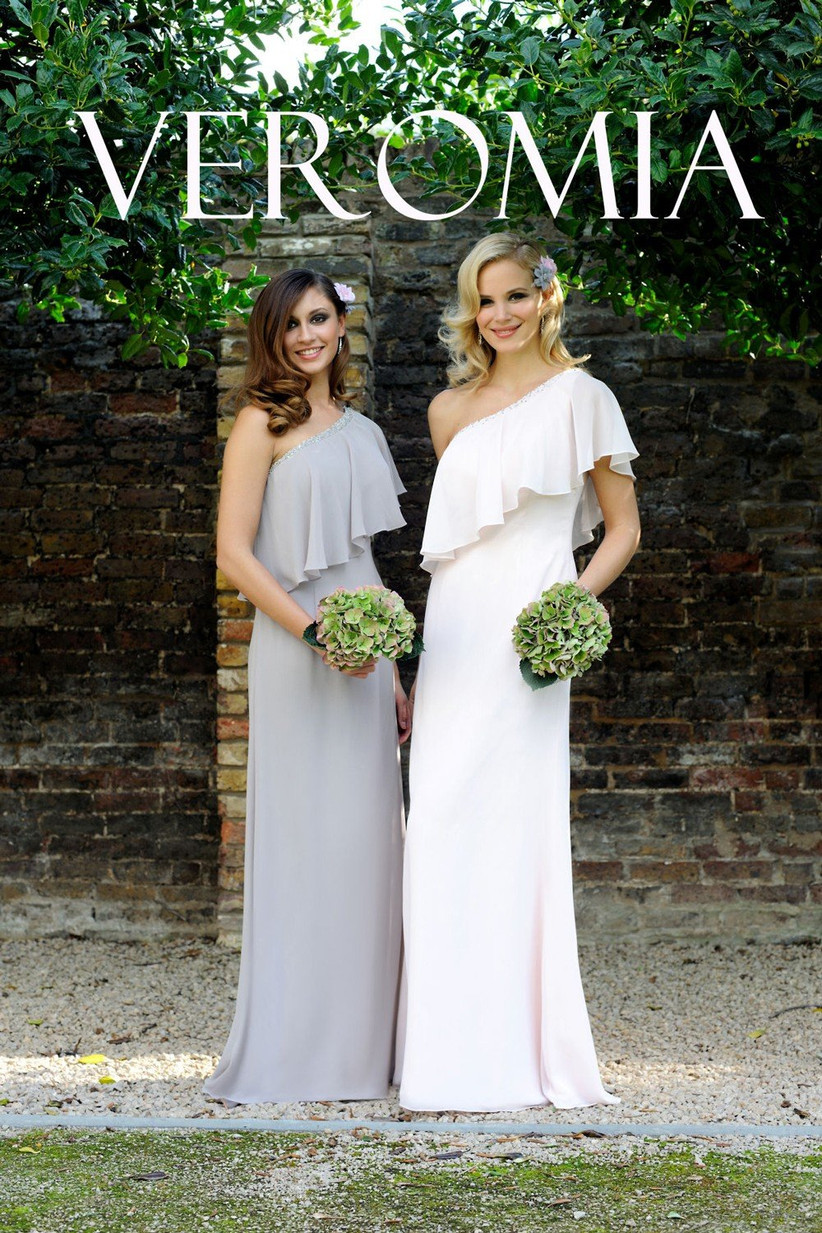 Maya Maxi – Coast Bridesmaid
The Maya Maxi from Coast Bridesmaid comes in a versatile neutral shade which is jazzed up with beautiful floral detail at the shoulder. Pair the dress with tumbling curls over the exposed shoulder or tie your maid's hair up to show off the shoulder detail. This one shoulder bridesmaid dress would complement a wedding dress with floral detail.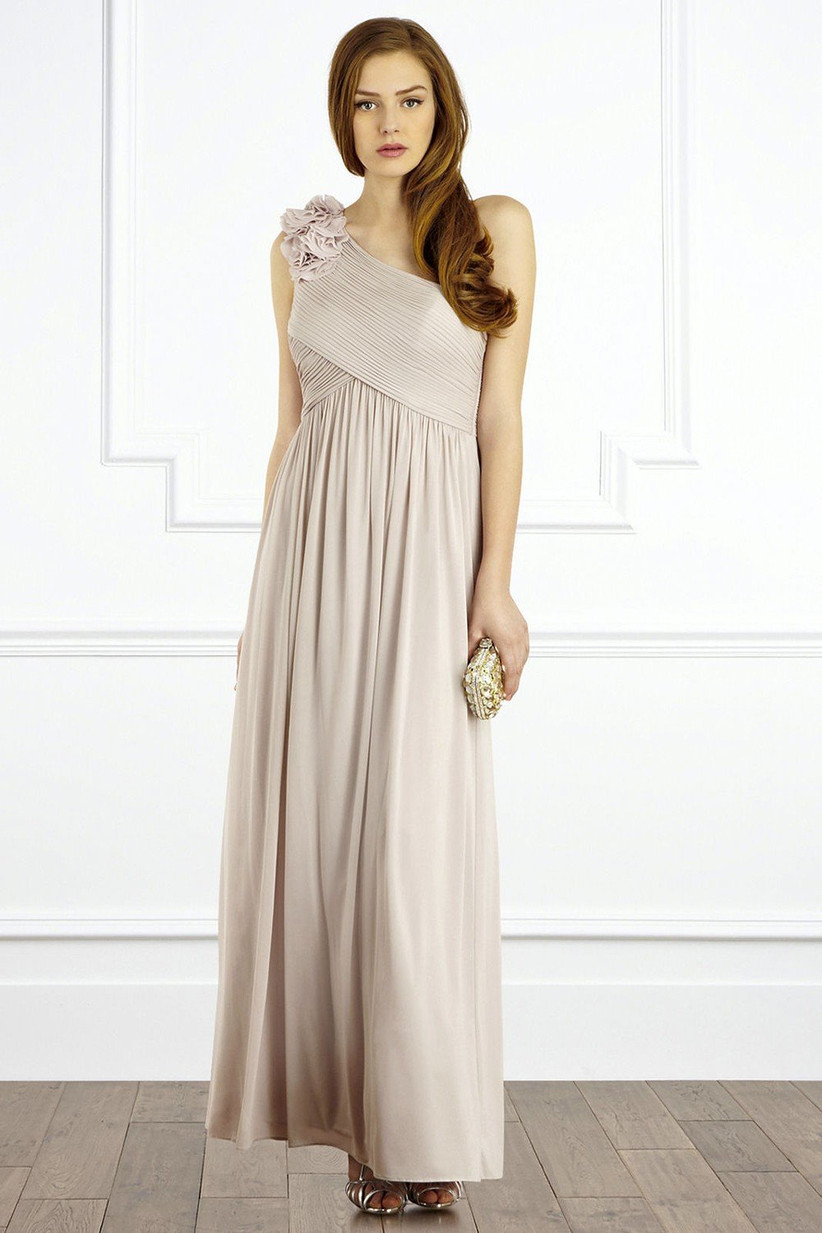 Style 9387 – Alvina Valenta
If you're planning a wedding that's full of grown up glamour and sophistication, then you need style 9387 from Alvina Valenta which offers plenty of that! This black bridesmaid dress is a super slimming style that has clever ruching at the waist to give you curves in all the right places. If your girls have another black tie event coming up then they could even wear this glamorous gown again.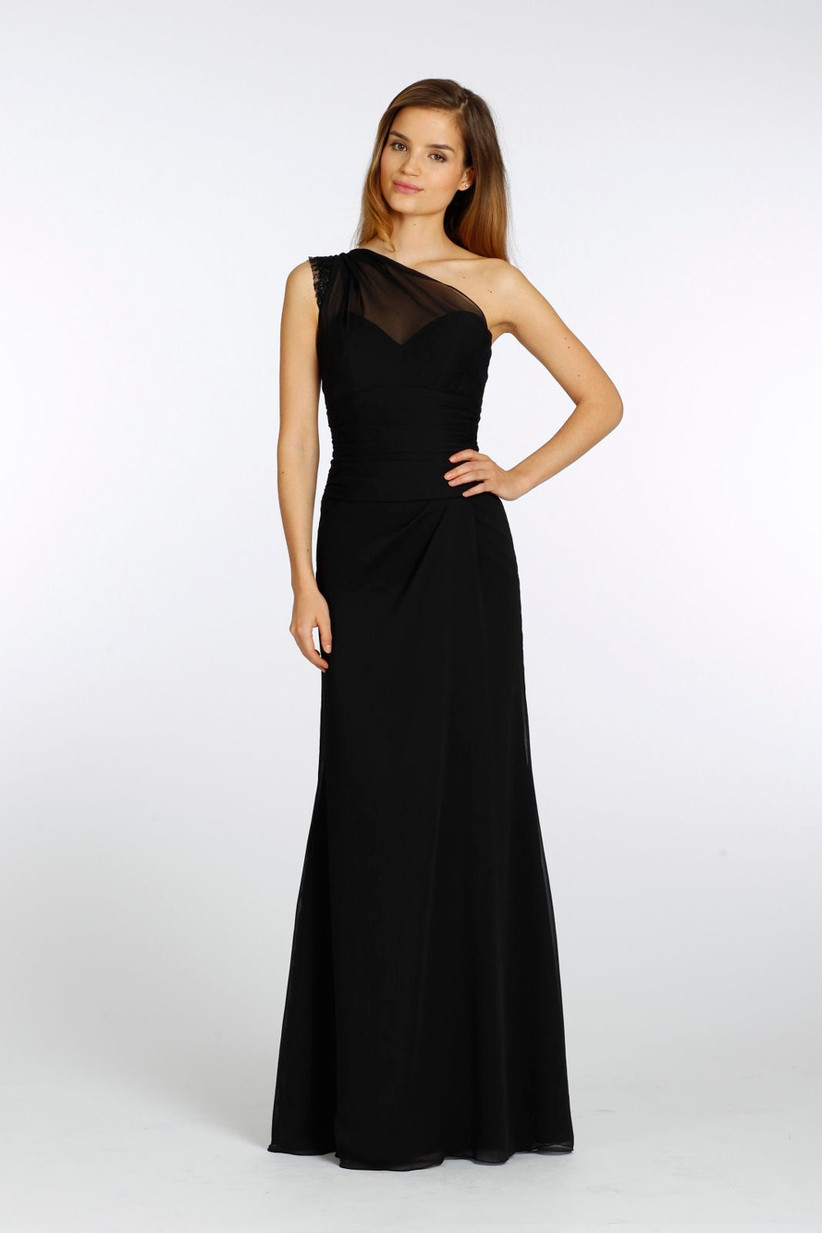 If you're still looking for your dream dress, then consider a Grecian style wedding dress that would go beautifully with these one shoulder bridesmaid dresses. You can browse plenty of amazing styles here on Hitched.