Stylish Navy Bridesmaid Dresses Your Girls Will Love
Make your bridesmaids the happiest girls on earth by dressing then in one of these gorgeous navy bridesmaid dresses - you won't regret it!
We have included third party products to help you navigate and enjoy life's biggest moments. Purchases made through links on this page may earn us a commission.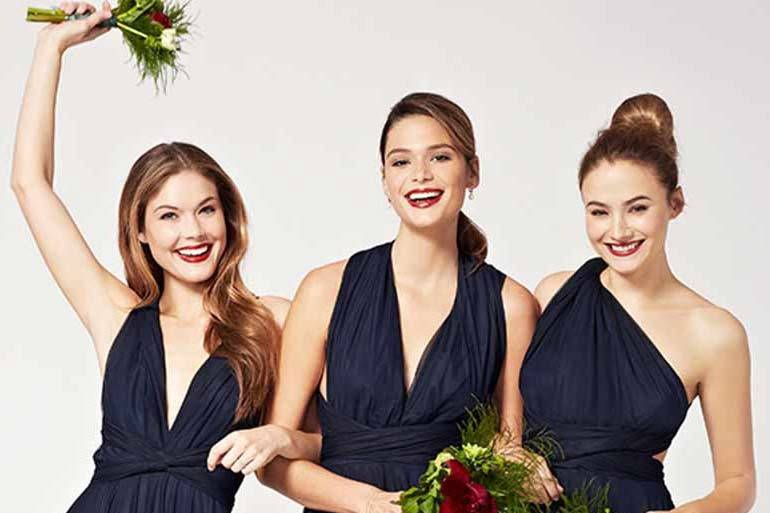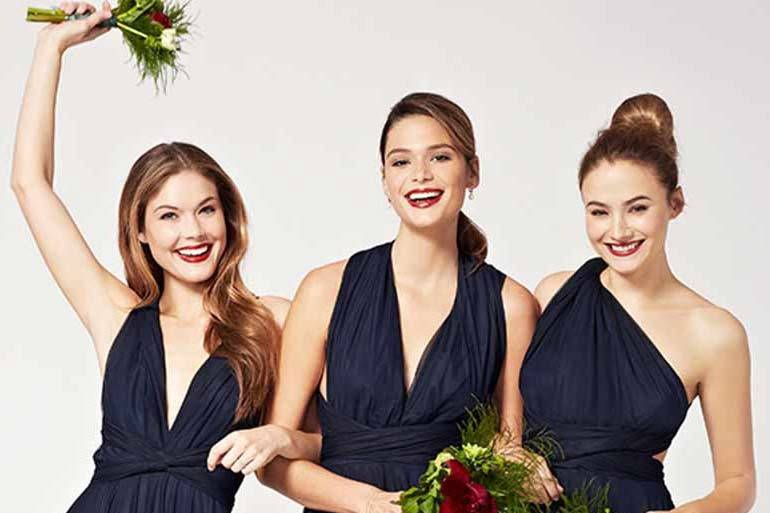 If you're looking for the perfect bridesmaids dresses for your girls, then there's no better pick than stylish, elegant and universally flattering navy bridesmaid dresses.
Navy is an amazing colour that suits everyone, so even if you have a variety of different body sizes and shapes among your bridesmaids, you'll be able to find a navy blue dress that works for them all.
Not only that, but navy bridesmaids dresses work for everything from a colourful summer wedding to a Christmassy winter wedding – it's a win-win kind of colour! It'll look stunning next to a white or ivory wedding dress too.
Here are our favourite navy bridesmaids dresses that we guarantee you and your bridal party will love!
NB: We have included third party products to help you navigate and enjoy life's biggest moments. Purchases made through links on this page may earn us a commission.
READ MORE: Bridesmaid Duties Explained
David's Bridal – Applique Faille Dress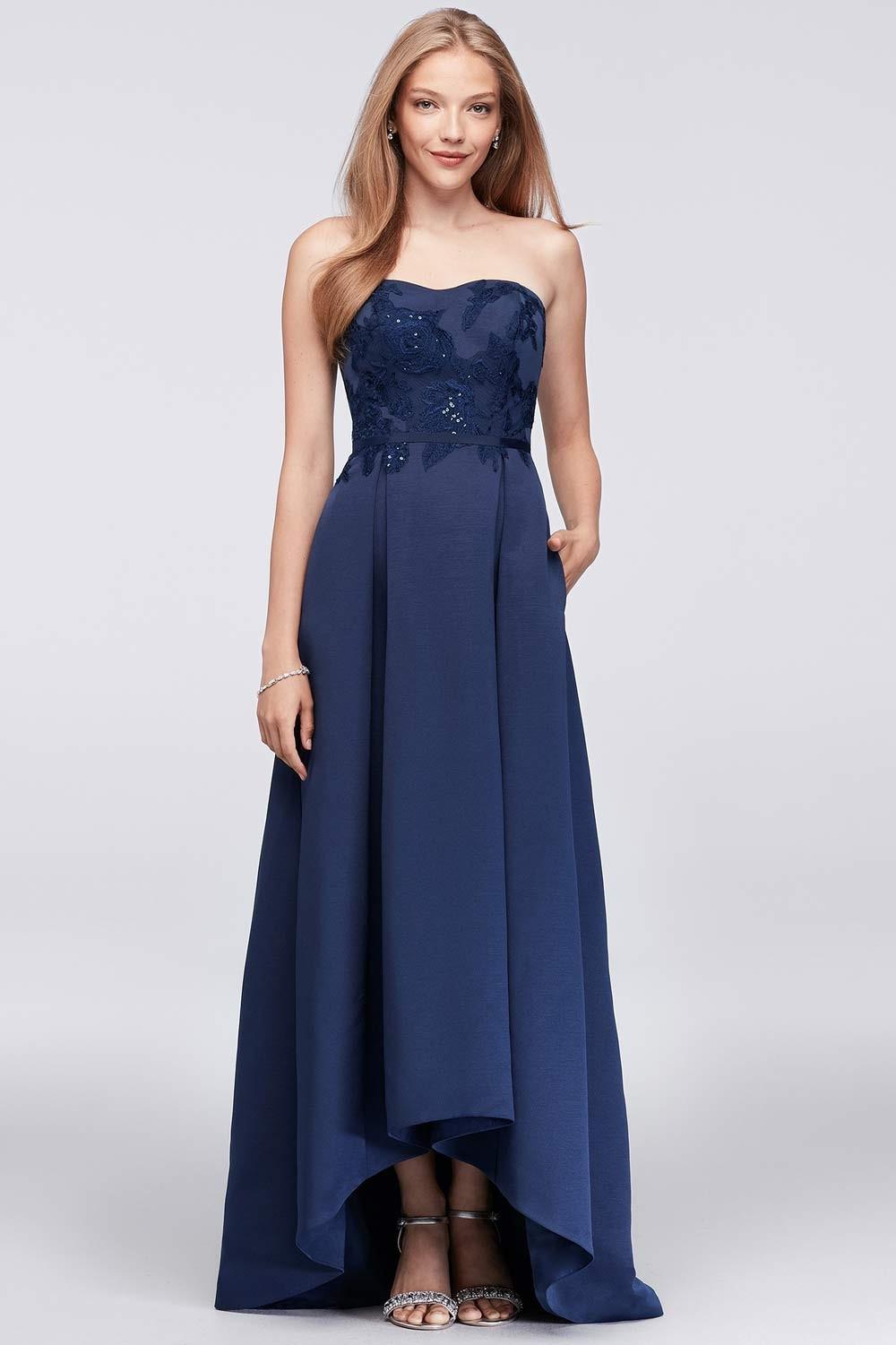 Keep your bridesmaids looking and feeling girly in this charming dress from David's Bridal. The rose detail gives this dress a gorgeous feminine touch, while the box pleats at the waistline are flattering for all shapes and sizes. The bandeau cut can work with any weather: it will keep your bridesmaid cool in the summer or it can be styled with a faux fur shrug in the winter months.
Ellie Wilde – EW21714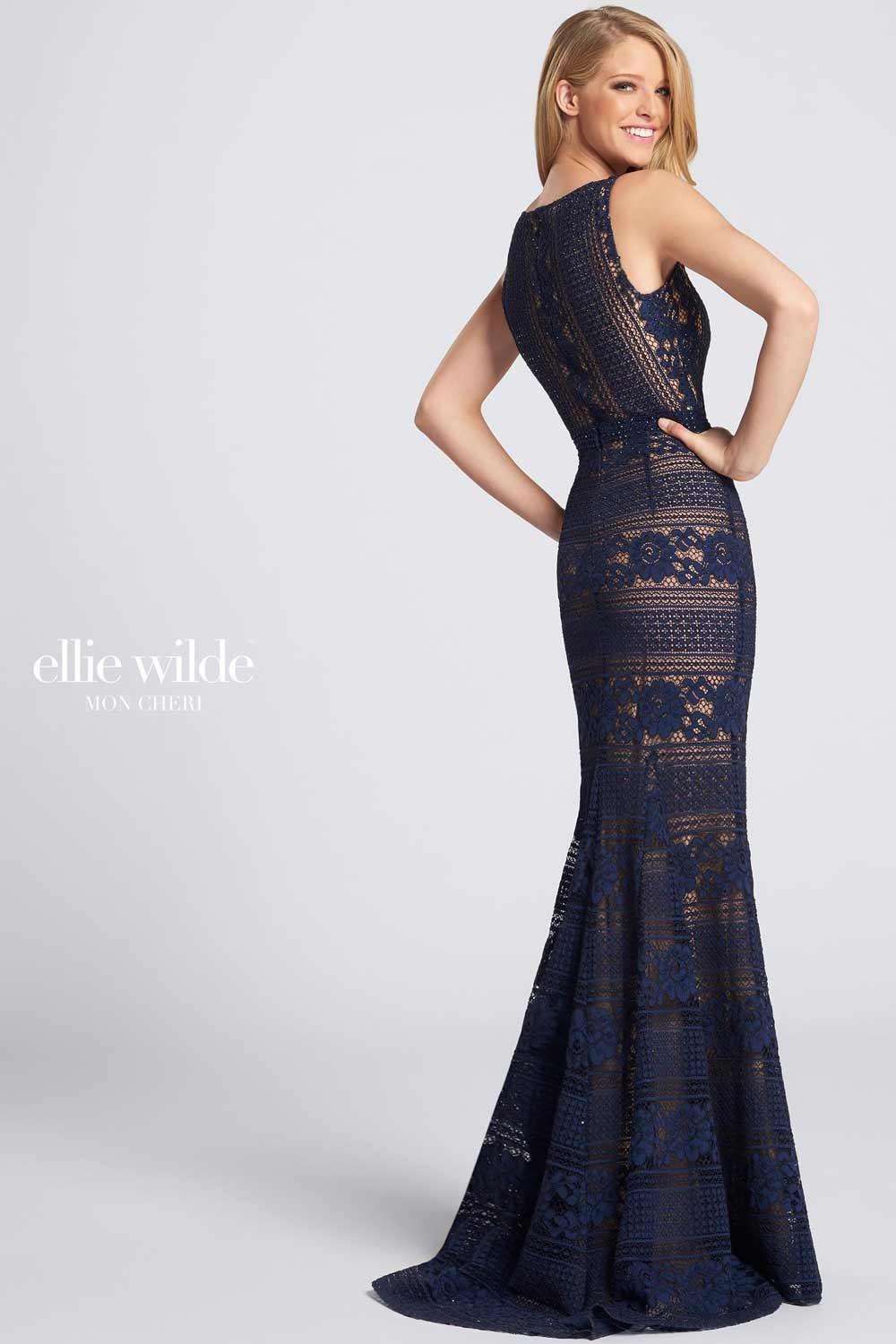 As far as navy bridesmaid dresses go, this one is pretty special. Ellie Wilde has created a beautiful crochet lace design with a fabulous fit and flare silhouette that will flatter any figure – it's bound to keep everyone in the bridal squad happy.
READ MORE: Stunning Bridesmaid Hairstyles
Kelsey Rose – 12577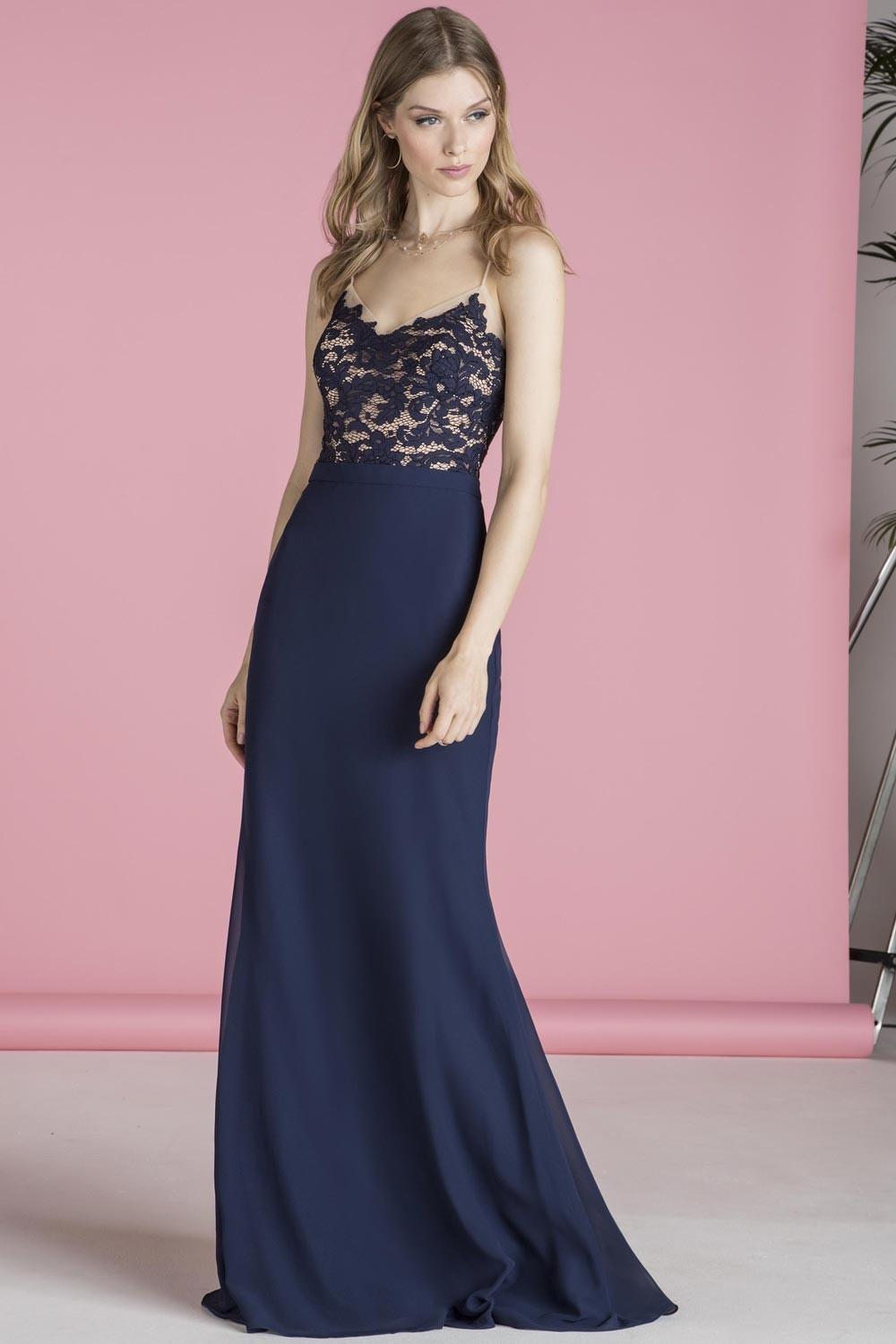 Planning a summer wedding? If so, why not consider dressing your bridesmaids in this strappy lace maxi from Kelsey Rose? The lace detail and nude straps make for a flirty yet sophisticated style that your girls will adore wearing.
Kenneth Winston – 5325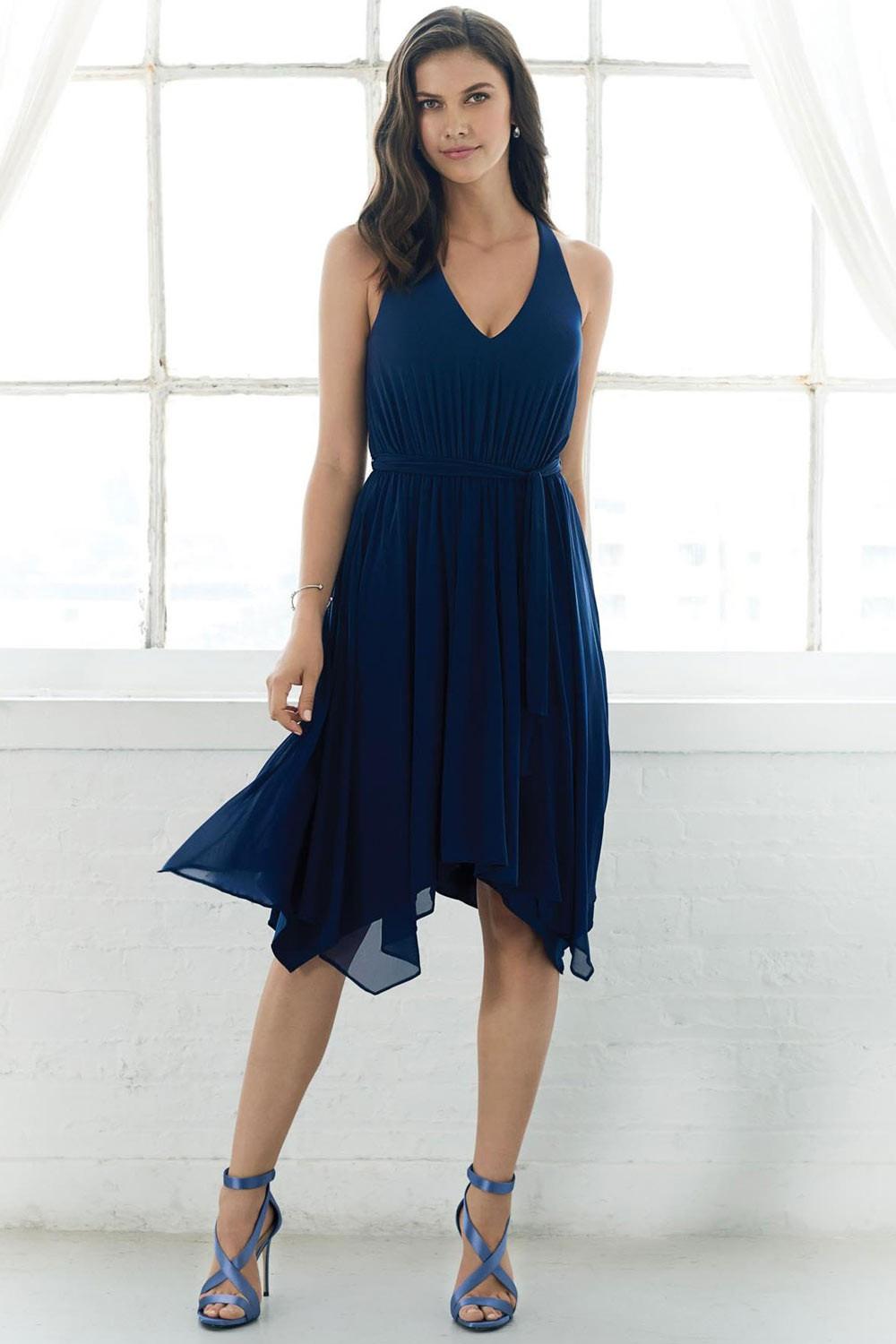 If your bridesmaids would prefer a shorter style, this Kenneth Winston jagged hem design could work perfectly. The light chiffon fabric paired with a halter neckline and that gorgeous navy colour is a match made in heaven, and we think your girls will agree!
READ MORE: How to Handle a Bad Bridesmaid
Ellie Wilde – EW21715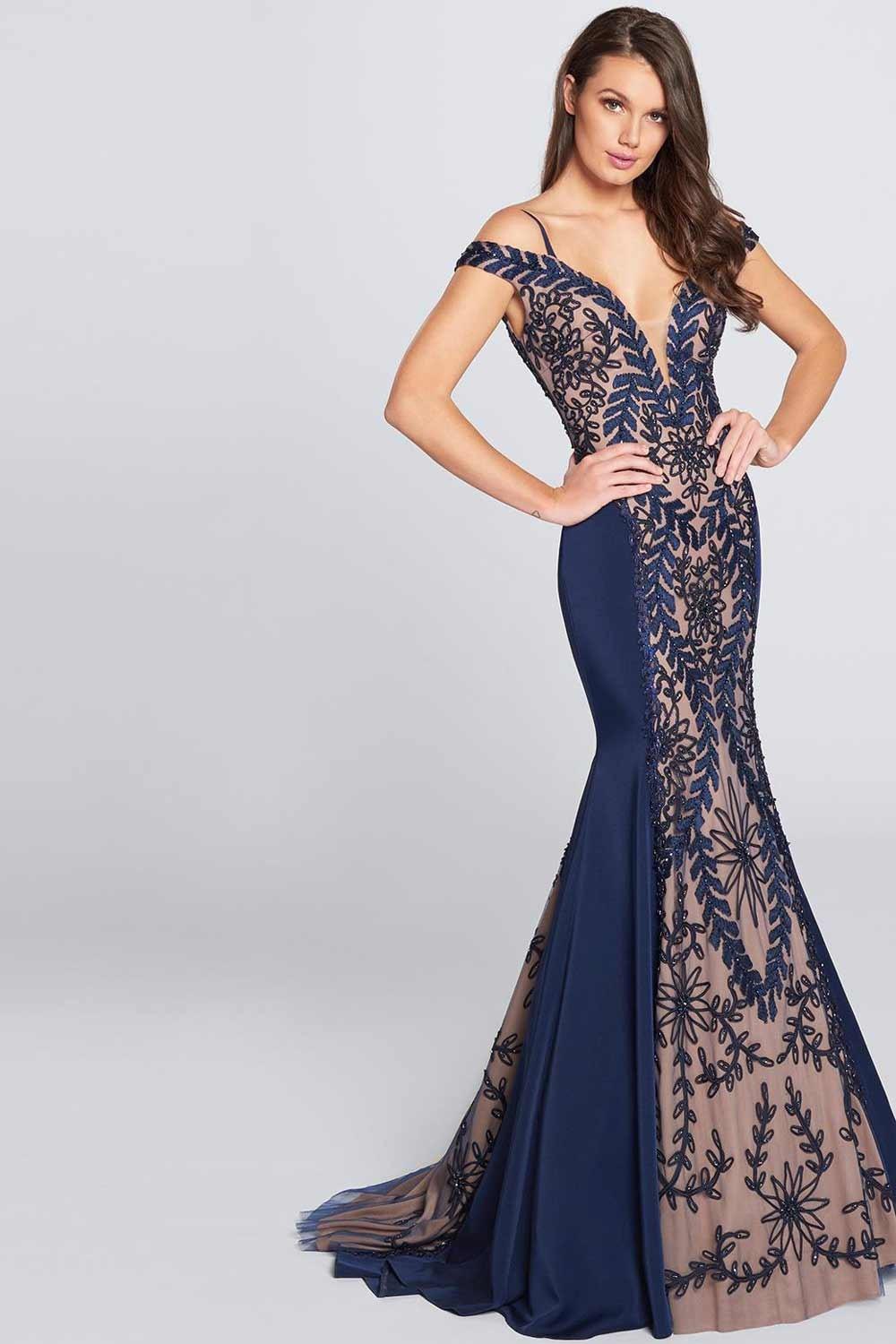 Dress your girls in something totally different with this unique style from Ellie Wilde. It's the perfect navy bridesmaid dress if you're planning a glamorous wedding where everyone is expected to dress to impress. The plunging neckline and nude front panel really make this design stand out against the rest.
Kenneth Winston – 5333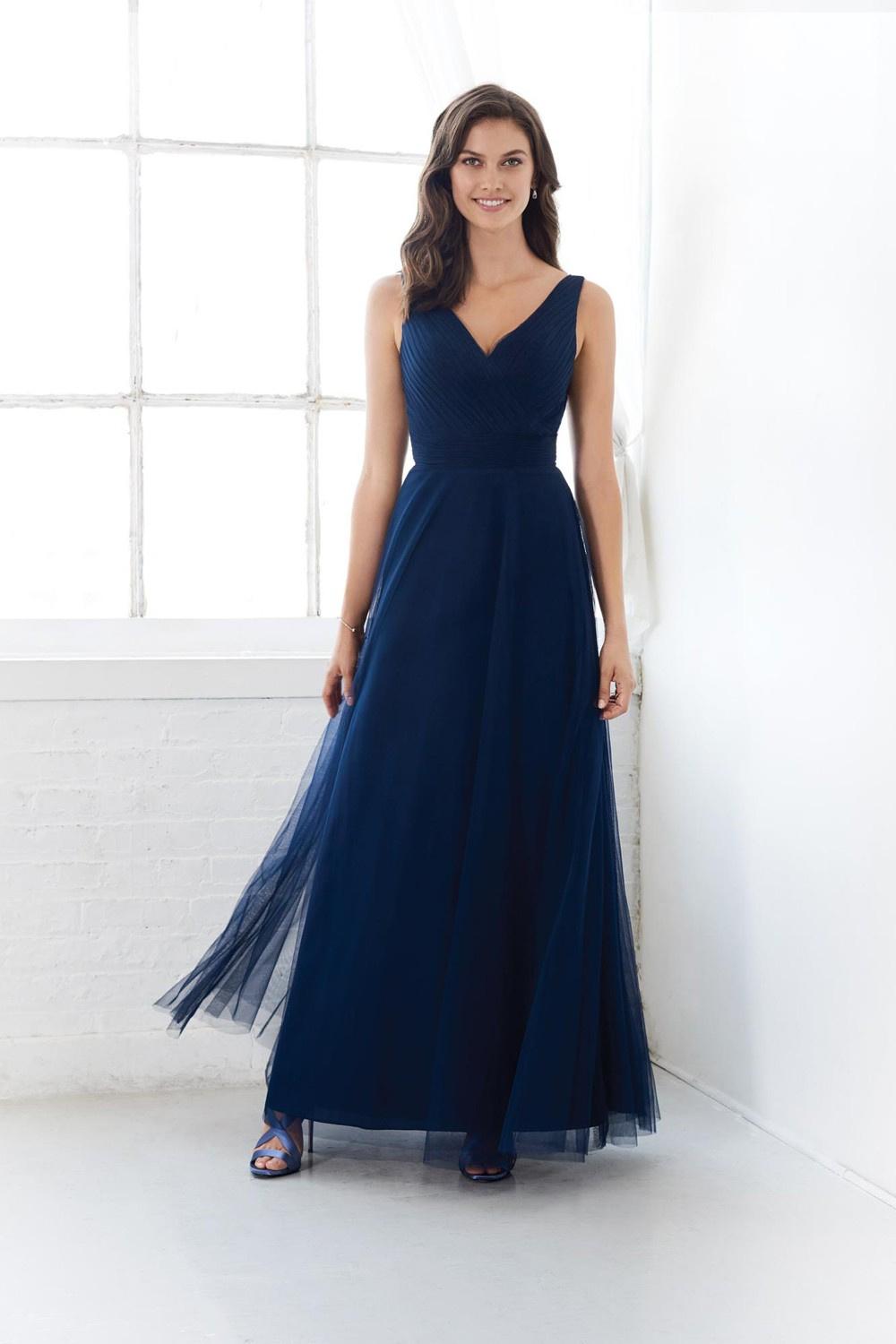 We love the traditional V-neck, A-line style of this Kenneth Winston navy bridesmaid dress. The pleated bodice is really flattering and gives a feminine and elegant feel to this modern gown. Pair with a sparkly clutch and some simple jewellery to complete the look.
READ MORE: Bridesmaid Gifts For Every Budget
Kelsey Rose – 12584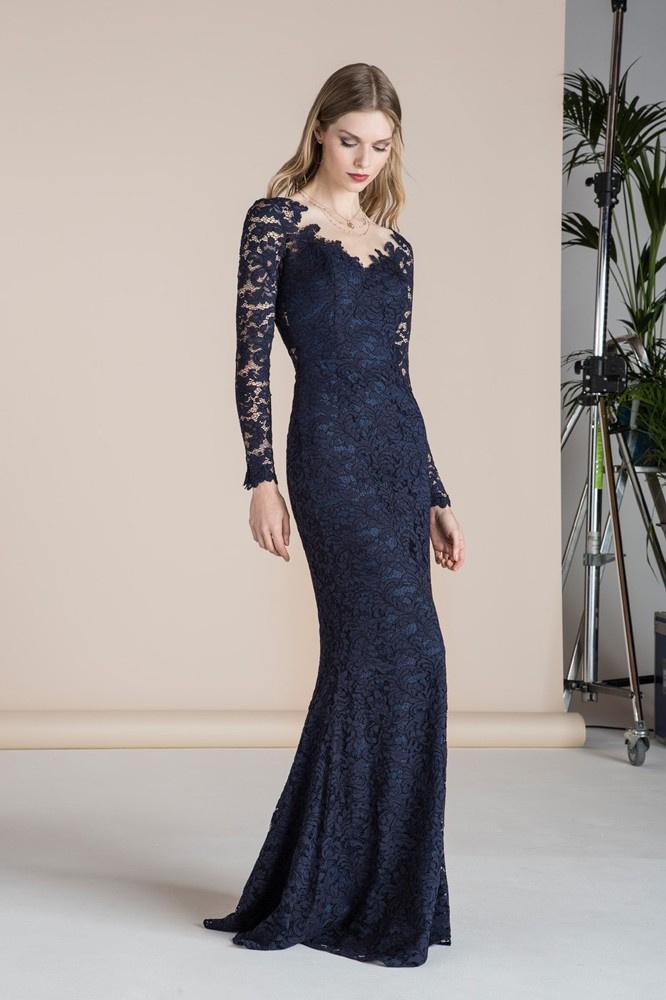 If you're looking for a classic and elegant look, this stunning lace bodice dress from Kelsey Rose is perfect. The slim-fitting shape, with a slightly flared hem, gives a modern twist to a classic style. The sheer back is styled with buttons to create a romantic and sexy look.
Lipsy – Cowl Neck Maxi Dress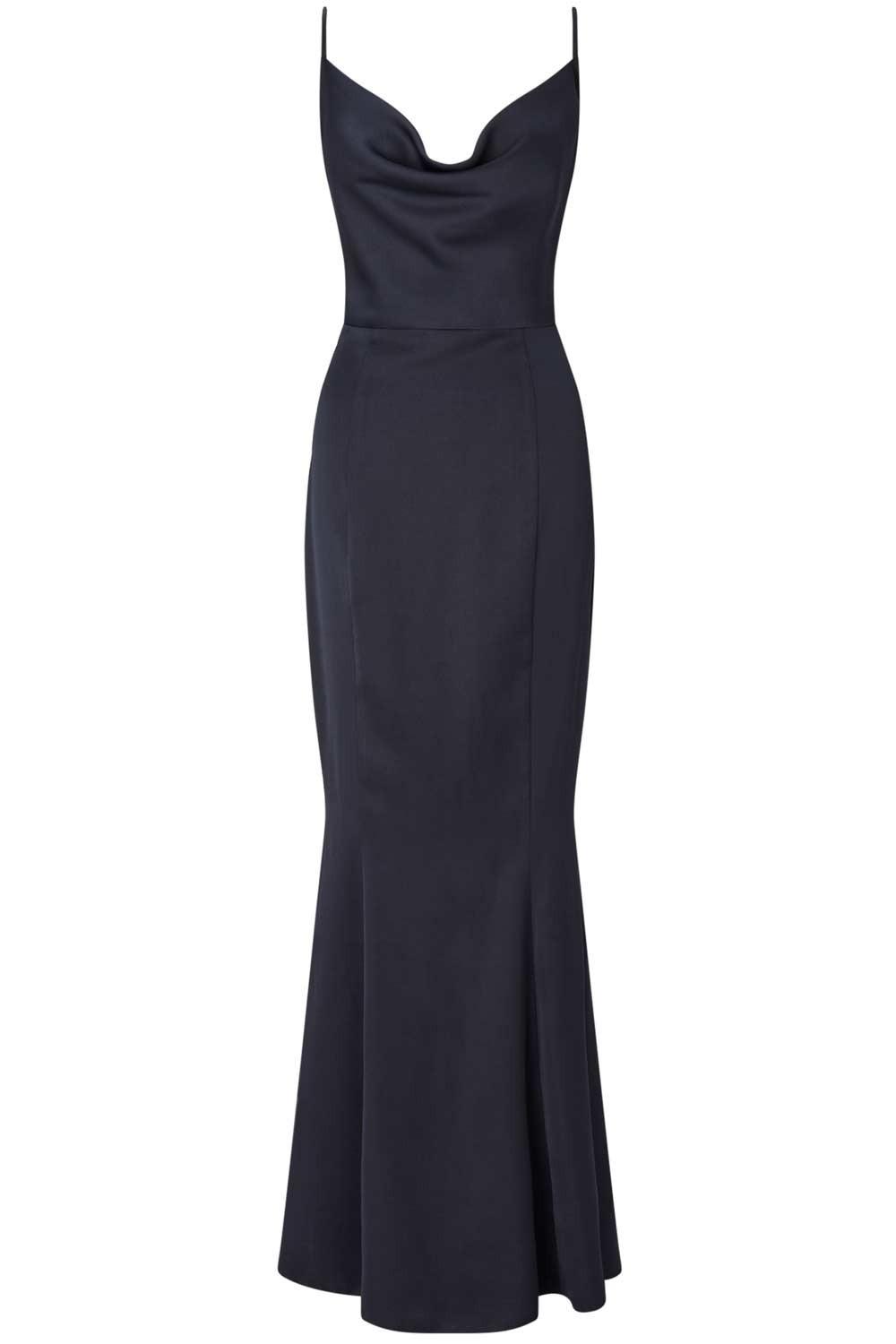 We love the simplicity of this stunning Lipsy dress with spaghetti straps and a cowl neckline – it radiates class and glamour. This dark navy dress looks incredible on its own or can look equally as beautiful dressed up with a sparkly clutch and high heels.
READ MORE: Top Tips for Choosing Your Bridesmaid Dresses
Jenny Packham – JP1003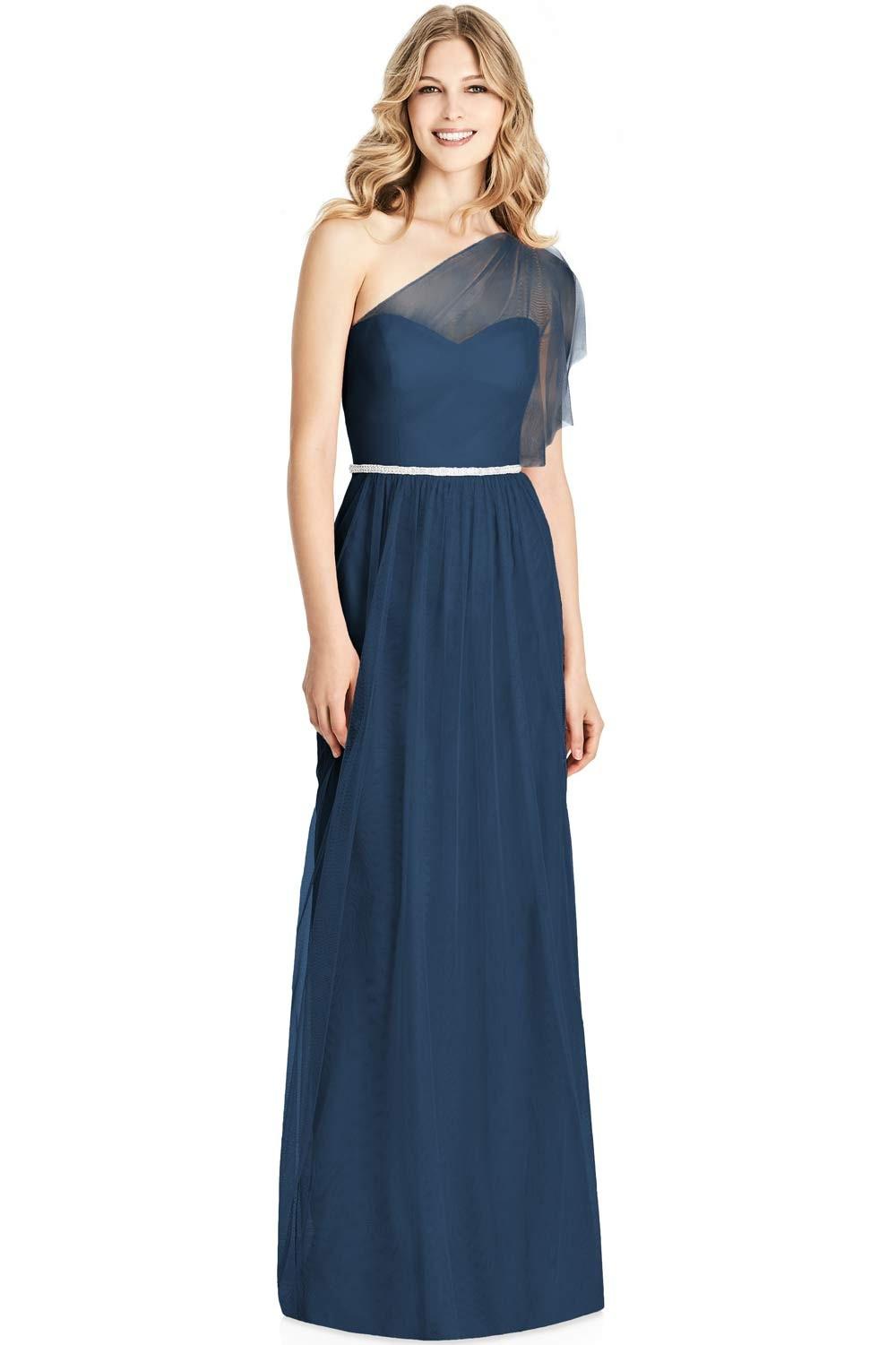 Jenny Packham's new 2018 bridesmaid dress collection is inspired by the English country garden. This full length dress is complemented by a sweet heart neckline and a one shoulder soft tulle detail. The silver beading at the waist is a beautiful addition as it adds a subtle piece of sparkle and creates a truly flattering silhouette. Although this dress has three strong features, each complement each other for a stunning and unique bridesmaid dress look.
ASOS DESIGN Maxi Dress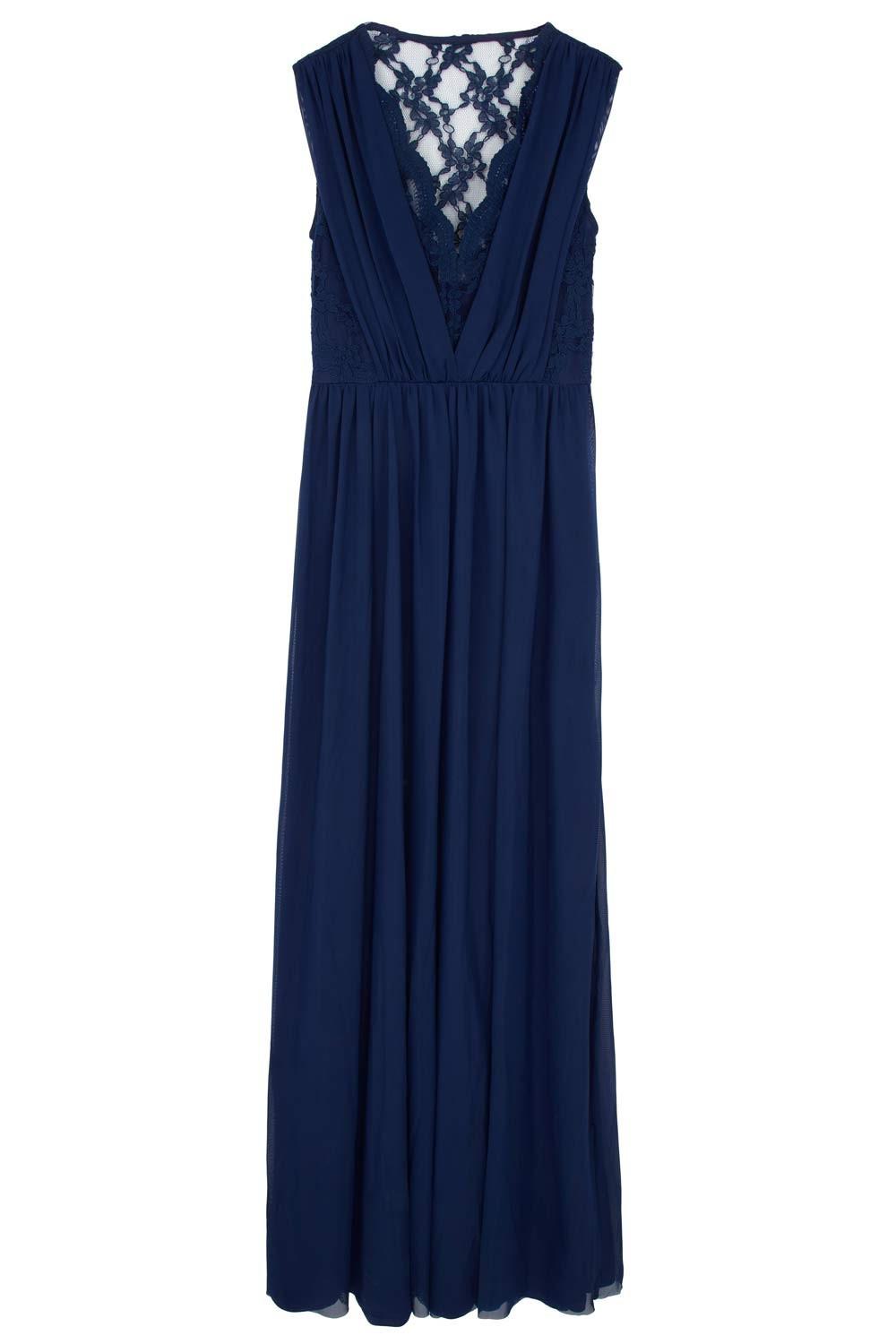 With light and airy gowns set to be a big dress trend in 2018 for brides, echo that with your bridesmaid dress choice! This comfortable and cute design is perfect for bridesmaids who want to be able to properly get down to it on the dancefloor without feeling restricted by a tight dress. This long maxi dress with lace insert is fun and party perfect, while the scallop detail along the plunge neck looks amazing and adds a feminine touch. This is great for a boho wedding.
READ MORE: ASOS Wedding Collection
Ellie Wilde – Style EW21719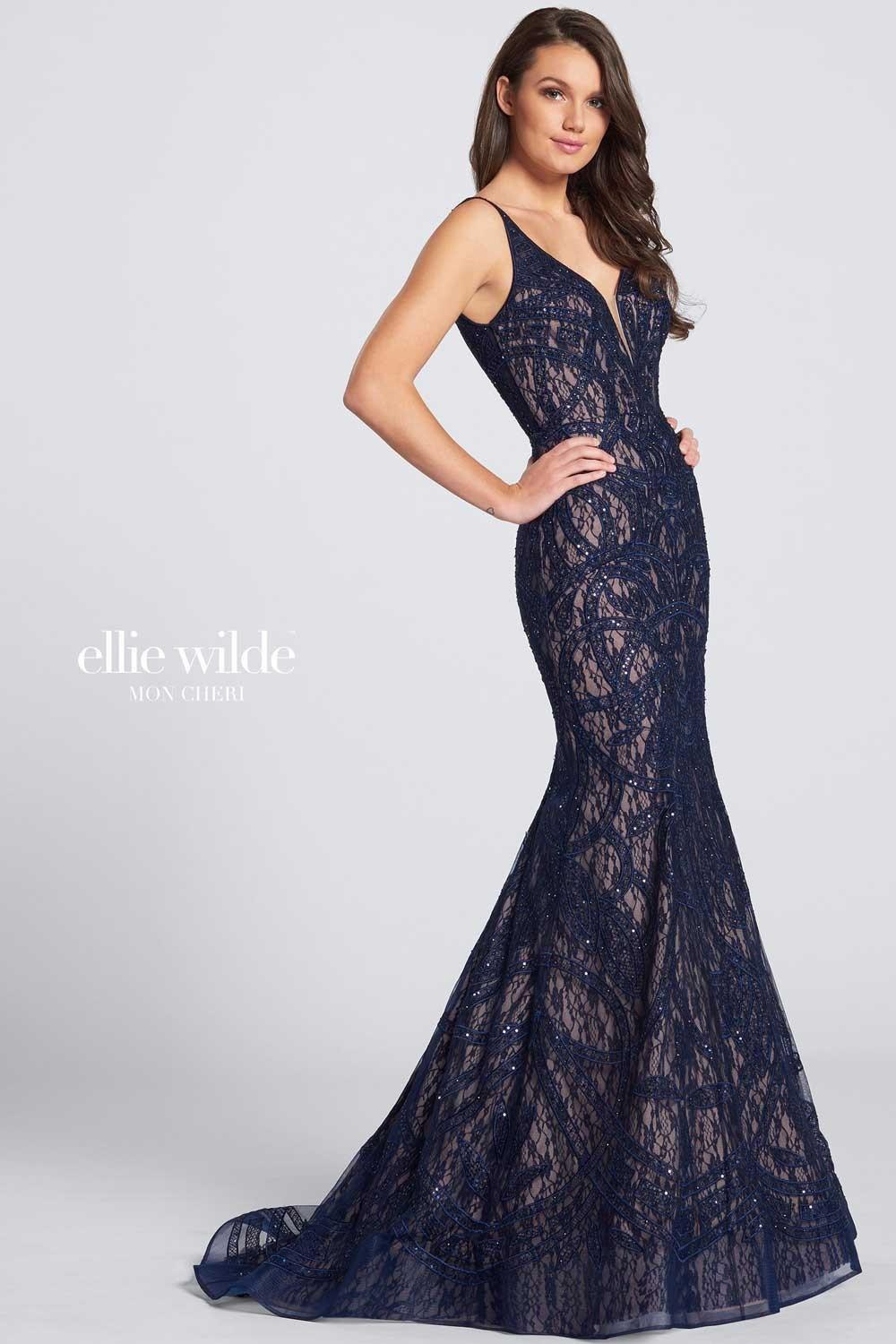 If your wedding is set to be the most glamorous and fabulous of the century, you NEED to dress your bridesmaids in this fishtail Ellie Wilde masterpiece. We love the intricate lace detail, plunging neckline and nude undertones – it's simply breath taking!
Elio Abou Fayssal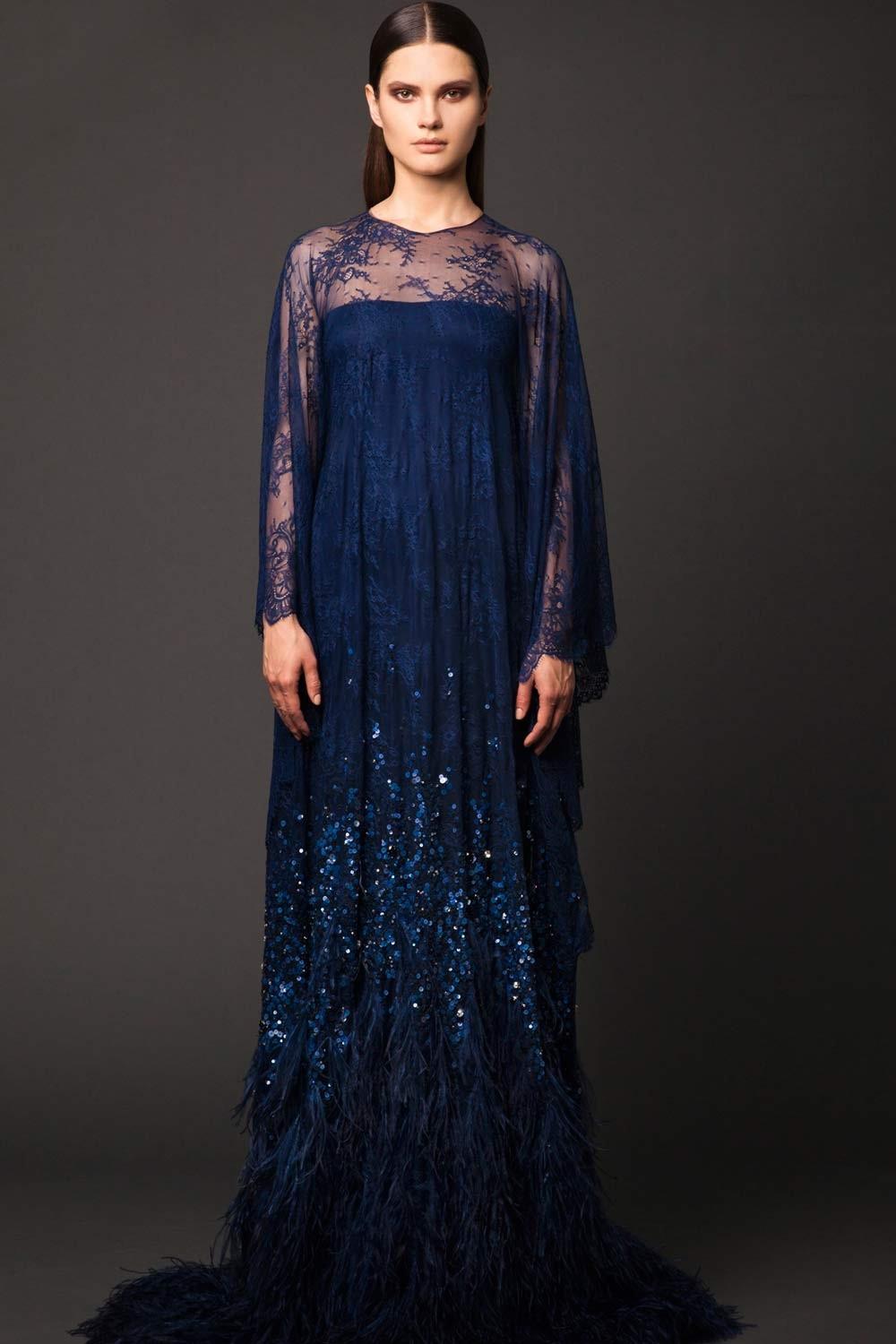 Making a statement is usually the bride's job, but who says your bridesmaids can't turn heads too? That's definitely what they'll be doing if you dress them in Elio Abou Fayssal's stunning navy blue dress. The sparkly detail, feathered hem and lace sleeves come together to create something that is truly exceptional!
READ MORE: Bridesmaid Photography Ideas
twobirds Bridesmaid – Midnight Blue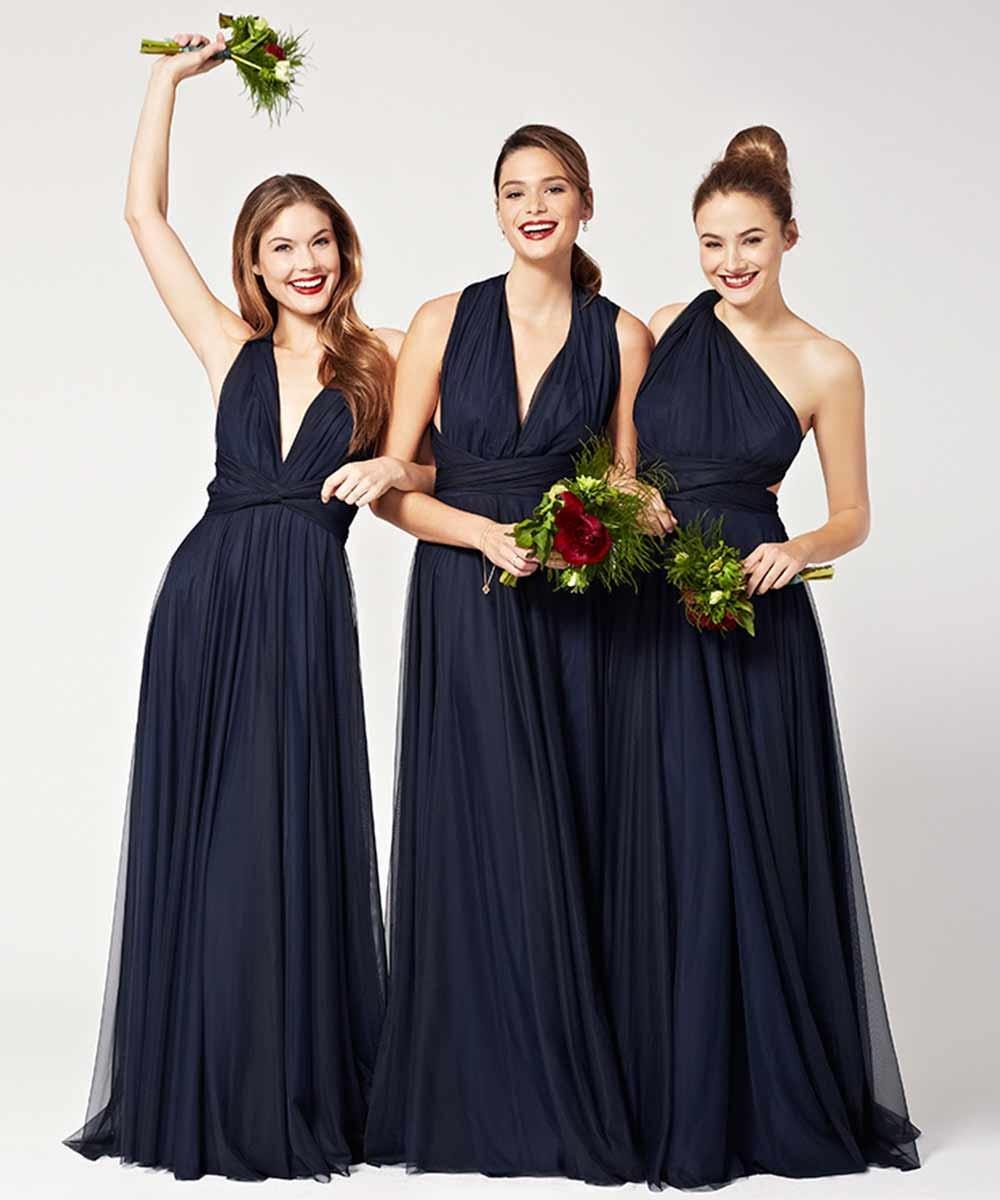 The most amazing thing about twobirds bridesmaid dresses is you can buy the same dress and wear it in a number of different ways. This gives you the choice of having your girls in identical dresses or the same design but with different necklines, which can be very useful if all your bridesmaids have completely different figures. We love the versatility!
Coast – Mel Shift Dress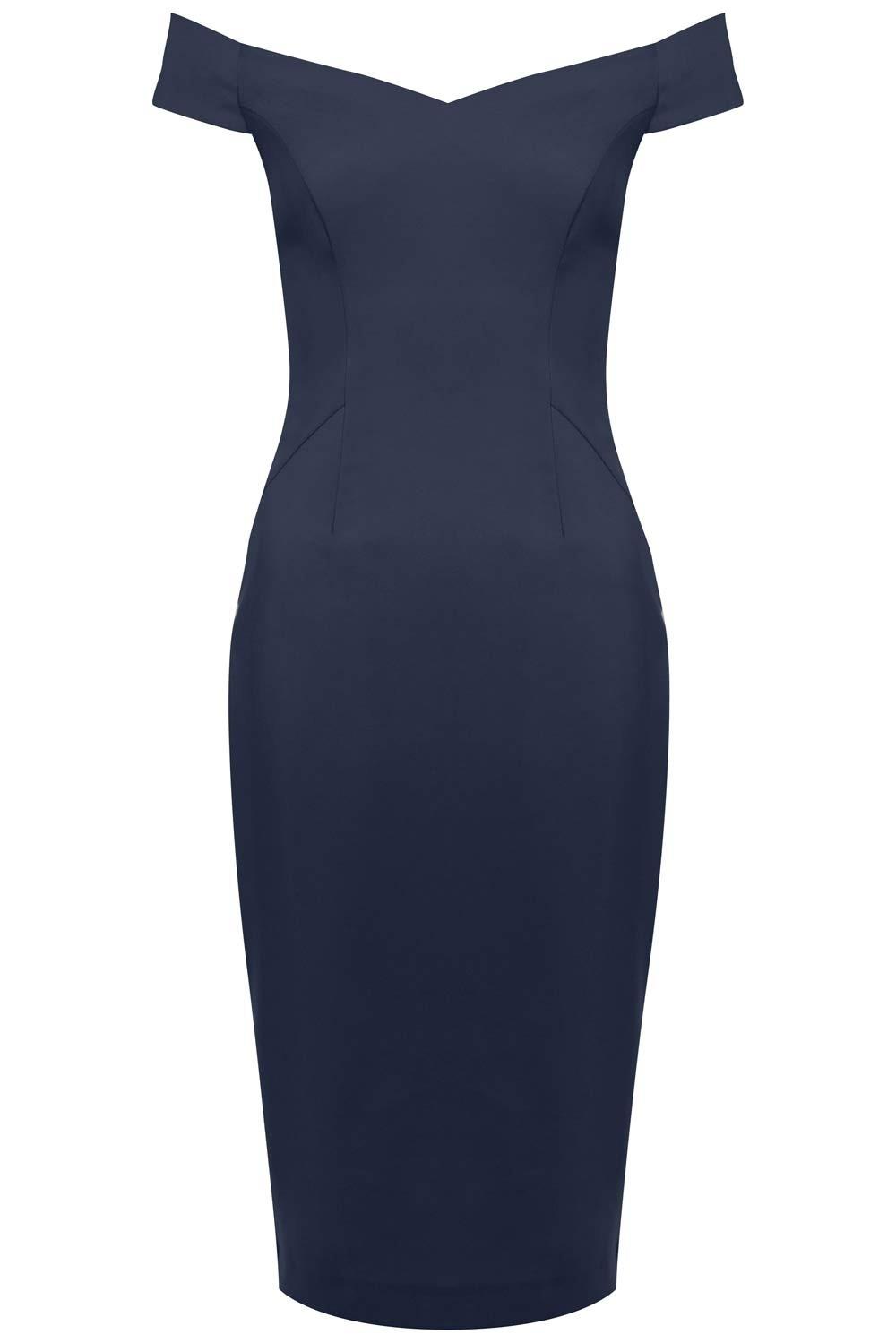 Simplicity is key with this sophisticated and stylish shift dress from Coast. The fitted shape and bardot neckline is very flattering and the statement bow detail on the back adds a cute and quirky detail. With this dress sitting just above the knee, it is fun and flirty and will leave your bridesmaids feeling beautiful and confident.
READ MORE: Bridesmaid Dresses Under £100
Dessy Collection – Style 2887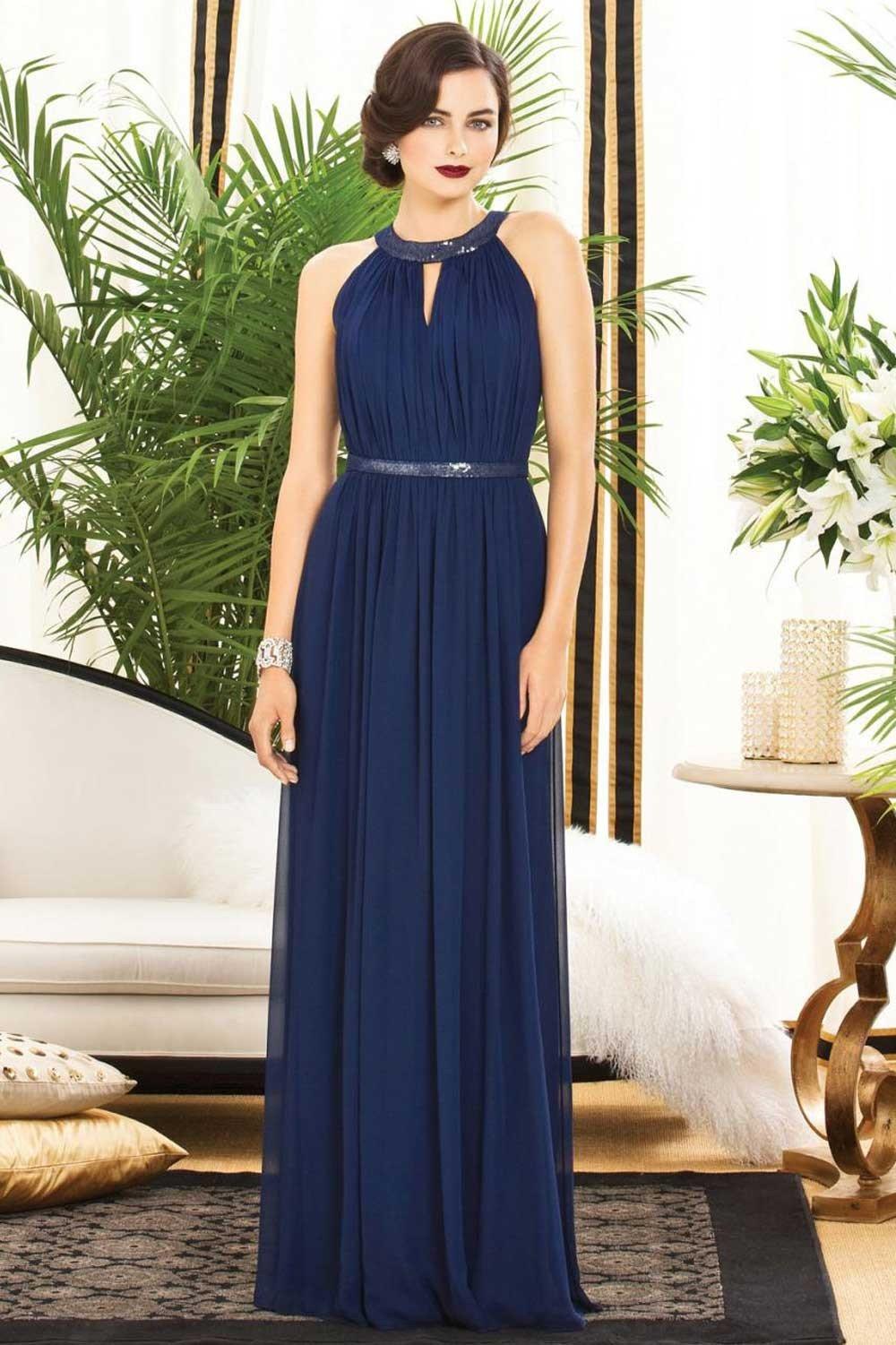 The neckline on this Dessy Collection dress is the best part of the whole design. It gives the shoulders a lovely shape and the glitzy detailing adds the glam-factor that every bridesmaid needs.
B2 – Style B183012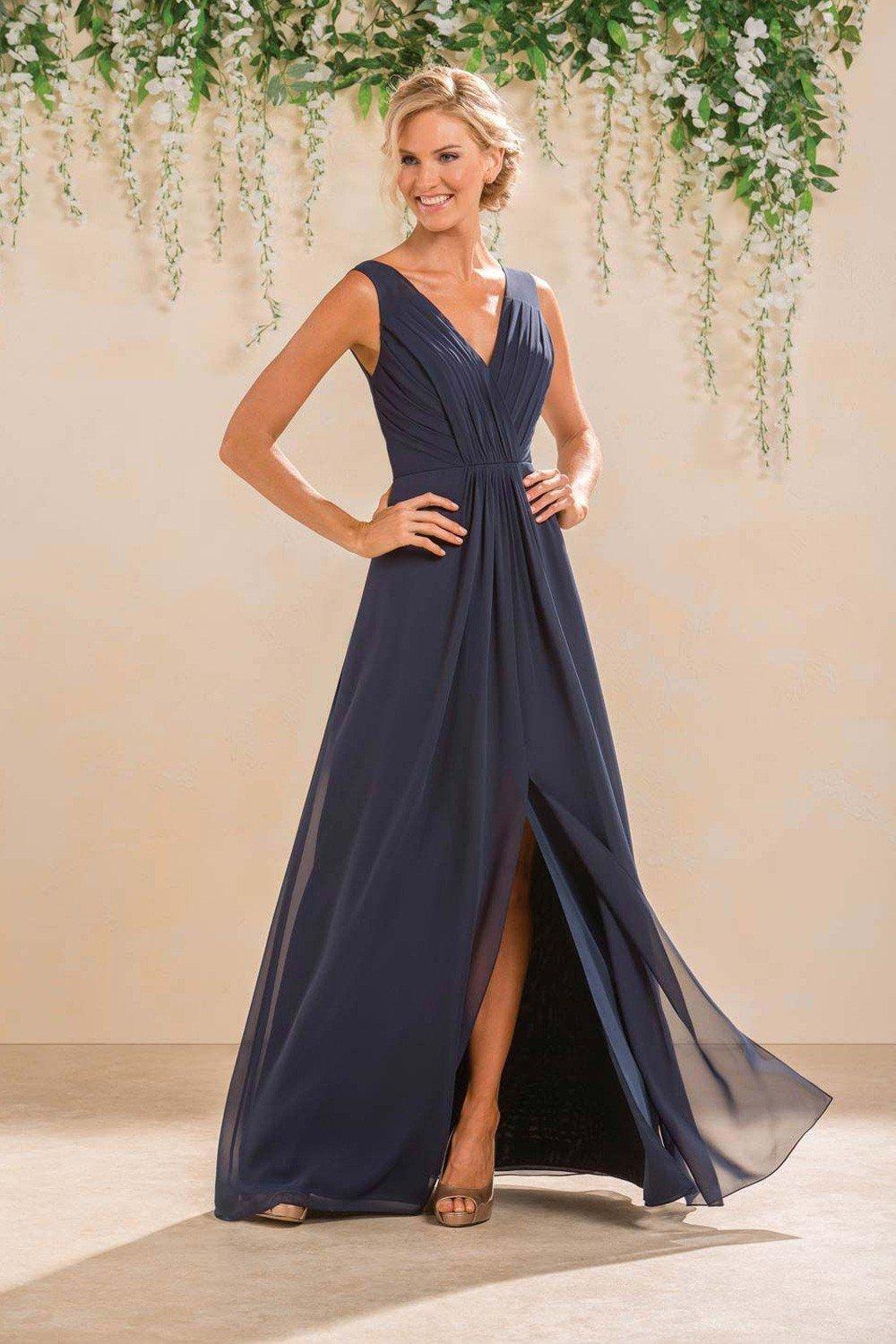 Elegant, light and pleated in all the right places, this B2 navy bridesmaid dress is a true winner in our eyes. The front split will look incredibly as your girls walk down the aisle and the layers mean it will work for every season. Think floaty in the summer and providing a big of much needed warmth at a winter wedding!
READ MORE: Bridesmaid Dresses Under £50
Jim Hjelm Occasions – Style 5427 2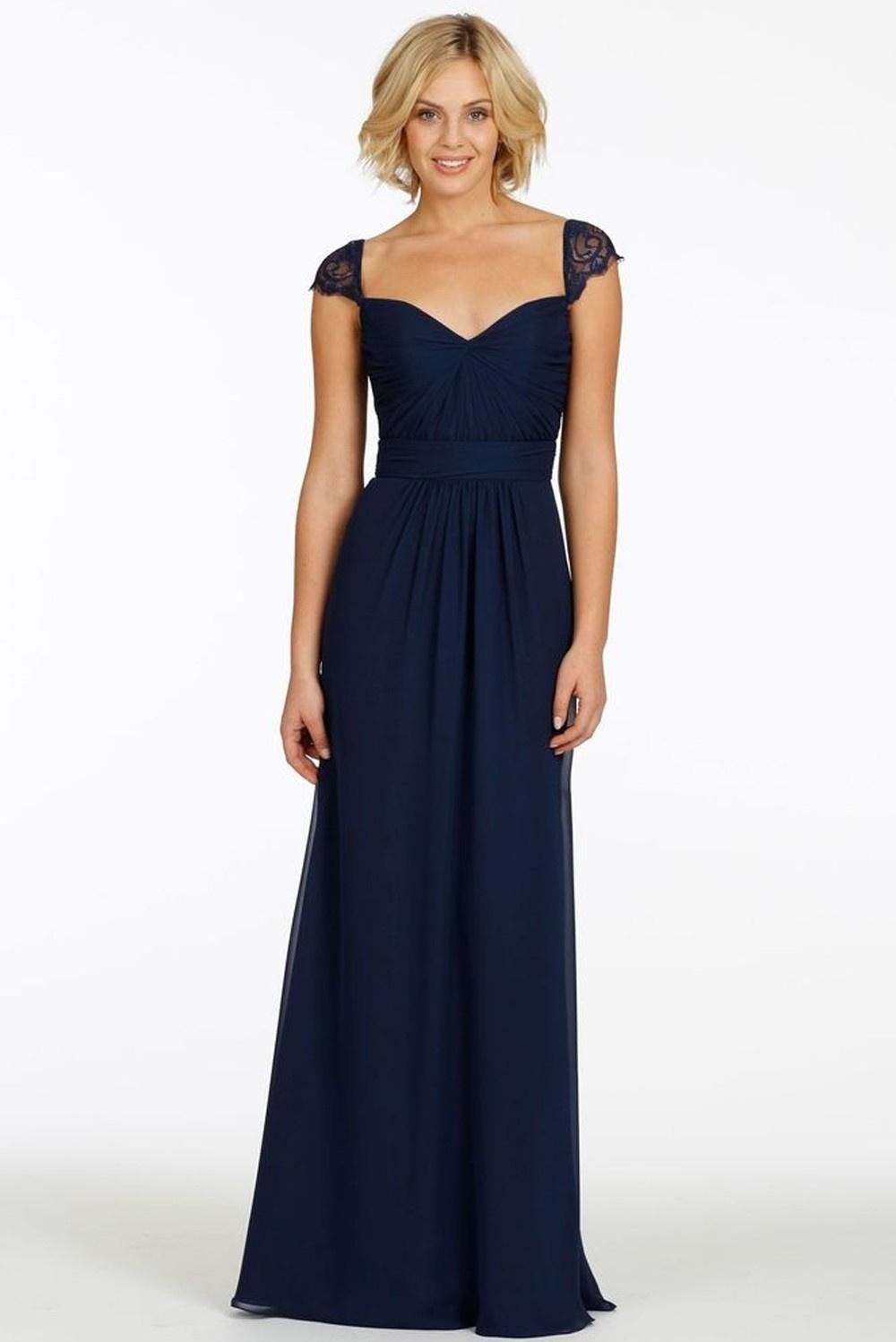 If there's one thing better than cap sleeves, it's lace cap sleeves and the ones on this Jim Hjelm Occasions navy bridesmaid dress are so beautiful. The colour is rich and the shape is exquisite – with a cinched-in waist and pleating making for the ultimate flattering design. Any bridesmaid would be lucky to wear a gown like this.
READ MORE: The Prettiest Bridesmaid Updos
Kelsey Rose – Style 50174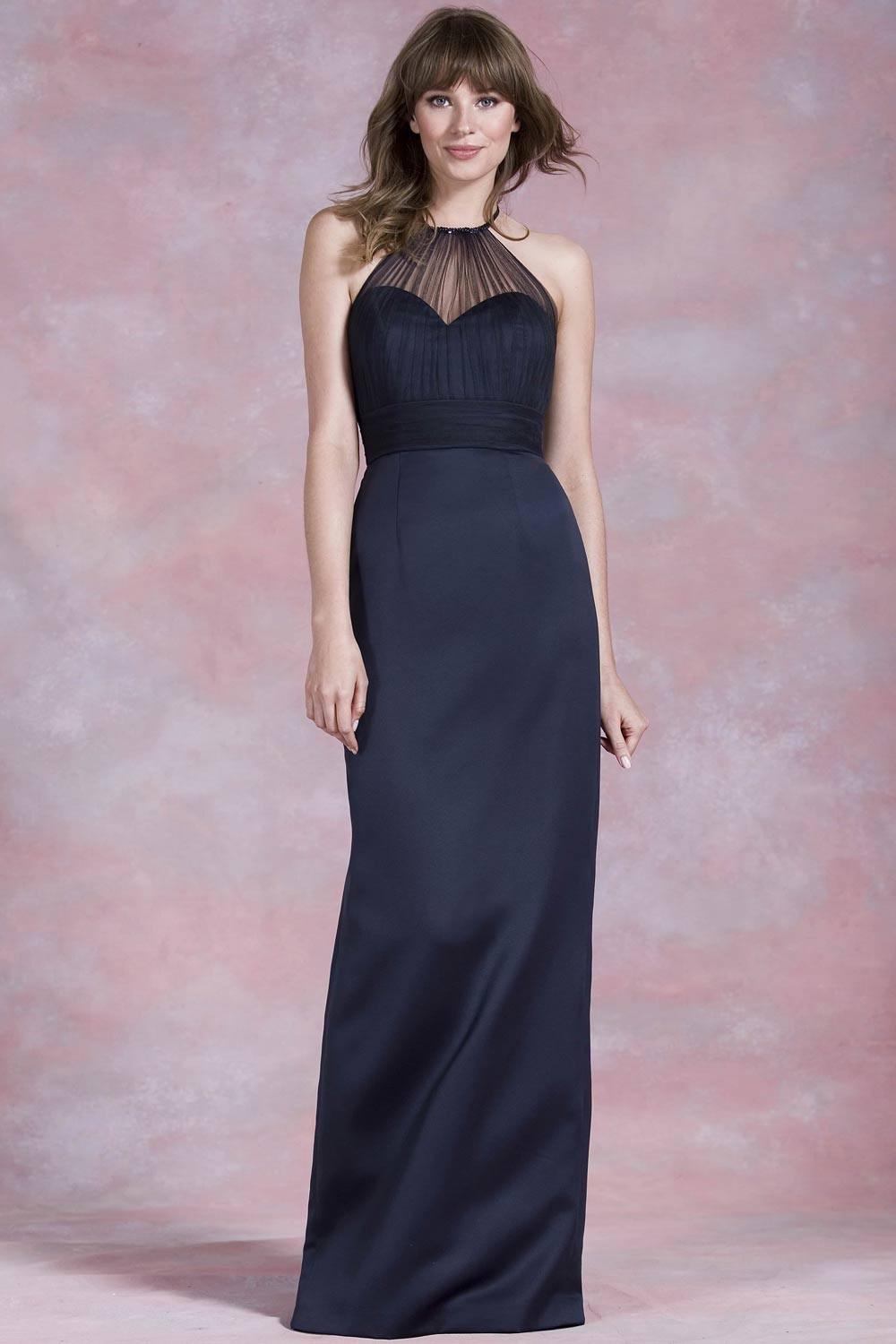 The column structure of this Kelsey Rose dress is incredibly elegant and we adore the combination of fabrics; it works so well with this deep navy colour. An illusion neckline is a great way to save on accessories as it adds the perfect amount of detail and doesn't require anything else to finish the look.
Ellie Wilde – Style EW117083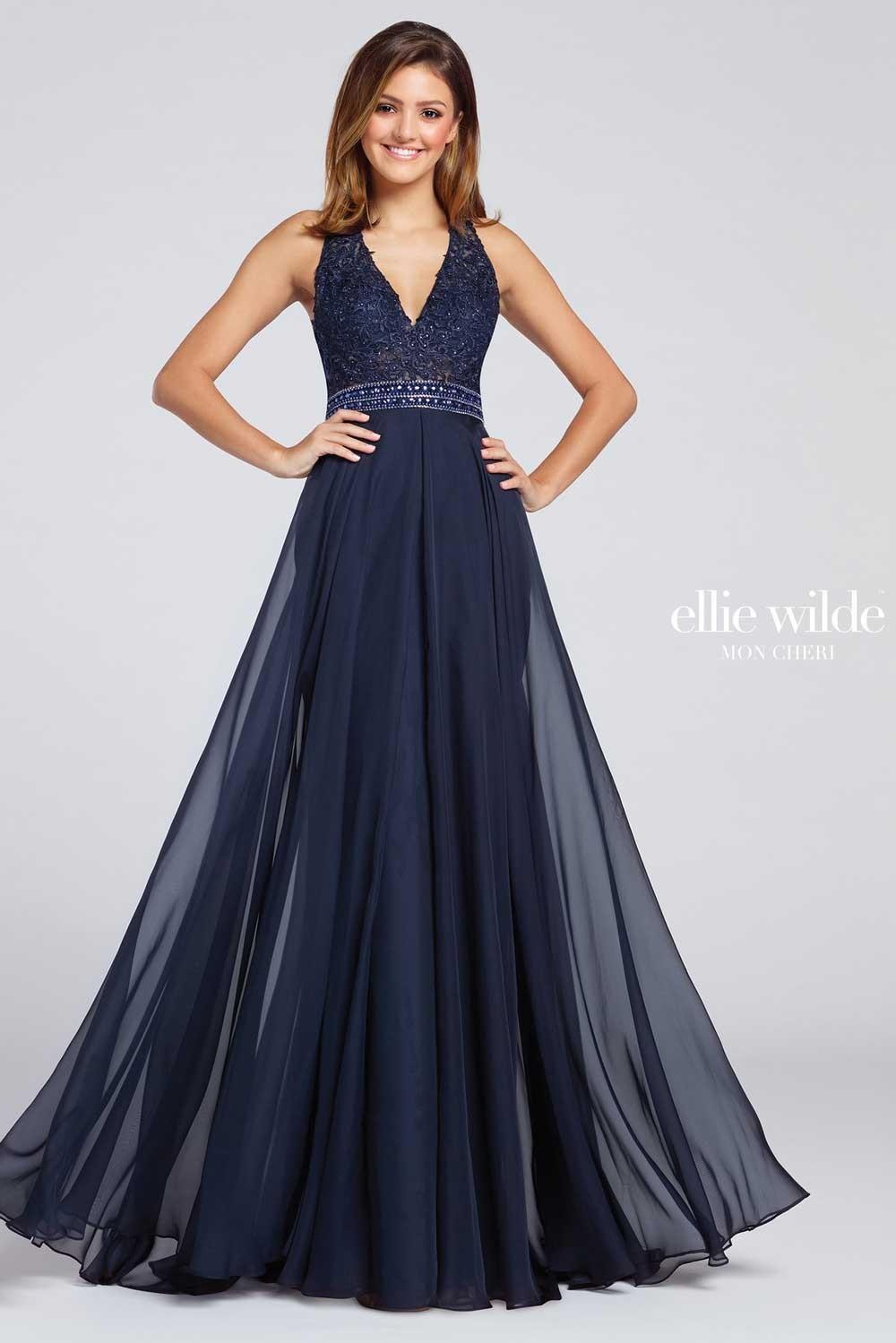 We can picture this Ellie Wilde bridesmaid dress being worn at a truly glamorous winter wedding. If your wedding dress is a show-stopper, there's no reason why your bridesmaid dresses shouldn't be too. You will be the ultimate squad goals, for sure!
READ MORE: Gorgeous Winter Bridesmaid Dresses
B2 – Style B183065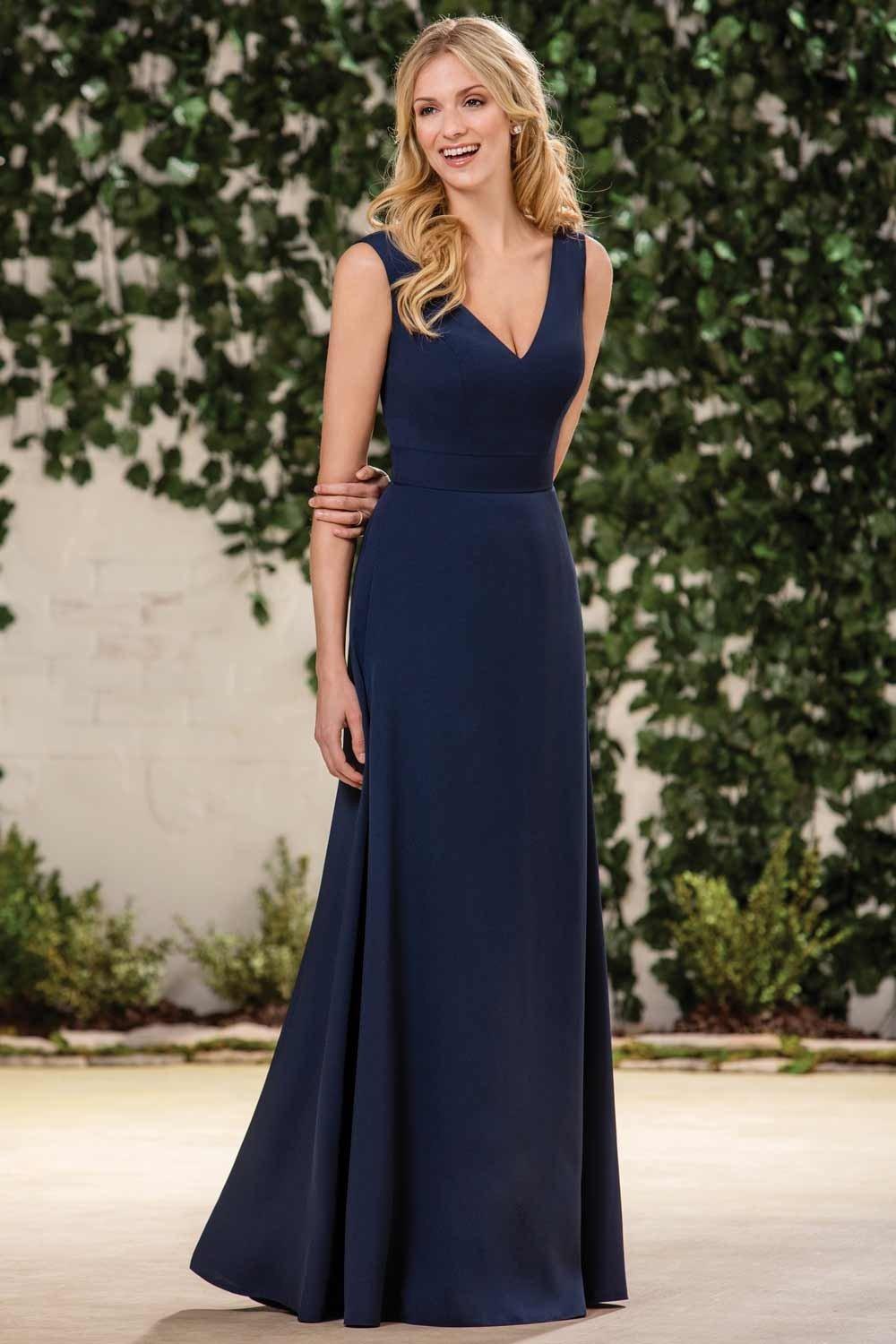 This navy B2 bridesmaid dress is a truly beautiful design. The plunging v-neckline is perfectly balanced out by the full length and thick waistband, making it very flattering. Using just one block colour and material gives the design a really understated but incredibly elegant feel.
Dessy Collection – Style 2858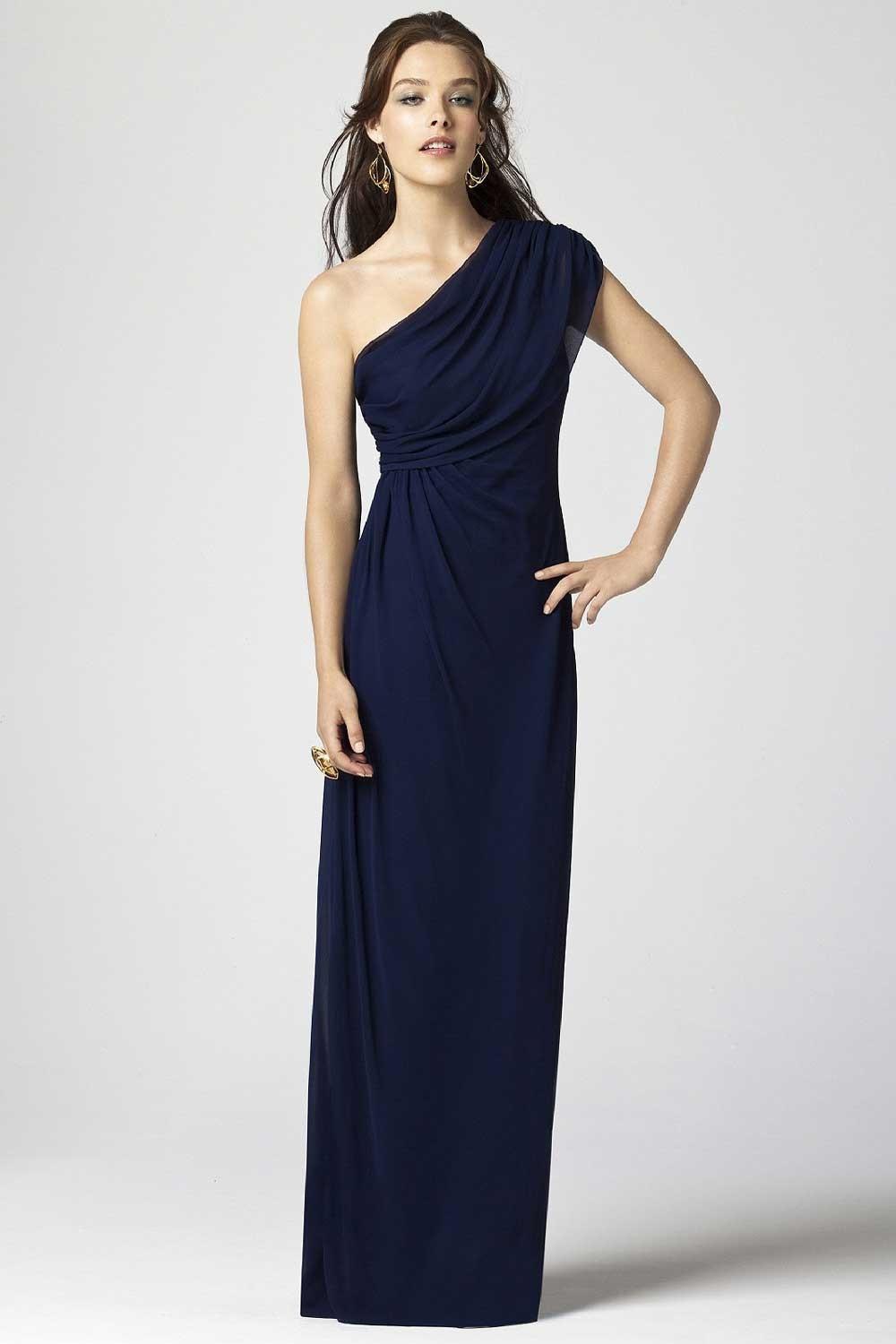 This navy bridesmaid dress from Dessy Collection has more of a relaxed feel to it which we just adore. The Grecian, one-shouldered shape is different to most bridesmaid dresses and is also a great choice if you're having a modern and pared-back wedding theme.
READ MORE: How to Ask Will You be My Bridesmaid
Colour Kenneth Winston – Style 5203L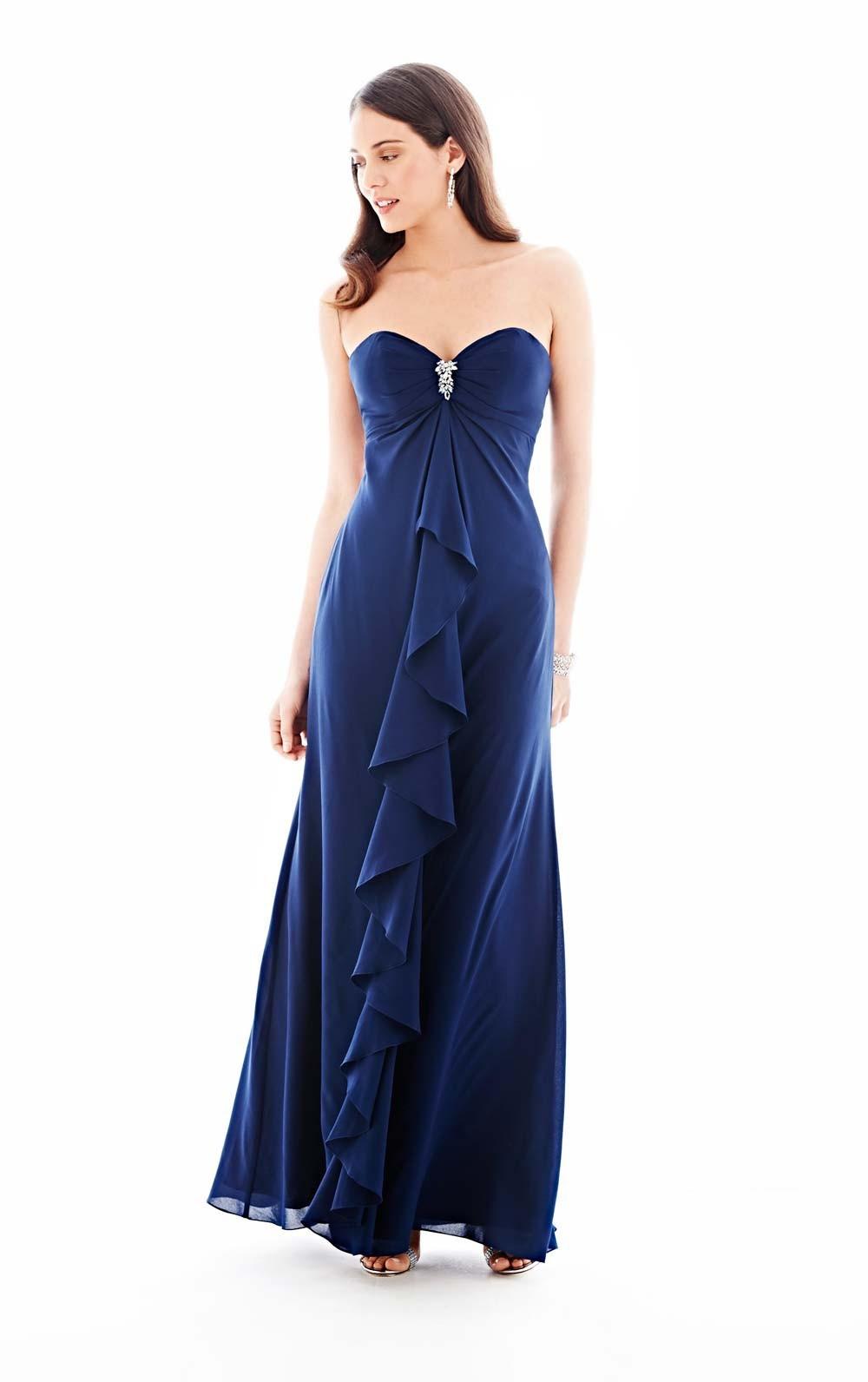 Kenneth Winston created something truly special with this gown. The dress has a symmetrical design which is really pleasing to the eye and creates a willowy, slim shape. Not only is the folded fabric detail gorgeous, but the bling at the sweetheart neckline makes this dress that little bit more special.
Alvina Valenta – Style 9330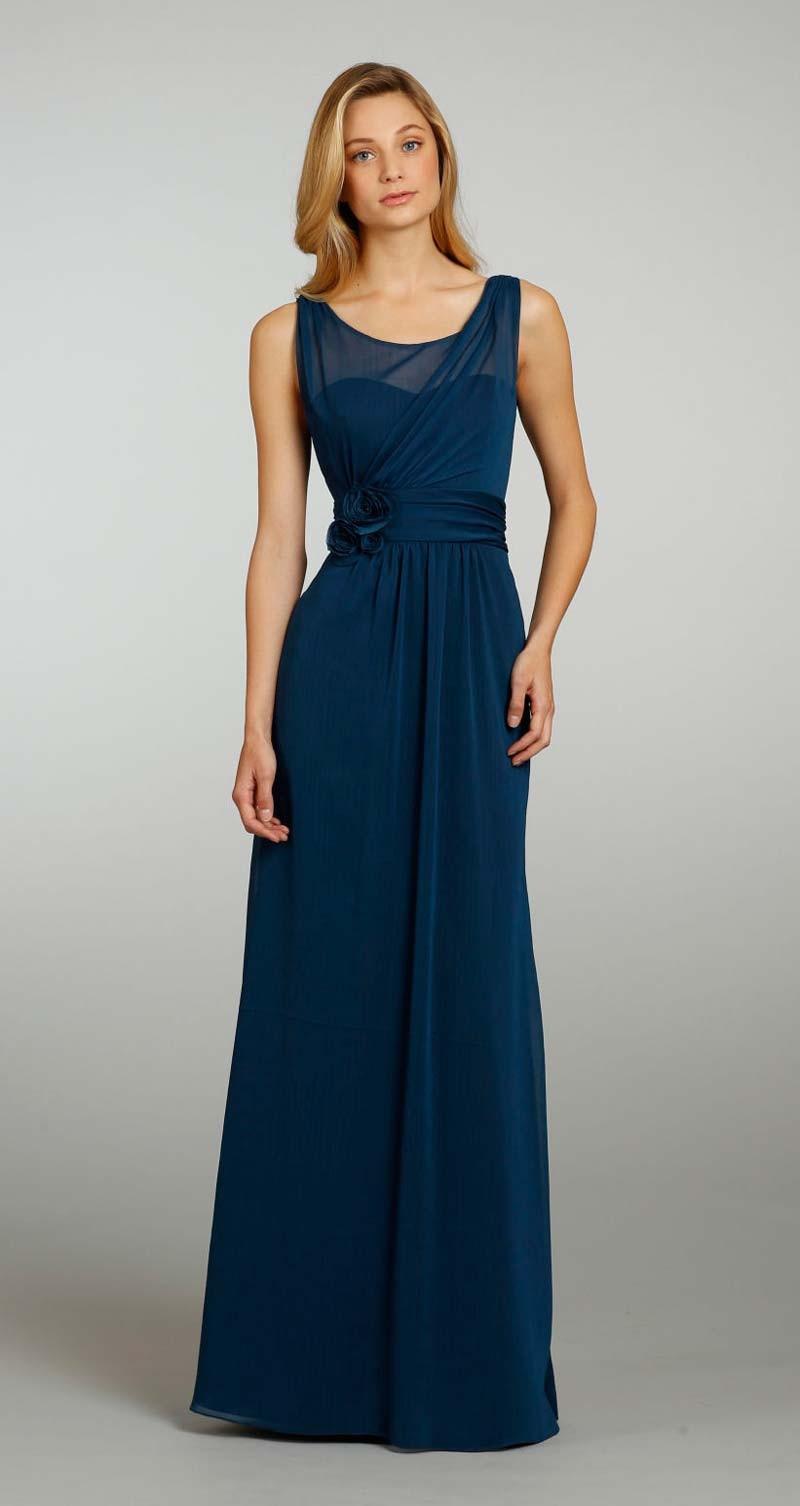 This navy bridesmaid dress falls so beautifully, and the colour is perfect for the light chiffon fabric. The flowers are a pretty touch and add charm and character to this Alvina Valenta bridesmaid dress. One thing's for sure, your girls will adore being put in this number.
Quiz – Navy Jumpsuit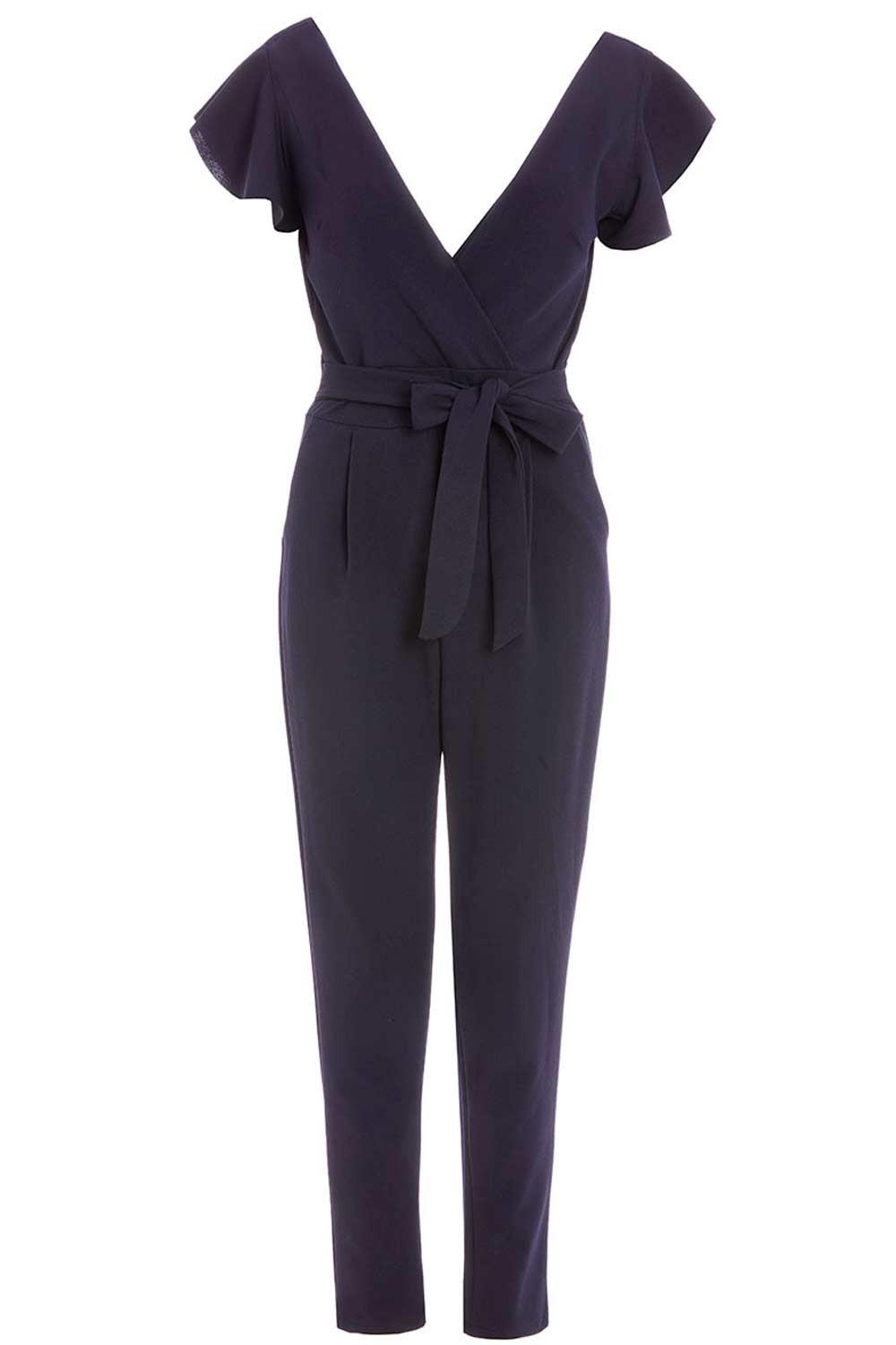 If you are looking for an alternative option to a dress, then why not try a jumpsuit? With a tie front belt and frill sleeve this style looks sophisticated and will leave your bridesmaids feeling fabulous and confident. It is also very reasonably priced making it a fashionable and affordable option.
READ MORE: Wedding Jumpsuits That'll Make You Want to Ditch the Dress
If you want to mix up your bridesmaid's look, why not try mismatched bridesmaid dresses – they look incredible!