Your wedding outfit - whether it's a dress or a suit - is one of the most precious pieces of clothing you'll ever own. Show your support for the most talented Black wedding dress designers and the best international brands stocked in the UK with our list of the names you need to know.
You'll find Black wedding dress and bridesmaid dress designers; groomswear outfitters; accessory designers and even a few shops that are perfect to pick up your honeymoon wardrobe.
Whatever kind of style of bride or groom, you'll find a designer on our list that you'll love.
Black Wedding Dress Designers and Bridesmaid Dress Designers
Fashion forward brides love Rita's designs, which use sustainable vintage lace and silk, and reflect a contemporary aesthetic inspired by art, music, dance and theatre – that means lightness, movement and playfulness.
Kate combines classic elements of '30s and '40s styling with modern twists for unique, elegant and unexpected wedding dresses. Her bridal headpieces and accessories are to die for!
Discerning brides should turn to creative director Felicity. She combines traditional couture techniques with a design-led vision for dresses that sing of quality craftmanship and distinctive detailing. Your individual style will be mixed with Felicity's creativity, style and contemporary eye.
READ MORE:
4. Oui Madam Bridal Atelier – @ouimadam1
Cynthia makes one-of-a-kind, handcrafted wedding dresses from her studio in North London with unrivalled mastery. Bursting with texture and clean lines, her bespoke dresses are perfectly-fitted modern classics. Did we mention she's previously made dresses for Jennifer Lopez and Reese Witherspoon?
Naomi's bespoke wedding dresses are hand-crafted with fine laces, silks and embellishments at her Kent studio. Her process is a collaboration with the bride, bringing her unique beauty, style and vision to life. She has a wonderful range of bridesmaid designs too.
London-based luxury wedding dresses designed for the modern bride, and catering for all shapes and sizes. Each dress is made bespoke with the most intricate, avant-garde designs and opulent fabrics. You'll fall in love with their innovative trains.
Glamorous, romantic and showstopping: Jacqui makes beautiful bespoke wedding dresses and occasionwear from her London studio, with a focus on structuring and embellishments.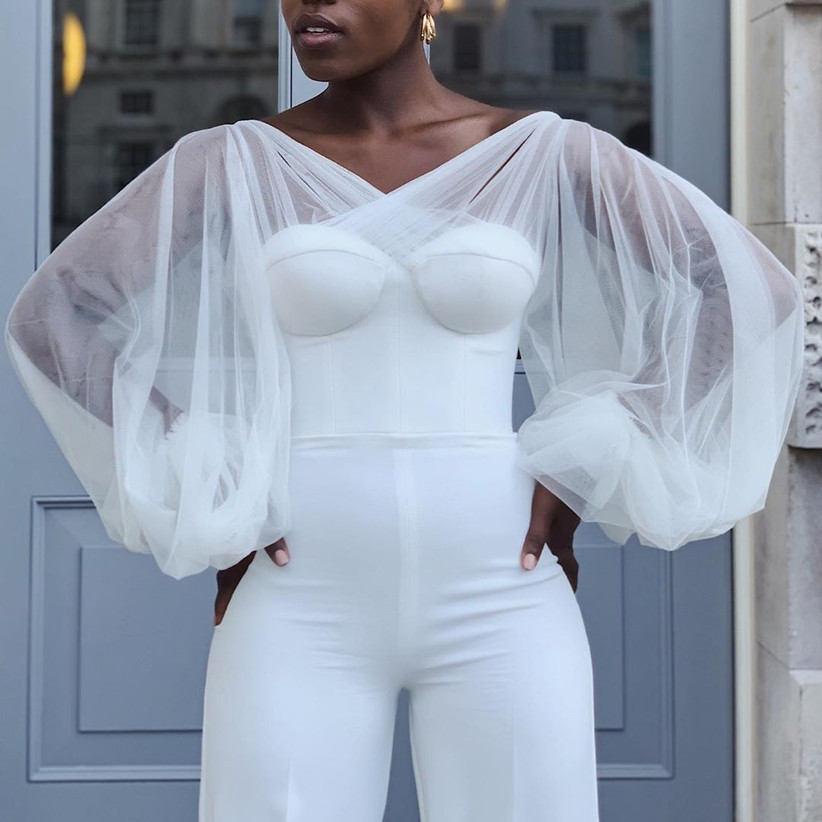 Alonuko is the home of bespoke intricate and structured bridal and evening wear, with an amazing corset range to enhance a bride's natural shape. Designer Gbemi's aim is to create dresses and jumpsuits that highlight and amplify inner beauty and confidence. Can you believe she started this brand while still a teenager?
The uniqueness of each woman's body is celebrated here and collections don't follow custom high street sizes. They're made to order with the mission to make creating your dress "the most pleasurable experience for our brides". Think glitz, glamour and high drama designs.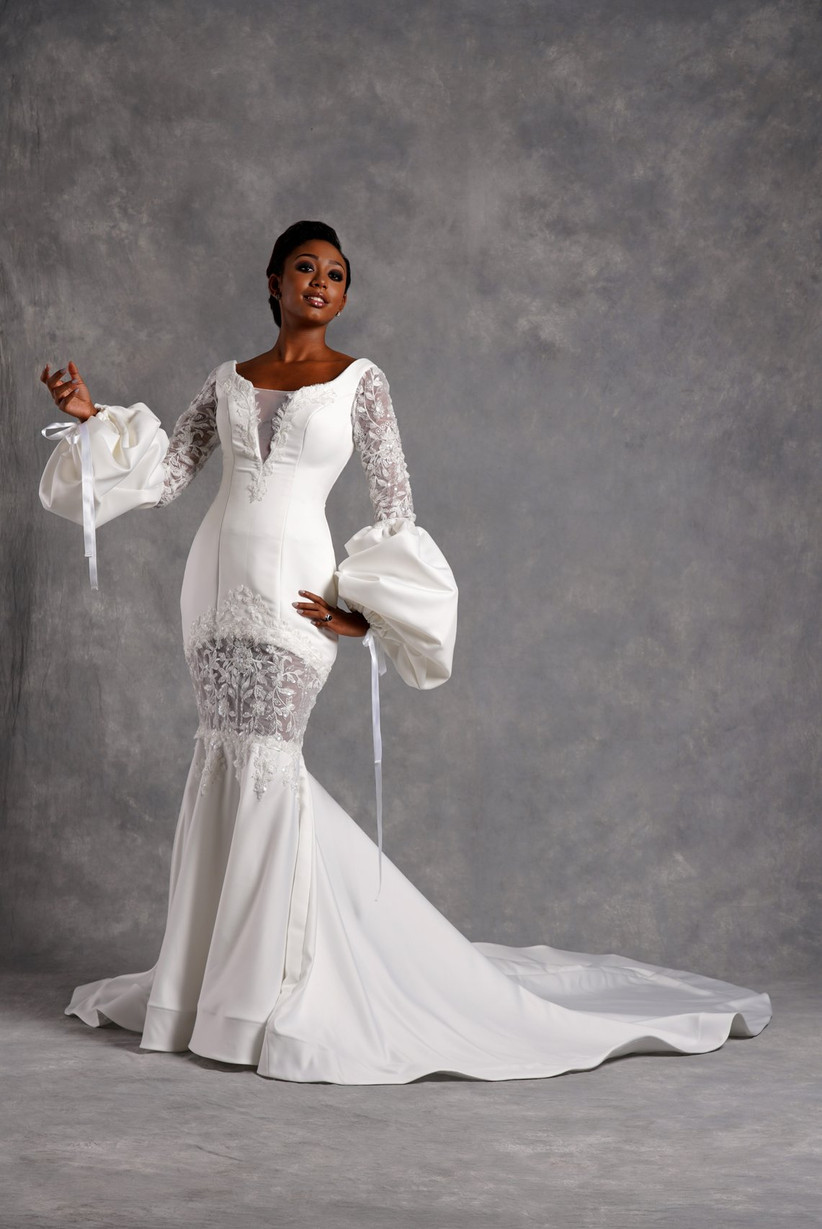 Designer Yemi's signature use of corsetry and boned bodices to create showstopping hourglass curves is what his brand is known for. Making luxury couture bridal and evening wear, it's where you go if you want to make a grand entrance.
Beyonce, Jennifer Lopez and Michelle Obama have all worn this luxury ready-to-wear and bridal brand by US designer Carly Cushnie. Her modern designs feature cool asymmetric and plunging features that are perfect for a chic city wedding. There's plenty of white designs but if you want edgy black or bright colours, you can find dresses and jumpsuits in these too.
Stephanie White launched her bridal range, Odylene The Ceremony, in 2014. She focuses on romantic, bohemian styles with otherwordly sleeves, ruffles and pleating. This dreamy LA brand was made for boho brides.
Nigerian fashion designer Dumebi Iyamah's bold cuts and interesting flourishes – from caped suits and peplum bodices to giant bows and structured sleeves – make for a truly unique bridal look.
Classic, timeless styles are what they specialise in at Elizabeth and Lace Bridal. The experience of creating your wedding dress is a personal and collaborative one with creative director Idu, with modern techniques combined with vintage-inspired details.
Sherah's bridal robes will be the only thing you want in your honeymoon suitcase. They're flirty, floaty and seriously sexy. Designer Jessica Fletcher also has an amazing section of accessories too, like headwraps and earrings, that you'll want to wear on your big day and on honeymoon.
Belgian designer Valentine makes showstopping, elegant gowns inspired by the golden age of Jazz and cinema. Think feather skirts, beaded bodices and applique sleeves, with each dress lavishly handcrafted from silk, tulle and lace.
This African-inspired clothing brand also makes custom-made outfits which are perfect for weddings. Brides, bridesmaids and guests will love their vibrant, sequinned gowns which hug every curve. Perfect for pre-wedding celebrations.
Meet the UK's only Asoebi planning and delivery service. Founders Nwanne and Moyo will source, sell and deliver asoebi fabric in beautiful boxes directly to your guests' doorsteps.
Nigerian sisters Adeola and Jane sell handcrafted dresses, capes, and co-ords in the finest wax prints, all sustainably sourced in West Africa. These are perfect for traditional wedding parties and they also make great mini outfits for kids.
Black Groomswear Designers
Founded by the eponymous designer back in the '80s, the stunning men's wedding collection covers everything from sharp lounge suits and classic tuxedos to made-to-measure morning dress in signature luxurious fabrics. Think jacquard, velvet and wool suits you'll want to keep safe as heirlooms.
Sammy runs The Groom Style Consultant, which works with Savile Row craftsmen to source and make dynamic, unique menswear and accessories. Sammy has worked with the biggest designer menswear labels in the business and she knows her stuff.
Lynch and Mason is a luxury clothing brand designed specifically for tall men standing at 6 foot 6 and above. The style is sophisticated, modern gentleman, made with classic designs and luxury fabrics. Turn to them for suits for tall grooms or groomsmen.
Modern, urban men's apparel made using authentic African material and textiles. Their mission is to merge the vibrant, elegant cultures of Africa with contemporary design. Wedding outfits can be made by appointment only - and we highly recommend you get in touch.
Bespoke tailoring for the modern man that helps you find your suit style, personality and silhouette so you feel your best on your wedding day. Check out their handmade suede mules too for the ultimate suave look!
Considered one of the most talented menswear designer's in the world, Ozwald Boateng's bespoke, made-to-measure suits, shirts and ties are made in the most incredible colours, patterns and prints. A must for one-of-a-kind suits.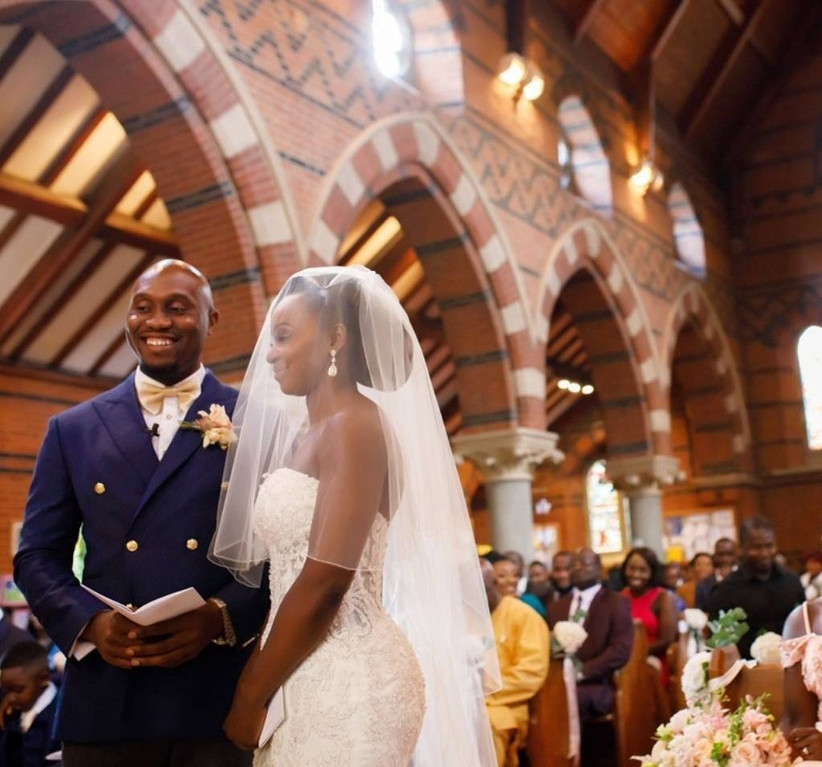 The tailors at Anthony's will spend as many as 80 hours perfecting your tailored wedding suit, delivering an outfit that enhances your physique and posture that you'll feel proud to wear. Their collections go from classic tuxes to extravagant prints and rich fabrics.
Shaun is the epitome of dapper, with a speciality in British luxury handmade ties, bow ties and pocket squares. He'll even make you made-to-order and bespoke ties that will complement your wedding suit for a finished look.
Sancho's is the home for independent and Black-owned ethical and sustainable fashion brands. While its dresses and accessories would make brilliant bridesmaid or guest outfits, we love the men's casual shirts and trousers which would make great choices for a destination wedding.
Black Accessories Designers
Aberdeen-based designer Elizabeth makes unconventional accessories for sartorial-savvy brides. Her statement headpieces, pearl headbands and nature-inspired crowns are dream wedding day accessories for brides and bridesmaids.
Designer Marilyne Kekeli makes eye-catching geometric jewellery. Her statement earrings, bracelets and necklaces work for both day and night - taking you from your engagement party to wedding day to honeymoon.
Refined architectural jewellery in incredible geometric designs. We love all their collections - from the earthy New Tribe to colourful Pitzhanger - but look to their luxury sister brand Arco Studio for contemporary bridal jewellery.
32. Kassandra Lauren Gordon - @klgjewellery
Fine jeweller Kassandra offers gorgeous ready-to-wear designs, but it's her bespoke commissions which are perfect for brides. From engagement and wedding rings to necklaces and earrings, these pieces will become your most precious possessions.
Just as "nude" plasters aren't for all skin tones, neither are shoes. Kahume decided to fix that with "nude" shoes in 10 skin tone shades, including gorgeous and comfortable sandals and heels that work brilliantly for bridesmaids or brides. Their shoes have redefined the word nude.
South London rooted jewellery and accessories brand; tarnish-free but at an extremely affordable price point. You may have spotted their jewellery on the likes of Maya Jama and Stefflon Don. Fantastic for bridesmaid gifts or honeymoon jewellery.
Vegan, luxury bridal accessories for brides with natural and curly hair. Their online shop is coming now, but for now, follow for amazing inspiration and brands to know about.
This Brighton-based casual beach clothing brand is a dream choice for your honeymoon. We love their sustainable bamboo sunglasses and their casual collection is great for day-to-day beachwear.
Affordable luxury bridal accessories, from tiaras and veils to garters and necklaces and clutch bags. All their accessories are handpicked for the shop for an elegant, curated look - basically, you could pick anything from the site and it would look beautiful on your wedding day. You'll want to wear these pieces again and again.
Other Black-Owned Clothing Brands
Looking for Black-owned brands which would be great for honeymoon outfits? We've found lots of great ones of those too!
Women
Men