Katie-Marie and Sam chose a glorious July day for their outdoor wedding at Knowle Country House in Kent. With a bagpipe bridal entrance, scratch card favours and travel-themed tables, their big day was full of sentimental, personal touches (and two cheeky gnomes made an appearance too!).
The couple met through mutual friends on a night out. After just four months together, they decided to jet off on a year-long adventure around Australia, New Zealand and Bali. On their way home, they stopped in Singapore to buy an engagement ring, which Sam then kept hidden for the next eight months while he devised the perfect proposal with Katie-Marie's family.
It nearly went wrong when the bridge in Berlin where he'd planned to get down on one knee turned out to be the start of an annual river swim (think lots of men in bright yellow budgie smugglers). Sam managed to find a beautiful spot eventually; a year later, they walked down the aisle at The Knowle.
Photography by Rebecca Carpenter Photography.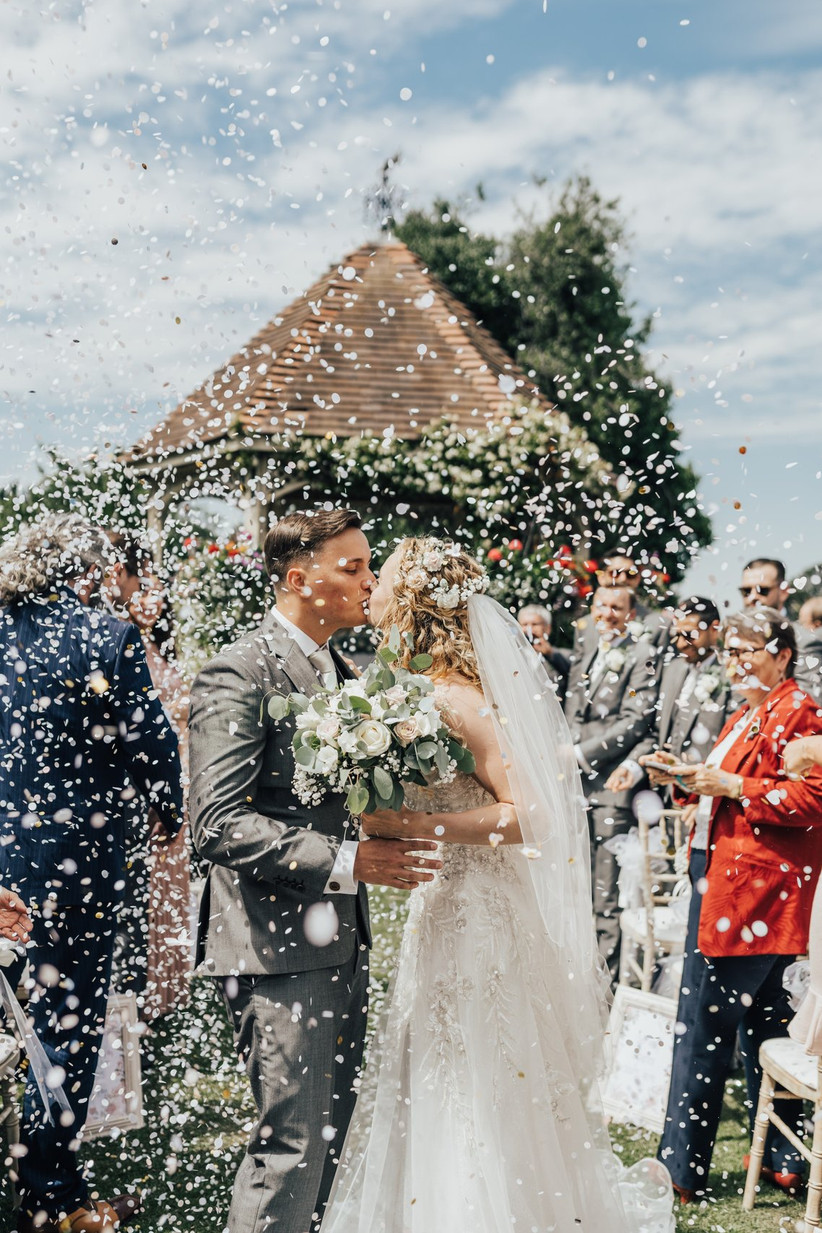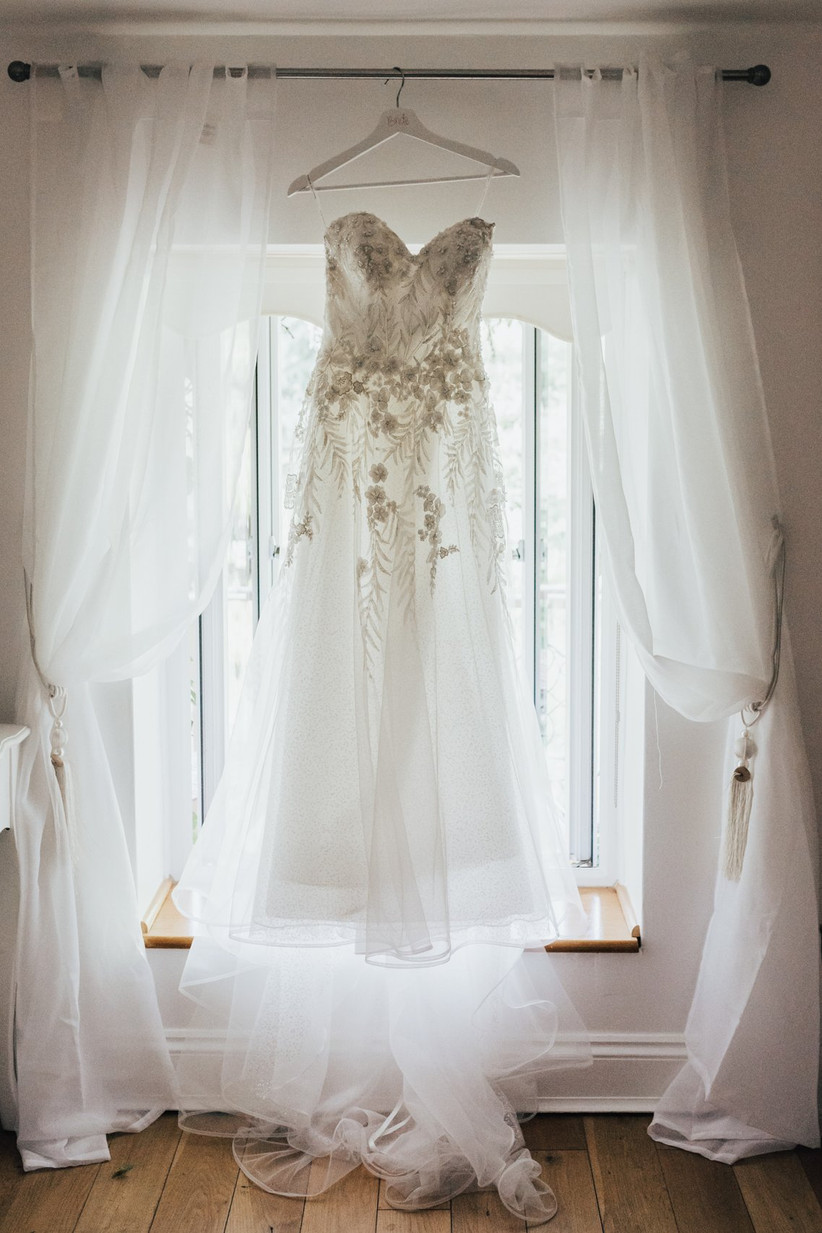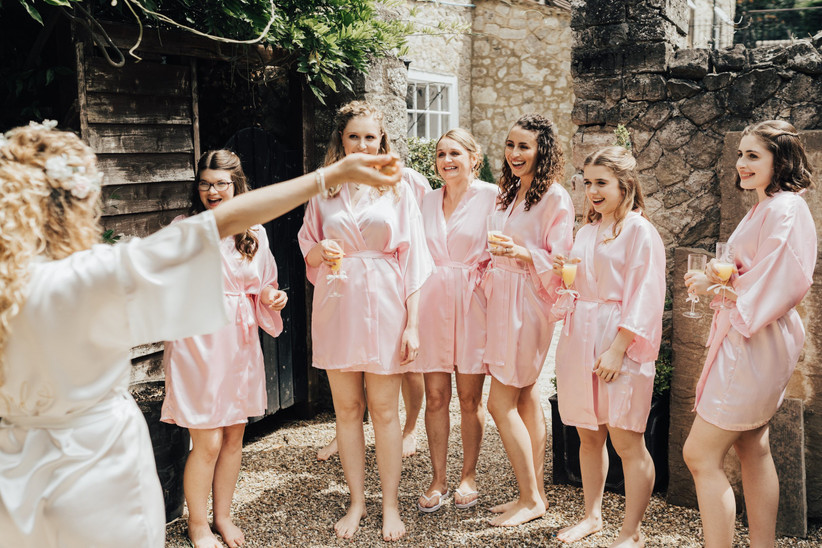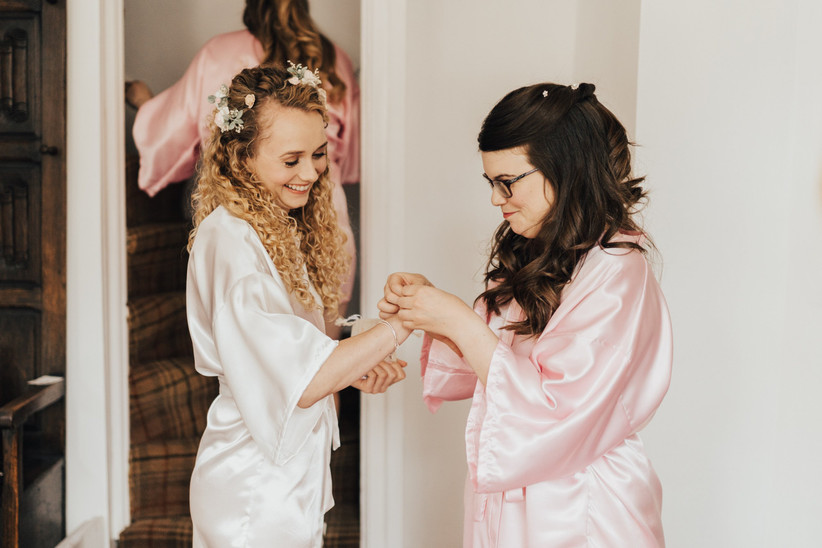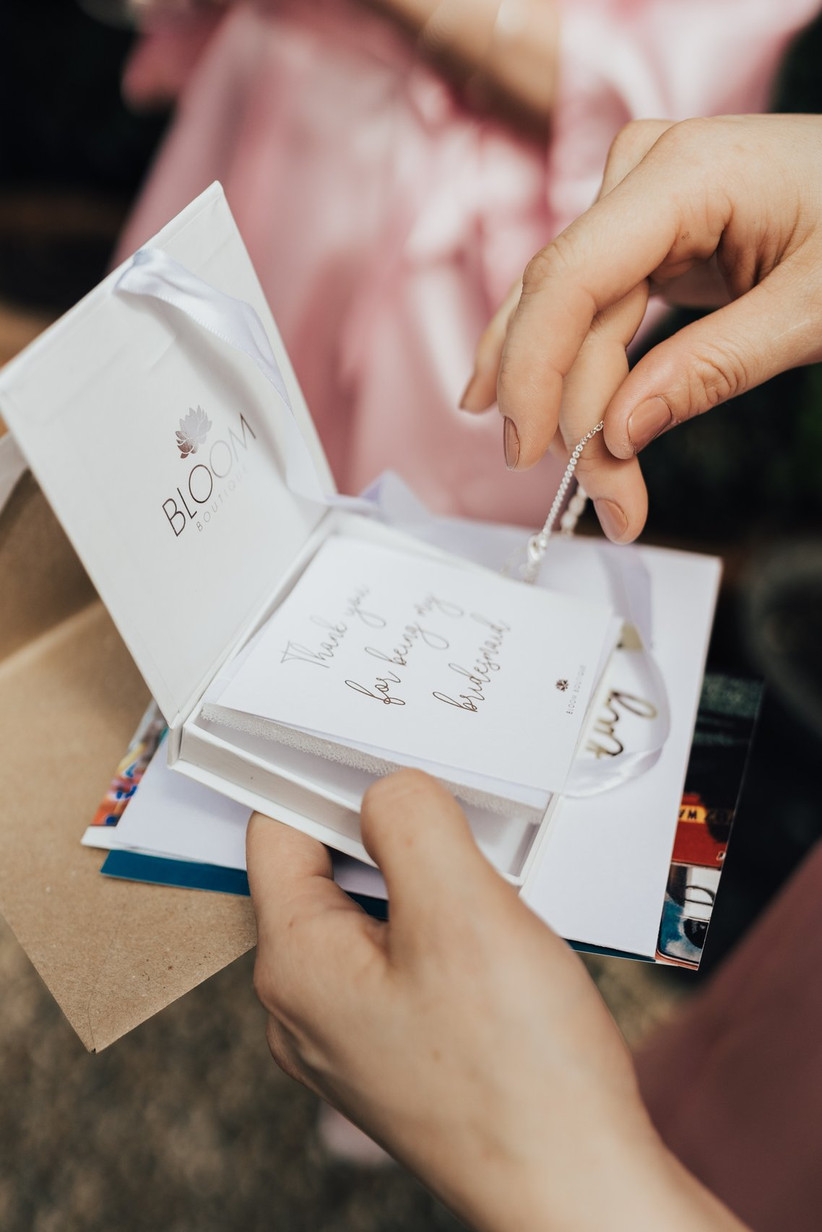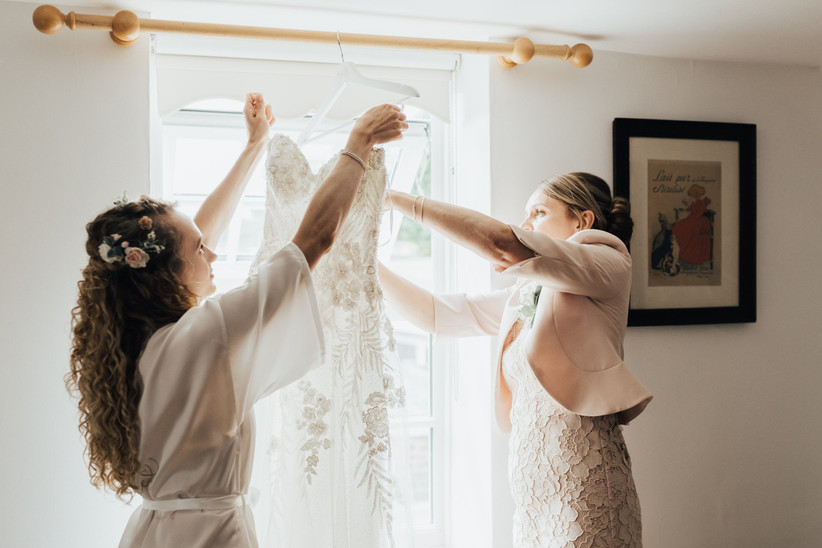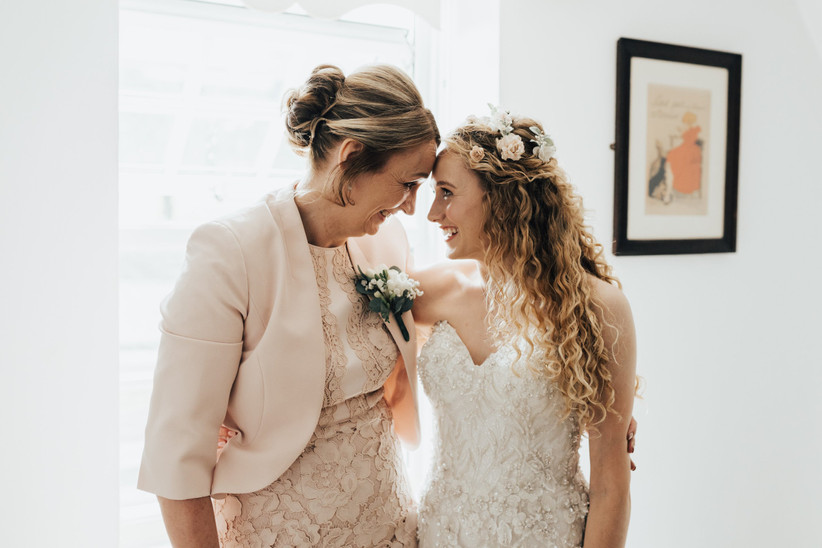 The Wedding Dress
Katie-Marie wore a stunning embellished Kenneth Winston gown with a sweetheart neckline and flowing organza skirt. She tried on eight dresses but still hadn't found the one when the staff at Bell'Amore in Bexleyheath suggested she try on one more –  completely different from what she'd imagined.
"I saw my wedding dress as soon as I walked into the shop, it was on a mannequin, but it was the opposite of what I had in my head that I wanted. The assistant Jo helped me try on dresses in the style I thought I wanted which was very plain, no lace, no beading, until we all agreed that something was missing.
"She said she was going to get something that she thought would look amazing on. Jo put my dress on me, when I walked out I cried and my mum cried so we knew it was the one! It just felt right. I know it's a cliché but I felt special and it's nothing like I had seen on other brides before."
Katie-Marie spent her wedding morning drinking champagne and celebrating with her mum, two maids of honour and four bridesmaids. The bridal party wore dusty pink, floor-length dresses from ASOS.
"When I saw them, I sent the picture around to all the girls and surprisingly all of them came back and said they loved them!"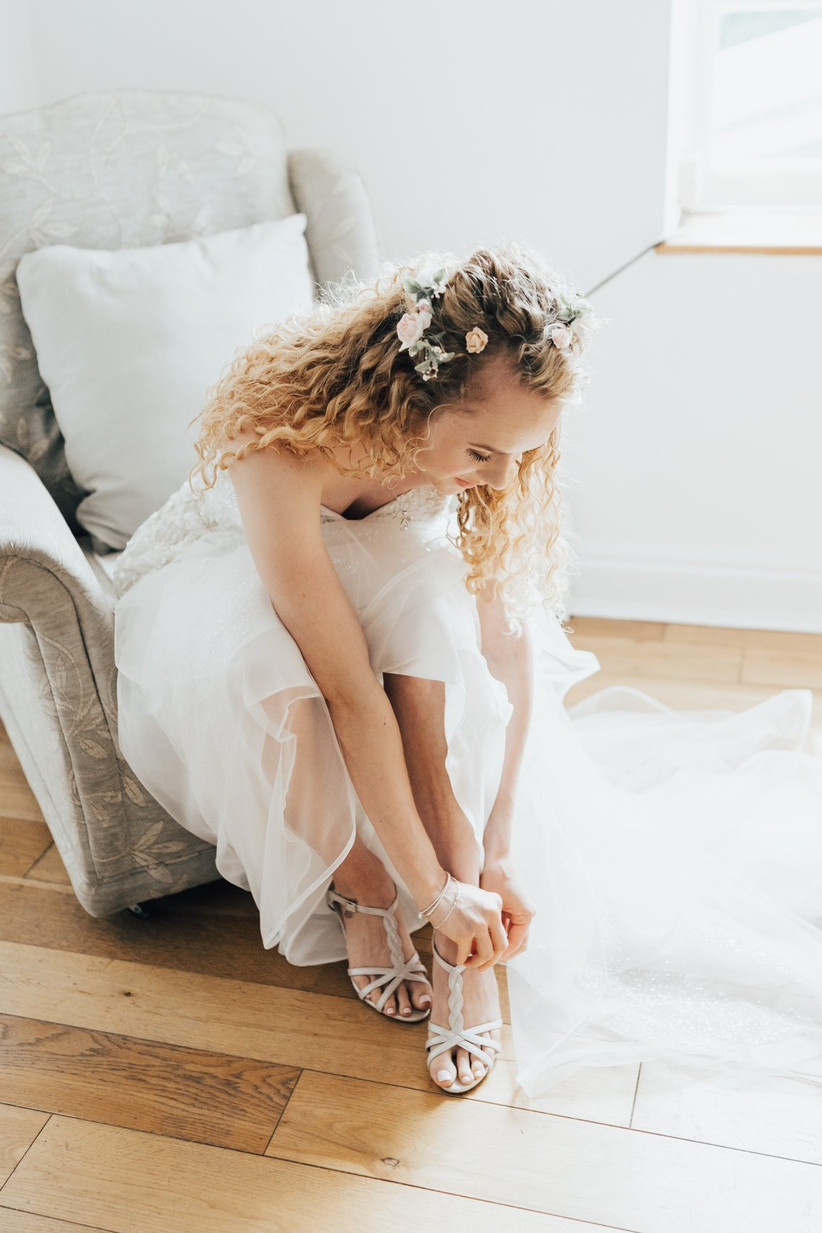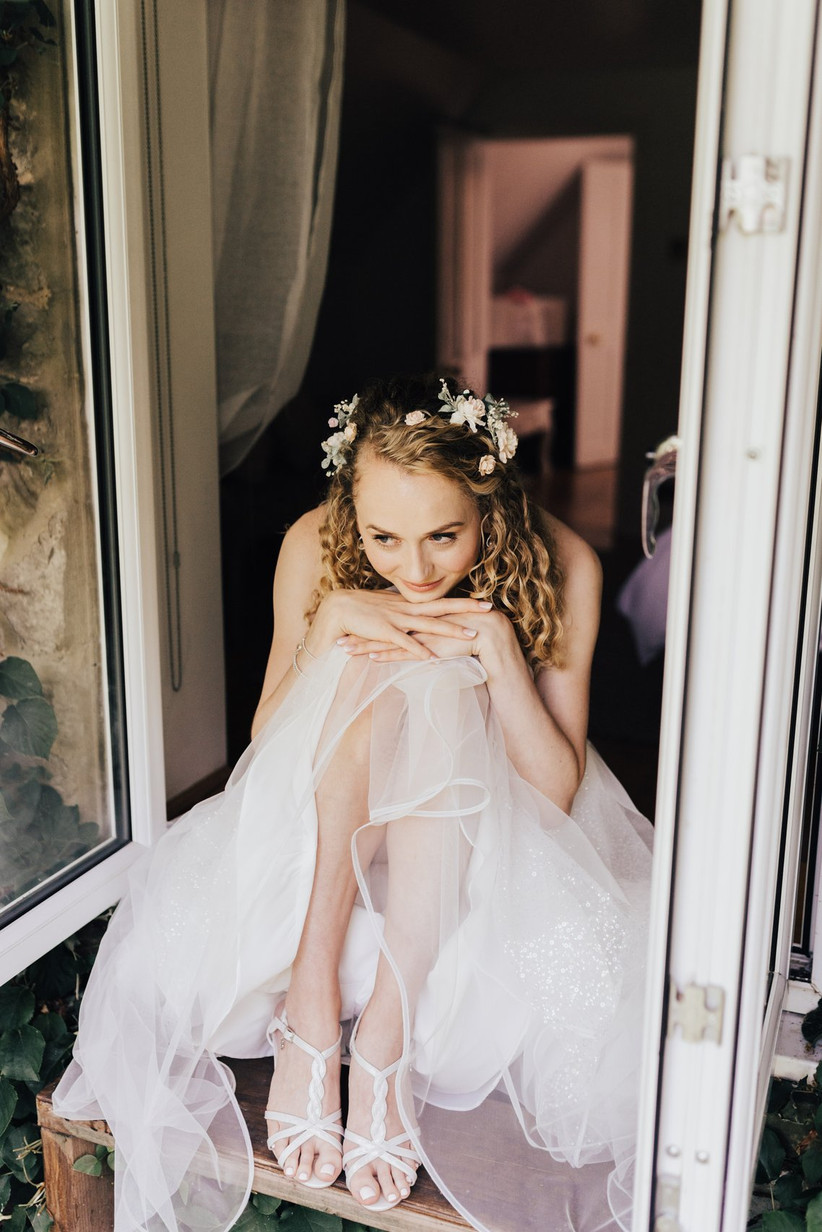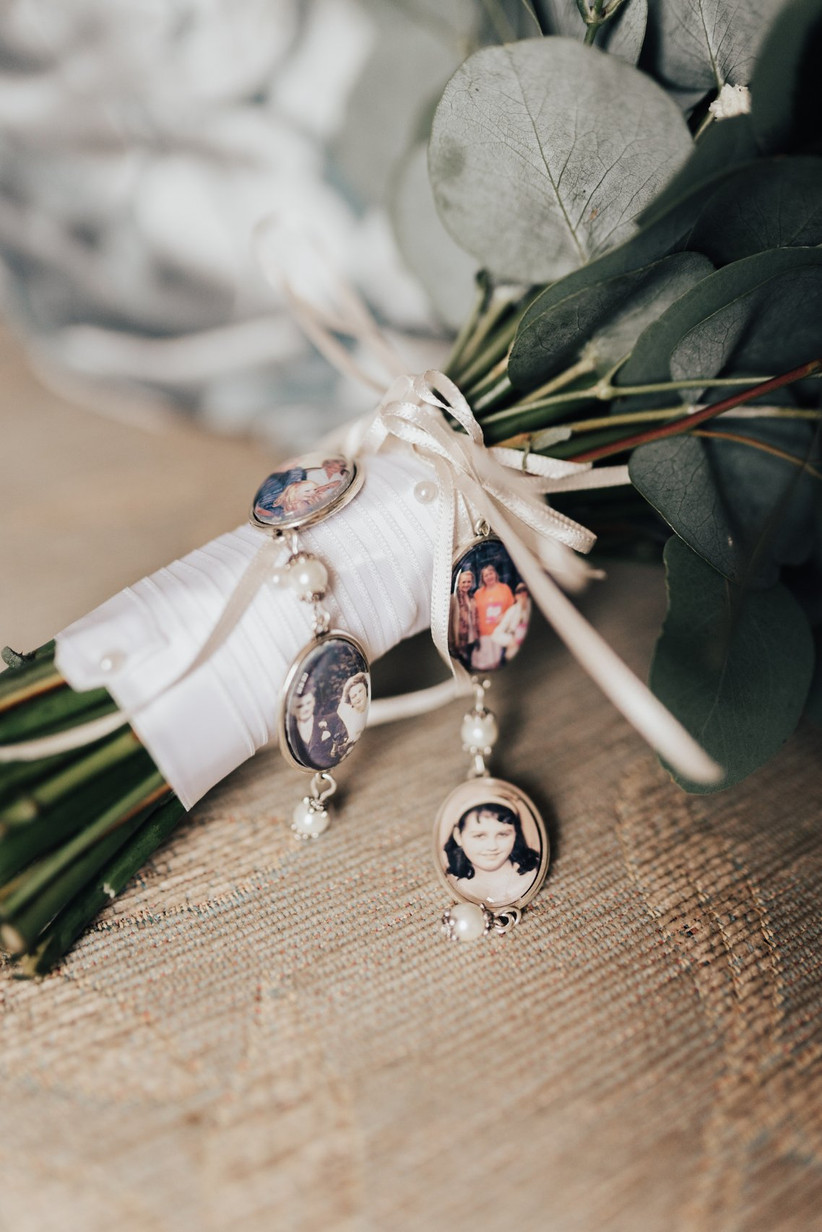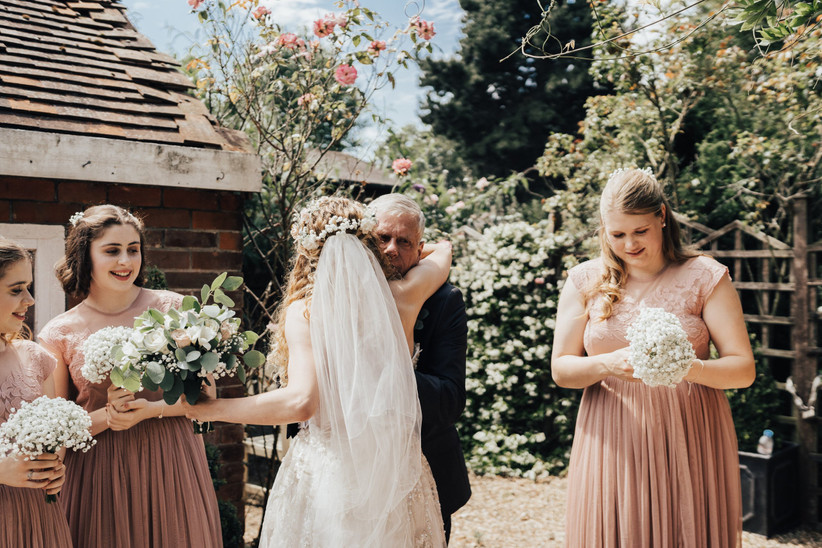 The Hair and Makeup
Katie-Marie wore her natural curls down and entwined with handmade paper roses for a boho vibe. She trusted her bridesmaid Marie, who's a talented makeup artist, with her natural bridal beauty look, and her family friend Victoria to style her hair.
"My hair prep started the day before. I have curly hair, so I wanted to ensure that it didn't go super frizzy during the day. I went to my 'curly hairdressers' Kinson by Kizzy the day before the wedding where she washed and dried my hair properly. The morning of my wedding I just damped my hair down and ran some products through it before leaving it to dry naturally and scrunching out the excess gel.
"I always knew I wanted loads of flowers in my hair, but I didn't want to go for the typical big flower crown style so I wore paper roses in my hair.
"My Mum bought me earrings and a necklace, although on the day our photographer Rebecca was incredible at giving her advice so I didn't end up wearing the necklace. She was right, it would have been too much. I wore my normal bracelets I wear day-to-day: one bought by my Mum in Australia, one bought by my maid of honour Jessica for my birthday about five years ago plus a new one from my other maid of honour, Lisa."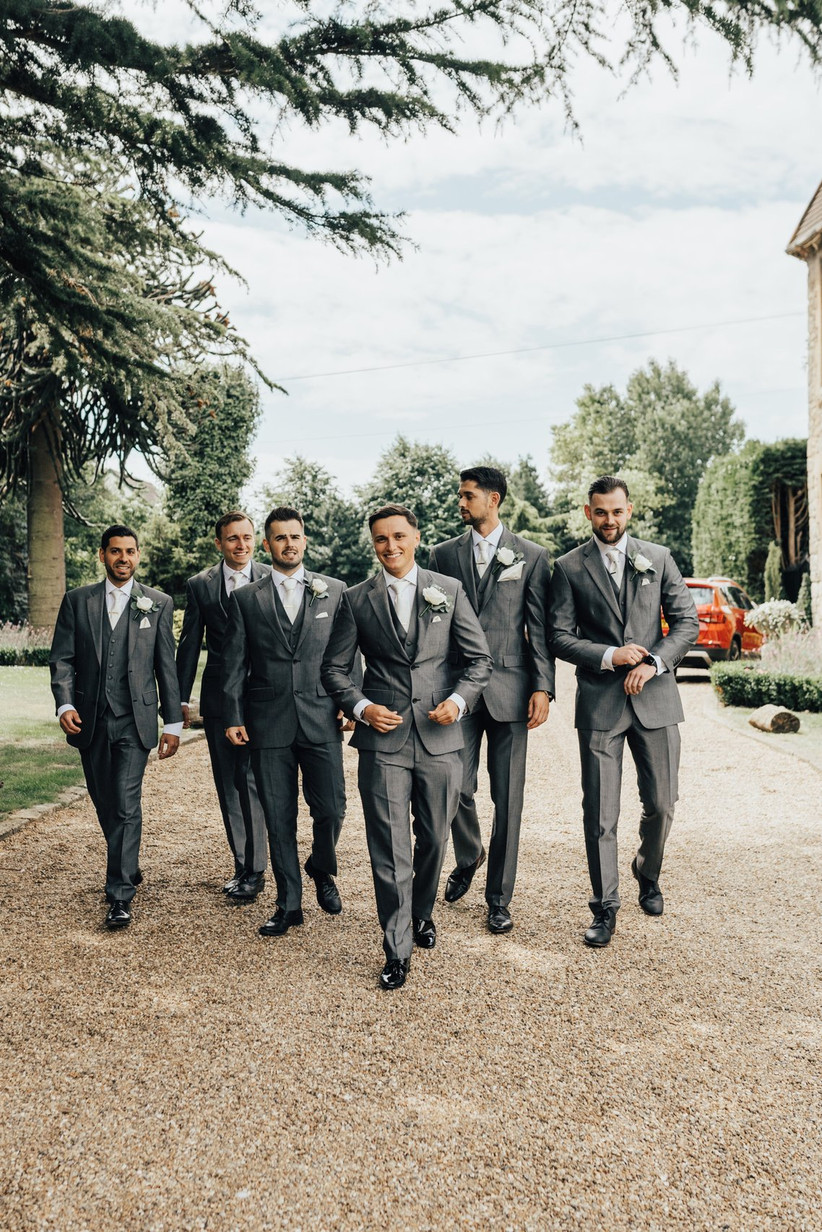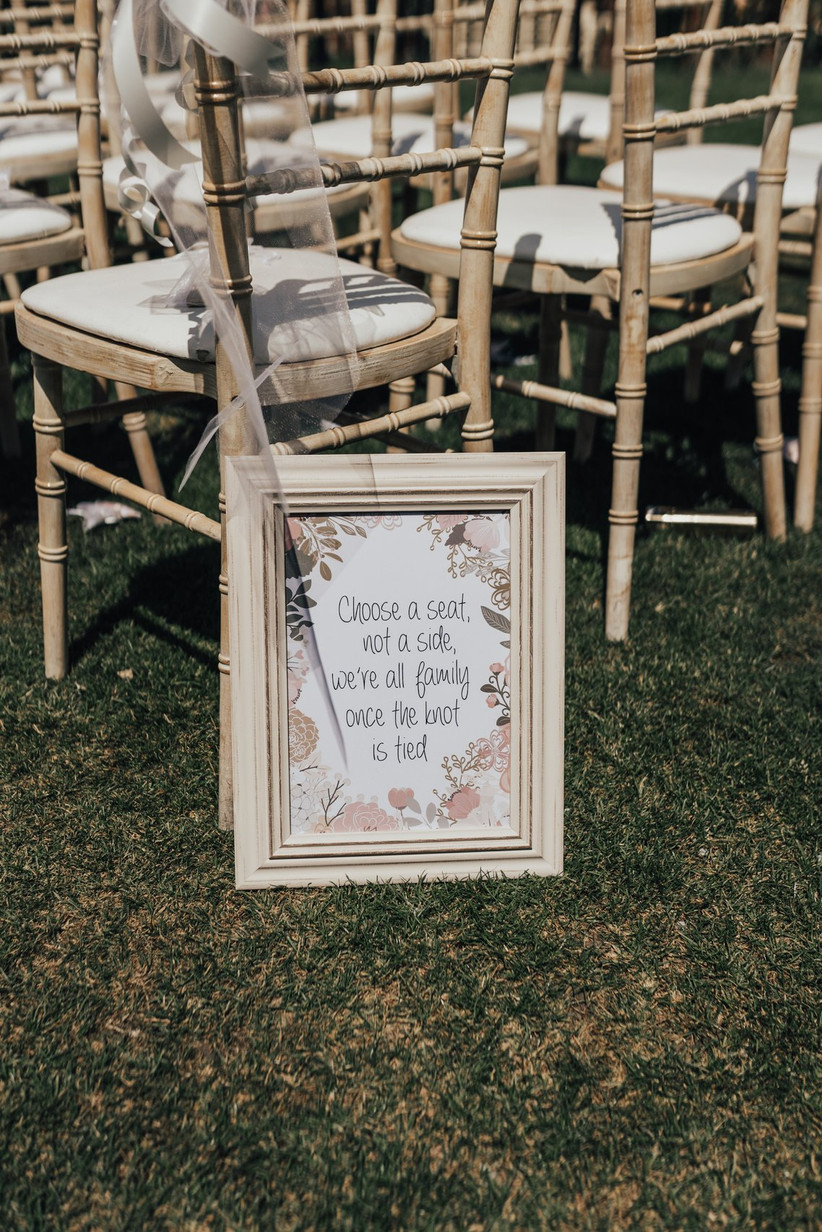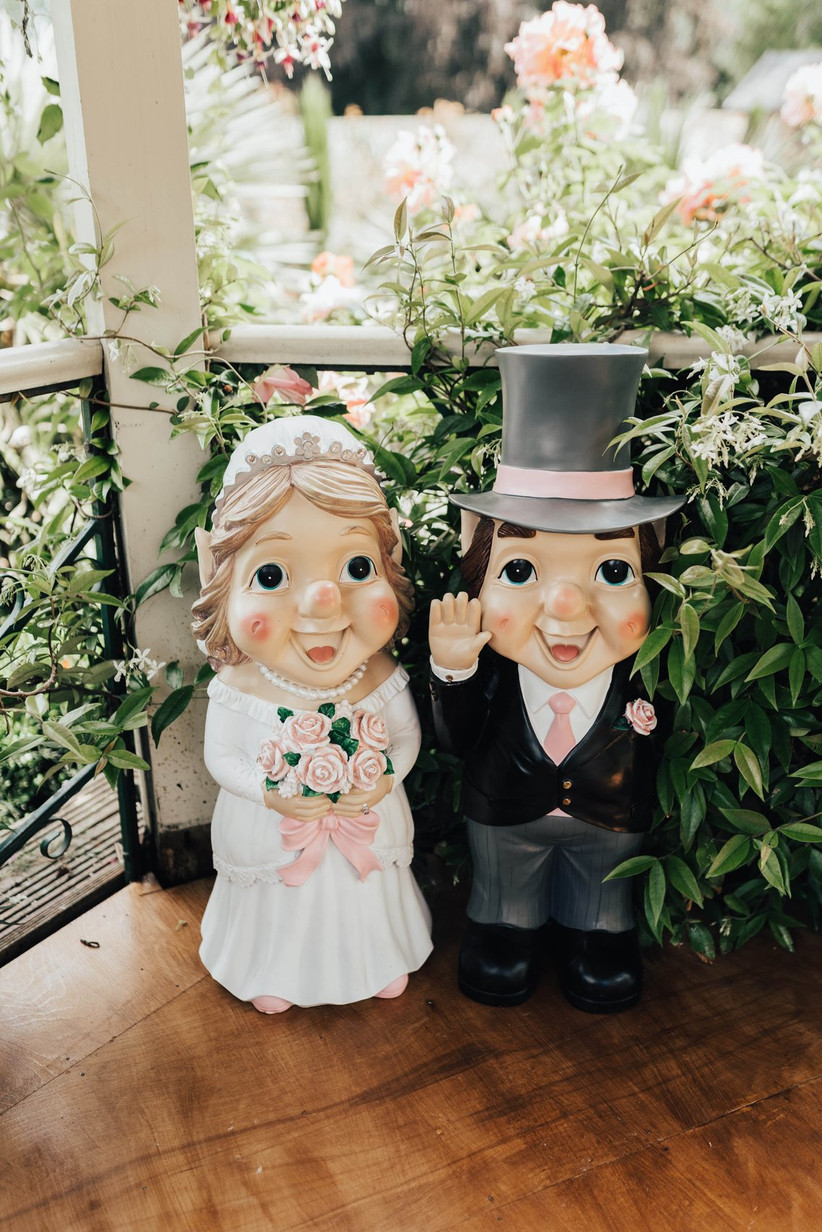 The Groomswear
Sam and his groomsmen looked sharp in matching three-piece suits with ivory ties. He added personalised cufflinks in whisky barrel wood, a fitted shirt and shiny shoes (more on those later) to his outfit, plus a very luxe watch borrowed from his best man.
"Simple but sophisticated was the aim, whether I/we pulled that off I'm not so sure! I chose the outfits myself, bravely enough. I wanted to keep parts of it hidden from Katie, but wanted to make sure she didn't hate it so I kept her in the loop throughout. She didn't see it in person until the day which was a nice touch.
"My morning-of plans with my brother, one of the groomsmen, were interesting. I'd pre-arranged a time with the barber to open his shop early to cut and style my hair for the day and in typical big day fashion he was quite late. Luckily I left us plenty of time for error, it was a great cut and he didn't let me pay for it… Small wins!
"I think, being honest, the best man was more nervous than me! We kept the conversation as 'normal' as possible to ensure we enjoyed the day and lived in the moment. I think the best advice I received ahead of the big day was to 'just rattle the speech out', as funnily enough the only nerves I had all revolved around the speech."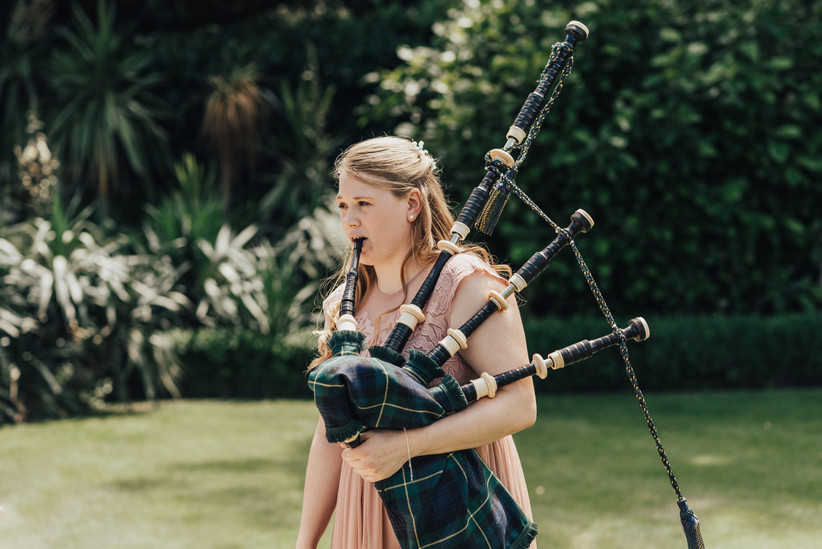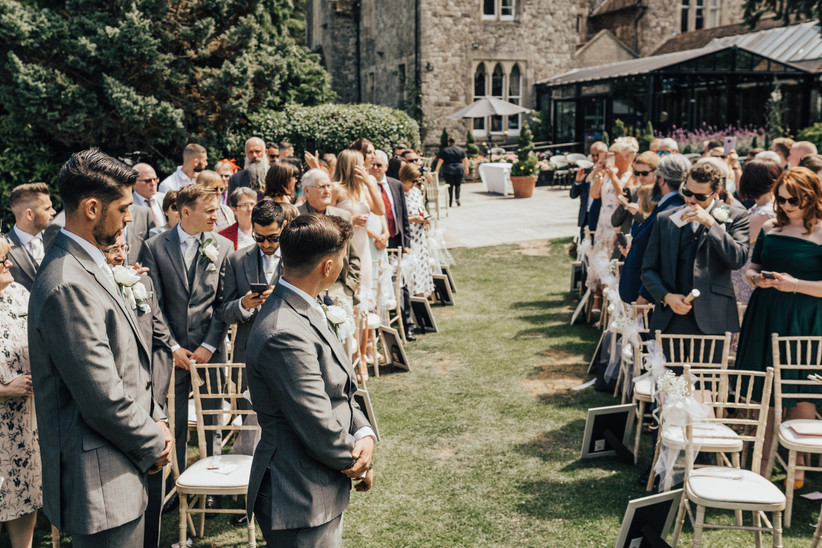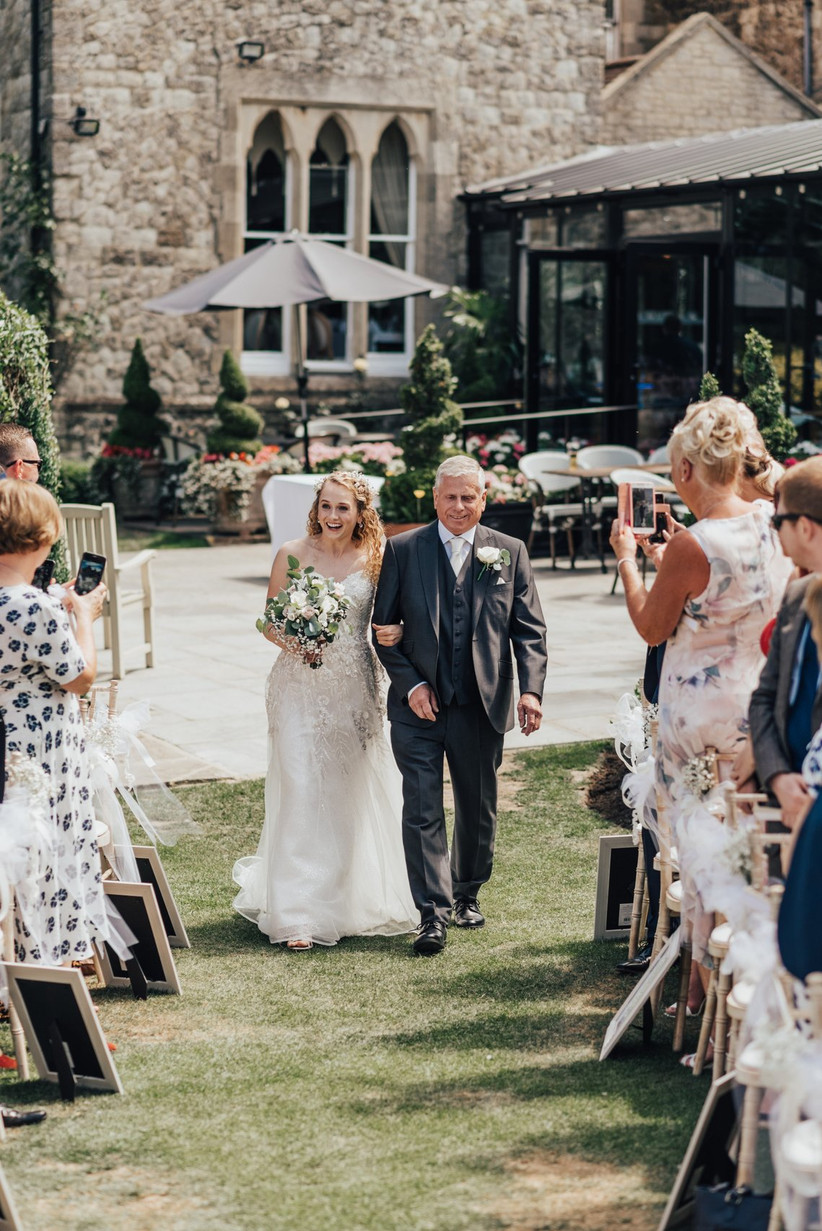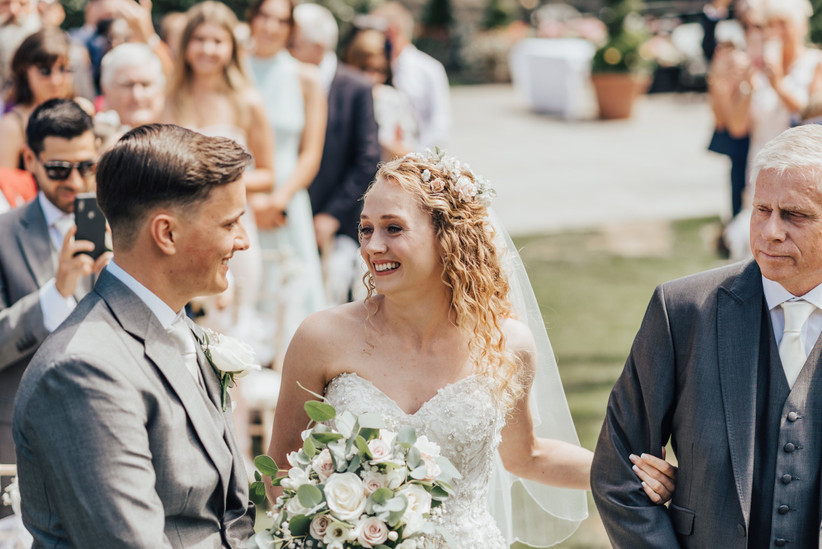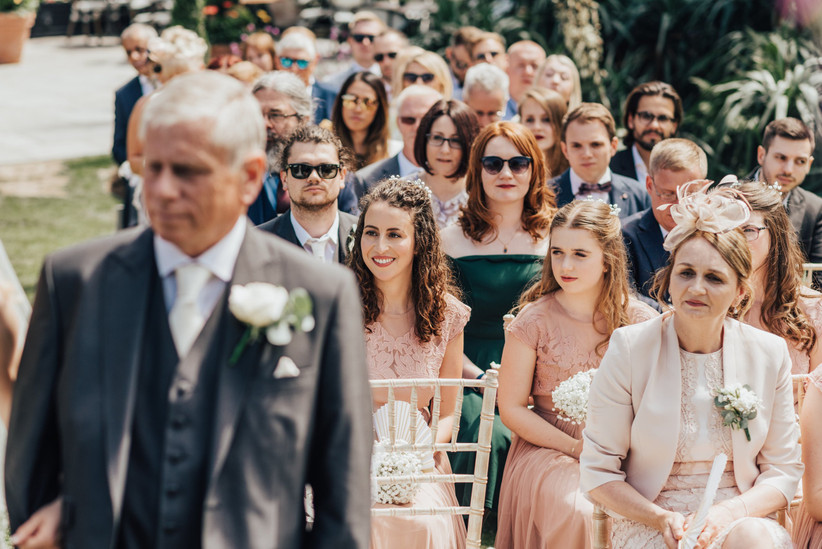 The Wedding Venue
The happy couple chose Knowle Country House in the village of Higham, Kent for their venue. A former haunt of Charles Dickens, the Victorian mansion is set within 14 acres of gardens and orchards, and they chose a relaxed outdoor ceremony in the July sunshine.
"We looked at a few which didn't feel right before we stopped by to speak to the owner of The Knowle, Michael. From the beginning of our chat with Michael you could tell that this wasn't just a venue for weddings, this was his home that he loved. Michael showed us around, introduced us to his two huge dogs and told us about his late wife. Both me and Sam knew that this place was something special and not just a 'churn in, churn out' venue. It was also in the village where I attended my first primary school, so we booked it!
"I don't know where to start with the best things about the venue – the food was incredible, we had so many guests saying the same thing. The staff on the day were incredibly attentive, supportive and calm. We just had the best day!"
With an on-site restaurant at The Knowle, food was a guaranteed highlight. Their menu consisted of a tomato and mozzarella salad, kiln-roasted salmon or Parma ham for starters. Main was a choice of roast chicken, beef or poached salmon. Katie-Marie's vegan brother and those with allergies were easily catered for. Guests could choose from six desserts on the day that came around on a trolley. "I had the banoffee pie and it was out of this world!"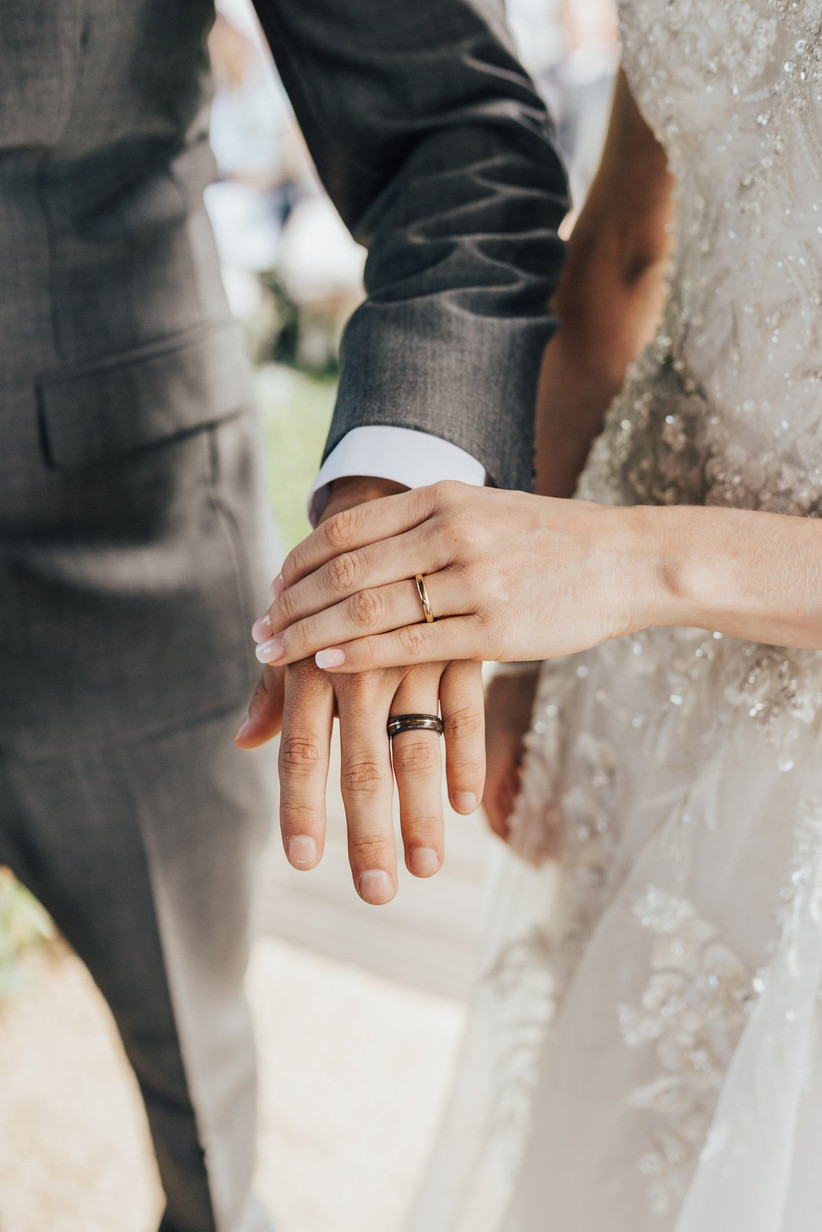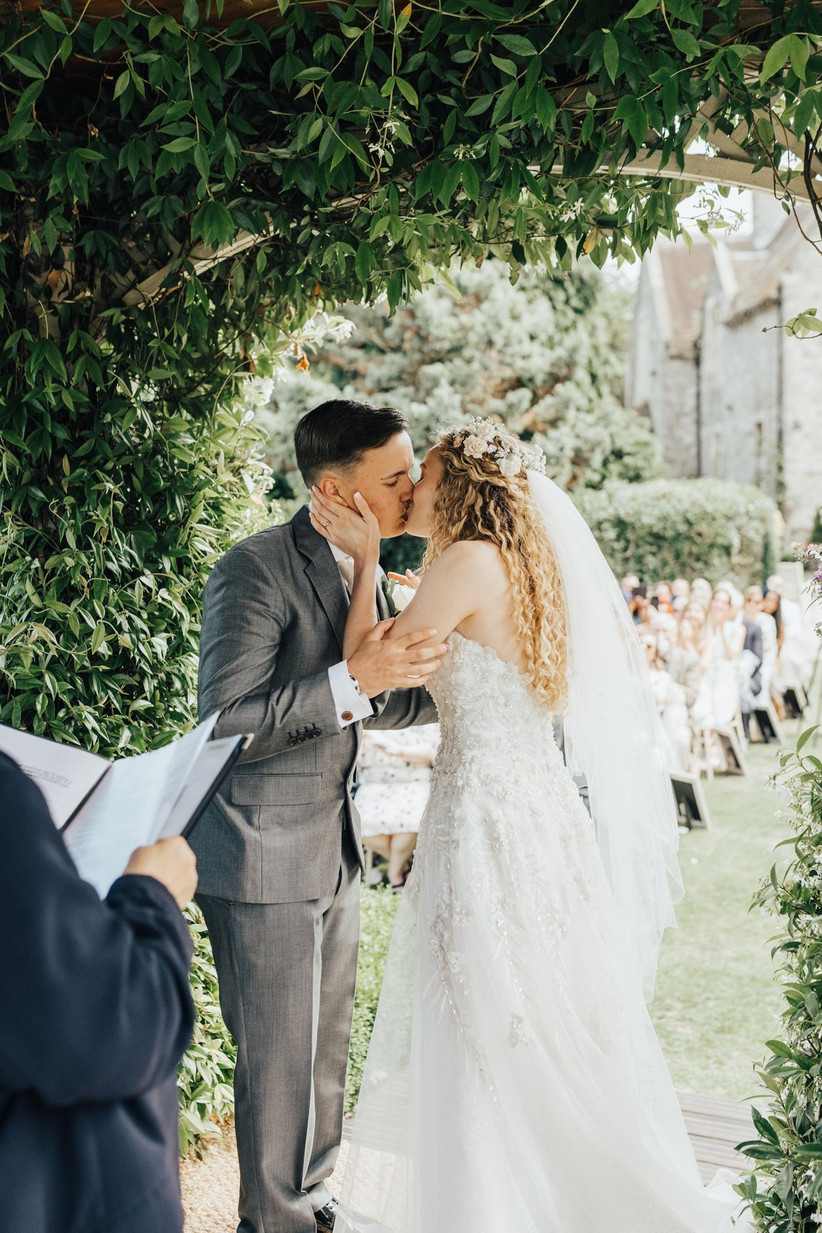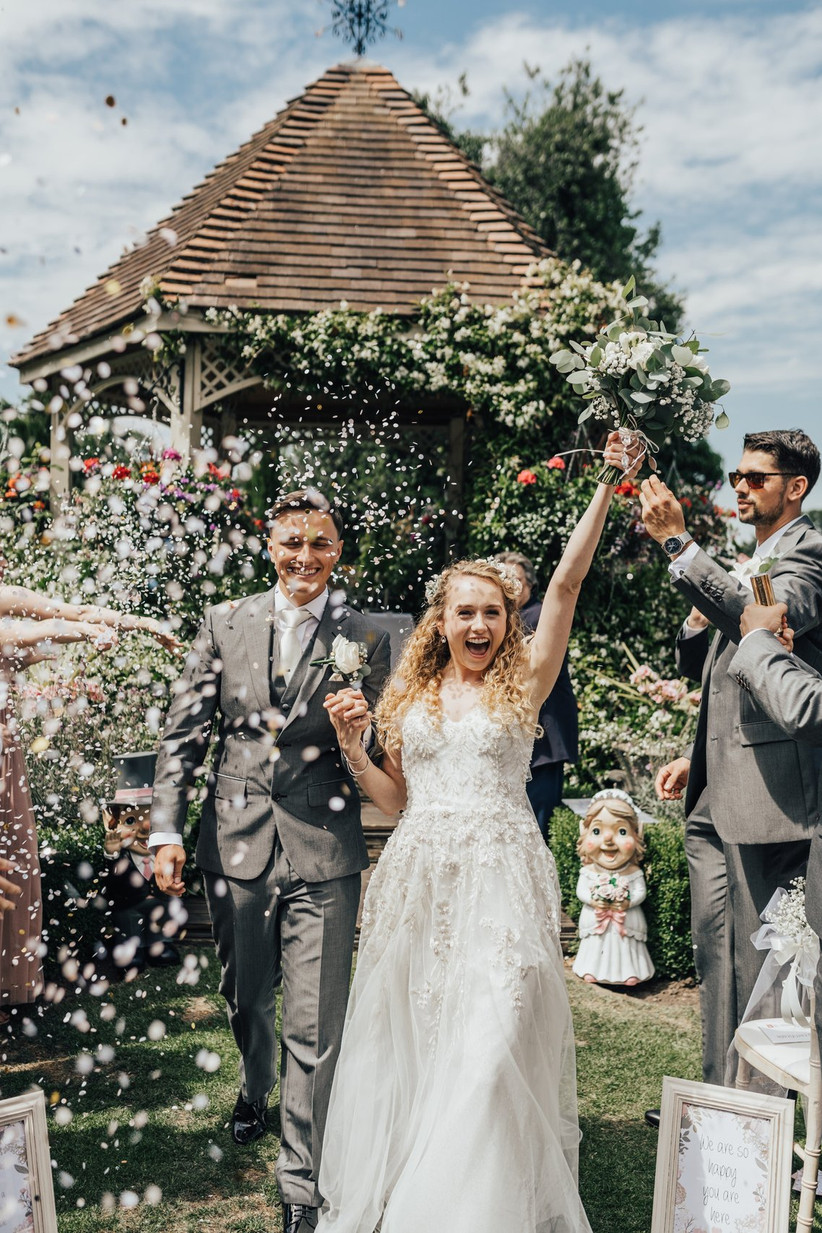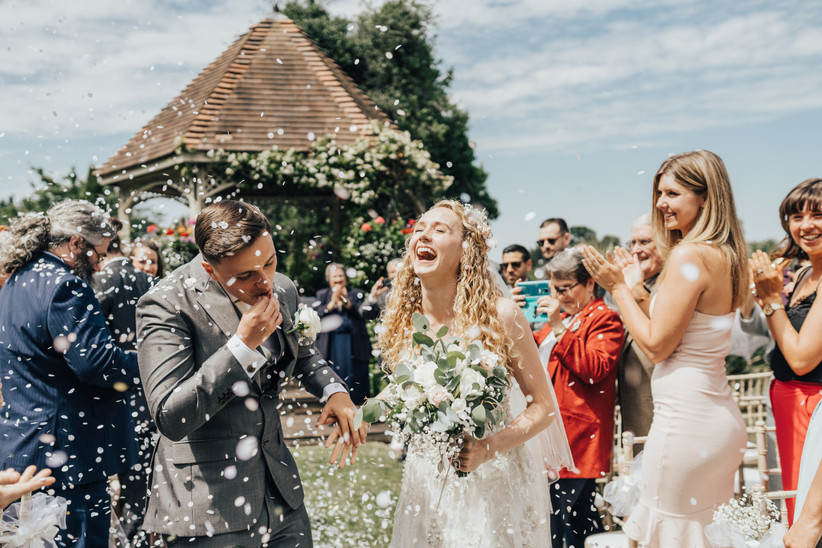 The Wedding Ceremony
Sam and Katie-Marie had a celebrant-led outdoor ceremony at The Knowle with lots of personal family significance. Katie-Marie's Granddad used to play the bagpipes for London Scottish and her older sister Caroline took them up a few years ago.  She walked down the aisle with her Dad by her side to her sister piping them in. Her ring was made from both her Grandma and Great-Grandma's wedding rings, which were melted down to make a simple gold band. "What my Mum didn't know is when I collected the ring there was some gold leftover which I got made into a pendant and gave to my Mum on my wedding day," she revealed.
"I was really nervous walking down the aisle so it was such a funny, memorable moment when I reached the end and saw that Sam had the most shiny awful shoes on! It immediately made me laugh and the nerves went away. Then I noticed that my Mum had sneaked in the Bride and Groom gnomes, which was just hilarious and a long running joke between me and my parents.
"Our celebrant was lovely and made jokes throughout the ceremony. It was lovely as it felt like all our guests were involved too. One of my maid of honours Lisa did a reading for us which was beautifully said."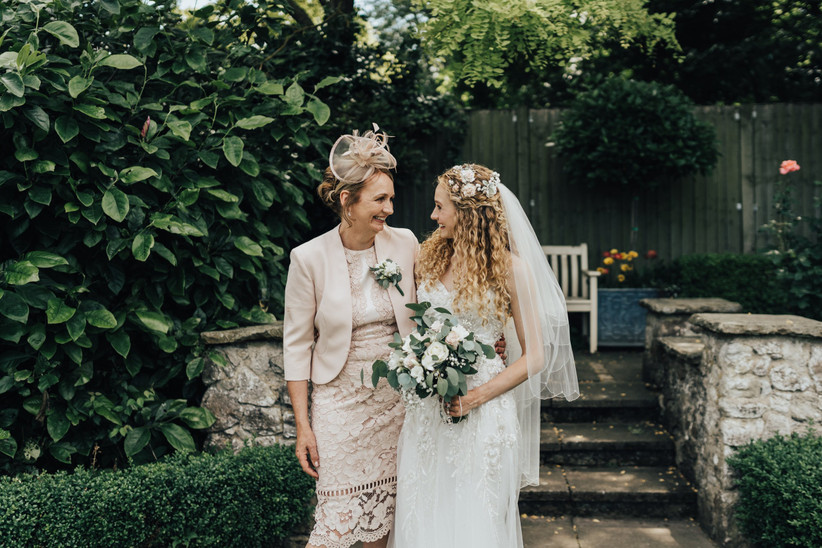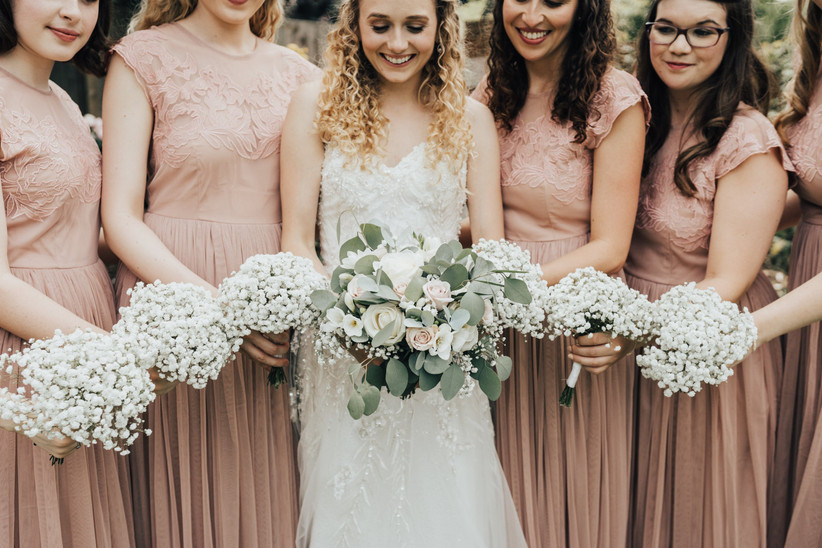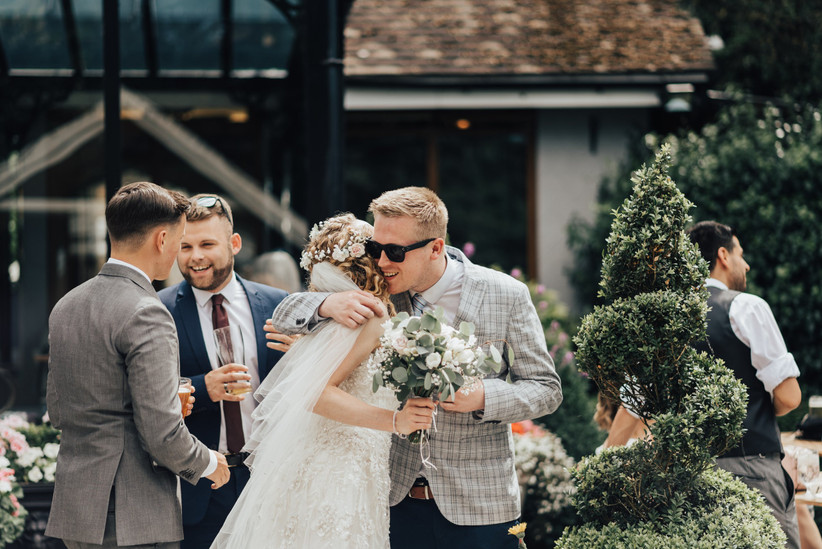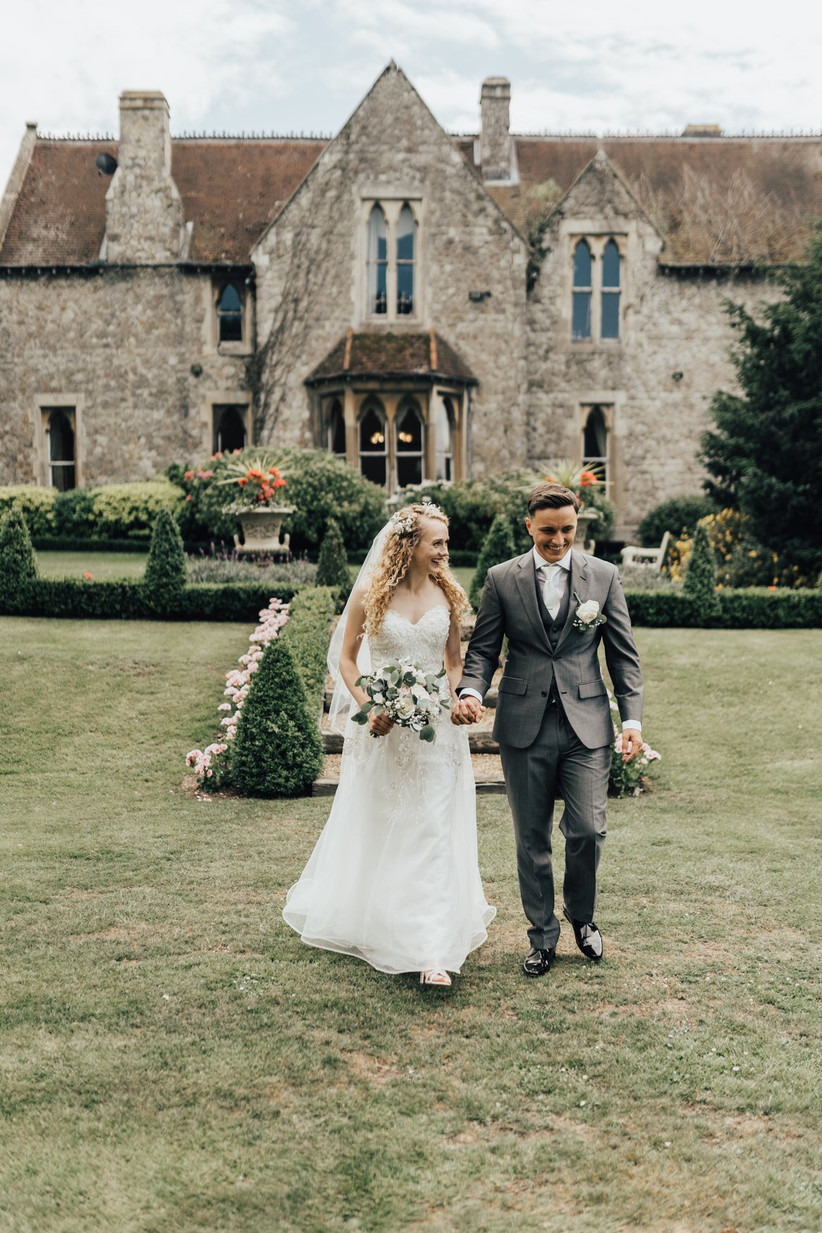 The Wedding Flowers and Cake
Their colour scheme was gold, dusty pink, ivory and grey. A family friend who runs a floristry business called Angela Rose around the corner from Katie-Marie's family home embraced the colour palette with lots of pastel roses and foliage. Their cake – a three-tier white and pink creation topped with fresh roses – came from Belle's Bakes in Welling.
"I wanted something quite wild for my flowers so opted for some eucalyptus, gypsophila, love lace roses and vintage ivory roses. The venue supplies their own flowers, which I loved, but we added a few aisle flowers. We got married outside so there was tons of greenery and flowers around too.
"For the cake, we wanted something very simple, incorporating our colour scheme. Belle is a very talented baker and catered for our gluten- and lactose-free family."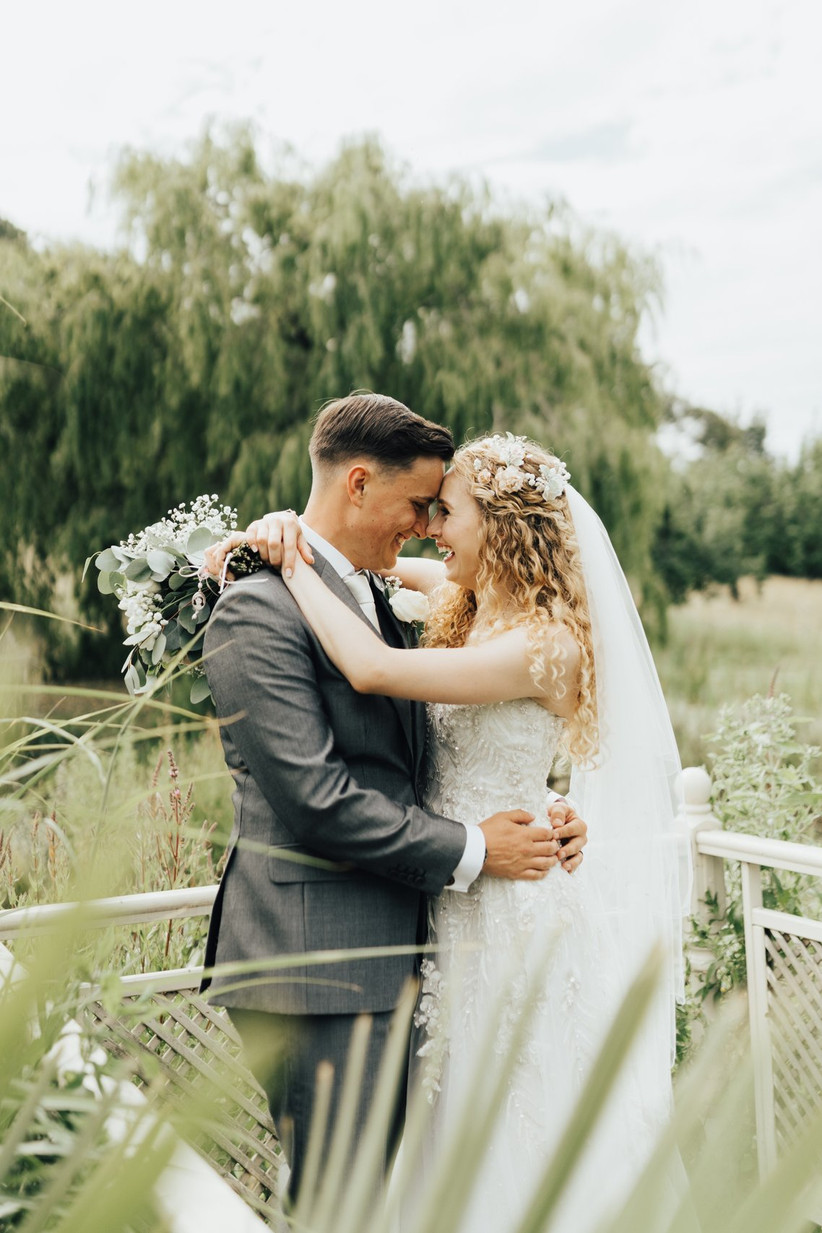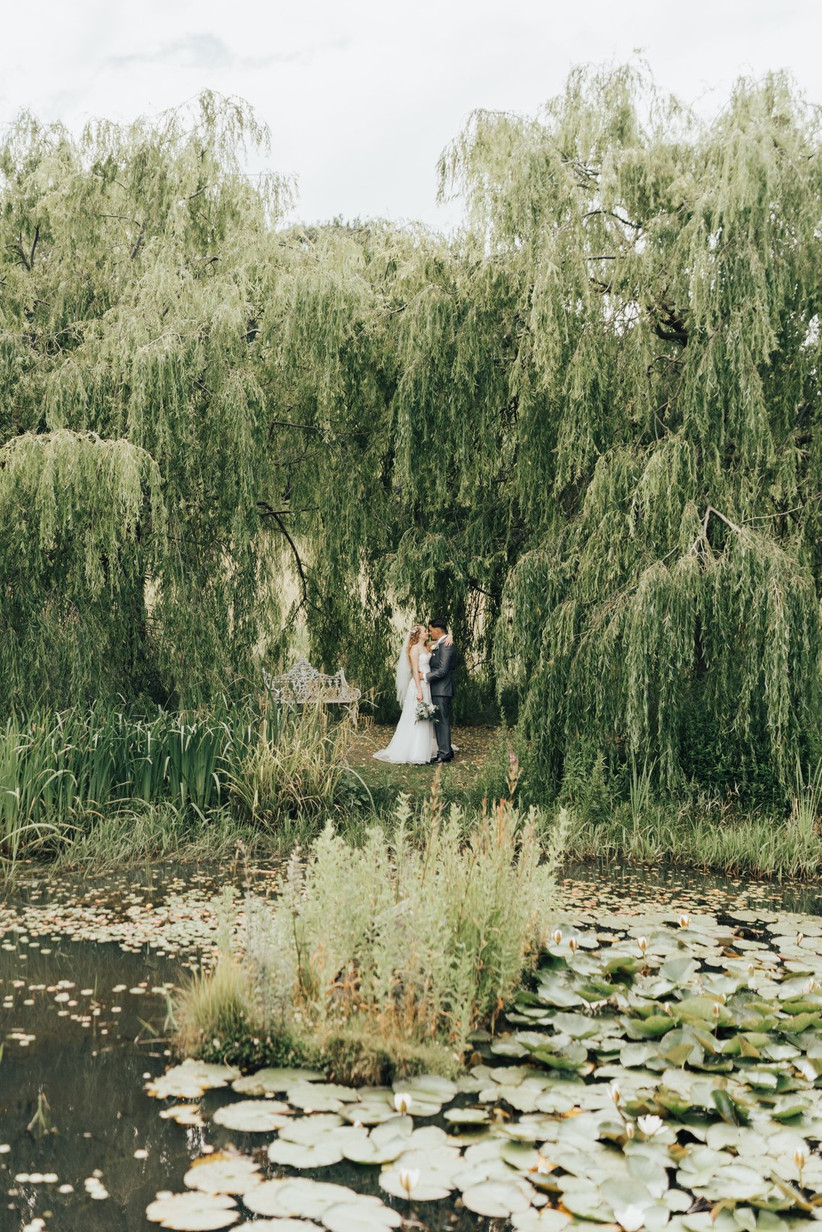 The Reception
The gardens of The Knowle provided a beautiful setting for the outdoor parts of their wedding reception for 140 guests. Inside, guests sat on tables named after places Sam and Katie-Marie had travelled to and tried their luck with scratch card favours. Their first dance was to Eric Clapton's Wonderful Tonight (Live in San Francisco version), with confetti cannons showering them as they danced.
"When Sam and I first met he told me his job was a 'professional gambler' so we thought it would be fun for all our guests to do scratch cards for our favours. I think the most someone won was £5!
"We didn't choose to have specific entertainment but instead got loads of garden games like limbo, inflatable instruments, sparklers and a DIY photo booth for our guests to enjoy. The guests loved the games and we didn't want people to be bored!
"We have been to weddings before where there is nothing to do for the guests, especially when you arrive for just the evening. We wanted to make sure everyone felt really involved and not like they had just missed the big part of the day already."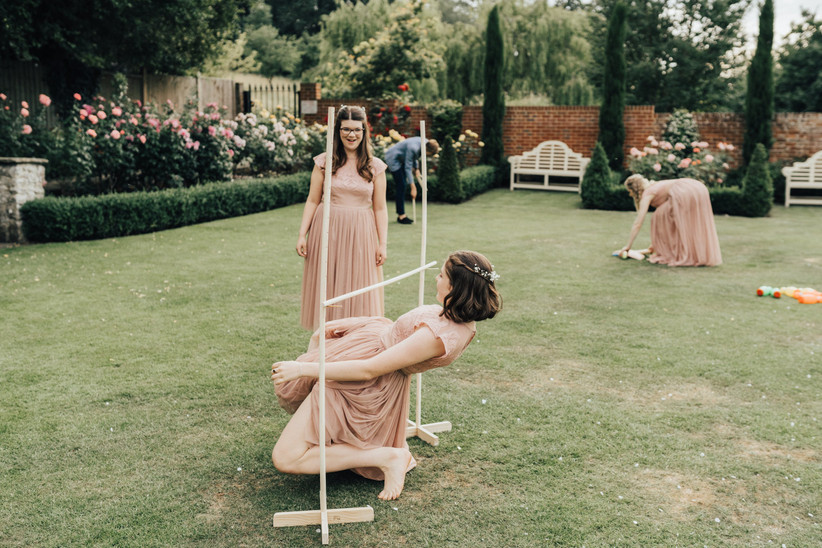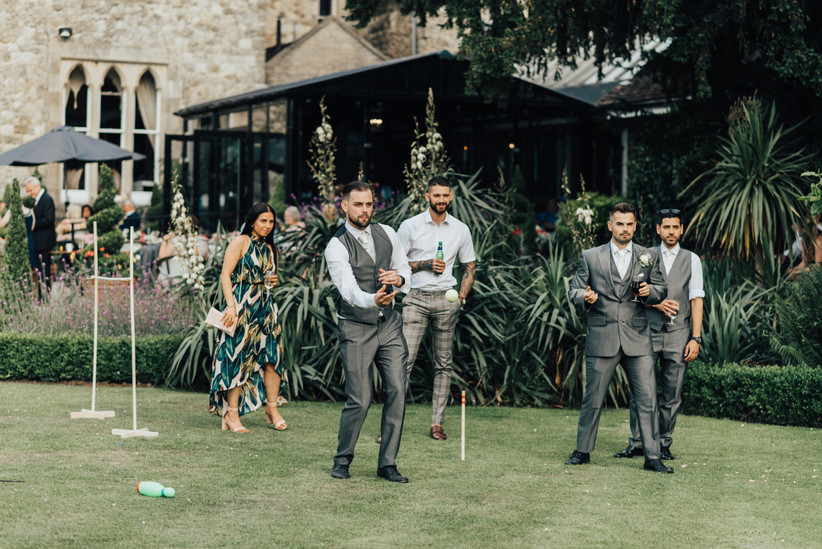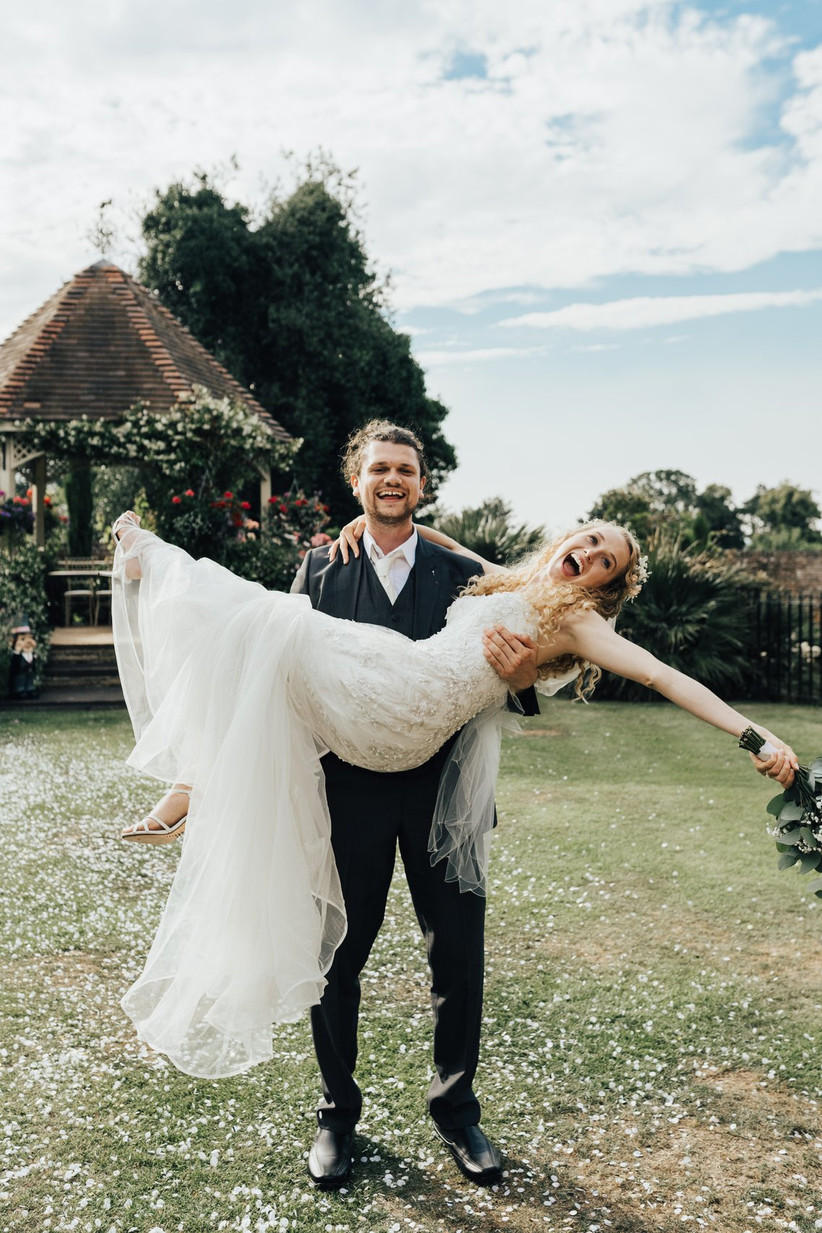 The Stationery
As well as playing the bagpipes, Katie-Marie's sister Caroline created the stationery for the wedding. Everything matched the colour theme – not just the stationery, but the t-shirts at the hen do, the bridesmaids' personalised bags and the dressing gowns after the wedding.
"My sister Caroline owns her own print and embroidery business. She kindly offered to do all our stationery for our wedding – I think she underestimated how much of it there would be!
"For our save the dates, we used a magnet with our proposal picture on. We wanted this in a 'Polaroid' theme as we took loads of Polaroids when we were travelling. Our invites came in a handmade holder where we had another Polaroid themed picture with the invites.
"On the actual day we had everyone's individual picture printed with their names on in the same theme. The table names were all places we had travelled, the welcome sign was designed by Caroline and the quotes down the aisle were all printed by Caroline."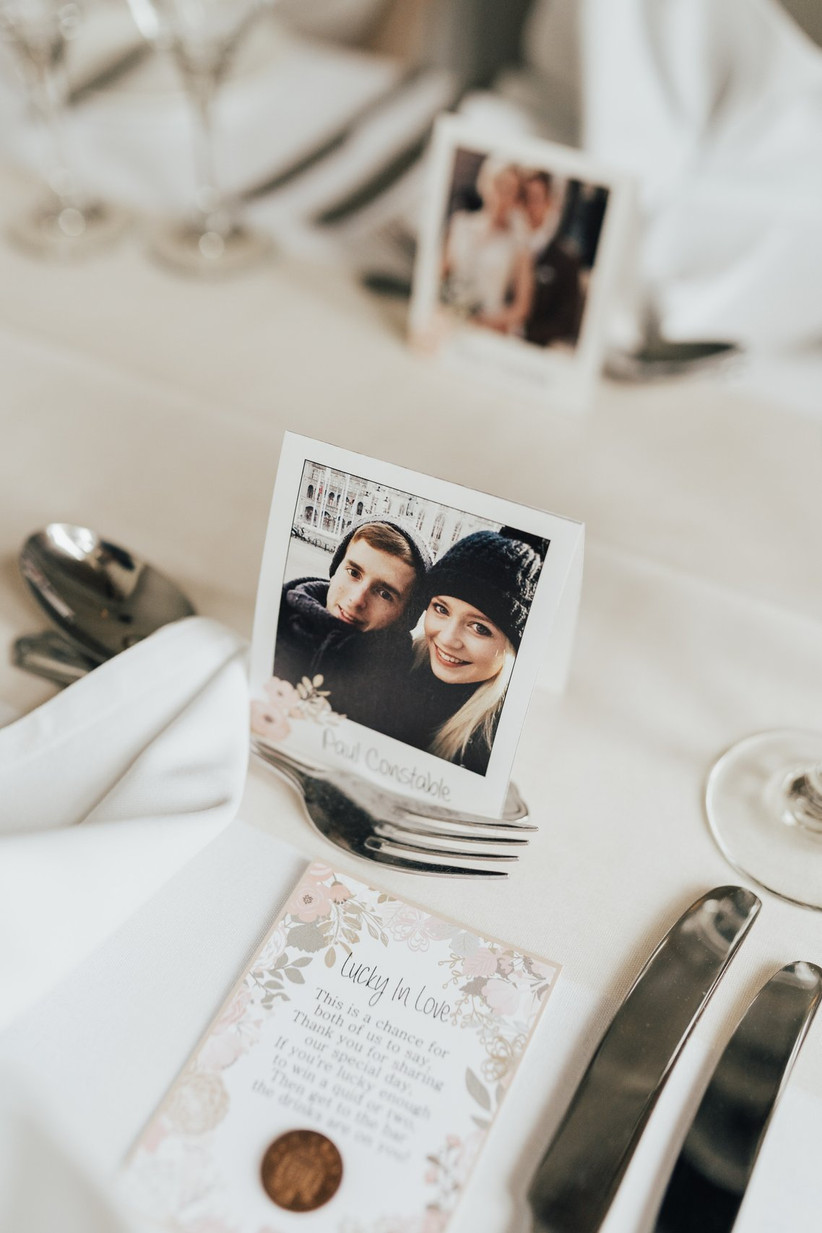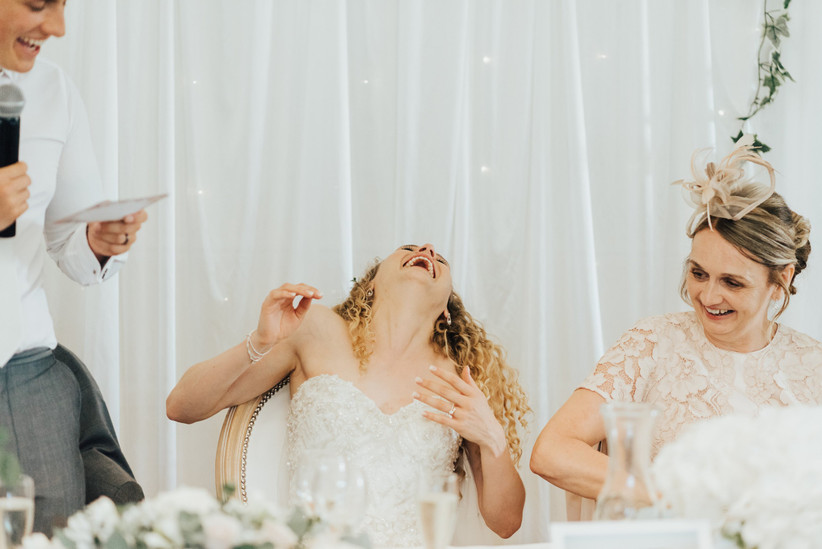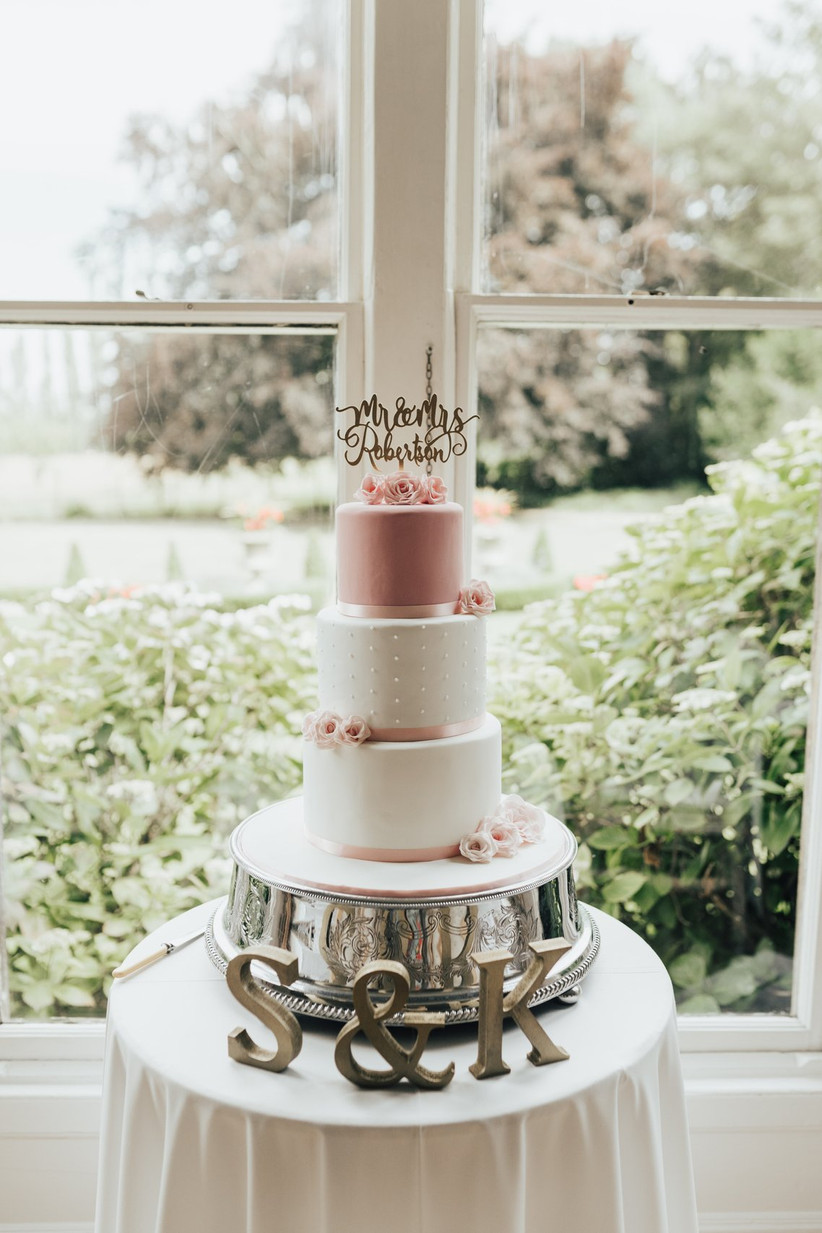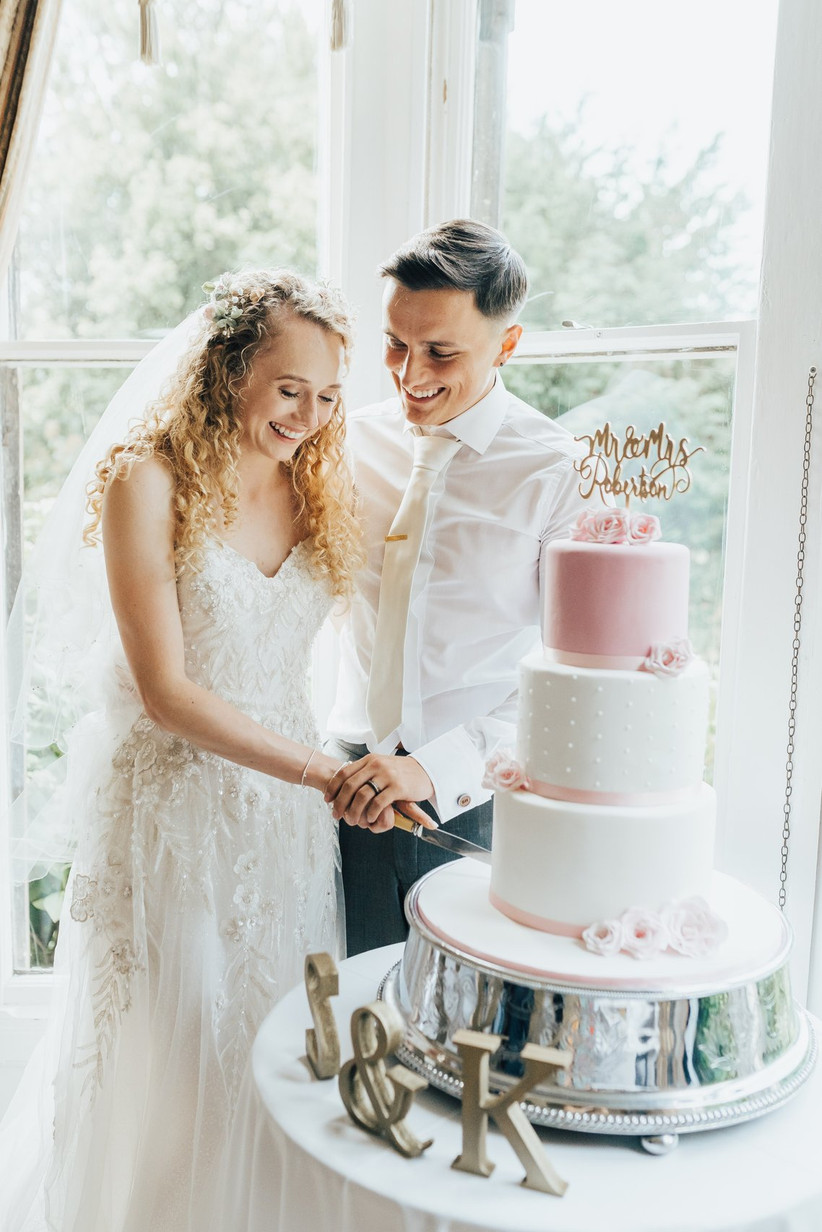 The Special Moments
Photographer Rebecca Carpenter was able to capture some incredible shots of the couple, including smoke bomb photos, but it was a whole day of personal moments.
"One of my favourite moments of the day was when we disappeared with the bridesmaids and groomsmen to go and wander through the long grass for photos. I knew what our photographer Rebecca has planned but my bridesmaids looked at me like I was nuts! We were sitting in the long grass with grasshoppers all up the layers of my dress, it was just so funny. The smoke bombs were incredible, I think one of our bridesmaids ended up with a pink face, but we have some brilliant pictures! The 'golden hour' of photos was just so much fun.
"We both really enjoyed making each one of the guests feel really involved in our day and journey. It was a such a wonderful feeling when we had guests getting emotional with us, complimenting the day and having fun.
"The morning after the wedding going to our car and realising that my sister and brother had trashed our car, covered it in sticky notes and the gnomes were on top of it!"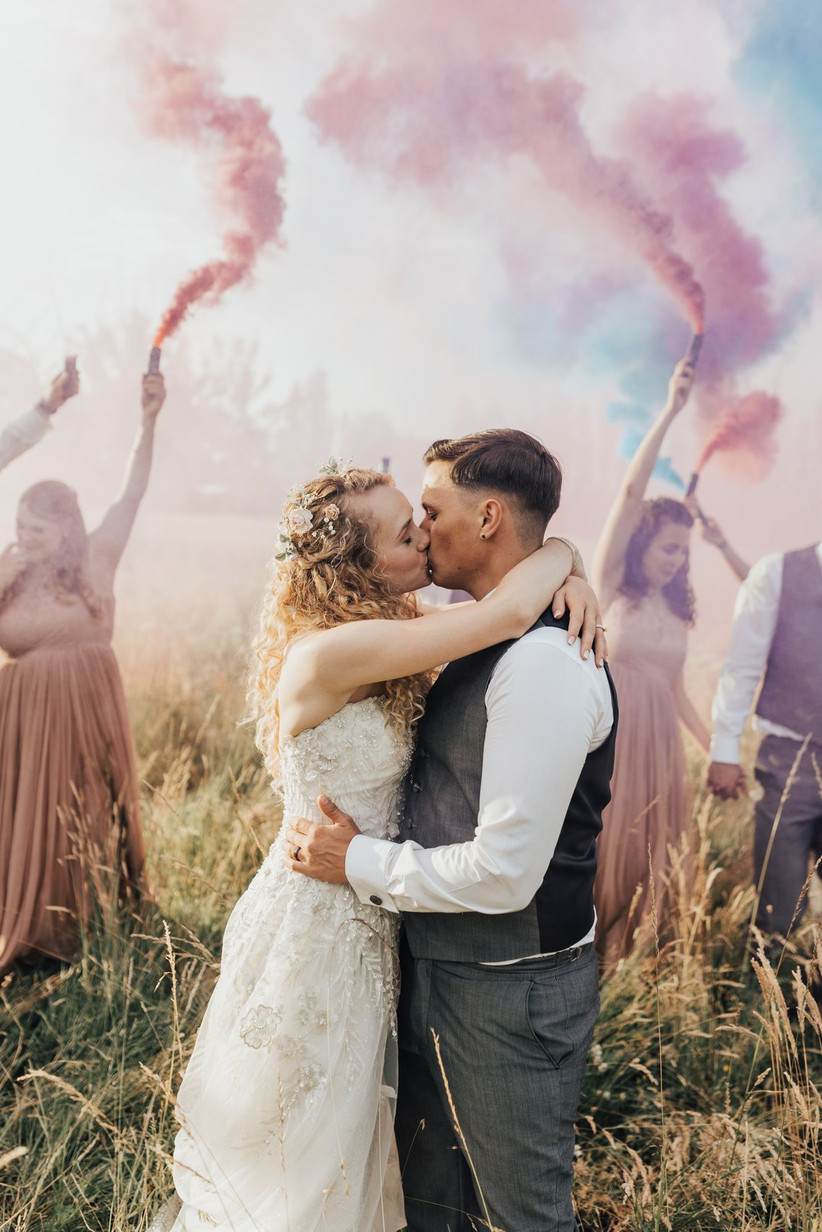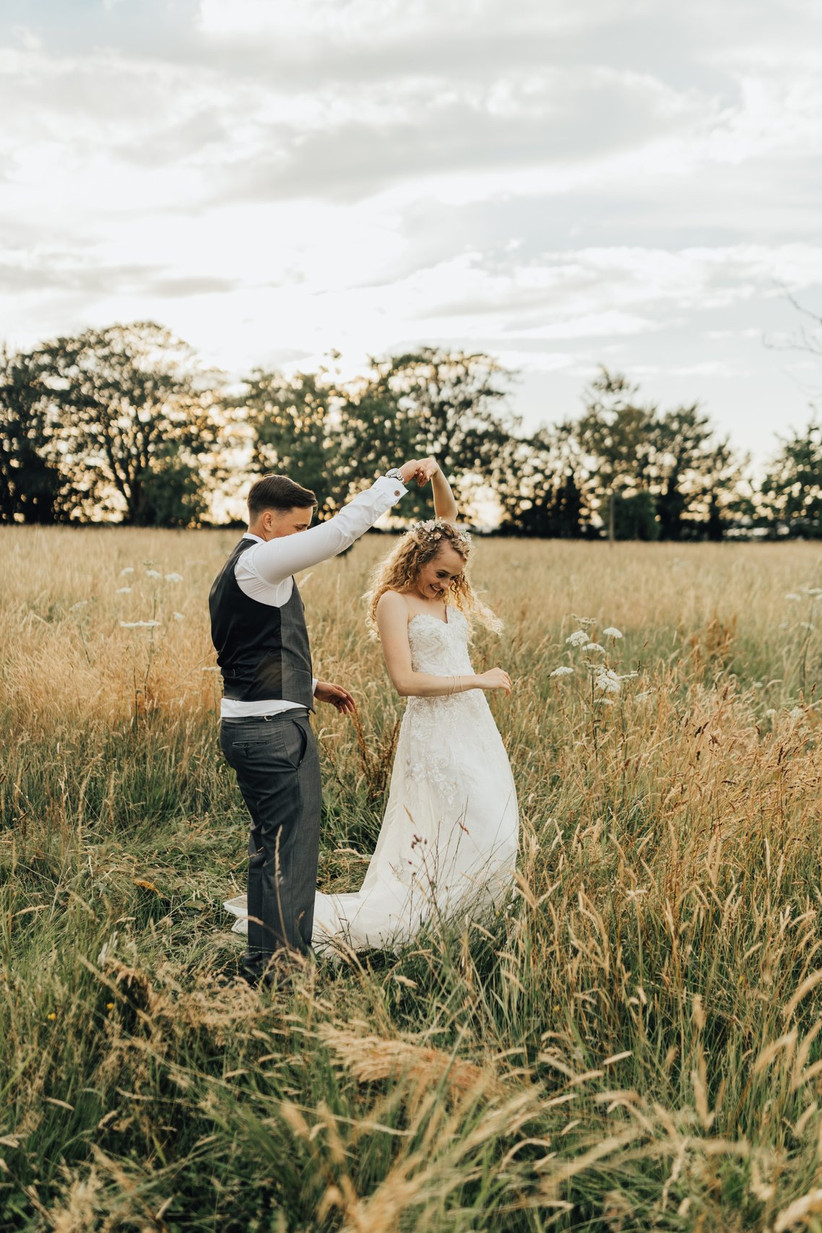 The Honeymoon
The newlyweds are planning a December or January trip to Australia, to an area of the country they'd never been before.
"We looked at so many options but we're not the sort of couple to just lie on a beach for two weeks or go to places everyone else has been. We also took some advice from friends that have done honeymoons who said sometimes you should go and do something that you know will be good and memorable.
"We tossed up between going back to New Zealand and doing parts of New Zealand we didn't get to see before or going to Australia, stopping by my cousins to celebrate New Year with them and then heading down to Tasmania, where we haven't been before to travel around it and hike some mountains. We decided on Tasmania!"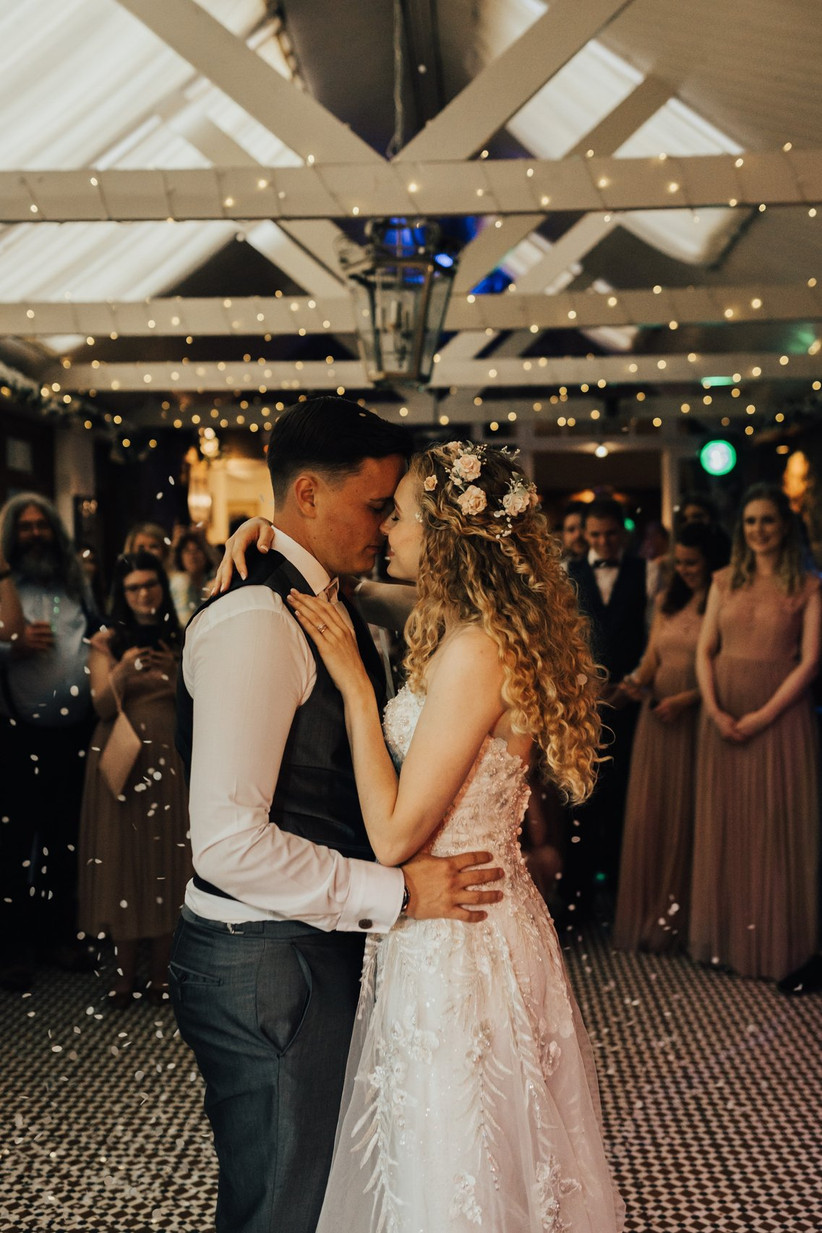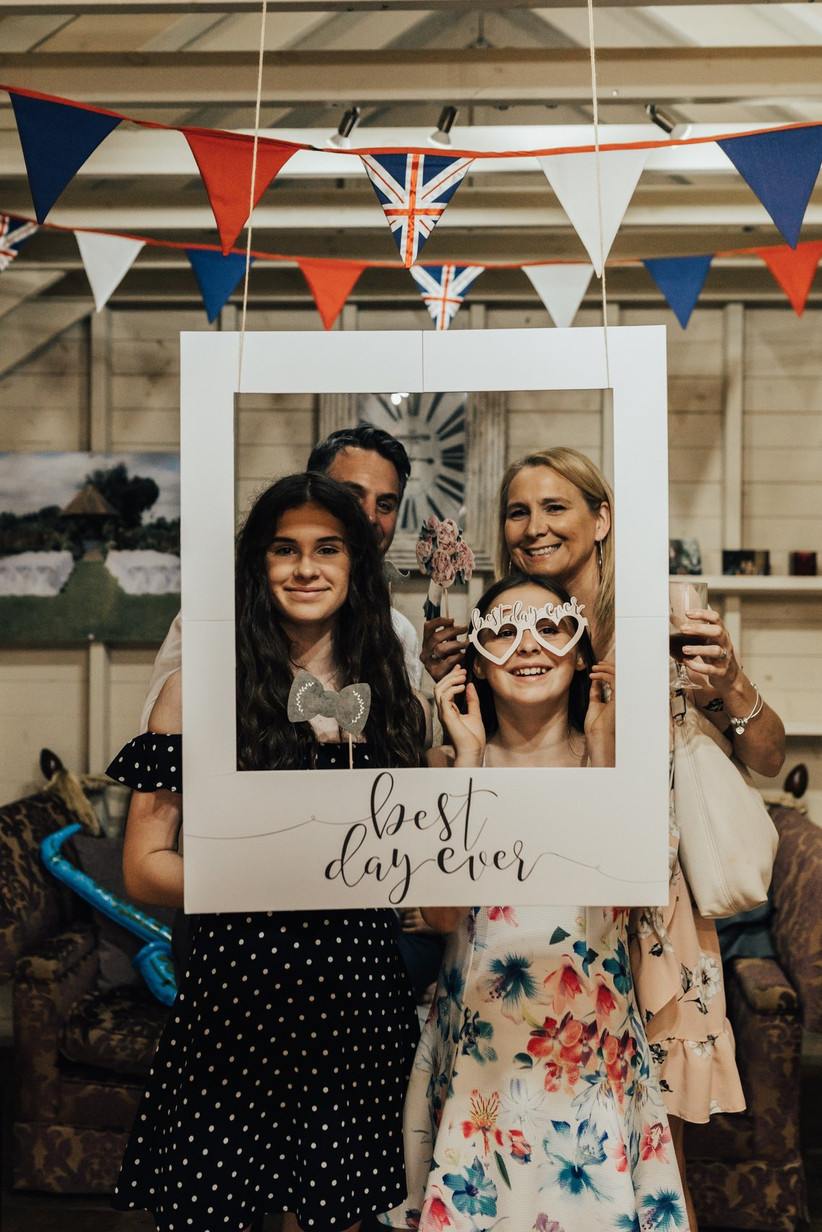 The Newlyweds' Advice
Remember to think about your guests! If they have a great time, we are sure you will too! Feed them well, have them involved and keep them entertained where you can.
If there's something you don't want to do on your day, or someone you don't want to invite for a legitimate reason, be respectful but firm with your decision. You will never please everyone but hopefully your decision(s) will be respected.
Remember to enjoy the planning and the day itself! Leave yourself time in the morning of the day to soak everything in, you don't want to be super stressed and worrying about timings. Buy yourself time to be able to speak to all of your guests and to get the photos you desire.
An unplugged ceremony is always an option and don't be afraid to get people to implement this! It makes the photographer's photos and/or the videographer's video that bit more special.
Make the venue personal to you. We had loads of old photos of parents, grandparents and great grandparents' weddings dotted around.
Video: Leslie Watts
The Suppliers
Venue and Catering: Knowle Country House
Photographer: Rebecca Carpenter Photography
Videographer: Leslie Watts of Video Memories
Wedding Dress: Kenneth Winston from Bell'Amore
Bridal Accessories: Serenity Wedding
Groomswear: Well Suited Ltd
Florist: Angela Rose
Stationery: Carrie Lou Crafts
Makeup Artist: Marie Mansfield
Hair Stylist: Vicki Grayland
Bridesmaid Dresses: ASOS
Cake: Belle's Bakes
DJ: Damian Hiscock – SoundWaves Disco
Thank you to Sam and Katie-Marie for sharing their wonderful day with us.