After eight years together, Zoe and Joe Jones decided it was time to tie the knot and chose to get married at the gorgeous Cripps Barn in Cirencester in September.
Romance blossomed when Zoe saw Joe's band play. She asked the aspiring musician out and, just a year later, their baby boy, Chase, was born.
Fast forward another year and Joe asked Zoe to marry him. But, with the financial responsibilities of being new parents and new homeowners, the couple decided that a wedding would be too expensive.
Wedding planning was "put on the back burner" for another seven years. But, after attending their friend's wedding, they decided it was finally their turn.
Thanks to a long engagement, the couple knew exactly what they wanted and, as a result, loved every moment of their wedding day.
Zoe and Joe's big day truly reflects them as a couple. As you'll see, this resulted in a rustic wedding with many DIY components, a gorgeous homemade cake, and a vintage Ford Mustang.
Photographer: Birches and Pine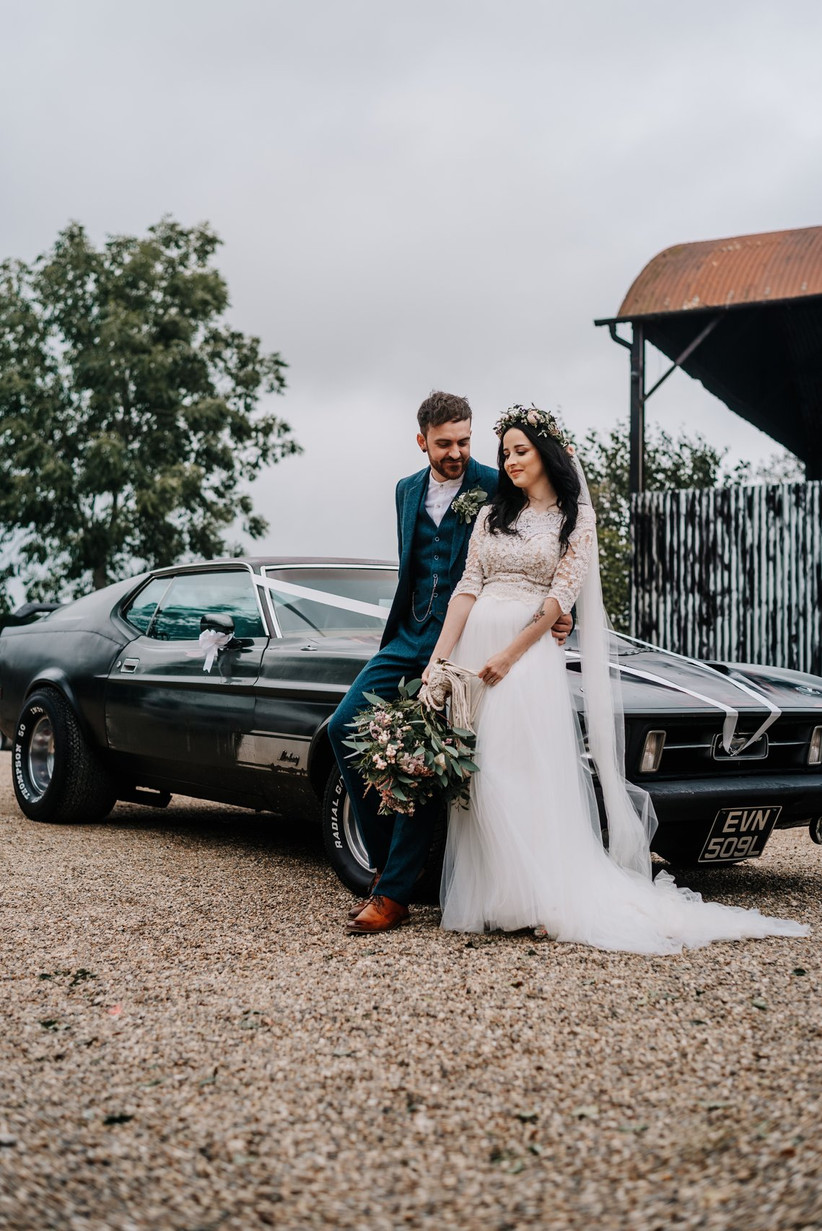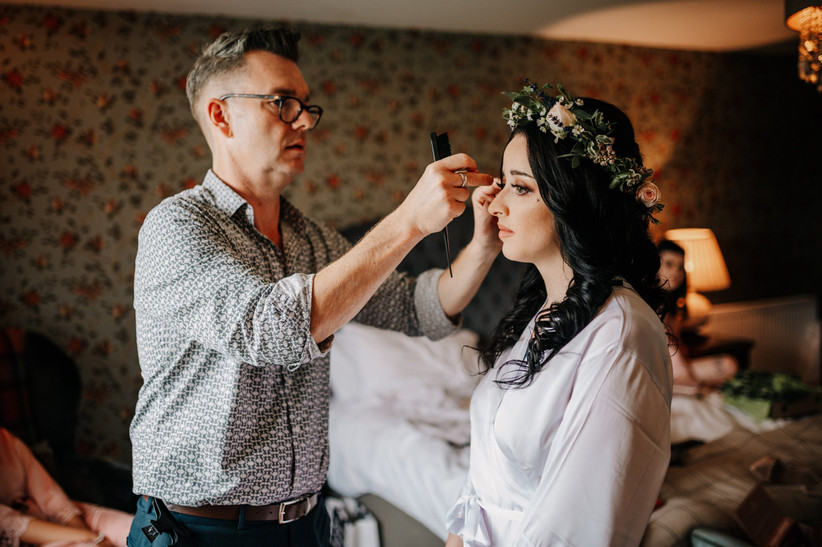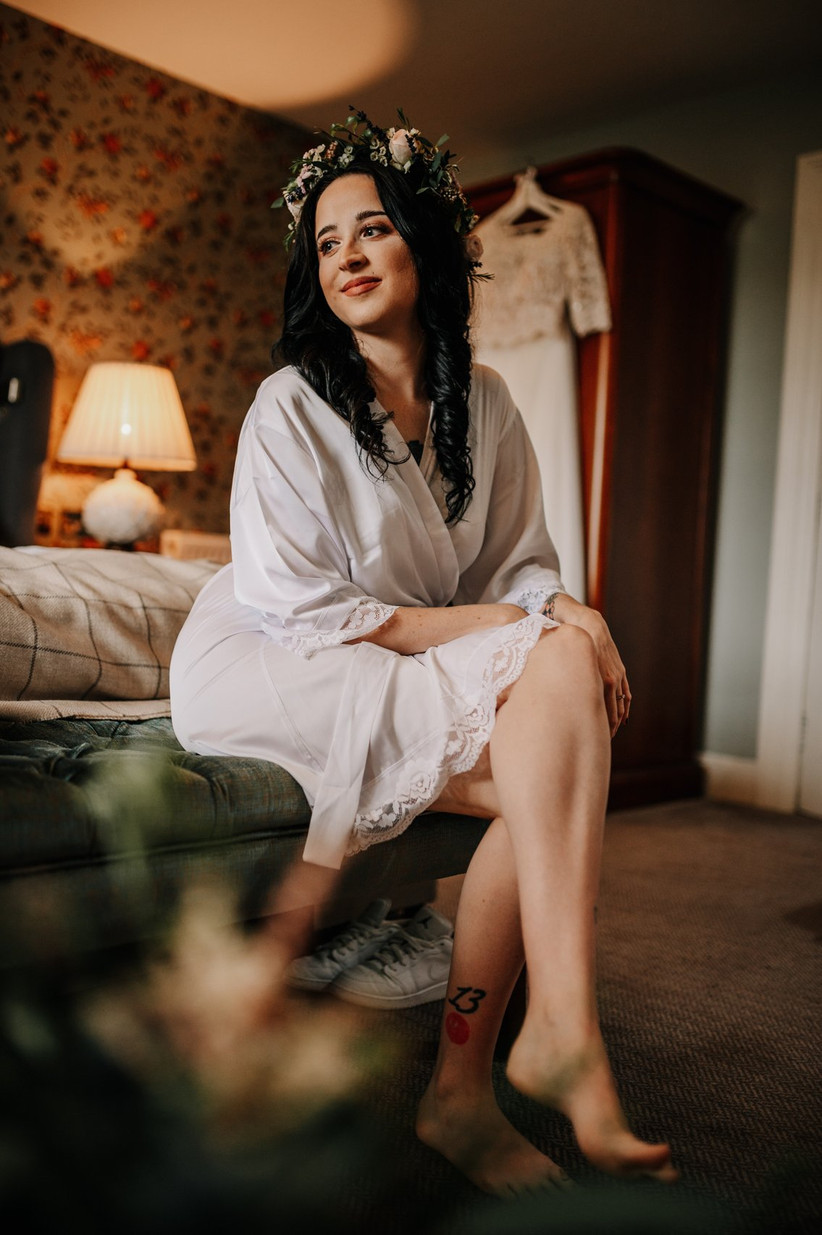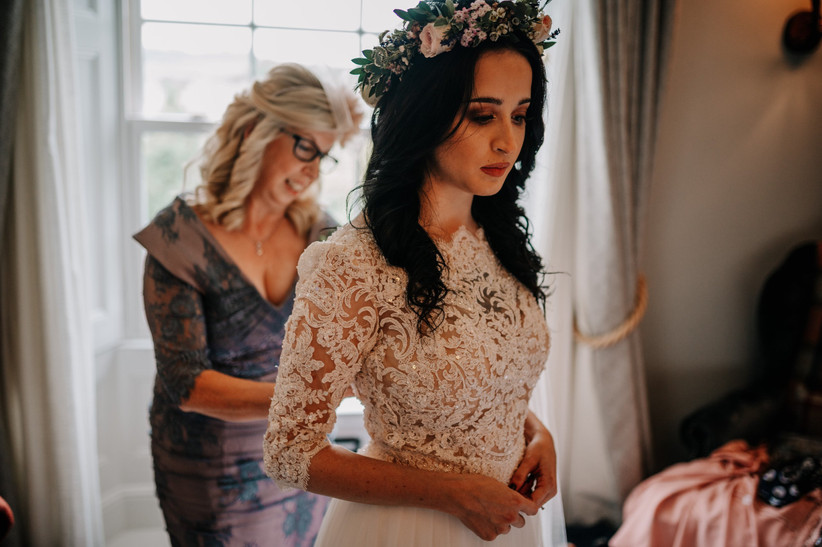 The Wedding Dress
Zoe chose a two-piece, boho style dress that tied in with the rustic barn venue. The gorgeous tulle skirt didn't restrict her movement either so she decided to wear it all day.
"I went for a two-piece dress purely because I couldn't find the style I wanted in a single dress. I decided to mix and match to 'make' my perfect dress.
"The jacket was a white lace, mid sleeve, high neck design with a blush undertone which I really loved as it helped show off the lacework. The skirt was tulle and high-waisted. My veil was also made from tulle and went down to the floor. The idea was that it would blend in with my skirt. The jacket was Eddy K and the skirt was called 'Rebecca's Choice'. I bought them from The Dressing Room in Halesowen.
"I had already done the classic 'searching through Pinterest' so I had an idea of what style I wanted. My dress was actually the first one I tried on. I then did try on about six or seven more, but it only confirmed how much I loved the first one. I knew it was 'the one' when I tried it back on.
"I wore it with a veil, a flower crown and macramé wrapped around my bouquet."
Bridal Hair and Beauty
As Zoe and Joe wanted to keep costs down, they decided that the bride and bridesmaids would do their own makeup. But Chris Fordham was entrusted with doing Zoe's hair.
"My Mom and I travelled down for one hair trial about two months before the wedding. My hair was different to how I normally have it: I usually have it fully straight, but for the wedding, I went for loose curls to go with the boho theme.
"Other than our flower crowns, the only jewellery I wore was my Great Frog skull ring that Joe had brought me for a wedding present."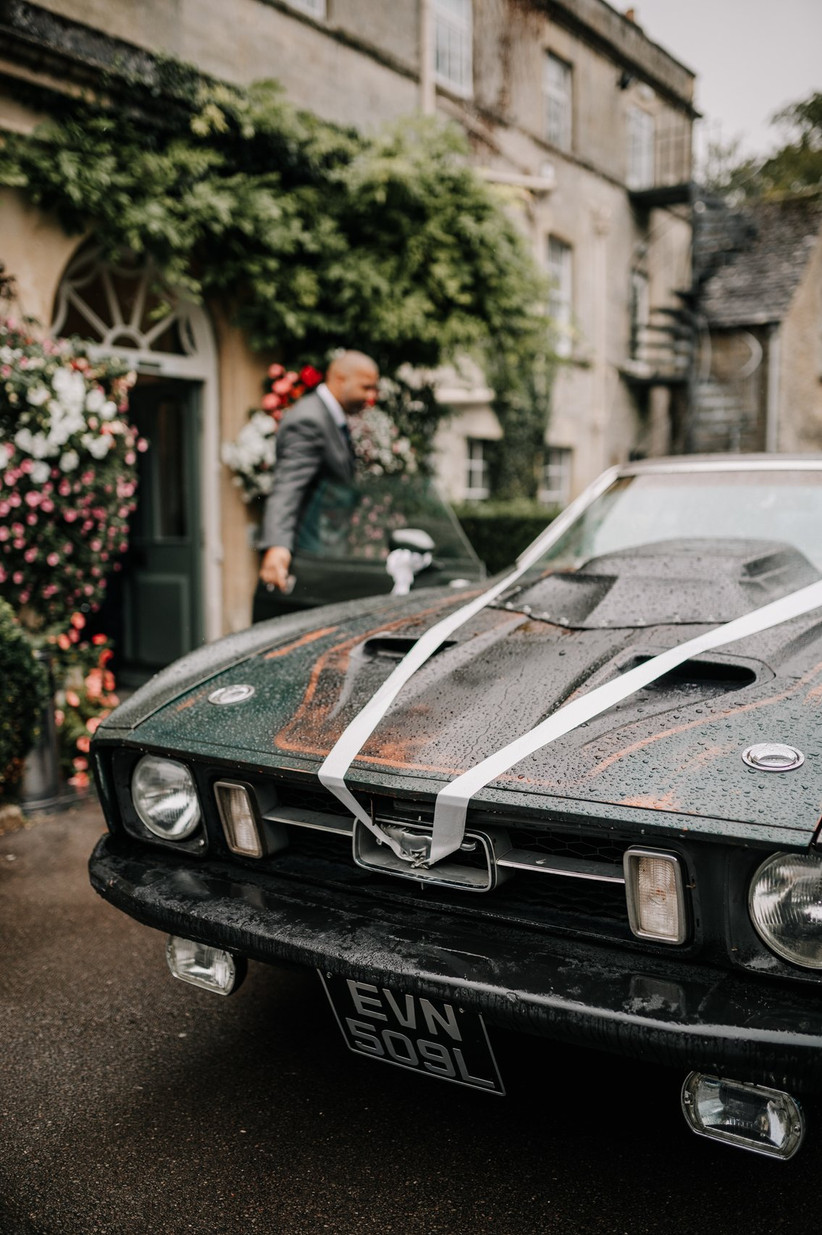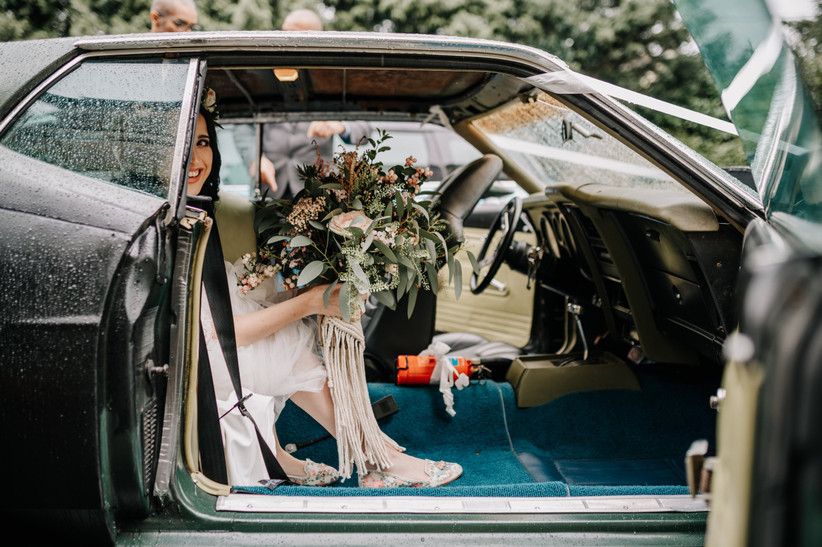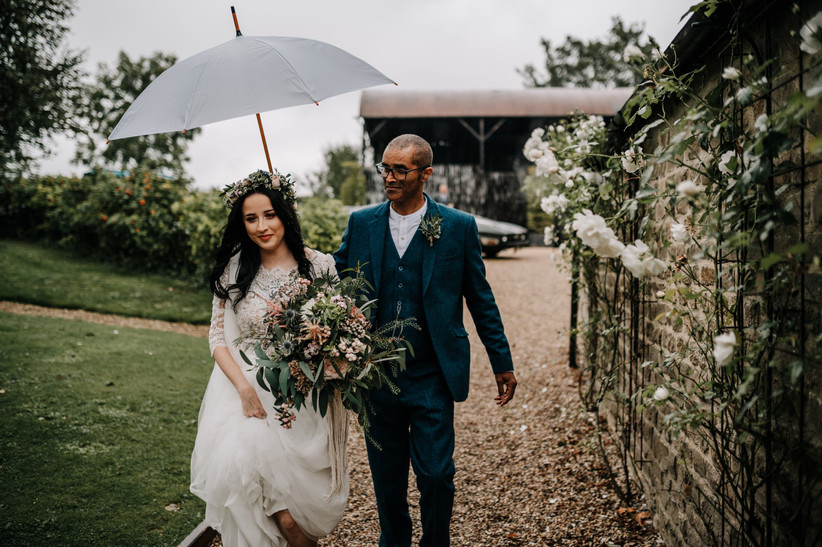 The Bridal Party
One of Zoe's favourite moments of the entire day was getting ready with her bridesmaids and mum.
"I had three bridesmaids: Becki, Phoebe and Laura. Their dresses were a kind of multi-way wrap dress because I wanted everyone to feel comfortable and be able to wear them how they wanted.
"They were a dusty pink and they were from Marks and Spencer. I saw them the year before on offer and sort of panic-bought them, but it turned out to be a really good panic buy!
"When we were getting ready, a special moment was when the florist turned up with our flower crowns. I had only given her a rough brief so the final design was a bit of surprise for me and I absolutely loved them.
"I also felt really special when our hairdresser turned up. I was just a really nice feeling when all the things we had booked and planned a year before started all coming together."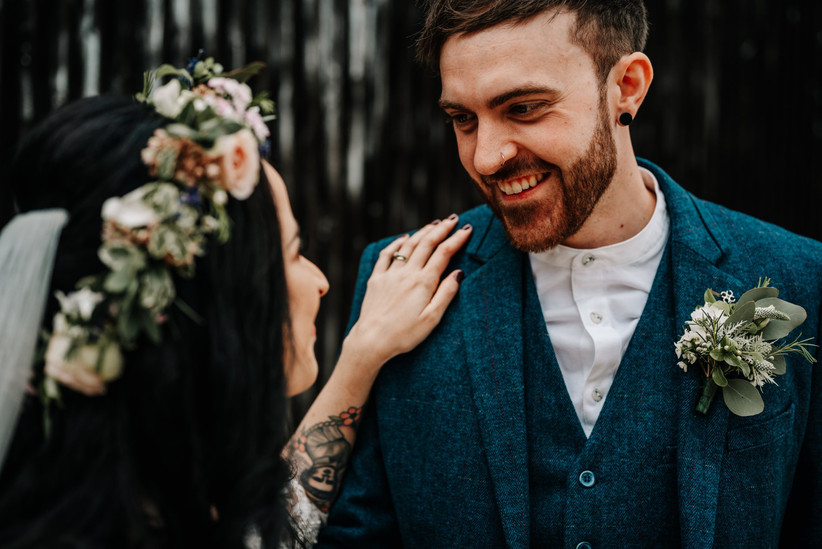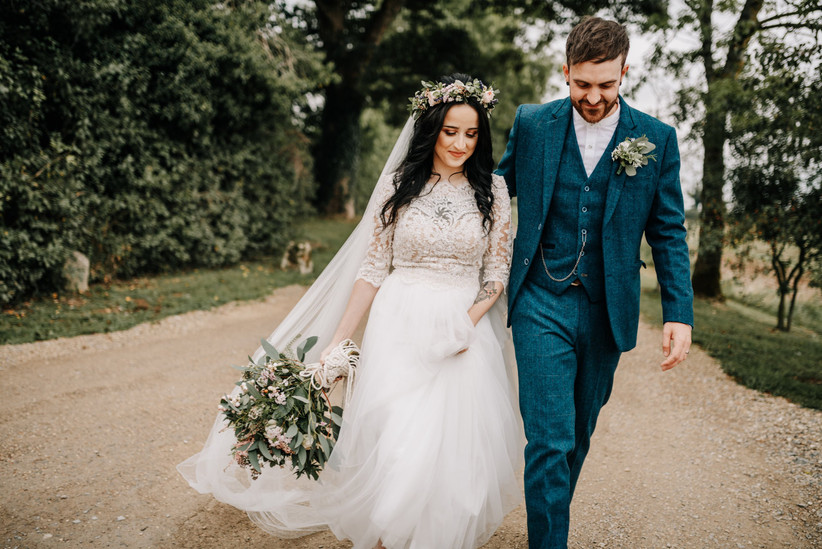 The Groomsmen
To ask his friends and family to be in the wedding, Joe bought them all a pocket watch to wear with their matching groomsmen suits. Not only did they look great, but they make a lovely keepsake.
"My groomsmen and I all wore matching three-piece suits on the day, along with the fathers of the bride and groom. I wanted a wool blend, vintage-looking suit, so began searching everywhere to try and find a suit we all liked and also that fit our budget.
"After a ton of searching, I found a wool blend Cavani 'Carnegi Tweed' three-piece suit. I went for granddad collar shirts because I didn't want to have us in ties or anything too formal.
"The suits were bought, not rented. I wanted the groomsmen to be able to keep the suits and be able to wear them again if they wanted."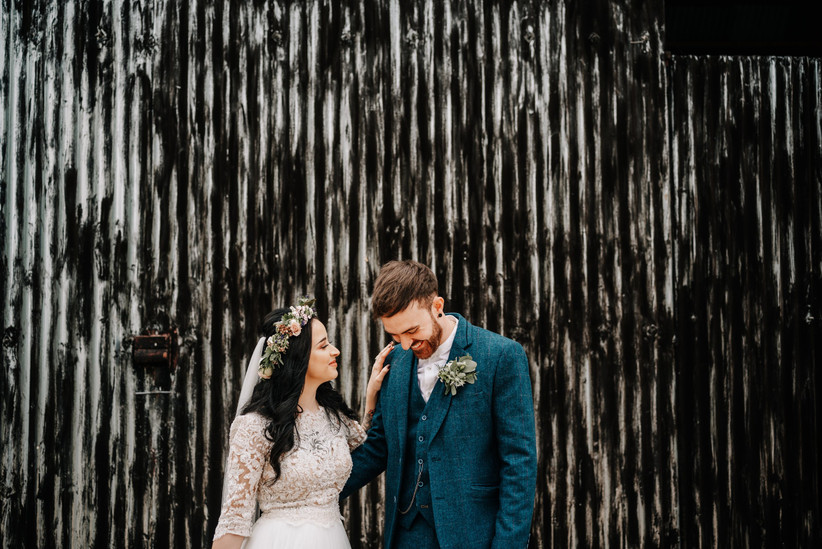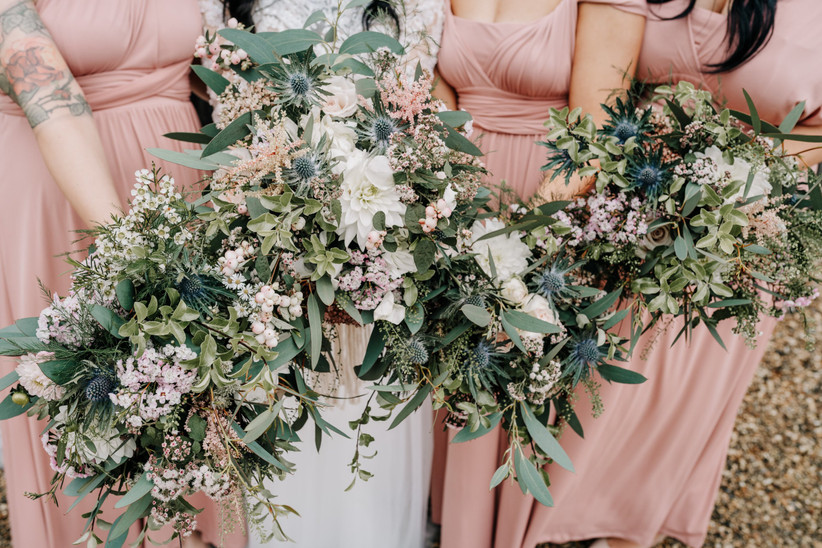 The Wedding Transport
To continue the rustic theme, Zoe arrived at the venue in her uncle's vintage Ford Mustang which was topped off with a white bow across the bonnet.
"We loved the Mustang. It has a bunch of rust patches, the roof leaks and it's super loud but that just adds to the character of the car.
"We had another car for the bridesmaids. They went in one of their dad's cars which he offered to us.
"We also had a coach pick all our guest up from the hotel in the morning and then pick everyone up when the reception finished. It was good because there wasn't any hassle with booking taxis or with people having to drive."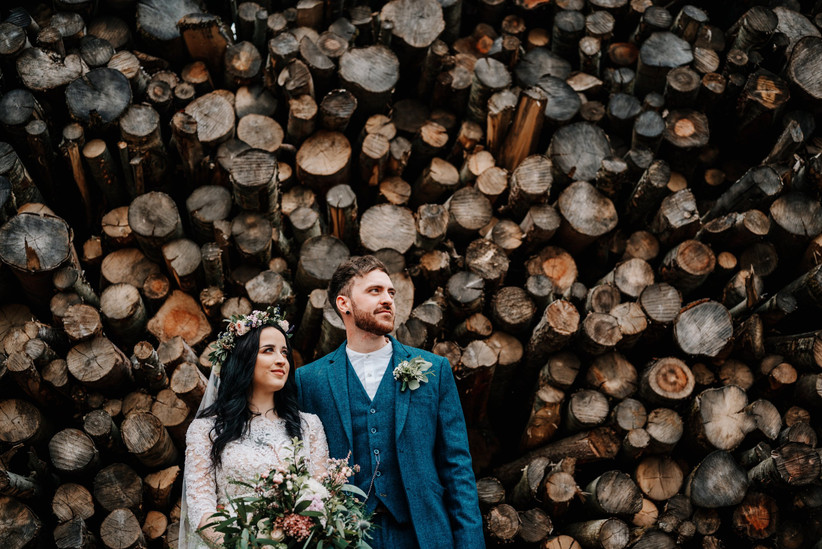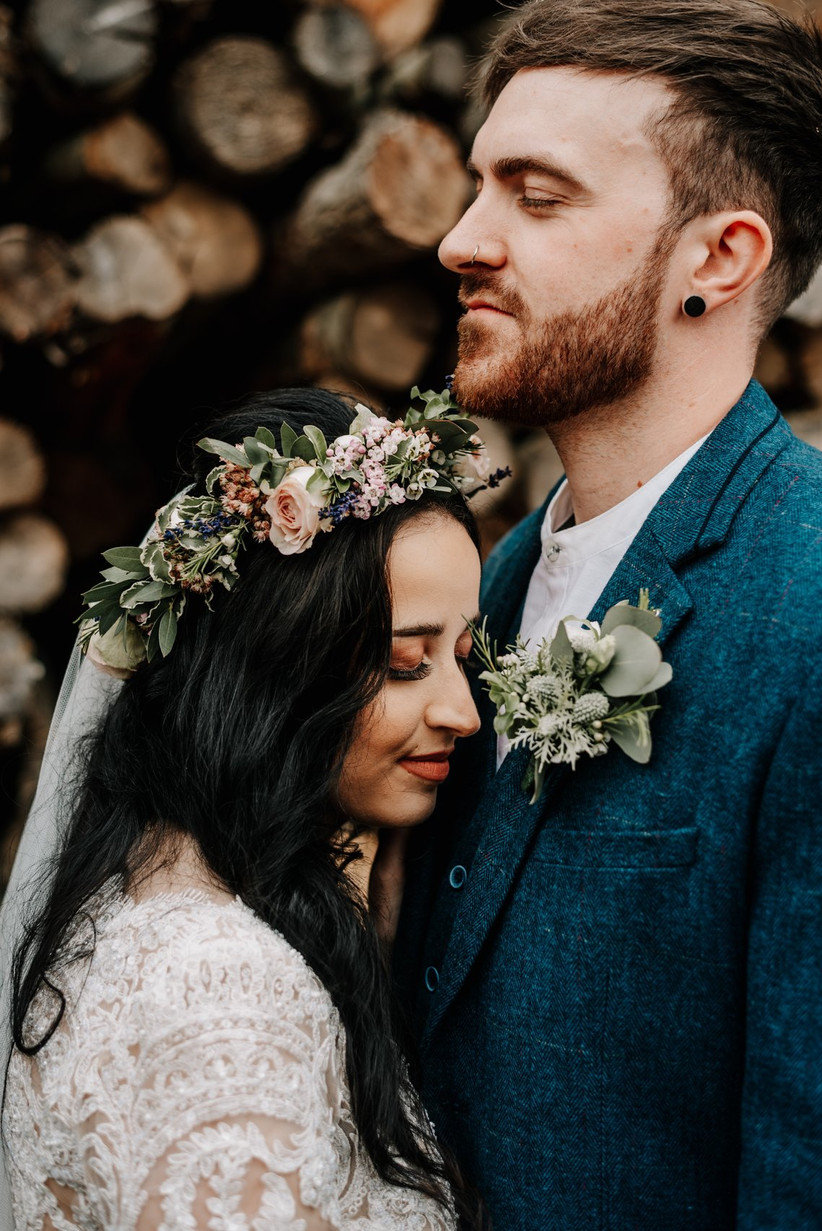 The Wedding Venue and Ceremony
Although the couple initially planned to get married at a French château, they decided that the logistics were too complicated. Instead they chose the rustic setting of Cripps Barn in Gloucestershire for their big day.
"'There are obviously a lot of English barn venues to look through so we spent weeks searching online, then Zoe came across Cripps Barn.
"The thing was, she only looked at the website properly because we thought it would be way out of our price range considering how beautiful the venue was. Turned out having a Monday wedding put it within budget and we arranged an appointment within a week and booked it for the following year.
"The biggest selling point for us was the ceremony room with its stone walls and huge fireplace. That said, the location in the Cotswolds was amazing, the grounds around the barn were beautiful and the room we ate in was also so cool. It just seemed to tick every box for us.
"We had a civil ceremony and wanted it to be as short as possible. I think the whole thing was about 20 minutes. For us, we aren't at all religious and wanted to get married quickly and get on with having a party.
"Zoe walked down the aisle with her dad to the song Holocene by Bon Iver. It was the first song that our son heard when he was born so has always been pretty special to us. Seeing her walk down the aisle was amazing, it's something I won't ever forget."

The Décor and Flowers
Instead of sticking to a strict colour scheme, the couple simply made sure every aspect of the day complemented the rustic venue.
"The bridal party's prominent colours were dusty pinks, foliage greens and naturals. The groomsmen had a navy tweed colour with tan shoes and belts. All the décor that we made was painted with a mix of whites and greys, or we used white materials, for example, for the bunting.
"We found an amazing florist, Beth from Go Wild Flowers. To go with the barn and grounds, we wanted all the flowers to be really natural and wild, with lots of meadow flowers and foliage. We sent over some pictures to Beth for reference and just left her to it. She absolutely smashed it! Everyone commented on how amazing the flowers looked, and we loved them as well.
"We had flowers all around the venue. We had a huge flower wall in the ceremony room, flowers on the chairs going down the aisle, flowers on our table centres, foliage on the beams and around the fireplace, and we also had flowers decorating the cake.
"The barn recommended Beth as she was local to the venue and has done multiple weddings there. We are so glad we chose her! She was amazing to work with, really relaxed and so good at her work. We felt like we didn't have to stress about any of the flowers and we could just leave her to it. We went down several times to check in with her, pick up Zoe's trial flower crown and to drop some bottles and jars off."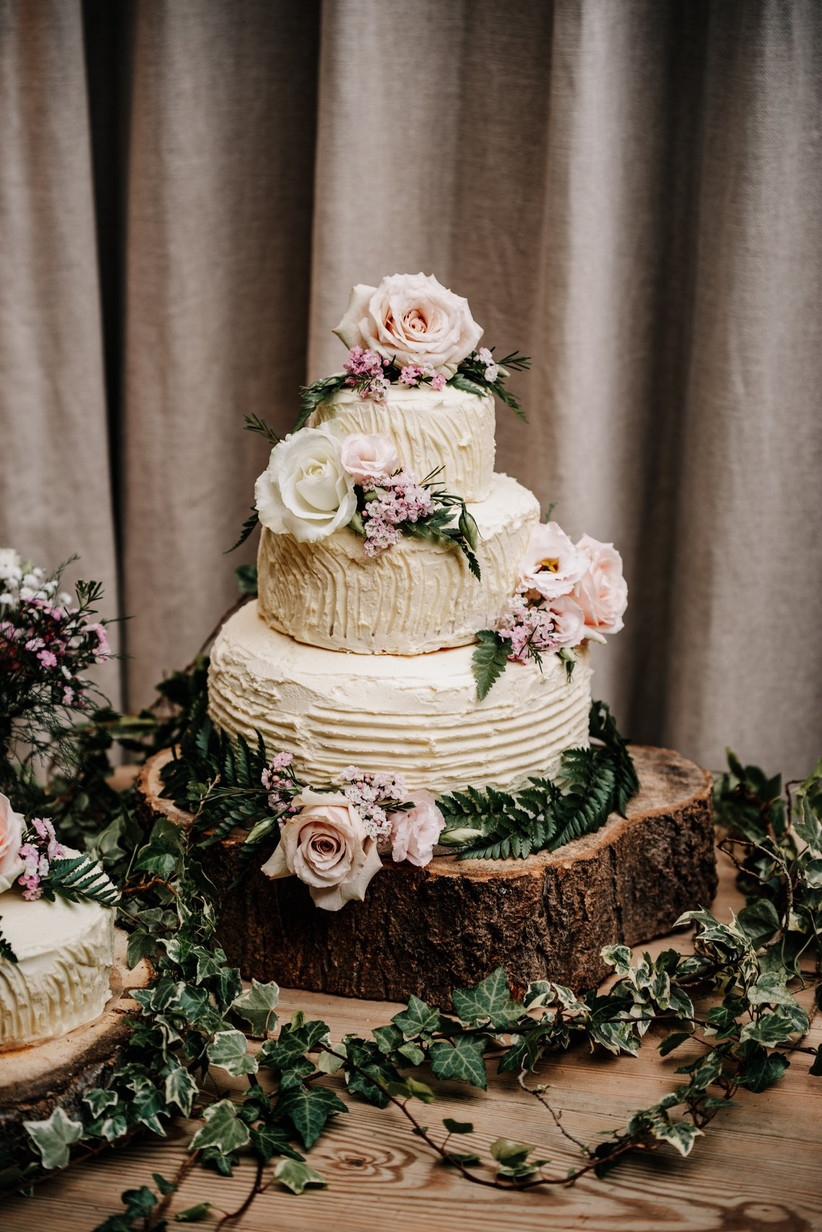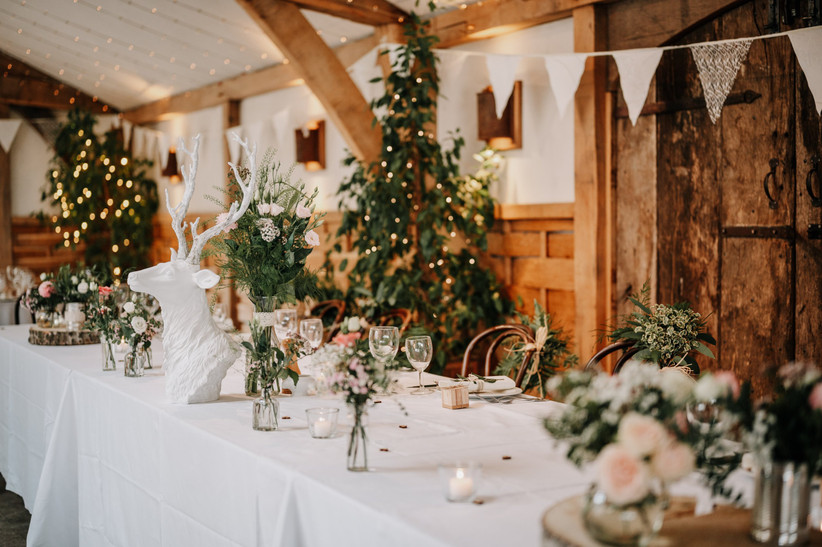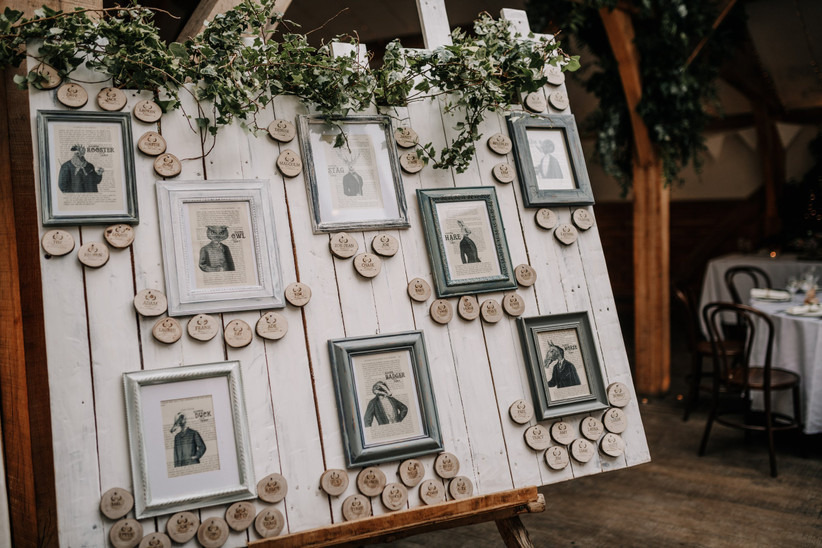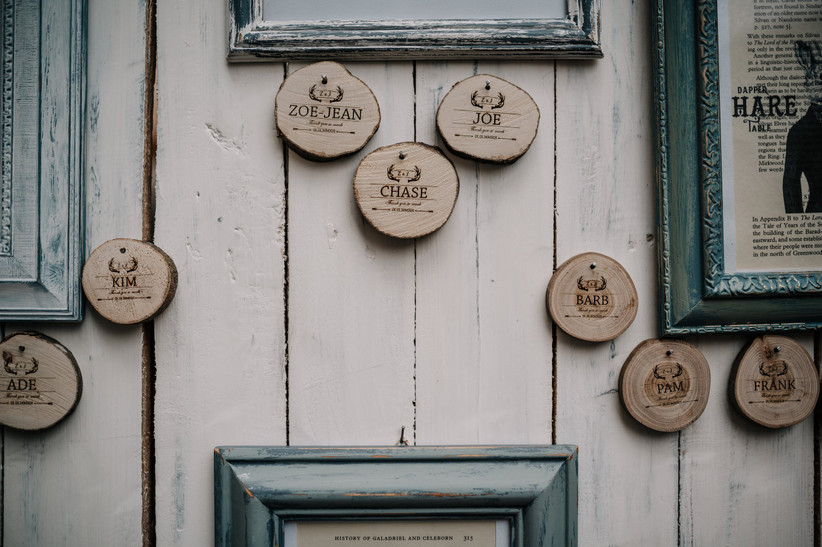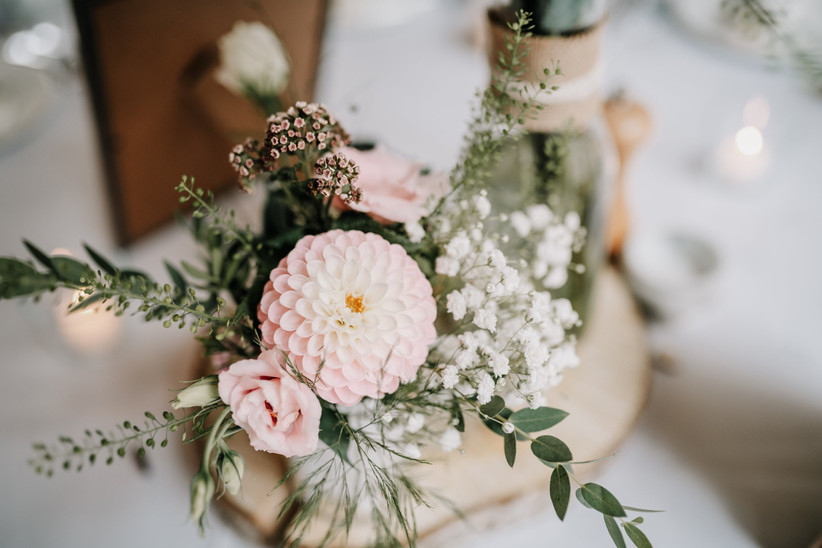 The Food
Making sure guests weren't hungry was a top priority for the couple so they decided to forgo a formal, sit-down meal and opted for a sumptuous buffet instead.
"We didn't want a formal, sit-down meal because, for us, they can sometimes seem a bit too clinical and sterile. We wanted our food to be a more casual sharing style. We are really into our food as well so the food was a really important part of the day for us.
"For canapés, we had cod goujons with tartar sauce and roasted Padron peppers. The starter was a charcuterie board with olives, peppers, and sourdough bread. The main meal was a BBQ rotisserie mixed grill of lamb, chicken, pork ribs, and chorizo with green beans and mini jacket potatoes. For dessert, we had hot chocolate fondant with cream.
"Loads of people said how good the food was! And loved the fact there was so much of it! The only coordinator we had was a venue manager on the day just to coordinate the staff. Other than that we did everything ourselves."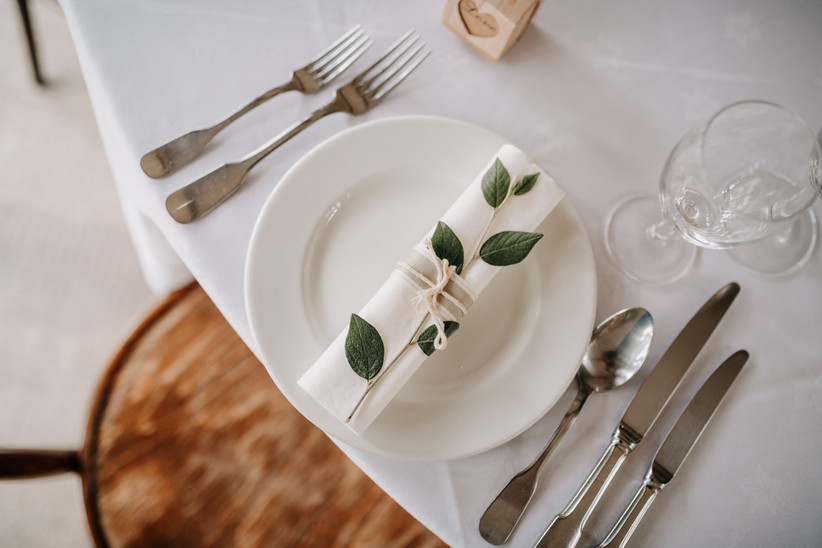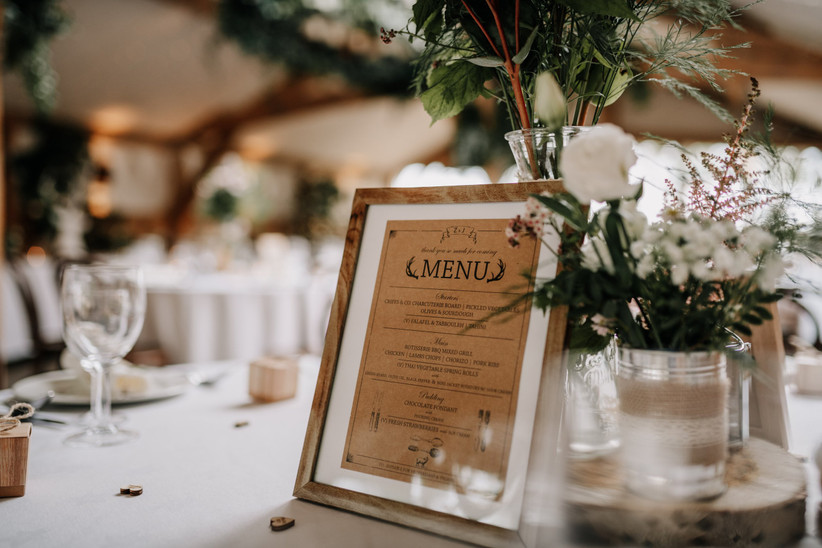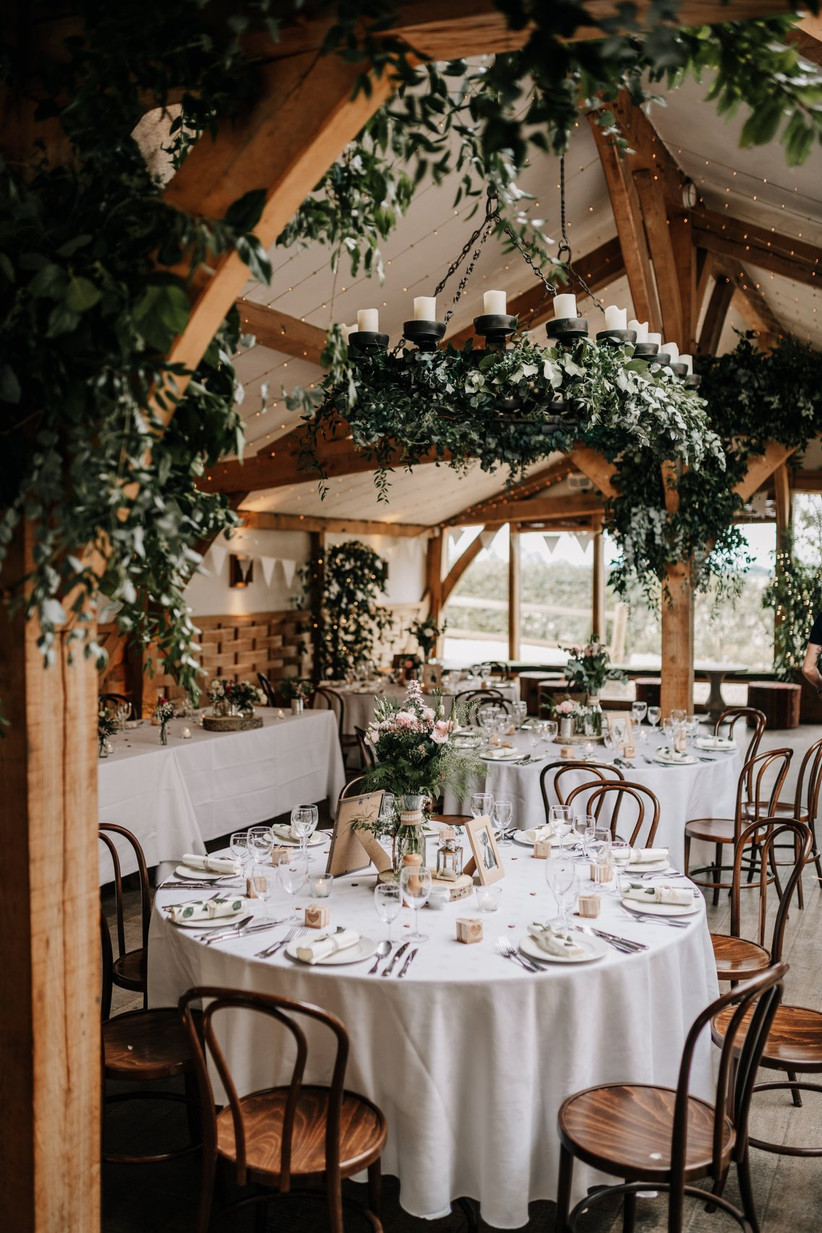 The Wedding Cake and Stationery
To keep costs down, the couple pulled up their sleeves to design and create most of the stationery themselves. Even their stunning wedding cake was homemade!
"We had a fairly plain cake. Originally we weren't going to have one because neither of us actually like cake. But, while planning the wedding, Joe's mom asked if we'd like one and we just let her go with it.
"We said we wanted a simple looking cake, off white or ivory, which we could decorate with flowers. We told the venue to cut all the cake up and serve it throughout the night.
"With our wedding stationery, we tried to tie it all in with our venue and the overall rustic barn theme. We did all our stationery ourselves. We designed the invites, accommodation information and menus ourselves, we then ordered the card and envelopes. We did take them to a printer, but then we used a string and some foliage cut from our garden to decorate the envelopes.
"We had a pretty good idea of how we wanted the invites to look and we think all the stationery came out looking really cool."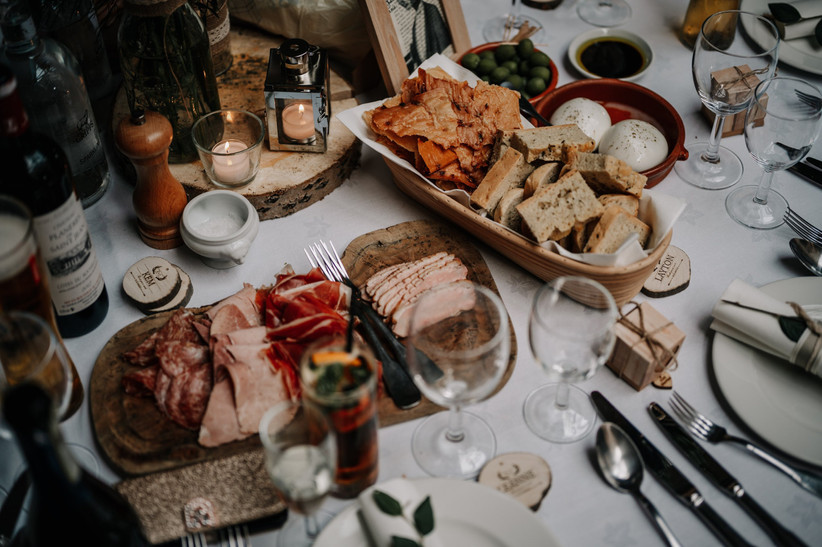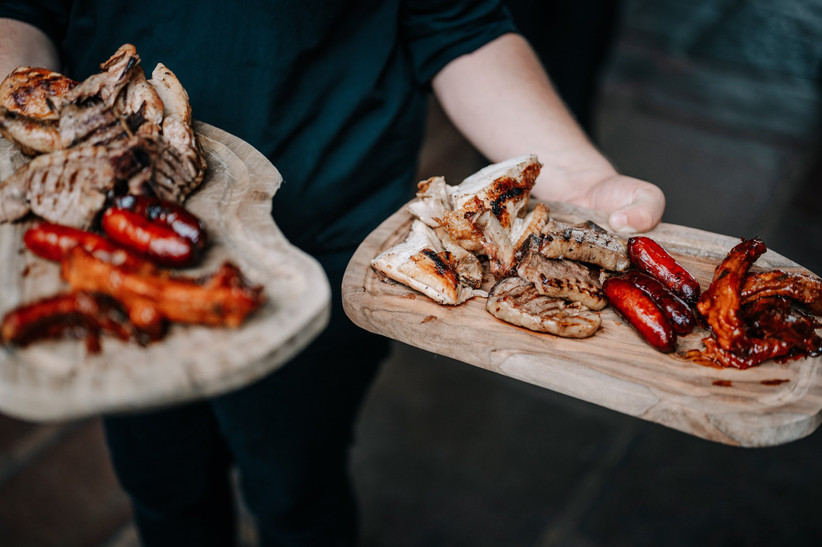 The Entertainment
As well as hiring a band to get the party started, the couple also took advantage of the large grounds at Cripps Barn and set up outdoor games.
"We hired a band called The Distractions to play in the evening. We had seen them at a wedding the year before and thought they were awesome so we booked them pretty soon after we booked our venue.
"As the outside of the barn was a big selling point of our venue, we also made some games for outside. We made a 'cornholes' game. After making the boards, we painted them to tie in with everything else and it seemed to go down really well.
"We really wanted a live band. We really enjoyed being at a wedding with a band so we wanted to bring that same feeling to our own. Also, we think having games is not only really fun, but it's a good way to get people mixing together.
"We really didn't want a slow, romantic first dance, as it really isn't us. We had the band play Dancing with Myself by Billy Idol. It was cool because everyone got to join in and it seemed to start the evening party."

The Honeymoon
Zoe and Joe are yet to choose their honeymoon destination but will be jetting off to Venice for their mini-moon, paid for by the best man.
"Instead of gifts, we asked for money to put towards our honeymoon so we are currently looking at where to go. We are taking our eight-year-old little boy too, so it's got to be somewhere that all of us will love."

The Couple's Advice
The couple wouldn't change a thing about their big day and have a few tips for others who are in the middle of planning their wedding.
"Sounds sappy, but the whole day was really special, plus we consciously made time to see each other throughout the whole day to really try and take everything in.
"Try and enjoy every moment! Try not to stress too much in the build-up, think of it as all part of the experience. A big thing I think we did really well was surrounding ourselves with really good people that we could fully trust to do their jobs. Our florist, photographers, venue staff, hairdresser, they were all amazing and helped us bring our day together.
"We didn't really have a budget. Our thinking process for almost everything was to find something we liked or wanted, then ask 'can we do it or get it ourselves? Can we do it for free?' If not, we'd try and do it for as cheap as possible!
"Our favourite parts of the day were seeing everything come together and everyone there we love having a good time."

Suppliers
Ceremony and Reception Venue: Cripps Barn
Photographer: Birches and Pine
Wedding Dress: Eddy K from The Dressing Room
Hair: Chris Fordham
Bridesmaid Dresses: Marks and Spencer
Rings: H Samuel and The Great Frog
Florist: Go Wild Flowers
Groomswear: Cavani
Entertainment: The Distractions
Thank you to Zoe and Joe for allowing us to share their beautiful big day!