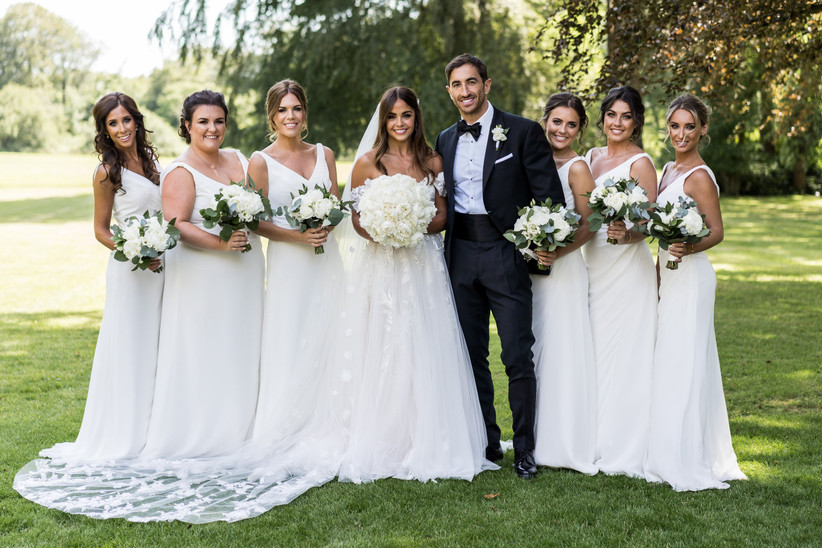 When Dan first asked Charlotte out at the age of 13 at a friend's birthday party, she told him, "Not right now". Luckily, when he asked her to marry him 17 years later, the timing was perfect.
Although they first met when they were kids, the couple didn't cross paths again until they were 18. But, when they did, they quickly became inseparable.
Dan had Charlotte's ring picked out months in advance of his proposal. On his 30th birthday, Charlotte had planned a trip to London, a big party, and prepared him a video featuring all their loved ones.
Although Dan was planning on proposing on Charlotte's birthday, this moment felt like the right one to get down on one knee!
"It was so unexpected. Dan afterwards said the day was one of the happiest in his life thanks to all the little special things I'd planned for his birthday and it was at that moment he just knew he had to ask me. It wasn't how I had it planned in my head considering all the fancy places we've been around the world which seem more fitting locations than our living room, but that made it all the more special, it felt real."
The couple tied the knot in July 2019 in front of 123 day guests and an additional 125 evening guests at Fairyhill in Swansea.
Photographer: Sacha Miller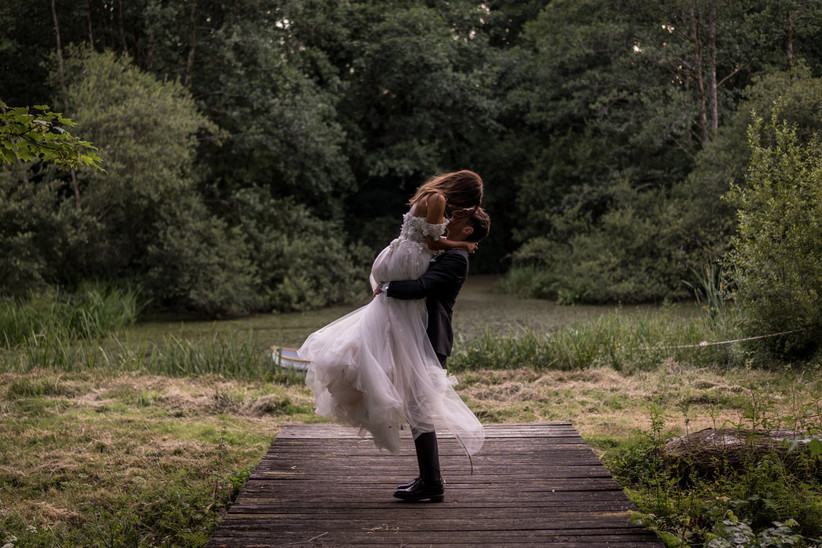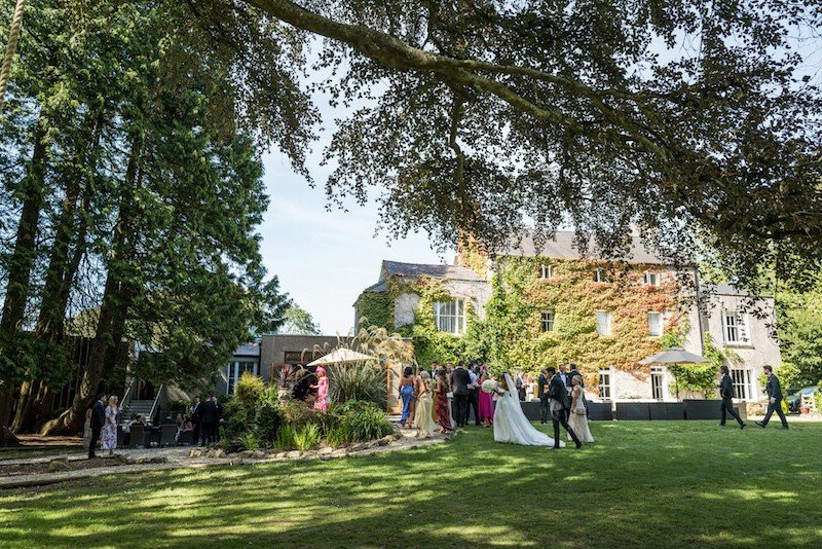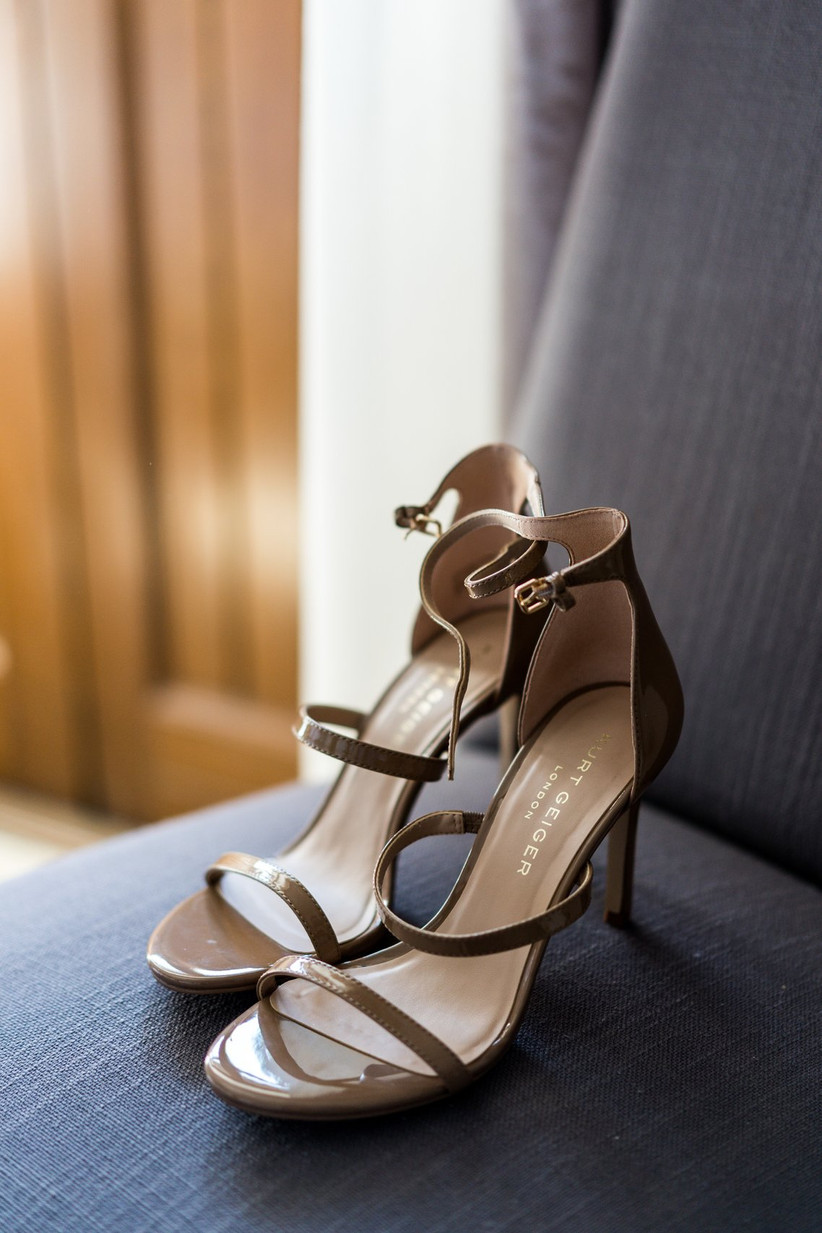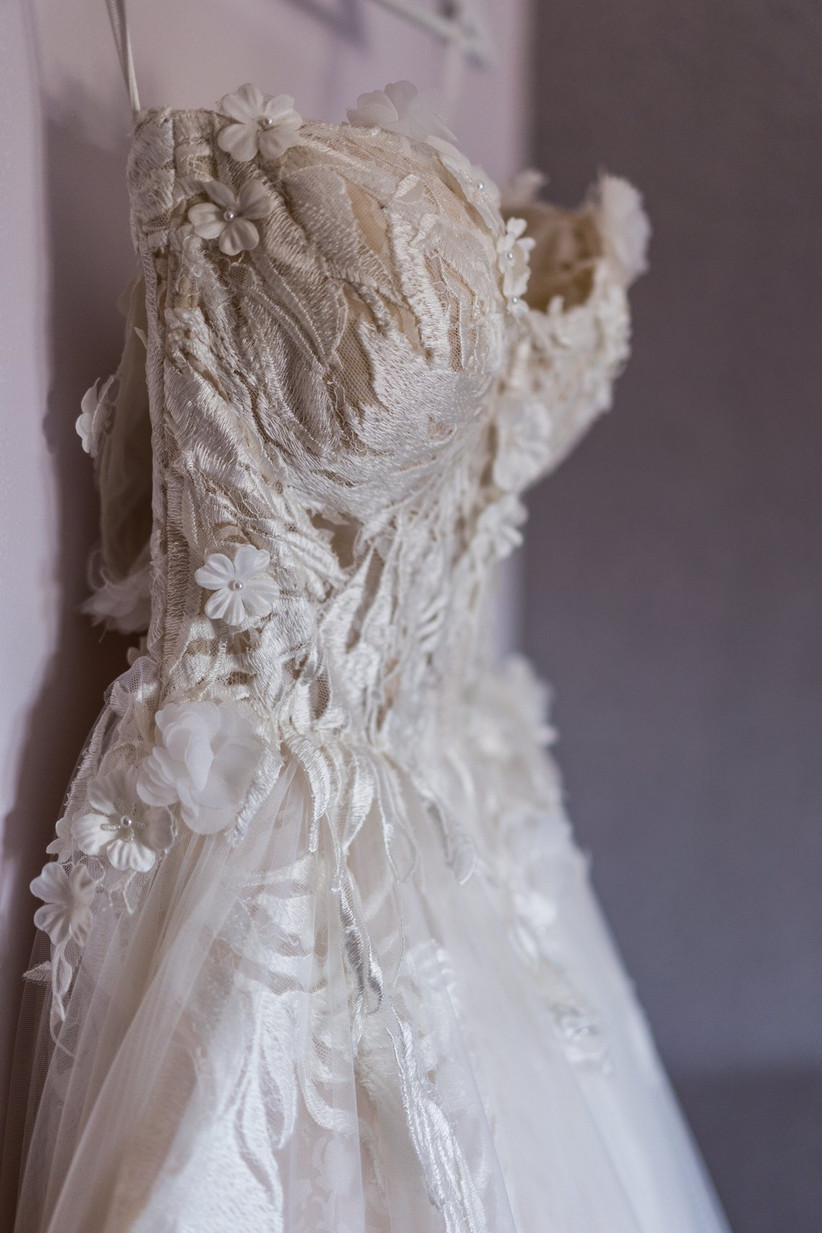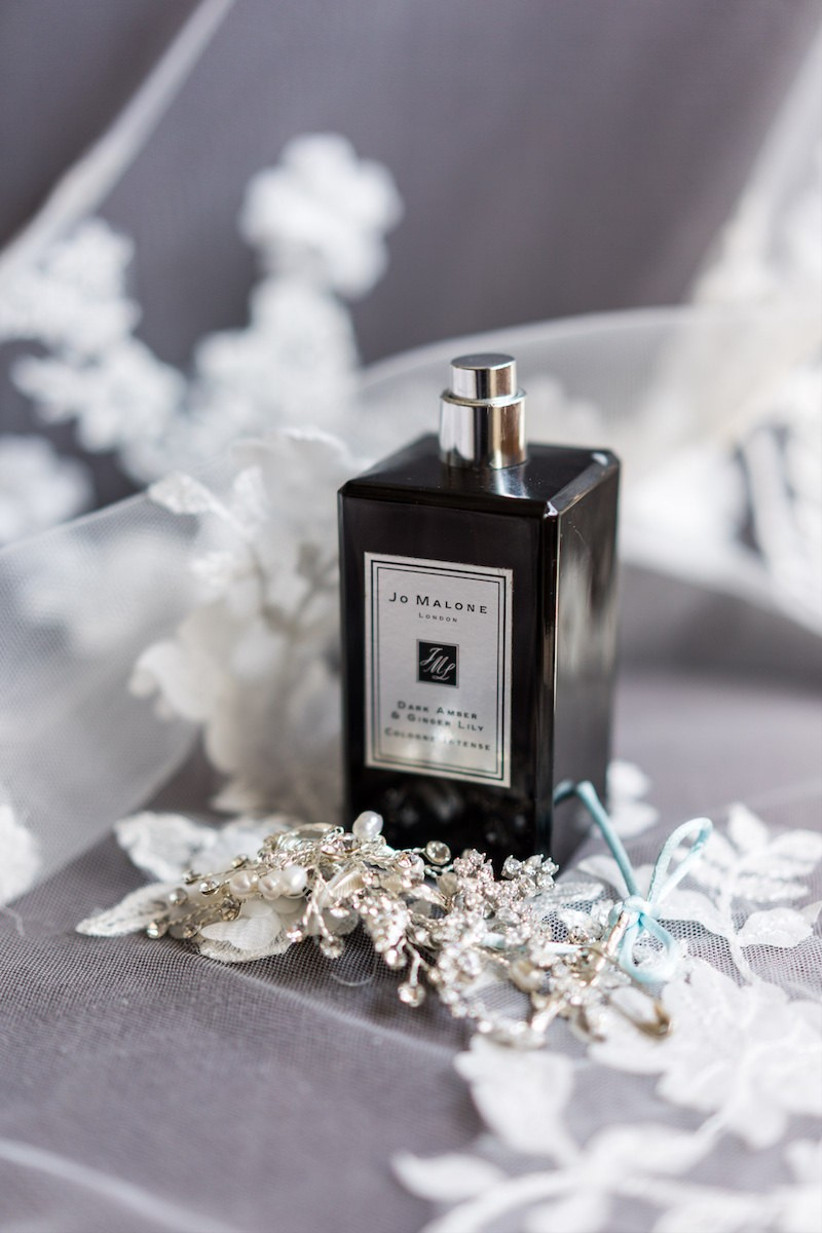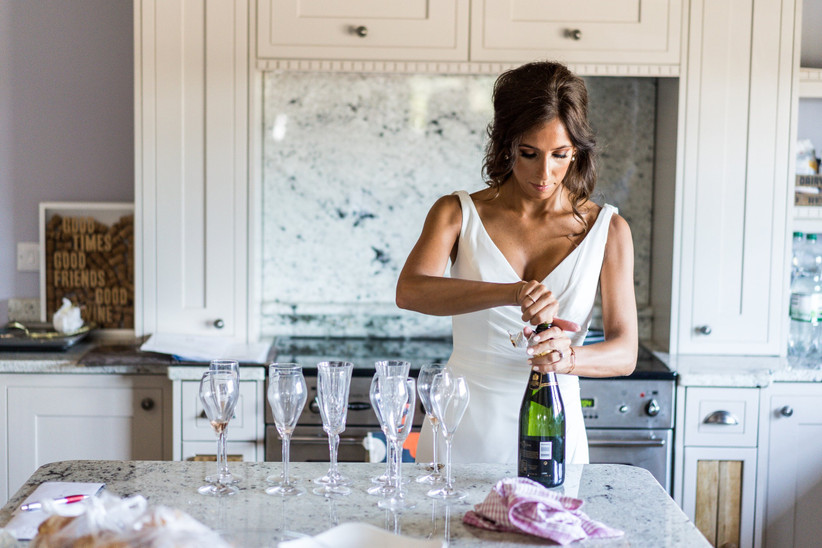 The Wedding Dress
Charlotte wore a two-piece dress by Riki Dalal with off-the-shoulder sleeves and 3D floral accents that were hand-sewn along the top and down the skirt.
"I saw the dress originally on Instagram but didn't know who it was by or where it was from. I even sent a photo to my Mum saying it was my dream dress. Then, as if it was meant to be, I was dress shopping in Birmingham and actually had an appointment at the boutique next door, then I saw THE DRESS in the neighbour's window.
"I couldn't believe it at first, it wasn't available. But they managed to find a sample version that they offered to hand-tailor for me. I just instantly fell in love with it. The detail, the design, it was a real 'The One' moment.
"With it being a church wedding, I knew I wanted a veil long enough to continue over the train of the dress. With 3D floral lace appliqué being a huge bridal trend for 2019 and, with it already throughout the lace of my Riki Dalal Dress, I was delighted when I found a perfect veil by Made With Love Bridal.
"My dress was too beautiful to take off so I wore it all day. I wish I could wear it every day."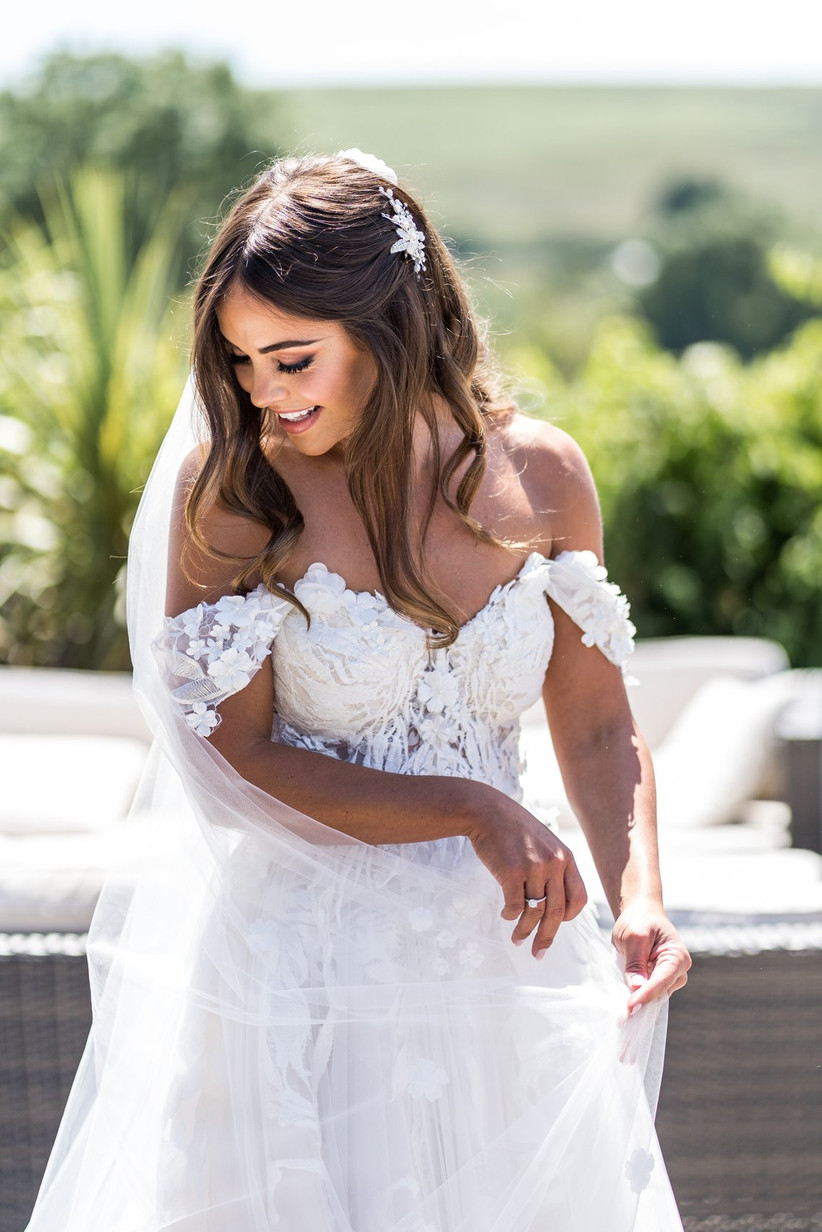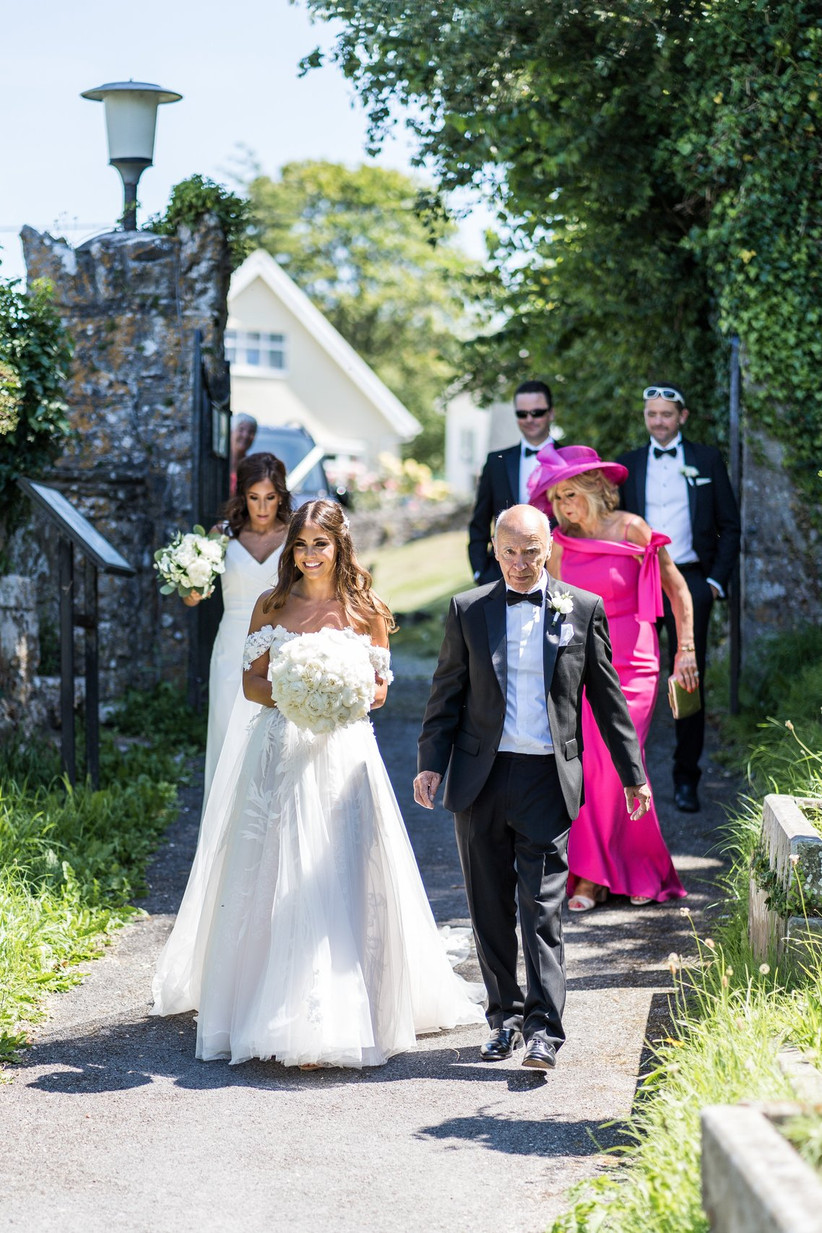 Bridal Beauty
Charlotte wanted to look and feel like herself on her big day but she also wanted to capture the "modern bride" look.
"I opted for a relaxed wave to ensure it almost looked 'undone' rather than a structured tight curl.
"The next biggest thing for me was a fragrance. It was important to me to wear a scent that was memorable and unique so that whenever I smelt it, it would bring me right back to the special day. I opted for 'Portrait of a Lady' by Frederic Malle. Beautiful! Despite having almost a full bottle, I have decided that the next time I will spray it will be on our one year wedding anniversary.
"I hired professionals to do my hair and makeup. Victoria Fox, who did my makeup, is a former MAC makeup artist and simply amazing. I wanted a natural look and knew Victoria would nail it. My hair was by the fabulous Jade.
"I had six bridesmaids, I've been best friends with most of these girls all of my life so it was amazing to have them by my side. I was actually in a dance troupe together with three of them when we were younger. We trained and travelled together and had the best time. Our dance group, The DCD dancers, actually made it to the semi-finals of Britain's Got Talent in 2009! Their bridesmaid's dresses were from Laura May Bridal in Cardiff."
The Groomswear
Dan knew he wanted to look his absolute best so it was really important that he got the right dinner suit with the perfect tailoring.
"The width of the lapel, cummerbund, bow tie and type of shoe were studied, of which I admired his attention to detail.
"With having quite an athletic build, the fitting was proving to be difficult. He opted for a Charles Tyrwhitt suit from London, with a wide lapel to reflect similar styling to that of Tom Ford, bow tie from Mr Porter, and tailoring by the talented Jacob from Stitches in Cardiff."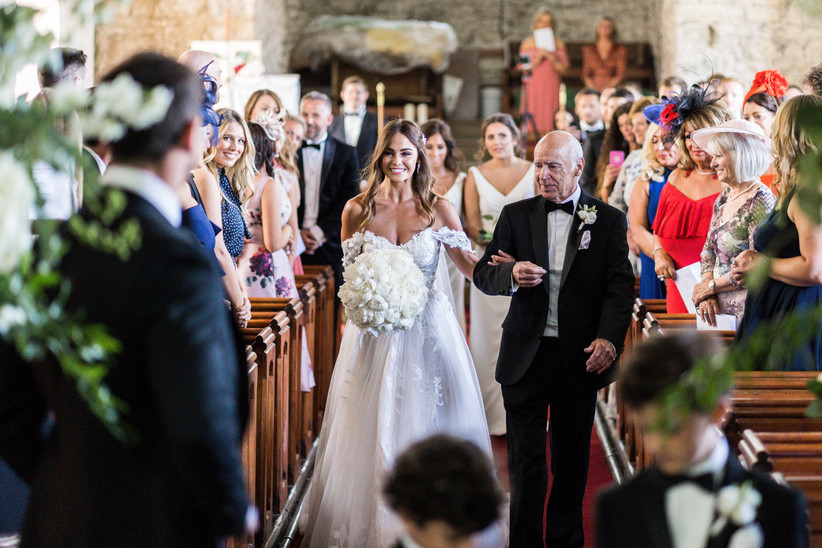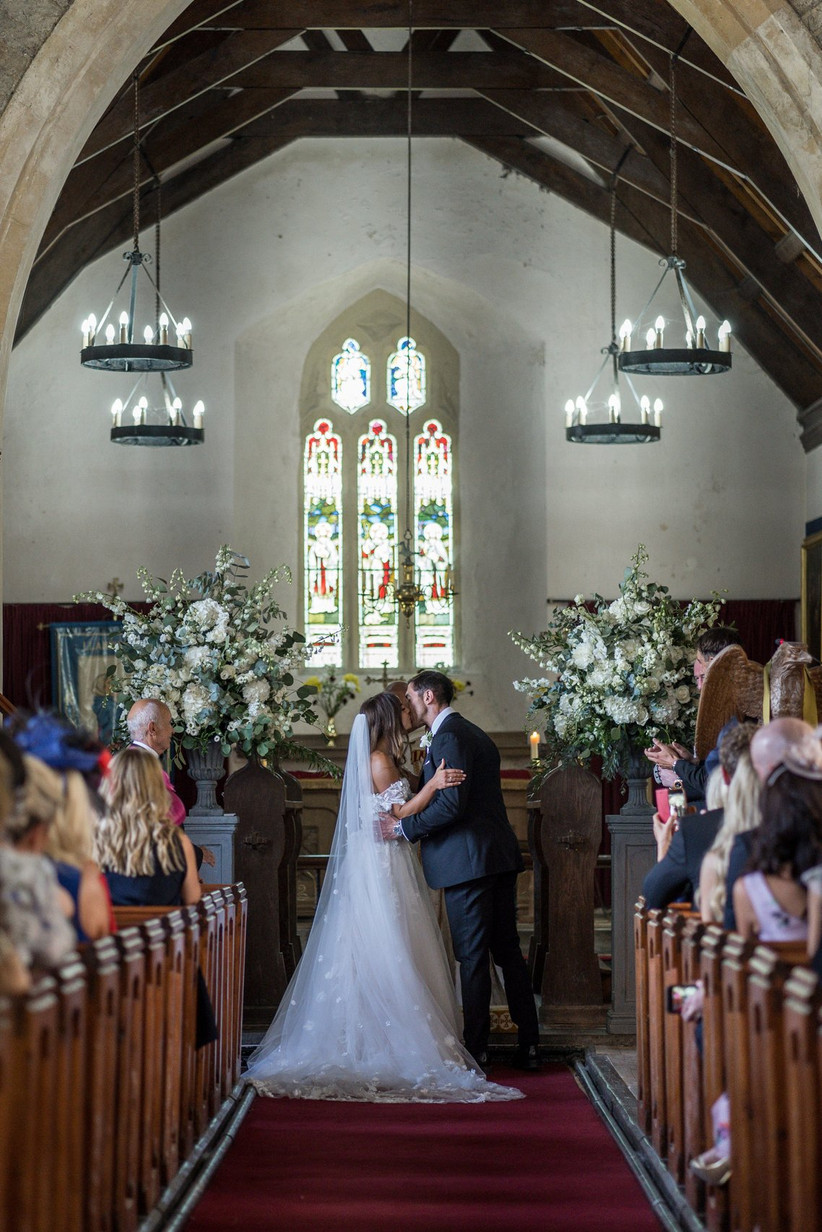 The Ceremony
The couple chose to have a religious ceremony at St Rhidian and St Illtyd's Church in Gower, Wales.
"Not only was the church close to the venue, but it's also such a pretty setting in the middle of the village.
"With the church built right in the heart of the Welsh Gower Peninsula, I thought of no other better fitting hymn than 'Bread of Heaven'. My father walked me down the aisle.
"We had an S Class Mercedes which picked us up from the cottage we were staying at, Mulberry House, to the church and to the venue."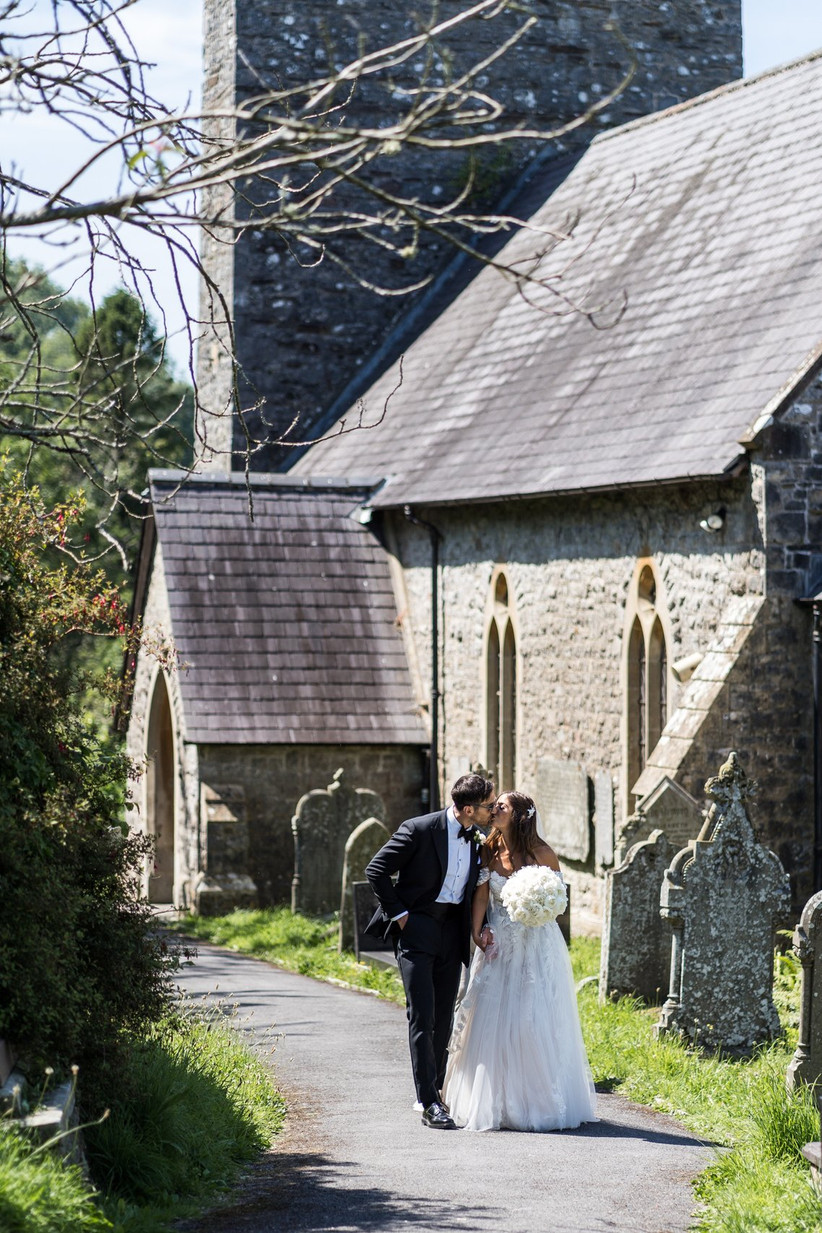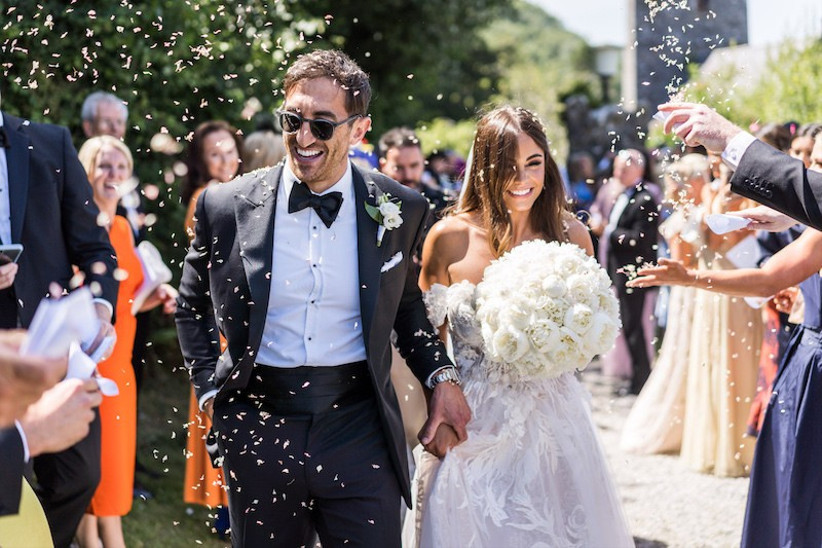 The Wedding Venue
After a religious ceremony, the wedding party moved to Fairyhill for their beautiful reception.
"We wanted a venue that felt like an abroad wedding but in Wales. It was also really important to us to have everyone together for more than just a day.
"When we first arrived at Fairyhill, it surpassed our expectations. We already knew it was going to be fab but the chic interiors and décor struck a chord with us as soon as we walked in as it matched our own taste. We were blown away before we even saw the K Room, the glass space had stunning views and was like nothing we had ever seen before.
"It was the perfect blend of something old, something new, modern yet traditional. So many beautiful buildings offer an 'old worldly' style interior so the super stylish Fairyhill was a pleasant change.
"Fairyhill has two beautiful cottages which are two minutes away from the venue called The Rustic Retreats. They really did it for us; we stayed at Mulberry House as we planned a post-wedding BBQ there with our nearest and dearest. It felt like we could have been in Italy or France. The location, the views, the house, and the weather were all simply perfect. The two-day experience was a really big deal for us and Mulberry House delivered on our vision.
"We also loved the small details at the venue; the quality glassware, the candles and fireplaces, the beautiful white roses, the impressive wine menu, the food, the military food service, everything was just perfect. We also loved that we were allowed to put our own unique stamp on our day by choosing whichever suppliers and entertainment we liked.
"We had a sweet table for our guests to enjoy. We had a four-tier wedding cake made by Scrumdiddly Cakes which was white chocolate and chocolate orange. It was delicious! We cut it before the first dance and served it during the evening buffet."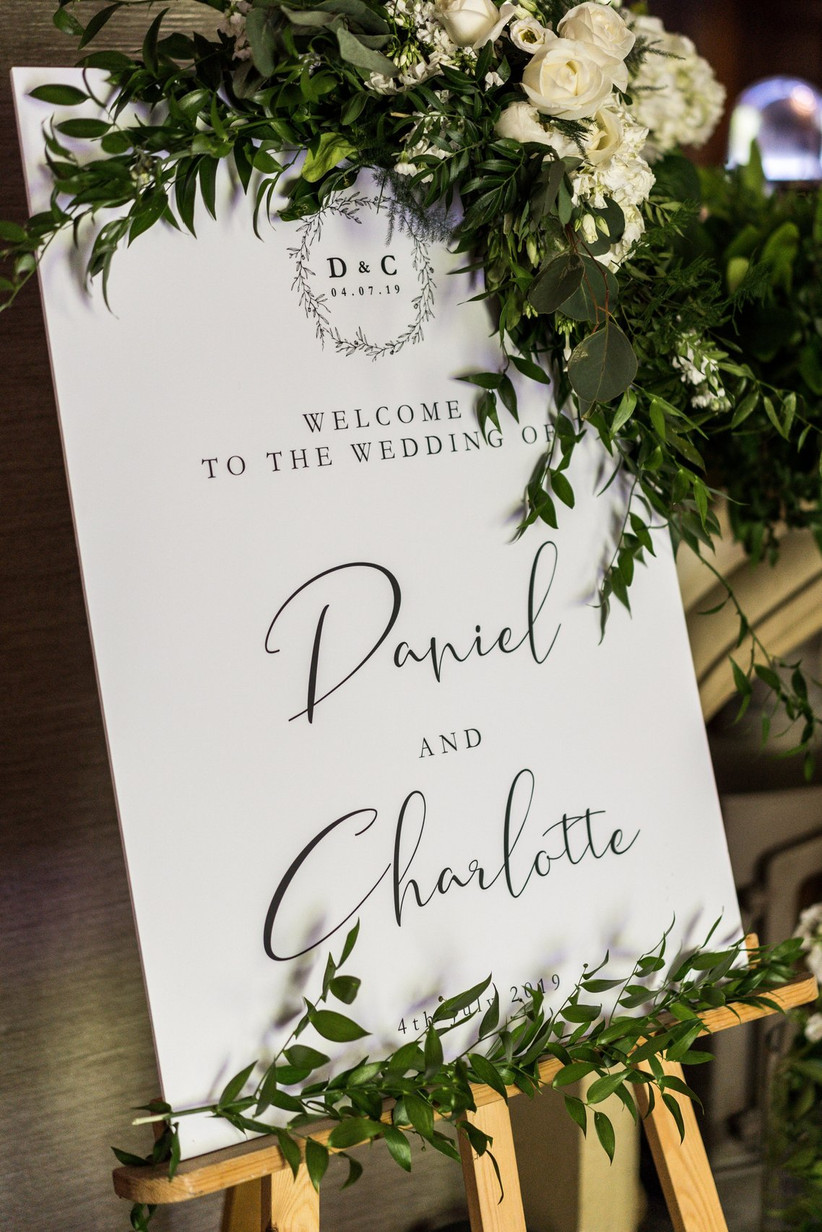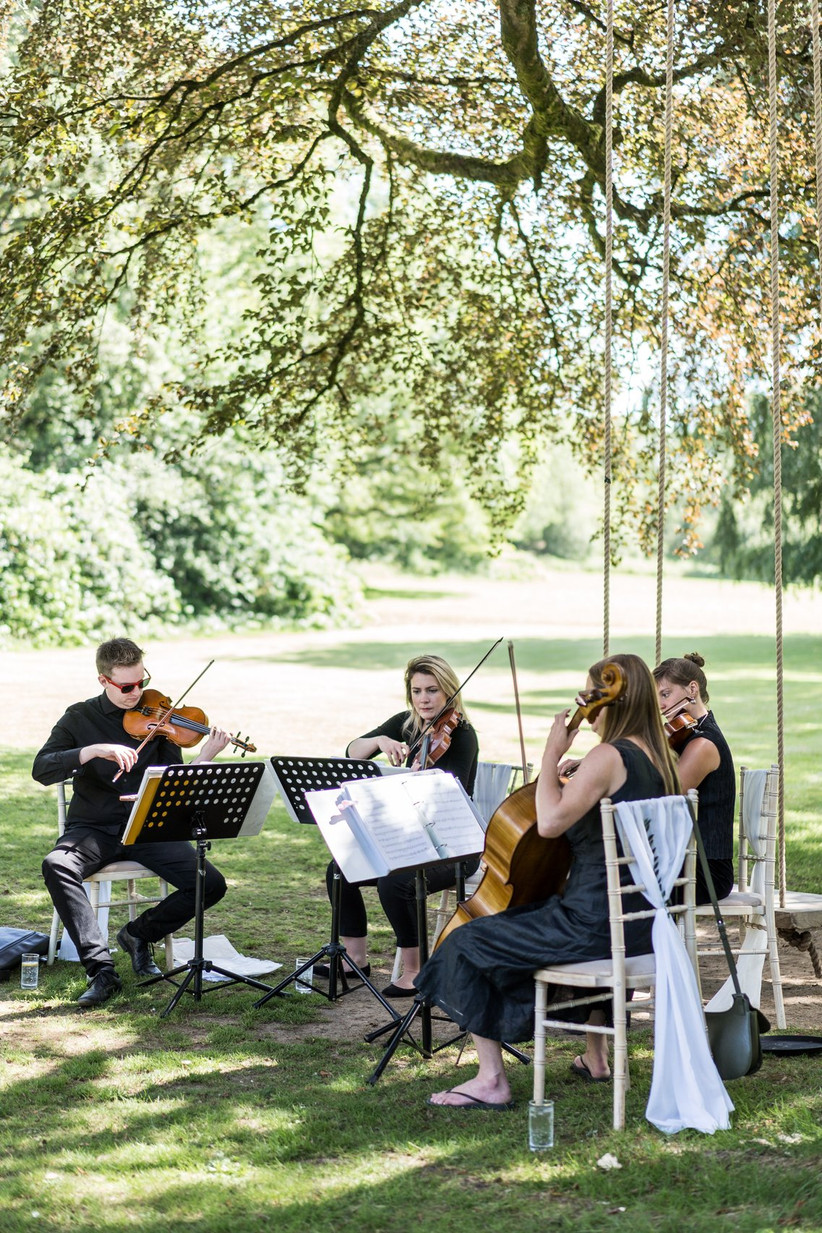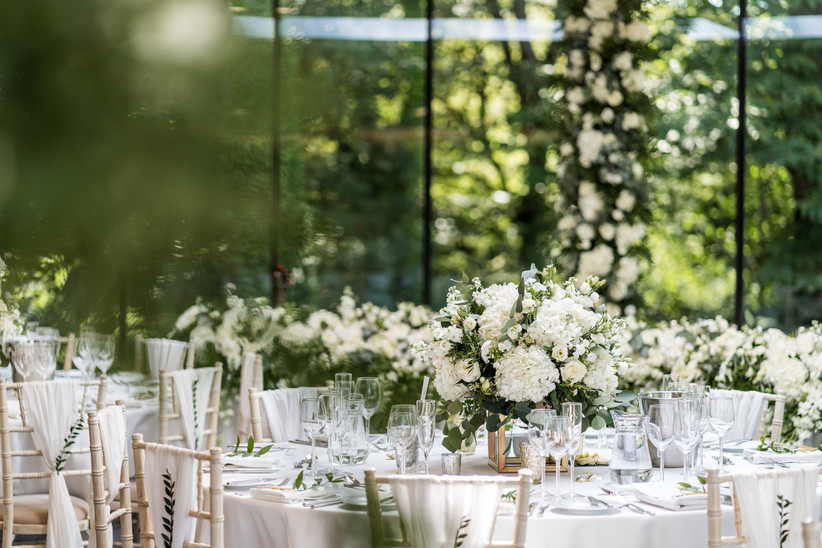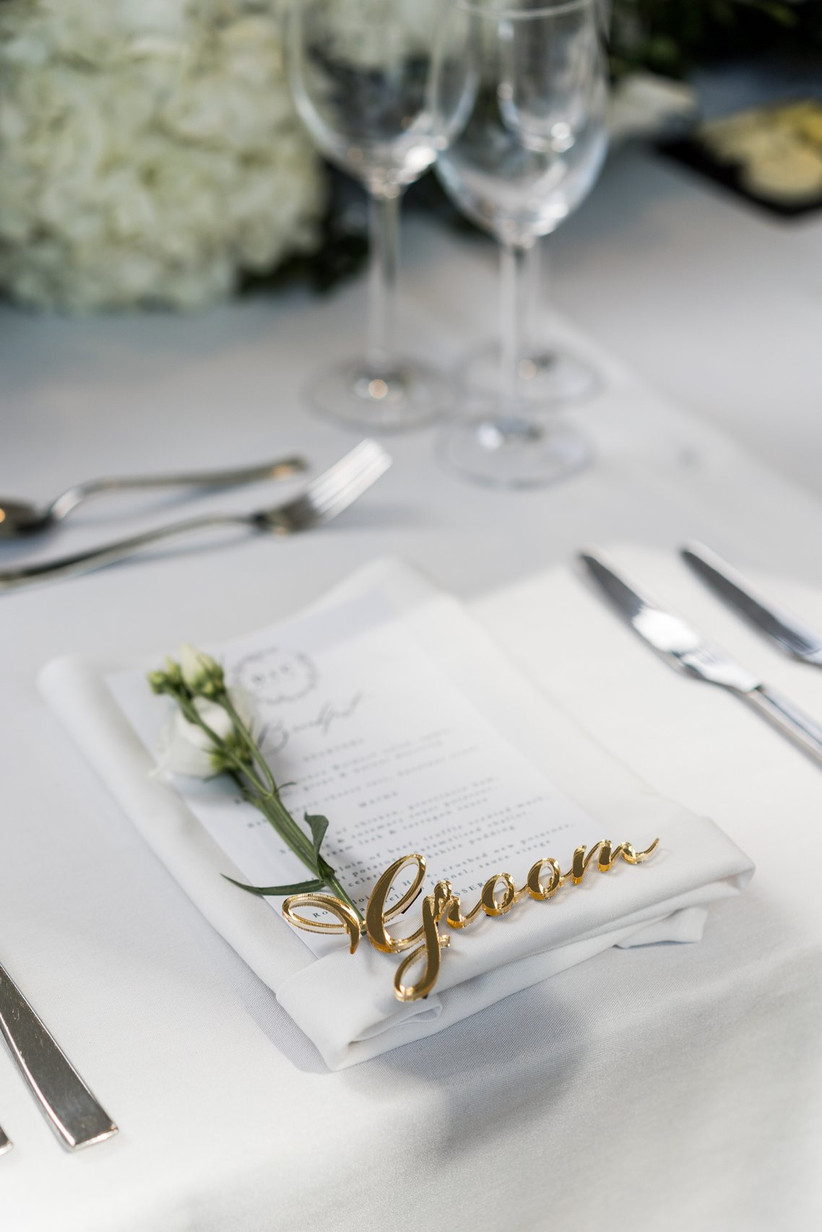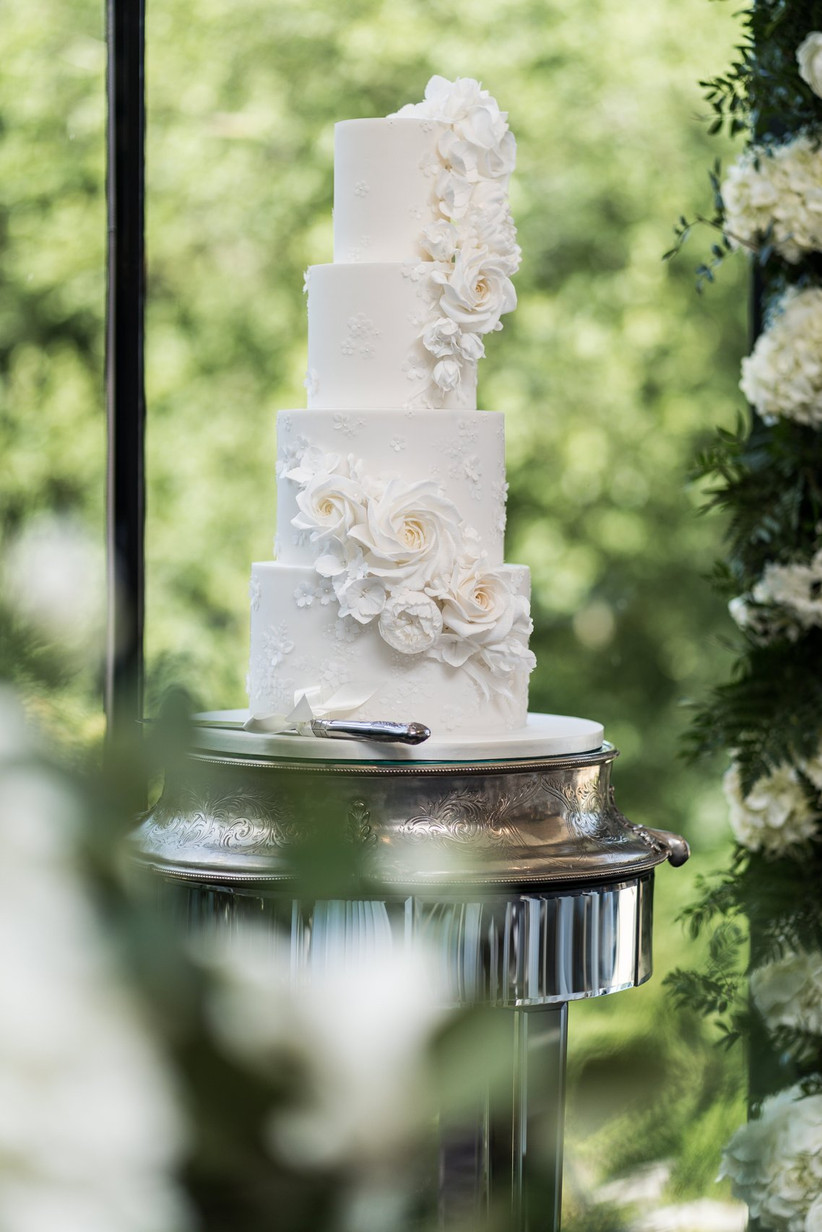 The Décor
The couple's theme was classic, contemporary and elegant. Charlotte wanted guests to walk in and smell the greenery and feel like they were outside.
"For the stationery, my talented friend, Anthony Omar, helped bring my ideas to life. I wanted it very elegant and classic, which he captured.
"From my wedding invitations (black and white) to my bridesmaids' dresses (ivory), I just wanted simple and elegant. Our florist, Eve Francesca, was amazing in bringing our vision to life, we adorned the venue in white flowers and green foliage.
"We had flowers throughout the venue including a pillared arch and beautiful centrepieces that were created by Eve Francesca Designs.
"For the centrepieces, Eve made bouquets of white roses, white hydrangeas and lots of greenery.
"Fairyhill doesn't need much more, it's naturally stunning! We had a dedicated wedding coordinator, Greg, at Fairyhill who helped guide us through the wedding plans and the big day."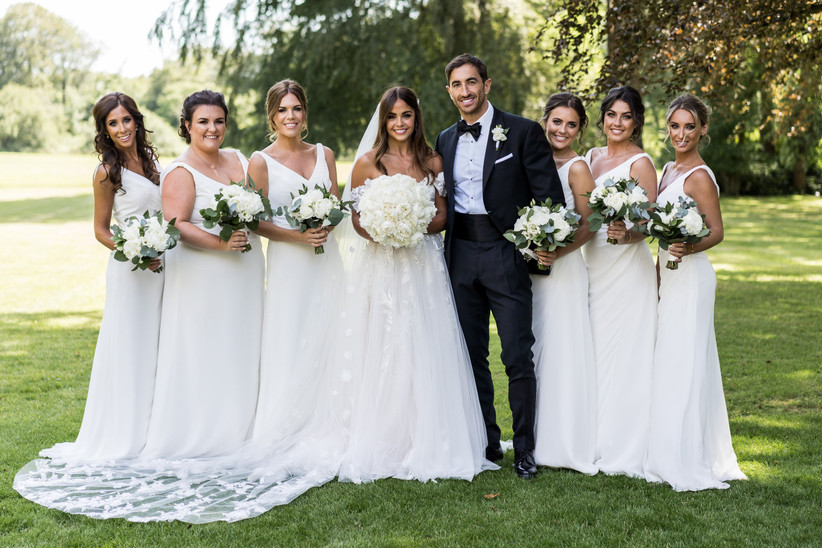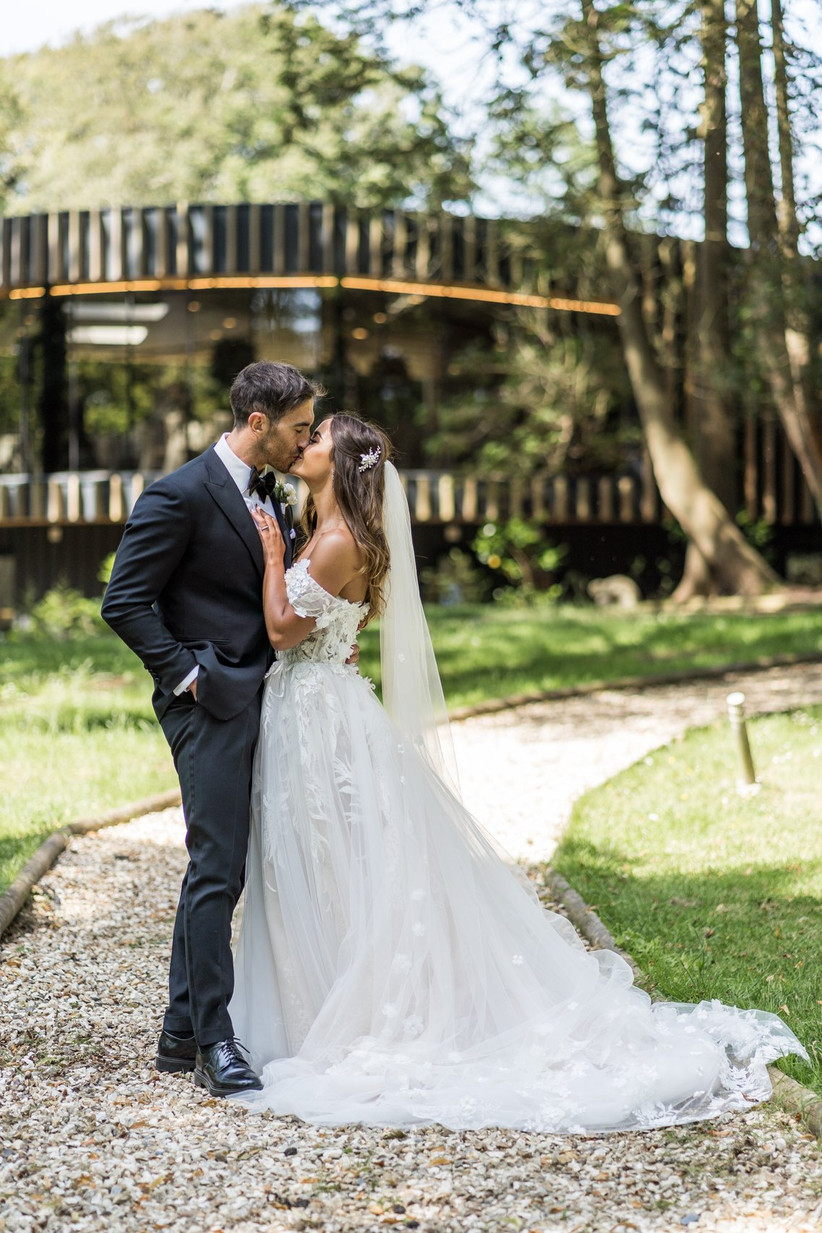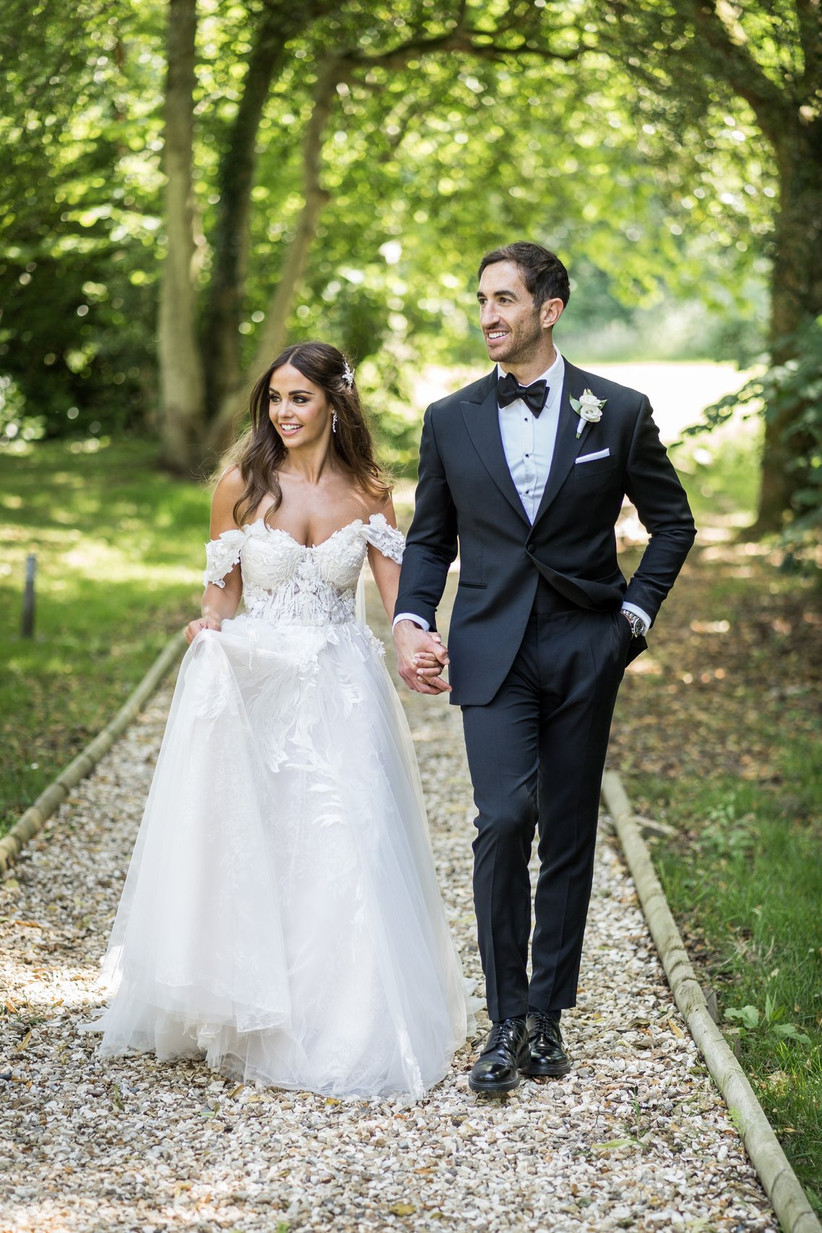 The Entertainment
Charlotte and Dan knew that the entertainment was going to be one of the most important aspects of their day so they really went all out.
"For the church ceremony, we had a string quartet from the Welsh National Orchestra who also joined us at Fairyhill to play during our arrival drinks reception.
"While we signed the register, our good friend Gaby French sang Take My Breath Away by Eva Cassidy. I grew up with her family and her sister was one of my bridesmaids so having her sing for us was a real honour.
"For the wedding breakfast, we took advantage of Fairyhill's state-of-the-art sound system and played their Spotify playlist, then between the main course and dessert, we surprised everyone with singing waiters!
"After speeches, we had a cool singer, Leighton Jones, who was on The Voice a few years back. He sang live on the terrace with a guitar and pianist, it was so fab. All our guests congregated to the terrace and were either relaxing in the garden or up dancing on the patio. The garden and the sunset made for a special atmosphere.
"We reopened the K Room to saxophonist, Marvin Thomas, and the fab Fairyhill DJ. We purposely didn't do our first dance until 10pm as we wanted to do it with the twinkling stars and the lit-up night sky above Fairyhill as our backdrop. We chose I Love You, Baby (Can't Take My Eyes Off Of You) by Frankie Valli. We wanted something to get the party started and, trust me, it set the tone!"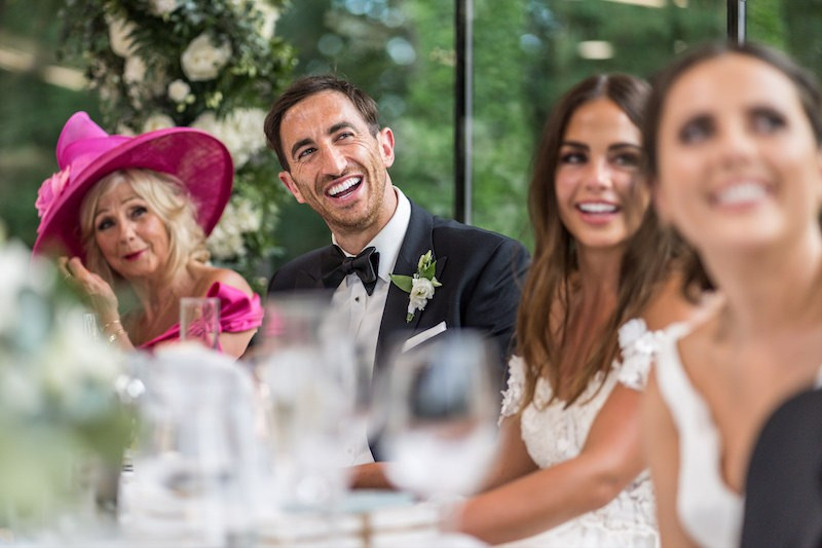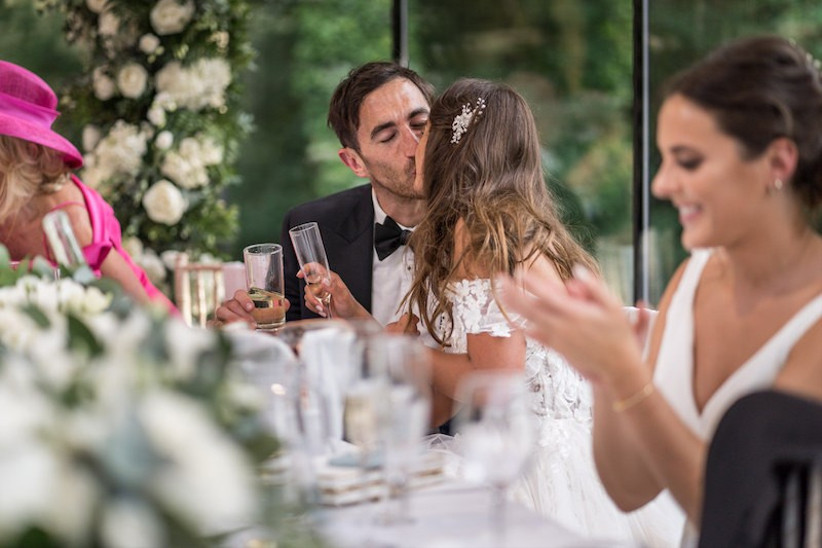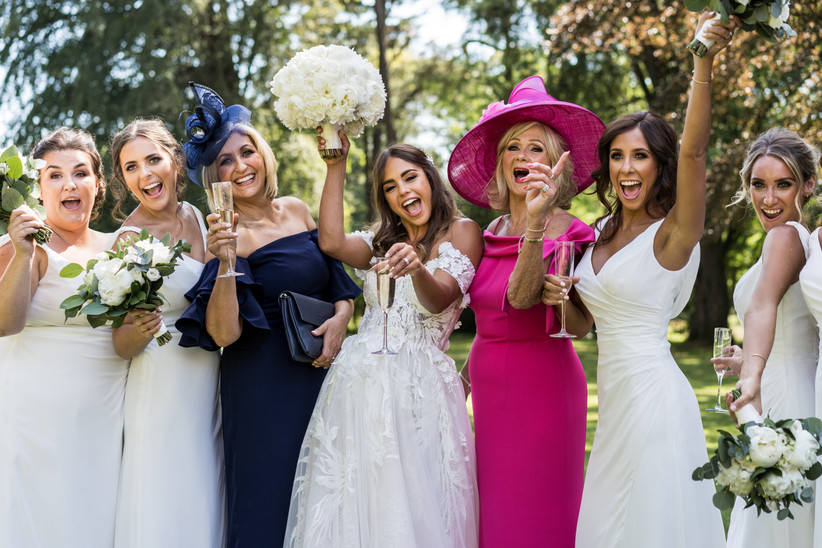 The Couple's Advice
Charlotte and Dan have booked to visit South Africa in February which is their dream honeymoon location. After a wonderful Welsh wedding, the couple have a few tips for others in the middle of planning!
"Have a second day. We were so overwhelmed on the first and it's over way too quick! We booked Mulberry House to house a post-wedding celebration with our nearest and dearest and it was simply perfect.
"We were in the jacuzzi around 11 pm drinking champagne when the fireworks display at Oldwalls nearby started. We all watched together in amazement, it was a really magical 'pinch me' moment and the perfect end to the wedding of our dreams
"It's hard to put our favourite moment into words. The wedding blew all of my expectations. I found the planning pretty stressful as I have an intense job and I underestimated how much effort would go into the detail especially as I'm a big perfectionist.
"On the day I just remember feeling so relieved and in awe of how smoothly everything ran. Ultimately, watching my friends and family enjoy the ceremony, food and entertainment was just amazing. Dan and I had a moment watching everyone on the terrace enjoying themselves where we had goosebumps. We couldn't have been more grateful for the effort they made to be part of our special day."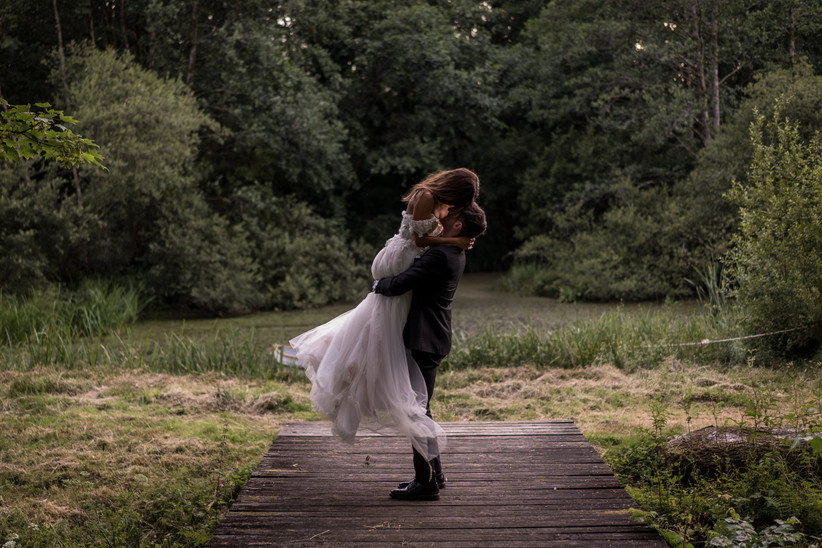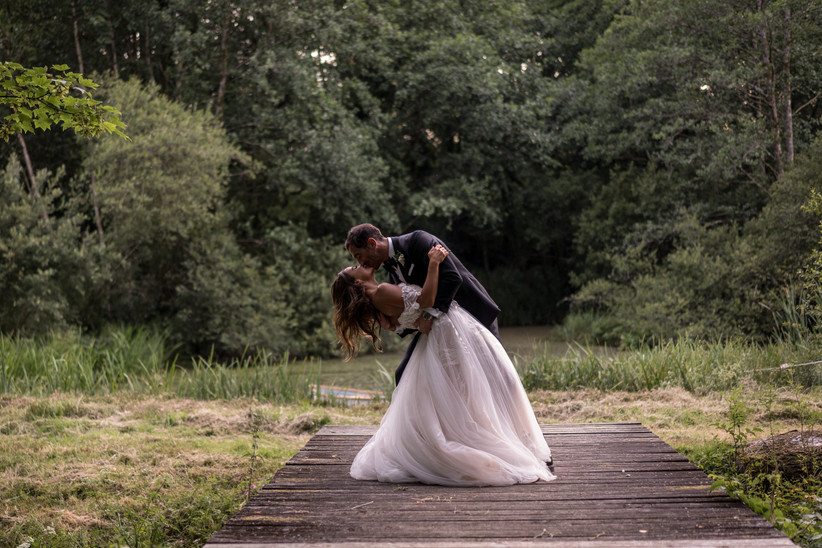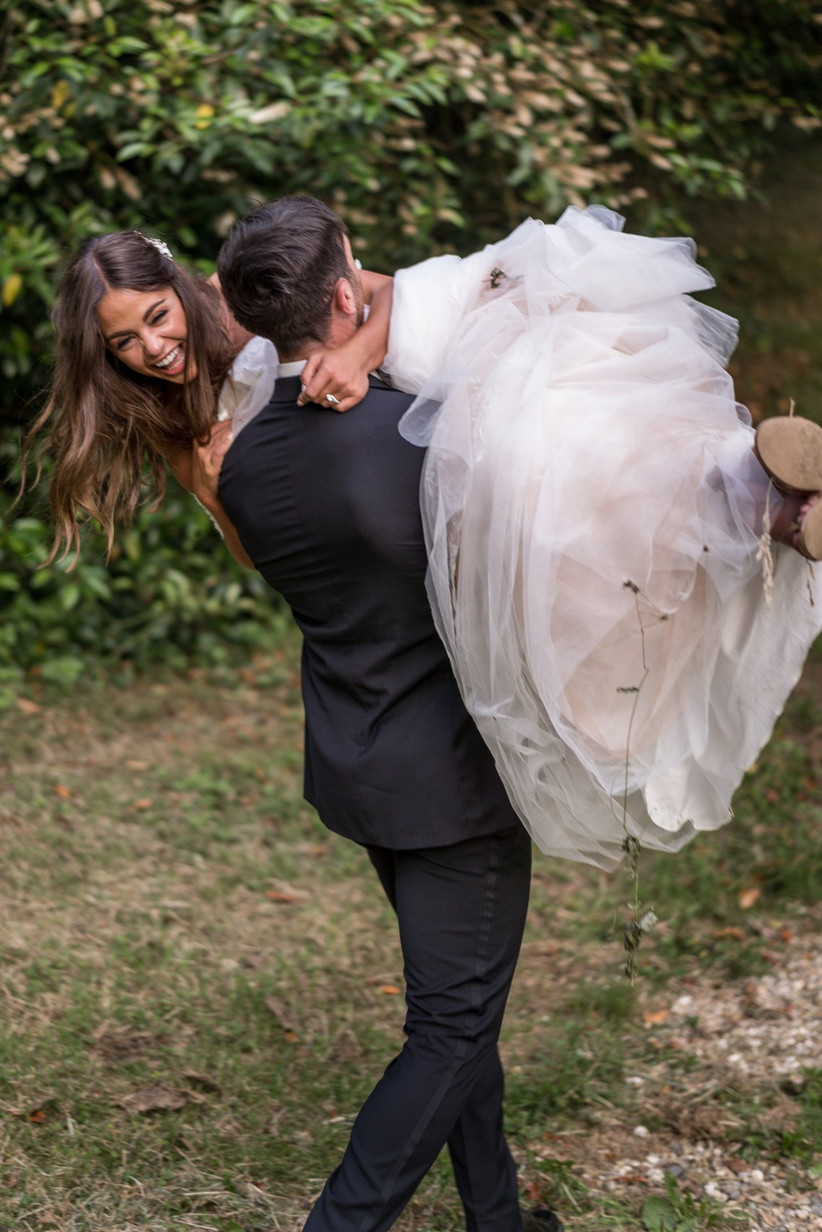 Suppliers
Photographer: Sacha Miller
Ceremony Venue: St Rhidian and St Illtyd's Church
Reception Venue: Fairyhill 
Accommodation: Mulberry House
Wedding Dress: Riki Dalal
Veil: Made With Love Bridal
Makeup: Victoria Fox
Hair: Jade Coulthard
Bridesmaid Dresses: Laura May Bridal
Florist: Eve Francesca Designs
Wedding Cake: Scrumdiddly Cakes
Groomswear: Charles Tyrwhitt, Mr Porter and Stitches
Entertainment: Welsh National Orchestra, Leighton Jones, Gaby French, and Marvin Thomas.
A huge thank you to Charlotte and Dan for allowing us to feature their beautiful big day!