Real Covid Wedding: Trina and Andrew, Chelsea Town Hall and Bluebird, Chelsea
With six guests at their ceremony and 30 at their afternoon tea reception, Trina and Andrew were lucky enough to keep almost all their plans the same when they married in August in an elegant London wedding.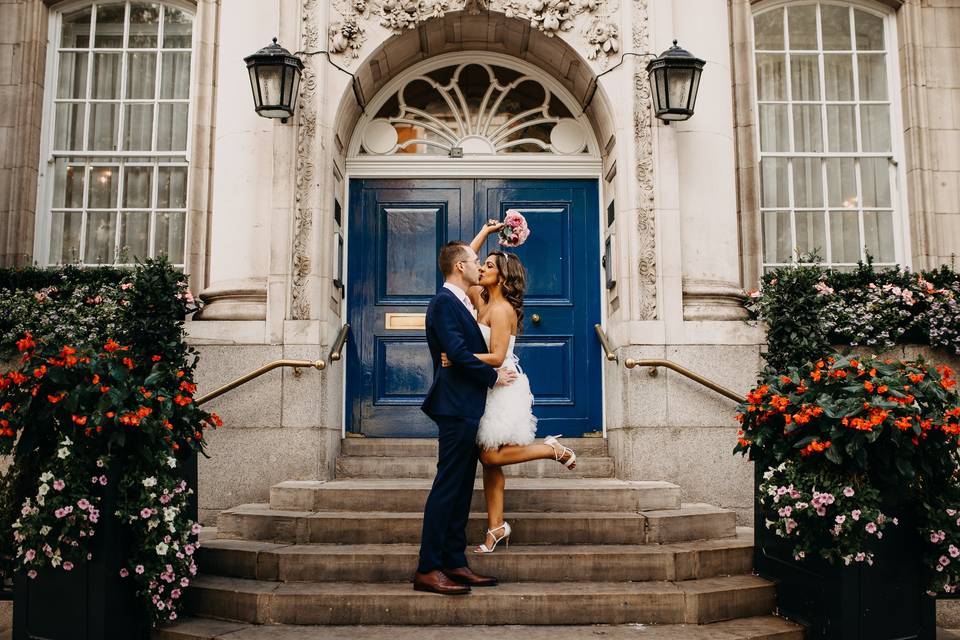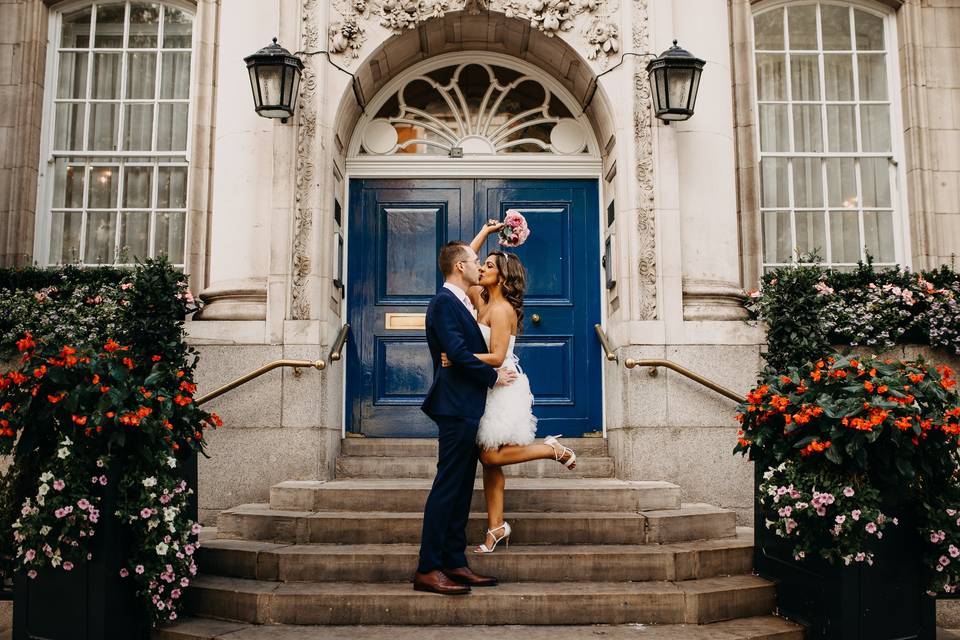 Trina and Andrew married at Chelsea Town Hall on the 22nd August 2020 in front of just six guests, 10 years to the day since they met.
"We would have still gone through with the wedding regardless of restrictions as the date was important to us," said Trina. "It was 10 years since we met and, with all the unknowns in current Covid times, we just didn't know when and if we would be able to get married. Plus it felt good to feel normal for at least the one day."
The newlyweds met on a night out in 2010 while Trina was travelling around Europe,. It was her last night in London before flying home to Australia when she bumped into "the nicest man I ever met". They stayed in touch and Trina moved to London a year later.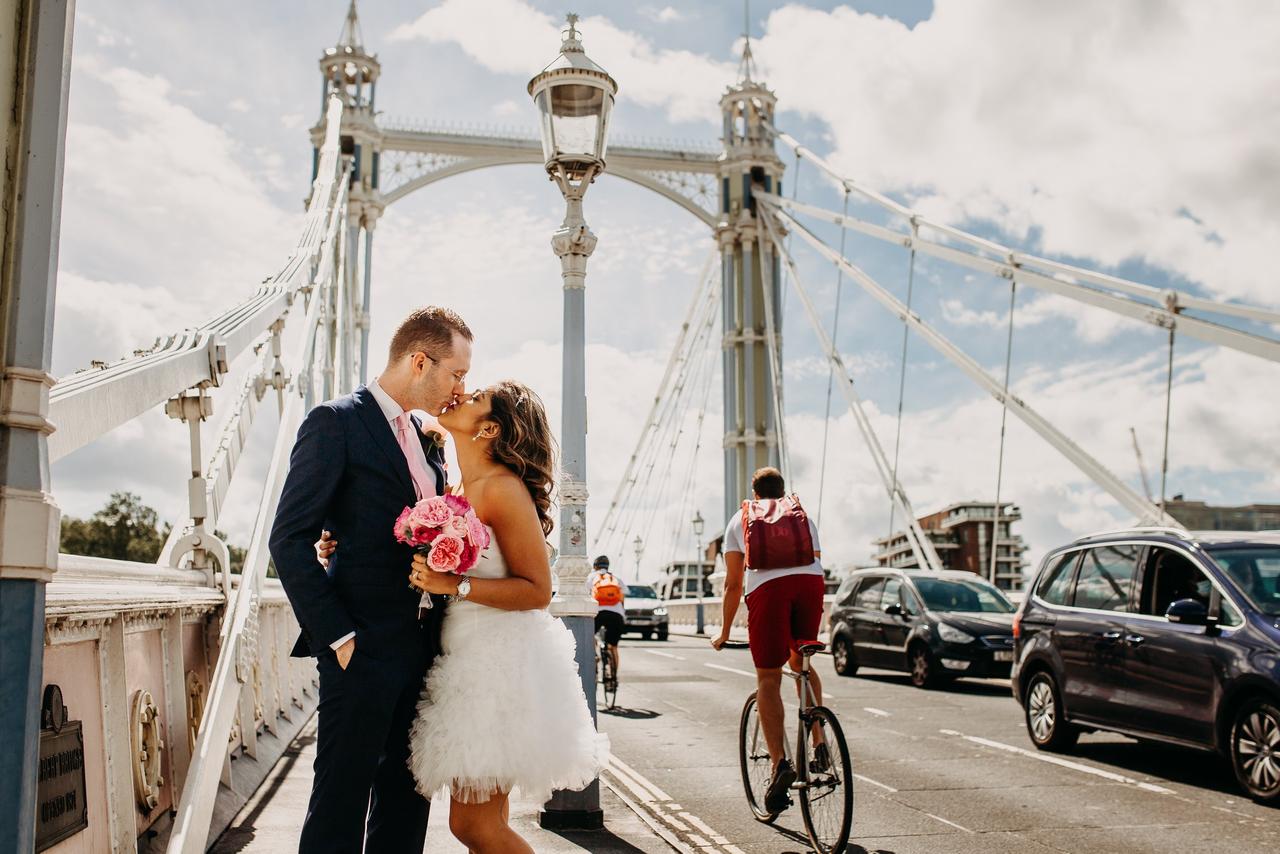 The proposal came in Costa Rica in February 2019. "We'd spent about a week hiking, horse riding, chocolate making and having the most incredible time. Given so many opportunities, I didn't think he would propose. He waited until an hour before check out while I was taking photos on our balcony of our amazing volcano view hotel room to propose!"
They were lucky enough to be able to keep their reception plans: a beautifully intimate, relaxed afternoon tea for 30 at Bluebird in Chelsea. Due to restrictions, they had their reception confirmed only a week before the wedding day, yet they managed to pull together a perfect small wedding.
We love how they broke with tradition and spent the night before and morning of the wedding together. Keep scrolling to see them walk down the aisle together too.
Photography by Miracle Moments.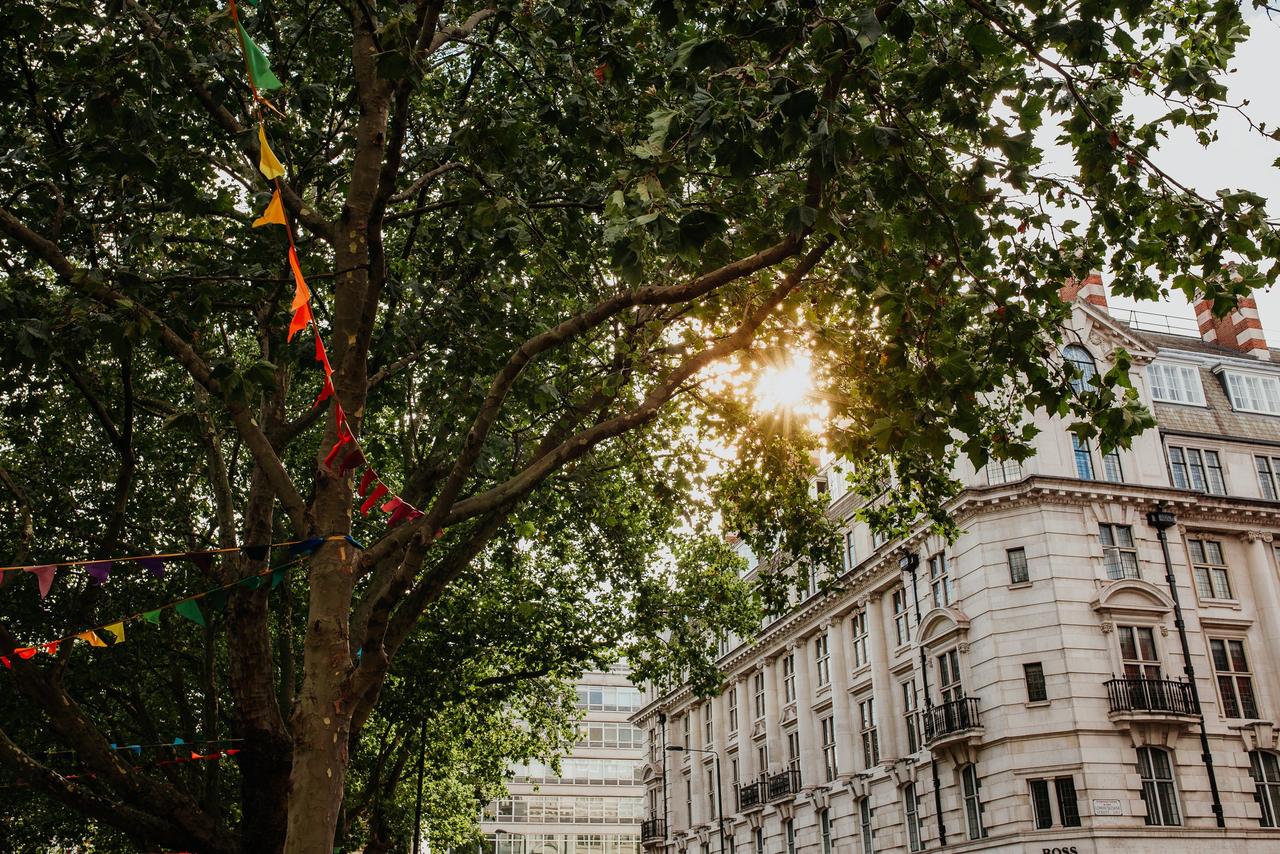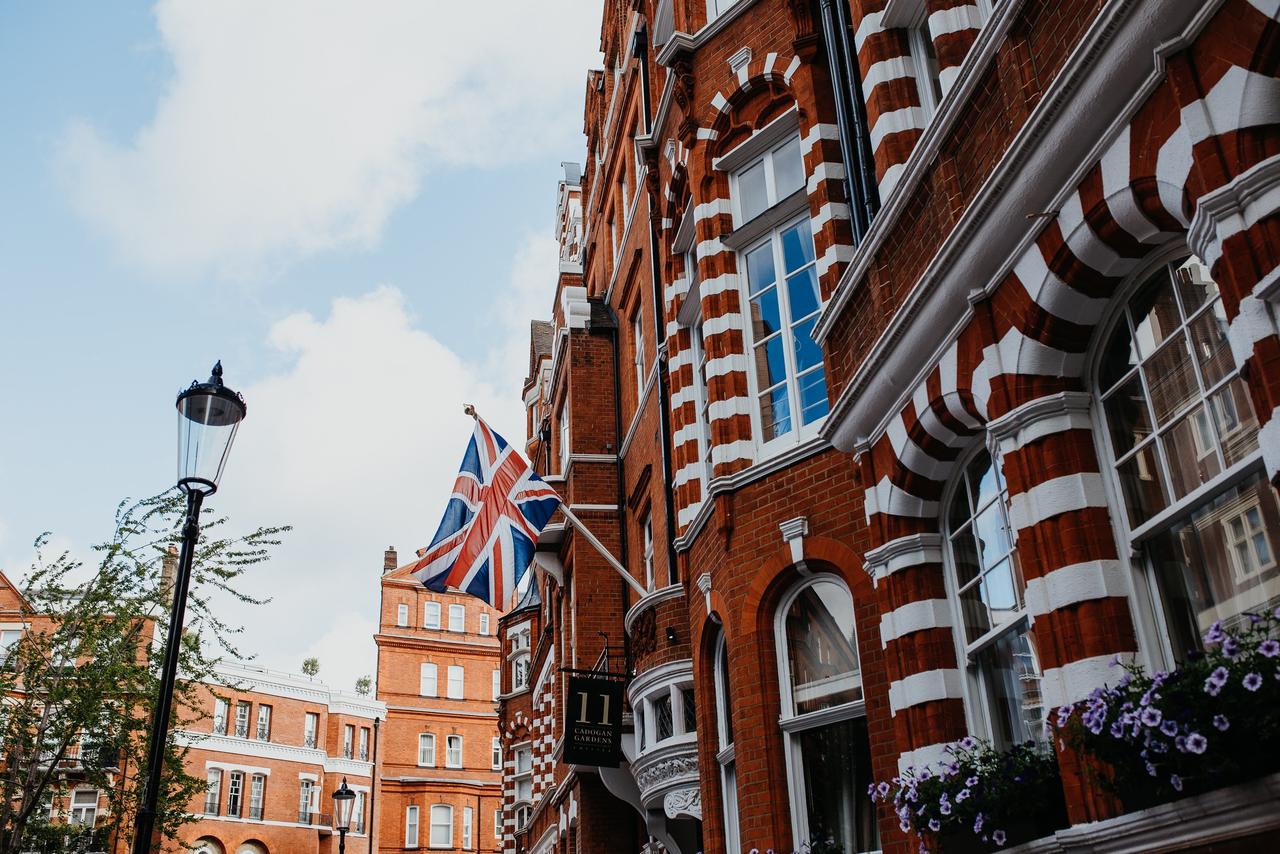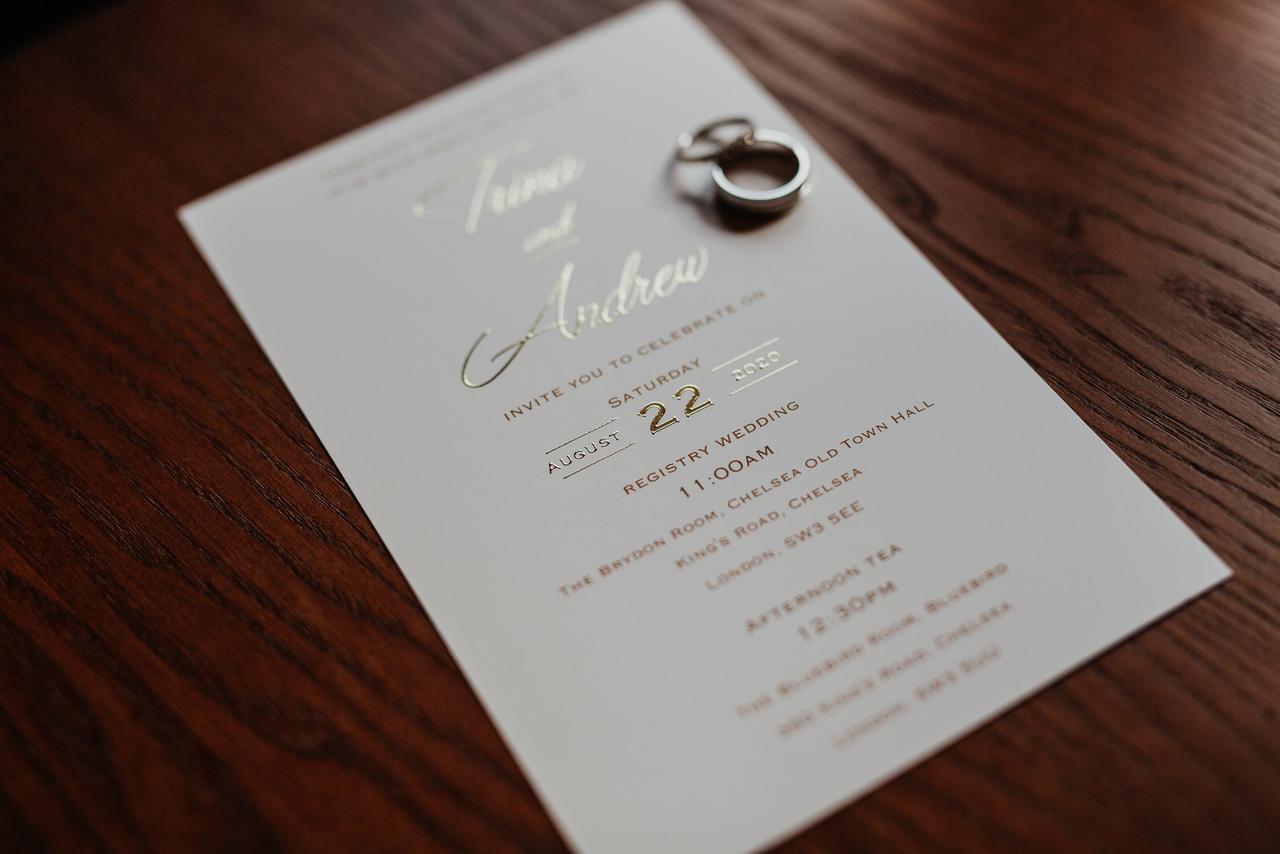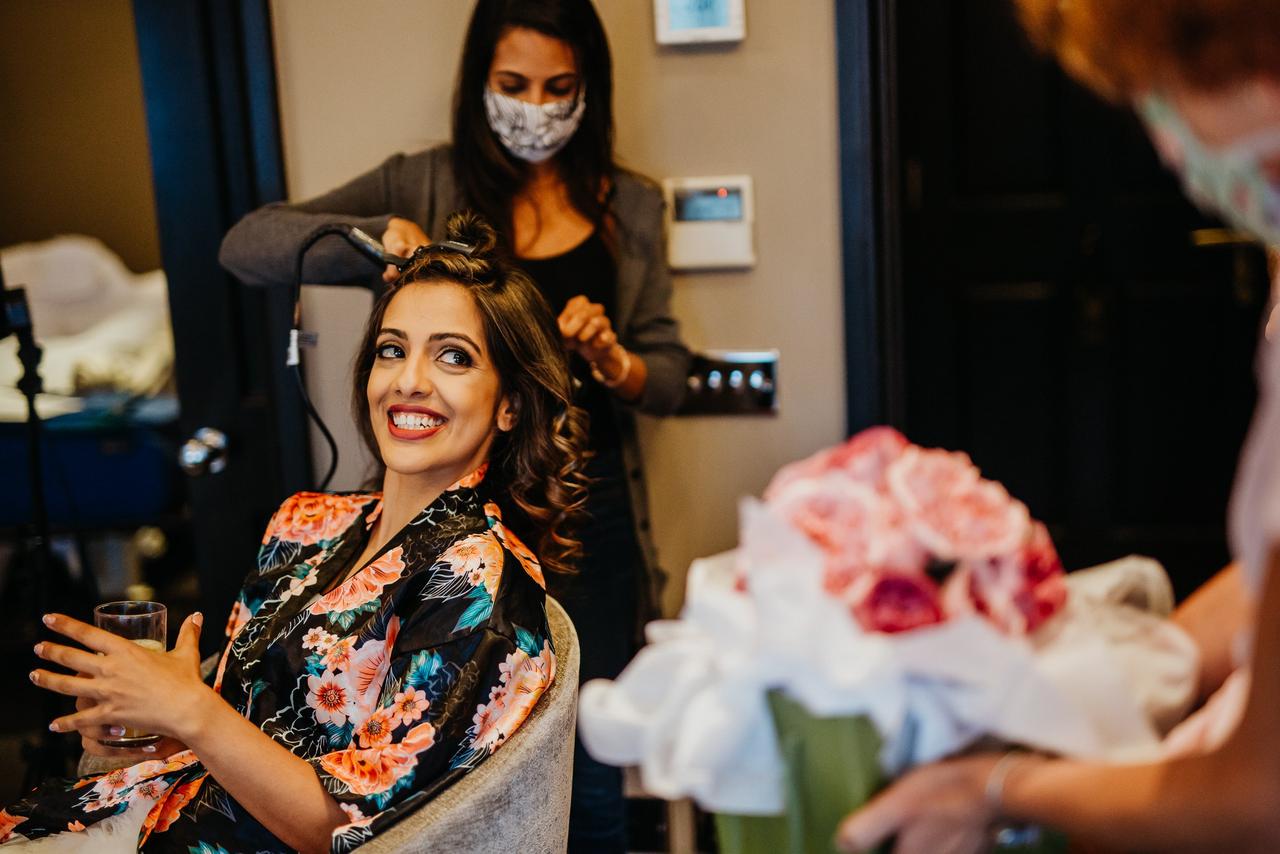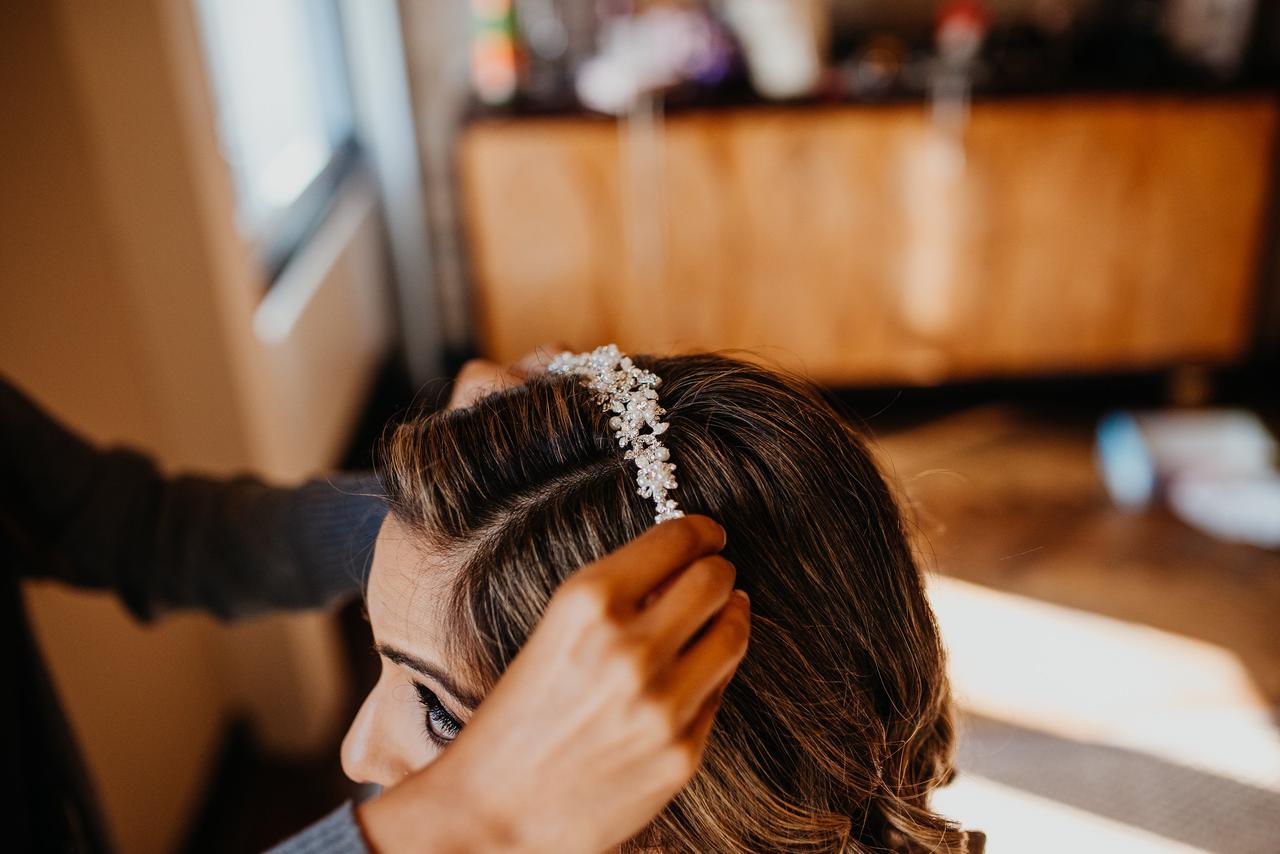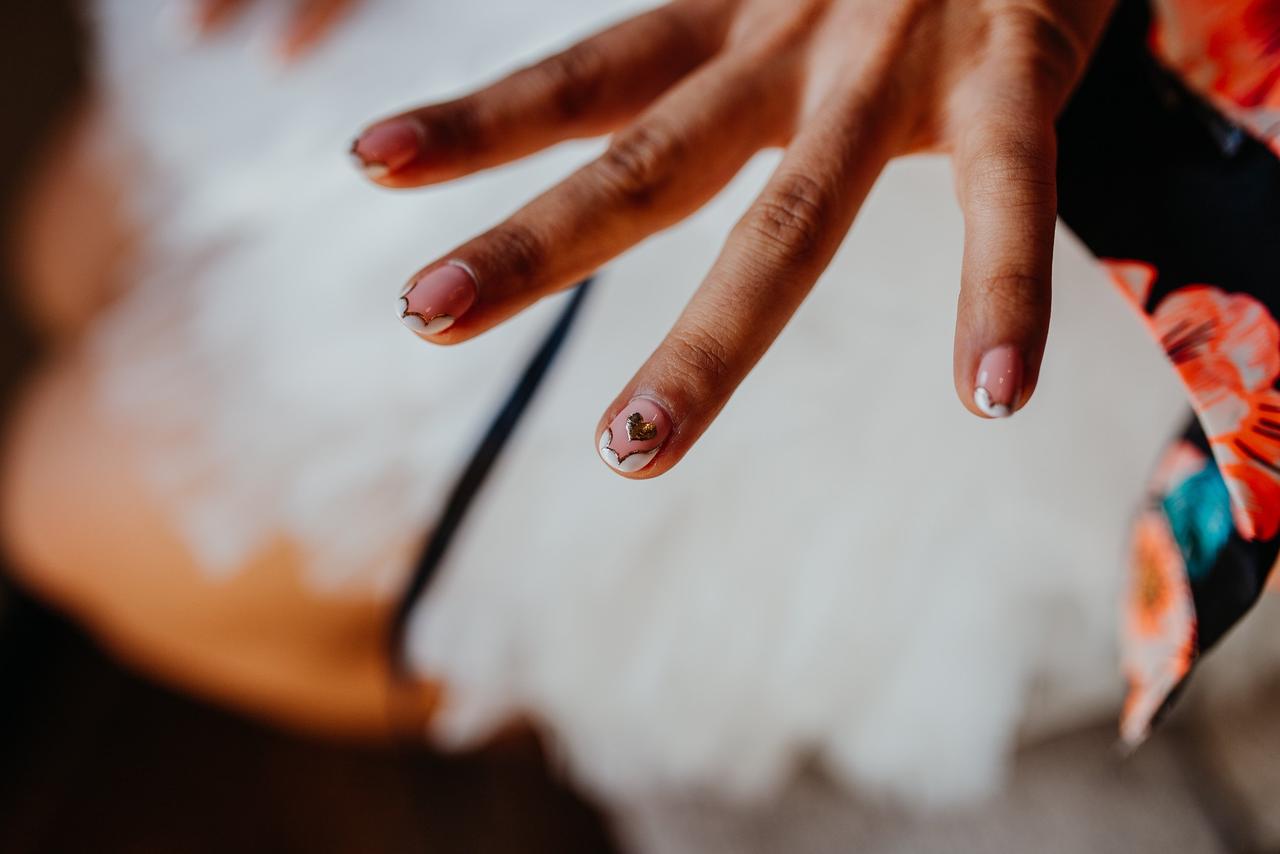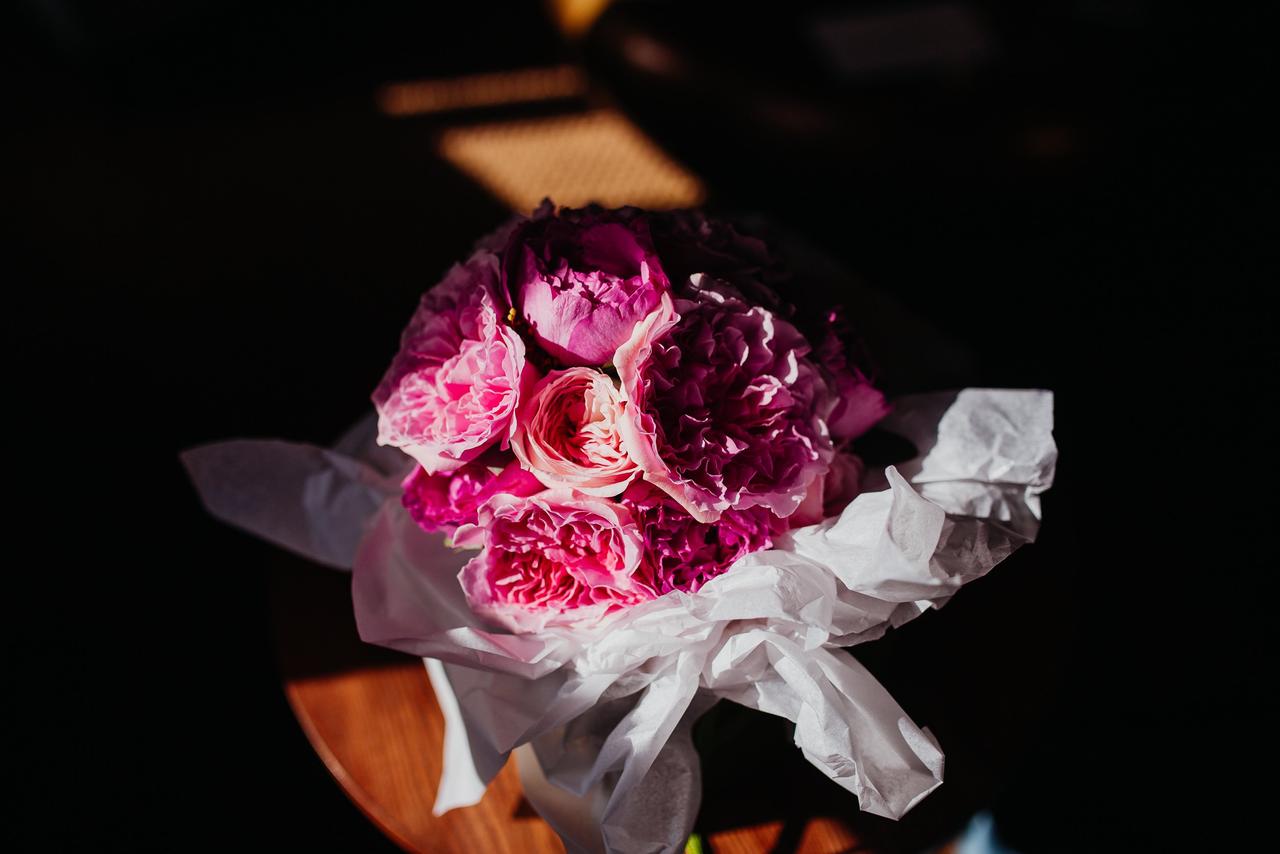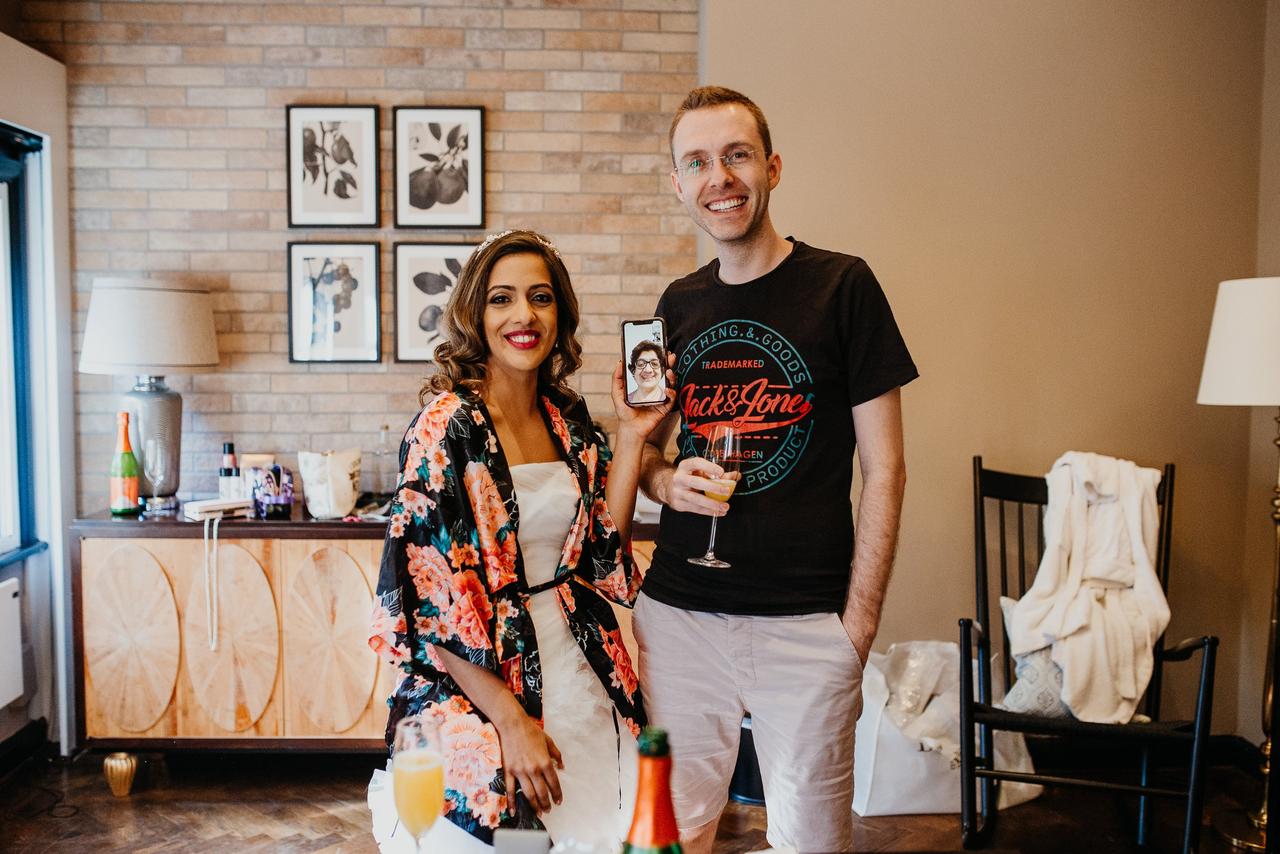 The Wedding Dress
Trina wore a dress from the White by Vera Wang range at David's Bridal
"I always wanted a short wedding dress. I'm very petite so anything long would have overwhelmed me and I wanted the vibe to be more casual and easy going and very unique, but still a bit fun.
"It was summertime and I didn't want to get too warm so a little short, strapless number with a fun, tulle drop hem was perfect. Plus I bought the perfect pair of shoes and wanted to show them off!"
Trina tried in six or seven dresses before she found her perfect gown: "Nothing felt as good as this one. It was the first dress I tried on and I loved it. It was exactly what I wanted and nothing else compared to it."
She ordered it in January 2020, seven months ahead of her wedding, when we were all blissfully unaware that 2020 would be marred by lockdowns.
"I ordered it on the same day I tried it on and it arrived just before the first UK lockdown kicked in, thankfully. It may have needed a bit more tailoring but I didn't have enough time post-lockdown to sort it out. But it still fit really well."
Trina completed her outfit with a tiara and earrings, and a watch which was a wedding present from her father.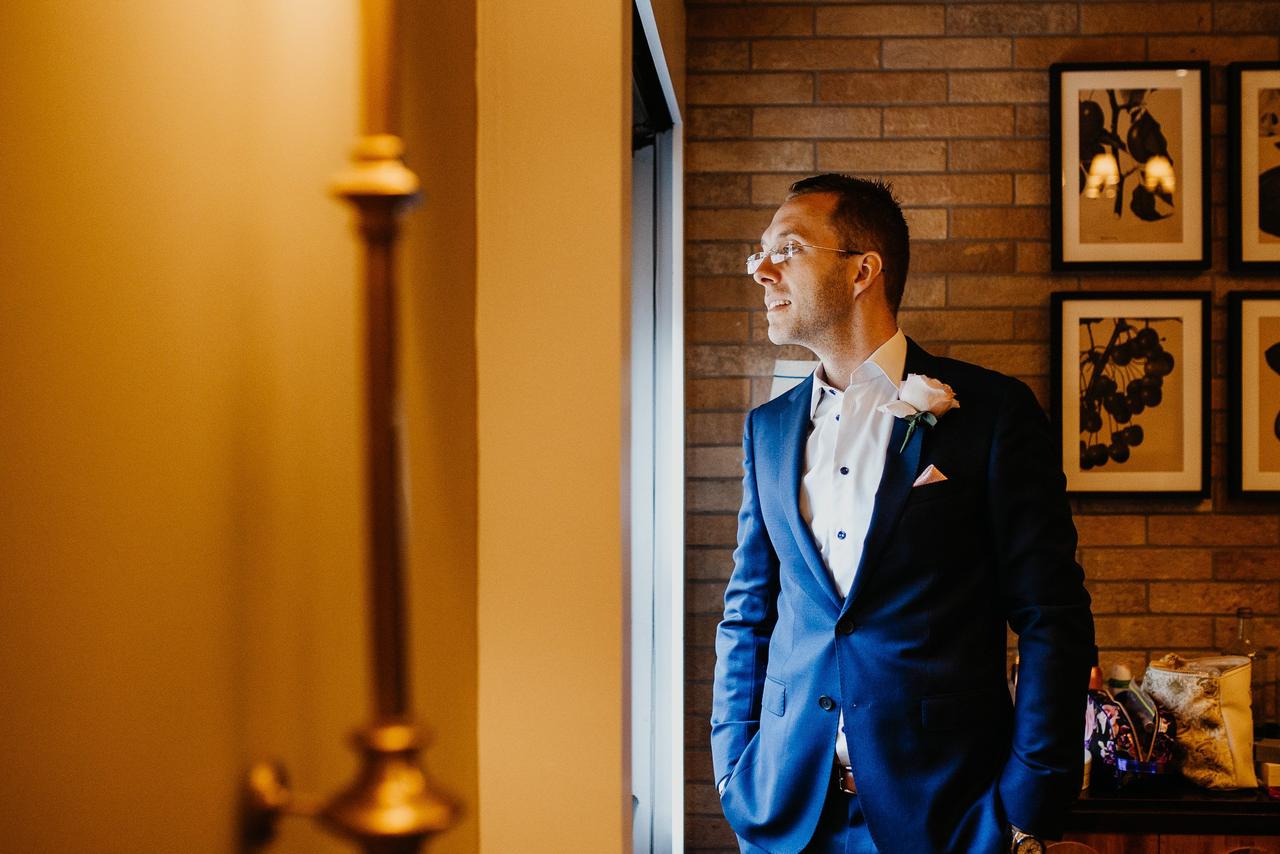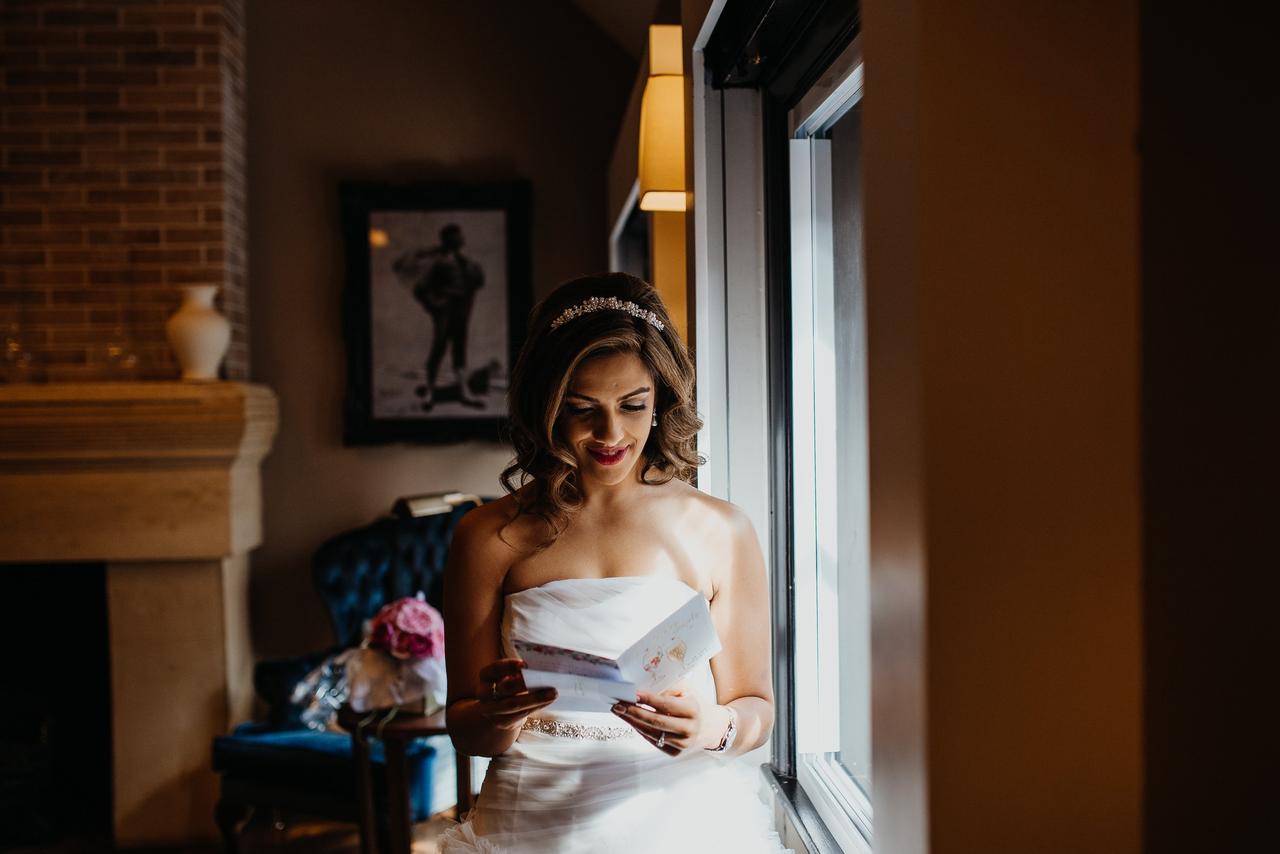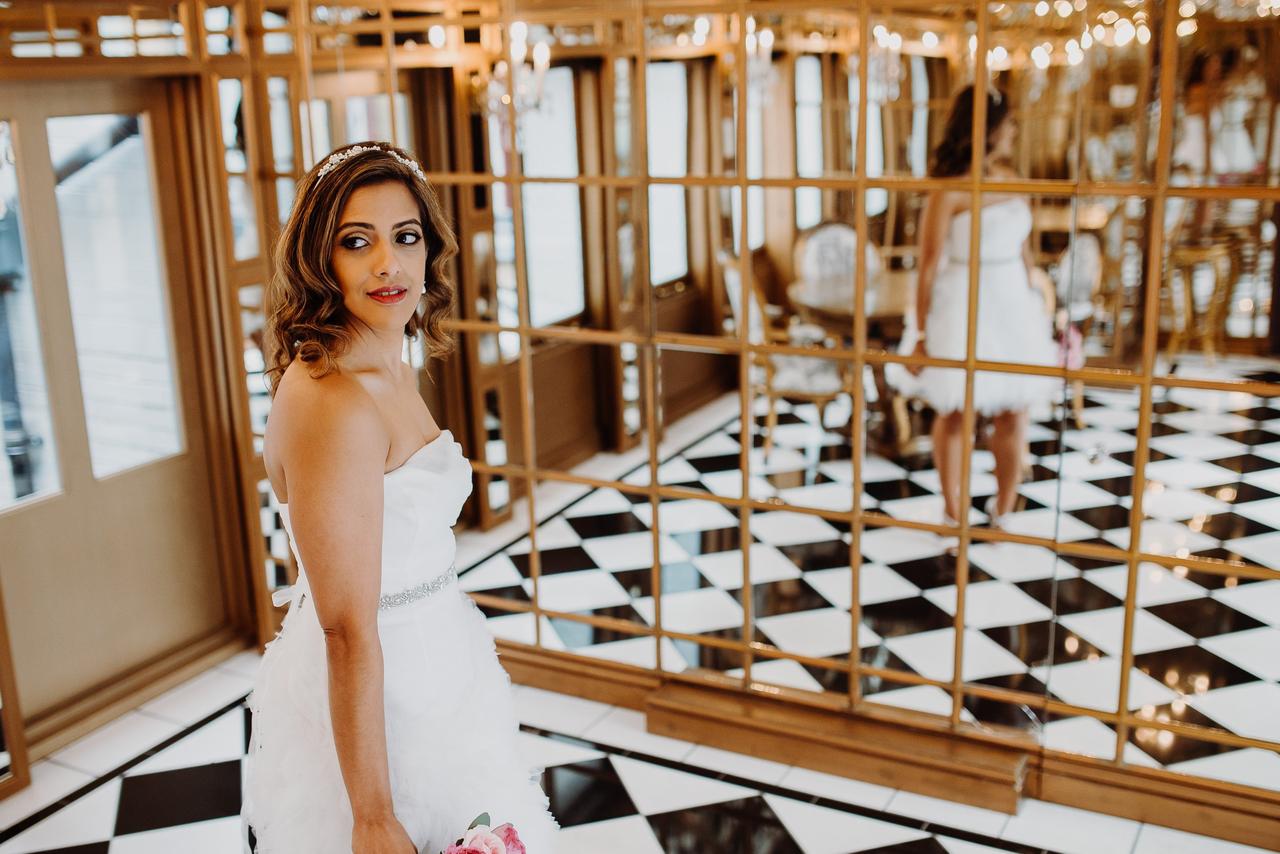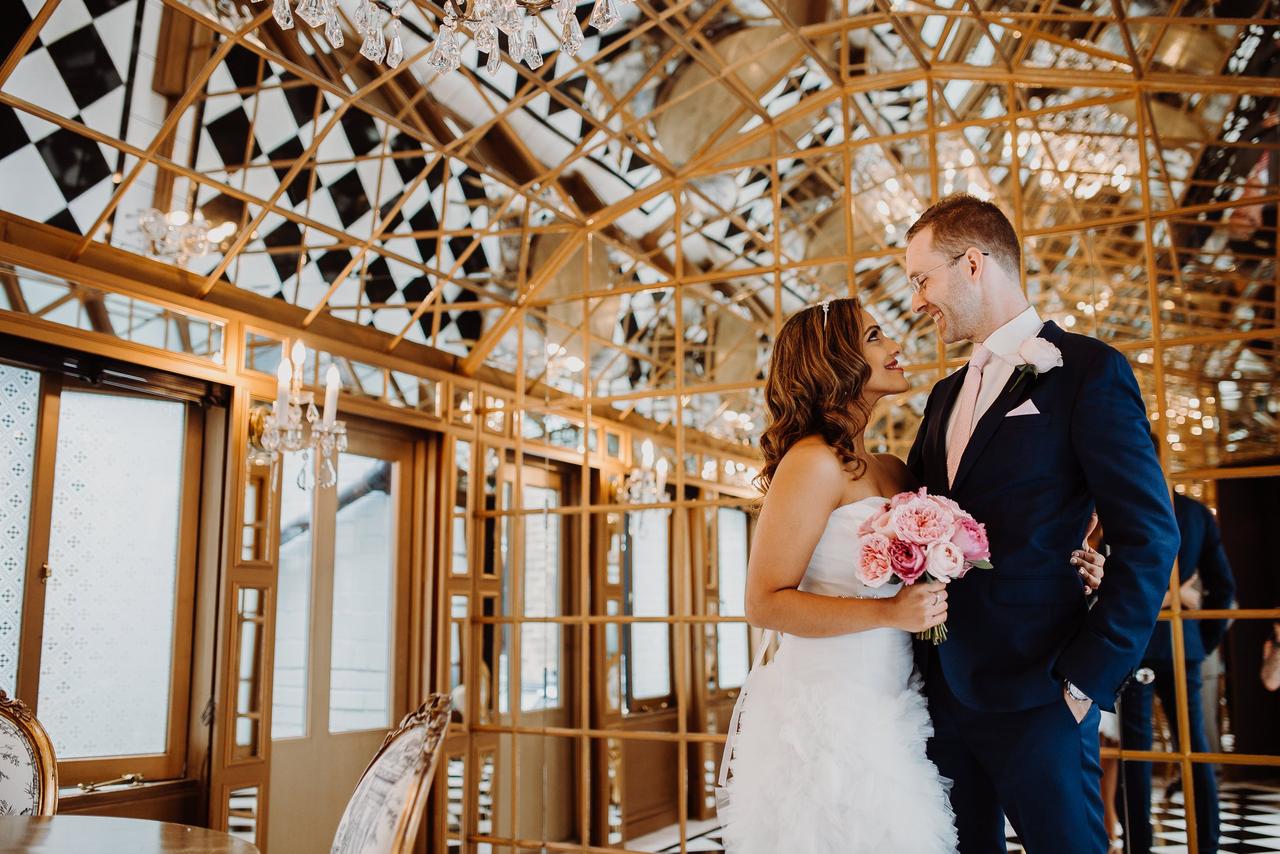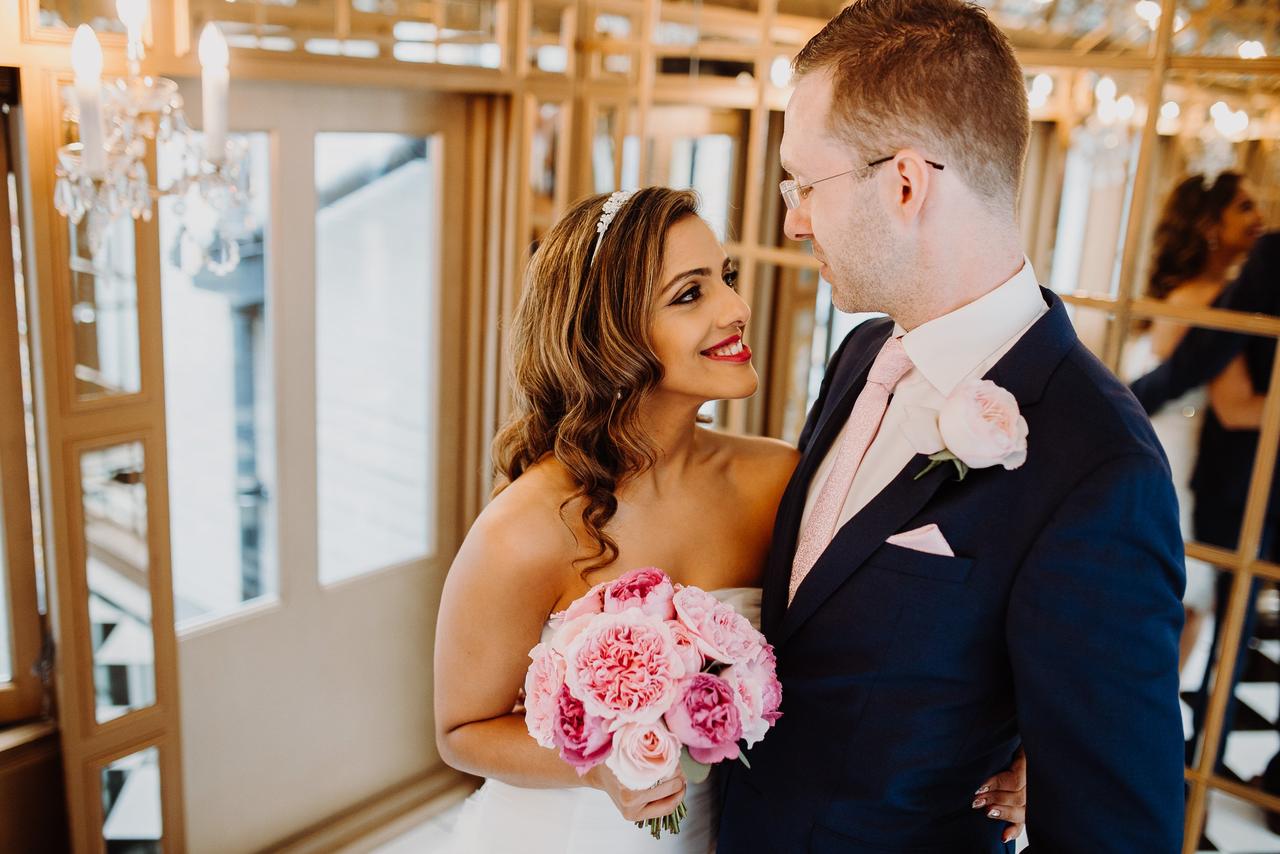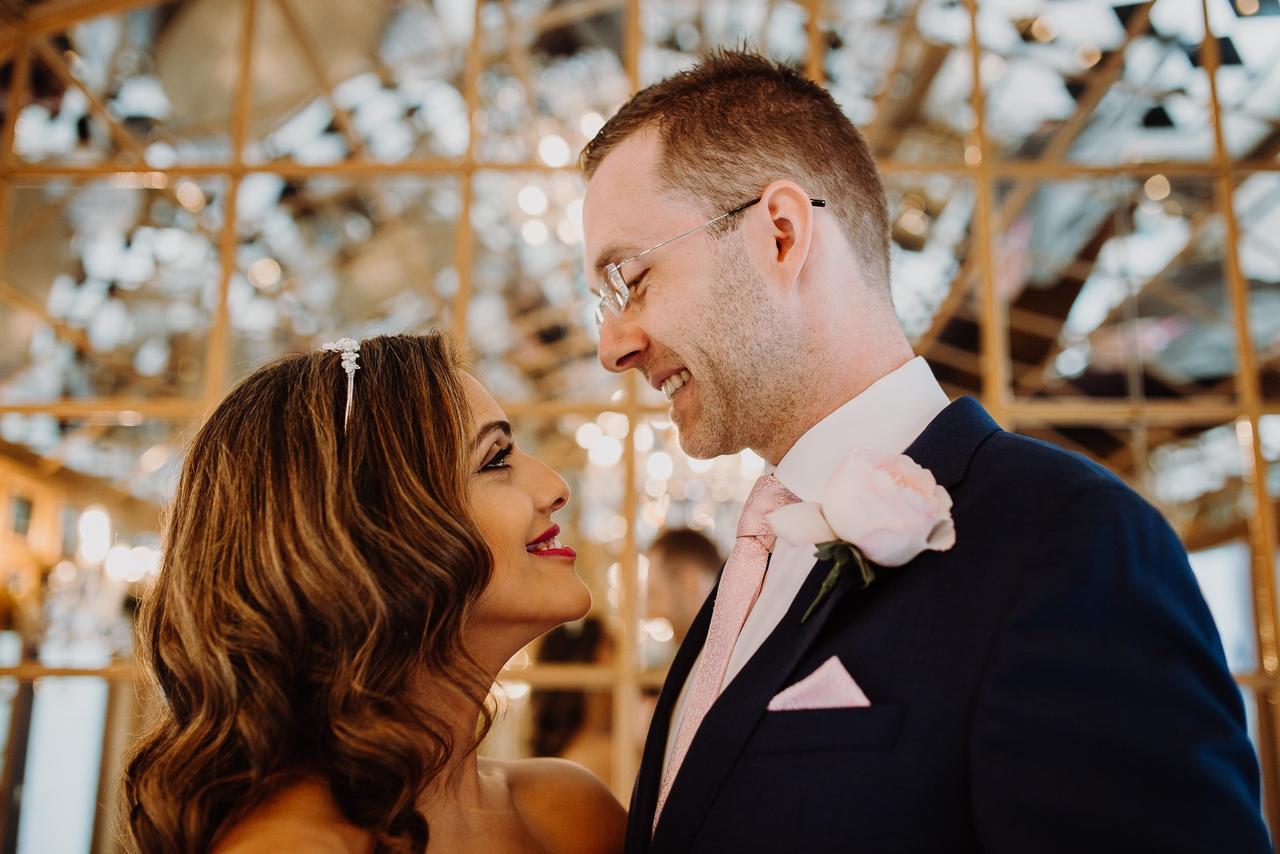 The Wedding Morning
Breaking with tradition, Trina and Andrew decided to get ready together at their hotel on their wedding morning.
"It was really nice. We were staying at 11 Cadogan Gardens the night before the wedding. We wanted a low-key, relaxed day so we broke with tradition and decided to just spend the night before and the morning of together.
"The night before we just went out for dinner and drinks in Chelsea together as a couple with a small group of friends who we were unable to have at the wedding due to restrictions on numbers."
Trina didn't have bridesmaids but she was lucky enough to have a friend, Pooja Shah, who worked as a makeup artist to help her get ready.
"I've known Pooja since we were children as we grew up next door to one another. She's been in the bridal service industry for a while. I wanted someone who I knew and who's work I knew. She knew I wanted to still look like me and didn't want the over the top look. She also understood it was a daytime wedding so advised me accordingly. We went for something similar to my normal look, daytime casual with hair down and a bit of glitter."
Andrew wore a blue Hugo Boss suit, with a pink tie and pink pocket handkerchief. "We went shopping together the day that shops were allowed to open post-lockdown. We found the right one at Hugo Boss and got it tailored. It arrived just in time for the wedding."
Like Trina, Andrew had no groomsmen as they had to keep the numbers down, but they managed to have a tiny wedding party. "I had my two nephews (three and five years old) as my 'flower boys'. They took their job as professional confetti throwers very seriously and had been practicing beforehand," said Trina.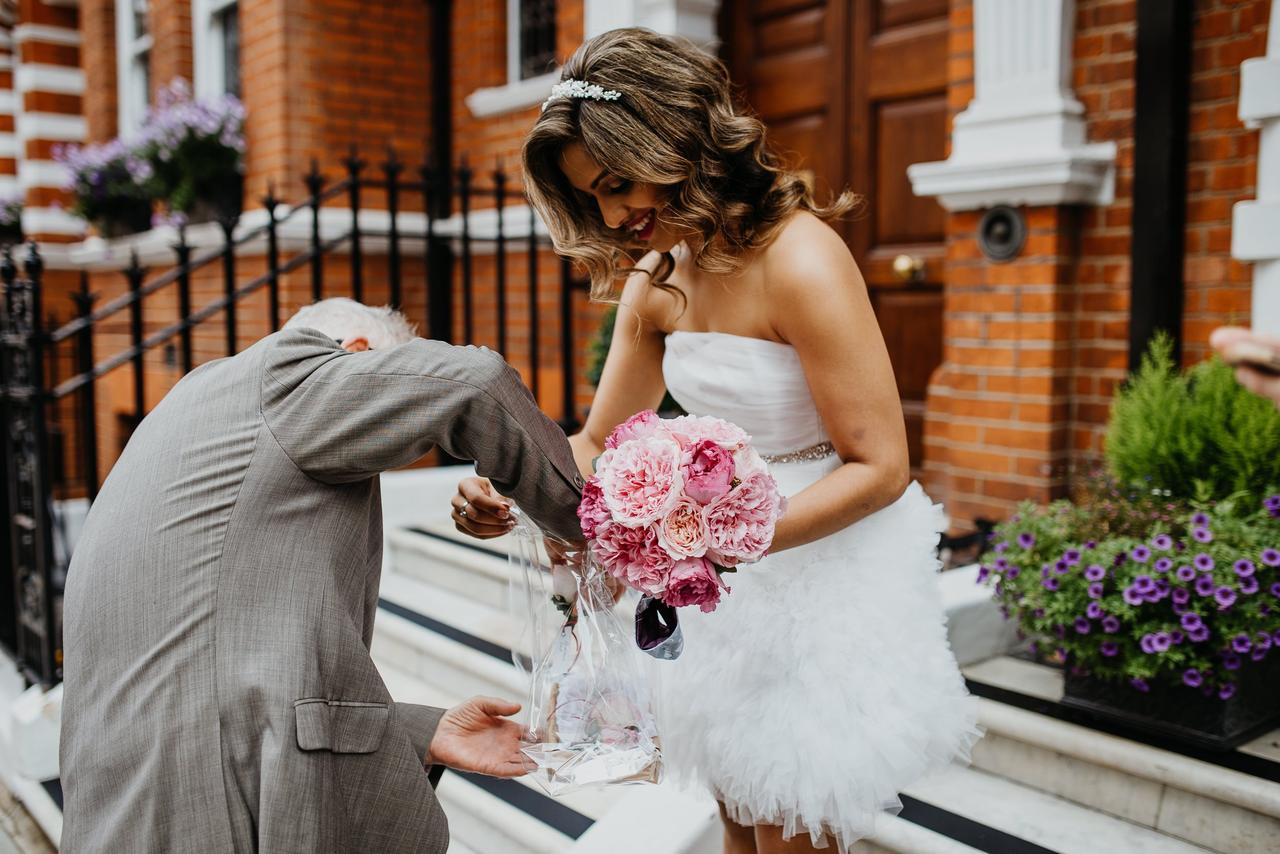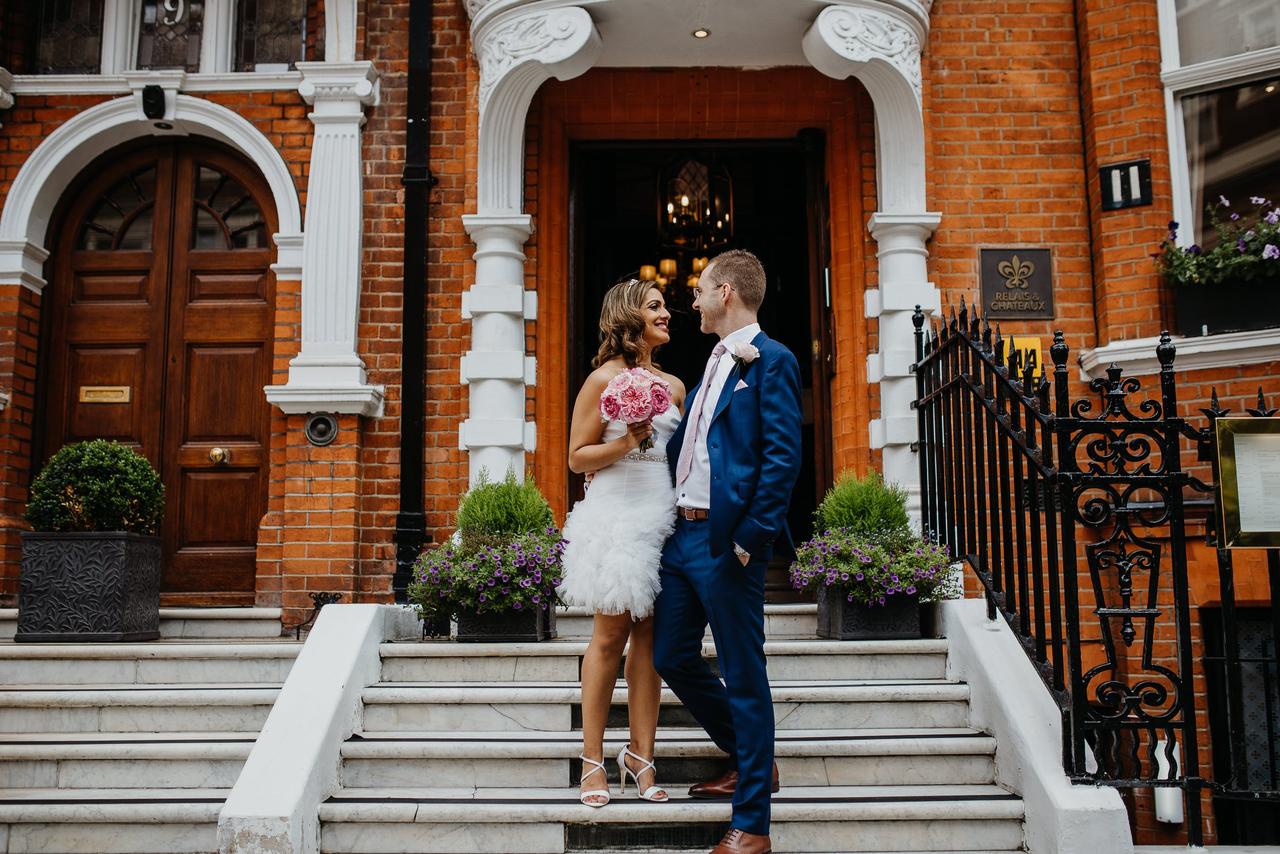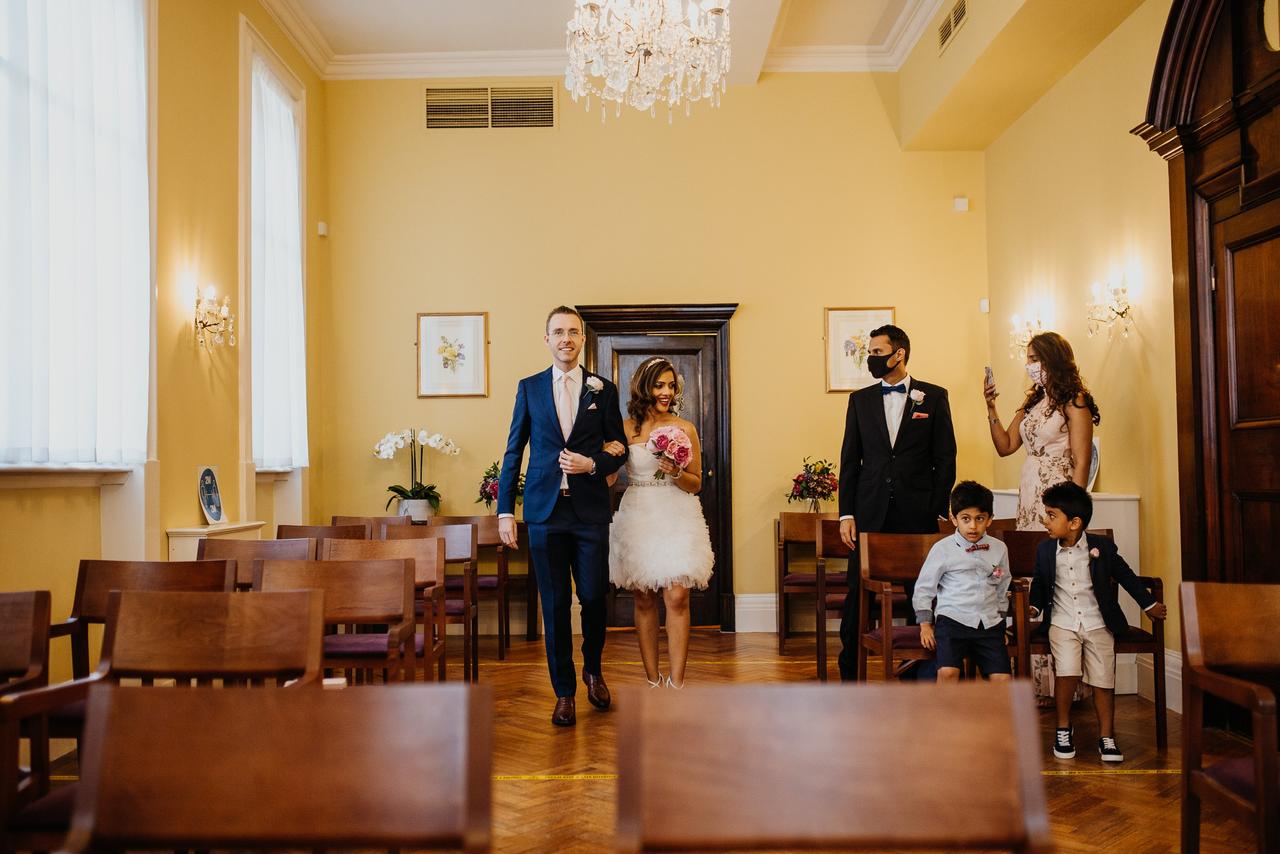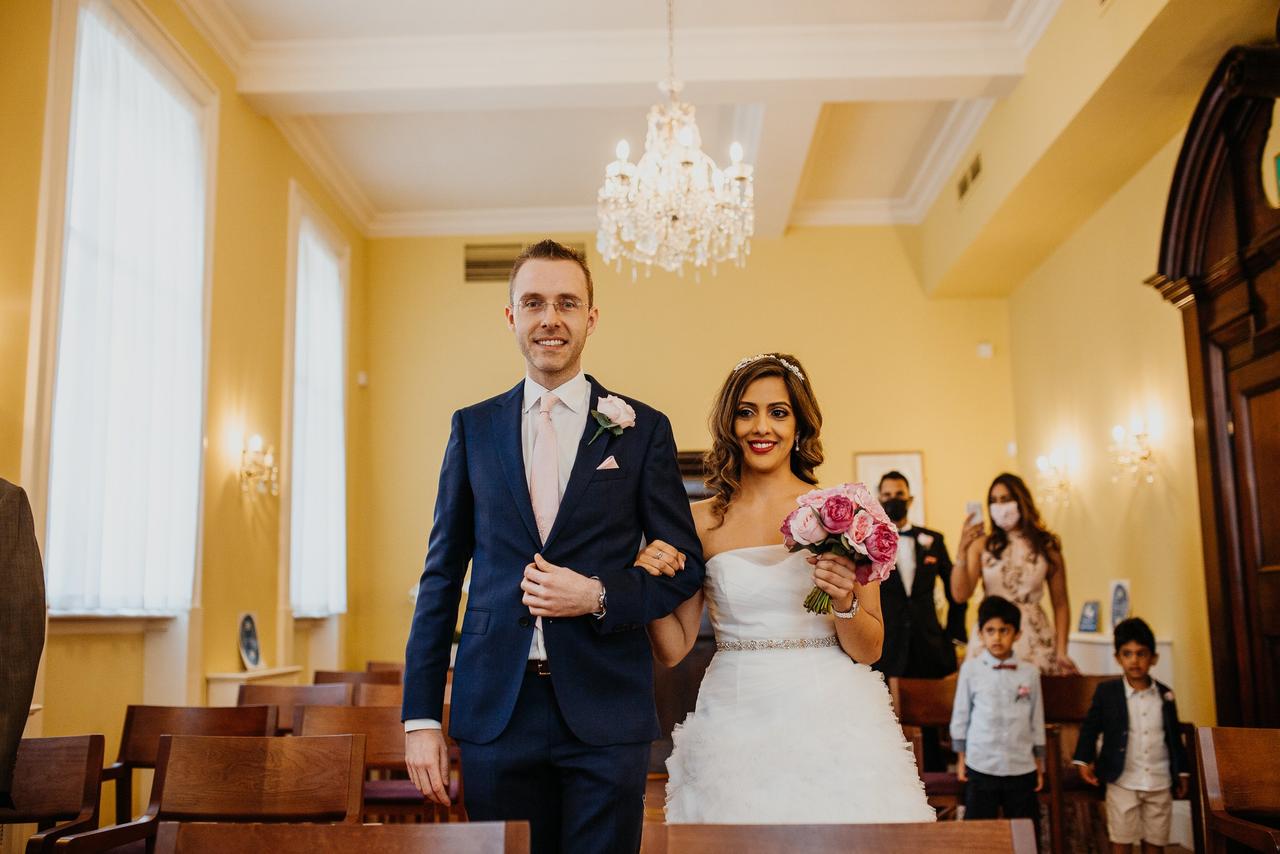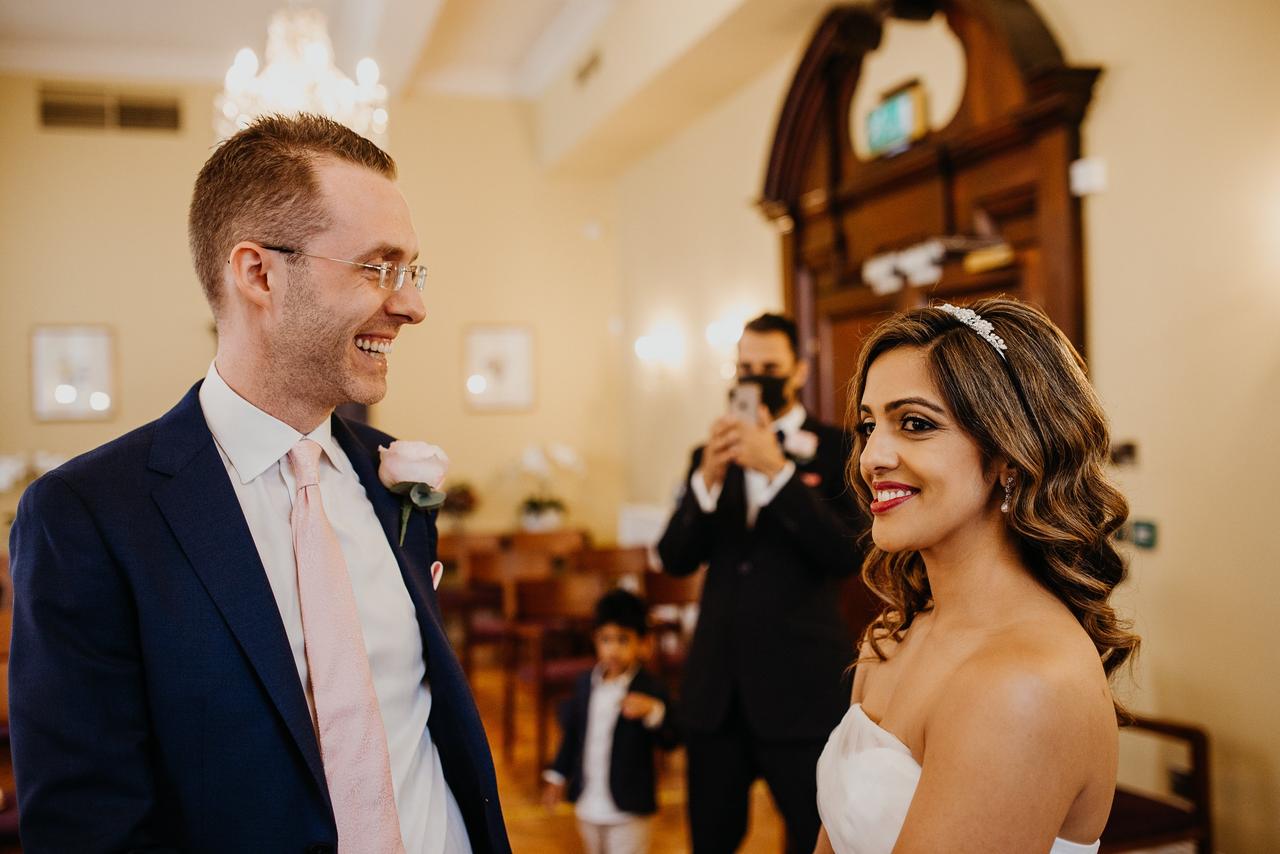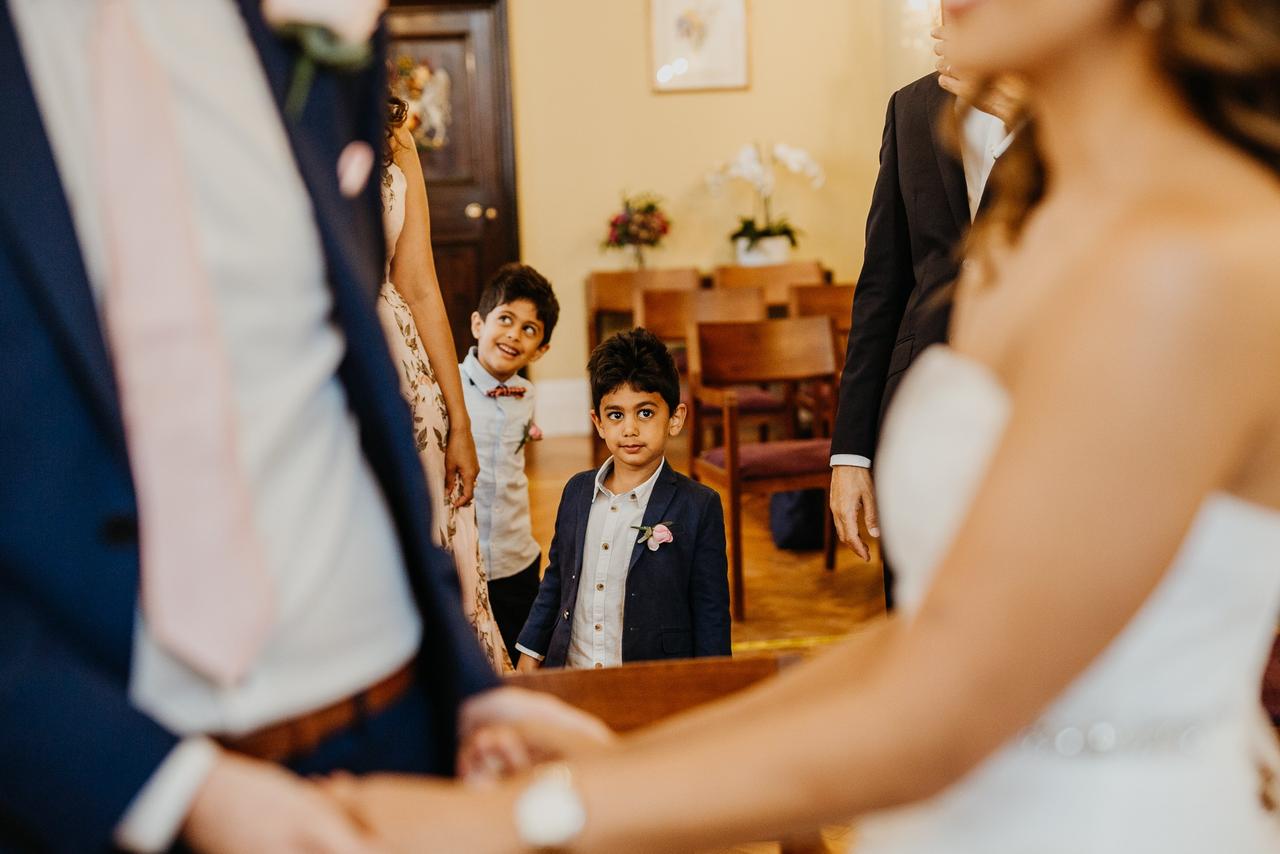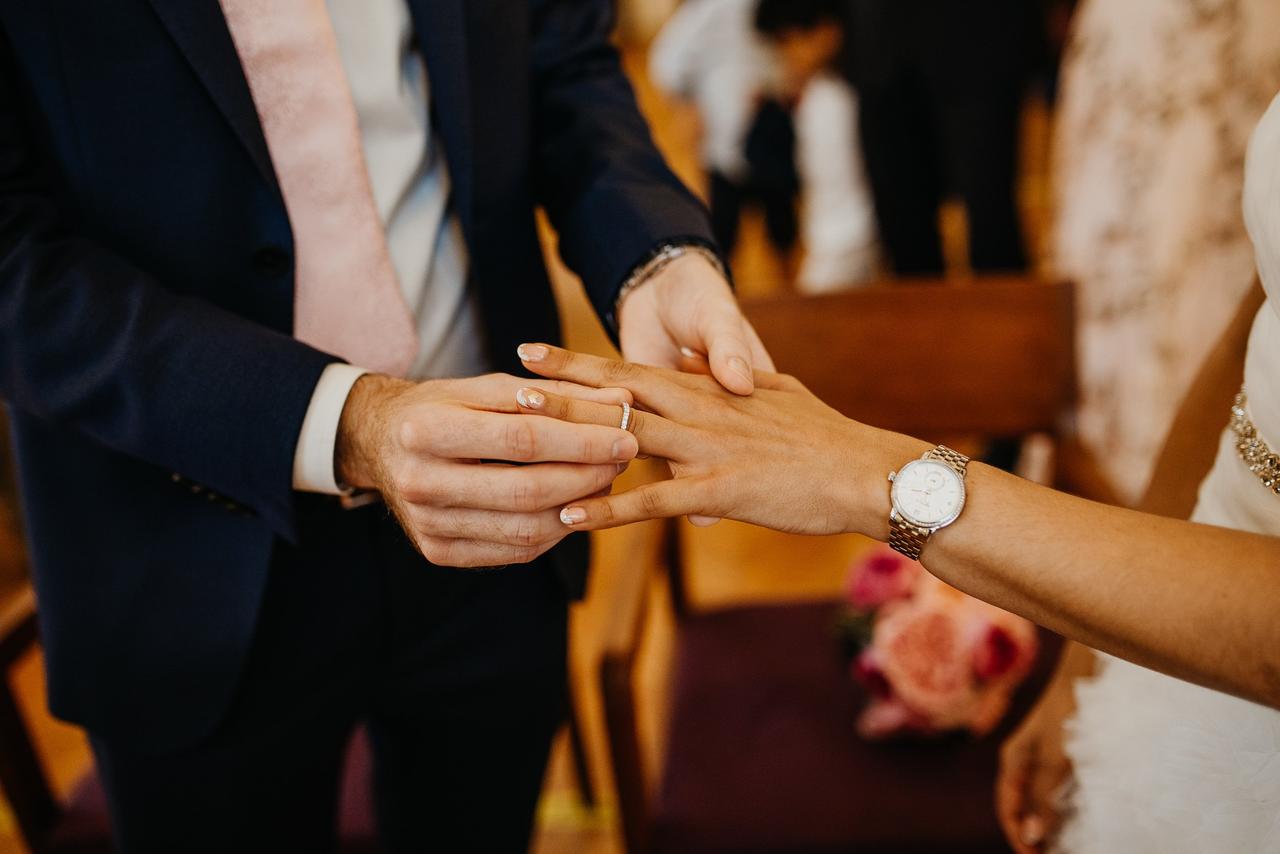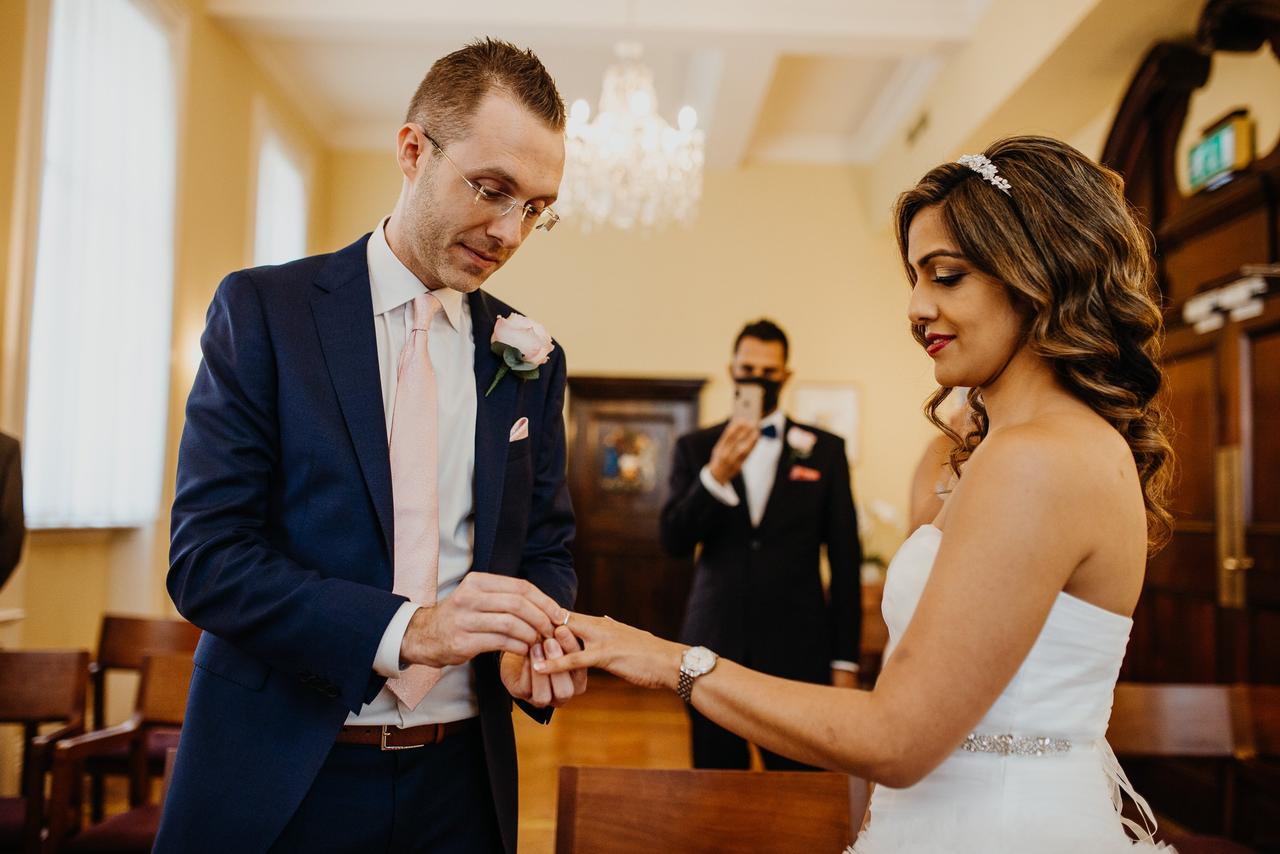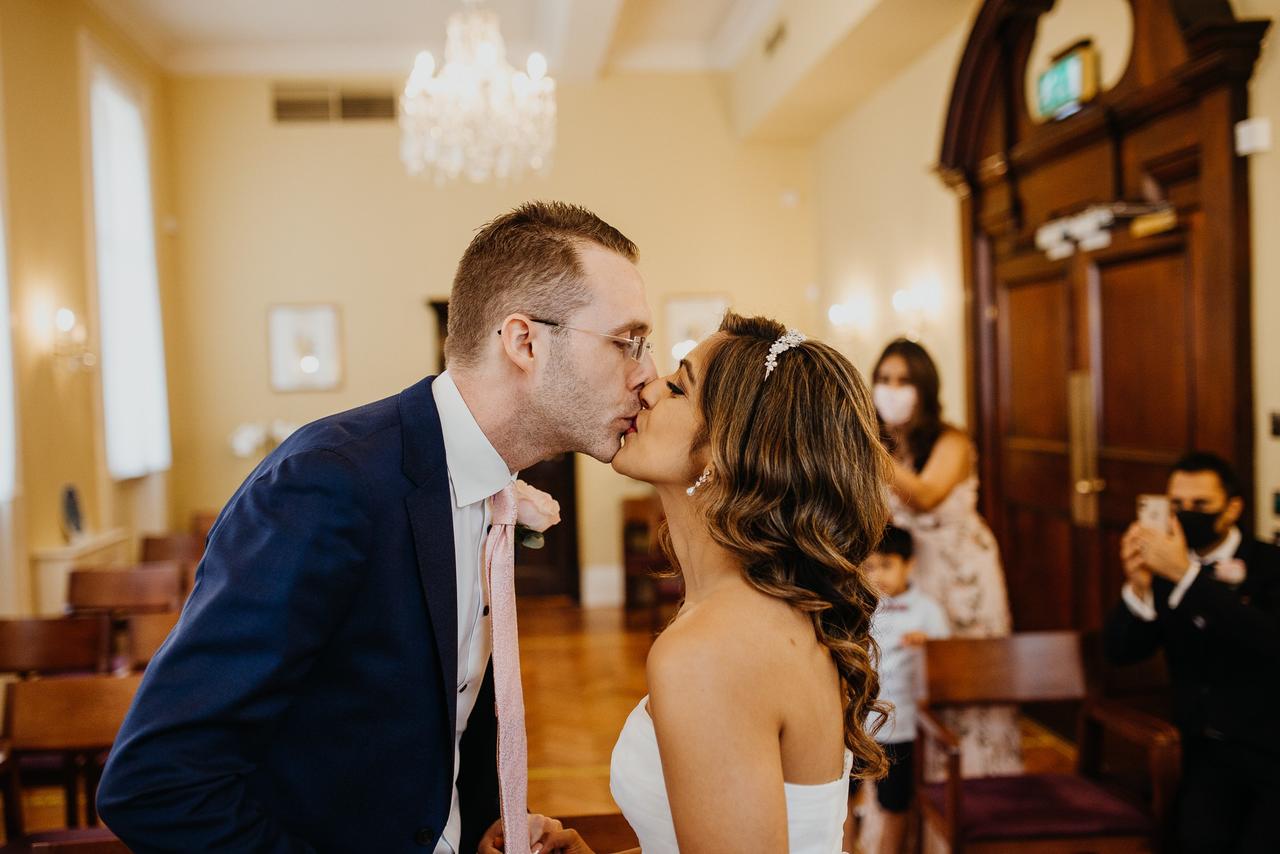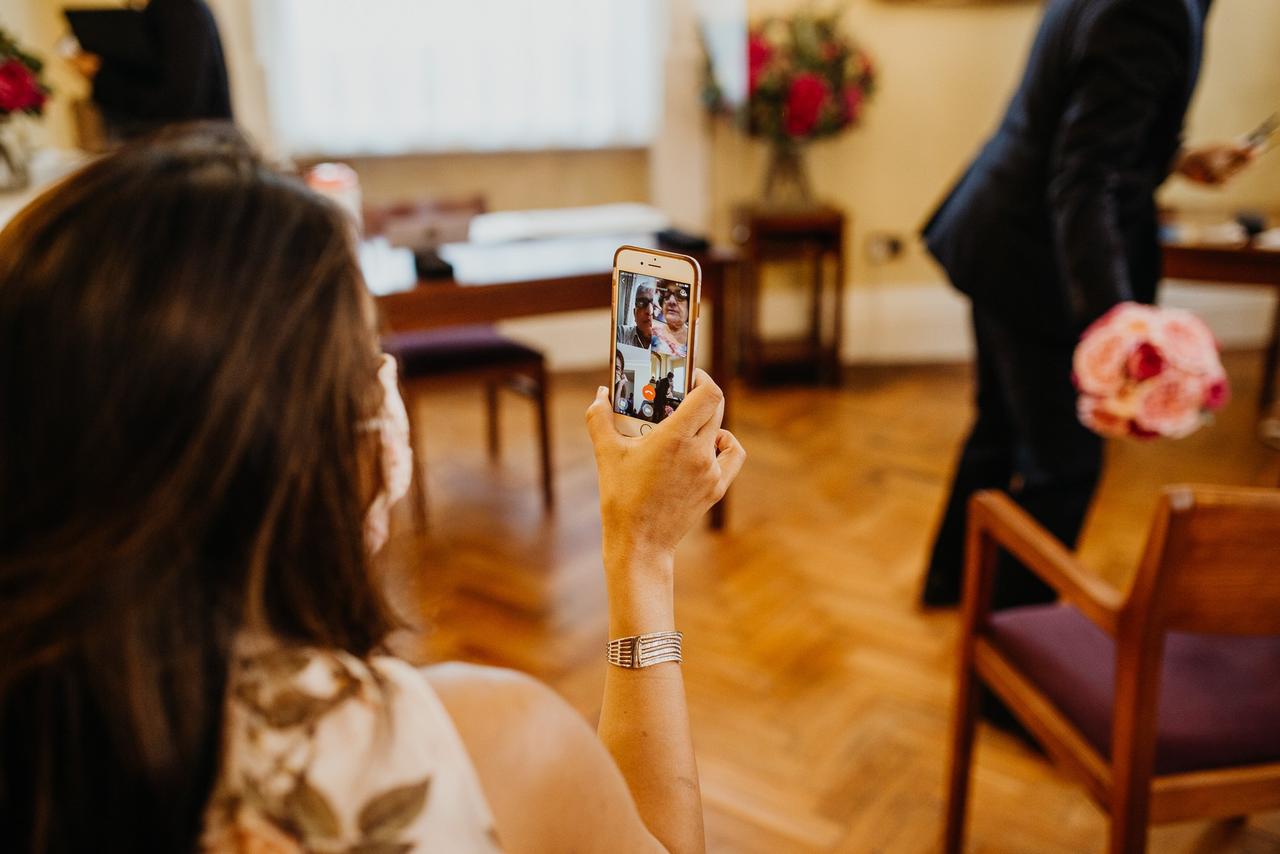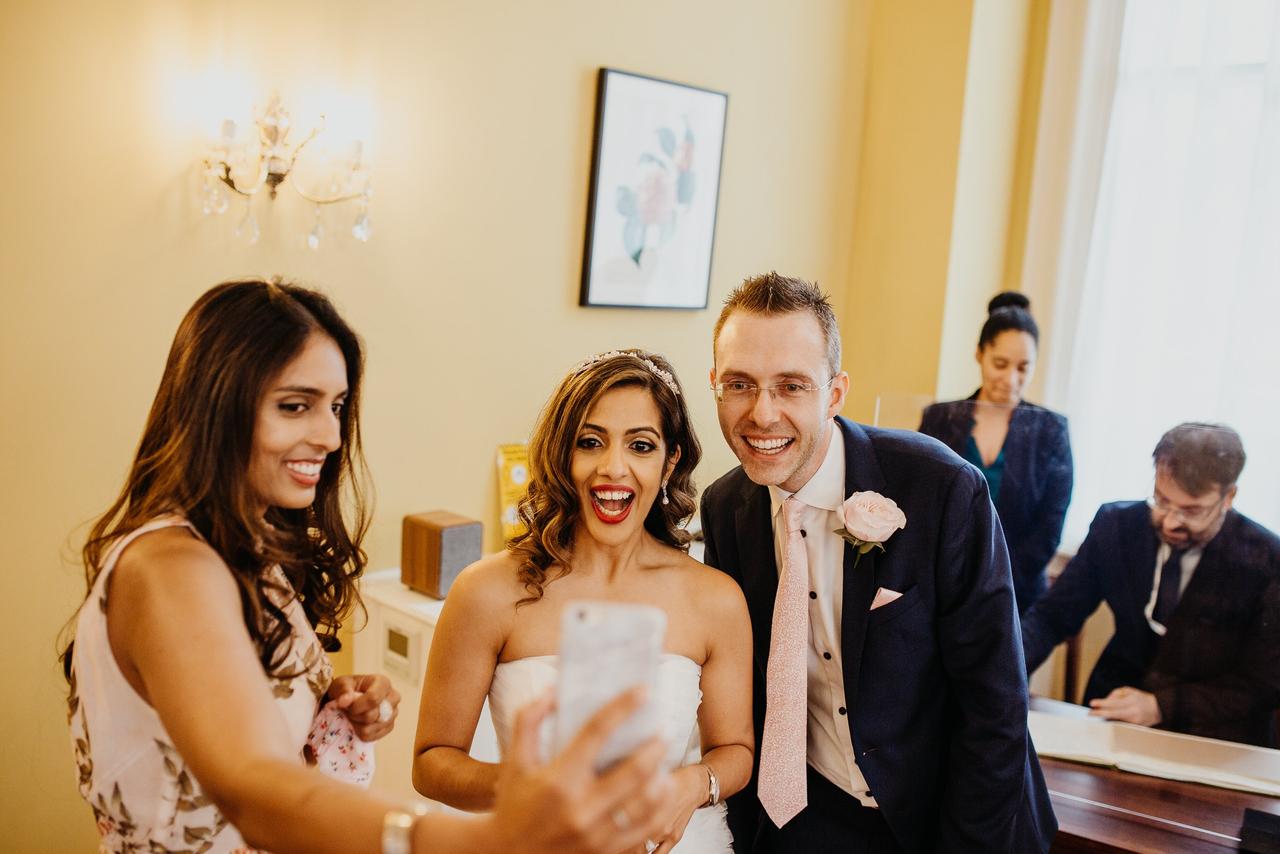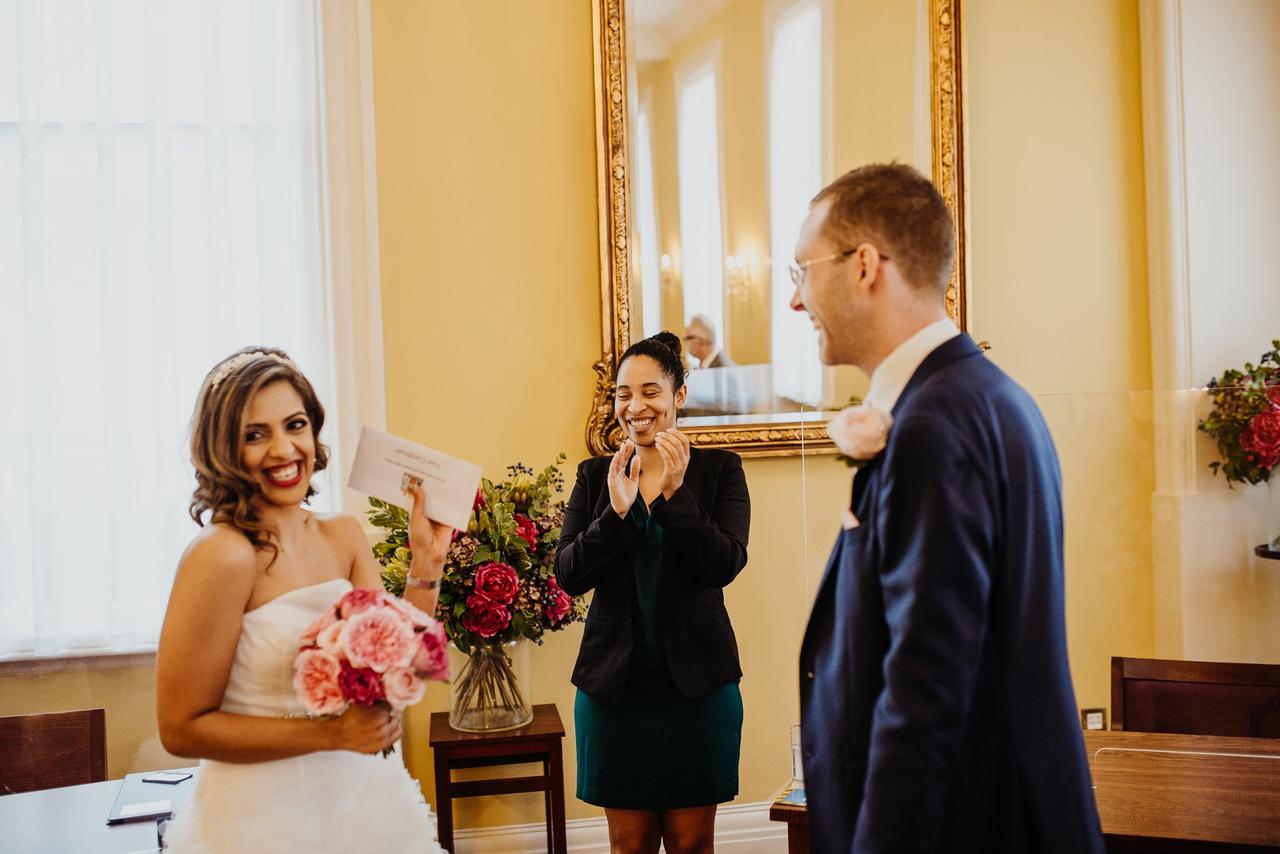 The Change of Plans
Fortunately, the "original date and venues were the same," said Trina. They tied the knot on the 22nd August at Chelsea Town Hall with their afternoon tea reception at Bluebird, Chelsea.
"The only thing was my parents and some friends were not able to fly in due to travel bans in Australia and Kenya. But I had other very close friends who were able to attend at short notice so I was grateful for that.
"Chelsea Town Hall had also advised us that we were not allowed to have more than six people at the ceremony so, apart from our witnesses and my flower boys, we asked most of our guests just to meet at The Bluebird for the reception/afternoon tea where we could keep our original number of 30."
Trina and Andrew had always planned for a smaller wedding as it was more intimate and personal.
"As we only had 30 people, we were able to spend lots of time having proper conversations/catch-ups with our guests.
"Andrew and I started our day together and woke up together, had breakfast together and walked into our wedding together. This was what we wanted to start our married life as we mean for it to continue - together."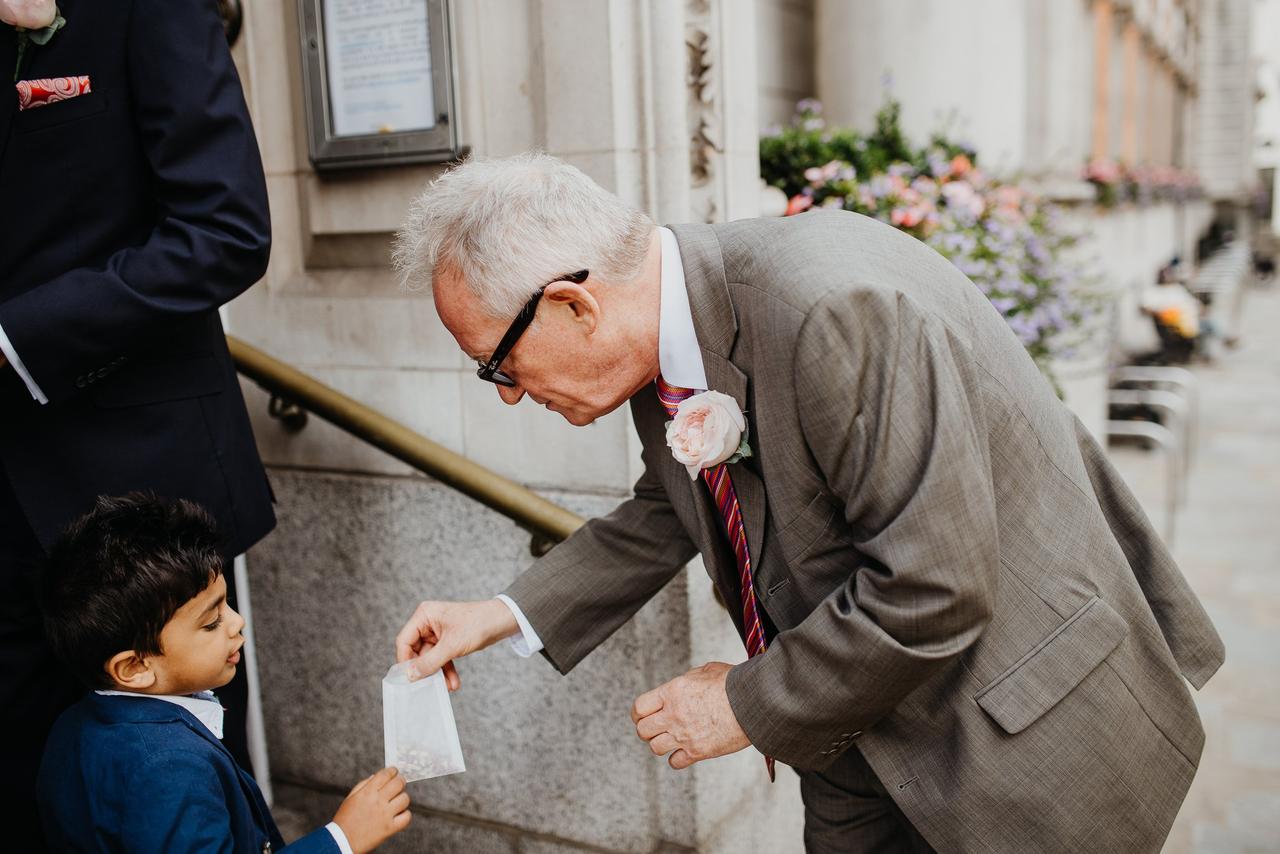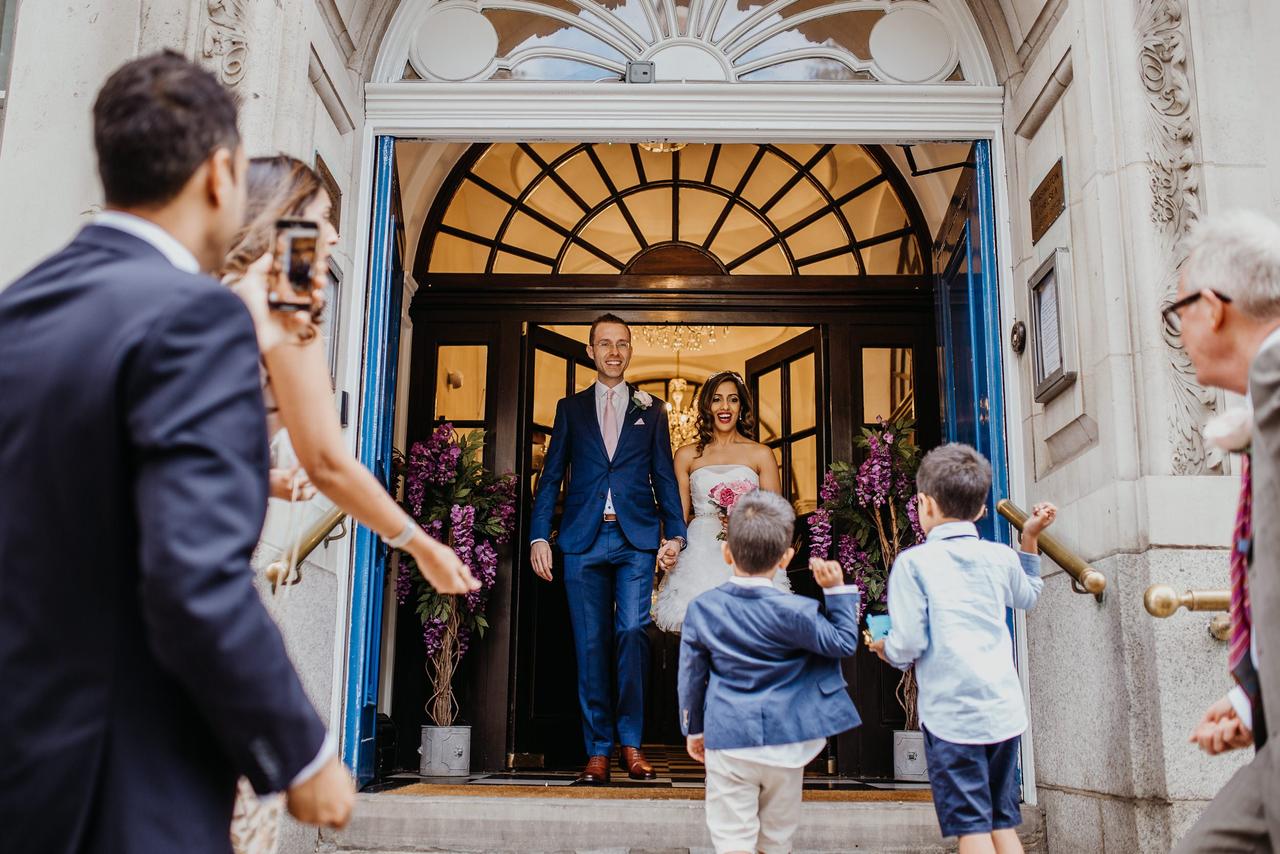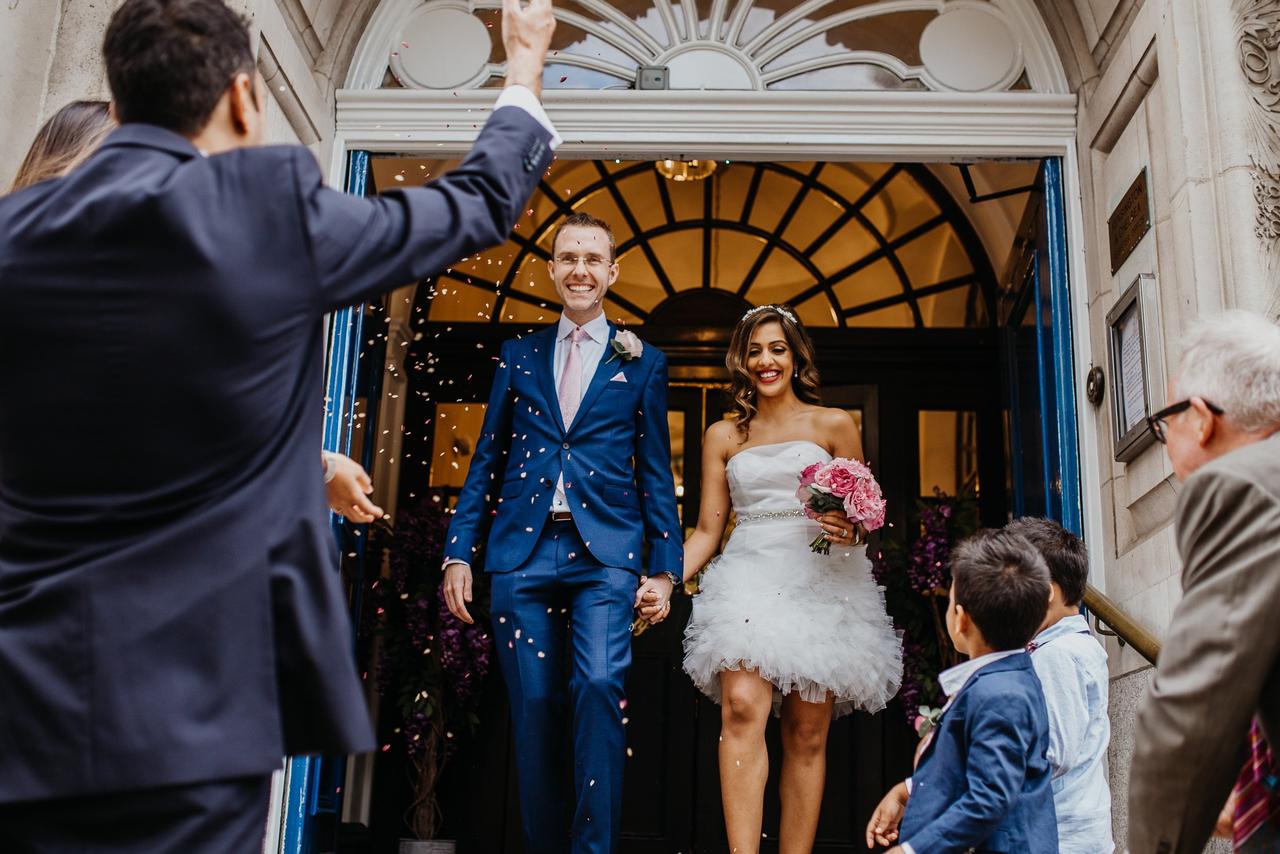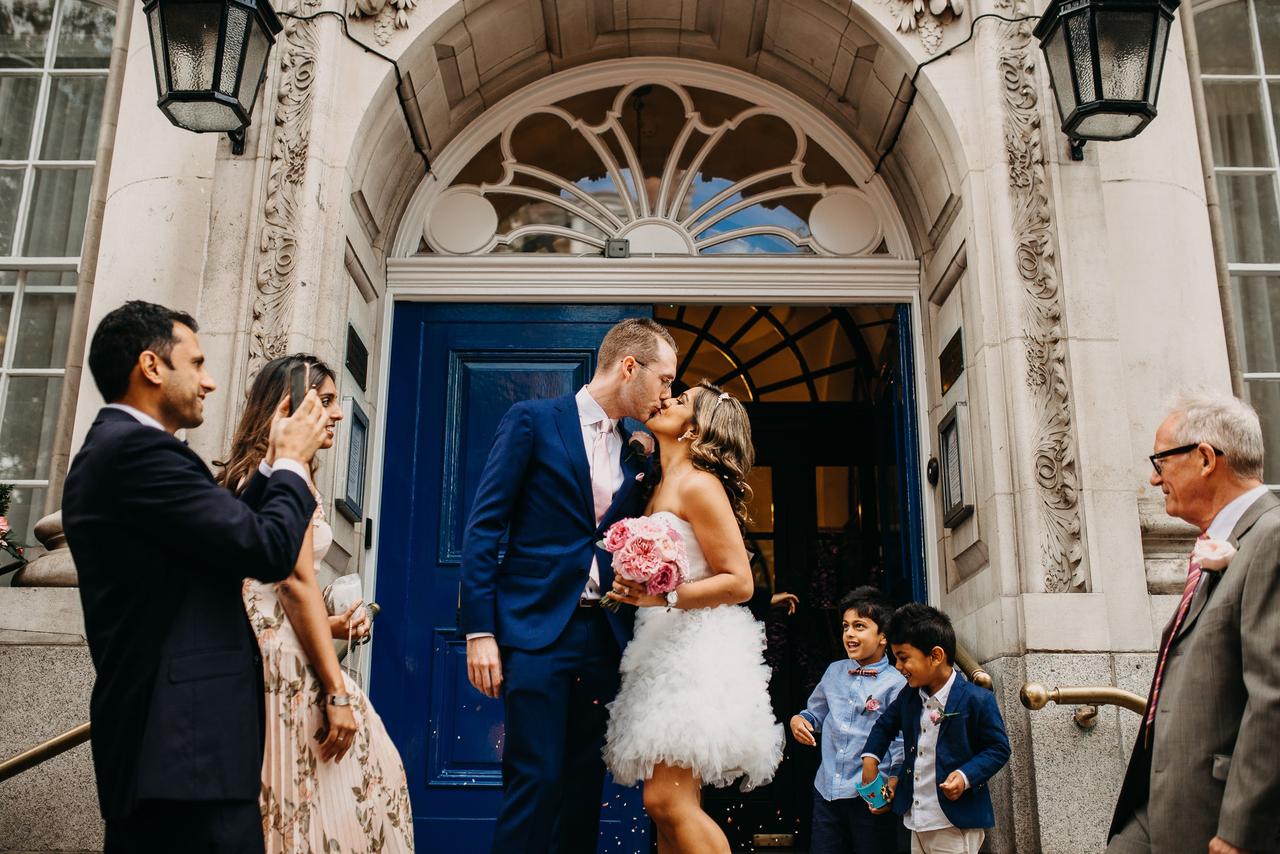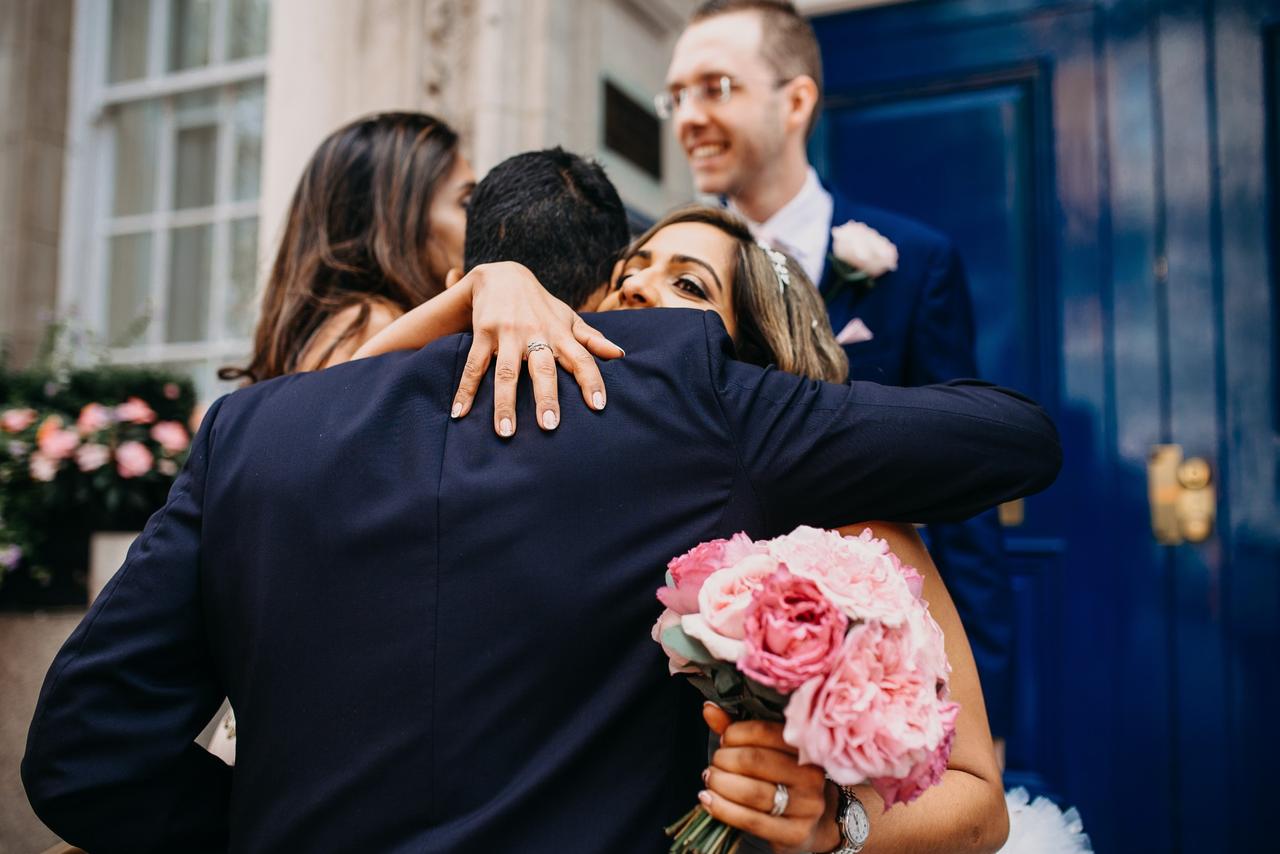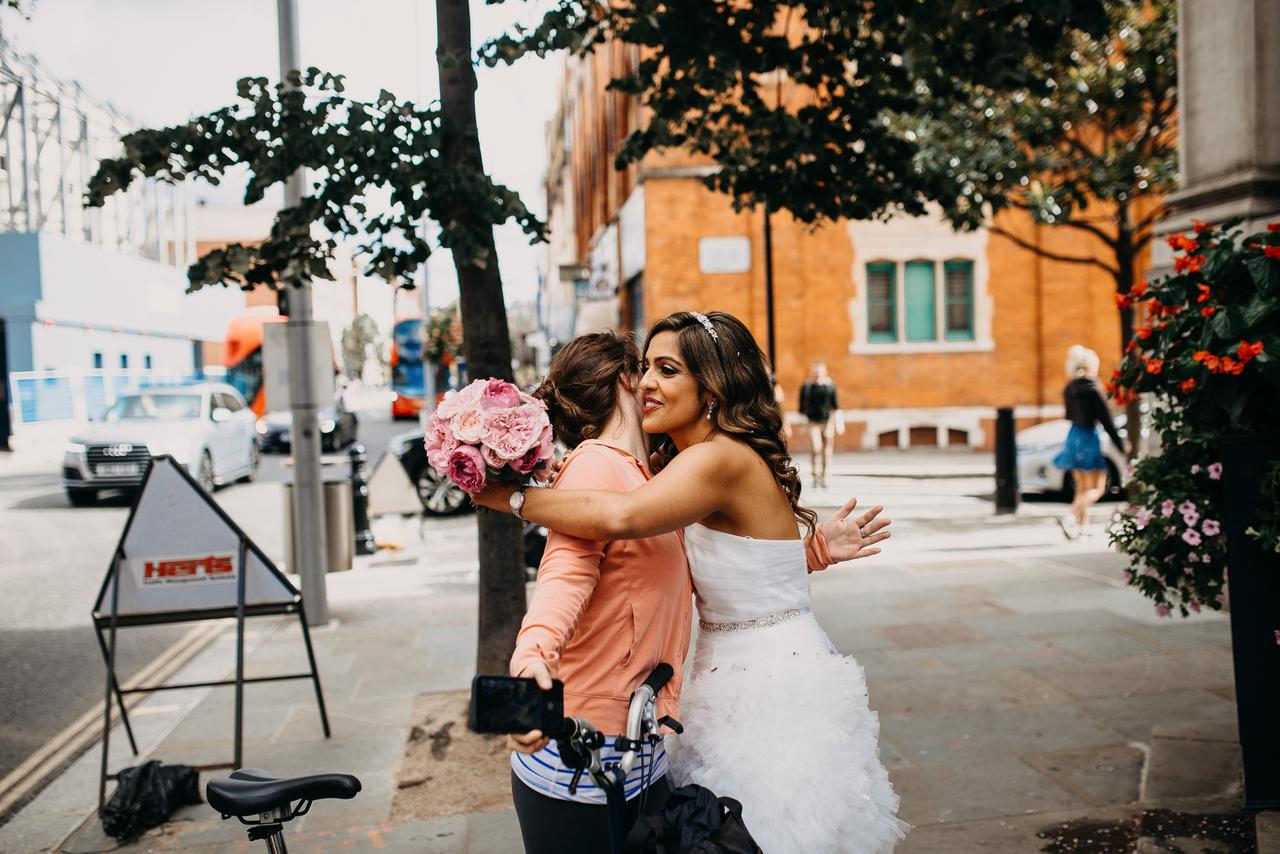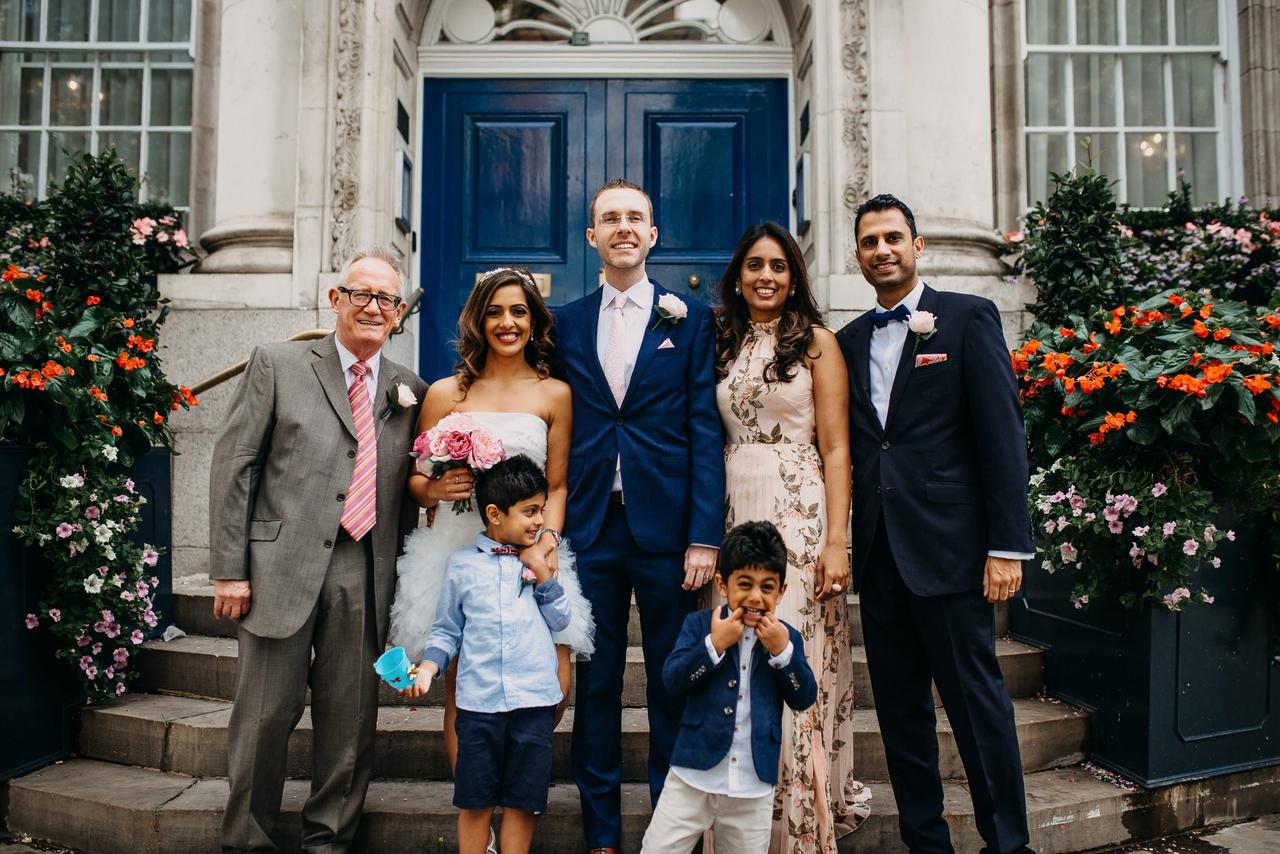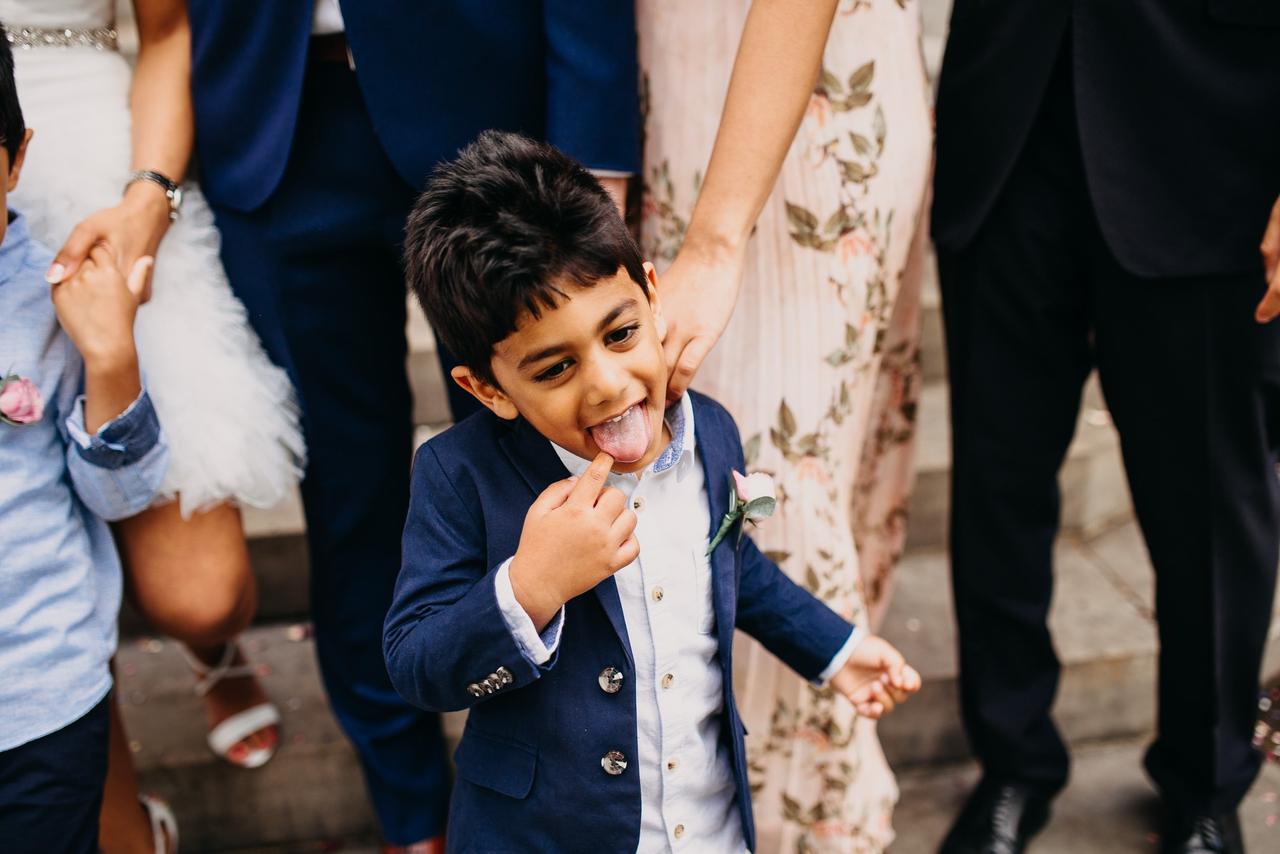 The Wedding Ceremony
Trina and Andrew had a civil service at Chelsea Town Hall and walked down the aisle together, with Trina's parents watching on via their guests' phones.
"We wanted Chelsea Town Hall as Andrew's mother grew up in Chelsea and we think the neighbourhood is gorgeous. We wanted short, sweet and no fuss. We wanted 15 minutes at the most. No readings or hymns.
"My parents were able to watch virtually which was great."
Trina's wedding band had a small dip in it to fit around her engagement ring - a 1920s, Art Deco, emerald cut diamond surrounded by a halo and two baguette cut diamonds. "But my favourite touch is that there is a hidden sapphire underneath the main stone which can be seen only from the side. It was my something blue for my wedding."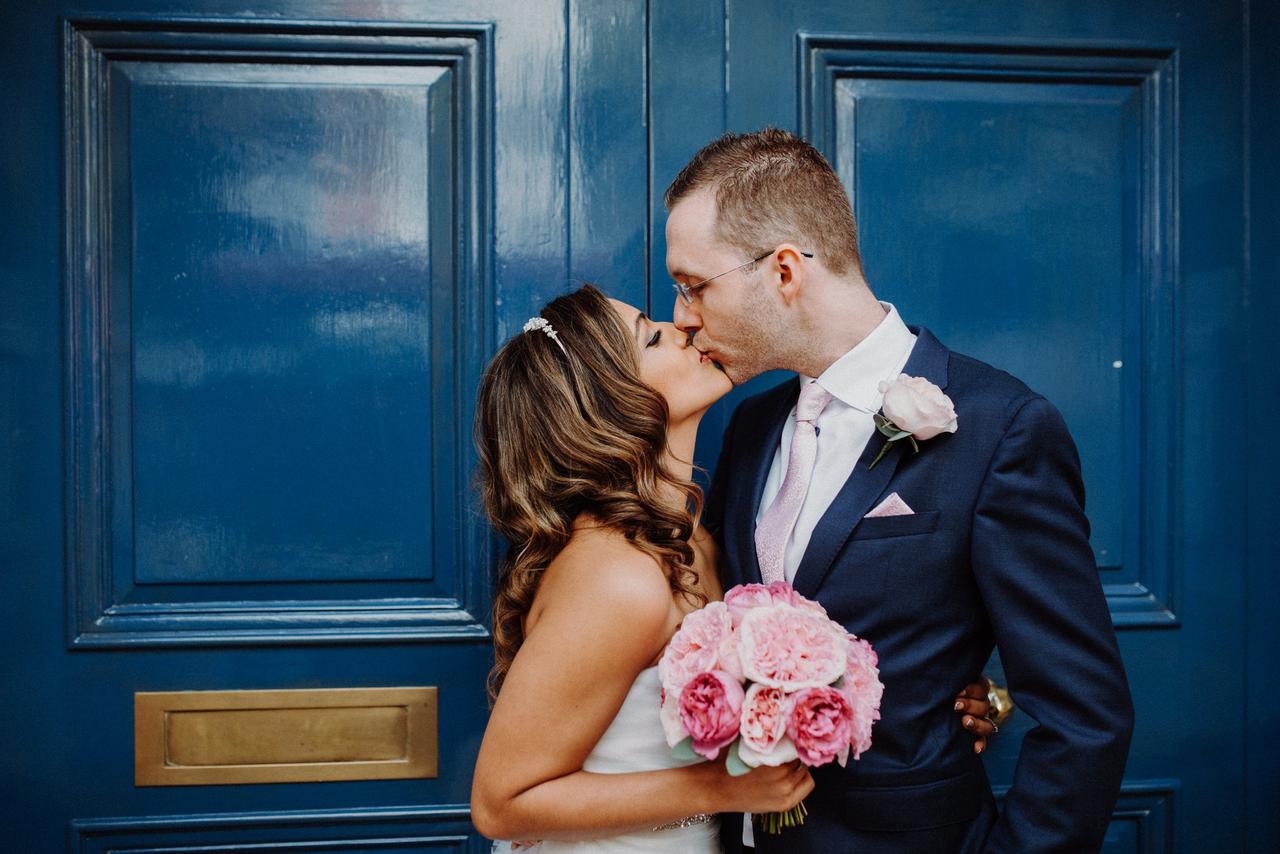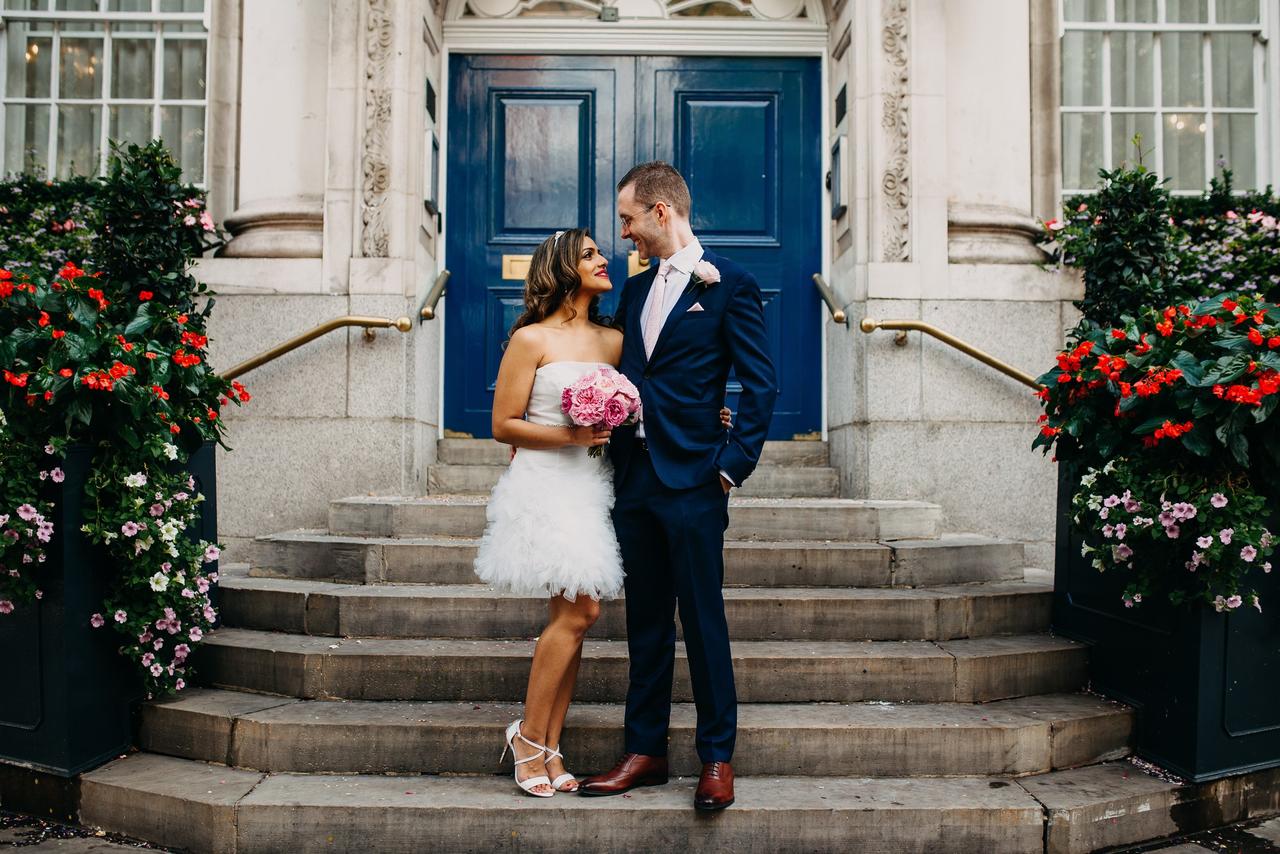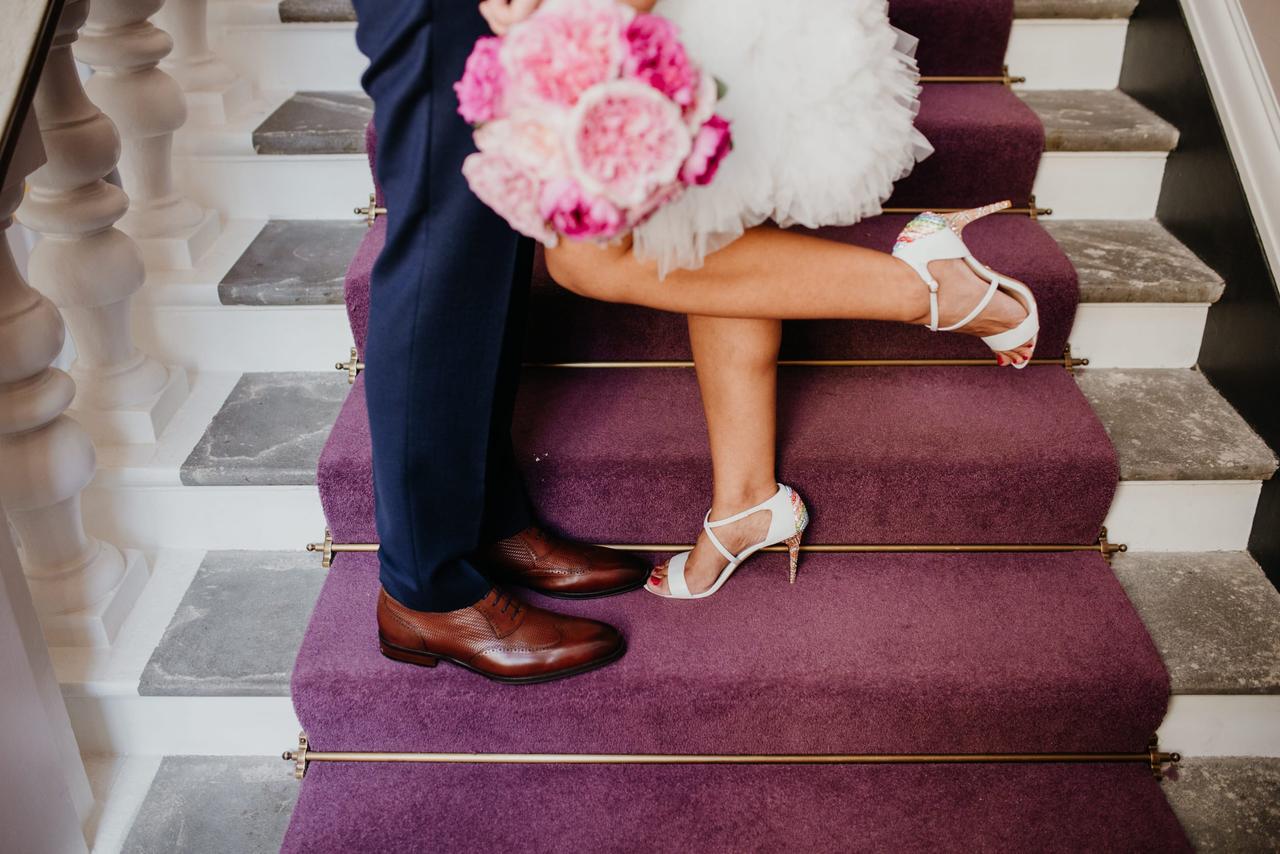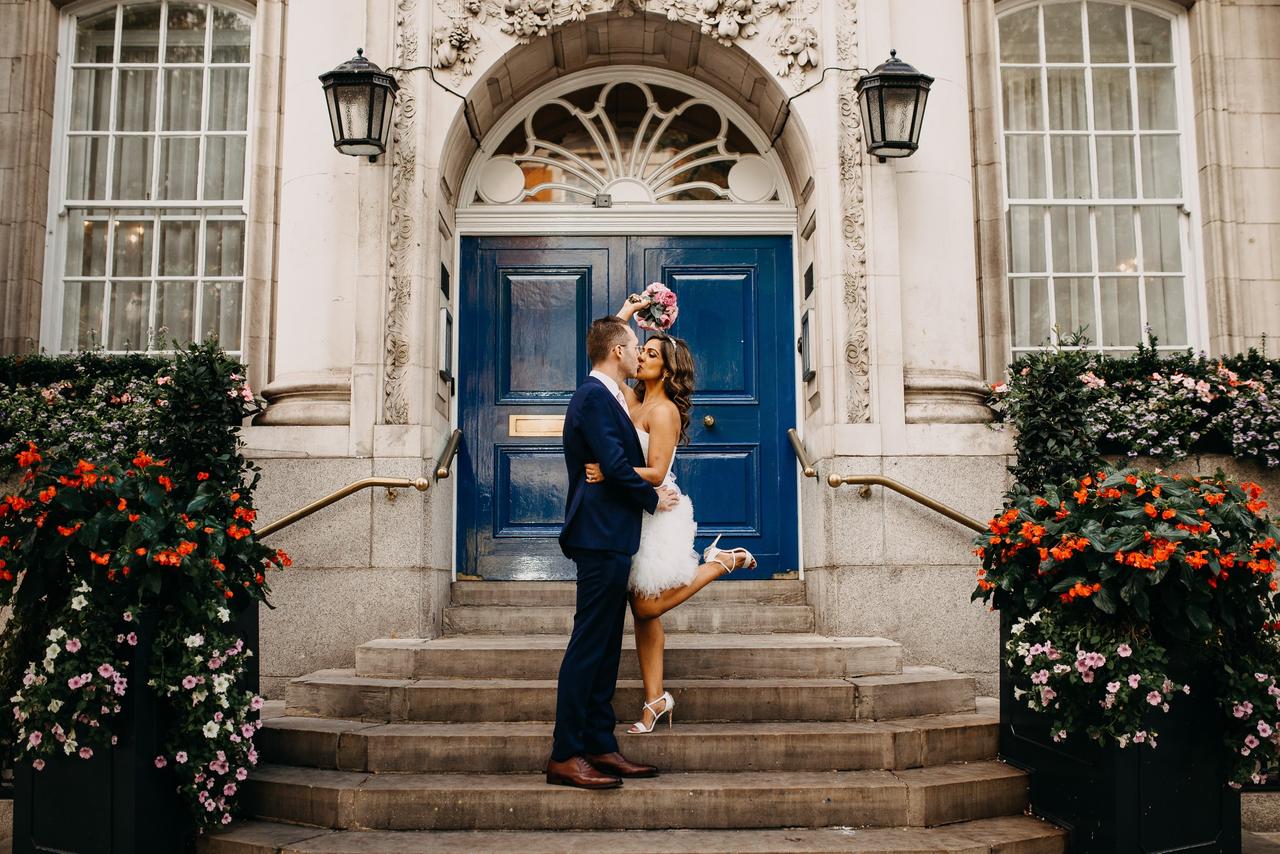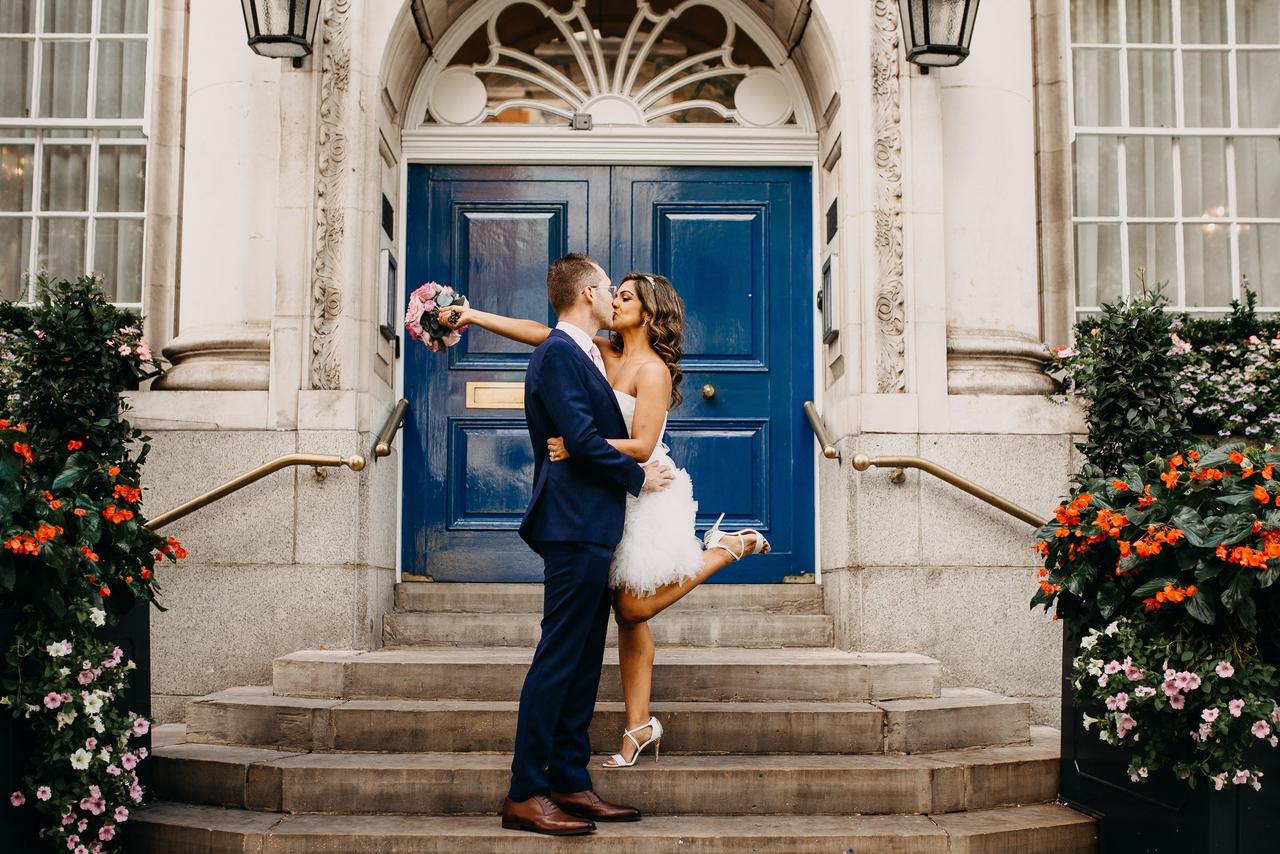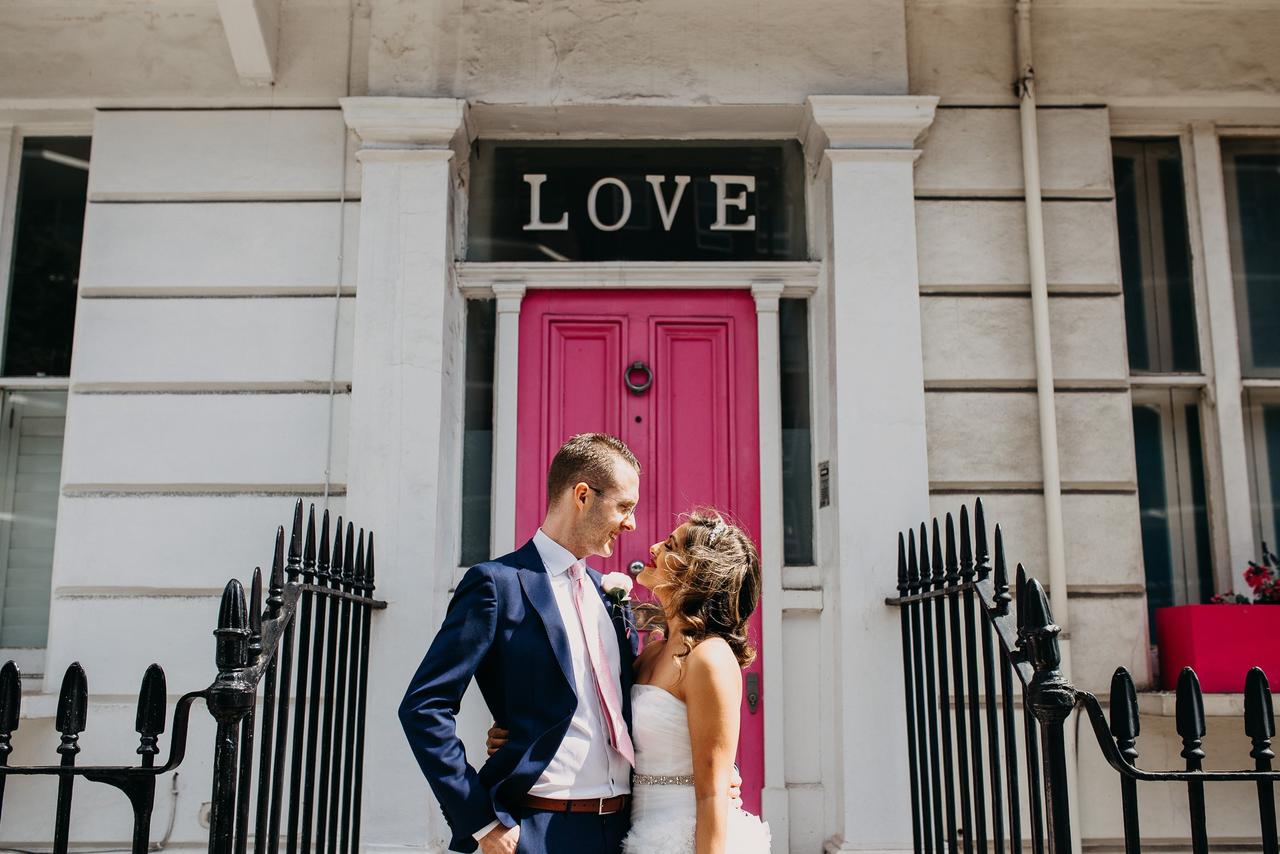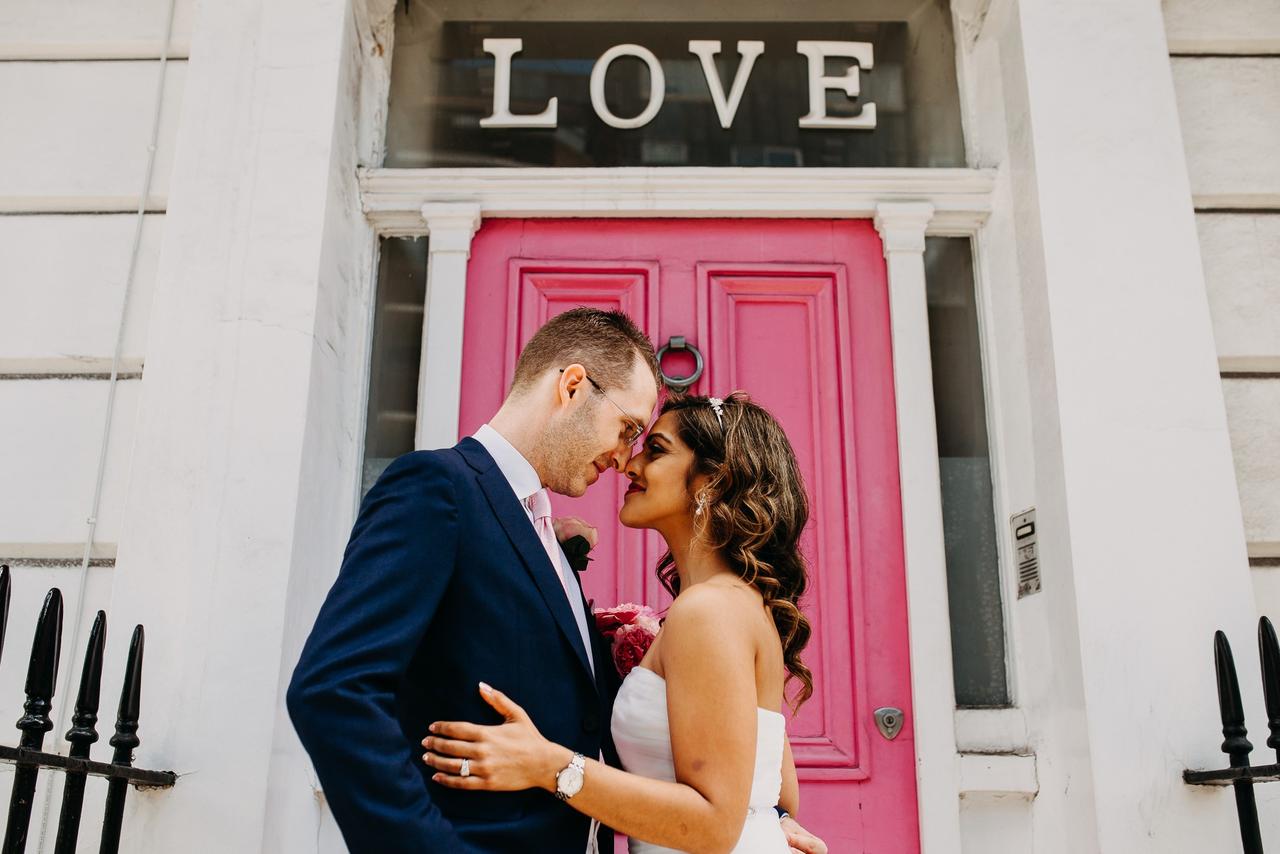 The Wedding Reception
The reception was at Bluebird in Chelsea, but they only got the go-ahead the week before the wedding. With such a short turnaround time, they chose a simple pink theme, with pink flowers and a flower wall.
"It has a small function room with its own bar and separate entrance. It was private and separate from the main restaurant and they were so accommodating with our requests and bringing in our own suppliers. We also wanted afternoon tea rather than a sit-down, multi-course meal."
And what an afternoon tea it was! "We had a traditional English afternoon tea: sandwiches, scones and mini pastries, followed by a red velvet cake from Konditor.
"We both have very fussy eaters in the family so we wanted things to be as easy as possible. All dietary requirements were catered for."
Trina was adamant that she didn't want the "traditional multi-layered fondant cake" so they chose a large version of her favourite cake from London bakery Konditor. It was served after the afternoon tea.
"We went for red velvet with a cream cheese topping with red, freeze-dried strawberries around the edge. We had the topper made by a seller at Not On The High Street."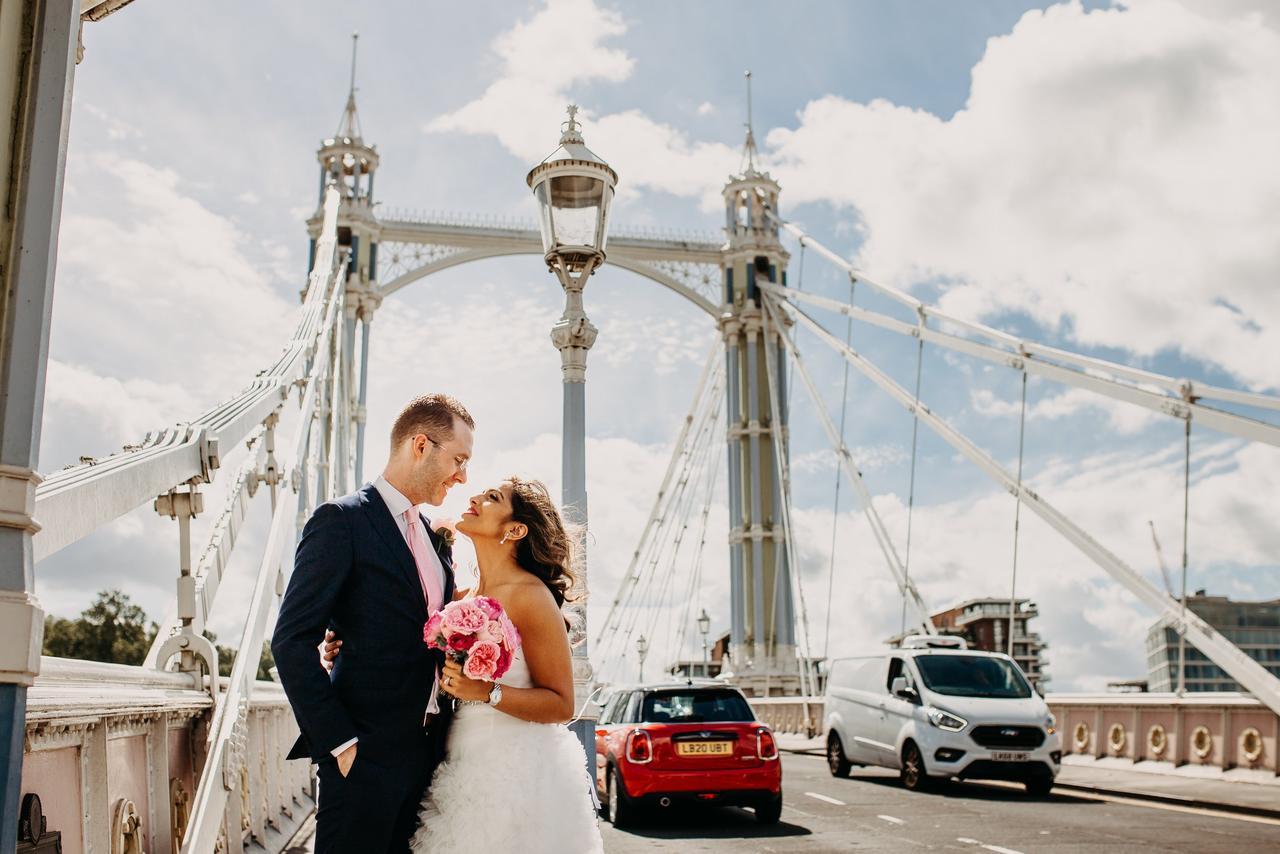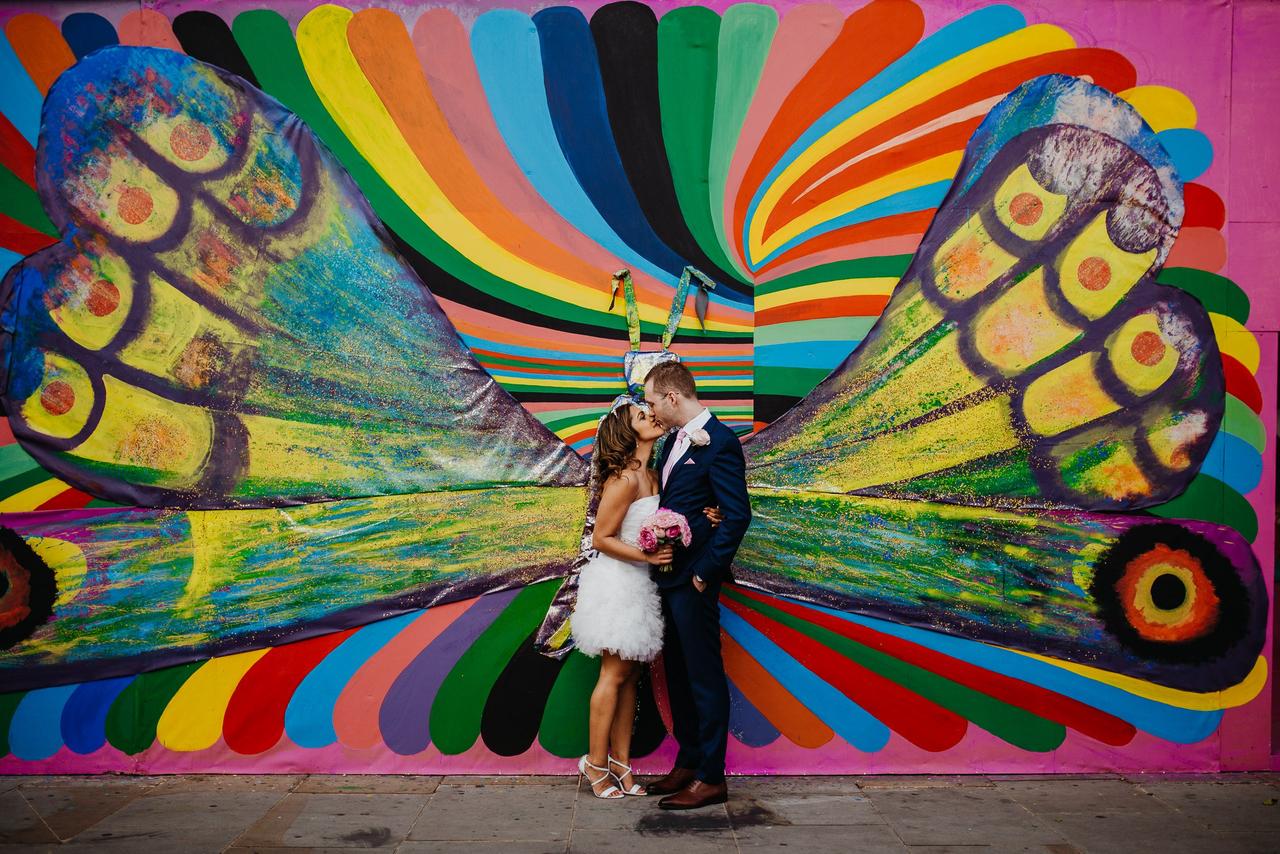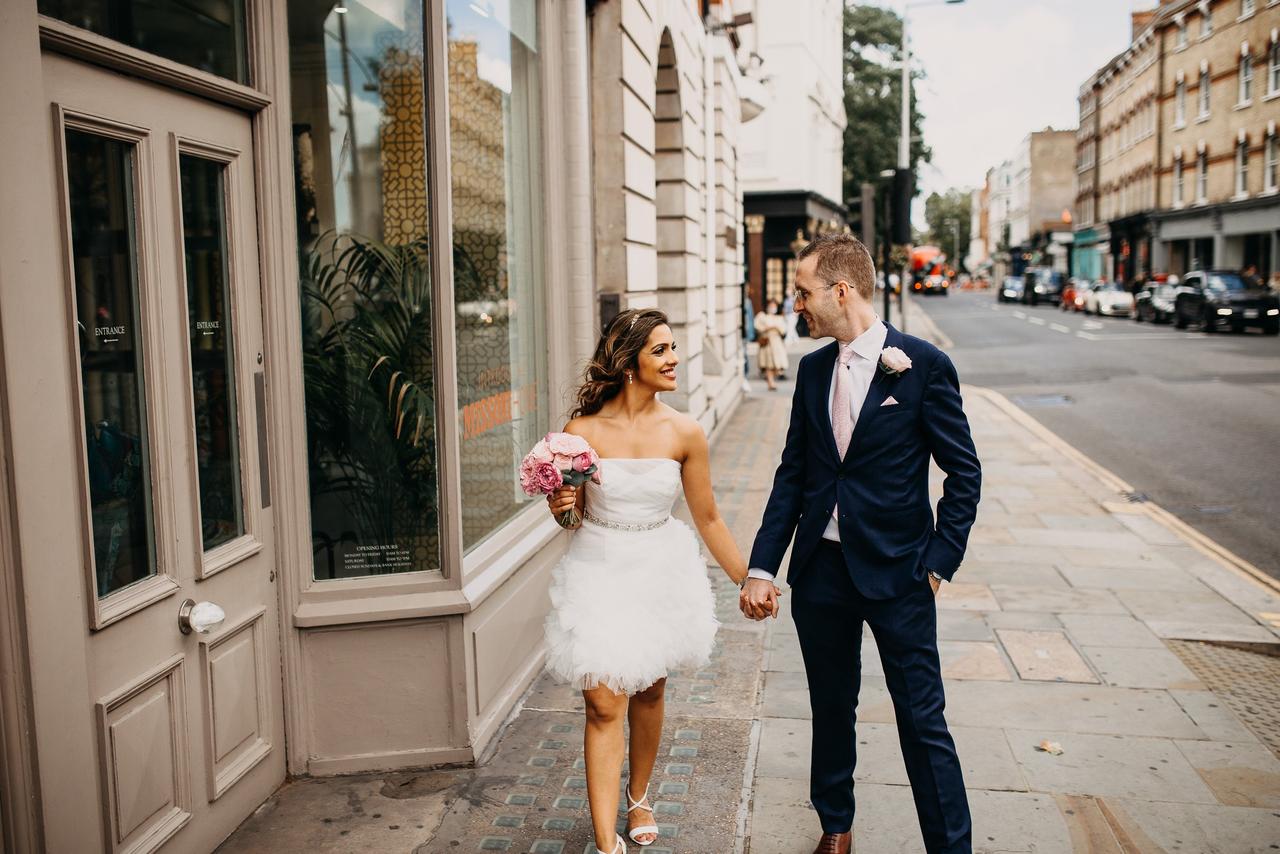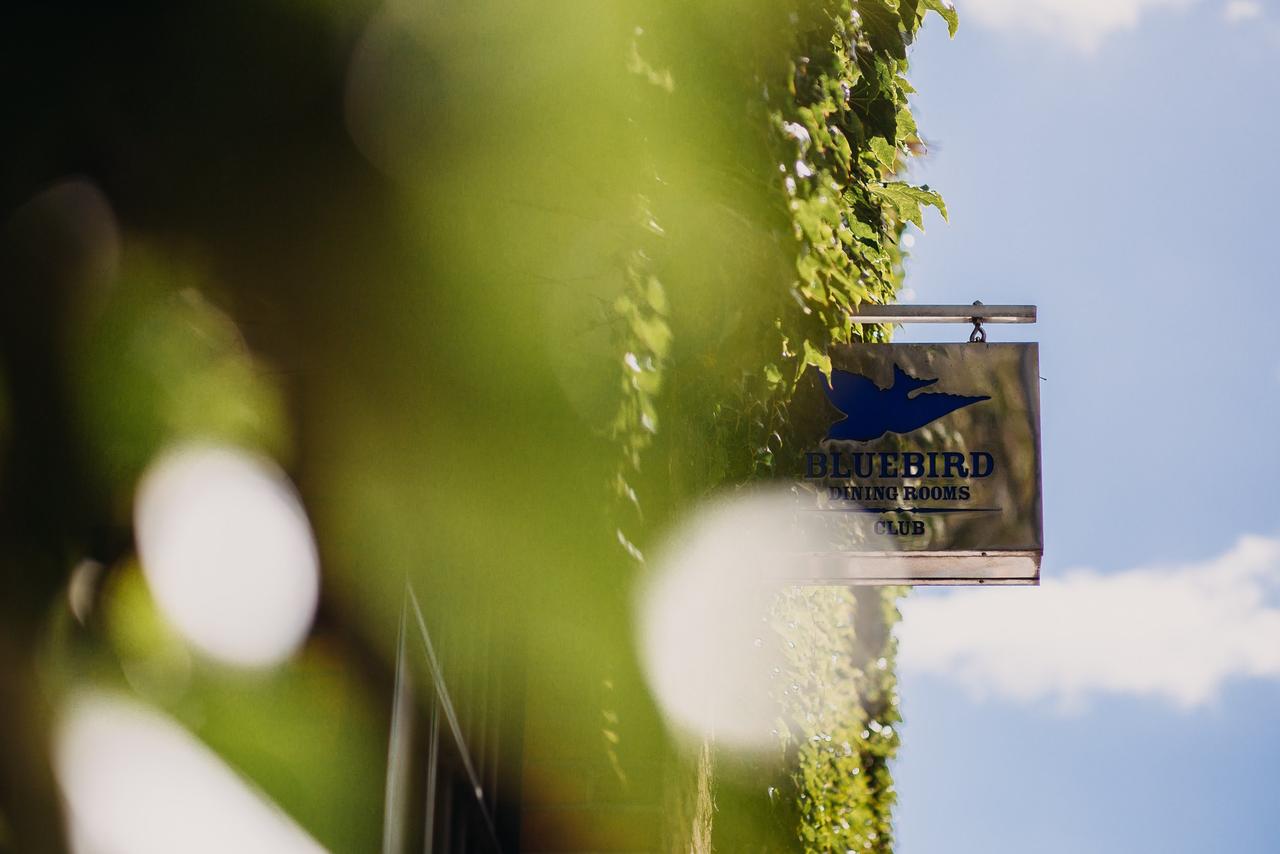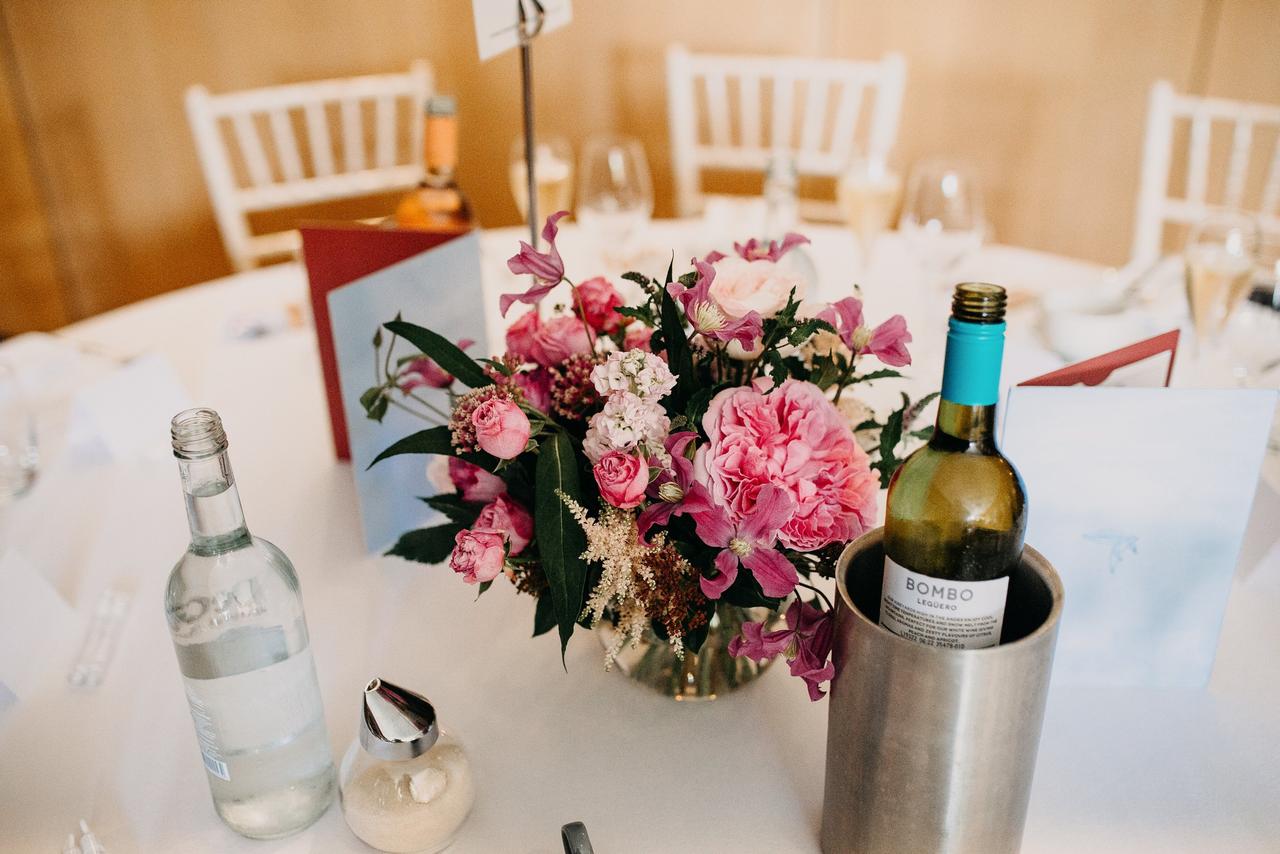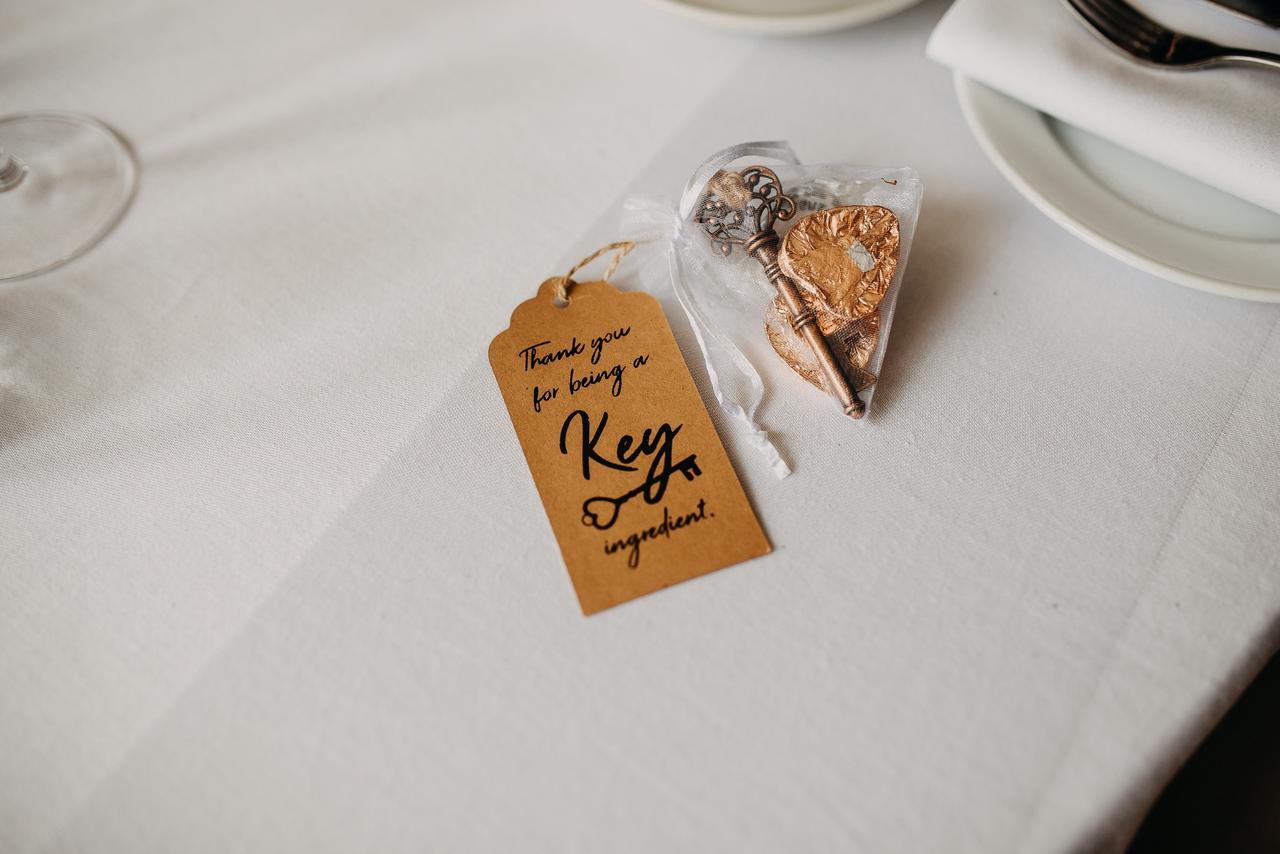 The Wedding Flowers
"I wanted pink peonies but, as they were out of season, I asked for pink roses," said Trina. "My florist, Johanna Pedrick, was able to find the most beautiful pink roses. She made me a compact bouquet with three different kinds of roses which resembled peonies with the most lovely scent.
"Apart from the bouquet and buttonholes (for Andrew, his father, my brother-in-law and my two nephews), we decided to have table flowers. They were low-level flowers: round glass vases filled with pink seasonal flowers, mint, sweet peas and some eucalyptus as I'm Australian. The table arrangements (with the vase they were in) were given away to guests at the end of the reception.
"The adult buttonholes were beautiful, pale pink, large roses and my two nephews had dark pink, mini roses to match my bouquet, almost in bud but on magnets."
The couple turned to Kent Flower Walls to decorate their private room at Bluebird.
"We had a flower wall hired for the day as well as for photo purposes. It was green with large pink peonies."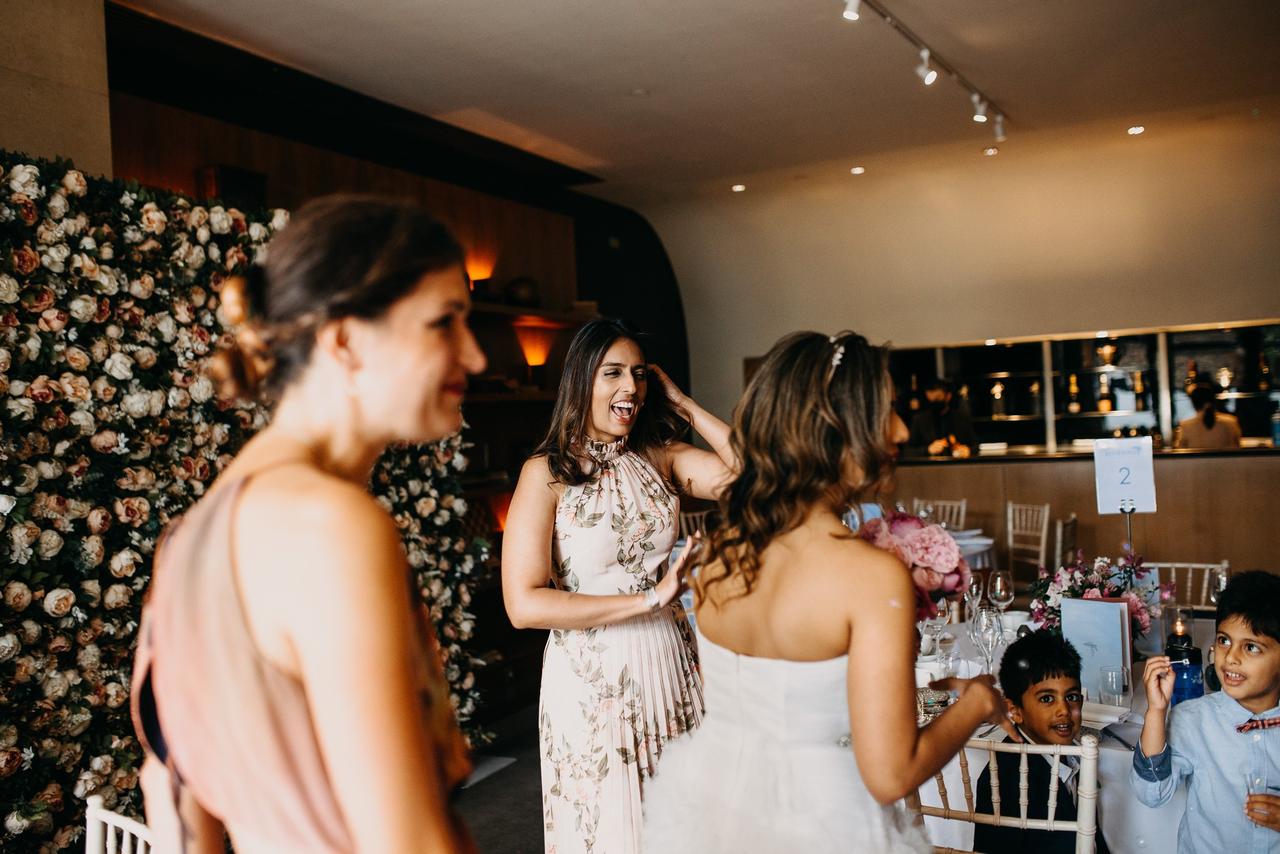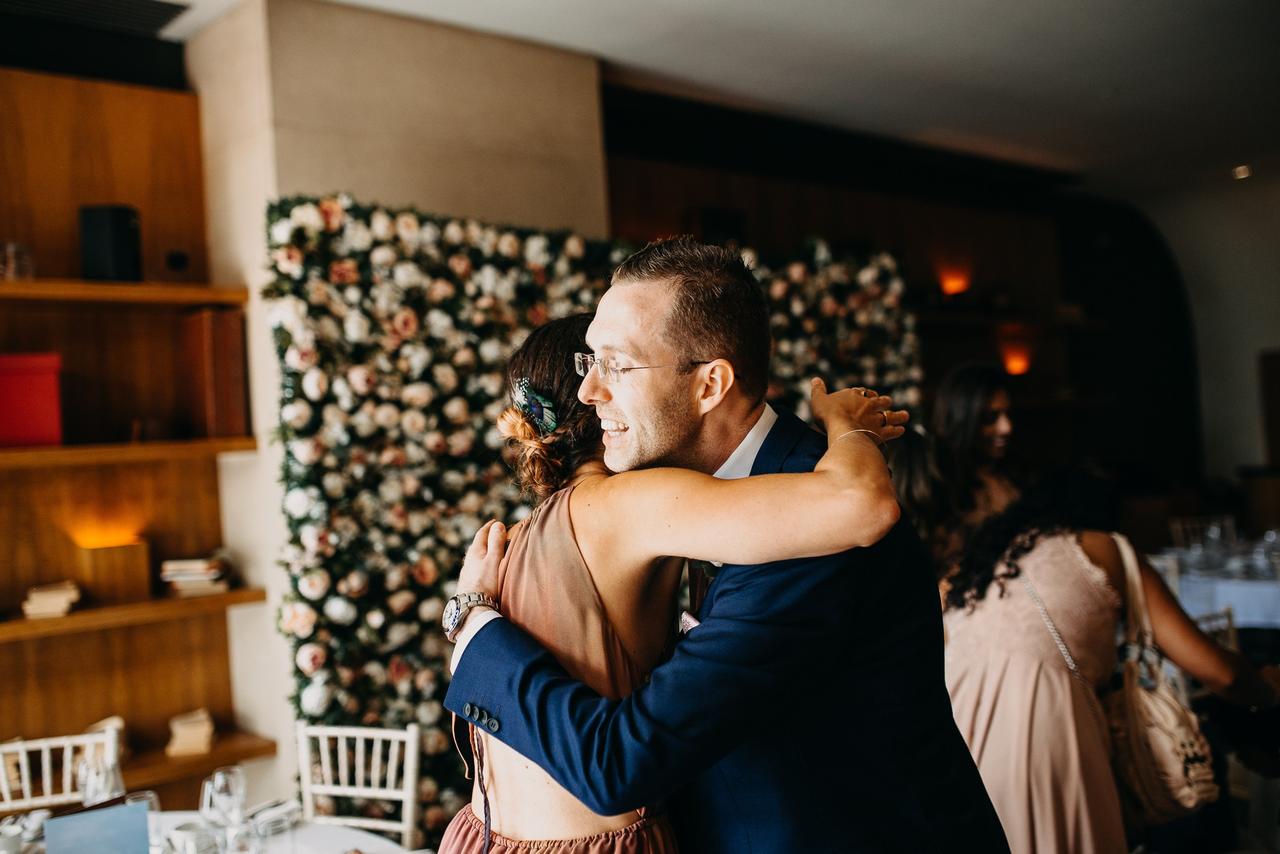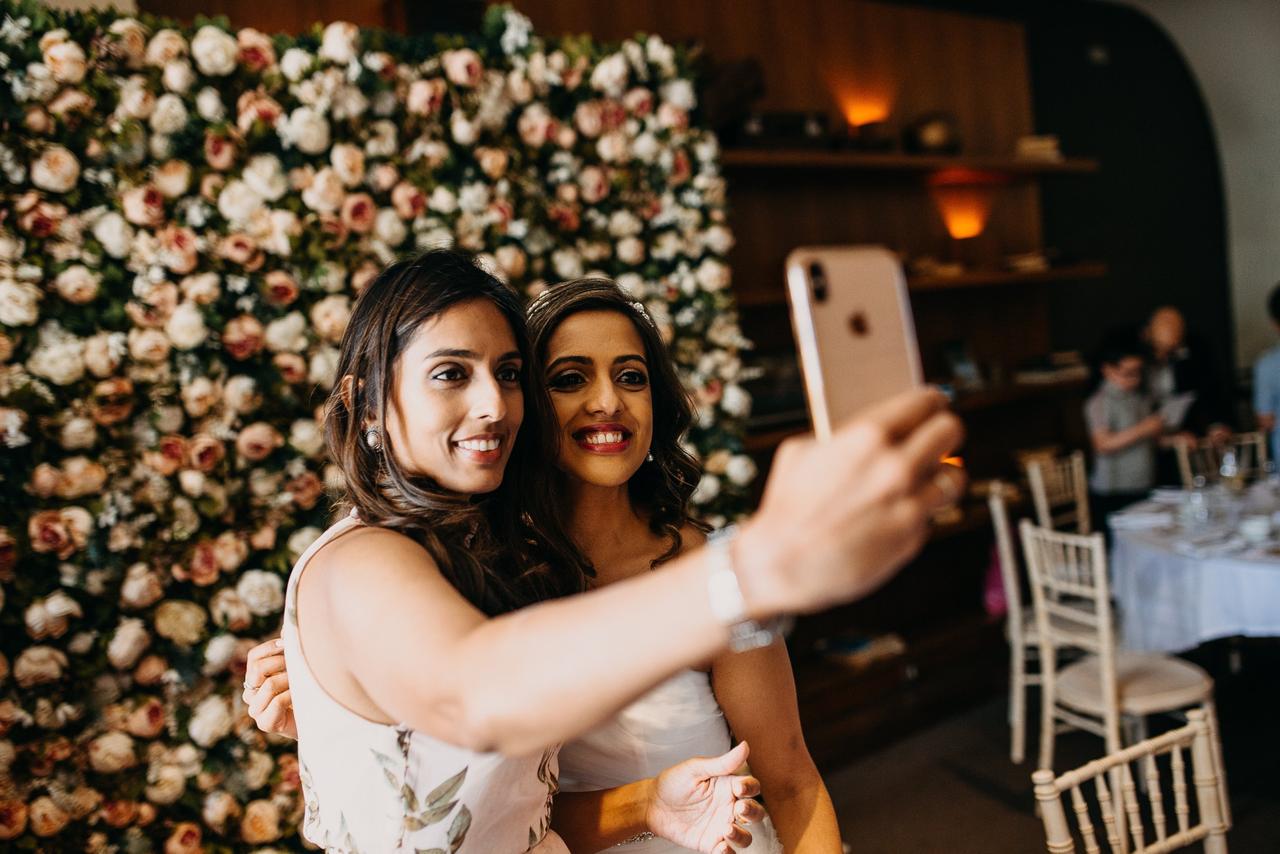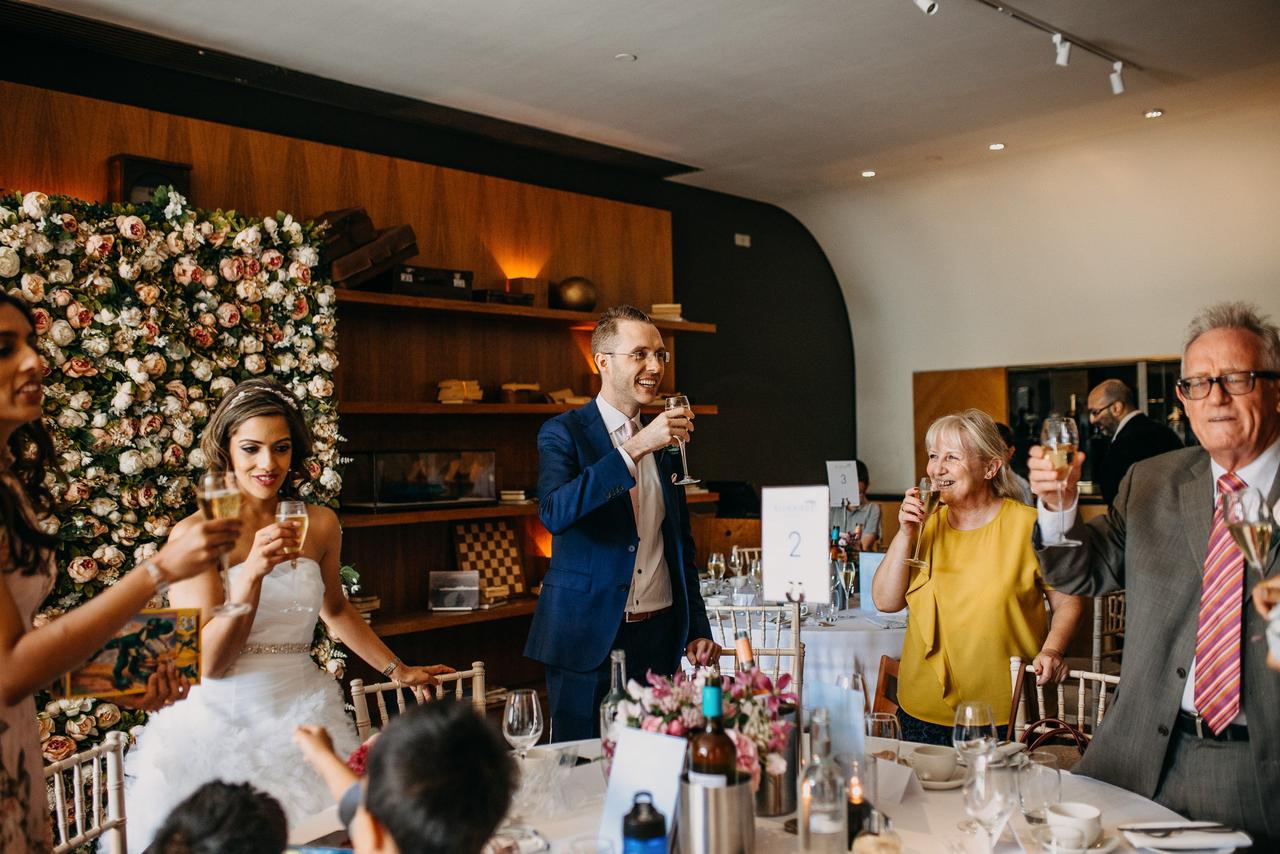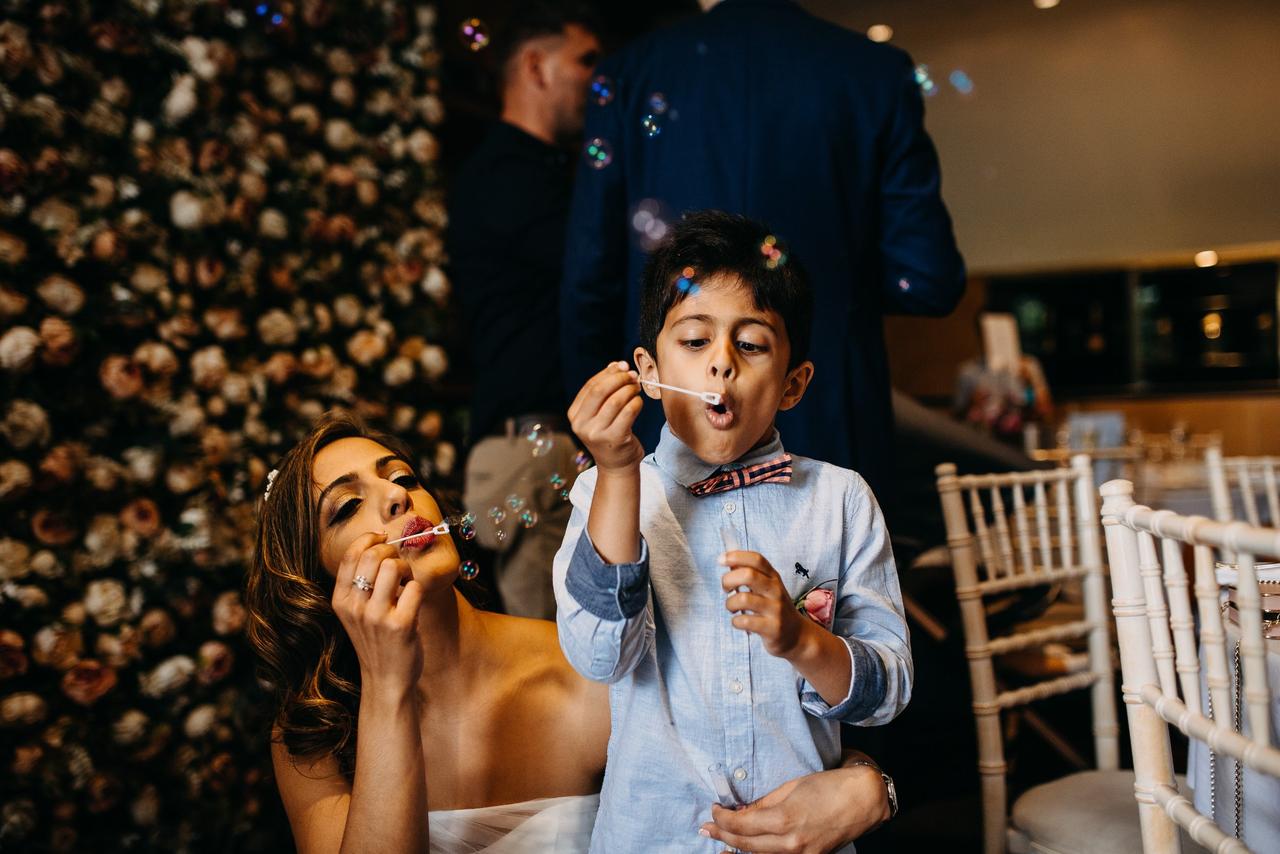 The Entertainment and Favours
Much like their reception, they only had a week to sort out their favours. "We went with bubbles for the guests at the venue (as we didn't want to make a mess with confetti) and little white organza bags with a key-shaped bottle opener, some pink foiled chocolate love hearts and 'just married' sweets. The tag says 'thank you for being a key ingredient'."
They chose not to have a first dance, but did pick two songs which were close to their heart to soundtrack their day. "We walked in to 'Songbird' by Fleetwood Mac and after we signed the marriage certificate, we had Marc Anthony's 'Vivir Mi Vida'."
The couple were fortunate enough to make their own playlists and be able to use Bluebird's Bluetooth to stream their music.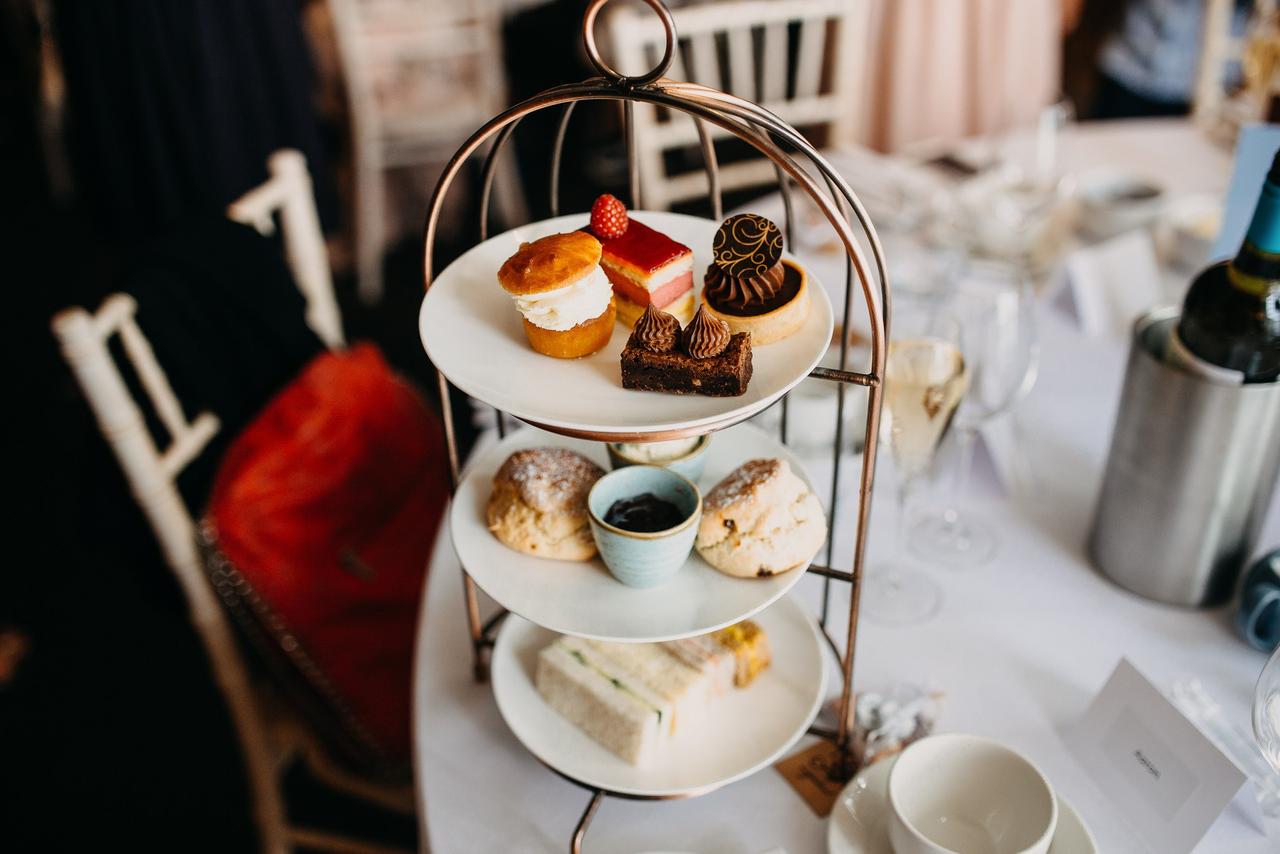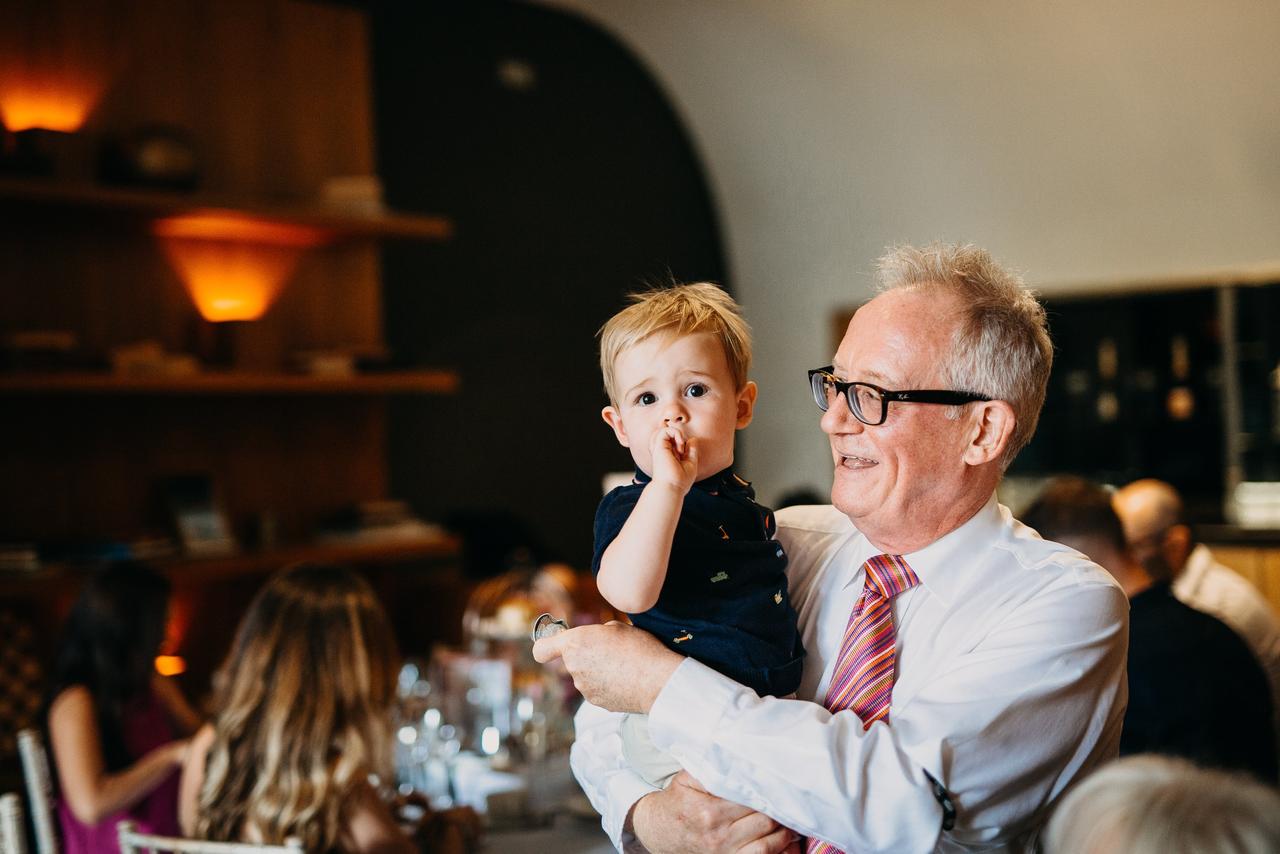 The Couple's Advice
Trina and Andrew weren't able to go on their original planned honeymoon, but if you're willing to book something last minute like them, you might find you love a minimoon just as much.
"We had planned our original honeymoon for Peru but we were unable to do that. We managed a mini-break in September to Florence, Italy. We booked it two days before we left and went for a week, travelling around Tuscany.
"I had been before and it is my favourite city in Italy and I wanted to share this with Andrew. Except this time I got to enjoy the romantic aspects of Florence. It was really quiet with no crowds so all the sites were easily accessible and very different from the pre-Covid times. The food and weather were amazing."
The couple were lucky to be able to keep their original wedding date, but they recommend couples have back-up plans just in case.
"You have to plan your day to suit your personality. We wanted easy, casual, stress free. We also had back up options as we didn't want to change the date. We had plan B and plan C depending on the number of people we were allowed and one of those options was just the two of us eloping."
The only change Trina would make to the day was being able to have her parents there.
She added, "Trust your suppliers. I asked Johanna simply 'pink peonies/roses with Australiana touches' and she delivered. Same with my makeup artist."
The Suppliers
Venues: Chelsea Town Hall and Bluebird Restaurant
Photographer: Miracle Moments
Wedding Dress: White by Vera Wang from David's Bridal
Groomswear: Hugo Boss
Makeup Artist: Pooja Shah Artistry
Flowers: Johanna Pedrick Flowers
Flower Wall: Kent Flower Walls
Cake: Konditor
Cake Topper: Not On The High Street
Rings: Goldsmiths (Trina) and Ernest Jones (Andrew)
Thanks to Trina and Andrew for sharing their gorgeous wedding day with us!