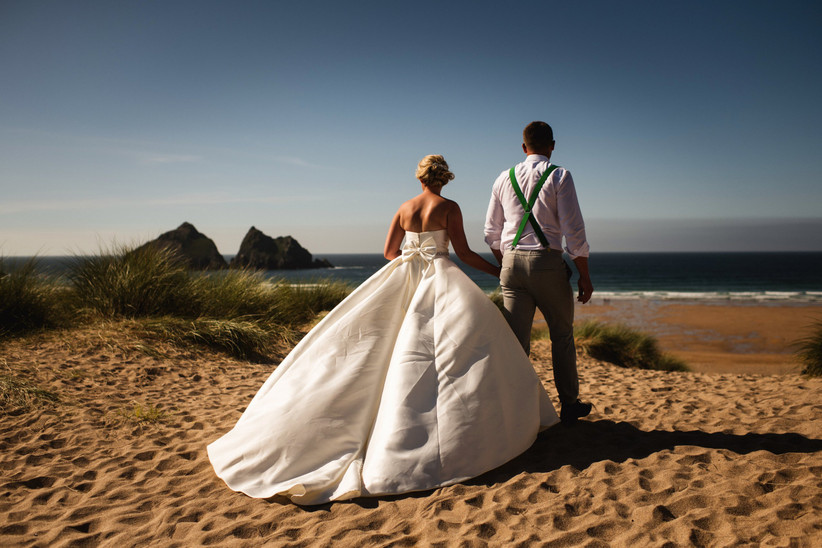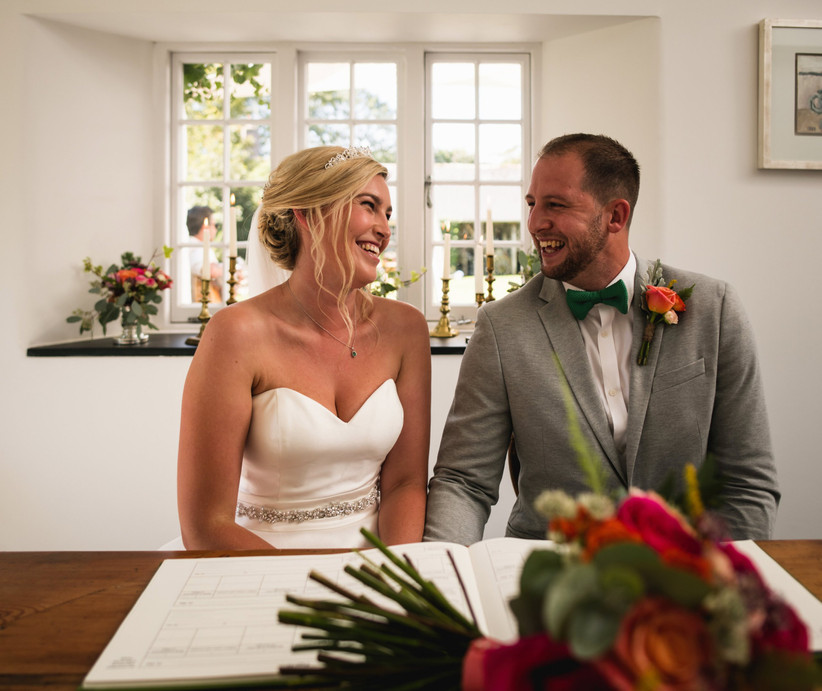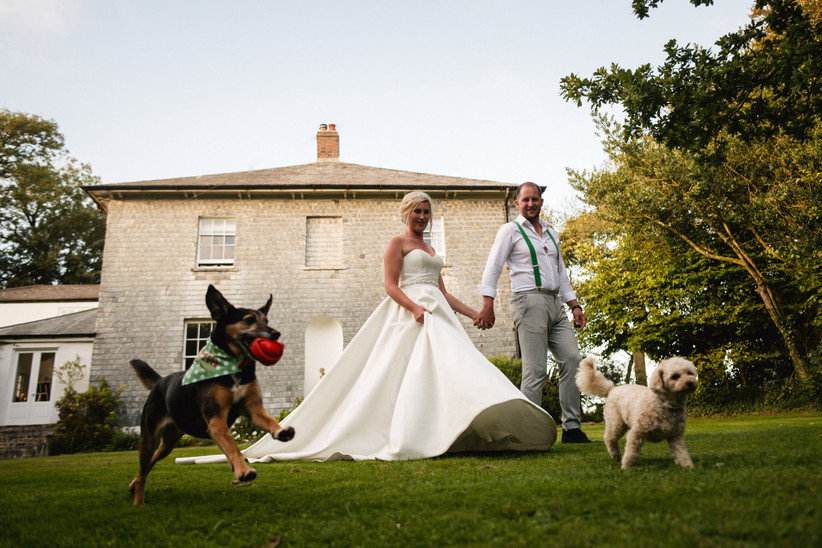 Roisin and Adam had booked a large, Irish-themed wedding for May 2021 when it became increasingly clear their plans wouldn't be able to go ahead. Instead, they decided to elope to Cornwall with their parents and their dogs, and a cancellation meant they had just a matter of weeks to pull the whole day together!
They chose Treseren, a boutique, secluded country house in the Cornish countryside, and the six of them celebrated in style with a 'Best of Cornwall' meal, Champagne by the fire pit in their pyjamas, and a trip to the rugged nearby beach for photos. Dogs Reggie and Bella joined them, while friends and family Zoomed in to watch the ceremony live.
Adam and Roisin were introduced through mutual friends and have always been described as 'polar opposites' - with Adam loving being outdoors and Roisin happiest in her comfy clothes watching films. As proof that opposite attract, they finally fell head over heels after a few years of knowing each other.
Roisin had planted the idea of an emerald engagement ring on a holiday to Cyprus five years before Adam proposed. They were on a holiday to Dubai when she fell in love with a ring in a shop window.
"Adam bought the engagement ring in top secrecy. On the last day, we had an excursion booked which started at the Dubai Mall. Adam made an excuse to wander off for a bit...little did I know he was collecting my emerald engagement ring which I had been dreaming of since our first holiday in Cyprus, five years earlier. The ring had needed re-sizing and by pure luck was ready for collection on the last day of our holiday," Roisin said.
Adam proposed on Valentine's Day 2020 by hiding the ring in a hand-carved oak ring box. Although they planned for a 15 month engagement, Coronavirus had different ideas and only seven months later they were saying 'I do'.
Photography by Robin Goodlad Photography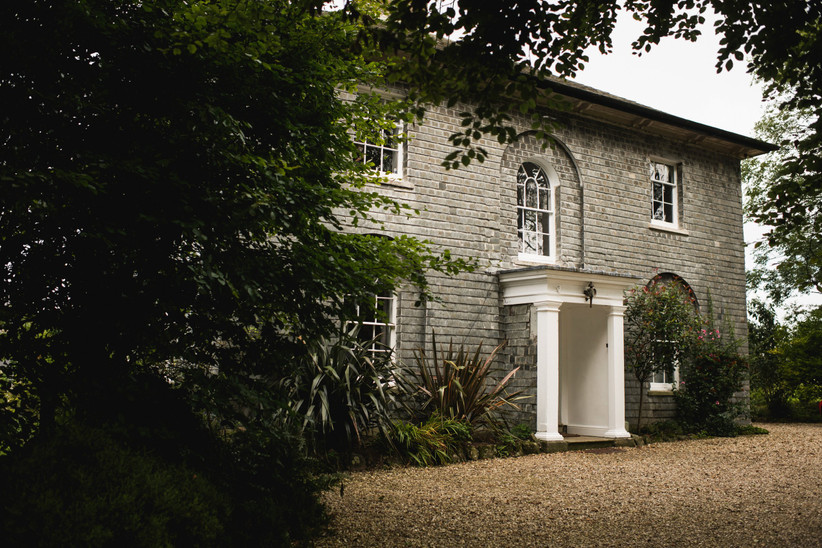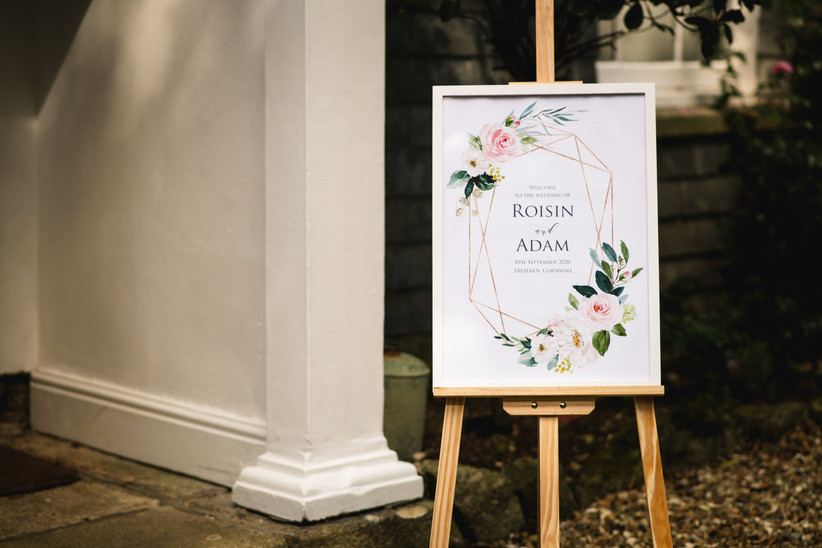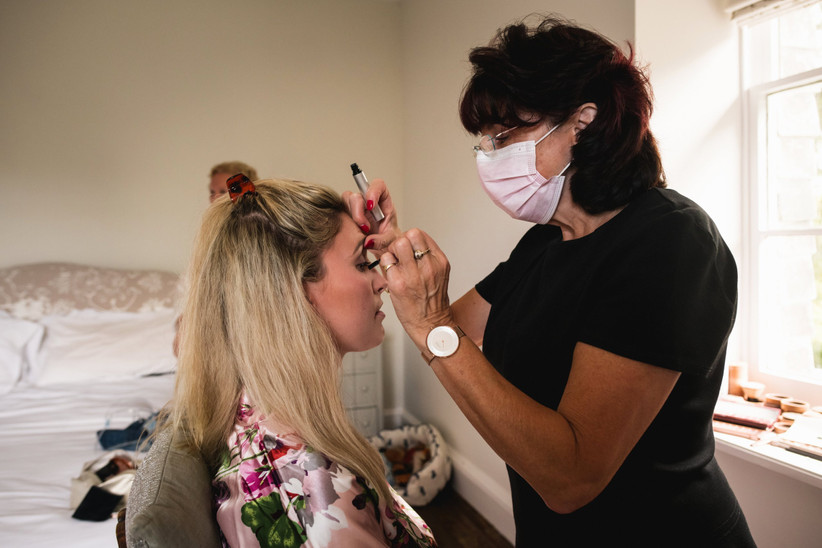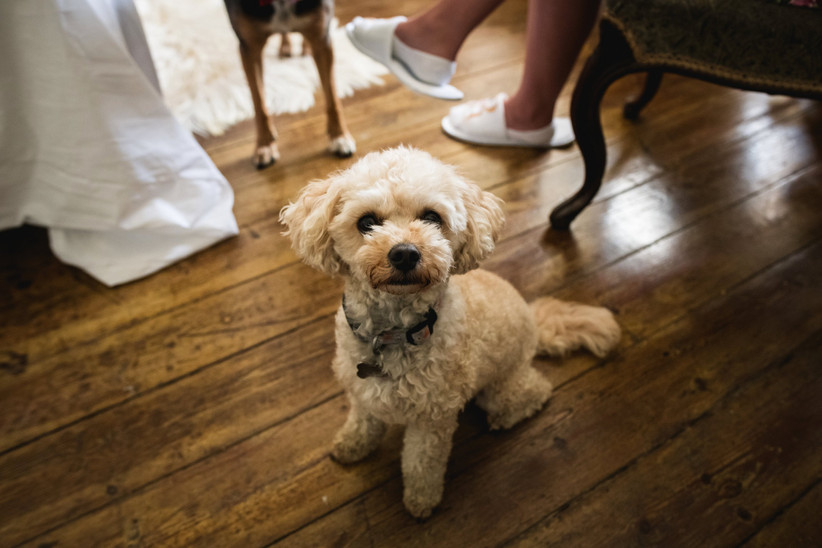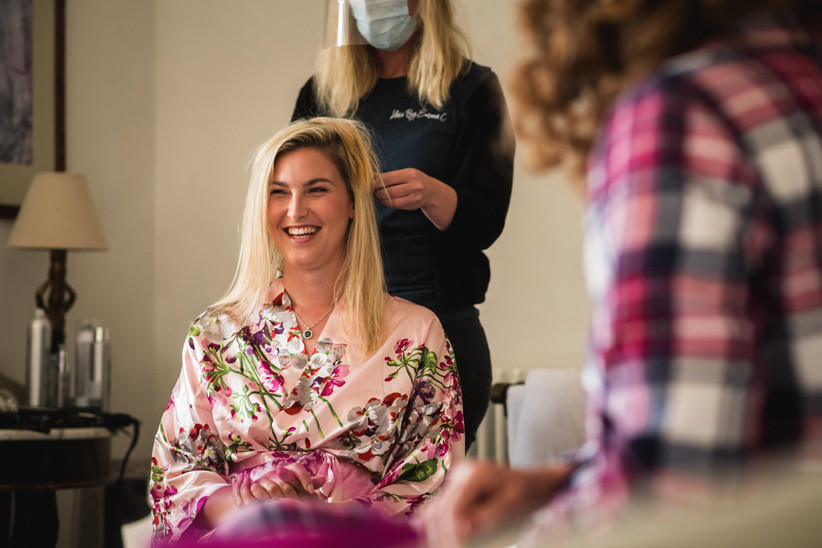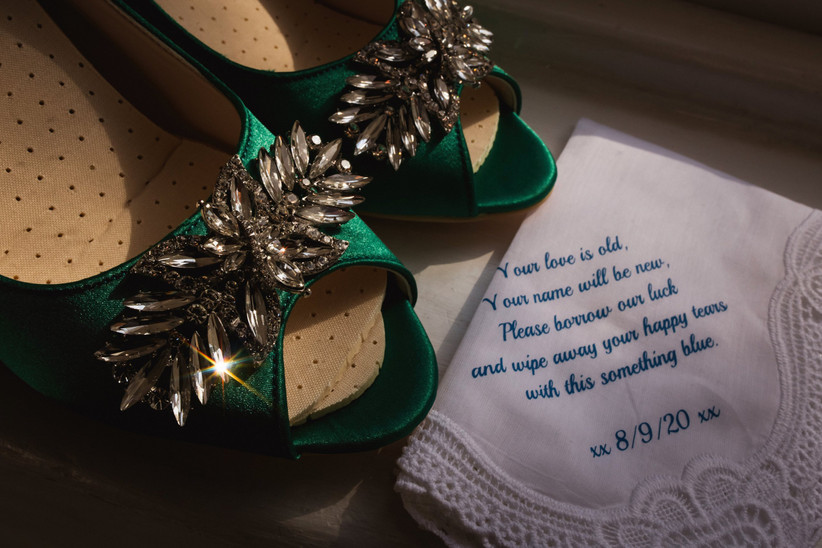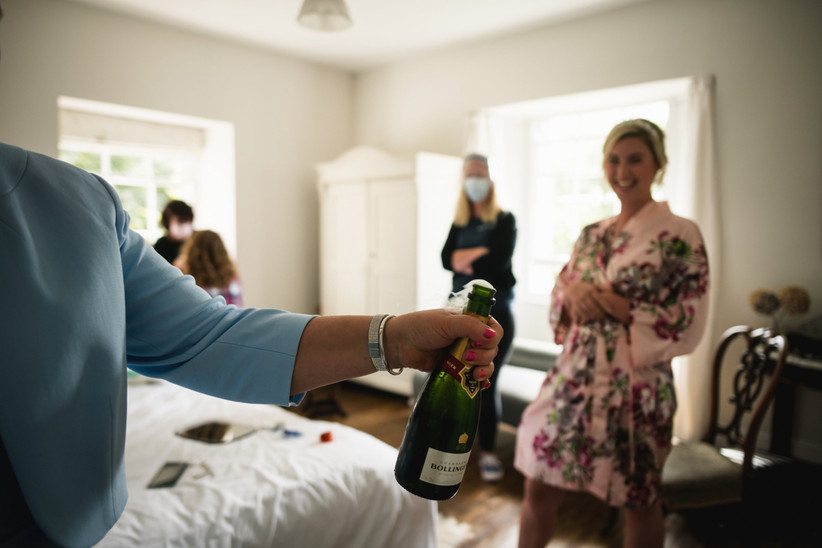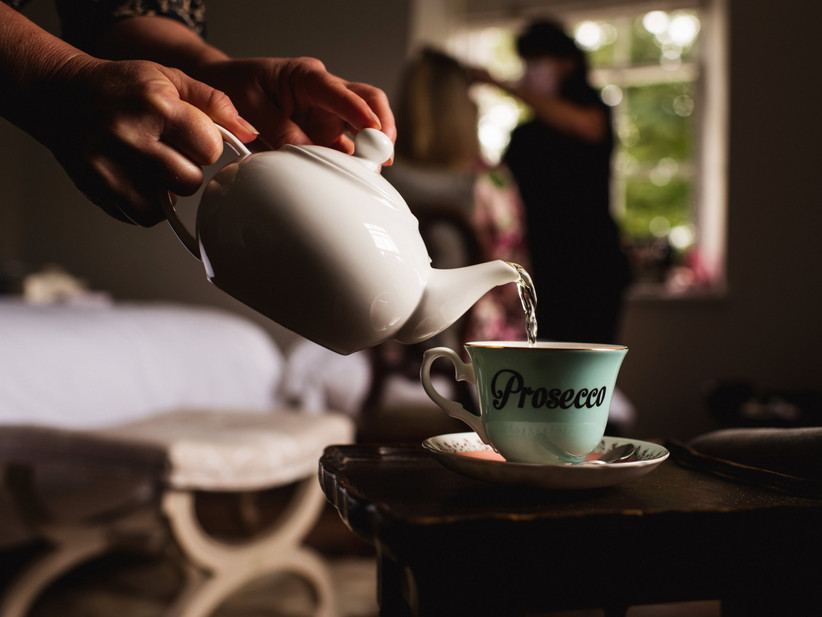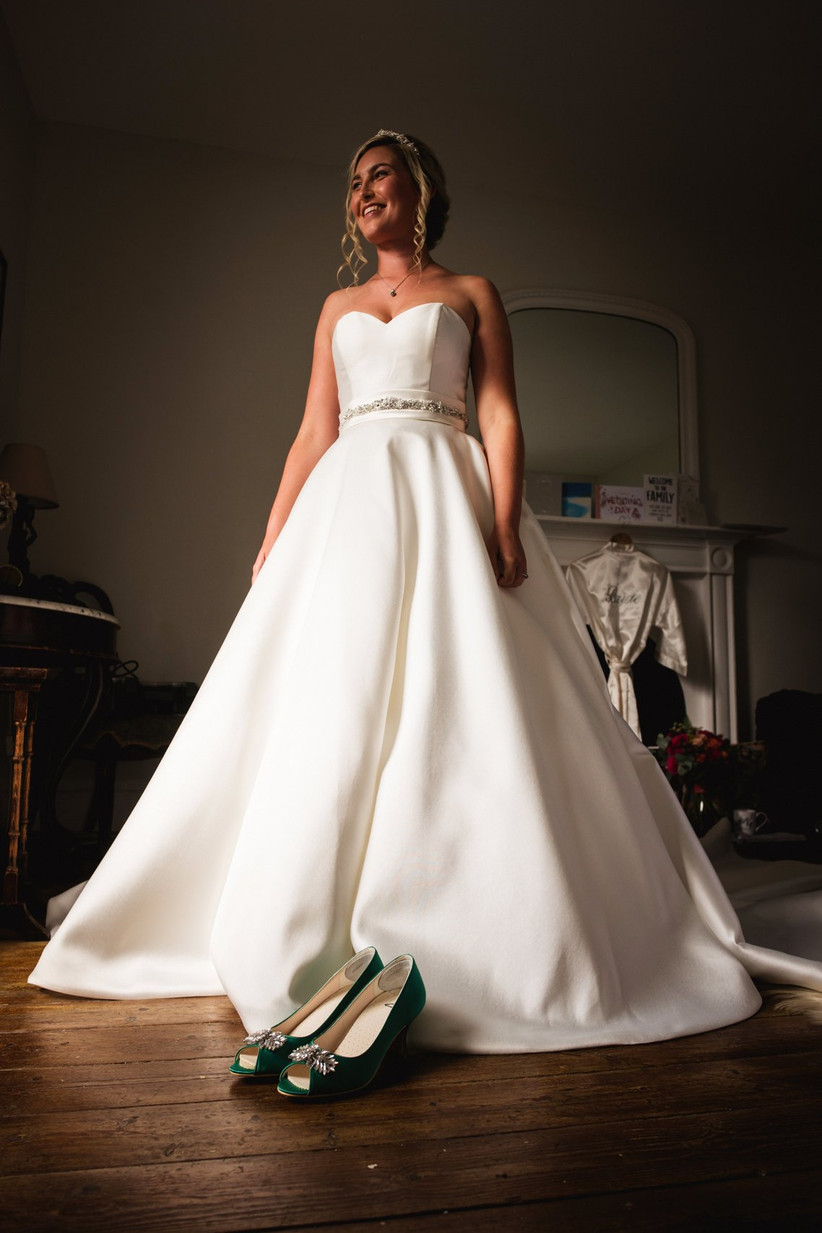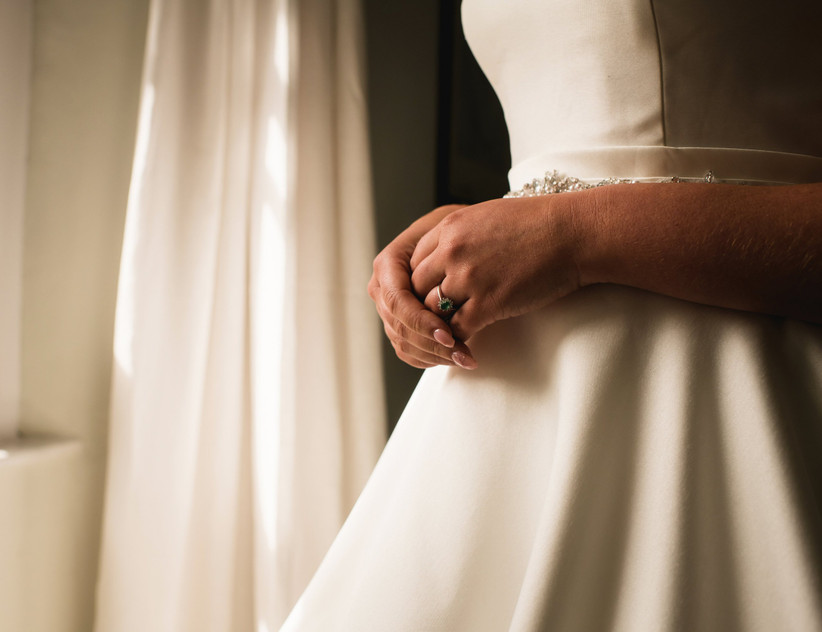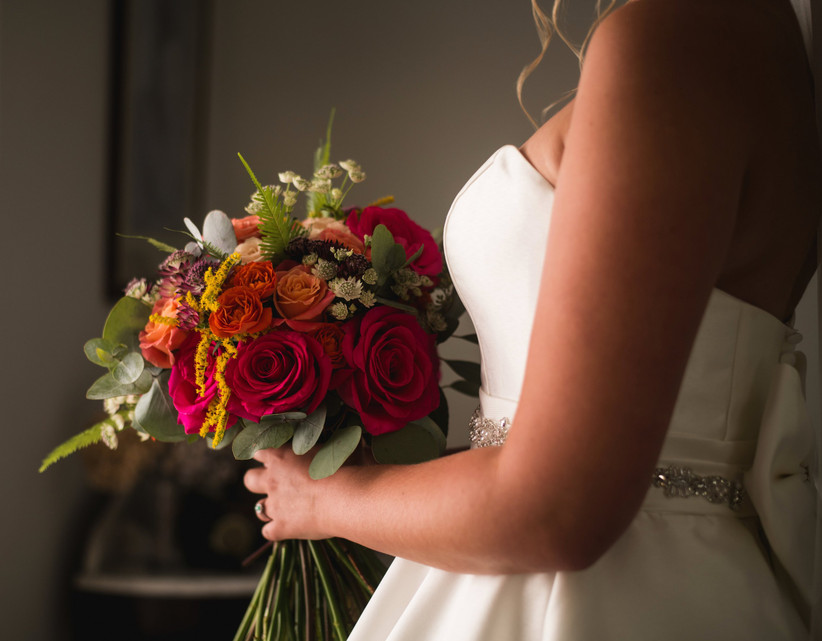 The Wedding Dress
"My dress was an absolute dream, it had the biggest bow on the back which I instantly fell in love with," said Roisin. "It had pockets which was a huge bonus (to hide the lippy and tissues) and was very elegant and magical. The dress also has the most beautiful tiny buttons flowing down the back, all the way to the train.
"I had never imagined wearing a dress like it. I had only tried one other dress before this one, and I instantly new it was The One. My dress is called Delancey, made by Anna Sorrano. It's a satin, classic ballgown-style dress. We added a diamond belt which I had the seamstress stitch into the dress so it was always in the right position. I also picked a cathedral length wedding veil as we all felt that complemented the dress, along with a detailed tiara."
Roisin's parents kindly offered to pay for the dress so she chose to visit WED2B, known for its affordable luxury gowns.
"I went two weeks after the engagement, and we had already booked and paid the deposit for the venue by this point. I only took my parents with me to look at the dress. My dad sat on the sofa in the wedding shop and I knew all he was thinking was, 'How much is this going to cost me', after already buying my older sister's dress a few years before. He went to the till and when the lady asked for £856, my dad looked at me and said "Is that it????". I was so relieved. It really was the most perfect dress."
Roisin was due to have a very large, Irish-themed wedding with 200 evening guests and the dress felt "perfect" for the bigger venue. "Due to the wedding change, because of Covid, I didn't feel the dress was right for a small elopement but I was so wrong - my dress was perfect for our magical day."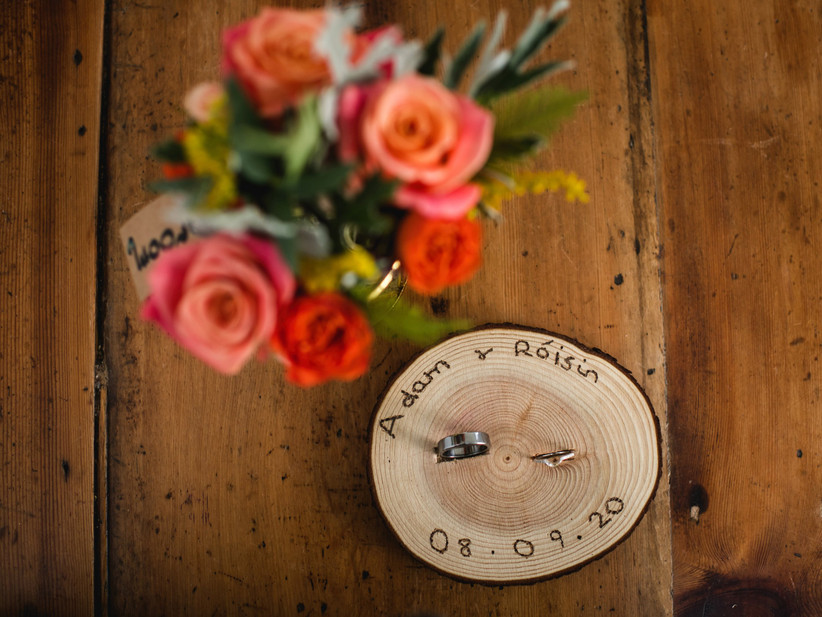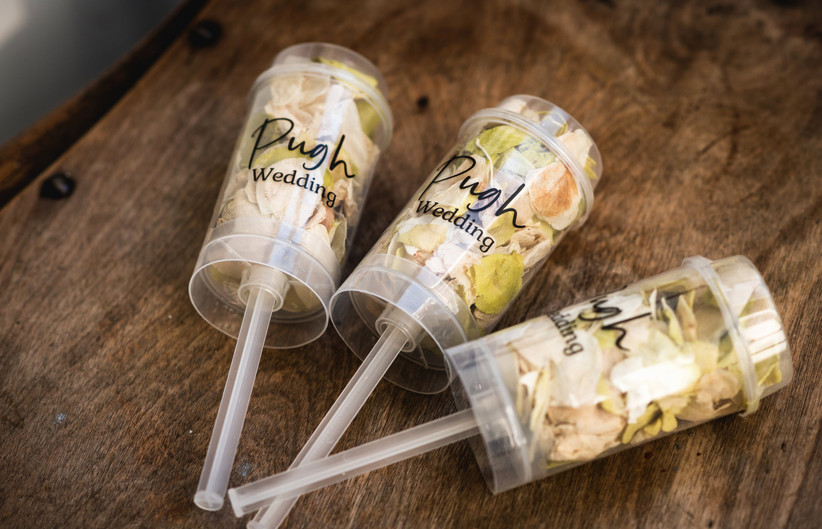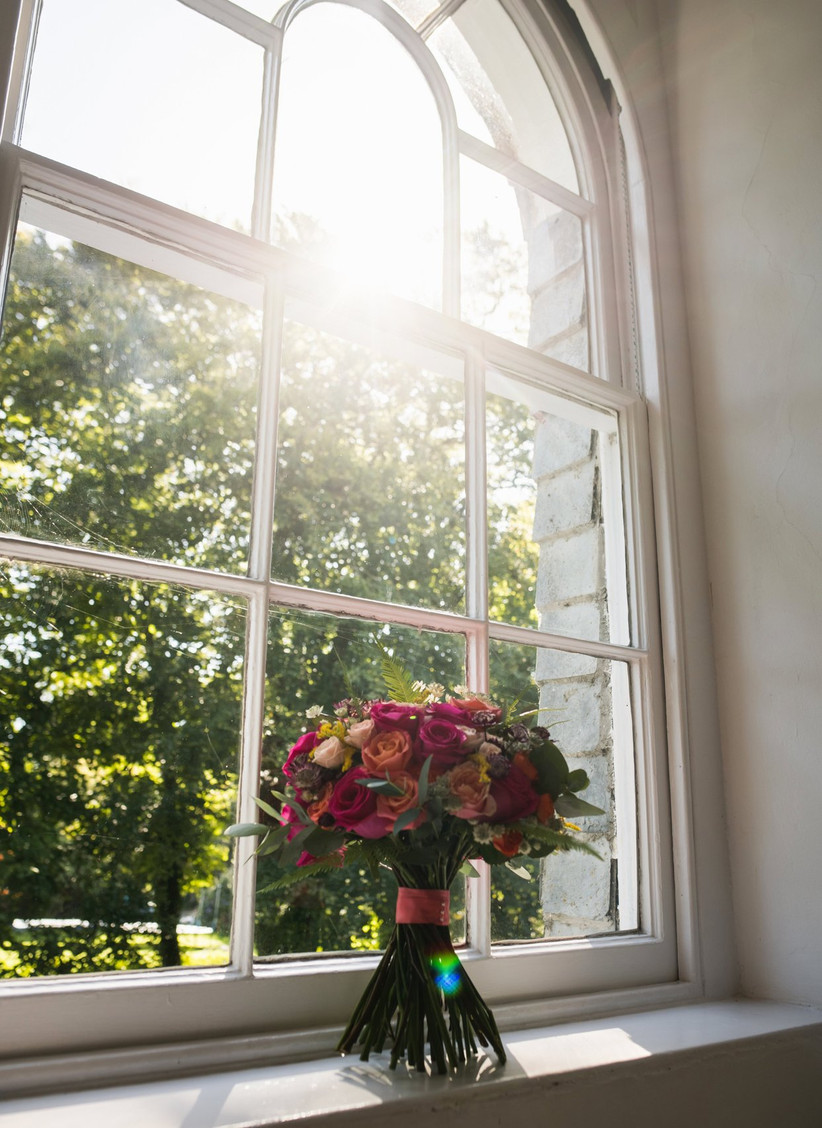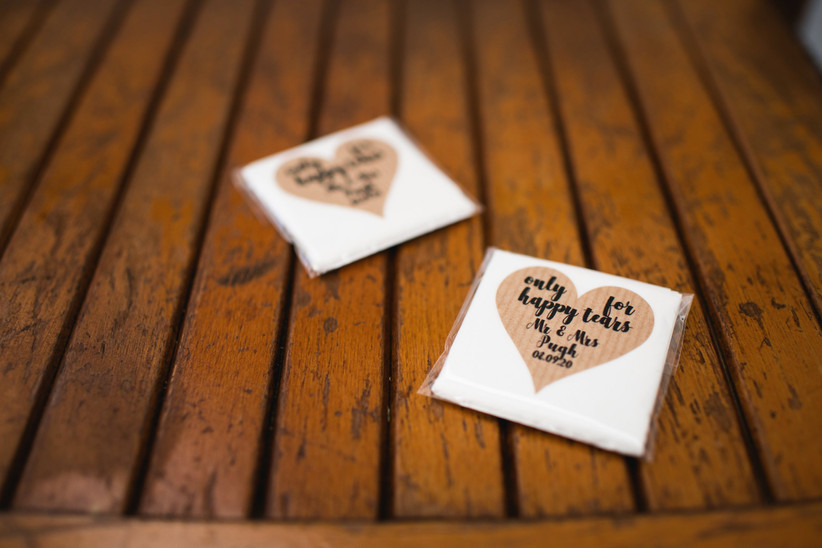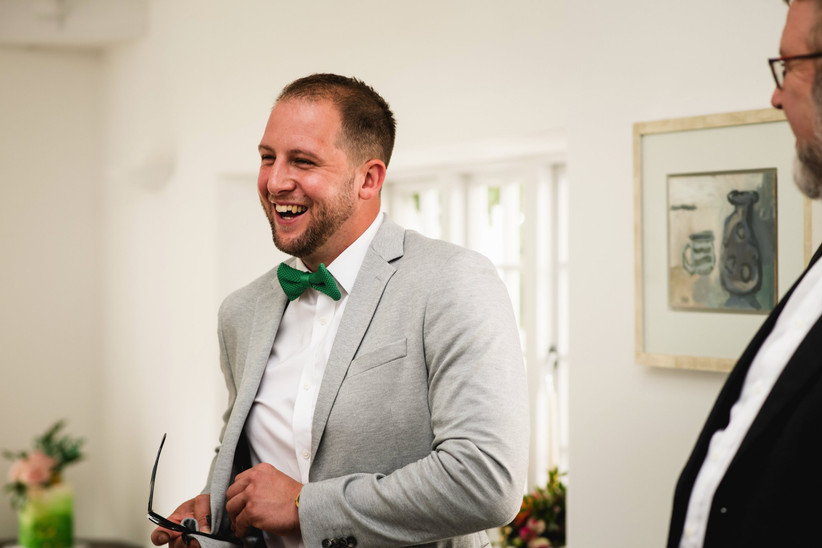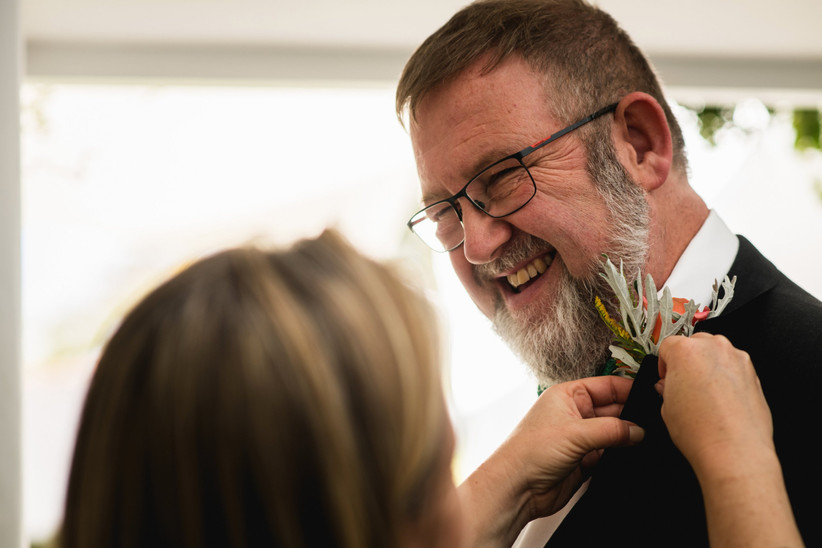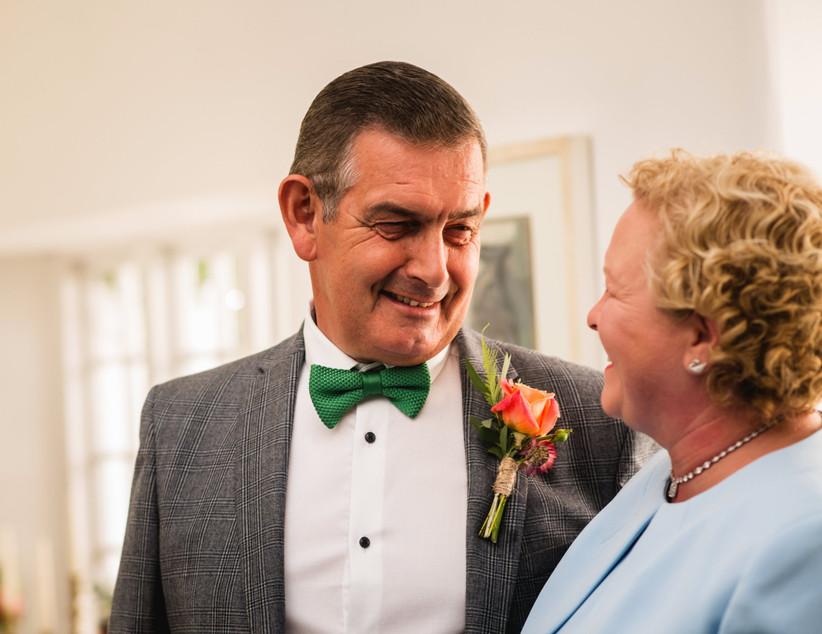 The Wedding Morning
Roisin and Adam had only a few weeks to plan their elopement and invited just their parents to join them - it made for a very different wedding morning than expected, but still as memorable. They night before, the couple and their parents gathered together for a dinner cooked by the Treseren team, followed by board games in the snug in front of the log burner. It was a dreamy start to their cosy, intimate wedding and set the tone for the next morning.
"It was truly special to have my mum and mother in-law with me the morning of the elopement," said Roisin. "We had only told our siblings the week before the wedding [that it was happening], and I managed to have my sisters on FaceTime enjoying the morning prep with me. They had made me a beautiful bridal box: it included my favourite tea, a beautiful cup and saucer to drink from while I was getting ready, and Champagne to have with my mum after the prep. There were also candles and a bridal dressing gown. It was just perfect."
The men had an equally relaxed morning: "Adam took the two dogs and both dads for a walk on the beach, and were then home in time to get dressed and have a lunchtime beer together." Adam wore a light grey two-piece suit from Hugo Boss, bought from Westquay in Southampton.
"Our theme was emerald green, so Adam and the two dads wore matching emerald green bow ties, and Adam had emerald green braces. His dad also surprised him by wearing matching emerald green braces!"
Roisin said she had no wedding morning nerves. "I recall my mother in-law coming up to the room and saying Adam was just wondering how you are doing; she said I've reassured him you are the calmest bride I've ever seen. She was right, I had nothing to be stressed about, I was going to marry the man of my dreams."
Finishing off the Anna Sorrano dress were a tiara, glittery hair clip and an emerald necklace which Adam had presented to Roisin, via his mum, on the morning of our wedding. "The emerald and diamonds in the necklace perfectly match those on my engagement ring," said Roisin.
She didn't have any hair or makeup trials as it was such short notice, but she trusted Treseren's recommended suppliers and chose a gorgeous updo and soft, natural makeup.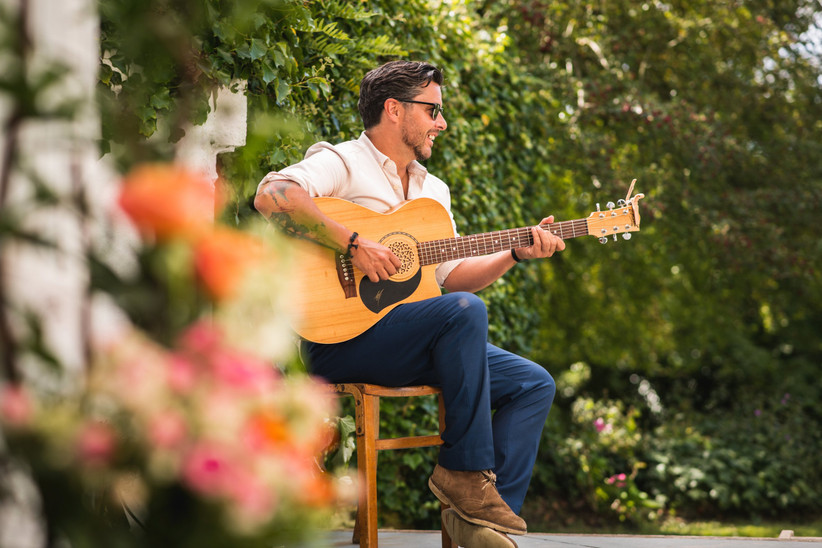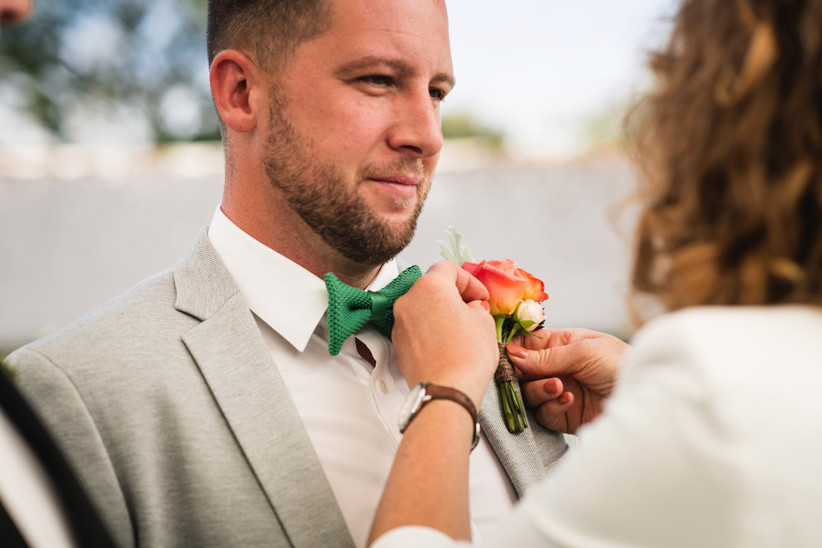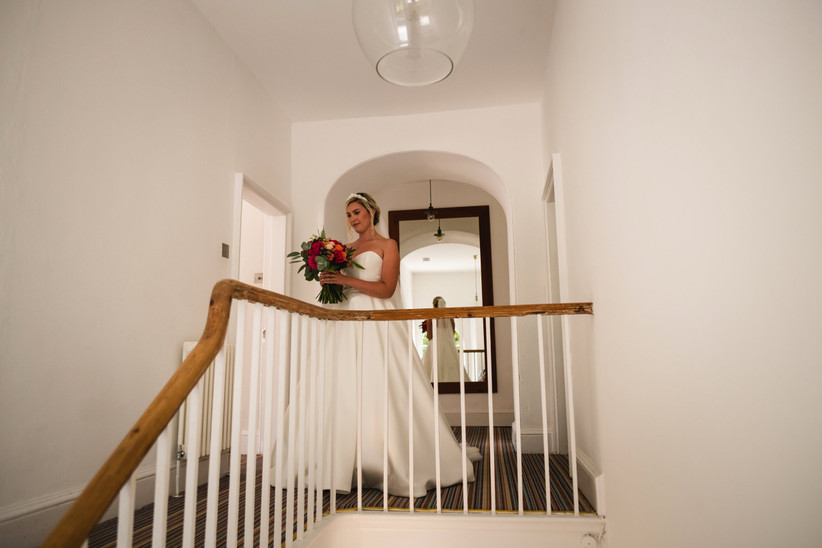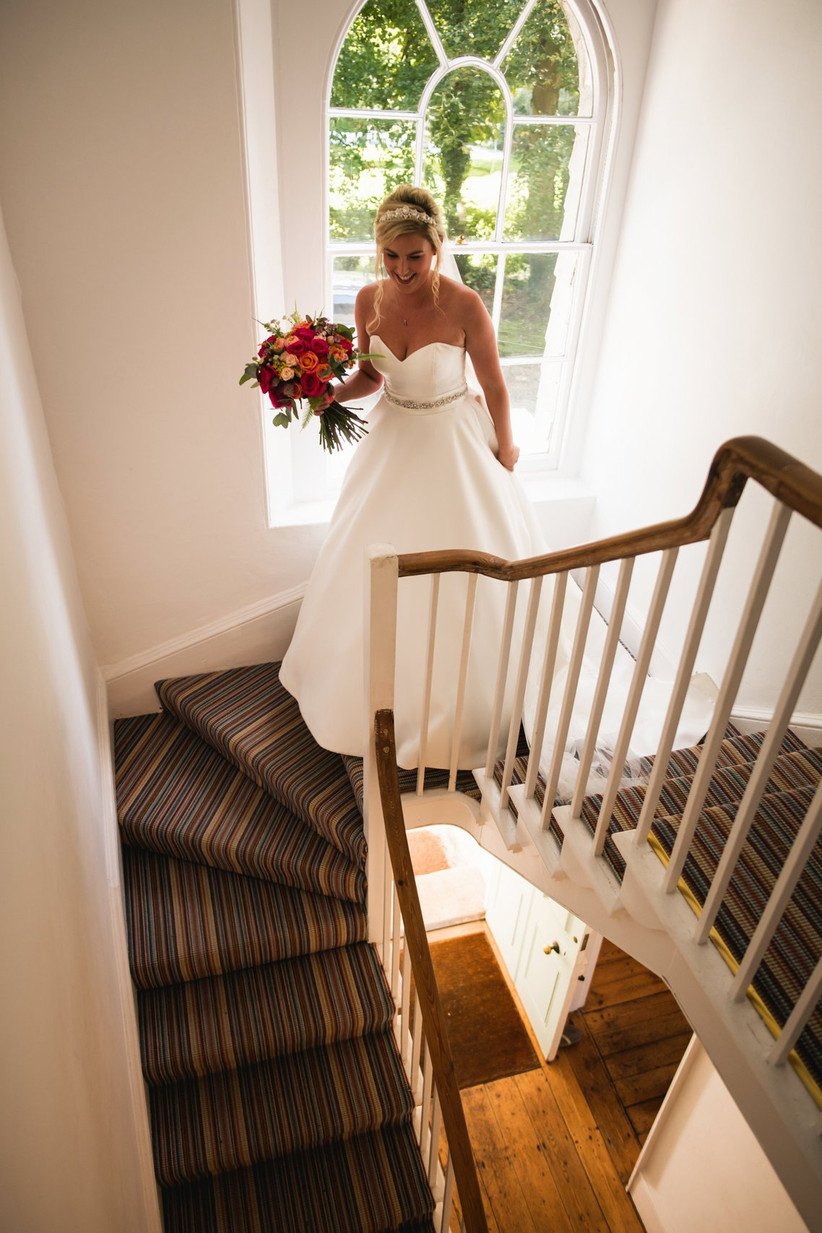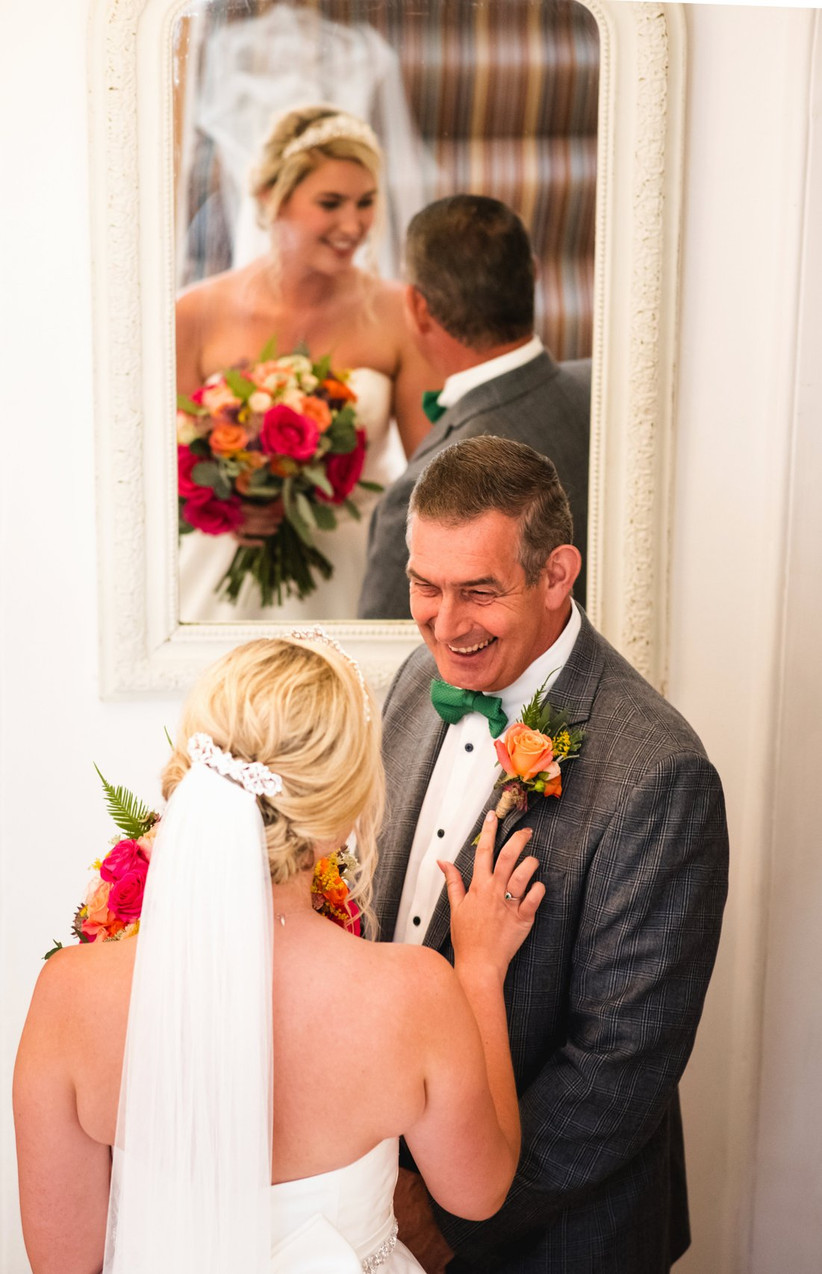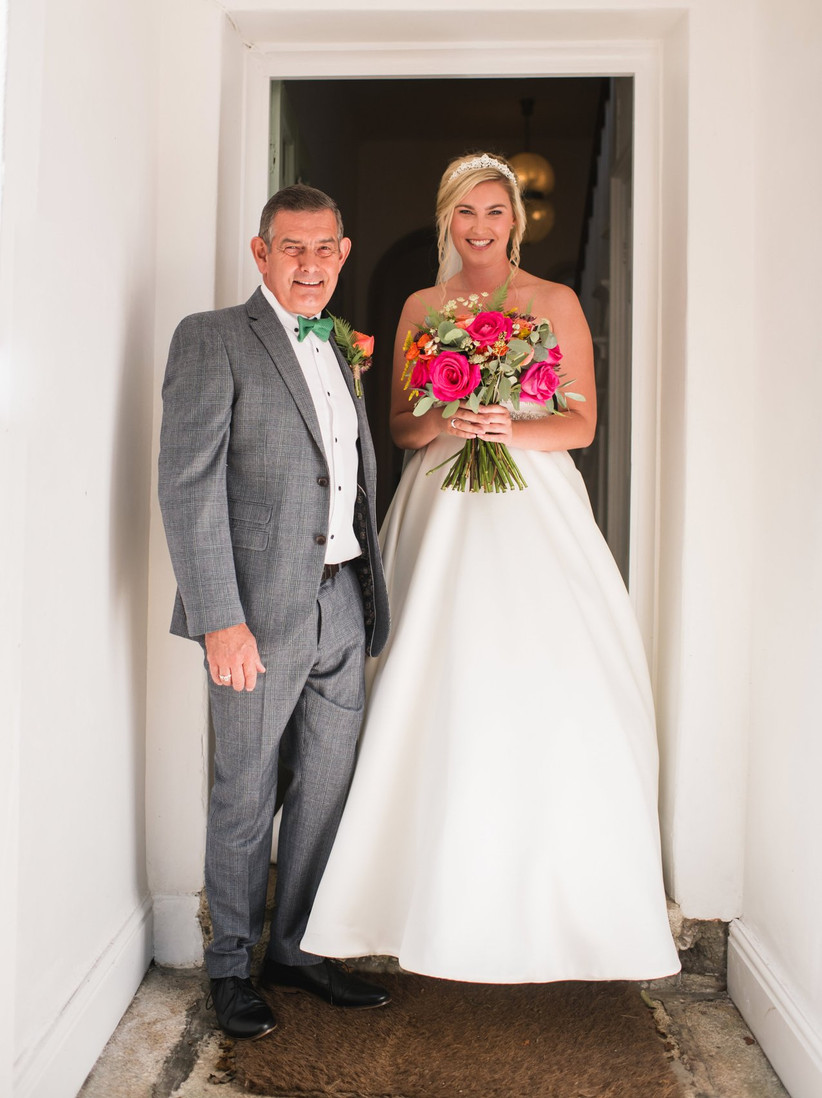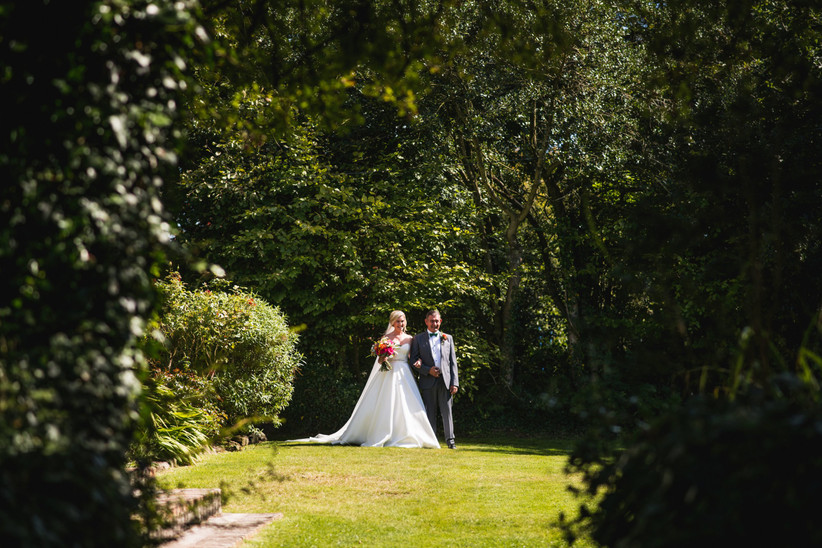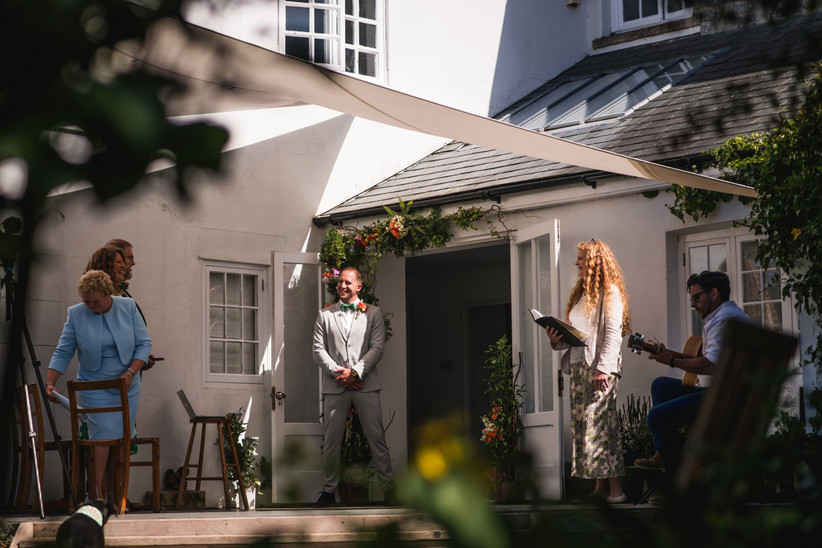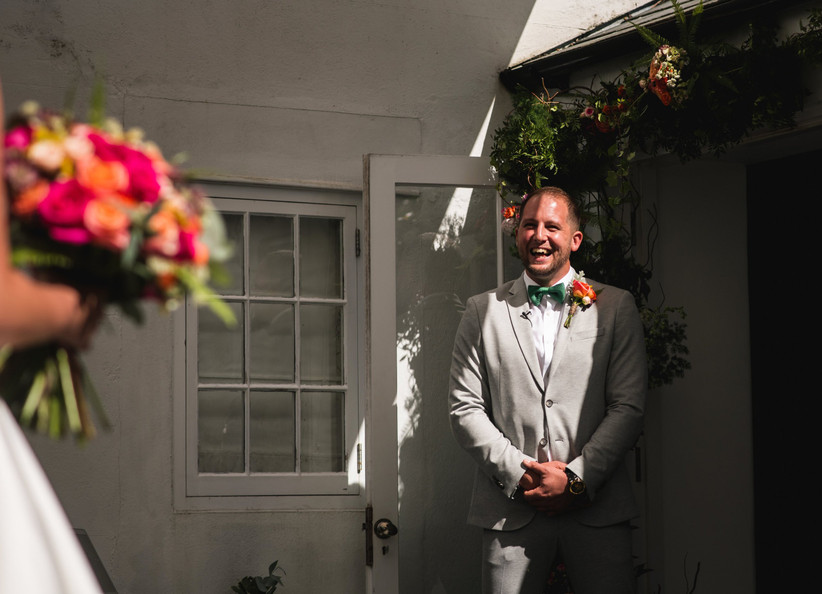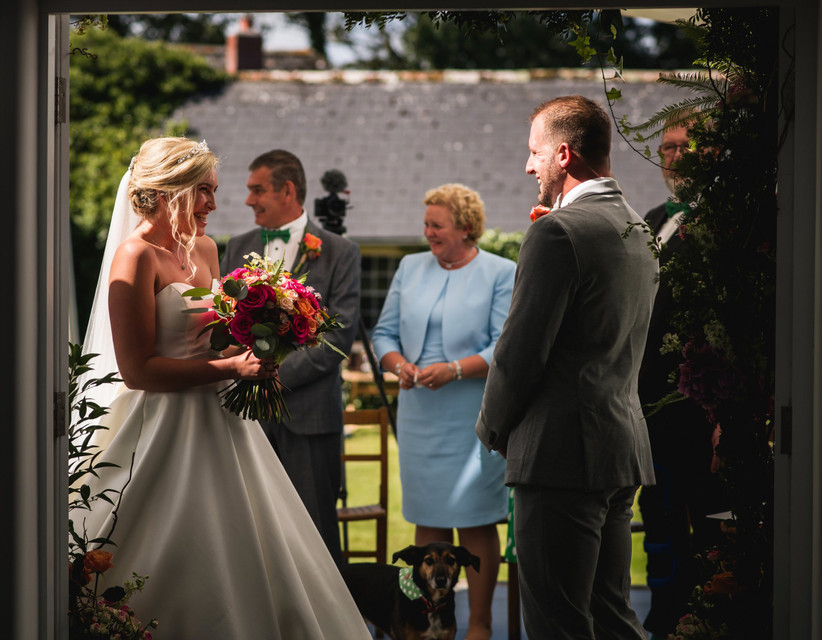 The Change of Plans
Adam and Roisin were due to marry in May 2021 at Clock Barn, a luxury barn venue in Whitchurch, Hampshire. With 150 day guests and 200 evening guests, it was due to be a huge party but it became clear they would need to put it on hold when Covid restrictions brought guest lists down to just six people.
They had everything planned by February 2020 and hoped 15 months would be long enough to still have their dream wedding. As the chance of that slipped away, they decided to cancel their venue and found "a stunning small wedding venue in Cornwall, with THE most helpful hosts you could imagine." In the end, their long engagement turned into only seven months!
"Two weeks after our engagement we had booked our venue. It was a beautiful barn near Winchester, designed specifically for weddings. Our middle payment was due in August as the previous venue had kindly delayed the payment from May when everything was still unknown because of Covid. By the time we decided to cancel the wedding we still hadn't finalised our guest list, but it was coming in at nearly 200 friends and family. On the day we decided to cancel, the rules for weddings were no more than six guests allowed.
"We discussed what to do going forward, as cancelling our dream wedding was something we hadn't even considered. Elopement was mentioned and it seemed the only viable option, other than waiting until Covid was under control. We've always loved Cornwall, and eventually found Treseren, which we both fell in love with through the pictures online, and owner Emma's professional and very friendly approach during our initial phone call.
"Treseren had no availability at first, but Emma had a feeling there would be a cancellation due to the ever-changing restrictions on wedding numbers. She was right, and we snapped up the date which was only a few weeks away."
They were only able to keep their original videographer and photographer and had to change the rest of their suppliers. Their original florist, Jo's Flower Workshop, was able to make the three bouquets and buttonholes and then send matching supplies to their Cornish florist, Brookside Flower Farm, to decorate the table and door arch.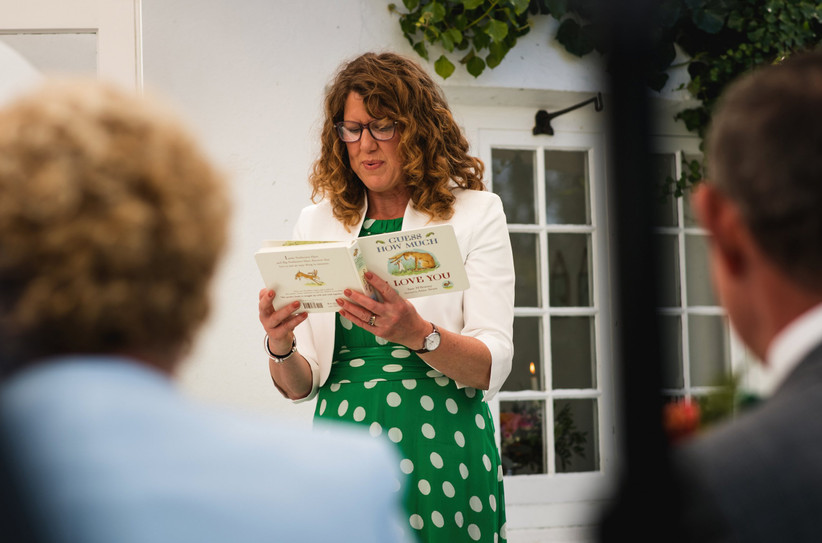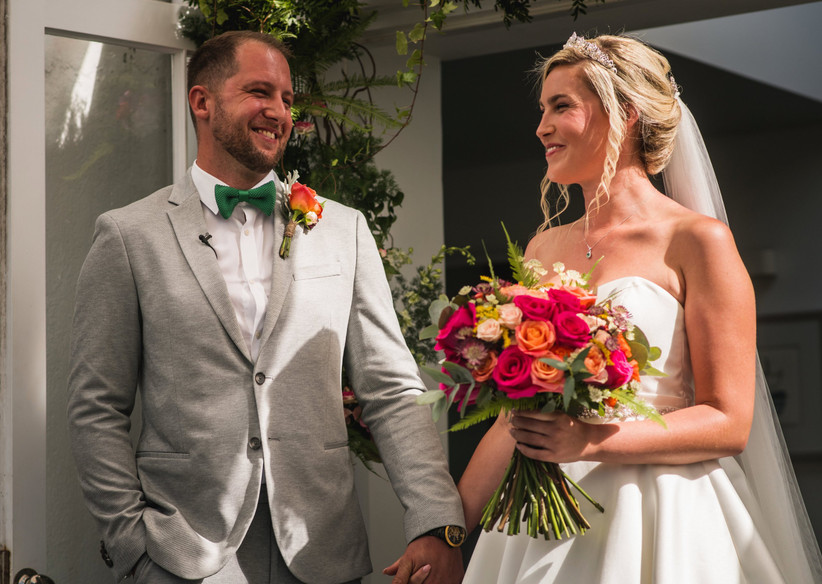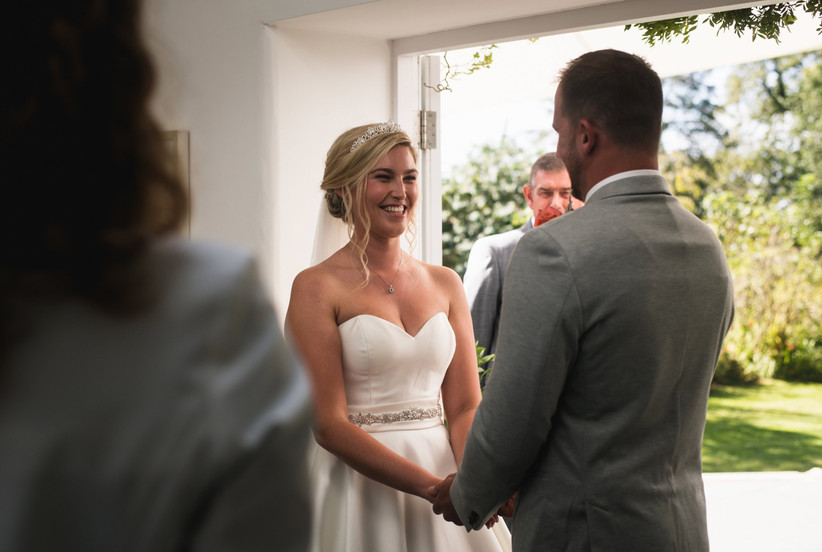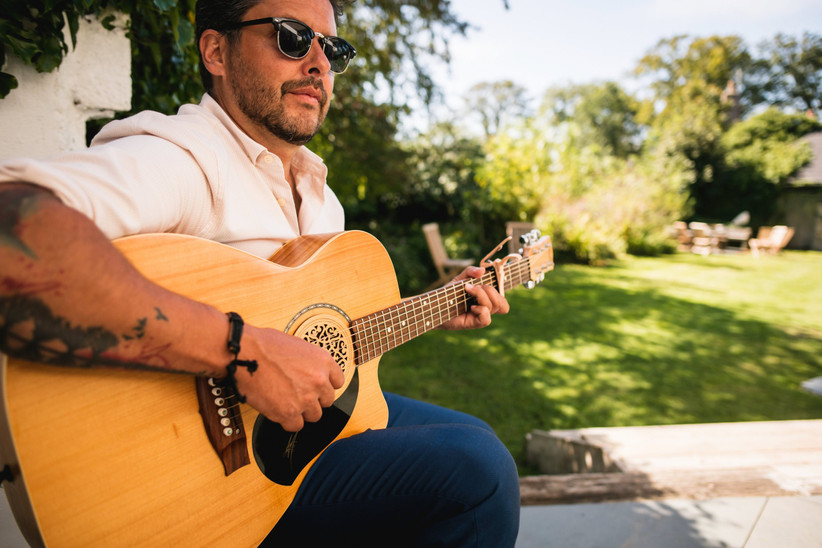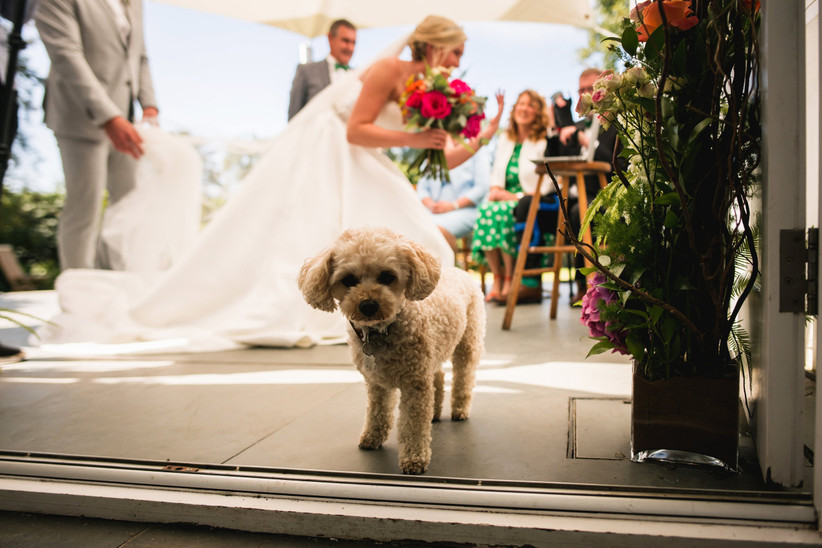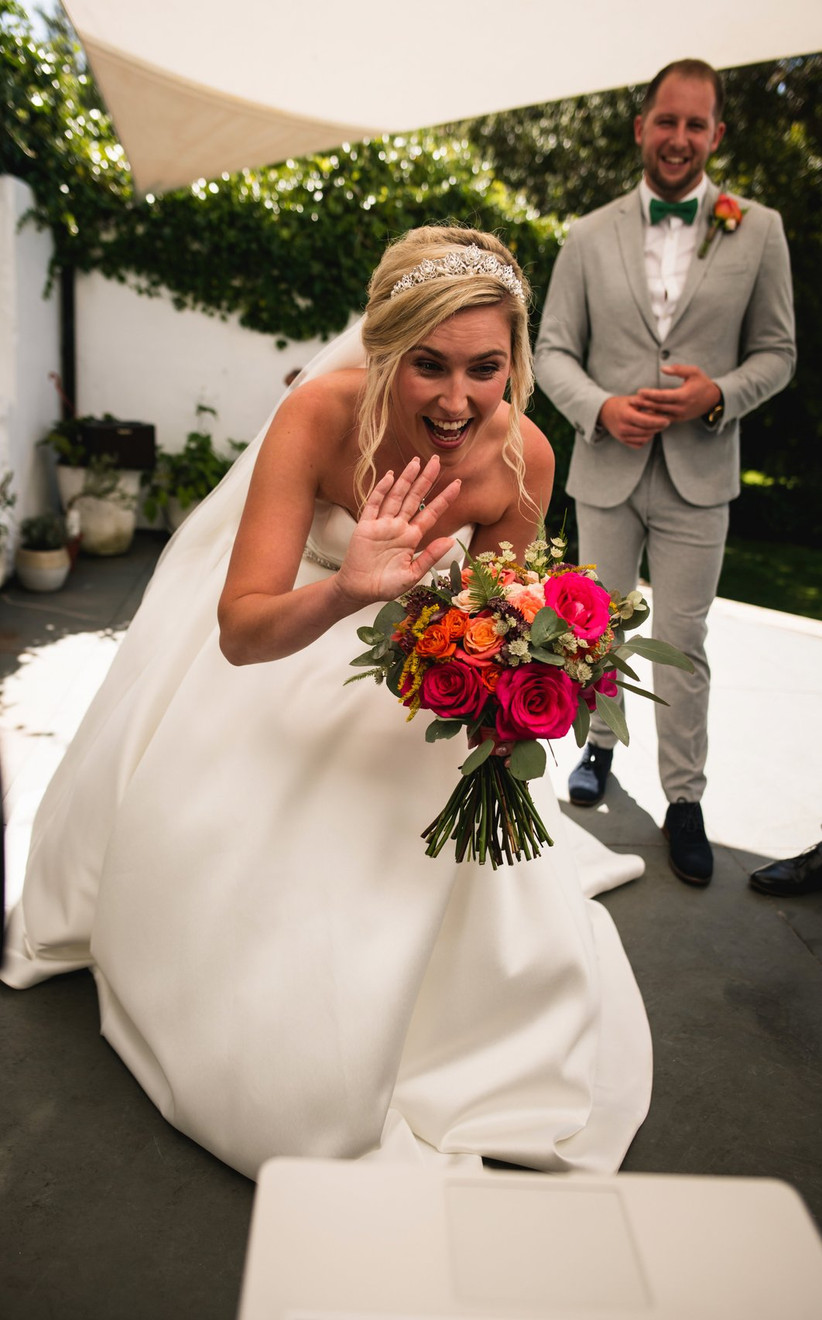 The Wedding Ceremony
The couple quickly began planning their elopement at Treseren, a luxury country house in Cornwall that hosts intimate weddings and elopements for less than 20 guests. "We loved how picturesque and secluded it is, but mainly Emma and her small team were the best thing about it," said Roisin. Owner Emma helped them with contacts and recommendations and they jointly planned the wedding, pulling it all together in a few weeks and keeping it on schedule!
On the day, Adam and Roisin had a civil ceremony at Treseren with both sets of parents as their only guests.
"The ceremony was incredible, the weather was bad in the run up to the day, but Tuesday 8th September 2020 turned out to be a scorcher with no clouds in the sky!"
Roisin carried a stunning summery bouquet full of oranges, yellows, and pinks. "I asked Jo for bright and beautiful, which she definitely delivered," she said. She made her way to the patio doors which were framed with a beautiful flower arch that they married under.
"We were married on the patio, only stepping inside briefly for the legal bits. Our four guests sat in front of us, the dogs ran around the garden playing, and our laptop was sat on a stool with some of our families and close friends watching via Zoom."
It was truly a family affair, with Adam's mum reading Guess How Much I Love You and being a witness alongside Roisin's mum. Adam's dad was ring bearer, while Roisin's dad walked her through the beautiful gardens and down to the patio to an acoustic version of A Thousand Years, played live by Scenic Route Music.
Roisin's two sisters and two closest friends, who were meant to be her bridesmaids at the original wedding, watched the service through Zoom.
"Adam's favourite bit was when we all sat outside in the sun immediately after the service," said Roisin. "We popped open a magnum of our favourite Champagne, picked at the grazing platter, all laughed together, while live music played in the background."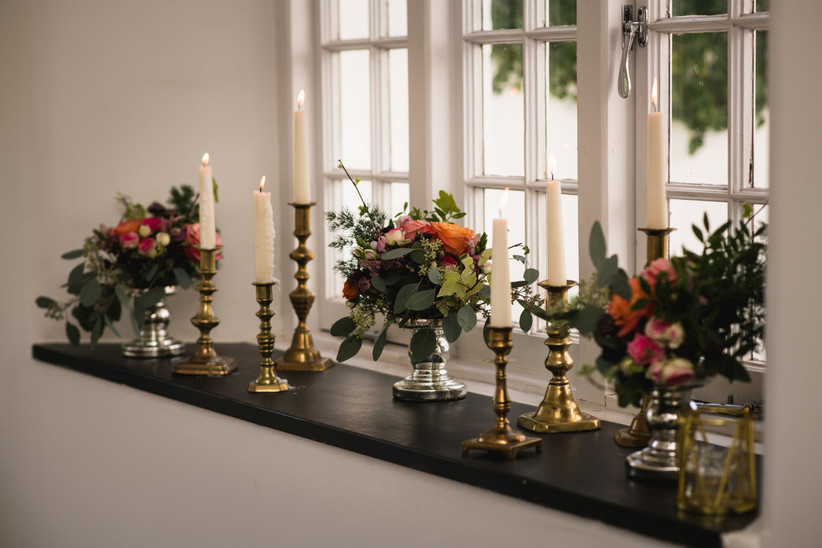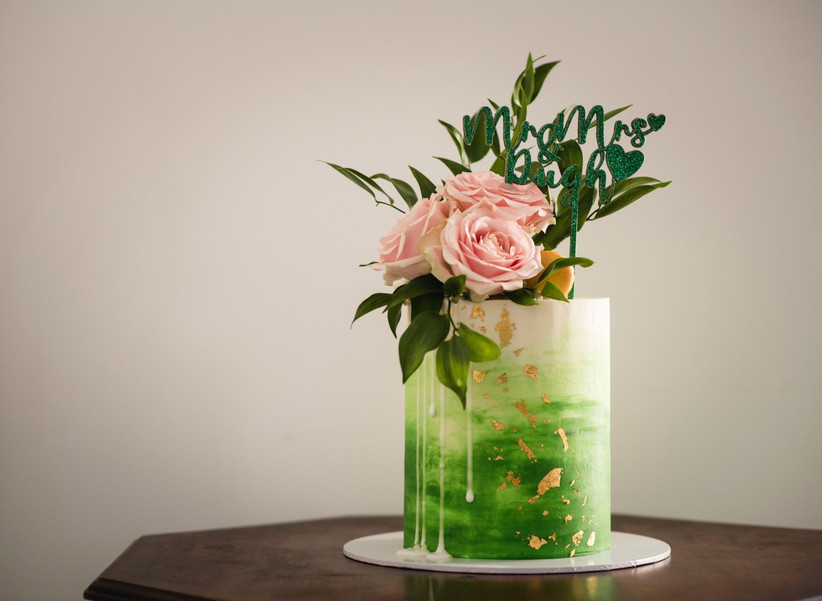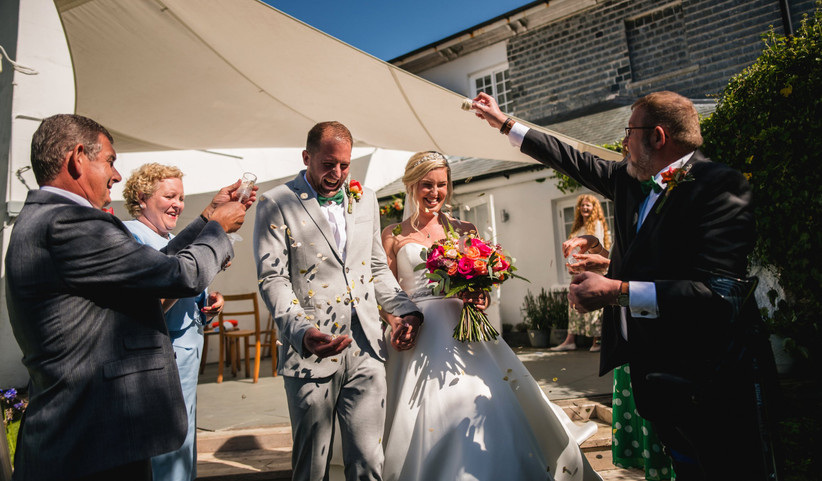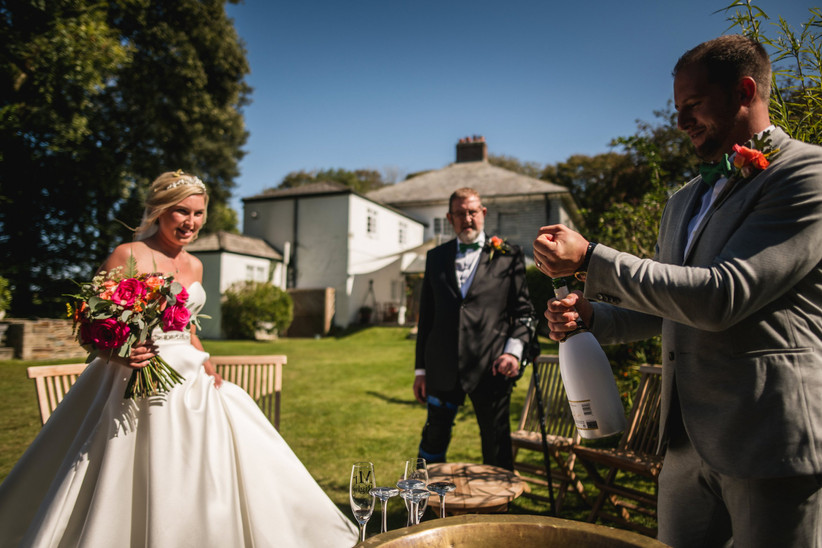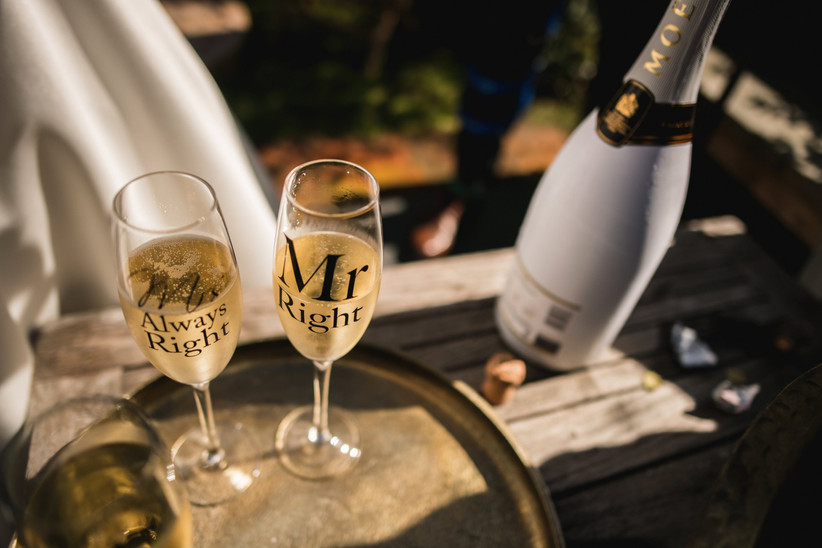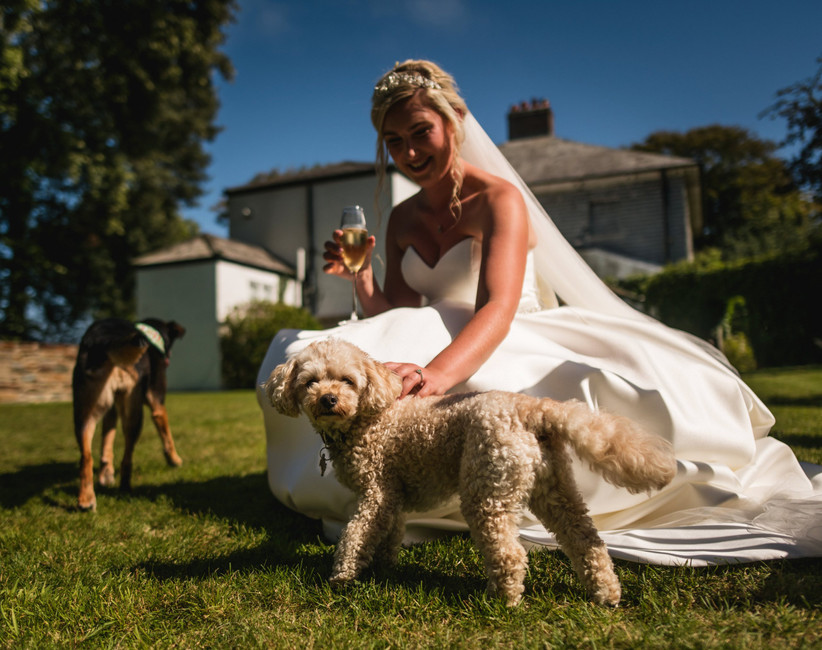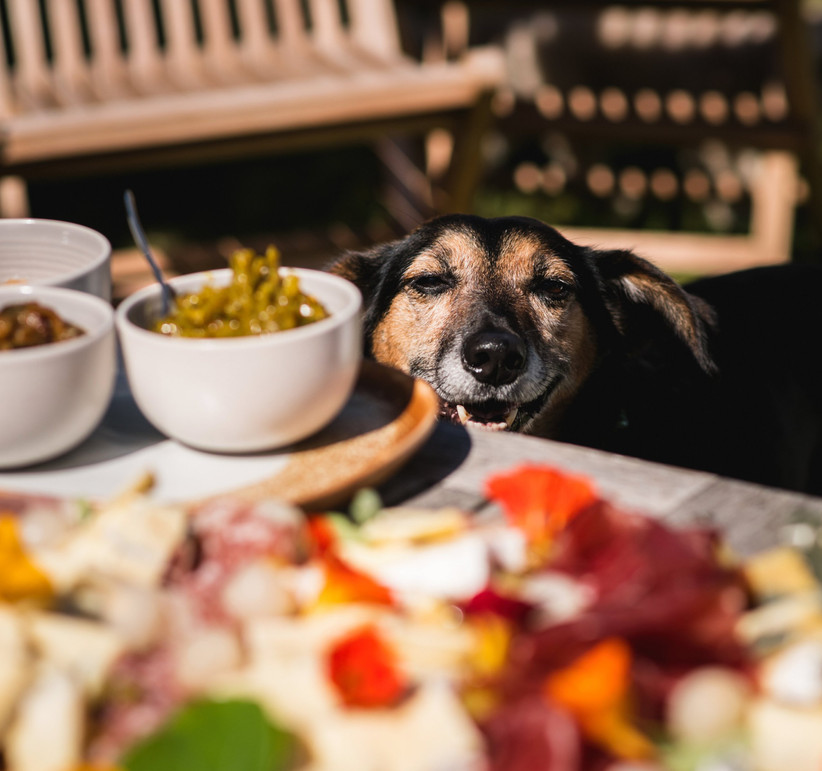 The Wedding Reception
The drinks were accompanied by acoustic music from Jenna and Steve of Scenic Route Music and they had a mini first dance before they headed off to the beautiful nearby North Cornwall Coast for photos with their photographer Robin Goodlad.
"They were brilliant and tailored their performance to our day. Our first dance wasn't planned, but we got up and danced when they played A Thousand Years. We left the live music halfway through to travel to the beach for more wedding photos."
Adam and Roisin returned for a wonderful reception meal cooked by bespoke caterers Dean and Victoria of Chef In My Home.
"They prepared a 'best of Cornish' cheese and meat sharing platter for the six of us, which was eaten straight after the service. It was as pleasing on the eye as it was on the lips.
"The wedding breakfast was scotch egg with a salad garnish to start, roast chicken with all the trimmings, including the largest Yorkshire puddings we've ever seen.
"Dessert was a homemade lemon tart with Chantilly cream, which was the perfect blend of sharpness and sweetness."
As the couple and their guests were staying over at Treseren, the celebrations went on late into the night.
"My favourite moment was at the end of he day, when we all put our PJs on, sat around the log burner, which Emma's husband Paul had lit for us, and reminisced with a few drinks and some cake," said Roisin.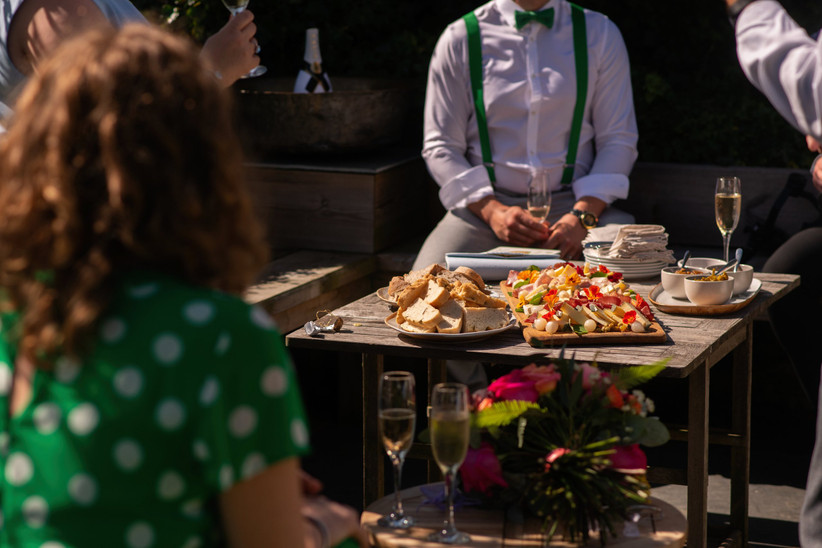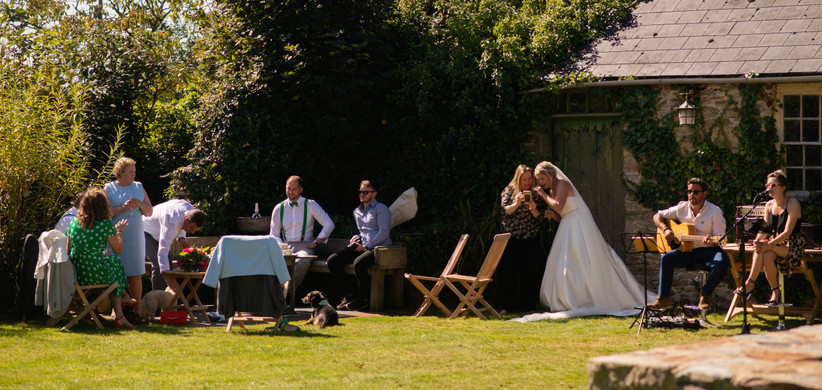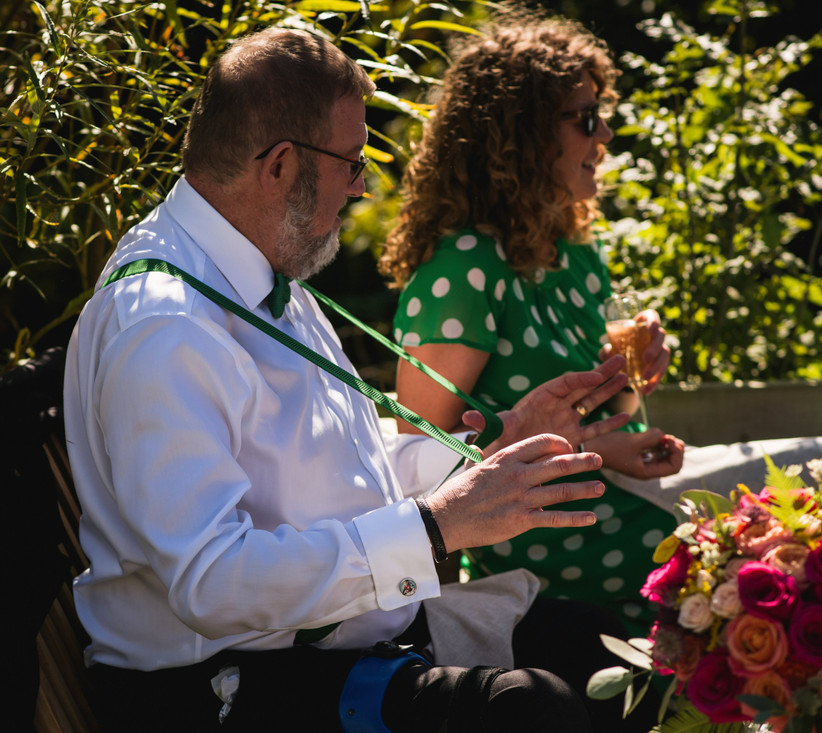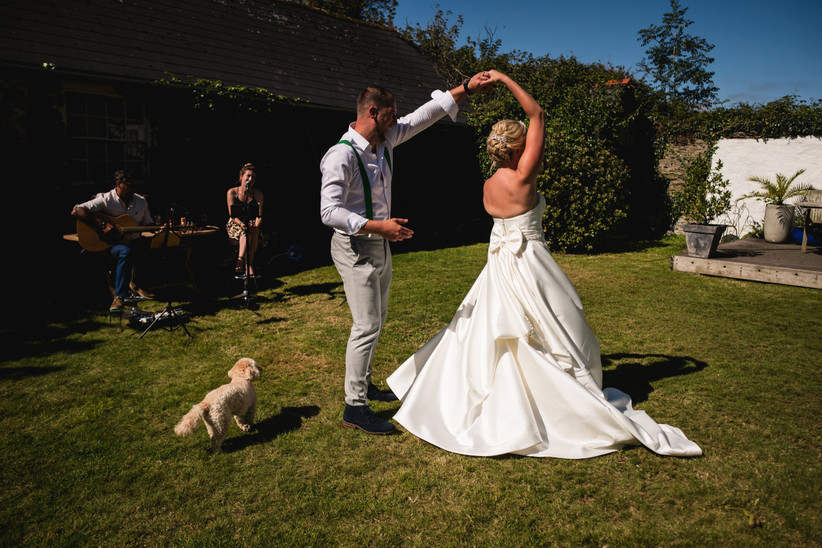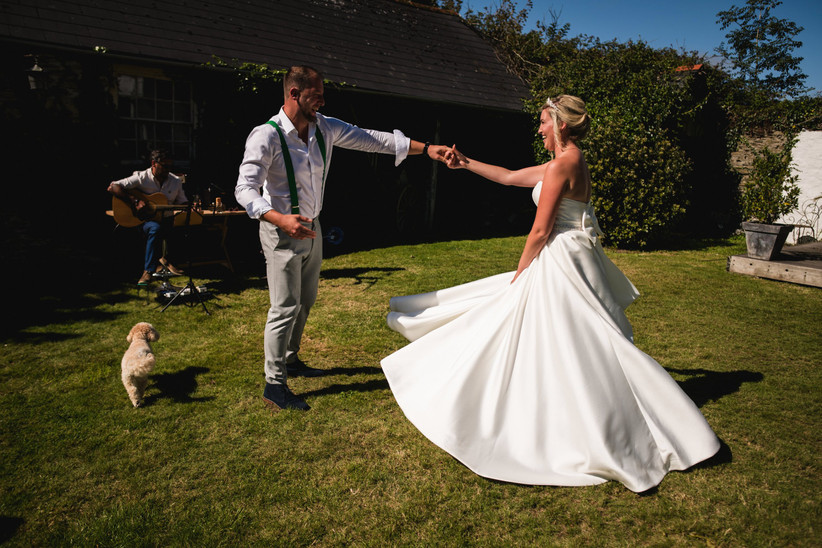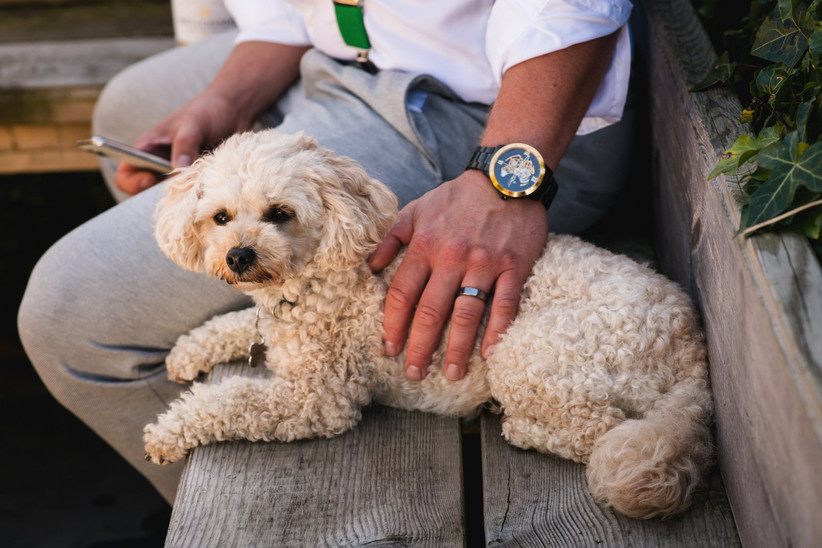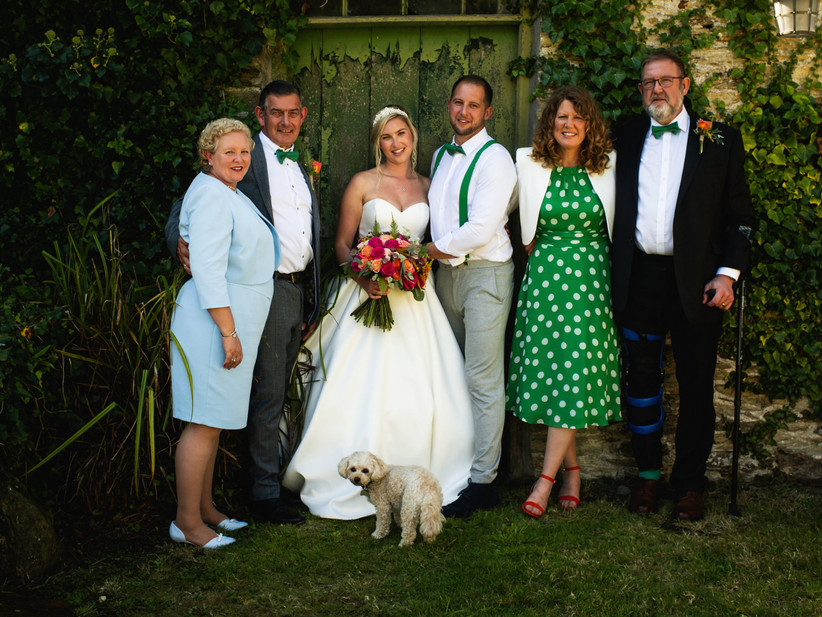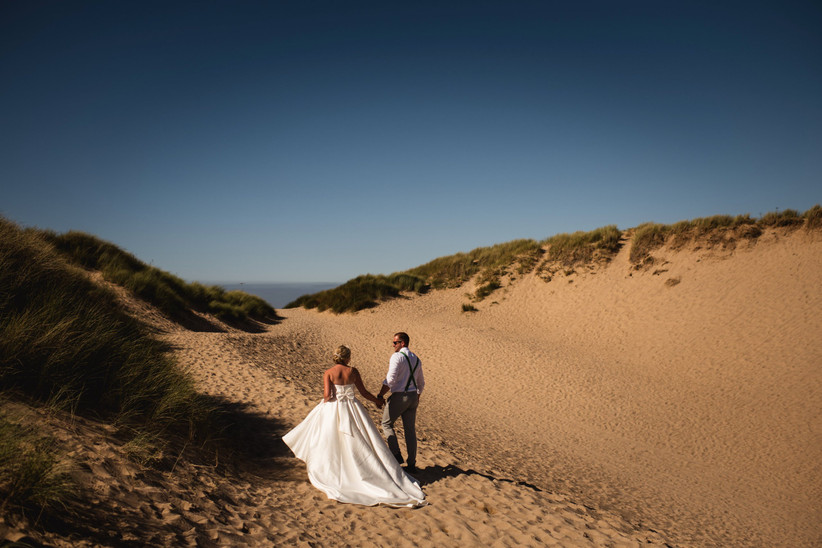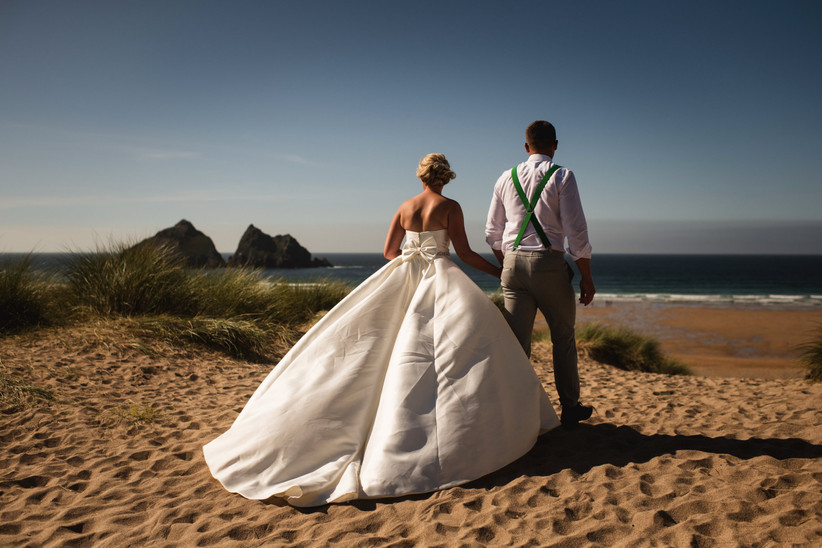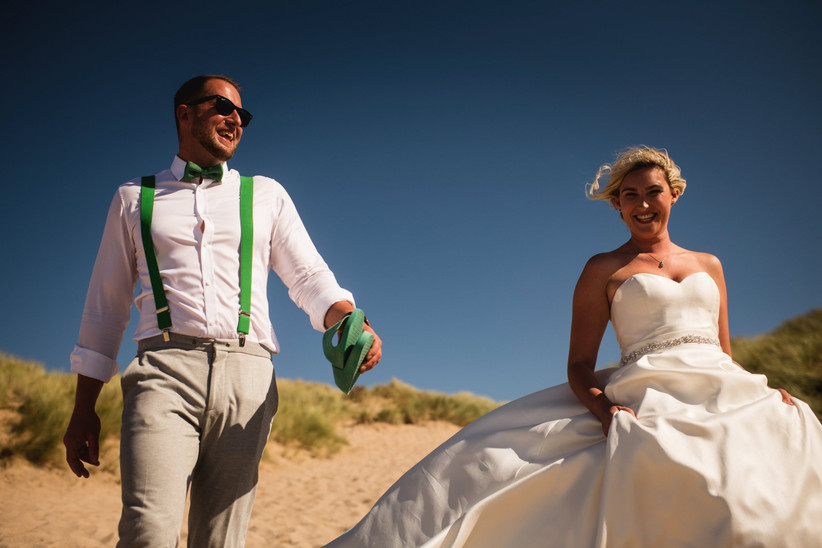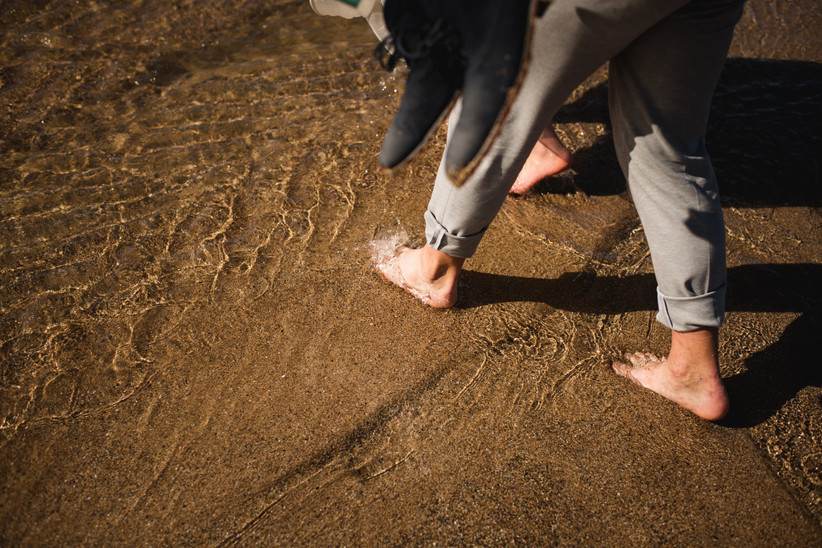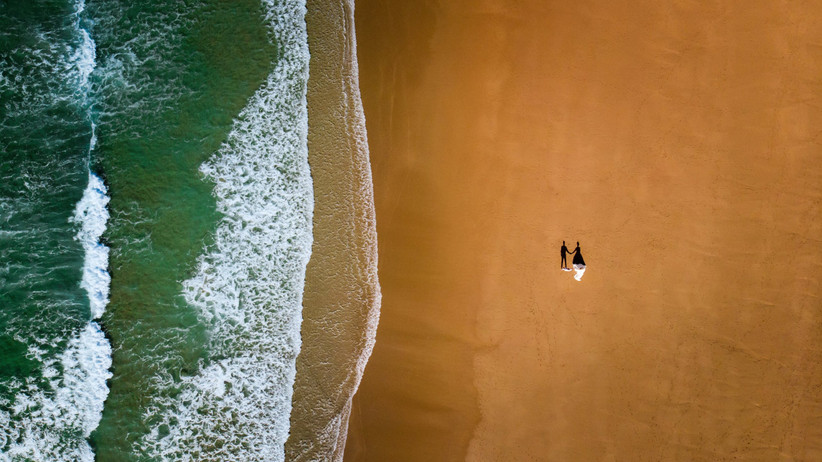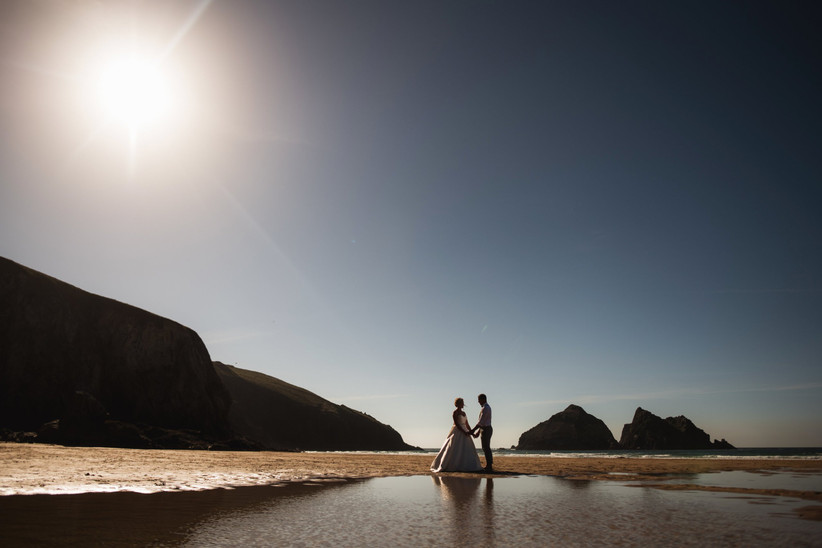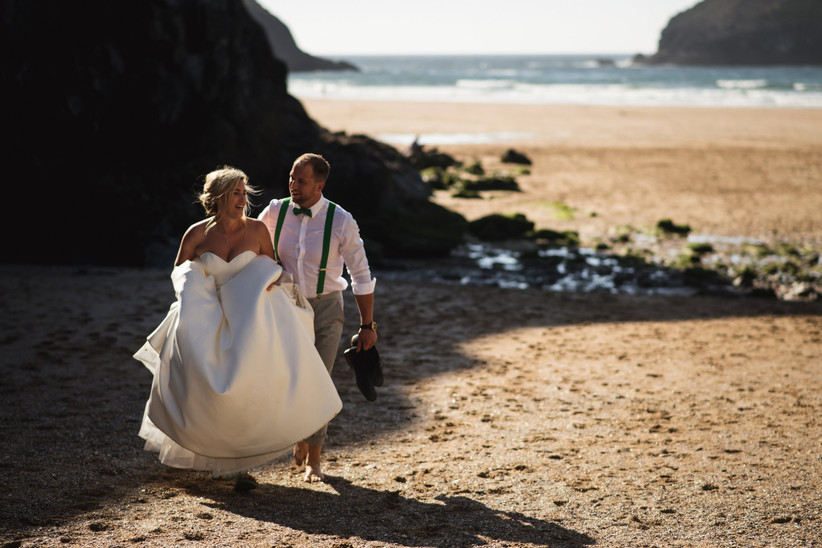 The Décor and Finishing Touches
In keeping with their Irish theme, their chosen colour scheme was emerald green. This gorgeous, rich tone came through in their wedding tablescape and the beautiful green wedding cake.
"My mum thought that the cake was a huge candle, or ornament, as the icing was so glossy," revealed Roisin. "It was a perfect marbled blend of emerald green and white, finished with gold leaf, macaroons and pink roses. As the six of us sat down in front of the log burner with another glass of Champagne, we cut into the cake and all had a slice."
Roisin and Adam thought through every little detail of their wedding and made excellent use of the independent suppliers on Etsy.
They had a welcome sign made by STN Stationery; white napkins personalised with their initials in emerald green by Puffin Company; and tissues printed with their married names, date and 'Only for happy tears' by Glowing Deco.
The guests showered them from confetti push poppers with 'Pugh Wedding' written on the front and filled with dried green and cream flowers from Dollz Confetti.
On their wedding tables were hexagonal acrylic place names with an emerald green paint effect by Vellamaes and macarons from Mademoiselle Macaron. Their wedding cake topper was emerald green and glittery, spelling out 'Mr and Mrs Pugh', made by CraftyCoveGB.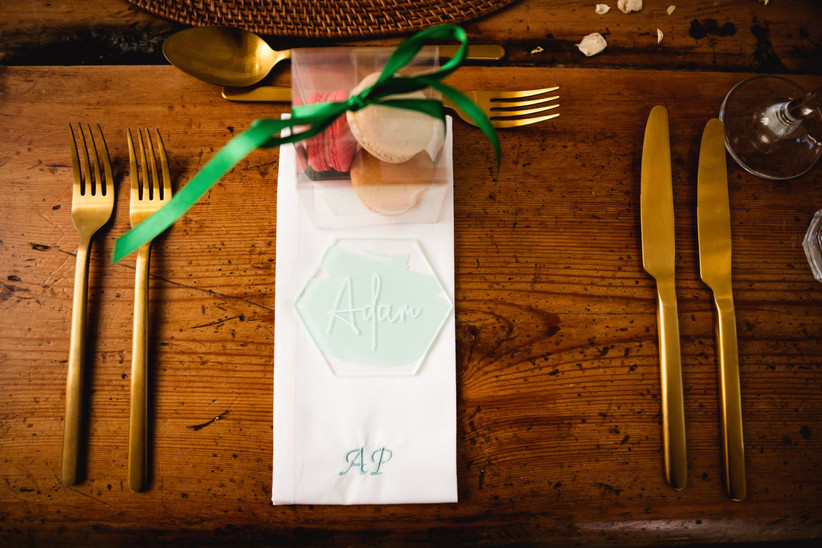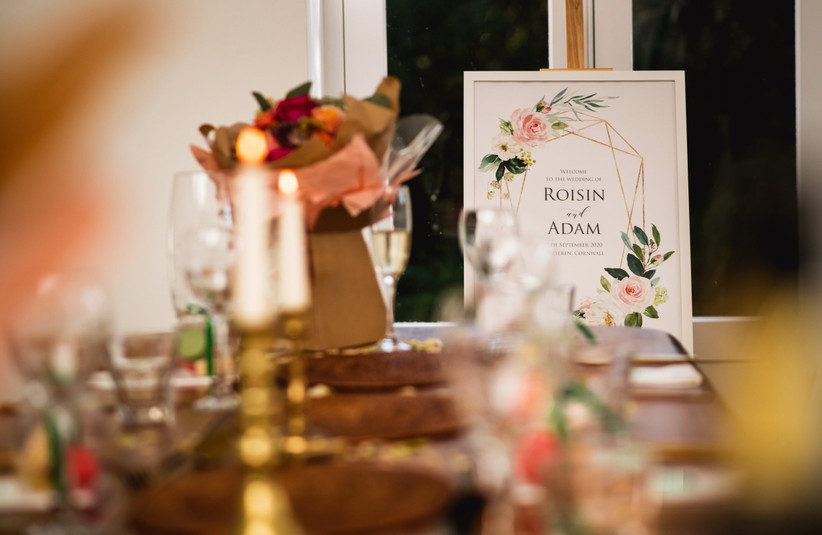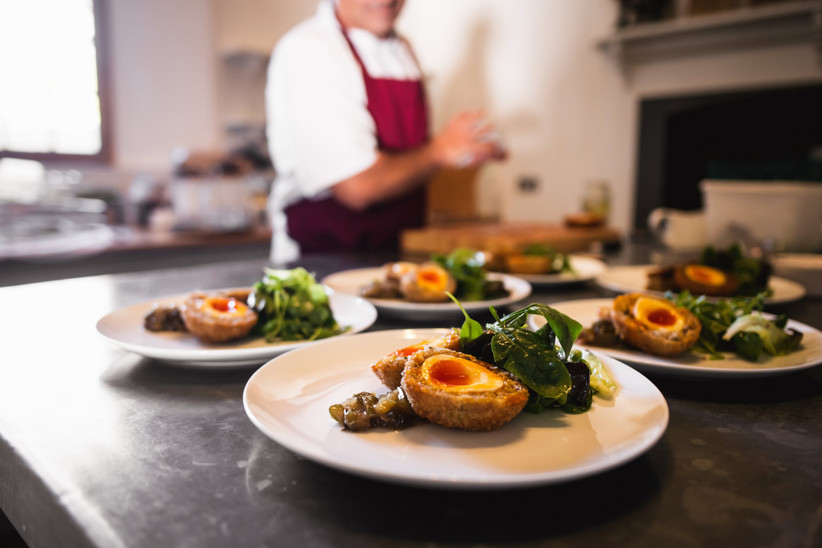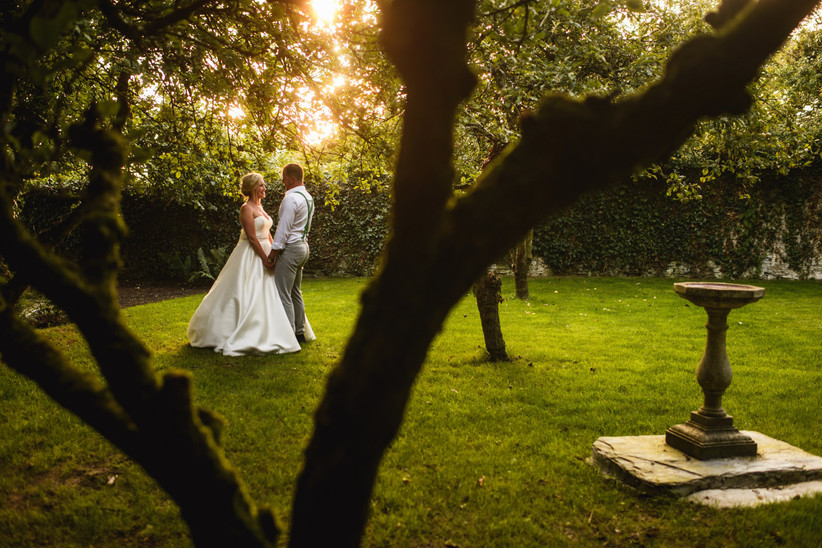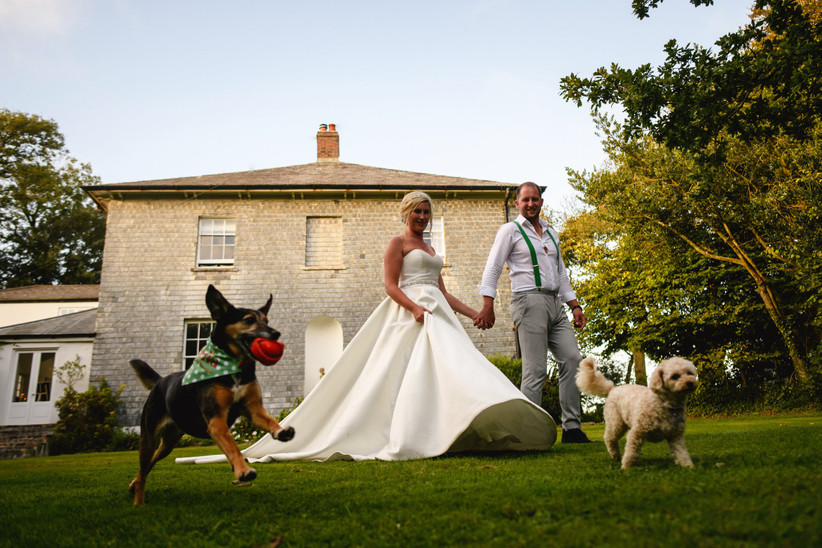 The Honeymoon
For other couples who might be forced to cut down their wedding, the couples' advice is to "relax, the day is about you, enjoy it, do what you want to do and be happy."
As their wedding was so much smaller than planned, they saved a large chunk of their budget and plan to have another celebration at a later date.
For now, they have their honeymoon to look forward. They will be booking it when travel returns to normal, but are currently choosing between Sri Lanka and Tanzania.
"Tanzania because we've always wanted to do a safari. Sri Lanka because some very good friends of ours went to Sri Lanka and the Maldives for their honeymoon and loved it," Roisin said.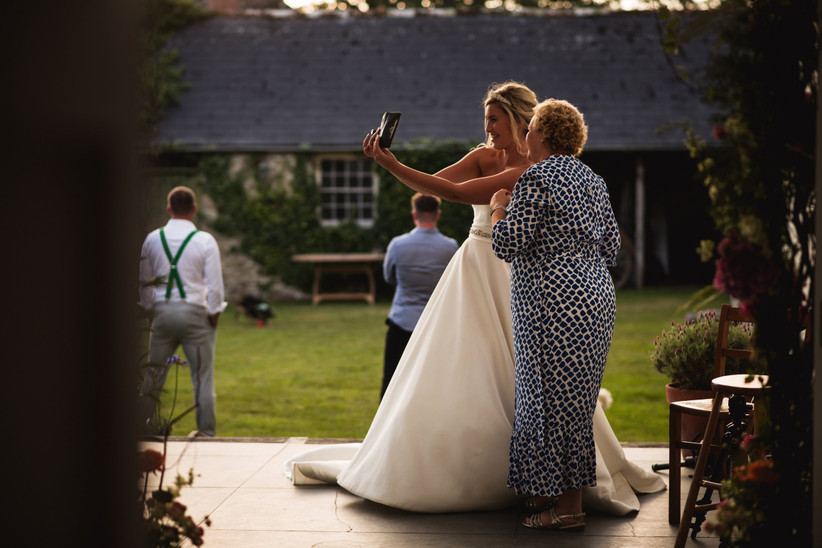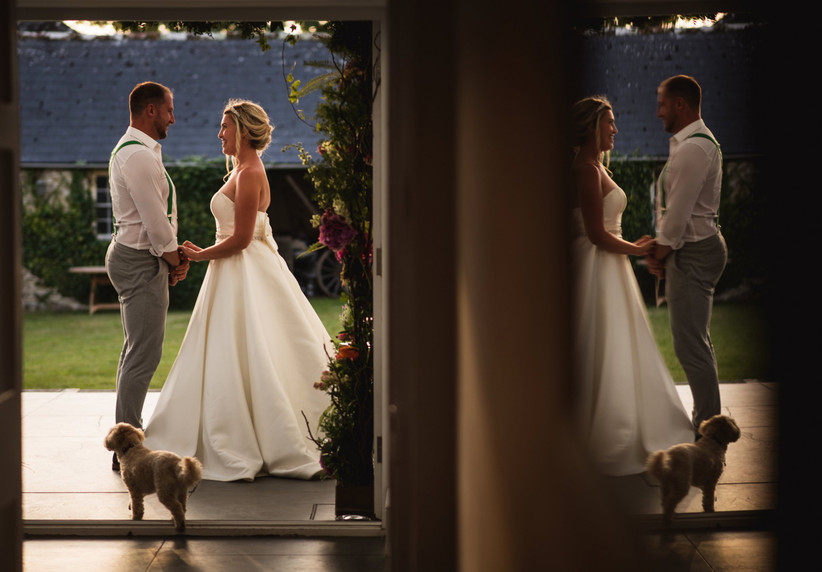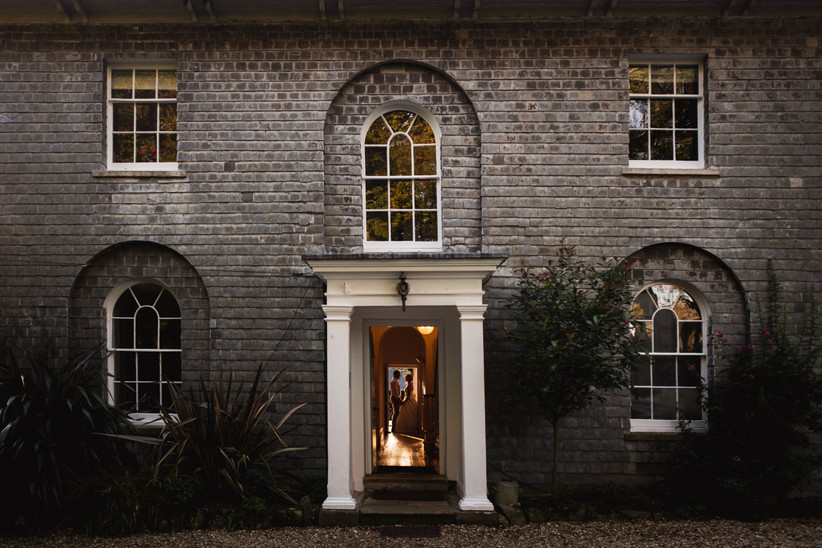 The Suppliers
Venue: Treseren
Photographer: Robin Goodlad Photography
Videographer: Ben Radley Films
Wedding Dress: Anna Sorrano from WED2B
Groomswear: Huge Boss
Hairstylist: Hair by Emma C
Makeup Artist: Penny Pascoe Makeup Artist
Band: Scenic Route Music
Cake: The Cornish Cakery
Catering: Chef In My Home
Florists: Jo's Flower Workshop (bouquets, buttonholes, flowers for the arch) and Brookside Flower Farm (arch and table décor)
Bespoke Engagement Rings: Cool Joolz
Wedding Favours: Mademoiselle Macaron
Stationery: STN Stationery, Puffin Company, Glowing Deco, Vellamaes, and CraftyCoveGB
Confetti: Dollz Confetti
Thanks to Roisin and Adam for sharing their beautiful, intimate wedding with us!