Real Covid Wedding: Nirosha and Dafydd, Temple Church and Middle Temple Gardens, London
Instead of a destination wedding with hundreds of guests, Nirosha and Dafydd had an intimate London ceremony and a picnic reception. While it may have been on a smaller scale, their rearranged wedding was still full of gorgeous personal touches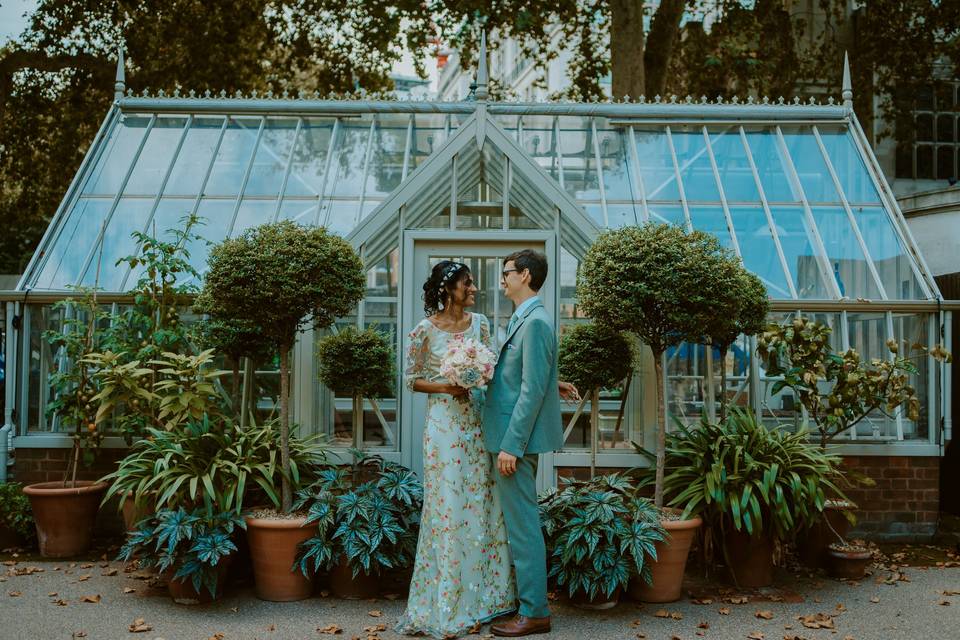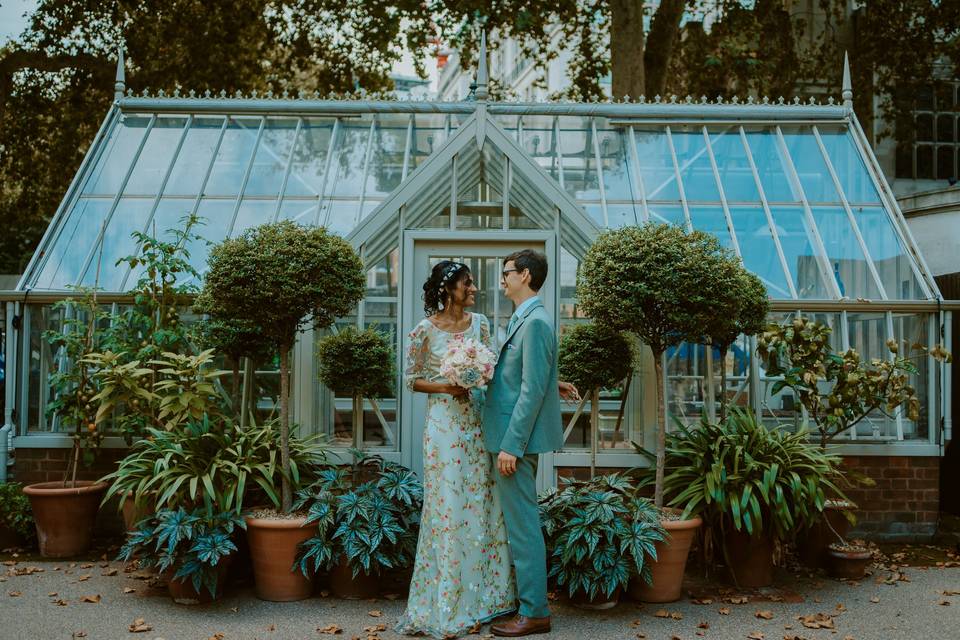 It took Dafydd three attempts to propose to Nirosha.
His first try involved a trip to Brighton. "I like collecting a shell or rock from every beach that I visit," says Nirosha. "Dafydd later told me he had a plan to pull the ring out when we were beachcombing and ask, 'What about this rock?'" Unfortunately, unaware of what he had planned, Nirosha invited his mother along.
Dafydd called off his second attempt - a picturesque walk on holiday in the Lake District - after a freezing cold Nirosha was distracted by some angry swans.
It was third time lucky later in the holiday, when he went down on one knee in a secluded, idyllic spot.
"Afterwards, I asked him why I didn't get a cheesy romantic approach like the first attempted proposal," says Nirosha. "He said, 'To be honest, at that point, I was just trying to get the question out before something else went wrong!'
"It was perfect though – Daf with mountains to one side, lake to the other, sun shining on us in the sheltered spot and no people (I hate PDAs).
"Being Hindu, we believe a lot in the power of the elements. My mum was very happy when I shared the following – wind, earth, and water – only element missing was fire – 'very auspicious'."
The couple began planning wedding celebrations that reflected both their heritages: a trip to Sri Lanka, including a welcome barbecue on the beach, a Hindu ceremony, a village wedding and an activity-packed tour of the island with their loved ones; and then a Christian blessing in the UK.
Sadly, it was an all-too-familiar story: the Cornavirus pandemic forced them to postpone those plans.
Photography: KEM Radford Photography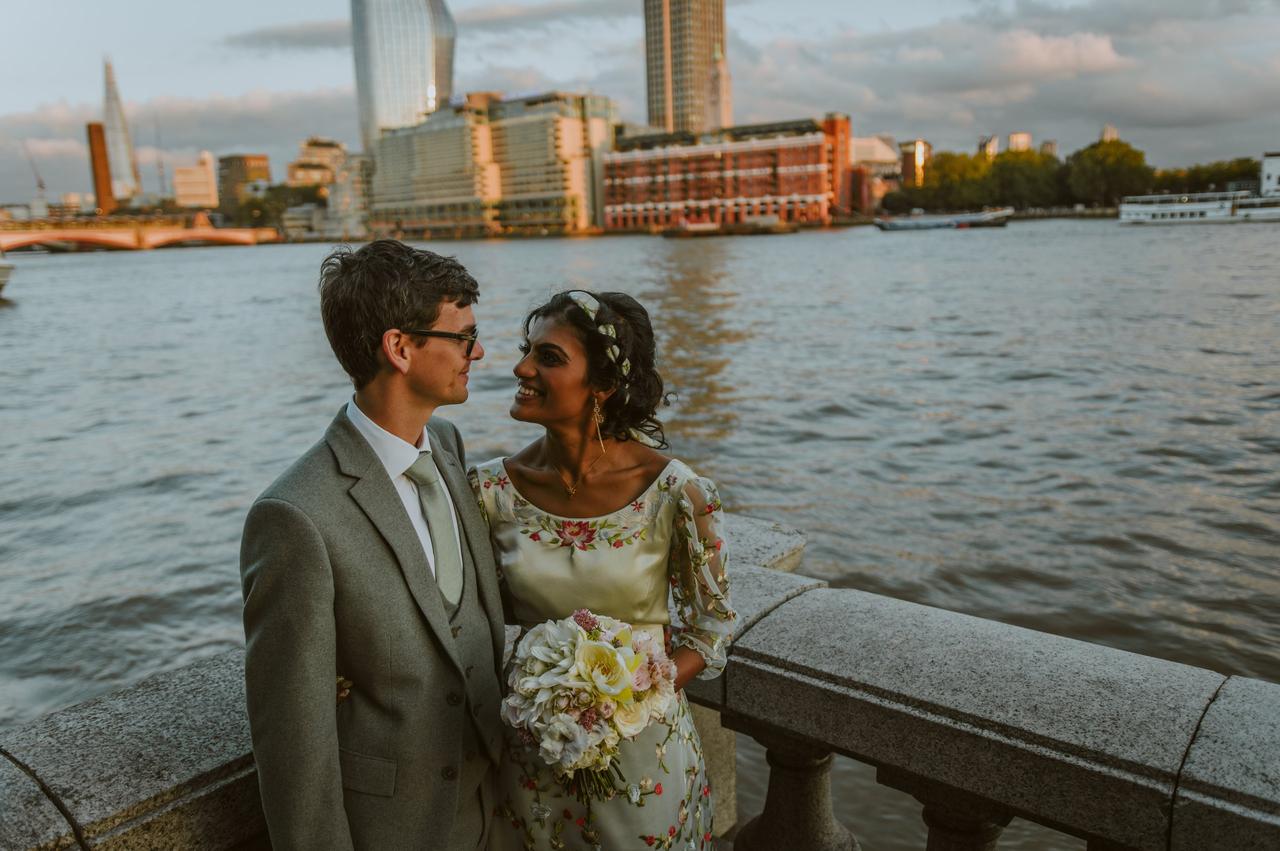 With help from their loved ones, Nirosha and Dafydd put together a wedding that may not have been the celebration they originally wanted, but that was still incredibly special in its own right.
"What we really embraced for the new wedding was the importance of family, and leaning on friends and family for support," says Nirosha. "Everybody's hobbies and hidden talents came to forefront."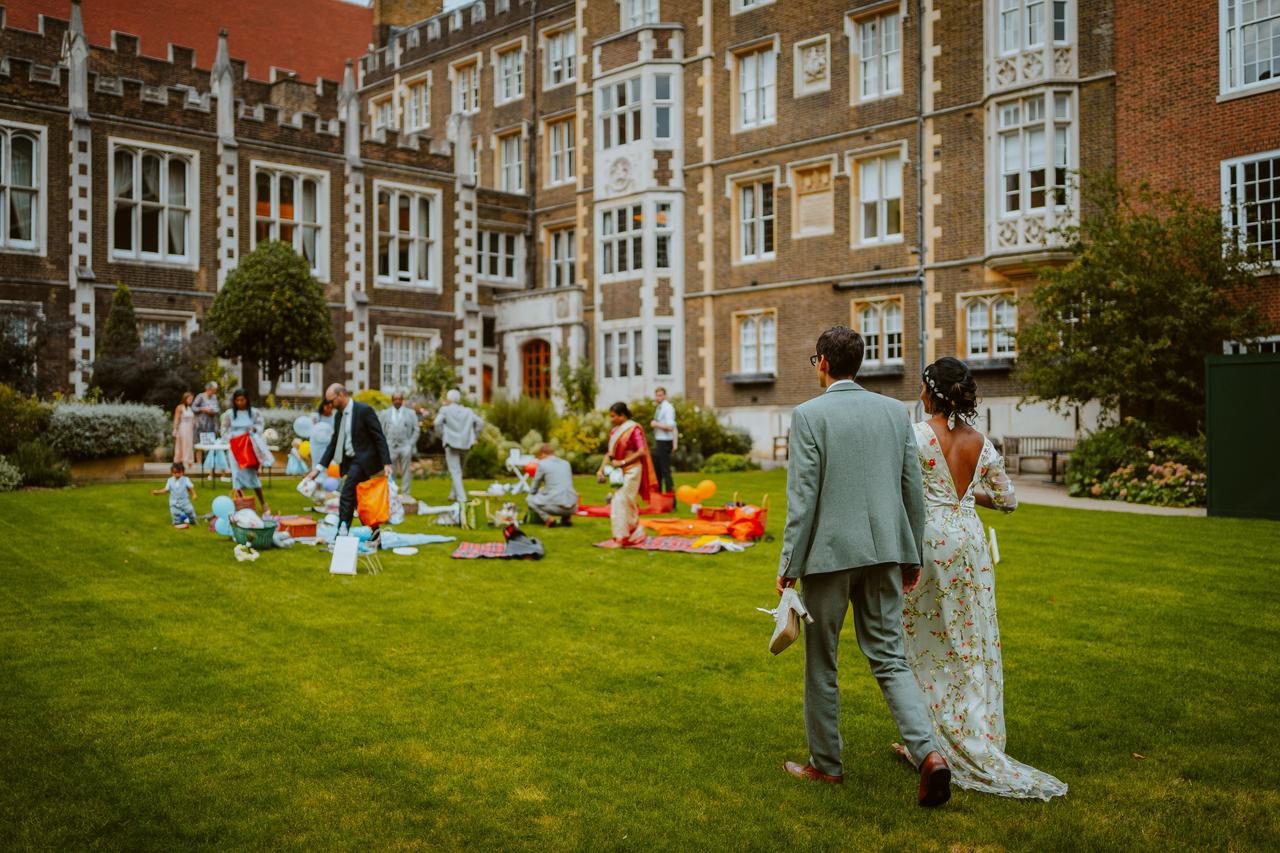 The Change of Plans
"The Hindu celebrations were going to be a two-and-a-half week celebration in Sri Lanka with hundreds of guests from all over the globe and a minimoon around the island with friends and family," explains Nirosha.
"The idea was to allow the wedding to be opportunity for friends and family to experience an all over 'taste of Sri Lanka'."
When the Coronavirus pandemic hit, the couple realised they might have to adjust their expectations.
"Trying to keep calm and pivot, we decided to run parallel plans," says Nirosha. "We kept our Sri Lanka plans running as a 'ideal world' Plan A but started creating alternative parallel plans as well.
"As Sri Lanka was increasingly looking unlikely, we amplified efforts in June to figure out the bare minimum we would be happy with, to try and move up the Christian blessing and convert it into a full blown but laid back wedding - in three months, with just immediate family.
"By pulling together support from friends and family, and suppliers who went above and beyond, we were able to pull it off! We were incredibly lucky though as the rules changed again about a week after we got married."
The new plan? An intimate London wedding packed with personal touches.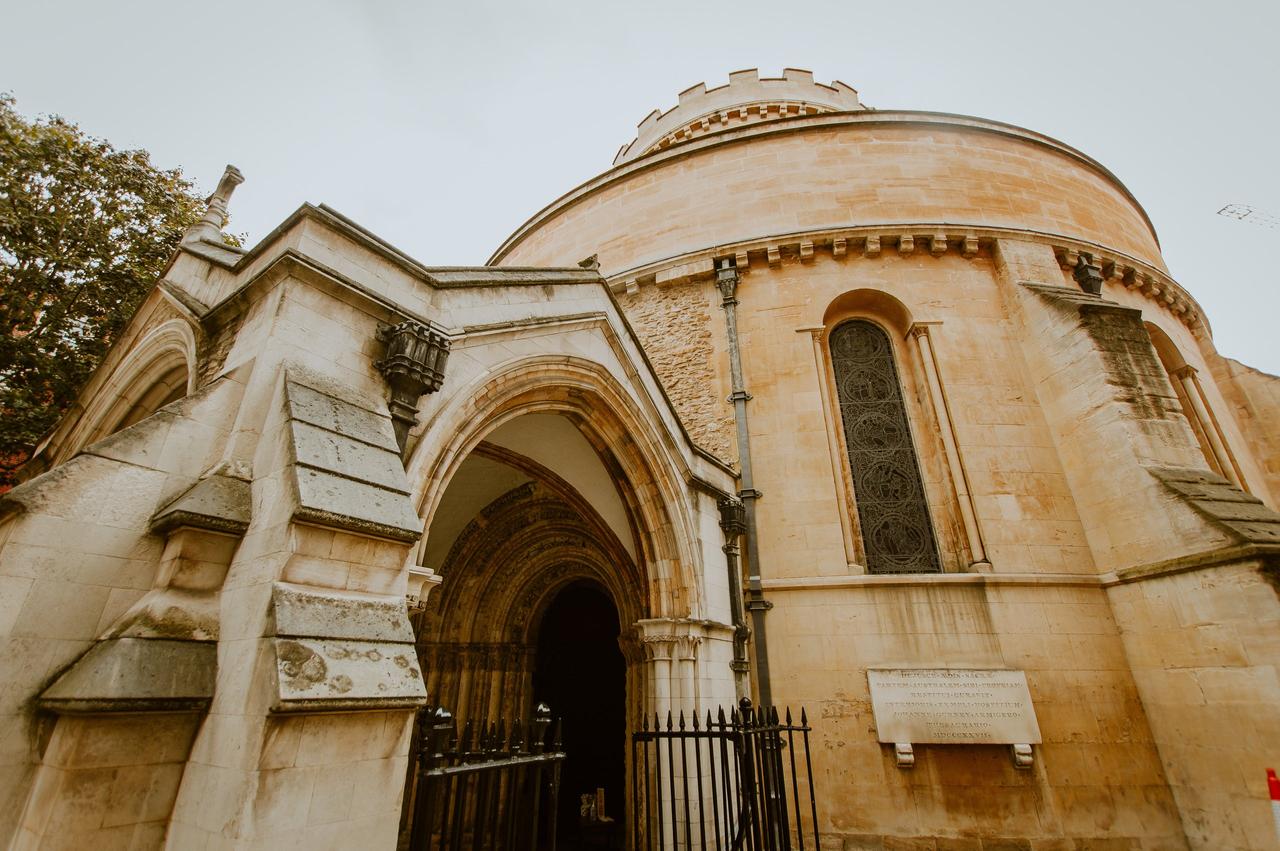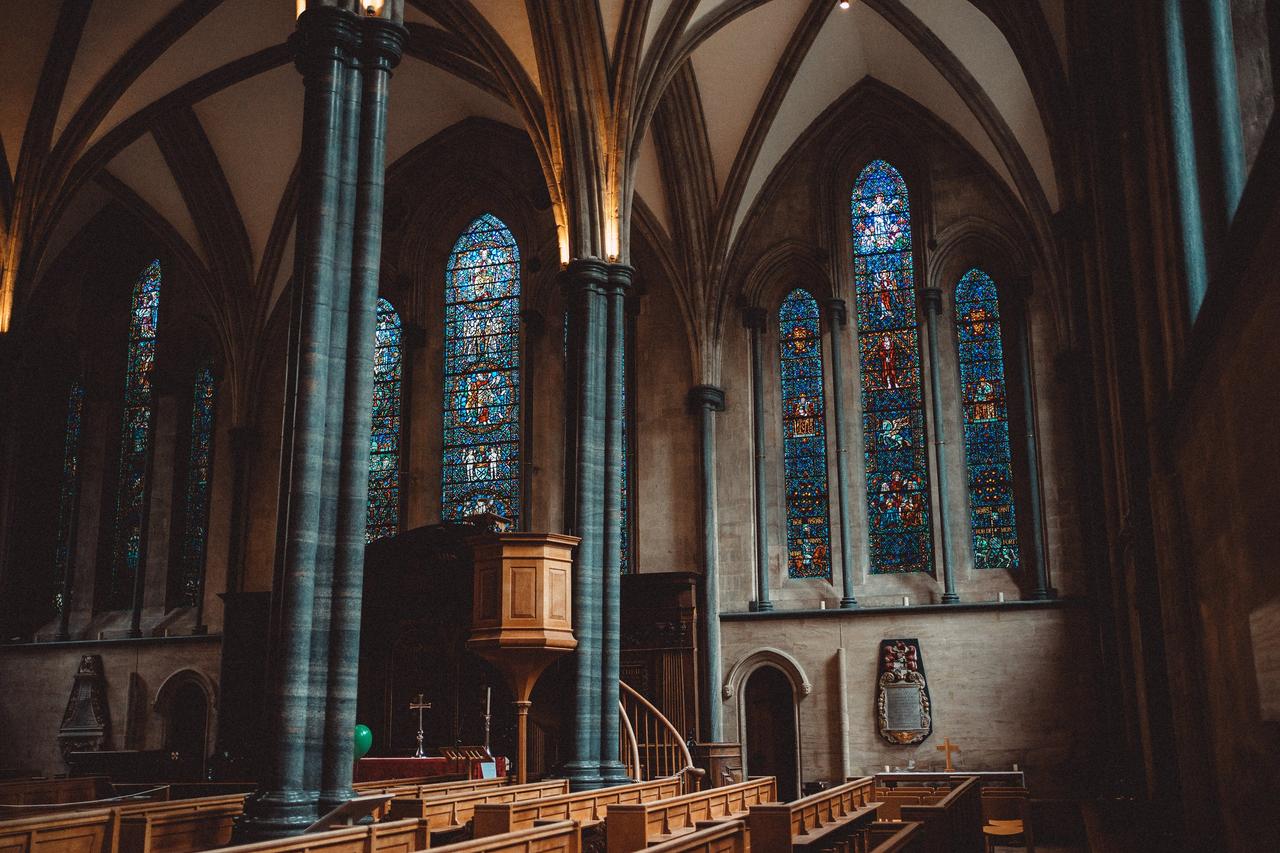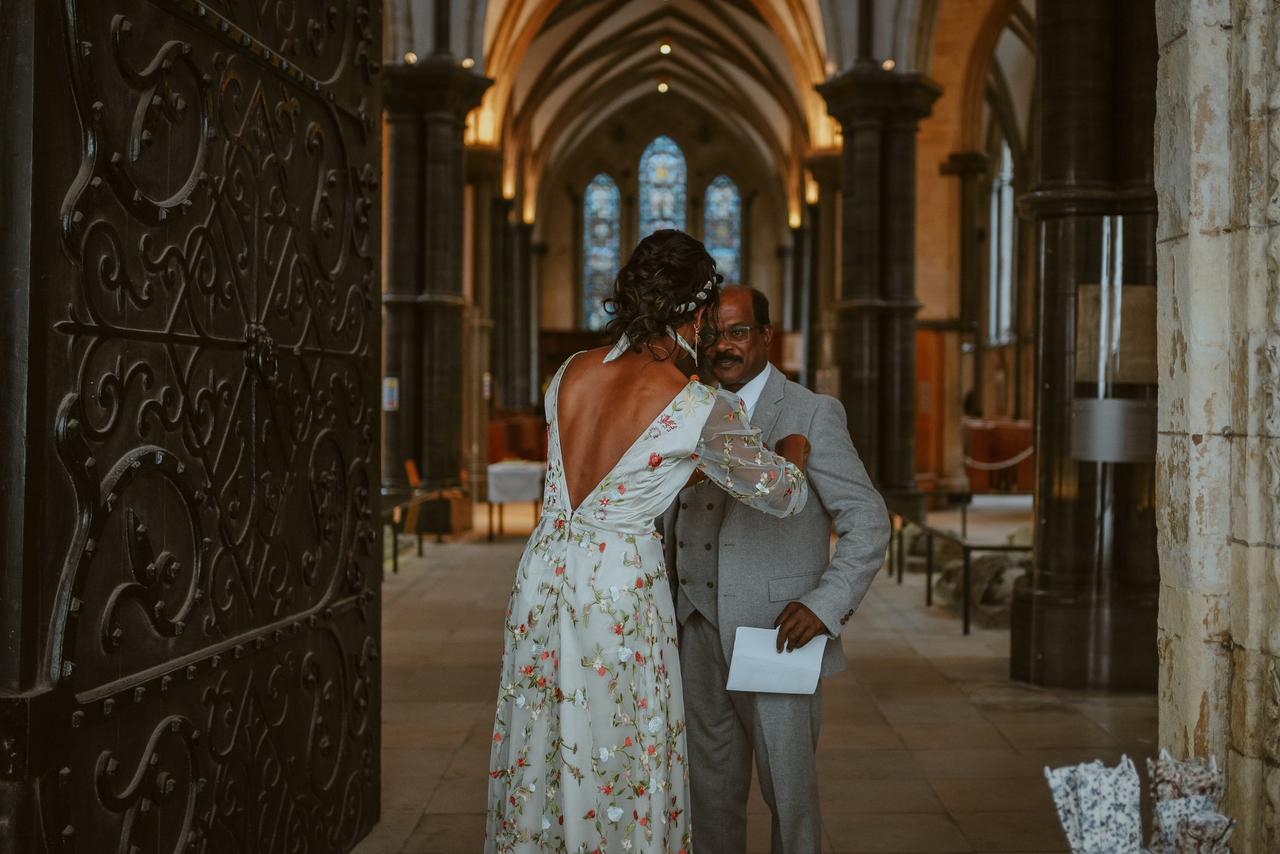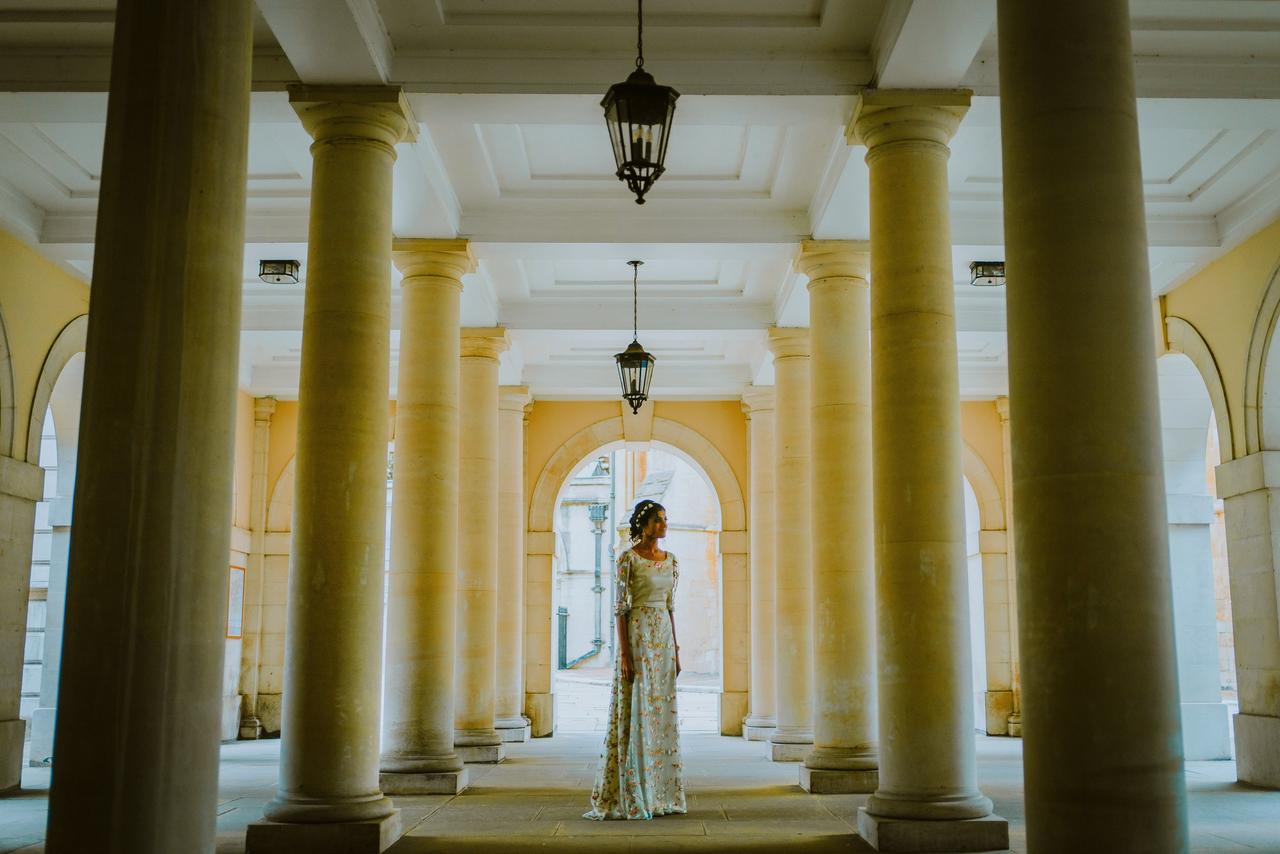 The Venue
From the outset, Dafydd and Nirosha were clear that they wanted the rethought wedding to reflect both of them - and that started with the venue, the Temple Church in the City of London.
"In order to be eligible to marry at The Temple Church you have to be a member of The Inner Temple or Middle Temple or have a different special form of connection," explains Nirosha,
"As a Middle Scholar and attorney, I brought the connection to the church, and Dafydd brought the connection to the Christian faith.
"The Temple Church truly reflected our values – the strength of tradition but the value of embracing progressiveness, modernity and cross-cultural interchanges."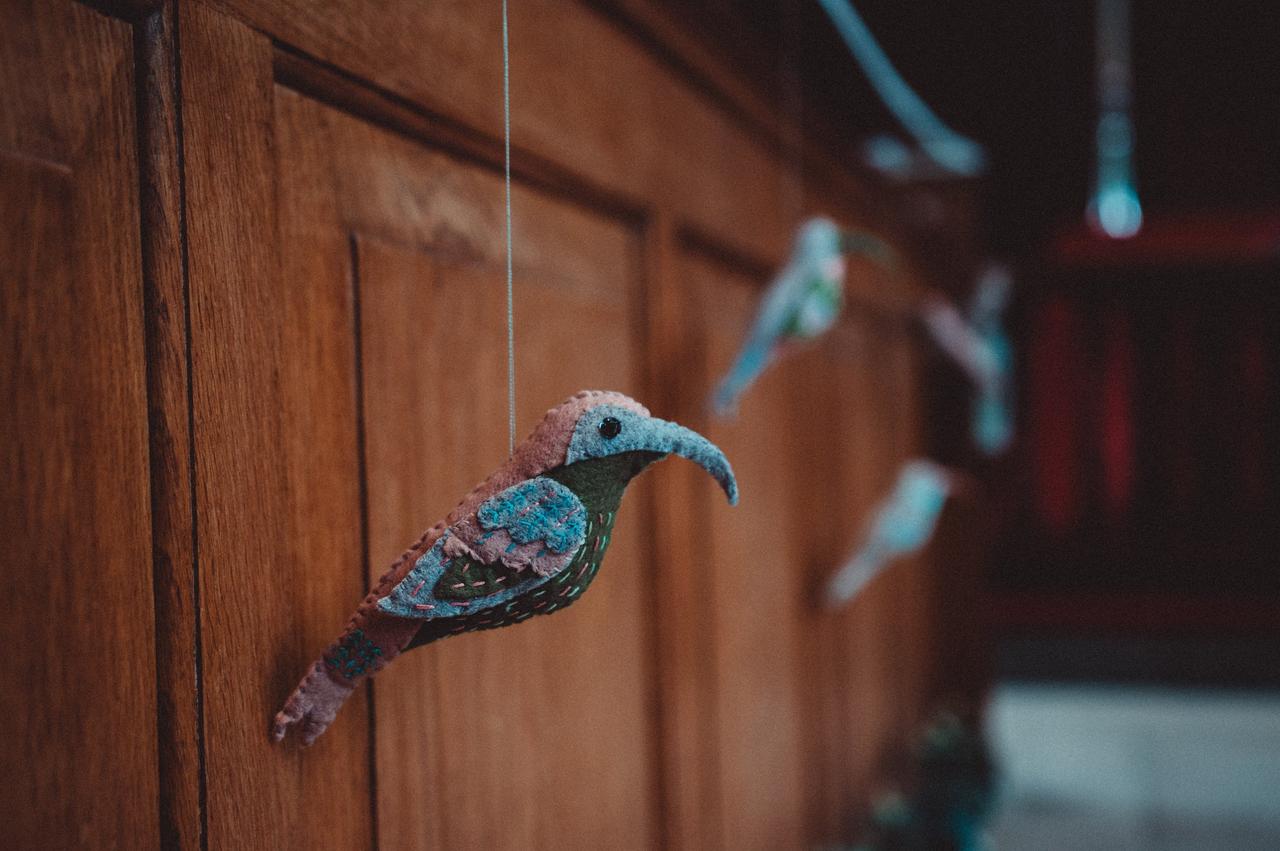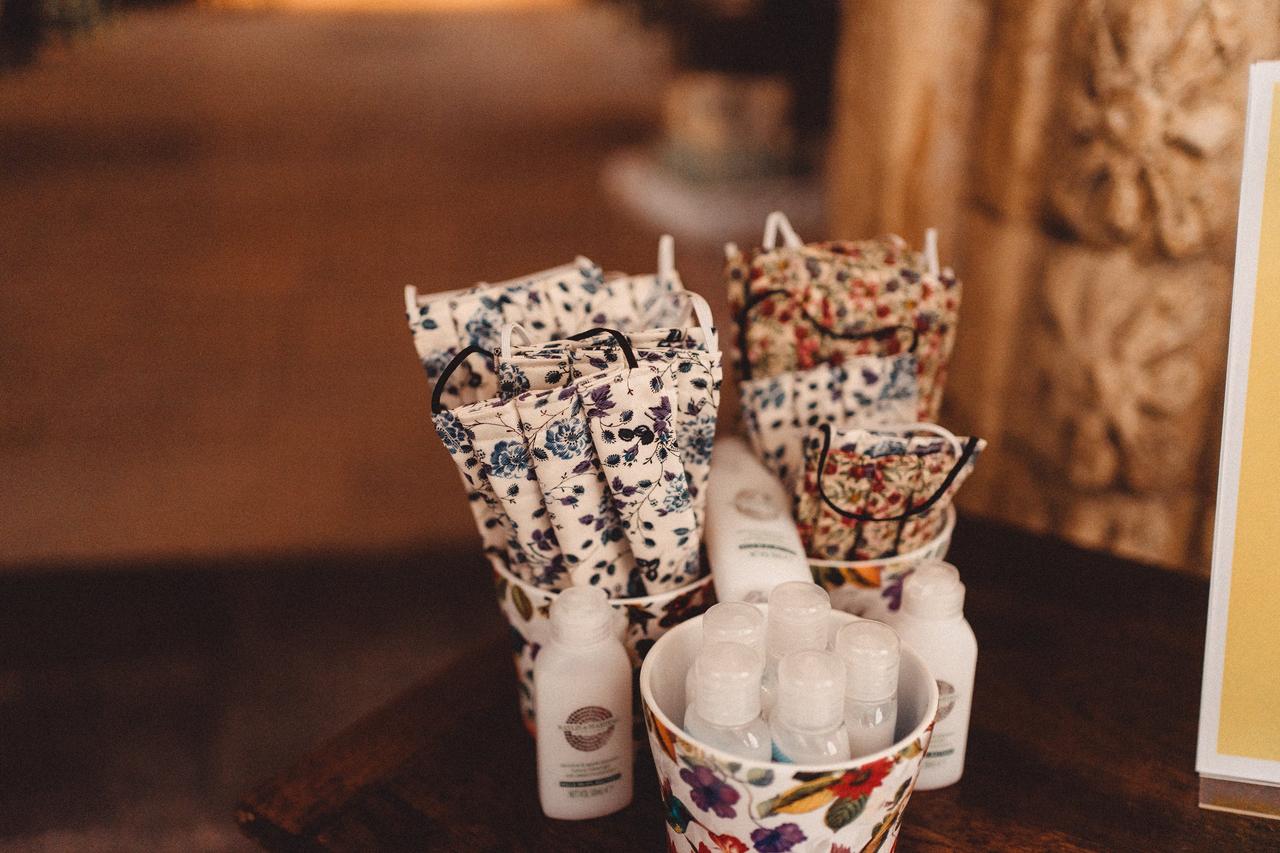 The Wedding Decorations
As the church was closed before the wedding due to restrictions, the couple had to decorate the venue themselves the day before, so they opted for non-perishable decorations, such as artificial flowers and greenery.
Dafydd loves birds, and that informed the décor, including hanging hummingbirds Nirosha had crafted with her friends.
The couple also have a love of photography, and hung photographs from the ends of the pews, in frames hand-painted by the bride's niece.
As a finishing touch, Dafydd created wooden blocks with 'welcome' written in Welsh and Tamil.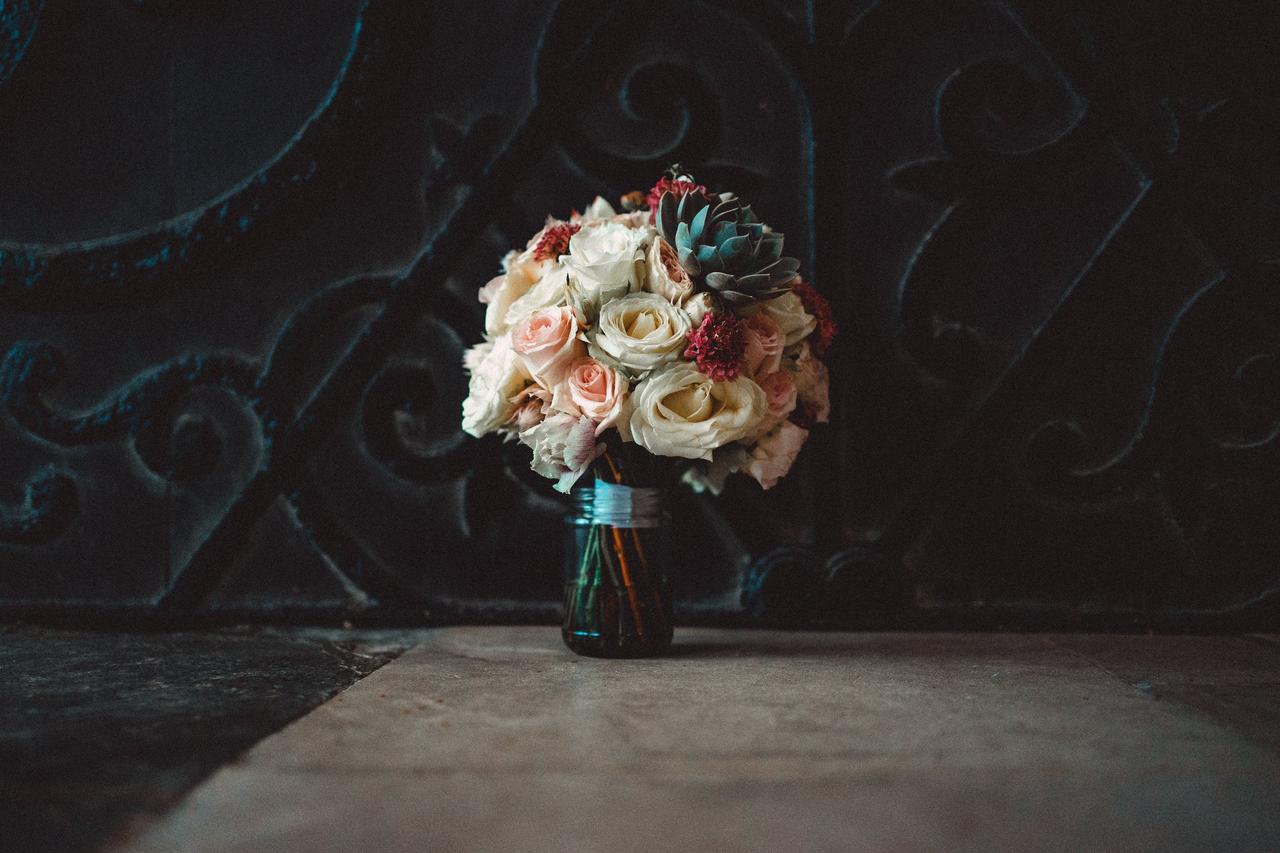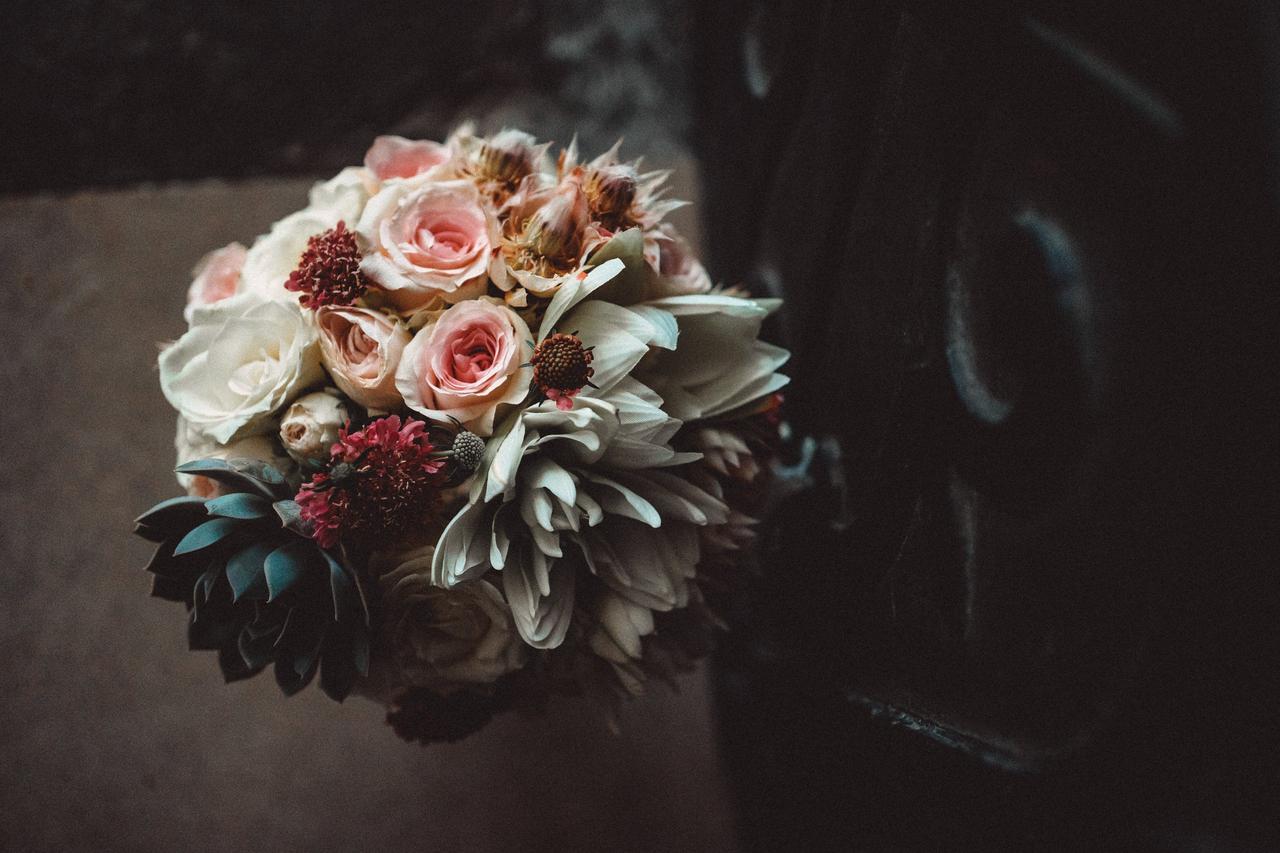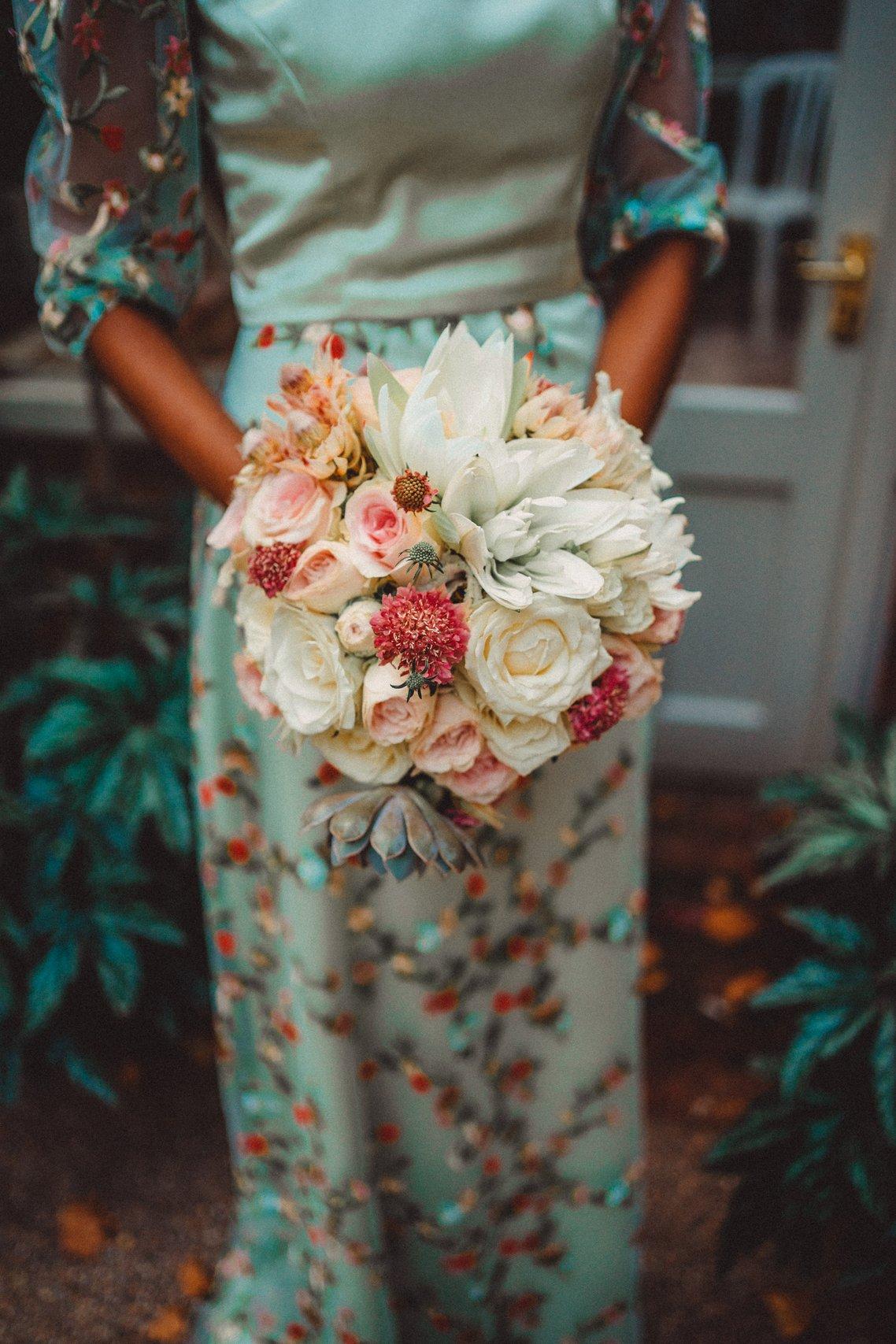 The Wedding Flowers
Even though the couple weren't having fresh flowers in the church, Nirosha decided to have a bridal bouquet - but it had to be carefully constructed because of her allergies. Florist Anne-Marie from Petal Power created a stunning arrangement of low-allergen varieties including a succulent, dendrobium orchids and roses.
"I wanted to include a lotus flower, which is traditionally symbolic in Sri Lanka," says Nirosha.
"Seasons were against us and Anne-Marie had been tasked this challenge very last minute (note to future couples – plan your flowers early if you can!) but she really stepped up to the plate.
"We elected to go for a fake flower for the lotus but all other flowers around it were real. It looked so real that my mum actually put it in a vase after the wedding until we told her!"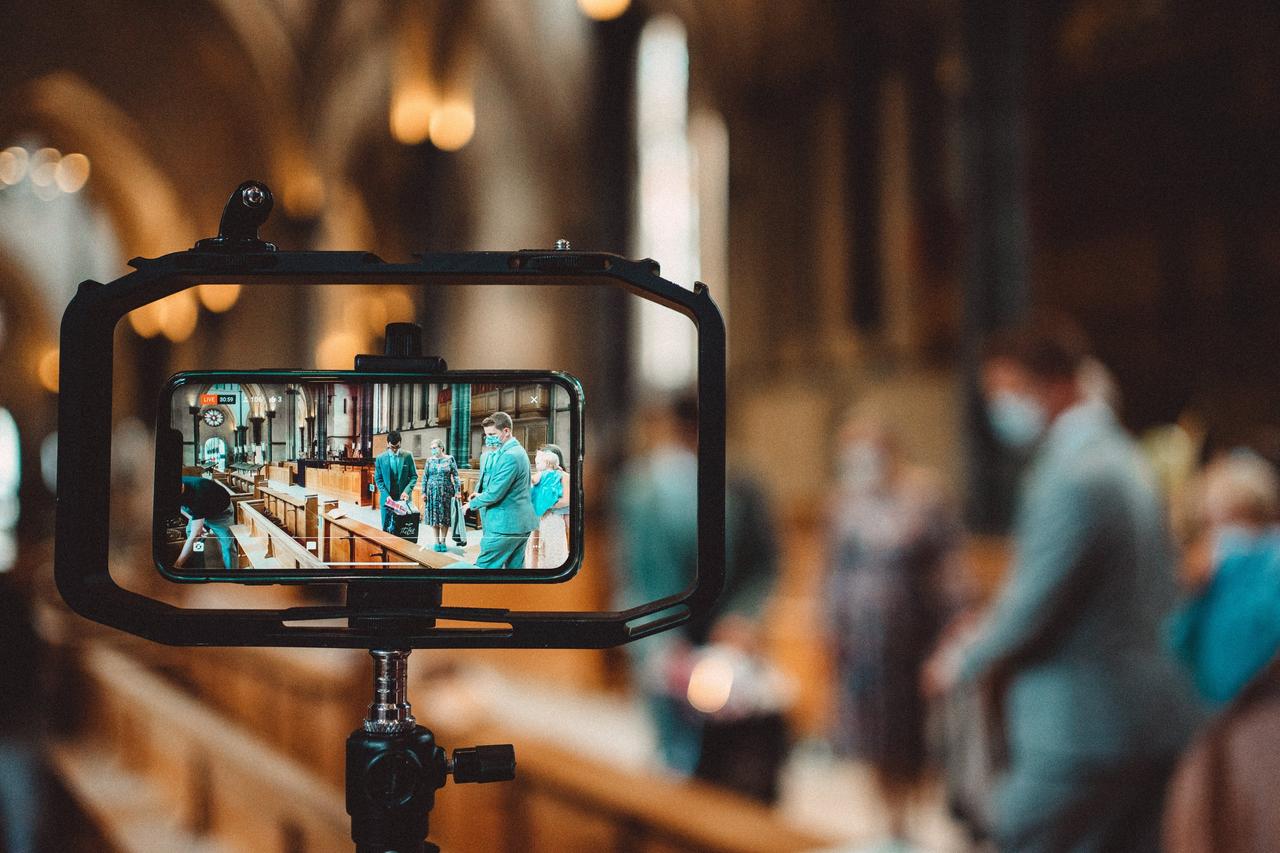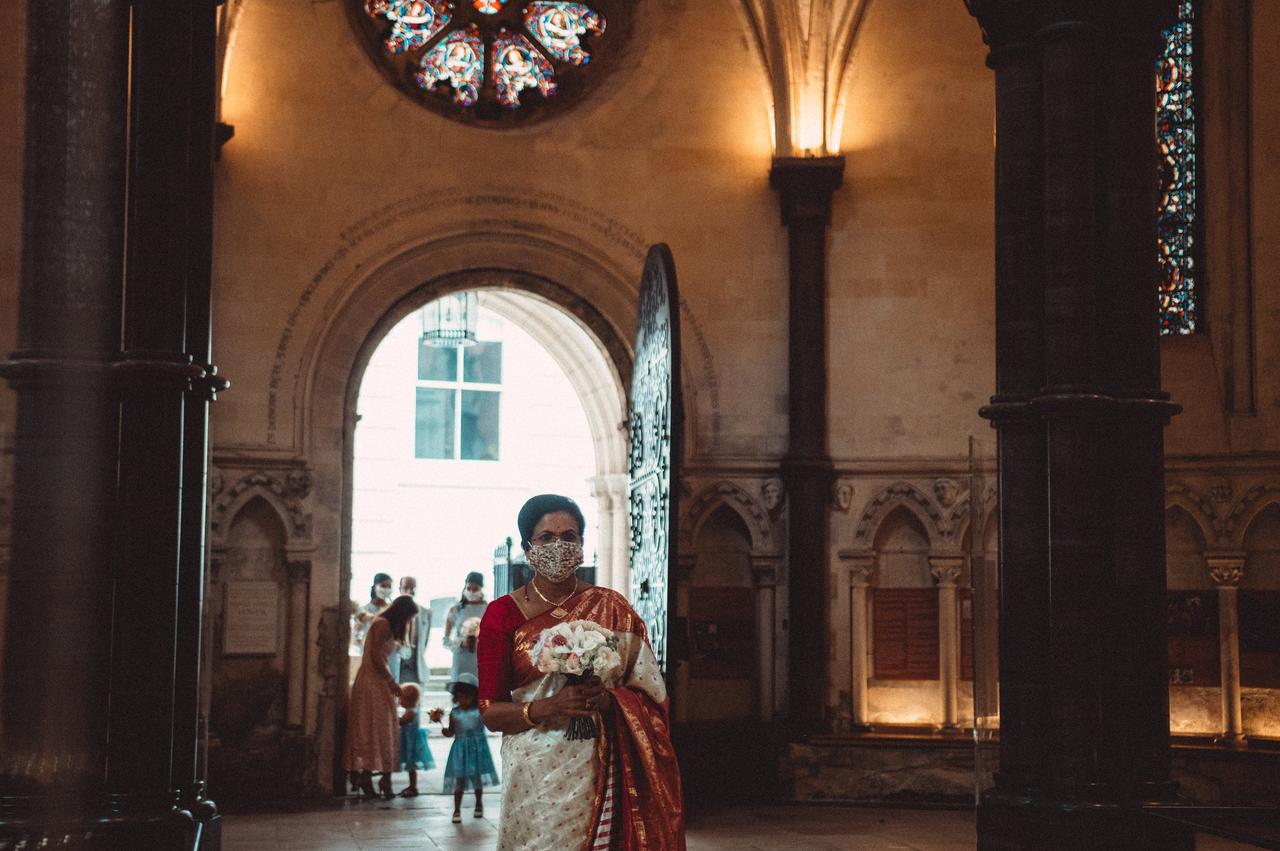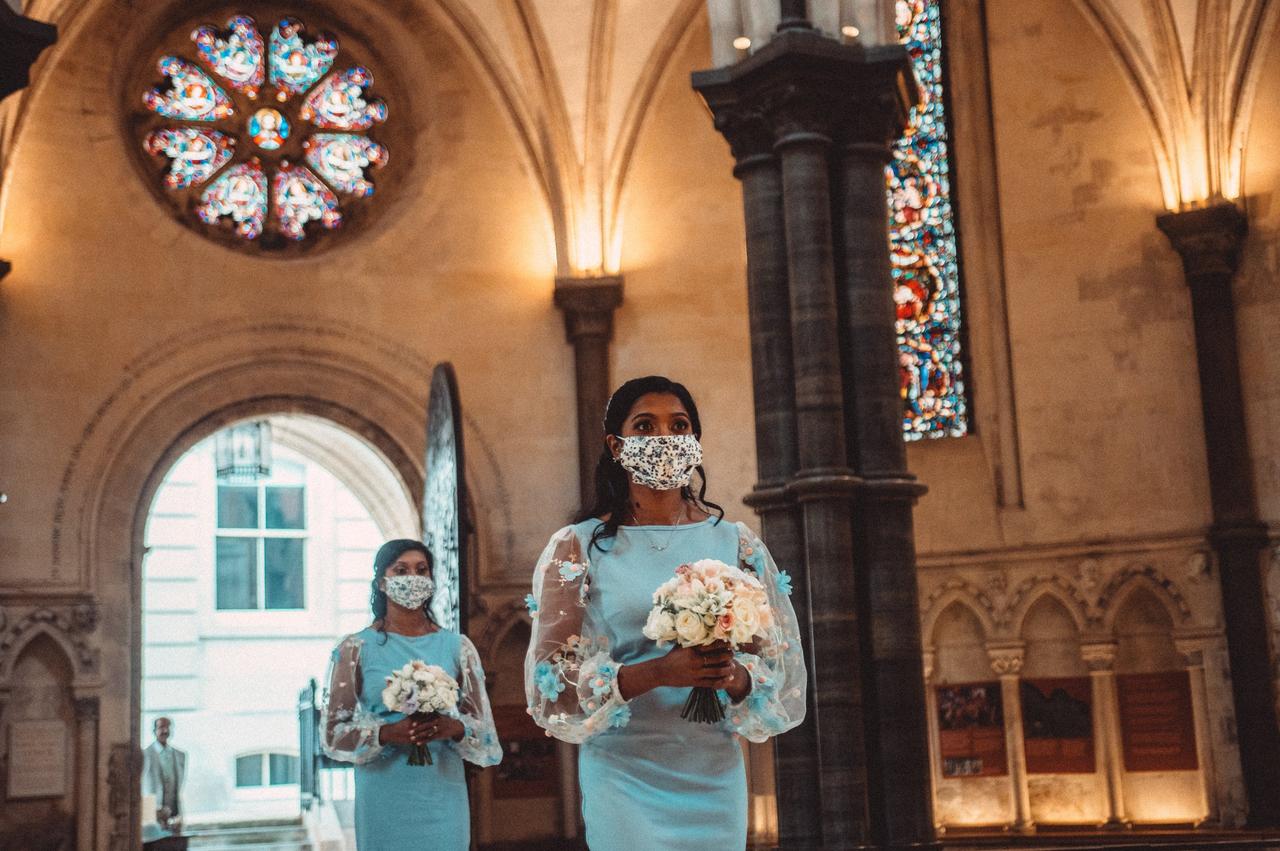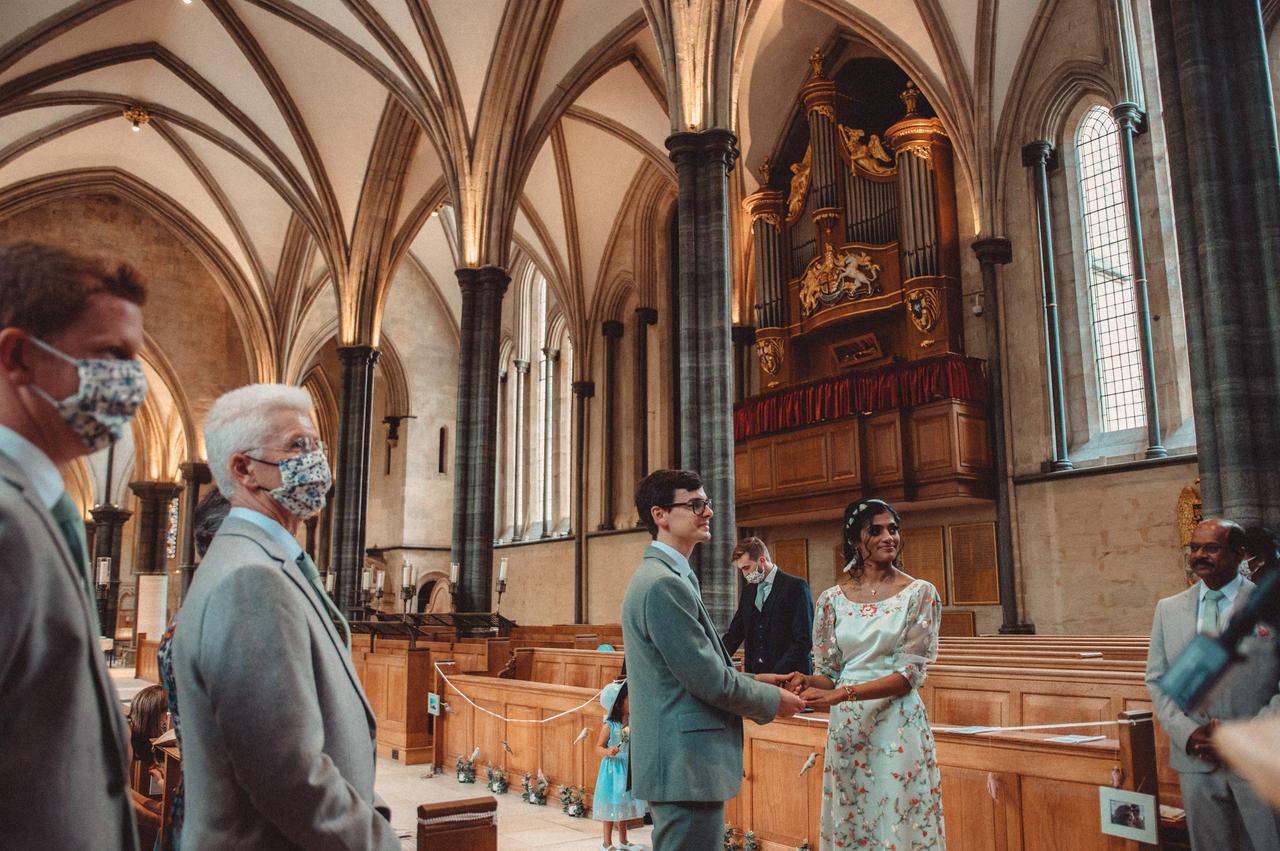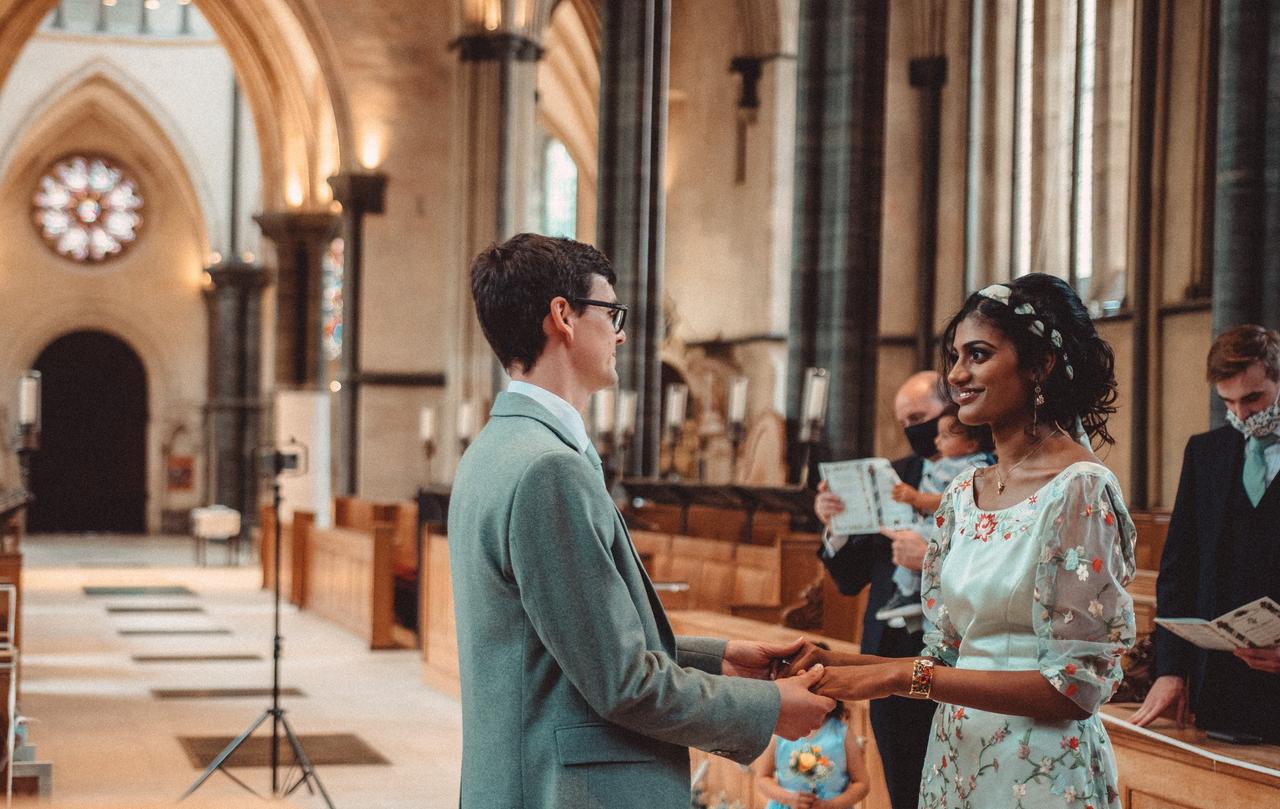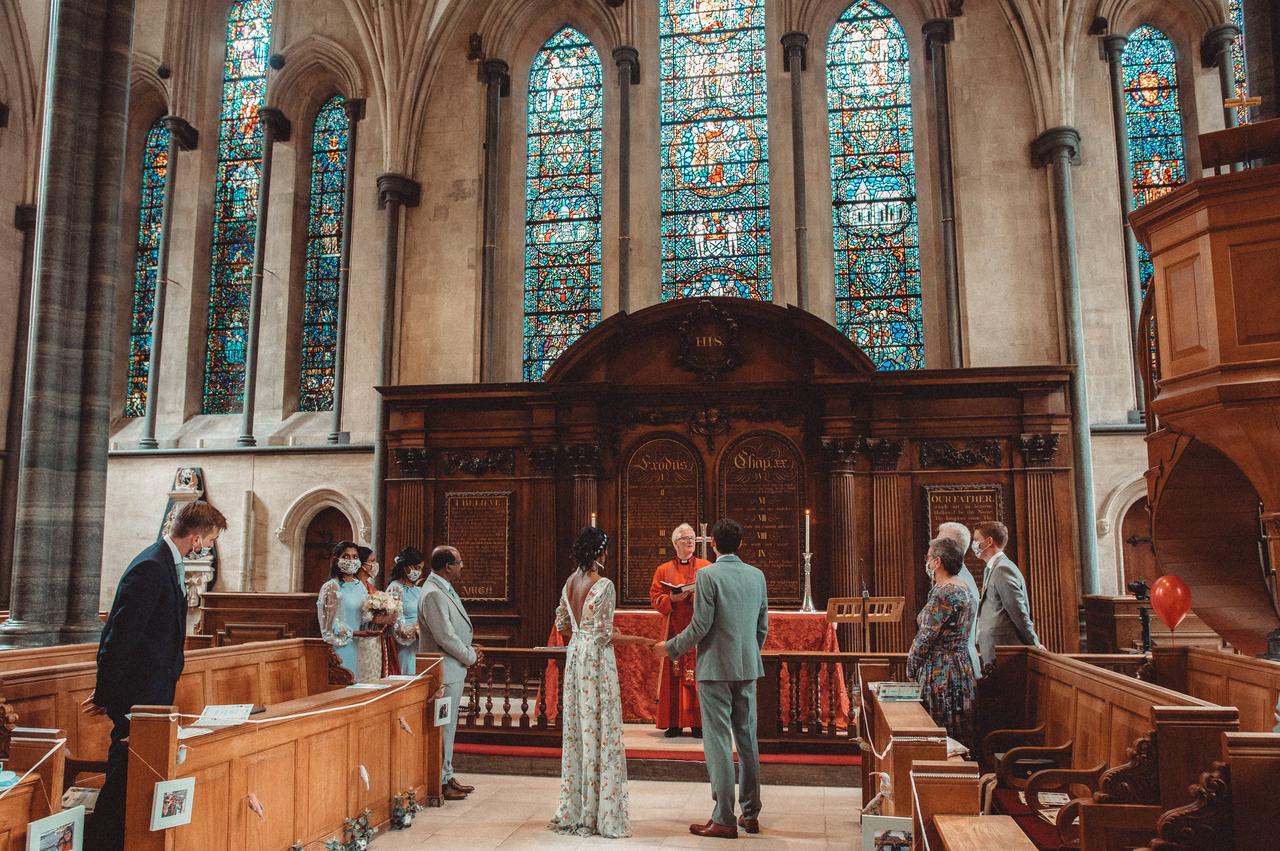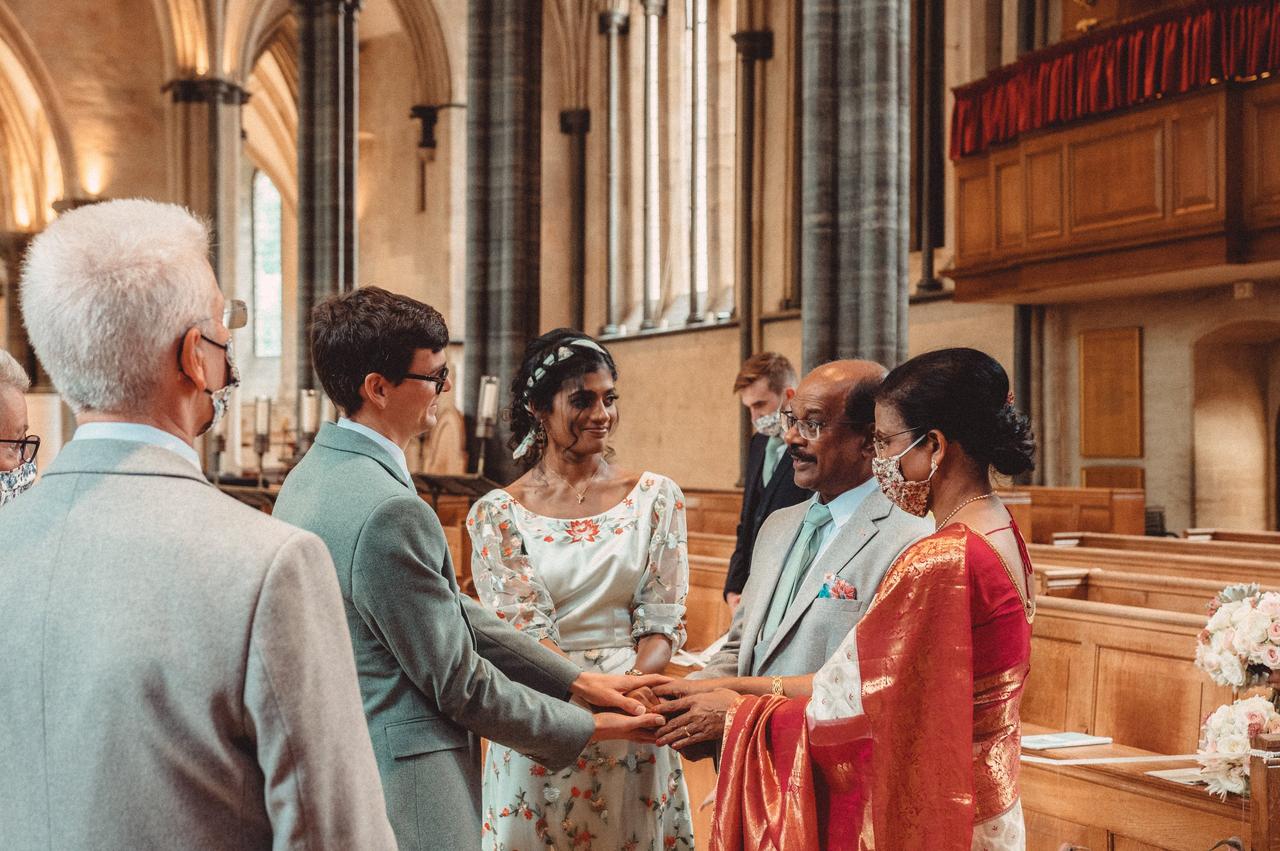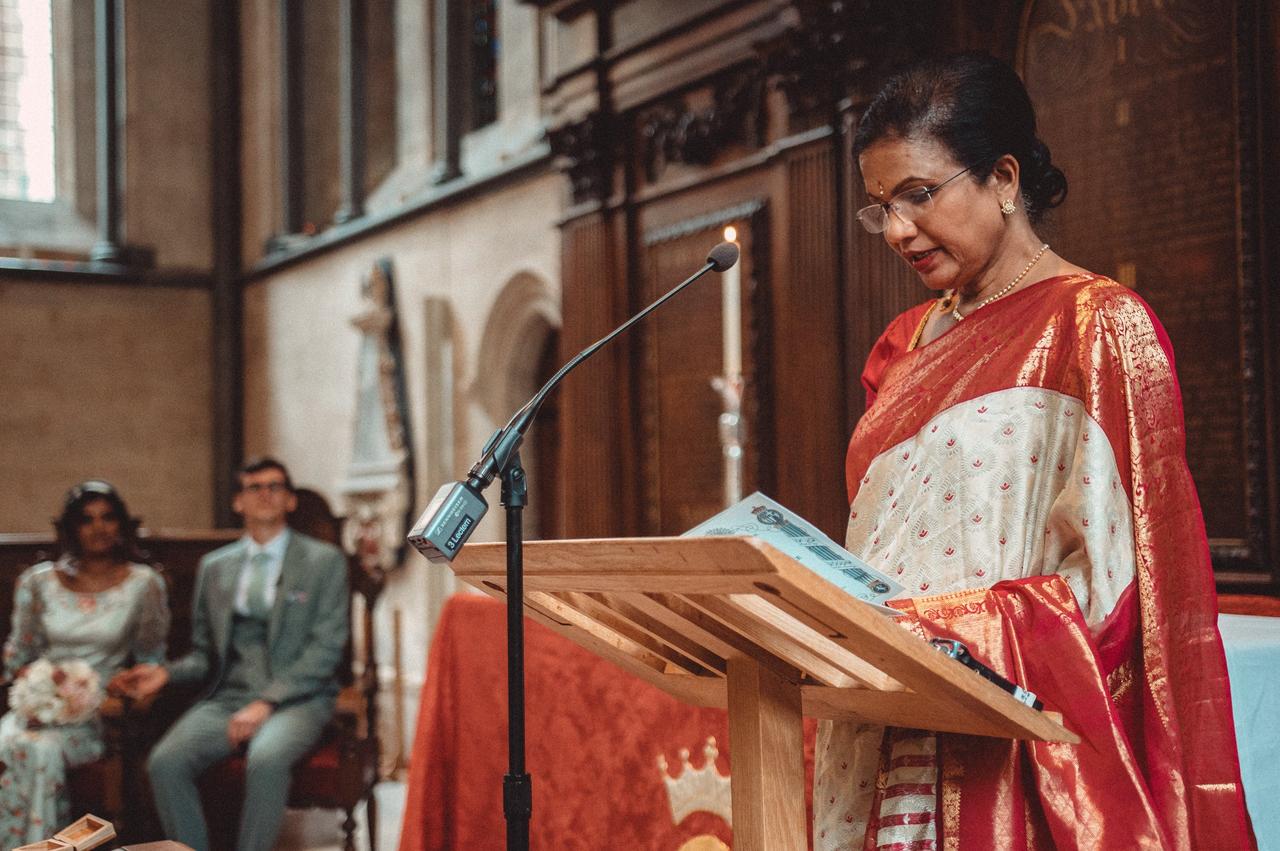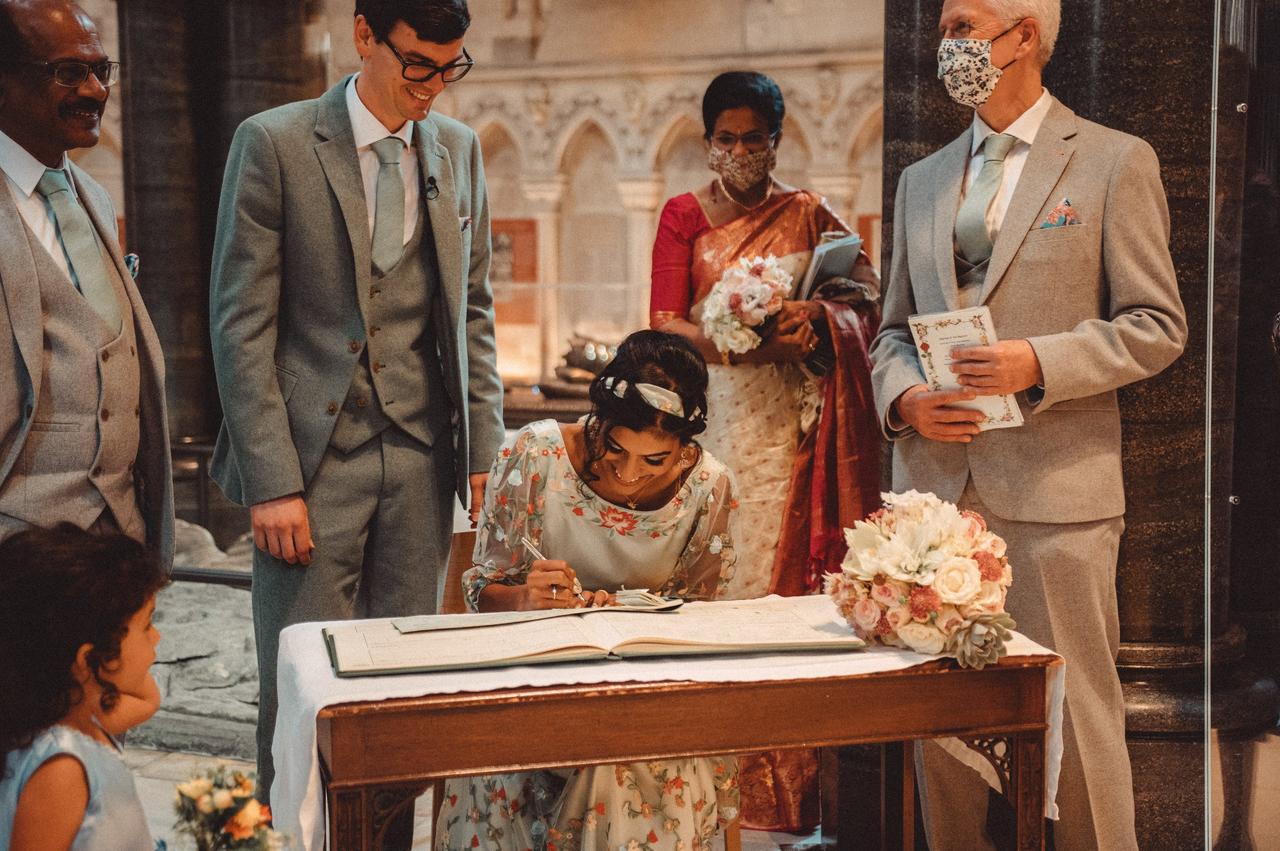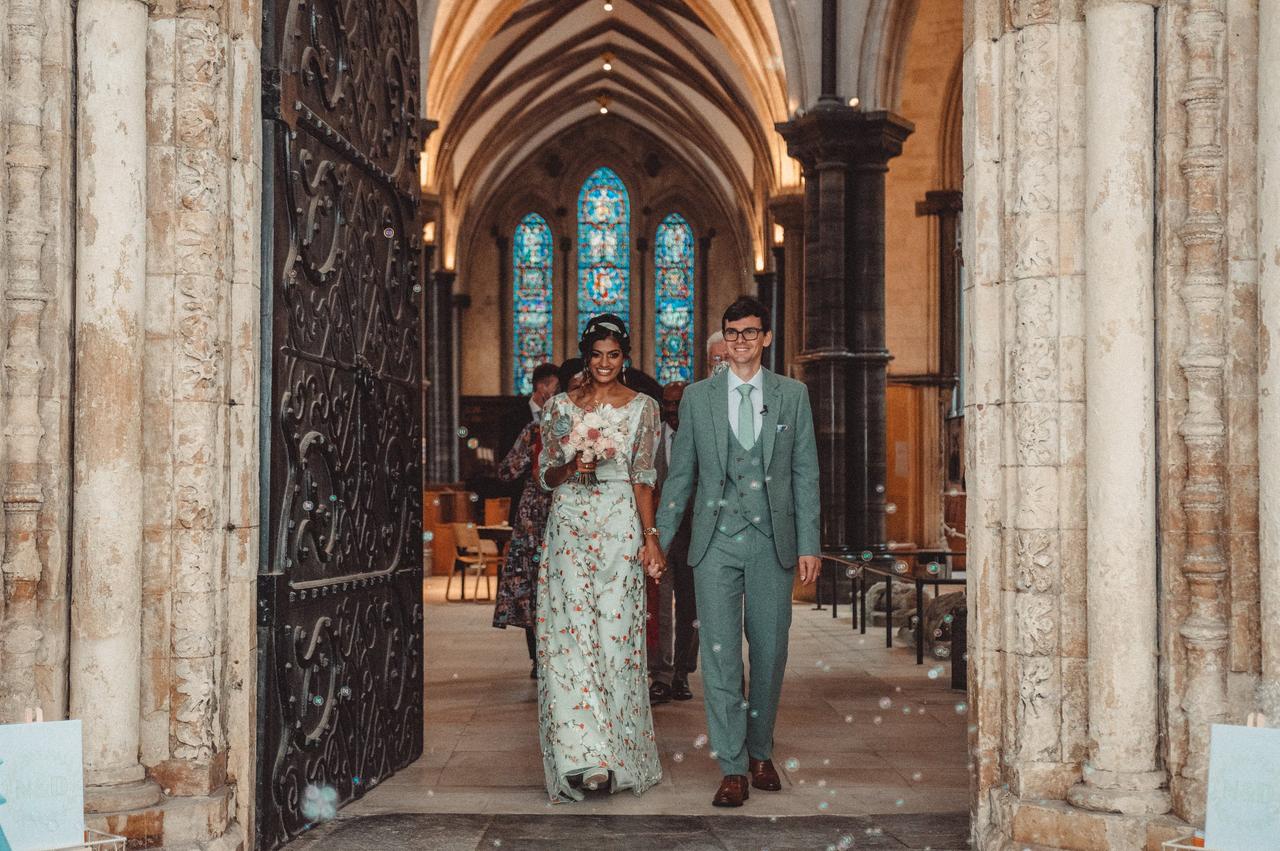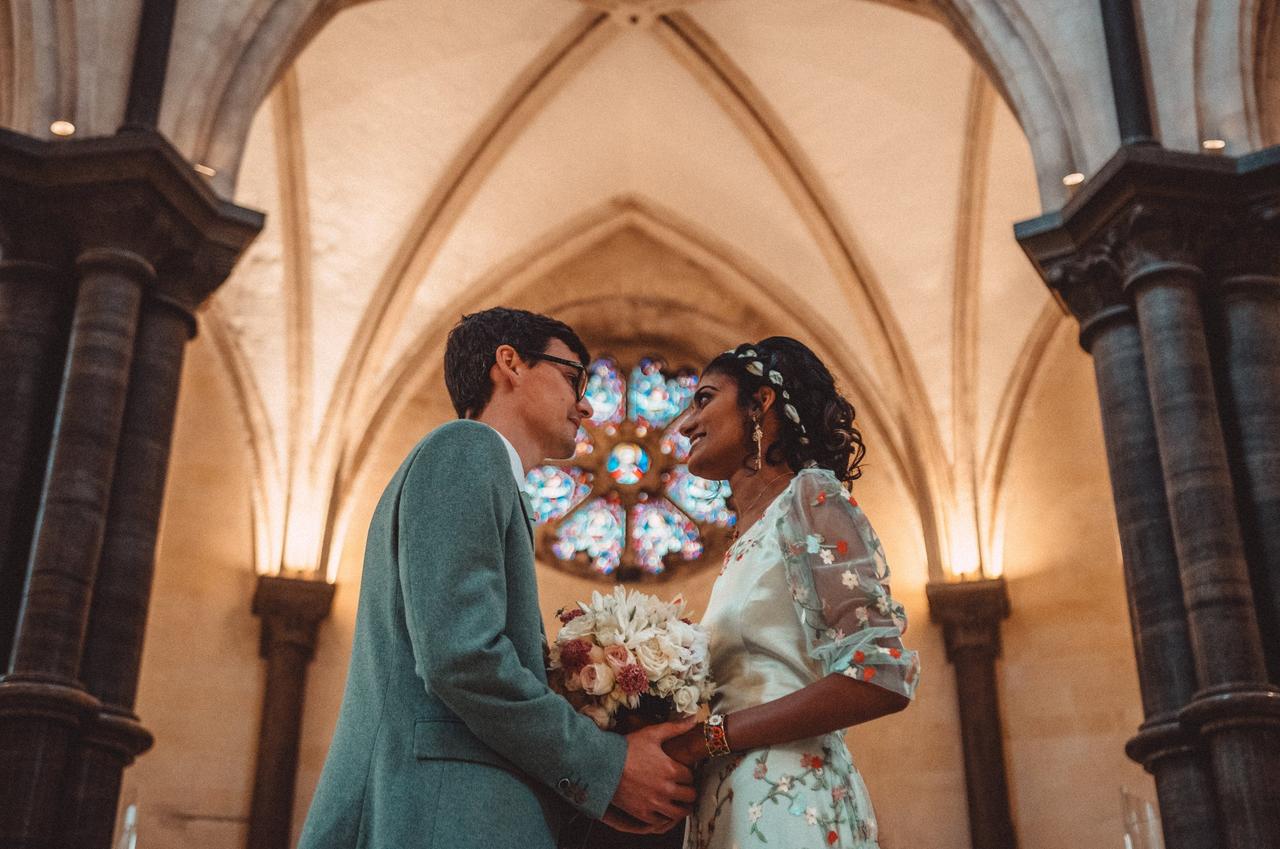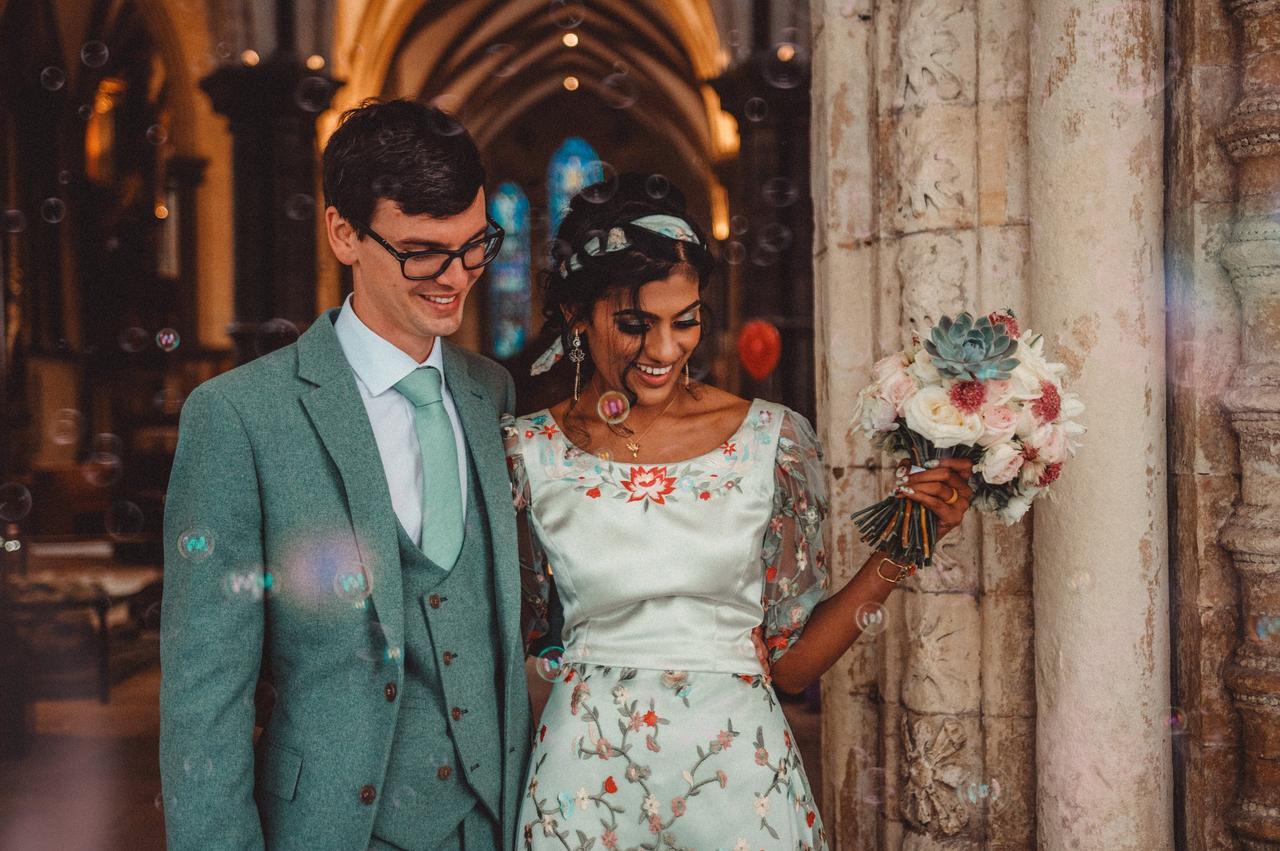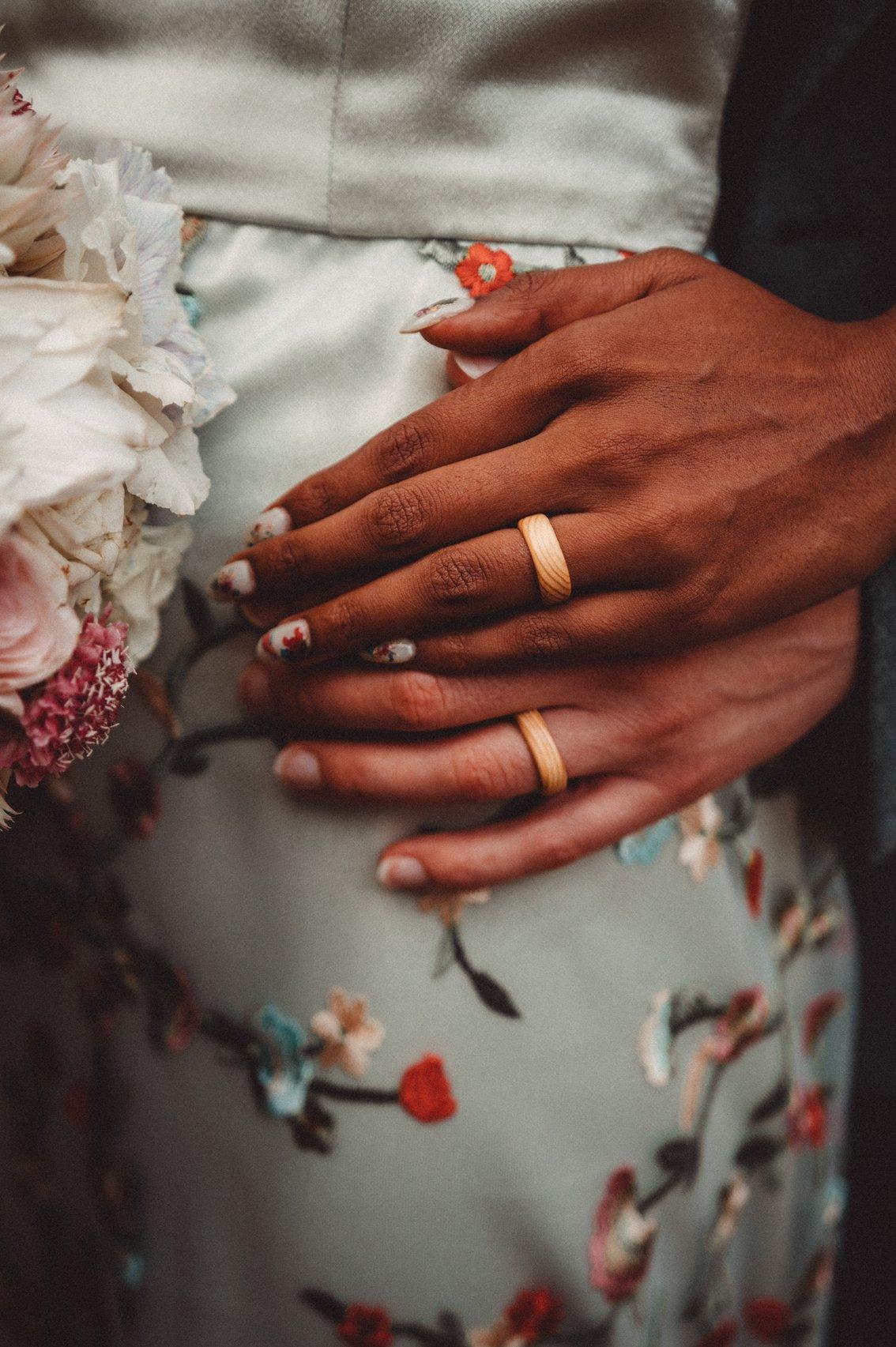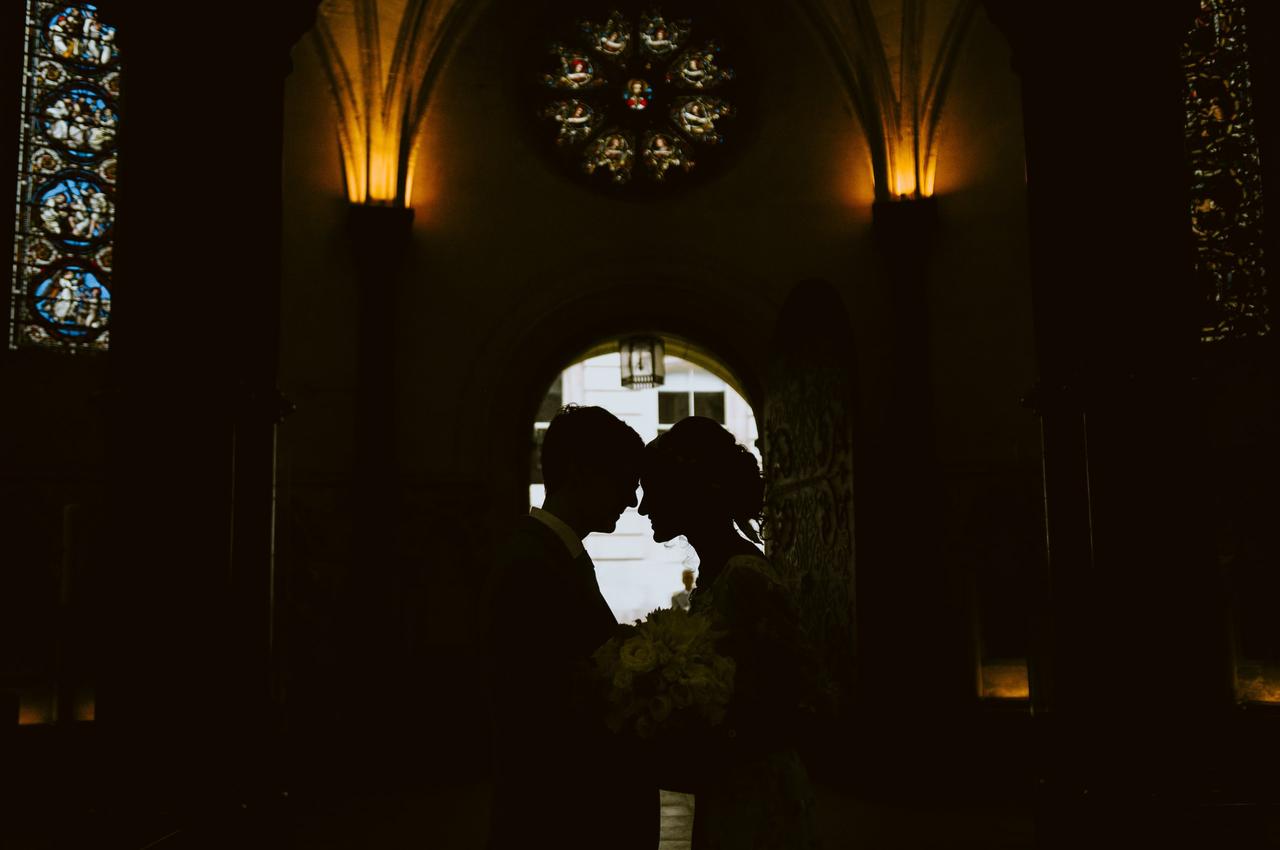 The Ceremony
"We really wanted to have a ceremony that recognised our different upbringings, culture and heritage, and Temple Church enthusiastically supported us in doing this," says Nirosha.
"Our wedding was a blend of Tamil music and poetry in the readings alongside Bible readings in English and Welsh hymns."
Dafydd's parents each did a bible reading, while Nirosha's parents did readings in Tamil.
"You don't typically do readings at Hindu weddings so this was a new concept for them," says Nirosha.
"Hindu ceremonies are filled with symbolism so we tried to select symbolic readings. Tamil is the oldest living language of the world, older than Sanskrit, and contains ancient texts that are falling out of memory.
"We wanted to take the opportunity to celebrate the beauty of expression within the language that has survived and allow my parents an opportunity to express themselves in the medium they grew up with."
Nirosha's mum read a short sonnet by renowned poet Kapilar, while her father read a 'Kural' on friendship from a famous classic Tamil language text.
"It was a lovely opportunity to explore my cultural history, with my parents, through language," says Nirosha.
Due to the restrictions, the couple were unable to have a church choir, as they had hoped, so music was played through the sound system, although the recessional music was performed on the church organ.
The couple had planned to exchange wedding rings they'd made themselves during a workshop. However, due to the pandemic, that plan was put on hold, and instead Dafydd created two beautiful temporary rings from Welsh wood.
In the end, having a smaller ceremony worked out rather well.
"Ironically, having fewer people present amid COVID-19 amplified the intimacy of these moments and made it feel all the more personal and special," says Nirosha.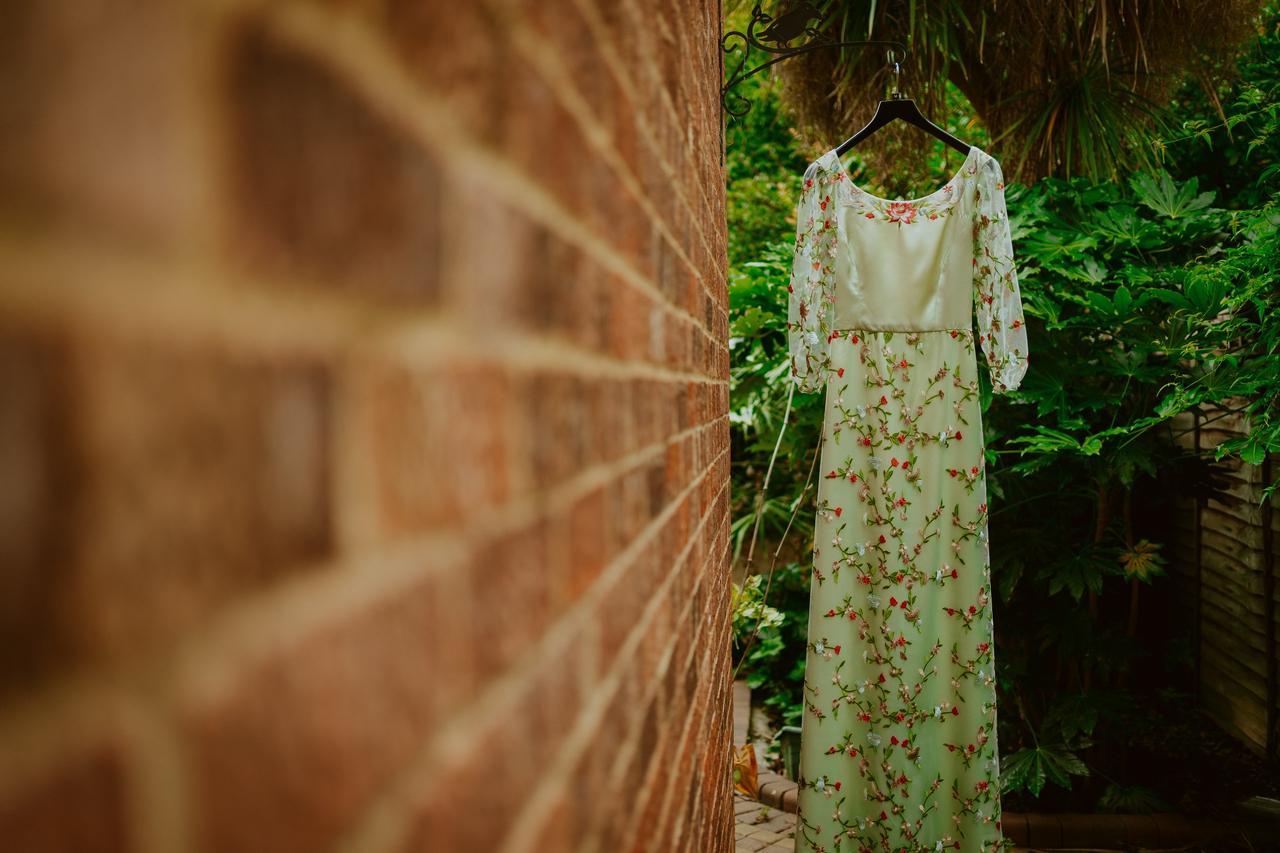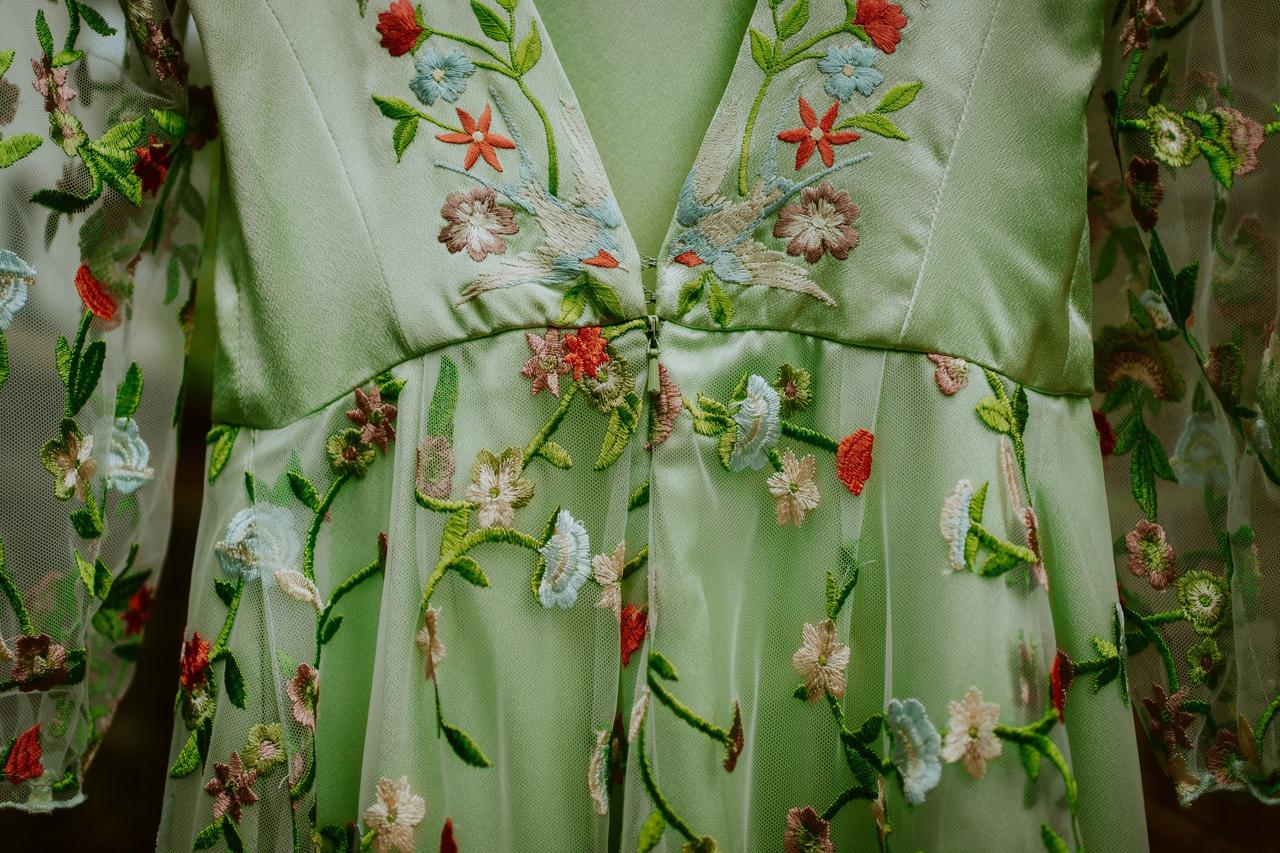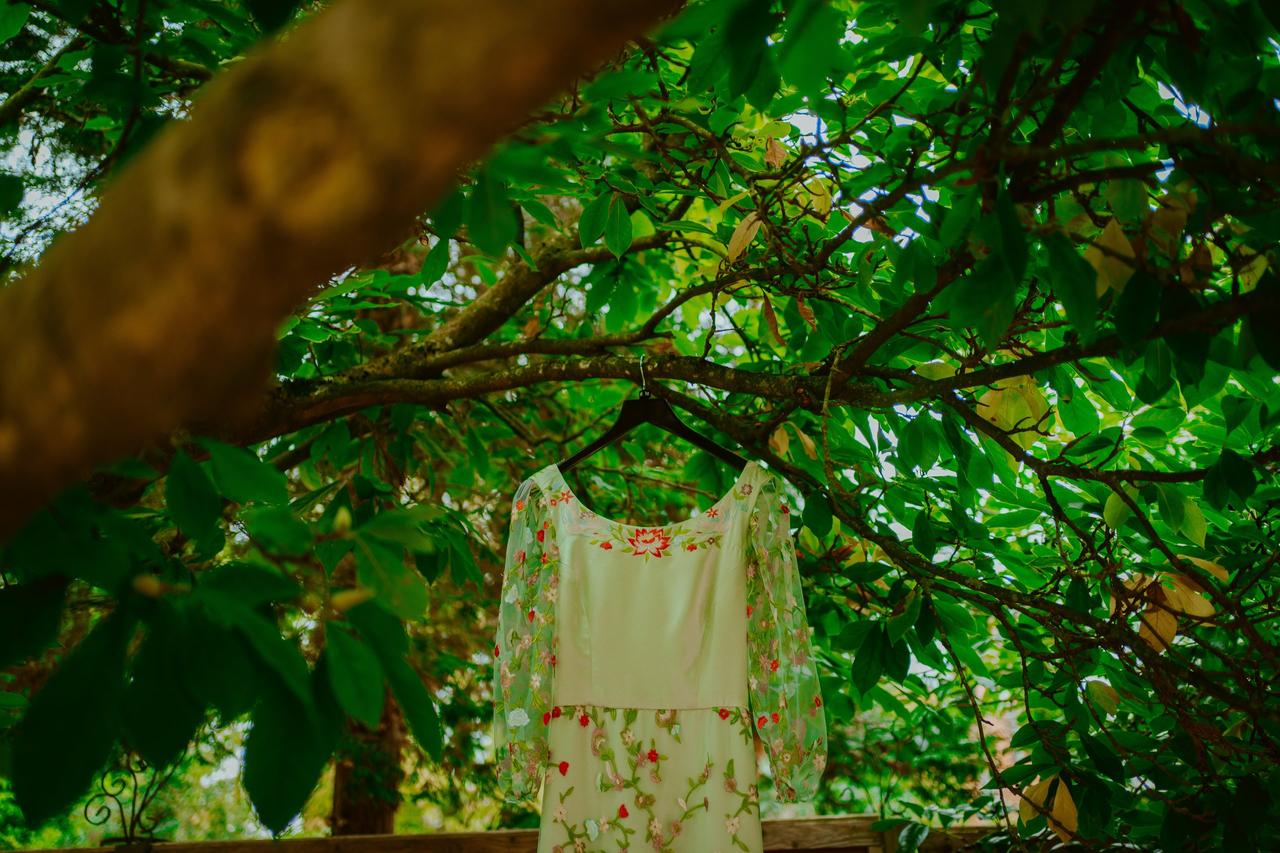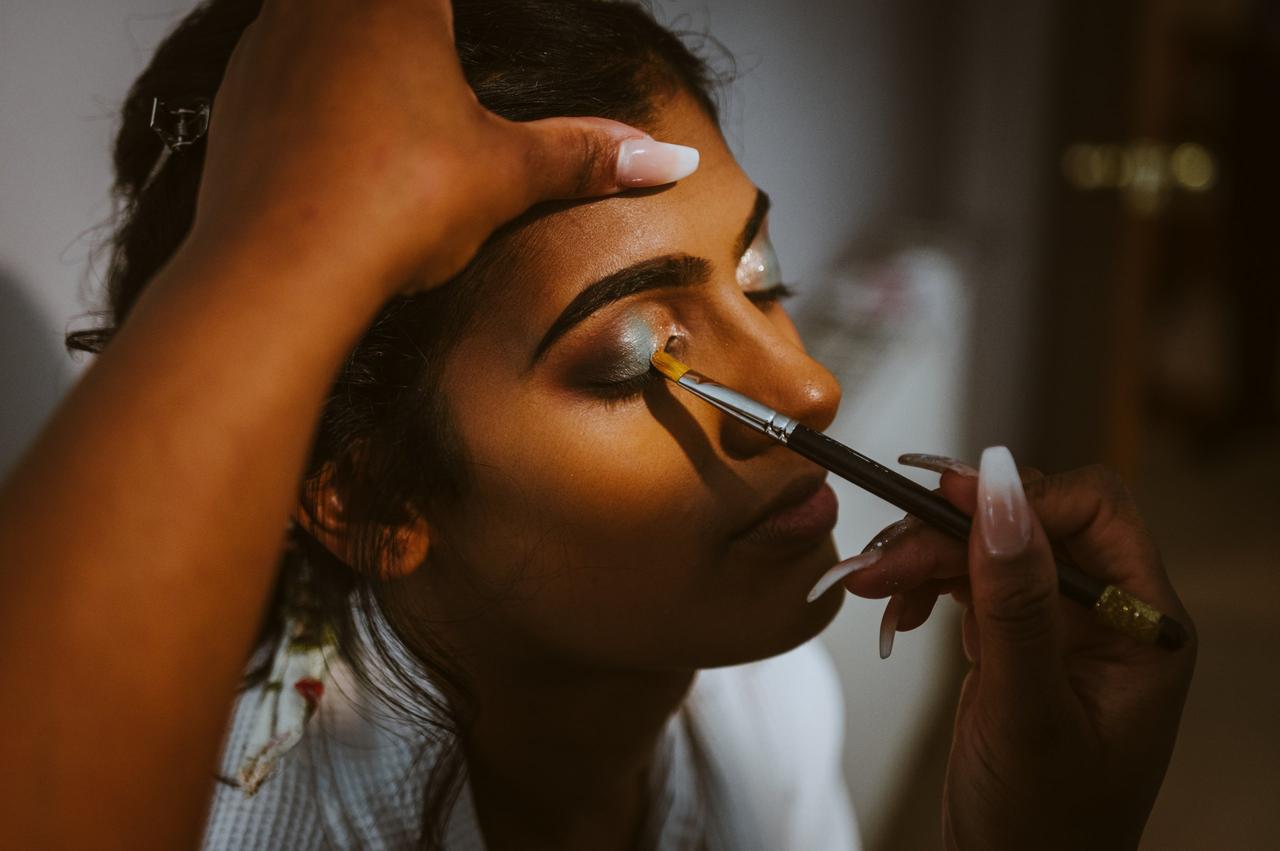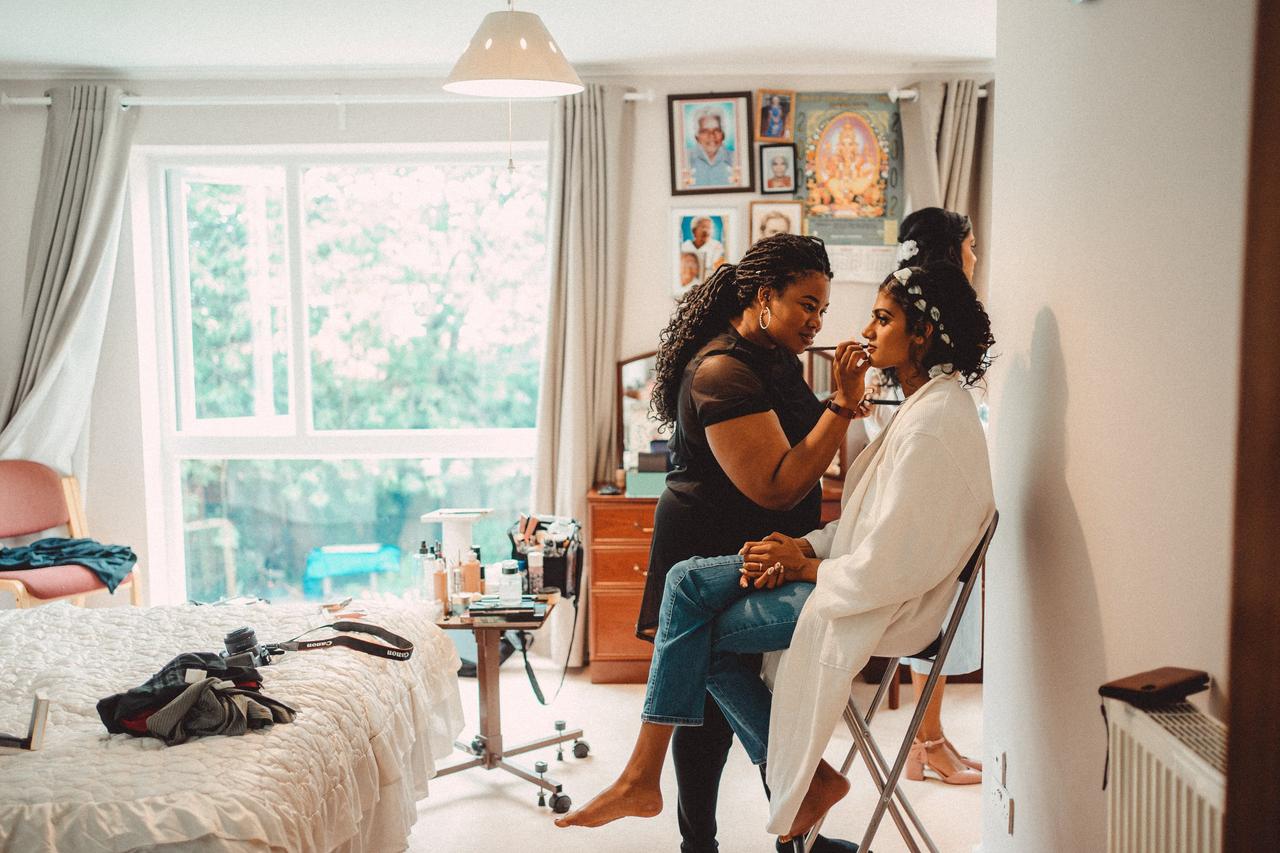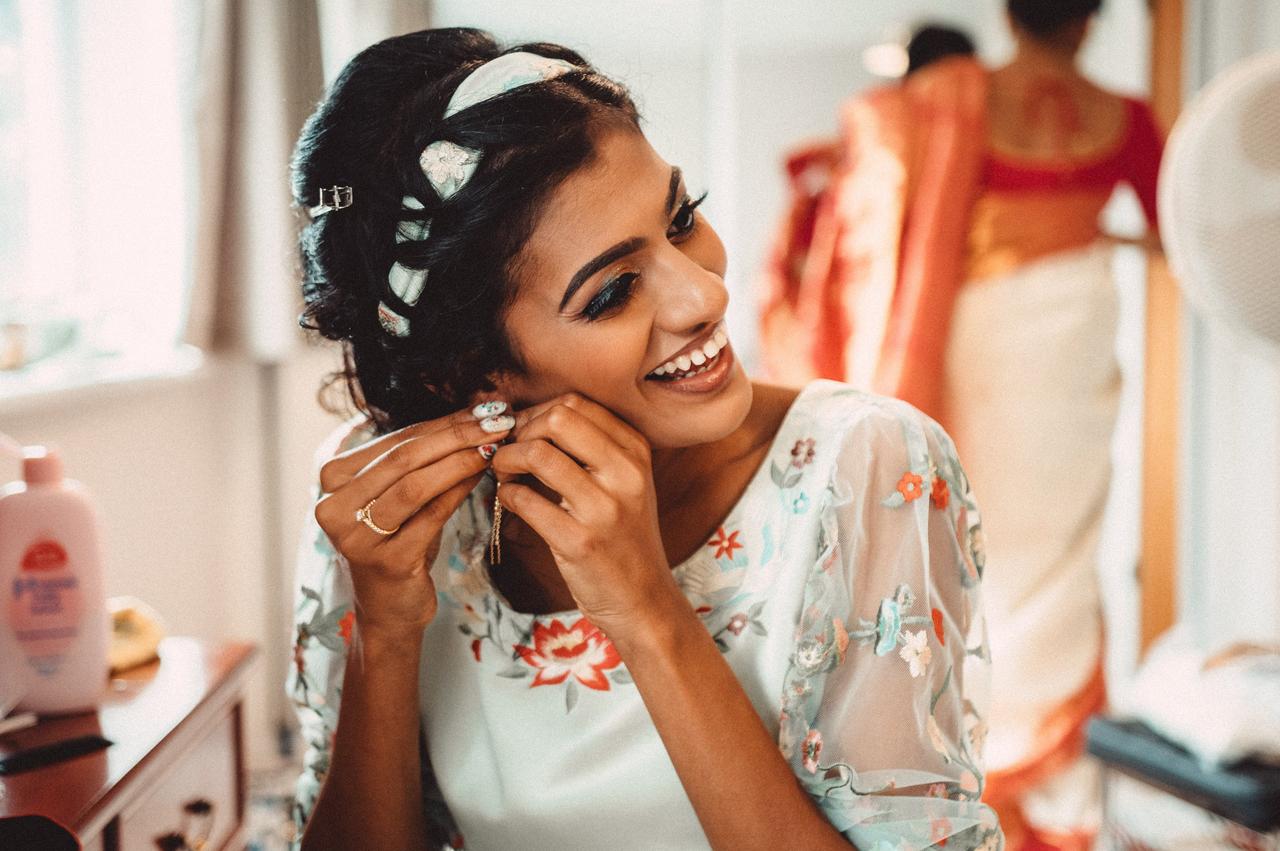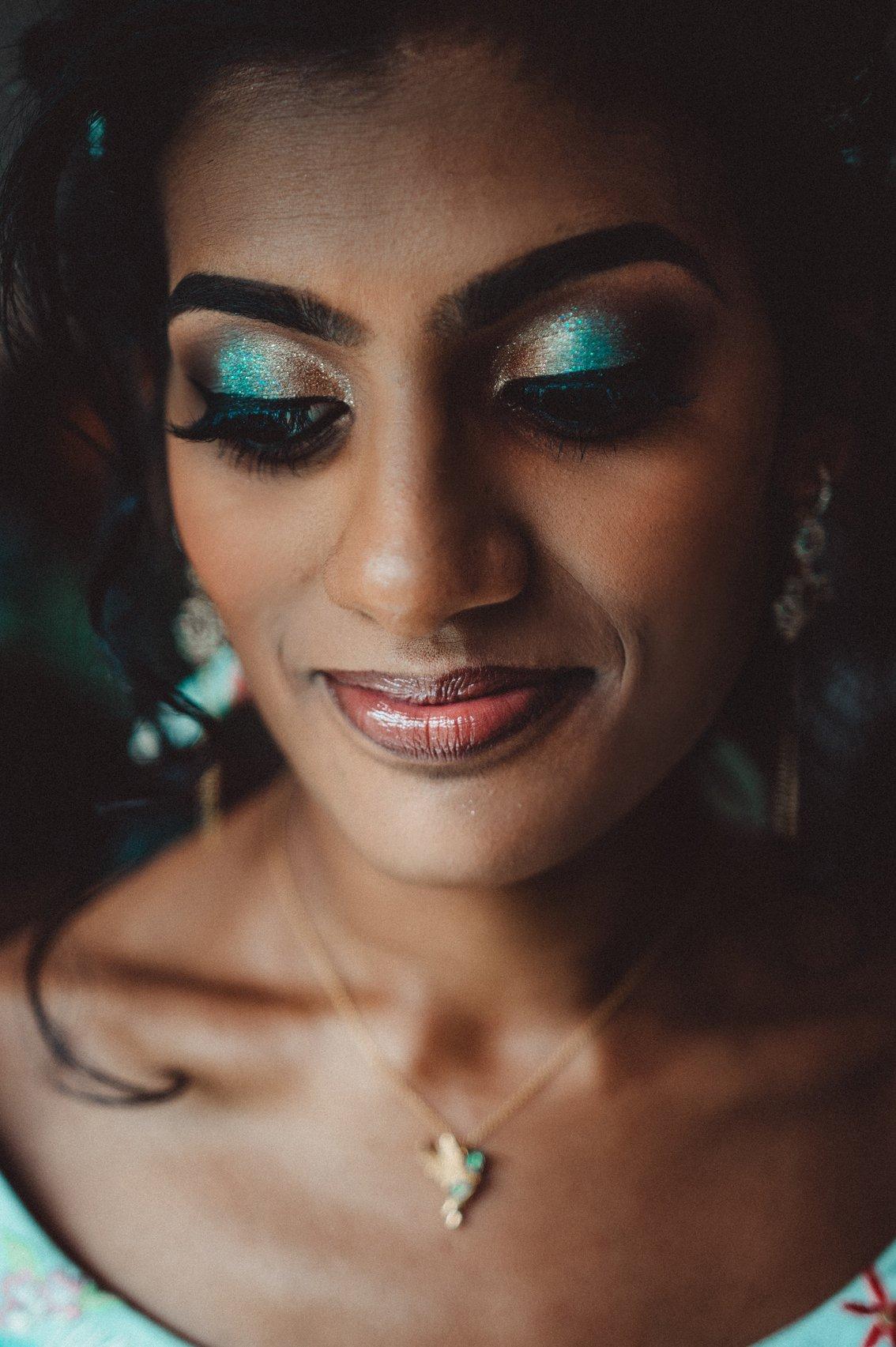 The Wedding Dress & Bridal Look
In keeping with the personalised feel of the day, Nirosha's enchanting wedding dress was bespoke, and to her own design. However, it proved a challenge to have a gown made from scratch in such a short time frame.
The couple sourced the fabrics together, then worked closely with seamstress Wendy Kelly of The Perfect Fit to make the dream a reality - in just six weeks.
"My tips to anyone looking to create their own dress is it is more viable than people will make you believe – find a good seamstress and she will guide you; Wendy gave us reams of advice and tips," says Nirosha.
"It is sometimes really difficult translating creative ideas in your head to third parties. Throw together diagrams/a mood board etc. with fabric colours/swatches, but be prepared to adapt.
"Spend lots of time seeing and feeling the fabrics you want so that you know it will hang and drape and hug your figure the way you want. Think about the season of your wedding.
"Otherwise though, be bold!"
Nirosha wanted to have her wedding dress embroidered with birds, and despite limited time, embroiderer Rachel Rousham stepped up to create a wonderful, meaningful design.
"Important details that Rachel incorporated were lotus flowers, birds and the peacock," says Nirosha.
"I wanted to have a nod to Daf's Welsh heritage, so there is a Welsh dragon on one side, while the peacock has a musical note on the belly and important dates in the tail feathers – our engagement date down one side and the wedding date down the other."
Hair stylist Jennifer Fogerty created Nirosha's boho-inspired hairdo, incorporating carefree details such as plaits and ribbons while keeping the overall effect elegant.
"My makeup style was natural but with a bit of colour and sparkle," says Nirosha.
"I used to love experimenting with bold colours when younger but have become a bit more muted with age.
Melissa from Feebeea Makeup was great in helping me reconnect with confidence in colour and find the right level of sparkle and bold colours and kept the look fun without me feeling/looking like a clown!"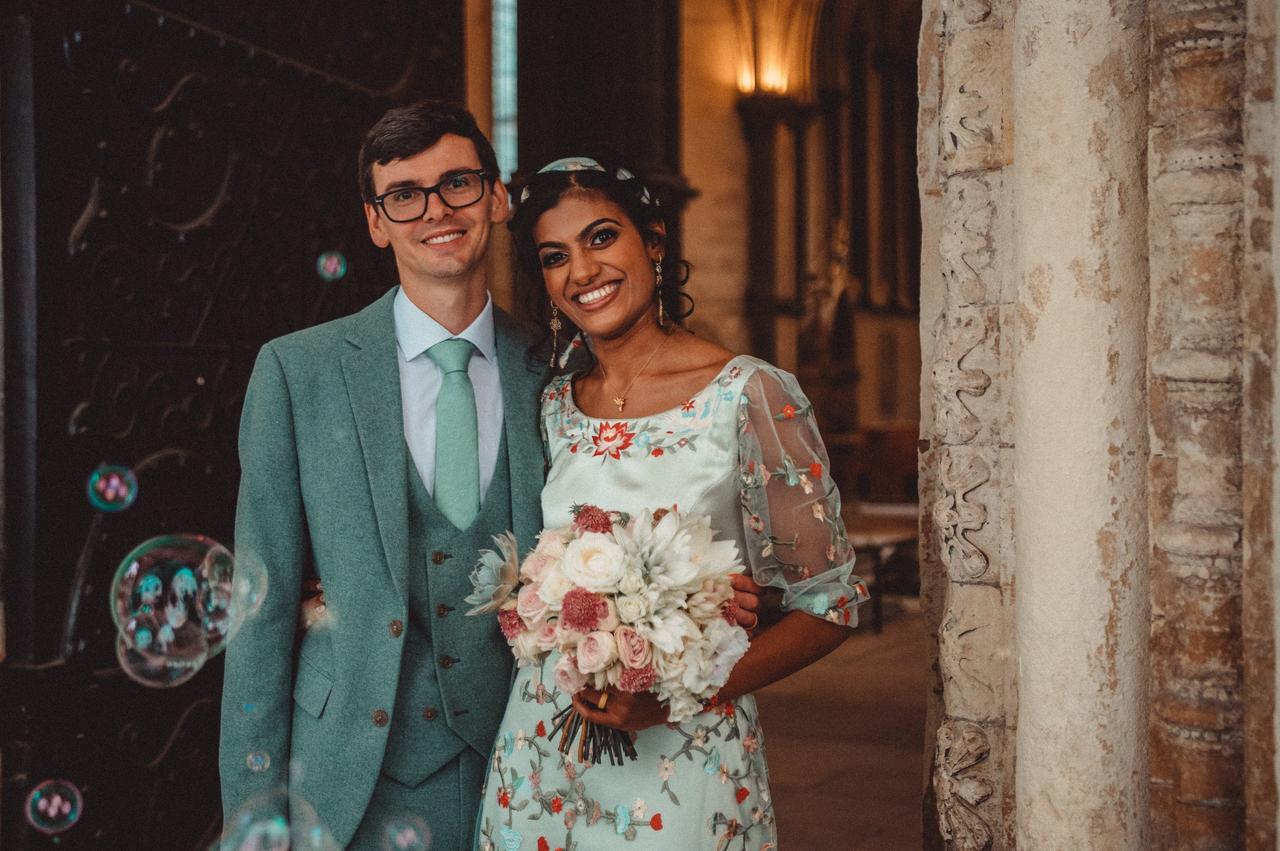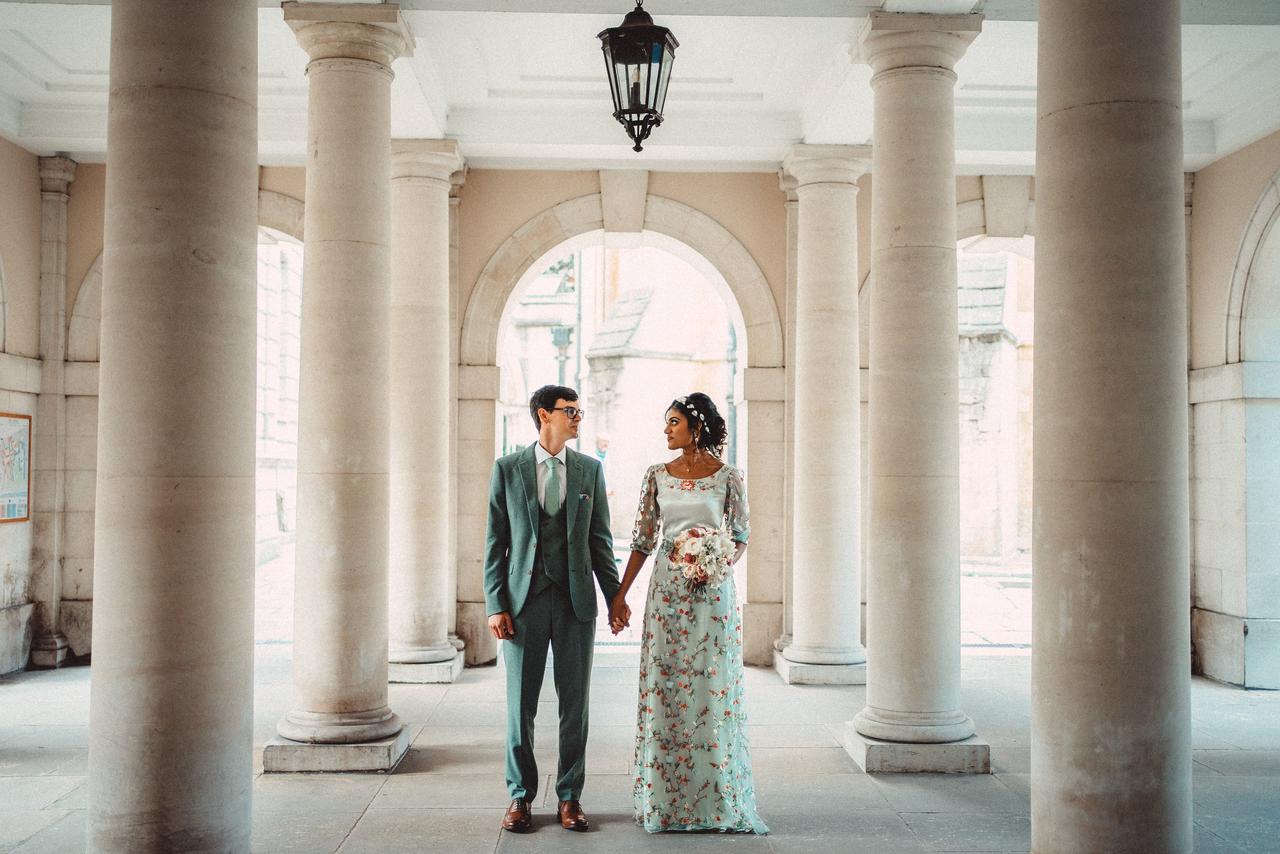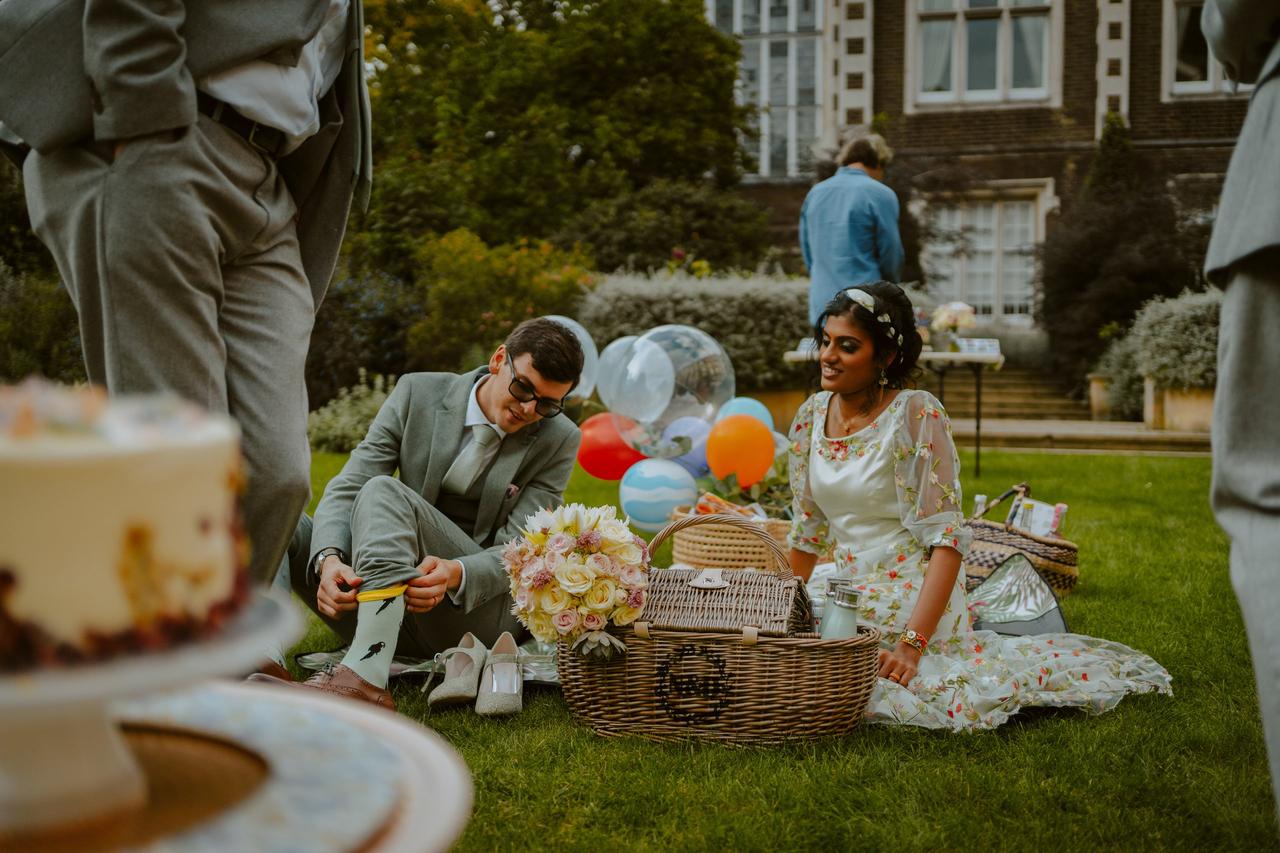 The Groom's Look
Dafydd wore a mint-green ASOS suit that, in keeping with the overall look, had a bird-print lining.
He made sure to include a special accessory: fun socks! That's because his socks were one of the first things Nirosha noticed about him on their first date. For the wedding, Dafydd chose a black parrot-print pair.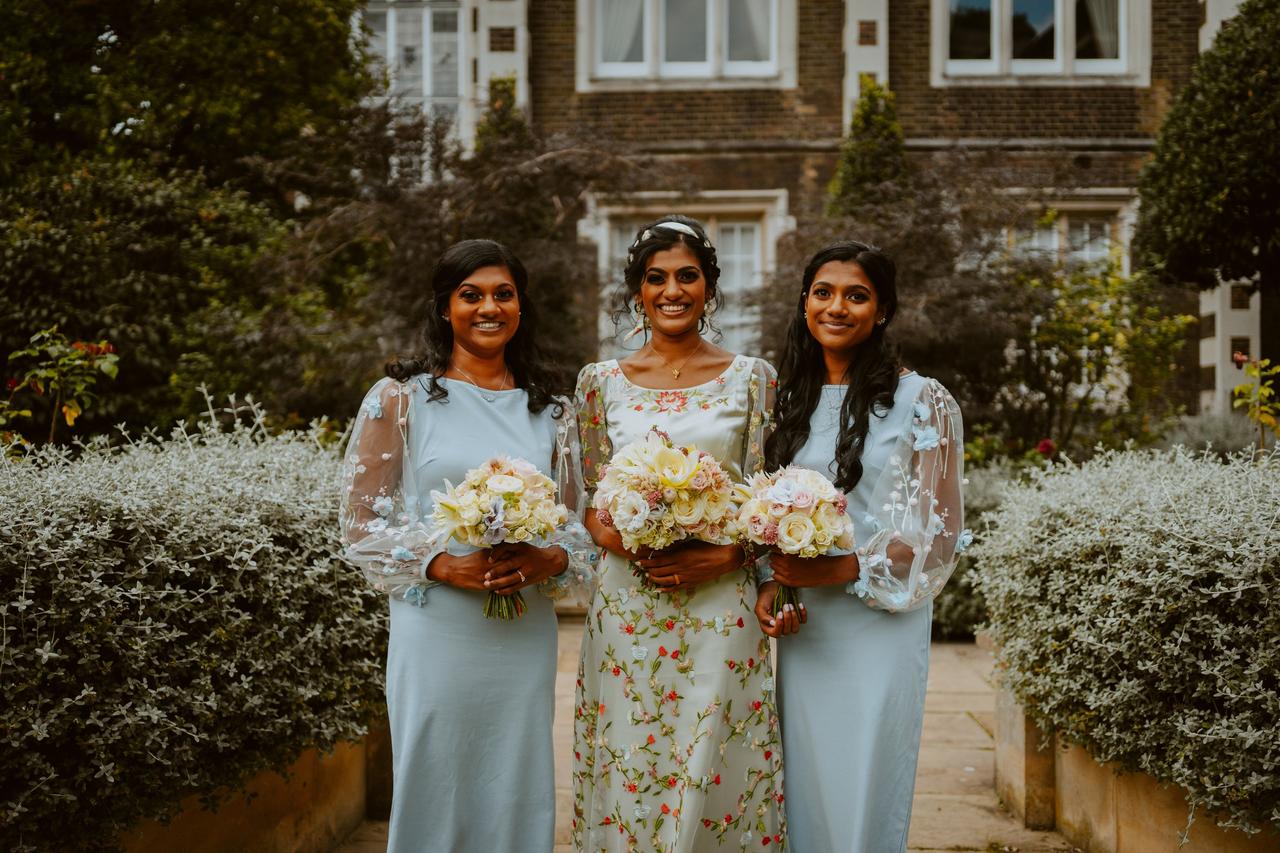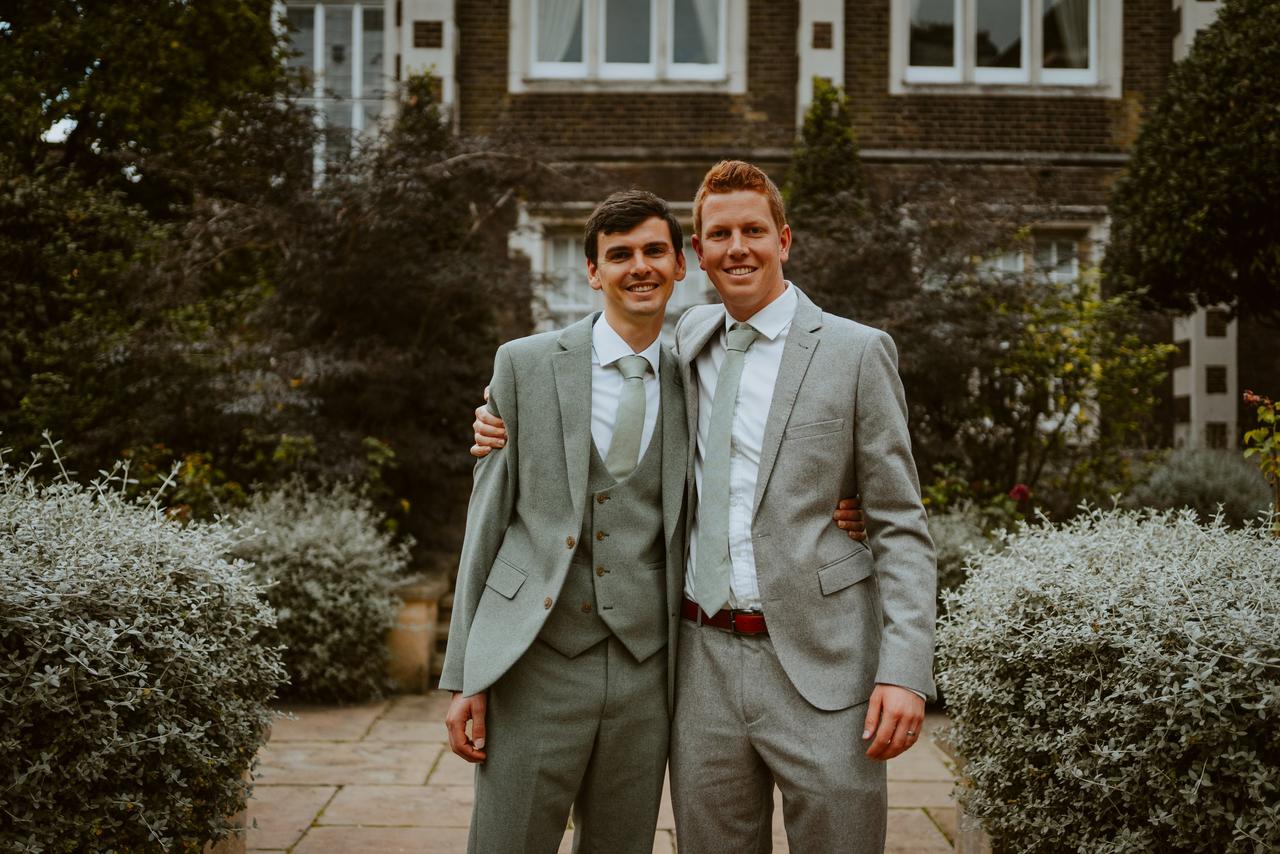 The Wedding Party
Nirosha's sisters were her bridesmaids and wore fabulous blue dresses from Shein that picked up on the net overlay of the wedding dress.
Her mother made the beautiful flower girl dresses using a net fabric that was again a subtle echo of Nirosha's dress.
The groomsmen wore the same suit as Dafydd but in grey, with matching ties.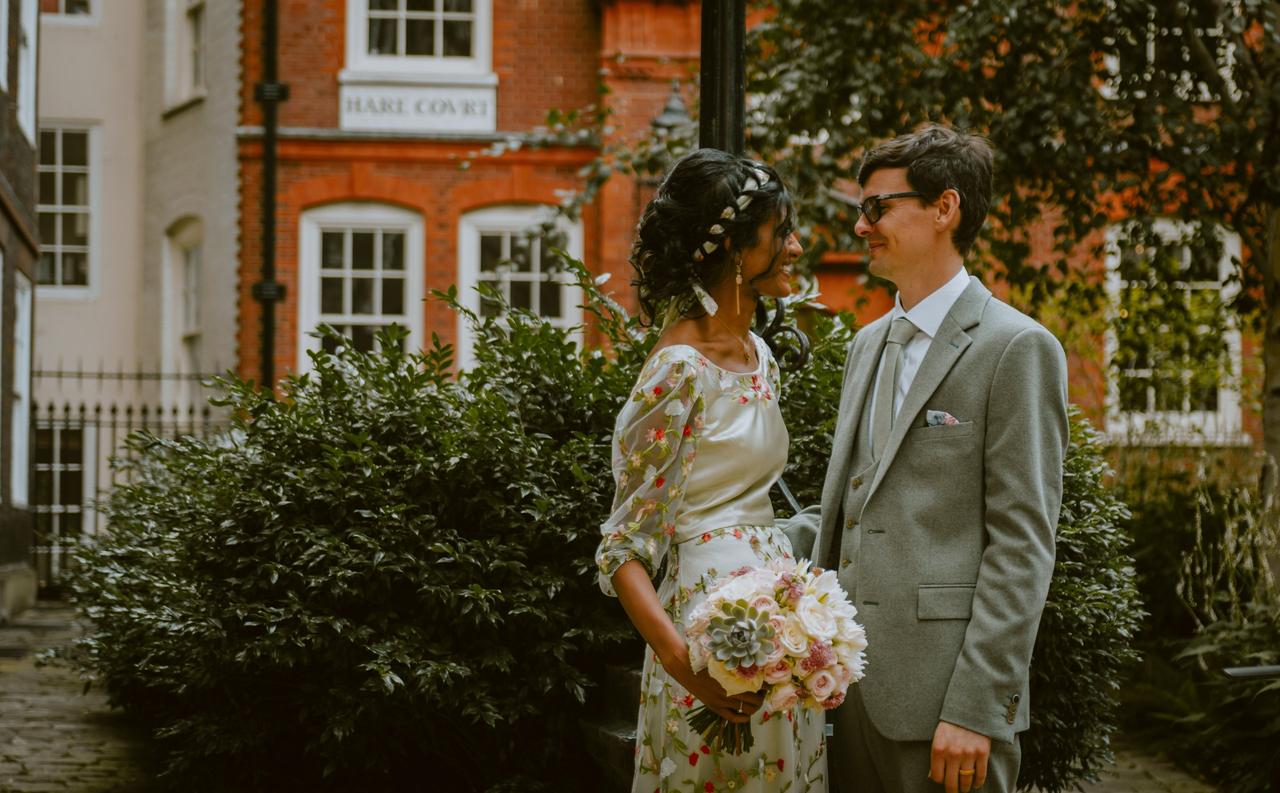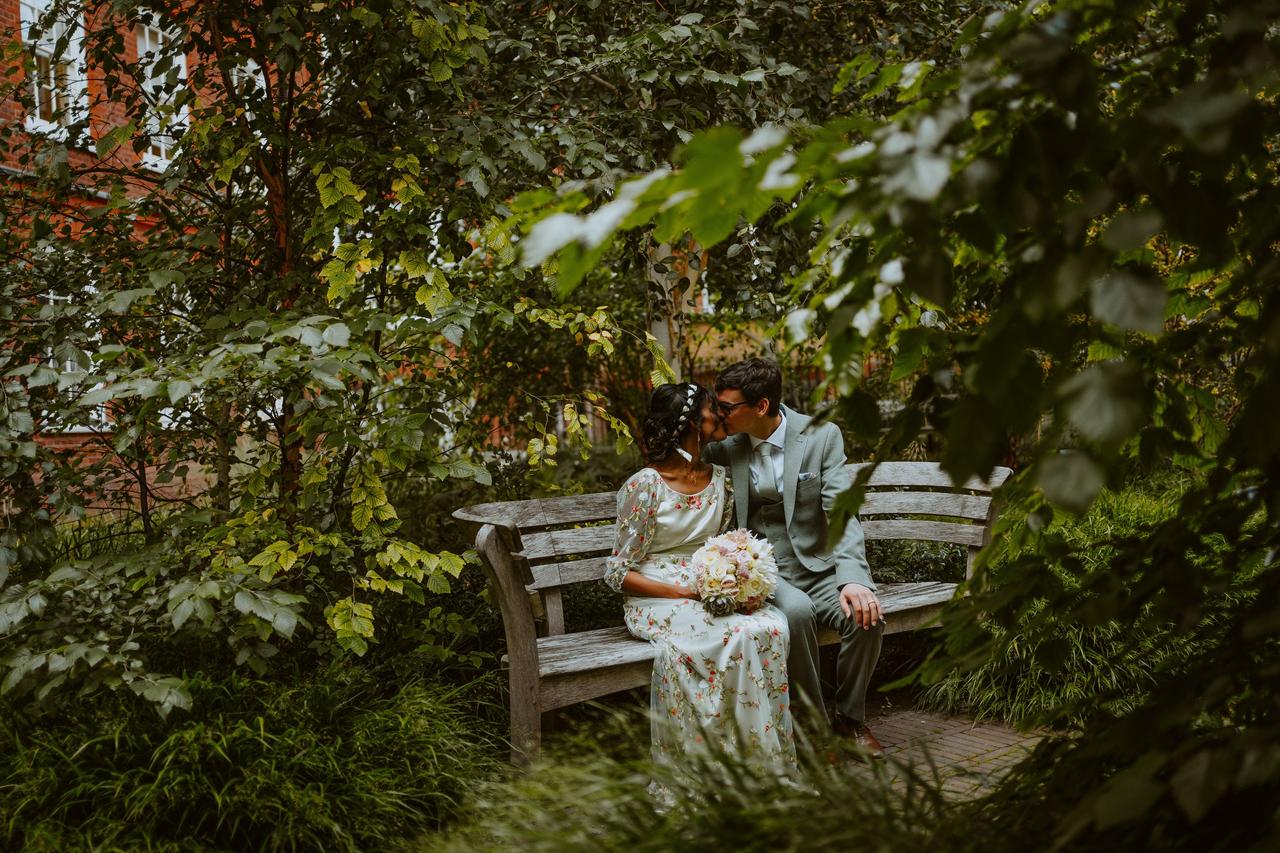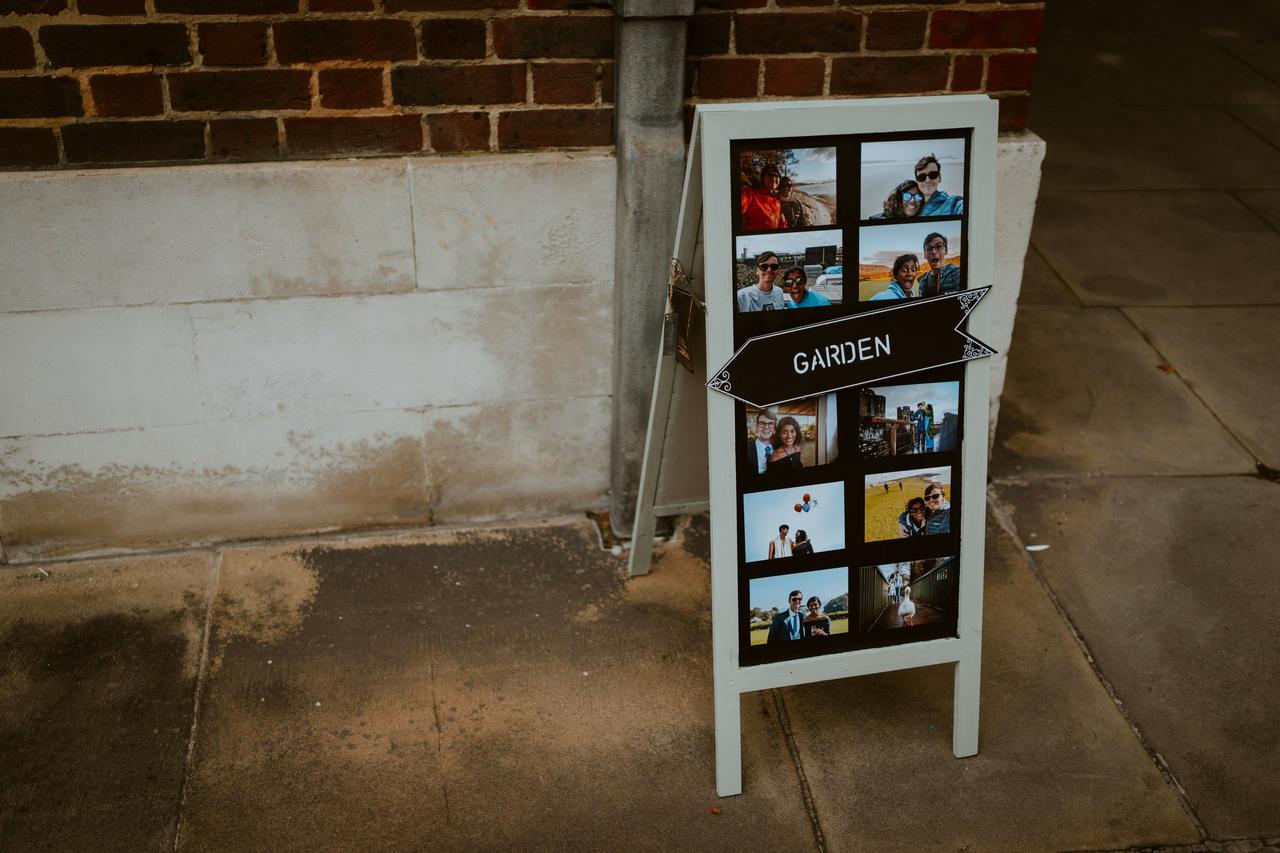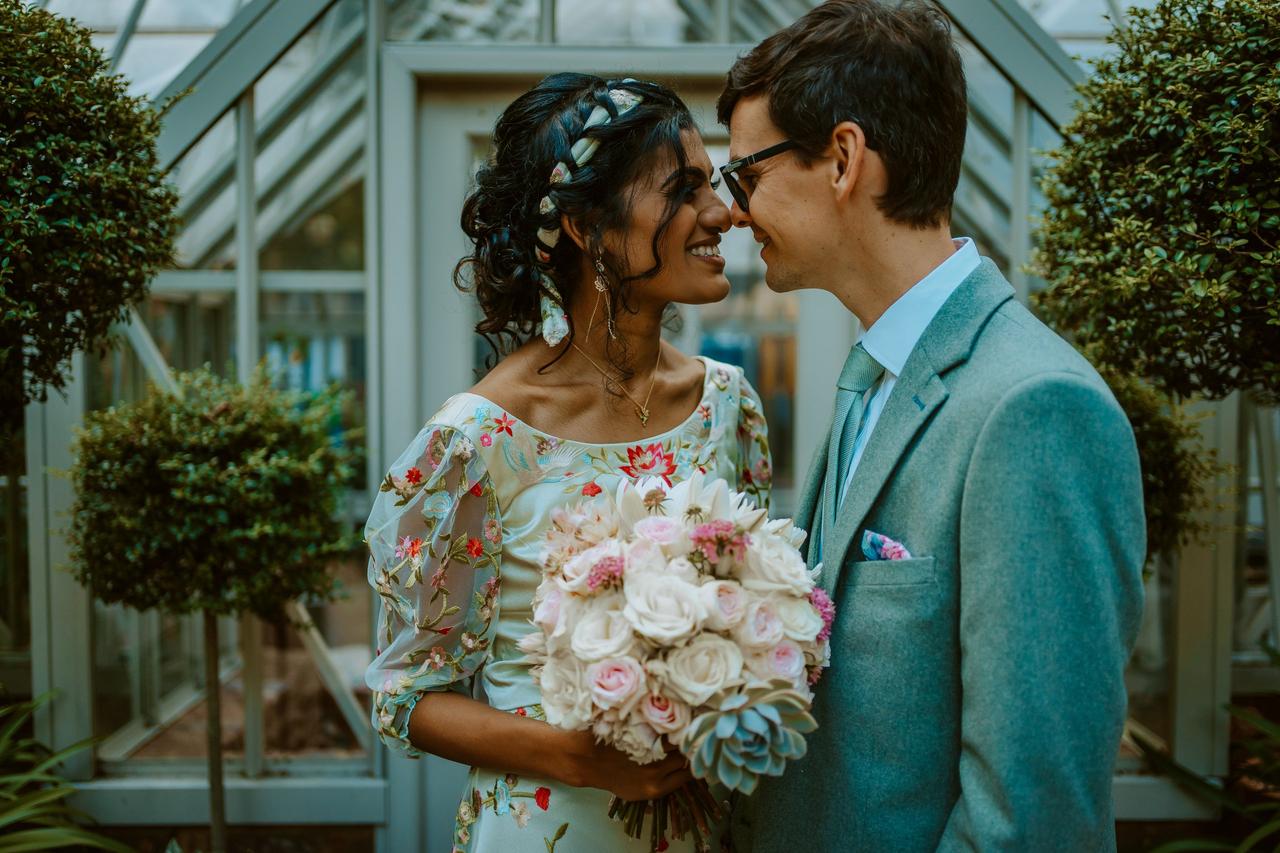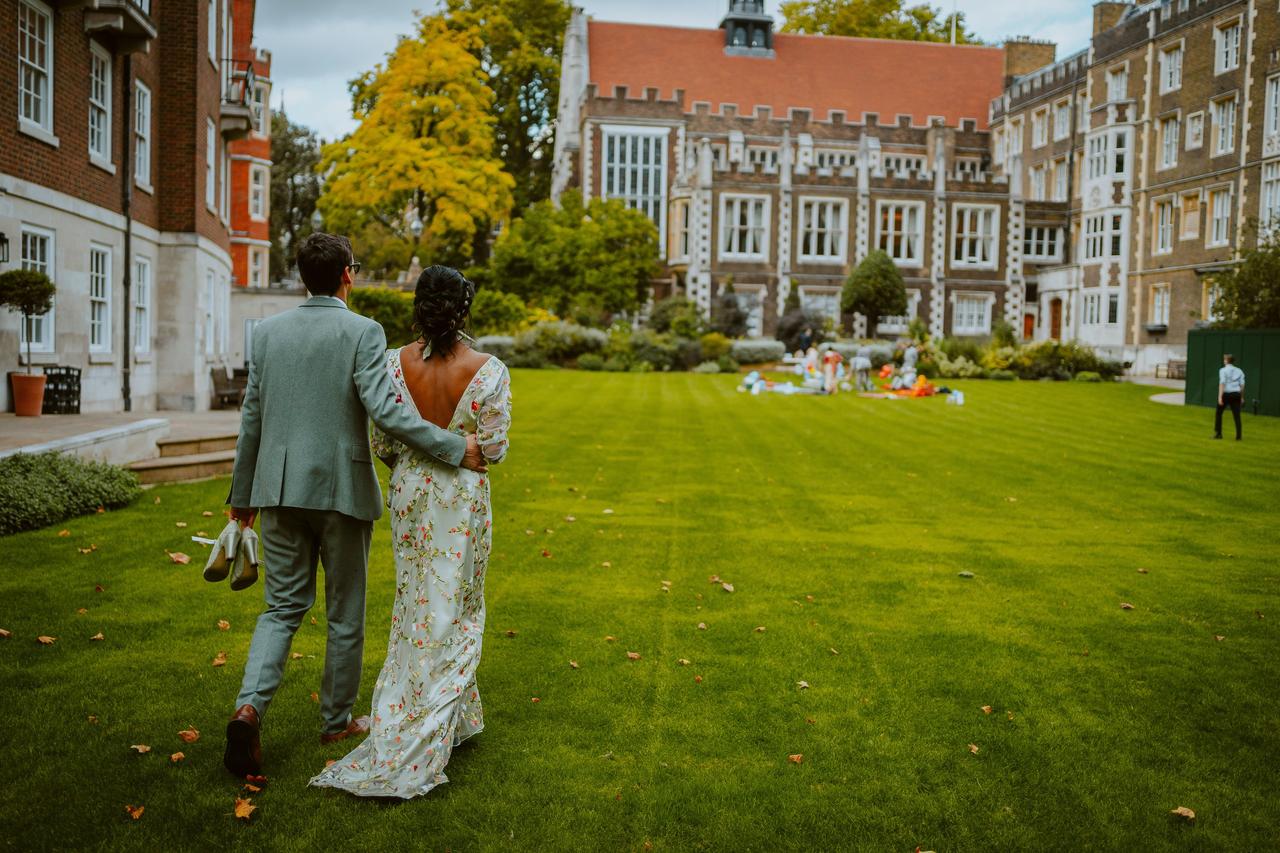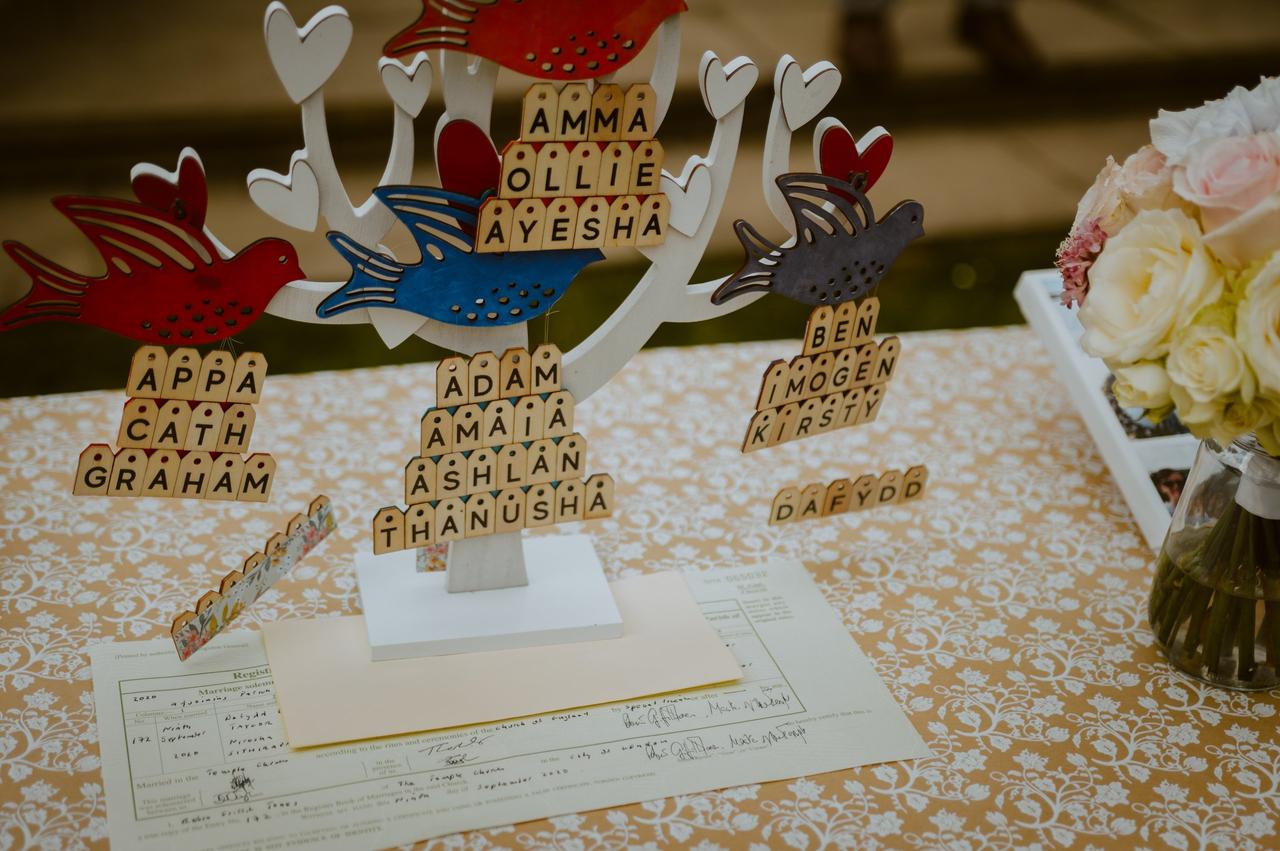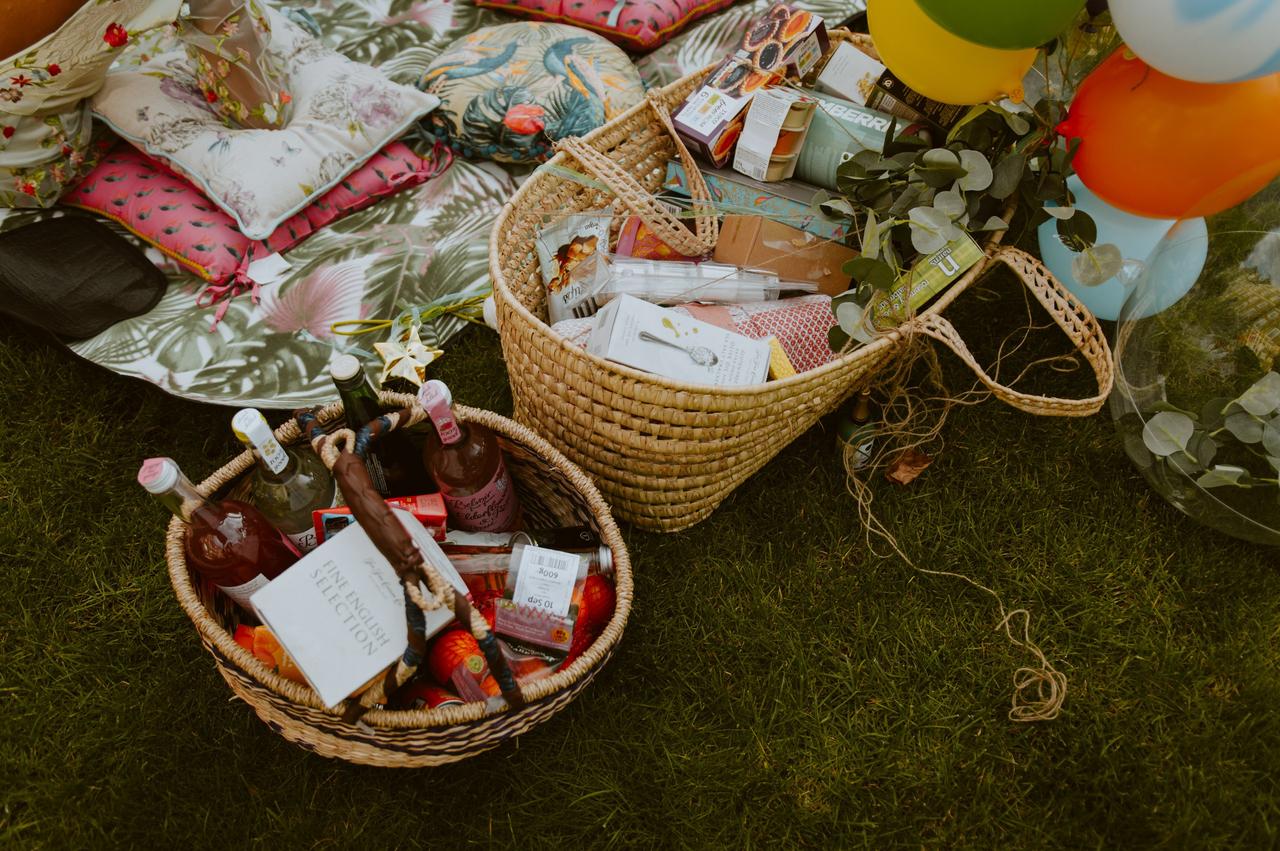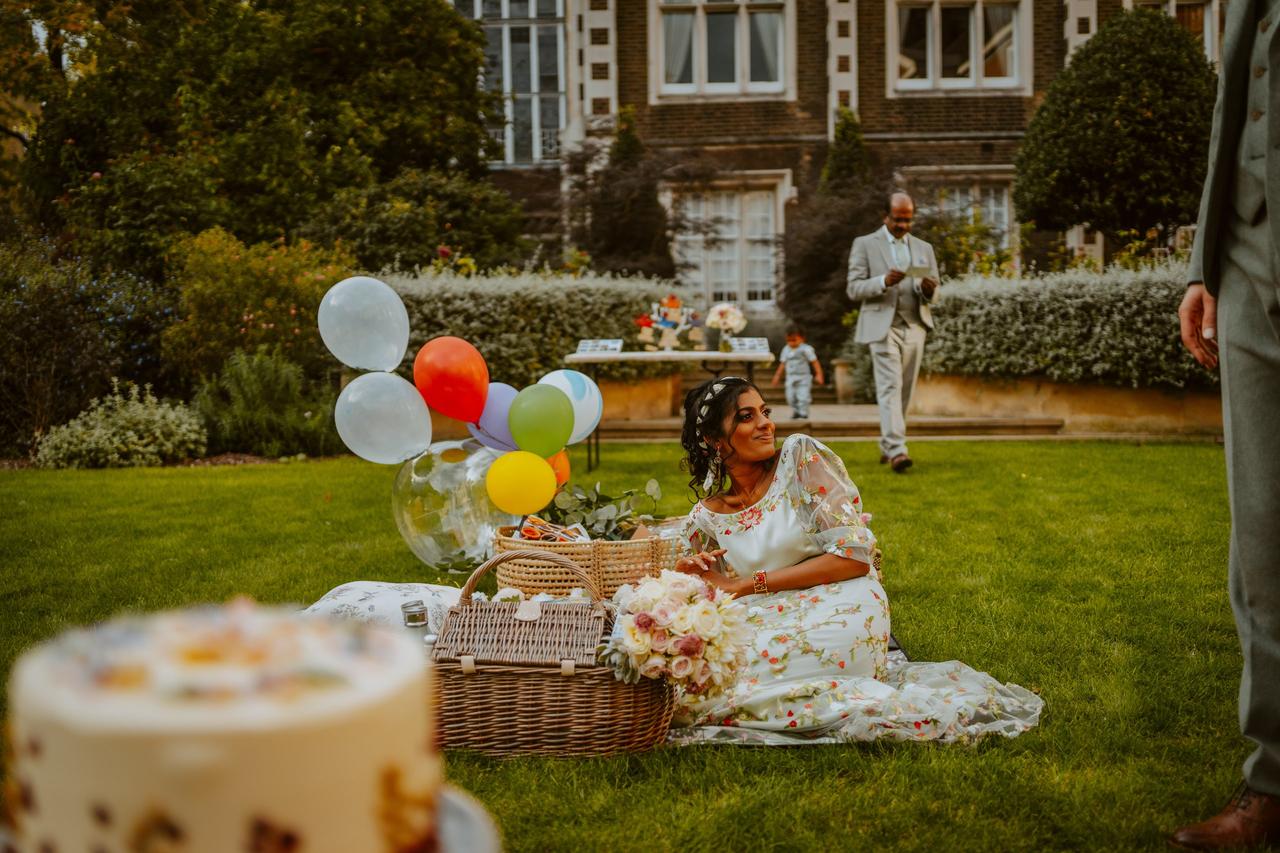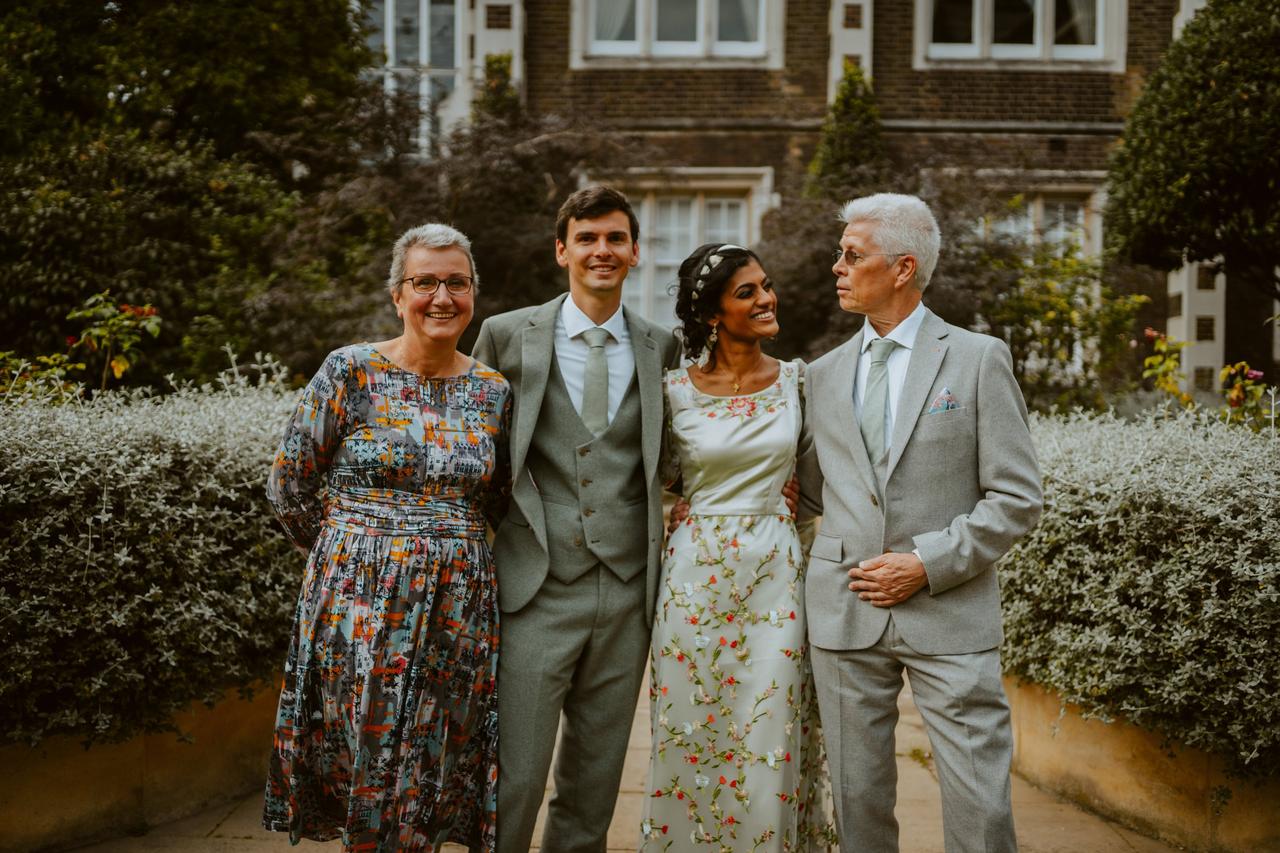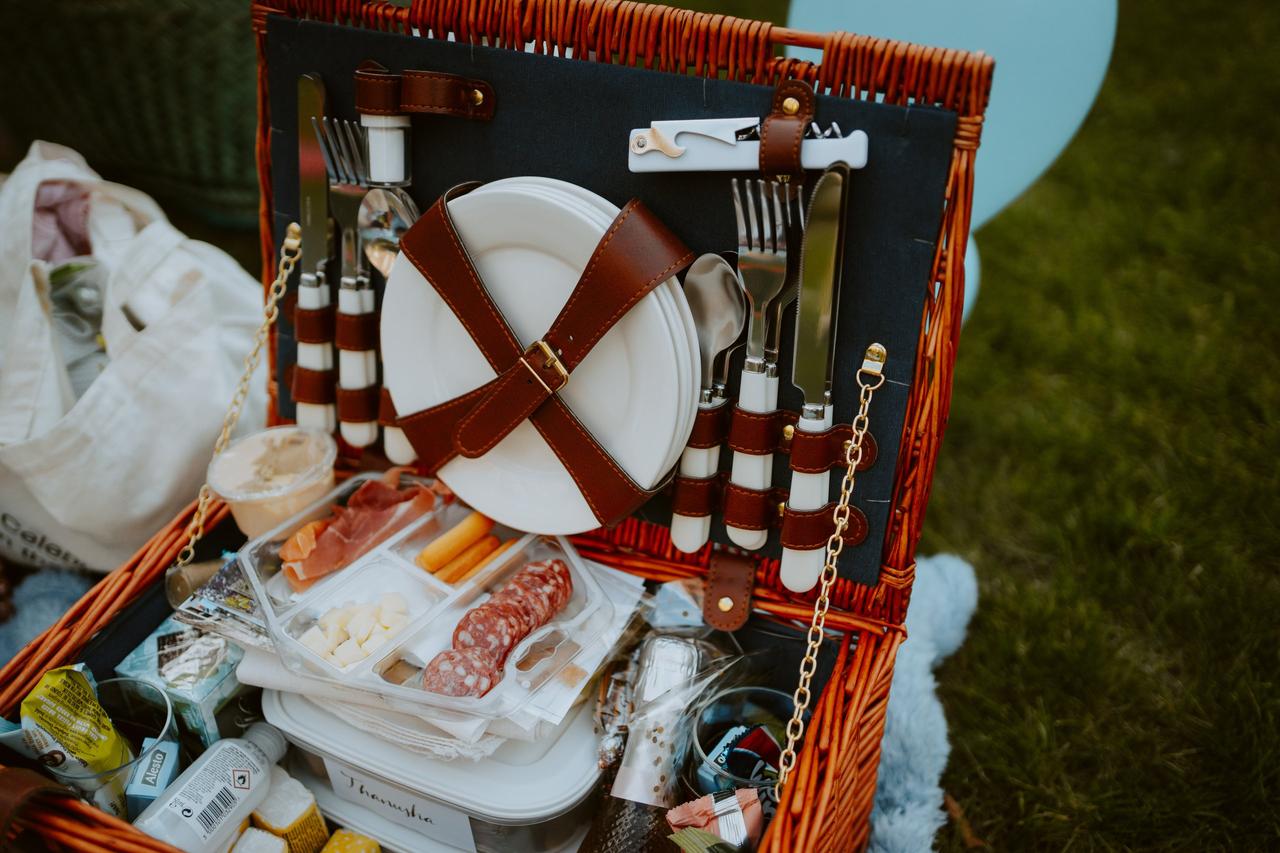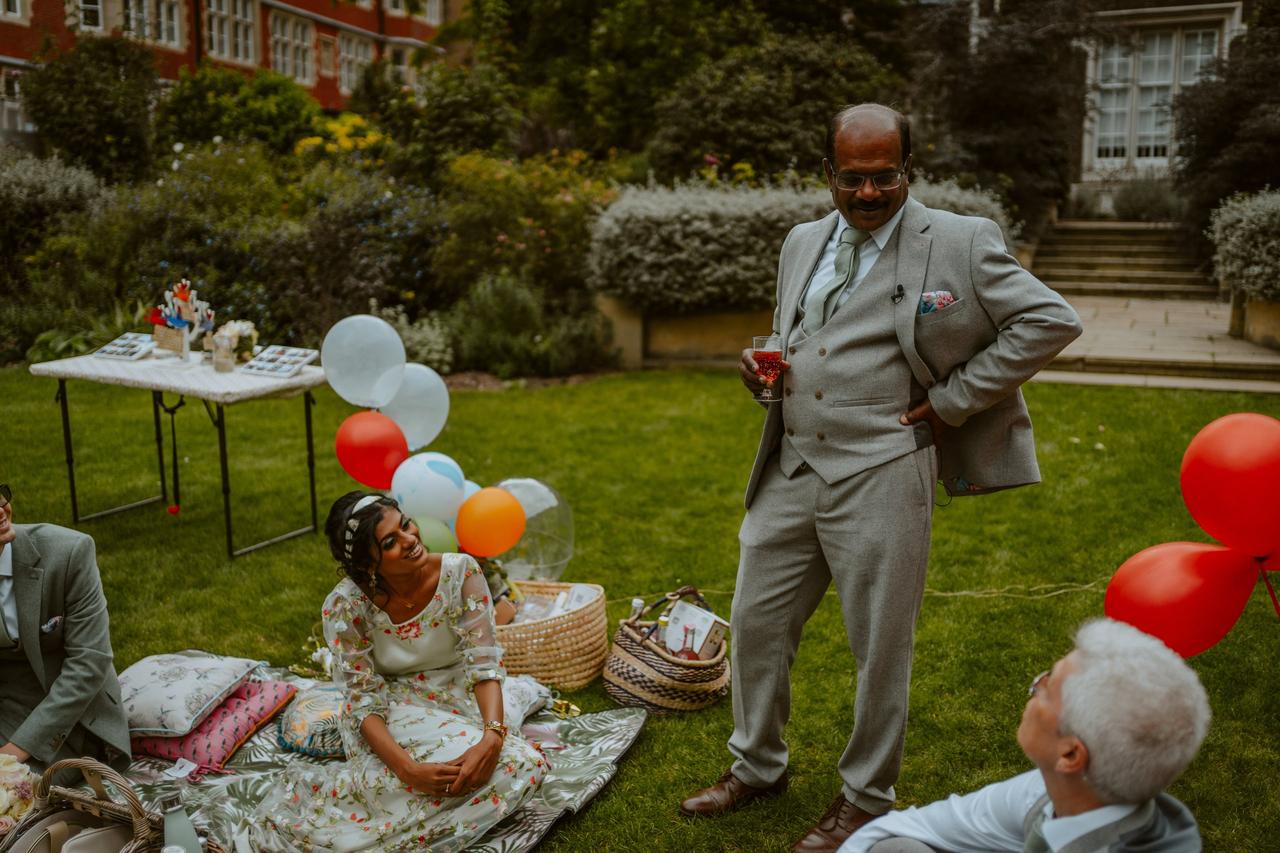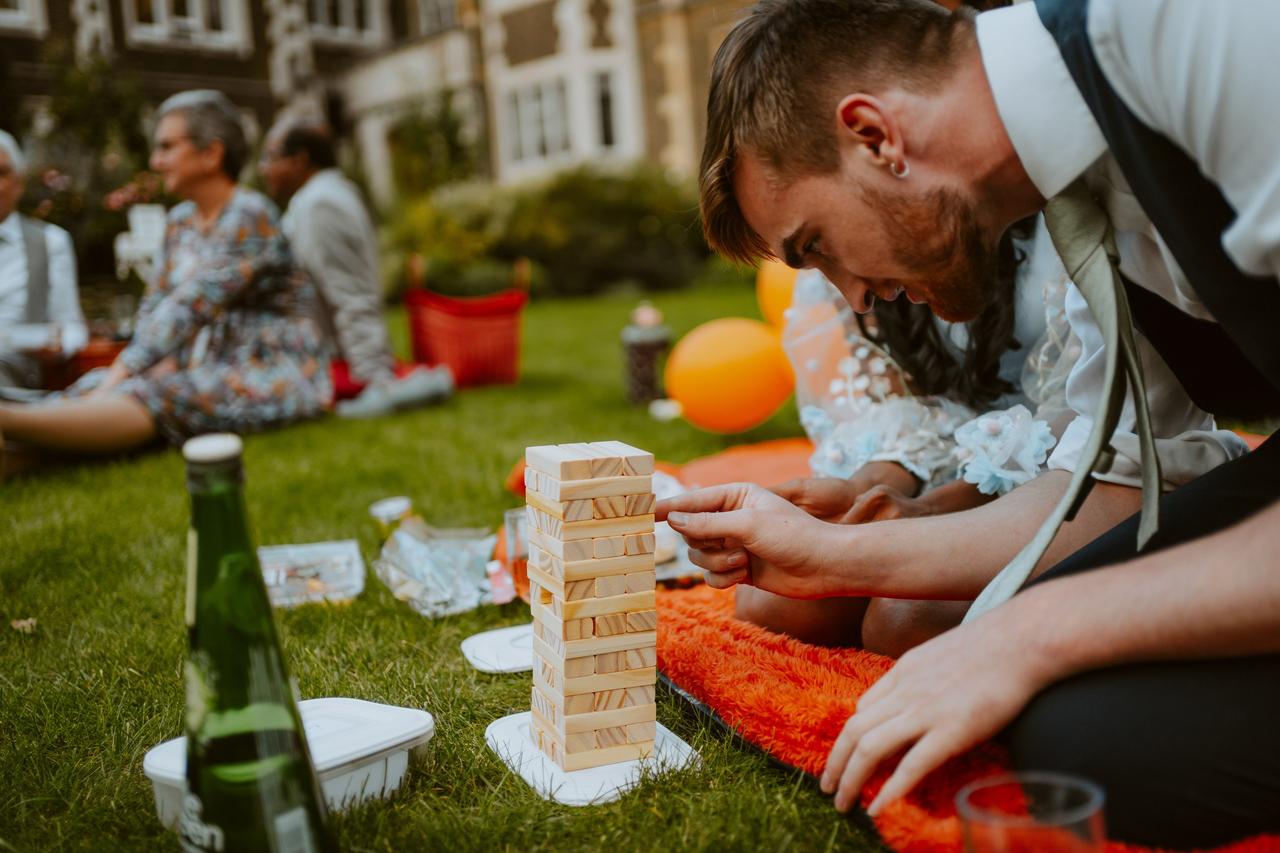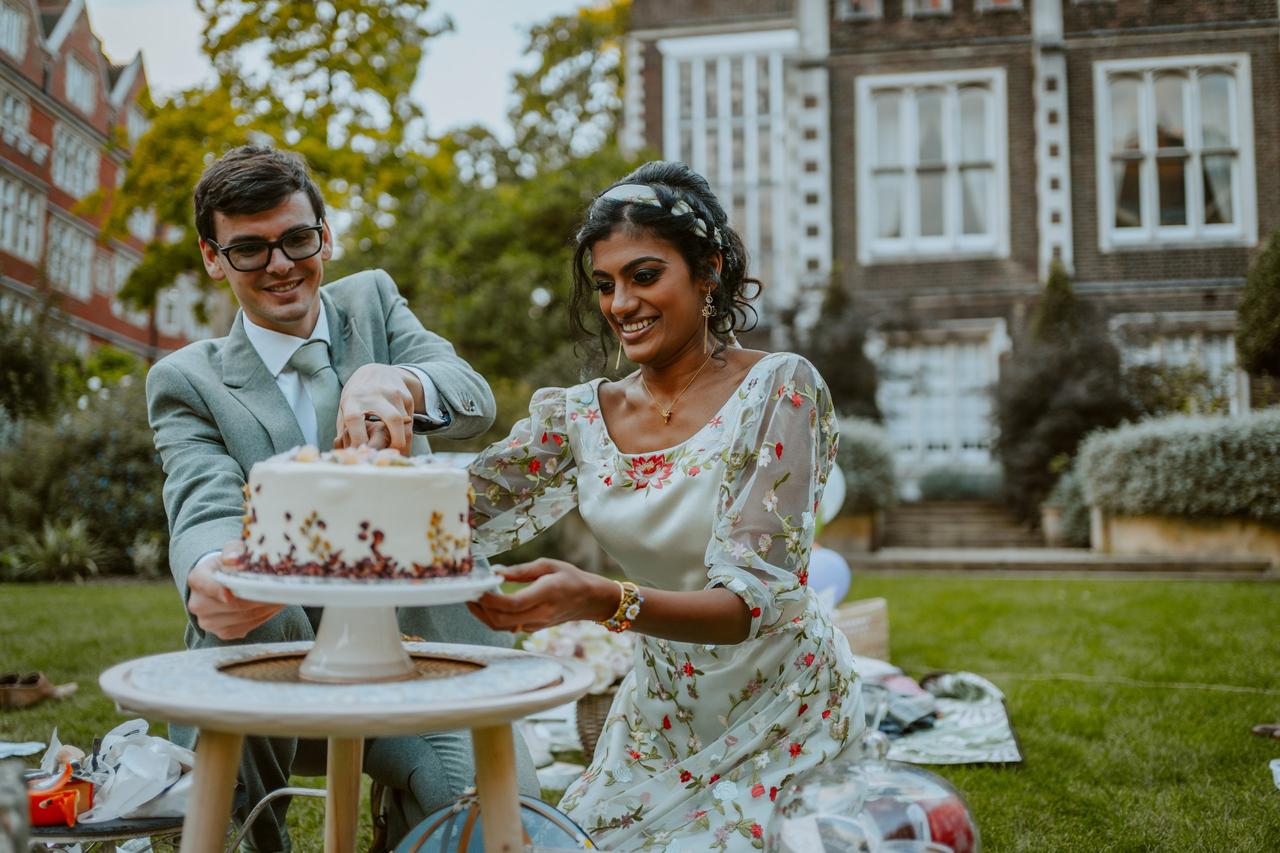 The Wedding Reception
Due to the restrictions, the couple had an outdoor picnic reception, with bespoke hampers provided by Picnic Cafe.
The couple added some extra treats to the hampers, including edible bubbles and colouring-in kits for the children, and decorated them with weighted balloons. They also included hand sanitiser and masks.
"Our 'tables' were picnic blankets themed around rainbow colours – red, orange, blue and purple for family," says Nirosha. "We themed them by colours, with a centre table at the 'entrance' with a list of who was on what colour blanket. We then used matching cushions, balloons and blanket colours to let people know where to go."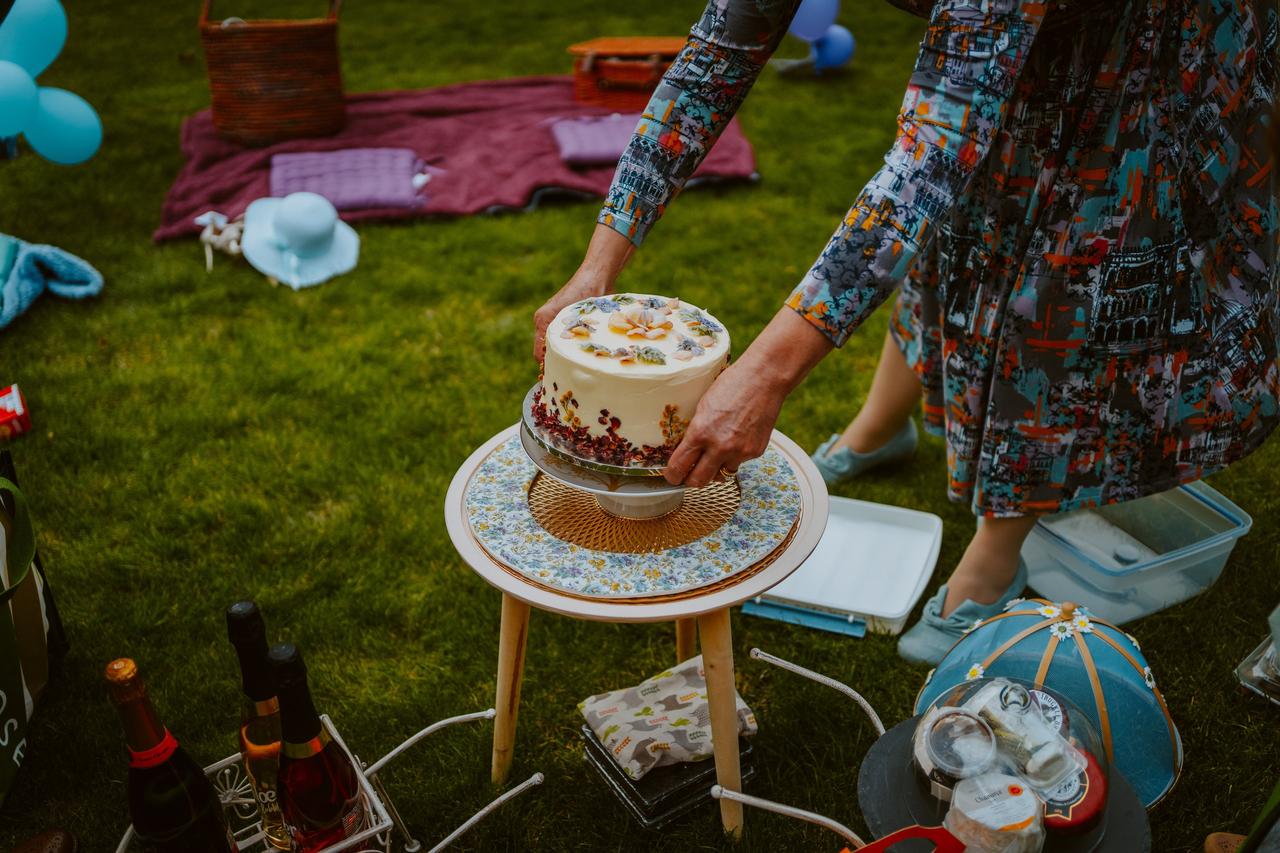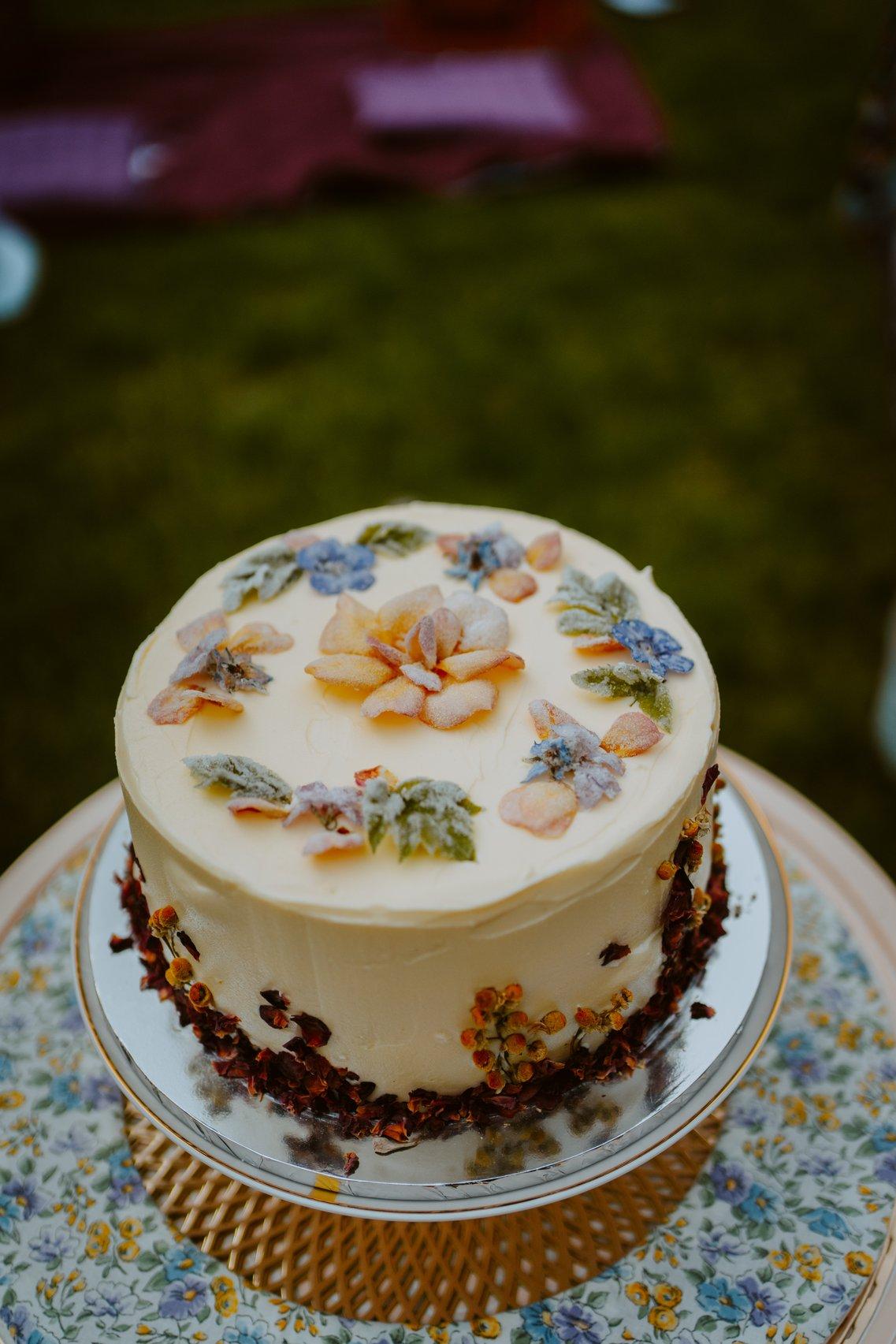 The Wedding Cake
Dadydd's mother made the beautiful gluten-free wedding cake, which included a wonderful nod to the couple's relationship.
"Daf and I have a tradition where he plants a rose every year we're together," says Nirosha. "His mum, Cath, took the petals from the 2020 lockdown rose, crystalised them and made them the cake topper."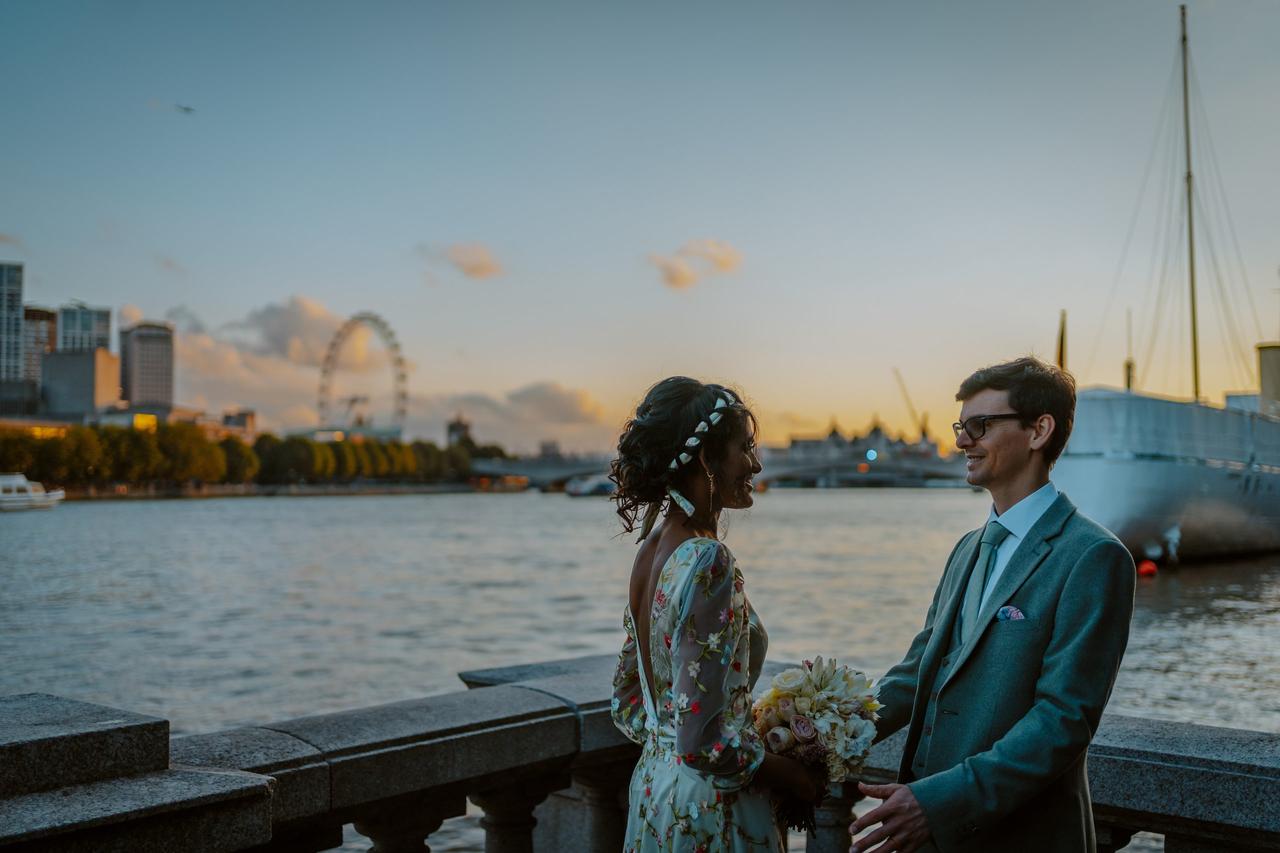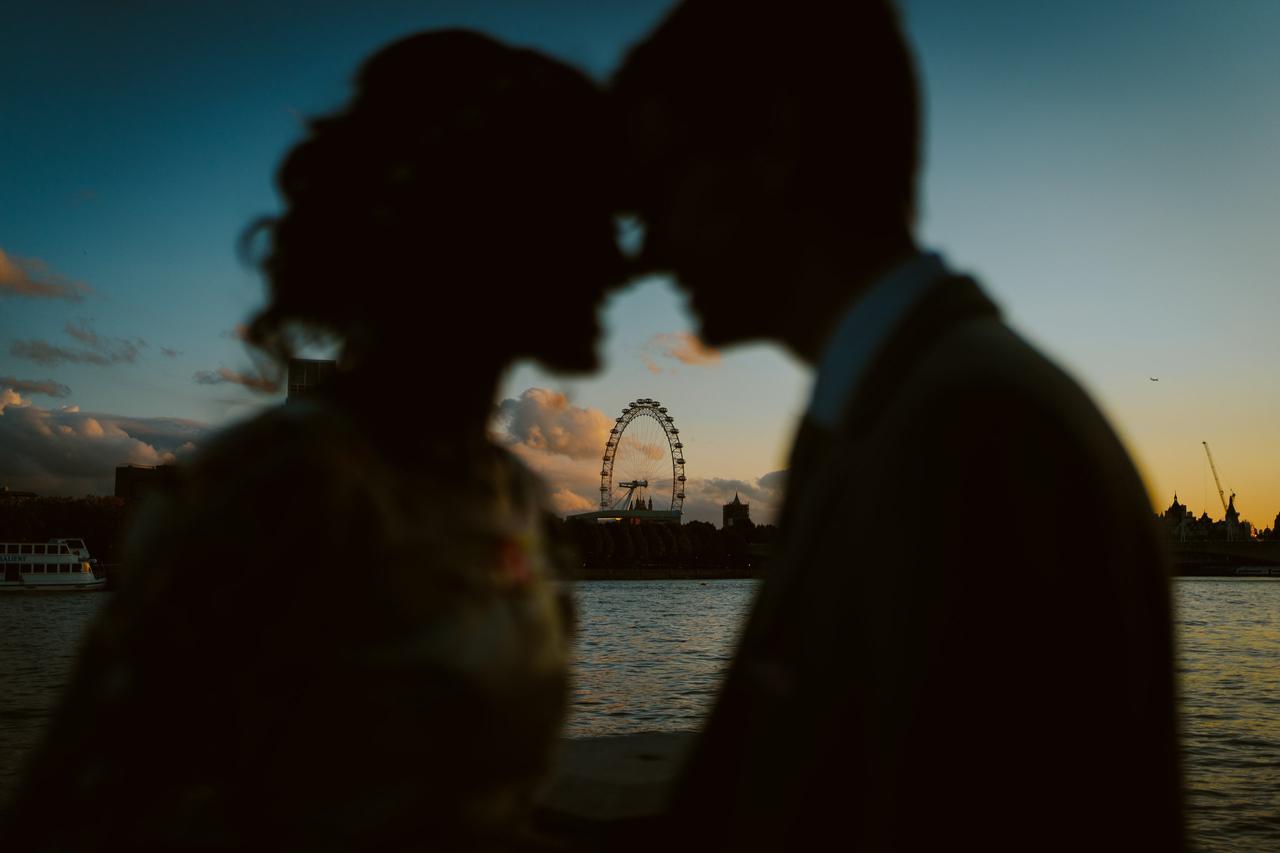 The Wedding Advice
The couple decided to livestream their ceremony for absent guests - and it's clearly worth considering if you have a reduced guest list.
:I really loved being able to share our day with the guests that couldn't be there in person," says Dafydd. "Somehow we felt really connected with them, and catching up on all of the photos and messages from people all around the world who had tuned in at short notice was really nice."
Nirosha recommends being bold when it comes to your plans.
"Don't be afraid to try something different. Where there is a will there's a way and with the right people around, most things are achievable!"
When plans change, sometimes you'd be surprised at how well things will turn out.
"Although our wedding was different from what we had planned, it really helped focus us on the most important thing: our love for each other and the love we were surrounded by from friends and family, and continue to be supported with, in our married life."
The Suppliers
Photographer: KEM Radford Photography
Venue: The Temple Church
Videography: Kissing Gate Films
Wedding dress seamstress: The Perfect Fit
Wedding dress embroidery: Rachel Rousham
Wedding hair: Jennifer Fogerty
Wedding makeup: Feebeea Makeup
Engagement ring: Royal Jewellery
Bouquets: Petal Power Wales
Groom's suit: ASOS
Bridesmaids' dresses: Shein
Wedding breakfast: Picnic Foods
Picnic baskets: Willow Direct
Thank you to Nirosha and Dafydd for sharing their beautiful wedding with us!