Real Covid Wedding: Nicole and Rob, Langtons House in Hornchurch, East London
Instead of their 97-person reception at an industrial-chic restaurant in Canary Wharf, Nicole and Rob had only six guests join them for their ceremony in a gorgeous Georgian manor. Despite lots of setbacks, they pulled off a seriously special day.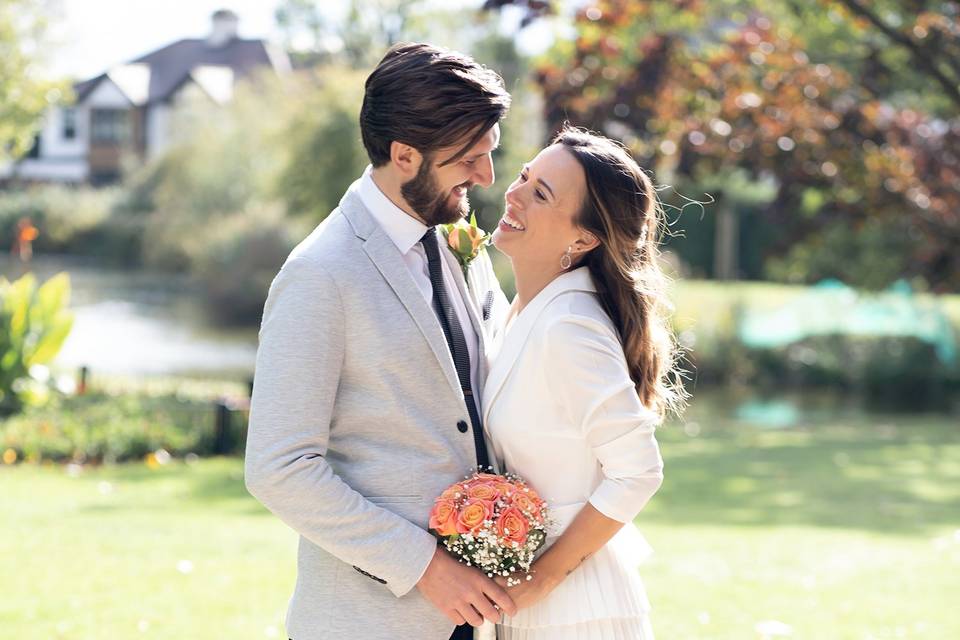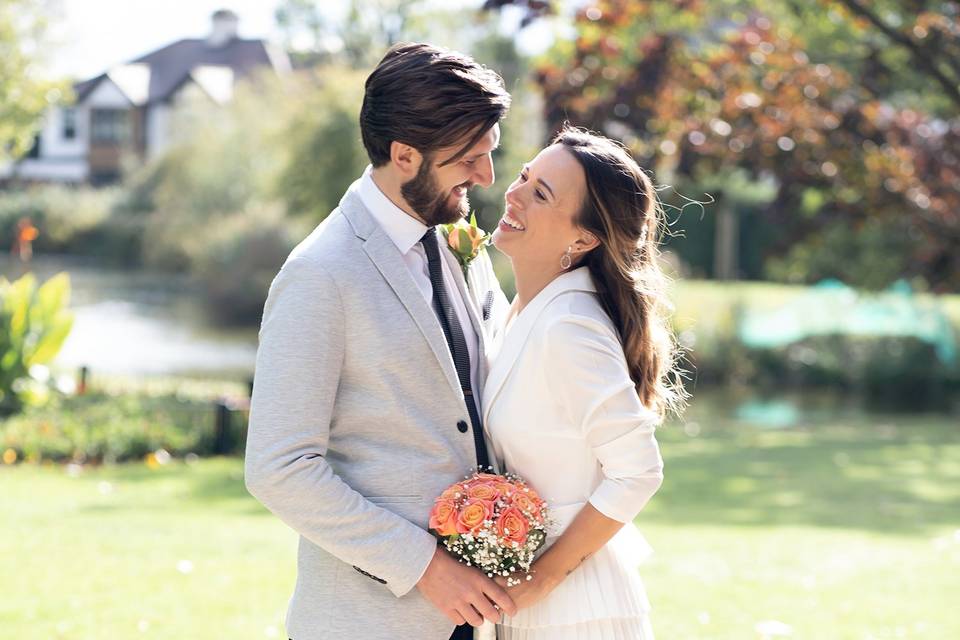 Nicole and Rob were originally due to marry on the 16th May 2020 on the day of their sixth anniversary. Instead, they ended up having to choose just six loved ones to attend their beautiful, intimate ceremony at Langtons House in Hornchurch, on the edge of East London.
It was a difficult decision for them to marry. They had cancelled three times already and their two young daughters were forced to self-isolate just as the rearranged wedding day arrived, but Nicole and Rob knew they wanted to cement their little family and become husband and wife.
They first met when they were 11 years old at secondary school but were never single at the same time. They went on their first date in 2014 after reconnecting on Facebook, with Rob admitting he had been waiting several years to ask her out.
"I wasn't sure I fancied Rob after checking out his profile pics on Facebook, but I knew the date would at least be fun," admitted Nicole. "When he knocked on my door ready for our date, he blew me away, I fancied him so much! He definitely looked better in real life!"
The date came at the perfect time for both of them and they fell in love immediately. Rob proposed on Mother's Day when Nicole was pregnant with their first daughter. She is a huge Sex And The City fan, so he had planned to pop the question in the New York Public Library with the book from the movie, Love Letters of Great Men. Except they didn't have the book.
"He had to abort the plan and we went to a local public library which was quite scruffy and not at all romantic. I pointed out a book called 'Marry Me' and, as I walked round the aisles, Rob grabbed the book and stood there in front of me with the ring in the box and asked me to marry him!"
Three years later, after lots of rearranged plans and a last-minute ASOS dress order, they were finally able to say 'I do'. Their wedding is perfect inspiration for those planning a small registry office wedding - even without the traditional moments like the first dance and cutting of the cake, they prove you can still have an incredibly precious, romantic and memorable wedding. Nicole and Rob are now looking forward to a bigger celebration as a family when Covid is finally over.
Photography by David Christopher Photography.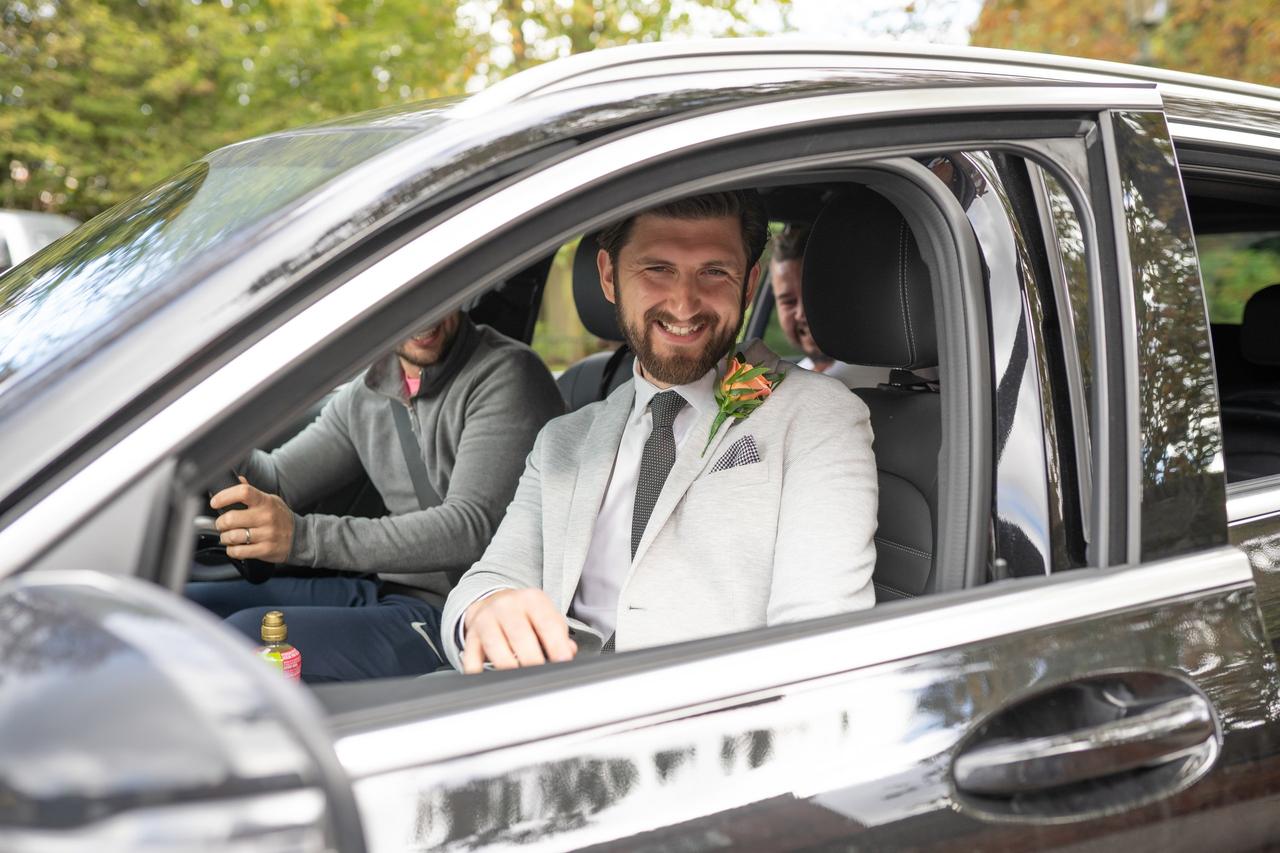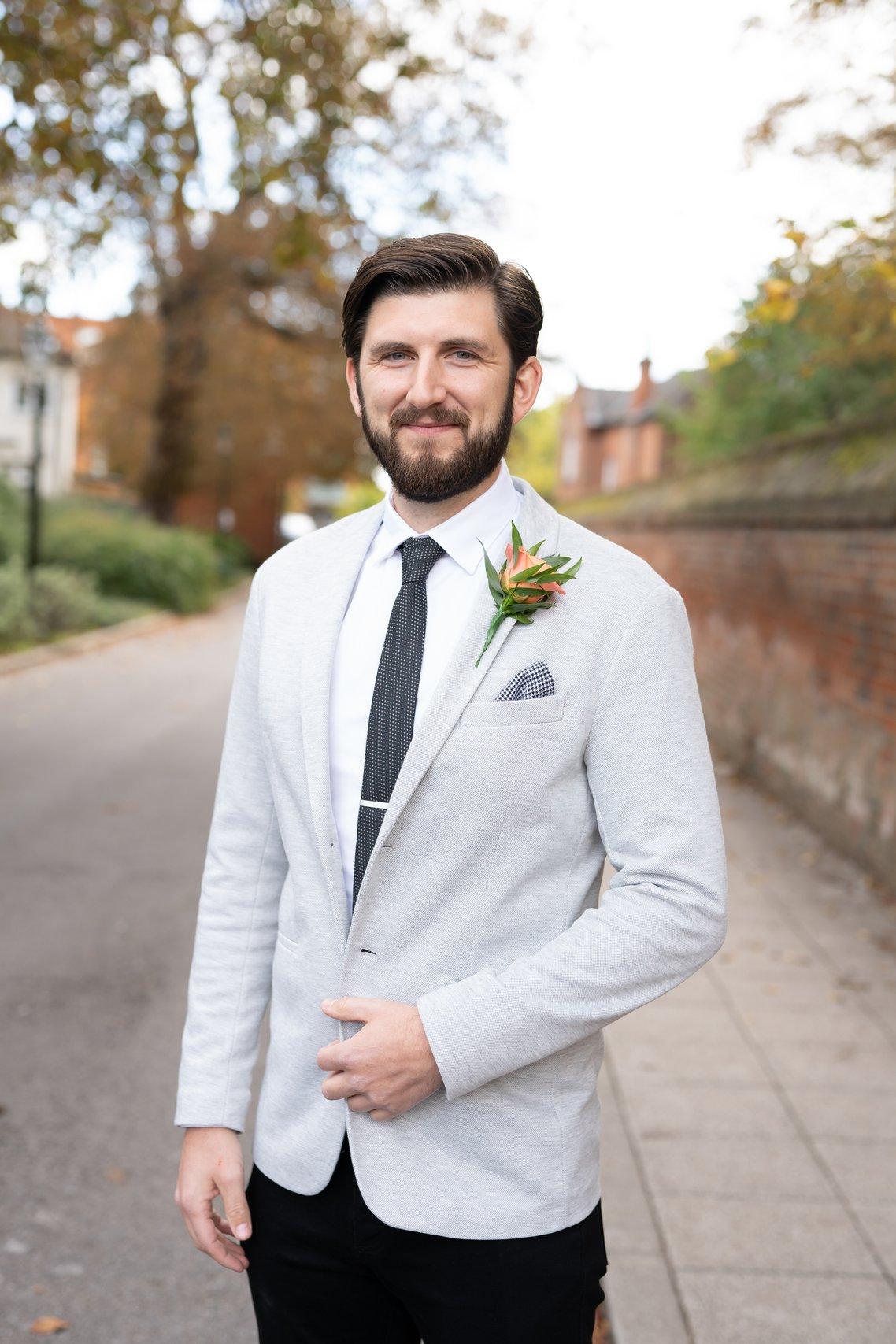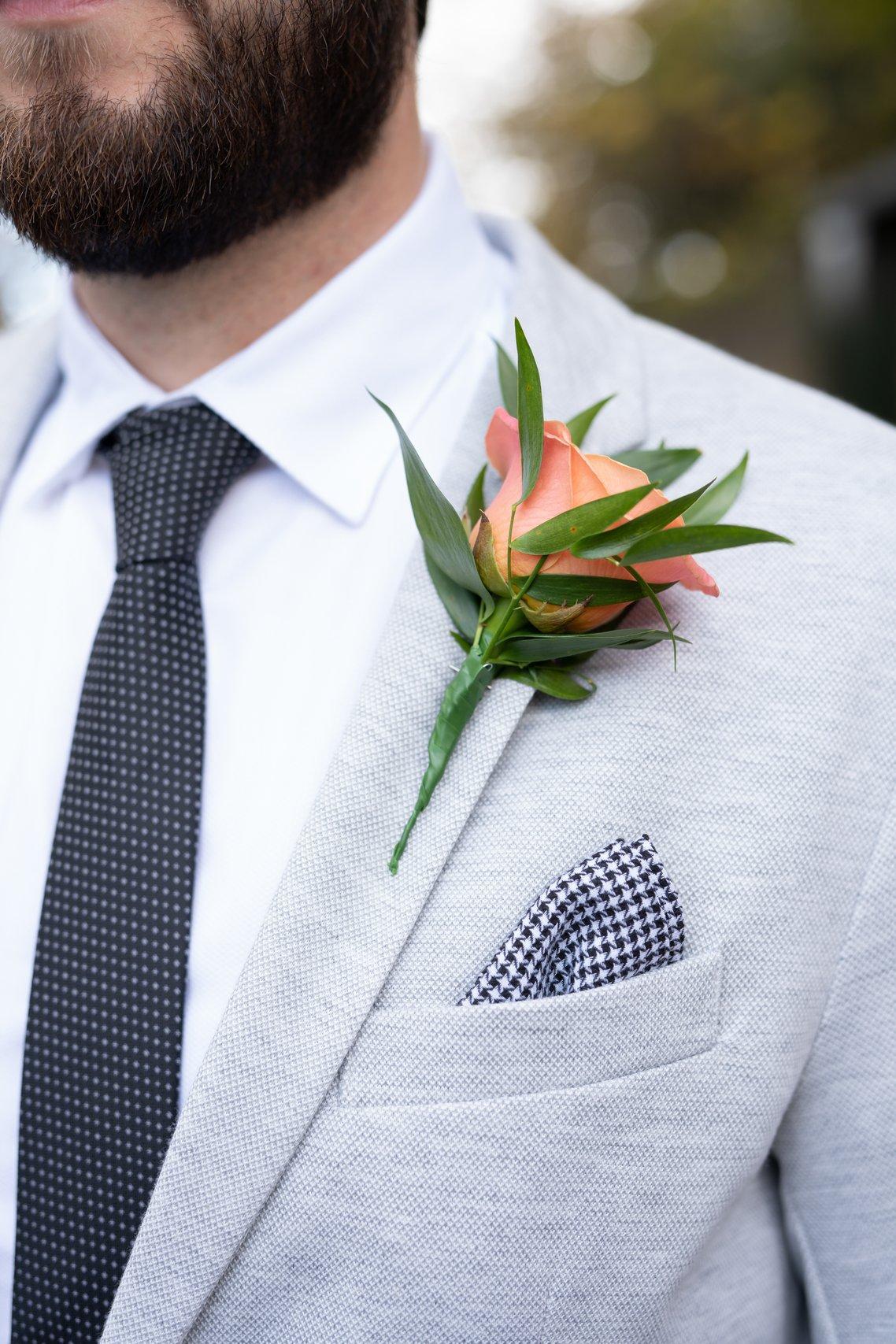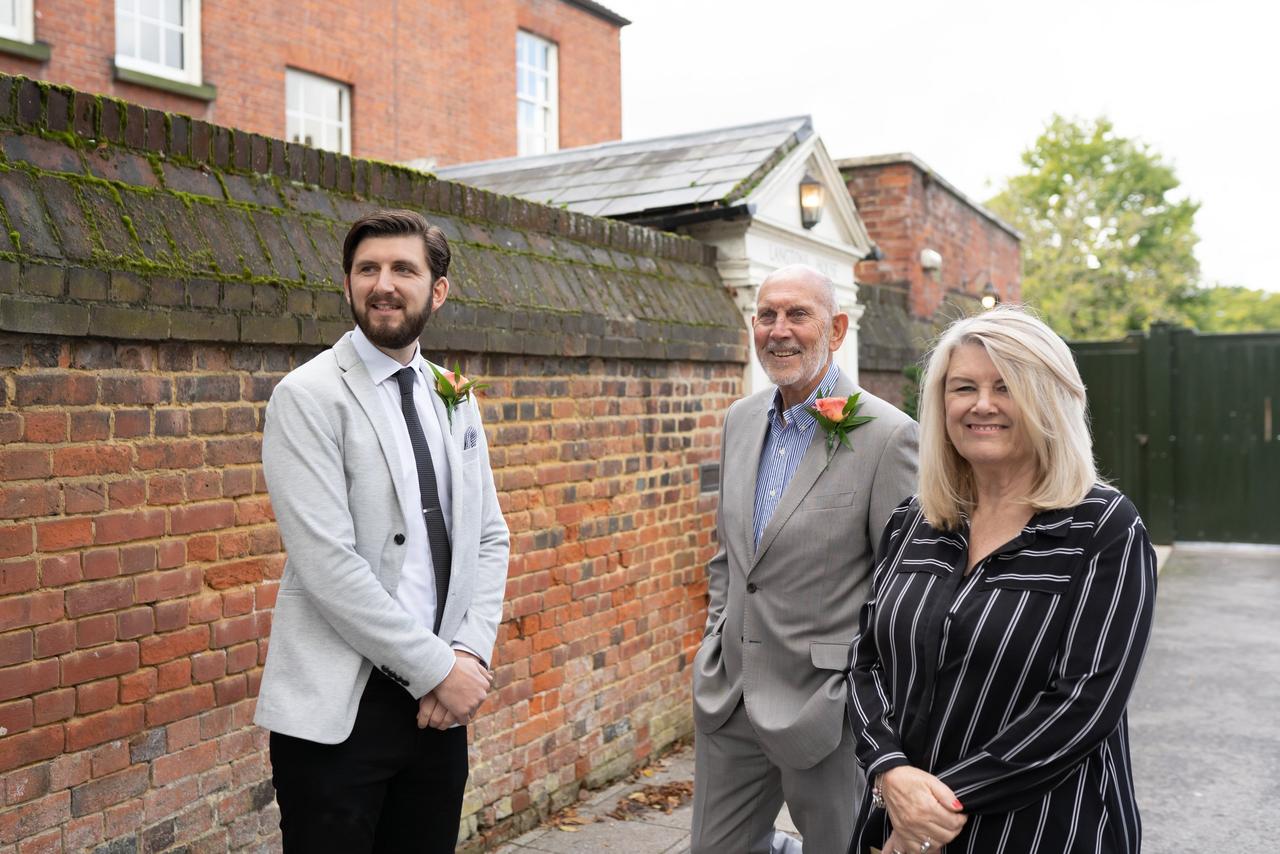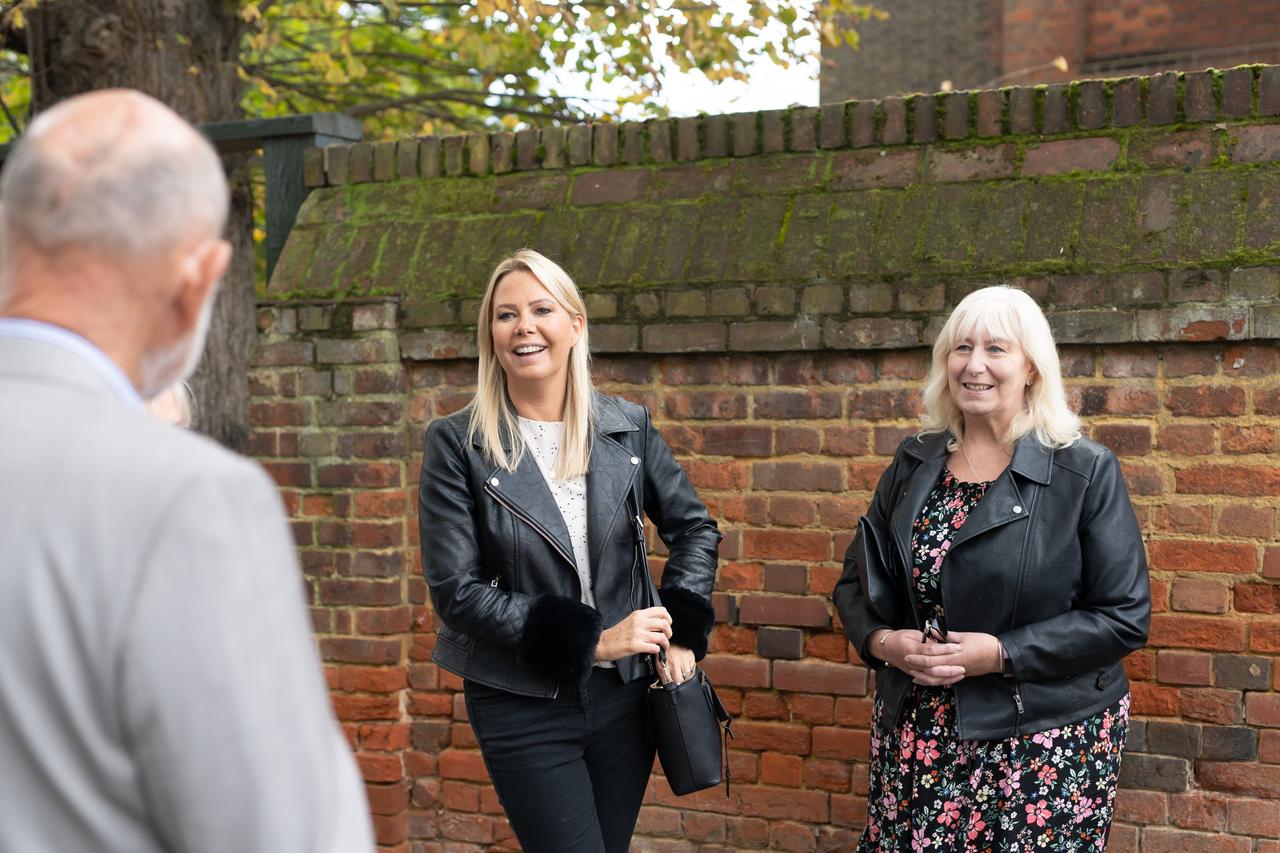 The Wedding Dress
Nicole wore a gorgeous blazer dress from ASOS that arrived just two days before the wedding and was perfect for their relaxed registry office plans.
"My original dress is by Maggie Sottero. It's stunning! Embroidered lace motifs, pearl and crystals cover the bodice, with spaghetti straps and a sweetheart neckline."
She bought it from Matchmaker Bride in Brentwood in Essex, which has unfortunately now closed down. It was the first dress shop she went to and her perfect gown was the third one she tried on.
"I knew it was The One straight away. It suits my small frame and made me feel very special. It also matched my price range, as it was off the rack.
"However, because of the huge change in our wedding plans, I wanted to save my dress, shoes and hairstyle for when we do this all again with everyone we want there.
"So, at the very last minute, I bought a blazer shirt dress off ASOS! Literally two days before the wedding."
The whole wedding morning experience was very different for Nicole. She'd had two trials ahead of the original wedding, with a half up, half down hairstyle planned and a jewelled hair piece to be weaved in.
"Because of change of plans and restrictions, I actually did my own hair and makeup alone which felt very strange," she admitted.
Nicole was still able to style her hair in the look she wanted - "but not quite as wonderful as it should have been" - and accessorise with earrings with her daughters' names on, and a Thomas Sabo bracelet with the family's names: Rob, Riley and Addison.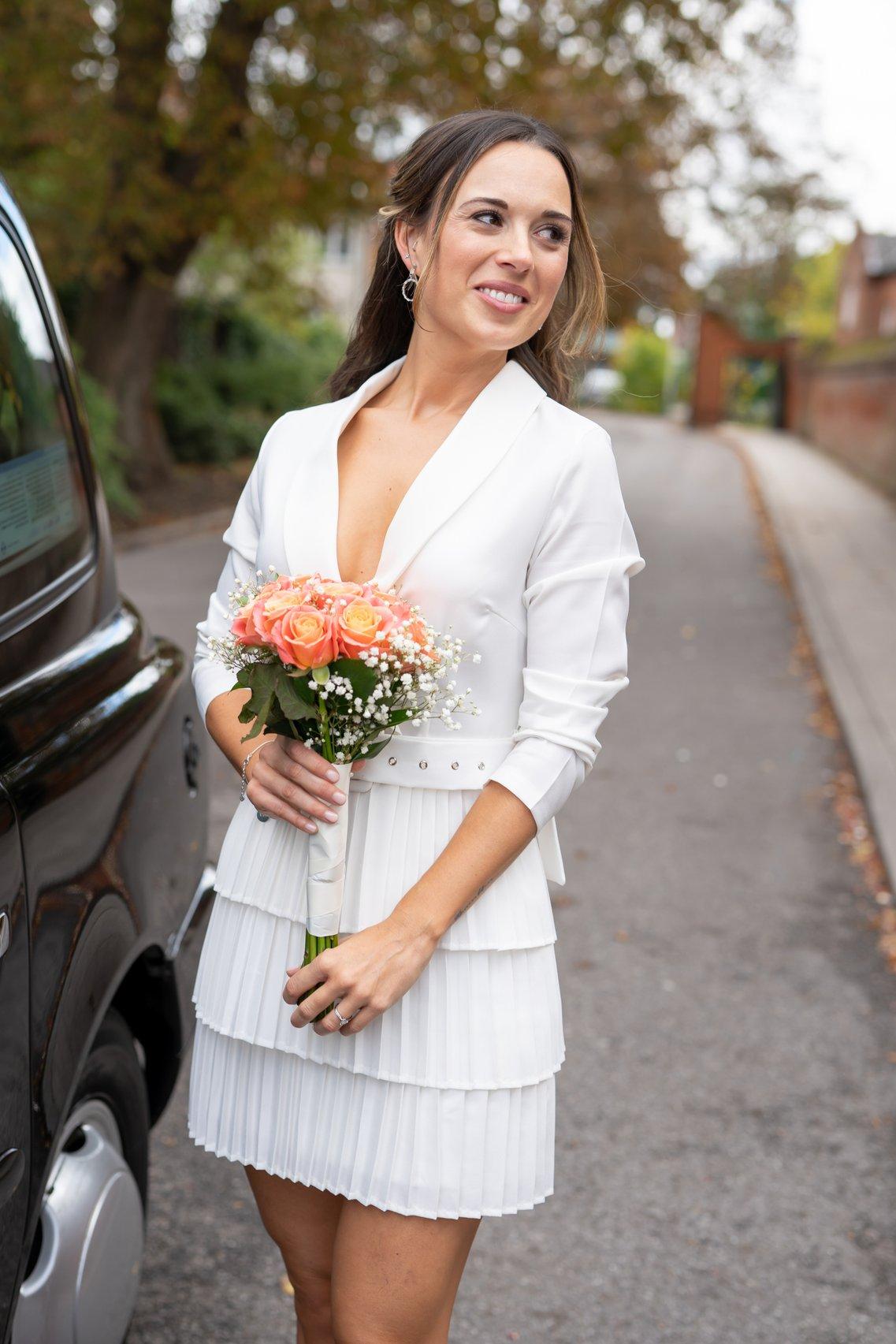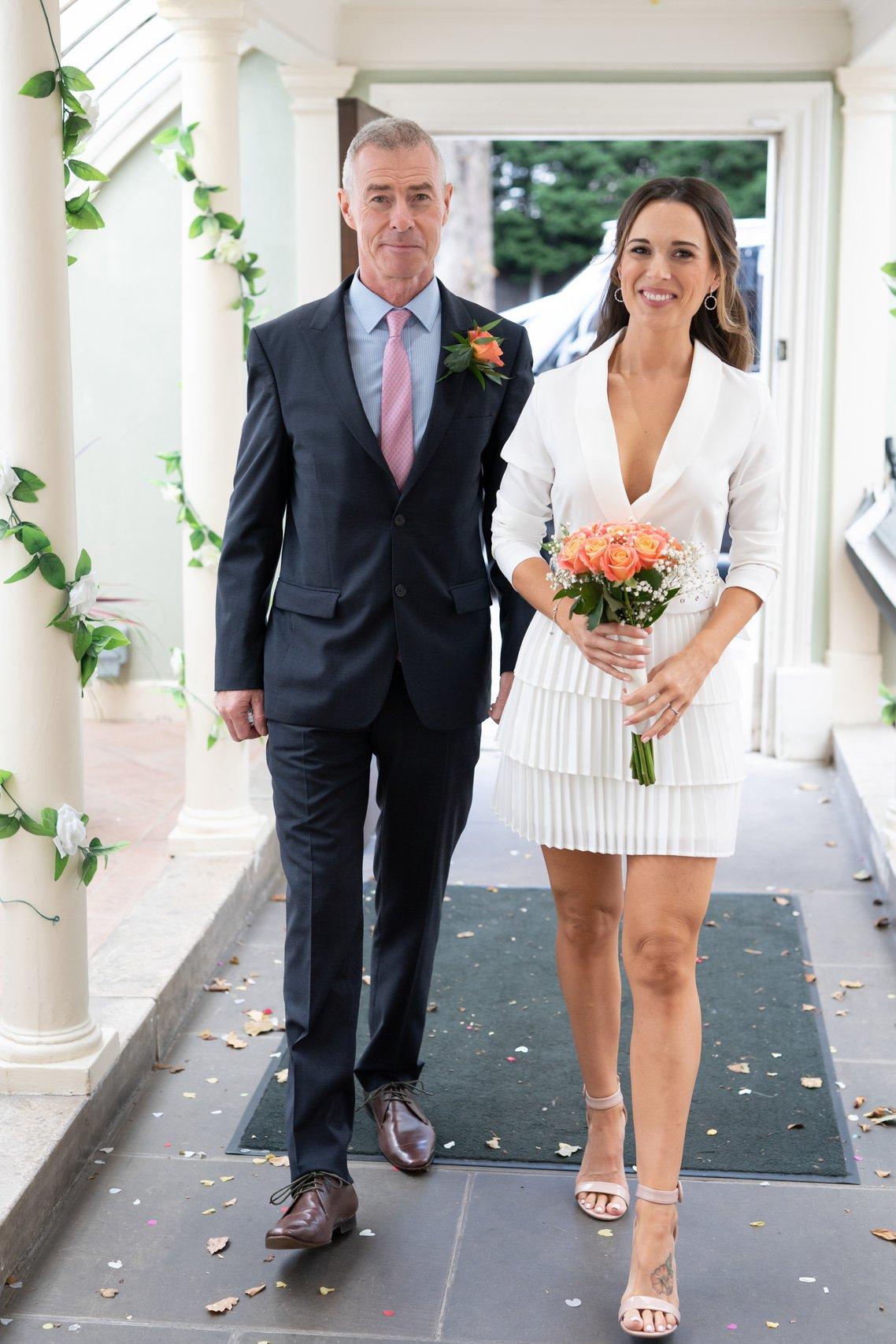 The Wedding Morning
Daughters Riley and Addison were due to be bridesmaids and were excited to wear their pretty Monsoon white dresses. However, Covid restrictions got in the way.
"Our daughters were supposed to be out bridesmaids and will be when we can celebrate our wedding and marriage with no restrictions," said Nicole.
Instead, they married in front of just six guests with Nicole arriving with her dad by black cab.
Rob matched Nicole's informal style in black jeans, a white shirt, black tie and grey jacket that still looked incredibly dapper.
Nicole had a small bouquet and the men wore buttonholes: Miss Piggy roses and gypsophila. "I had planned to have flamingo pink calla lilies but, because the wedding got cancelled AGAIN less than a week before and then rebooked days before, they had sold them so I went with the roses that were a back-up."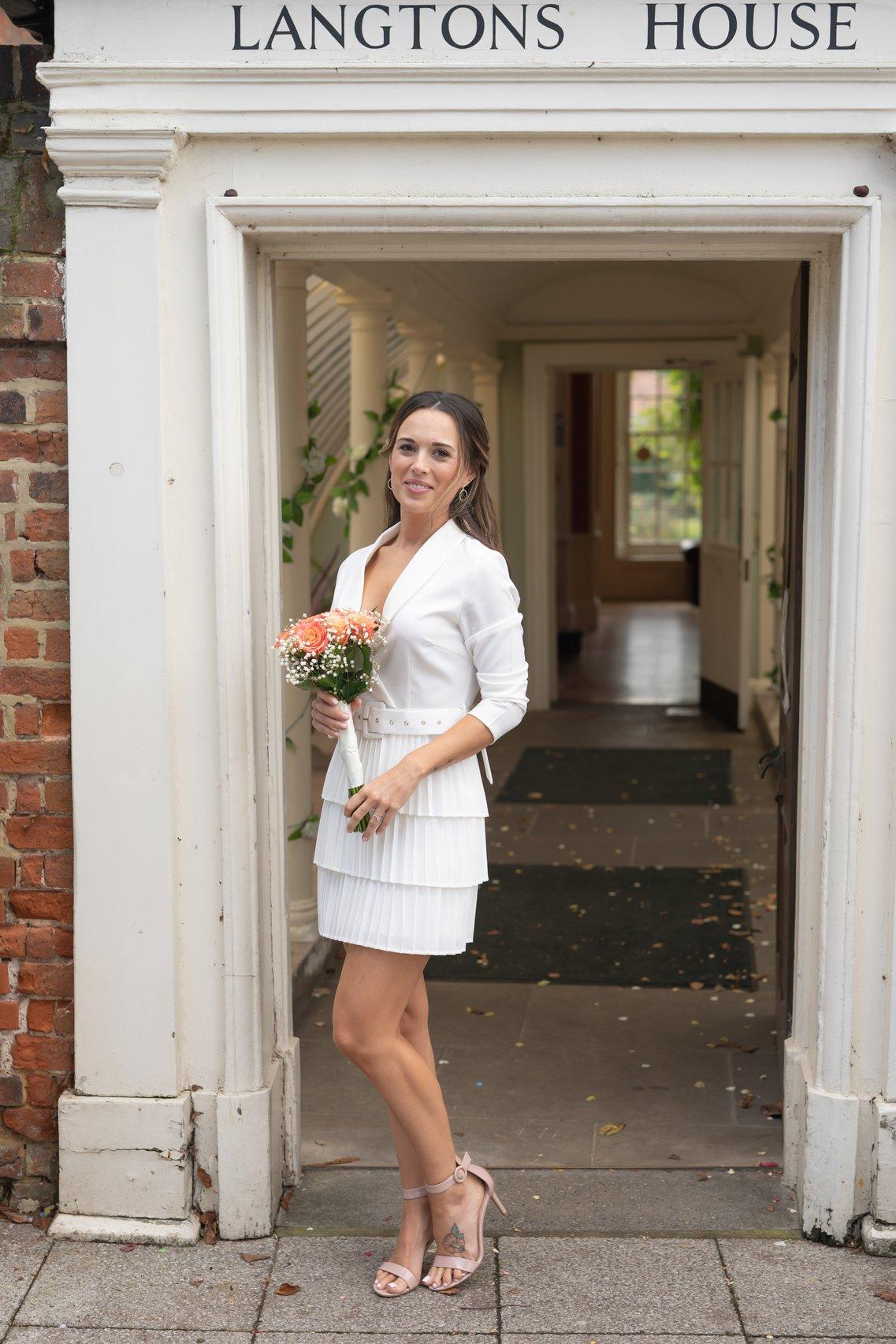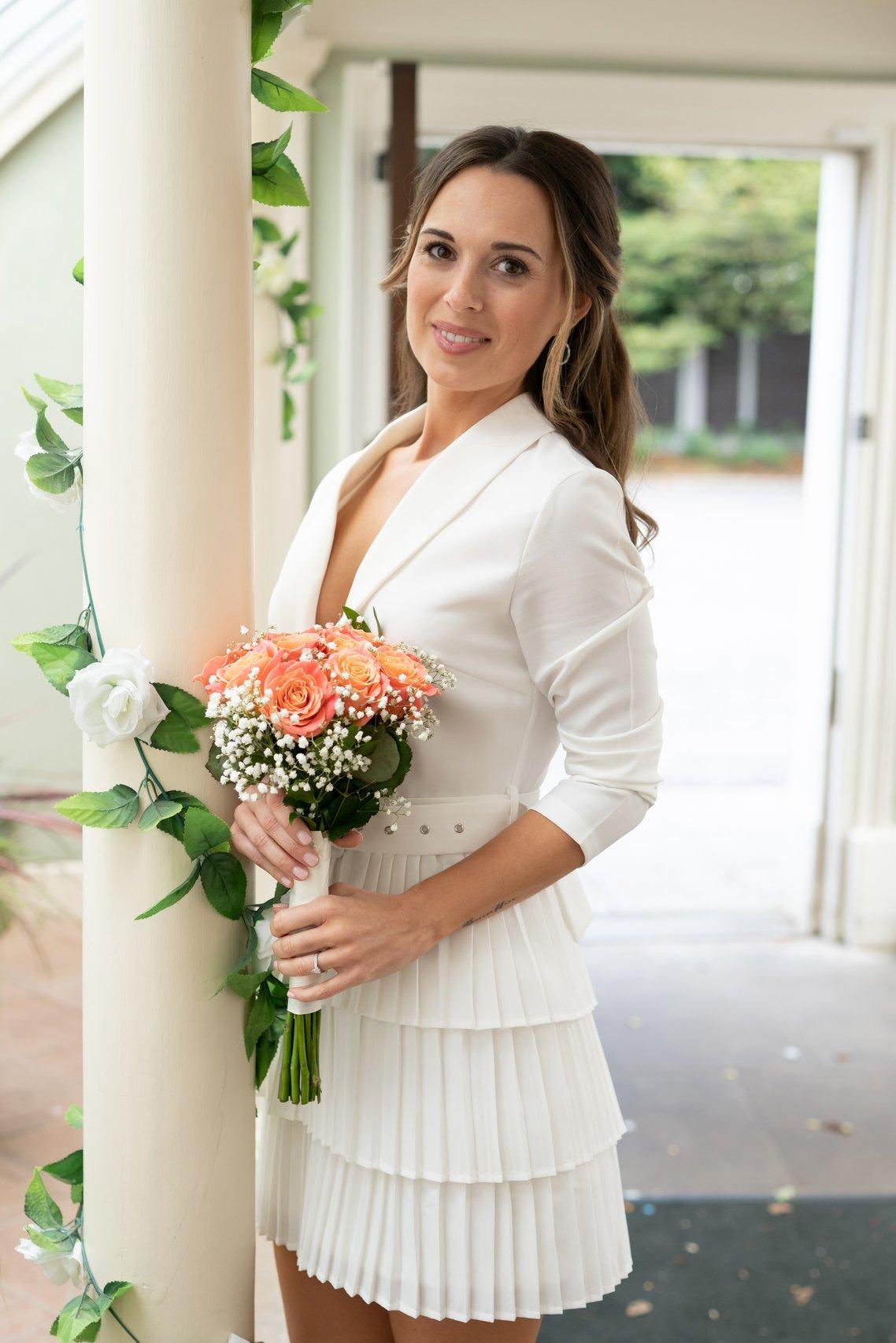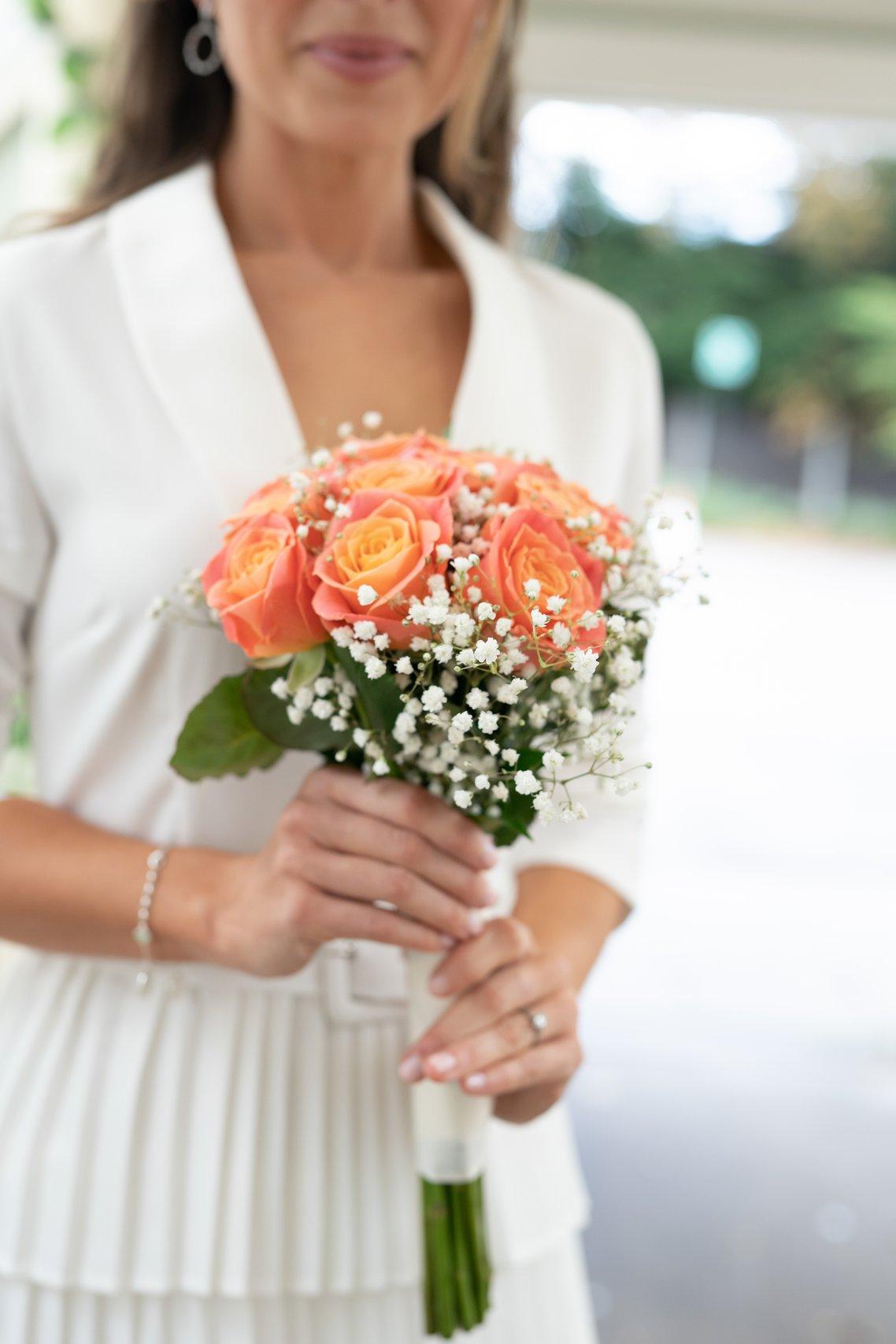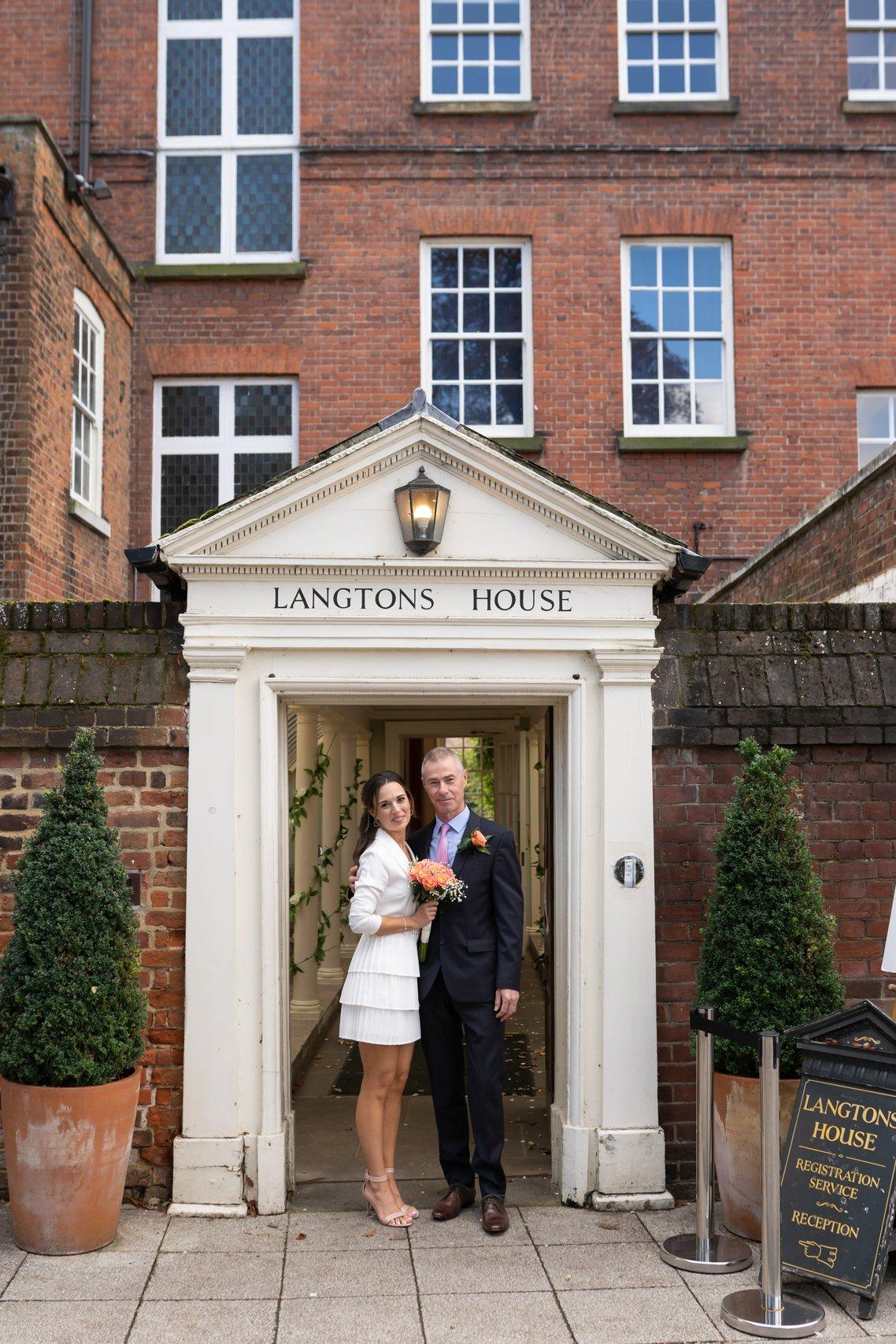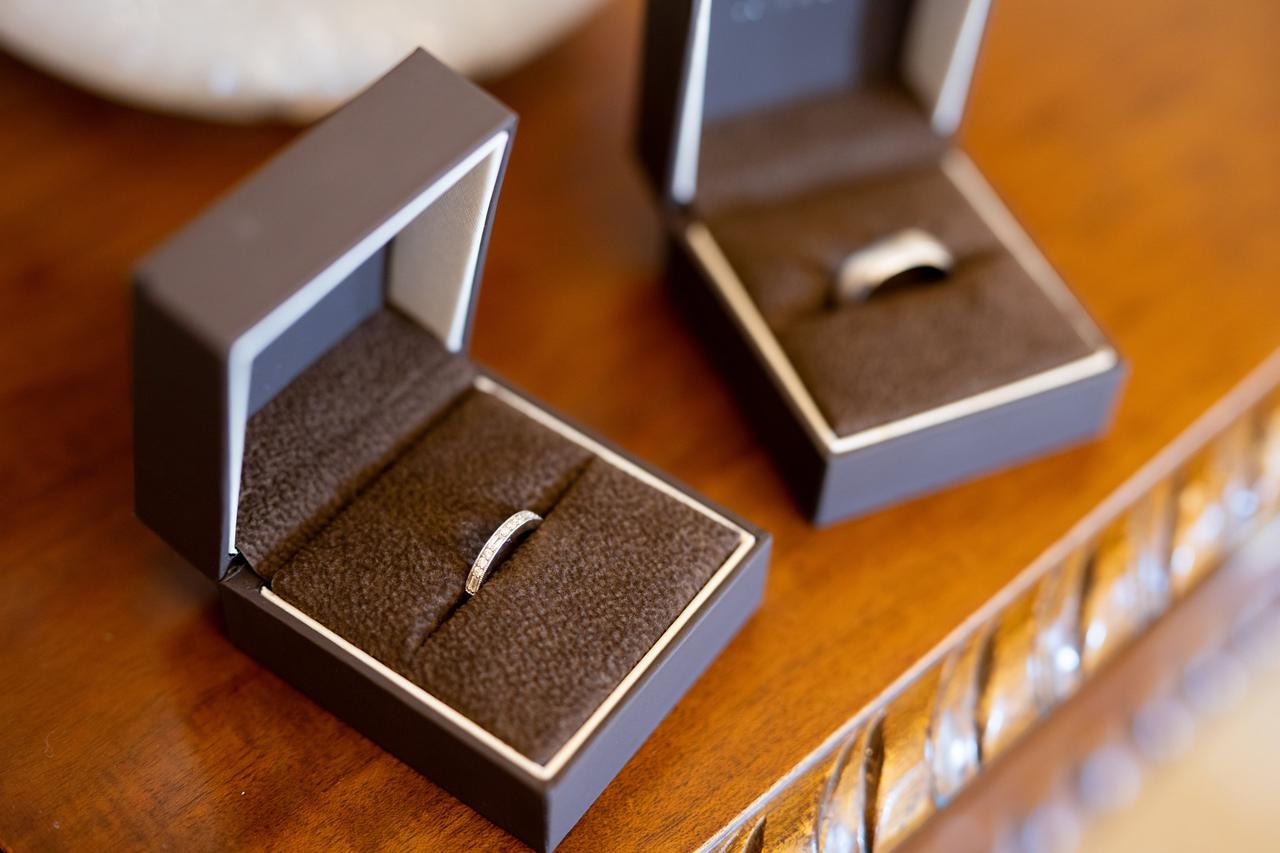 The Change of Plans
Nicole and Rob were lucky to be able to keep their ceremony at the same venue - the beautiful Langtons House in Hornchurch, Essex - but were sadly forced to cancel their 97 person reception at The Pearson Room in Canary Wharf.
"We had rebooked our wedding for May 8th 2021 but then The Pearson Room had to close down due to financial issues, we were absolutely gutted. We loved Pearson Room, it was totally us. We had planned everything down to the seating plan and food.
"Nothing seemed to improve: weddings were restricted to only 30 and all the other venues just didn't match up to Pearson Room and would have cost a lot more. We felt so upset and disheartened and could see endless months of more worry and uncertainty, so we called the registry office and booked their one slot available which was four weeks away - the 11th October 2020."
Nicole and Rob met at school, aged 11, in 1996, so it wasn't an exaggeration when Nicole said "becoming Rob's wife was something I have dreamed about for what seemed like forever." They knew they wanted to get married as soon as they could and were ready to wait to have their reception at a later date. "When your day is just a handful of weeks away and it's snatched away from you, it can make you want for it even more!"
They had already put their wedding plans on hold to have their daughters, Riley and Addison, aged two and three. It had taken a while for fertility nurse Nicole to get pregnant with their first daughter, but then she fell pregnant again just five months after giving birth! With their daughters just 14 months apart, they had already been engaged for three years by the date of their original wedding. It was "extremely important" to Nicole that she shared the same surname with her girls, so the couple didn't want to wait any longer to say 'I do'.
They then had just four weeks to pull together their new wedding, finding a small restaurant near the registry office that would hold their 30 guests, and re-doing their food and seating plans, finishing favour bags, buying bridesmaid dresses, sorting a playlist, finding decorations for the restaurant and more.
"I had pretty much arranged everything for the original May wedding but soon realised all the finer details were still to be done and it felt quite time consuming, but I absolutely loved doing it. Arranging things and organising in that short space a time felt extremely exciting and gave me such a rush!
"That first week was lovely. But then things took a turn for the worse, the pandemic was getting worse again and 30 guests went down to 15!
"Reducing your guest list from 97 to 30 was enough of a challenge but we managed to do it and felt happy about our list. The group of people we had with the 30 made it feel so much more intimate and actually even more special!
"But 15 was heartbreaking! I know it sounds dramatic but I literally sobbed over the news."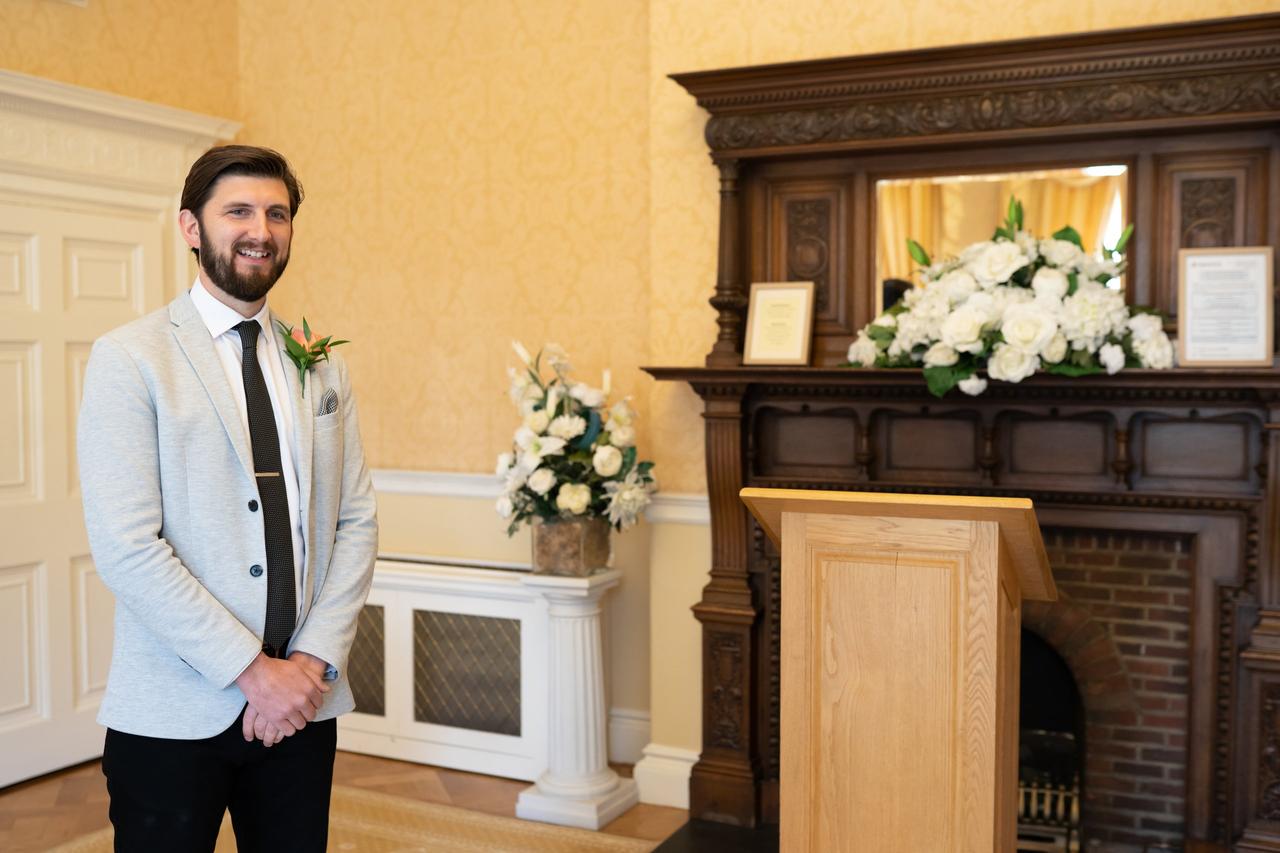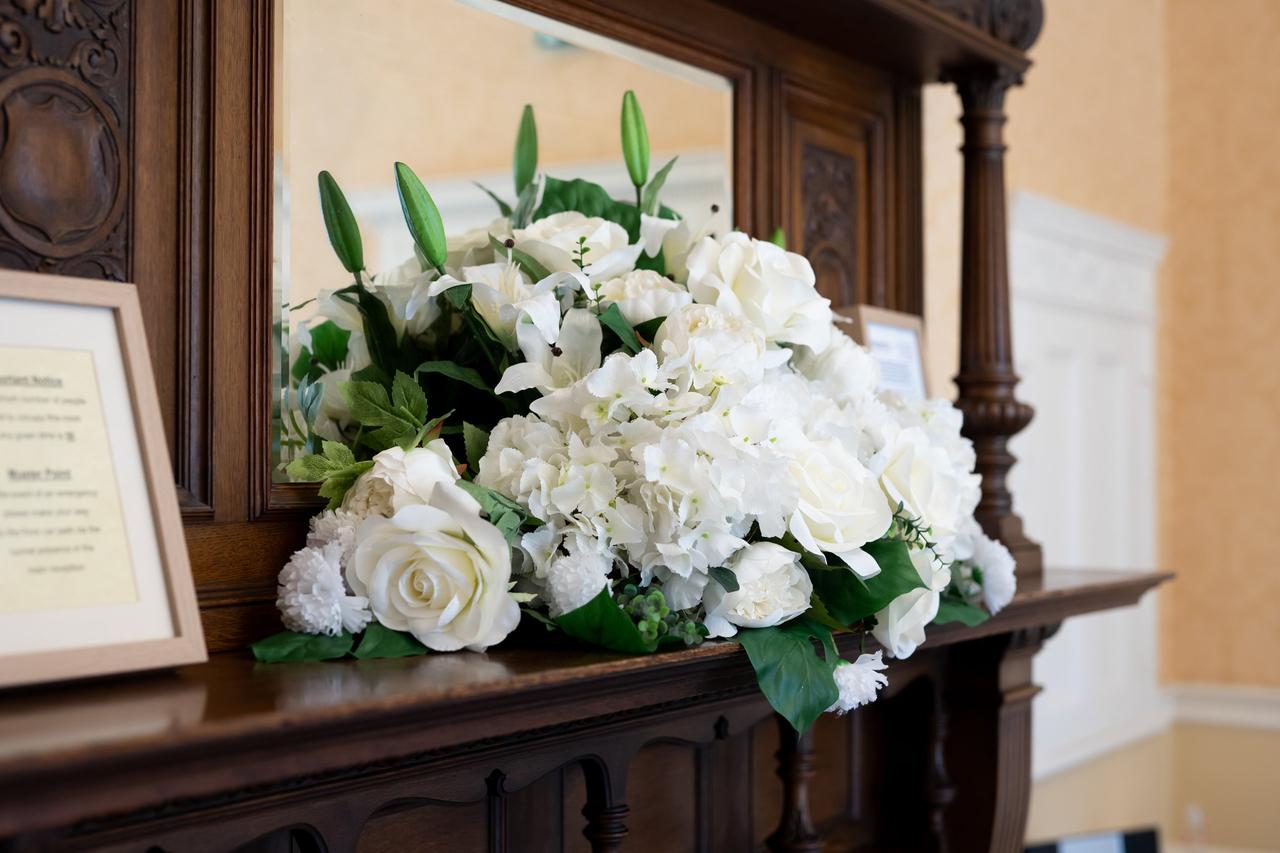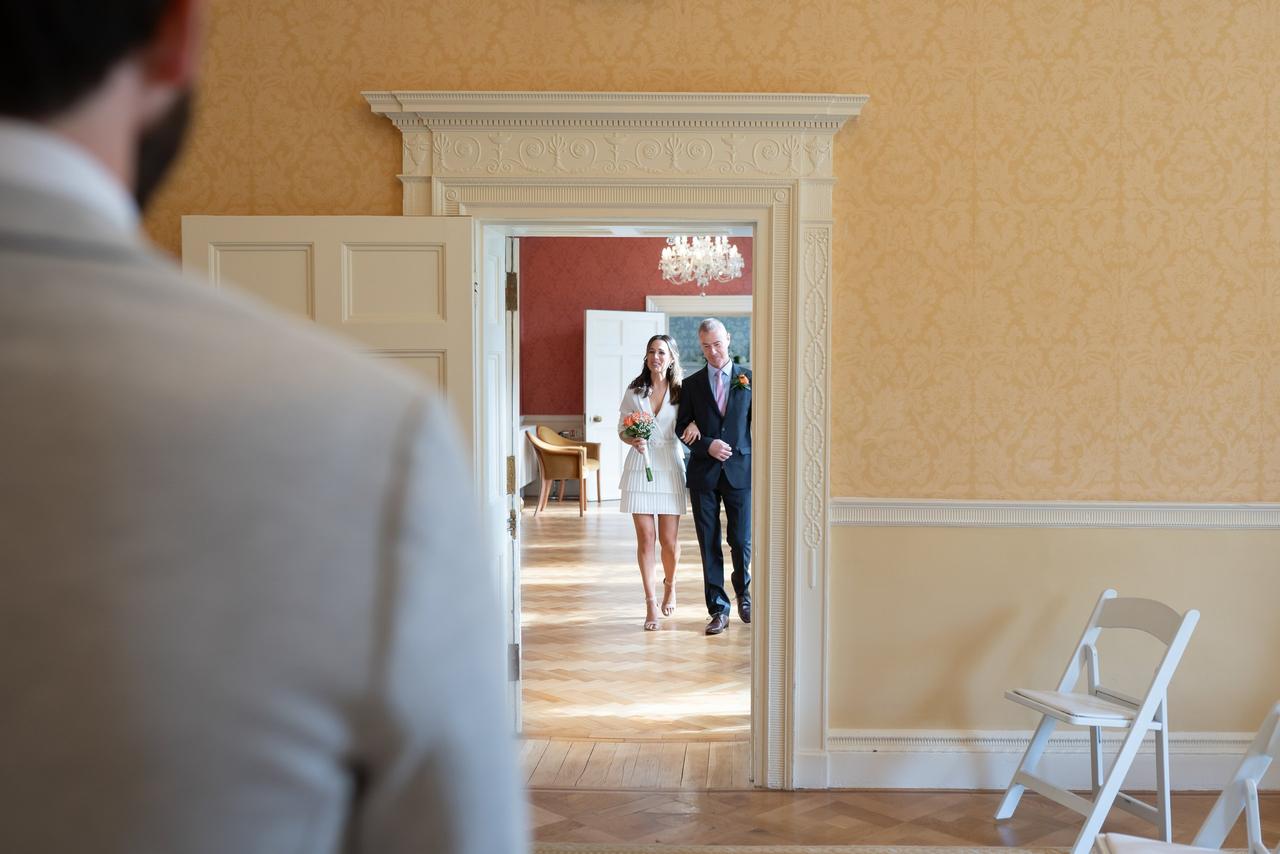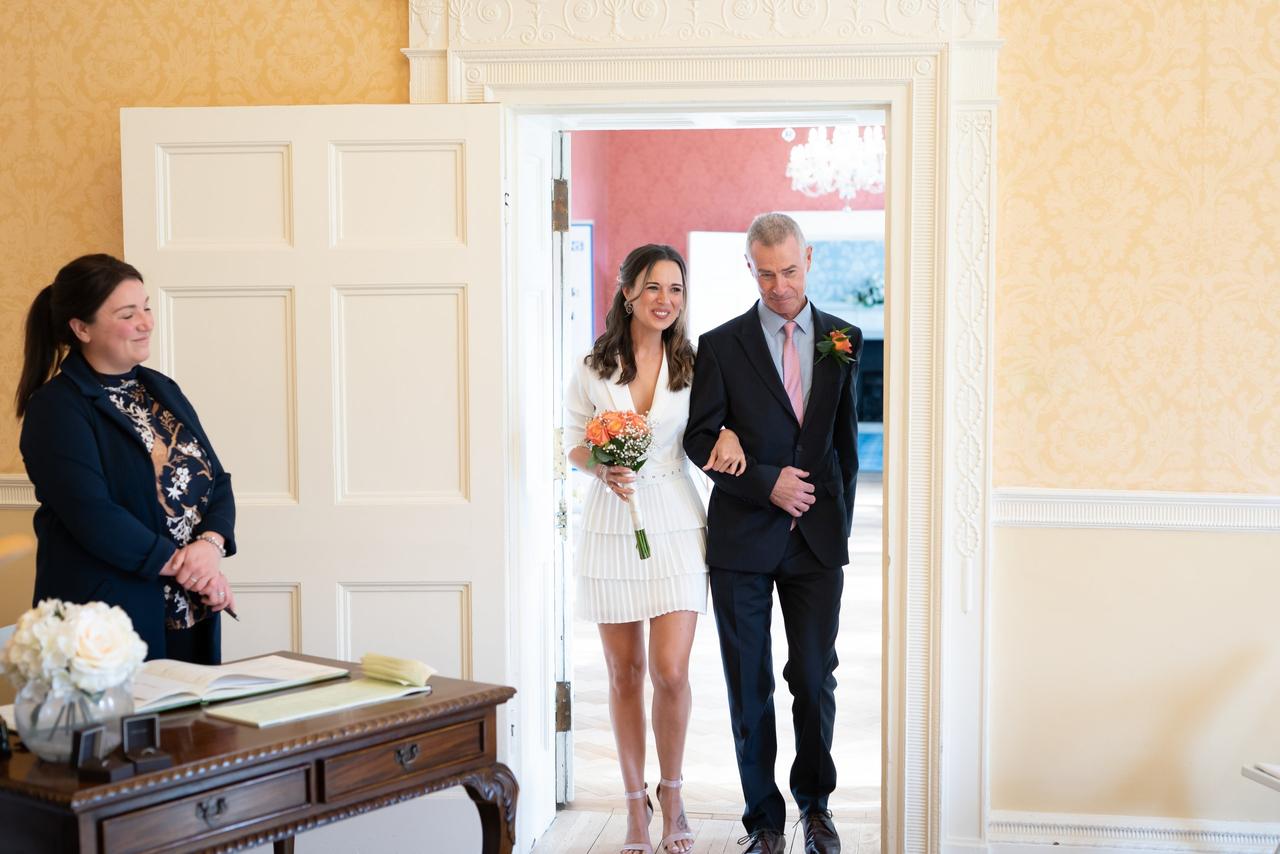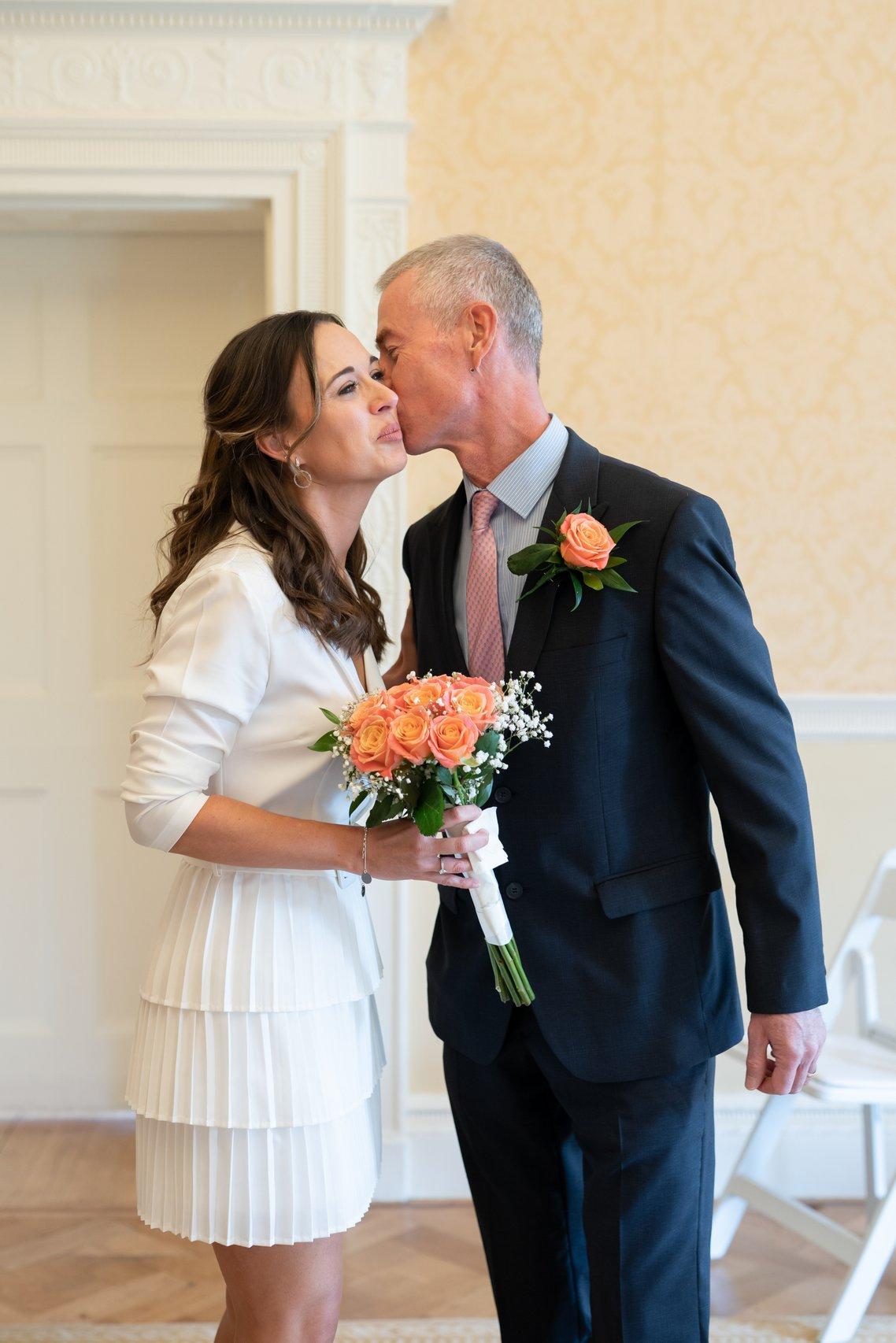 Nicole and Rob's friends and family were incredibly supportive but, unfortunately, more bad news was to come.
"Each day in the last two weeks I literally woke with a stomach ache from the worry weddings would get cancelled altogether and we would go on a national lockdown again!
"I kept saying to myself, if we just get to the Thursday before the wedding I will allow myself to get excited as the chance of it going ahead will be much greater by then. Tuesday came and I thought, OK, this really might happen.
So I sat and made the favour bags while the girls were at nursery. Everything was in place and ready to go. Then I received an email from the girls nursery: a staff member had tested positive so our girls and all other children at the nursery had to self isolate for ten days from that day! It meant they wouldn't be able to attend the wedding.
"All my worries involved a national lockdown, a local lockdown, a close family member getting Covid and not being able to attend, me or rob getting it - never did I think the girls would have to self isolate!
"I will never forget that moment I read that email. I started to hyperventilate. Then I actually laughed in shock. Then I weirdly felt relieved.
"It was over. It was done. It was cancelled. My daily gut ache and agonising worry could finally end!
"I was exhausted from it! I cancelled everything. We couldn't get married if our daughters couldn't be there.
"Then I cried. And cried and cried."
It got to Thursday and Nicole's best friend suggested that the couple could get married anyway, which suddenly seemed to click for them. It had gone on long enough, thought Nicole, and who knew when they would next be able to marry. She decided to put an end to more months of uncertainty and she called the registry office and rebooked for the fourth time - this time for the smaller room.
"No, our daughters wouldn't be there, which to some could be seen as a wrong decision, no, our siblings wouldn't be there, or our best friends either. But this came down to me and Rob now, becoming husband and wife. Which ultimately is what a wedding is about! Nothing else mattered. Yes, maybe I was desperate at this point, but I could not see myself feeling happy, properly happy until we tied the knot."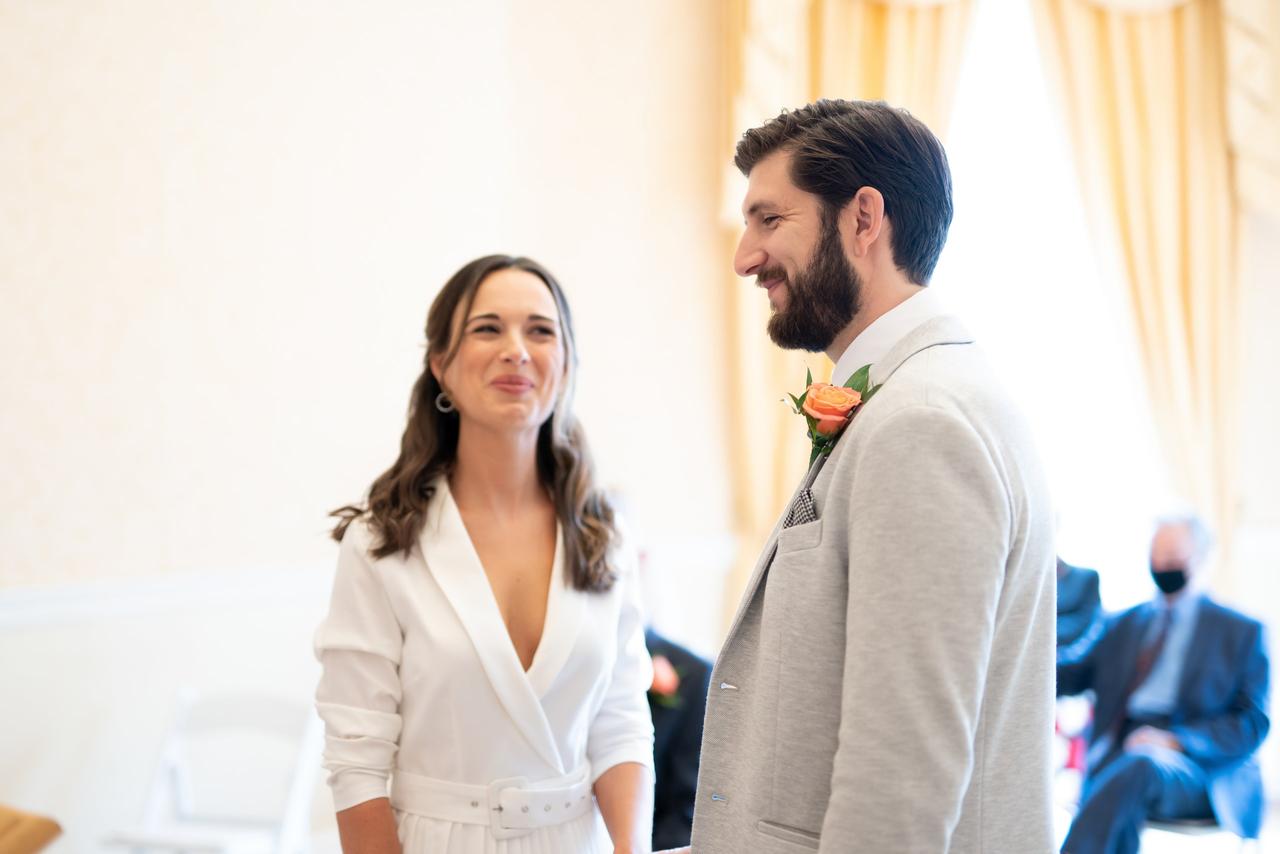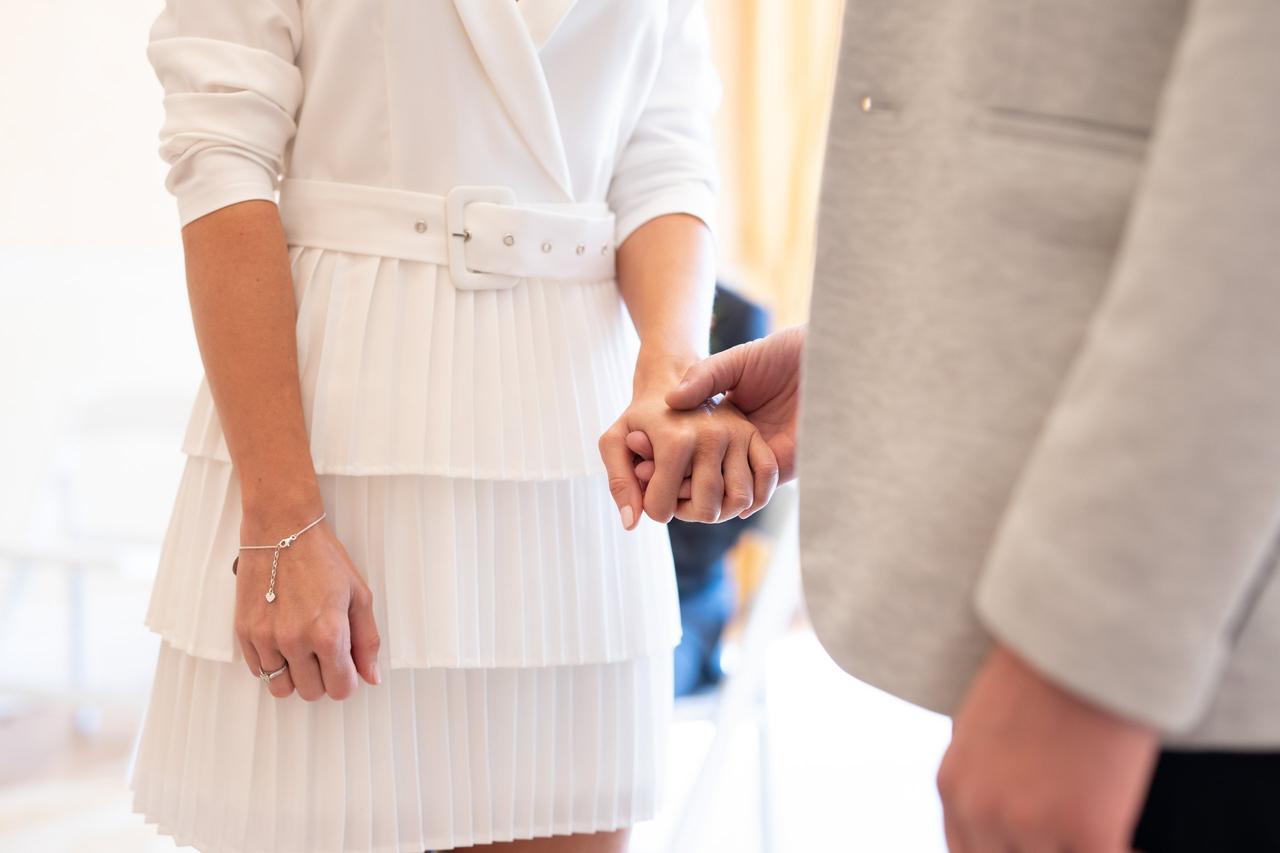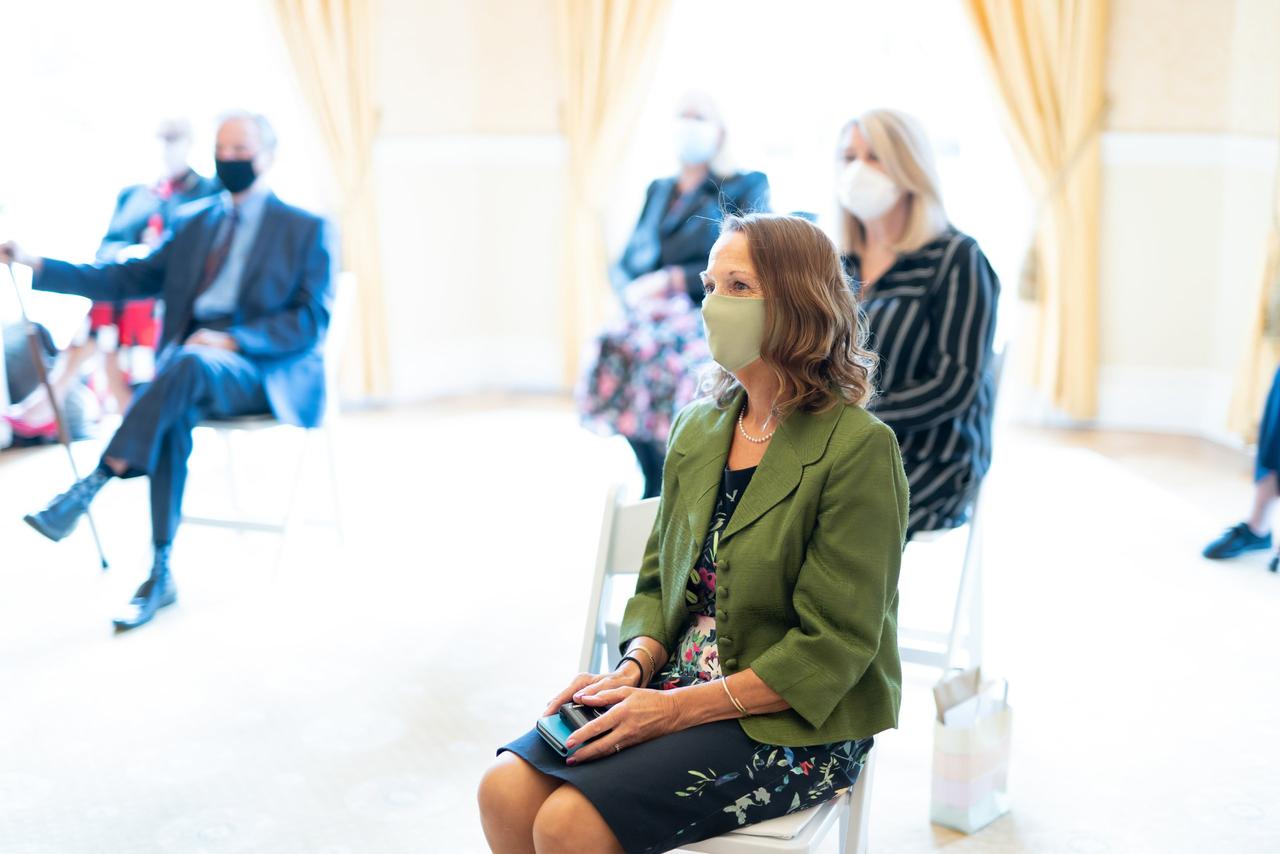 The Wedding Ceremony
Nicole and Rob had a civil ceremony at Langtons House with just six guests. She was walked down the aisle by her dad to a cover of The Proclaimers' I'm Gonna Be (500 Miles) by Sleeping At Last - "a stunning song when you really listen to the words".
"The day itself was even better than I expected," said Nicole. "It was so special, I cried as I entered the room and saw Rob waiting for me.
"Looking around, it didn't even seem strange that there were only six people in the room, all sat apart and with face masks on. It was a 2020 wedding. We was suffering a global pandemic. Yet I was marrying the love of my life!
"The girls not being there was sad but we tried not to think about it. We didn't have time to think about it, we knew deep down this was a part of much bigger wedding planned for when the world goes back to some sort of normality.
"This was the starter. And an extremely magical one."
Her favourite moment of the day was the vow exchange.
"It was so special and nothing else mattered. All the worry and upset leading up to this day, the day that was changed three times, the day that was affected so badly by Covid - when exchanging vows, none of that mattered. I knew we were doing the right thing for us and our daughters and I felt so unequivocally in love with Rob."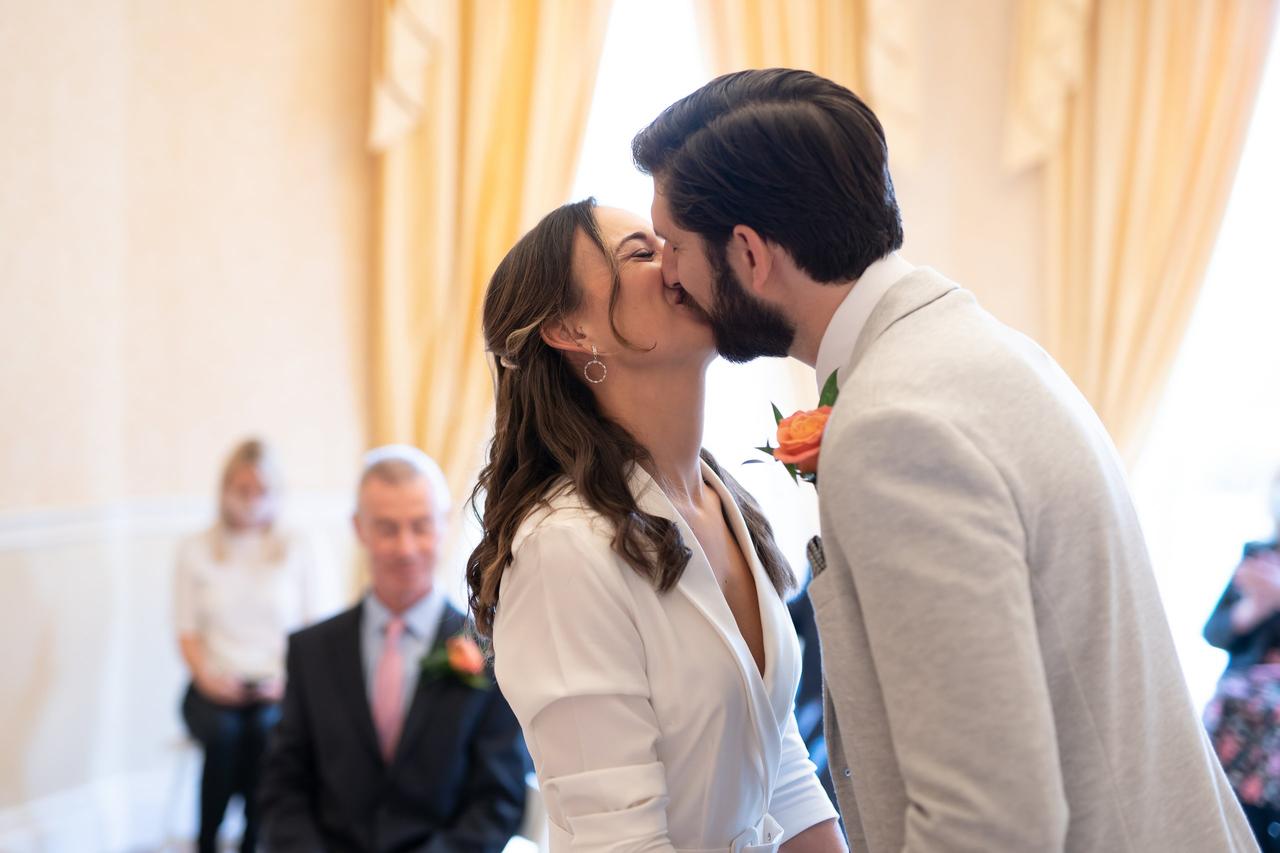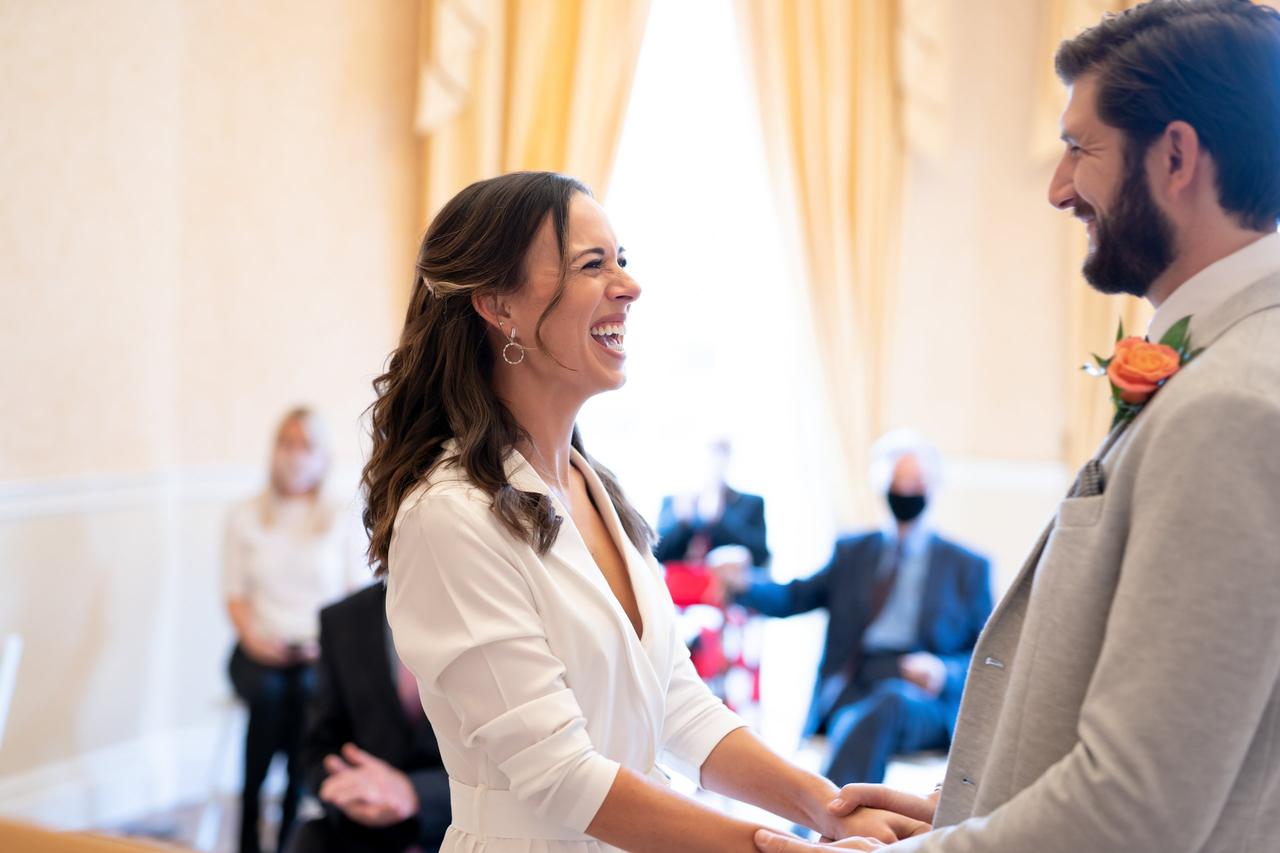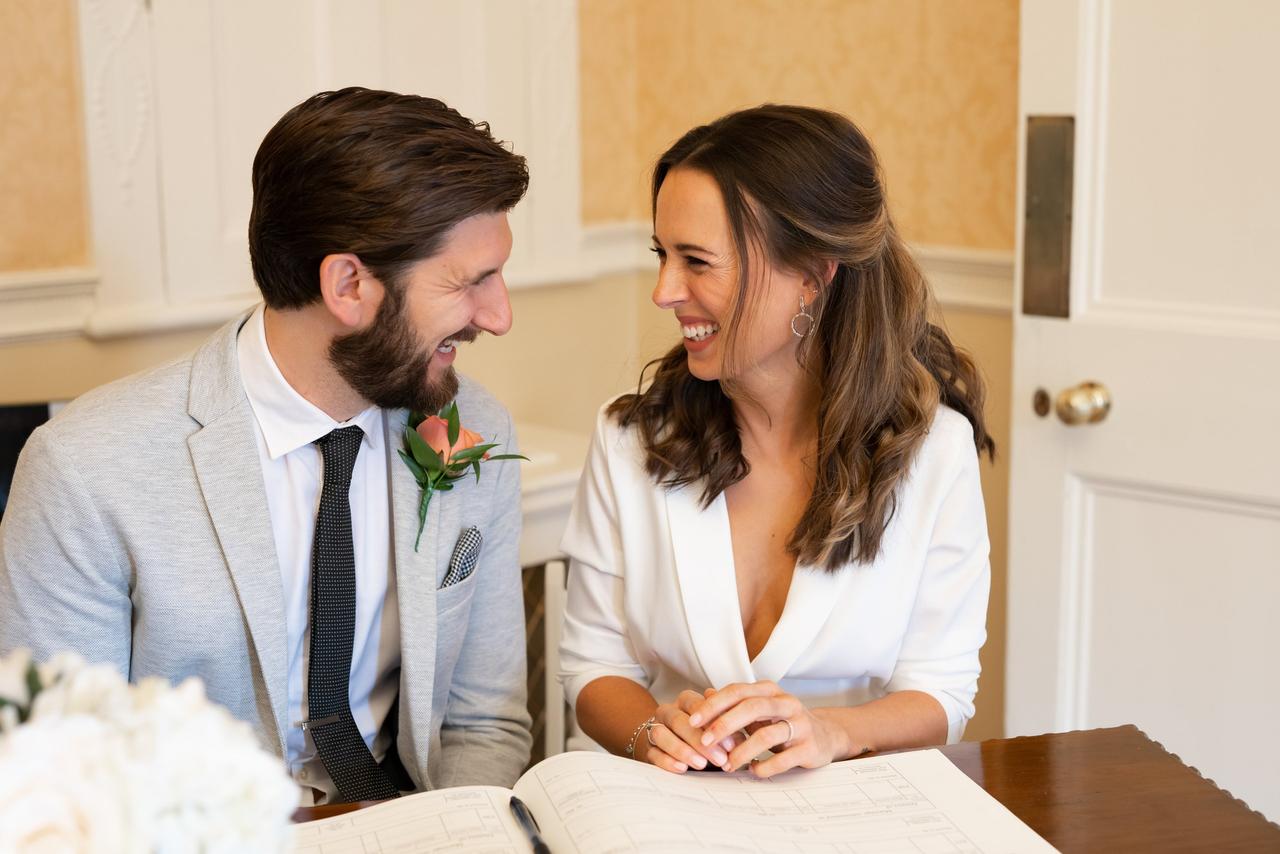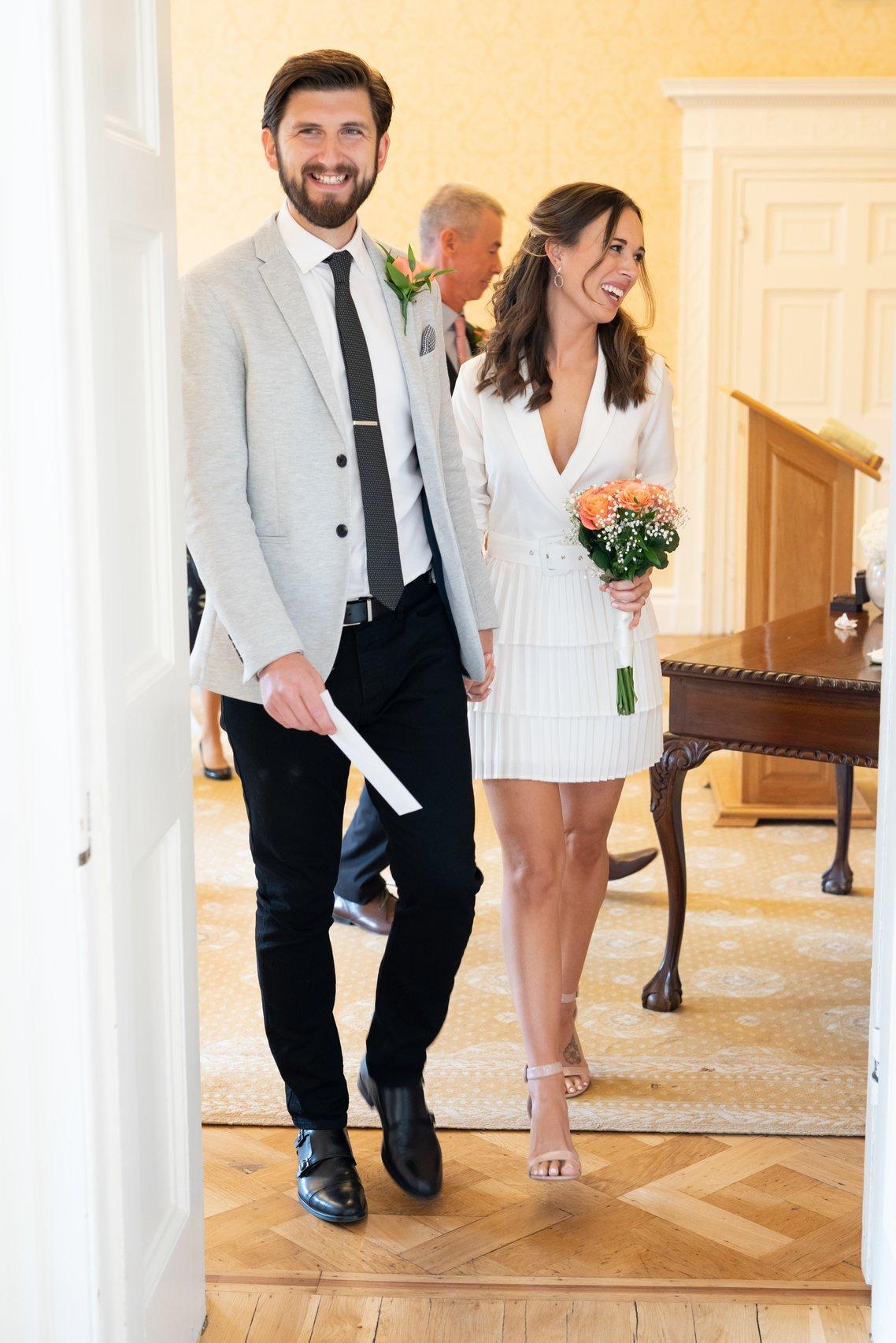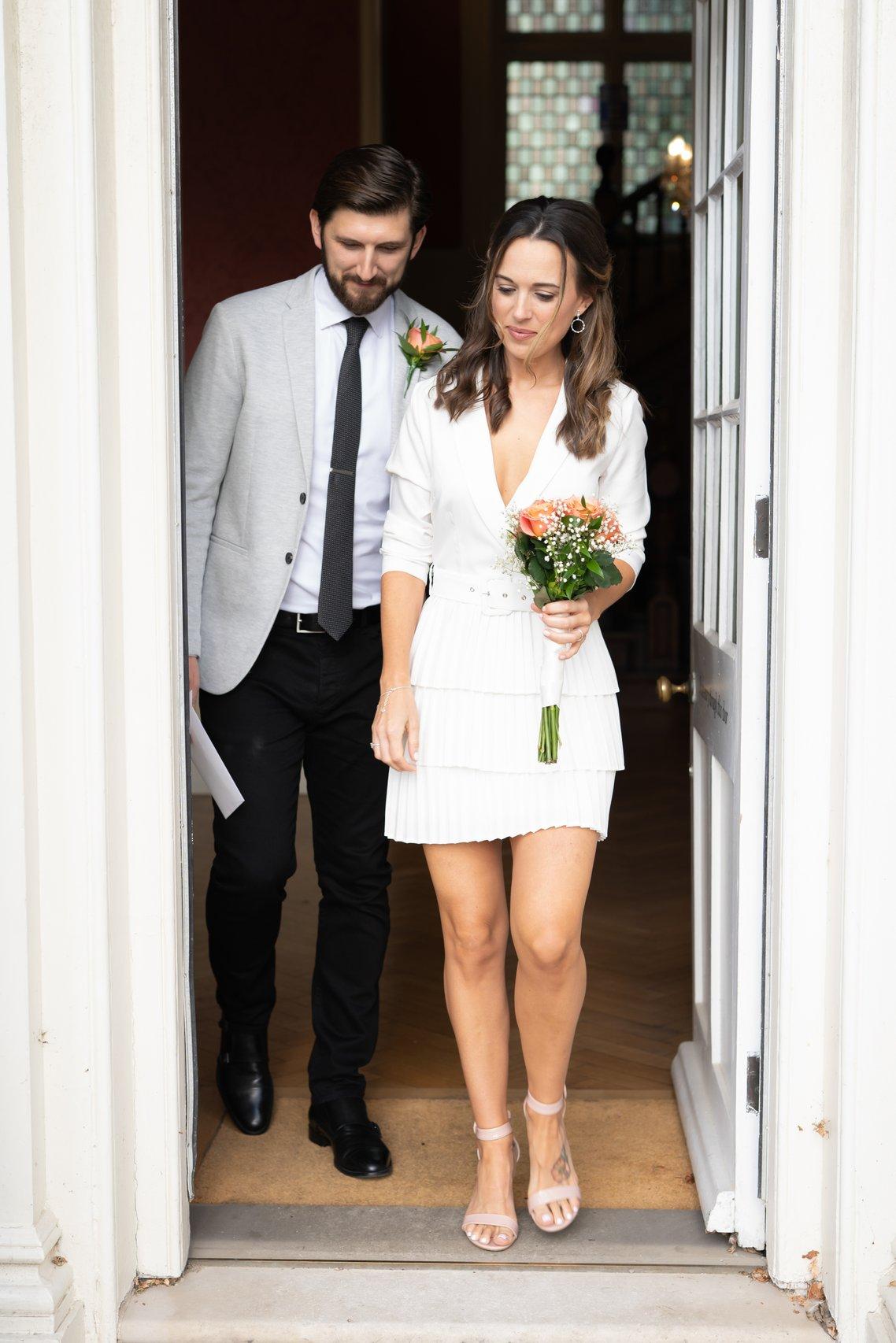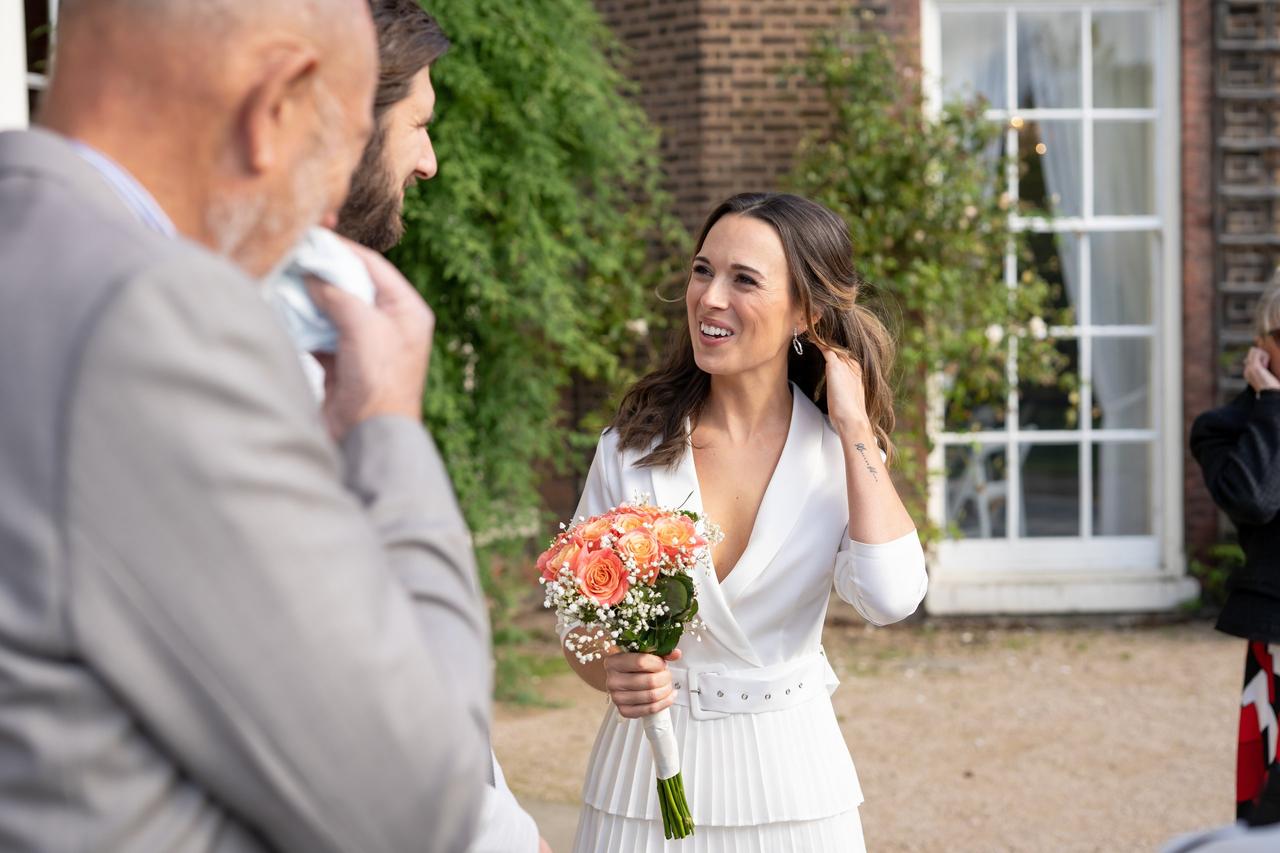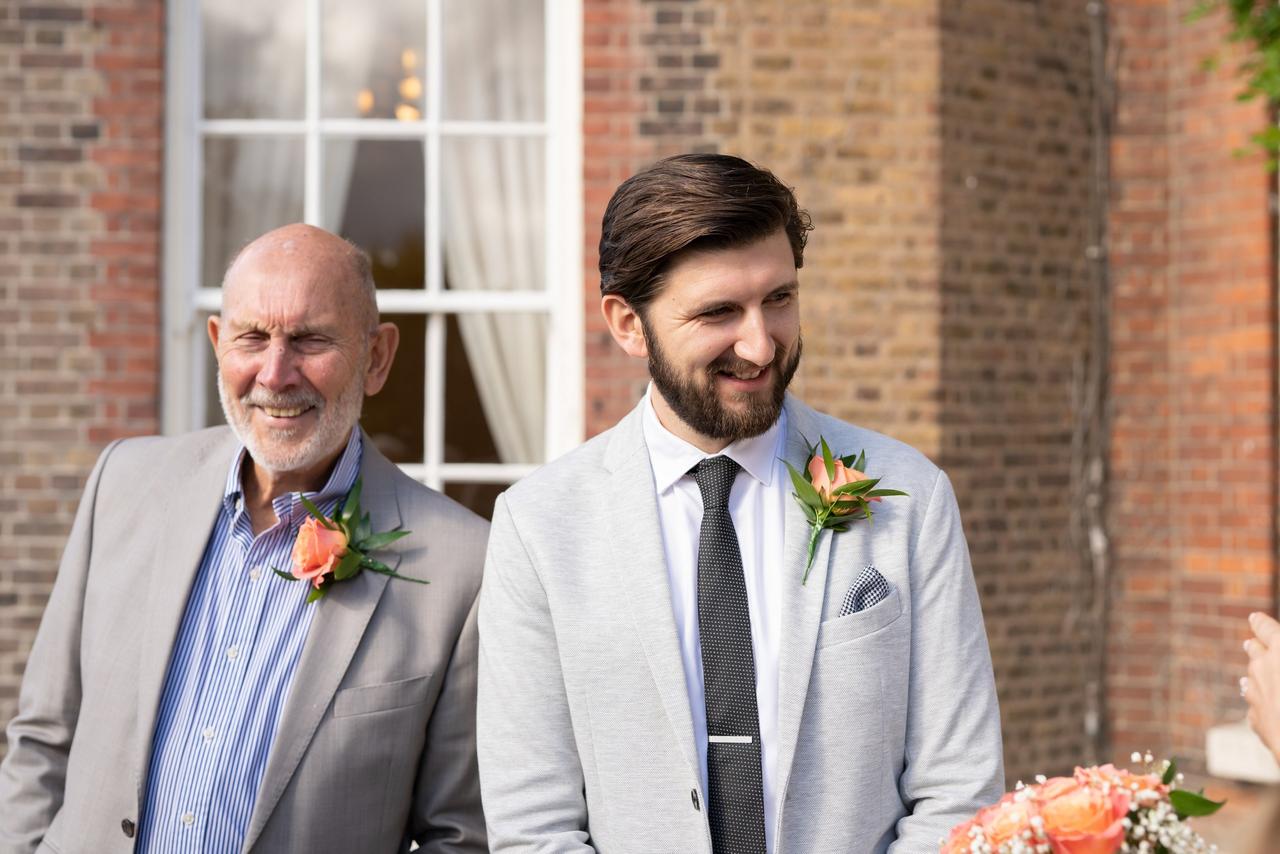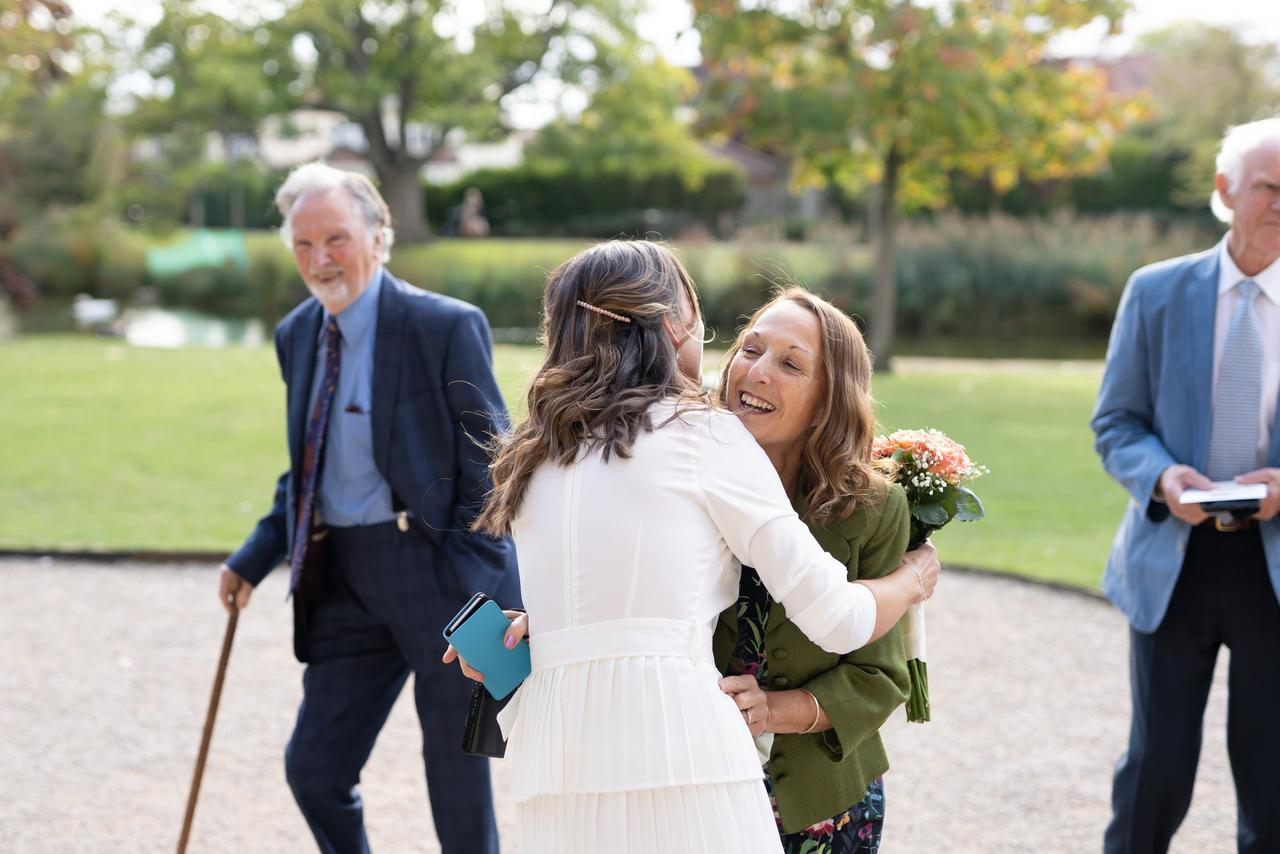 The Wedding Reception
With such a tiny ceremony, all the couples' hard work on planning their décor, theme, and stationery (made by Nicole with a school motif to reflect where they met) was no longer suitable. There was no wedding cake, no DJ and no first dance.
"Because of the rule of six, we could only go for dinner with four people. To make it fair on our family, we went with four friends for a meal at Greenwoods Hotel in Essex.
"It was lovely, they were Rob's two best friends and their wives. We all have kids so chatted about the stresses they cause and the joys they bring us, old stories, new stories and, of course, the drama of our wedding, which is always set for a good shocking convo.
"I actually ended up getting quite drunk! I think I finally relaxed so much I just kept sipping away; we headed to our beautiful hotel and I passed out! I woke at 1am and could not believe what happened. I had to laugh. And Rob had fallen asleep with the TV on!
"We certainly made up for it the next morning though. And that Monday was one of my best days ever. I felt elated, we could not stop smiling, we could not leave each other alone.
"We paid for a late checkout and ate a club sandwich and chips at 10am in bed. I could have stayed there a whole week!"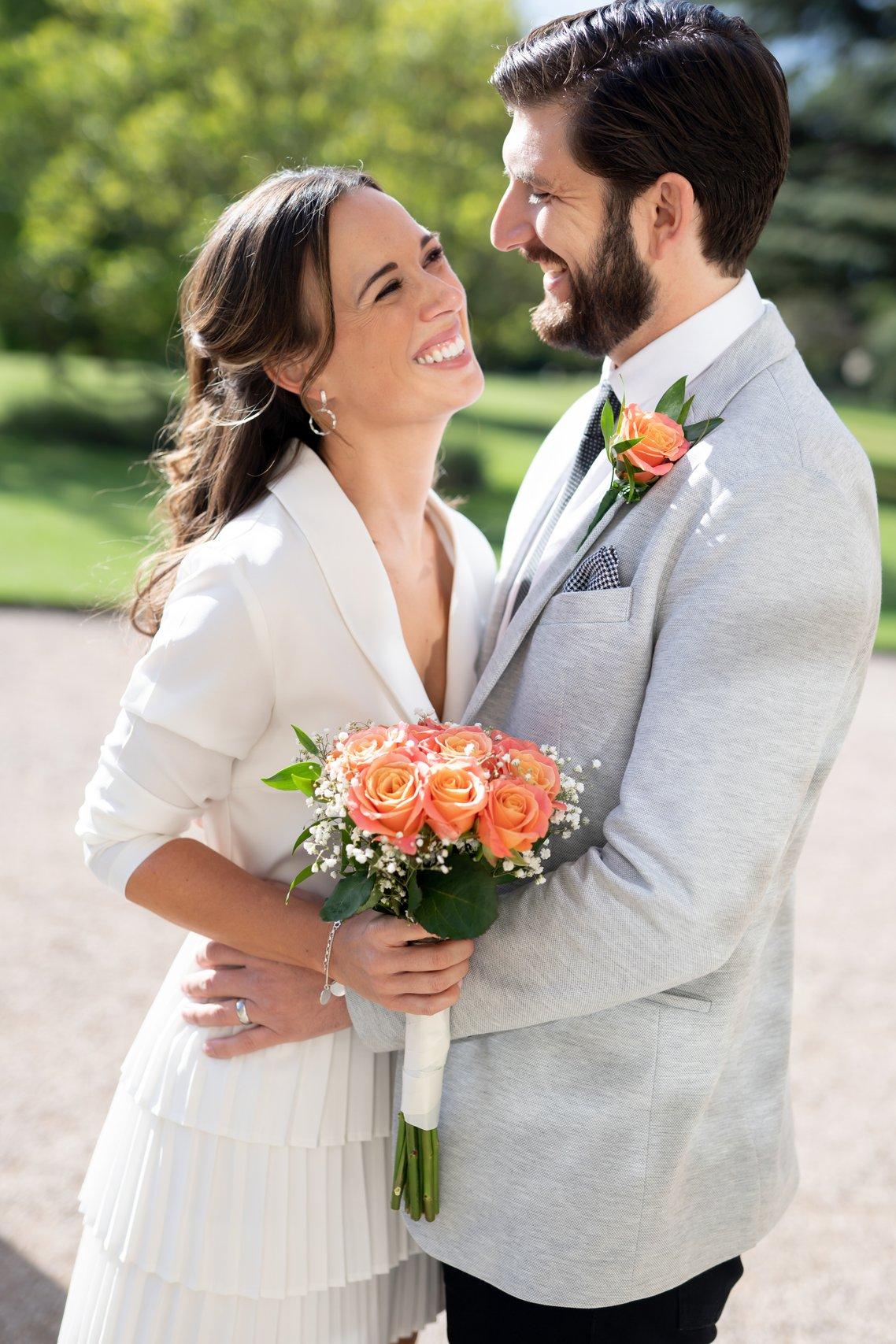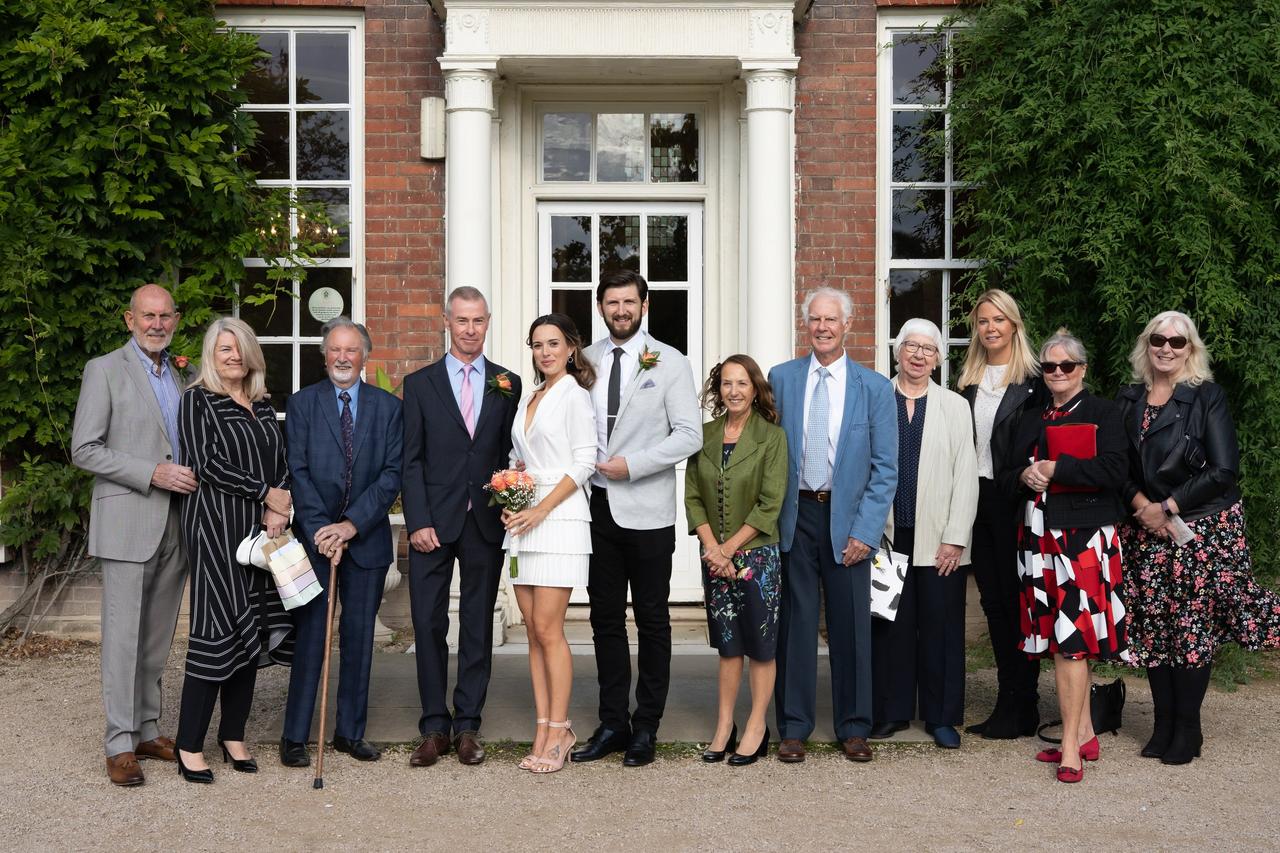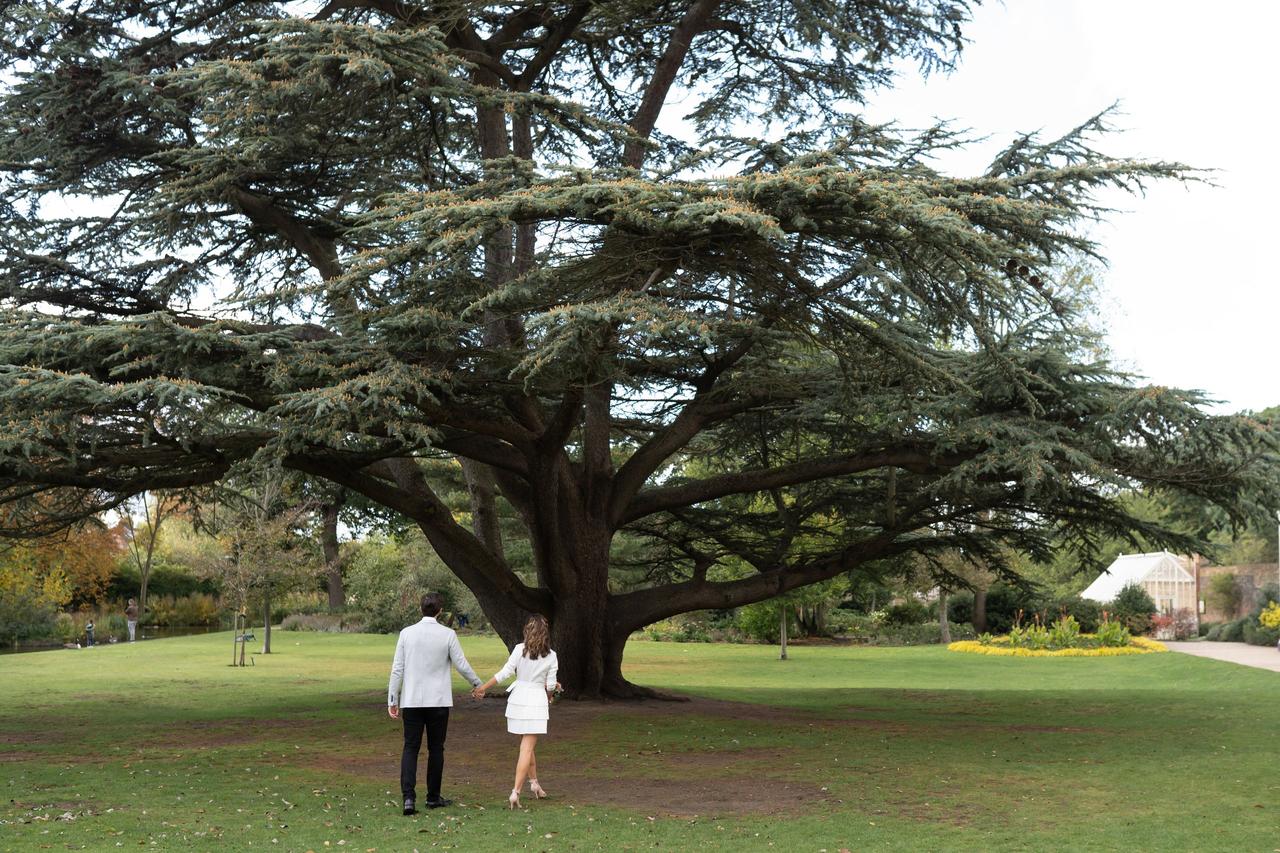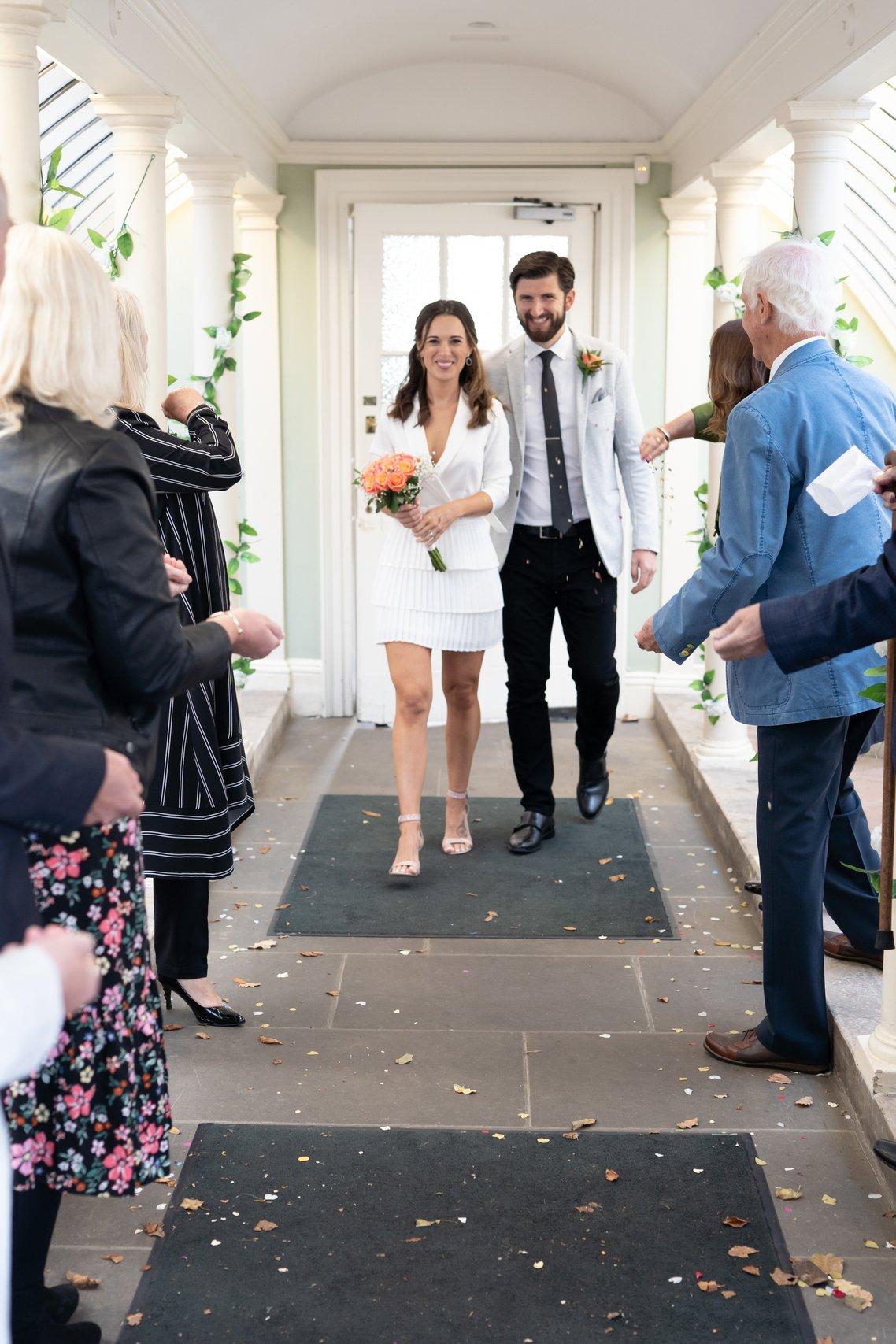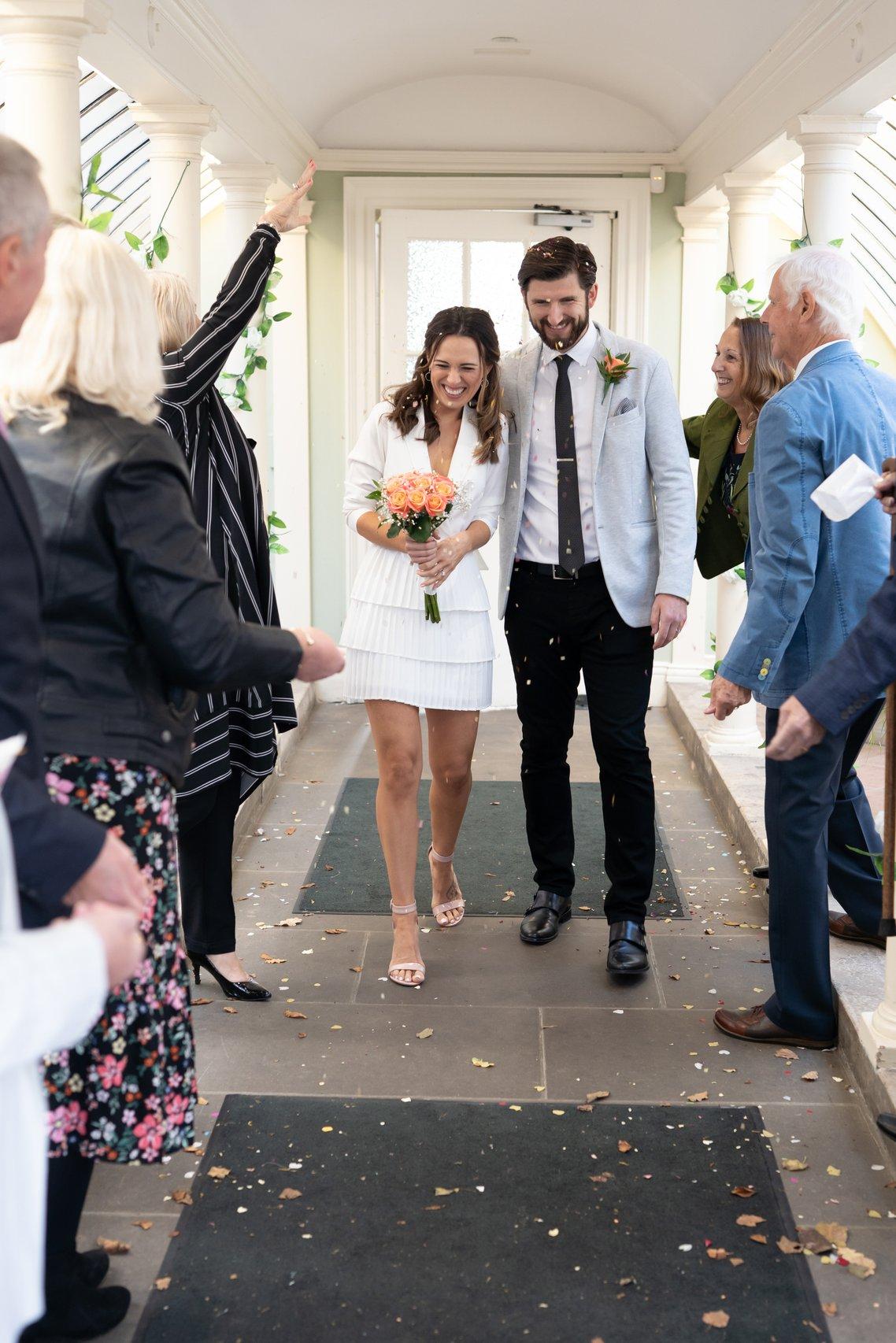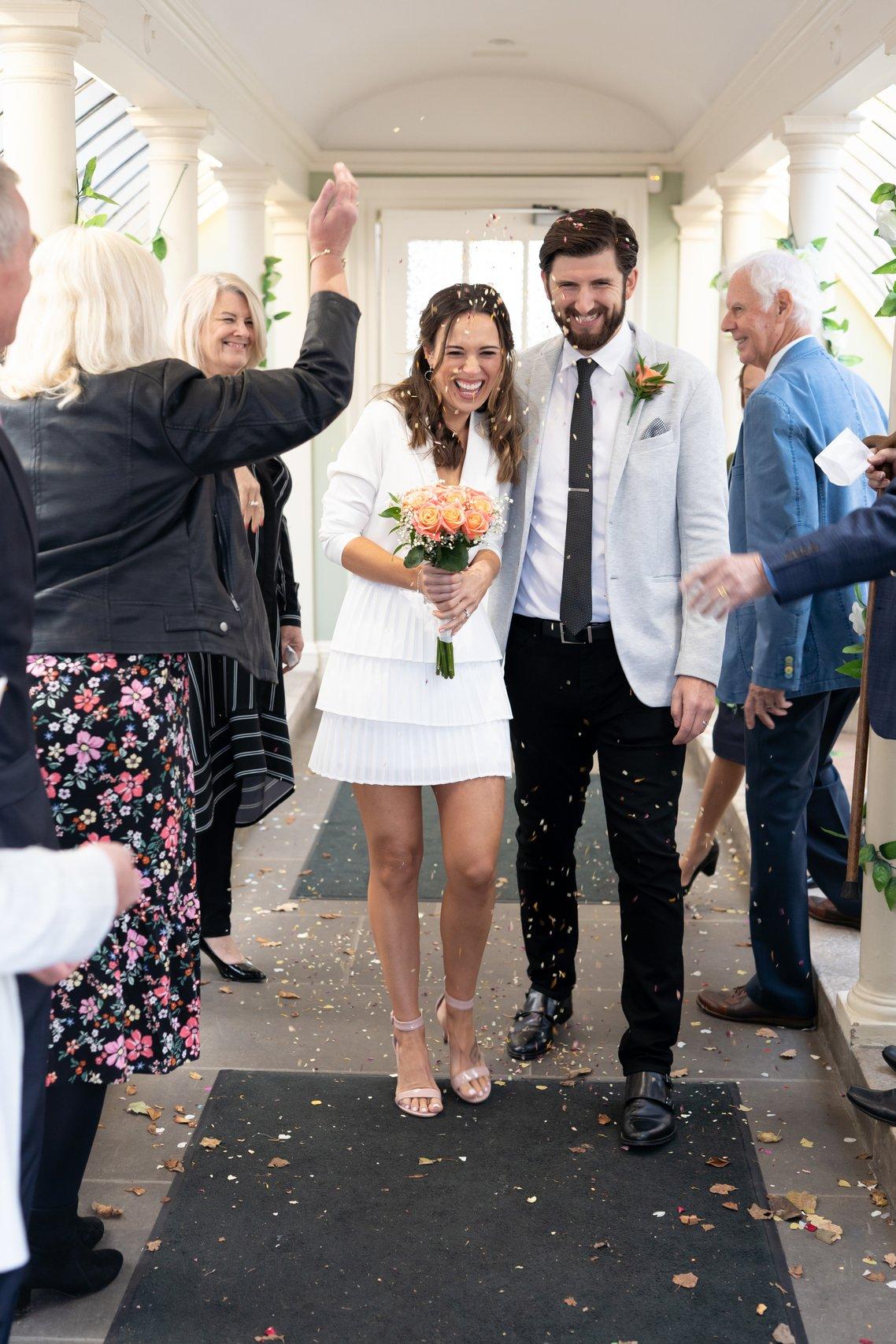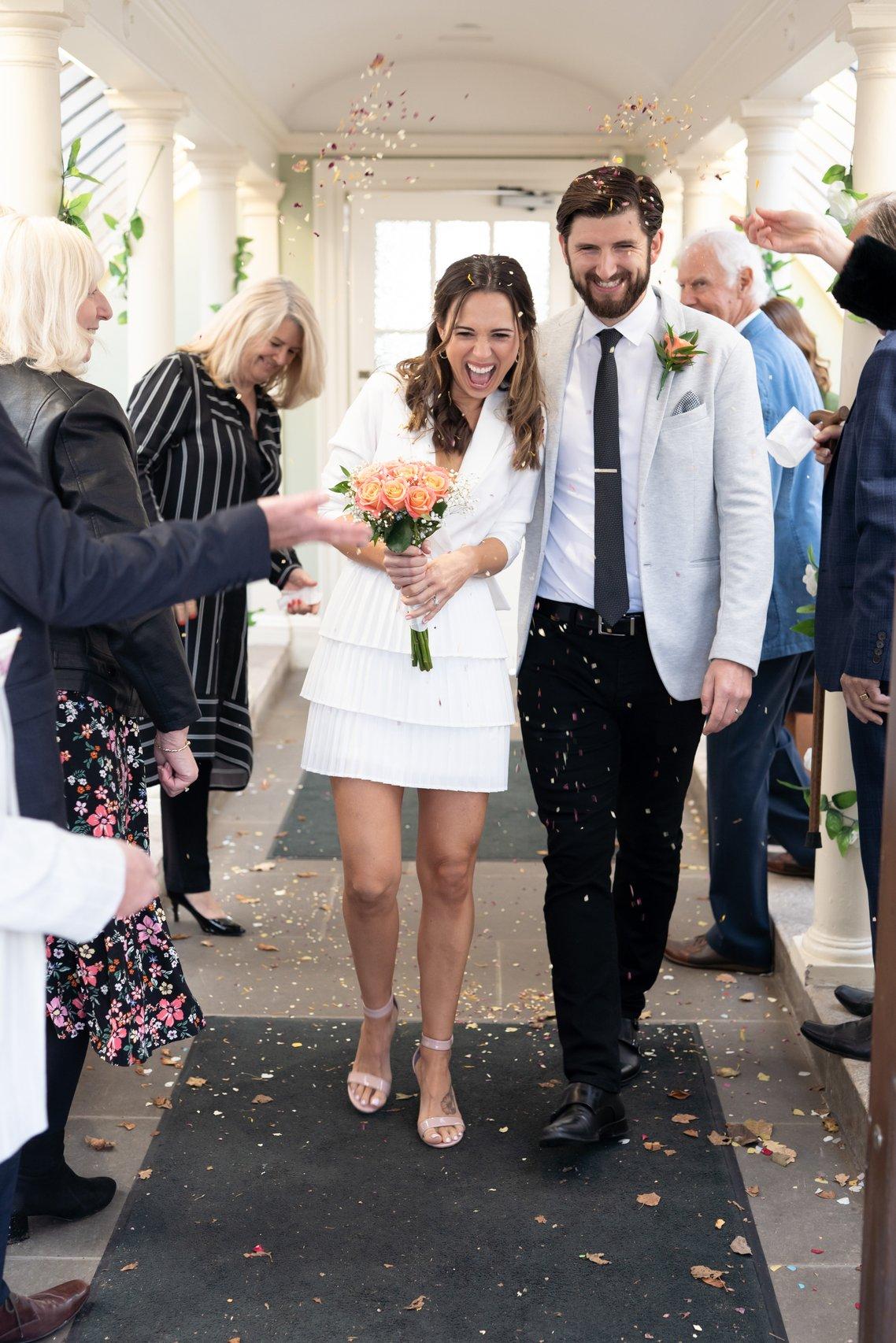 The Next Step
Nicole and Rob will be jetting to the magical Lake Como in Italy for their honeymoon.
"We had to cancel and rebook for this July but who knows if we will get to go. It came recommended to us, plus it's a short flight and we're not having too long a trip because of our little girls."
After that, once Covid measures have been relaxed, they will plan for a bigger celebration with all of their friends and family, and their girls will finally get to be bridesmaids. An elated Nicole is looking forward to finally being able to celebrate with "no stress, no worry, and no rush".
"We are now looking at this wedding like the official part of it, and we would do it all again bigger and better next time with no face masks and no two-metres apart. Probably not a full on wedding but a celebration of us.
"My dad can walk me down some sort of aisle, the girls in bridesmaid dresses, maybe a bar, maybe a restaurant. Who knows?
"But we will have our first dance. We will have speeches and I will wear my dress and have the day I dreamt about."
For now, the couple are just happy to be husband and wife and for Nicole to share the same name as their wonderful daughters. "Filling out forms or entering details online as a Mrs makes me silly happy!" she said.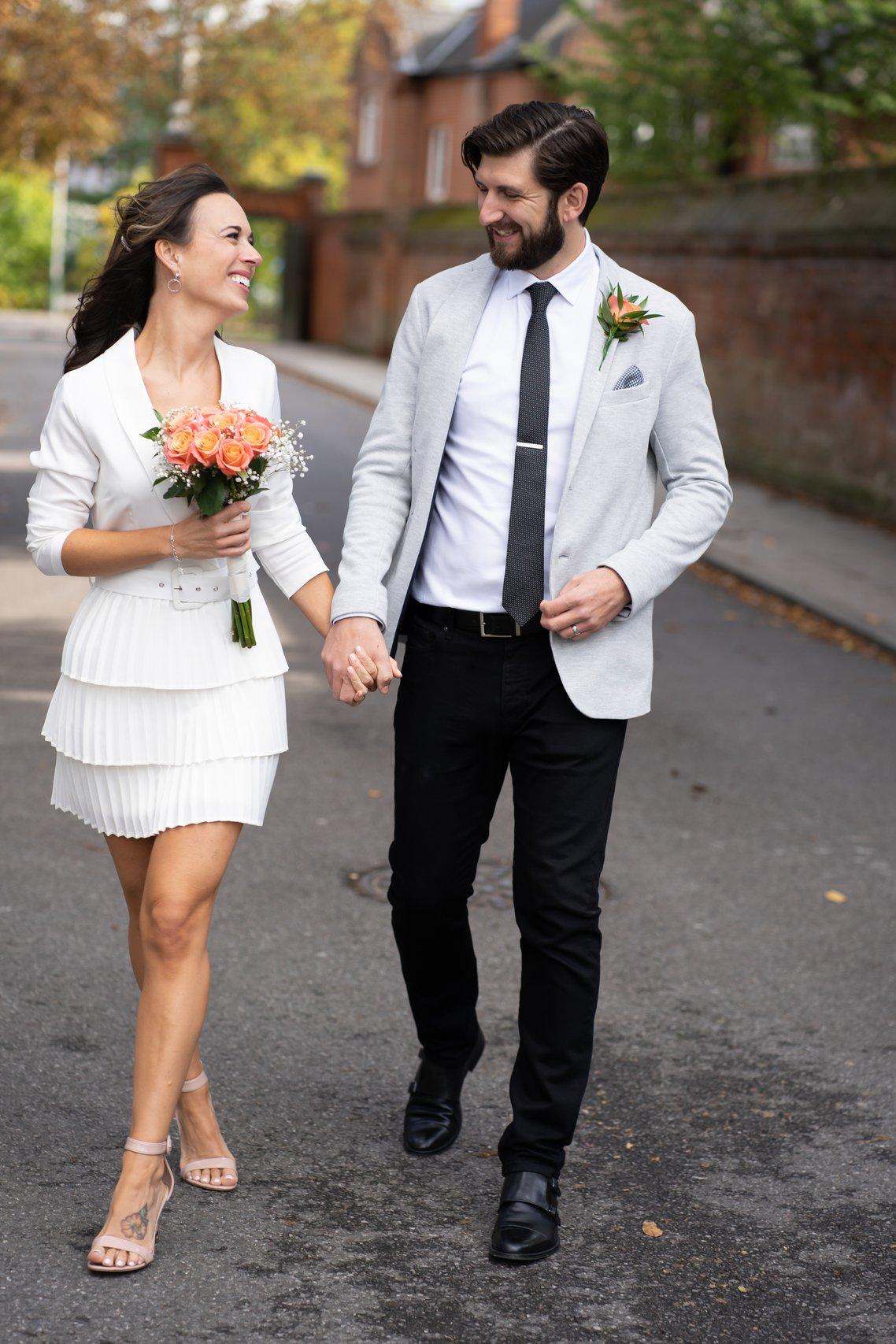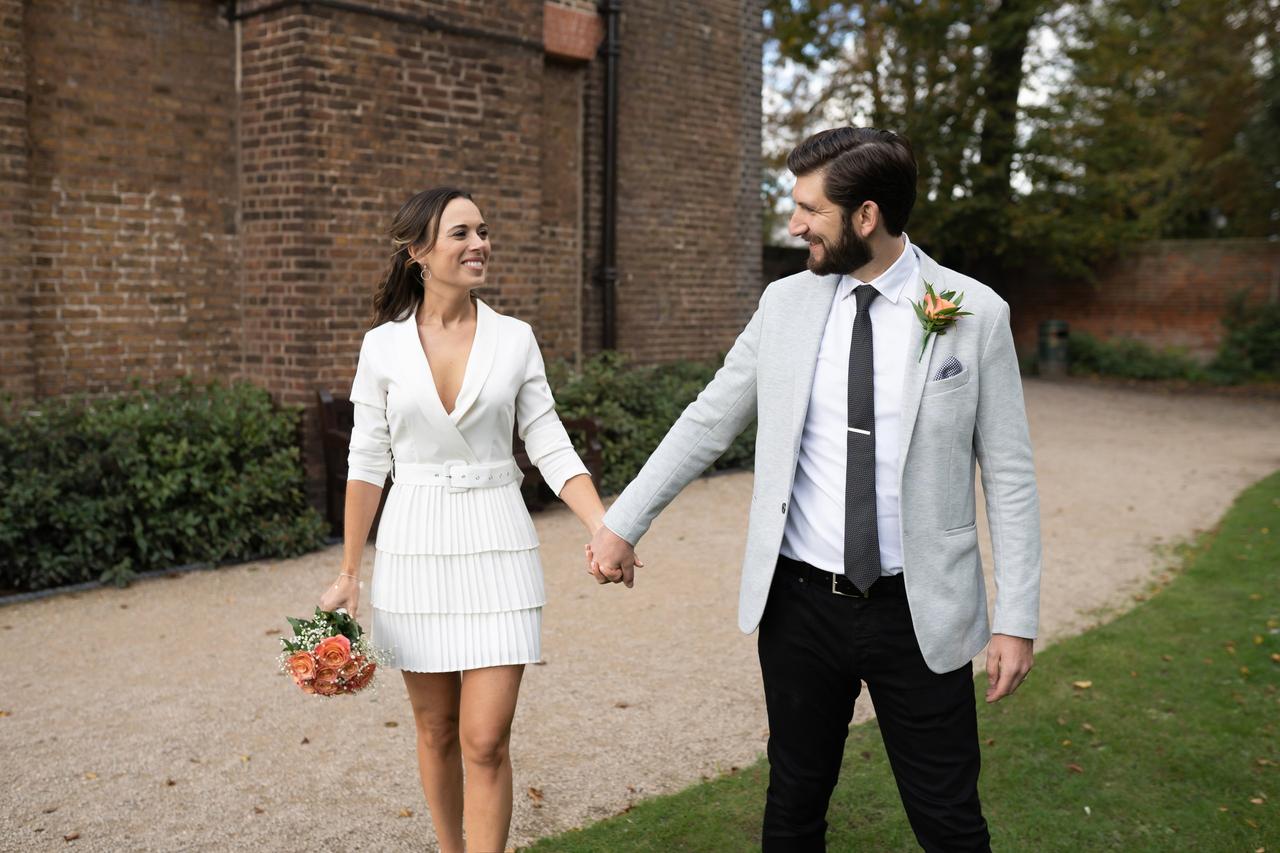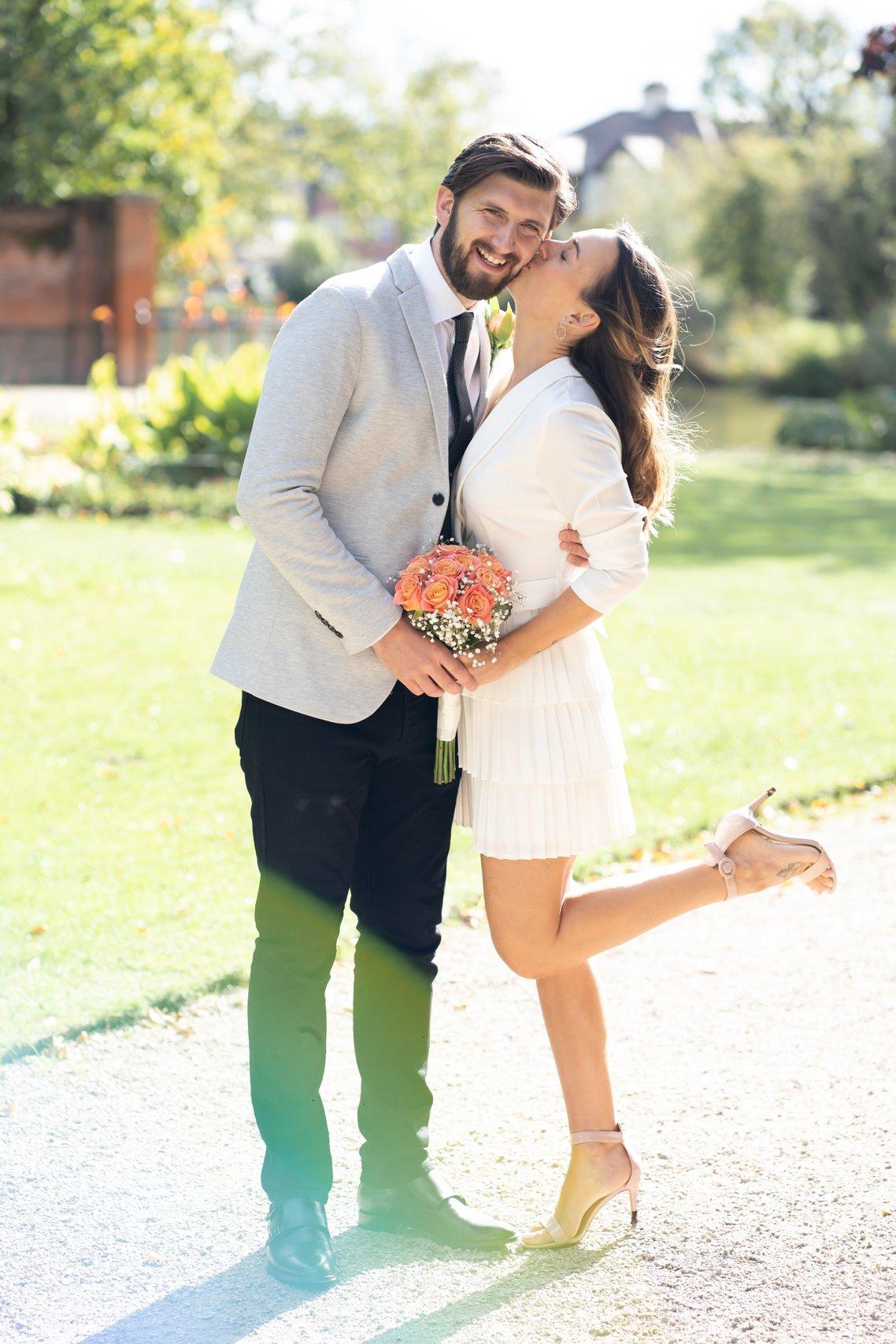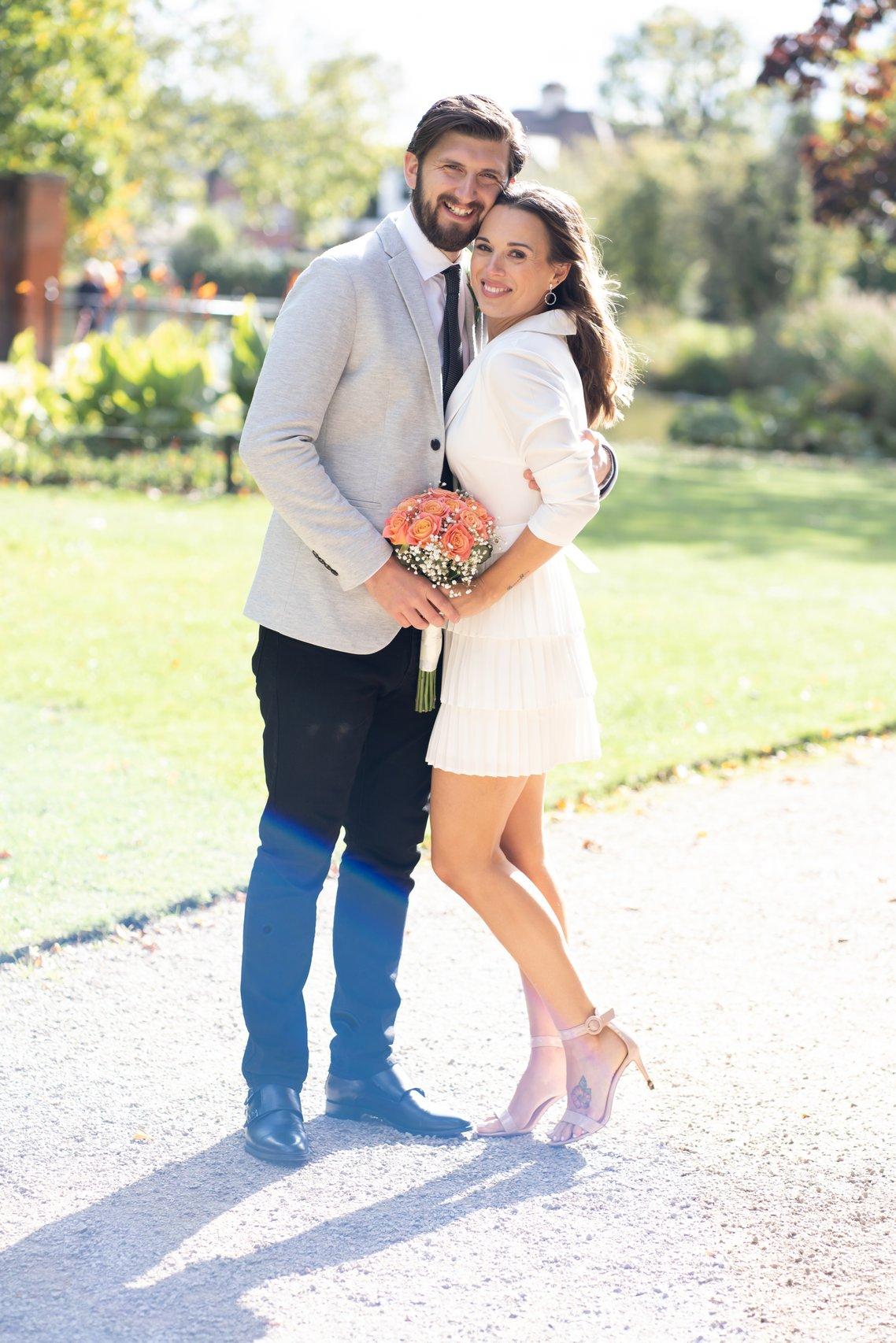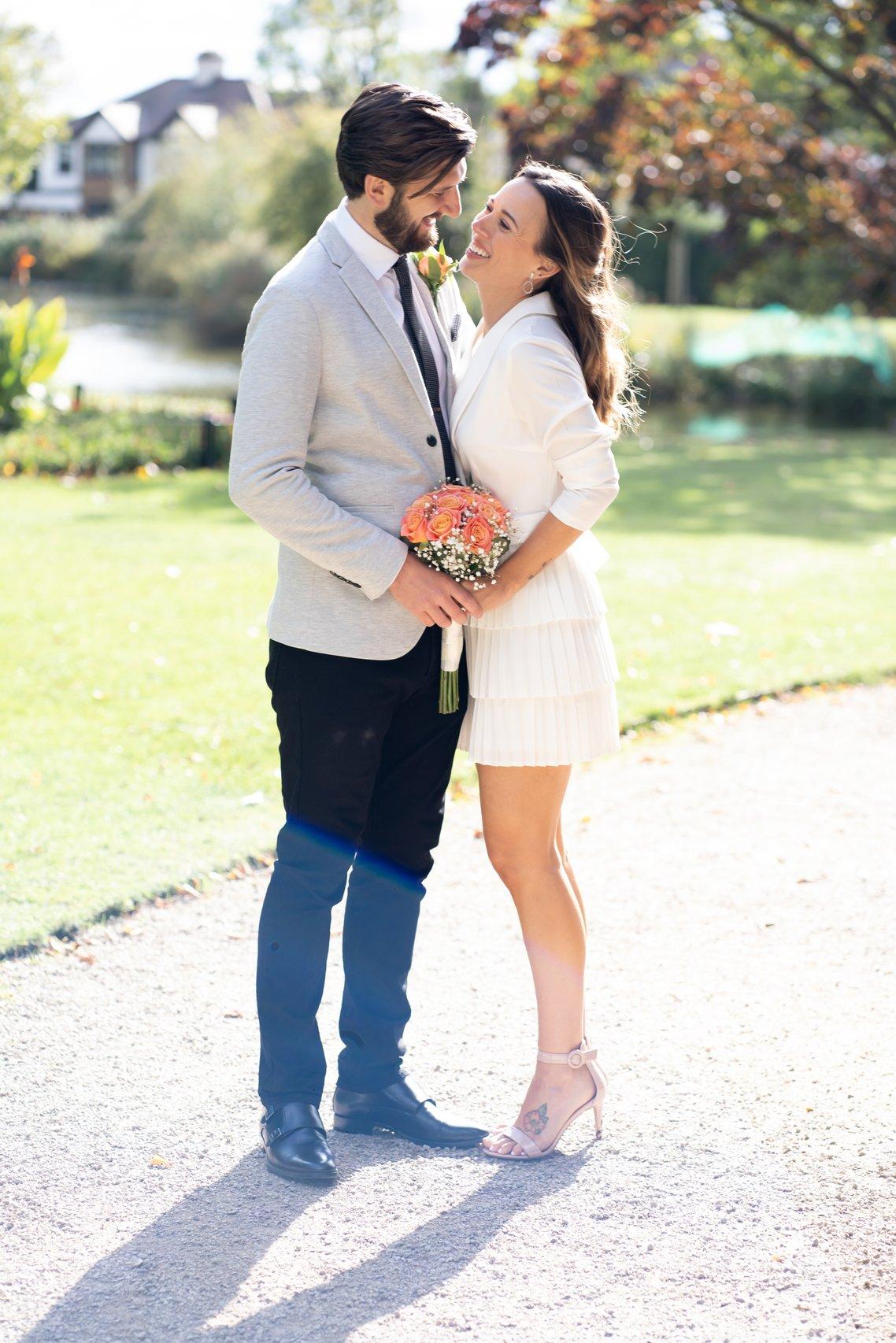 The Couple's Advice
Nicole and Rob ended up marrying on their fourth go, so they have lots of advice for couples who might be rejigging their plans or opting for a more intimate ceremony.
"Do what makes you and your partner happy!" said Nicole. "These days we can get swept up in the generic themes, the prices, inviting everyone in your address book - even if you haven't seen or spoken in years - and impressing, even showing off, on Instagram.
"I've always been quite frugal and now thinking about our family spending thousands and thousands on one day just seems madness. An intimate, special occasion was what mattered the most. The fact so much was taken away from us in the end and we still went ahead and had a wonderful day filled with pure happiness and joy, I think it shows what truly matters and how true love prevails."
Nicole says a big, white wedding was never her dream, which is why they chose the casual, industrial-cool vibe of The Pearson Room. She admits it also made it a little easier to decide on a tiny ceremony instead of waiting to have the big day.
"I believe it shows just how in love Rob and I are. We were happy to still go ahead even with all the usual wedding things missing.
"We aren't rich with money by any means so we never had that luxury anyway. I am a nurse and Rob is in construction. But we are certainly rich in all other aspects, as cheesy as that sounds."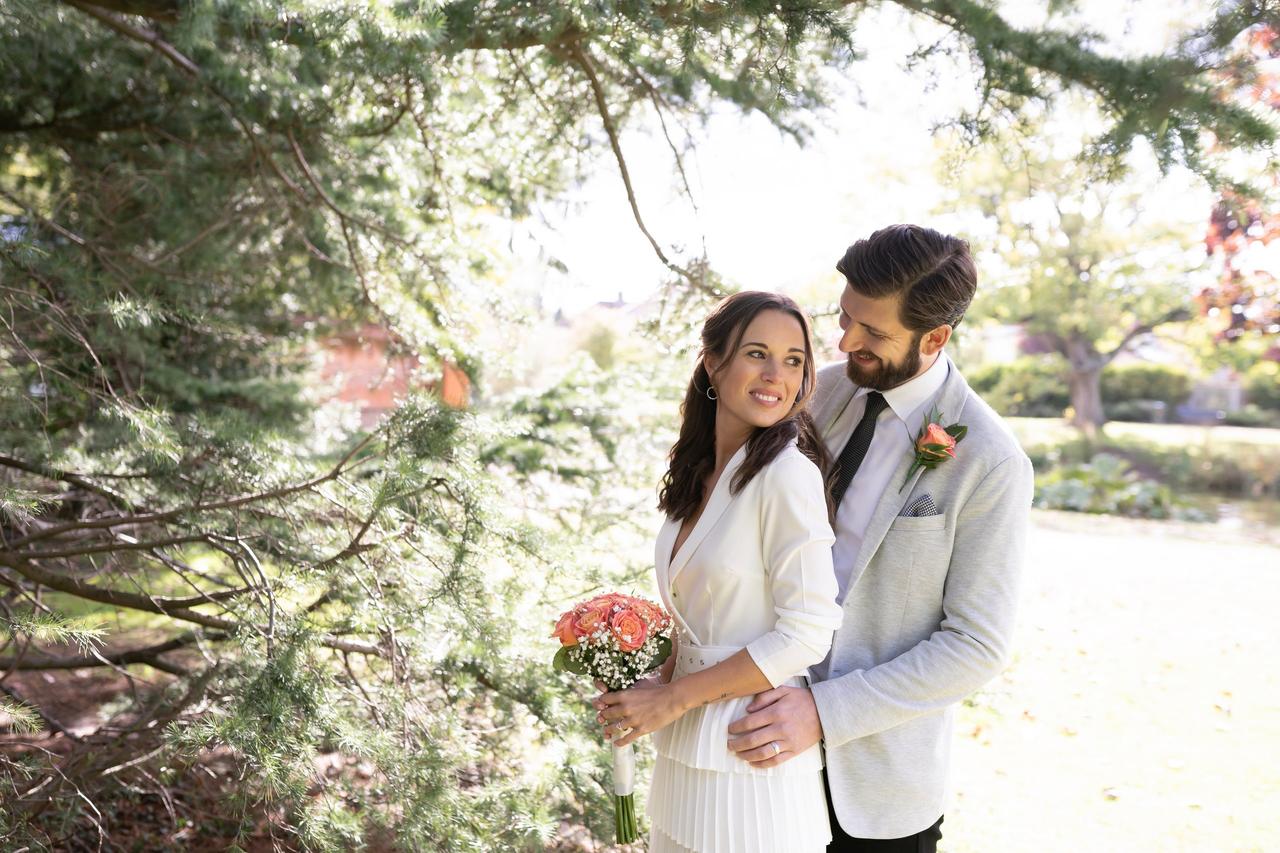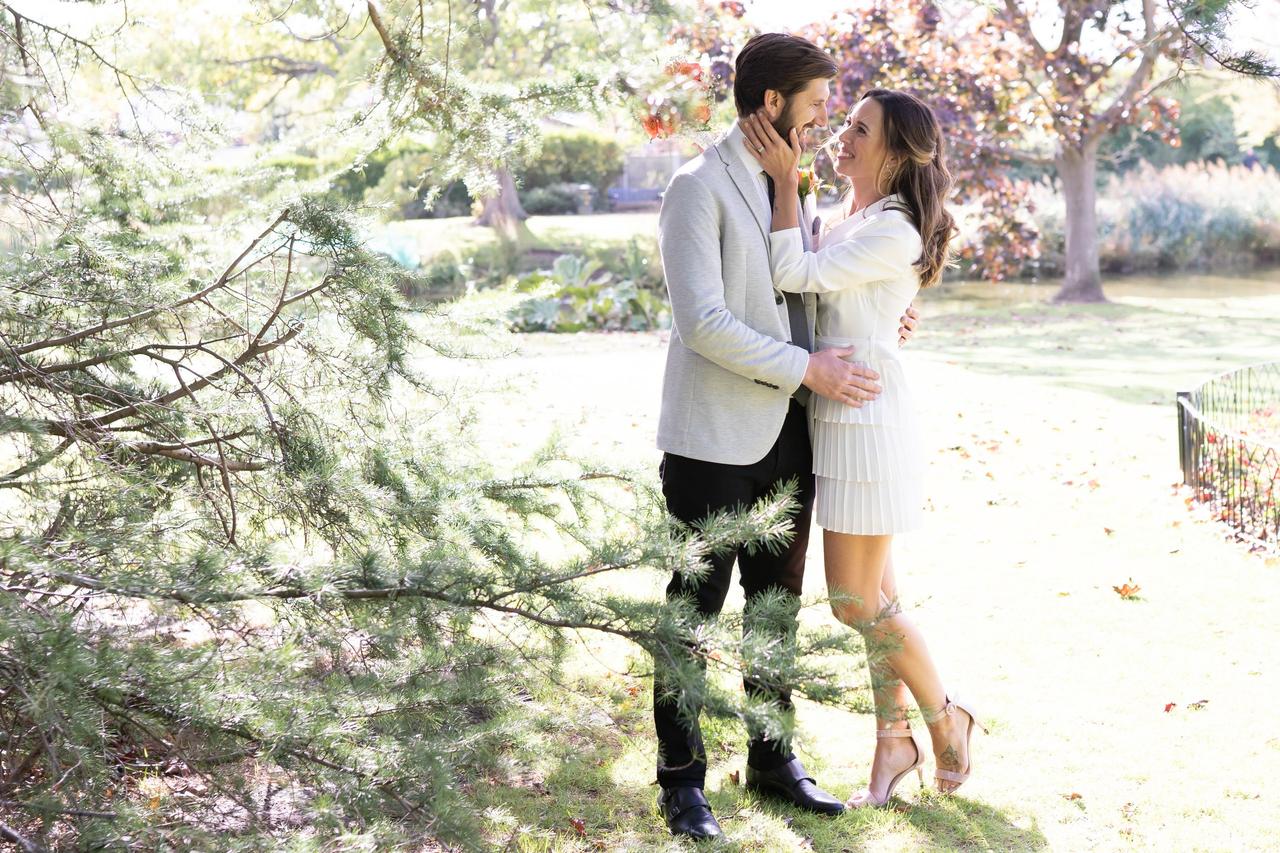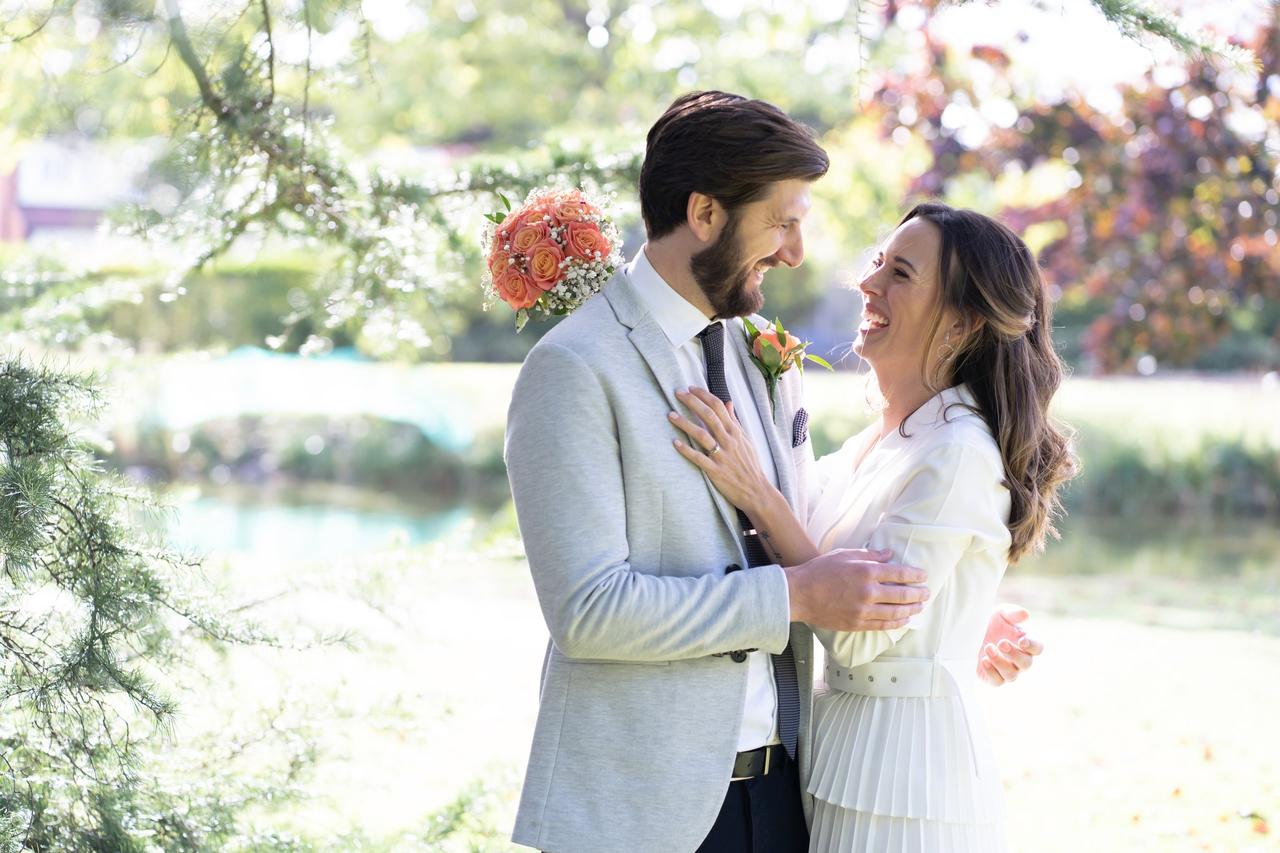 The Suppliers
Venue: Langtons House
Photographer: David Christopher Photography
Wedding Dress: ASOS and Maggie Sottero
Florist: Elm Park Florists
Rings: Ernest Jones
Reception Meal: Greenwoods Hotel & Spa
Wedding Night Hotel: De Rougemont Manor Hotel
Thanks to Nicole and Rob for sharing their special day with us!