Real Covid Wedding: Lily and Ben, Chelsea Old Town Hall and The River Café
With just two witnesses at their ceremony, an intimate meal for a reception and a first dance on a friend's rooftop under the stars, Lily and Ben's Covid wedding was the perfect romantic day.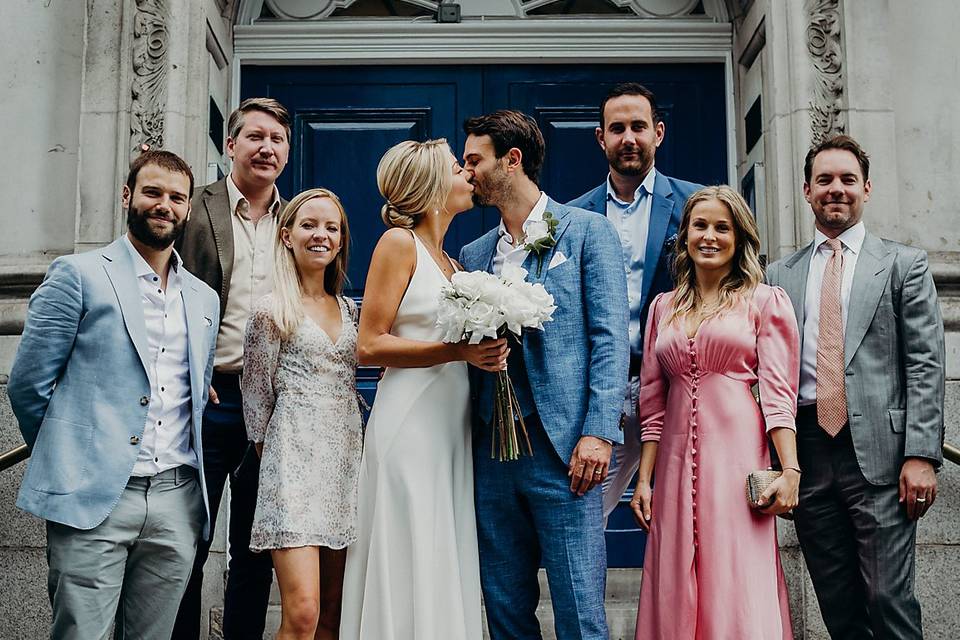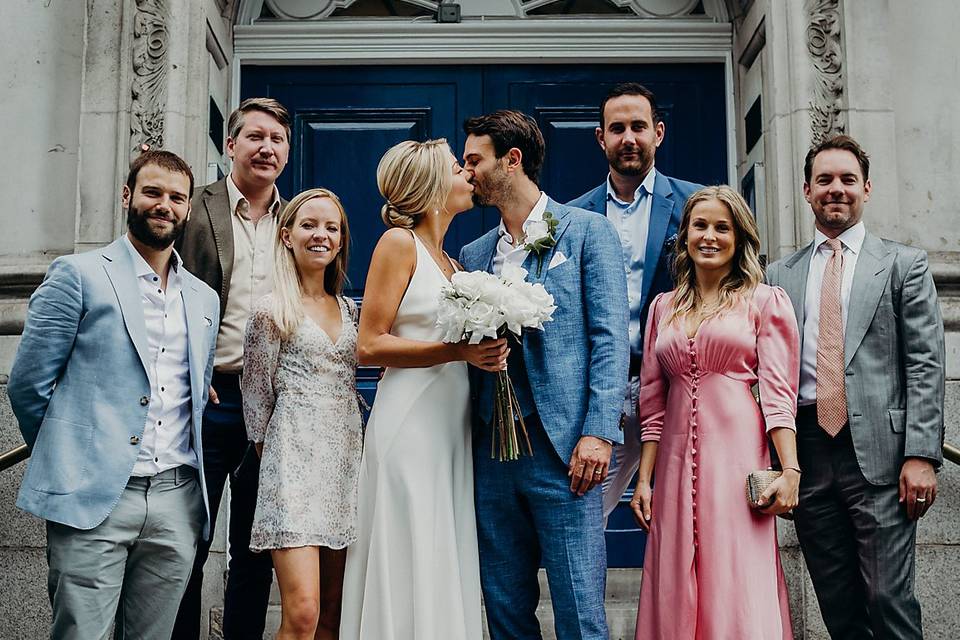 Ben and Lily were due to marry on 18th July at The Orangery in Holland Park with 90 guests - a wedding they'd already rearranged once when their previous venue fell through!
When Covid disrupted their plans, they quickly pivoted to a livestreamed ceremony with just two witness at Chelsea Town Hall and a reception lunch with six guests at The River Café. Despite having to cut their guests down drastically, it didn't cast a shadow on their intimate day. Lily wore a dress she ordered only a week before from Net-A-Porter, guests joined in on Zoom, and the group finished their evening dancing under the stars on a friend's rooftop terrace.
If you're having to cancel your wedding plans and pull together a small ceremony and reception quickly (Lily and Ben had just three weeks!), then the story of their wedding day will really resonate. Determined to marry this year, they pulled off a beautiful day full of good food, good friends and lots of love.
Photography by Victoria Somerset-How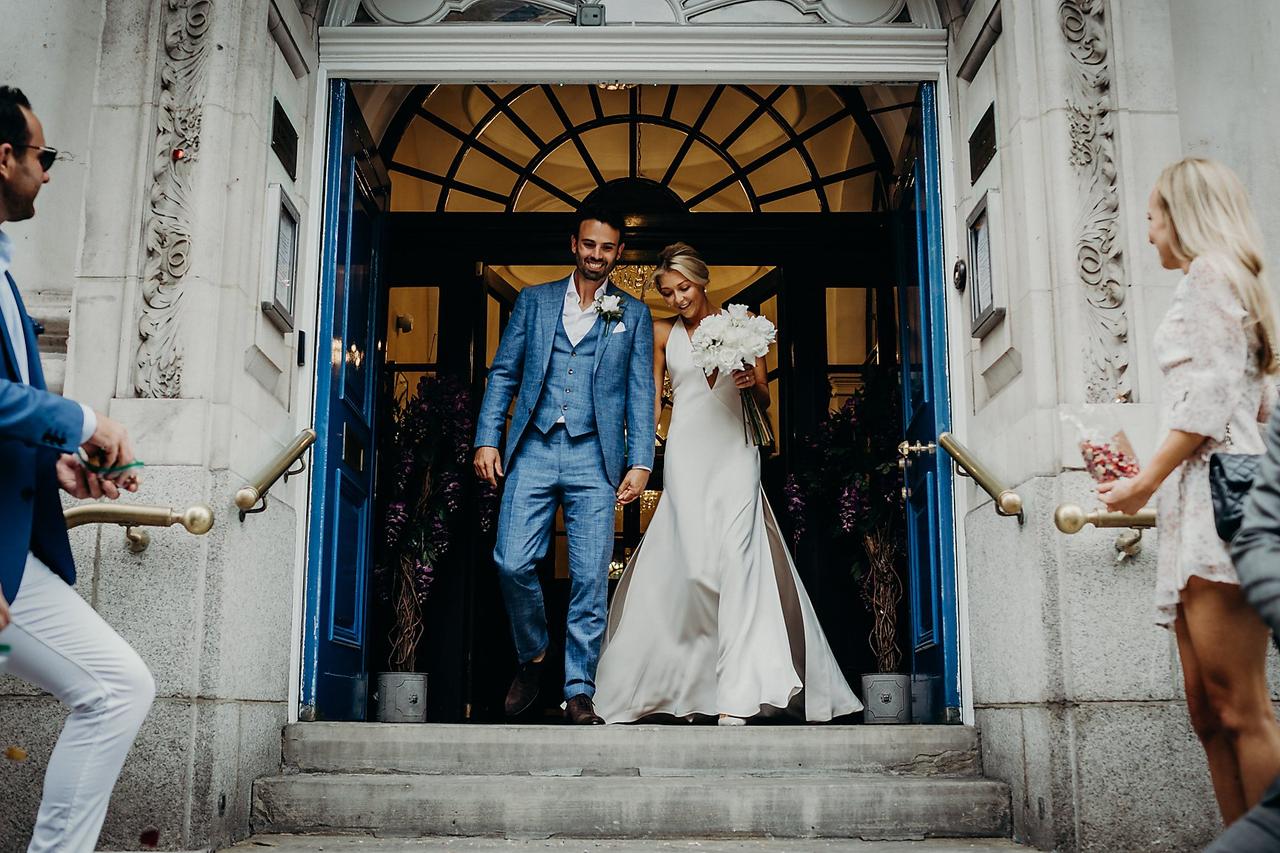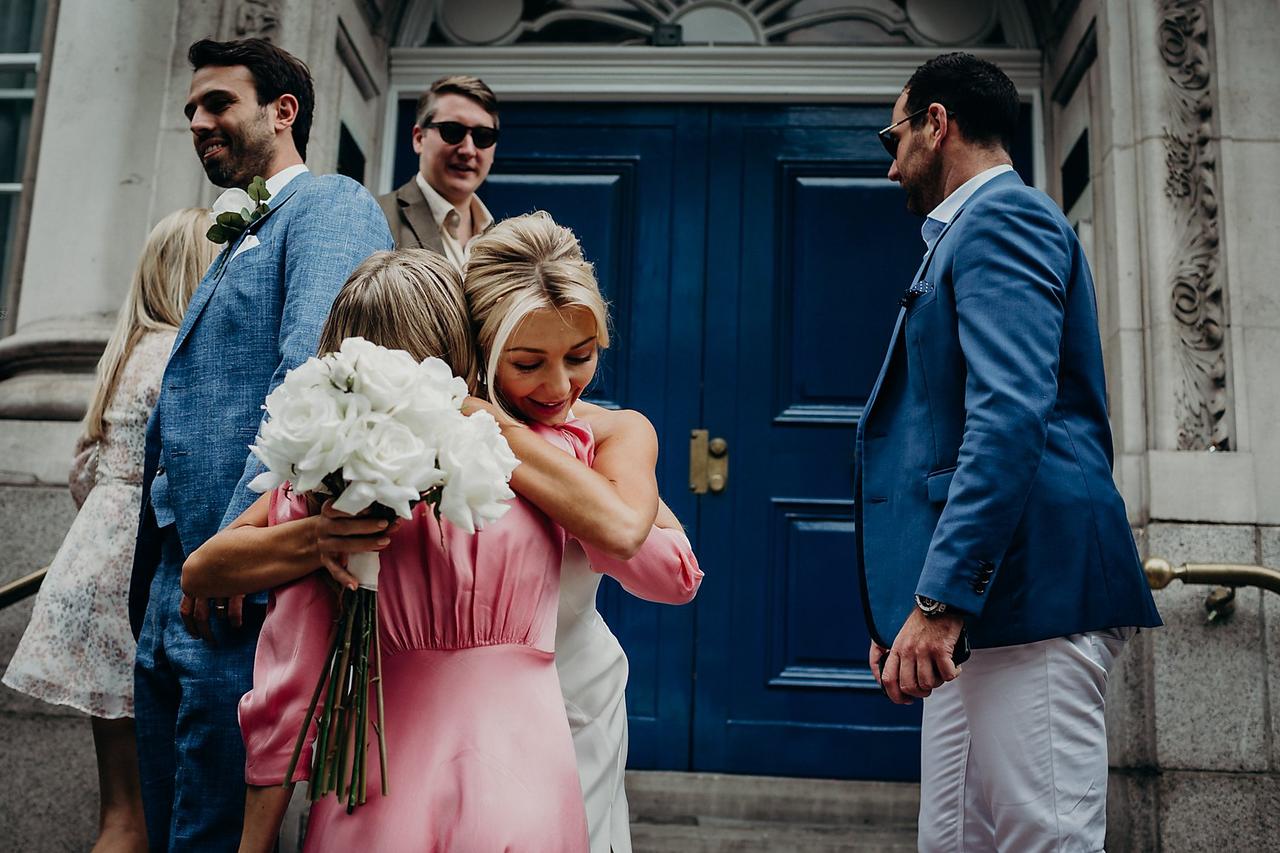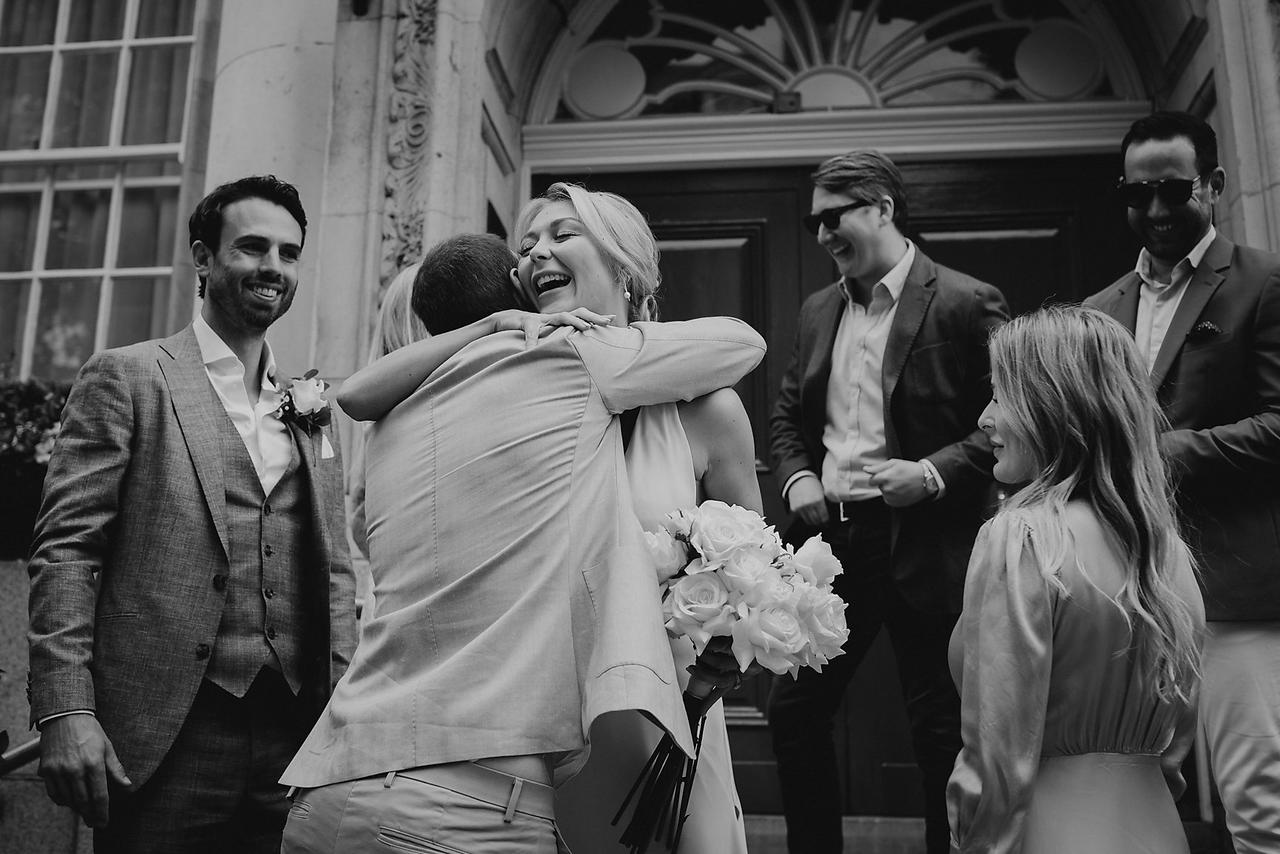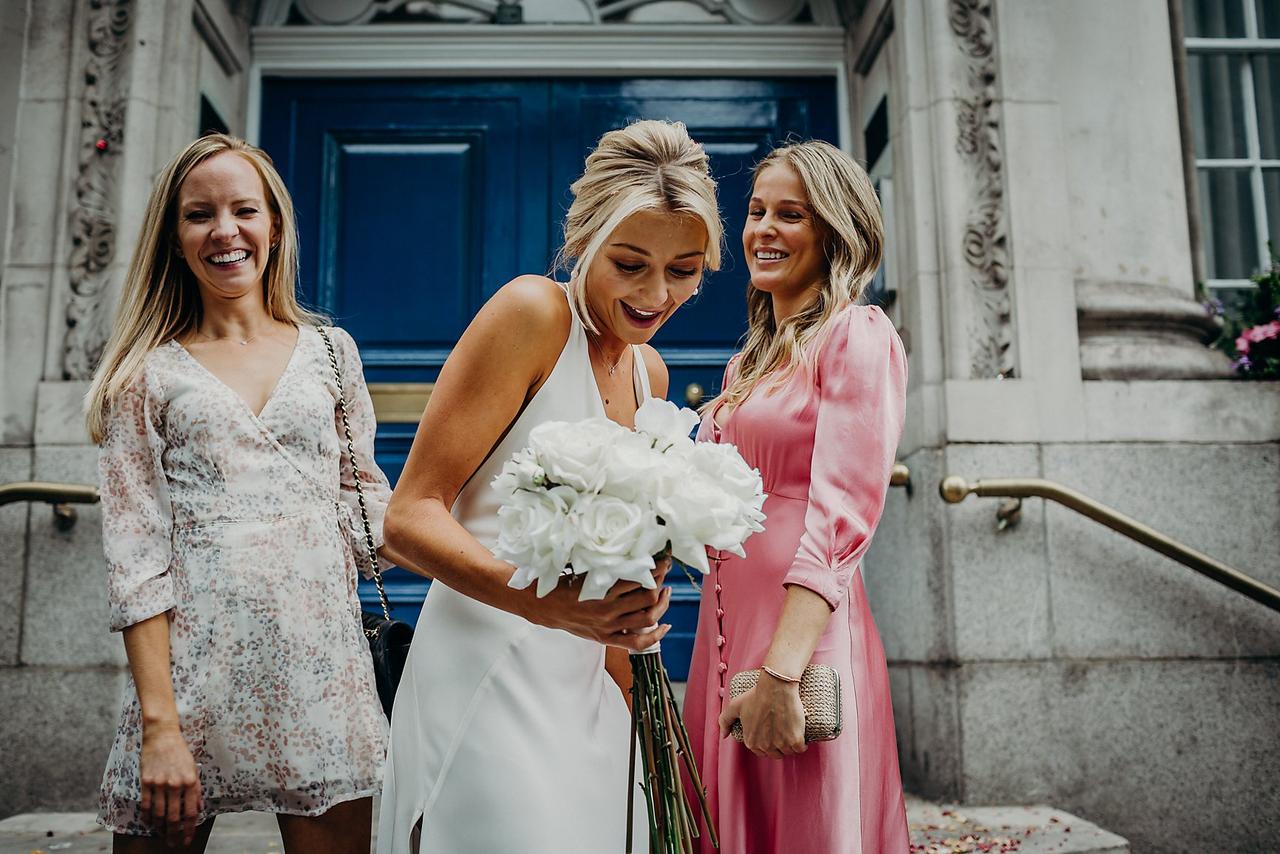 The Original Wedding Plans
"We actually had a venue fall through before Covid, so technically we planned two weddings!" reveals Lily. With Ben's siblings, one bridesmaid and one groomsman living in Australia, and other close friends and wedding party in America, the couple knew they wanted to throw a weekend wedding with celebrations spread out to make the most of everyone's journeys.
"As soon as we got engaged I was fairly organised in getting our ducks in a row and together we picked the type of day we wanted to go for (intimate, relaxed, elegant, fun). The year before we got engaged, Ben's sister threw the most wonderful wedding in Somerset near their family home which was so unique and full of character.
"We loved the idea of making the most of the British countryside and finding somewhere everyone (or almost everyone) could stay on site with other hotels very close by. We pretty quickly found a wedding venue which we booked up for three days for 120 people and then got on to the creative bit!"
Lily chose a "simple and elegant" theme with white roses and eucalyptus as their flowers, the bridal party in their choice of white dress, and the groomsmen in blue suits, minus the tie to keep it low-key.
"The Friday was going to be arrival drinks and canapes, with a proper dinner for the wedding party. For the wedding day on the Saturday, we knew 100% that we wanted to do banquet seating with family-style dining. There is something about it that brings people together and we felt it played well into our low-key and relaxed energy for the day. We had also planned some lawn games to get everyone mingling, and three types of entertainment for different parts of the big day: a band for arrival, the ceremony and for breakout drinks, a separate guitarist/singer for after dinner, followed by a DJ and sax into the early hours. The Sunday we had organised further activities and entertainment along with pizzas in the garden.
"We were just about ready to send out our invitations when our wedding venue fell through due to being under new management and not being able to deliver what we had requested. We were so upset! Having already sent the 'save the dates' and many family and friends booked their flights from overseas, we knew that finding a new wedding venue during peak season, on exactly the same dates, was going to be really tough."
Thankfully Ben and Lily had all their suppliers still in place who were happy to move with them to their new venue - and an ace up their sleeves. Lily's sister is a professional event planner who was able to pull every string she could and help them find a venue in London, close to where the couple live.
"Within a week, we had the Orangery in Holland Park booked. It felt like it was meant to be, the venue was perfect, very simple with lovely natural light and fitted the type of day we wanted perfectly. The staff were also so helpful and understanding of our situation. We then hired out Fifty Cheyne in Chelsea afterwards for our reception, which is a beautiful Michelin star restaurant decorated to perfection!"
The couple had already cut their invite list down from 120 to 90 (50 people for the ceremony and lunch, then another 40 joining in the evening) which everyone was "very understanding" about. To make sure the whole day ran smoothly, Lily hired Occasion Queens for on-the-day coordination. "I would strongly recommend them, Nina was absolutely amazing in assisting with the timing, helping with any questions - she is a real wedding angel and will talk through everything with you to turn over stones you didn't even realise existed!" They'd sent out their invitations and designed a website for their friends to RSVP through using AppyCouple ("I highly recommend it"), which they'd spent loads of time filling with funny introductions about the wedding party and what to expect from the weekend. Everything was set.
"The main thing we were excited about is having all of our favourite people together in one place and being able to share three days with them. It is really rare with everyone being overseas that we are ever all together," remembers Lily.
And then Covid struck.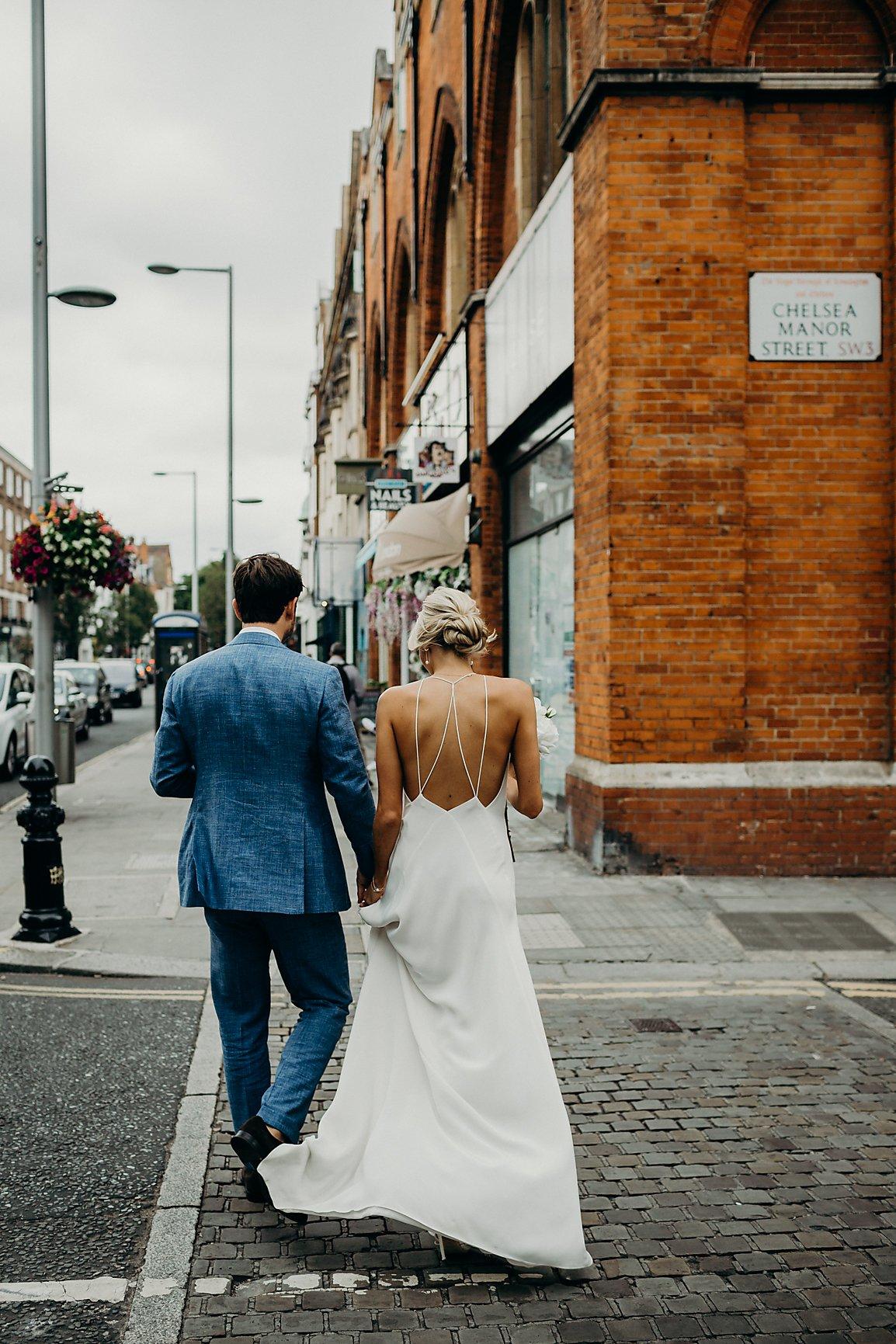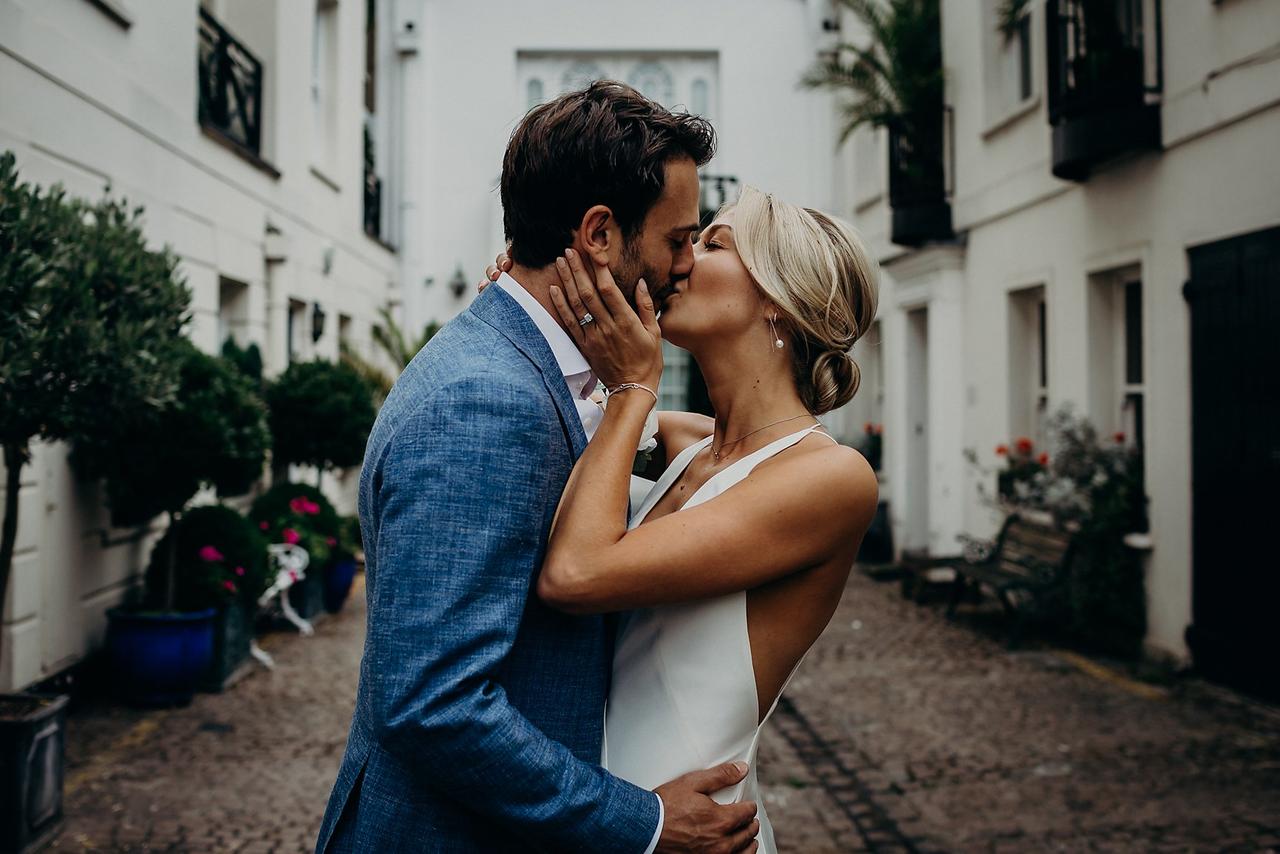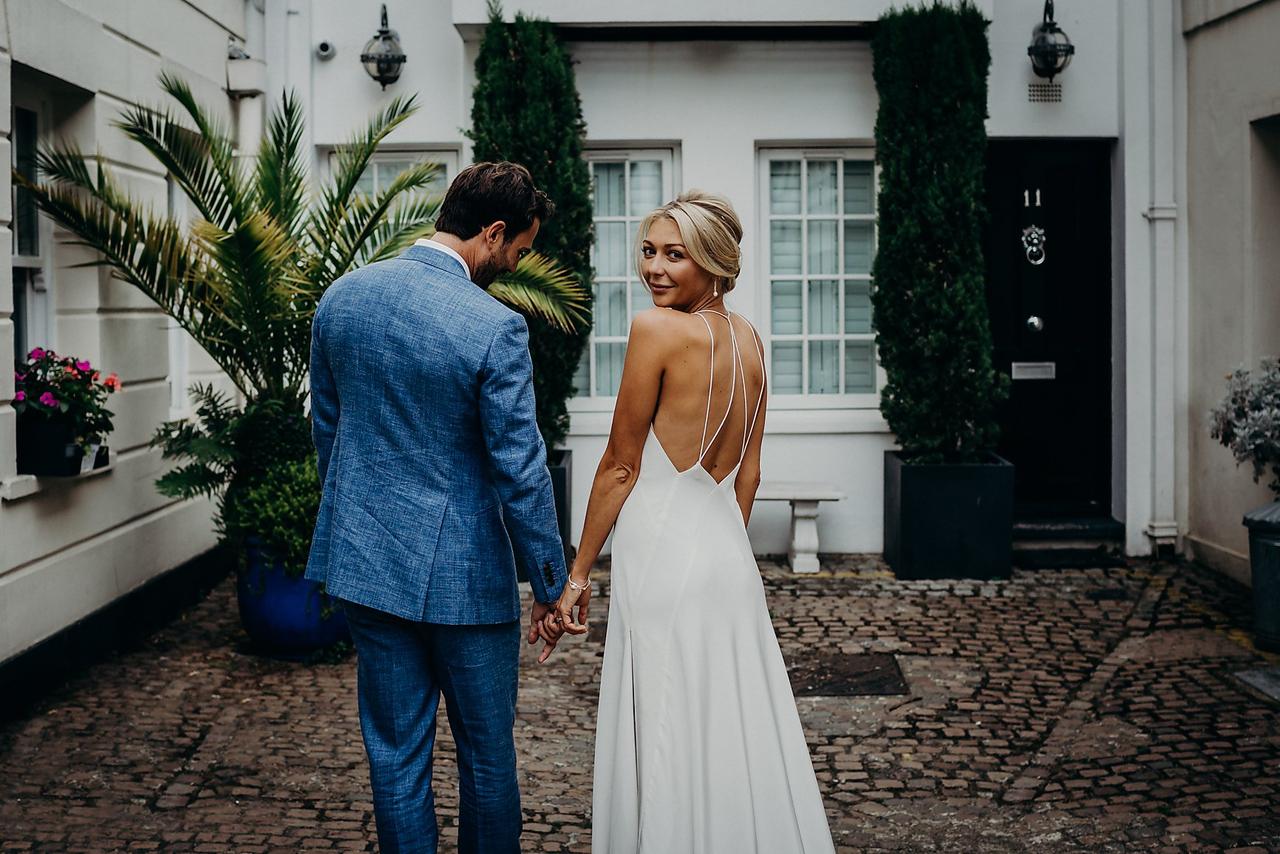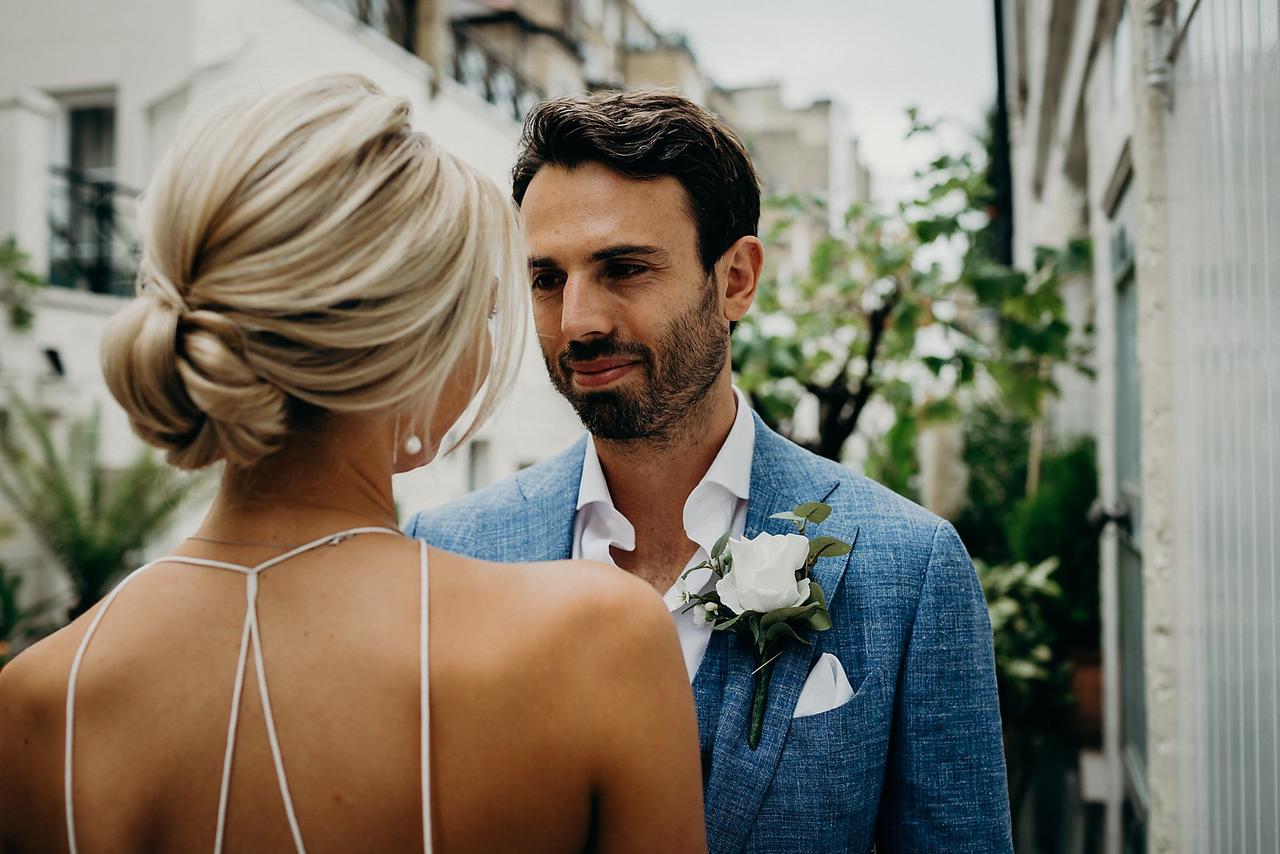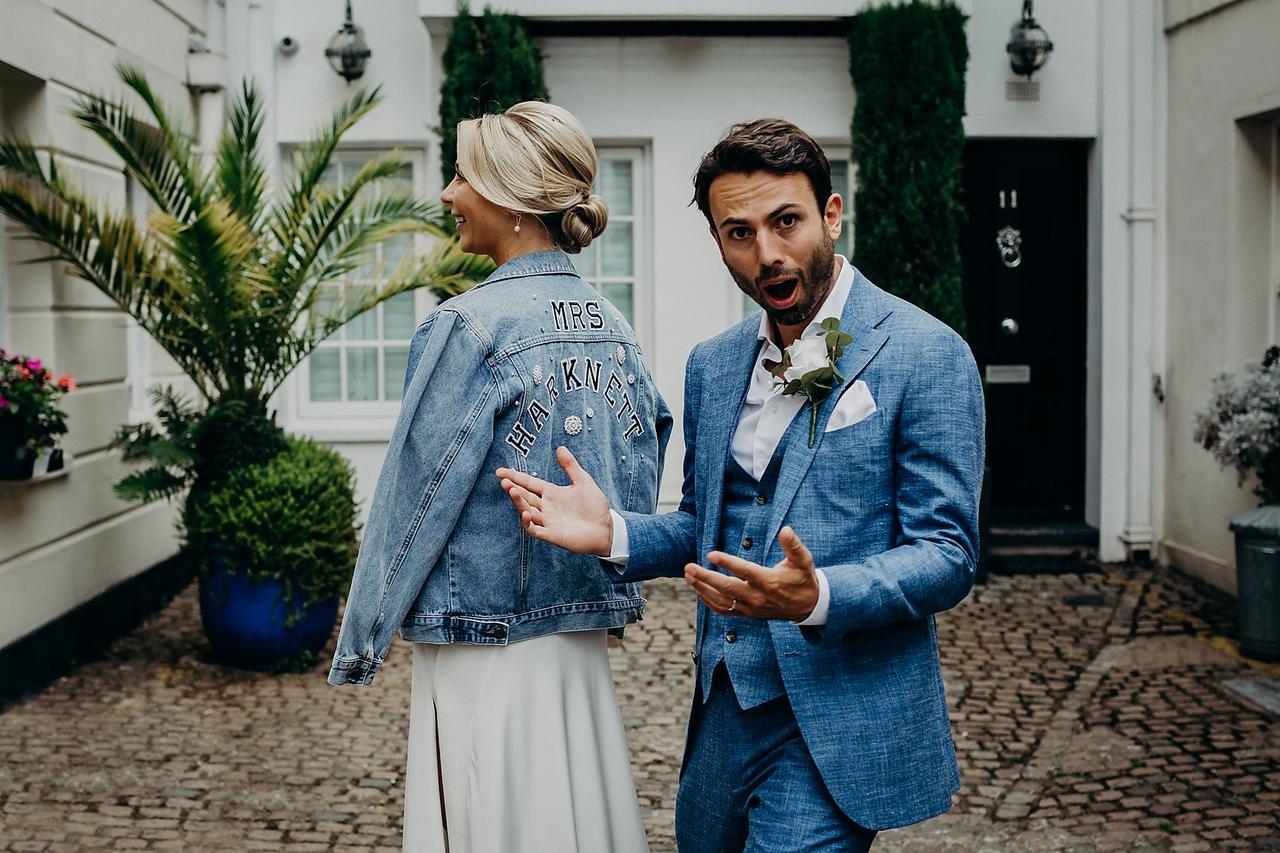 The Change of Plans
With Ben's family unable to travel over from Australia and high-risk family members unlikely to attend, Lily and Ben pulled the plug totally on their celebrations within two weeks of the UK going into lockdown.
"We were so winded when we knew the wedding wouldn't be able to take place. We knew we definitely wanted to get married this year, but had no idea how. We told everyone that we weren't going ahead with the celebration, but that we were going to try and get married still and 'when all of this is over, we cant wait to get you all together!'"
It took the rallying effort of their loved one to get them through the shock and diappointment of another wedding cancelled. "Two of my bridesmaids also checked in on me daily to make sure I was okay and not having a nervous breakdown (haha!), and all our closest friends were really sympathetic," says Lily.
They chose to cancel their day and look for registry office alternatives. That meant calling each supplier in turn and cancelling. "I was pleasantly surprised by how considerate they all were. We got most of our money back and have put in an insurance claim for the rest of the money we were owed. Unfortunately I could not get any money back for my dress, some entertainment deposits, invitations etc. But in the grand scheme of things we could have come out a lot worse."
Lily and Ben had just sold their house, packed everything into storage and were about to set off travelling around France and Italy for three months when they were given a ceremony slot at Chelsea Town Hall with just three weeks' notice!
Suddenly "everything changed! But it was perfect it its own little way," says Lily.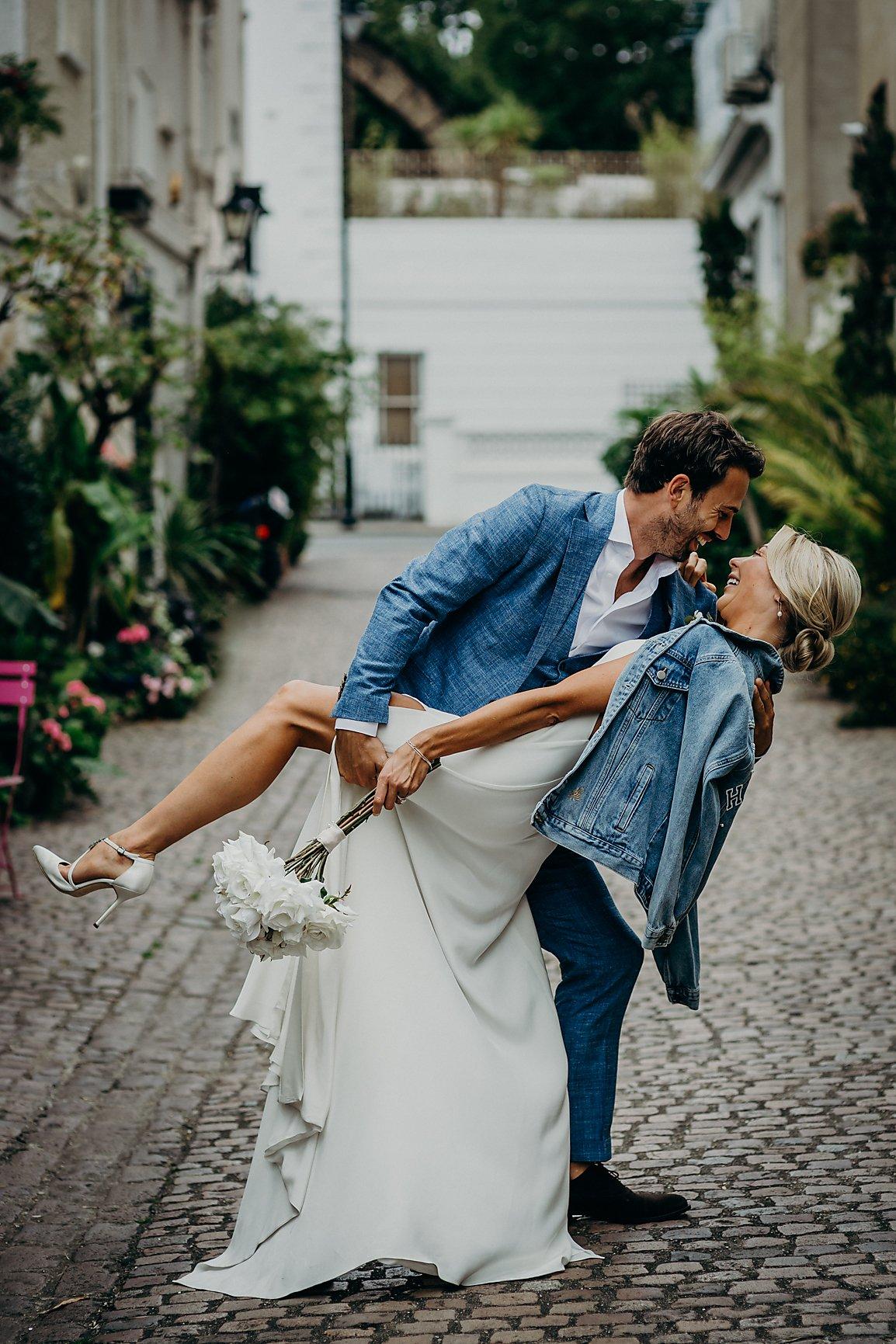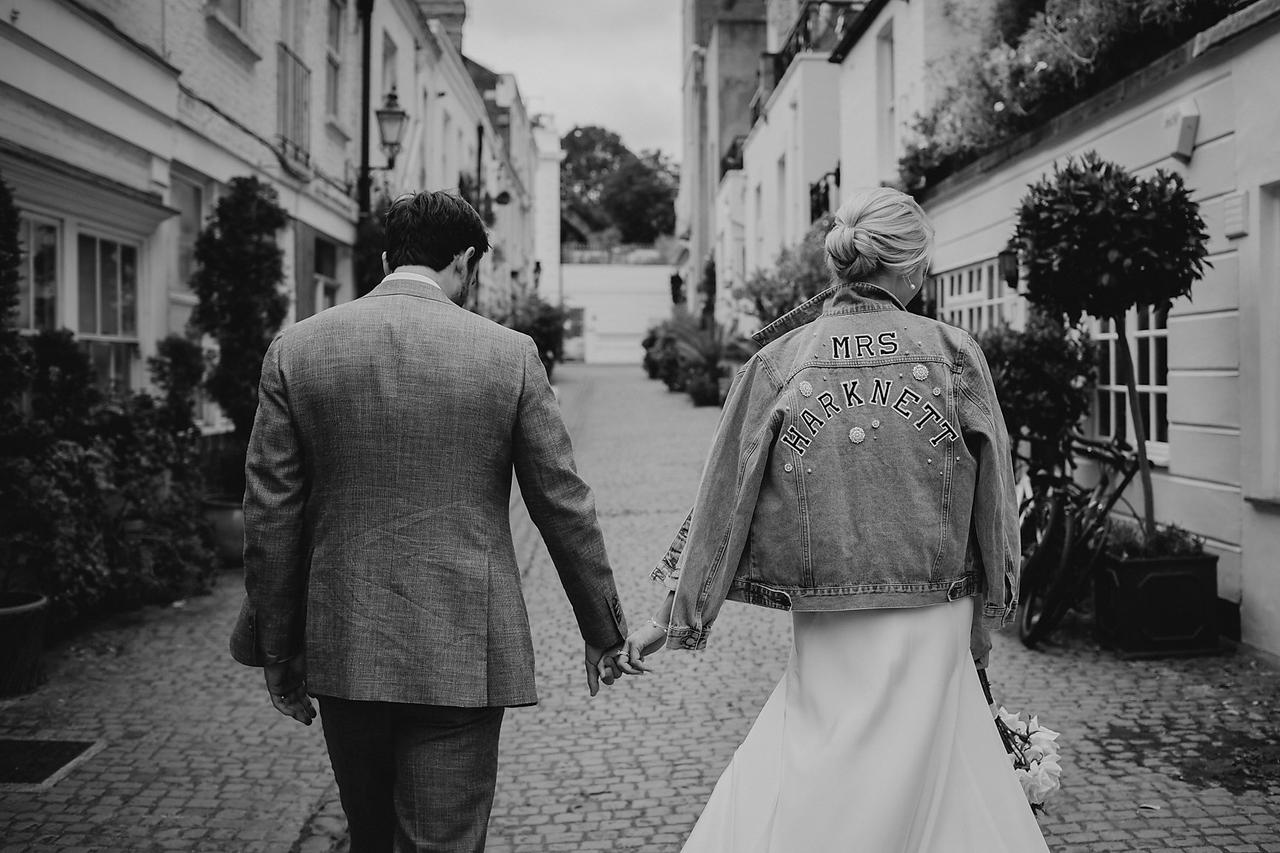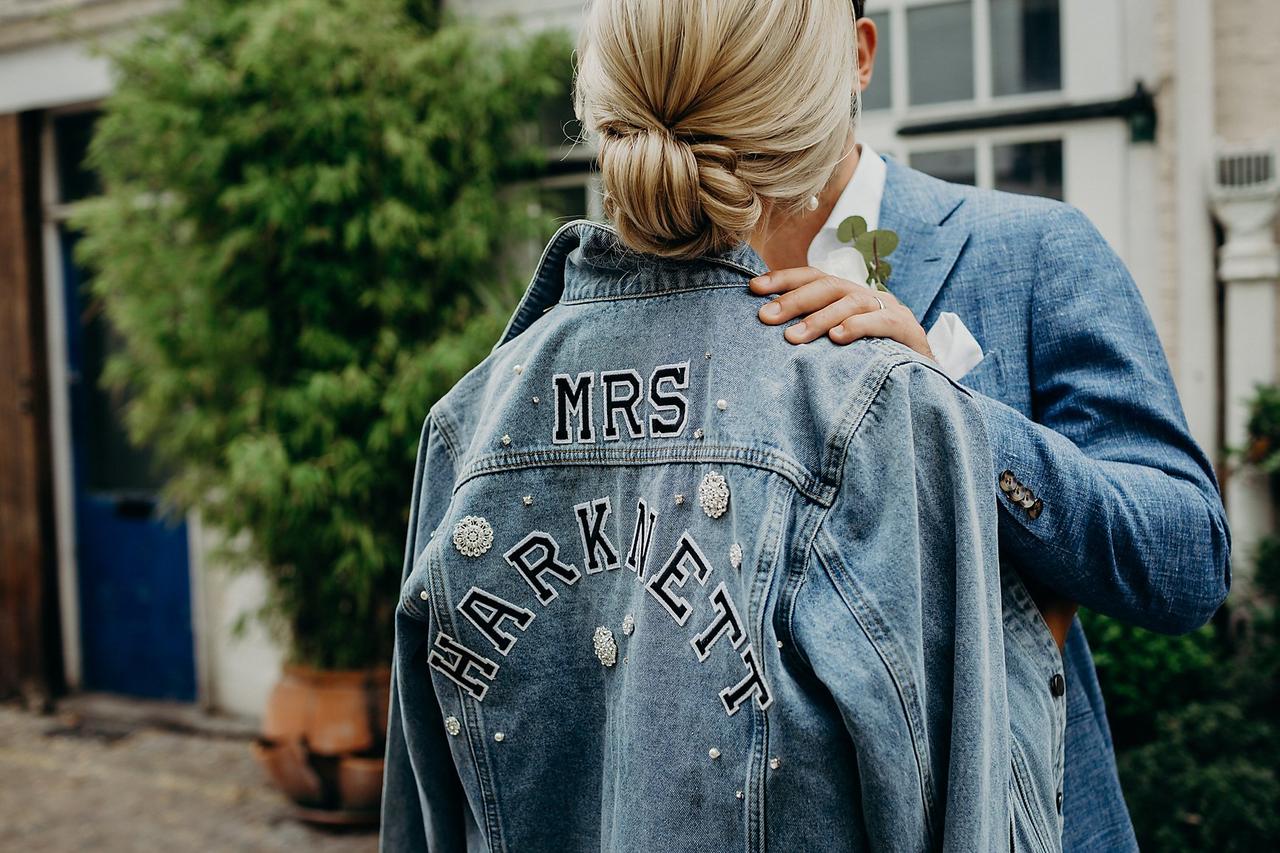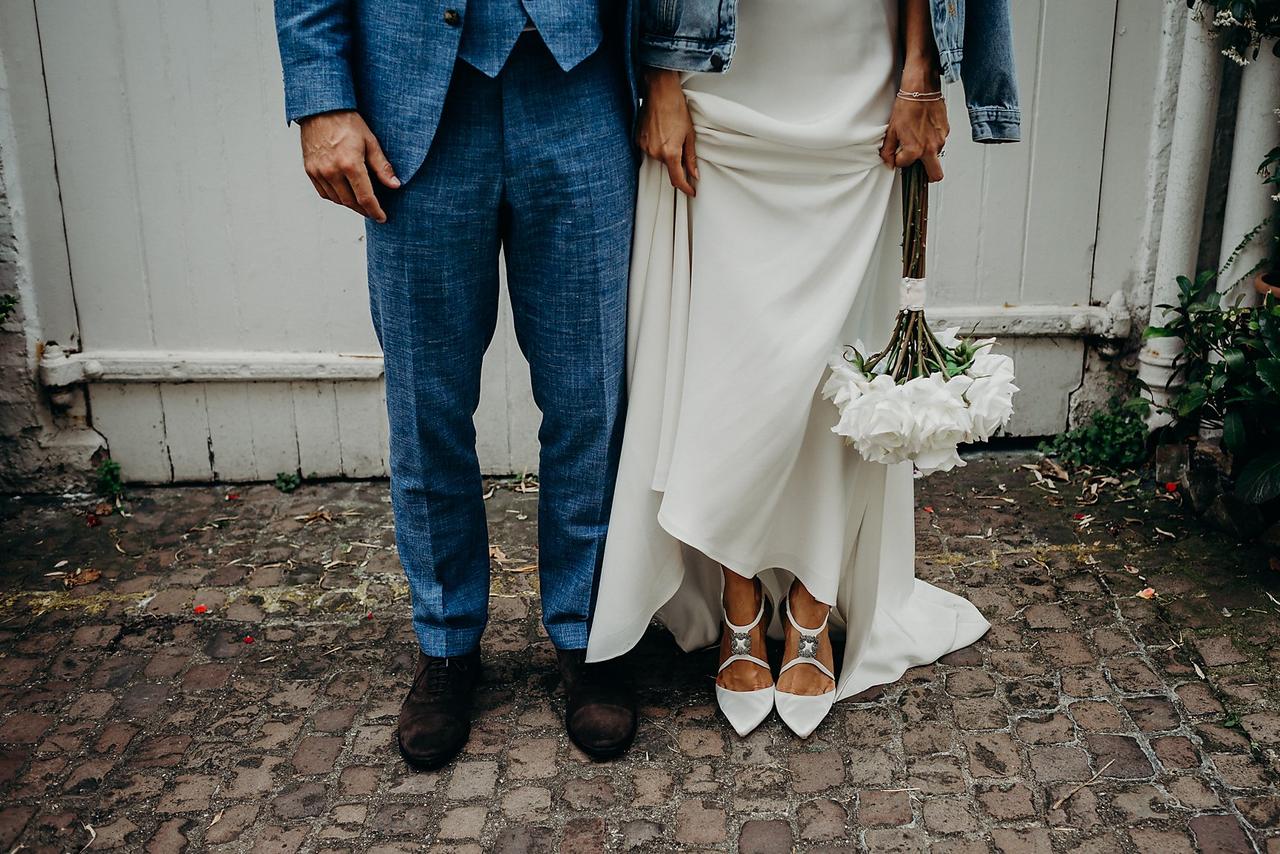 The New Wedding Day
With just three weeks to go, Lily and Ben found themselves planning another wedding. With a replacement dress from Net-A-Porter, a Zoom livestream set up in the registry office and a special private dinner arranged, it was time to finally tie the knot on the 16th July 2020.
As they'd sold their home, Lily and Ben were staying in a hotel for a few days before their wedding. In the morning she went to her maid of honour's flat to have breakfast and bubbles with her mum and get ready.
"I ordered my dress a week before on Net-A-Porter, the original dress I had would have been too much for the day. It was a Michael Lo Sordo gown, not at all what I thought would suit me but when I put it on it was perfect. Ben's suit was the original suit he had planned to wear and our flowers were just as we had planned for the original celebration (only massively scaled back)."
Lily and Ben decided to keep their wedding secret except from just a few loved ones. "We were still so unsure of whether or not the day would go ahead, plus we didn't want to spend the whole day on our phones so we did not tell anyone other than our parents, siblings and a handful of very close friends who were involved," says Lily. Despite the small numbers, their day was perfect.
"We were only allowed to have two witnesses with us in the room so decided to have our two dear friends with us. Then all our family and international friends dialled in on Zoom. We walked out of the steps of Chelsea Town Hall and had another group of friends waiting for us with confetti, along with our photographer Victoria.
"We had the private dining room booked at the River Café which we then headed off to, and Ben and I snuck off for some photos in a mews nearby in between. Victoria, our photographer, is so great. She also did our engagement snaps the year before and this was her first shoot post-Covid so she was really flexible with our plans.
"As there was nowhere for us to really go afterwards, we went to our friend's house for our 'first dance' and some more bubbles. He has a beautiful roof terrace so we all danced under the stars into the evening. It was just perfect.
"We shared the news with everyone the next morning and called round the grandparents which was really lovely. The day after the wedding, we had a celebration at my mum's house in Cobham with our family and some more friends. My mum dressed the house and garden to perfection, it looked just stunning! This day was just as special as the wedding day itself, we sat in the garden all day, eating delicious food and sharing amazing stories. The next day we were off for three months so it was so lovely to spend that amazing time with everyone before we went."
After two failed wedding plans, their day was nothing like they'd expected, but the couple are delighted they went ahead.
"Honestly, if you would have told me a year ago that I would end up dancing on my best friend's roof terrace on my wedding day I would have laughed, but it was perfect. We had tears in our eyes and the biggest smiles on our faces the whole evening, dancing with six of our favourite people who were all equally elated.
"Totally unconventional but we were married, that what was the most important thing. We also loved having two days, with two different small groups of people, that way we got to spend quality time with everyone, no awkward small talk with distant relatives or too many pleasantries."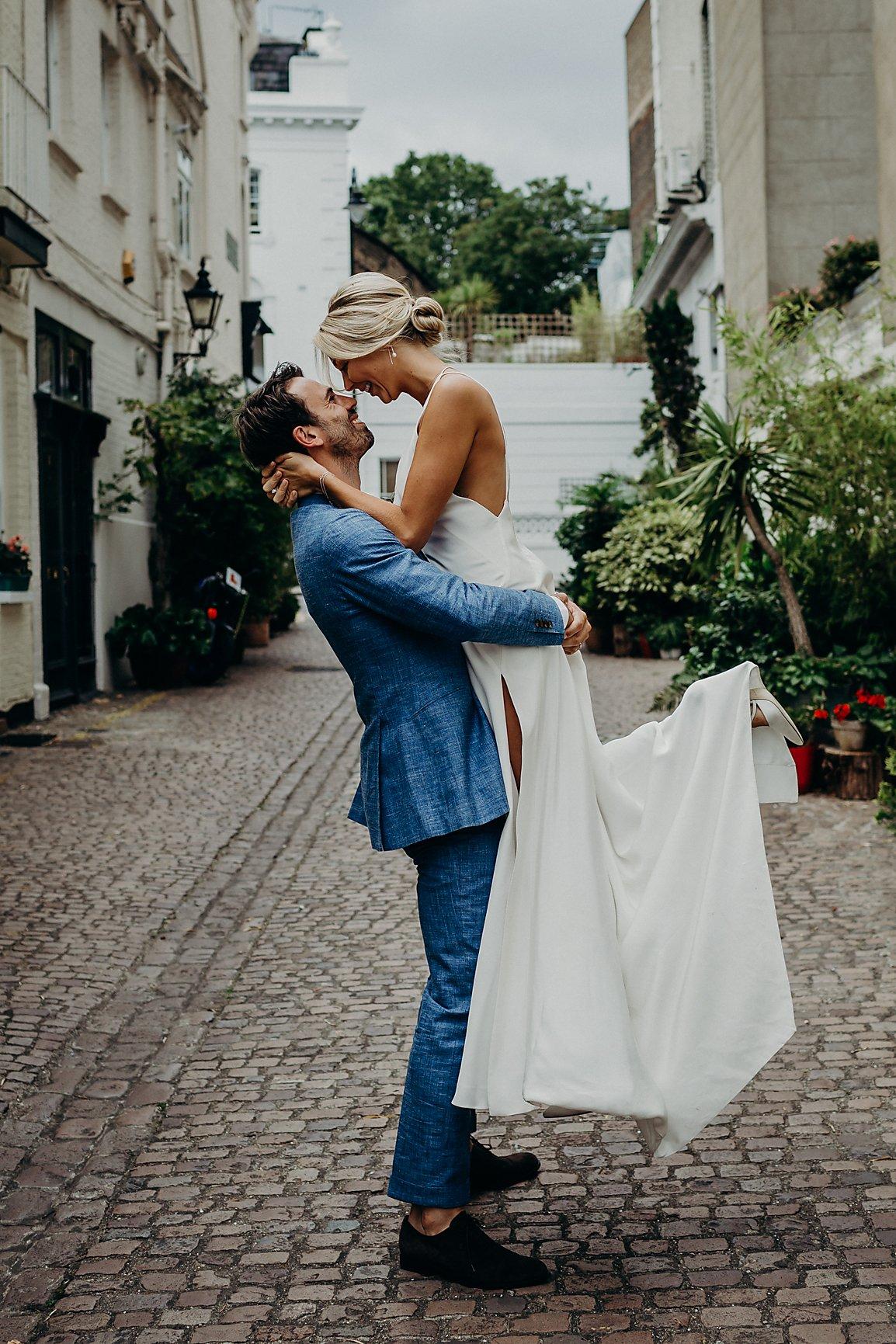 Advice for Other Couples
Lily and Ben are planning a big party next summer when all their international friends can hopefully travel to the UK. "It won't be a wedding, but there will be speeches and lots of dancing! We are renovating a house at the moment and love the idea of doing something big in the garden, decorating the place to a T in line with our initial wedding concept."
With so much experience of changing plans, here's what they've learnt that might help other couples:
"Bigger does not mean better; don't forget that the most important thing is your love and being married. The only thing we would have changed about our celebration is having Ben's siblings in the UK to share it with them too, otherwise it was just perfect with so much less pressure."
"A wedding doesn't have to be conventional to be a wedding - think out of the box, what do you really like and what is really important. If it feels like you are trying to jam a square peg into a round hole, don't force it. Just do something different."
"Learn to laugh...at everything! Honestly, we got so many knocks with our wedding that if we didn't laugh the whole way through the process we would have totally crumbled. It got to the point where we were saying 'Haha, what next? Let's see what else the world can throw at us!' It made us so much stronger as a couple, and so much more grateful for the day when it arrived."
"You're probably going to have to cut down your guestlist...massively! But, that doesn't mean you can't celebrate with everyone you want too. Just spread it out over a few days, with a different group each time - how cool is that, multiple celebrations! We never would have thought we would officially say 'I do' without our parents and siblings there, but we knew it wouldn't be possible and knew we couldn't please everyone. Ultimately we are in tough times and everyone that cares about you will appreciate you have to make some hard decisions."
The Suppliers
Venue: Chelsea Old Town Hall and The River Café
Photography: Victoria Somerset-How
Wedding Dress: Michael Lo Sordo
Groom Suit: Suit Supply
Flowers: rtfact Flowers
Hair: Kasia Fortuna