Real Covid Wedding: Jess and Carl, Yew Tree Farm in the Lake District
A cute cottage on a farm once owned by Beatrix Potter became the backdrop for Jess and Carl's intimate summer wedding. With a dip in the lake, a dog as bridesmaid, and a pub reception, it's the perfect example of a fun, relaxed small wedding.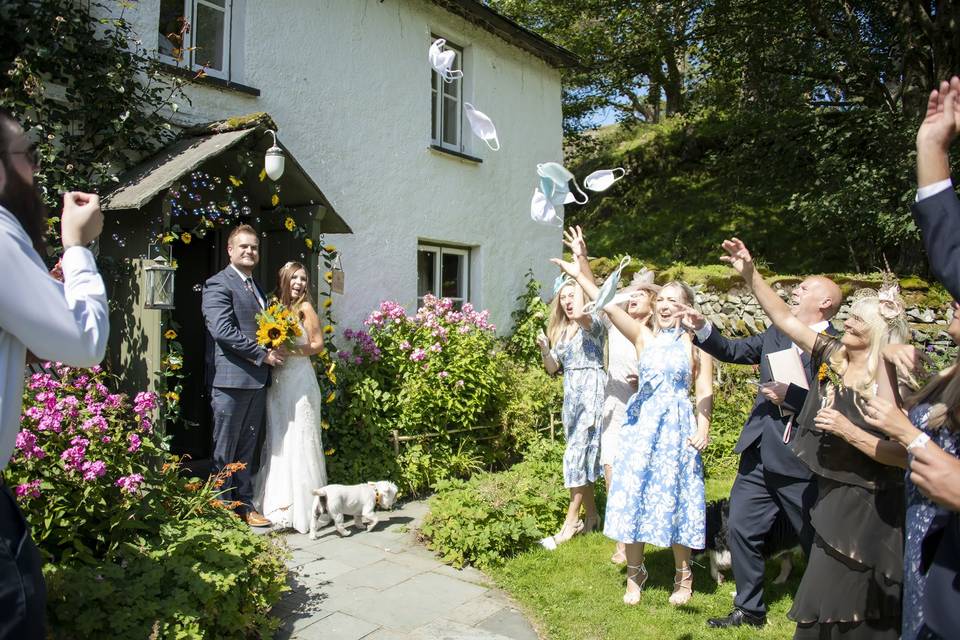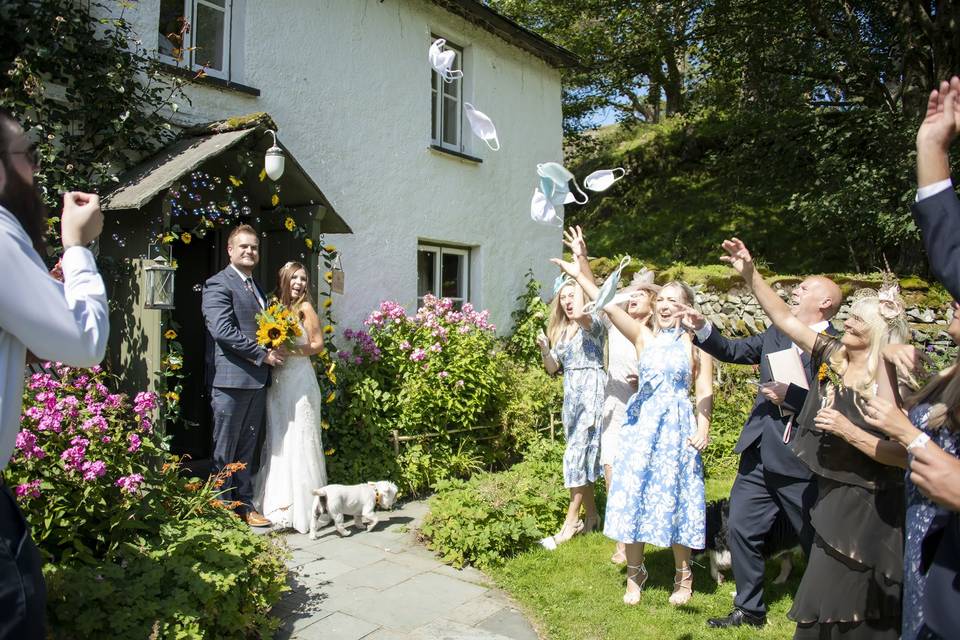 Although their guest list dropped from 135 guests to just 10, Jess and Carl were able to make the most of their Lake District wedding on a gorgeously sunny day in August.
They swapped their wedding from the barn at Yew Tree Farm to one of their cosy, intimate cottages, and followed with a relaxed pub reception. The warm day practically cried out for a dip in Coniston Water, the nearby lake, and the guests - plus Jess's dog Barbara - headed out on kayaks for a glorious afternoon paddle.
Carl and Jess swiped right on each other in Tinder and had their first date at a Greek restaurant in Preston. It wasn't long before Carl proved himself relationship material when Jess left her car lights on all day and he drove over to jump start her battery (including buying leads on the way as he didn't actually own any!).
He proposed on a boat trip in Croatia with the perfect princess cut solitaire ring ("I did leave a few web pages open on the iPad," Jess admitted). He had actually planned to do it at the Blue Lagoon until their tour guide started telling the group how many couples had proposed their before and put Carl off. Nevertheless, he found a beautiful spot to get down on one knee and one year later they were saying 'I do'.
Their day was packed with summery sunflowers, wetsuits, laughter and a fair few celebratory Jager Bombs, and the couple can't wait for their second celebration next August in the barn with their original guest list.
Photography by Phil Barton of Laurence Hudghton Photography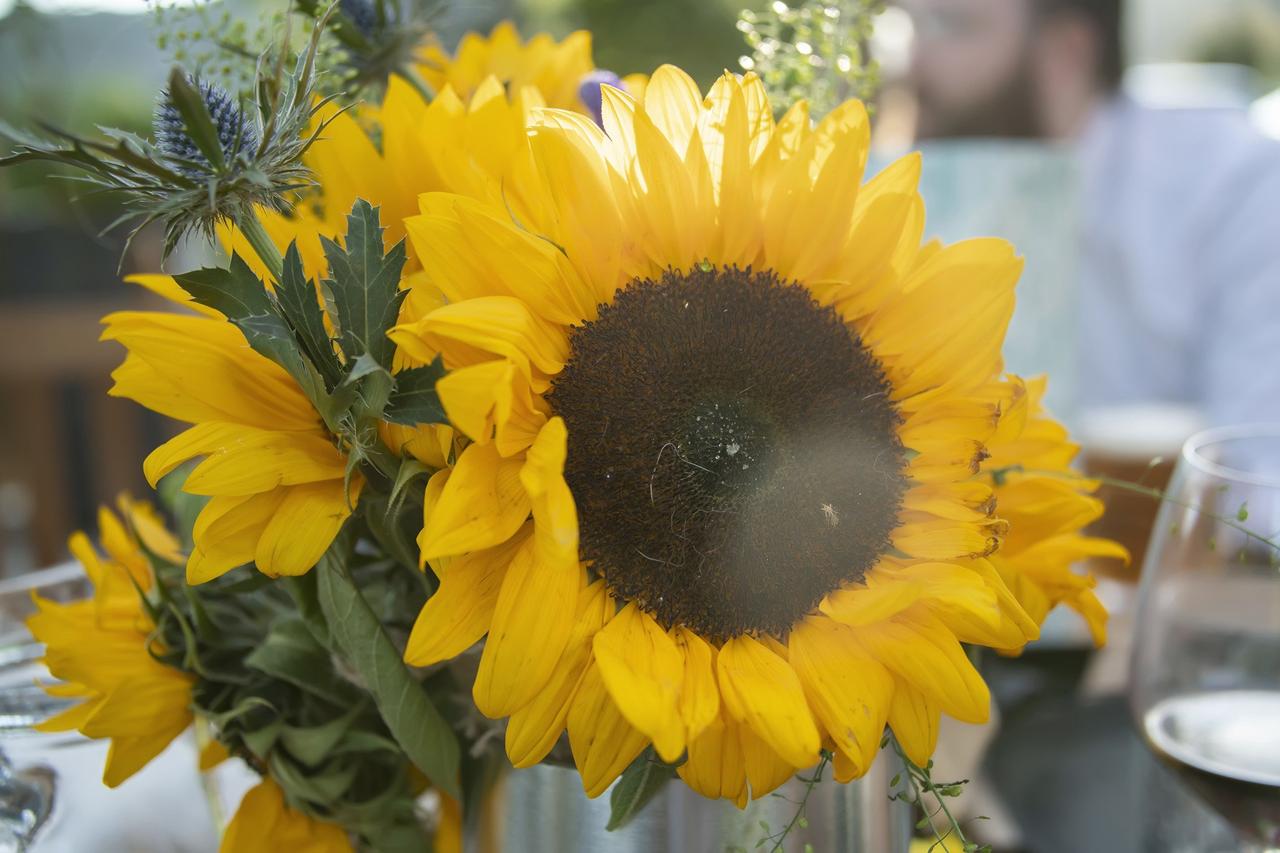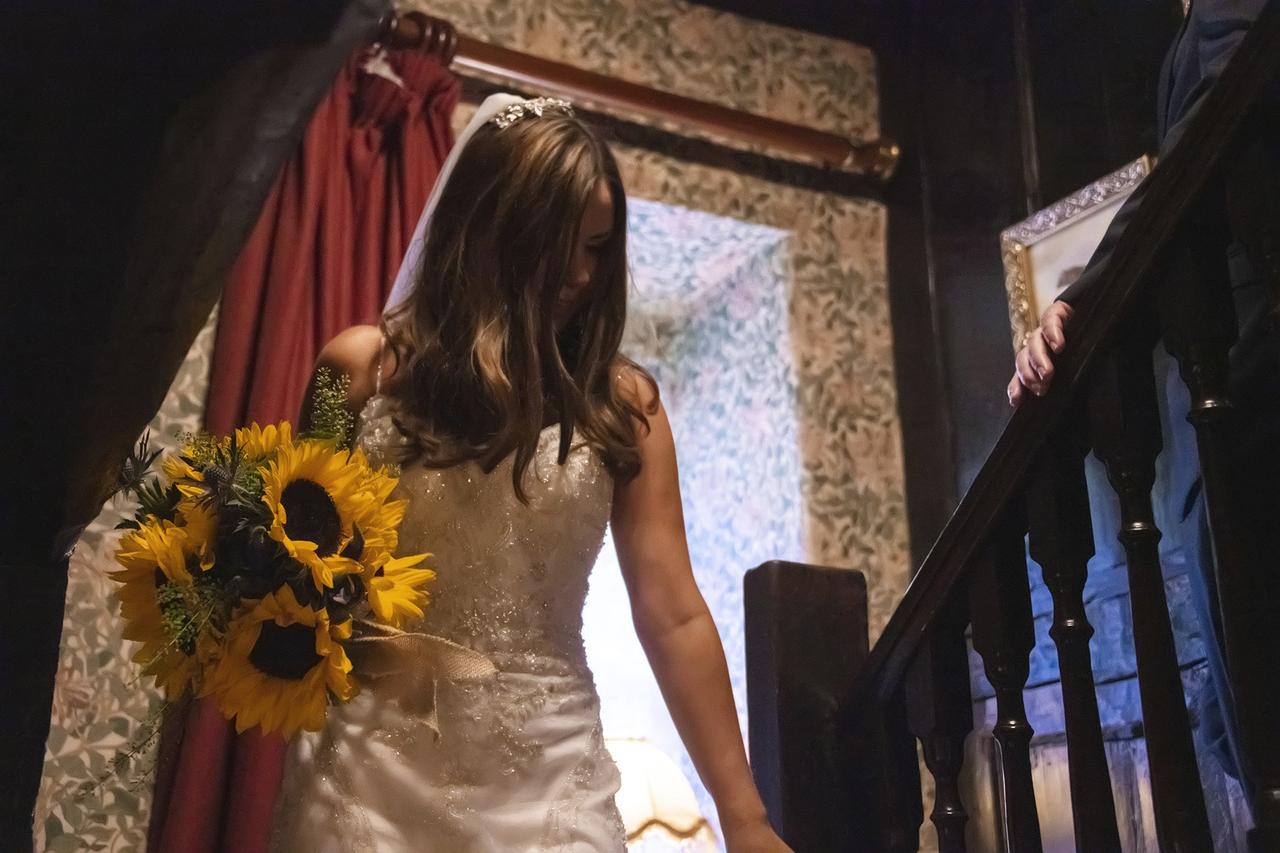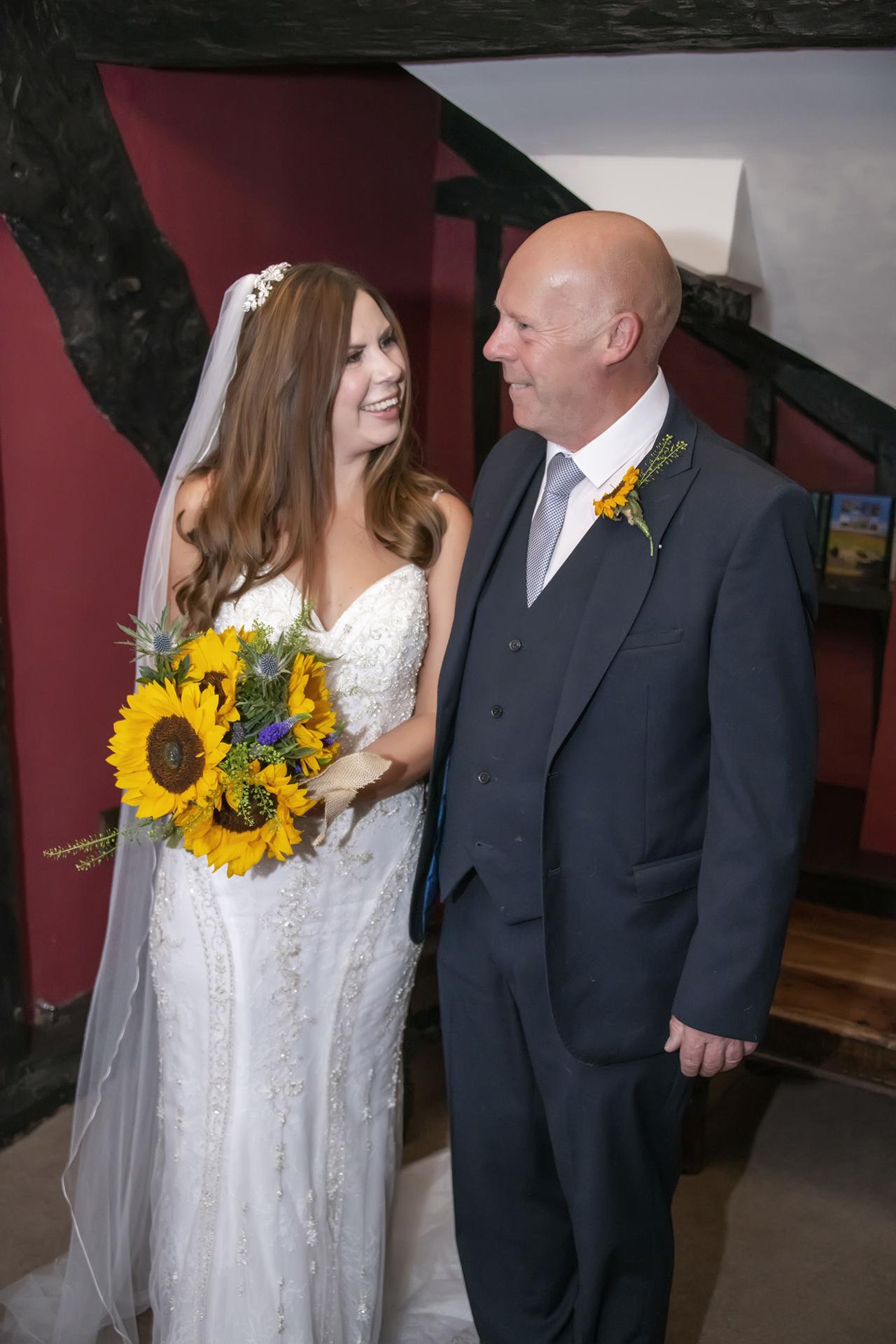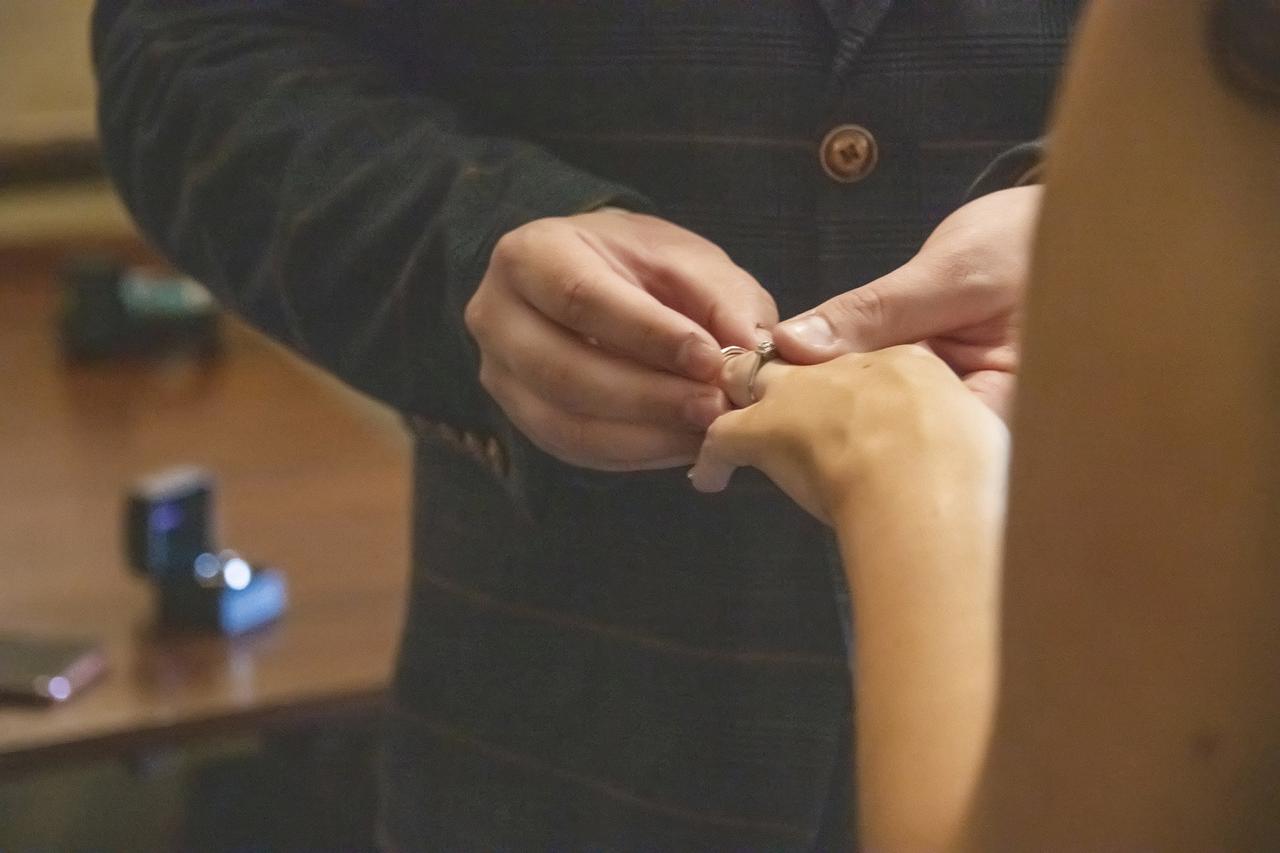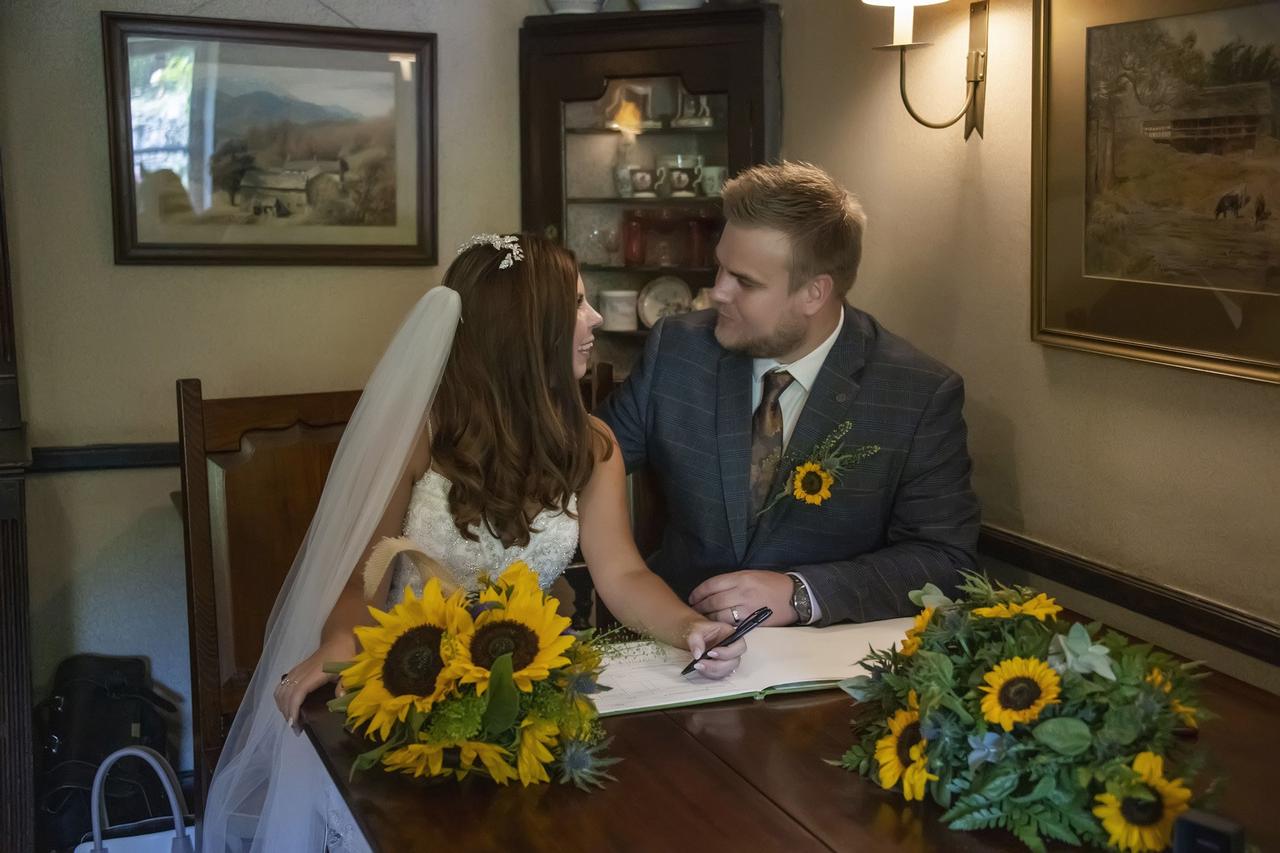 The Wedding Dress
Jess was determined to wear her wedding dress at their intimate day and to keep it in pristine condition for the second celebration next year. This led to some interesting costume changes as Jess navigated both a designer gown, a wetsuit and a bargain reception dress bought from Amazon through the day!
"I wore a figure-hugging, lace dress with lots of intricate detail and a beaded corset with diamante straps," said Jess. "It's by Sophia Tolli and I got it from Love Story Bridal in Longridge, I could not recommend them highly enough! It was the first one I tried on; I did try on a few afterwards but I went back to it because none of them compared.
"I chose it because I had an image in my head of what I would look like walking down the aisle - little did I know I wouldn't actually have an aisle to walk down!"
It was the first of Jess' two dresses for the day, with her second popped on for the pub reception. "We are having a second party on the same date at our venue next year so I didn't want to dirty my dress. I just bought a simple, 60s style dress from Amazon. I actually changed twice as I changed into a wetsuit to go kayaking half way through the day."
Getting ready on the morning was a family affair, with her brother-in-law Phil taking photos and her little sister on makeup duty!
"It was lovely to have my brother-in-law as my photographer because it felt more intimate and meant he took extra care over the photos. My sister did my makeup (which caused her some stress!) but it was quite similar to my general look.
"I actually treated myself to a Charlotte Tilbury makeup set from Selfridges before the day. The staff at the desk were amazing and gave me some complimentary perfume and a lipstick. It was great as well as I got to keep the lovely makeup!"
Jess finished her look at the local hairdresser, styling her hair into a sleek down-do with soft curls and topping with a plain Cathedral-length veil and simple pearl earrings so her dress could do all the talking.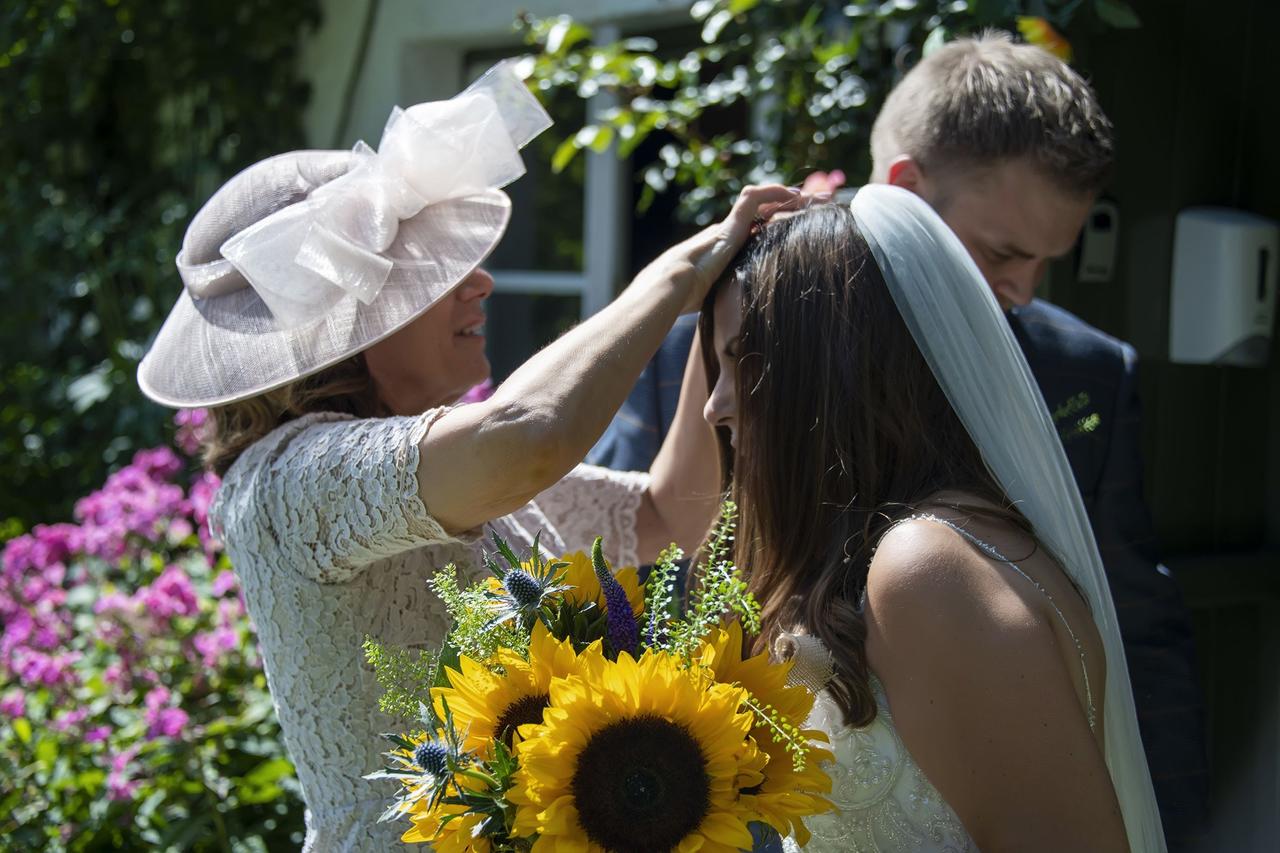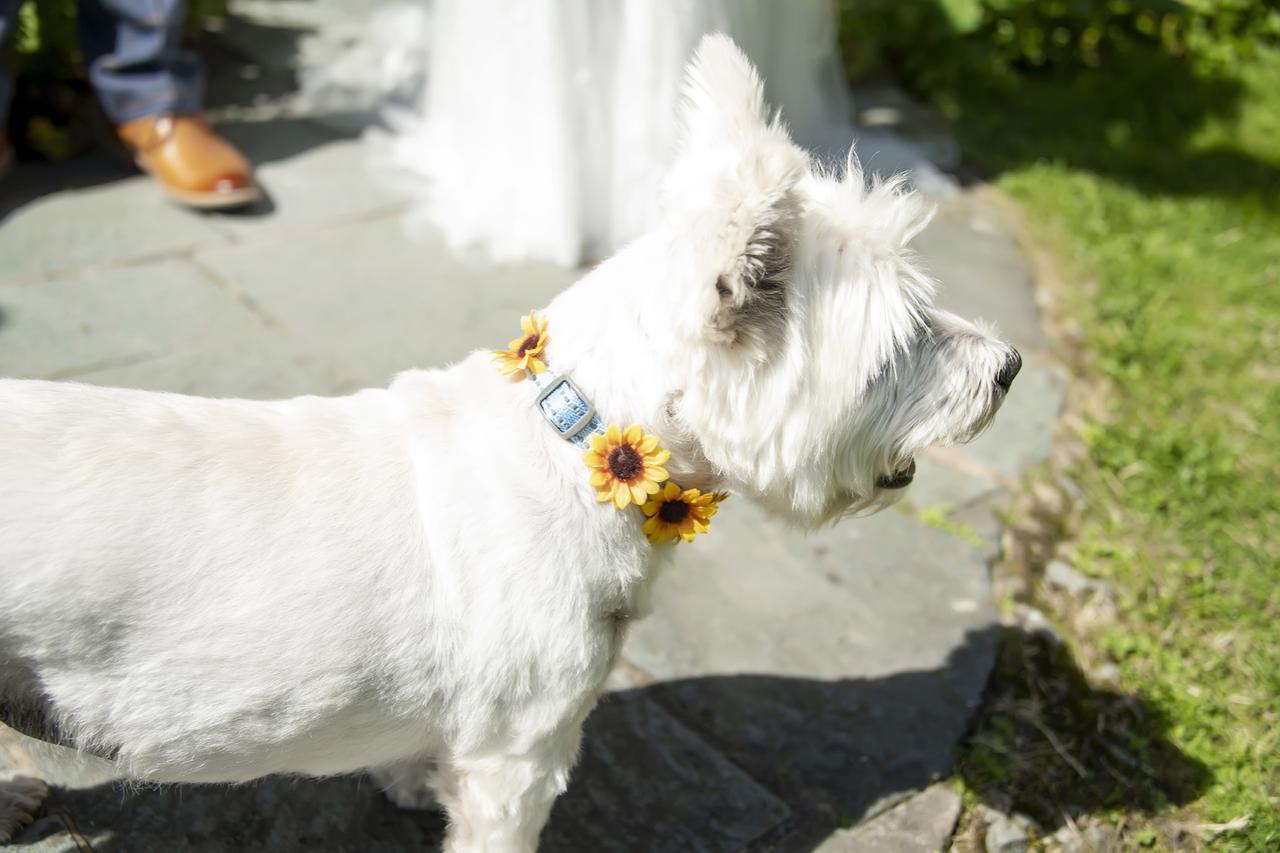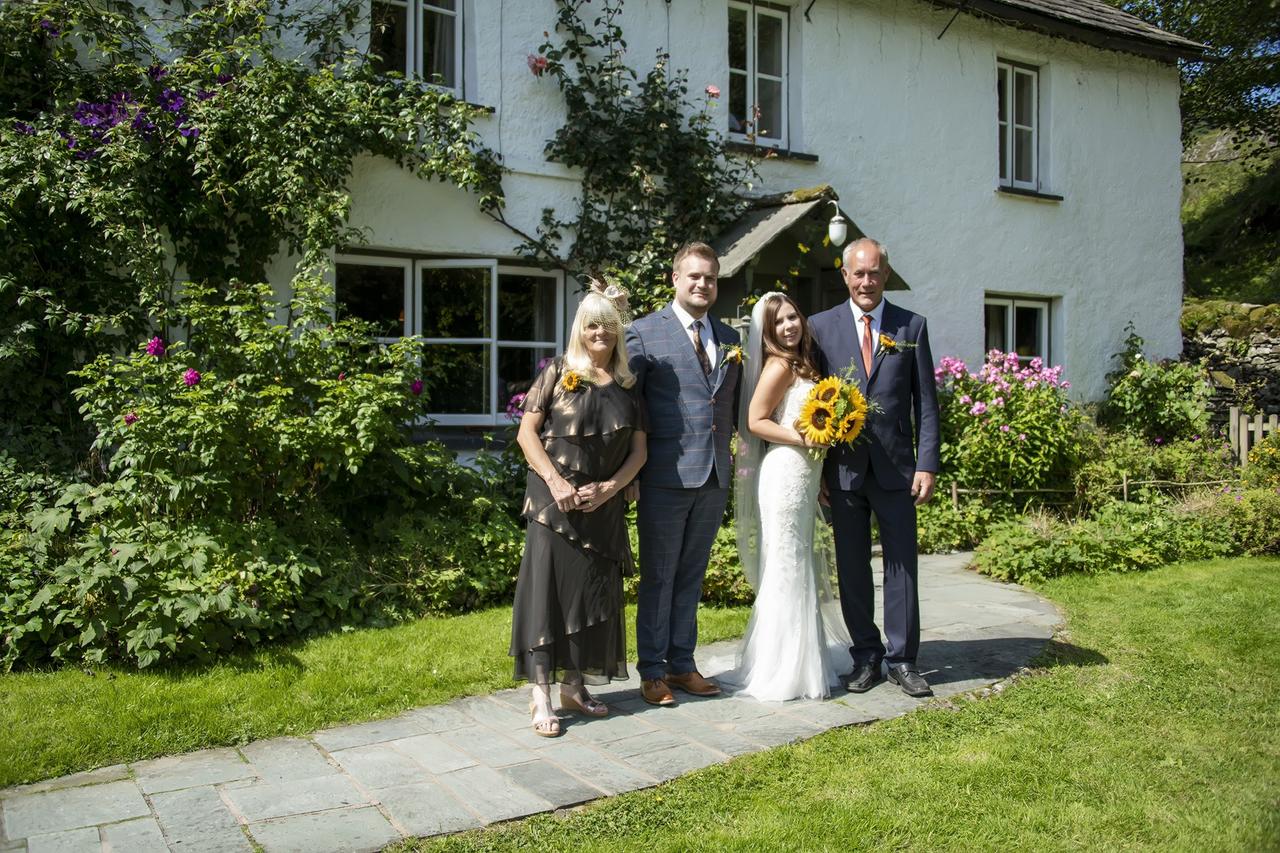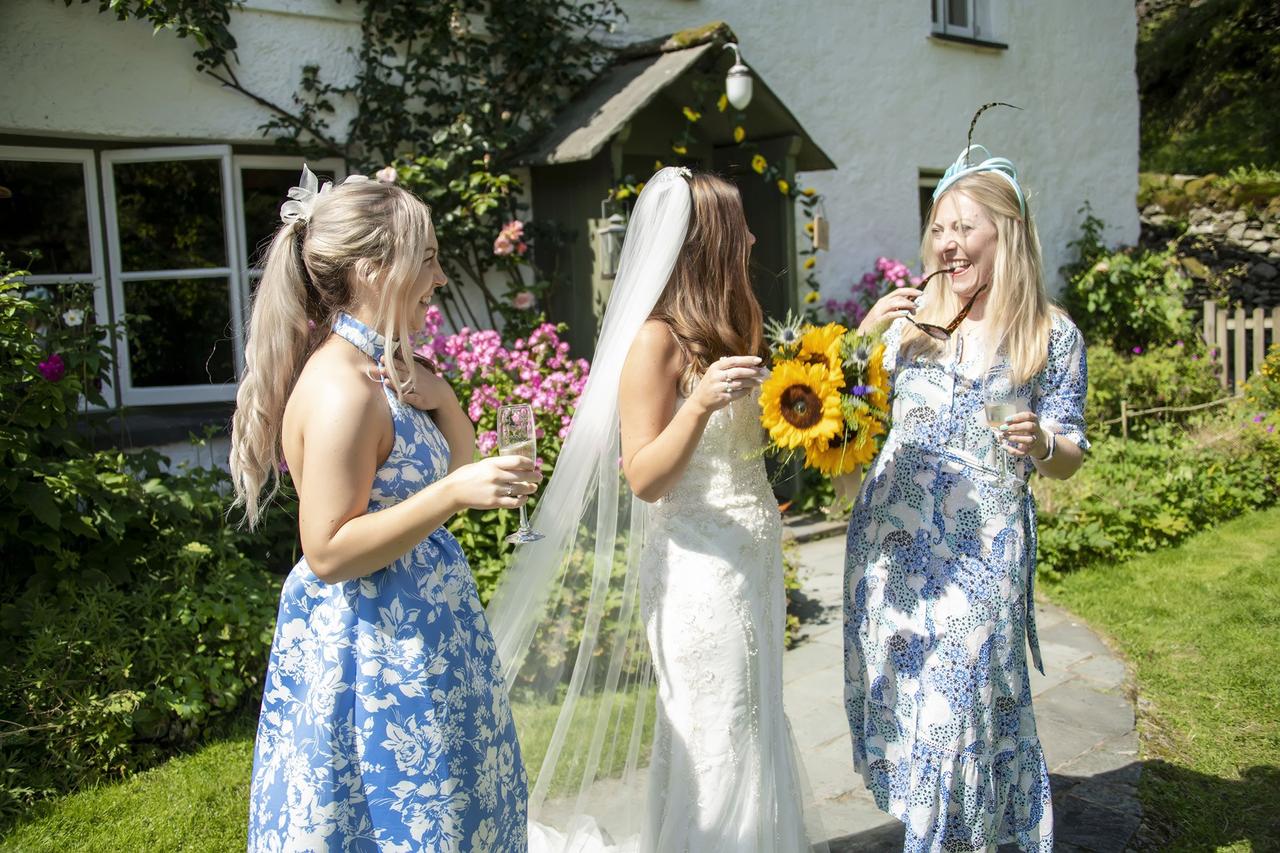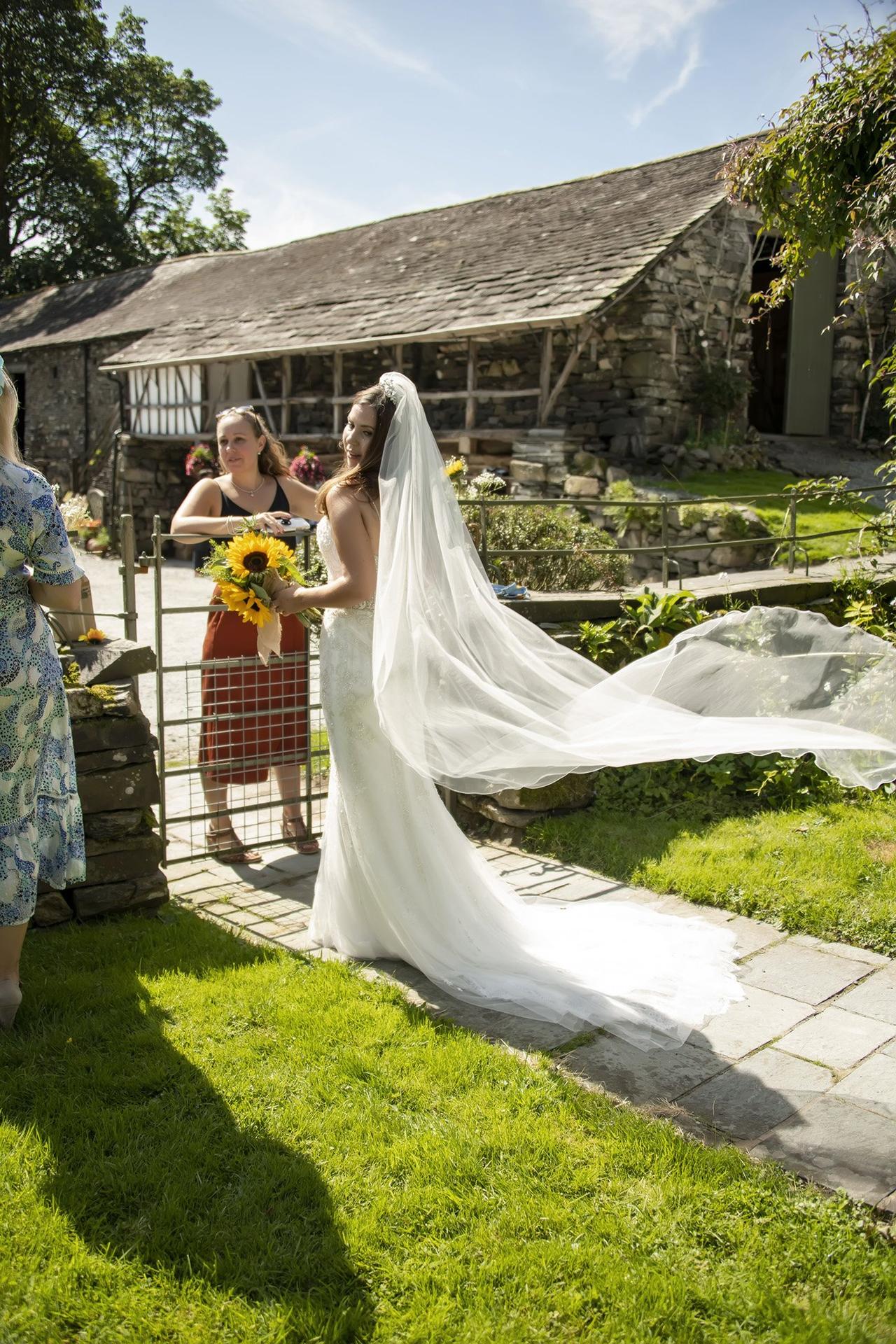 The Wedding Party
Coronavirus put paid to their original wedding party plans, with Carl's groomsman shielding at home and Jess's sisters deciding to keep their main bridesmaid duties for the next wedding.
Not all was lost though - a furry friend stepped in to help! "My sisters would have been bridesmaids but decided to keep their dresses for next year so, technically, I had one, my westie Barbara. She wore a special sunflower lead that I made for her."
Carl got ready without his best man, but the group made up for it with a meal the night before to celebrate the wedding. Carl wore a dapper Ted Baker suit that he'd bought from the Cheshire Oaks Designer Outlet.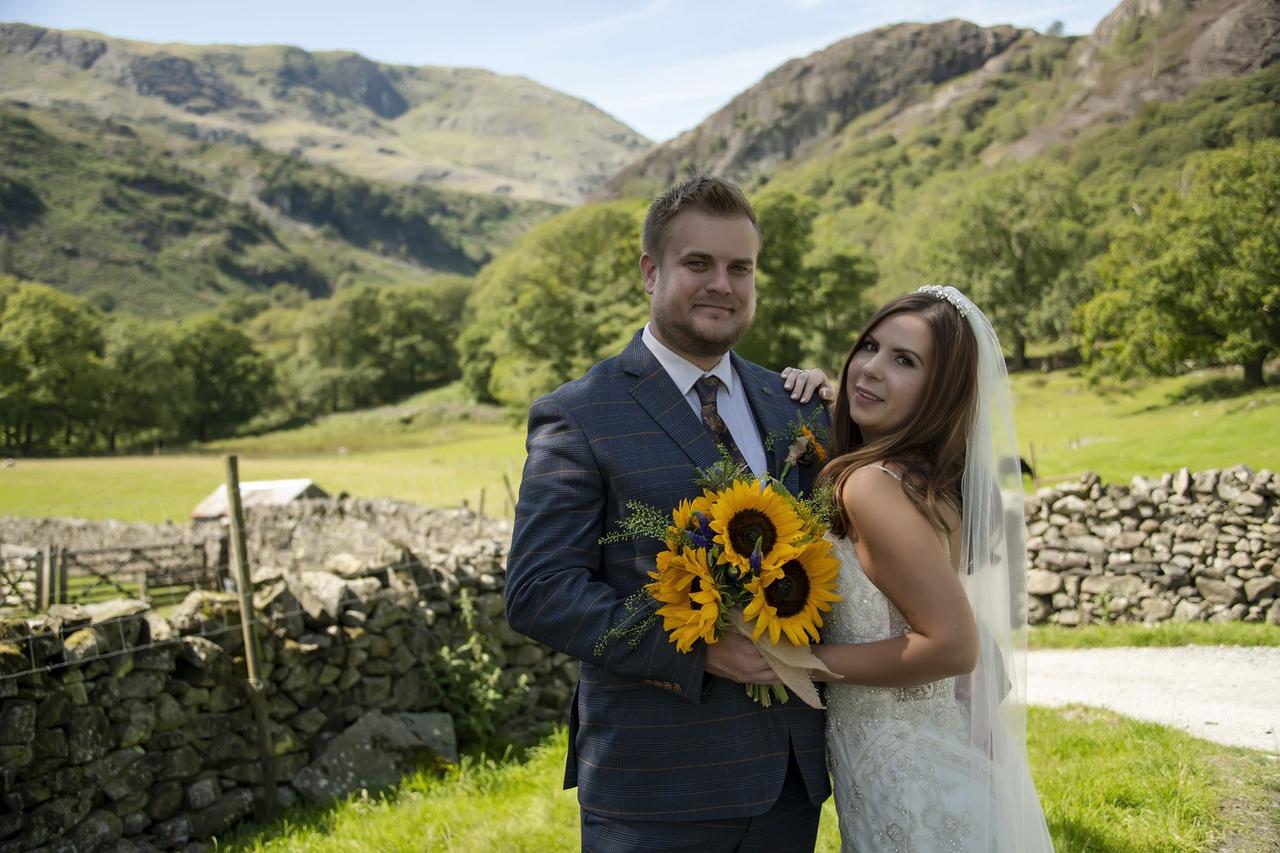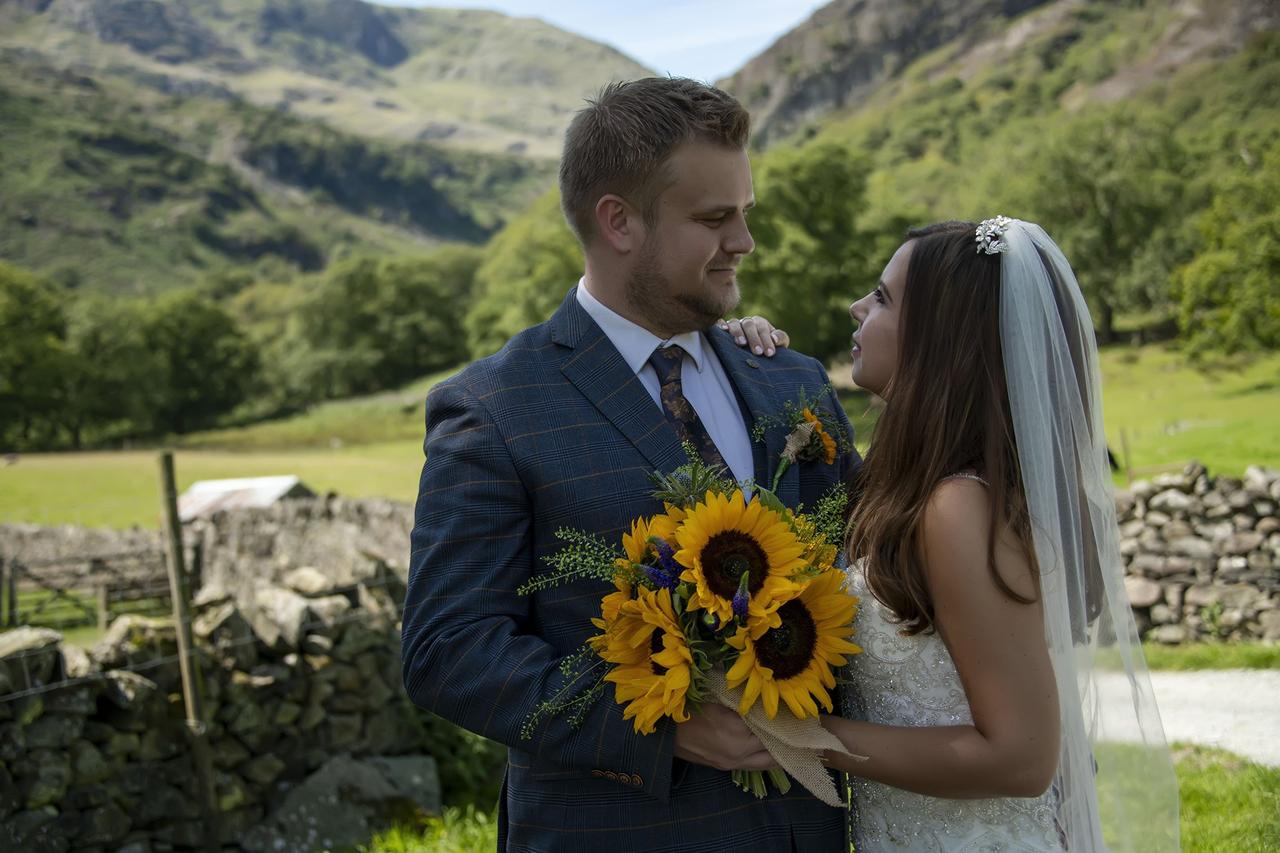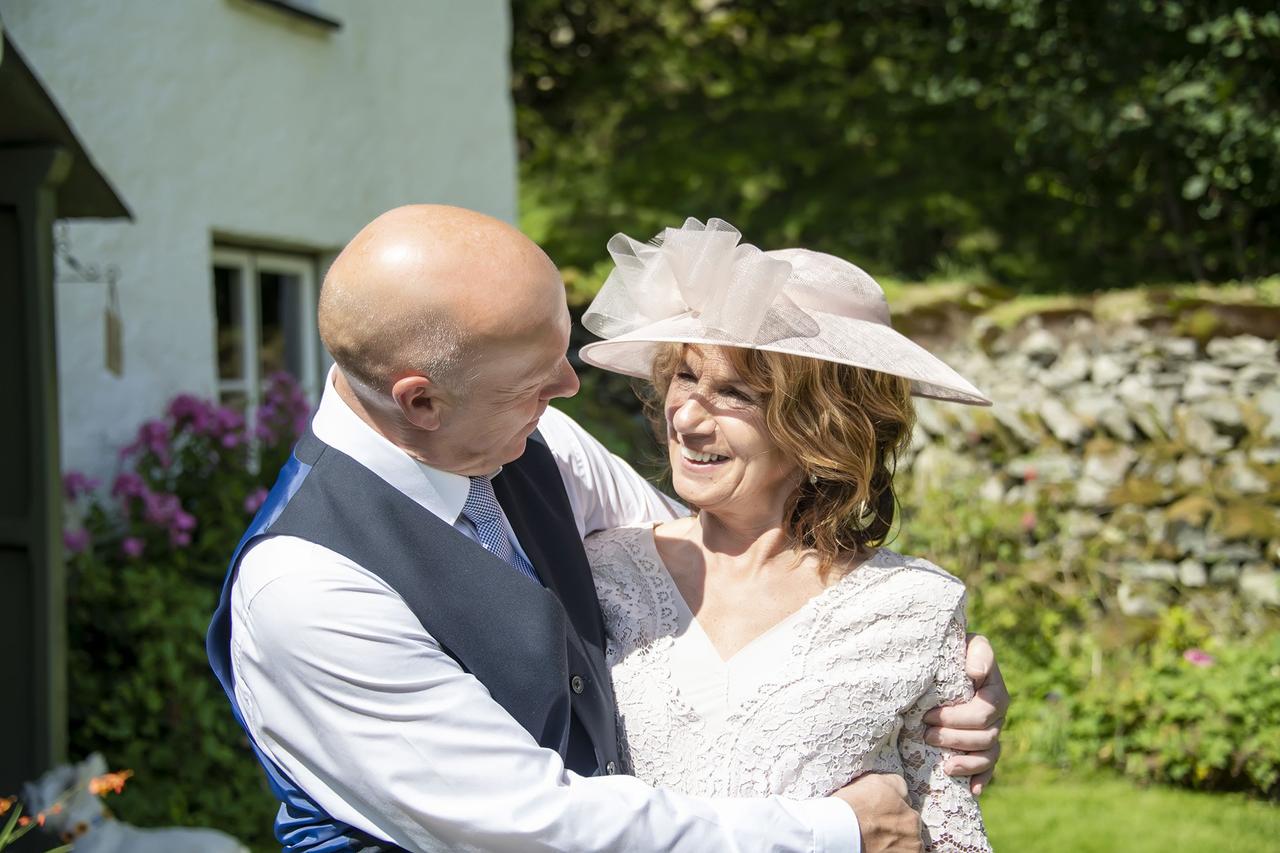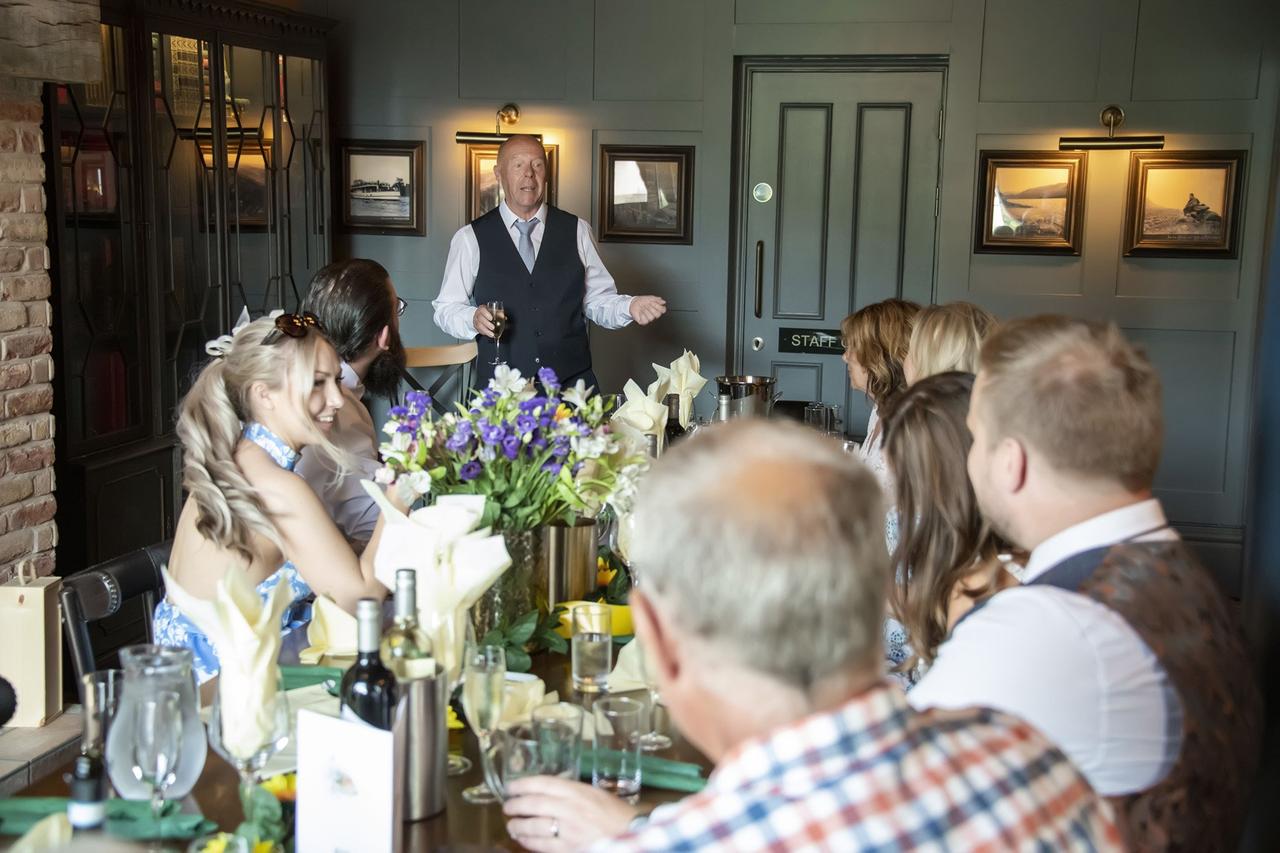 The Change of Plans
"We changed everything apart from the venue and the dress, in short!" said Jess. "We had a wedding in the large barn at Yew Tree Farm for 130 people planned originally. Our venue have been AMAZING though and said we could use the cottage on site this year and have a party in the barn on our first anniversary for free.
"We chose it because we decided we wanted a laid-back, festival-style, DIY wedding and it was perfect for that. It is also next to Coniston Lake where we have been kayaking loads of times. The Lake District means a lot to us and the venue is in an absolutely beautiful location. But I think the best thing about it was the way they accommodated us this year and the lengths they went to to make sure we had a wedding.
"We planned on having a BBQ buffet from Wildefeast Catering but we couldn't use them because of Covid restrictions. They have been brilliant in accommodating our date next year."
In the end, Jess and Carl had just 10 guests join them at their intimate cottage wedding at Yew Tree Farm and the pub reception afterwards. They were still able to keep their first dance though and shared a picture-perfect moment to 'Baby I'm Yours' by the Arctic Monkeys.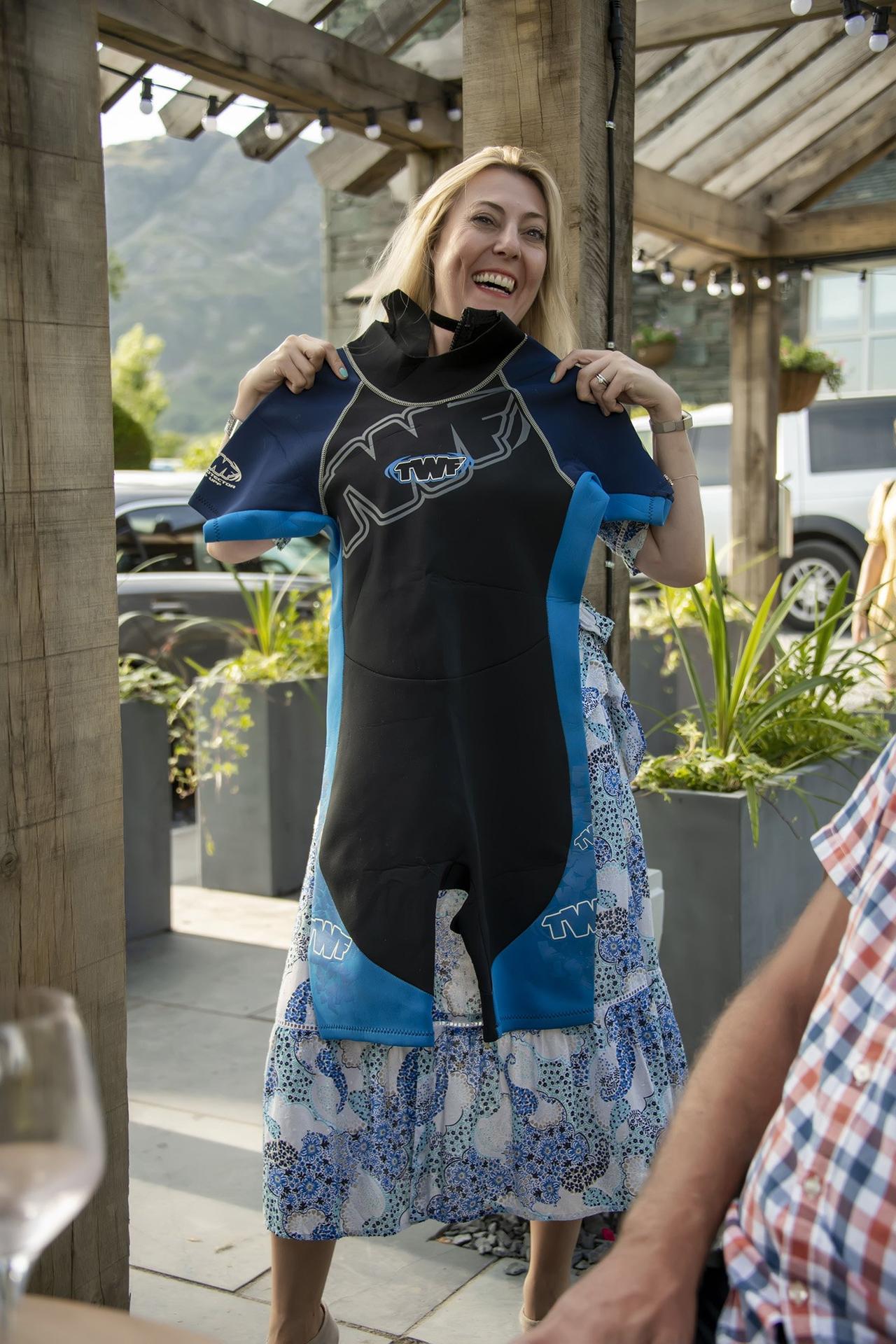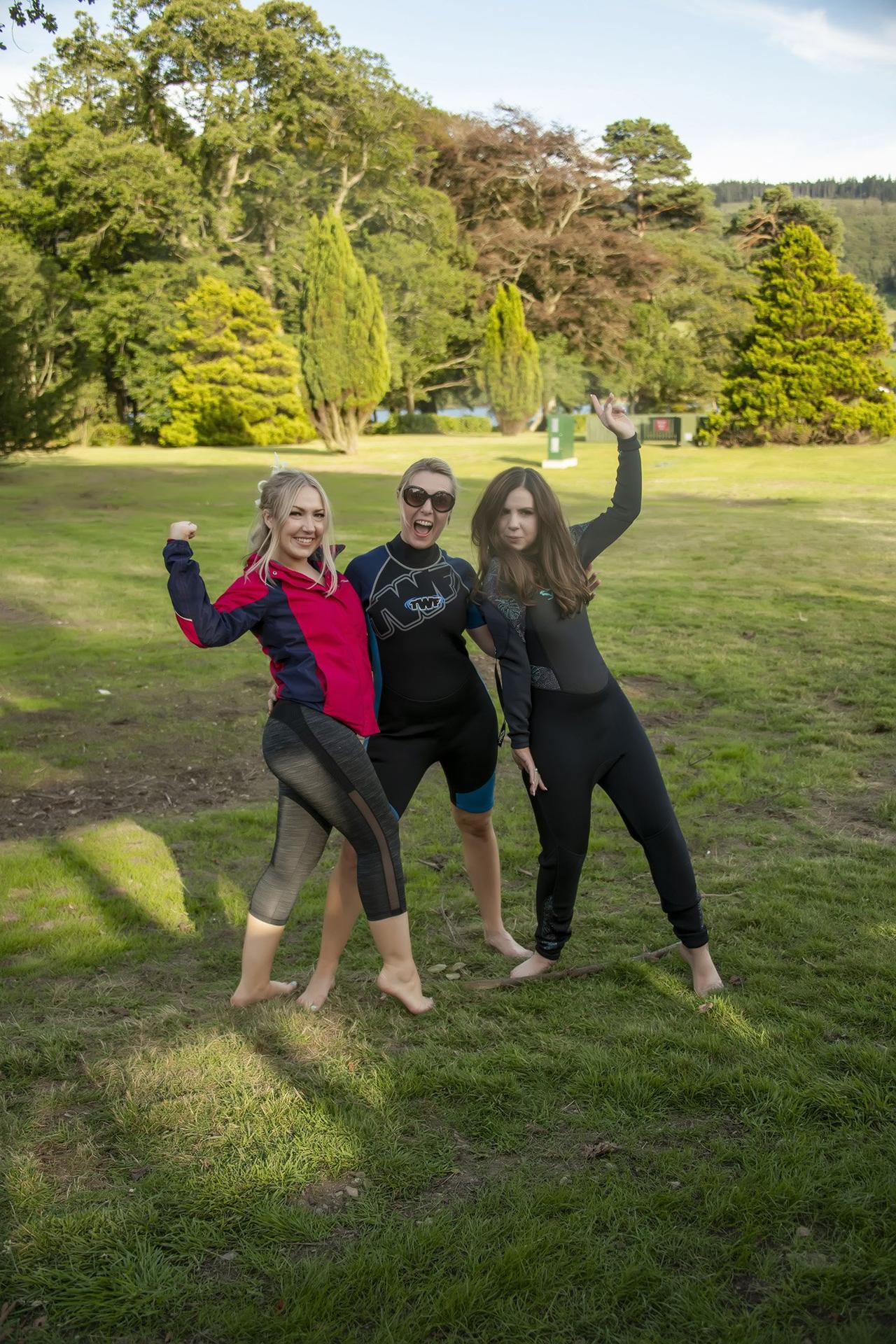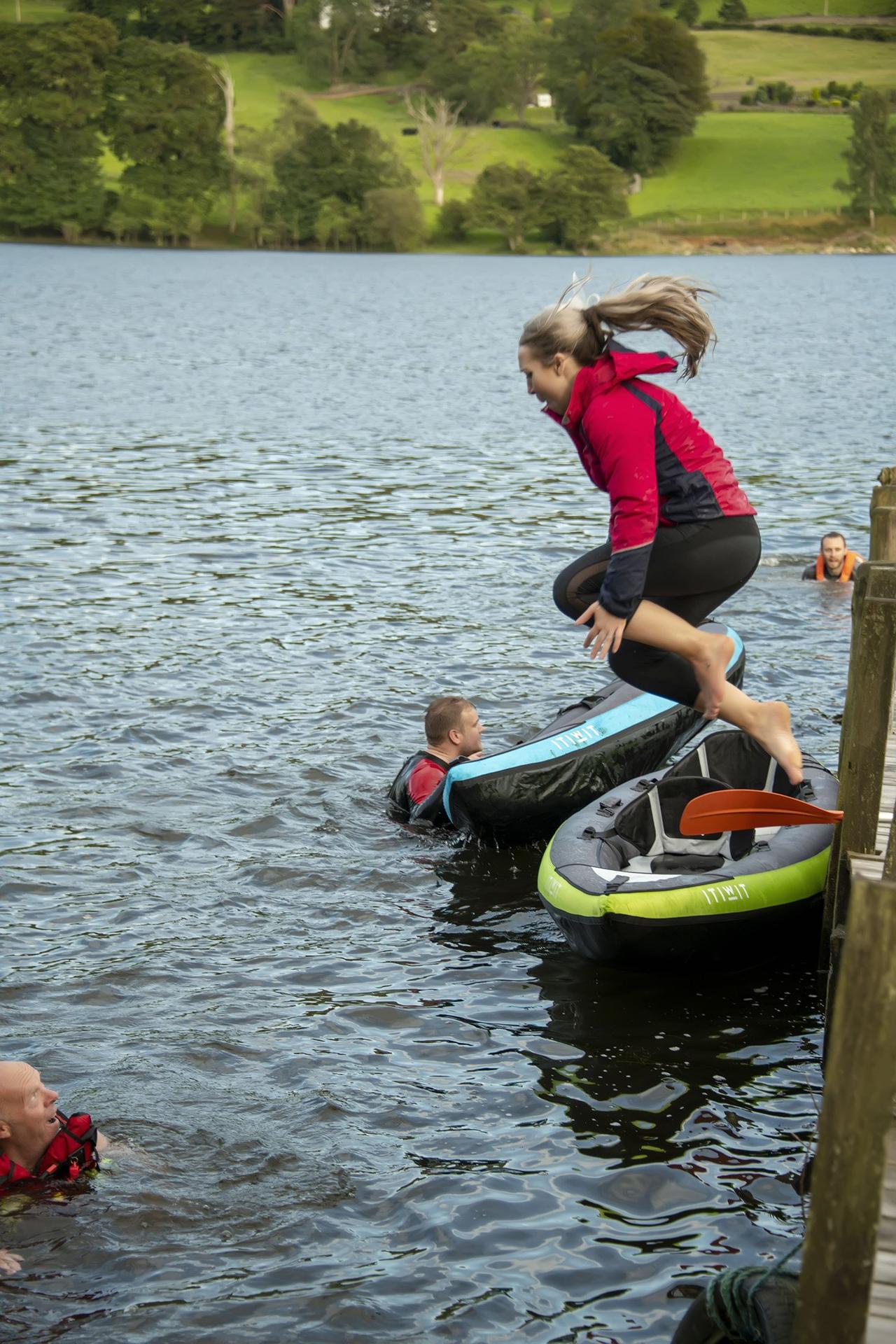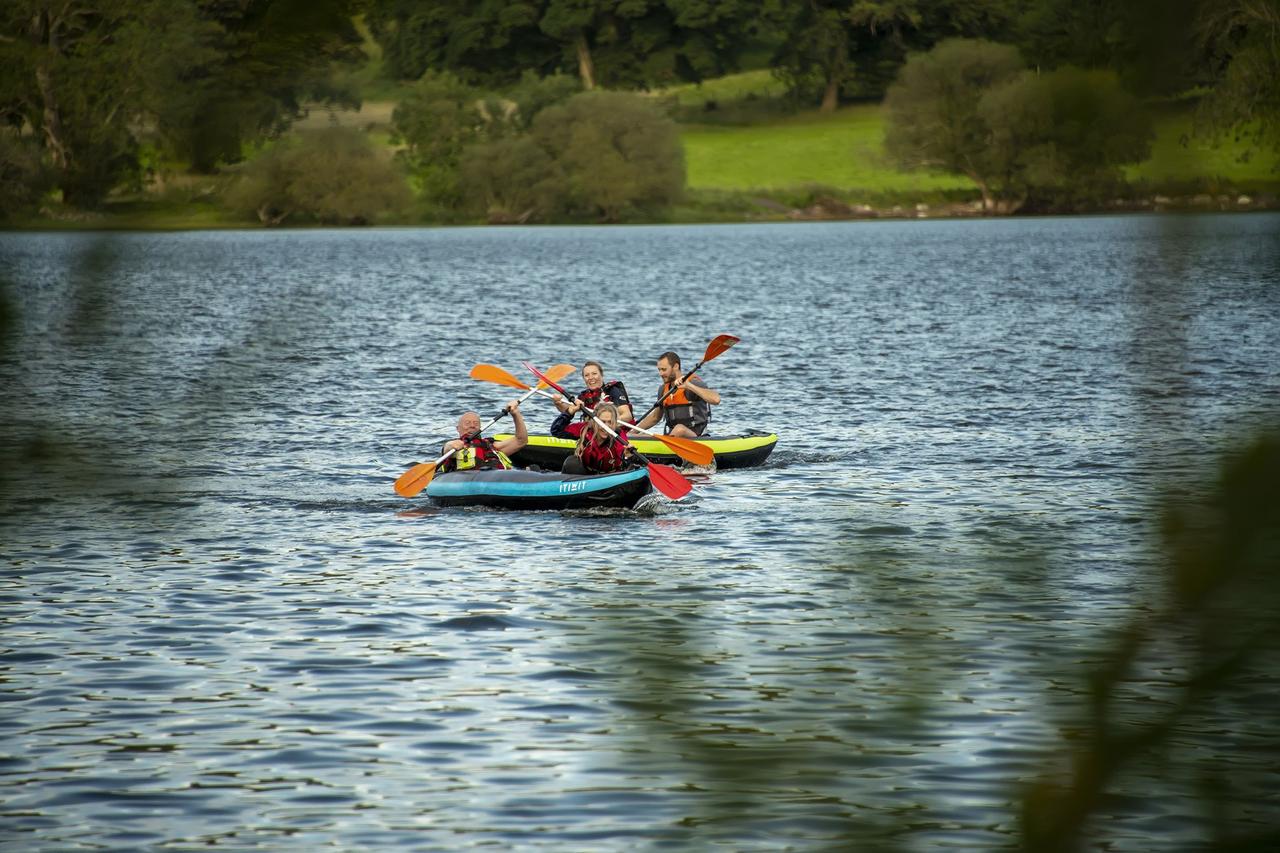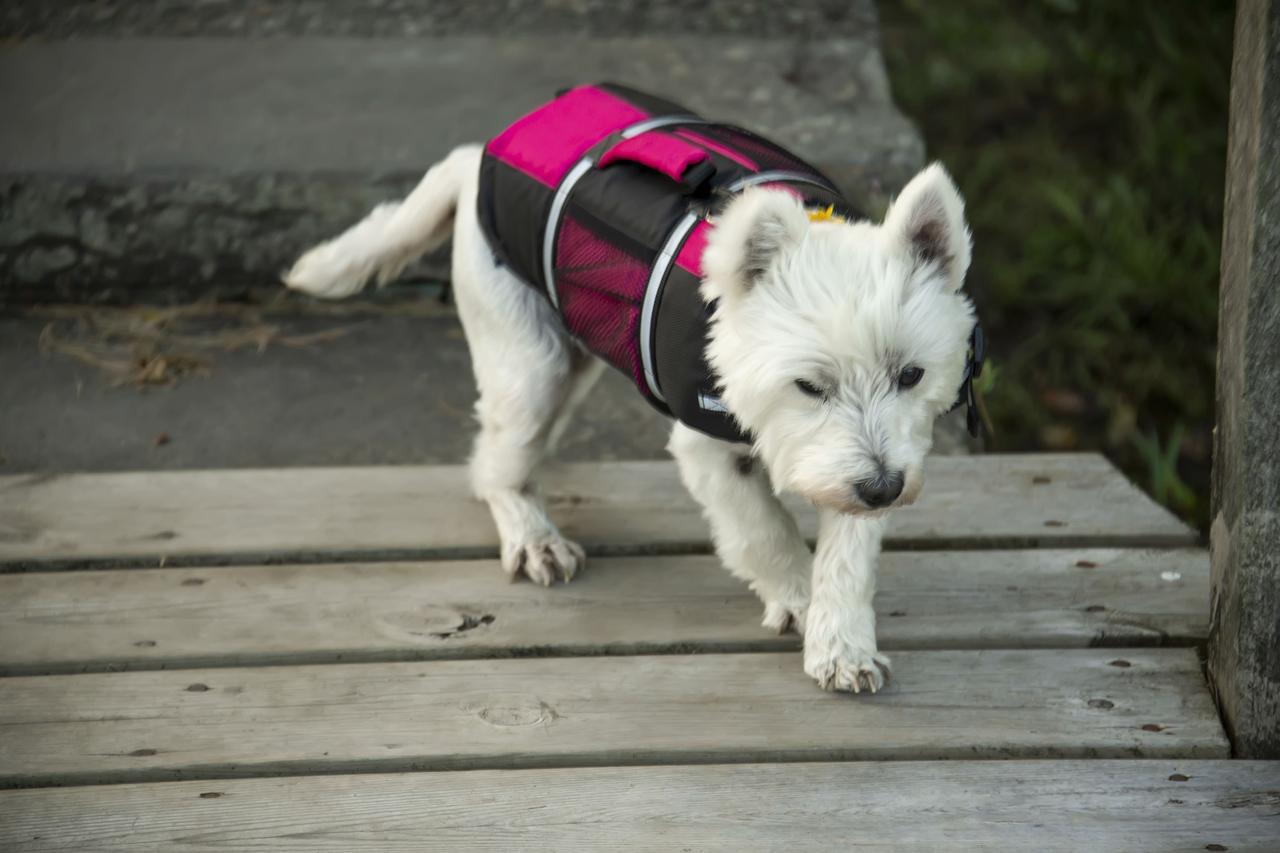 The Wedding Ceremony
Carl and Jess had a civil ceremony at Yew Tree Farm and kept with their original colour scheme of cornflower blue and yellow sunflowers. Instead of an aisle, Jess walked down the stairs at the cottage with her dad, carrying a bright, summery sunflower bouquet, before a ceremony in the living room.
In keeping with the rustic cottage setting, they embraced a rustic theme with accessories which were found in Jess' grandma's cellar and cleaned up.
"We couldn't have readings or hymns but we had the same music options," said Jess. "I came down the aisle to my dad's favourite song, 'Should I Fall Behind' by Bruce Springsteen, we had 'Take over the World' by The Courteeners for the registry and we went out to 'All You Need Is Love' which we felt was right for these times!"
Jess' favourite moment was saying their vows ("it made it real"), and despite all the changes, she'd do it again in a heartbeat.
"If I could change anything, I would have had the day we had planned and dreamed about but it was certainly the best it could have been for these times. Covid made us think about why we really want to get married. I would definitely do it again."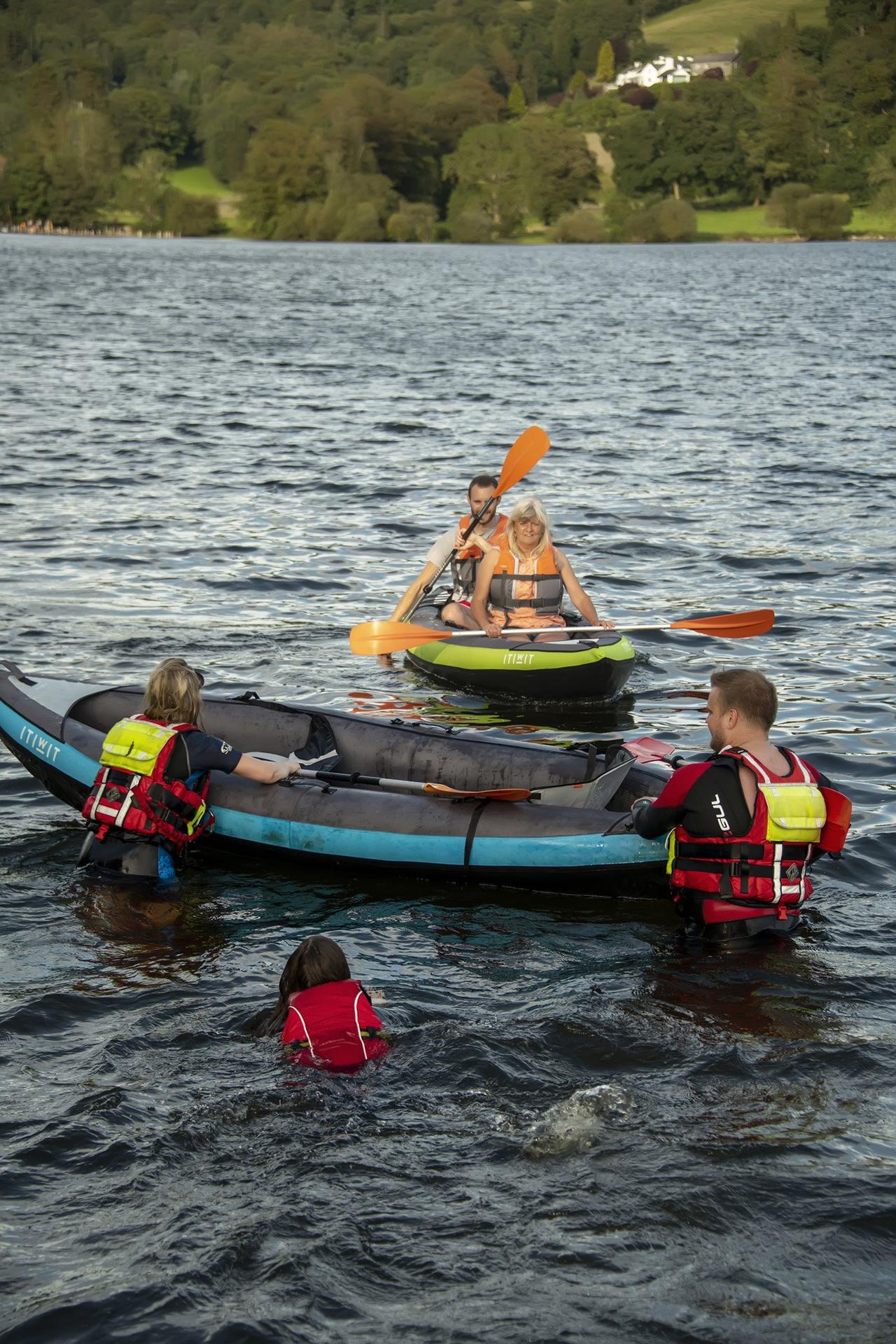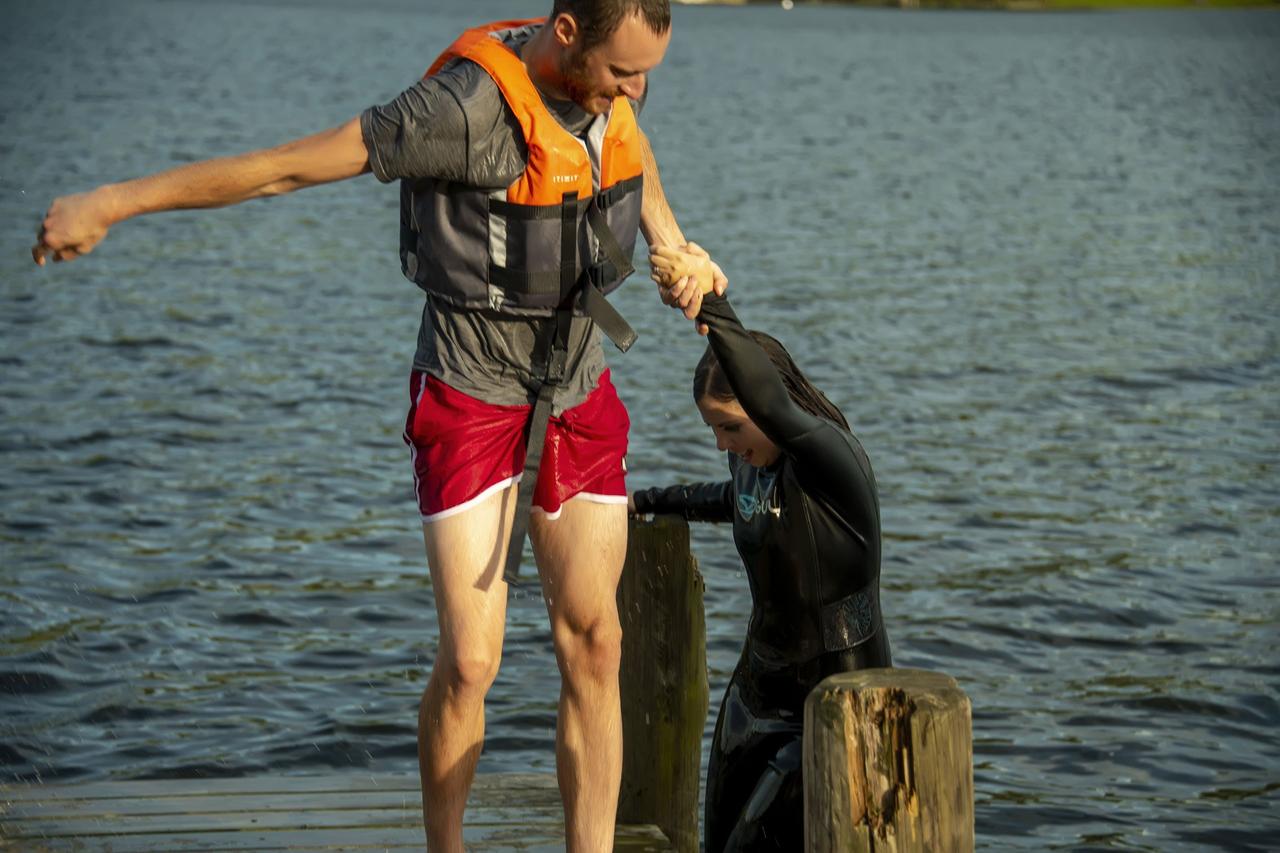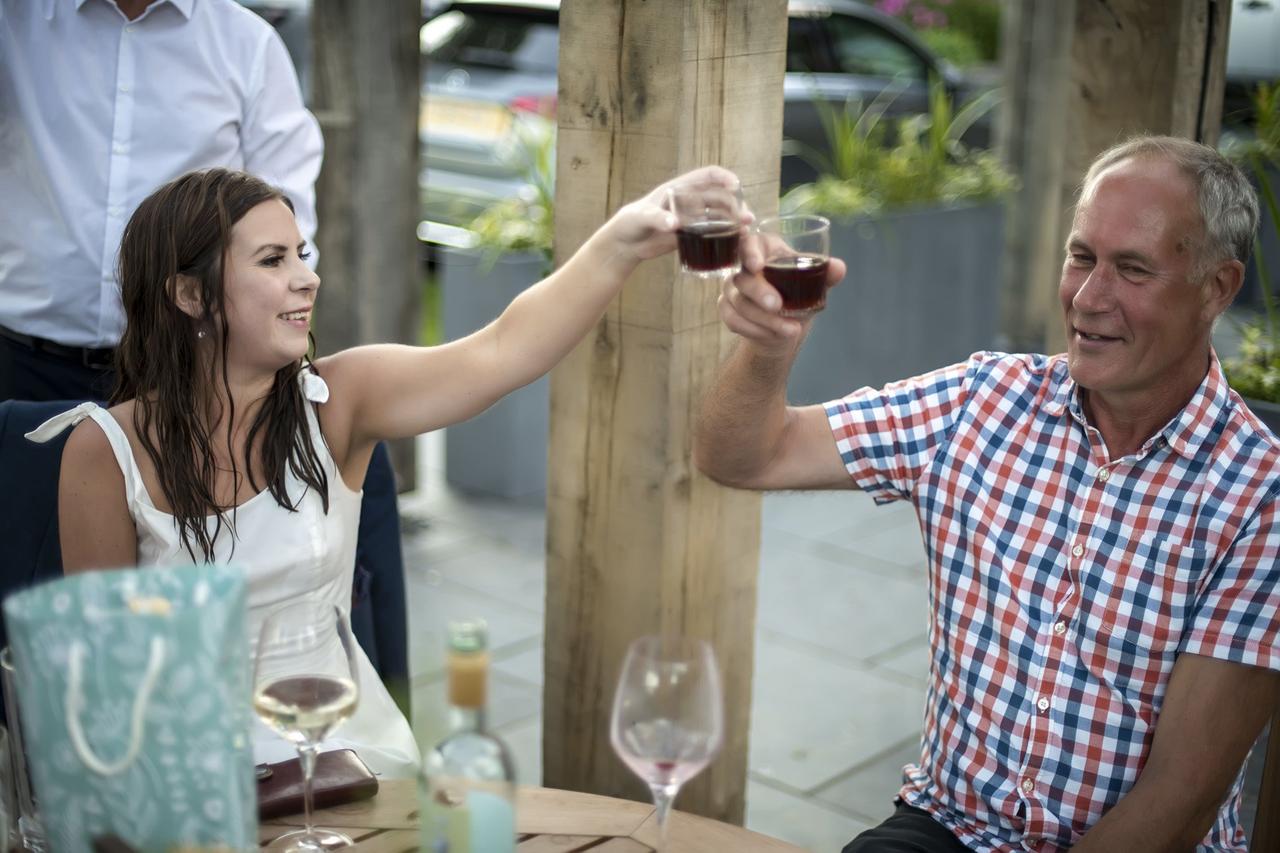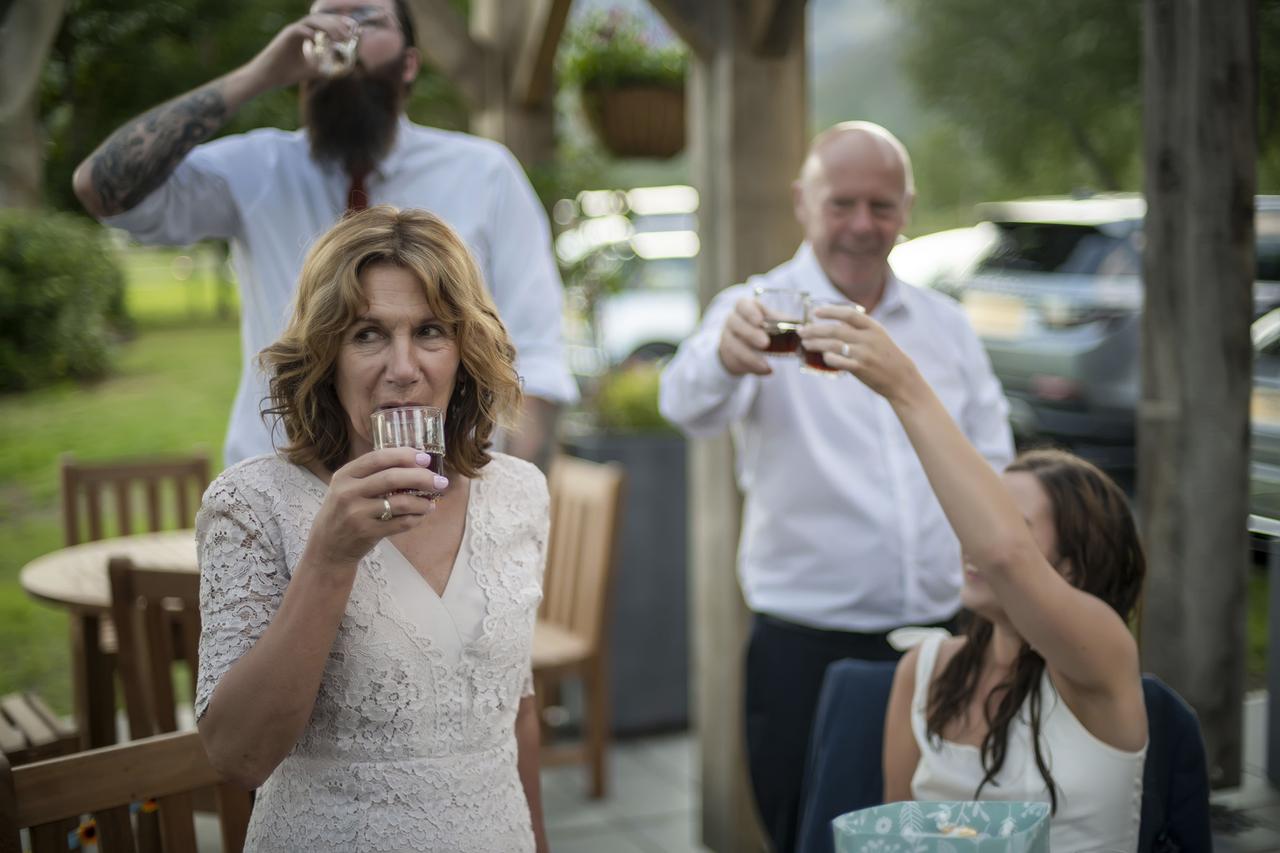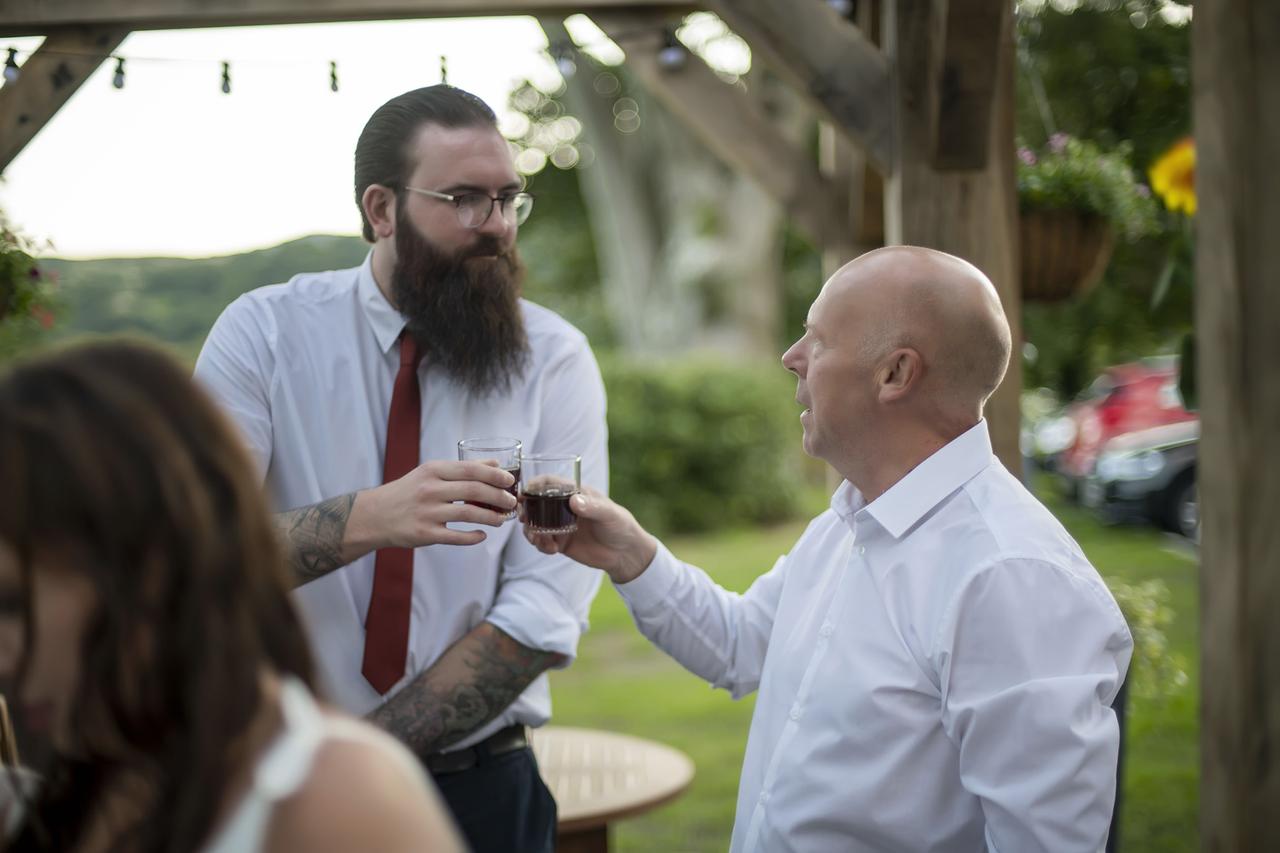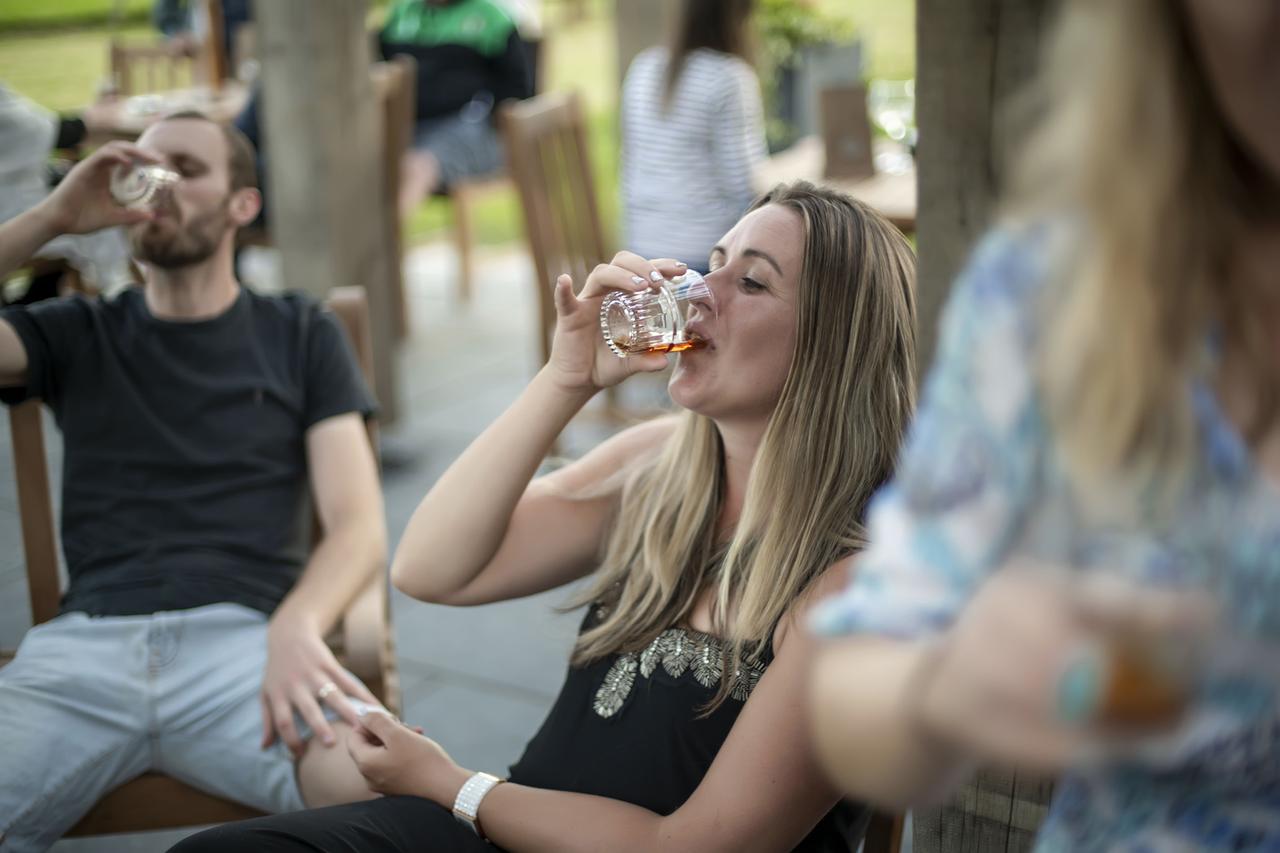 The Wedding Reception
It was a very different vibe for the wedding reception than they'd planned, but before they could do that, it was time to jump in Coniston Water!
"The most memorable moment was jumping in the lake! We couldn't have any entertainment but the boys brought their kayaks so we had a play in those. Having Jager Bombs, just having a good laugh," said Jess.
Even Barbara the Westie got in on the lake action, with her very own doggy life jacket!
Afterwards they headed to a local pub for a meal and to raise a glass. They couldn't have their wedding cake or their planned entertainment, but they packaged up their wedding decorations and took them to the pub to decorate the tables.
The fathers of the bride and groom were gifted with personalised bottle openers and Jess made special gift boxes up for her sisters.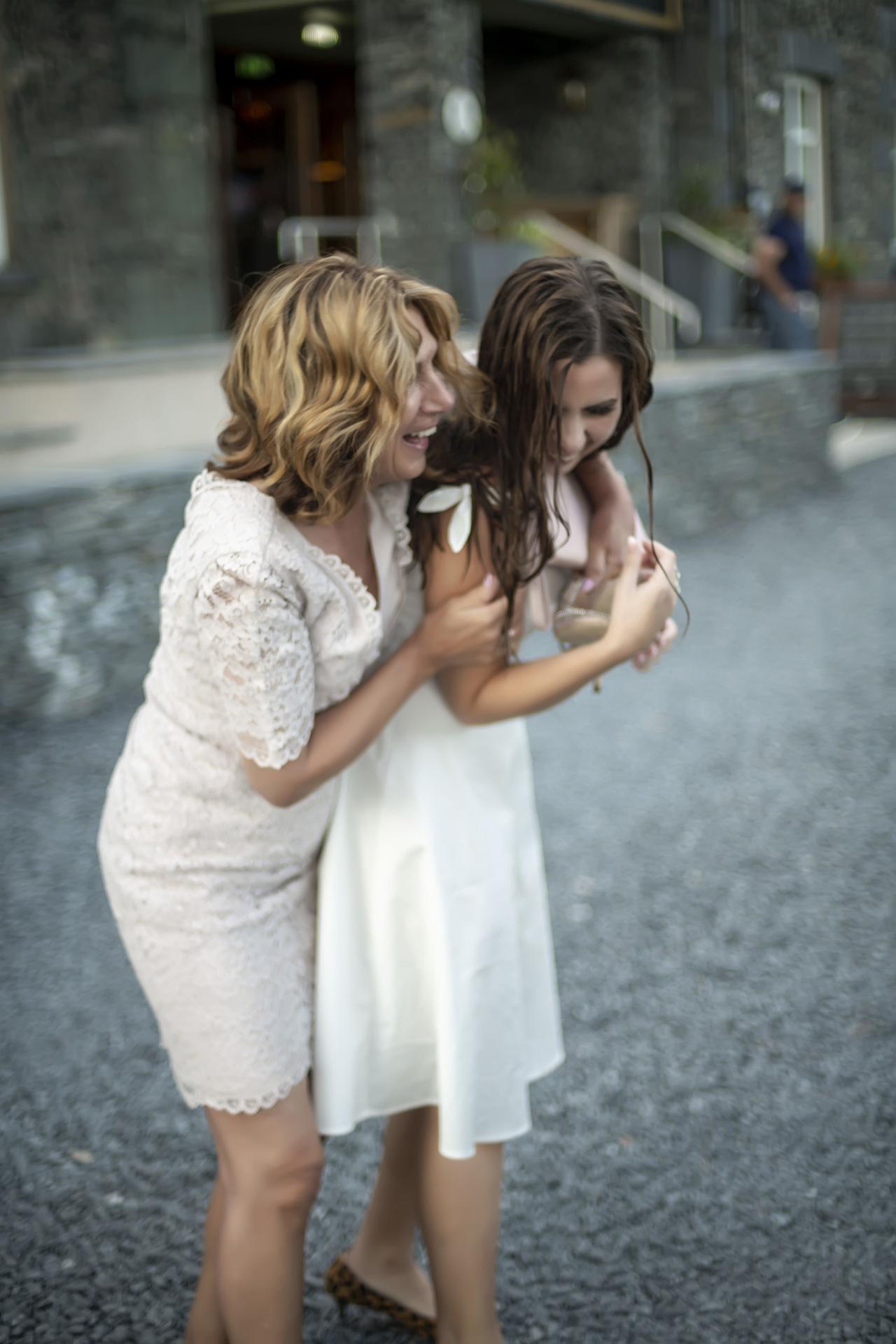 The Honeymoon
Just as they'd had their first date at a Greek restaurant, Greece was chosen as the honeymoon location. "It was needs must really!" laughed Jess, as Covid travel restrictions had vastly reduced the options available to them.
"We managed to get a two week break in Crete, and we went all-inclusive because we were worried about not being able to get into restaurants etc. We had a real laugh and a great time and it was brilliant to be able to relax after wedding stress. We also hired a red Beetle to drive around the island.
"It worked out well though as Greek is my favourite cuisine and we've always wanted to go. I'd never been before and I would definitely return."
The Suppliers
Venue: Yew Tree Farm
Photographer: Phil Barton of Laurence Hudghton Photography
Wedding Dress: Sophia Tolli from Love Story Bridal
Groomswear: Ted Baker
Florist: Ann at Brackens of Bowness
Wedding Rings: H Samuel