Real Covid Wedding: Hayley and Chris, Morden Hall in South London
An intimate December wedding pulled together in just 10 days after the couple won a micro wedding competition? That's right! You'll be amazed by Hayley and Chris' magical wedding day.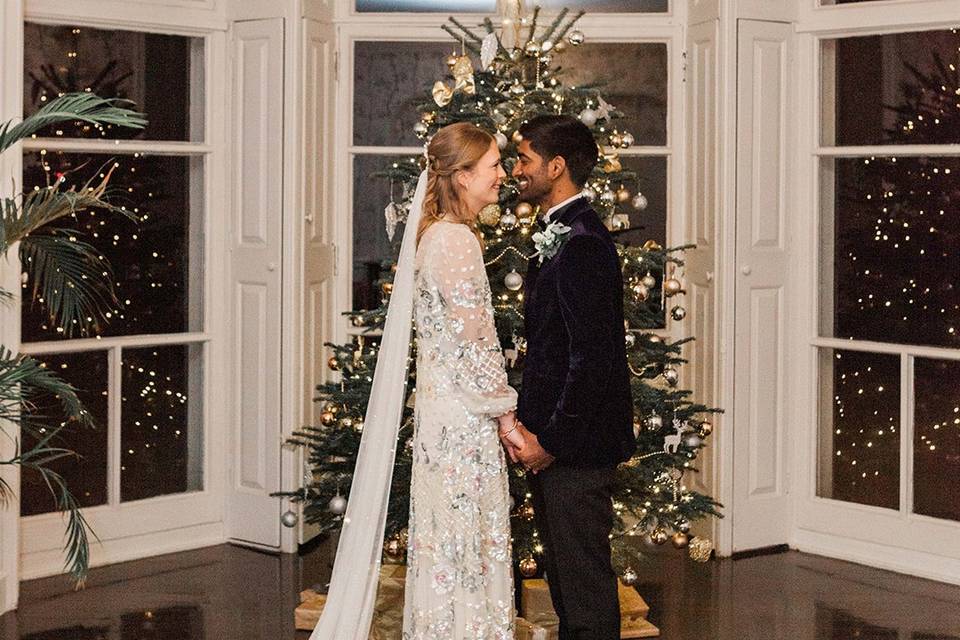 Hayley and Chris got engaged right at the start of the first lockdown at the gorgeous Morden Hall in South London. Little did they know that before the end of the year, they would have won a micro wedding competition to marry in that very venue on the 11th December 2020!
Their beautiful ceremony and reception was planned by Events with Akilah in just 10 days and featured an elegant gold and navy Christmas theme that made the whole day feel magical.
It was pure fate that their intimate day was at the same venue Chris had proposed. They met on Tinder in late March 2016, and Hayley hadn't clocked that the date he proposed was their 'actual anniversary day' as they usually celebrate their first day.
They decided to go for a walk around Modern Hall park after a busy day working from home. "As we walked around, Chris was acting weird and pausing every so often. So, when then he got down on one knee and pulled out a ring and asked me to marry him, I thought was a joke and I told him to get up.
"He had a very over-the-top 'bling ring' which was confusing me, especially when he said 'Only joking!', and then pulled out a ring from Chupi, a jewellery company from Ireland. When I saw the pink box from Chupi, I couldn't believe it. I had to go sit on a wood log and clam down for 10 mins and get over my confusion."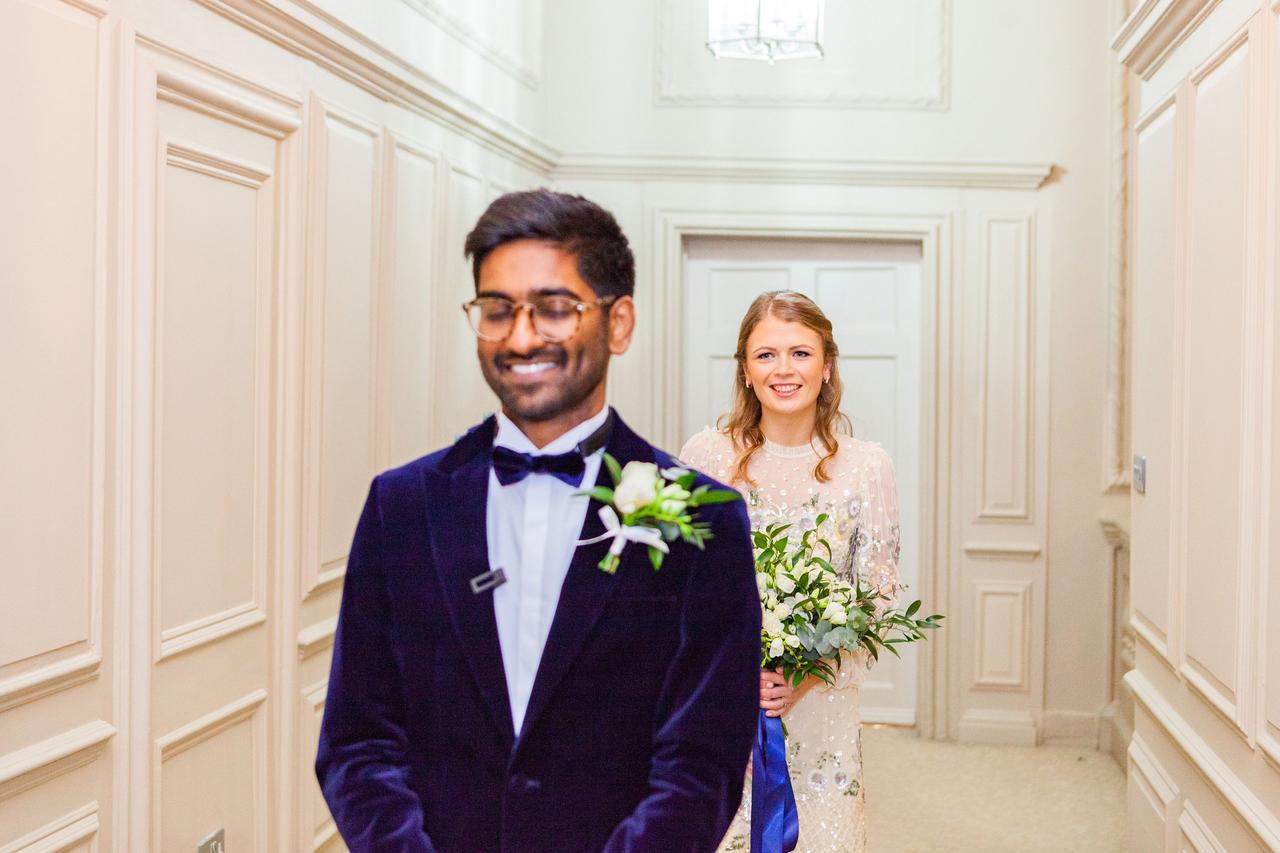 Chris' double proposal was actually an in-joke he had been thinking about for a year. They had talked about getting engaged and Chris joked about an over-the-top ring her. Instead, he chose wisely and picked an emerald ring with two white diamonds on a delicate branch-style gold band from Chupi, a designer that Hayley had been hinting at for both Christmas and her birthday.
They were engaged for just seven months when they won the micro wedding competition and married 10 days later with Hayley's family Zooming in from Belfast. It's a truly wonderful example of an intimate wedding and how romantic a Christmas ceremony can be - and, of course, what a wedding planner can create in less than a fortnight!
Photography by Amanda Karen Photography.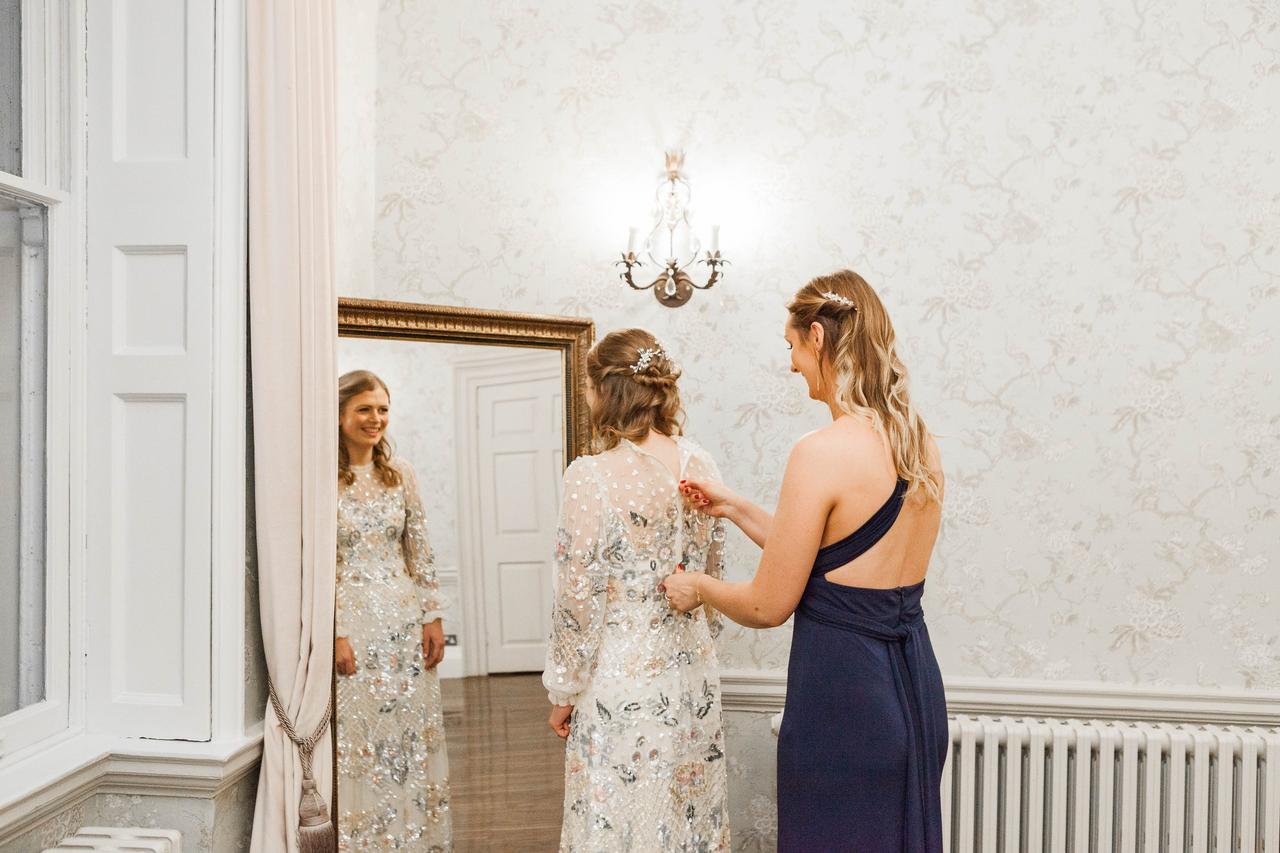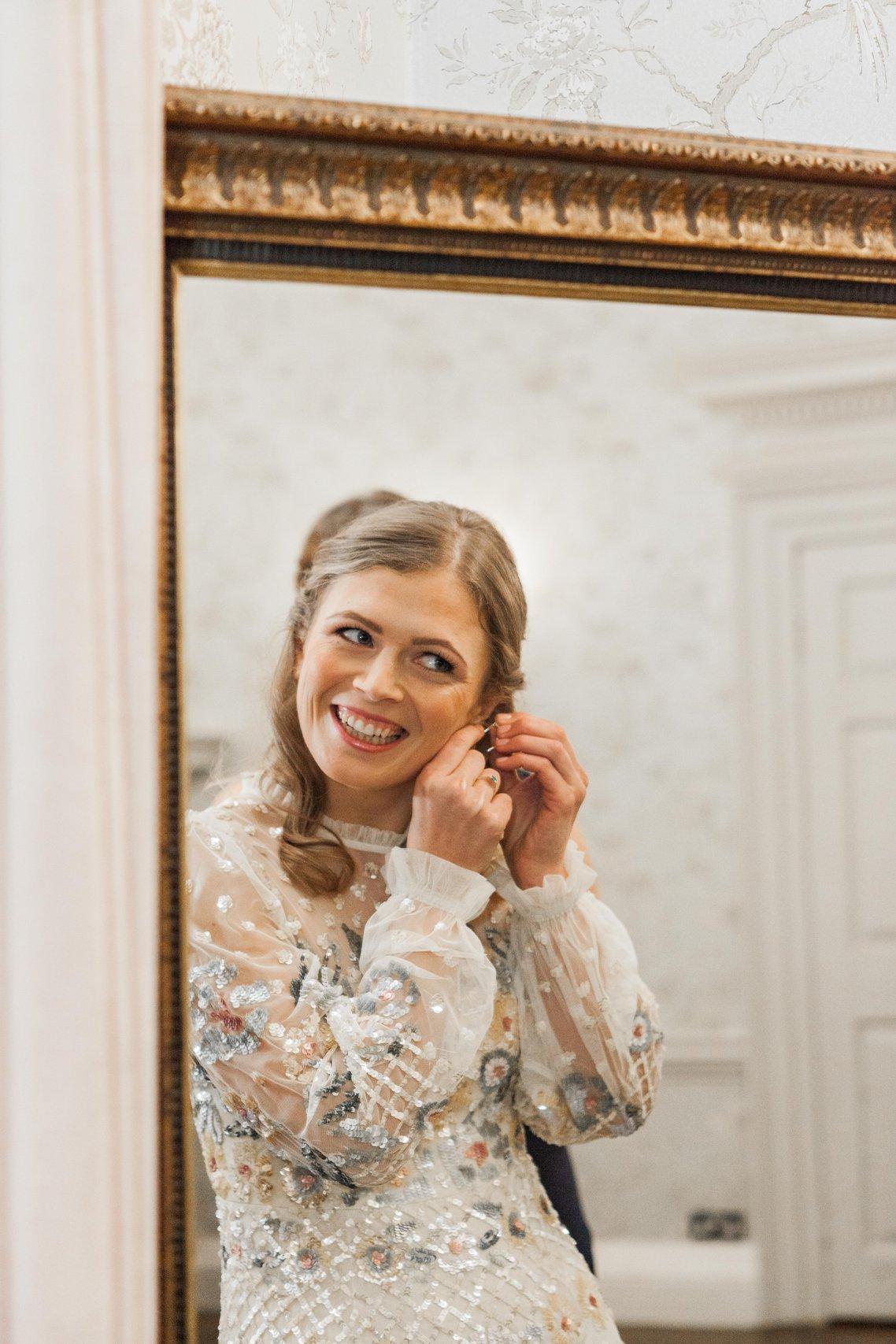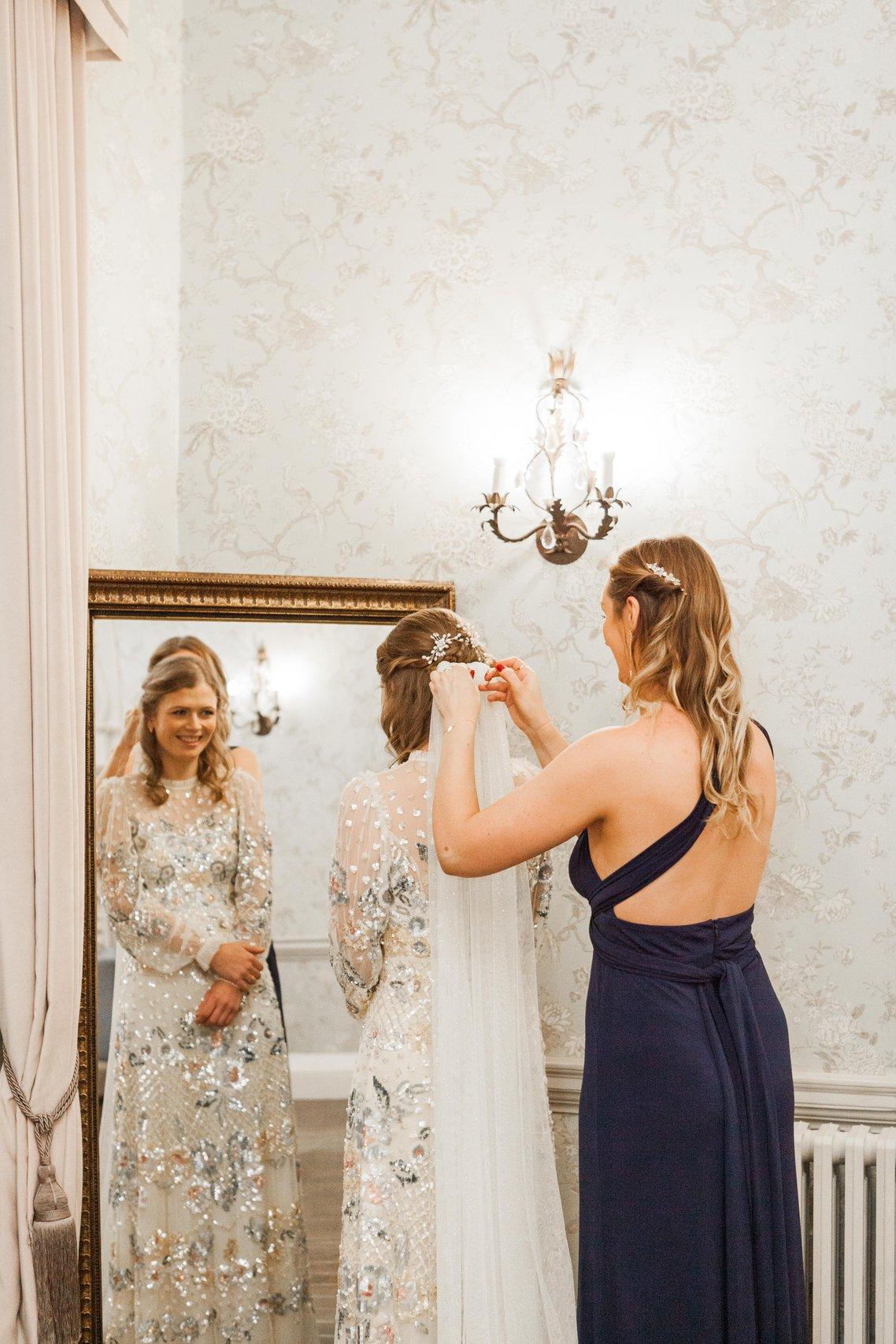 The Wedding Dress
"I didn't have a lot of time to get a wedding dress. When we agreed to getting married in 10 days' time, I kind of panicked," said Hayley.
"I knew in my head that I didn't want 'the usual' dress, but I didn't know what that would mean and what designers or brands to look at. In a panic I bought and then returned typical white gowns online in a couple of days.
"As I remember, I had madly bought a dress online a few months before, with nothing booked. Chris and I had thought about getting a legal wedding pre-Christmas because of COVID and being unable to plan for a wedding that we would want in 2021. The thought of booking a venue and having to move things around didn't appeal to us, or booking something and then, because of restrictions and family health reasons, having to go ahead without having the people there we wanted with us.
"The dress was Champagne in colour, full length sleeves and had lace and sequins – I wasn't sure how this would look in a typical wedding in my head, but this dress made me feel special."
Hayley's dress was a gorgeous embellished gown from Needle & Thread. She had seen someone on Instagram wearing the dress but at the time couldn't remember the brand name or who it was she even saw wearing the dress.
"I went straight to Google and went into images to then find Needle & Thread. Finding their website, I scrolled through many amazing dresses, I love their style and how the light catches their dresses. I just knew that I would like the dress, it sparkled.
"I also got gifted a beautiful gold sparkle veil from Tulle & Flo and it matched my Champagne colour dress. It just wouldn't have gone with a traditional white gown, so it was perfect and meant to be."
As the dress and veil were very embellished, Hayley didn't want to add much to her look. "I wore gold and diamond earrings and had a hair piece. I also had a small clutch bag (for my phone)."
She had her makeup done by Rachel Dwan and hair by Natasha Wiggins and trusted them to work their magic as there was no time for trials. Her hair was styled into a half up, half down look with relaxed curls and pinned softly at the front.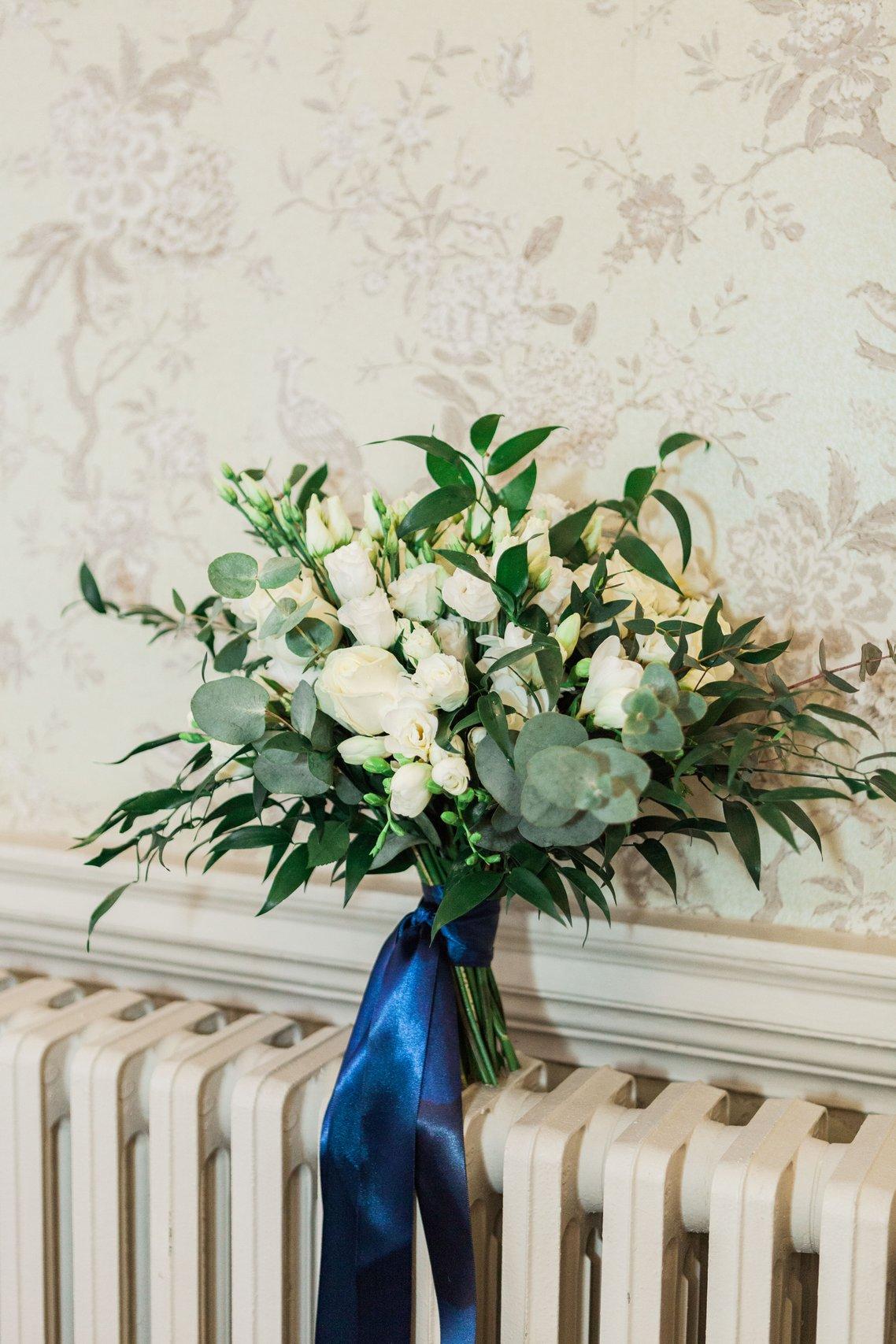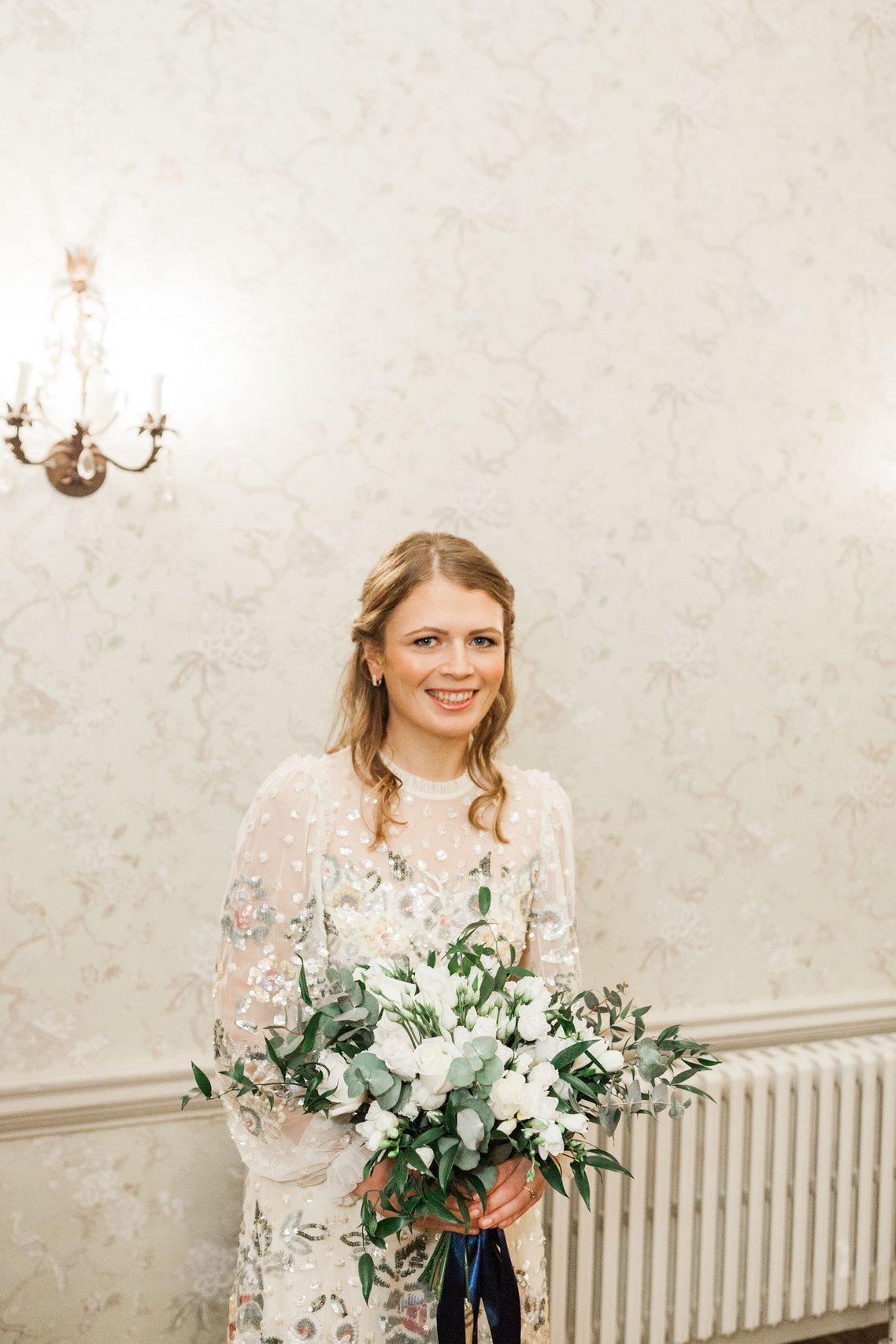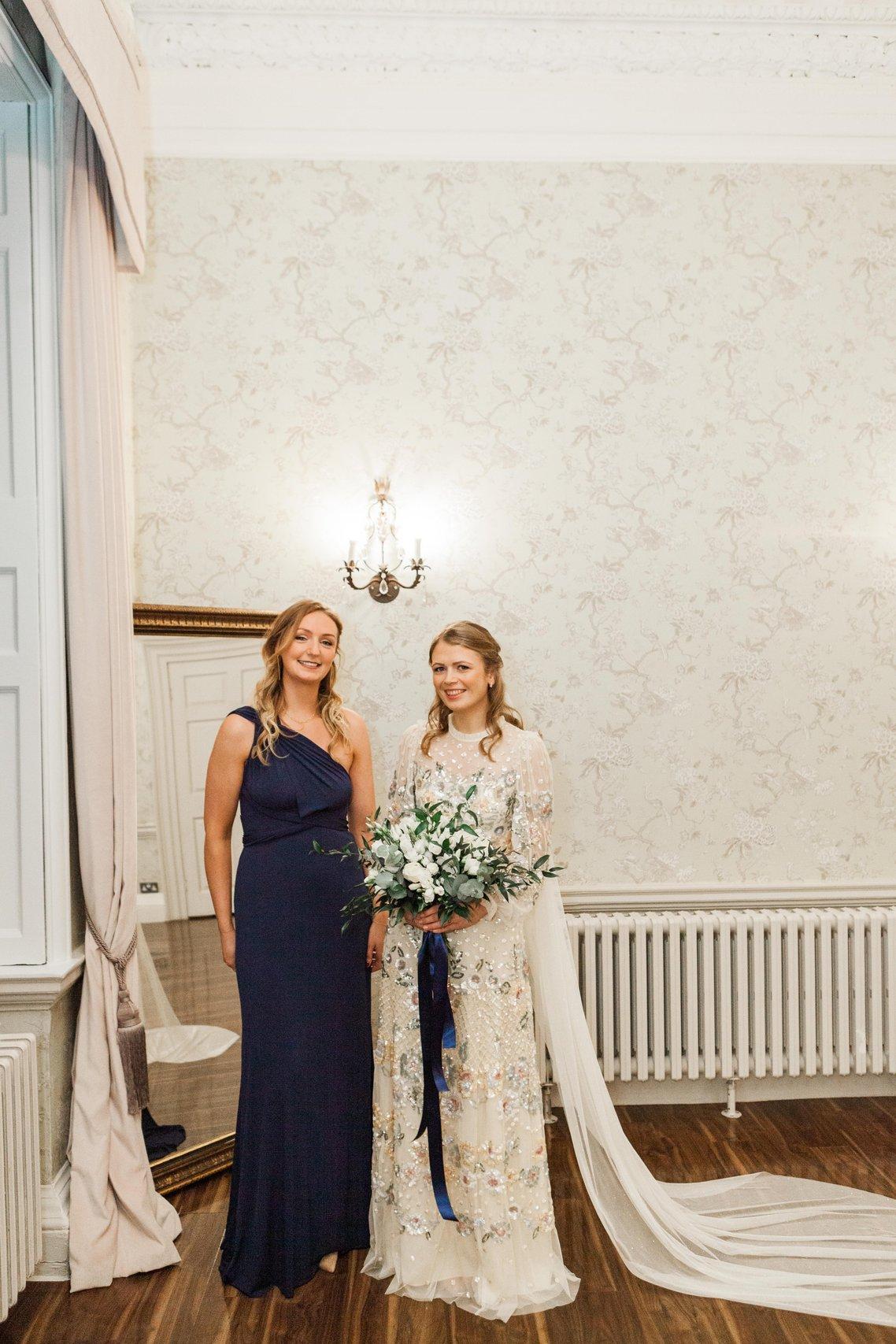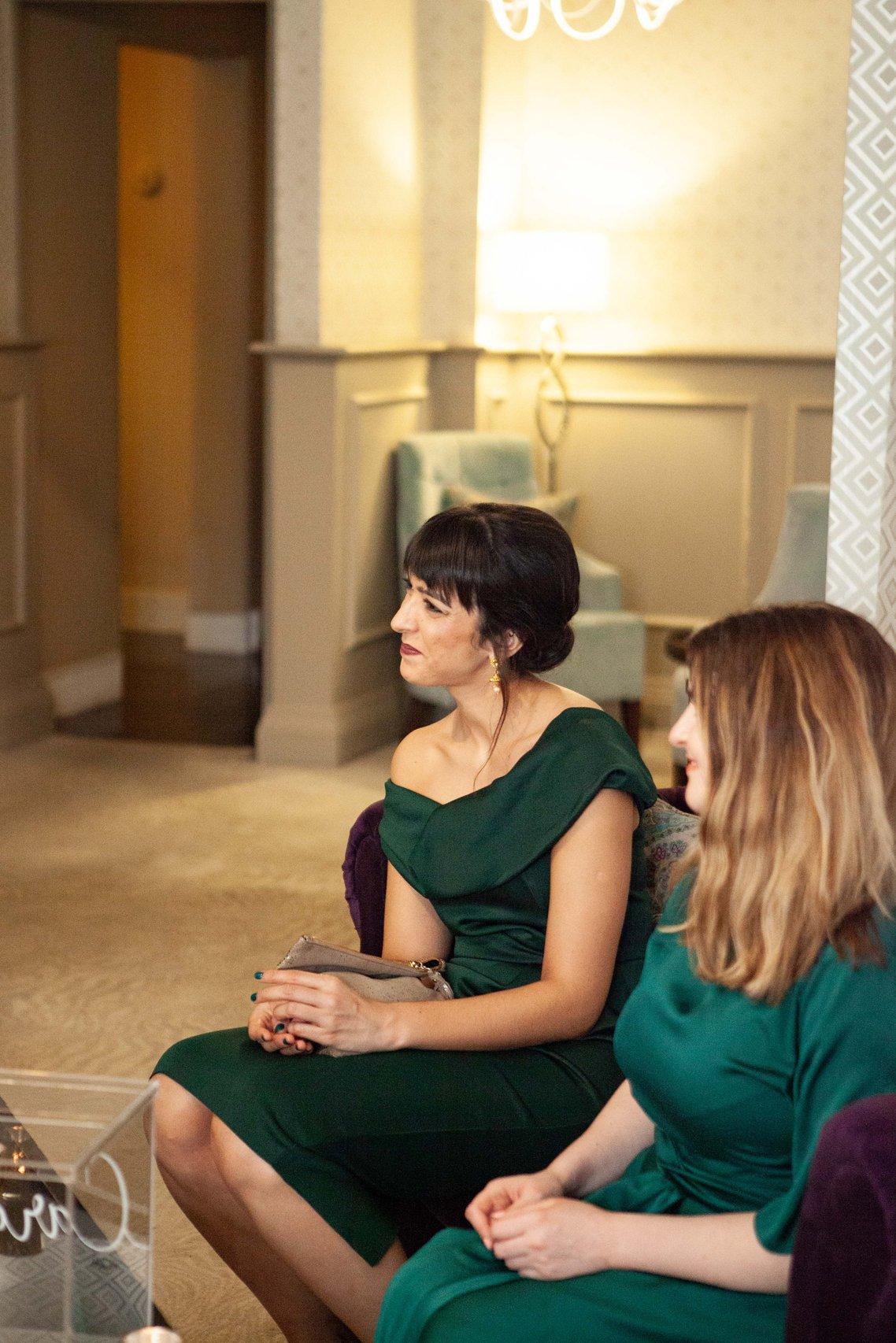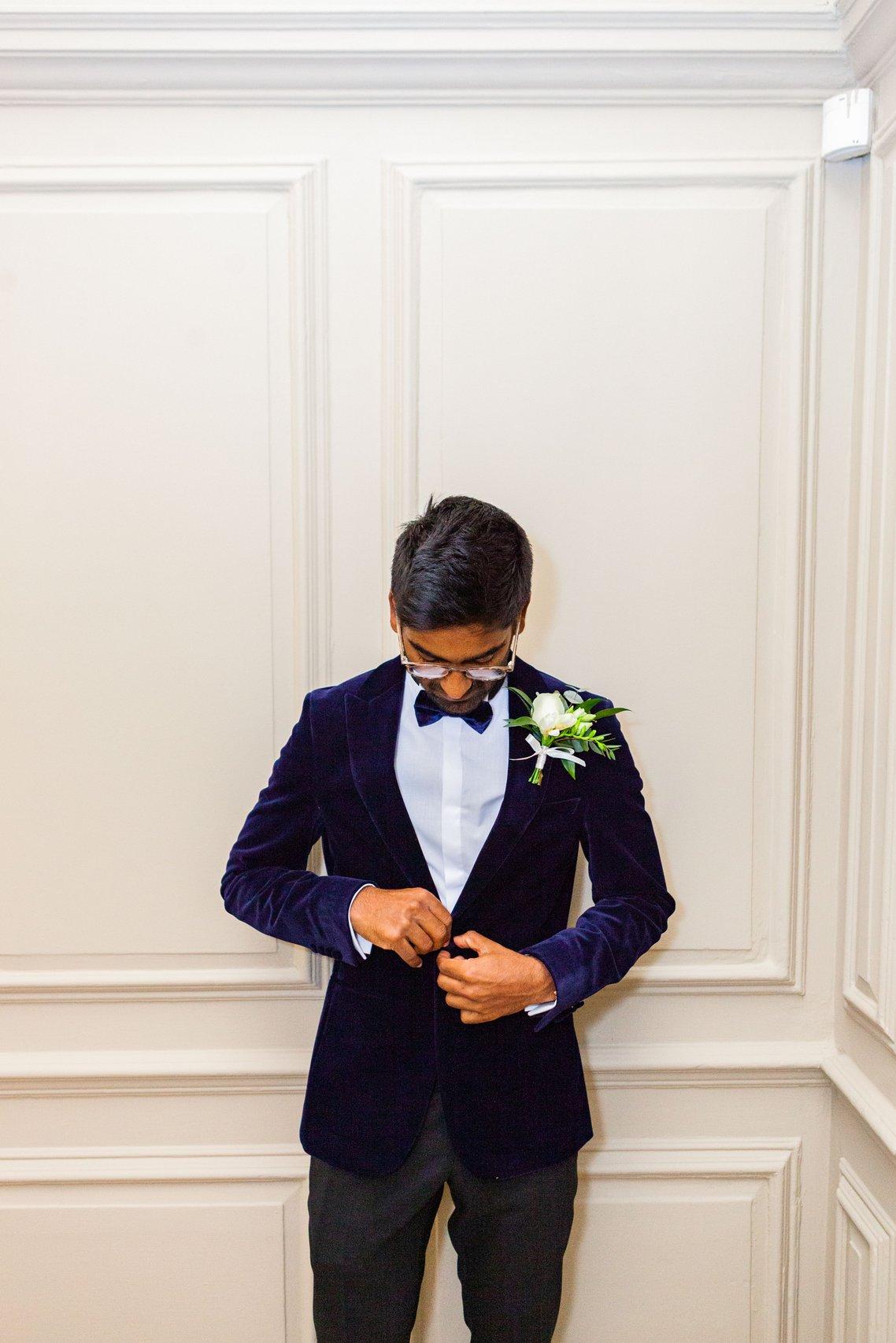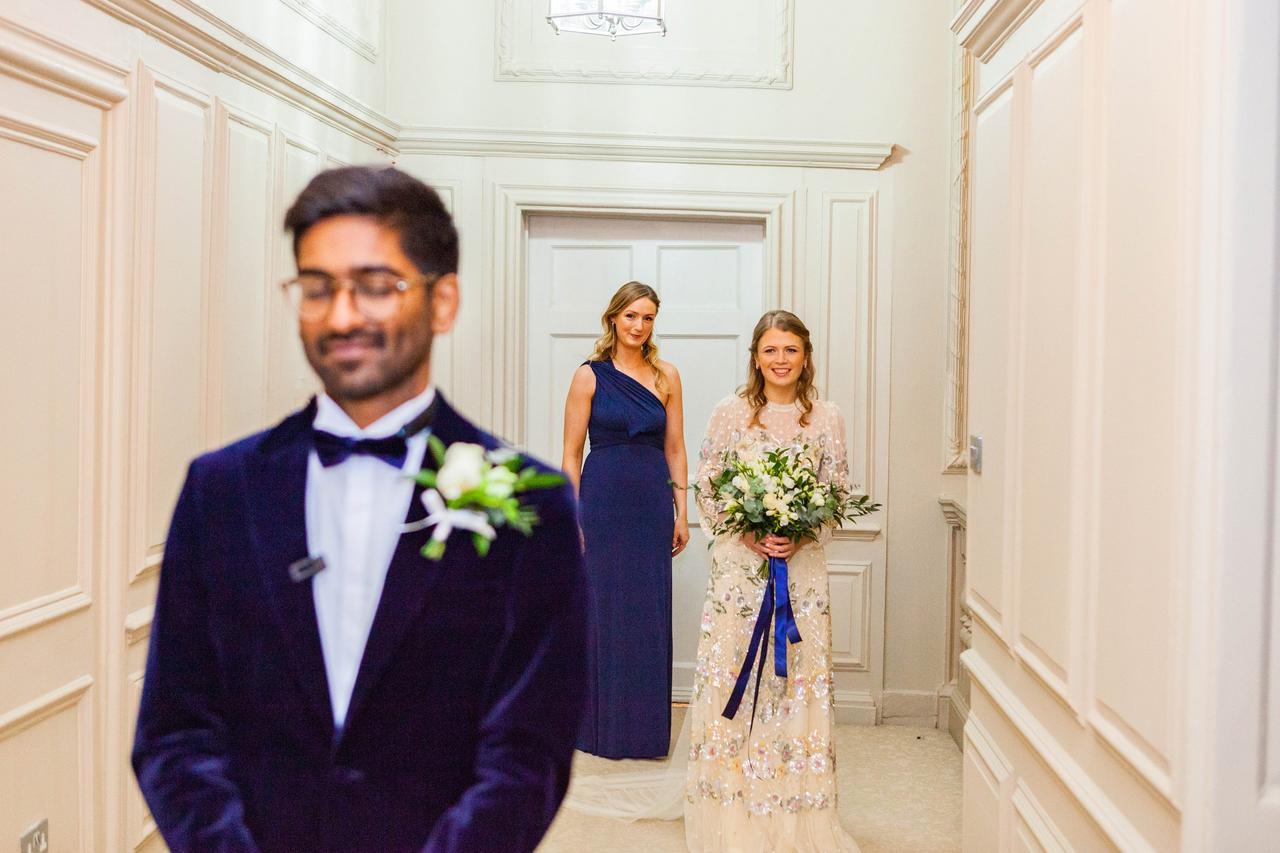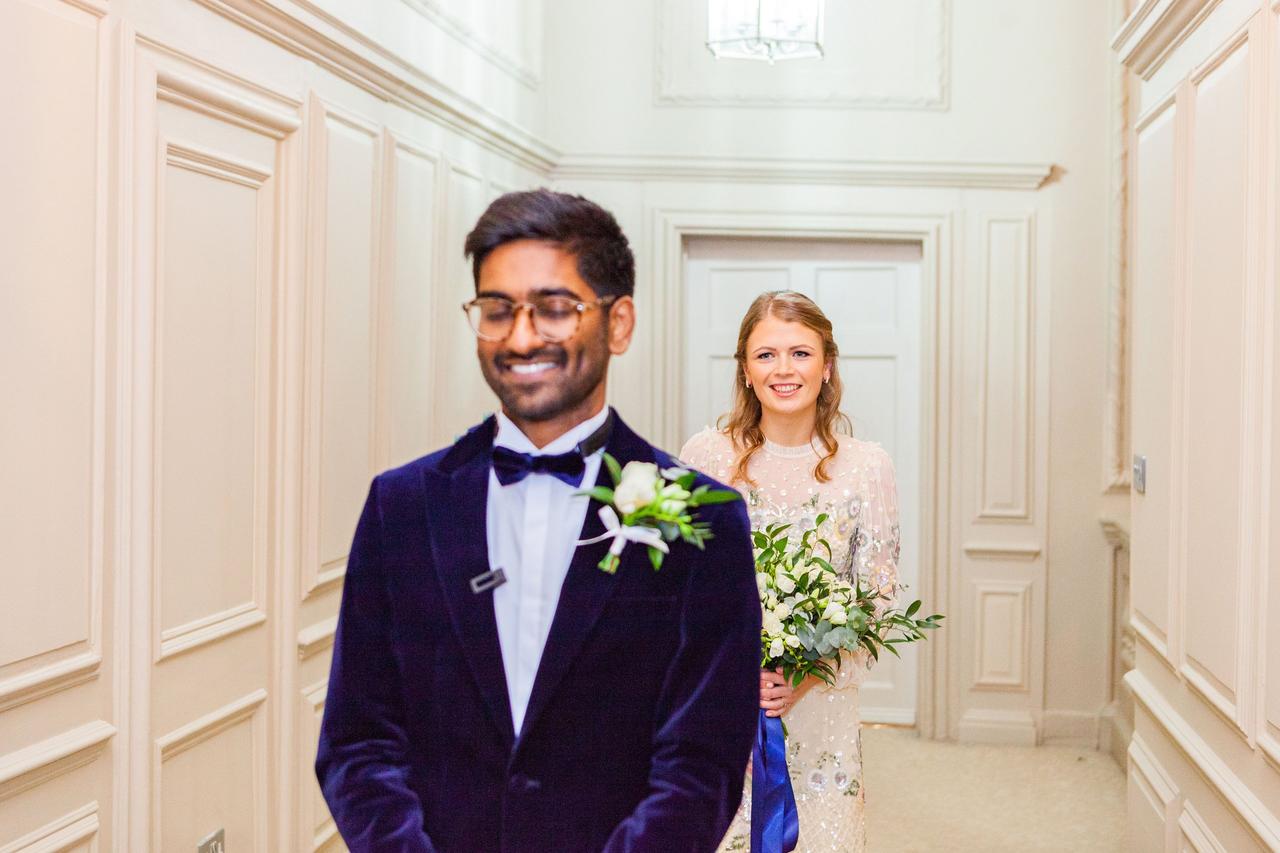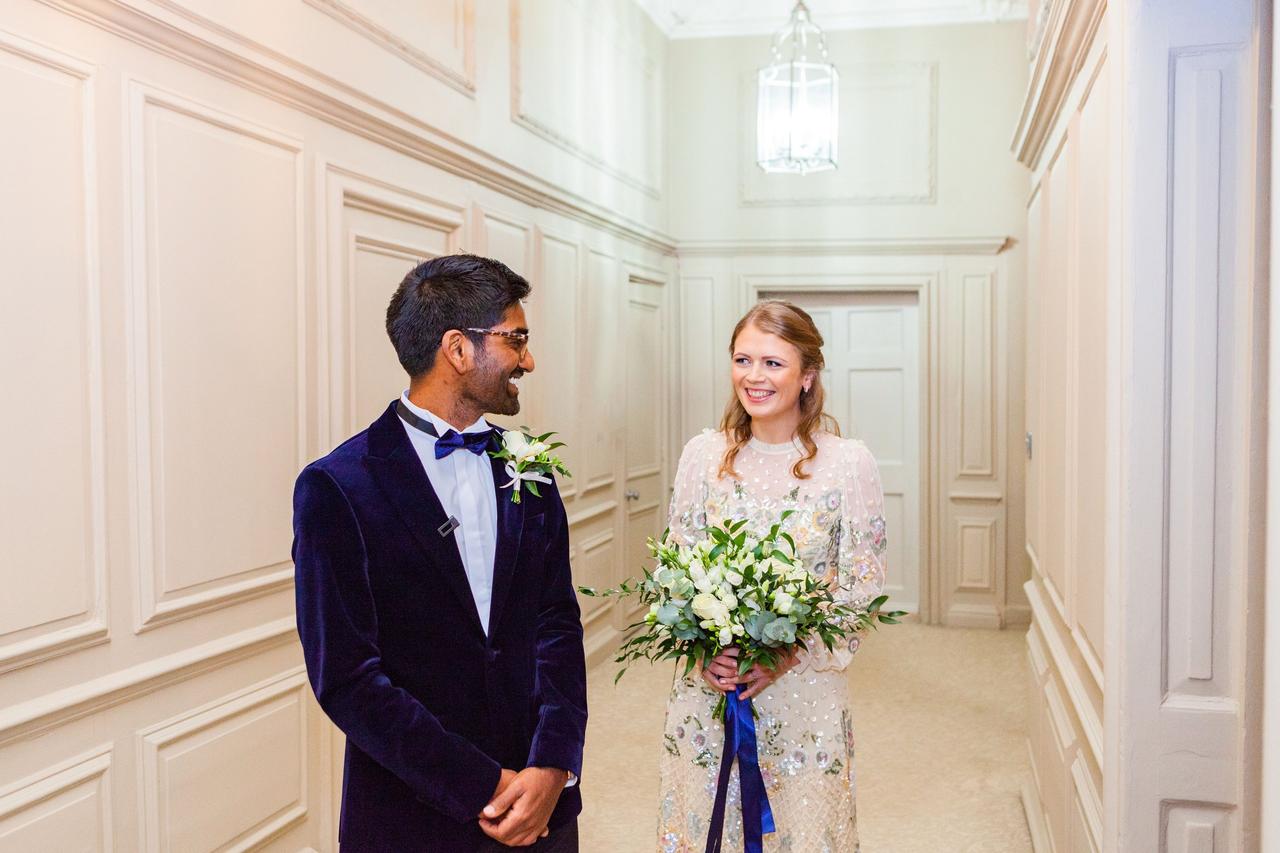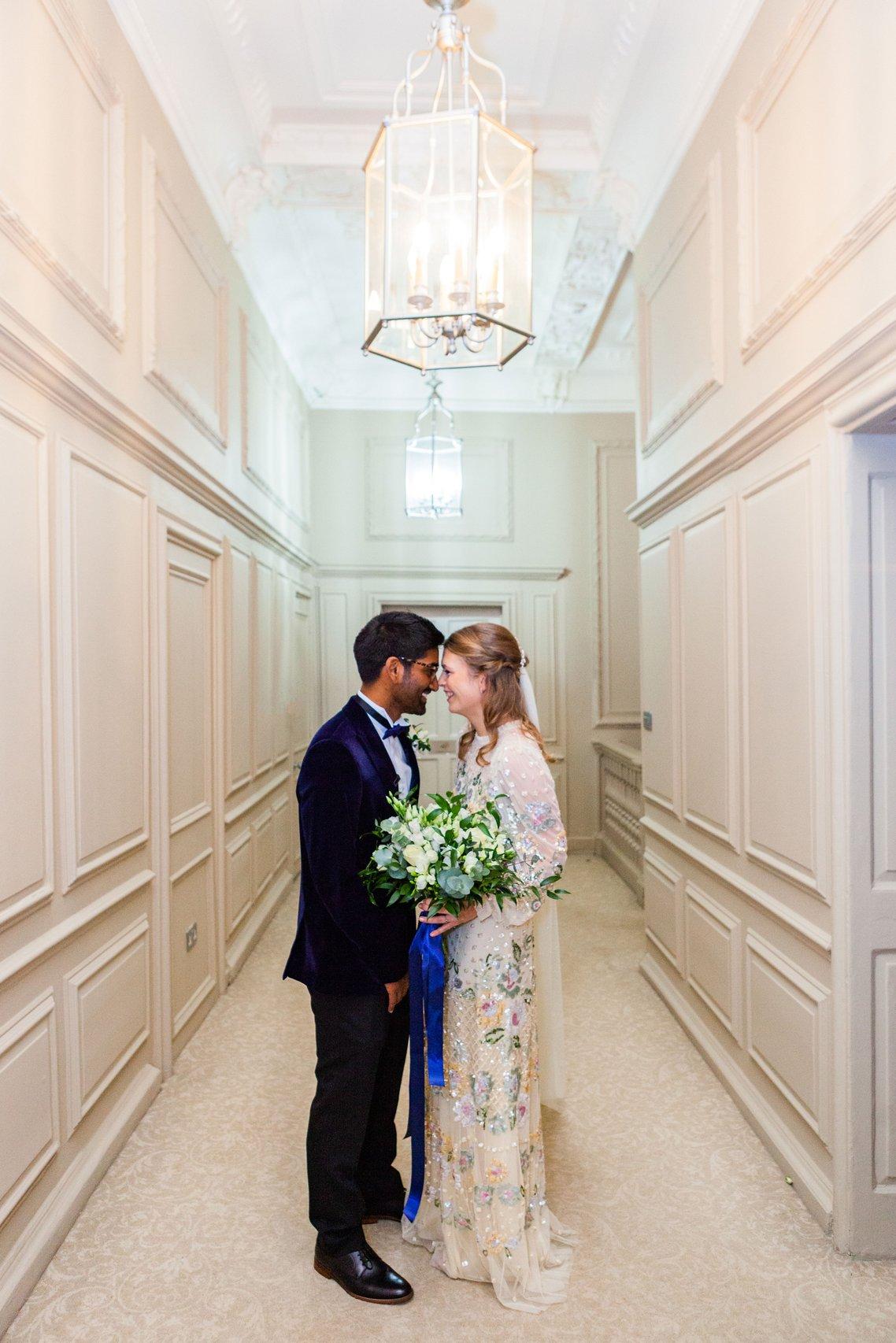 The Wedding Morning
With only 13 guests, Hayley and Chris stuck to one bridesmaid and one groomsman. She chose Adria, her best friend from university as her maid of honour and it made the morning even more special as she got ready by her side.
"It was really nice to spend time with my best friend and maid of honour, even though she actually lives within walking distance from where we live. With the restrictions and then her living with flat mates we've been really careful with COVID this year and haven't seen each other a lot."
Adria wore a stunning, navy blue, one-shouldered dress from ASOS. "We ordered A LOT of dresses for Adria to try on. I wanted her to be comfortable and feel great too! We shared pictures over WhatsApp/screen shots of potentials and then there was a mass order where Adria tried them on at home and sent me pictures of the couple that she liked."
Chris and his best man matched the colour scheme in dapper navy velvet suits. Chris and best man Matt went suit shopping together and also chose matching watched and cufflinks.
The wedding morning went by in a blur for Chris. "It all happened very quickly, and the day flew by, I honestly can't remember if he gave me any advice. But Matt was very focused on making sure that I was calm and all set for the big day."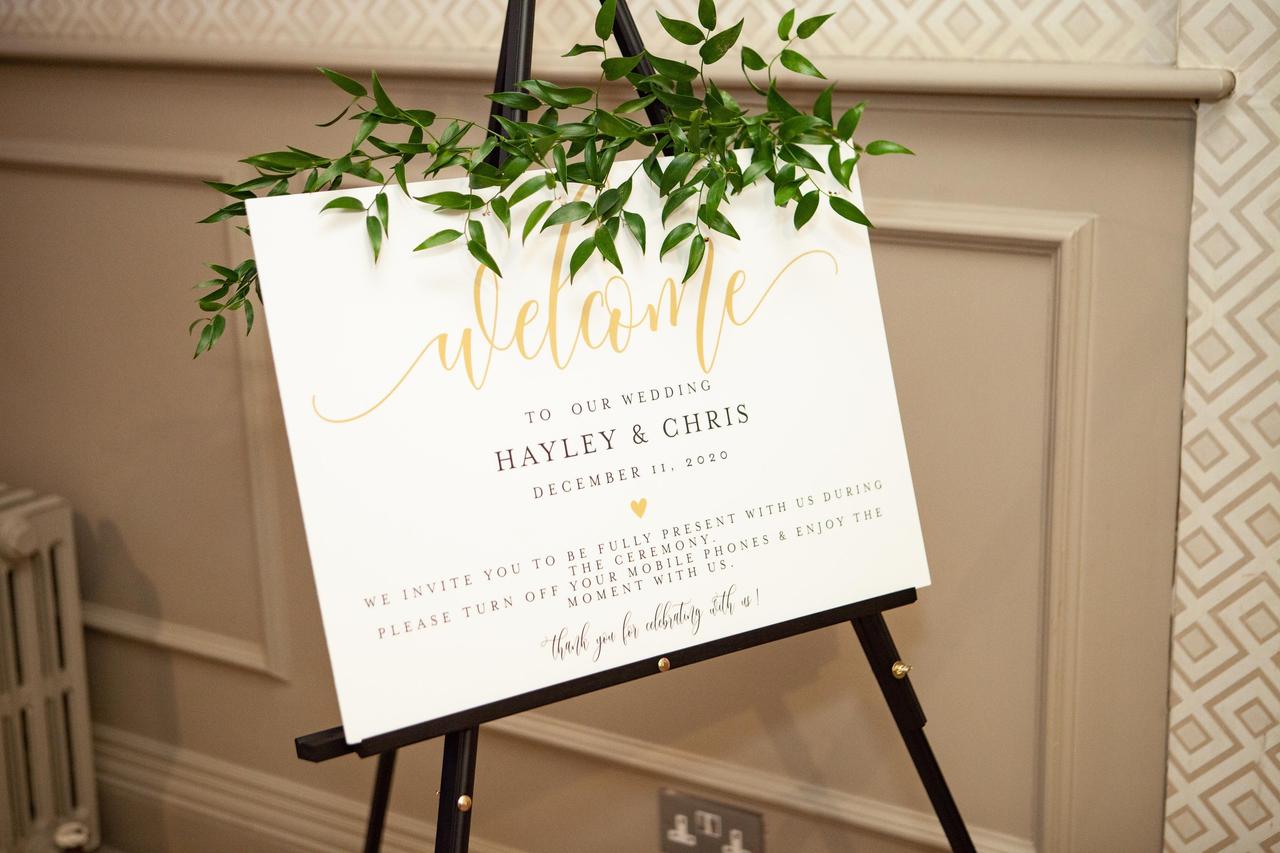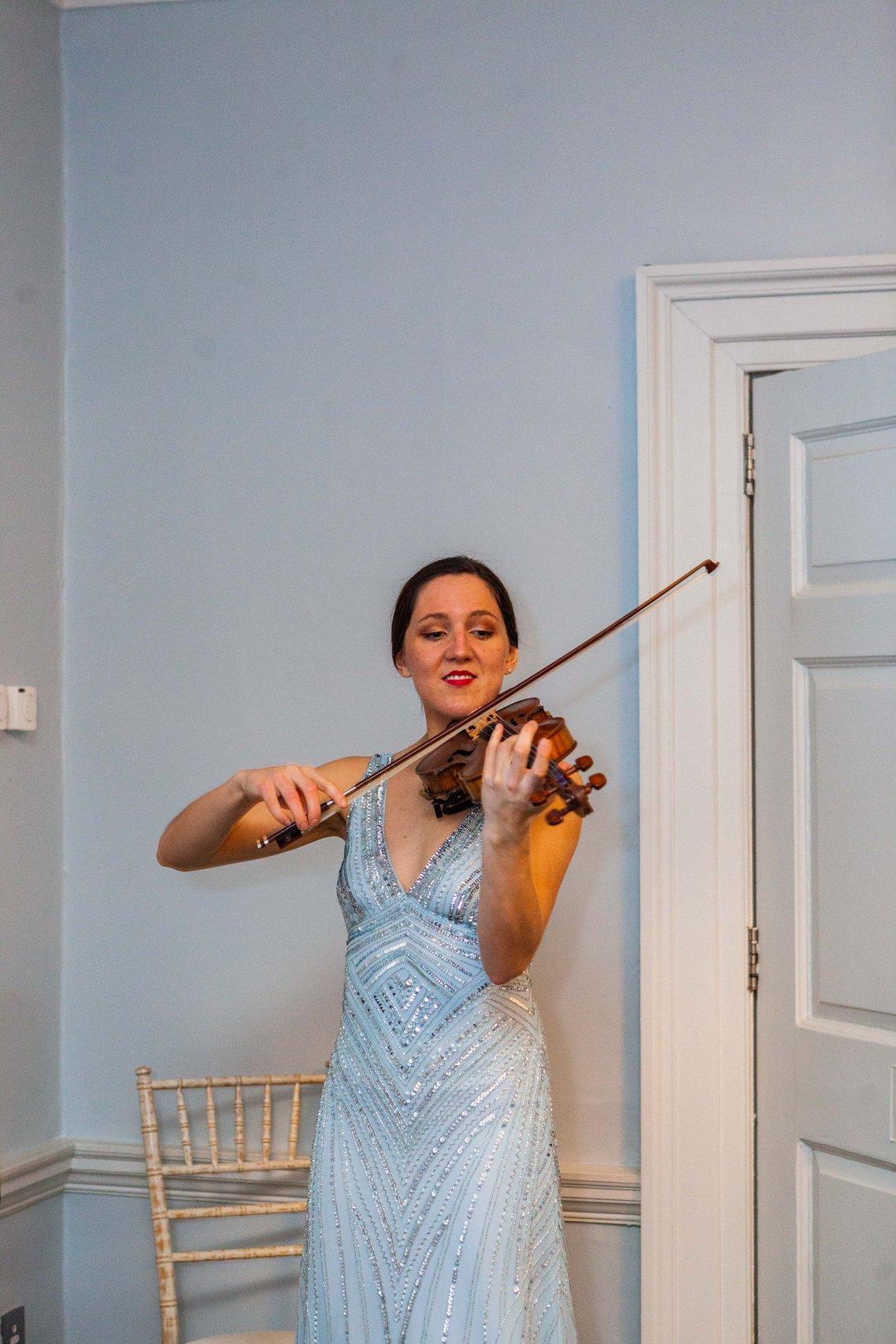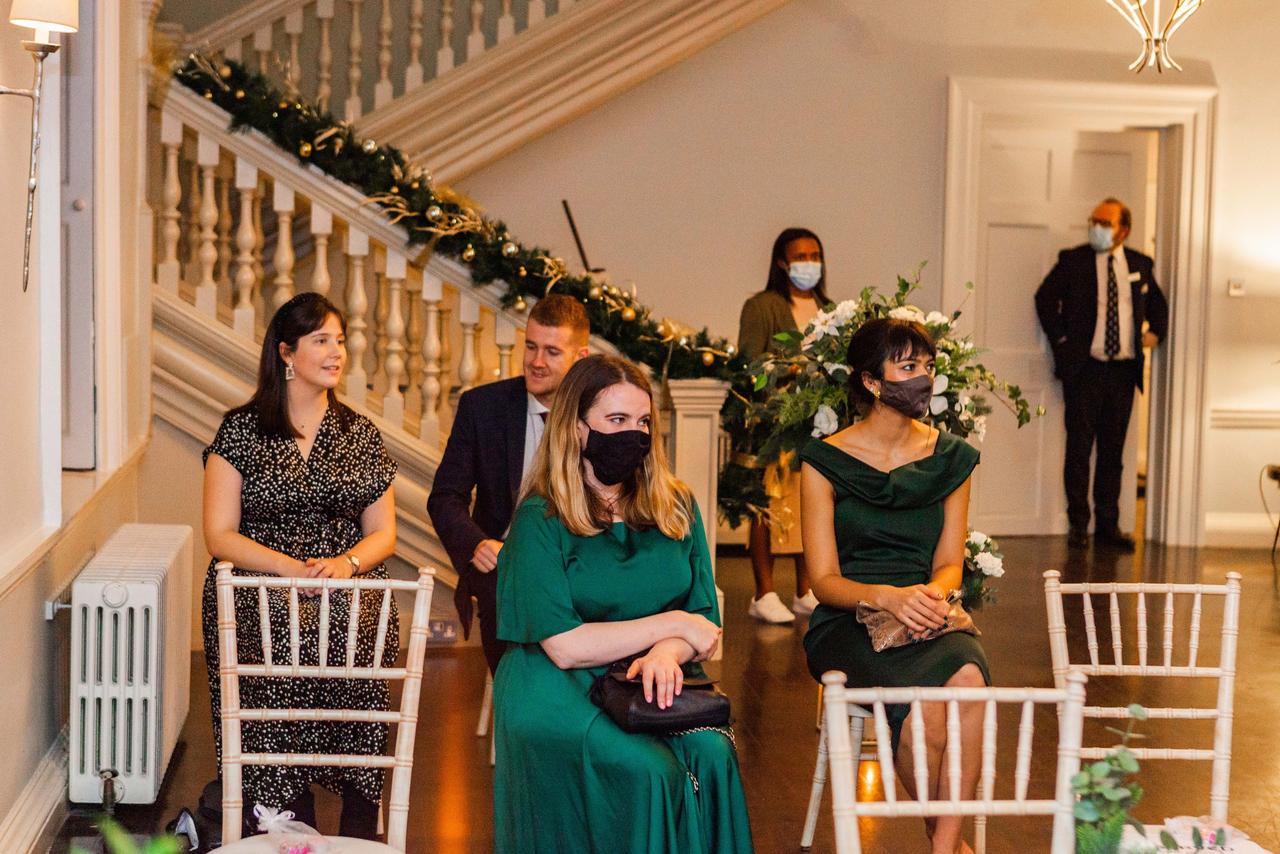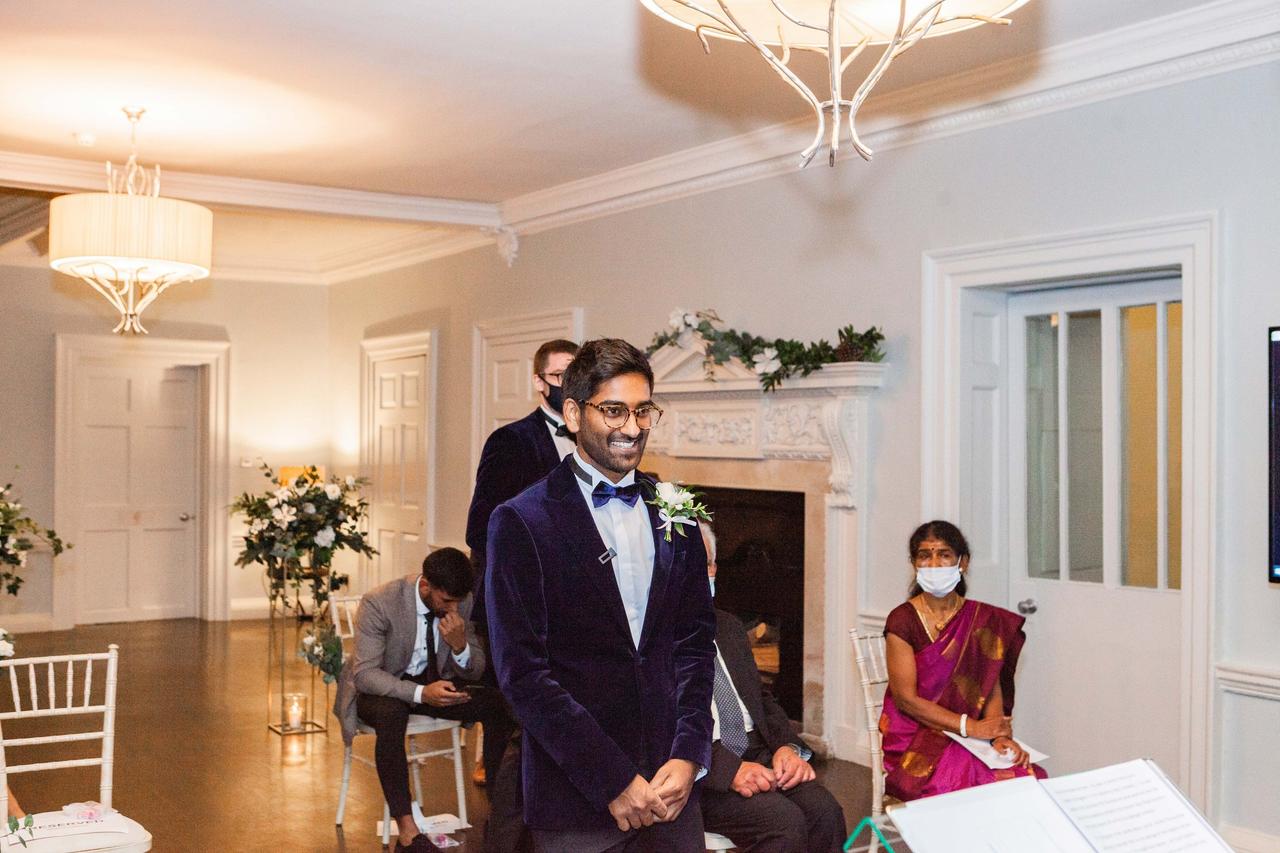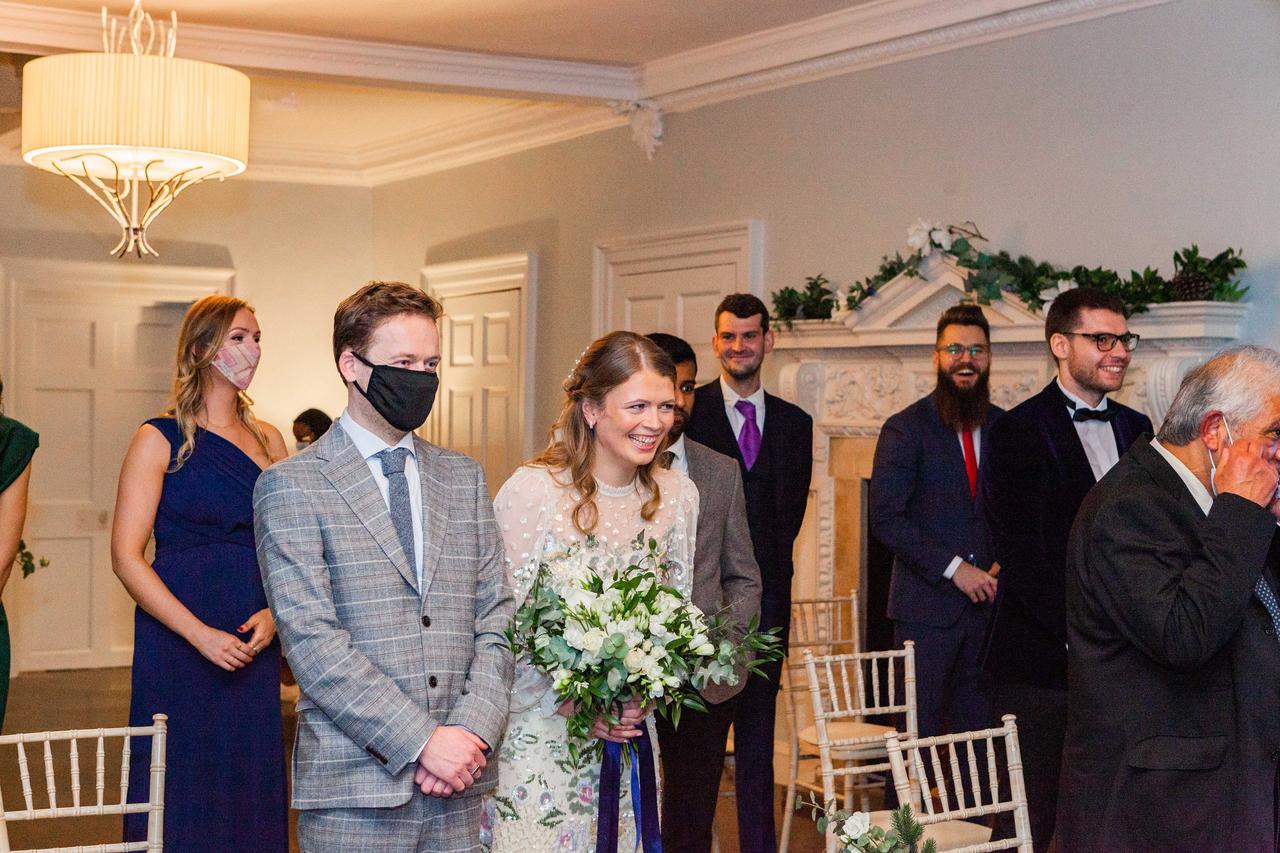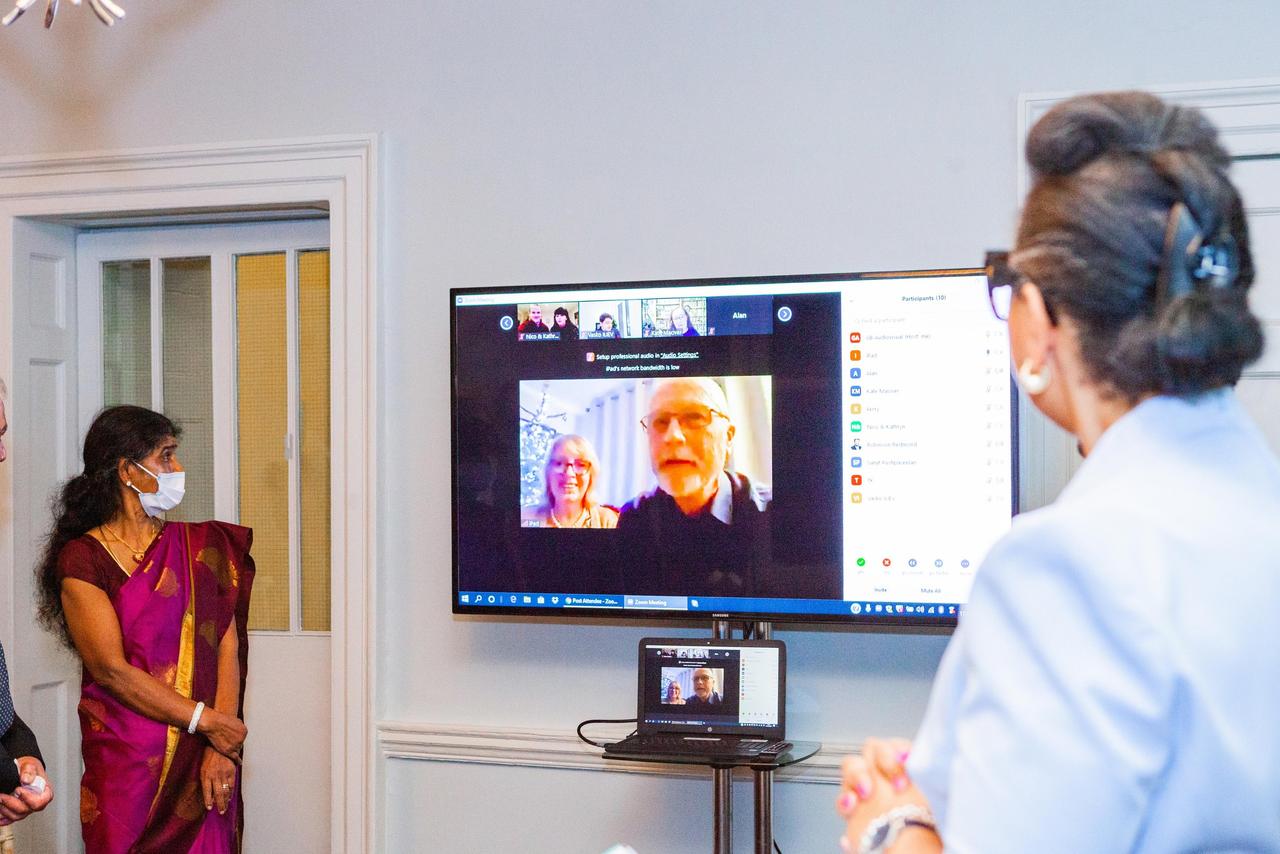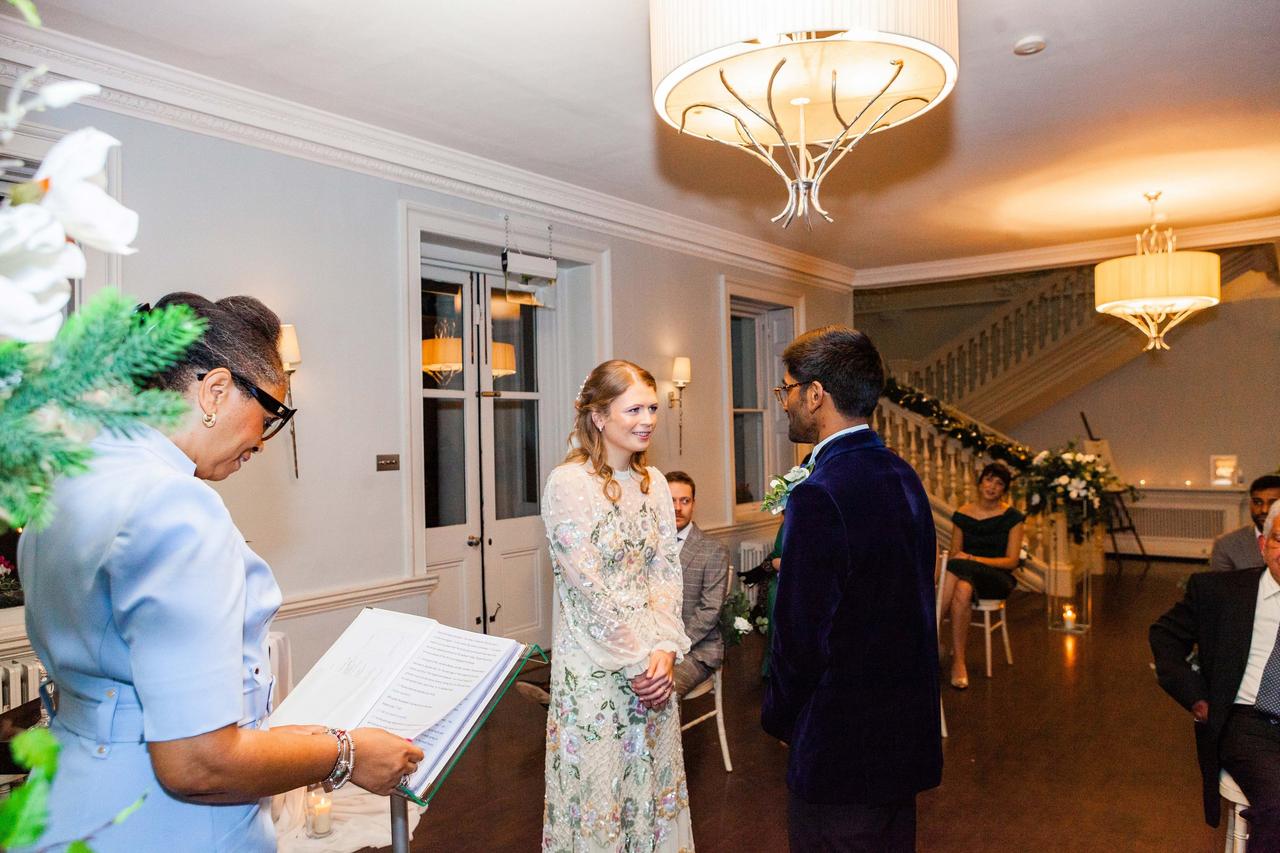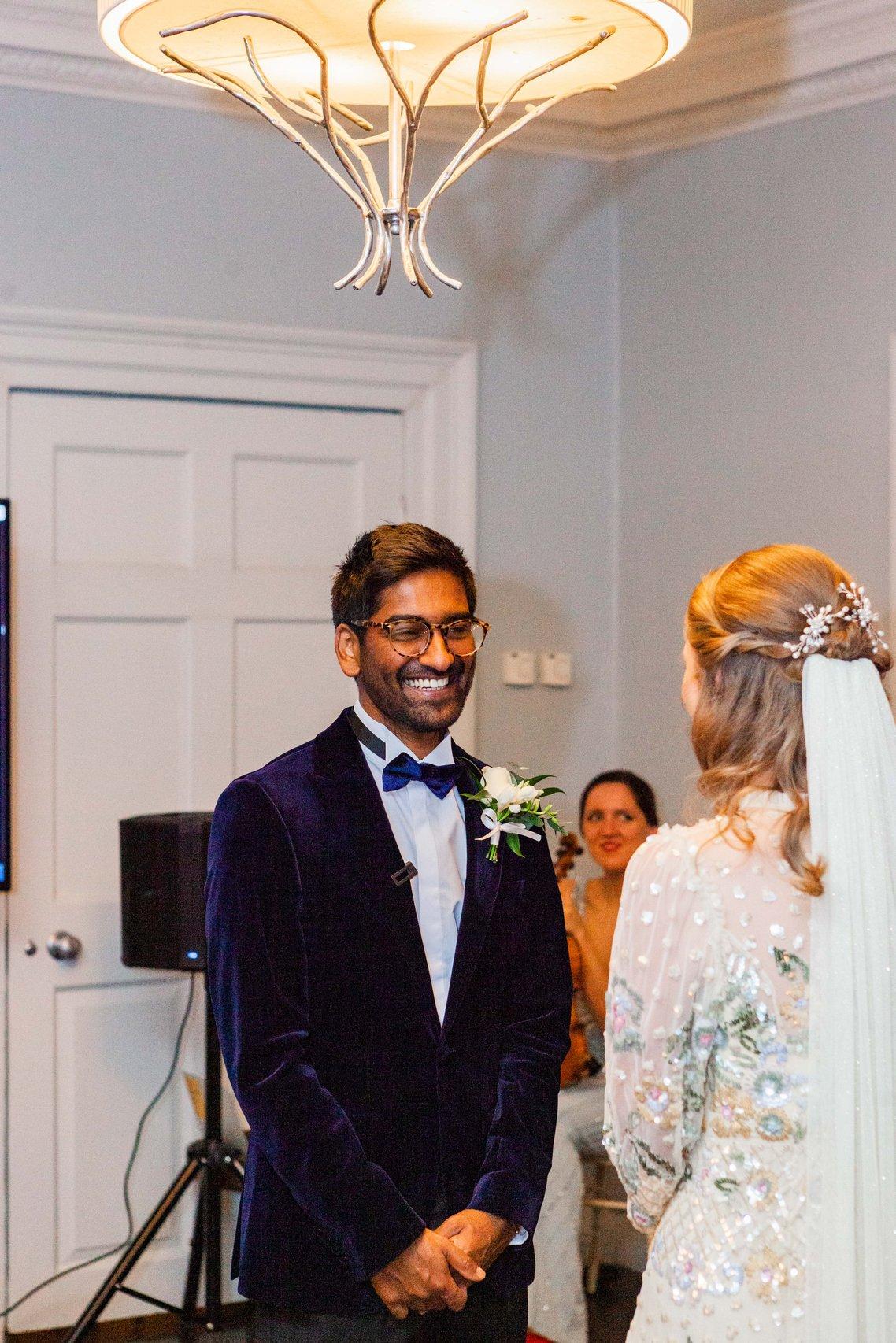 The Change of Plans
Chris and Hayley hadn't made any plans to marry in 2020 after seeing all the disappointed couples changing their dates time and time again. However, they happened up on a competition to win a wedding at the same venue Chris had popped the question and suddenly everything changed!
"We entered a competition with wedding planner Akilah in association with Morden Hall wedding venue and found out that we won and that our wedding ceremony would be in 10 days' time!"
As you might suspect, it was quite a shock and they had a lot to pull together in less than two weeks! Luckily they had the brilliant Events with Akilah on hand to help.
"We were lucky, everything was organised by Akilah – she was our 'fairy wedding mother', sharing ideas, mood boards, thoughts and suppliers. We just had to share our input and then organise the outfits and rings.
"We couldn't have everyone that we would have wanted there, due to the restrictions. My brother was the only family that was able to make it in person, but our Celebrant made sure our friends and close family where all present within the ceremony and had parts to play over Zoom."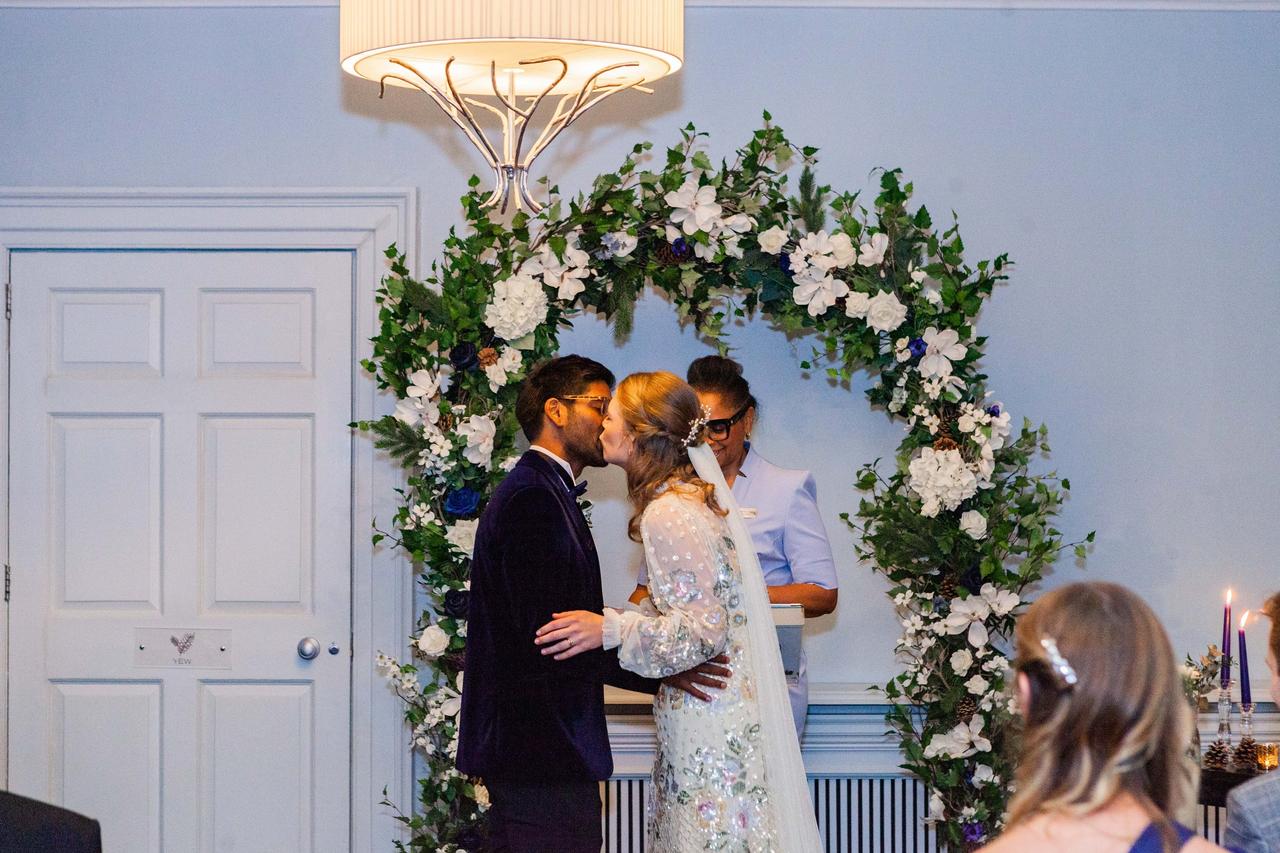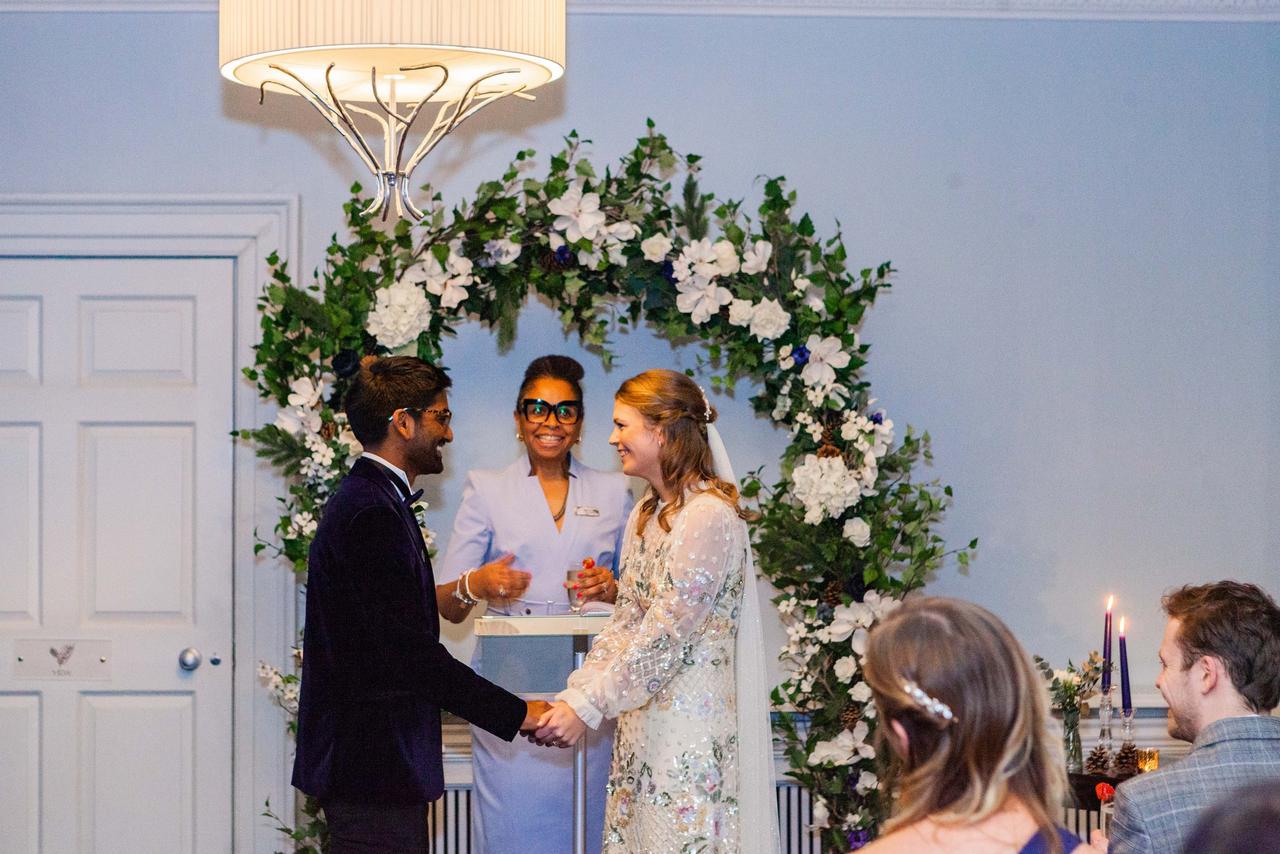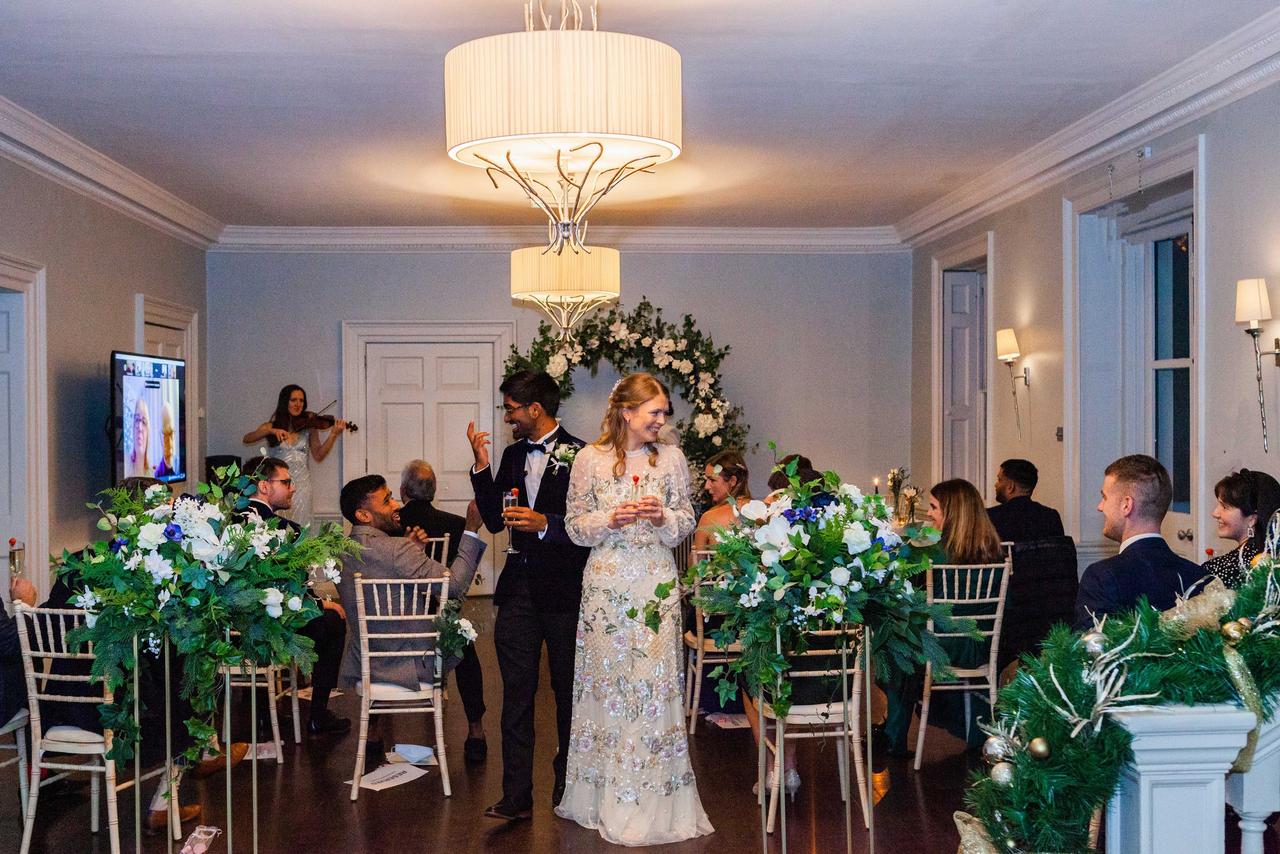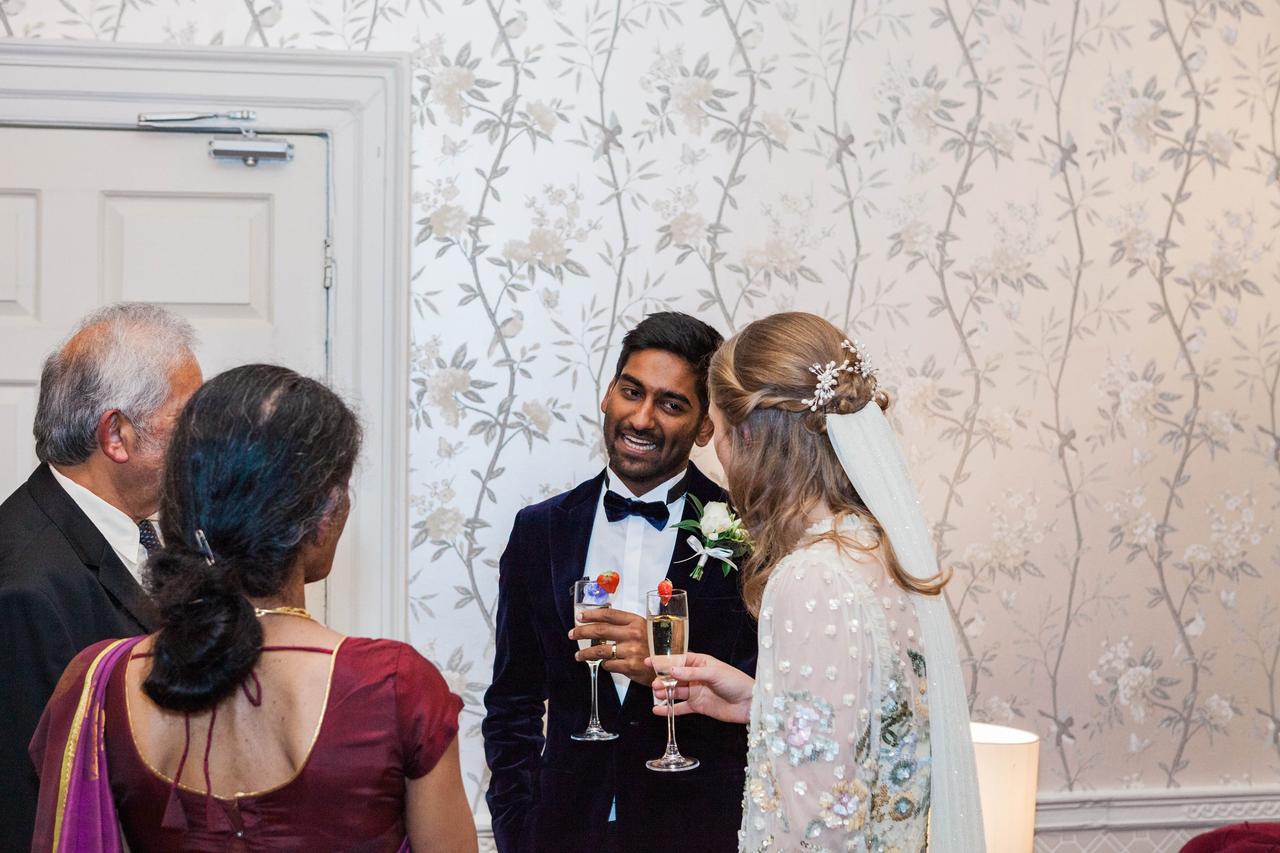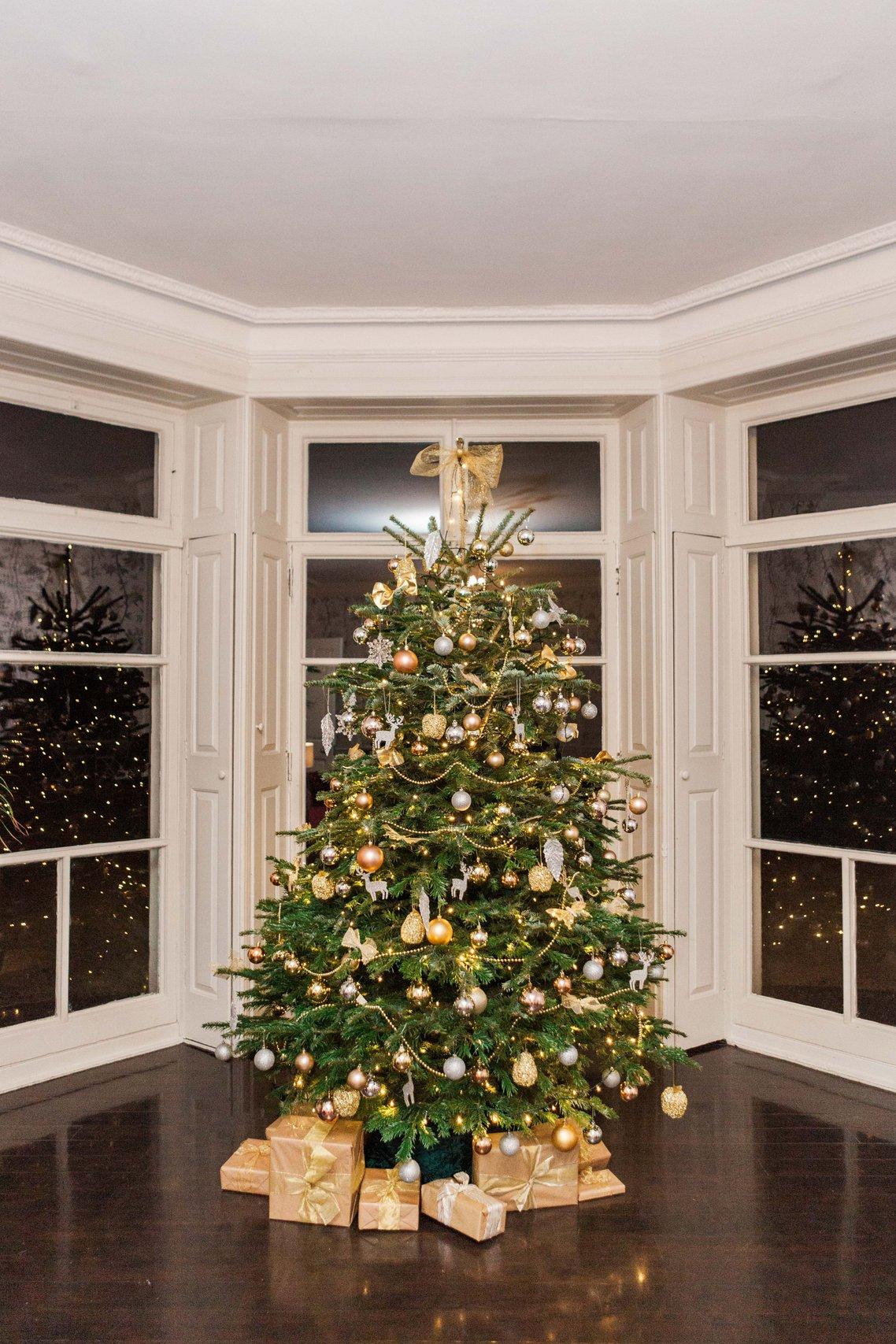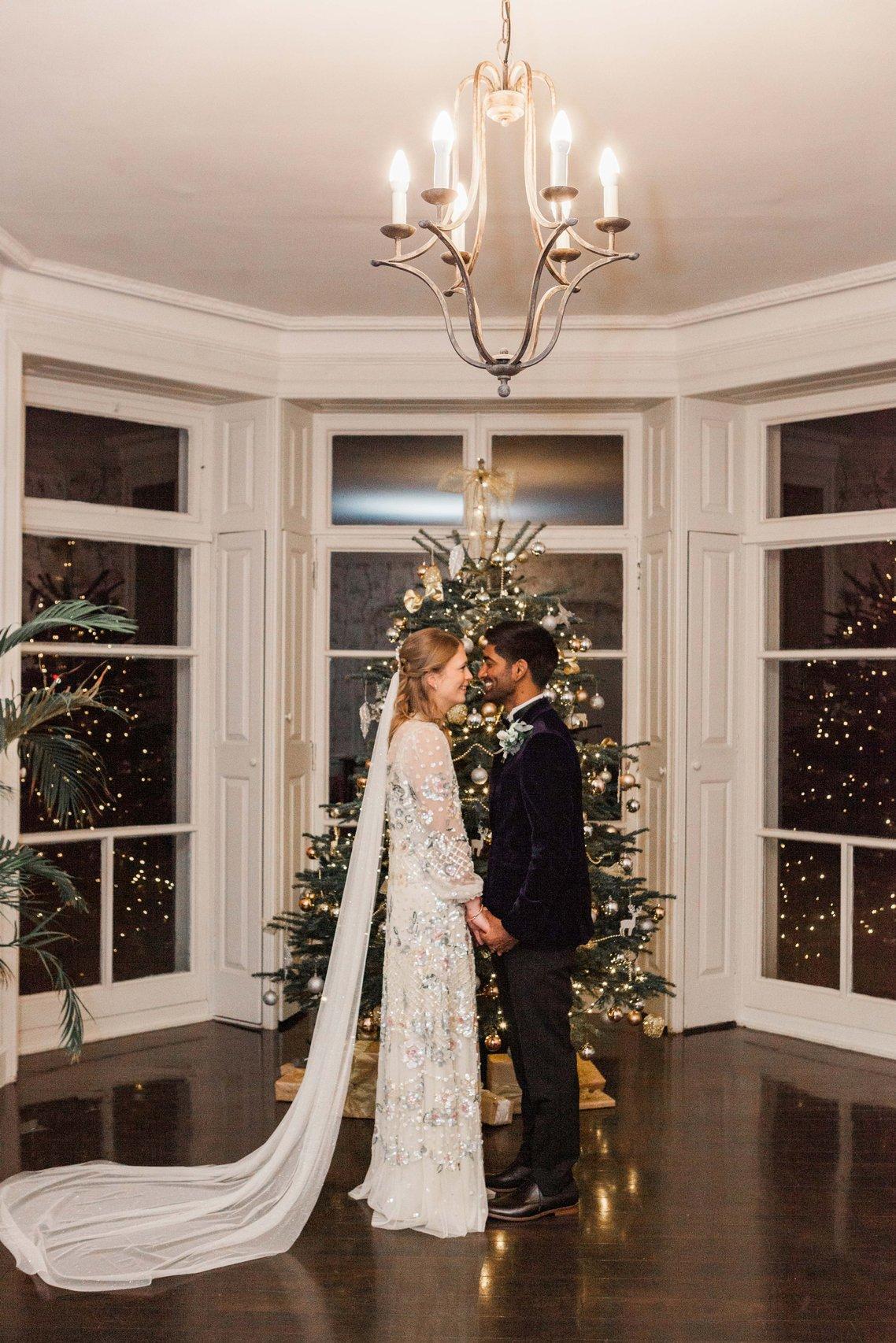 The Wedding Ceremony
The couple ended up with 13 guests joining them for their beautiful Christmassy day at Morden Hall, with a ceremony led by celebrant Jennifer Patrice.
"It was very 2020," said Hayley. "My brother walked me down the aisle, as my parents couldn't make it in person due to COVID and, to keep within the restrictions, we didn't want them to travel from Belfast.
"My parents joined us by Zoom call along with my two sisters and their family and a few of our close friends. As I walked down the aisle closer to Chris and Jennifer, I could see everyone on the 'big screen.'
"To include my parents in the ceremony, my brother Brett was to take a seat when Jennifer asked 'who gives this women away' for my dad to say 'I do,' but because of his internet connection, he couldn't hear us and kept repeating 'I do' like a mad person. It had everyone roaring with laughter.
"Again, when it came to the readings, we had asked my Mum to read a poem and Chris's university friend had thought we had asked him to speak and he was speaking over my Mum, which confused her for a few moments. Again it had everyone in the room laughing and even Chris crying.
"The ceremony itself was funny, warming and intimate. Jennifer did an amazing job of getting to know us over Zoom over the 10 days' notice that she had. She had also asked us to fill out a questionnaire and speak to her separately, telling her what the marriage meant to us, how we met, what our relationship was like, what we admired most about each other and we had to keep it a secret from each other. So, when Jennifer was reading our 'story' lots of elements where even a surprise to me. We loved every moment of the ceremony!"
Adding to the romance of the day was violinist Naomi Wilmshurst, who played Songbird by Eva Cassidy as Hayley walked down the aisle.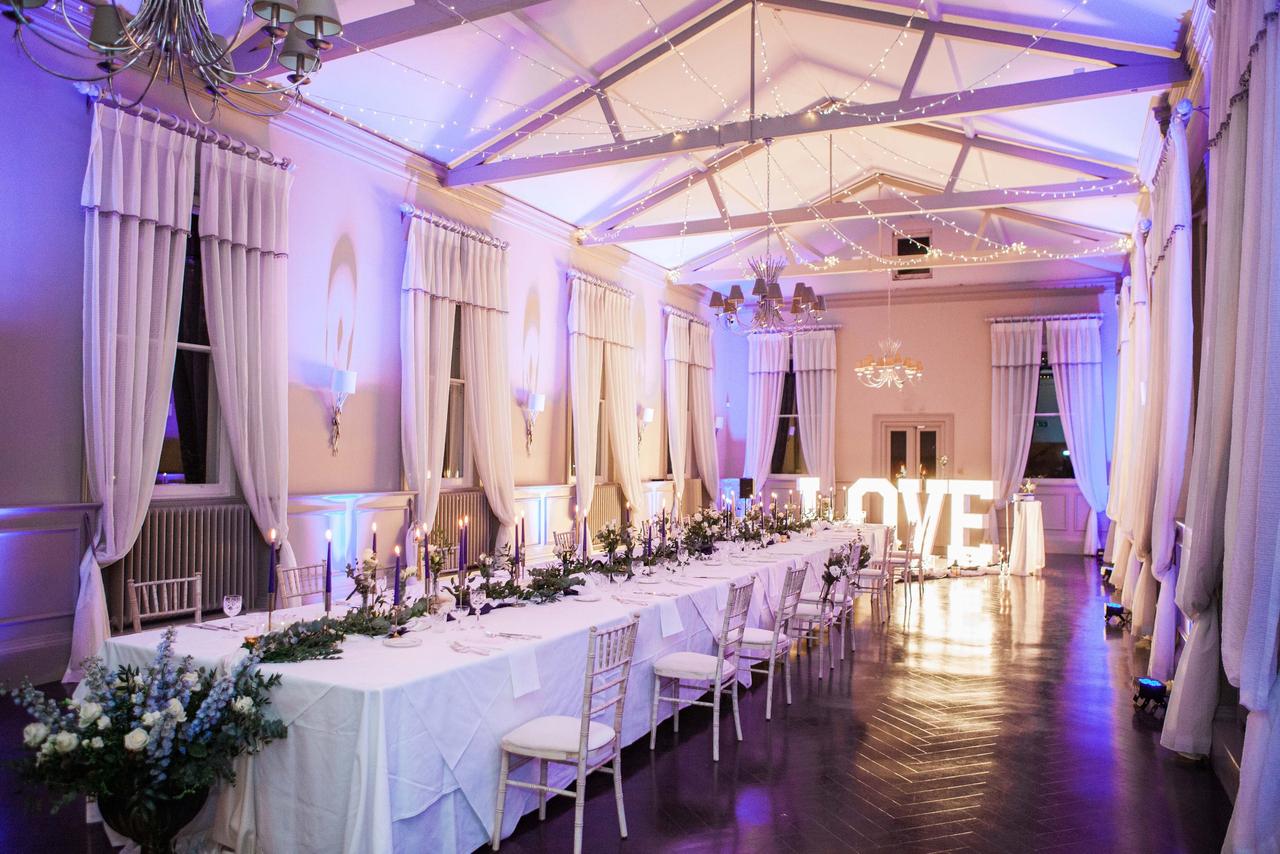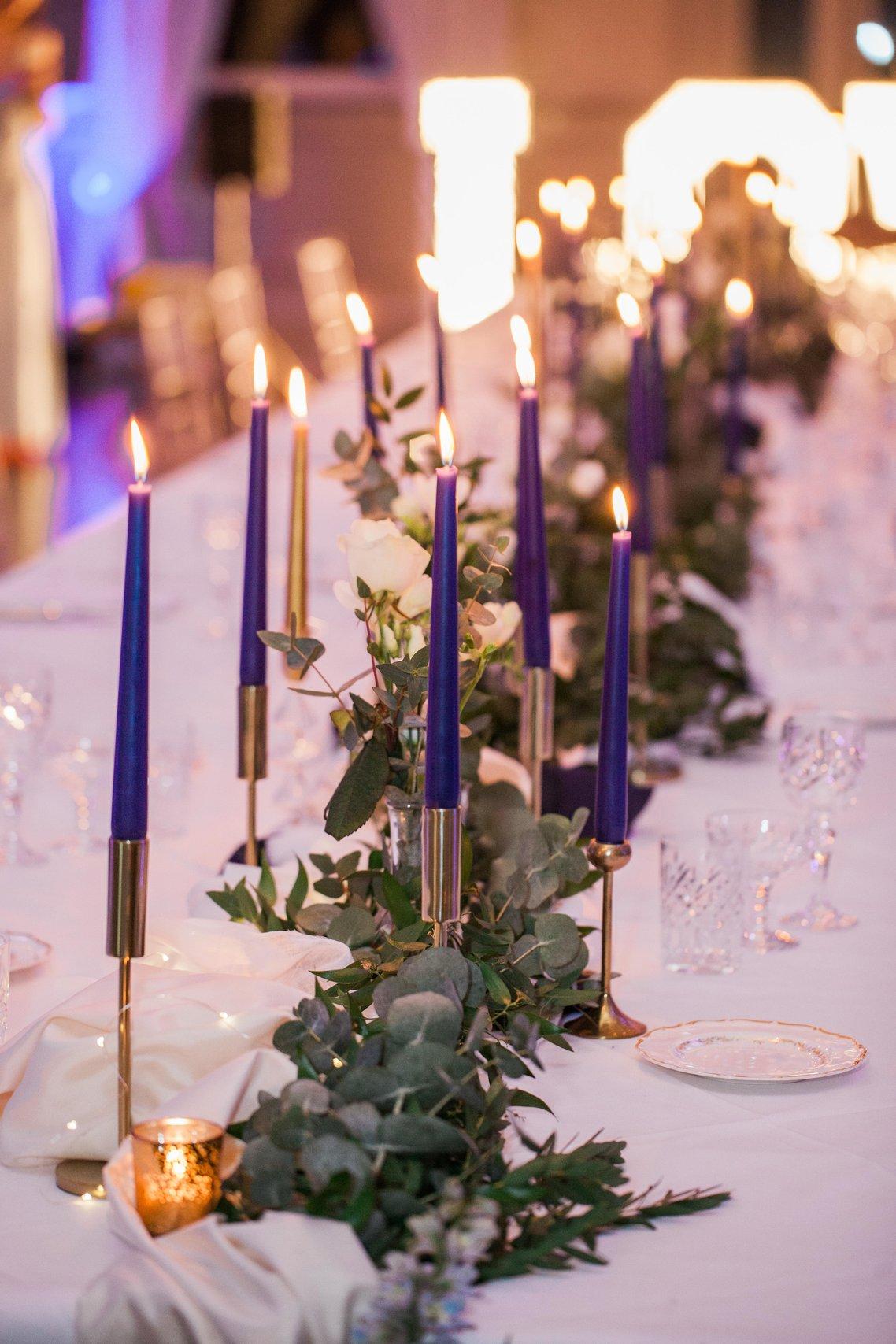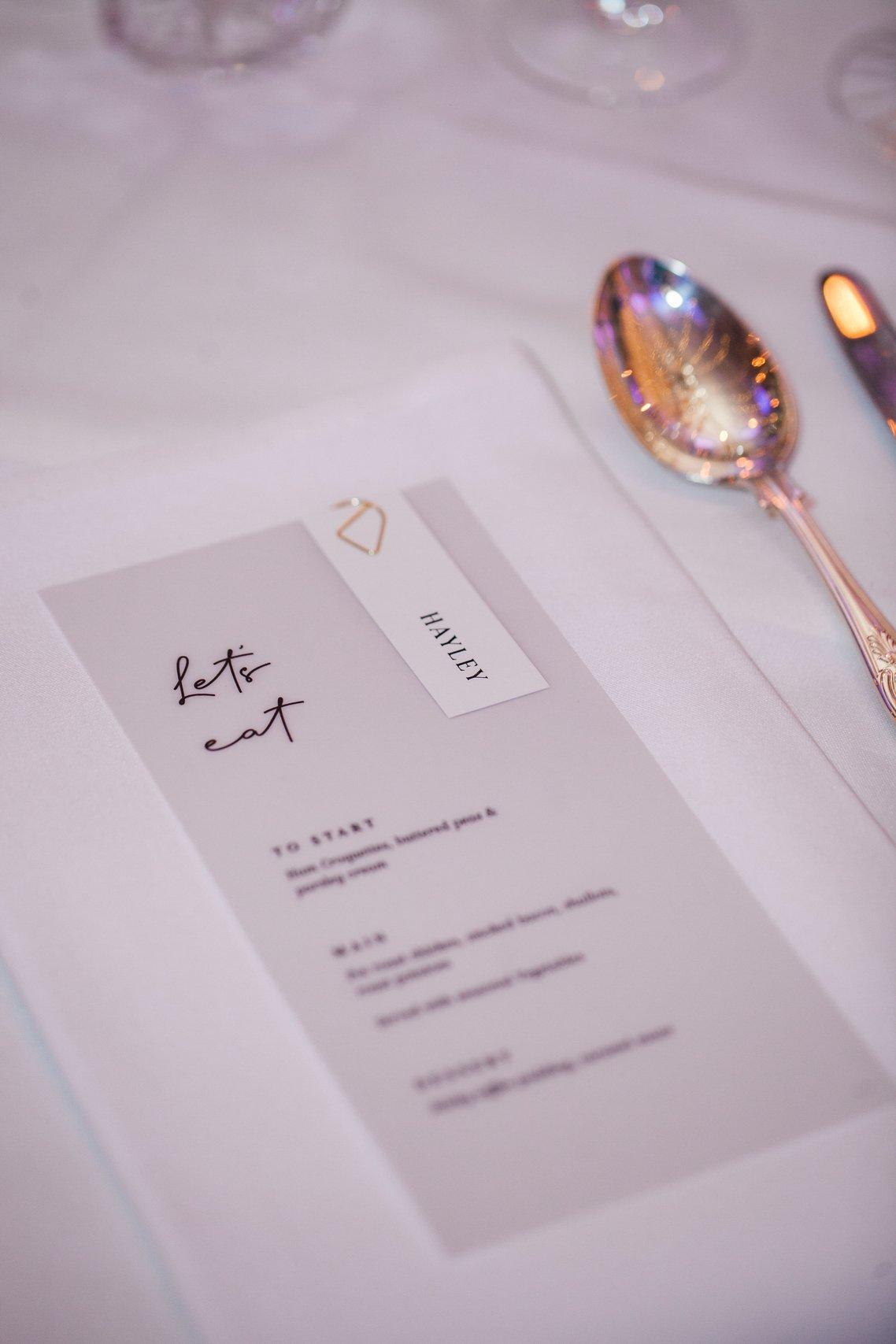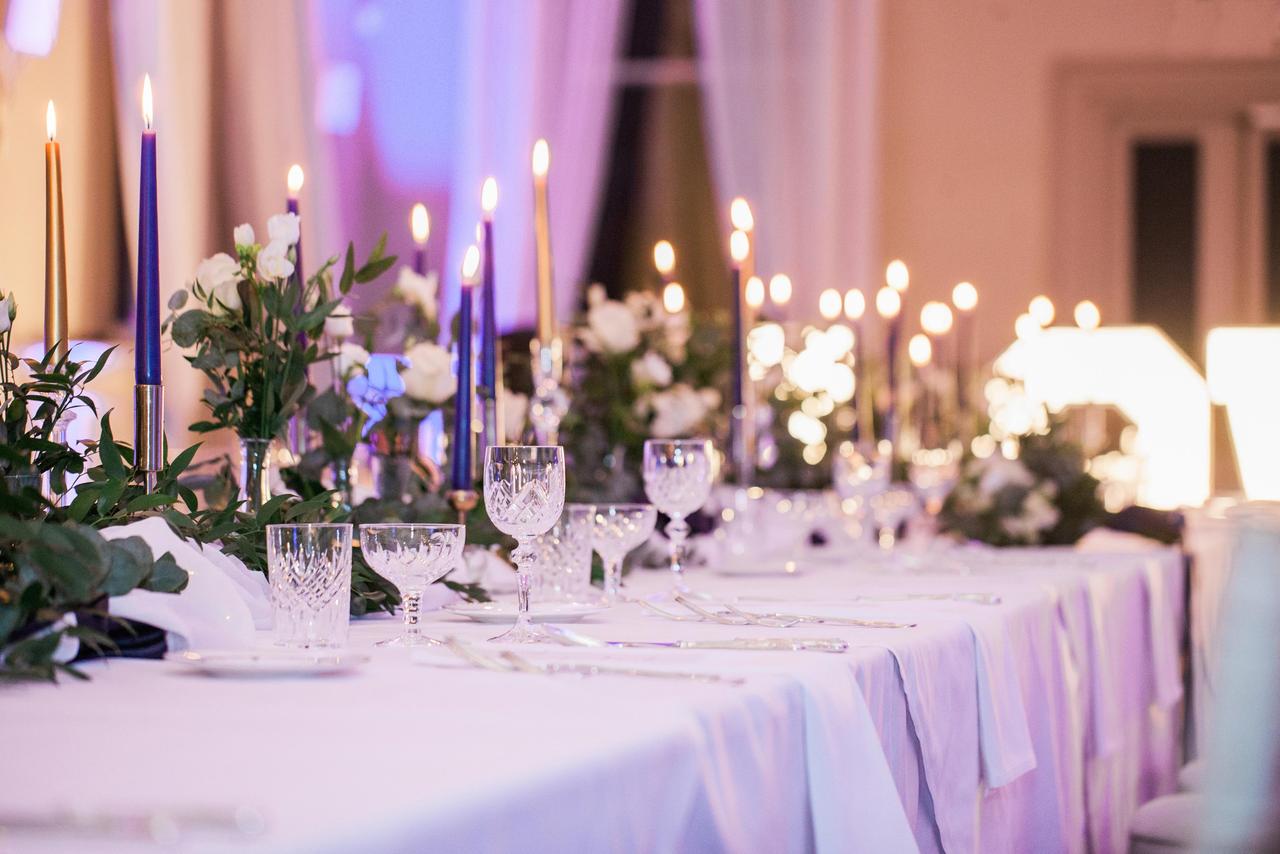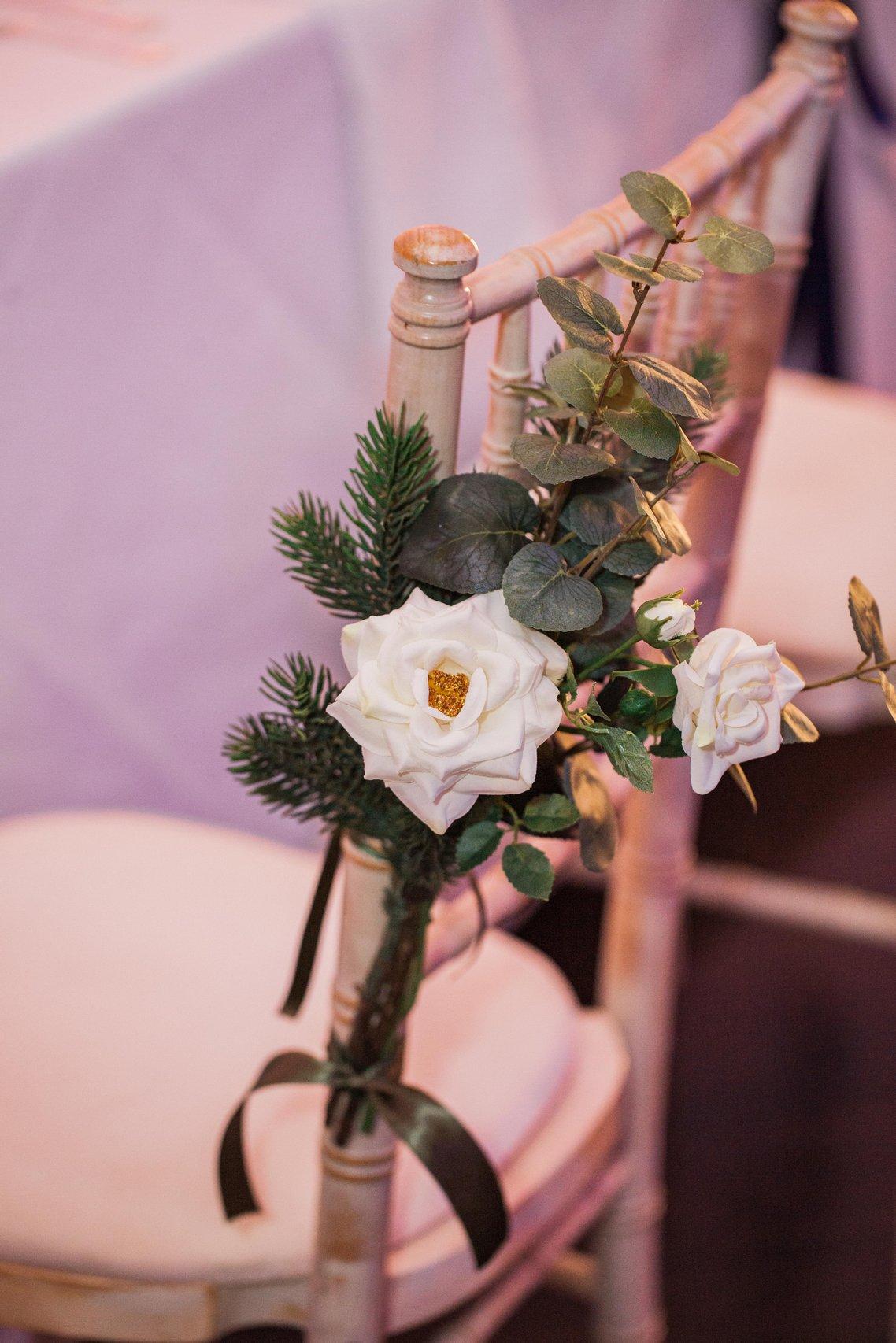 The Wedding Venue
The couple held their ceremony and reception at Morden Hall Park, which they won as part of the micro wedding competition.
"I believe it was meant to be," said Hayley. "We got engaged in the park grounds and had viewed it in the summer as a 'shortlist' but never got around to booking anything or moving forward because of COVID.
"Even though there was only 15 of us, we had the place exclusively but it didn't feel too big for us at all."
Working with Akilah, they chose a colour scheme of navy blue, white and gold which looked perfect for the wintry time of year.
"We opted for a banquet style dining room so Events with Akilah worked with a stylist, Carmela Weddings, to style a wedding breakfast that wowed. We had 30 blue candles in gold candle sticks, a foliage runner with chiffon and a silk fabric runner leading up to our cake stand."
Simple and elegant stationery and menus made by Paper Pastry Design added to the chic and stylish look of the day.
They complemented the festive vibes with a warming wedding breakfast of croquettes, pot roast chicken and sticky toffee pudding.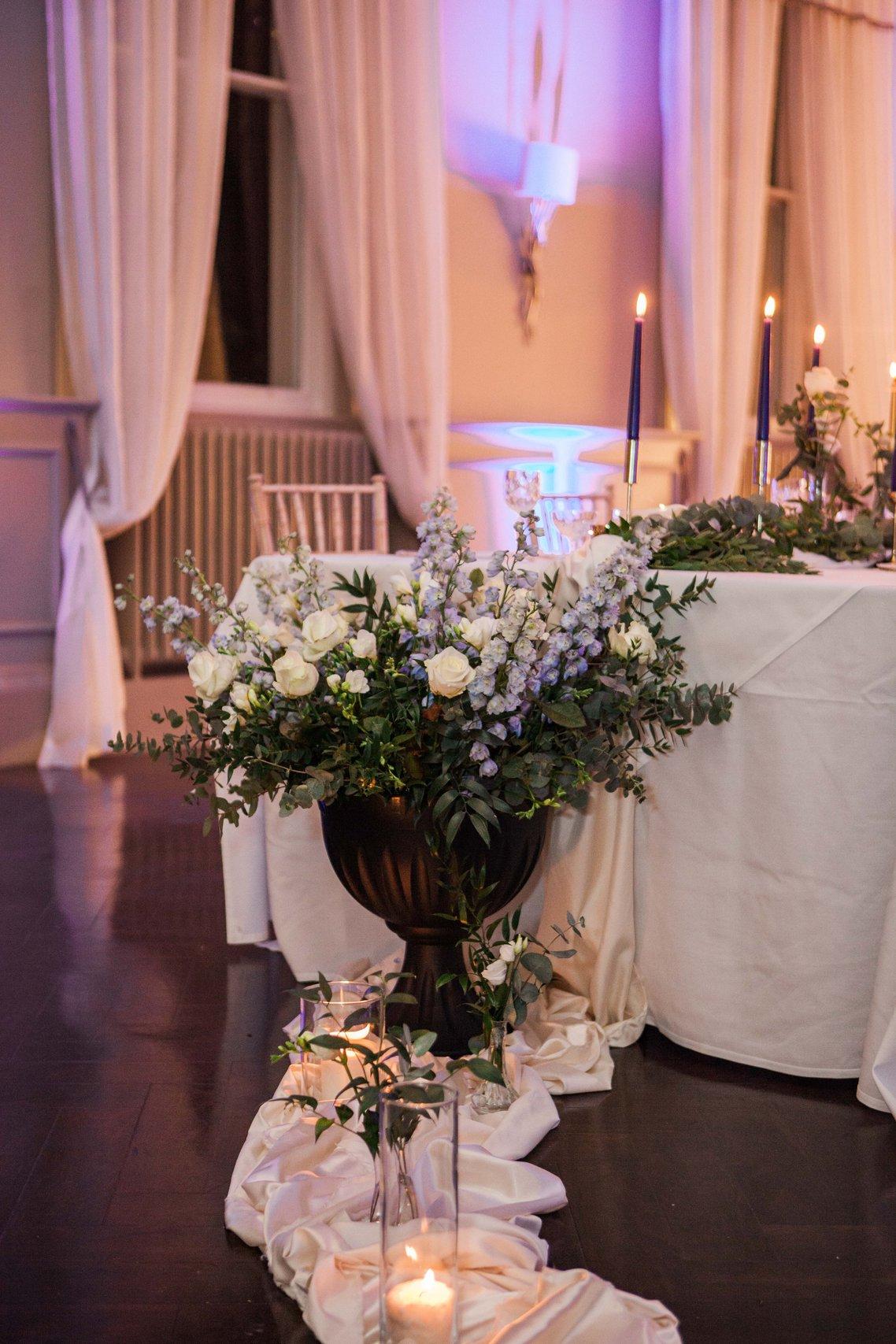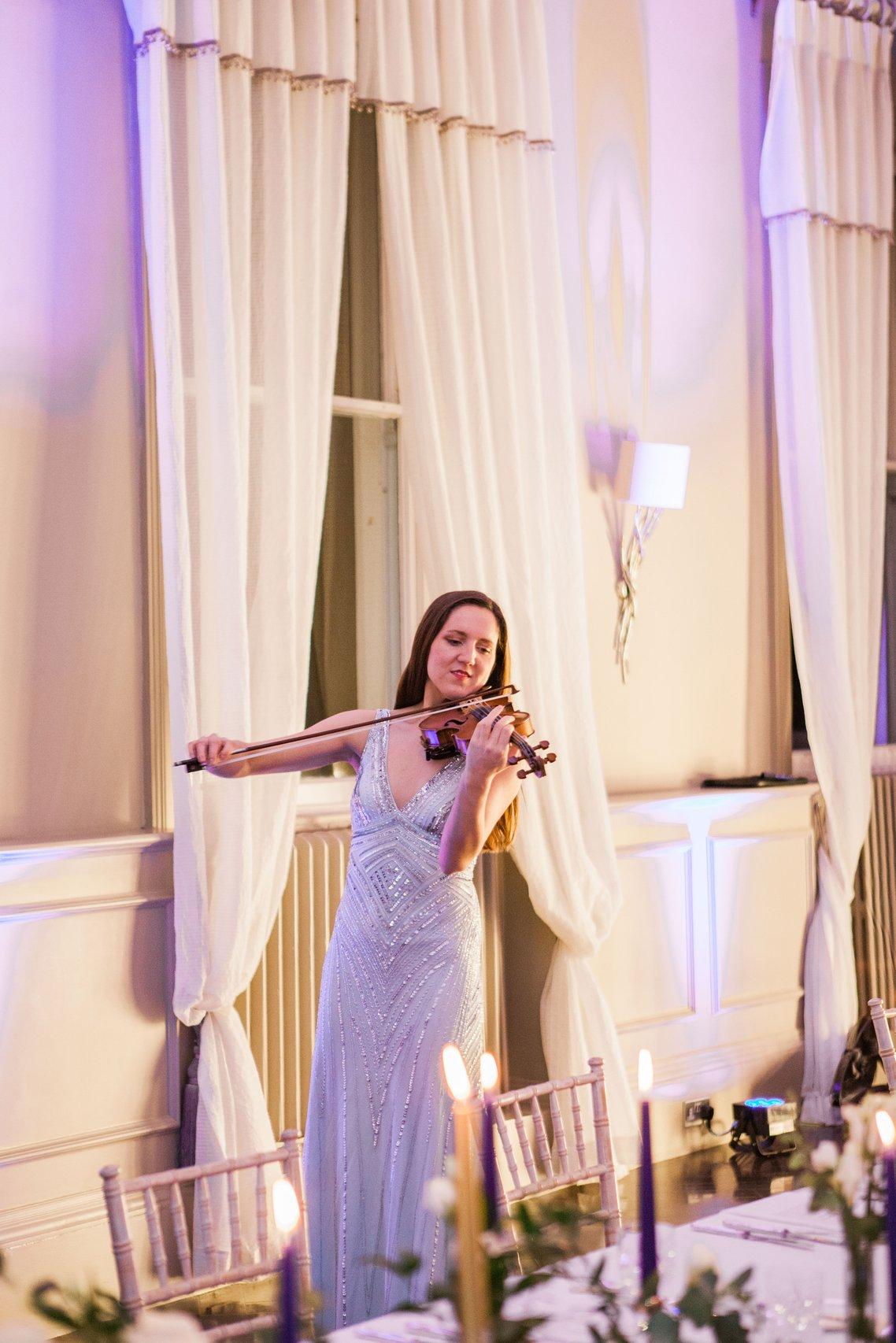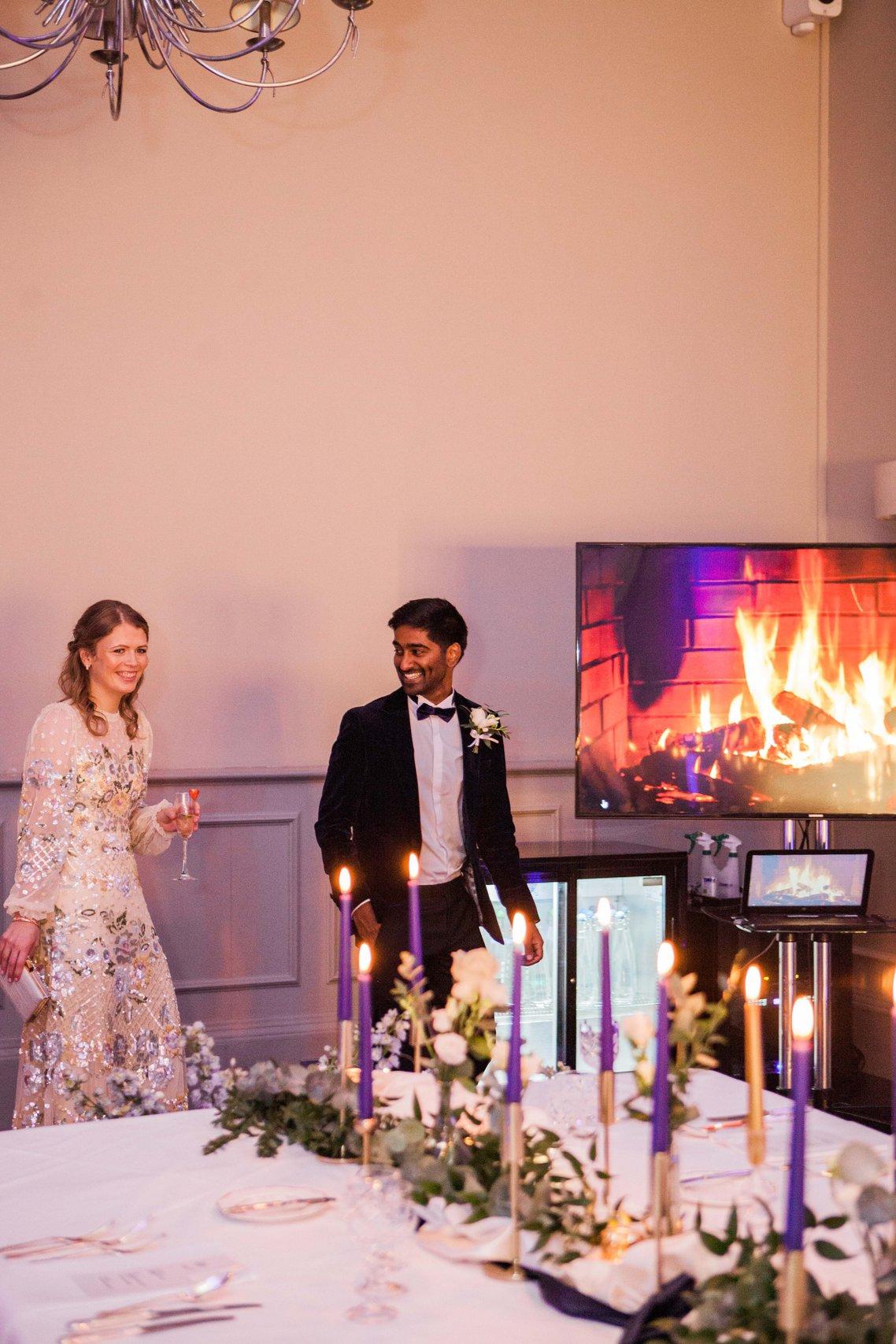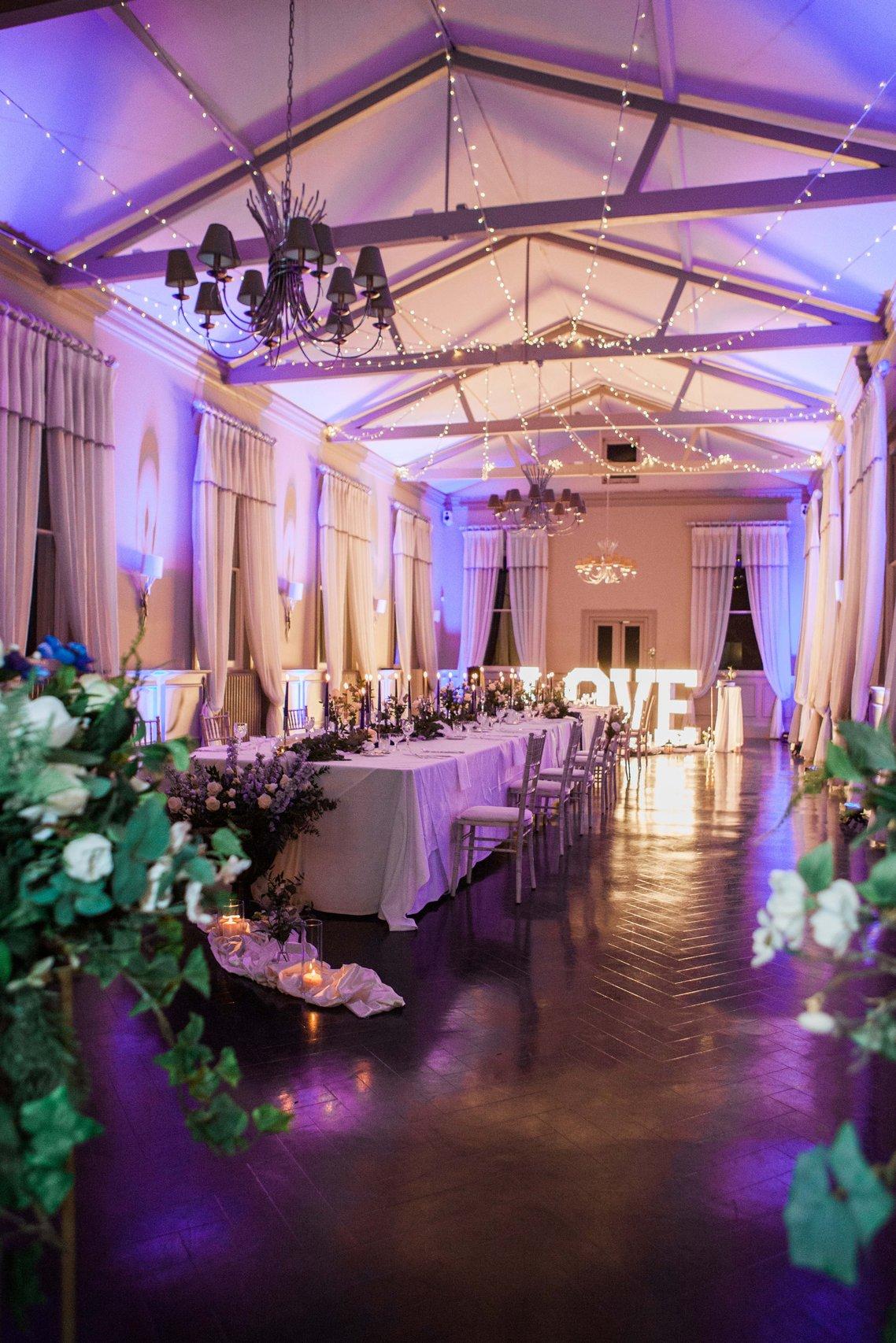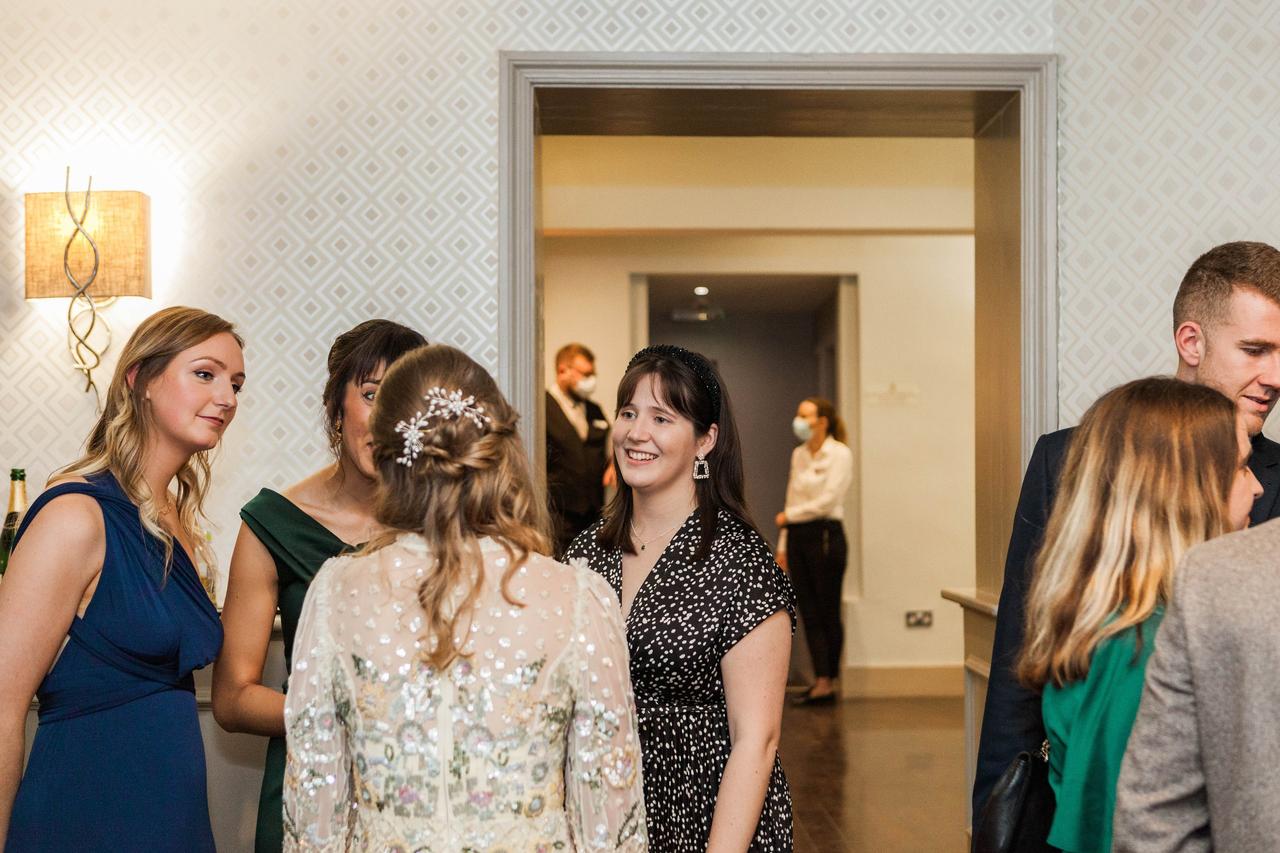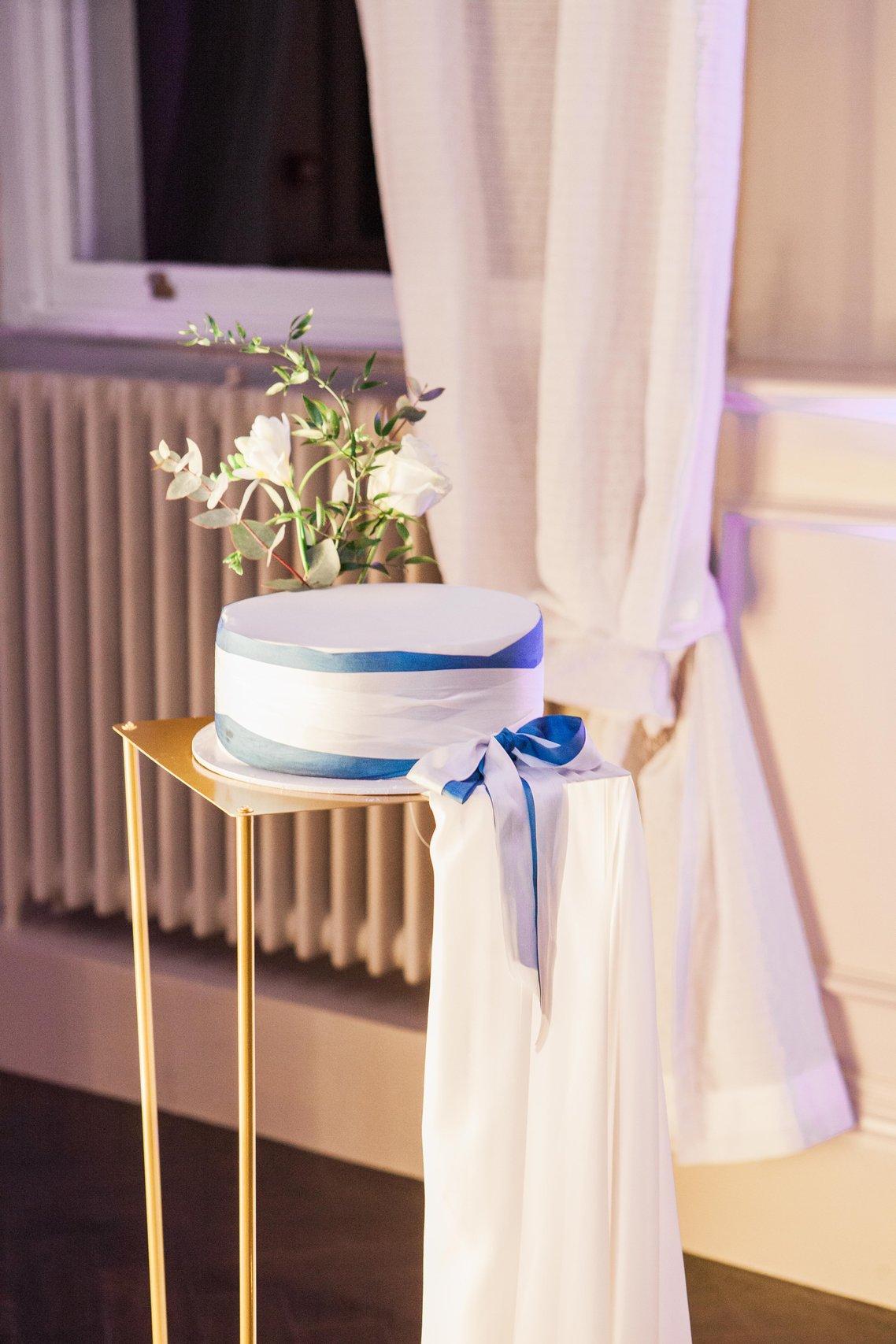 The Wedding Flowers and Cake
"The bouquet was the ideal accessory for a timeless and classic wedding," said Hayley. "It had the perfect blend of greenery and white flowers to match the navy blue and gold Christmas-themed winter wedding.
"The eucalyptus and ivory freesia-scented arrangement felt crisp, fresh, and elegant for a winter soiree."
Their wedding ceremony room was decorated with silk flowers by Fleur De La Couture and the wedding breakfast flowers were by Florissa Designs.
Creative director Mannuela of Florissa Designs also provided fresh flowers to top their lovely red velvet wedding cake made by Claire's Sweet Temptations.
"It was filled with Claire's signature Swiss meringue buttercream filling. It was covered in a crisp white fondant icing and wrapped with pure silk ribbons in the wedding colours of white and navy blue."
The cake was sliced up on the night and given to guests to take home in pretty cake boxes.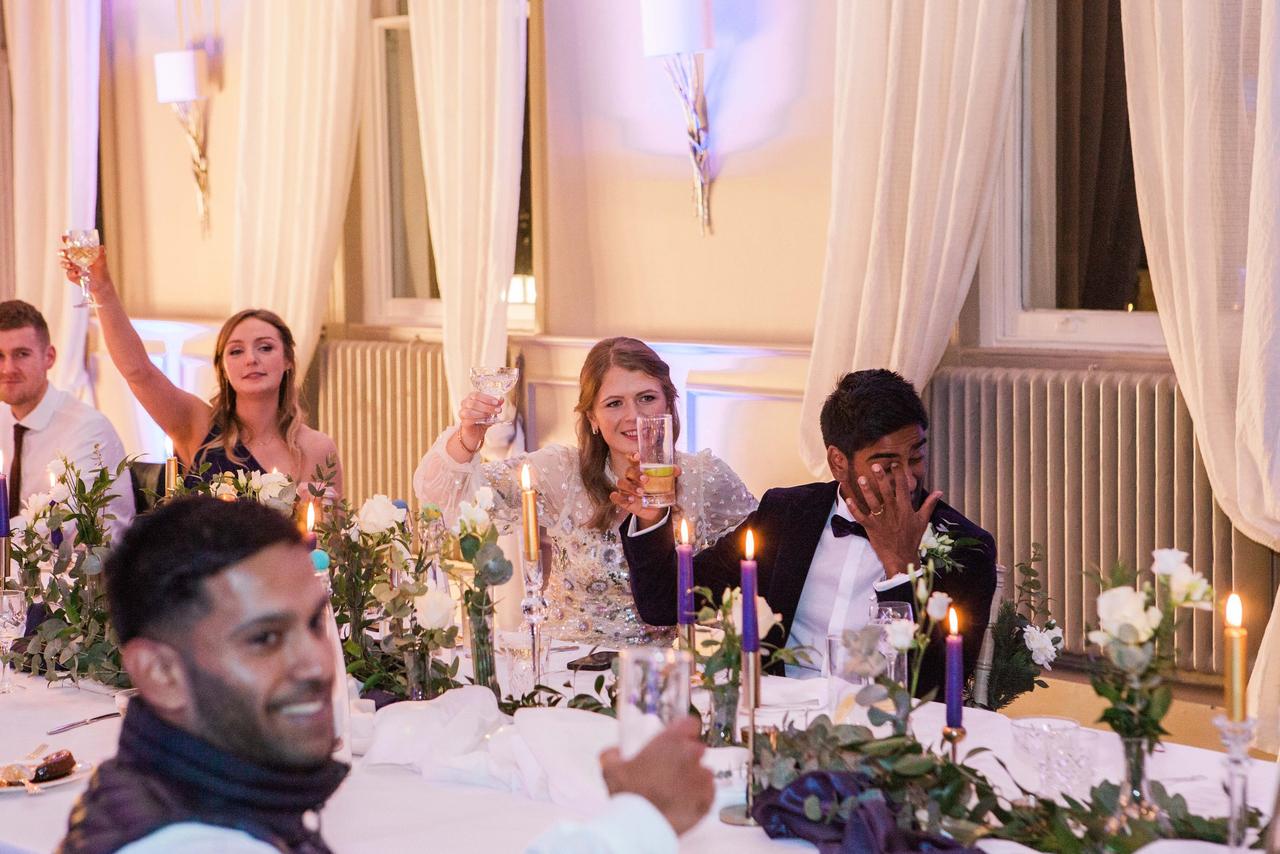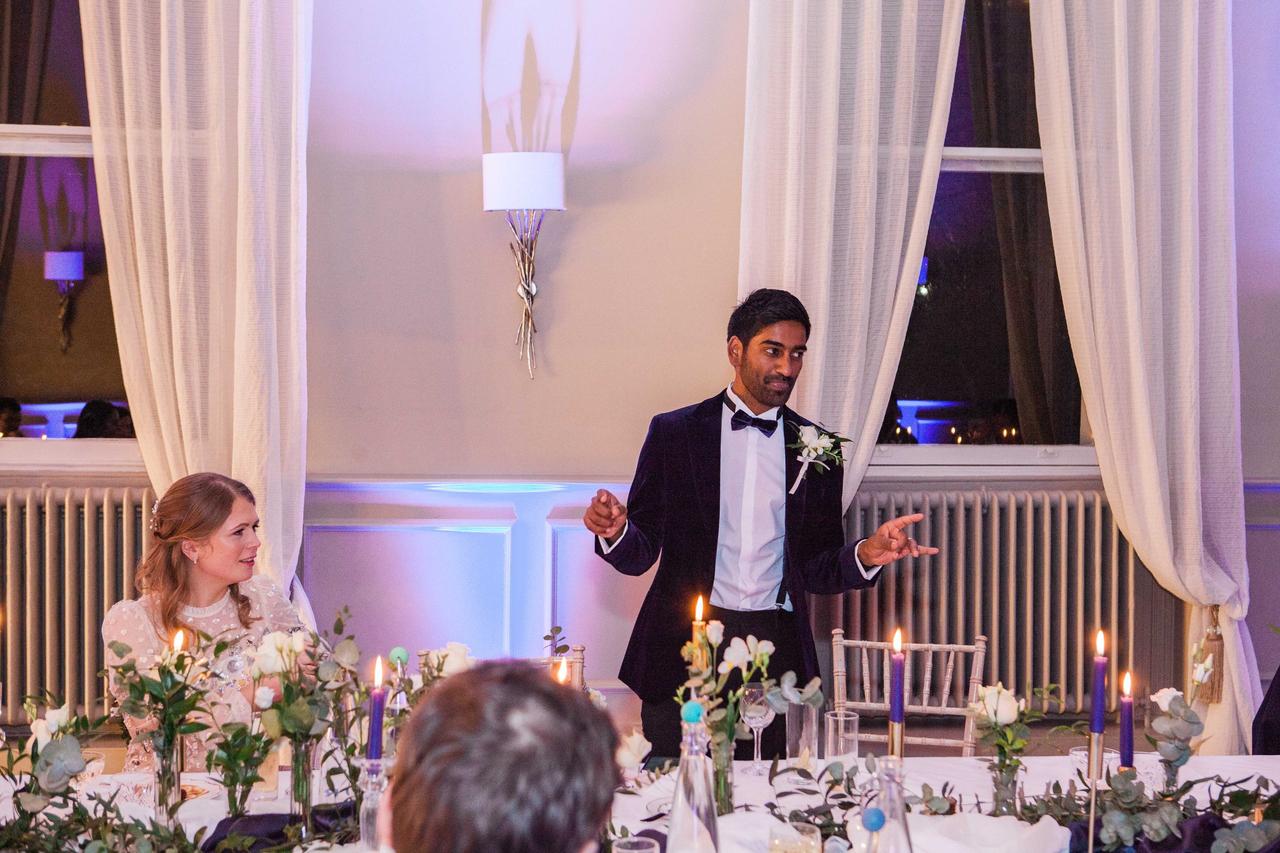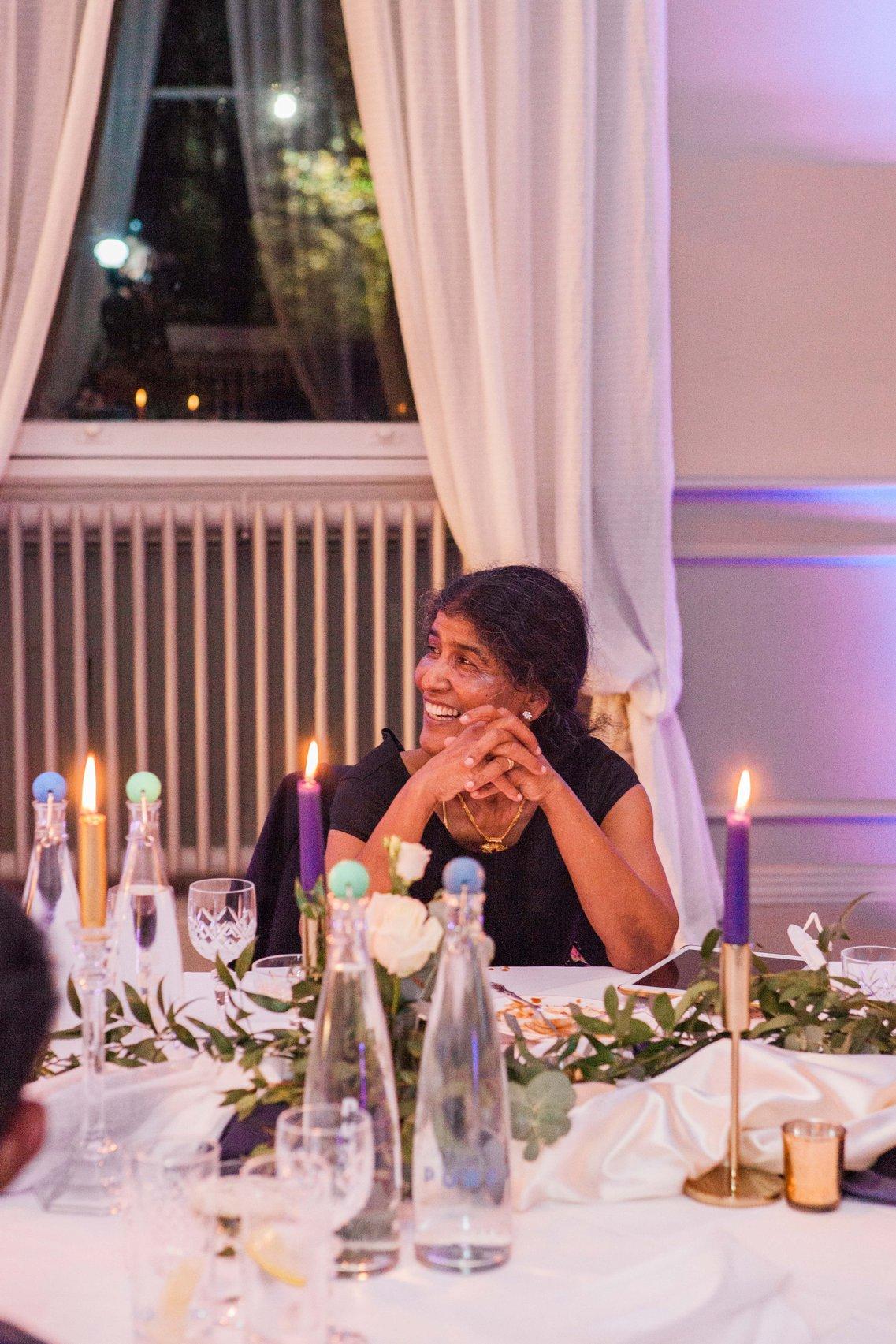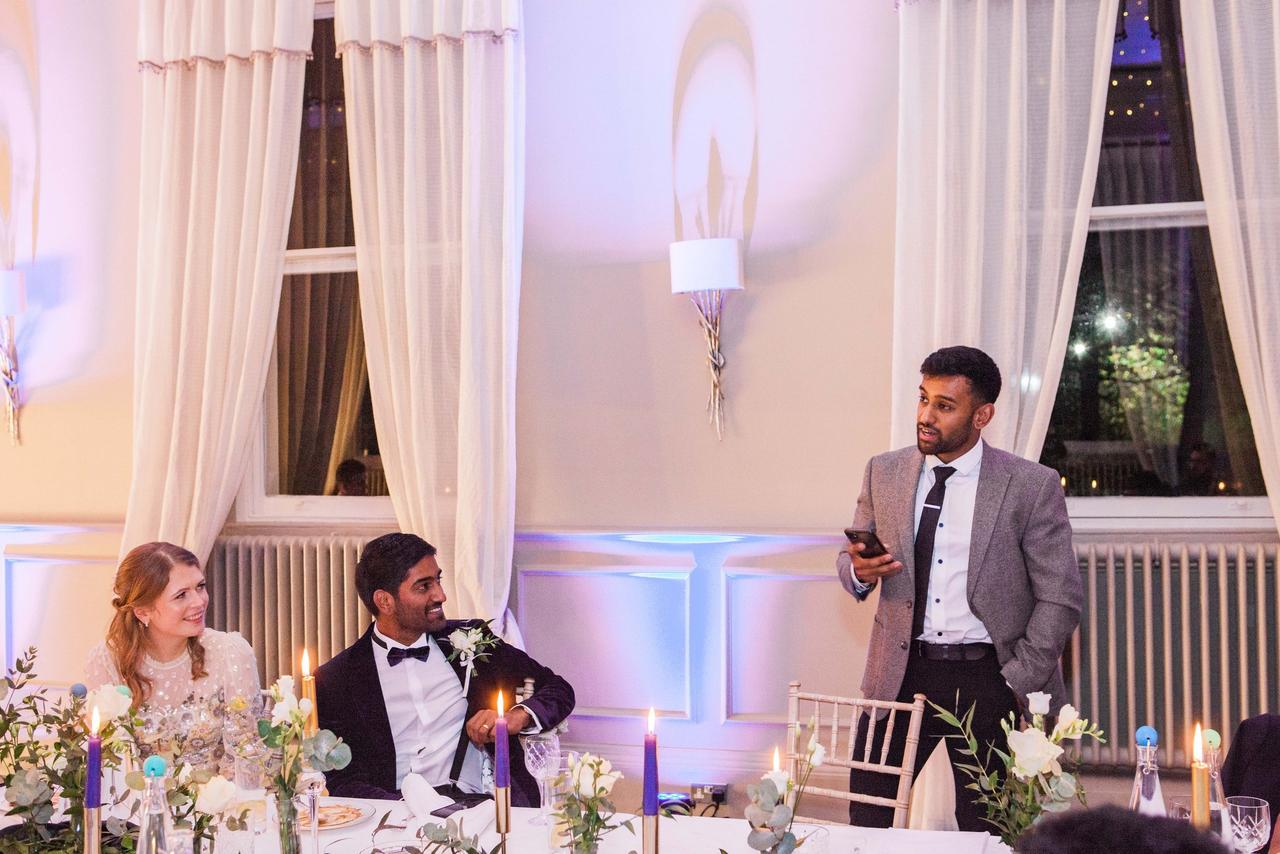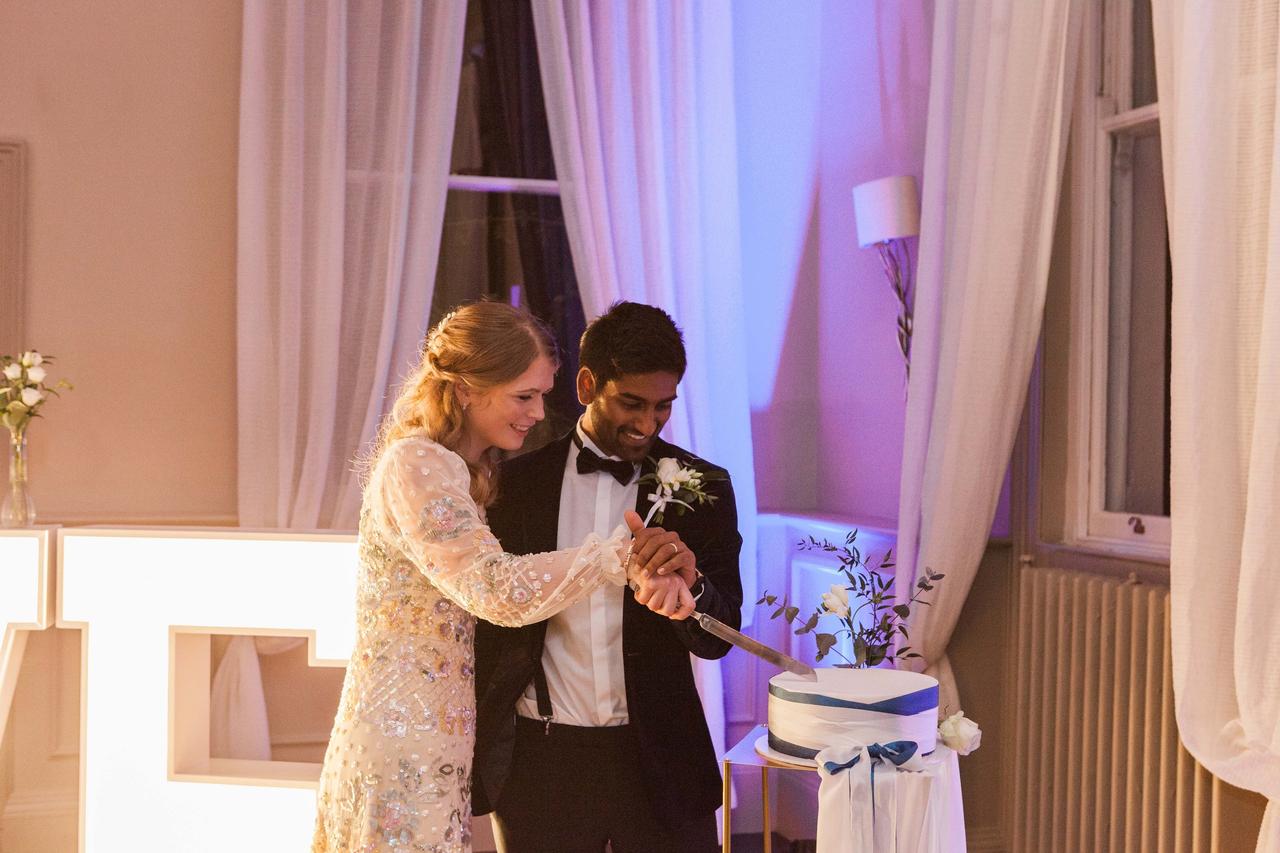 The Entertainment
As part of the competition, Hayley and Chris won violinist Naomi Wilmshurst to perform for the whole evening and Charles Burns, a roving silhouette-cutting artist.
Their first dance was one of Hayley's favourite moments of the day. They twirled to Stevie Wonder's For Once In My Life, "and Chris did his own rogue routine which caught me by surprise."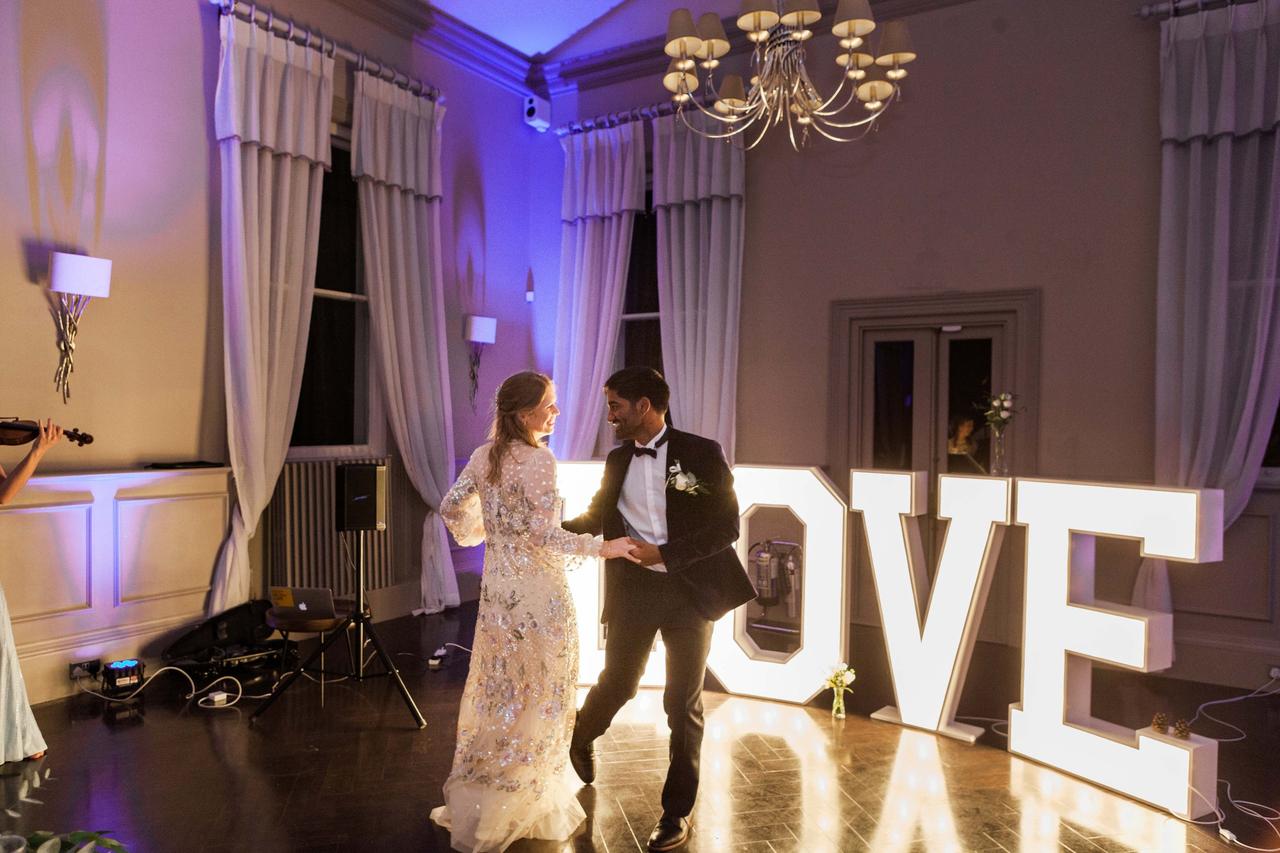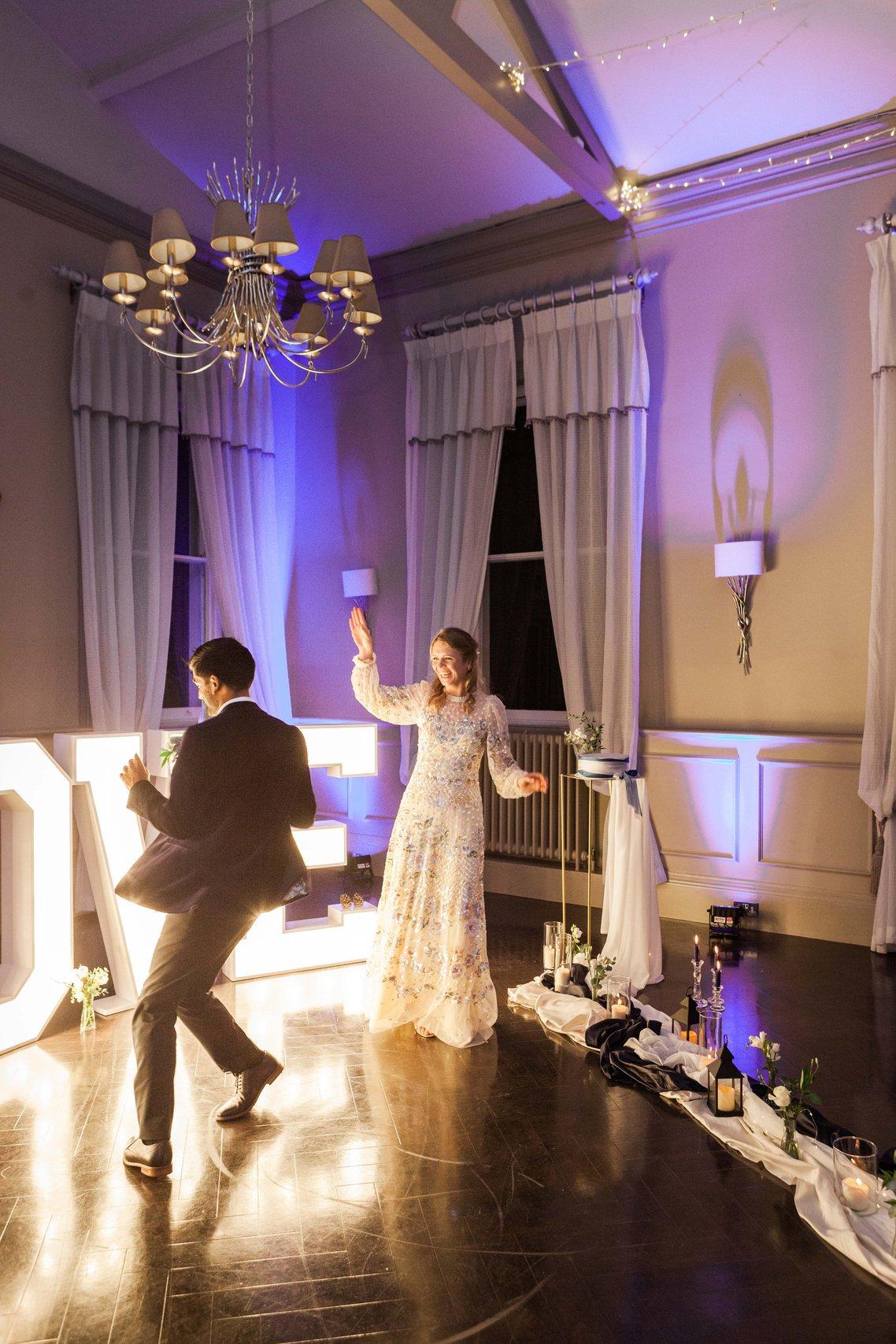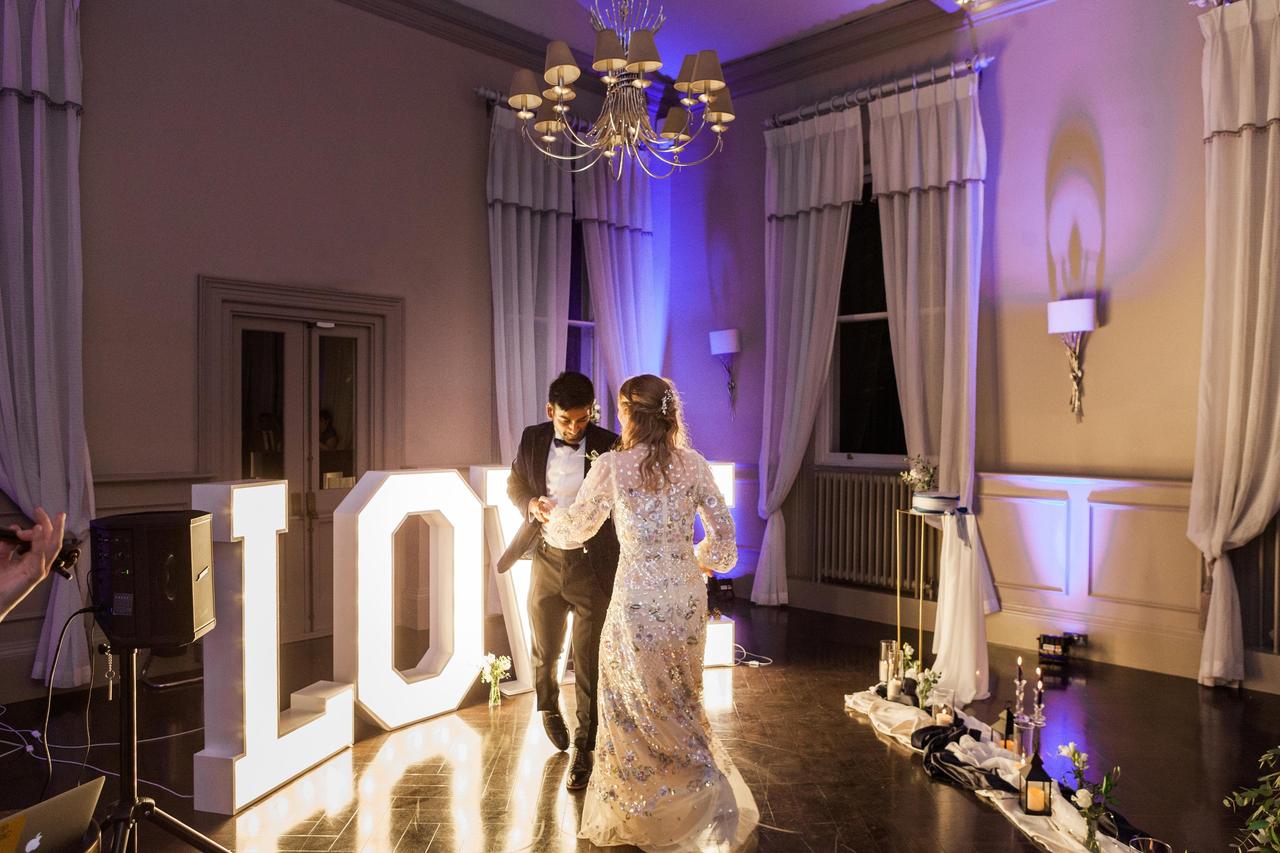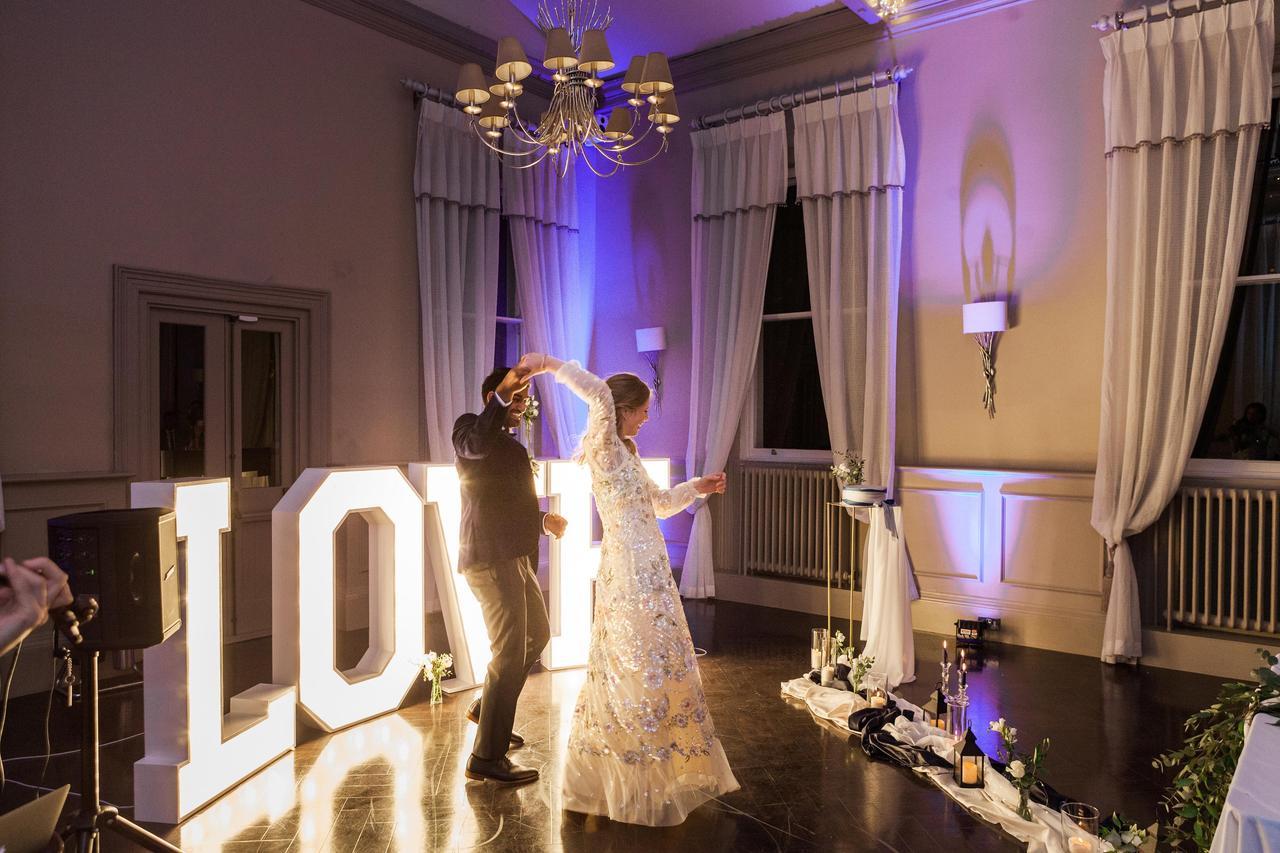 The Couple's Advice
Hayley and Chris haven't decided on where they want to go on honeymoon yet; their first priority is to see friends and family.
While Hayley would have loved to have her family join and few other close friends, she says the day was everything they wanted. "On reflection, we wouldn't change anything else, as the day was perfect. The nature of the micro wedding meant that the ceremony was intimate and ensured that we were able to spend time with all of our guests."
They credit their planner Akilah with being able to pull the day together so quickly and making it so perfect. "Get a good wedding planner like ours," Hayley recommends. "They ease any stress and allow you to just enjoy your day to take in every moment."
The Suppliers
Venue: Morden Hall
Photographer: Amanda Karen Photography
Videographer: Kev Jacutan Films
Planner, Designer and Coordinator: Events with Akilah
Stylist: Carmela Weddings
Celebrant: Jennifer Patrice
Wedding Dress: Needle & Thread
Veil: Tulle & Flo
Makeup Artist: Rachel Dwan MUA
Hairstylist: NW Makeup
Stationery: Paper Pastry Design
Silk Flowers: Fleur De La Couture
Floral Arrangements: Florissa Designs
Cake: Claire's Sweet Temptations
Violinist: Naomi Wilmshurst
Entertainment: The Roving Artist
Engagement Ring: Chupi
Wedding Rings: Sinclair
Event Staff: Ace Crystal Clear Events
Thank you to Chris and Hayley for sharing you gorgeous wedding day!