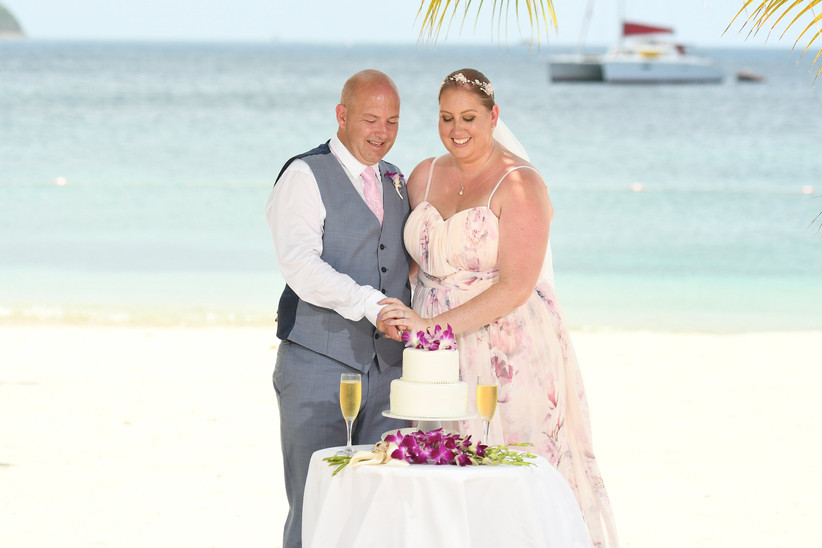 We've seen plenty of innovative weddings taking place since the UK went into lockdown, but Hannah and Toby's might be out favourite yet! When Covid threw a spanner in the works of their barn wedding, they decided to jet off on their honeymoon and turn it into a destination wedding instead.
Their original plan was to be joined by 100 guests at the beautiful Upton Barn and Walled Gardens in Devon, but they ended up exchanging vows in an overwater chapel on the stunning island of St Lucia with two fellow holiday-goers as witnesses. The calm waters of the Atlantic ocean, teaming with colourful fish, lapped below them and a view of endless blue sky and jungle-draped mountains stretched out behind them as they said 'I do' - it truly was an unforgettable, picture-perfect elopement.
The honeymoon was a special one for Hannah and Toby anyway: Toby had not long retired from the RAF and they wanted to take the holiday of a lifetime as Hannah's parents had offered to look after their daughters Violet and Rose. The wedding was the cherry on the top.
With a romantic candlelit dinner by the beach, a delicious wedding cake - one tier for the honeymoon, one to take home! - and a stunning bouquet, every detail was taken care of.
Photography by Jonathan Griffith at Sandals Grande St Lucian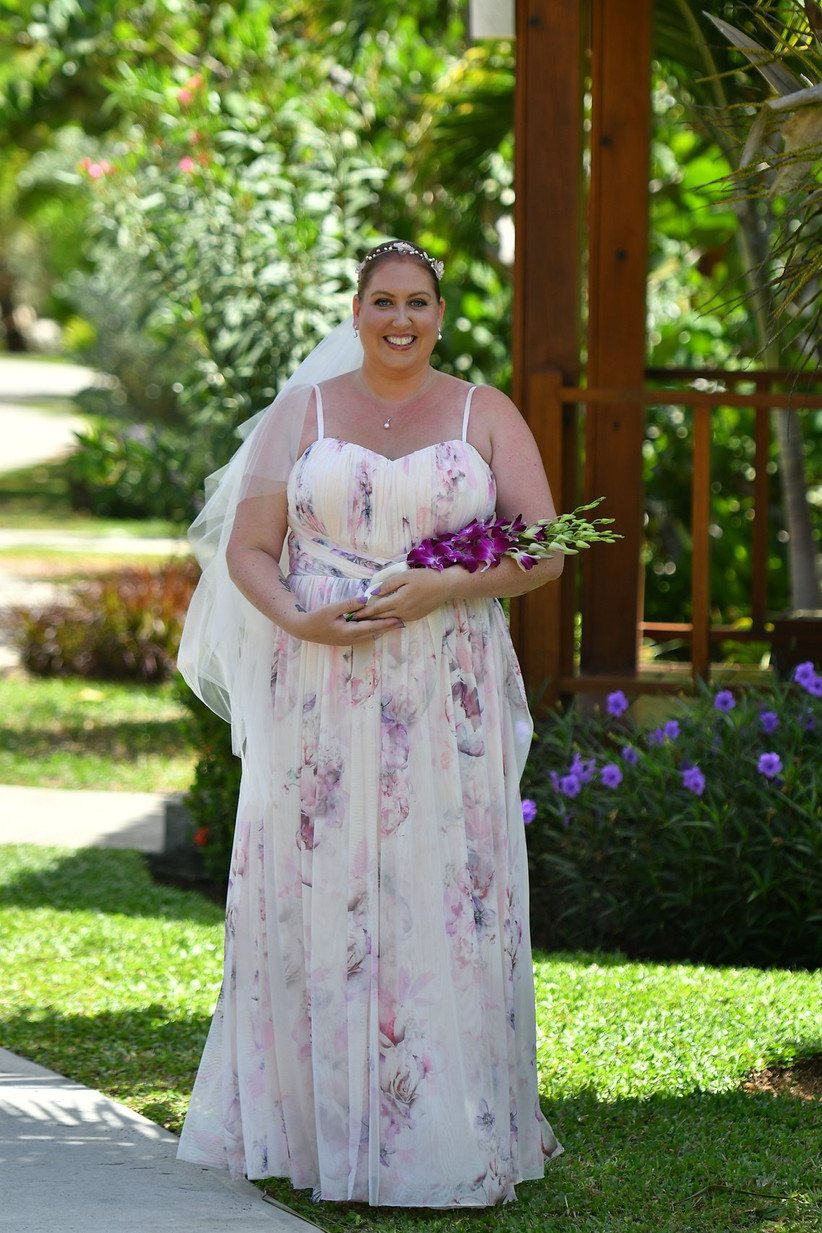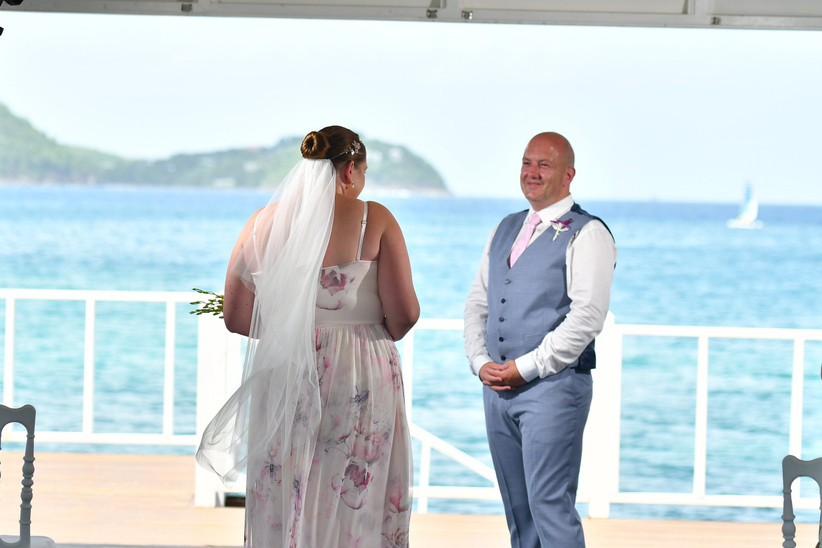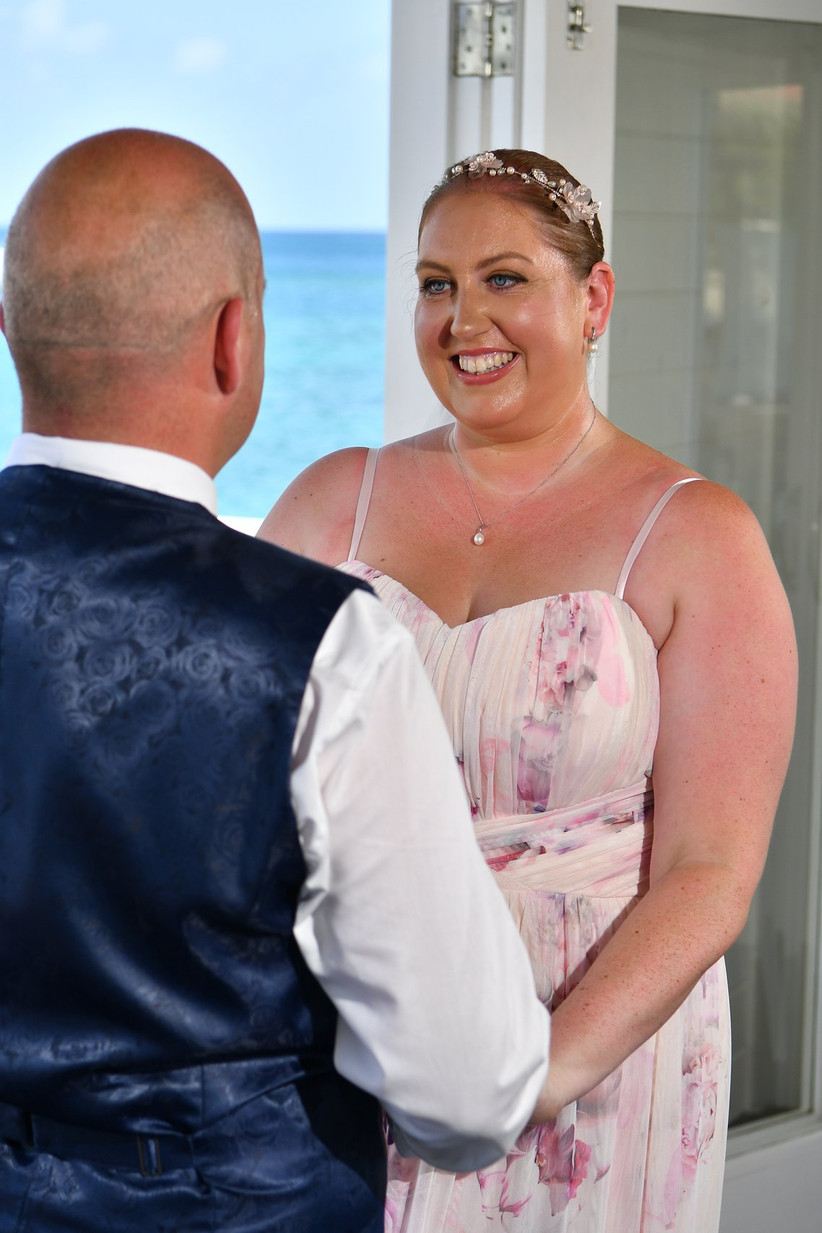 The Wedding Dress
Caribbean beaches and Devon barns require different kinds of wedding dress, and Hannah had to quickly go online and seek out an alternative for her new day. She found the perfect dress - a floral patterned Lipsy dress from Next - which was perfect for the warm weather of St Lucia, and even survived a trip into the ocean!
"I had found a wedding dress perfect for our Devon barn wedding but when we realised we were going to have a short notice wedding over in St Lucia I realised that dress would not be appropriate, so I had to order an alternative dress! The dress I chose for St Lucia was a lovely, light and floaty chiffon Lipsy dress perfect for a beach wedding. When I ordered it, it didn't fit and because of lockdown I didn't have any other opportunity to buy a different one. So, I signed up with a personal trainer for seven weeks and within four weeks it fitted me perfectly!
"It was nice and light and floaty which is how I had always envisioned a beach wedding dress to be. It had pinks and purples in it too and could be worn multiway with or without straps so it was just a very versatile dress. We were aware that we could potentially have photos of us in the sea so I didn't want to spend a fortune to have a dress ruined. I paid just £88 for my dress and despite wearing it in the sea it is still in perfect condition! What a bargain!"
Hannah accessorised with a silver and pearl floral crown, and pearl earrings and a necklace that Toby had bought as her 'something new'. She attached a special brooch that belonged to her Nana onto her bouquet as her something old and borrowed, and a blue garter provided the something blue.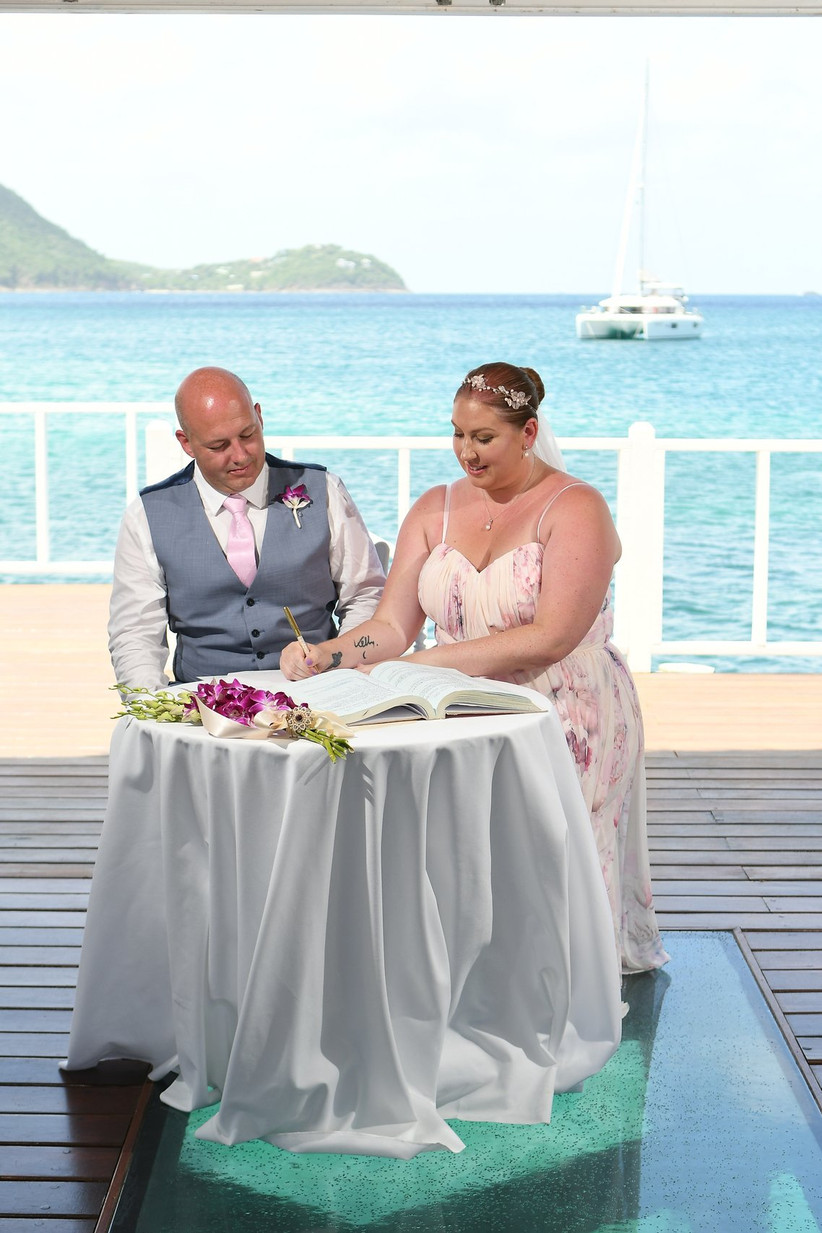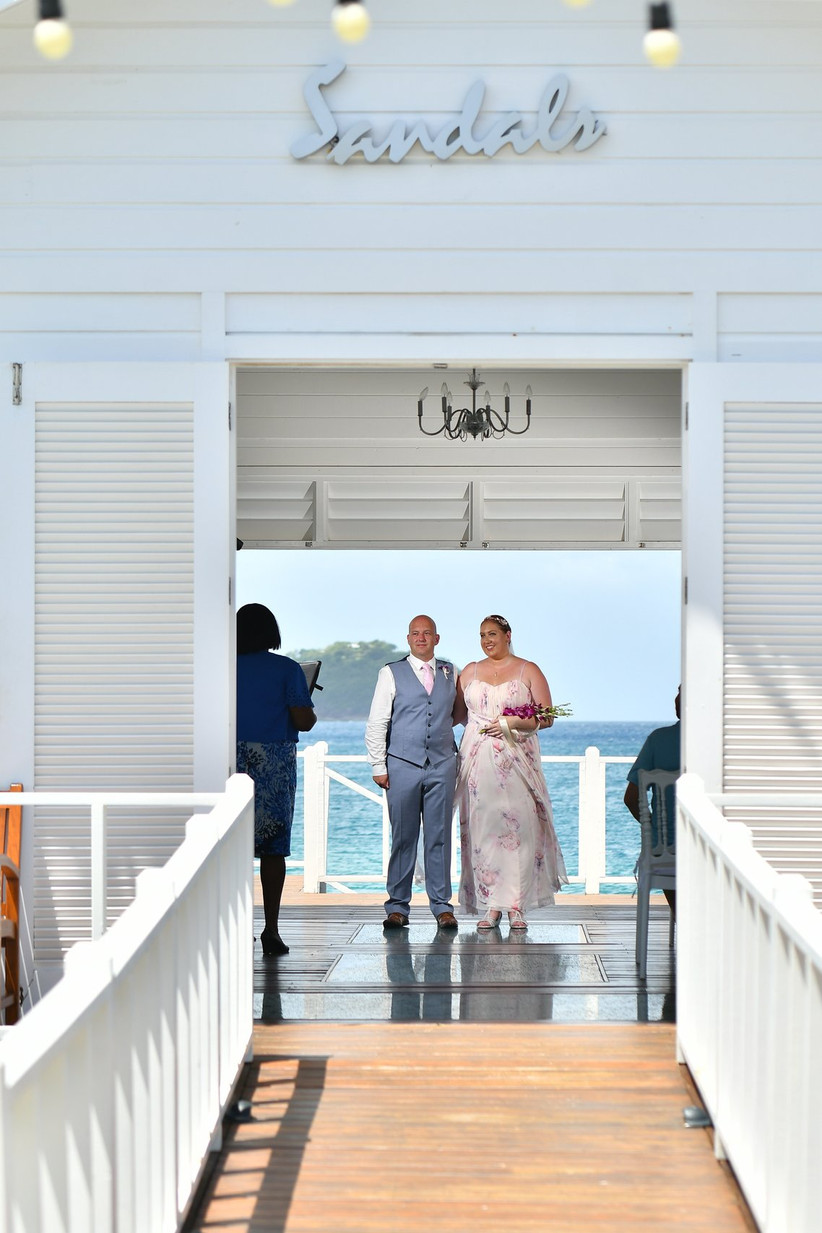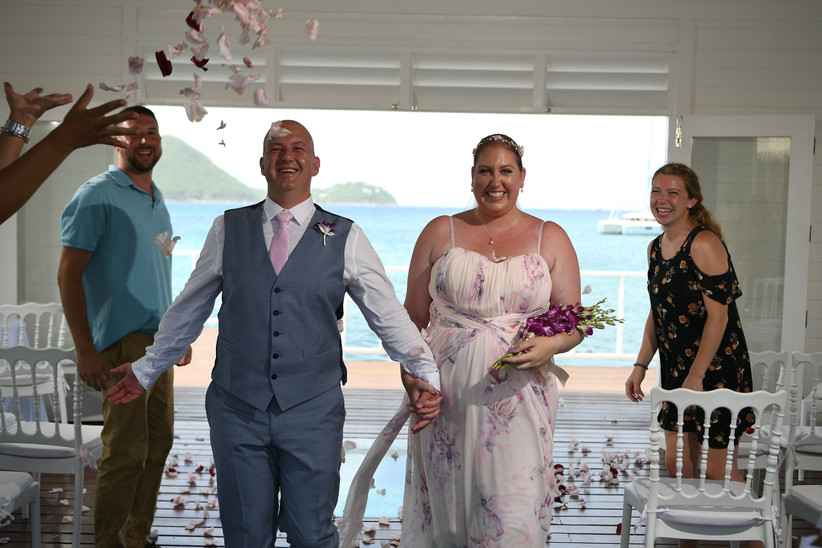 The Wedding Morning
Getting ready was a very different experience for Toby and Hannah to what they'd have expected at home. Neither had any bridesmaids or groomsmen with them, but they were still able to make it a special experience.
"Considering I was in another country and did not have my mum, dad, sisters, or best friend (who was my maid of honour) with me, it could have been quite a sad experience getting ready by myself, but Sandals were fantastic. My makeup and hair stylist was lovely, she kept me laughing and calm, and Jenna, my wedding-planner-cum-maid-of-honour, was like a replacement for my mum, she was just wonderful. She helped me into my dress, did my shoes up for me, put my makeup on and walked with me to the chapel. Quite honestly she made the whole 'getting ready' process very special."
Hannah had her hair and makeup done at Sandals Grande St Lucian Red Lane Spa, with one trial before the big day, and a special manicure and pedicure for the finishing touches. "My makeup was a natural look which is what I wanted as I did not want to look unrecognisable in the photos. My hair was in a low bun using a doughnut. I have very thin hair, so they did well!"
Toby wore a light blue trouser and waistcoat combination by Racing Green with a white shirt and pale pink tie. "I chose it myself although I did send Hannah photos for approval!" he added.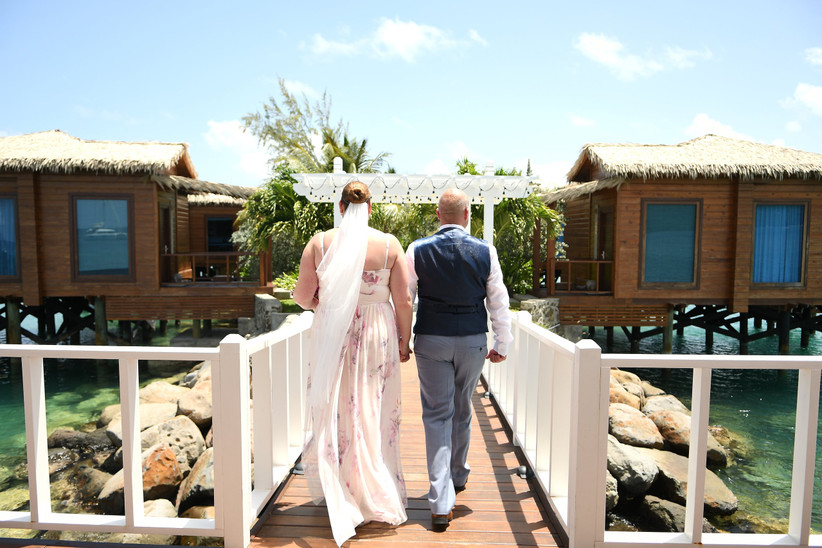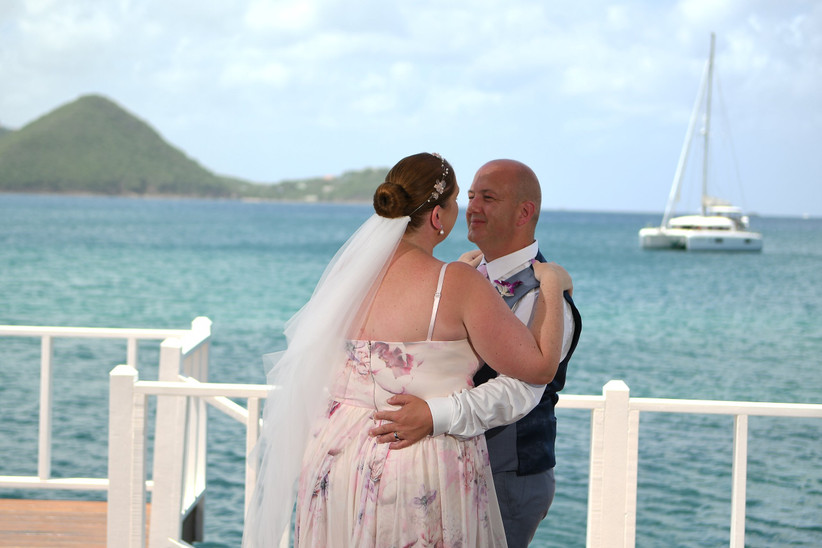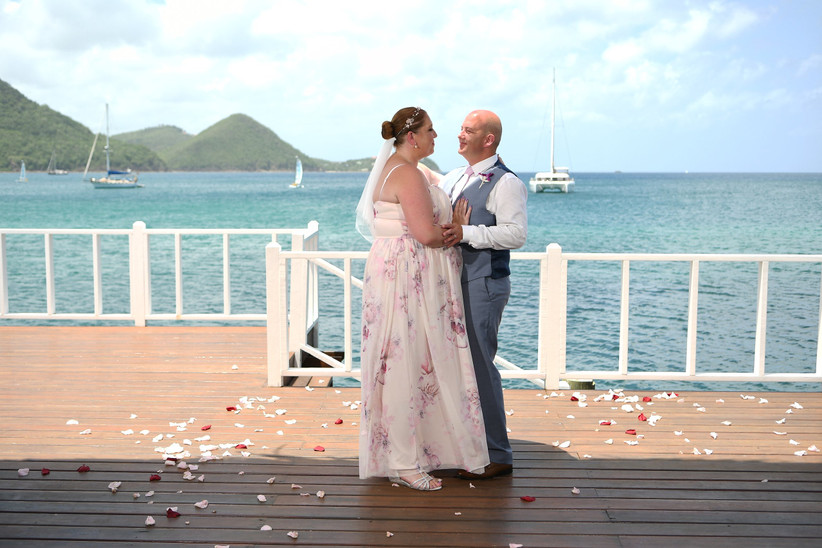 The Change of Plans
Hannah and Toby's entire plans were thrown into chaos by Covid when weddings were restricted to just 15 people so they quickly decided to find an alternative. The couple have four children - Toby has Megan and George from a previous marriage, Hannah has daughter Rose for her previous marriage, and together they share daughter Violet - so it was essential that whatever they did, they still had a day in the UK where they could celebrate together.
"Originally we were due to get married on 14th August 2020 at Upton Barn and Walled Gardens in Cullompton, Devon. When we heard that we would only be able to have perhaps 15 people at the wedding we knew we would have to either cancel or postpone. Luckily we were able to postpone to July 2021.
"The day we had planned involved bringing our two families together along with our friends in a relaxed and informal country fair-style wedding with laser clay pigeon shooting, tug of war, fairground games, a live band etc. The most important thing for us was to have our children there, which of course they could not be when we were over in St Lucia."
Their St Lucia civil ceremony was completely different to what they planned, but they are so happy they went ahead.
"We will still have our 'UK wedding day' but we will now have a celebrant and appreciate the fact we can have all our friends and family together whether that is in July 2021 or even further in the future. We just wanted to be married, Coronavirus has taught us that life is too short."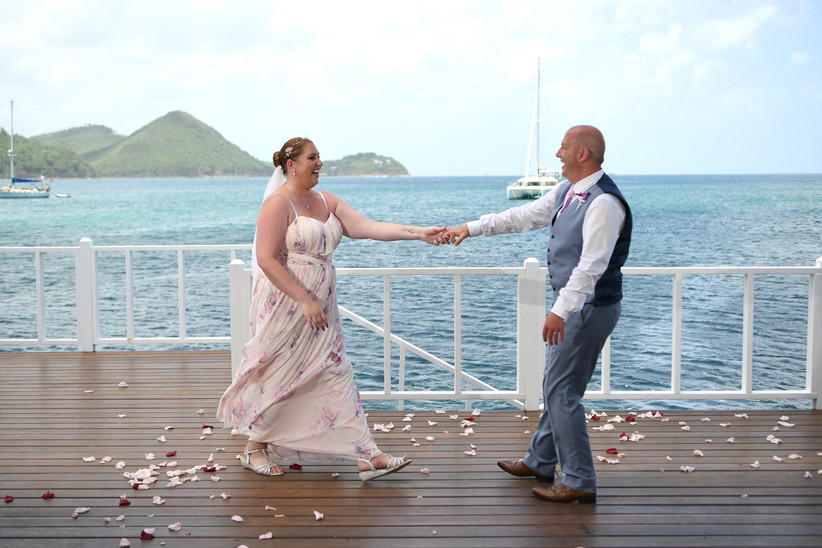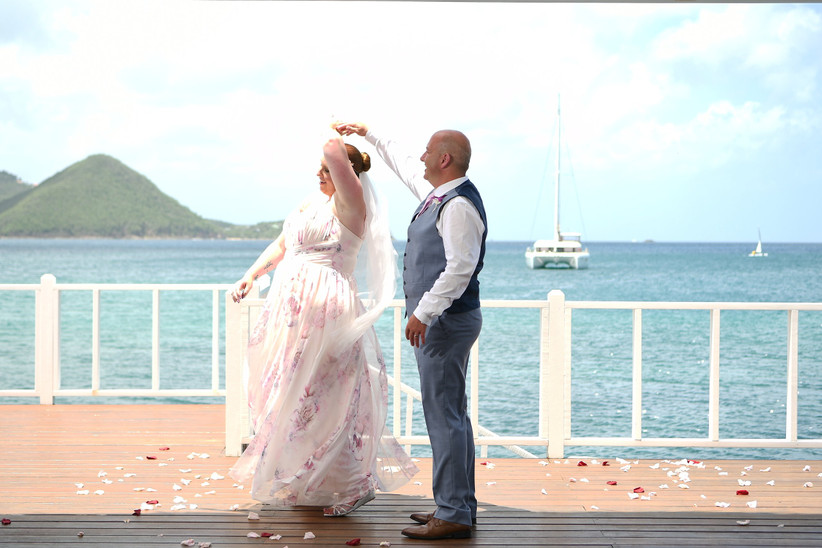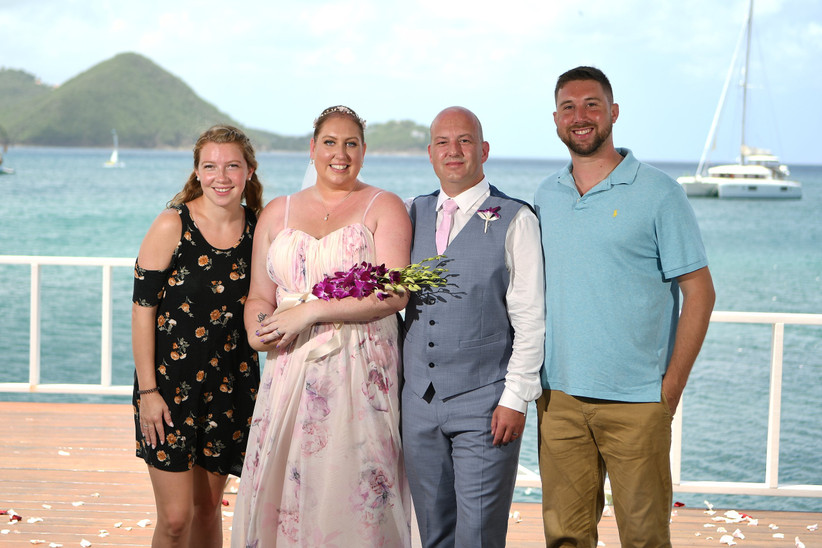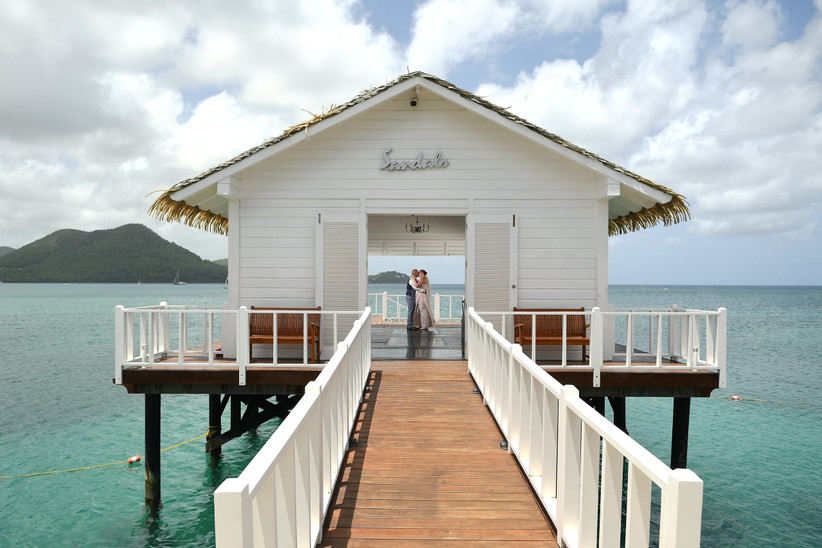 The Wedding Venue
The couple flew to St Lucia with British Airways. Hannah and Toby couldn't speak more highly of the flight attendants who gave them Champagne and a card to congratulate them. They even had the same attended on the journey home who personally came to see them and looked through their wedding photos.
It was the perfect start to their unusual honeymoon-wedding at Sandals Grande St Lucian. "We were on our honeymoon at the time of our wedding so did things a bit backwards!" says Hannah.
"We chose Sandals as our honeymoon destination originally but, with all the uncertainty around our UK wedding going ahead and being in a lockdown, we by chance discovered that if we were staying with Sandals for more than three days we could have a free wedding!
"We enquired with Sandals Regency La Toc in St. Lucia where we were originally booked to stay, and the next day our last-minute wedding was booked for when we were on 'honeymoon'!
"As Sandals Regency La Toc was not re-opening until September, we changed the resort to Sandals Grande St Lucian, also in St Lucia. I said I would only go if it meant we could still get married and thankfully it was no problem at all. Once we arrived, we were shown the different areas within the resort where we could have our ceremony and reception and we chose the overwater chapel and beach gazebo.
"Despite it being a holiday resort, it was very intimate, and you were made to feel you were the only couple there getting married. The overwater chapel was breathtaking and the moment we walked into it during the viewing we knew it was the perfect setting for the ceremony. The resort had so many different areas for photographs and the staff went above and beyond and remembered us for days after. We were made to feel very special and it was just perfect in every single way, beyond anything we could have imagined."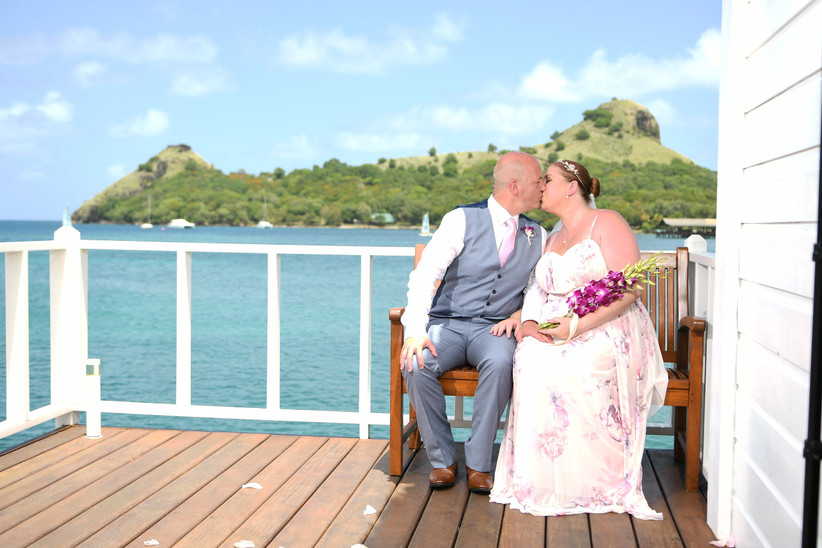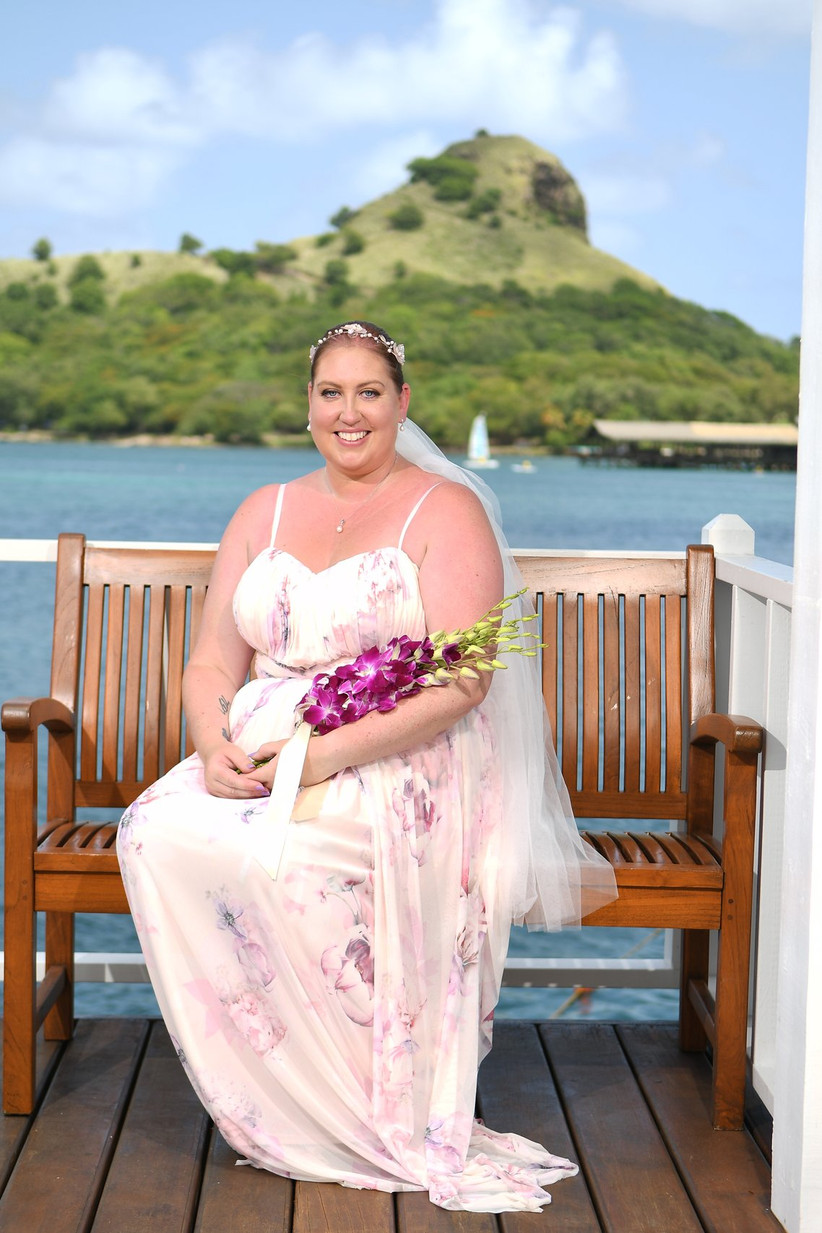 The Wedding Ceremony
Hannah and Toby had a civil ceremony at Sandals Grande St Lucian, with just two witnesses present. She walked down the incredible glass-floor aisle to a piano version of Nathan Sykes 'Over and Over Again' before joining Toby to exchange vows.
"Our wedding ceremony was very intimate. We had met two Americans, Rachel and Kyle, whilst we were at the resort and invited them to come and be witnesses at our wedding. It was a lovely moment when they realised it was just them and the very few Sandals staff.
"For me, the memorable moment was walking down the aisle by myself and just seeing Toby there and the overwhelming relief that, despite everything, we were still managing to get married. After months of stress, tears, uncertainty, we were finally married.
"Our favourite moment was being announced as husband and wife and having our photos taken in the sea - it was such great fun and definitely something we will never forget!"
The wedding day was arranged by Jenna, their wedding planner based at Sandals Grande St Lucian. She organised a special cake tasting for the couple, a lawyer to sign the legal documents with them, and even helped Hannah get into her dress and walked her to the chapel.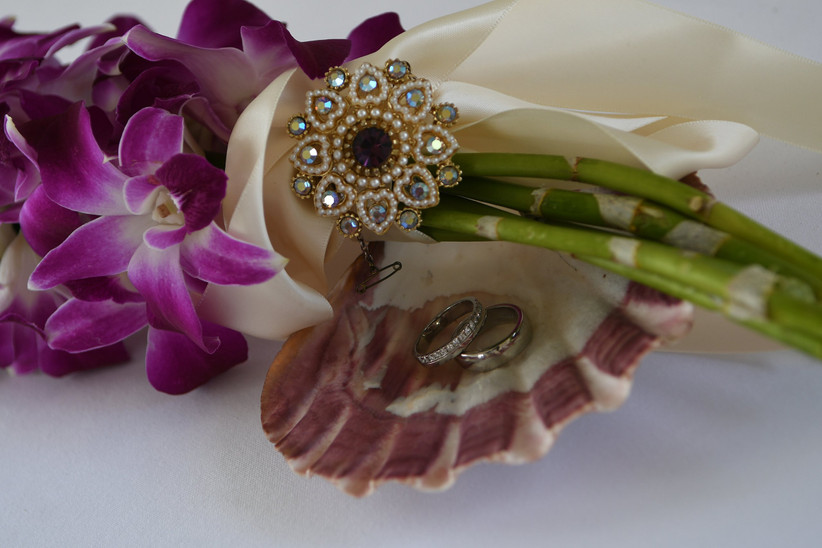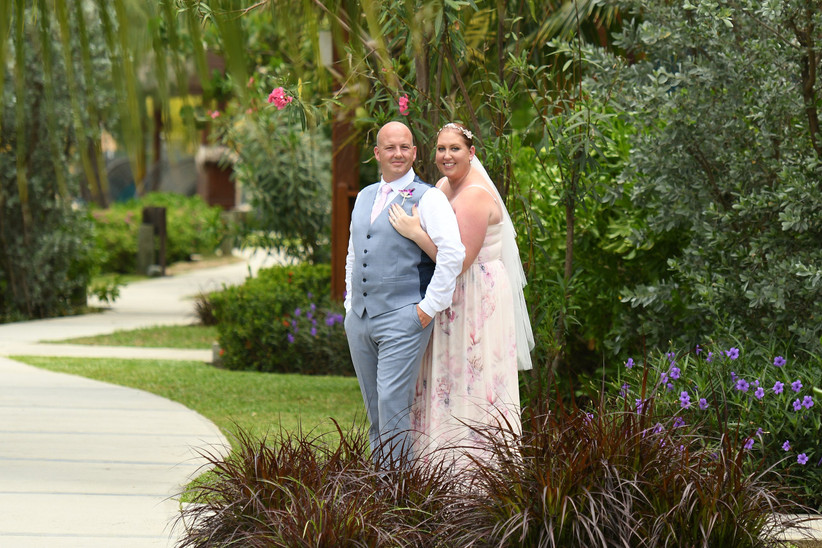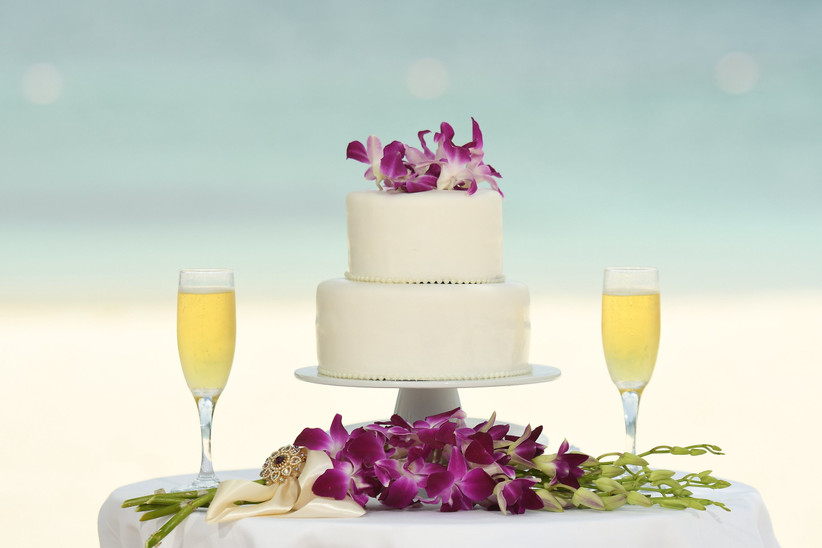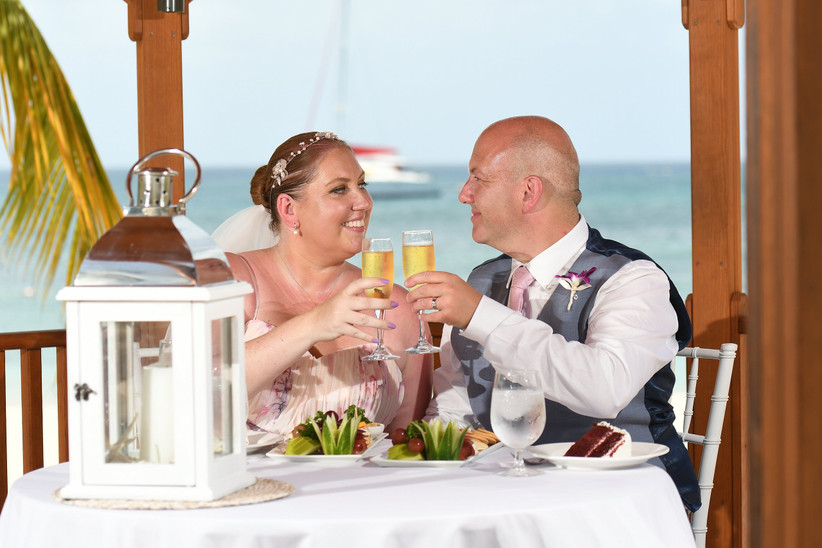 The Wedding Reception
A pastel theme emerged organically from Hannah's choice of dress, and this was complemented by the purple Dendrobium orchid bouquet that she carried and which continued as decoration on their wedding cake. The couple chose the beach gazebo on the sand for their reception.
"At our reception we had canapés: a mixed platter of fruit, cheese, and cured meats. We also had a slice of our wedding cake too.
"Then in the evening we had a romantic candlelit dinner on the beach as the sun set. Our evening meal consisted of pan seared jumbo sea scallops, grilled vegetable salad timbale, island spiced rubbed chicken supreme and seared scallops, with coconut pineapple pie for dessert."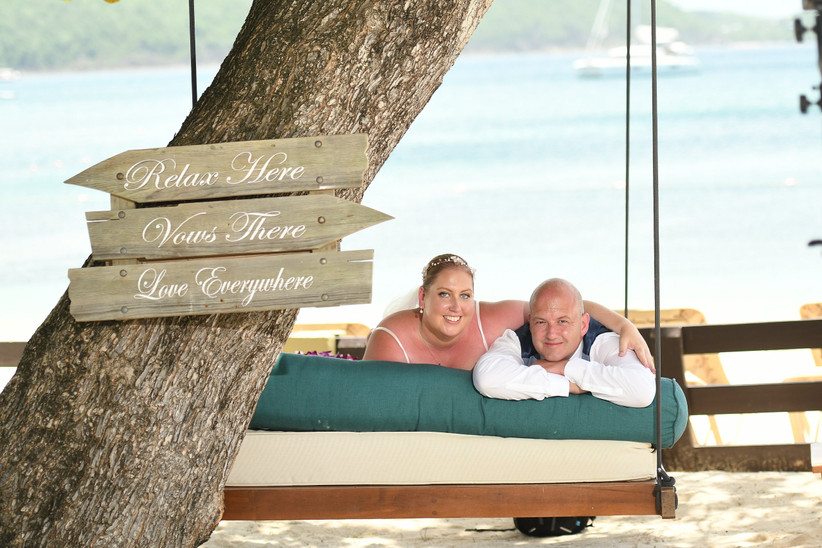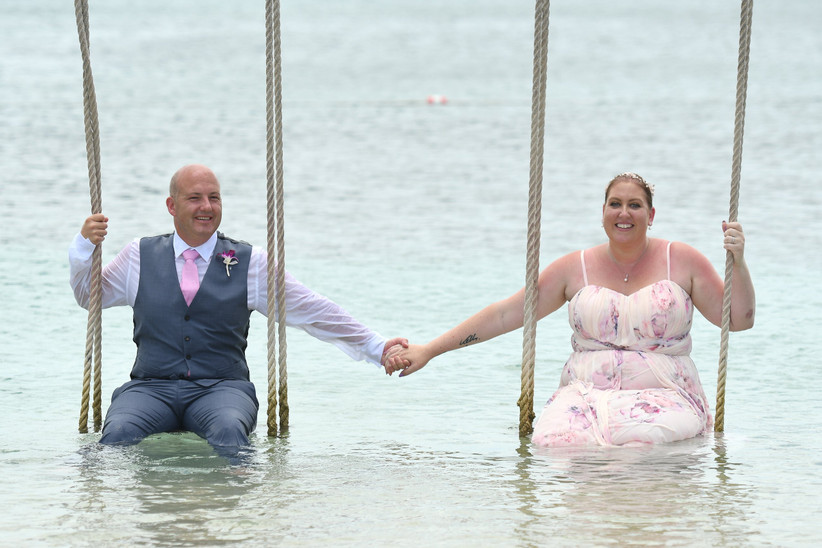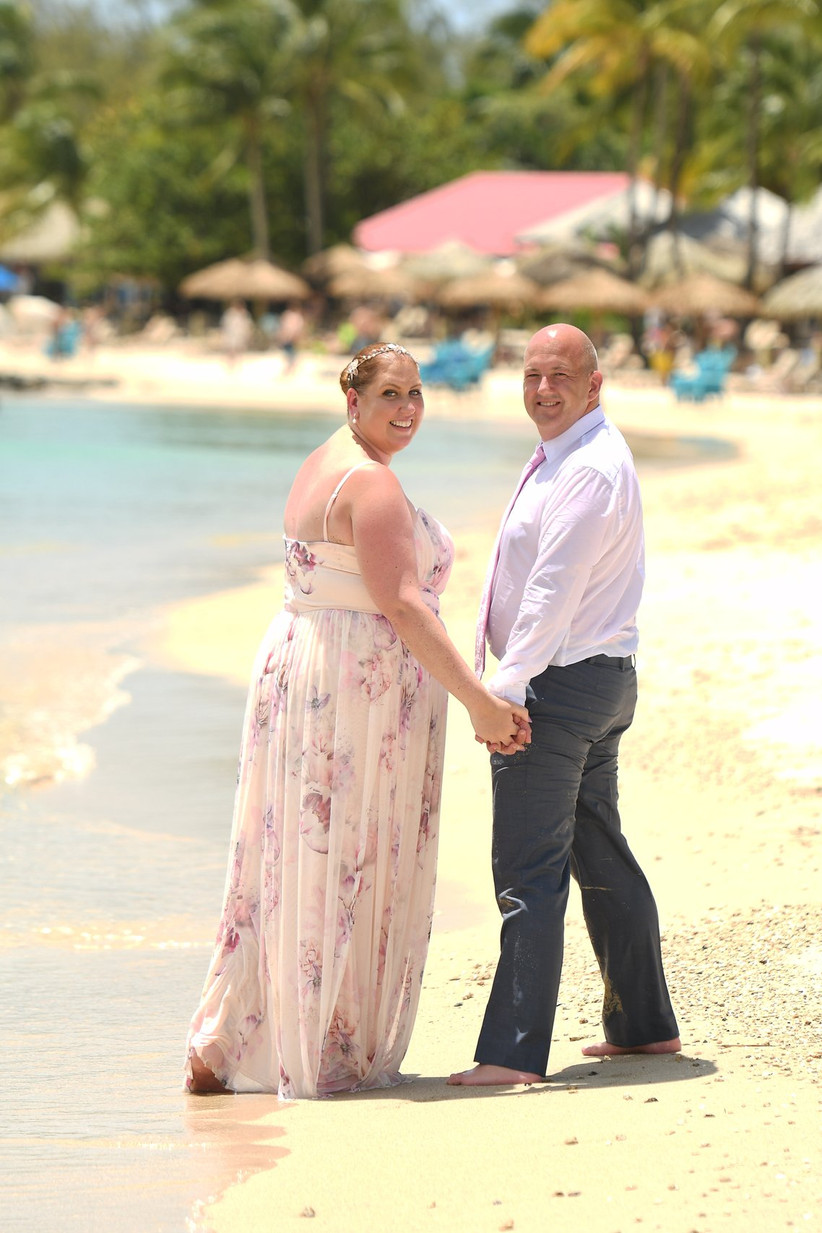 The Wedding Cake and First Dance
The newlyweds cut the cake at their reception, before a wonderful first dance overlooking the sea.
"Our wedding cake was a two-tier wedding cake with white fondant icing and the same purple-fuchsia Dendrobium orchids as in my bouquet set on the top.
"The bottom tier was red velvet with chocolate ganache and the top tier was an island spiced fruit cake with coconut cream. We were very pleased as we got the bottom tier to ourselves during our stay at the resort in our suite and the venue then froze the top tier so we could take it back with us to share with the family who could not be there with us at the time. It was such a lovely added touch which meant a lot to us considering the circumstances.
"We had our first dance to John Legend's 'All Of Me' which is a very sentimental song to both of us. We danced on the deck at the back of the chapel situated over the beautiful sea with views of the island behind us. A random lady in a canoe came past and wished us congratulations!"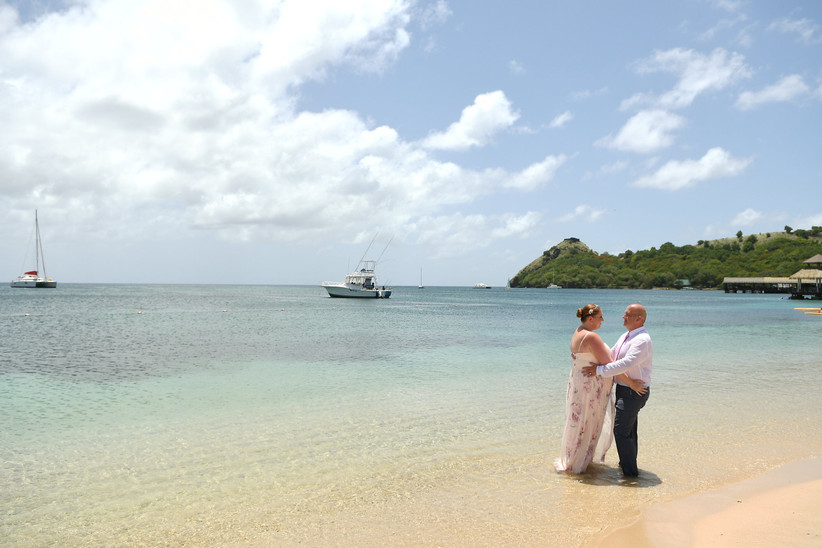 The Couple's Advice
Because they had already booked to stay at the resort for more than three nights, the wedding was free. They splashed out on a few elements to make the day extra special, like the overwater chapel, Hannah's hair and makeup, and their photographer, Jonathan Griffith. This means they've been able to use the same wedding budget to have a St Lucia wedding and their planned vow renewal at Upton Barn in 2021.
"Obviously we would change the fact that there was, and still is, a pandemic as we would have liked to have had our children and our parents there with us, but to be honest our wedding day couldn't have been more special. Our families, including our children, were so excited for us to get married and to have their support and their blessing meant that we could really enjoy the day."
For anyone considering turning their honeymoon into their wedding, Hannah and Toby say go for it.
"If you are keen to get married just the two of you in a beautiful setting with very little stress or worries, we could not recommend Sandals enough. From the initial conversation with the wedding planner through to arriving and being able to choose from a variety of wedding ceremony and reception settings and then the support leading up to and on the day, it couldn't have been more smooth. We would do it all over again and again and again!"
They're now looking forward to their vow renewal and reception in 2021: "We just want to be able to celebrate our love for one another and the coming together of our two families with our nearest and dearest."
The Suppliers
Venue: Sandals Grande St Lucian
Photographer: Jonathan Griffith, arranged by Sandals Grande St Lucian
Wedding Dress: Lipsy from Next
Groomswear: Racing Green
Flowers, Cake, Planning and Catering: Sandals Grande St Lucian
Rings: comparethediamond.com
Sandals offers a free wedding for any couple staying more than three nights at their resorts - you can find more information at www.sandals.co.uk. They also have a free 'Virtual Wedding' Live Streaming service available for couples that book a 2020 or 2021 destination wedding or ReTie the Knot ceremony before 31st December 2020.