Real Covid Wedding: Eugenie and Chris, Old Marylebone Town Hall in London
Due to the Coronavirus pandemic, Eugenie and Chris's 50-person Bali wedding became a London celebration with 10 guests - organised in just 3 weeks! Yet they still loved their rearranged day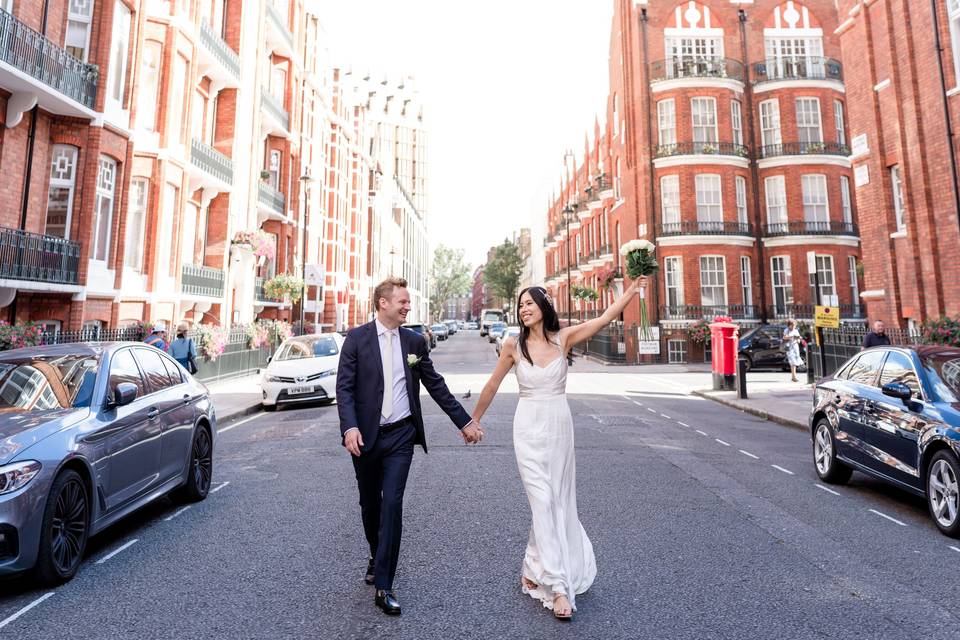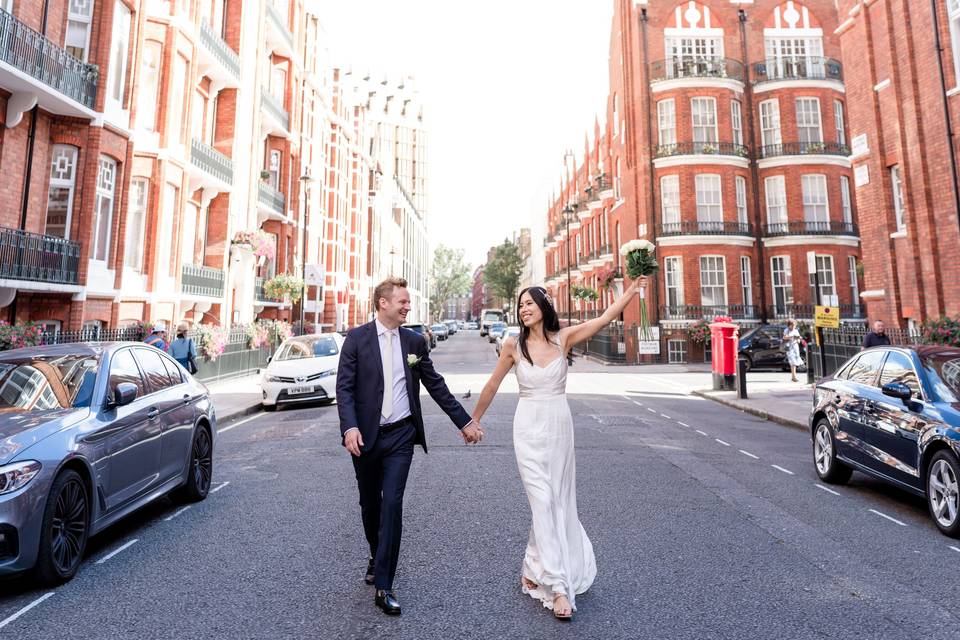 When Eugenie and Chris got married in August last year, their wedding looked rather different from what they'd originally pictured.
"We had planned to have a civil wedding ceremony in London with our immediate family only and then a bigger wedding in Bali," explains Eugenie. "We have family and friends from Europe, Australia, and Hong Kong, so South East Asia was ideal for everyone to travel to."
Due to the Coronavirus pandemic, it became clear that the Bali wedding would have to be rescheduled - and then their civil wedding ceremony was cancelled, too.
Luckily, however, their London venue called in the summer to say a ceremony slot had become available. The catch? The couple would have just three weeks to arrange everything from outfits to flowers. It was a challenge - but they still pulled off a celebration to treasure.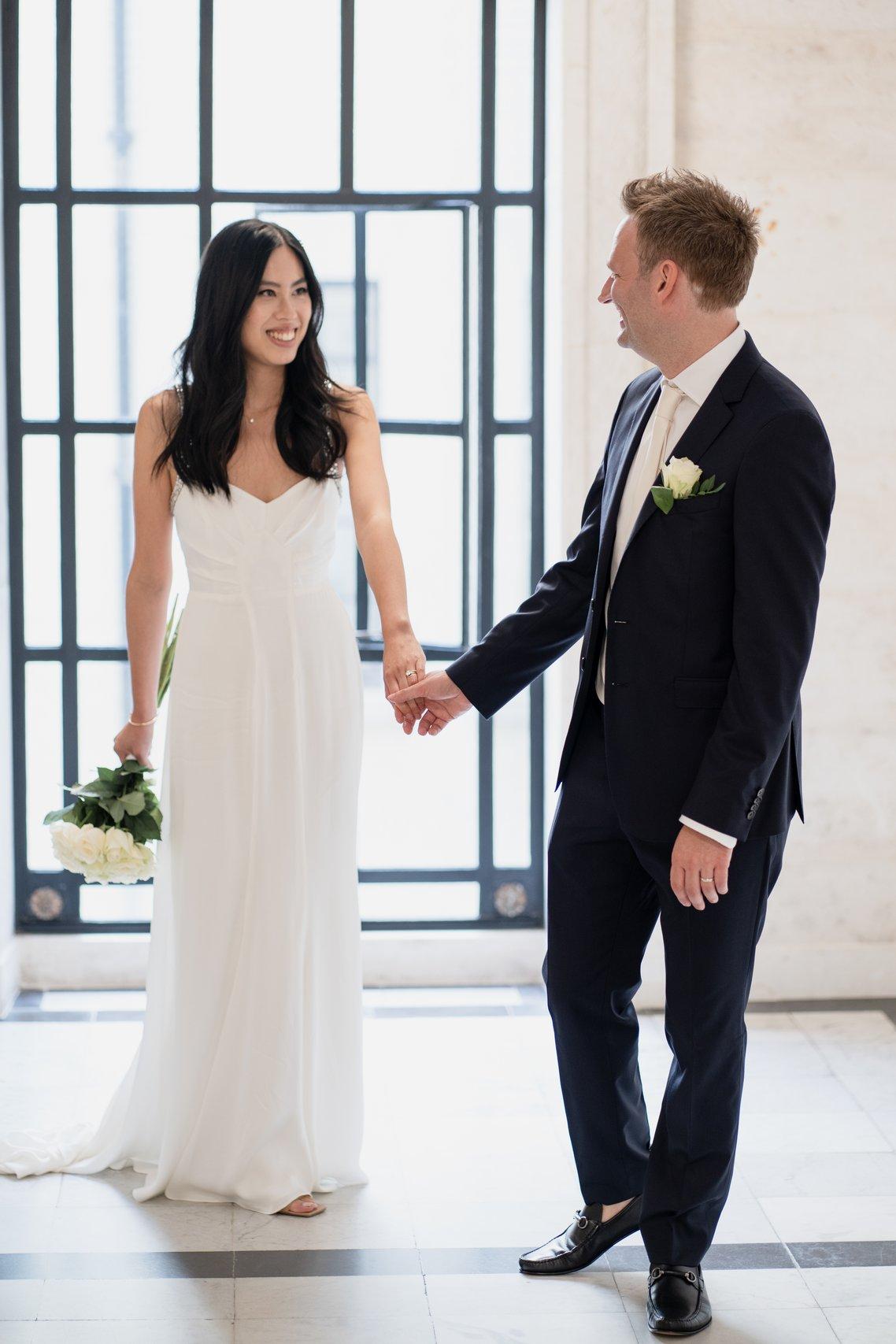 The couple met in London, and six months later, Chris pulled of a wonderfully romantic proposal.
"I've had a dream engagement in mind for more than 10 years, and I'd never told anyone, but for some reason, Chris got it right, and it was even dreamier than I imagined!" says Eugenie.
"He proposed at the Amanpuri resort in Phuket, at sunset on the beach. When Chris led me to the hotel beach, it had been perfectly raked and I could see frangipani petals (which is one of my favourite flowers), spelling out 'Eugenie, will you marry me?' on the sand. He got down on one knee and popped the question, and of course, I said yes!"
The couple toasted their newly engaged status with champagne on the beach, followed by a special dinner at Nama Japanese Restaurant inside the Amanpuri.
For now, we can only dream of heading to a beach far away - but read on to see the pictures that prove this couple managed to bring the same sense of romance to their rescheduled city wedding.
Photography by David Christopher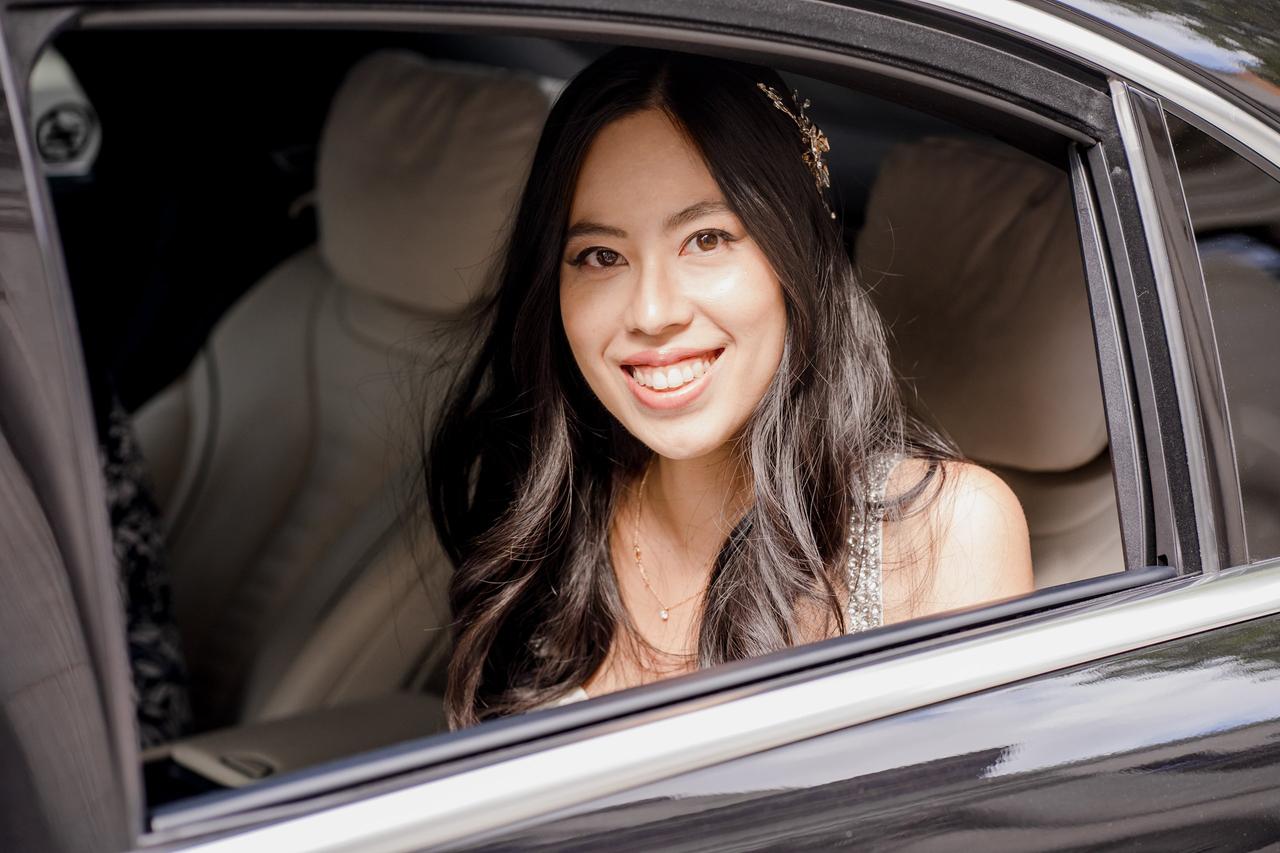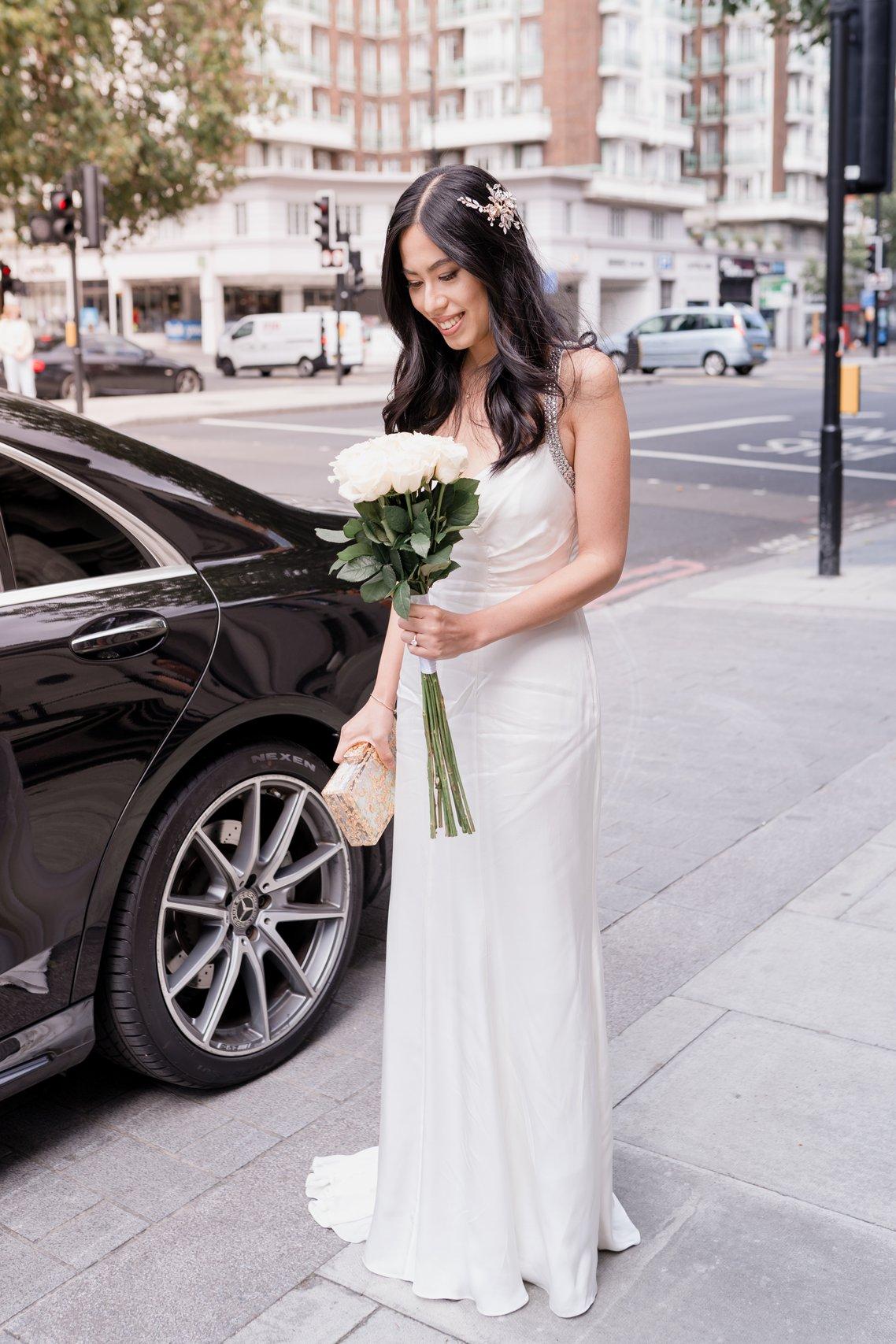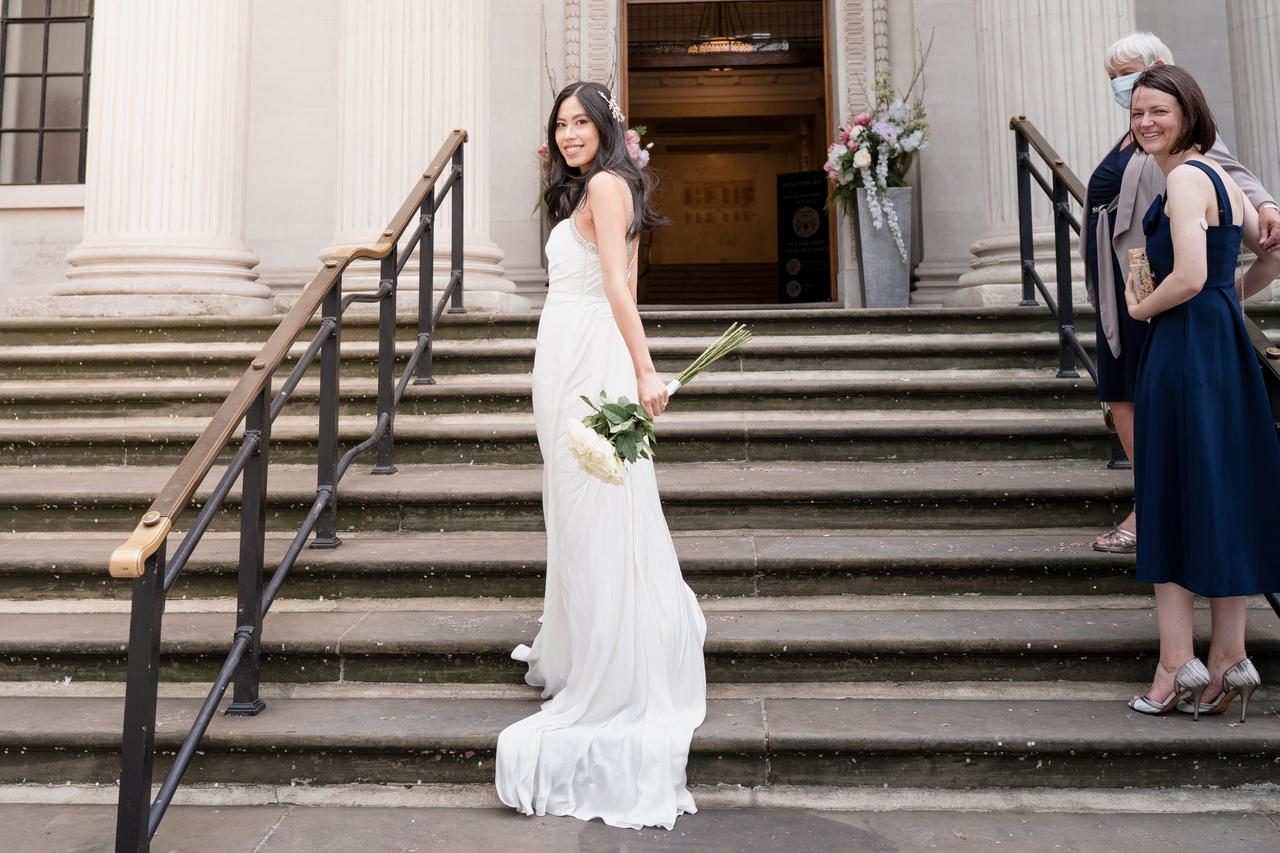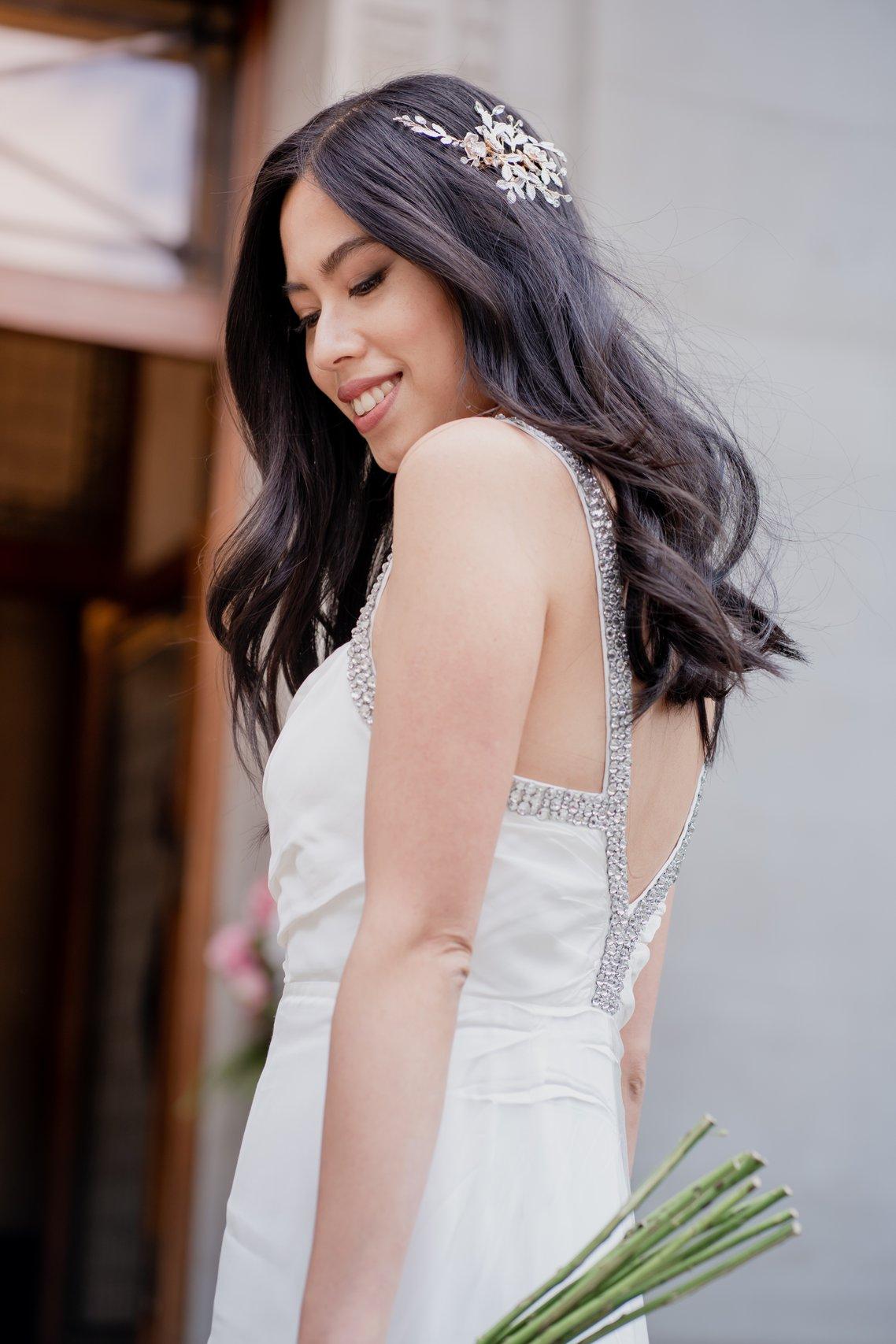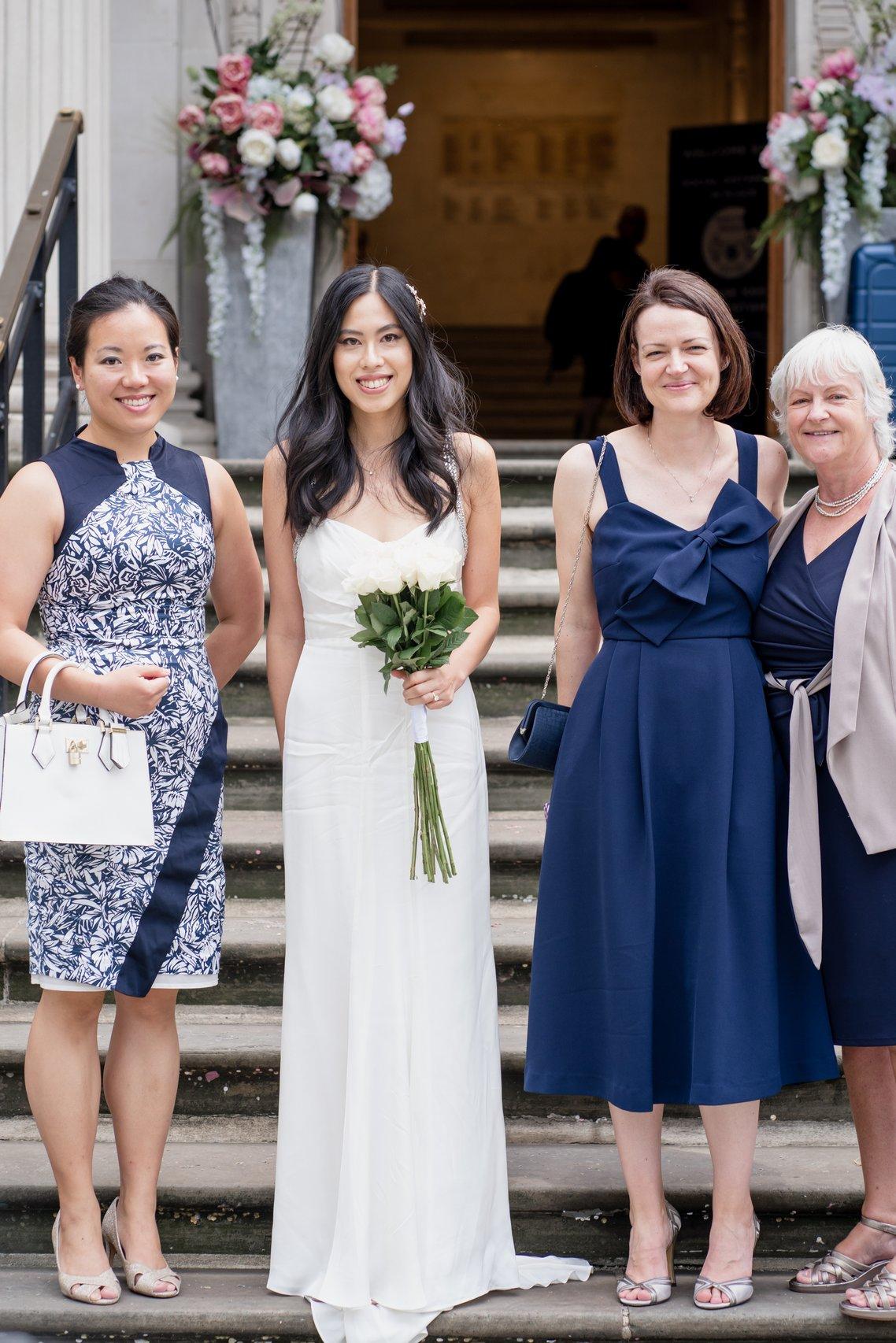 The Venue
The couple tied the knot at Old Marylebone Town Hall, a glamorous ceremony venue in Westminster, a couple of months after their original date.
"I've only been living in the UK for 3 years and saw the venue for the first time when I got married there," says Eugenie. "It definitely is classic and so beautiful. Those white columns are so London!"
Due to the Covid restrictions, their guest list was reduced to 10.
"We couldn't have the larger destination wedding we wanted, but invited our close friends to the London ceremony instead," says Eugenie. "My parents live in Australia and were supposed to come to the London ceremony, but due to Australia's travel restrictions, they were not able to leave the country."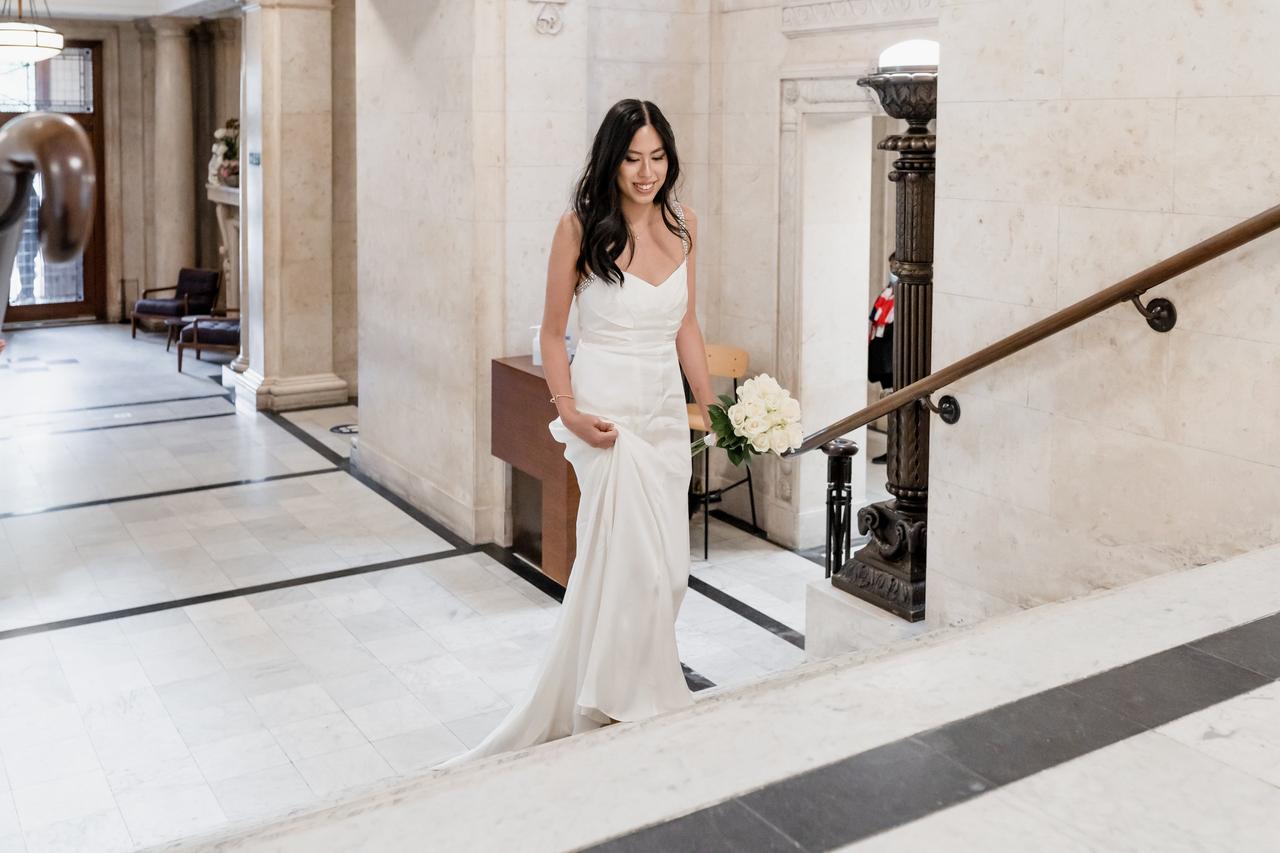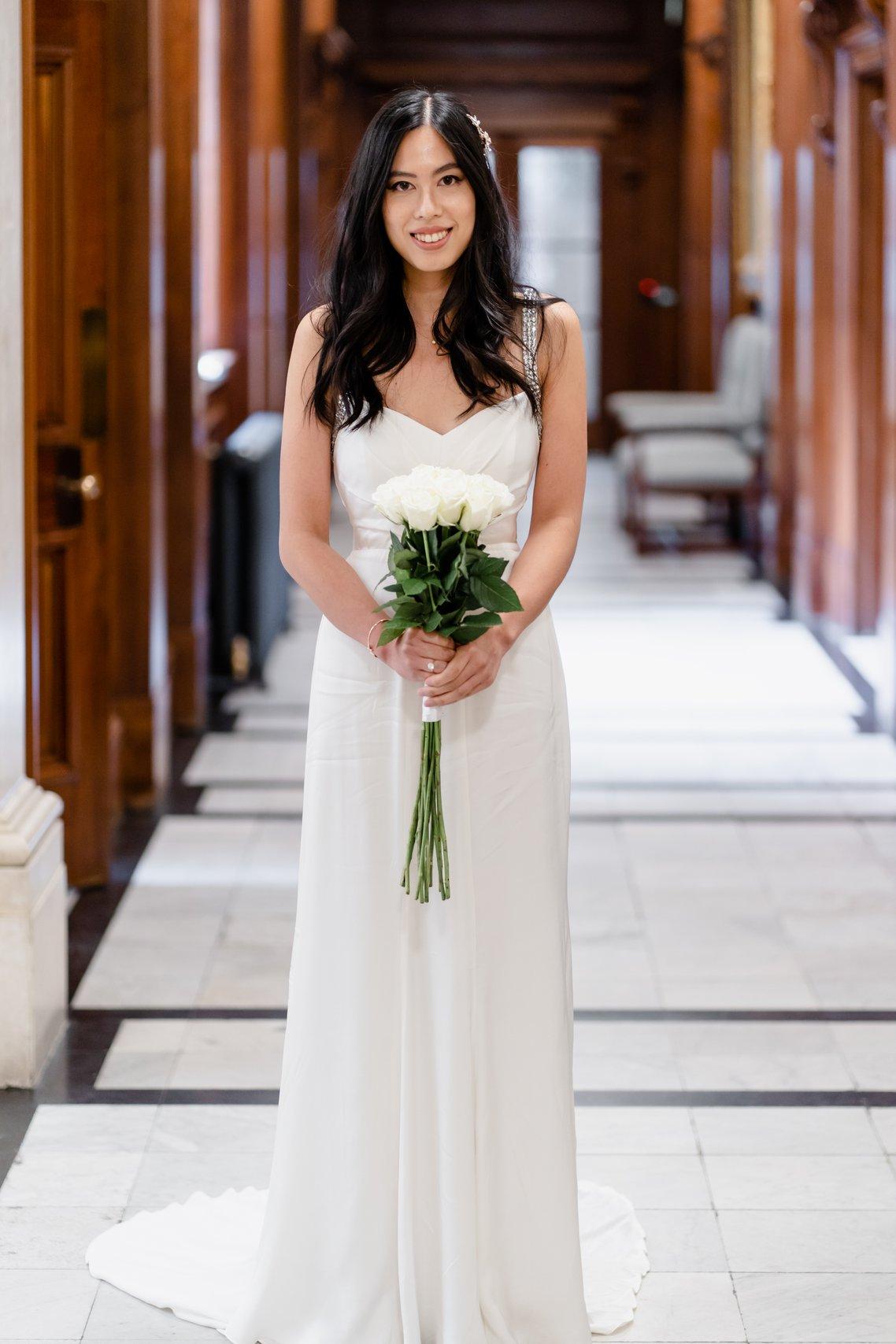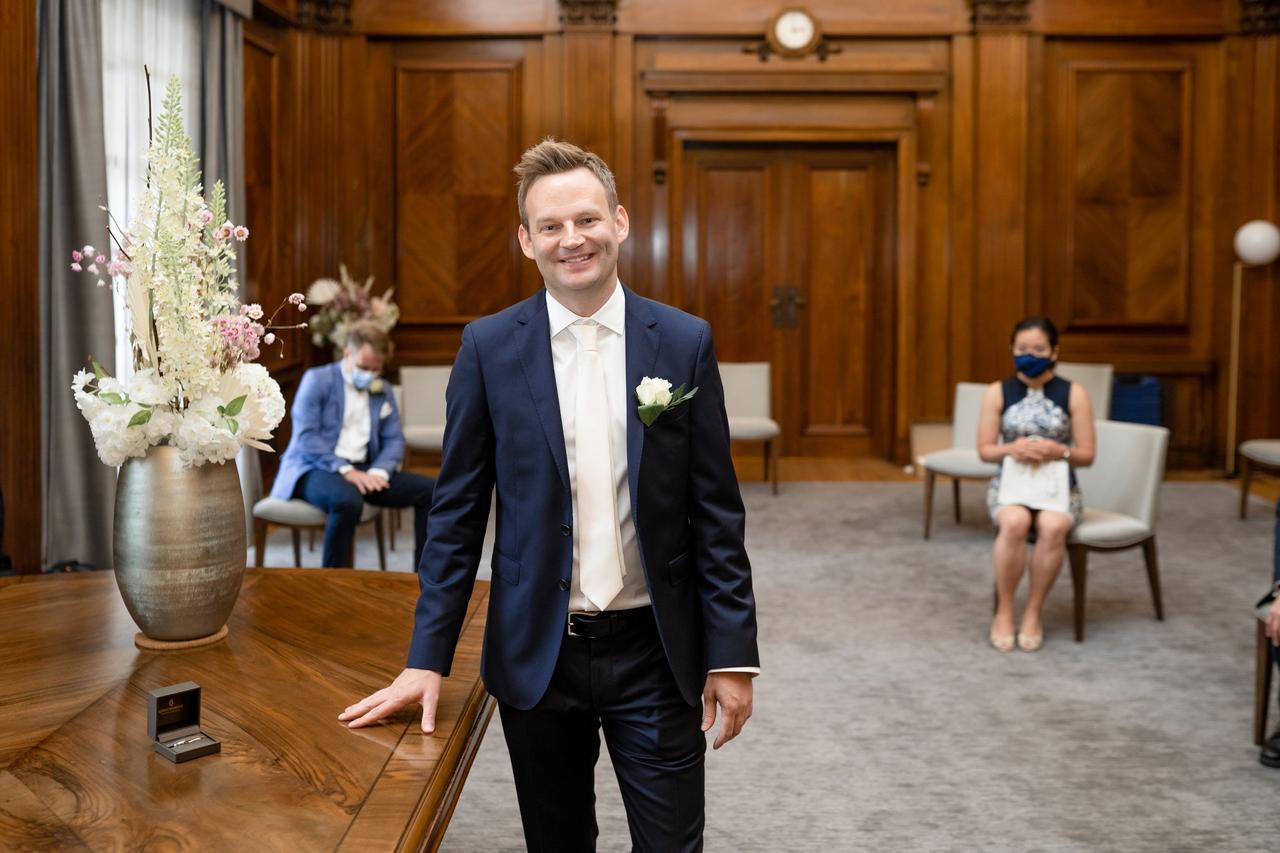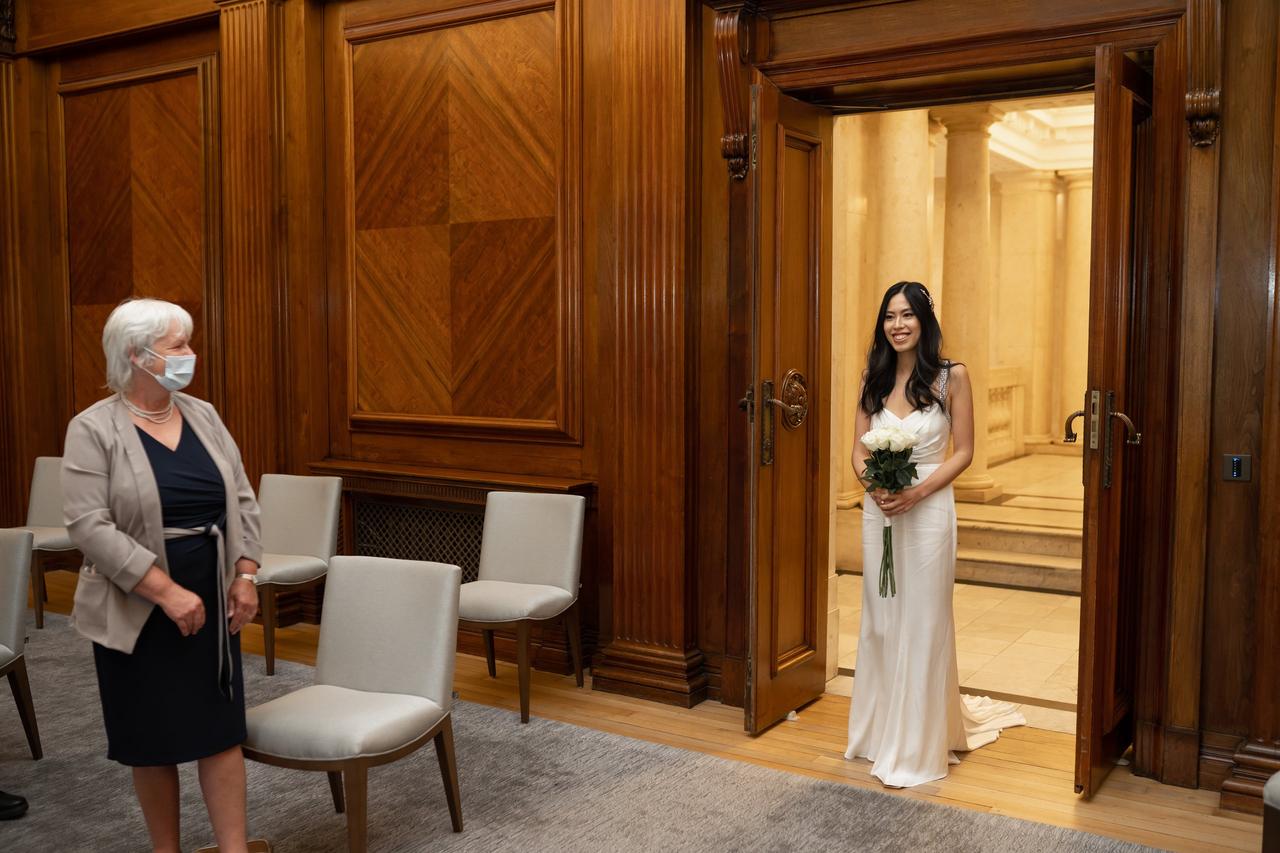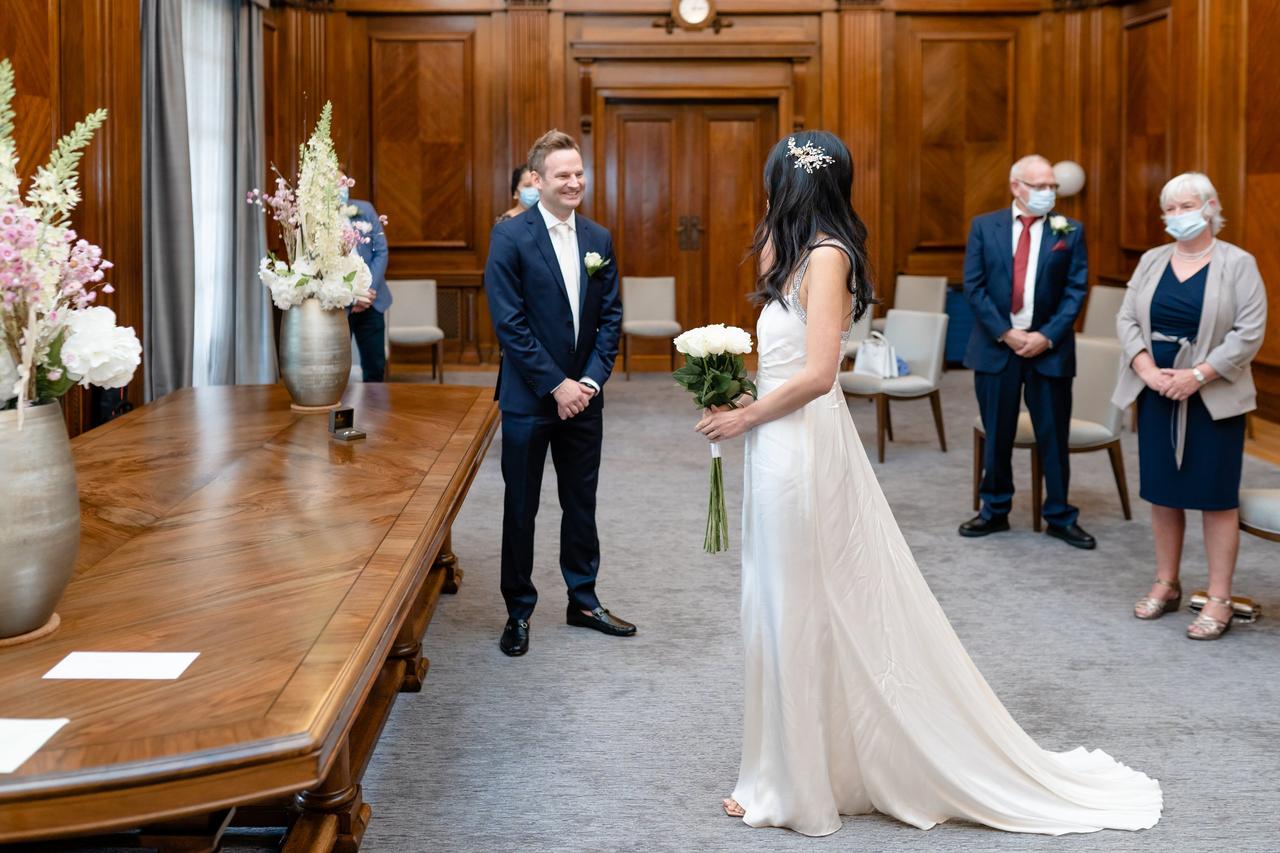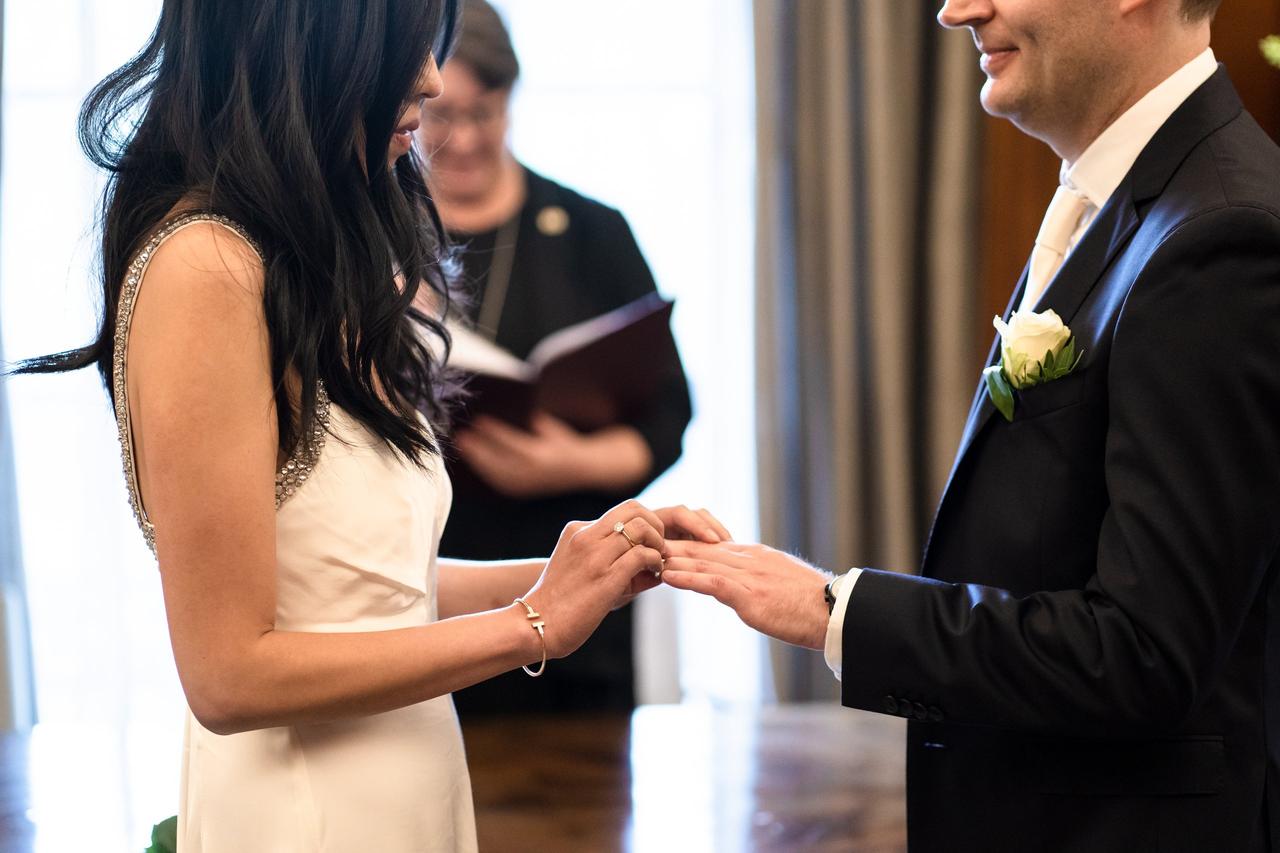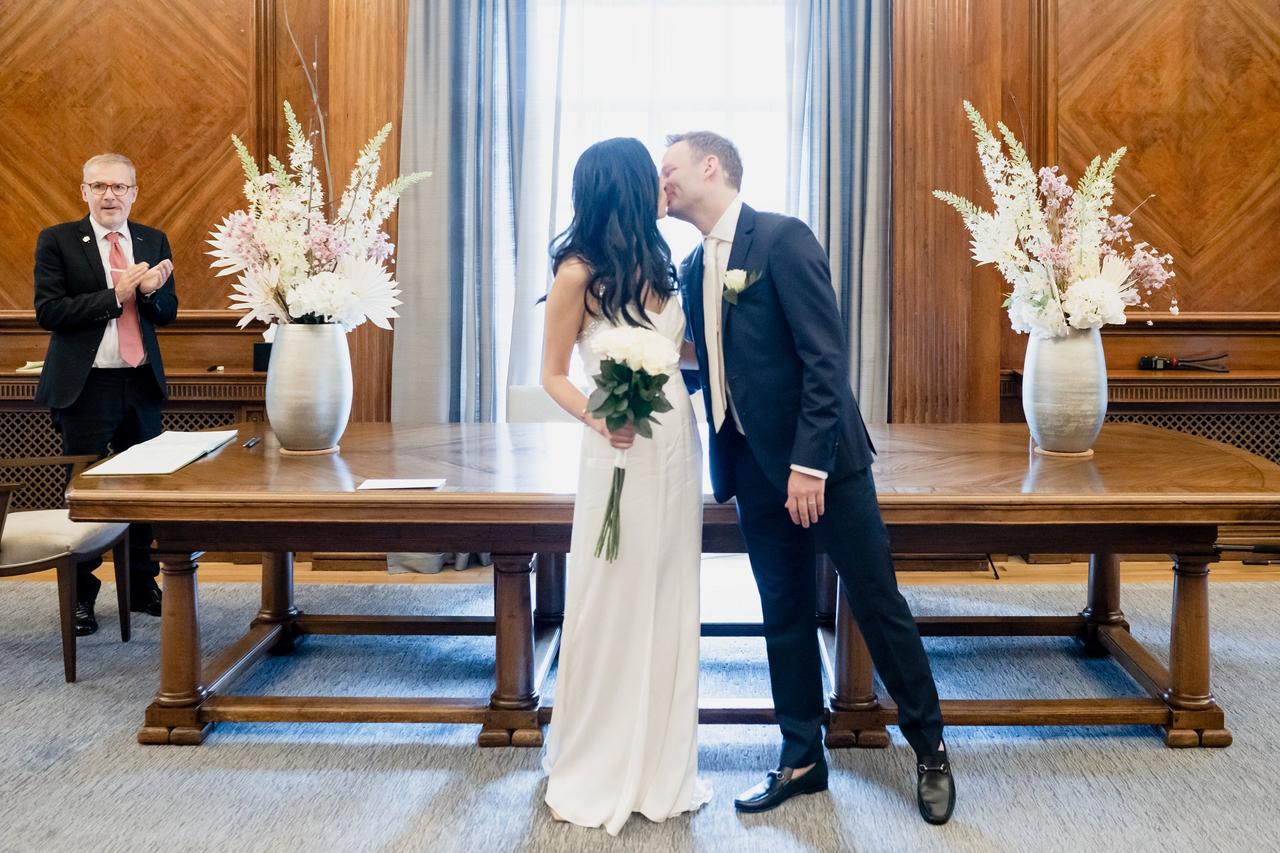 The Ceremony
The civil ceremony took place in the venue's Westminster Room. Eugenie entered to Pachelbel's Canon, before the couple exchanged the vows they'd specially selected.
"I know it sounds cliché, but my favourite moment of the day was holding Chris's hands while we exchanged vows," reveals Eugenie. "He had such a calming presence and made me feel safe and at ease."
Their wedding rings were designed by Hearts of London, who also created Eugenie's engagement ring.
"It's a classic round solitaire diamond set on a six-pronged thin rose gold band," she says. "I love it so much, and I still admire it daily!"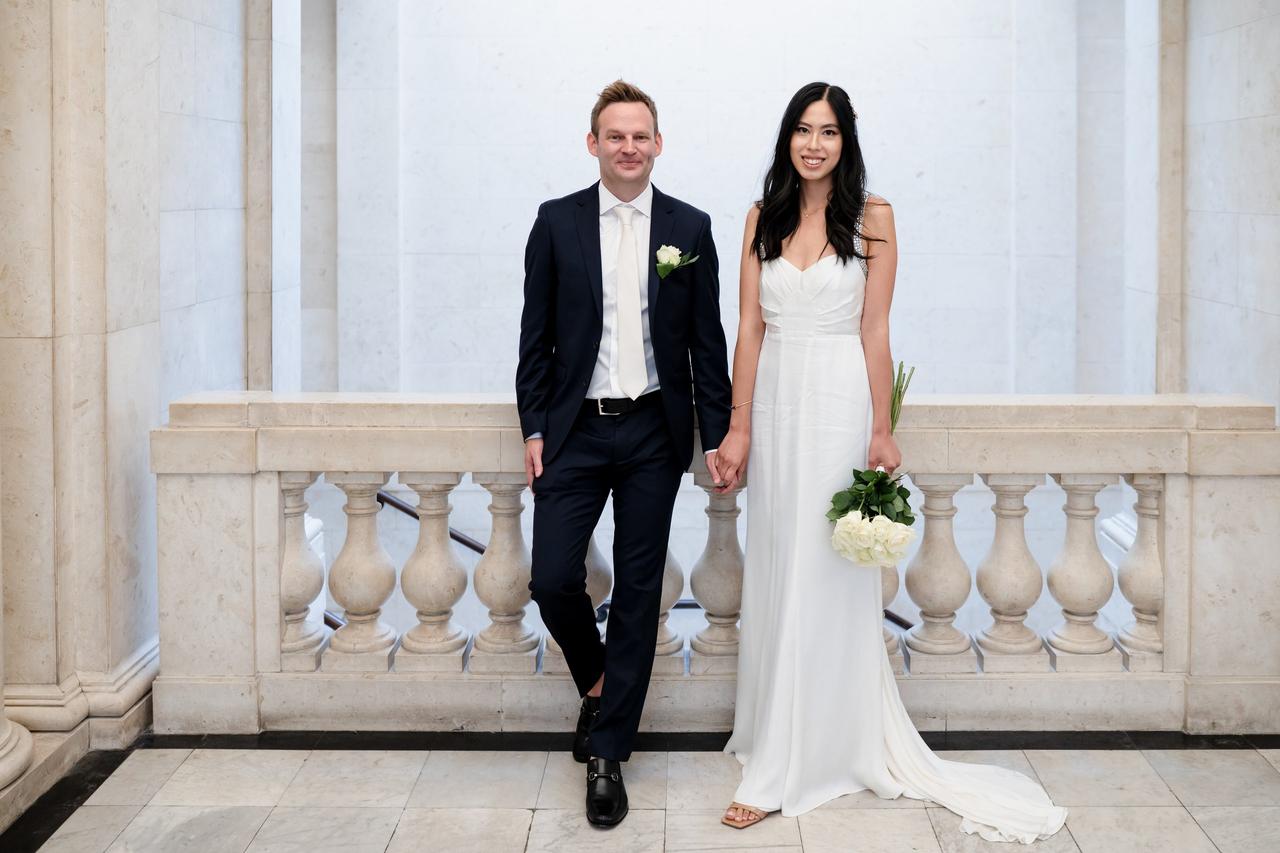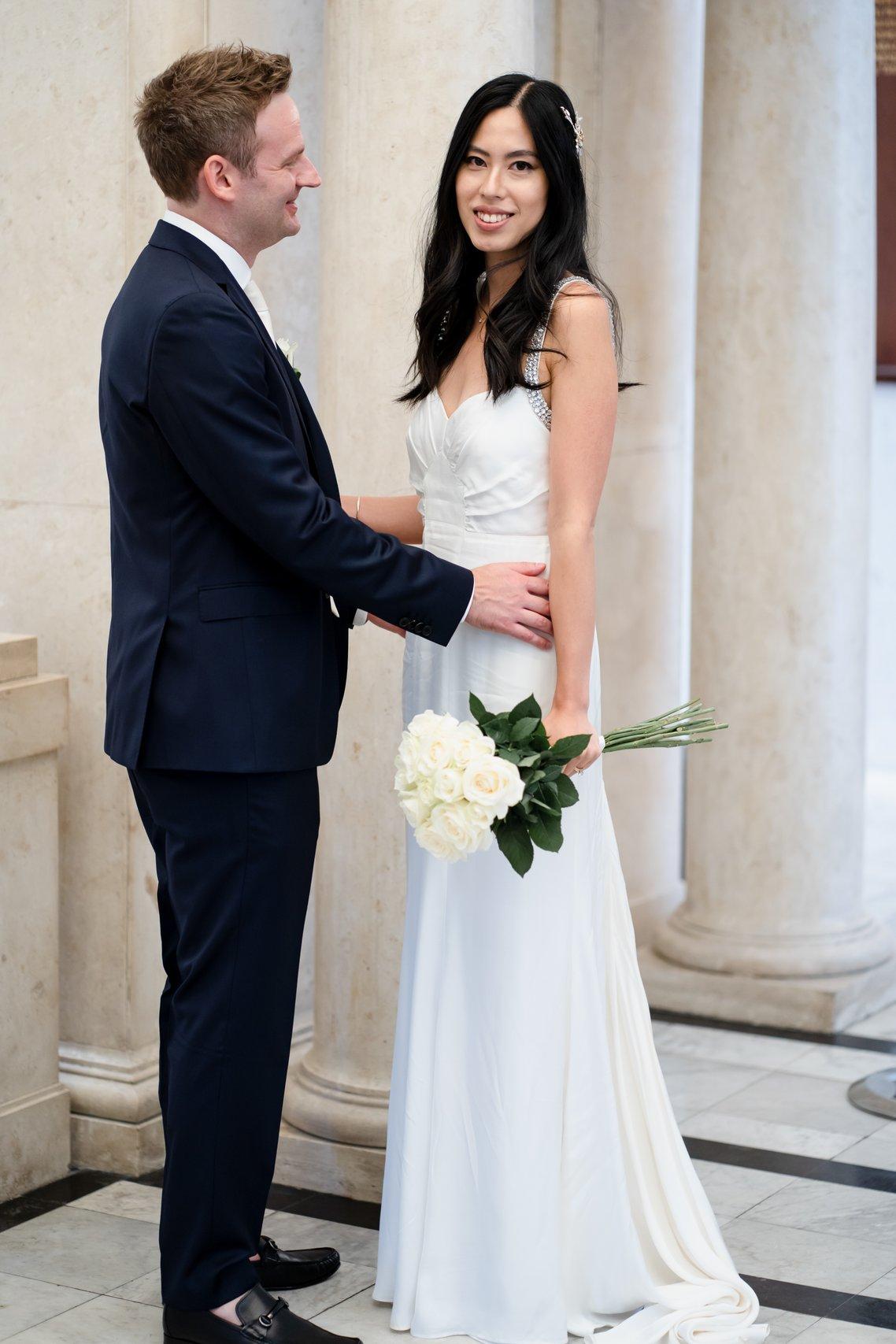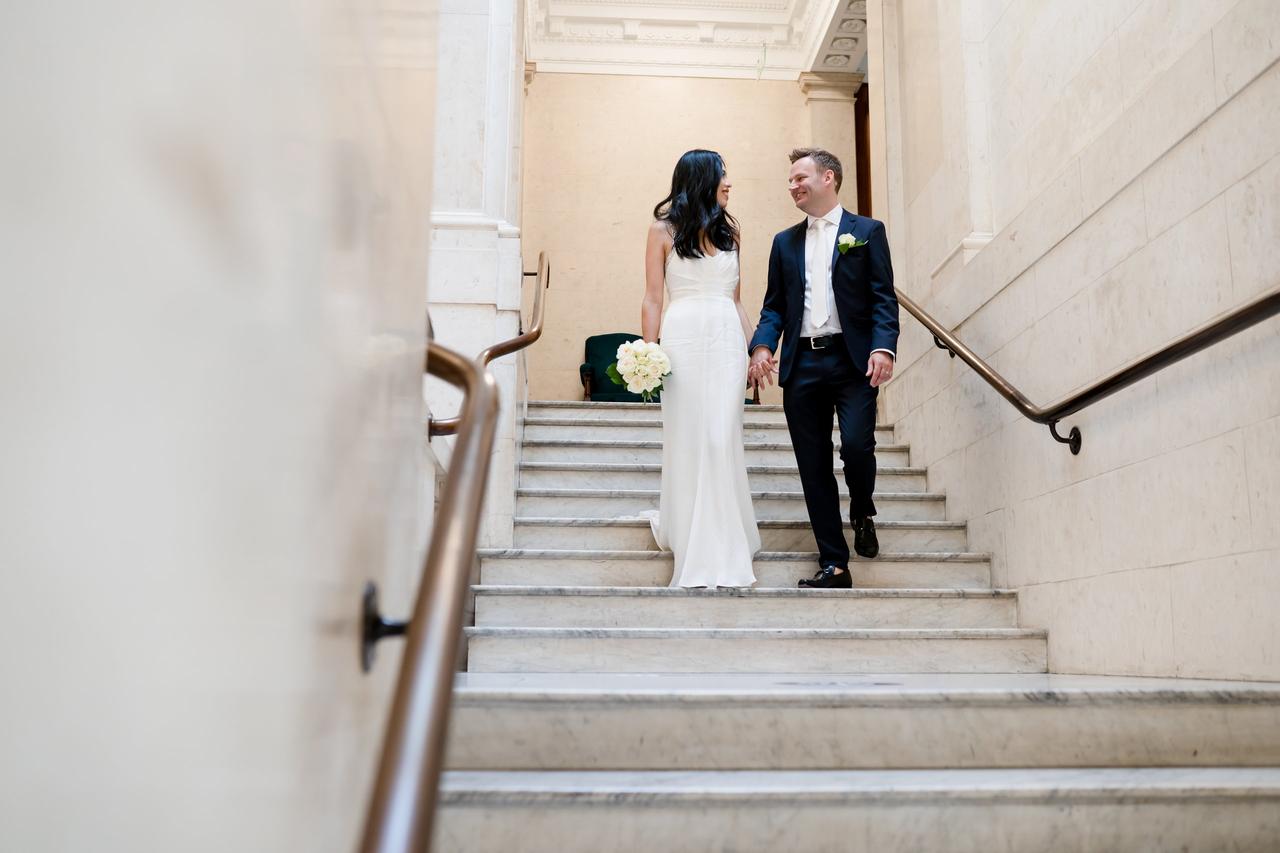 The Wedding Outfits
Eugenie was originally due to wear a bespoke Rik Dalal wedding dress. However, it wasn't ready by the time their plans changed, so she managed to source another dress just one and a half weeks before the big day!
She found a local hair and makeup artist to give her a bridal look similar to her everyday style, and accessorised with By Far shoes. "I also wore my Tiffany T bracelet, which my husband got me for our one-year anniversary from the day we met, and a silver-toned hair pin with small diamantés I found on Etsy," she says.
The gorgeous bridal bouquet was by Jane Packer, an Italian-inspired design of 12 long-stemmed white roses.
Chris wore a Hugo Boss suit that was tailored by the in-house team.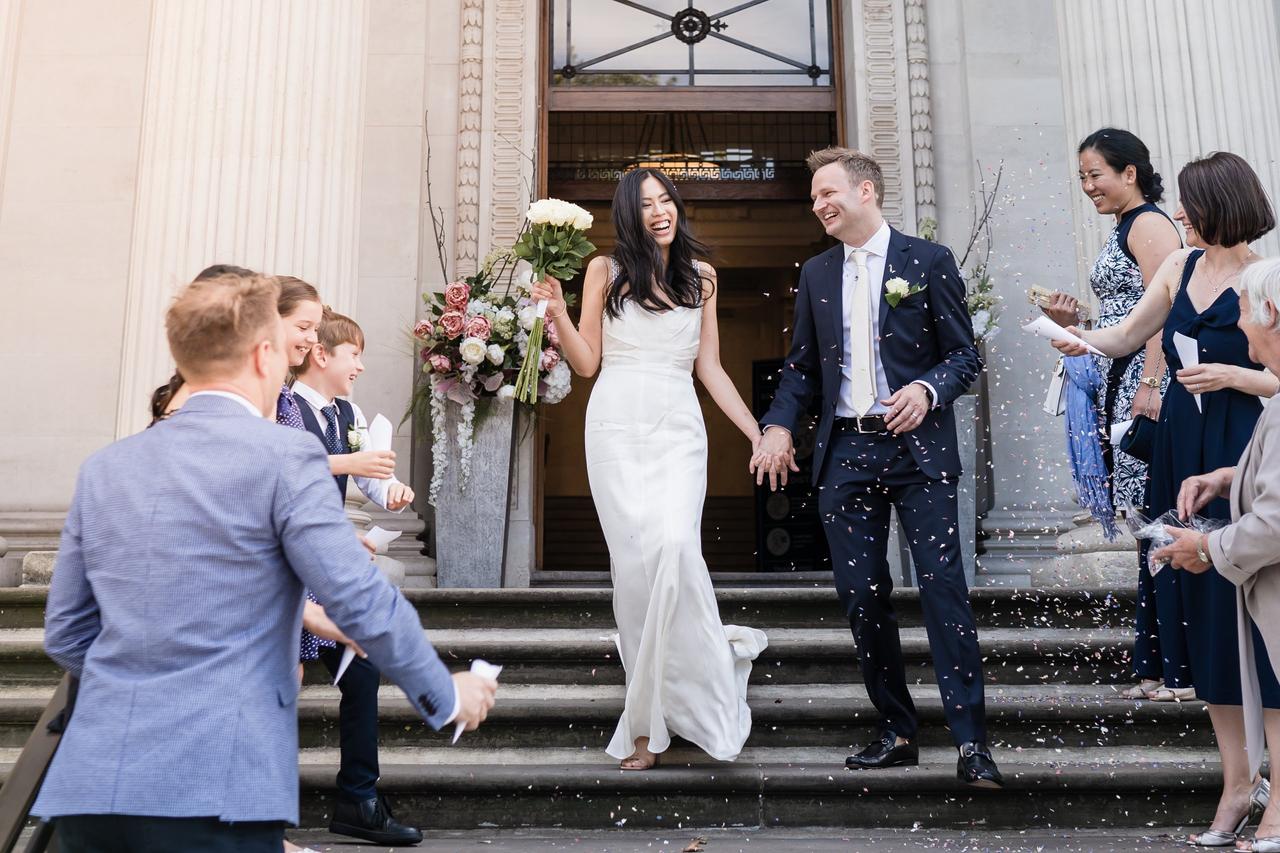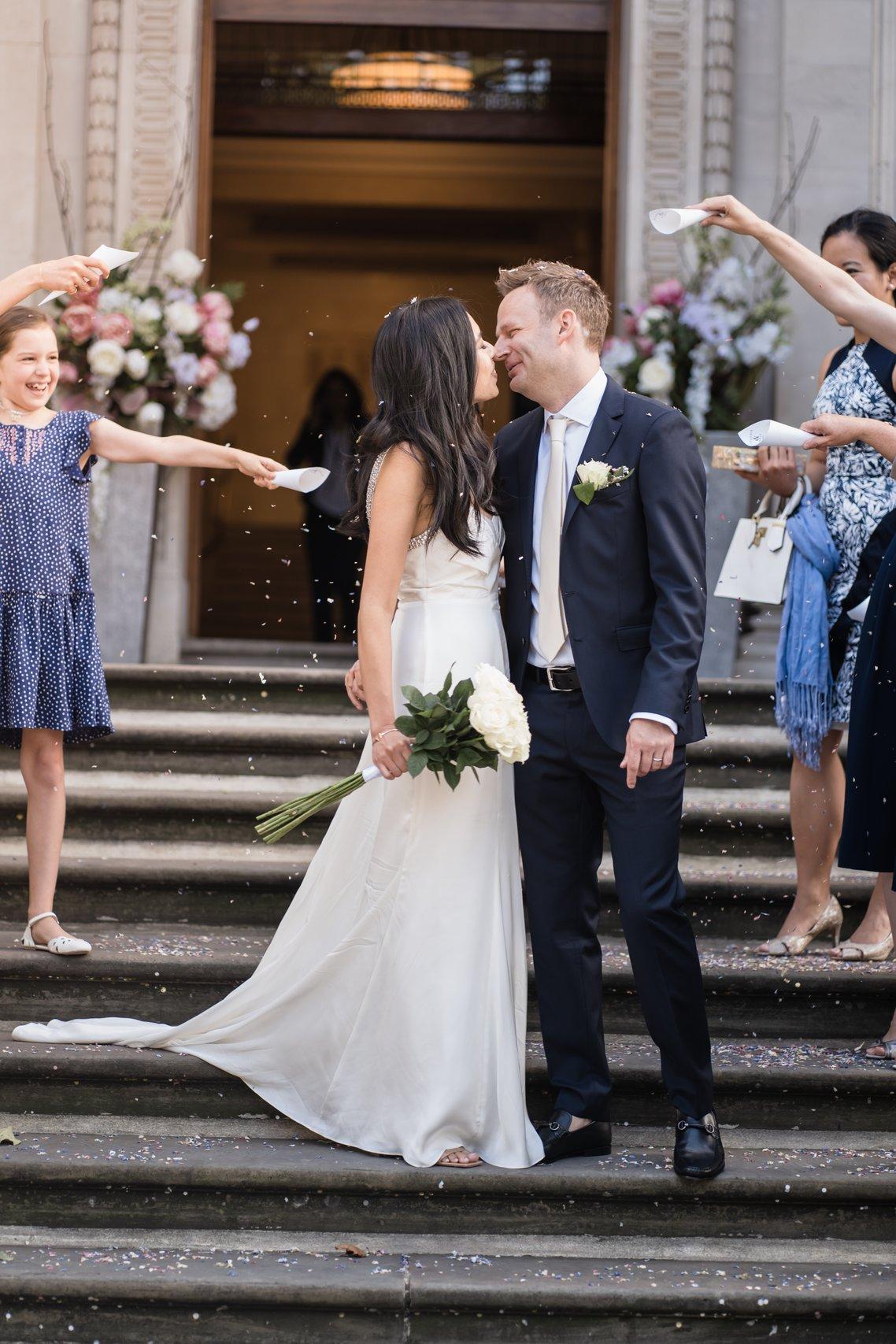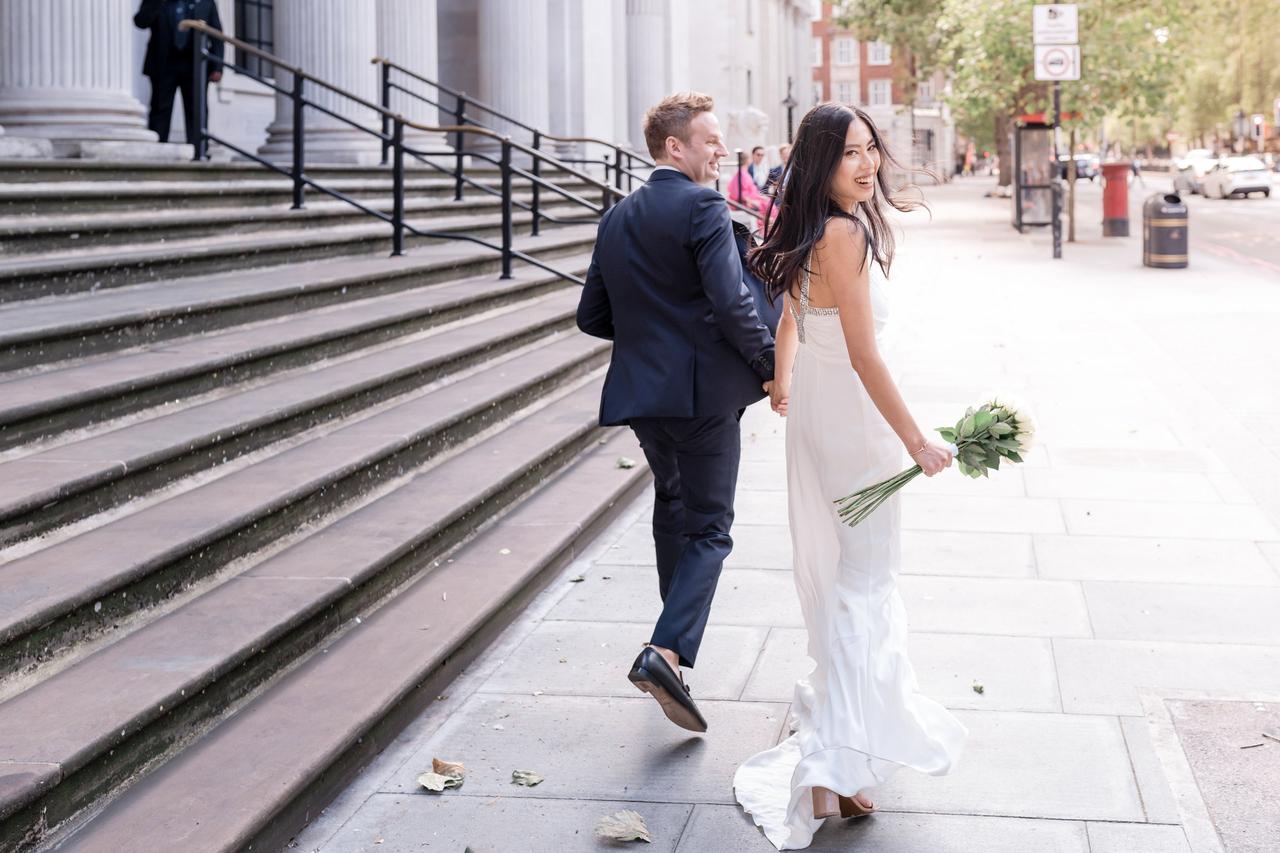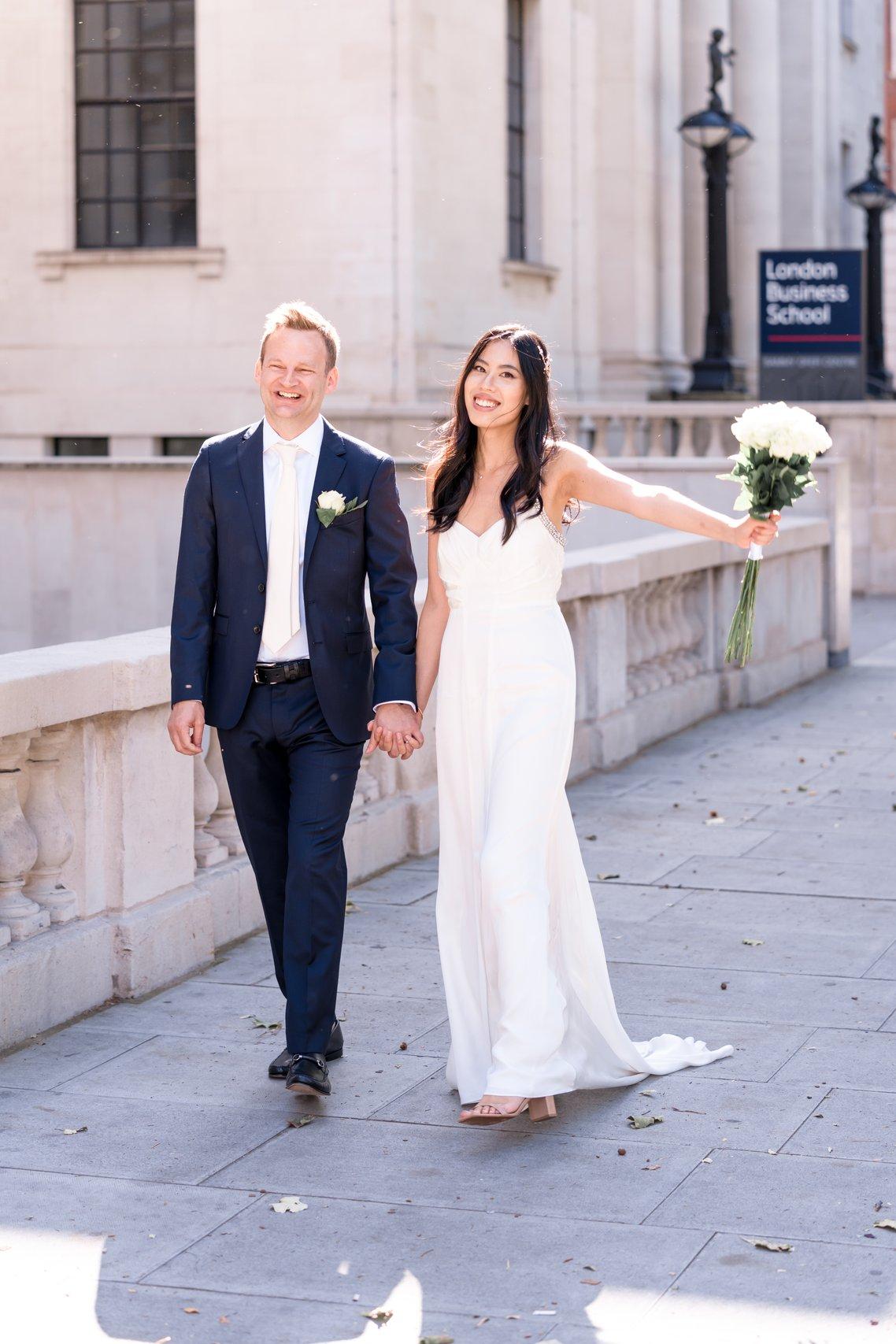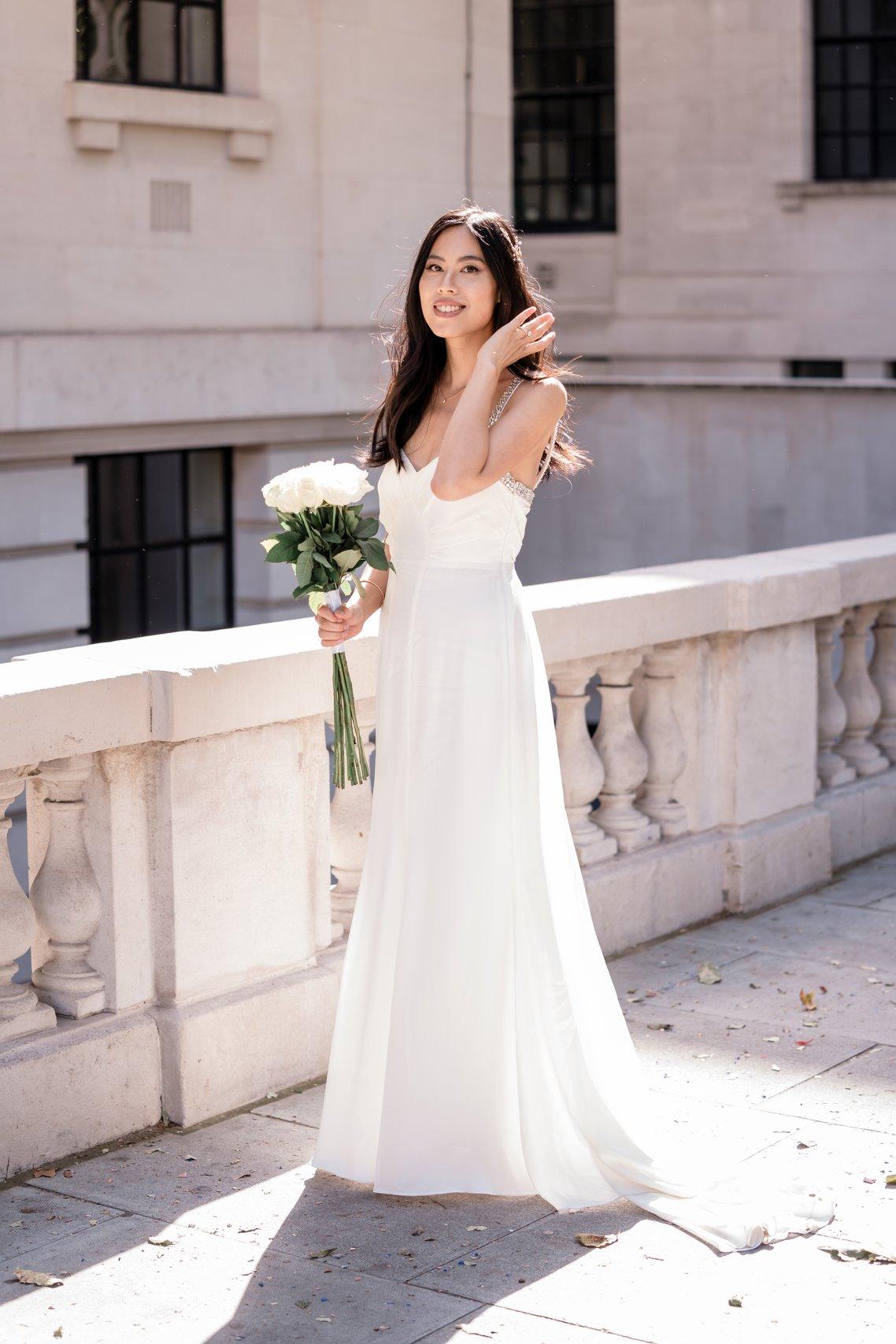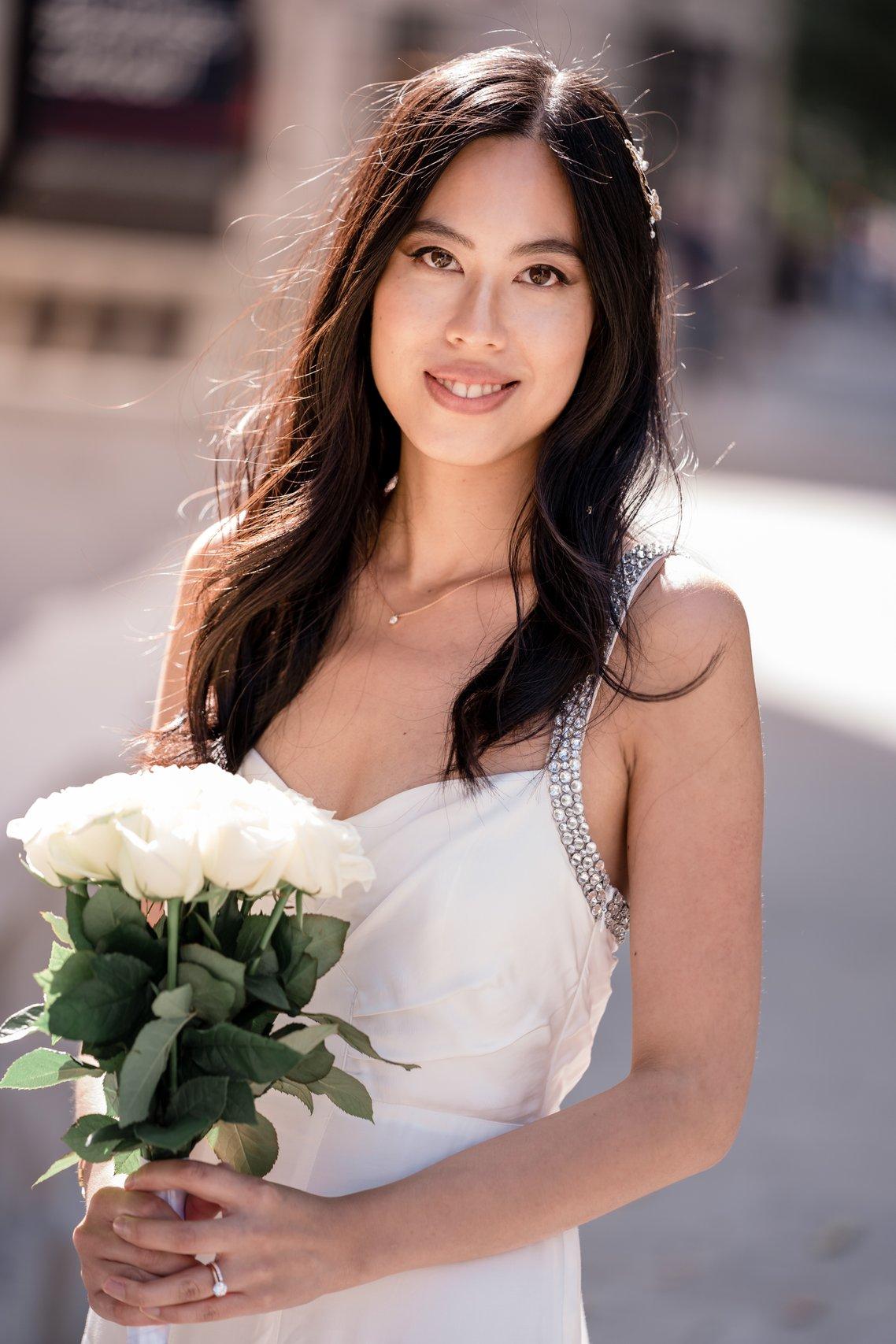 The Reception
The reception took place in the private dining room at Hide, a fine-dining restaurant that overlooks Green Park.
The couple chose Hide for its beautiful interiors, location near the ceremony and, of course, excellent food. They enjoyed a five-course tasting venue with paired wines.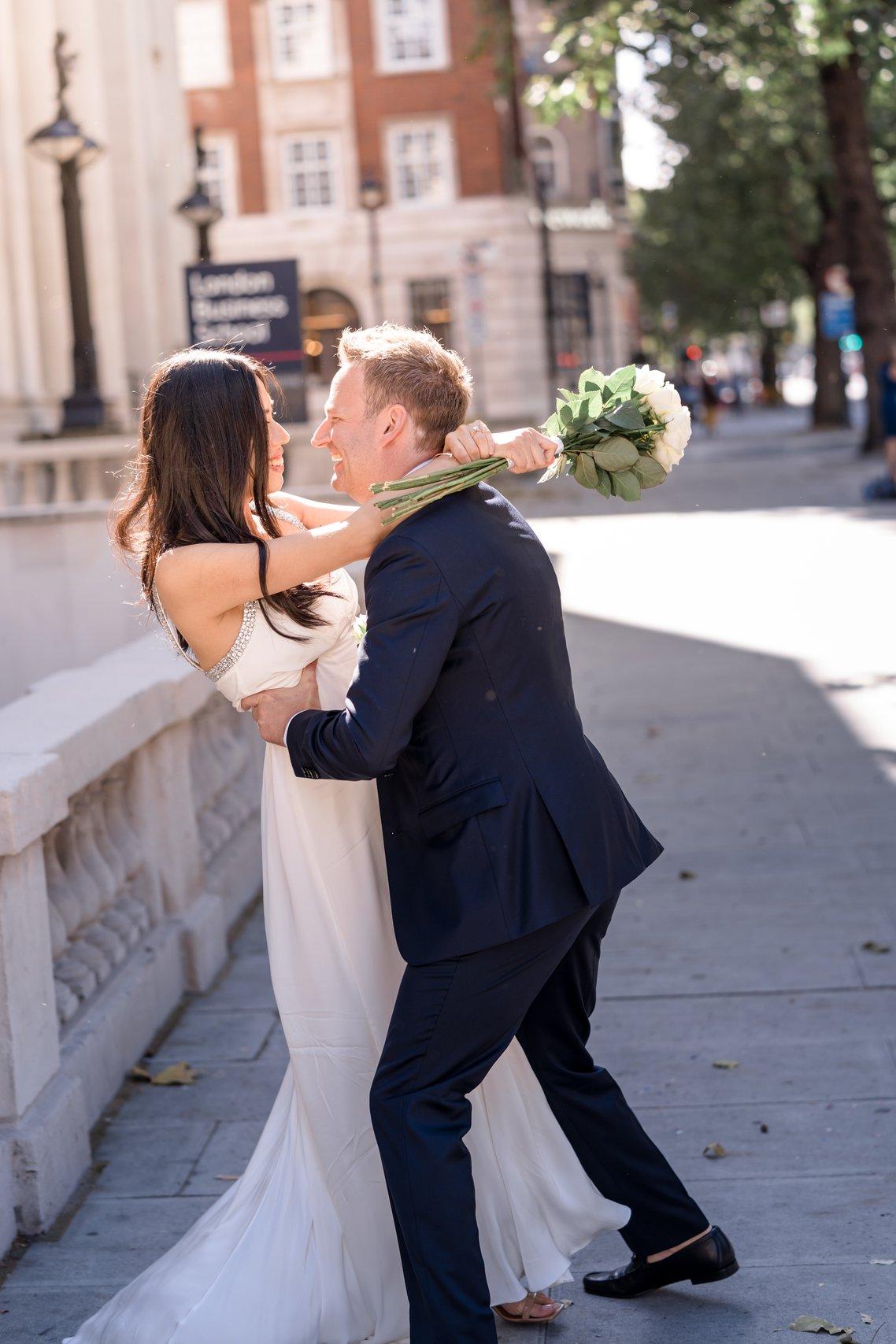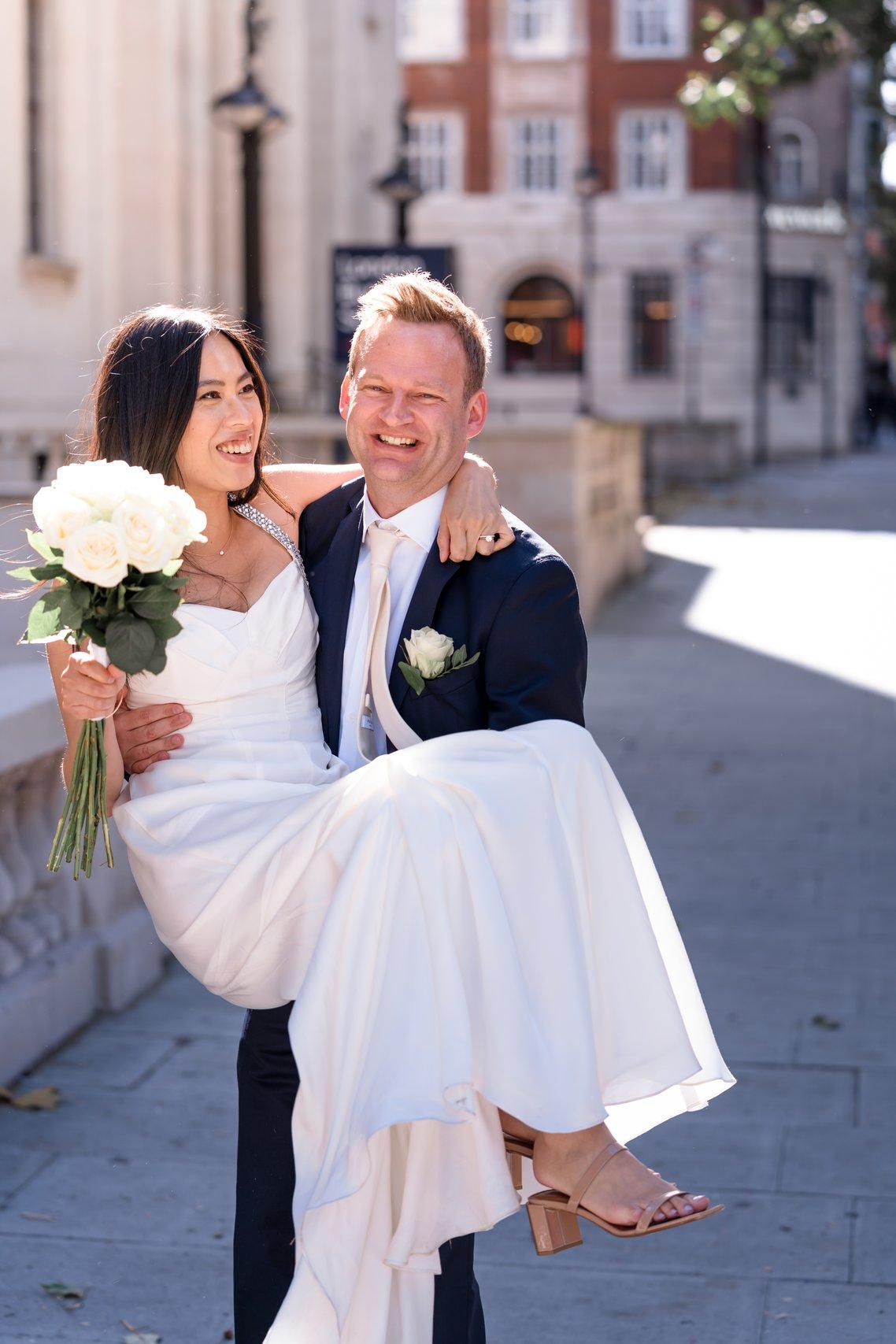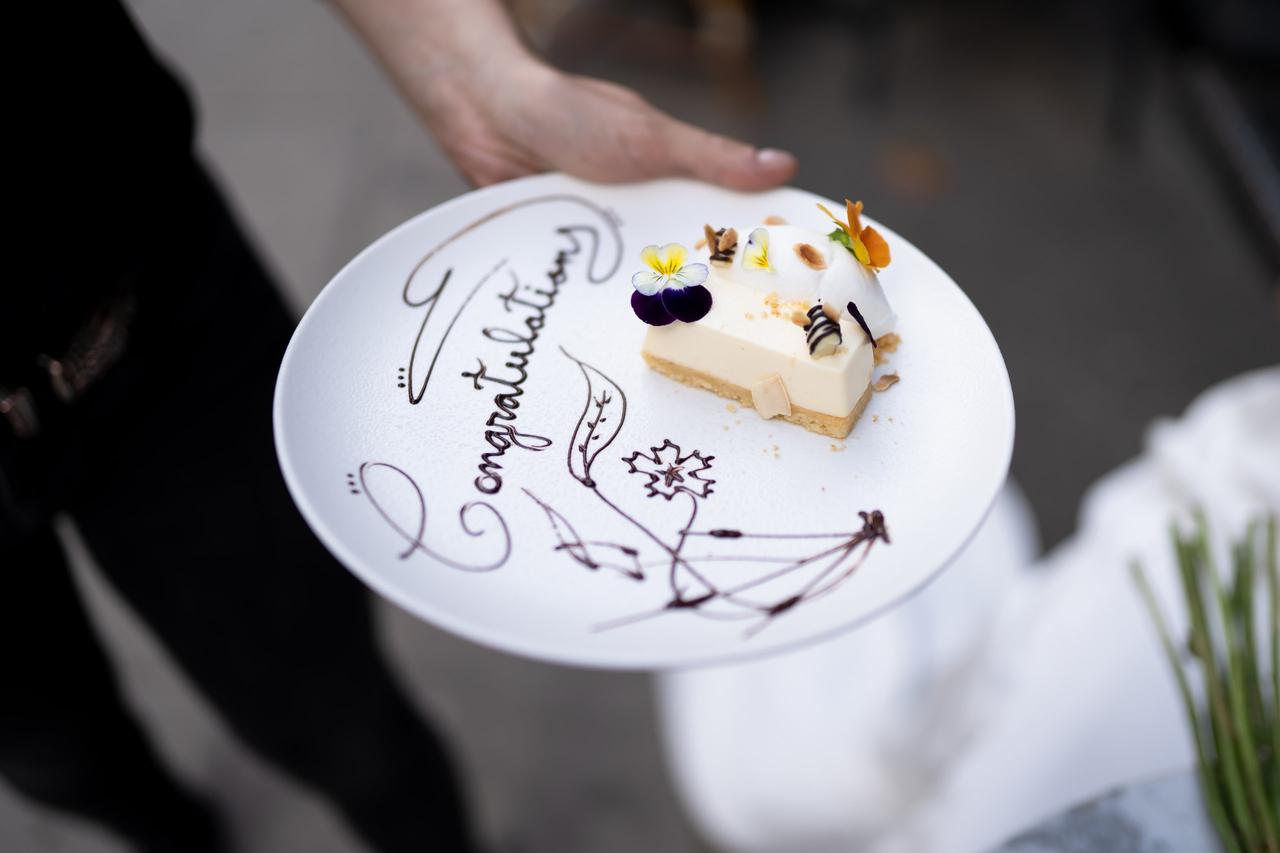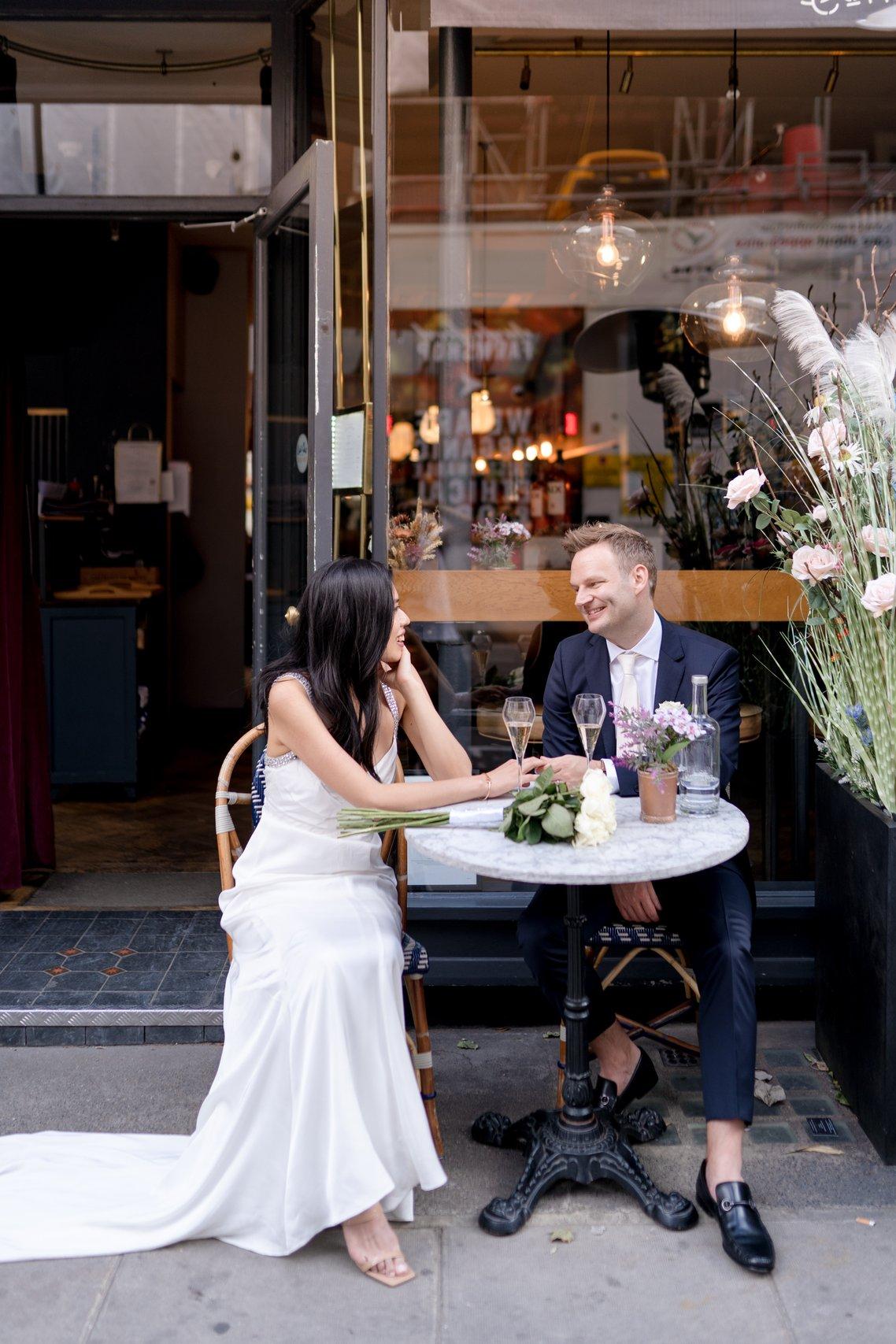 Eugenie's only regret about her and Chris's wedding was that her family couldn't attend.
"In hindsight, I am really glad we had an intimate wedding, with only 3 weeks to plan," she says. "It means that we didn't have time to stress over the small things, so the planning and wedding itself was much more enjoyable and stress-free."
The Suppliers
Venue: Old Marylebone Town Hall
Photography: David Christopher
Reception Venue: Hide Restaurant
Florist: Jane Packer
Rings: Hearts of London