Real Covid Wedding: Daniella and Jayson, Registry Office Followed by an Italian Restaurant in London
Instead of a 180-person celebration in Florida, Jayson and Daniella became husband and wife in front of 15 guests in London. Their conclusion? A micro wedding can be just as special as a larger wedding - particularly if you hire a planner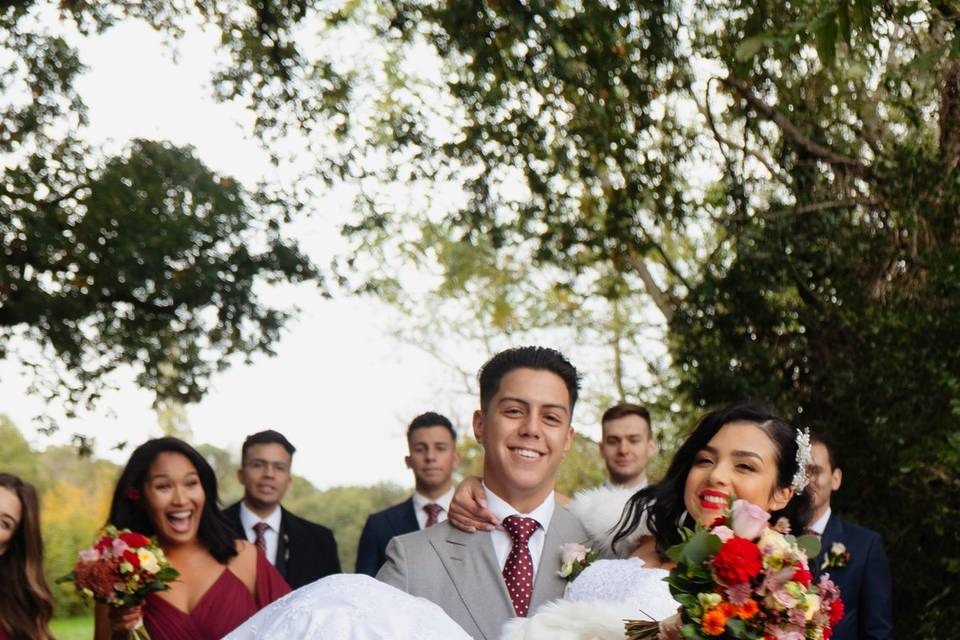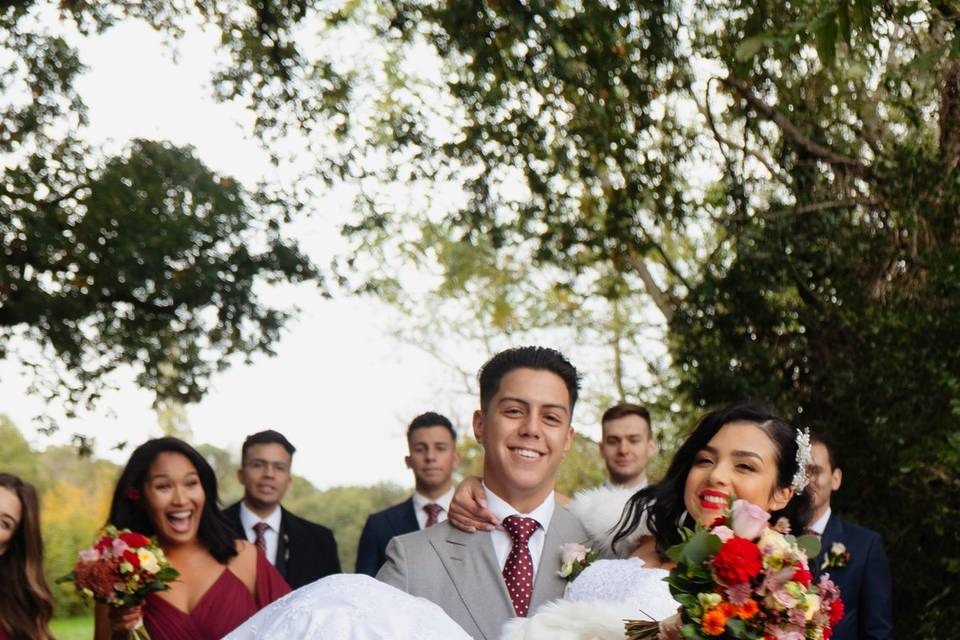 The Coronavirus pandemic didn't just disrupt Jayson and Daniella's wedding plans - it also threatened to disrupt Jayson's ultra-romantic proposal!
He'd decided to pop the question while the couple were in Colombia with their families.
"I'd hired a traditional horse and cart, arranged to have a bespoke traditional Colombian dress made for Daniella as a surprise and sourced a jewellers to get her a perfect handmade ring," explains Jayson. "Everything was going well until the fatal day Covid-19 hit the country. Although the town we were staying in had no cases, the government shut down the whole country! This of course included all my bookings that I had made for the engagement."
Due to the restrictions, the couple couldn't even see each other for several weeks as they were in different households. They were finally reunited on the day British citizens were allowed to leave Colombia, and Jayson asked Daniella to marry him on the way to the airport. "Lesson learned that this pandemic was not going to stop our love story!" he says.
Photography by Hayley Edwards & John Muriel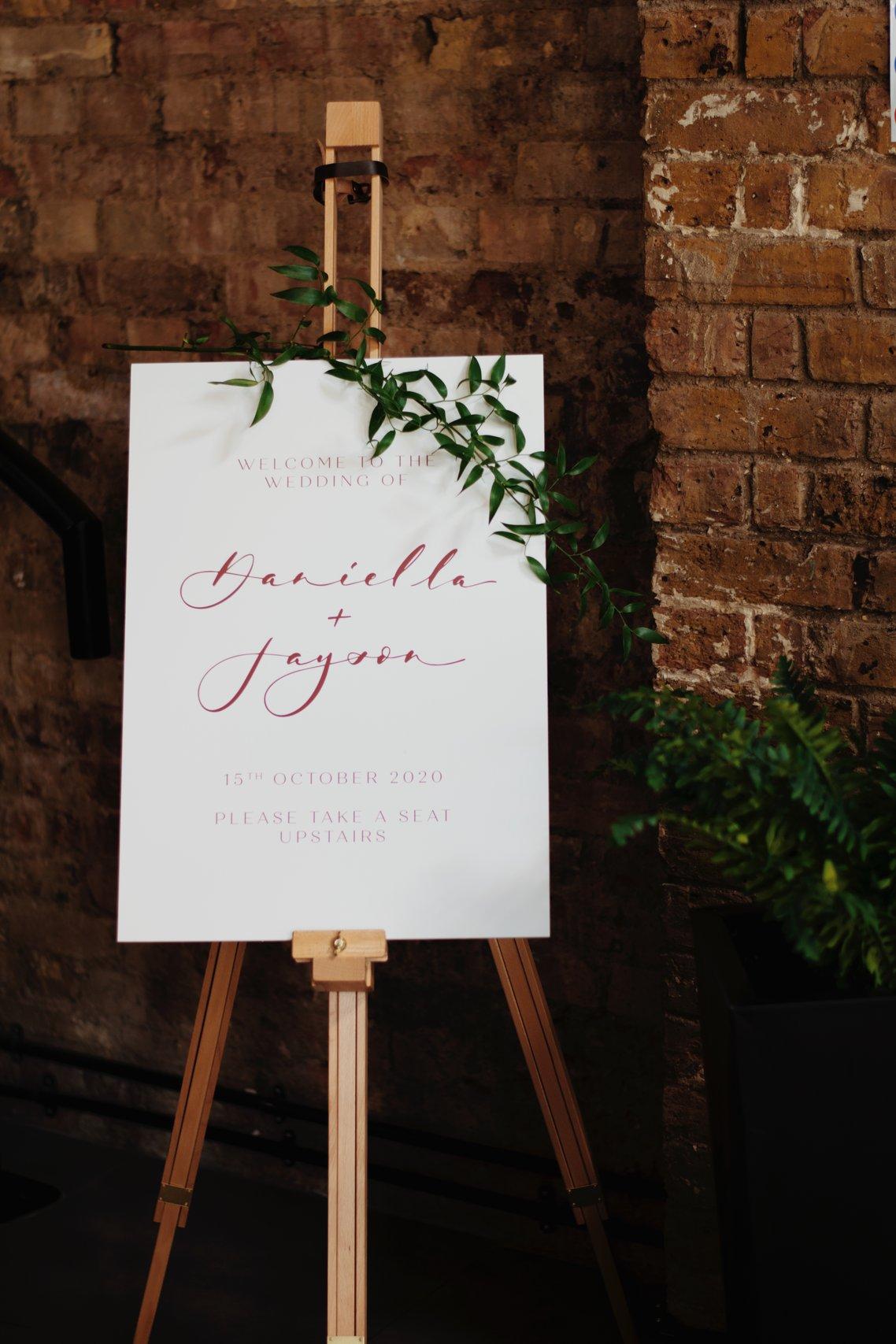 The Change of Plans
Daniella and Jayson originally planned a wedding with 180 guests in Florida. However, the ongoing pandemic forced a rethink, with a much smaller guest list and a change of location to London. In order to ensure that their revamped wedding was as special as possible, the couple hired planner Lisa Black of L&L Events London.
"We were so grateful to have Lisa and her team to guide and reassure us through this whole process," say the couple. "Although it was a micro wedding, we strongly recommend using a wedding planner as there are many changes and details that can easily be missed without them."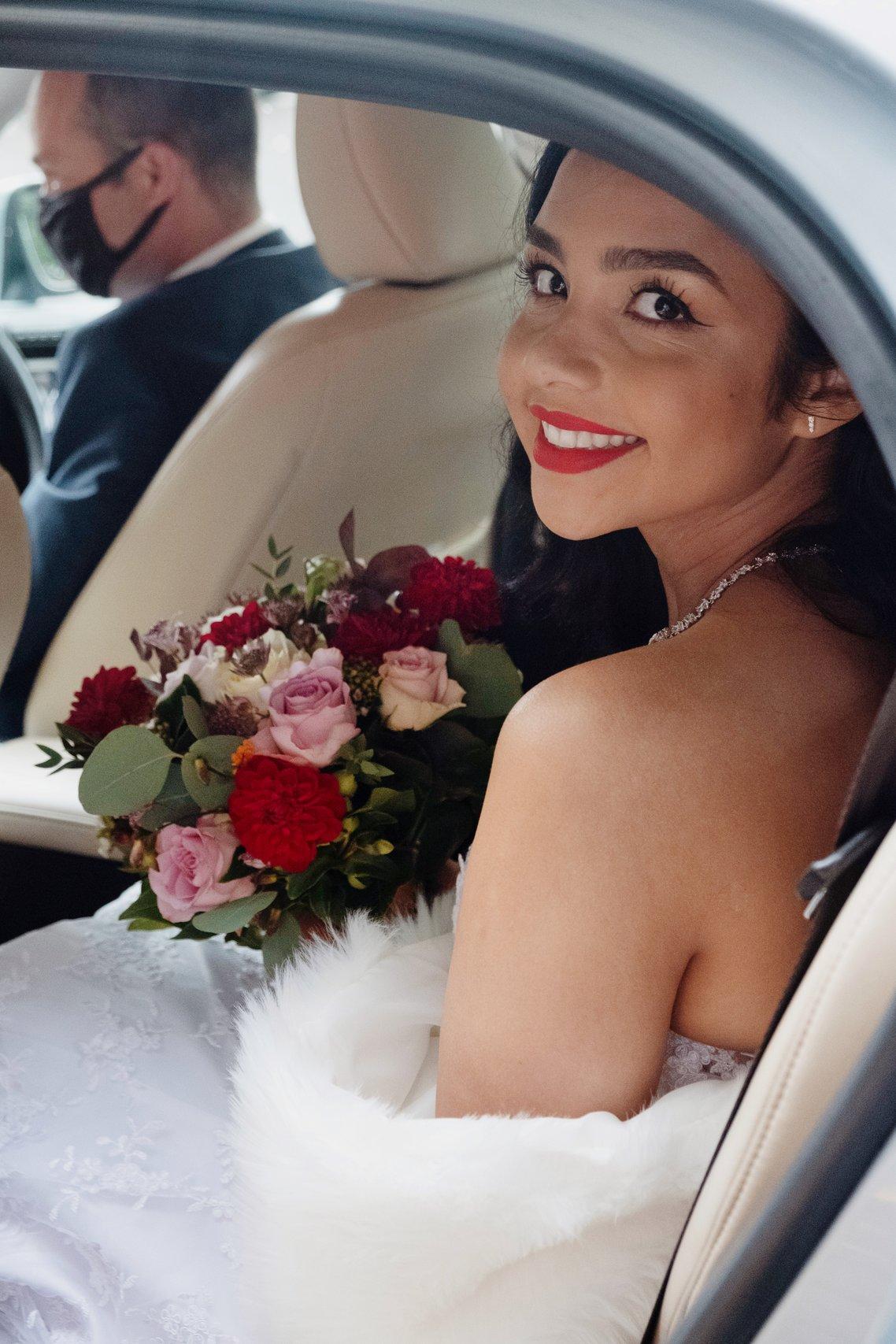 The Wedding Morning
The wedding morning was all about spending quality time with their respective families.
"I woke up at 5:30am. My grandmother woke up at the same time, she looked at me and asked, 'It's the last time, tell me what you want me to make for you?' I asked for my favourite breakfast Changua (egg and vegetable soup)," says Daniella. "This was a special moment as I have lived with my grandmother all my life. Due to COVID, she was not able to attend the civil ceremony or the reception, but she was able to join us virtually throughout the day."
Jayson had ended up staying up well into the early hours with his family.
"The night before the wedding, I was lying on my bed, and my mum came into my room, sat on the bed with me and started crying, because this would be the last time I would be in the house with them. My dad and my brother soon joined and jumped on the bed with us," he says. "We were all crying, laughing, and chatting till the early hours of the morning."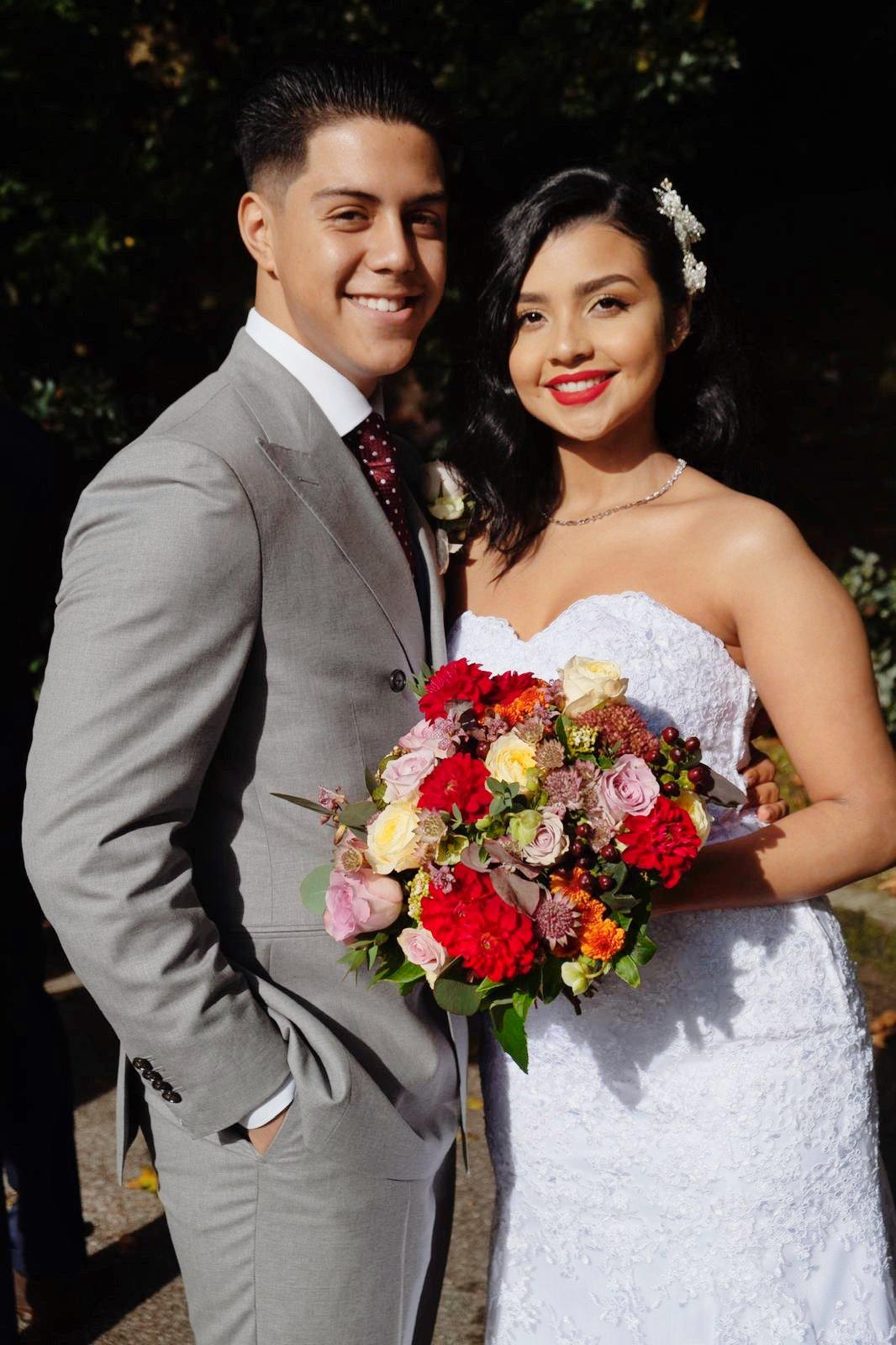 The Wedding Outfits
Planner Lisa recommended a dressmaker to create Daniella's bespoke lace wedding gown, which she teamed with white Air Forces. She also chose a second outfit, a pleated Minx jumpsuit, for the evening.
Jayson wore a tailormade grey suit from Suit Supply, embroidered inside with his and Daniella's initials and wedding date.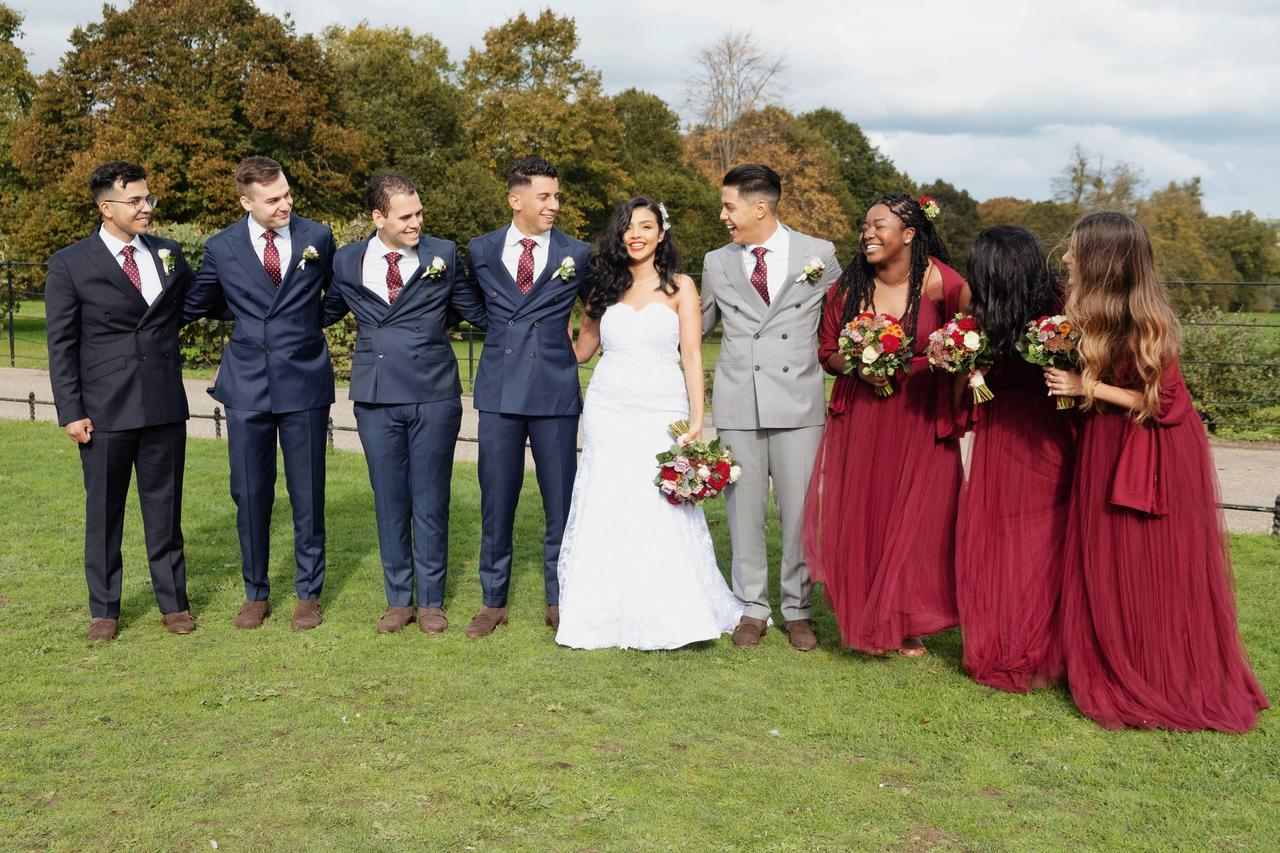 The Wedding Party
Daniella had her three best friends as bridesmaids, wearing elegant Asos dresses. Jayson's groomsmen, including his brother as best man, wore navy double-breasted suits.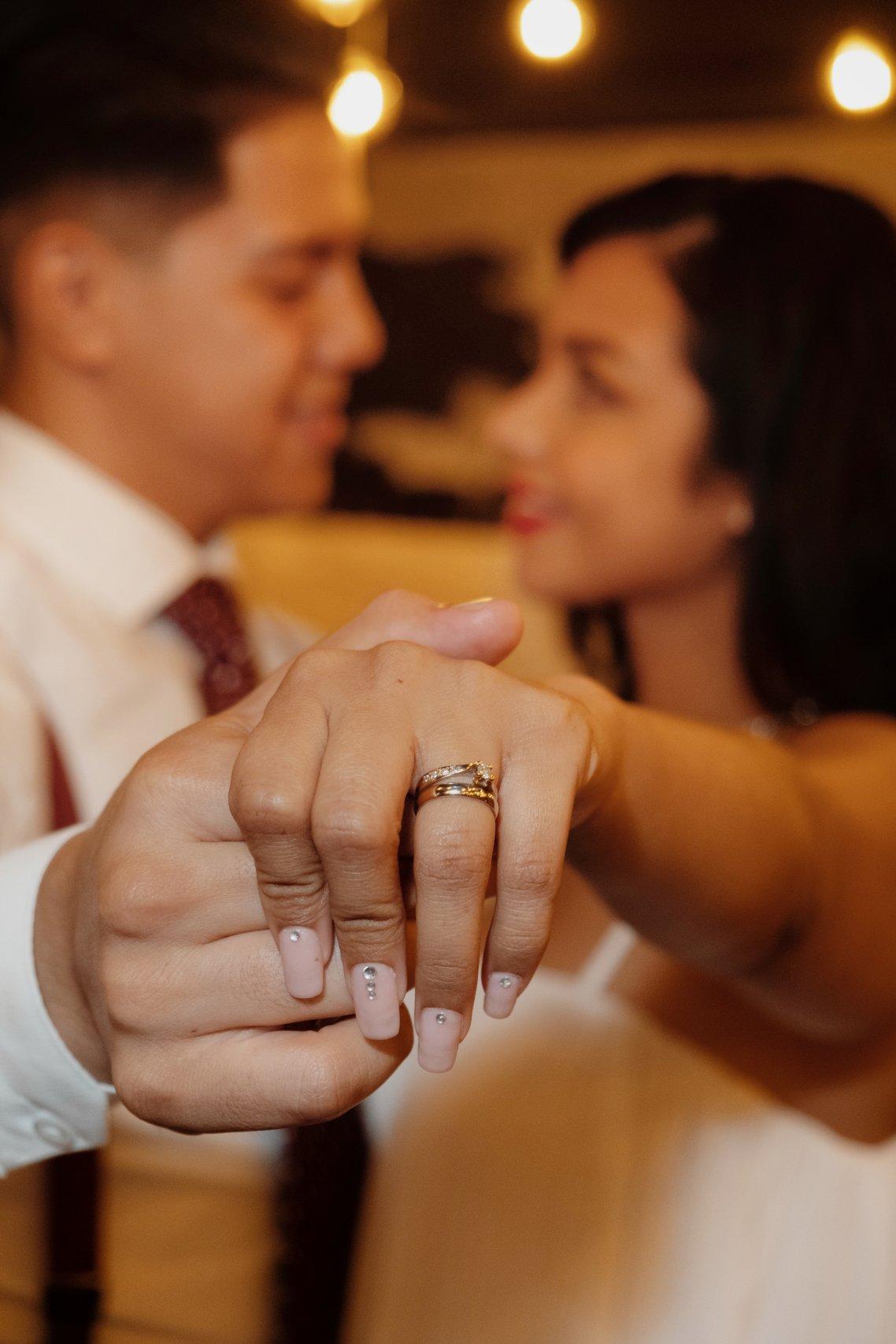 The Wedding Ceremony
The couple made it official with a civil ceremony at Enfield Register Office, but they also had a meaningful religious ceremony at home.
"L&L Events set up a backdrop at our house so we could have a religious service with our virtual guests linked in," says Daniella. "It was incredibly special as Jayson's father conducted the ceremony for us.
"Before the wedding, at different times he had asked us each what qualities we loved about each other. During the ceremony, in front of our family at home and our virtual guests from all over the world, my father in-law shared these qualities about us and linked them to scriptural marital advice, which was so special."
Jayson's wedding ring was from Simply Jewellery, who also restored Daniella's mother's wedding ring for her to wear. "During Covid-19 this family business bent over backwards for us, which gave us a sense of sentimentality for our special day."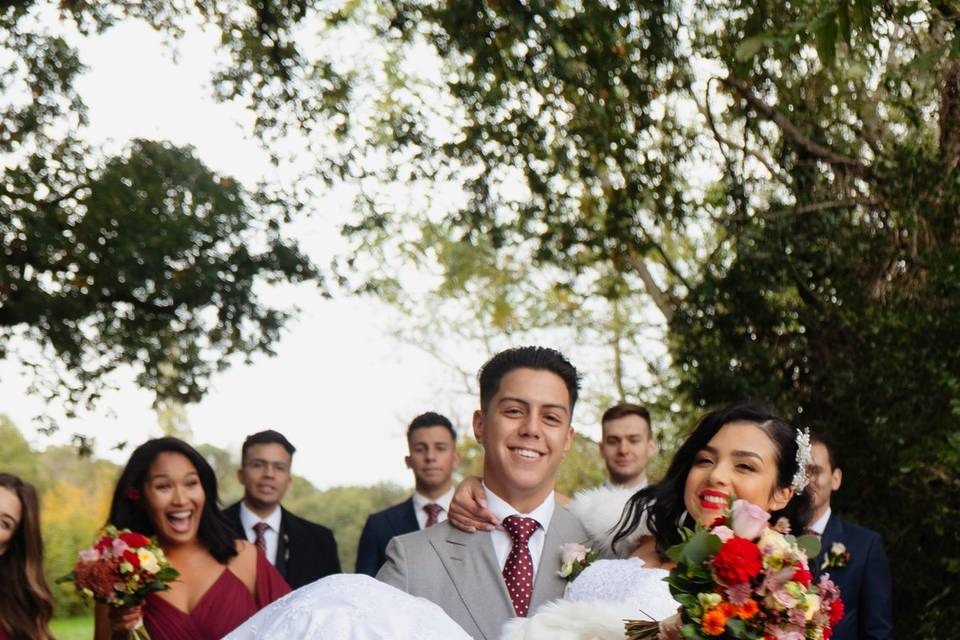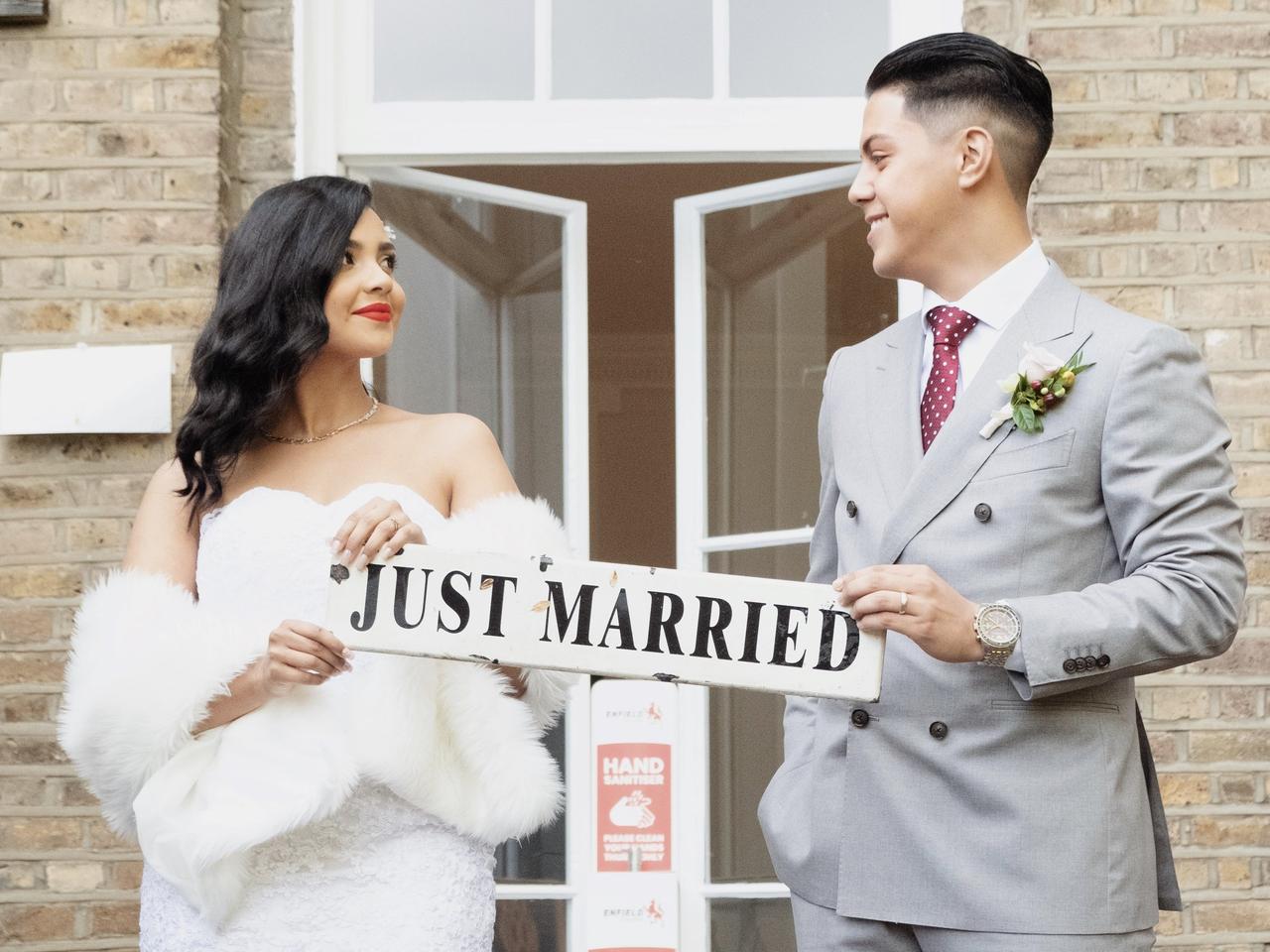 "My favourite part of the day was watching my beautiful wife just after we had said the 'I dos'," says Jason. "We went to the park for photos and it was freezing but Daniella had my jacket on and blankets, she just looked so happy and relaxed. I am truly proud of her."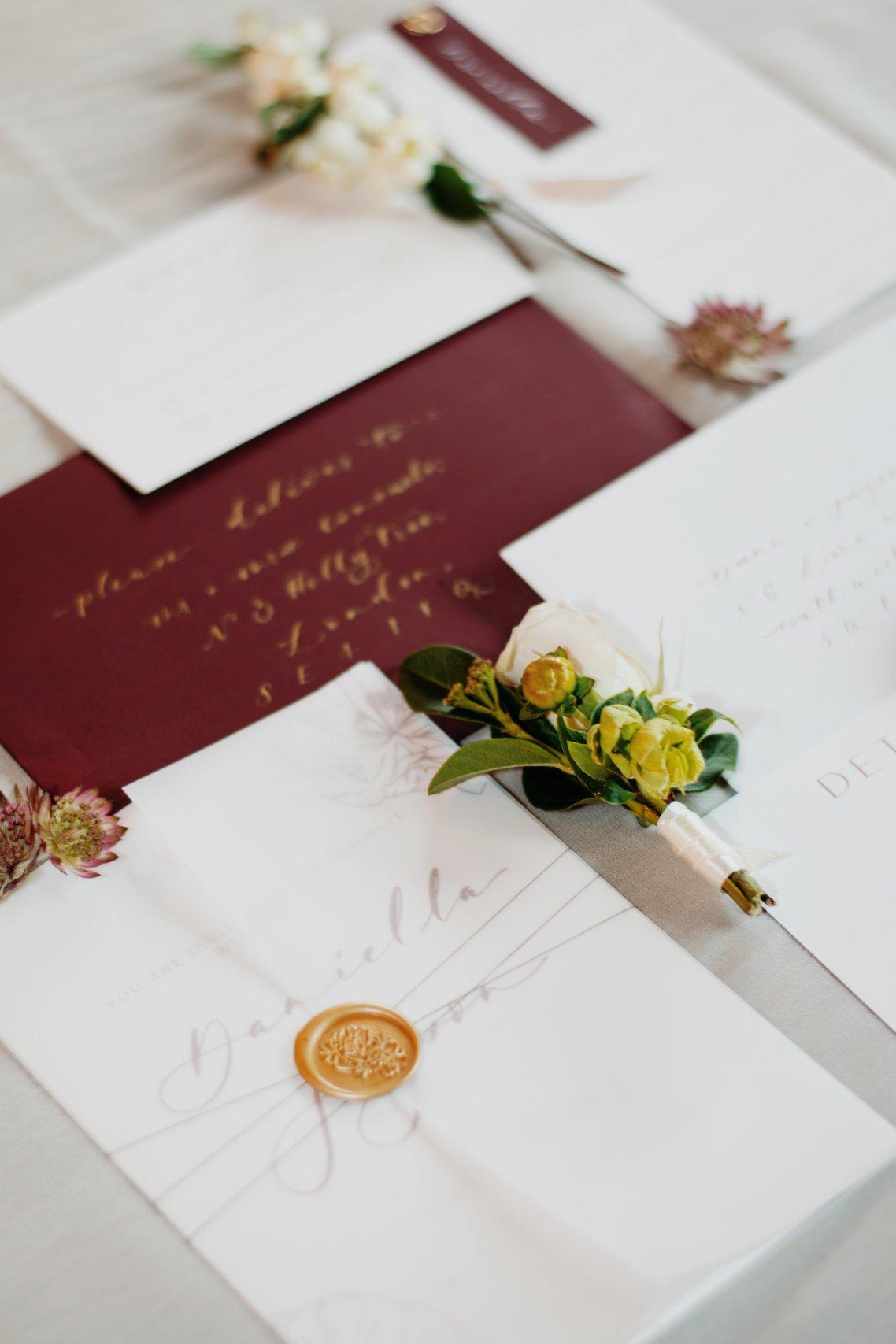 The Wedding Stationery
Papermill Calligraphy created the beautiful stationery. The design featured floral illustrations, handwritten calligraphy and accents of burgundy and gold, to suit the couple's overall colour palette.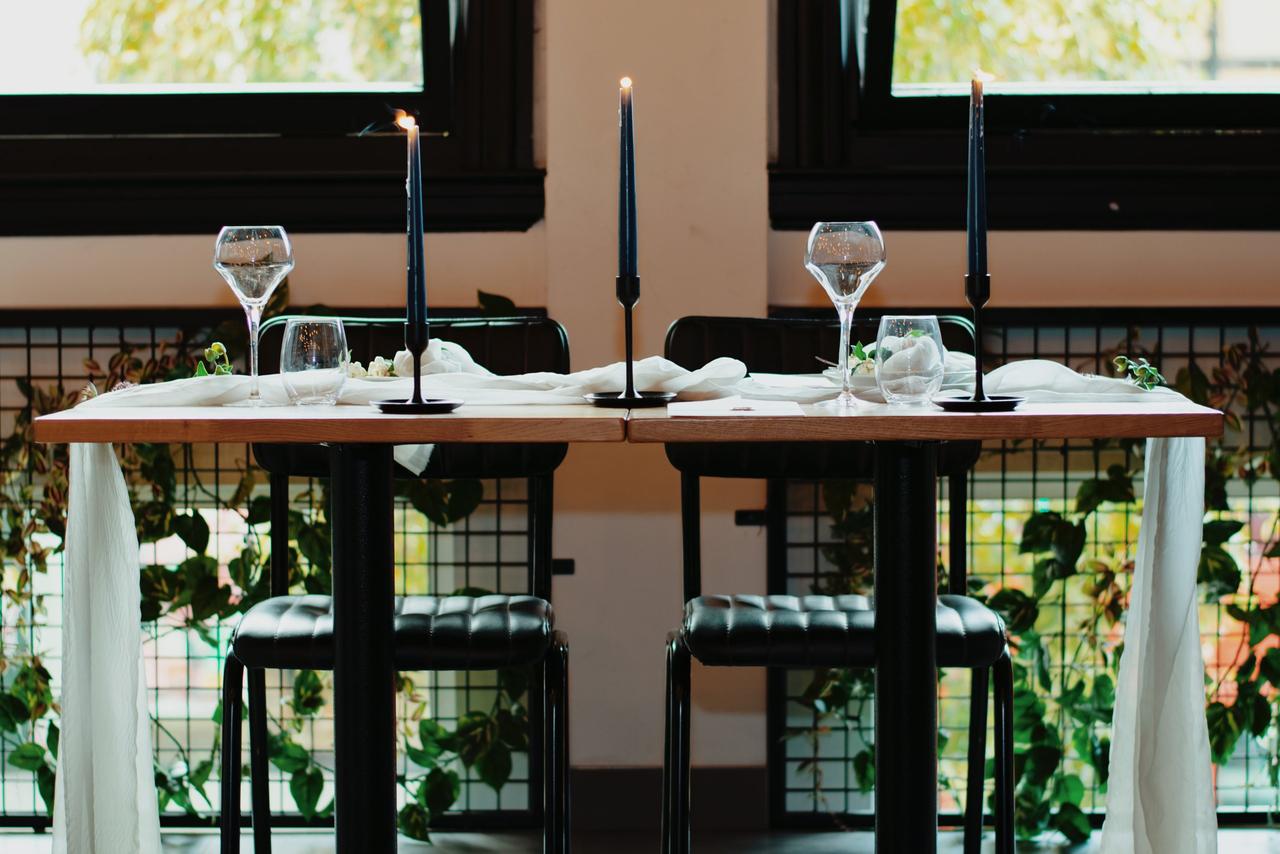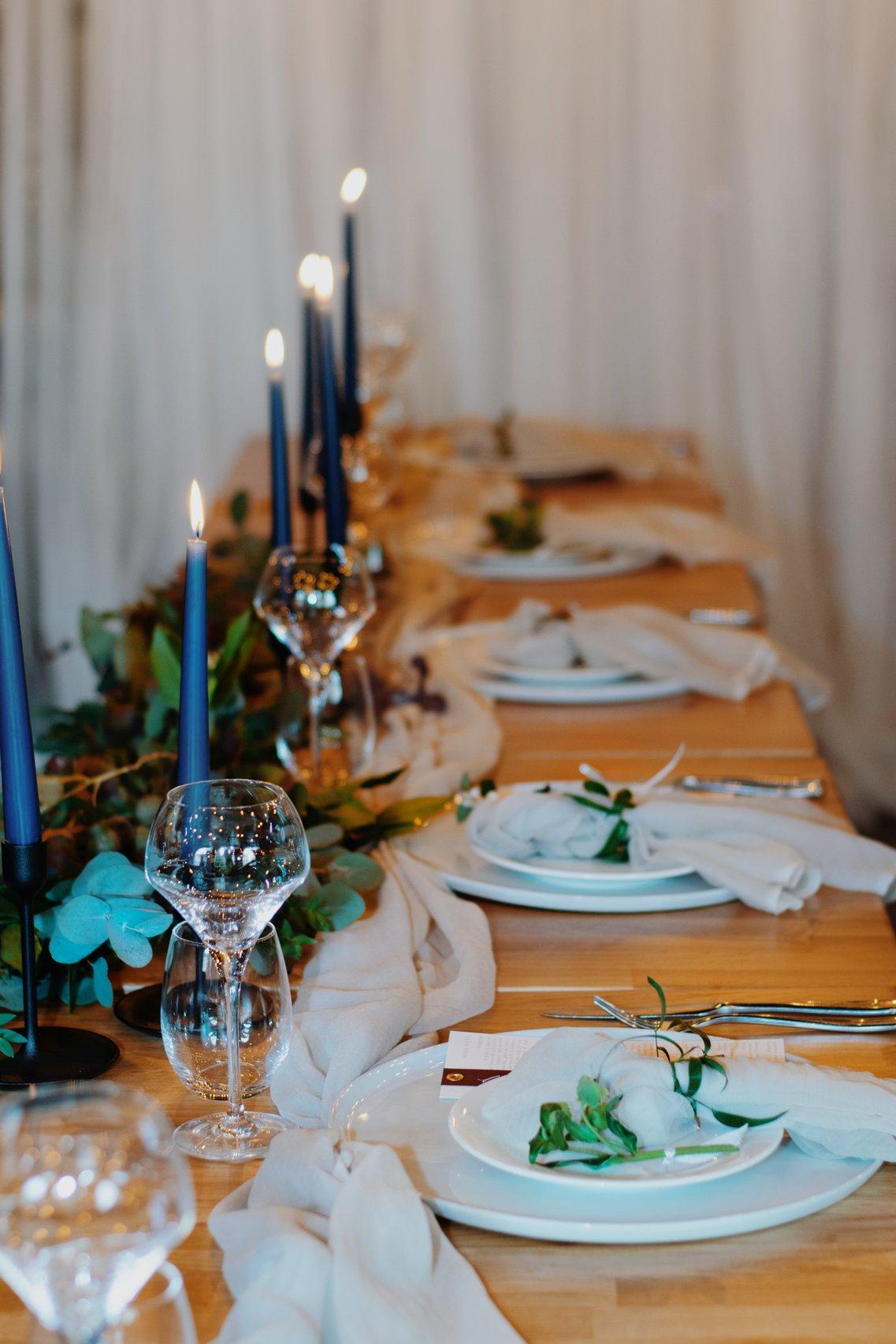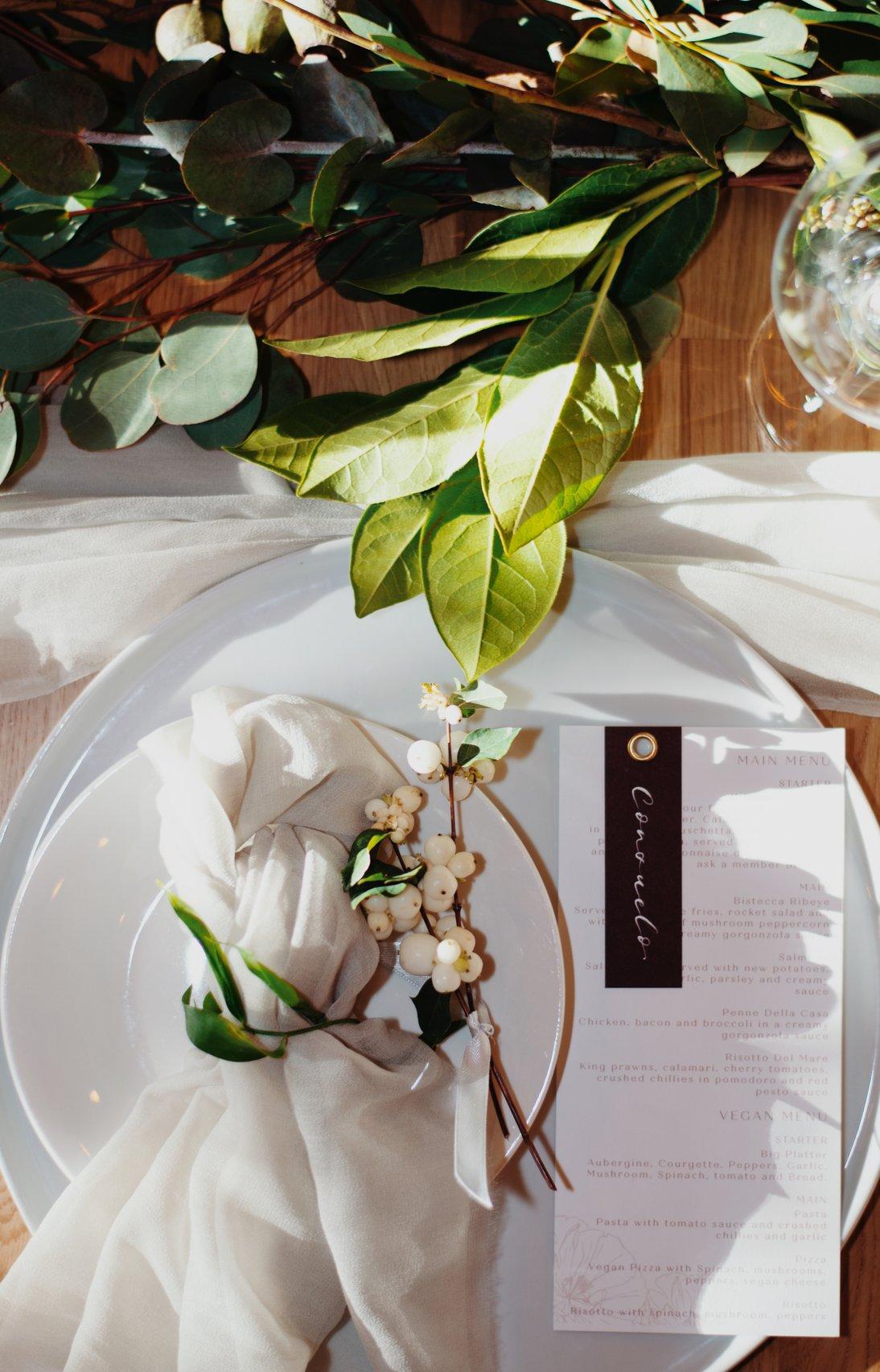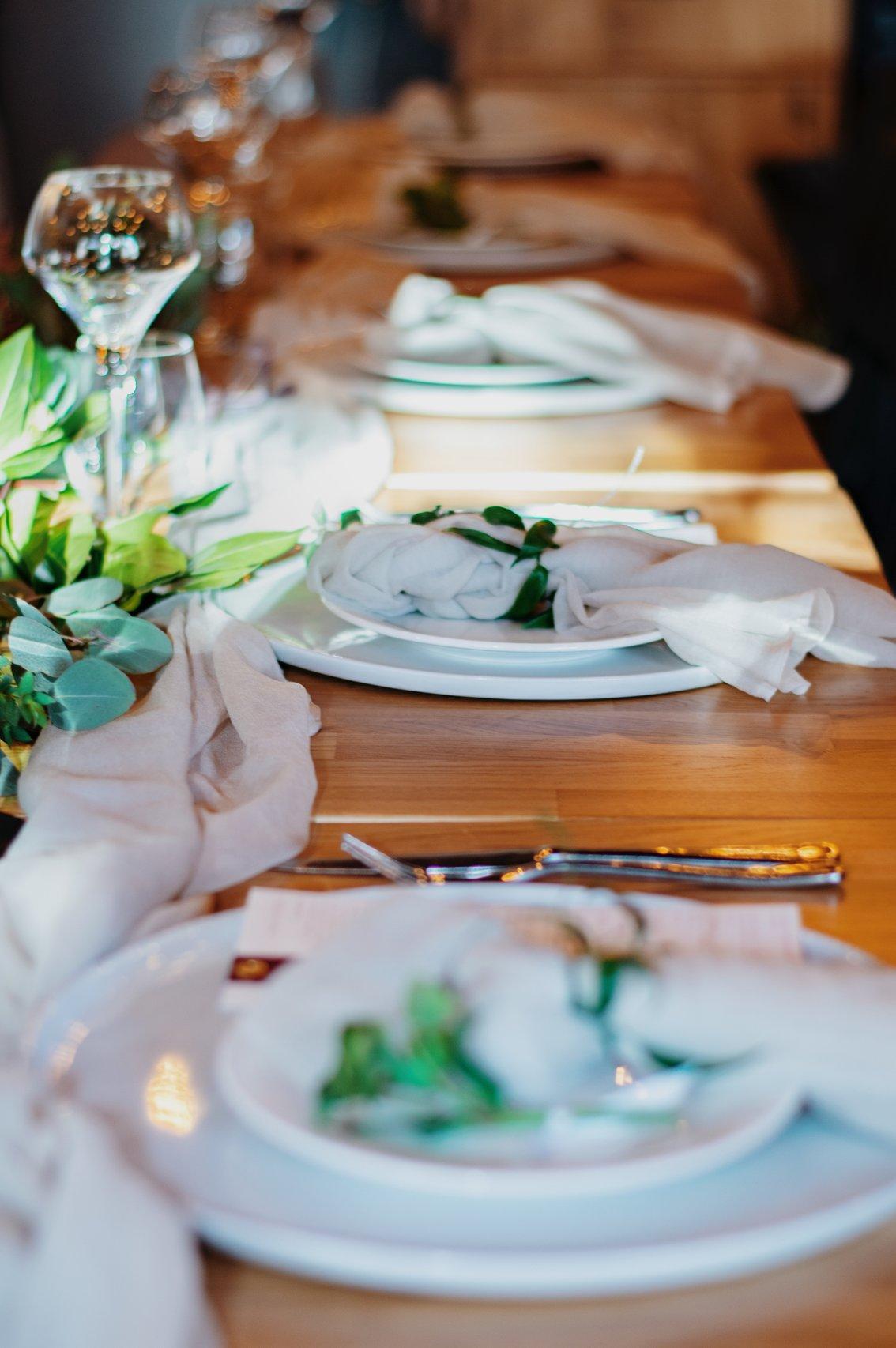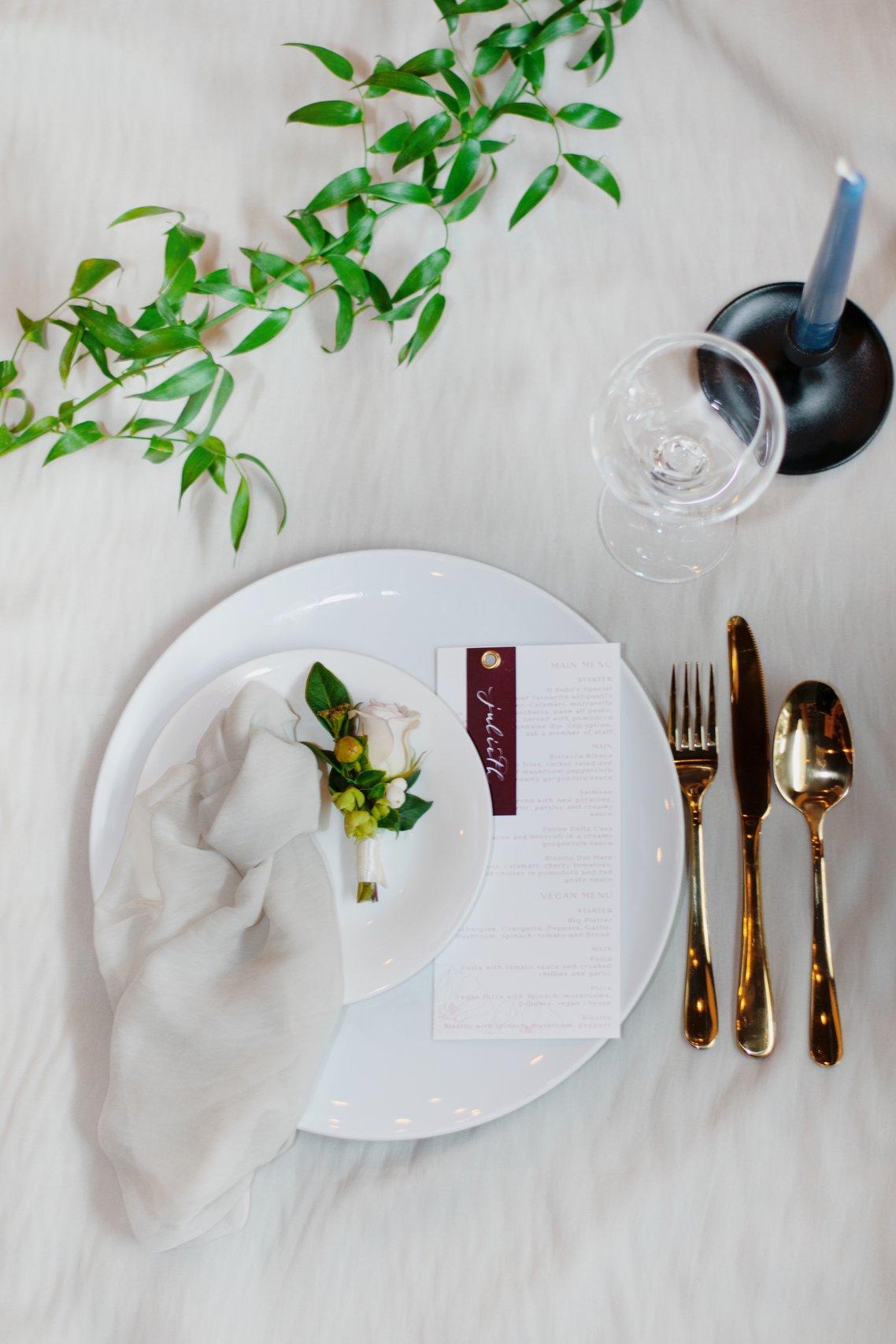 The Wedding Reception
Planner Lisa suggested the couple think of a favourite restaurant for their new reception venue - they chose Il Bebo's in North London for its delicious Italian food.
"The location had an industrial style with natural elements, so we went with a soft and romantic style for our décor," says Daniella. "We used foliage to soften the harsh exposed brick and black metal accents."
Chiffon table runners added to the elegant effect, contrasting with navy candles in black holders.
The couple's families were on hand to help with the wedding details.
Jayson's mother bought scented candles for the favours, which she personalised with stickers and wooden heart labels.
Another close relative created the cake, a traditional Colombian pastel borracho, which is three-tiered fruit cake with plenty of alcohol. "We served it on the night and also distributed it to family and friends who lived locally but could not attend the wedding," says Daniella.
And Danielle's Uncle John even photographed the day as a wedding gift!
As the perfect way to round off a magical day, the couple had a romantic first dance to Como Te Hago Entender by Roberto Roena.
"While we danced to our song, it was truly a special moment," says Daniella. "Seeing our parents and siblings with us was a warm comforting feeling that never would have been, had we had 180 guests!"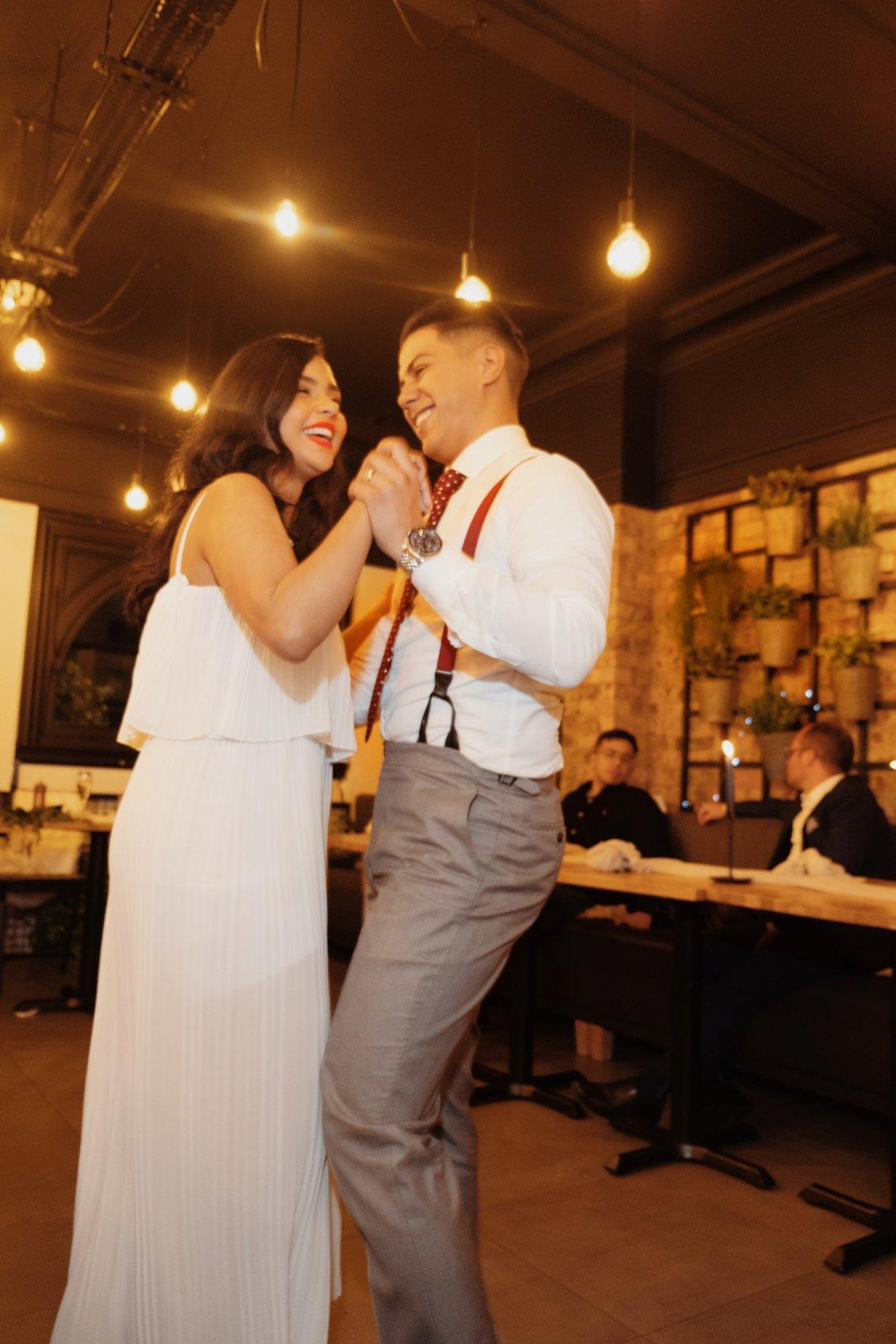 While they weren't able to have everyone they wanted present, the couple still loved their small-scale wedding.
"Your micro wedding can be just as special with 15 close guests. Until you experience it you would not believe how beautiful and unique your day will be," says Daniella. "Just enjoy the moment and remember the most important thing is your love for each other and not allowing this pandemic to stop your love story."
The Suppliers
Wedding Planner: L&L Events London
Reception Venue: Il Bebo's
Photography: Hayley Edwards
Bride's Jumpsuit: Minx
Groom's Suit: Suit Supply
Flowers: Roses & Twine
Stationery: Papermill Calligraphy
Bridesmaids' Dresses: Asos
Wedding Rings: Simply Jewellery
Thank you to Daniella and Jayson for letting us share your wonderful wedding.