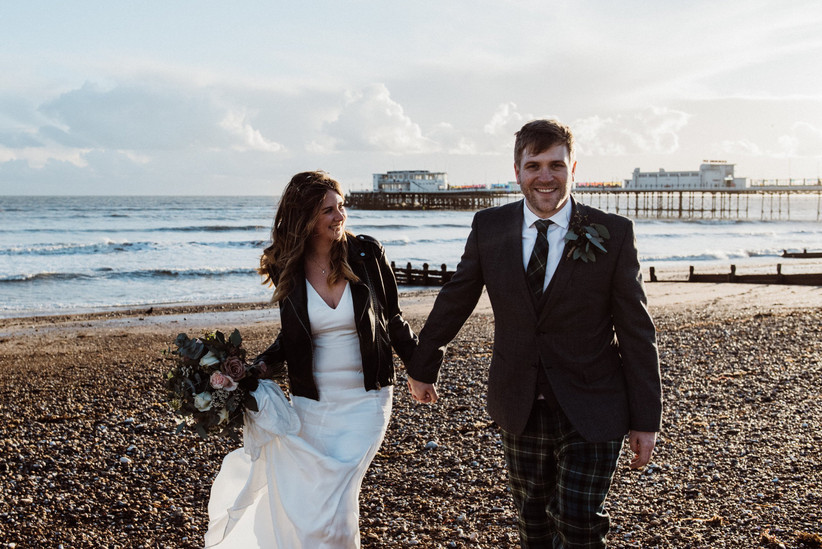 Catriona and Callum married at Worthing Dome on the 3rd November with just 13 guests. When a second national lockdown was announced, they had just 27 hours to scramble together a wedding before the country shut down for a month!
They met at secondary school, where Callum tried to win Catriona's affections by helping out with her weekend paper round. Alas, the feelings were unrequited. After university, they saw each other on Christmas Eve when everyone was home for the festive season, but apart from that they didn't keep in contact.
"It was a chance encounter which introduced us again in 2015," said Catriona. "I was leaving work when I bumped into Callum in the street, he had moved back to Brighton the weekend before and had just finished his first day in a new job. We exchanged numbers, went on some dates, moved in together after 18 months and got engaged two years later."
Callum proposed at home after the couple returned from a pub dinner. He told Catriona he had a bottle of Prosecco to thank her for being "such a good flatmate" (AKA doing all the household chores while he was finishing his architectural studies). While she was making room in the freezer to chill the bottle, "Callum came up beside me on one knee with a ring in his hand and a goofy grin. He didn't have the chance to ask before I took it and said 'YES!'"
What followed was a bumpy road through lockdown, not knowing whether their wedding would need to be postponed or not. But with a little help from their families, they managed to pull together a last-minute ceremony with garlands of photo bunting around the Whispering Gallery of Worthing Dome to remember all the guests who couldn't attend.
Catriona wore a gorgeous vintage silk dress and Callum looked dashing in his family tartan. Although they couldn't have the typical moments like the first dance or cake cutting, they still threw a romantic, intimate and unforgettable day.
Photography by Kitty Wheeler Shaw Photography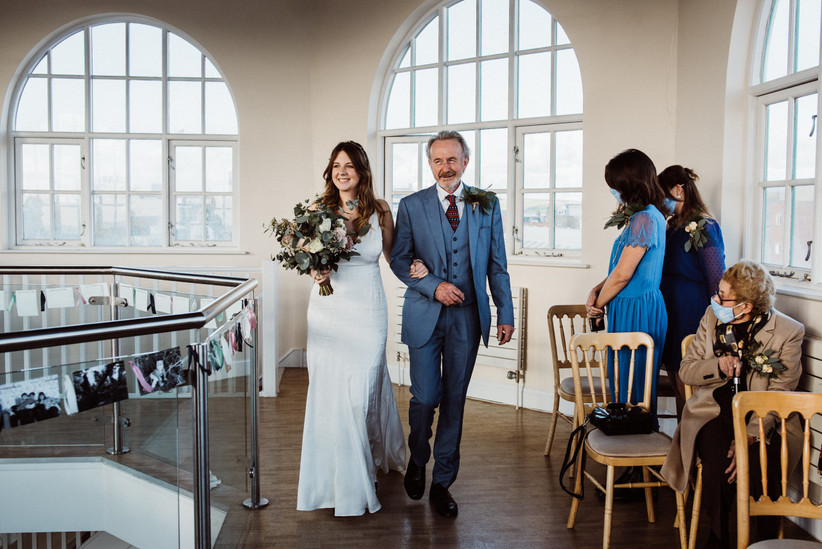 The Wedding Dress
Catriona had no idea what she wanted in a wedding dress and ended up trying on about 40 dresses and four jumpsuits before she found The One. It wasn't the best shopping experience, and it was only when she went to a small vintage store in Brighton that she discovered her perfect dress. Despite trying on mainly lacy, long-sleeved dresses, she fell in love with a second-hand, spaghetti strap, silk gown.
"My initial foray into the world of wedding dresses was to a big chain store with a couple of friends and my mother. It was meant to be a bit of a laugh but quickly turned sour when one of the dresses I tried on left me with a rash around the neck. I think it might have been the material.
"My next venture was to an independent store, which was full of designer dresses and jumpsuits. This was a much better experience; no neck rashes but I did have a veil unceremoniously rammed onto my head when I had explicitly said I didn't want one.
"My mother and I went shopping in early October in order to get her a new coat for the day. She bought this beautiful black velvet coat with bright autumnal flowers all over it. As we were walking along, we both noticed a beautiful green velvet coat in the window of another shop. Thirty minutes later and we walked out with the dress and a long pearl tassel necklace to go with it.
"My dress was a second hand, ivory silk number called 'Camilla'. I have no idea what the name is in reference to as I got it from a vintage place in Brighton. This actually turned out to be an attic in Portslade which had been converted into a studio and was filled with all sorts of beautiful frocks, most of which no longer had labels.
"I liked the way the dress hung on me. Until this point I had been trying on long-sleeved, lacy numbers, but this one felt different. For one thing, I didn't need help getting dressed which was a HUGE plus for me!"
Catriona actually wore two dresses on the day: "My mum said, 'You can't wear Camilla to a meal so we'll get you something else'. I was very lucky to be able to wear two beautiful dresses on the day."
She topped the look off with a pearl necklace (a gift and her something new), blue lace socks, leopard print boots, a leather jacket and a gold leaf hairpiece. She borrowed the rest of her jewellery: a pearl bracelet from her mother, a sapphire rings from a friend, and gold earrings.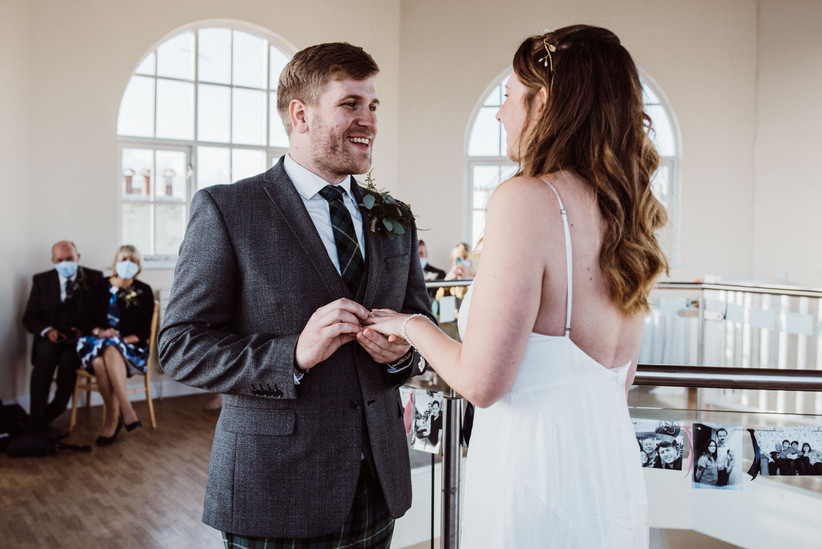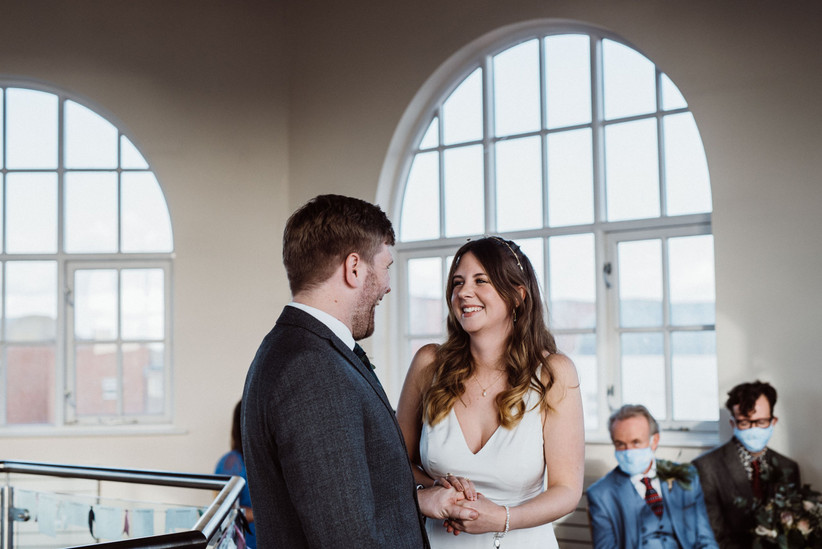 The Wedding Morning
Catriona got ready at her parents' house in Brighton with her best friend who had travelled down from London that morning. Her brother volunteered to drive them all to Worthing in his converted campervan, but his wedding morning vibe was a little different from his sister's.
"He announced that he was 'ready to go' whilst wearing socks and sandals. It was a joke," said Catriona.
Her hair and makeup was a joint effort with best friend Sophie, all quite similar to her normal style. Sophie was joined by close friends Ruth and Laura to make up the three 'Women of the Wedding' - not bridesmaids, but "very dear friends who were able to rearrange their work and childcare so that they could be there on a Tuesday afternoon."
Due to the fast-turnaround of wedding plans, Callum was only able to have one groomsmen still make the rearranged date and get ready with him on the morning of the wedding. "He is unwed so didn't have much to offer as advice but was excellent at keeping me in the moment," Callum said.
Callum's family tartan played a vital role in the groomsmen's outfits. "I had a pair of tartan trews made in the Graham tartan. This was paired with a charcoal jacket and waistcoat. The groomsmen were to wear the same but without the trews. We had ties made from the same material as the trews for myself and each of the groomsmen."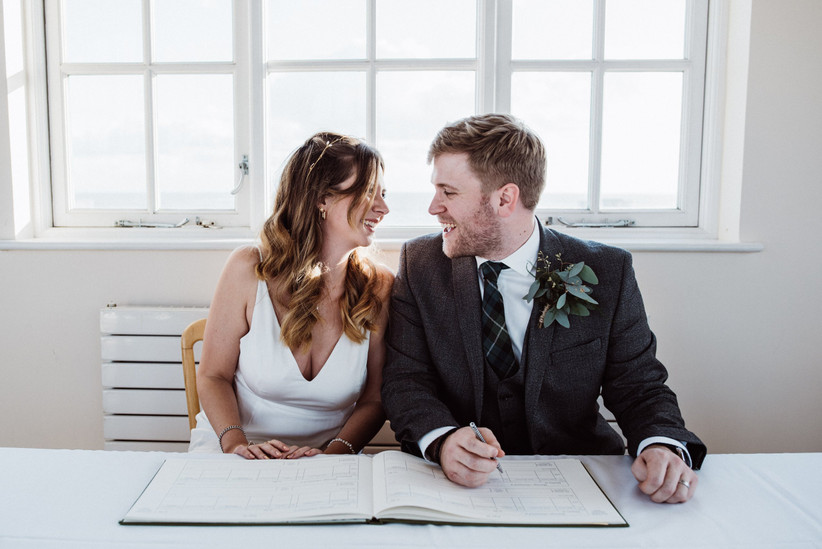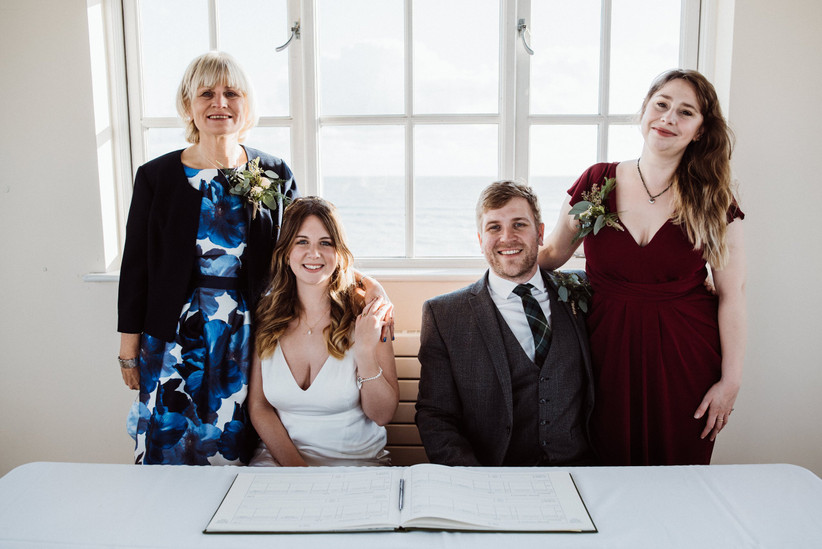 The Change of Plans
With their original wedding planned for the 7th November and the second lockdown coming into effect on the 5th, it seemed Catriona and Callum were going to miss being able to marry by just a few days. That was, until Callum's mum Anne stepped in and got on the phone.
"Whilst we moped, she was already in contact with the venue and registrars trying to rearrange the wedding before lockdown started. We took some convincing, but Callum and I were also on the phone to various people first thing Monday morning trying to get it rearranged before the lockdown started. At one point we had one registrar and a venue, but we needed two registrars to go ahead. A long morning ensued but by midday on Monday 2nd November, we had rearranged our wedding to 2pm on Tuesday 3rd November."
The couple had just 27 hours to arrange their day and for friends and family to get the day off work and come down to Worthing. "We were very lucky," says Catriona. "We even managed to get flowers, a photographer and go out for a meal in Brighton afterwards in a private dining room! Who needs more than 27 hours to pull a wedding together?"
While it seems like a fairytale ending, it was a rough road leading up to the ceremony.
"When the first lockdown happened, we were constantly reassured by friends/family/venue etc that everything would be fine by November and that we should sit tight before rearranging our plans. In August 2020, when restrictions had relaxed but life was far from normal, we decided to postpone our reception and just have the ceremony this year but in the same venue. At that time, we were planning 30 guests as per Government rules.
"As the year progressed and rumours of a second wave were rumbling, October was a very stressful month for us - the wedding seemed both too close and too far away and we weren't sure if it would go ahead. At this point we were rolling with the punches and were still planning to go ahead with the revised guest list of 15 (including us).
"Two weeks before (October 24th), we allowed ourselves to get excited. We hadn't booked a cake or flowers or transport until that point as we were so unsure of what the situation would be. Then it was Halloween... I had to go for my final dress fitting that morning when all that seemed to be dominating the media was how a new lockdown was imminent. It was pretty bleak!
"The rest of that weekend passed in a gloomy fug as we accepted that it wasn't going to happen this year and started talking about heading down the registry office as soon as we were allowed. Phone calls from disappointed family and friends highlighted how much everyone had been looking forward to it."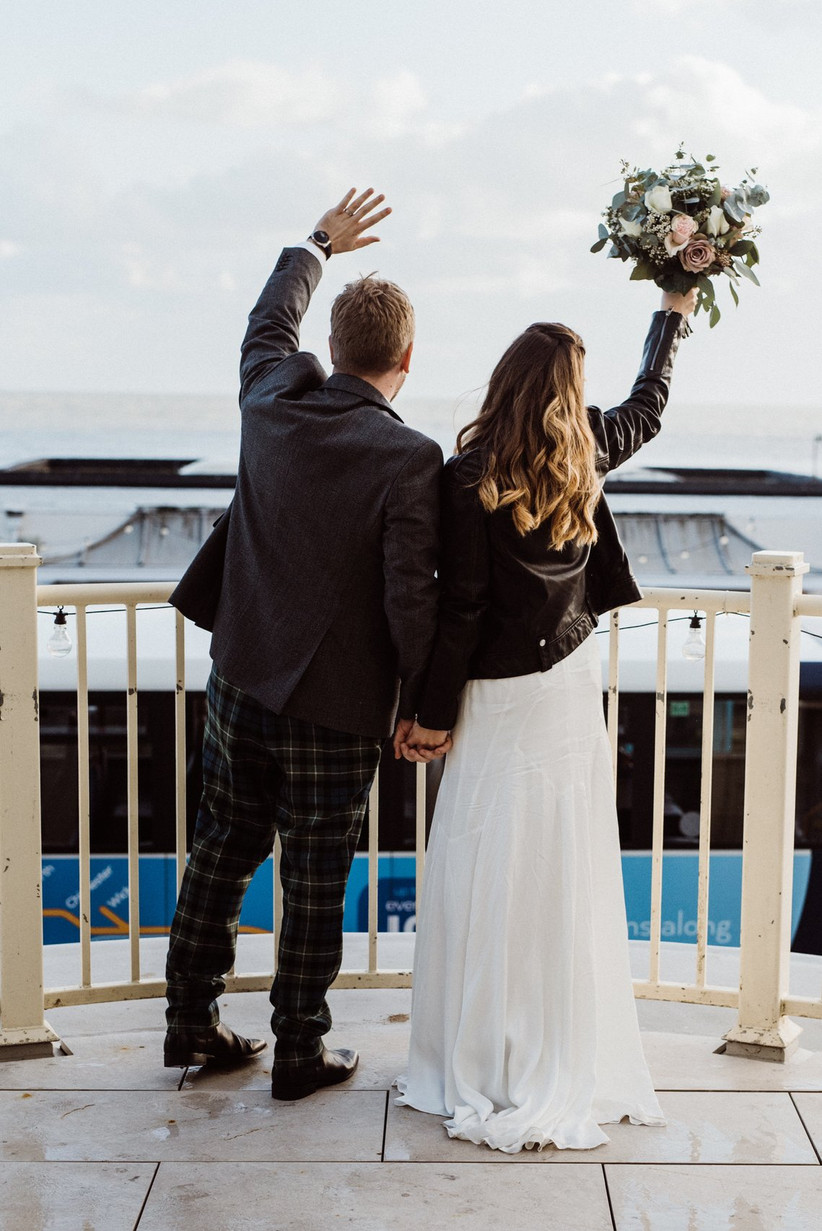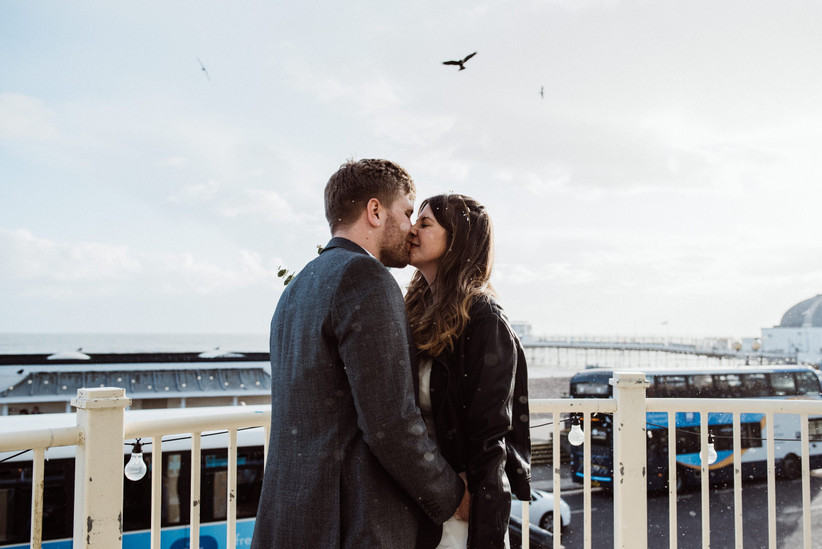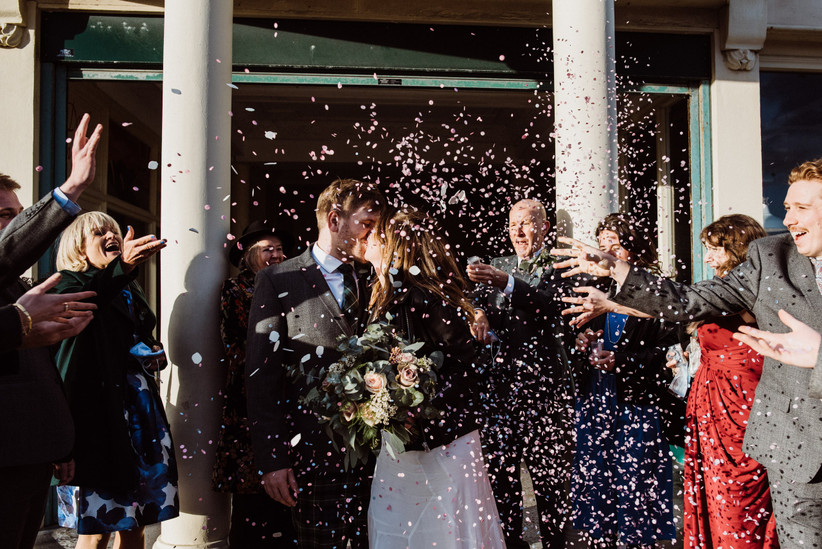 The Wedding Ceremony
The couple said 'I do' at Worthing Dome on the Sussex seafront. "We fell in love with the venue when we walked up to the Whispering Gallery and saw the panoramic views across the south coast and over Worthing Pier," remembered Catriona. With a November wedding date, they knew they needed a warm building, with non-negotiables being easy transport links and interesting architecture.
They hosted their civil ceremony in the unique mezzanine space - a short service without any hymns or readings where Catriona was walked up the stairs and down the aisle by her dad Kenneth to the sound of their friend singing.
"Our friend Joel rearranged and recorded a song that Callum and I both adore, and regularly sing at each other. The initial plan was for Joel and Callum's brother, Jonnie, to play the piece together; this will wait until next year."
Callum's favourite moment of the day is evident from the delight on his face in the photos: "Seeing Catriona in the dress for the first time as she came up the stairs."
They chose a sage, blush pink, navy blue and cream colour scheme, and the chosen palette shone through in Catriona's bouquet.
The bouquet, made by The Brighton Flower Company, was their only floral decoration, and played with the wild, whirlwind vibe of the day. "It was a mix of eucalyptus, wax flowers, roses, and asparagus fern. It wasn't a neat bouquet but deliberately chaotic with leaves and blooms sticking out all over."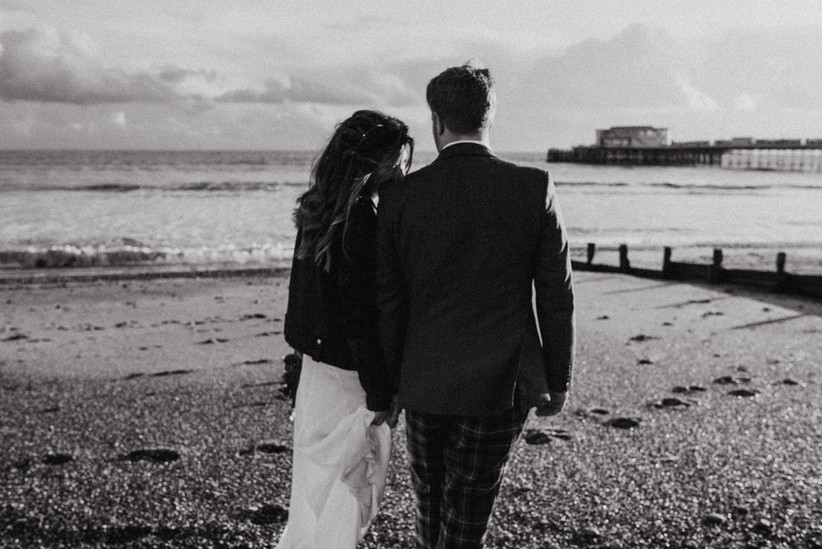 The Wedding Reception
Initially both the ceremony and reception were due to take place at Worthing Dome. "However, with the restrictions, we had to move the reception meal to a restaurant in Brighton."
The constant change of plans meant that a lot of the ceremony and reception's décor and stationery was DIY. Catriona and Callum and their family members rented a laser-cutting machine to make cork magnets in the silhouette of the dome for save the dates, and Callum's step-mum sketched their initials to use on their digital invites.
"We had black and white photo bunting strung up around the staircase and balustrading. The photos were of all the people we invited to the ceremony but couldn't make it due to restrictions. The bunting had coloured ribbons matching our colour scheme tied between each photo. All prepared by us on our living room floor the night before the wedding."
They had mini bottles of alcohol as favours to match their miniature wedding. And although they couldn't have a formal first dance, they were able to have a mini dance to the exit music at their ceremony - Tonight We Fly by The Divine Comedy.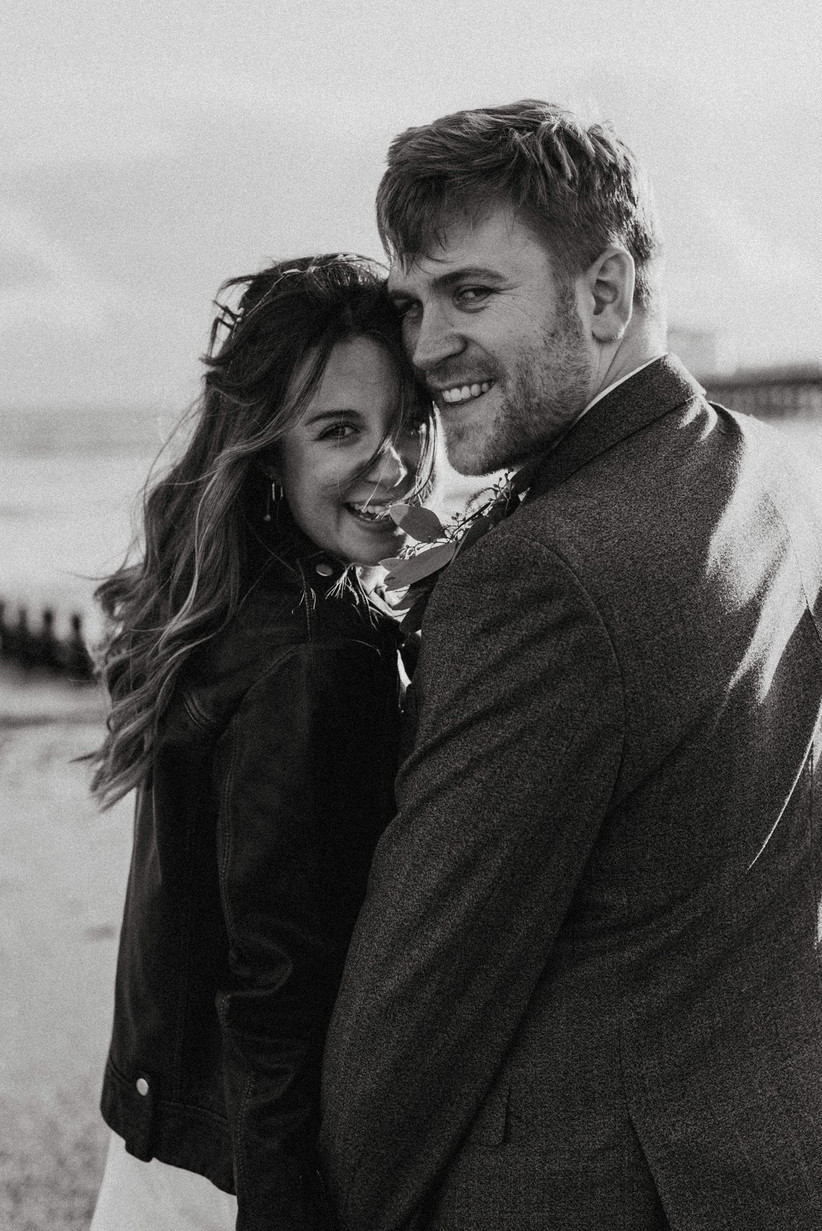 The Couple's Advice
"We were just so pleased to have had the day and now be husband and wife. We were one of the lucky ones who were able to rearrange on such short notice and have friends and family around us," said Catriona.
The couple weren't able to jet off on honeymoon, but instead had a honeymoon at home with an idea we love - throwing international-themed date days.
As for what they learnt from the experience, the newlyweds recommend making a smaller, separate budget so you don't find yourself short when you come to throw a larger reception in the future, and to rely on loved ones for help.
"Everyone is different, but don't lose sight of why you're having the ceremony with that person and accept help from everyone willing."
The Suppliers
Venue: Worthing Dome
Photographer: Kitty Wheeler Shaw Photography
Florist: The Brighton Flower Company
Rings: Camelot Diamonds