Real Covid Wedding: Camilla and Angus, Findhorn Beach and The Kale Yard
This gorgeous Scottish beach wedding came together after Camilla and Angus had to twice reschedule their plans. It turned out to be the perfect day: "Our favourite beach and our favourite restaurant with our nearest and dearest".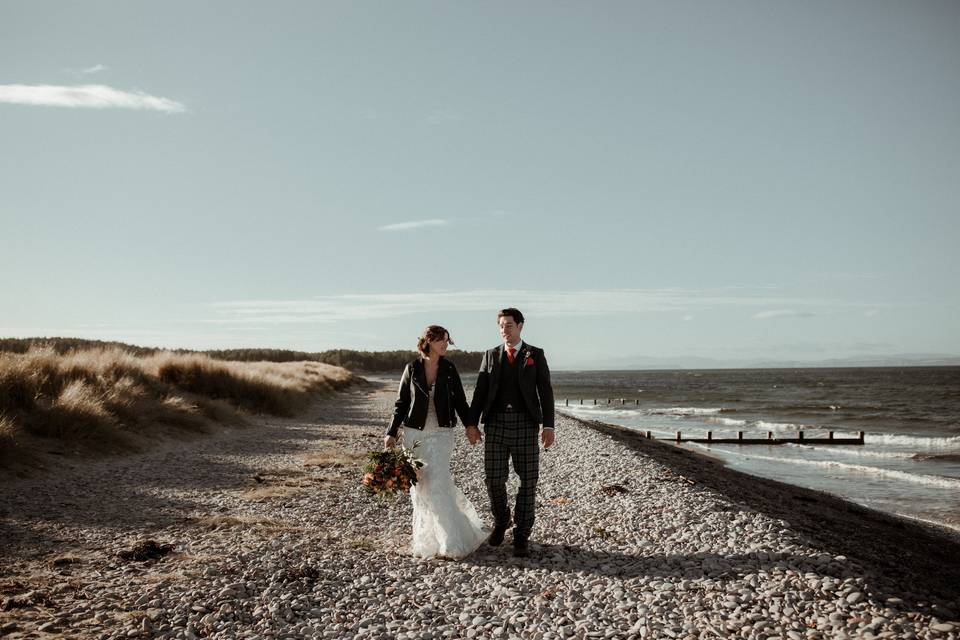 With plans changed twice by COVID, Camilla and Angus decided to swap their May country garden wedding for a chilly but beautiful day on Findhorn Beach in Scotland in November. They were joined by 20 loved ones and a very special 'groomshound' at the couple's favourite spot, followed by a wonderful rustic reception at a local restaurant.
Rescheduling was funnily enough how their relationship began! Camilla and Angus matched on Tinder at the end of 2014, however, they almost didn't make it. Angus never asked Camilla on a date and she deleted the app at the end of the year until a 'Galentines Day' with her friends convinced her to give it another go.
Angus messaged her immediately and, fuelled by prosecco on a night out, Camilla sent him her number and said to text her if he wanted a date or she'd delete Tinder again. "It worked!" she said.
However, Angus had to reschedule their first date ("great start, Angus!") and it took a little while longer until they finally met for dinner at a lovely Italian restaurant. Camilla's thoughts that he was a "total honey and also a very good egg" were instantly confirmed. Angus revealed the date had a part two and three too: ice-cream, followed by fizz and strawberries under the stars from a picnic basket on a bench Angus had wrapped in fairy lights. "Did I mention this was February and there was ice on the ground?! And Angus forgot the blanket he had bought especially for the date!"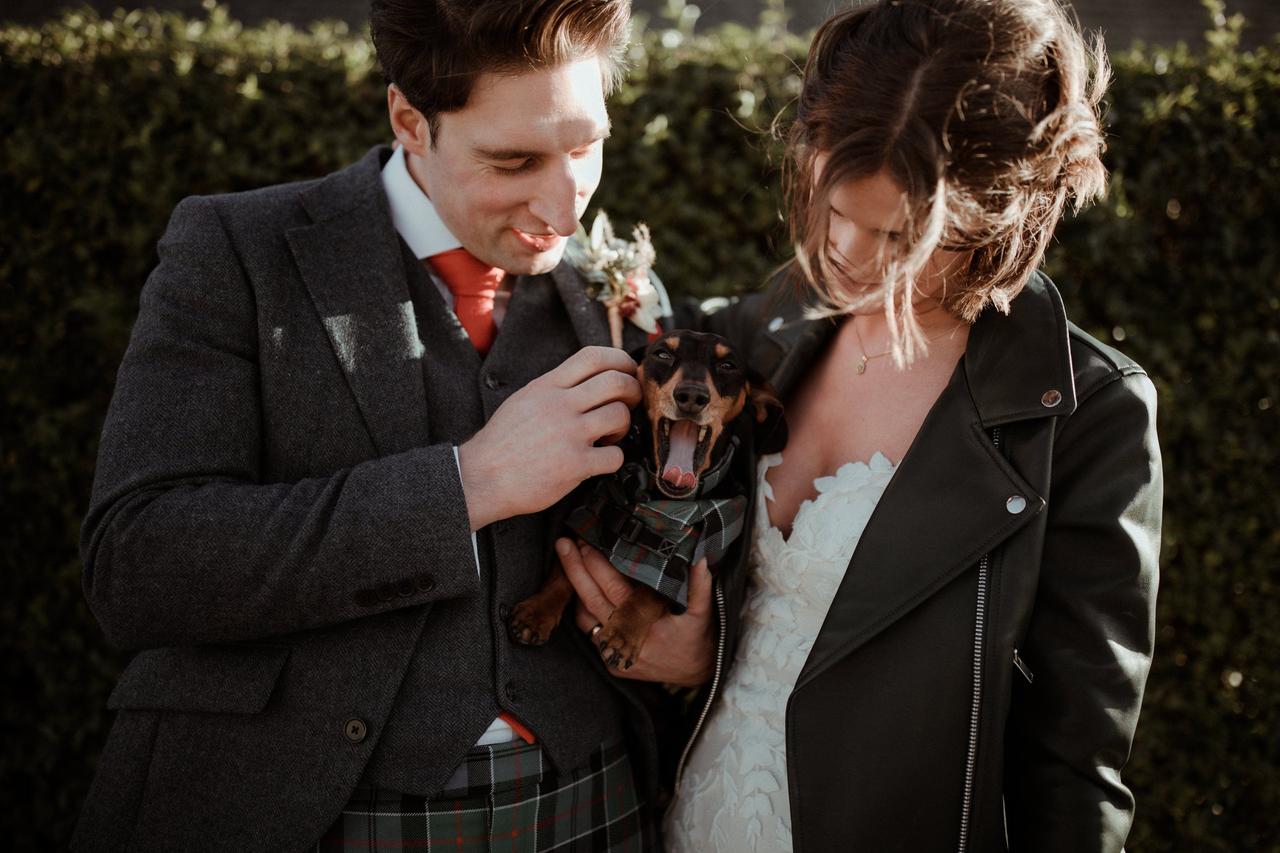 Luckily it won Camilla over and the pair were together for three and a half years before getting engaged in August 2018. Angus proposed during a walk on Camilla's 29th birthday on Findhorn beach, the first place he told her he loved her and what would unexpectedly become their wedding venue.
"I had no idea – for once I was lost for words! To me it was completely normal that a dog walk is what we'd do on my birthday. He had Percy [their dachshund] in on the deed and had created a sign for him to wear around his neck that said, "Will you marry Dad?".
"He had also been down to the beach earlier that morning to hide a bottle of Champagne and glasses in the dunes in the wicker basket he used for the Champagne we had under the stars for our first date! We sat and drank in with our toes in the sand."
The engagement was "a little longer than we originally planned!" Having rescheduled due to COVID, they were engaged for two years before their intimate and beautiful beach wedding. You're going to fall in love with all the sentimental touches they added, plus you need to see their perfect outdoor first dance.
Photography by Rachel & Tonie Photography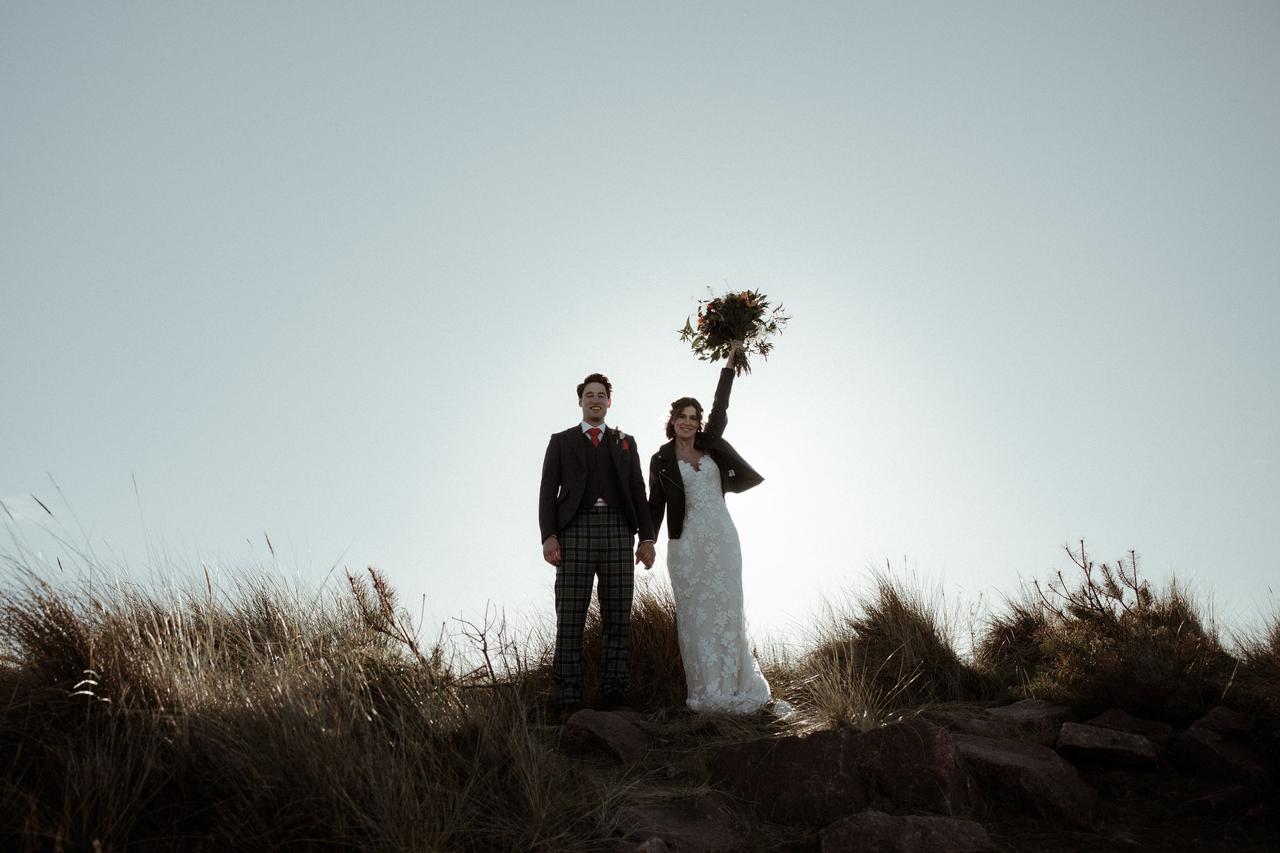 The Wedding Dress
After trying on more than 20 dresses and "beginning to lose hope", the shop assistant at Blush Bride in Fraserburgh, Aberdeenshire suggested Camilla try on one more dress. It turned out to be the perfect dress for both the planned summer country house garden wedding and the rearranged November beach wedding!
"It was called 'Lesley' by Enzoani – a mermaid gown with sweetheart neckline. It had floral Chantilly appliques all over with intricate embroidered lace over the softest tulle, described to me as an 'ethereally romantic look'. I opted for the Ivory/Sand colour over pure Ivory (which in hindsight worked out perfectly for the wedding we had on the beach!).
"I wasn't even going to try it on, but the shop assistant at Blush Bridal showed it to me and I laughed, responding I'd never be able to look good in something like that. But she asked me to just entertain her and try it on.
"I tried it on and fell in love instantly. My Mum and sister were with me and having previously been in tears of laughter watching me try and squeeze into another dress in a different shop (which resulted in me almost getting stuck in it!), they had tears of joy with this one. It's cliché, but I just knew."
The change in venue and time of year required a little creative altering, with floral Chantilly applique shoulders replacing thin straps. A very simple floor-length veil and some Monsoon hair slides were added to accessorise the detailed dress, and Camilla commissioned her friend Amy Singer, who is an artist, to create a personalised leather jacket for after the ceremony. "I loved wearing it," she said.
Shoes also needed a little tweaking. "I ended up getting married in walking boots on the beach, so I changed into my green velvet LK Bennet heels once we were on firm ground!" said Camilla.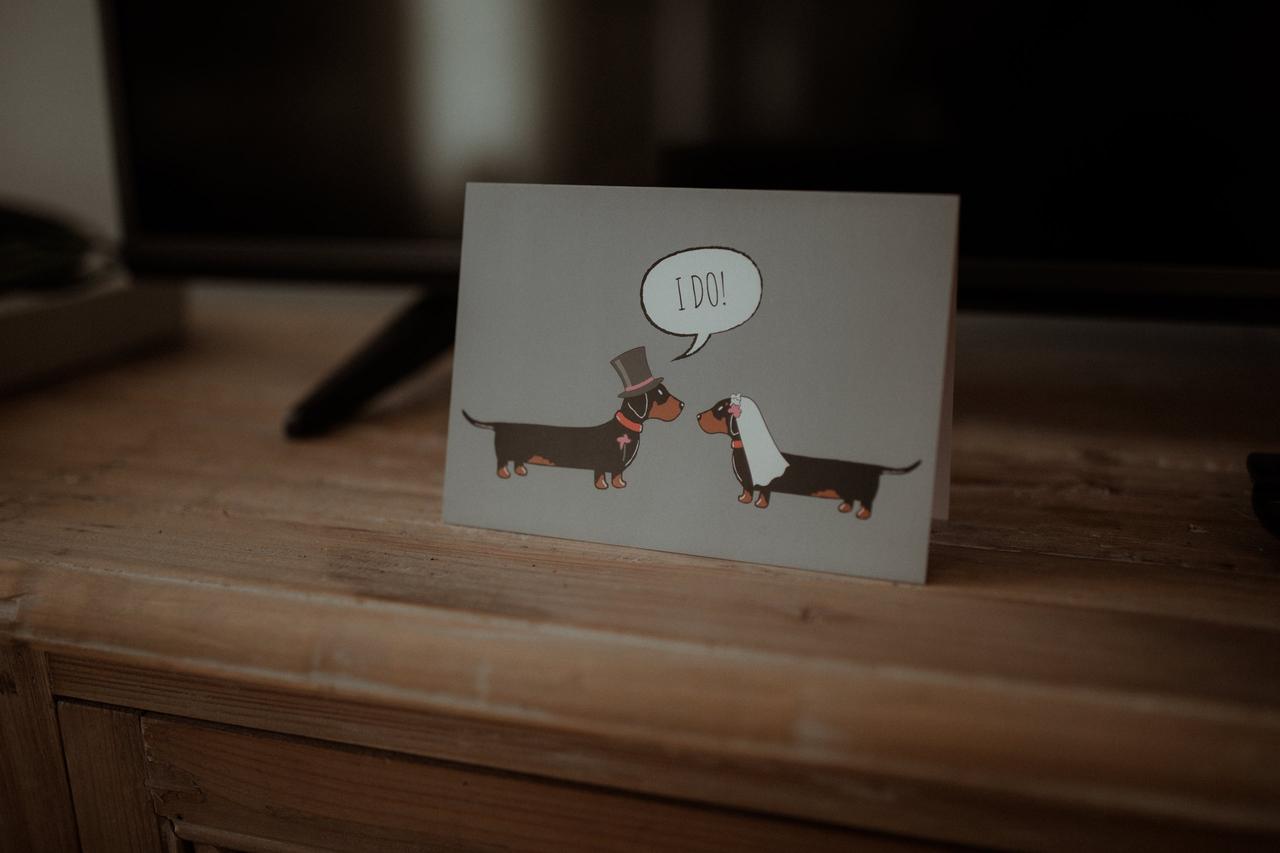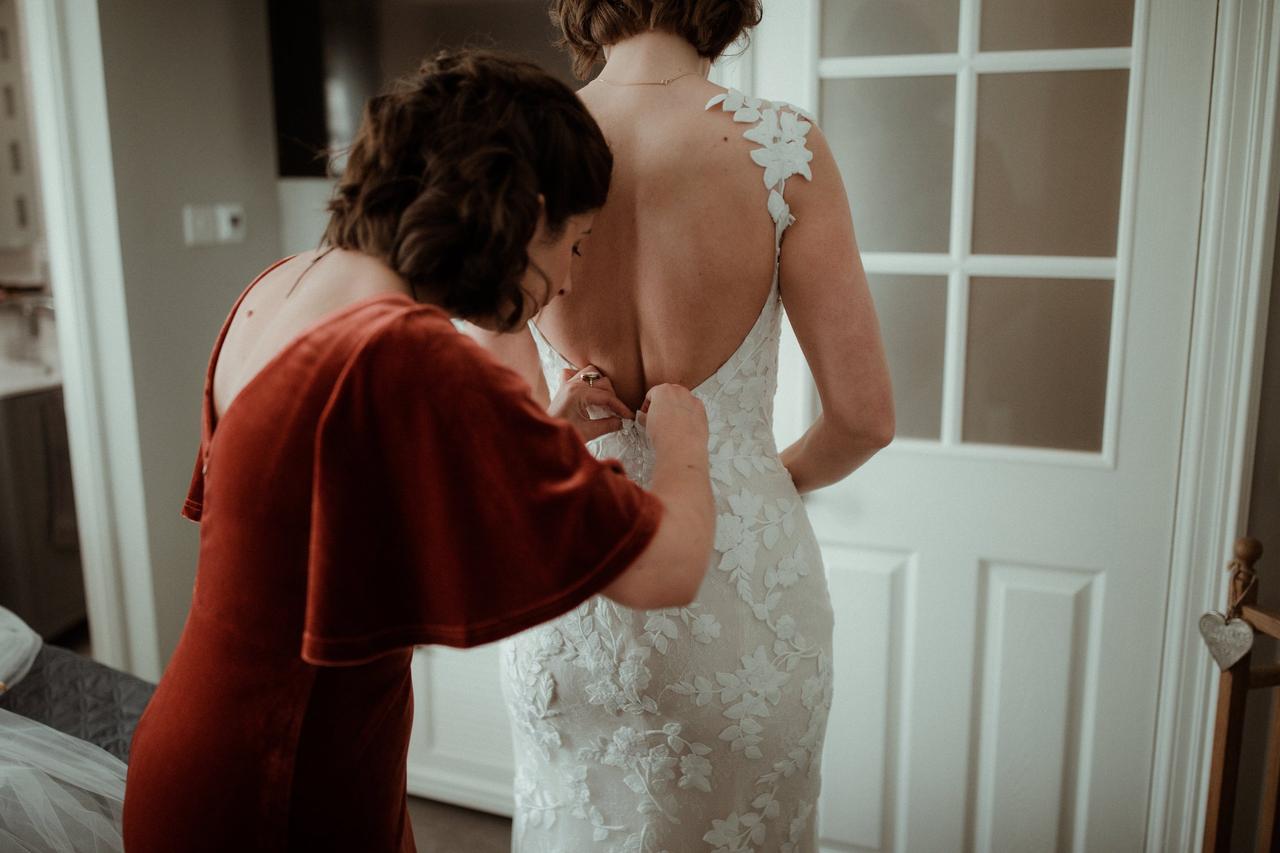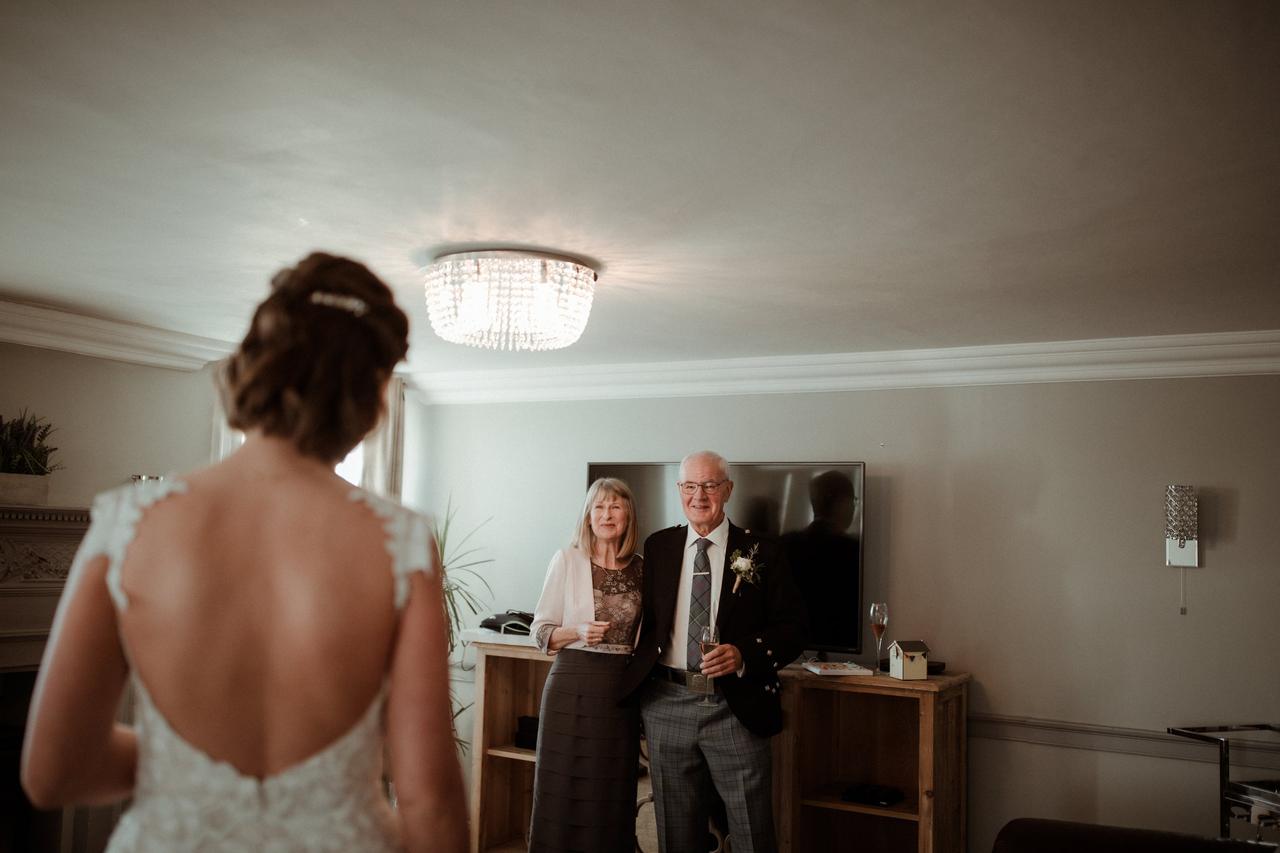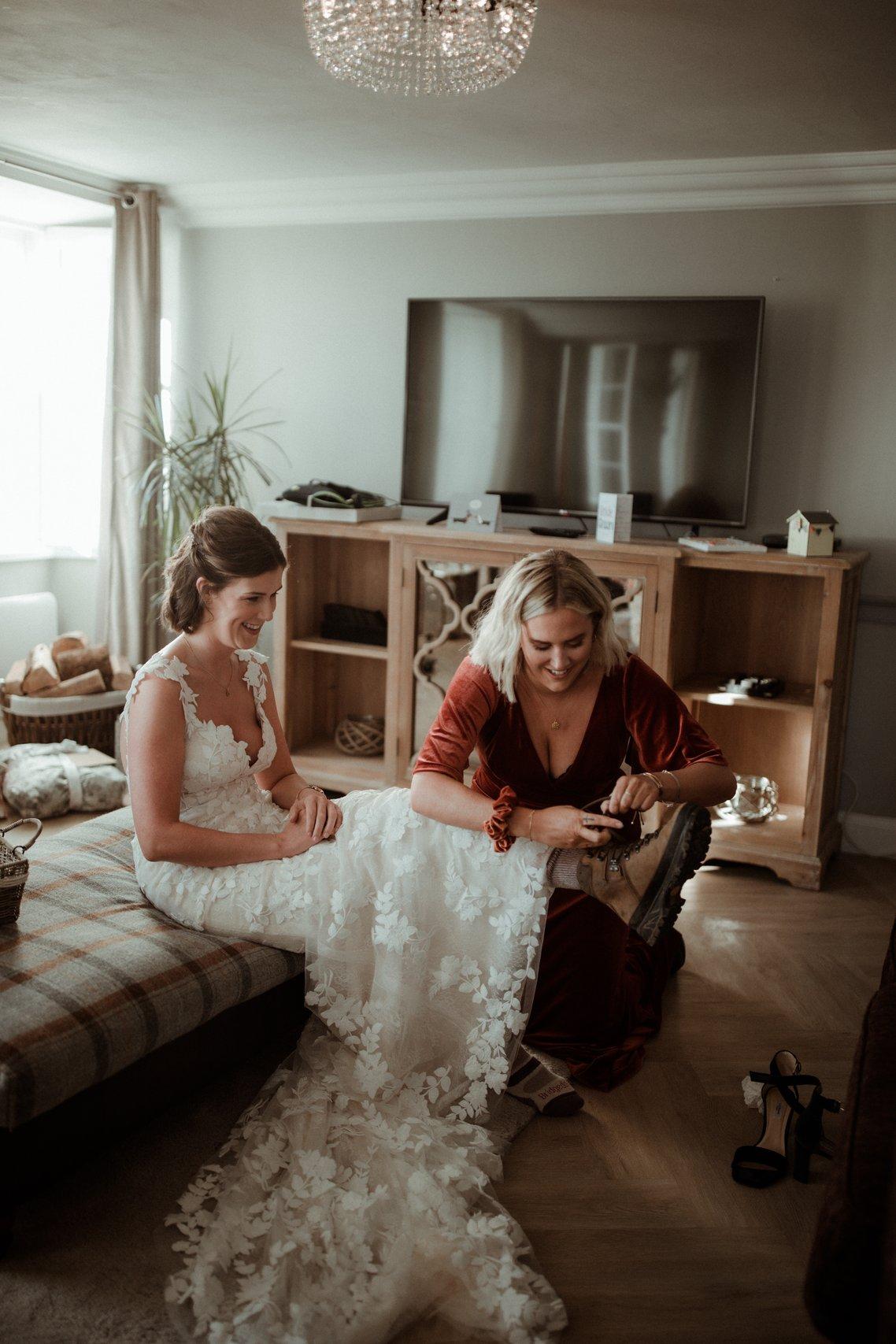 Bridal Beauty
Camilla was determined to use as many local small businesses as possible and she chose Moray-based suppliers Denna Whyte to do her make-up and Shannon Wilkinson for her hair. She had two trials with both - one before the original May 2020 wedding date and another once they "bit the bullet" and decided to go with November.
"My hair was very similar to my usual look. Although after almost two years of growing my hair for the wedding and feeling like it was never going to happen due to COVID, I had previously made the impulse decision to get my usual chest-length hair chopped to just above my shoulders. It was a lot shorter than I'd ever previously had.
"Despite the difference in length, my style remained the same, I had relaxed wavy hair in a half-up/half-down style and added in some hair slides since it was a wedding after all."
Camilla chose a natural look for her makeup too. "I don't wear much makeup and I don't like it when makeup looks too heavy set; I wanted something natural and it was important to me for Angus to recognise me on the day! I had neutrals – browns, golds and soft smoky eye and a natural lip."
To complete her look, Camilla added some very special jewellery.
"My mum bought me a peridot (my August birthstone) and diamond gold necklace as a wedding gift, to match my Nanny's peridot gold ring that I wear every day. I also wore her peridot and diamond earrings that she gave me before she passed away (we were both August babies)."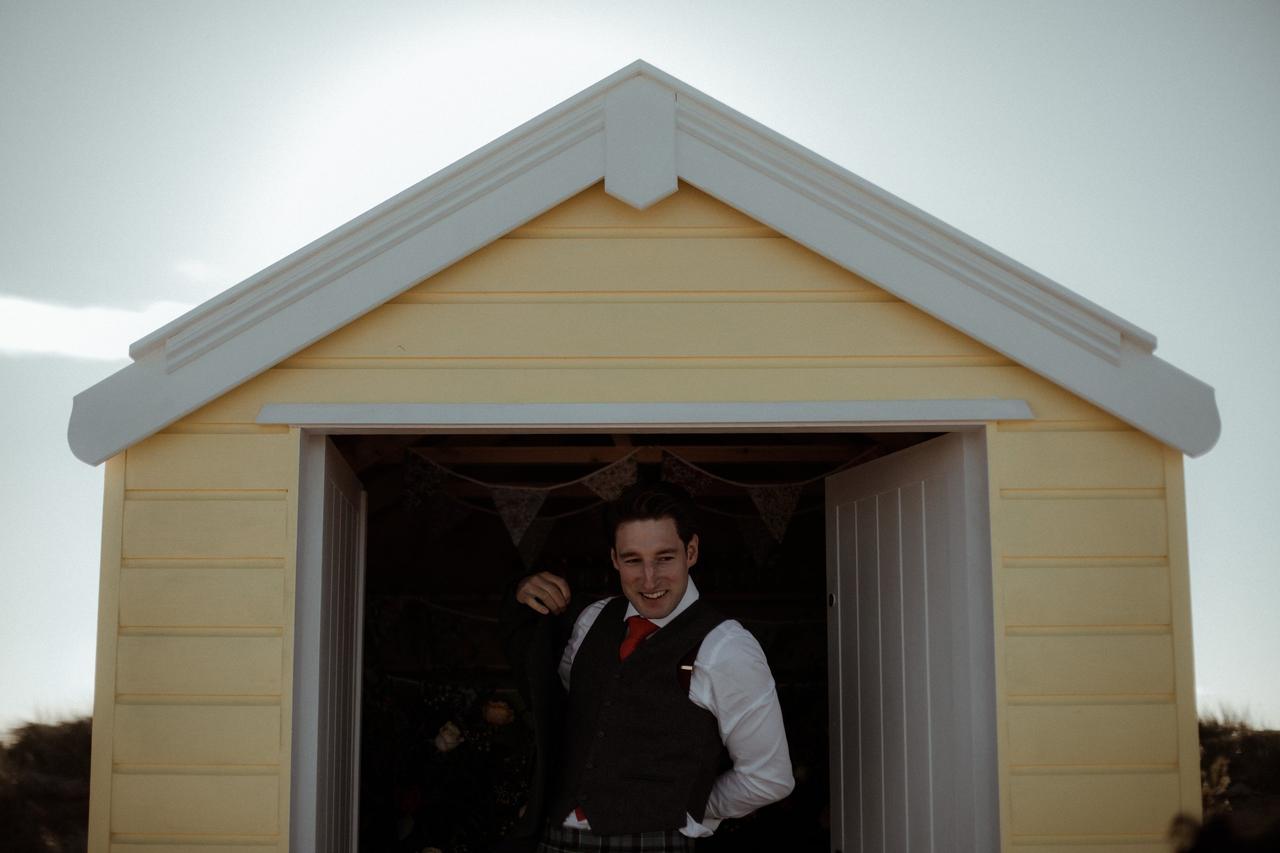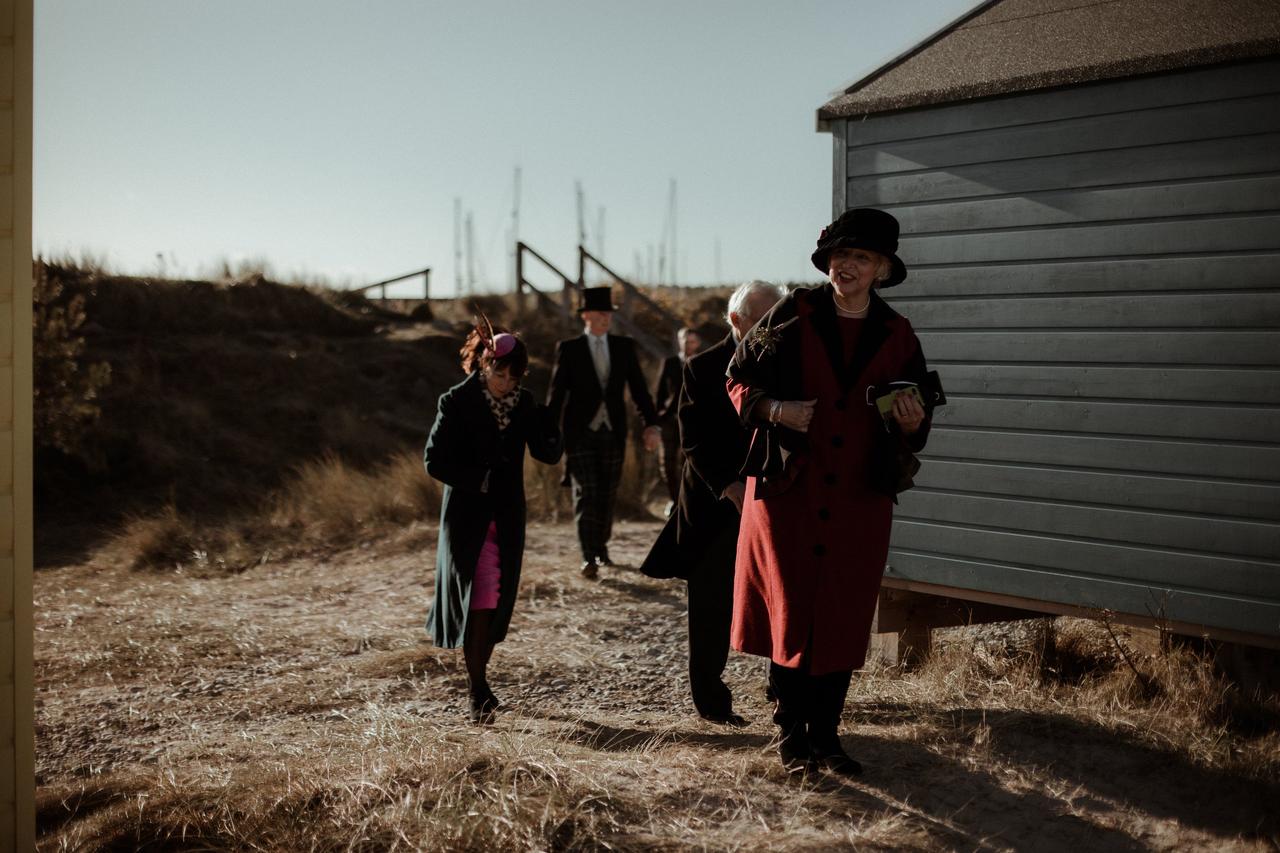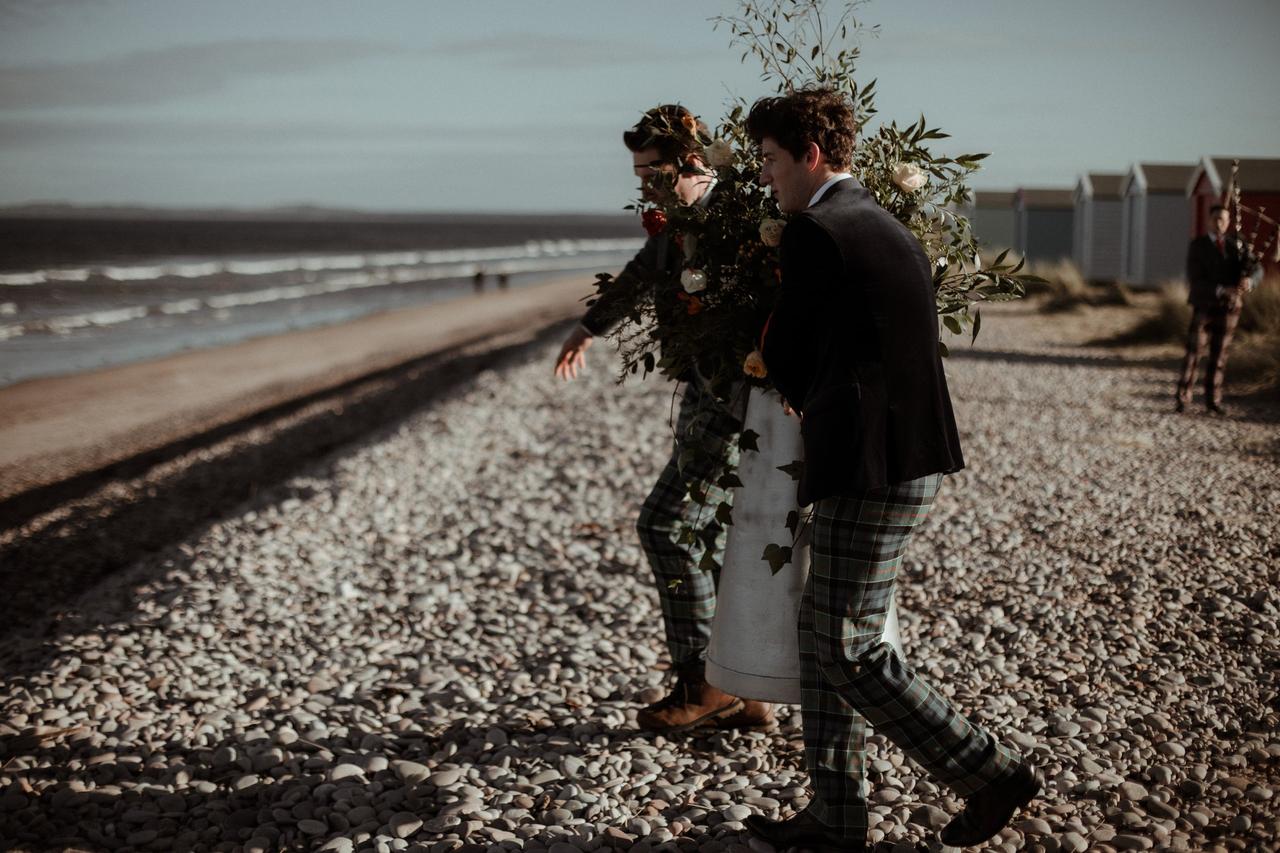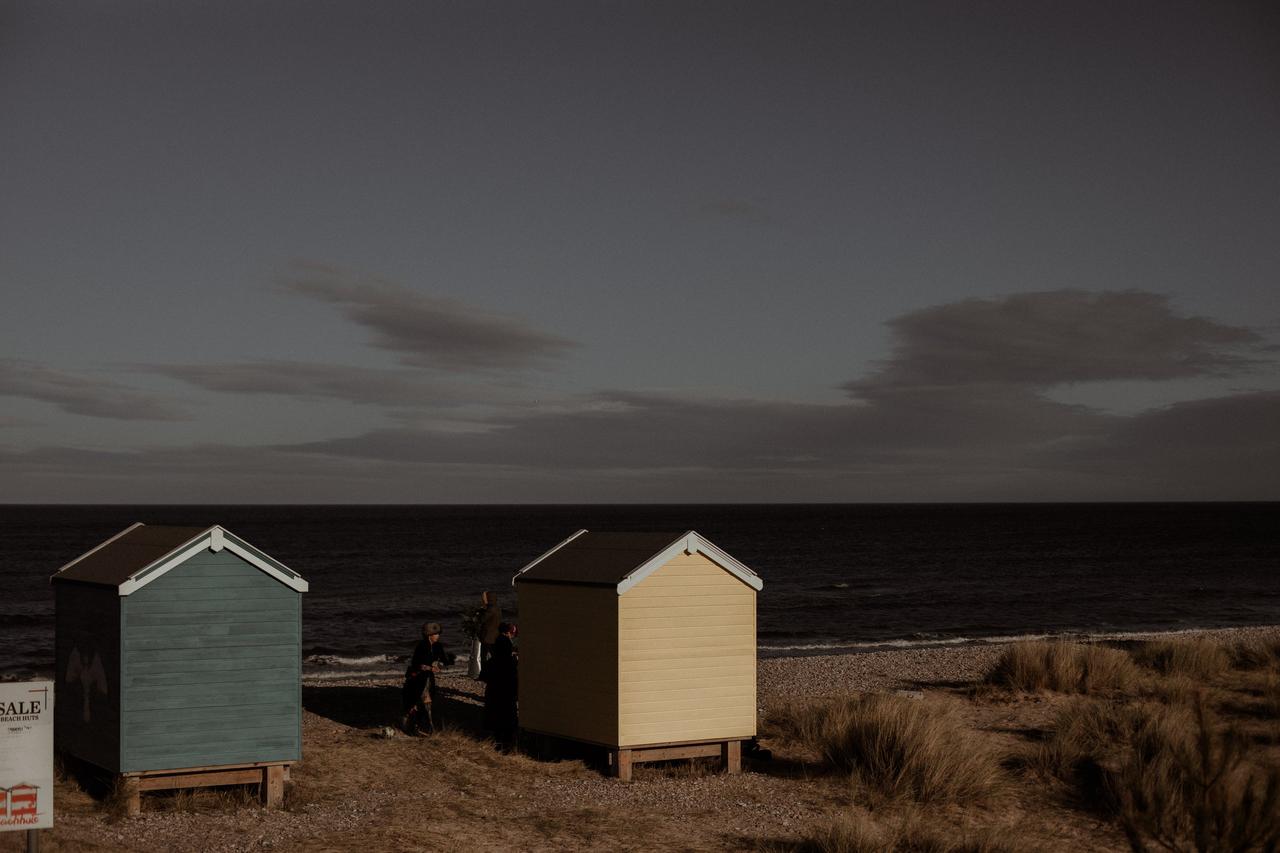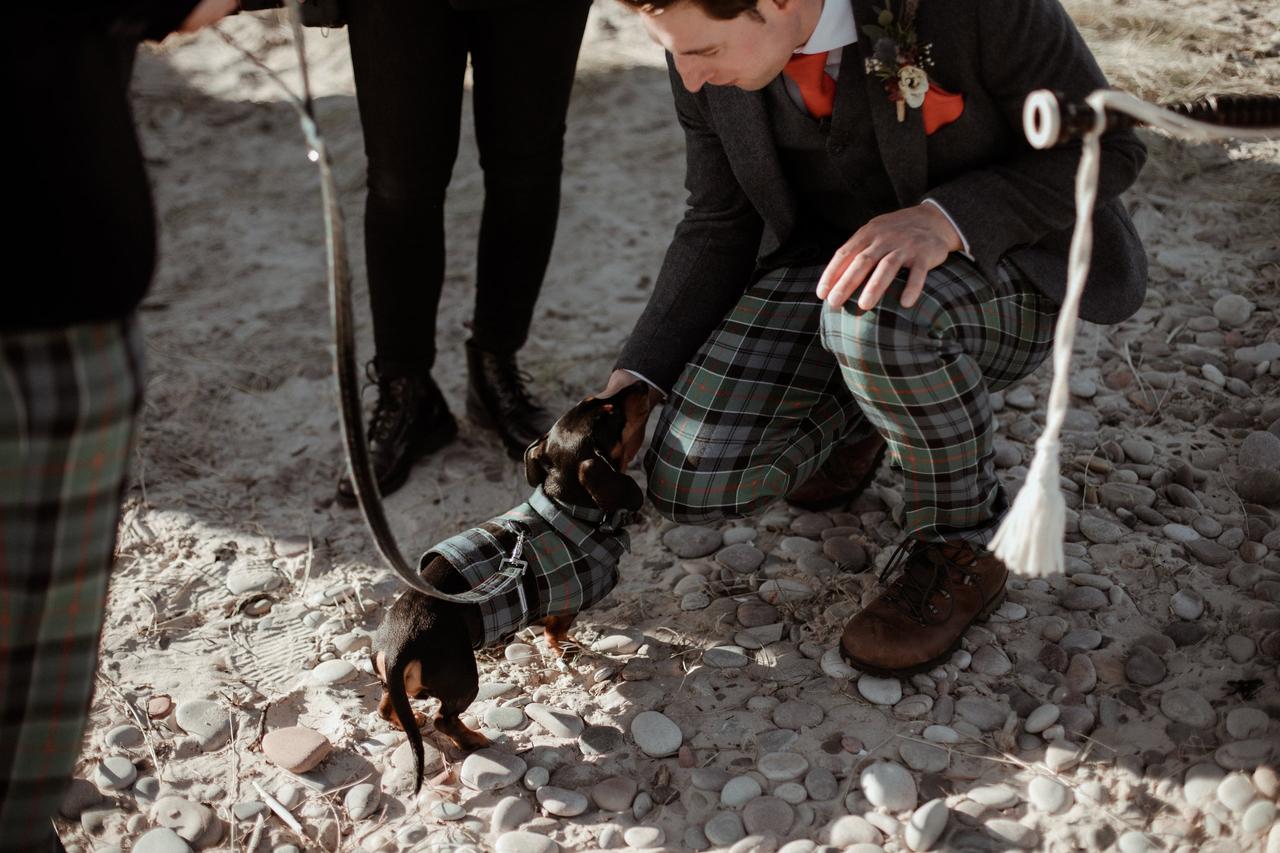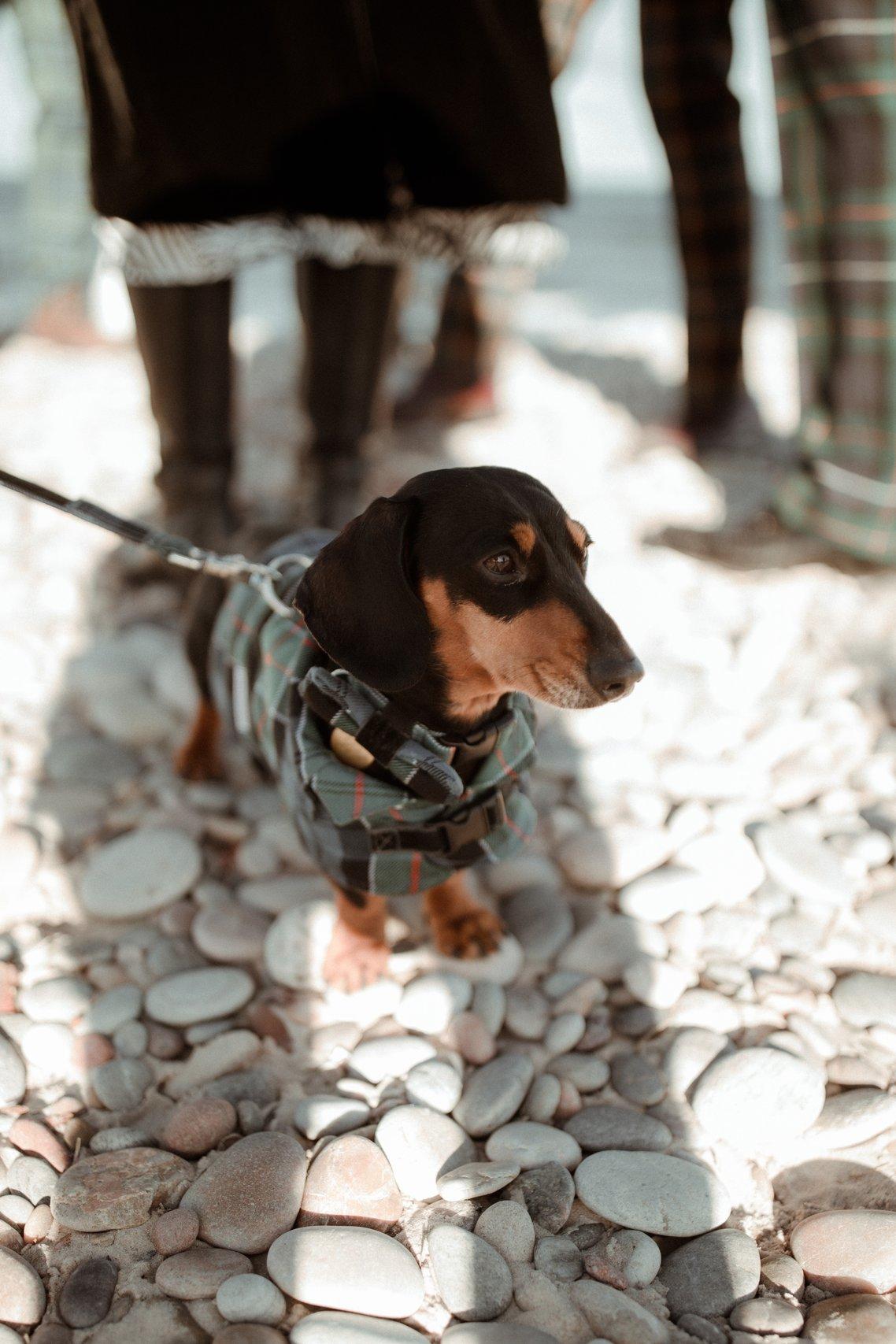 The Wedding Morning
"The whole morning was special – waking up with my Mum and sister in a glorious house on Findhorn Beach and my Dad arriving later," explained Camilla.
"He's the most sentimental person I know and he handed me the pin that he and my Mum used to keep my baby dummy pinned to my baby-grows (we had no idea he kept it!) in case 'Angus and I might need it for one of our own in the future'.
"He also put his hand in his pocket in the morning to take out any money he had as he always said he'd give me anything – down to his very last penny. When he put his hand into his pocket he had the grand total of 31p in there which was how old I was on my wedding day, so he handed me his very last pennies and the pin. Needless to say, my makeup needed touching up afterwards."
Angus spent the morning getting ready with his groomsmen and had some sentimental additions to his tartan trouser and tweed suit jacket outfit.
"I wore my Grandad's cufflinks and tie clip," he said. "Our button holes had my Dad's (who is sadly no longer with us) favourite flower in them, as did Camilla's flowers and our wedding floral milk churns at the top of the aisle and table centrepieces, as a way to include him in the day."
The night before the wedding, they almost had an extra piece of wedding décor! "I ended up in a local pub in Findhorn with my best man and youngest brother and one of my groomsmen, Sandy, and almost bought an ice-cream bike…it seemed like a good idea at the time!"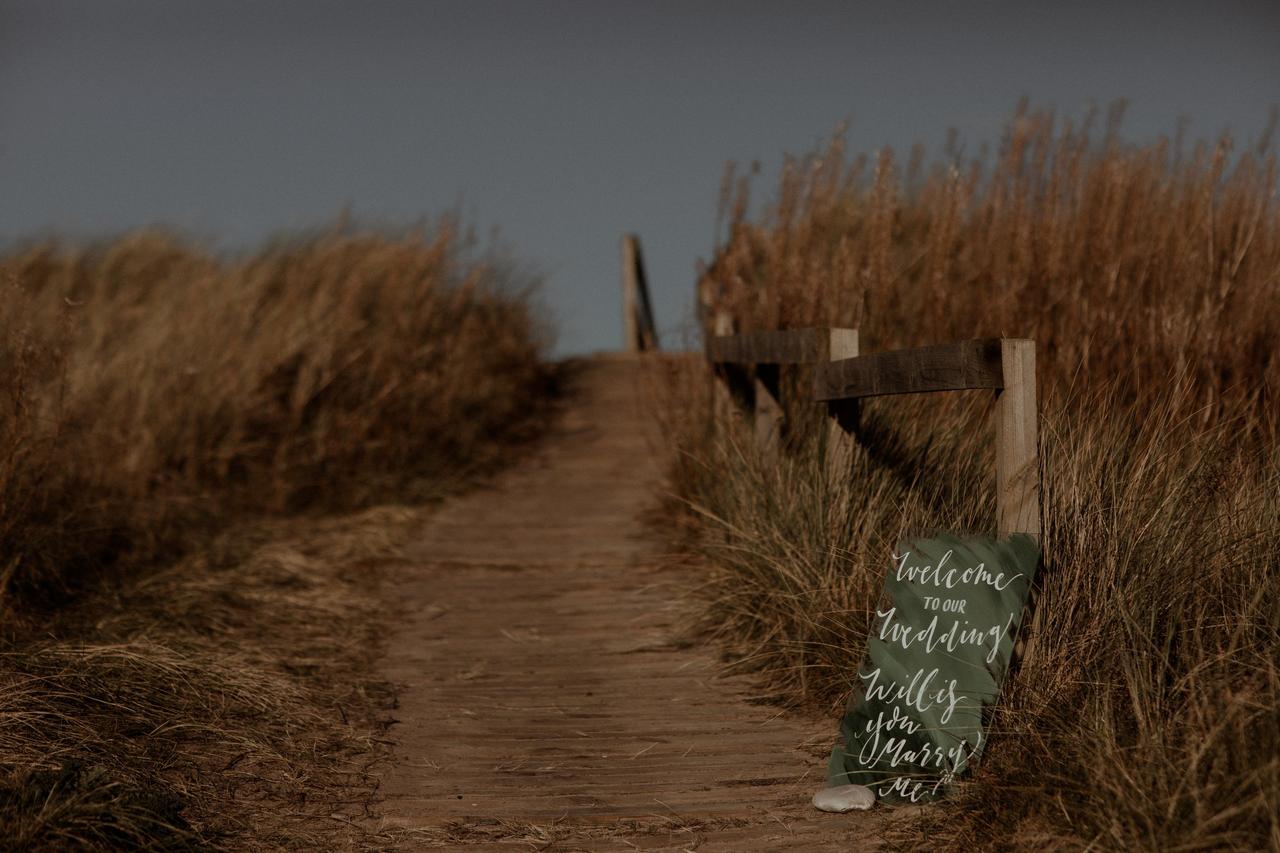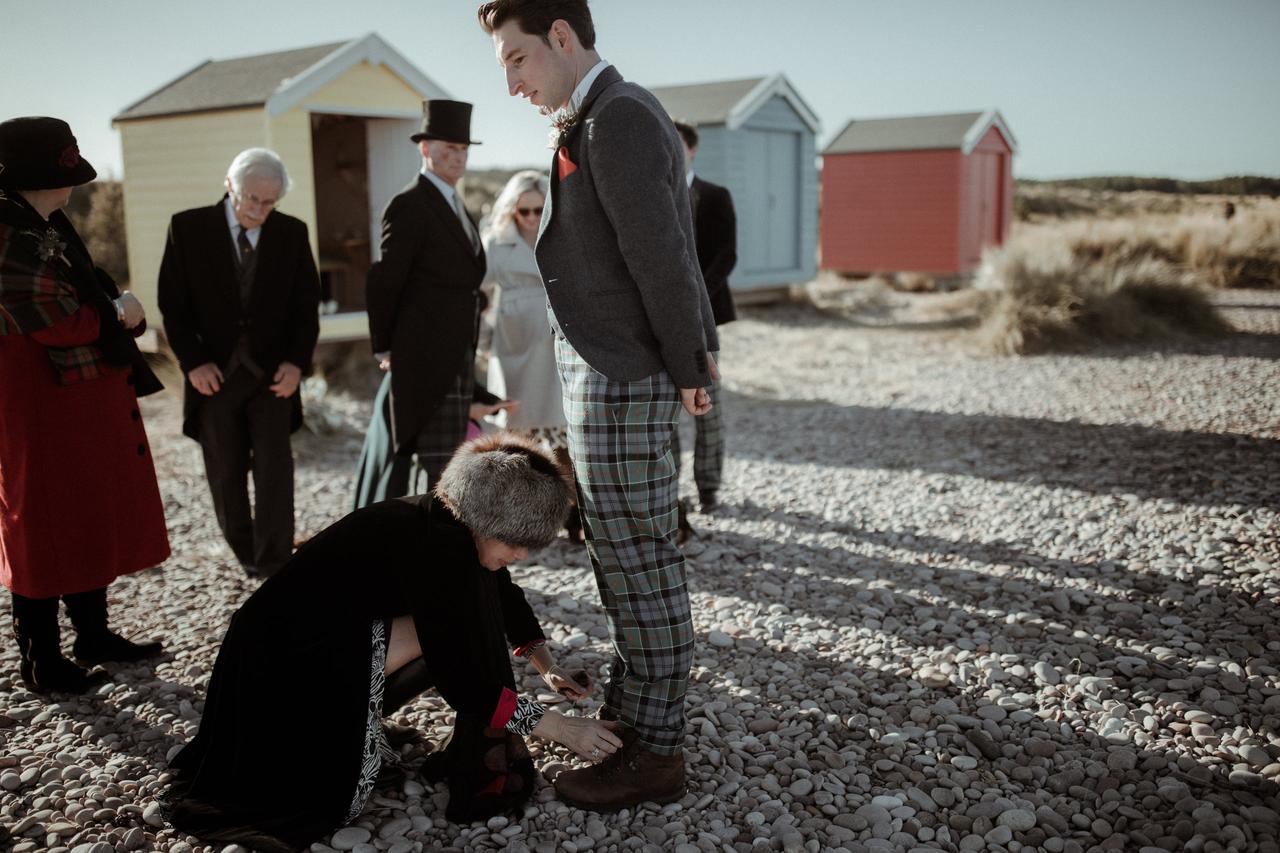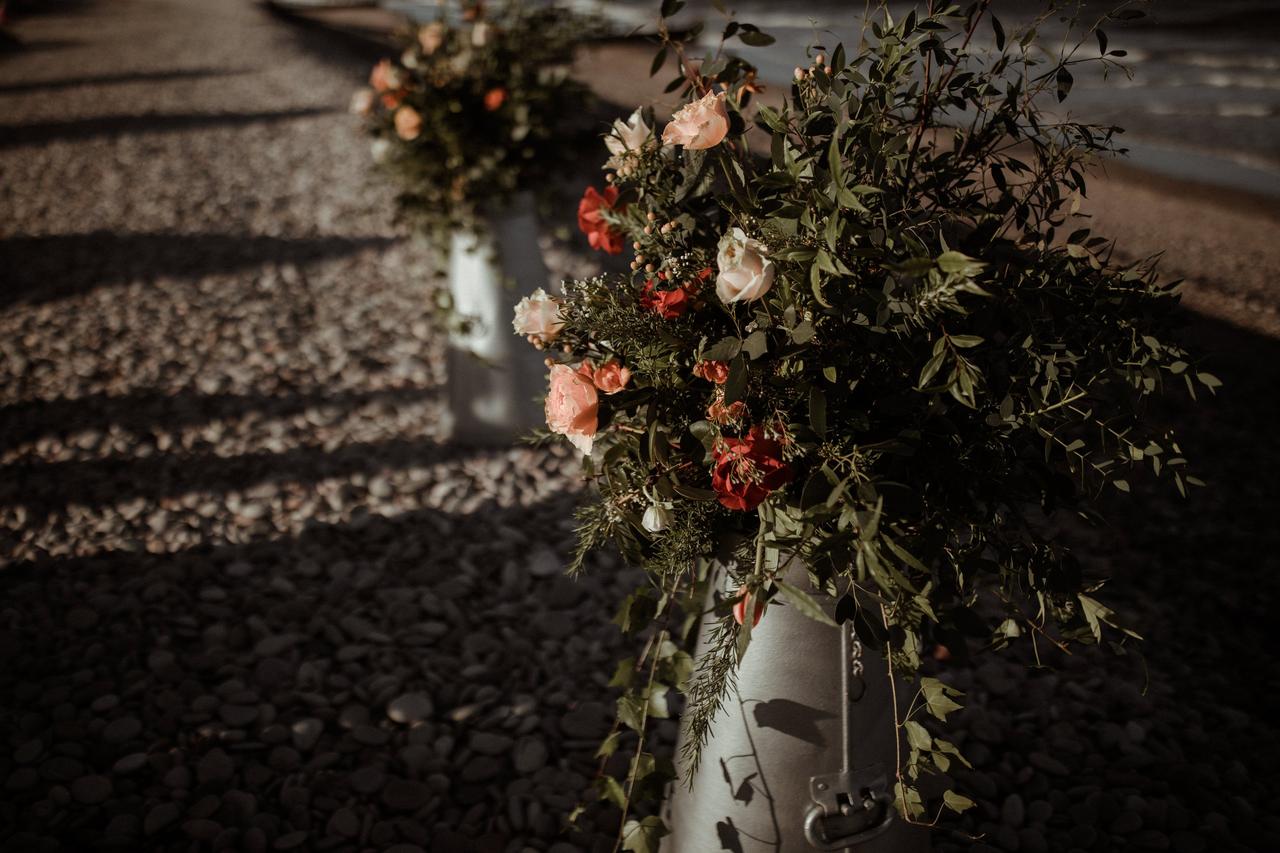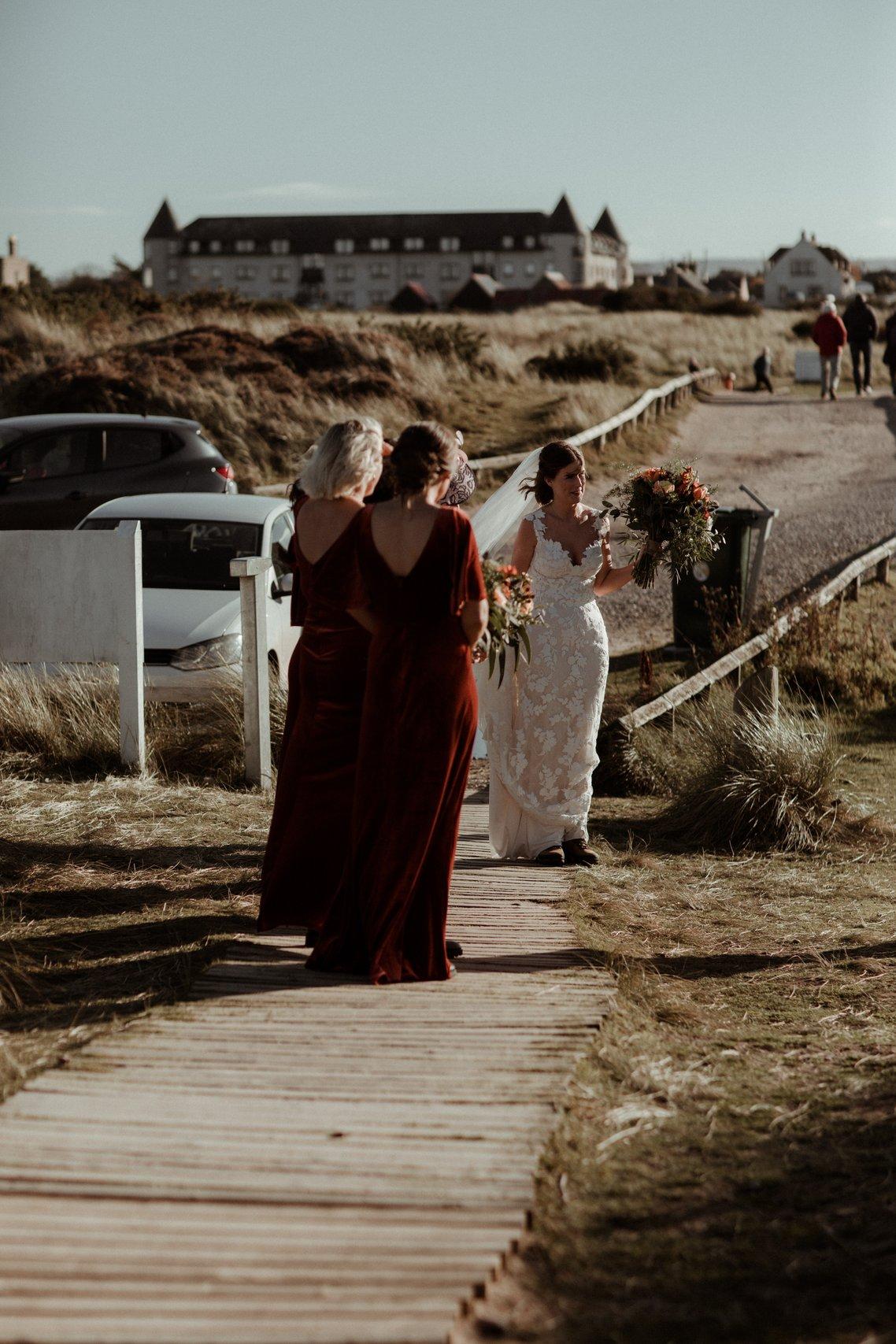 The Wedding Party
Camilla was accompanied by four of her five bridesmaids. "My sister, 'Puff' aka Jess, three childhood best friends from home - Anna, Kelly and Katy - and Christy, my closest friend in Aberdeen who I met later in life. Sadly, Kelly had to join us virtually as she is based in Australia and the travel restrictions meant she couldn't be there in person."
Bridesmaids dresses needed a re-think as well as the wedding dress. The ladies were originally wearing summery slip dresses for the May wedding, but "deciding to get married on a beach, in Scotland, in November was a curve ball so we had to do some panic buying online for dresses that would provide a little more warmth and coverage! I went for a rust/copper velvet full length dress with flutter sleeves."
There was a special extra wedding party member too: Percy, their miniature dachshund and 'Groomshound'!
"He wore a bespoke wedding dog waistcoat, collar, bowtie and lead made in charcoal velvet and my family tartan to match my tartan wedding trousers," said Angus. "This was customised from Tartan Dachshund."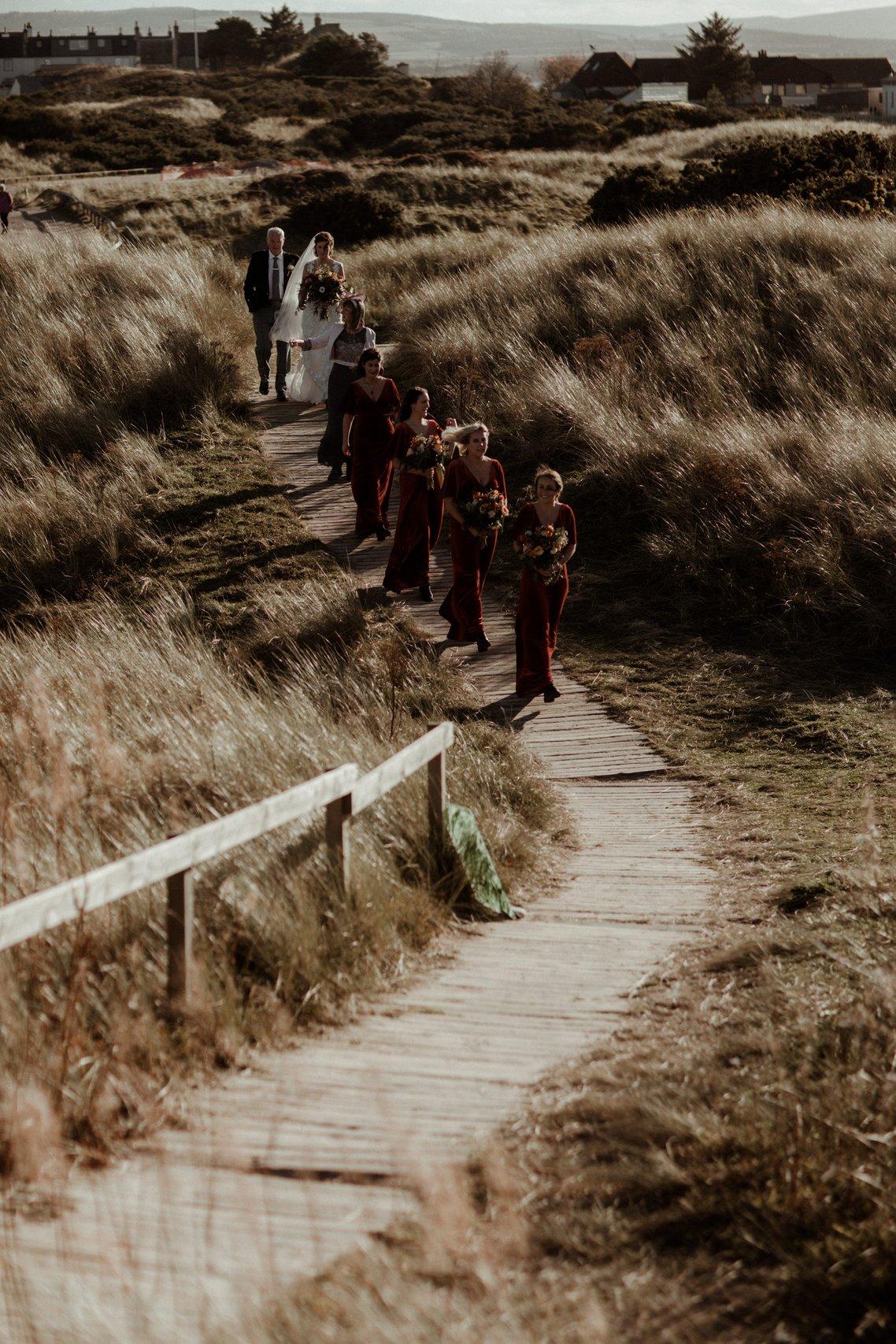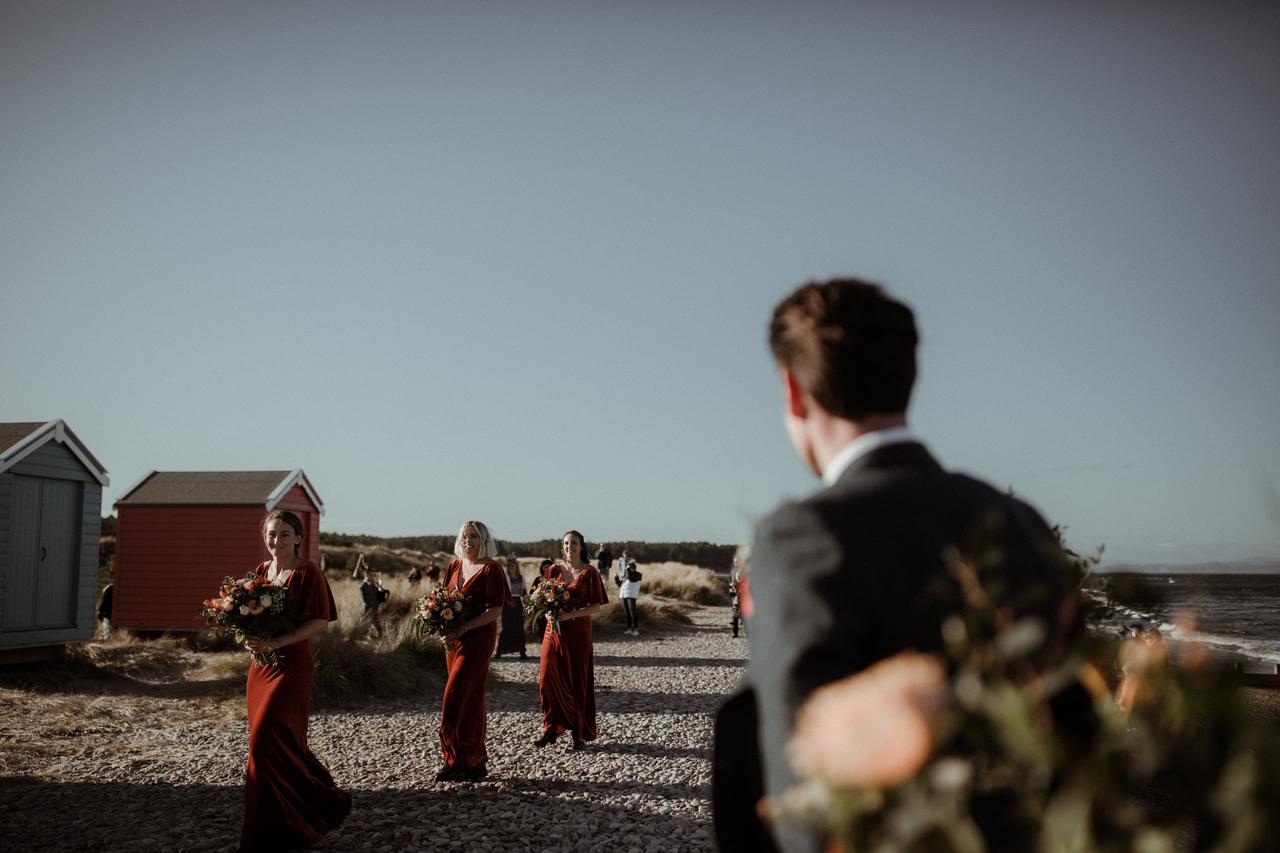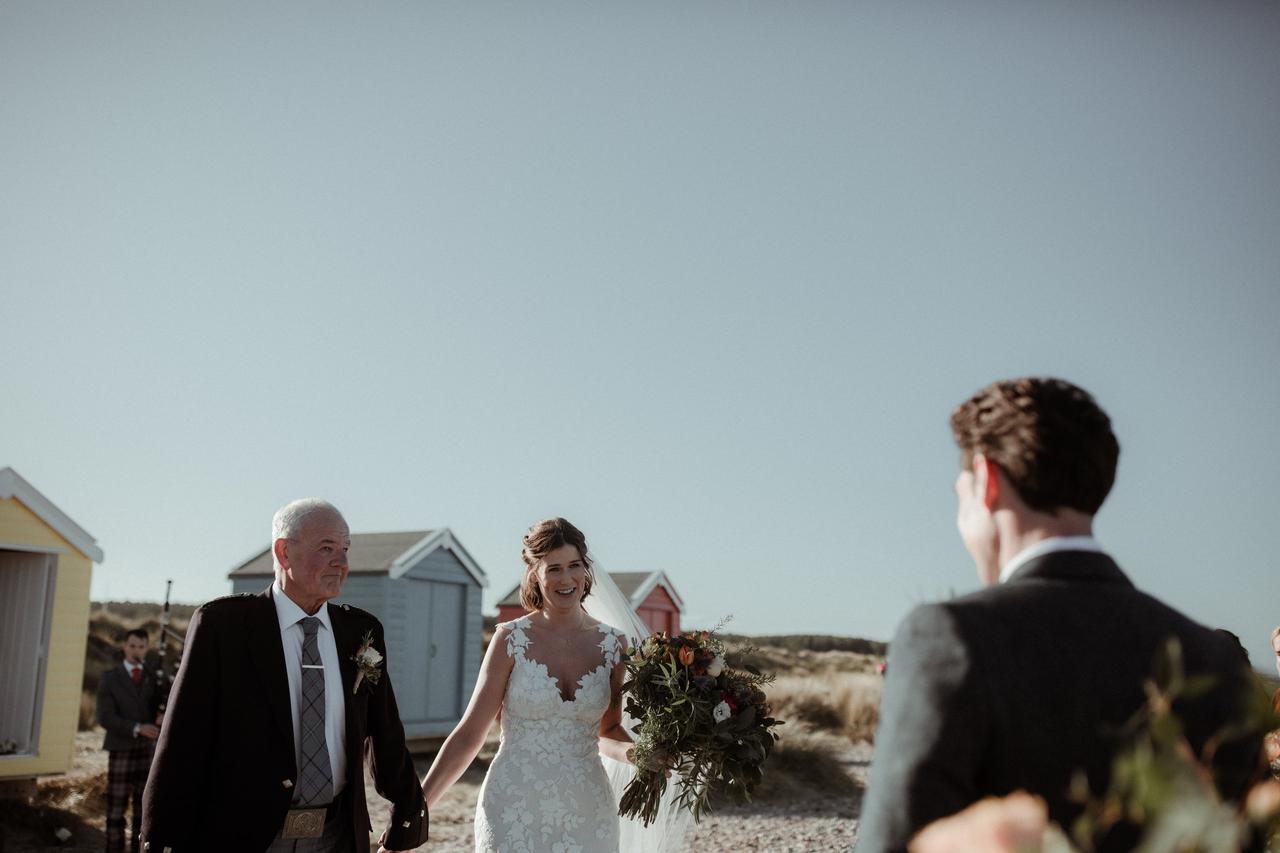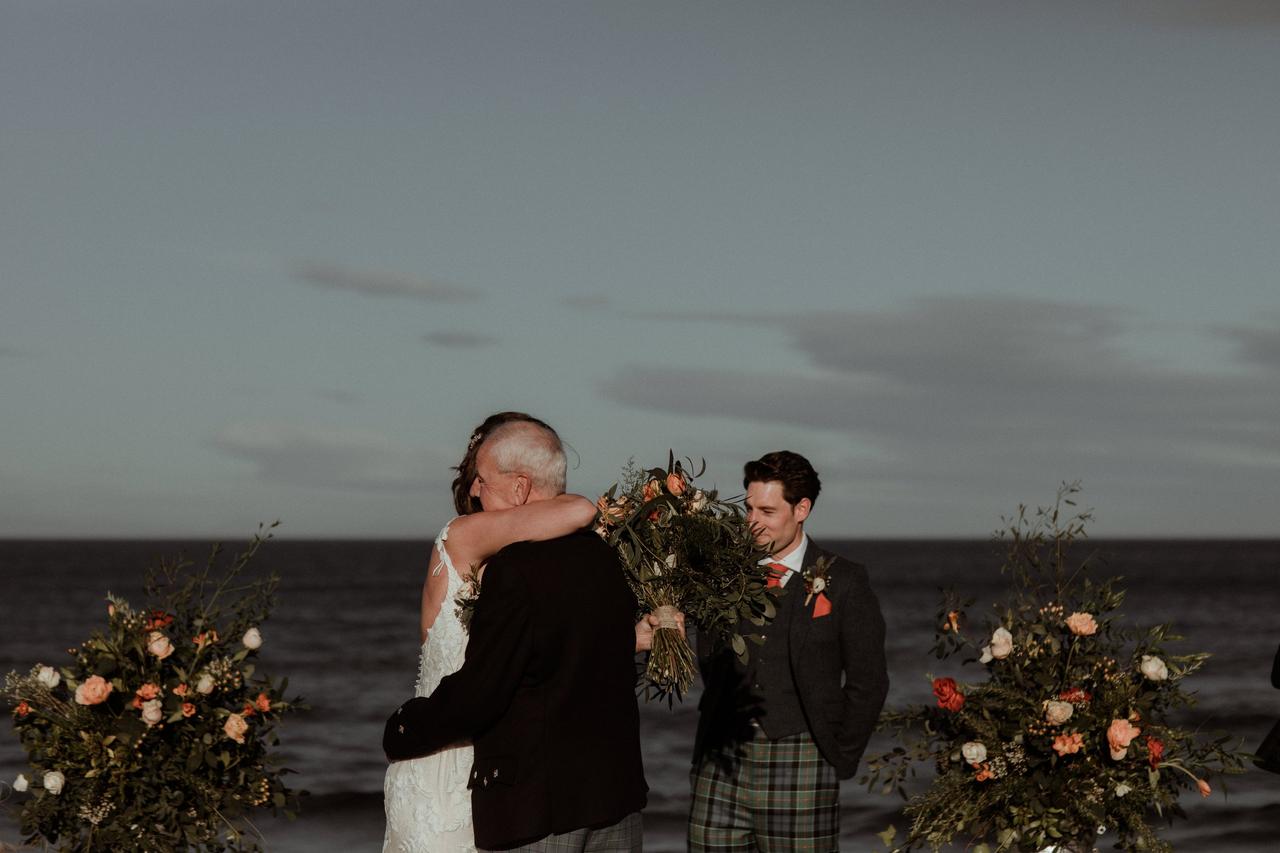 The Change of Plans
"We had to change everything, on more than one occasion," said Camilla. Their initial plan was a summer garden wedding on May 16th 2020 at Innes House in Elgin with 110 loved ones joining them. They ended up with 20 guests wrapped up warm on Findhorn Beach in Moray to watch them exchange vows on a bright but windy day in November.
"We were so lucky to have rock star suppliers and really understanding people to deal with this. COVID showed us the very best in people and how fabulous the wedding community is," she said.
"Our original day was planned for Innes House in May – a gorgeous country estate in Moray that we fell in love with as soon as we pulled up. We had planned to marry in the garden grounds and have the evening reception in their 'outside/inside' marquee that was glorious.
"Jayne, their wedding coordinator was fabulous through every step of planning the wedding, and also was an absolute star when we had to make the gutting decision to change the plan completely after two reschedules. COVID was creating too much uncertainty and we just wanted to be married."
They decided on Findhorn Beach in Moray for their new ceremony, The Yacht Club on the beach for after ceremony drinks and nibbles, and The Kale Yard, Auldearn, for the reception and evening meal.
Looking to silver linings, the couple are going to put the money they saved towards a big investment. "We dramatically underspent having had to change from a country house wedding with 110 guests to pitching up on a local beach and a meal for 20. We've saved the money we would have spent and are going to use it towards our dream home."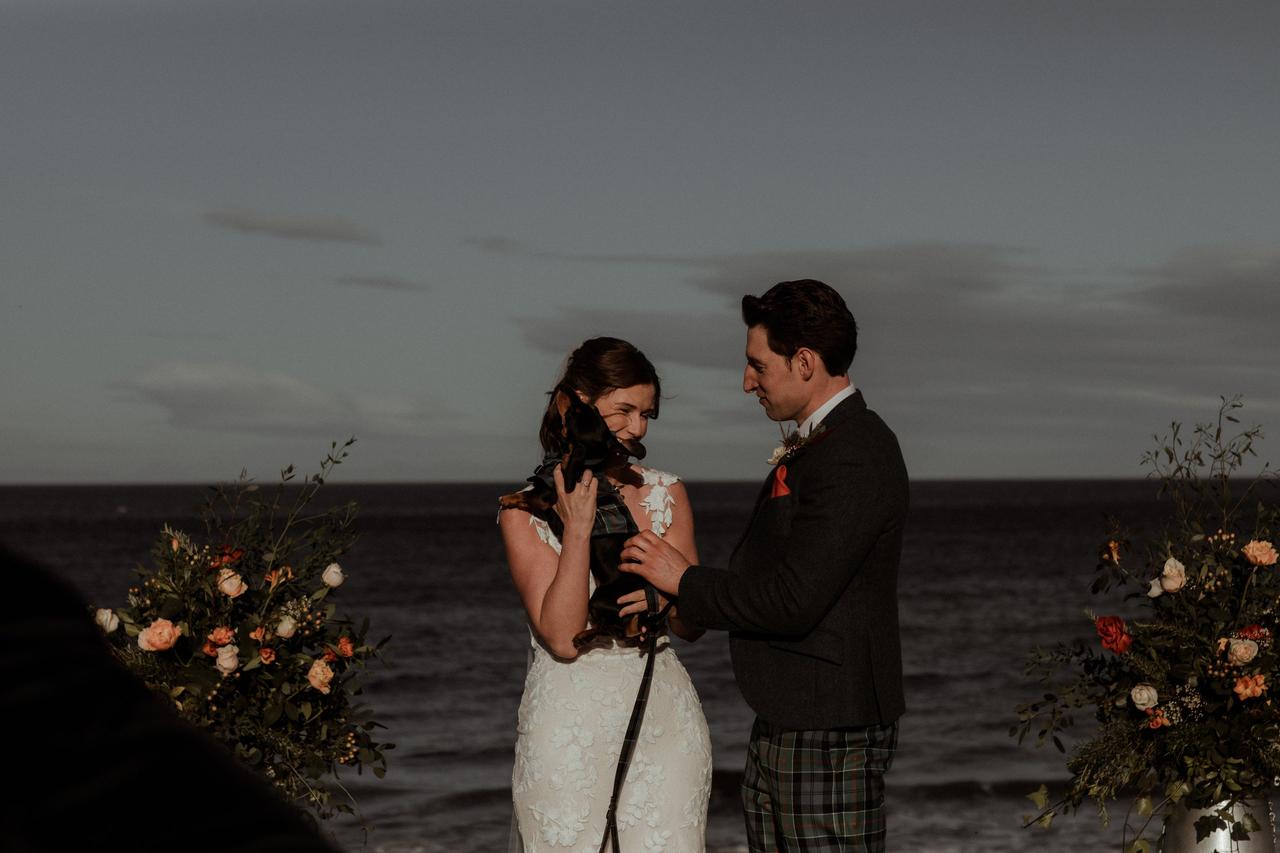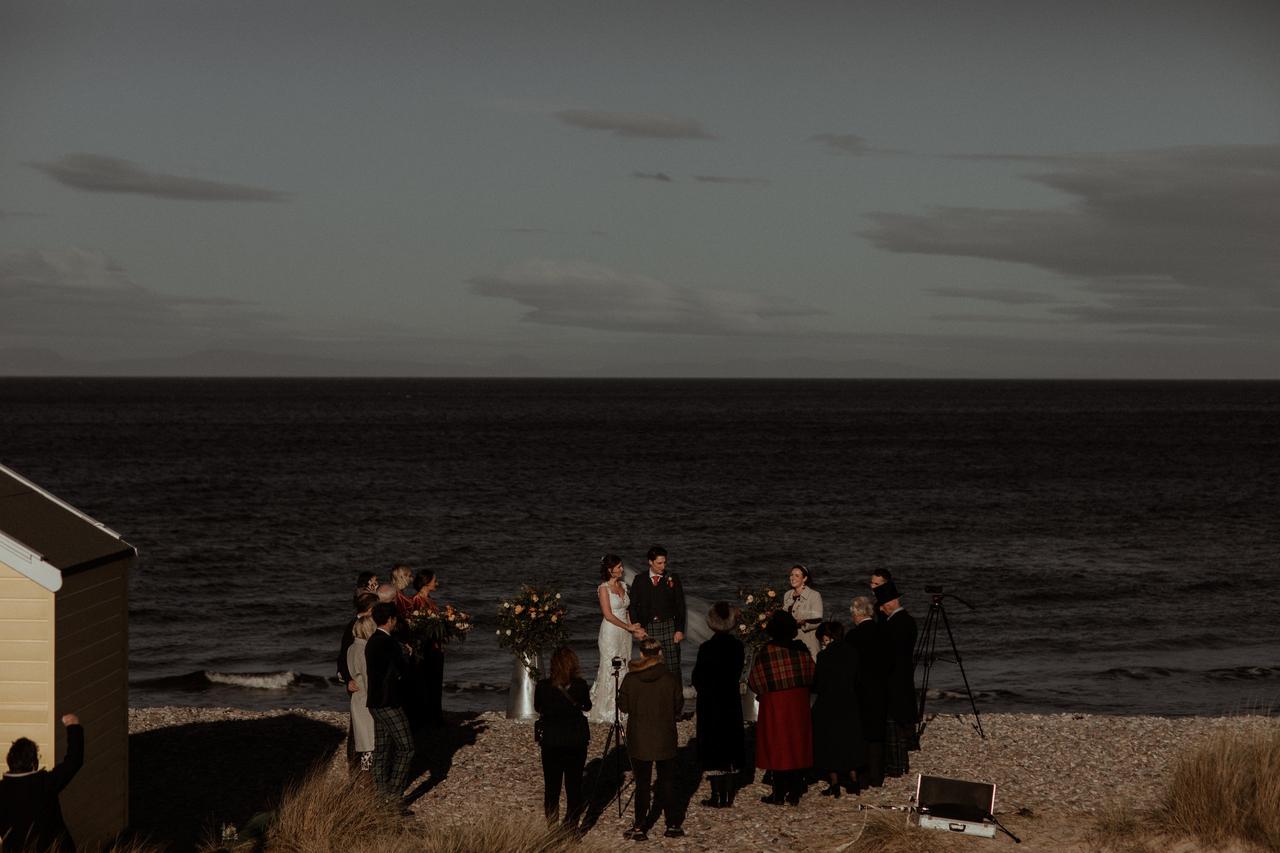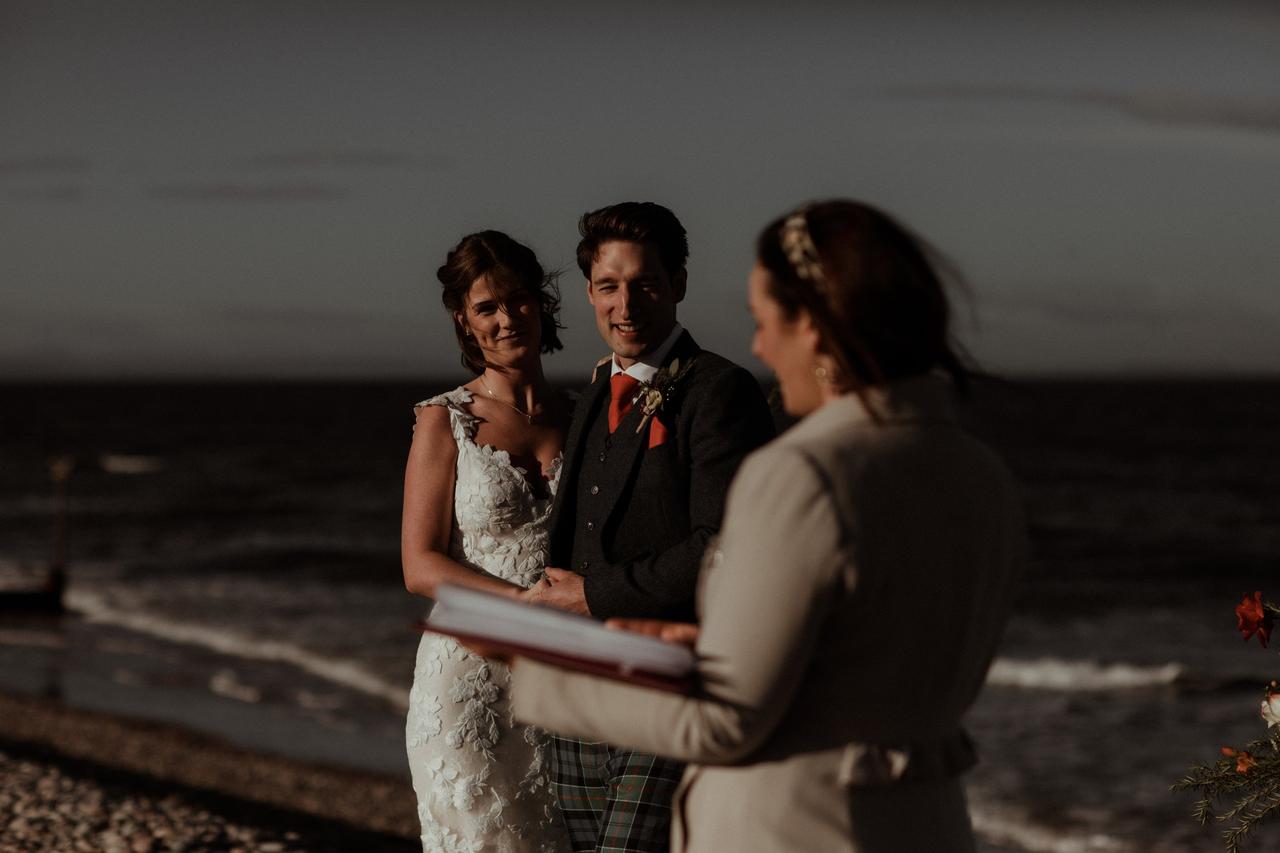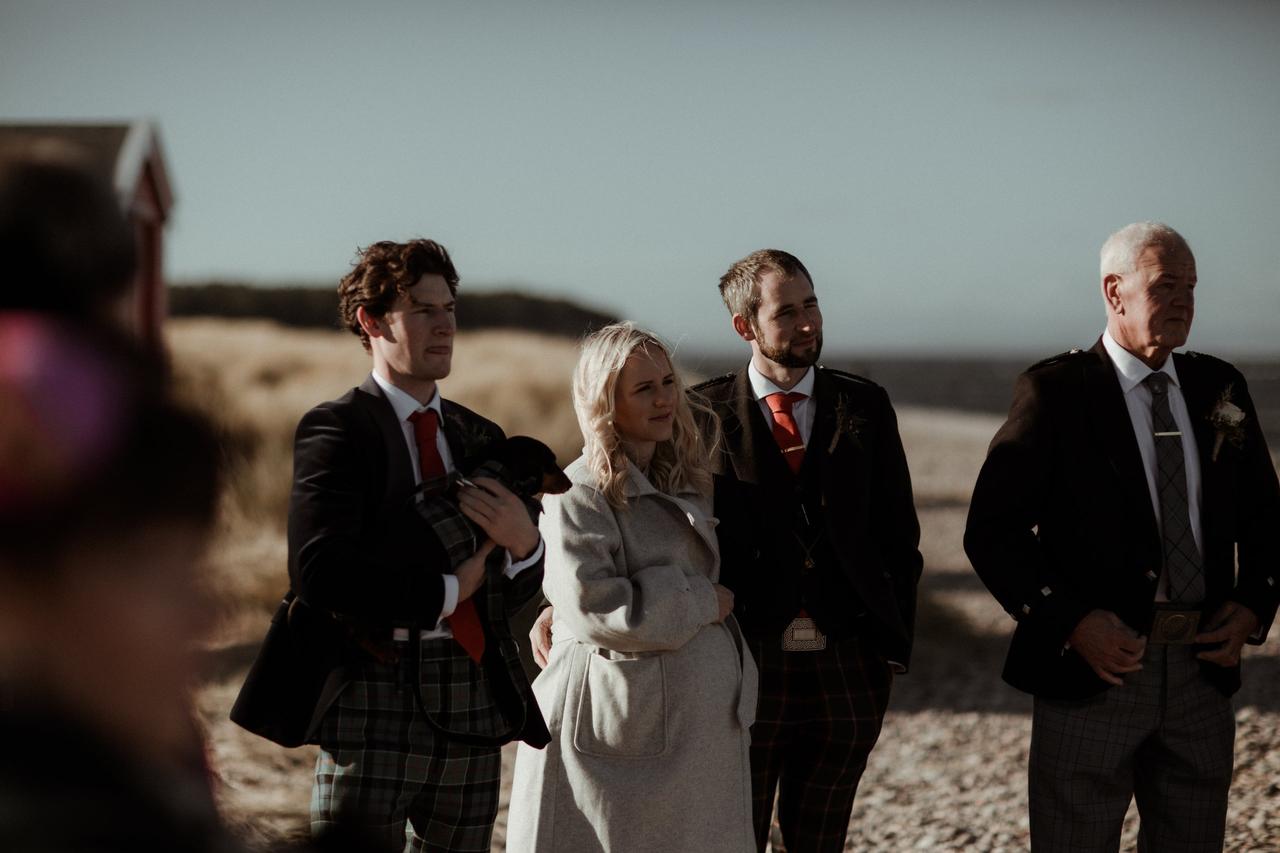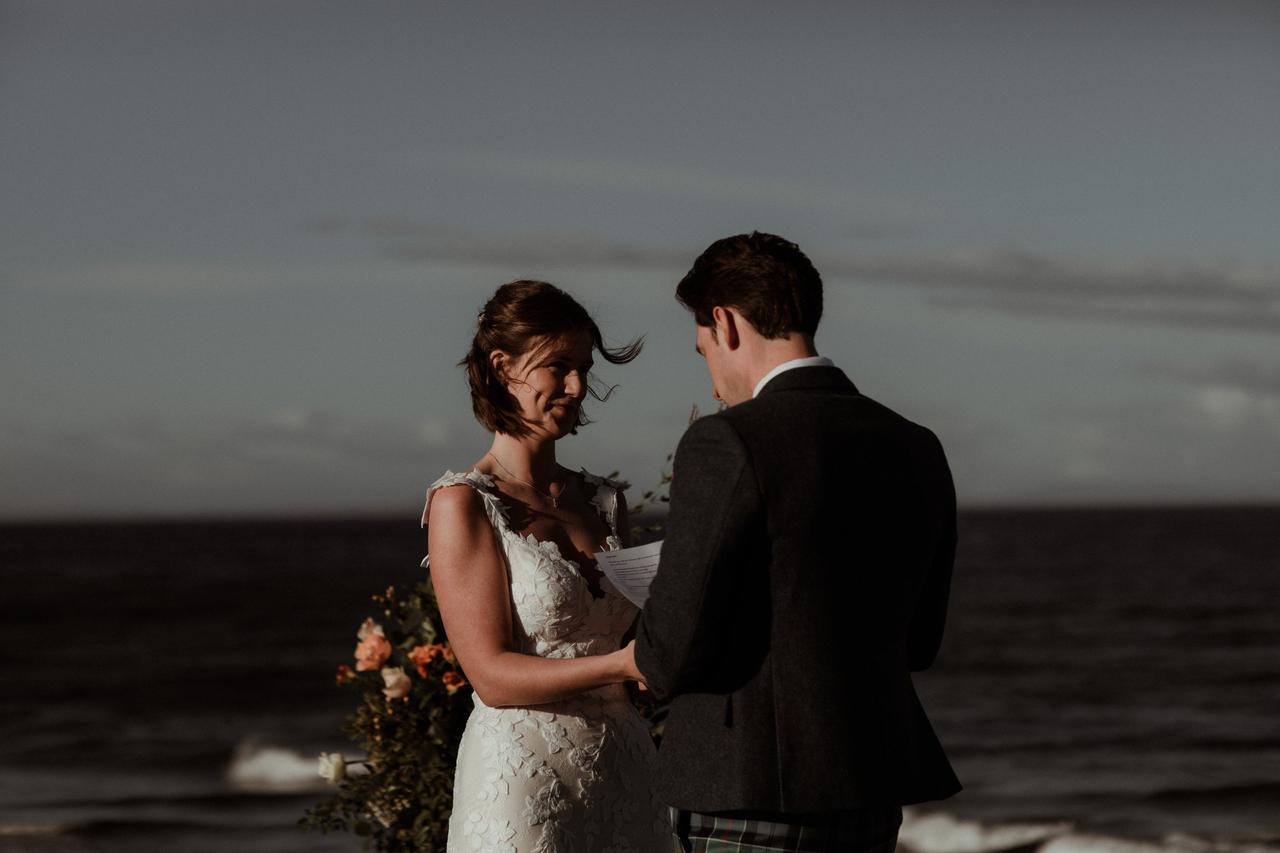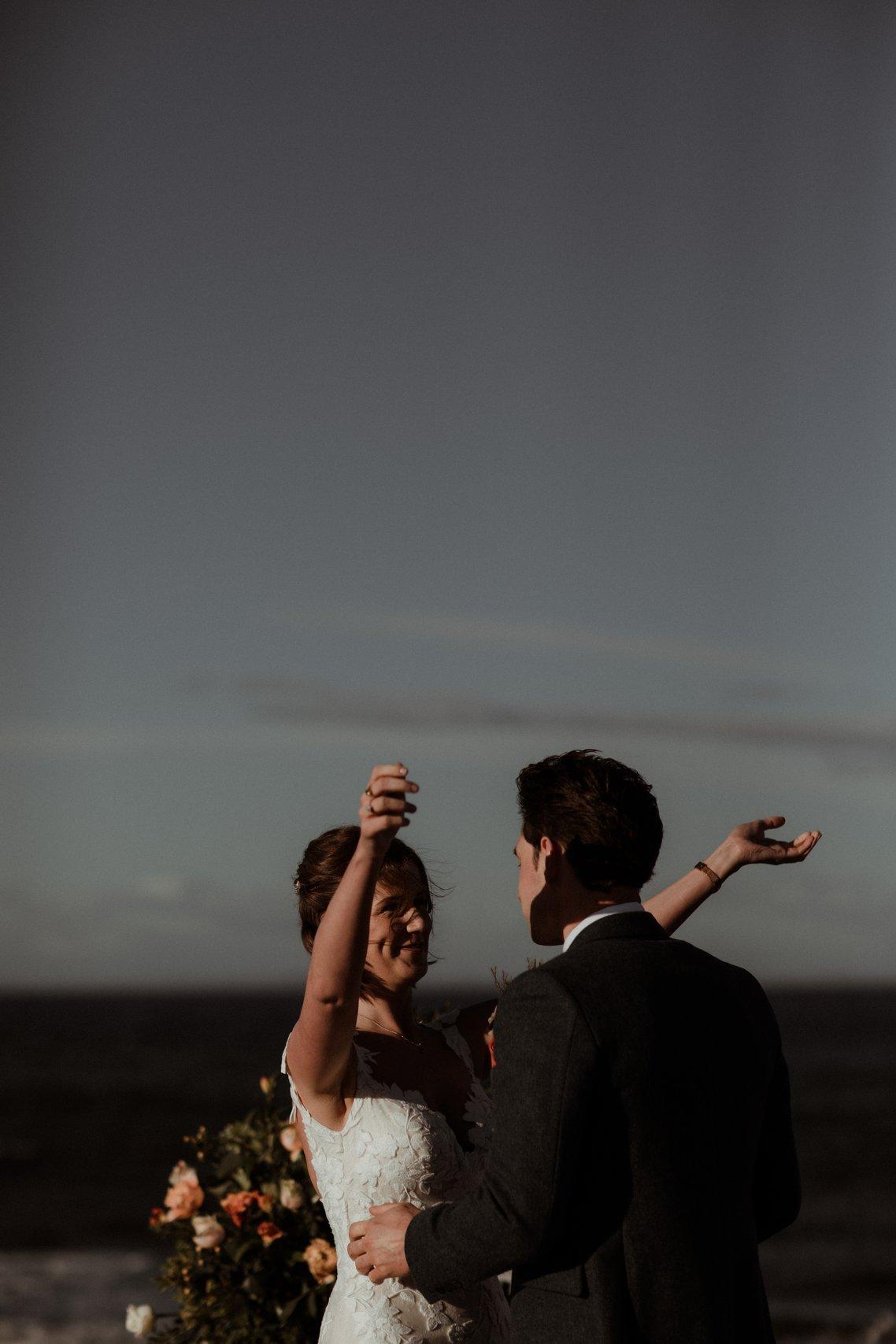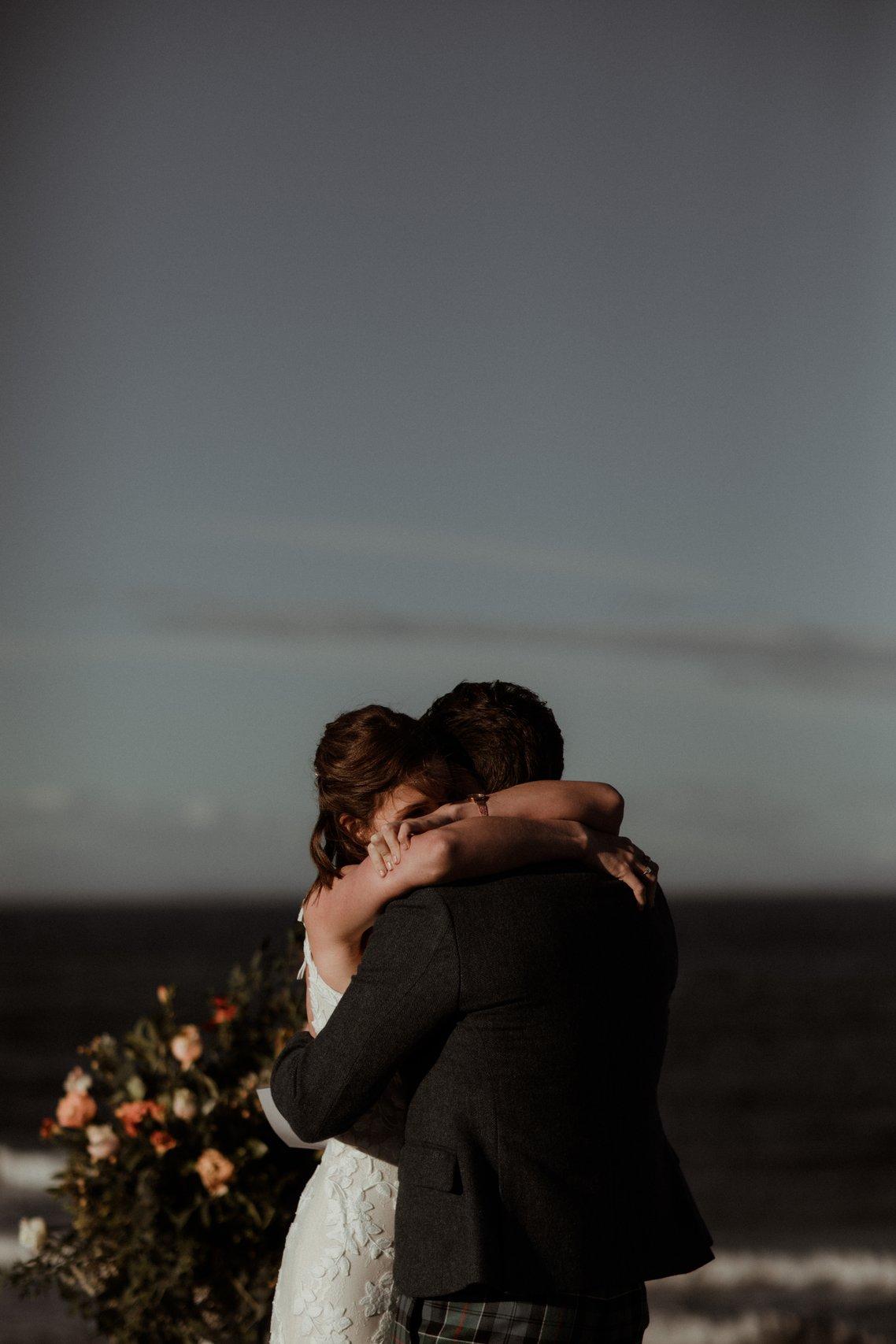 The Wedding Ceremony
Camilla and Angus has a celebrant-led ceremony with Rona Burstow from the Humanist Society Scotland. "Rona was beyond fantastic, she made our ceremony so personal and has become a true friend. She was with us through every turbulent step of allllll the changes due to COVID."
They chose Findhorn Beach for their ceremony, which is the couple's "favourite place in the world". Camilla explained, "Every time we visit we'll be able to stand in the very spot we said 'I do'. Our day was made so personal by choosing to marry in a place that meant so much to both of us."
The path to the beach stood in for an aisle. The bridesmaids went first, then Camilla walked down with her family: her mum and sister in front, and Camilla with her dad behind. Angus' best man David piped them down to Highland Cathedral, a sentimental piece of music for her family.
"We had an area set up on the beach front, with milk churns from our farm filled with the most glorious flowers (put together with love by Angus' Mum and Auntie) to mark the top of the aisle and a sign from our talented friend Amy Singer Art," said Camilla.
"A kind stranger gave us the use of their bright yellow beach hut for the day in case we had poor weather – he gave us the keys for the week so we could decorate it for the day. He simply asked us to pay the kindness forward which just reinforced how many good people there are in this world! We signed our marriage schedule in here with our mums as witnesses.
"My mum read a card that she wrote to Angus and I, but other than that we opted for no readings. My veil also blew off and almost ended up in the Moray Firth!
"We had a toast to all our friends and family who couldn't be with us on the day with a homemade sloe gin from Angus' cousins in Wiltshire, followed by confetti."
Her favourite moment of the day? "Marrying my best friend as the sun shone over us in the most special place to both of us – it felt so right!"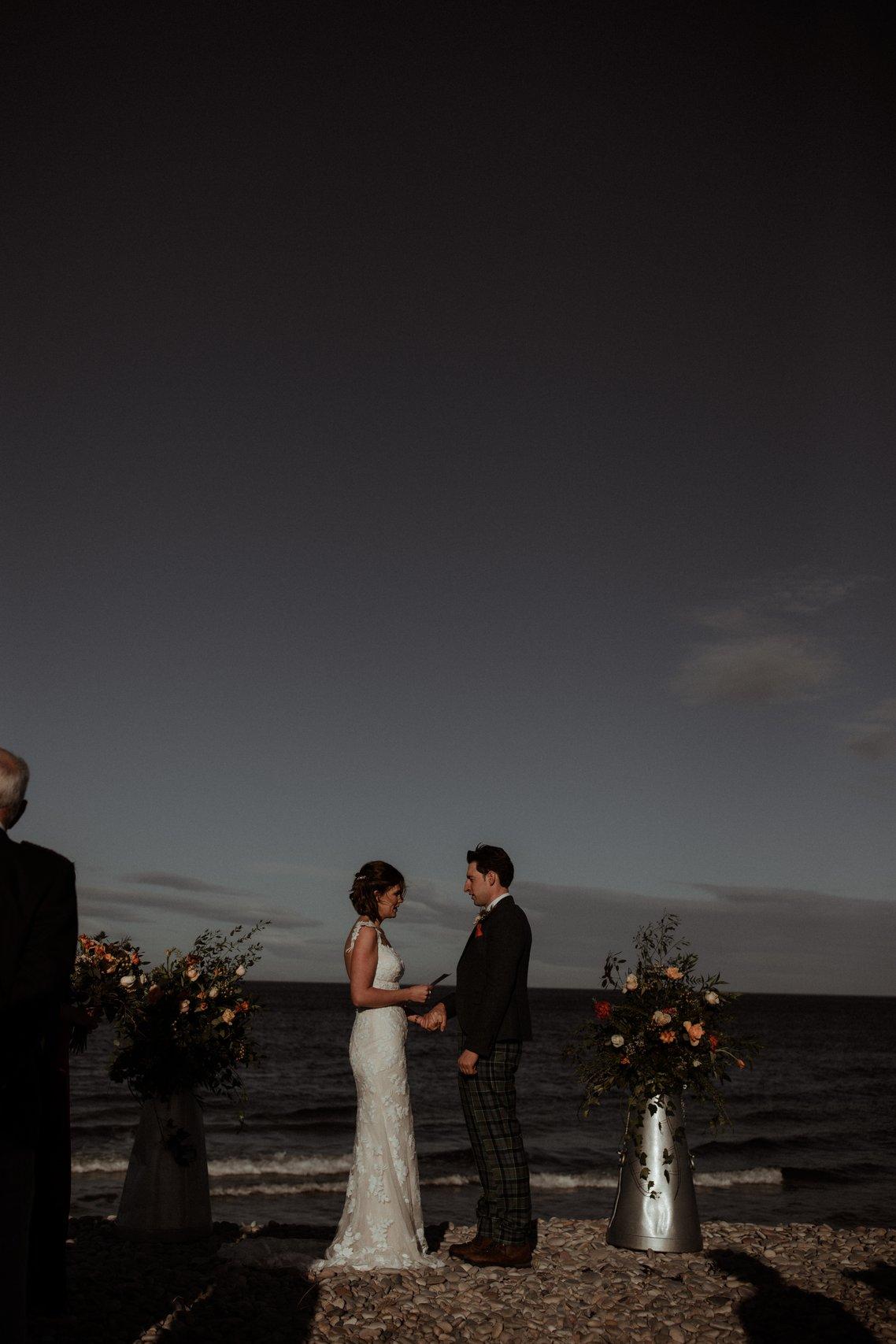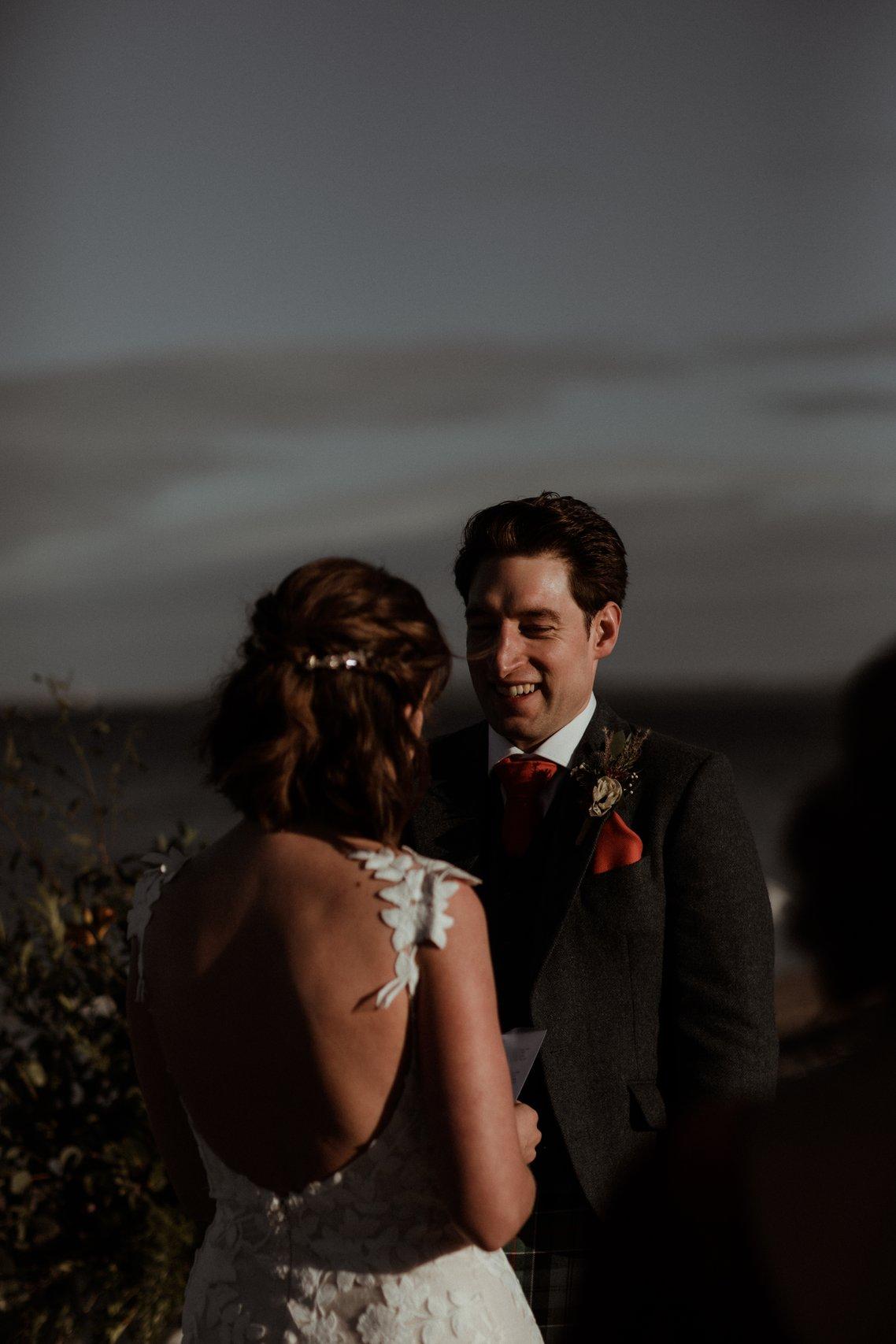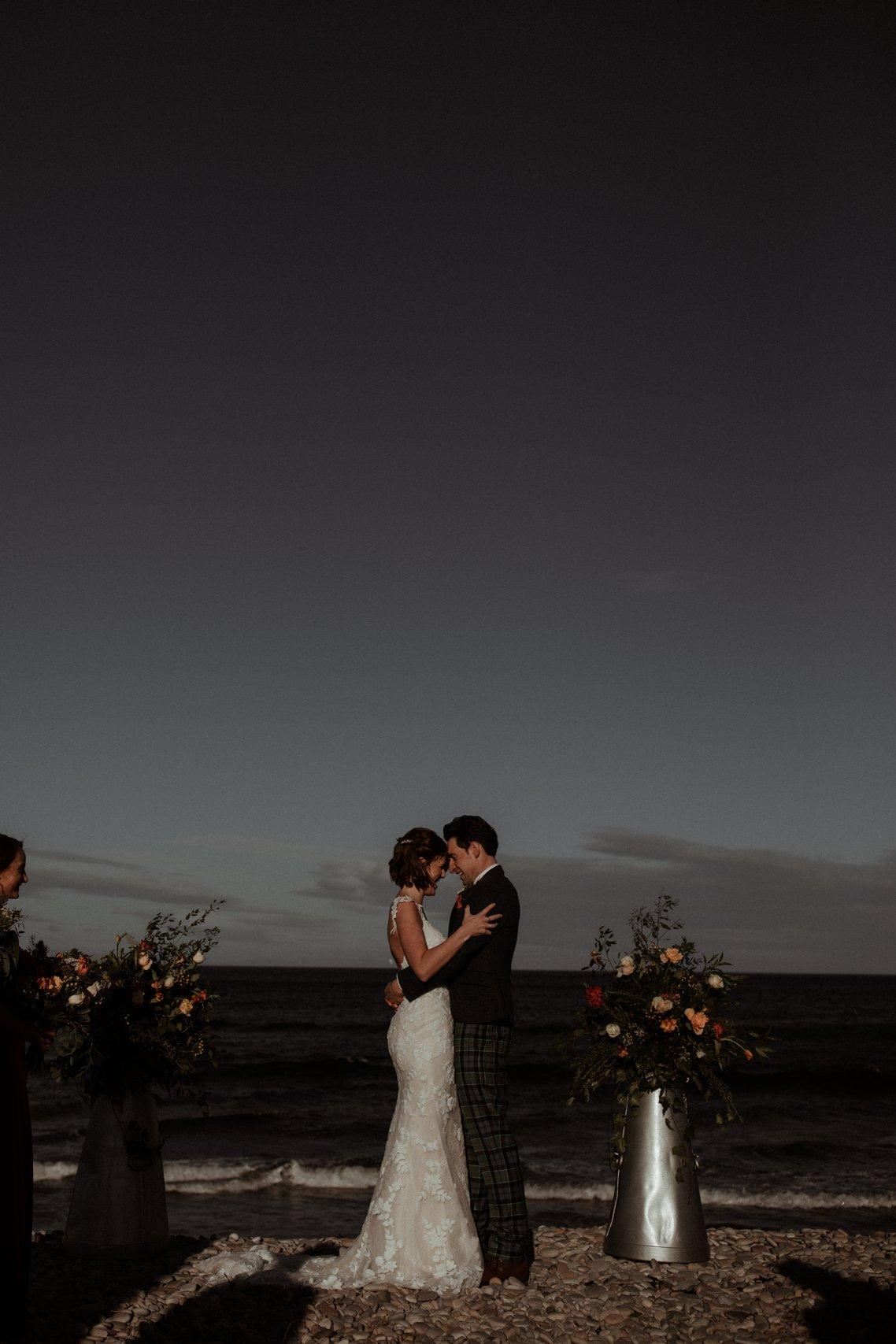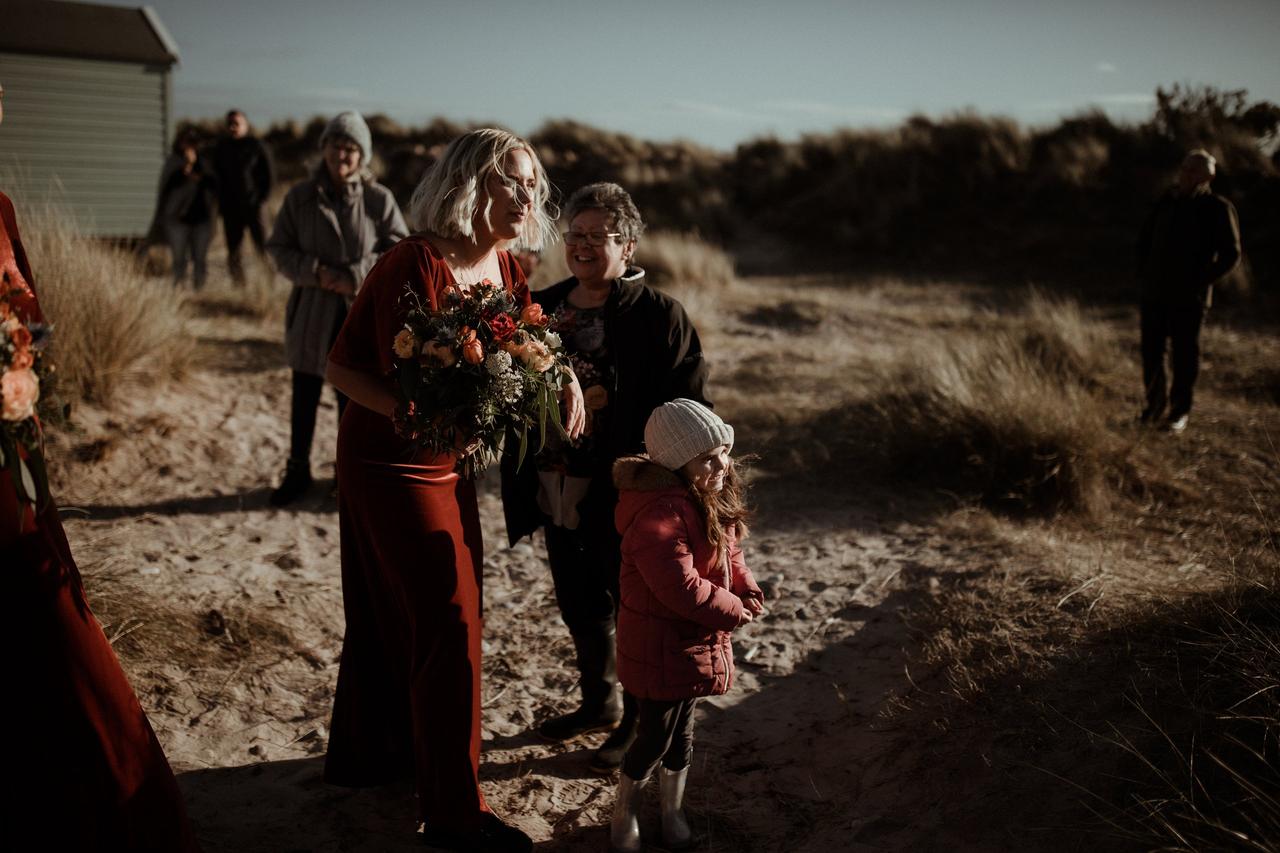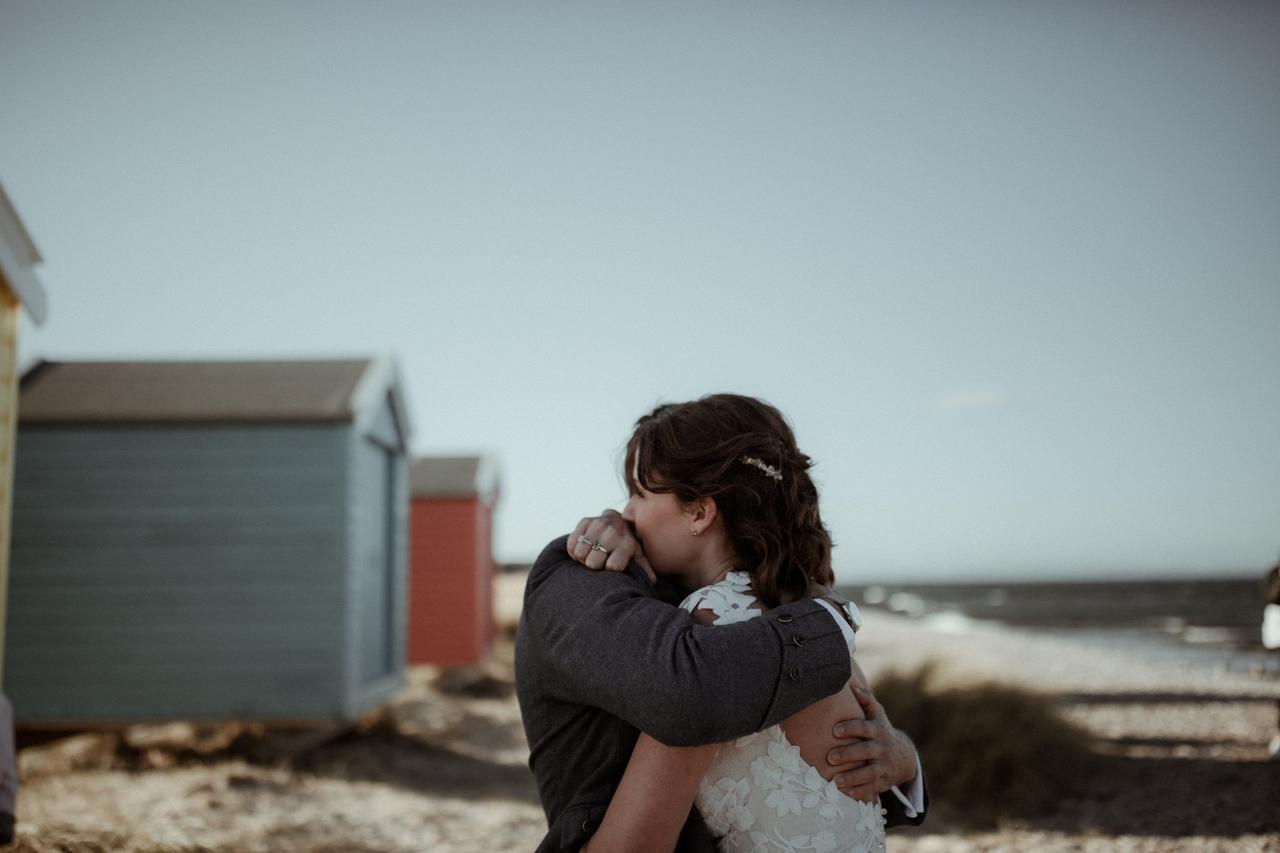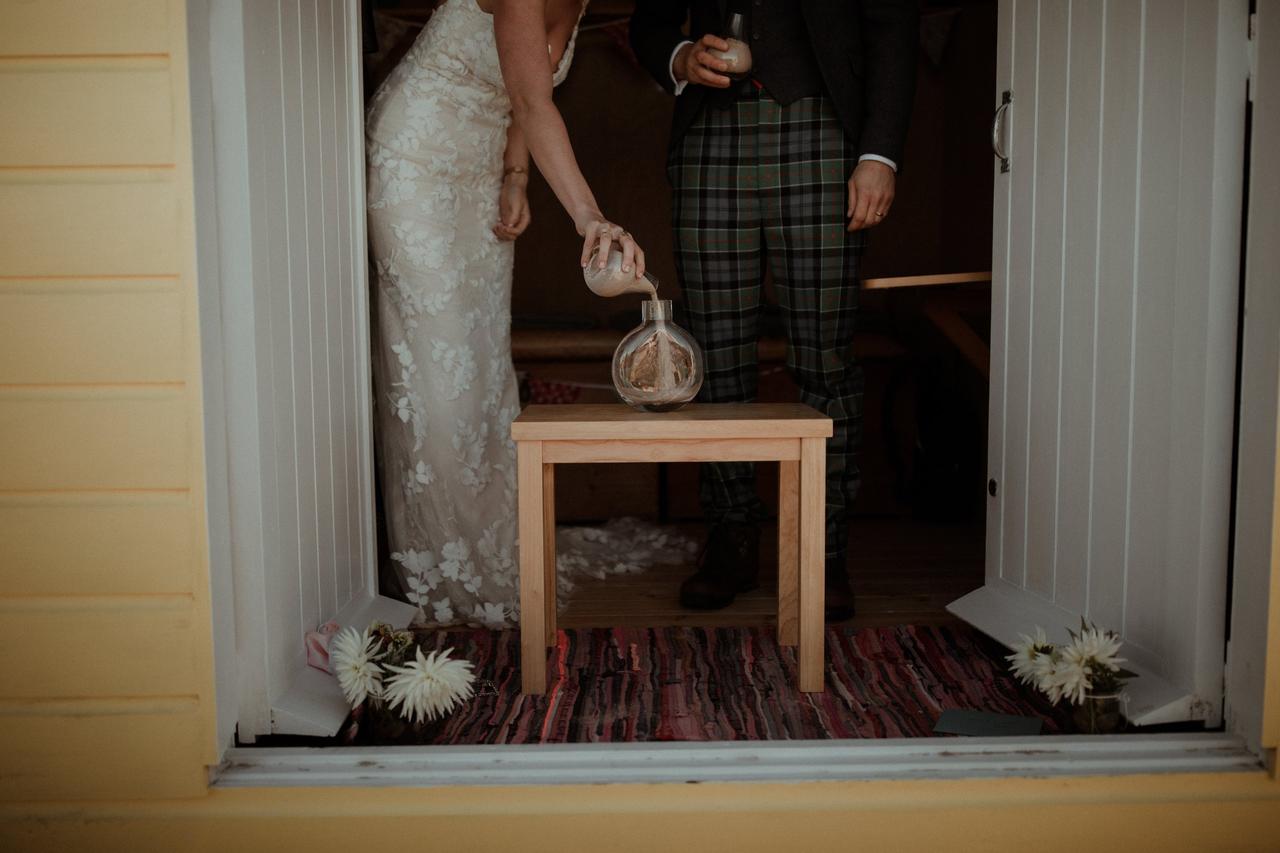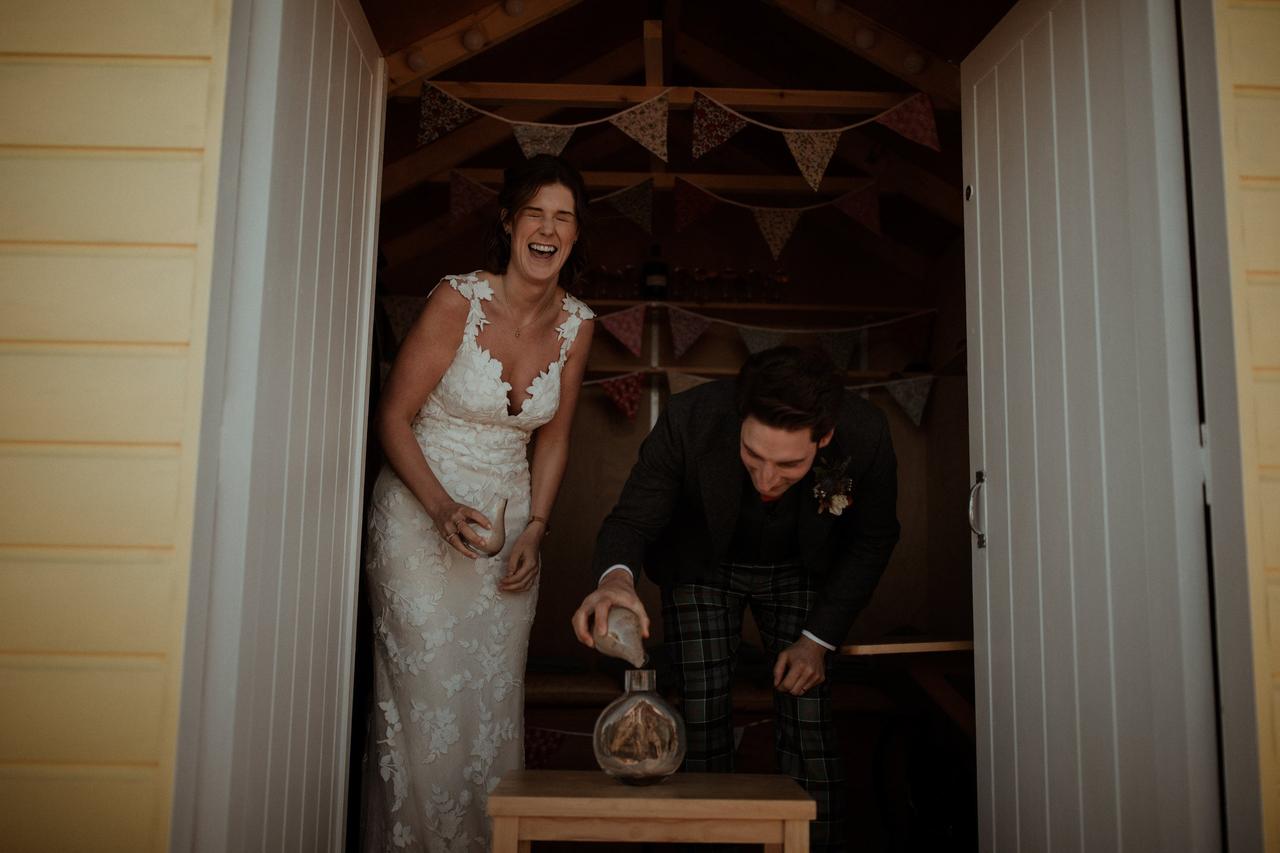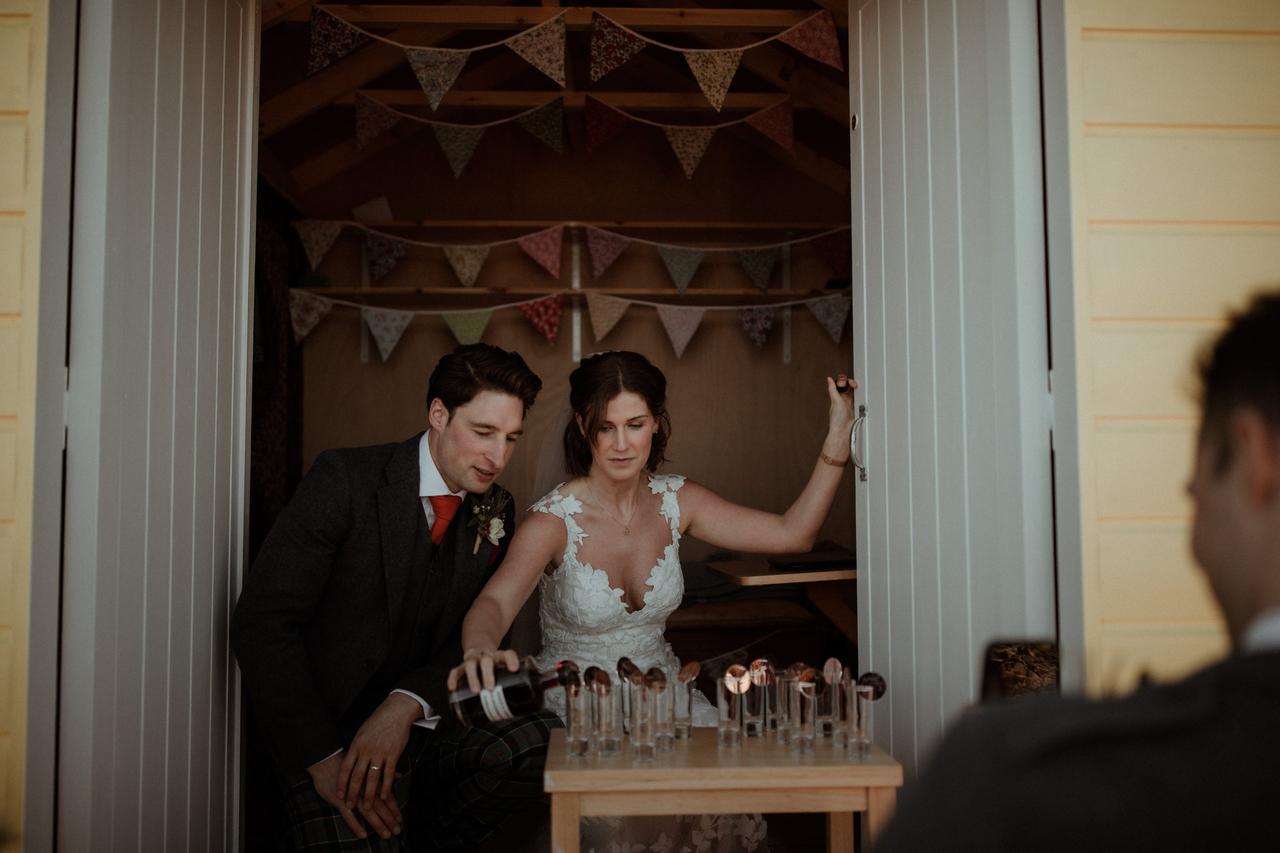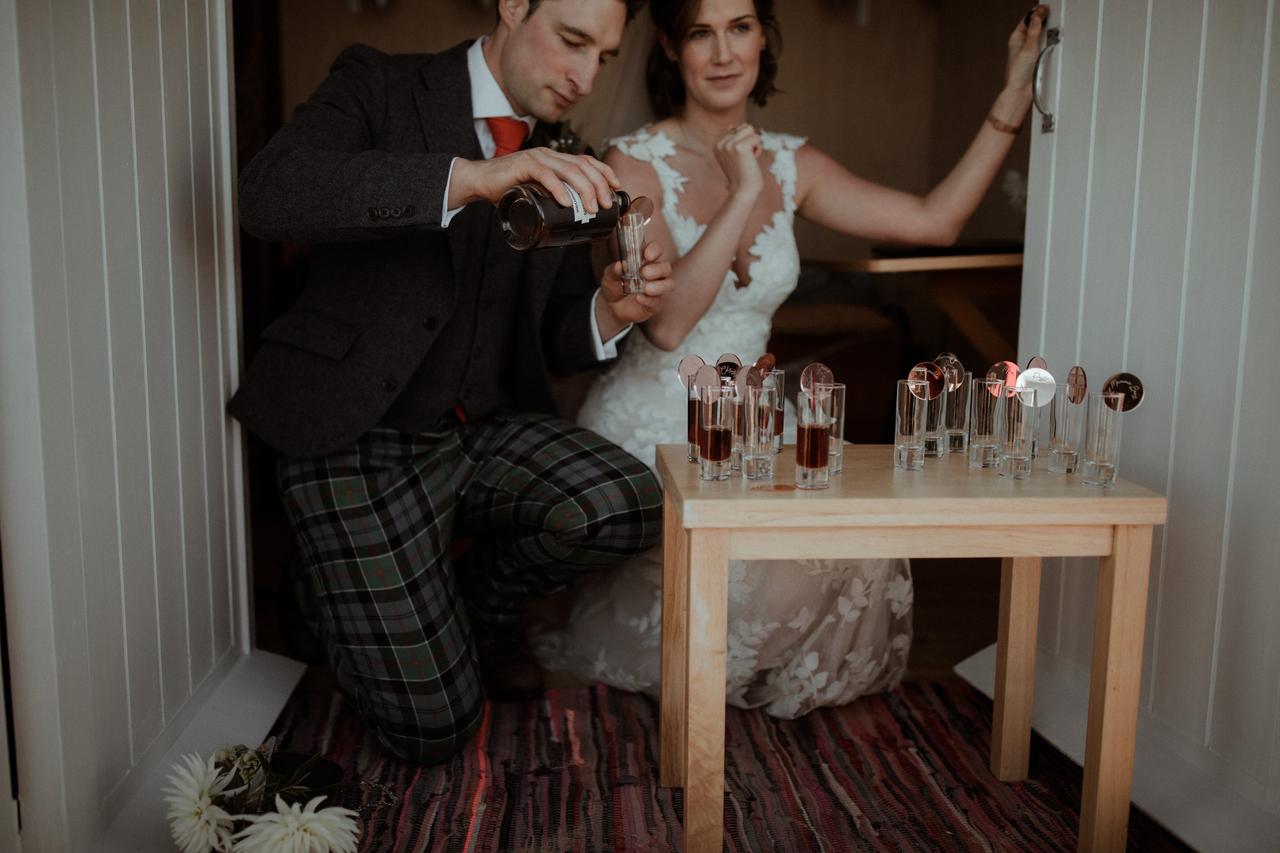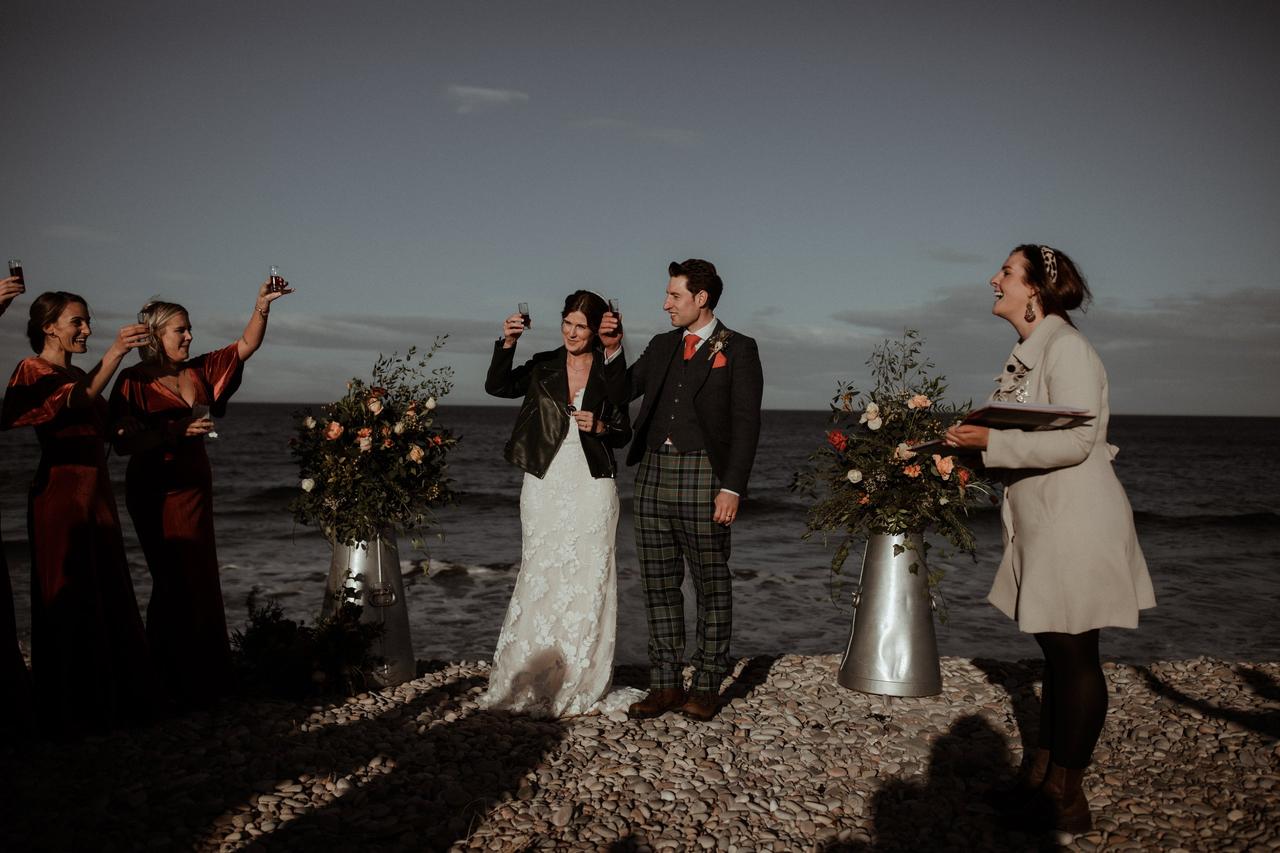 The Wedding Reception
They decided on a simple, rustic theme for their ceremony and reception, choosing an autumnal colour palette of oranges, greens and creams.
Camilla carried a "rustic, unkempt autumn bouquet with greenery and fragrant orange and red blooms" and the bridesmaids carried a smaller version. Their bouquets were from Secret Garden Florist in Aboyne who supplied Angus' mum, aunties and sister-in-law with the flowers for the milks churns and table posies.
Sticking with the seasonal theme, they went for Scottish food, "much of it grown on the grounds of The Kale Yard and the remaining elements sourced locally. Our guests were able to pre-order from the venue's seasonal menu…it was fantastic!"
The day ended with their stunning rustic wedding cake, a favourite from their talented friend Leigh at Peach Powder Blue. "It was a delicious pumpkin spice and salted caramel cake with fig and blackberry topping, decorated with greenery."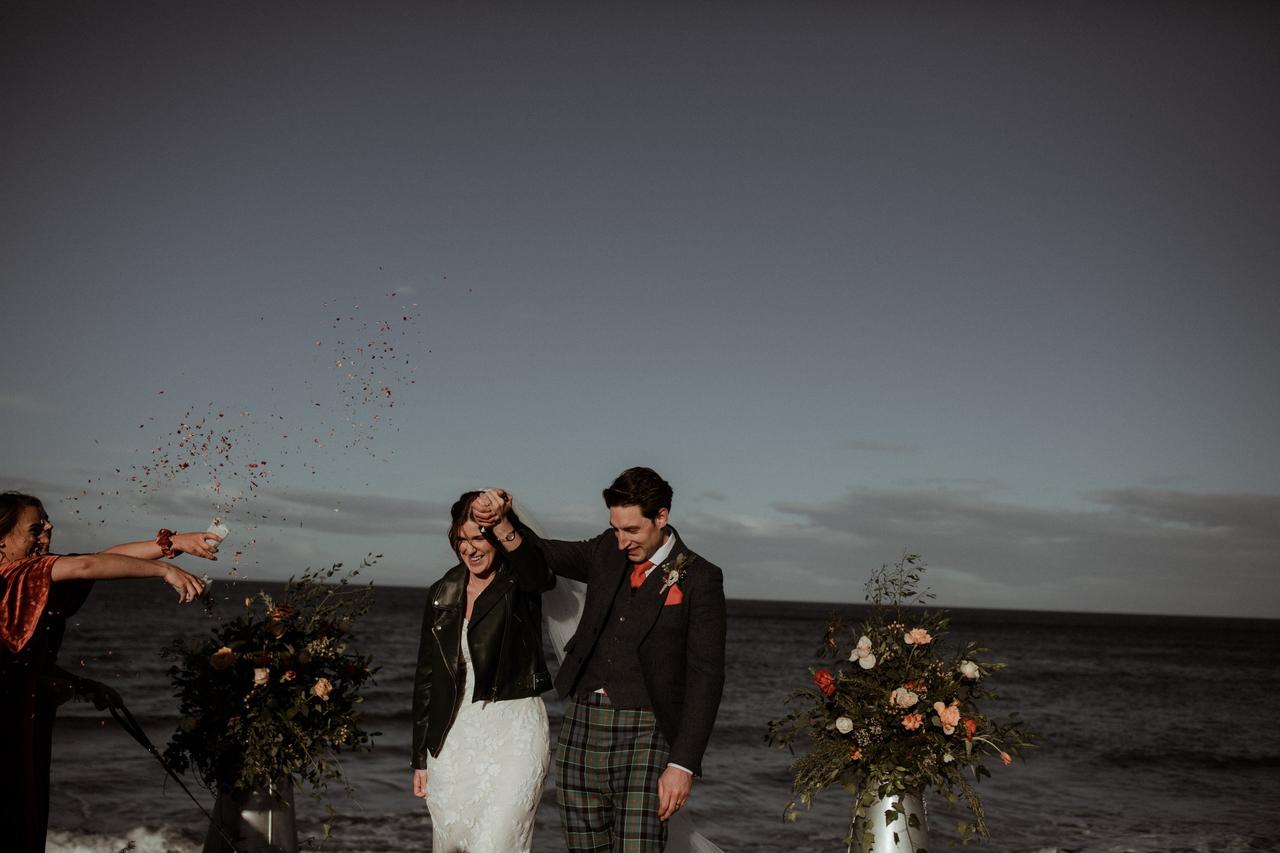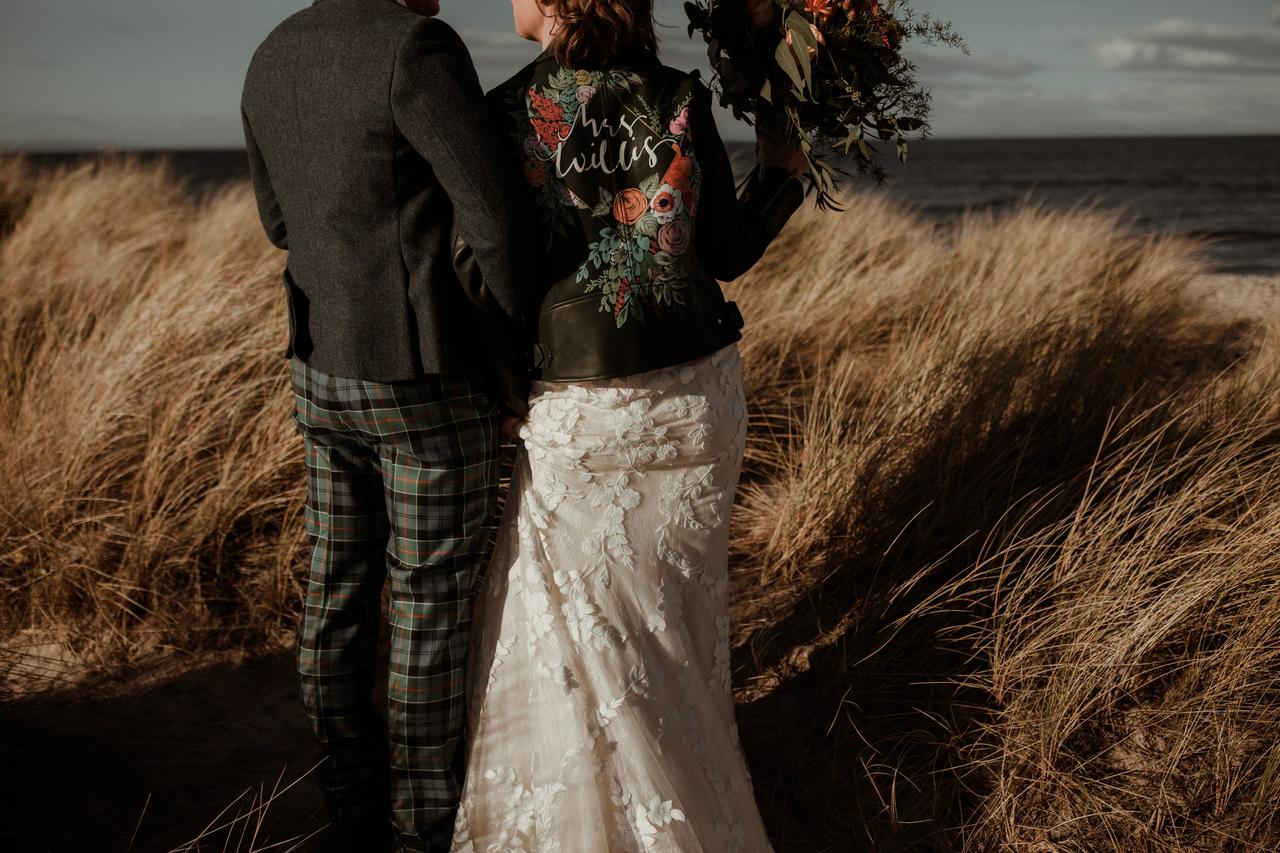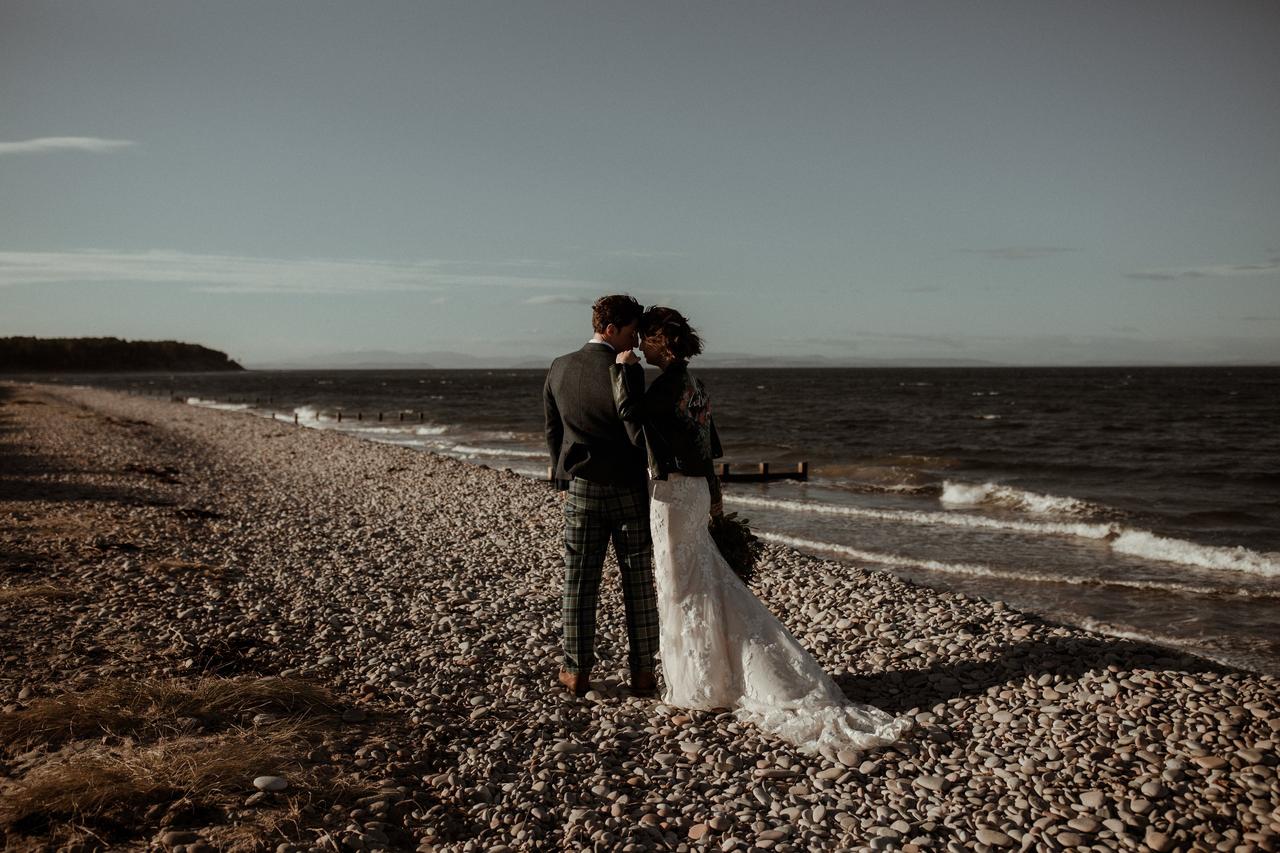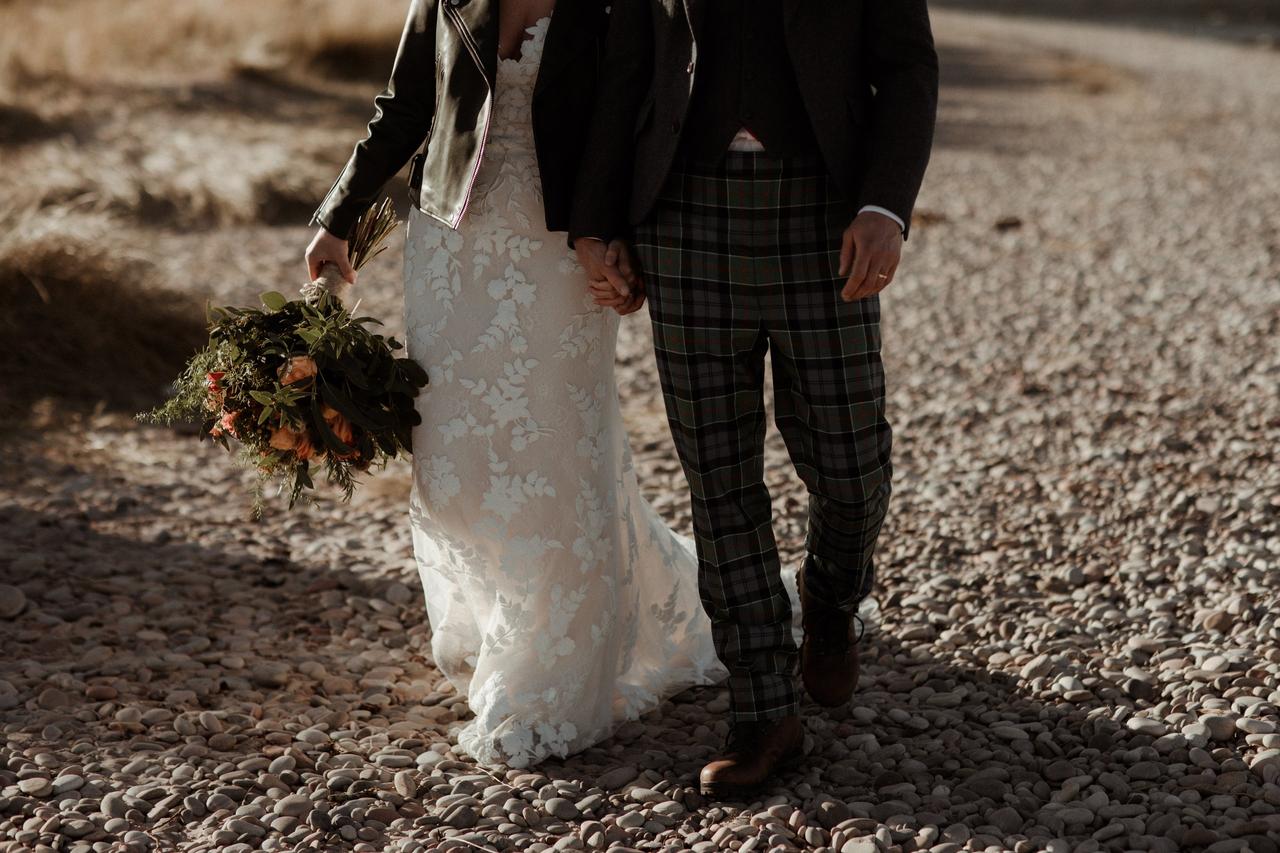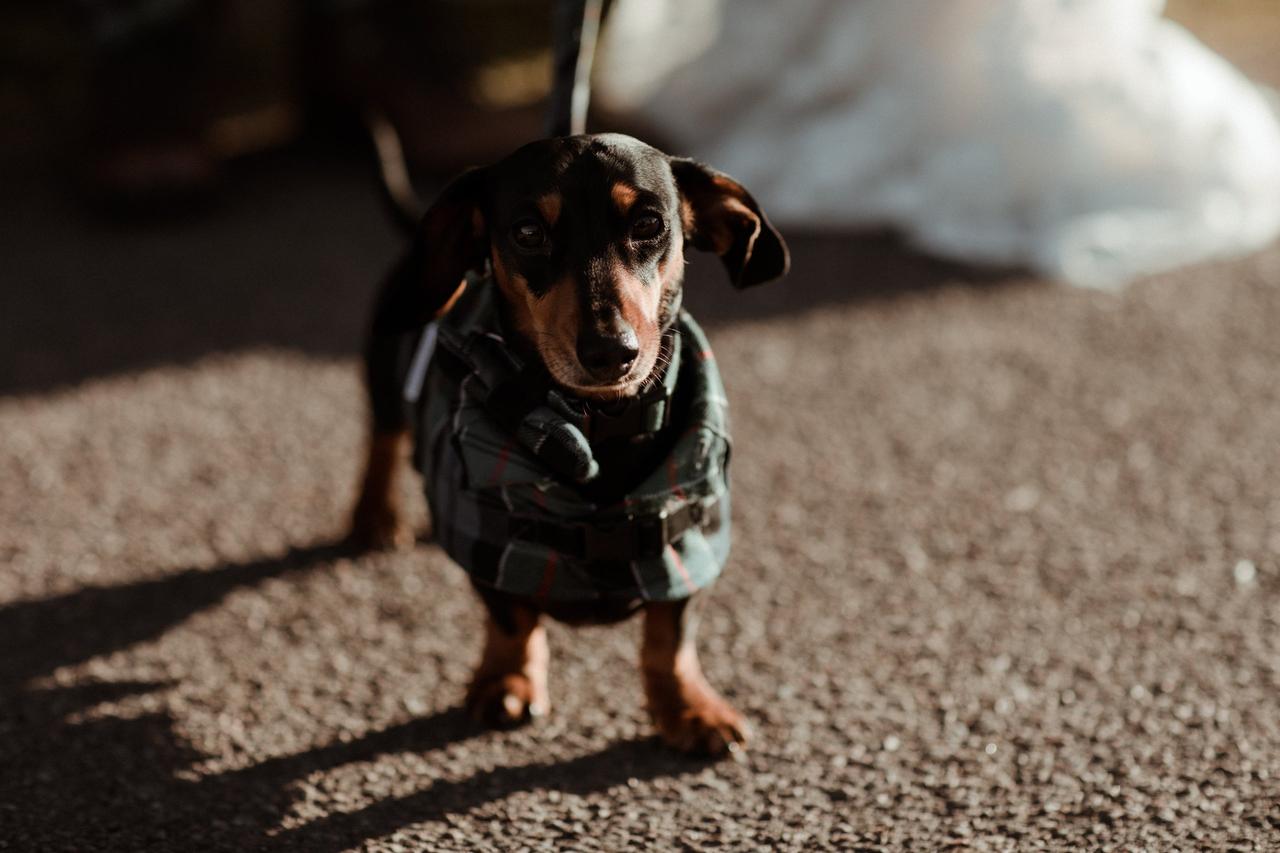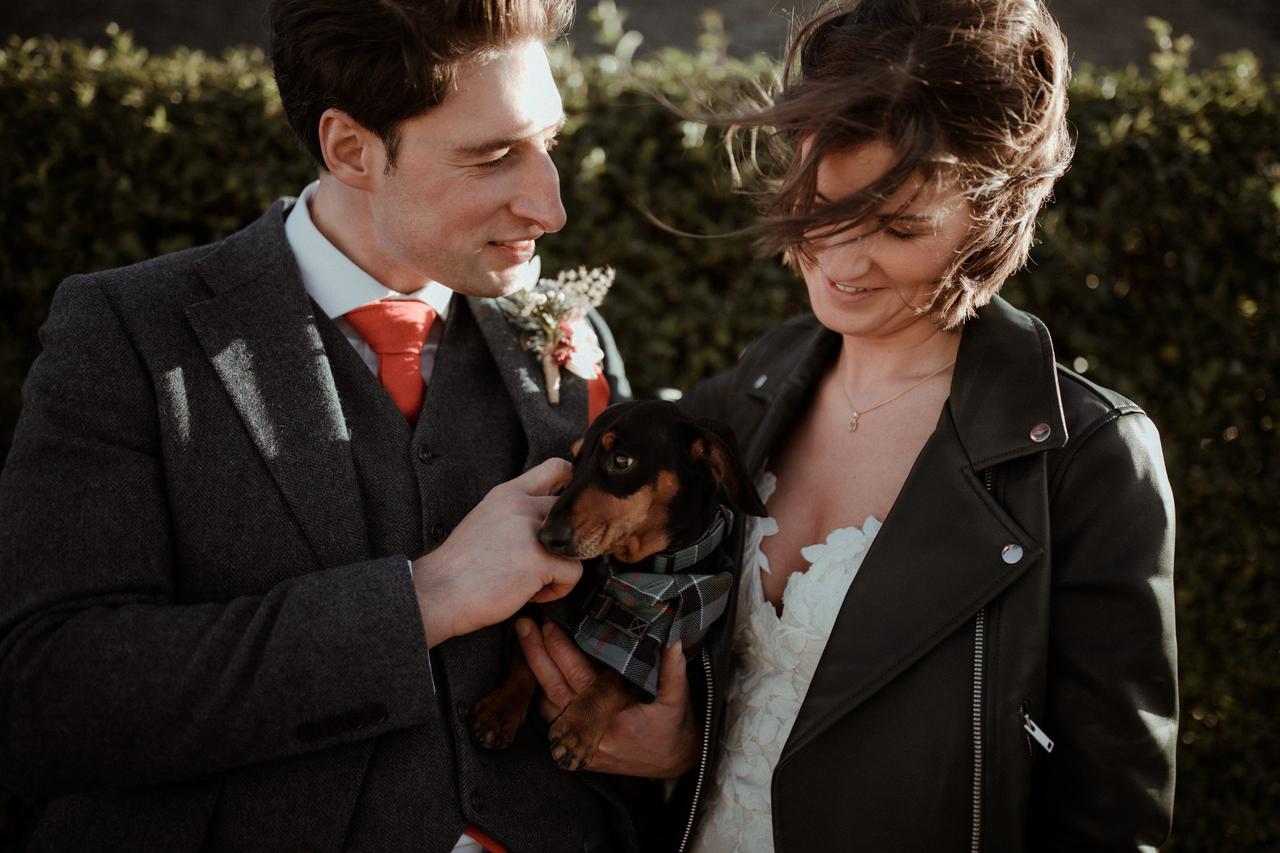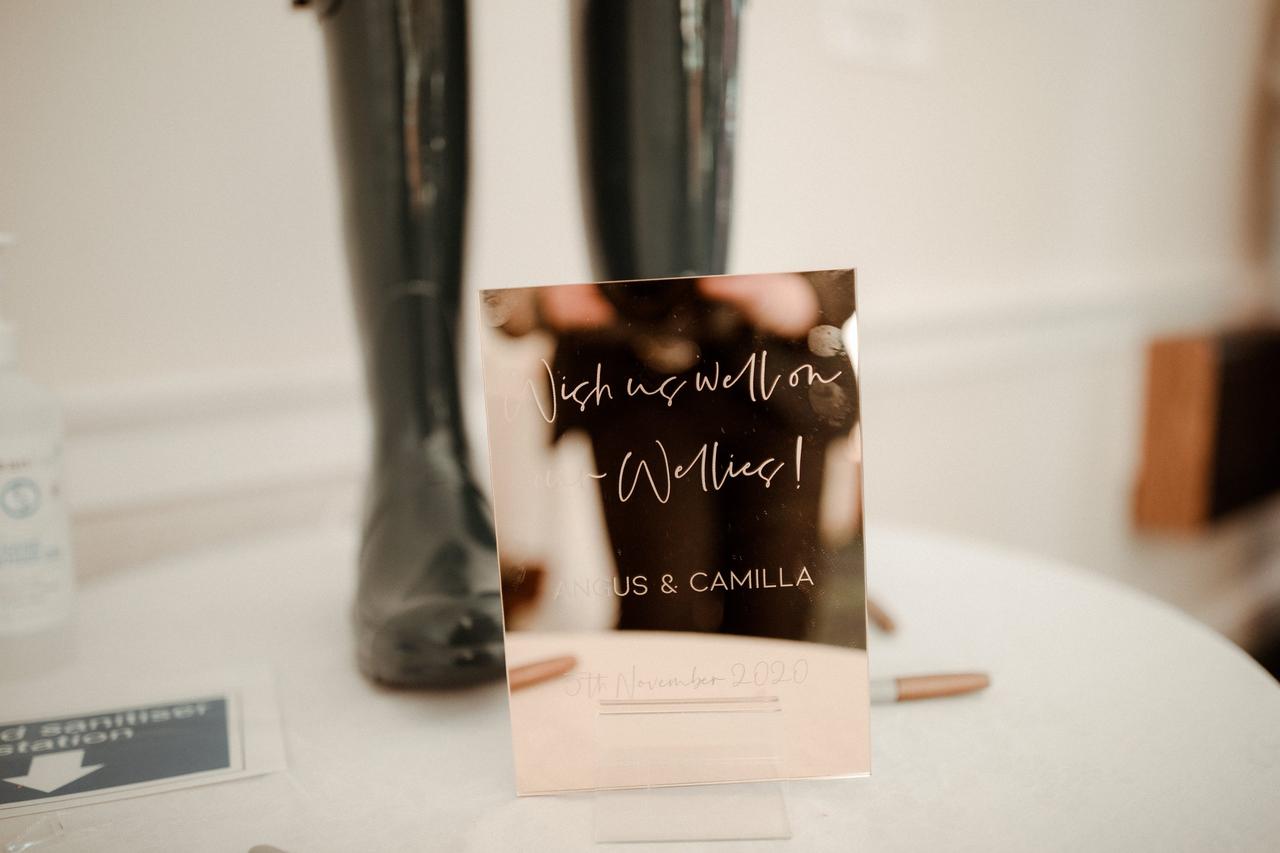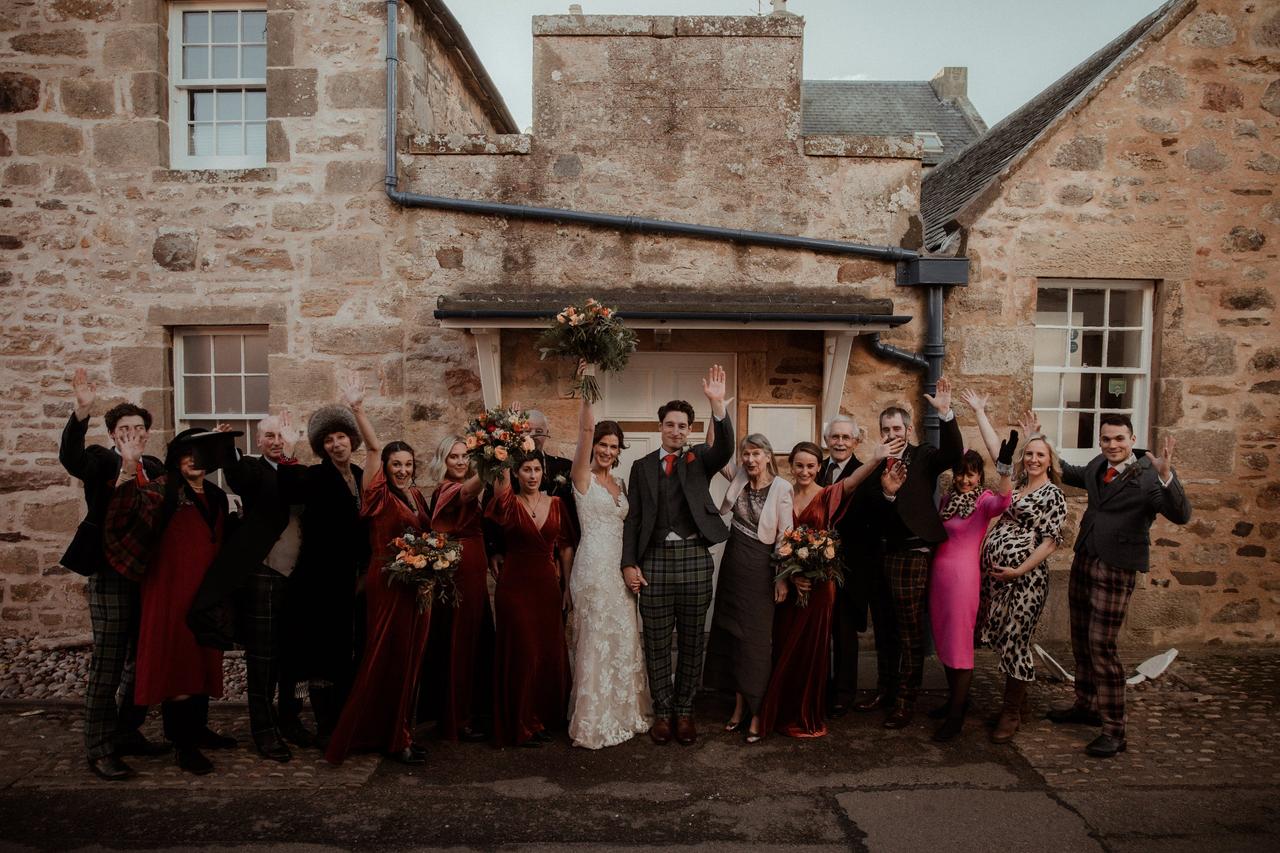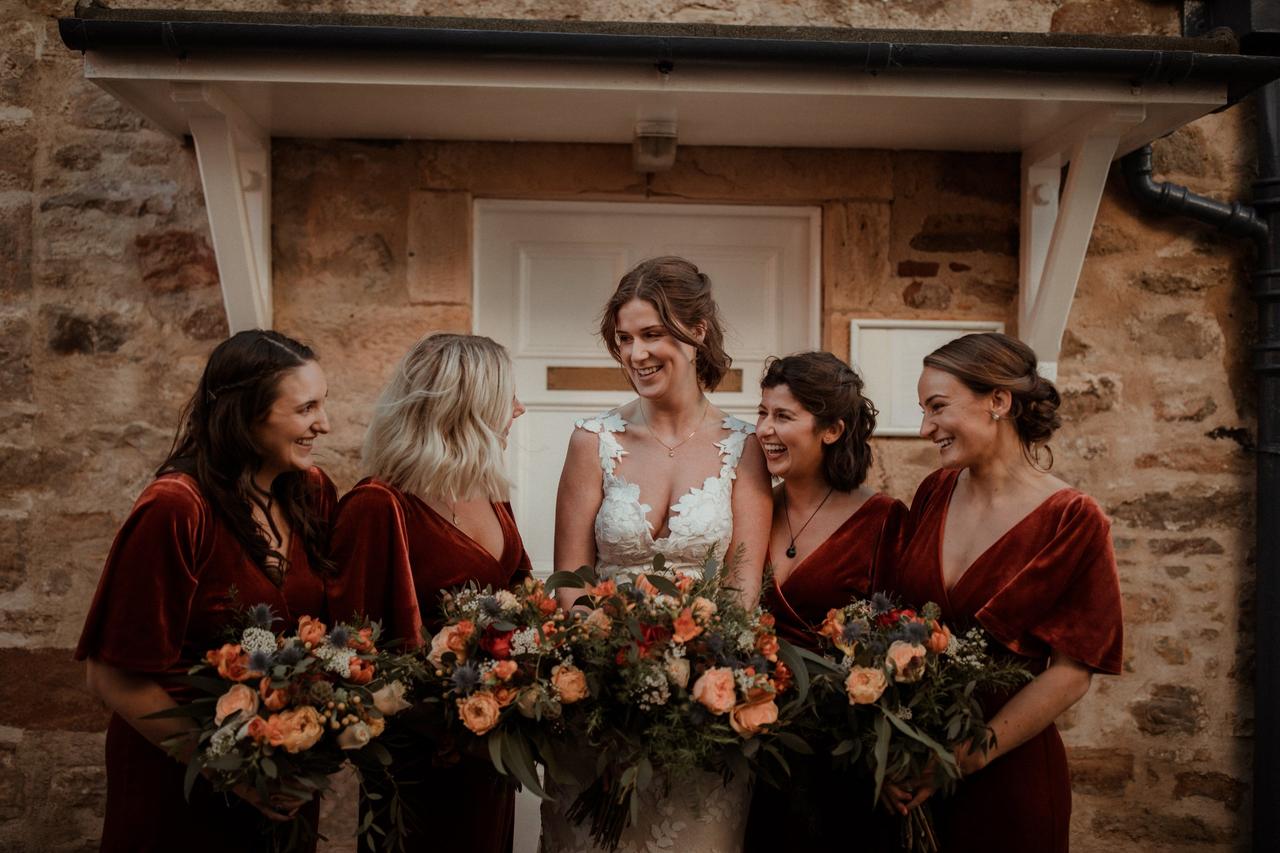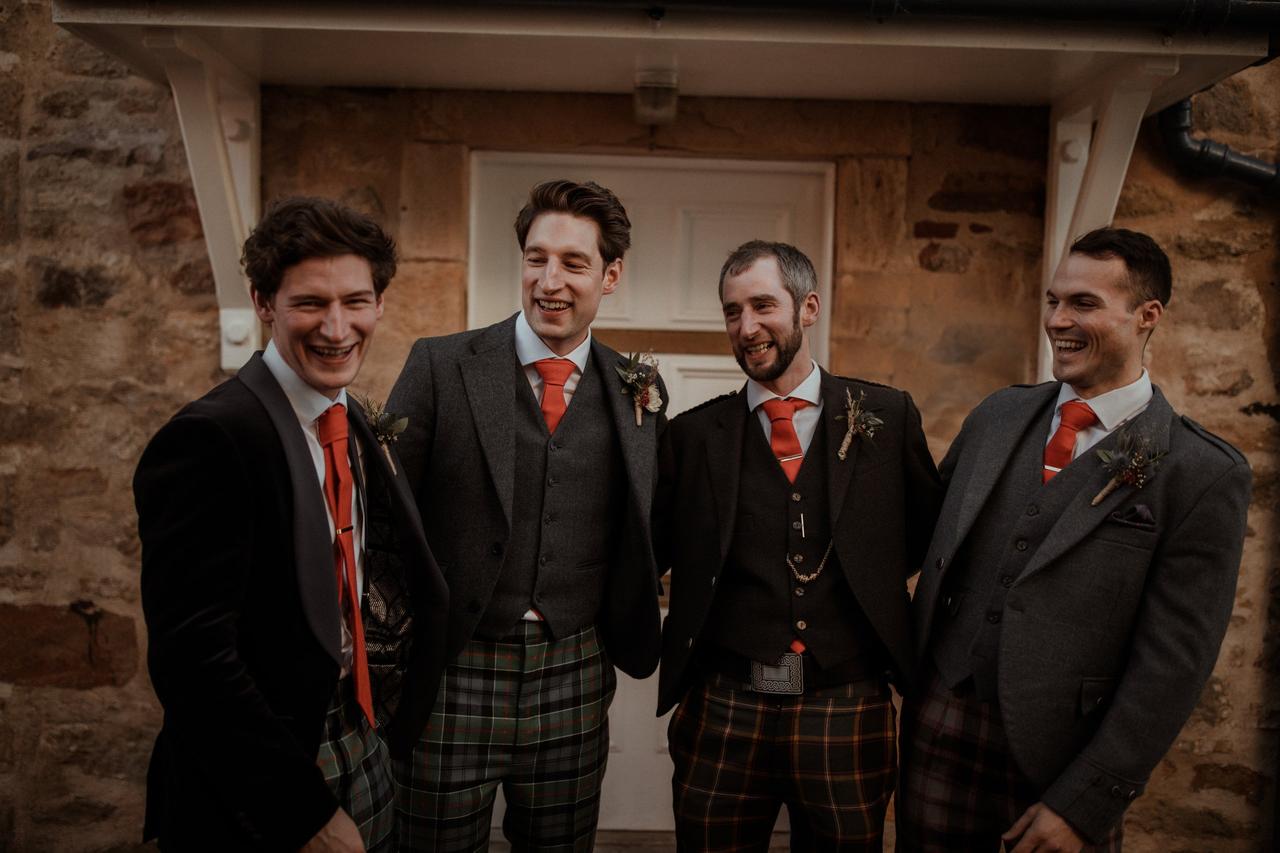 The Special Touches
When everything was rescheduled, Camilla and Angus decided to use as many small suppliers and family members' help as they could. They used Etsy to source their personalised dried flower name places, while Angus' crafty family made all the centrepieces which sat on oak discs crafted by Angus' uncle.
The reception wasn't what they'd envisioned when they started their planning journey but it didn't matter at all - and they made the first dance work for them.
"Our first dance was to Born To Be Whole by Prides. At this stage of COVID restrictions, venues weren't able to play music so we took a portable speaker and played it over Bluetooth, dancing barefoot outside…where there's a will, there's a way!
"The company of family and our closest friends was all the entertainment we needed – and, of course, the hilarious best man speech!"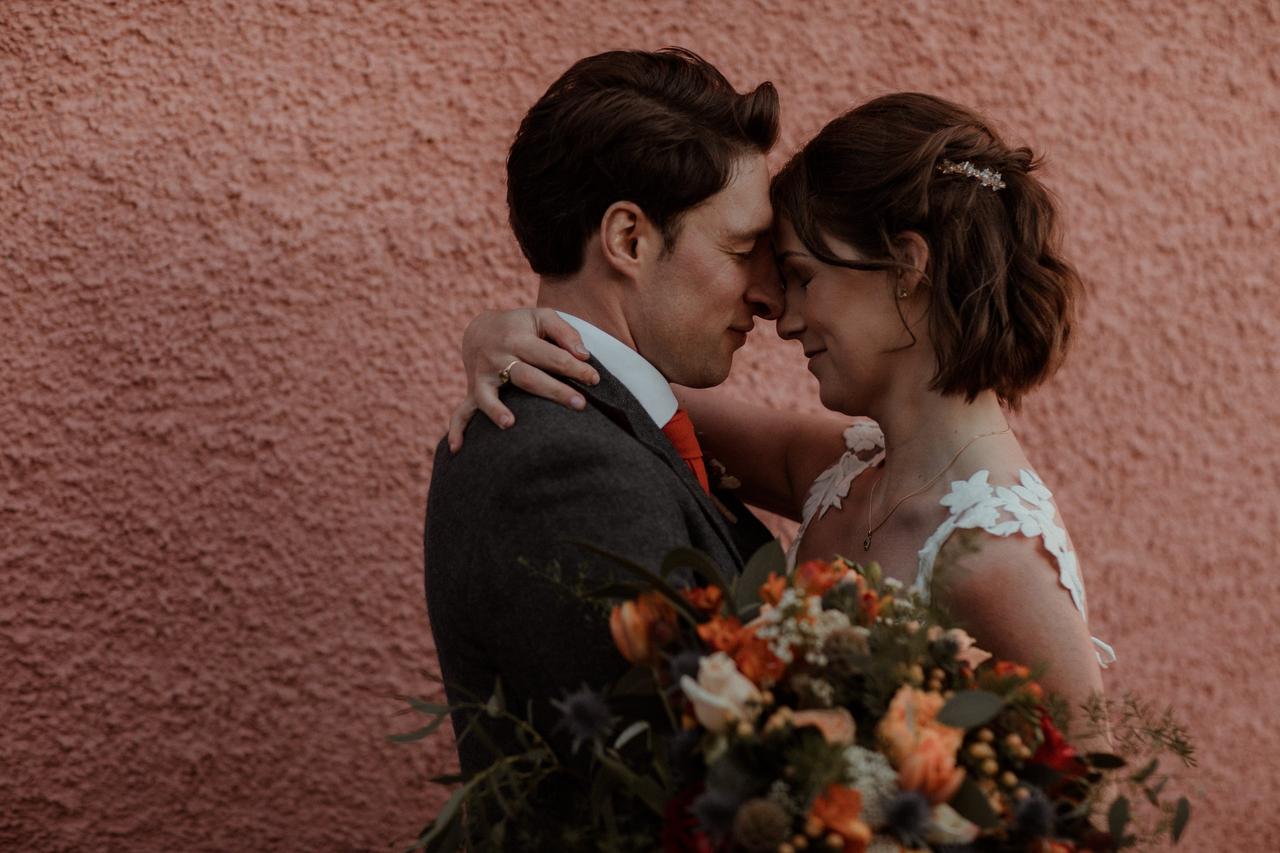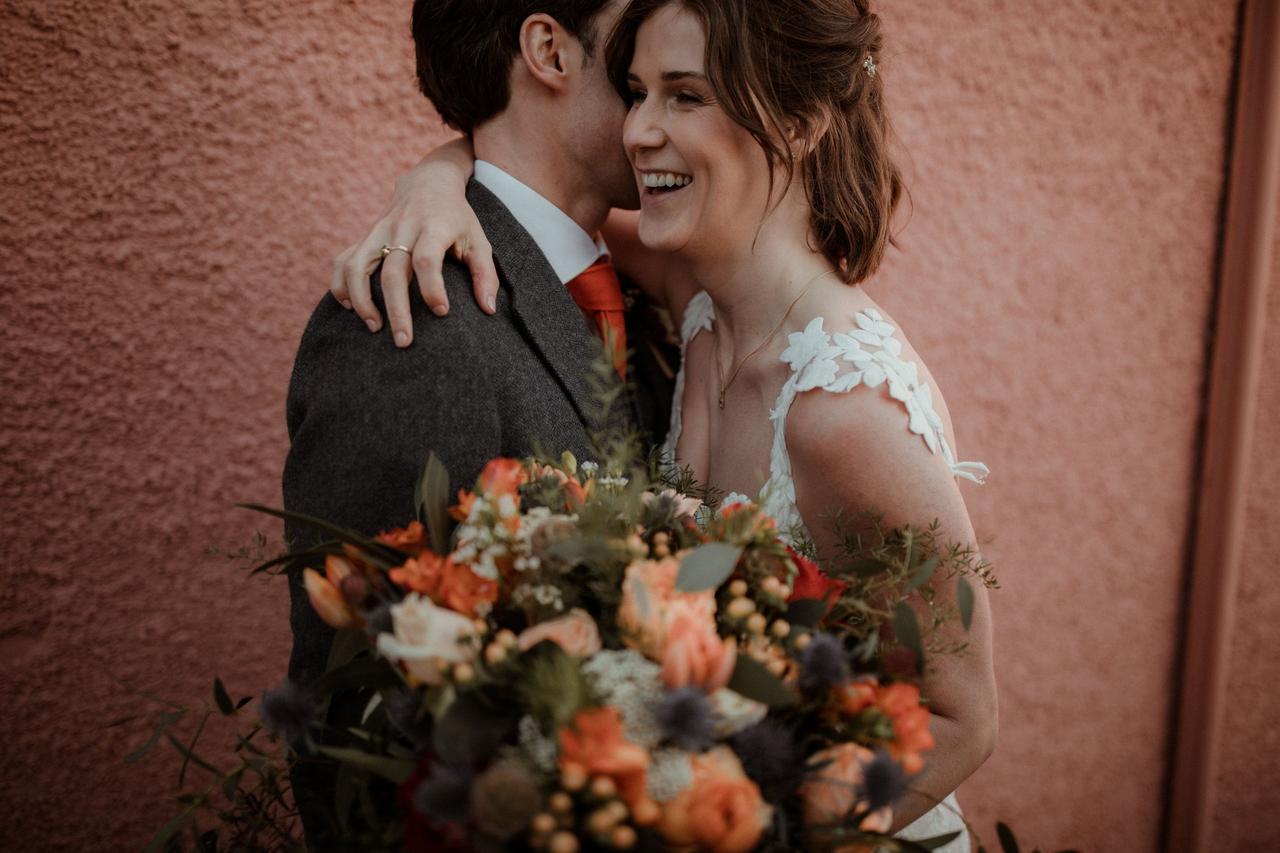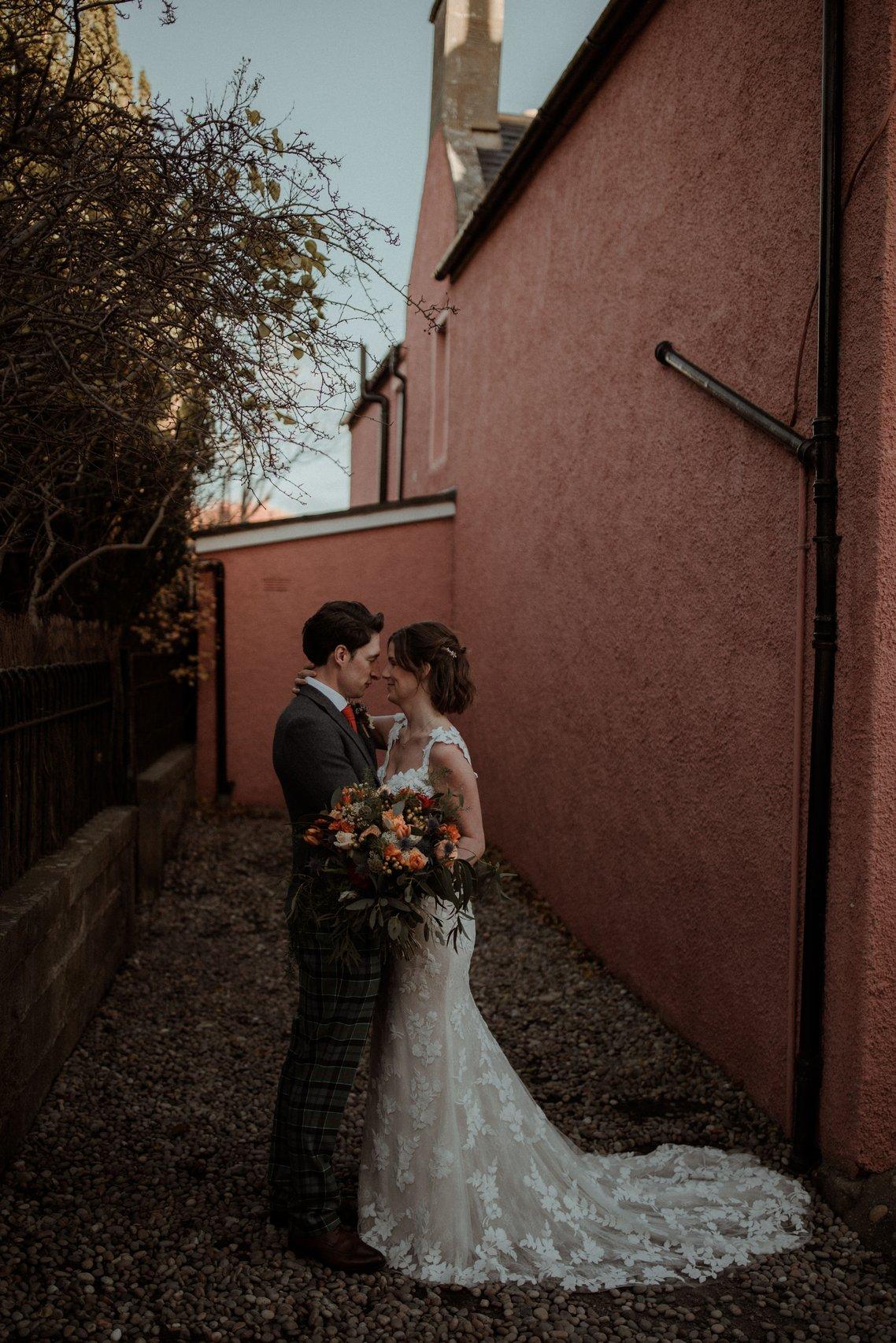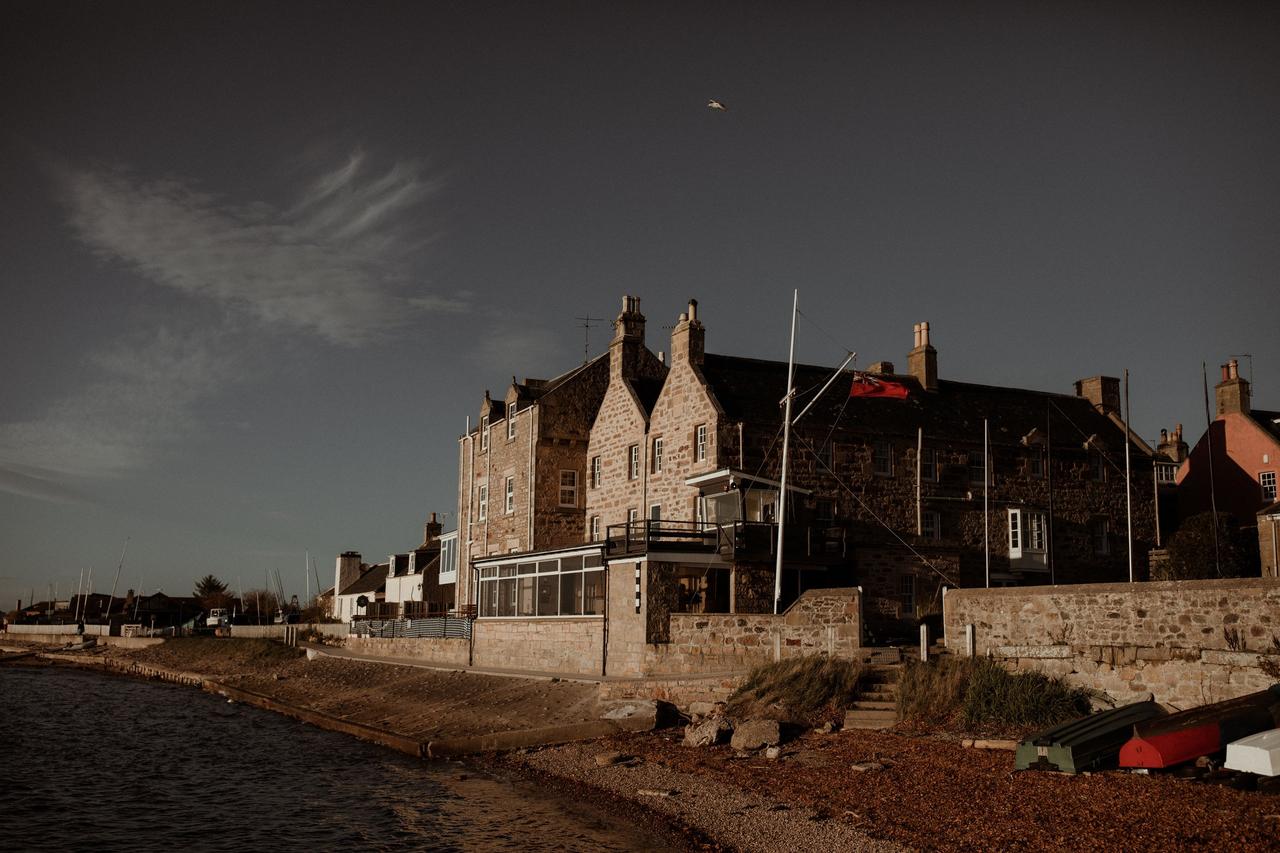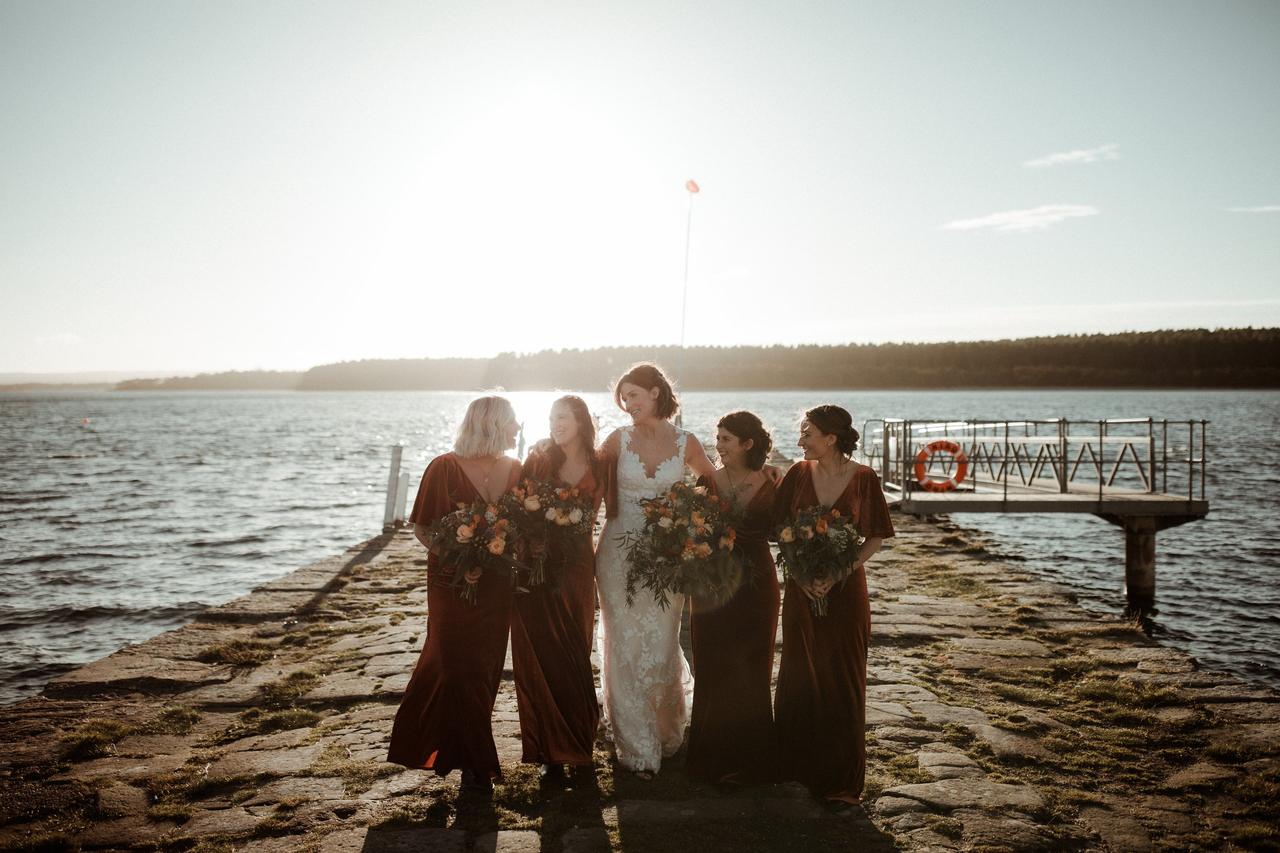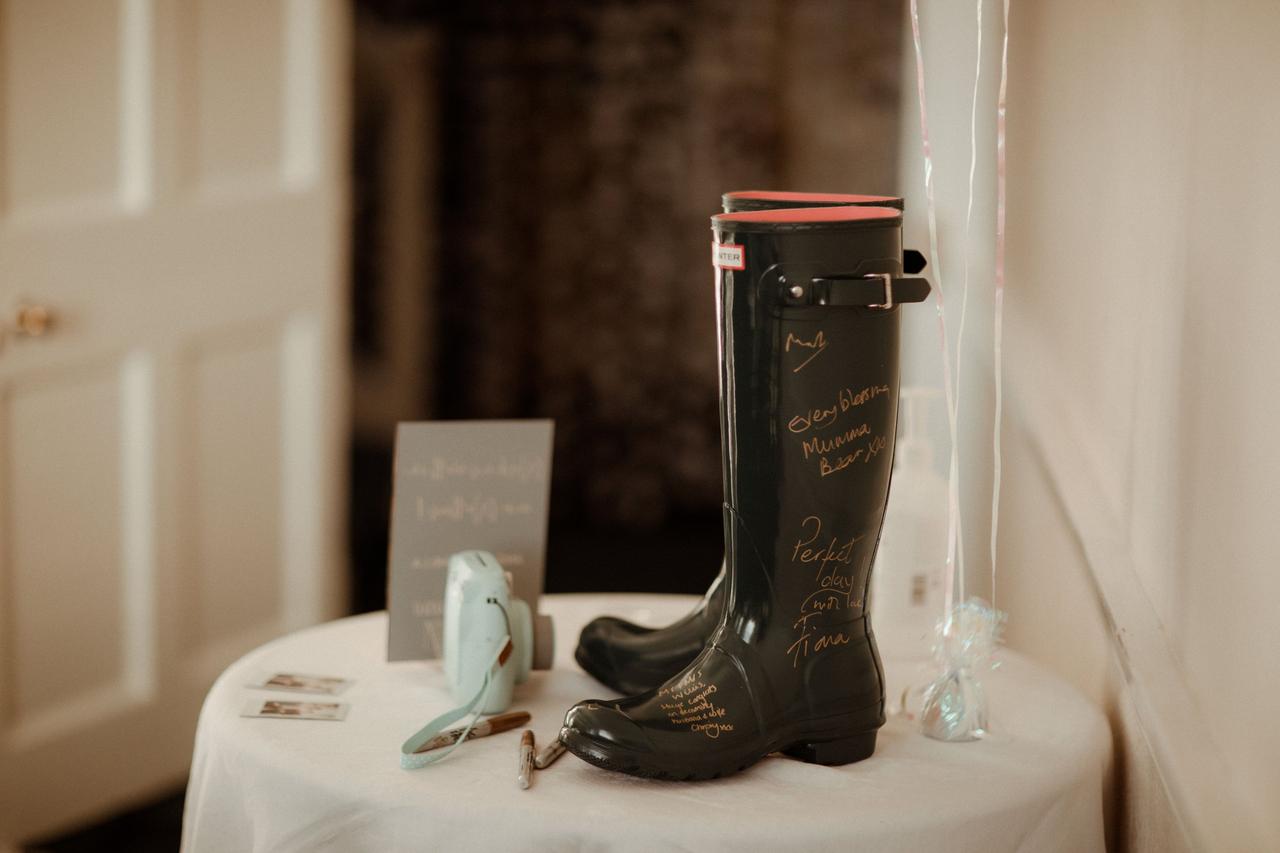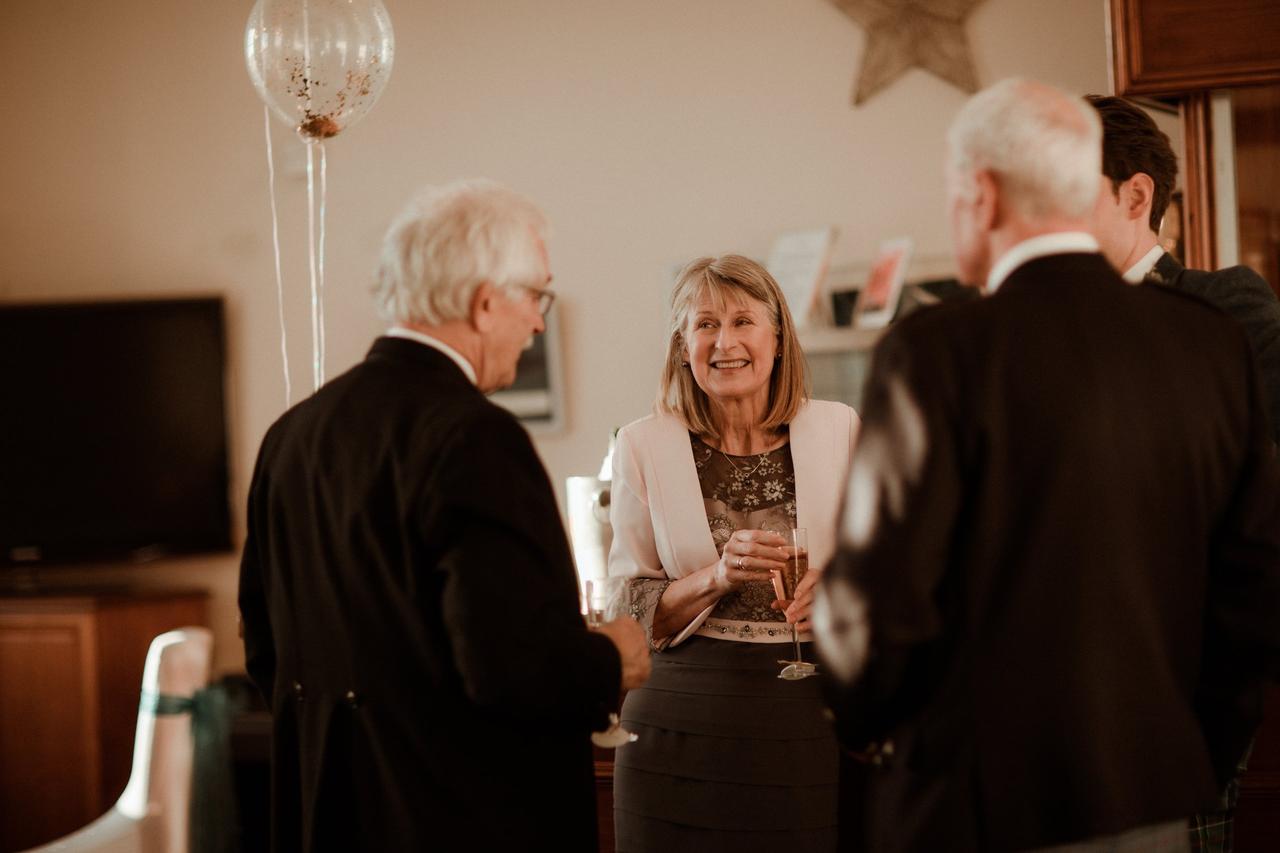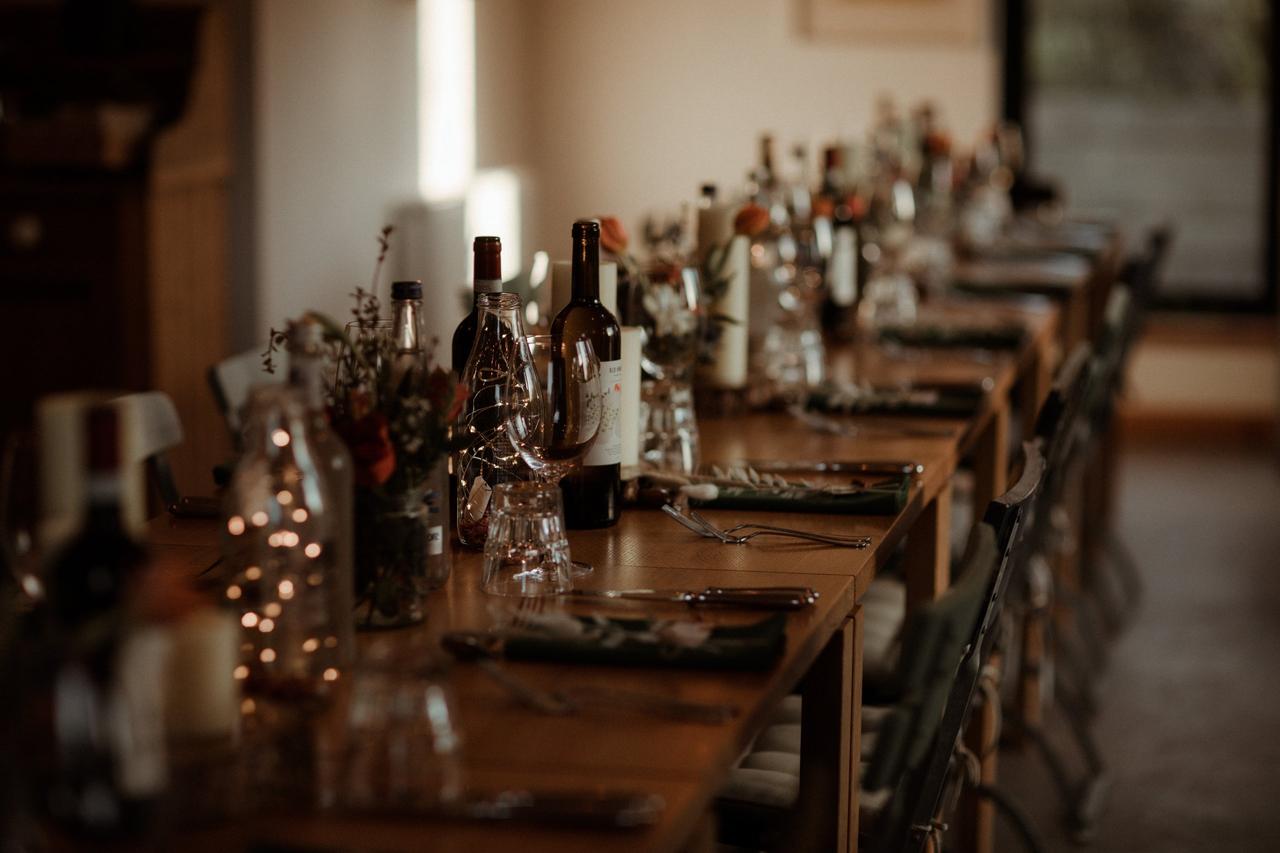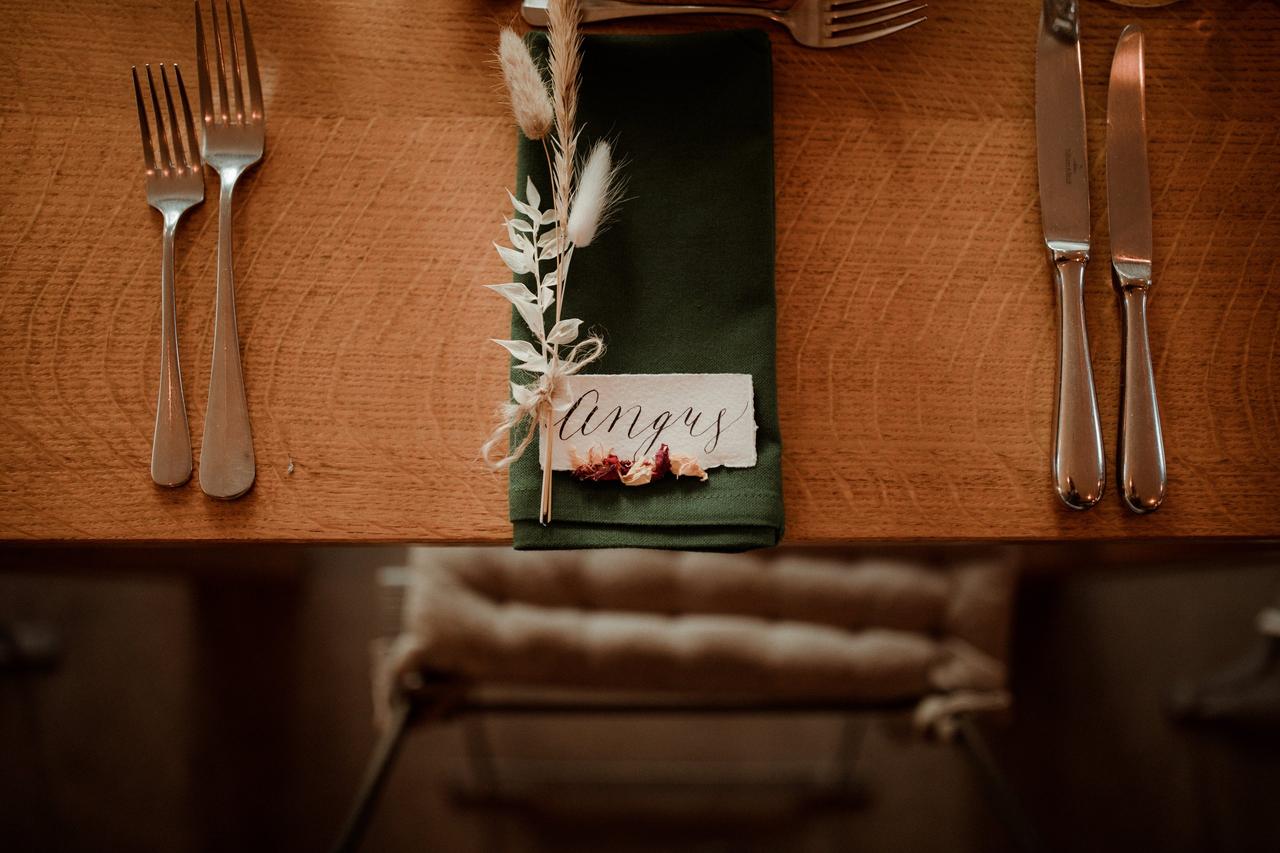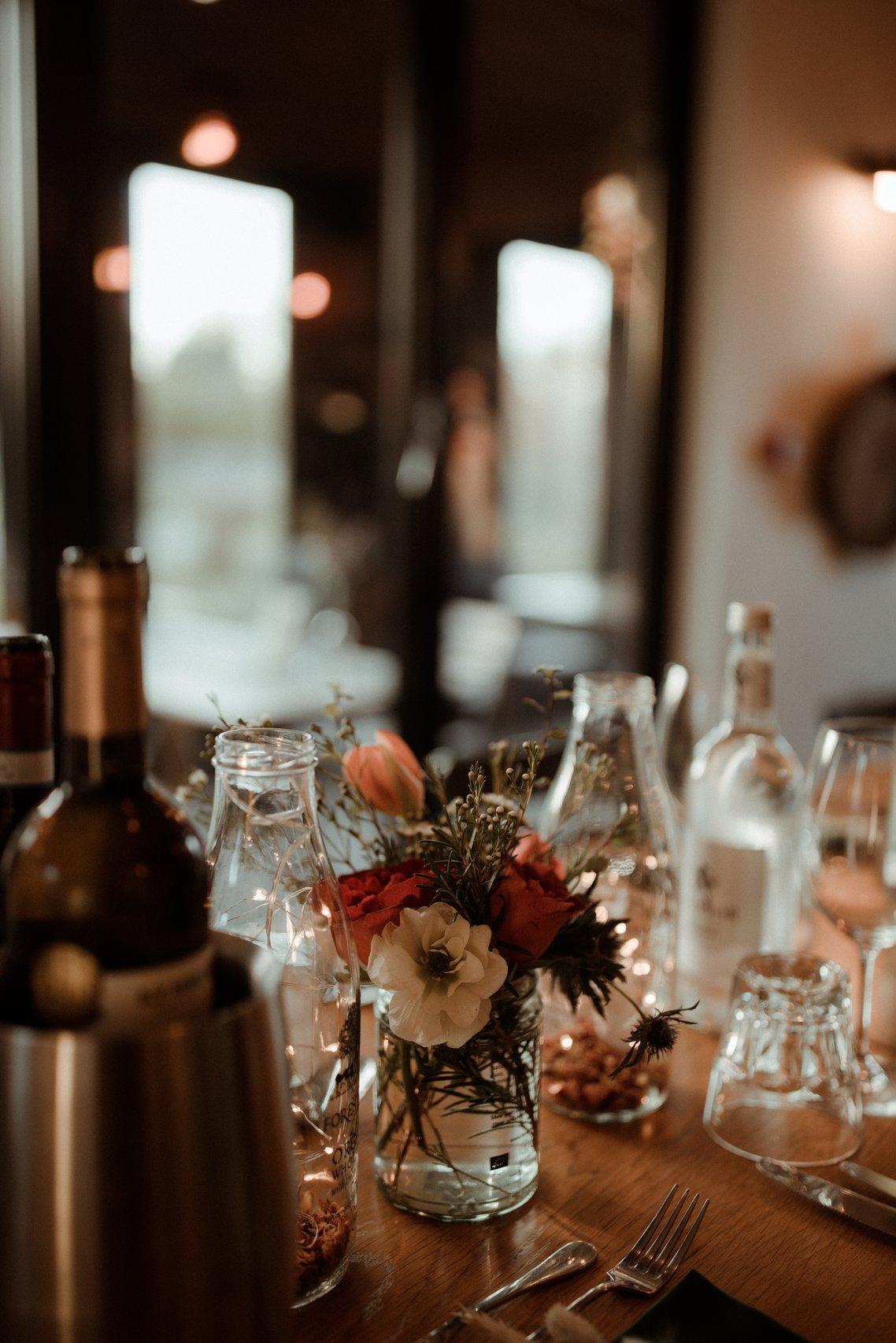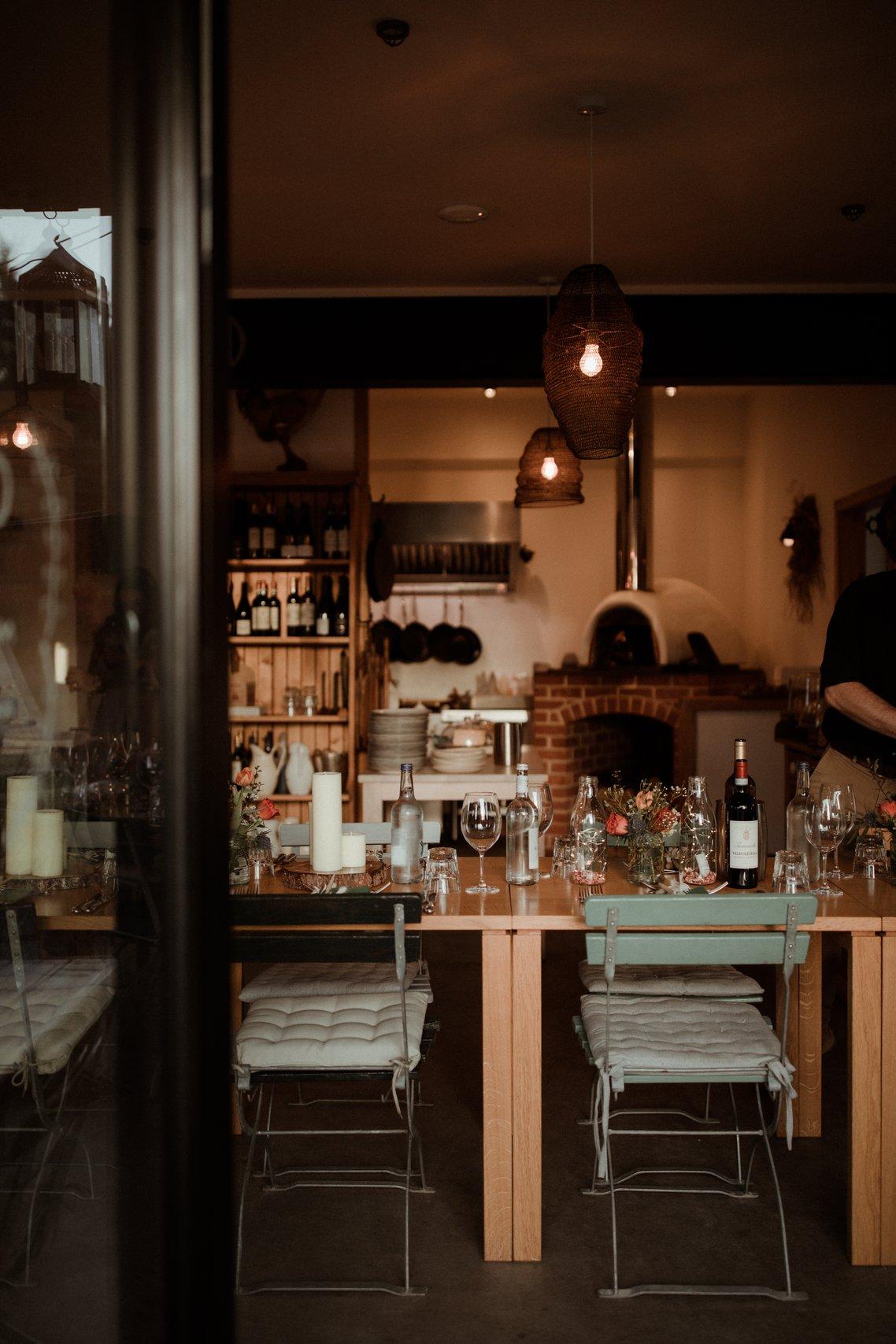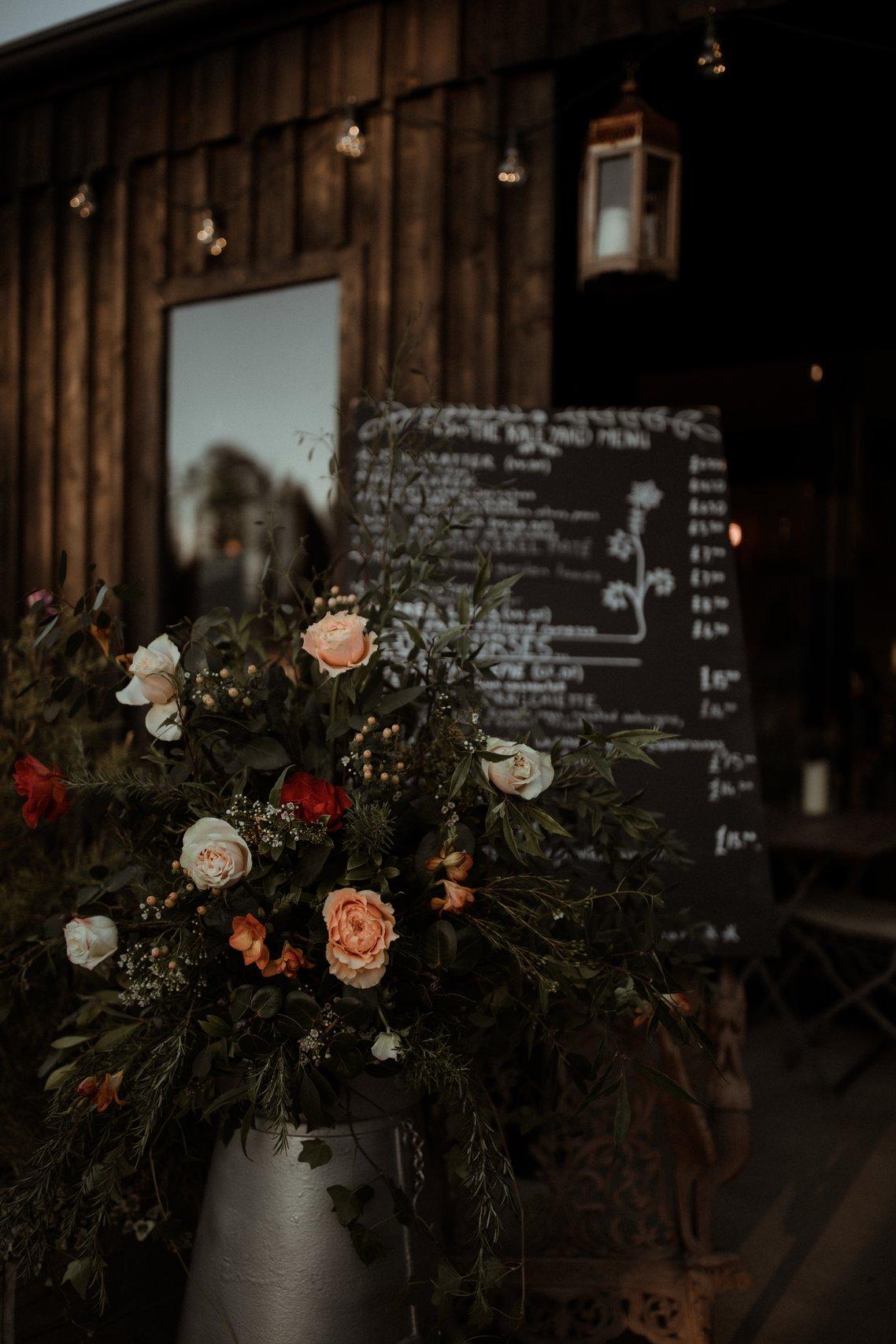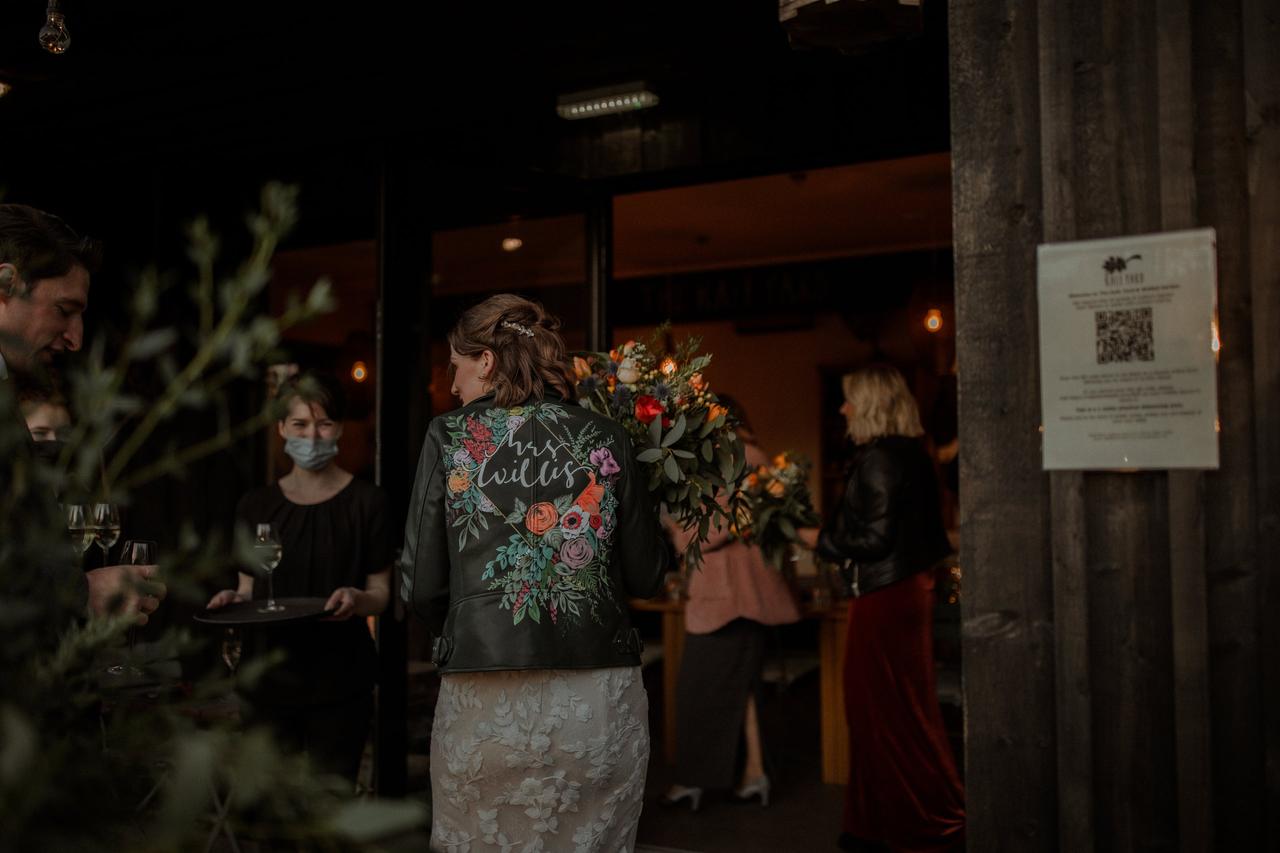 The Honeymoon
Camilla and Angus had originally set up a honeymoon gift list with Our Dream Honeymoon, asking guests to contribute to towards fun plans for their Italian honeymoon. However, once the big wedding was cancelled, they deleted the list and adapted plans.
"Italy is the honeymoon which we're still to go on – it was where we had our first holiday as a couple and we've fallen in love with the country, having been back a couple of times. Eating and drinking our way around the country is the plan!"
Early on in their relationship, they'd taken a short break to Skye and knew they loved it there. Straight after the wedding, they took a mini-moon on the Scottish isle and stayed in self-catering accommodation at Skye Lair and Salt Winds.
"We wanted something stress-free where we could do our own thing and shut off from the world for a week. It was a tranquil break after a turbulent year! We, of course, took our miniature dachshund (hairy child), Percy."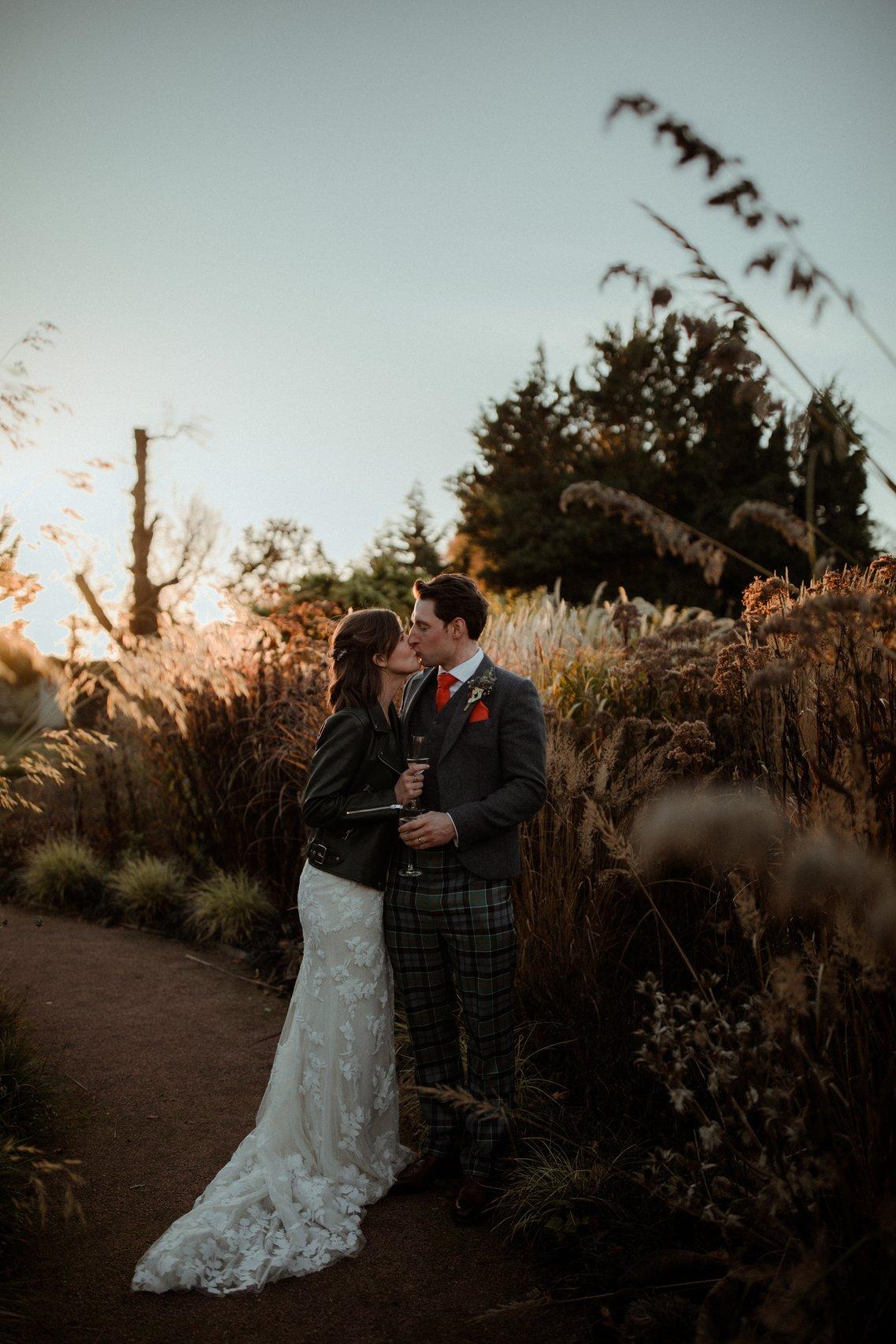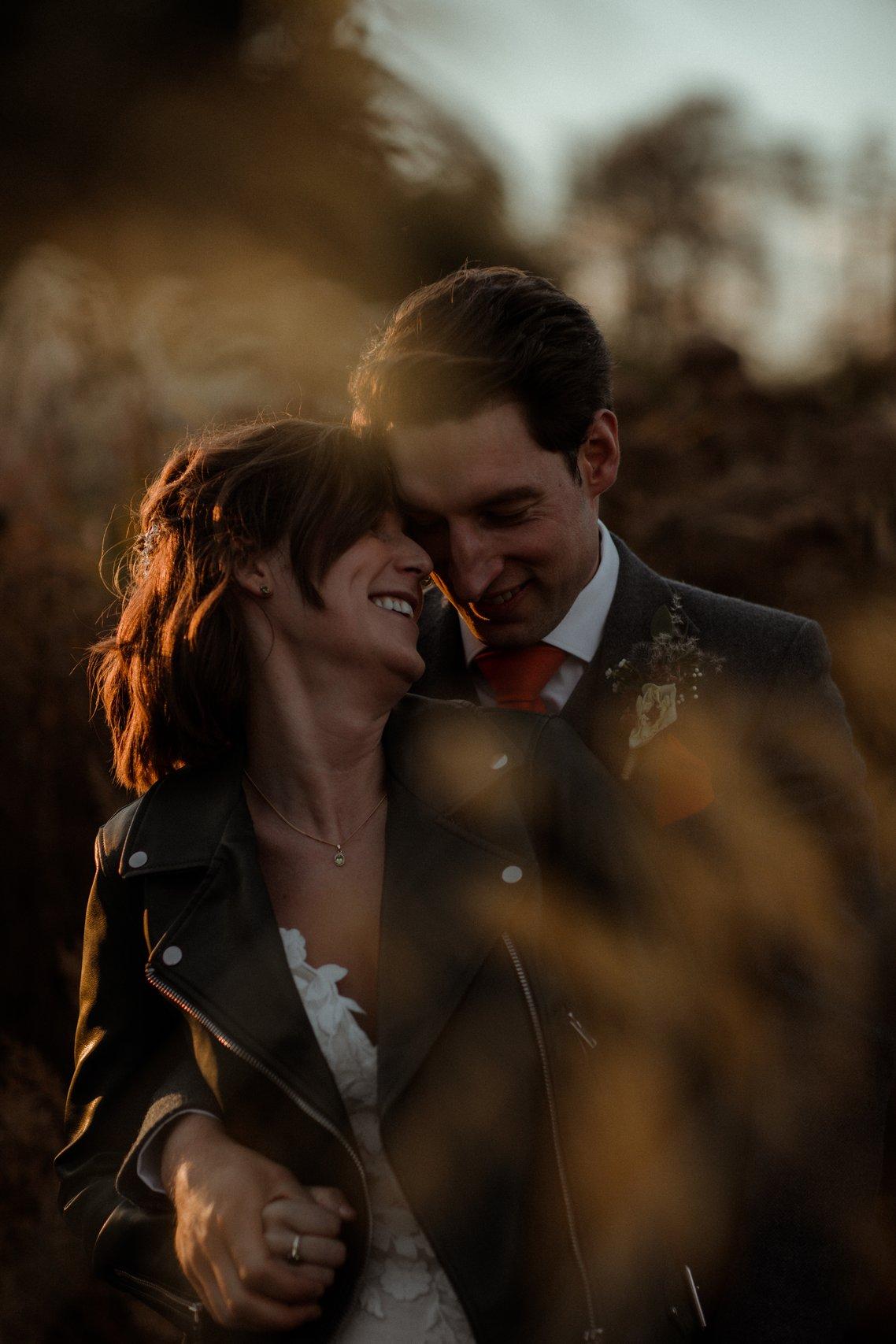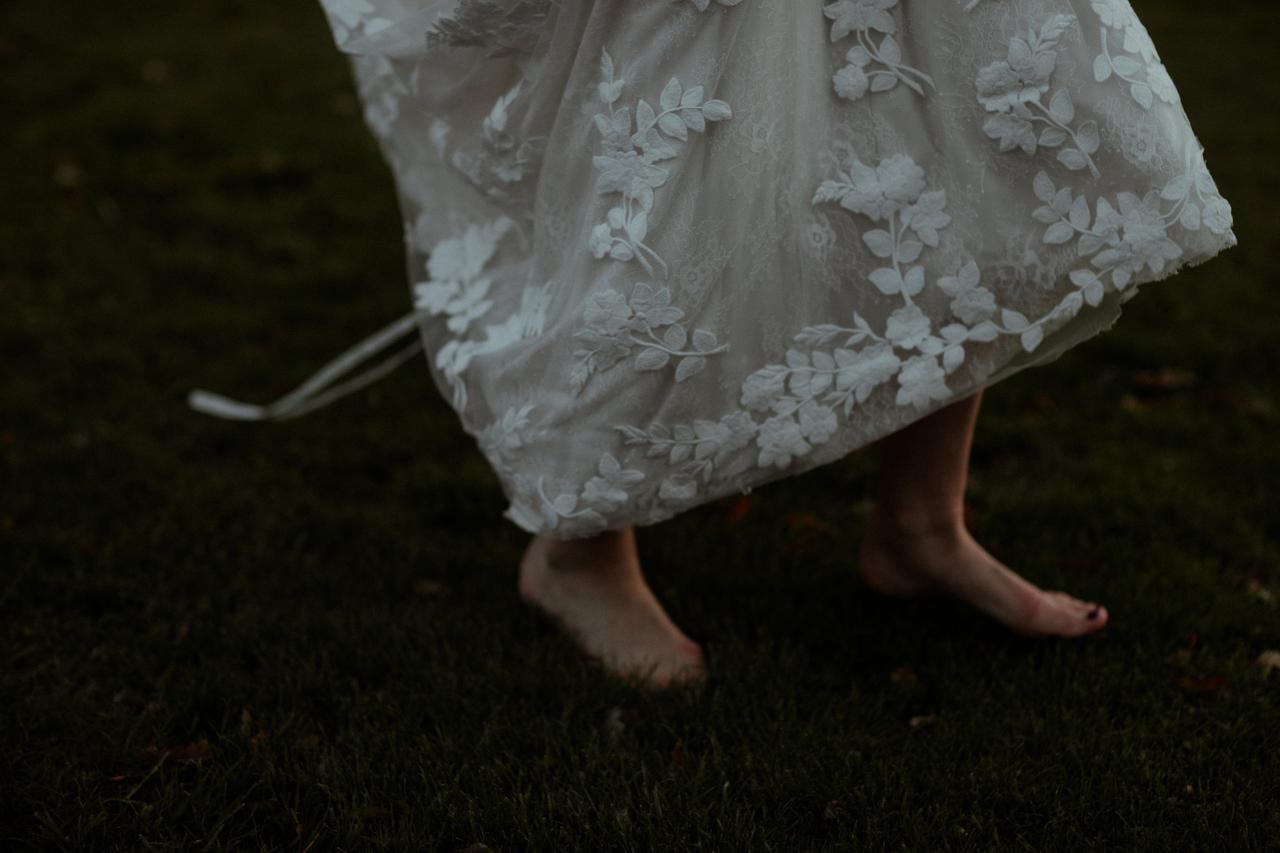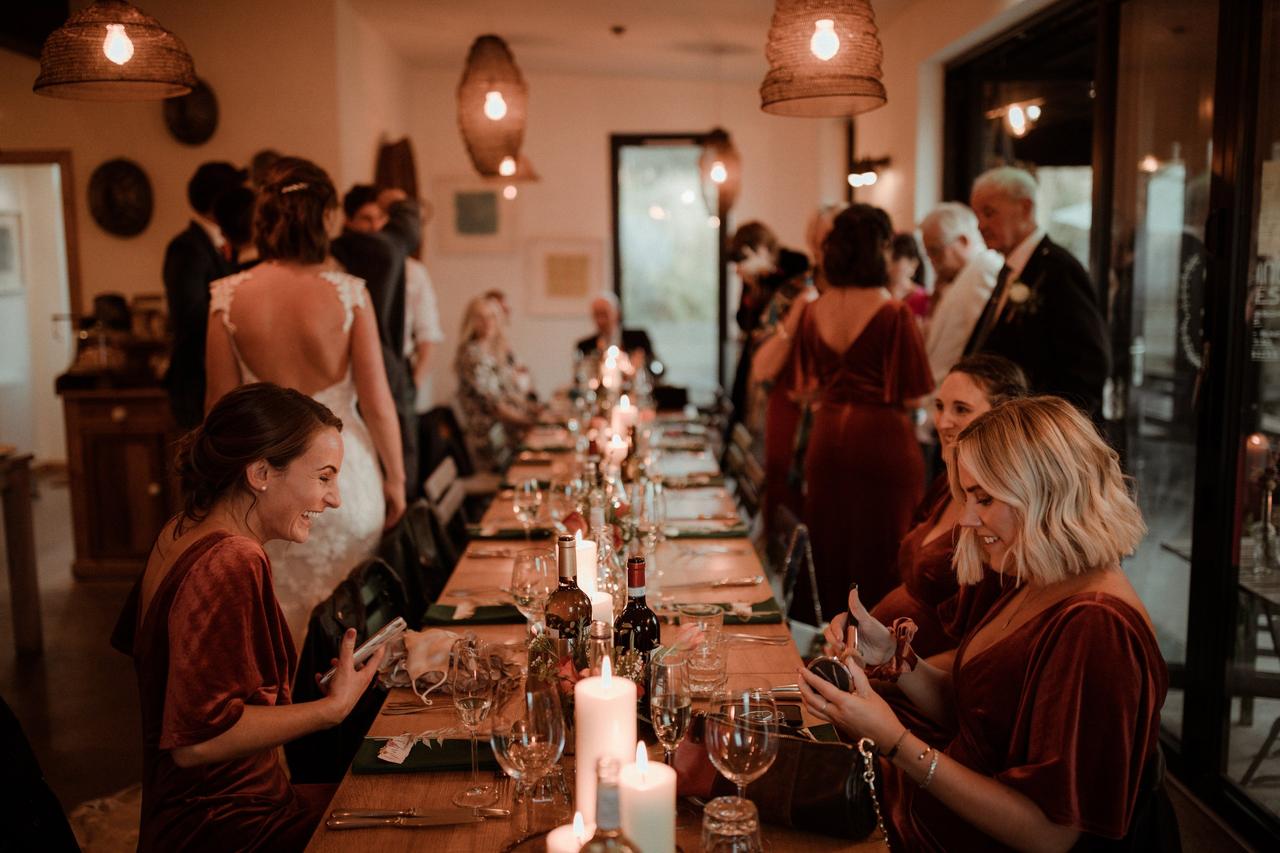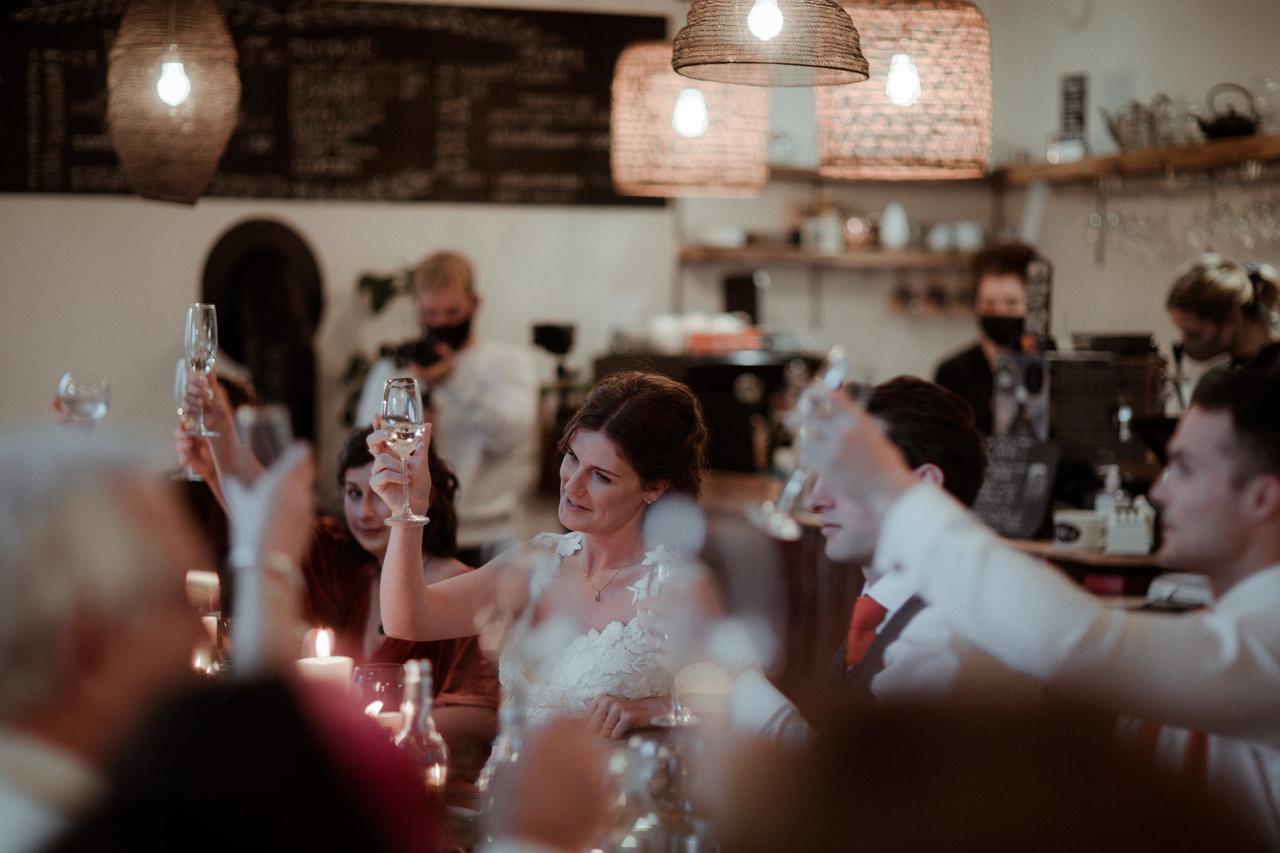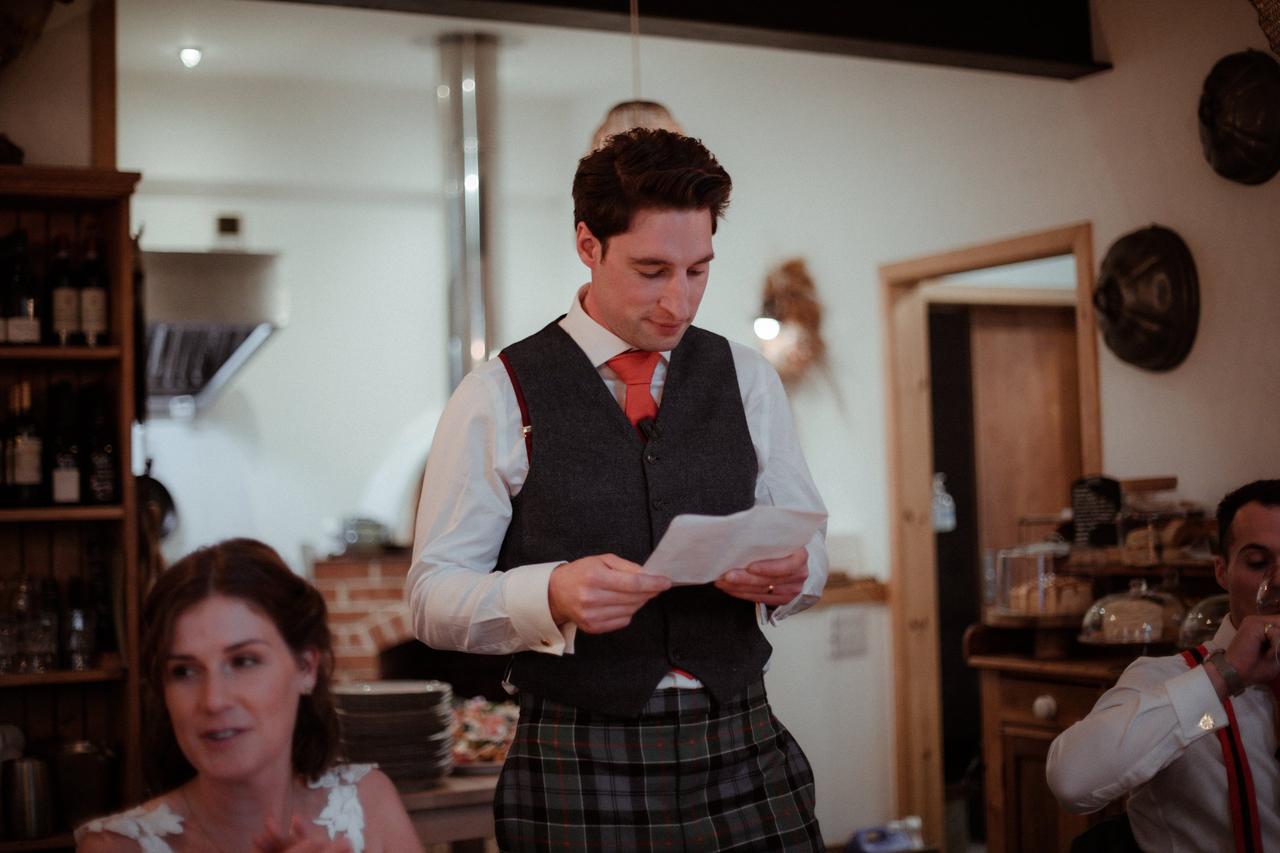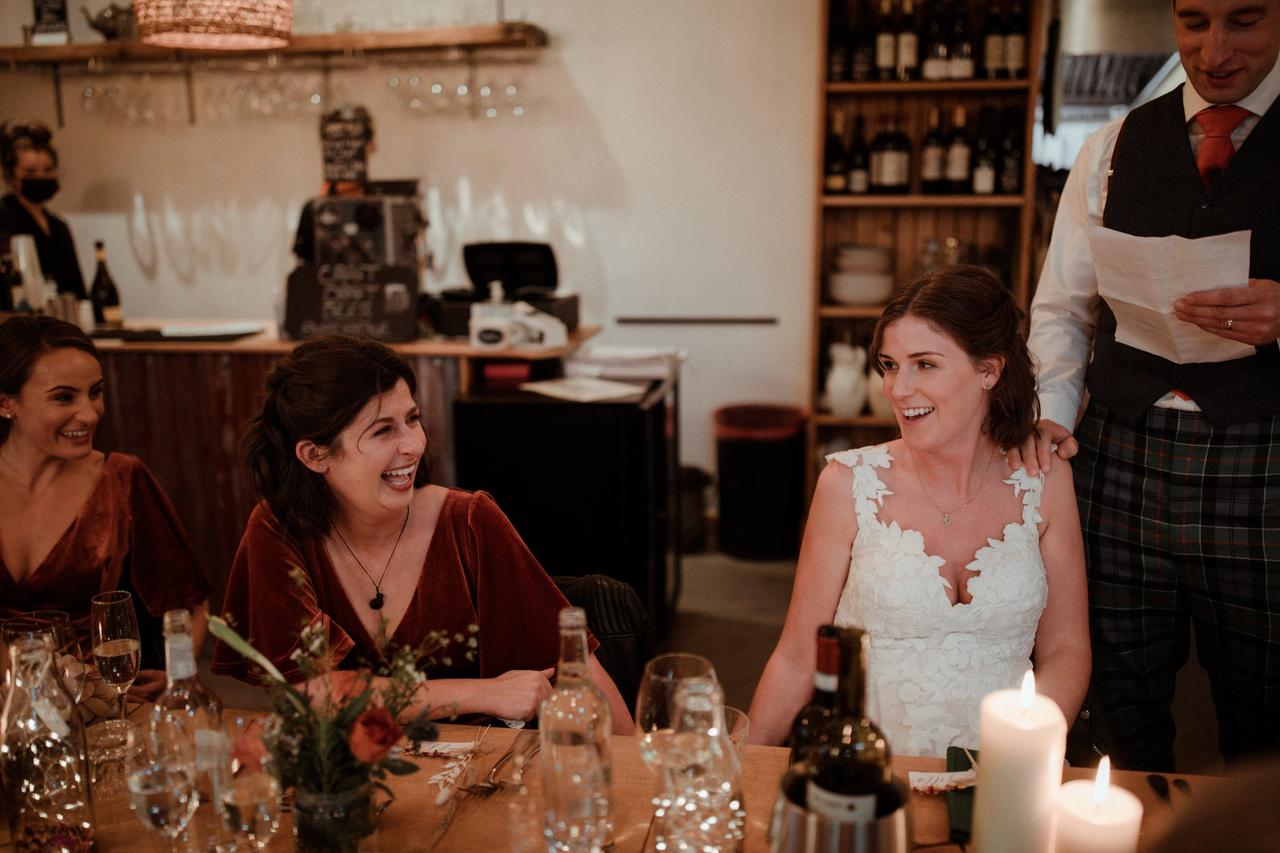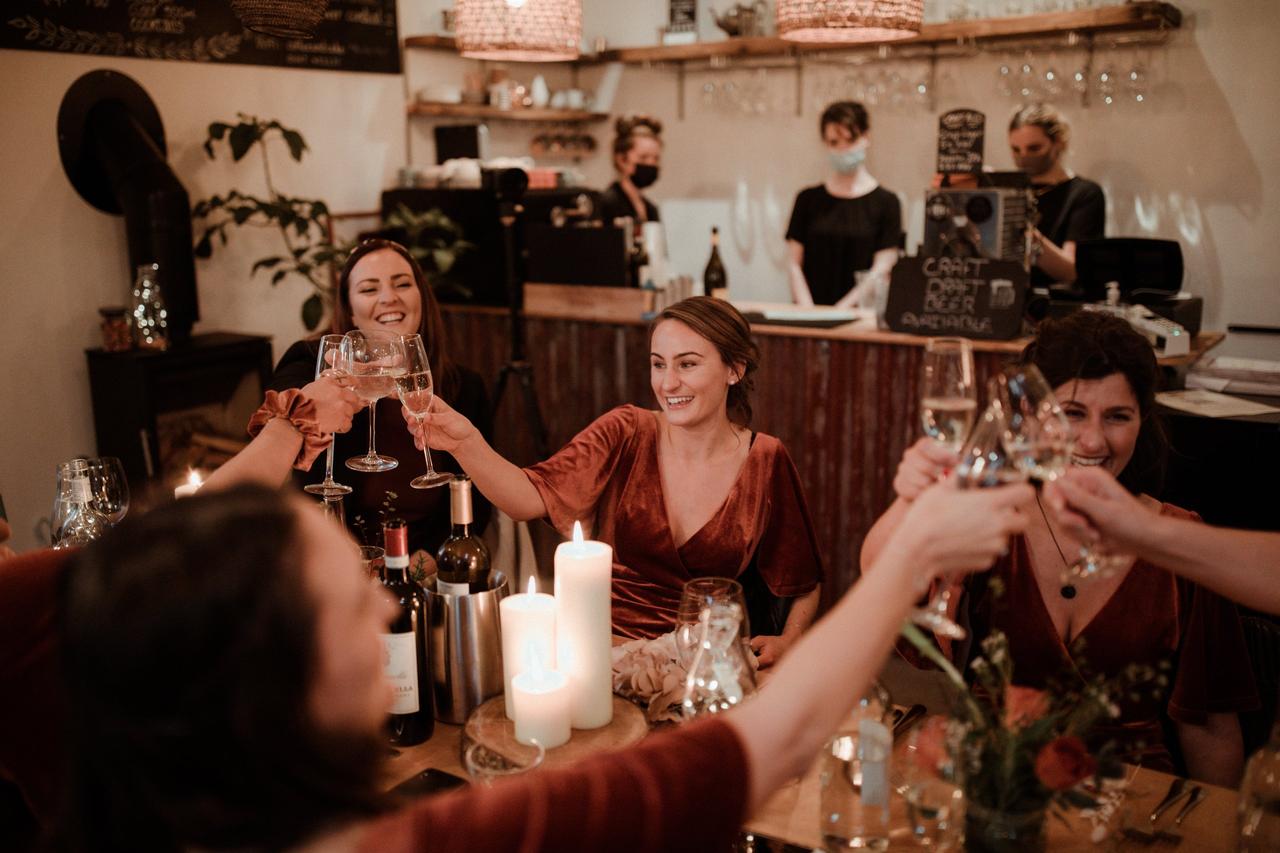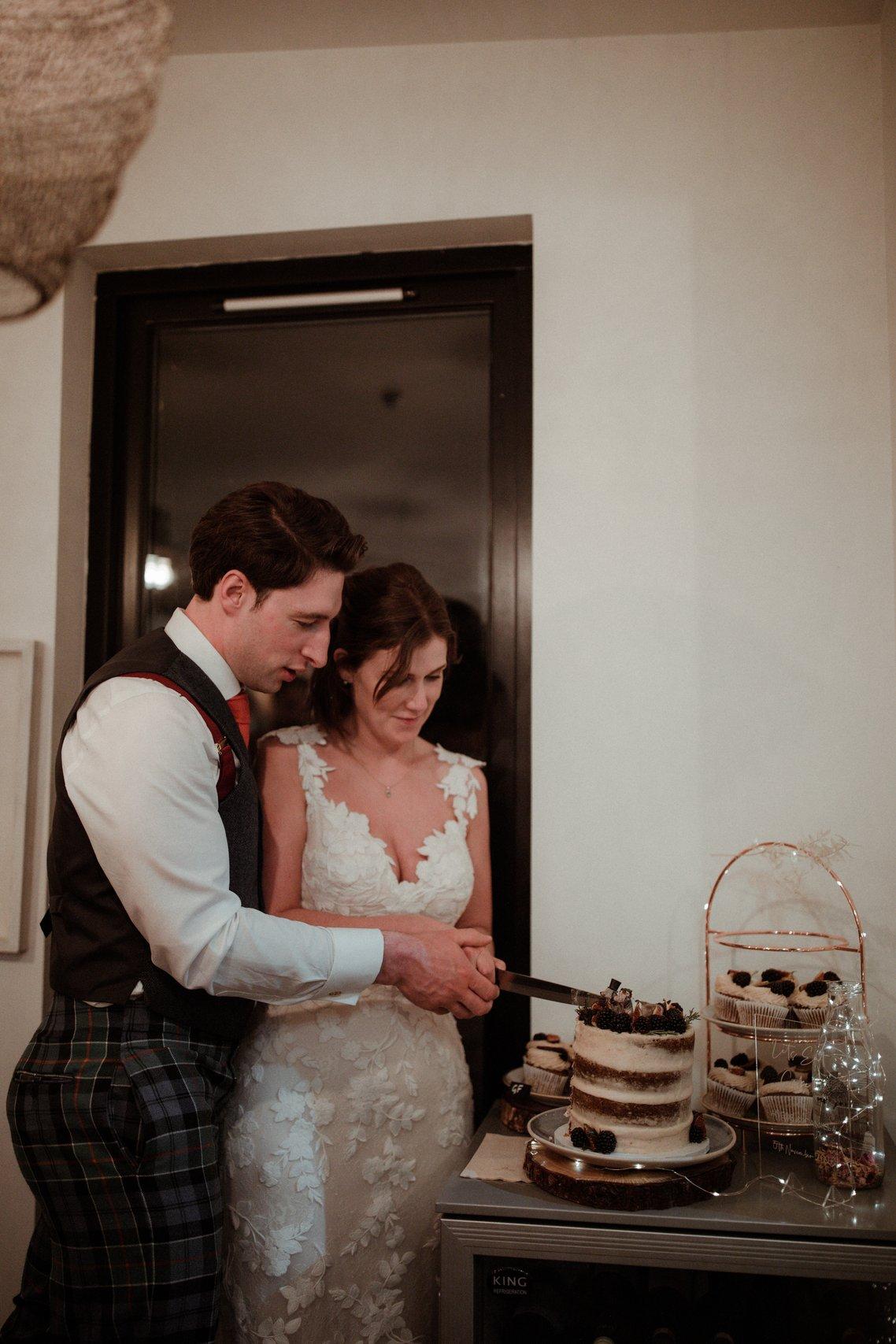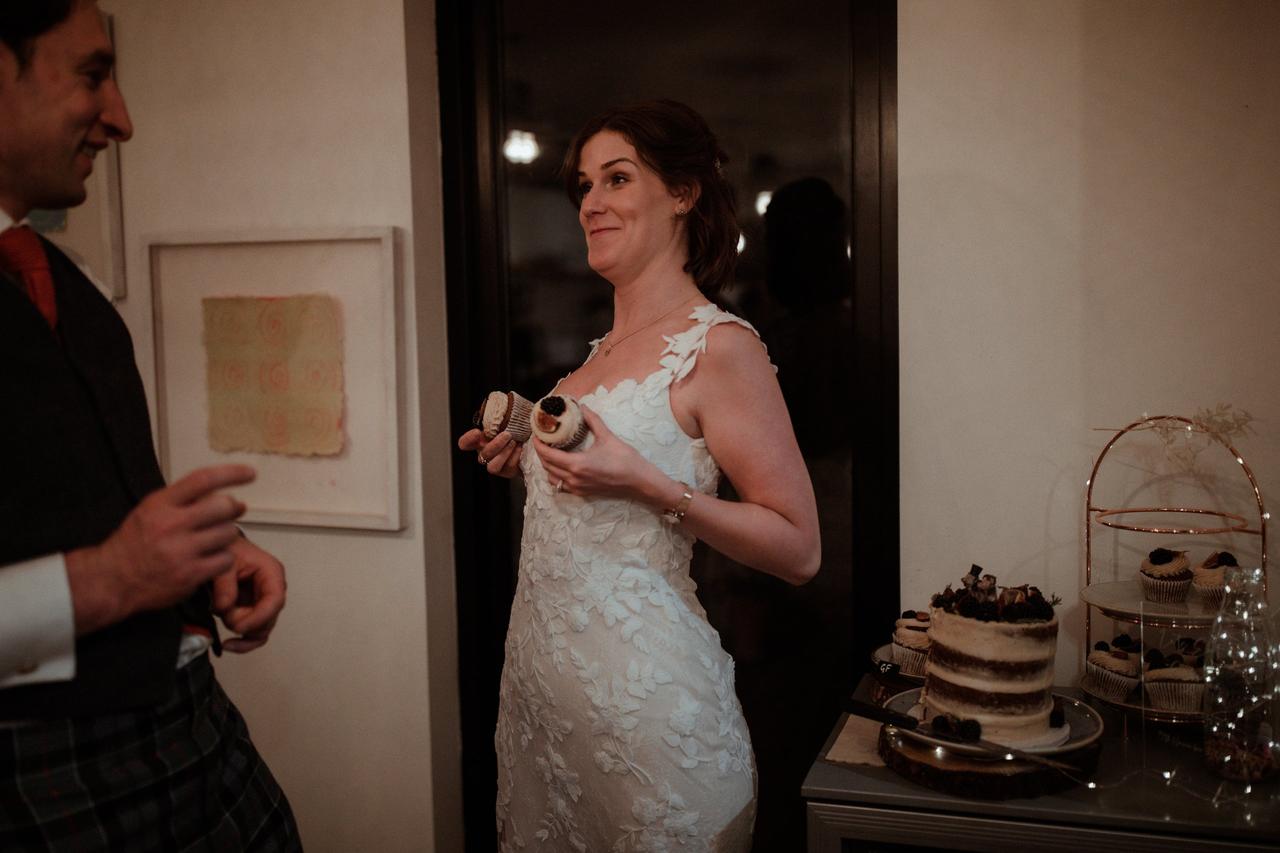 The Couple's Advice
"We would have loved it if we could have celebrated with everyone we would have loved to have had there if COVID wasn't a factor, but the day itself we wouldn't change," said Camilla.
"We are so delighted we went ahead and scrapped all formal wedding plans and just had the most 'us' day possible – our favourite beach and our favourite restaurant with our nearest and dearest. It was the happiest moment.
"It's something we wouldn't have had the guts to do if it hadn't been for COVID, so try to take the best from whatever situation you find yourself in!"
Angus and Camilla are so happy that they ended up with a day that reflected everything they loved the most. "Stray true to who you are as a couple," she advises. "Make the day as 'you' as it possibly can be, don't get too distracted on things like Pinterest trying to create something that doesn't come naturally to you…it will show. If you can, try to stop your mind wandering to what other people might think, and just go with what feels right for you as a couple in your gut. You usually can't go far wrong."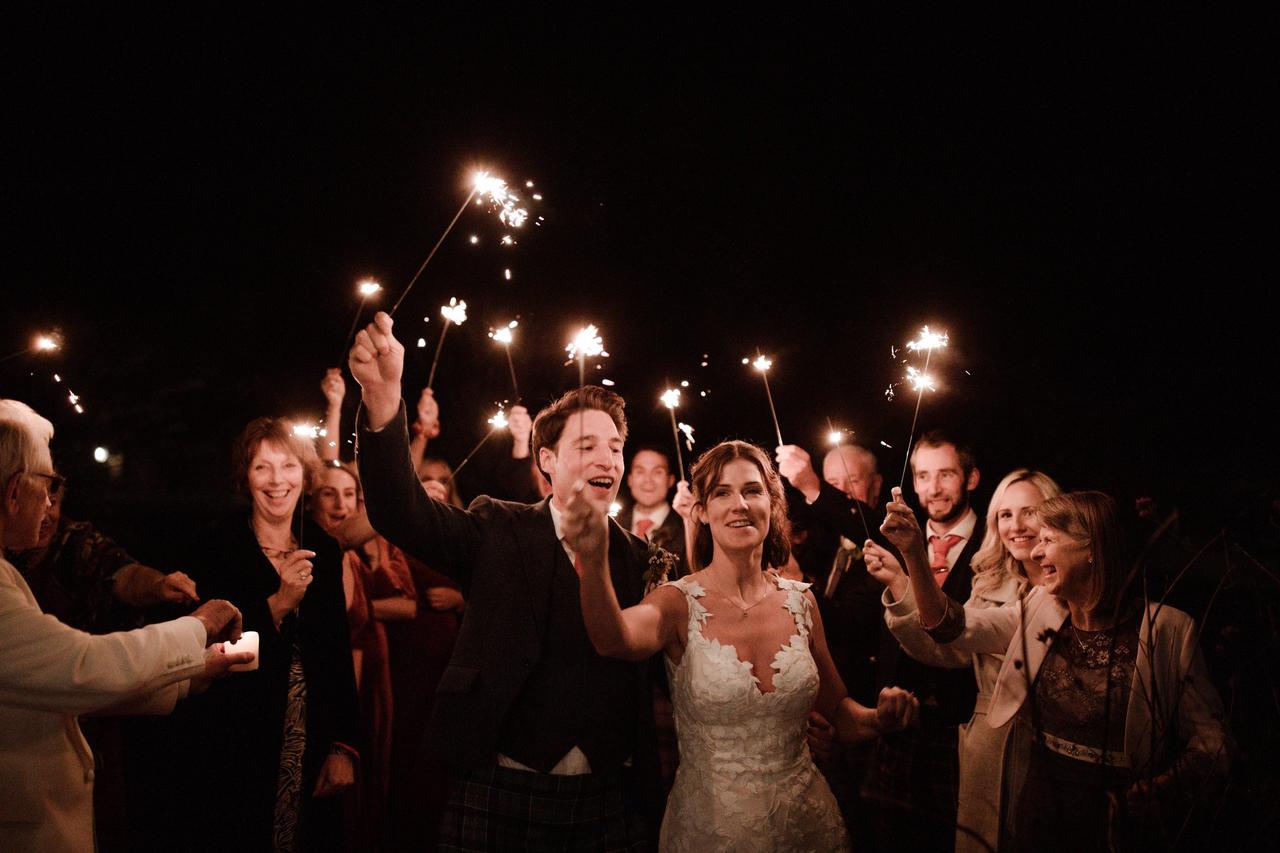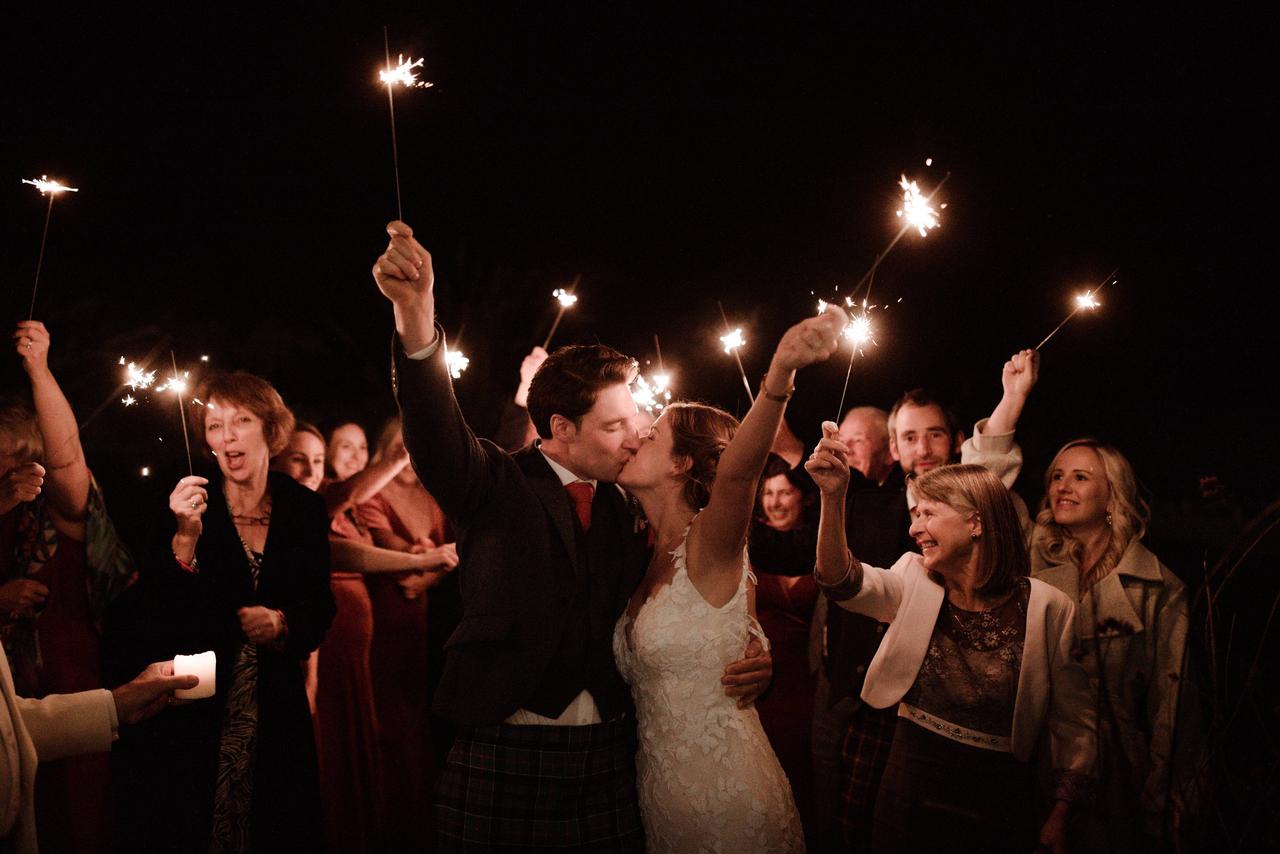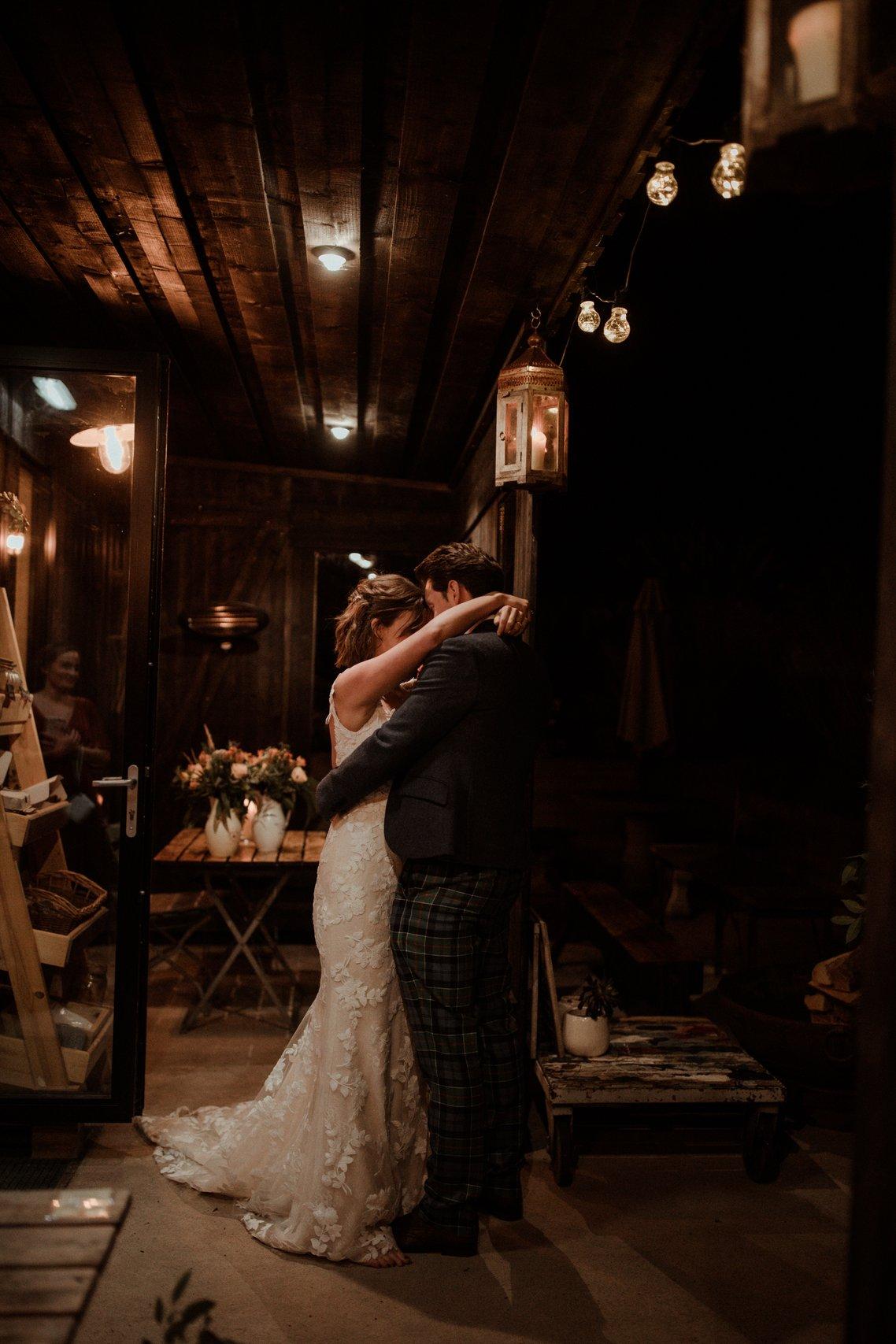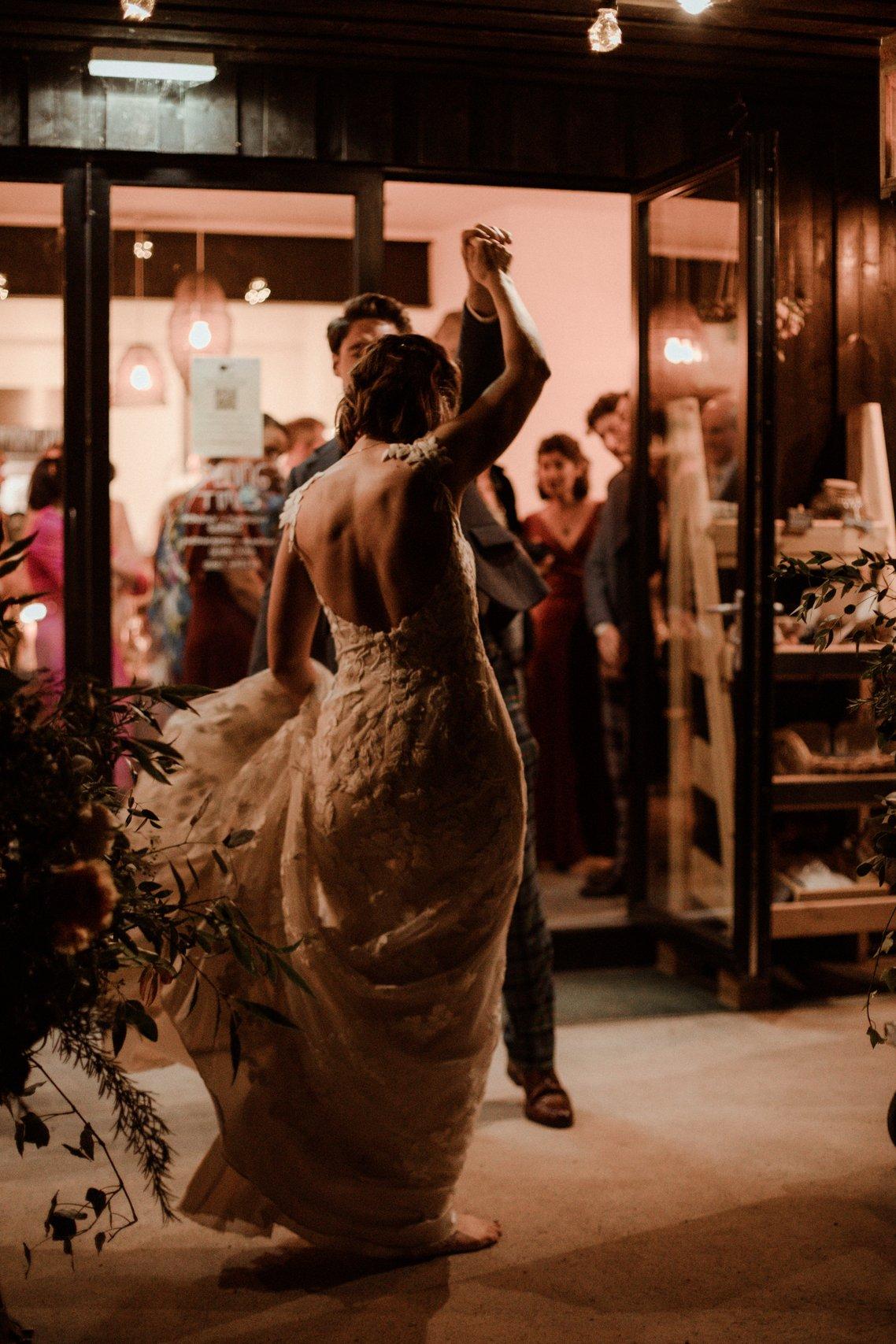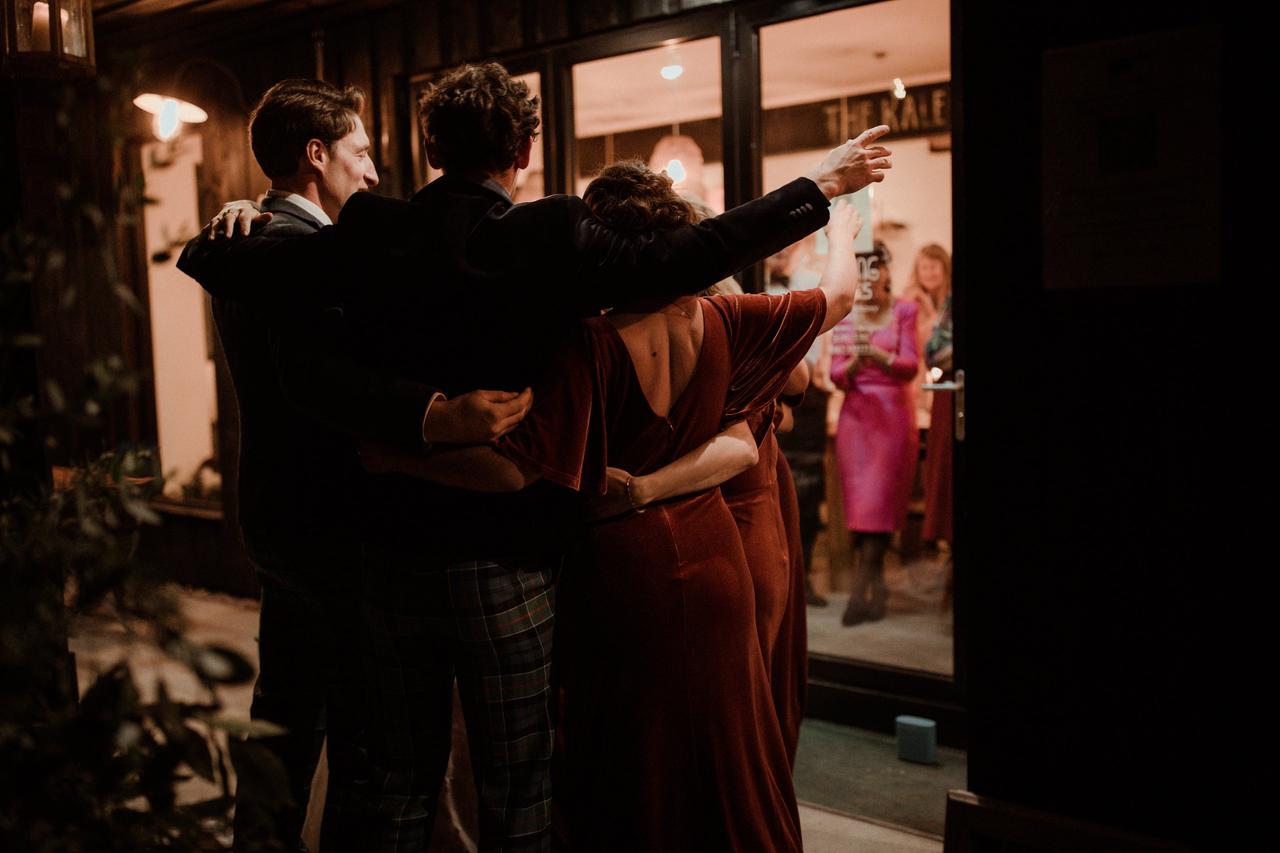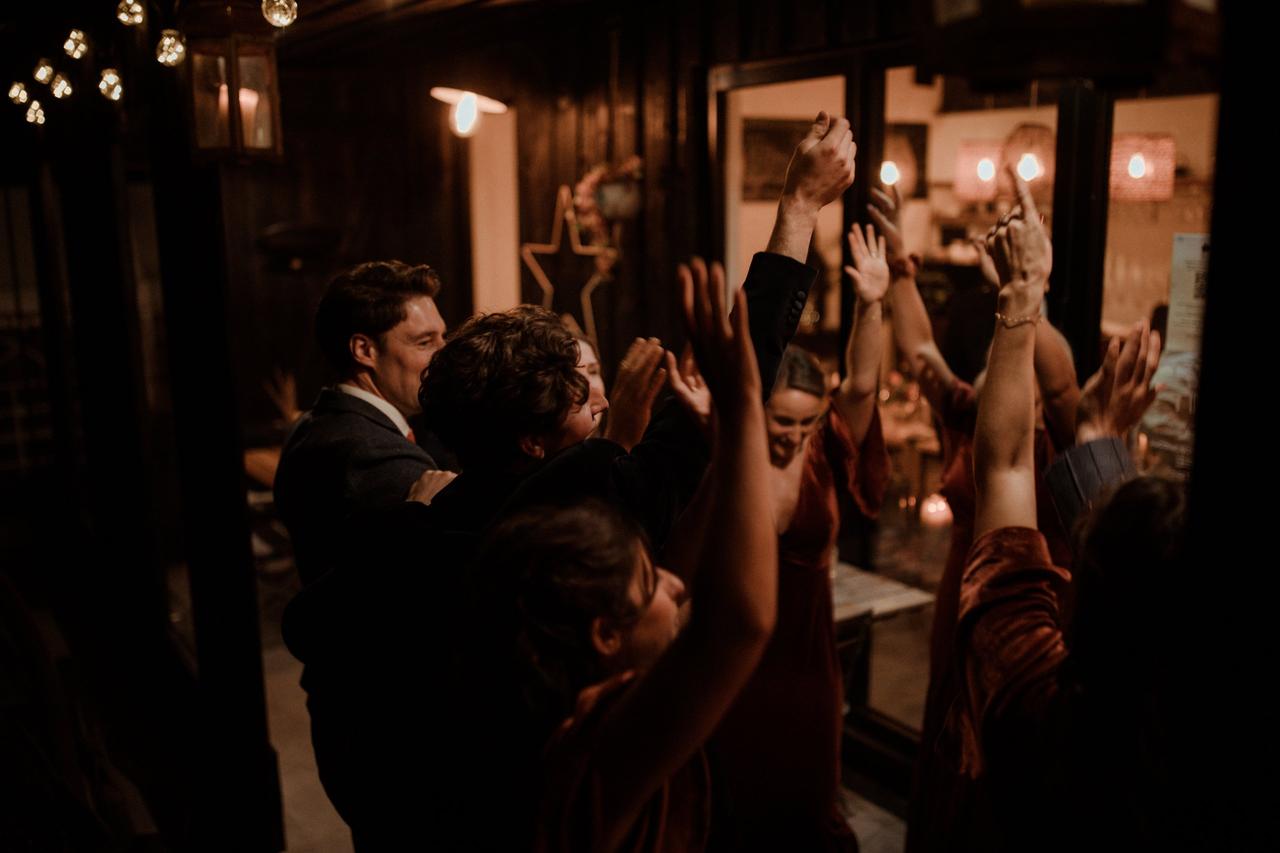 The Suppliers
Venue: Findhorn Beach, The Yacht Club and The Kale Yard
Photographer: Rachel & Tonie Photography
Videographer: Connor Ross Media
Celebrant: Rona Burstow
Wedding Dress: Enzoani from Blush Bridal
Bridal Jacket: Amy Singer Art
Make-Up: Denna Whyte Make-up Artist
Hair: Hair by Shannon Wilkinson
Groomswear: Gibbs Menswear
Groomshound Jacket: Tartan Dachshund
Wedding Cake: Peach Powder Blue
Florist: The Secret Garden
Wedding Rings: Jamieson & Carry
Wedding Website: Joy
Wedding Stationery: Papier
Thank you to Camilla and Angus for sharing your wonderful day with us!