Real Covid Wedding: Adele and Andy, South Causey Inn in Durham
Adele and Andy pulled together an intimate winter wedding in just two months. Guests watched a live stream of the special ceremony, with their one-year-old daughter Charlotte stealing the show!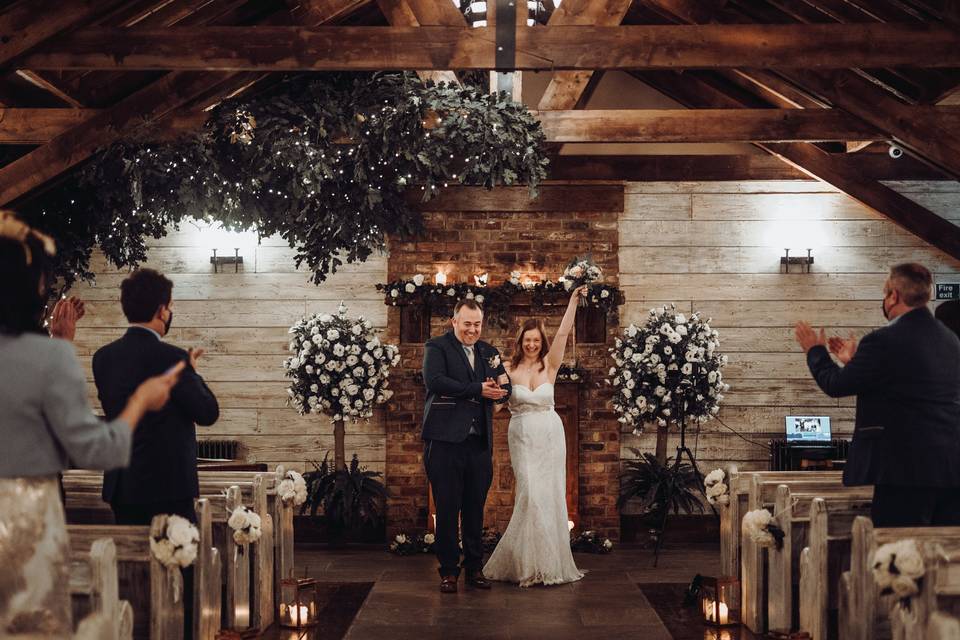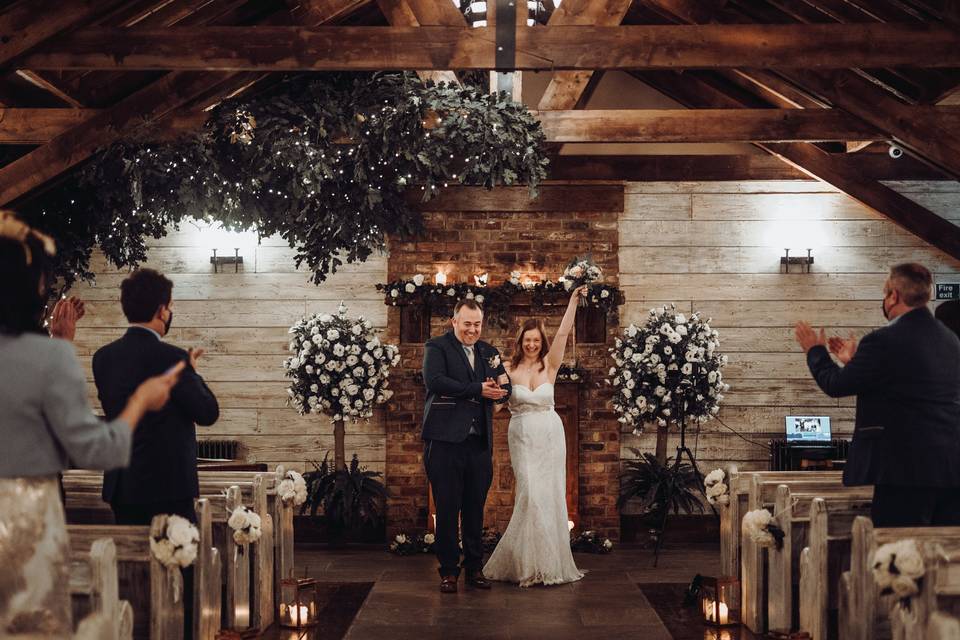 Adele and Andy Robinson threw a gorgeous, rustic wedding on 16th December 2020 for themselves and 12 guests.
The whole wedding was pulled together in just two months and - despite the introduction of the Covid tier system delaying them by two weeks - they were able to have the beautiful, small and simple winter wedding they wanted.
The couple met at work in 2014 and became engaged on Christmas day in 2018. " I was pregnant with our daughter Charlotte," Adele explained. "We got up on Christmas morning, our last one as just the two of us!
"After all the presents were opened, Andy had one special one left to give. He got down on one knee and asked me to be his wife, it'll be a Christmas I'll never forget!" Andy picked a "perfect" princess cut, white gold ring.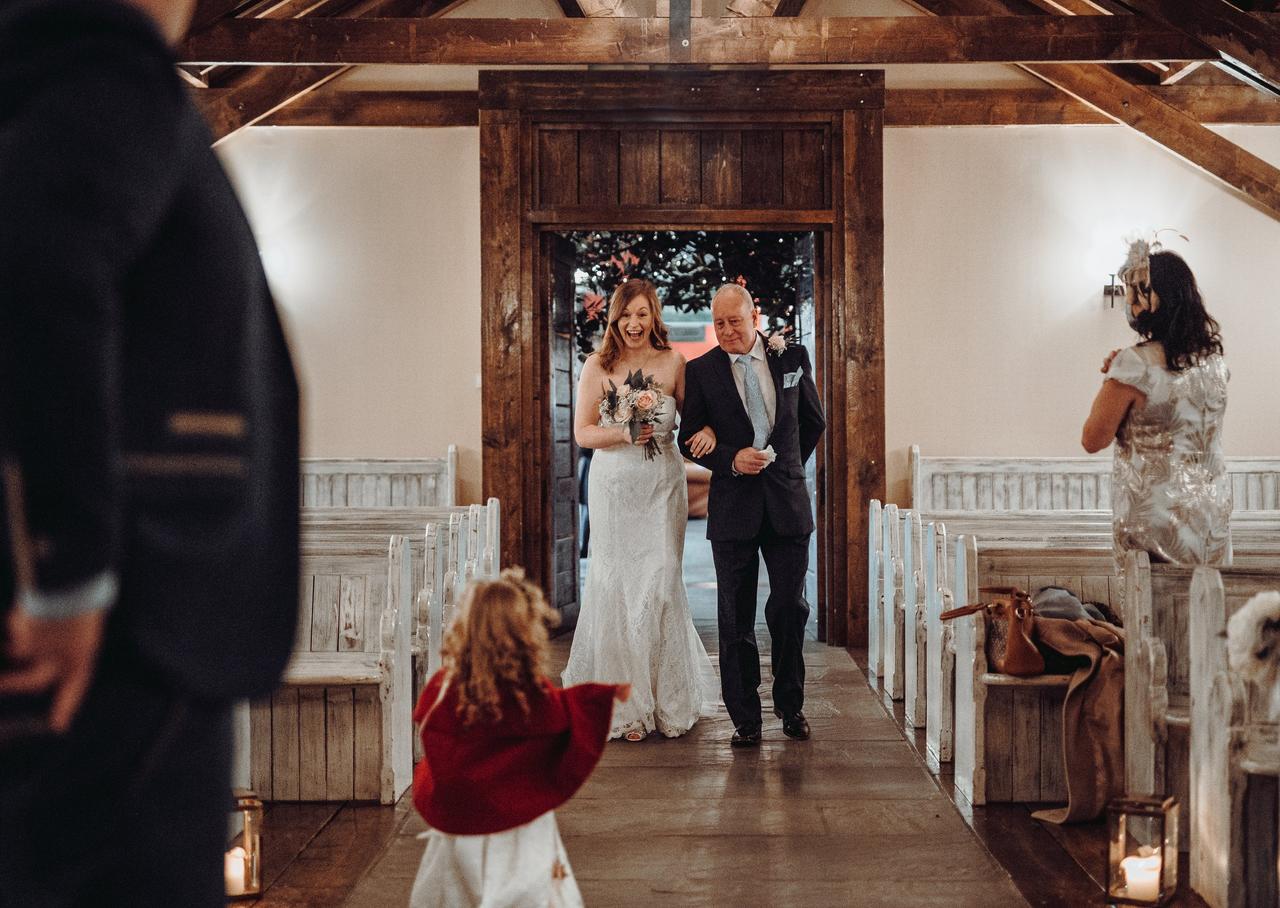 As Christmas was such an important time of year for them, they jumped at the chance to have a December wedding. After a two year engagement, they took up the challenge of planning a wedding during a global pandemic, with most of their friends and family not told until the day before!
Dressed with candles and fairylights, the atmospheric barn looked stunning on the day. Scroll on to read about the brilliant song Adele chose to walk down the aisle to and meet their very special furry guest.
Photography by Hayley Crone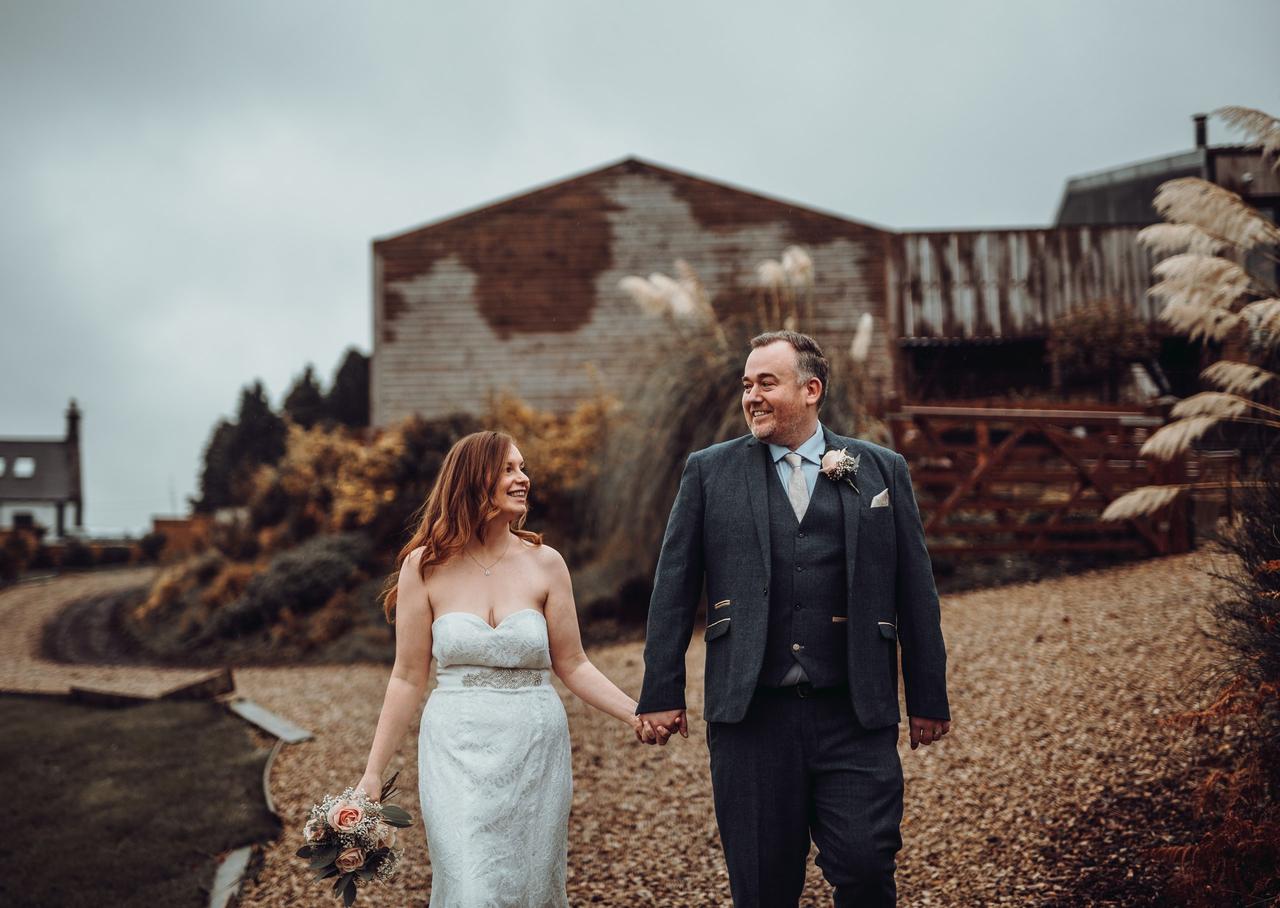 The Wedding Dress
Adele bought her dress from the independent Rosa Bridal Boutique in Whickham, Newcastle Upon Tyne. With only two months to plan the wedding, Adele needed to find a dress quickly and luckily boutique owner Susanne came to the rescue. Our bride's advice? "Trust the professionals!"
"It was a very simple lace, sweetheart dress. I didn't want anything over the top, just classic and comfortable for our very intimate wedding.
"I only tried on a handful before I found 'the one'. Susanne was really helpful and knew what she was talking about - it made the whole process easier. Due to lockdown, only myself was allowed in the shop and we booked the wedding with eight weeks to the actual date so I needed something quickly. I was able to FaceTime friends and family to help make a decision - it was a unique way of picking a wedding dress for sure!"
The gorgeous dress was accessorised with a small diamante belt and Adele wore a diamond necklace gifted by Andy on the morning of the wedding, plus drop earrings and a long veil.
She had to think outside the box for her 'something blue'. "It was my Covid mask with the word 'bride' embroidered on it, from Shirts of Distinction. I also had a custom, handmade garter from a small business called Garter Me Good."
Adele changed into a different outfit for the 'reception' although it wasn't a traditional look. "We didn't have a reception as our wedding was in Tier 3 restrictions but we did have dinner at home which was suitable for PJs!"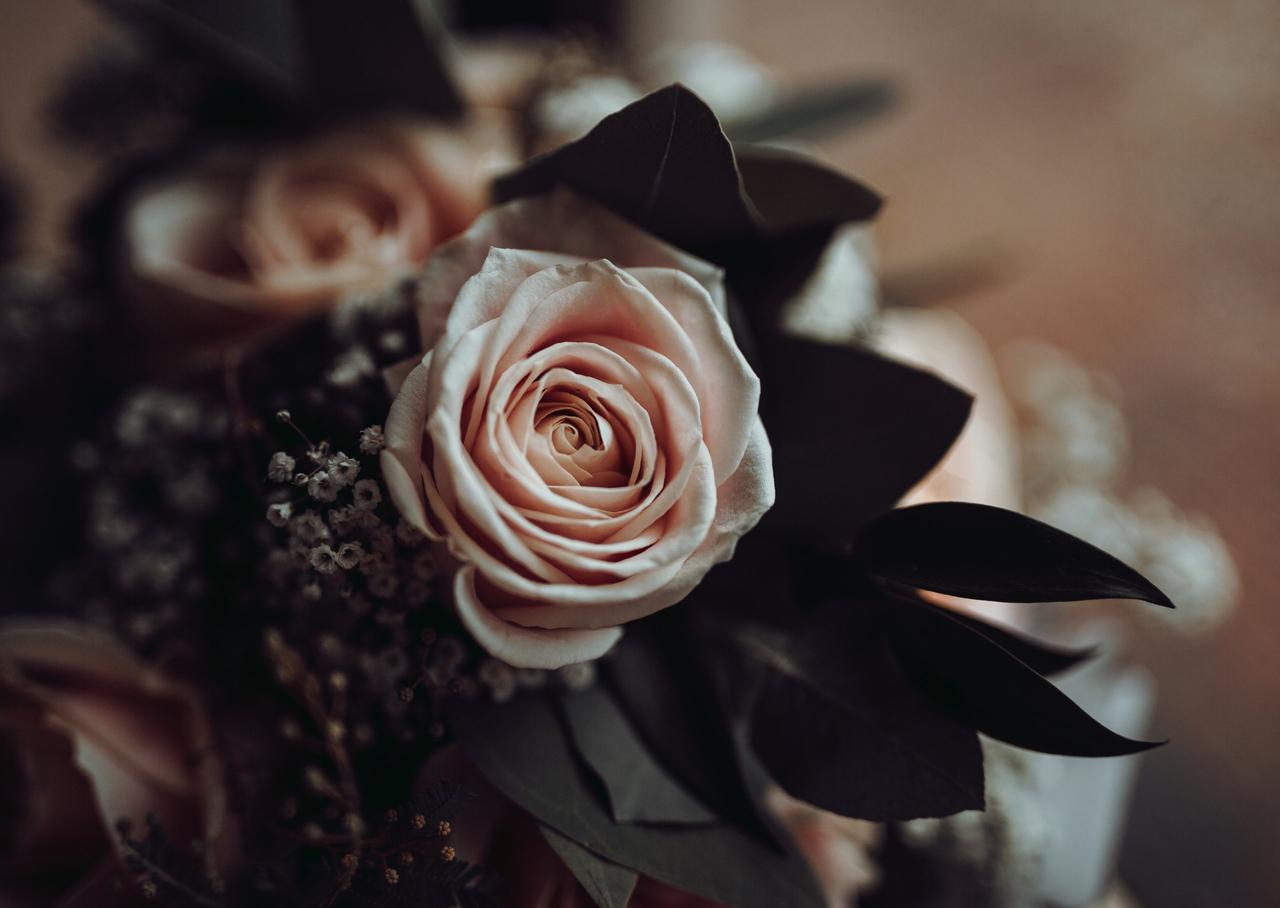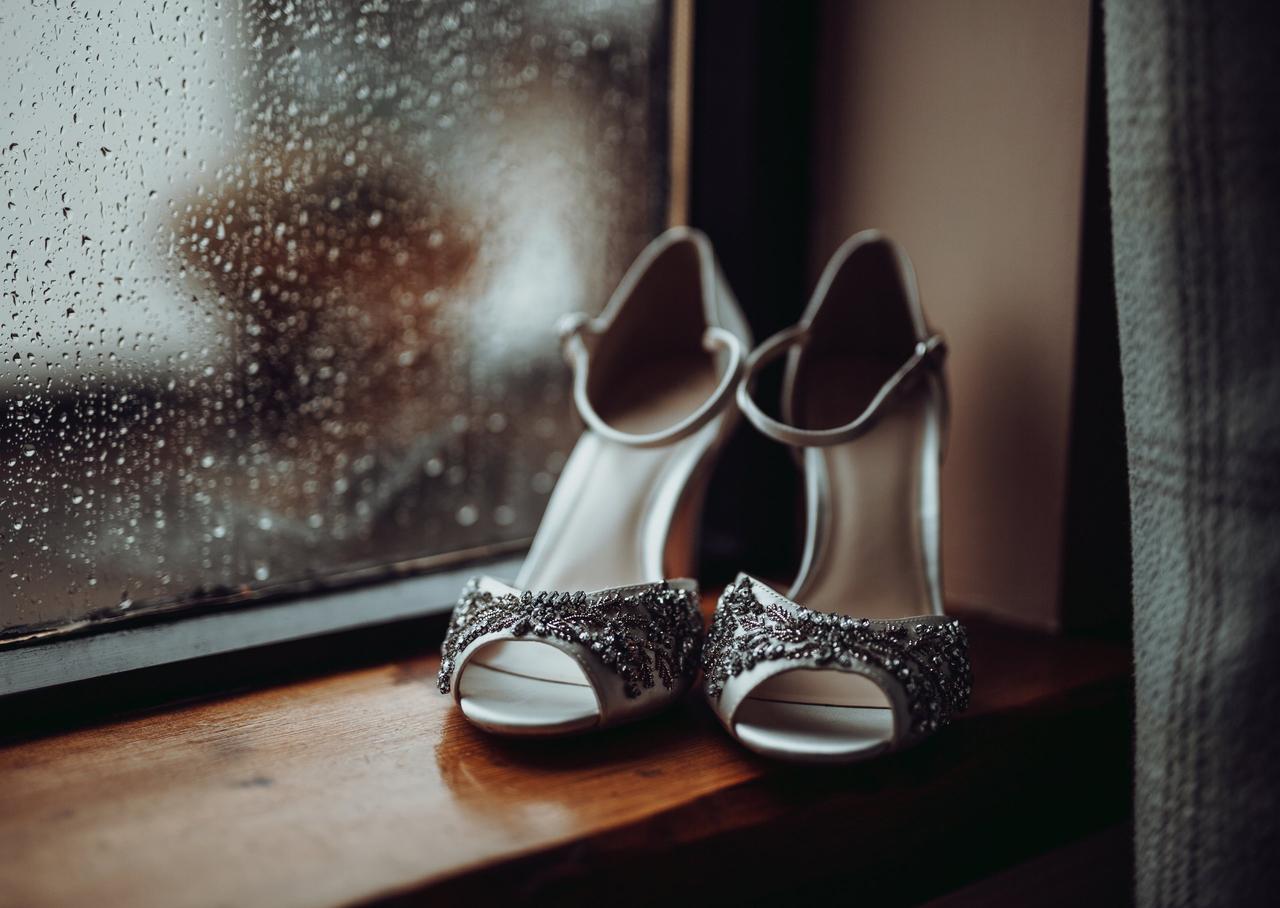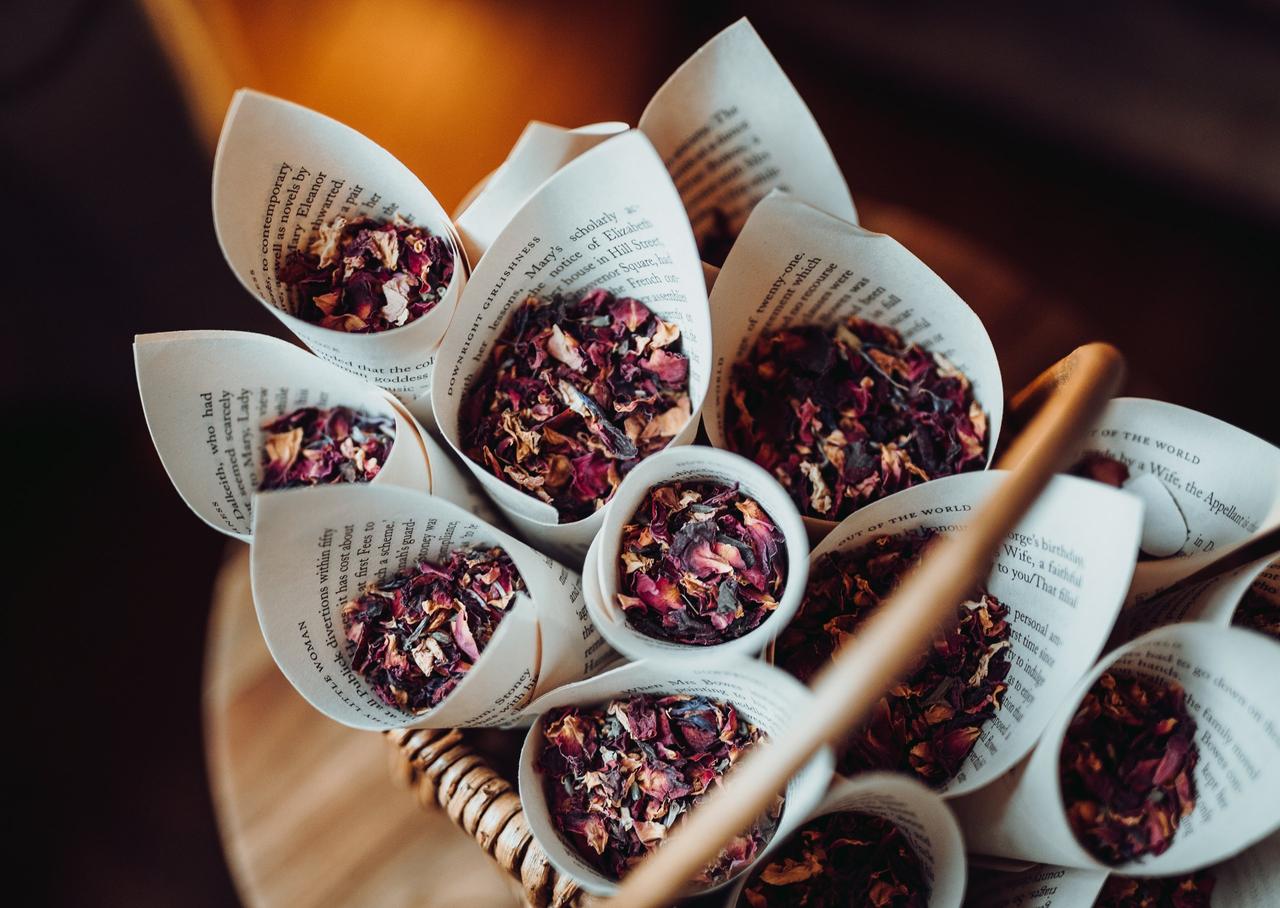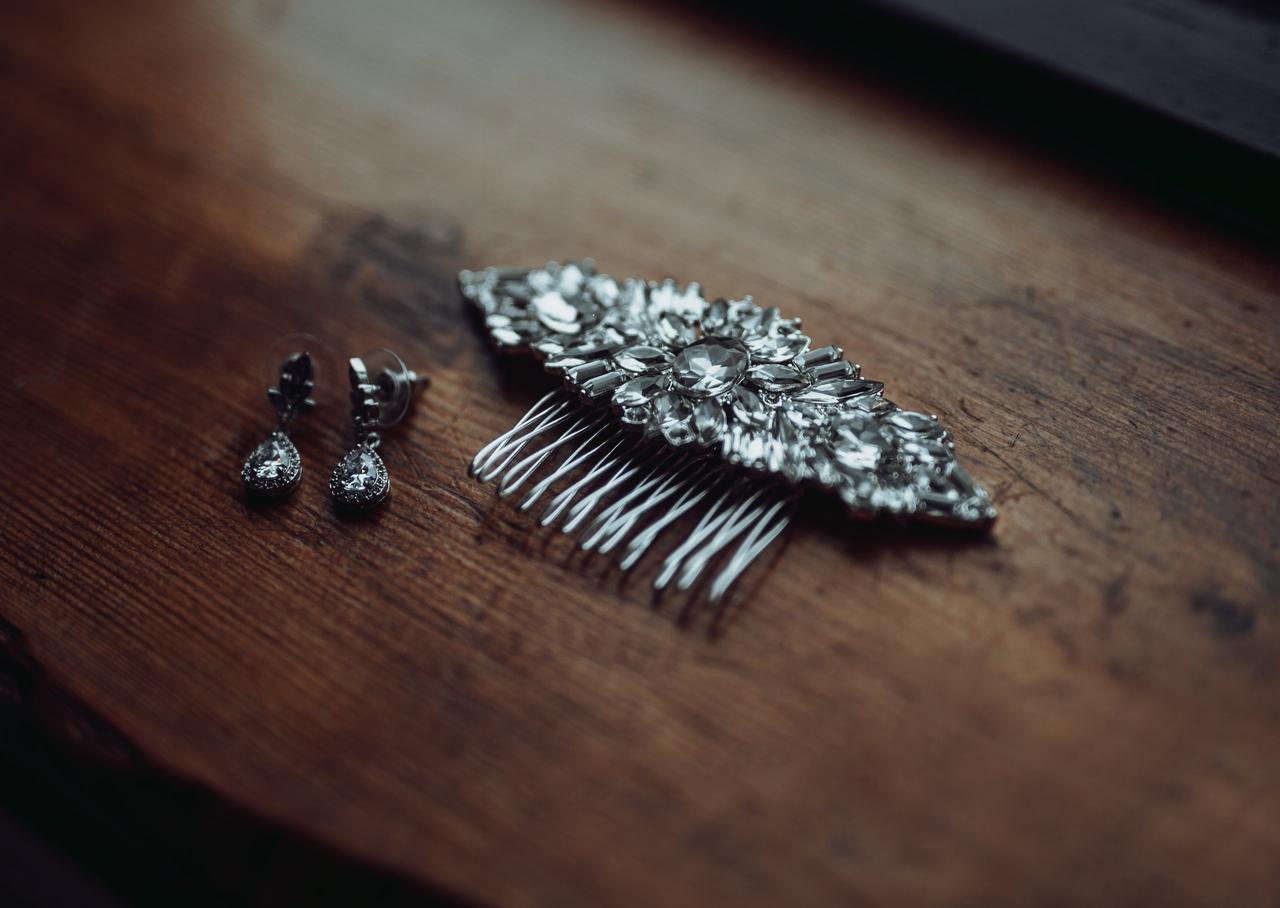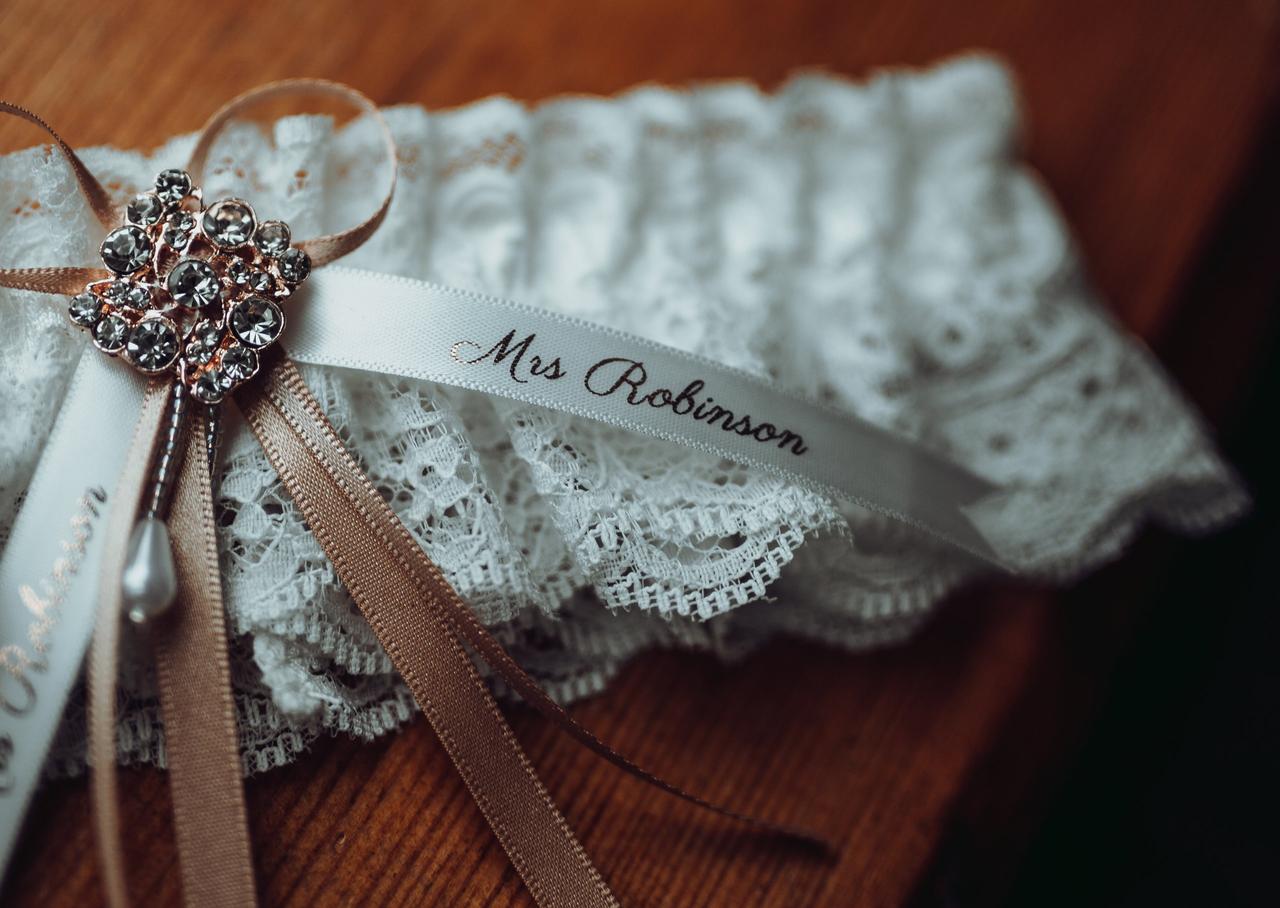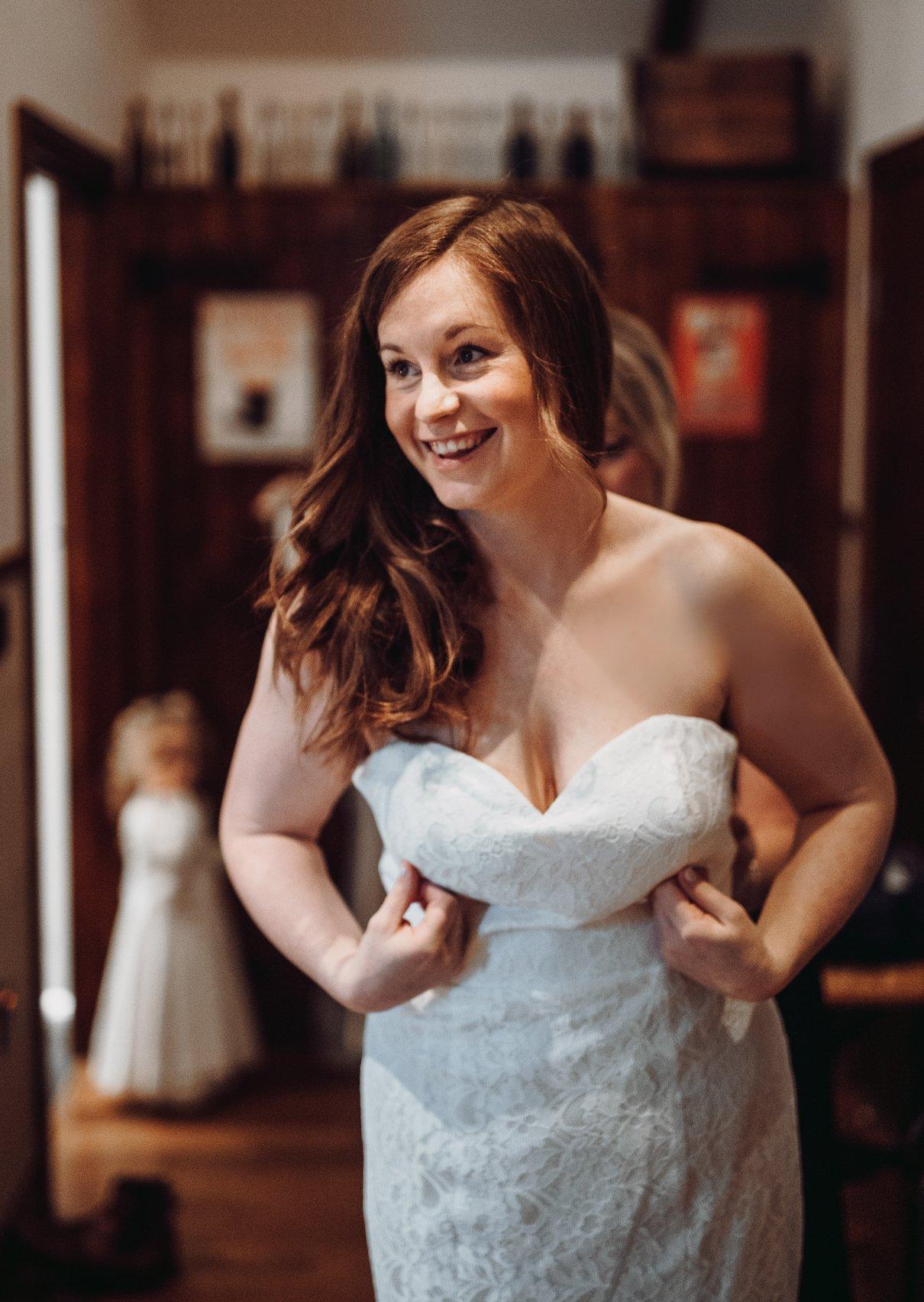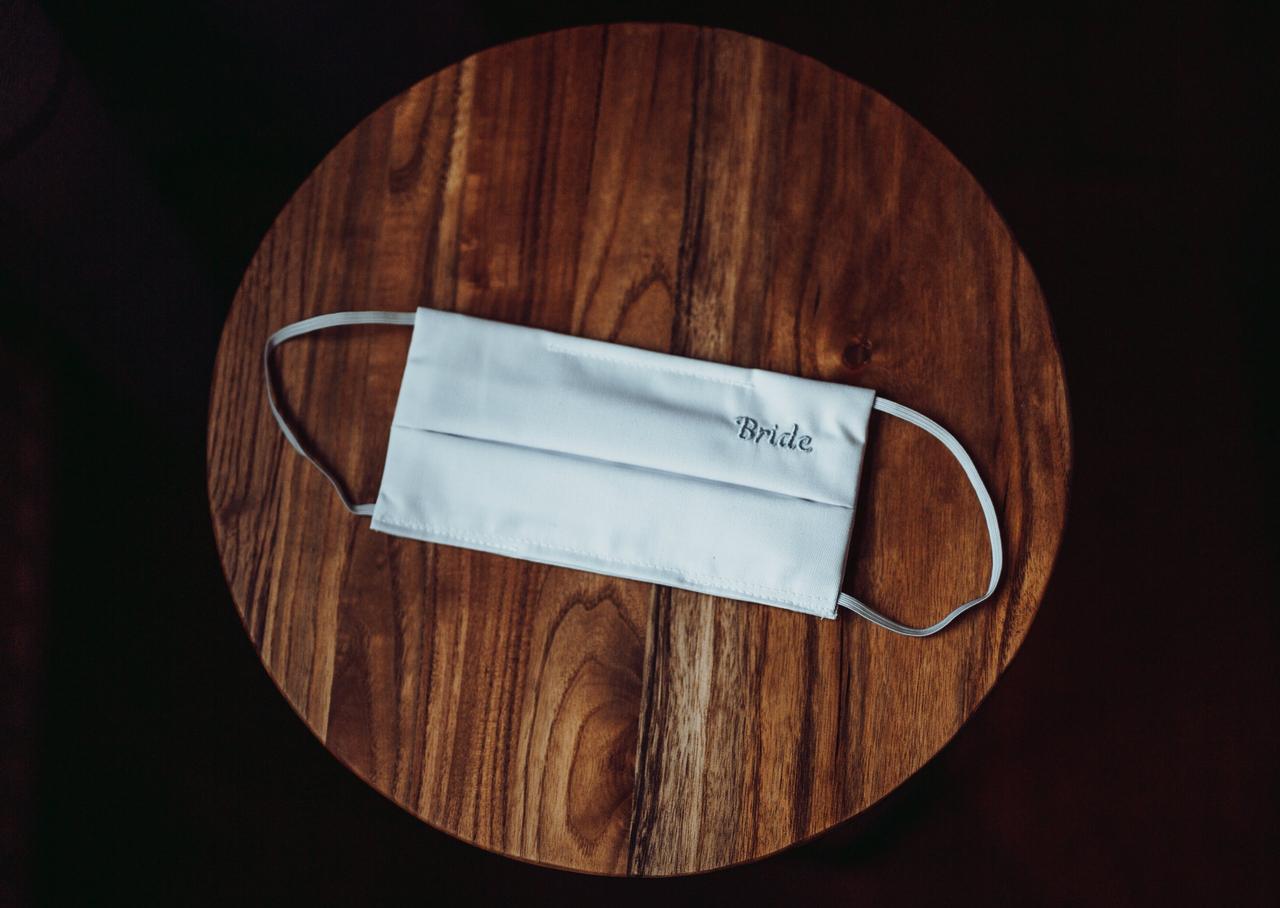 The Wedding Morning
Due to Tier 3 restrictions, Adele and Andy couldn't have the wedding mornings they planned.
Adele made wonderful memories getting ready with their one-year-old daughter, Charlotte. "She made the day so special," she said. She was also joined by her maid of honour Helen, who happens to be her best friend and sister-in-law!
Charlotte matched her mum in a beautiful ivory dress from John Lewis, which was topped with a sweet red coat and a floral headband from Hidden Botanics.
Andy looked dapper in a vintage-style, three-piece navy Marc Darcy suit. Unfortunately, he wasn't able to have his best man get ready with him but the boys all joined together for celebratory drinks after the ceremony.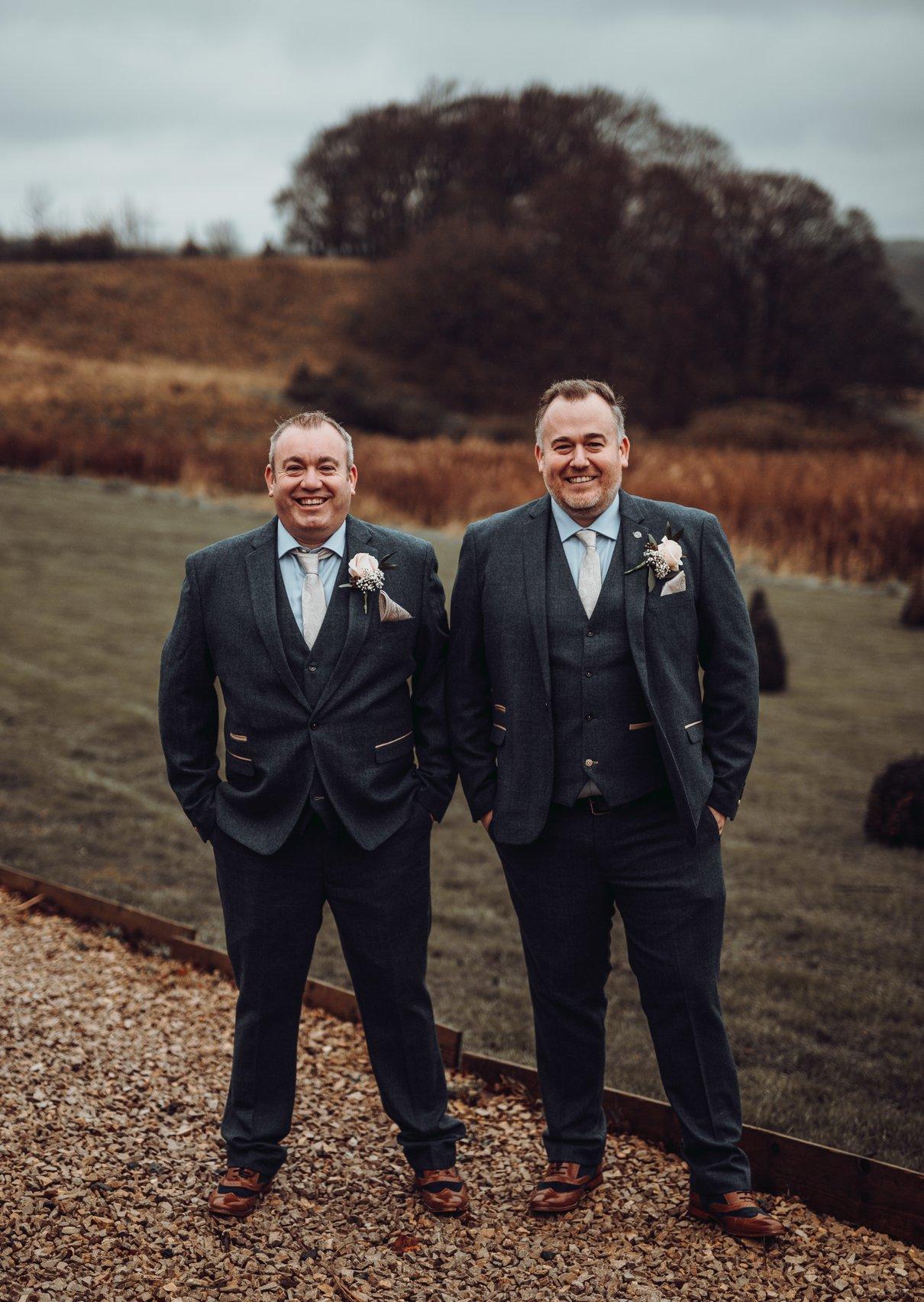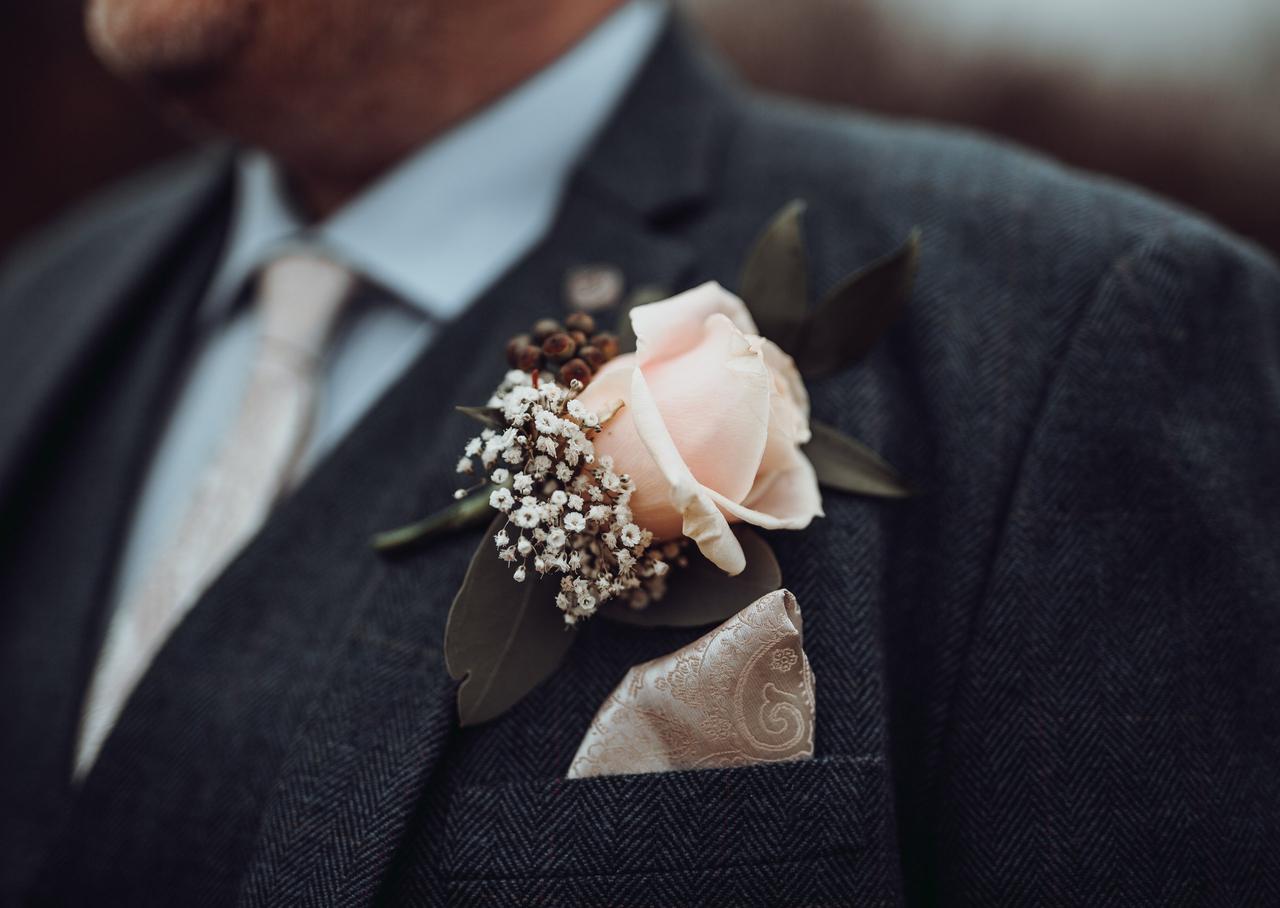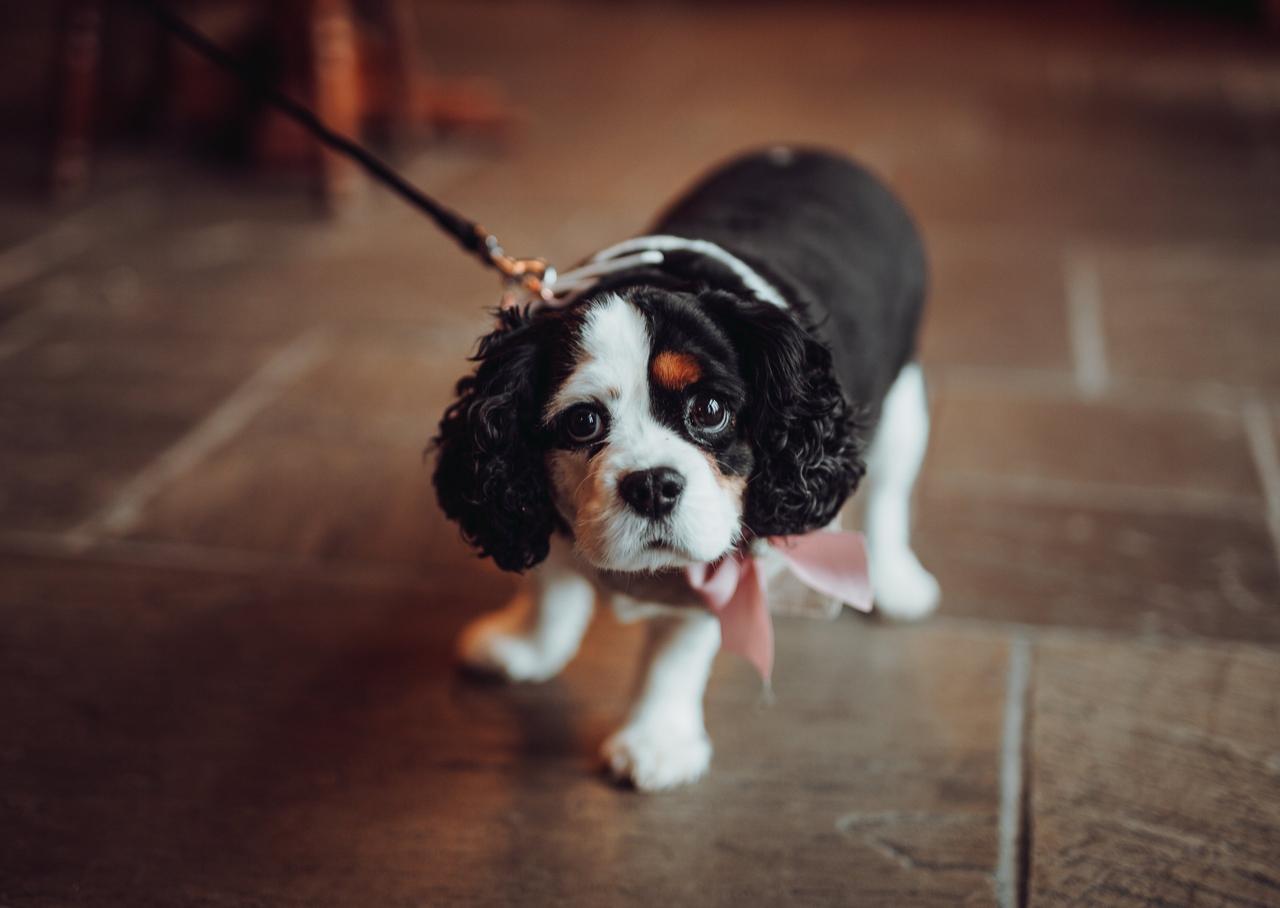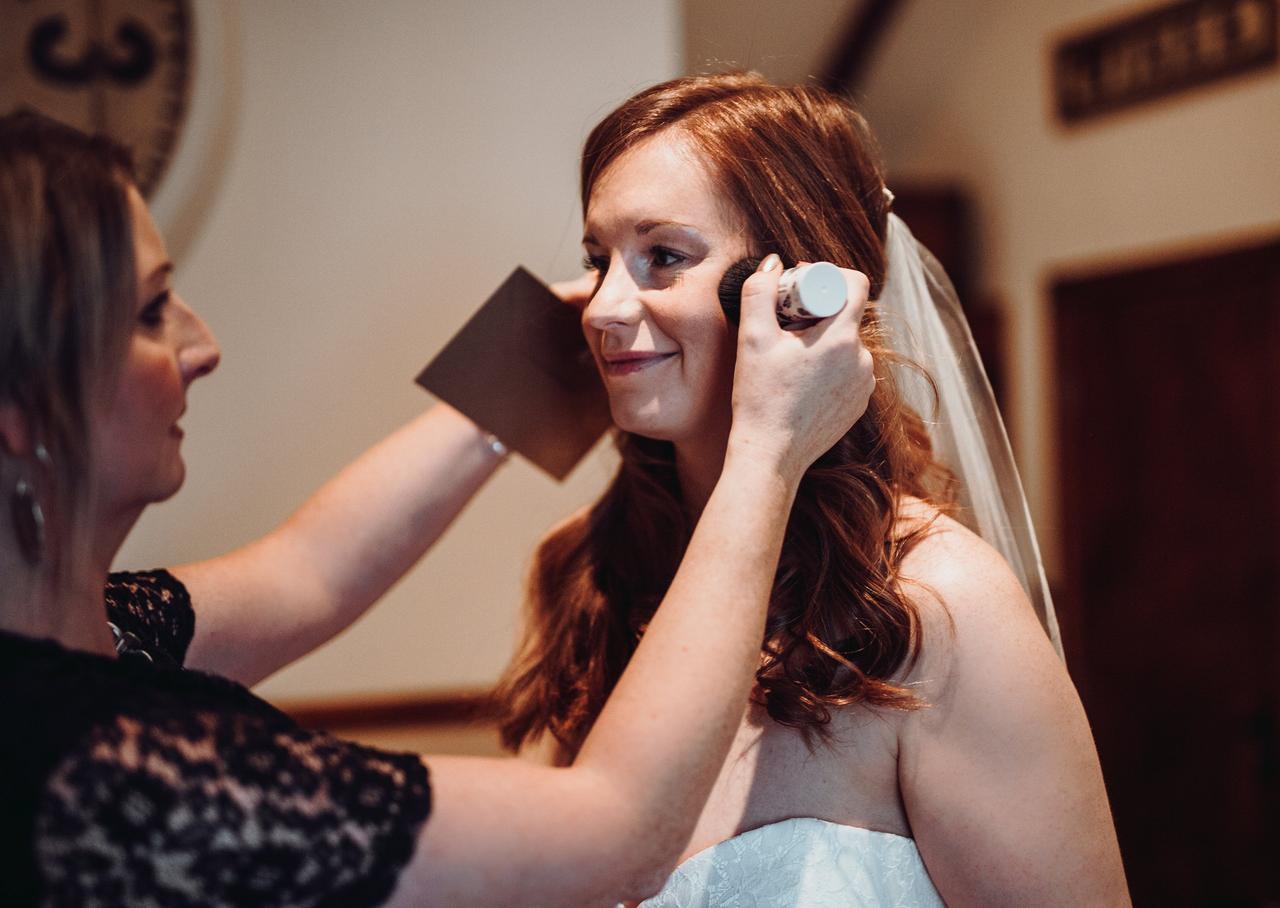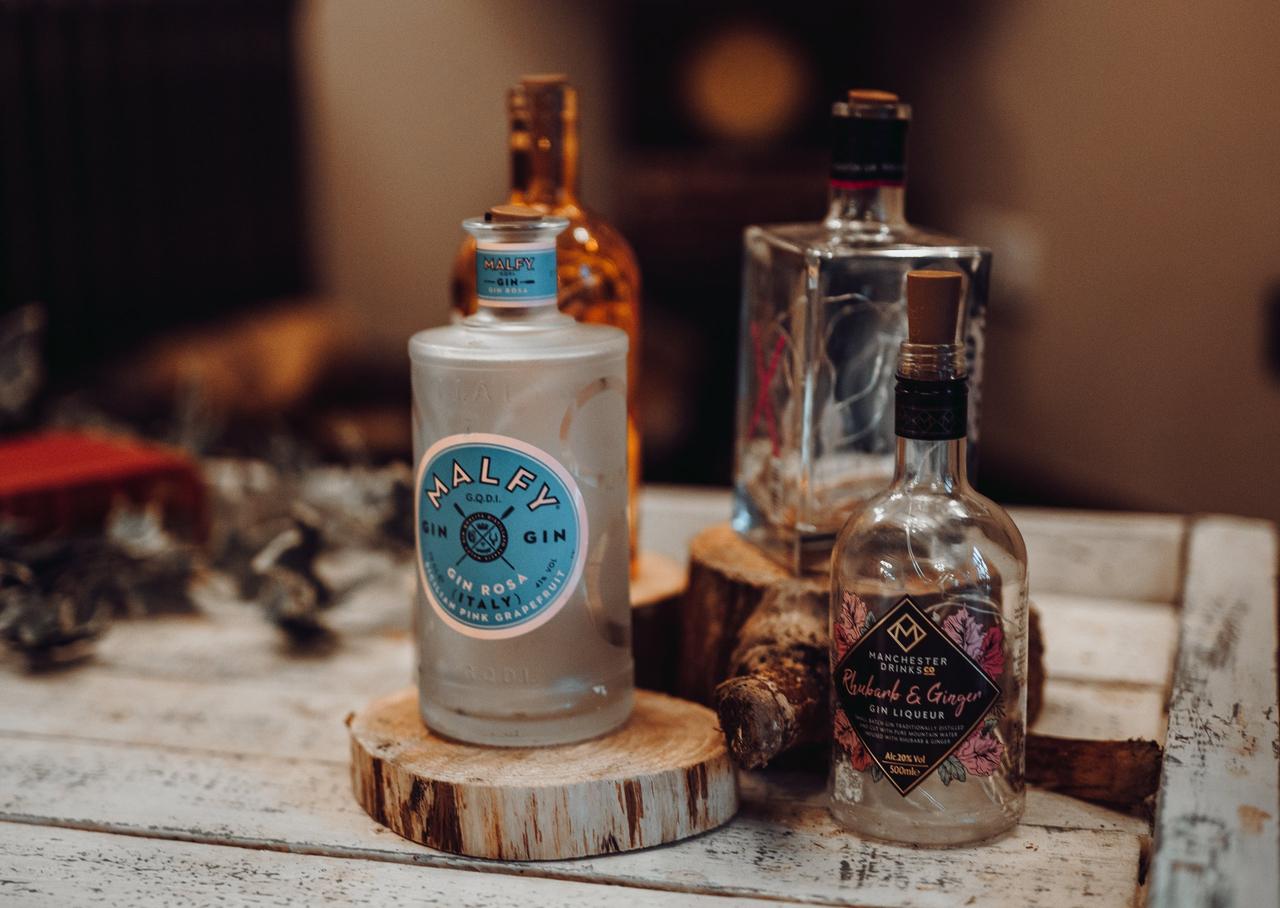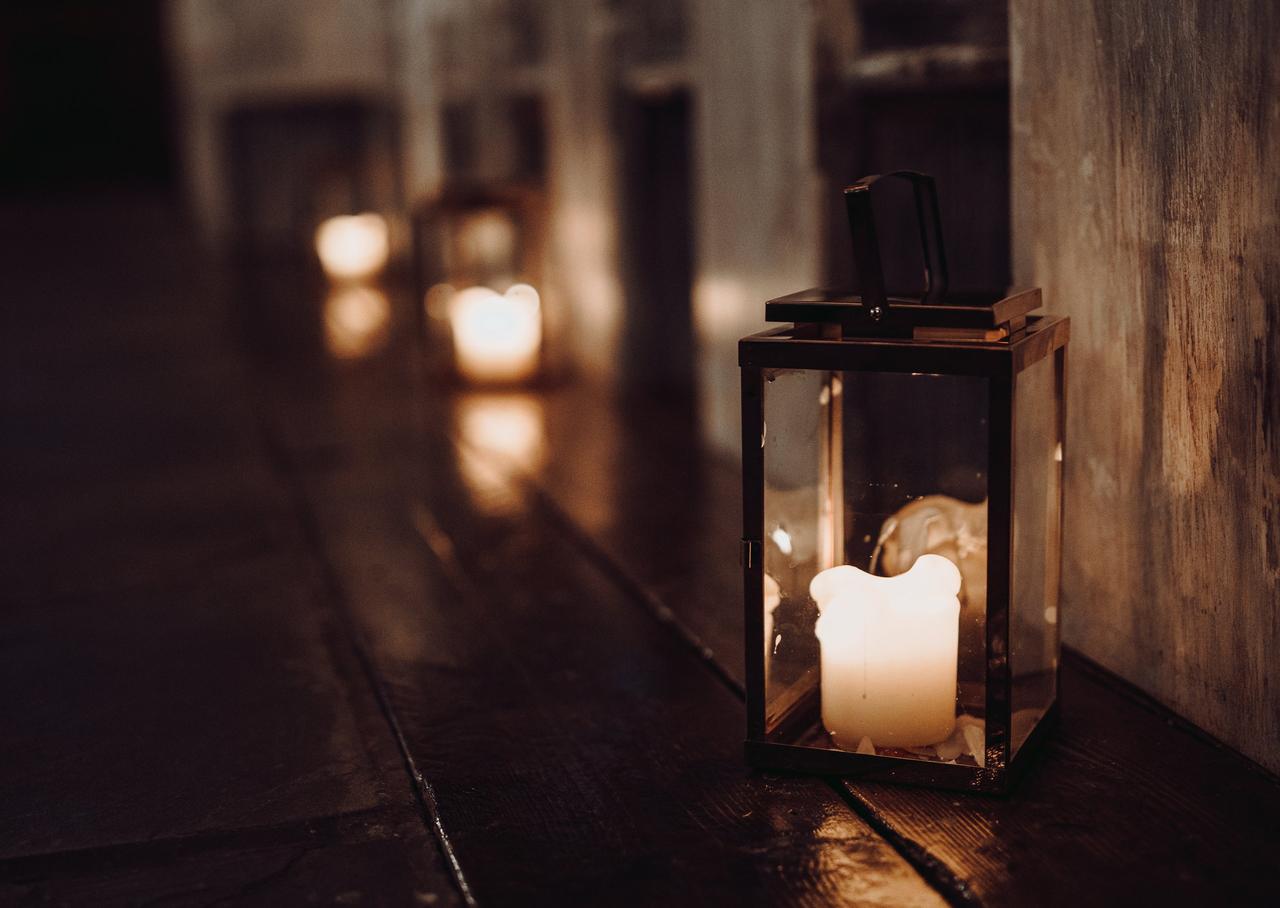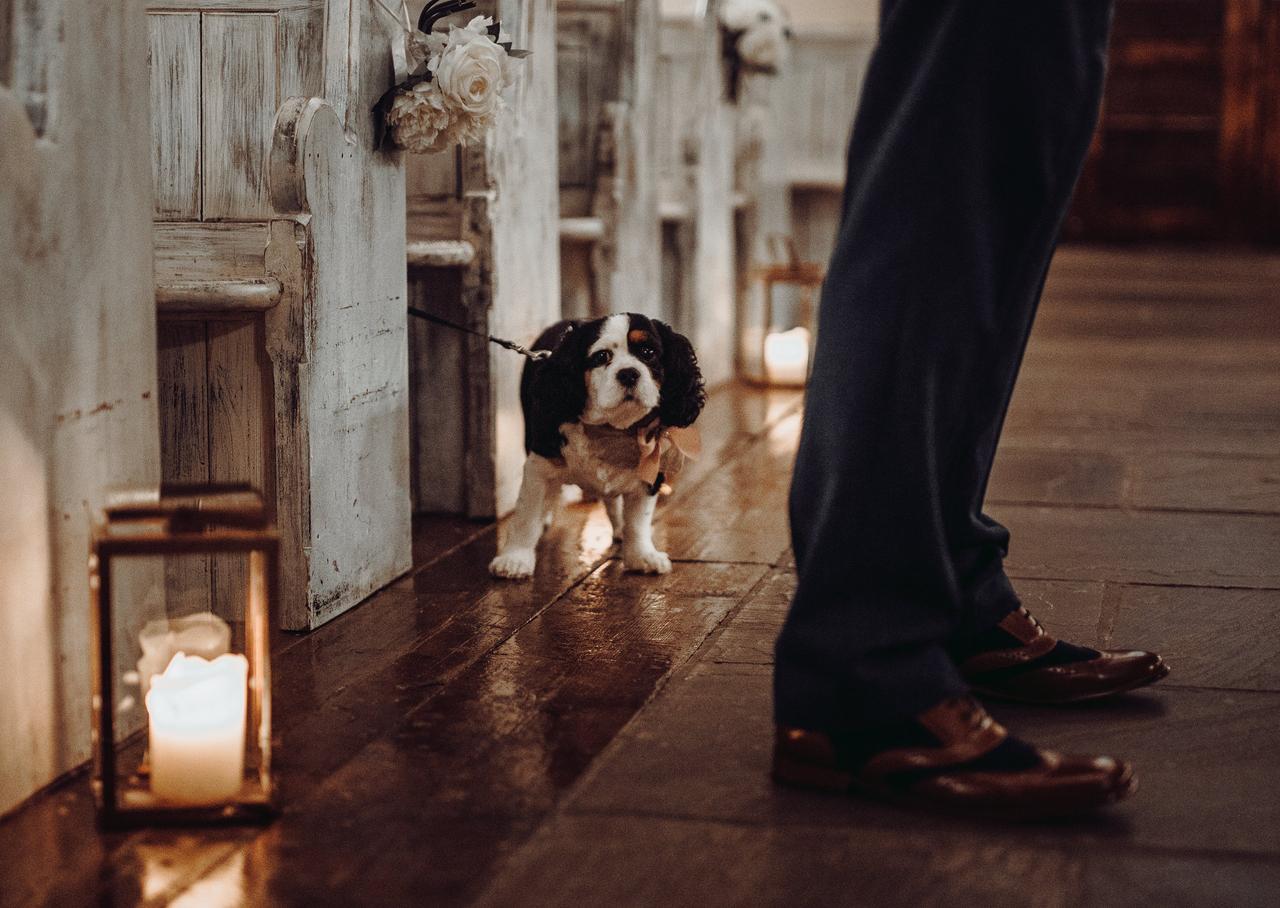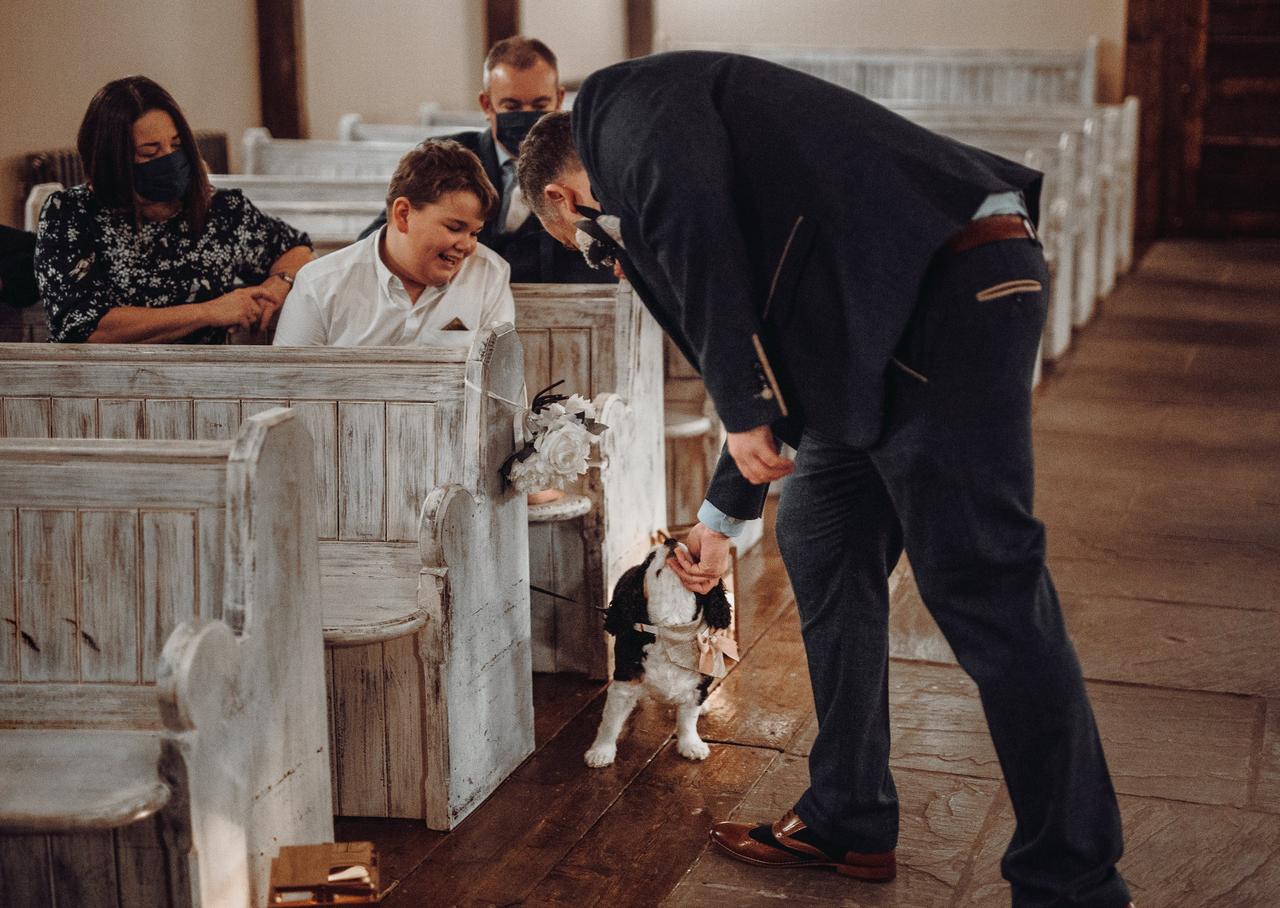 The Change of Plans
After a two year engagement, Adele and Andy were eager to tie the knot and had already decided that something small and simple would work for them. They knew the venue they wanted and when a date came up in December, they booked it with only two months to get ready for the big day.
Then the Government's three-tier system was brought in and they were forced to push back their day by a fortnight, with them eventually tying the knot on the 16th December.
"We booked to get married with eight weeks' notice but, as the UK restrictions changed, the date was pushed back by two weeks. We chose to keep it quiet until the day before with just guests knowing in advance.
"We have family across the world and the UK so we live-streamed the full service for everyone to watch along with us and be there digitally."
The couple said they'd change nothing about their day. "We wanted simple, small and to have a fantastic day, it was wonderful start to finish. As long as you have the right people there, the day will be magical," said Adele.

While they missed out on a reception, they plan to have a party to celebrate one year on.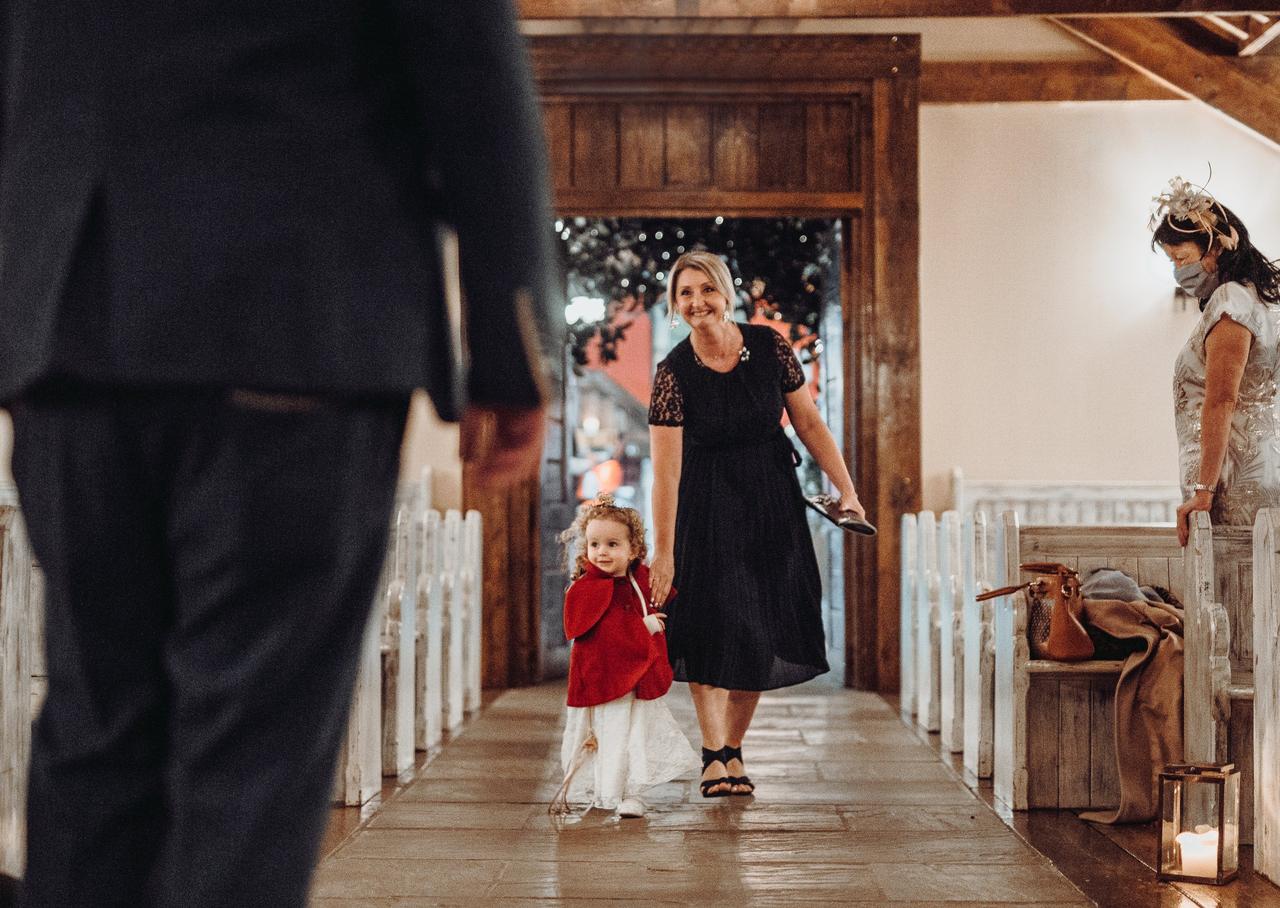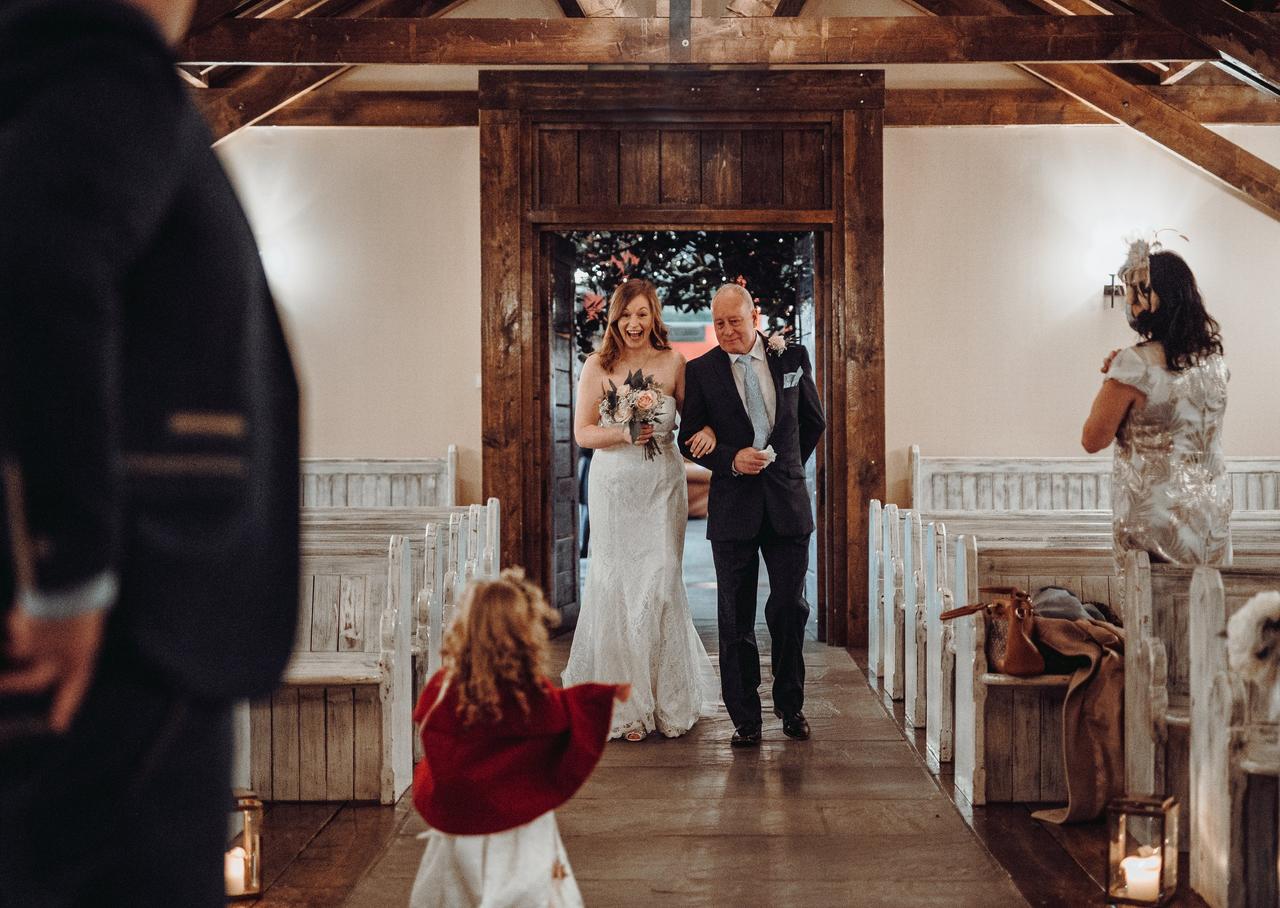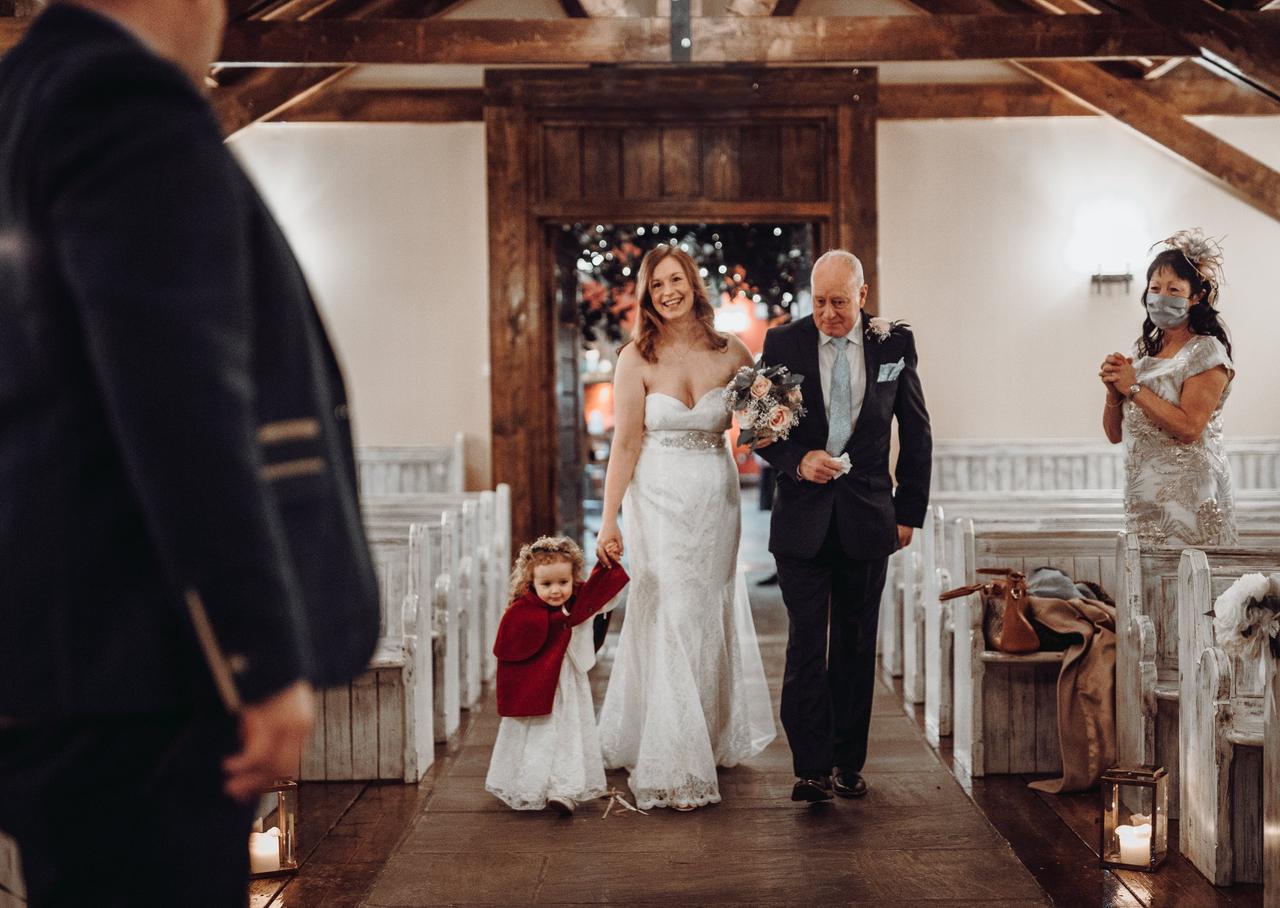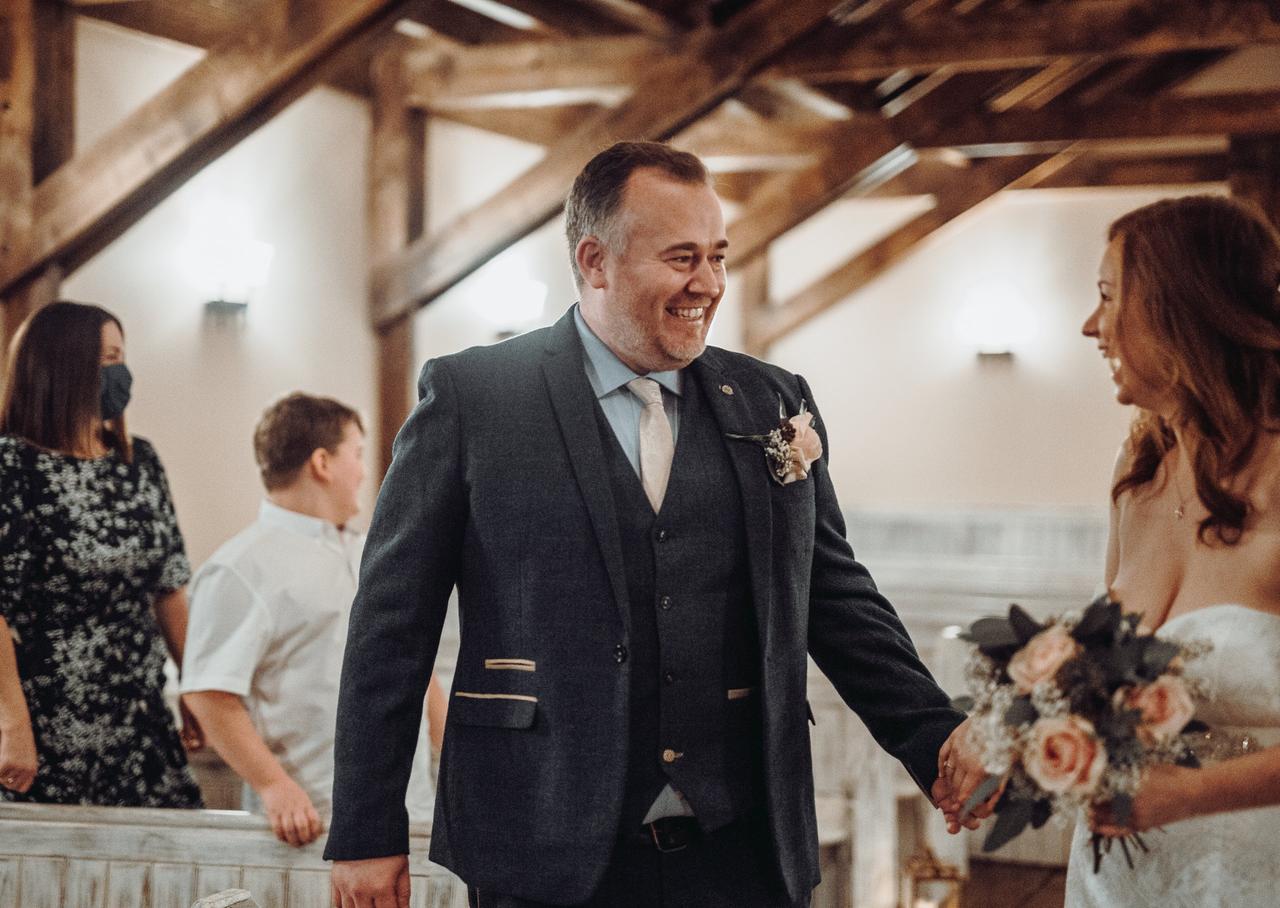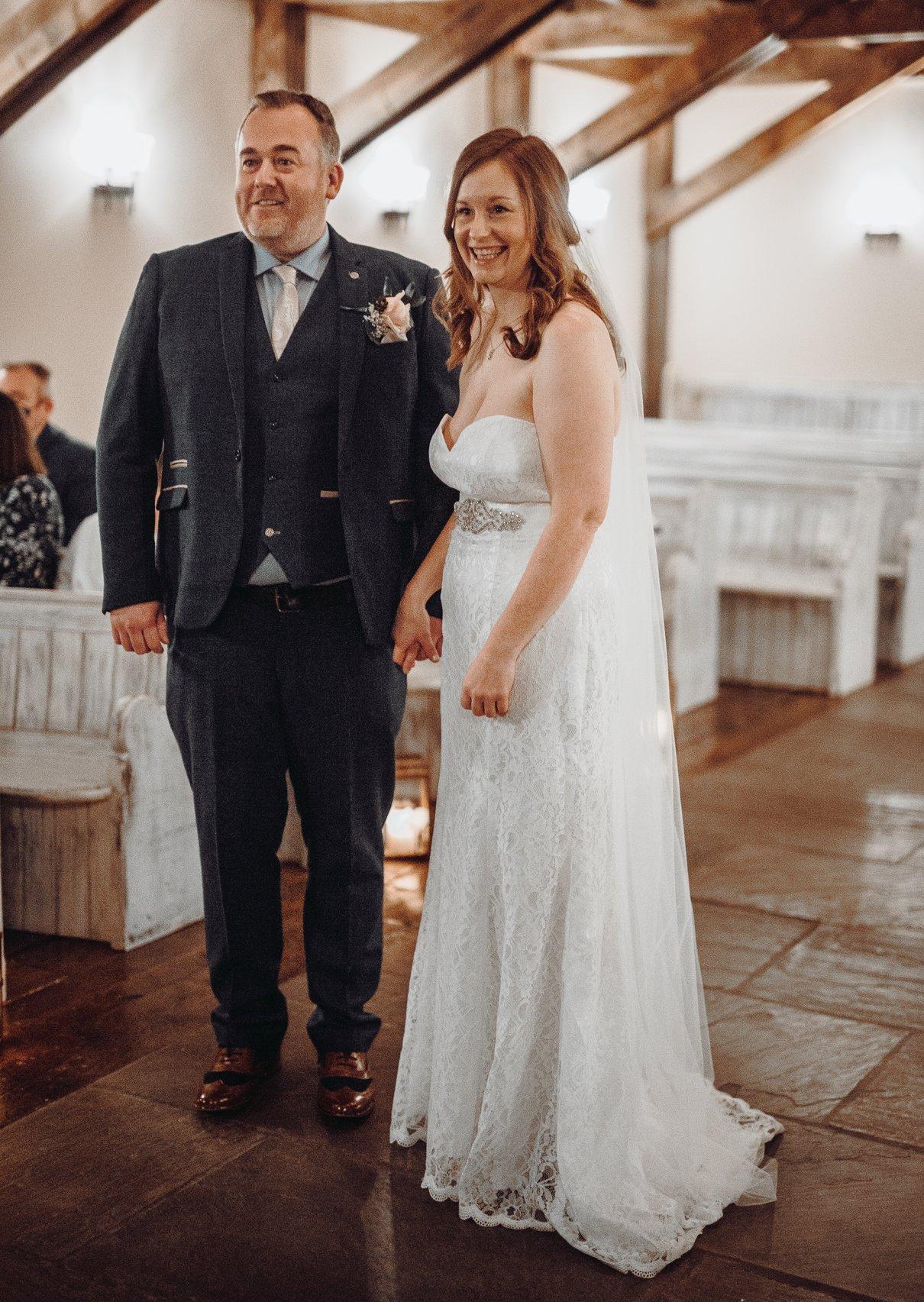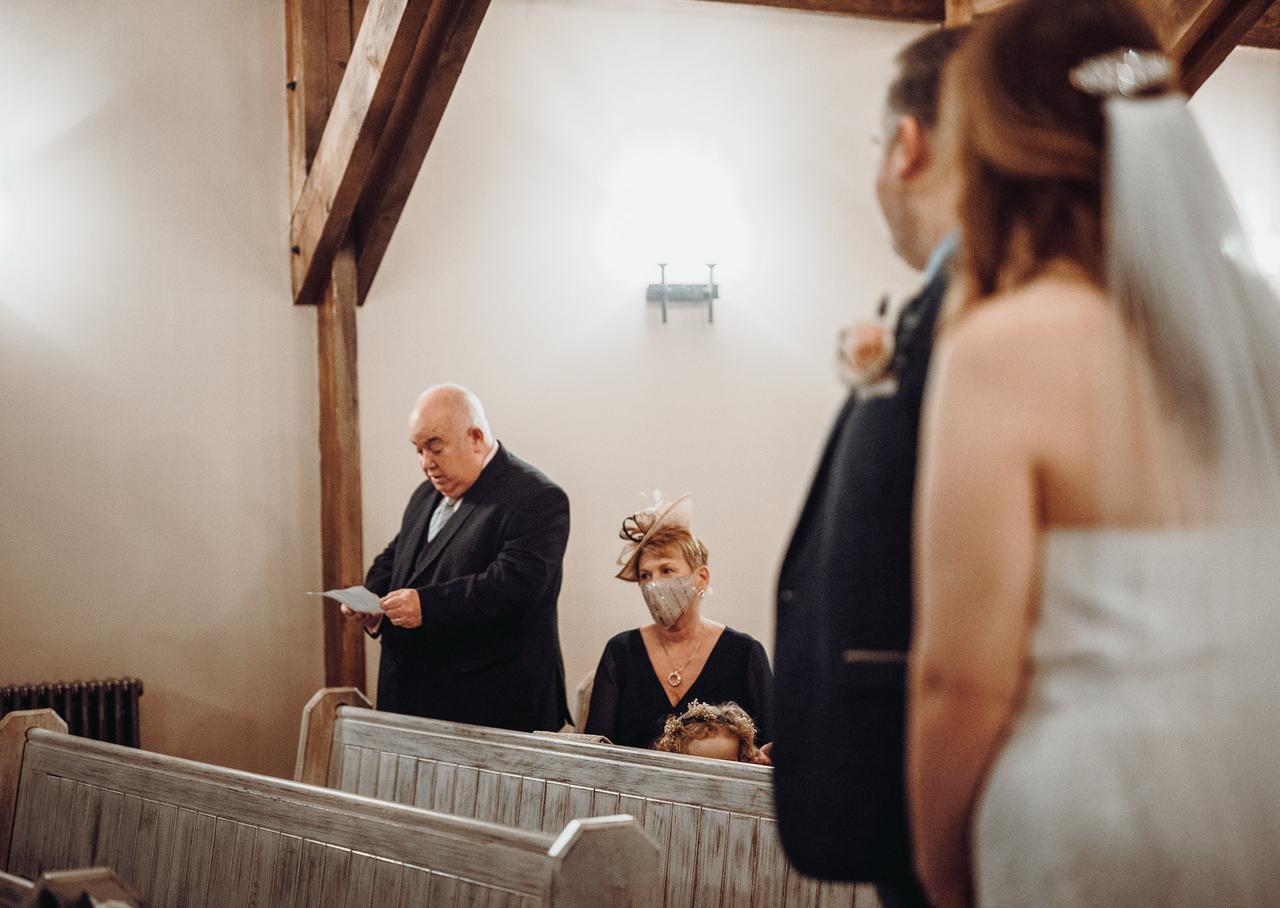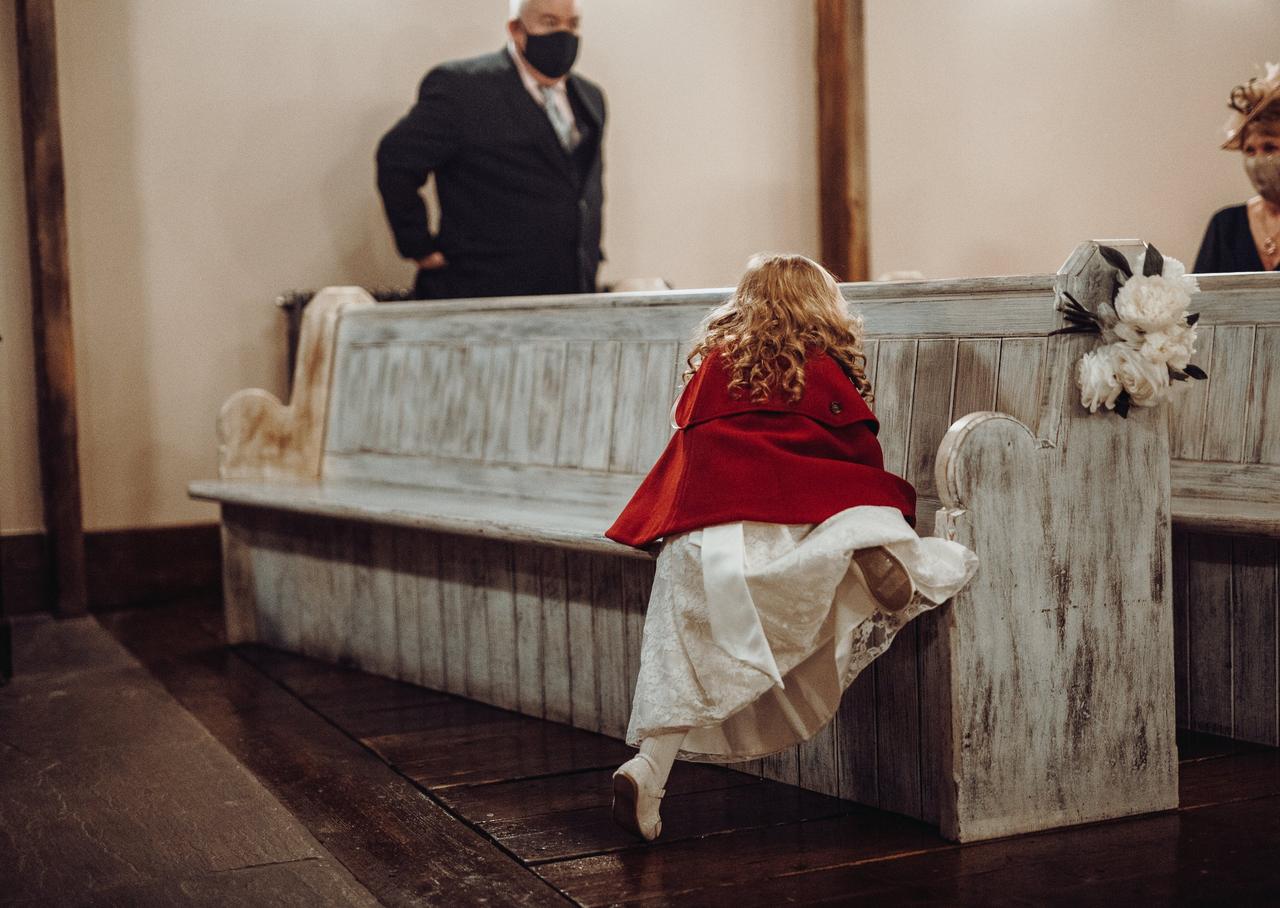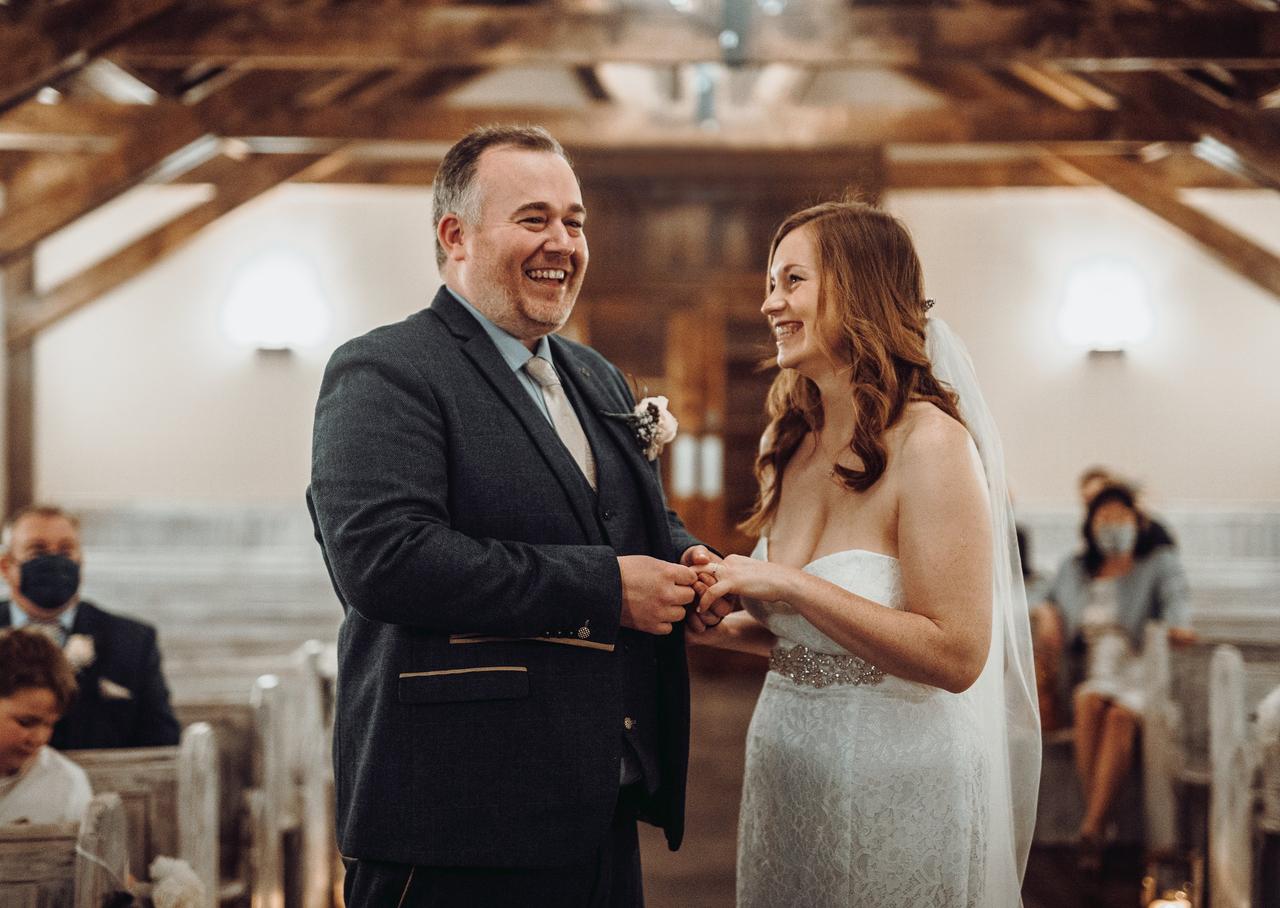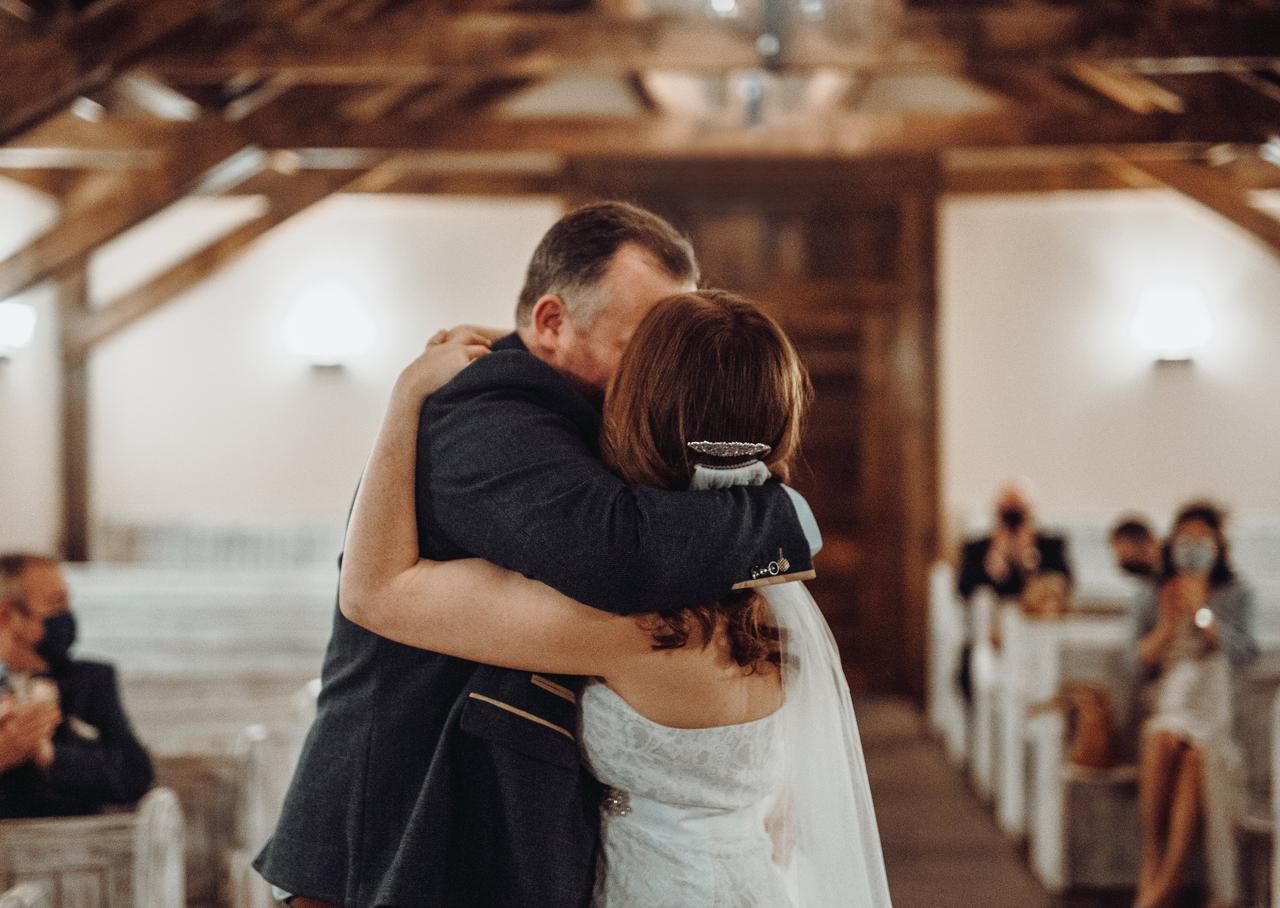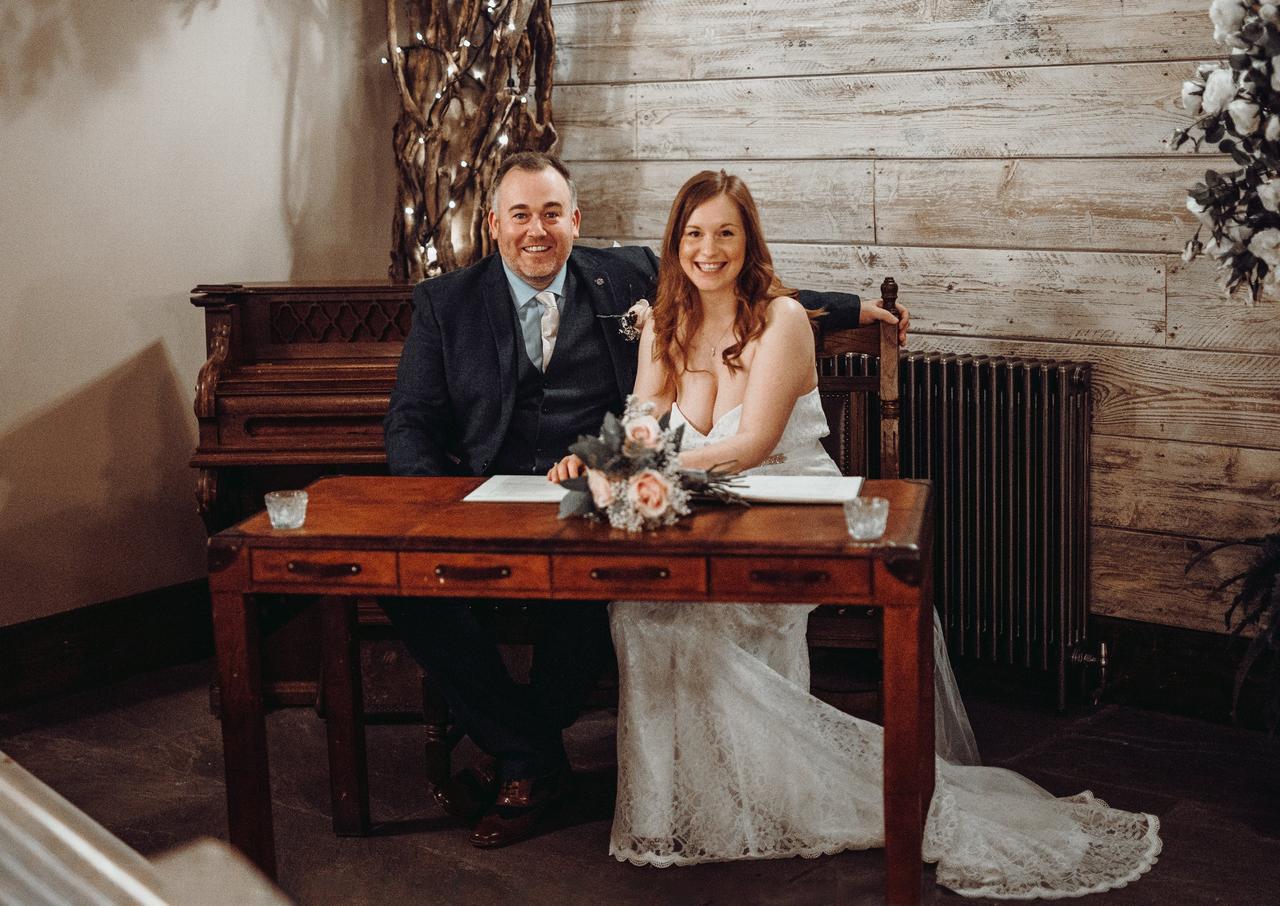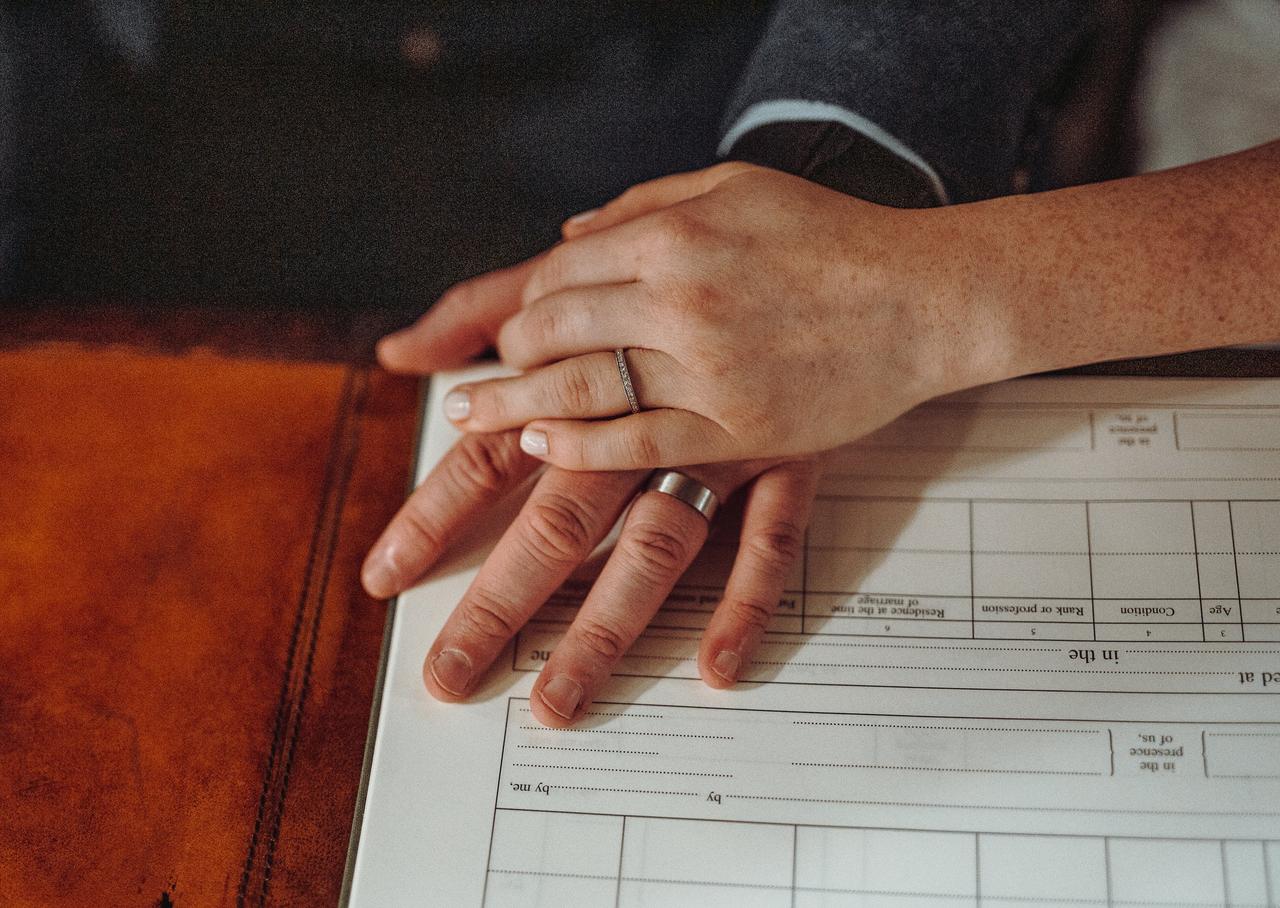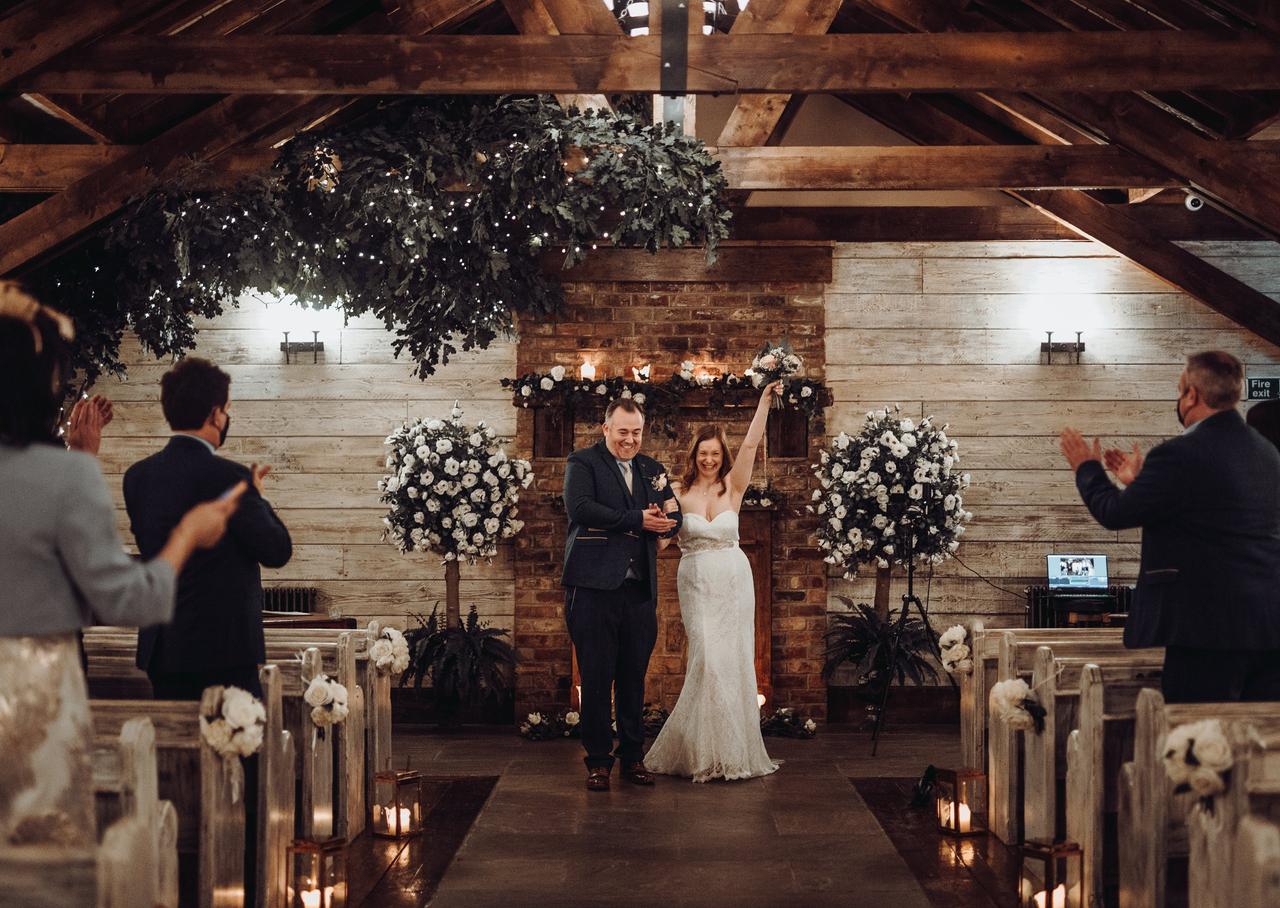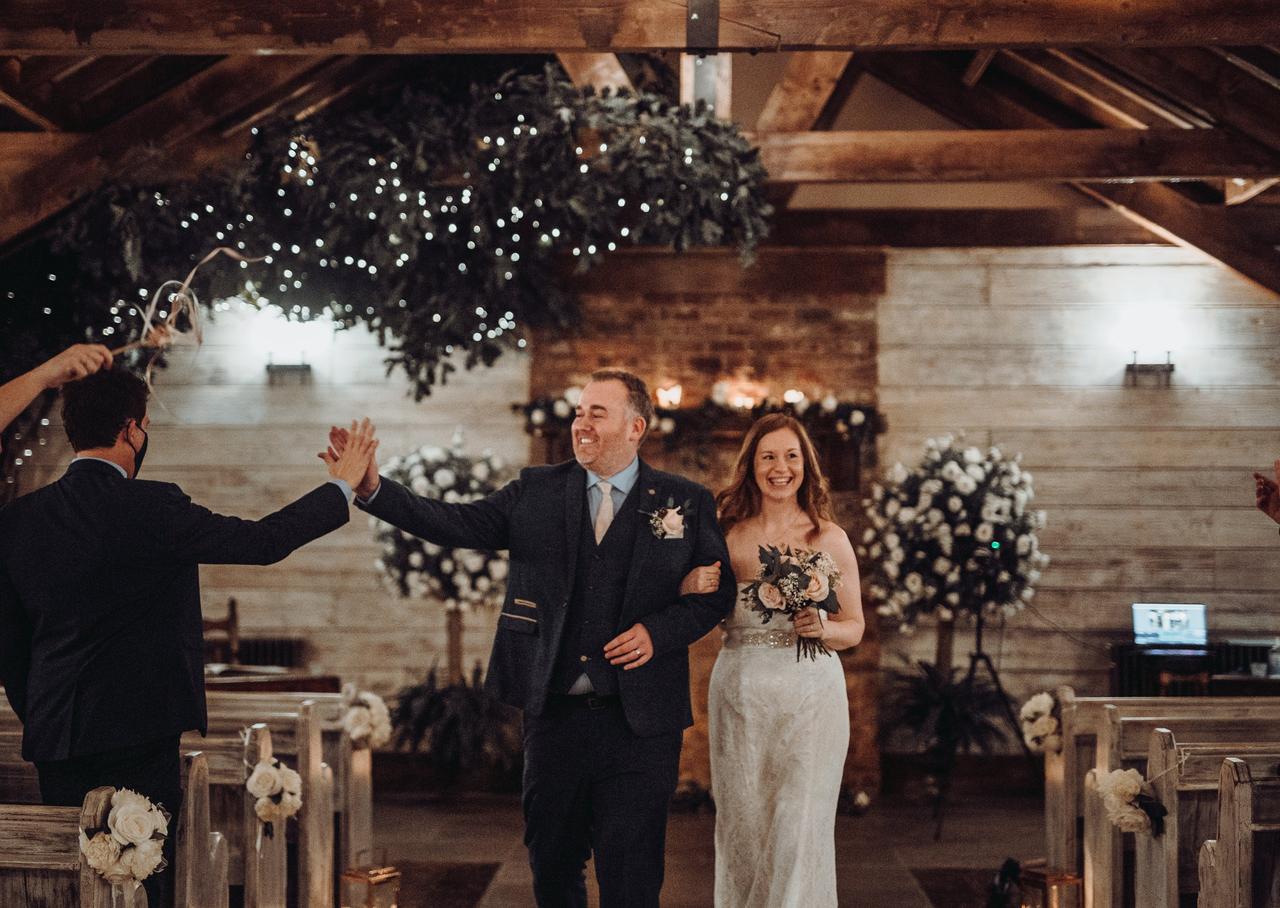 The Wedding Day
The wedding ceremony took place at the luxury South Causey Inn in Durham. "We have always loved it there and spent most Christmases at the venue," Adele explained. The beautifully rustic barn setting was complemented by their white, dusty pink and dark green foliage floral decorations.
With a nod to a romantic moment in Schitt's Creek and a cute furry guest, it was a special and very personal ceremony.
"Our daughter stole the show running towards her dad as soon as she saw him," said Adele. She also came and held Adele's hand as she walked down the aisle with her dad John to Noah Reid's cover of 'Simply The Best' (yes, from that scene with David and Patrick!).
Andy's dad read a poem and the two exchanged vows in a very intimate ceremony.
Asked what their favourite moment of the day was, both Adele and Andy knew exactly what they loved. "Walking out as husband and wife!"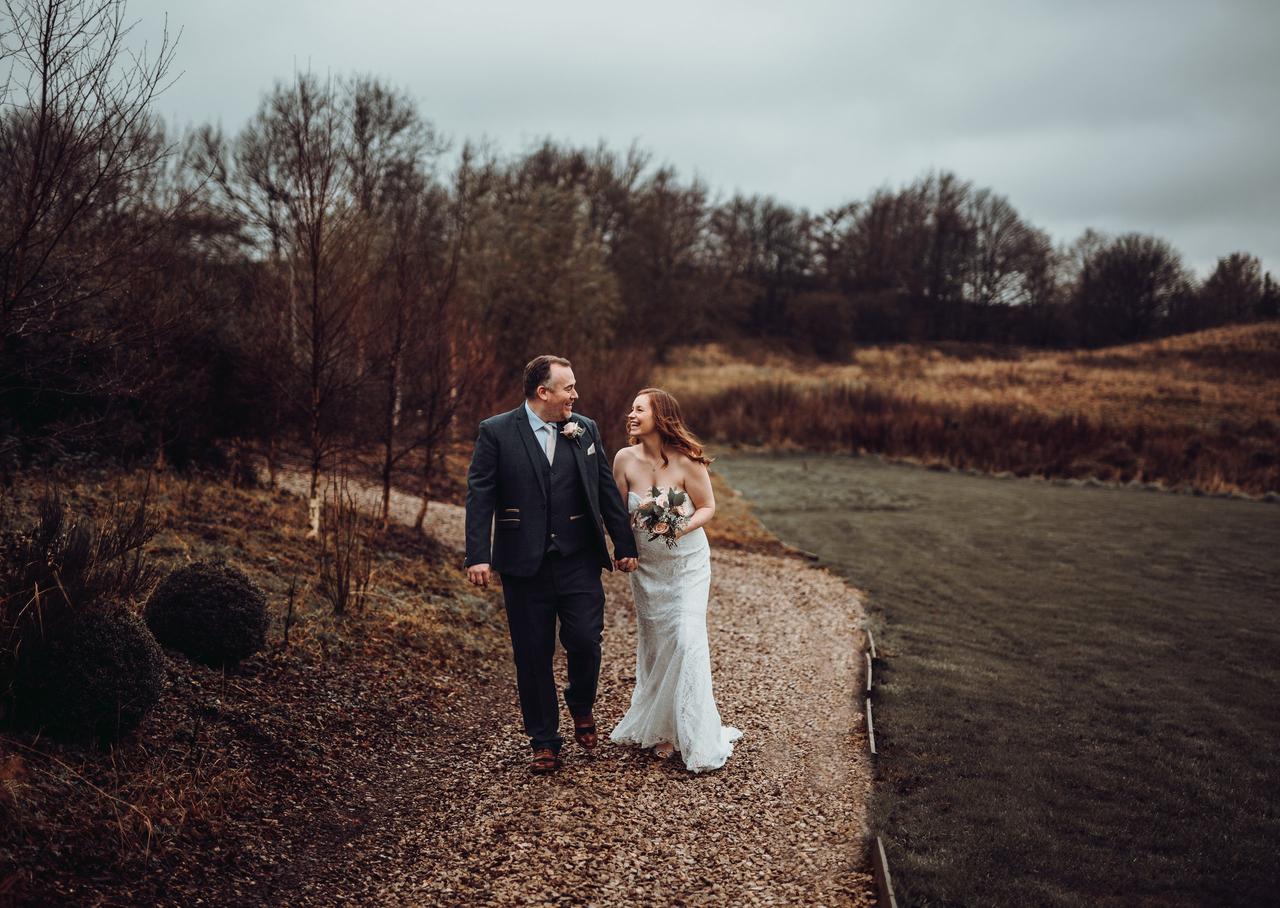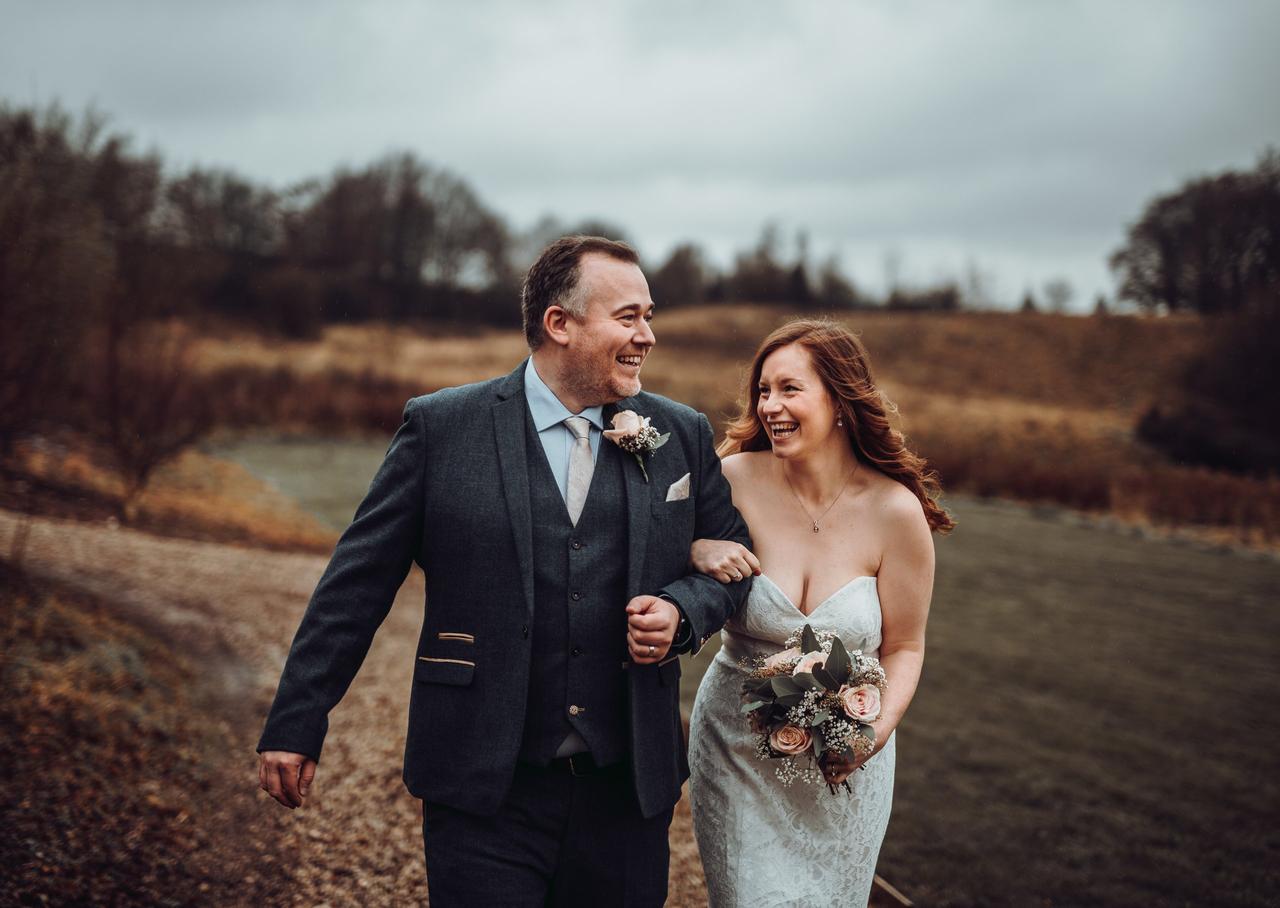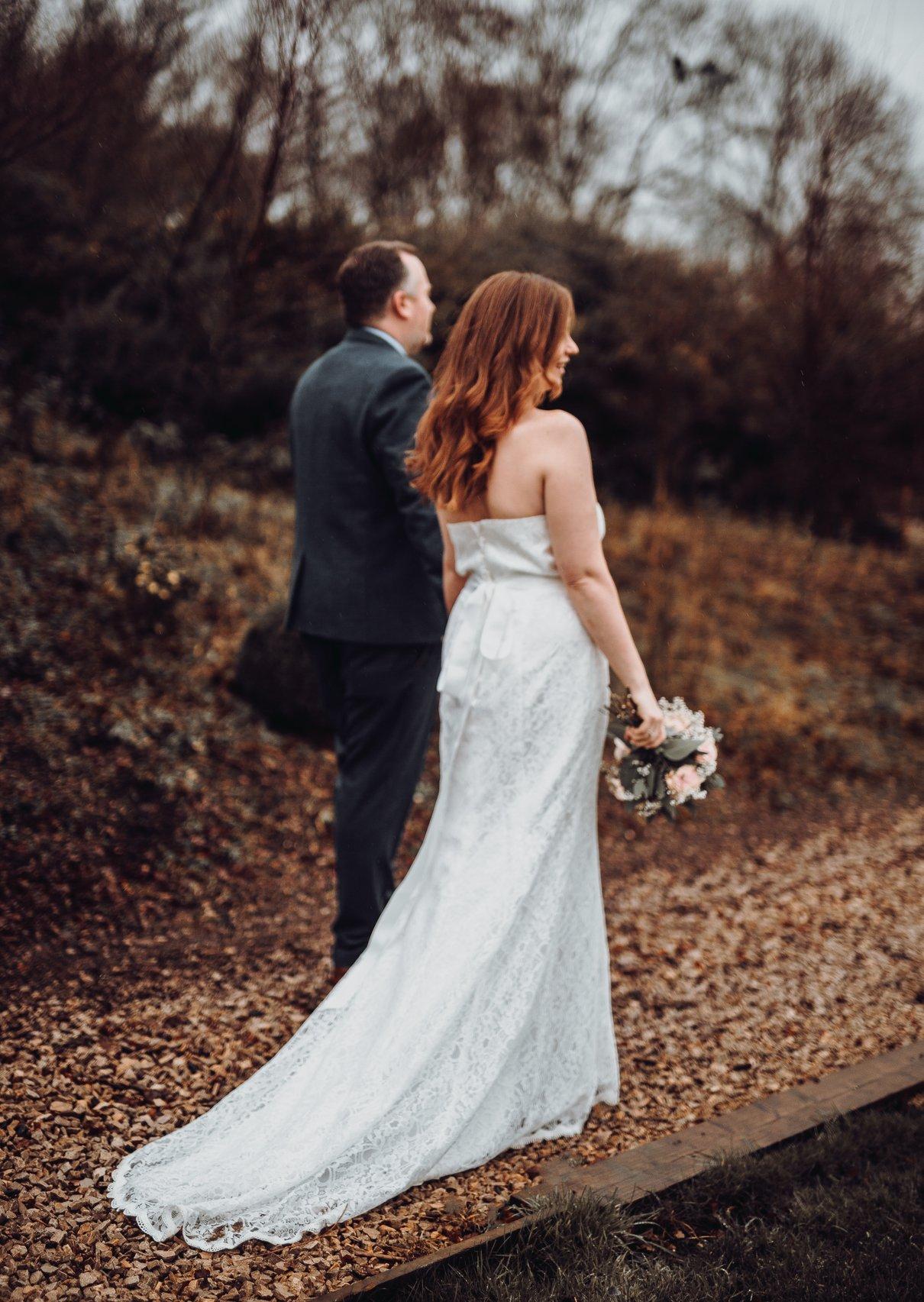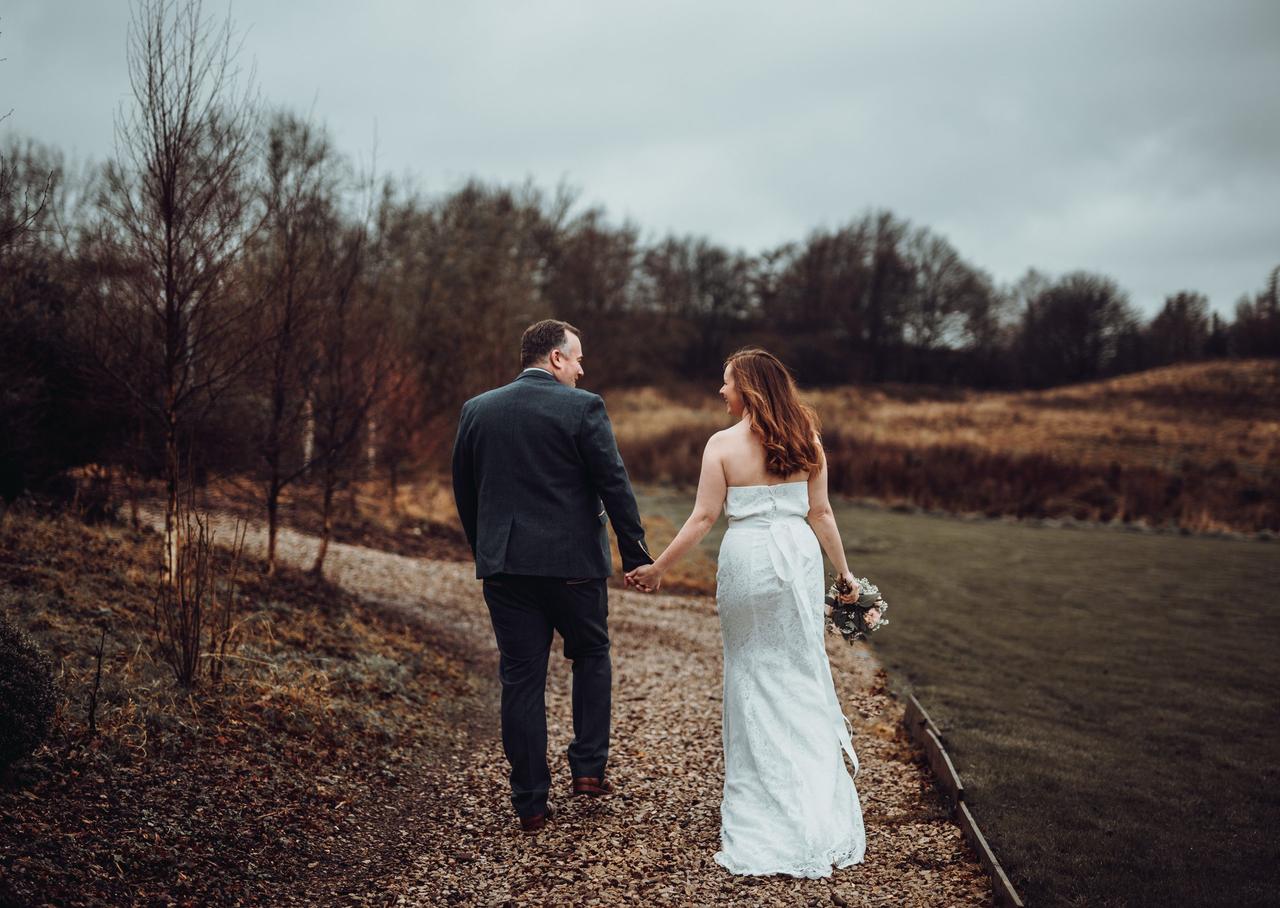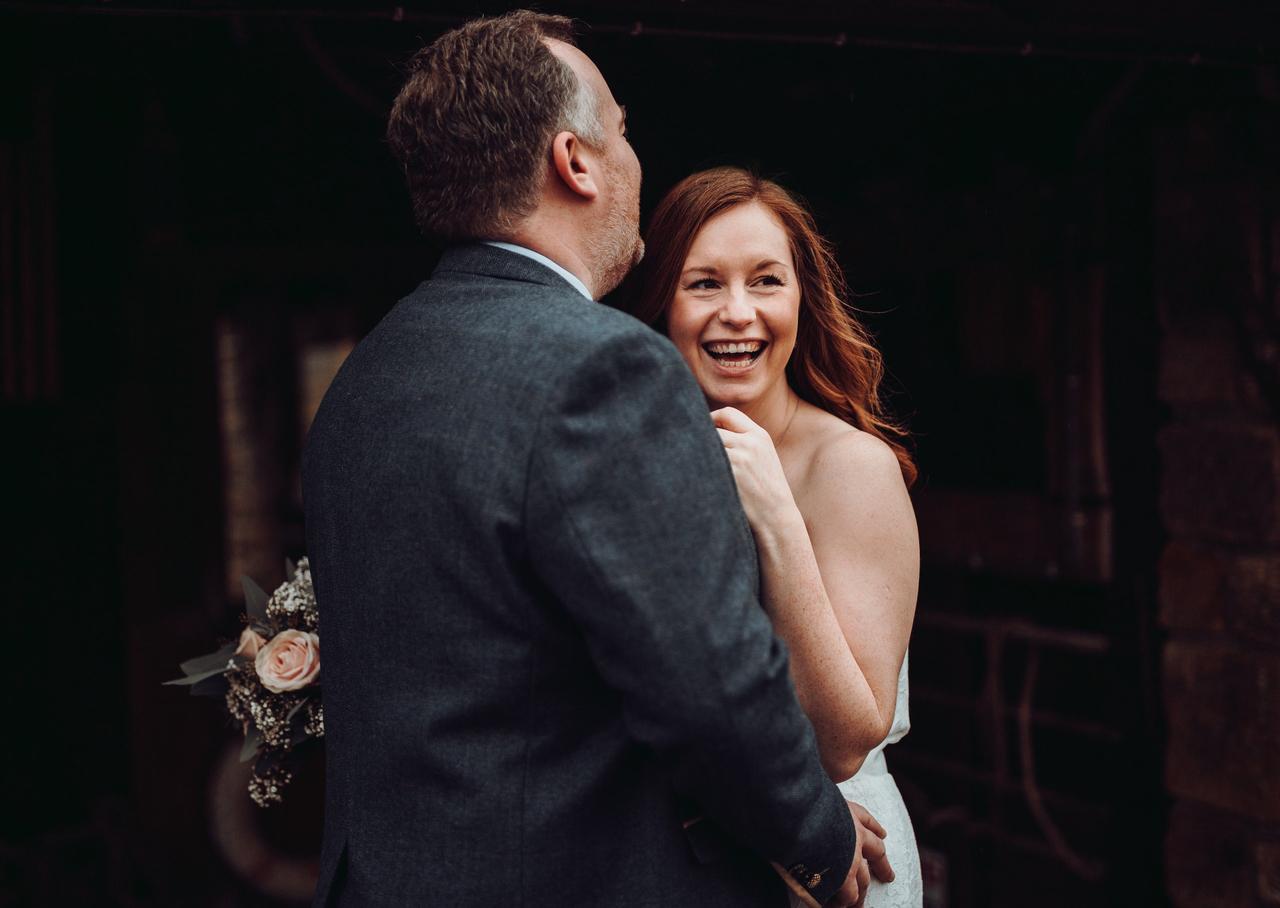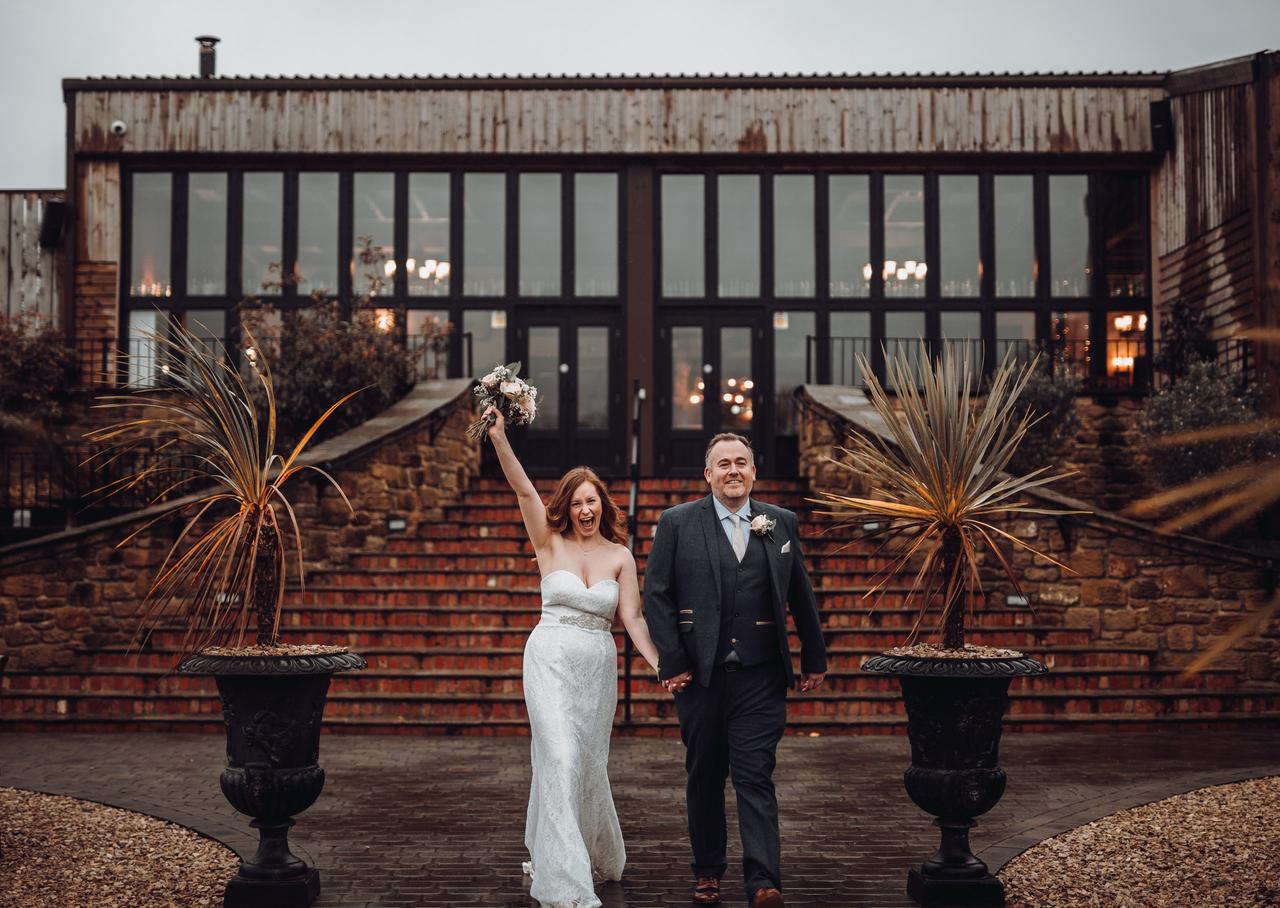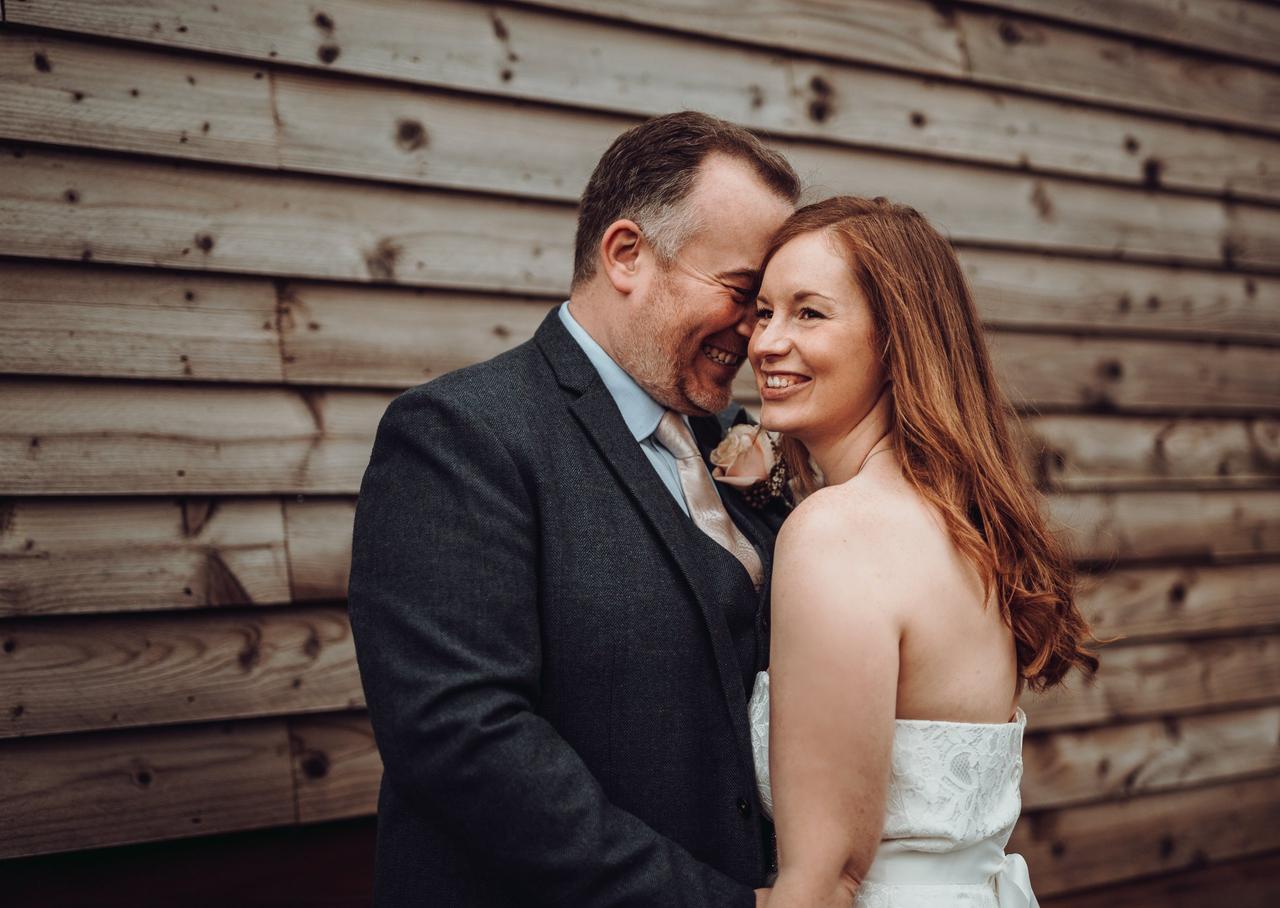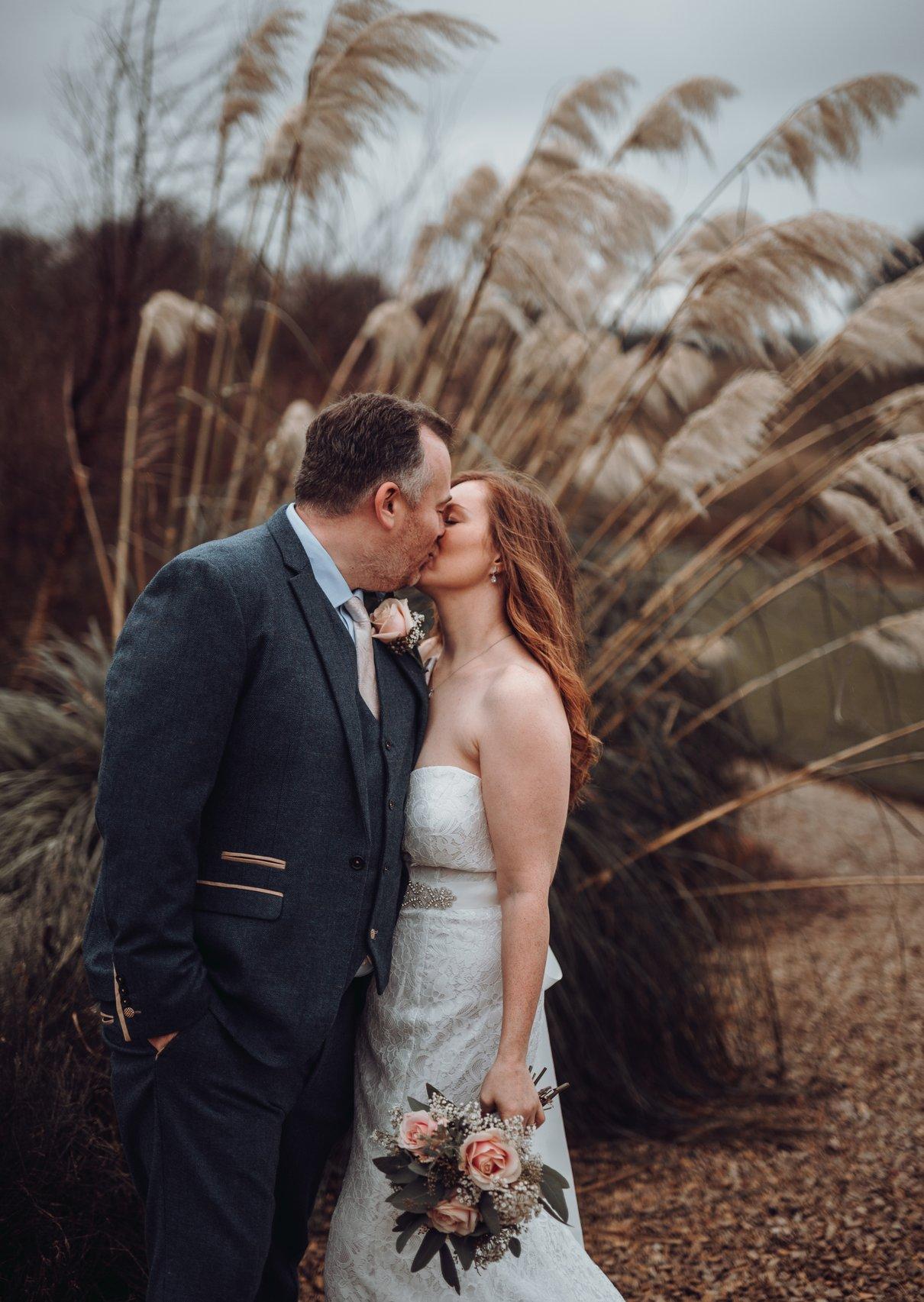 The Décor and Special Touches
As the couple weren't able to have a reception, they didn't have a wedding cake, first dance or any entertainment. However, they were still able to raise a glass of Champagne outside with their guests and treat them to a few special touches.
"We made Christmas baubles for guests as a keepsake for our wedding. We gave sanitiser bottles as favours and scratch cards for a lucky win!" said Adele.
Even their spaniel got a wedding present - a new collar from Boppies and a bandana from PawJesticPets on Etsy.
Adele carried a dusty pink and green bouquet made by Fiori Design Ltd, a florist in nearby Whickham.
The first dance is "to come" at their one year anniversary party.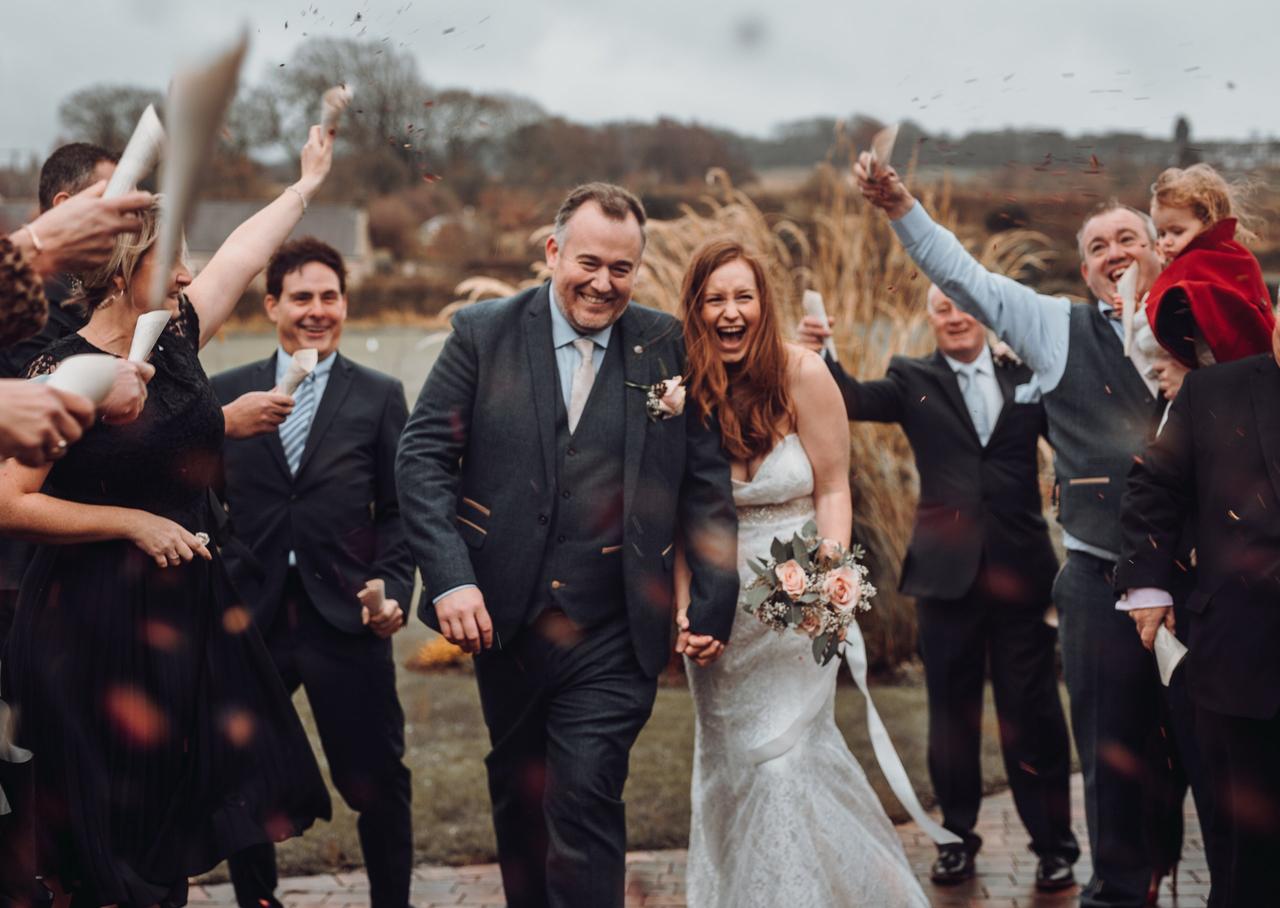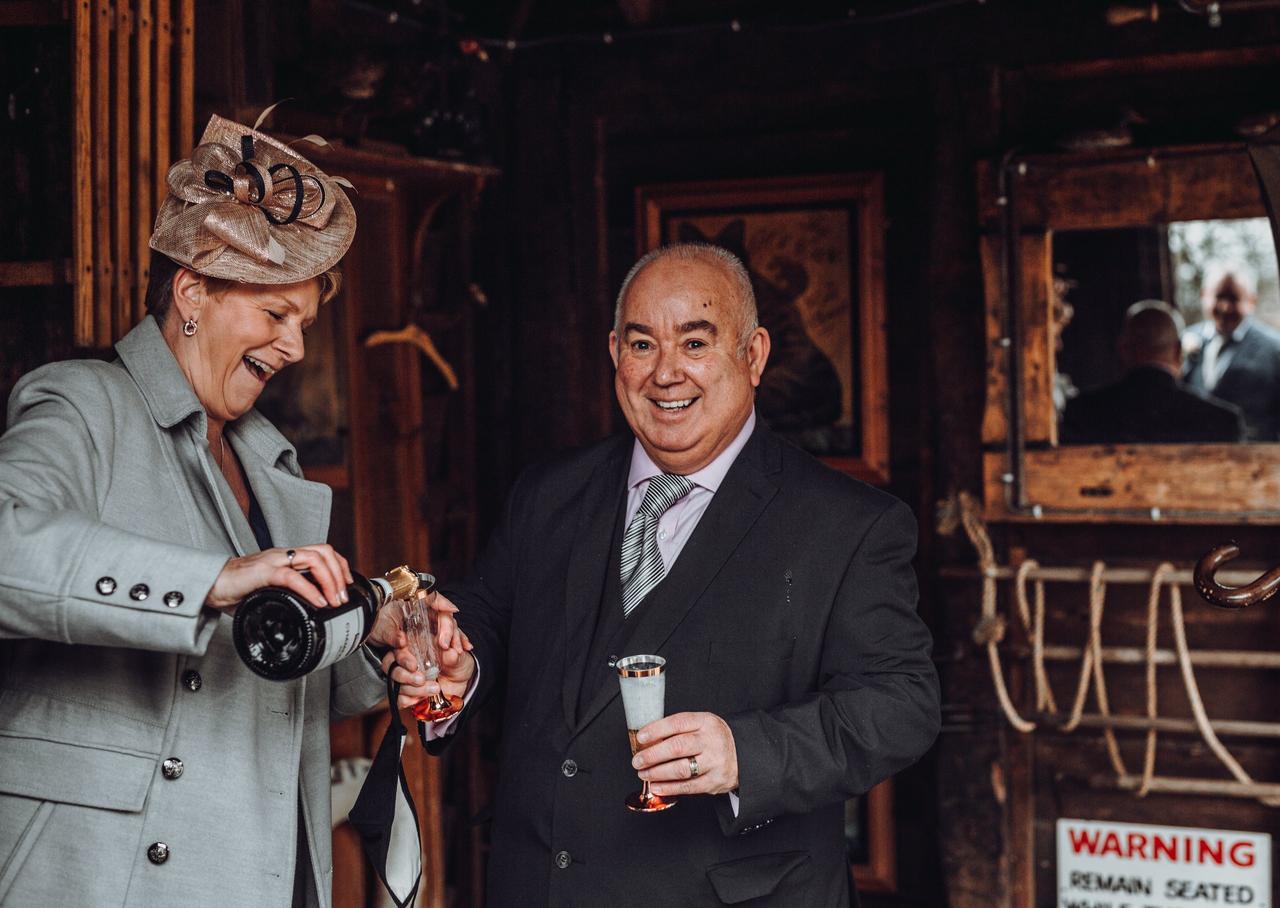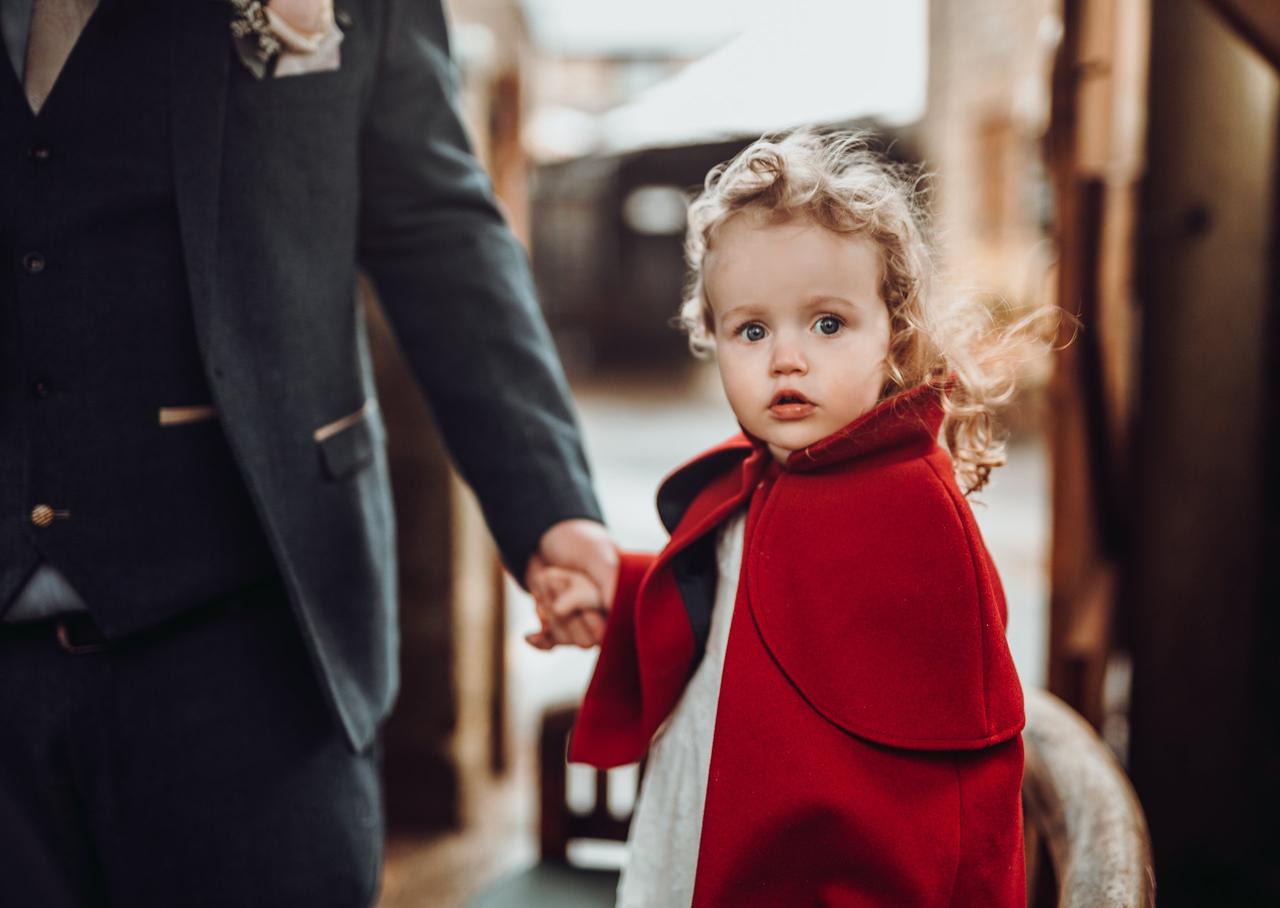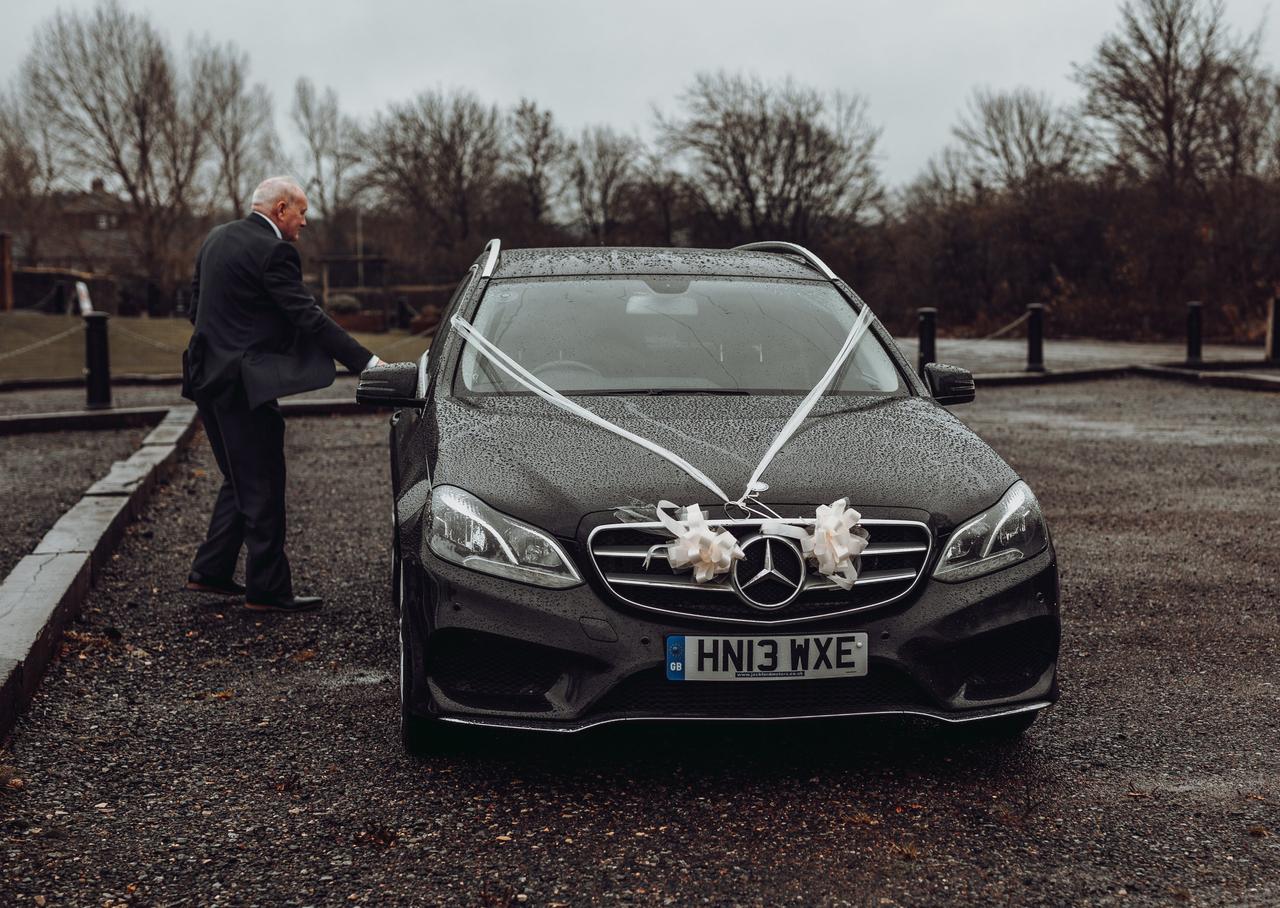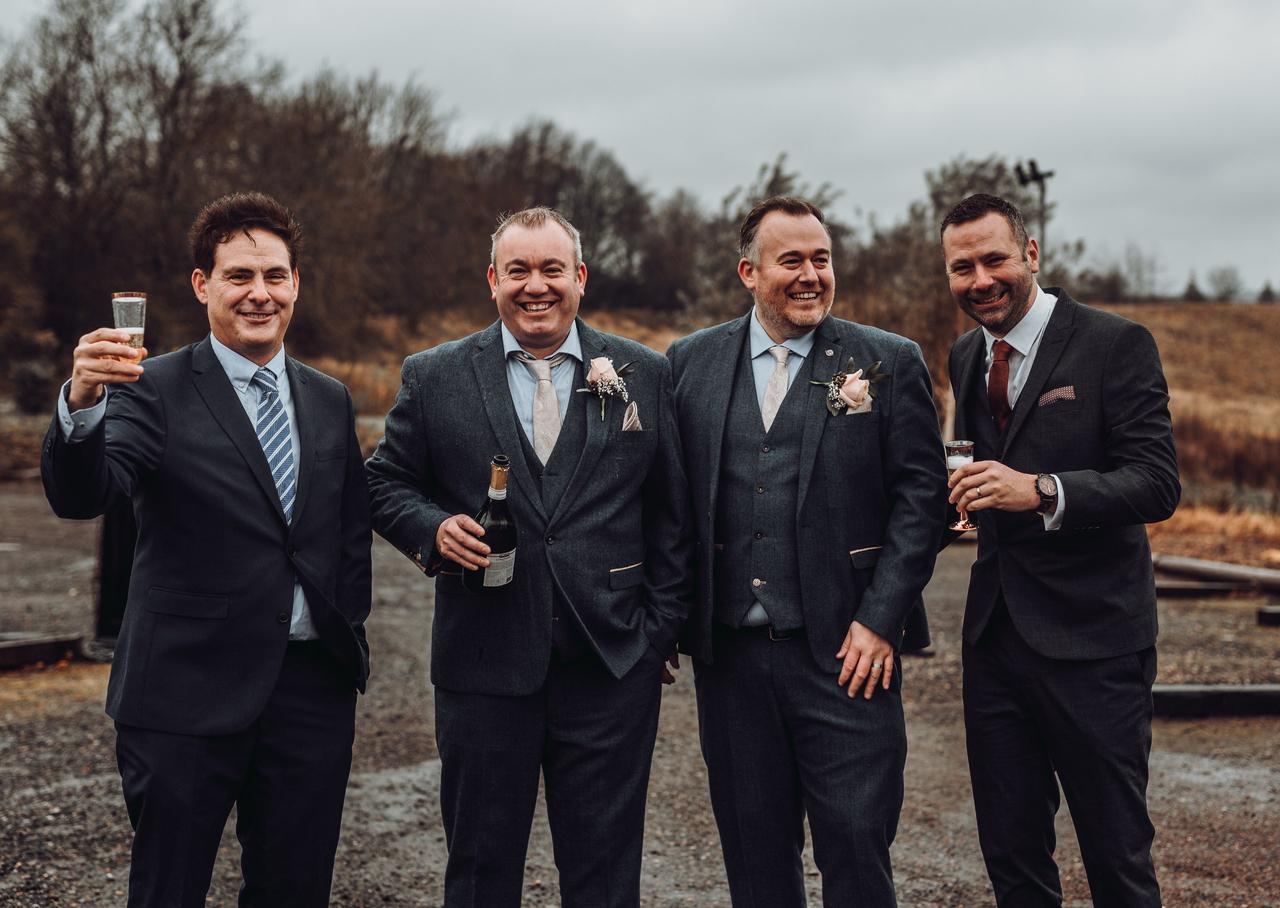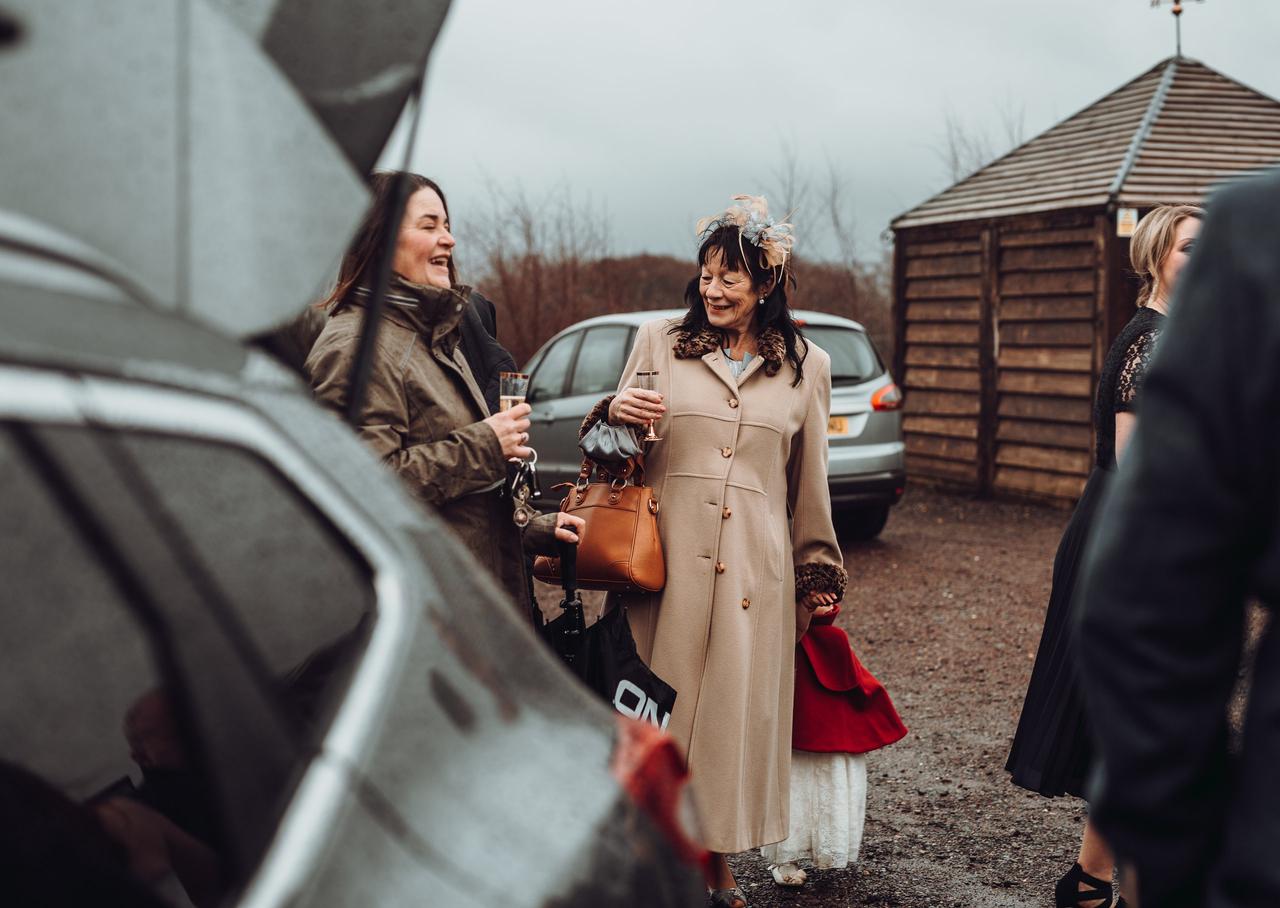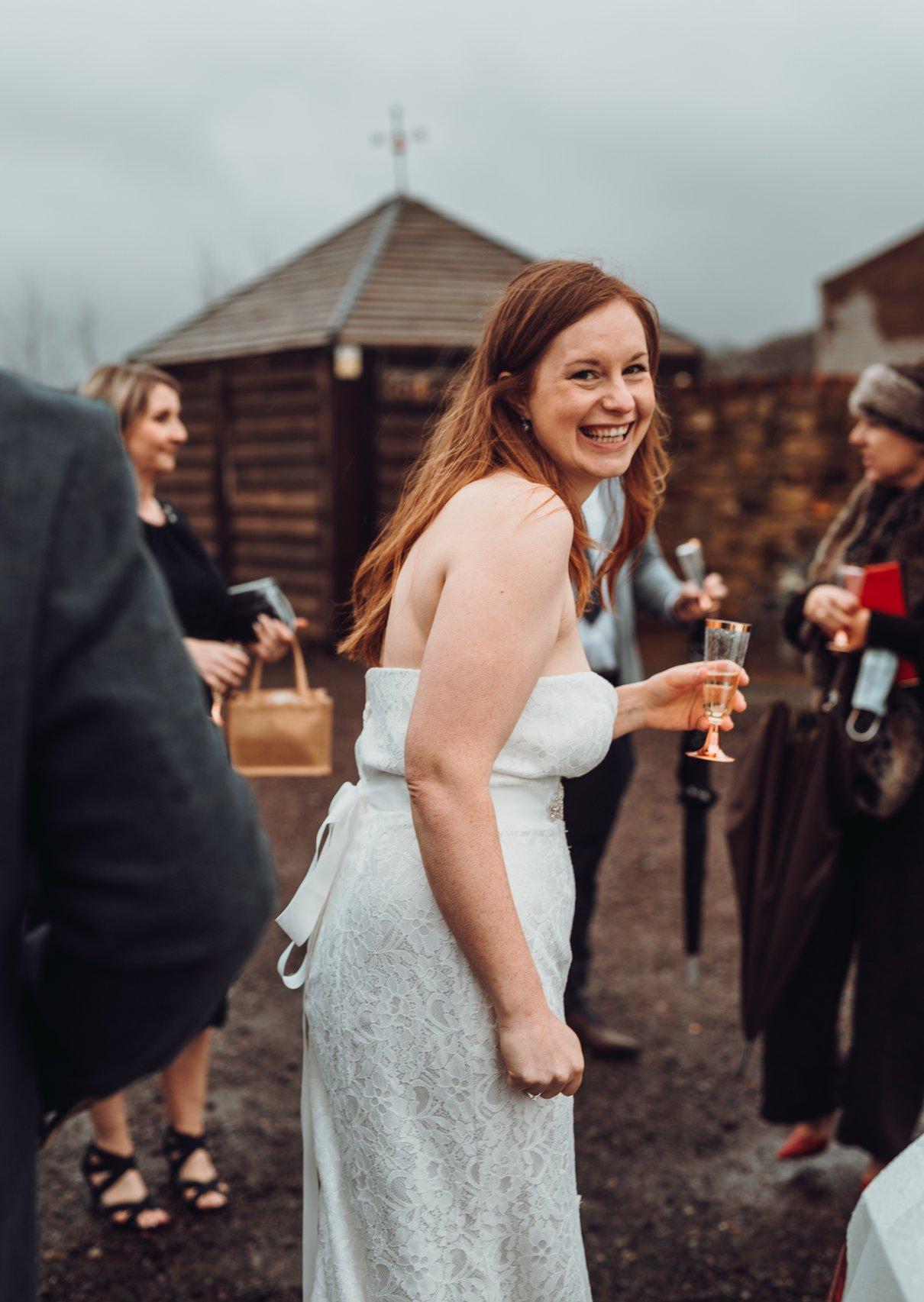 The Suppliers
Venue: South Causey Inn
Photographer: Hayley Crone
Wedding Dress: Rosa Bridal Boutique
Bridal Mask: Shirts of Distinction
Garter: Garter Me Good
Flower Girl Dress: John Lewis
Floral Accessories: Hidden Botanics
Groom Suit: Marc Darcy
Florist: Fiori Design Ltd
Dog Collar: Boppies
Dog Bandana: PawJesticPets
Thank you to Adele and Andy for sharing your big day with us!