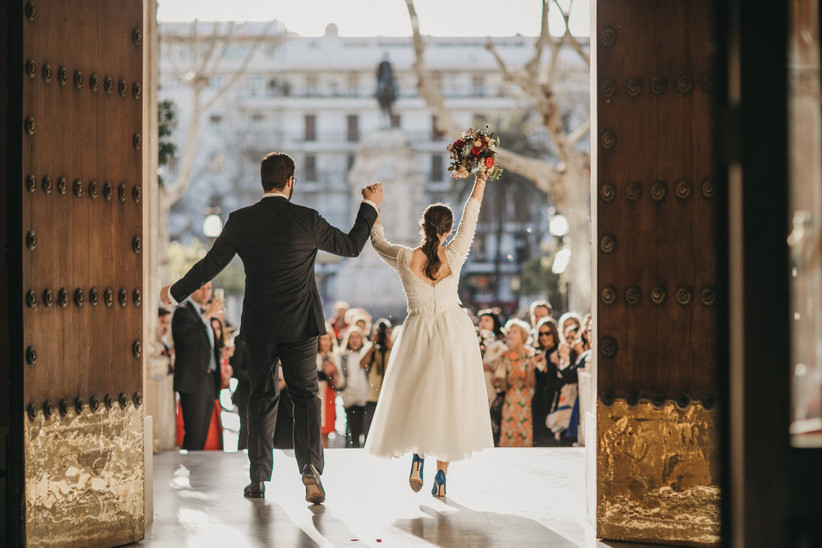 When your day job is being a luxury wedding planner, your guests will expect something spectacular. Charlotte Ricard-Quesada, founder of London-based bespoke event planners La Fête, didn't disappoint at either of her weddings. Her first was a lavish Andalusian palace reception in her husband Antonio's native Spain, followed by an intimate wedding in the ruins of a 12th century abbey on the French island of Île de Ré.
A town hall ceremony in Seville – the city where they first met and where Antonio proposed – kicked off their first wedding, with just the bride and groom, their parents, siblings and the bridal party present. The following evening, 265 guests joined them at the stunning 16th century Arabic-inspired palace, Casa de Pilatos.
The newlyweds honoured Antonio's Spanish culture throughout the day. Traditional gifts of cigars for the men and embellished shawls for the women, and save the dates on Spanish fans, mixed with modern details like a marble table plan, jewel toned colour scheme and a stunning bridal jumpsuit for the evening.
Follow their whole story from the ceremony to reception below. Next week there'll be more inspiration from their beautiful French wedding.
Photography by Serafin Castillo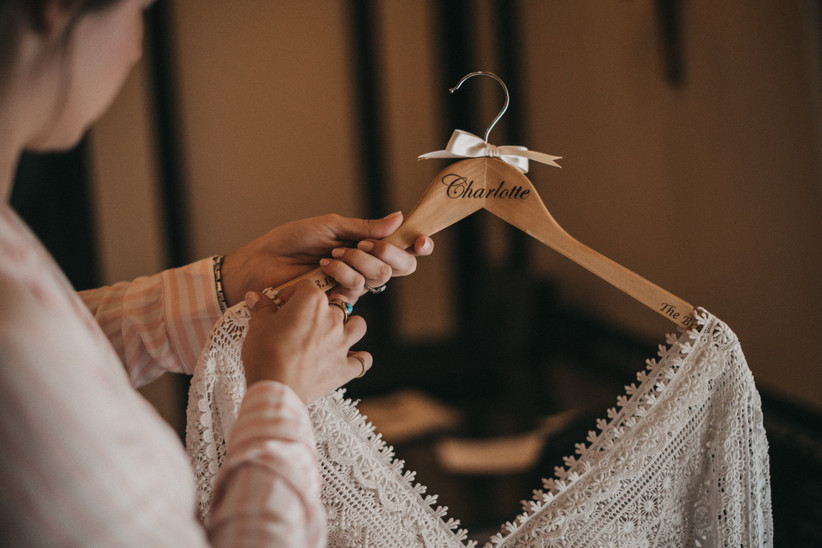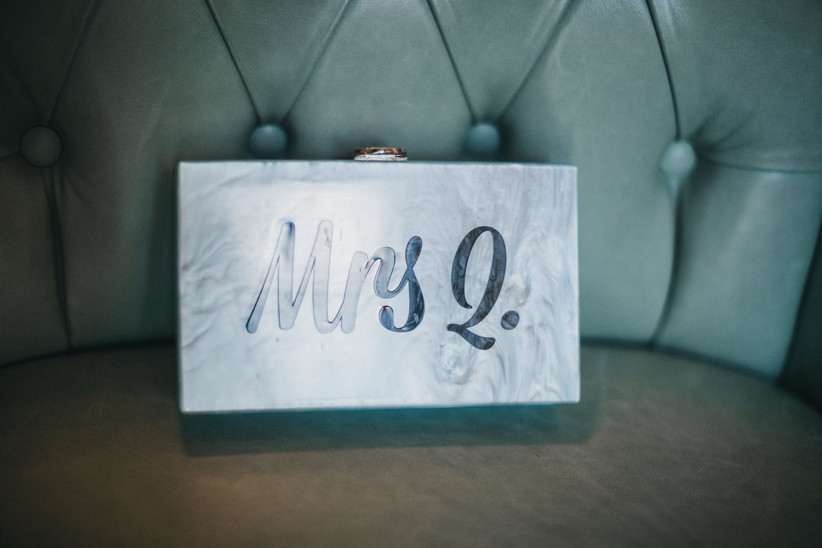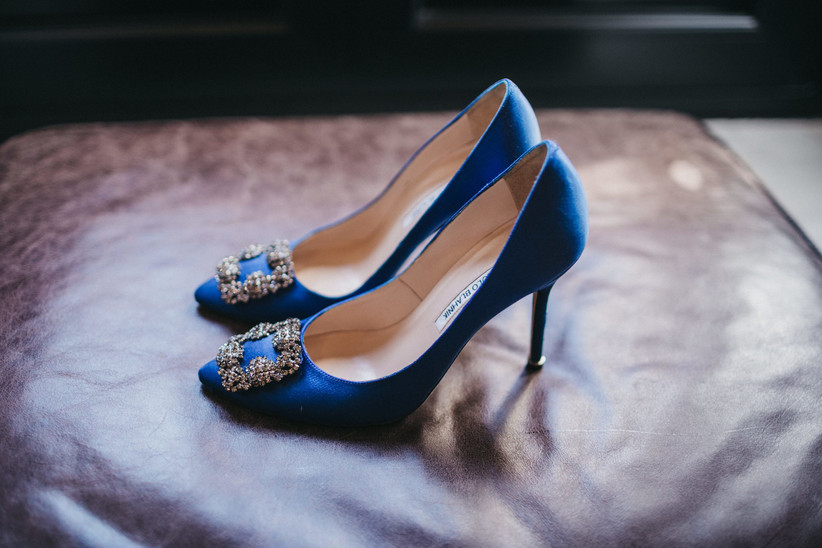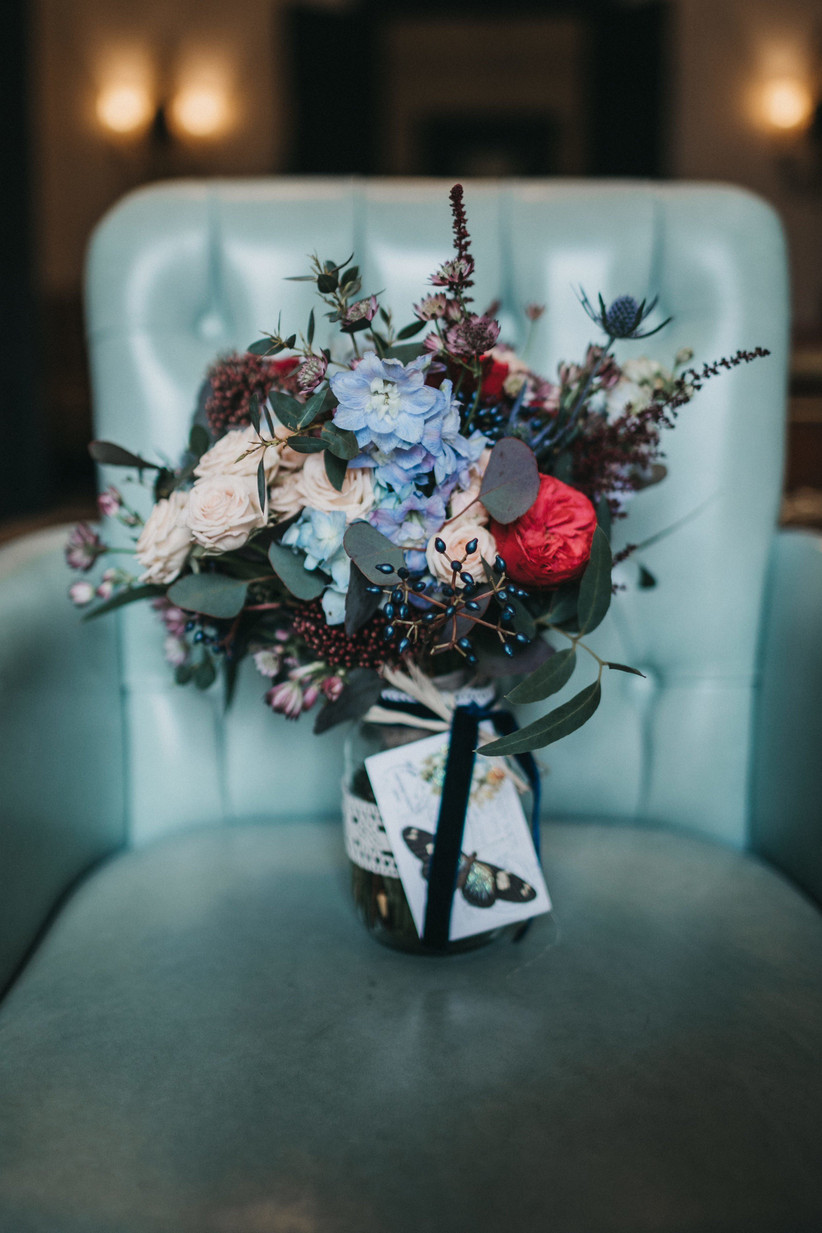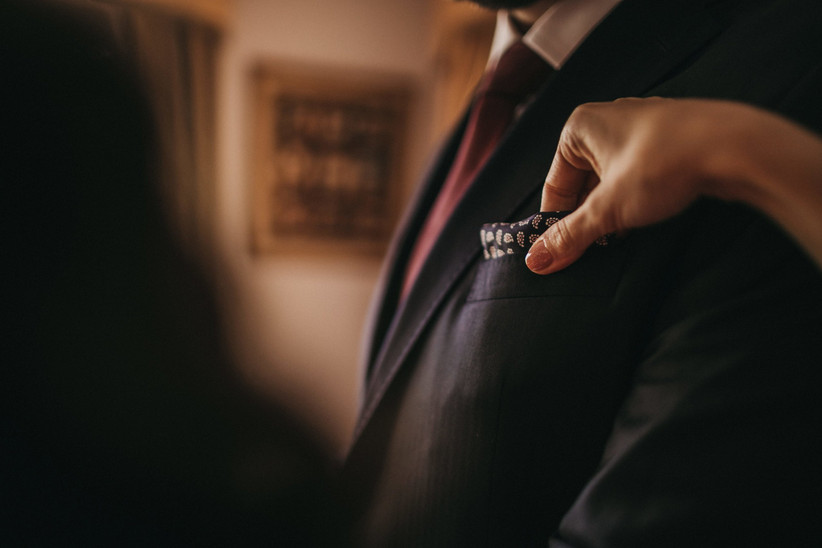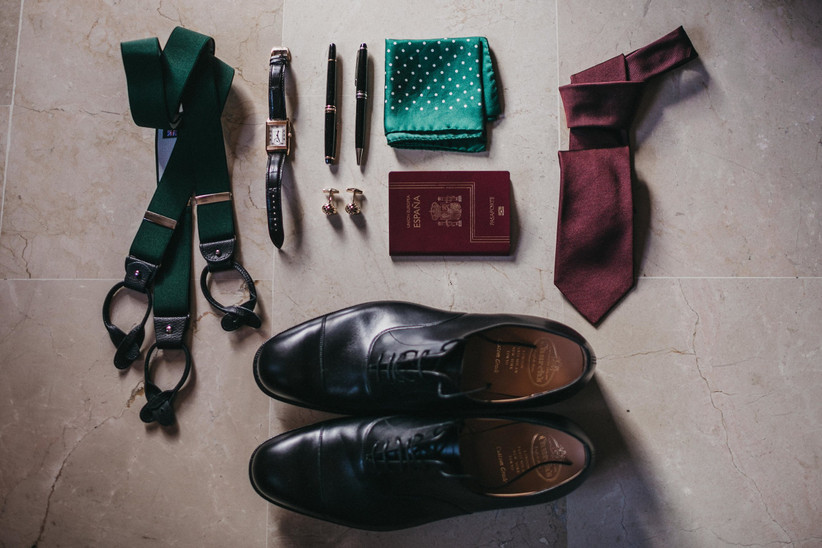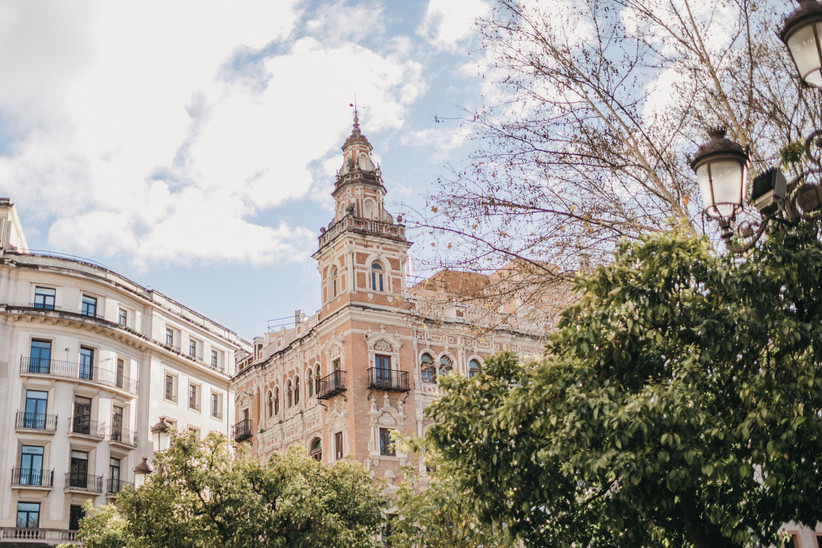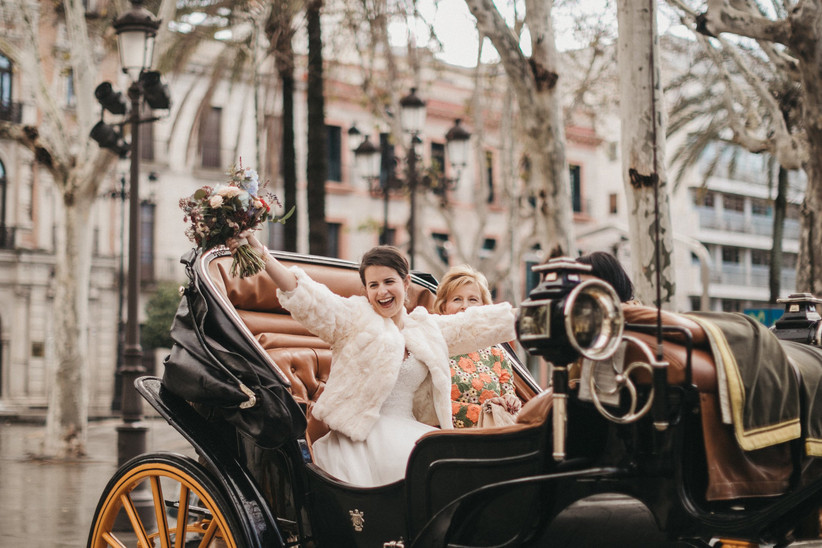 The Wedding Dresses
Charlotte wore an enviable trio of wedding outfits across the course of her Seville wedding: a beautiful embellished top and skirt for the town hall ceremony, topped with a faux fur jacket; a beaded fishtail dress with a scalloped neckline for her evening reception; and a sheer, polka dot-sleeved jumpsuit to dance the night away.
"All my wedding outfits were designed by Studio Non Sequitur in Delhi in India. We created the outfits through a co-designing process which took nearly a year, sending designs, samples, sketches and patterns through the post. I finally flew out there in November 2017 with my sister for my final two days of fittings.
"In terms of inspiration, I wanted my dresses to reflect me at that venue. In Seville, we incorporated blue beads on the embroidery design that was based on the Arabic designs at the venue. The dress shape was inspired by my flamenco dresses that I own, as was the scalloping.
"I made some appointments in traditional bridal shops to get a feel of what shape would work best for me at the beginning of the design process, but I never had the feeling of the 'one' during those appointments. I did feel that way during the fittings in Delhi though, even though they weren't quite complete yet.
"I wore a jumpsuit at the party time of the wedding. It was a wedding present designed by my friend Nabel Martins, a Venezuelan designer."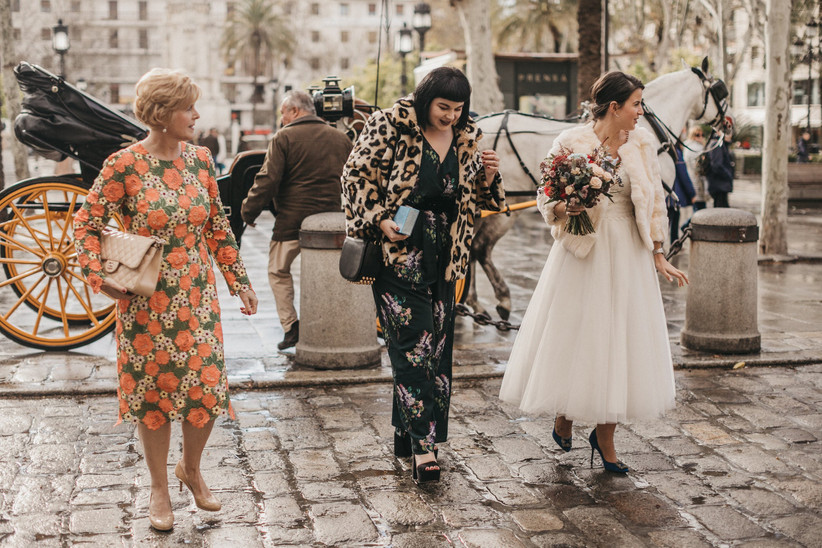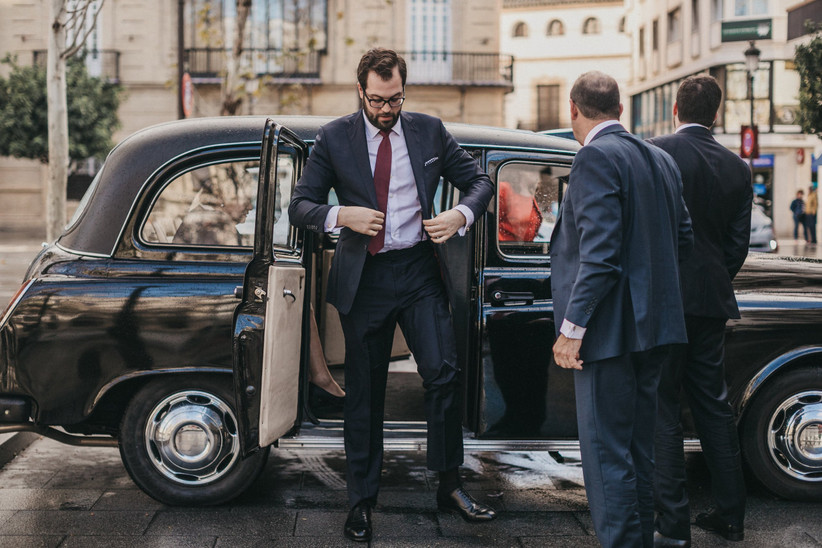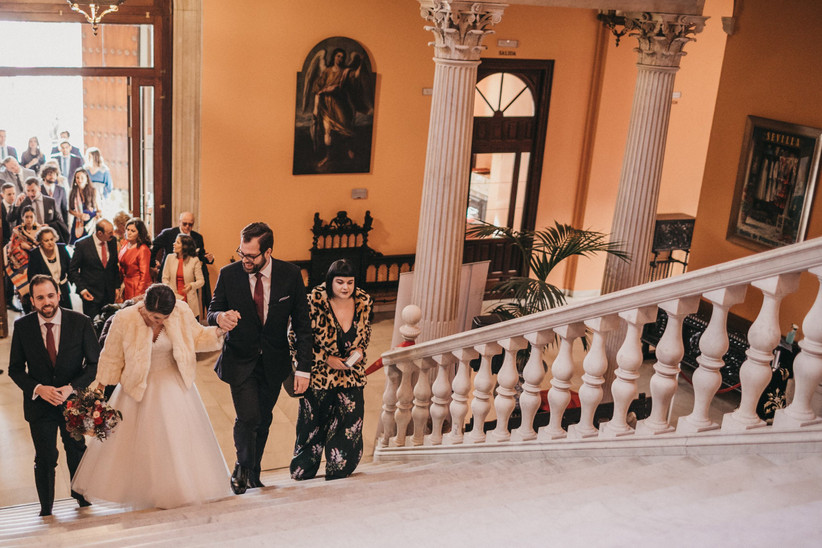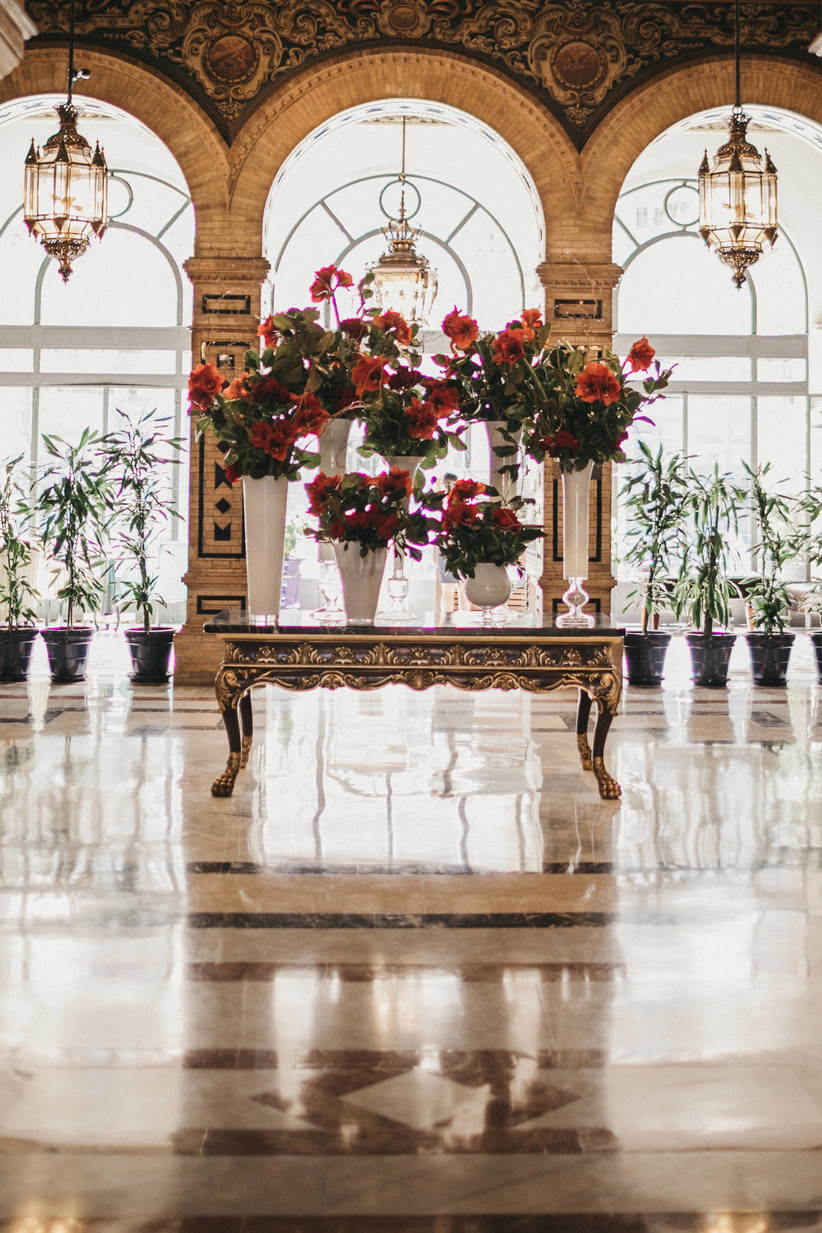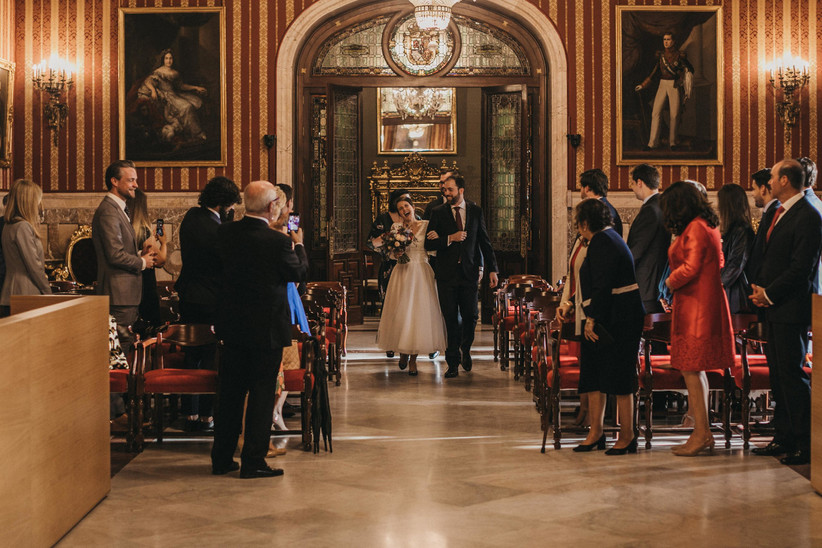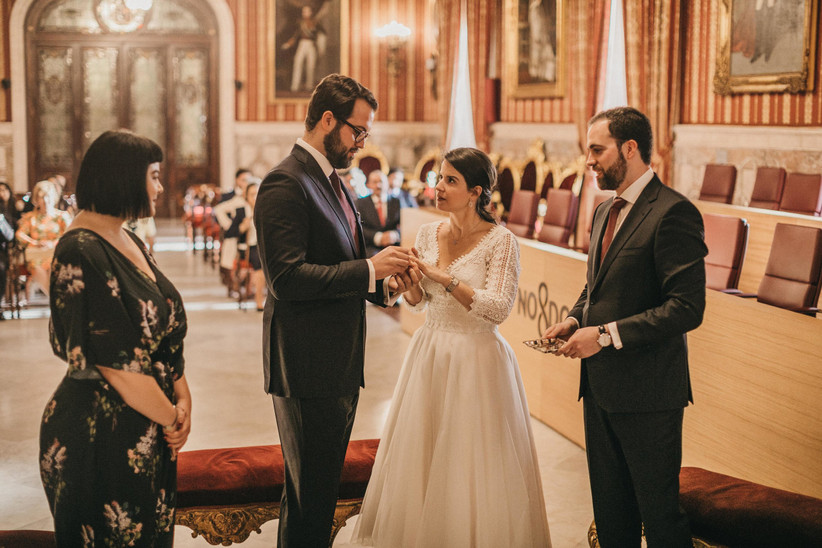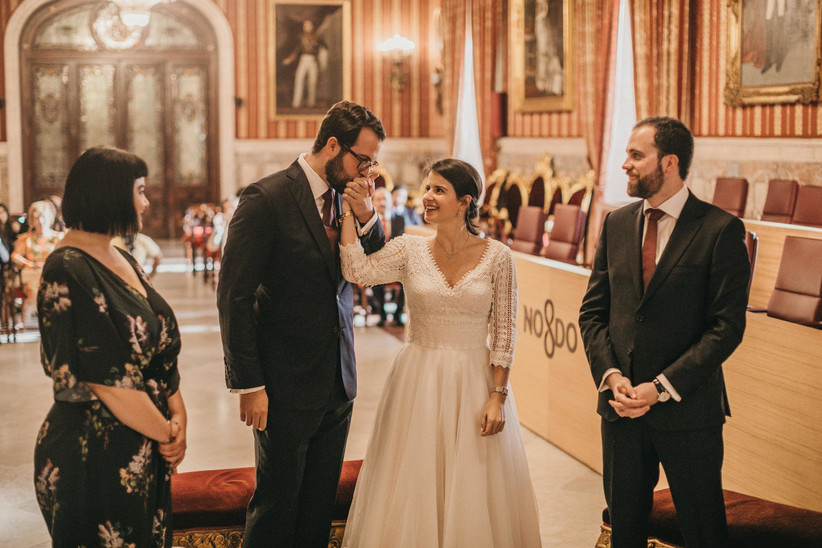 The Bride's Accessories
Charlotte wore two hair looks for her ceremony and reception. Charlotte's makeup artist and hair stylist Irene Taviel did just one trial before the big day – a simple, sleek ponytail for the day, and an elegant updo topped with a tiara and veil for the reception.
"I wanted to look like myself, but a more polished version. I usually have my hair pulled back and I knew I wanted a tiara and a veil. From there, Irene created the most beautiful and elegant updo that matched the formal dress code of the wedding and most importantly, matched me.
"I accessorised with a hand-beaded veil by Studio Non Sequitur, vintage diamond bow drop earrings, a crystal tiara, my Cartier bracelets that I never remove and a Van Cleef & Arpels necklace that was a wedding gift from my husband. I also wore blue Manolo Blahniks."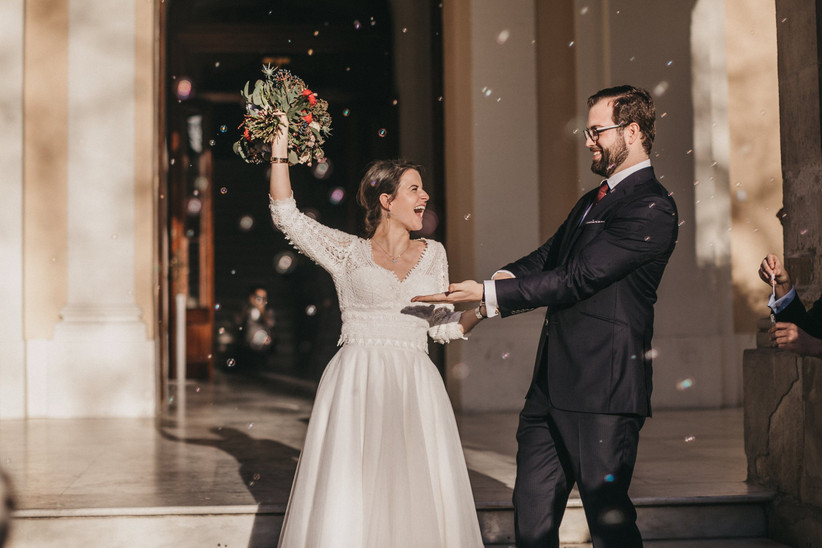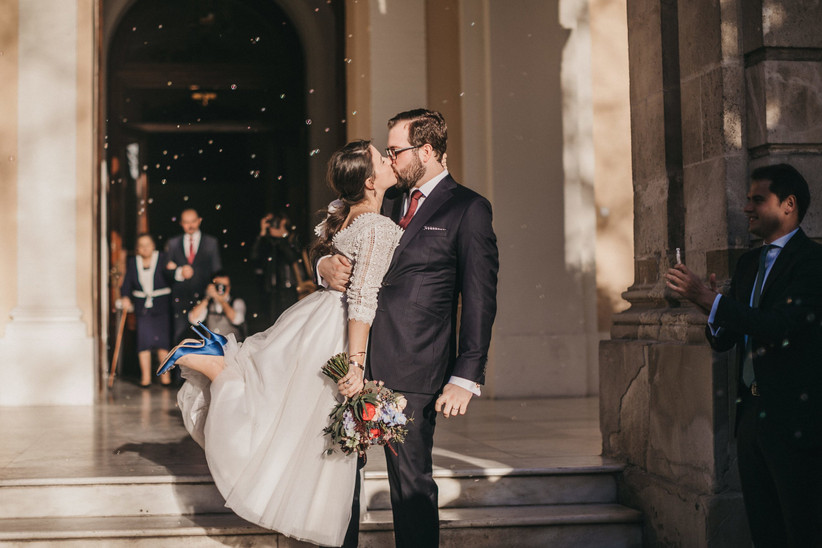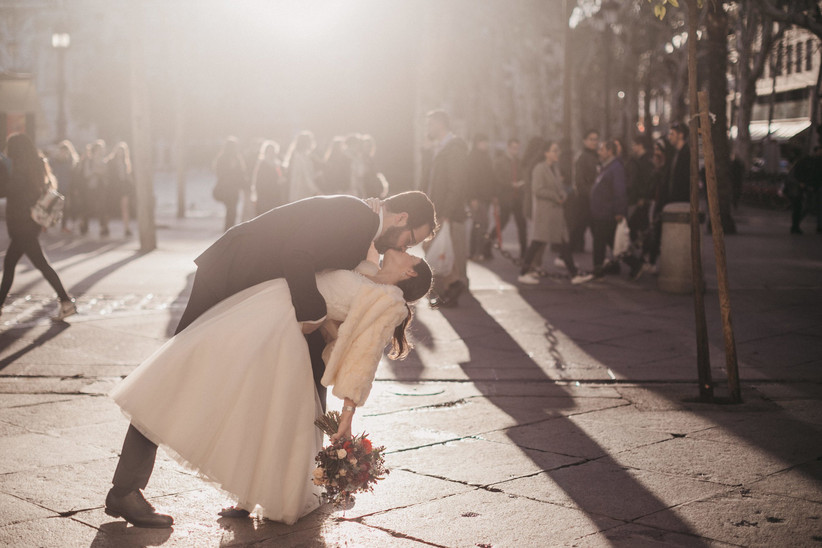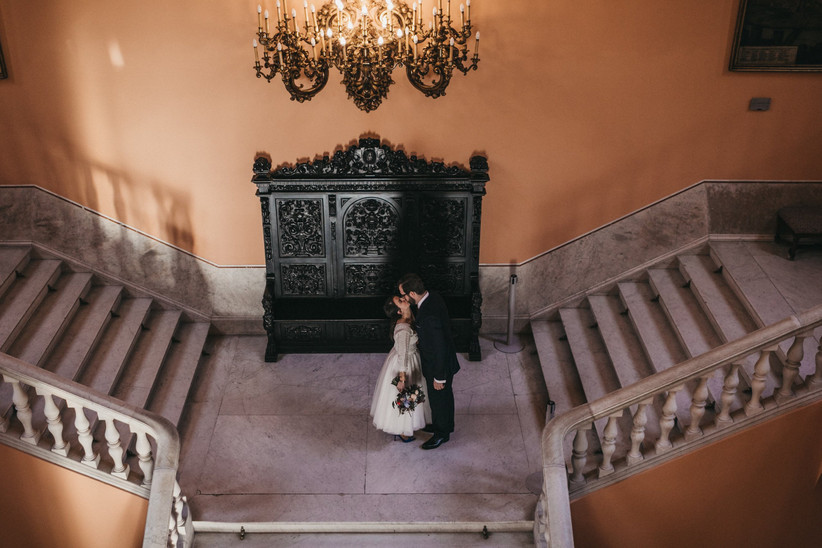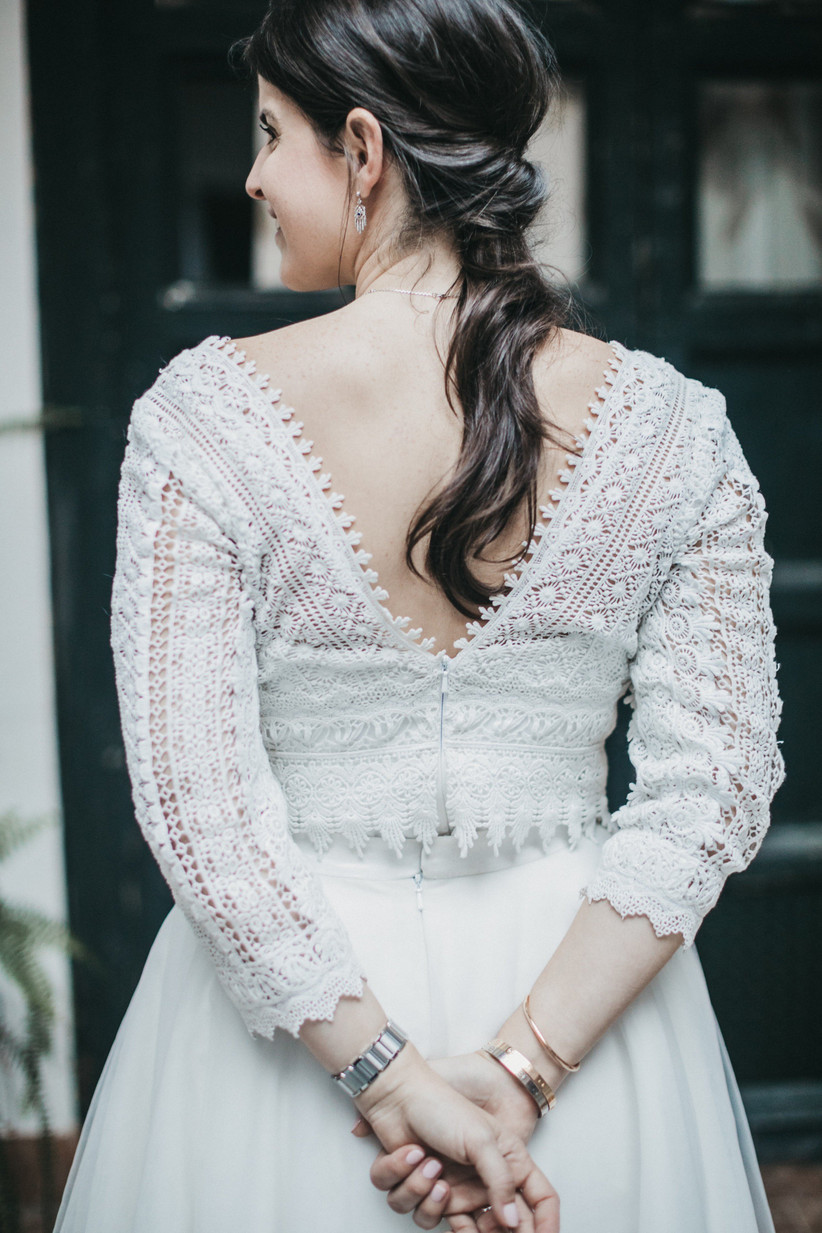 The Bridal Party
Groom Antonio wore a bespoke tuxedo jacket in green velvet with a shawl collar, while his groomsmen were in tuxedos with burgundy bow ties. Charlotte's bridesmaids matched the colour scheme in navy, emerald and emperor purple dresses by twobirds.
"I had five bridesmaids and one bridesman. My sister was maid of honour, and the four other girls were my best friends from various moments in my life and we have always stayed in touch and close. My bridesman is my gay best friend, and like my brother. I asked them individually over dinner or in a phone call and then followed up with a personalised basket full of goodies that they would use for both weddings: robes, earrings, a clutch, fan, babouche slippers, etc.
"Having my closest friends and family around me on the wedding morning was the most special thing. We had a brunch in the hotel suite before getting ready and it was the perfect start to the day."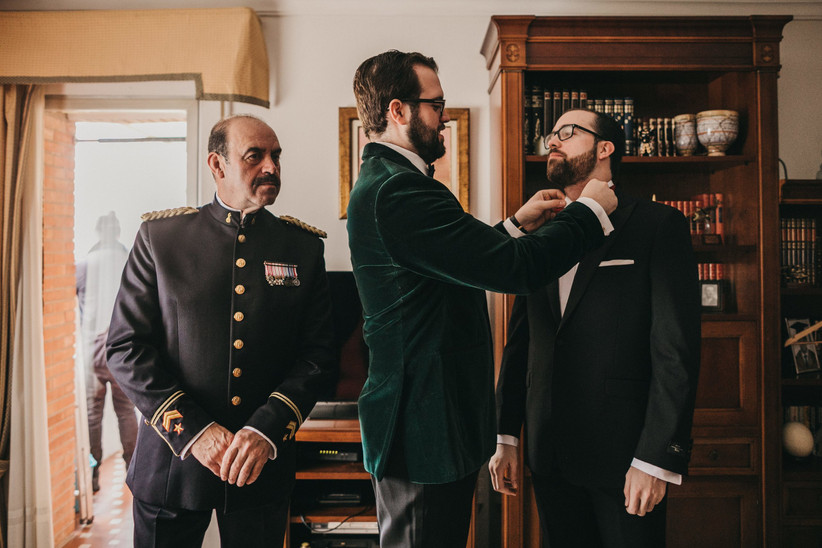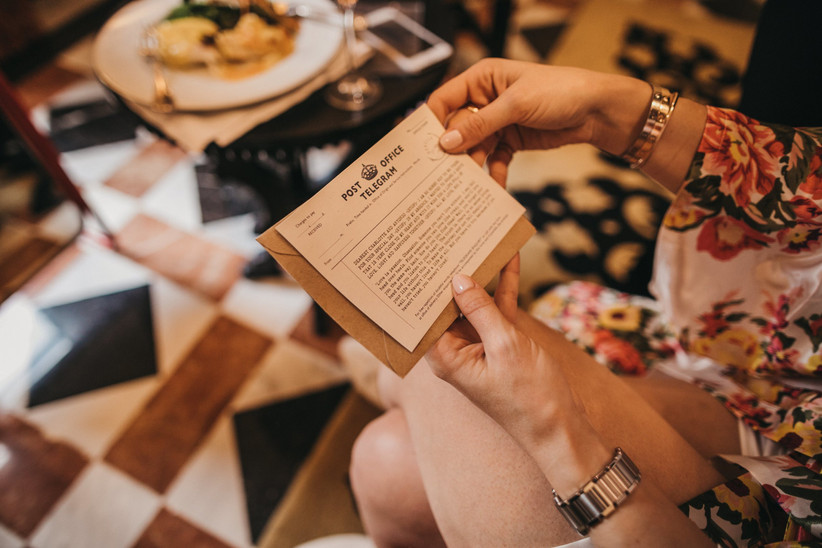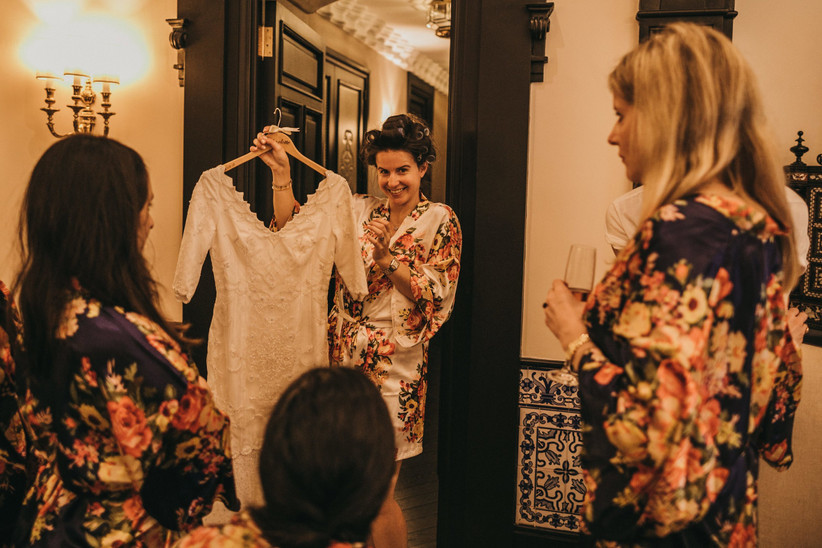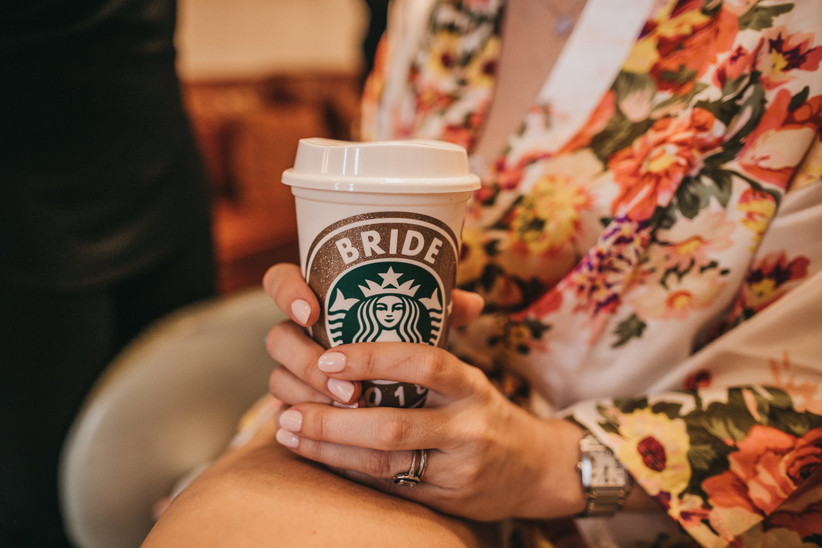 The Wedding Transport
A horse-drawn carriage and a gorgeous vintage car carried the bride and groom to the weddings, and brought a smile to their faces despite the drizzle. Luckily, the couple had chosen Serafin Castillo as their photographer, who brought so much atmosphere to the photos through the rain. "I loved his unique and dramatic aesthetic, and felt that in the March light it would translate exactly the within the venue."
"For the civil ceremony, my bridal party took taxis over to the town hall and I arrived in a horse-drawn carriage with my parents and sister. The centre of Seville is quite small so some of the guests walked over from their hotels or homes.
"For the evening, most of the guests were staying near to the venue and walked over. Our bridal party and my parents took taxis over to the venue from the hotel and Antonio and I had a 1930s pastel green Ford A Double Phaeton. It was very fun, although it was raining non-stop!"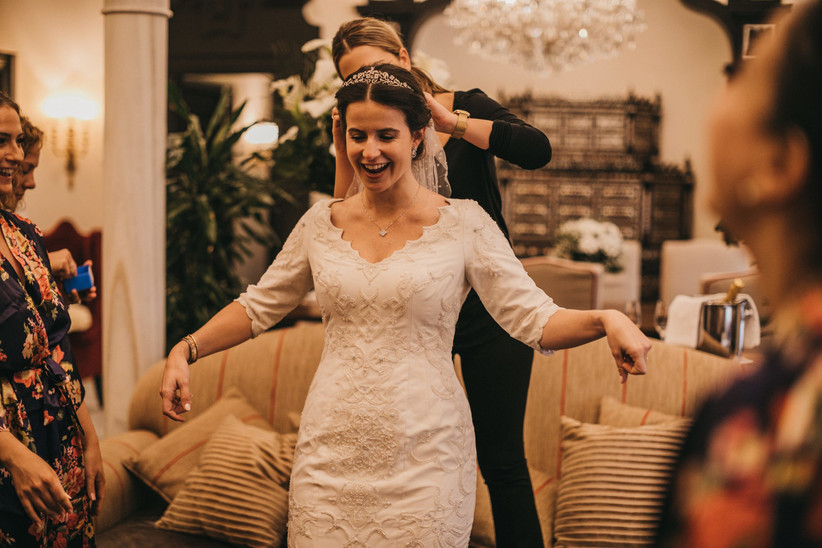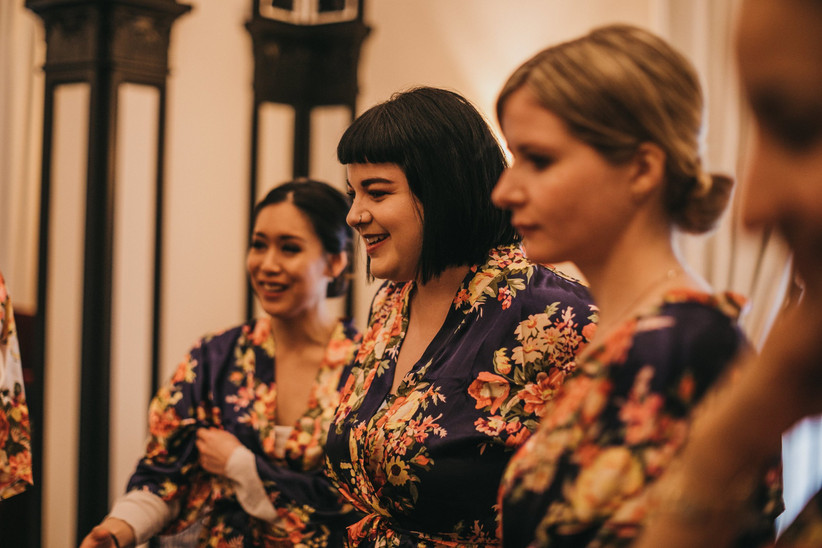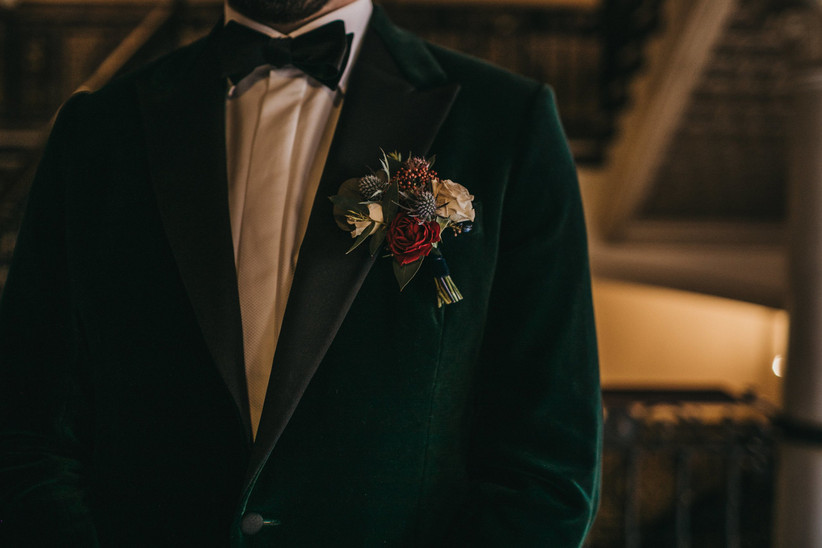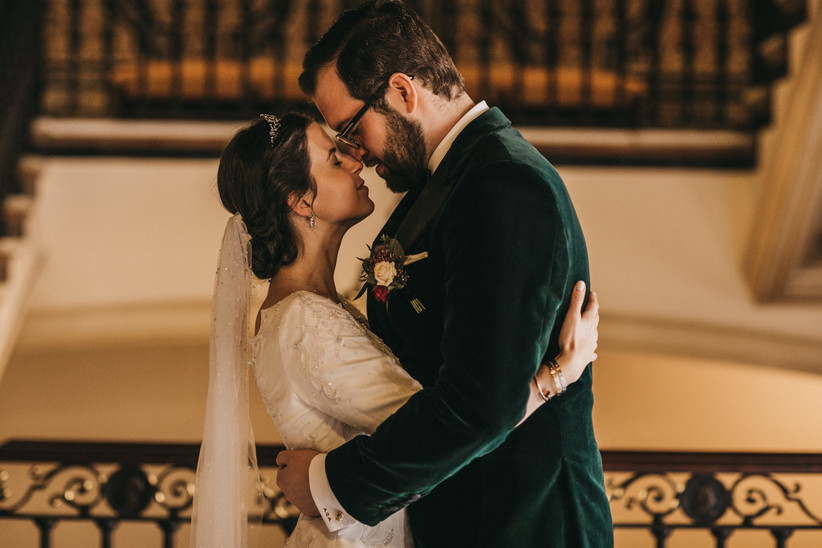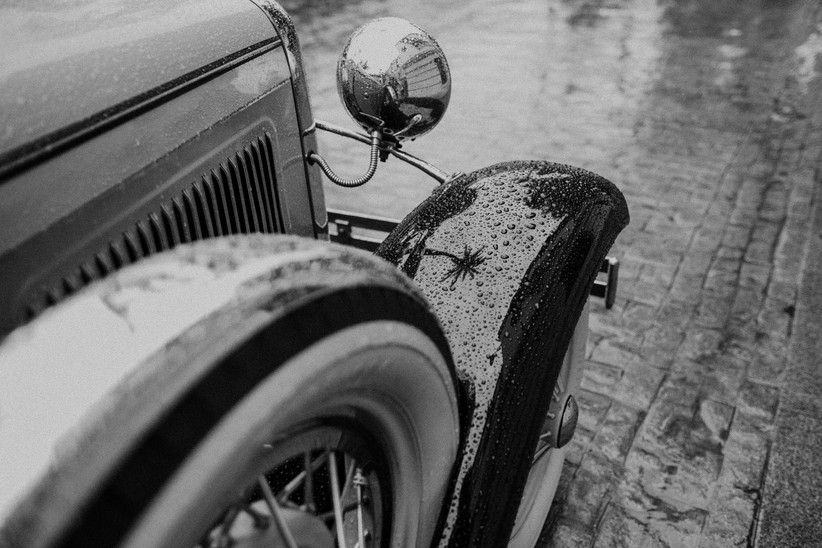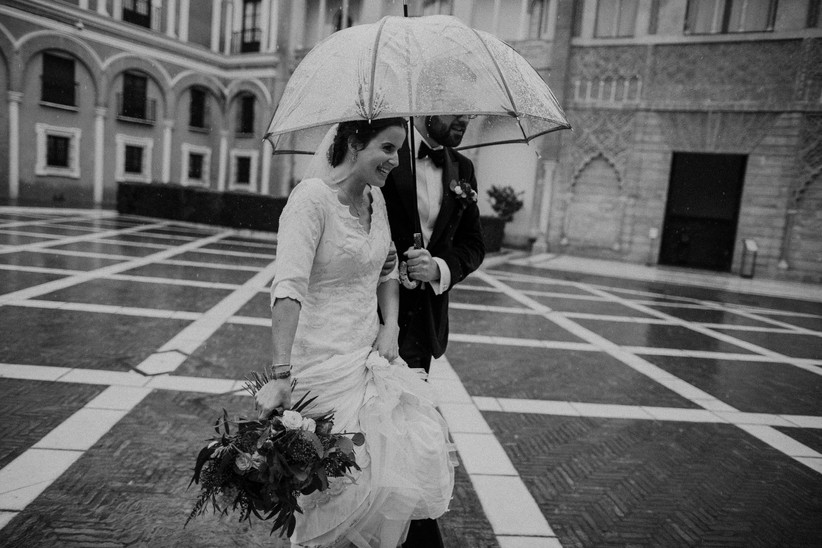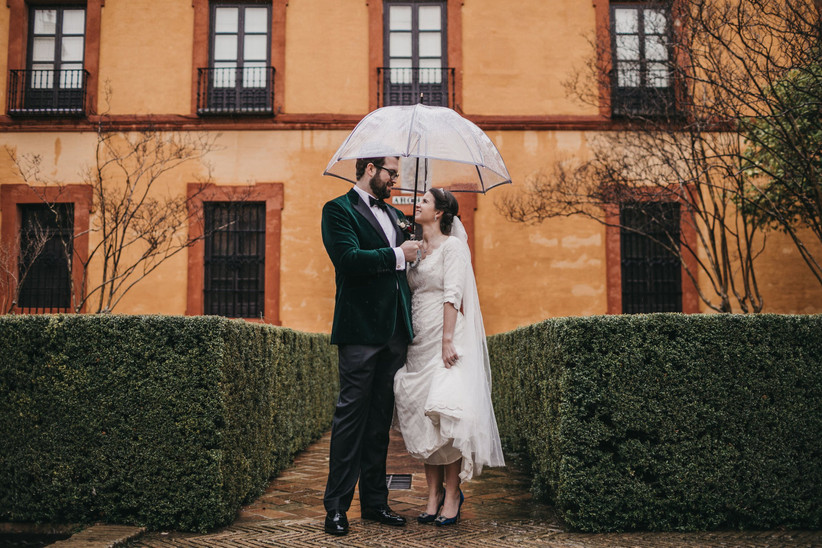 The Wedding Ceremony
"We got married at the town hall of Seville the day before our 265 guest reception, with only our parents, siblings and bridal party. The ceremony was very straightforward and a legal affair mostly.
"I didn't choose the music, I actually remember being in the back room with Antonio, my brother-in-law and sister, and smiling at the music as it was quite solemn and intense for a walk down the aisle. But knowing I'd have a proper walk down the aisle in France on my dad's arm, I wasn't fussed. My brother-in-law walked me down and my sister was on Antonio's arm.
"The most memorable part was our exit onto the town hall steps when all our guests were blowing bubbles around us. After our civil ceremony we had booked a rooftop terrace to have canapés and drinks for our bridal party.
"We knew we wanted two weddings to accommodate our cultural needs. Antonio being from southern Spain, we needed a large wedding which is what happened in Seville. We were 265 for the evening reception, with a black tie dress code in a sumptuous Hispano-Arabic 16th century palace called Casa de Pilatos.
"My favourite moment of the day was realising we were husband and wife, looking around in the room and realising how loved we were in that very moment. It still gives me goosebumps till this day!"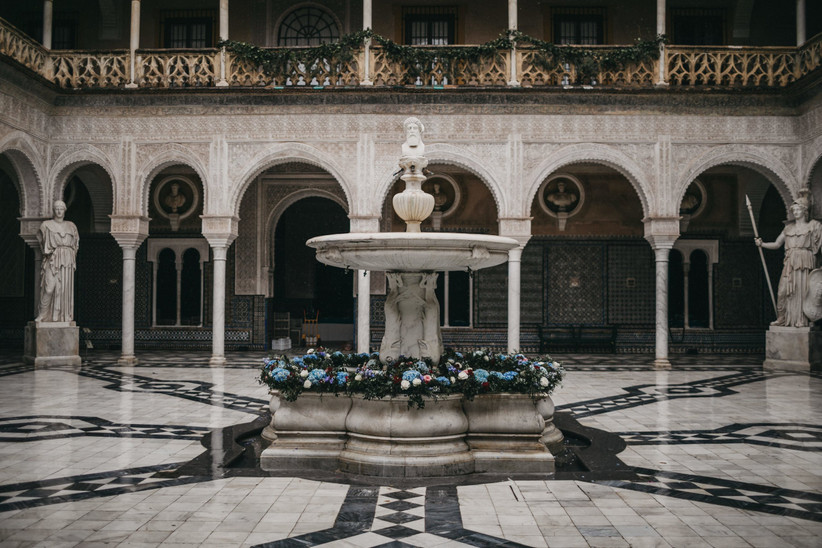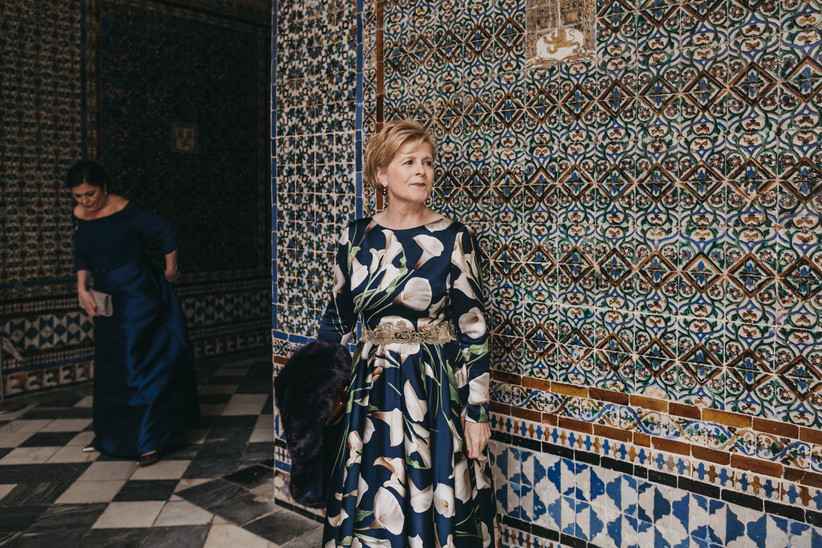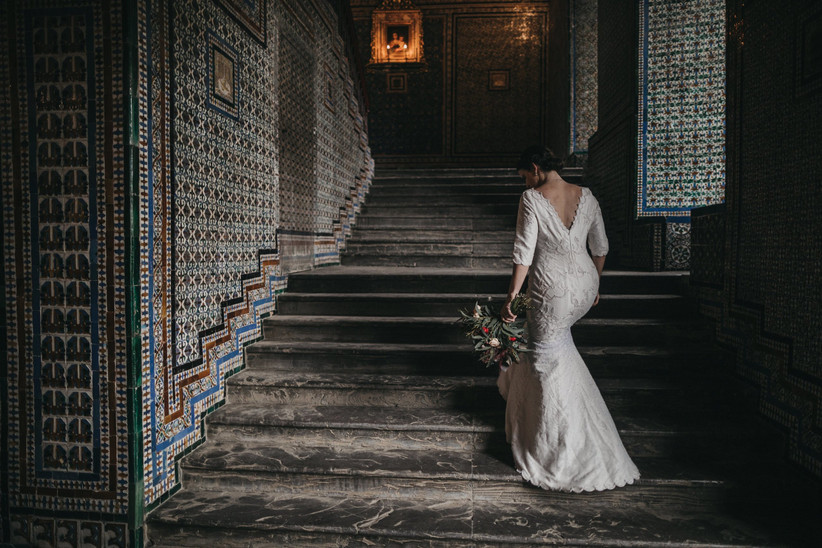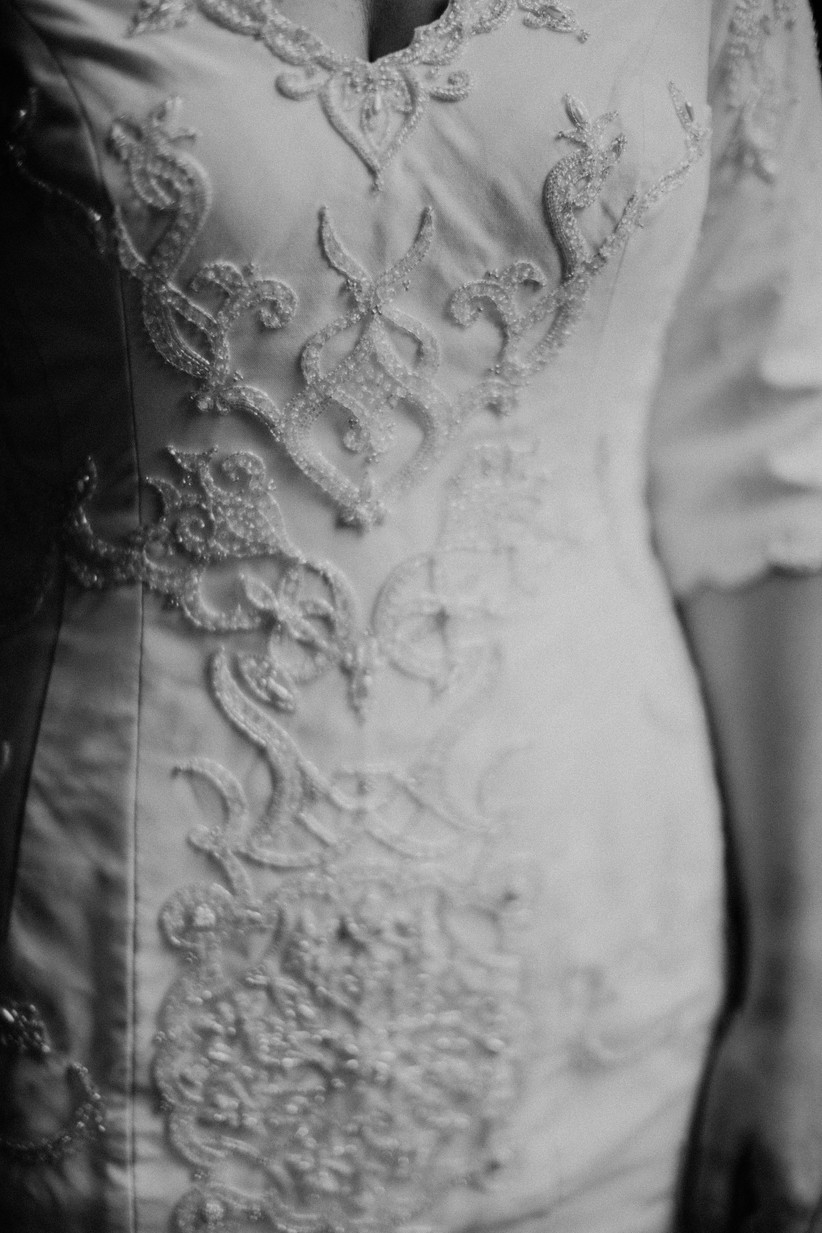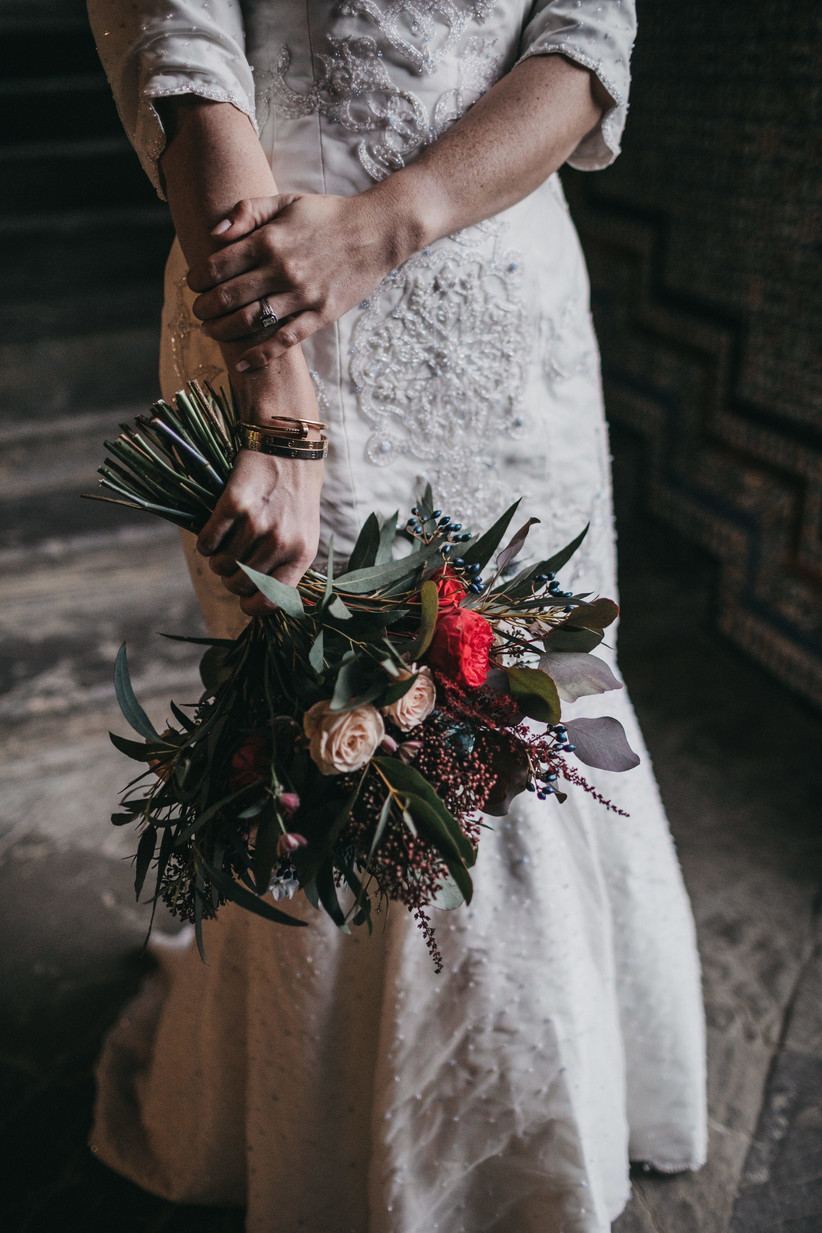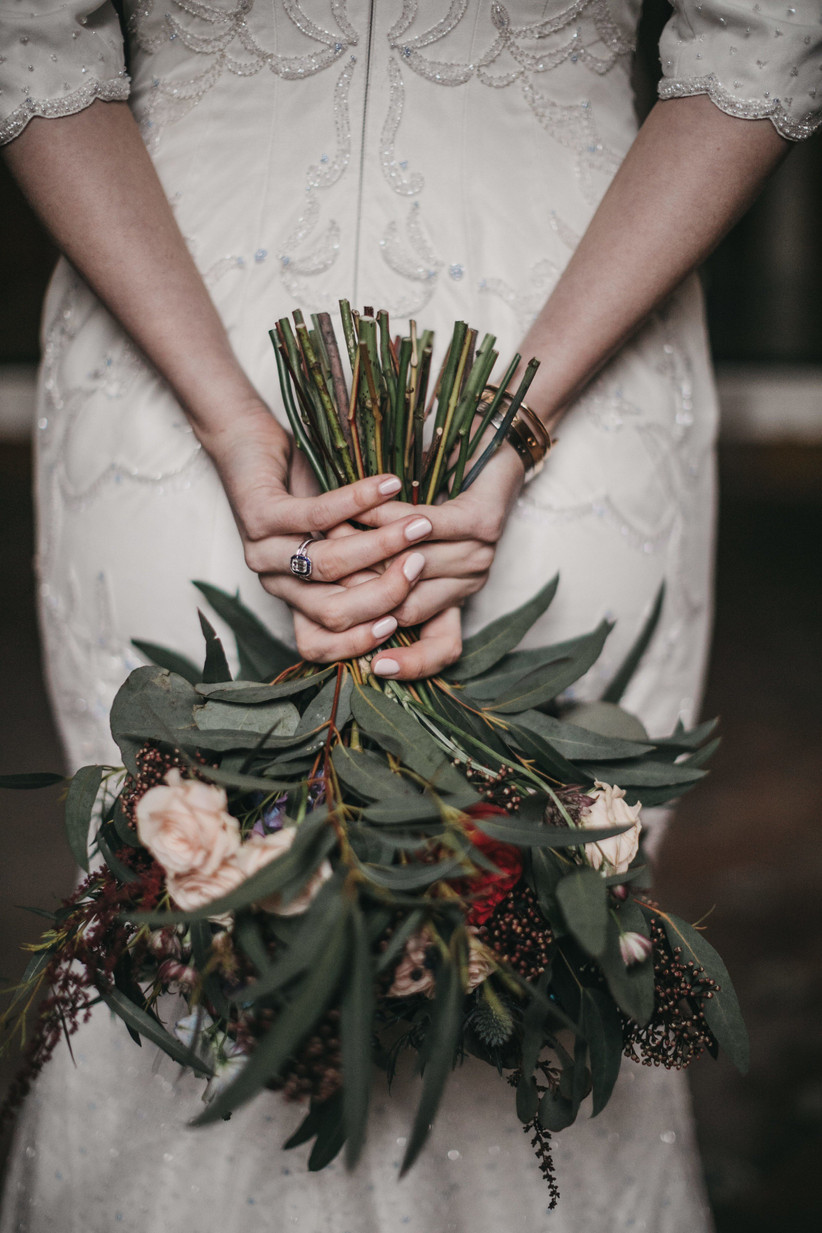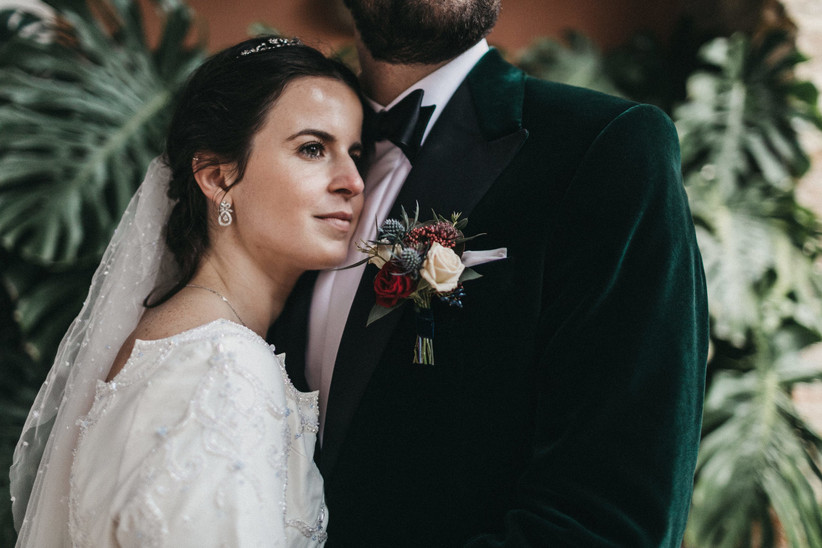 The Wedding Venue
Even a luxury planner needs help. Charlotte focused on the styling of her wedding and had a coordinator on location at the venue to deal with logistics and the running of the day.
"I'd visited Casa de Pilatos numerous times before and it was perfect for our vision: grand, unique and a stunning blend of Arabic and Spanish aesthetic.
"The venue itself was beautiful. We had a crown of flowers in the centre of each round table matching my bouquet, with a single candle in a glass and antique silver hurricane glass. The tables were draped in a royal blue tablecloths, the china was white and the cutlery was antique silver.
"The central fountain of the courtyard was overflowing with flowers and greenery, and our table plan was a huge board with each person's name hand painted in blue on individual hexagon pieces of grey marble. The whole thing was framed by huge hydrangea heads."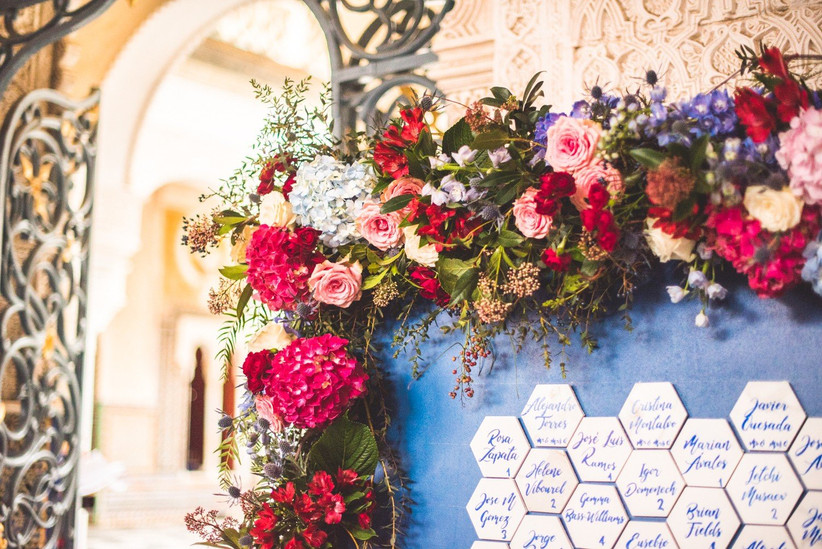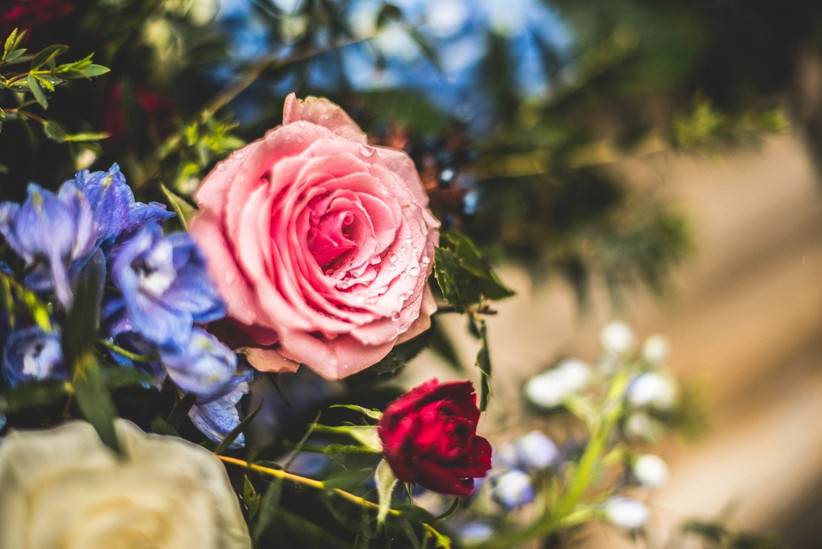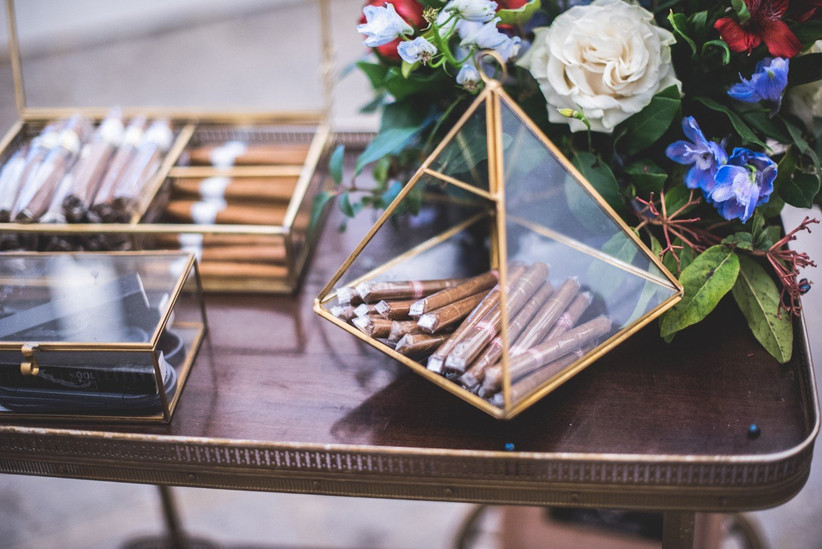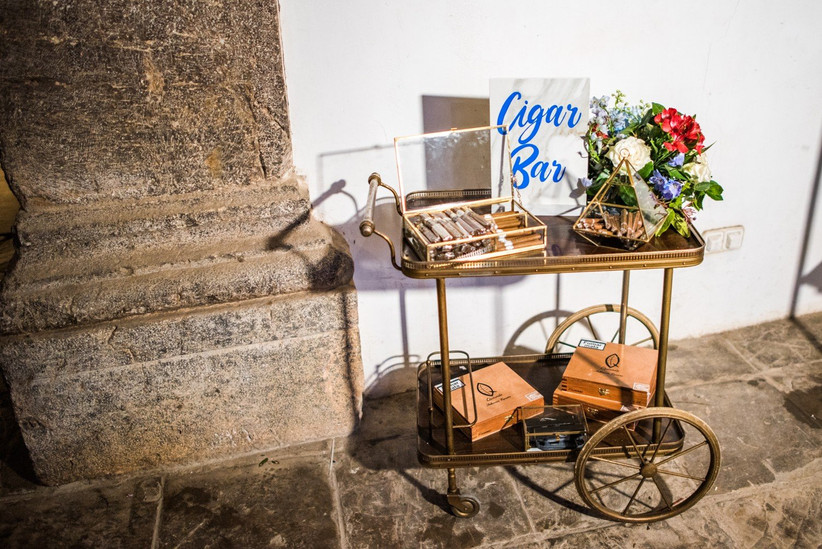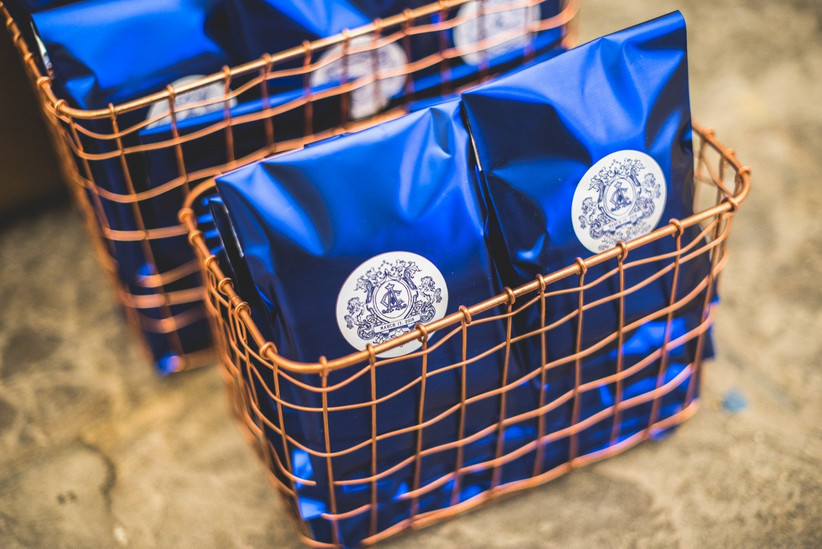 The Wedding Flowers
With an early March wedding date, the newlyweds embraced the still wintry weather and used jewel tones to bring out the regal side of the venue – blues, dark red and greens.
"My bouquet was one of my favourite elements, I wanted it very foliage heavy and filled with jewel tones: burgundies, navies, dark greens… Plenty of cool tones with some light pink blooms mixed in.
"For our reception we used deconstructed winter tones with hydrangea heads, and using the reds, blues and greens. Our florist was Cotton Candy Floristería in Cadiz. They were one of the only florists whose style matched what I really wanted: elegant but still wild."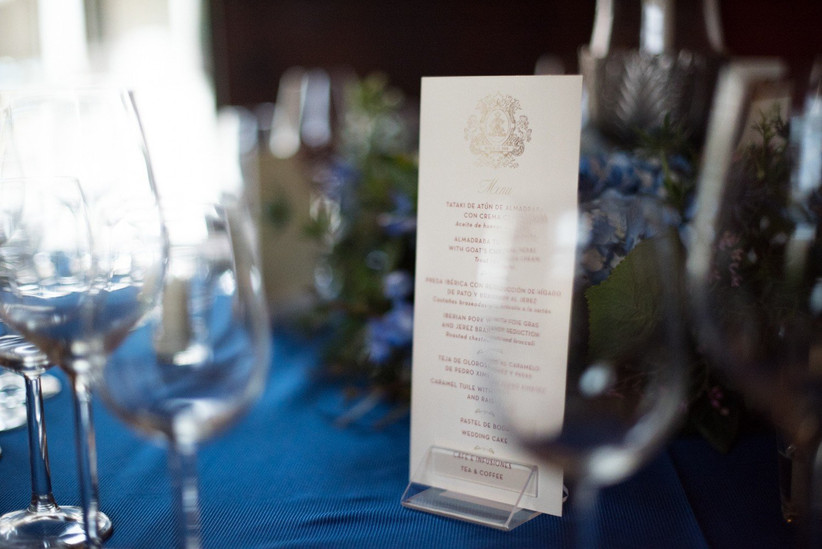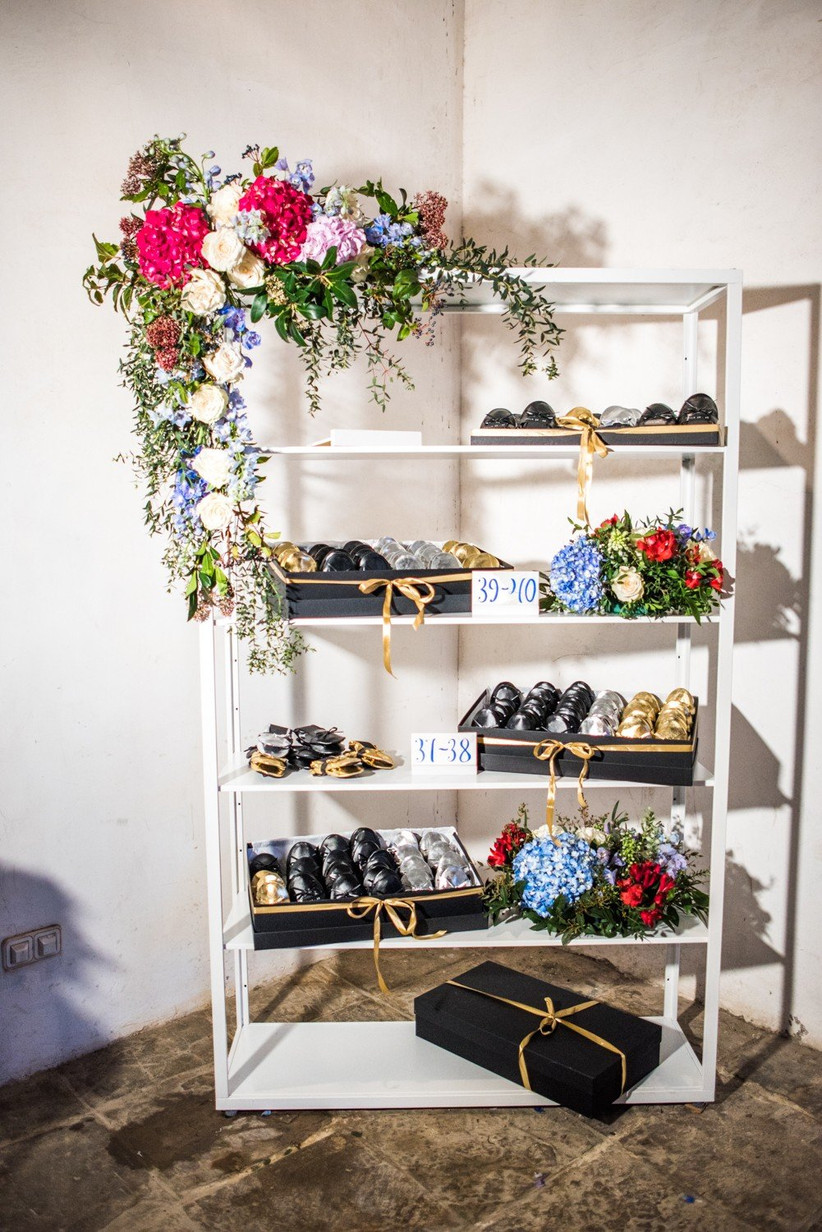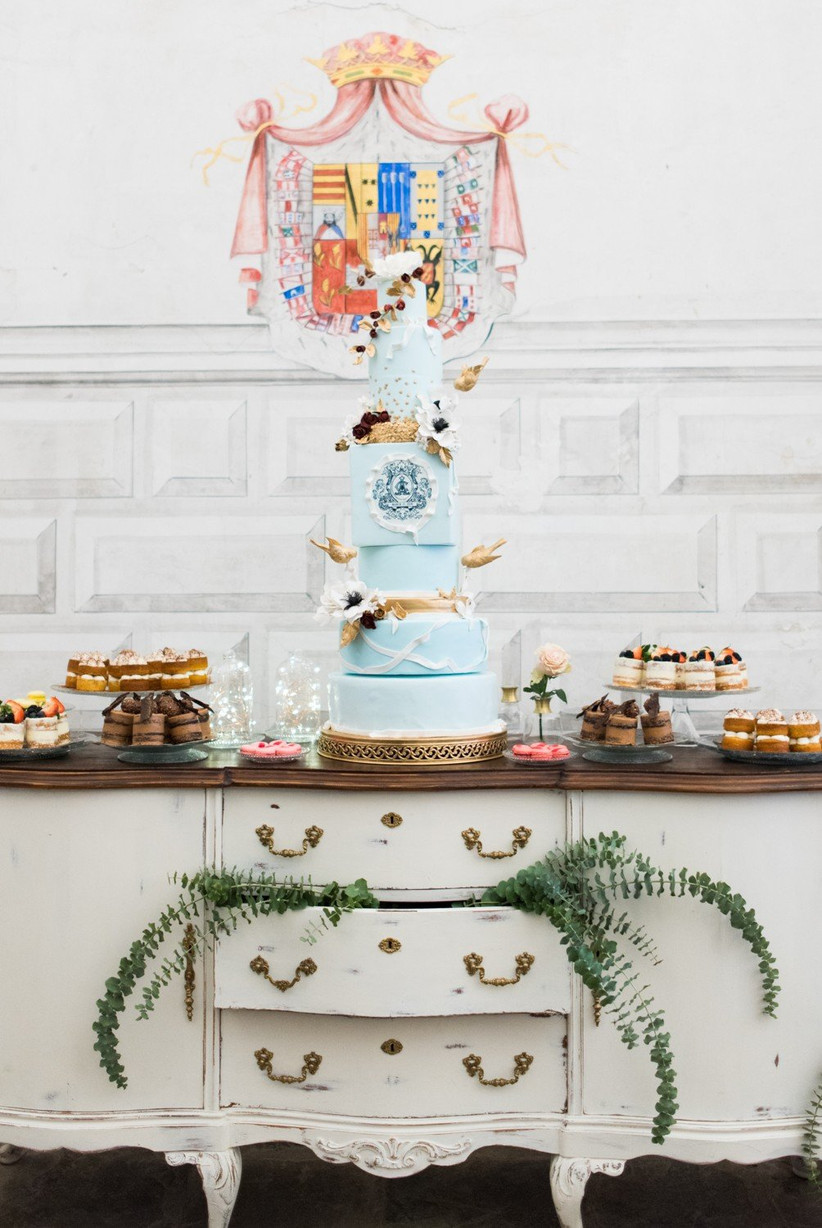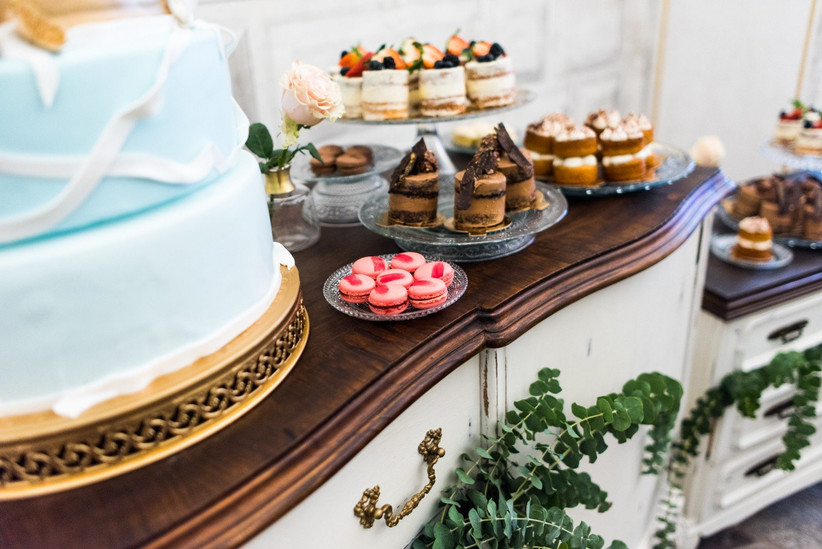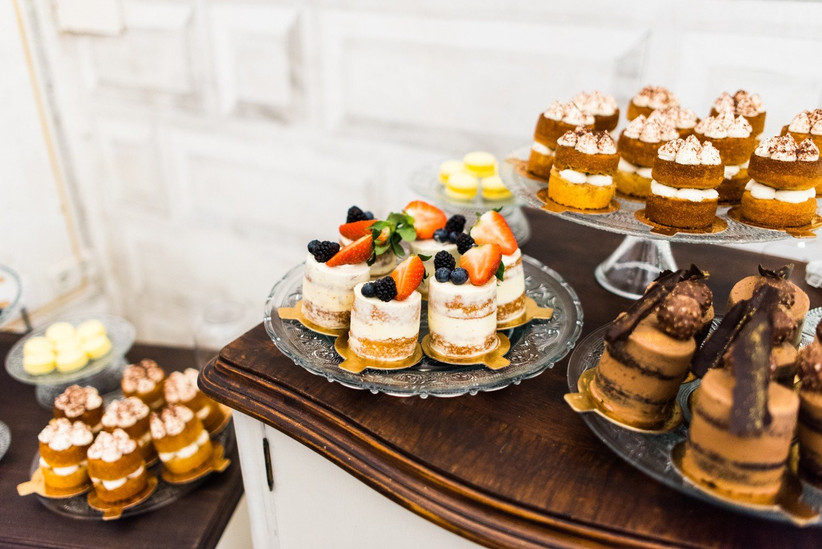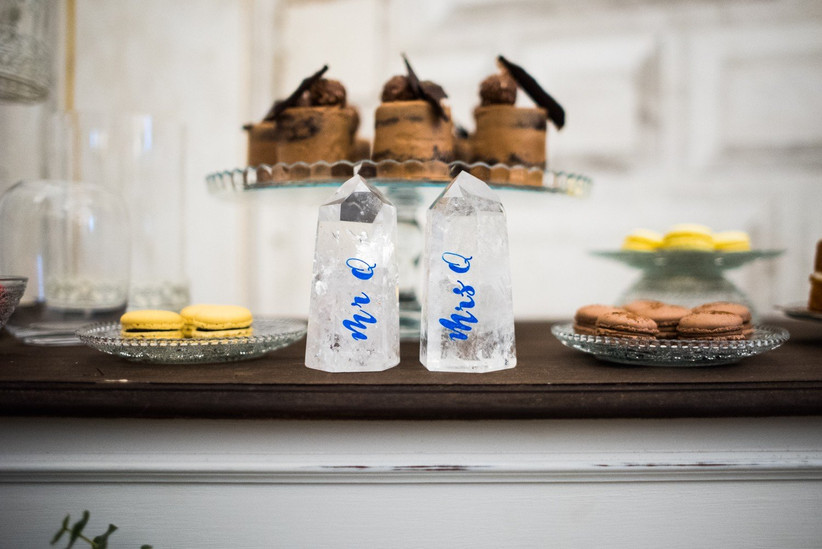 The Wedding Cake
Charlotte and Antonio chose a wedding cake by Aquarela. The light blue cake mixed round and square tiers, topped with gold hummingbirds and butterflies, roses and bows, and finished with their crest.
"It was very difficult to find the right cake maker as tiered cakes aren't commonplace in Spain. We knew we wanted something regal and atypical, which is why we mixed the traditional round tiers with square ones. We settled on light blue as we knew it would complement the venue and our navy blue bespoke crest on the front. We also included flowers and gold detailing to match the grandeur of the palace.
"We served it on the night, as well as mini desserts on the sweet buffet."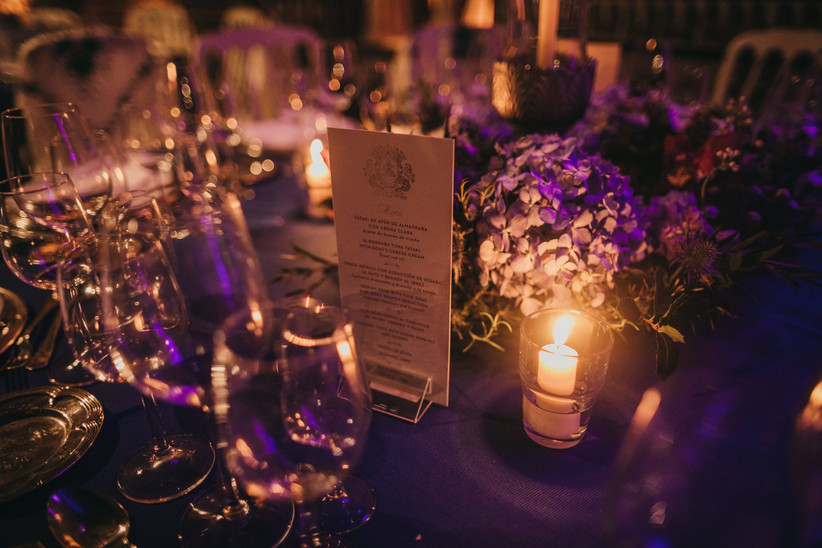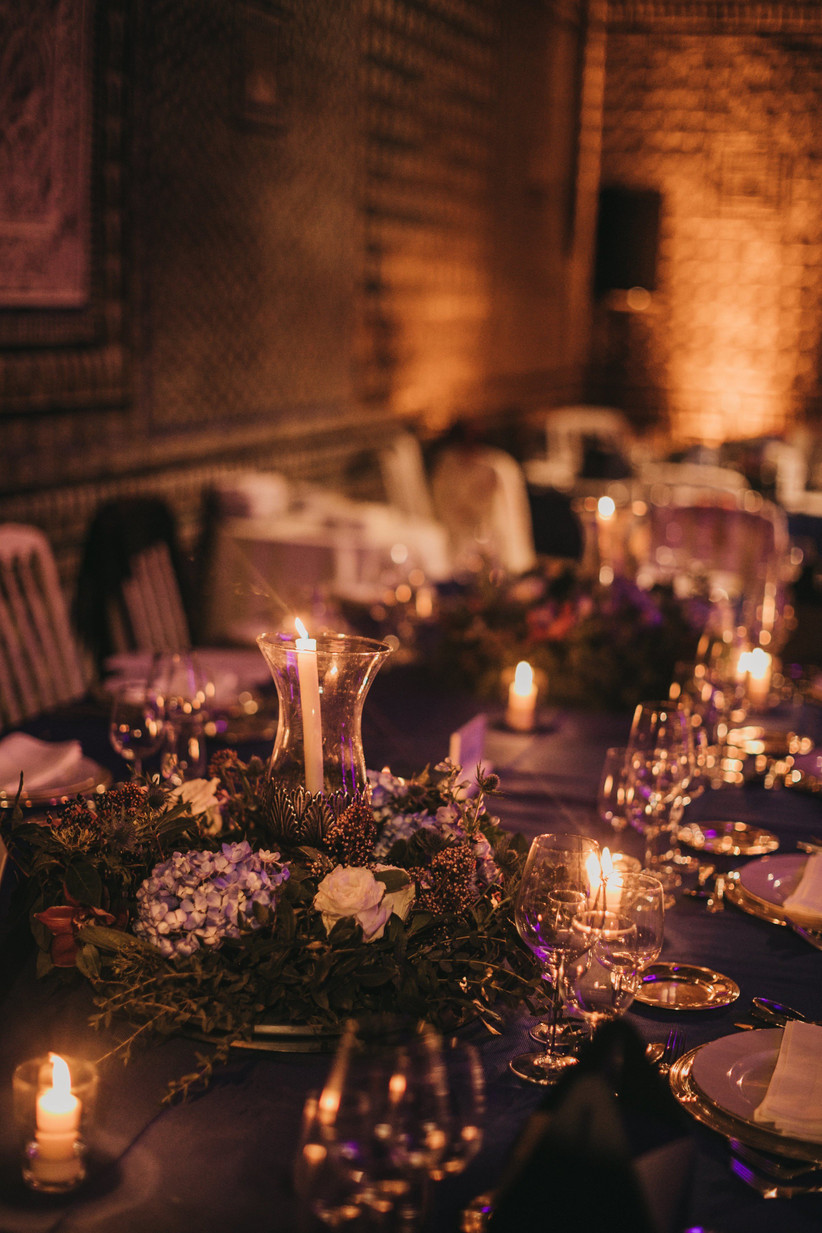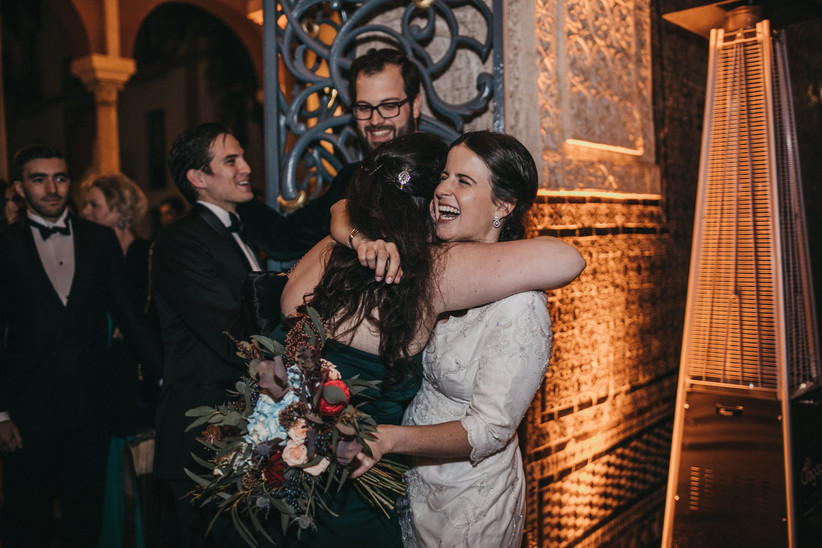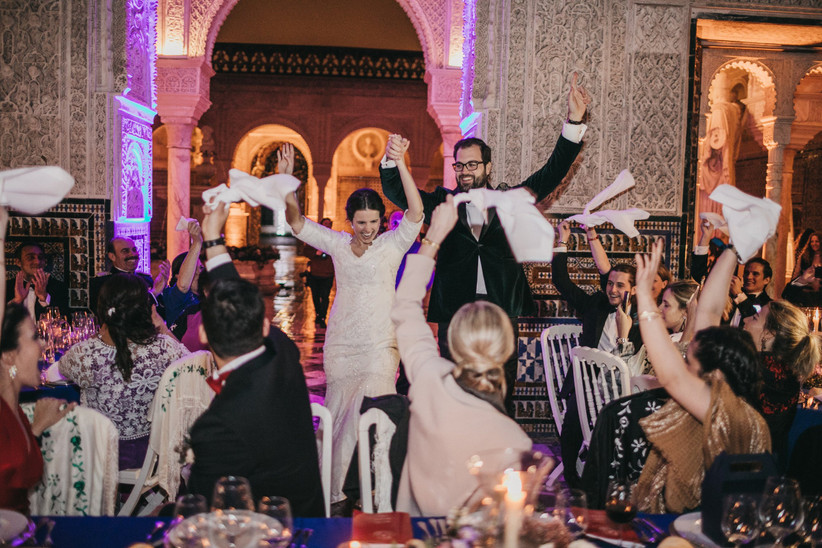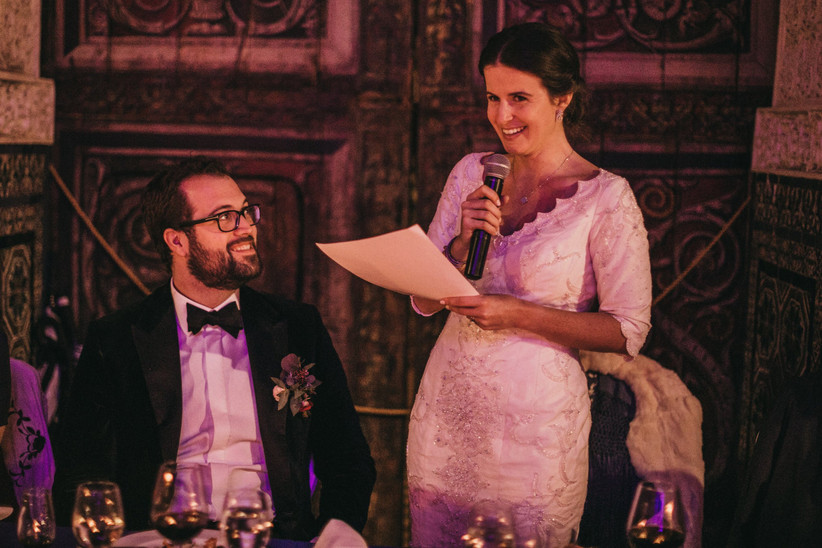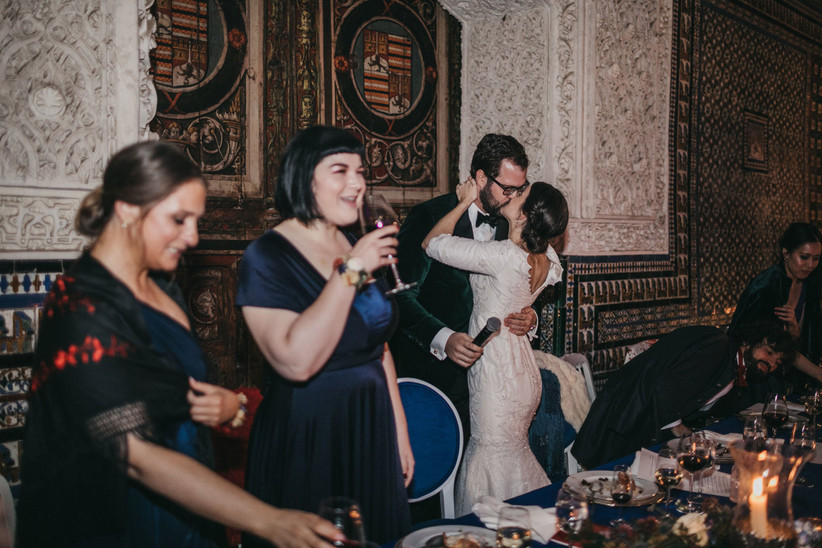 The Entertainment
Antonio and Charlotte's first dance was a waltz to Sir Anthony Hopkins' And the Waltz Goes On and progressed into Manuel Turizo's Una Lady Como Tú. A husband and wife DJ duo kept the crowd on their feet for the rest of the night.
"There was a night food bar by the dance floor, as well as a sweet buffet with the cake as a centrepiece. There were two photo booths too: one by the dance floor and one in the courtyard which looked like a traditional feria caseta (striped tent).
"In keeping with Spanish tradition, we gave cigars to the men and embellished shawls to the women. It was important to keep Spanish culture as a part of our wedding.
"Just being surrounded for the whole party by my nearest and dearest was such a special moment, I didn't sit down once! We had DJs for the party, they were amazing and knew how to read a crowd perfectly! We went to a club after the reception with my friends and it was amazing to be going as a new bride: everyone was so lovely, from the taxi driver who wouldn't let me pay the fare, to the club staff who welcomed us all."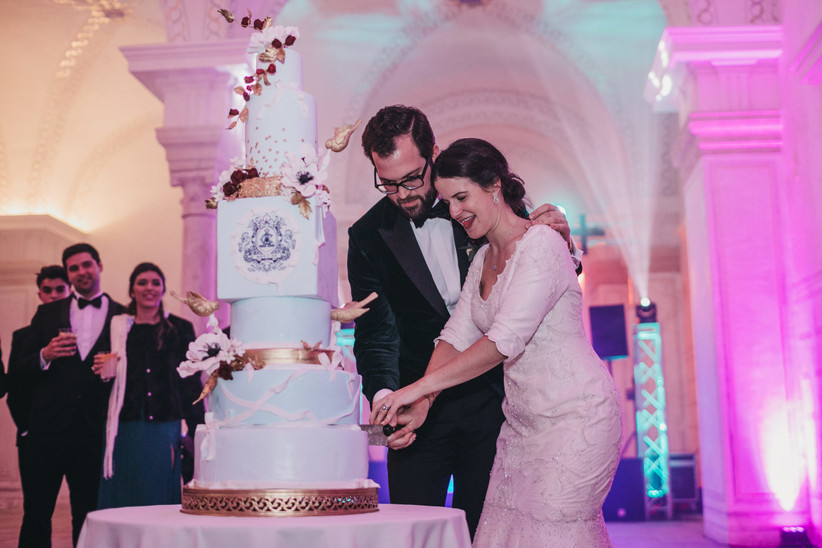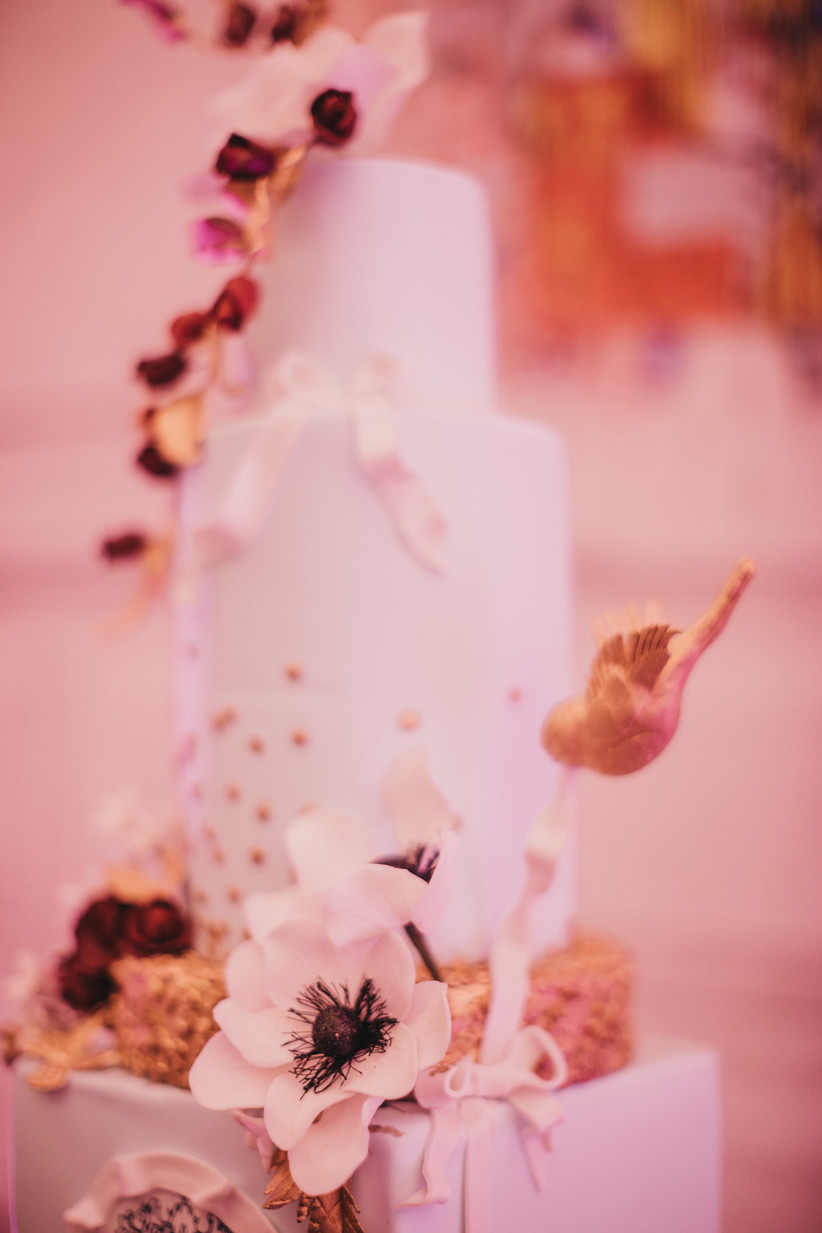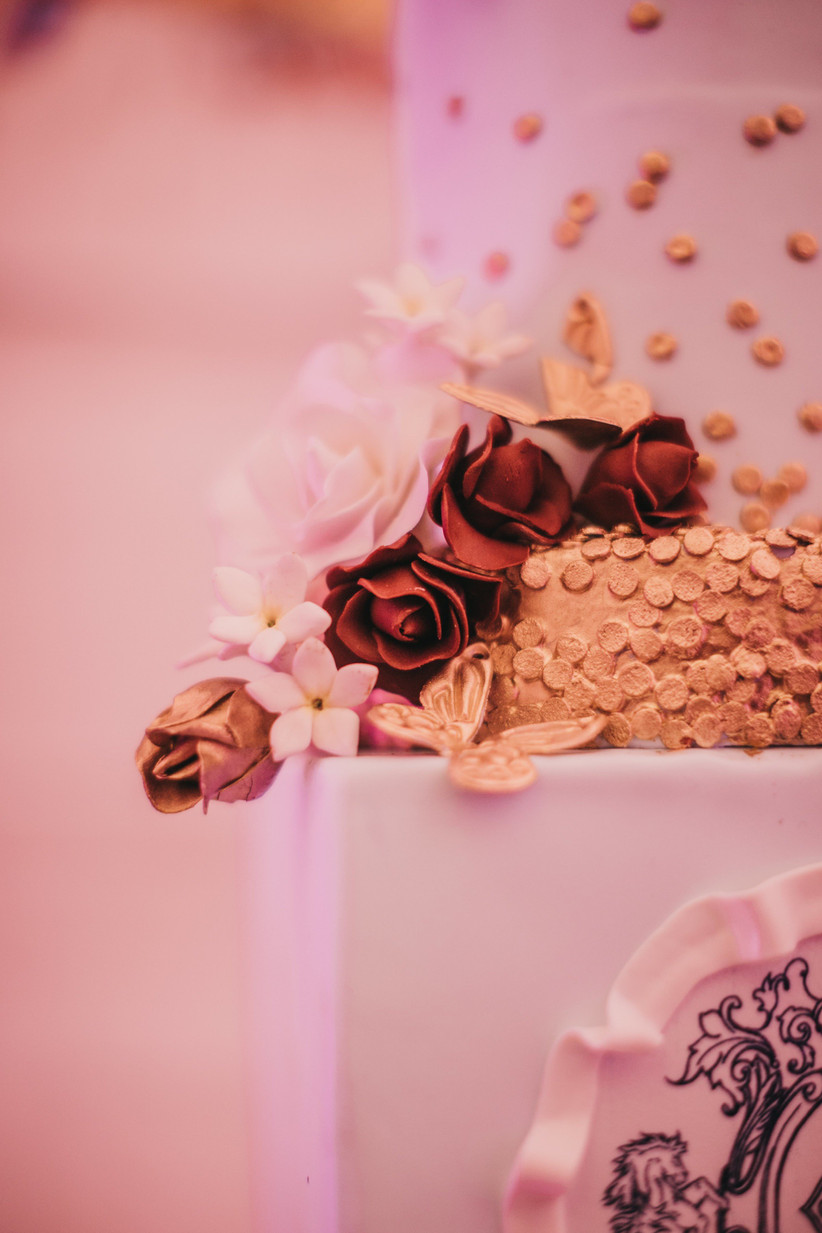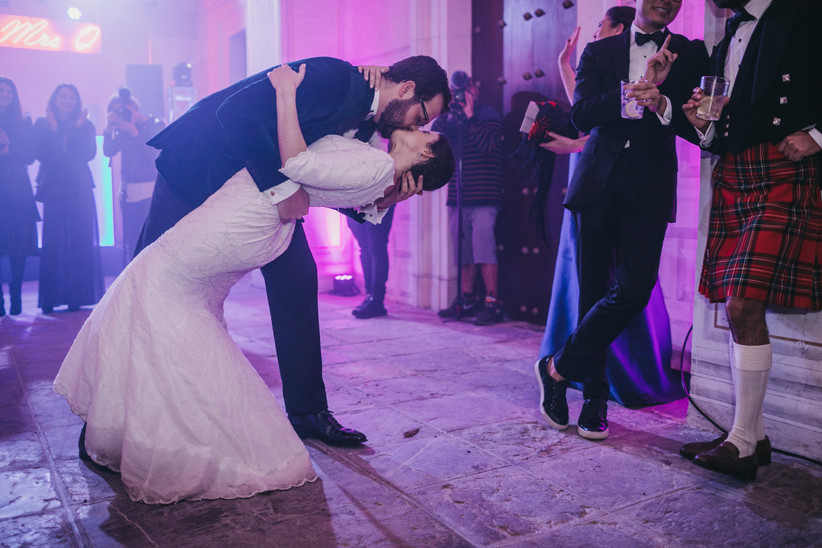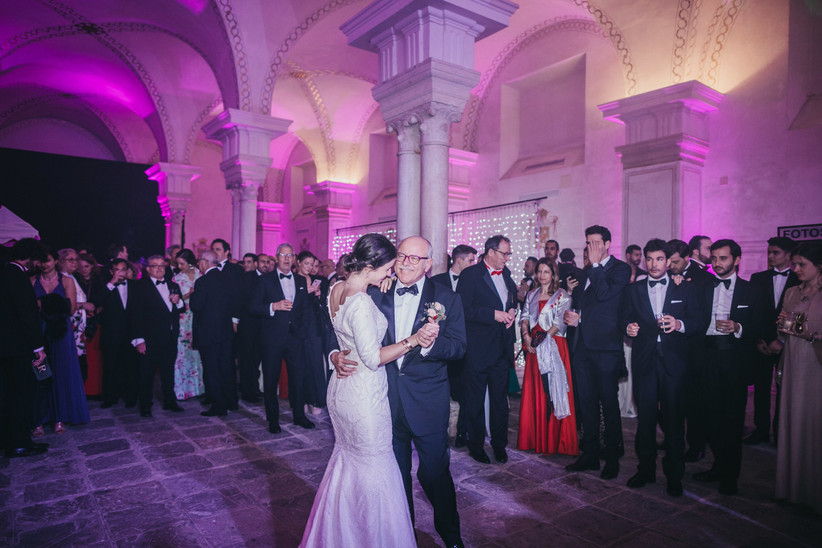 The Honeymoon
"We honeymooned for three weeks travelling Japan for cherry blossom season straight after the Seville wedding. We then went for a mini moon to Capri after the French wedding for a four day weekend.
"We chose it as we'd always wanted to explore Japan, and Capri was on our list of European destinations. We'd never been to Japan before. It was a real discovery. Magical, if a little tiring at times, as we had such a packed schedule!"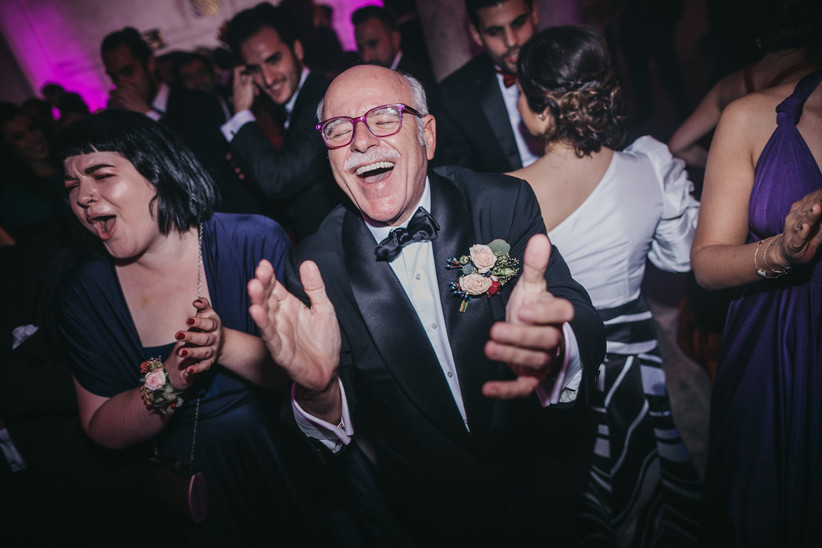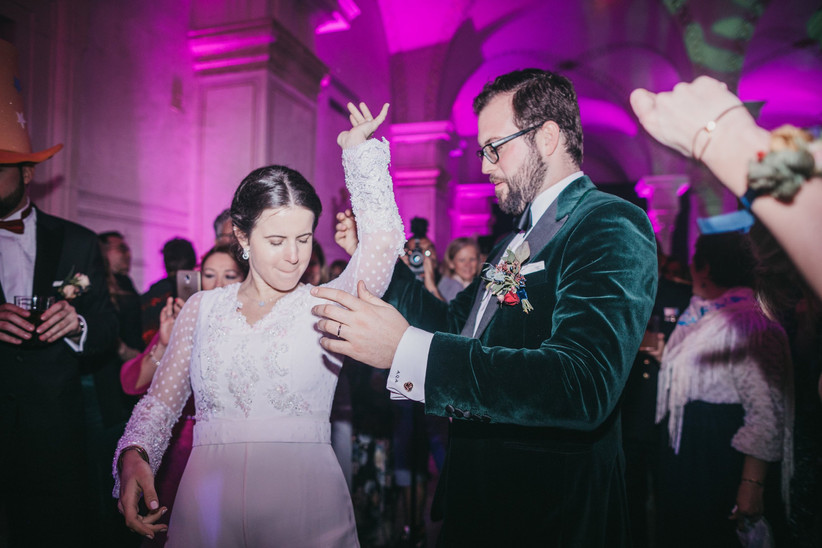 The Newlywed's Advice
With years of planning luxury weddings under her belt with La Fête and now her own experience creating two unforgettable wedding days, Charlotte's advice is gold dust!
Make sure you take your time and have a longer engagement. This means that your planning won't be as time consuming as it might be for someone else. You get to enjoy being fiancés.
For the planning process, make decisions together as much as possible and it's all about compromise. The hardest thing we experienced was respecting both of our cultural differences and not getting caught up in what other people expected of us, but staying true to ourselves.
Try and spend time together. You would think it would happen, but it doesn't necessarily.
The Suppliers
Ceremony Venue: Seville Town Hall
Reception Venue: Casa de Pilatos
Photographer: Serafin Castillo
Wedding Dress: Studio Non Sequitur
Hair and Makeup: Irene Taviel
Bridesmaid Dresses: twobirds
Styling: La Fête
Stationery: Ceci New York
Wedding Cake: Aquarela Cakes
Florist: Cotton Candy Floristería
Gift List: The Wedding Shop
Thank you to Charlotte and Antonio for letting us share their wonderful day.