A Colourful Italian Destination Wedding with an Enzoani Dress and All-White Bridesmaid Dresses
Kate Hannelly and Tom Brown drove all the way from the UK to Siena with a car bursting with wedding decorations for a magical weekend wedding that even featured the Jurassic Park theme tune
We have included third party products to help you navigate and enjoy life's biggest moments. Purchases made through links on this page may earn us a commission.
The stunning scenery of Italy has long been the backdrop to Kate and Tom's magical romance. The stars aligned when they met on a night out with friends and, five years later, Tom proposed among the ancient ruins of the Valley of the Temples in Sicily (although he had to ask twice as a flustered Kate initially said no in shock).
They returned to Italy for their wedding 18 months later at the 17th century Villa Catignano in Siena. Set among 600 acres of vineyards and olive groves, their theme embraced the bright pinks, yellows and greens of the region and, of course, Sicilian lemons. From a pizza party for guests to a dress Kate fell in love with all the way in Australia, we adore this gorgeous Italian destination wedding story.
Photography by Nataly Montanari.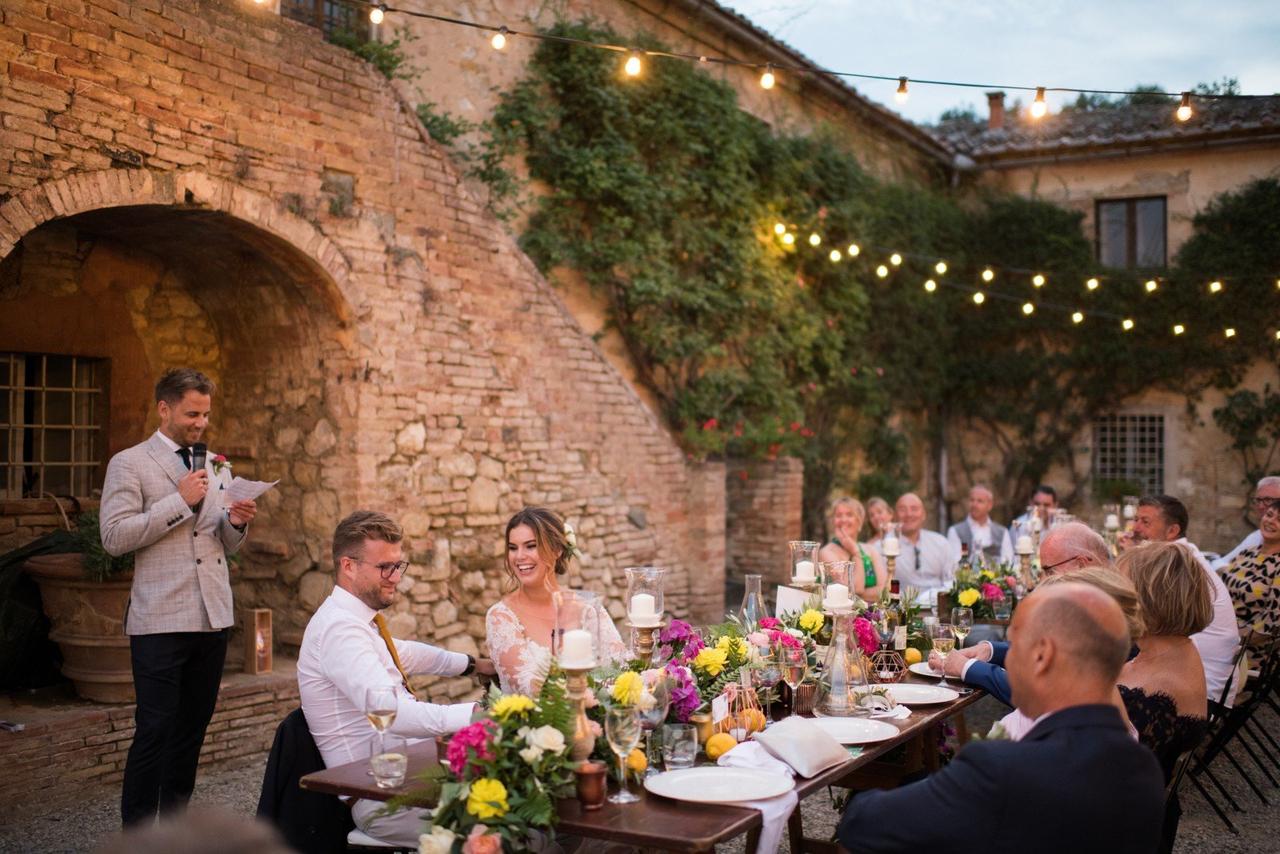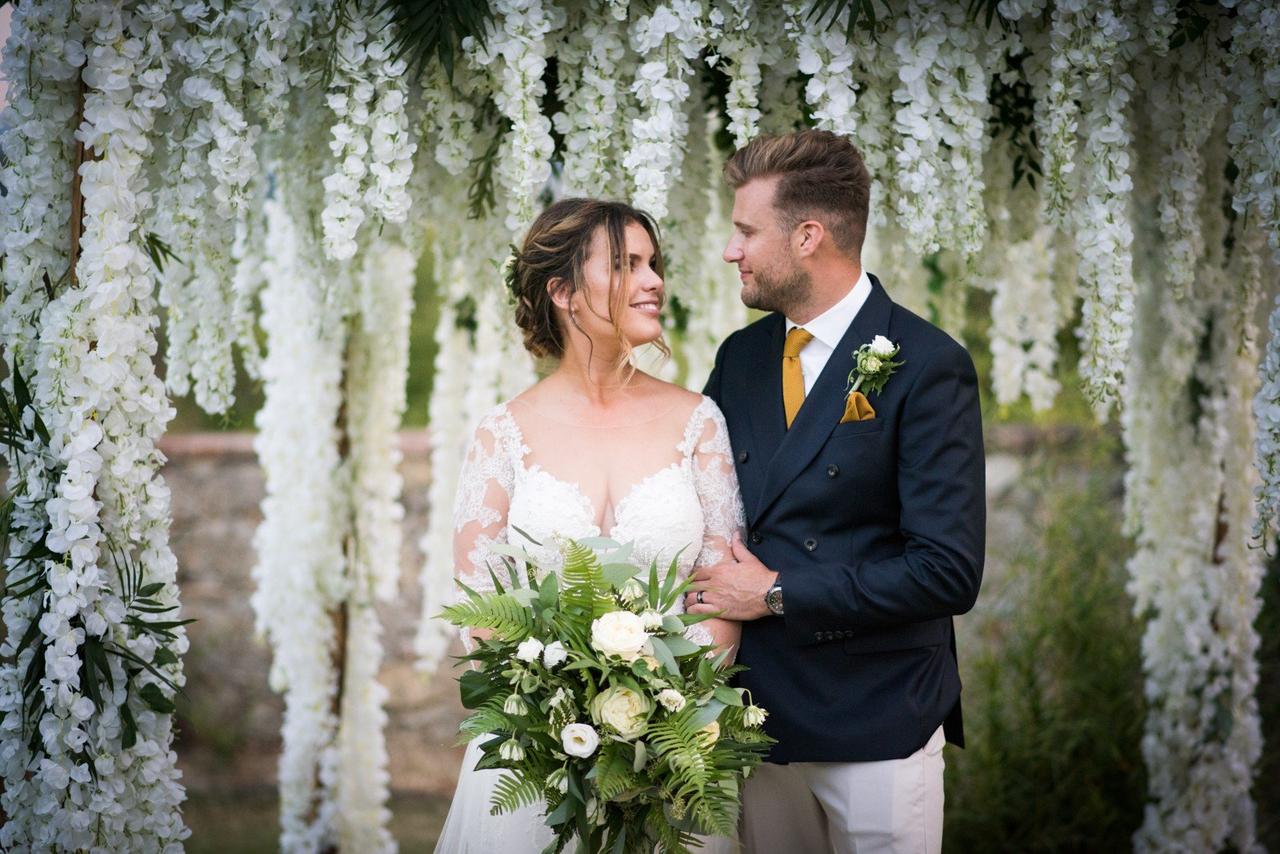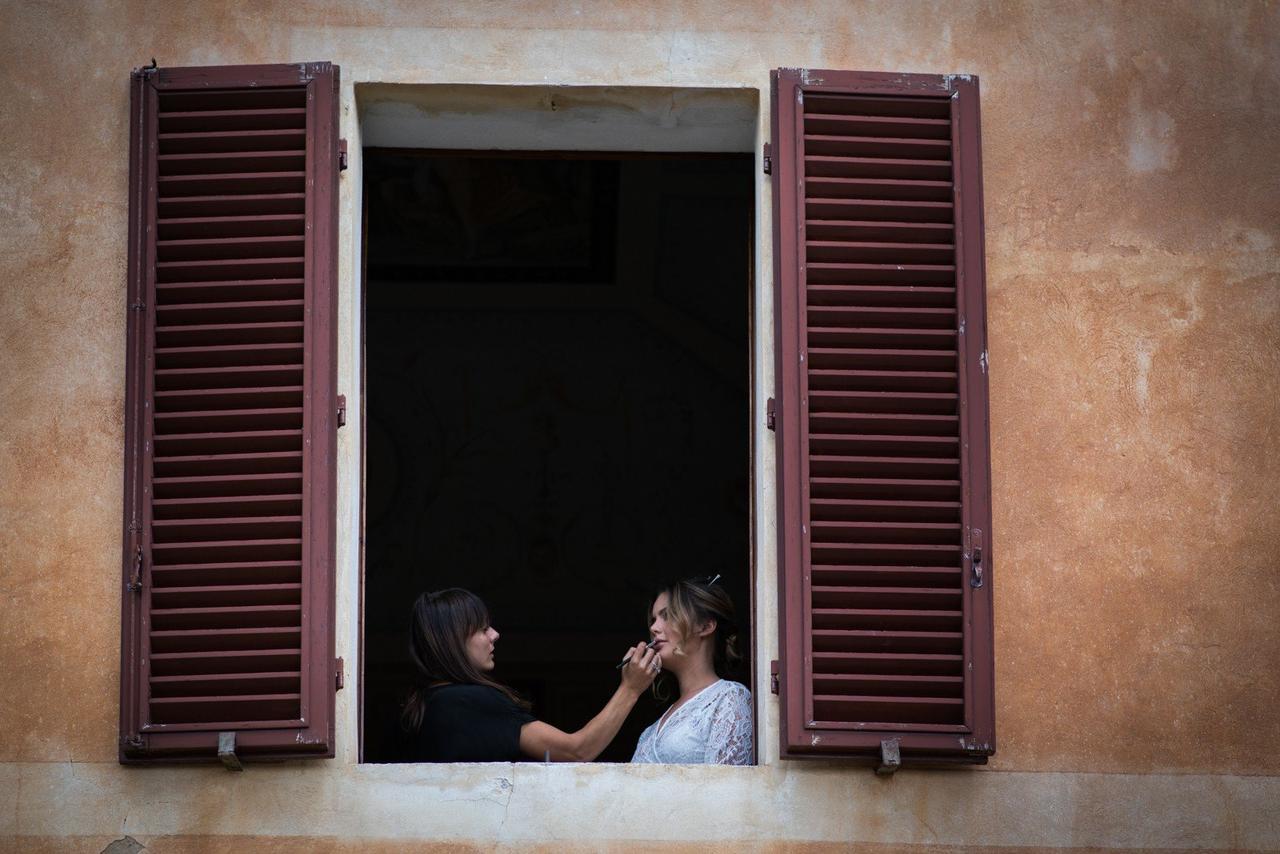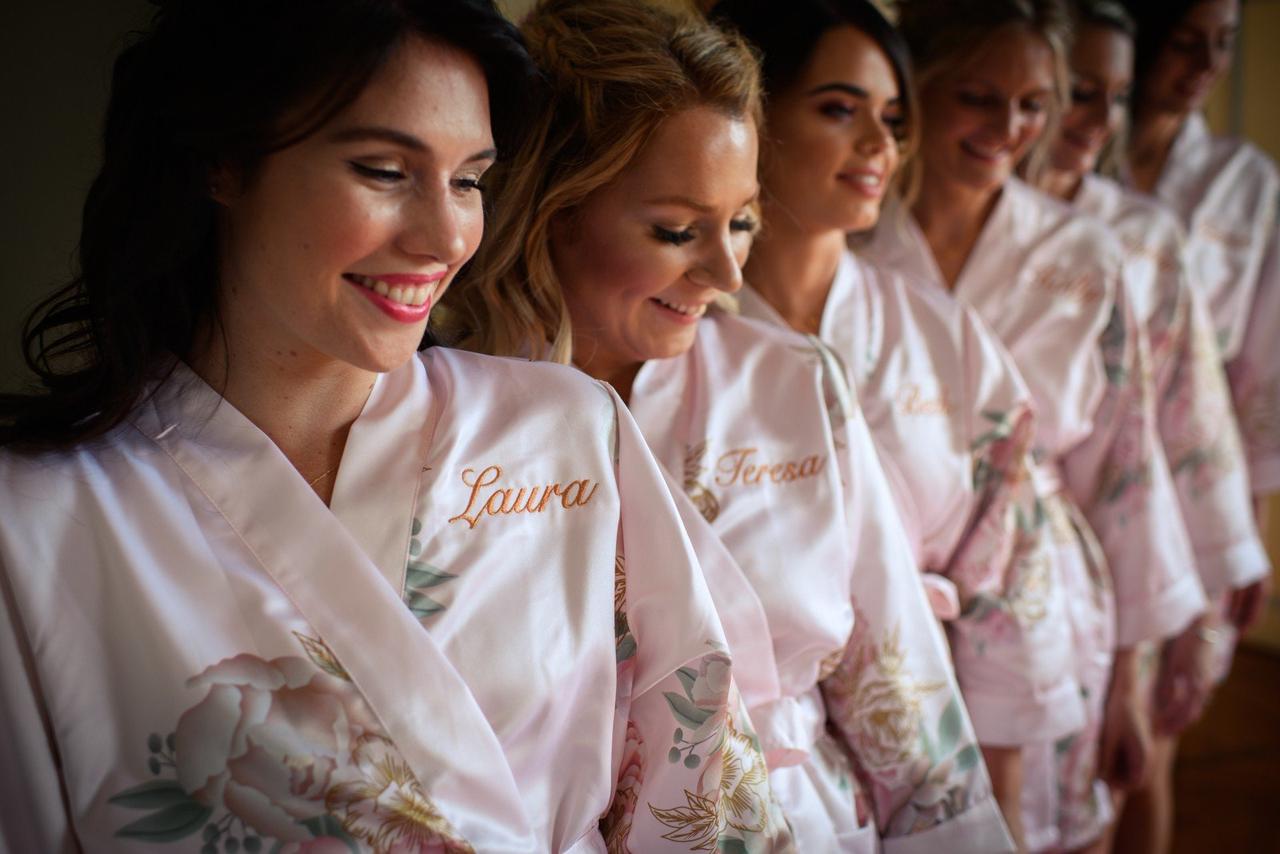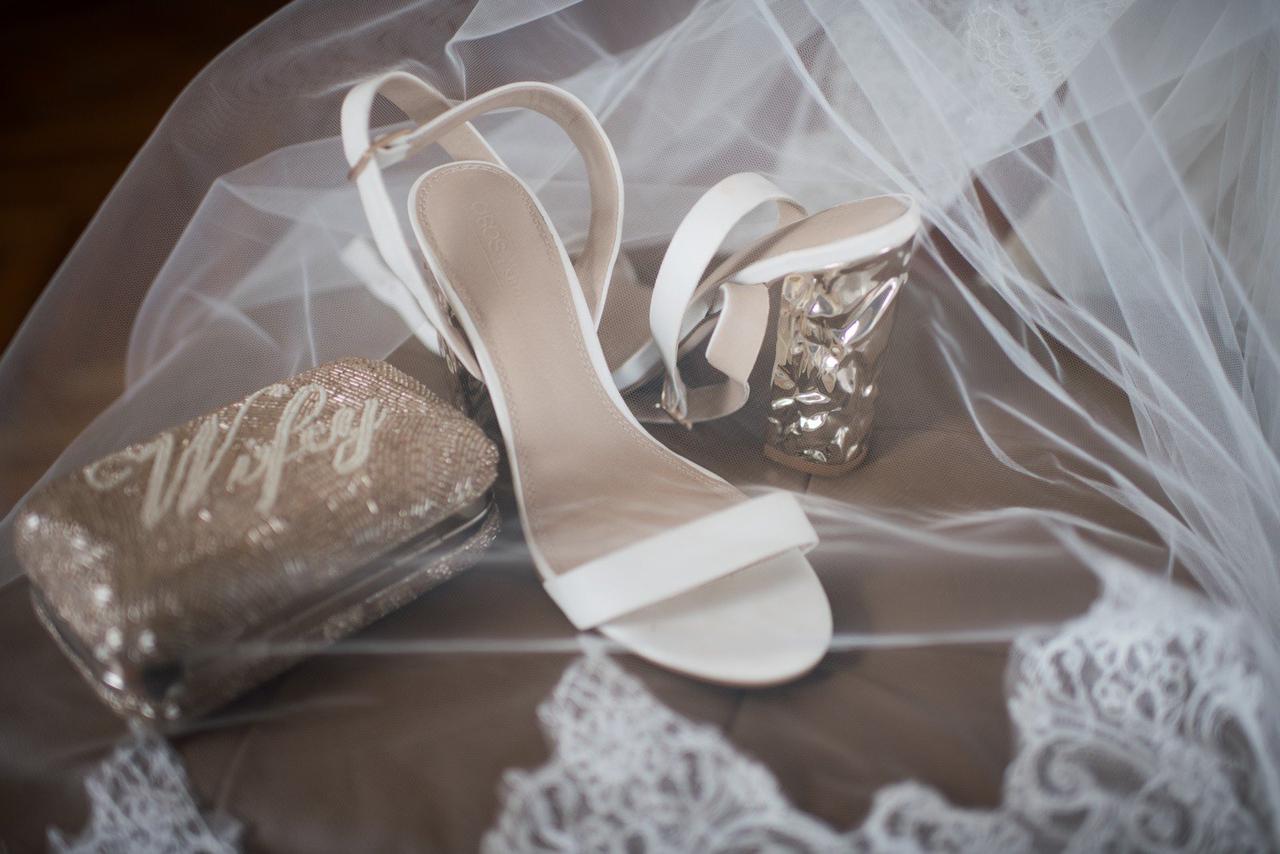 The Wedding Dress
Kate wore an Enzoani dress, with an A-line tulle lace skirt draped over an intricate Chantilly lace mermaid skirt that had the "romantic, Mediterranean feeling" she was searching for. Although Kate bought the gown from Silver Sixpence Bridal in Northamptonshire, she actually found 'The One' while visiting her sister in Australia.
"It was probably the second dress I tried on. But as I had tried it on in Australia, I didn't think I would be able to get it in England so I went to probably another five or six shops to see if I could find something similar. After explaining that I thought I had found my dress in Australia to the wonderful lady at Silver Sixpence she went out of her way to contact the designer and get the one I wanted sent to her for me to try again and I couldn't be happier.
"I had always wanted lace tattoo sleeves as I love the effect it has, but as
I loved the dress so much I decided to have these specially made to make the dress feel unique to me. I also had a 3m by 3m veil made with matching lace to the dress. It really felt right for an Italian wedding.
"For my hair, I went for a curly, loose, up do, with plaits and twists in it. Because it was so hot I wanted to have my hair out of the way, so went for loose so it didn't feel to done. I kept the accessories simple and just had a hair comb with white flowers and greenery.
"I just wore a pair of Monica Viander diamond kite earrings that my family gave me as a wedding present. As a wedding present Tom also gave me a beaded 'Wifey' bag by From St Xavier which I used to keep my things altogether for the evening."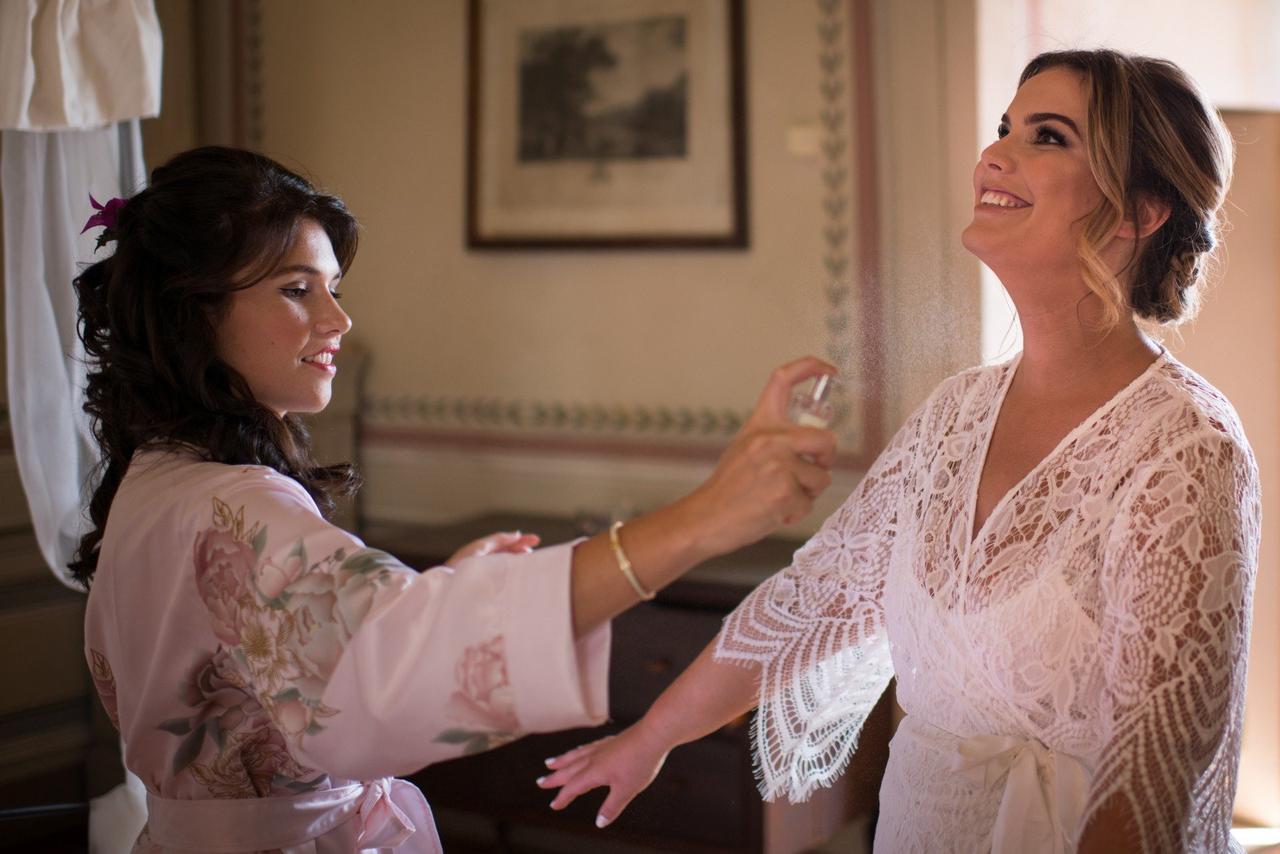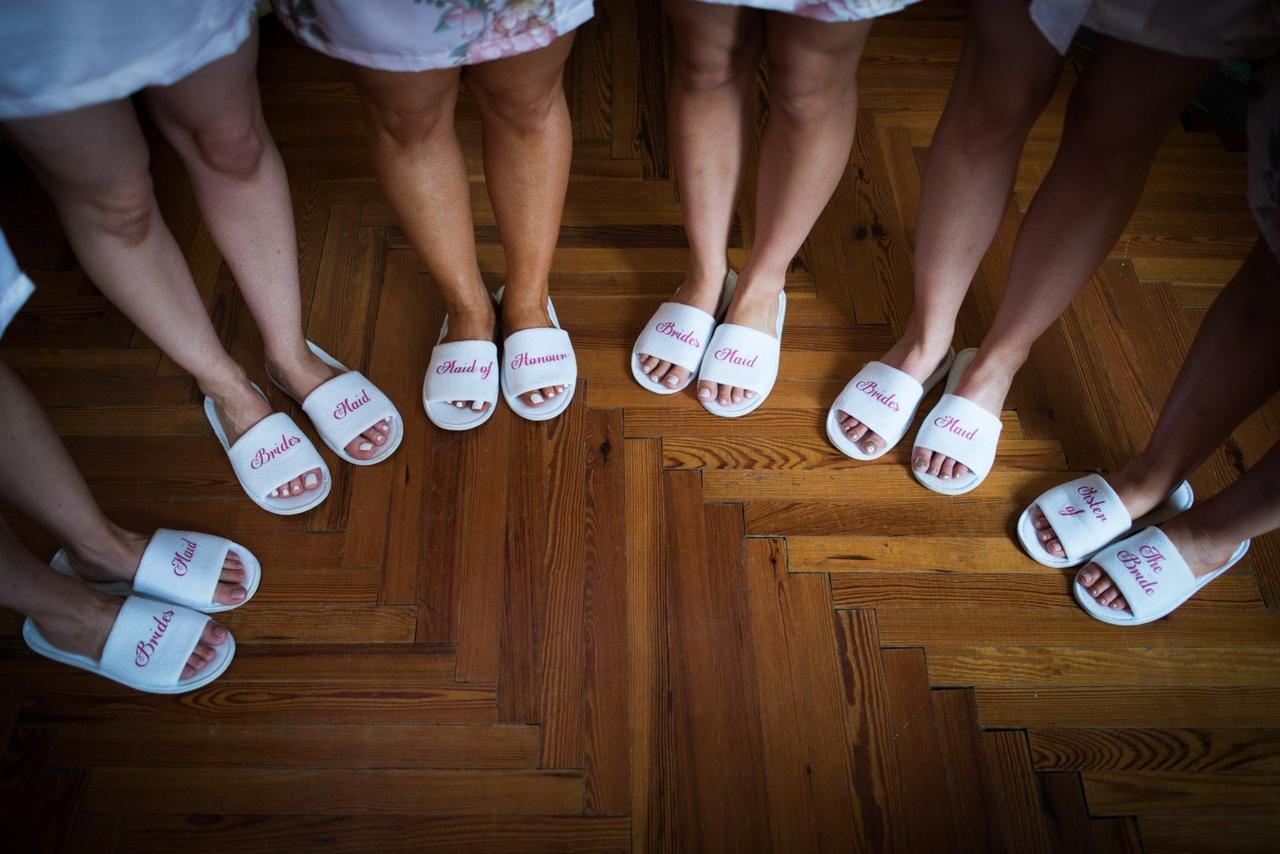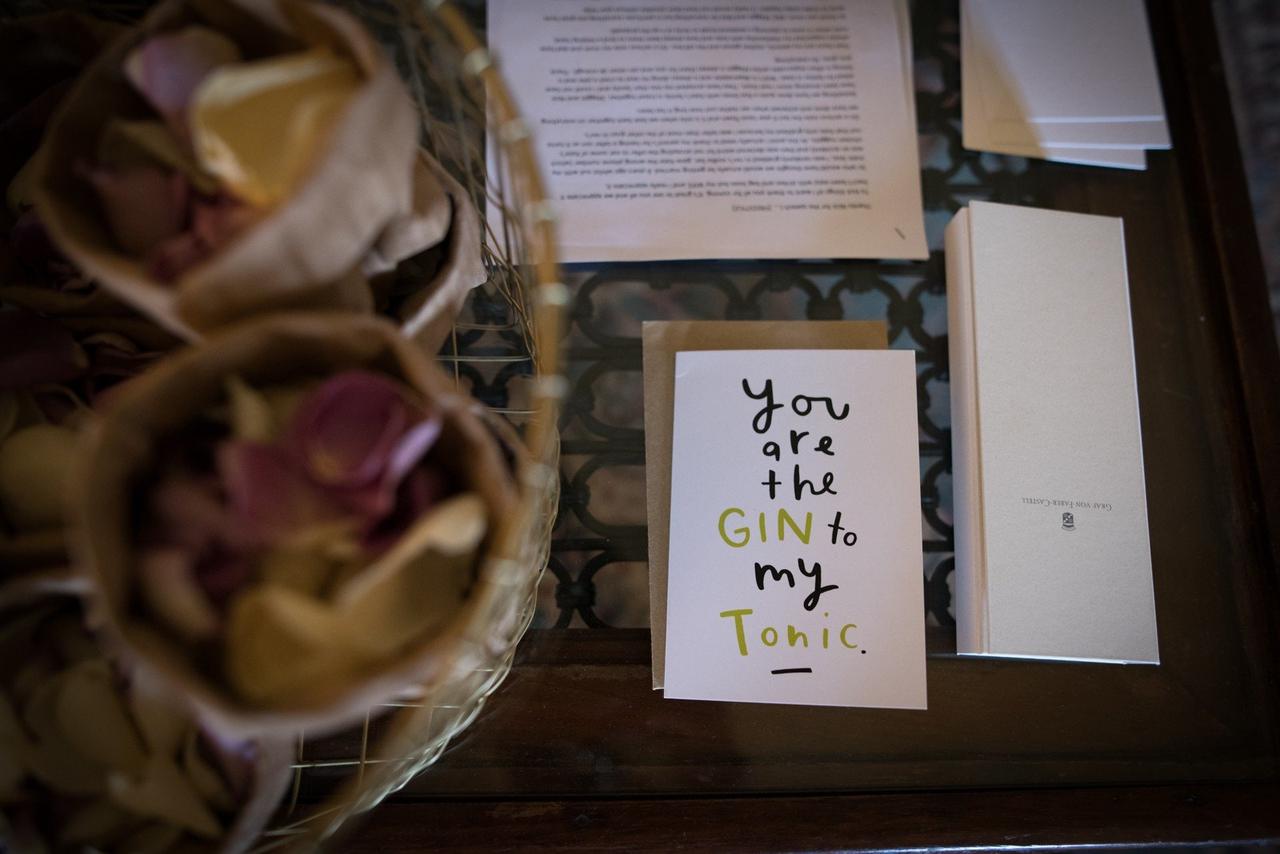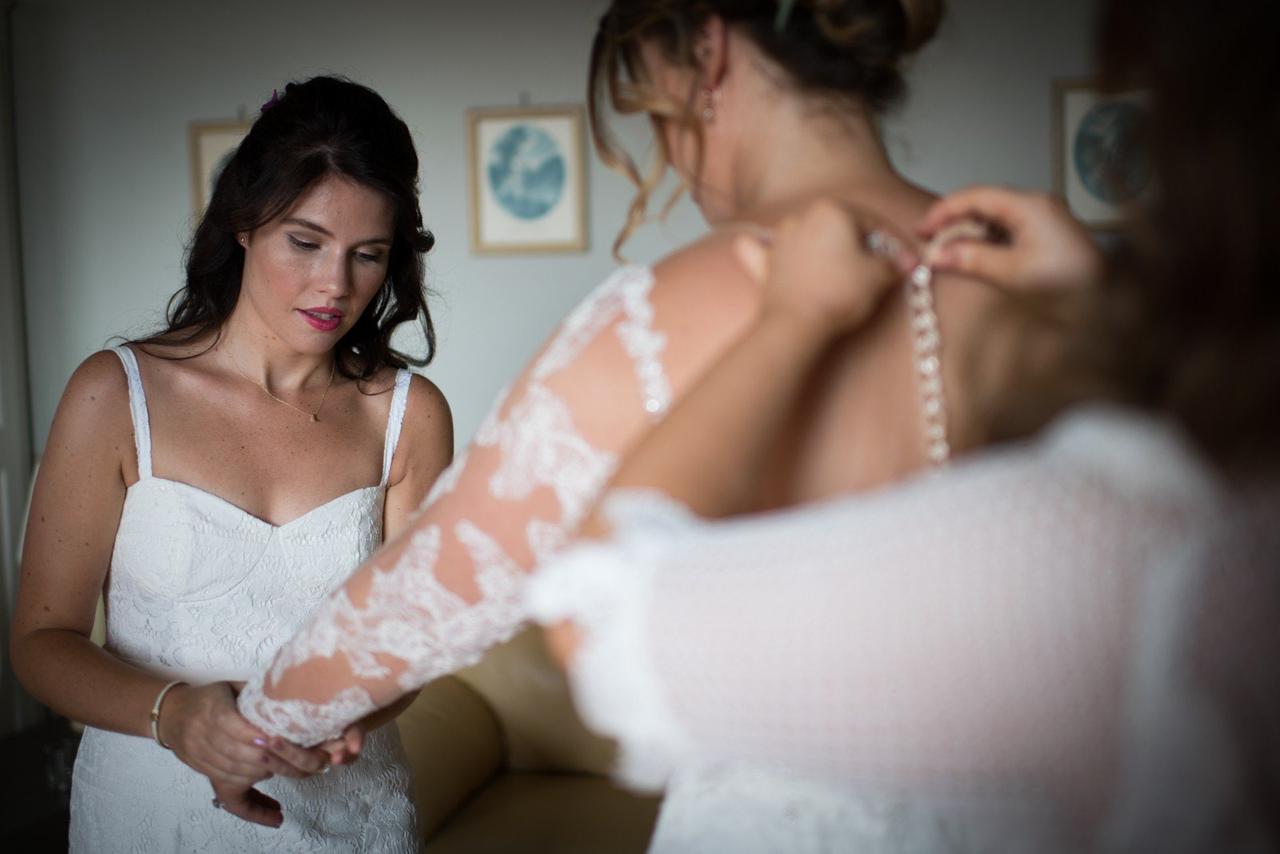 The Wedding Morning
Kate, her six bridesmaids, her mum and Tom's mum got ready together in the bridal suite at Villa Catignano. She chose an all-white theme for her bridesmaid dresses, in complementary lace dresses. Her seventh bridesmaid, Kelly, was heavily pregnant and couldn't travel for the wedding, but they made sure to FaceTime her in for the preparations.
"It was amazing to spend the day getting ready with everyone. A really lovely moment was seeing my Mum and Dad both dressed and looking amazing, with my Dad wearing a tie that his Dad used to wear.
"Another really special moment for me was seeing the girls all dressed up, with their hair and makeup done having their photos taken. I was adamant that I wouldn't cry, and I didn't, until I saw them all standing together against a beautiful wall of greenery and I just could hold it in!
"I brought the dresses from a range of places including ASOS, Jarlo, Nasty Gal and True Decadence. I didn't want the dresses to be the same and wanted each girl to feel special and, most importantly, comfortable in their own dress."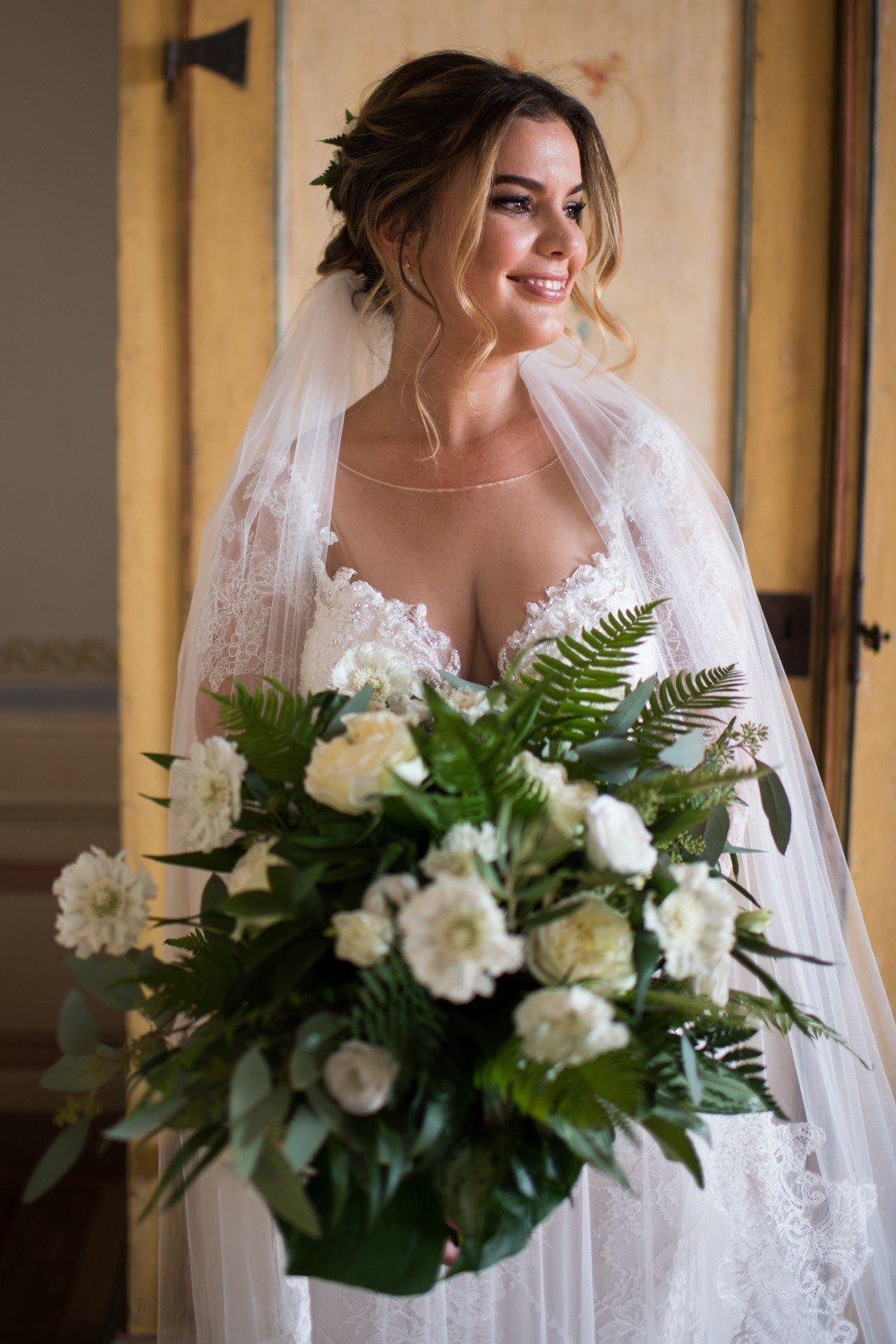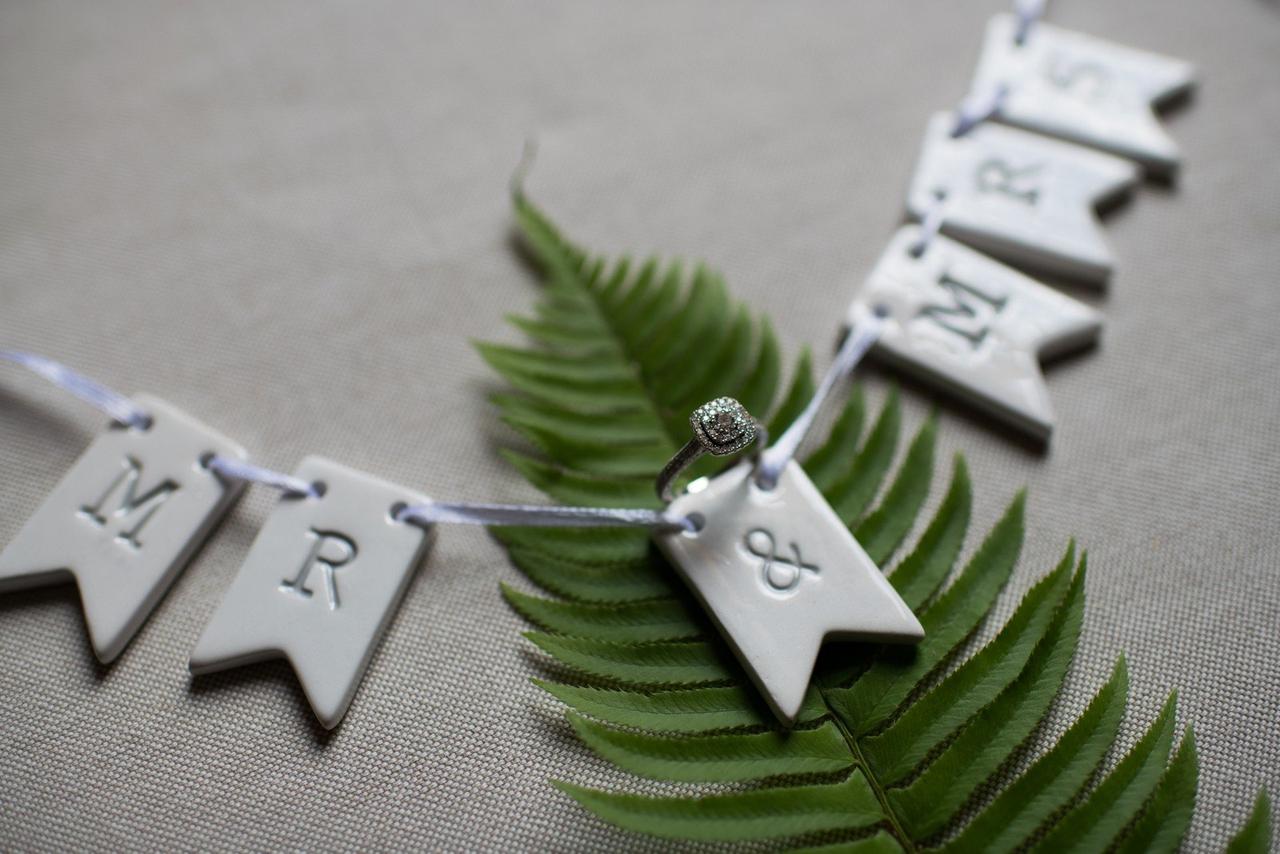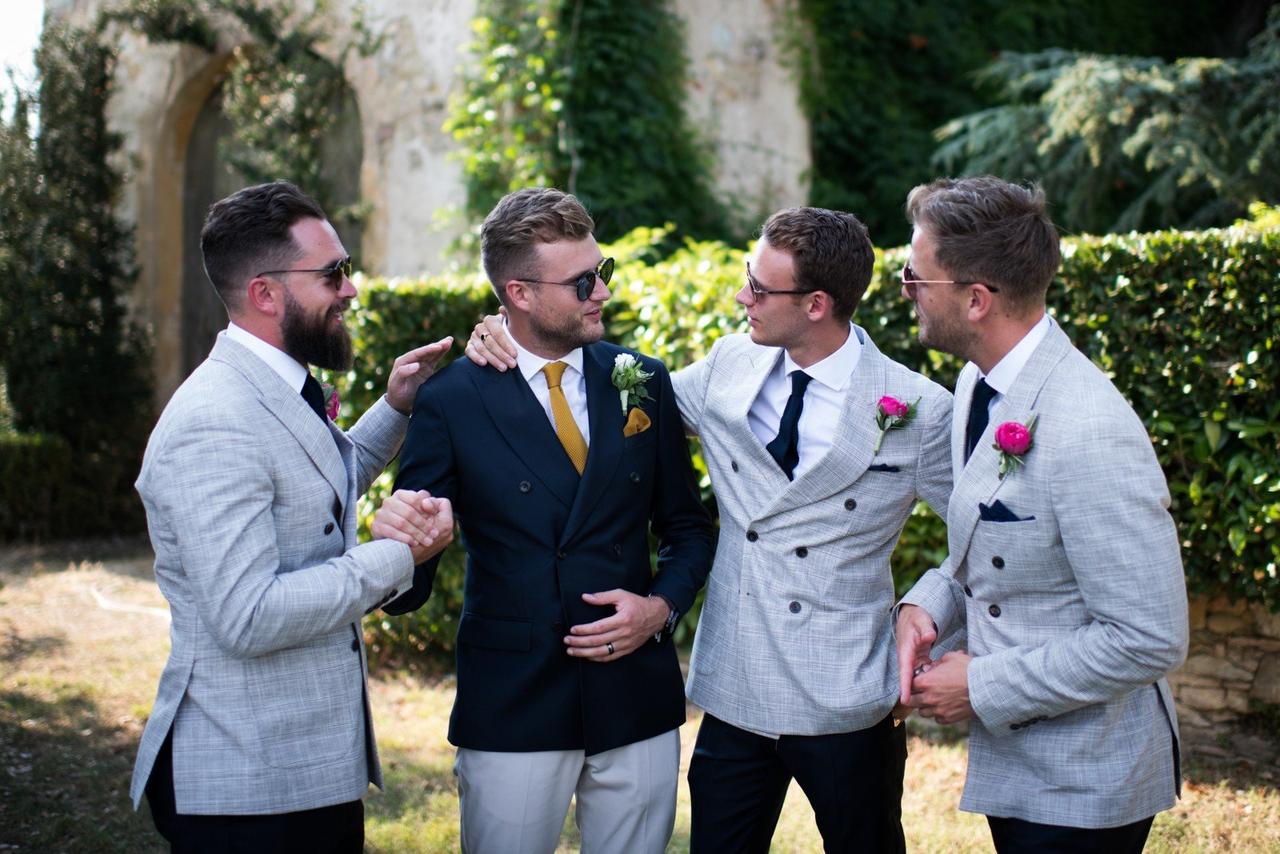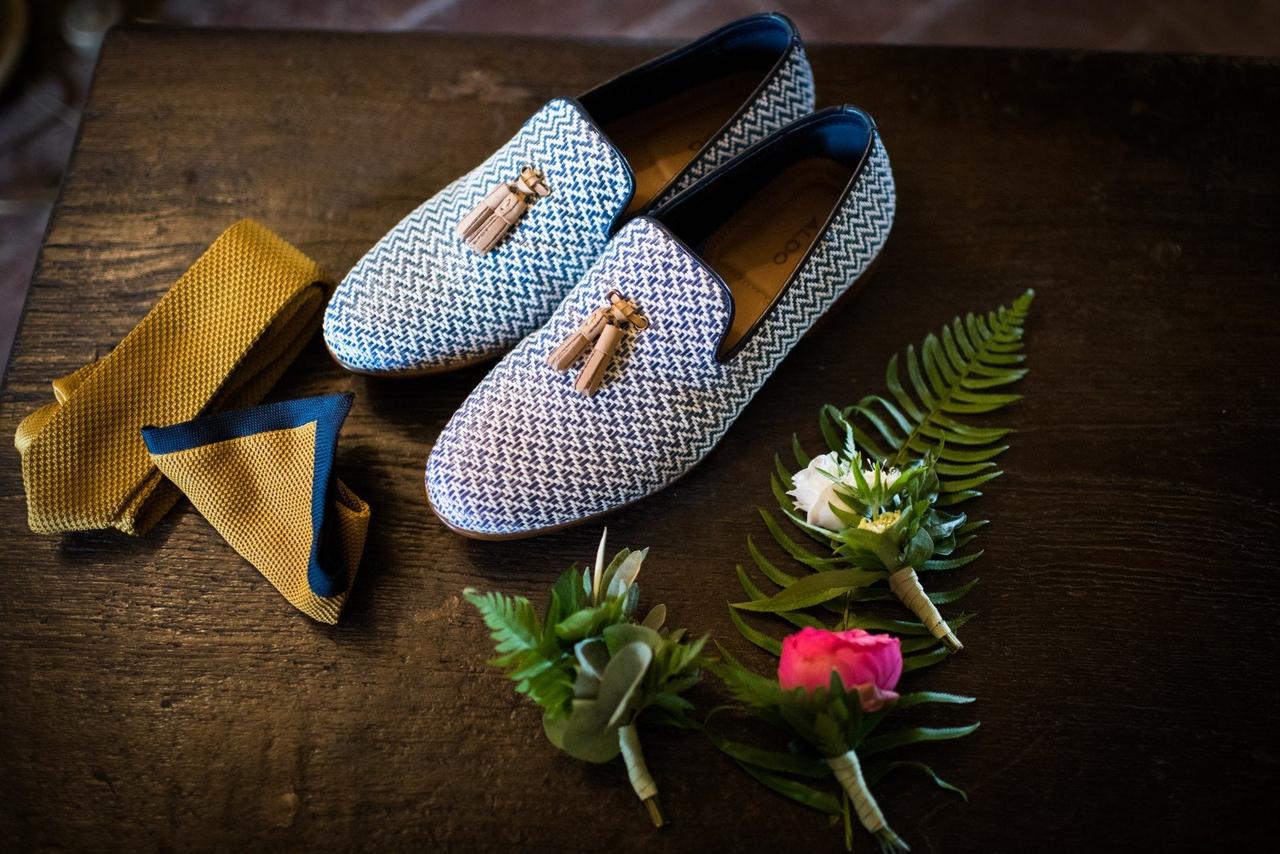 The Groomswear
Dapper groom Tom (with the agreement of his wife-to-be) chose his and the groomsmen's outfits, with a navy, mustard and stone theme. Everything was tailored and customised for the boys, with a long shopping trip to London rewarded by drinks on the South Bank. Tom finished his outfit with a tribute to his late grandfather.
"The night before the wedding we had a large pizza party with all of the guests. It was late and we all got a little emotional. My longtime best mate shed a tear, we shared some stories of old and started to talk about how we couldn't believe the time had come. It was a great time to chill and have a beer with them quietly before the big day.
"On the day, we wore tailored chinos with double-breasted jackets. I was in a navy blazer, stone chinos, white shirt and yellow tie. For the groomsmen, it was navy chinos with a textured stone blazer with navy ties. Pocket squares to match. The groomsmen were in navy loafers and I was in a puppy tooth pattern white and blue loafer.
"I wore my late Grandad's cross around my neck. He had passed the winter before the wedding and was born in Italy."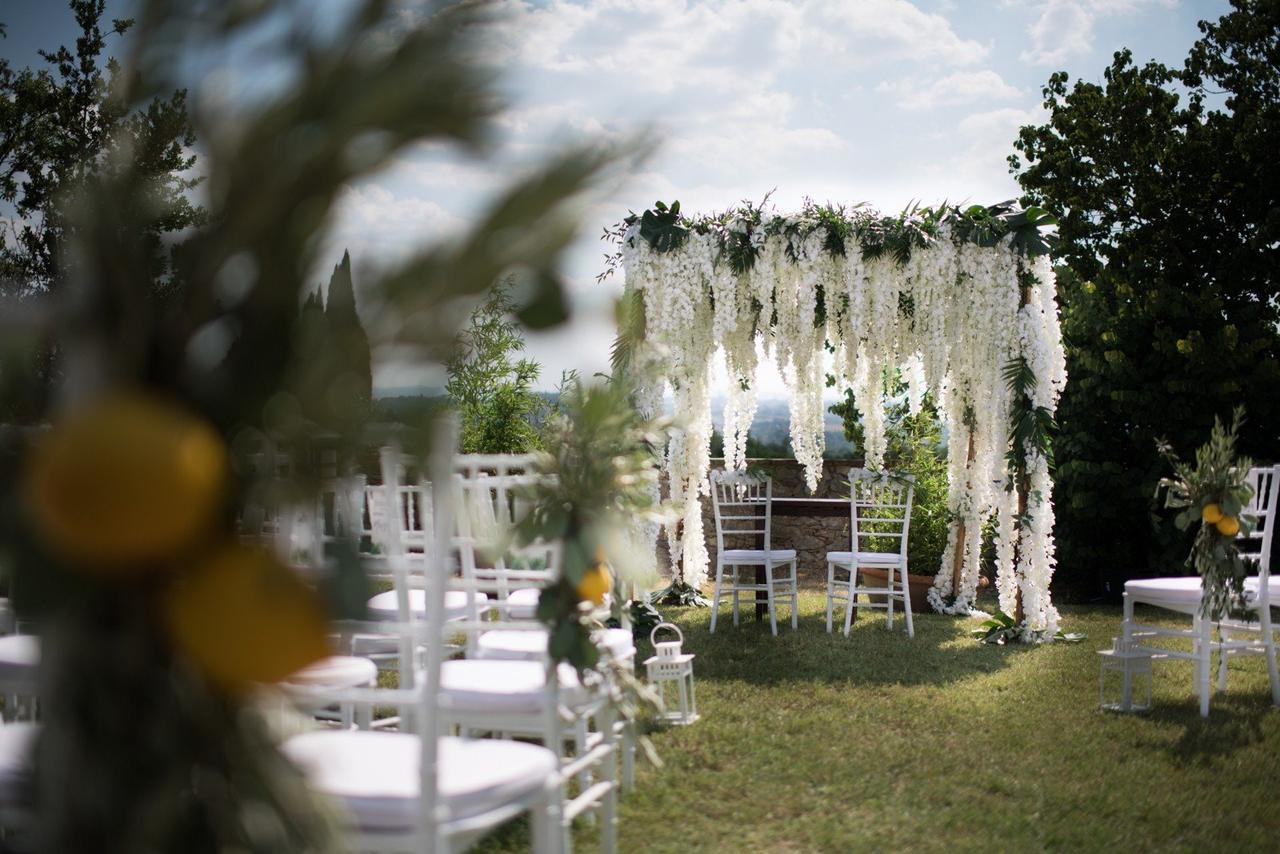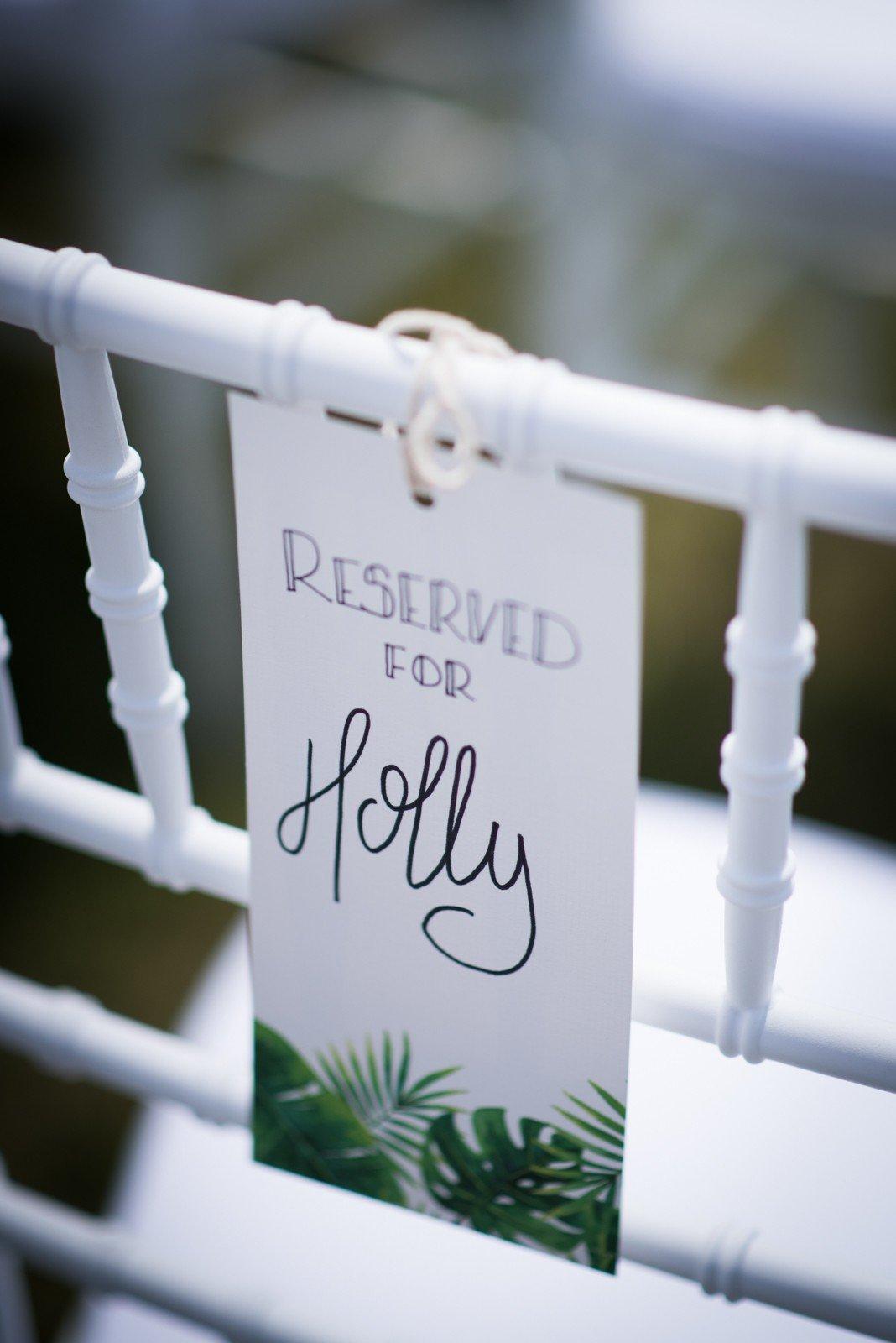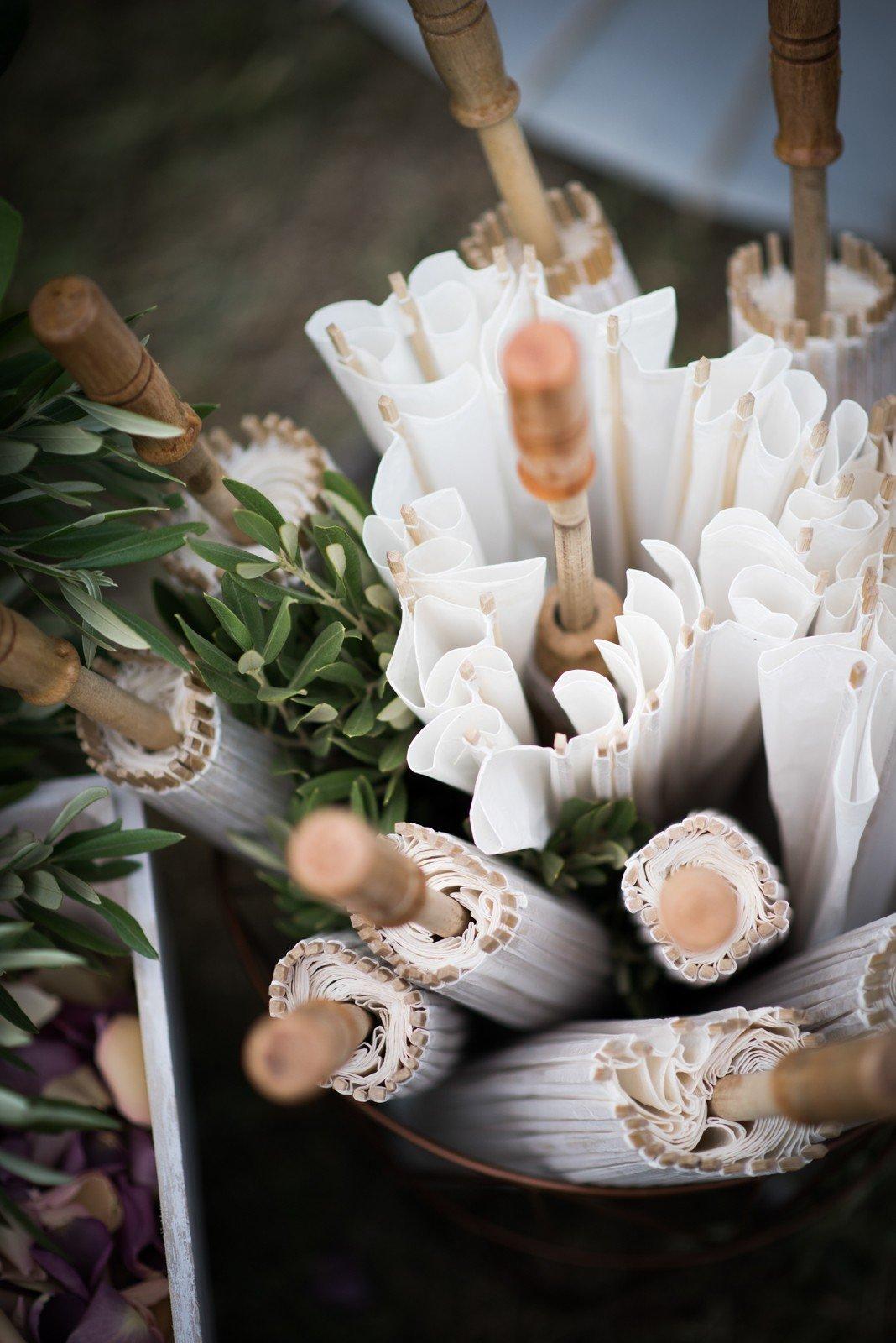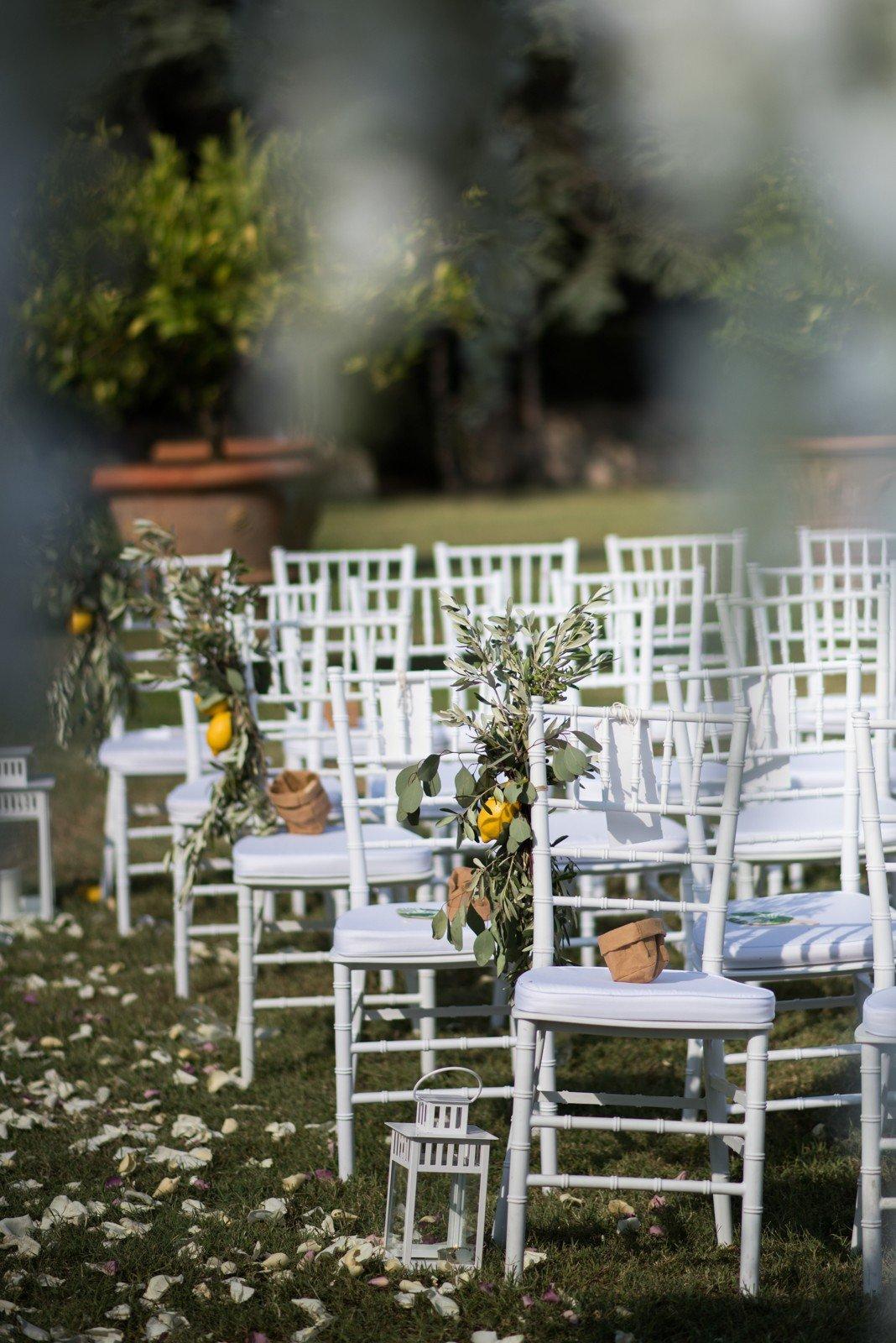 The Venue
Kate and Tom had a civil ceremony two days before their wedding in the beautiful medieval village of Certaldo with just immediate family. They chose the stunning Villa Catignano in Siena to host themselves and 80 guests, who were all able to stay there too. Their wedding planner was Rosy of Wedding In Wonderland – "she was absolutely amazing and made everything so easy!"
"We were able to have the different parts of the wedding in separate parts of the villa which felt like you were entering into a different place each time. We held a pizza party of the arrival night within the courtyard garden; the ceremony in the main garden overlooking Siena; the meal outside under the sky in front of the main villa; the cake, ice cream and cigars in the central courtyard, and the party in the historic wine cellar.
"We didn't really need a theme as the setting told the story for us. I just wanted to add bits and pieces to make it special to us. We added flowers and candles wherever we could.
"I really wanted a mix of traditional Italian flowers and greenery with a tropical twist and bright colours thrown in. As I grew up in Australia it was important to me to include a bit of this in the day, so we had ferns and eucalyptus throughout the flower arrangements and settings, mixed with the olives and other Italian greenery. We used bright pinks and yellows to add a bit of colour. We also used lemons, including for people to find their seats, as it was a reminder to us of Sicily and our engagement there."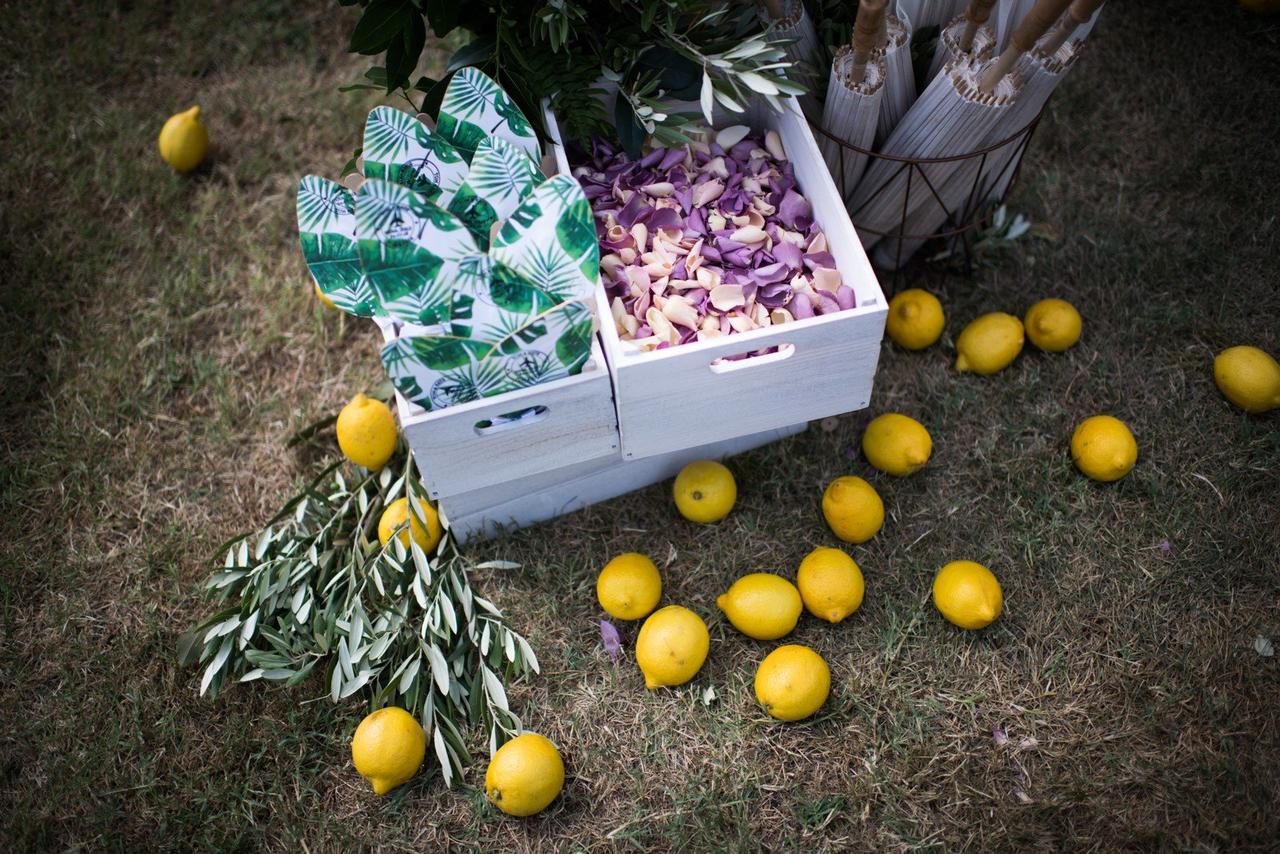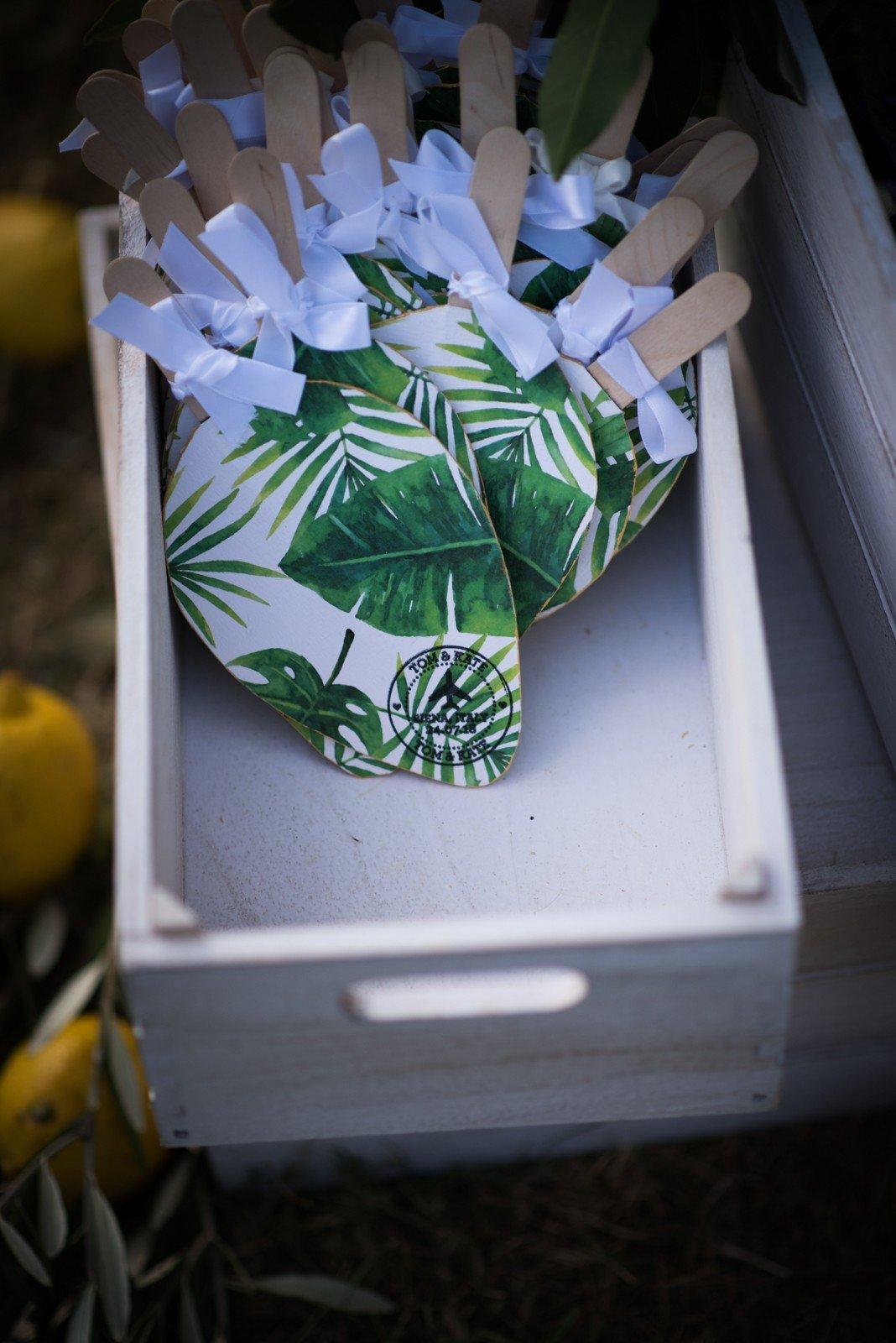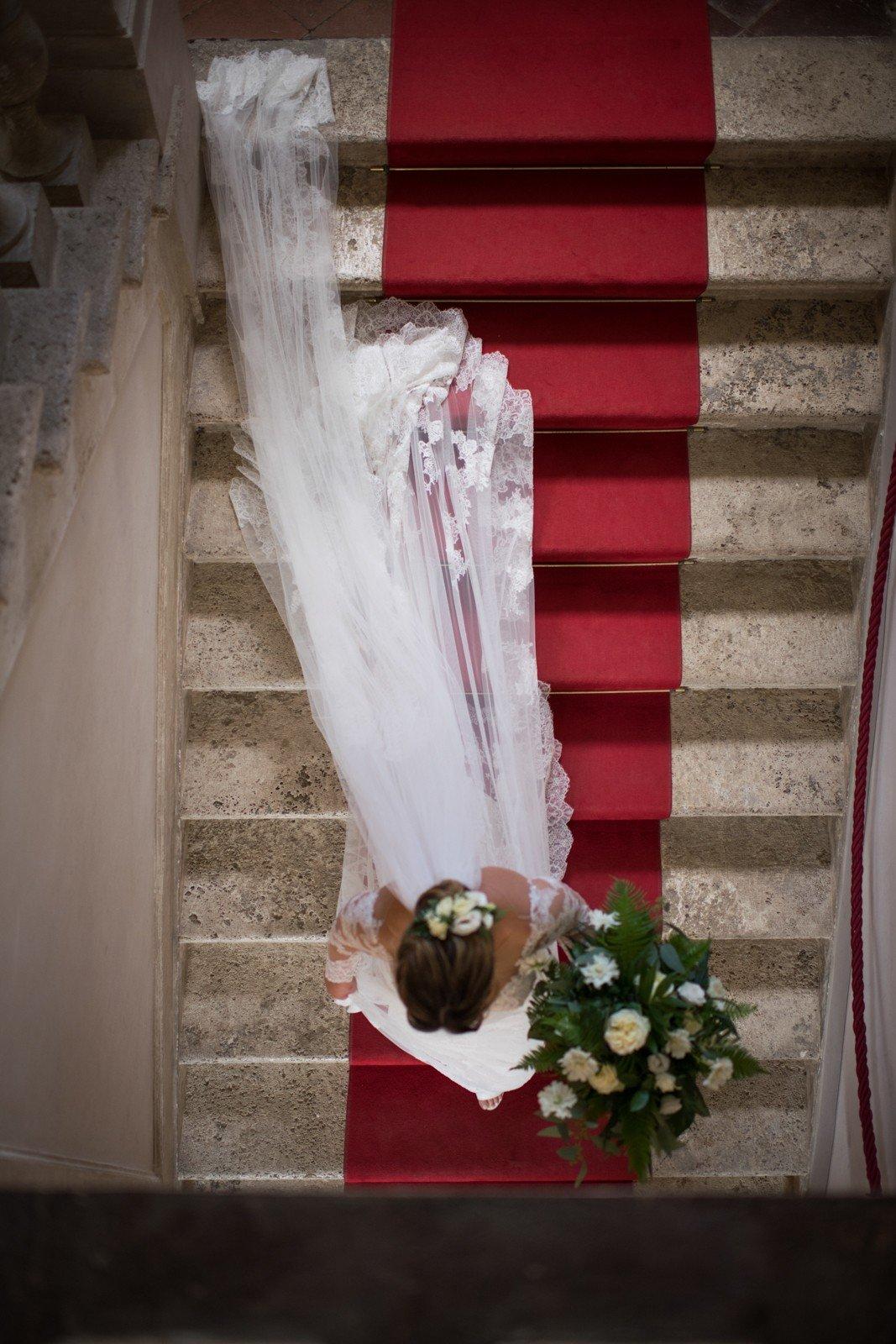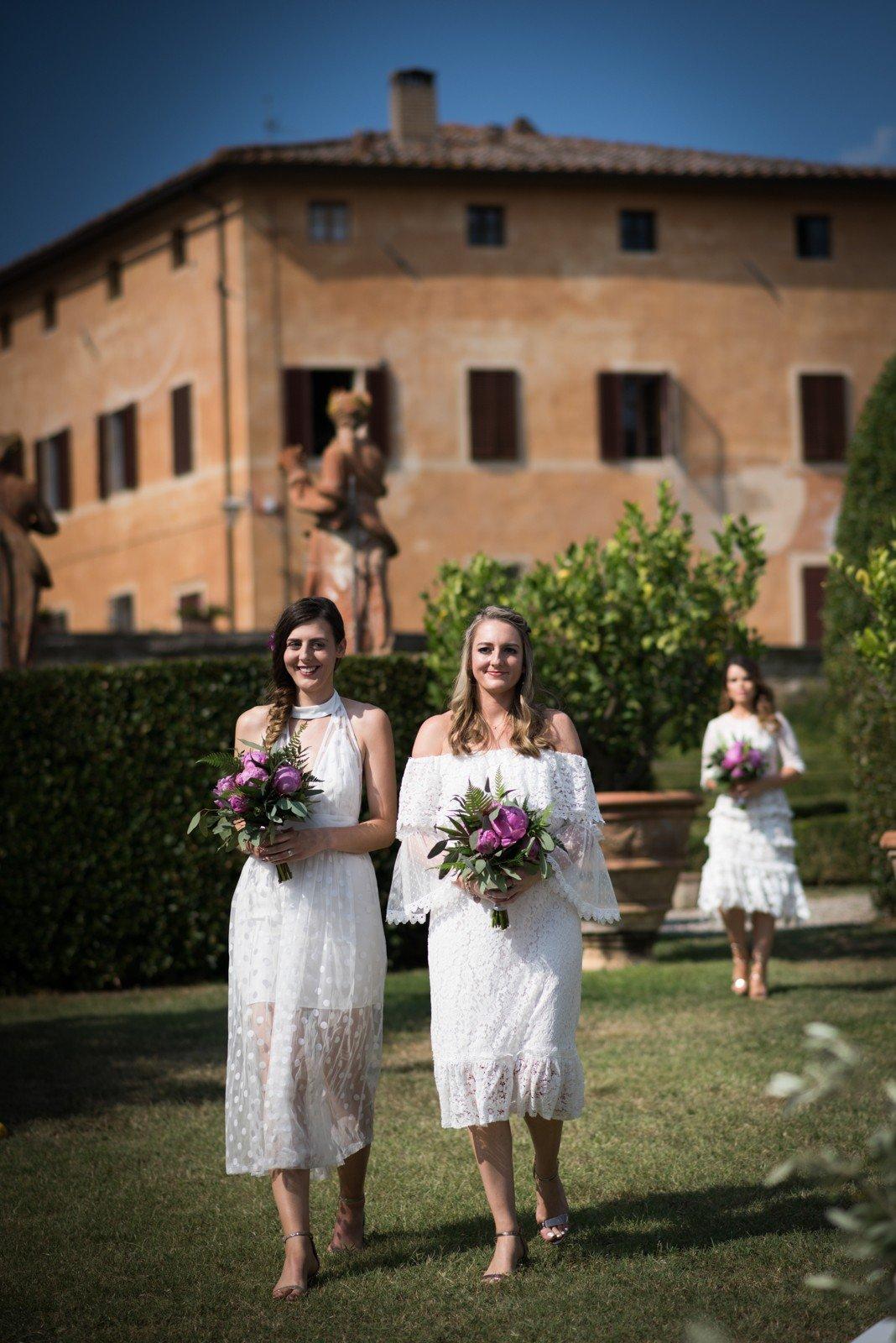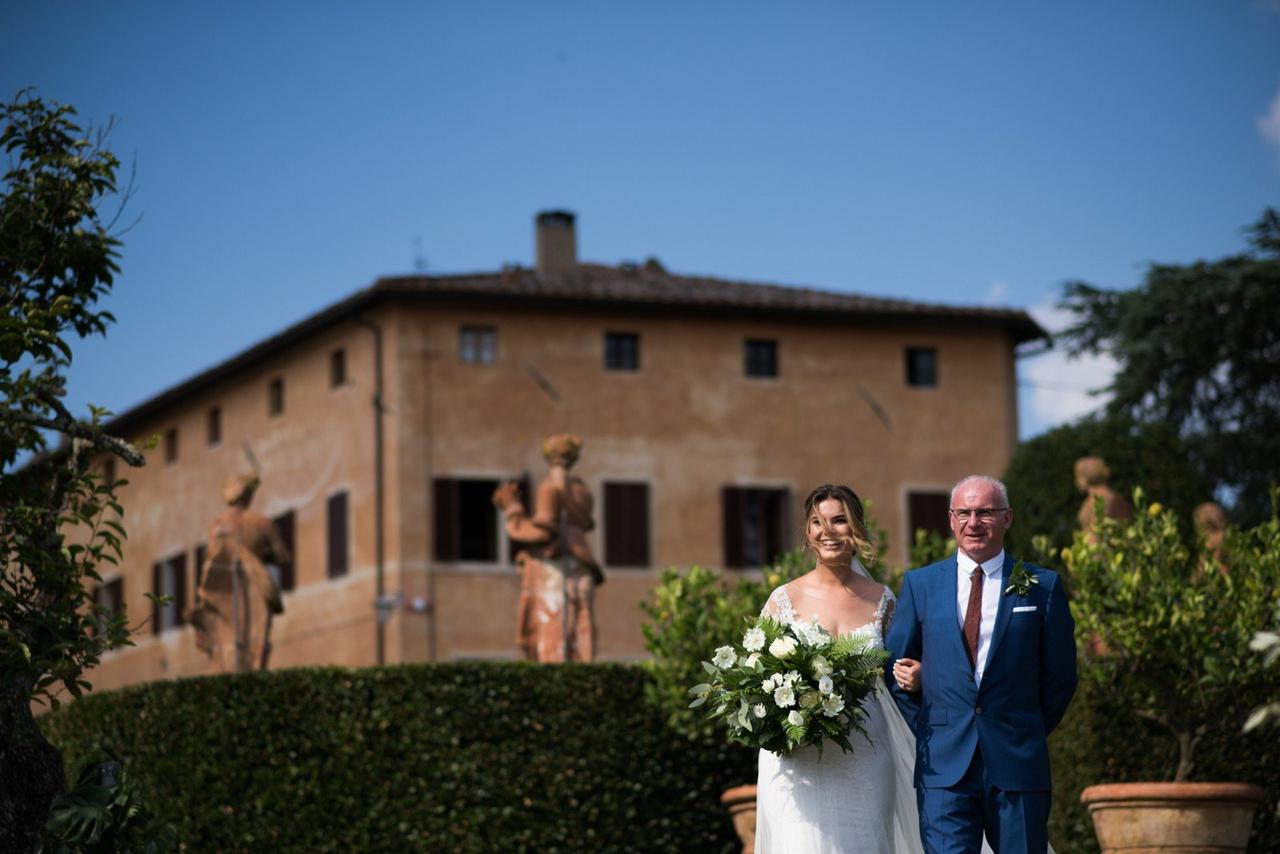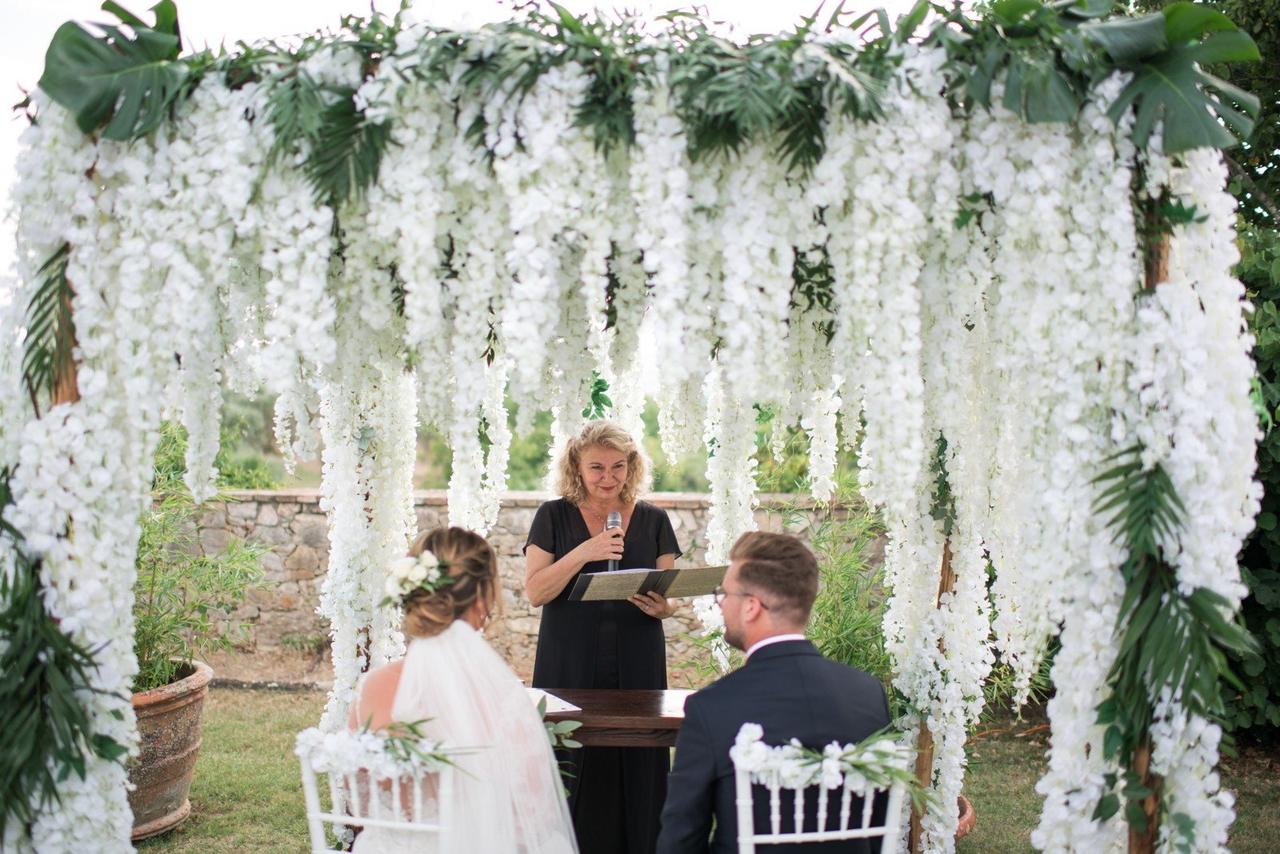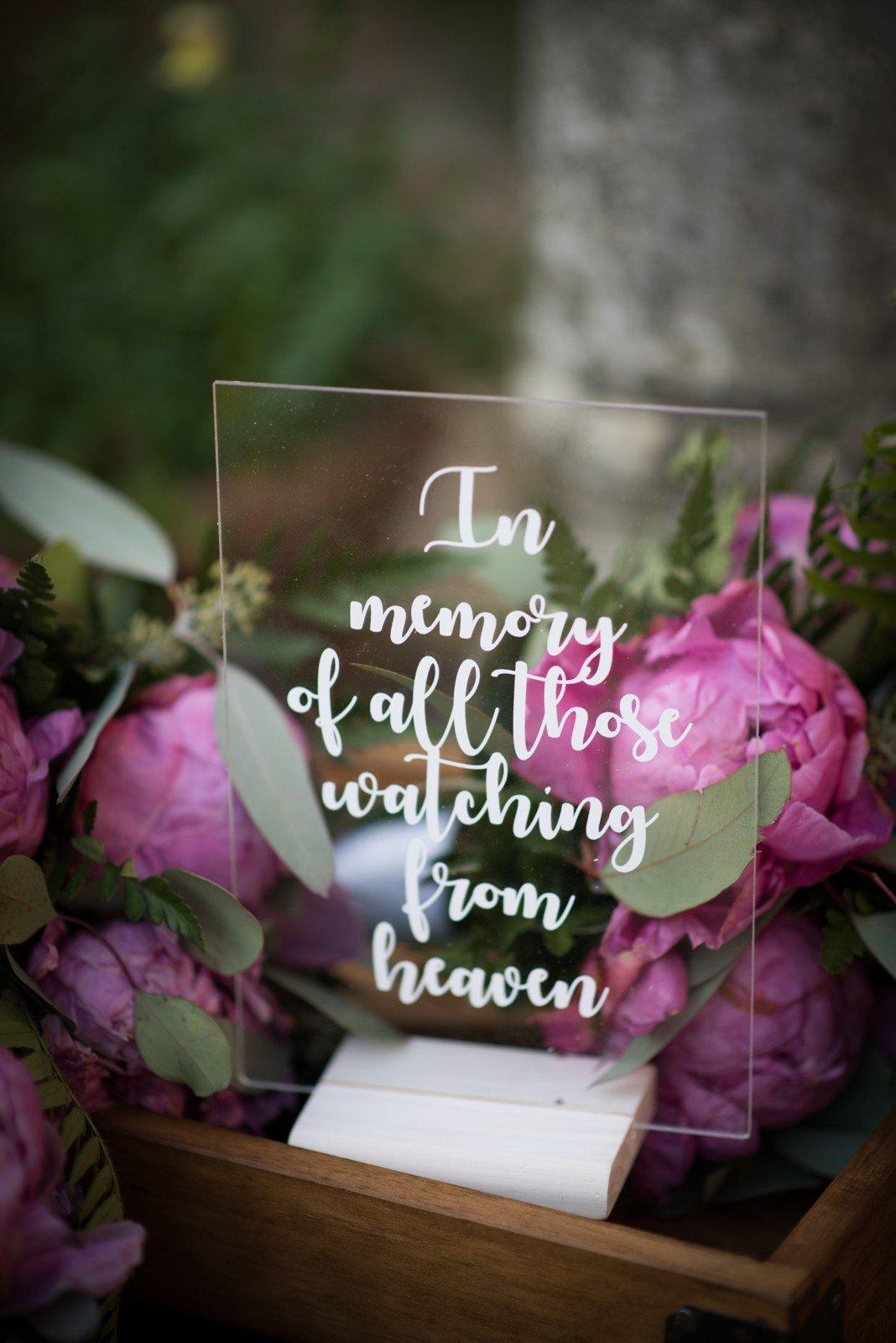 The Ceremony
The couple chose a celebrant-led ceremony after their civil service two days earlier, starting with an unusual choice of music to walk down the aisle to.
"We had a celebrant-led ceremony in the villa with all our friends and family. We used Jo Bertolino from Tuscan Pledges. She was lovely, she not only celebrated but helped us to put together an emotional and personal ceremony.
"I walked down the aisle with my dad, to the Jurassic Park theme tune played live on a guitar. It might sound strange but it is a beautiful piece of music and I've loved Jurassic Park since I was a child so felt like it was adding a real piece of me into the day.
"We had two readings, one read by my sister Beth ('Carrie's Poem') and the other by Teresa, my maid of honour ('That Still And Settled Place'). They both did a beautiful job and the words suited us perfectly."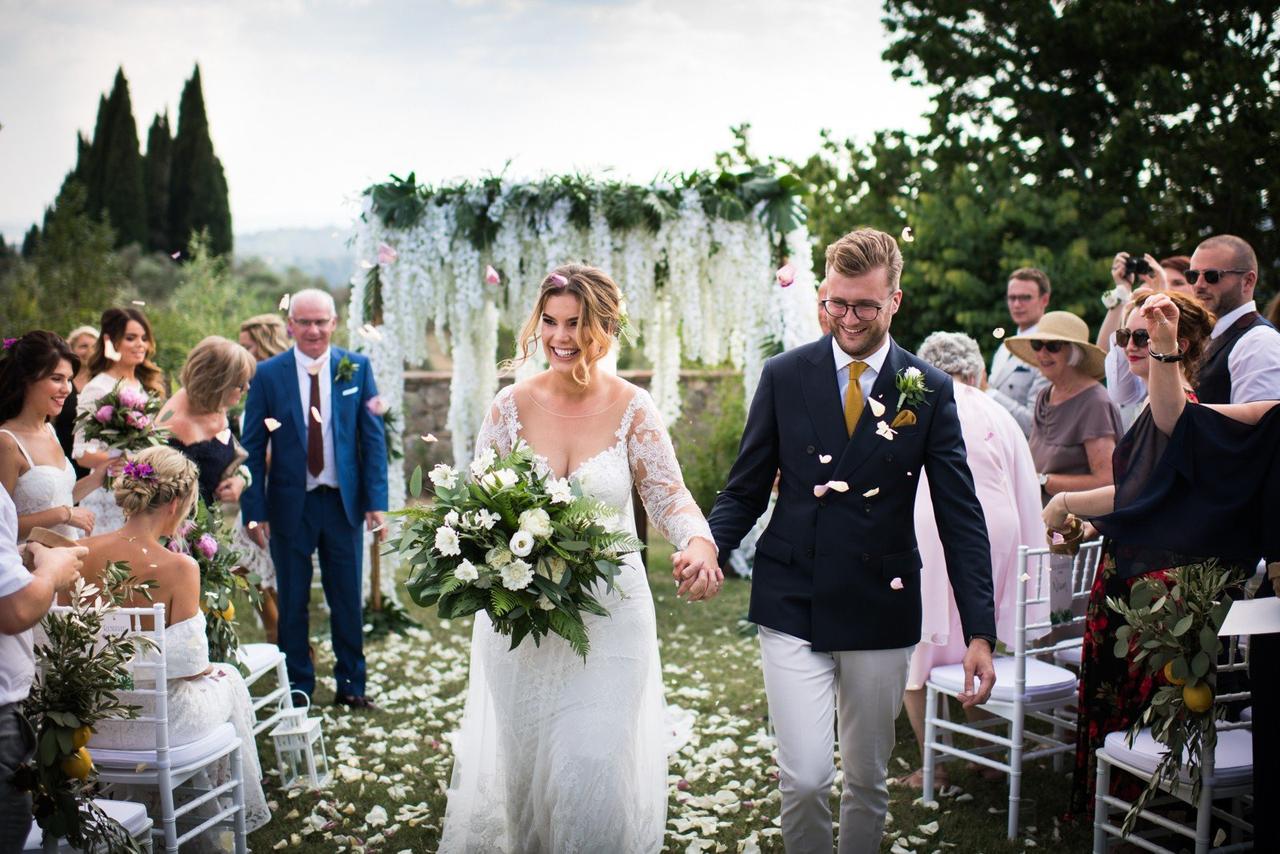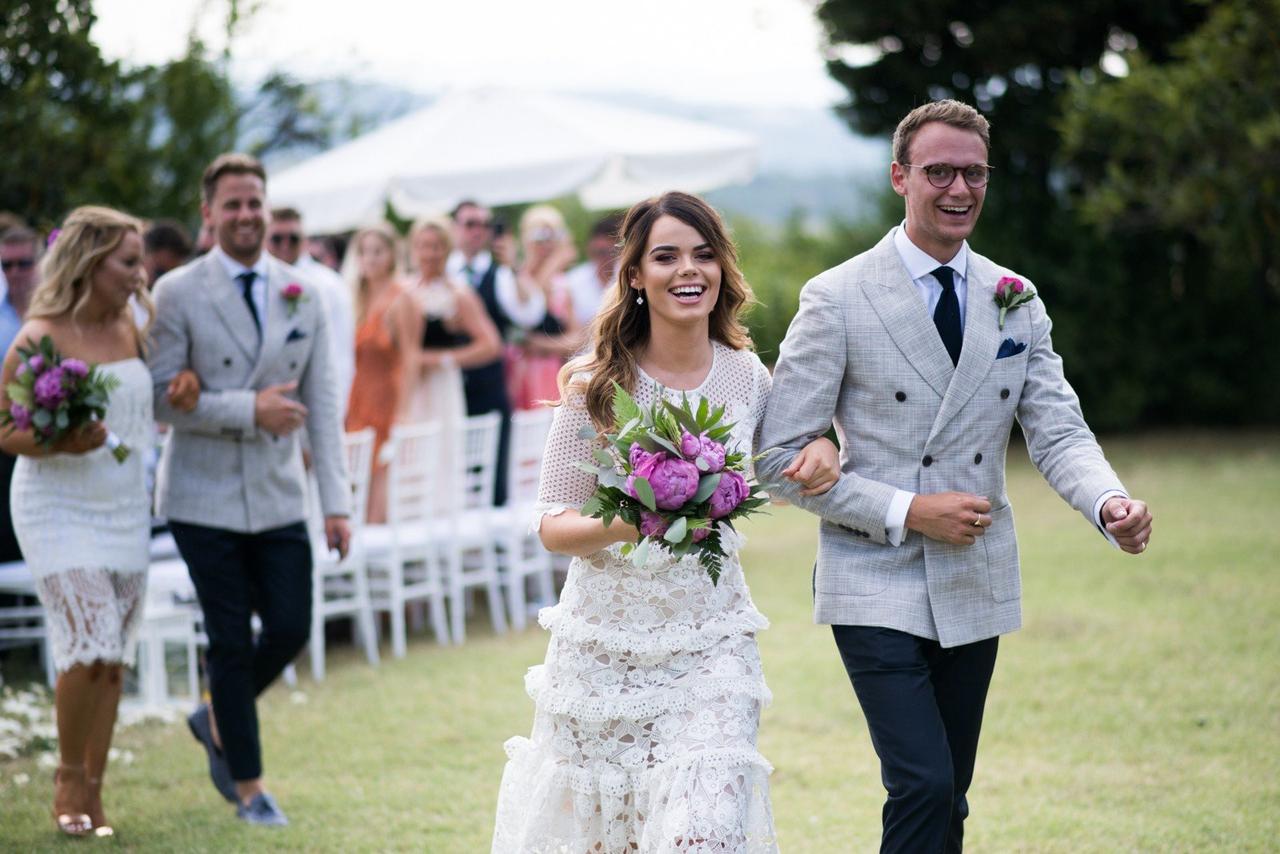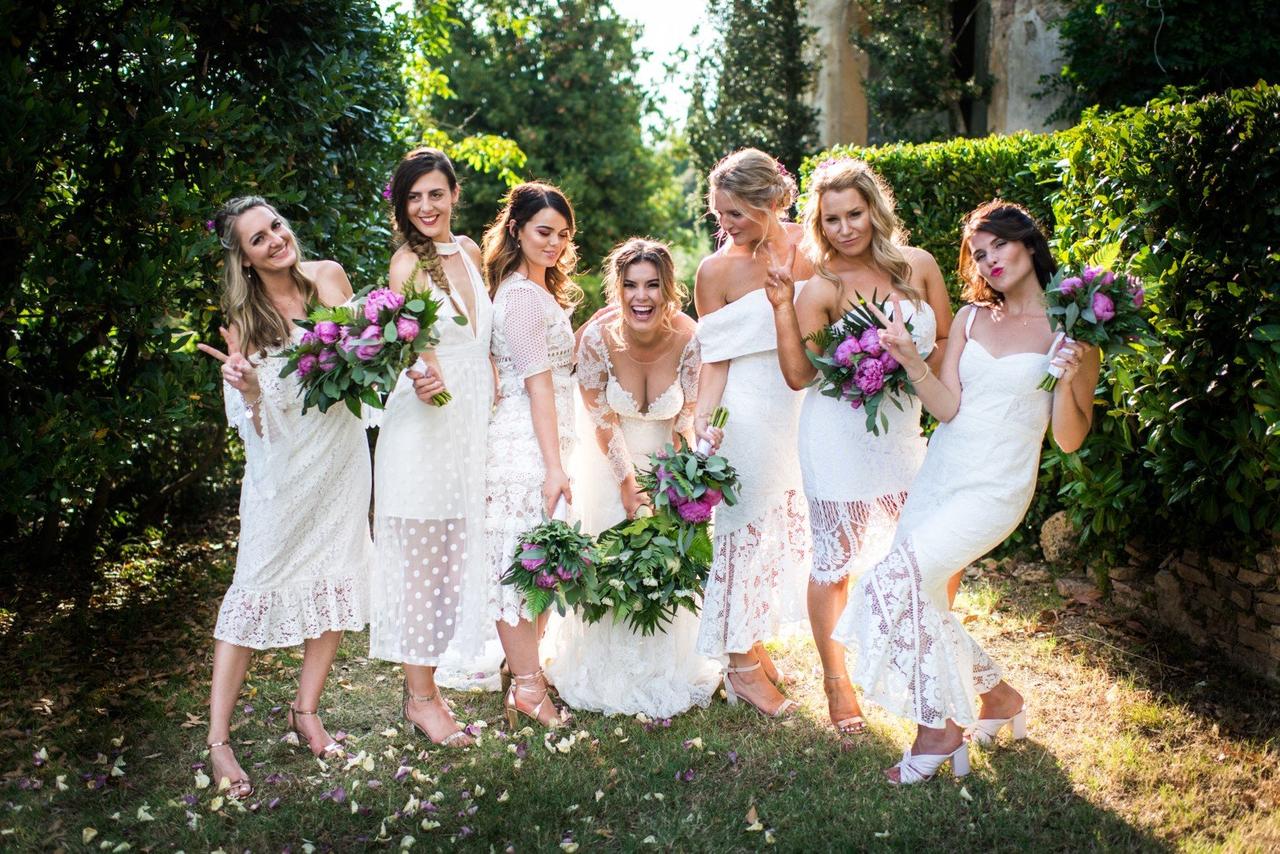 The Flowers
Kate and Tom turned to talented florists Stiatti Fiori to put together their wedding flowers and floral decoration, embracing Kate's Australian heritage and the glorious Italian landscape.
"My bouquet was a huge mix of with tropical leaves, eucalyptus and Italian leaves of
different shades and colours with white garden roses, scabiosa, stocks and lisianthus
flowers.
"We had a beautiful wooden arch made (which was made on the day), with hanging
white wisteria and greenery for the ceremony. This was absolutely stunning as it framed
the aisle and the view towards Siena. There were petals along the aisle and eucalyptus leaves and lemons attached the chairs along the aisle for the guests.
"All the tables for dinner, as well as the welcome table, cake table, guest book table, the well and pretty much everywhere else you can imagine, were filled with beautiful garlands. We used ferns for place settings and also had hair combs, corsages and boutonnieres for the wedding party."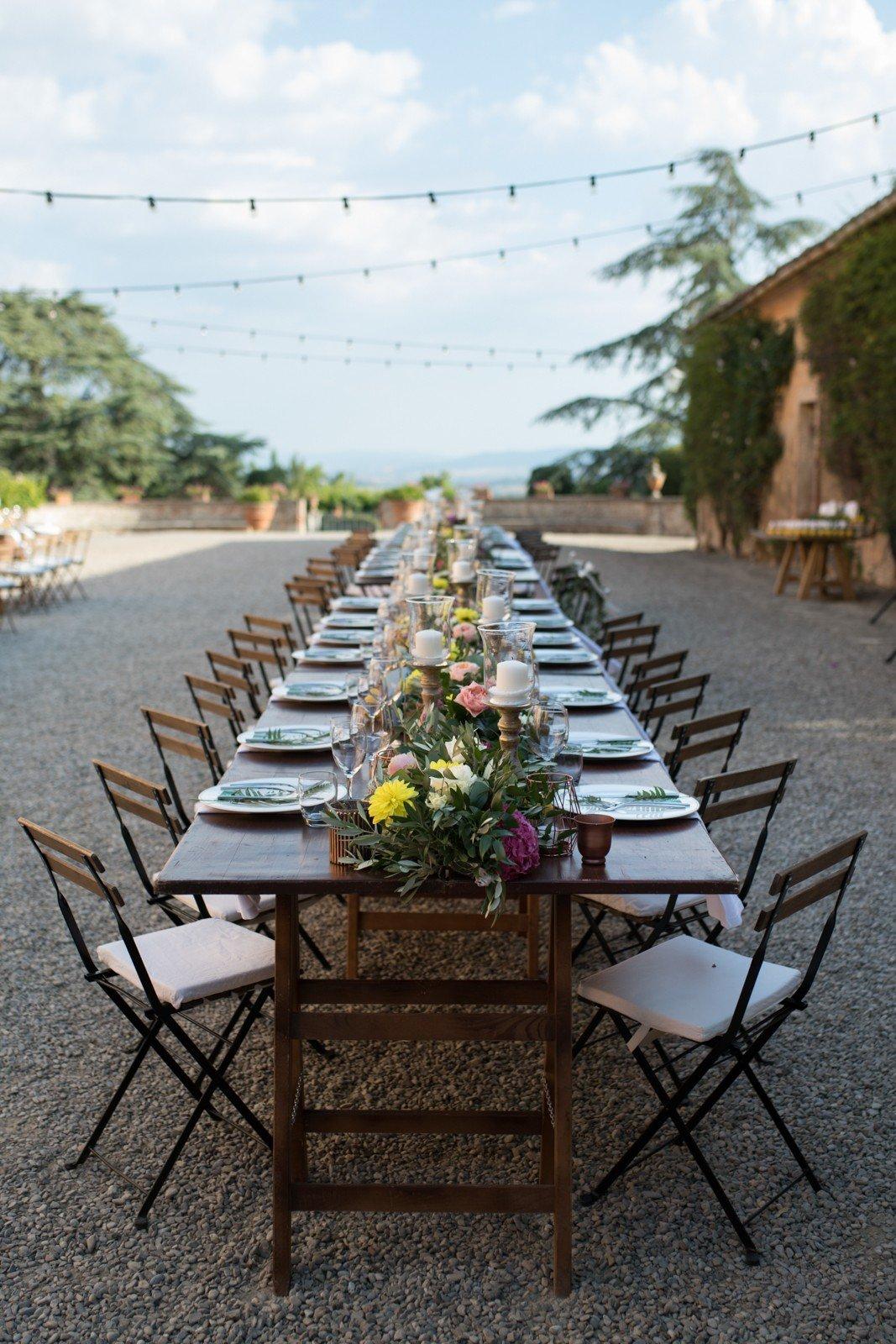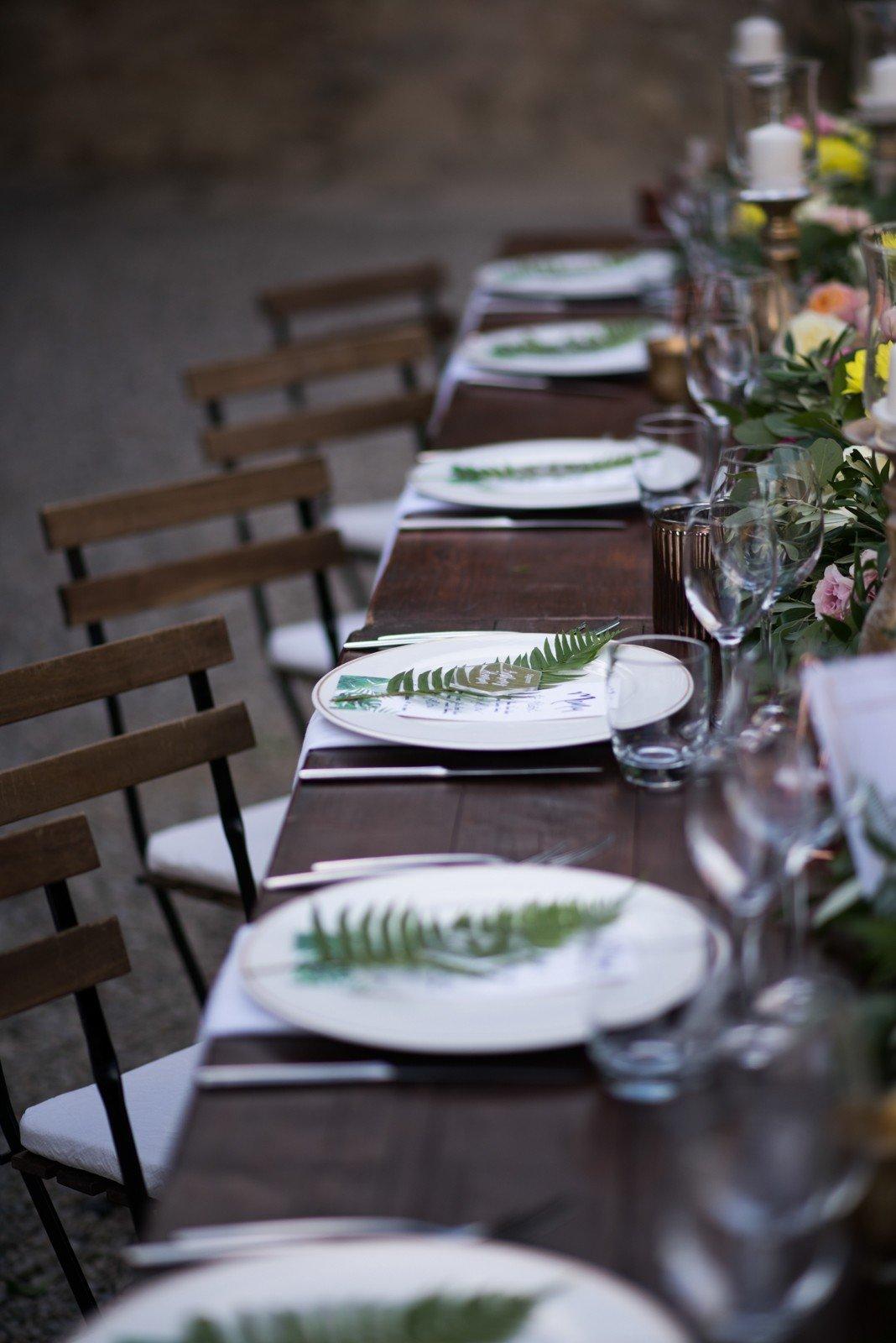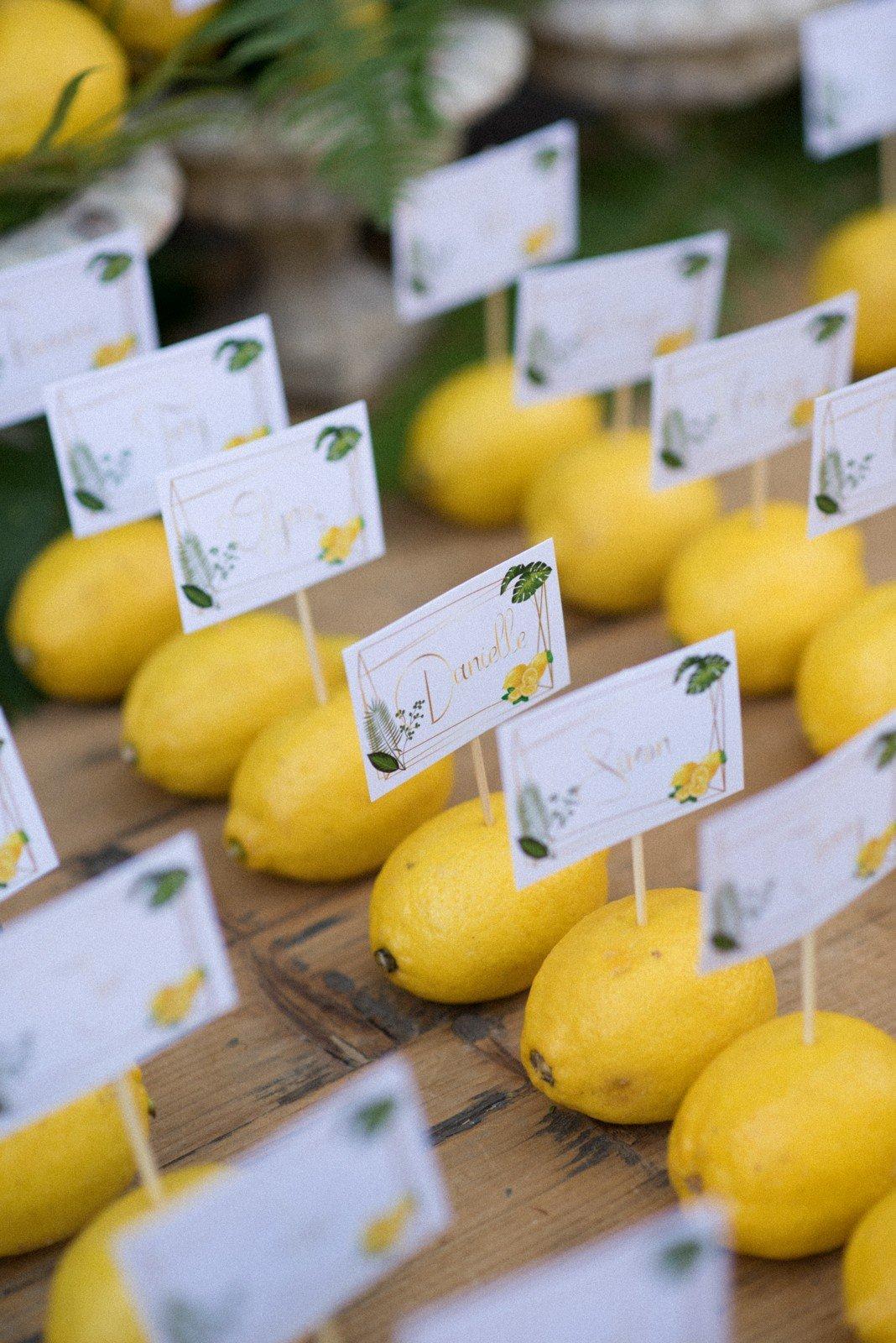 The Food and Wedding Cake
Naturally, the only way was Italian – from antipasti boards to a traditional Millefoglie wedding cake – for a truly outstanding wedding breakfast.
"Straight after the ceremony we had an aperitif in the garden which consisted of a mix of gently-fried vegetables and seafood, traditional platters of cured meat, a selection of
traditional Italian cheeses, breads, Tuscan sauces, black olive pesto, thinly sliced
mushrooms, garlic, parsley, fresh tomatoes, fruit kebabs, pastry with cream cheese and a section of salads. We also had Aperol Spritz, wine, Prosecco and juices (as well as lots of water) for people to start the party with.
"Our first course was handmade pasta, with wild boar and white sauce or goats' cheese
and zucchini. Second course was either "Tagliata" roasted sliced beef with marinated apple, lemon and toasted pistachio grain, a fish dish or a vegetable parcel with roasted potatoes and green beans.
"We then had traditional Italian Millefoglie cake for dessert. It's essentially layers a
flaky pastry filled with Chantilly cream and topped with powdered sugar and fresh fruits. It was made fresh in front of us and our guests! It was served straight away after it was made it and it went just as quick!
"We also had different flavoured gelato, coffee and limoncello to finish. Everything in our menu was cooked on the day by our fantastic and super Tuscan catering company, Class Ricevimenti ."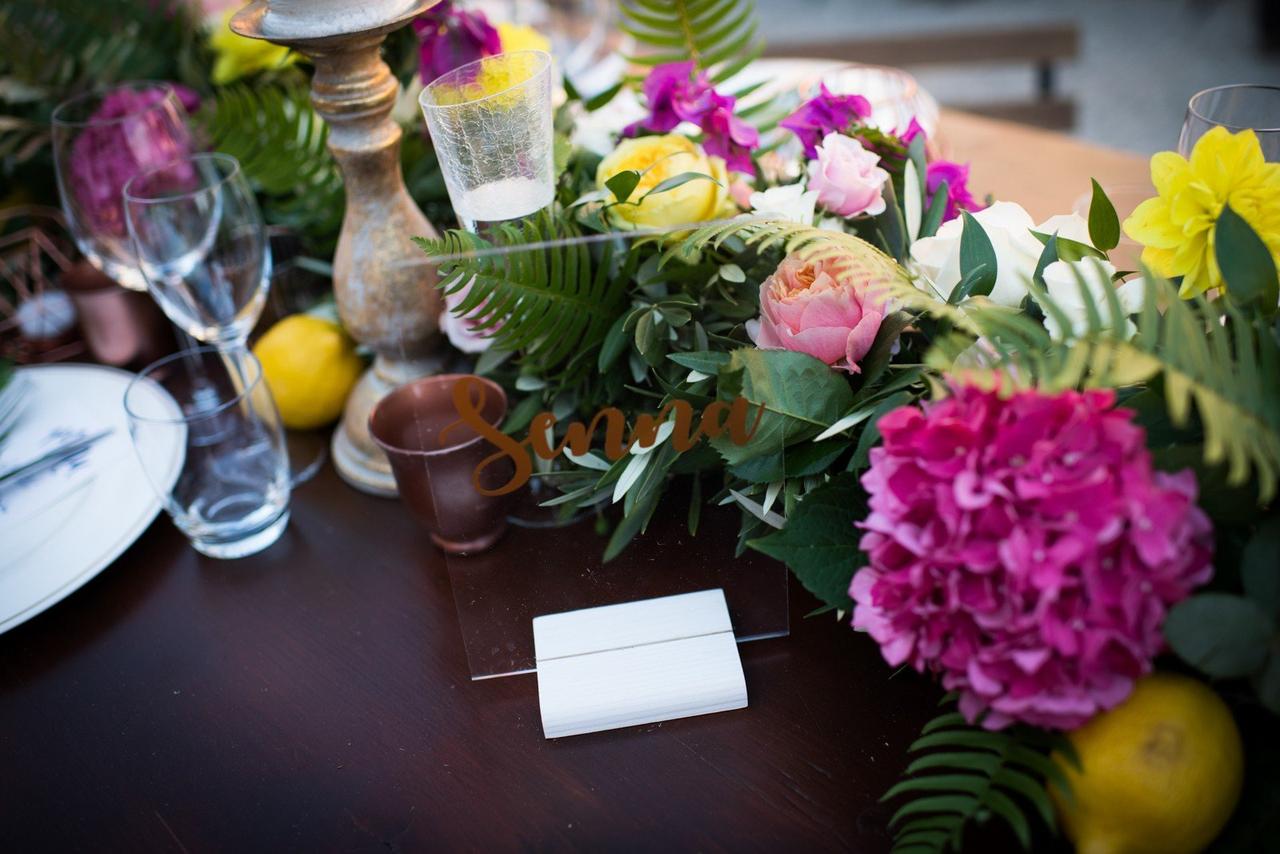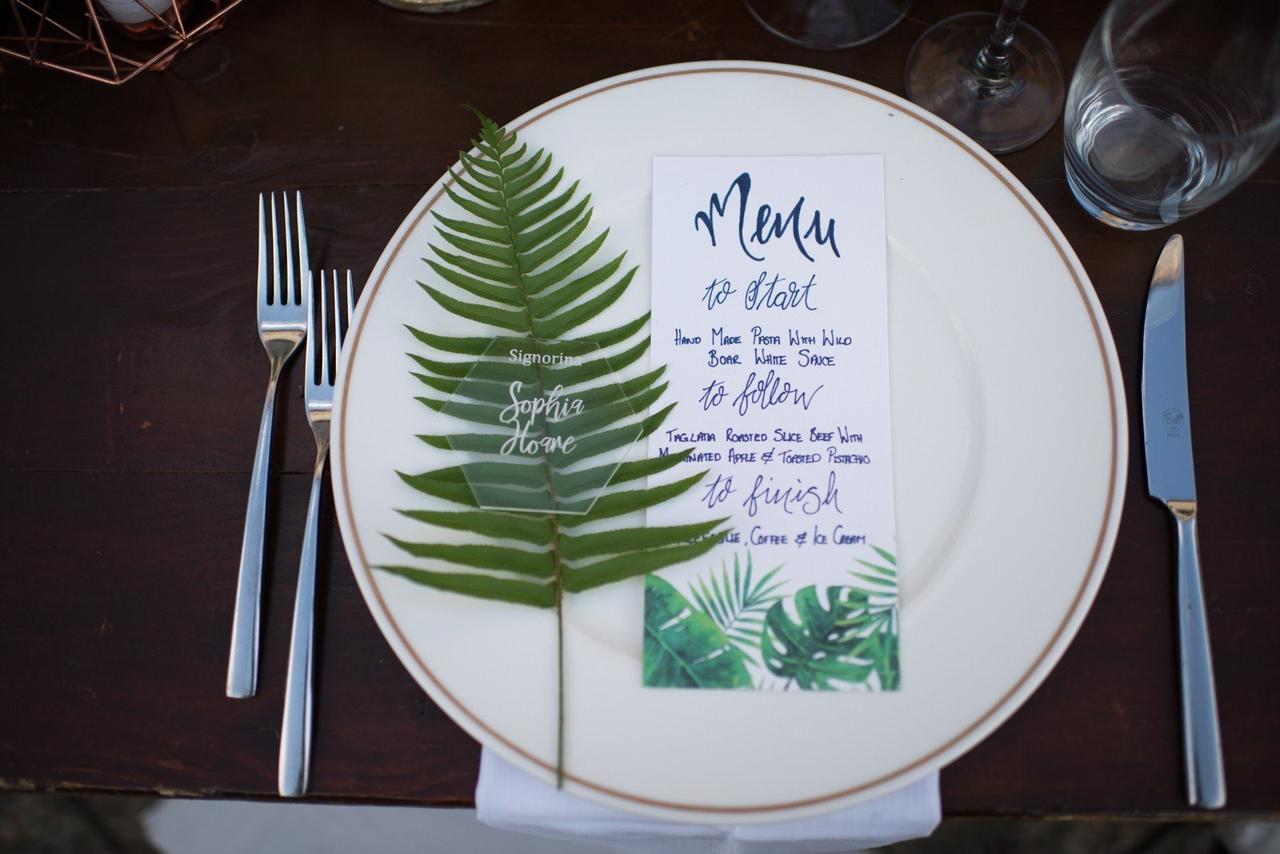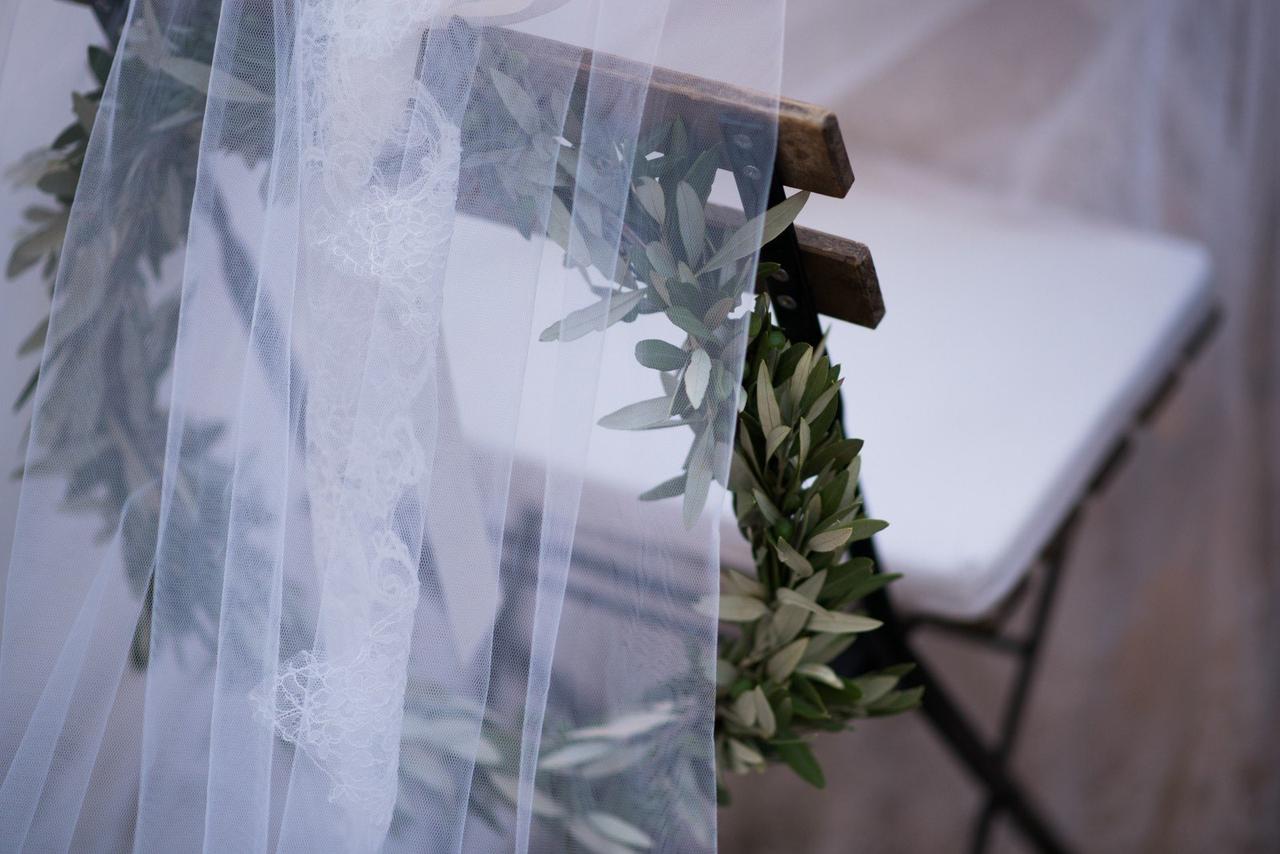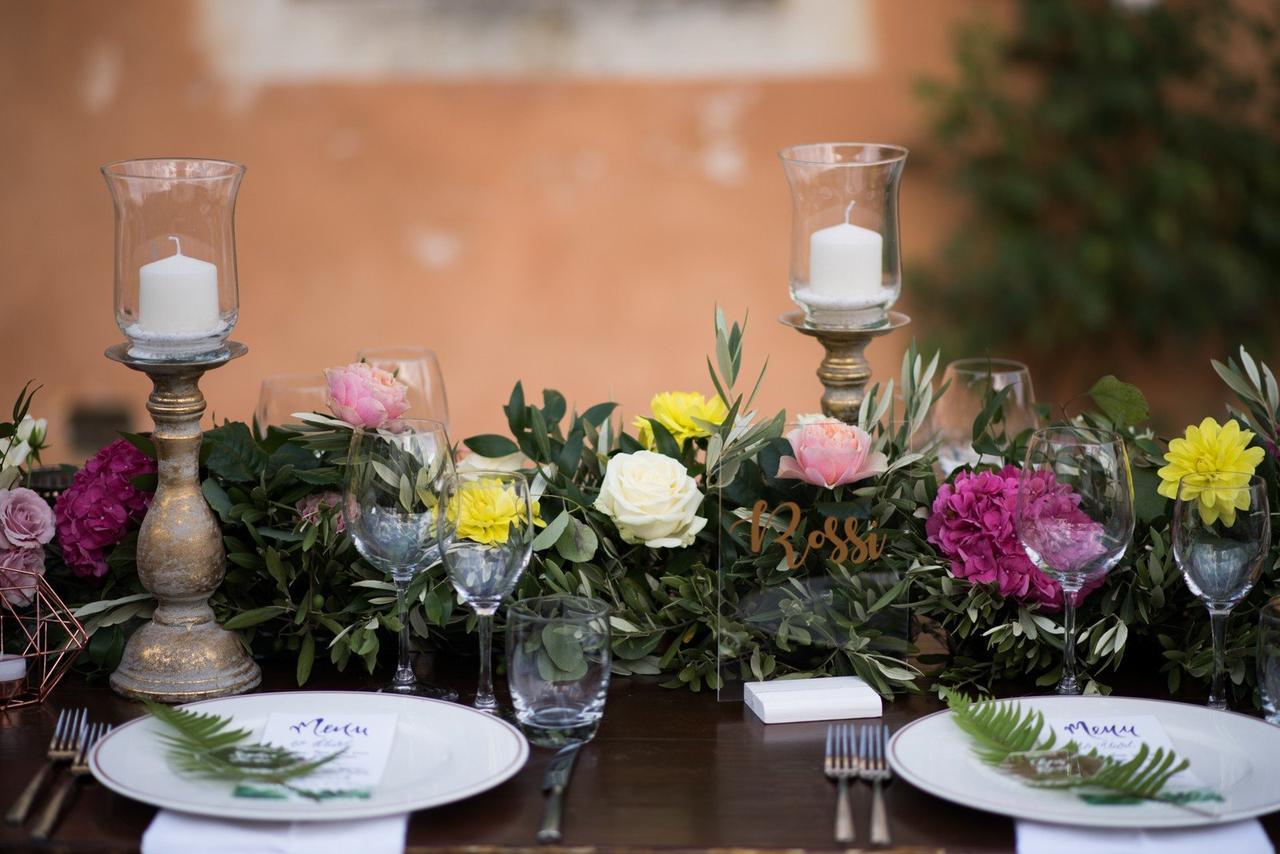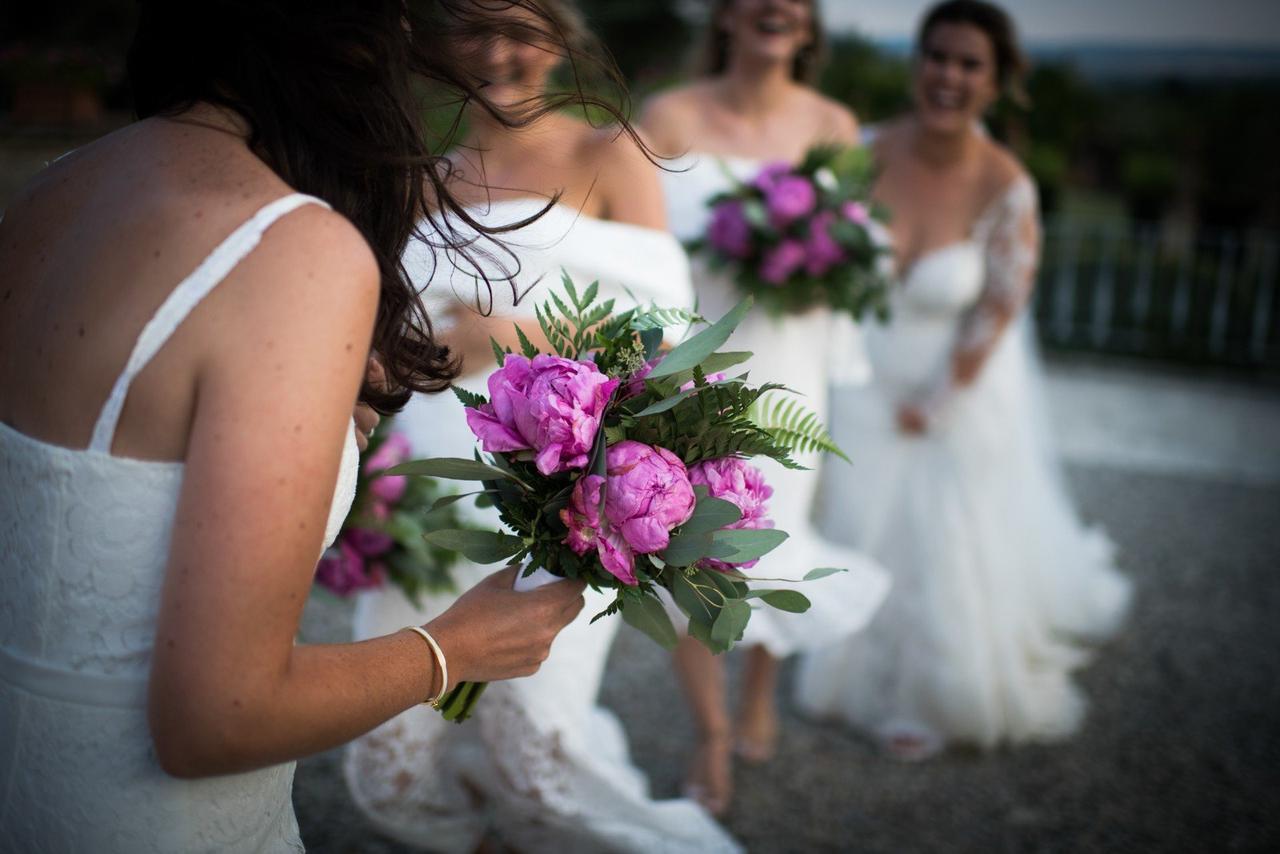 The Reception and Favours
Guests ate outside in the courtyard under strings of lights on tables draped with flowers, lemons, tealights and candles of different heights for a romantic atmosphere.
"We named the tables after famous racing drivers as Tom has always been involved in
the racing world. We sat at the Senna table (Tom's hero).
"We didn't go for traditional favours and instead had hexagonal, engraved, name cards made which the guests could take home with them.
"After the meal, we had an ice cream stall with coffee and liquors as well as a cigar bar available for the guests. We also splashed out for a free bar and chose special cocktails for everyone to enjoy!"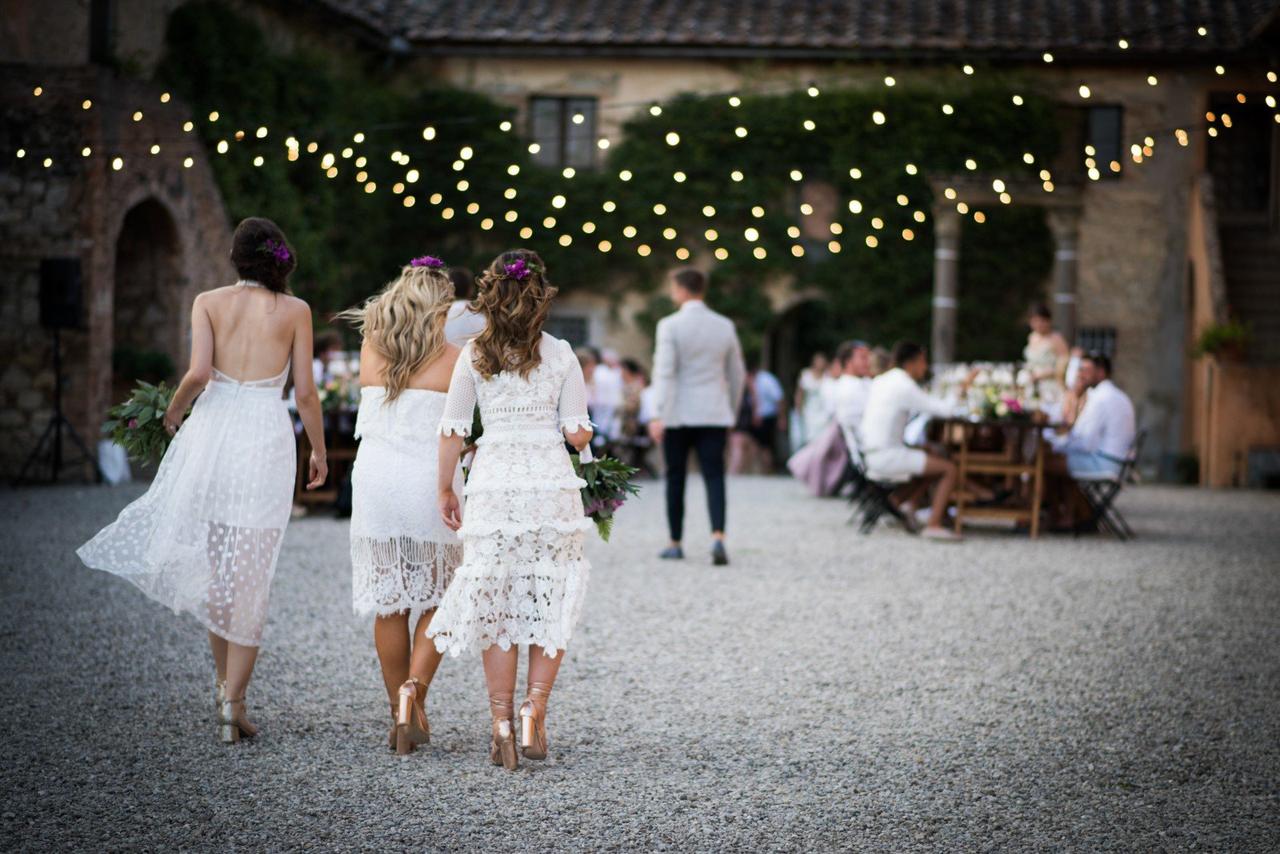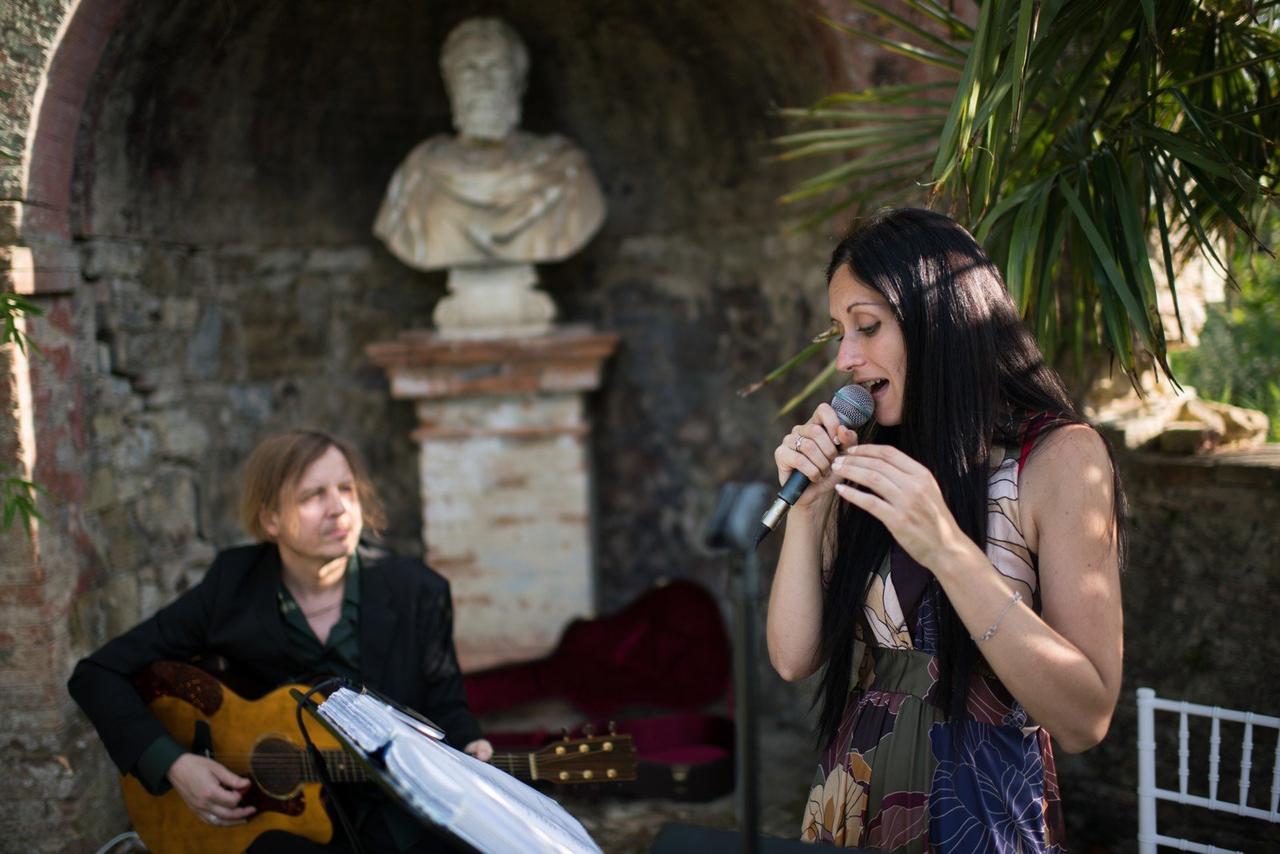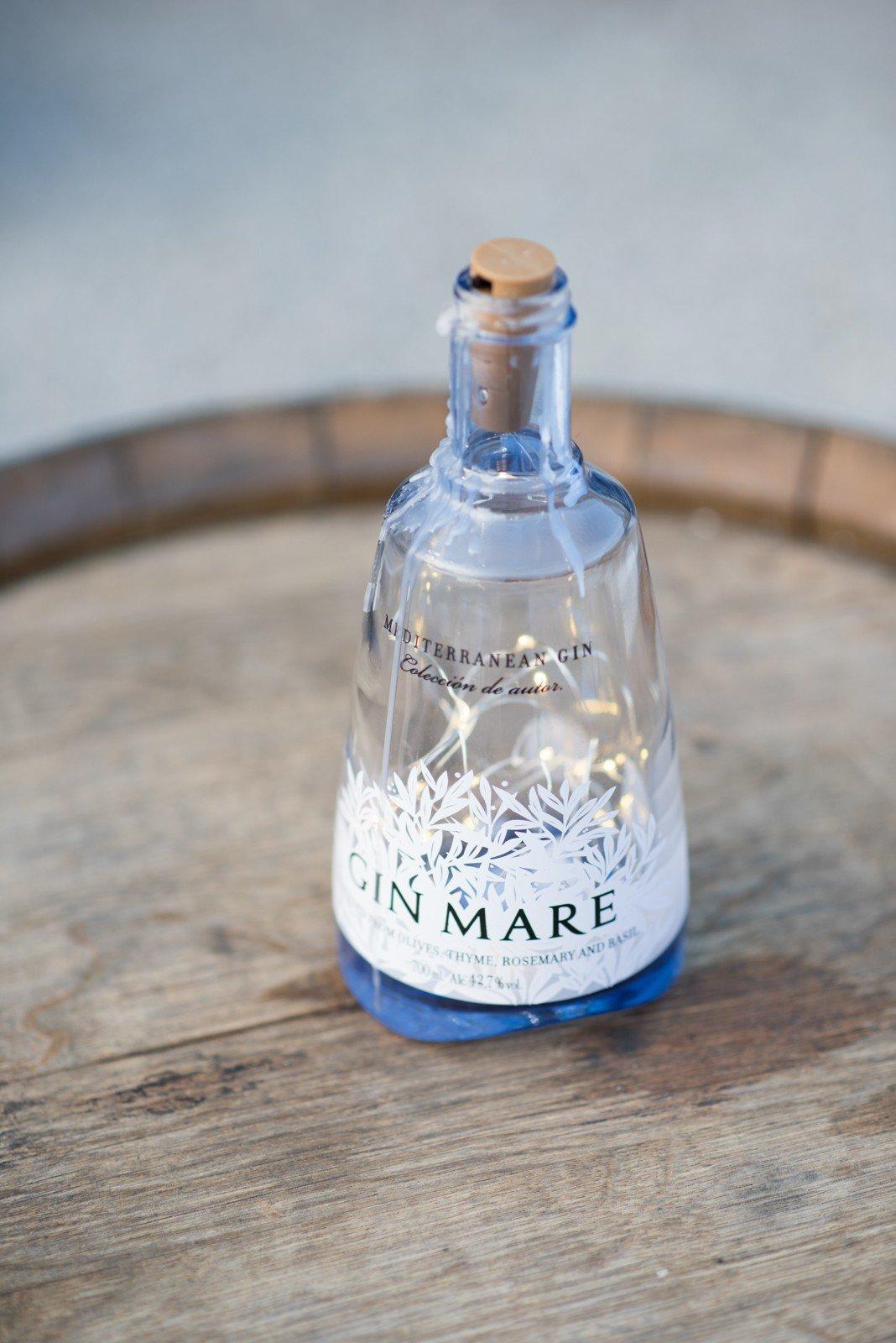 The Entertainment
With live music, a DJ and an impromptu Irish singalong, the night was completed by some fantastic entertainment.
"For the ceremony and aperitif, we had a singer and guitar called The Cool Vibes Wedding Band  to entertain the guests with a beautiful range of songs, with a brilliant DJ for the main meal and party. Half way through the night my Irish cousins did an impromptu rendition of a traditional Irish song in memory of my grandparents.
"Our first dance was an acoustic version of Slow Hands by Niall Horan."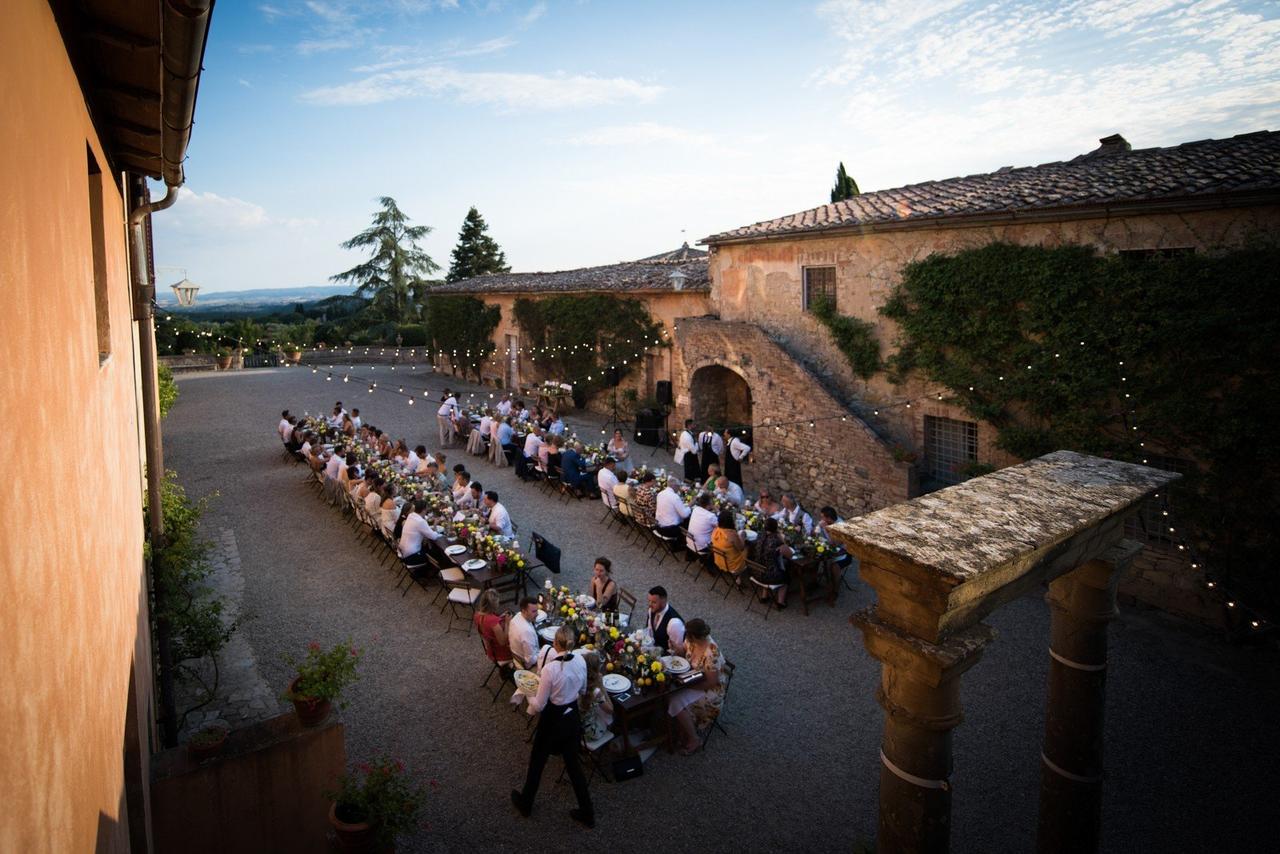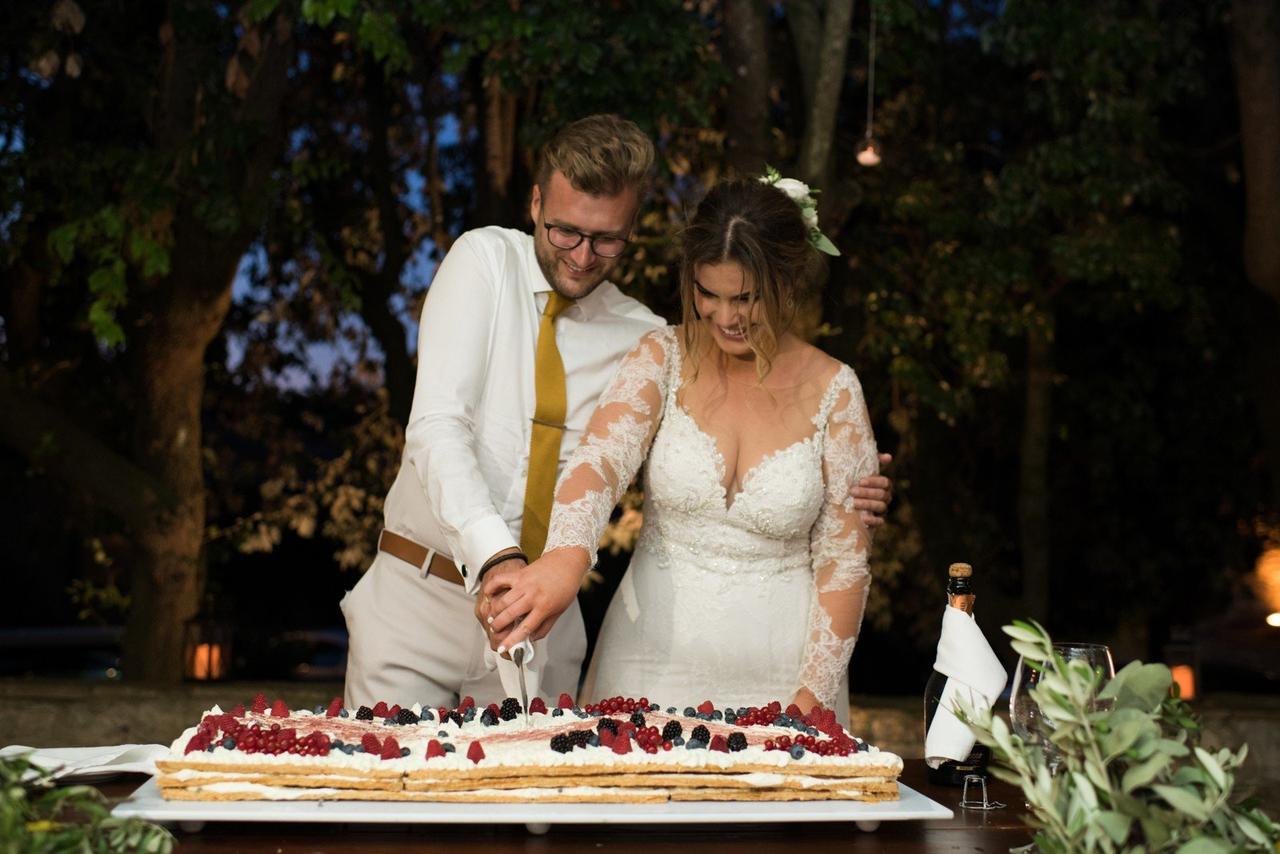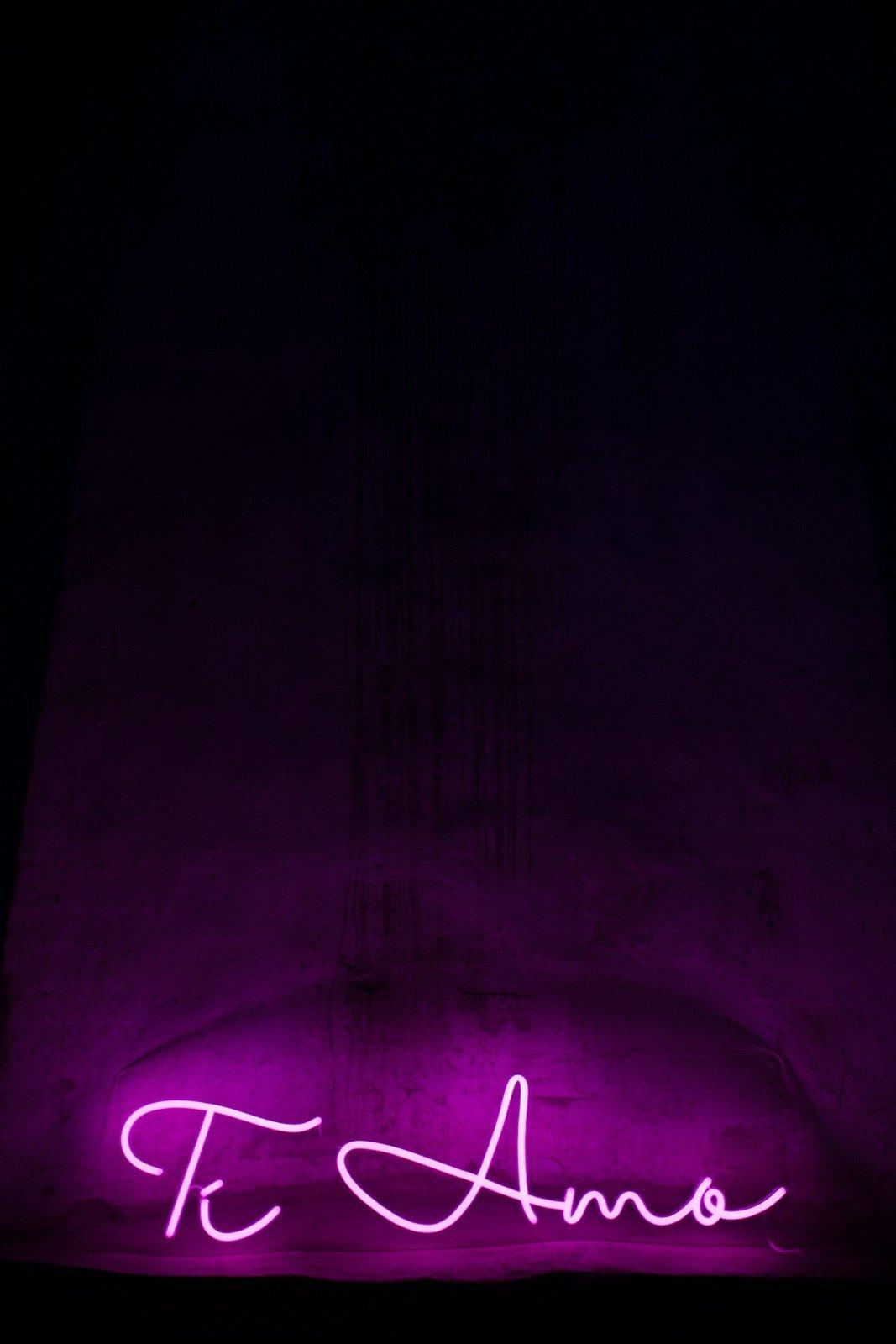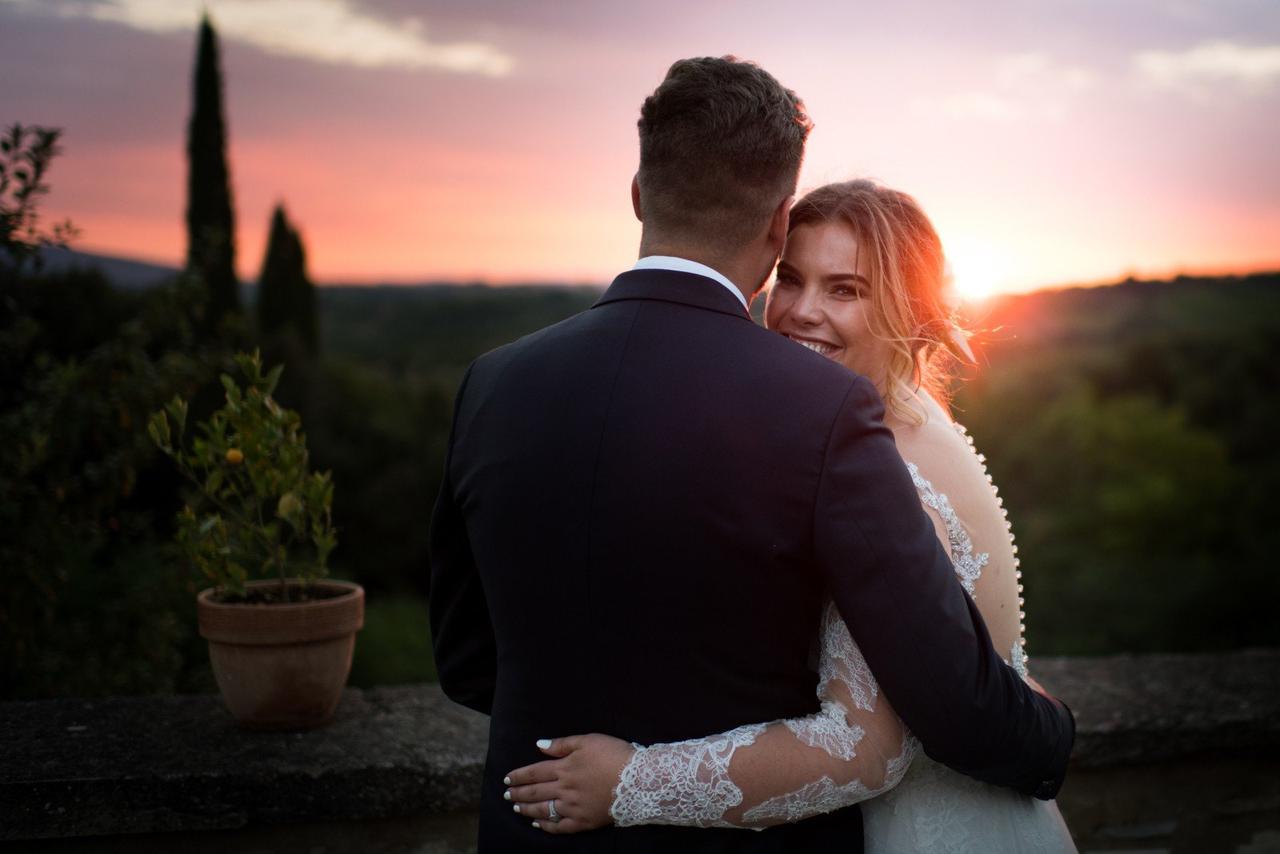 The Honeymoon
The very next day after the wedding, Tom and Kate packed their car and drove all the way back home to the UK. "It was an amazing experience," Kate says, "travelling together officially as a married couple!" Three months after the wedding, adventure called. They mixed a thrilling safari trip in South Africa with a week relaxing on the beach in Mauritius.
"Safari was the most amazing thing I have ever done in my life. We stayed in our own suite, with a thatched roof, and it was almost entirely made from glass panels that could completely open up and looked out over the Marico River. We were able to watch wildlife pass by our rooms windows.
"Dinners were served outside next to a beautiful fire and our days were spent out seeing so many different animals including lions, hyenas, elephants rhinos, zebras, cheetahs and so many more. We even spent an evening sleeping out under the stairs, in a bed draped with mosquito nets on top of a two-storey timber structure. It was one of the most magical experiences in my life and I wished I'd spent longer there!
"Then Mauritius allowed us to really spend time together in a beautiful setting."
The Suppliers
Venue: Villa Catignano
Photographer: Nataly Montanari
Design and Planning: Wedding In Wonderland
Celebrant: Tuscan Pledges
Wedding Dress: Enzoani from Silver Sixpence Bridal
Catering: Class Ricevimenti
Flowers: Stiatti Fiori
Lighting: Audiovisual
Entertainment: The Cool Vibes Wedding Band; Betty DJ
Makeup: Giulia Cresci
Thank you to Kate and Tom for sharing their beautiful wedding day with Hitched! If you've been inspired by Kate's beautiful dress, don't miss our favourite lace wedding dresses.