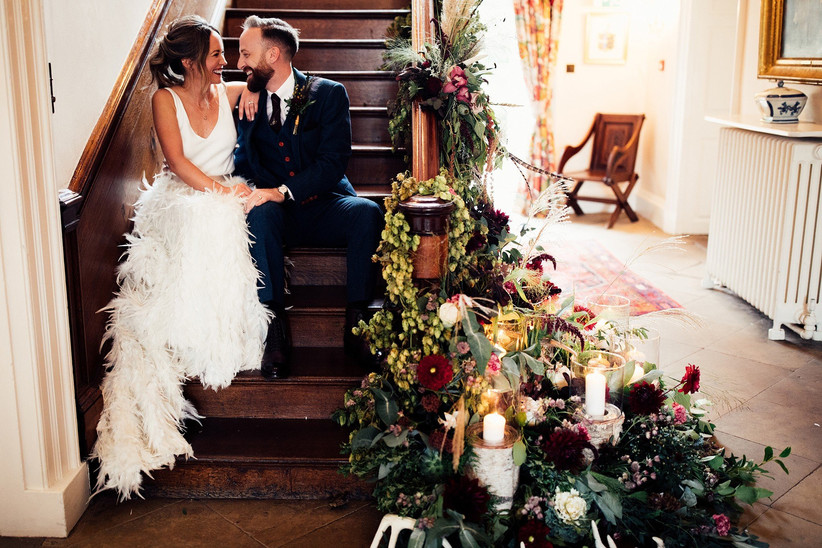 Sarah and Lee's big day took place at the beautiful Iscoyd Park in Shropshire in September 2018. The couple chose the stunning venue largely because it allows dogs!
The couple first met on a blind date in 2012 and it was love at first sight when Sarah's gaze fell upon the "dapper chap" waiting at the bar.
Since then, the pair have had a relationship full of adventure and travel, even adopting a fur baby along the way – Norma the Boston Terrier.
Throughout their relationship, marriage was never a priority so when Lee proposed during a weekend in the Cotswolds, Sarah was shocked. It took her some time to register the enormity of this proposal, but she finally found her voice to say "Yes"!
It took two years to plan their wedding day and, as you'll see, they did a wonderful job. The photos from their big day are stunning and the redbrick country house made for a beautiful setting!
Photographer: Harry Michael Photography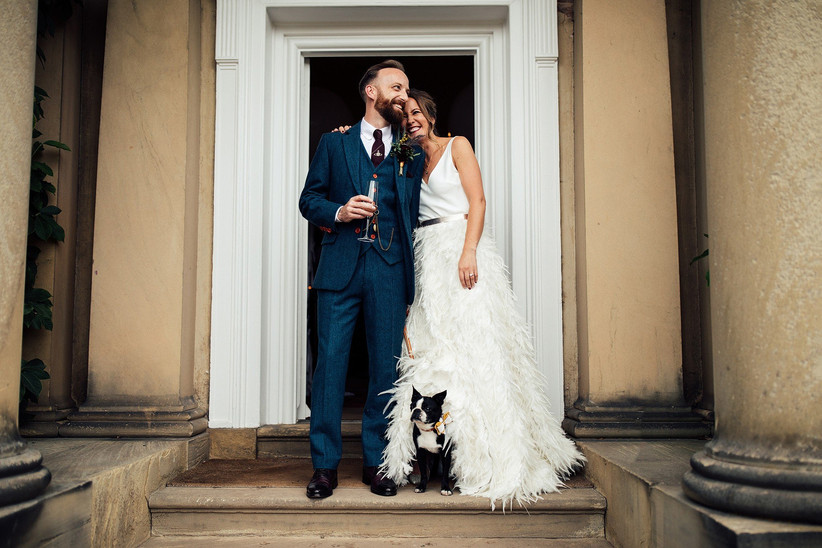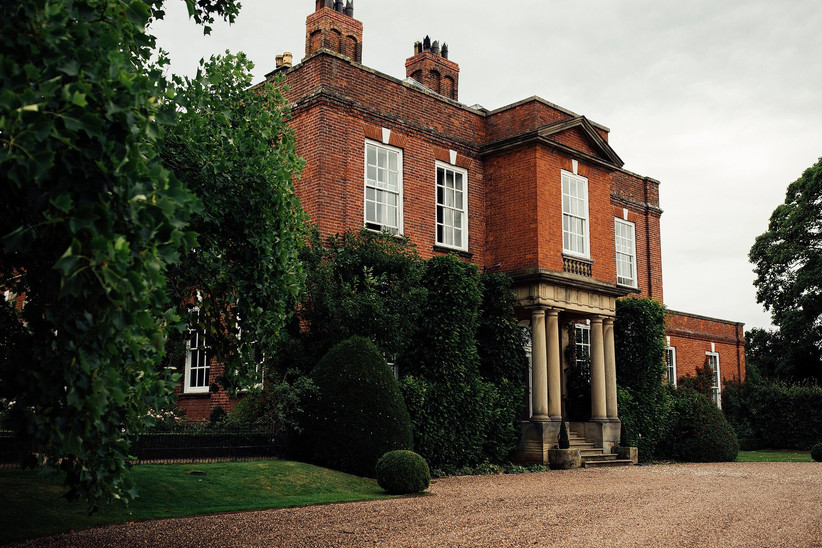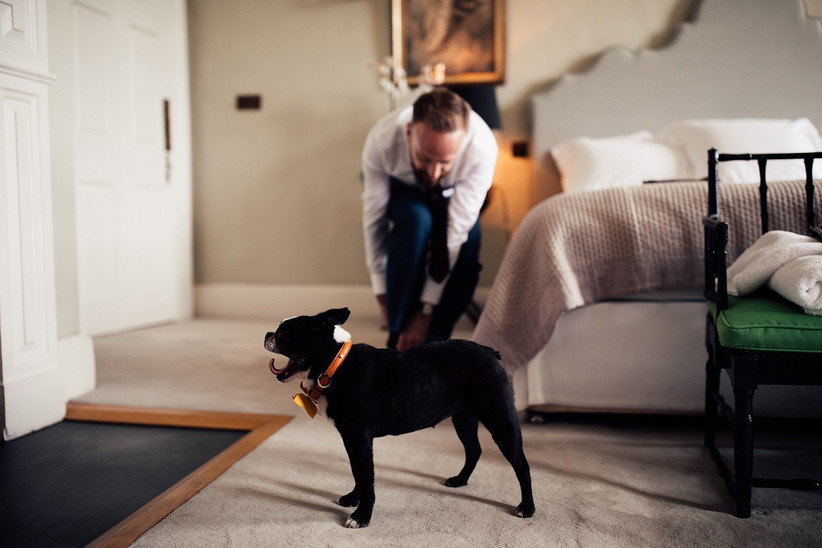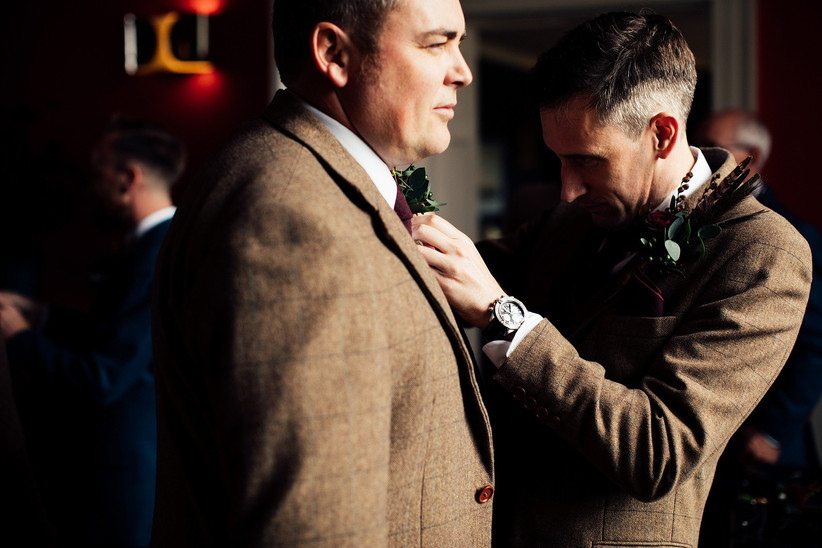 The Wedding Dress
Sarah spent hours scrolling through Pinterest to research her dress. She decided that she didn't want anything traditional so instead opted for a simple, unconventional dress and overskirt with a focus on interesting textures.
"After the venue, the next big question was what we were going to wear. I knew I wanted a British designer and did bucket loads of research before I even thought about visiting any boutiques. I went to a couple of appointments on my own at the Charlie Brear and Kate Halfpenny studios to try on really similar dresses.
"This led to my first wedding dilemma; I couldn't decide which one I liked best but I wasn't able to try them on side by side to make the final decision.
"In the end, I found the beautiful White Closet in Manchester who stock both designers so I could try them on together. I took my mum and, when I saw her face when I tried on the Charlie Brear Payton dress and feather Piora skirt, I knew it was the right one for me.
"Teamed with a gold leather Charlie Brear belt, I was in alternative wedding dress heaven. It also happened to be the very first ever dress I had tried on so that sealed the deal for me. Luckily, I booked my appointment on a trunk show weekend so I ended up with a lovely discount too.
"I accessorised with Jimmy Choos (an accidental purchase while walking down Bond Street!) and some amazing pieces from Tilly Thomas Lux for my hair and jewellery."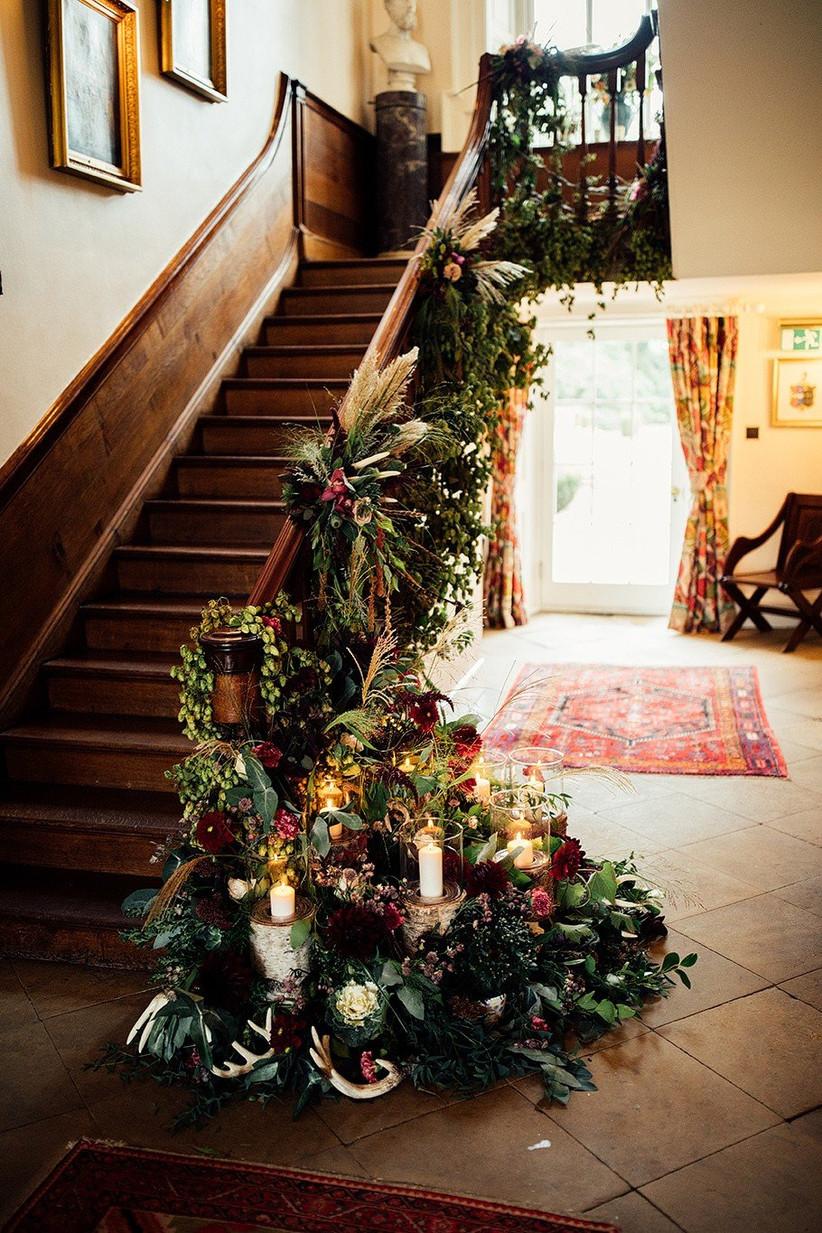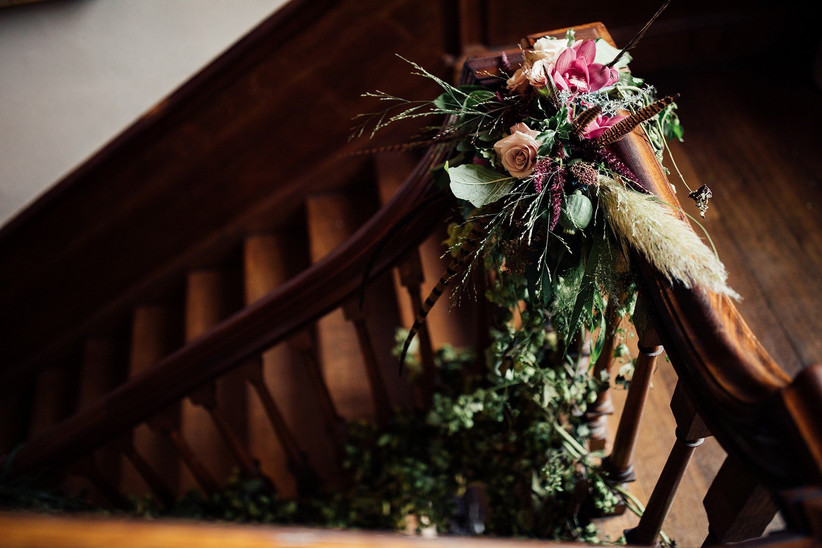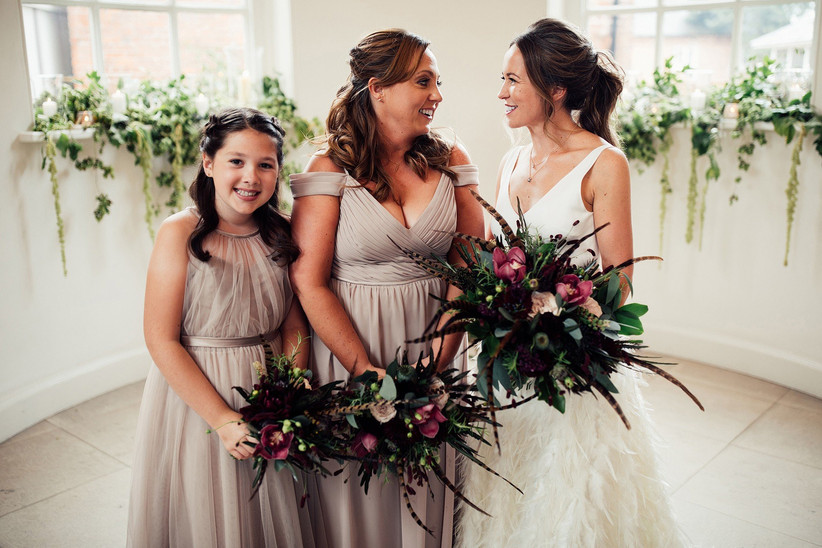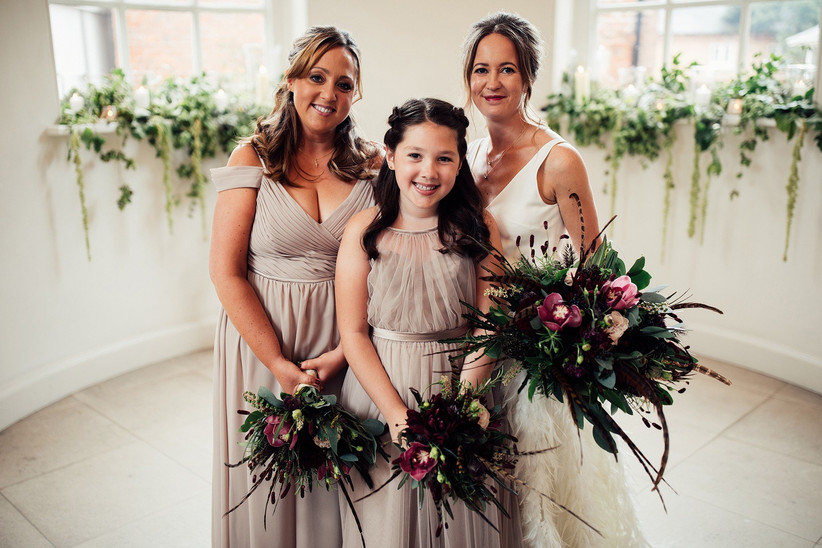 Bridal Hair and Beauty
Rather than an over-the-top, traditional bridal look, Sarah wanted to look like the best version of herself and be recognisable to her future husband when she walked down the aisle.
"Hair and makeup was one of the toughest decisions for me. I originally booked a stylist recommended to me who would do both my hair and makeup but when it came to the trial things didn't work out.
"I then found makeup artist Maxine Smith via Iscoyd Park and, due to a cancelled holiday, she was miraculously available. She recommended Charlotte for my hair and, in hindsight, I think it was all meant to be.
"Maxine understood what I was looking for and eventually gave in to my obsession with having a red lip. Charlotte did my undone, textured pony to perfect non-perfection!
"They were both an absolute dream to have around on the morning of the wedding, complete professionals, very calming and funny as hell. When I had a mini meltdown when the registrar told me last minute that we had to amend our vows Maxine came to my rescue and made me laugh my nerves away."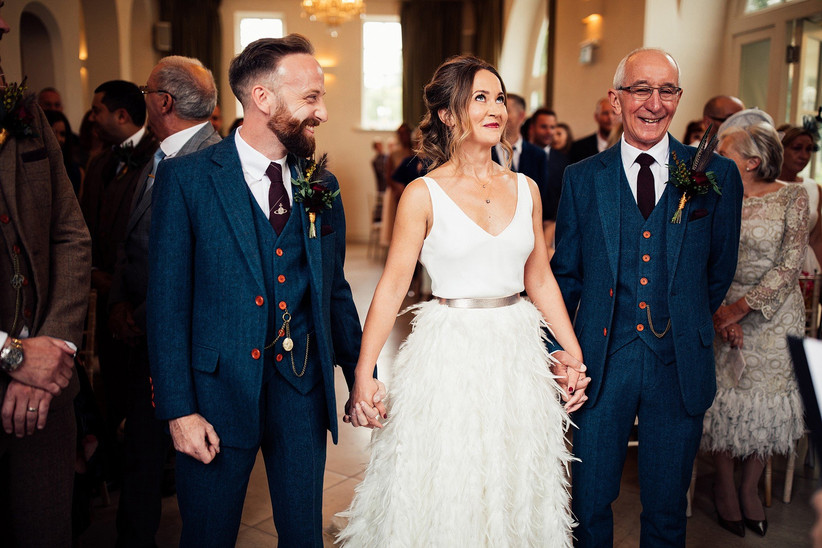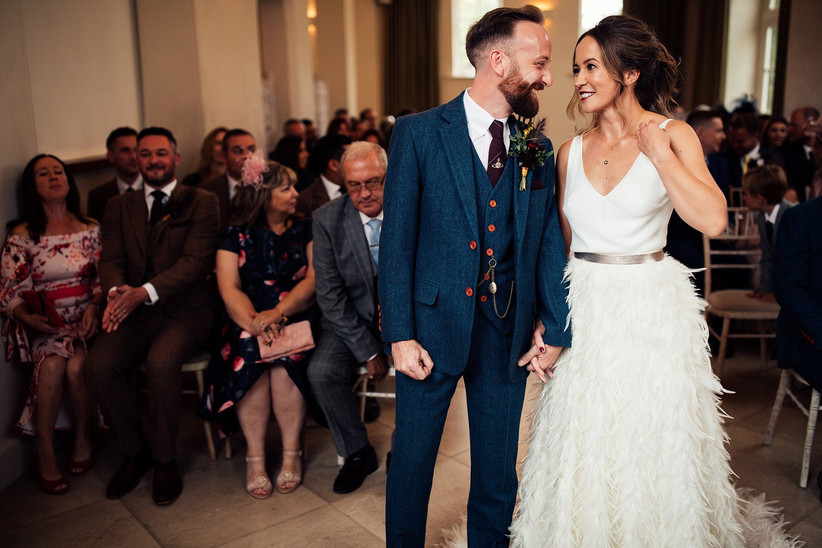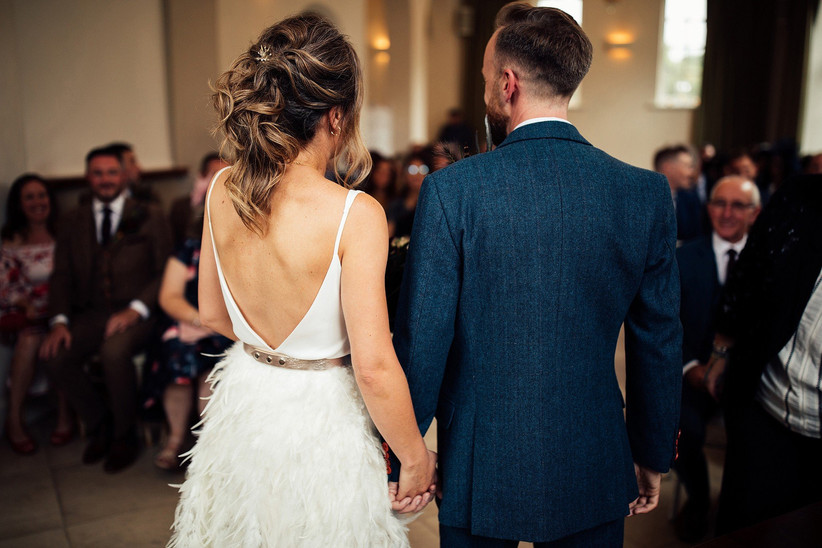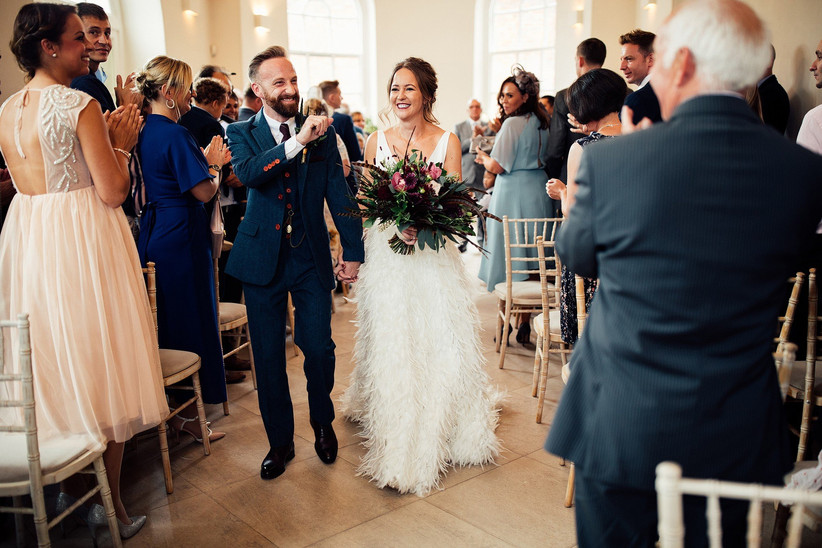 The Bridal Party
Sarah didn't want a large bridal party but she was delighted to find out that her oldest friend, Catherine, and daughter Ellie were happy to be part of the wedding.
"Maid of Honour and Bridesmaid were a little too archaic for us so we went with Best Woman and Bridesbabe. My only stipulation for their dresses was the colour and the length, other than that they had free rein.
"It was more important to me that they were happy and comfortable above any whim I might have. We booked an appointment at Joy's Bella Bridesmaids near York where the team couldn't have been more helpful in making the whole experience really easy and enjoyable. Especially for a woman who I have seen in a dress twice in the 25 years that I have known her!
"They chose 'me and mini-me' versions of a simple but elegant Sorella Vita dress in a nude/mink colour. Catherine was really keen that Ellie's dress wasn't too grown up for her so the tweenie version of her own dress was absolutely perfect."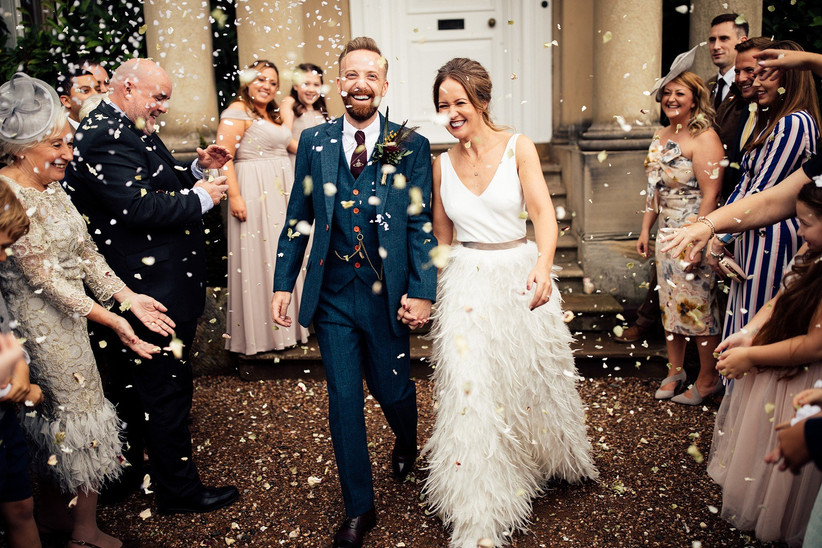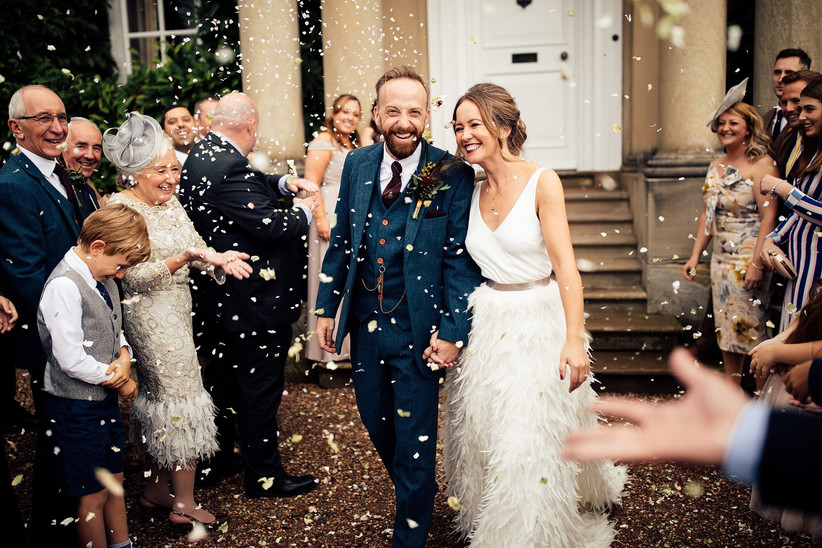 The Groomsmen
Lee loves clothes, tailoring, and tweed, so he knew exactly what he wanted for his wedding day. After talking to Sarah about colours, he headed straight to The Vintage Suit Hire Company.
"Three appointments later, he and my Dad had suits tailor-made in blue tweed and the boys hired a similar suit in brown. Pocket watches, Marsala ties and pocket squares as a nod to our flowers and they were done.
"Lee loves an accessory so he found a lovely Vivienne Westwood tie and pocket square in Liberty. He needs less of an excuse to buy new shoes than I do so he splurged on some J Fitzpatrick boots for the day.
"The boys have always given Lee grief for his love of tweed so I think he loved the fact that he had them all wearing it and seemingly enjoying doing so too! Their buttonholes – complete with pheasant feathers – by Red Floral finished off their look perfectly."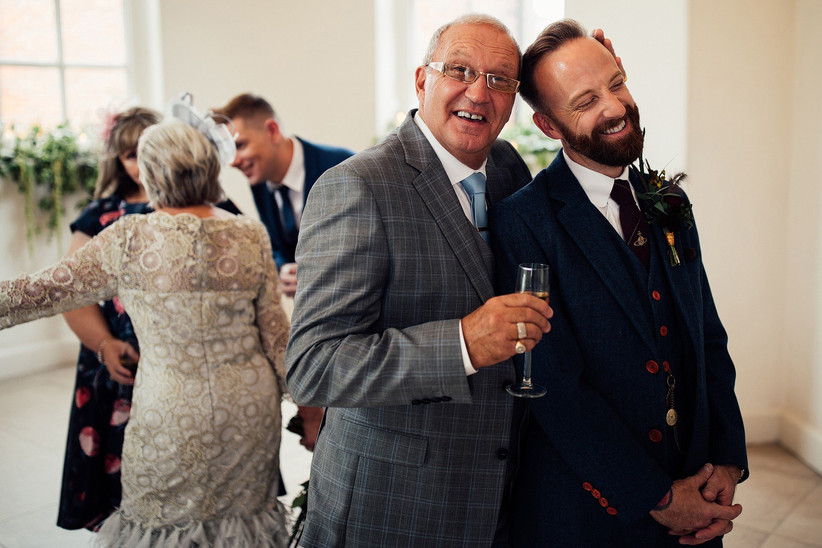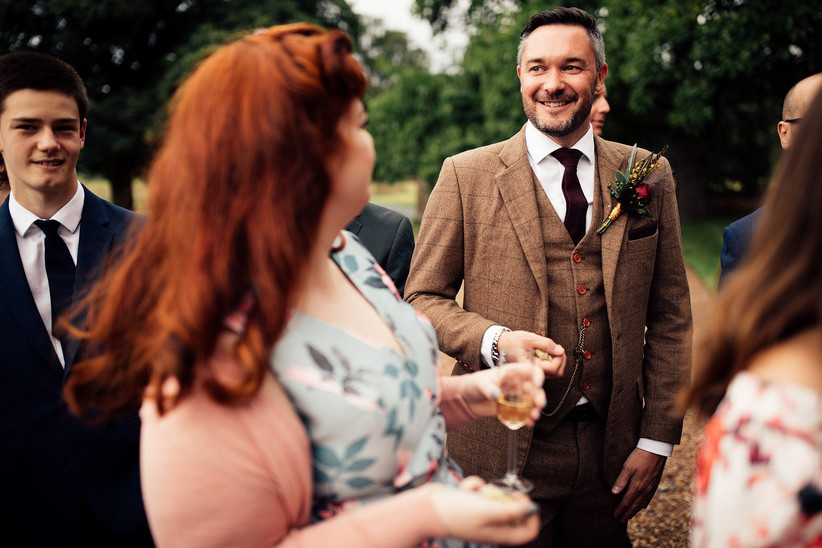 The Wedding Venue and Ceremony
Sarah and Lee chose a simple registrar ceremony. They wrote their own vows but decided against readings to keep the formal part of their big day short.
"For two people who weren't that fussed about getting married, once that ring was on my finger, we didn't hang around.
"We already had a full house renovation due to start that year so we decided on 2018 and, for no logical reason, September/October felt like a good time for nuptials.
"Despite living in London for the majority of our adult lives neither of us questioned for a second that our wedding would be back home up North. We had a look round a few places knowing that we wanted exclusive use and the chance to invite everyone back the next day rather than having to rush off. Naturally, the venue had to allow dogs!
"In a nutshell, Iscoyd Park stole our hearts the moment we drove up the long sweeping drive. A stunning house, impeccably styled and set within beautiful grounds… and it had a ceremony room!
"It was the perfect size for us and most importantly we could see ourselves spending one of the most memorable days of our lives there. We booked before we left!"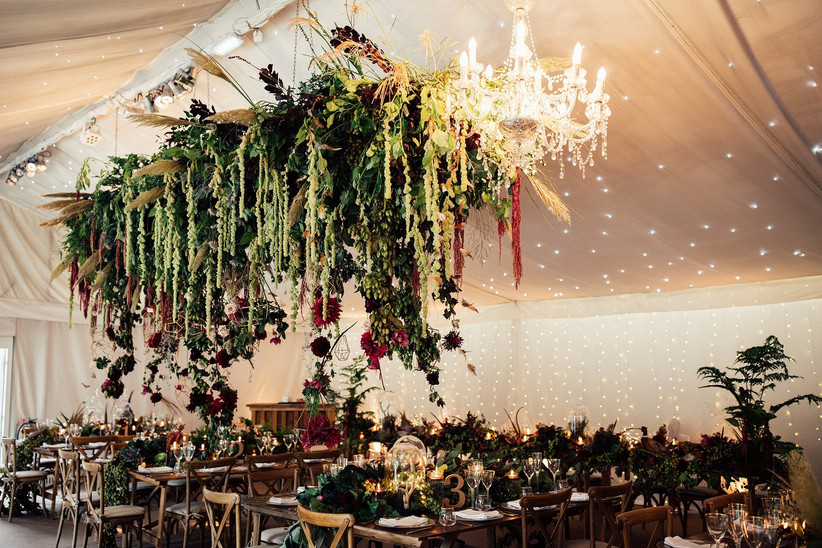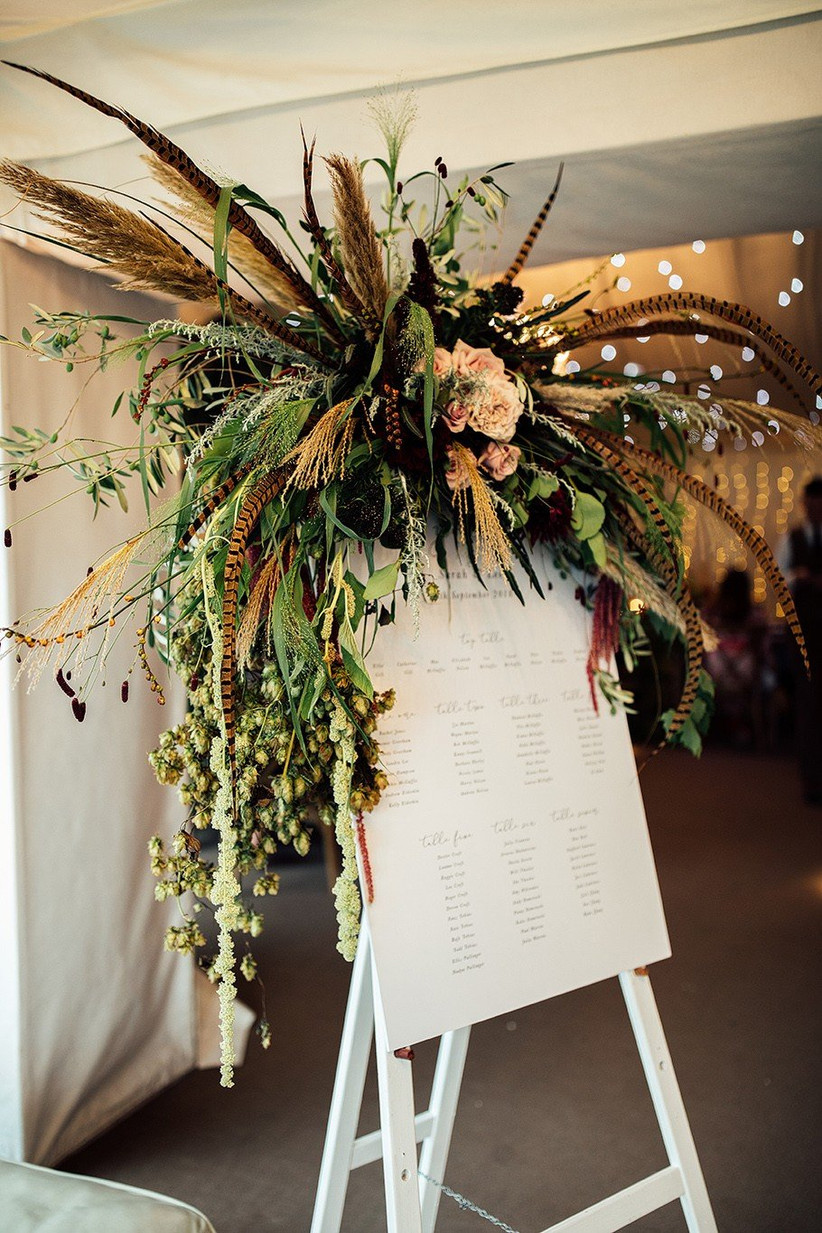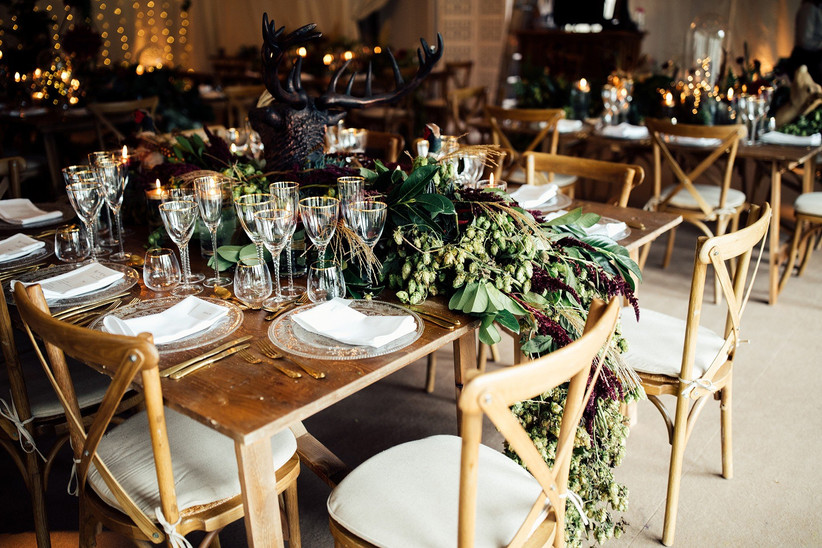 The Décor
The couple wanted their venue décor to reflect their shared interests. They included design elements inspired by taxidermy, Game of Thrones, minimalism and neon typography!
"The best way I could describe the style we were aiming to achieve would be a 'done but undone wedding'. The kind that looks like it has all just been thrown together but, in reality, it took forever.
"Iscoyd Park really is a beautiful venue so we tried to focus on decorating the marquee and let the rest of the house speak for itself. We didn't have any particular theme and we knew Mat and his team at Red Floral would make the flowers the focus of the day so we just let them showcase their artistry.
"We threw in a couple of pieces of neon in bright pink that hang in our house. One with our favourite house track 'Music Sounds Better With You' and one with an in-joke between Lee and me, 'You Had Me At Hello'.
"The lovely Samantha at Pear Paper Co. created some beautiful minimal signs for us that were adorned with flowers, foliage and feathers. One to say 'hello' to our guests as they walked through the door and another with our table plan at the entrance to the marquee. Along with a few giant tassel tail balloons, that was about it for decorations.
"Working in the food industry, the table settings were high up on my priority list. We chose some fabulous gold/brass cutlery, brass rimmed glassware and textured glass charger plates which were finished off with velum menus and name cards from Pear Paper Co."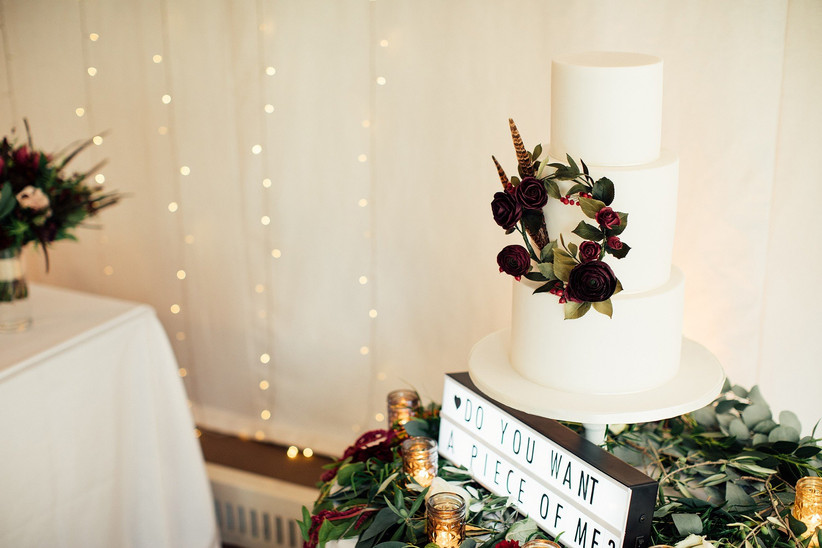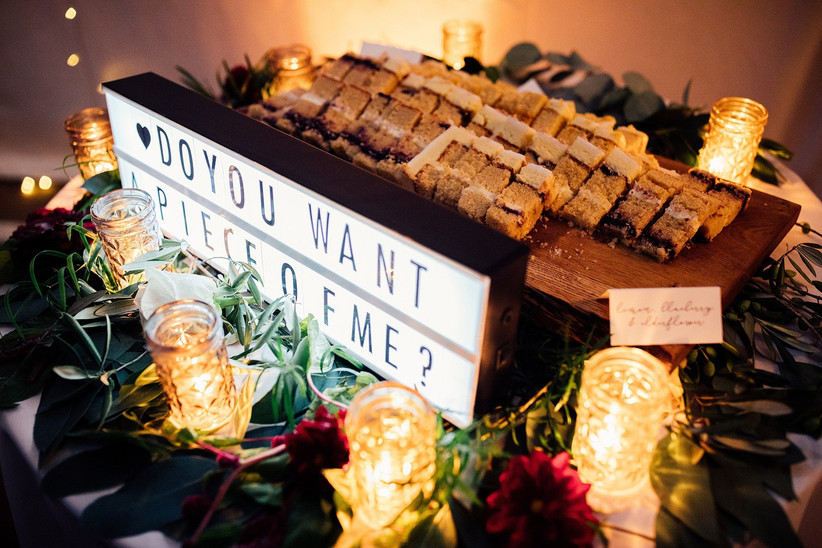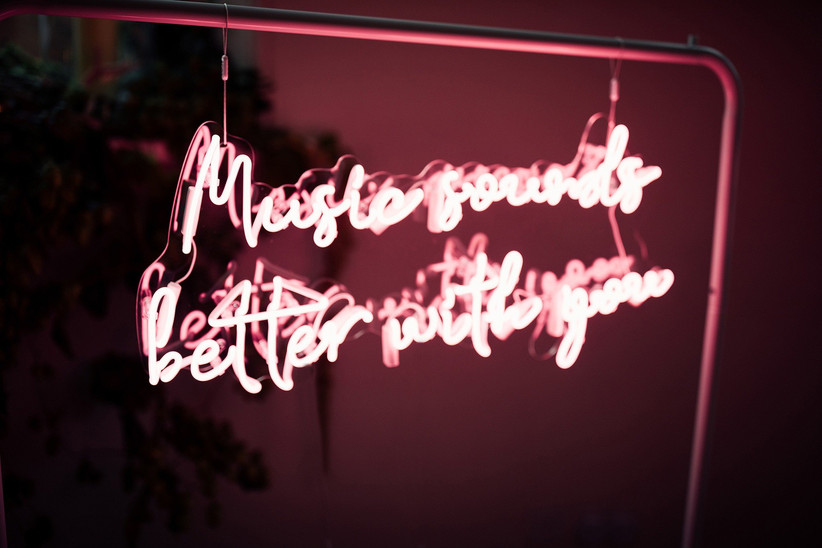 The Flowers
To ensure the flowers represented the couple, they opted for loose, unstructured arrangements rather than asking the florists to adhere to a strict style.
"Red Floral Architecture dressed the Open Day that we attended at Iscoyd Park with a quirky tropical style so we met up with Mat and discussed our ideas with him.
"Our brief was pretty simple; dark reds, grasses, pheasant feathers, taxidermy influences and unstructured styling.
"He and his team took our ideas, ran with them and did they deliver! As well as the bouquets and buttonholes, they decorated our signage, the staircase and the tables with low tumbling flowers in exactly the style we were looking for.
"For a couple whose flower knowledge is pretty limited, we ended up with cymbidium orchids, ranunculus, dahlias, garden-style roses all in Marsala tones with hordes of eucalyptus foliage, ornamental grasses, the most gorgeous pheasant feathers and bell jars filled with all sorts of curiosities!
"We debated for hours whether or not to have a centrepiece hanging from the ceiling of the marquee and we are so glad we did. Our friends and family still haven't stopped talking about those flowers months later!"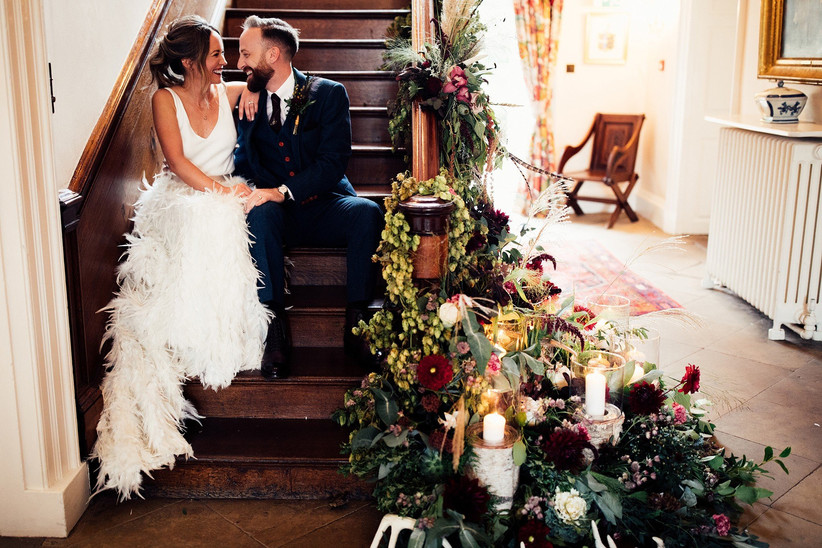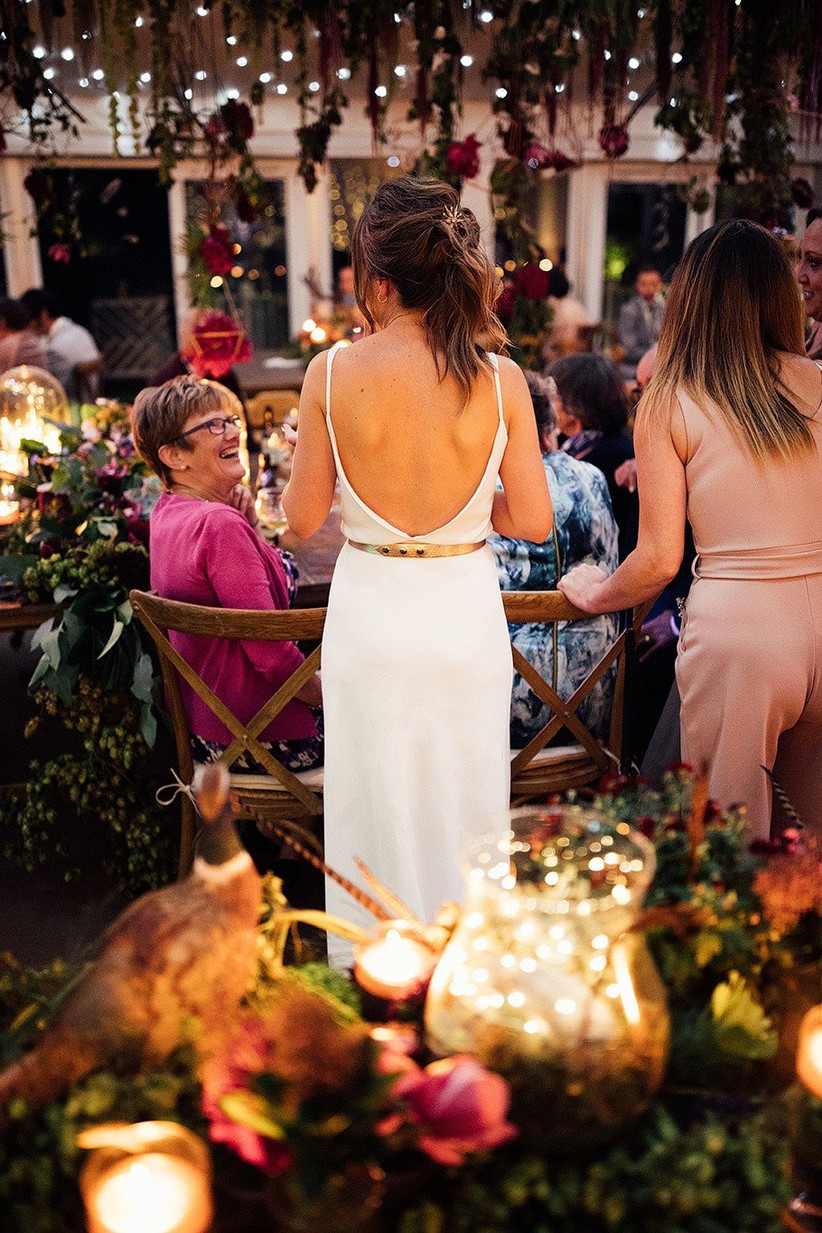 The Food and Wedding Cake
For their wedding cake, the couple hired Dominque from Poppy Pickering two years before the big day. After a tea party-style cake tasting, the couple decided on a three-tier cake with a salted caramel tier, an orange, satsuma and gin tier, and a lemon, elderflower and blueberry tier. For decoration, Dominique created a hoop covered in sugar flowers to mirror Sarah's bouquet.
"Our cake reflected elements of our styling perfectly – beautiful but understated. We had two gin bars set up for the duration of the day and we styled these with some cute black and white pegboards for menus, old school stripy red straws, fabulous textured tumblers and our cheesy, personalised 'The McGuffies' drinks stirrers.
"I have always worked with food so this was a huge part of the day for me. We chose a slightly risky but very foodie locally sourced menu for the wedding breakfast (I still don't know why it is called a breakfast!?).
"We had champagne and some delicious canapes straight after the ceremony. Then, in the evening, we couldn't resist the Iscoyd Park pizza van. I mean, who could resist oven-fired pizzas popped straight out of the oven to keep everyone going into the night?"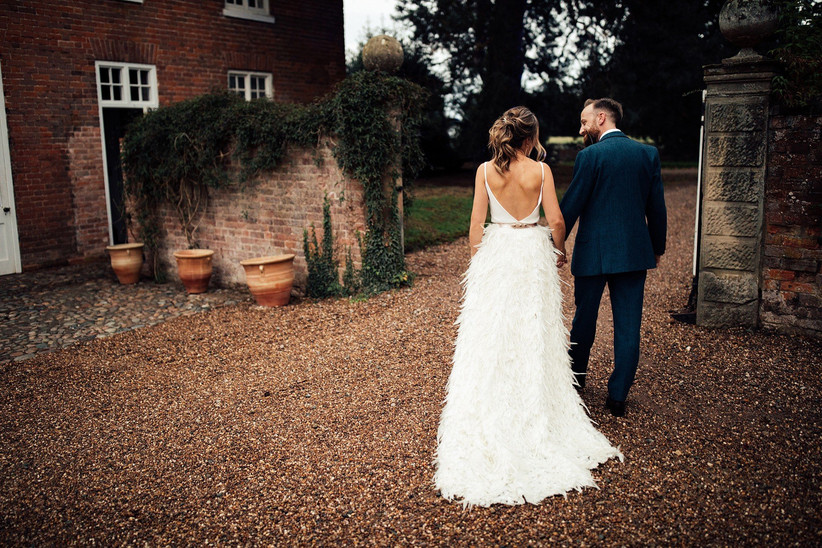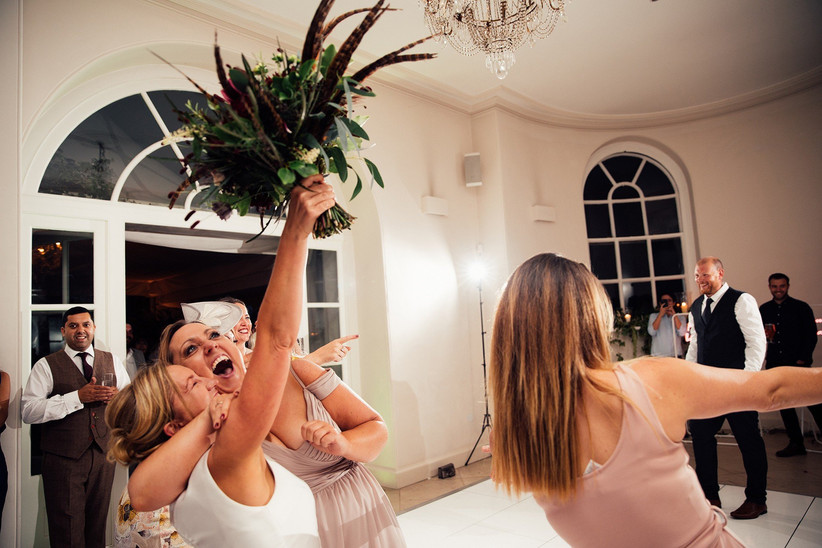 The Entertainment
Before the DJ arrived for the evening party, the couple played a range of playlists throughout the day created by Lee. His handiwork set the tone for the day and guests listened to everything from You Send Me by Sam Cooke to Music Sounds Better With You by Stardust.
"Music makes Lee's soul sing so he took care of it all. I walked down the aisle to Berlin Song by Ludovico Einaudi. Without any lyrics, it is just a beautiful, timeless piece of music that set the tone perfectly.
"For the evening we hired a ridiculous rig that would have been better placed in Amnesia or one of the other super-clubs in Ibiza and a London DJ who takes classic disco and soul tracks and re-edits them. The result is stuff that people know but with a bit of a twist. Not sure Iscoyd Park had hosted anything quite like it before.
"I was quite anti the whole 'first dance' thing so we played it by ear. If we did one it was supposed to be to What's Wrong With Groovin' by Letta Mbulu but it all got a bit chaotic. We ended up making utter fools of ourselves throwing shapes to No Diggity by Blackstreet. Not exactly what we imagined but fun none the less!"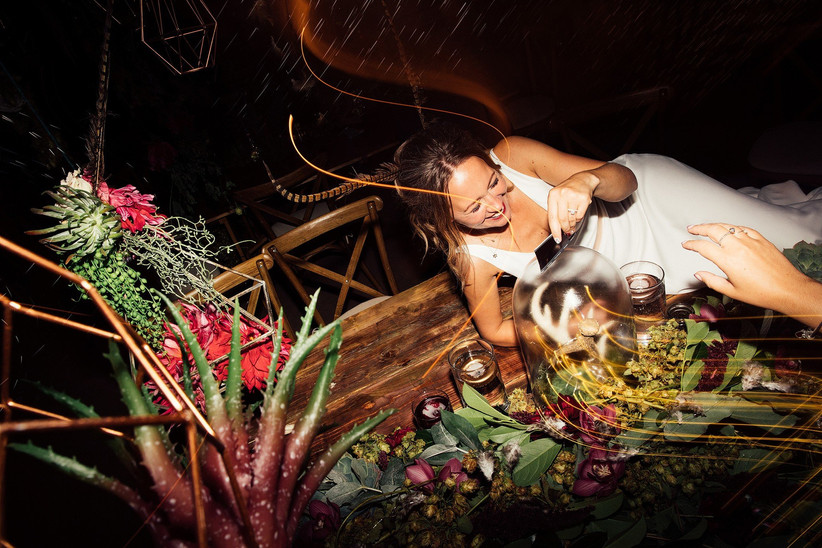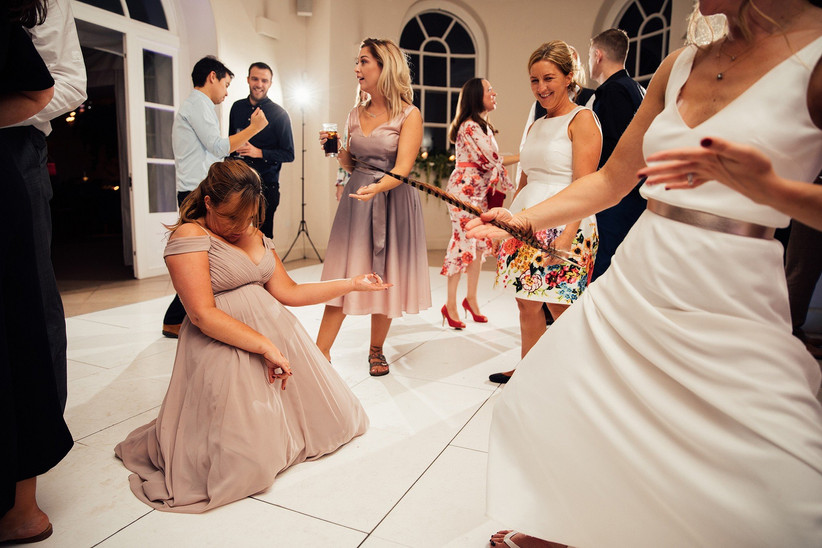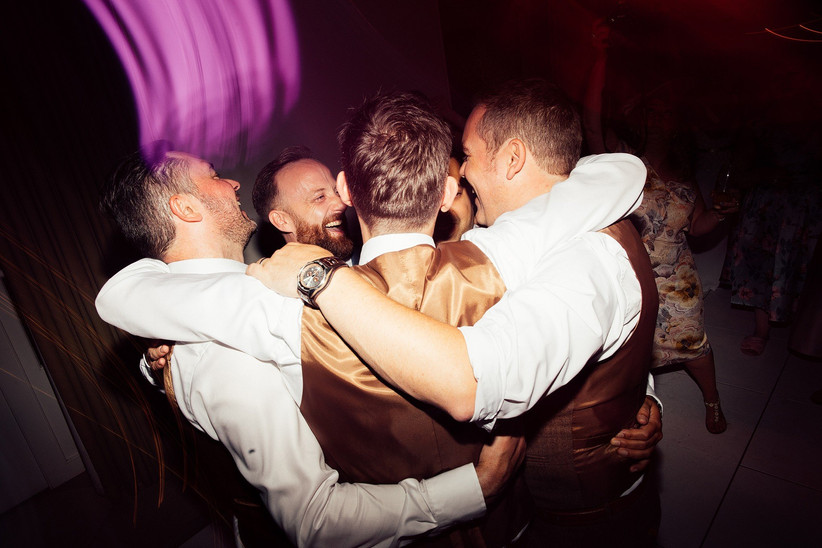 The Couple's Advice
For their honeymoon, Sarah and Lee spent time being "utter lazy toads" at Kasbah Tamadot hotel in Morocco. It gave them plenty of time to reflect on useful advice for other couples in the middle of their planning.
"My experience in hospitality and events taught me that the suppliers you engage know what they are doing and have done it a zillion times. So, find someone that understands your style/brief and then have confidence in them to deliver. The fewer restrictions you put on them, the more creative they can be and the better the result will be. They want your day to be as perfect as you do.
"Even though I proved myself to be an utter control freak during the planning process I would definitely recommend trying to let go and let your husband dress himself! After all, you are marrying him so he must have good taste, right!? Knowing that Lee was going to see my dress for the first time when I walked down the aisle, I wanted to have the same experience as him and I'm so glad I did. He looked dapper!
"Most importantly – DO IT YOUR WAY. You will never please everyone but in making sure you are happy the happiness of those celebrating with you will follow."
Suppliers
Ceremony and Reception Venue: Iscoyd Park
Photographer: Harry Michael Photography
Wedding Dress: Charlie Brear from The White Closet
Shoes: Jimmy Choo
Makeup: Maxine Smith
Hair: Charlotte Rose
Bridesmaid Dresses: Sorella Vita dress from Joy's Bella Bridesmaids
Jewellery: Tilly Thomas Lux
Florist: Red Floral Architecture
Cake: Poppy Pickering
Stationery: Pear Paper Co.
Groomswear: Vintage Suit Hire Company
Groom's Accessories: Liberty and J Fitzpatrick
A huge thank you to Sarah and Lee for letting us share their beautiful wedding!