Gdansk may not be the first place you think of when you hear the word's "destination wedding". But, Hayley and Charlie decided to get married in the gorgeous Polish city to pay homage to the groom's roots.
The couple met when they were just 16 at a friend's birthday party. Their first meeting was spent on a bright pink party bus which toured them around London.
Although the couple briefly split up when Hayley started university, it only took another friend's birthday party for them to realise their feelings for each other.
Charlie proposed on their six-year anniversary in London. The couple were engaged for a year while planning their intimate wedding in Gdansk.
They chose Dwor Oliwski City Hotel and Spa as their venue and invited just six close family members to celebrate with them. To top off their big day, they indulged in their wedding planner's idea of cake by the sea at the gorgeous nearby Jelitkowo Beach.
Photographer: Ufniak Photography and Feel8studio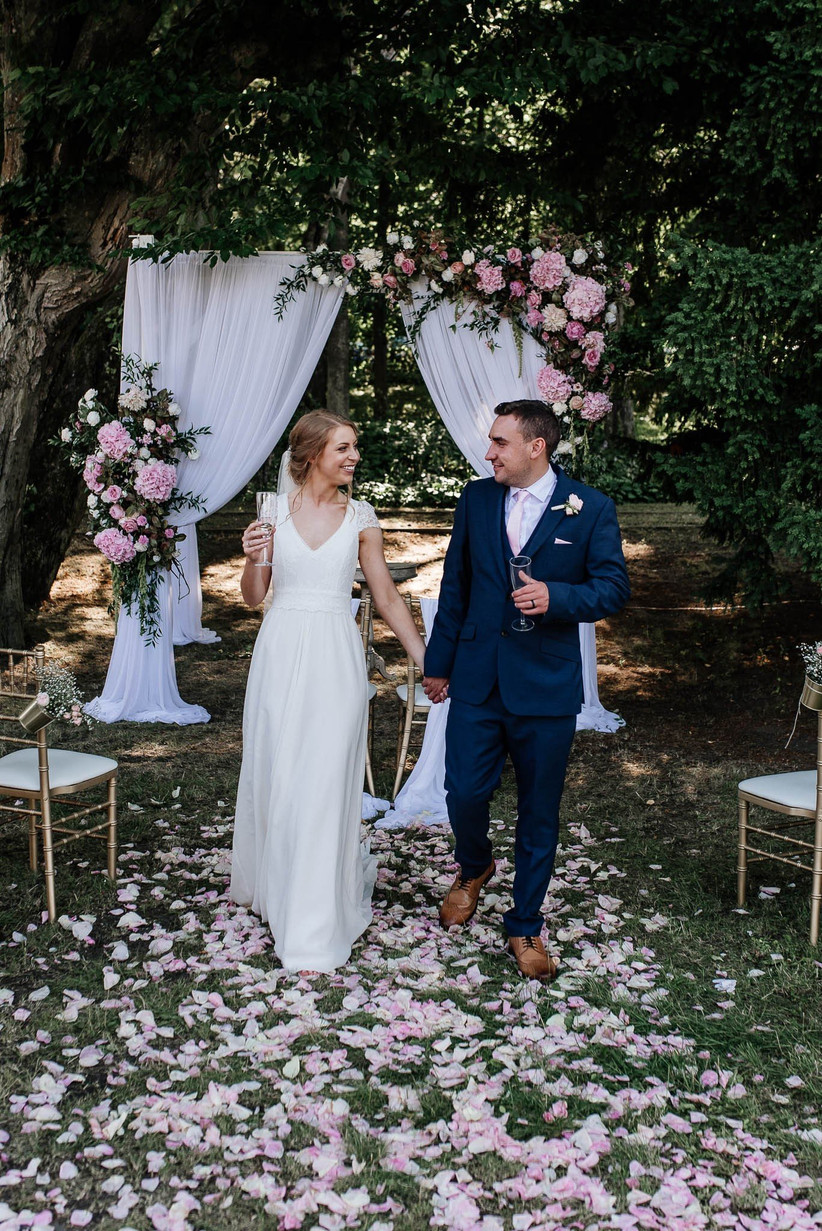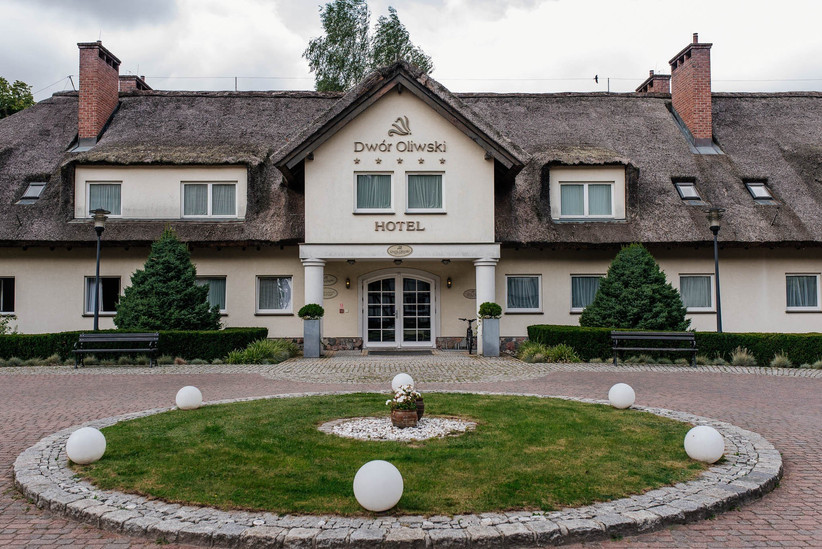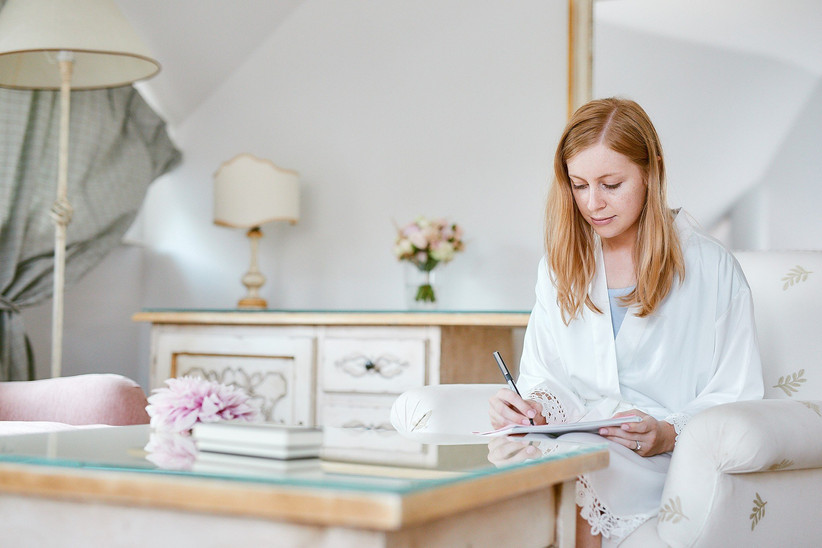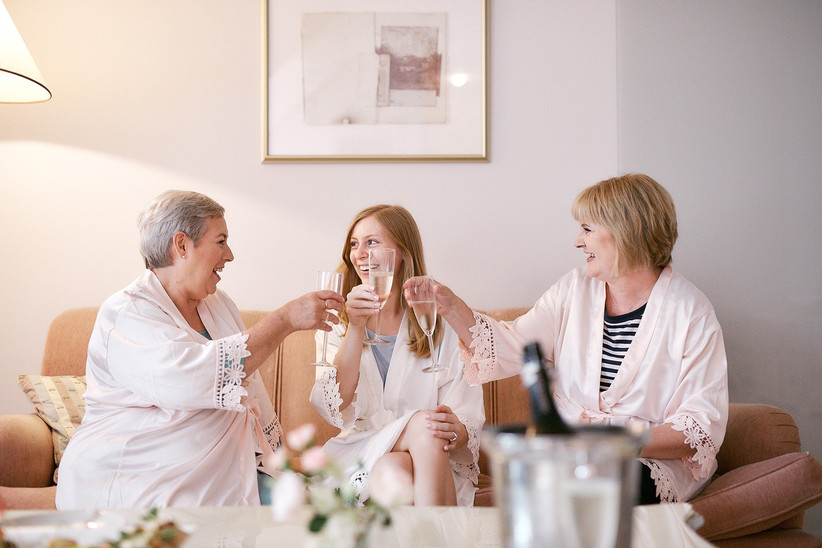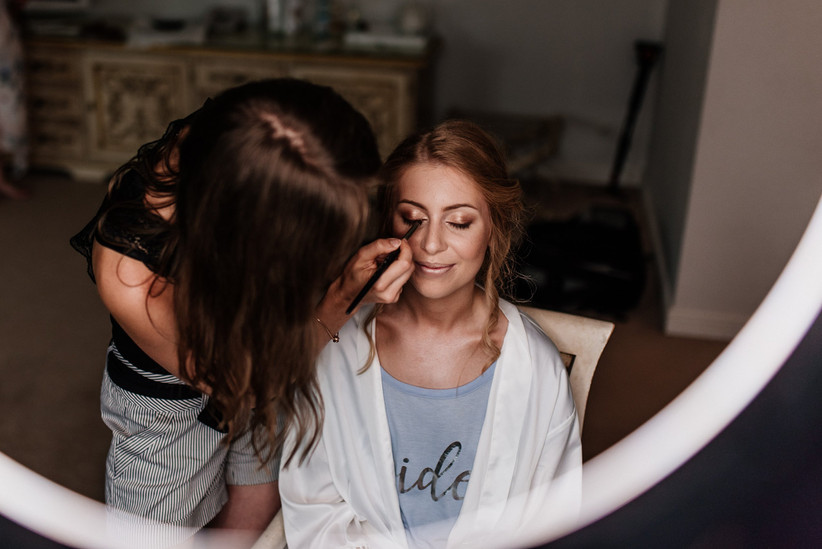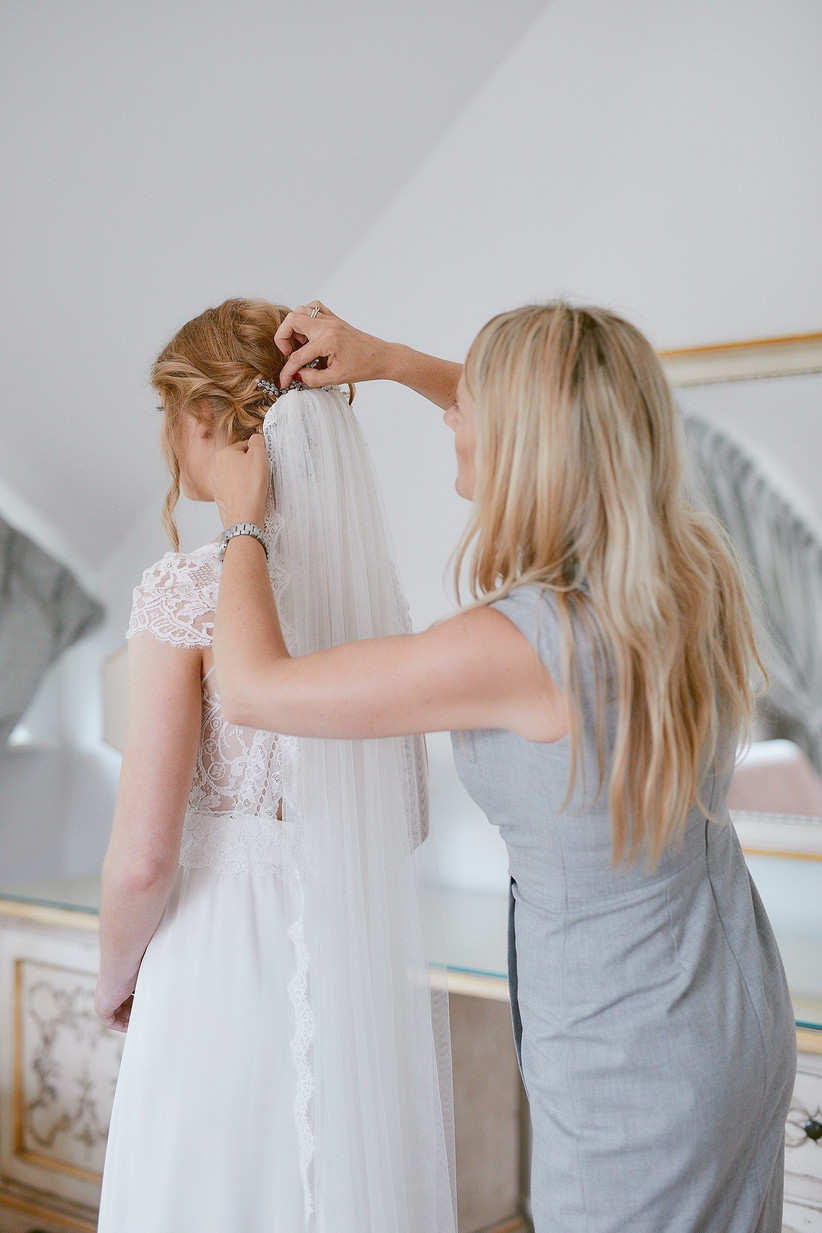 The Wedding Dress
Hayley was transfixed by the gorgeous designs of North London wedding dress designer, Dana Bolton. She only tried on five dresses by the designer and her final dress was handmade for her. This resulted in it being so comfortable that she chose to wear it all day!
"I had already stalked her Instagram thousands of times so I had shortlisted the dresses I wanted to try on at her studio! Funnily enough, as nice as those dresses were, the dress I ended up choosing was one that I hadn't even considered! After I tried it on, I found myself comparing every other dress to it so I knew it was 'The One'.
"My wedding dress was made of luxury silk and lace. It had the most beautiful open back with delicate cap-sleeves and lovely lace detail around the waist. The skirt was light and floaty and moved perfectly! I felt so comfortable in it.
"People asked me if I felt I should have gone to different shops and brands but I was sure of the style I wanted and happy with my decision.
"Although my dress was quite simple, the lace had lots of detail so I wanted to keep my accessories simple. I got a gorgeous veil with scallop-edged lace which was also made by Dana Bolton.
"Jewellery-wise, I wore simple crystal stud earrings and a delicate silver and crystal hairpiece that our wedding planner got in Poland. I also wore a gorgeous pale blue lace garter that my mum purchased for me from Etsy.
"When my Dad came to see me for the first time, it was such an emotional moment. I had only seen my Dad cry a handful of times before so I bawled my eyes out when he began to cry! It's a moment I will never forget."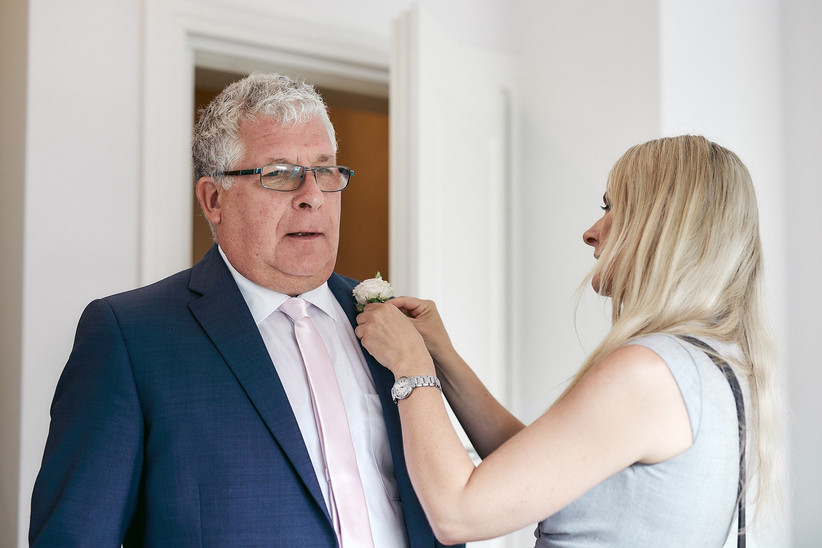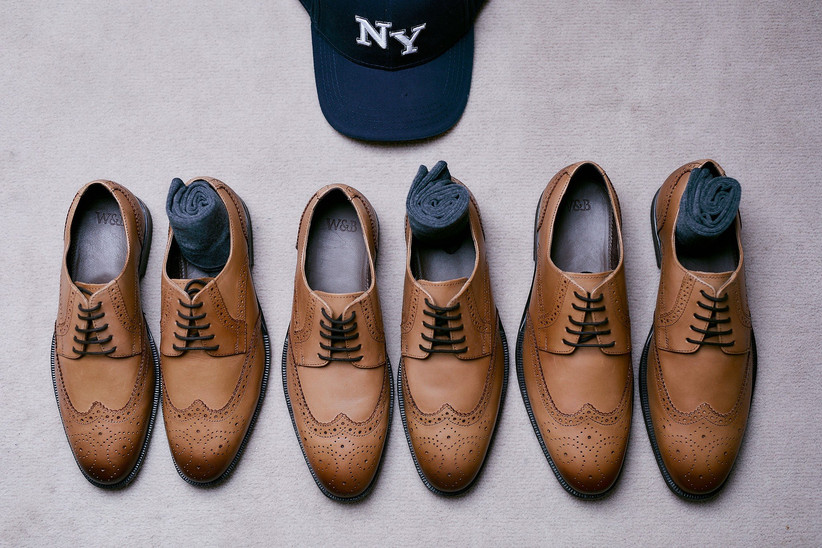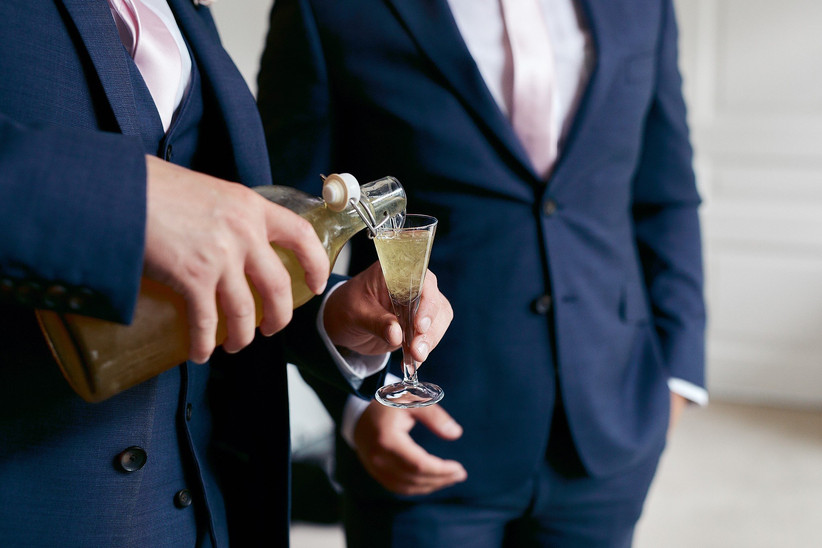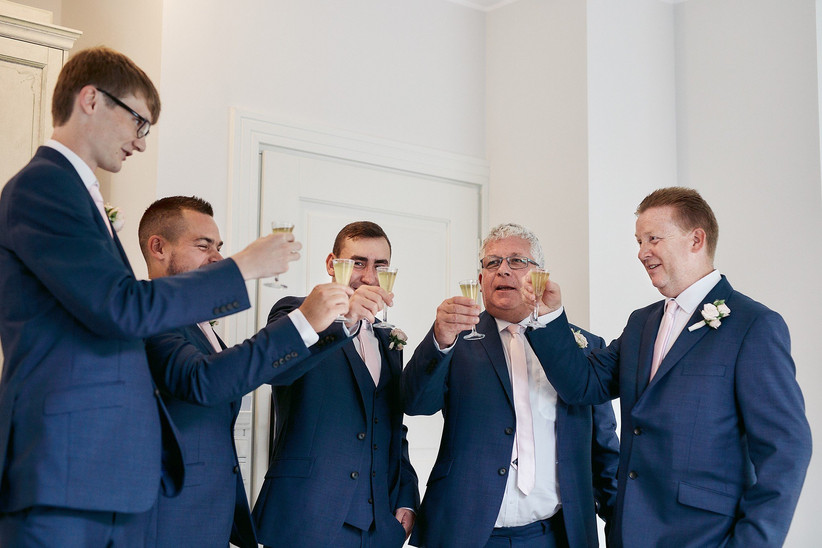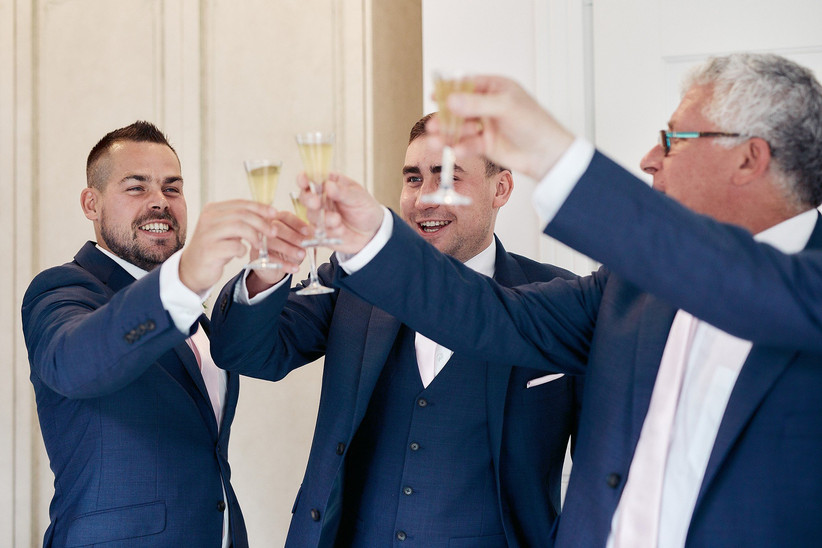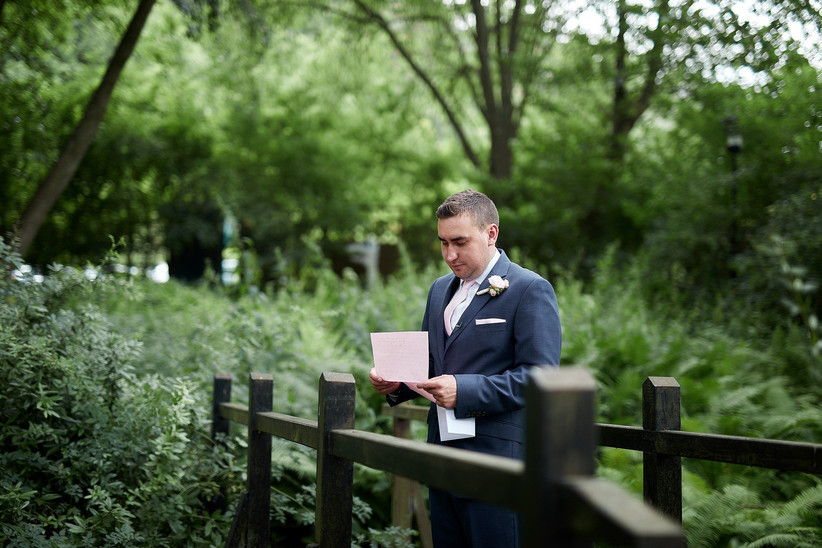 Bridal Beauty
Five months before the big day, Hayley and Charlie visited Gdansk. During this time, Hayley had a hair and makeup trial with Agnieszka Nowacka which went wonderfully.
"I went for a natural look with blush and pinky tones in the eyeshadow. I don't wear much makeup usually so wanted to make sure I looked like myself. Agnieszka did an incredible job!
"Agnieszka also did my hair, I went for a loose curly up-do with some loose pieces at the front. I never have my hair up so I knew it had to be soft and loose or I wouldn't have felt comfortable!
"While getting ready, my Mum, Charlie's mum and I all wore 'getting ready gowns' bought for us by my best friends."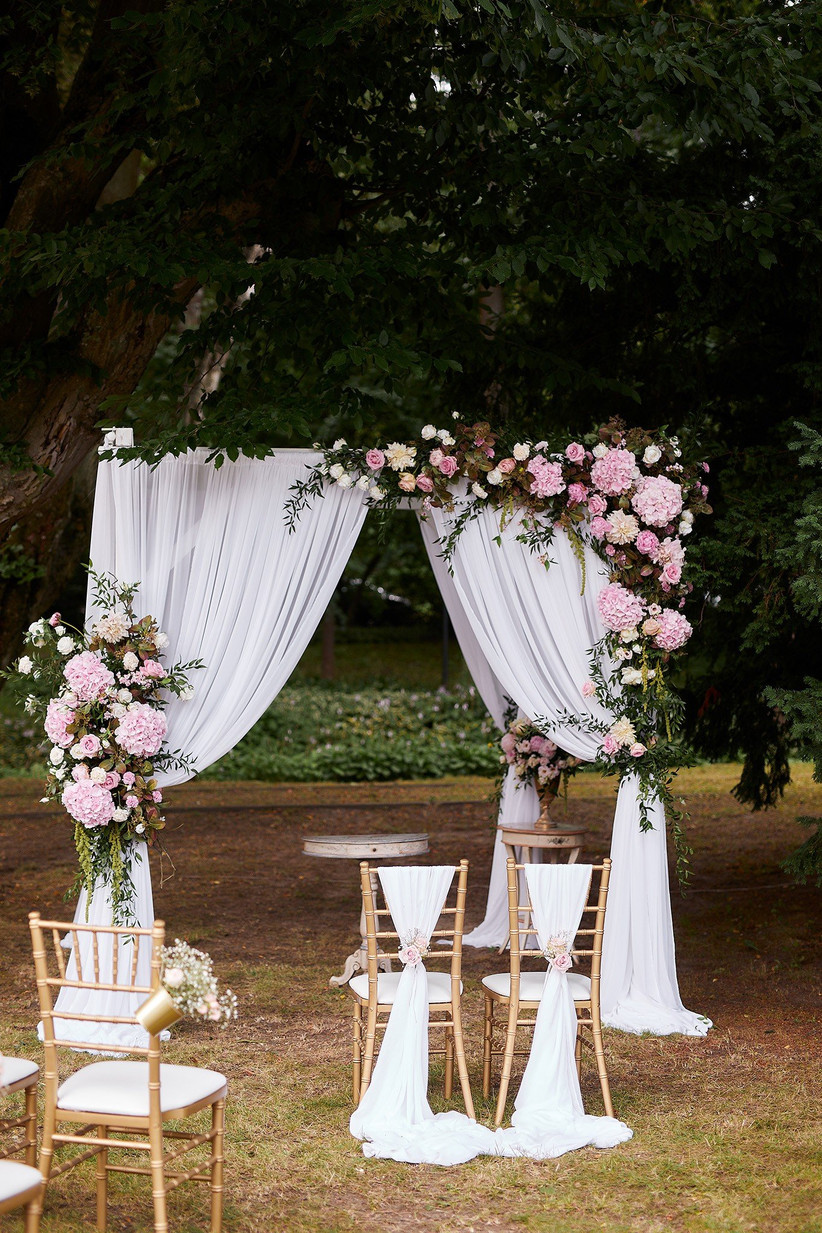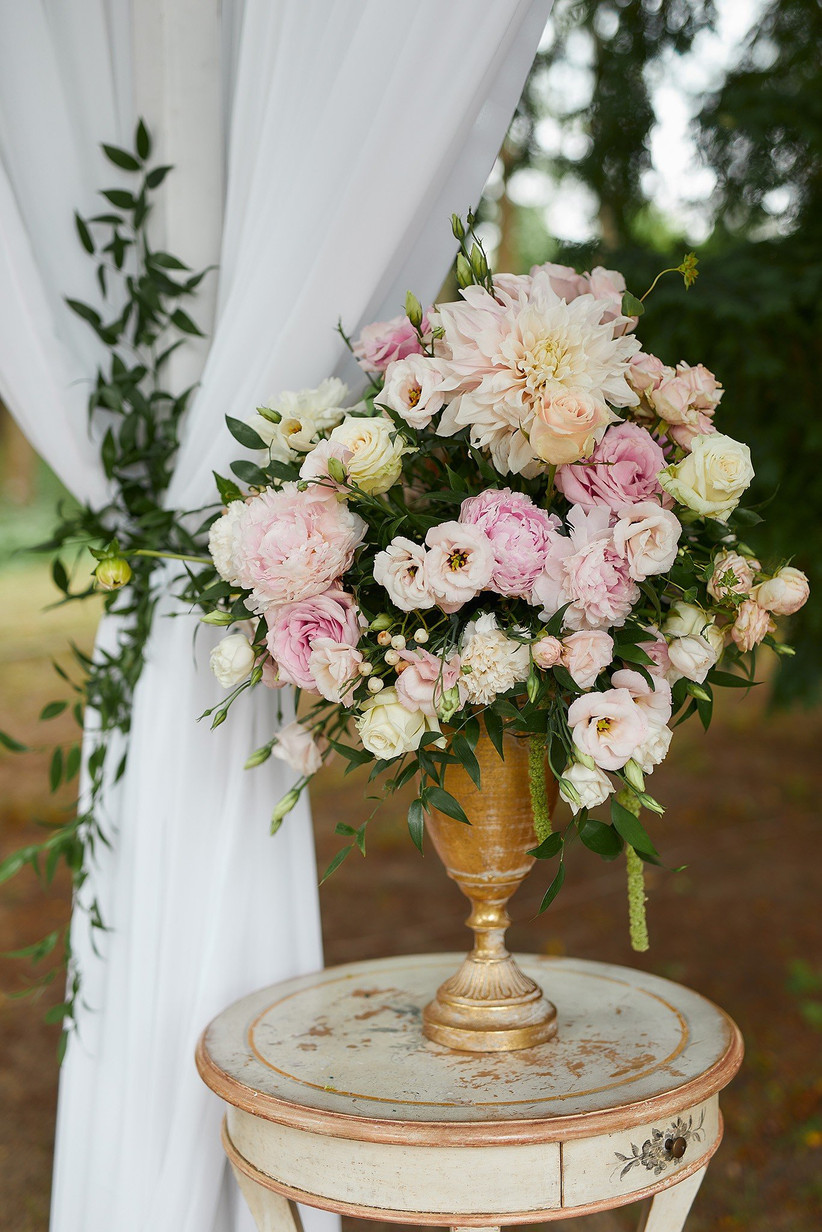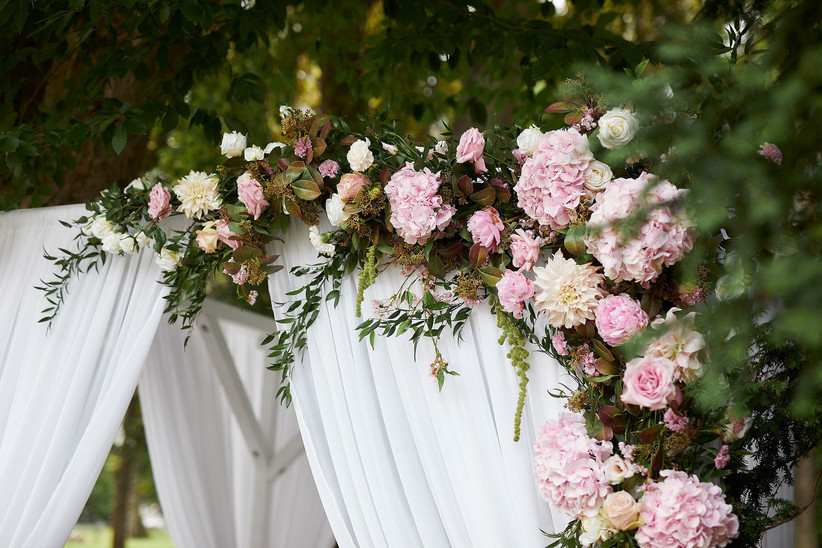 The Groomswear
Charlie and his groomsmen all wore matching blue suits from Marks and Spencer. In order to differentiate himself as the groom, Charlie wore a three-piece suit.
"The whole wedding party ended up coming along to buy the suits – Hayley, our Mums, our Dads and our brothers! Luckily, they are all easy-going and it was quite a straight forward process.
"We also wore satin blush pink ties from Ties R Us and I had a matching pocket square from there too. Our shoes were all from Jacamo.
"Being half Polish and being in Poland, it was only right that we stuck to a few Polish traditions! Our wedding planner, Anna, had brought a bottle of homemade lemon vodka courtesy of her Dad. I will never forget doing a celebratory shot of it with the men while we got ready together. It definitely woke me up that morning!"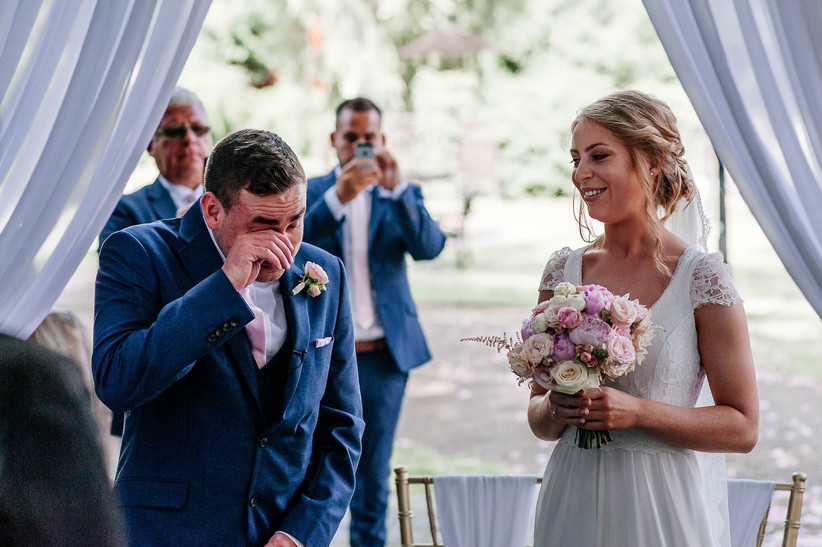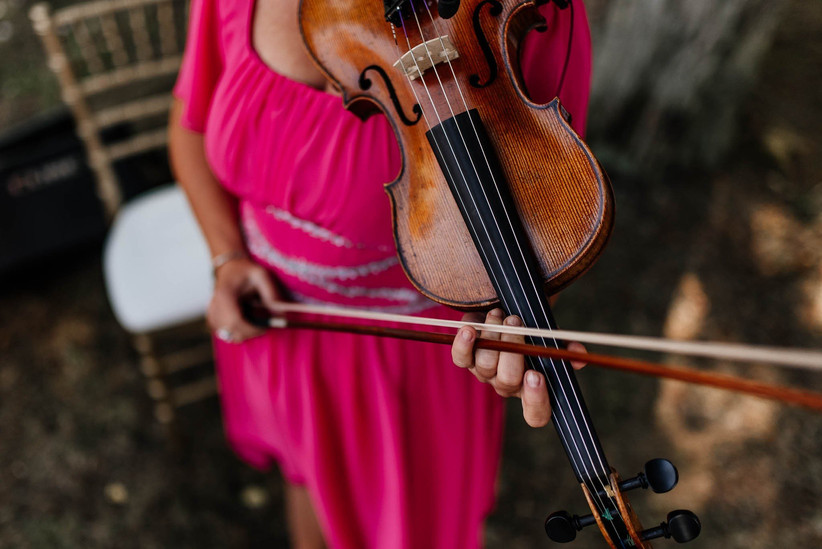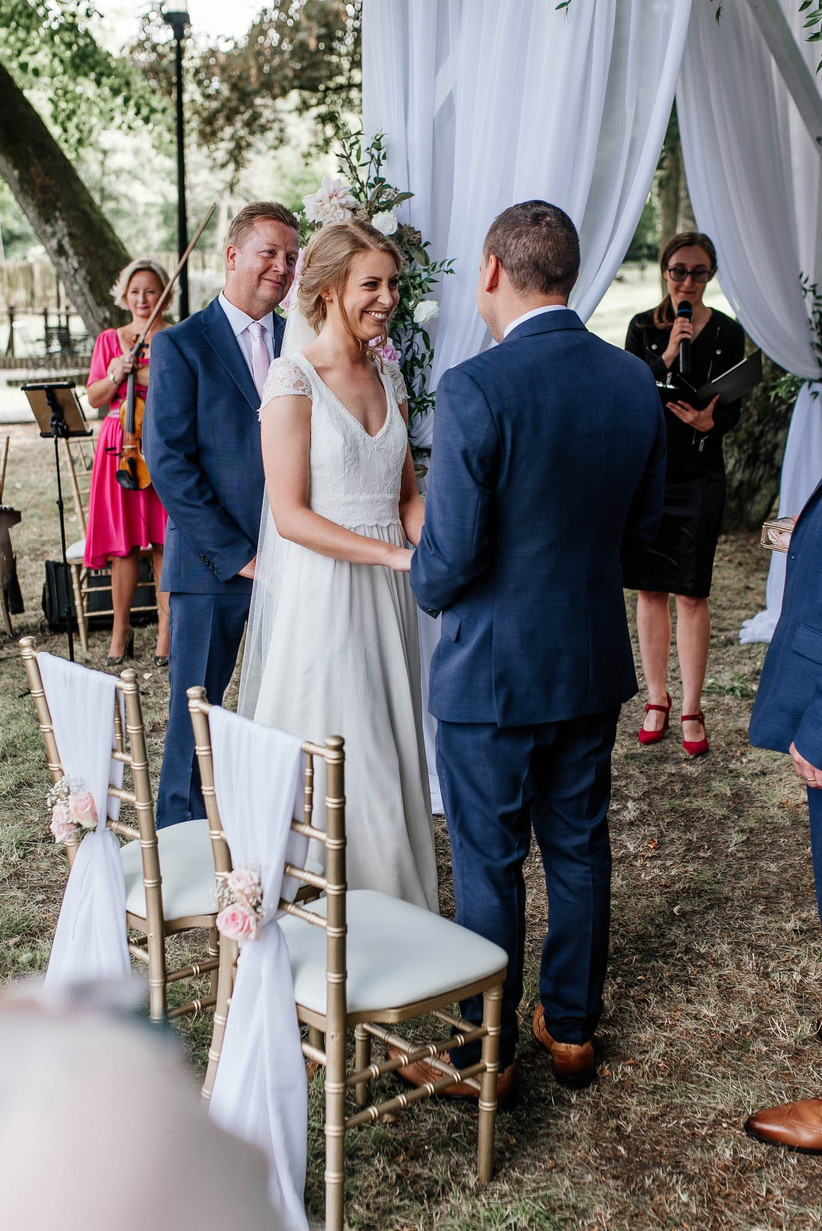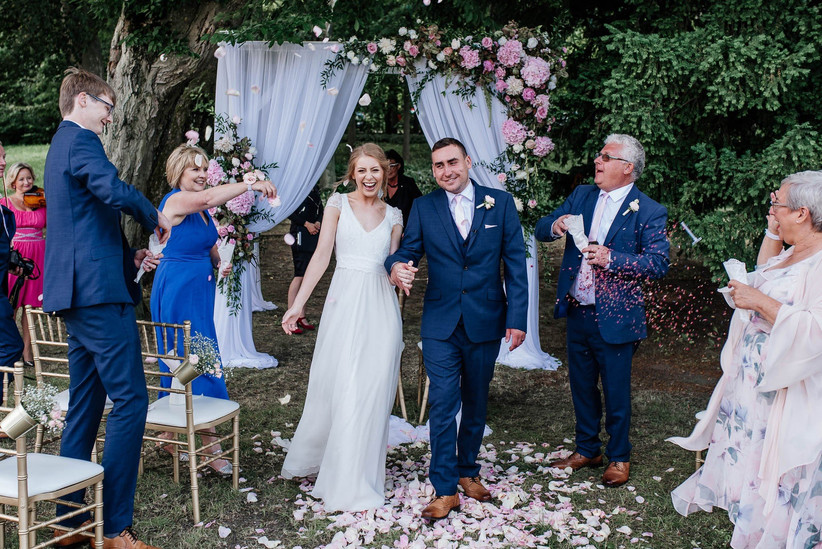 The Ceremony
The couple chose to have a civil service and got legally married in Gdansk to honour Charlie's Polish roots.
"We considered having a legal ceremony in England and then having a symbolic ceremony in Poland but we decided we wanted to do it all in one ceremony. We had to go to the Registry Office in Gdansk in February to sort out the legalities.
"As it was a teeny ceremony with just our immediate families, I had no bridesmaids and Charlie didn't have a best man. Our friends were all amazing and so supportive of our decision. We had a big party in England with our friends and family to celebrate!  
"The ceremony took place in the gardens of Dwor Oliwski under a beautiful flower arch. We had live music by the incredible Duo Amor who played the violin and keyboard for us. They played Pachelbel's Canon in D which set the tone beautifully! My Dad walked me down the aisle, it was a fantastic moment for both of us.
"A memorable moment for us was when the head registrar handed us a letter written by the Mayor of Gdansk, Aleksandra Dulkiewicz, thanking us for choosing to come to Gdansk to get married and saying how happy she was that an English couple had chosen her city! We felt very honoured to receive this letter and it was a total surprise!
"My rings were from a jeweller in Hatton Garden, which has now closed. Charlie's wedding band is made of carbon fibre and is from Etsy."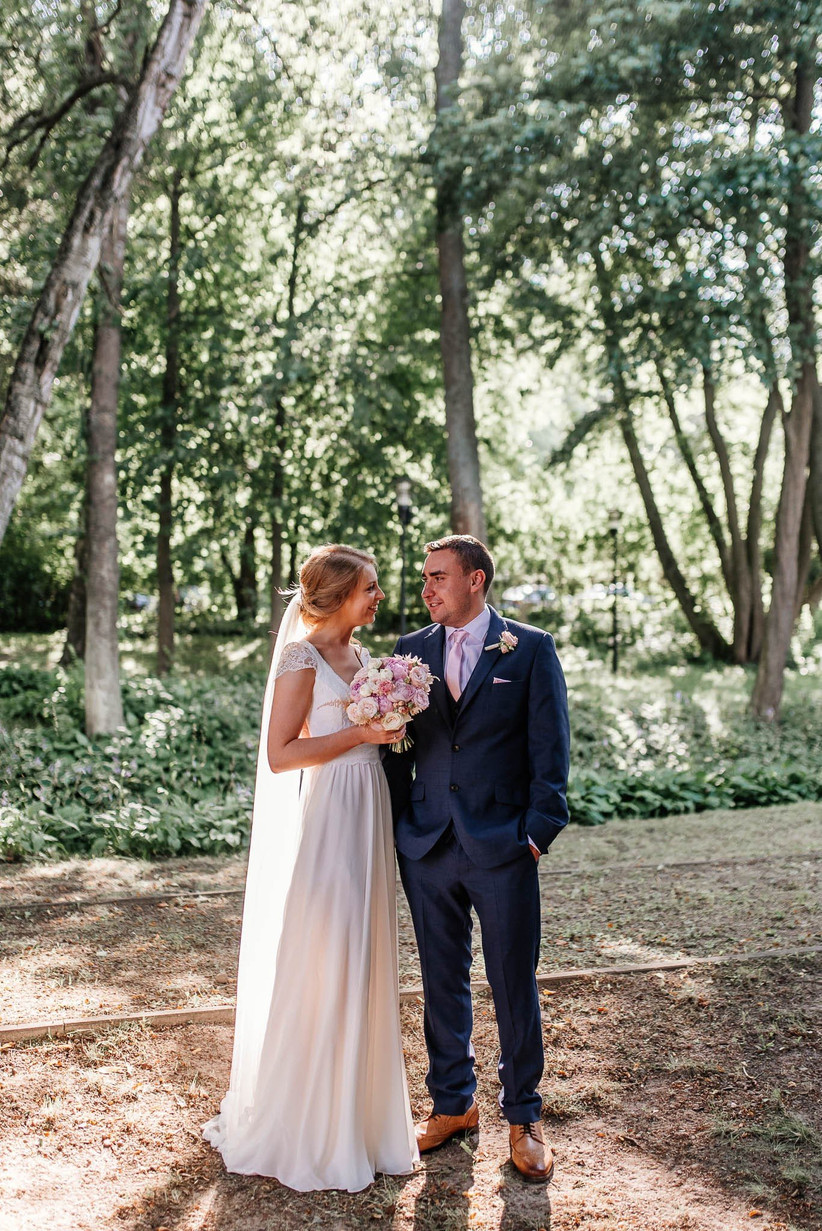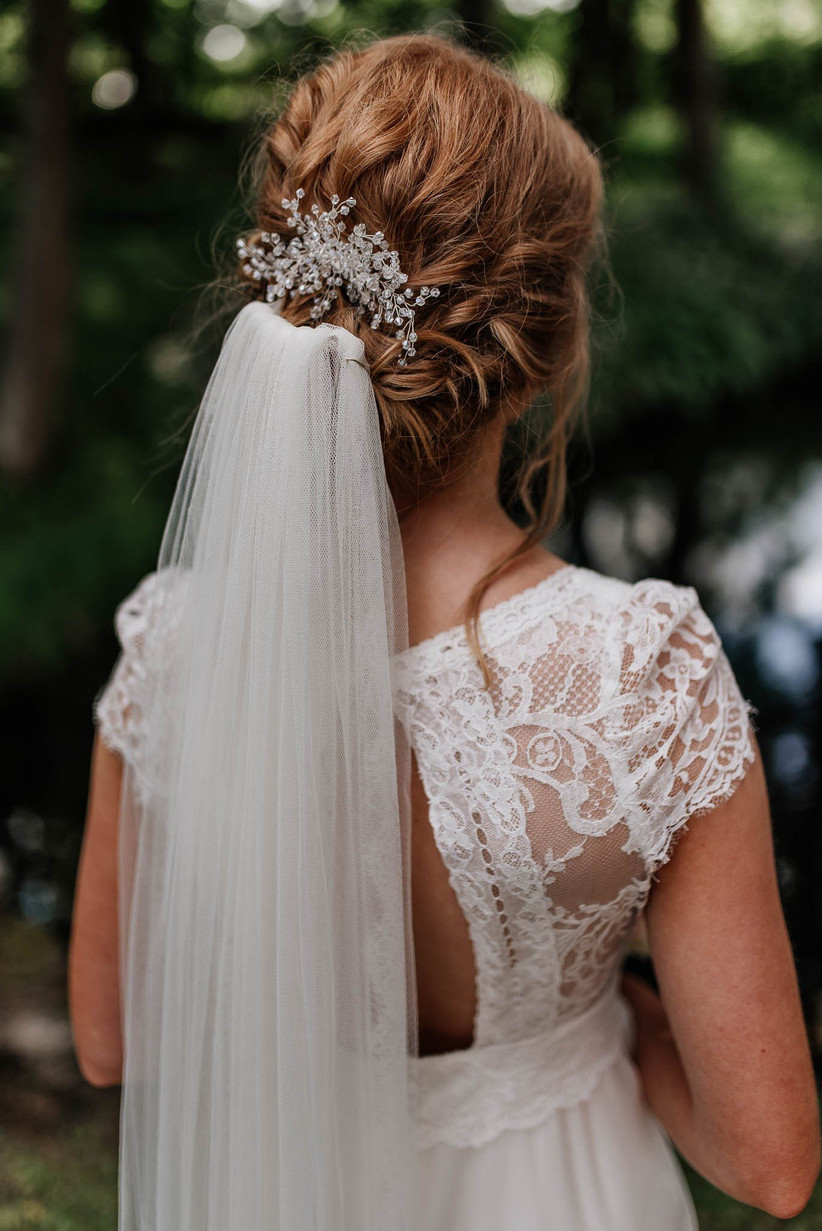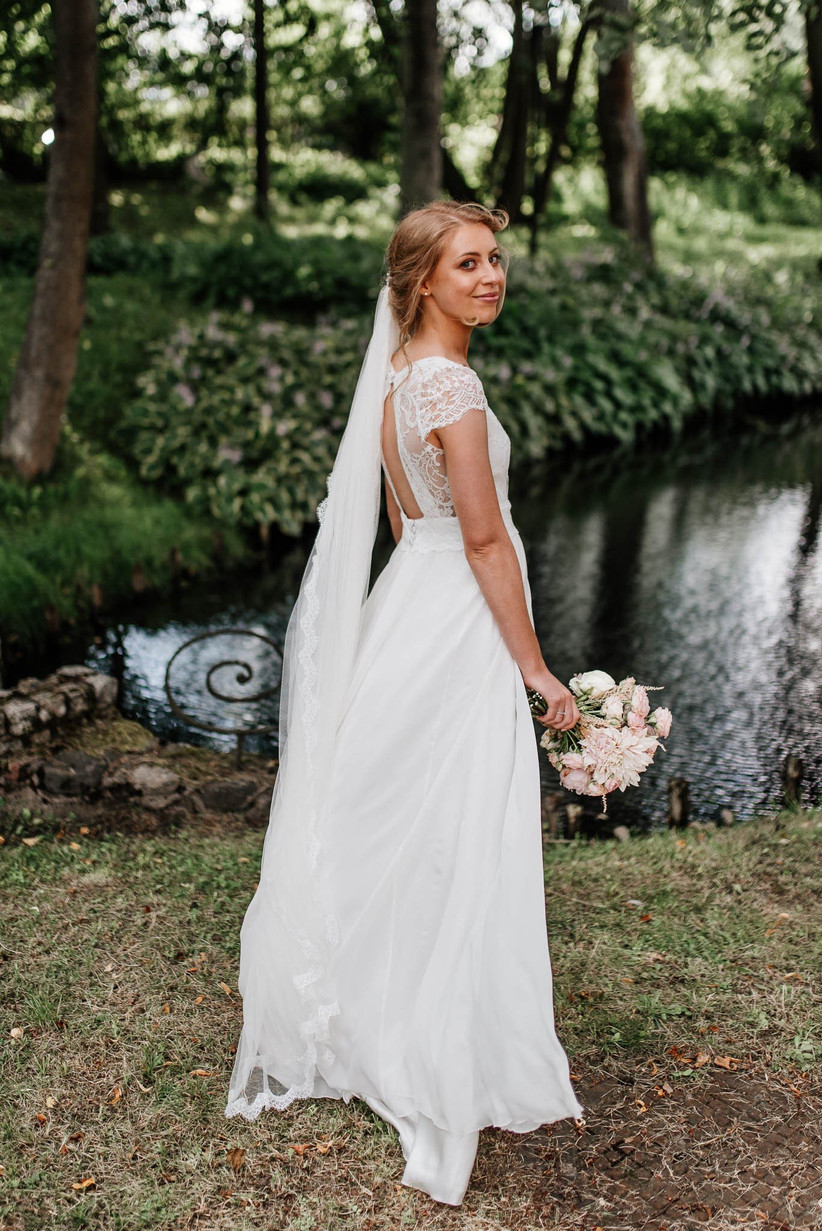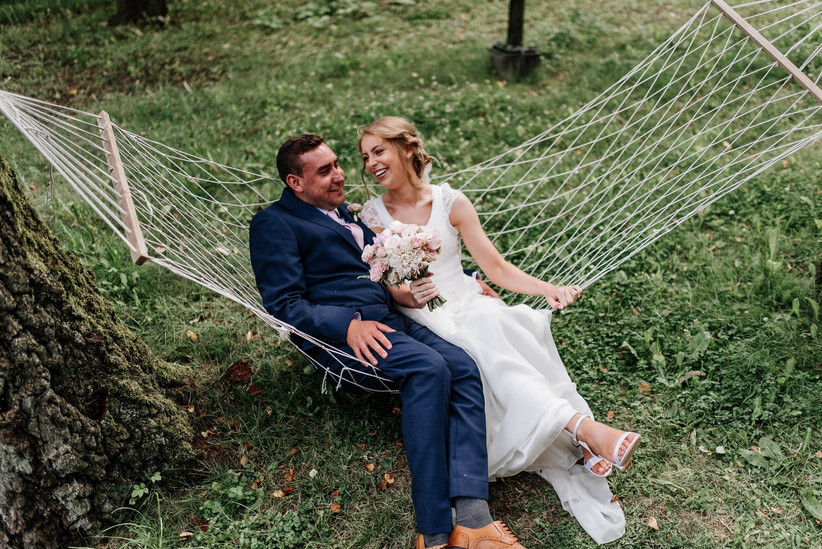 The Wedding Venue
Charlie and Hayley decided to book the Dwor Oliwski City Hotel and Spa in Poland before they even saw it in person. Luckily, it exceeded their expectations.
"We took a bit of a risk by booking the wedding venue in Poland before we had even told our families of our plans to marry abroad! Looking back, it was such a risk and we would have been devastated if our families couldn't come. Luckily, everything worked out and our families were delighted by our decision.
"What drew us to our venue was the interesting combination of regal features and rustic charm. We loved the contrast of the thatched roof with the sophisticated interior! The garden was also a big draw for us as we always imagined an outdoor ceremony. It also had beautiful gardens and a huge lake! You could spend hours exploring.
"For our colour theme, we chose different shades of pink, white and touches of green foliage. Gold was added to our table setting and this added a touch of luxury."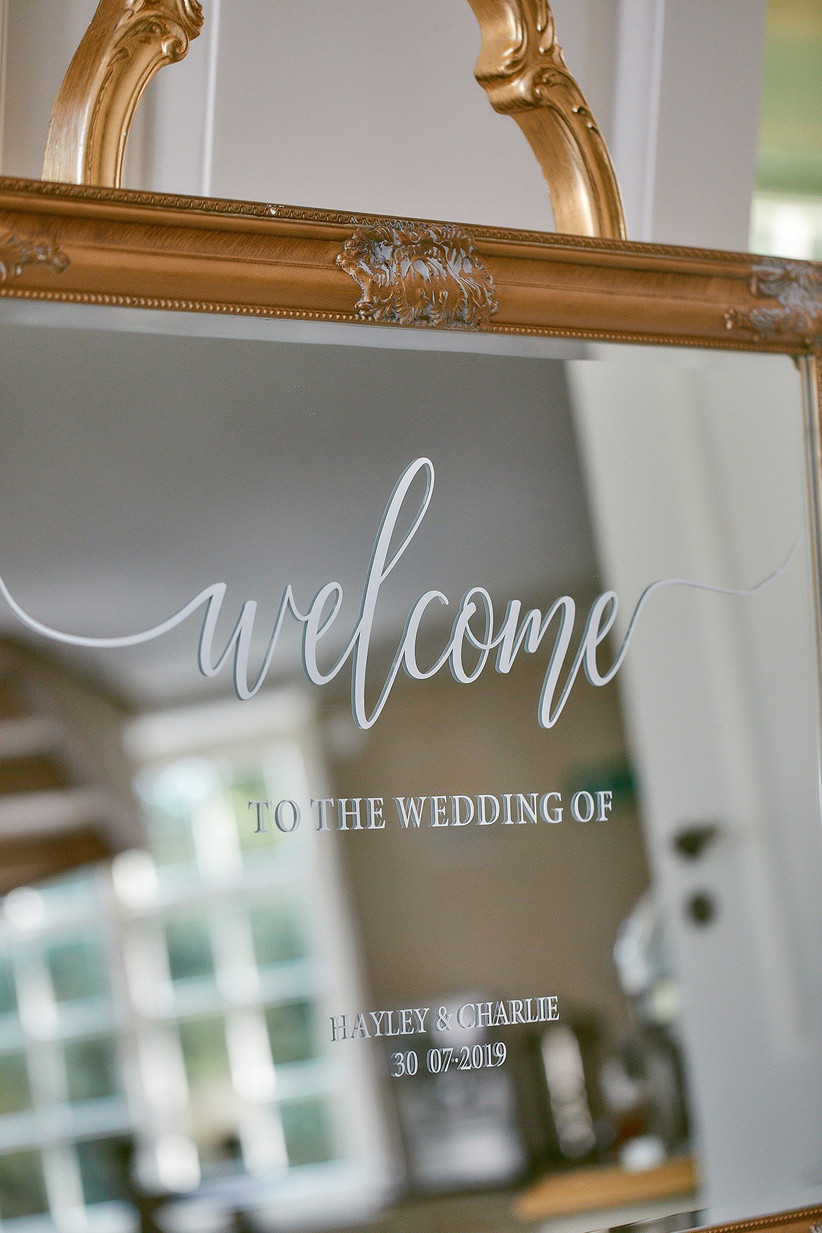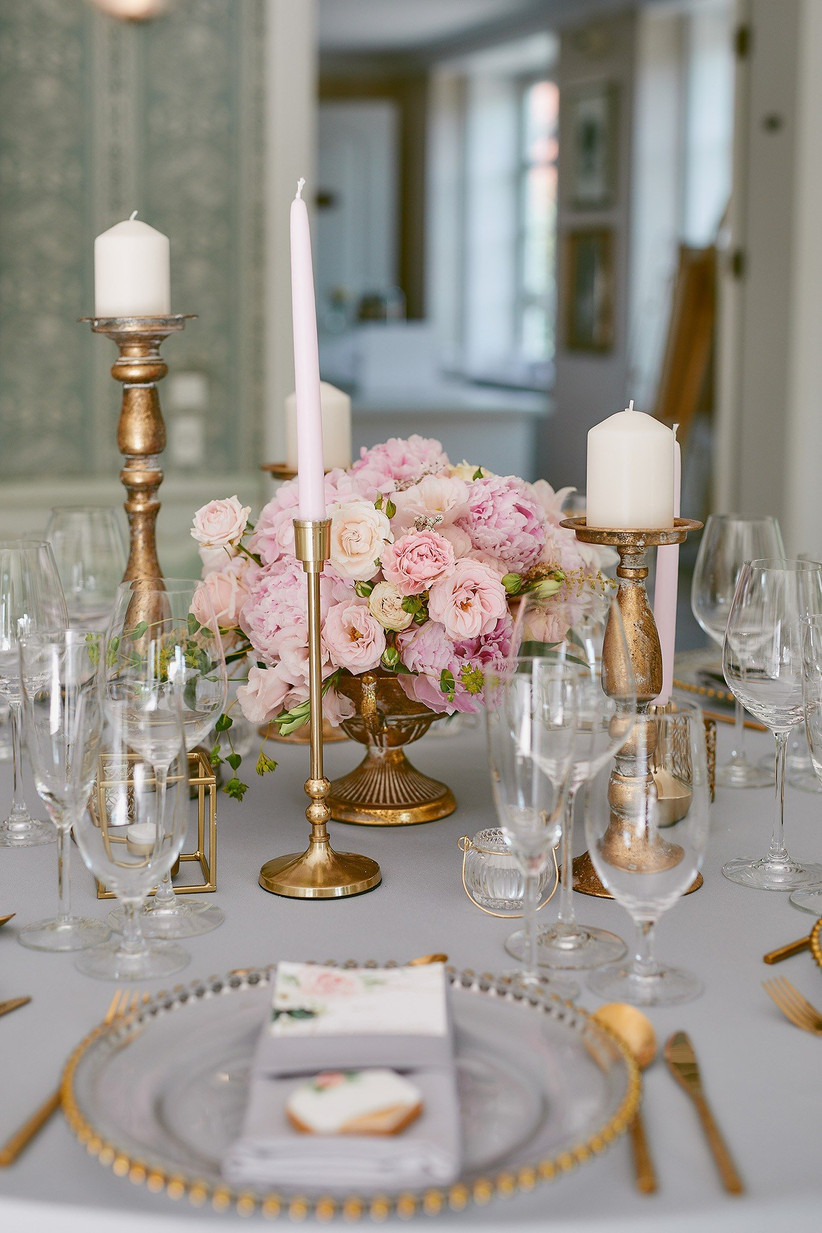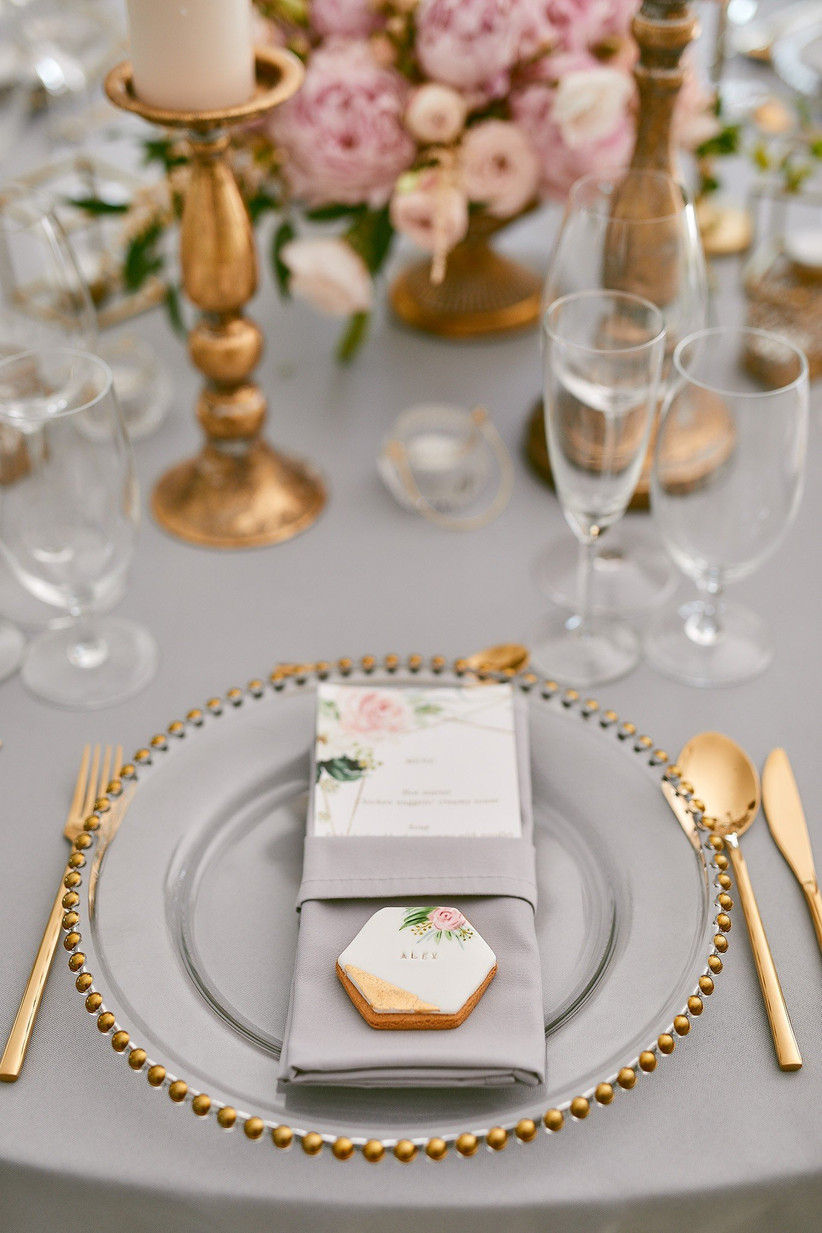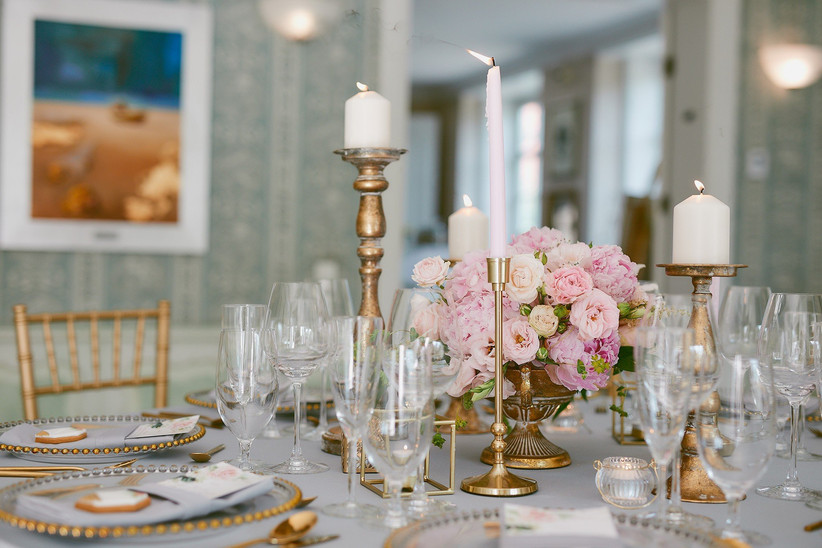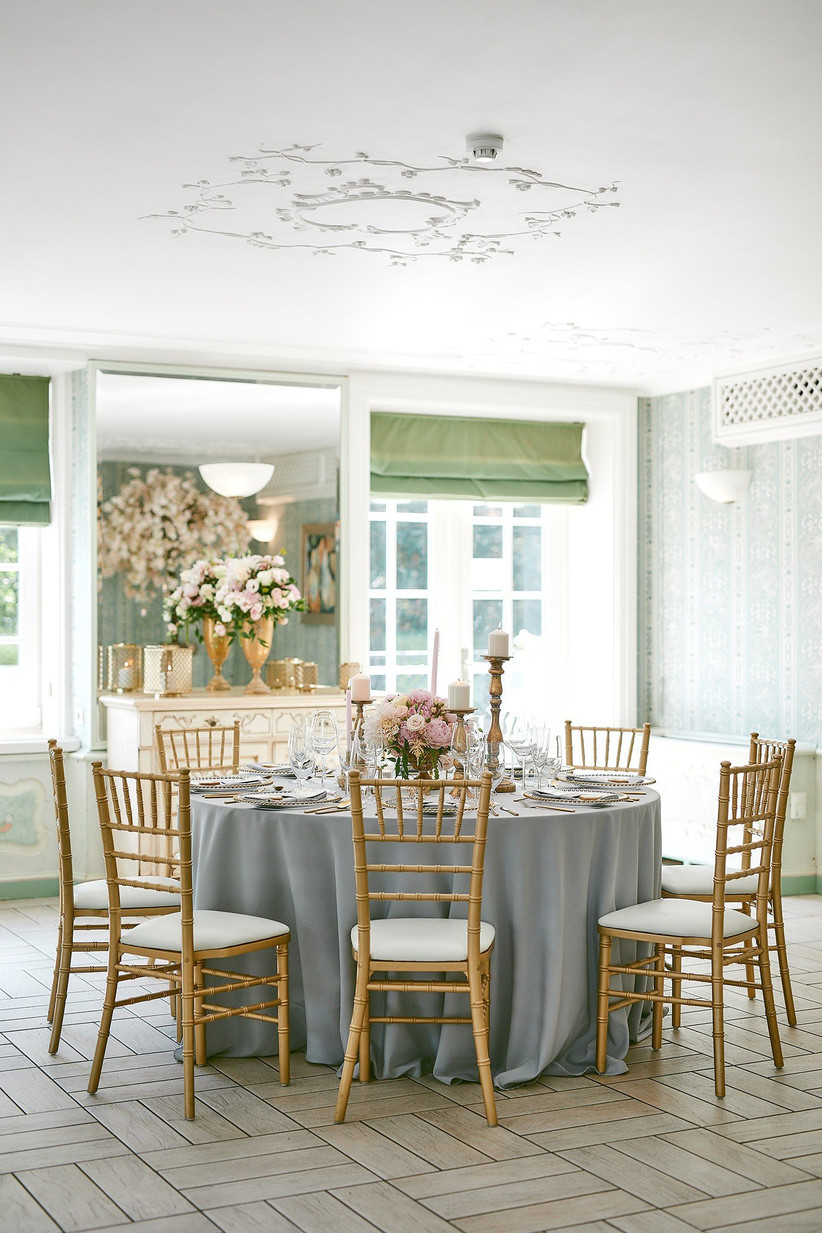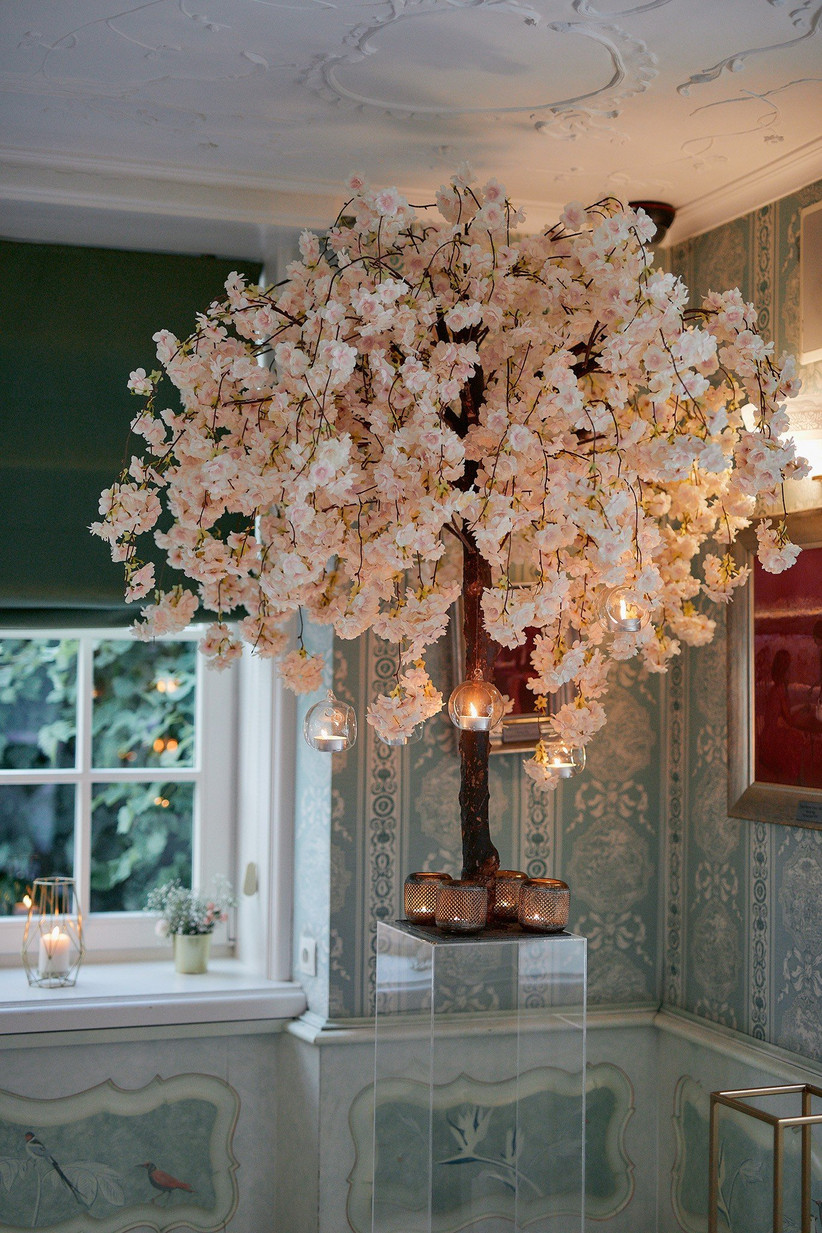 The Cake
The couple chose a chocolate and raspberry cake with fresh cream and buttercream made by the catering team at Dwor Oliwski. But, to make it extra special, their wedding planner had a surprise up her sleeve…
"Anna introduced us to the concept of 'cake on the beach' during one of our meetings. We instantly loved the idea and gave her our permission to plan the details as a surprise for us!
"When we saw the set up on the beach, our jaws hit the floor! Anna's team could not have done a better job. What made this part even more special was the personalised cake slice and cake forks! It was a truly unforgettable part of our day with the Baltic waves crashing in the background.
"The cake served 30 people so we had plenty left over. We had many slices delivered to our room the following days after the wedding!"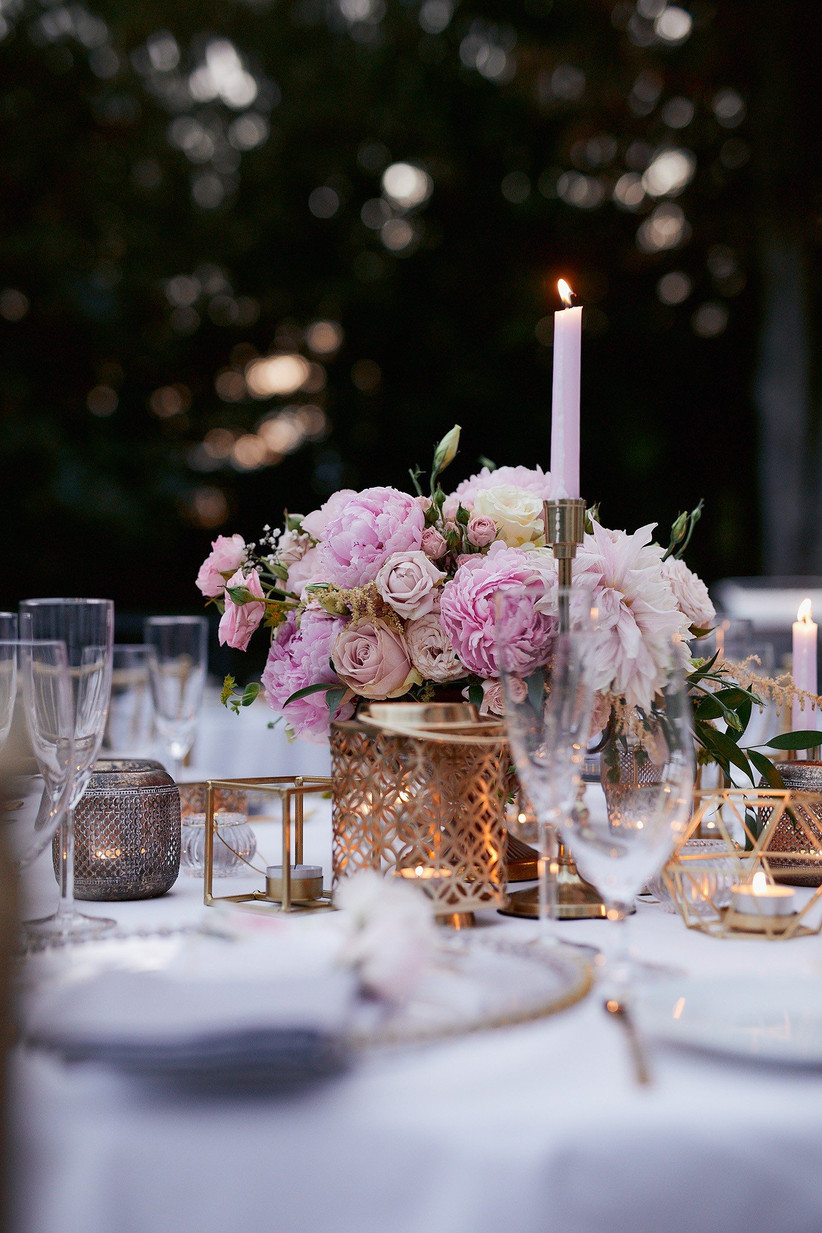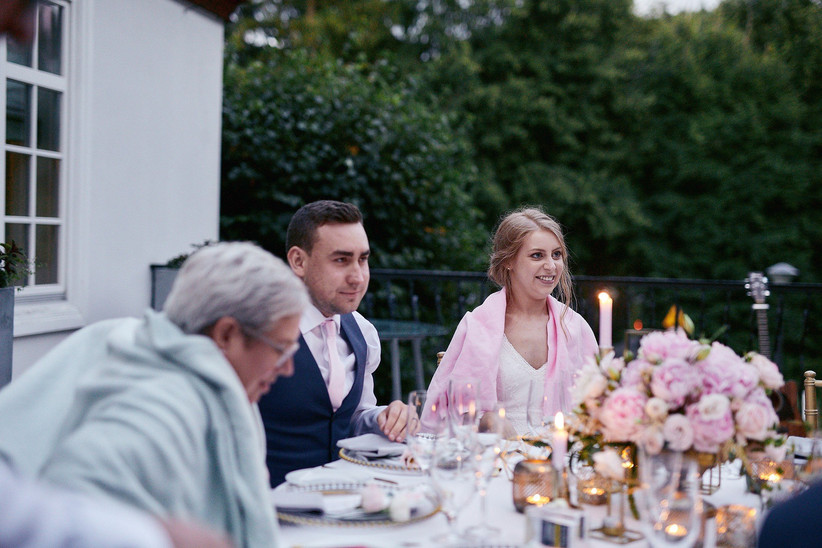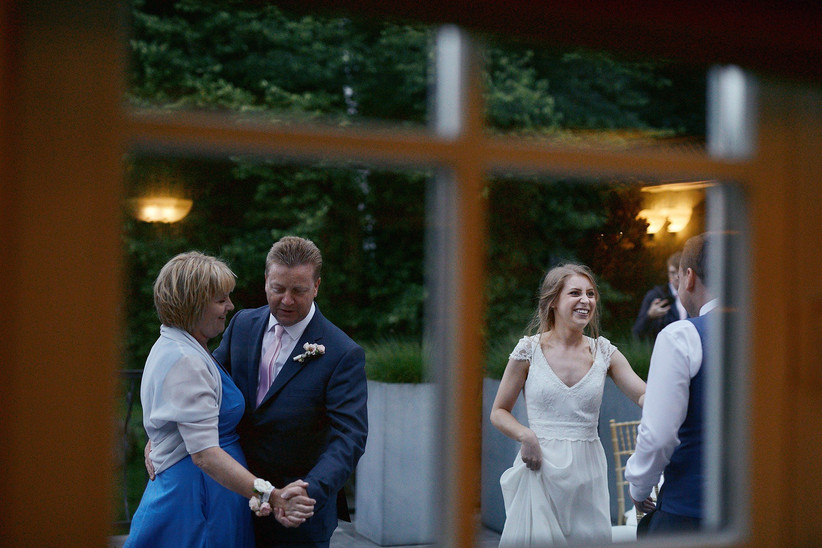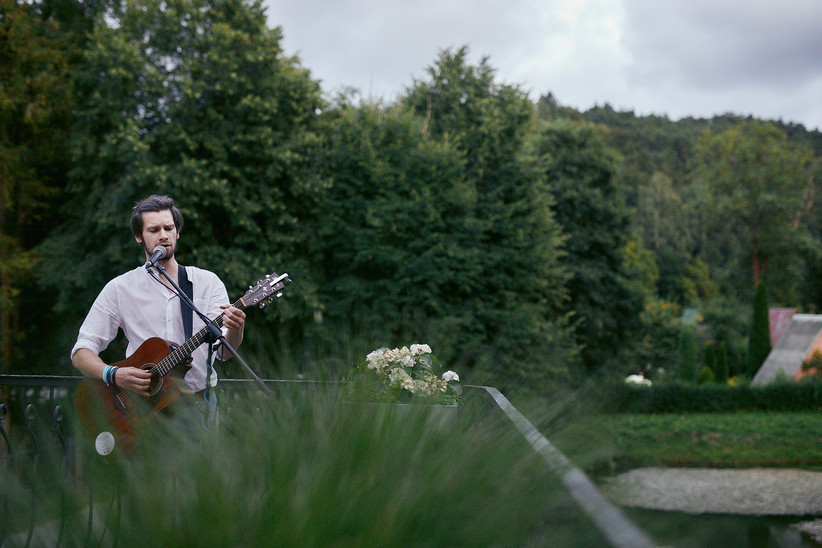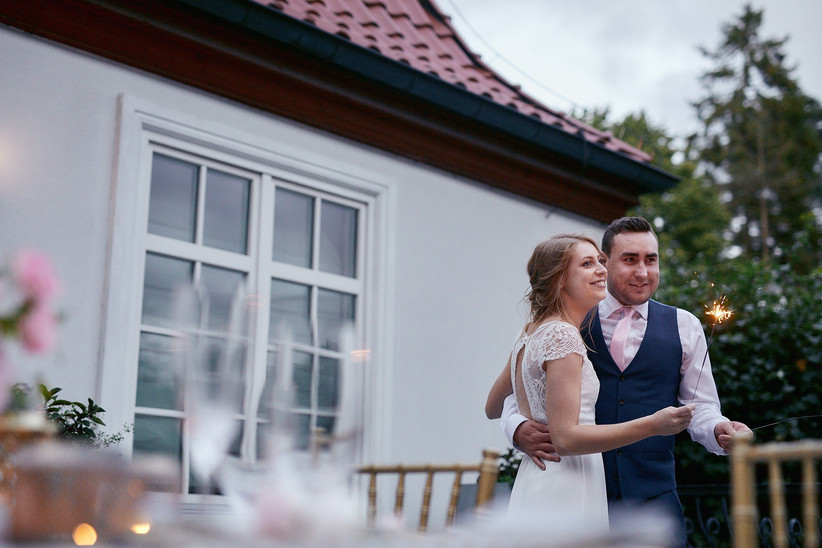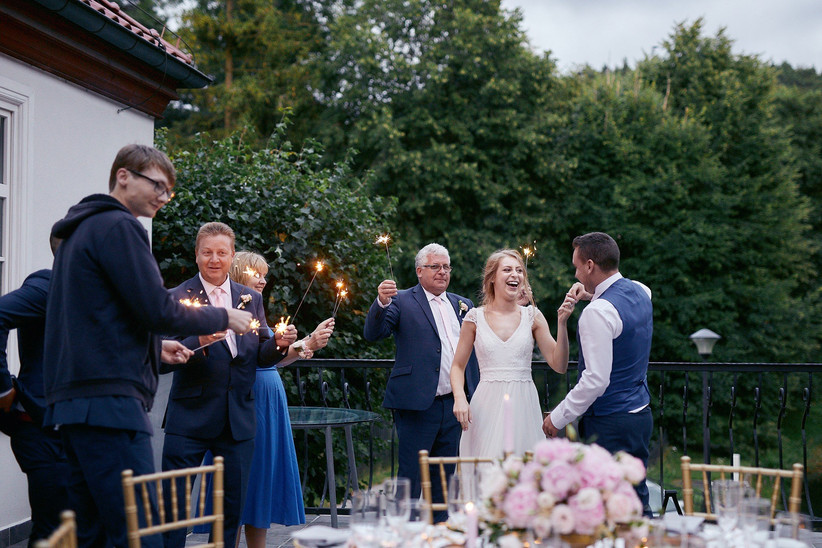 The Flowers, Stationery and Favours
For Hayley and Charlie's wedding, Kasia & Dominik at Studio Dekora provided gorgeous flowers which were used in every aspect of the decor, including to decorate the delicious surprise cake at the beach.
"My bouquet was made up of the dreamiest pink peonies and roses. It complemented the theme of the wedding so well.
"Our wedding invitations and menus were by Zazzle. The pink, gold and foliage in the design was a perfect match for our colour scheme! Anna cleverly ensured that the biscuit name place cards matched the menus!
"We had personalised name place cards on our table from Honeywell Bakes and everybody had a personalised cake fork to keep as a memento of the day. These were from Goblet."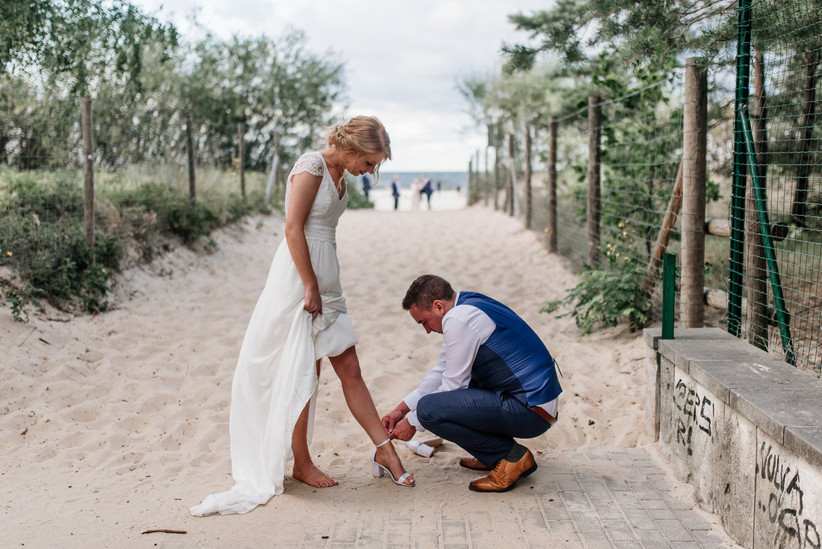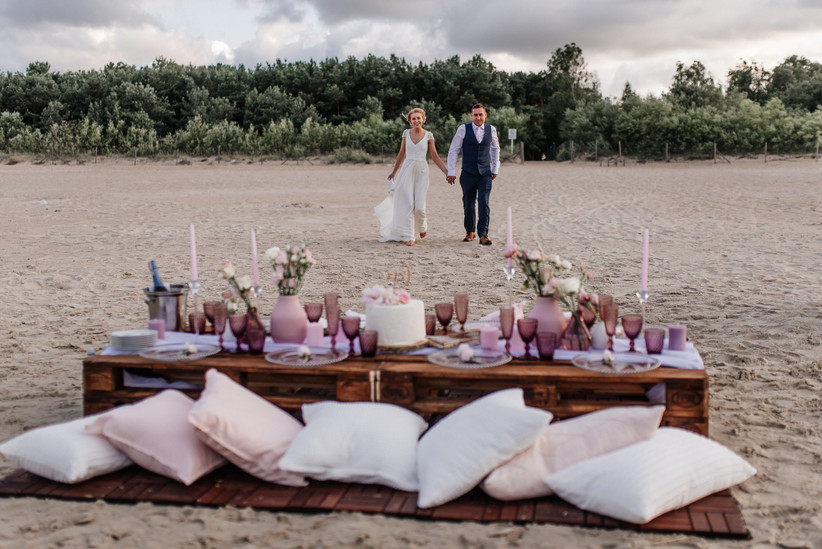 The Entertainment
To make the evening extra special, Hayley and Charlie's wedding planner had another surprise for the couple.
"Anna had arranged for a singer with a guitar, Mikołaj Macioszczyk, to be waiting for us on the terrace when we arrived back from the beach! It was a complete surprise.
"Mikolaj sang Ed Sheeran and his own version of Can't Take My Eyes Off You by Frankie Valli. Everyone was up dancing and waving sparklers around!
"Our first dance was to Perfect by Ed Sheeran, sang by Mikolaj! Our first dance for our party in England was Have I Told You Lately by Rod Stewart. It's our favourite."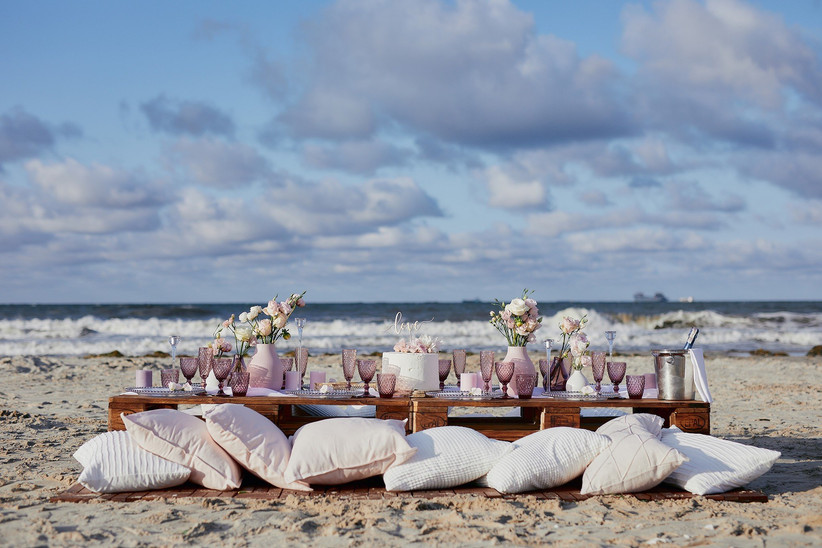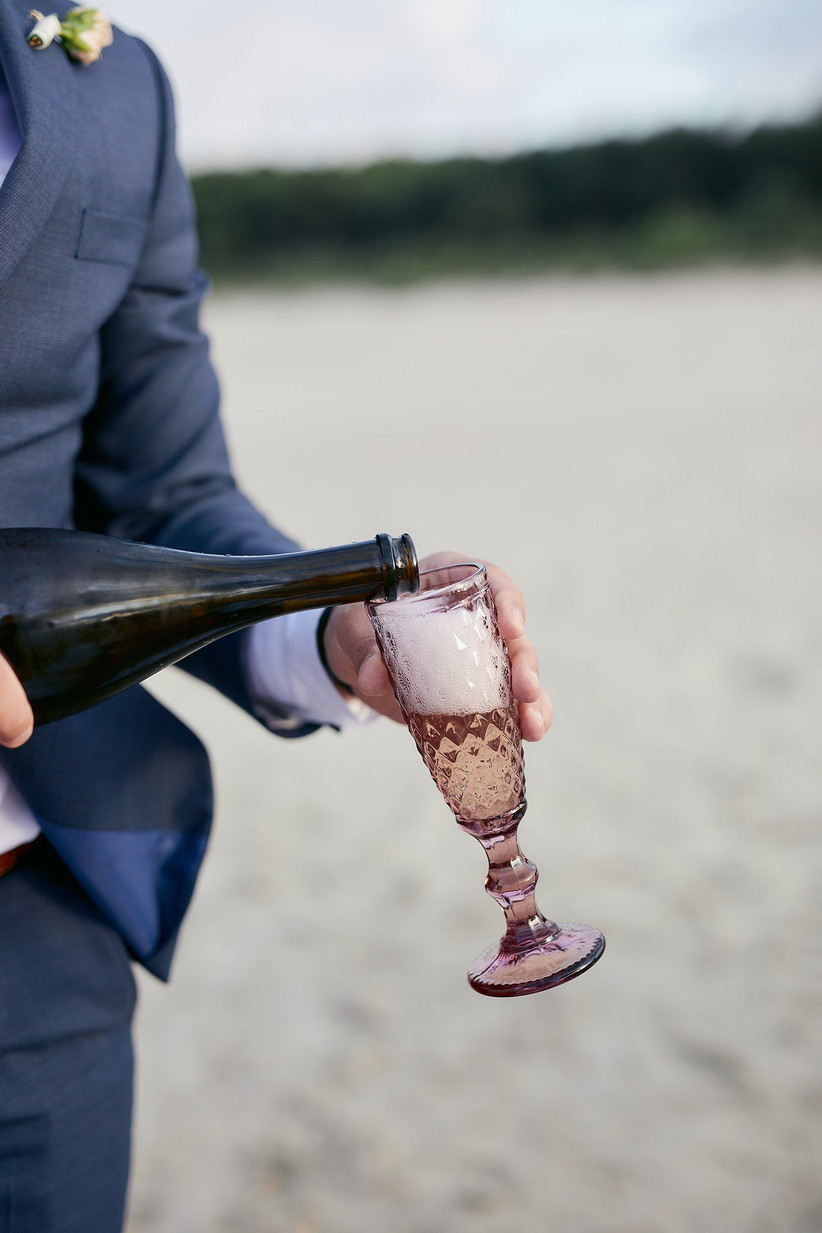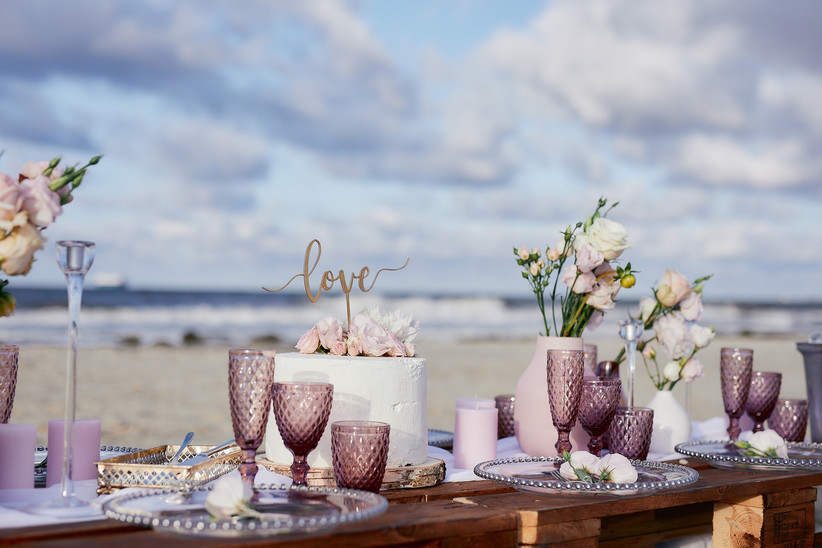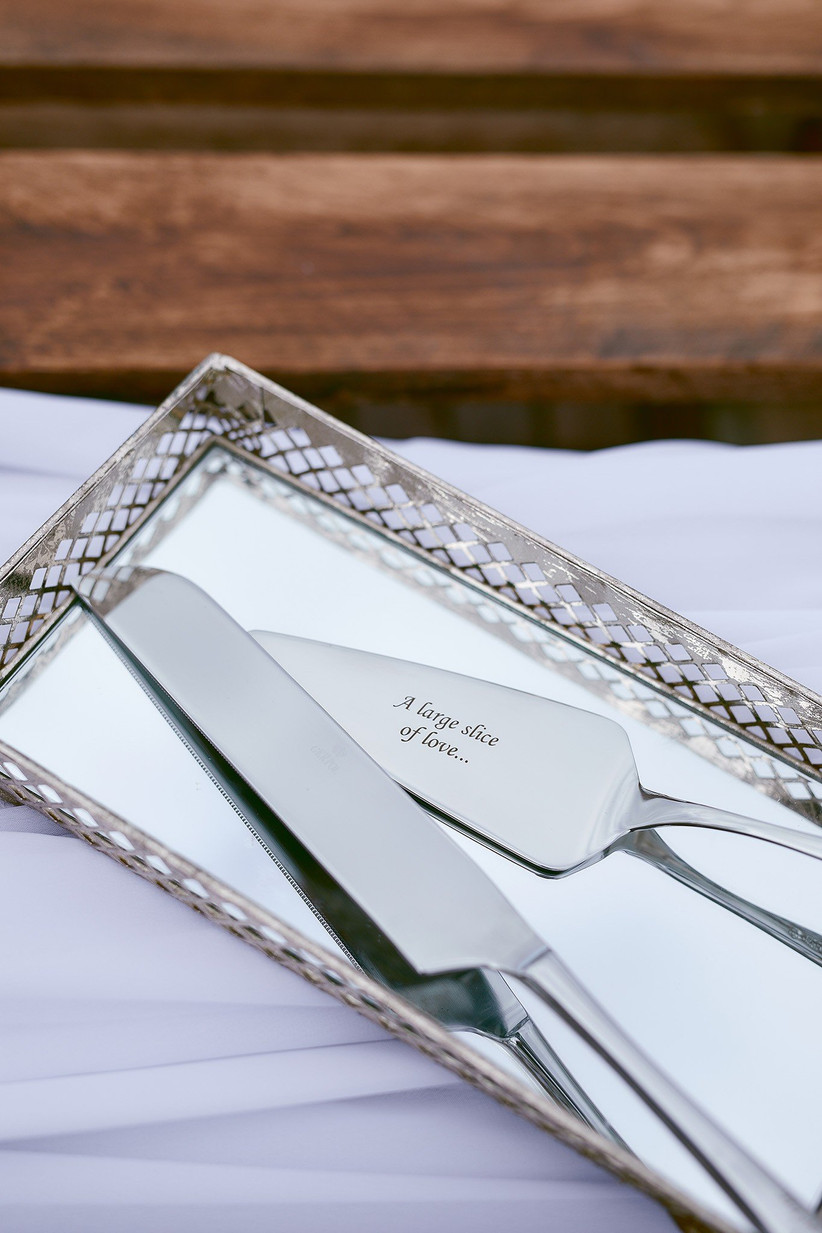 The Couple's Advice
For their mini-moon, the couple went on a road trip to Cornwall and the New Forest. They're still planning their honeymoon but know it'll be somewhere hot! While touring the South of England, the couple had time to reflect on what made their day so perfect.
"We had the most incredible wedding planner, Anna Domanska-Jambrik. We initially tried planning the wedding ourselves but soon realised it was too difficult due to the language barrier and the fact we couldn't meet face-to-face with suppliers.
"I would recommend anyone planning a destination wedding to consider a wedding planner. Anna took the stress away and it meant that we could relax and enjoy the wedding planning process! Thanks to Anna, I had no 'bridezilla' moments.
"We did go slightly over budget but it was all worth it as we wouldn't change a thing!"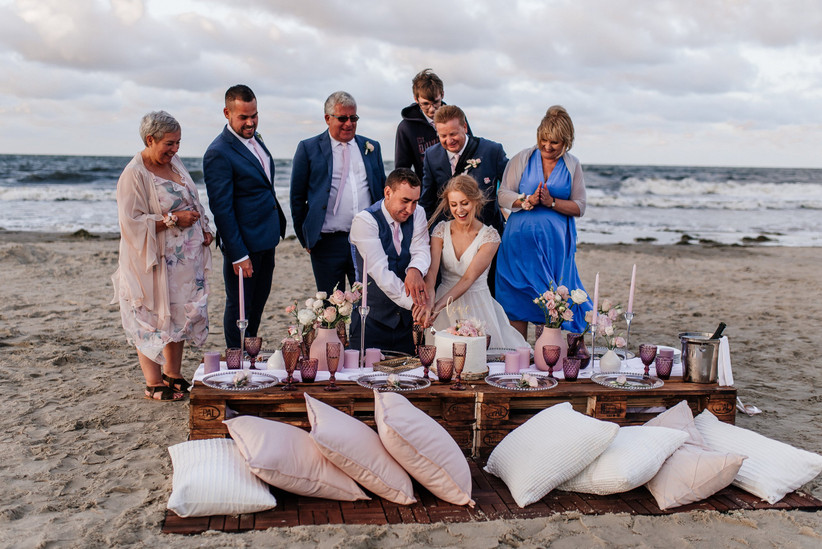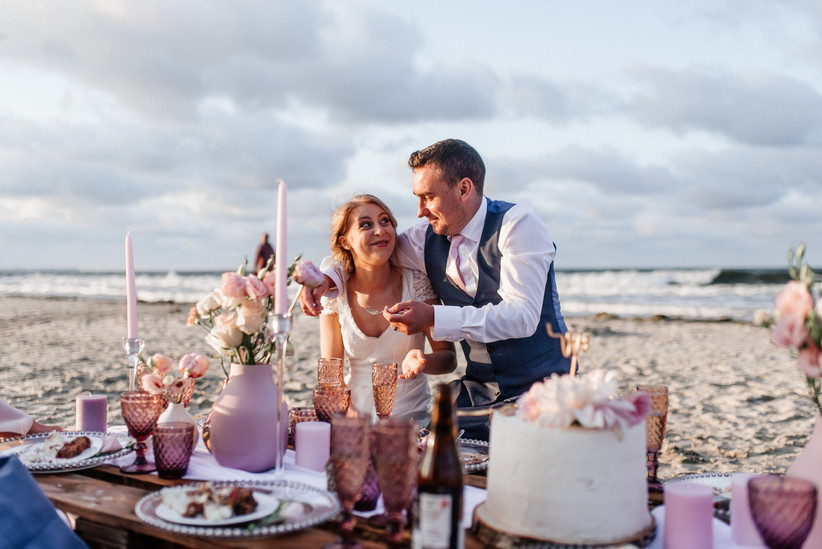 Suppliers
Photographer: Ufniak Photography and Feel8studio 
Wedding Planner: The One Day Weddings and Events
Ceremony and Reception Venue: Dwor Oliwski City Hotel and Spa
Wedding Dress: Dana Bolton
Accessories: Etsy
Makeup and Hair: Agnieszka Nowacka
Florist: Studio Dekora
Favours: Goblet
Biscuits: Honeywell Bakes
Stationery: Zazzle
Rings: Etsy
Groomswear: Marks and Spencer and Ties R Us
Groom's Shoes: Jacamo
Entertainment: Duo Amor and Mikołaj Macioszczyk
Thank you so much to Hayley and Charlie for allowing us to share your gorgeous big day!