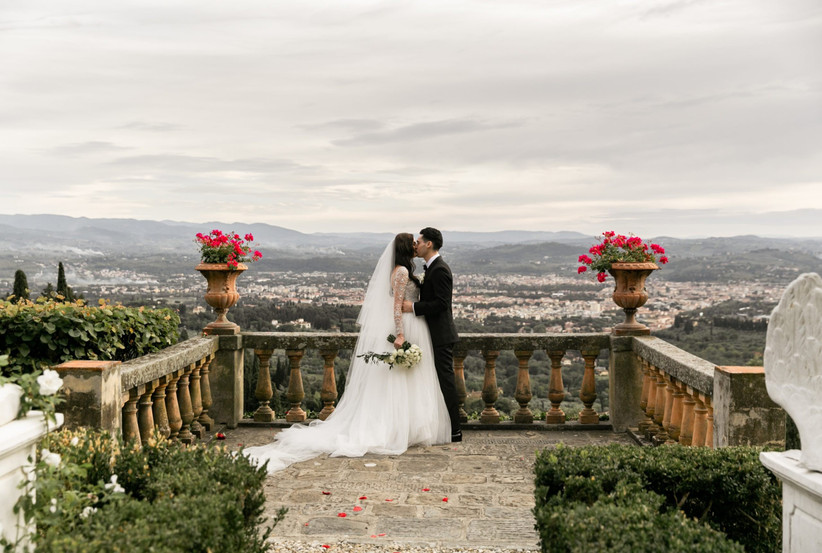 If lavish sophistication is what you're aiming for, you're certainly looking in the right place. From the glamorous, long sleeve, tulle-skirt princess dress to the romantic white roses and candlelit wedding breakfast, every detail of Emily and Nick's special day is seriously aspirational.
Emily works as a flight attendant and Nick as an airline pilot, but surprisingly they didn't meet at 31,000 feet and instead found each other on Instagram. After just a year together, Nick knew he had found the one.
"It was around our one-year anniversary and Nick surprised me in the morning with my favourite flowers. He told me to pack a bag as we weren't staying at home. He then surprised me by taking me to brunch at the café he first asked me to be his girlfriend at. We checked into a hotel and went for a walk. He said we had to be ready by 6pm and I had to dress nicely. We walked downstairs and there was a horse and carriage waiting outside the hotel entrance!
"He had organised an hour-long ride around the city with Champagne. The horse and carriage dropped us off at the Royal Botanical Gardens and he told me the restaurant was inside the gardens. We started walking through the gardens and got to a secluded spot where we sat on a park bench. He said we were early for our reservations so we should sit for a while and wait. He asked if I wanted to go look at the lake in front of us. I initially said, 'Not really, it smells!' but he insisted. We went to the lake and he started saying sweet things and then got down on one knee and asked me if I would marry him! He had organised a professional photographer to capture the moment and we got some photos afterwards.
"Turns out we weren't having dinner in the Royal Botanical Gardens so we went back to the hotel and went to dinner at a beautiful seafood restaurant. After dinner he said, 'I have one more surprise for you', and we went up to the room and as soon as I opened the door there were red rose petals from the door to the bed. The bed had a huge love heart and the word FIANCÉE written in rose petals. There was Champagne, chocolates and fruit as well! The man sure is romantic! Our proposal is on YouTube if you want to see the real-life proposal."
After this incredibly romantic proposal, the couple took just nine months to plan their wedding day at Belmond Villa San Michele.
Photographer: Nora Mancini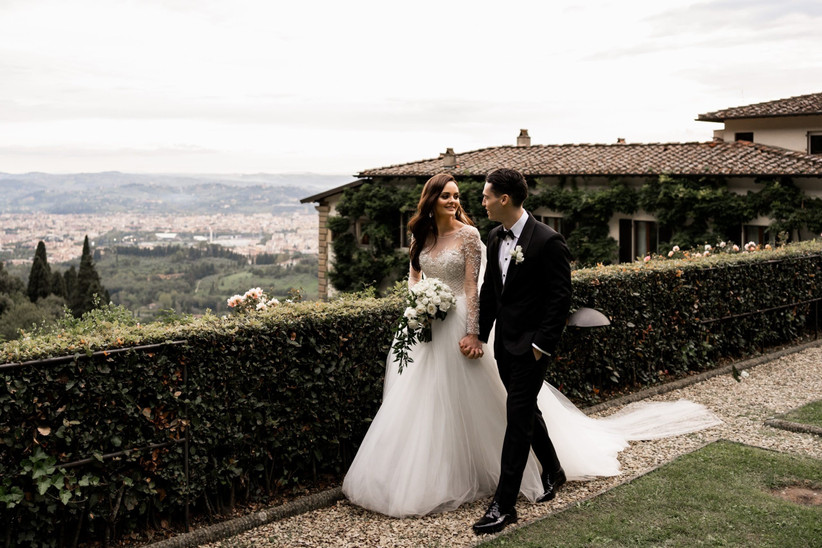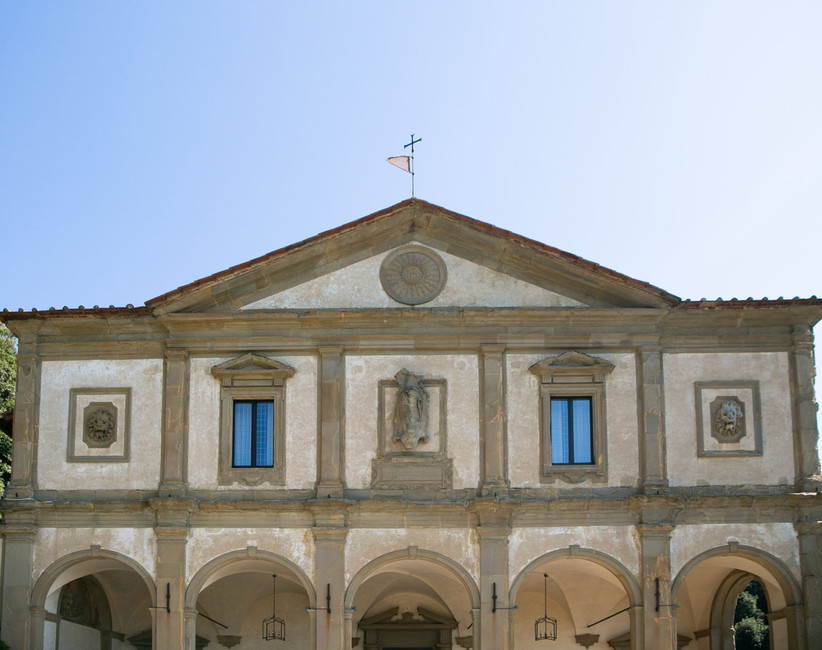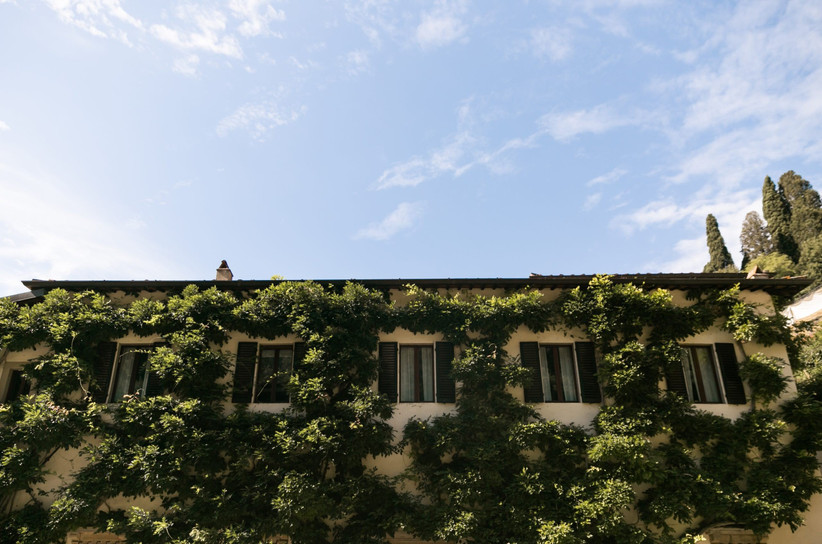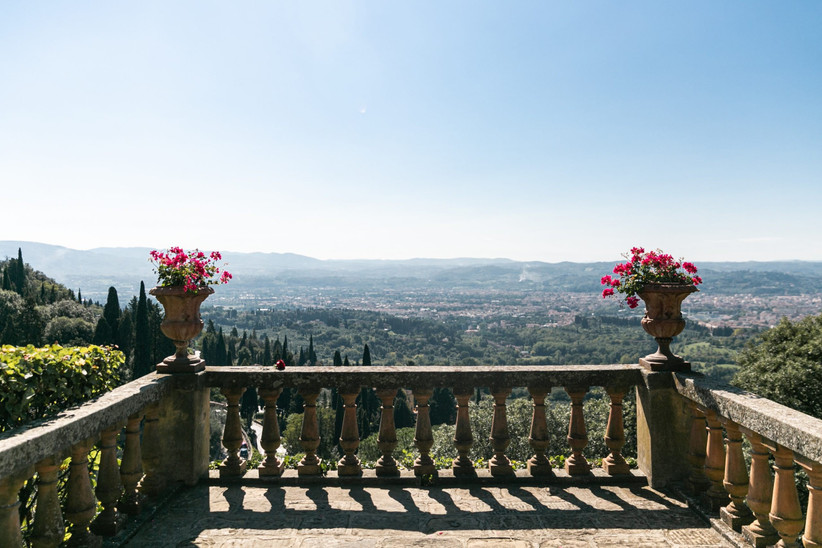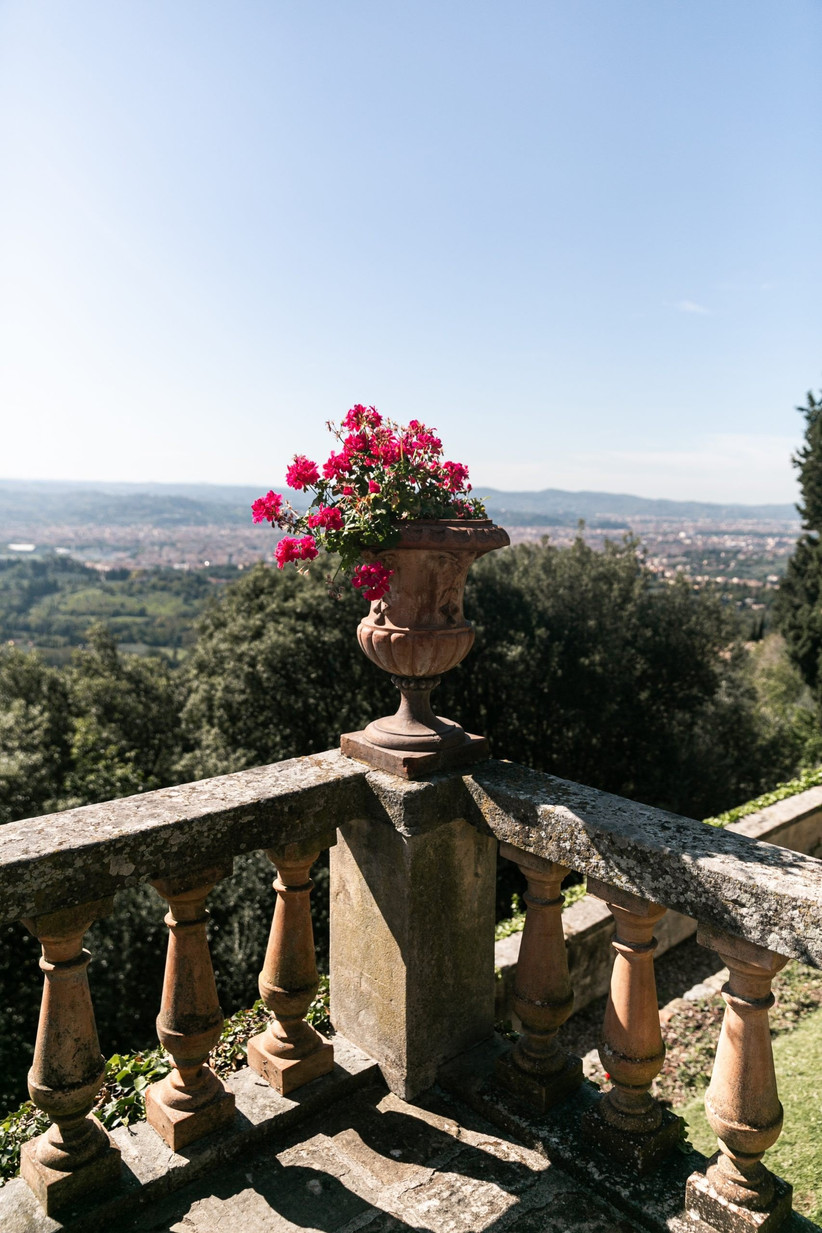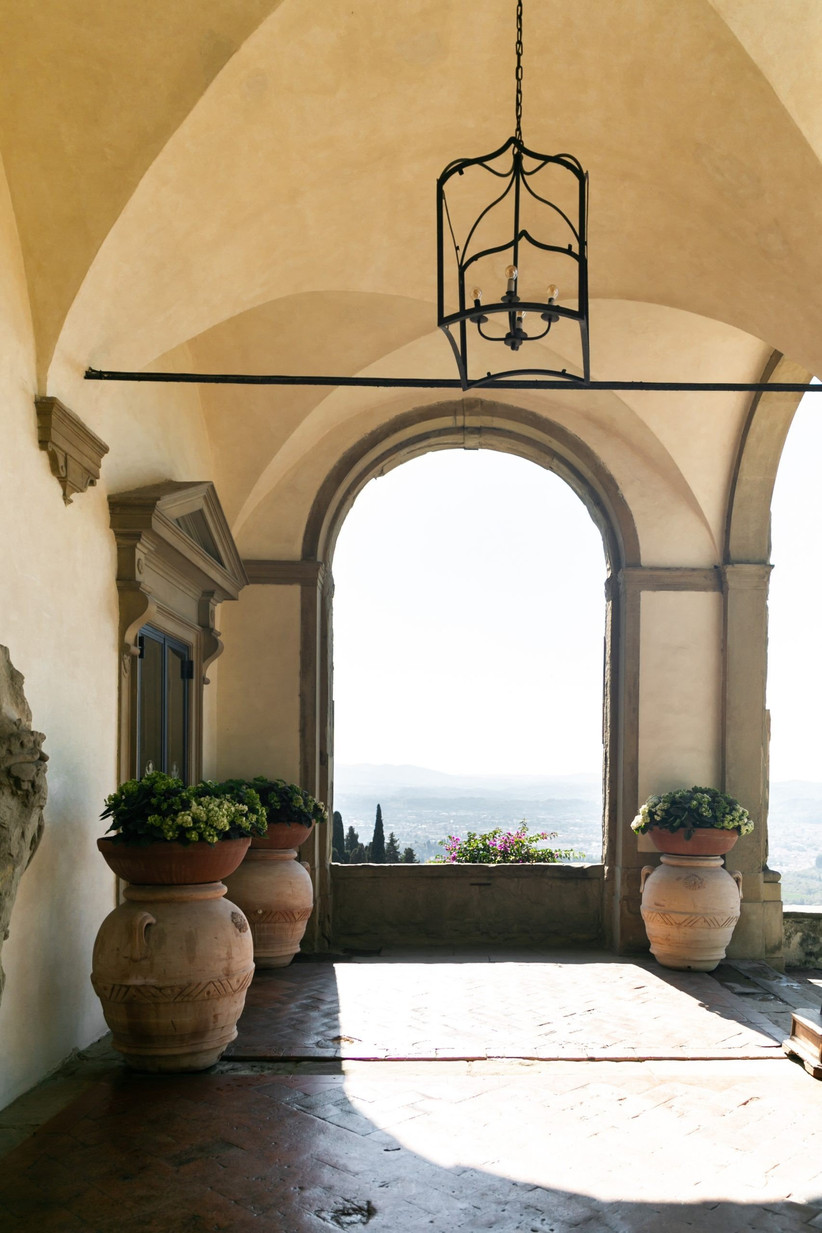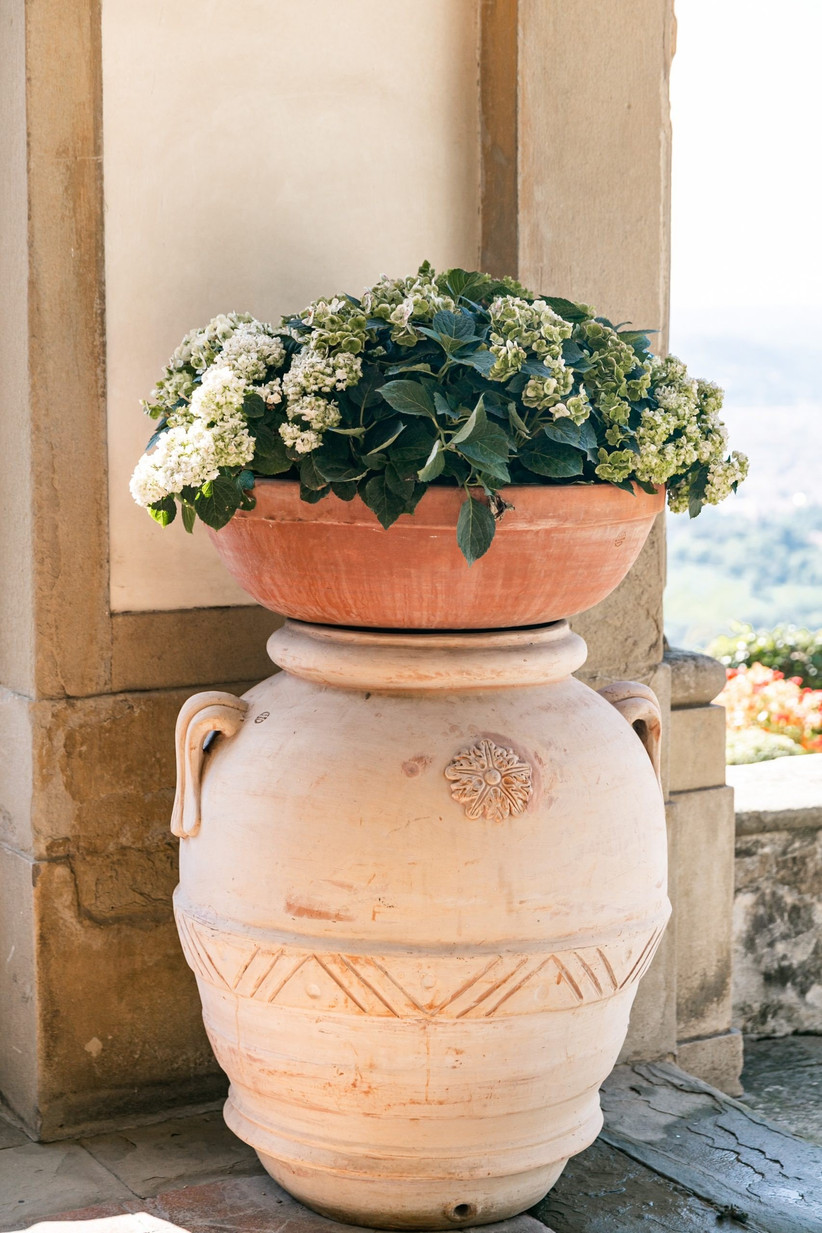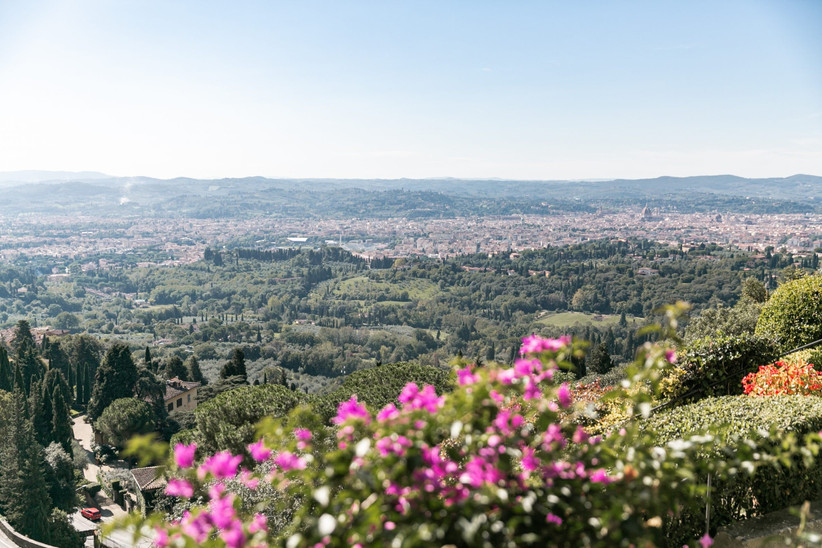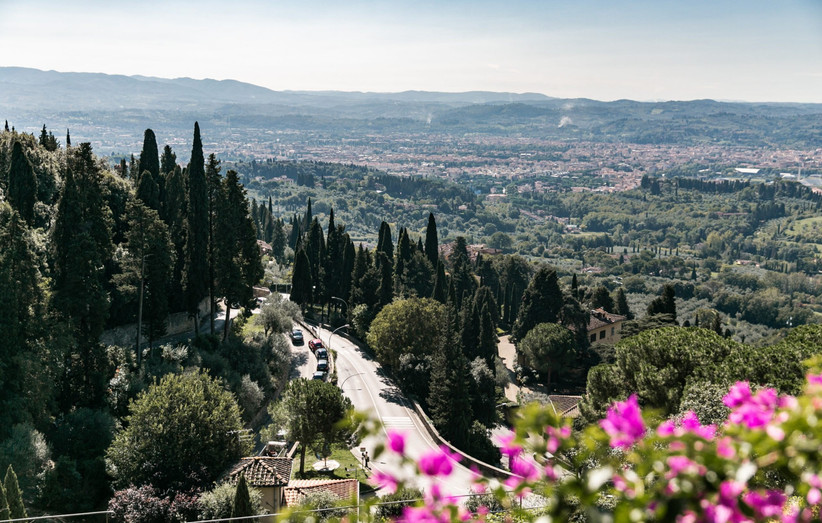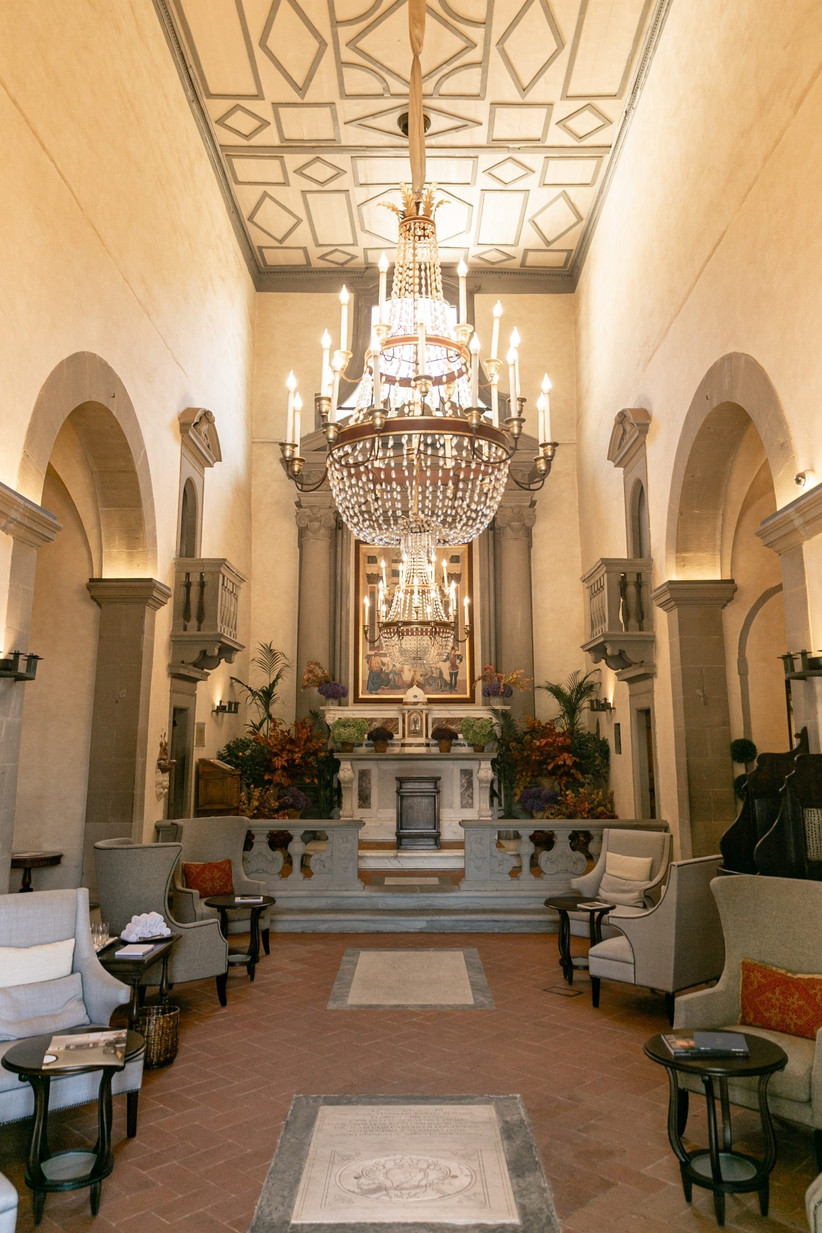 The Wedding Dress
Emily's stunning ballgown from Australian designer Raffaele Ciuca was actually the opposite of what she had in mind when she began searching for 'The One'.
"I envisioned myself wearing something quite fitted and classical (something Audrey Hepburn-like!) However, I chose a dress completely opposite to what I thought I wanted. As soon as I tried the dress on my mum, dad, sister and mother-in-law cried, so I knew that was the one! I loved the detail and elegant sleeves of the dress.
"My mum actually said to me, 'Emily, this is the dress! Nick thinks of you as his princess and that's exactly what you look like.' I think she was right, I absolutely felt like a princess on the day!"
Emily teamed the fairytale gown with a full-length veil, some sparkling drop earrings, given to her as a gift, and some fabulous ivory Jimmy Choo court shoes.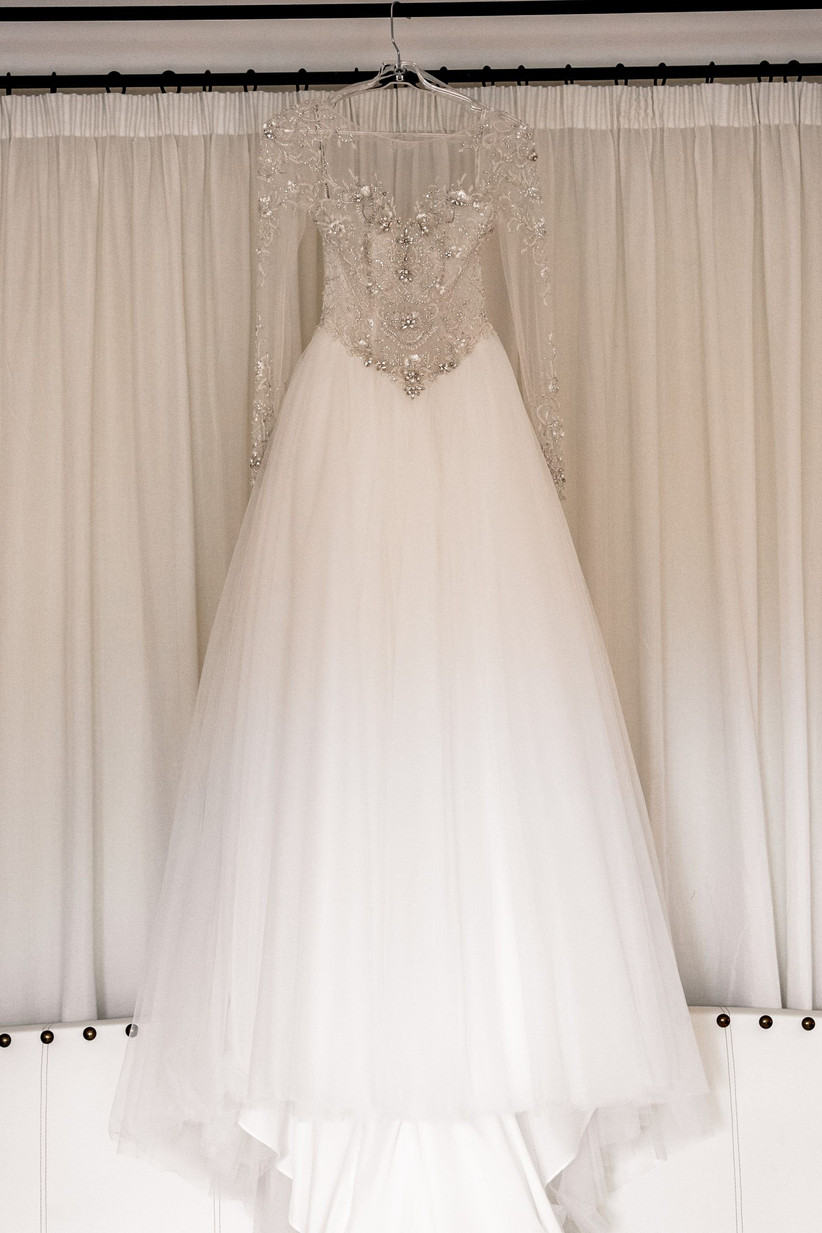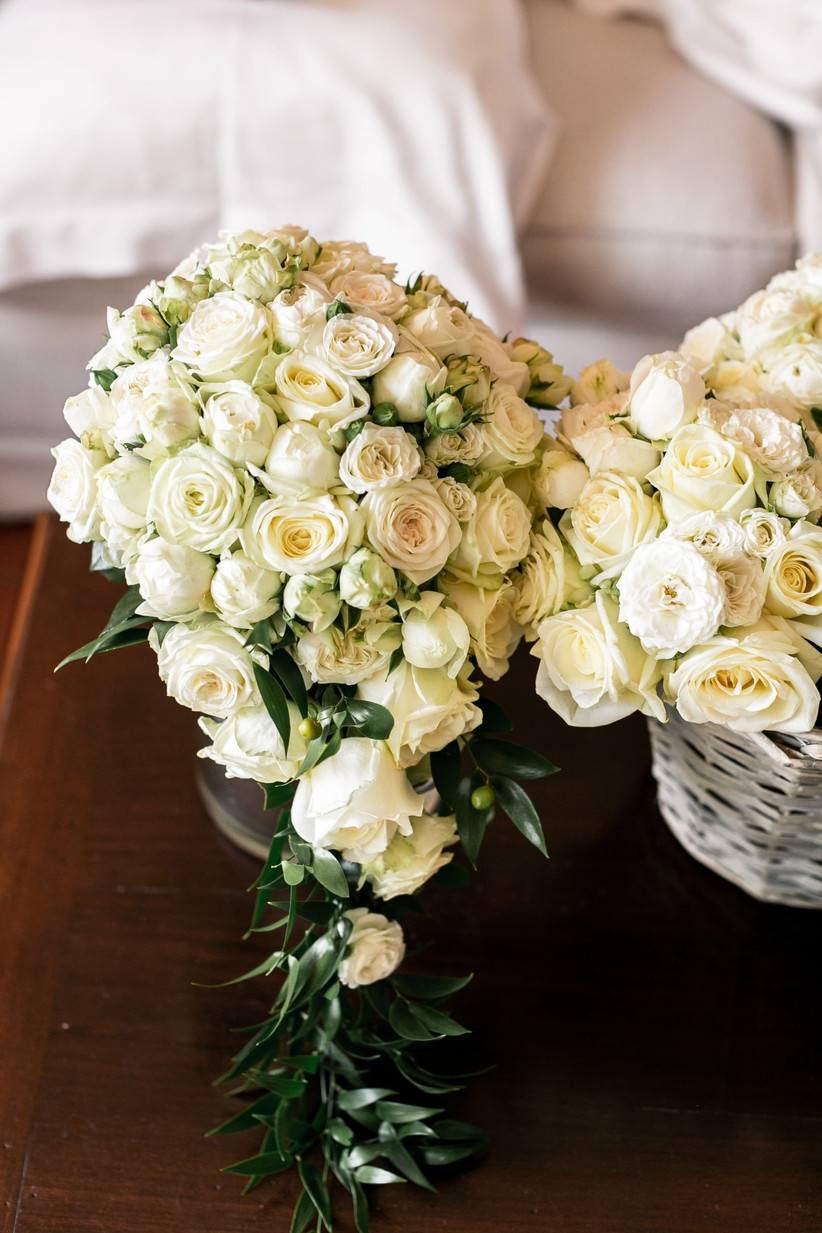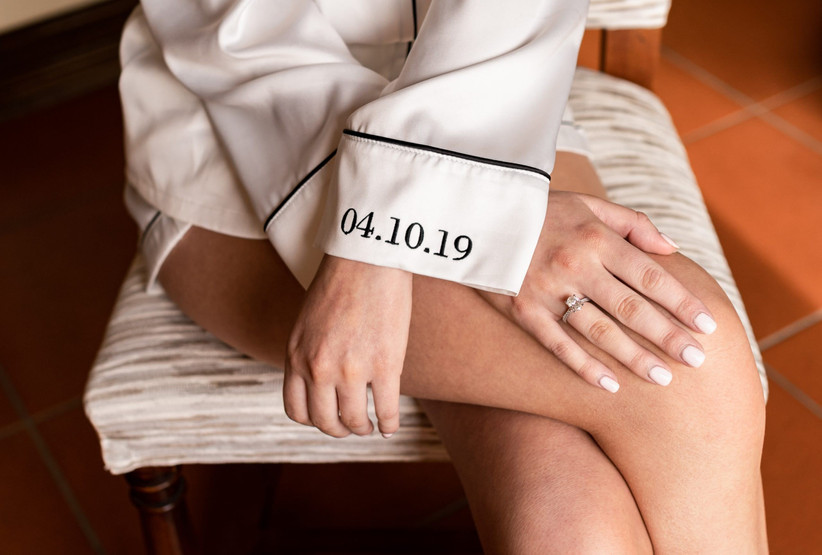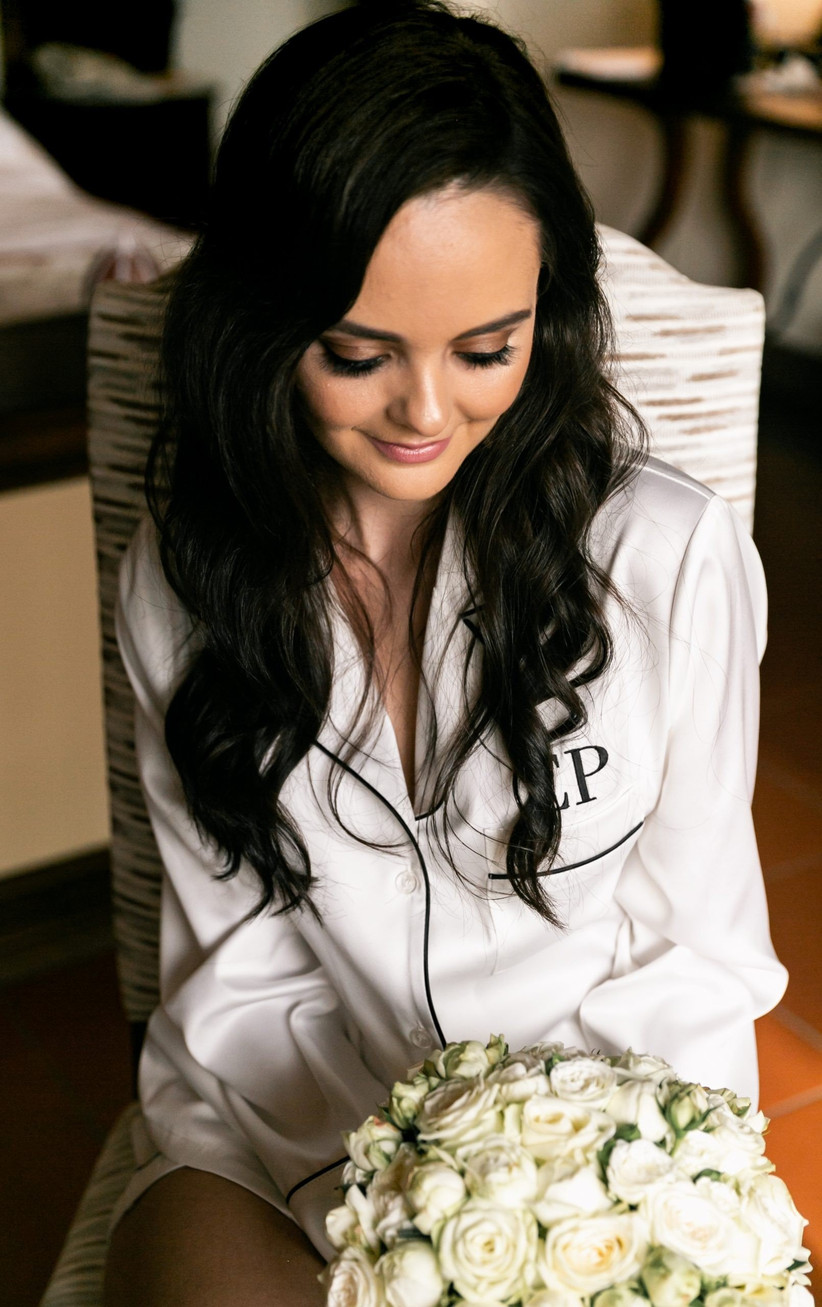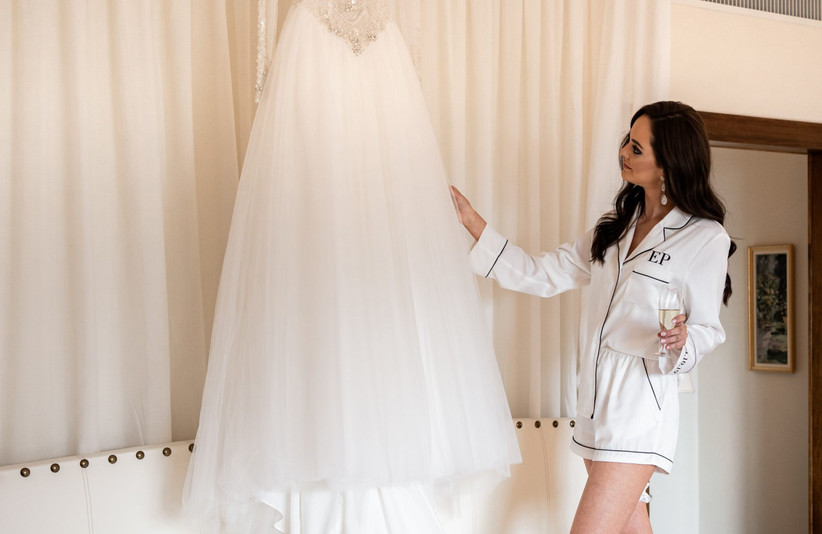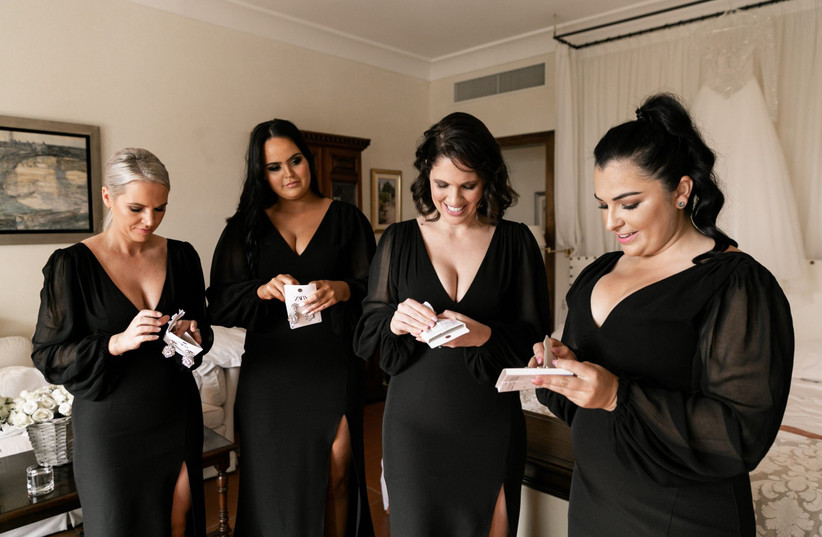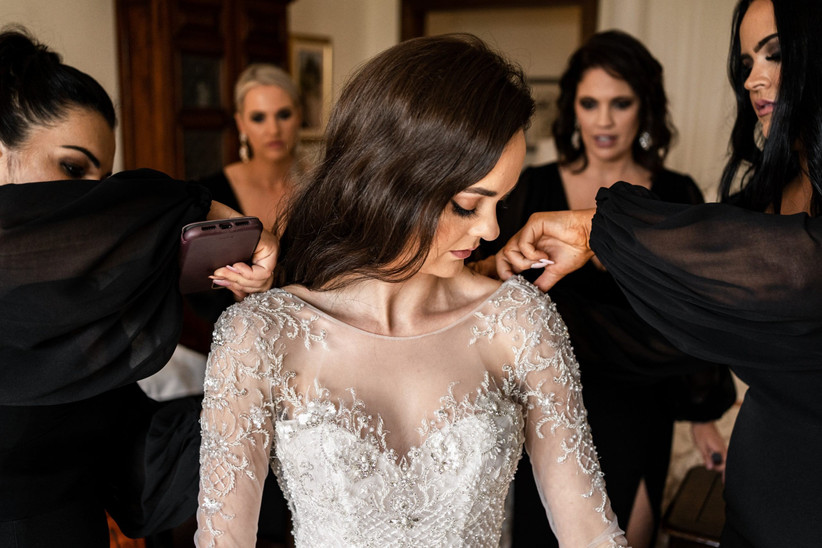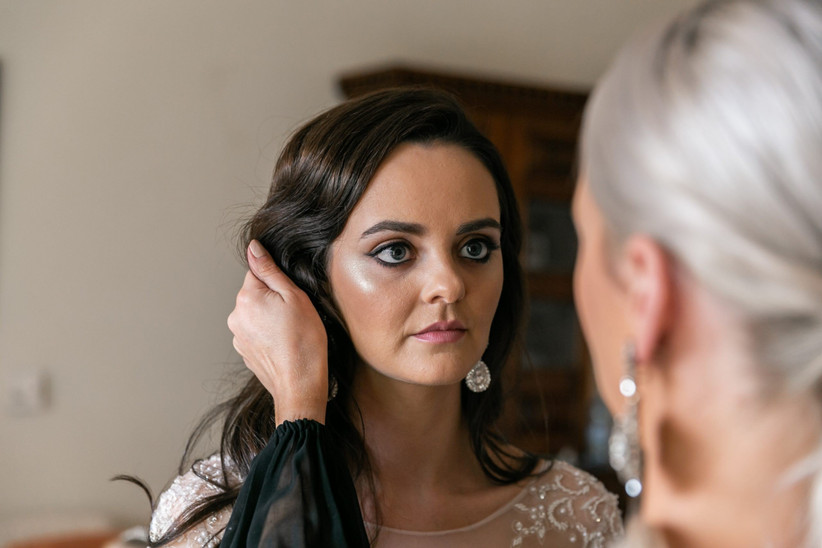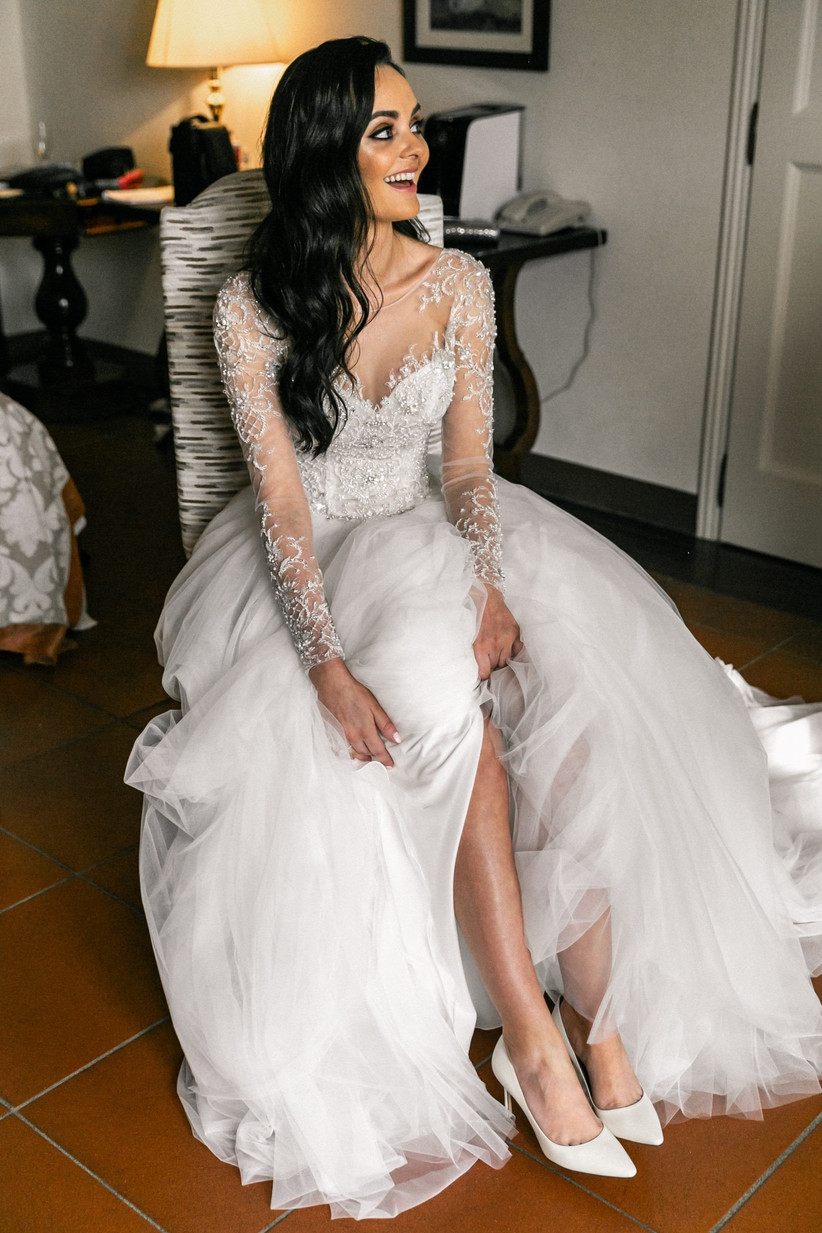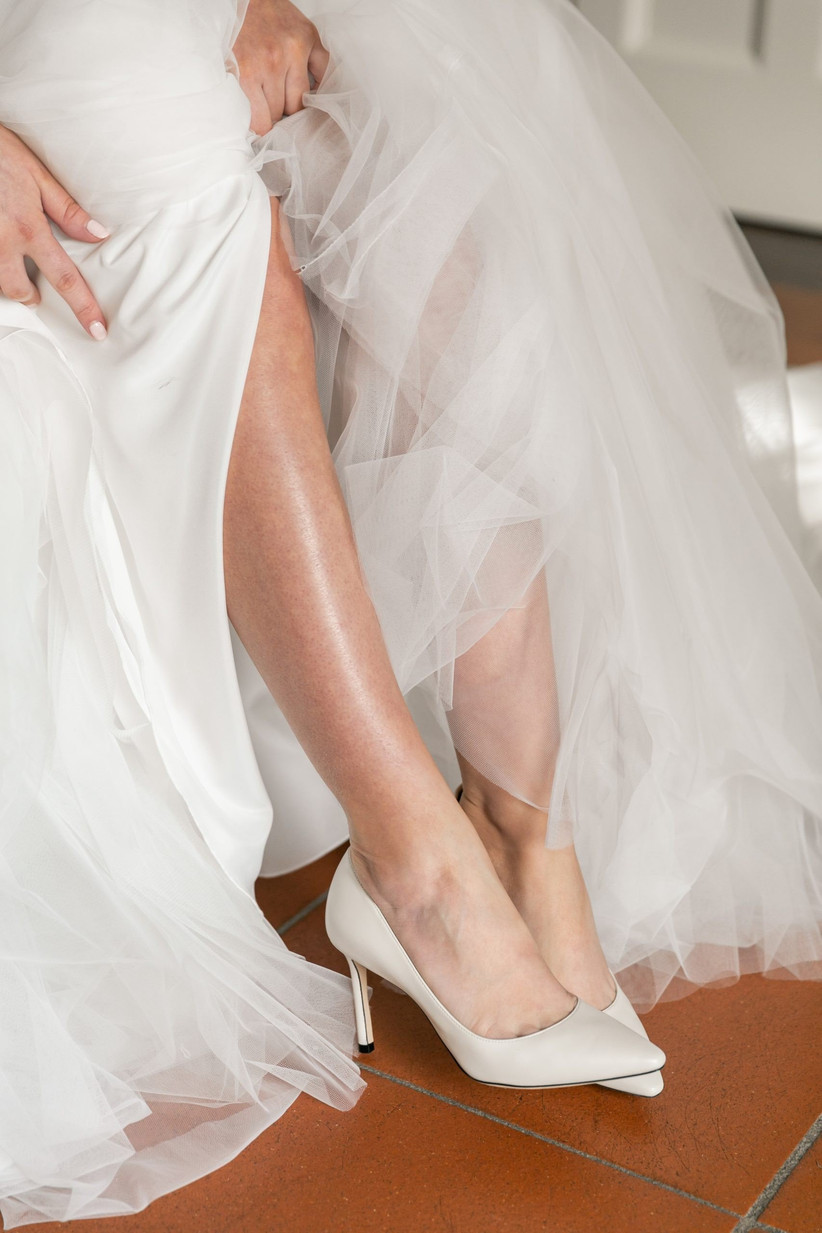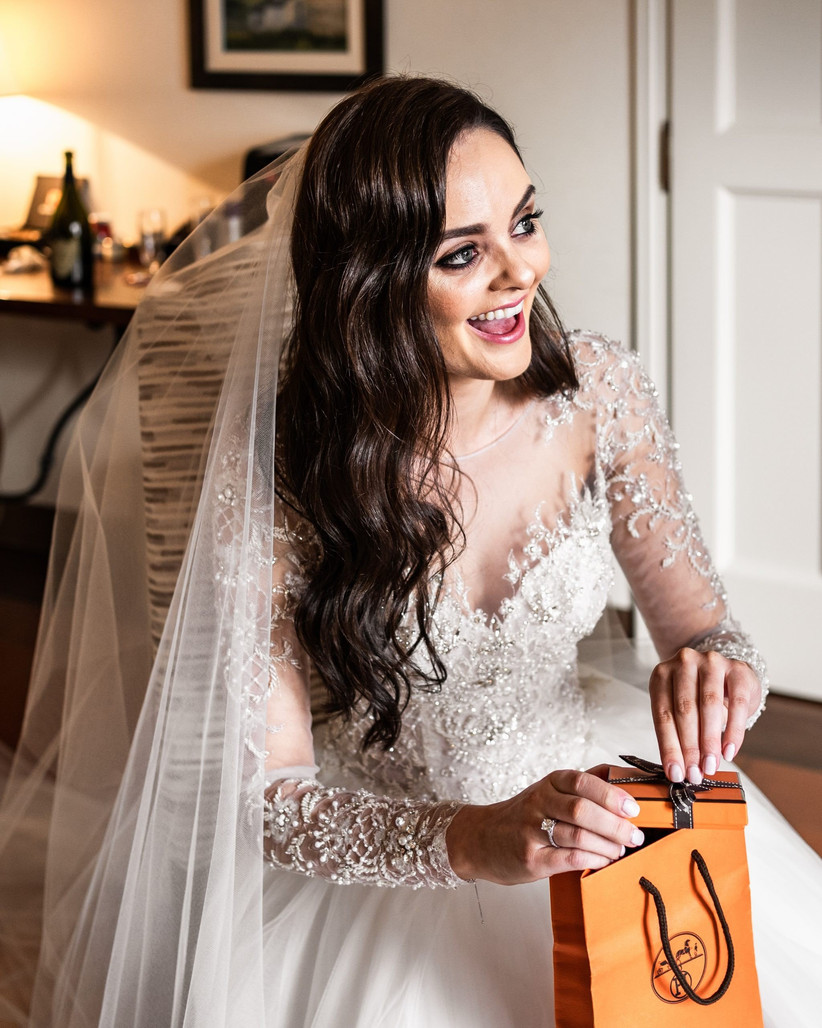 Bridal Beauty
Emily's classic bridal beauty look was a team effort by Liza Samokhina and Ruslana Regi.
The bride chose winged eyeliner, soft glowing skin, a nude lip and shiny, loose waves. The romantic beauty styling perfectly complemented the embellished and oh-so-dreamy gown.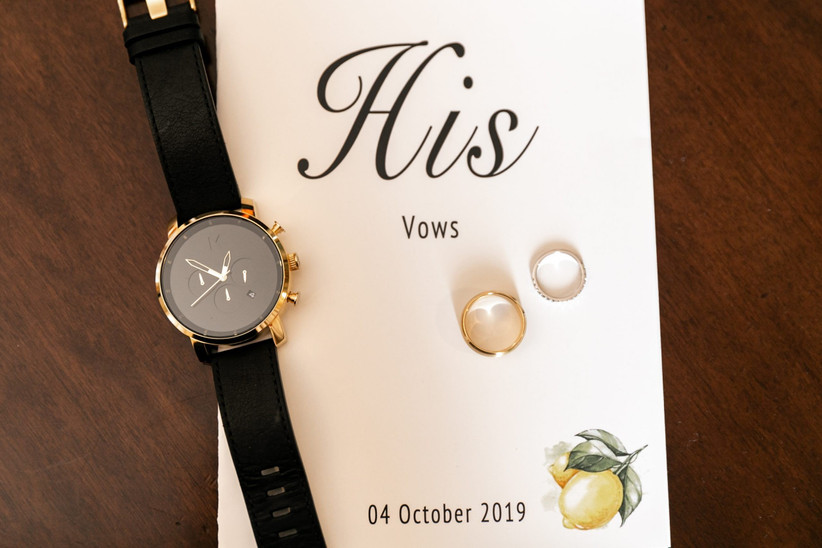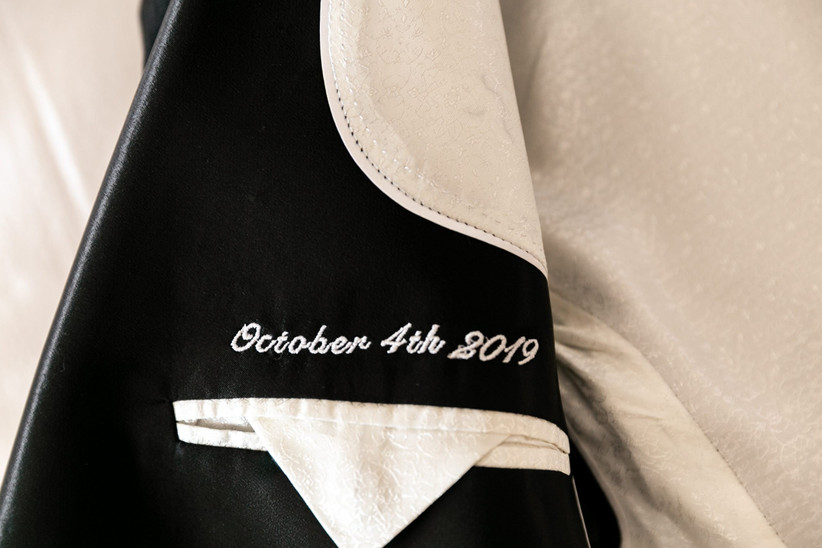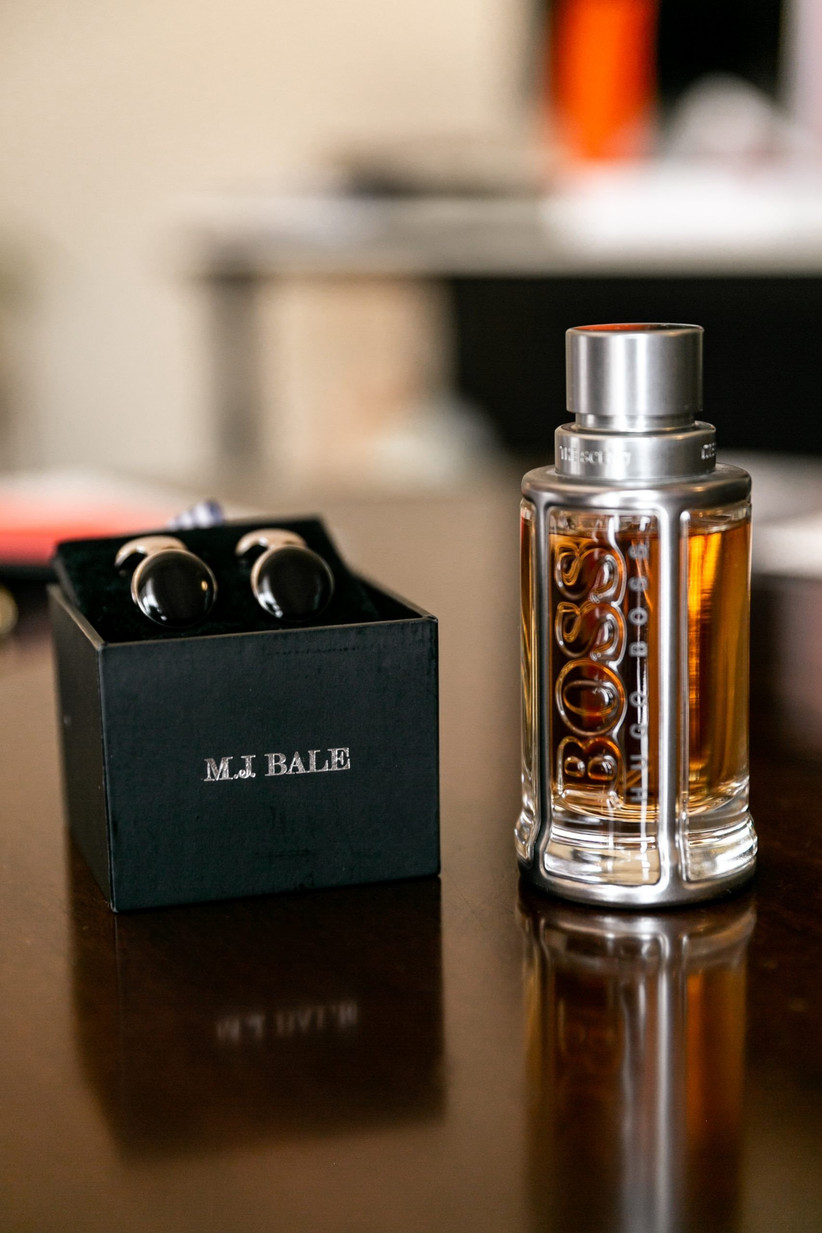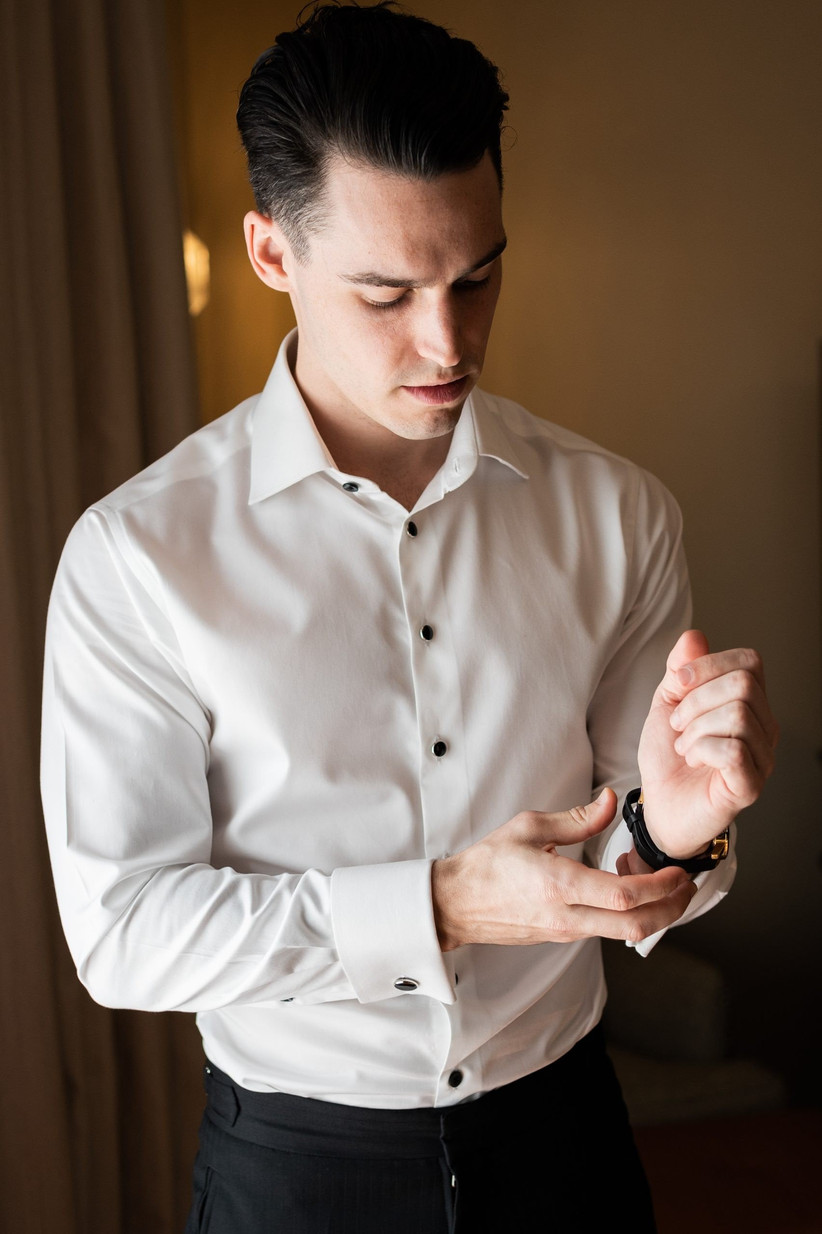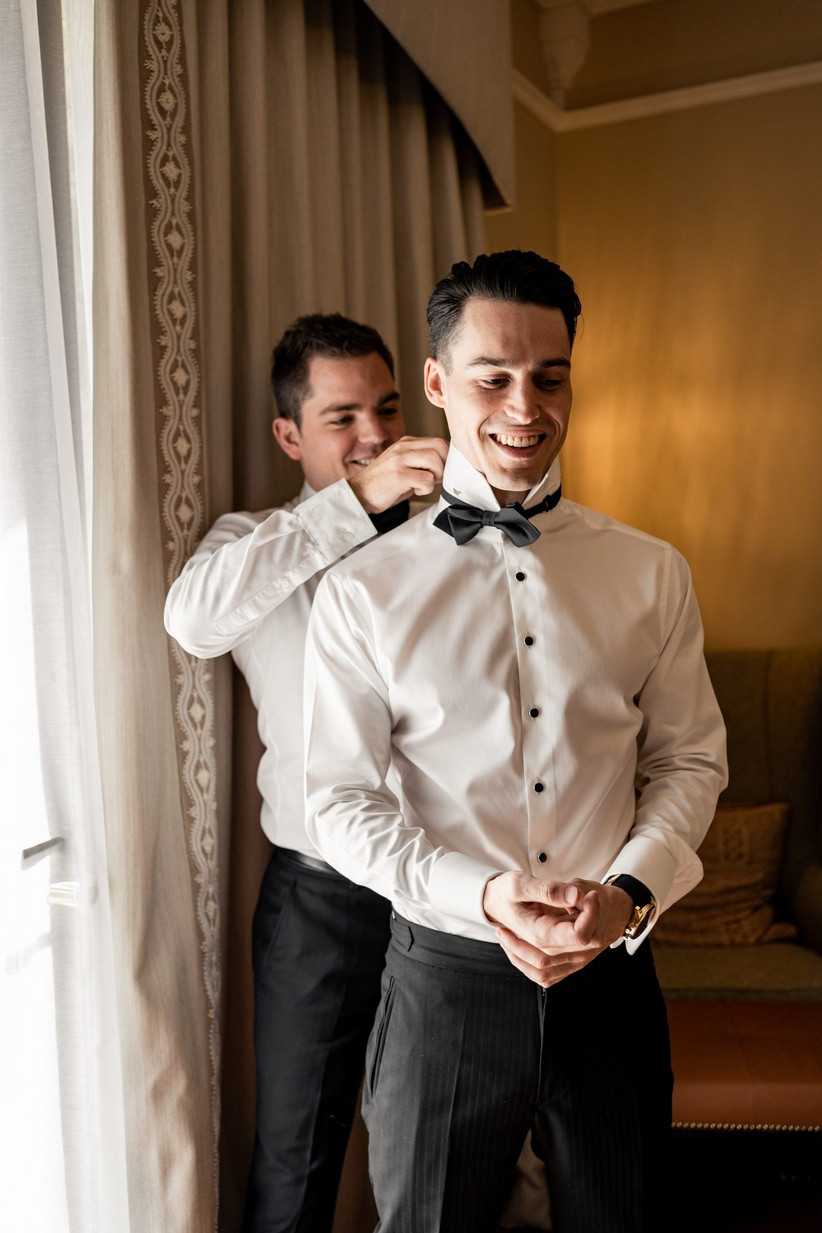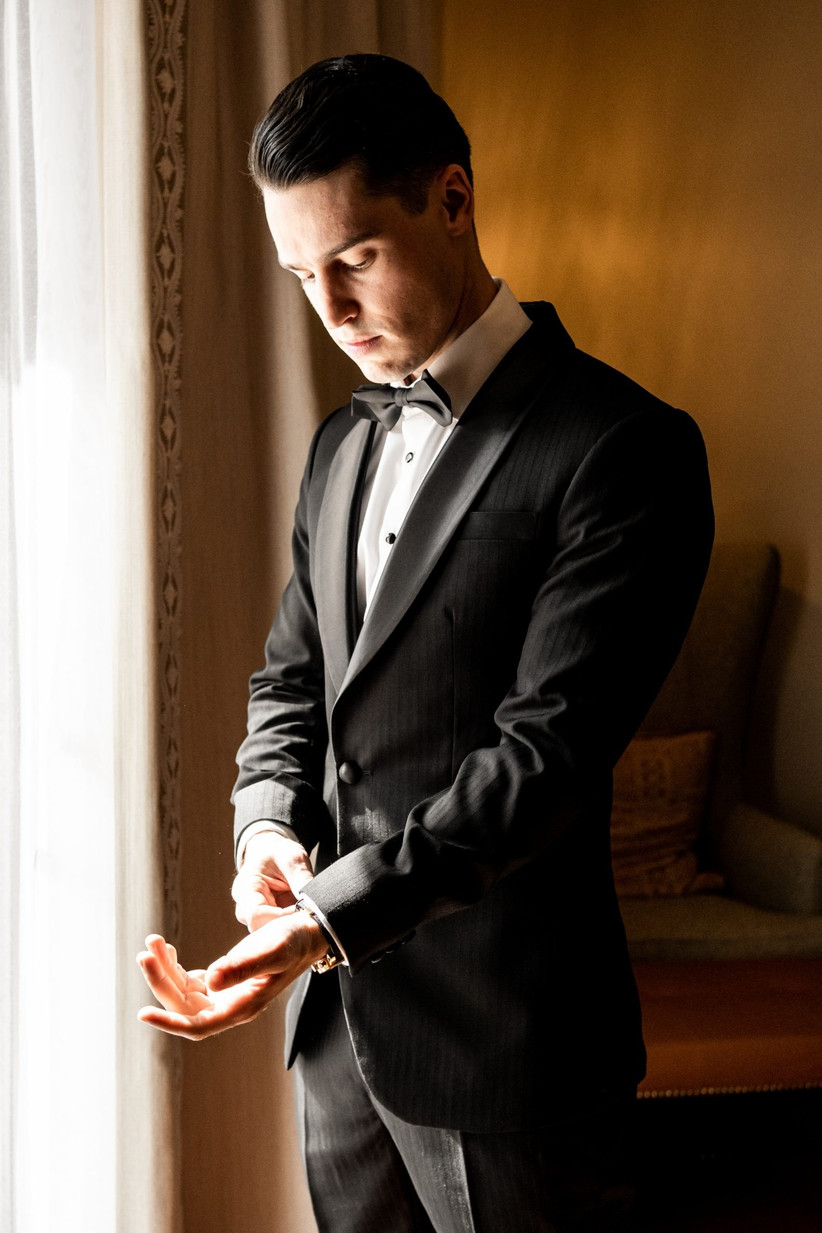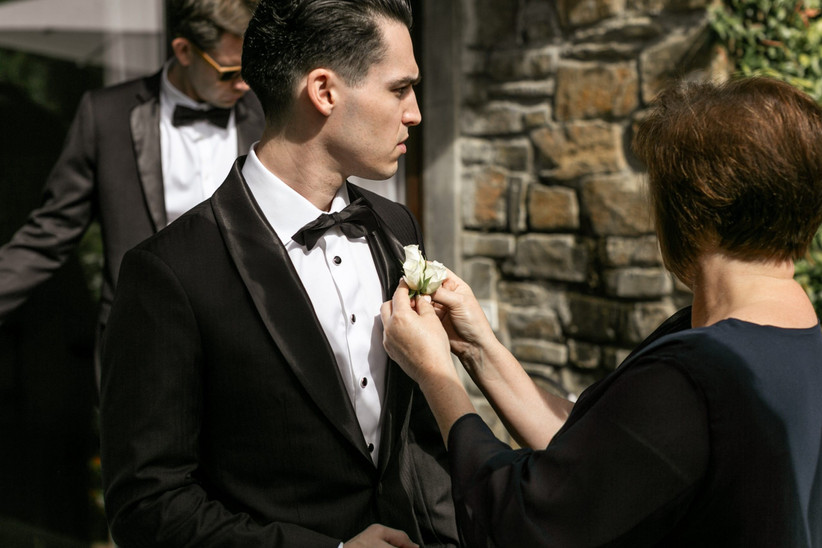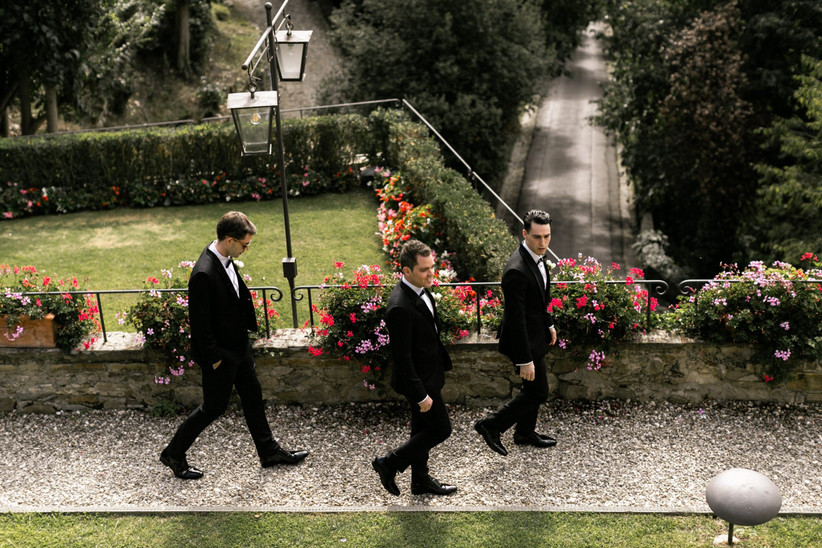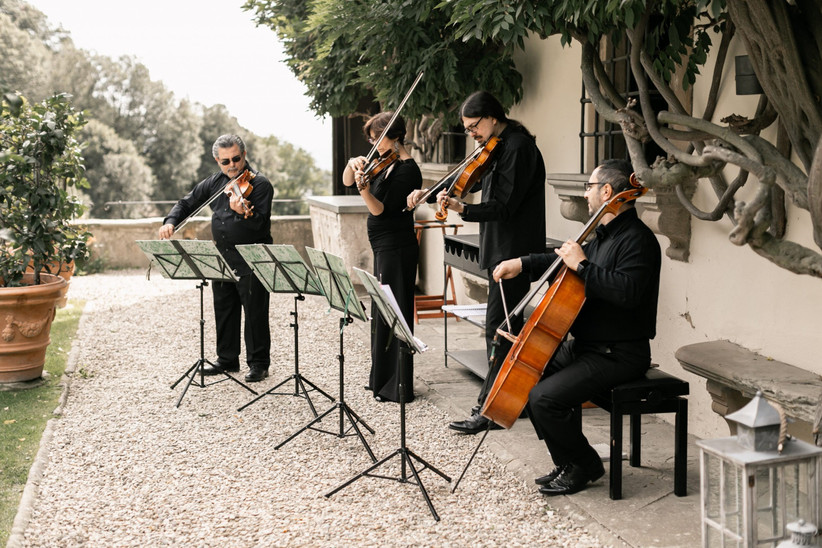 The Wedding Party
To up the glamour, Emily and Nick chose black bridesmaid gowns from Elle Zeitoune. The glamorous gowns featured plunging necklines and balloon sleeves. The bridesmaids – Emily's three sisters and best friend – accessorised with statement silver earrings from high street favourite Zara.
The bride's brother, the groom's brother-in-law and his best friend made up the rest of the wedding party and looked dapper in black suits and bow ties from Tailors Mark.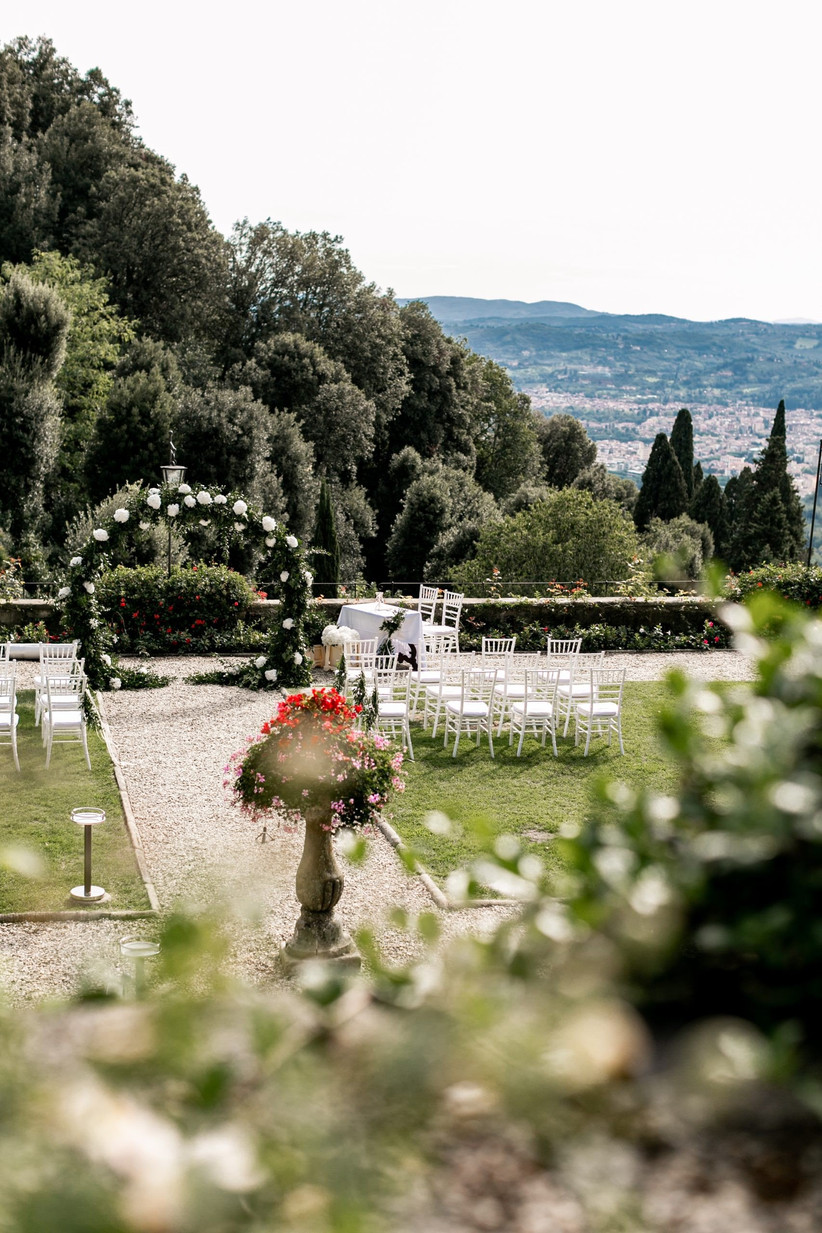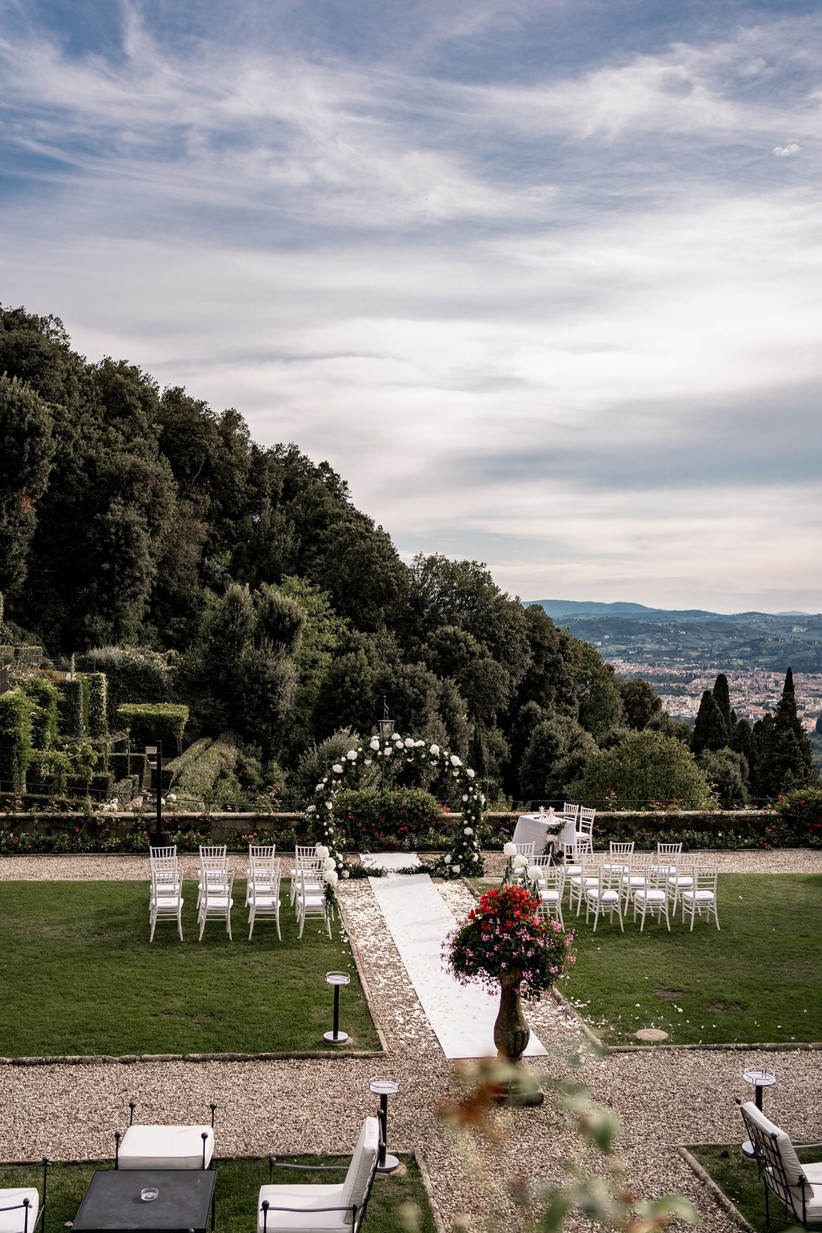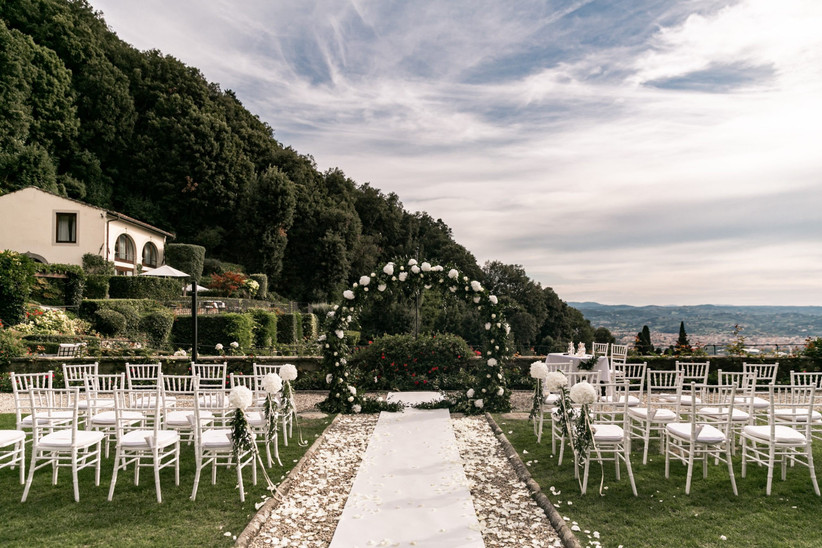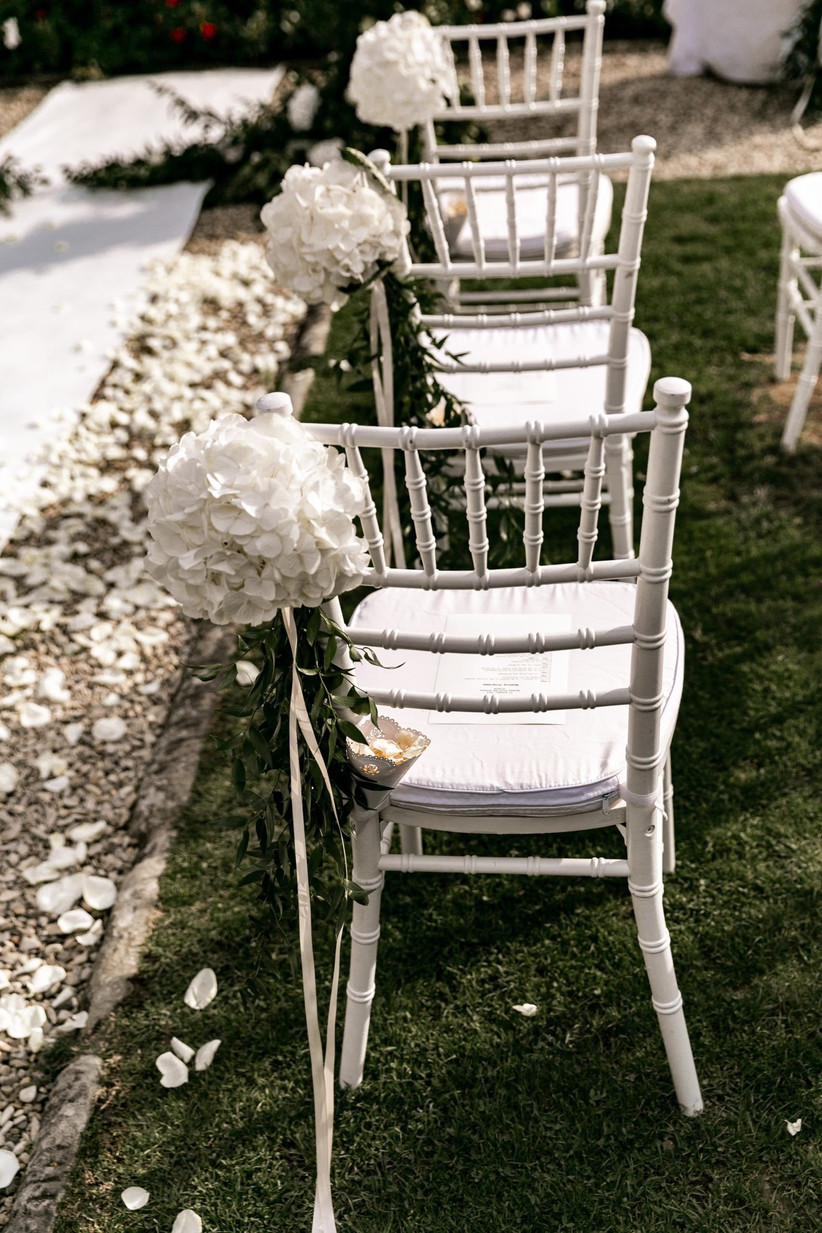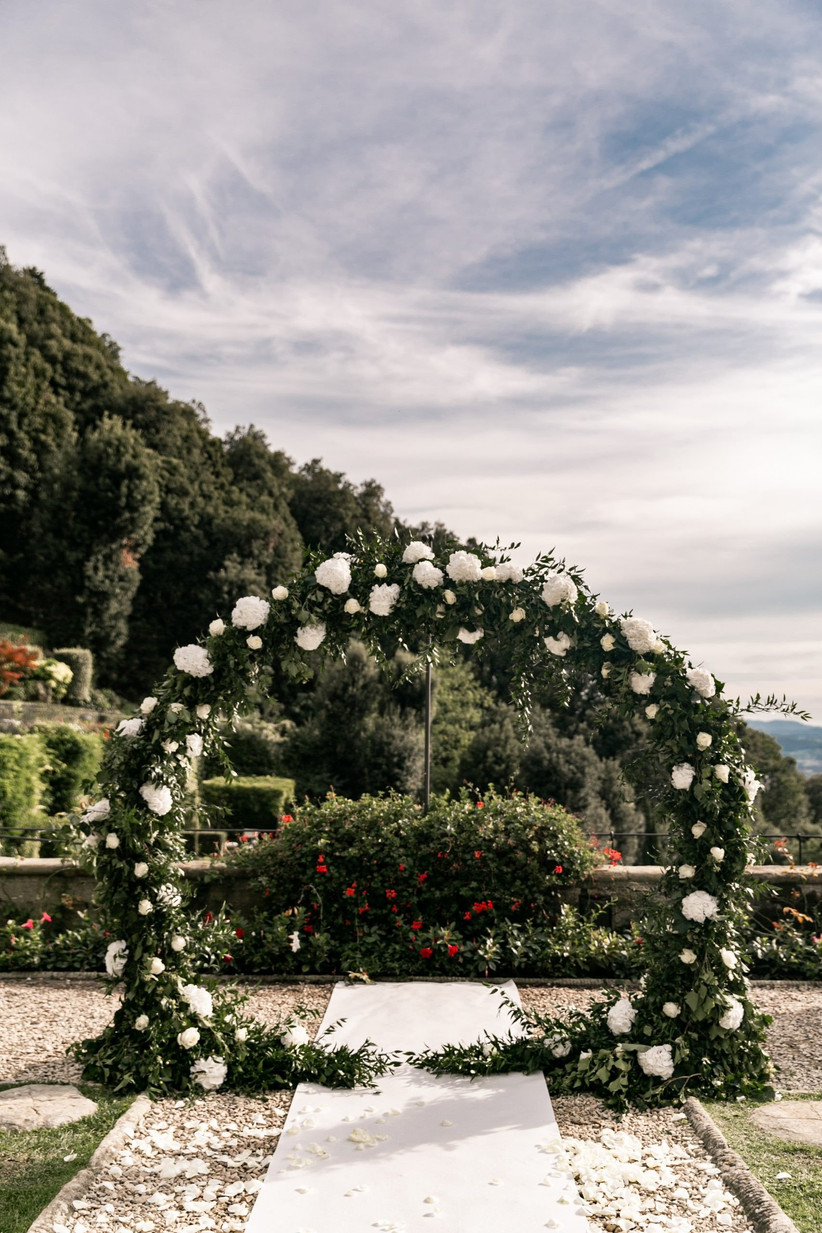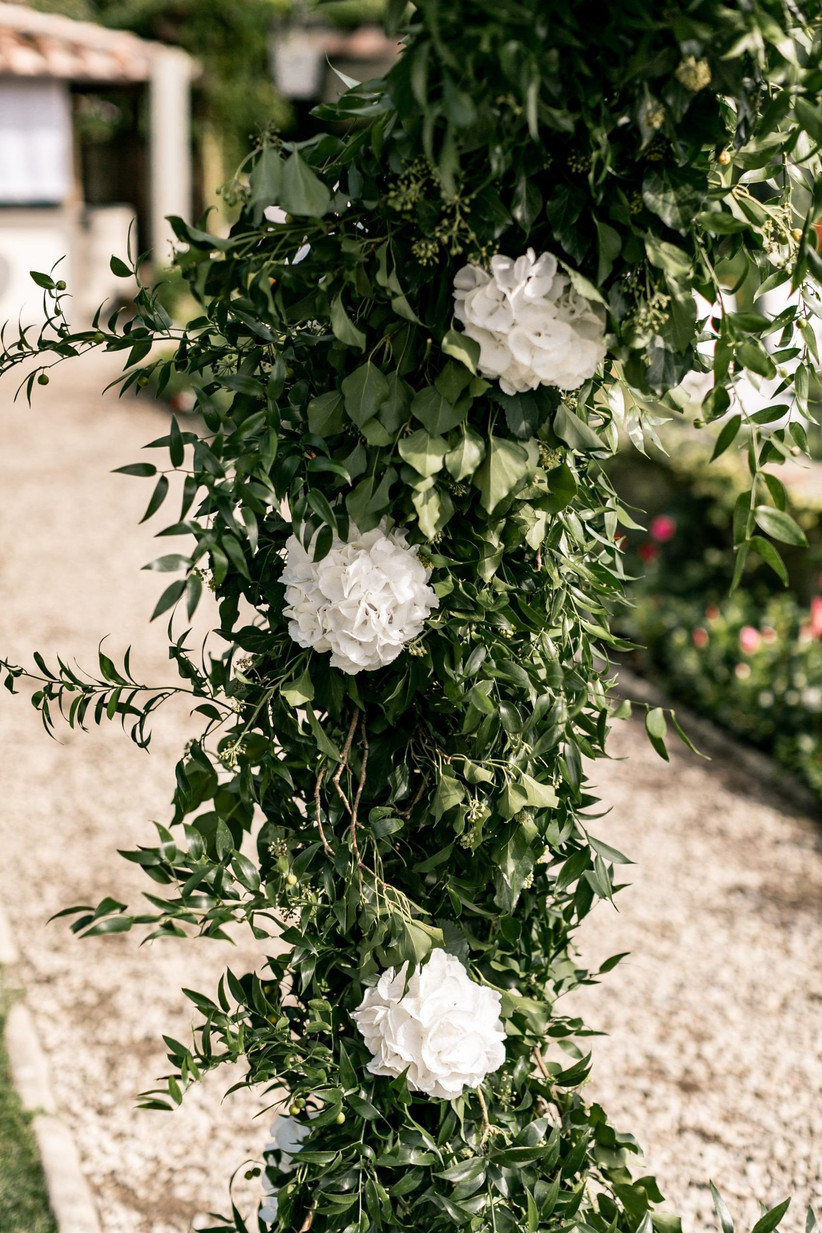 The Wedding Ceremony
Emily and Nick chose a local celebrant for their wedding, and performed a unity candle lighting for a special family moment during their ceremony.
"We had a symbolic ceremony as we had to get legally married before we left for our wedding. Our celebrant was amazing, she was very informative and helpful. She let us take full control of how we wanted the ceremony to run.
"We wrote our own vows and had two of the bridesmaids say a poem each. We were also able to personalise the ceremony by designing the vow books ourselves. We wanted to incorporate both of our families in the ceremony, so we had the lighting of a unity candle. This is typically where the mother of the bride and mother of the groom light a candle each and then the bride and groom light a candle together off the two candles. This is meant to symbolise the joining of both families as one. We had both the mother and father of the bride and mother and father of the groom light one candle each as we wanted to involve as many of our family members as we could.
"Nick entered the ceremony along with his groomsmen. We then had two flower girls walk down the aisle followed by the bridesmaids. I entered the ceremony walking down the aisle with my dad to A Thousand Years by Christina Perri."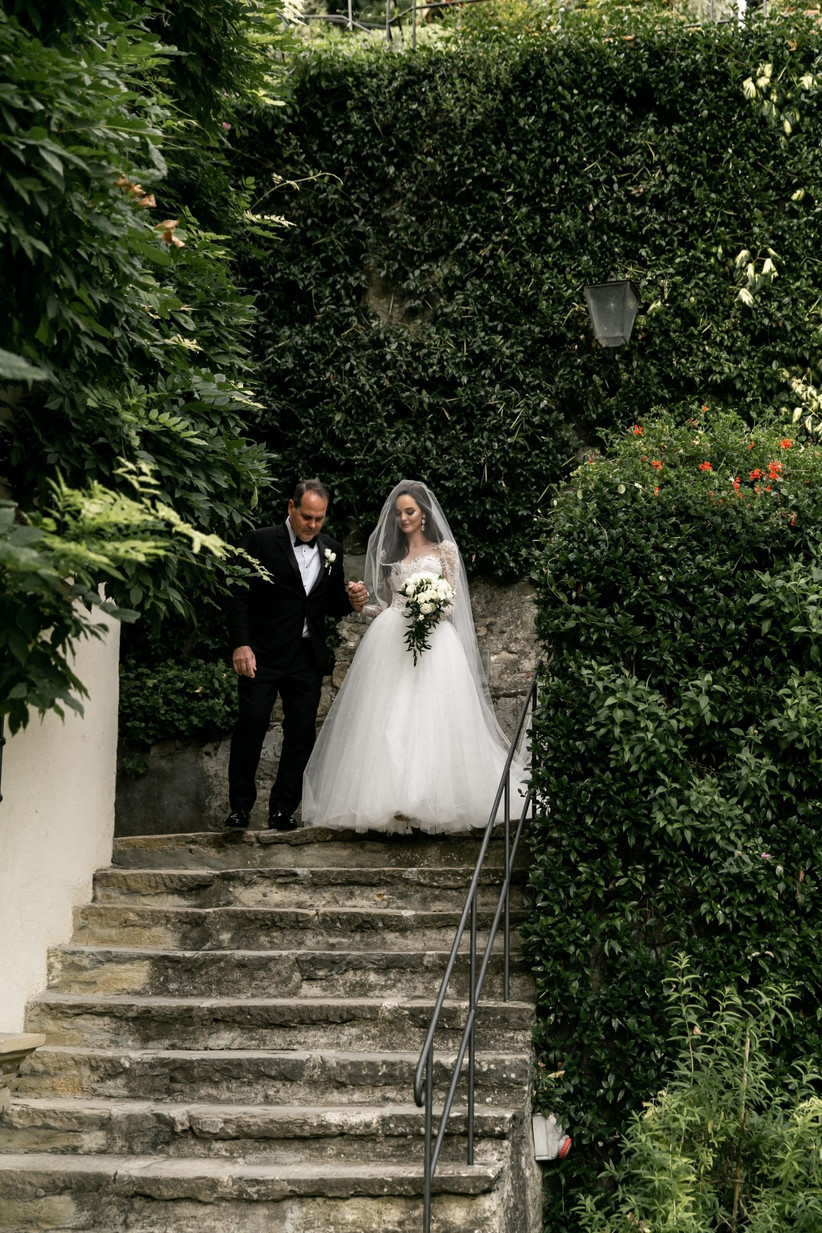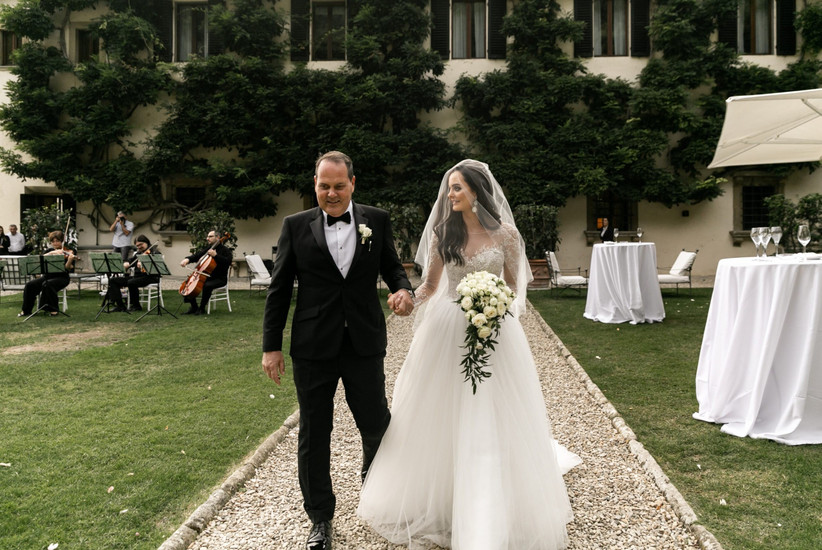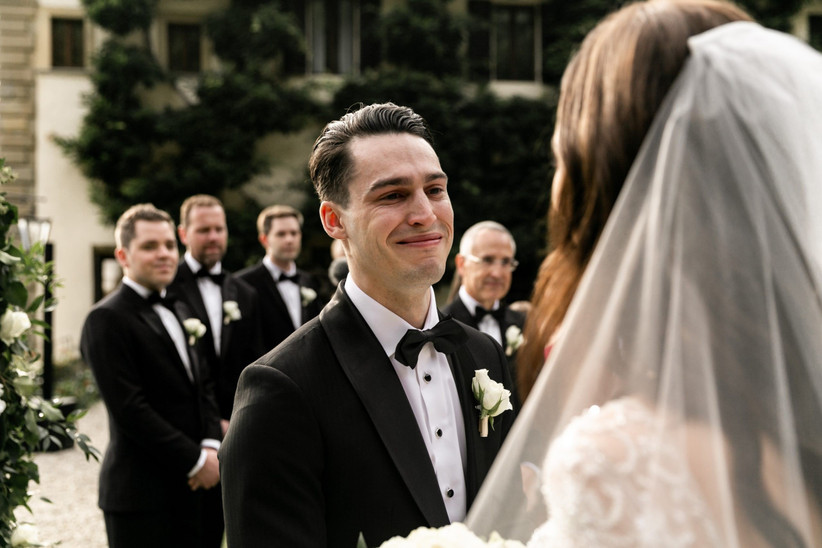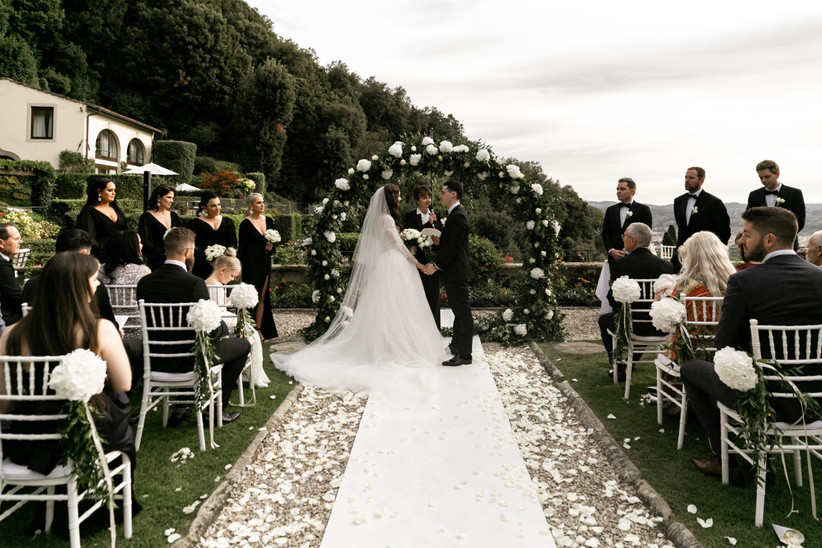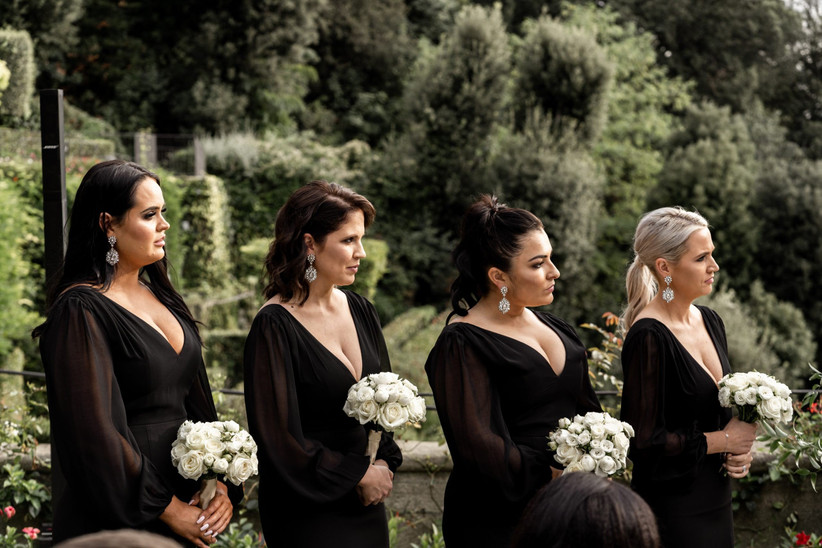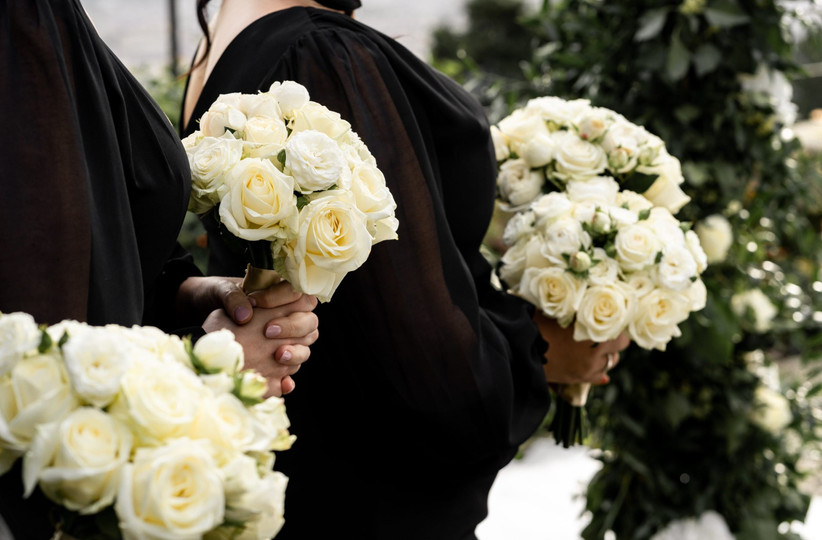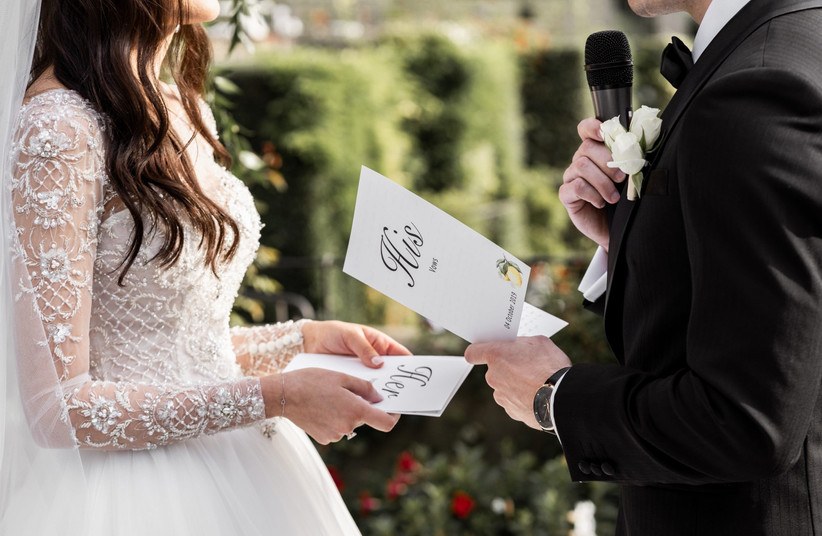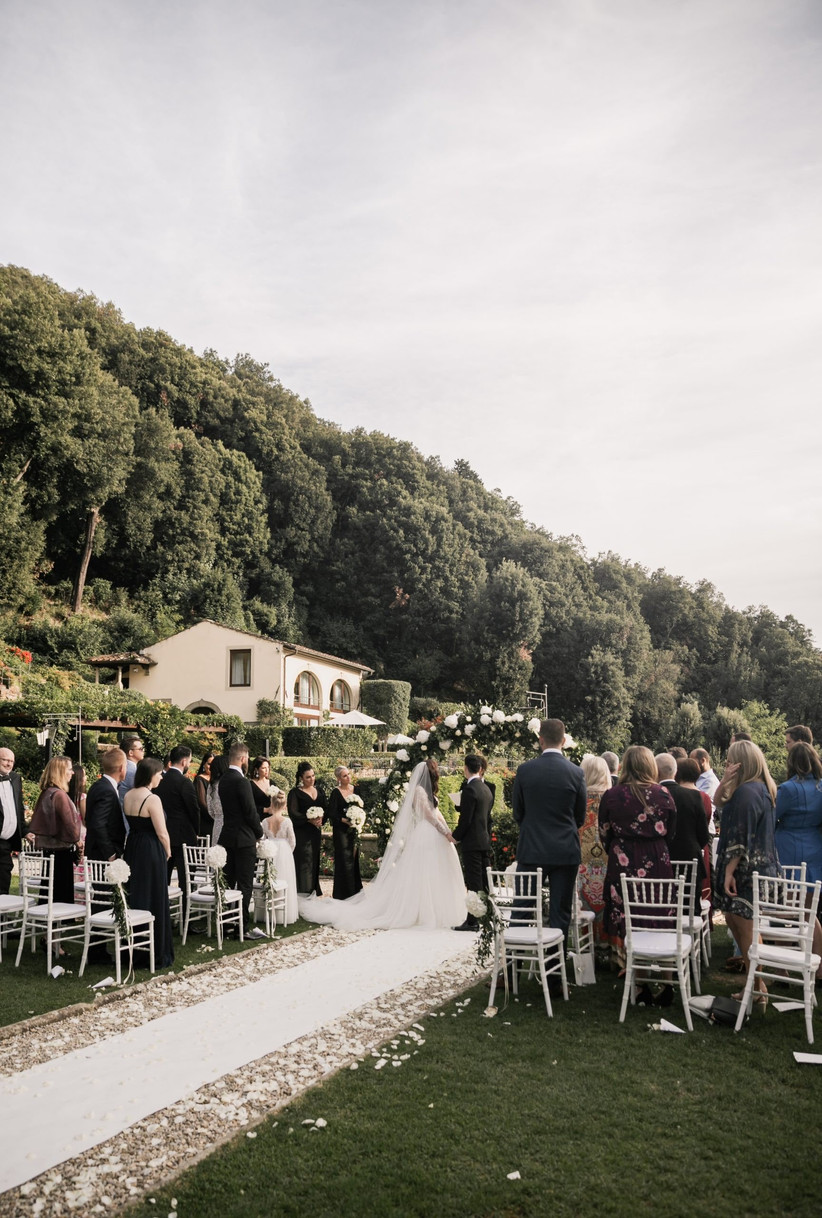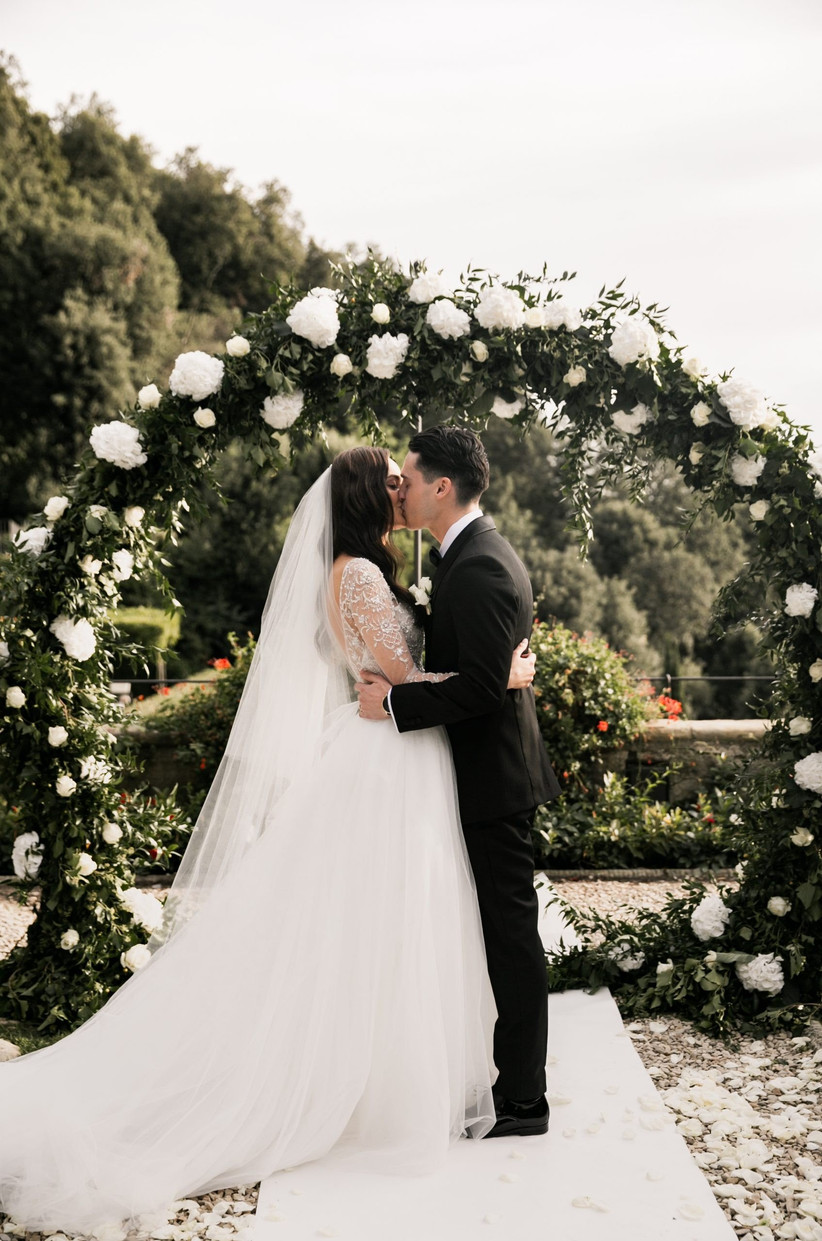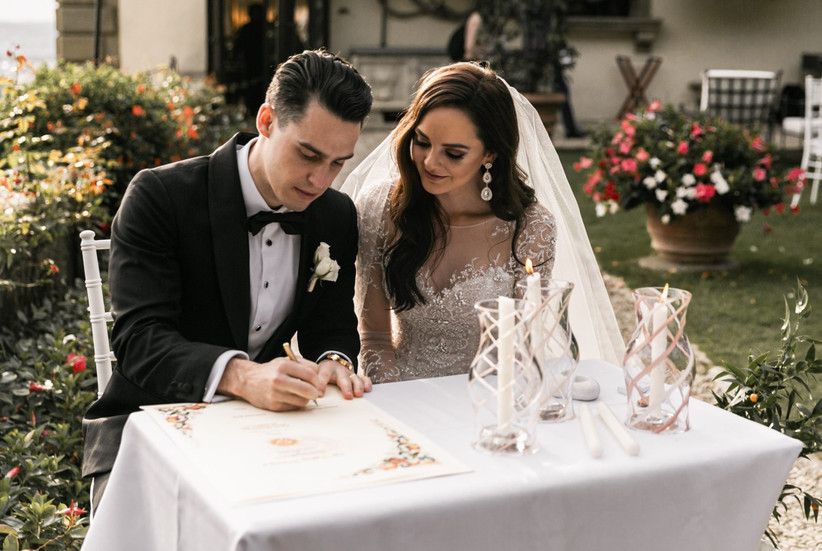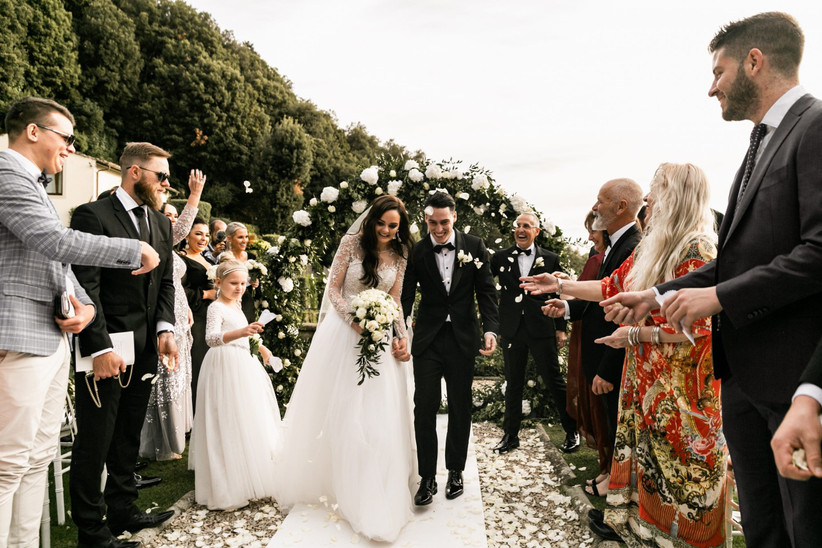 The Wedding Venue
Despite first deciding that a wedding abroad wasn't for them, Emily and Nick found that they couldn't resist the idyllic Belmond Villa San Michele.
"My mum actually found the venue on Instagram and sent it to both Nick and me. We absolutely loved the look of the venue, but kept looking at home as we didn't think a destination wedding would be something we would be able to plan in a short amount of time! Whilst we kept looking, nothing compared to the venue in Florence.
"Nick and I had never been to Italy, let alone Florence, so it was a big deal for us to choose a country and venue we had never seen! We were definitely not disappointed, both Florence itself and the venue was even better than photos, it was everything we expected and more! With both of us working in aviation it also seemed fitting that we would choose somewhere that involved travelling. We loved the look of the venue and Florence is such a magical and romantic city, so it fit really well with what we were wanting for our wedding day."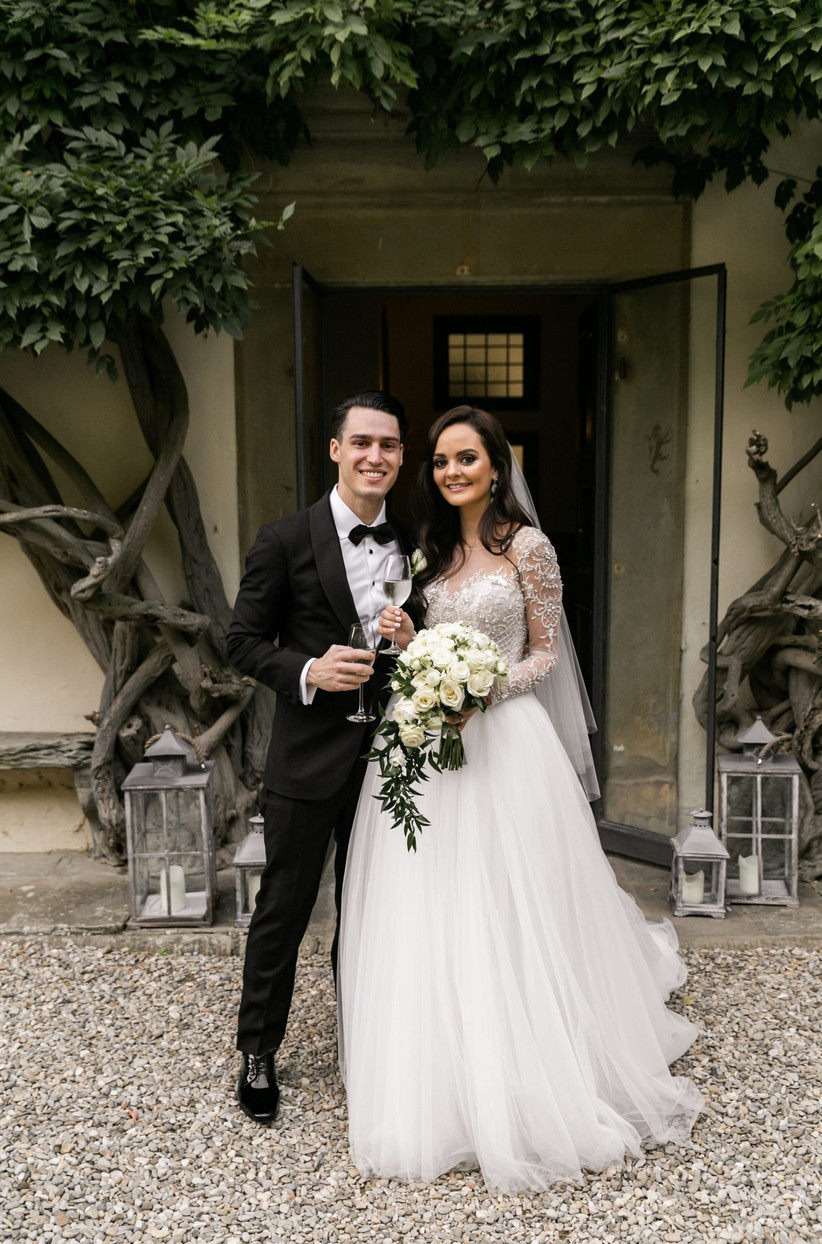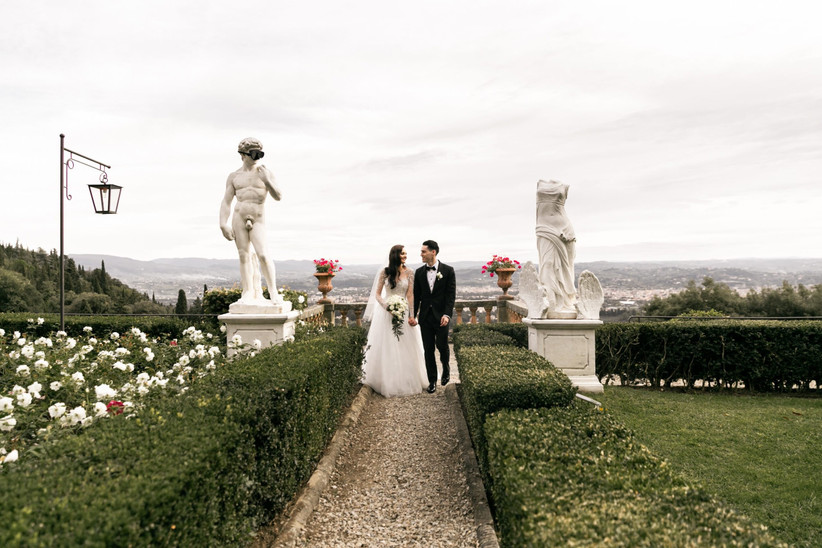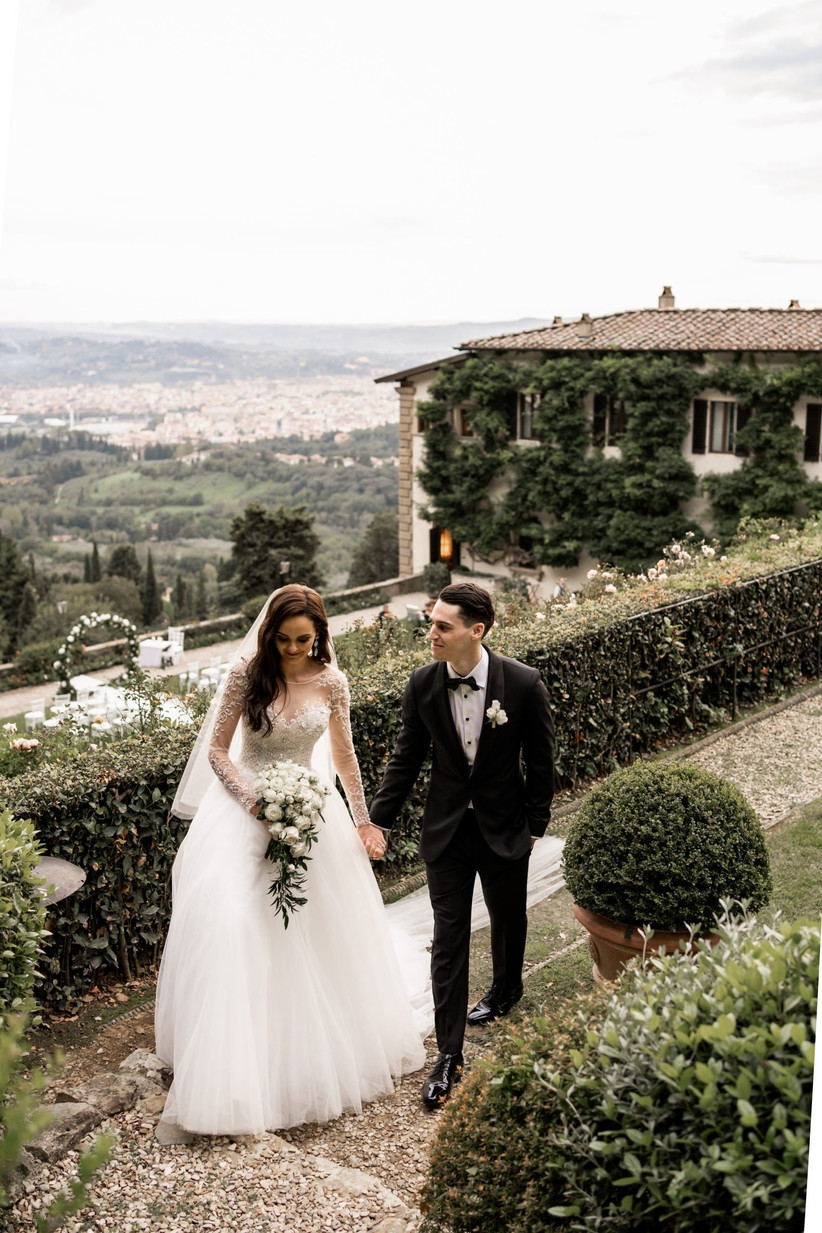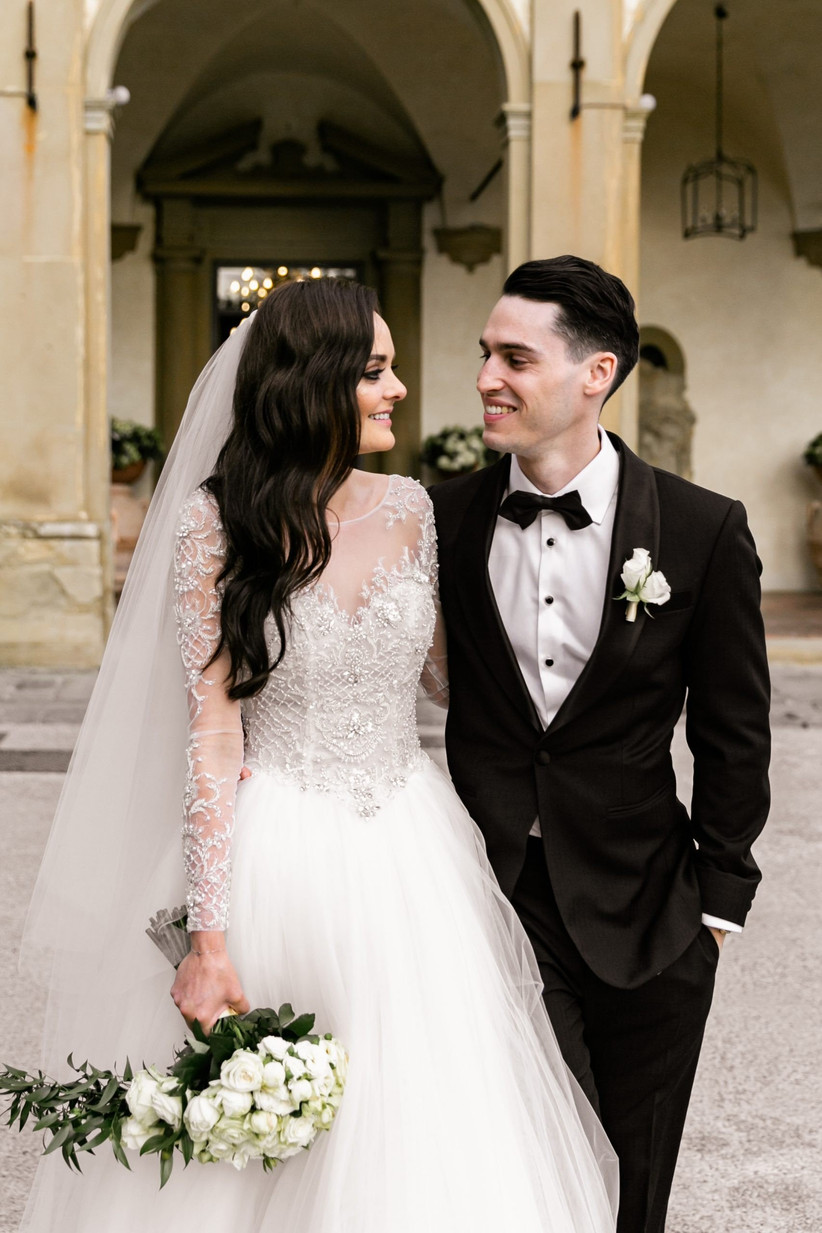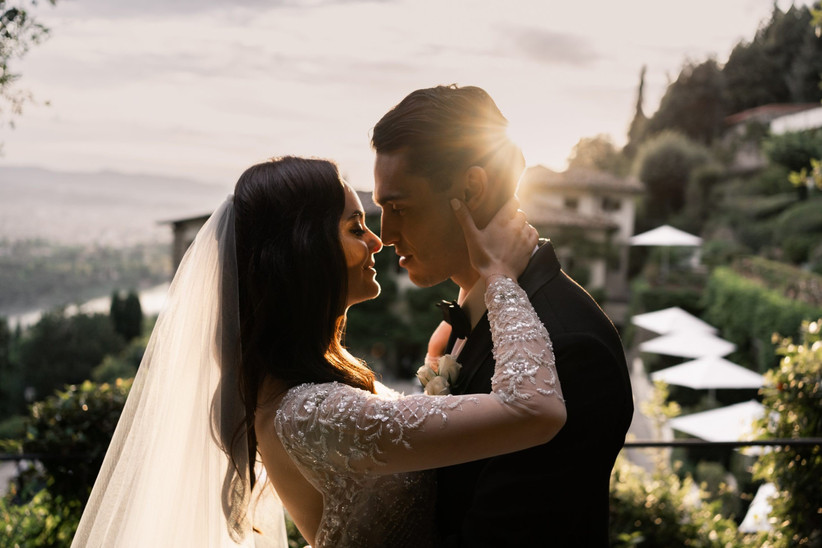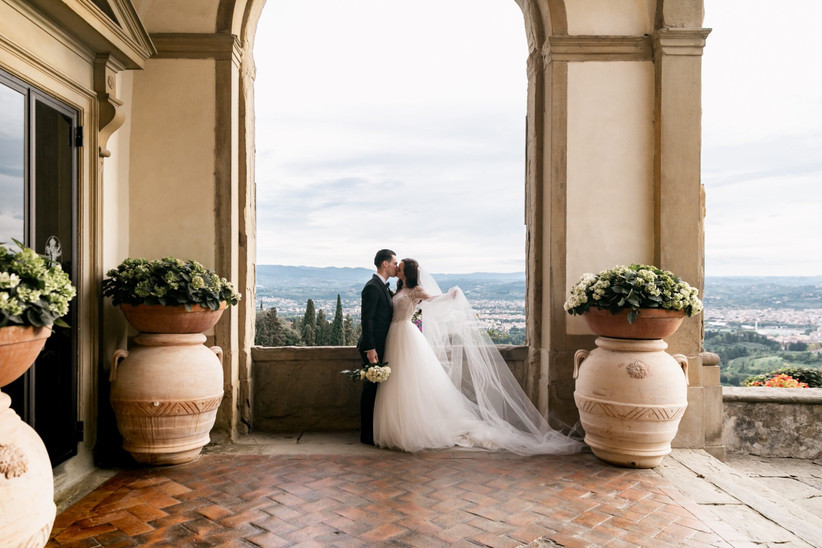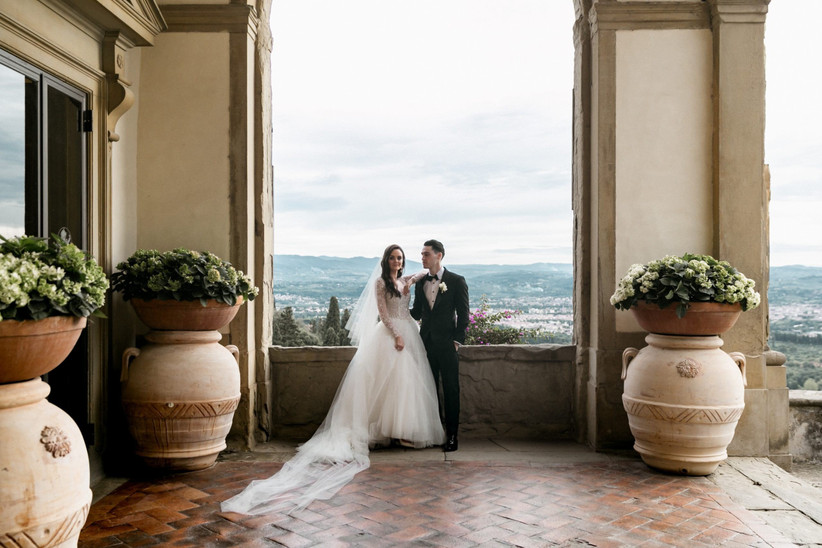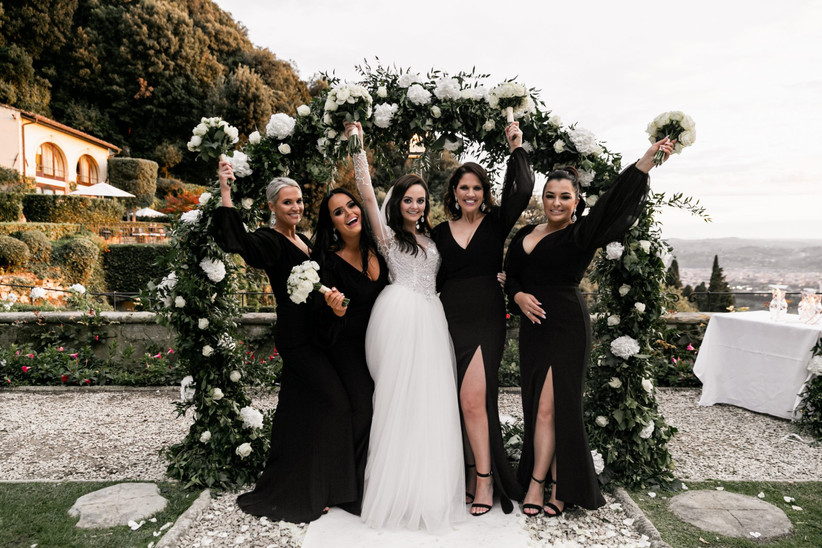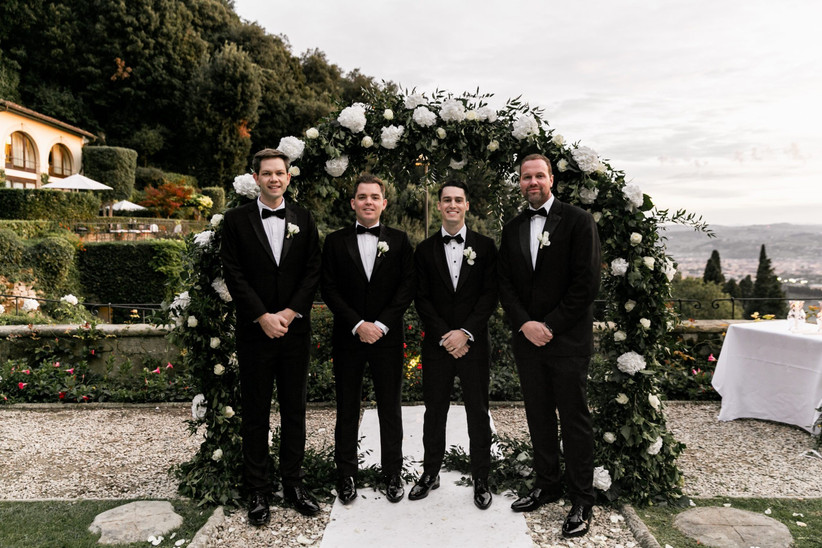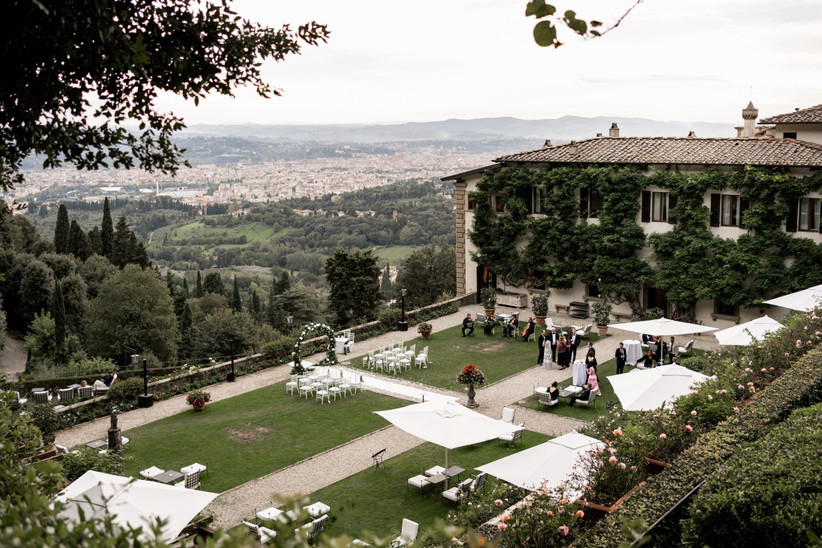 The Wedding Flowers and Cake
Emily and Nick's classic and glamorous wedding called for romantic florals and the couple quickly decided on an elegant white and green colour scheme to complement the white and black wedding party outfits.
"Our theme was quite formal and elegant, so we chose some natural greenery with white flowers. We sent photos of flowers and arrangements to our florist and left it up to her on which flowers would be in season in Italy and which would go best with the arrangement and theme we had.
"We had white roses and hydrangeas placed into an arch for our ceremony. We also had hydrangeas placed on the aisle seats and white roses placed along the aisle and for guests to throw at the conclusion of the ceremony. For the dinner reception, we had a long green and white wreath placed in the centre of the table with natural greenery, white roses and hydrangeas."
When it came to the cake, the couple put their trust into the expert hands of the team at Belmond Villa San Michele.
"Given that we got married in Italy, we had to have some lemon flavours and themes! Our cake was lemon curd and was dressed with flowers from our florist."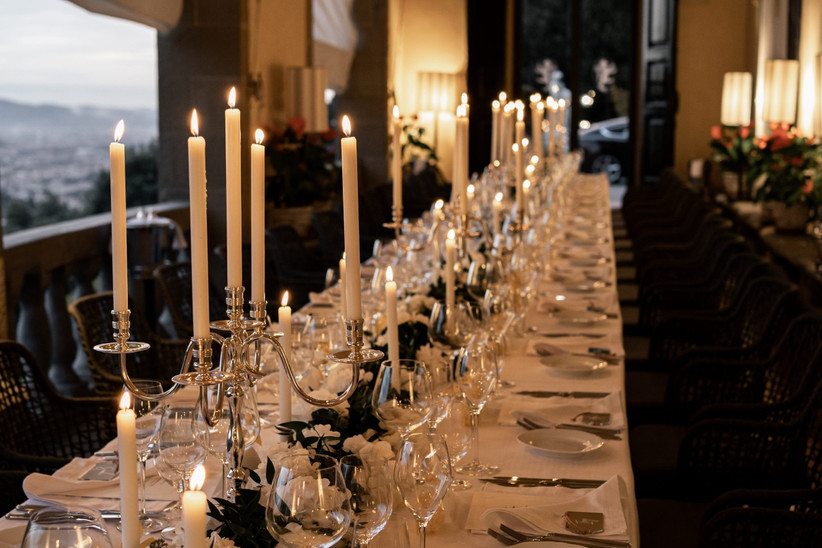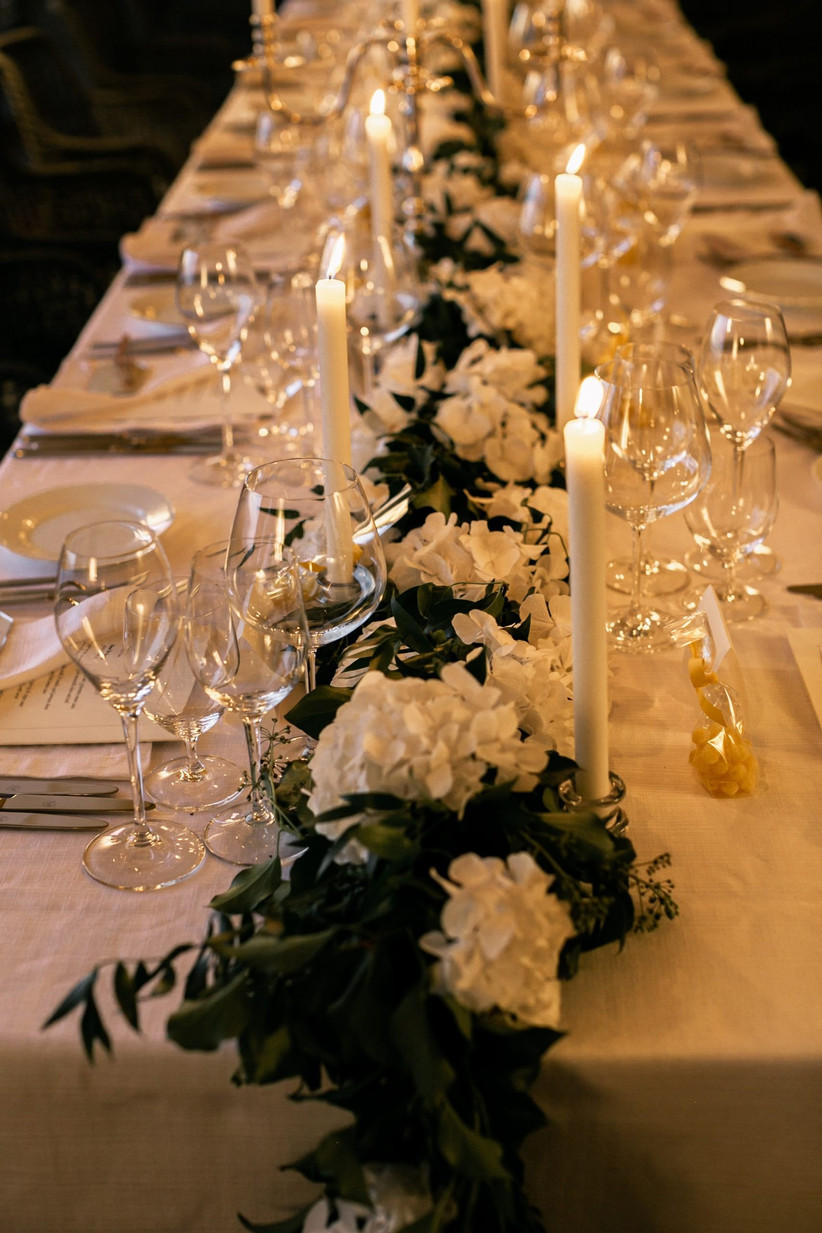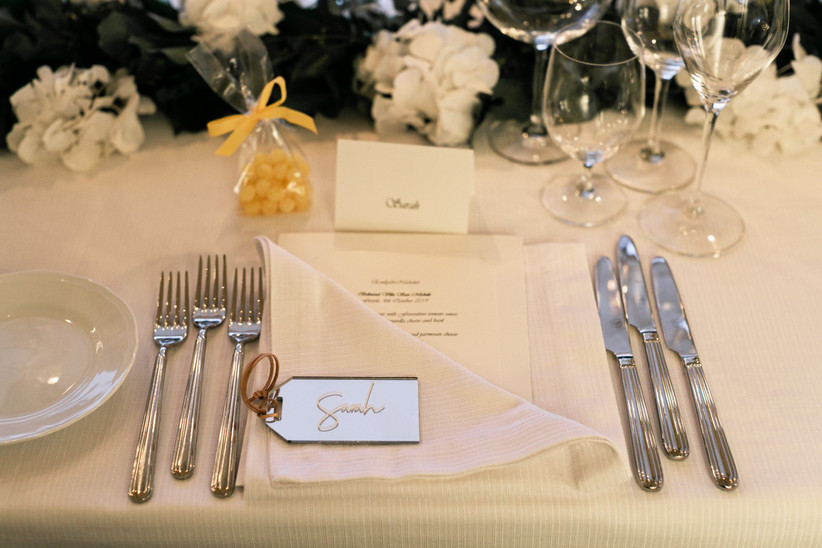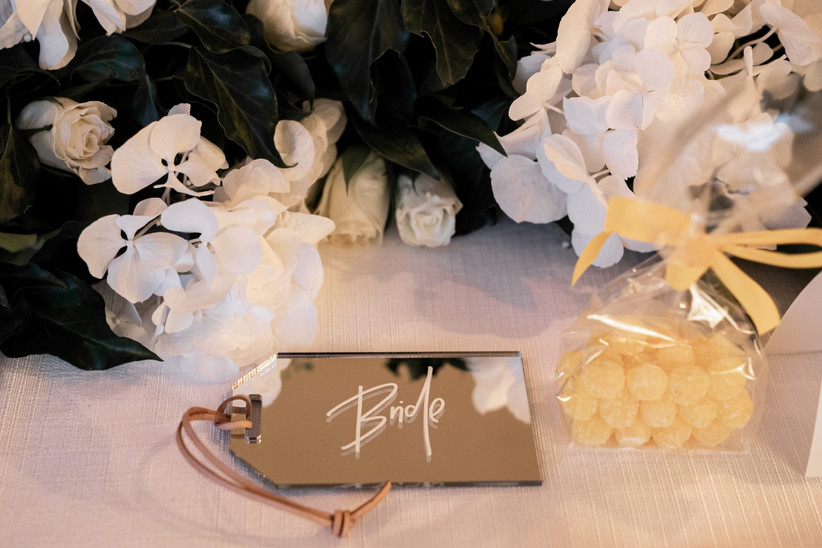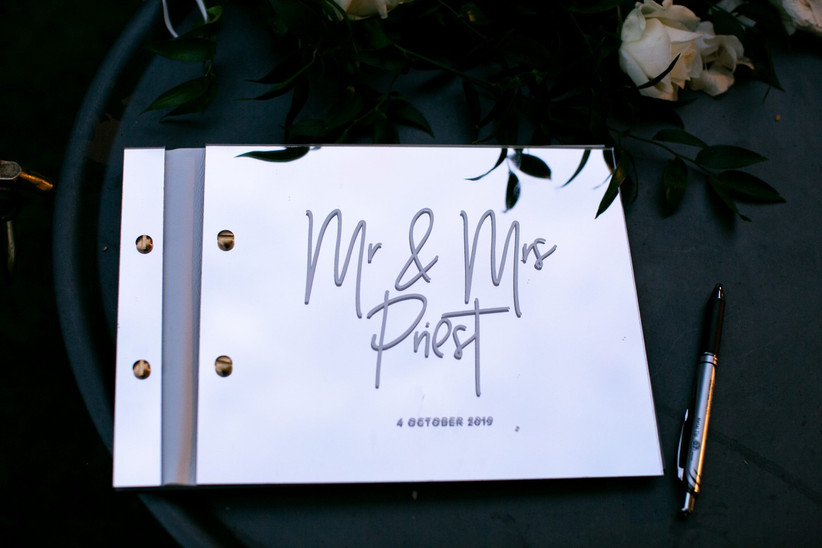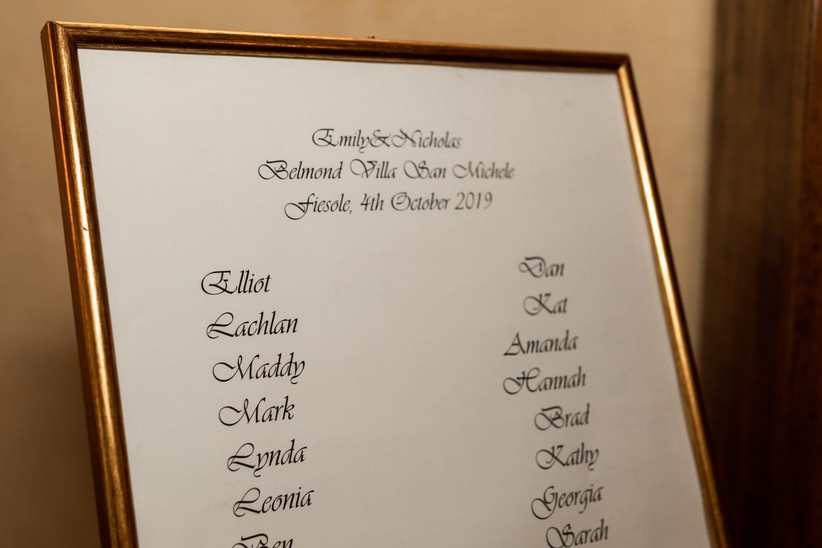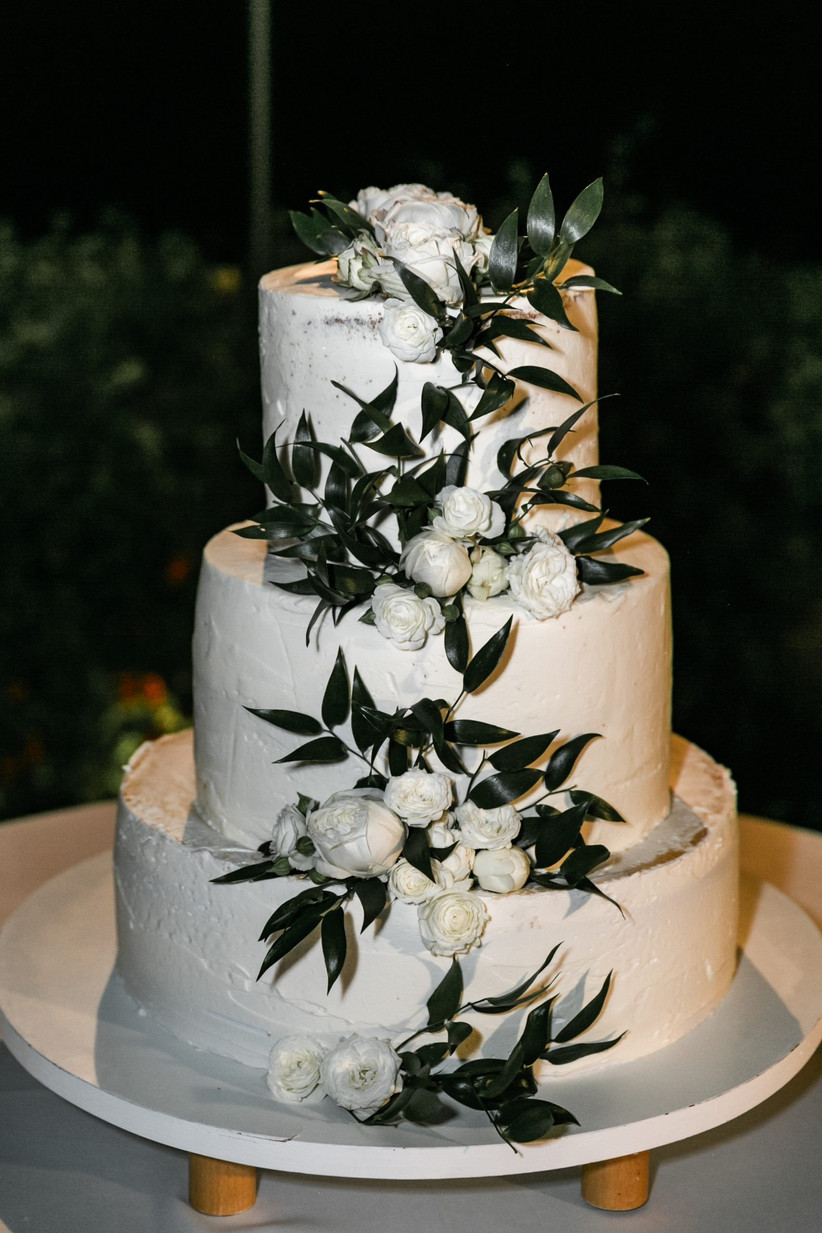 The Décor and Special Touches
"Our style for the big day was quite formal, intimate and elegant. We got a lot of inspiration and ideas from Pinterest, Vogue, bridal magazines and Instagram. My mum was a huge help throughout the wedding and was constantly helping with décor ideas and styling for the big day."
Pinterest was certainly the main source of inspiration when it came to Emily and Nick's romantic, candlelit banquet tables too.
"We had one long table for the reception so wanted a nice long wreath in the centre of the tables. We also wanted to add some height and dimension, so we added some candelabras placed along the table. This was a really nice touch as it added some more romance and intimacy to the dinner – a lot of the inspiration for the table décor came from Pinterest!"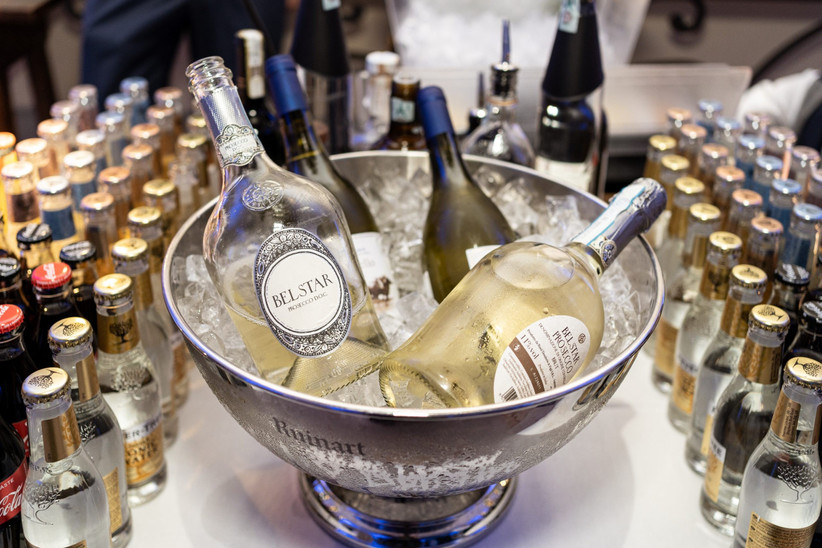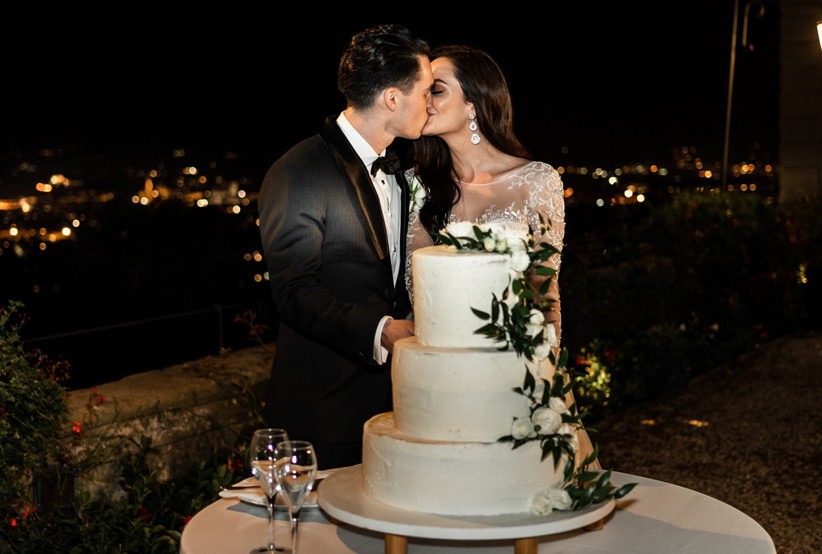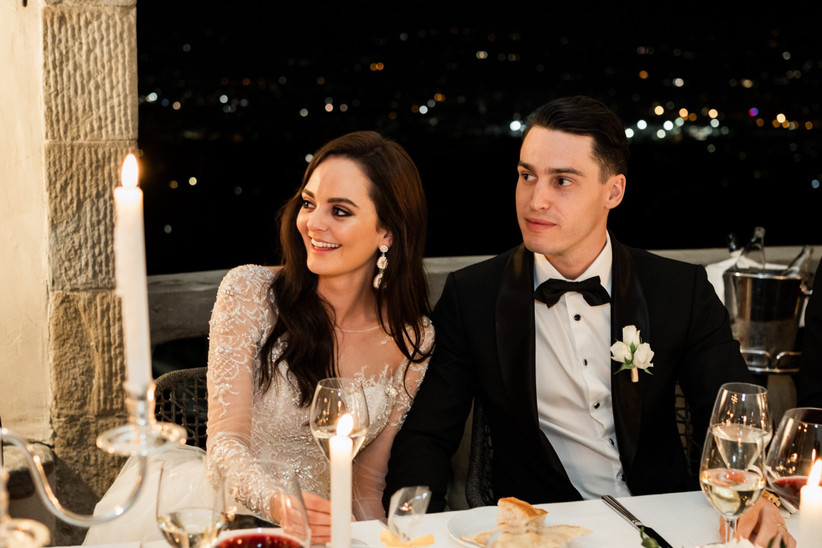 The Entertainment
The couple set the romantic tone for the day with the Gli Archimisti String Ensemble and got the party started with the help of DJ Marco Garberoglio.
At the end of the night, the couple treated their guests to a spectacular firework display, a splurge that Nick deemed "worth every penny!"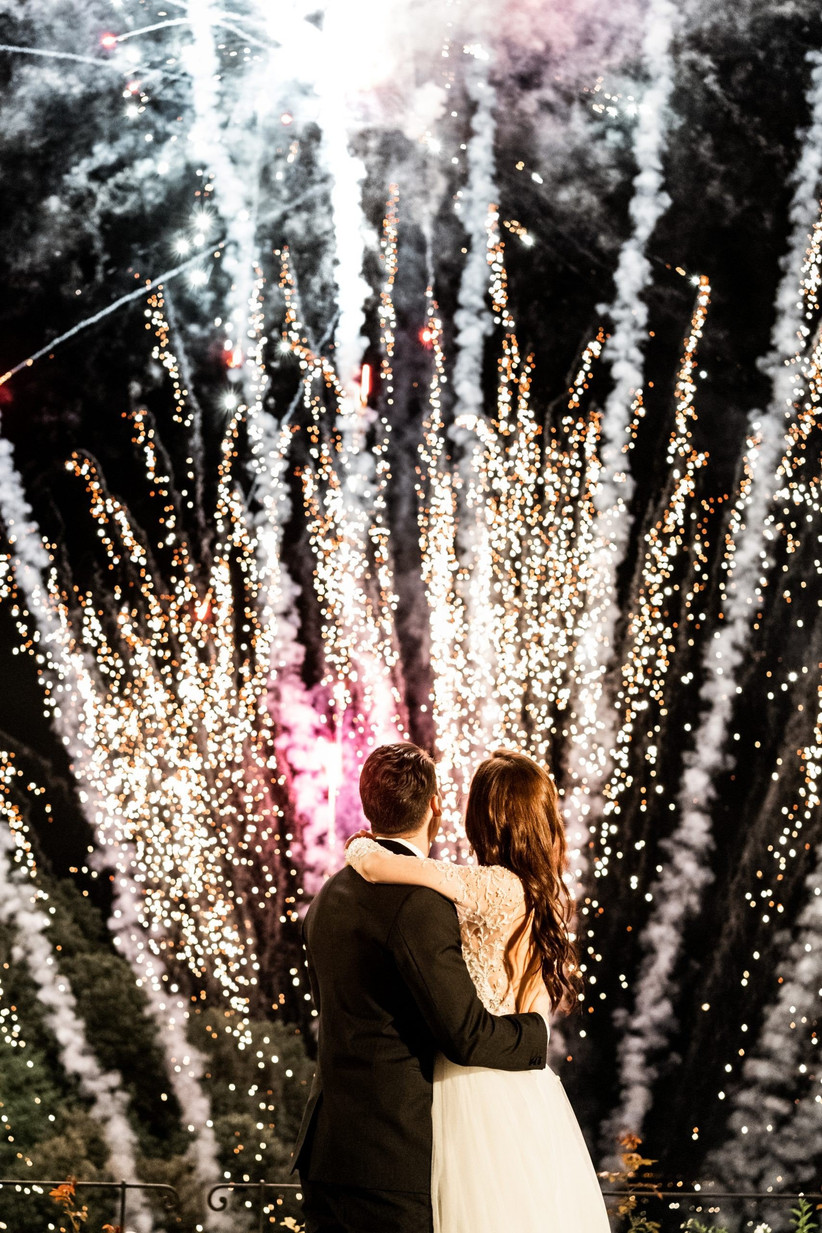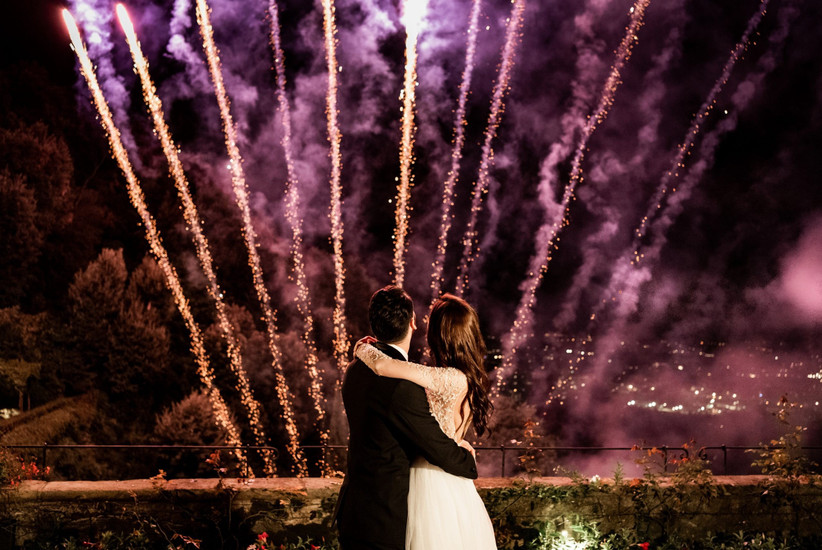 The Honeymoon
Naturally, the couple decided to explore more of Italy as their honeymoon and they travelled to Sorrento and down the Amalfi Coast.
Emily and Nick wouldn't change a thing about their stunning day and advise couples planning their weddings to stick to their own vision. "Your wedding day is YOUR day. This is the one time in your life where you can be selfish and put your wants and dreams ahead of pleasing others. Do what makes you and your partner happy and you will have the most magical and unforgettable day of your lives."
The Suppliers
Photographer: Nora Mancini
Venue: Belmond Villa San Michele
Dress and Veil: Raffaele Ciuca
Stationery: Adorn Invitations
Hair and Makeup: Liza Samokhina and Ruslana Regi
Groomswear: Tailors Mark
Bridesmaid Dresses: Elle Zeitoune
Florist: Funkybird
Videographer: Anthony Venitis
Celebrant: Diane Rossi at Blessings From Italy
Wedding Favours: Sketch & Etch Creative (Luggage Tags, Guest Book & Neon Sign); Lemon Drop Lollies (local store in Florence)
Fireworks: Allevi Fireworks
Rings: Janai Jewellery
Thank you Emily and Nick for sharing your gorgeous day with us!