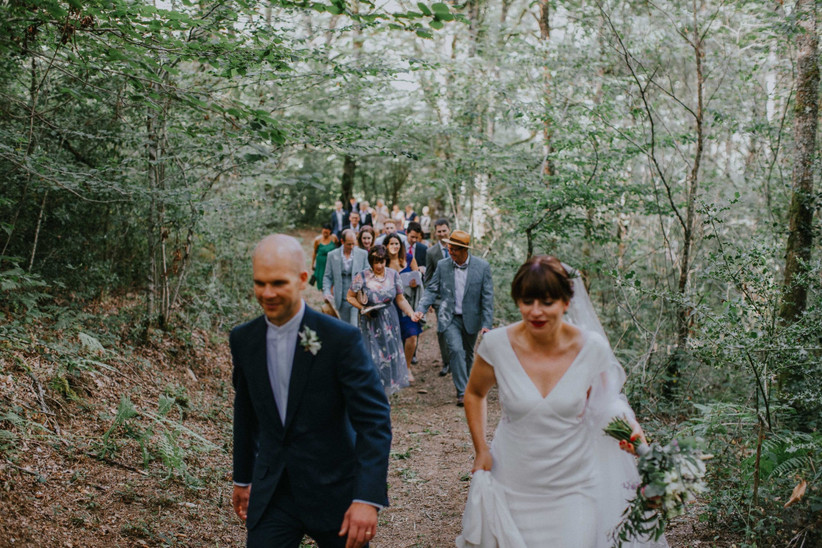 When facing 30, Kirsten decided to sign up for a "slightly mad" cycling race across the Pyrenees. She didn't realise at the time how this decision would change her life completely when she met Chris, her cycling coach and future husband.
"He sort of just never left my flat and then, after two years together, a career change (for him) to chef, and a knitted T-Rex called Terry later, he proposed…"
Chris proposed in a field at their soon-to-be wedding venue in August 2017 with a selection of rings which had been left to Kirsten by her late mother. He then dropped them in the grass! Luckily, Kirsten describes the moment as "perfectly us".
Kirsten chose her mother's engagement ring with a really unusual diamond and platinum ring with two stones crisscrossing.
The couple got hitched in August 2019 in Beaudouy, France at their friend's barn near Thiviers in front of 70 guests.
Photographer: Mark Brown Films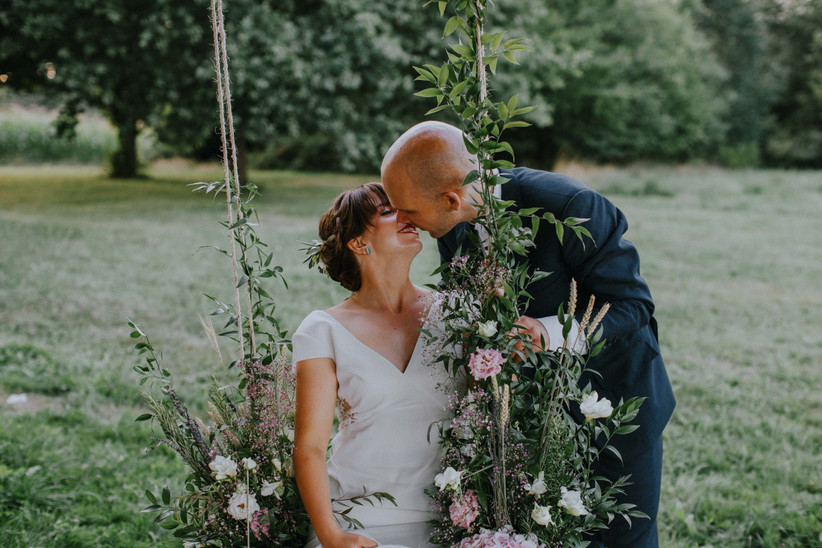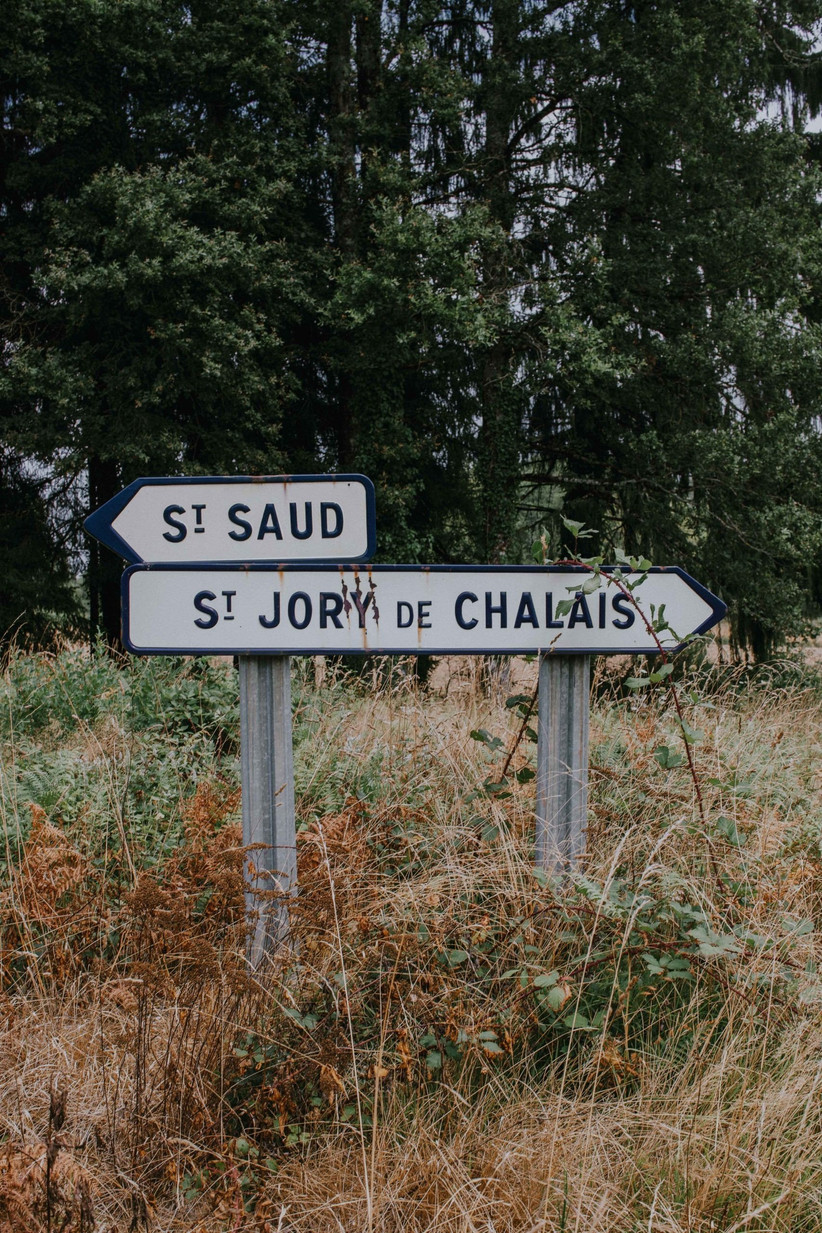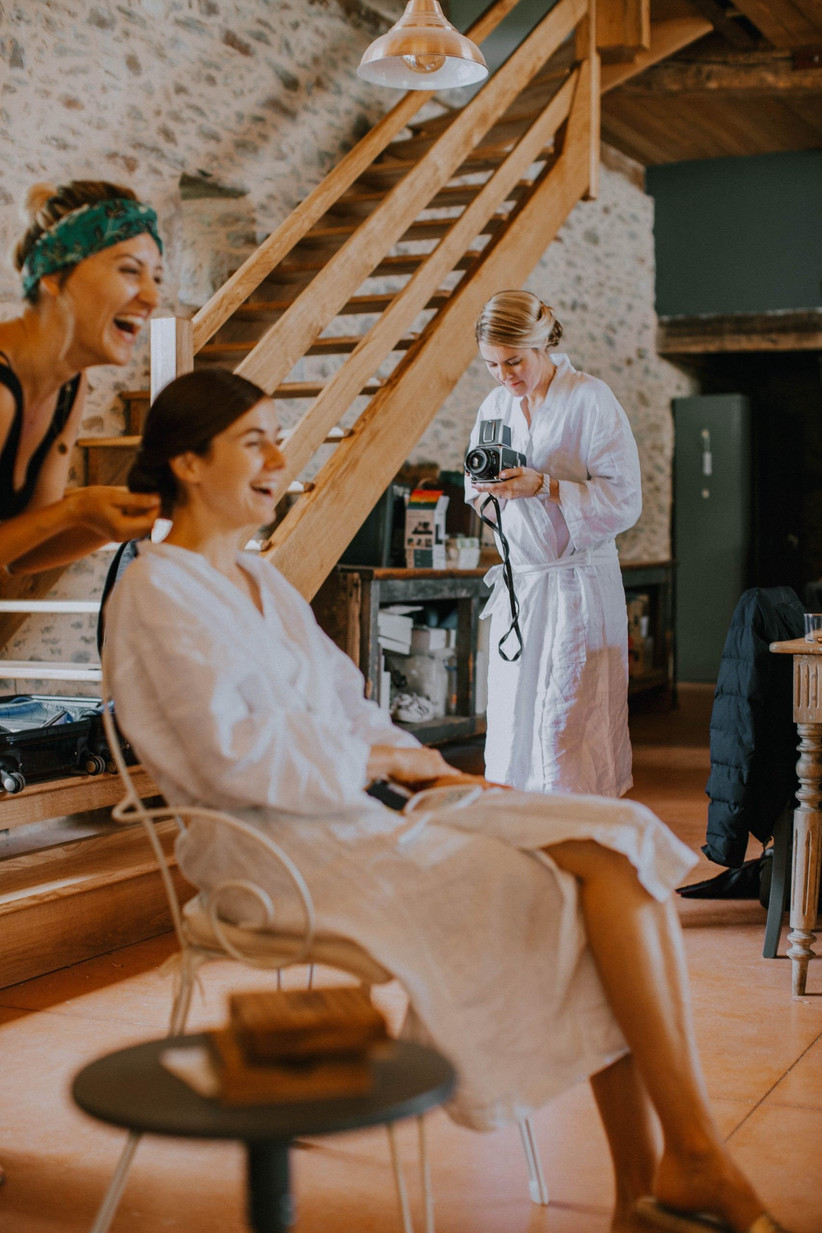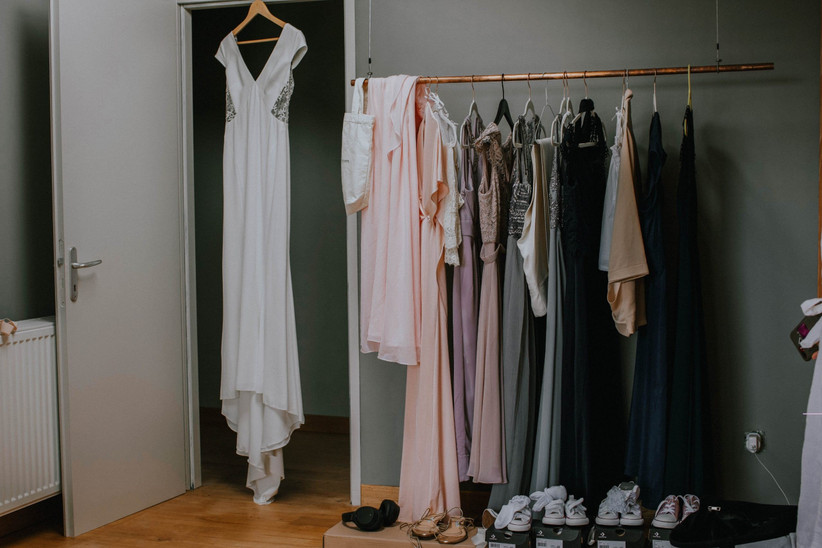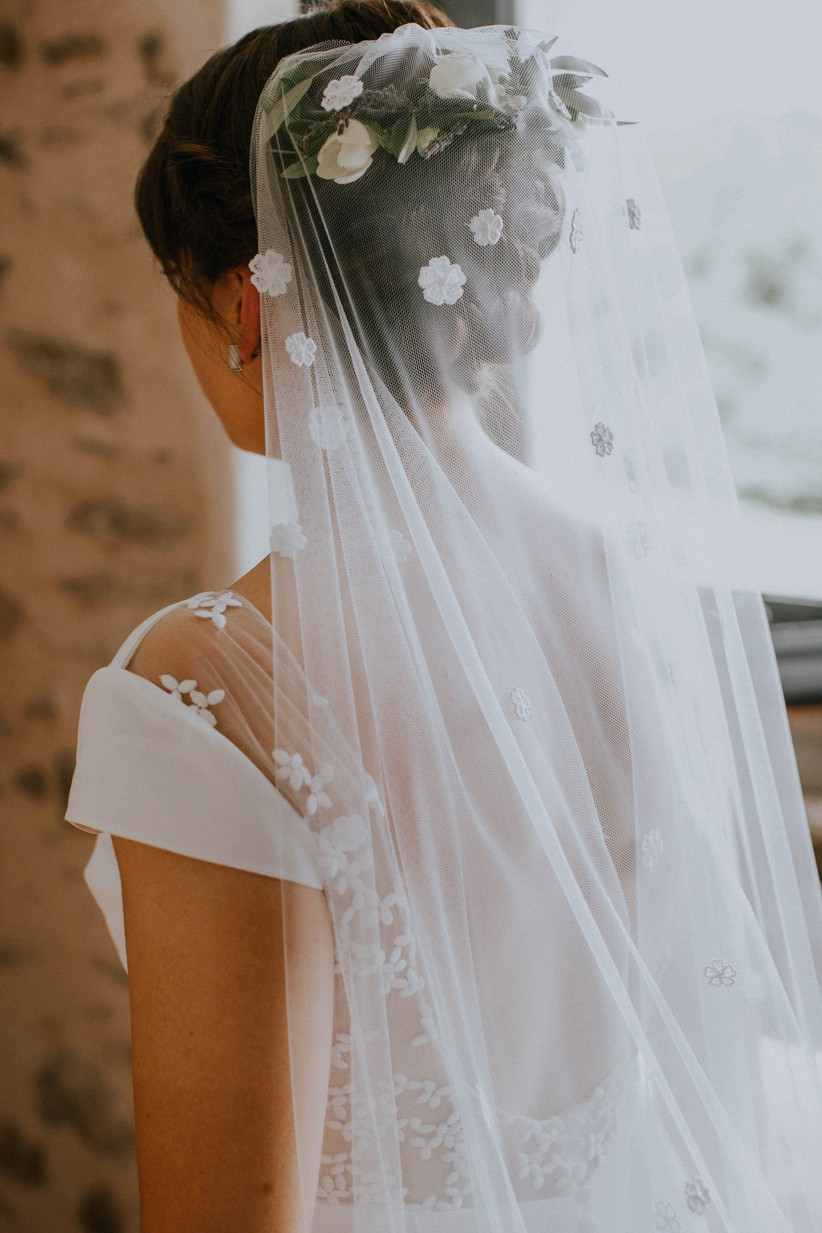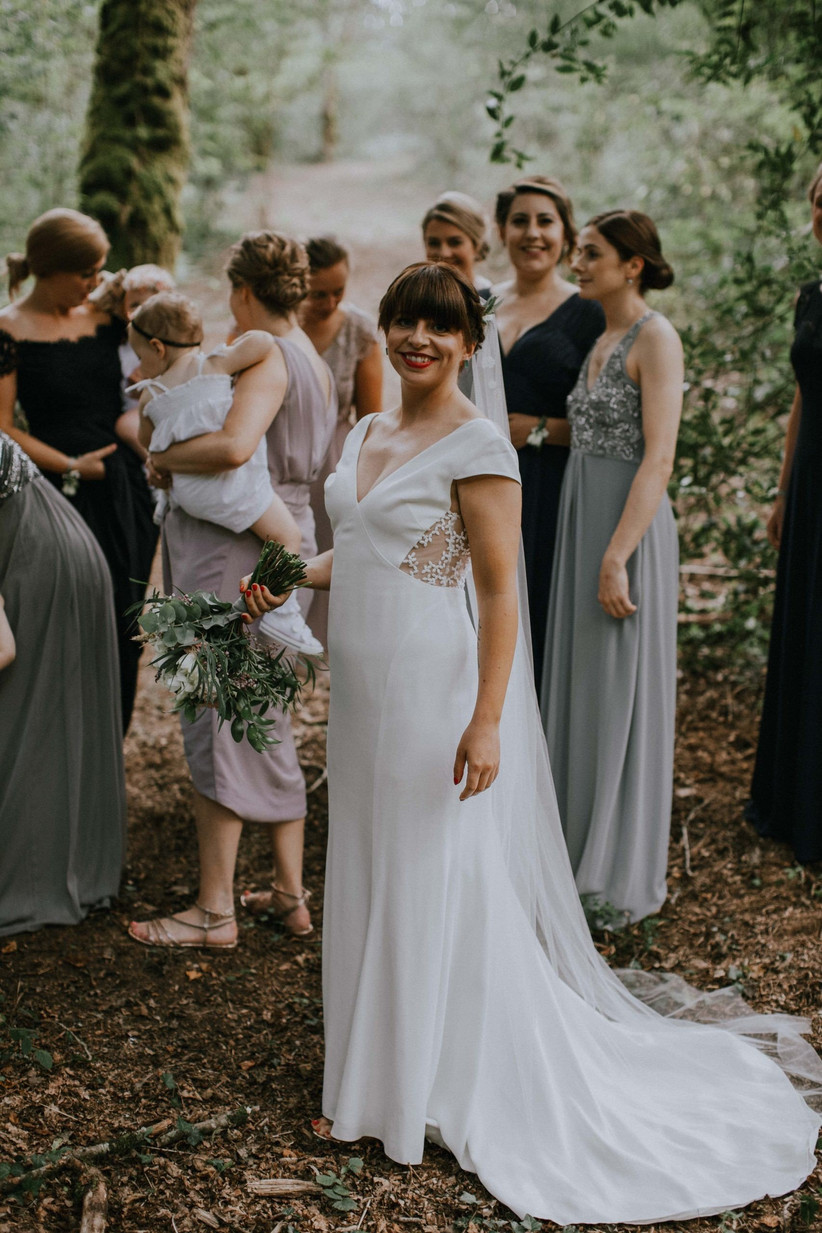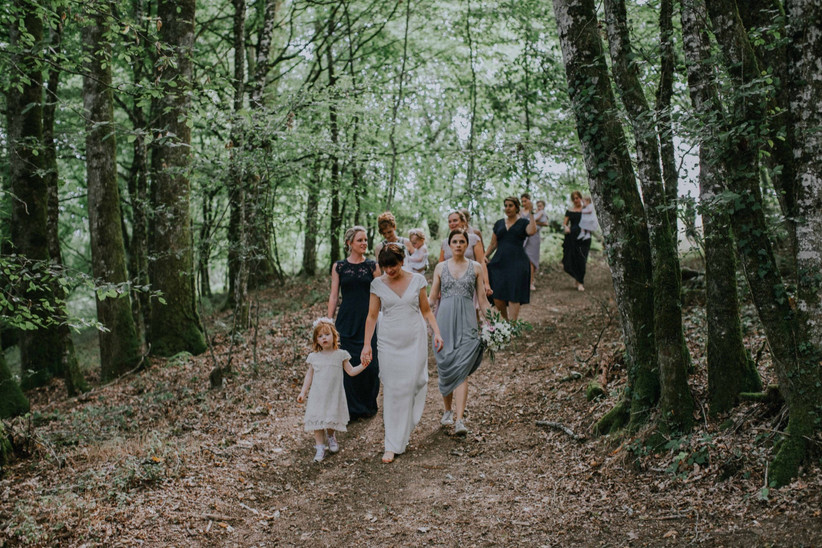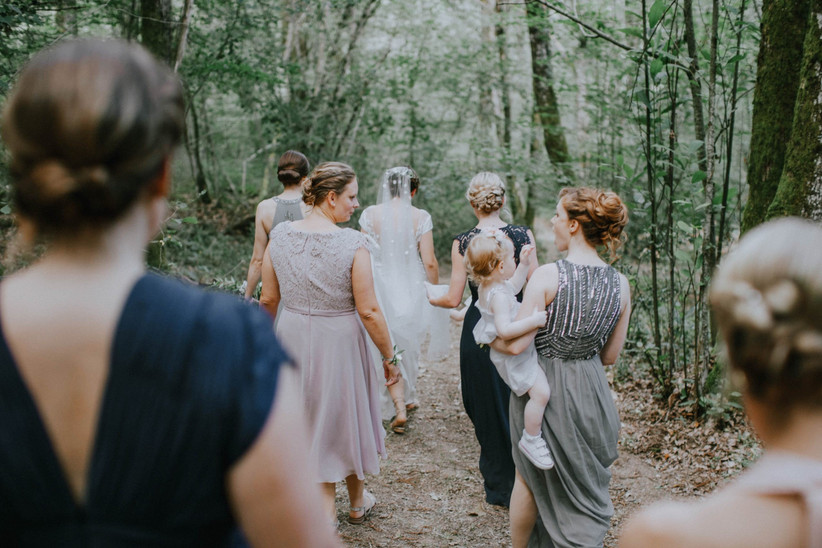 The Wedding Dress
Kirsten chose to wear a very simple, long white dress with a lacy, low-cut back and a white silk skirt which was made for her by Rime Arodaky in Paris.
"It was relaxed and elegant and I knew I could move around a meadow and walk down a very steep hill to the ceremony in it.
"I kept it really simple because the dress spoke for itself. I wore a veil and flat, gold gladiator sandals.
"While getting ready, having all of my eight bridesmaids with me, chatting, drinking champagne, spending time together all in one place was a rare event and one which I will always treasure."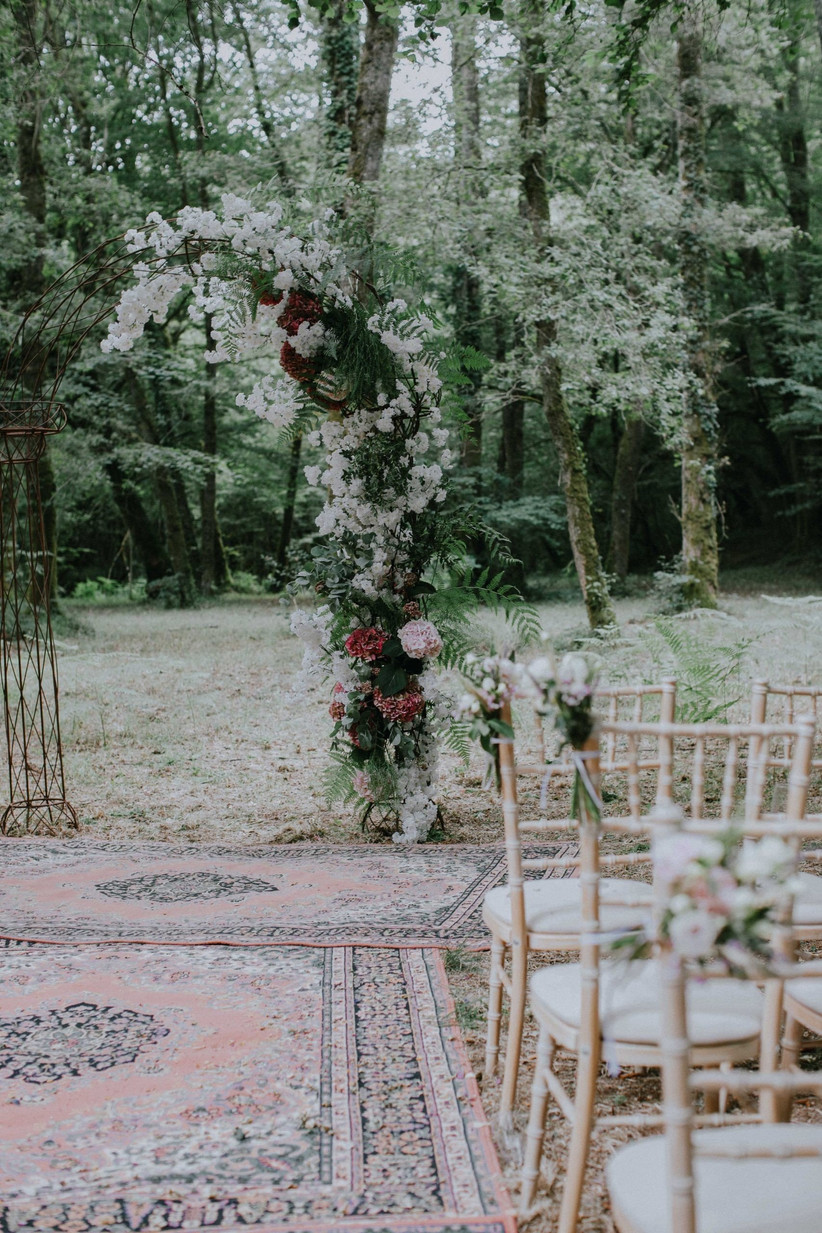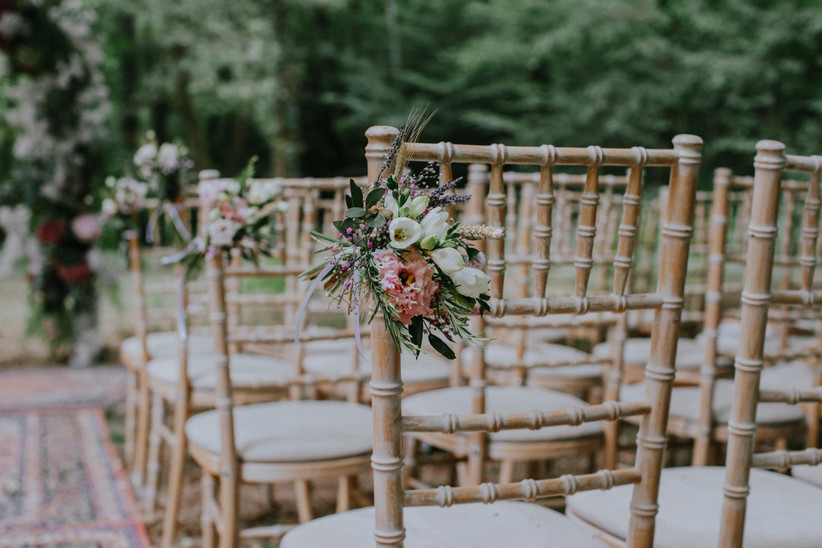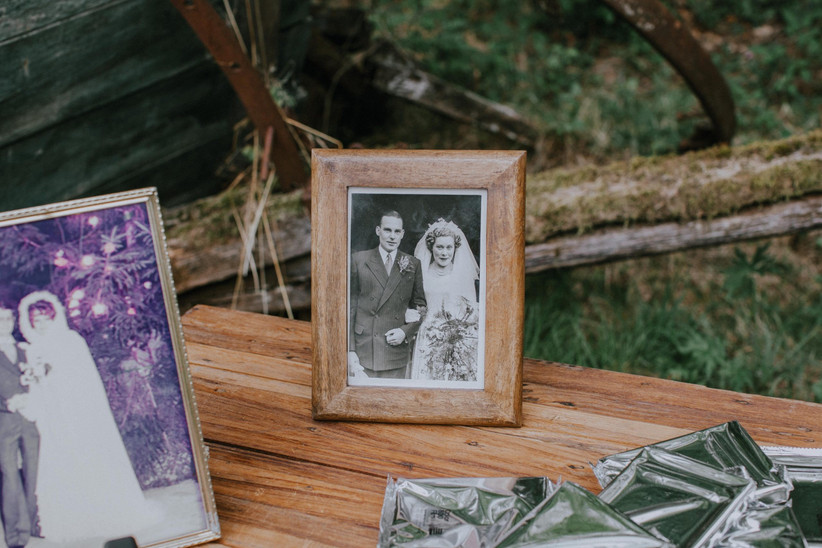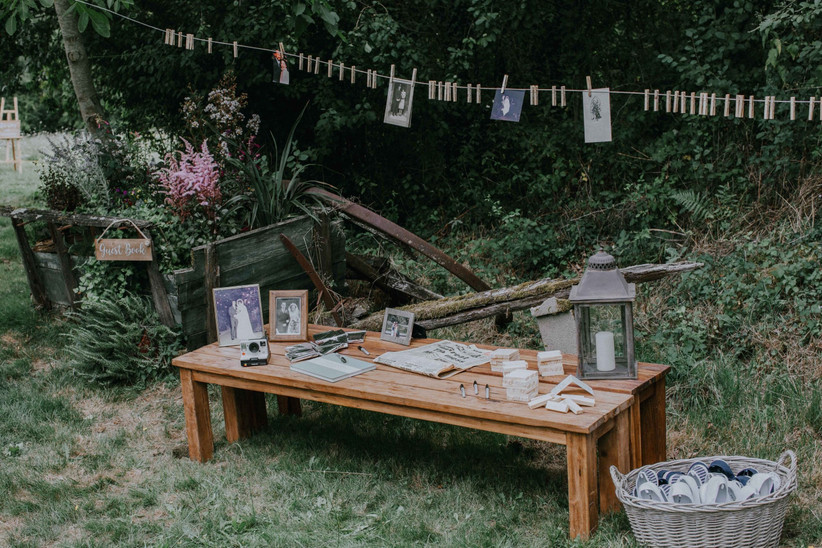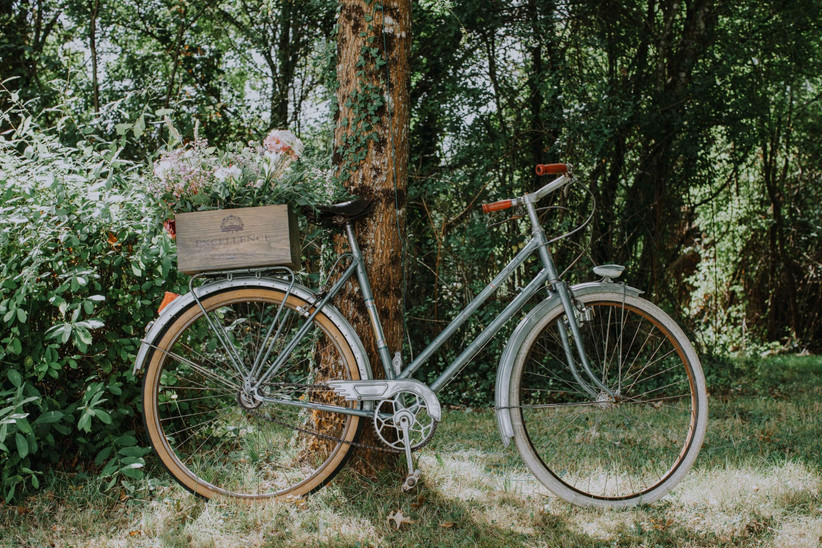 Bridal Beauty
Kirsten hired Eva Beauty Art, who is based in Paris, to complete her bridal beauty look.
"I went for a bike ride on the morning of my wedding to meet my fiancé and returned, in full-on lycra, sweaty hair and a baguette in my jersey pocket. It was probably my most special moment of 'getting ready' but it may have inspired some trepidation on the part of the hair and makeup girls who were waiting for me…
"I didn't have a trial but Charlotte, my wedding planner, had used Eva for her own wedding so I knew I was in safe hands!
"I went for a style which is similar to my normal look but way better. I had my hair up with some flowers attaching my veil and a simple red lip."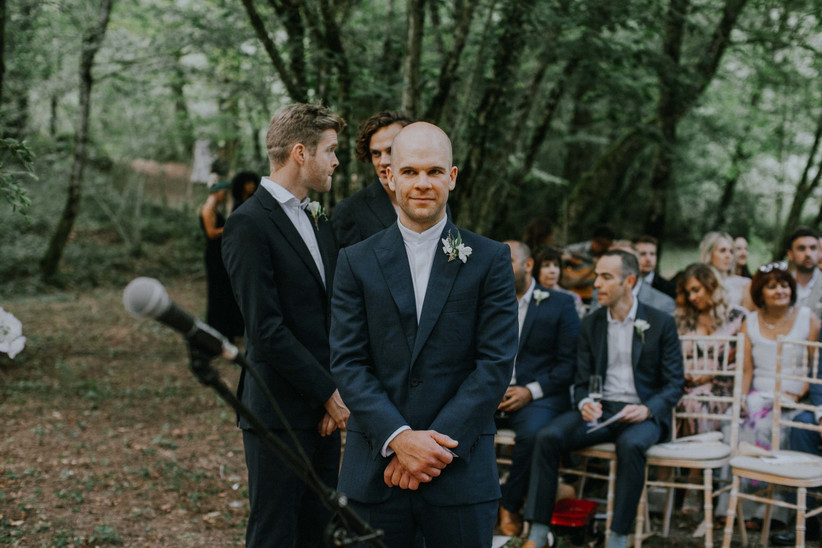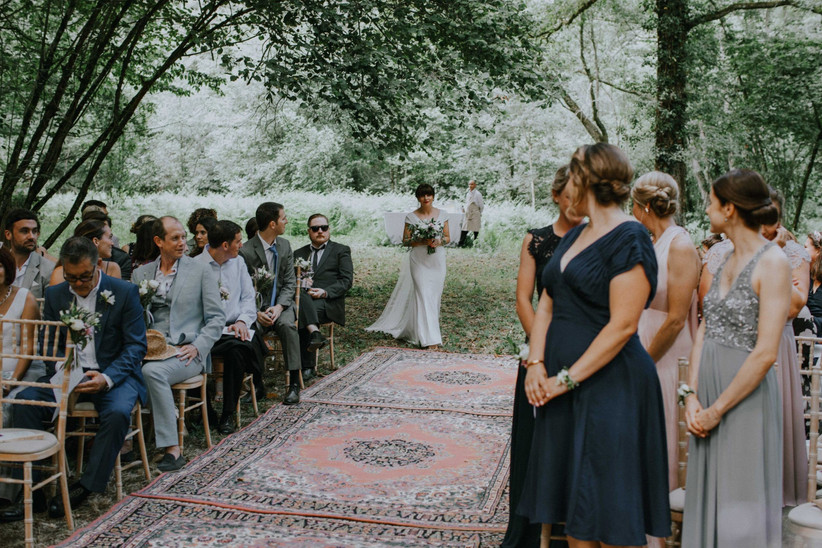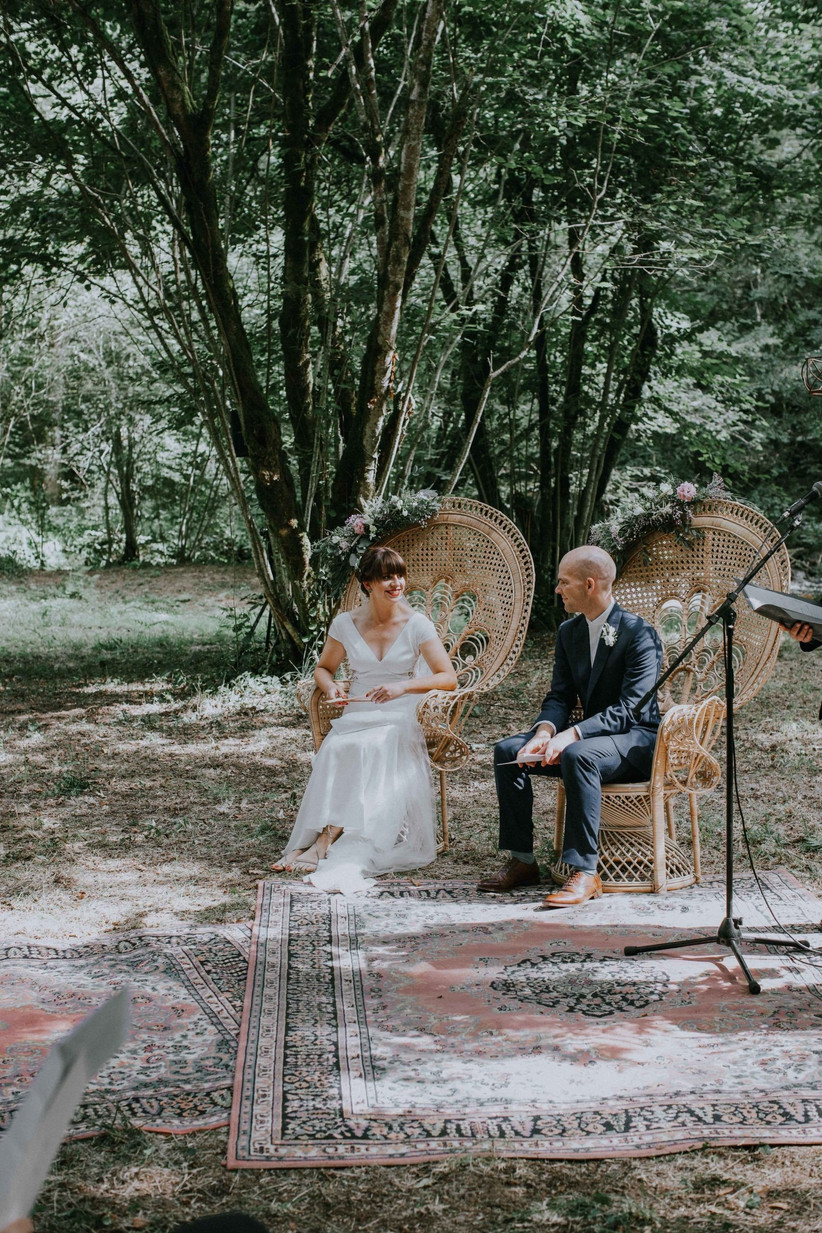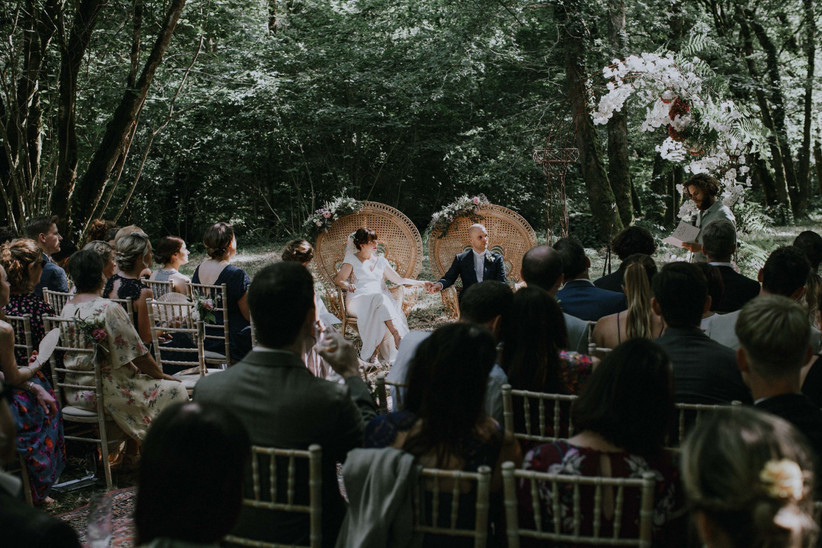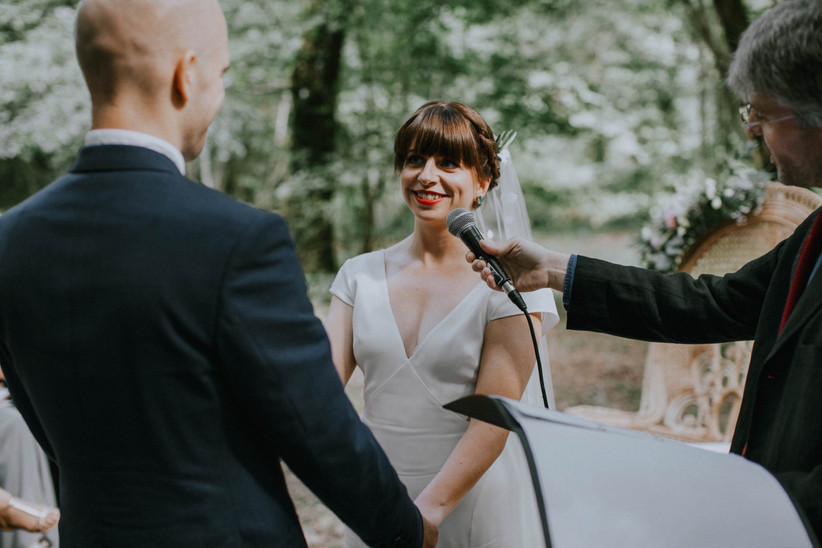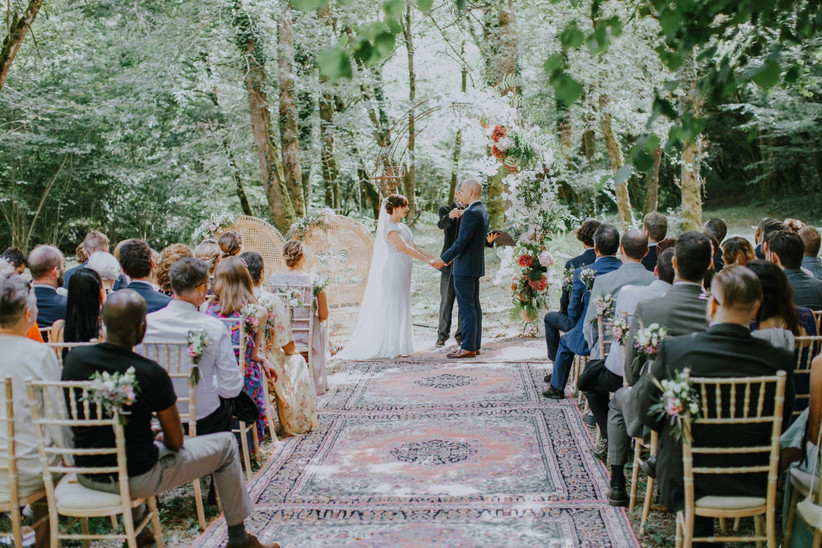 The Wedding Party
Kirsten asked eight amazing women from different points in her life to be her bridesmaids.
"My maid of honour was my best friend from school whom I've known since I was nine. I also had the joy of having four little flower girls who were the daughters of three of my bridesmaids. They ranged in age from 18 months up to four-years-old but were on great form and didn't even cry during the ceremony!
"I let my bridesmaids choose their own dresses. I gave them some colours to work with and some general guidance to be 'consistent' and then sent them off to choose something they would actually like rather than being forced to wear something that doesn't suit them or fit properly. They're all very different women and I didn't want 'matchy-matchy'. I think it worked really well. The flower girls all had matching white dresses and really cute little Converse trainers!
"Chris and his groomsmen wore navy suits. Chris wore a suit made by our friend who is a tailor on Saville Row."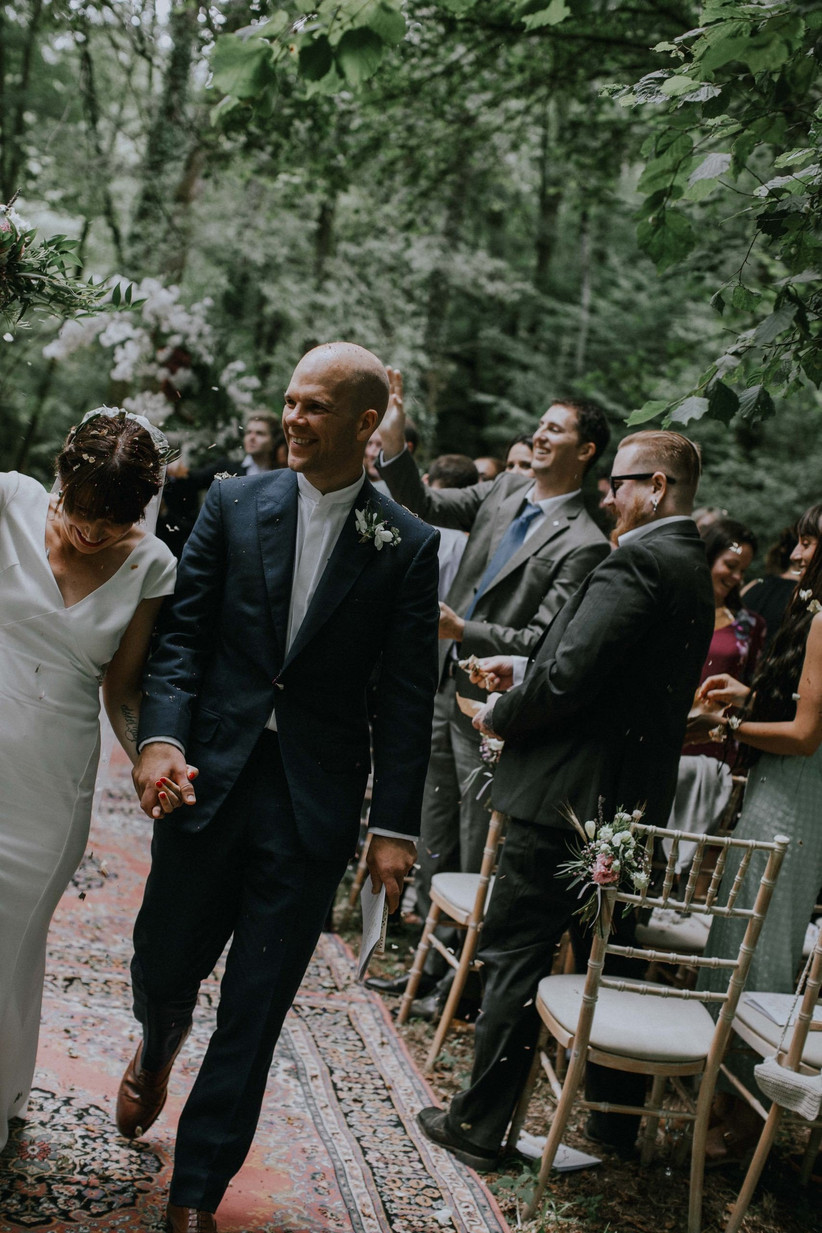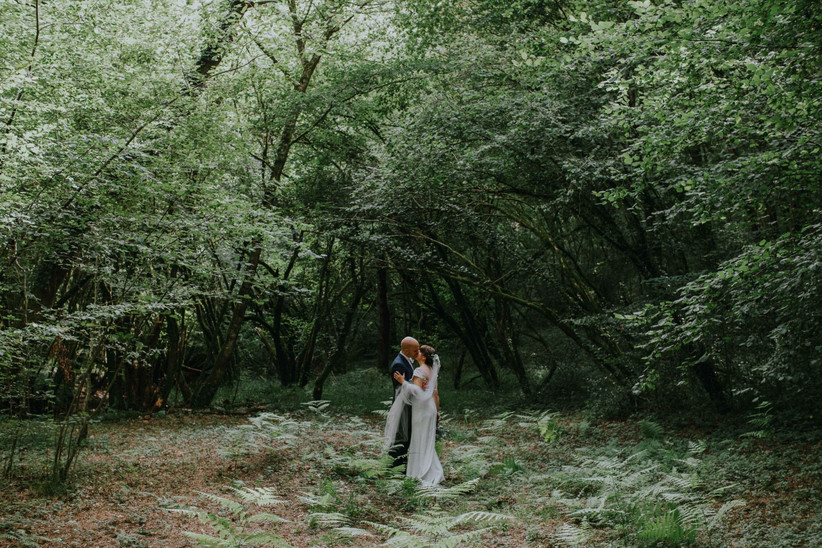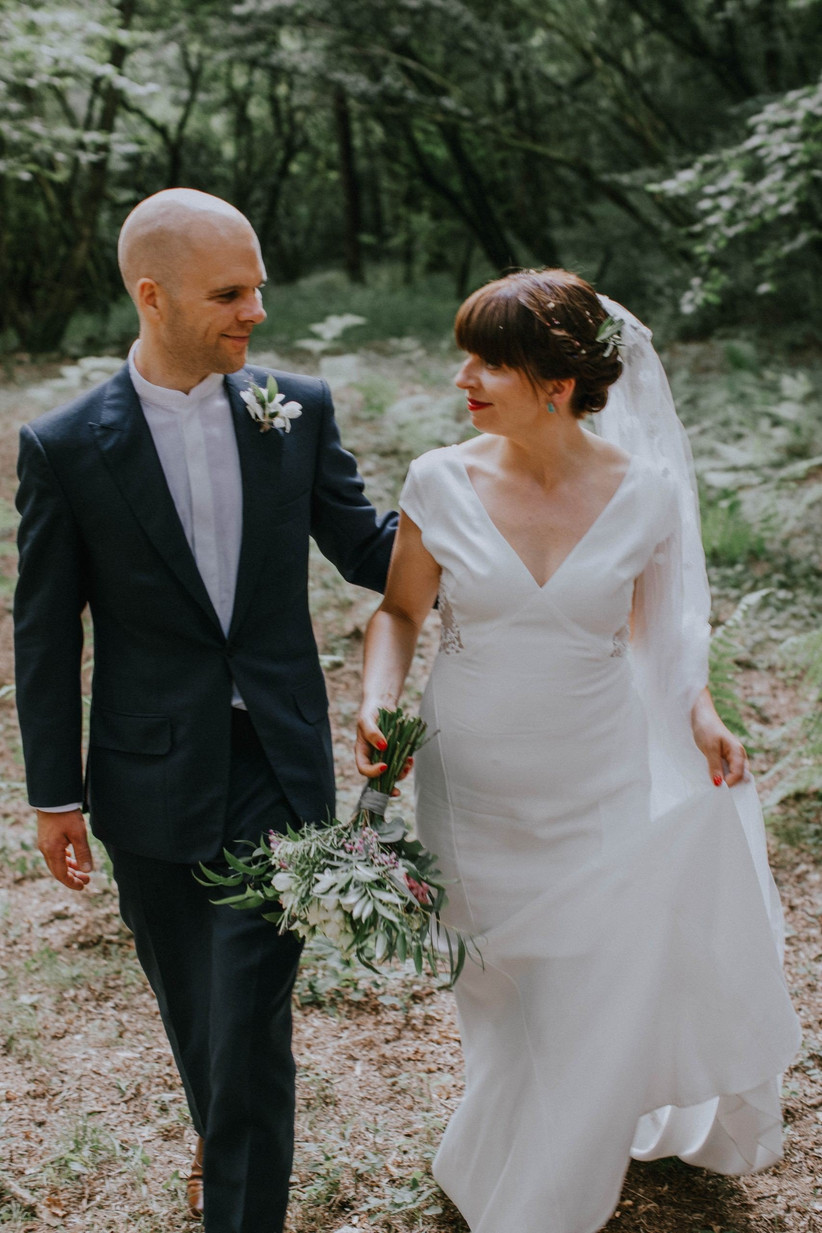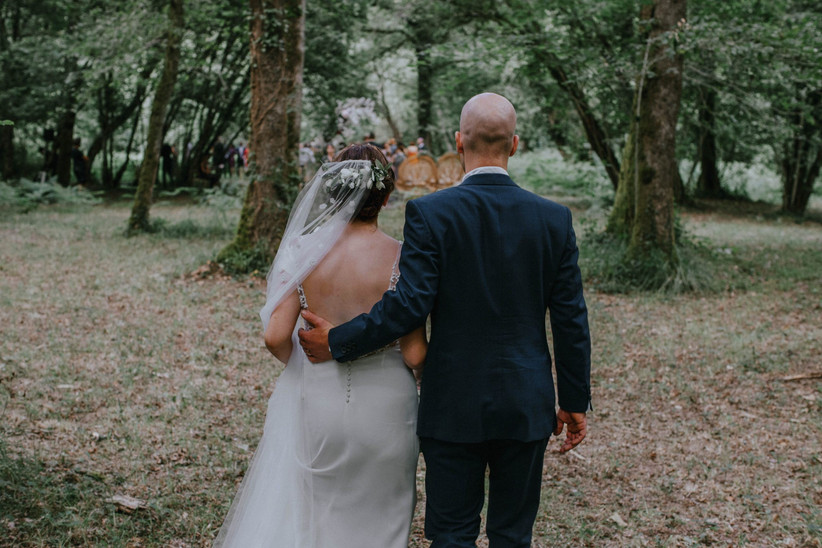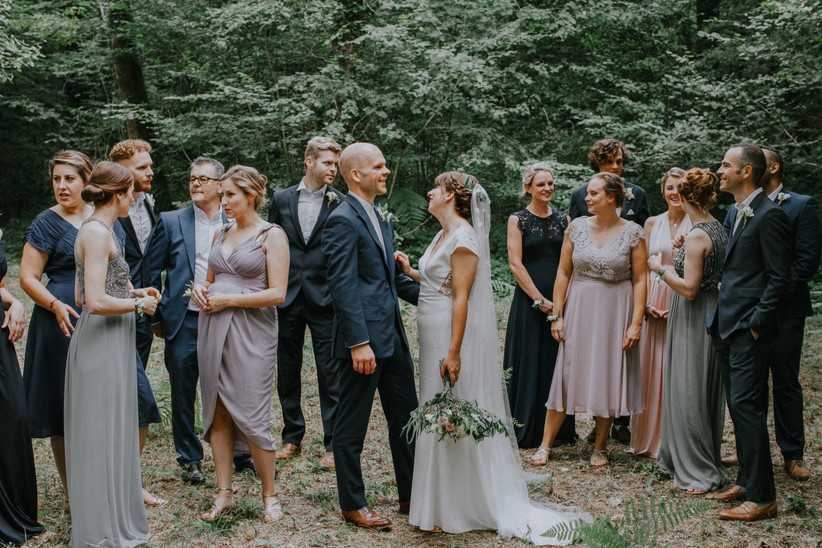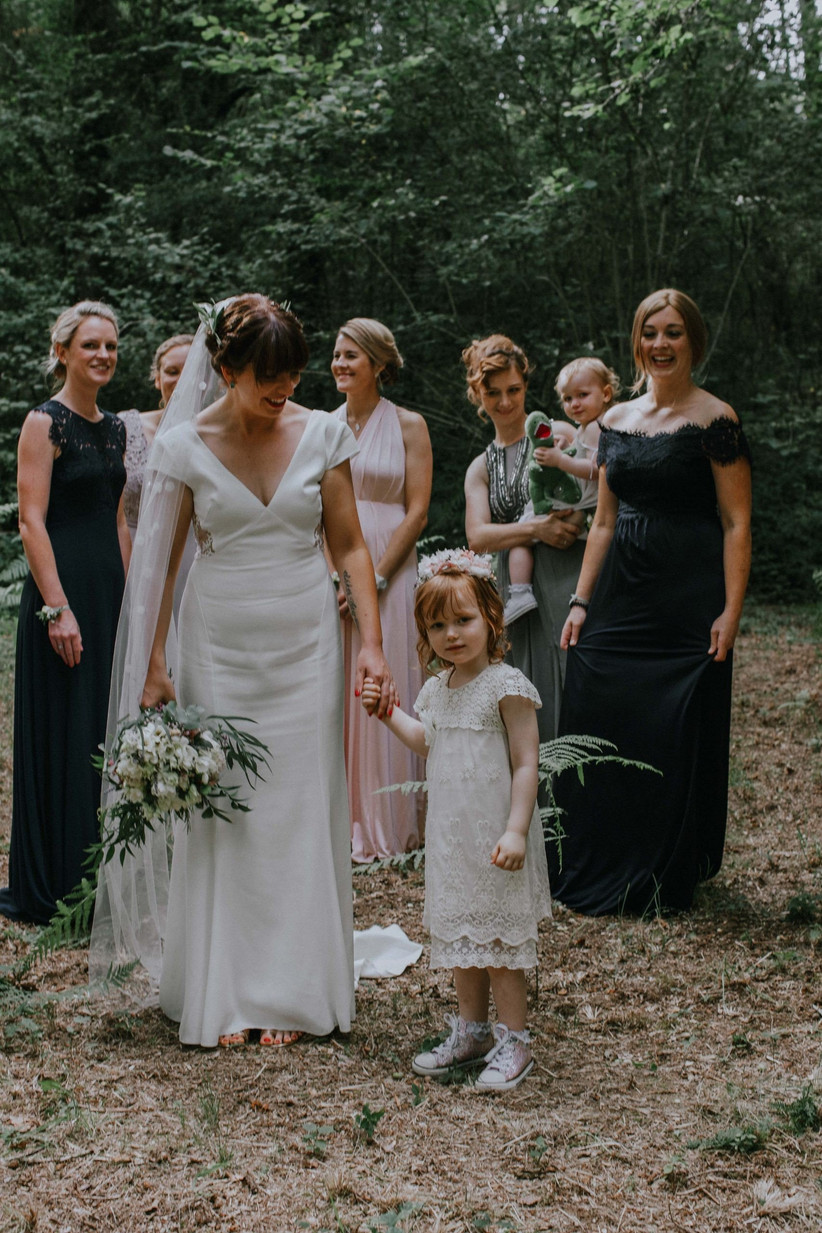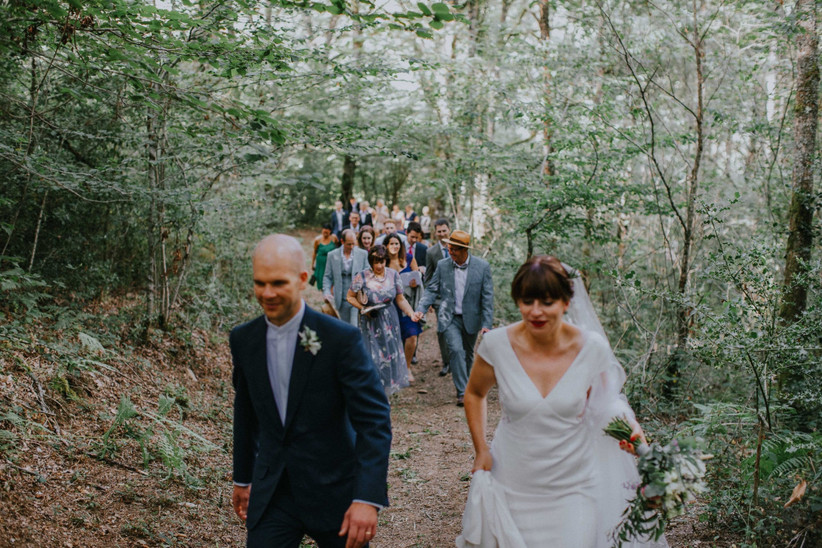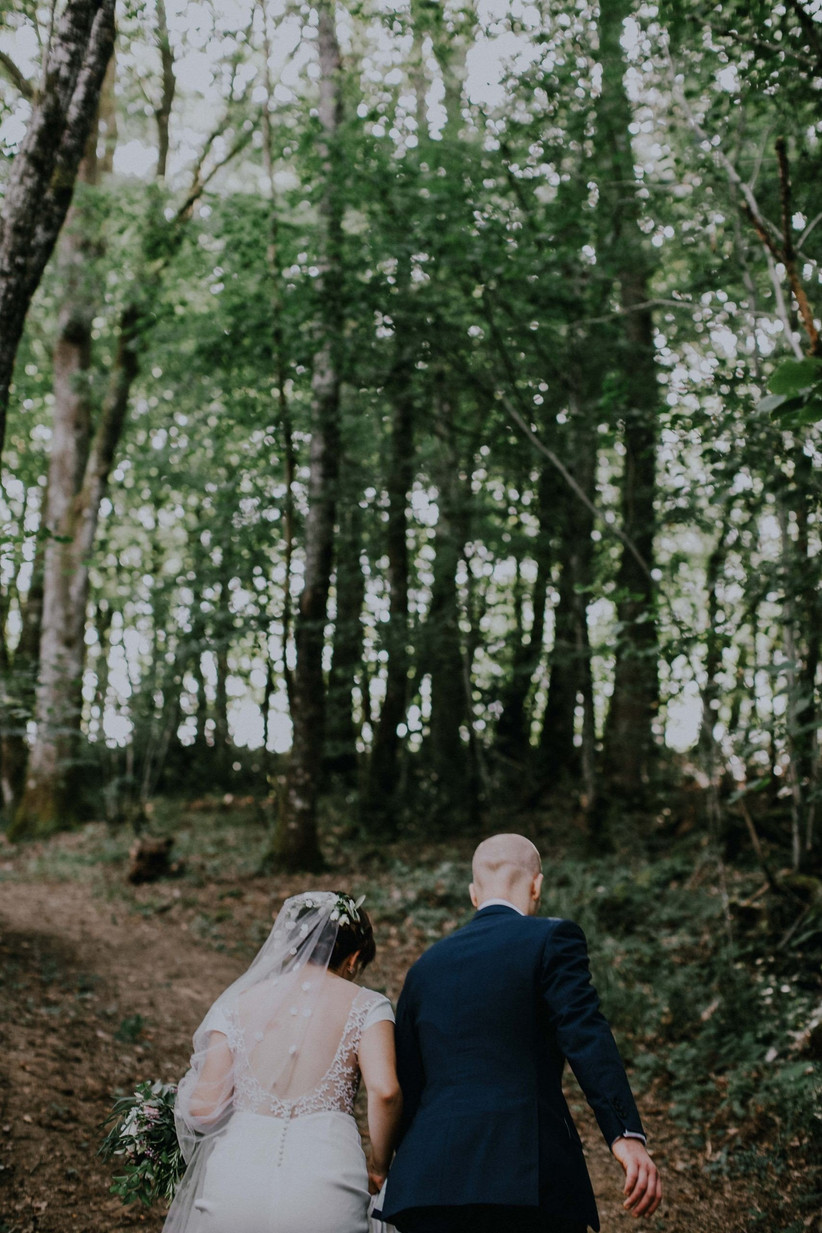 The Ceremony
The couple got legally married at Islington Town Hall, London, but chose to have a big wedding party in France resulting in a week-long celebration. Their ceremony took place in the woods next to a river and their reception was held in a nearby meadow at their friend's home in Beaudouy in the northern Bordeaux region of France.
"I was staying at the venue so it was just a short walk across the meadow and down to the woods to reach the ceremony but our guests and the groom all came by coach. It was such a remote location and we didn't want people to drive and park at the venue.
"Our ceremony in France was conducted by our close friend, Adam, which made it wonderfully personal.
"Our friend was celebrant and we had non-religious readings from two friends. Our friend, Nick, then played the ukulele (a homemade one – don't ask) to accompany the congregation singing I Get By With A Little Help From My Friends.
"The theme of our day was really to celebrate our friends who have supported and loved us separately and together on our journey to marriage and to ask them to continue as part of our family going forward. It was particularly poignant for me as my Mum died six years ago and I keenly felt her loss on my wedding day. She never got to meet Chris. My Dad died last year so there was also a moment in the ceremony to remember him.
"The best thing about the venue was how beautiful it was all being outside and the space around us. The fact it held special sentiment to us and is somewhere we will continue to visit was also important."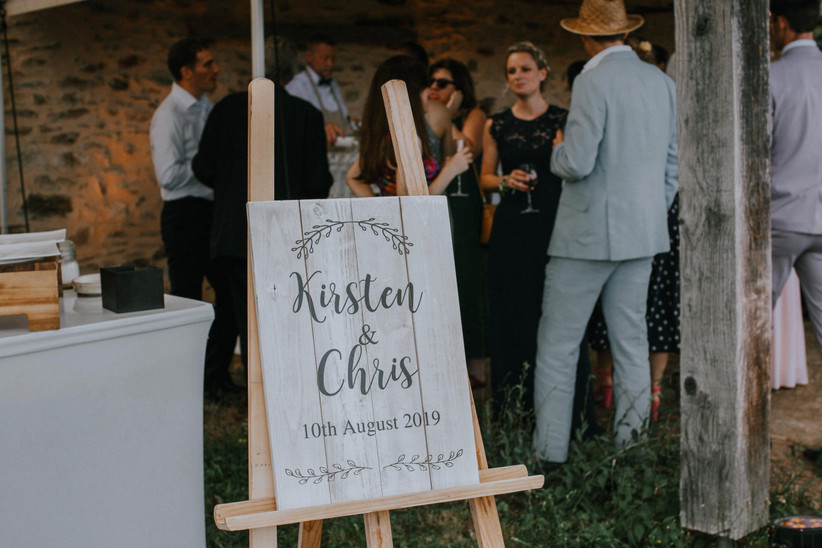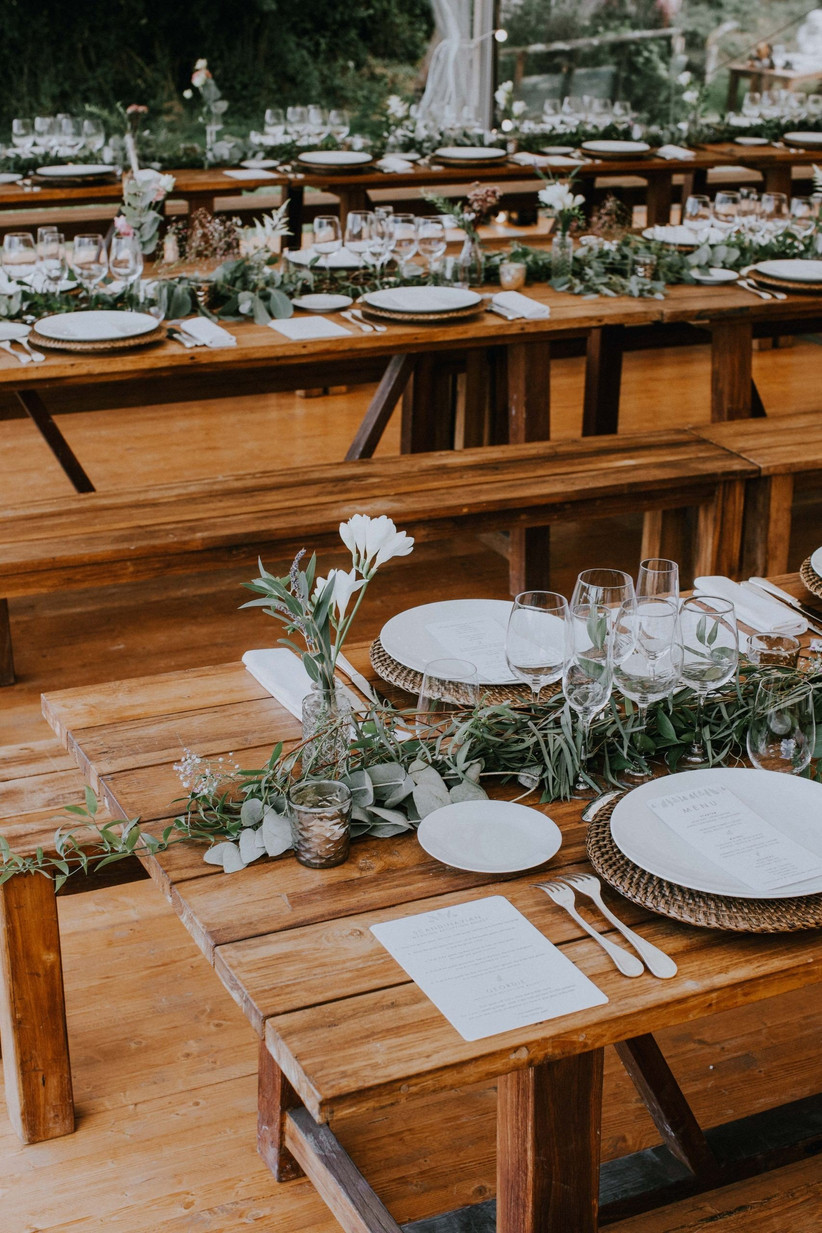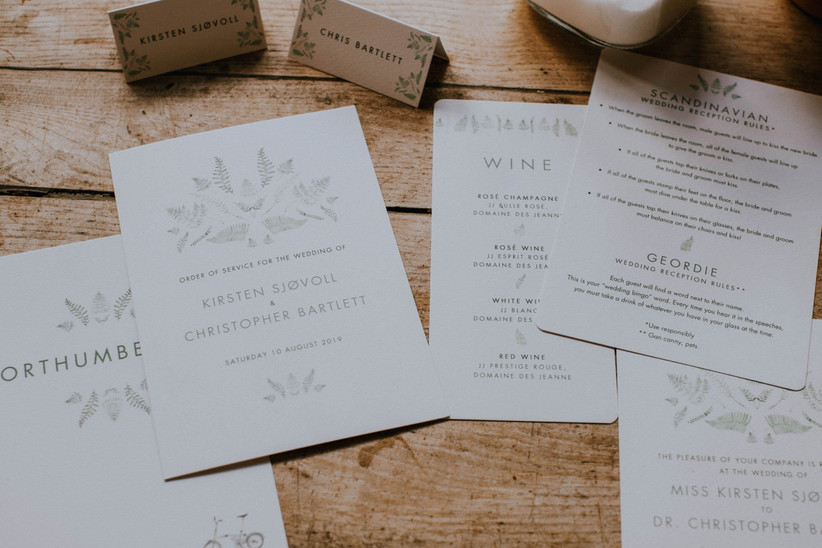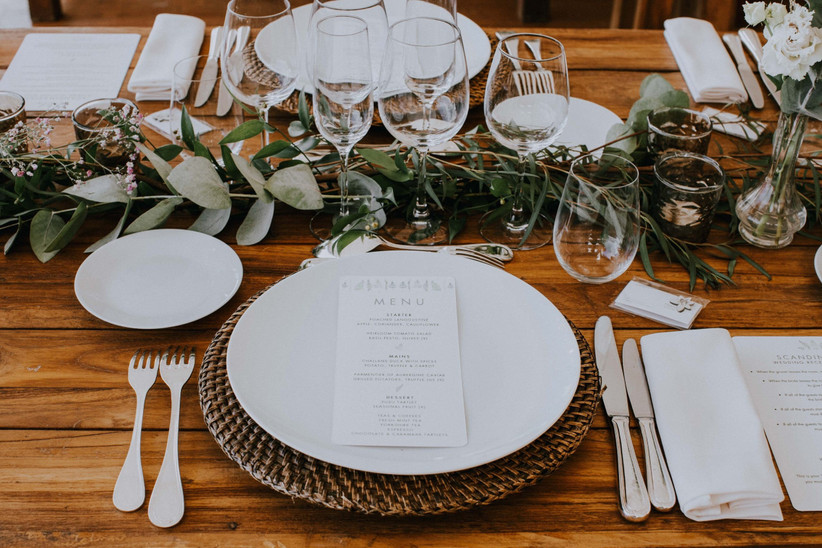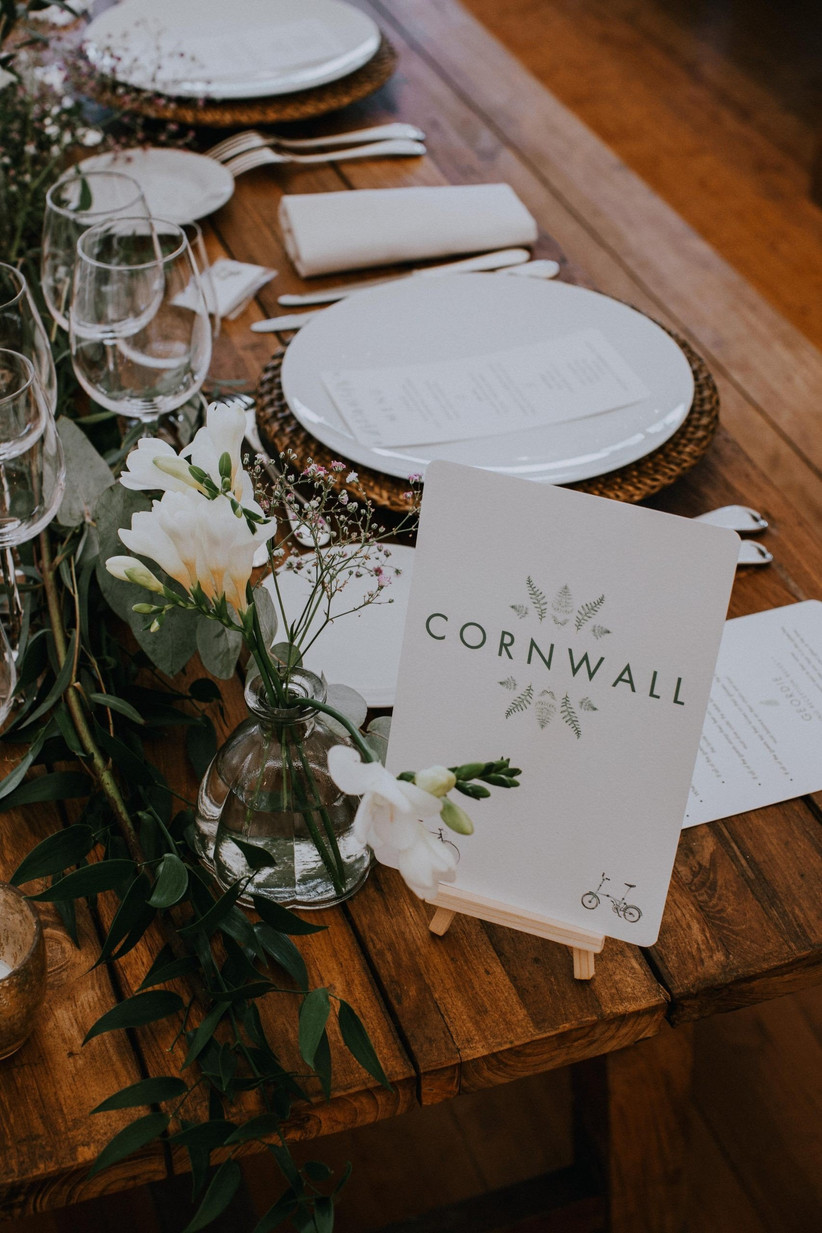 The Reception
After a romantic ceremony, Kirsten and Chris made sure that their guests ate a delicious, French feast! Perhaps the most amazing aspect of their big day was their cheese cake. Literally, a cake made of cheese with two heart-shaped cheeses on top!
"We chose fairly traditional, regional food. That meant a foie gras bar and duck for main. The food was exceptionally good even though Kirsten has become a vegetarian since returning to the UK!
"We had traditional profiterole tower (or croquembouche) made by our caterers – Monblanc. There was night food in the form of croque monsieur. We named our tables after places we've been that mean a lot to us.
"We hired Charlotte and Emily from La Fête as our wedding planners, who were invaluable during our big day."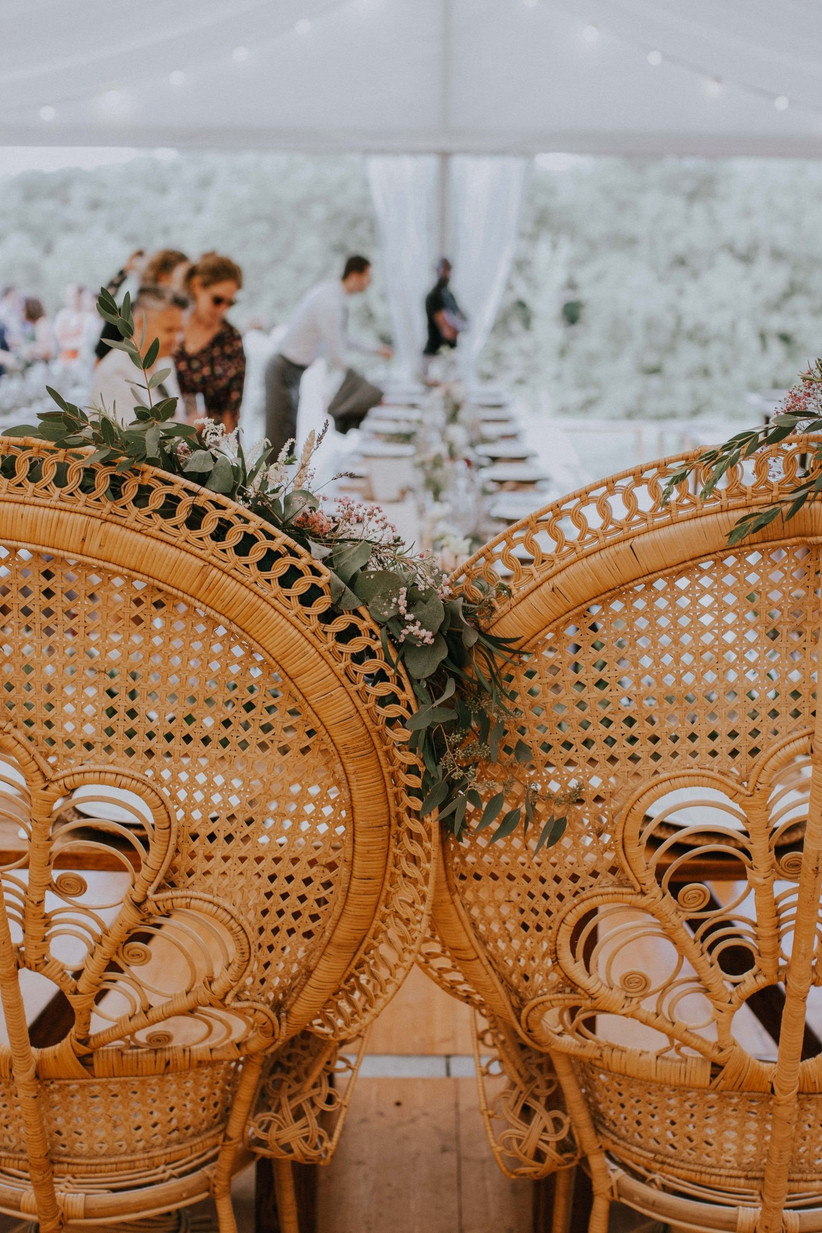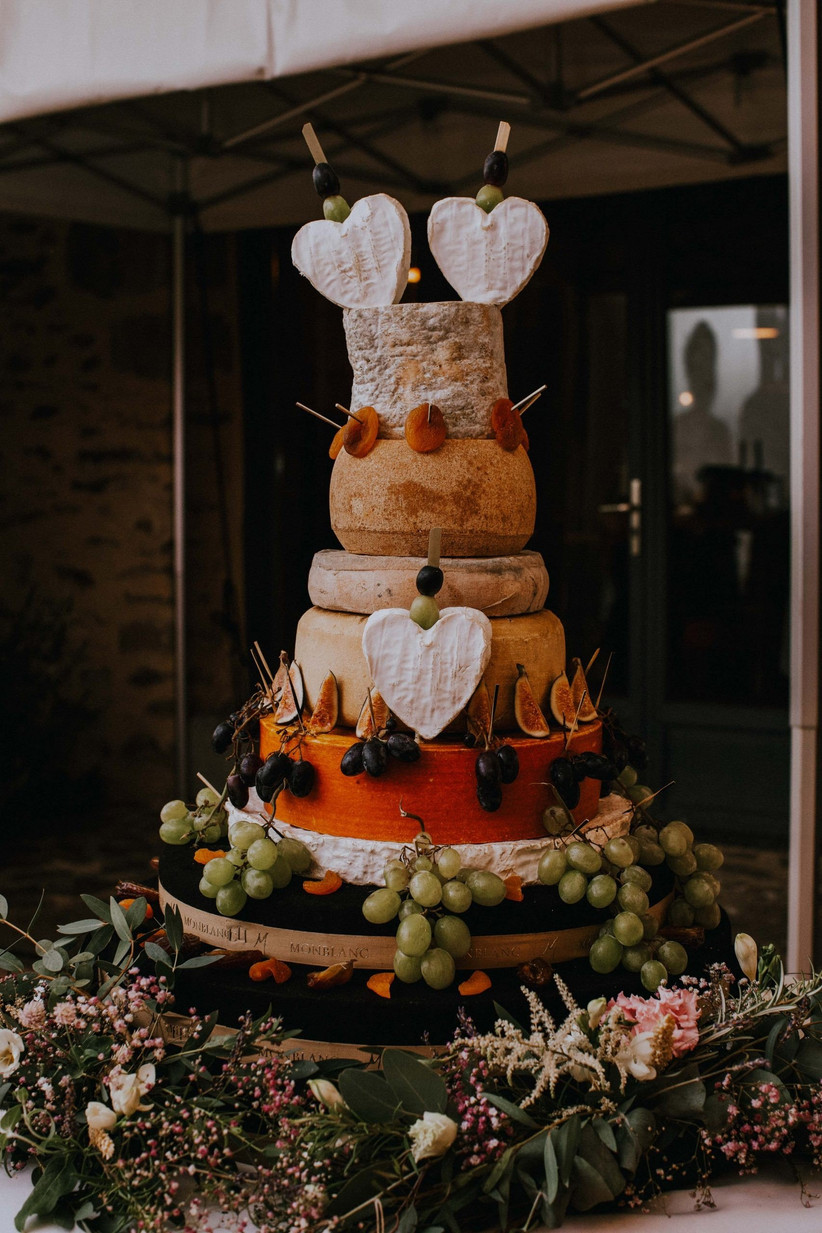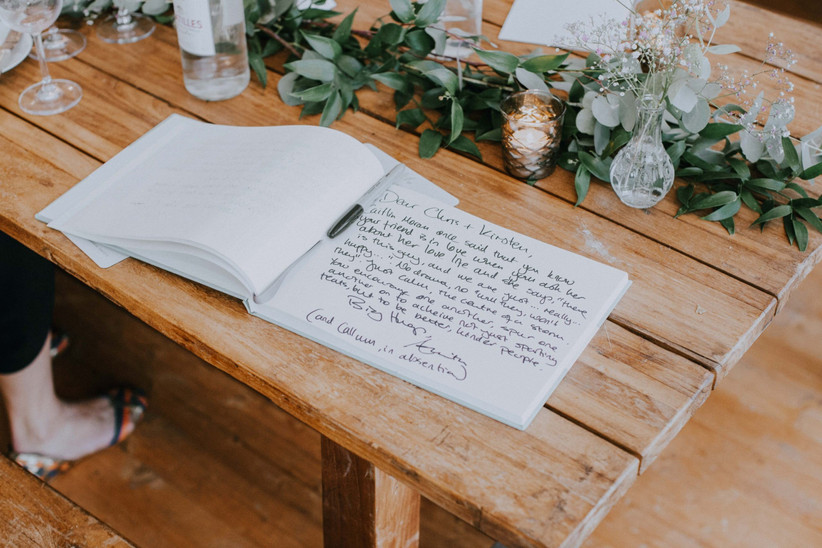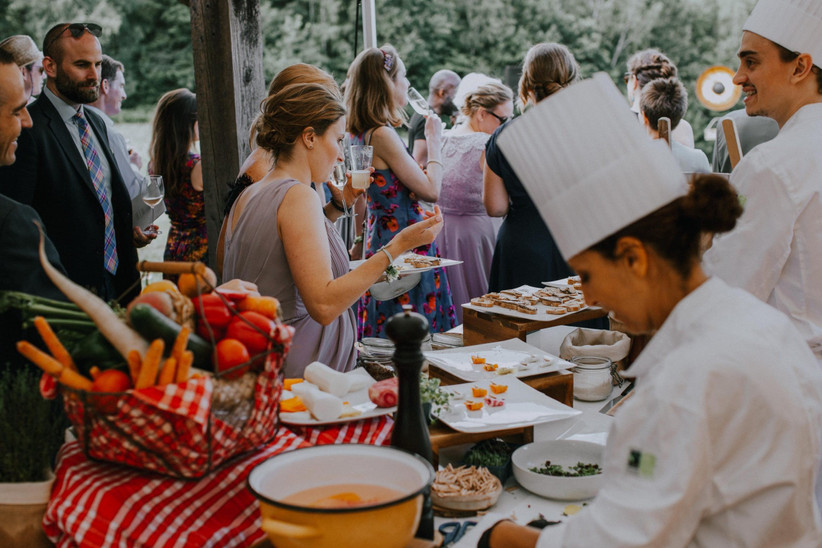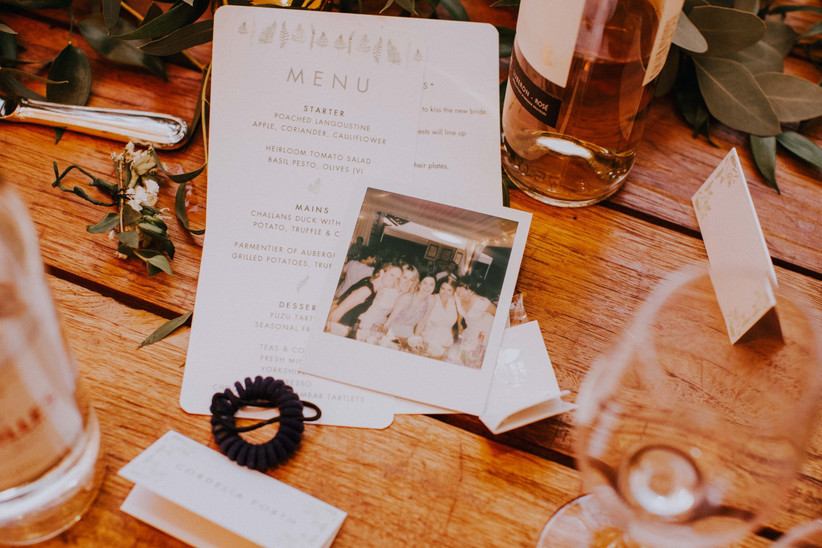 The Flowers
The couple chose white and green flowers arranged by Fleurs de Mars and white freesias to honour Kirsten's Mum.
"White freesia was my Mum's favourite flower and she had that in her own wedding bouquet. There were also hints of lavender in my bouquet which smelt amazing.
"The bridesmaids each had wrist corsages with natural flowers rather than big bouquets which I thought might be a bit overwhelming.
"We were initially sceptical that we needed very many flowers at all because of how gorgeous and natural the surroundings were. However, in the end, we adorned the surroundings with wildflowers, pinks, greens, and whites to complement what I had in my own bouquet.
"We also bought a swing which we hung from one of the beams outside which was beautifully decorated with flowers. Also, an old cart had been filled with flowers outside the marquee. In the end, the flowers actually became one of my favourite touches."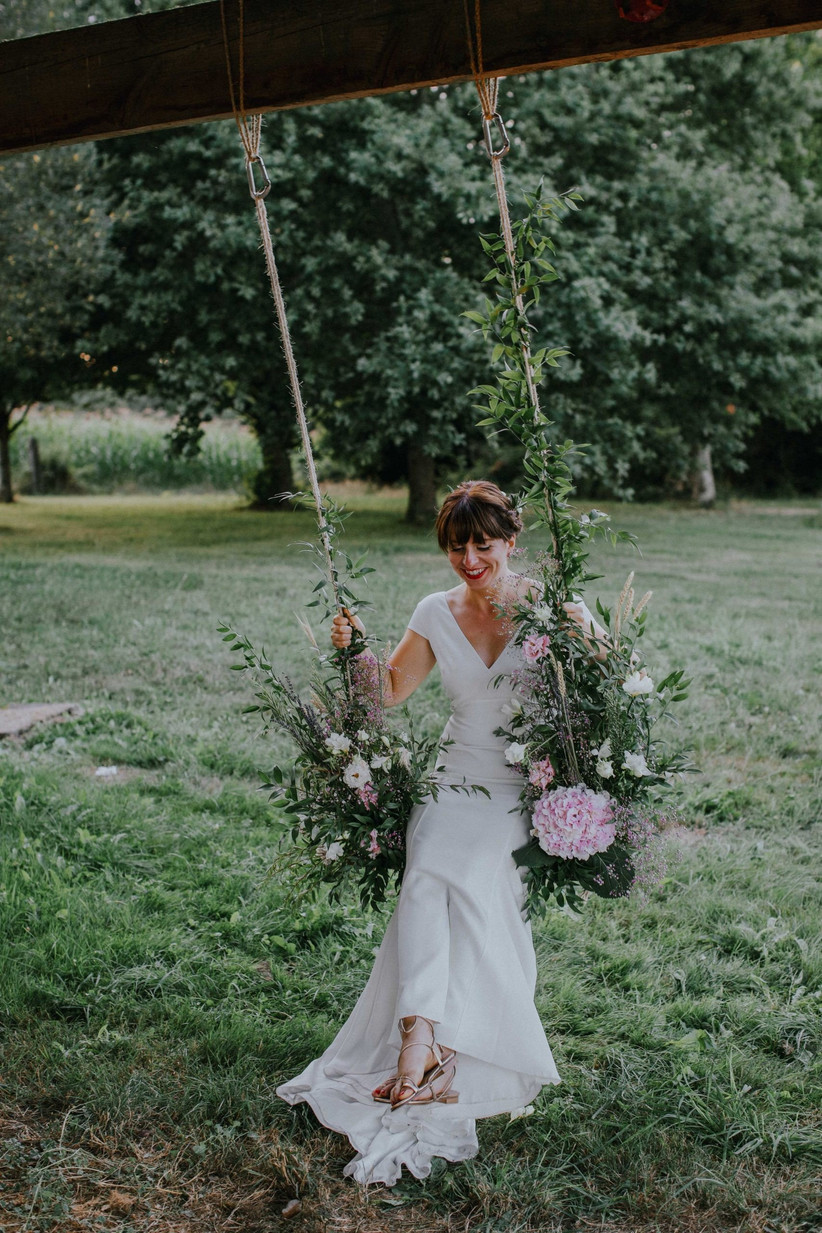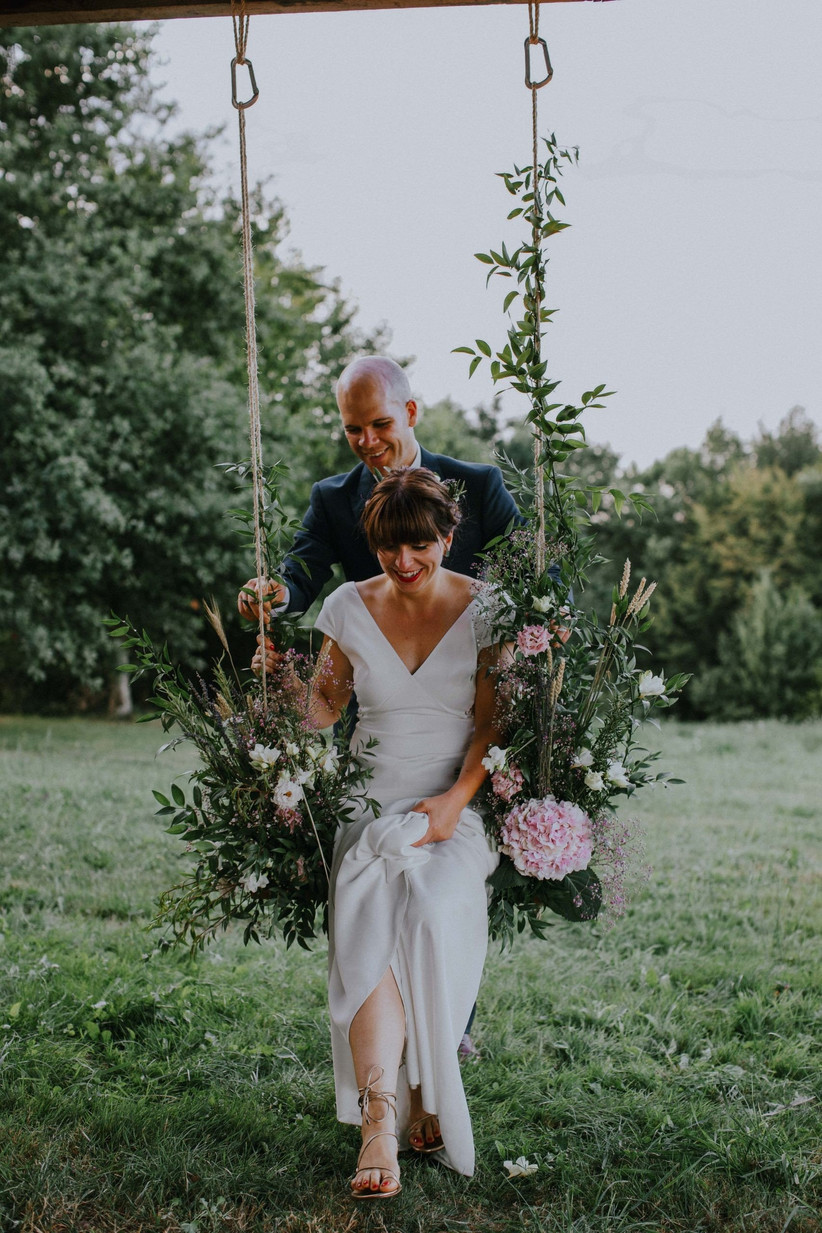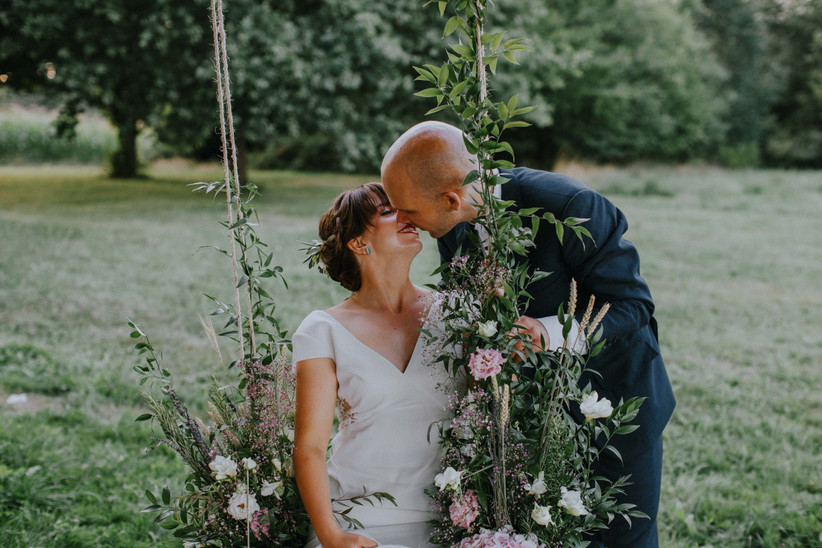 The Stationery and Favours
The stationery matched the wedding theme beautifully. It was simple with a leaf design to complement the outdoor, bohemian nature of the wedding created by De Winton Paper Co.
"It was important to us that the favours meant something. As Kirsten's Mum had passed away from cancer in 2013, she had been cared for so well by Marie Curie Hospice Care in Newcastle. They looked after Kirsten and her Mum in those difficult final weeks. In fact, the reason we met was that Kirsten was cycling a race across the Pyrenees to raise money for Marie Curie.
"We decided to buy everyone a silver Marie Curie daffodil pin which was a lovely and poignant way of remembering Joan (Kirsten's mum) and also ensuring that the money spent went back to the charity so that other people can continue to receive such excellent care at the end of life."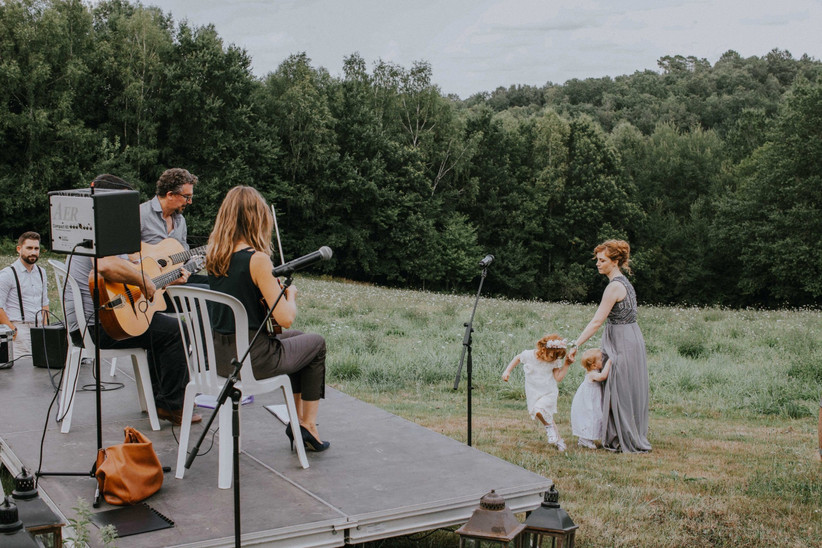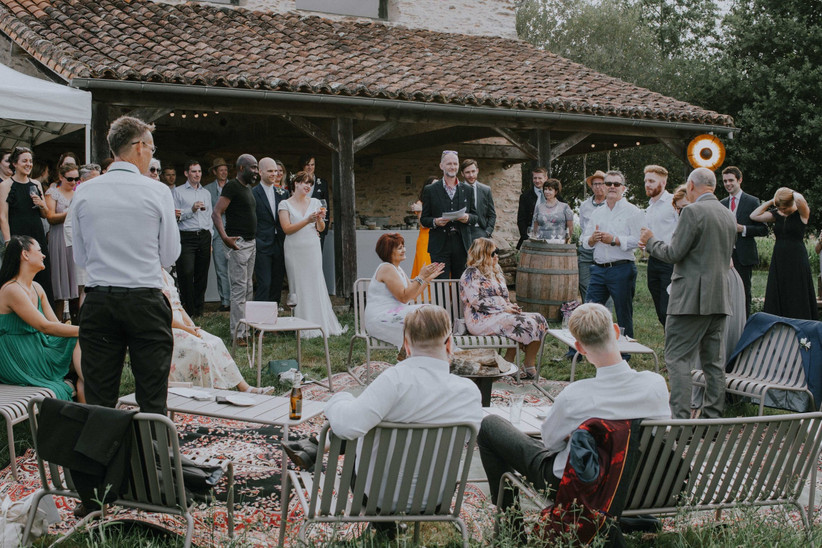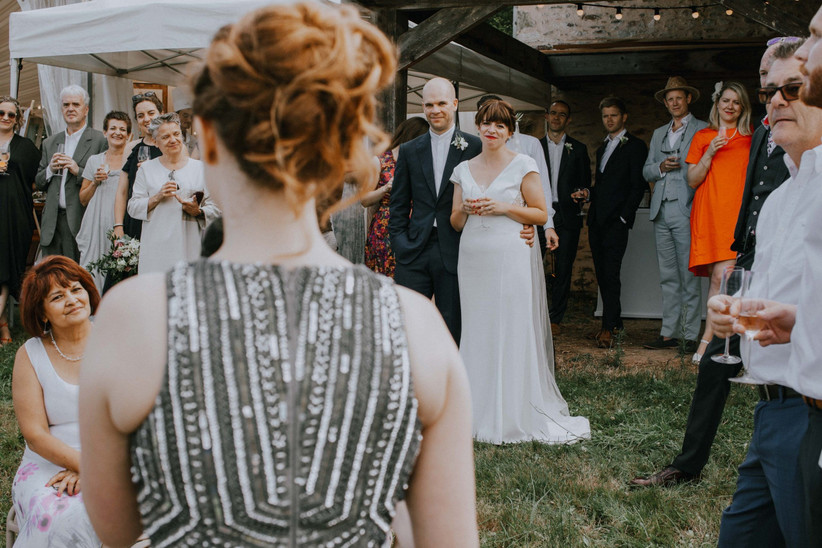 The Entertainment
Live local jazz musicians entertained guests during the cocktail hour and a DJ played the couple's wedding playlist which was dutifully contributed to by guests.
"We wanted something a bit different for the cocktail hour that would create a relaxed, holiday atmosphere while people enjoyed their drinks. Nothing gets people on the dance floor like the song they've requested themselves.
"Our first dance was to Love My Way by the Psychedelic Furs. There as an awful lot of entertainment from our guests in the form of Nick, our MC, and some amazing speeches.
"We incorporated Kirsten's Norwegian side through the Scandinavian traditions of everyone who wants to make a speech, making a speech. That meant a lot of speeches but they were all short, funny, poignant and well-managed by our MC.
"Other traditions such as the bride and groom having to stand on the table and kiss whenever guests tapped their glasses with their knives were also liberally deployed…
"The highlight was a customised version of the 12 Days of Christmas thought up by two of my bridesmaids and performed by each table which was a hilarious way to end the meal and start the party!"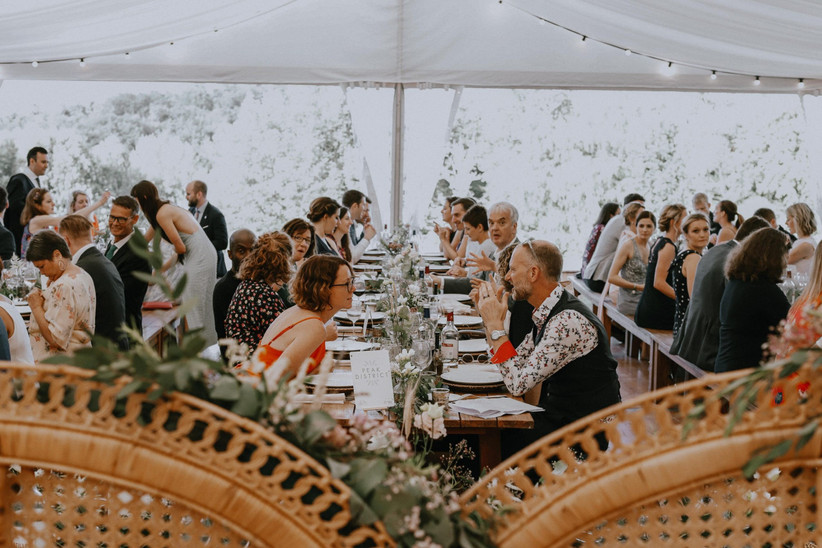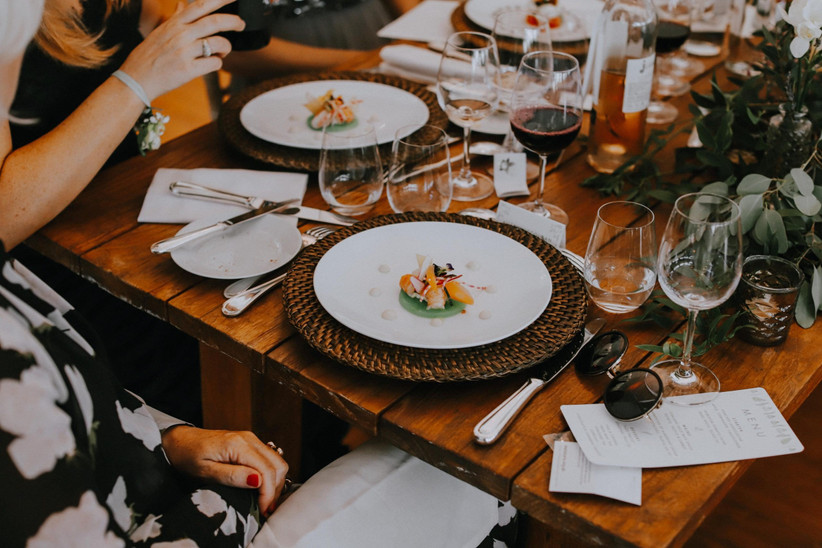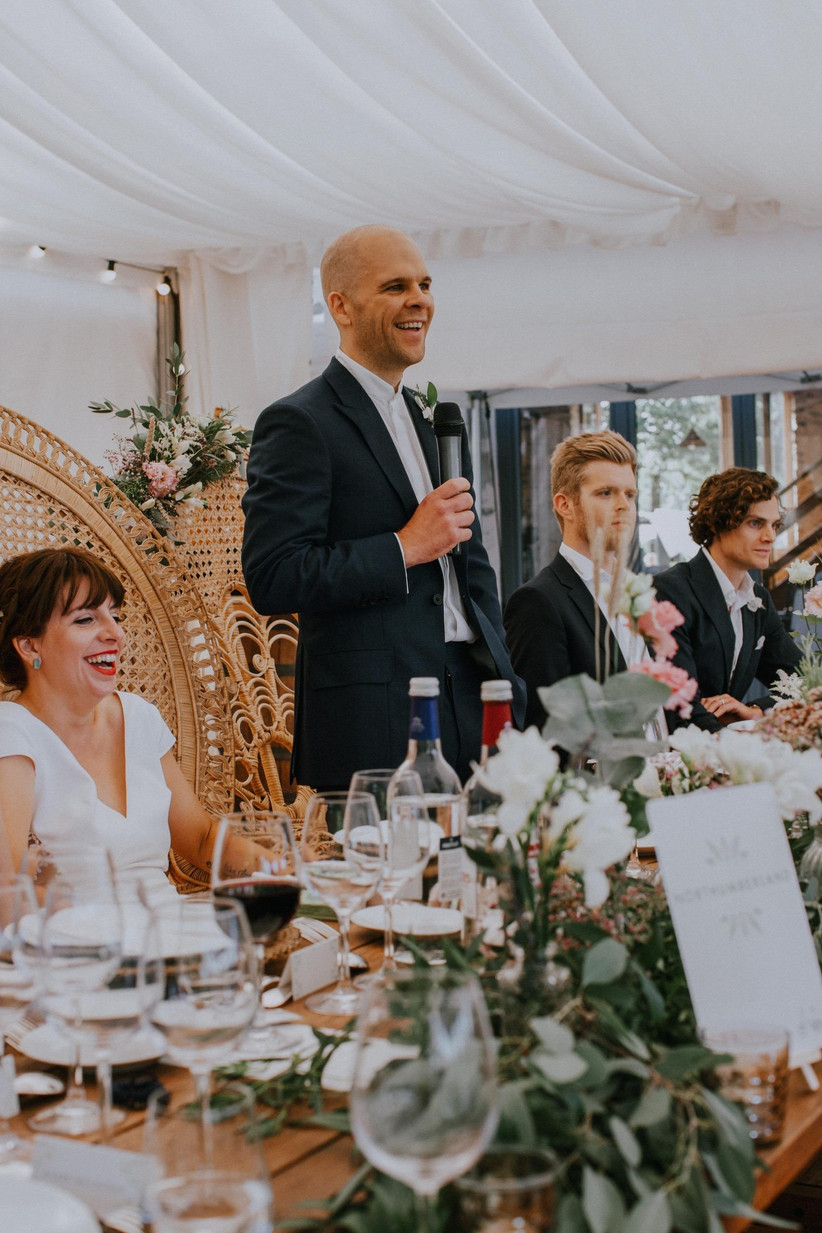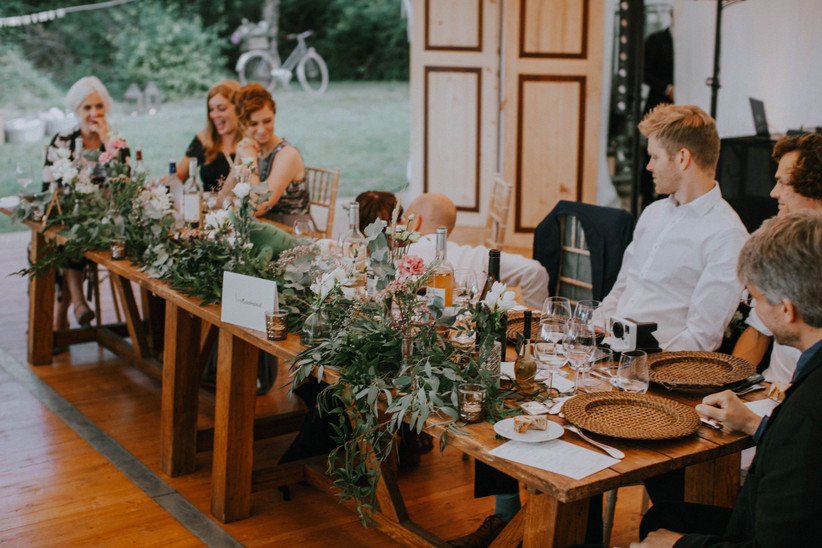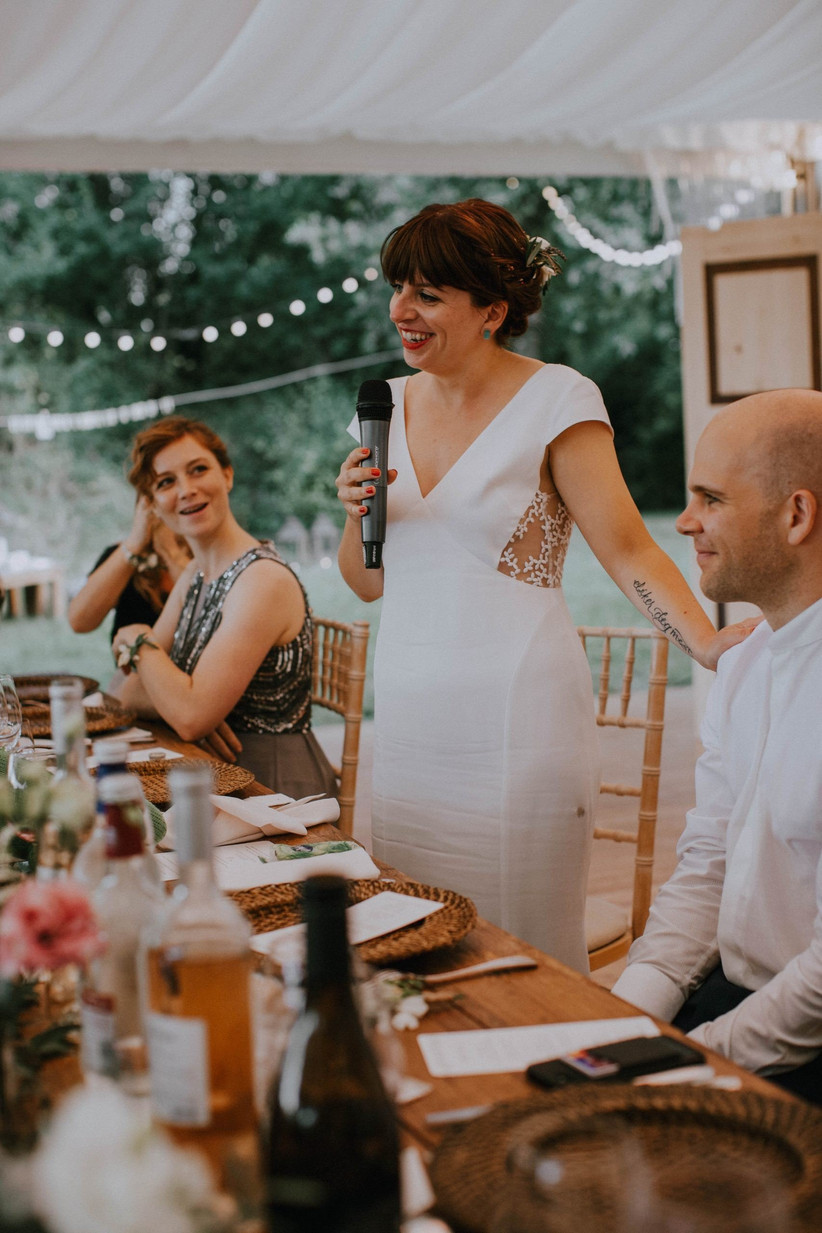 The Couple's Advice
After a minimoon in the South of France and a skiing trip in Val d'Isere, the couple have had a chance to think about what made their big day so special.
"We recommend getting a wedding planner, especially if you're getting married abroad. Charlotte and Emily at La Fête got us through it.
"Our favourite moment of the day was the ceremony. Even though it was a 'sham' wedding as we had to do the legal bit in England, getting married in the woods with our closest friends and family was just magical. And Chris cried.
"We had lived together for three years by the time of the wedding so we didn't need another toaster. We also knew people were spending a lot of money to travel abroad for our wedding day so I didn't want to demand gifts. We used The Wedding Shop and asked for donations for our honeymoon if people wanted to get us anything at all.
"If I could change one thing about our wedding day, it would be not to forget to buy the vermouth for our martini bar…"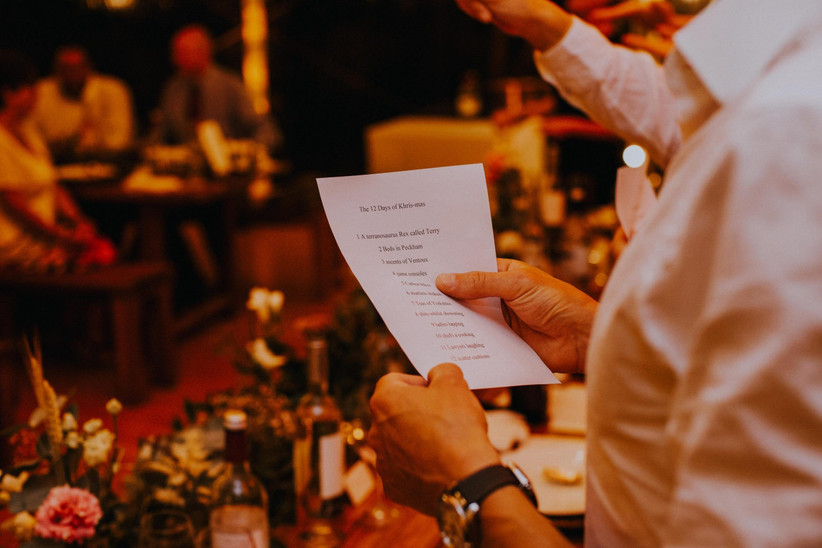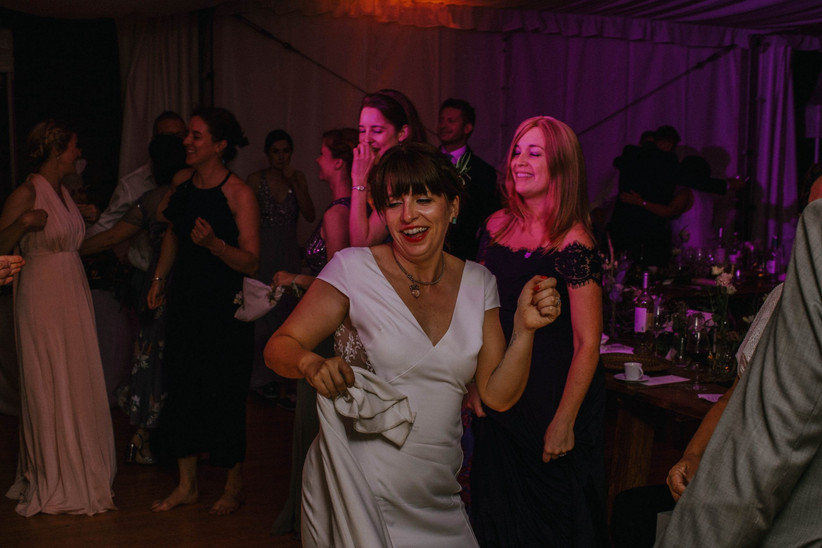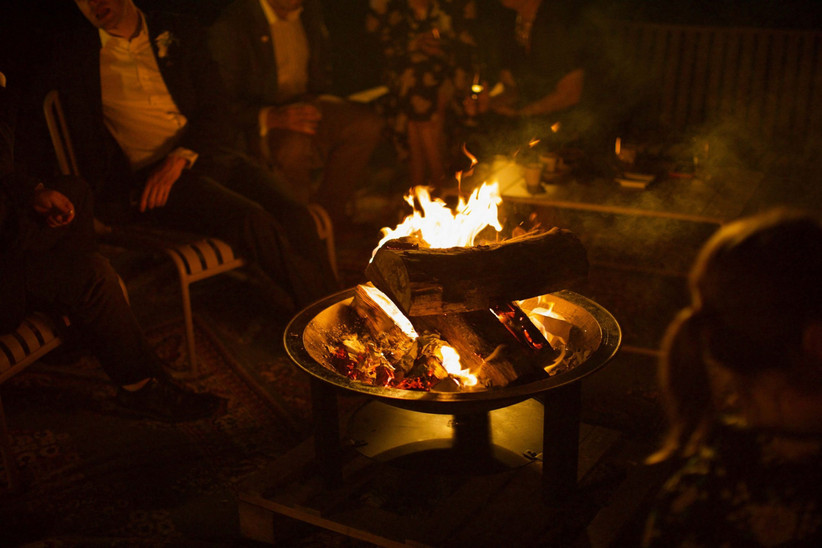 Suppliers:
Photographer and Videographer: Mark Brown Films
Planner and Stylist: La Fête
Wedding Dress: Rime Arodaky
Stationery: De Winton Paper Co.
Hair and Makeup: Eva Beauty Art
Florist: Fleurs de Mars
Flower Girl Shoes: Converse
Catering and Wedding Cake: Monblanc
Marquee: Doucet Location
Décor: Souchon
Gift List: The Wedding Shop
Thank you so much to Kirsten and Chris for sharing their beautiful wedding day with us!