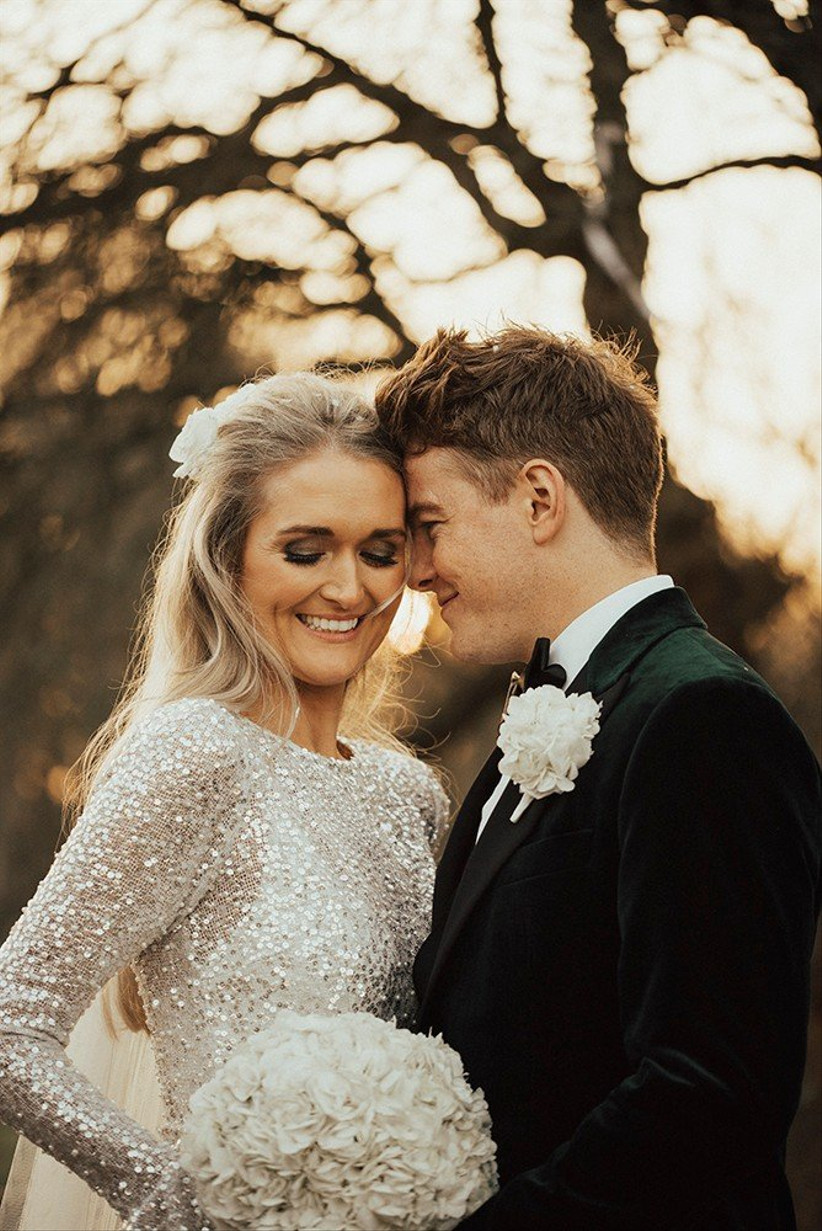 Fran and Tom first met at school when they were 14 years old and Fran immediately told her Mum that she'd fallen in love. Tom clearly felt the same way as fast-forward a few years and he got down on one knee at her favourite place, Salcombe in Devon, to propose.
On a wet and windy December day, Tom took Fran for a walk on South Sands, her favourite beach, where he surprised her with the line, "I haven't just brought you here for your birthday, there is actually another reason…"
Knowing his bride-to-be so well, Tom had bought a cheap, "just for the moment" ring online so that Fran could choose her perfect engagement ring. And they made a phenomenal choice with the final thing!
As the couple share a love of winter and snow, they knew that they wanted a cold, wintry day but not a Christmas wedding. They settled on a crisp November afternoon that was full of sparkle (just wait till you see those disco balls!).
The couple got married in November 2018 in front of 144 guests, with a marquee reception at the gorgeous Iscoyd Park in Shropshire.
Photographer: Katie Ingram Photography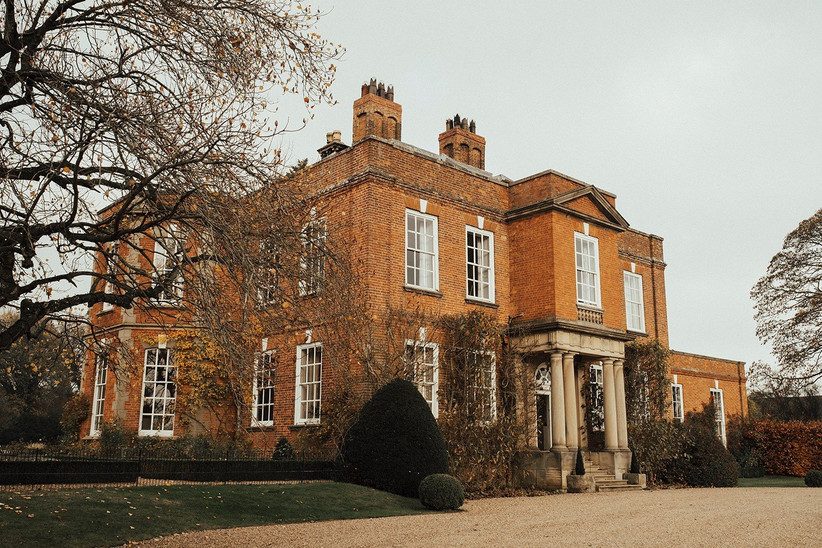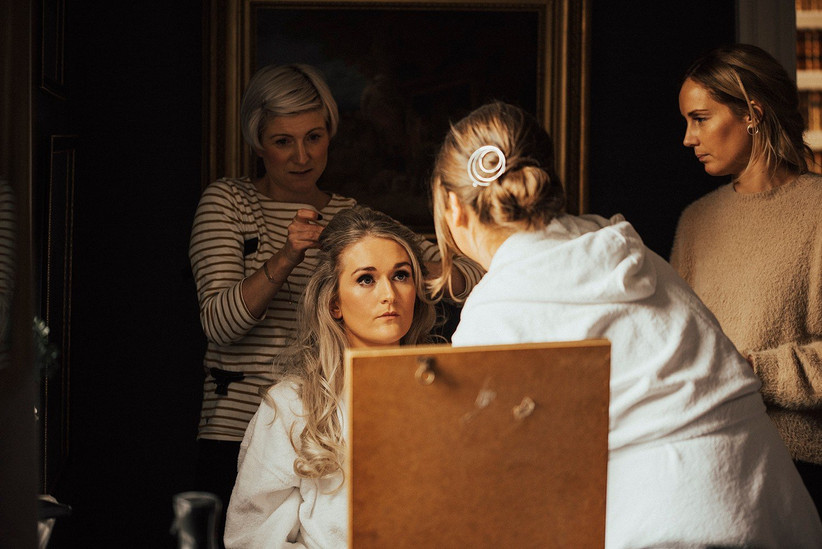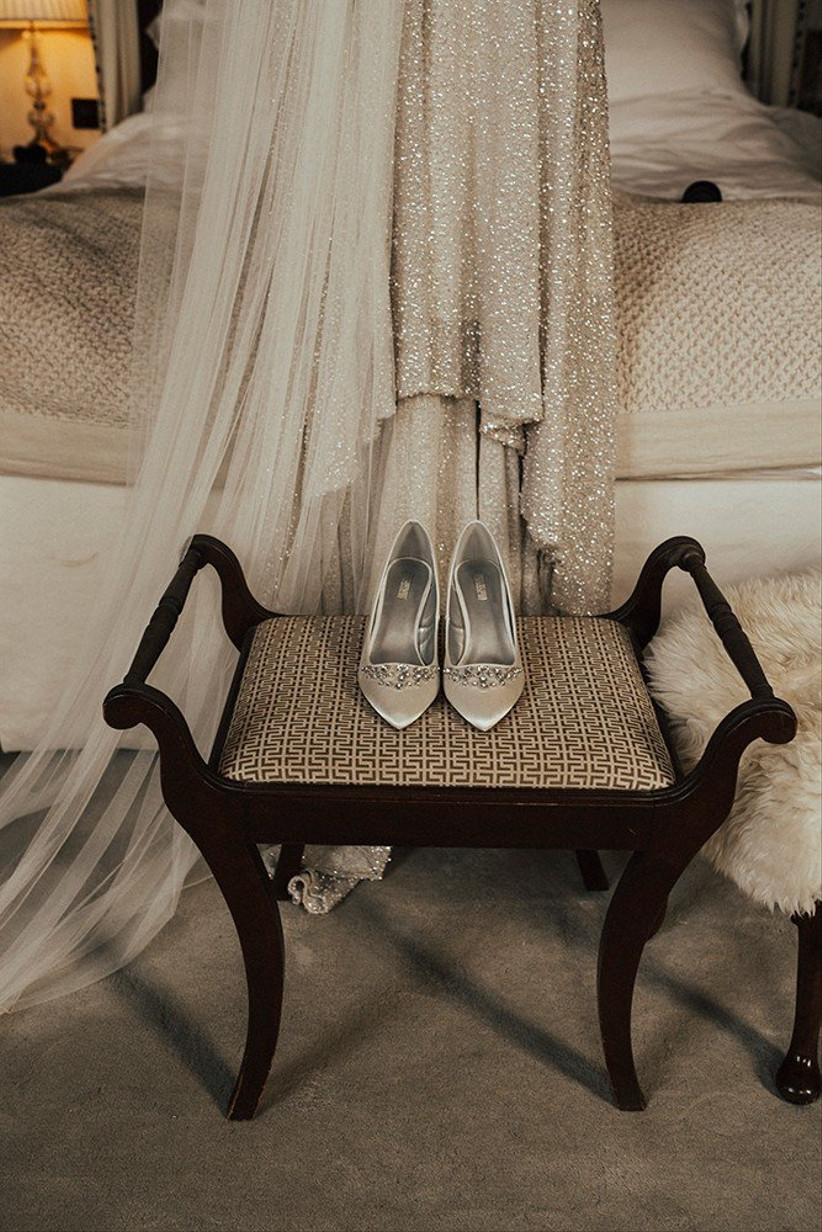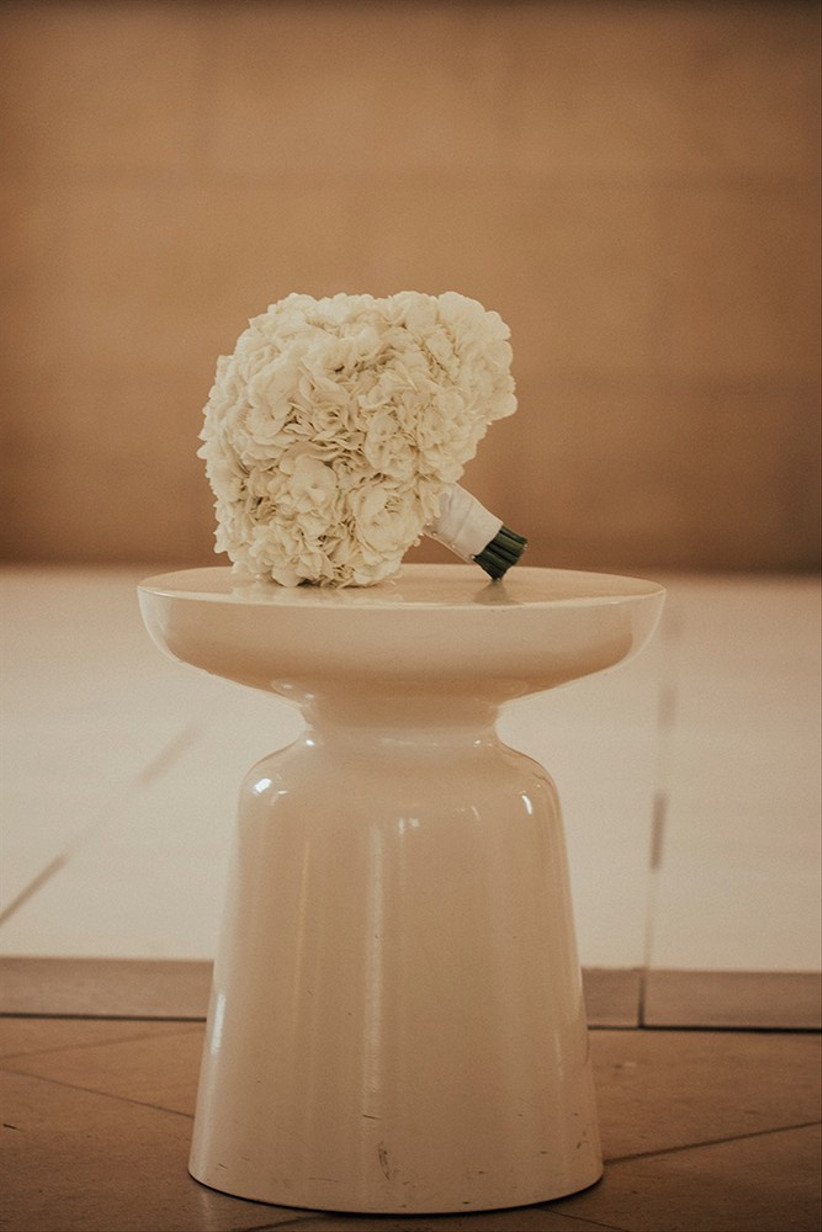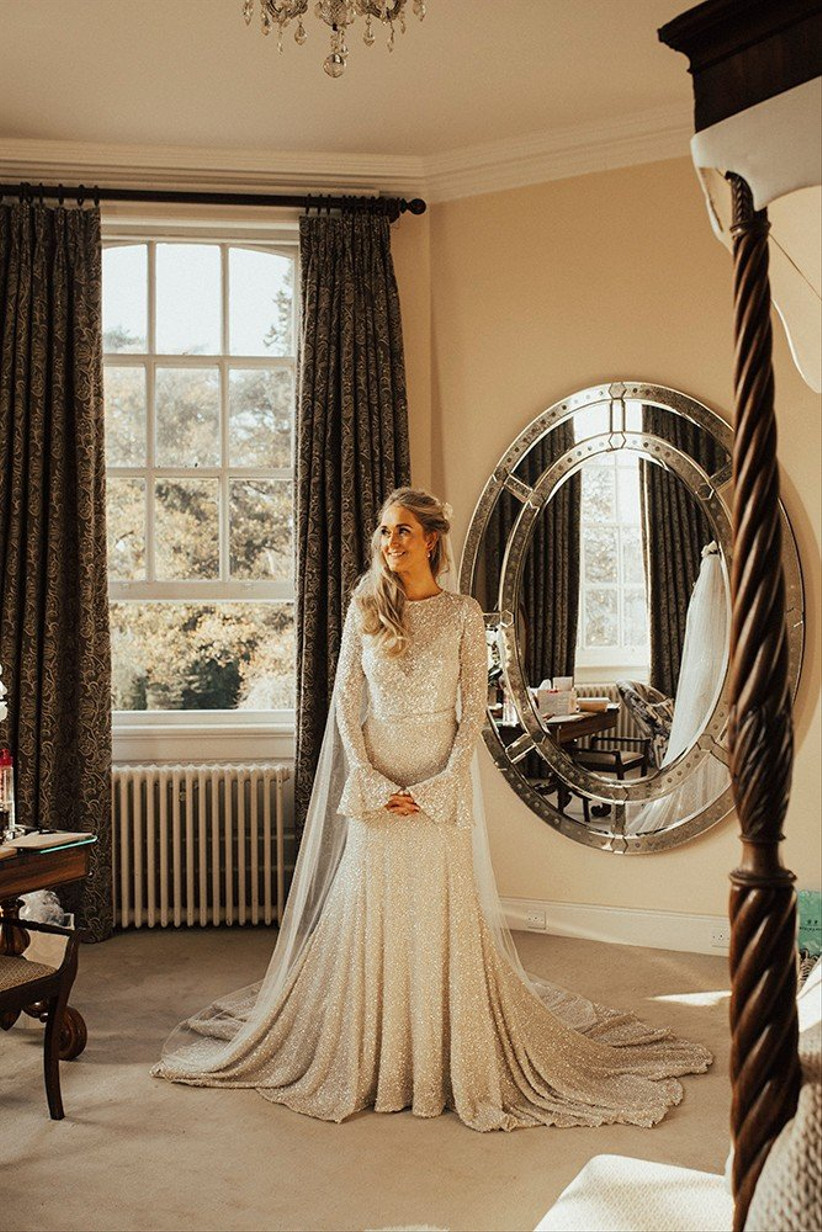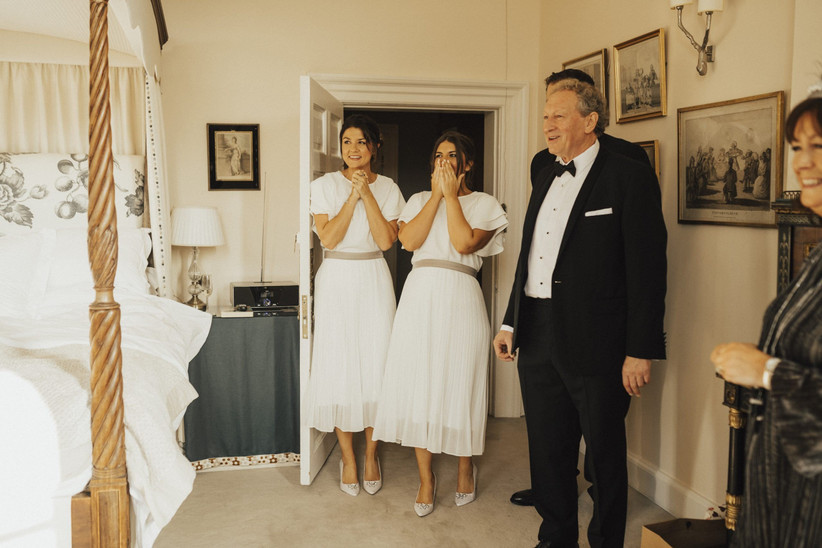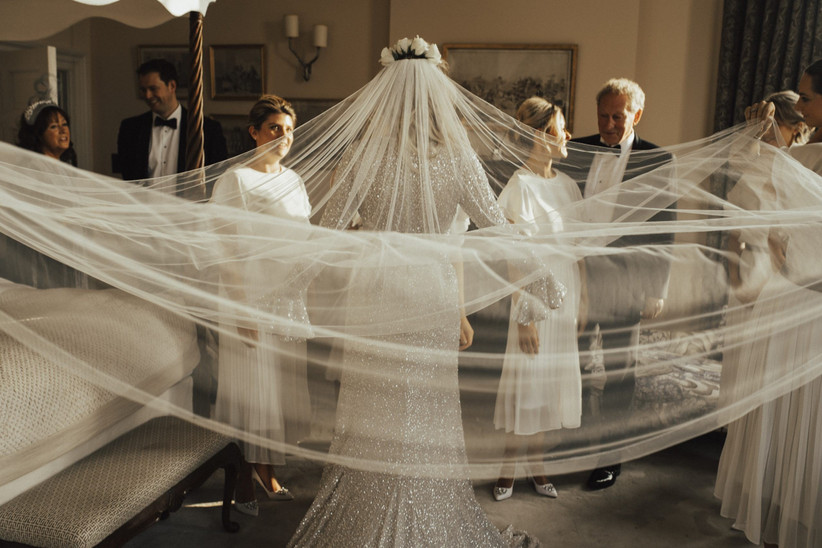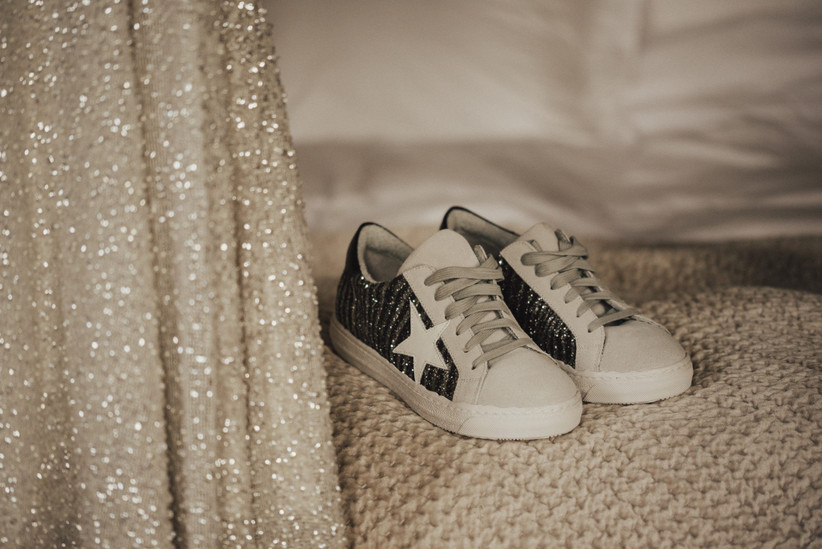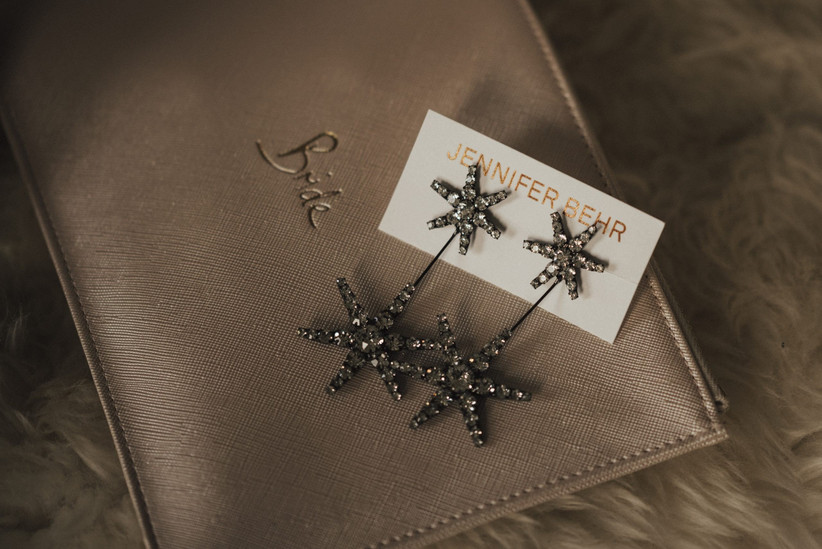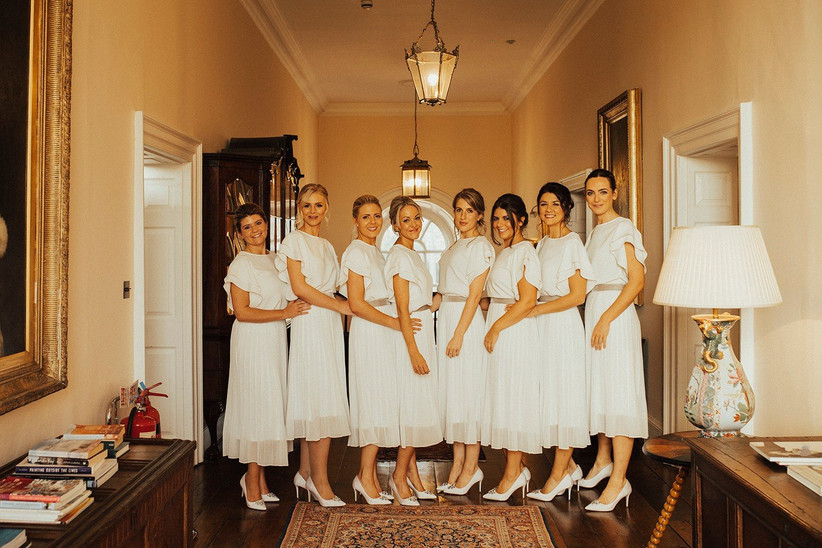 The Wedding Dress
Fran wore a gorgeous, sparkly dress by Odylyne the Ceremony, bought it from Ghost Orchid Bride in Hull.
"I always thought I wanted a big, ballgown dress as I'm quite figure-conscious and would never have imagined wearing something slim-fitting.
"However, every dress I tried on made me feel quite traditional and frumpy and I knew I definitely wanted something different that I hadn't seen 100 times before!
"I had actually seen the dress I got married in at a local Worcestershire bridal boutique, but they no longer stocked it and the only other stockist was in Hull – quite the journey!
"As soon as I tried the dress on, I knew it was 'The One'! It was absolutely covered in tiny pearls and sequins and so heavy. I loved the way it sat on my body and was slightly obsessed with the bell sleeves, I knew it was a winner!
"I wanted my look to be quite simple for the church, so I opted for a pair of white satin heels with some jewelled embroidery on the front from ASOS. I wore a very simple veil from Ghost Orchid. Jewellery-wise, I wore my Nanny's bracelet, my Mum's earrings from her wedding day and then, in my hair, three real white roses at the top of the veil.
"In the evening I wanted to jazz it up a little so I treated myself to some Jennifer Behr earrings. I removed my veil and added a black belt to my dress and due to having a bad back I changed into some trainers so I could dance late into the night."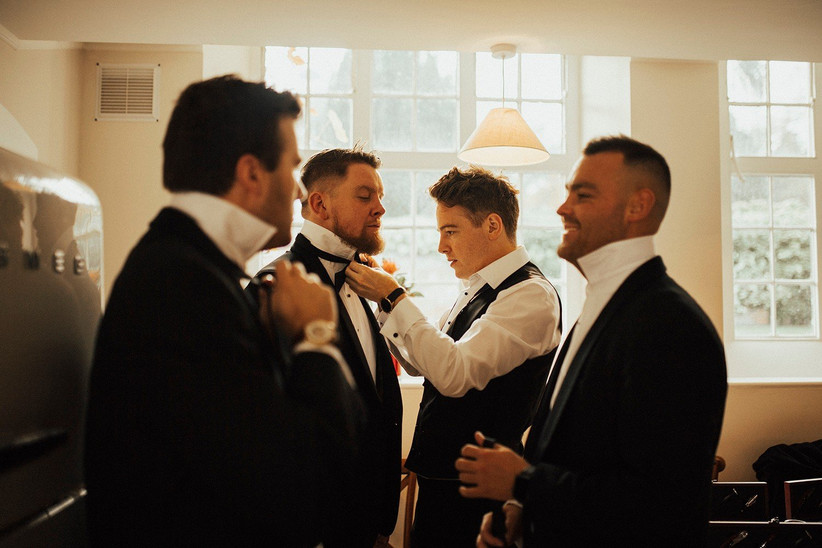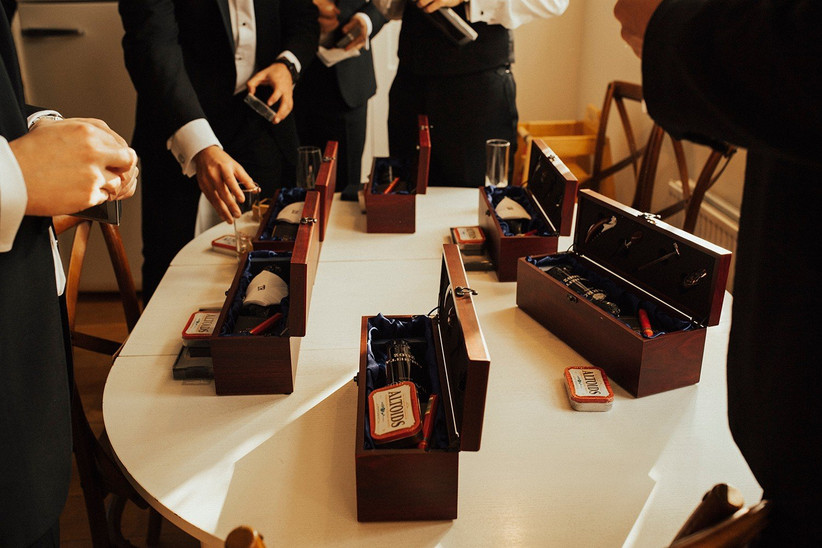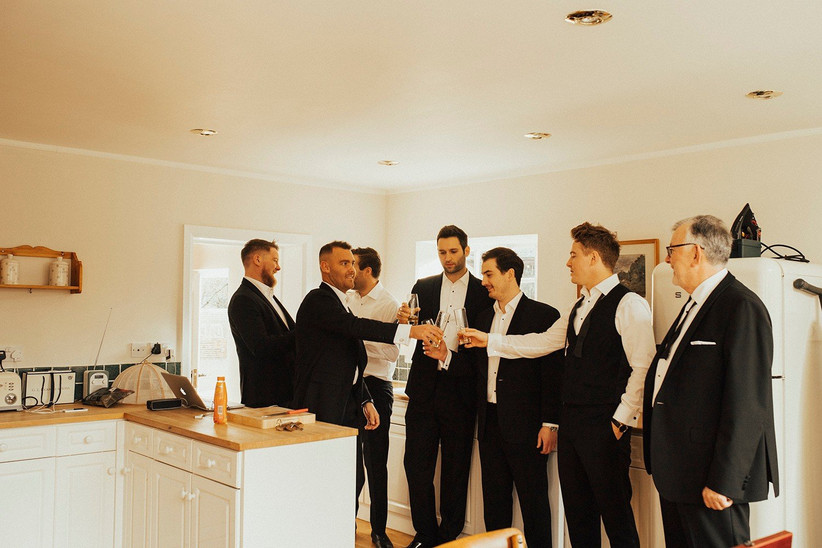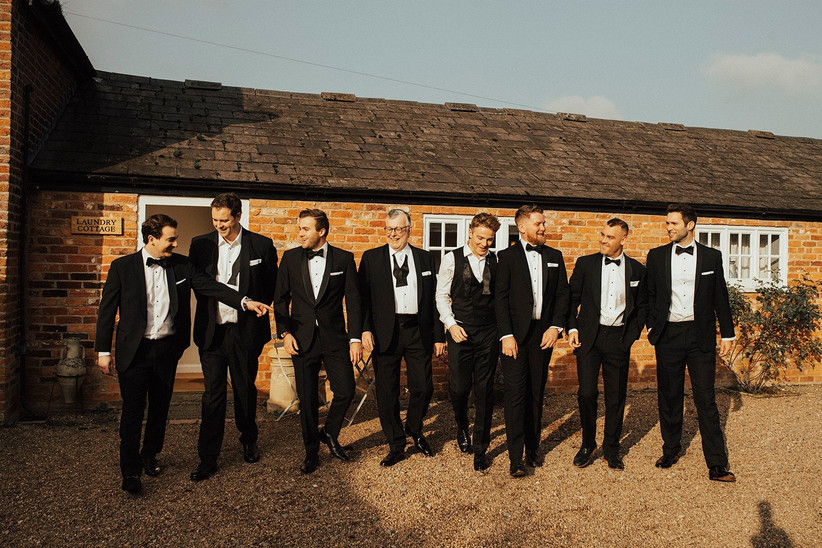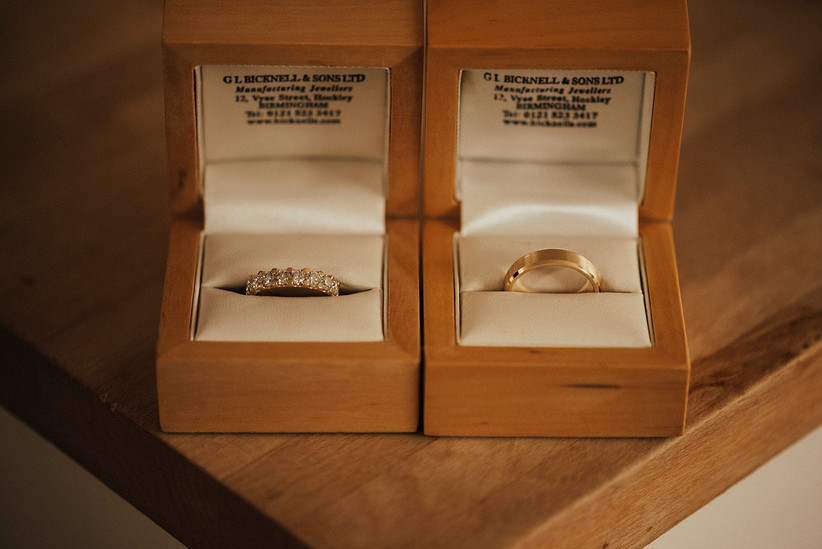 Bridal Beauty
Fran wanted a relaxed hairdo which looked natural. She opted for a half-up, half-down look.
"I used an amazing makeup artist called Amy Hickey who is based in Gloucestershire. She is the loveliest girl and so amazing I was so happy with my makeup! She used products from Space NK on the day including my favourite By Terry foundation. We then used a Bobbi Brown sparkly eyeshadow to really make my eyes pop as I wanted these to be the stand-out feature.
"My hair was done by a wonderful lady called Lucy Woodhouse who does my hair in Worcester. Lucy loosely curled the remaining hair and added three white roses in the top section."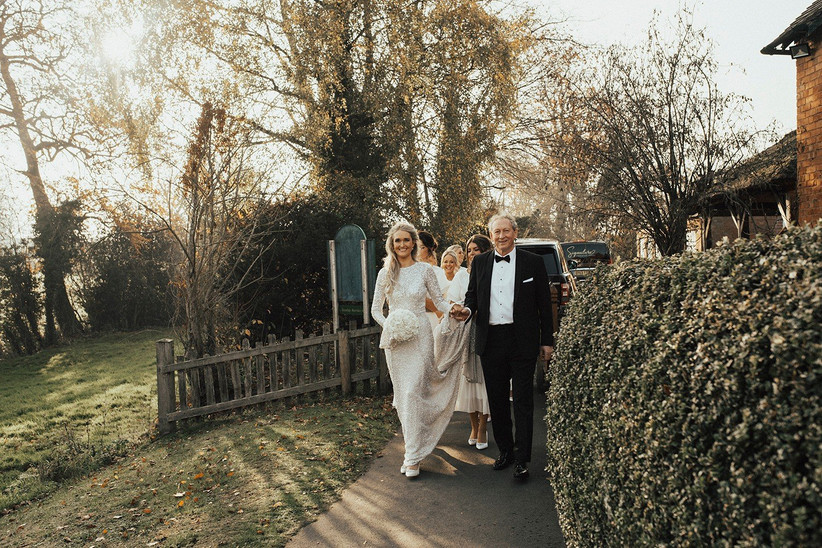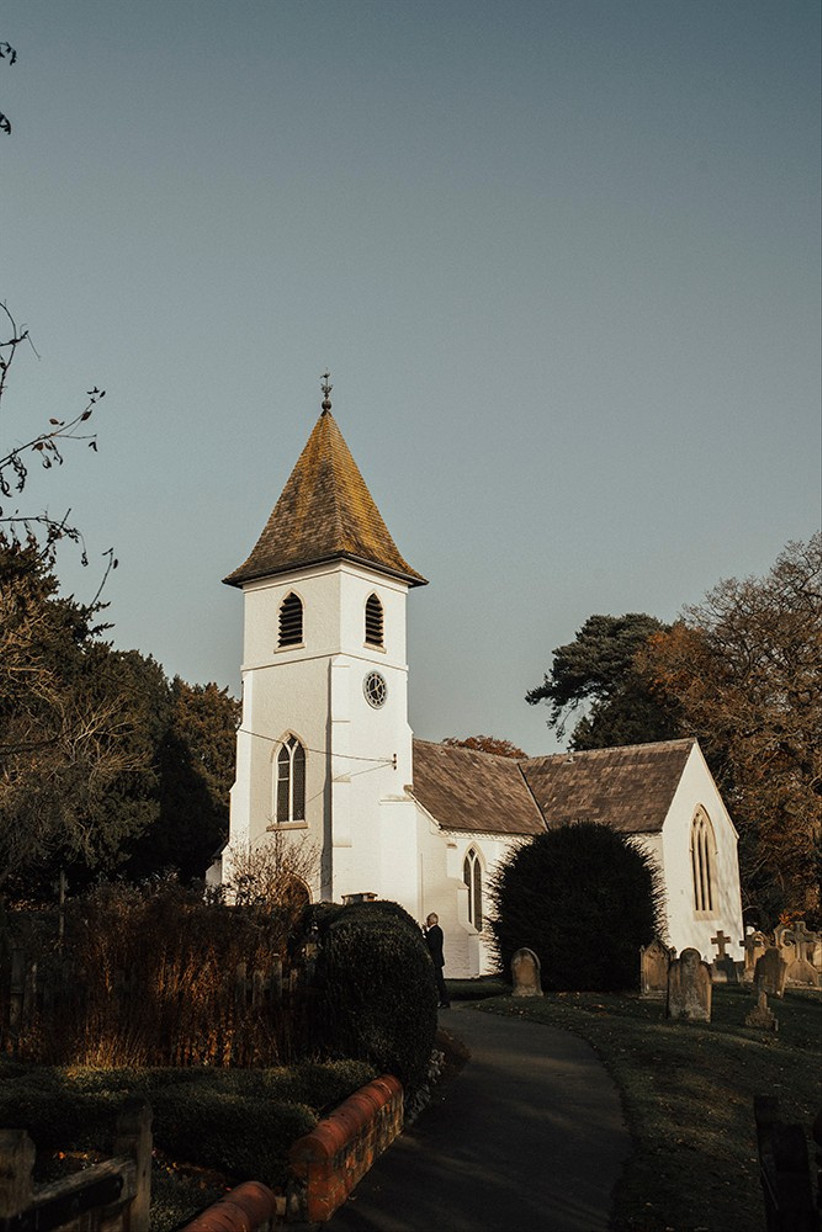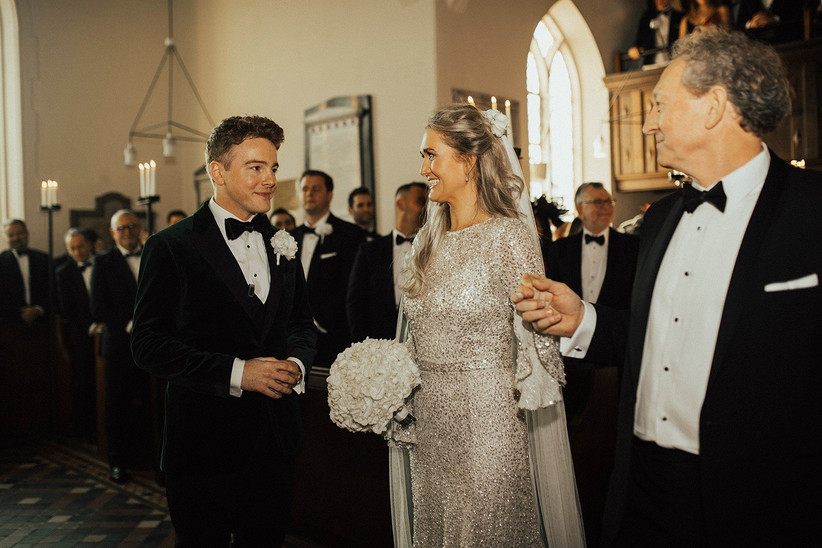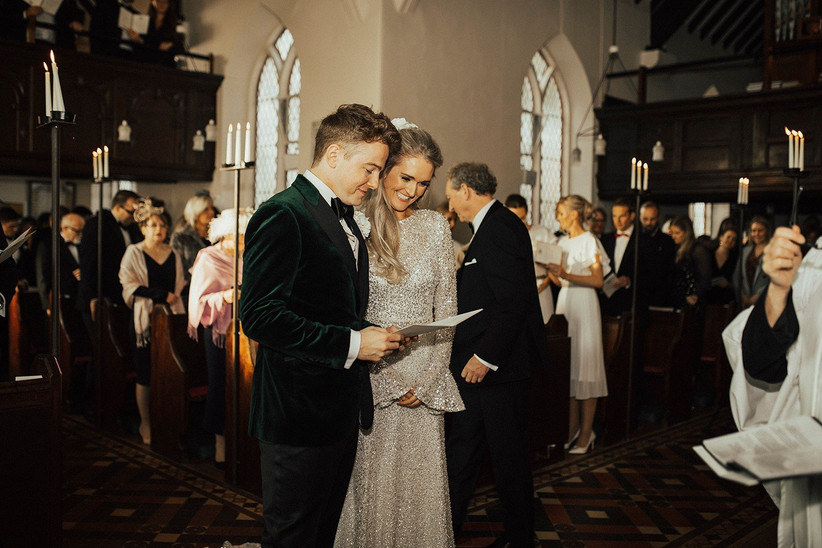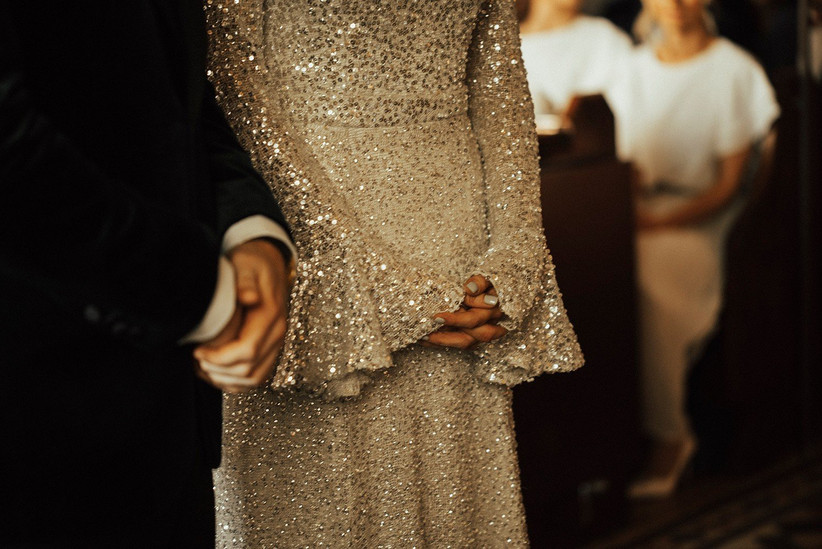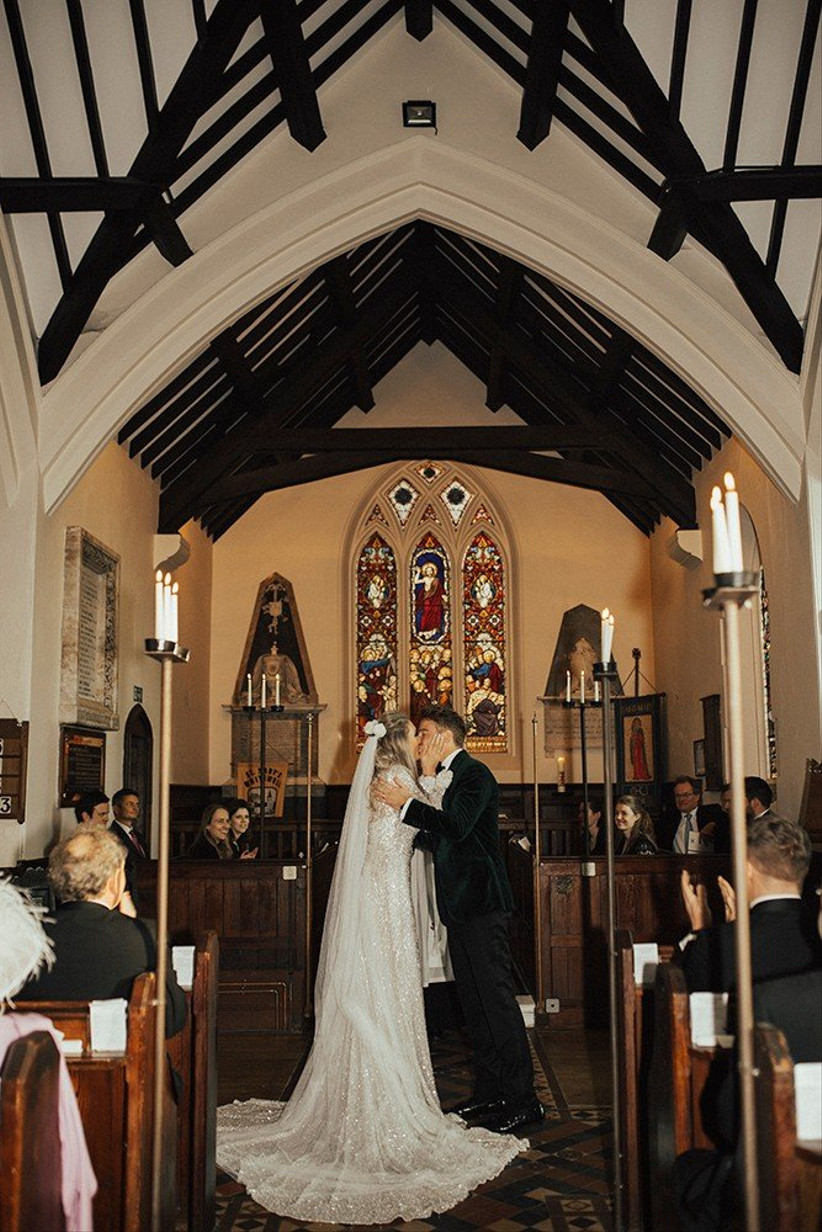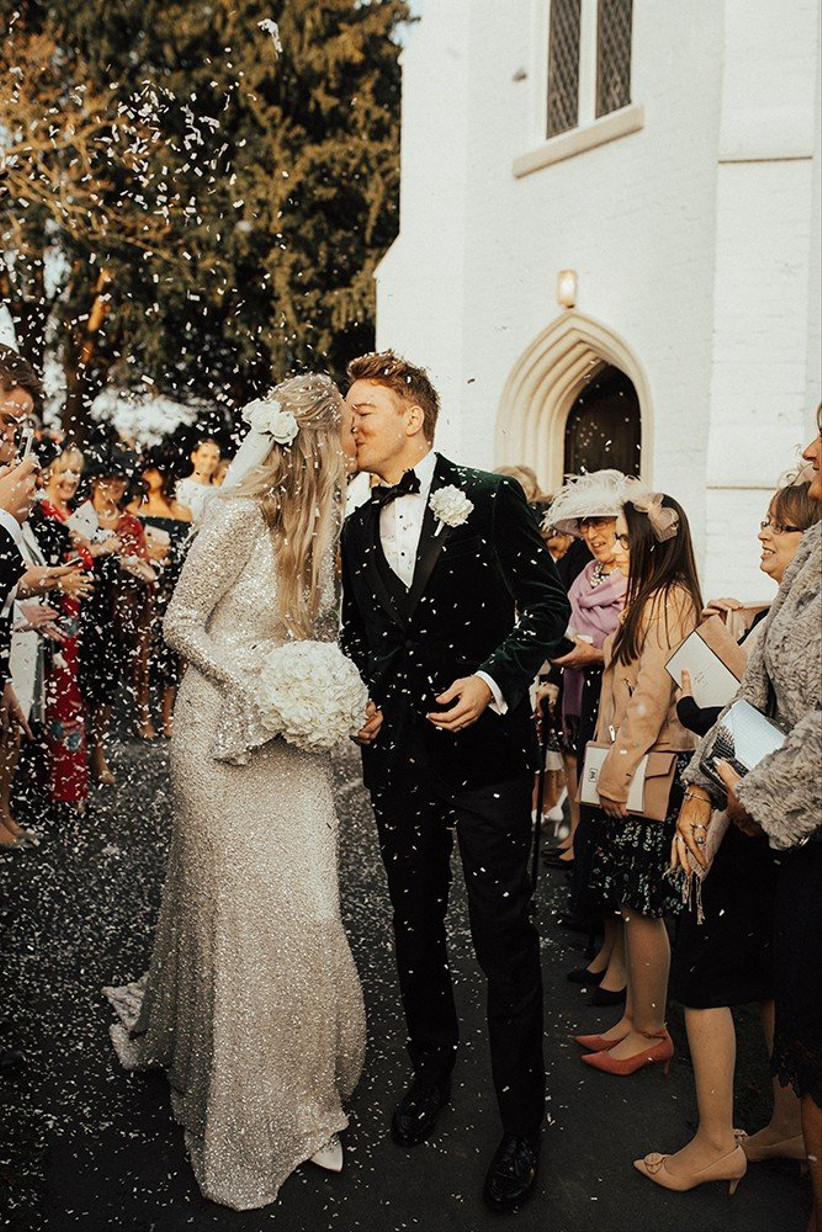 The Bridal Party
Fran had eight bridesmaids including two maids of honour. They wore a top from H&M with a skirt from Uniqlo in white with a grey velvet belt to finish off the look.
"I had A LOT of bridesmaids because each one is so incredibly special to me and I couldn't imagine them not being by my side on the day I got married.
"As all my bridesmaids were grown-up women with very different figures, I really wanted them to feel super comfortable.
"In the end, I decided on white as my dress was a different colour, I thought this would look really lovely. I really struggled when trying to find dresses which were white in the winter for eight people so in the end went for a top and skirt combo!"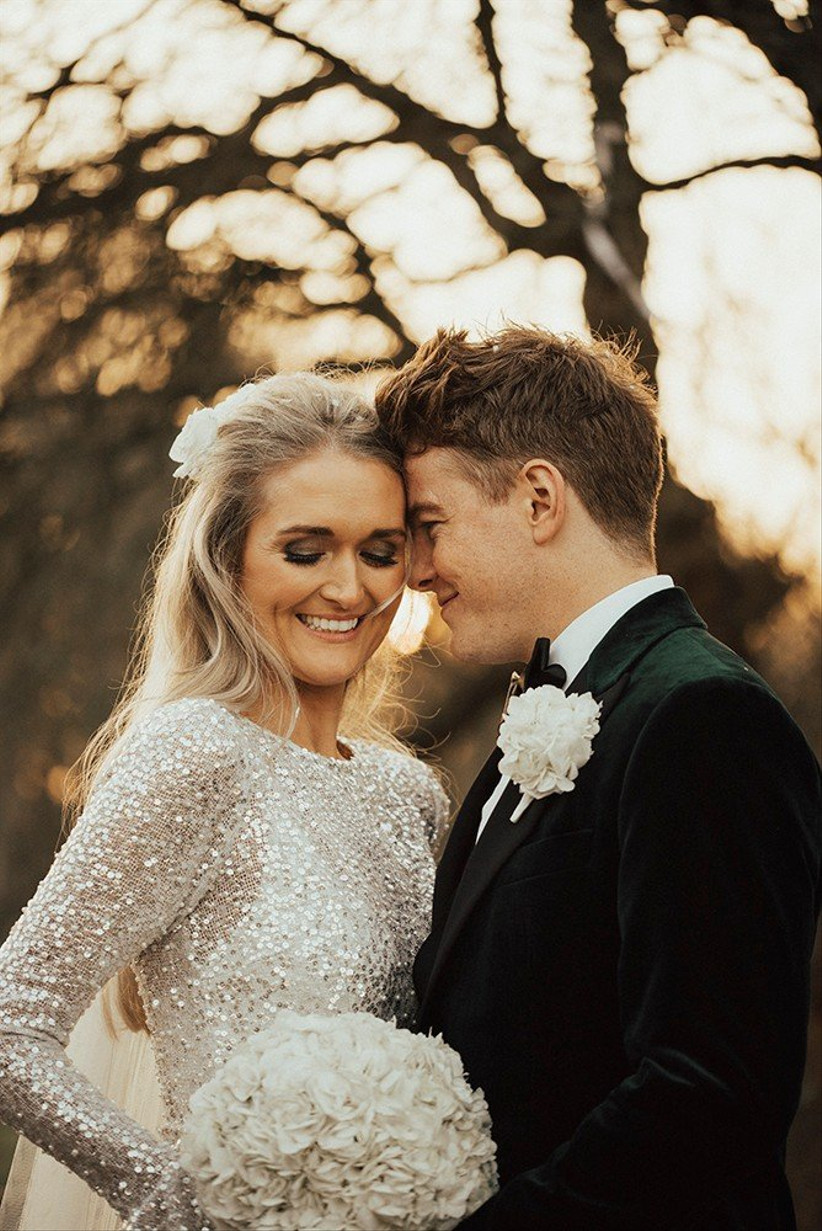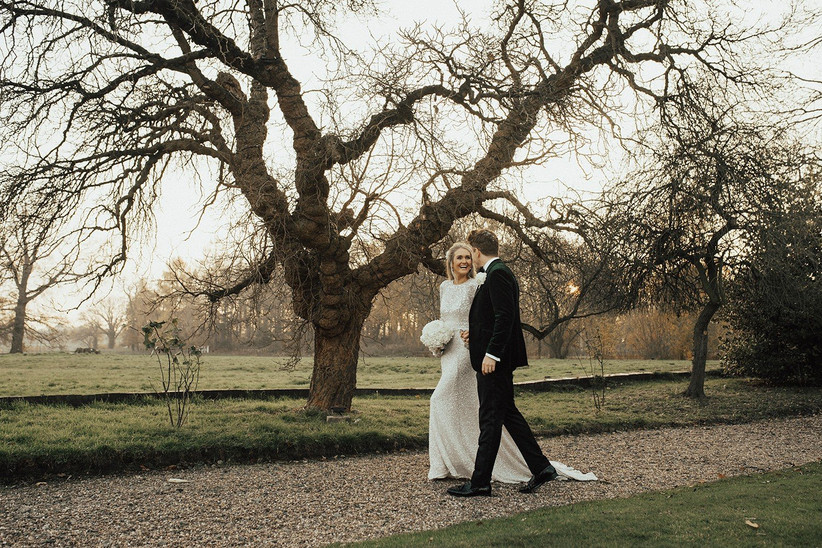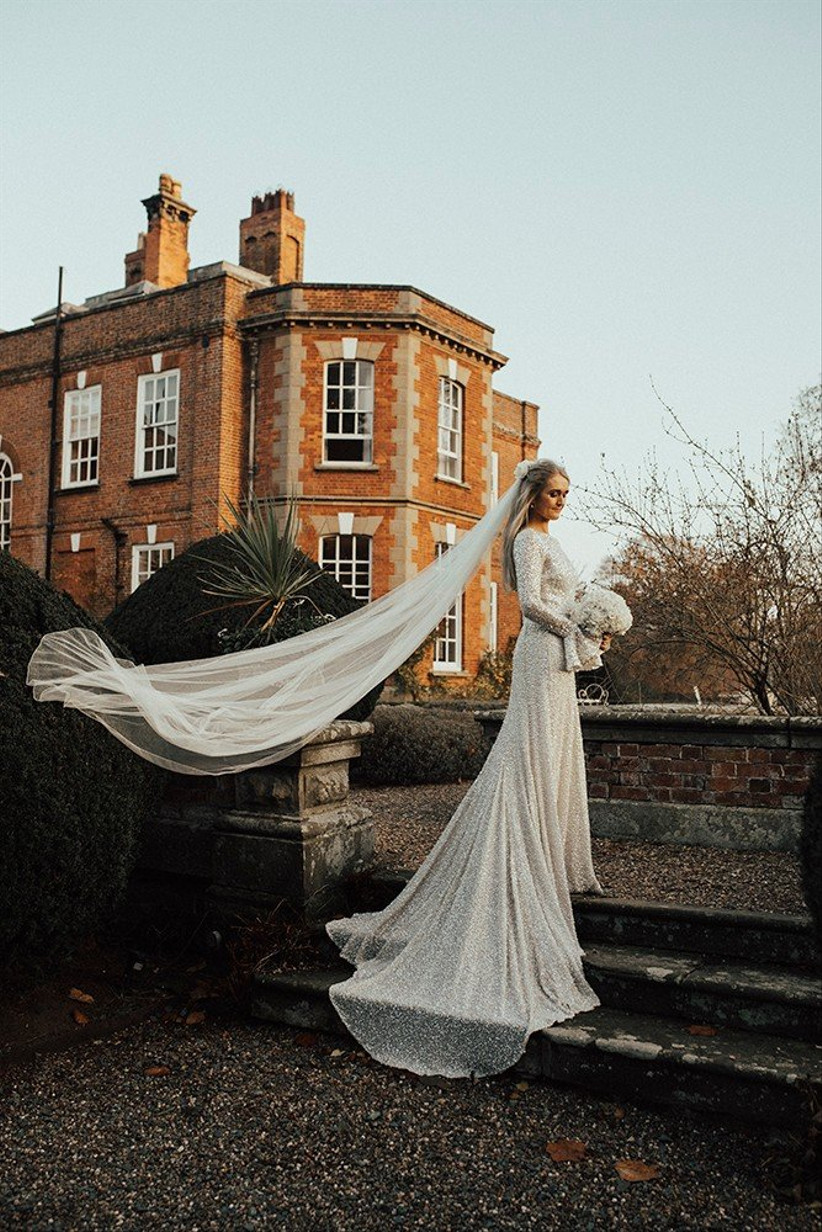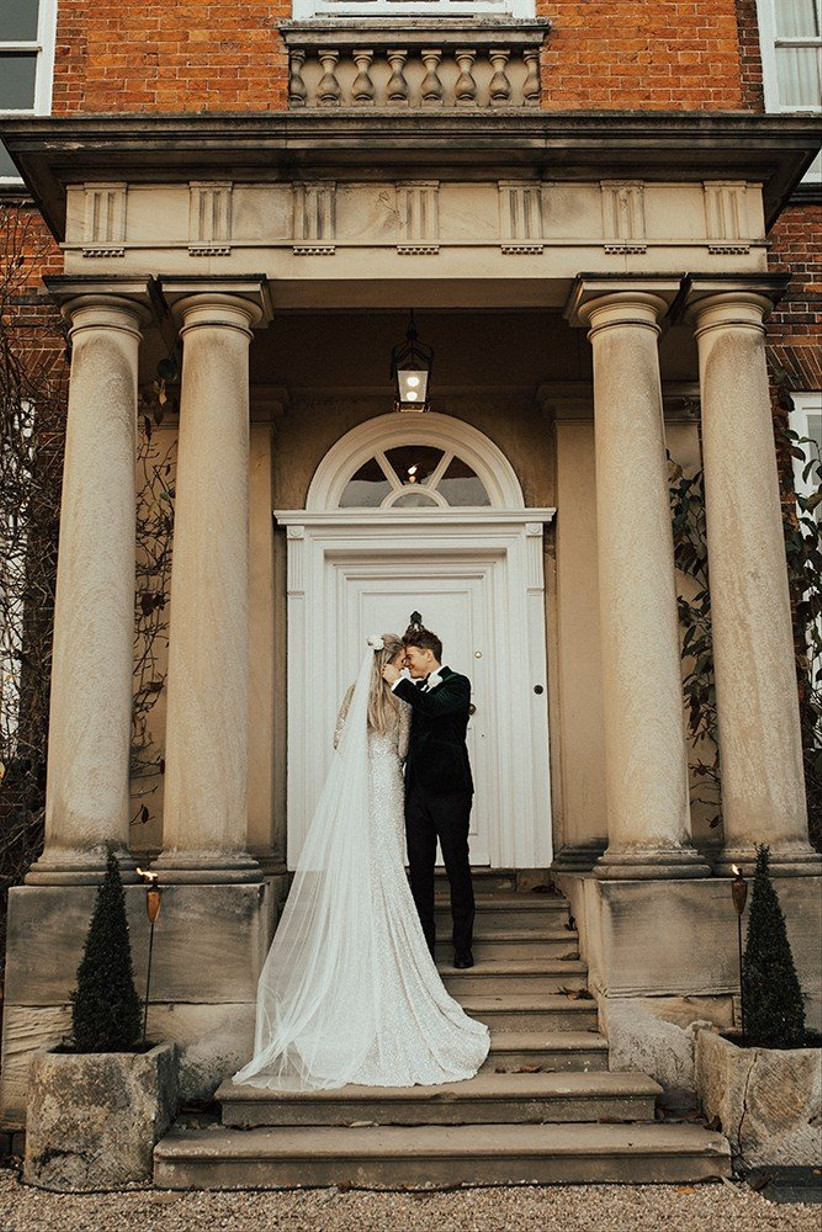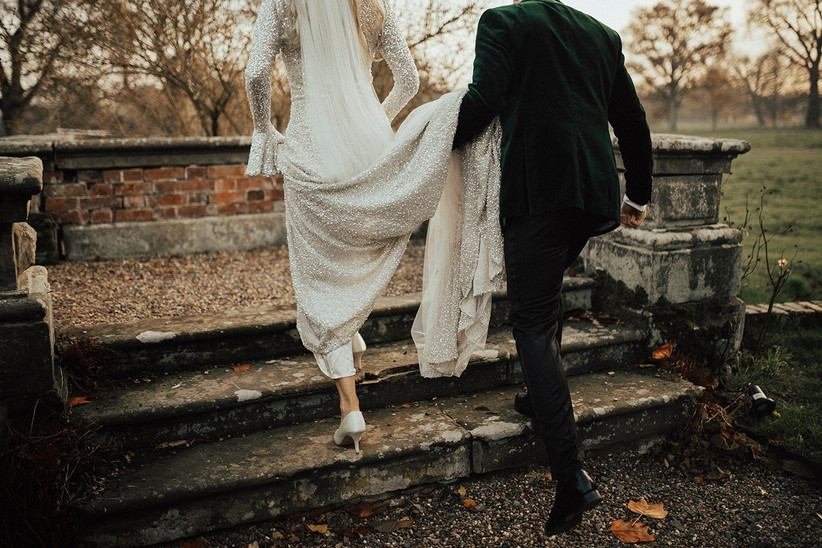 The Groomswear
Tom wore a three-piece black tie suit topped off with a dark green, velvet blazer from Clements and Church in Birmingham.
"The groomsmen's outfits were hired from a local shop in Worcester called Armstrongs.
"When I saw Tom at the end of the aisle, I was SO excited. I just wanted to get to him! I also felt a big giggly and just so, so happy. He looked so gorgeous and handsome."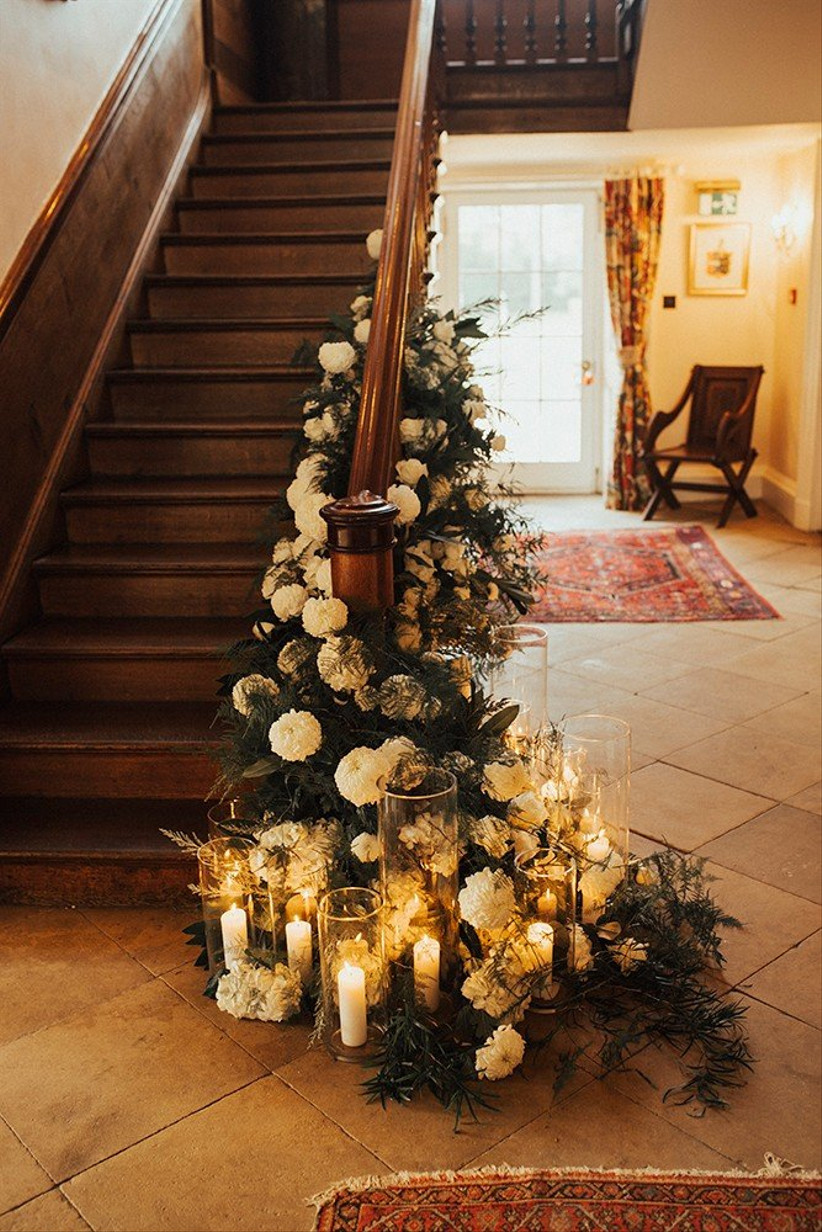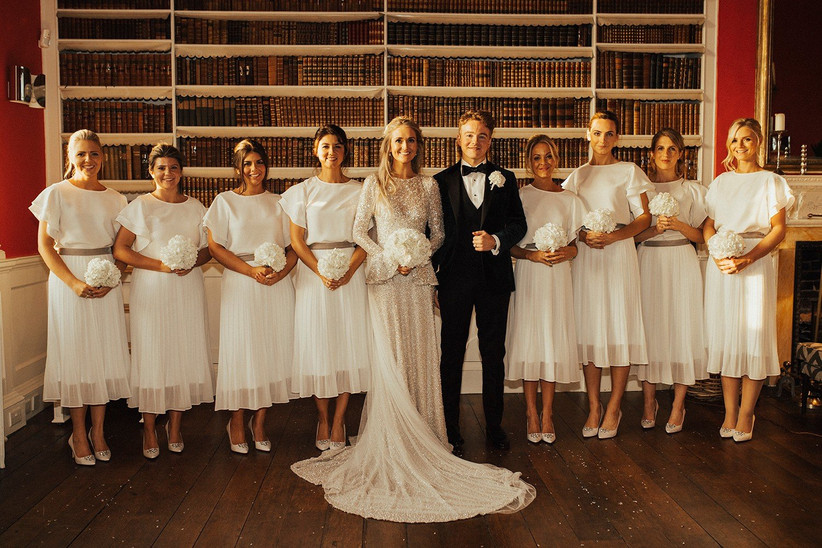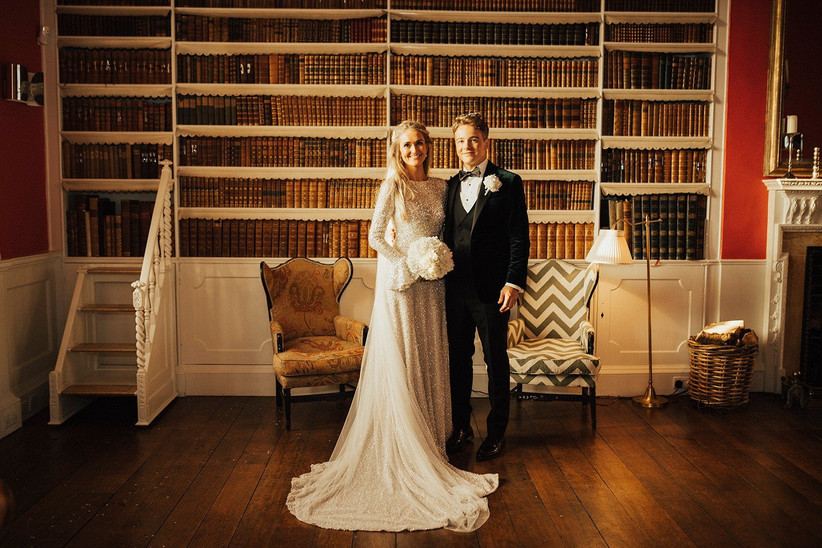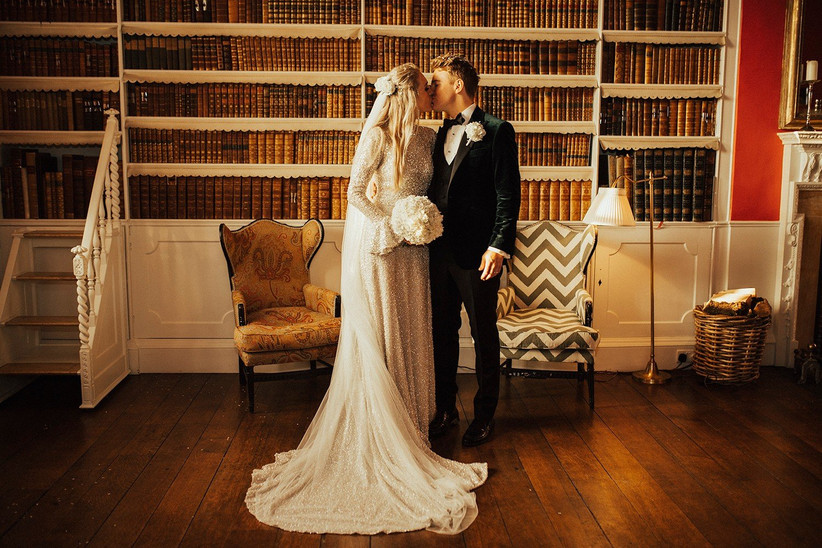 The Ceremony
The couple chose to have a religious ceremony at St Mary's Church around the corner from their reception venue, Iscoyd Park.
"We didn't have any flowers in the church apart from on the altar as we had 144 guests and, as the church is tiny, we didn't want to try and squeeze flowers in as well! Instead, we lit lots of candles around the church and used scented ones from The White Company to give a lovely atmosphere when people walked in.
"I walked down the aisle with my wonderful Dad. We had a choir in the church who were absolutely amazing! Everyone commented on how incredible the choir was.
"I had always wanted a classical choir during the ceremony and after a lot of research, I came across The Wedding Music Company and the fantastic David Guest.
"We had a lot of conversations and in the end picked the most beautiful choral pieces and even had a finalist from Britain's Got Talent singing opera during the signing of the register! It was one of the highlights of the entire day and something that people still comment upon to this day."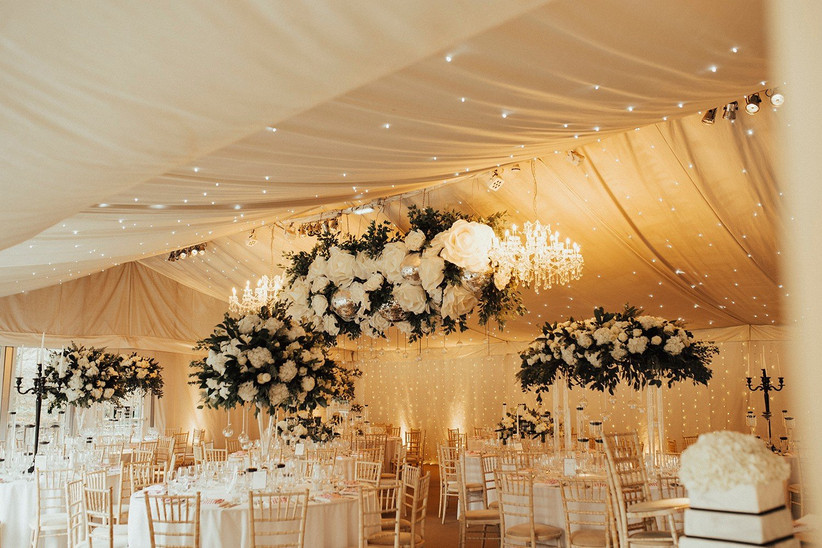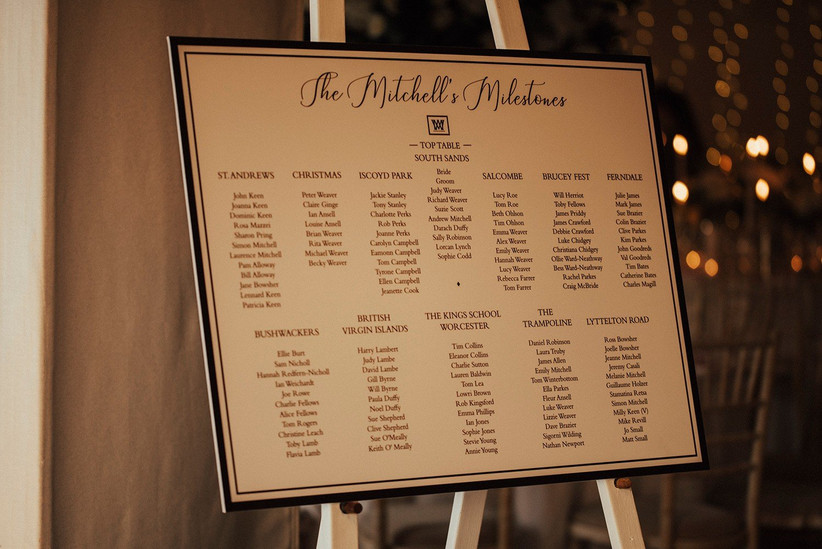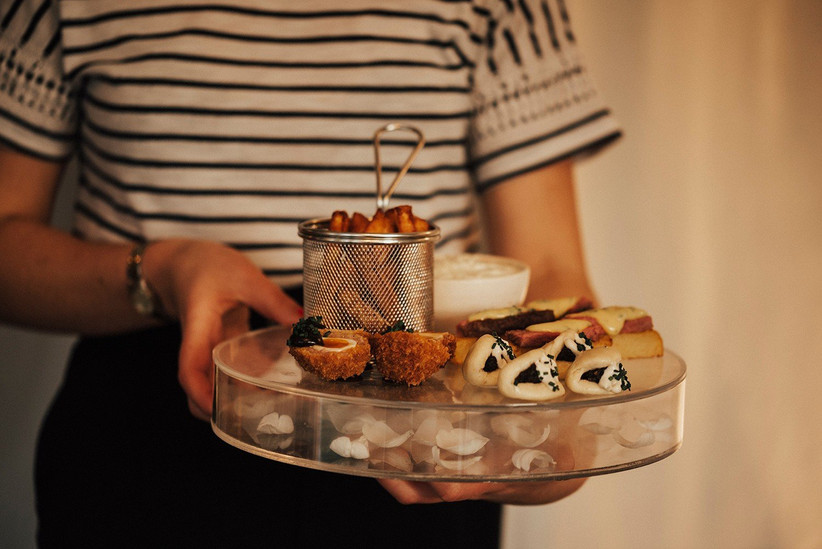 The Wedding Venue and Food
Fran and Tom would recommend Iscoyd Park to any couple planning a wedding largely due to its wonderful staff.
"We decided to go and look around Iscoyd because my brother and sister-in-law had been to a wedding there and said how lovely it was.
"If I'm honest, we thought it was a bit far away but the second we walked through the door we knew Iscoyd was the one!
"It was outstandingly beautiful and meeting the staff for the first time was amazing. They made such a difference and made us feel so at home that we knew Iscoyd was the one!
"We had the most wonderful food at Iscoyd Park! My husband is Welsh so we had to go with the Welsh pork belly for main which went down a treat. We had ham hock or a vegetarian tart for starter and the most incredible sticky toffee pudding for dessert. We had lots of comments on the food and how delicious it was!"
"I was very lucky because my Mum is an amazing cake decorator so I roped her into making our cake! It was three tiers of vanilla, chocolate and lemon. For the look of the cake, I wanted it to have a marbled effect but still be very simple which my Mum pulled off brilliantly."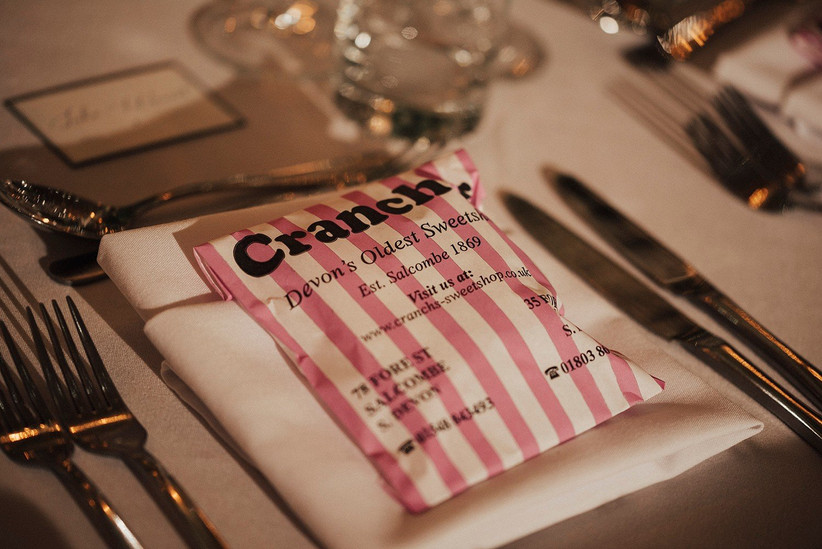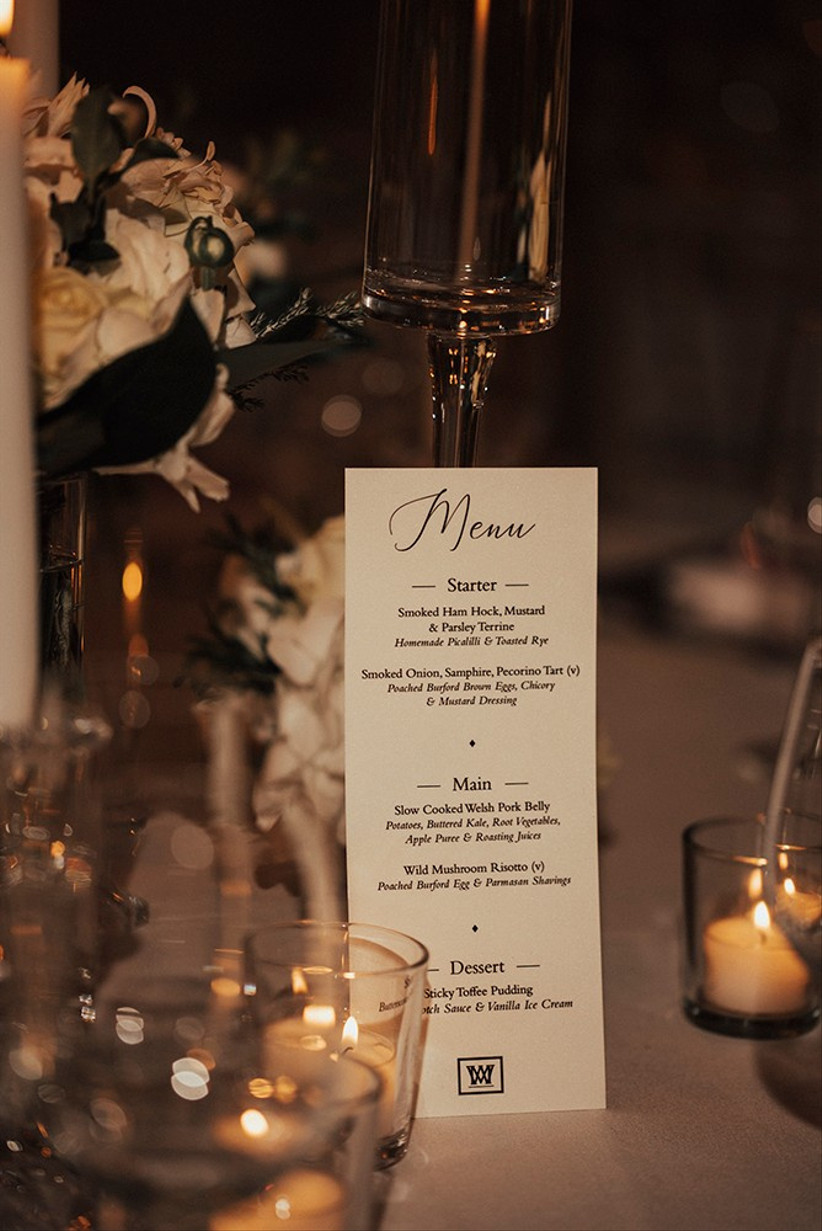 The Flowers
The couple didn't have a theme but wanted the venue to look stylish so decorated it with lots of white flowers.
"I think the style itself was pretty simple and elegant which I'd like to think reflects us!
"We had the most stunning flower arrangement put together by Red Floral Architecture on the staircase. Matt at Red Floral is phenomenal and totally and utterly understood my vision from the get-go!
"We then had Red Floral also decorate the marquee. I have a mild obsession with disco balls so asked Matt if he could incorporate this into the ceiling fixture and he suggested adding giant, fake, white roses which I was sceptical about at first but, my goodness, the end result was breathtaking.
"Matt also jazzed up the cake and made it look even more special by adding a hydrangea to the top. He placed it on a clear cake stand surrounded by water, floating disco balls and rose petals. It really was spectacular!
"The rest of the marquee was covered in white and green displays, each one is slightly different from the next. It was exactly how I imagined!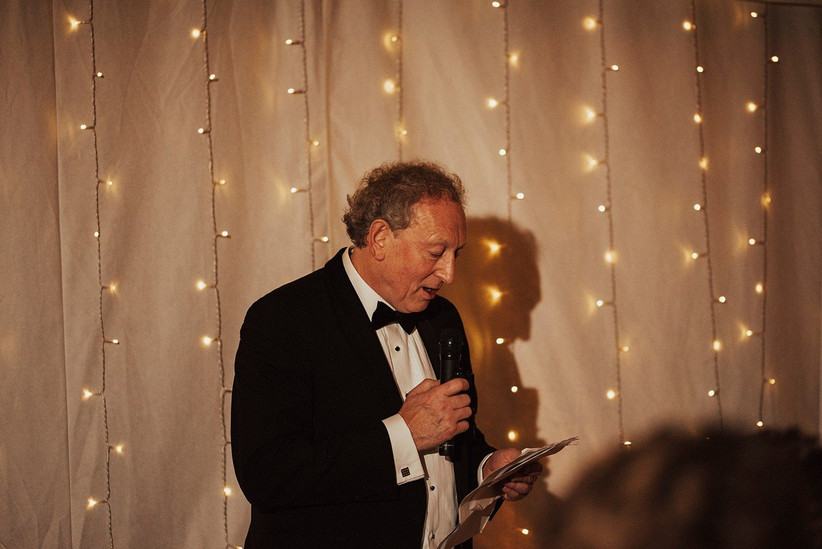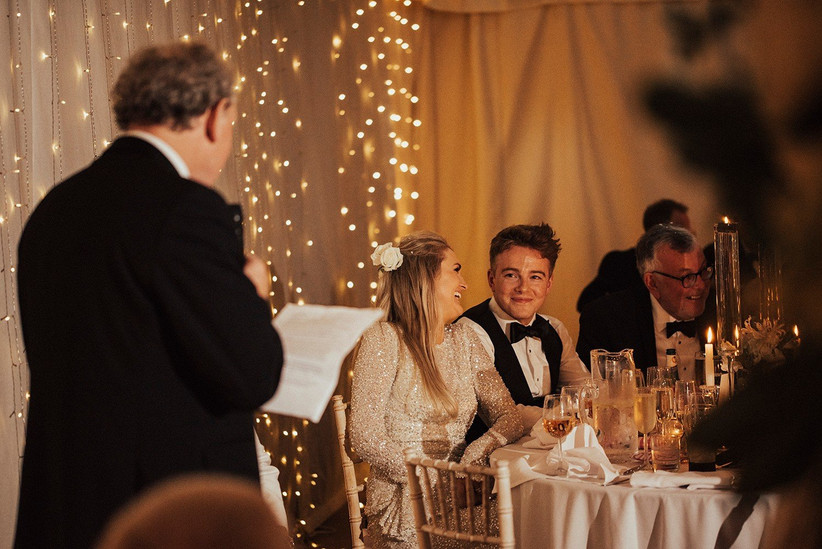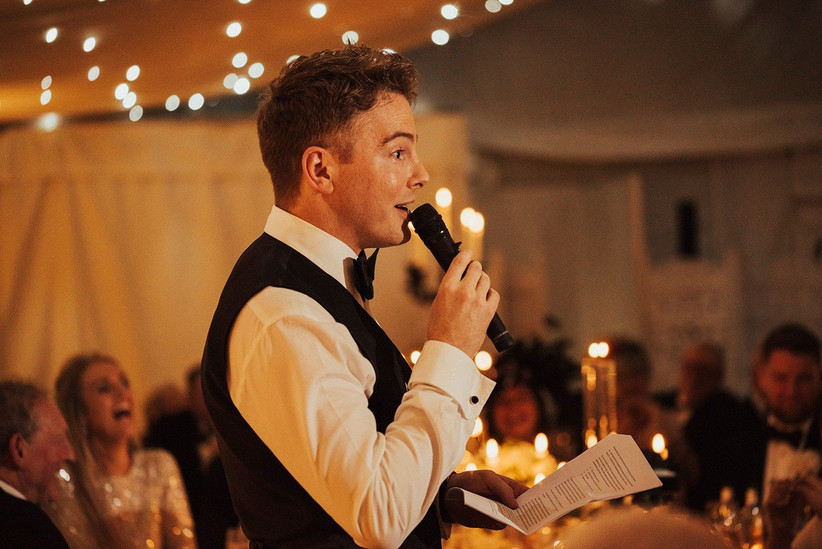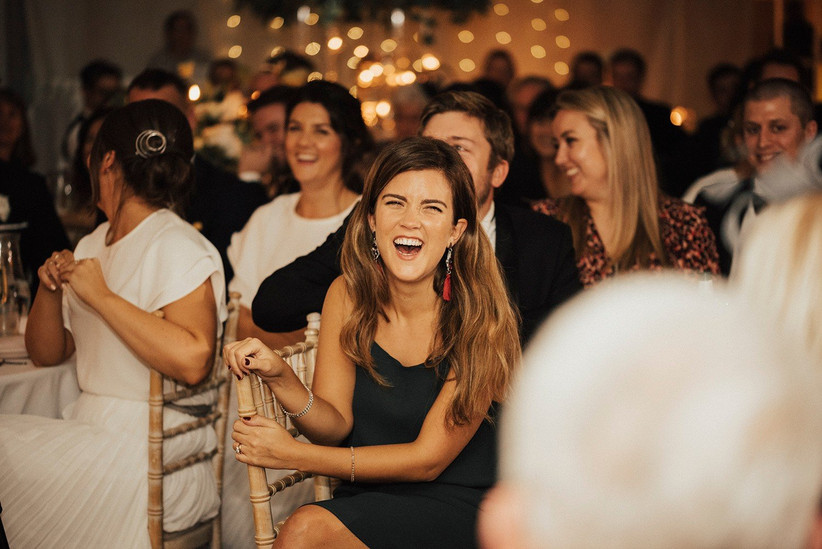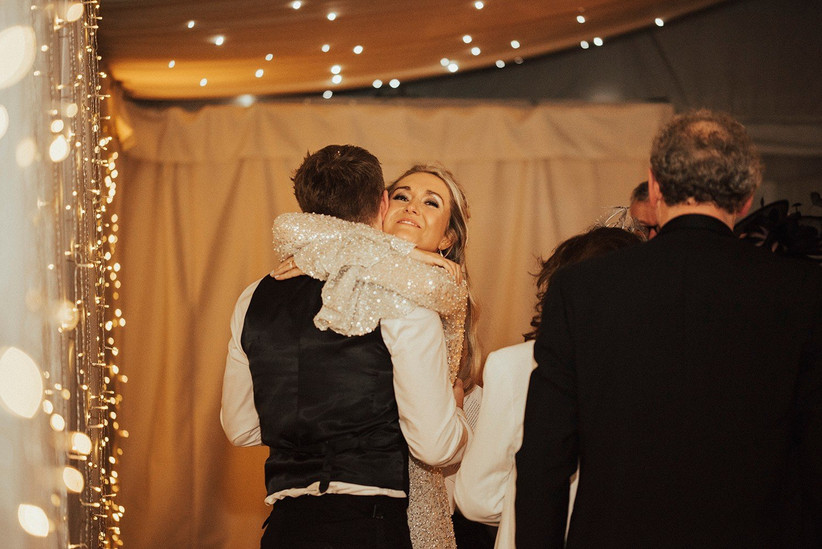 The Stationery and Favours
As favours, Fran and Tom gave guests a bag of pick 'n' mix from the bride's favourite sweet shop, Cranch's in Salcombe.
"Our stationery, including invitations, church service, signs to the venue, table names, place names, and our seating plan, was all done by the wonderfully talented Laura Truby. She was incredible and we are very lucky that she is a dear friend!
"We named our tables after the 'Mitchell's Milestones'. Tom and I had been dating on and off since we were 14 so there were lots of momentous occasions that finally got us to the big day.
"We choose the spot we got engaged as our table, South Sands. We included our school where we met and sat all our school friends on this one. The list goes on!"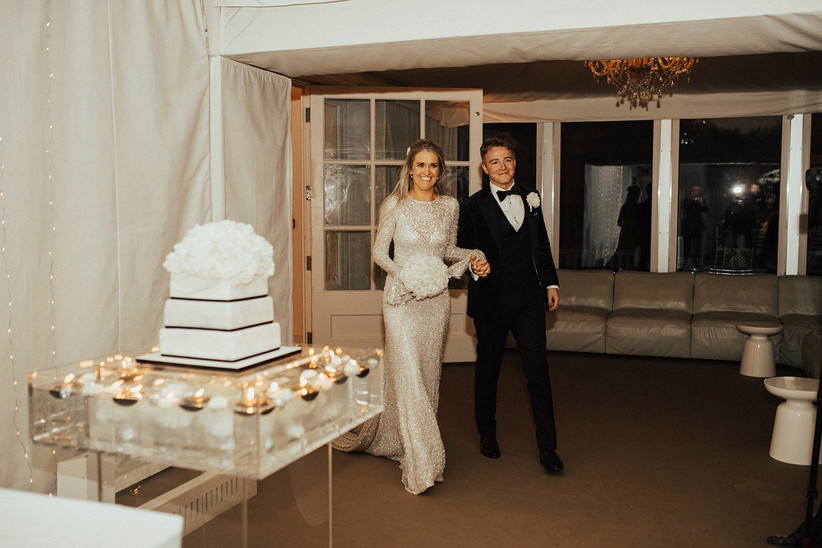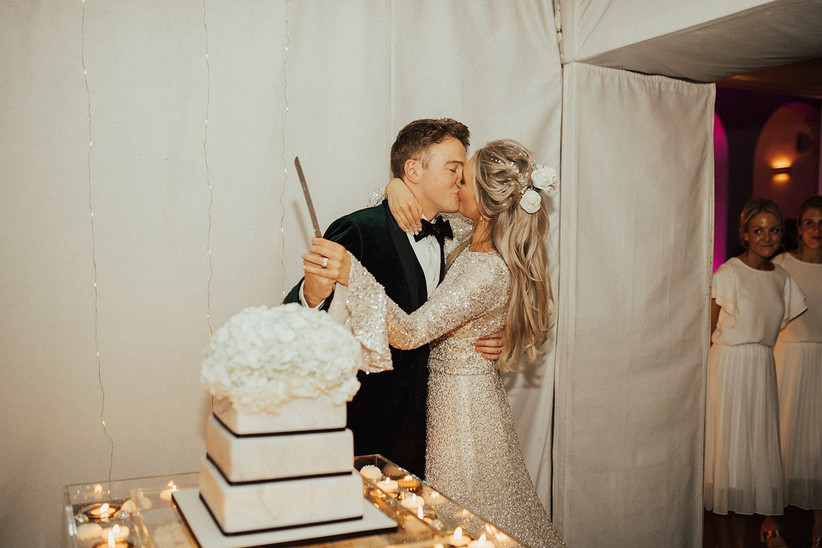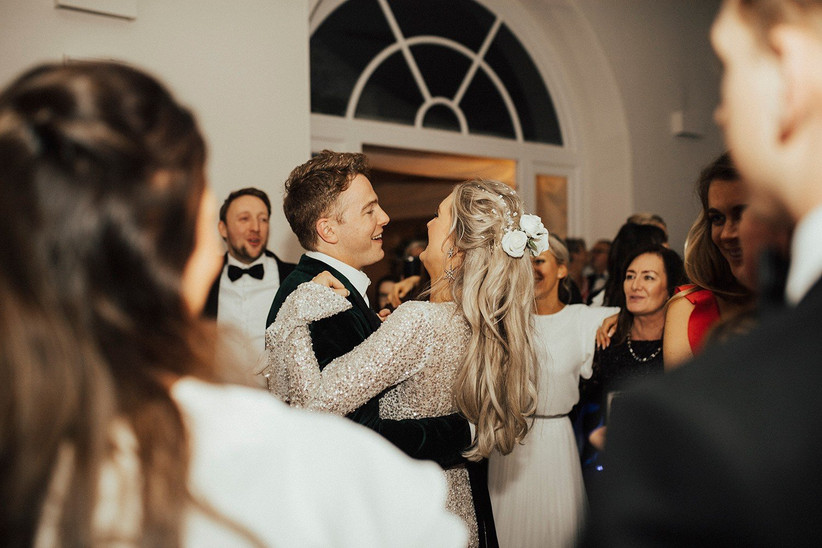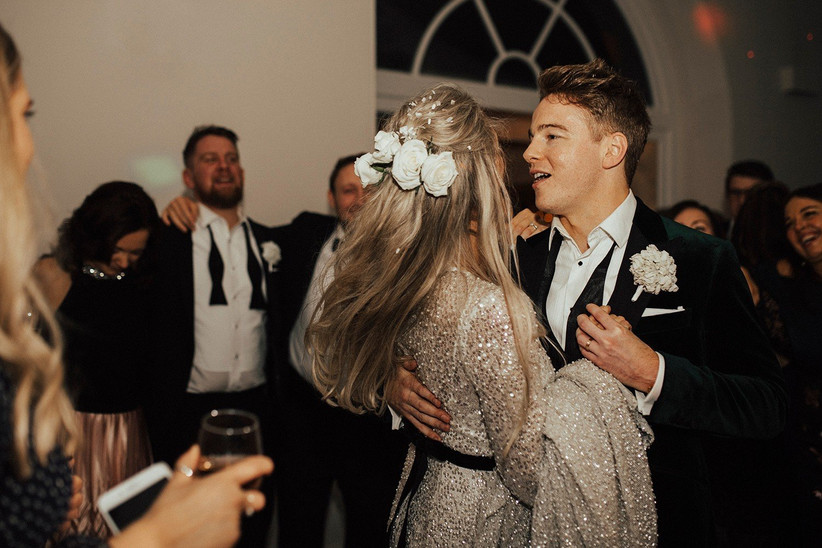 The Entertainment
Fran and Tom's first dance was to the song God Only Knows by The Beach Boys which was the perfect fit for them as a couple.
"We hired The Distractions Band who everyone loved and they certainly did a brilliant job of keeping everyone on the dance floor!
"In the marquee, while the food was being served, we had a playlist going in the background just to keep the atmosphere and high spirits up throughout the eating and drinking.
"The party went on till 1.30am and, in my head, I wanted us to carry on partying but by that time I was absolutely exhausted! The wedding really took it out of me, but in a good way!"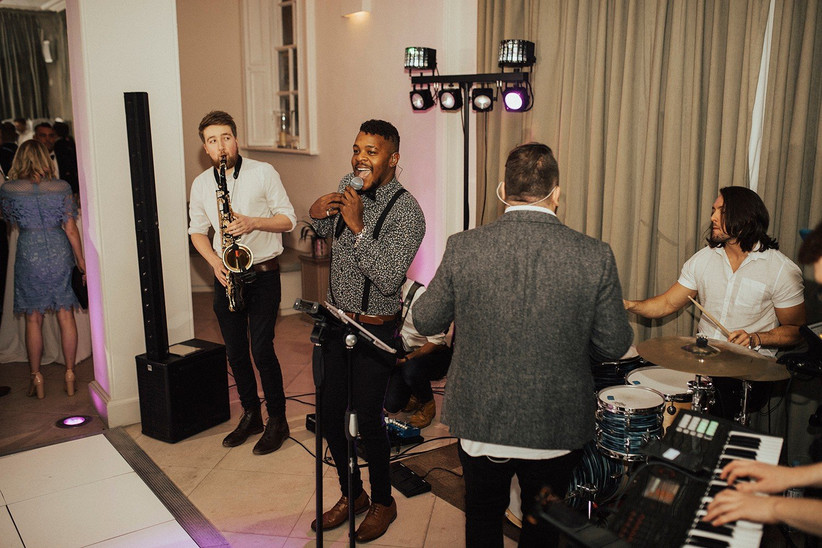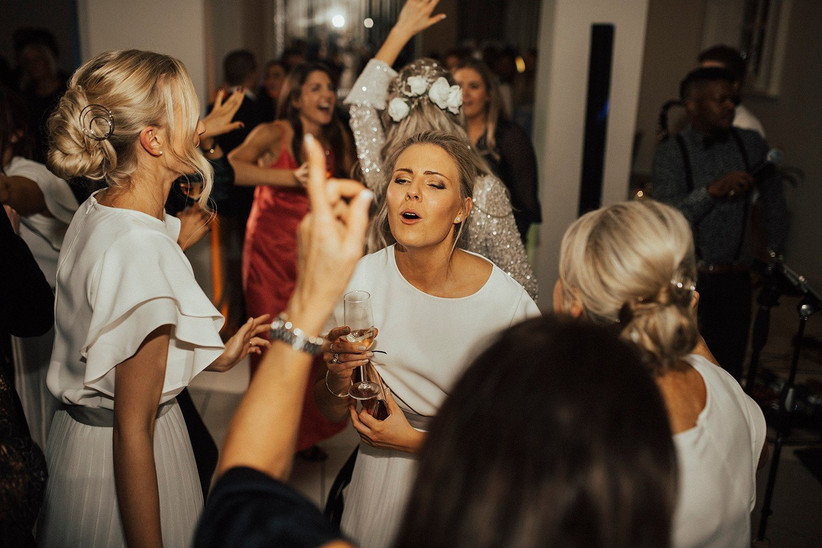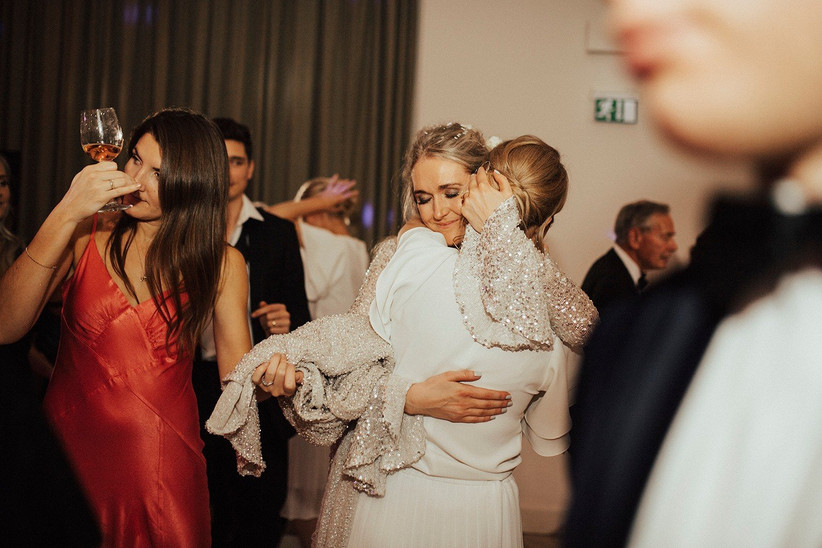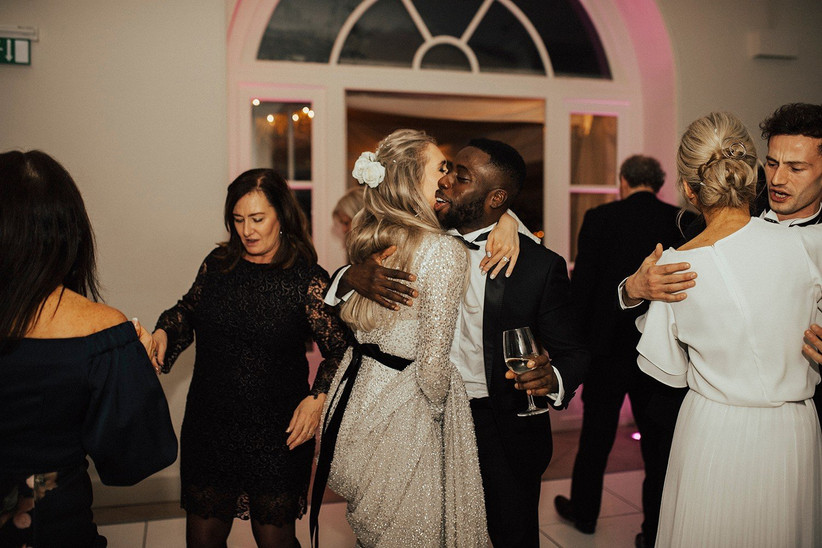 The Honeymoon
The couple chose to go on a few holidays instead of one big honeymoon and began with a mini-moon around the Cotswolds for a few days after they got married.
"The Cotswolds is one of our favourite places and we stayed at The Fish in Broadway. We then went on to the Painswick Hotel and finished at our all-time favourite, Thyme in Southrop.
"In January, we then went for four days to Gstaad in Switzerland and stayed at the incredible Bellevue. We are already planning our next visit to Gstaad as we both love the snow and this was one of the most incredible destinations we have ever been to.
"Last but not least, we went to Santorini in May and stayed at Gold Suites Hotel. This was the holiday of a lifetime and we loved every second of Santorini. It really is stunning. The only downside is we would never go back in May as it rained the entire time! All in all, we are very lucky and we definitely made it a year to remember."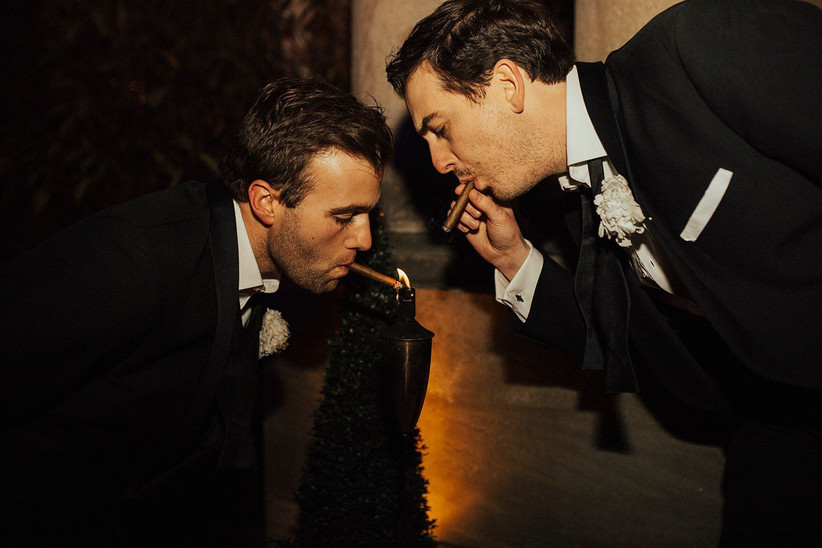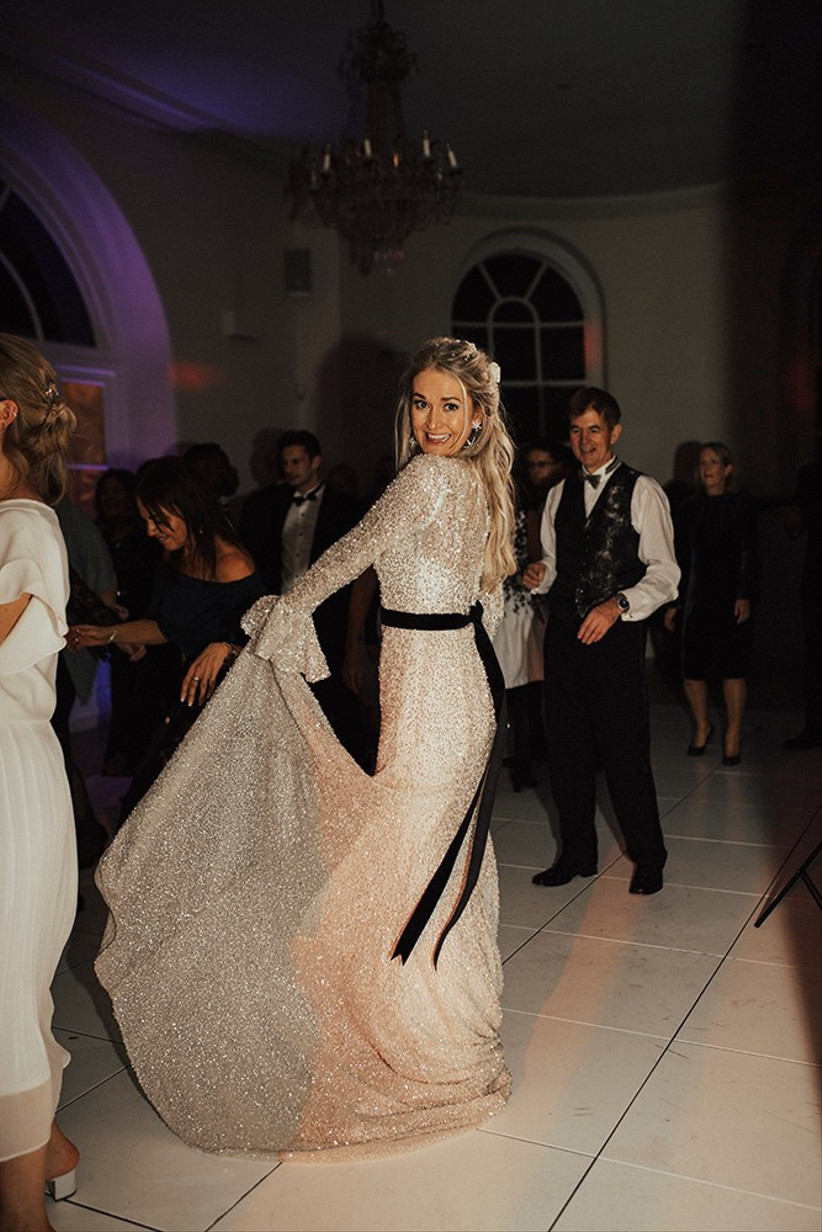 Suppliers
Photographer: Katie Ingram Photography
Reception Venue: Iscoyd Park
Wedding Dress: Odylyne the Ceremony from Ghost Orchid Bride
Accessories: Jennifer Behr, ASOS and Ghost Orchid
Makeup: Amy Hickey
Hair: Lucy Woodhouse
Bridesmaid Dresses: H&M and Uniqlo
Groomswear: Clements and Church and Armstrongs
Florist: Red Floral Architecture
Stationery: Laura Truby
Entertainment: The Wedding Music Company and The Distractions Band
Thank you to Fran and Tom for letting us share their gorgeous big day!