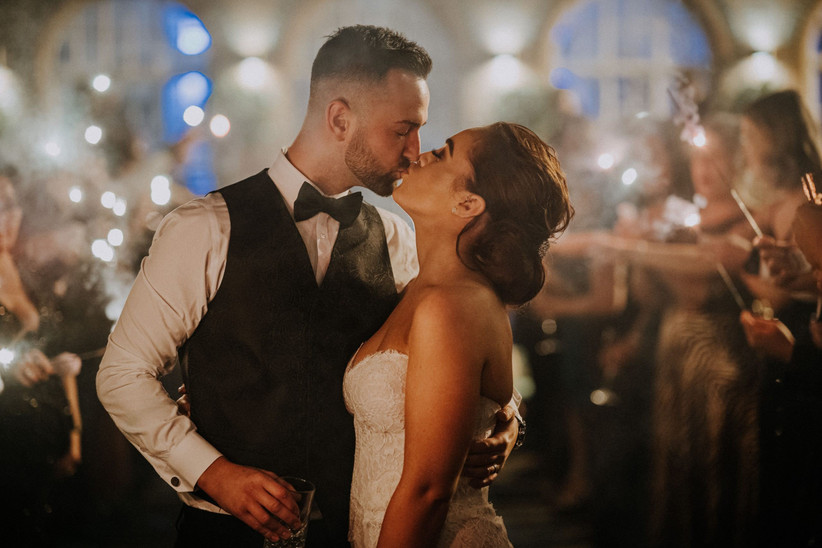 New Year's Eve is an incredibly special time to throw a wedding. This poignant day was the perfect backdrop to Emily and Luke's black tie wedding, which featured everything from a saxophone and bongo player to a sparkler send-off and midnight countdown.
The start of Emily and Luke's relationship was a case of right person, wrong time. They began dating when they were 14 but went their separate ways at the end of GCSEs. "But we always used to end up talking at parties and he was always still the one," says Emily. They reunited when they were 18 while Emily was on a girls' holiday to Magaluf ("I still swear my best friend set it up that we were in the same hotel as the lads!") and have been together ever since.
Luke proposed on New Year's Eve 2018, during a house party with all their friends and family. After watching fireworks in the garden at midnight, Emily's dad made her stand on a chair in the middle of the room and give a (drunken) speech. "A few second later Luke came over and I noticed our song was playing which we always said would be our first dance. Luke dropped on one knee and popped the question in front of all our family and friends! He was in tears, bless him! That's when we knew a New Year's Eve wedding was a must."
Even more meant to be was that Emily's dad owns a jewellery shop. Luke got both her parents in on the surprise proposal by having her mum help her pick her dream engagement ring out just for fun, and then getting her dad to set it aside until the time was right.
Two years to the day after the engagement, they got married at the stunning Alrewas Hayes in Staffordshire.
Photographer: Gareth Newstead Photographer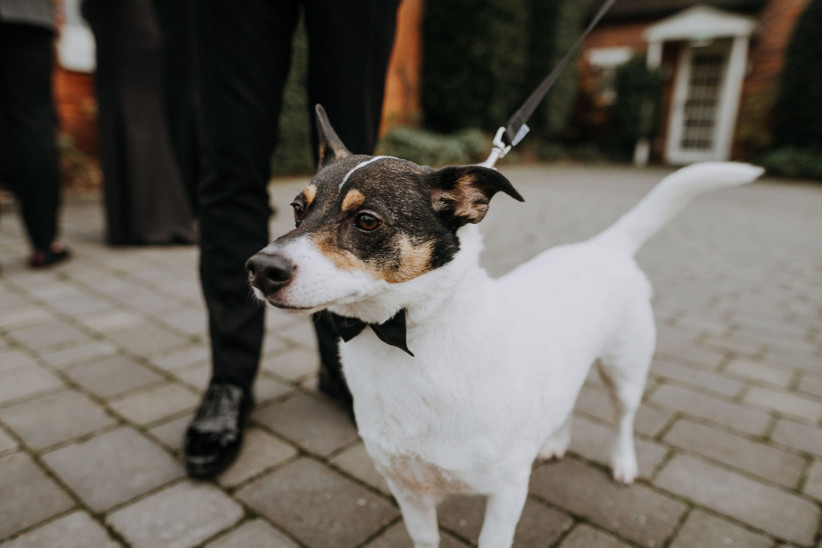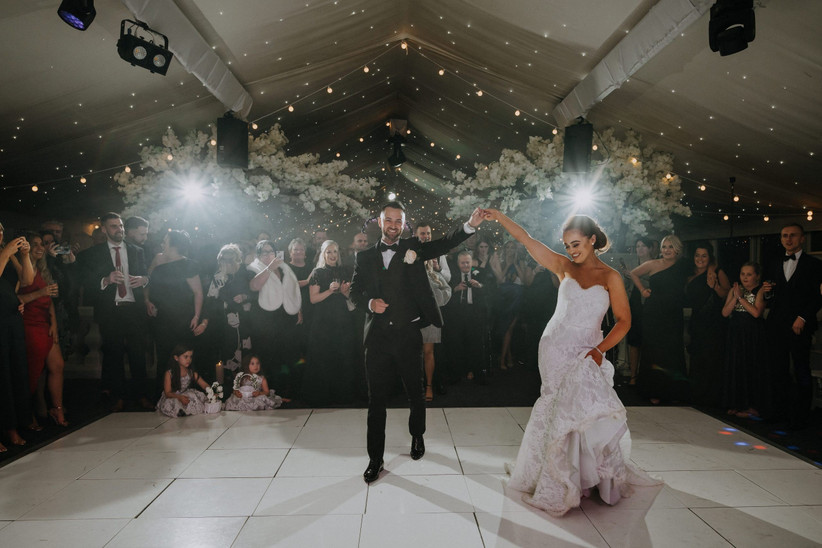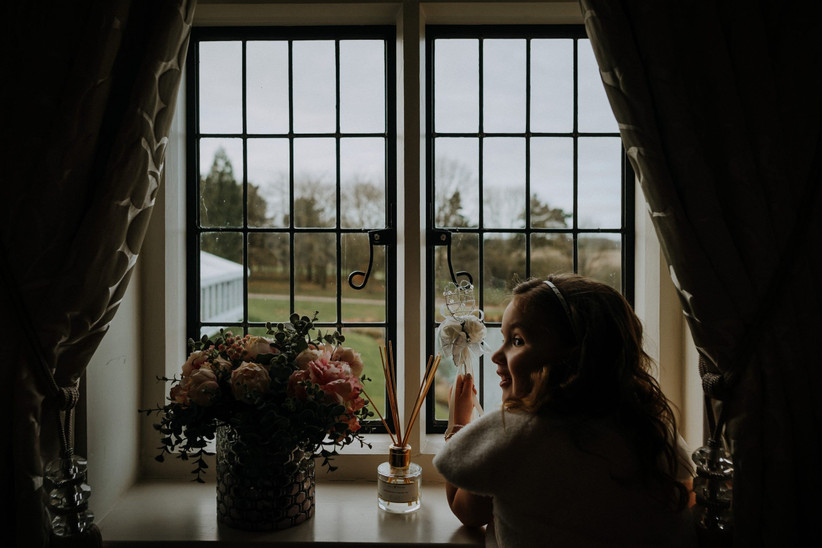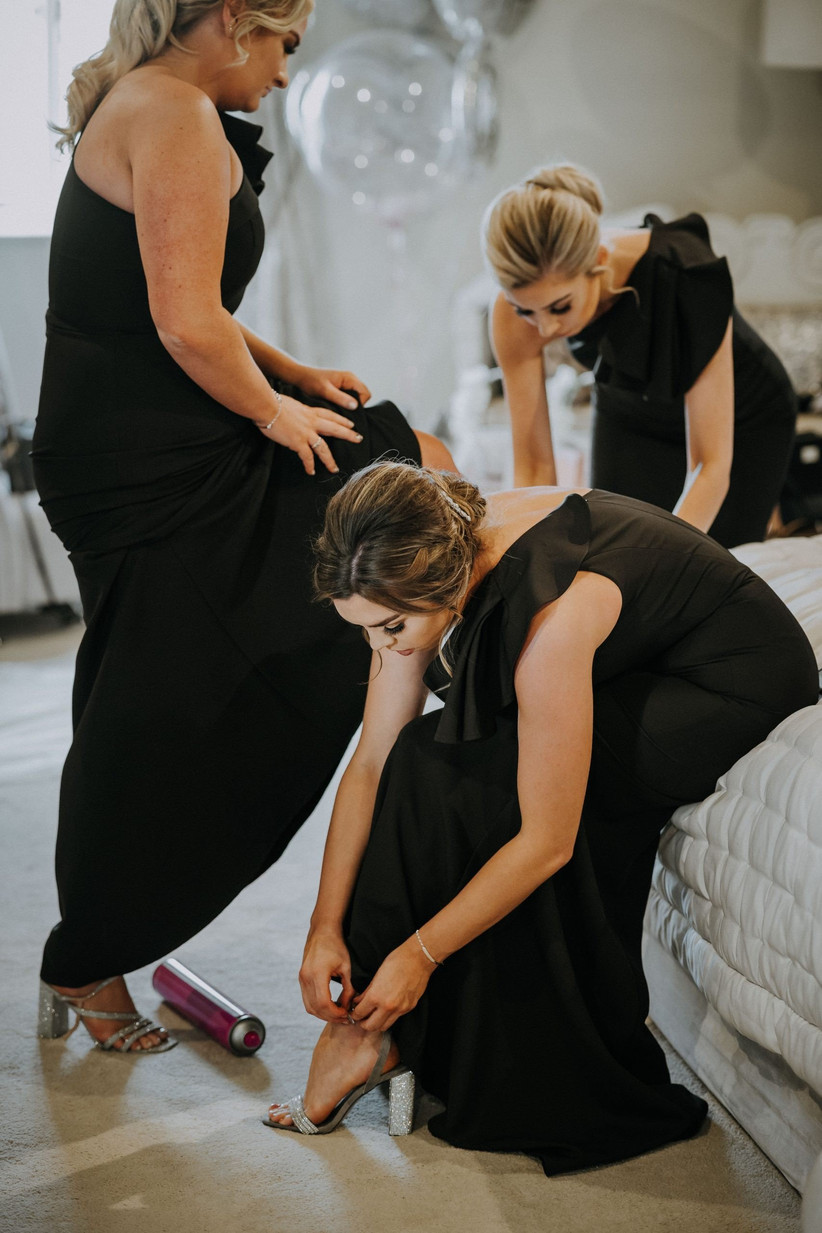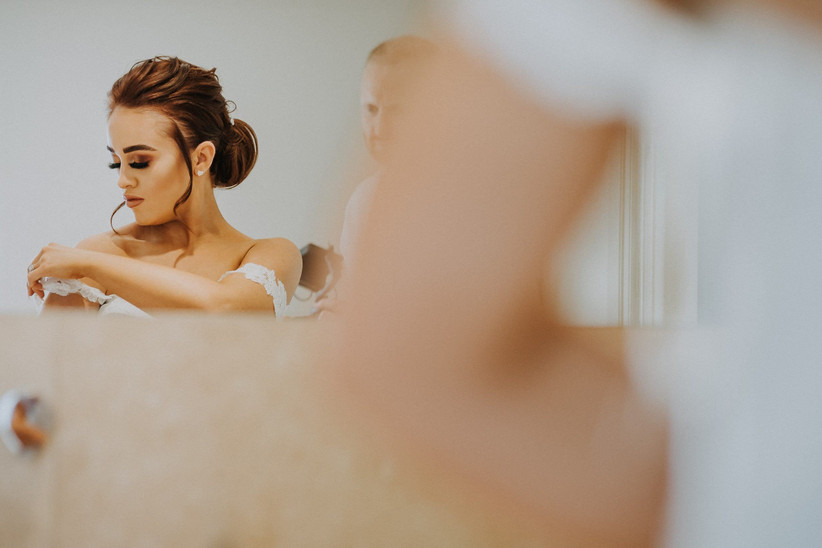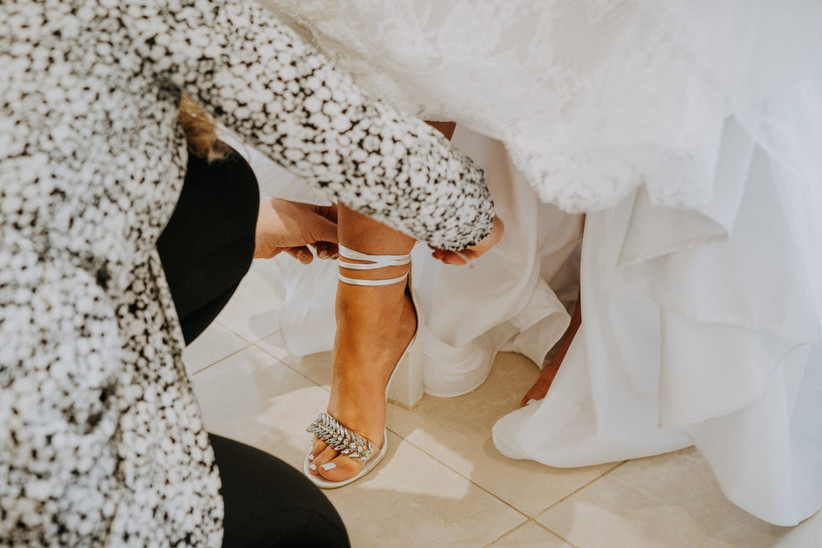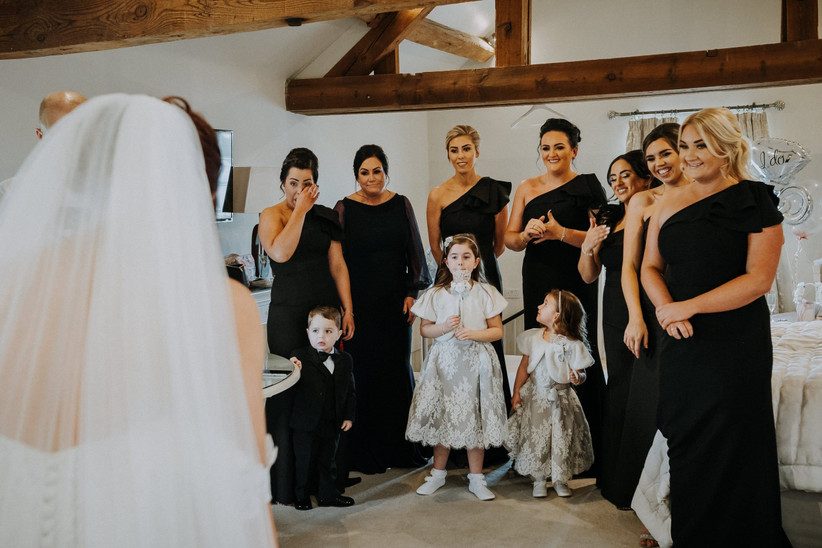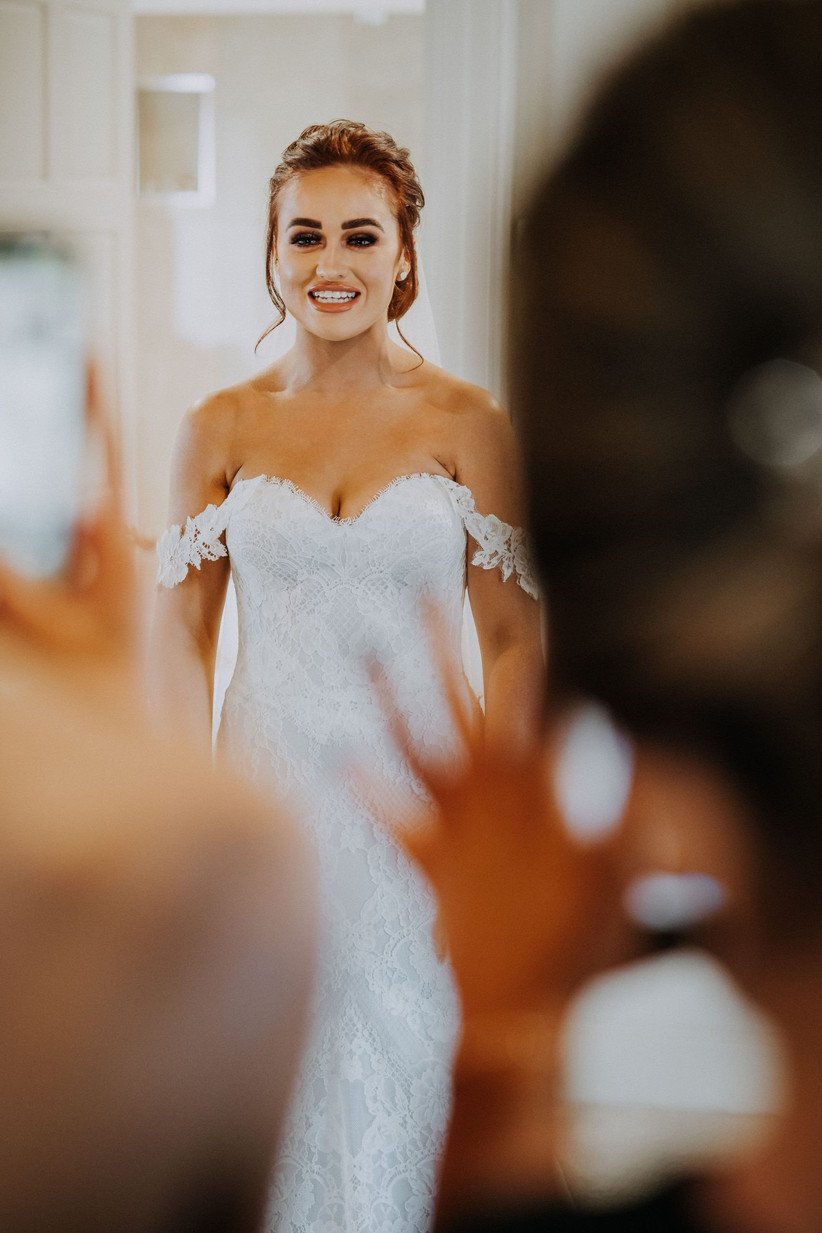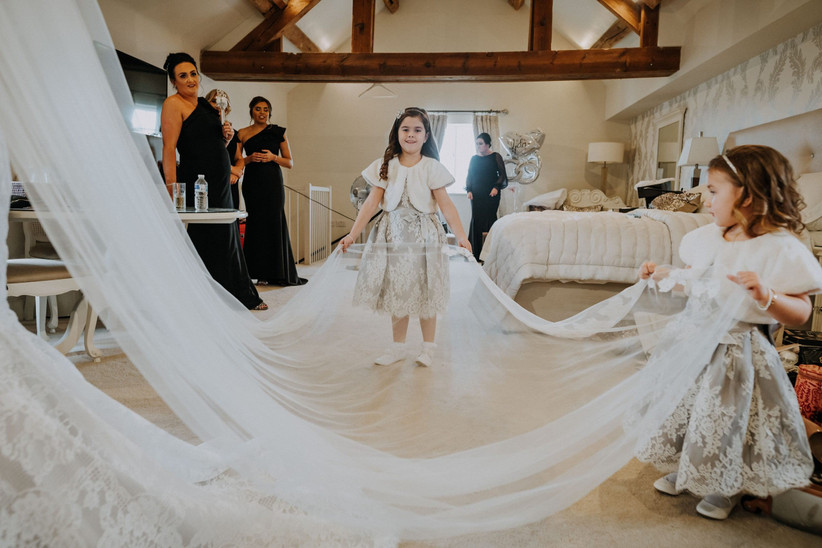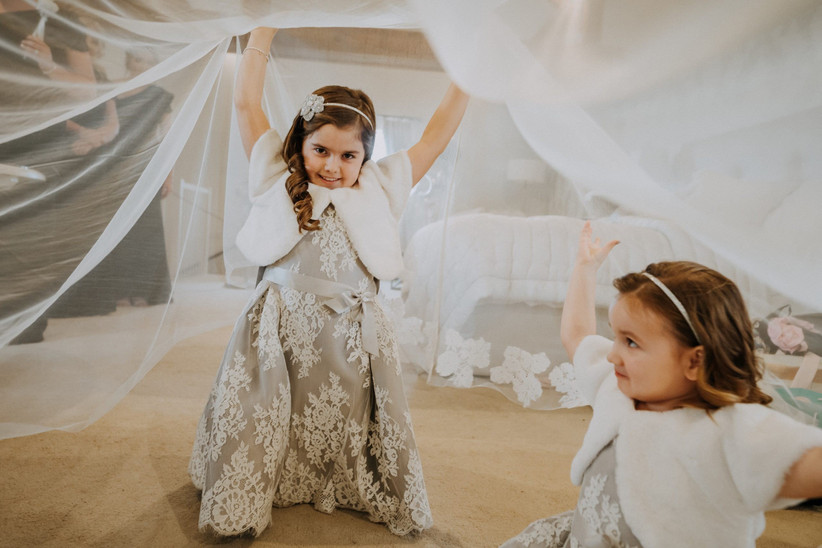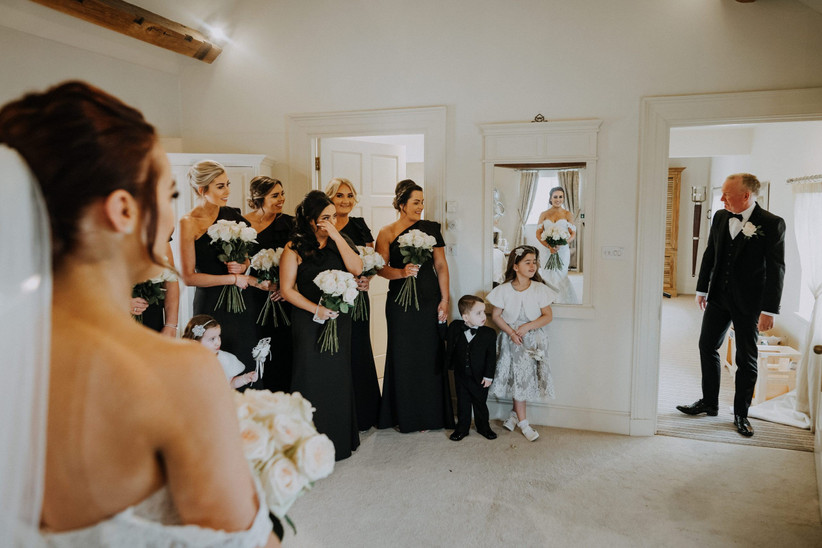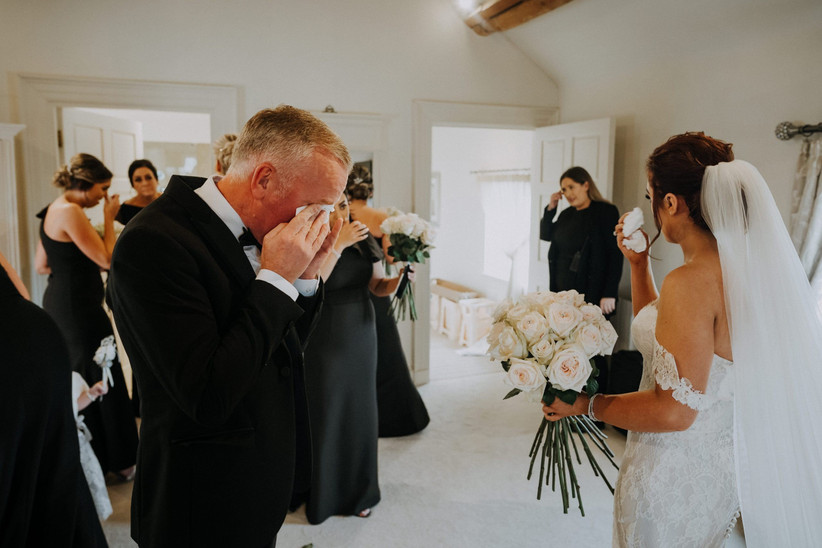 The Wedding Dress
Emily wore the 'Athena' dress by Suzanne Neville, bought from The Wedding Club in Birmingham.
"I had a fitted fishtail dress with a sweetheart neck, it was very simple but had all-over lace. I wanted the 'less is more' look. I had lost two stone so I wanted something to show that off, of course! I had two extra layers put underneath to make it more fishtail like. I also added a delicate Bardot lace sleeve to give it a more romantic look which then I could take off at nighttime for a more party look.
"My mum picked it! I tried on lots of styles and was fairly open to trying them but it soon become apparent what style suited me best. I tried on the big, fuller dresses but they swamped me because of my height. I'm only 5ft 3 so felt it was way too much. I also tried on very detailed dresses but again they just took it away from me and looked too much. My dress didn't look much on the hanger but once it was on I absolutely loved it!
"I tried about seven dresses on before I came to trying my dress on and I loved it straight away – even more when I had made the changes to it so I could see its potential. I tried about two more on after that but kept wanting to go back to my dress. I went back two weeks later with my bridesmaids to show them my dress and it felt even more special seeing their reactions. I knew it was the one.
"I accessorised with a long veil which was bespoke to my dress. They got extra lace matching my dress and added it to the veil to bring it all together. I wore a Tiffany bracelet which had a blue love heart on it as my something blue and my bridesmaids surprised me with the matching earrings to wear on the day! With my dress being all-over lace I wanted to keep it simple.
"It was such a special moment when my dad came to get me from the room! I knew he would be emotional but not as much as he was! He was in tears and couldn't really speak, he just kept saying I'm speechless.
"I also got my dress on without my bridesmaids or mum seeing as I wanted the first reveal photo. It was so lovely as my bridesmaids had only seen my dress when I picked it 15 months previous! So that was special to see their reactions as they had probably forgotten what it looked like."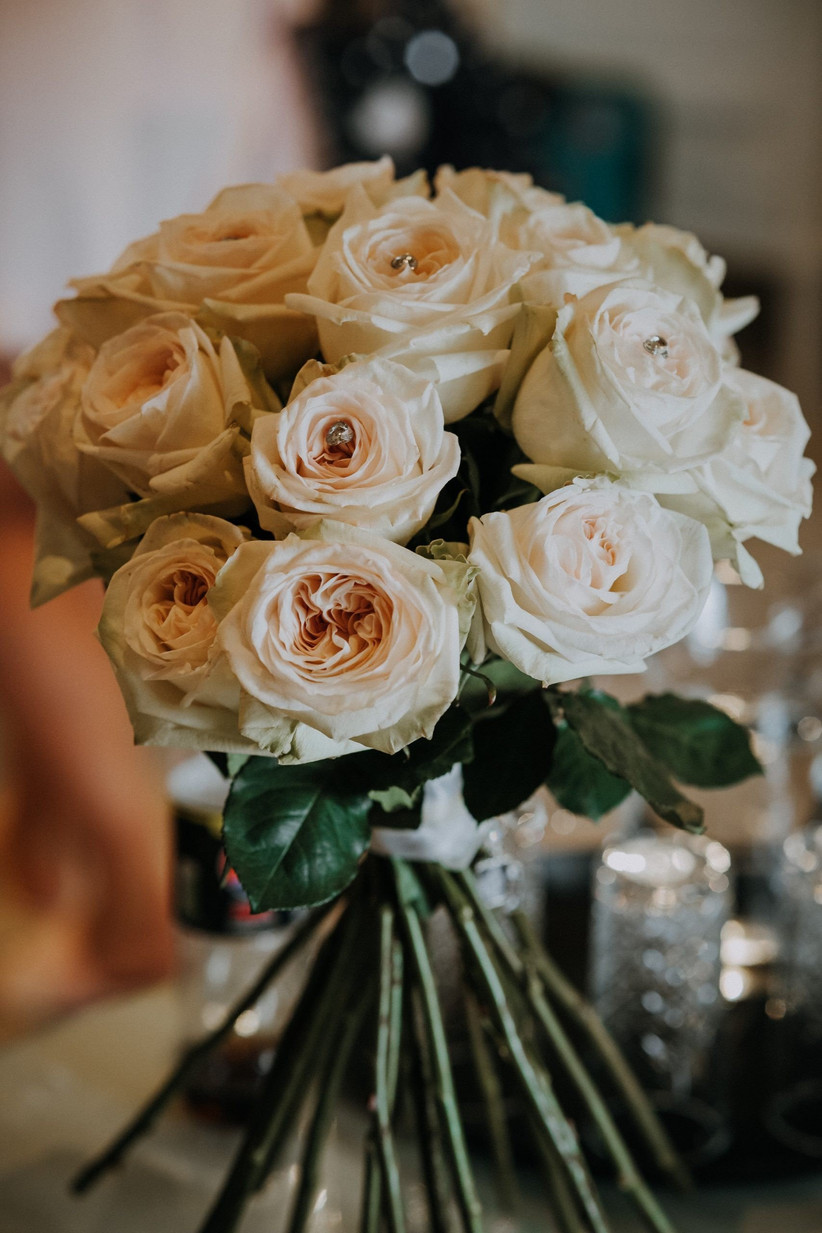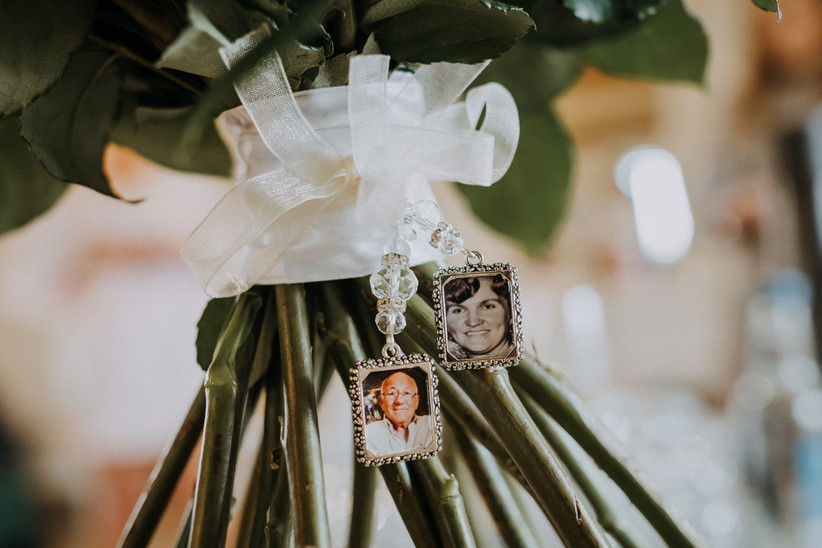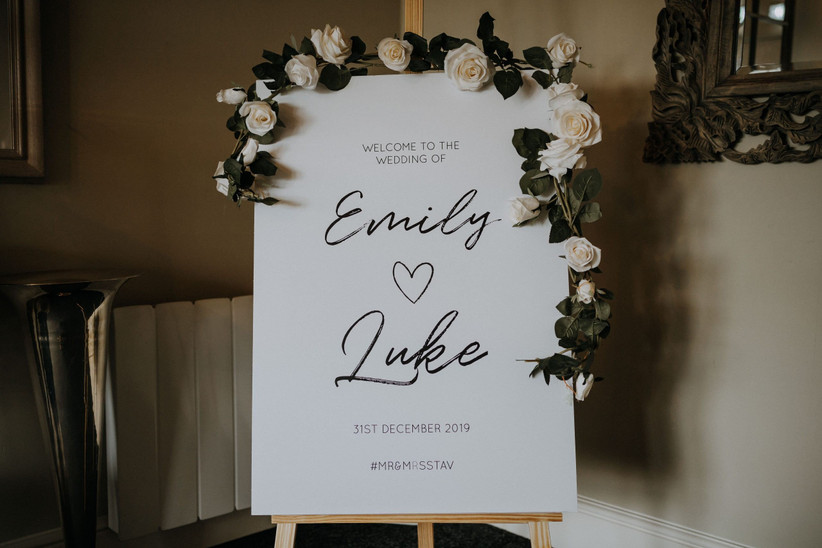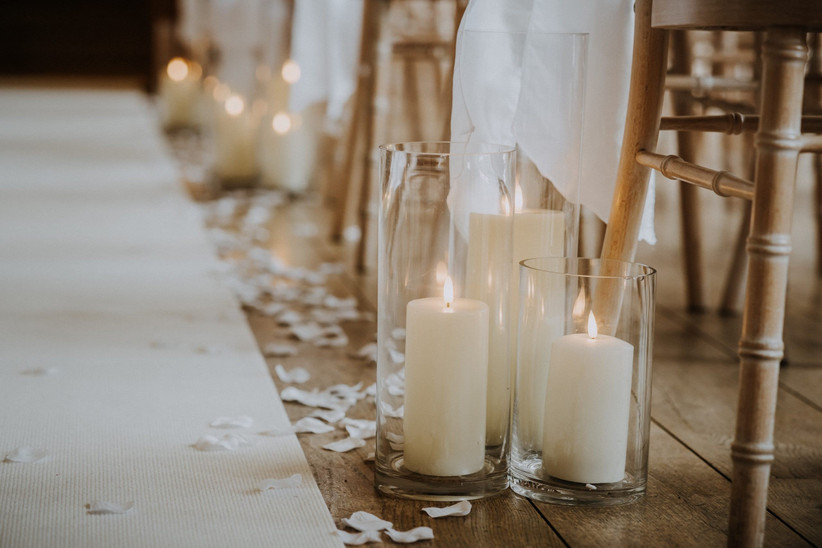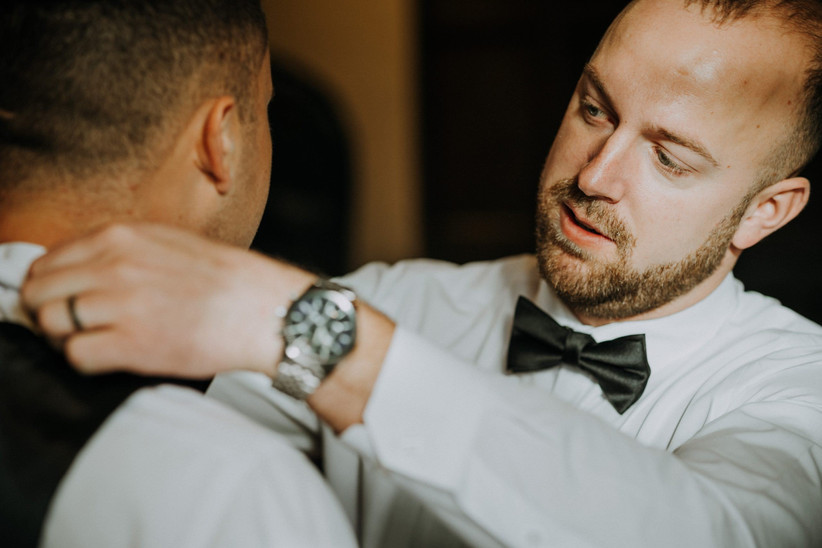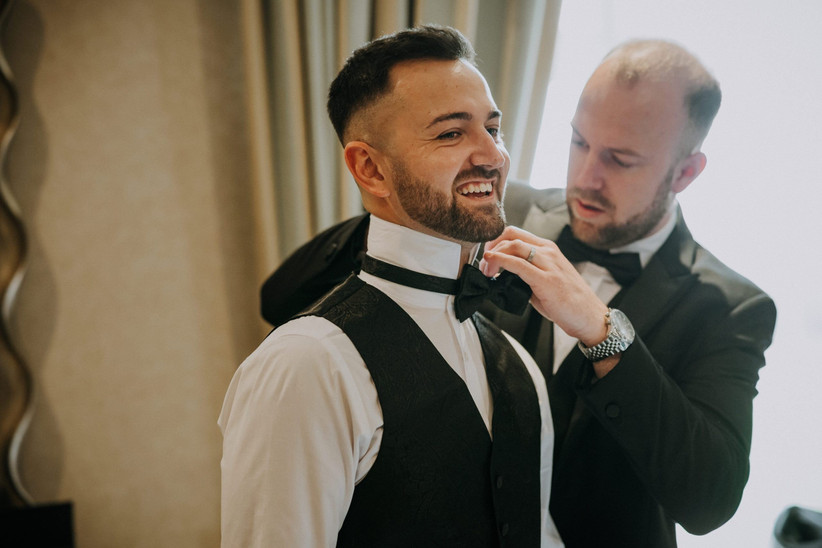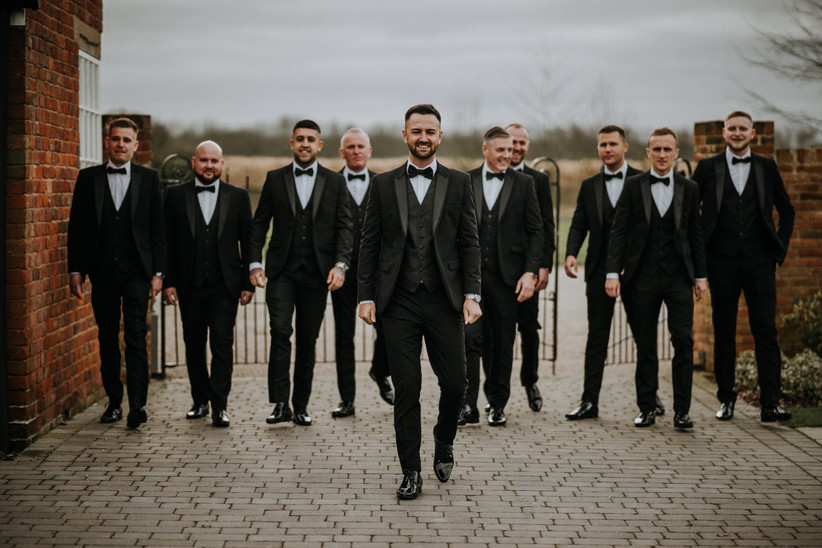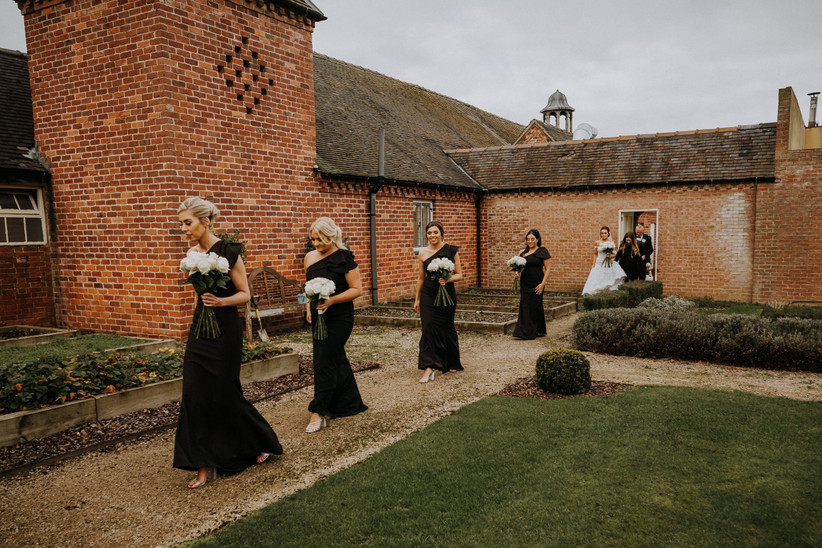 The Wedding Party
Emily complemented her black tie theme with no less than eight bridesmaids in stunning black evening dresses. The groomsmen wore smart black tuxes with satin lapels, hired from Moss Bros.
"Hair by Ellis did my hair. She is so amazing, I showed her a photo of what I wanted on the trial and she got it first go! It was a low, sleek bun which I had seen previous and thought it looked very classy. I have a lot of hair so I knew I could get a full look with it – which it was, the bun was massive! I had it all off my face too – I'm not a fan of loose hair down. I did my own wedding makeup, but the girls and mum had  Vicki B doing their makeup.
"I had eight bridesmaids – six big and two small. I had my sister Kirsty, my sister-in-law Natalie, my maid of honour Jess, who is my high school bestie, and three other besties: Hannah, Joanne and Kiera. We've all been friends since school. The morning getting ready was so lovely, we were so chilled, it wasn't rushed in the slightest.
"They wore one shoulder black fishtail dresses, with a slight ruffle on the shoulder. They were by Jarlo and I wanted black to fit in with the black tie New Year's Eve wedding I wanted. I knew in my head what I was looking for, and as soon as I saw it, I knew they were perfect. I took my maid of honour to try it and sent the girls pictures which they all agreed they loved. The flower girls wore Monsoon dresses."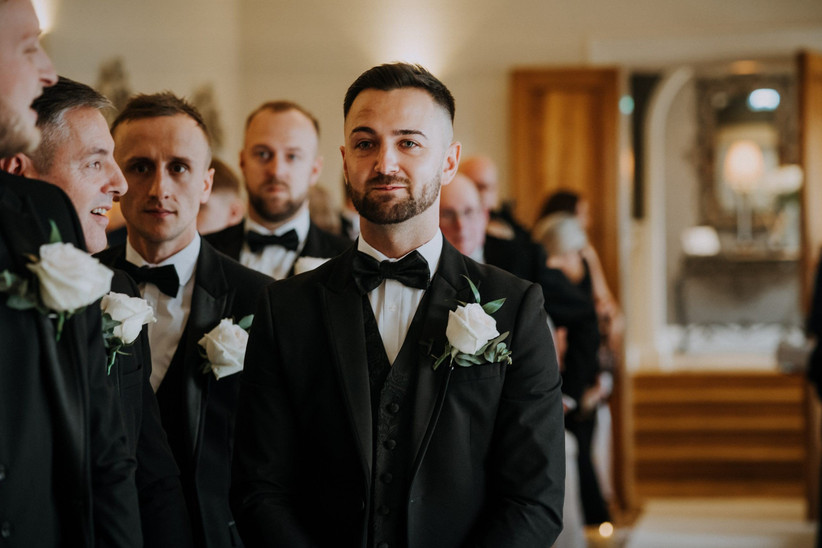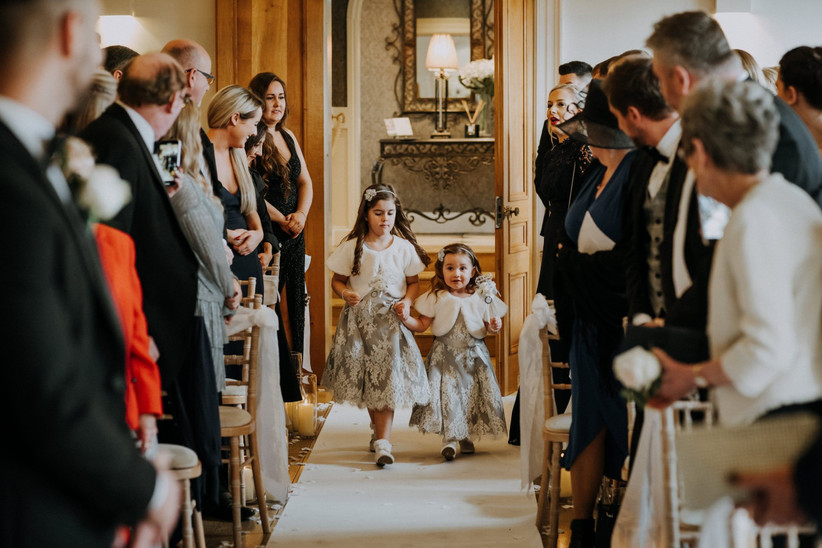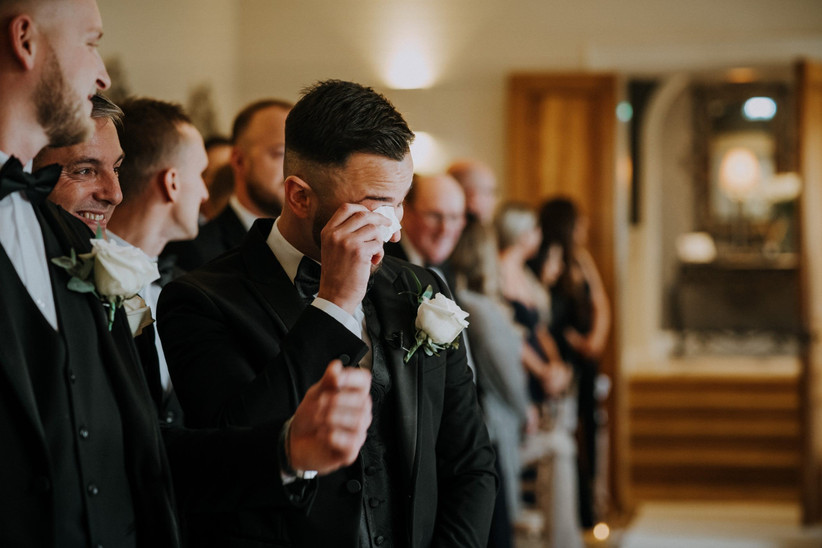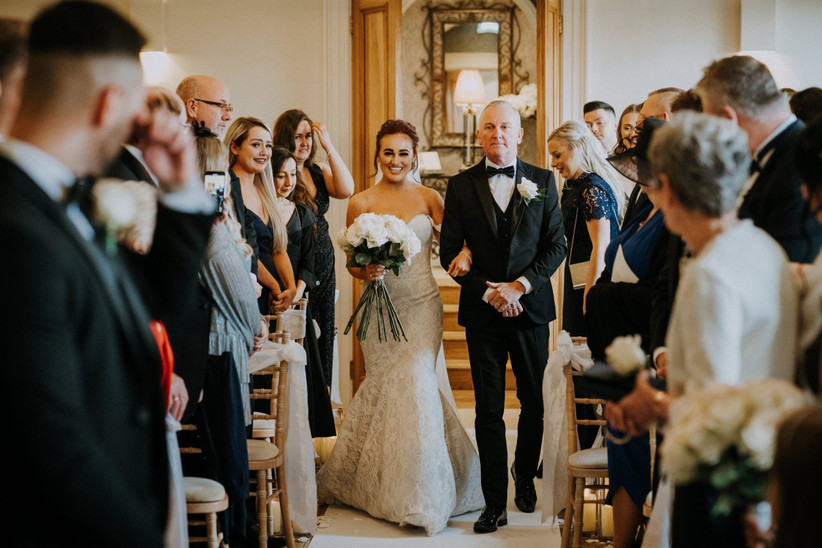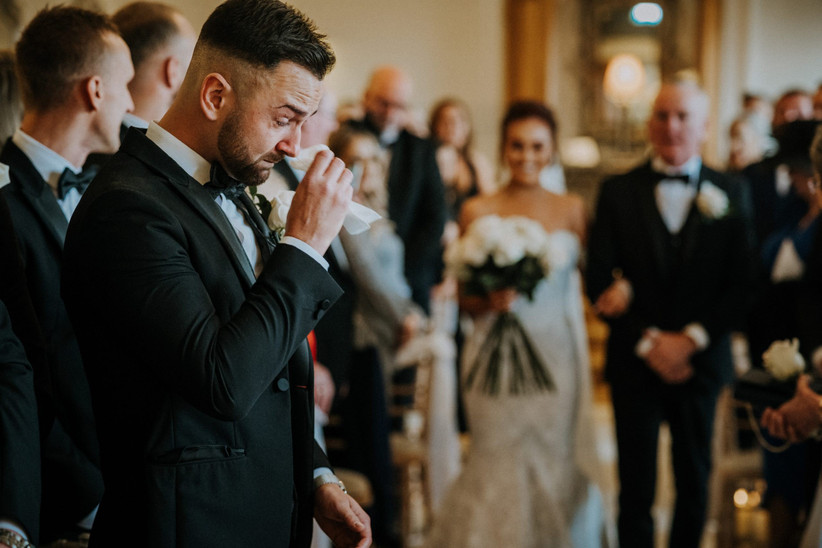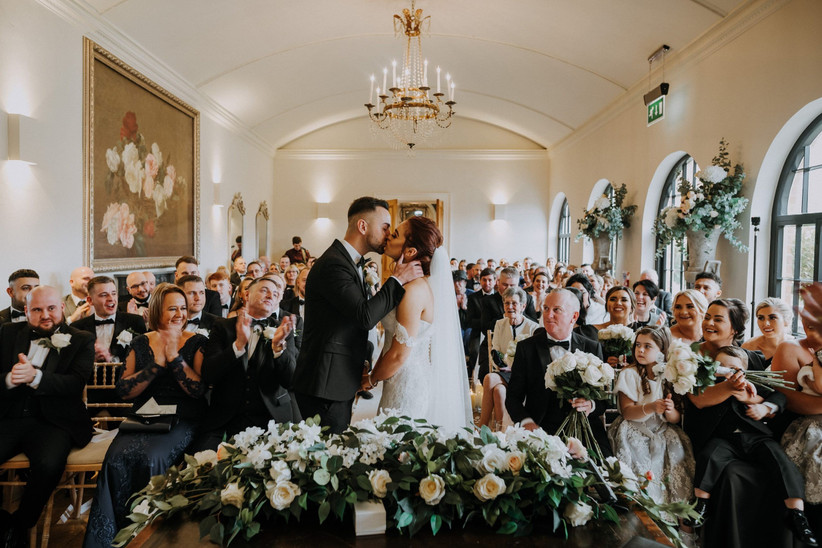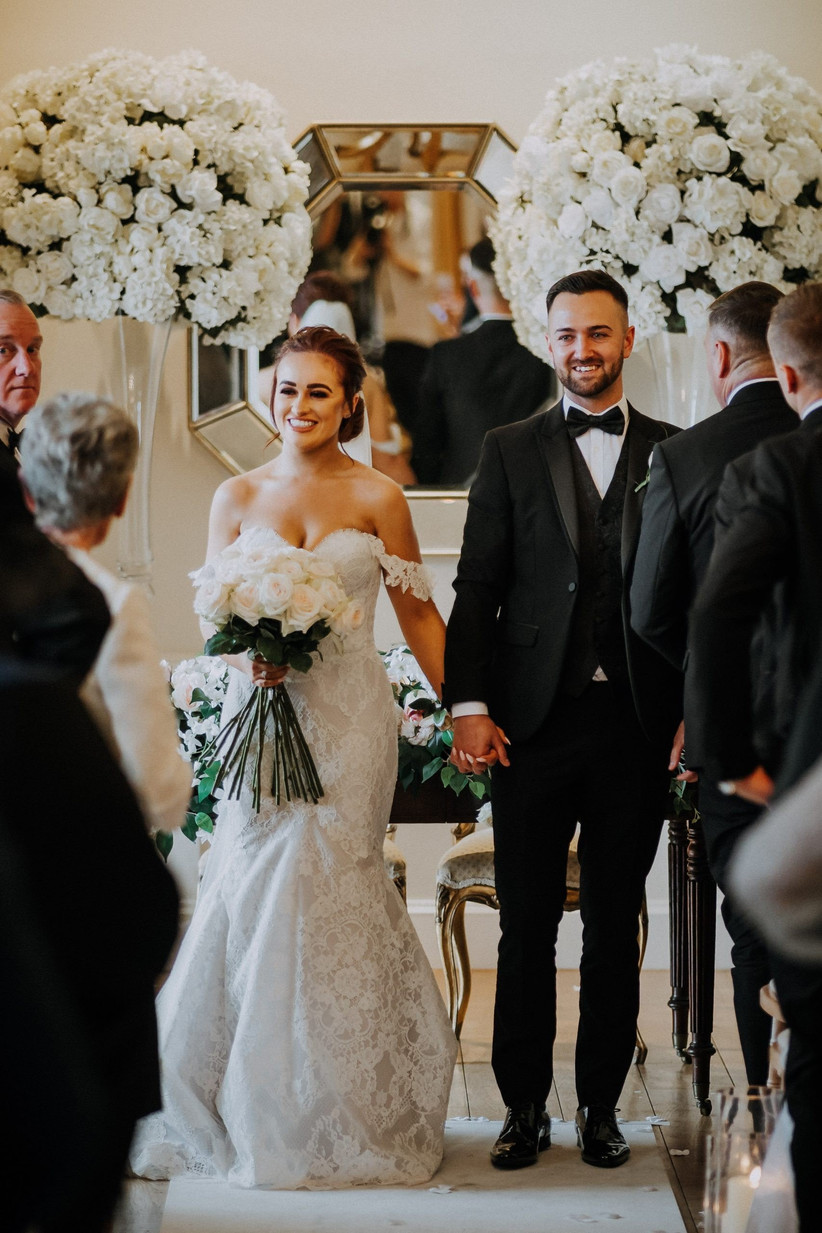 The Wedding Ceremony
The happy couple chose the special date of New Year's Eve, which held special significance for Emily. They chose a civil ceremony at Alrewas Hayes and had the groom and ushers arrive in Emily's Mum and Dad's jazzed up Range Rovers.
"Only a few days after our engagement, my Grandad had a fall and sadly only a few days later he developed pneumonia and passed away in hospital. We talked about the wedding and I showed him my ring whilst he was in hospital and discussed wedding dates. When I suggested New Year's Eve, he was so excited!
"At this point we had every intention of him recovering from his fall. He even said about wearing a tux.  So I felt like my Grandad had passed away so excited for this wedding and that in his mind it was going to be on New Year's Eve. I couldn't not have it then. I created a very quick save the date which I placed with him in his coffin so, for me, I knew he would be there with me on my wedding day and that he passed away knowing on the 31st Dec 2019, I would be getting married. I had my heart set on it and that's what we did.
"It was a very emotional ceremony! As soon as the doors opened, Luke was already crying which set everybody off! I remember as I was walked up the aisle I felt myself feeling like I was going to cry so as I got closer to Luke I say "Hello!" which broke the ice and everybody laughed. It was either cry or speak, so I chose to speak!
"My favourite moment has to be the ceremony doors opening and seeing Luke's reaction to me walking down the aisle, I always knew he would be emotional, but he looked so proud and happy, it was the happiest moment of my life.
"My dad walked me down the aisle to Jagged Edge – Let's Get Married.It was a slowed down, acoustic version as it's a club song originally, but the words are perfect. Darren Jones was out singer and he did a fab job.
"There's absolutely nothing I would change about the day. If it was a practise run I wouldn't change a thing. It was everything I wished for and more."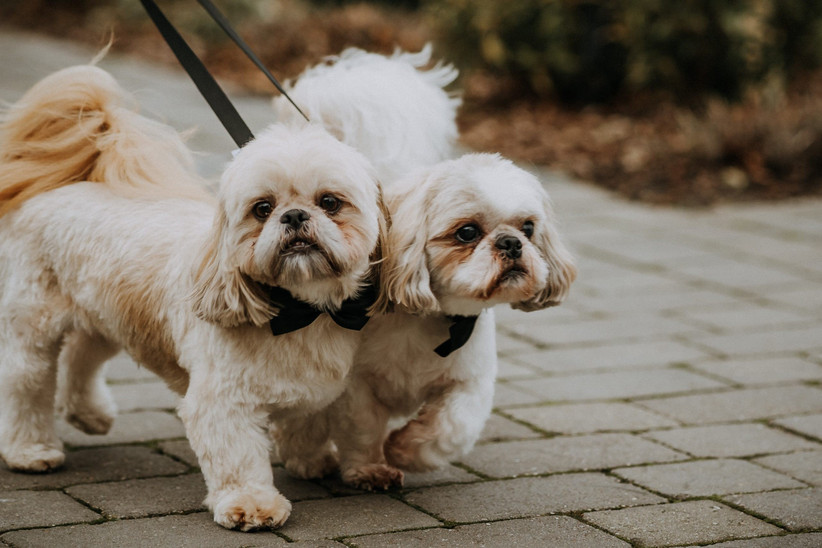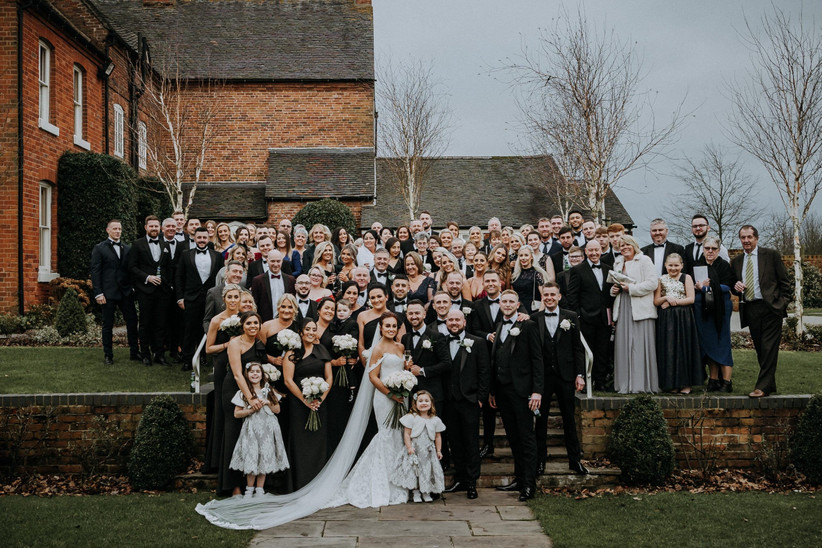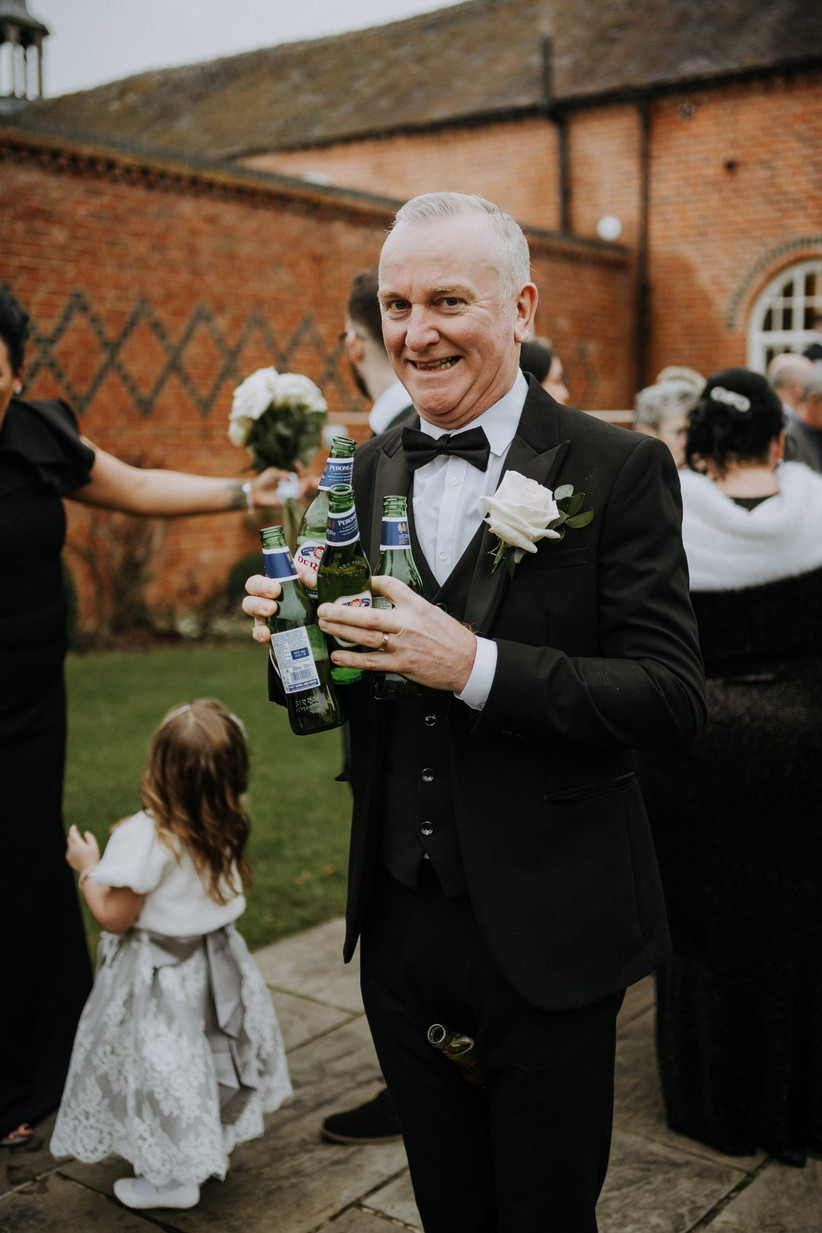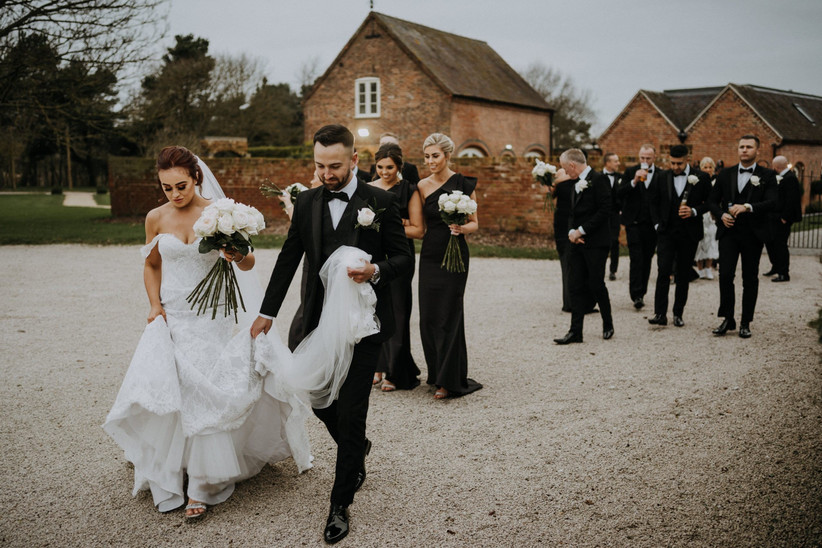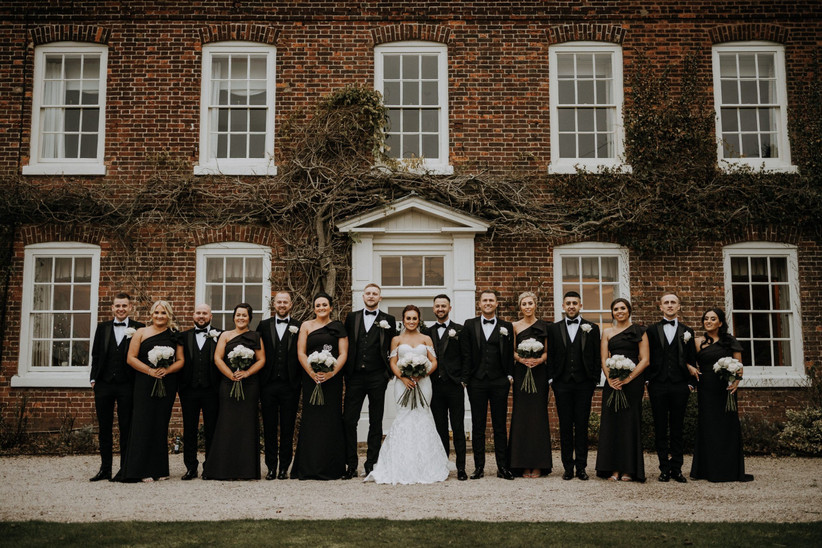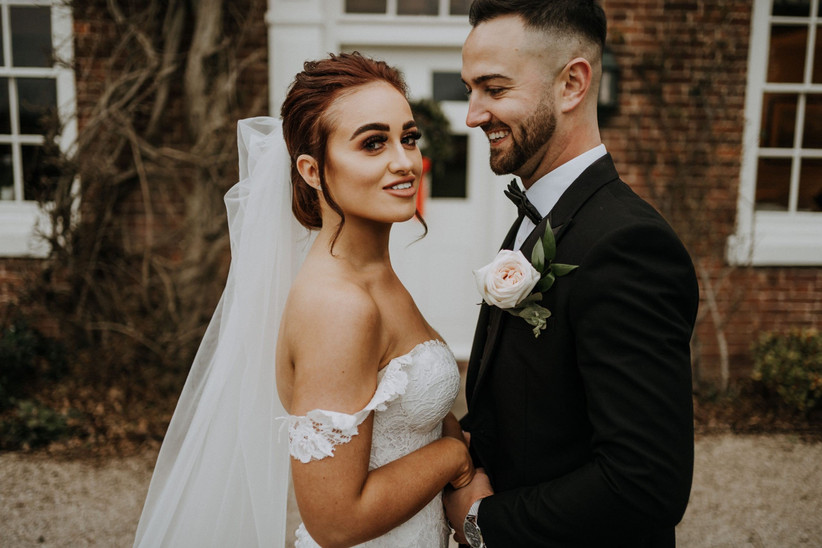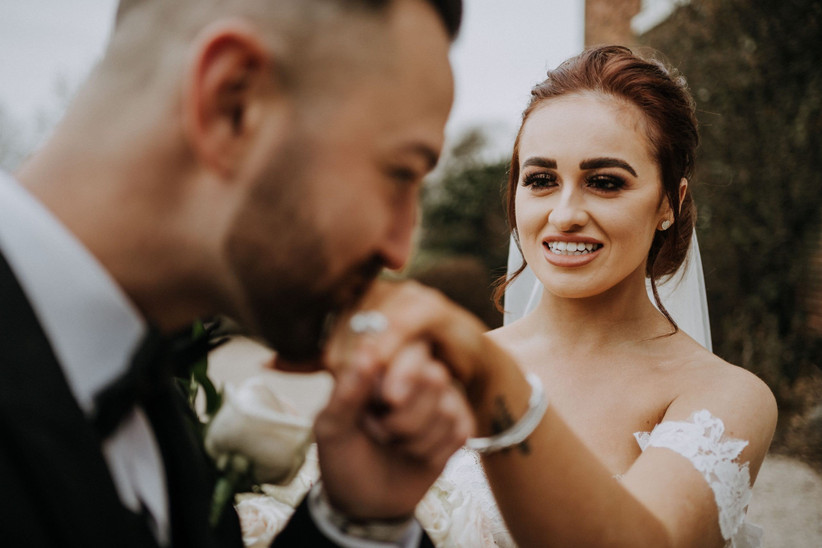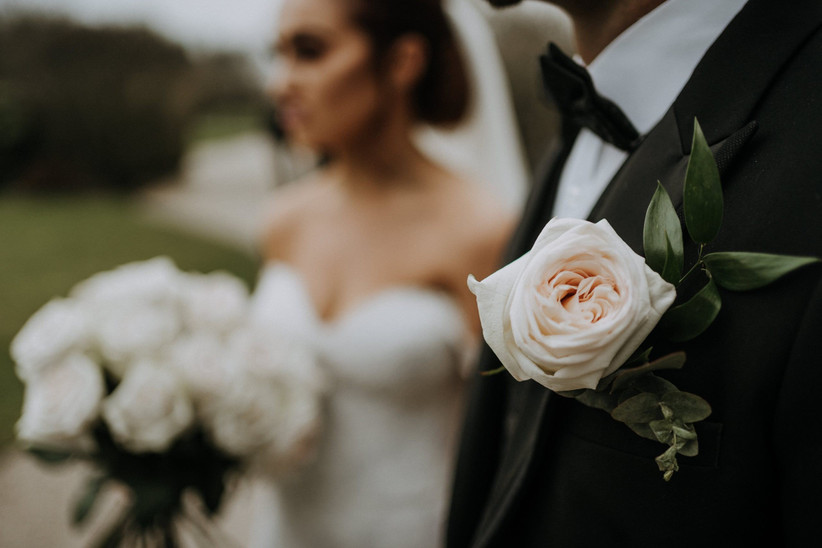 The Wedding Venue
Emily and Luke tied the knot at Alrewas Hayes, a country estate in the heart of rural Staffordshire.
"I had seen a few weddings there before and just loved the modern décor. I knew what theme I was going for and a lot of venues were too old-looking for how I wanted to dress mine. I needed a modern, blank canvas which is why the pavilion worked so well.
"Our theme was black tie so there was no colour, and I always knew I didn't want a colour theme. We had a lot of black, chrome and ivory, and, of course, the added sparkle here and there. My bouquet was long-stemmed white roses, and we used white roses mixed with other white flowers for the centrepieces. We also had artificial 10ft blossom trees to create an arch over the dance floor which just looked incredible.
"Our centrepieces were large cylinder vases with white roses in them. They probably stood 2ft off the table, they were huge! We had a mix of those and large candelabras. With it being December, it got dark fast so I wanted it very candle-lit.
"I had a wedding planner, Emma Jones from Alrewas Hayes. She was absolutely amazing and I honestly think my day wouldn't have been the same without her. But the best thing about the venue was the honeymoon suite! It's amazing! And obviously was big enough for myself, my Mum and eight bridesmaids to get ready in!"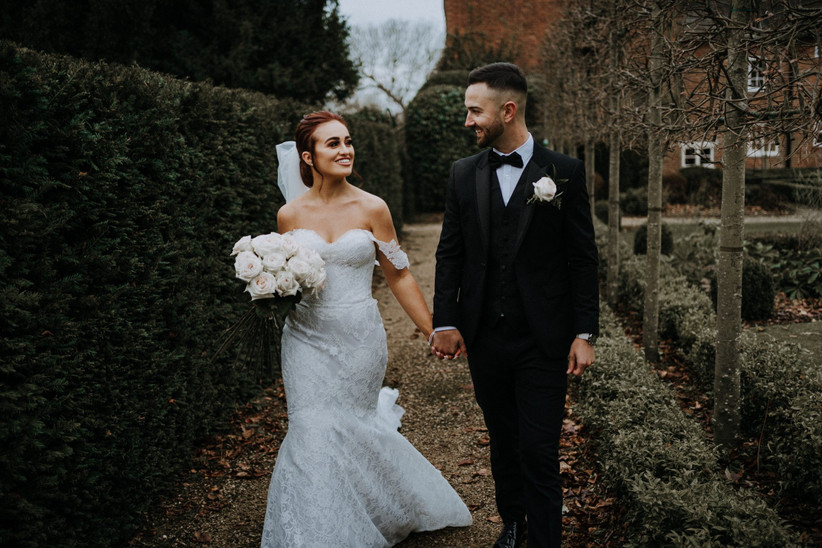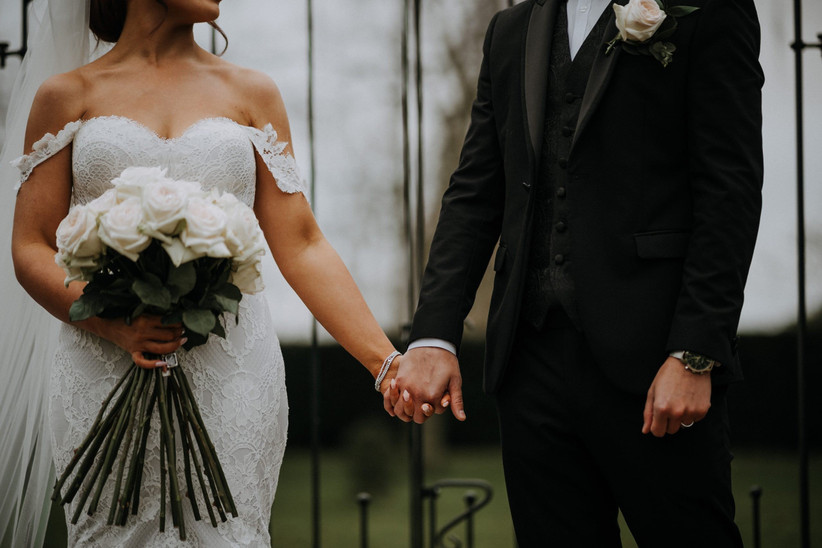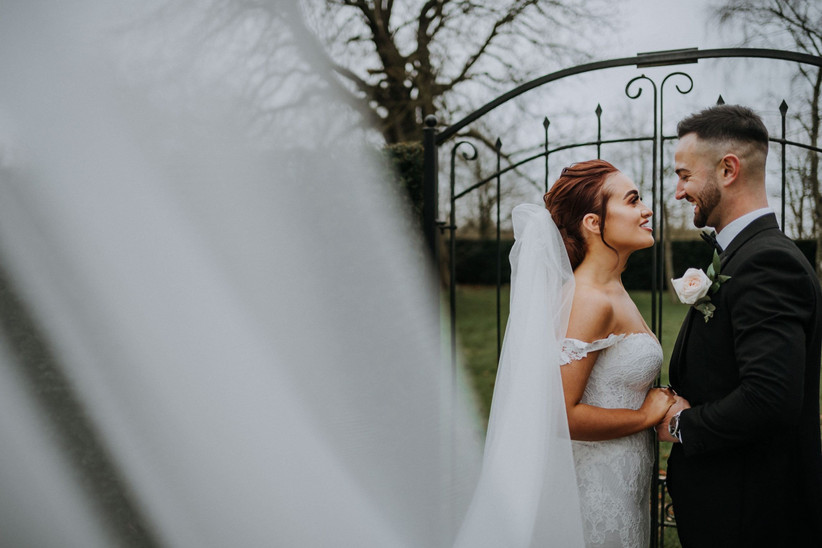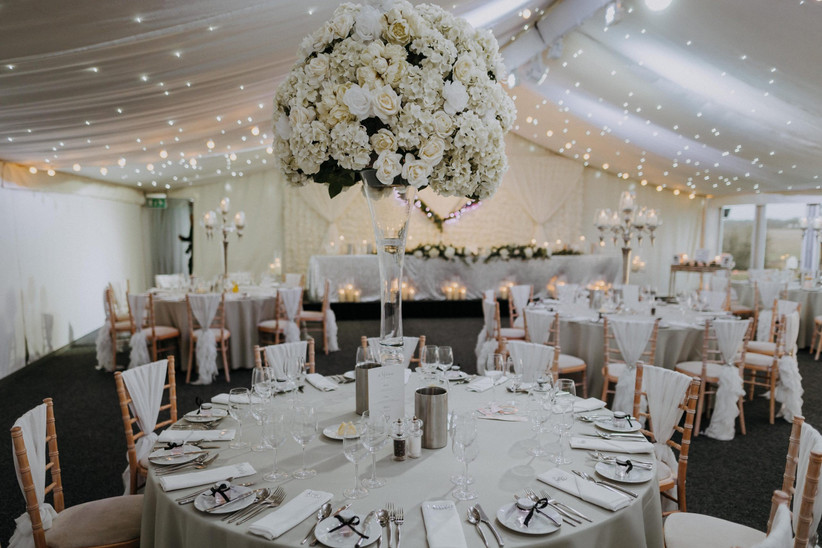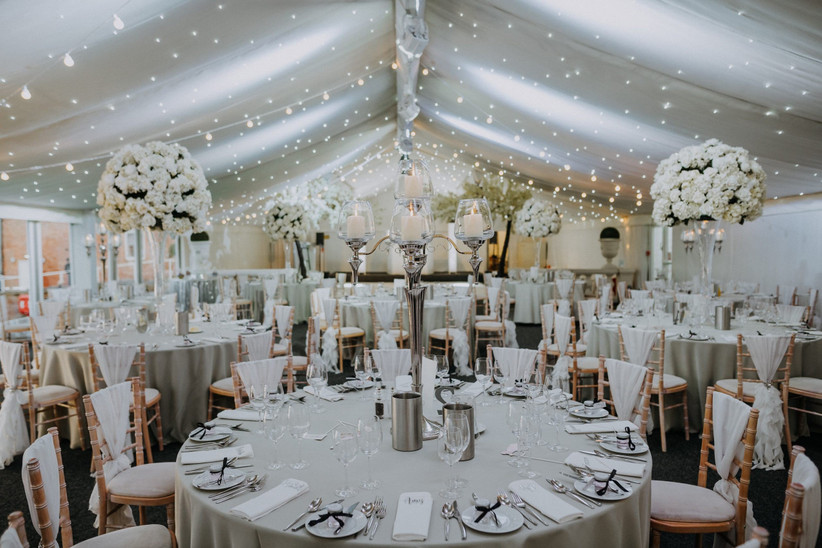 The Wedding Breakfast
They threw their elegant reception in Alrewas Hayes pavilion for their 105 day guests and 35 more evening guests.
"We gave the kids a mason jar glass of milkshake with a donut round the top to keep them occupied whilst waiting for dinner to served.
"For dinner, we served roasted tomato soup with orzo pasta and basil oil as our starter. The main was blade of beef with Dauphinoise potatoes, baby onions, crispy bacon, seasonal greens and beef jus. Pudding was cookies and cream.
"Our cake was served on the night too and it went straight away! We kept a tier to take home through. it was a four-tier cake by Little Mrs Cupcake, with a fairly plain but classy design. It had a plain layer, a marble layer, then we had a diamante band round the next layer with a sparkly glitter tier on the top. Flavours were raspberry ripple, salted caramel with a gooey centre, lemon, and Terry's chocolate orange."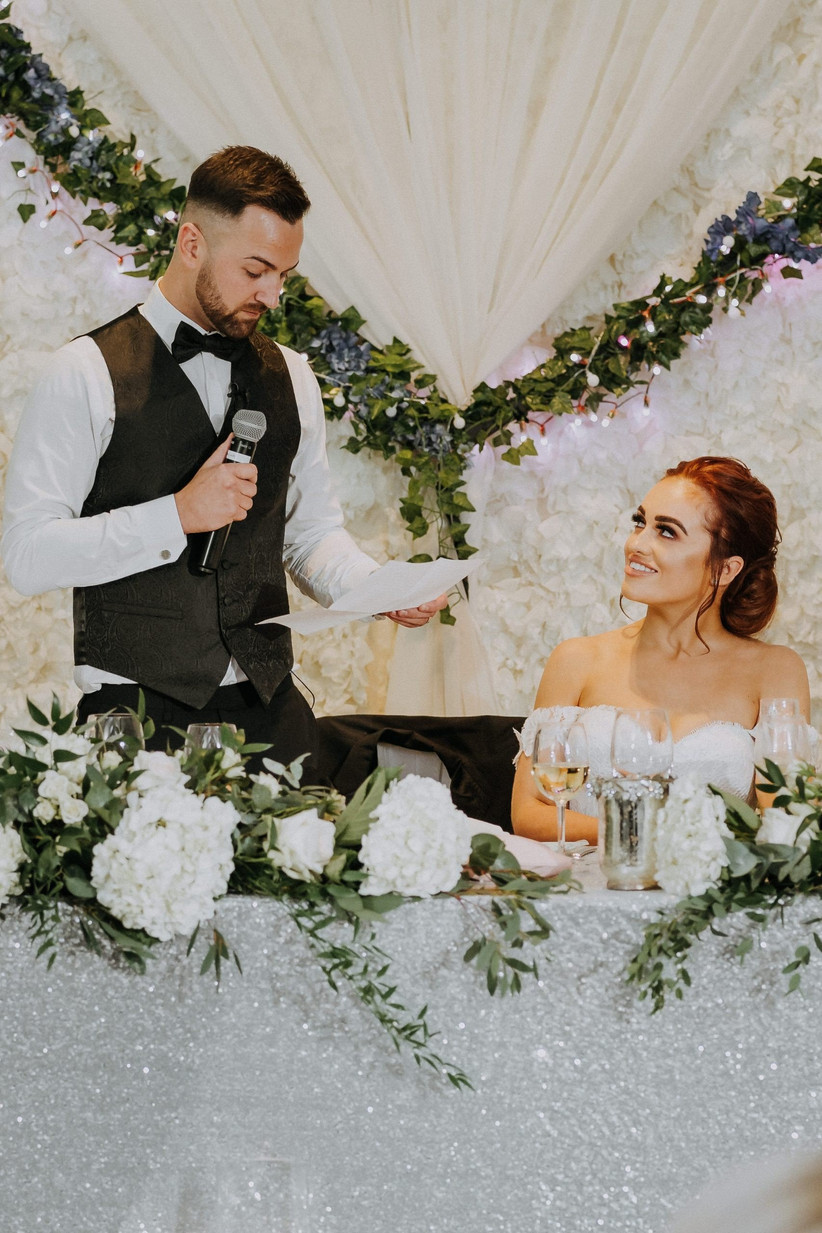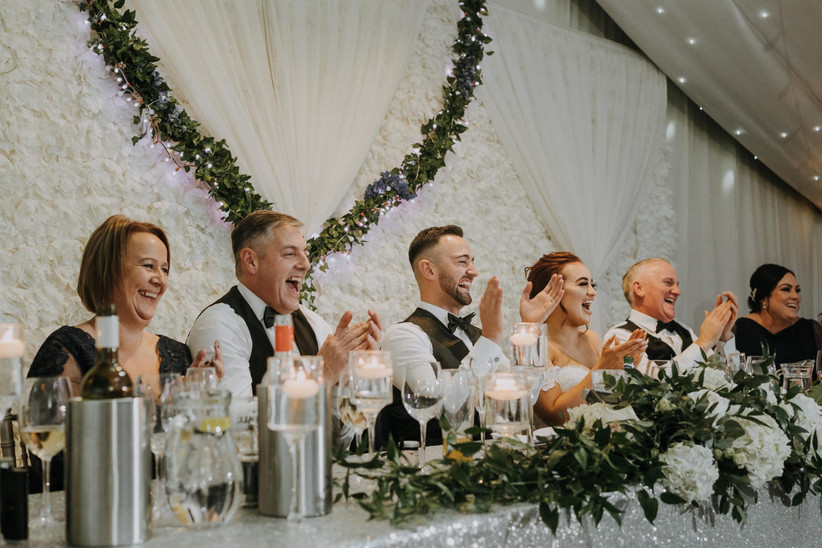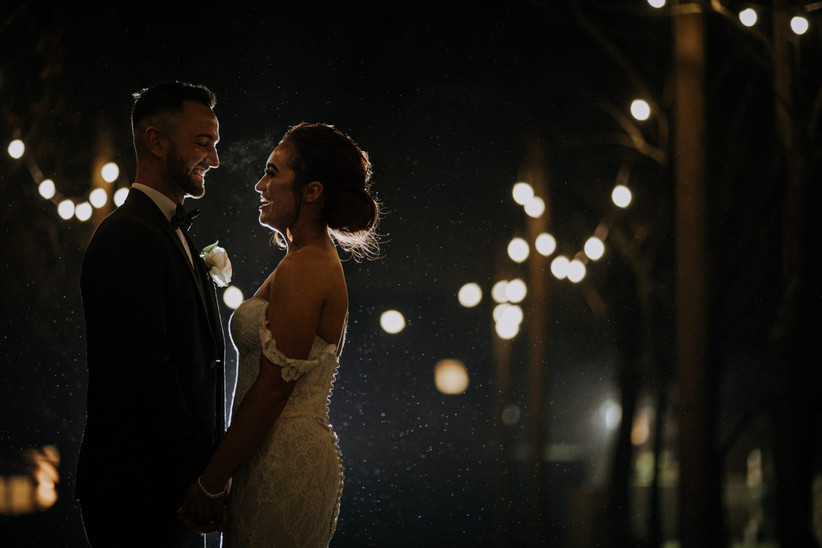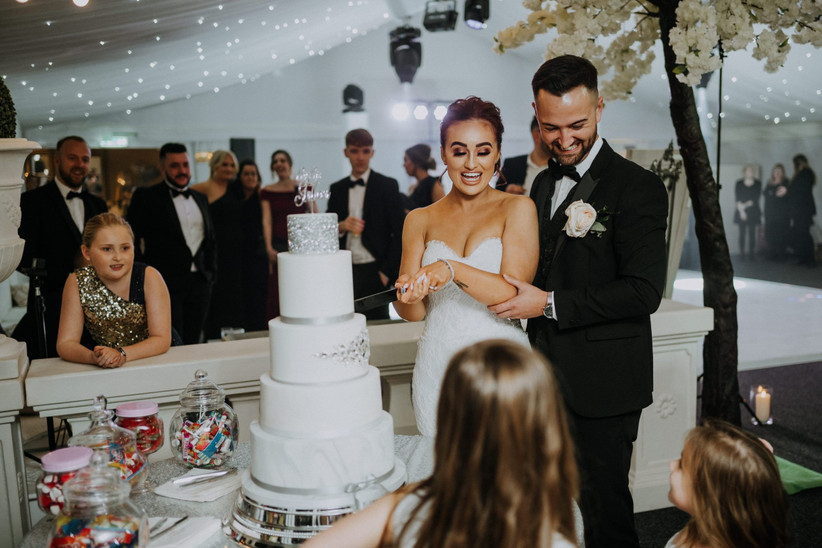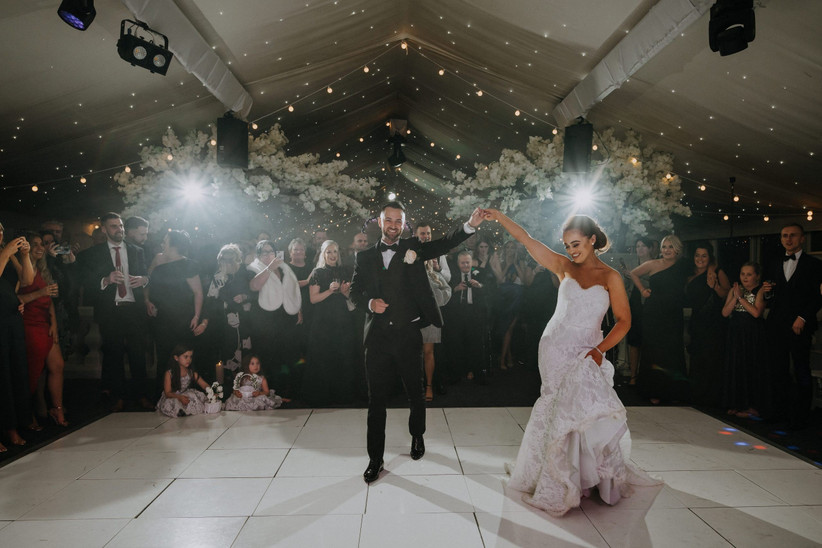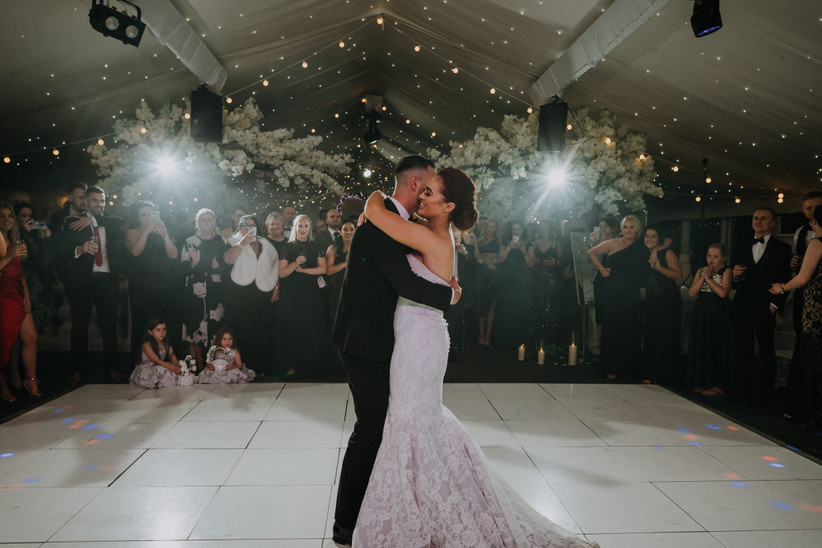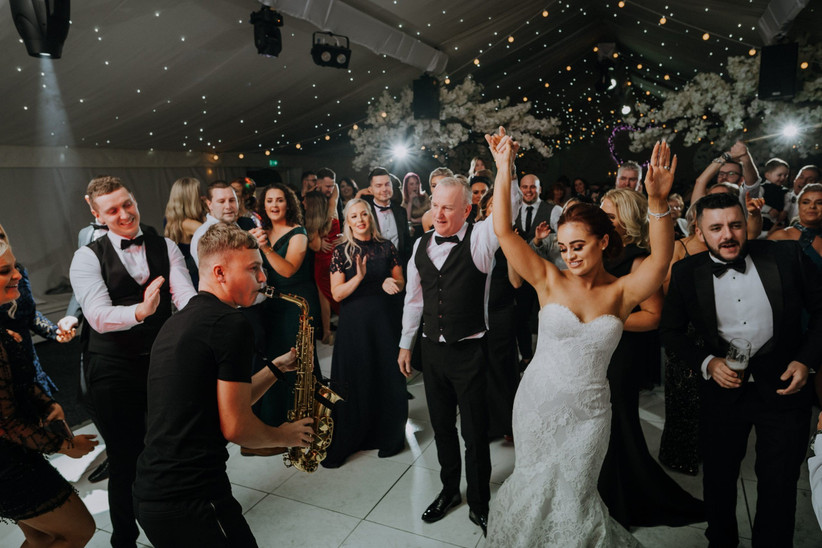 The Entertainment and Special Touches
Emily and Luke filled their day with live music and ended with a special New Year's Eve countdown. Their first dance was to James Arthur's Say You Won't Let Go – the same song that was playing when they got engaged.
"We had a singer for the drinks reception and ceremony, then a DJ for the evening part. We also had a saxophone and bongo player for two and a half hours which was incredible!
"Myself and Luke prefer more chart and R&B music so we knew a live band wasn't the way forward. We were quite specific with our playlist. I then saw the sax and bongo player at the wedding show which just brought the music to life as they were also playing chart music. I knew my guests would love it! The dance floor was never empty.
"The New Year countdown for me was so special; we were in a room filled with all our closest family and friends surrounded by love and laughter. To see in a new year, especially 2020, together and the fact everyone had given up their new year to celebrate with us means the world. I have the picture framed in my living room when it struck midnight and it fills me with so much happiness.
"We did mini shots for the guests to have at midnight: small jam jars with pink gin and lemonade in them. There were also sparklers and a sweets table to eat from."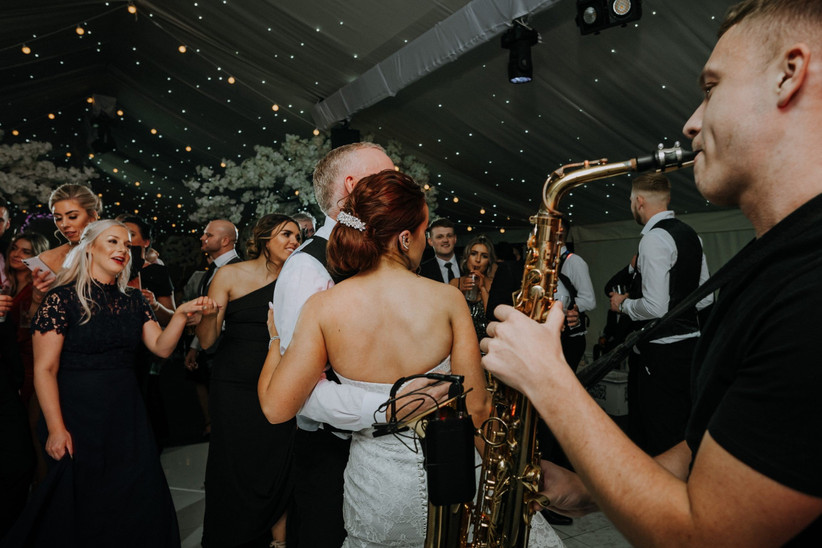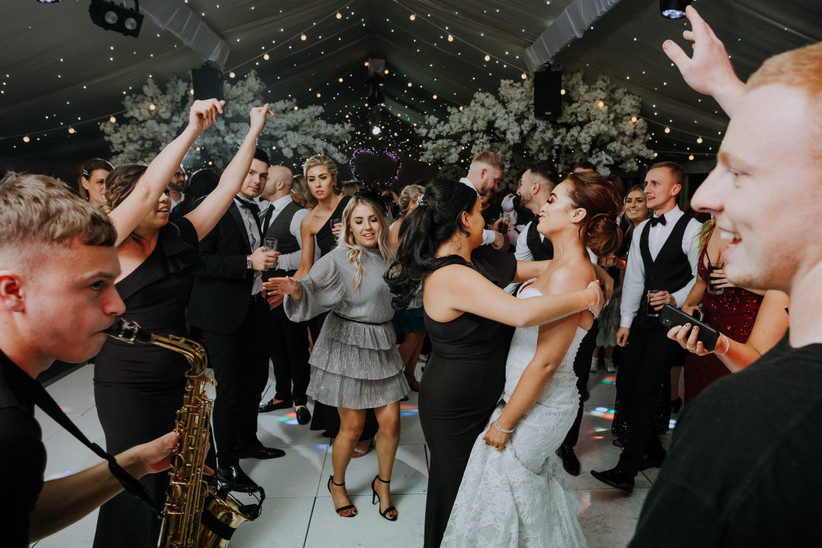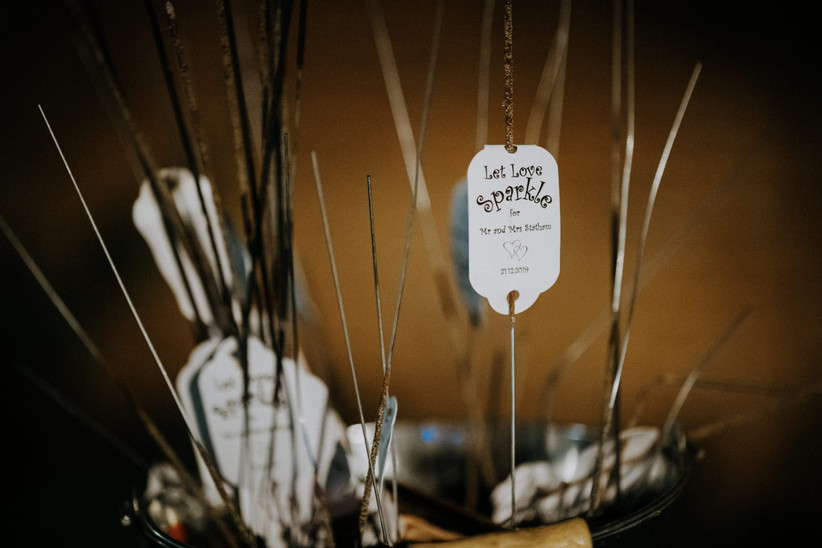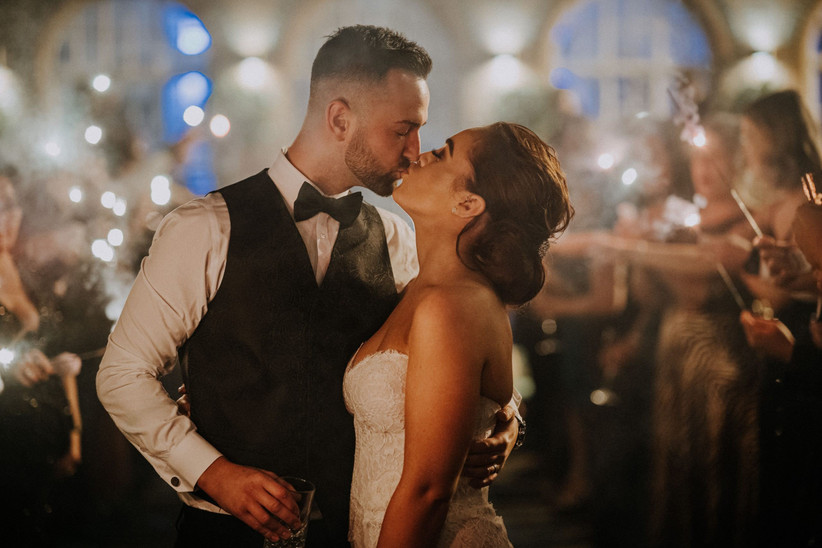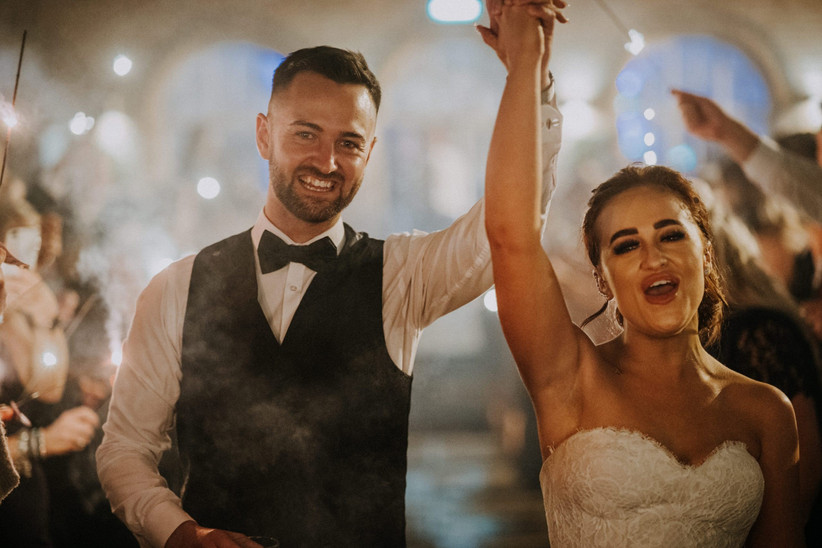 The Honeymoon
Emily and Luke had a minimoon to Tenerfie straight after the wedding for a bit of chill time, and had planned to go to Aruba in May before the Coronavirus pandemic.
"We both wanted a chilled-out holiday and we were restricted with going in May, so we went off the travel agent's recommendations of where would be hot in may," which was Aruba.
It was lovely to have a few days away in Tenerife after the wedding for a bit of winter sun in January as everyone else was going back to work. The run-up is so hectic, it was nice to have five days to chill. I never realised how exhausted I would feel after the wedding!"
During their time on their minimoon, the couple had time to reflect on their planning journey.
"We didn't stick to your budget. Lots of people said to me have a budget and add about £3-4,000 on top and it's so right. The small things at the end really add up, we were about £4,000 over budget.
"I know its so cliché and everyone says it but really enjoy the run-up to the wedding as it's just over so fast. Try and have 10 minutes together in the day to sit back and take in what is happening. The day really is over before you know it and there's so much stuff you just don't see or appreciate on the day.
"I am so glad we had it videoed which I would say to anyone is a must if your budget allows it. Watching the reactions of my guests as I walked down the aisle is so special as you are so focused on your groom you just don't see anyone else!"
The Suppliers
Venue: Alrewas Hayes
Photographer: Gareth Newstead Photography
Videographer: Carefully Crafted Media
Wedding Dress: Suzanne Neville from The Wedding Club, Birmingham
Bridal Accessories: Tiffany & Co.
Hair Stylist: Hair by Ellis
Makeup: Make Up by Vicki B
Groomswear: Moss Bros.
Rings: Christopher's Jewellers
Bridesmaid Dresses: Jarlo and Monsoon
Florist: Flower Design of Lichfield
Cake: Little Mrs Cupcake
Entertainment: GC Events (DJ); TwentyOne Events (sax and bongo)
Blossom Trees: Bee Sweet Occasions
Room Decor:  Design Elegance
Stationery: Vows Design
A huge thank you to Emily and Luke for sharing their beautiful big day with us!