A Beach-Themed Gay Wedding at The Royal Pavilion in Brighton
Alistair and Paul tied the knot in the very same location as their first date! Their seaside wedding was complete with a giant deckchair and an impressive wedding cake with a "sandy texture"
We have included third party products to help you navigate and enjoy life's biggest moments. Purchases made through links on this page may earn us a commission.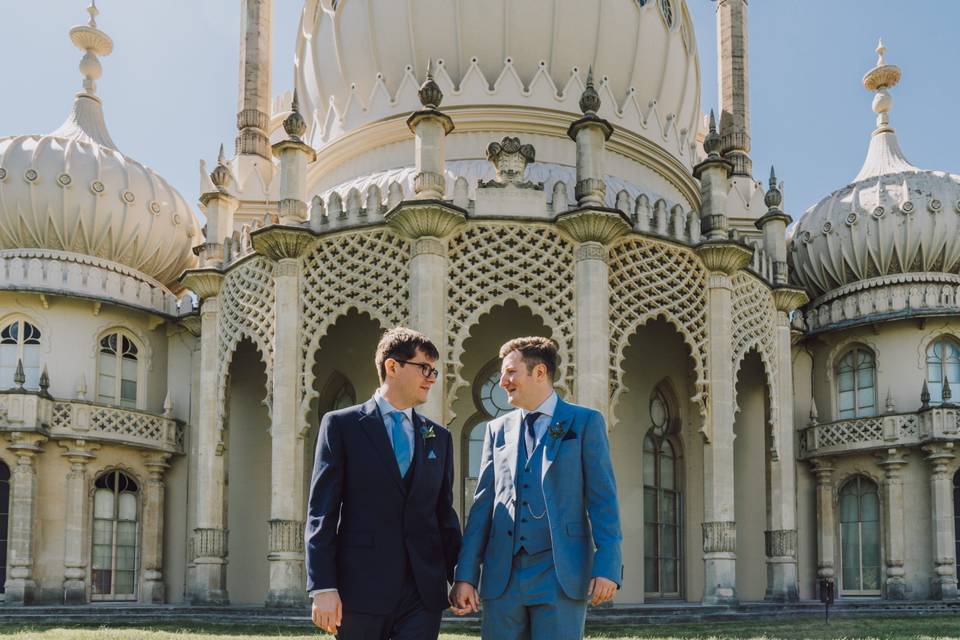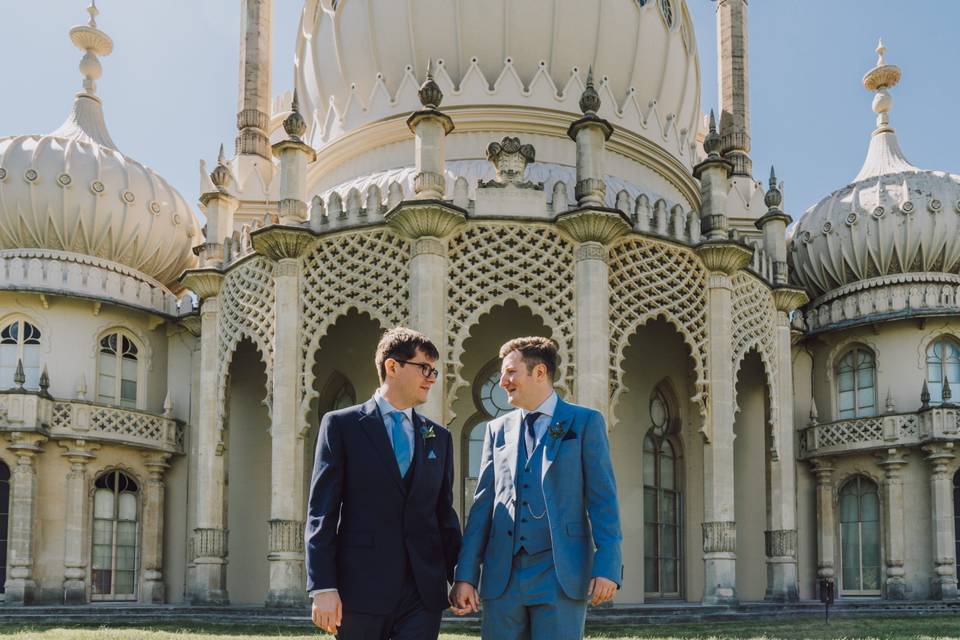 A beach theme was the perfect choice for Alistair and Paul's June wedding in Brighton. Place names were written on rocks and favours were chocolate pebbles and starfish.
The couple first met on Plenty of Fish in 2014. Alistair proposed on Paul's birthday in 2017 when he came home after a gruelling day at work to a decorated house, a homemade chocolate cake, presents and a massive hug.
The couple kept their engagement a secret so that they could then do it again in front of friends at Brighton Pride 2017 while they were volunteering with St John Ambulance. As you might expect, their romantic engagement story went viral on Twitter.
They held their ceremony in the intimate Red Drawing Room at the Royal Pavilion with 42 guests. Nearly 60 more friends joined them for their evening celebration, which lasted until 3am! Despite the early morning finish, their only wish is that they could have spent even longer chatting with friends and family!
Paul and Alistair enjoyed planning their wedding and found that, once they'd chosen their theme, everything else began falling into place. Don't miss their impressive wedding cake complete with icing versions of themselves!
Photographer: Brighton Wedding Photography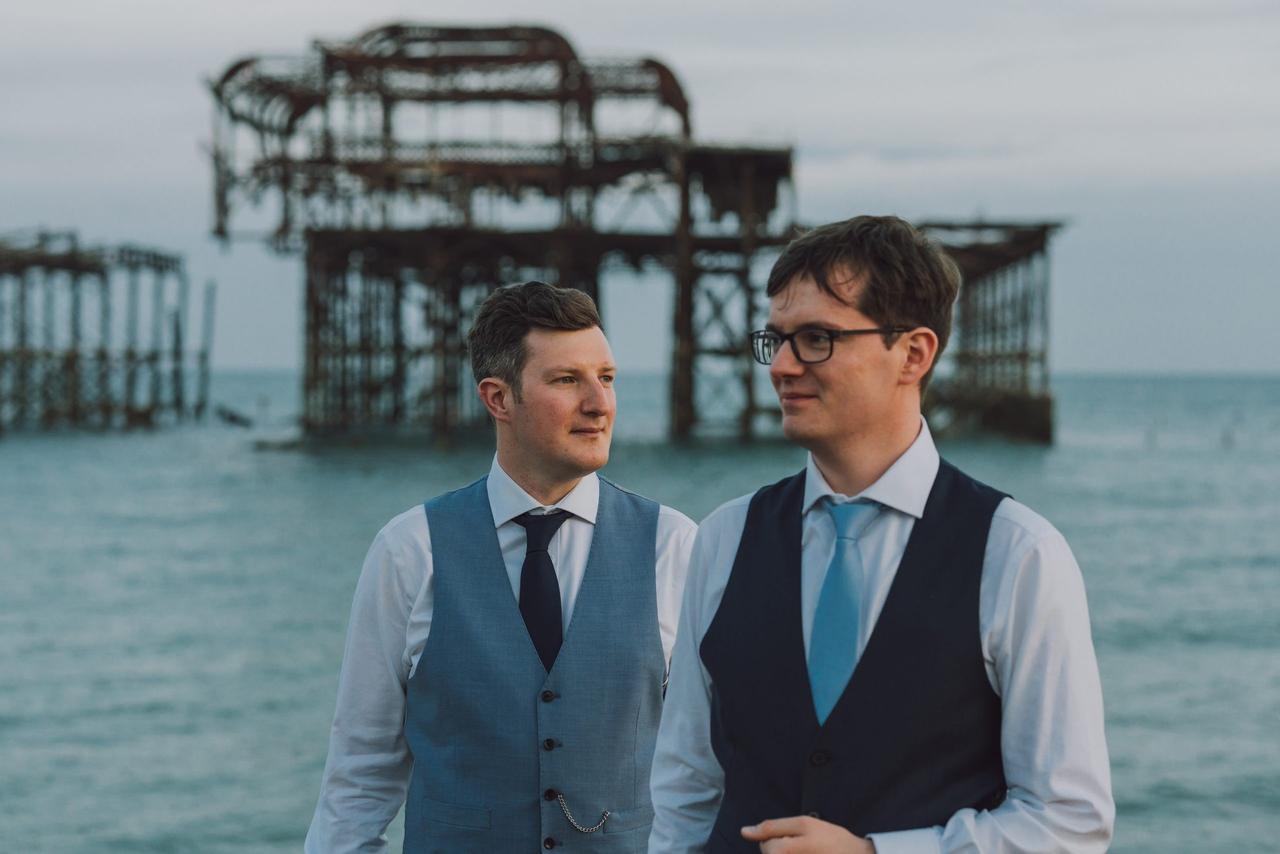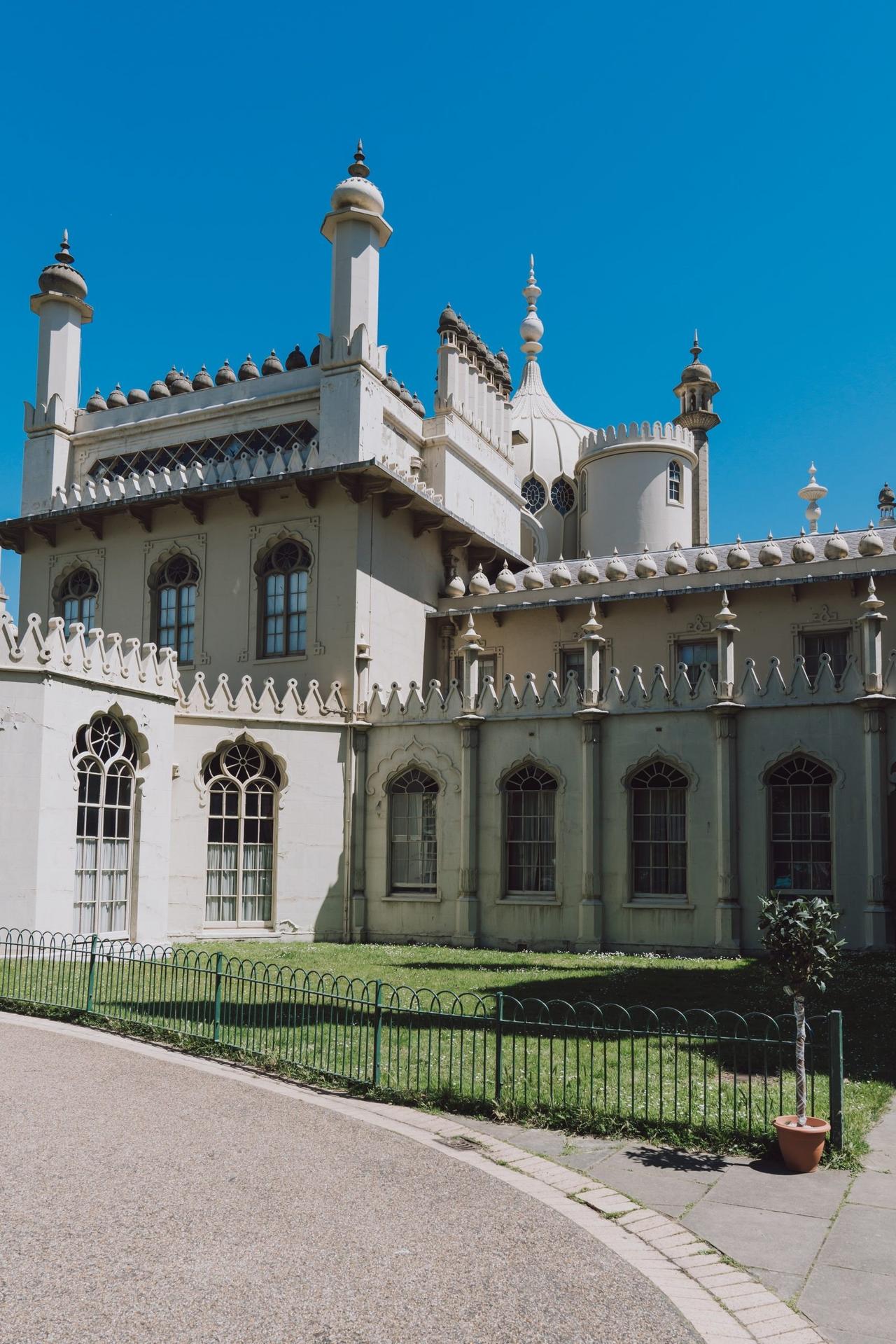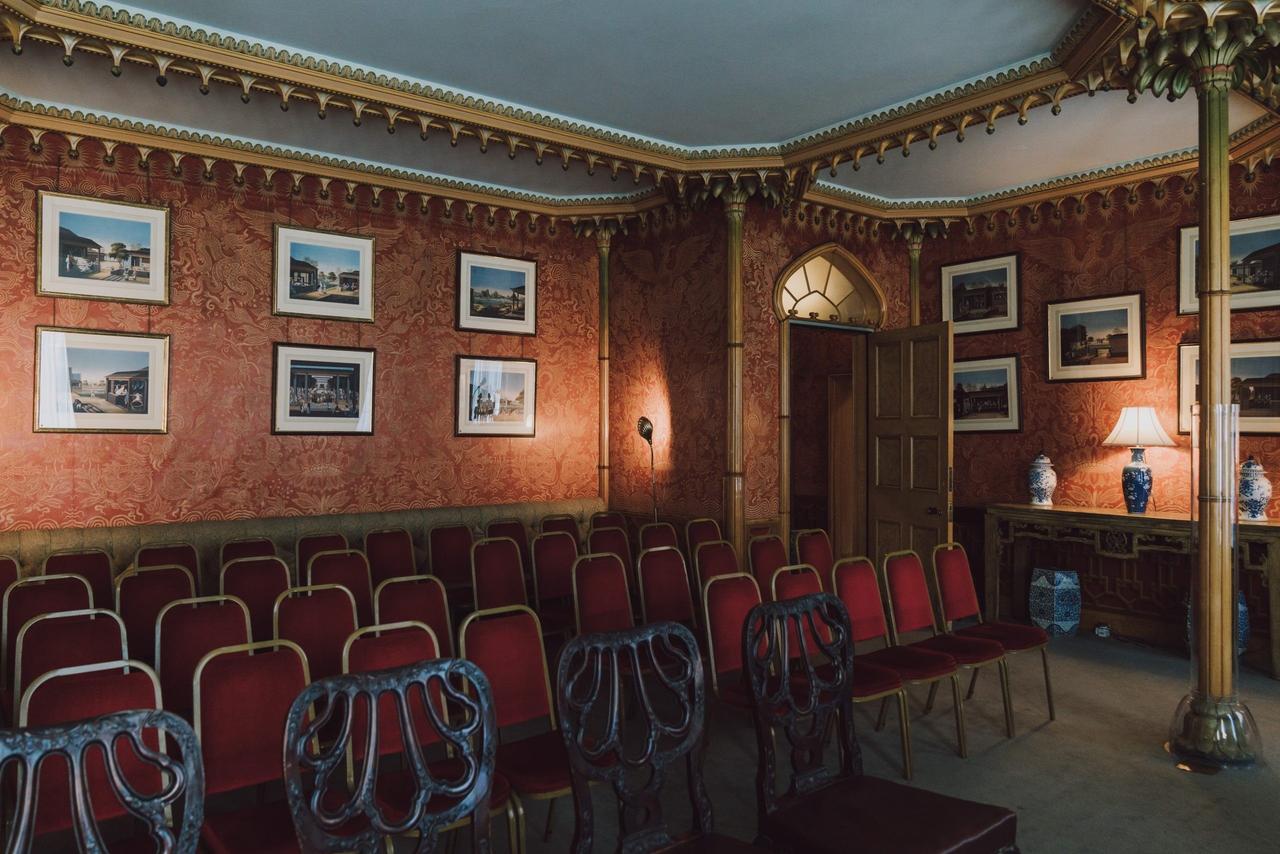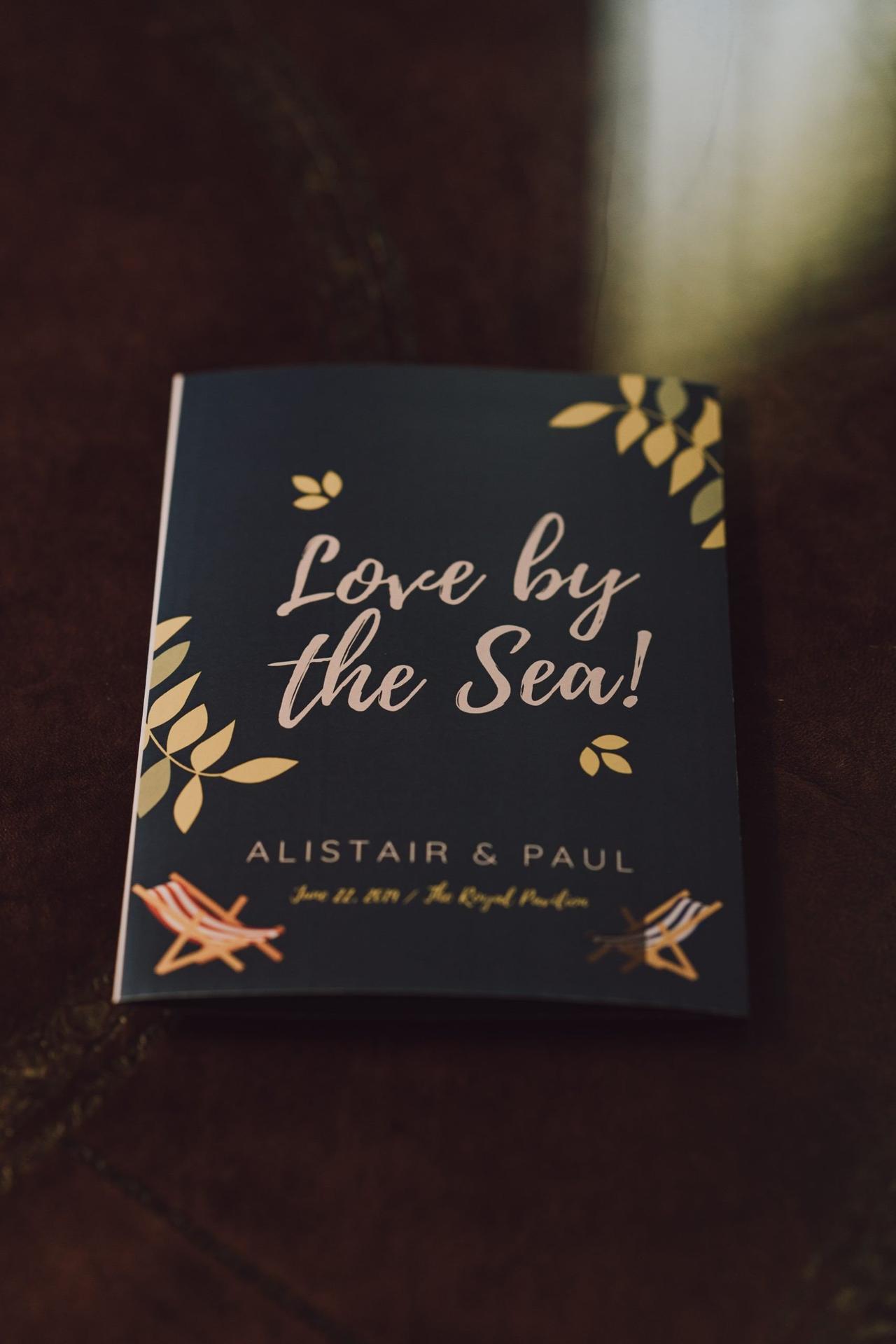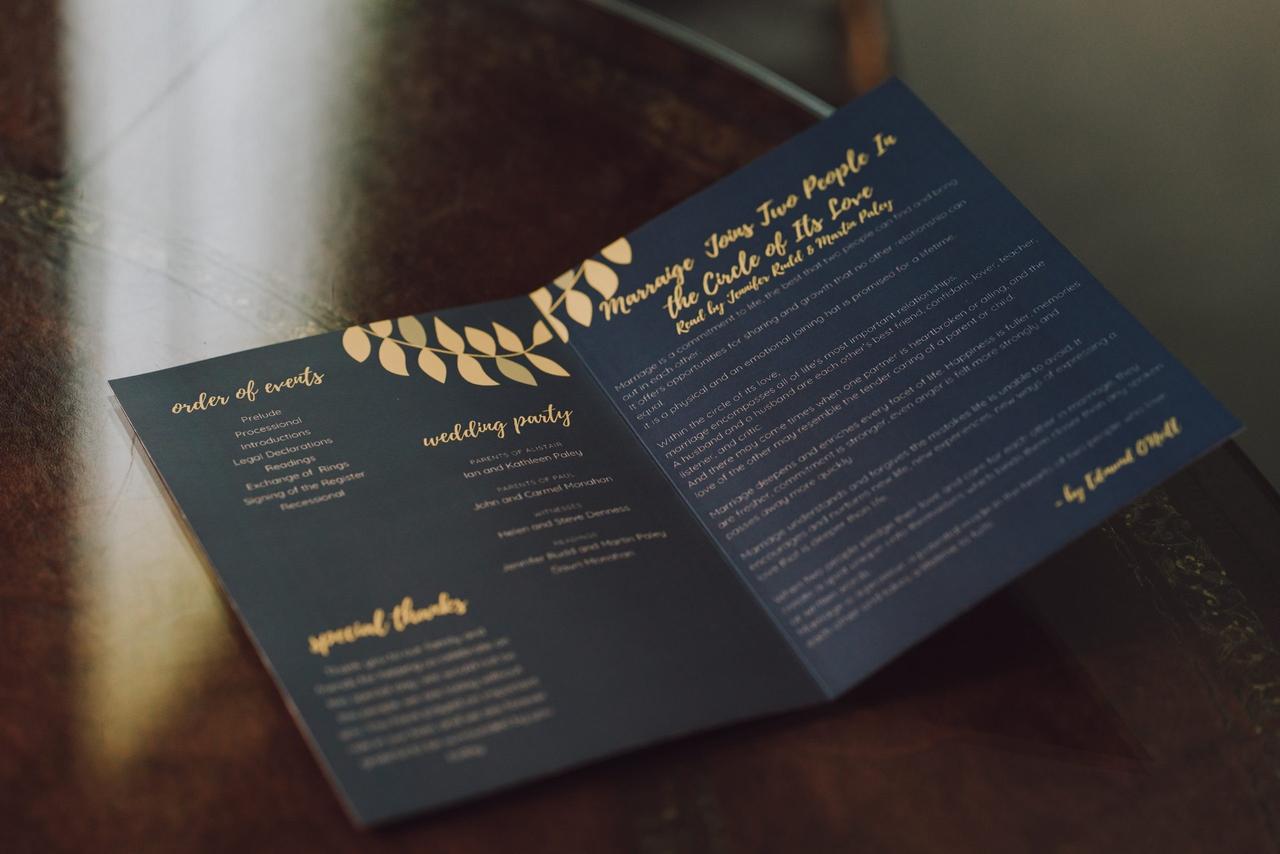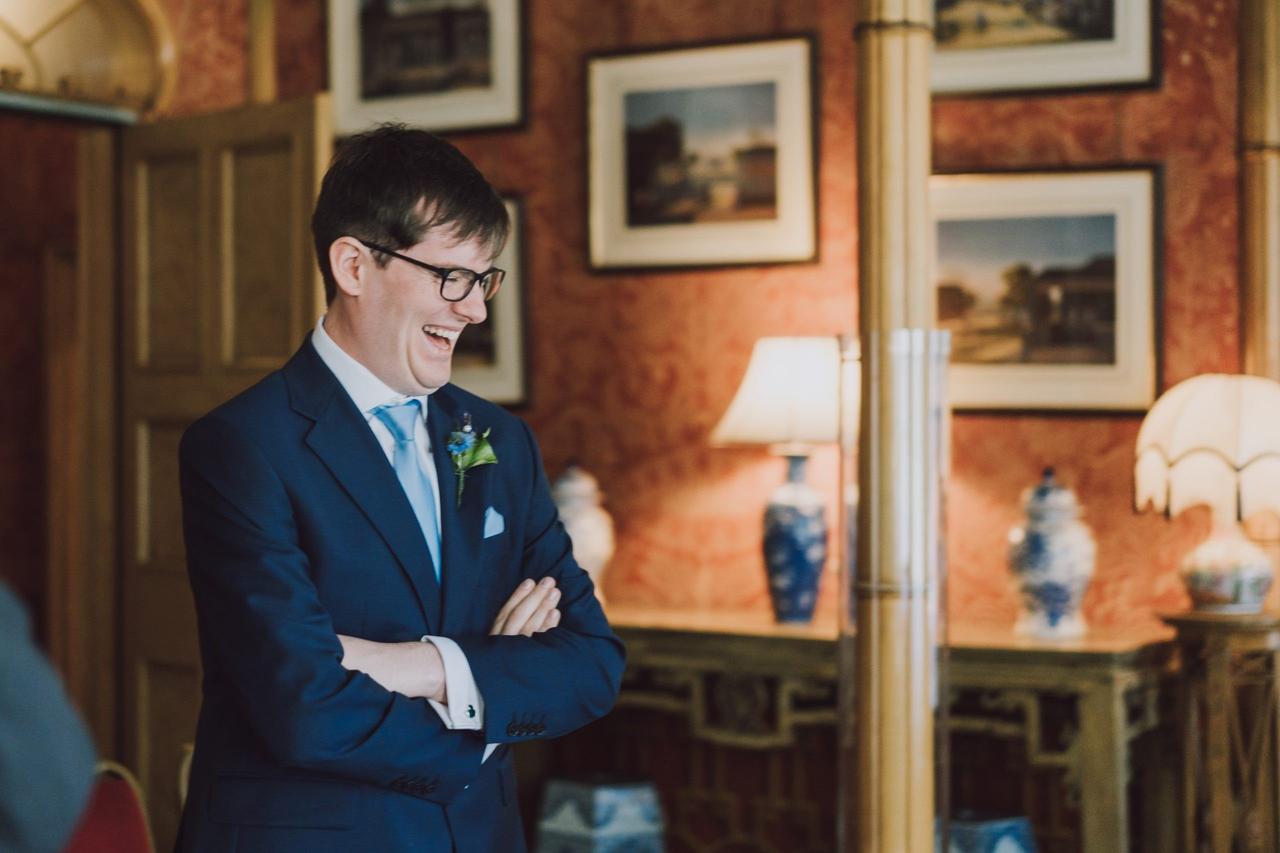 The Wedding Outfits
Kathleen, Alistair's mother, was kind enough to buy both of the grooms suits as a present. They also each received a Claddagh pocket watch bought by Paul's parents.
"Alistair wore a John Lewis, Air Force blue, three-piece, tailored-fit suit and I wore a Charles Tyrwhitt mid blue, three-piece, slim-fit suit.
"We both wore white shirts bought from Slaters in Reading. Also purchased from Slaters were our ties and pocket squares. We already had nice pairs of shoes, so just wore those as we couldn't find anything that we liked, despite going into many shops.
"I went with a friend to the Westgate Shopping Centre in Oxford to try on and purchase my suit.
Alistair went with a friend to London.
"Kathleen also provided our families with buttonhole flowers grown in her garden. There was an ivy leaf at the back, a sprig of lavender, grass threaded on a pearl and love in the mist.
"Paul and I did not have groomsmen but certainly had some very good friends!"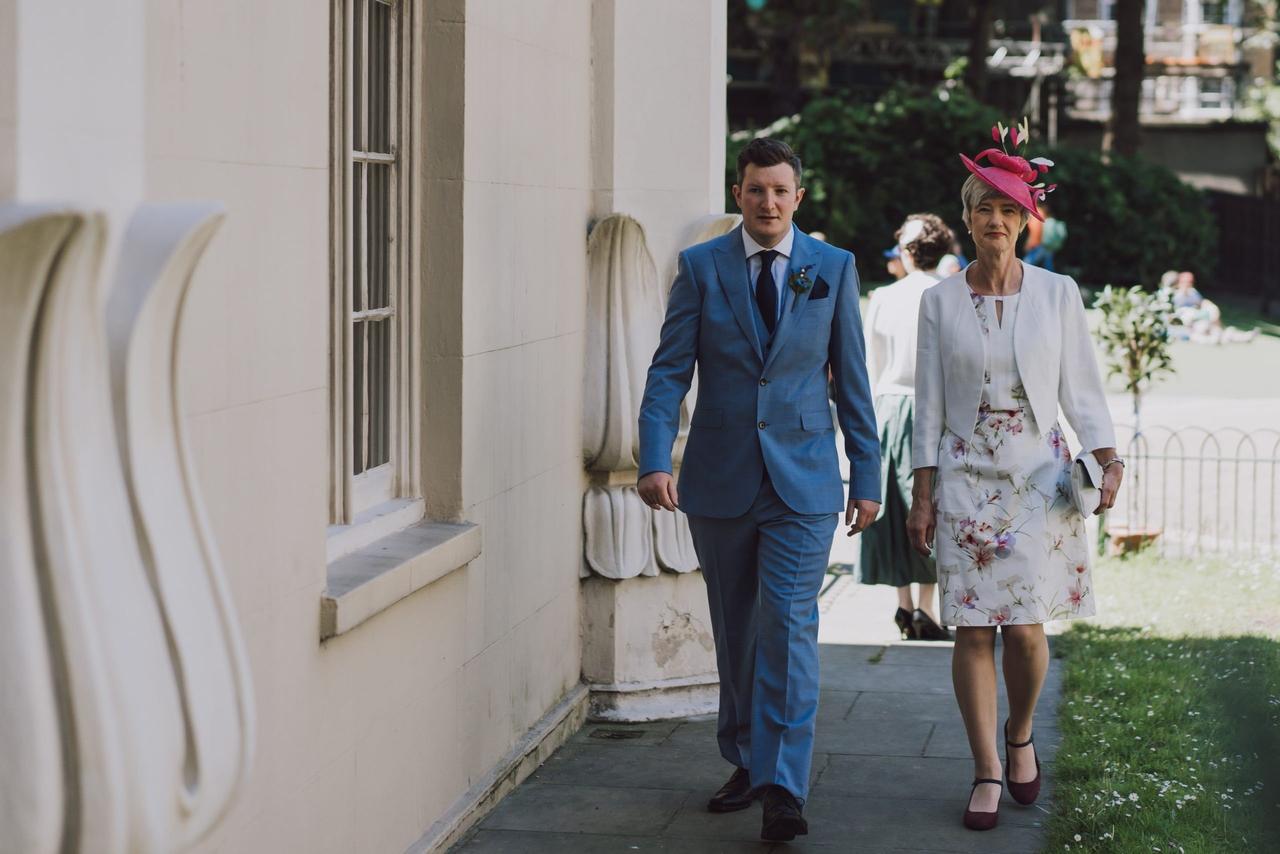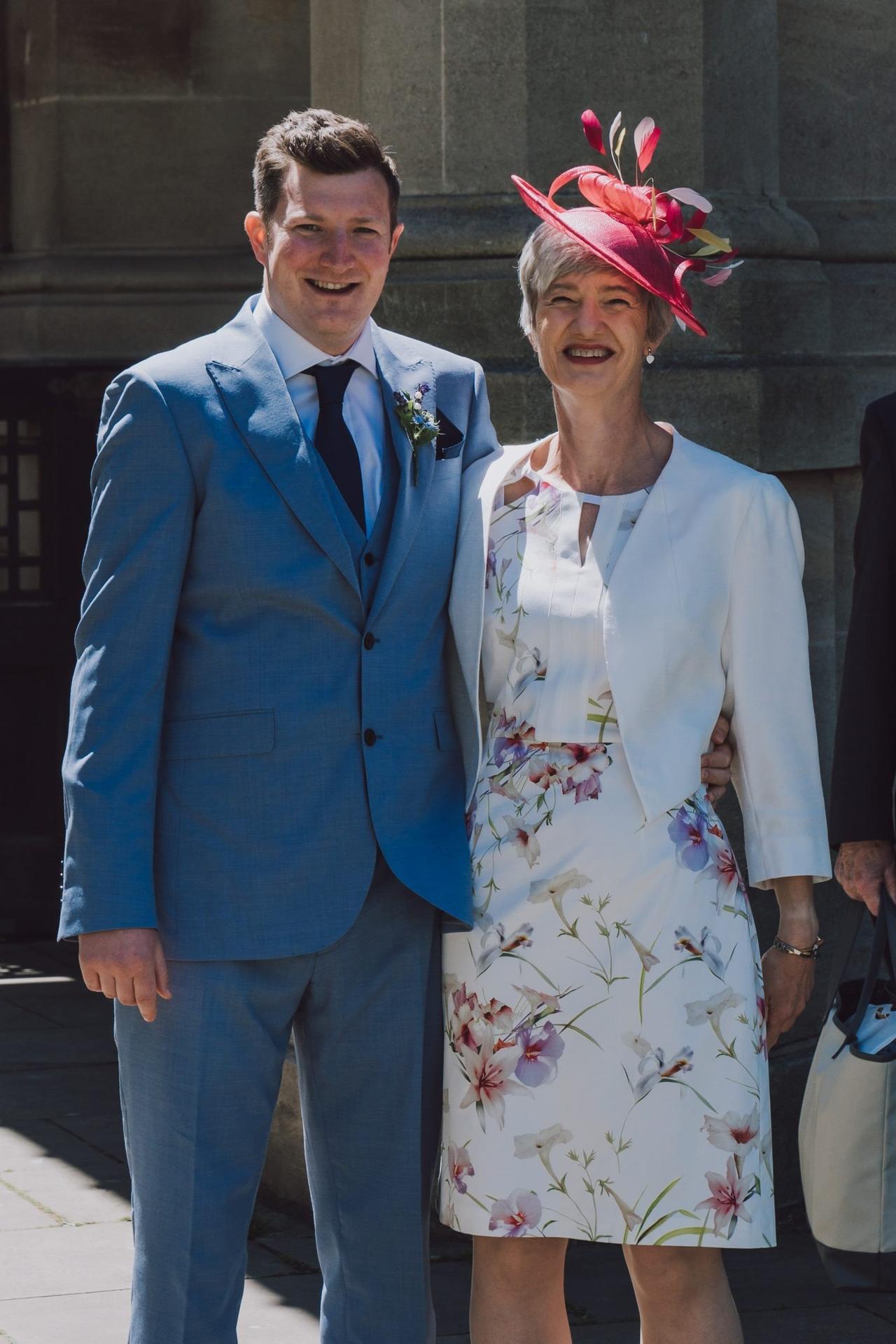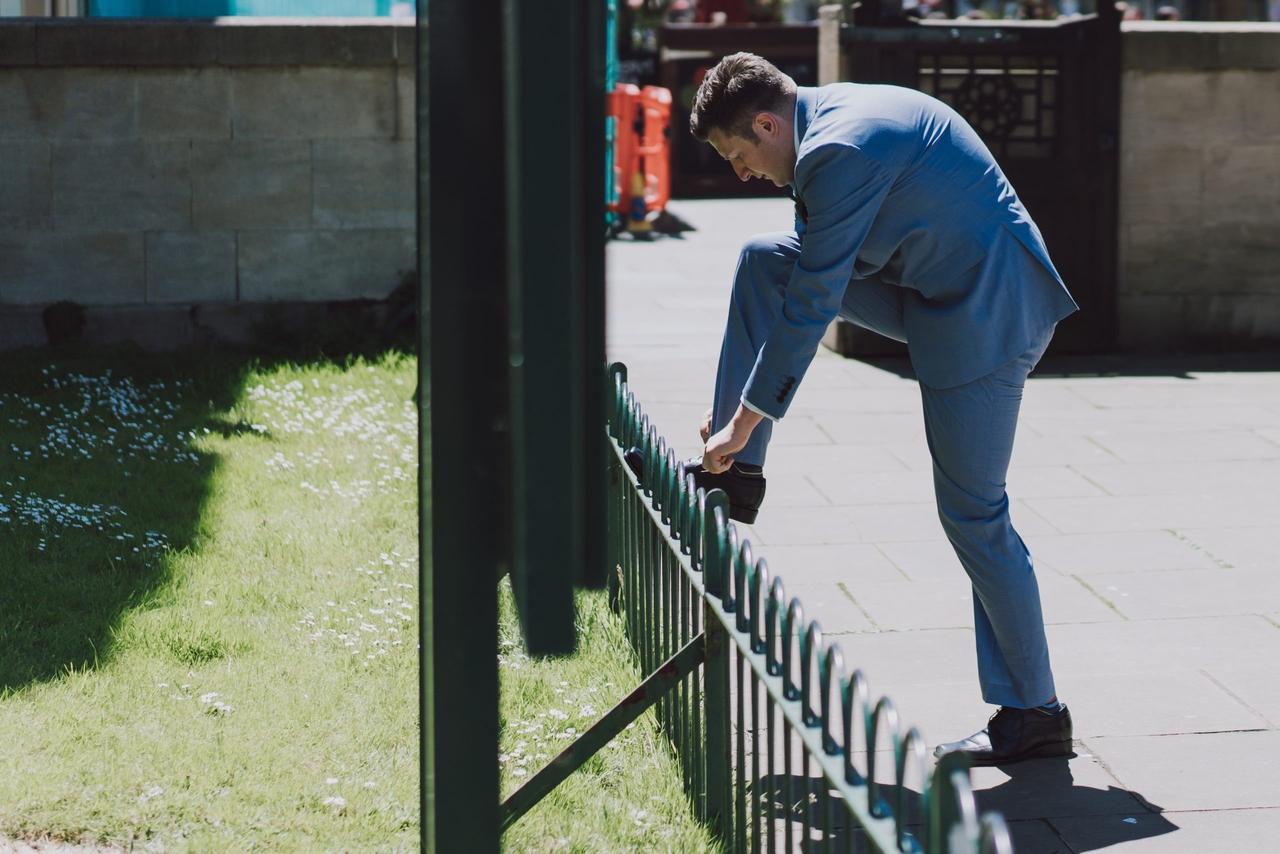 The Ceremony
The couple decided to hold their ceremony at the Brighton and Hove Registrars in the Red Drawing Room of the Royal Pavilion because it was the location of their first date. The venue was small, intimate, and had great scenery.
"Our wedding day was divided between two venues. For our ceremony, we chose the Red Drawing Room at the Royal Pavilion. I was a bit worried about the lighting as the room came across as quite dark (although this added to the room's aura) but the pictures didn't show this.
"It was great that Paul and I could enter the room from both sides and be able to keep the tradition of not seeing the other half until the ceremony. The Drawing Room coordinator was very approachable, happy to answer any questions and really supported us during the day.
"Paul and I walked down the aisle with our mothers to a piano instrumental of our first dance song, Flashlight by Jessie J. When planning the music for the ceremony, my friend Sam and I developed a schedule and a plan for when to walk down the aisle. I remember telling Paul but spent a lot of time wondering whether he would remember the timing. When I started walking at the right time, I remember looking over my left shoulder and seeing Paul walk down the other aisle and just remember saying, 'Yes'.
"Paul's most memorable moment of the ceremony was not being able to get the wedding ring on my finger as I had gone running with friends that morning and my hands were still puffy. Both of our rings were purchased from Ring in Meeting House Lane in Brighton.
"The readings were found online prior to the ceremony and were read by our siblings. Paul's sister read 'These Are The Hands'. My brother and sister read 'Marriage Joins Two People in the Circle of Its Love' by Edmund O'Neil."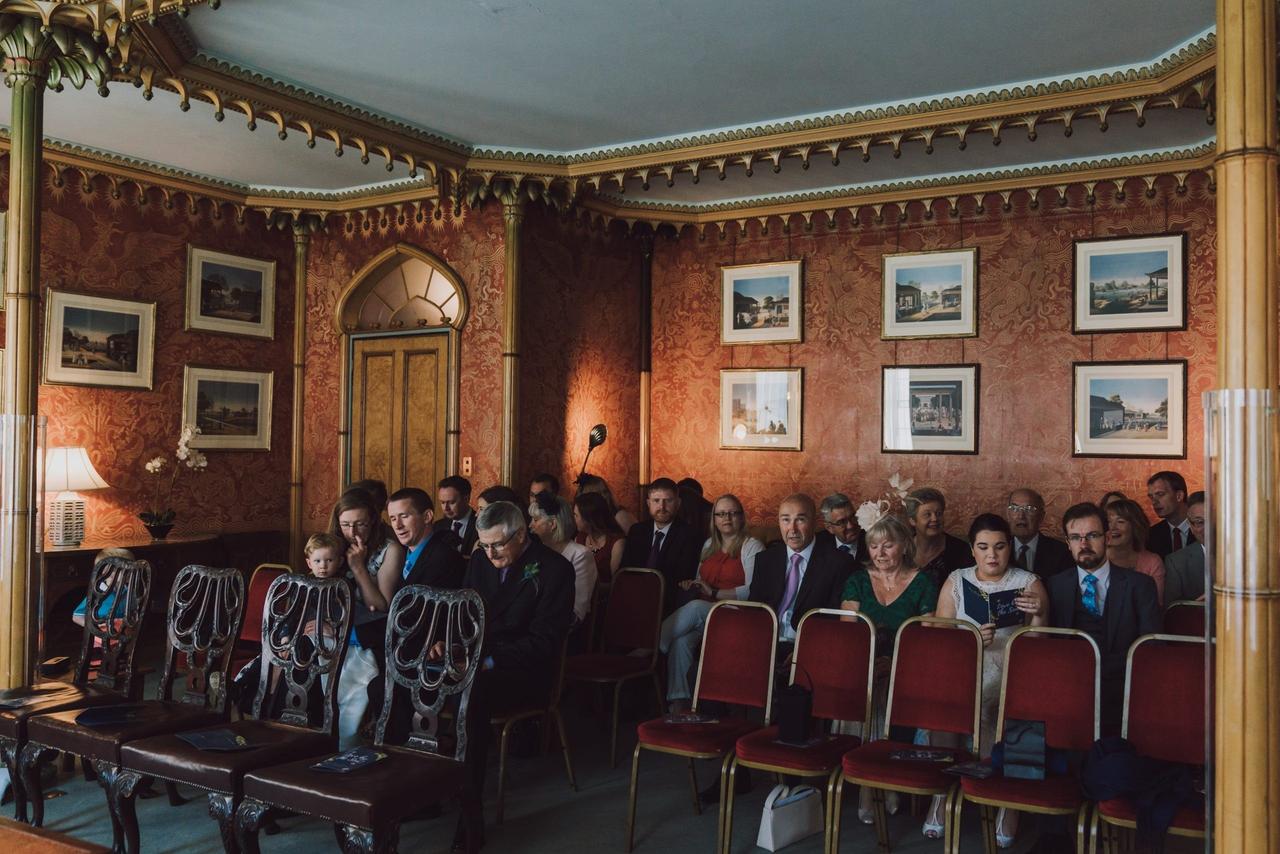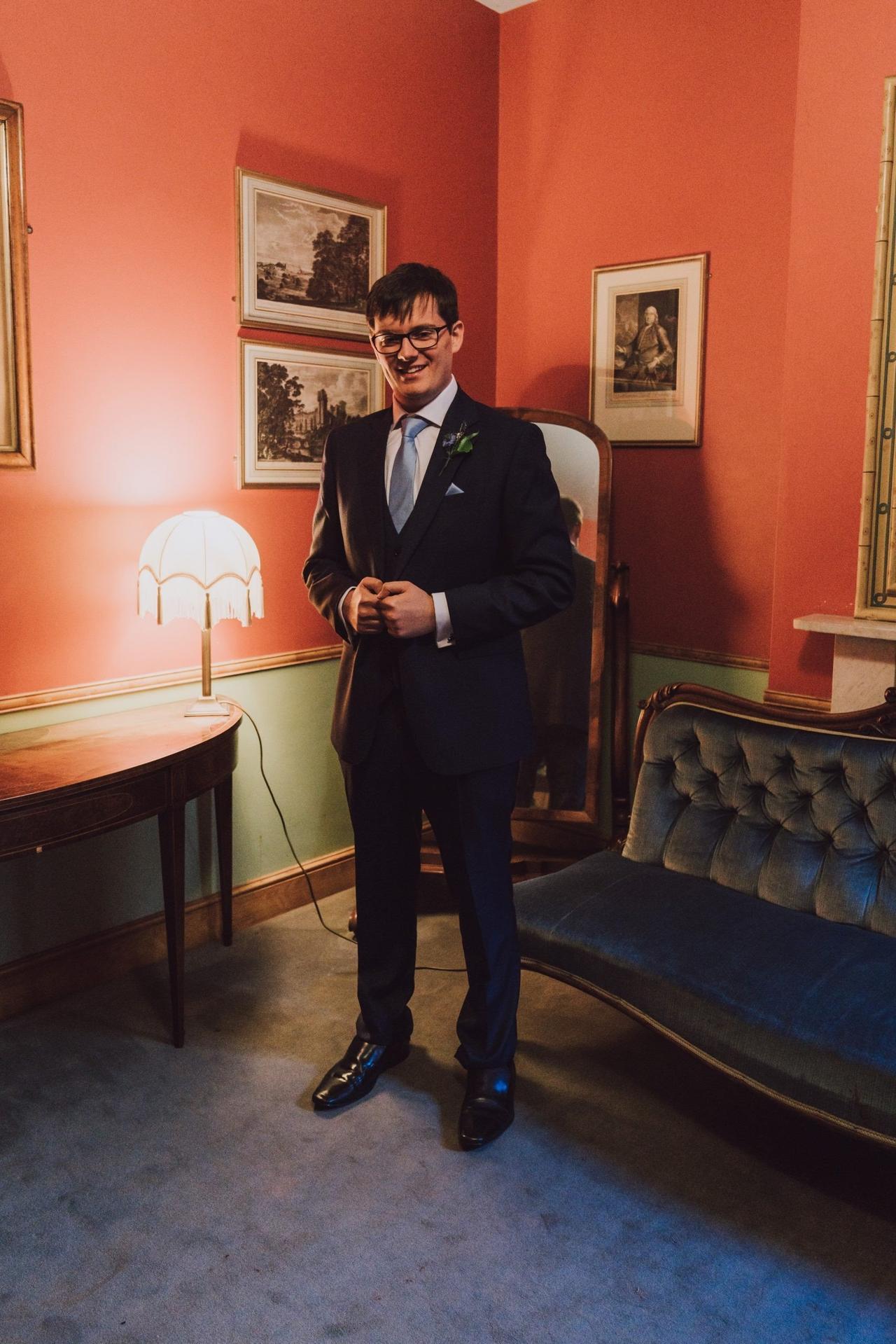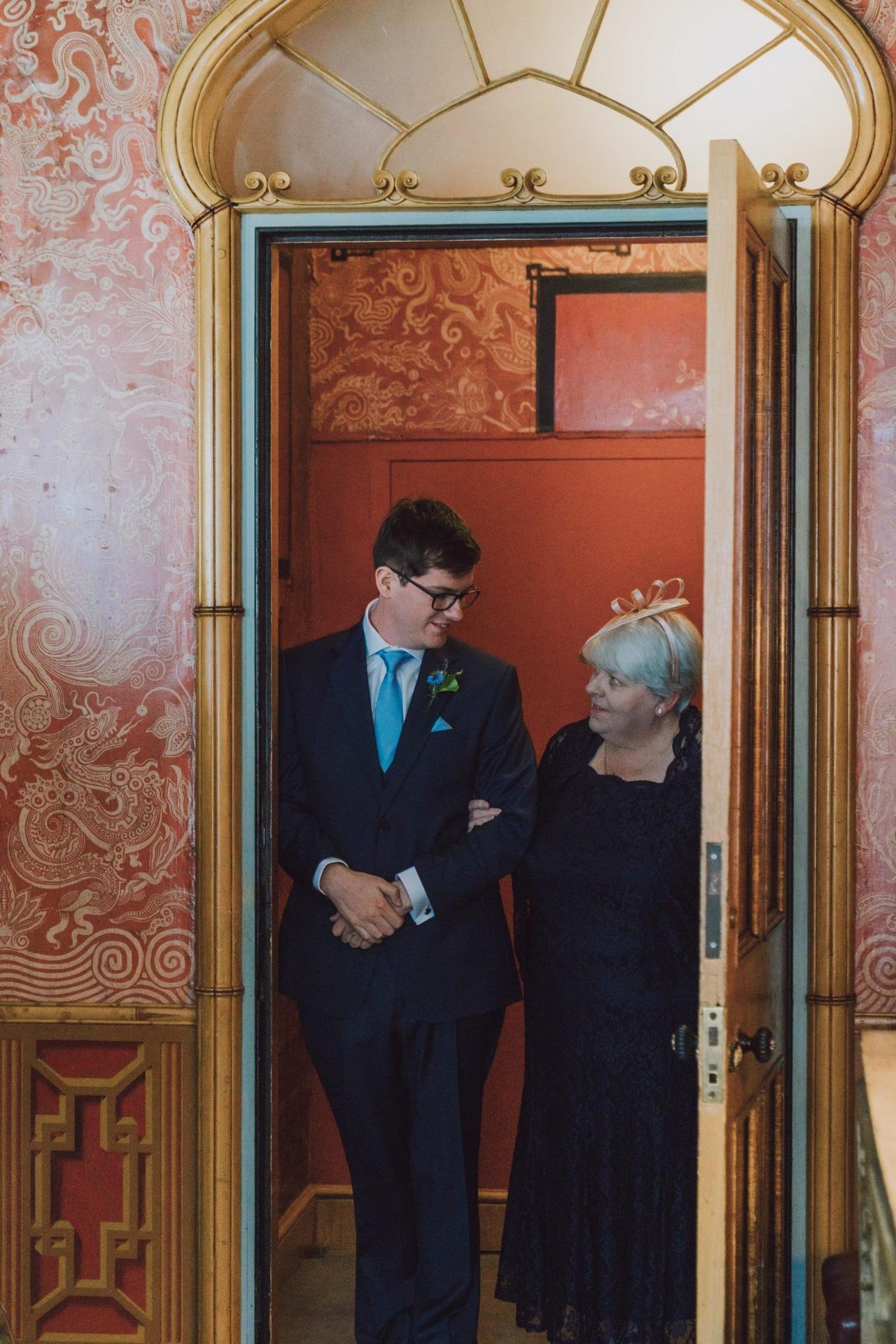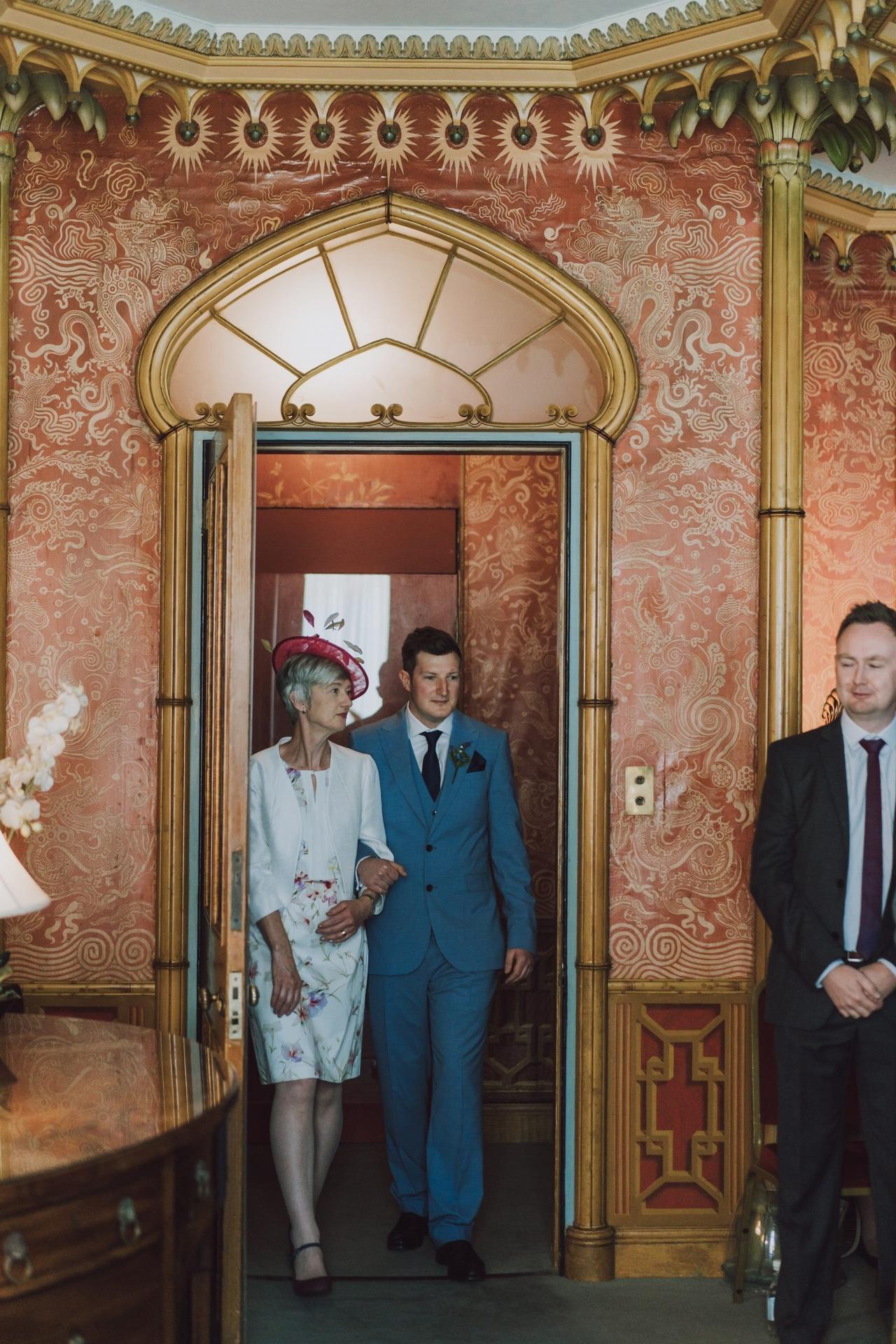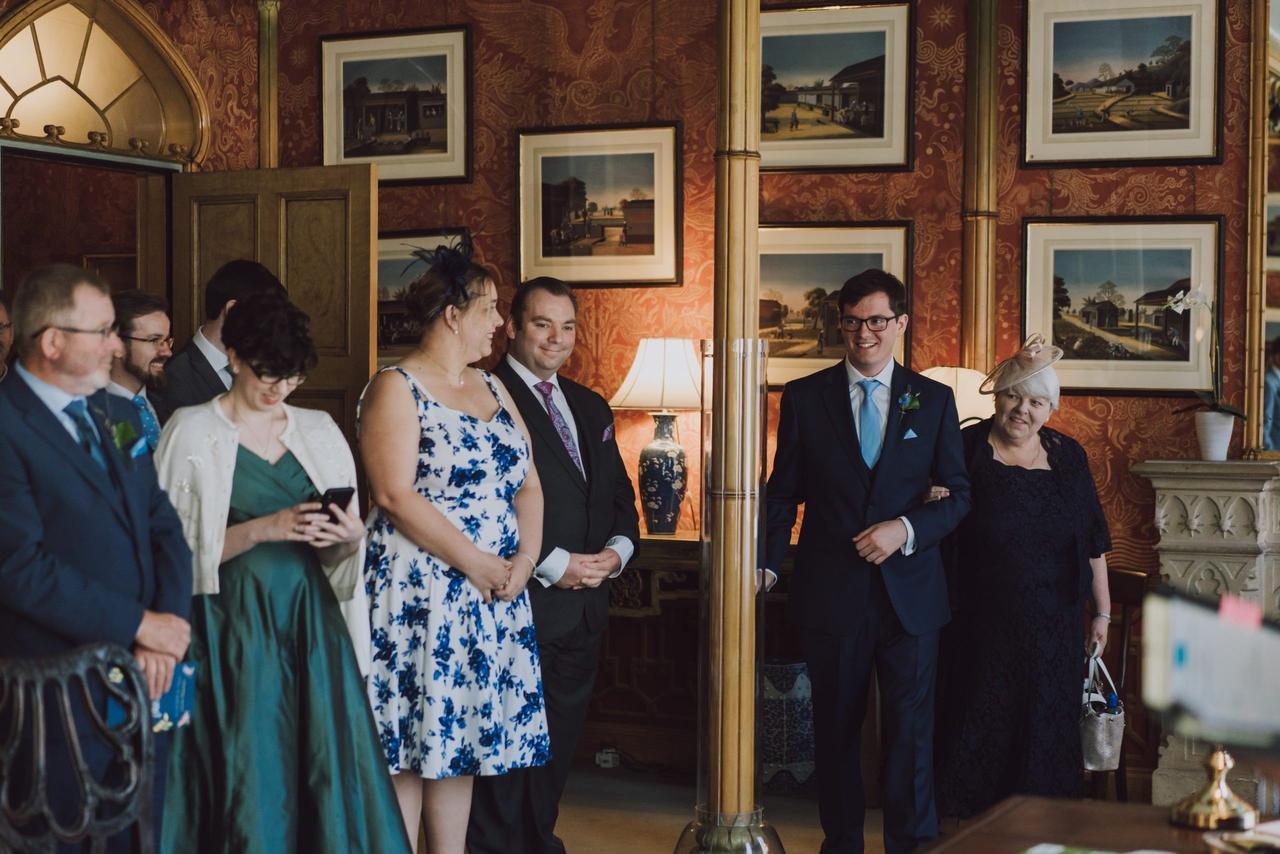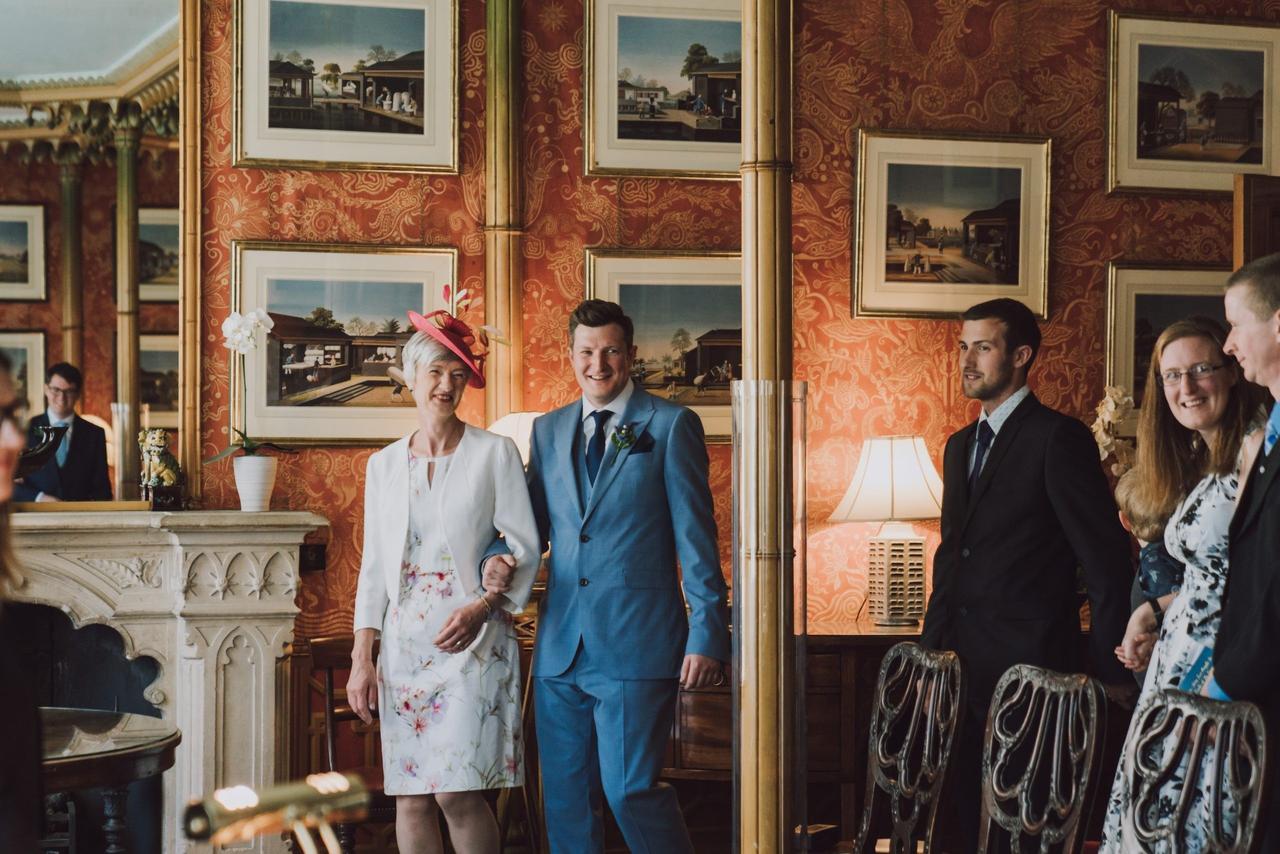 The Venue
After a beautiful ceremony at the Royal Pavilion, the couple held their reception and evening do at the Jury's Inn Brighton Waterfront.
"We chose the Jury's Inn Brighton Waterfront because of its gorgeous setting, close to the seafront and easily accessible for everyone attending. From the very beginning of the planning process, all of the staff we spoke to were very friendly and welcoming and nothing that we asked was too great a challenge for them.
"We went for a beach theme for our reception venue. This gave us the ultimate flexibility with colours and other decorations.
"For starters, our guests had a choice of pressed confit chicken and duck terrine, cherry tomato chutney, with toasted sourdough croûte and peppered rocket salad. The vegan option was vegetable soup or plum tomato and tofu salad, basil pesto, peppered rocket leaves with balsamic dressing.
"For mains, we served fillet of beef, confit fondant potato, honey glazed baby carrots, buttered courgette & fine beans with a green peppercorn sauce; chicken supreme; wild mushroom ravioli; or roasted Mediterranean vegetable gratin.
"For dessert, we served Brighton Rock cheesecake served with vanilla cream and dressed with popping candy, raspberry coulis and a macaron; raspberry mousse teardrop; or fresh fruit with lemon sorbet.
"For our reception, we were looked after by Mark Dixon who assisted us with all the aspects of planning our reception."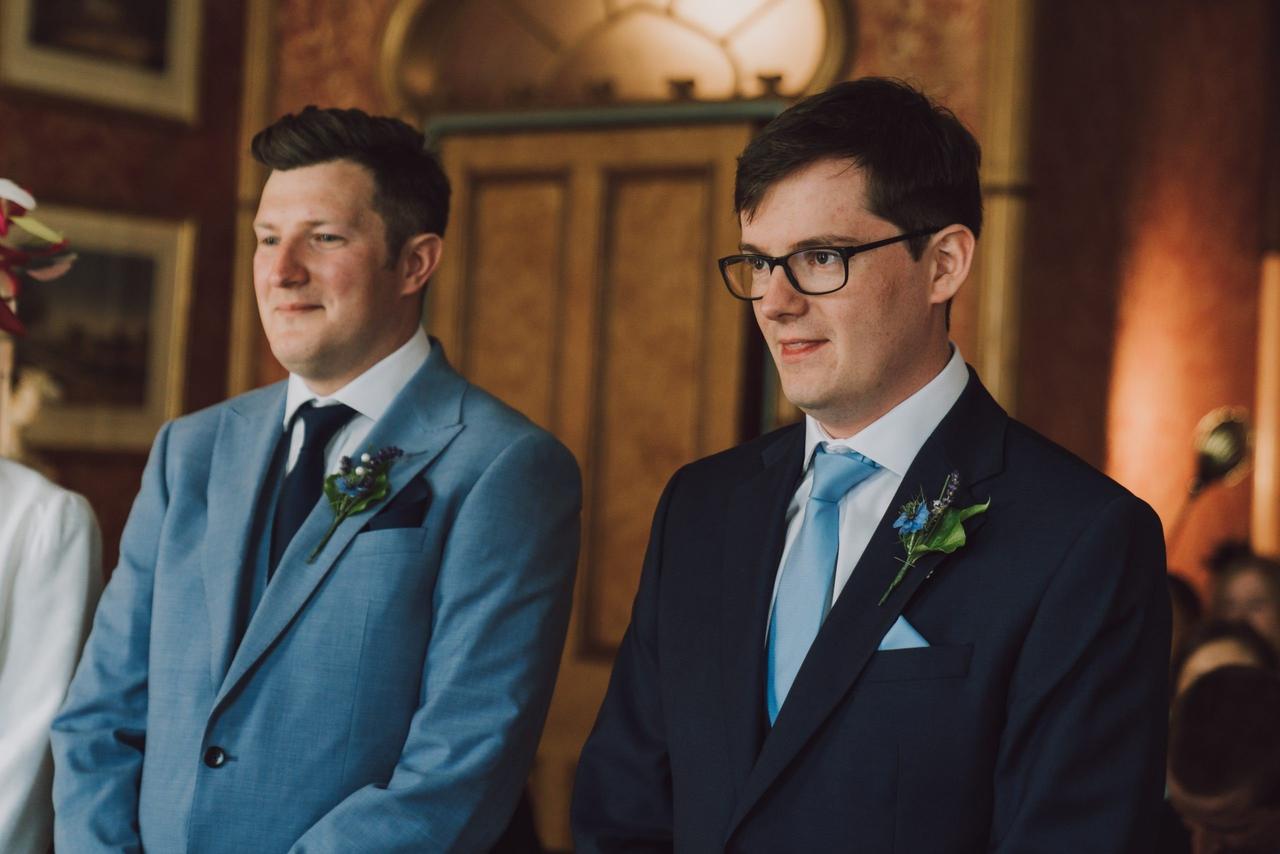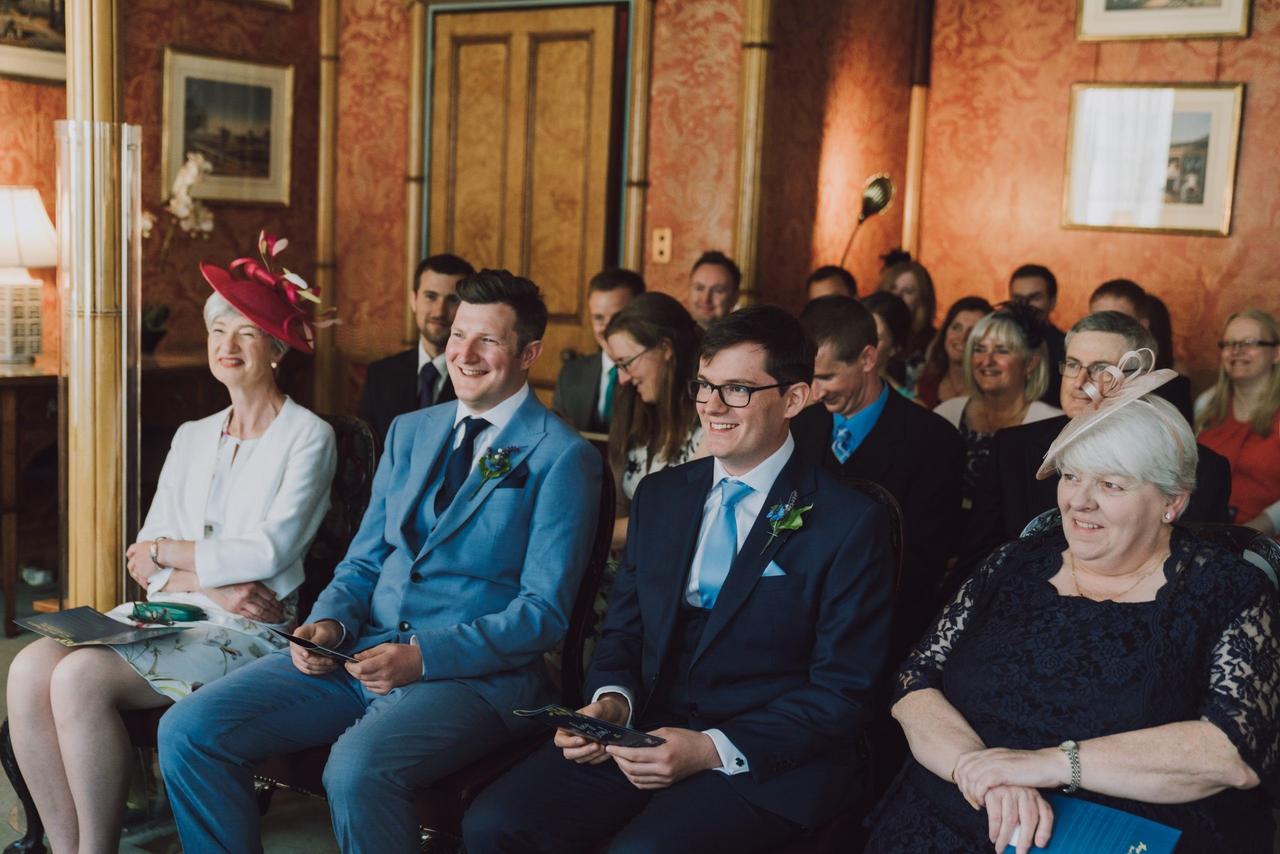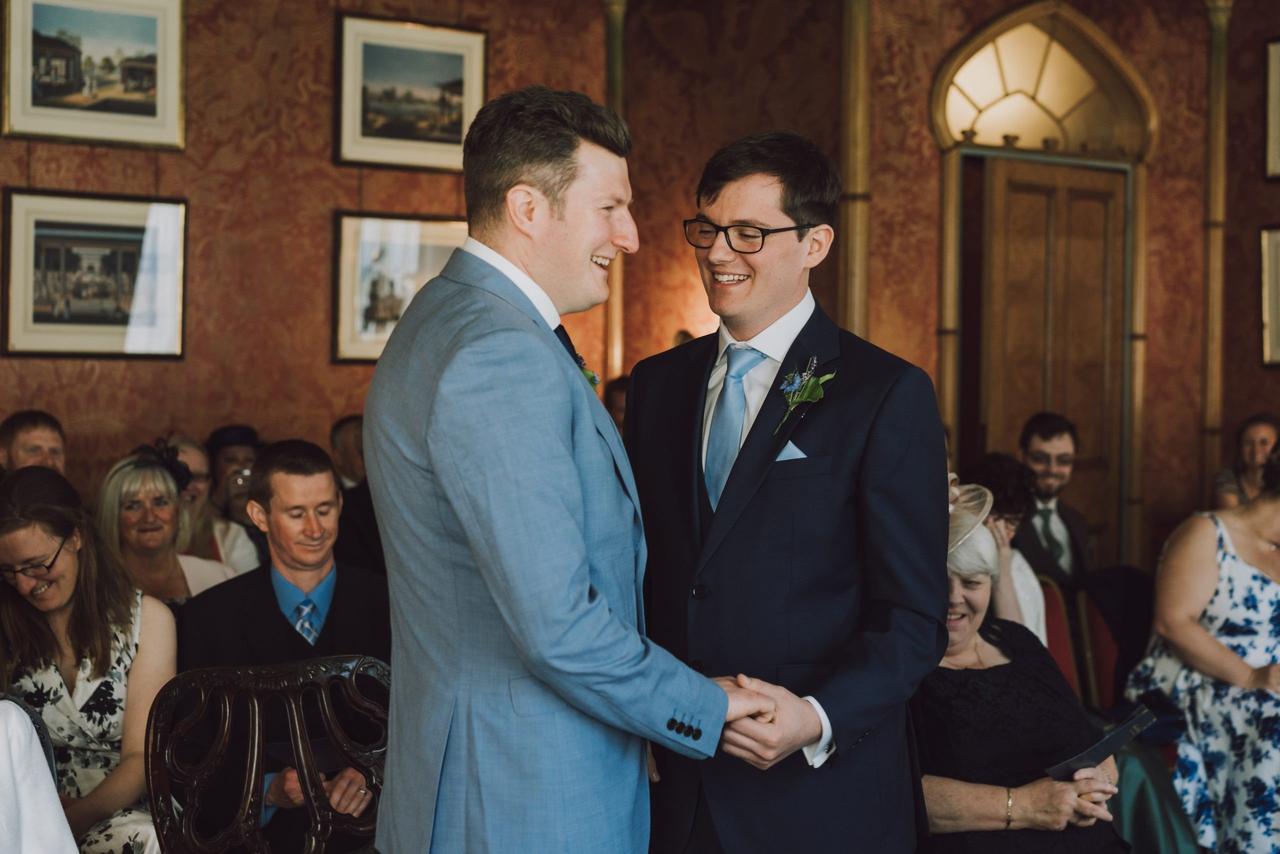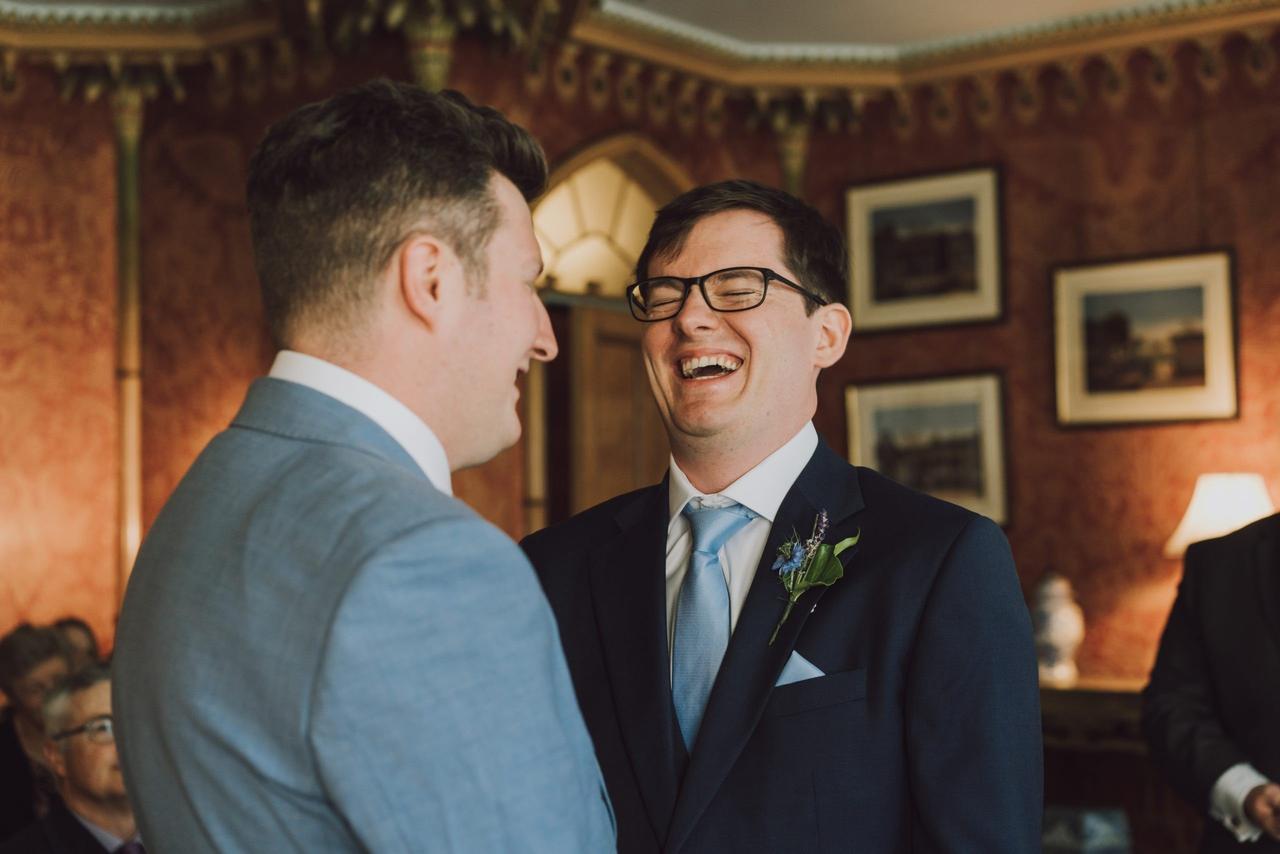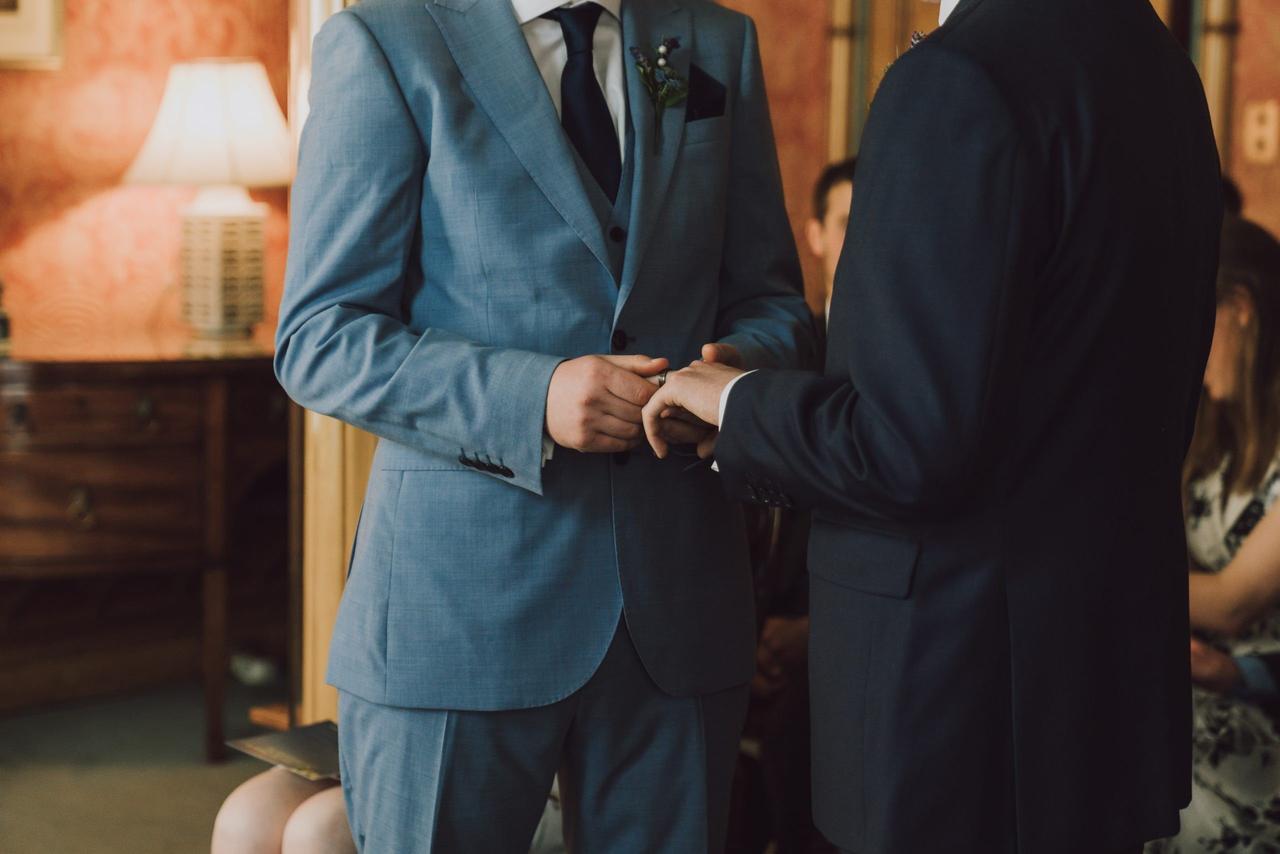 The Cake
Sarah Burns, Alistair's parent's friend, created the couple's beach-themed wedding cake complete with mini-versions of the grooms. Sarah previously ran a cake making business but has given it up to focus on her family.
"Our wedding cake was a three-tier white cake which tied in with our beach theme. This was achieved with a spiral around the cake which had been given a sandy texture leading to the top tier with two models on top.
"The cake itself had different decorations on the sides representing significant parts of our lives. Each tier was a different flavour – chocolate, Red Velvet and Victoria sponge.
"The cake was cut during the evening and then served by the hotel to guests."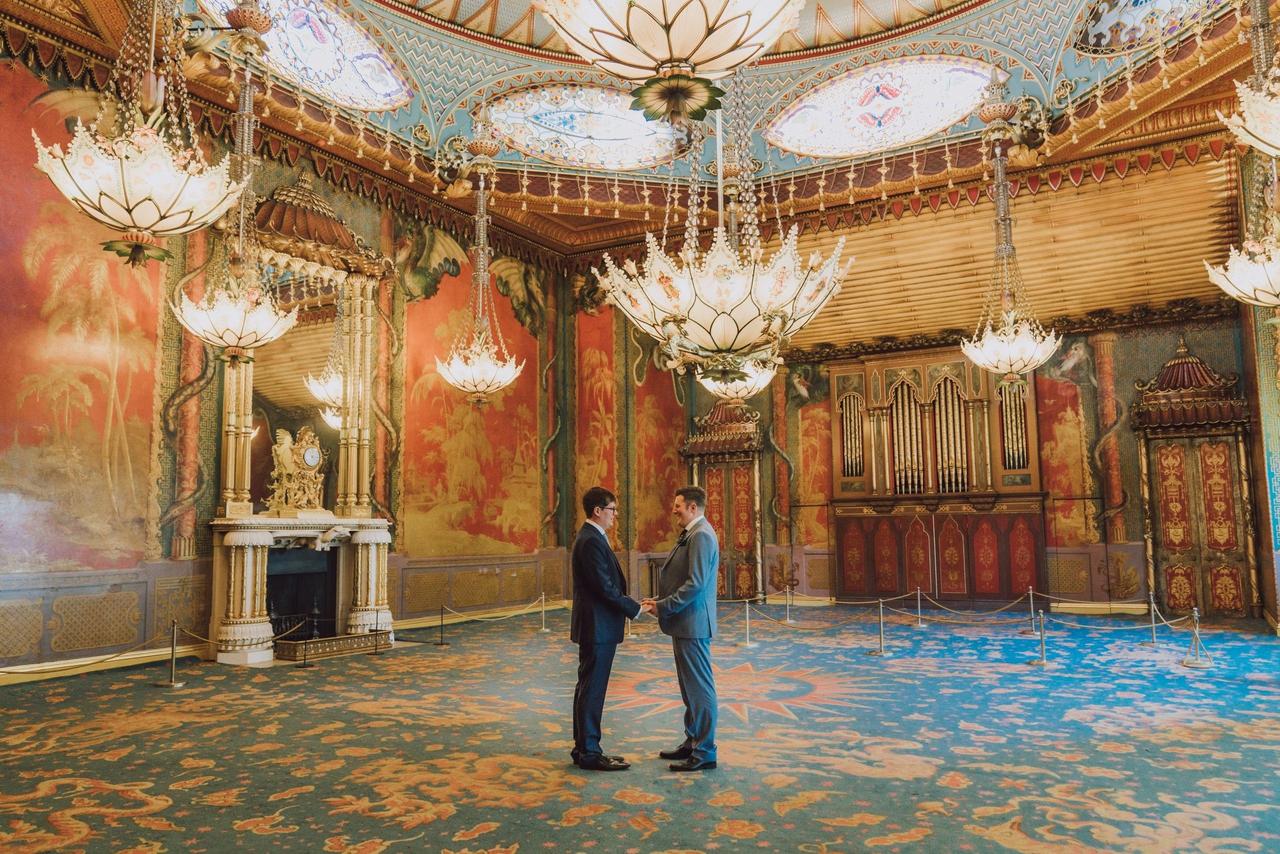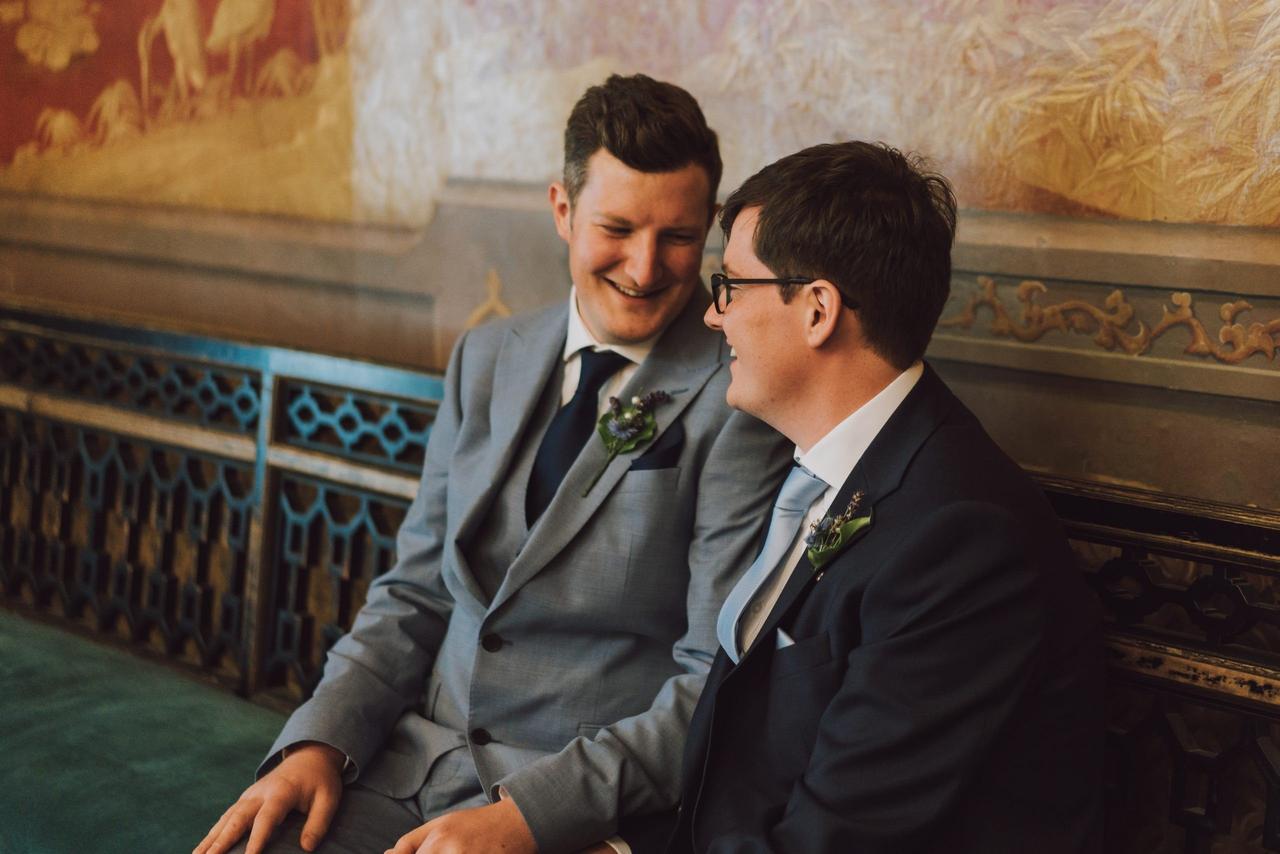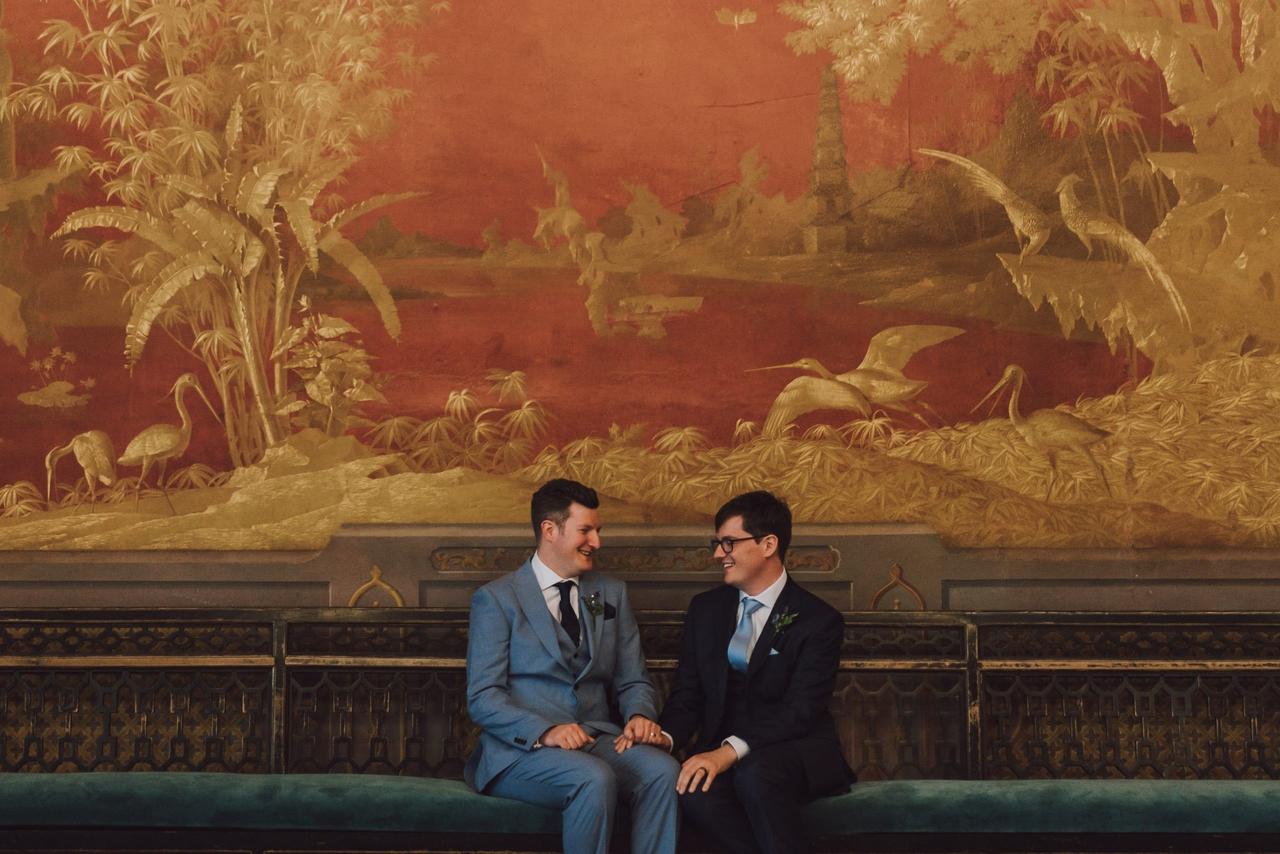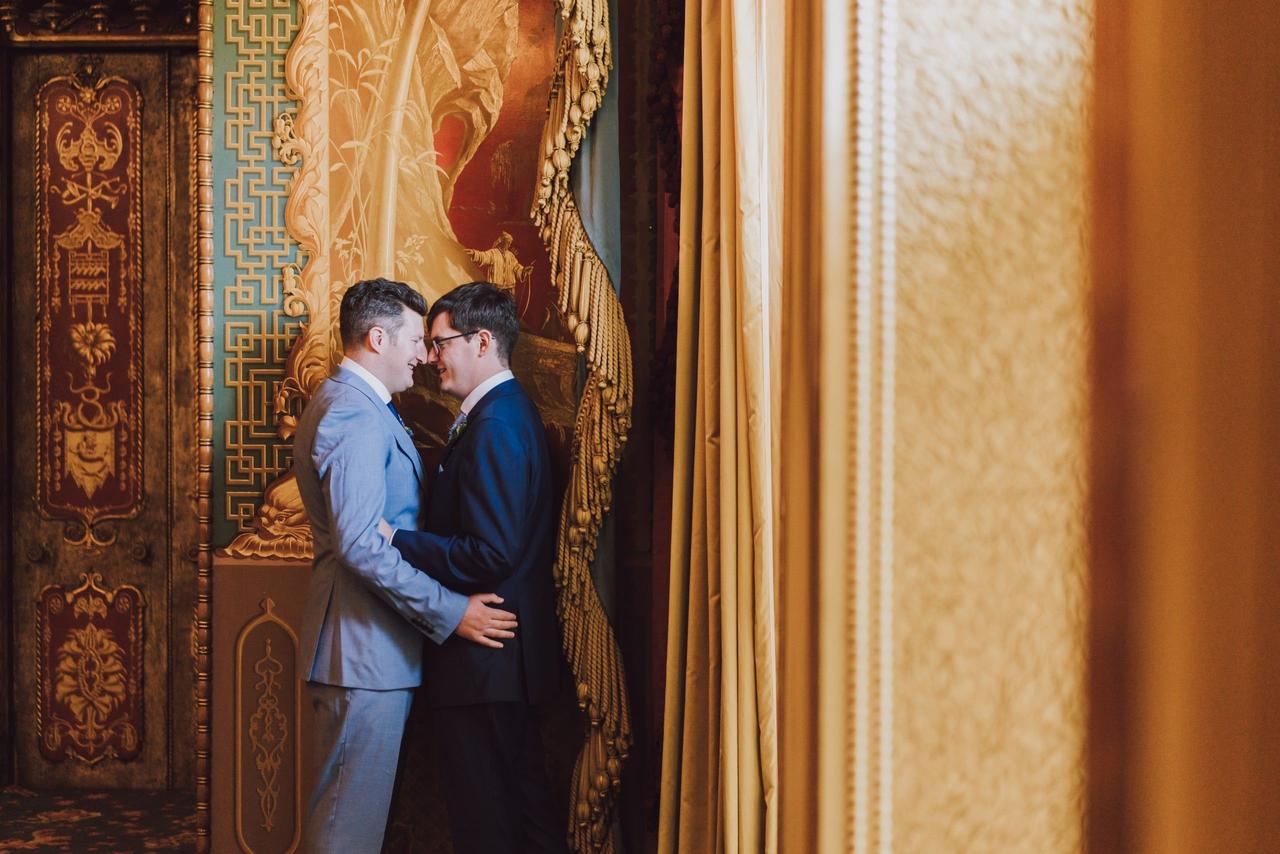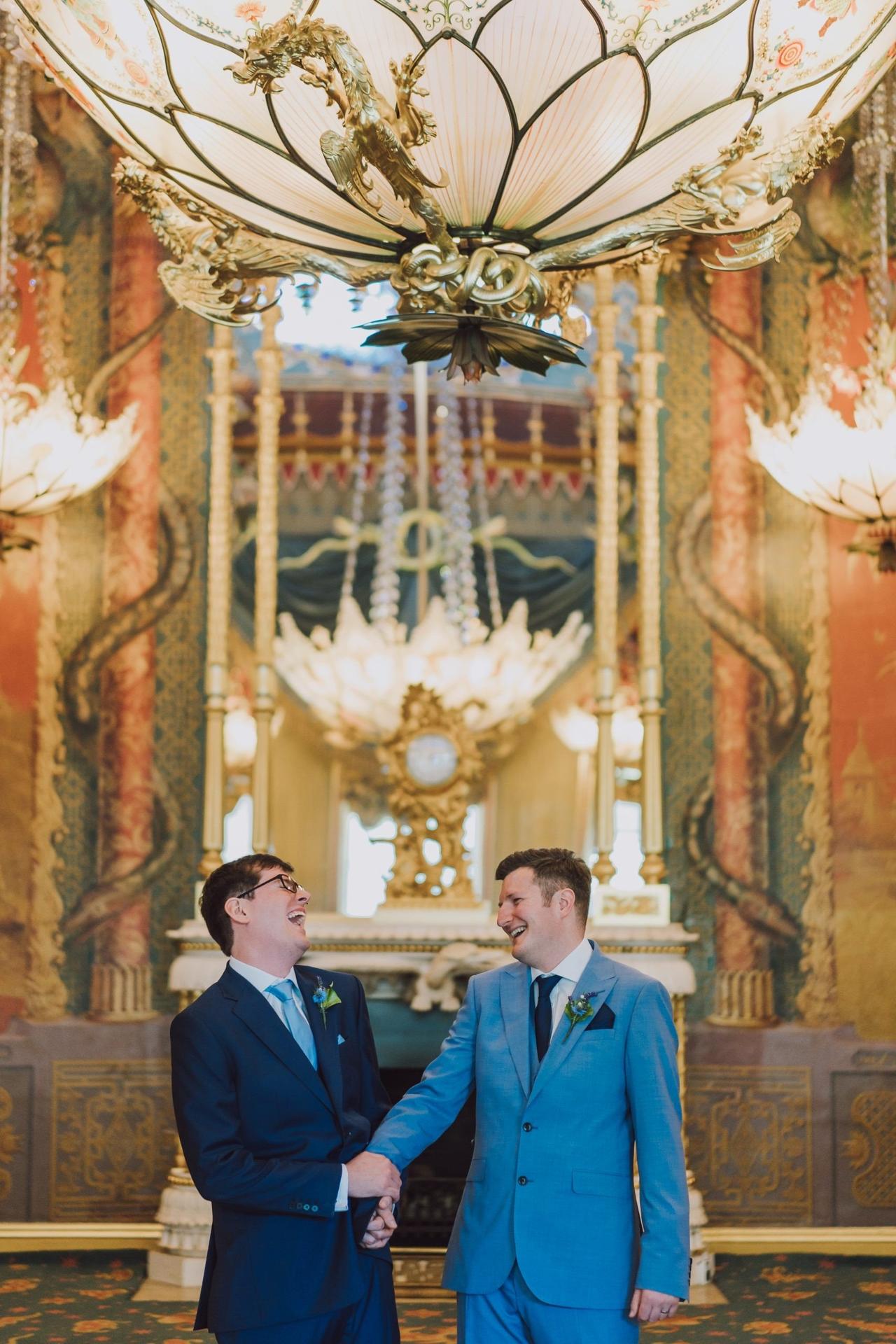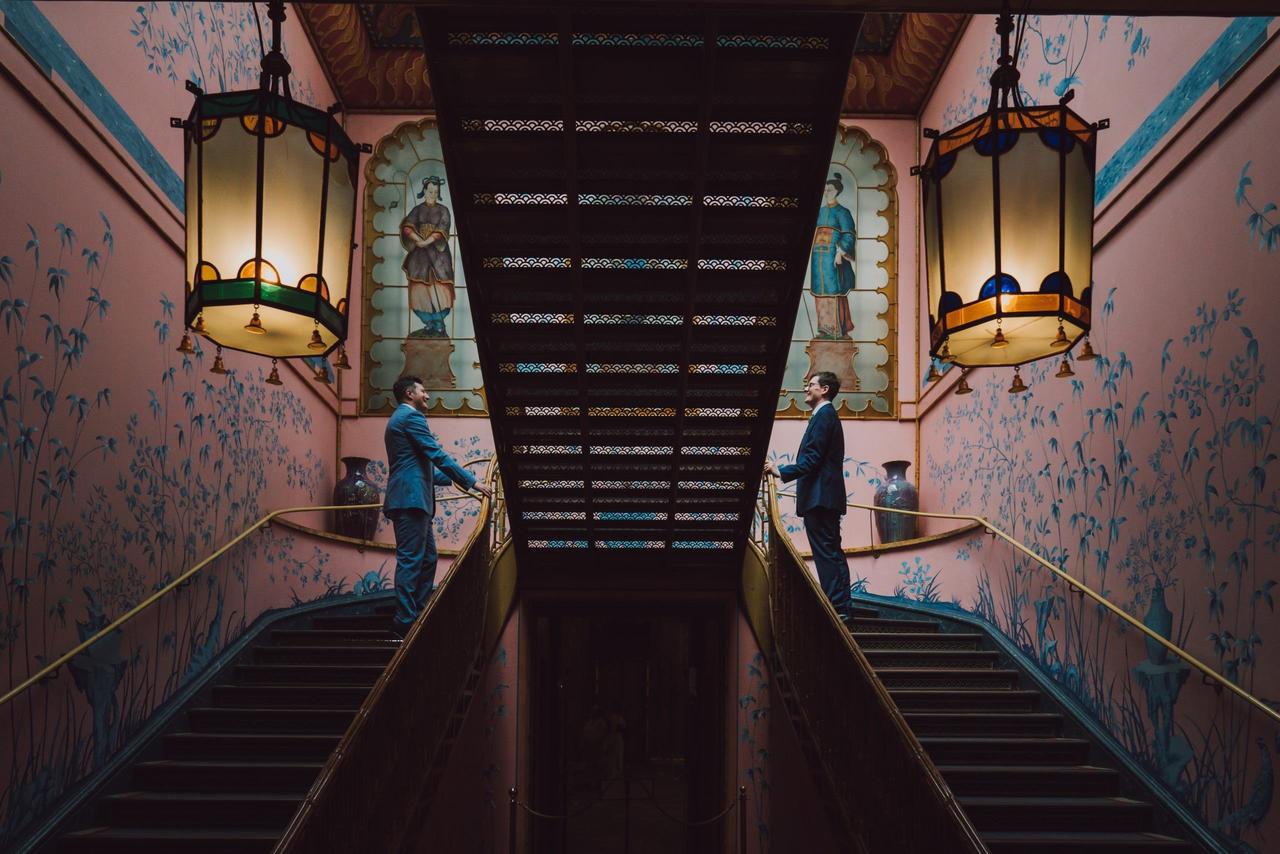 The Décor
The couple chose the DIY route for much of their wedding décor. They put together their own centrepieces by sourcing glass bowls to fill with sand, shells, and a candle. Their guests loved them so much that they gave a few away during the reception!
"The shells were collected from beaches in Wales and North Devon by Alistair's sister and her family. The glass bowls were purchased by Alistair's parents from a florist in Bath. The sand was from Wickes!
"Our save the dates were magnets called 'Vintage Beach' produced on Minted. The invitations were 'Beach Stripe' and this set included menu cards and RSVP cards also produced on Minted. The colours were taken from a standard stick of rock such as blue, green, red, yellow.
"The place names were written onto rocks that mimicked rocks from Brighton beach. Guests could take these home with them. The guests were also given a number of chocolate pebbles, rocks and starfish which Paul and I saw while travelling abroad in Prague. We found a UK supplier on Amazon who produced similar looking gifts.
"Rather than the more traditional photo booth, we rented a giant deckchair to tie in with our beach theme. This was provided by Bounce Mania."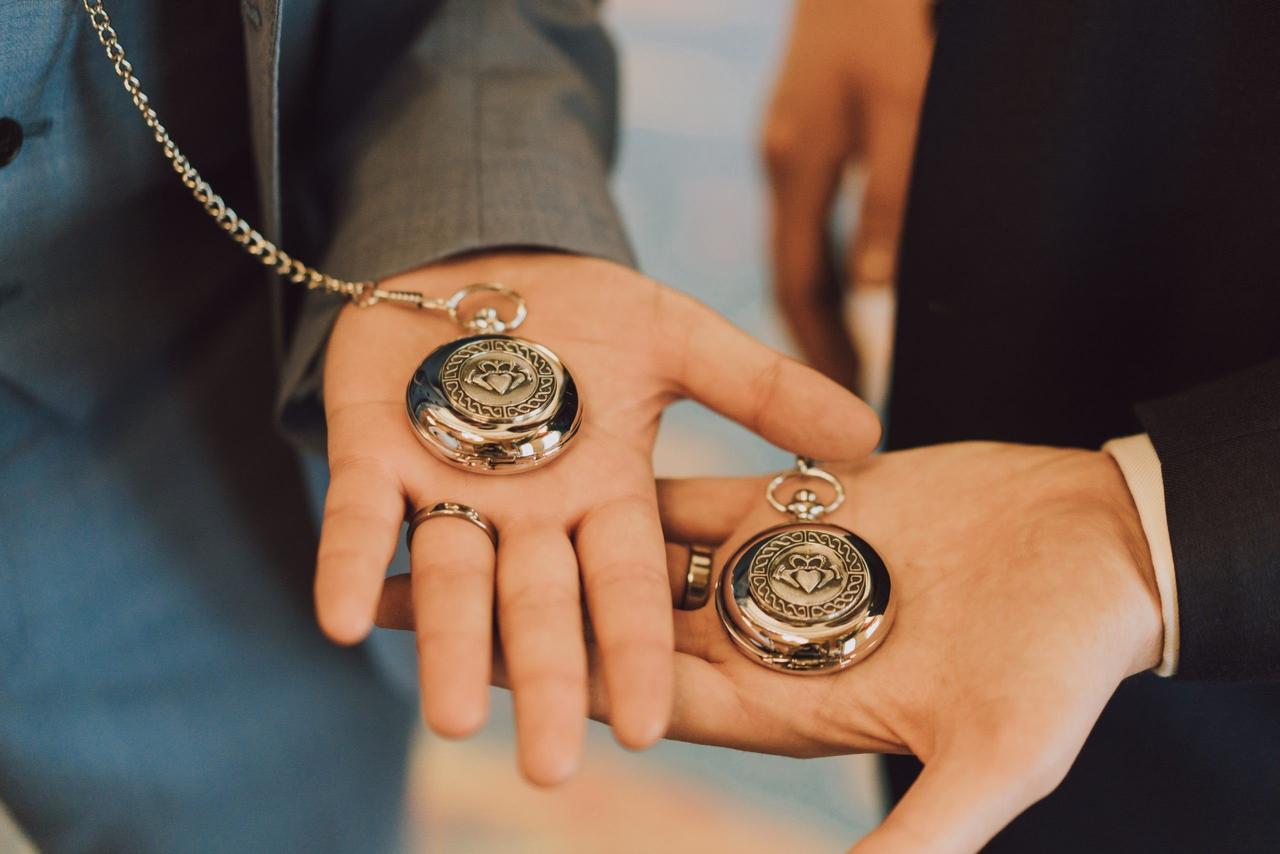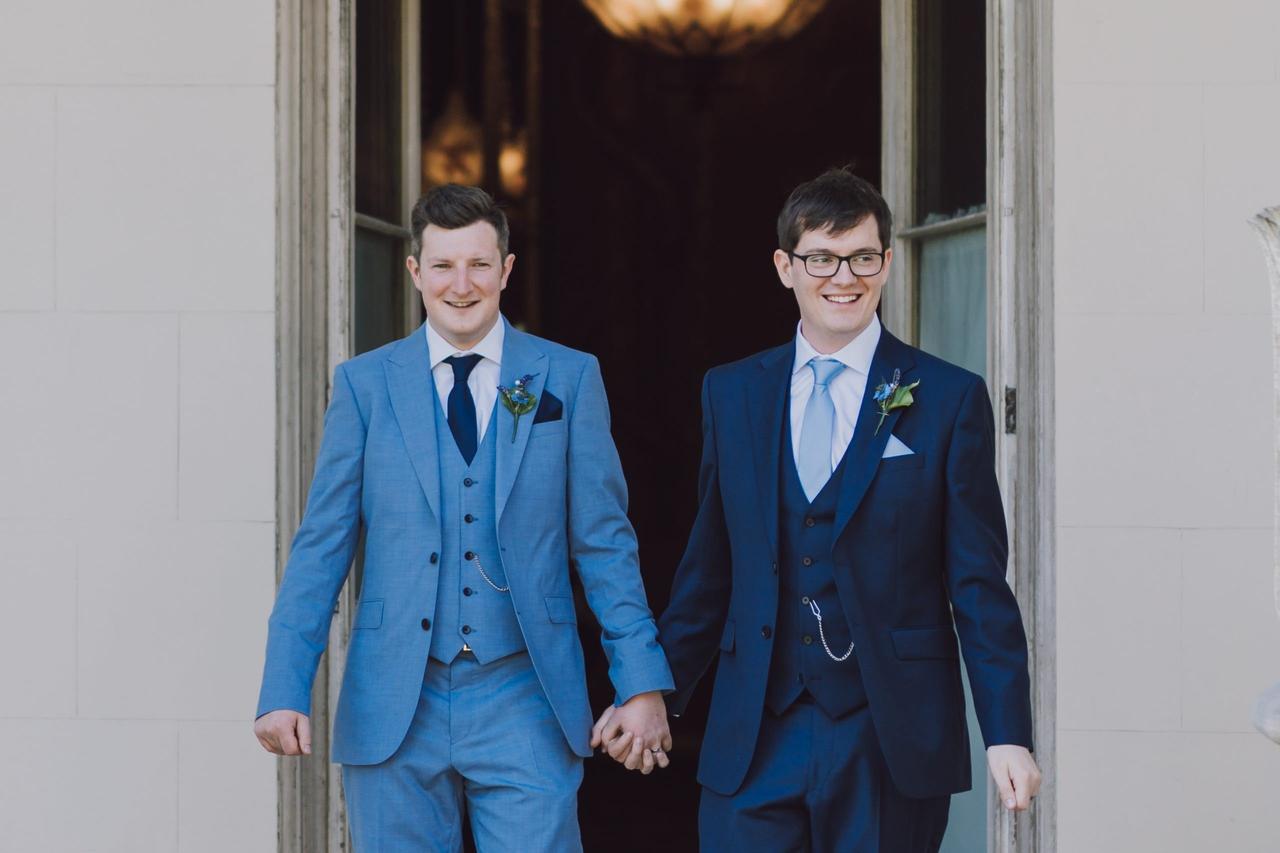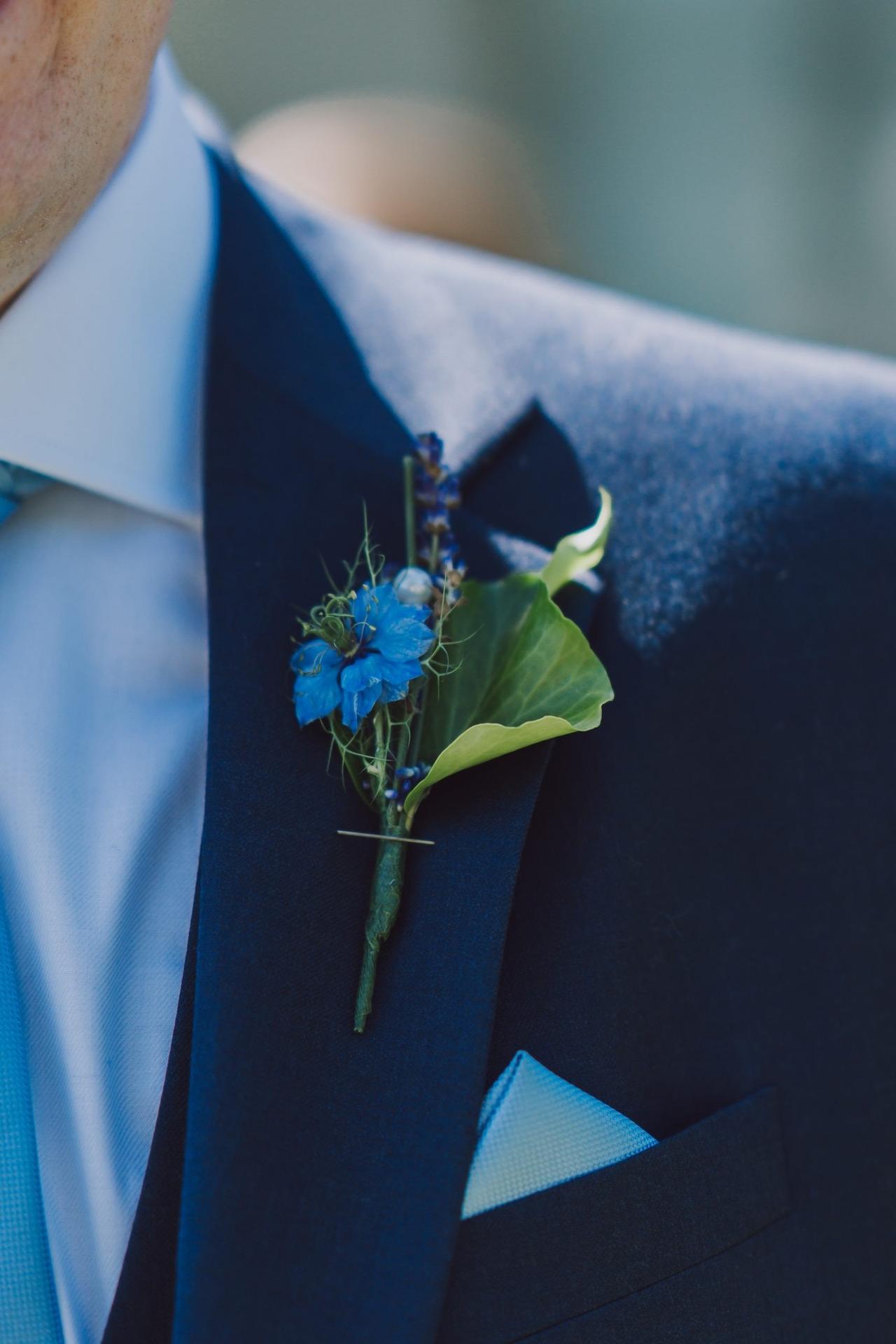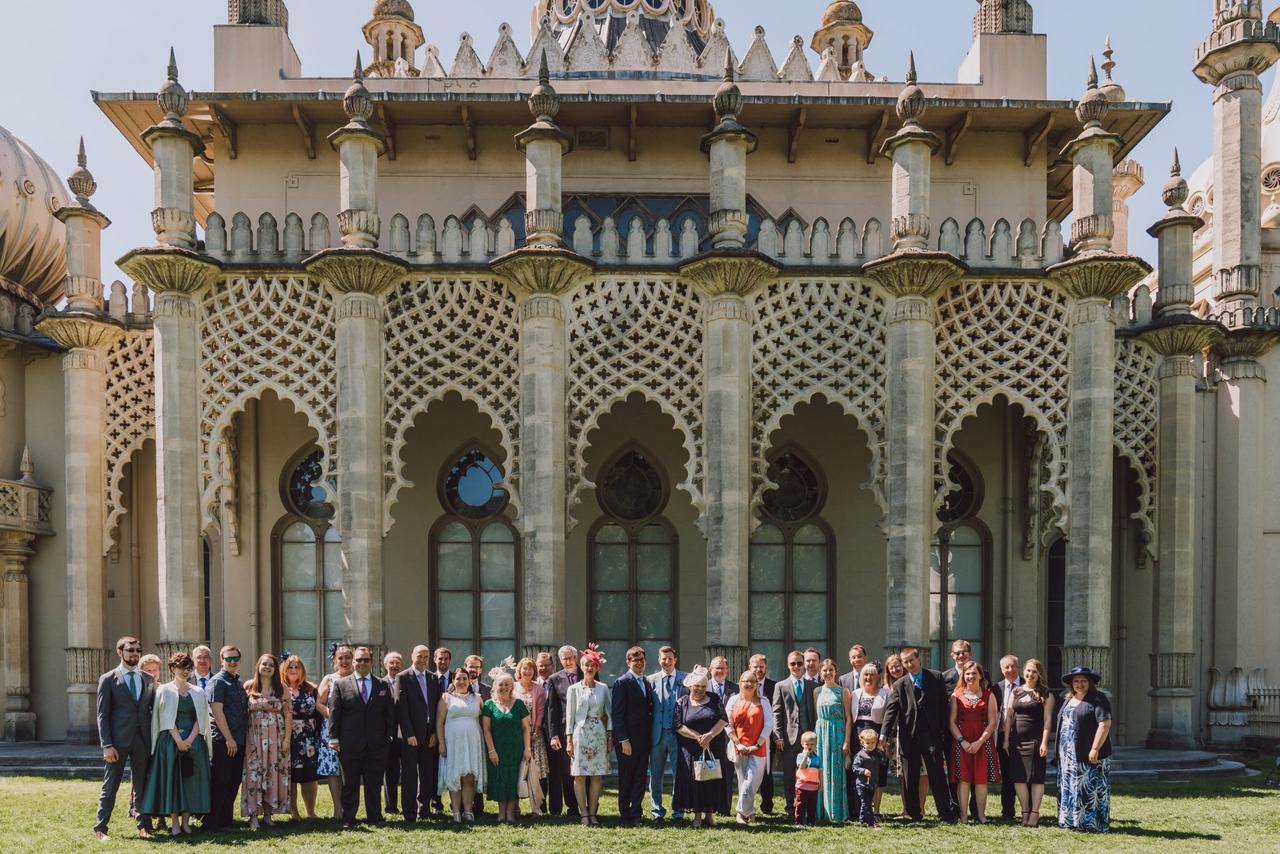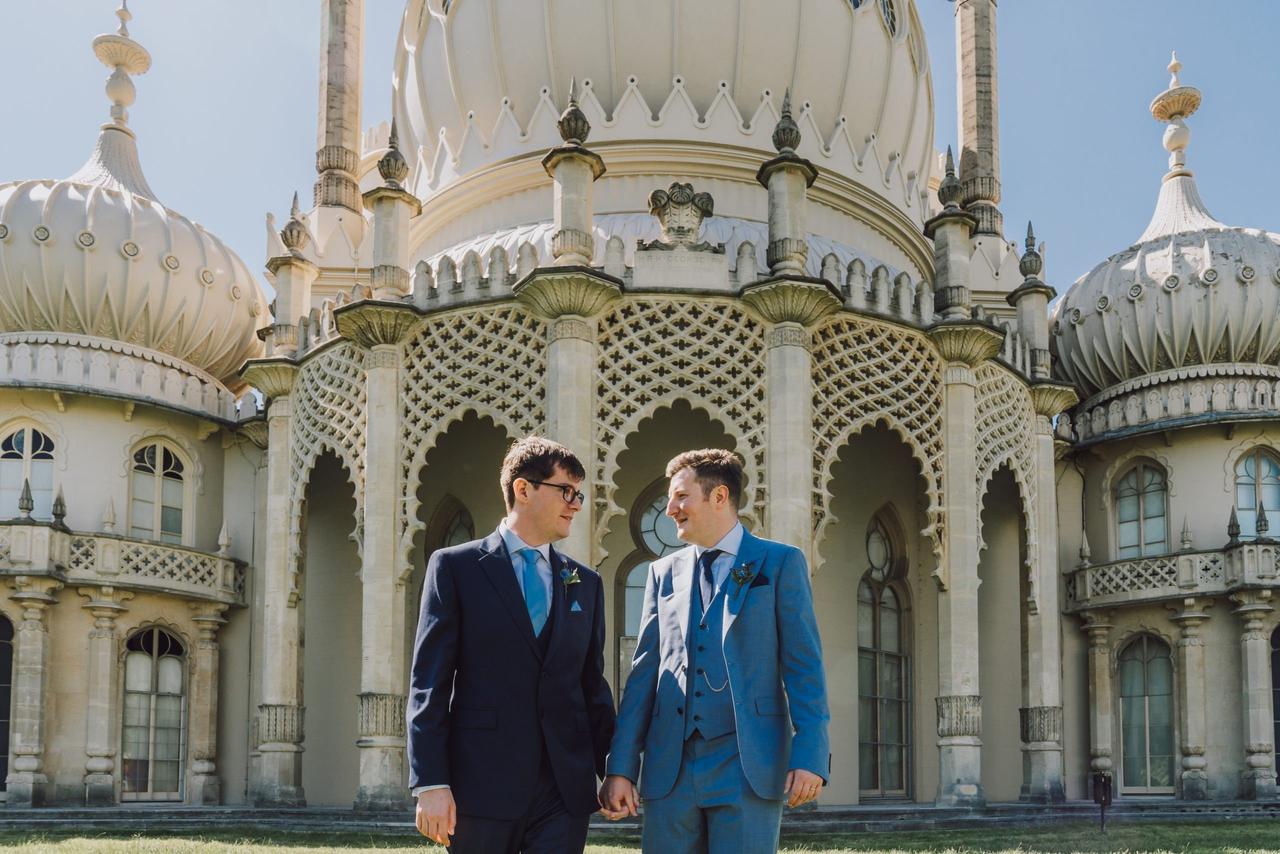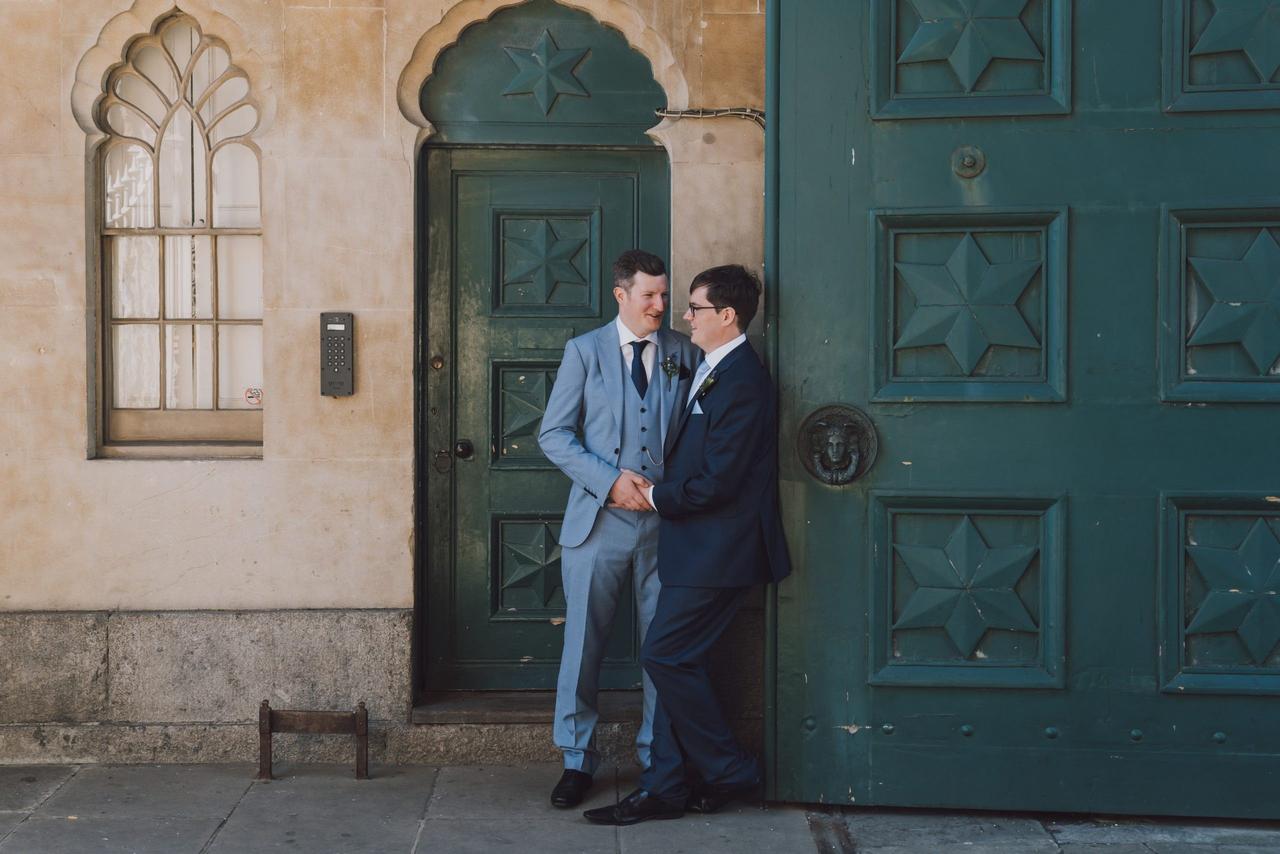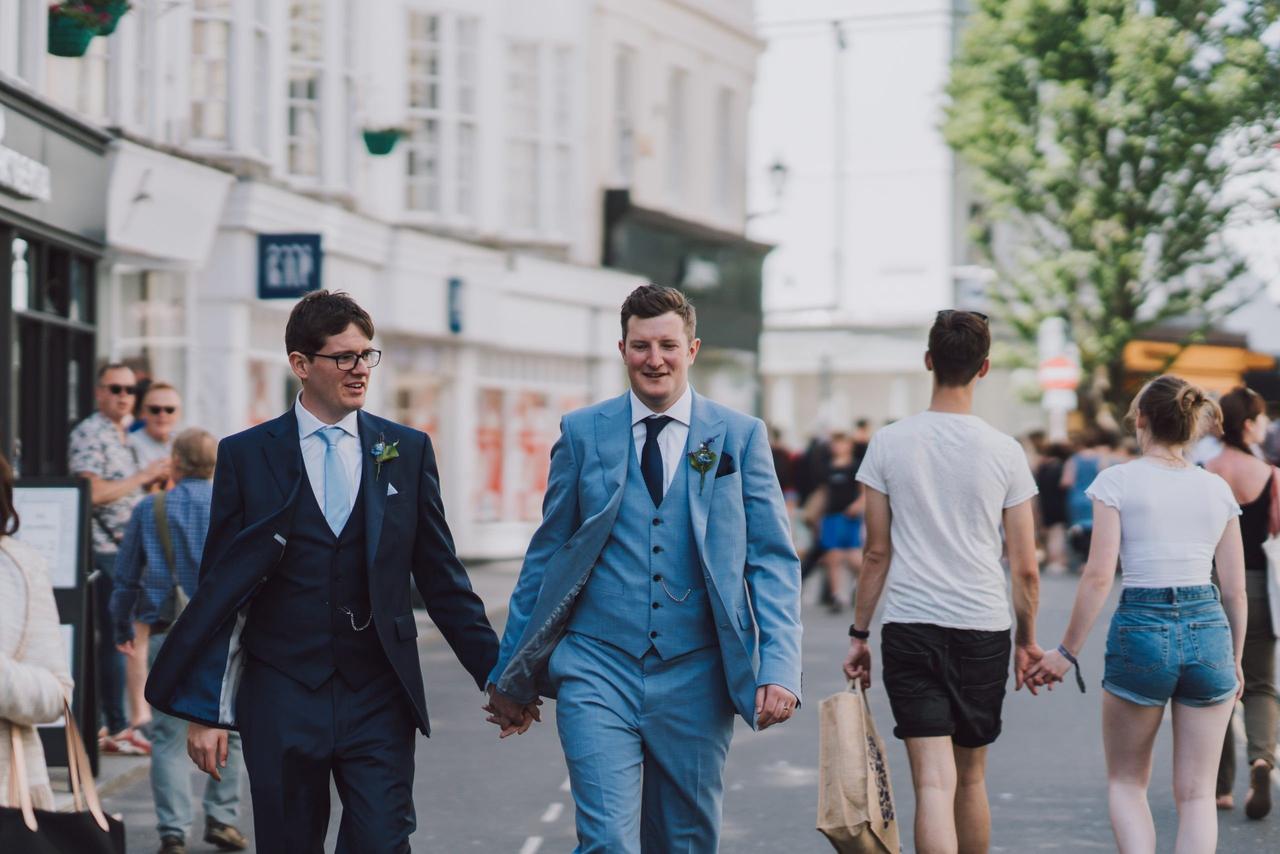 The Entertainment
Alistair and Paul hired a DJ from Warble Entertainment to make sure that guests could request their own songs and enjoy dancing the night away together!
"Our DJ provided all of his equipment and we decided to go for the advanced lighting package. Having a DJ gave us a great selection of music to dance to.
"Our first dance was to Flashlight by Jessie J. If there was one thing we would change, we would've swapped around when we undertook our first dance as we left this quite late.
"Despite Paul and I starting the ceremony at 2pm and staying awake talking to friends until 3am, we felt that the day was not long enough and we could've chatted for much longer."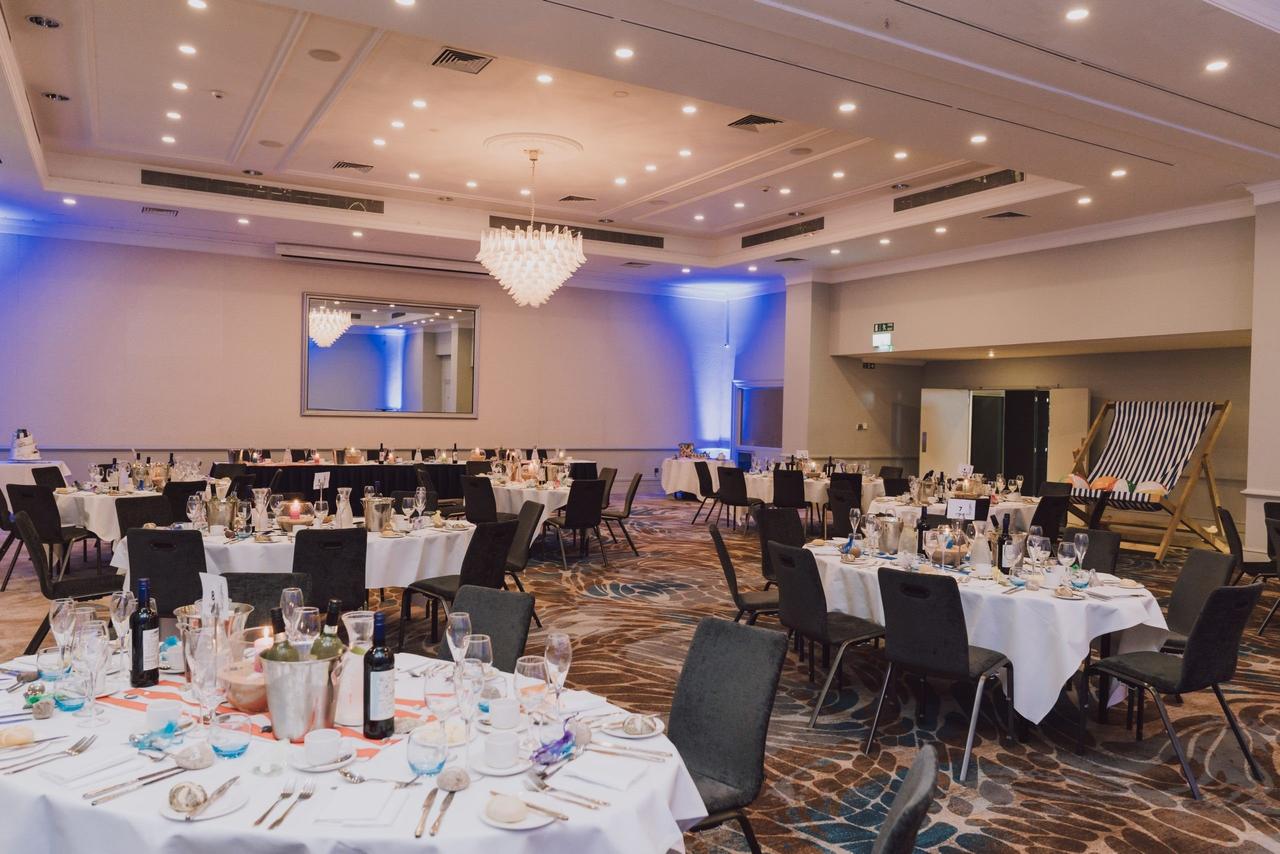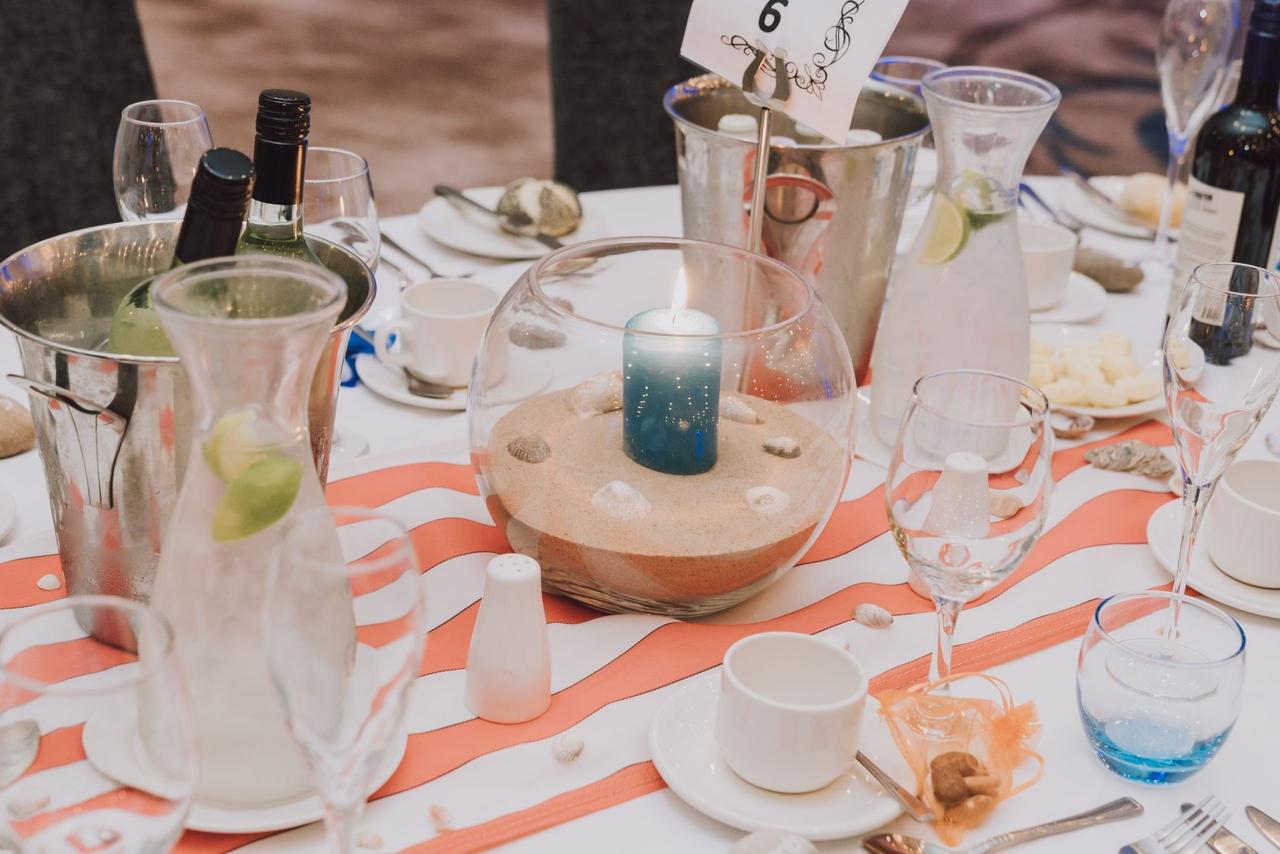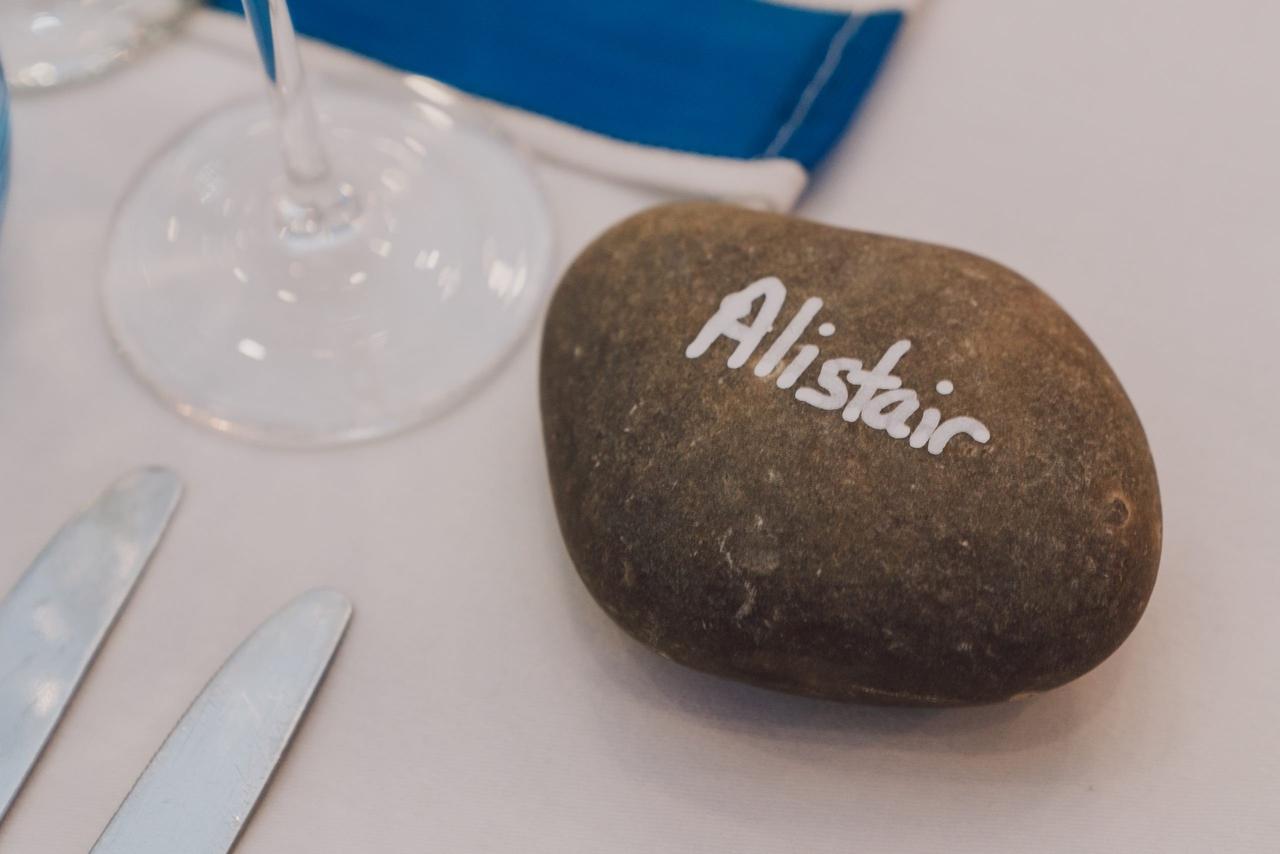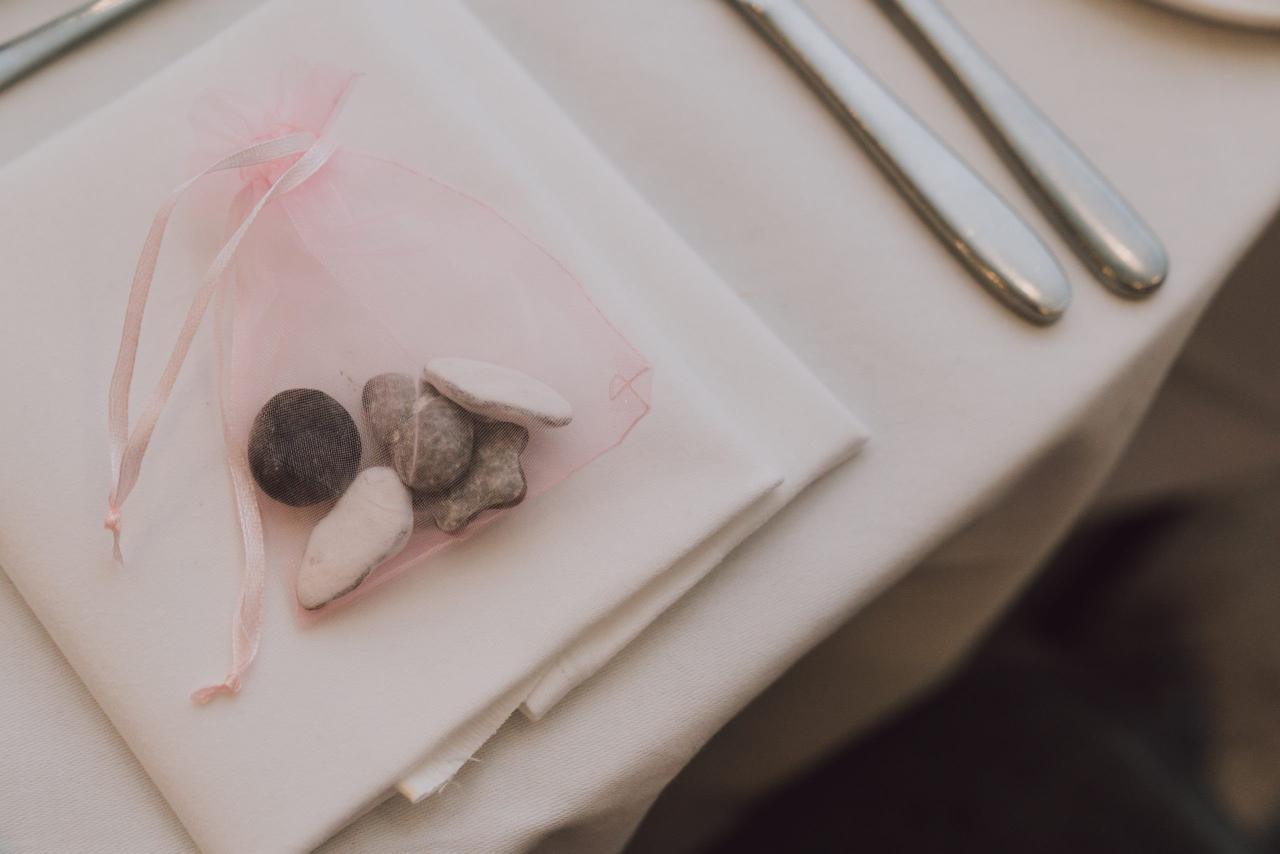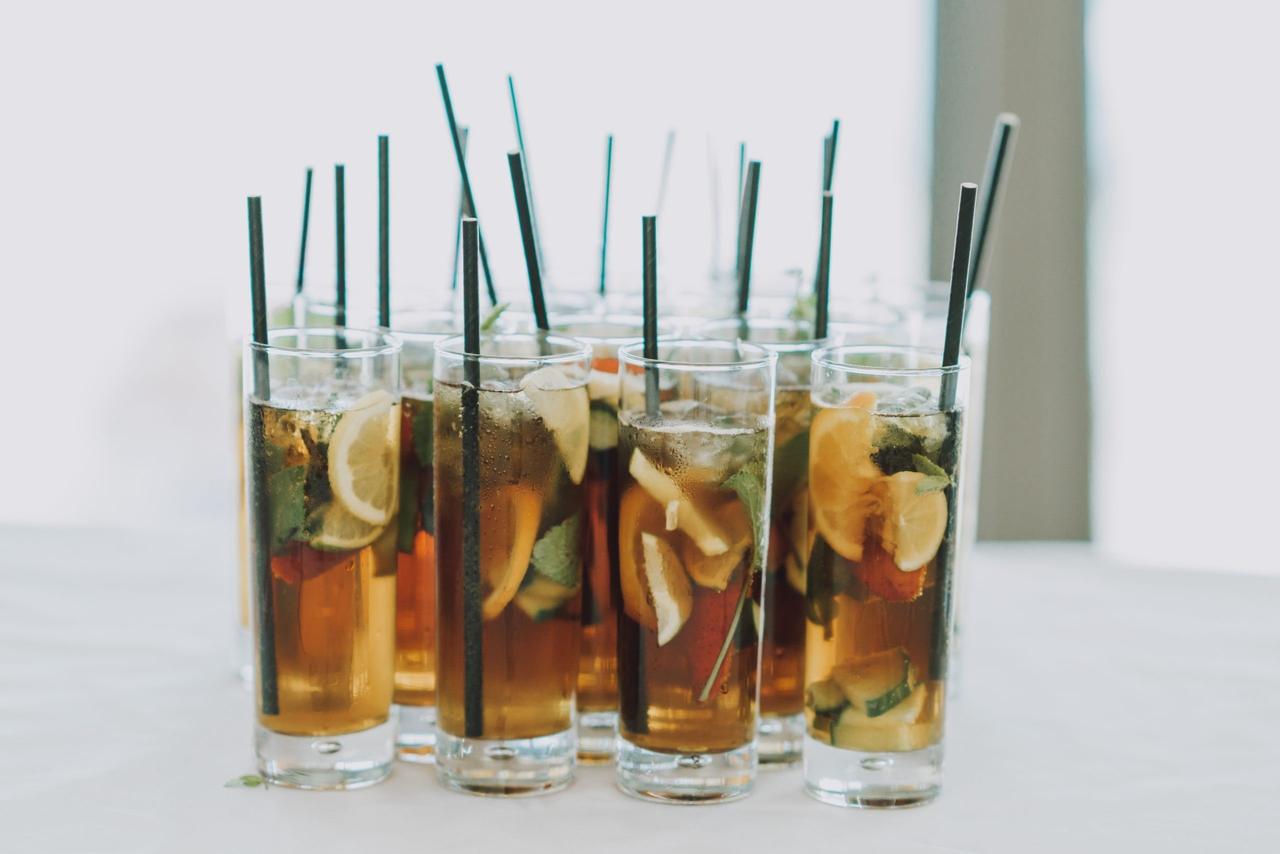 The Honeymoon
The couple are yet to go on a honeymoon as they have both work and student commitments but are planning a three-week tour of Canada in 2021.
"Alistair picked the destination as he is fascinated by seeing seals in the wild. It is also a destination that has come highly recommended from friends and colleagues that have already been.
"The difficulty with the country is the vastness and our initial idea of hiring a motorhome and travelling from one side to the other has had to be shelved and some select territories to be visited instead."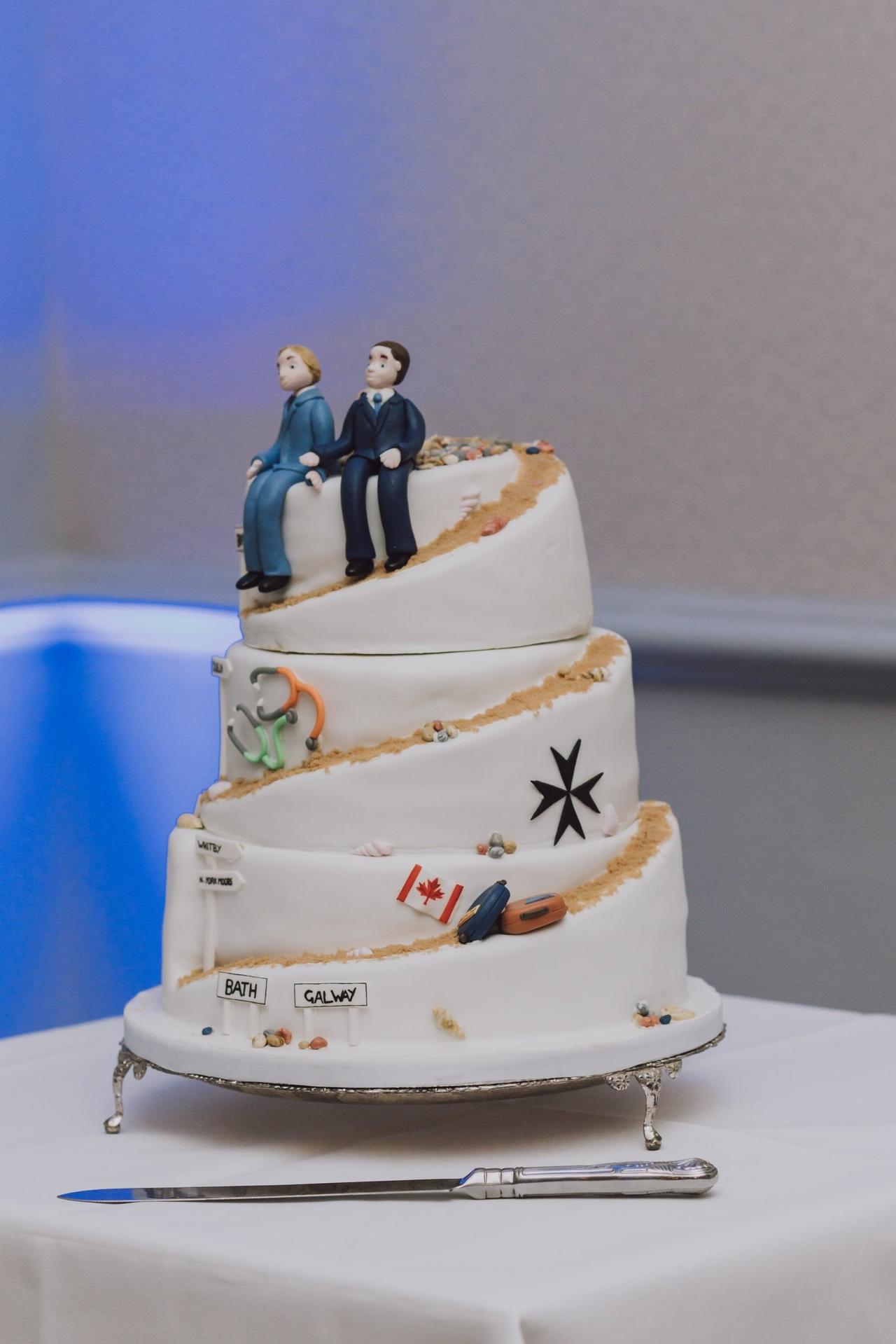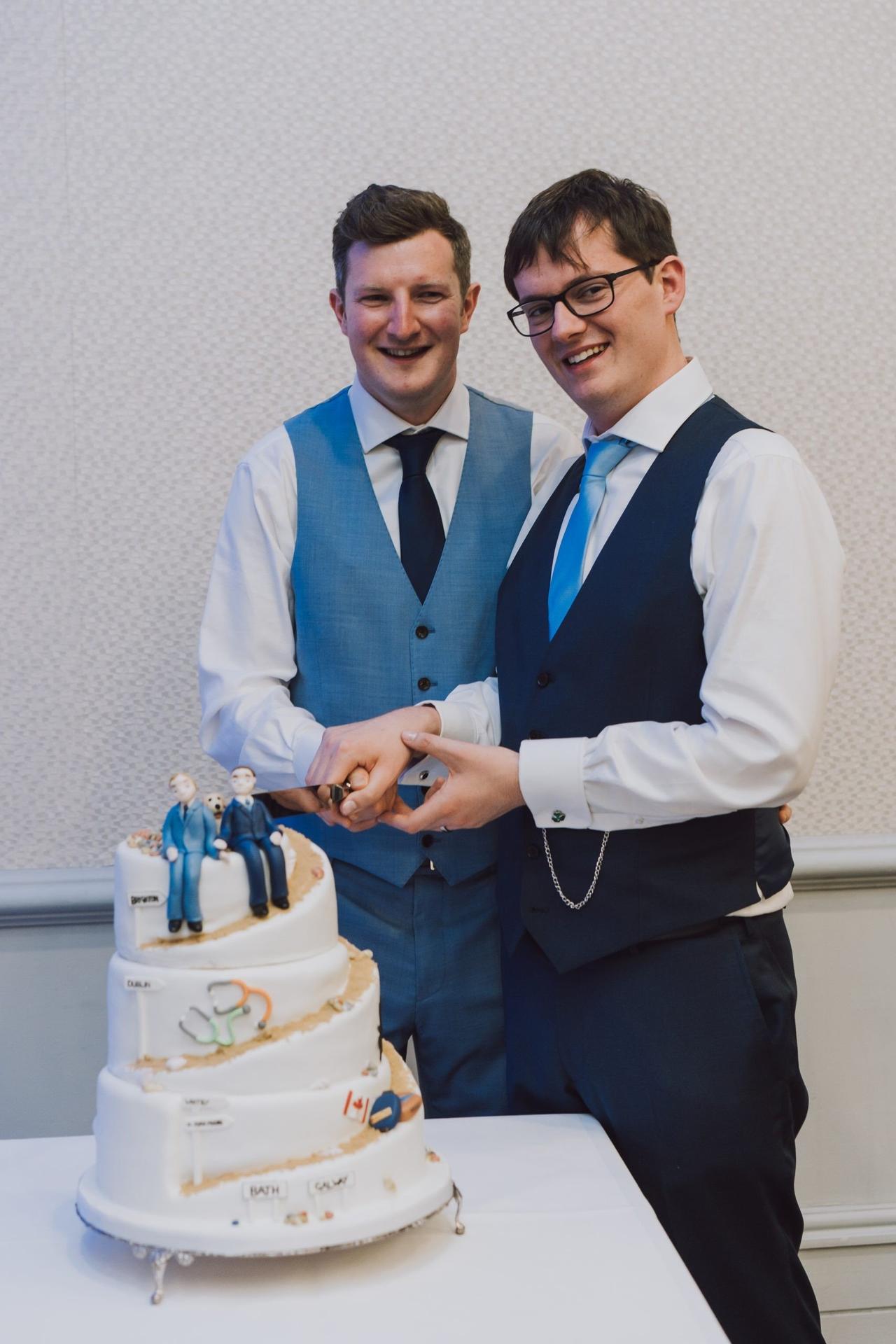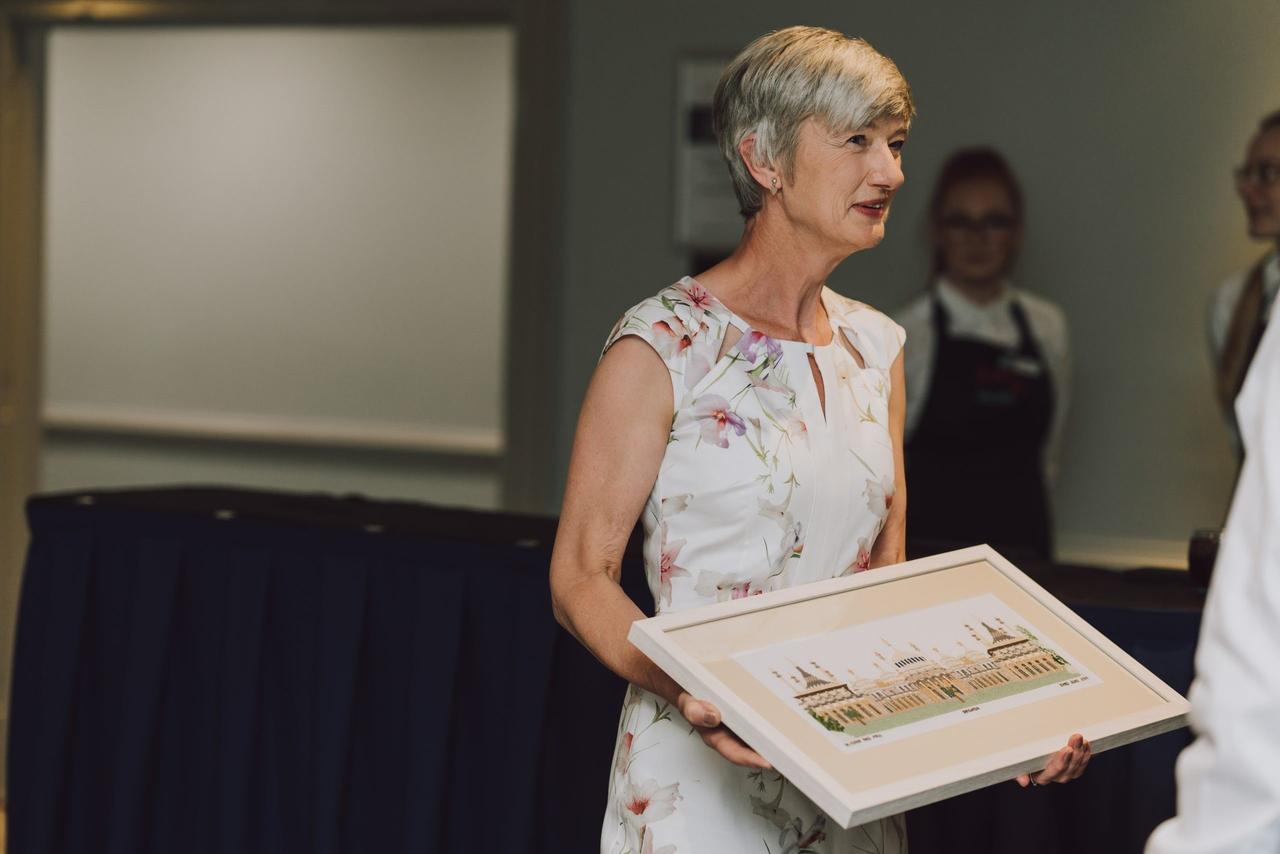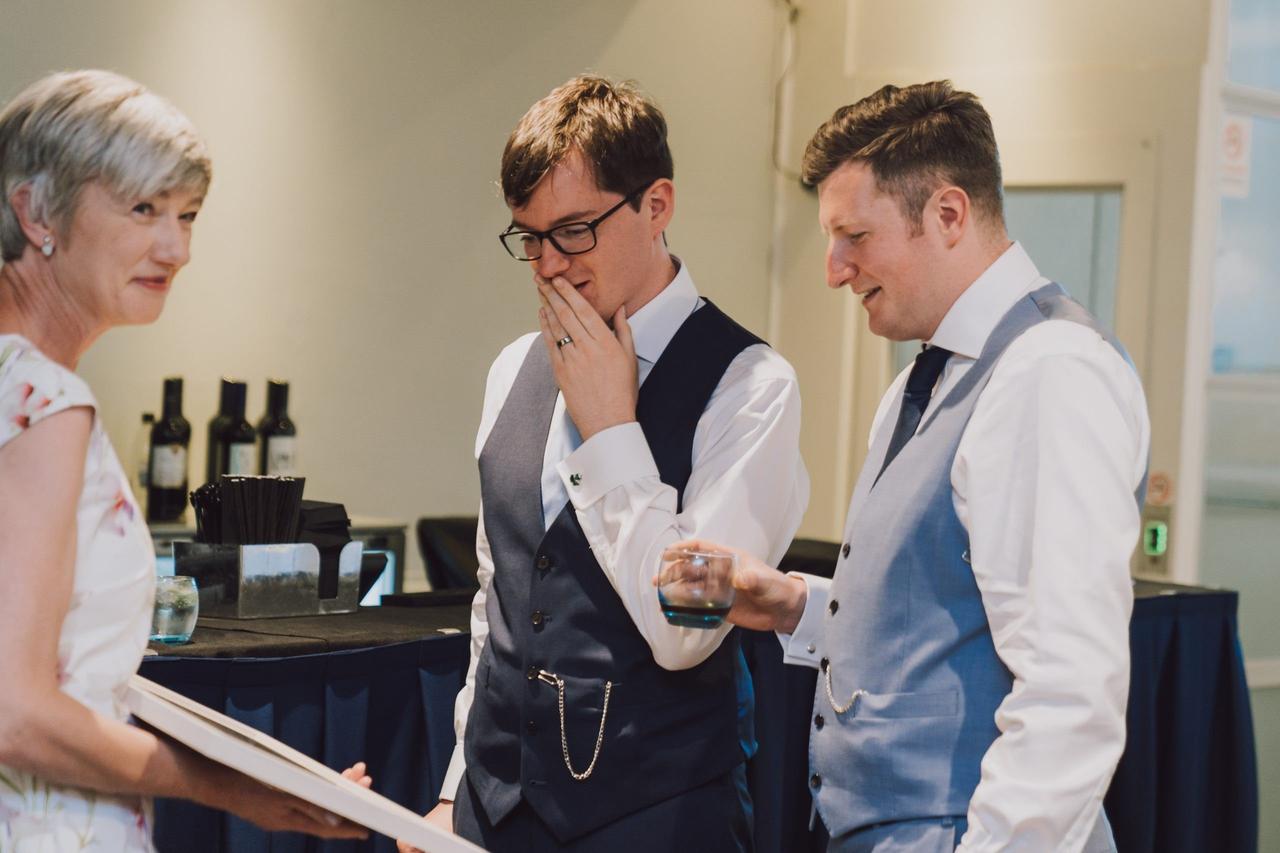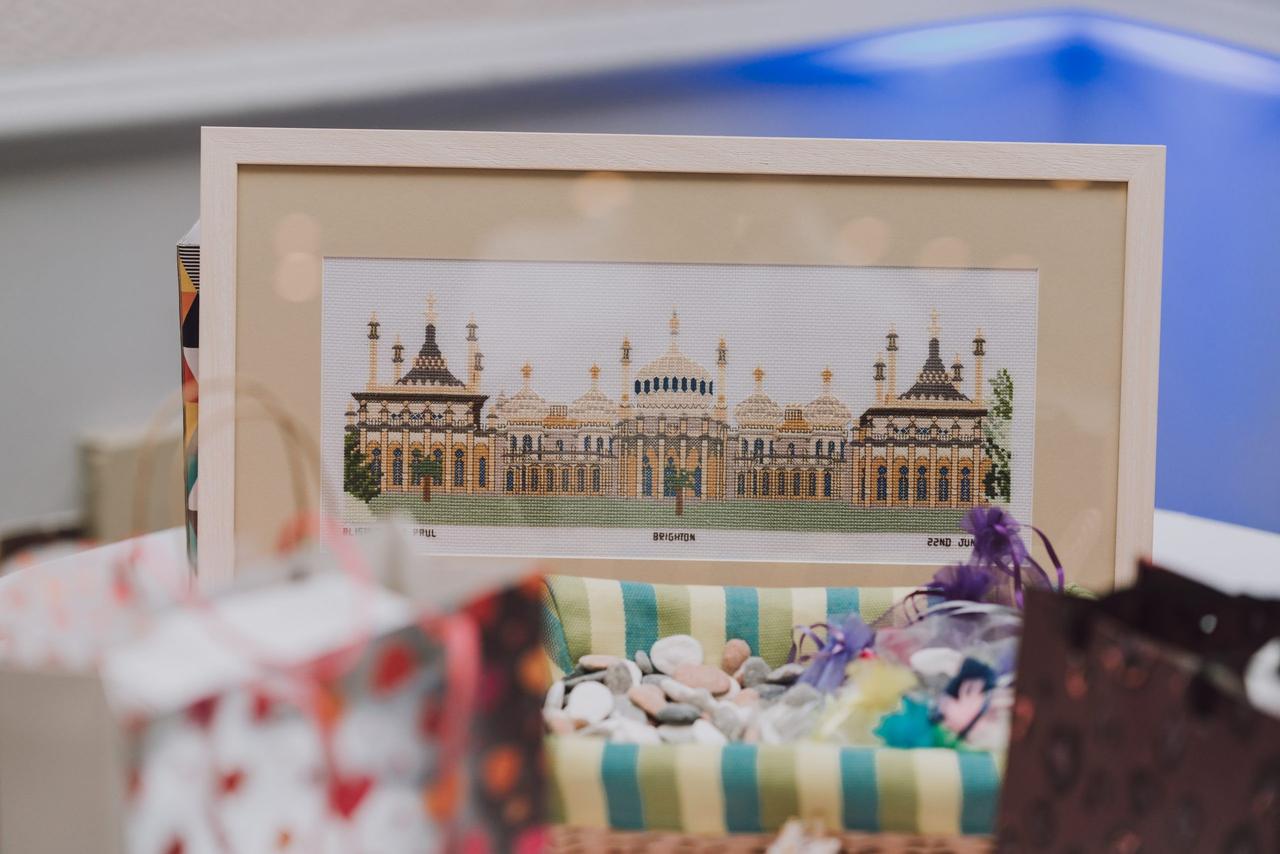 The Couple's Advice
The couple set a wedding budget of £12,000 and managed to come in under this figure. They chose John Lewis to manage their gift list, but the best present of all was a cross-stitch from Alistair's mother of the Royal Pavilion!
"Our advice is to make the table plan and meal plan really easy to follow. By providing this information in a format that was simple to follow, the venue gave us a free upgrade of wine and other drinks.
"Alistair really enjoyed just sitting down and researching all the venues that may be available for the ceremony. We used Microsoft Excel, Microsoft Office and Google Docs to track all the documents. This also meant that both Paul and I could change and add new developments as and when they occurred.
"Don't apply any pressure to yourself. Paul and I found the whole process really easy. We had no idea what we wanted at the beginning but once we confirmed our theme, things just started to fall into place.
"Paul really enjoyed spending time with me away from the guests when the photographers took us onto the beach to shoot some photos during the sunset. This allowed some private time in a relaxed environment and once we saw the photos from this, they looked so natural and amazing.
"I really enjoyed seeing everything come together. Walking down the aisle, the ceremony, the photography, walking into the hotel, seeing the reception room for the first time full of our decorations, table runners, seeing the cake, and our guests, the food was amazing.
"I was really impressed with the work that both Paul's family and my family had put into setting the reception room up. It looked outstanding and better than how I had imagined it!"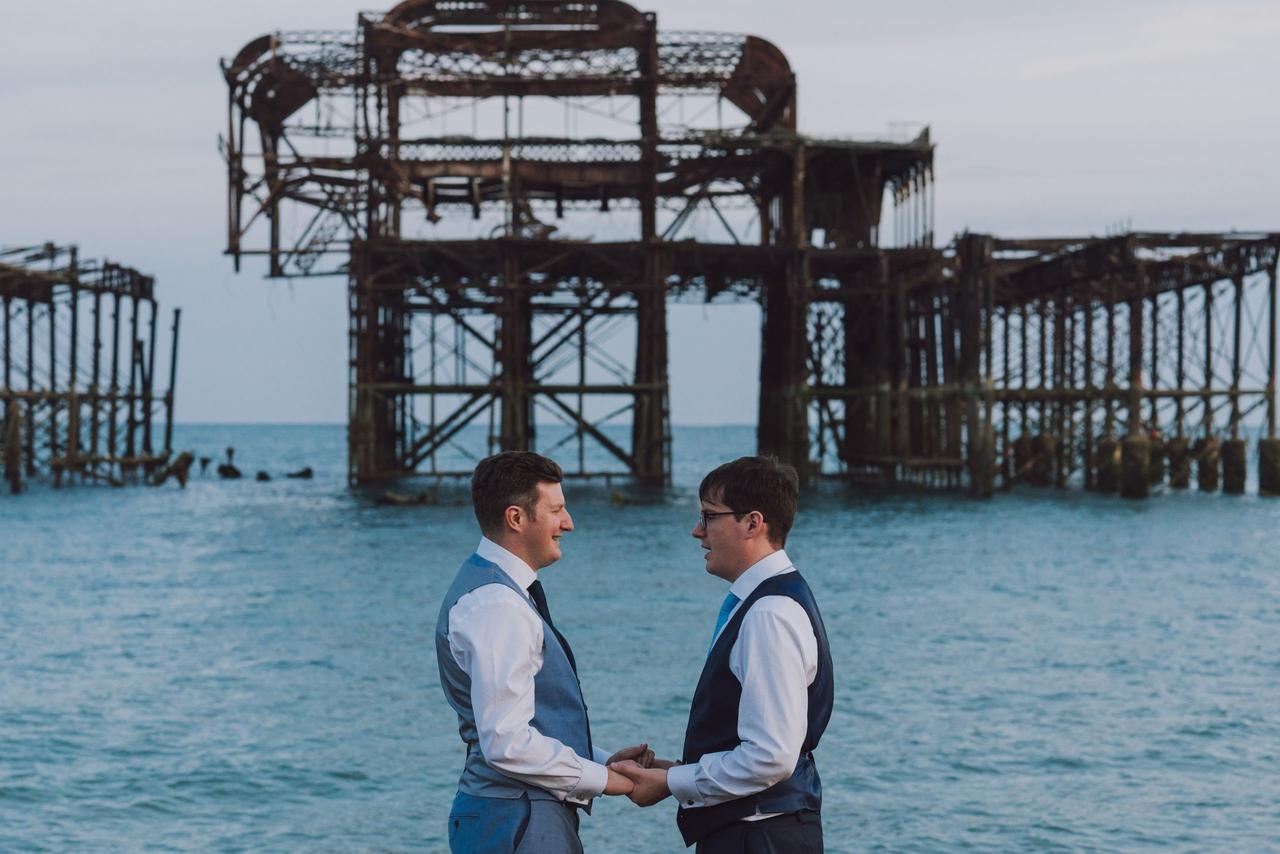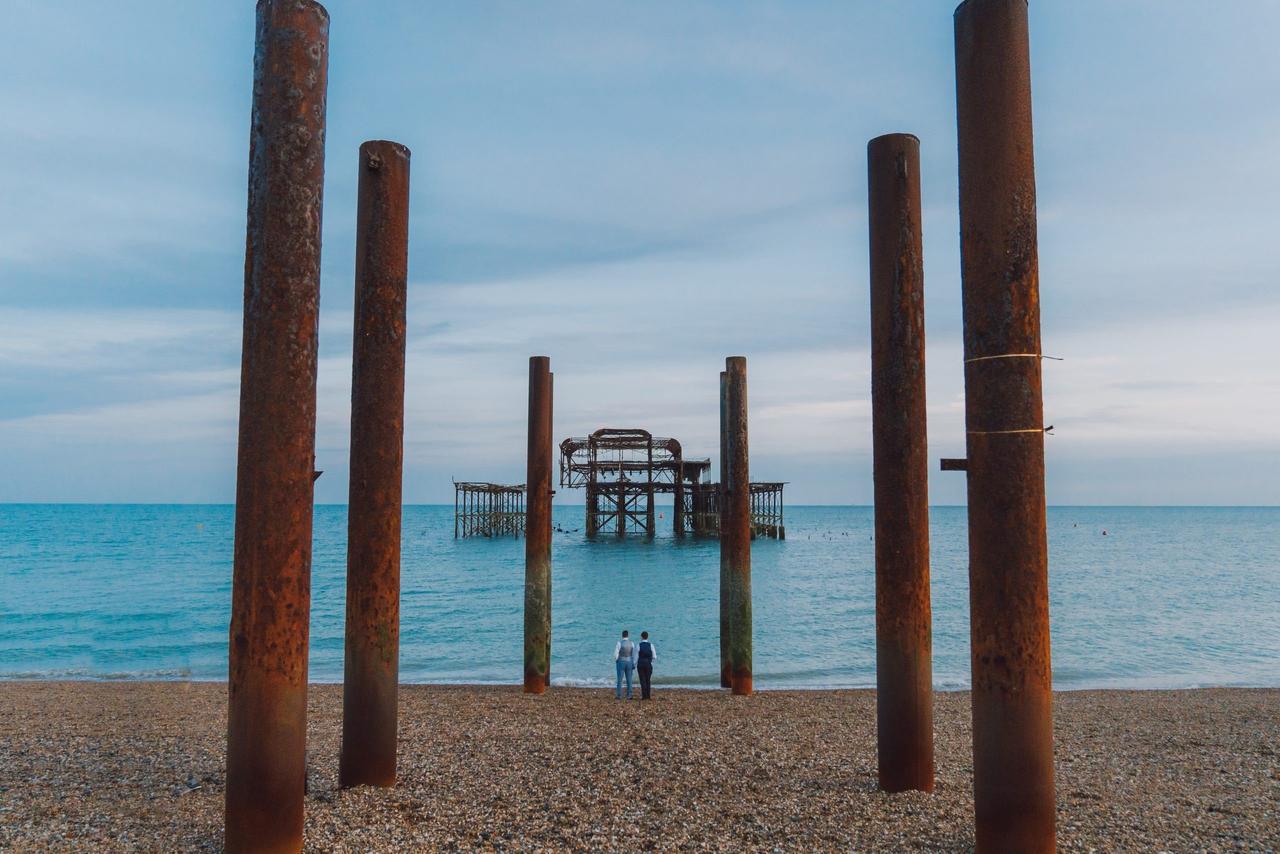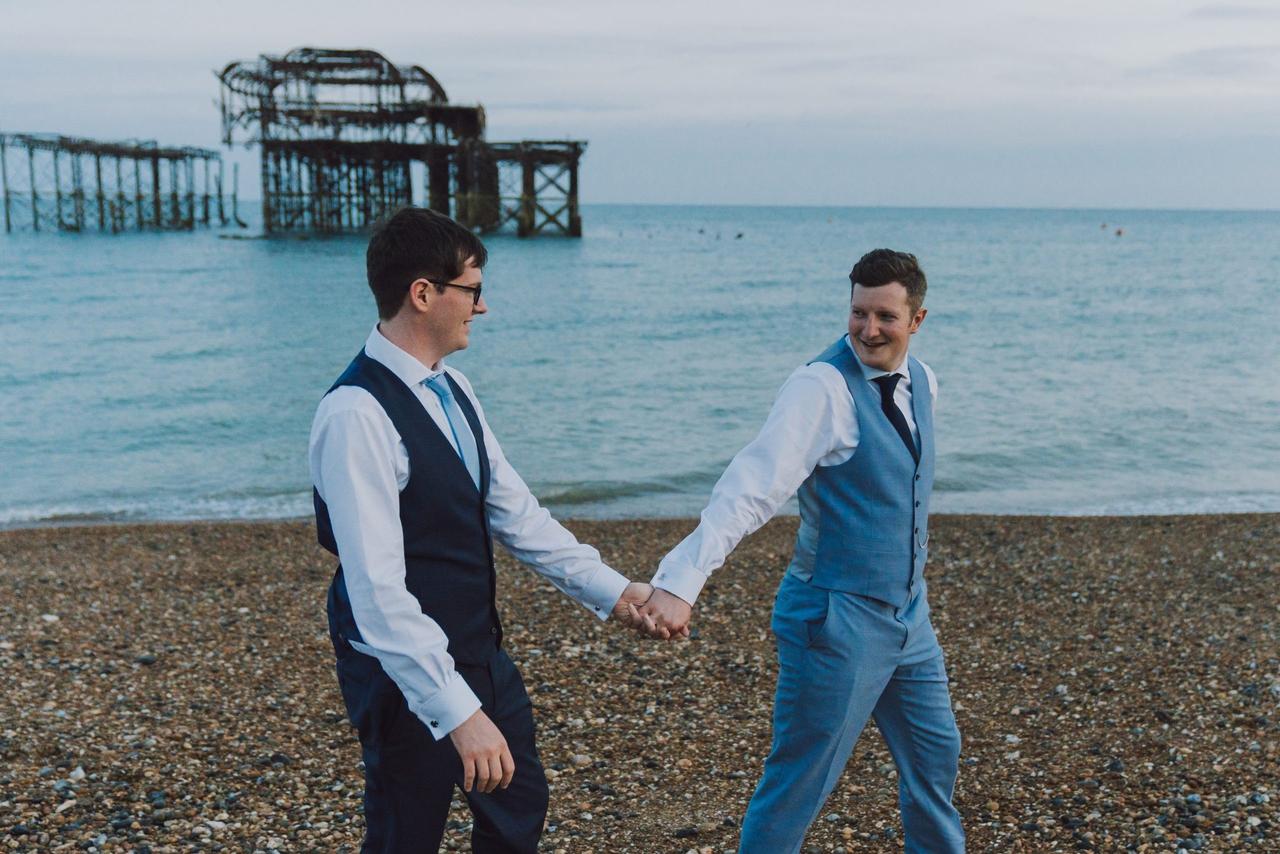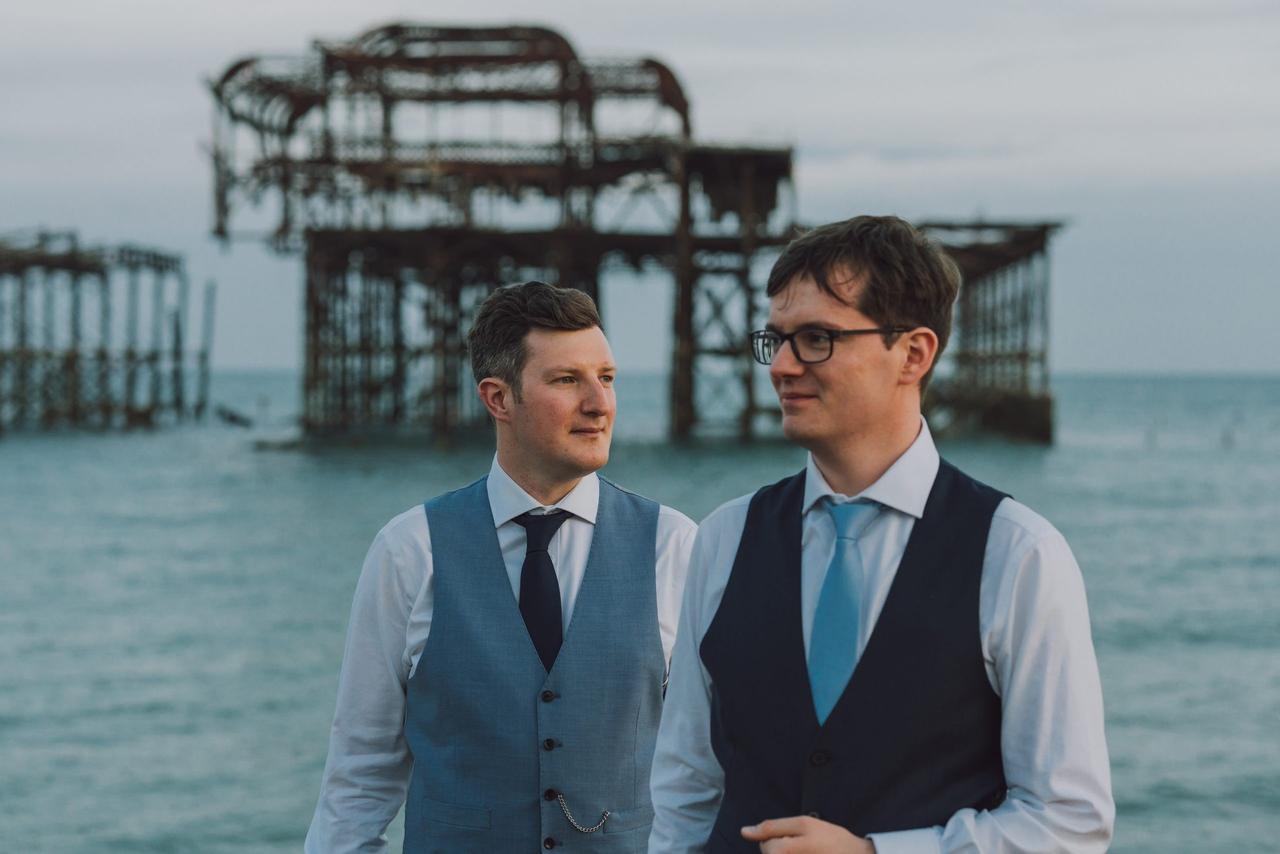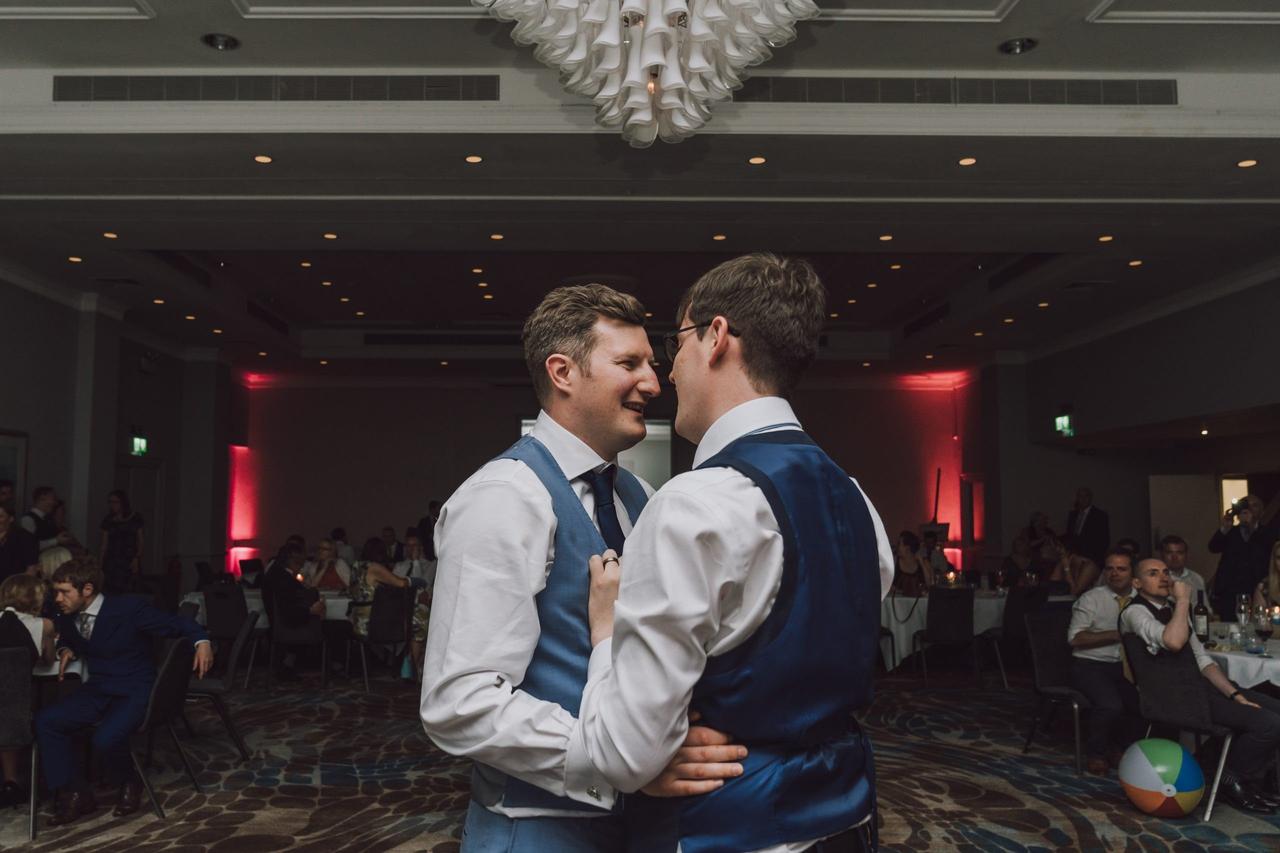 Suppliers
Photographer: Brighton Wedding Photography
Ceremony Venue: Royal Pavilion
Reception Venue: Jury's Inn Brighton Waterfront
Paul's Wedding Outfit: Charles Tyrwhitt and Slaters
Alistair's Wedding Outfit: John Lewis
Rings: Ring
Stationery: Minted
Giant Deck Chair: Bounce Mania
Favours: Amazon
Entertainment: Warble Entertainment
Gift List: John Lewis
A huge thank you to Alistair and Paul for sharing their stunning day with us!