A Snowy Austrian Destination Wedding with Horse-Drawn Carriages + Two Wedding Dresses
Just a few days before Austria went into lockdown, Ella and Alex threw a magical outdoor winter wedding in a traditional lodge with a log cutting ceremony and an après-ski DJ.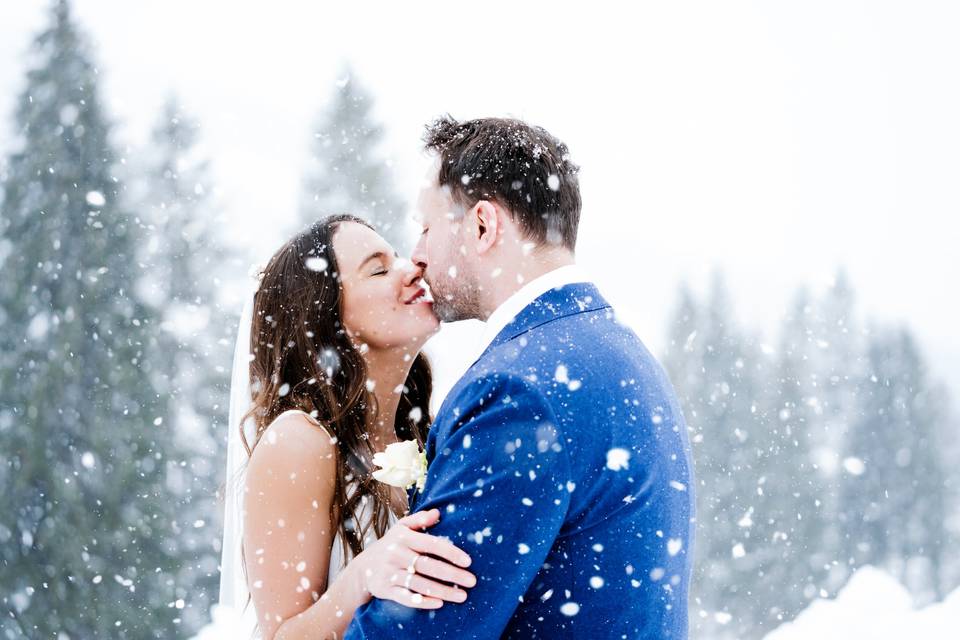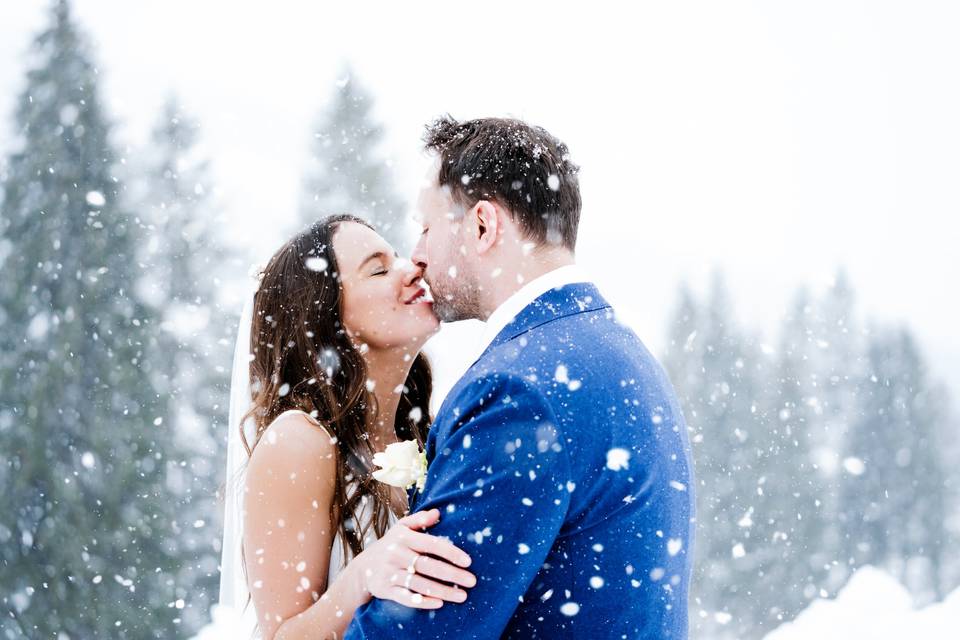 With a year of postponed weddings, Ella and Alex were incredibly lucky to marry just before lockdown on the 7th March 2020 at Unterhof Alm in Filzmoos, Austria. The couple had 50 guests at their stunning, outdoor destination wedding.
They met almost nine years to the day that they got married, at a 'Pound A Pint' night at university in Leeds. Eight years later, Alex proposed on a skiing holiday in Austria; it was a perfect day on the slopes and he popped the question at the top of a glacier as the sun was beginning to set.
Ella jokes it was essentially a recreation of a moment two years before when they had watched the sunset whilst skiing and Alex had slipped in the snow and ended up on one knee. In fact, Alex hadn't even decided to propose on their holiday until the day before they went, when he bought a placeholder ring on his lunch break. It was a good choice, as Ella recreated the three-stone, sapphire band for her final engagement ring.
The couple spent such a long time choosing their venue that they had just four months to plan everything. Ella worked for years as a wedding planner at The Ritz, London, before two years at The Wedding Gallery, and now owns her own wedding planning company. It's safe to say she's a perfectionist when it comes to her own wedding and was up for the challenge!
During their wedding weekend, guests were treated to so many special touches, including a welcome pack with homemade fudge from Ella's brother and a can of Newcastle Brown Ale - the drink they shared when they first met. Flowers were arranged by the Ella's mother and guests were whisked to the snowy outdoor ceremony in horse-drawn carriages. The bride wore two incredible wedding dresses and they scented the whole weekend with Molton Brown candles.
If you're considering a snowy destination wedding, Ella and Alex's day will be the ultimate inspiration.
Photography by David Christopher Photography.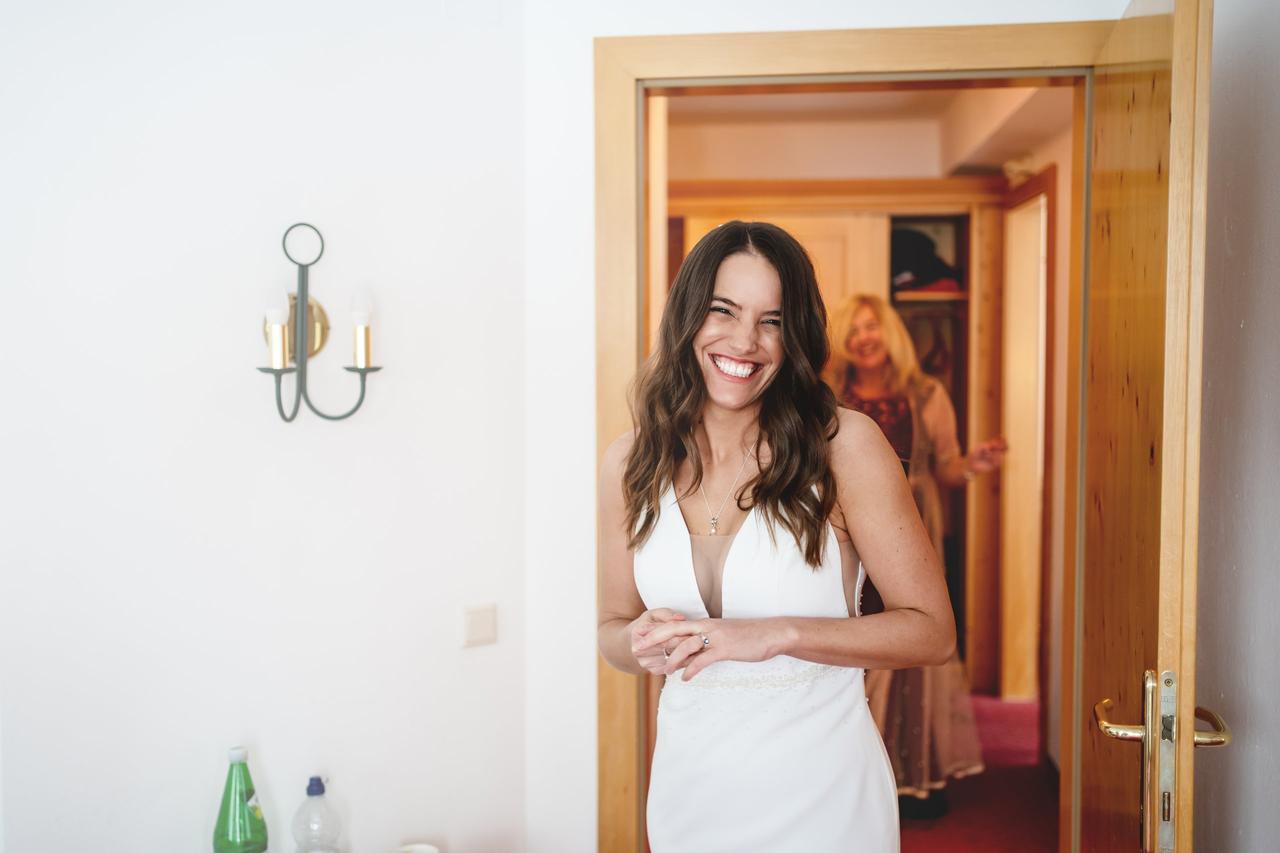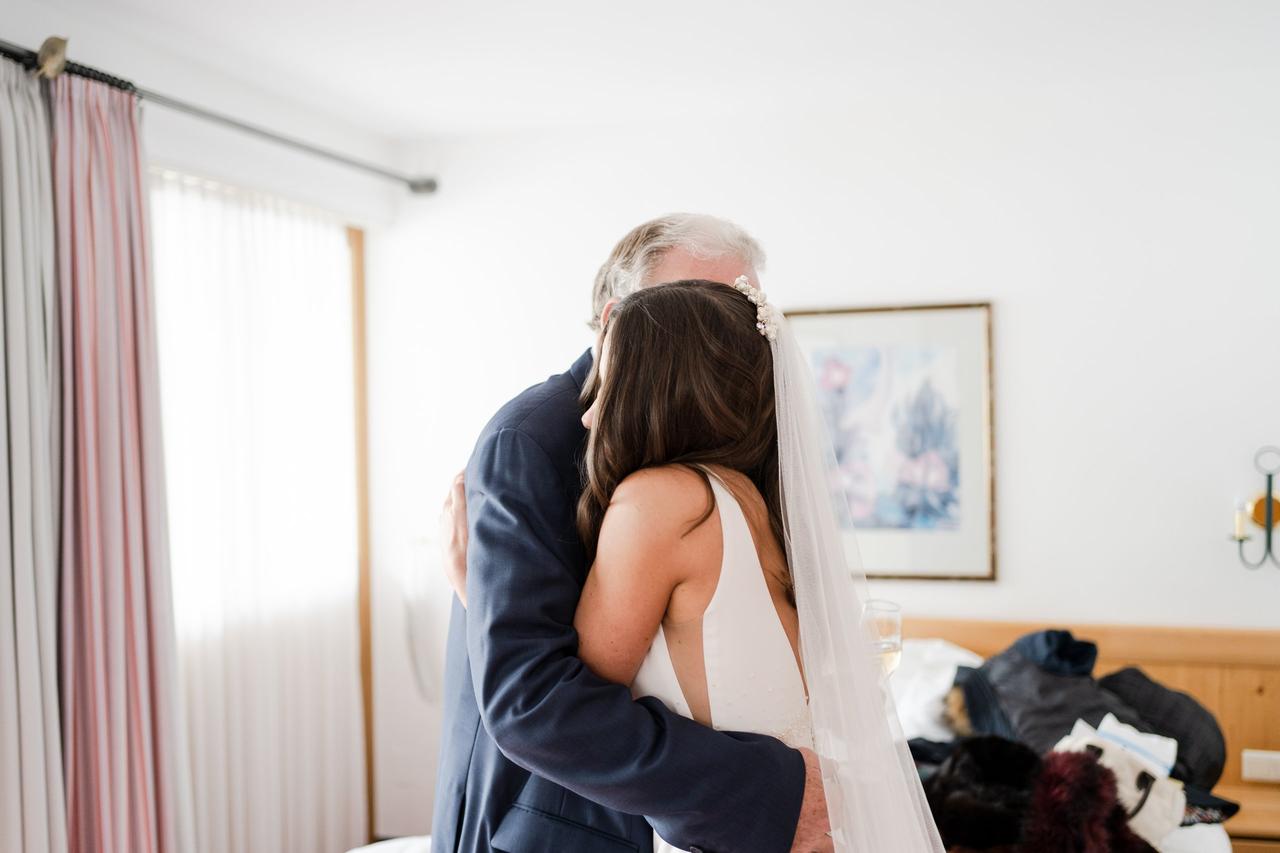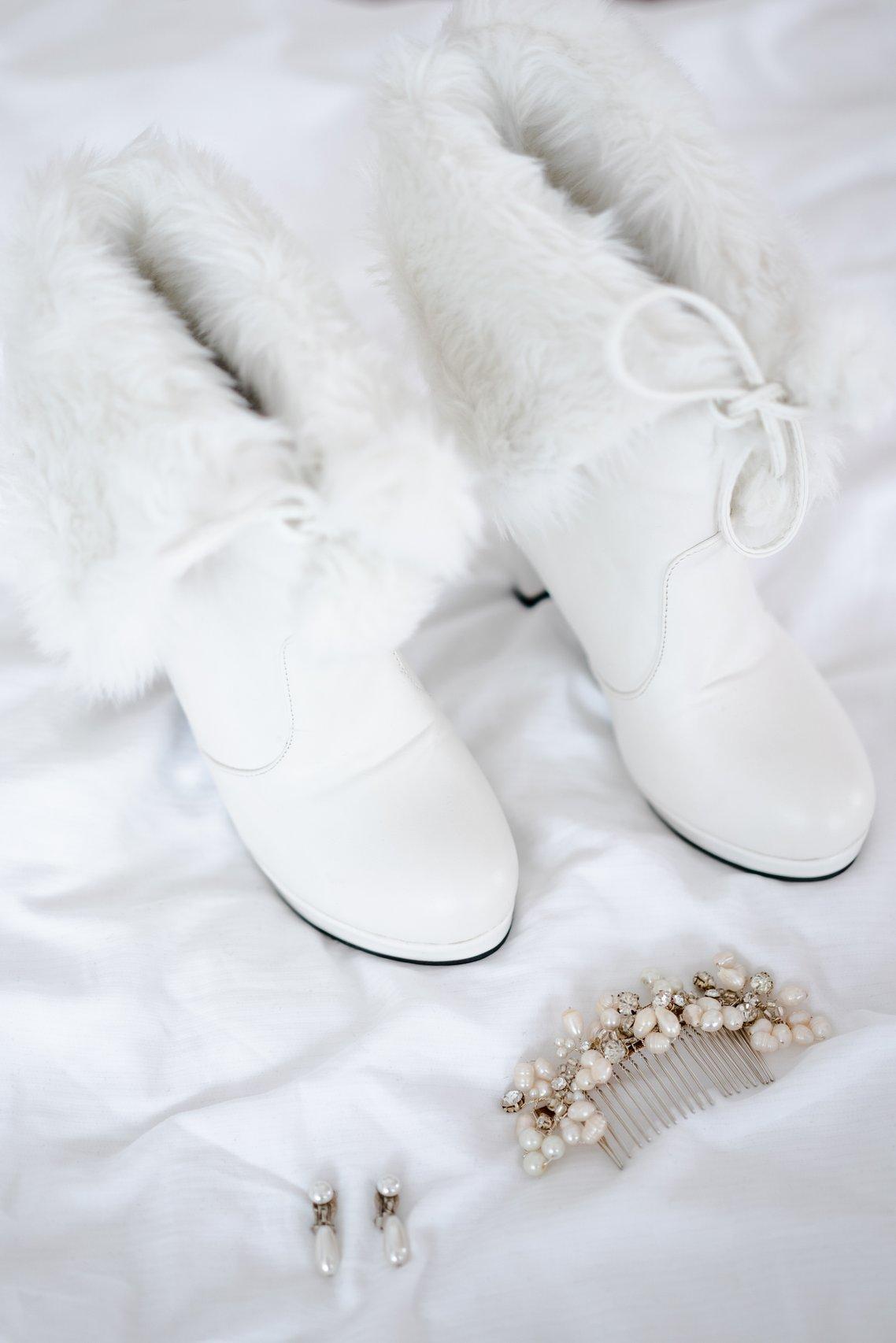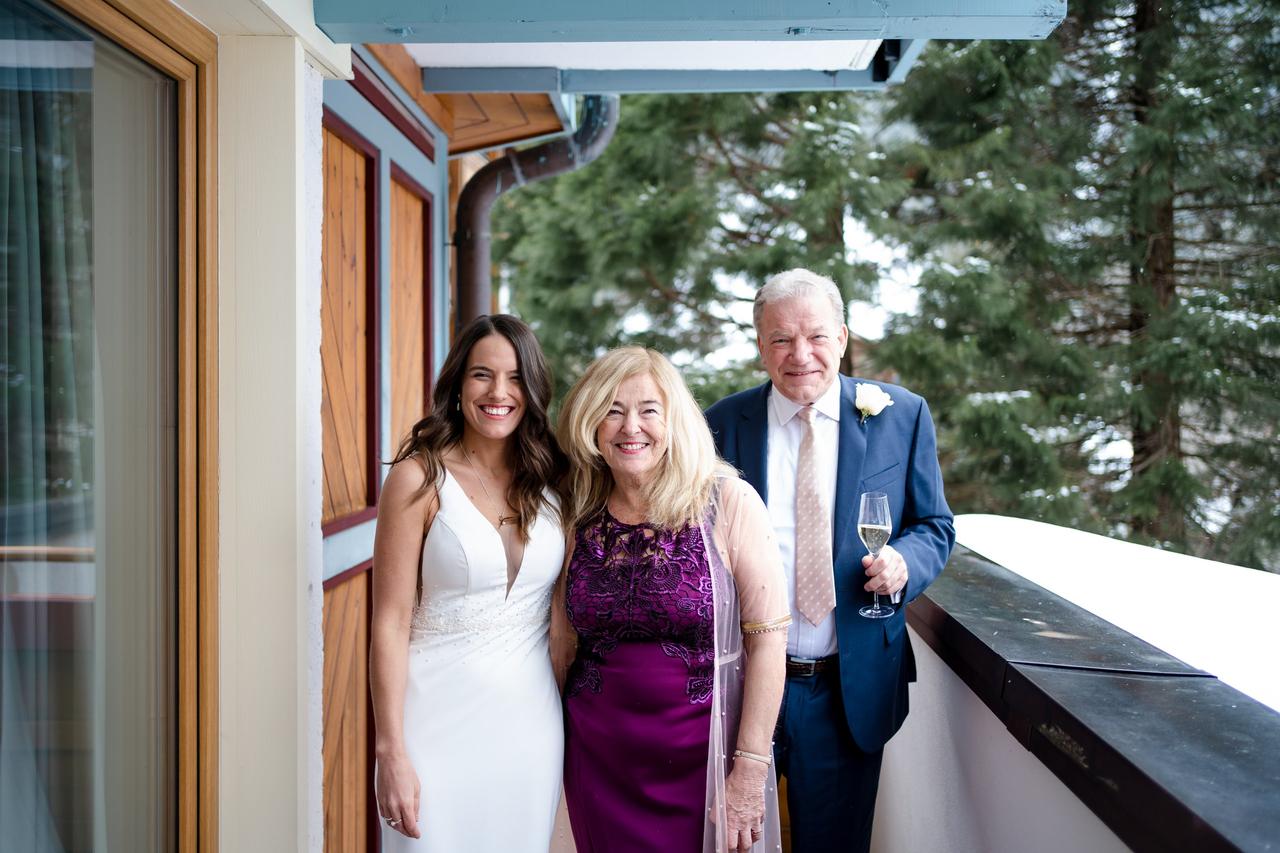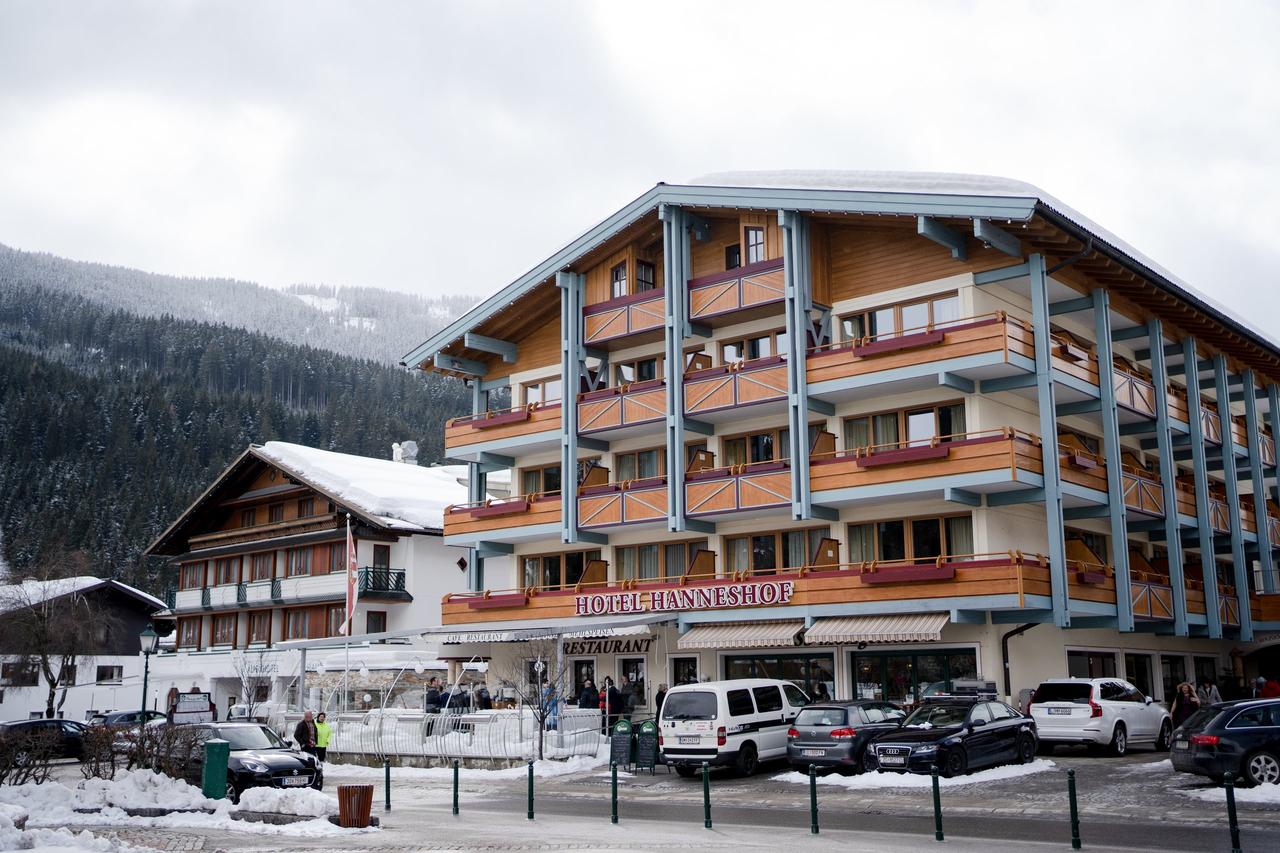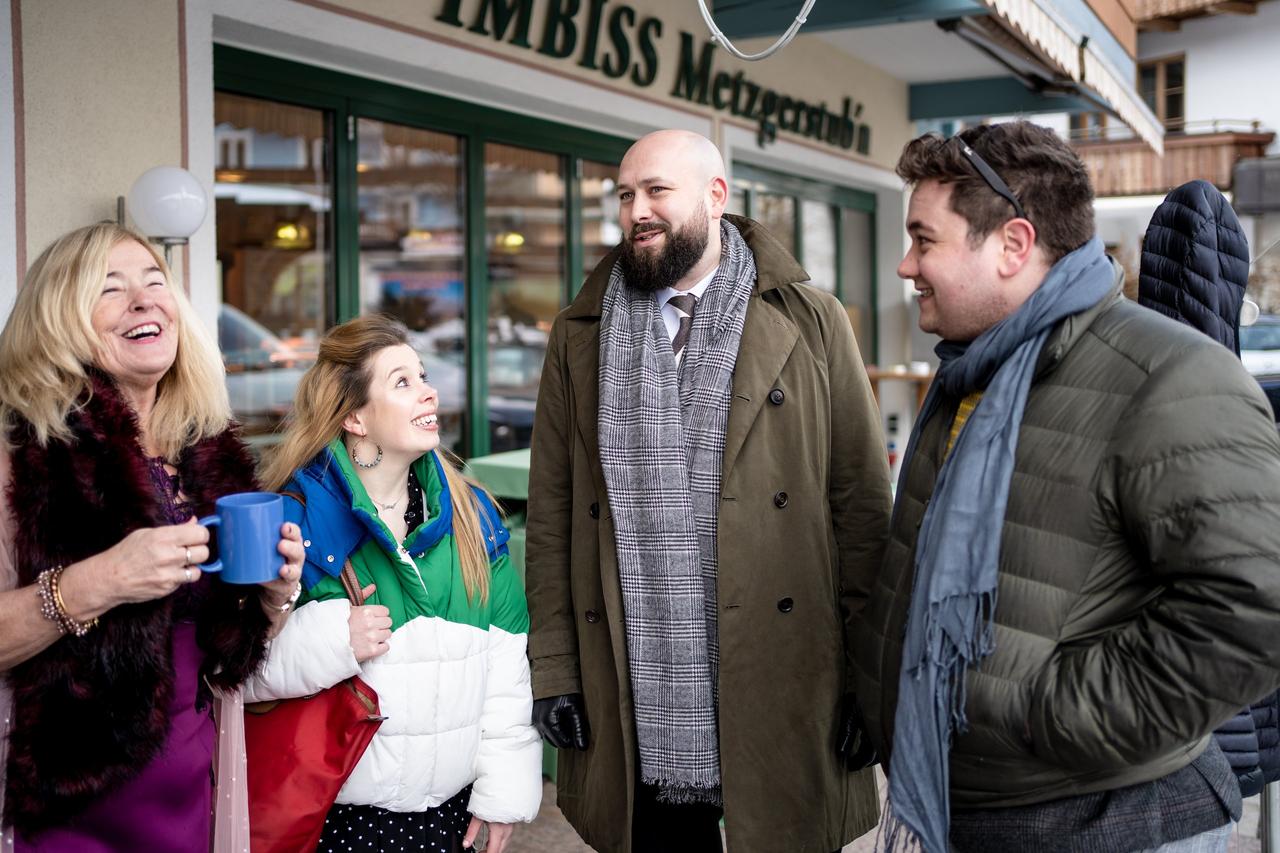 The Wedding Dress
Ella tried on "at least 50" dresses before she found The One: a strapless, plunge Elbeth Gillis gown. She changed into an equally beautiful Vera Wang gown for the reception.
"Just like the venue, the dress took me quite a while to find. I flipped flopped between so many different styles, however, ultimately I ended up with something very similar to what I thought I might go for. Working in luxury weddings there was quite a level of pressure to pick a gorgeous dress! People always say it is impossible to pick your dress until you choose your venue and trust me, this is very true. Once we had chosen the venue, everything fell into place.
"The designer is Elbeth Gillis and I bought it from Angelica Bridal in Angel. Again, due to time pressure with four months to plan the wedding, I actually bought it on my lunch break one Tuesday!
"I was back in the store to retry another dress I had shortlisted and THE dress was hanging on the side. I said to the sales assistant that I hadn't seen that one last week and she mentioned that they don't normally stock it, it was in on a special request for someone. I loved it and knew I had to try it on. Honestly, it was the first dress I had seen and thought, 'That's it'."
Ella wore a separate evening dress after realising that she wouldn't be able to dance and move around comfortably for the reception in her ceremony gown.
"I knew that in order to enjoy the evening I would need to change. Unfortunately, I only found this out at fittings two weeks before the wedding, so it was really stressful finding evening options with the time pressure. (It might be worth adding that by this point, three weeks prior to the wedding, I was extremely sick with Bronchitis, and bedridden for about 10 days. I only started to perk up about 48 hours before the wedding so we were extremely fortunate with the timing of my recovery! Safe to say, it was quite a stressful last couple of weeks). I was extremely fortunate that I work in luxury weddings and some colleagues were able to help me source a Vera Wang dress for the evening section of the wedding."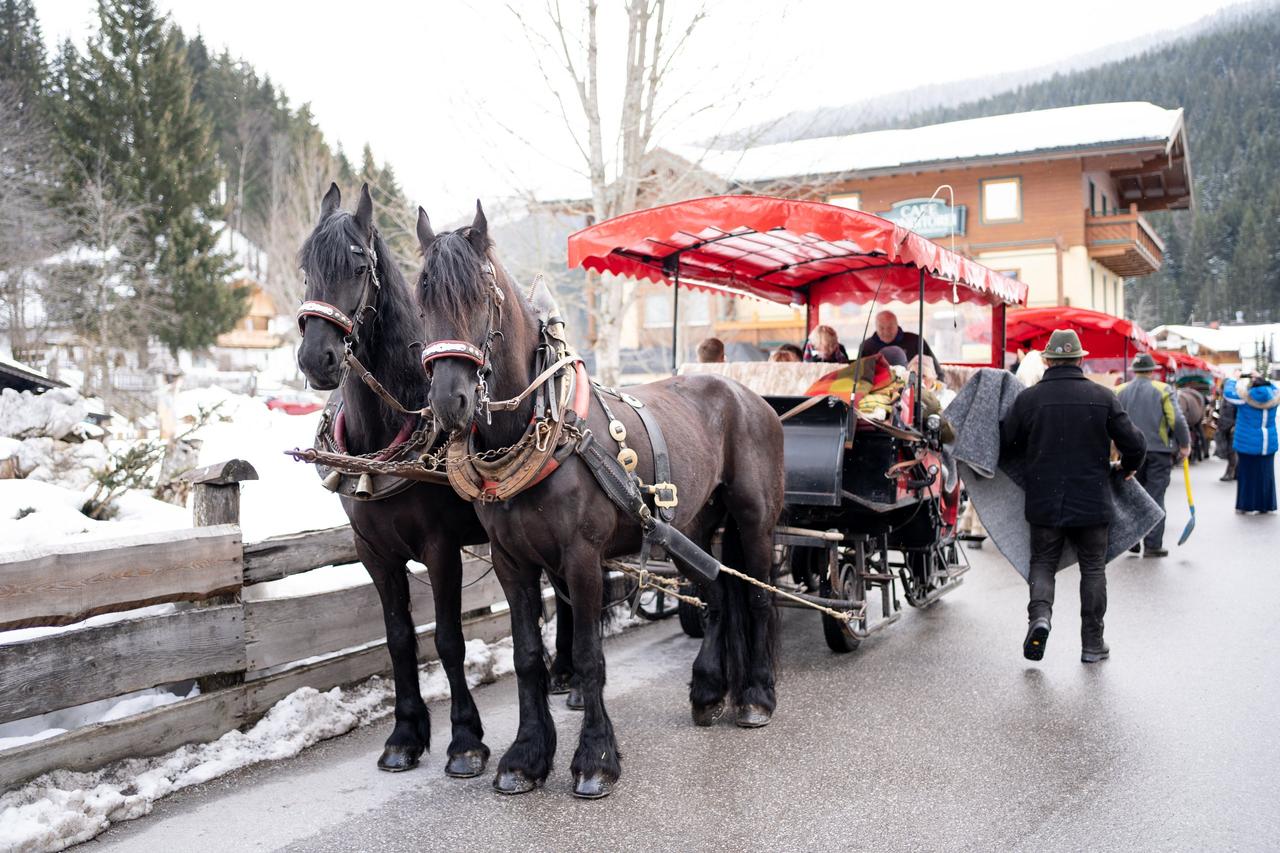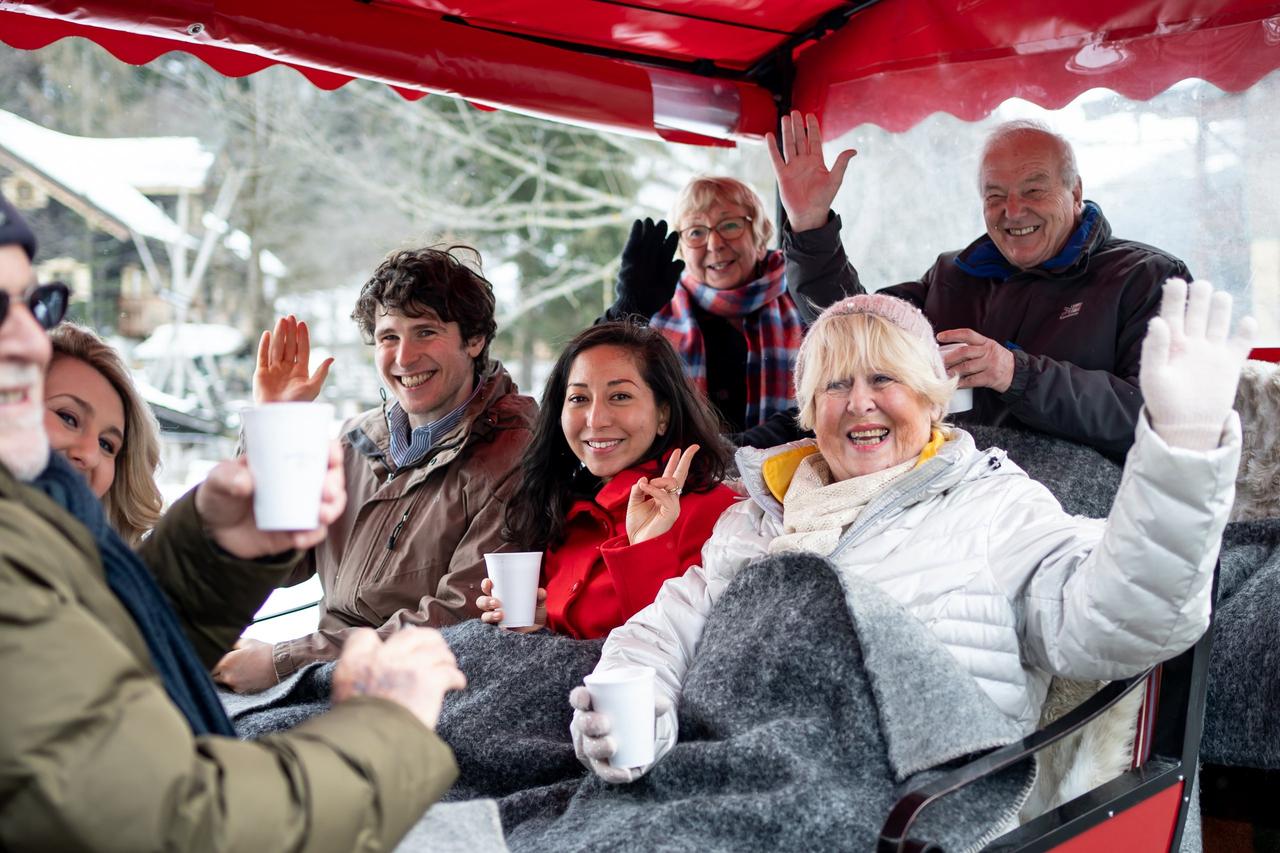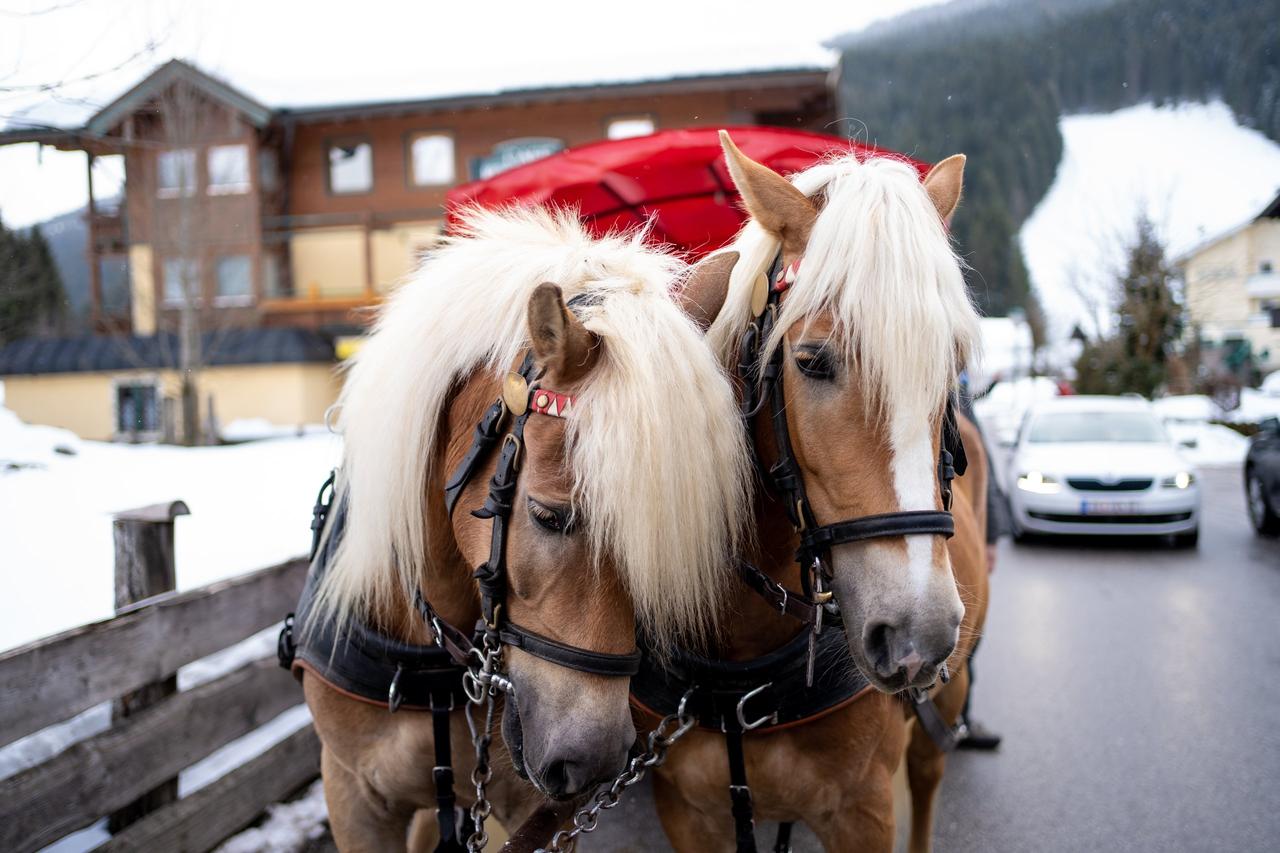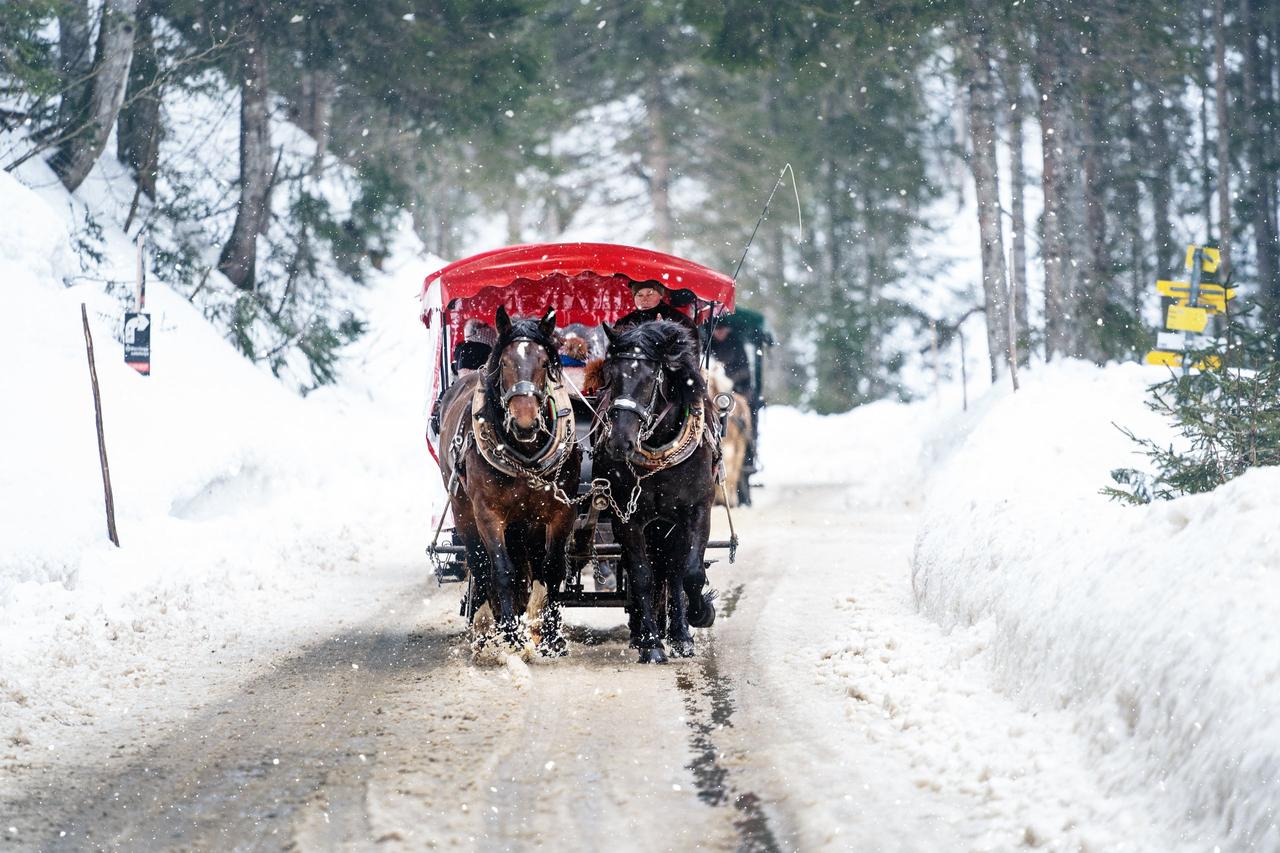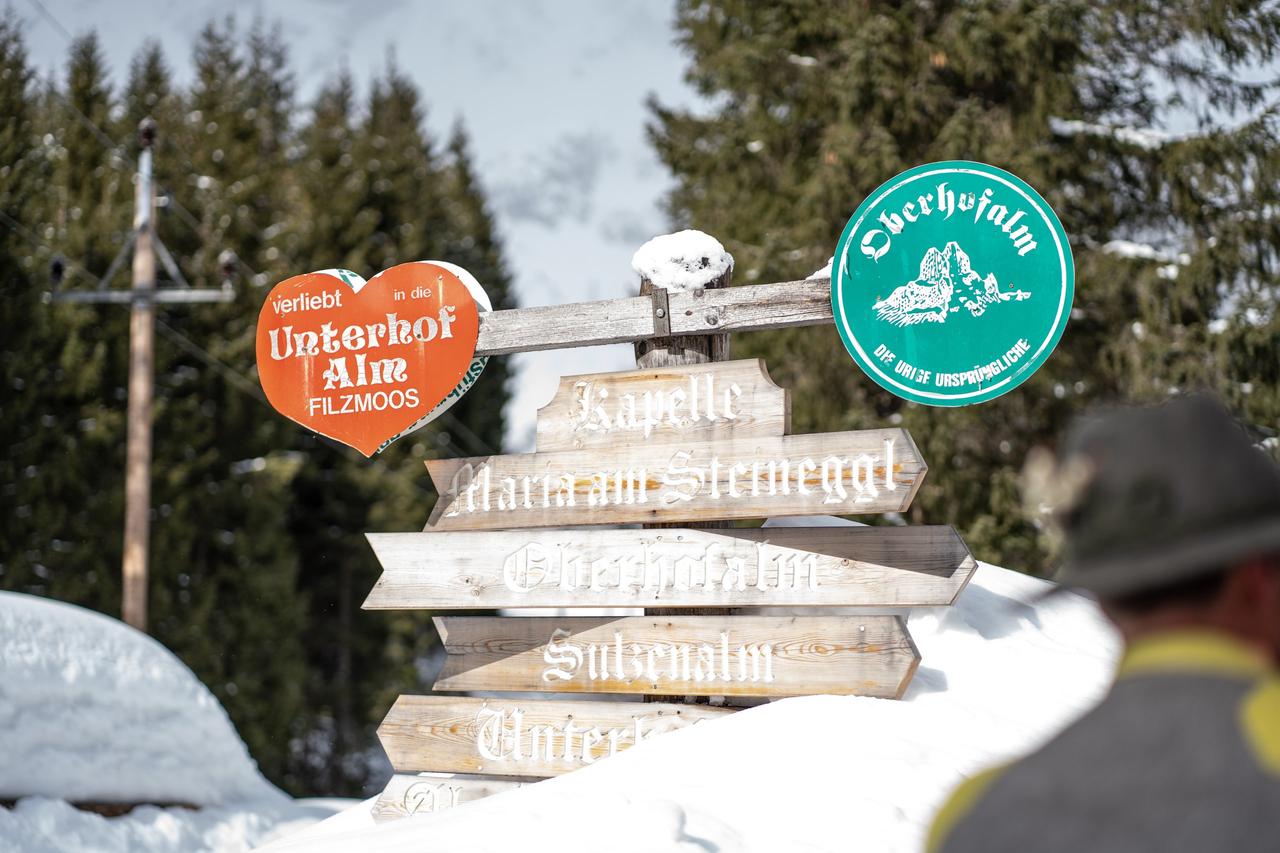 The Wedding Morning
Alex and Ella decided not to have a bridesmaids or groomsmen as it was such an intimate ceremony.
"Ironically, our dear friends did step up on the day though, even without the title. My dear friend Dianne got ready with me and helped me change dresses part way through the night. Alex's dear friend Jakub helped him with pre-ceremony duties and some supporting words. So even though it was not official we still had these two great friends share special wedding memories with us."
After a late night of welcome drinks with guests, it was a hair-of-the-dog morning for all the wedding party!
"Honestly, we were all a little fuzzy headed on the morning of the wedding! We had welcome drinks the evening before for all our guests. With everyone flying in, I was keen to ensure a full weekend of fun. Drinks were meant to end by 9.30pm as I always said that you should be fresh on your wedding morning, but we were all having so much fun I think we ended about 1am!
"The Friday drinks were one of my wedding weekend highlights though and certainly made for some fun conversation on the wedding morning. A particular highlight was my parents' somersaults on the dance floors!"
Ella got ready with her friend and chose a local hairdresser to style her hair into natural waves and did her own makeup. "I don't wear much make up normally and I didn't want to not look like me so decided to do it myself." She added a veil and a hair clip, and wore three pairs of shoes (heeled boots for the outside ceremony, some pretty heels for the inside reception and a pair of Sophia Webster 'Wifey for Lifey' flats for if I needed them at the end of the night!)."
Alex also got ready at the hotel in his tailor-made suit from Suit Supply. "The suit has some unique touches to it like the wedding date under the collar, " he explains. "Ella bought me some personalised cufflinks as a wedding present that I wore."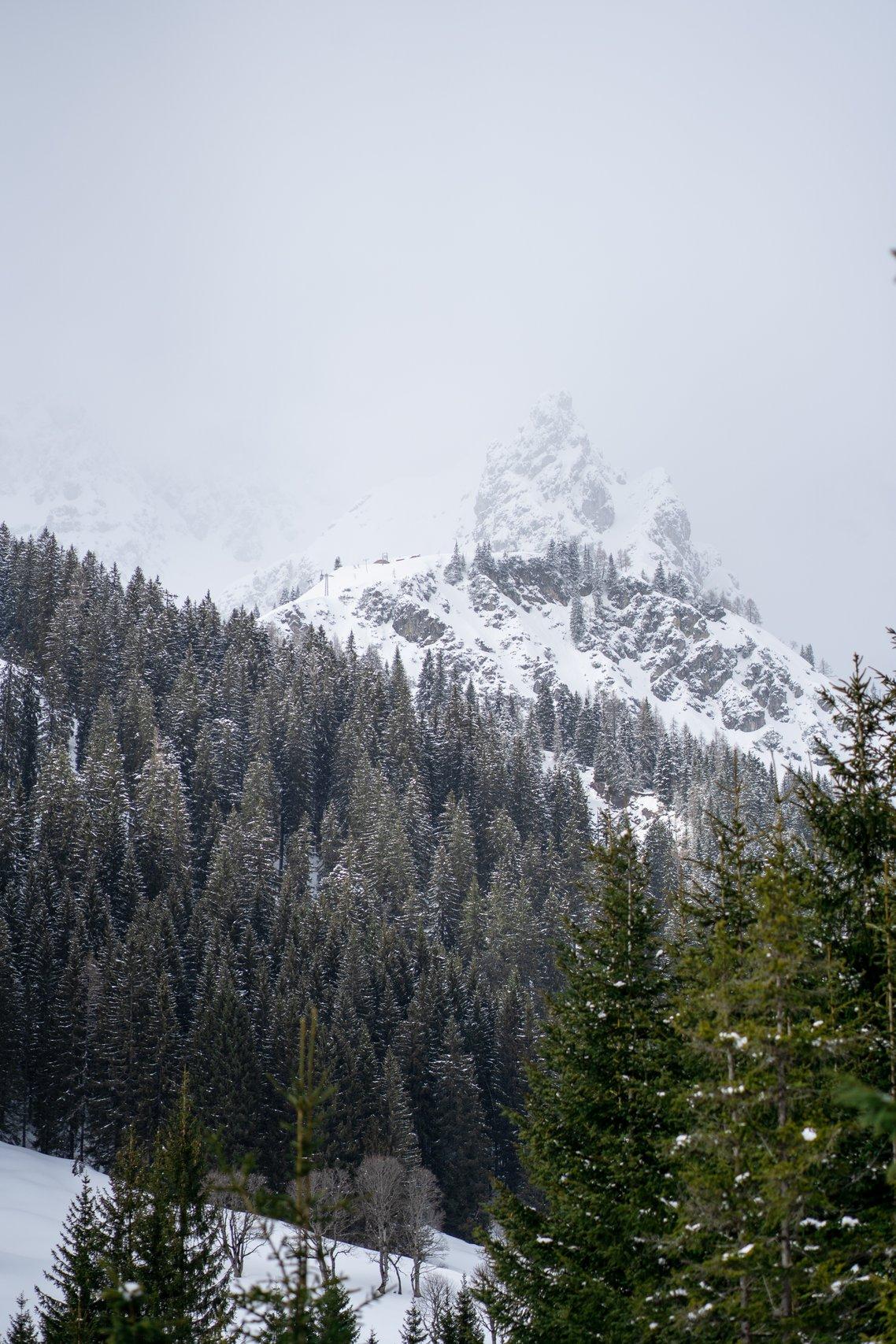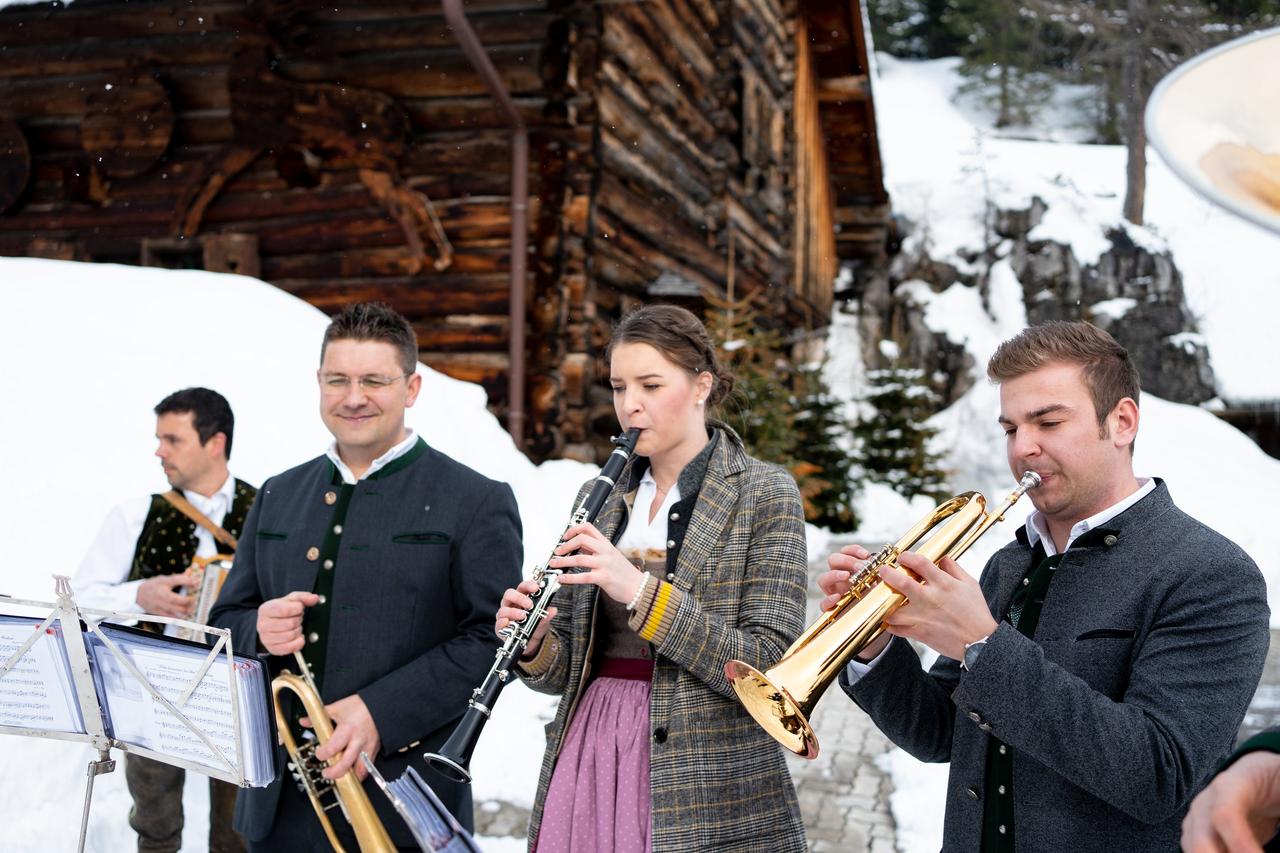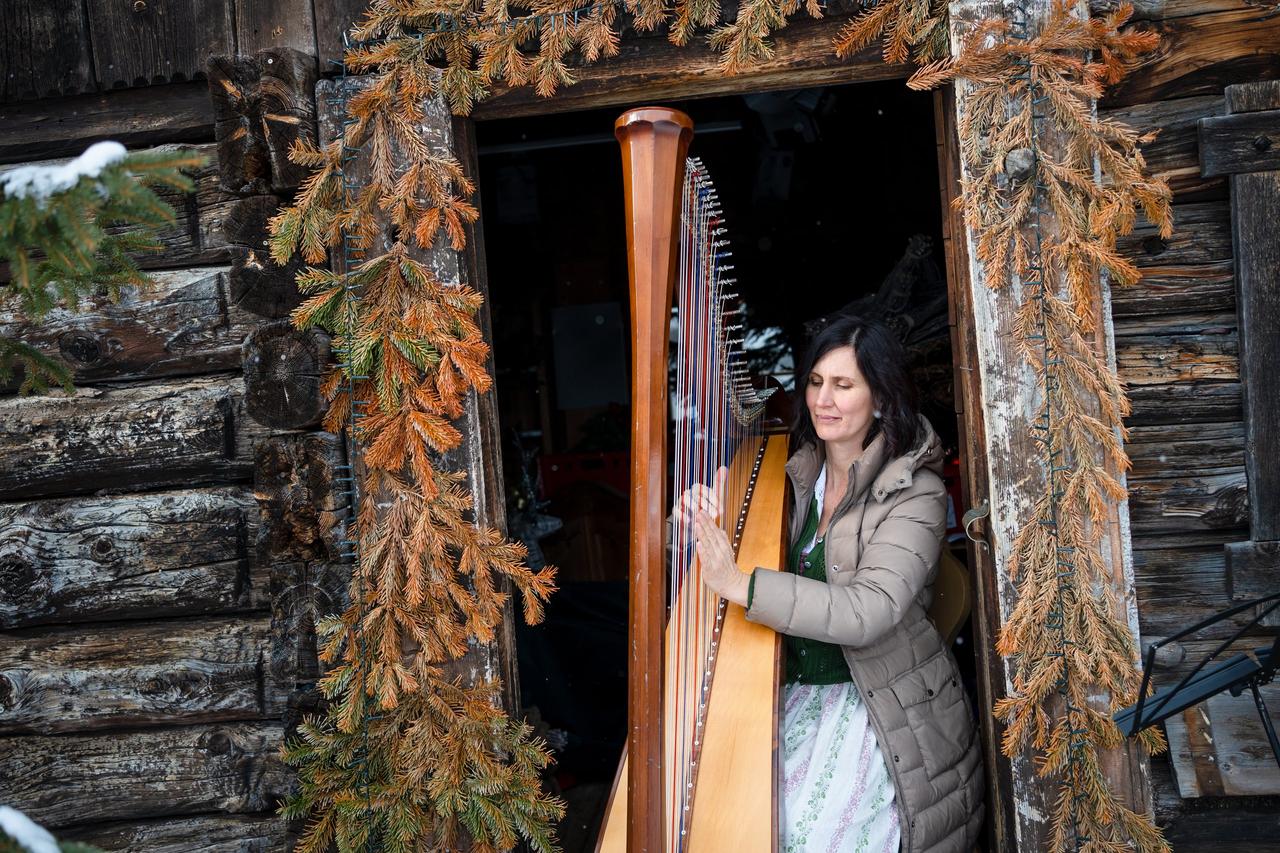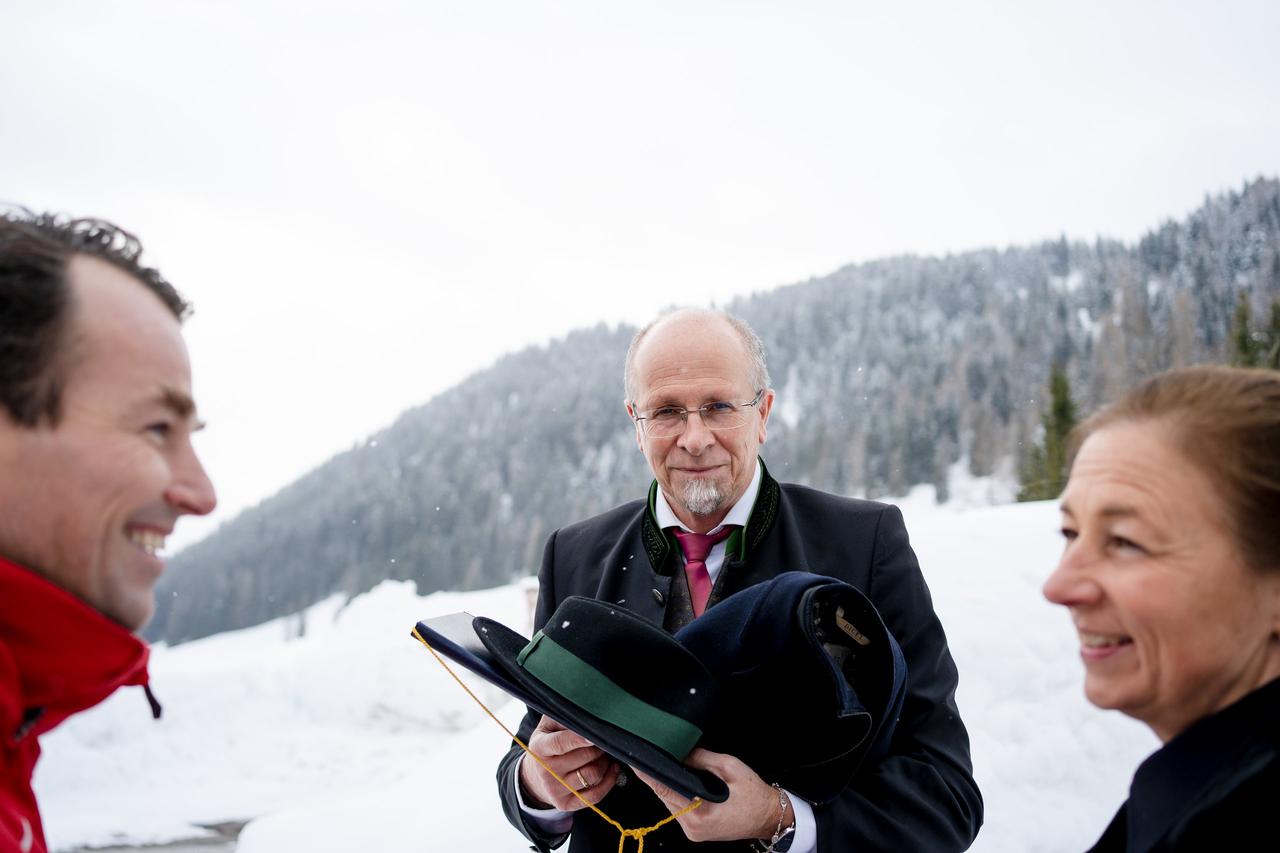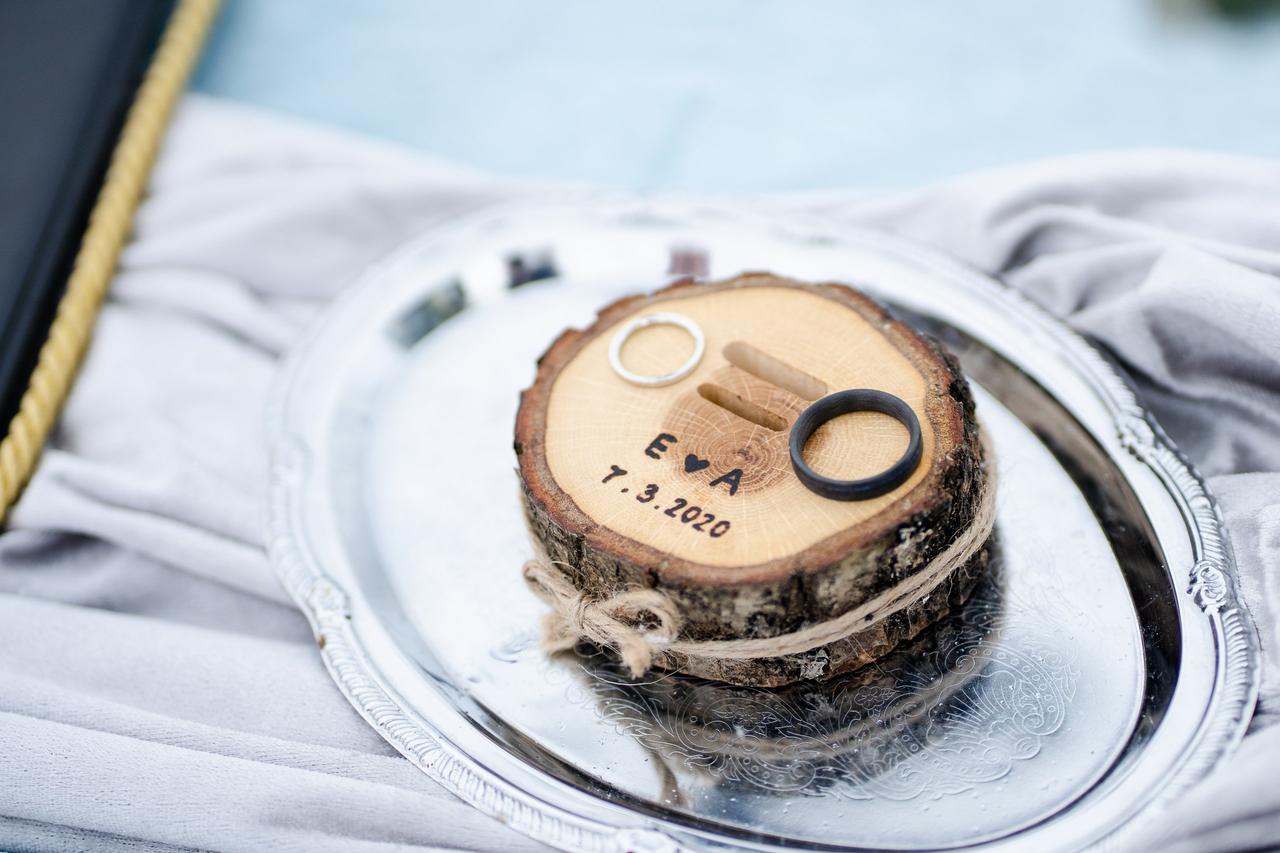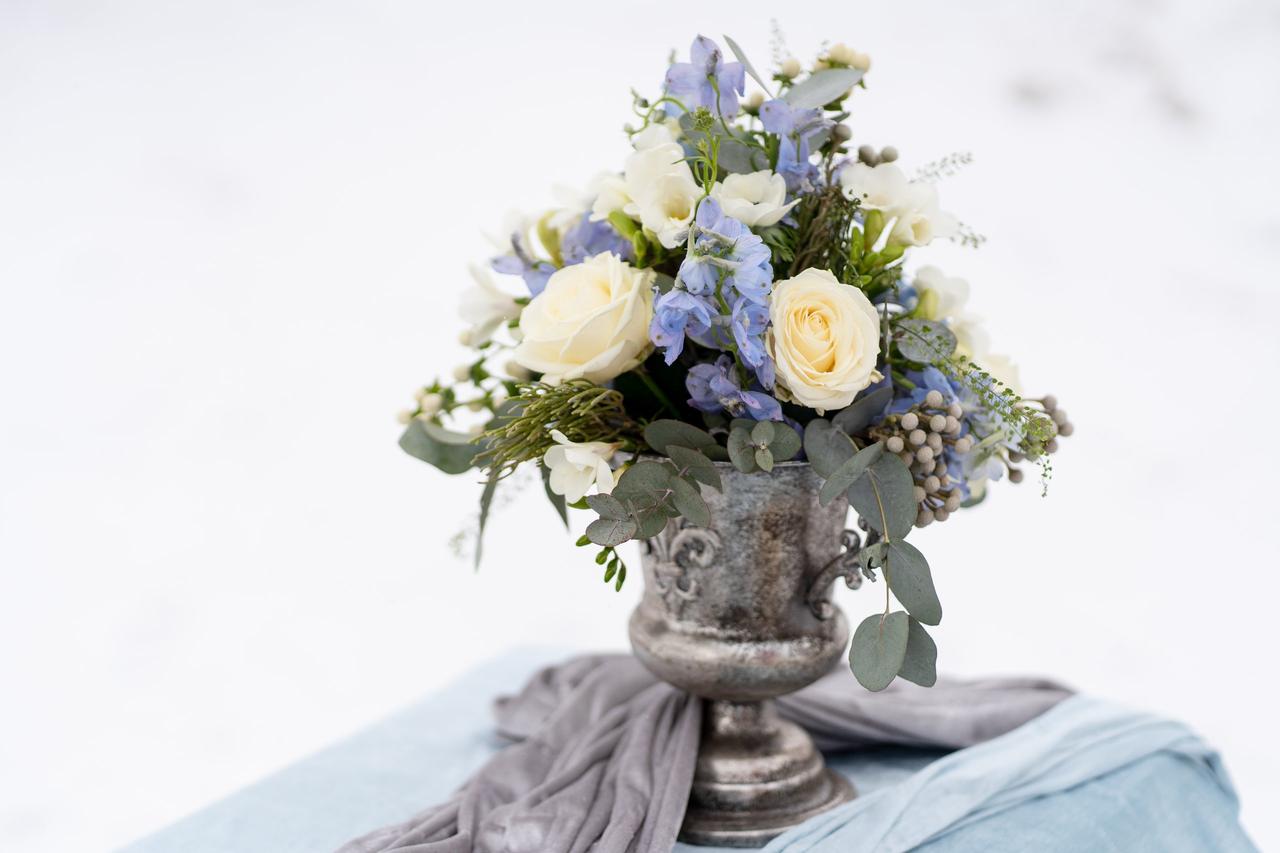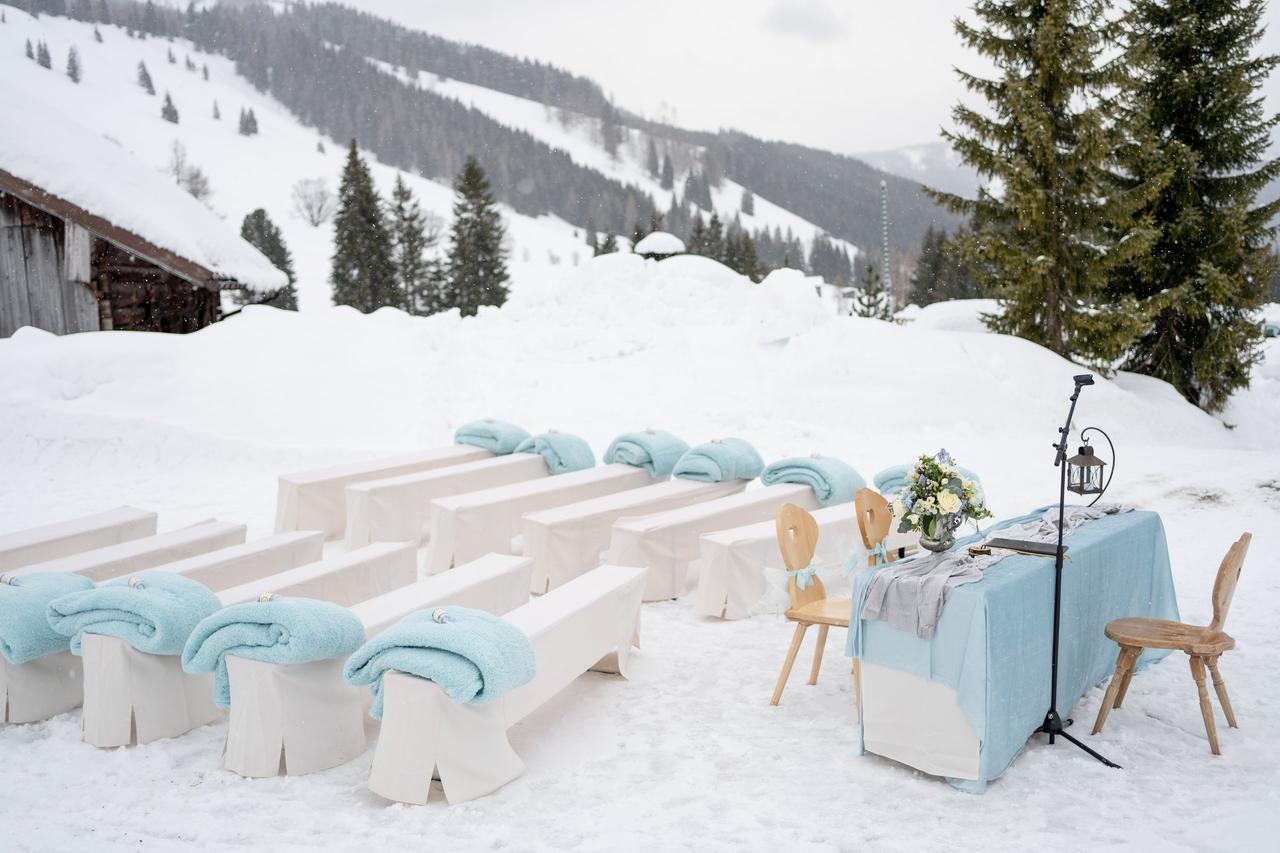 The Wedding Transport
"We hired horse drawn carriages for everyone to get to the venue from the hotel in the village, passing a freshly flowing stream, meandering through the snow-capped trees in the forest, and on to the venue – it was a magical ride and we all enjoyed mulled wine and schnapps on the ride up to stay warm," explains Ella. "It was magical. Honestly, there is no other way to describe it!"
Ella and Alex arrived in separate carriages, with guests listening to a traditional Austrian 'Oompah' band while they waited for the bride to make her spectacular arrival.
Although he wasn't officially 'best man' Alex travelled with his best friend to help calm any pre-wedding nerves. "I took the carriage up to the venue with close friends and in the carriage was the only moment a touch of nerves got to me and I was thankful my friend Jakub was there to give me some encouragement."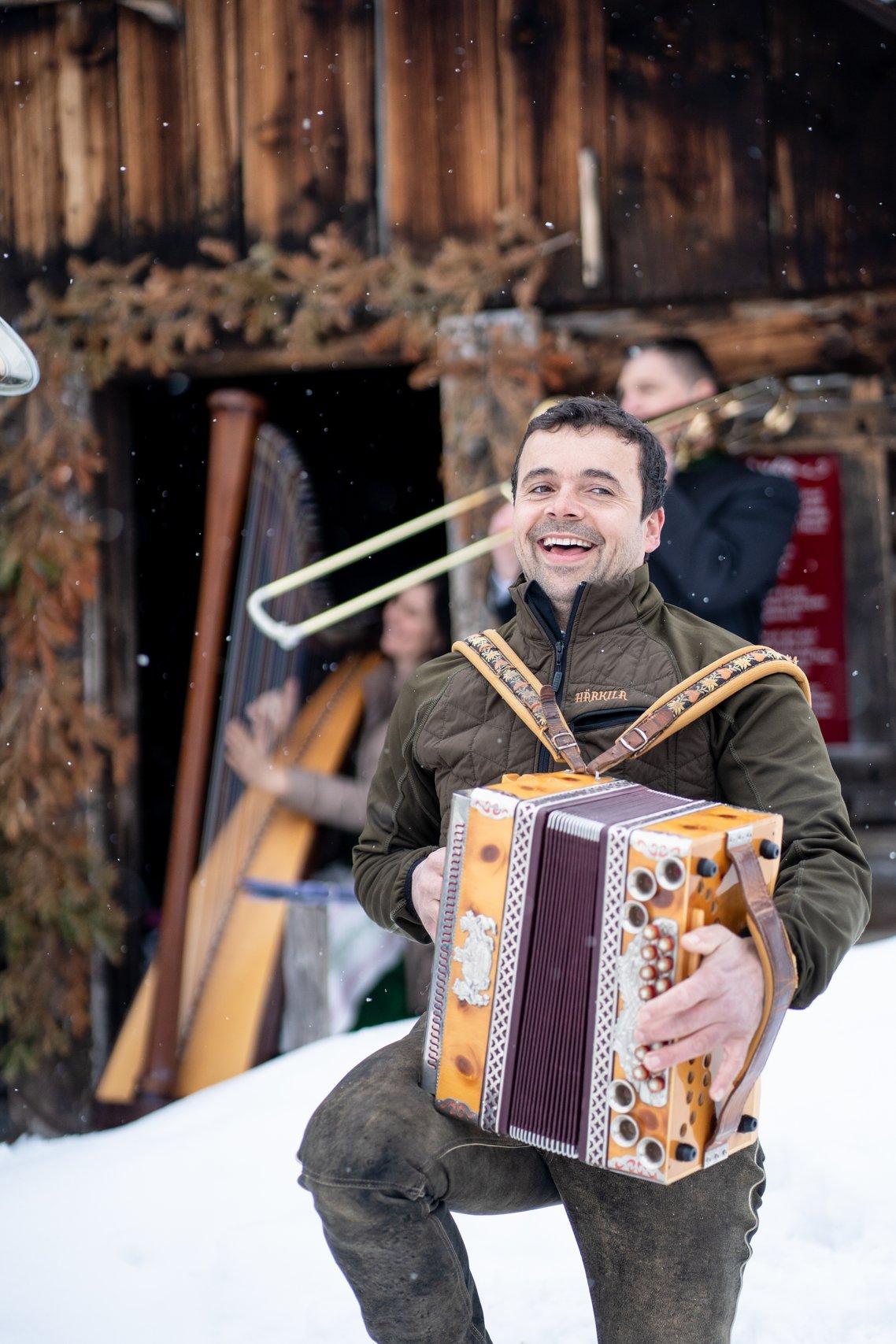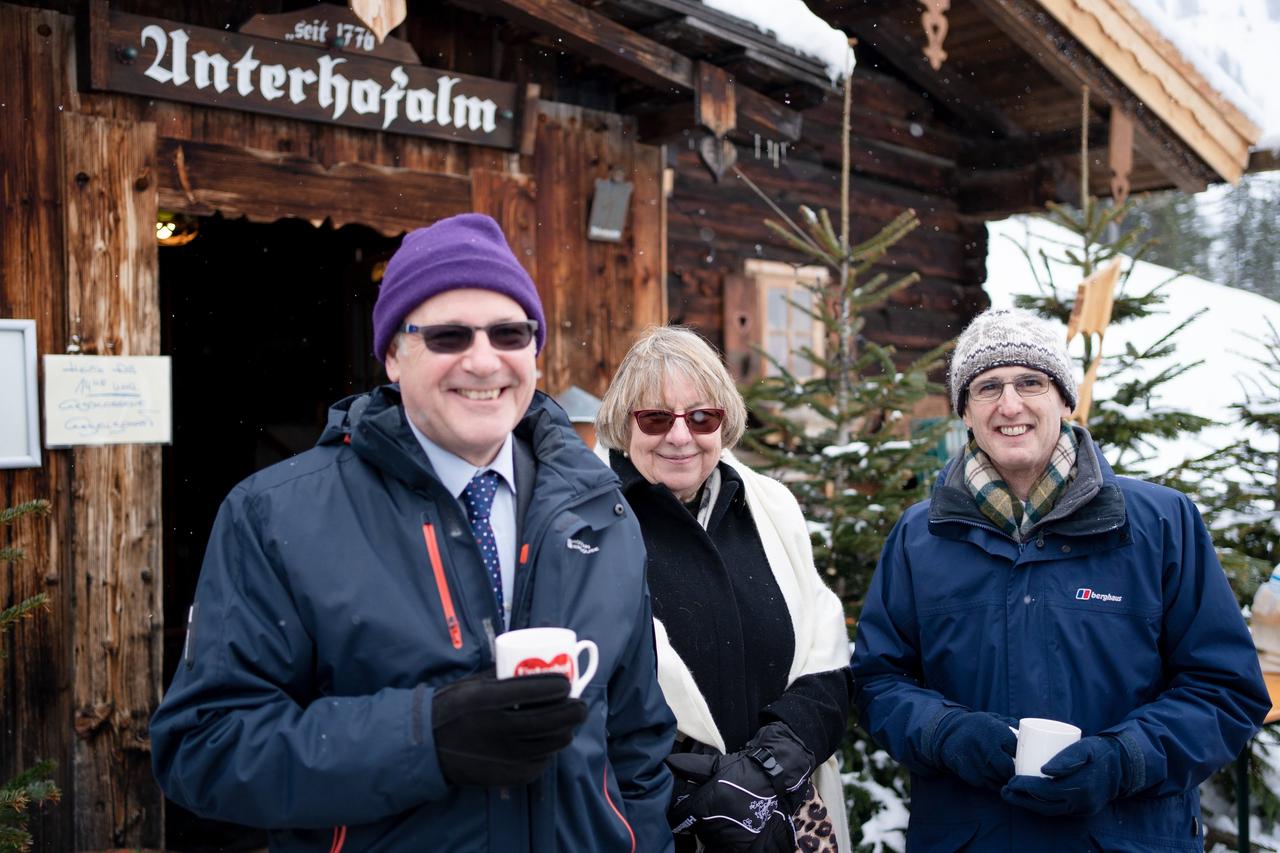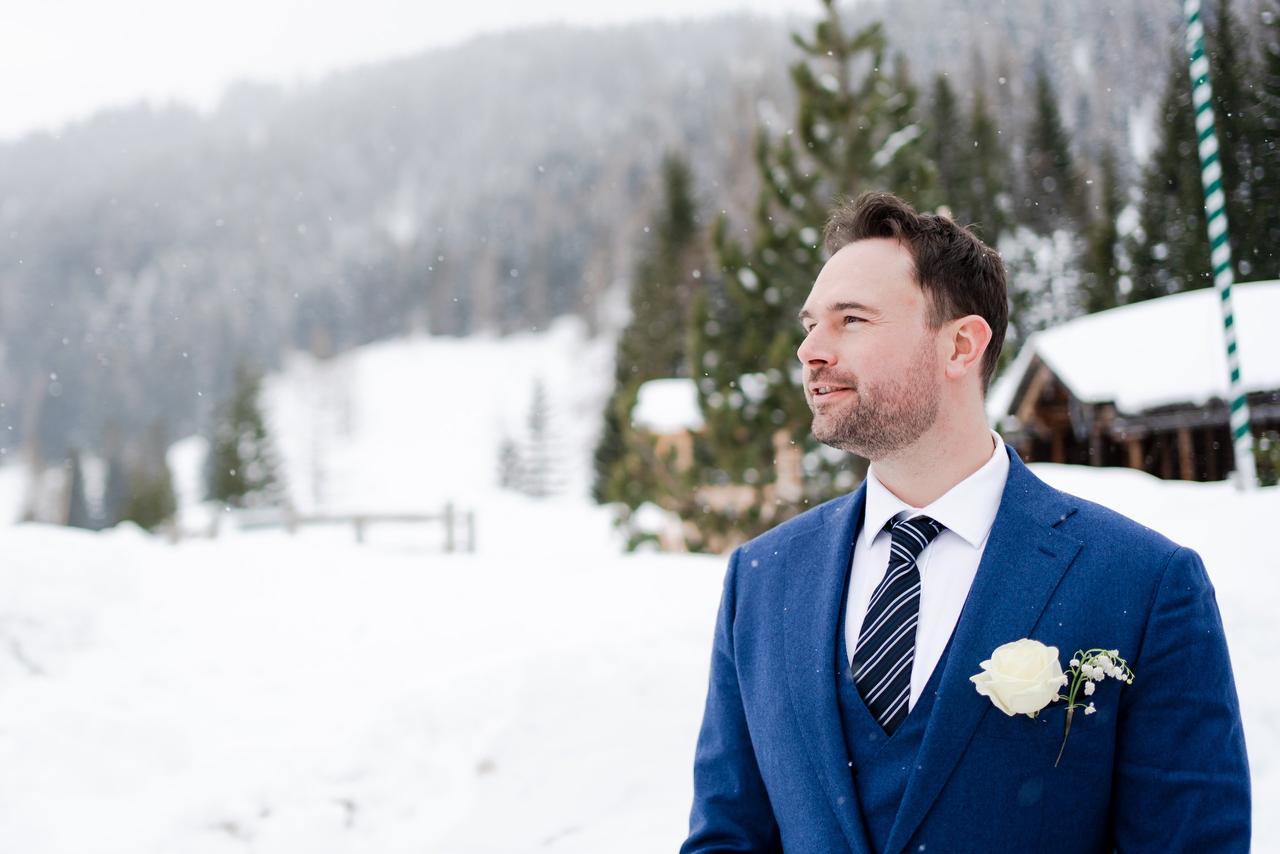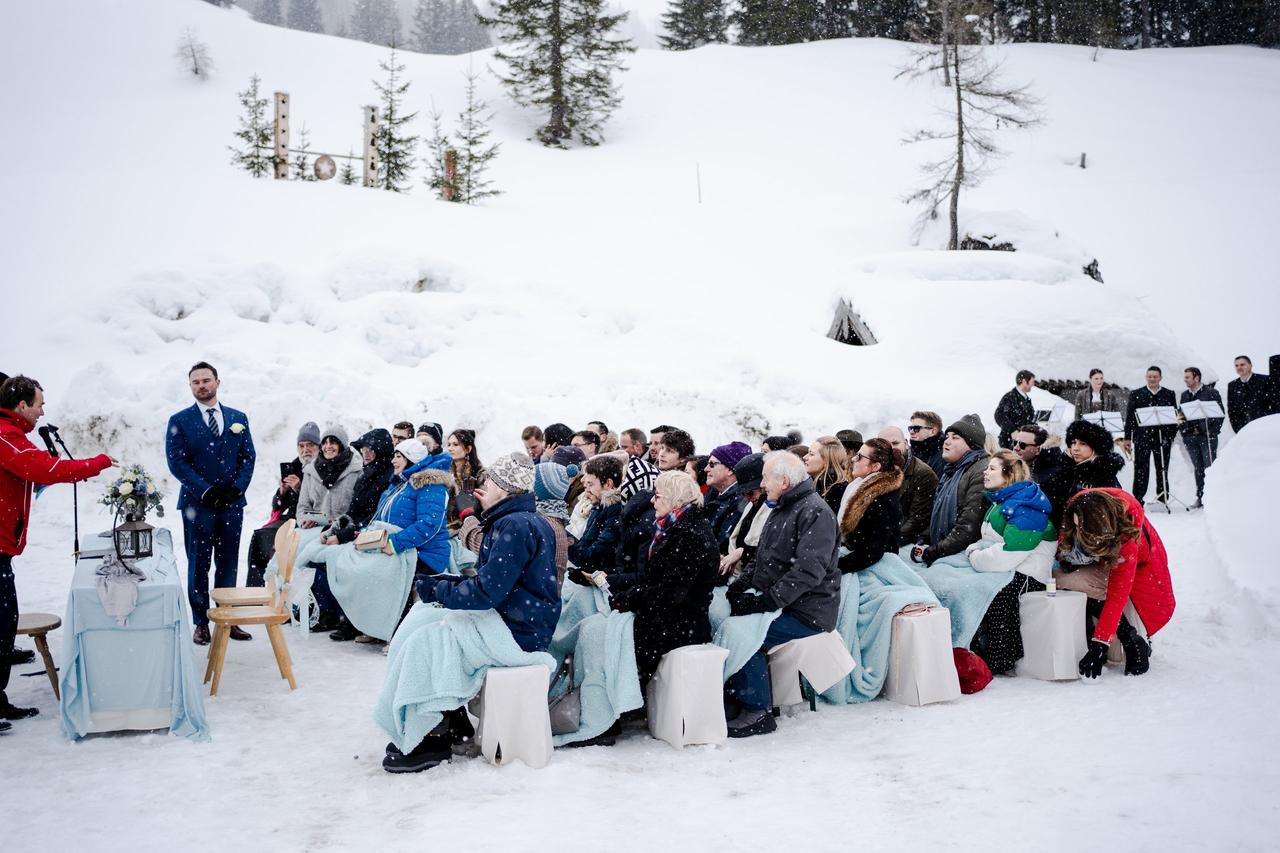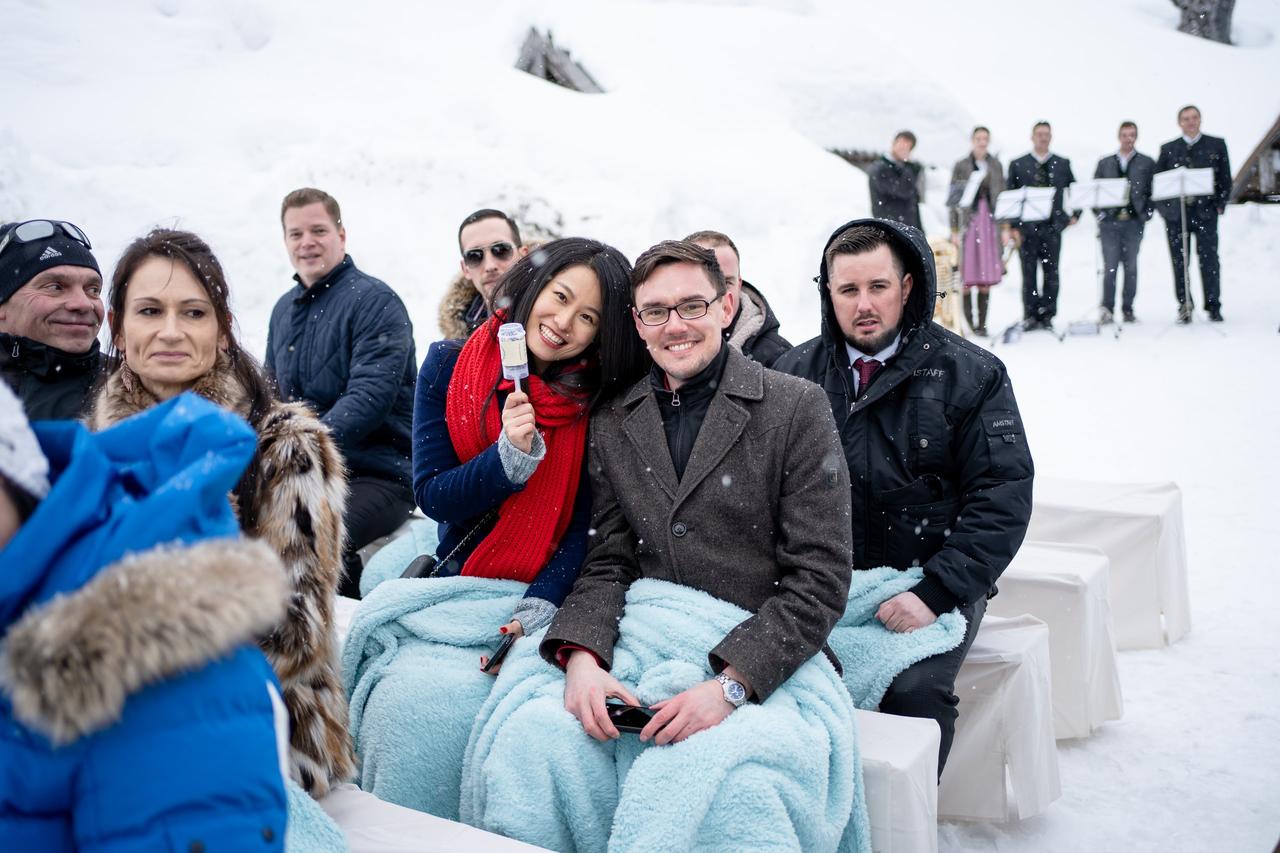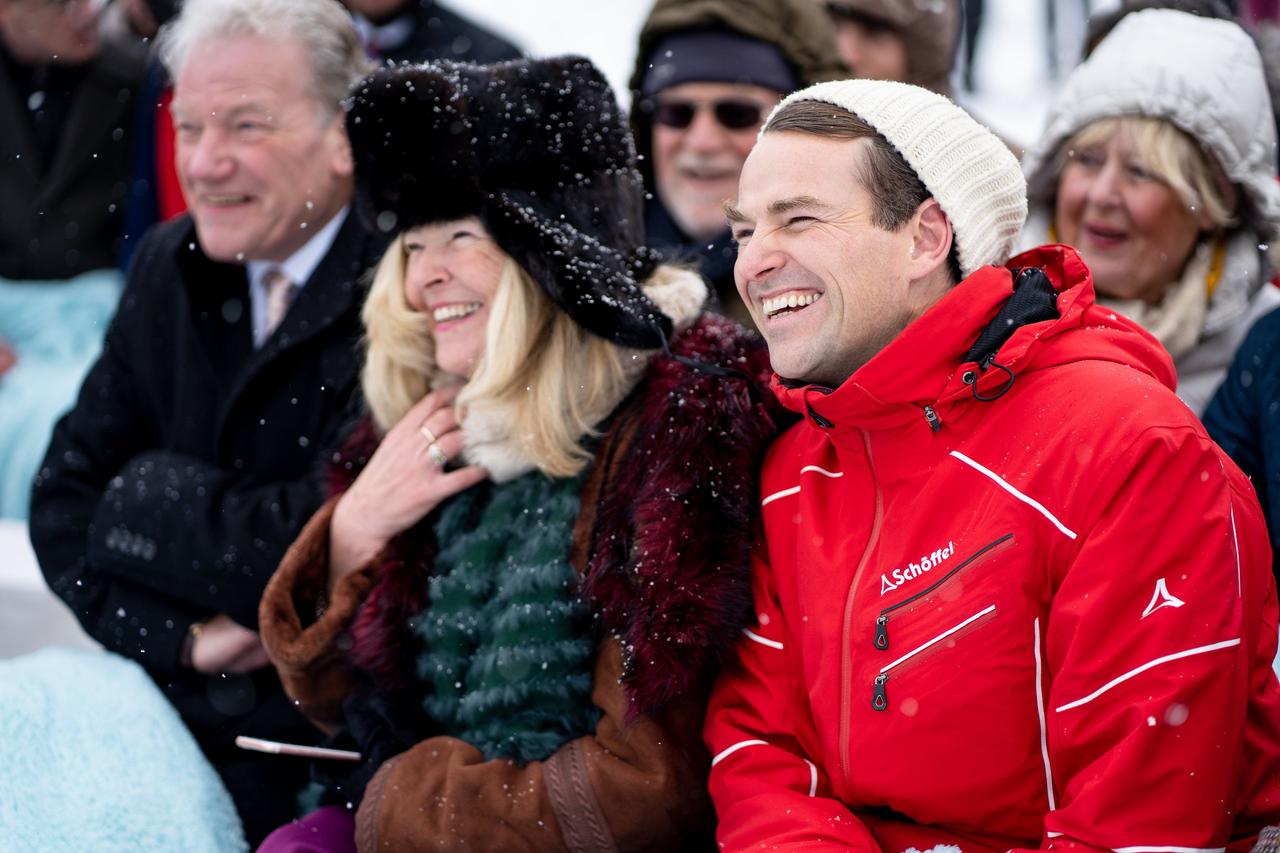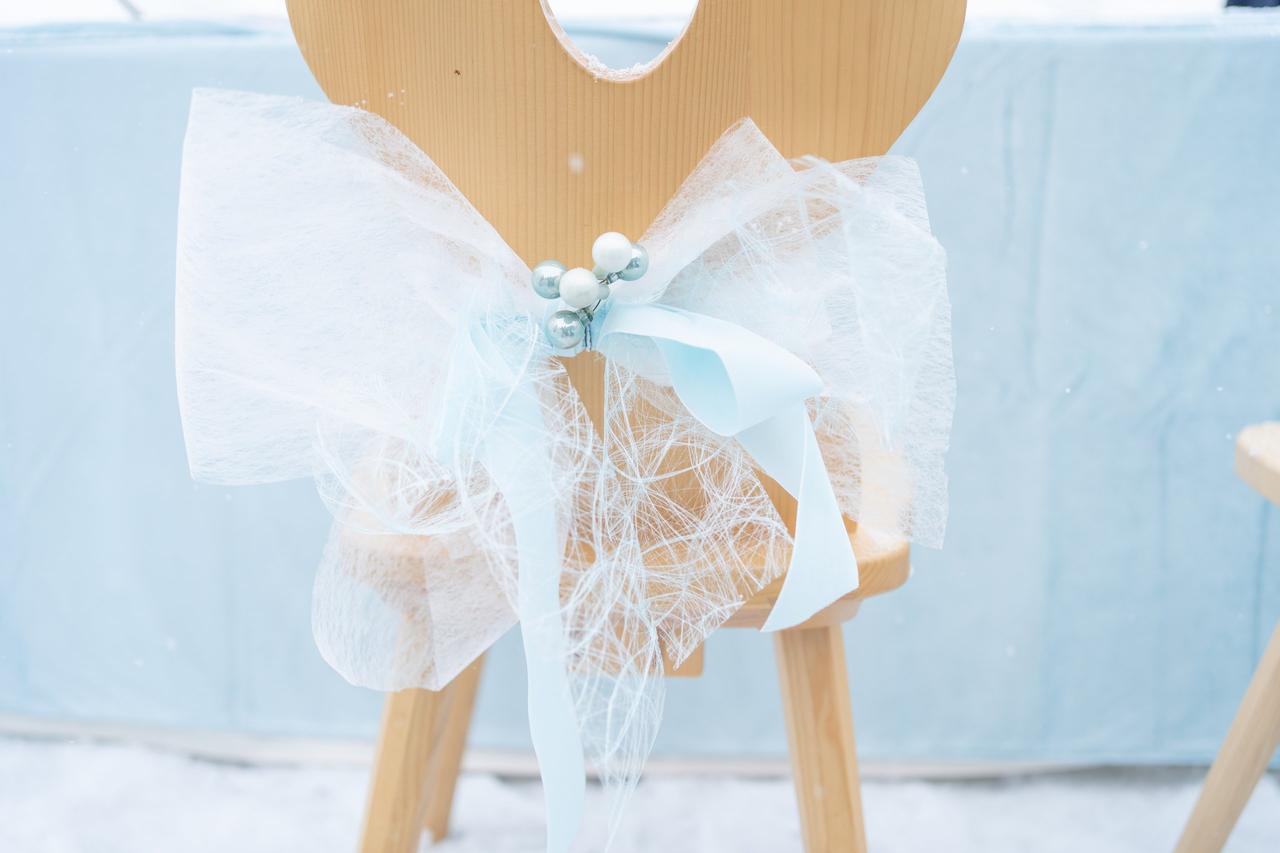 The Wedding Ceremony
The couple had a civil service outside in the snow with mountains as the backdrop and the registrar in the most wonderful traditional Austrian hat. It was a personal and romantic ceremony, with Ella learning her vows in German as a surprise for Alex.
"It was so special. I will never forget turning the corner and walking in with my father, looking at all the faces of our closest friends and family snuggled under their blue blanket, smiling at me. It was pure happiness and I will never forget seeing Alex's face and knowing this was a moment I would treasure forever. We were extremely fortunate to be getting married outside in such a beautiful and special place as the snow fell down. It was perfect.
"My brother, Michael, read Captain Corelli's Mandolin and I remember seeing many of our guests nodding along with the reading.
"We had worked with the registrar and coordinator to write the personalised ceremony. I even made sure to learn my vows in German as a wedding day surprise for Alex. The snow was falling as we exchanged vows which was magical. As it was pretty chilly outside, the ceremony was quite speedy! But it was perfect!"
Ella was walked down the aisle by her dad, Peter, to Canon in D by Pachelbel.
"This was actually a really big deal to me. Having planned many weddings, this is so often the song brides walk down the aisle to and this is always the moment where, as the planner, I get a little happy tear - so it is a really special song to me.
"As much as I wanted to make my wedding unique and separate from my day job, this was one tradition I was keen on upholding. Our traditional Austrian band had to spend some time learning the song as it is safe to say it was not on their repertoire. We spent quite a bit of time back and forth on this matter, but I was really glad we did, that moment walking down the aisle is ingrained in my memories forever, it is such a special moment!"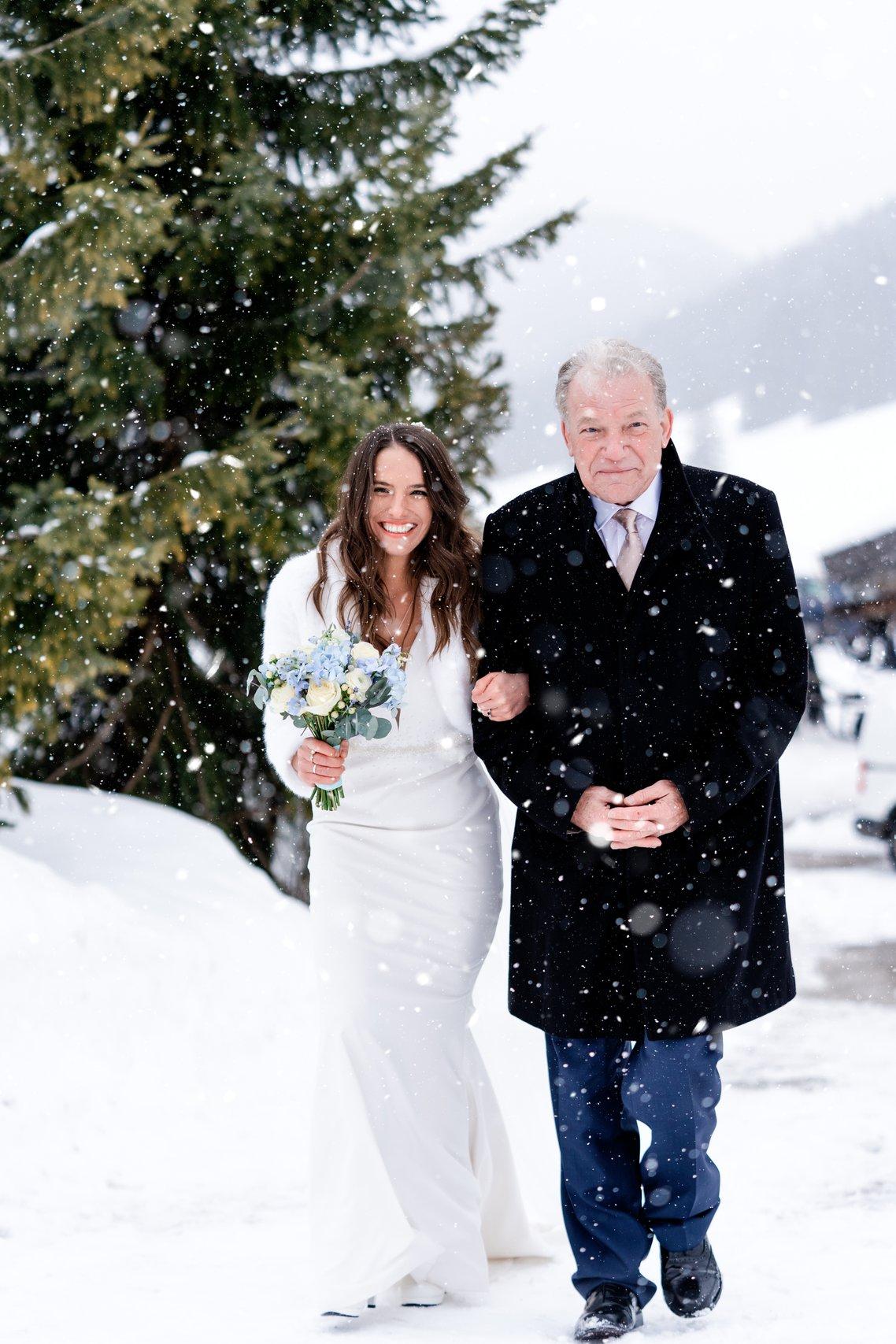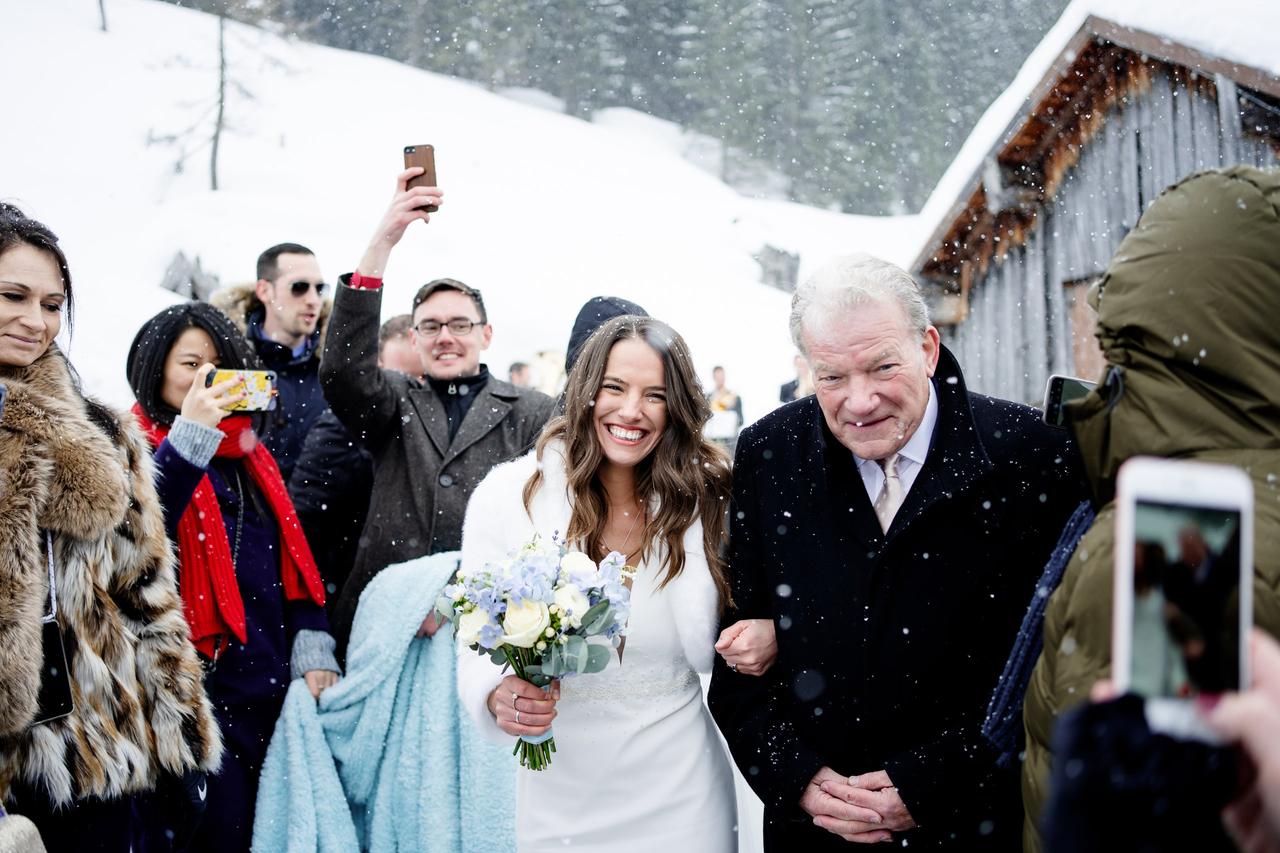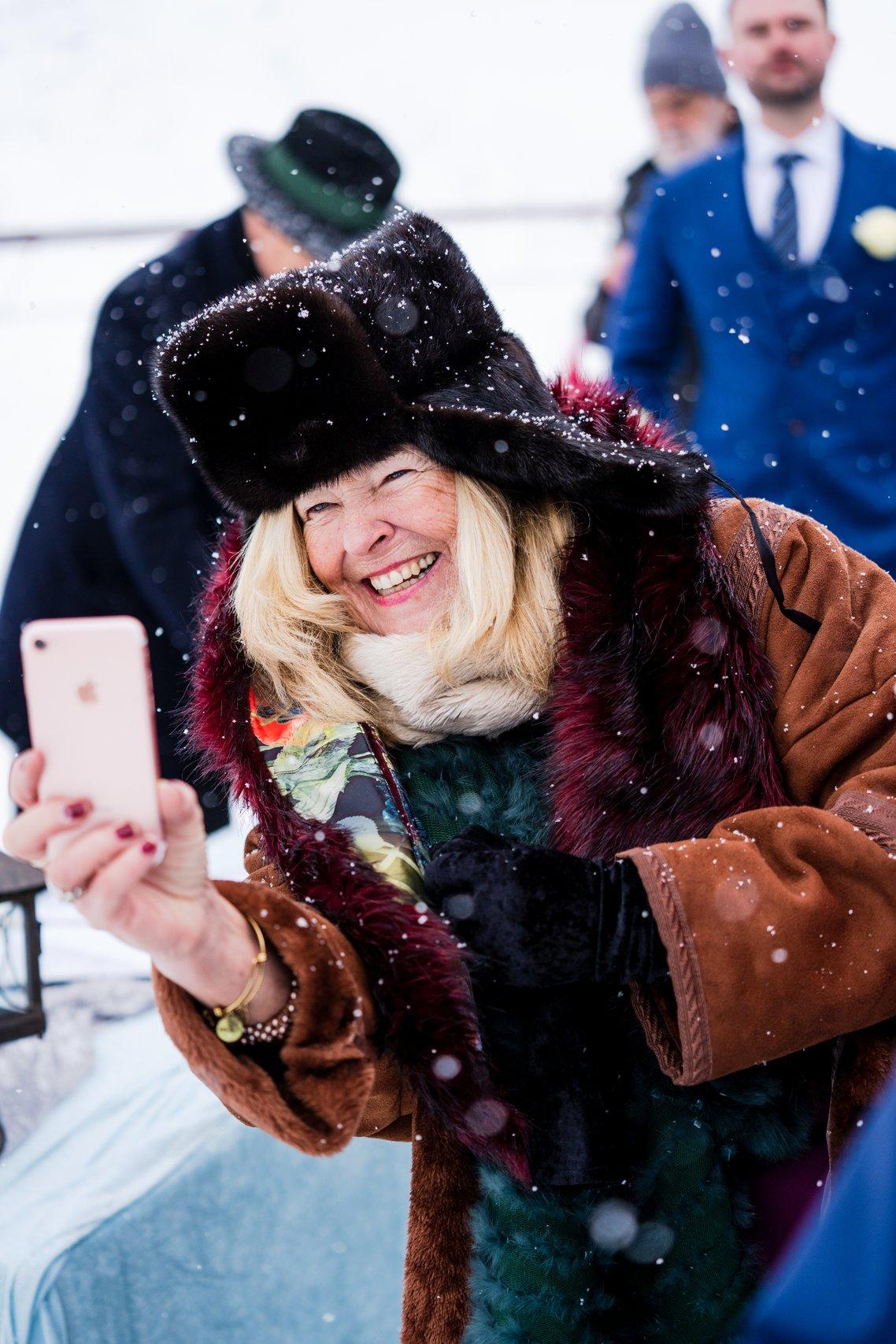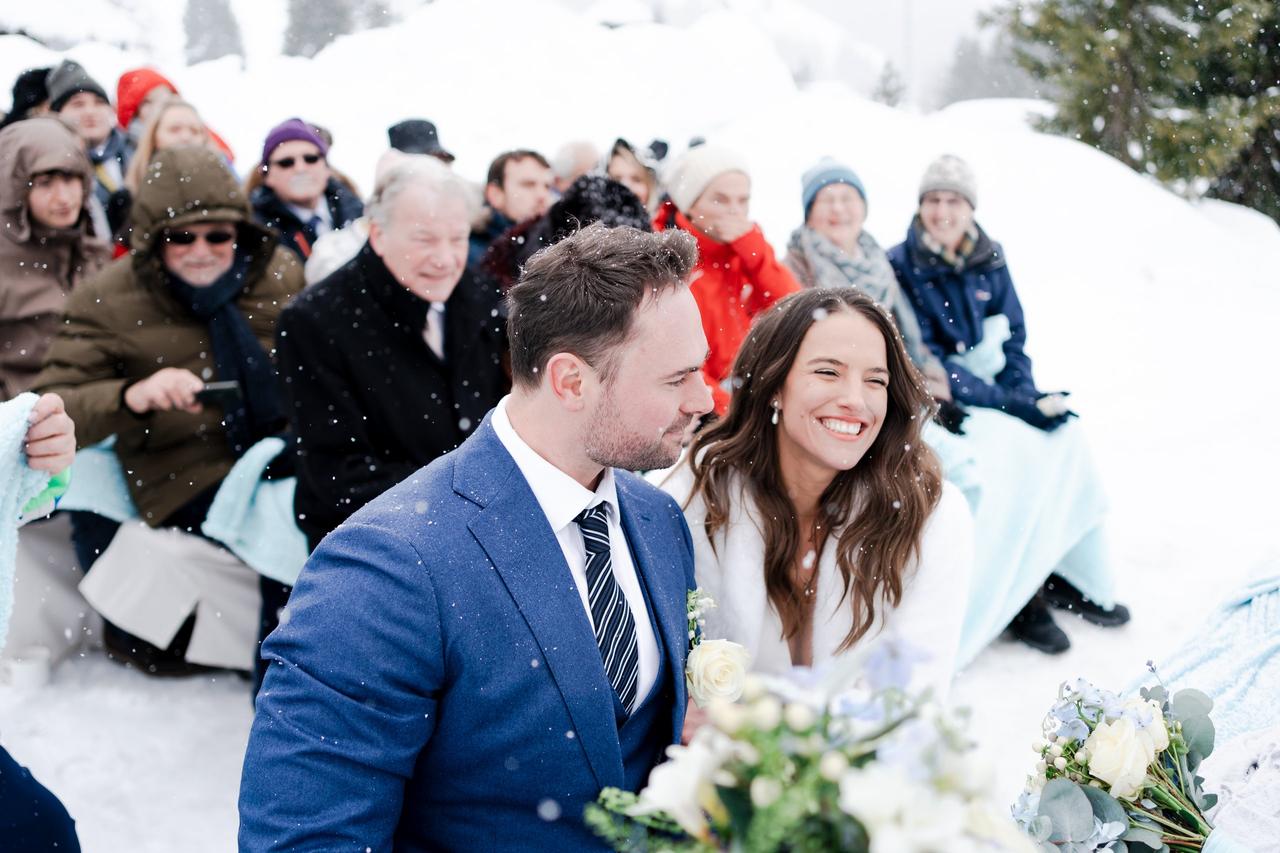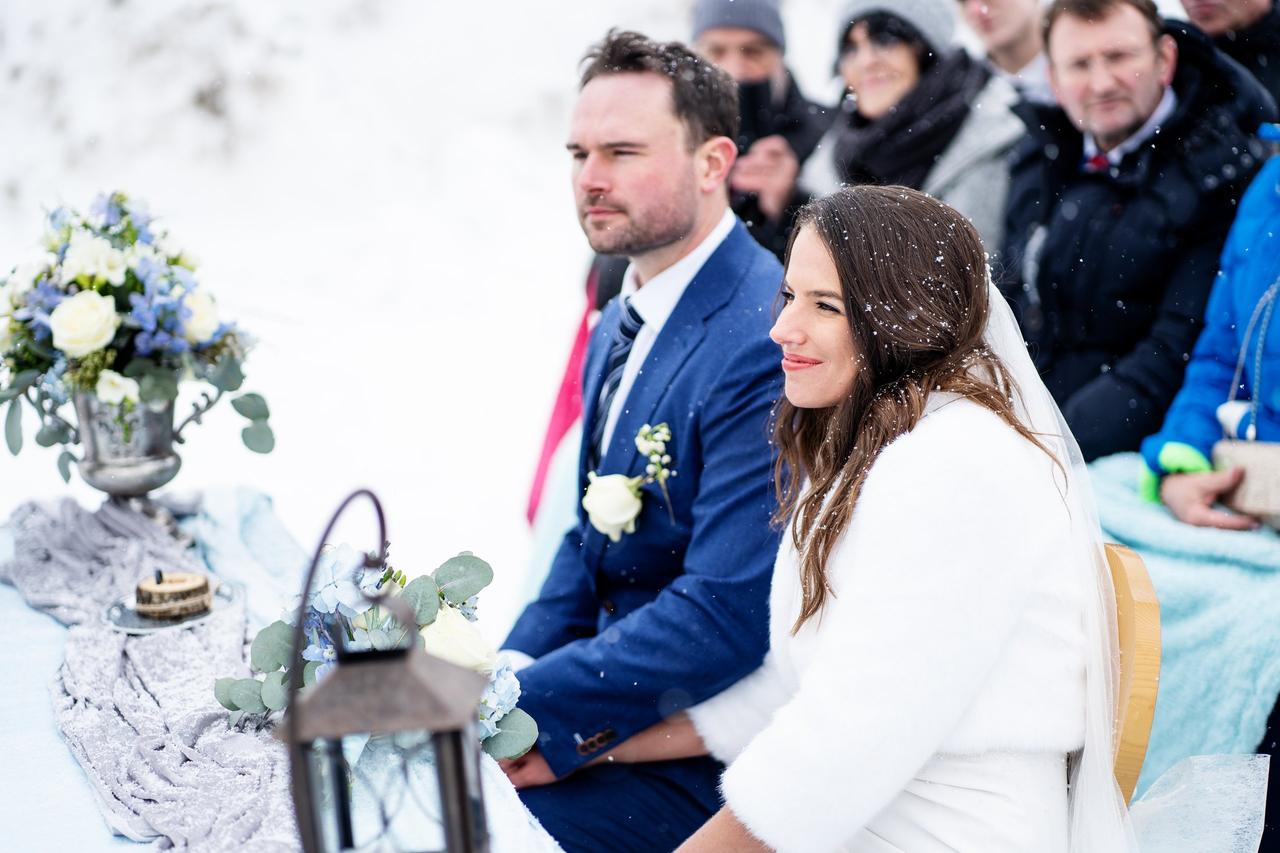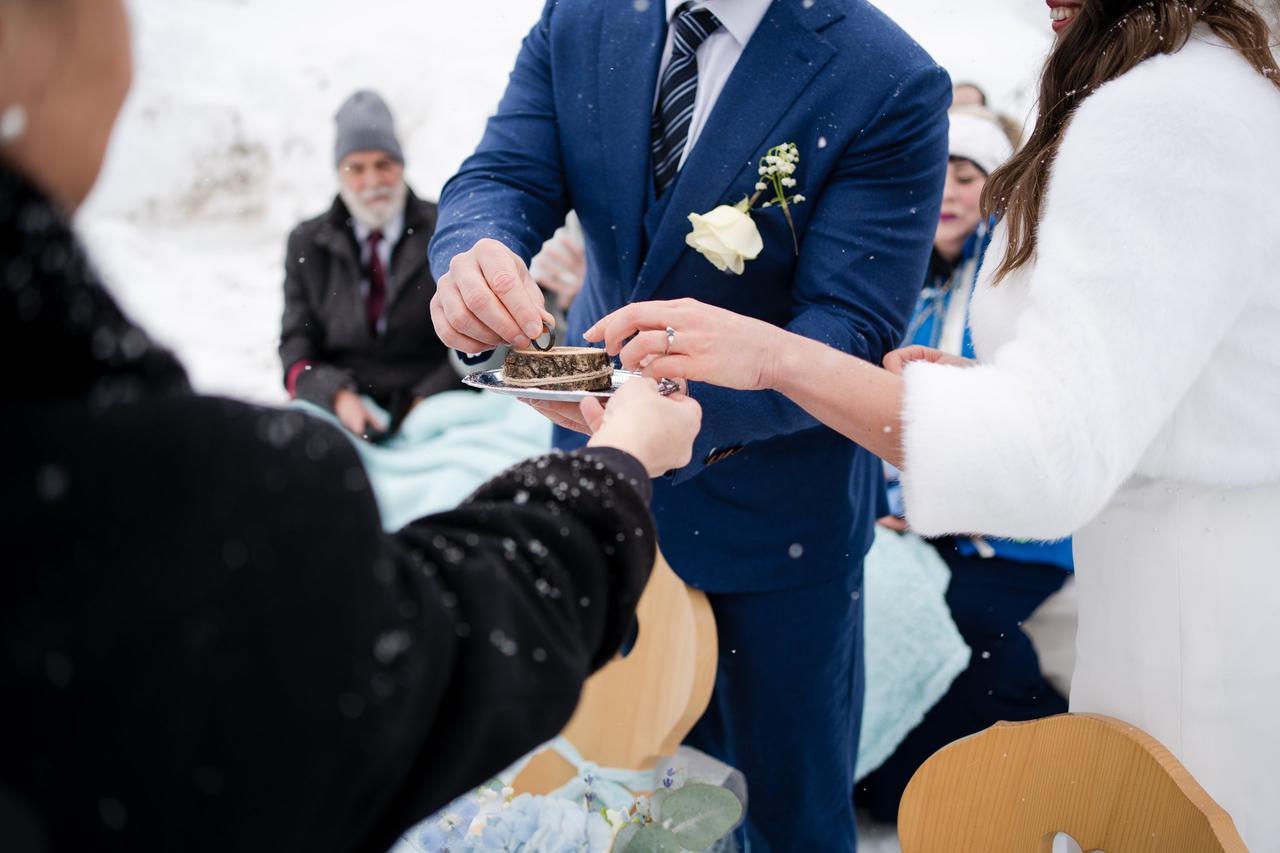 The Wedding Venue
The couple took eight months to choose their wedding venue, which left them with just four months to plan the big day! Luckily, with Ella's vast experience as a planner and complementary help from local planner Ingrid for on-the-day coordination, they pulled together an incredible day. They married outside at Unterhof Alm, located at 1,280 metres, at the foot of the majestic Bischofsmütze mountain.
"As a wedding planner I really wanted a venue that was different to anything else I had ever worked on and I wanted it to be unique to Alex and I. Having physically searched for venues in the UK (where we live), Germany (where Alex is from) and Italy (where we holiday), I finally went full circle to the proposal and looked into Austria.
"We found our venue online in October 2019. If we wanted to get married in 2020 (which we did) we knew we had little time to decide on a venue, so we squeezed in a quick day trip to view the venue. We flew out in the morning, drove down, then flew back that night – it was one of the best parts of the planning and such a great
adventure together to choose the venue.
"Finding the venue was the biggest and most time consuming decision of our wedding planning. The venue was so cosy and magical and we knew it would be something completely different for our guests to experience. It just felt right as soon as we visited it.
"The location is incredible. It's in a national park, so really remote and isolated, so completely unspoilt, the views are outstanding and when you are standing up there surrounded by the beautiful snow and unspoilt beauty, then go inside to the roaring fire, it feels incredibly cosy. The food is also excellent, and the team are all really friendly!"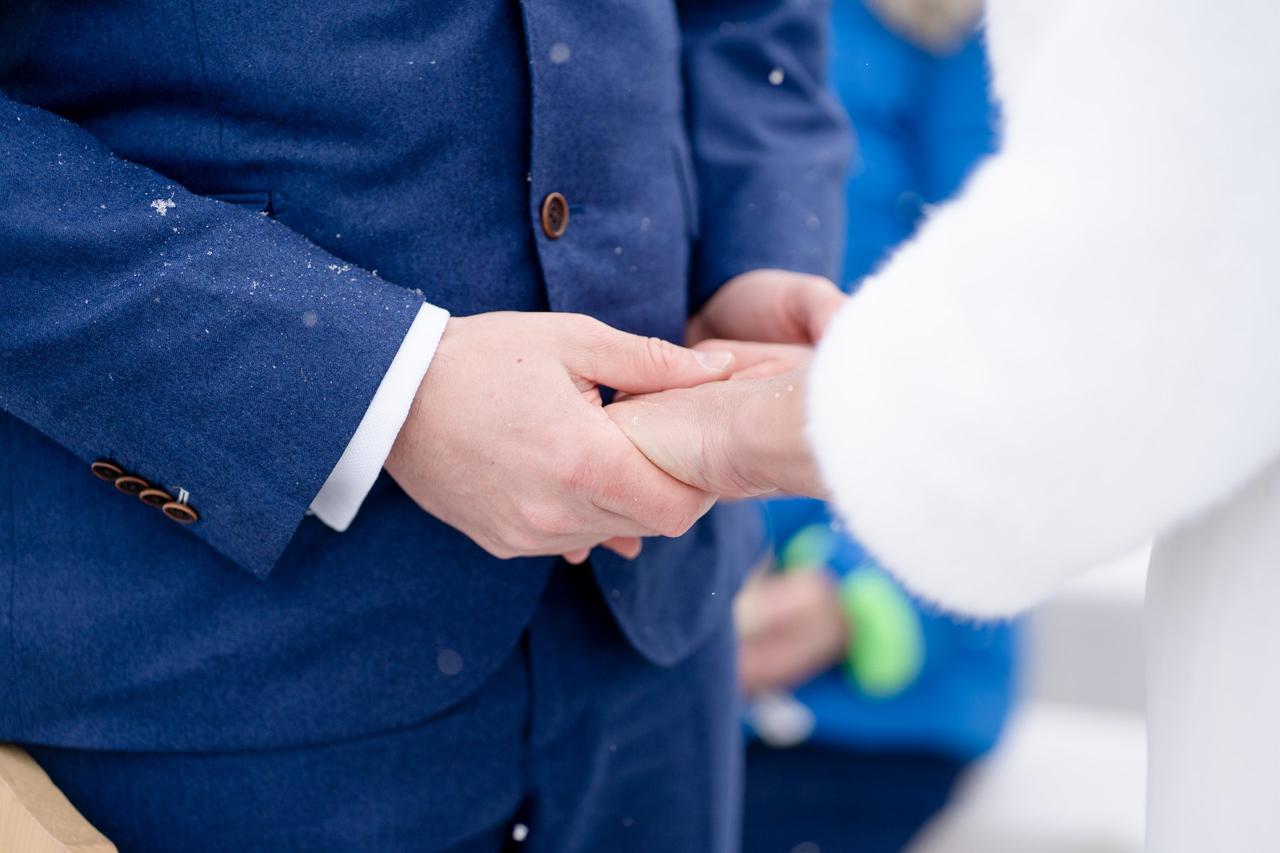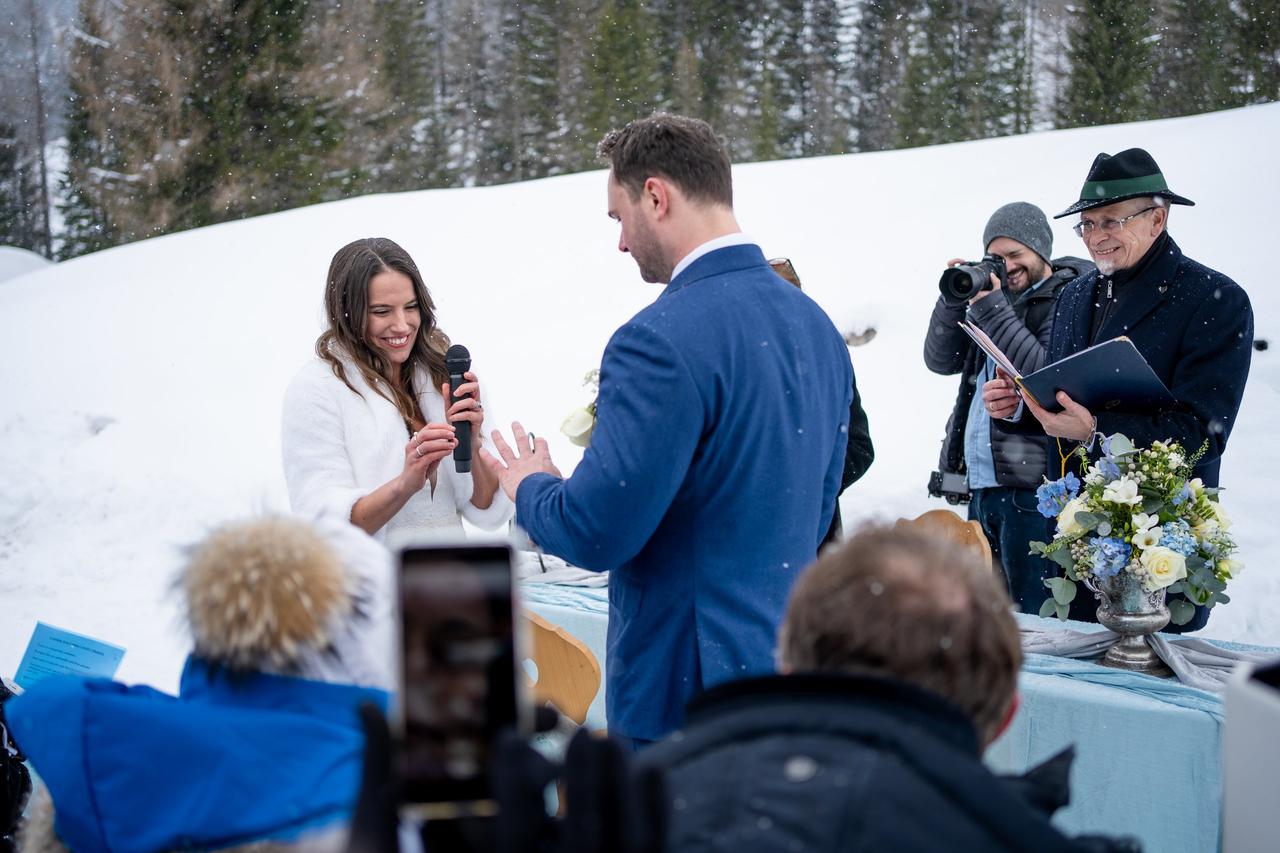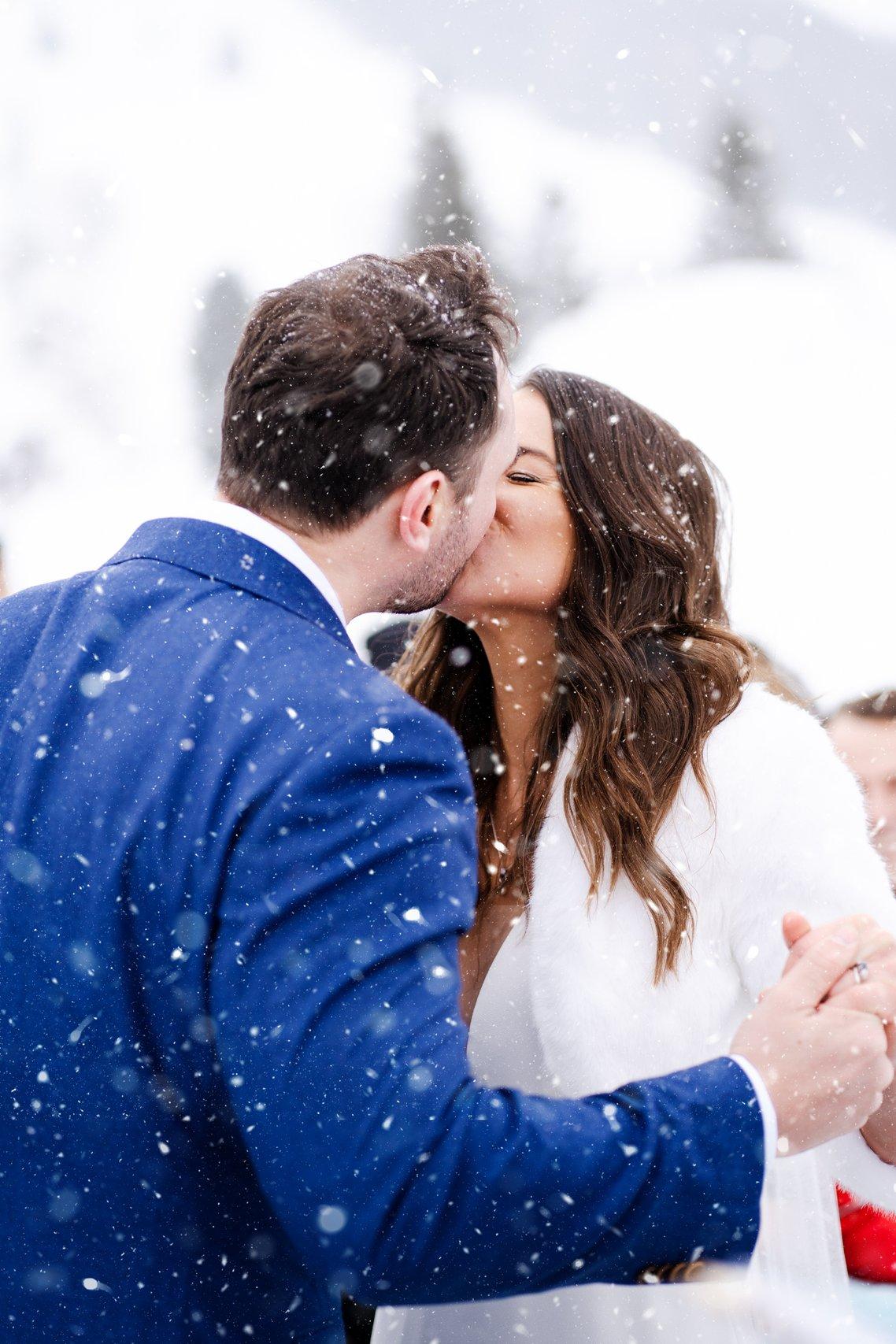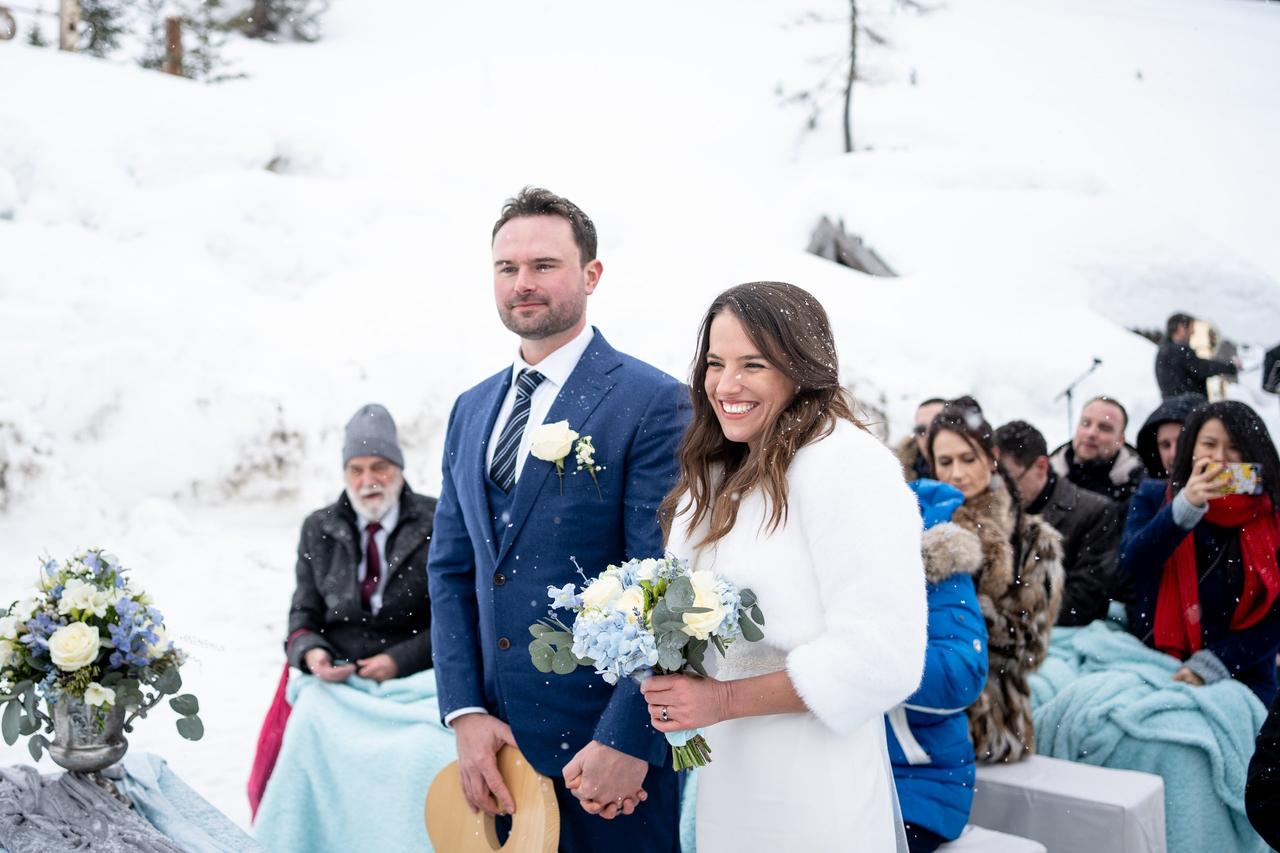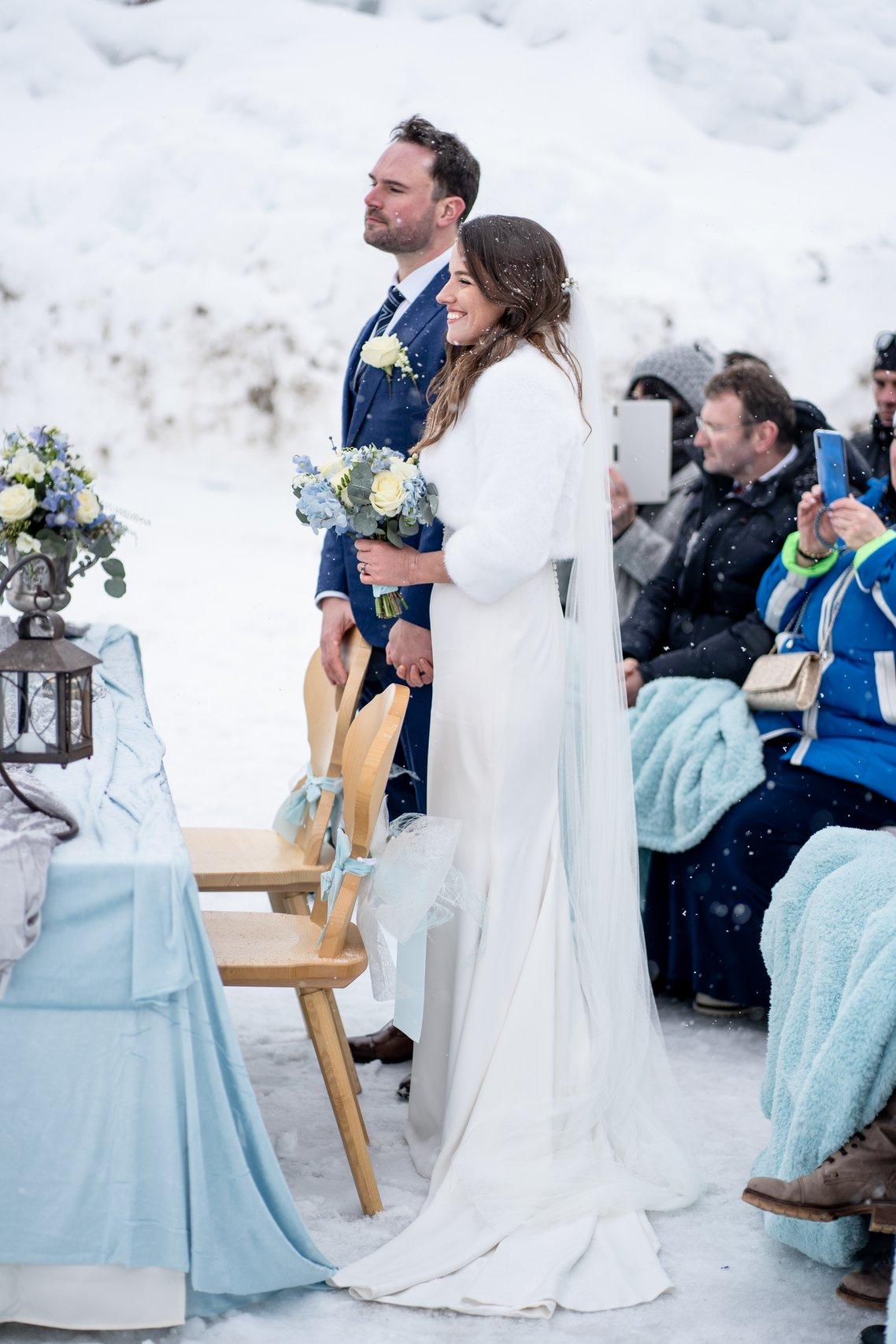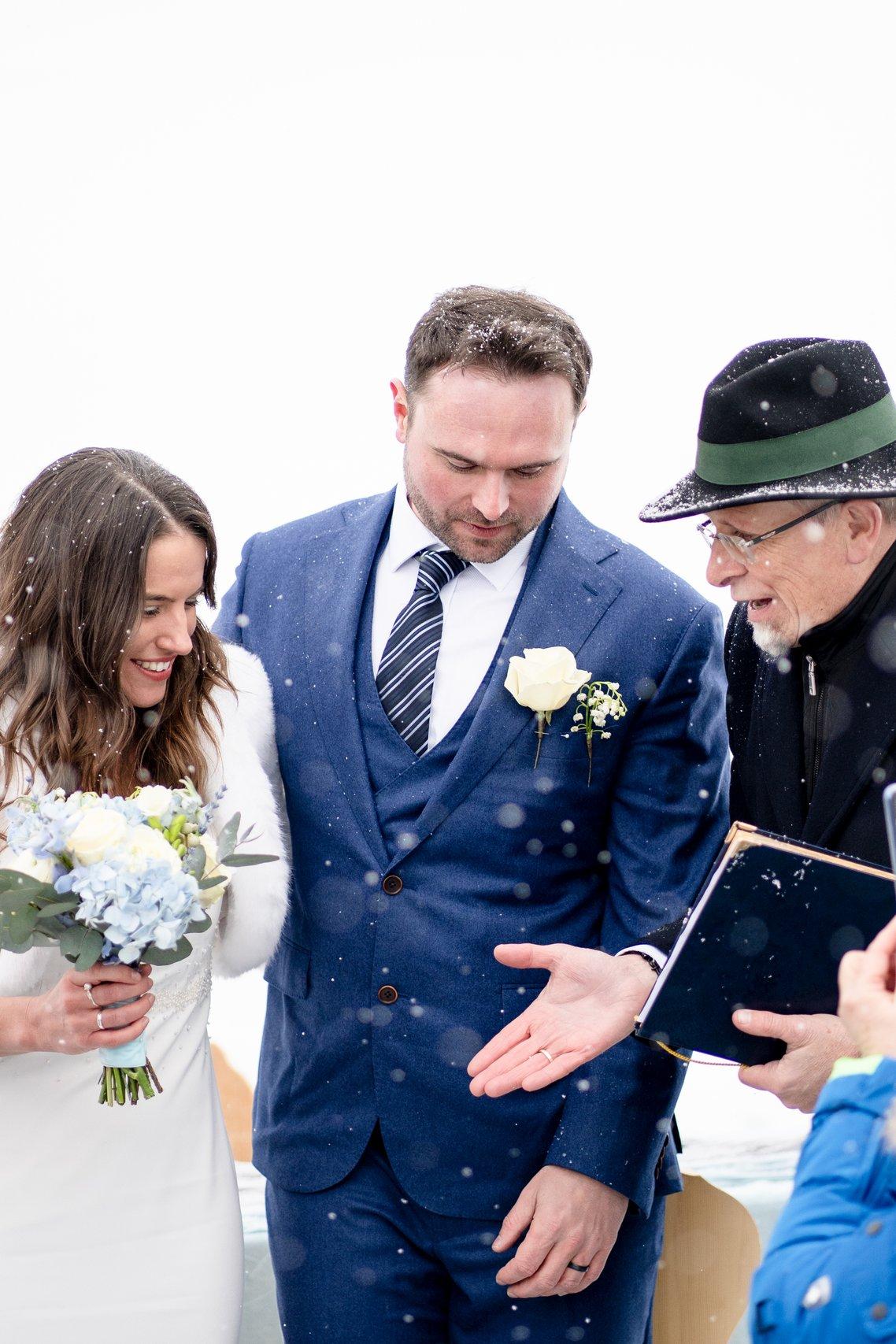 The Reception and Décor
The newlyweds went all out on personalised décor for their reception, including monogrammed E&A stationery (after a misjudged engagement cake that said A&E - "not quite such a message of hope!").
"Not wanting to be traditional, I steered away from pinks and went for a blue colour theme. There were touches of silver in the charger plates, cutlery and candle holders, set off by the eucalyptus tones. There were darker petrol blue-coloured velvet runners on the tables, duck egg velvet ribbons for the bouquet and some softer blues for the florals. We also utilised lots of candles to exaggerate that cosy feeling. It was great seeing all the styling come together.
"We bought favours on Etsy that could double as place cards - they were wooden names carved into keyrings which matched the vibe of the Alm and were similar to our save the date style. I often see favours get left behind so we wanted to make them practical.
"We also ensured every guest received a welcome gift in their hotel room and hoped the edible (homemade fudge) and drinkable (Newcastle Brown Ale) gift they received on arrival would be of more use to them in their hotel room than after a big meal in the Alm."
In keeping with the personal theme, the tables were named after their last three ski holidays: "Schladming, where we first skied together and where we witnessed that first sunset moment, was one table. Another table was named Bad Kleinkirchheim, which was one of our favourite ski trips. The top table was named Mayrhofenn, where we got engaged."
A wedding scent was also crucial for setting the tone.
"The bathrooms contained personalised wedding bits like love hearts with our names on alongside toiletries for guests to use. Furthermore, we had our wedding scent burning throughout the venue – Molton Brown provided us with candles and now that scent will forever remind me of our wedding.
"We actually started burning it at home with our pre-wedding dinner parties to create the wedding vibe, where we sampled possible wines for the wedding. We had a corkage agreement with the venue so brought our own wines – again they were personal to us, for example, the red was from a vineyard we visited in Italy and the Champagne was our favourite Champagne Billecart Salmon Rose and the one we served at our housewarming when we first bought our home together."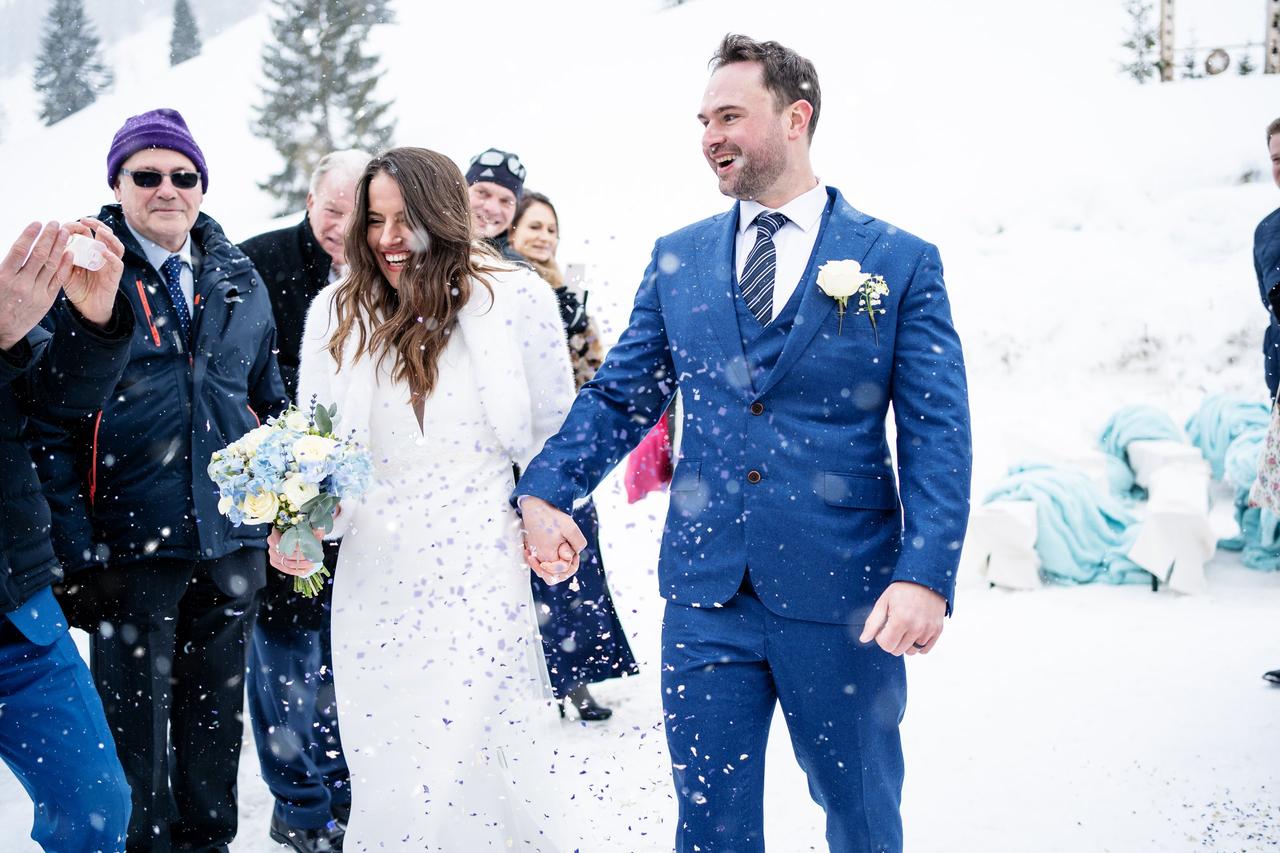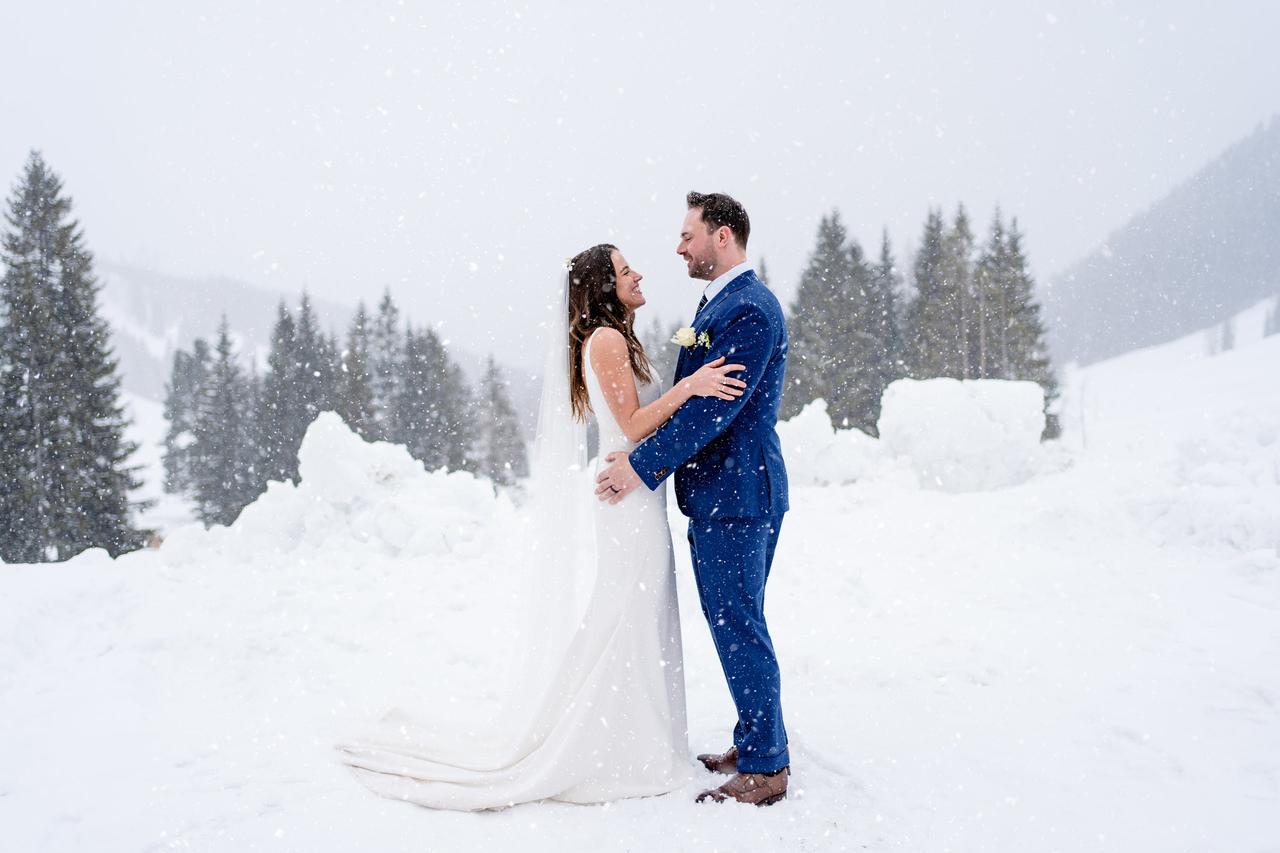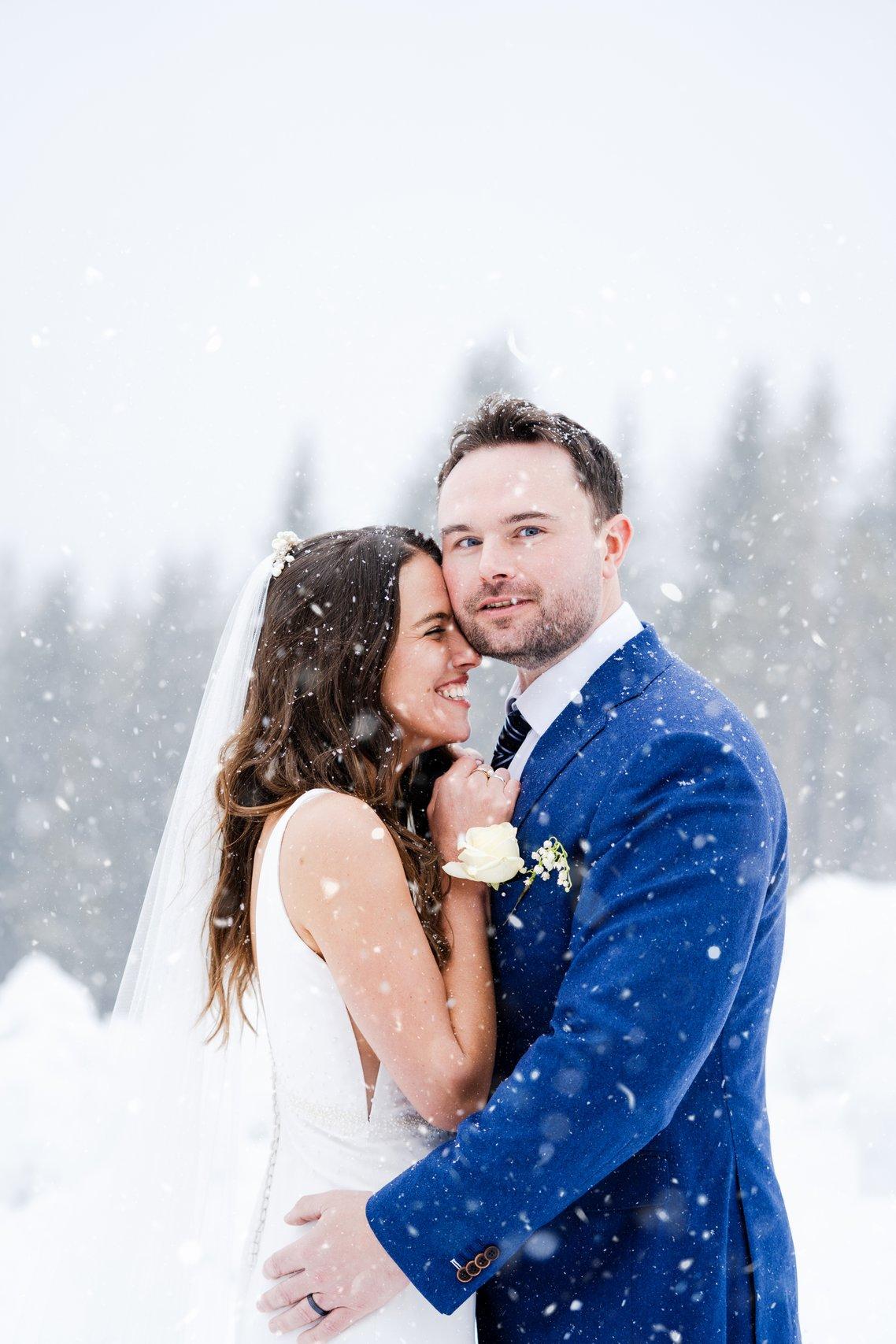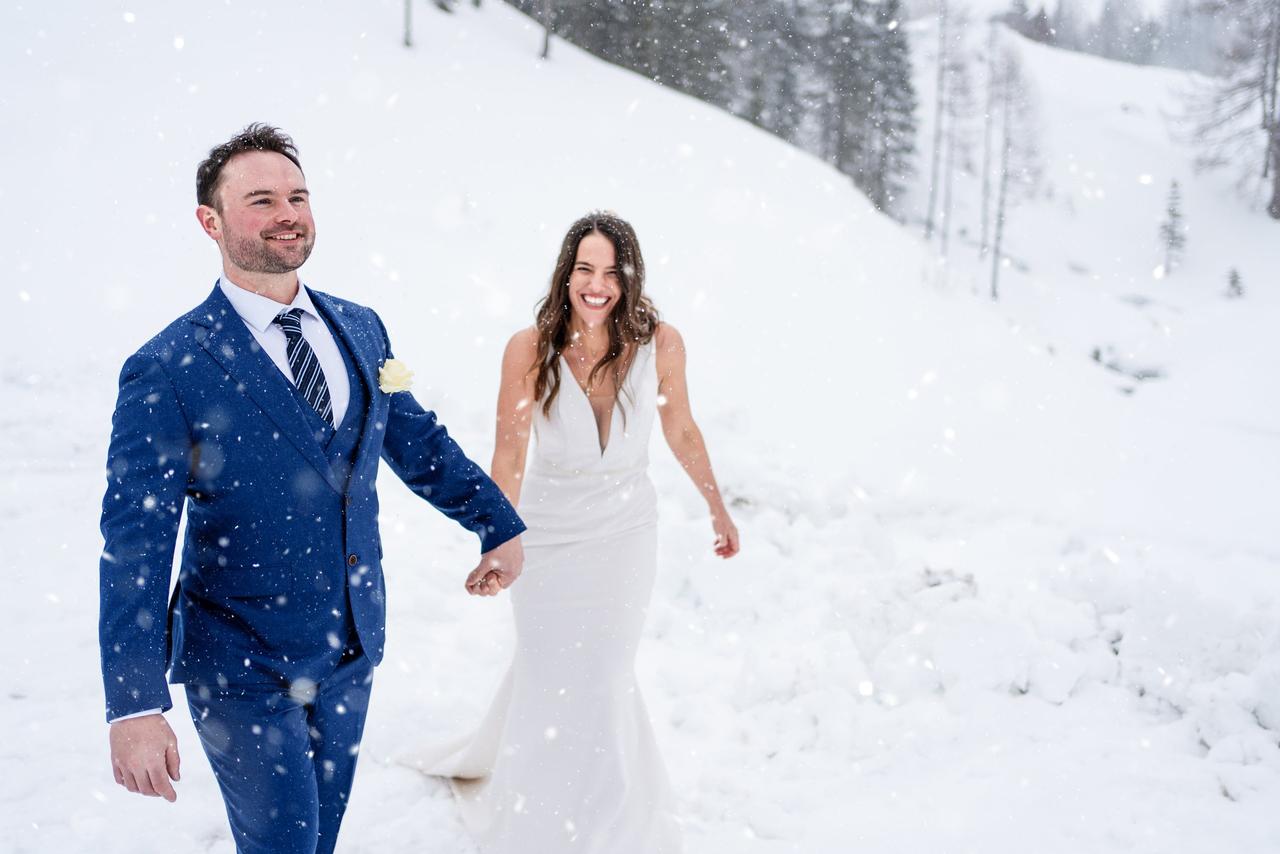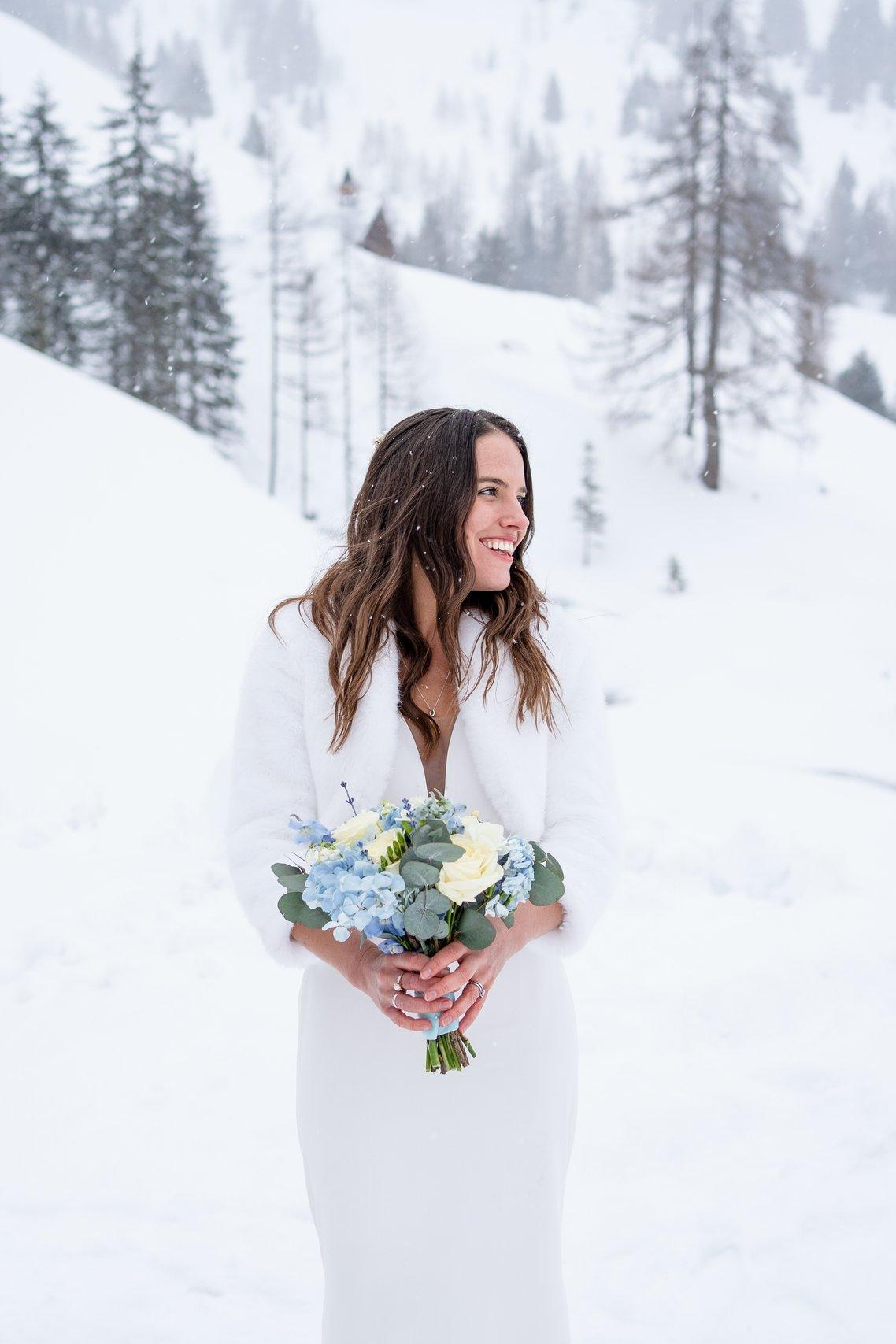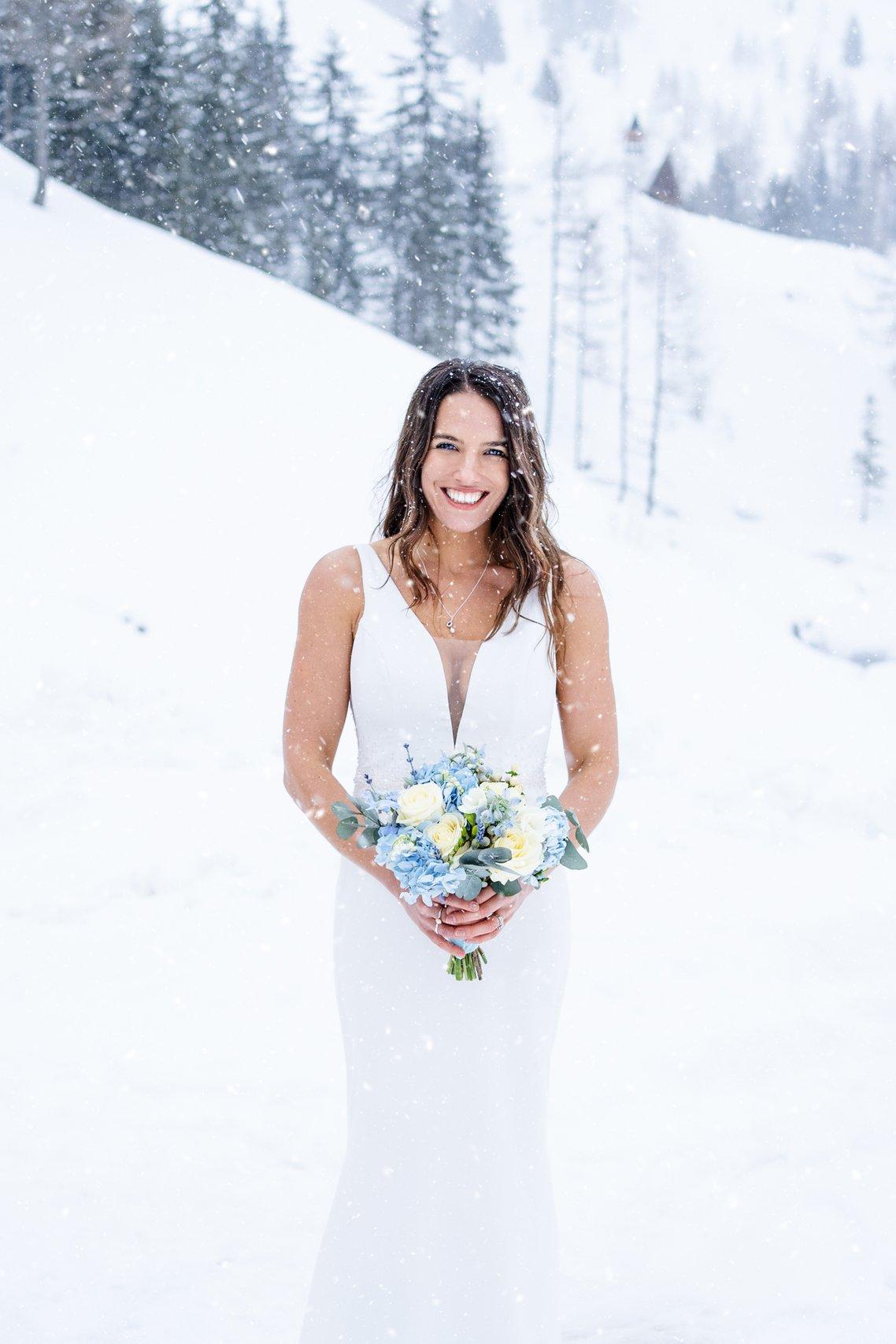 The Food and Wedding Cake
Being in a different country to their wedding venue put a few spanners in the works for the couple, but nothing that planner Ella couldn't handle - including asking for their favourite dishes.
"We had a really productive menu tasting in December where the venue were very flexible and helped us create a bespoke selection of canapes that went down very well with our guests.
"The Wedding Breakfast was a traditional Austrian selection of Alex and I's favourite dishes to enjoy whilst holidaying in the mountains (because we wanted this event to really represent us as a couple). We had Garlic Soup, Schnitzel, and Kaiserschmarrn (the most delicious pancake dessert that was a big hit!)."
The couple had a three-tiered wedding cake from Café Fingerlos bakery in Salzburg: "It consisted of three flavours: Danube, Lemon and Chocolate. We served it on the night and my brother and Ingrid did a great job of wrapping up any leftovers and passing it out to guests as they left so nobody missed out on cake."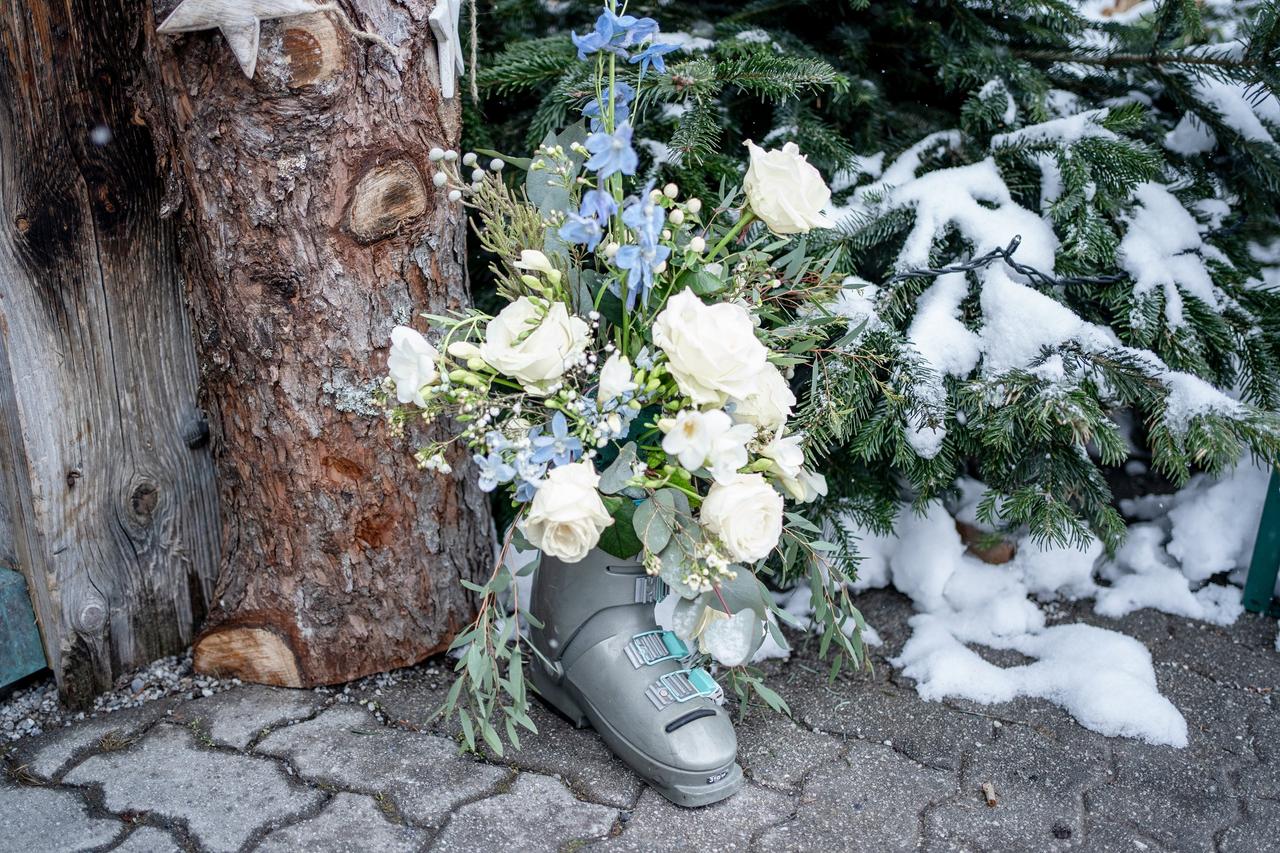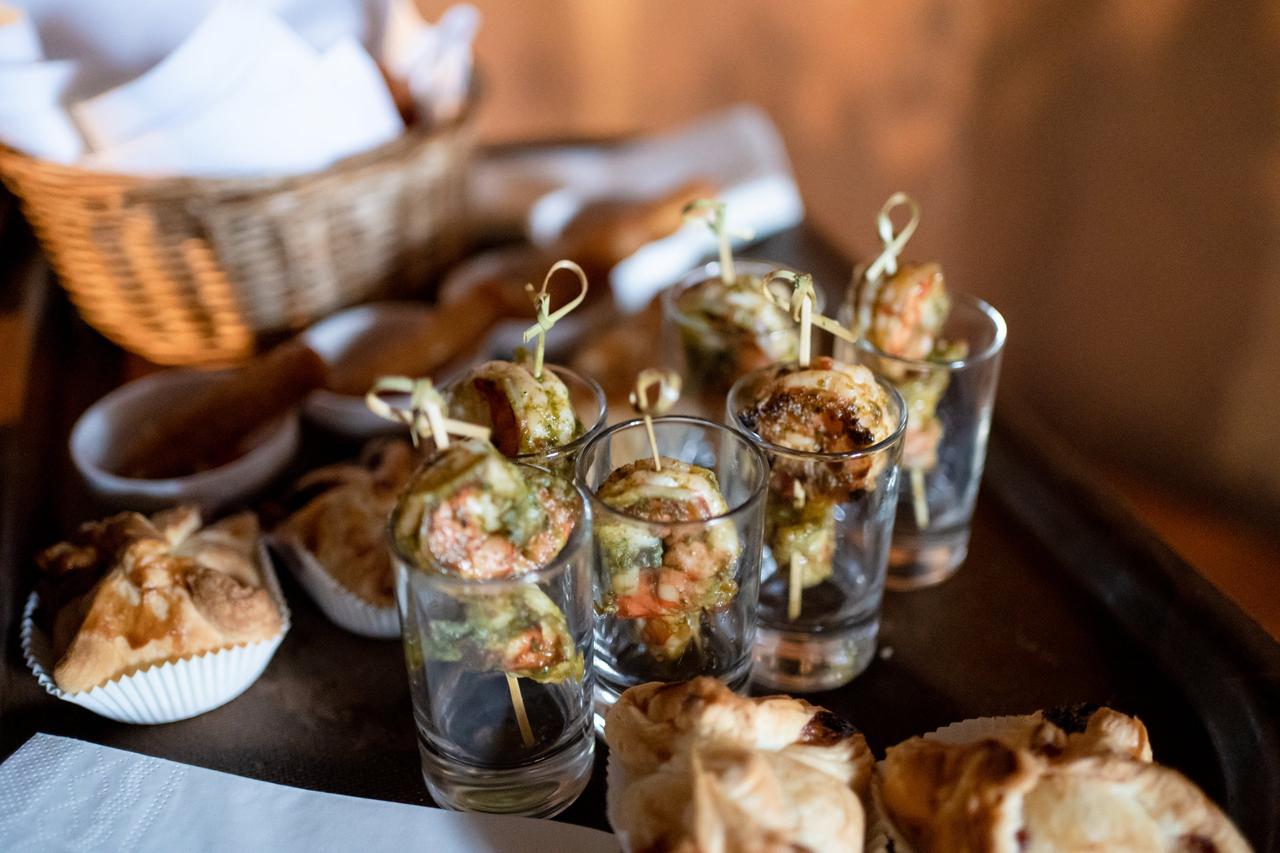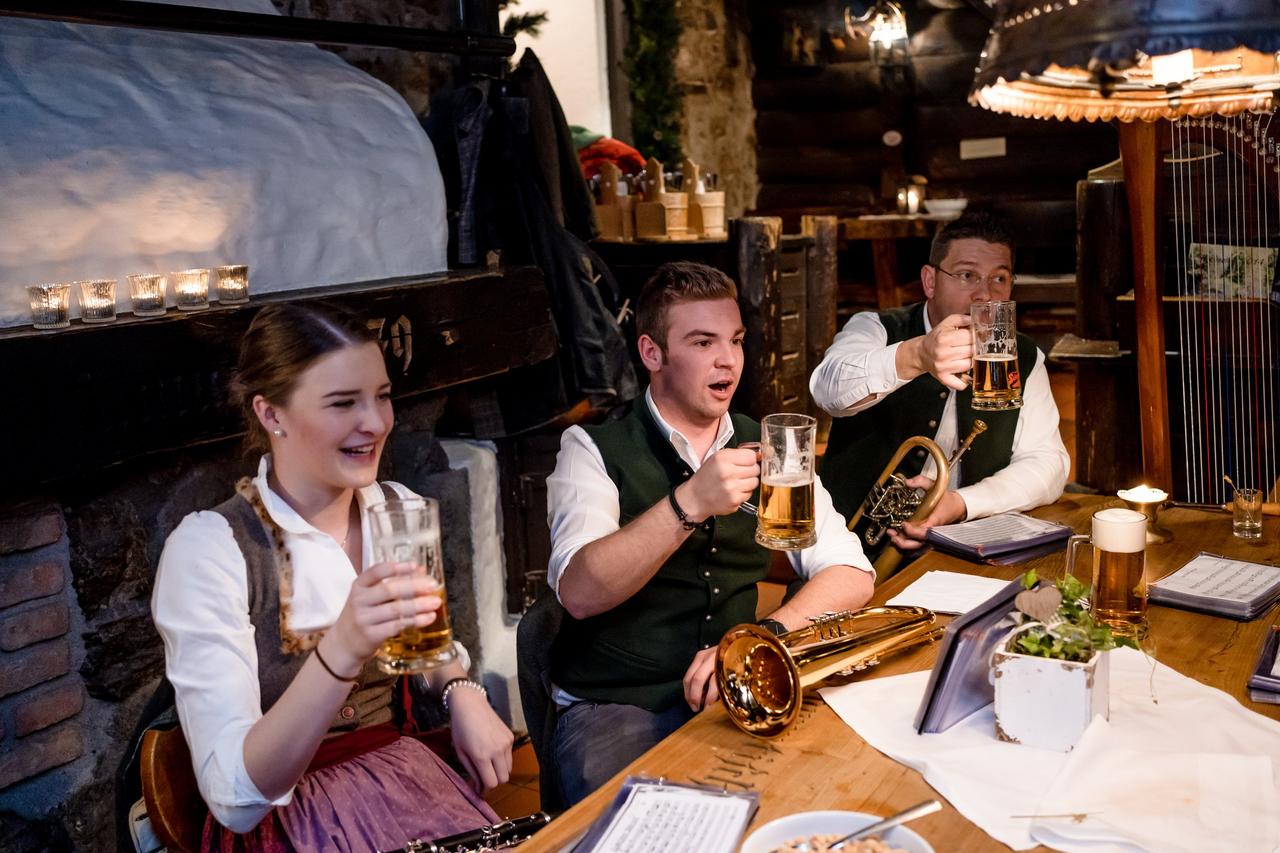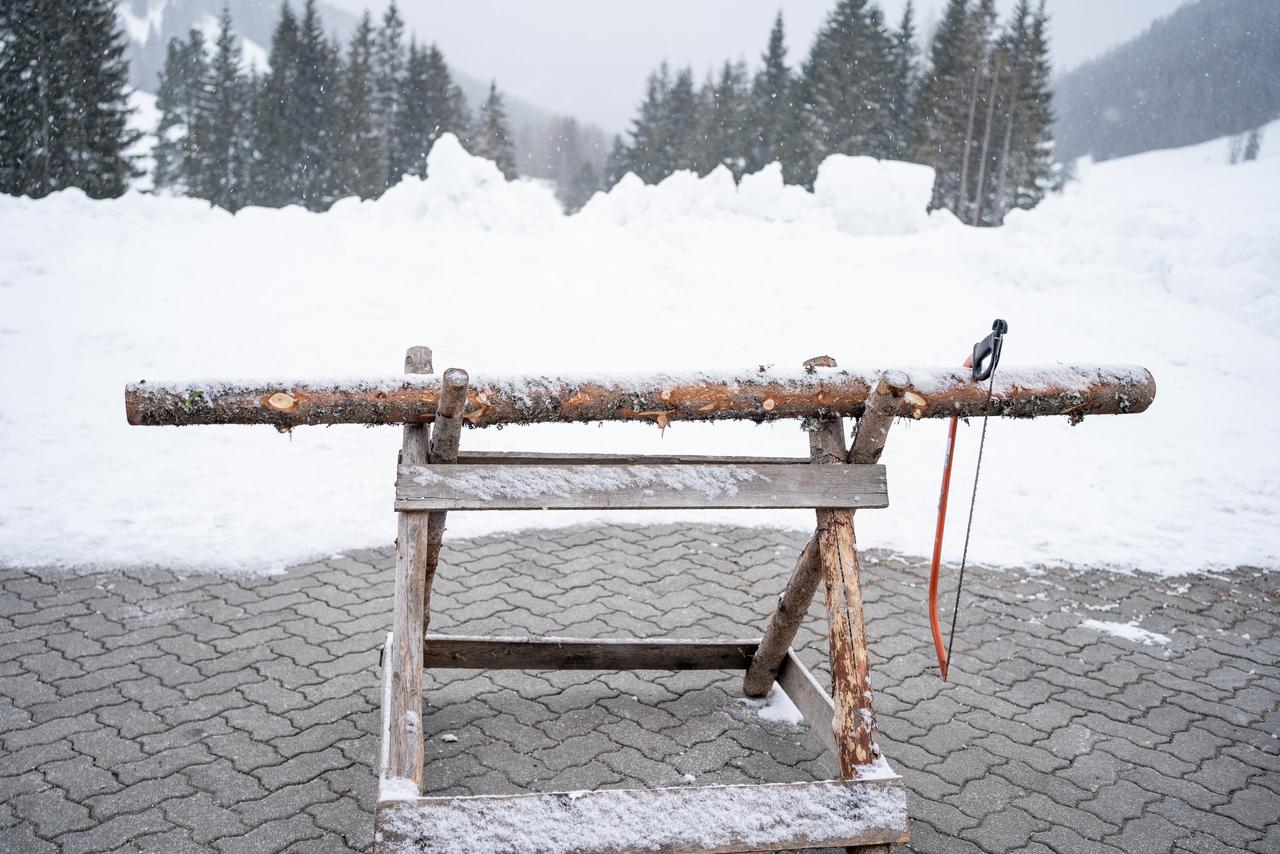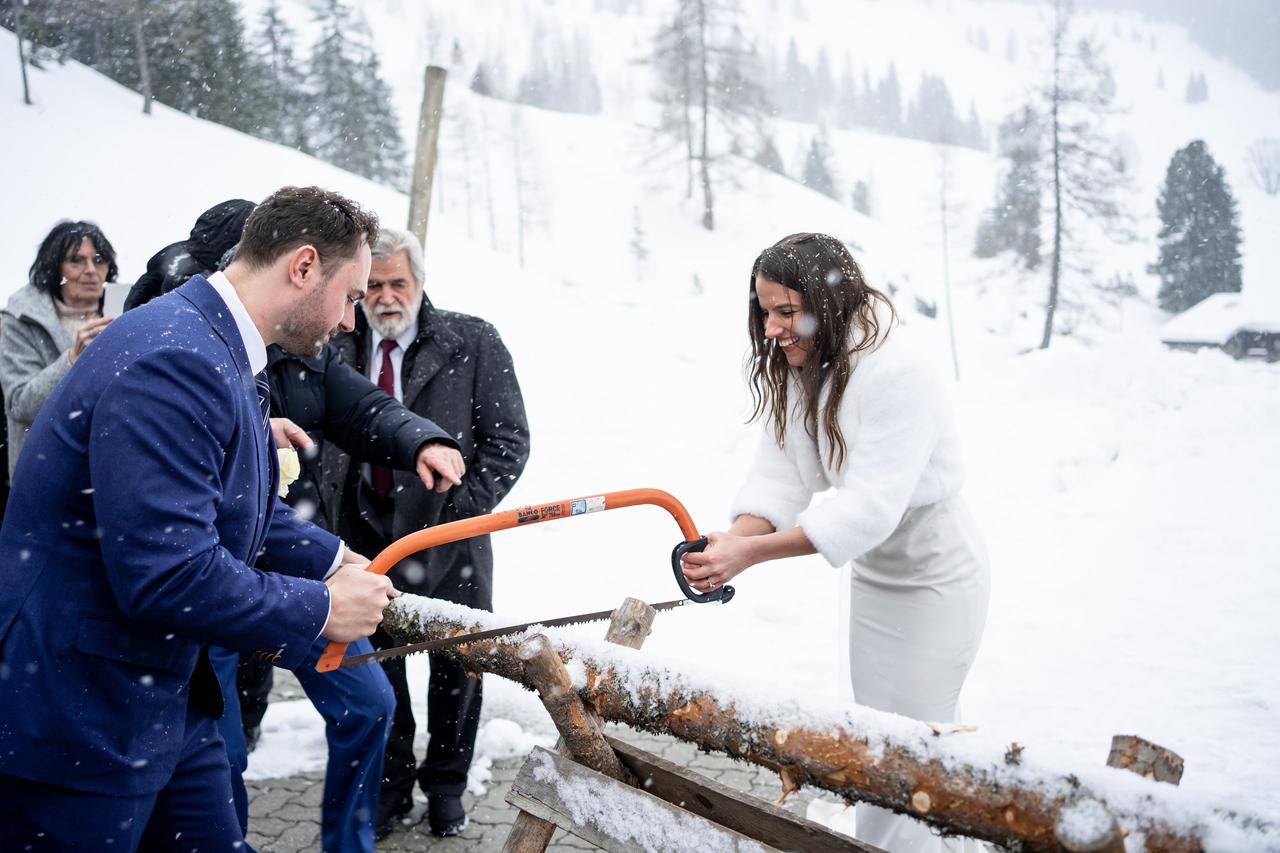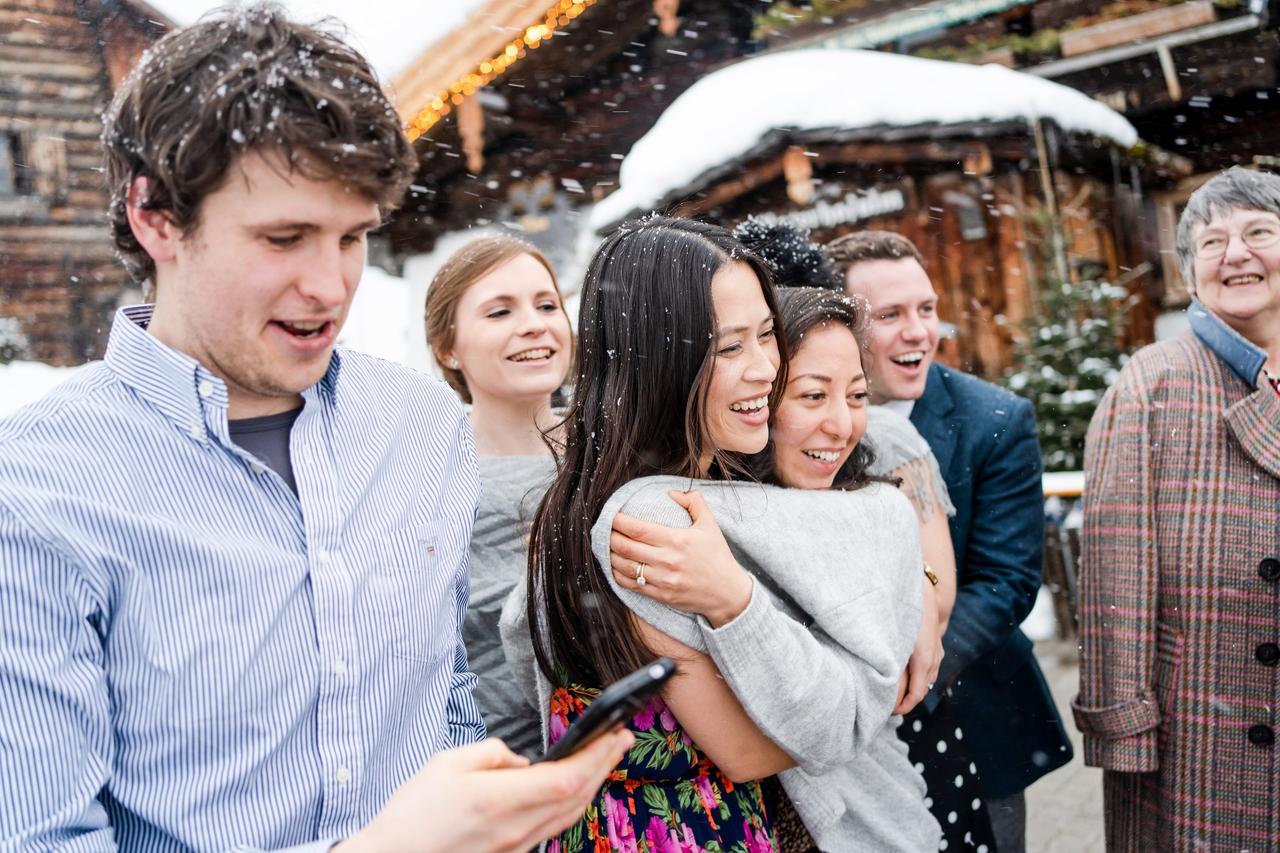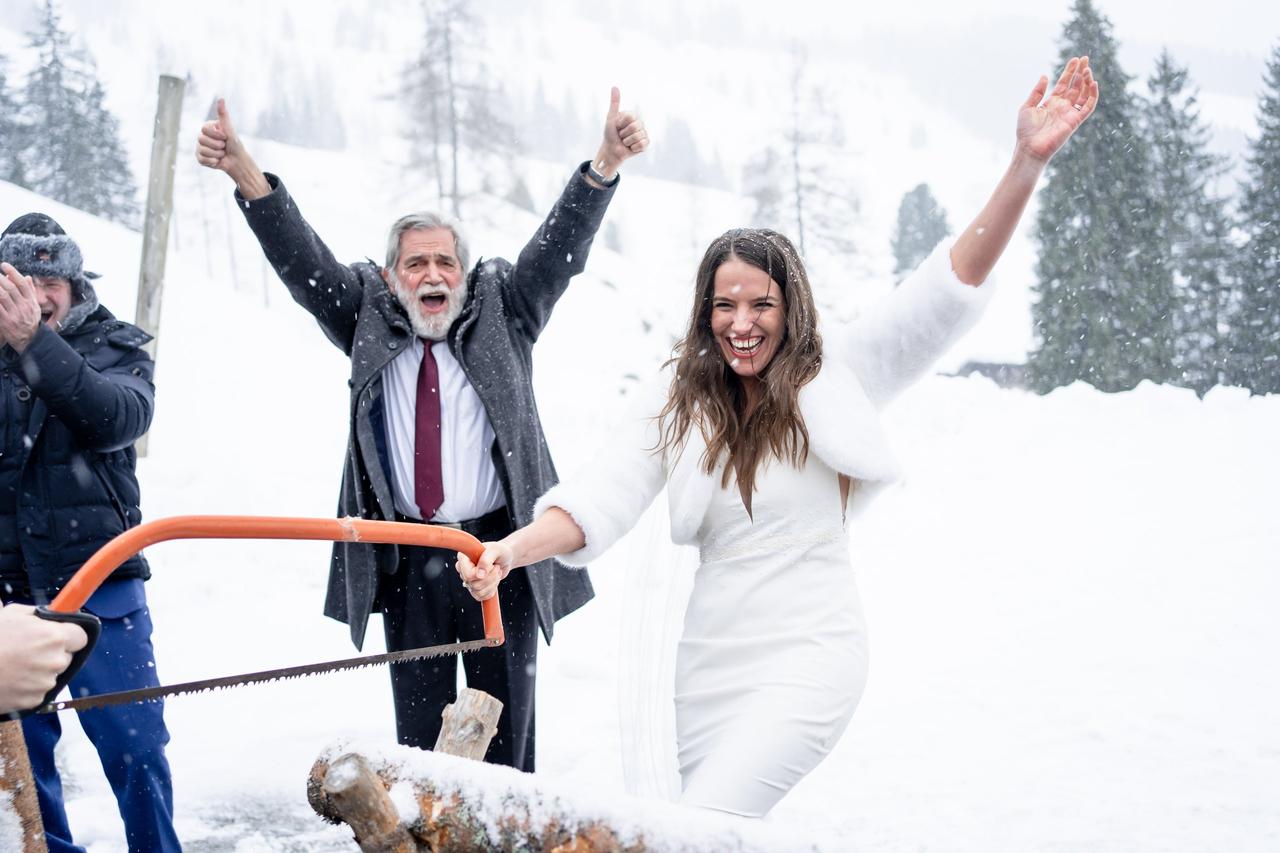 The Wedding Flowers
Ella's mum is a florist and Alex's mum works for a wedding wholesaler so (although they didn't speak the same language) the flowers were in safe hands with the two mothers.
"My mother made my bouquet, so it is very special to me and I currently have it drying in the hope of preserving it. Again, keeping the wedding unique and personal to me, I used flowers in the bouquet that were special to me.
"It contained lily of the valley which has been my favourite flowers since I was a young child. It used to grow in my childhood home front garden, and I remember being young and trying on my mother's old wedding dress and staging an imaginary wedding utilising a bouquet of lily of the valley! Sourcing it out of season in March was a bit tricky but my mother and Alex's mother were both great and managed to.
"My bouquet also contained white freesias; freesias were one of my late grandmother's favourite flowers so I was sure to include these. I also included some blue hydrangeas as these not only tied in with our colourings but reminded me of my late grandmother's garden where she used to have a huge hydrangea selection.
"White avalanche roses were included, I had learnt from my years at The Ritz that these were the epitome of elegance when it came to roses and they were often used to dress the hotel. Blue delphiniums were used and eucalyptus too to tie in the colourings and then some berries to complete the wintery look."
These flowers continued in the wedding décor, with the addition of anemones, and were bunched in little vases down the centre of the reception tables as centrepieces.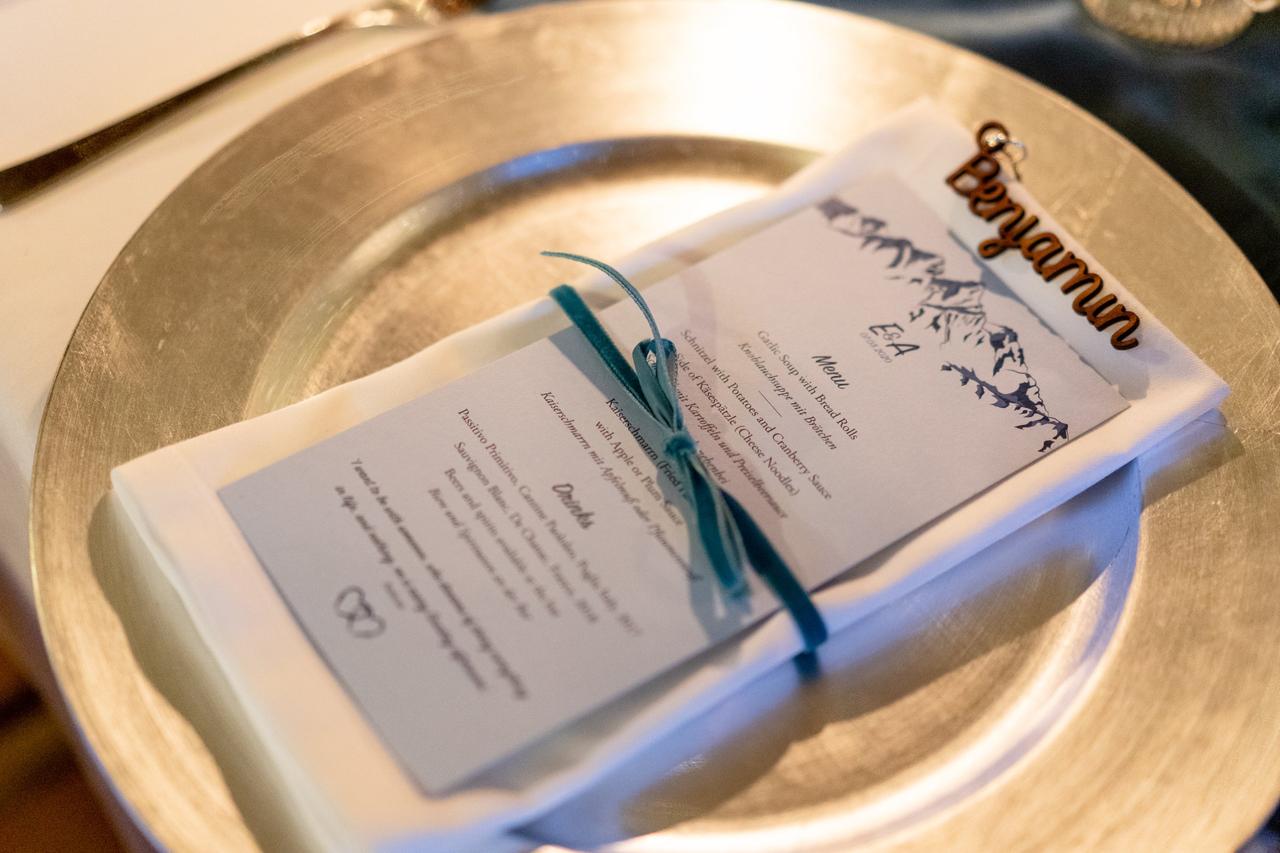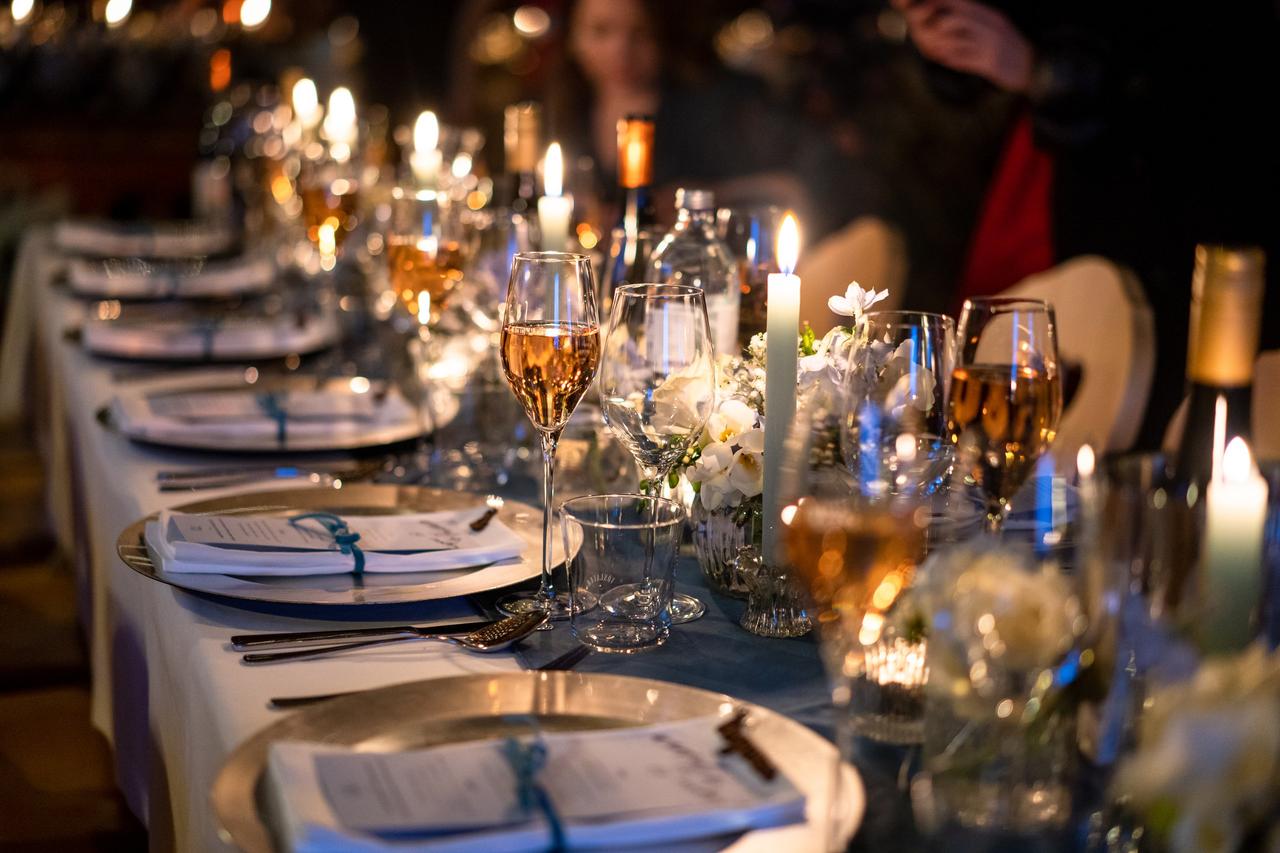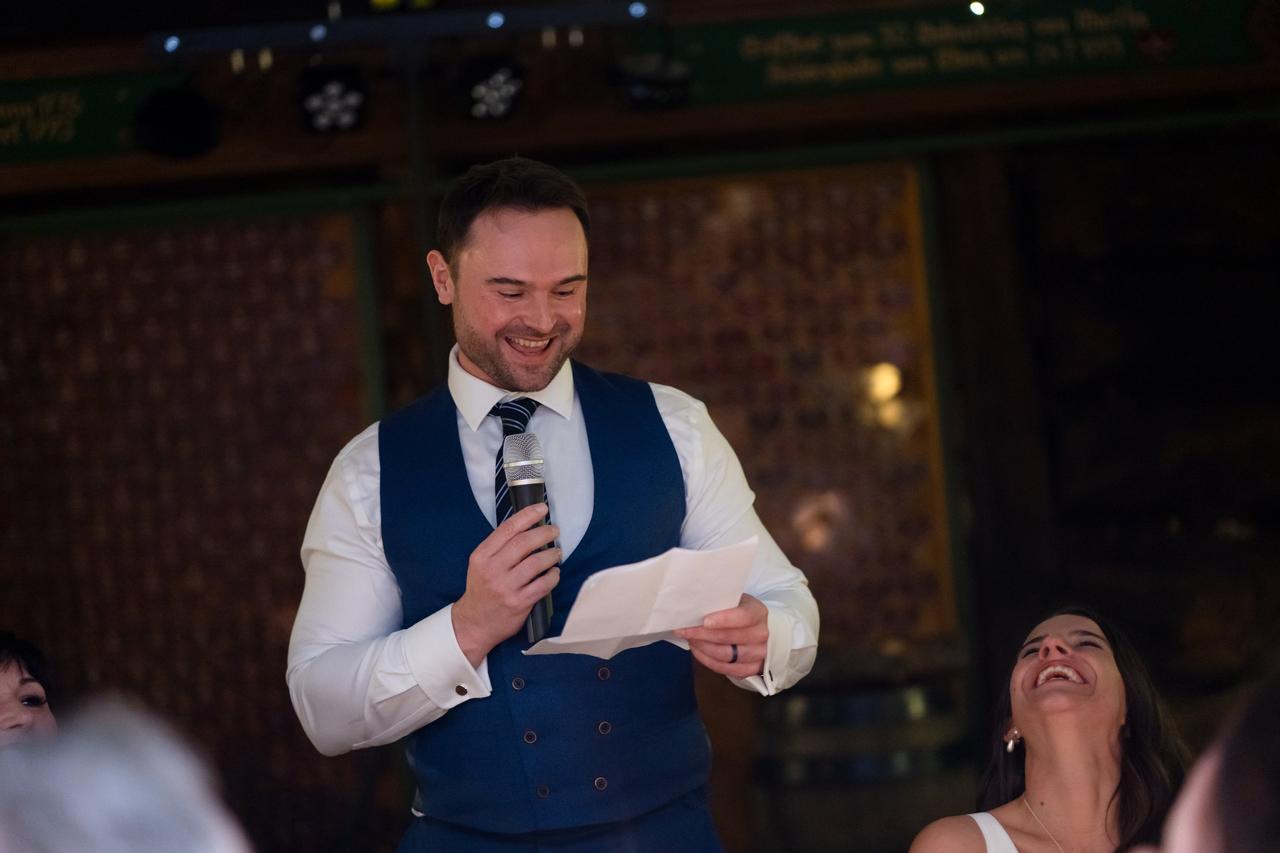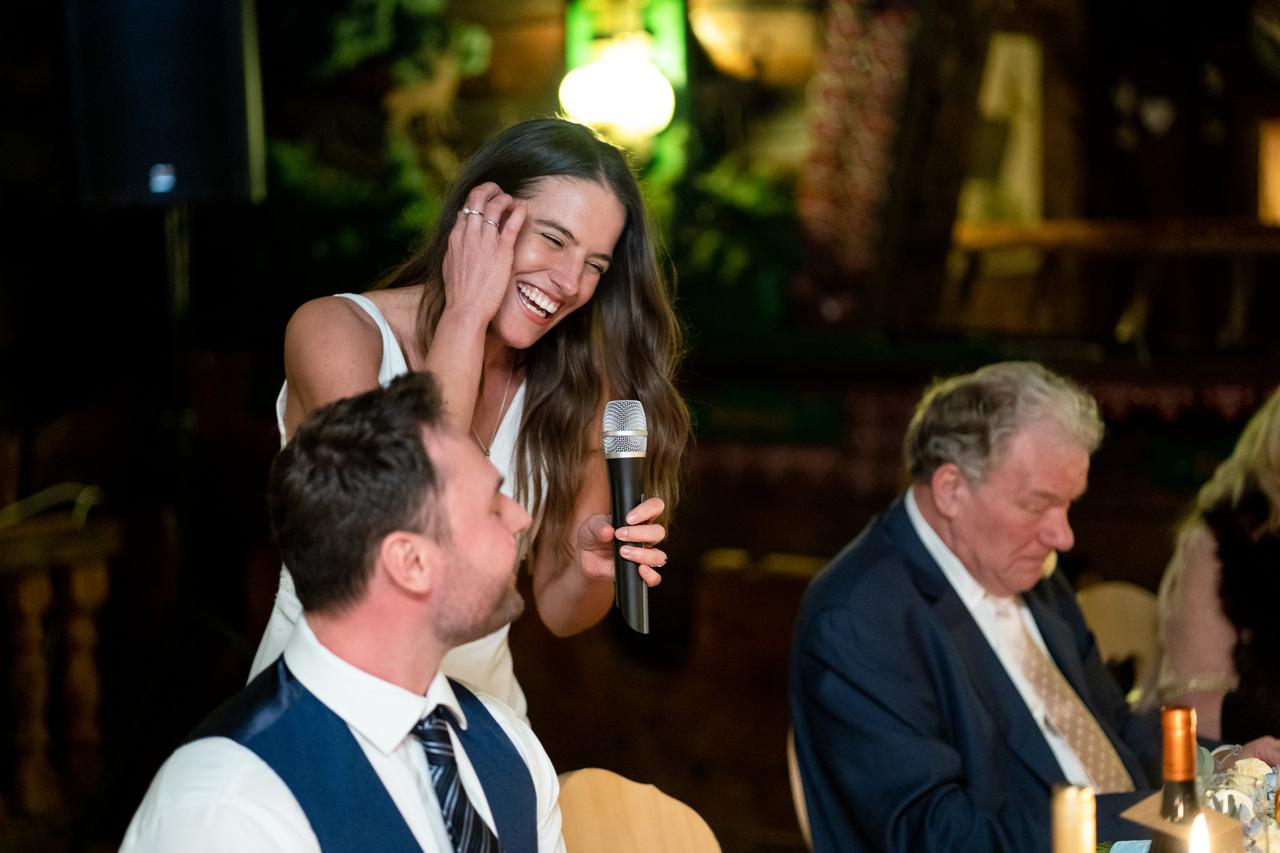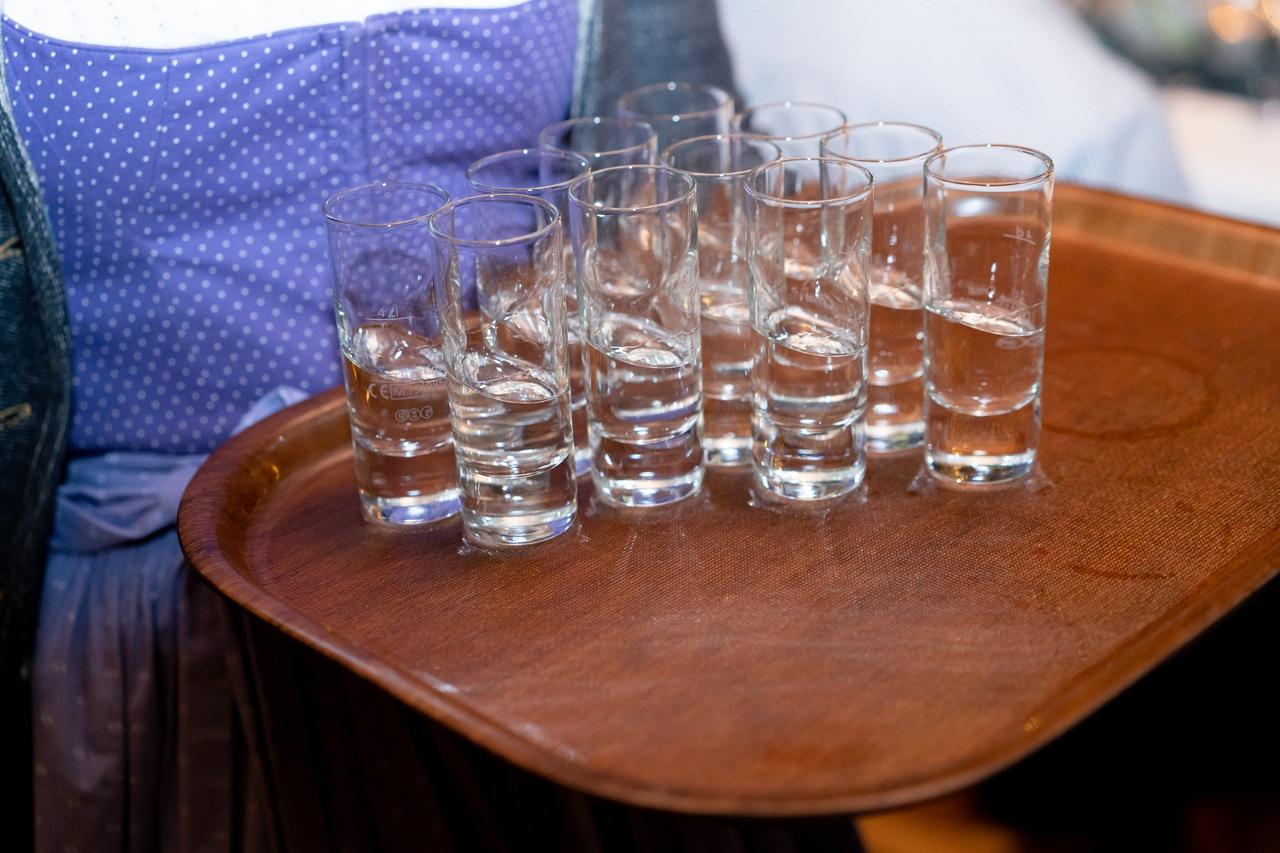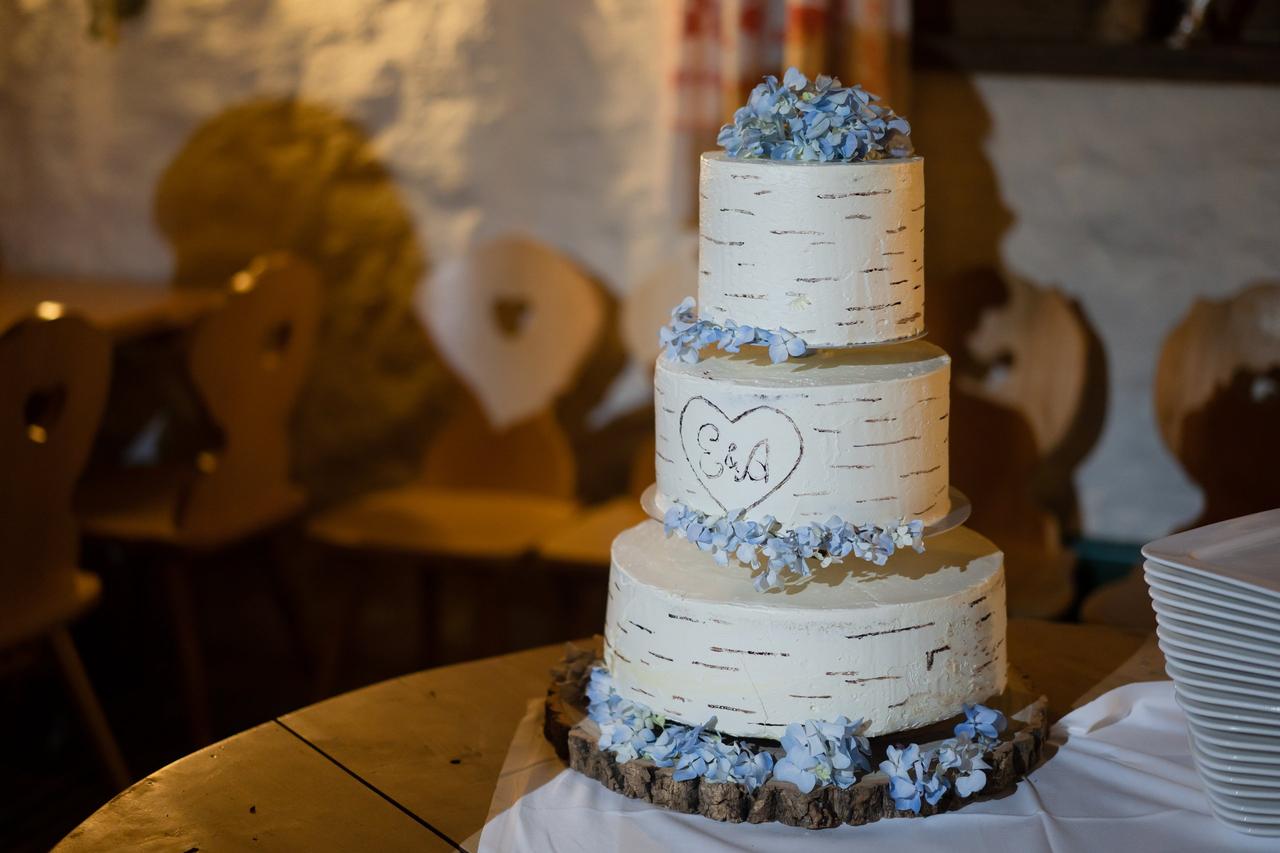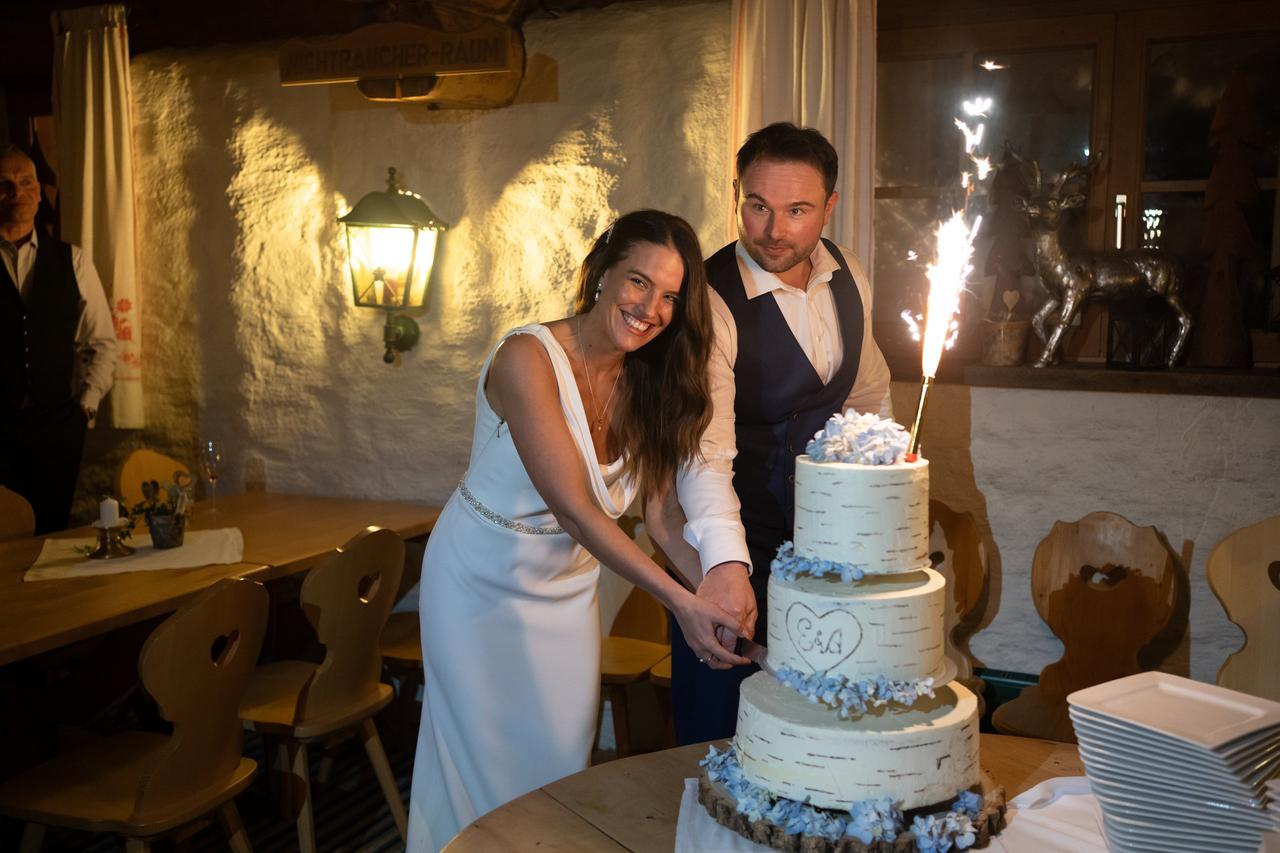 The Entertainment
"We had a traditional Austrian 'Oompah' band for the welcome reception, ceremony and drinks reception – this created the perfect vibe for guests to enjoy the unique surroundings. When they got off the horse-drawn carriages at the venue, they were welcome by the band playing them in.
"For the evening dancing we booked a brilliant après-ski DJ, DJ LuLightner, who got the vibe of the wedding just right. He helped us create a lot of fun memories, a particular favourite was the conga through the snow!"
There were lots of traditions other than the Oompah band, like a traditional Austrian bar game where you have to use an upside down hammer to nail into a wooden tree trunk and the cutting of the log.
"A German tradition is the cutting of the log to symbolise your first task as Mr and Mrs and how you work together, so we had this at our drinks reception. We also had a fire outside and marshmallows for toasting."
The couple's first dance was to Banana Pancakes by Jack Johnson, which was full of happy memories for them. It's one of CDs they have in their car that both agree on listening too, and when they went travelling to India in 2011, they have fond memories of banana pancakes for breakfast in Bod Gaya.
"Alex actually booked us a little dancing lesson the day before we flew out for the wedding (the first day I was starting to feel better from my illness) which was a nice surprise. He knows how much I love Strictly – we didn't do anything wild in the dance (except possibly the finishing dip!) but at least we learn the box step and a few turns which was really helpful.
"This year, my birthday fell on a date right in the heart of lockdown and so I sadly could not celebrate with anyone (I normally have quite big birthday celebrations, probably the event planner in me) but Alex made sure to make it as special as possible and even made me banana pancakes! I, of course, made him do our wedding dance with me in the kitchen - so the song keeps on providing happy memories!"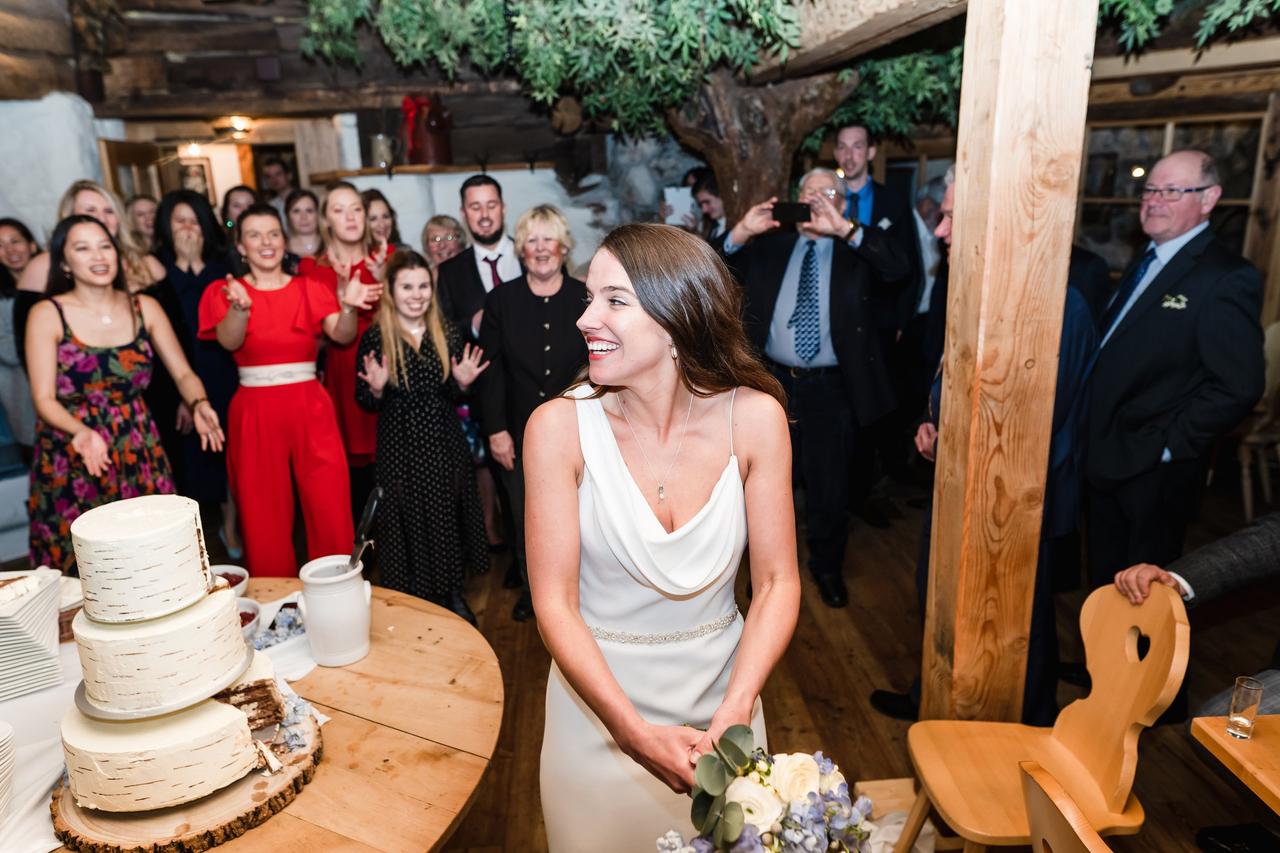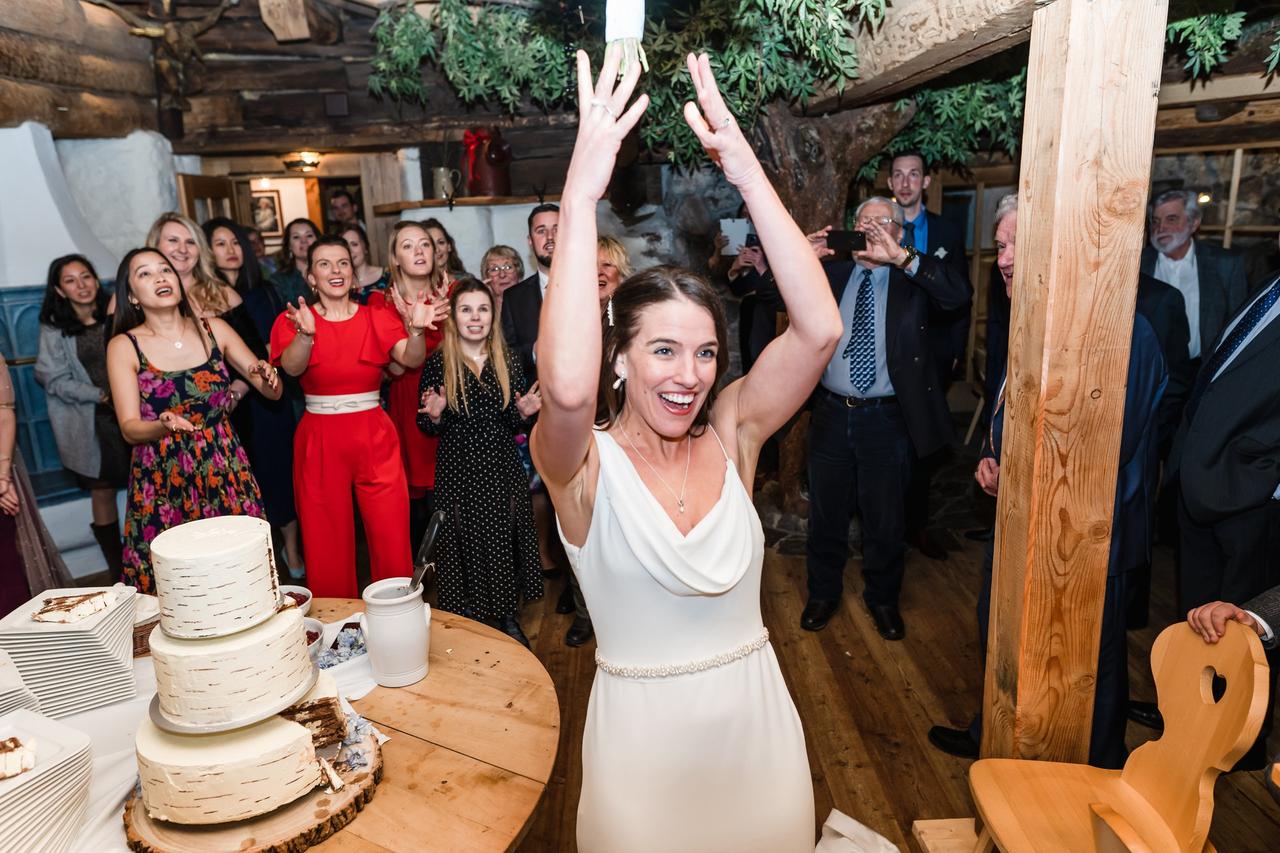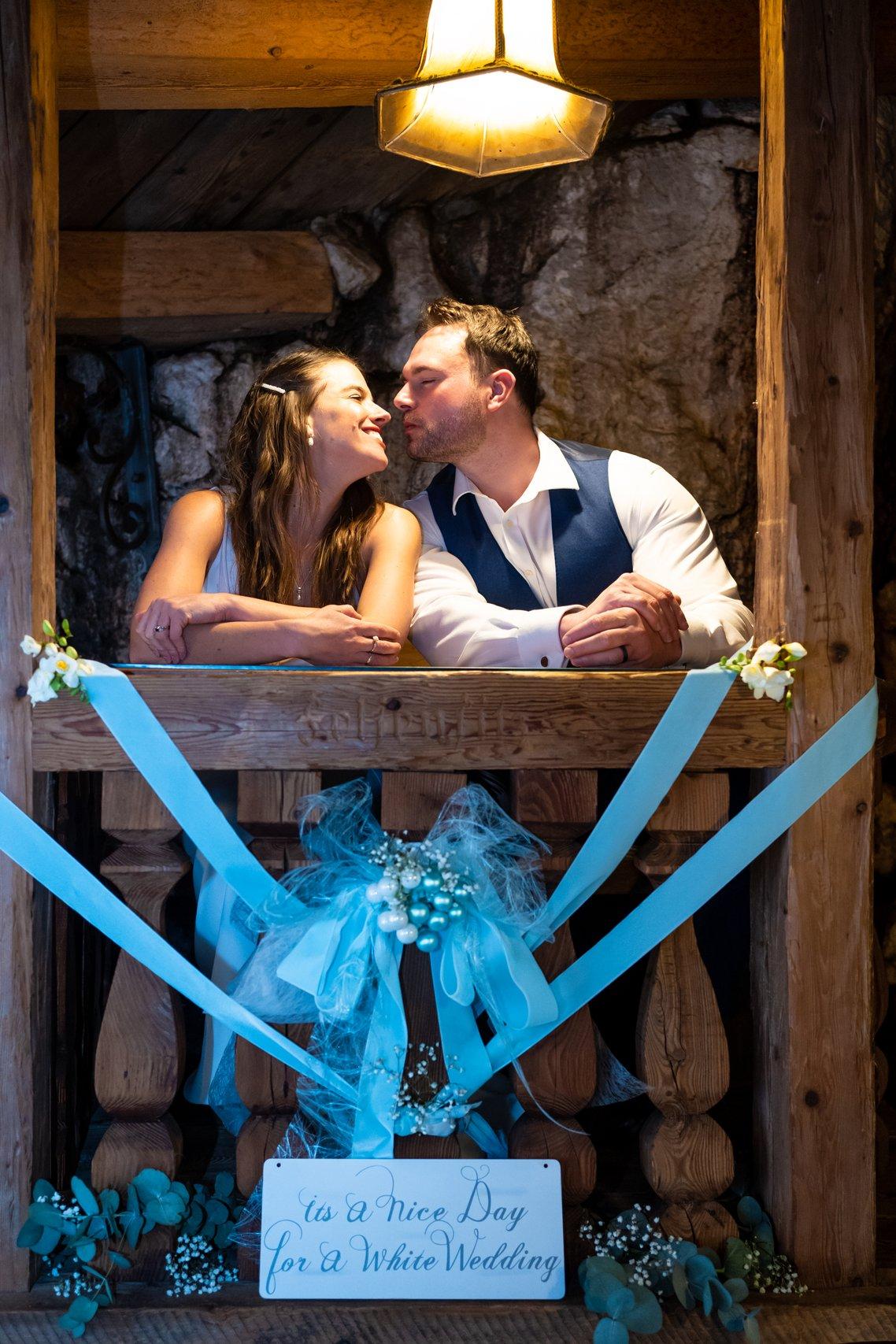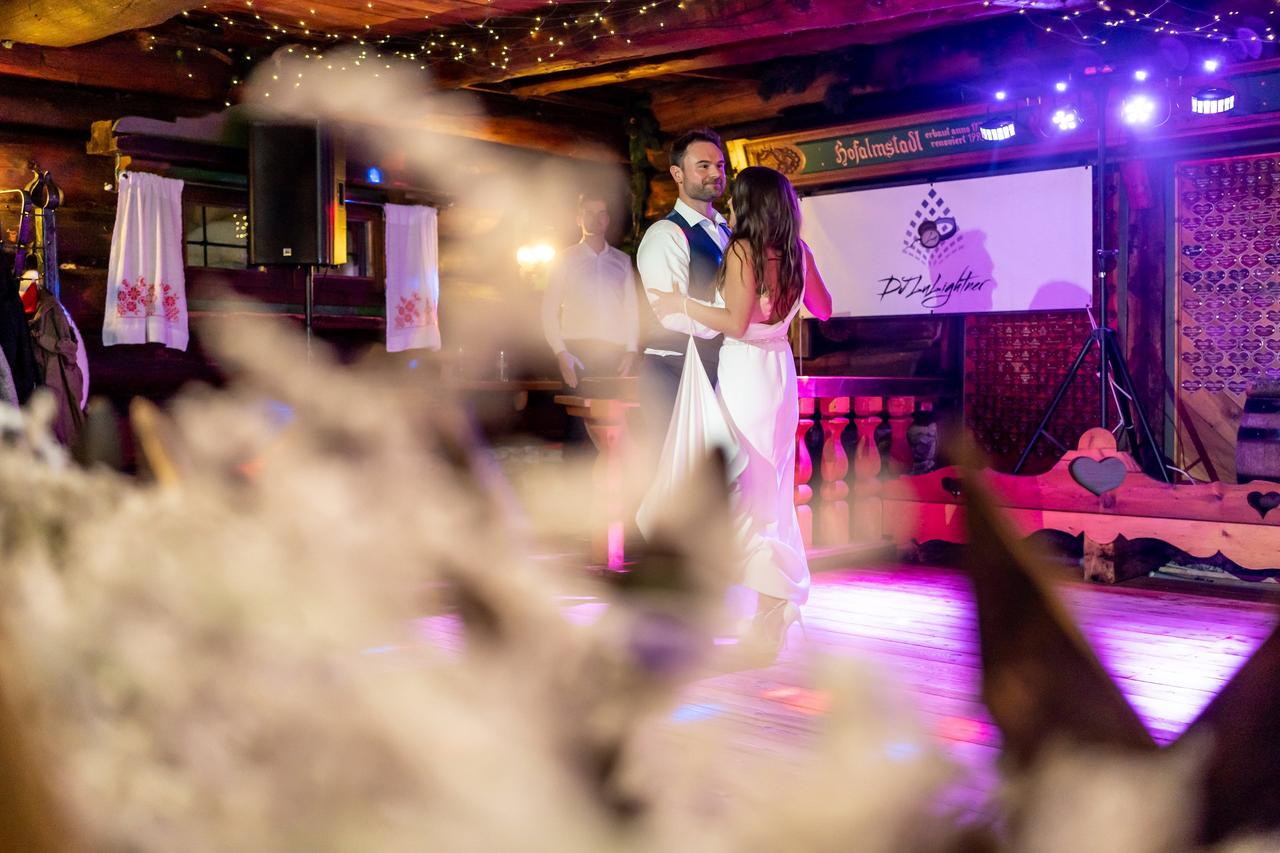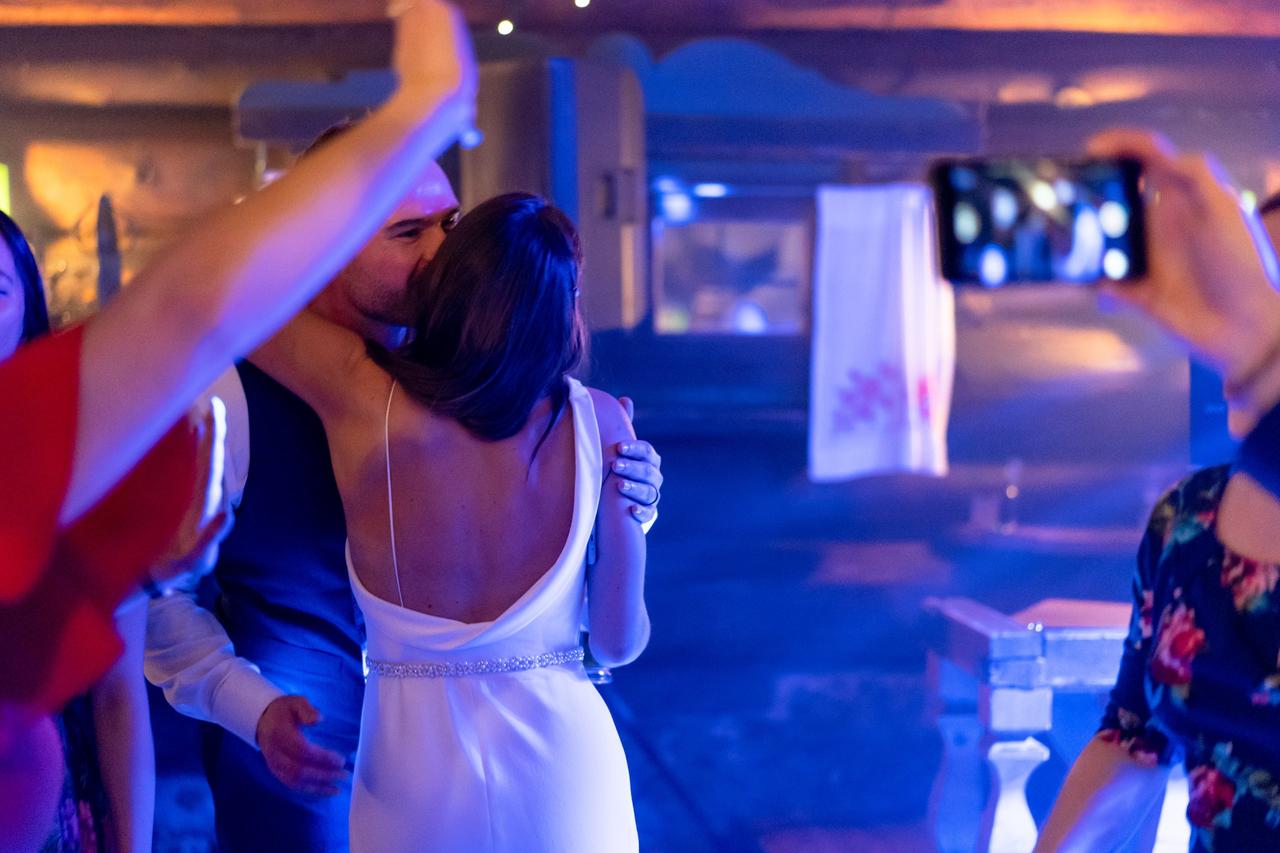 The Honeymoon
The couple went on a minimoon skiing in Austria with some friends and family who stayed on after the wedding - just before the world went into lockdown.
"It was a bizarre week, we were in a sort-of wedding bubble (my mum describes it as riding the wave) and it was just as the world was starting to change. We actually left Austria on the 14th March which is the day their country went into lockdown. We returned to a very different London to the one we had left just nine days before."
Their plans to honeymoon in Bali are currently on hold. "I must say though we are so extremely grateful and fortunate that we were able to get married in March. So many coupes are going through such uncertainty with their wedding plans at the moment so we feel really blessed we were able to get married."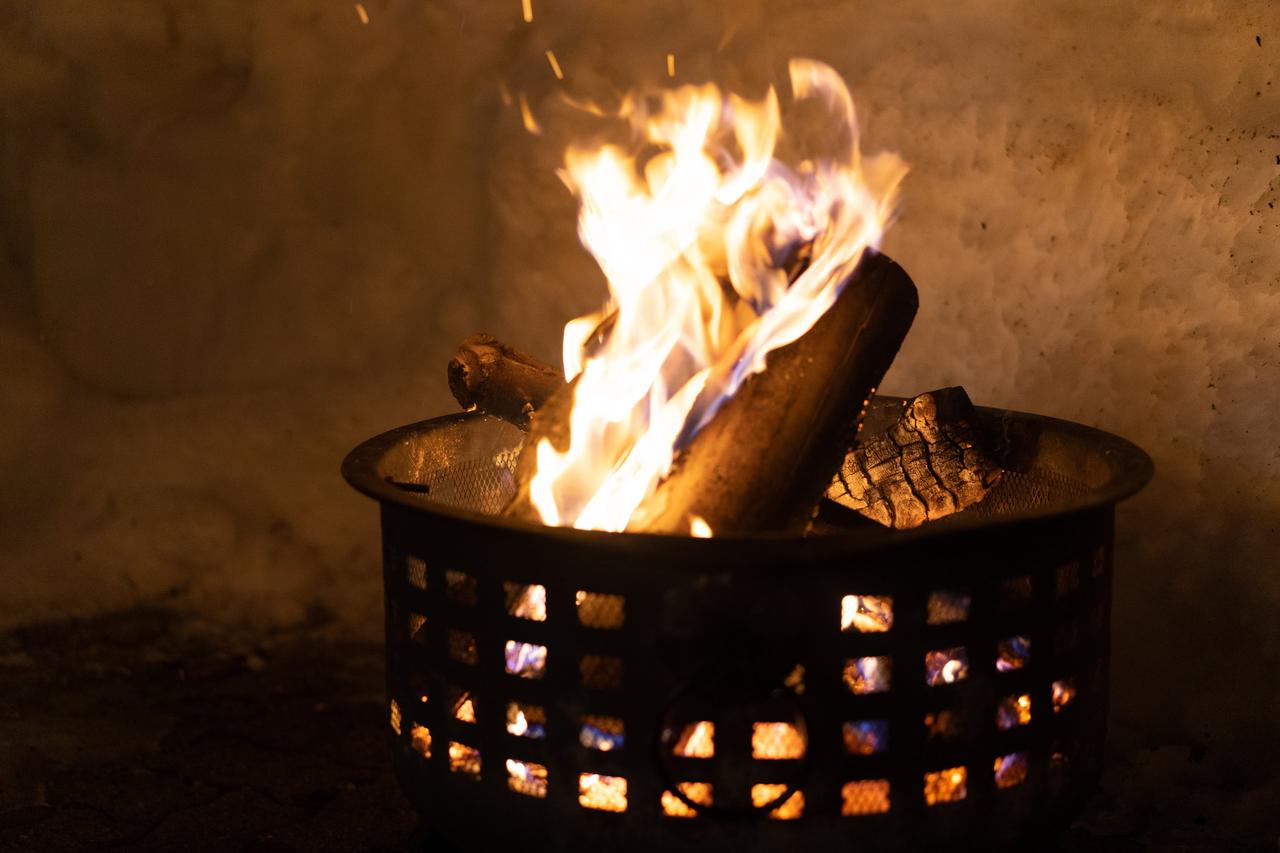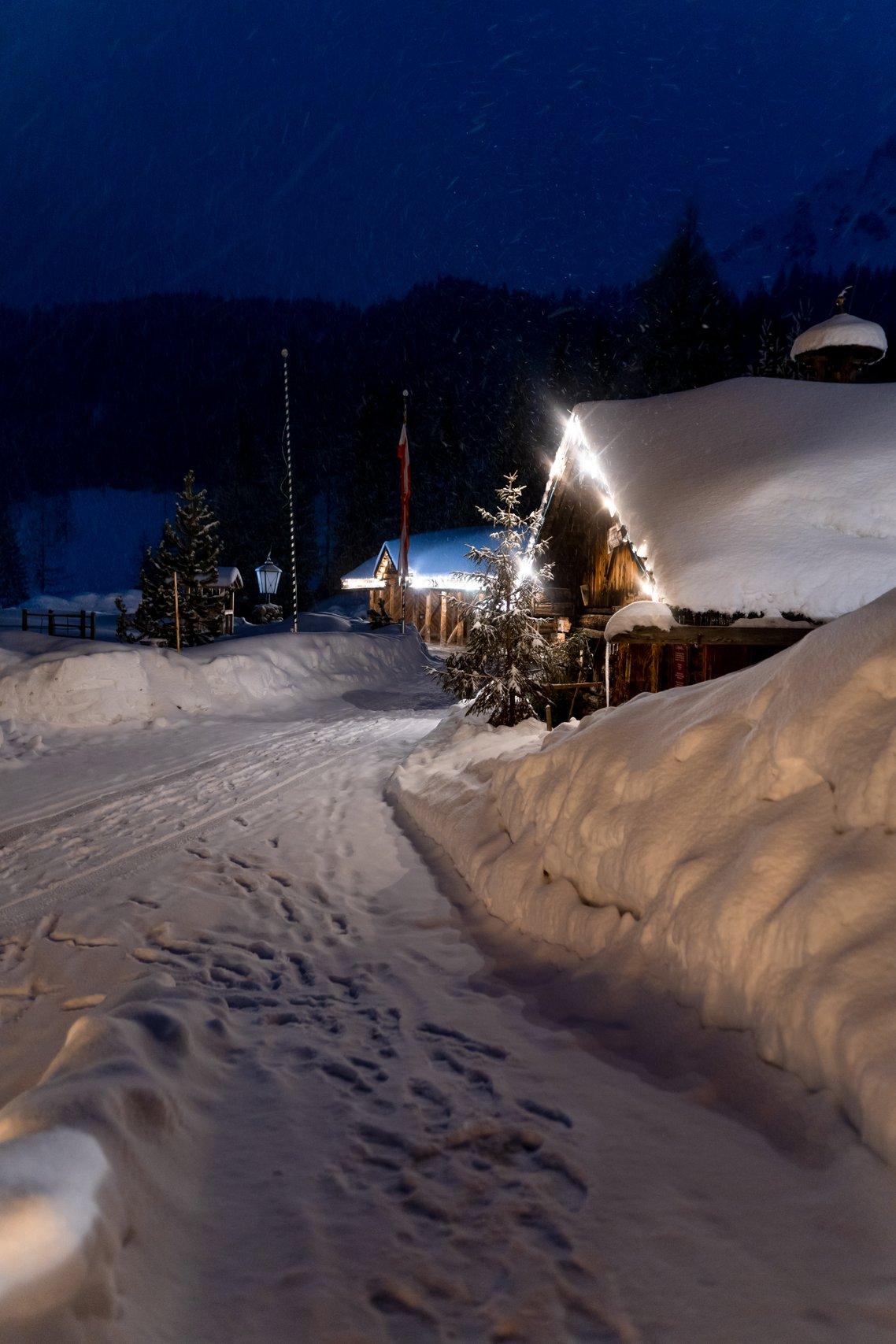 The Couple's Advice
As a wedding planner and a perfectionist, Ella says there's naturally a few thing she wishes were executed better, but none came close to ruining the day.
"There is likely always a little something that you can't control (although professionals like myself try and minimise that for clients) but overall when you look at the day as a whole it was incredible, a once in a lifetime magical moment that we will cherish forever.
"I had been planning weddings for luxury venues for almost six years when I got married, but planning my own gave me a whole new set of experiences to learn from. My main piece of advice is make the day your own – a true celebration of who you are as a couple. Everyone is there to celebrate you so make the day unique to you and have fun with it!"
The Suppliers
Photography: David Christopher Photography
Venue: Unterhof Alm
Planning: Ella Hartig
Wedding Dresses: Elbeth Gillis from Angelica Bridal, and Vera Wang
Bridal Shoes: Sophia Webster
Groom Suit: Suit Supply
Cake: Café Fingerlos
Entertainment: DJ LuLightner
Stationery: The Wren Press
Favours: Etsy
Rings: D Quality (Ella) and Sesto Synergy (Alex)