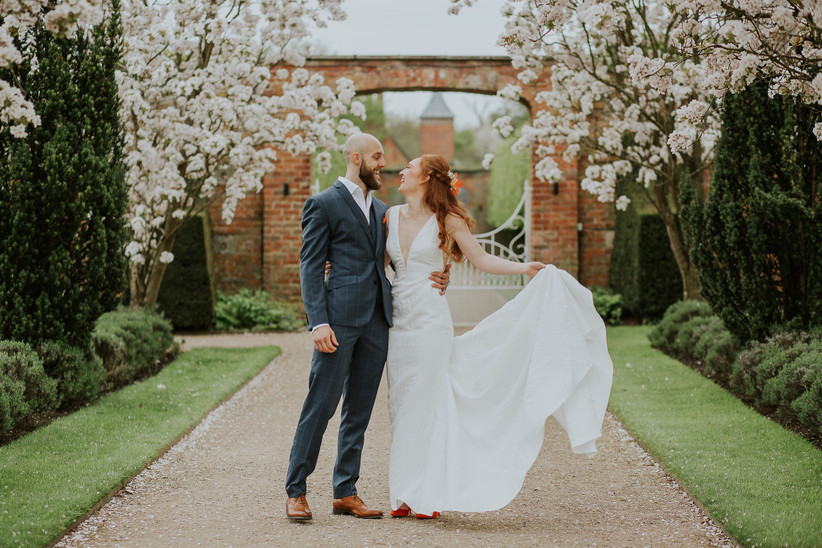 You have to be prepared that the weather in Britain might have other ideas about your outdoor wedding. Luckily, Helen and Sam Gatt's plan B to marry in the Glasshouse at Combermere Abbey in Cheshire led to one of the most beautiful weddings we've seen at Hitched recently.
The couple, who met at a CrossFit gym and now own one together in Warrington, had an intimate, romantic wedding with just 13 guests on their four year anniversary in May 2018. They chose a gorgeous burnt orange theme with abundant exotic birds of paradise, orchid, hibiscus and calla lily flowers. The laid-back day ended in a magical fireworks display instead of a first dance and a much-appreciated dessert table!
Photography by Maddie Farris.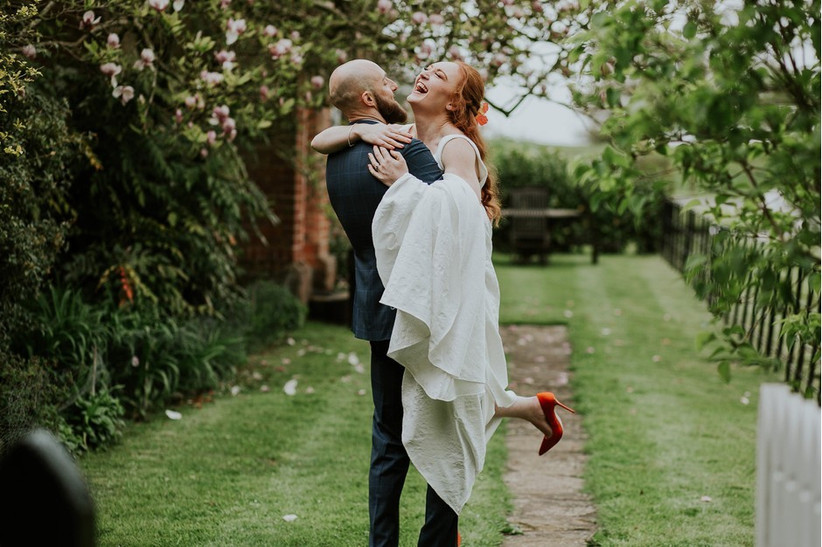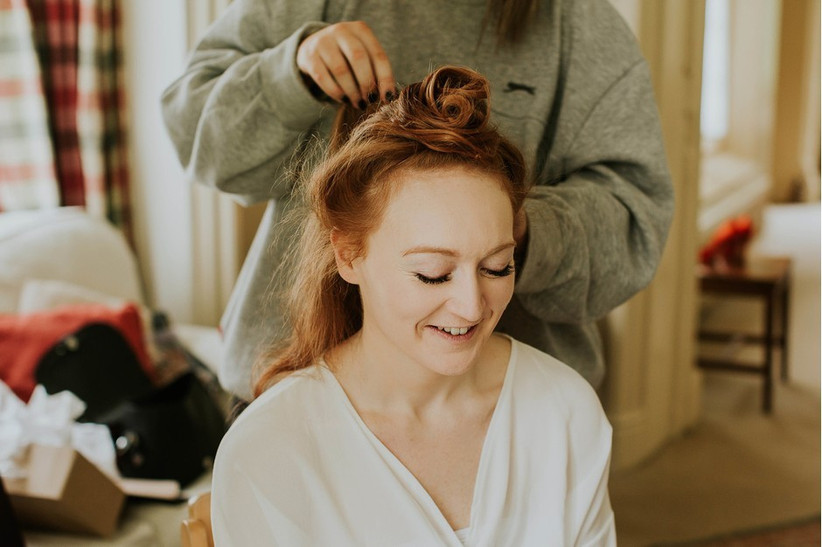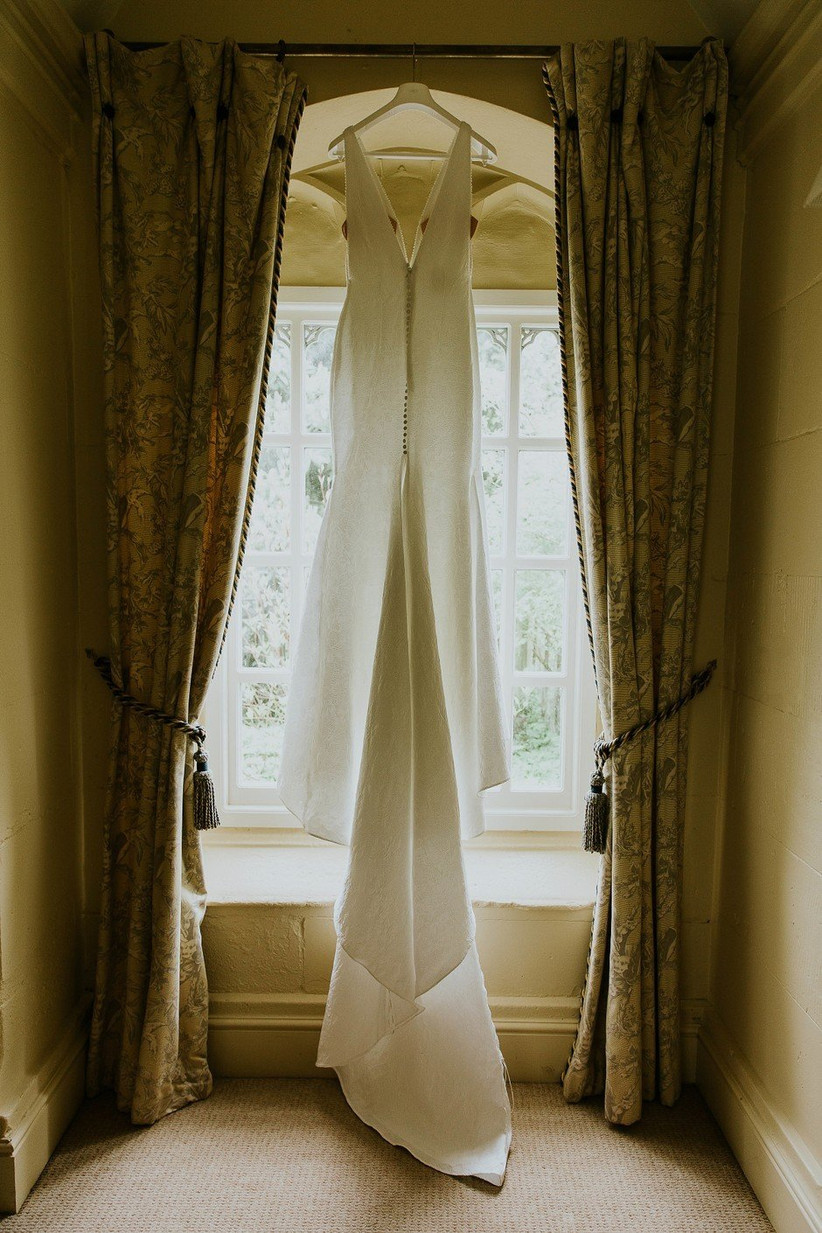 The Wedding Dress
Helen chose not have any bridesmaids and got ready with her two sisters and mum on the morning of her wedding in Stone Lodge at Combermere Abbey. Her sisters did her hair and make-up, including those gorgeous orange flowers you'll see in her hair! She wore the Pronovias 'Racimo' dress, bought from Knutsford Wedding Gallery.
"I knew I wanted my dress from that shop but had a different style in my head (I imagined something soft and Grecian) though I had seen the Racimo dress on their website and liked the look of it – I just didn't think it would suit me. I tried five or six dresses on and wasn't blown away by any of them (though I could have bought them all!) so I tried the Racimo on. I just fell in love with it, I loved the way it fit and knew Sam would love the shape of it, too.
"I wore burnt orange stilettos from Zara and a simple, square-cut silver and cubic zirconia tennis bracelet and earrings set from Chisholm Hunter. The only other accessories were an orange hibiscus and lily of the valley spray in my hair which my florist put together for me."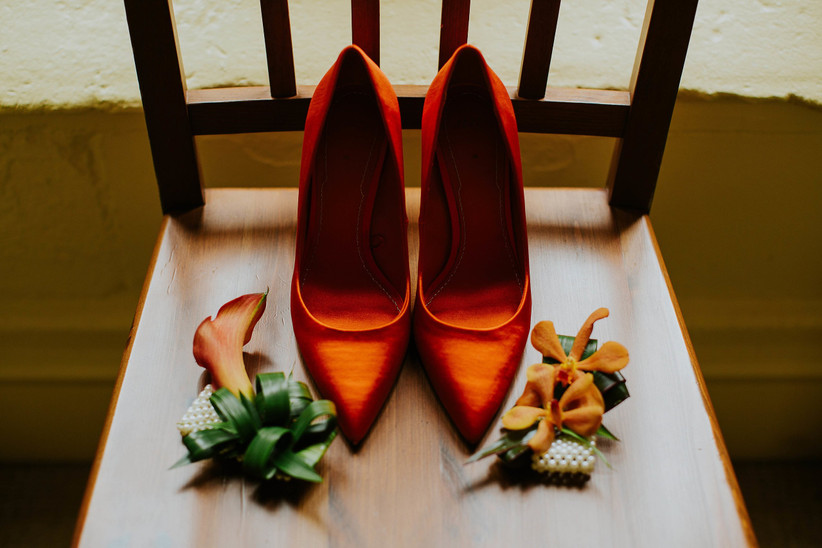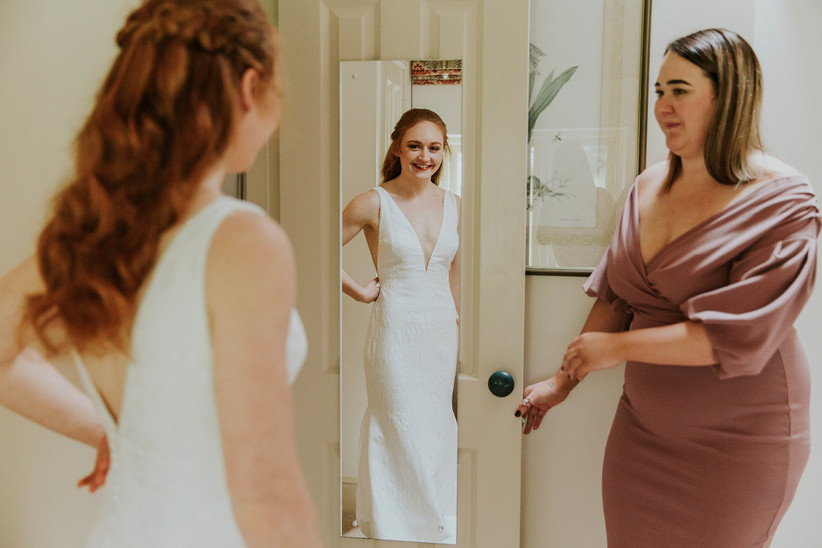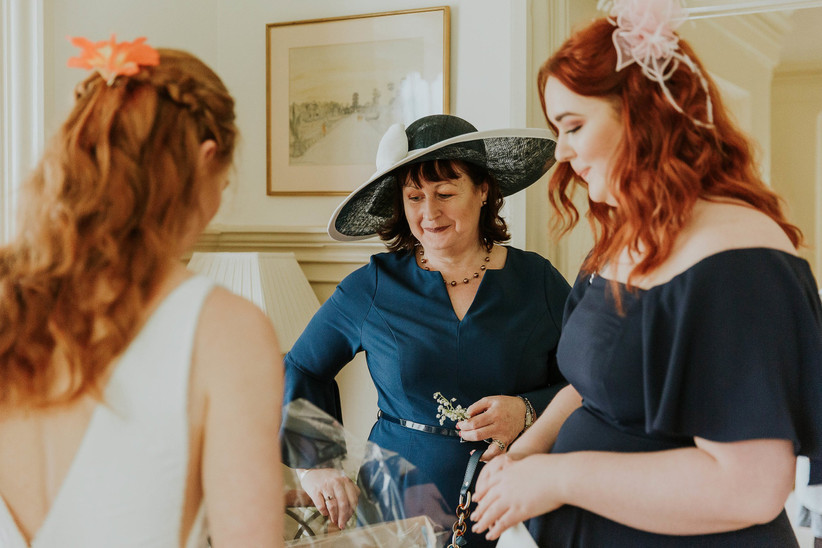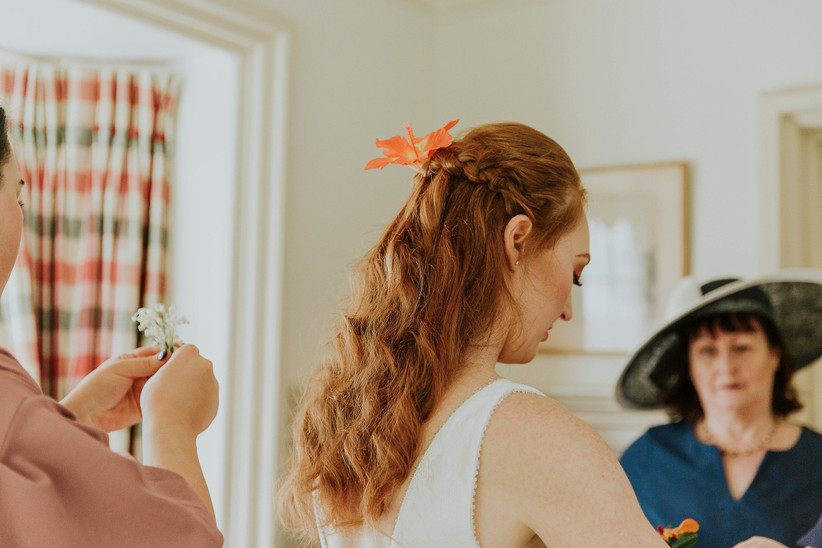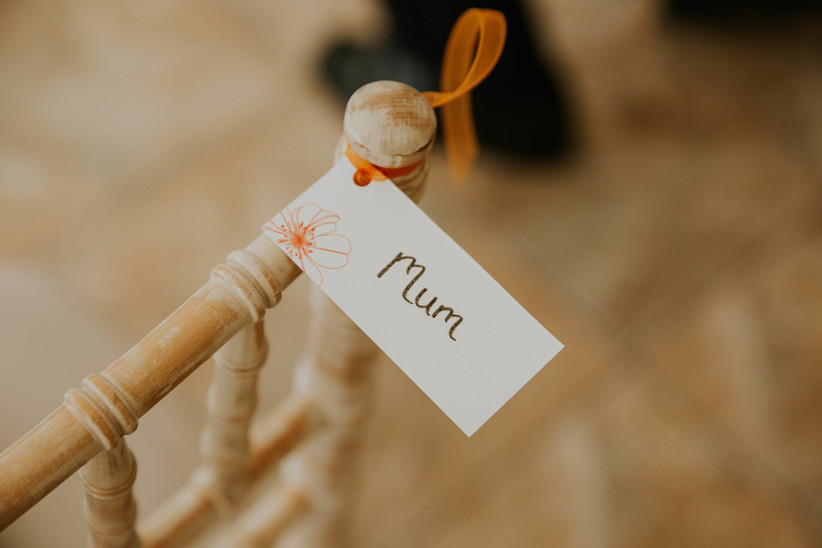 The Venue
Helen and Sam had originally chosen the Fruit Maze at Combermere Abbey for their wedding but a drizzly day forced them into the light and airy Glasshouse.
"We wanted a venue that offered an outdoor ceremony option that felt special. It also had to be close enough to home that our grandparents could travel to spend the day with us. We visited quite a few venues who all seemed to offer the same style of outdoor space but many couldn't or wouldn't cater properly for our small party of 13 guests.
"Combermere Abbey have a beautifully unique outdoor setting with an equally stunning indoor option if necessary and they were so accommodating with our requirements. They made everything feel so effortless and made it all work!"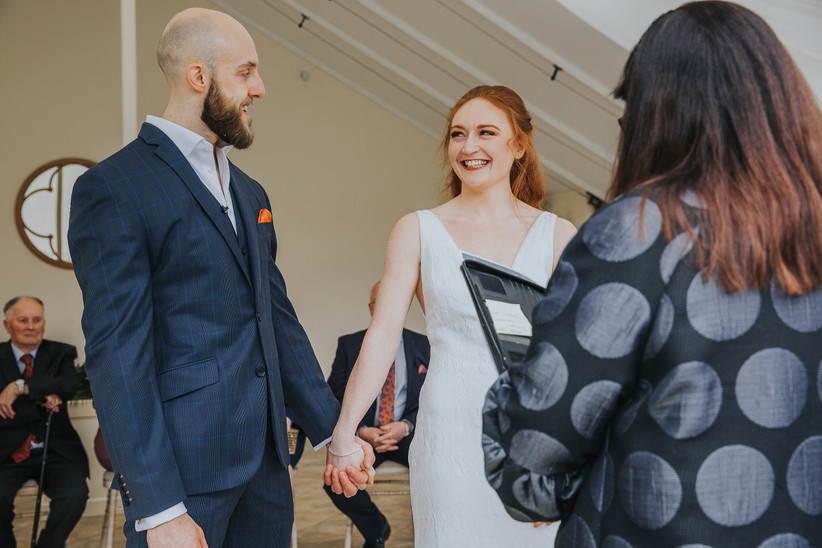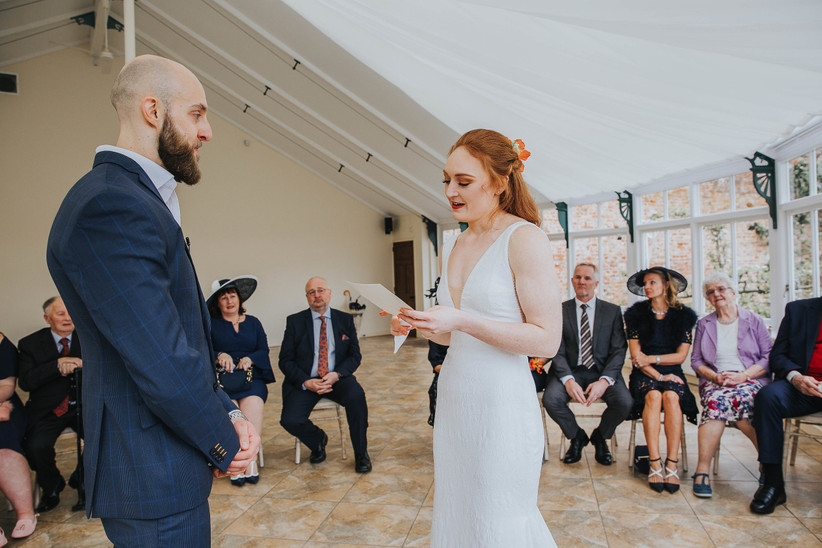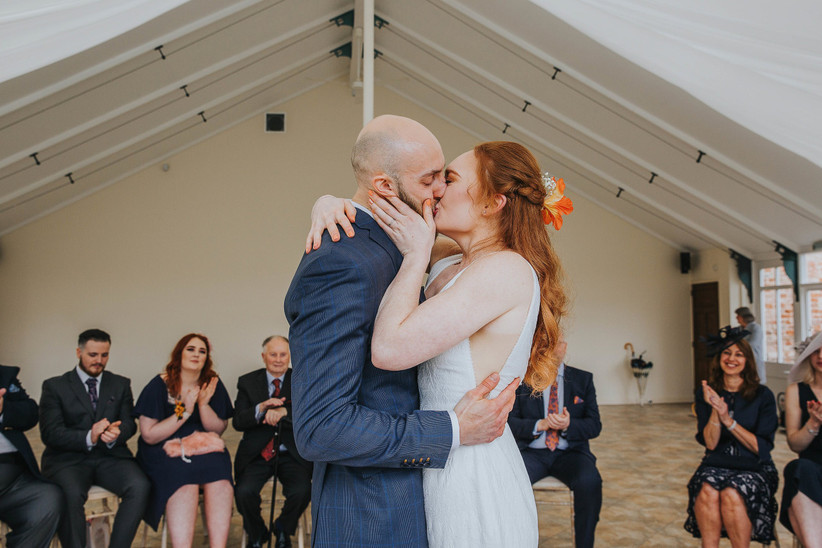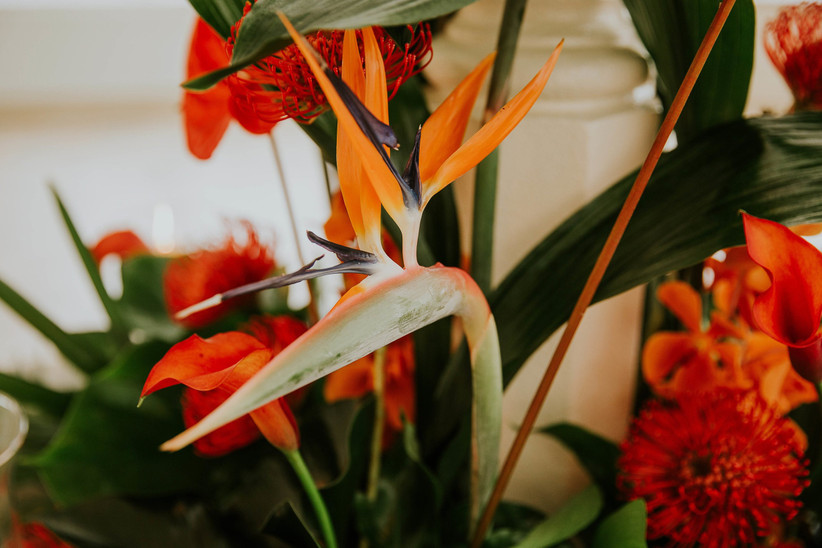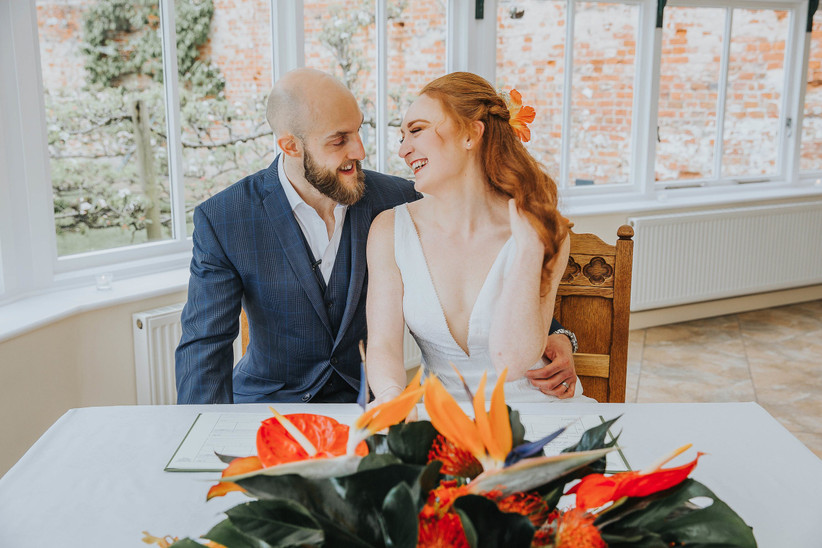 The Flowers and Theme
Sam proposed to Helen overlooking the Algarve on their first escape away since opening their business. Although they weren't able to have a destination wedding, they brought a tropical holiday feel to Combermere Abbey for the day.
"We had an orange theme throughout (flowers, my shoes, detailing on Sam's suits, stationery). Orange seems to feature a lot in our lives anyway (our living room has orange accents and our business logo is orange) and it's a colour we just both enjoy and it fit the tropical and bright theme we wanted. So I chose exotic flowers: birds of paradise, orchids, calla lilies, hibiscus, gloriosa, anthurium and leucospermum. We also had corsages made for our three sisters, each with a different flower.
"We kept the decorations minimal but each was carefully selected and, aside from the flowers (of which we had a main centerpiece and a registrar table piece), I made them all. I created decoration pieces that incorporated hurricane jars, cactus and succulent plants and I added a little sand to my candle arrangements. To set it off, I had some coconut and lime scented candles made for the day. We had succulent place names and cactus and succulents in glass baubles."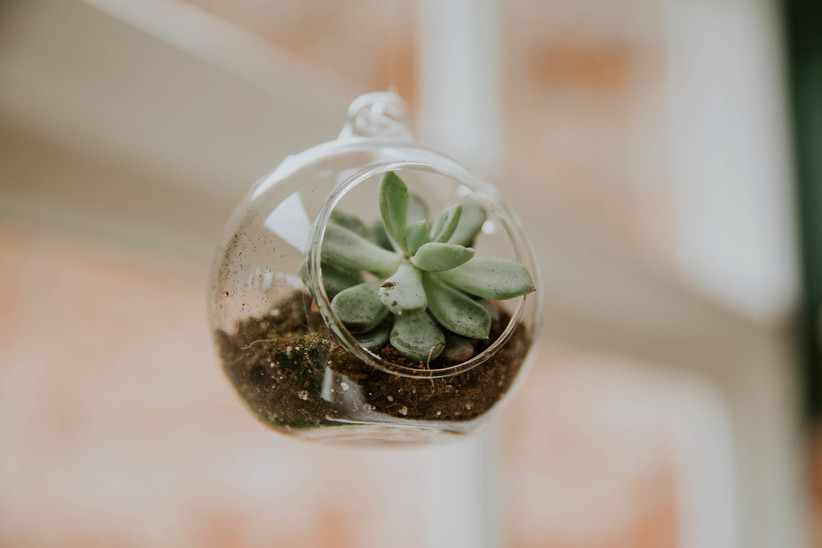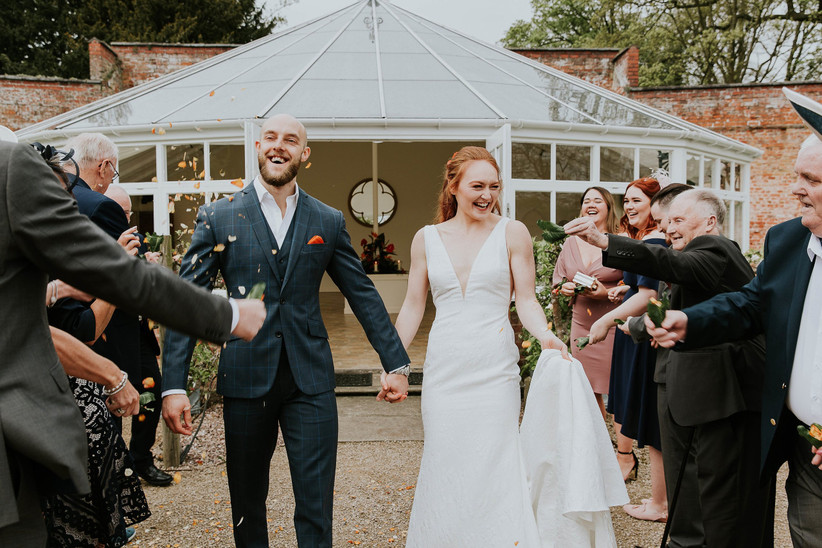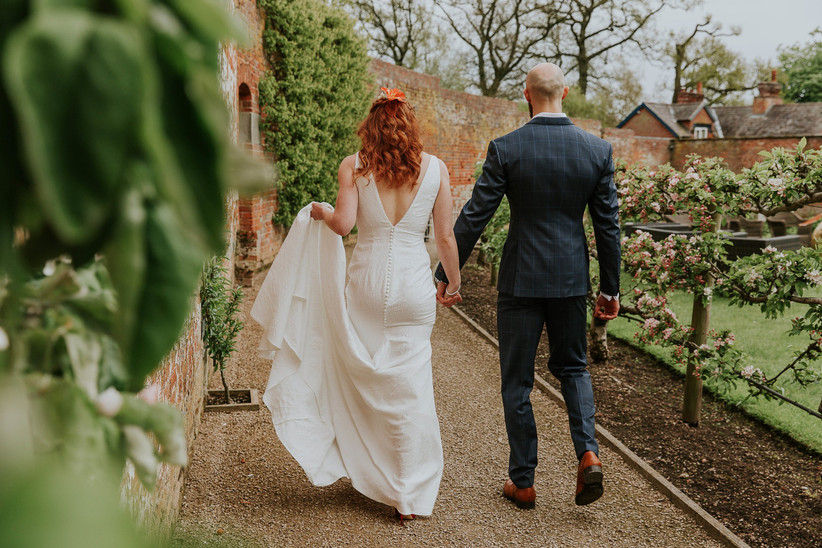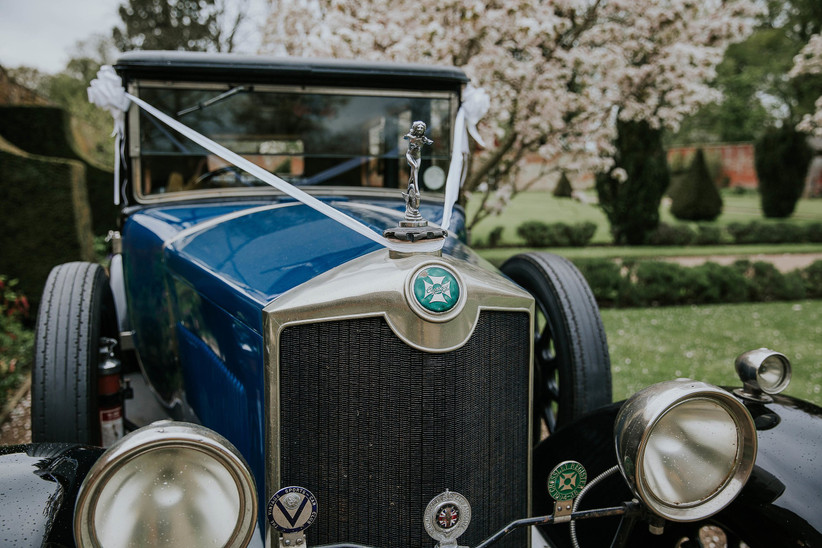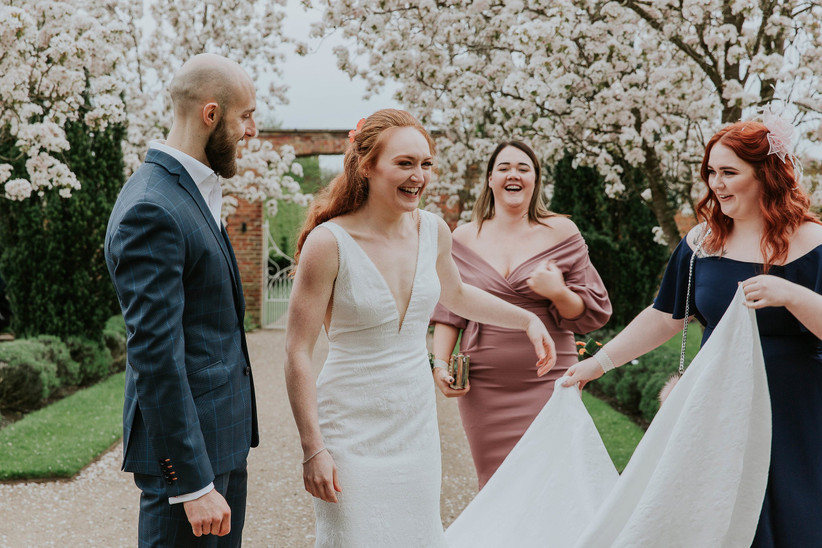 The Ceremony
It was an emotional ceremony filled with tears and laughter from Sam, Helen and all their guests.
"The ceremony was planned to be held outside in the centre of the Fruit Maze at Combermere Abbey, however, a little rain and a lot of flies meant we stood just inside the Glasshouse for the ceremony.
"It was as good as being outside, we had the same views, but I really couldn't have cared less at that point – I didn't really mind where we were stood, that wasn't what was important by that point.
"Reaching Sam at the top of the aisle and seeing his face will stay with me forever. It's also Sam's favourite moment: throughout the run up he'd just been looking forward to turning around and seeing me. Sam and I hadn't seen each other's outfits either so we loved seeing how each other looked. I had also not had much to do with the flowers and had just trusted my florist to work her magic – she most definitely did! The fireworks were a close second favourite moment of the day!  
"We both wrote our own vows and kept them secret from each other until reading them during the ceremony. It was a really special and emotional moment and it was so nice to find out we'd written very similar things to say to each other."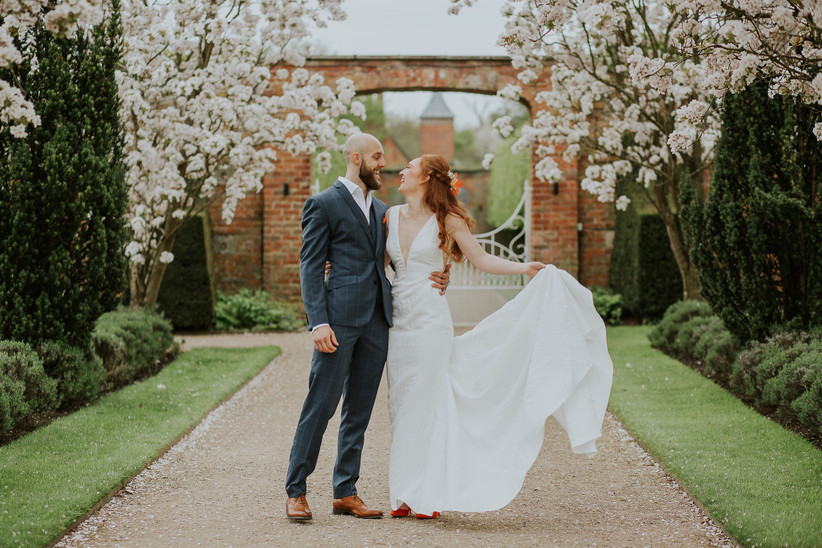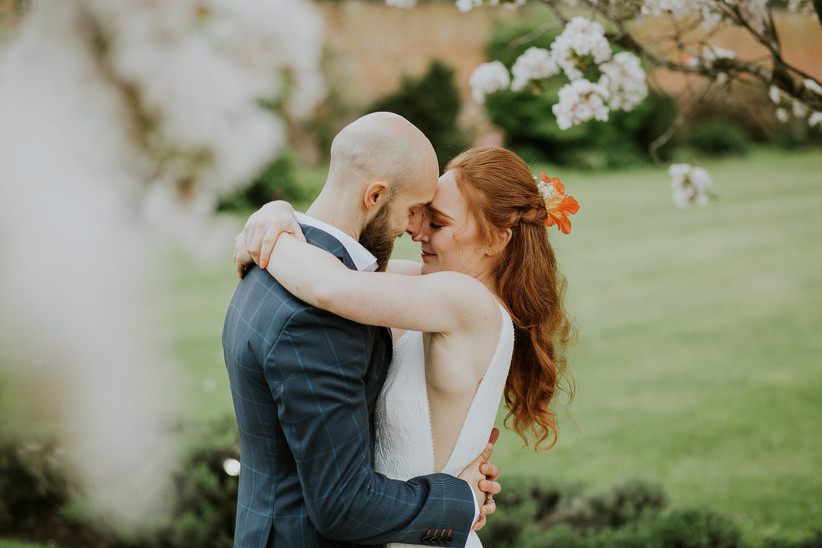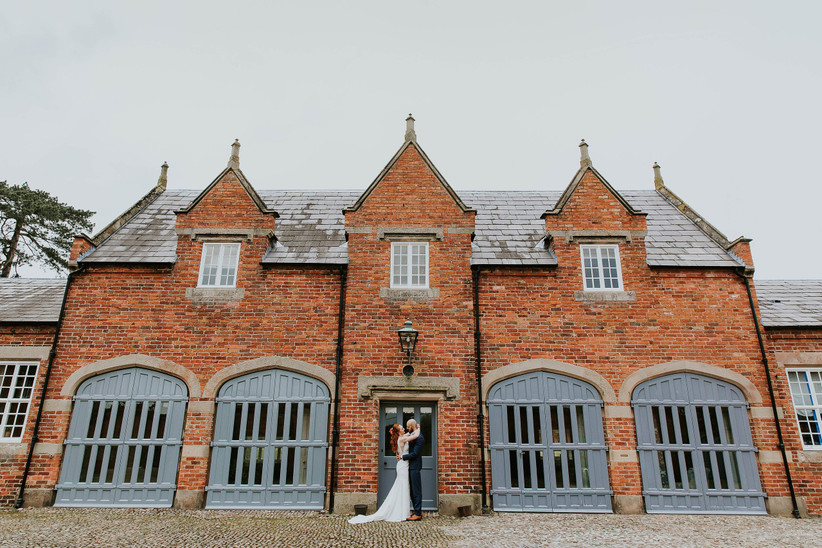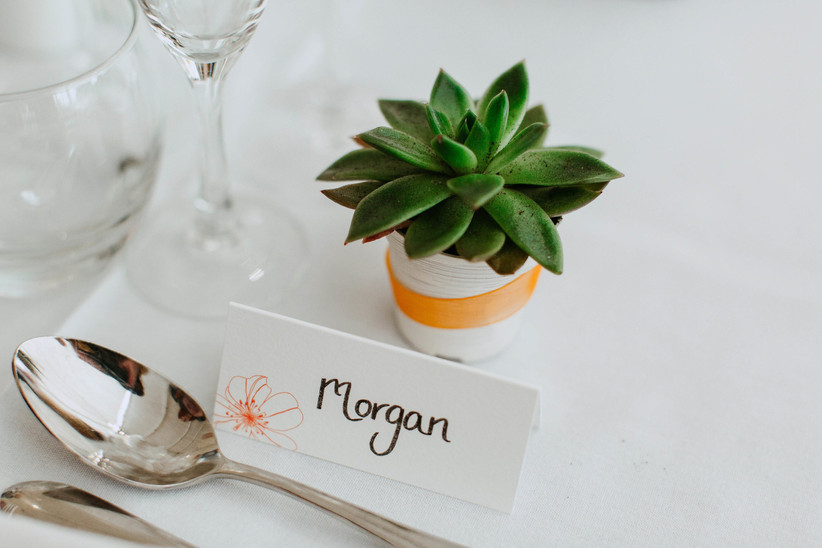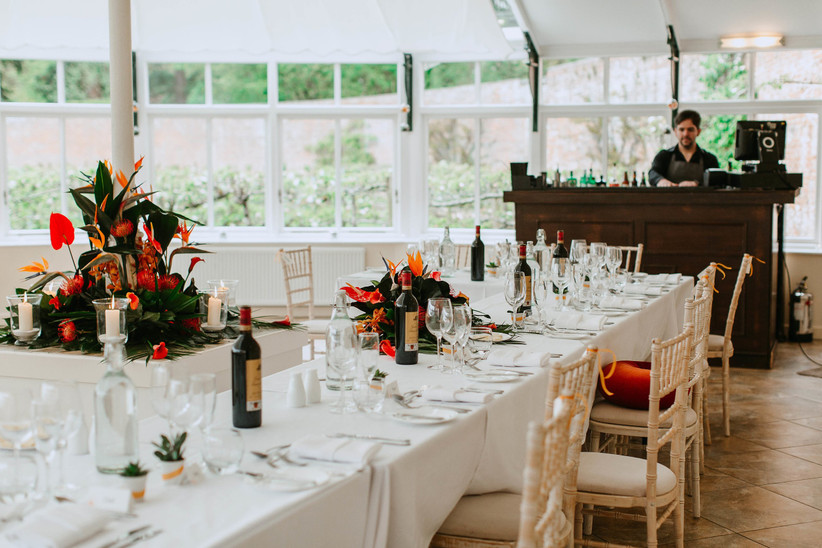 The Reception
The guests all headed outside to the Walled Gardens for confetti photos, and Sam and Helen went with Maddie for a stunning photo shoot around the Abbey before a drinks reception in the Pavilion Gardens. However, their late ceremony made for an unconventional reception that was perfect for the couple as they avoided lots of traditional wedding activities they didn't want.
"We had a late afternoon ceremony followed by drinks and canapés then into a sit down dinner and fireworks so the day and night came together as one. We didn't have a first dance as we didn't have separate day and night events.
"After the wedding breakfast – which was eaten between 6 and 7.30 – we relaxed together with drinks before fireworks shortly after 9pm and desserts. The only music we had throughout the whole day were playlists Sam and I had put together, no other entertainment."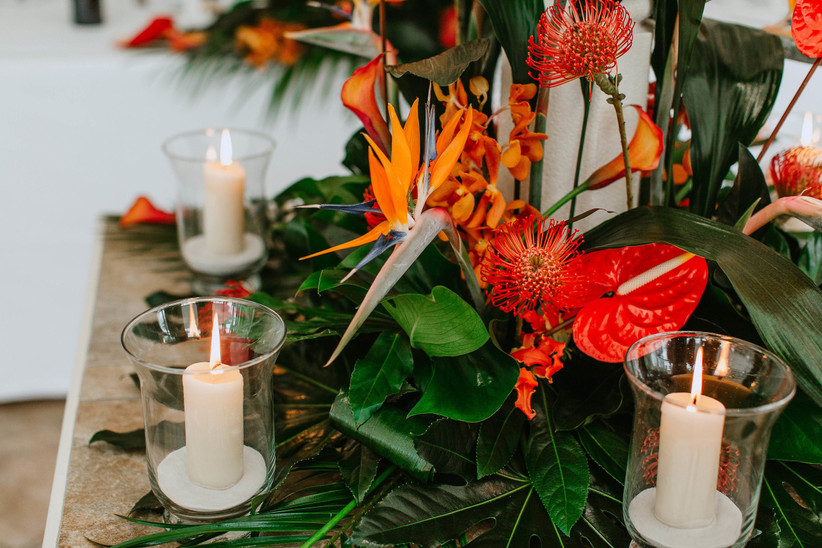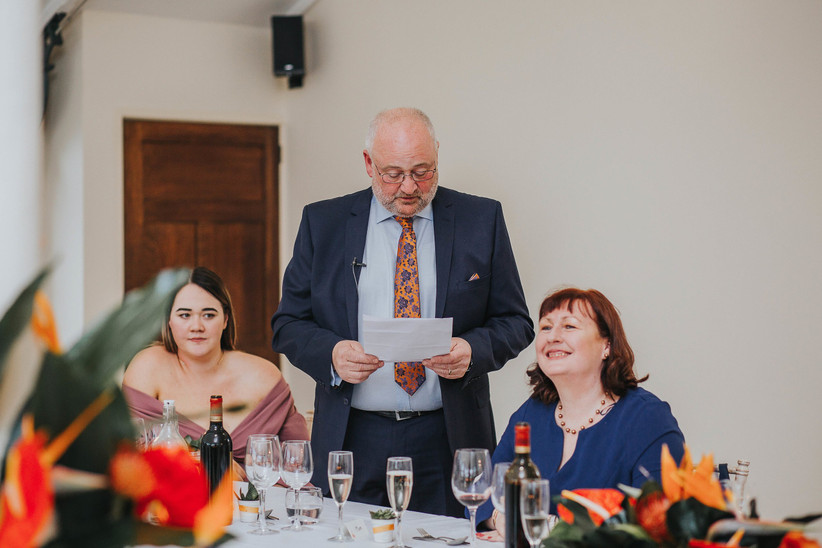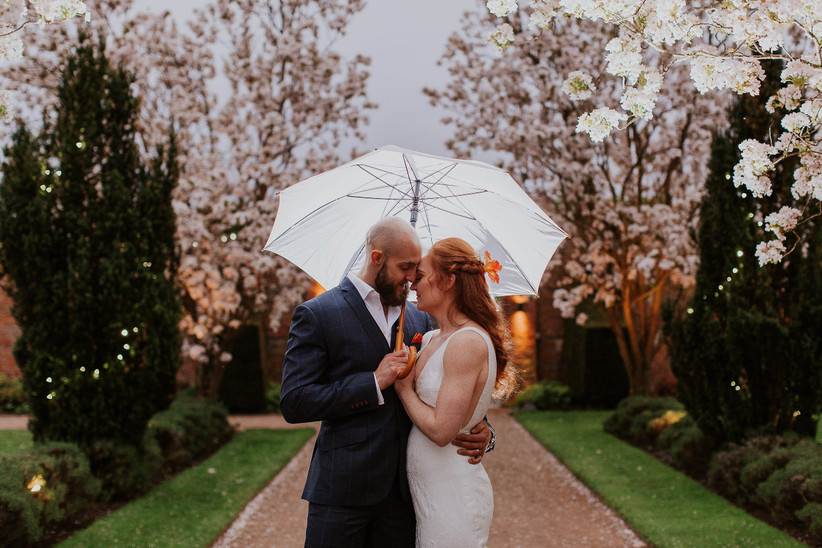 The Food
Food was one of the most important parts of Helen and Sam's day, choosing dishes they knew their guests would love – and even sneaking in a secret wedding cake!
"Food is something close to mine and Sam's heart and our families both enjoy spending time together over a good meal so making sure the food was right took some time. For starters, we chose mozzarella, tomato & basil bruschetta; goat's cheese and candied walnut tart; proscuitto, pesto and asparagus salad. Mains were roast sirloin of beef, best end of lamb with herb crust, and duo of pork.
"I had the duo of pork which was delicious but the desserts were the real standout. We served a dessert table after the fireworks which included New York cheesecake, chocolate strawberries, banoffee pie and a cheese and cracker selection. I also arranged for a wedding cake after agreeing with Sam that we wouldn't have one – I had a carrot cake (his favourite) made as a surprise.
"Aside from the drinks reception, we put on an open bar. We wanted our guests to feel free to enjoy themselves and chose what they wanted to drink and this went down really well. Sam and I don't drink normally but even I treated myself to half a glass of white wine!"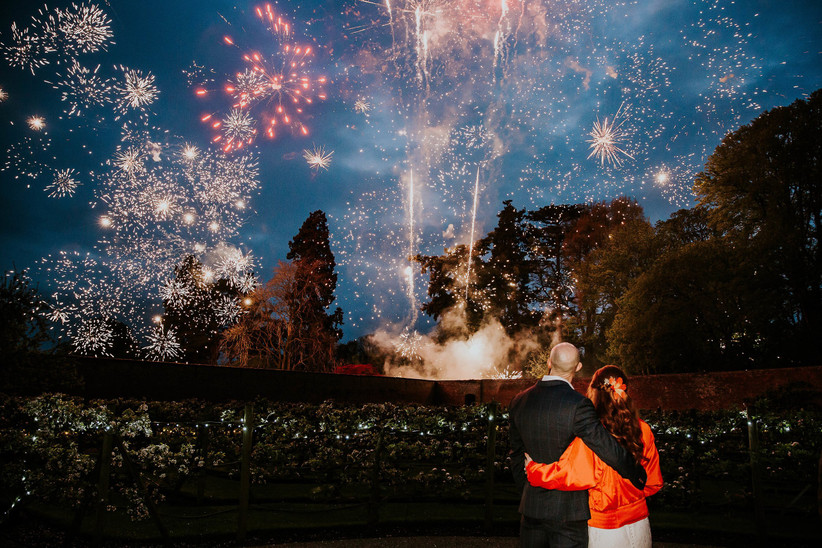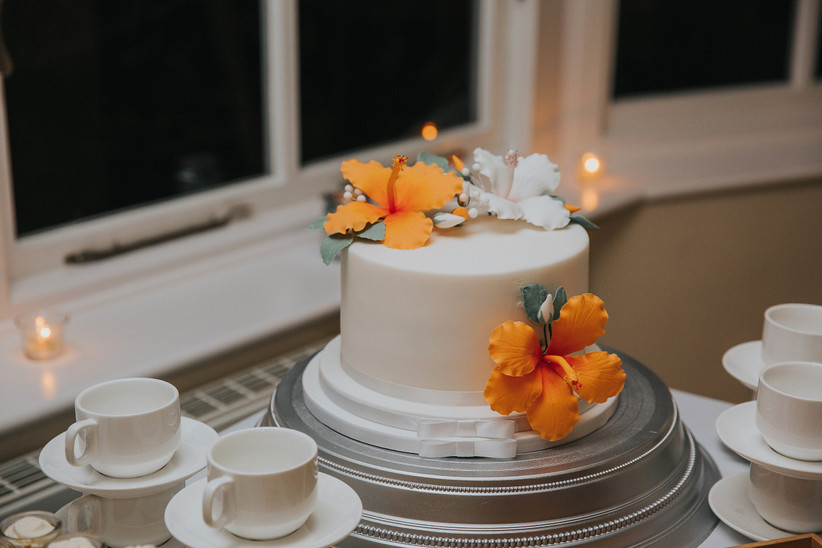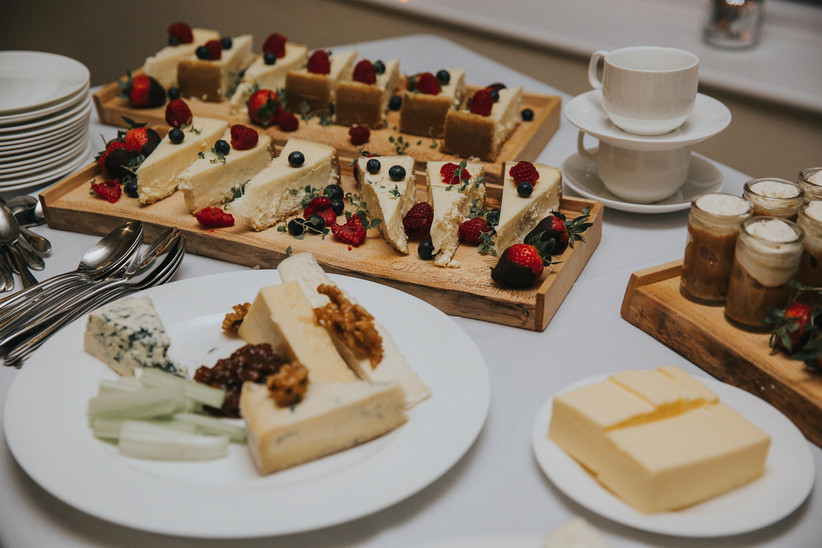 The Honeymoon
"We spent five days in Italy a few weeks after our wedding day: four days in Sorrento and one in Milan which was so much fun. We headed to Florida for a longer break in September and are calling the trips our "mini-moon" and "honeymoon" – just to drag it out a bit!
"Italy was just somewhere I wanted to visit. We have a list of places we want to go and Sorrento just seemed right for this trip. We've been to Florida a few times but had't had the chance to go for a few years with the business so we took the opportunity to get to our favourite place!"
The Couples' Advice
Helen shared her tips for other couples. "It's your wedding – the one day specially for you and your partner – so make sure it's the day you want it to be. And, nothing really matters, the day is about you and your partner getting married, everything that goes along with the day is just an added niceness. Basically, don't worry about everything going to plan, things will get forgotten, people will do things wrong, someone might not turn up but it really doesn't matter and you probably won't notice!
"I wouldn't change a thing! It was exactly the day we wanted, we enjoyed every minute of it and would do the same day over and over again – even with the last minute move to an indoor ceremony, my mum being late so I had to rush to get ready, and Sam having no pants on when the photographer arrived!"
The Suppliers
Venue: Combermere Abbey, Cheshire
Photographer: Maddie Farris Photography
Videographer: Charlotte White Weddings
Wedding Dress: Racimo by Pronovias from Knutsford Wedding Gallery
Groomswear: Paul at Noble Fox Tailoring
Flowers: Janet Keegan at Holyrood Flowers
Cake: Bella's Little Cakery
Catering: Olive Tree Catering
Events Company: Gorilla Events
Fireworks: JackFlash Fireworks
Thank you to Helen and Sam for sharing their beautiful wedding day with Hitched! If you've been inspired by Helen's beautiful dress, don't miss our favourite plunge neckline wedding dresses.