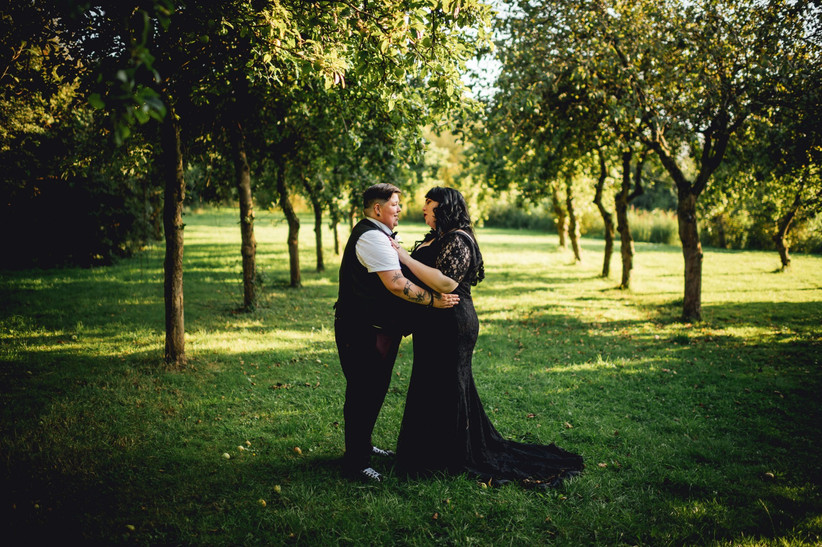 Lana and Juss met while working in the intense field of forensic psychiatry where it's important to become close to your colleagues.
"We started off doing day trips – the zoo, cinema, meals – before anything became official. The relationship changed and for a while, we kept it to ourselves which brought added excitement. We were living together before we told our work friends!"
Juss proposed to Lana on her birthday while she was still in bed which wasn't what she was expecting. The spontaneity and raw emotion resulted in a "Yes" but also a few tears! Lana's engagement ring suits her perfectly and is a black diamond ring in a silver band.
The couple got married on their own terms in August 2019 at Yarlington Barn, Somerset in front of 60 people. They chose a beautiful first dance alternative and Lana wore a stunning black dress.
Photographer: Che Birch-Hayes Photography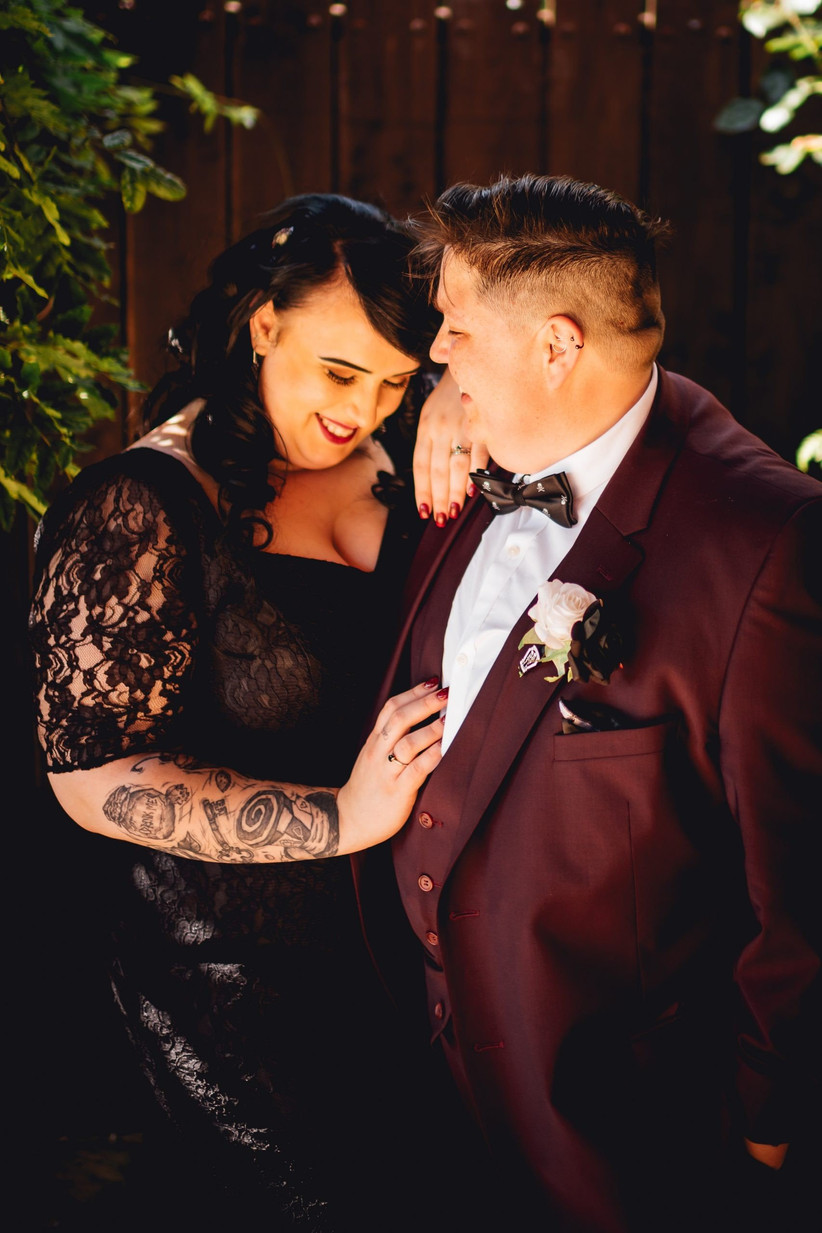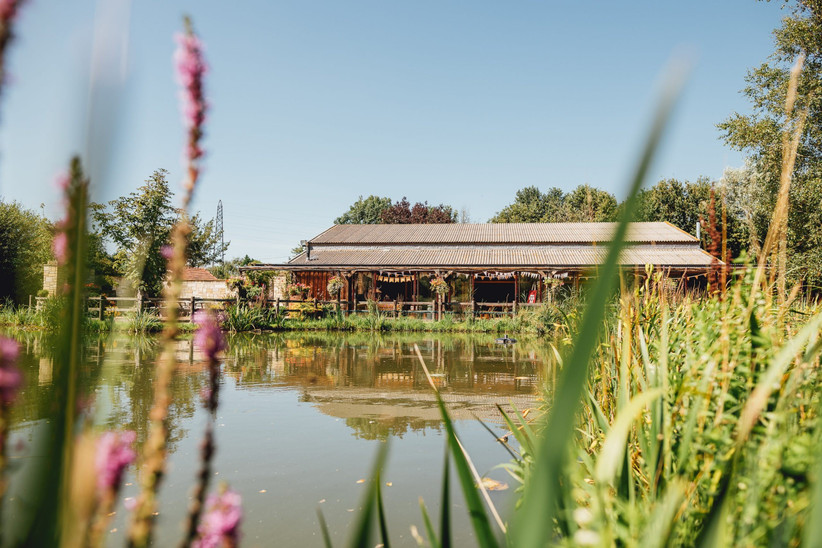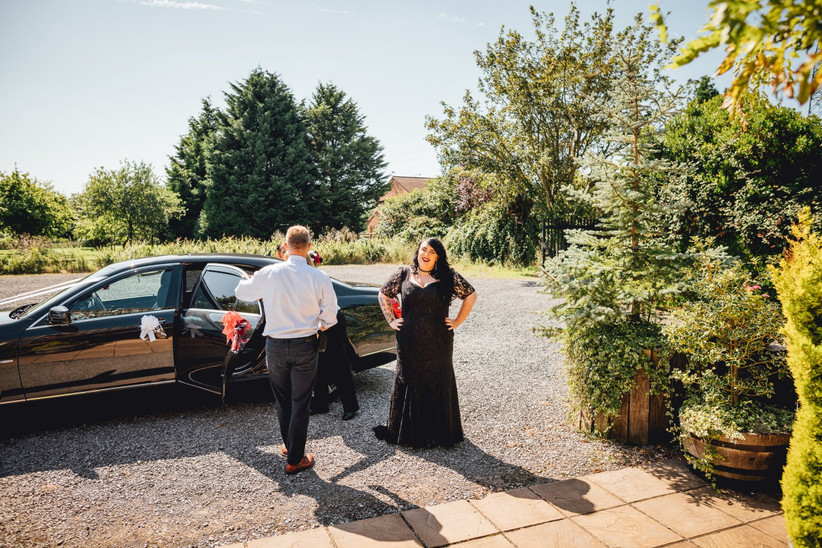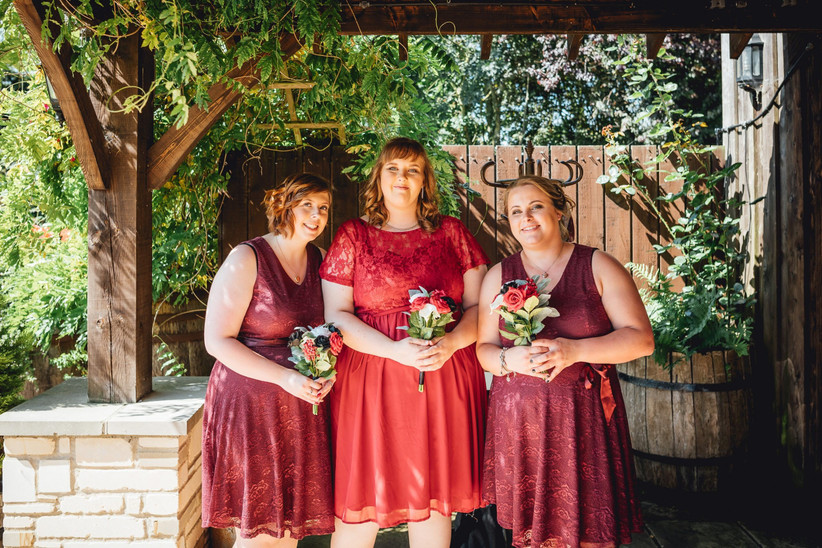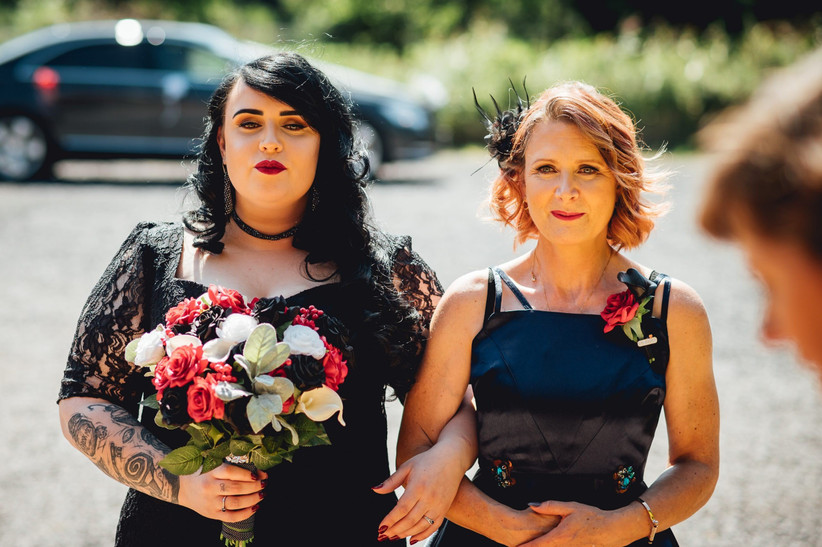 The Wedding Dress
Lana decided that white simply wasn't the right choice for her big day. Instead, she chose her favourite colour, black, and even designed the dress herself.
"I had tried on a load of white dresses and hated them all. I felt stupid in them and just wanted them off. I remember standing there with my arms raised and my Auntie looking at me trying not to laugh as I stood in this gold princess dress.
"So I opted for my colour – black. No one was surprised that this is the colour I chose to wear. The dress was light and easy to wear with a gentle corset. It was black lace with elbow-length sleeves and a heart-shaped neckline. It pulled in at the waist and the knees and had a metre train that flowed gently from the back.
"I designed it this way because I knew what worked for me. After trying on the different styles in white, I knew what I wanted. I know my own body and I knew what I needed to be comfortable.
"I had a skull brooch in my hair, a silver and black Swarovski choker and dangle earrings to match.
"I loved getting ready, I didn't feel panicked or worried, it was completely chilled. I had my sister-in-law, my Mum, and the bridesmaids who made it easy. My mother-in-law joined us too. One thing that does stand out for me is the laughter – people were genuinely happy!"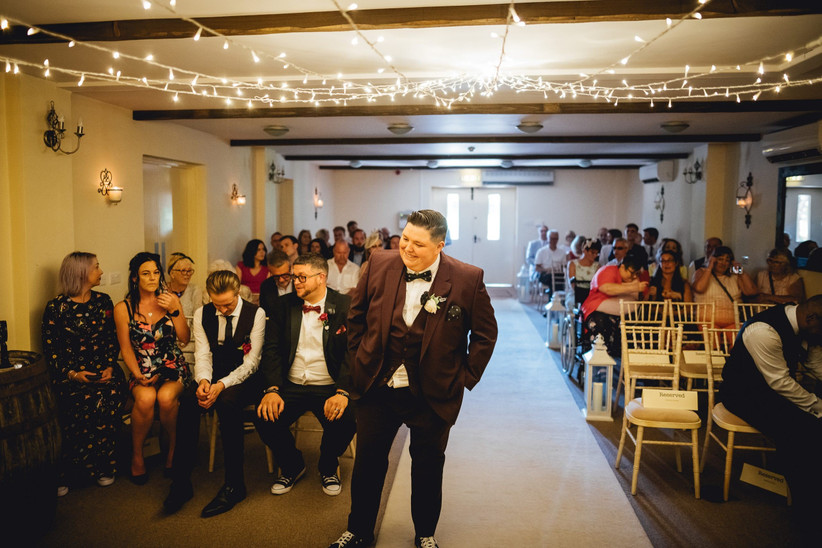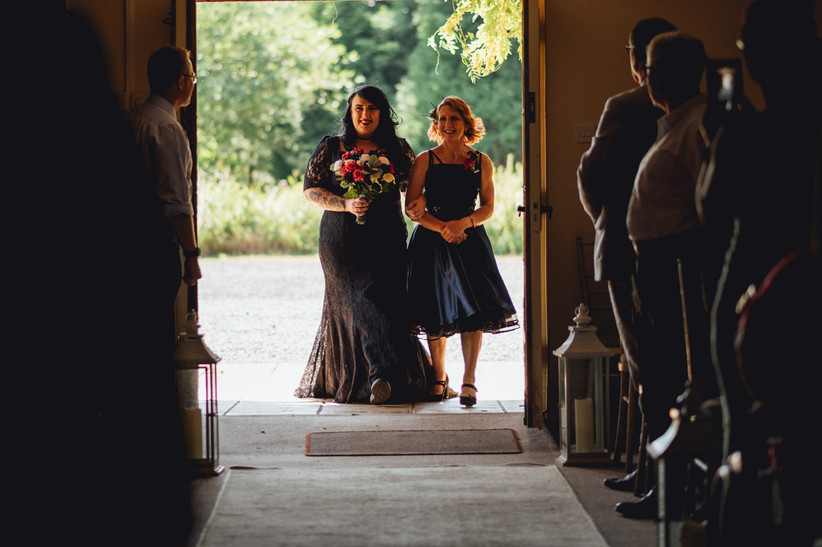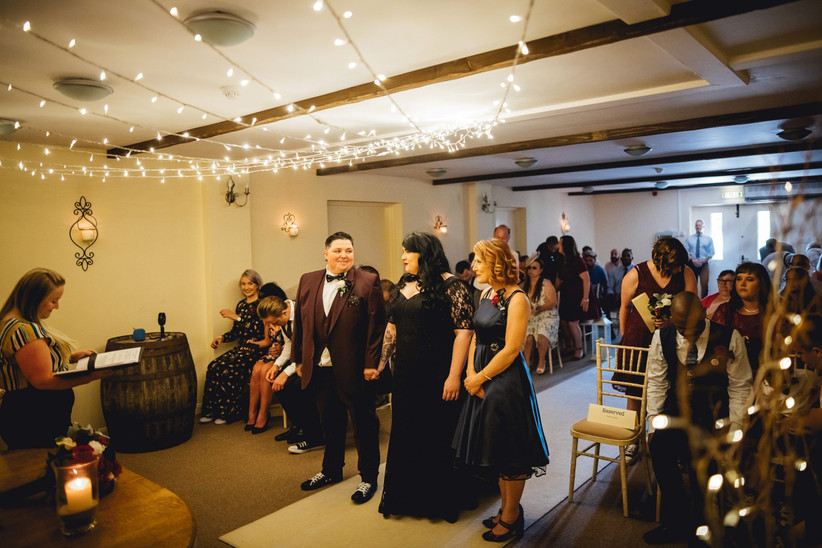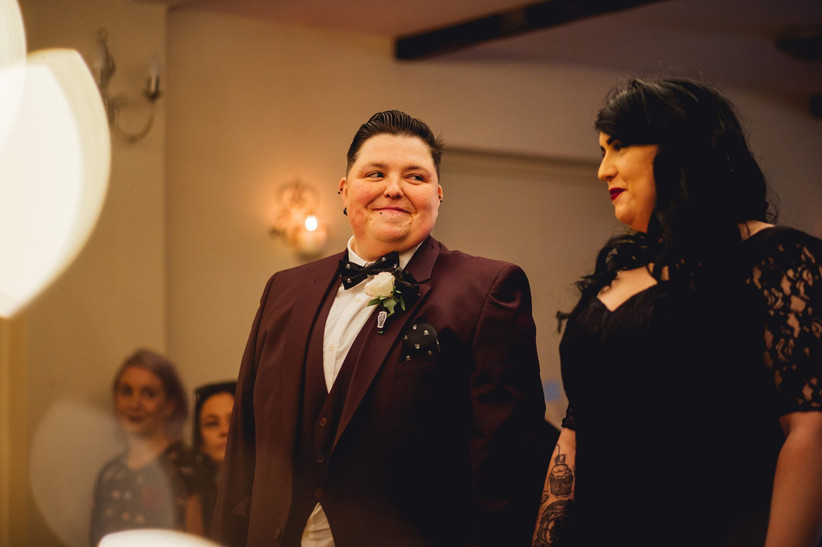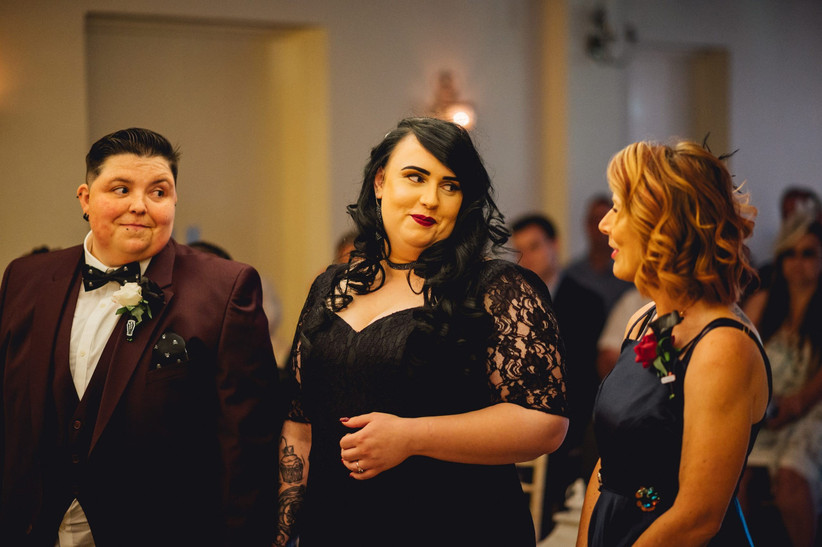 Bridal Beauty
Lana chose a style which is similar to her everyday look but added a few extra special touches such as a bright lipstick.
"My hair was done by one of our friends, Mark. He did an amazing job. My makeup was done by Sophie from Charisma Hair and Beauty Salon.
"Mark worked with my normal hairstyle and made it awesome. Sophie used airbrushing makeup and she got what I wanted spot-on the first time around.
"I'm into my makeup so had been to John Lewis to take advantage of the free makeovers they do with various brands, all of which were good but nothing stuck like Sophie's technique."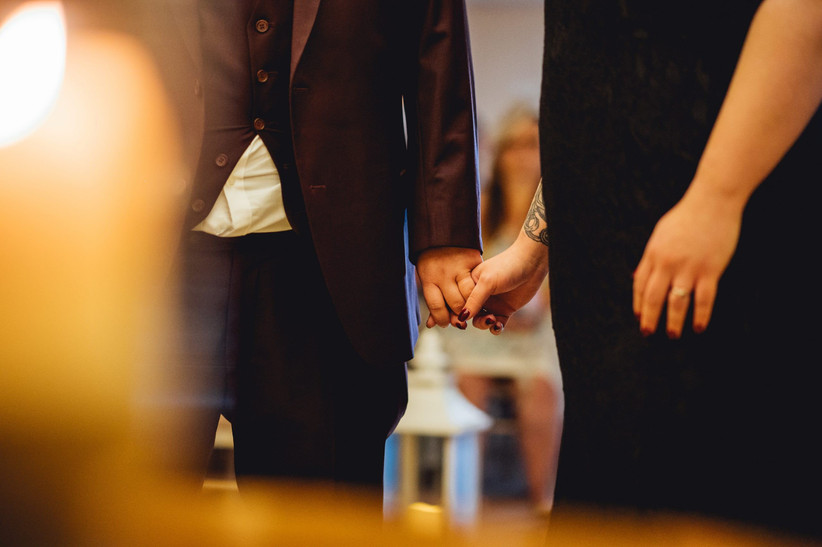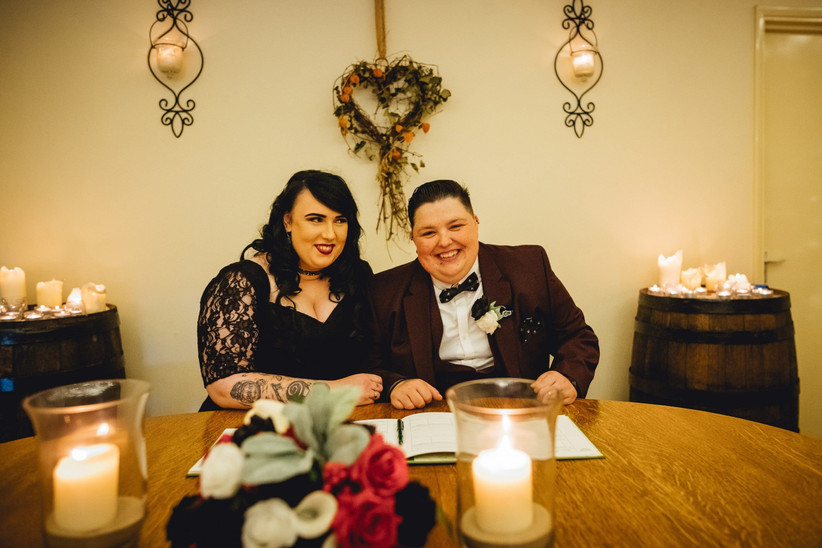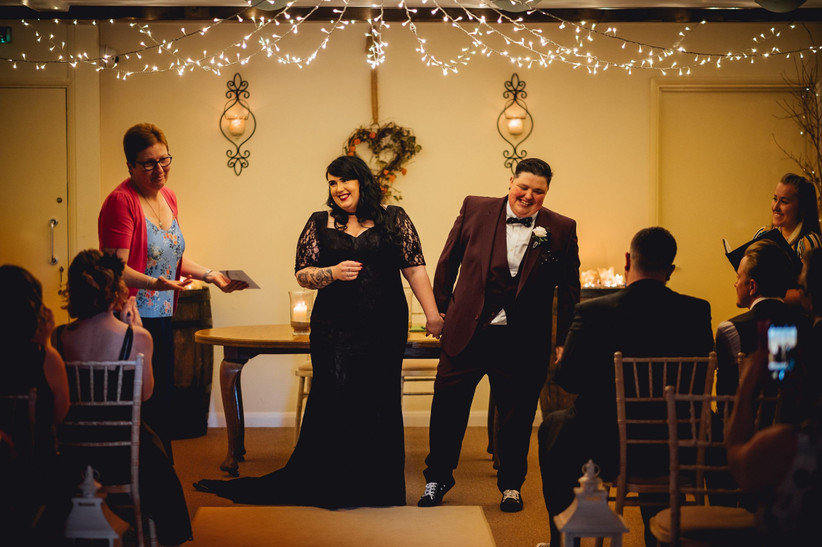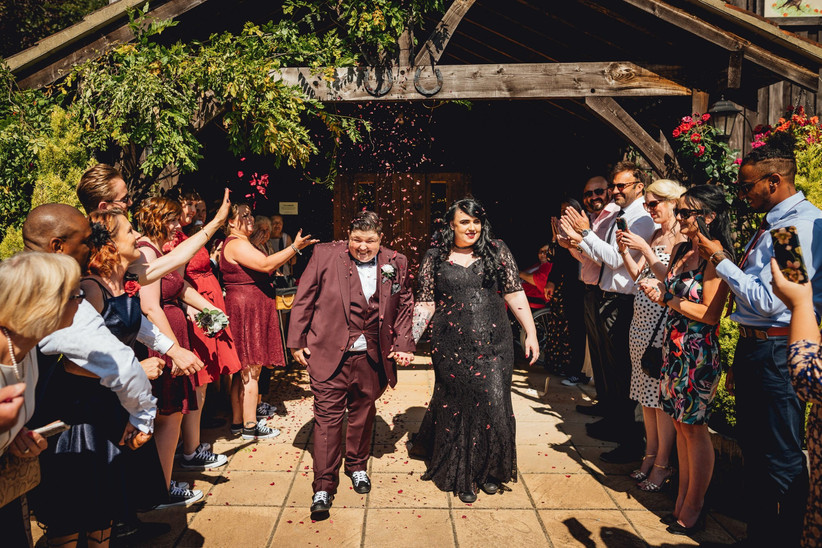 The Wedding Party
Lana asked her sister-in-law, her best friend from school, and a work friend to be her bridesmaids.
"The bridesmaid's dresses were a deep rich red, they almost matched my lipstick perfectly. I won't lie, I bought them on Amazon. All of them were about knee-length, two of them were lace, had a low V-neck and no sleeves. The other was organza with a satin base, it had a little sleeve and was a straight cut across the dress.
"I asked the girls what they wanted and they were all pretty unanimous about certain things including the length and the lace.
"Juss wore a burgundy suit bought from Slaters with braces and a black skull bow tie. Her groomsmen wore black suits with a white shirt, braces and a burgundy skull bow tie.
"Juss wanted help choosing her suit so we went together first and then she went with her best man and my brother to buy the wedding outfits.
"Juss' best man gave her some great advice, he told her to relax and enjoy it – simple!"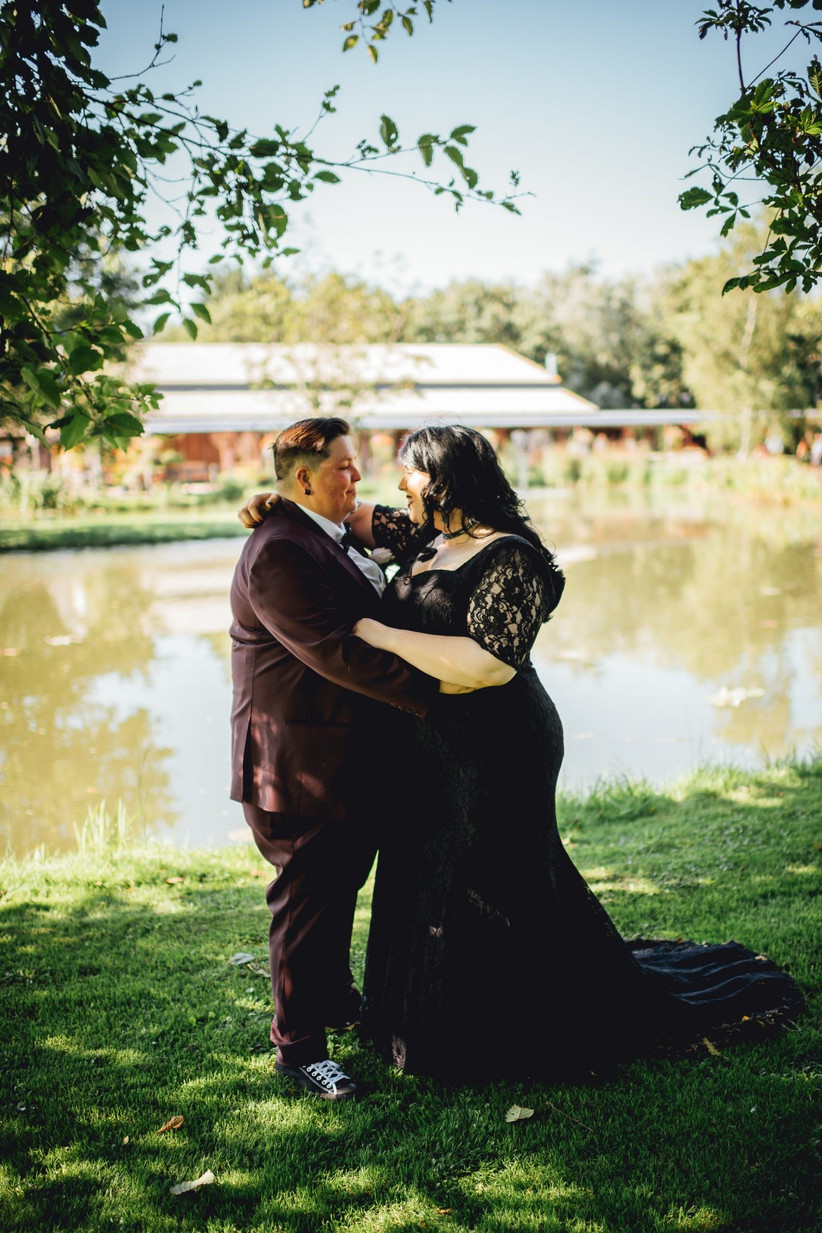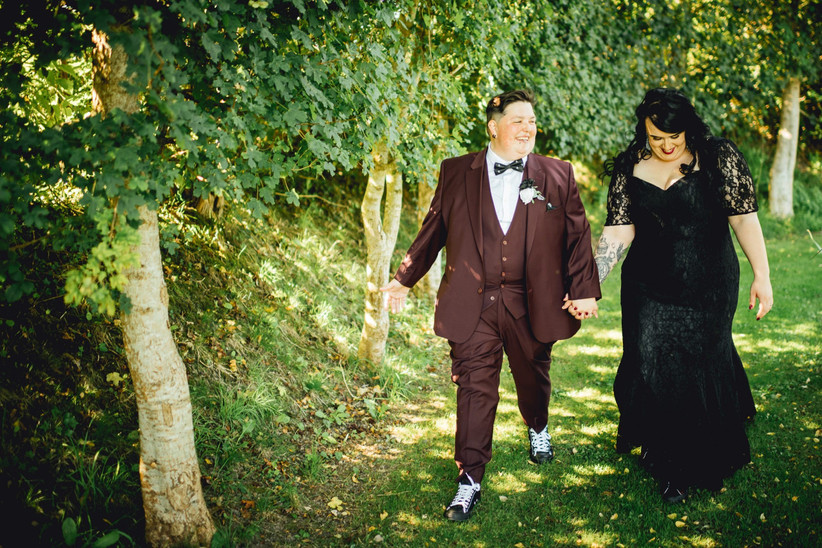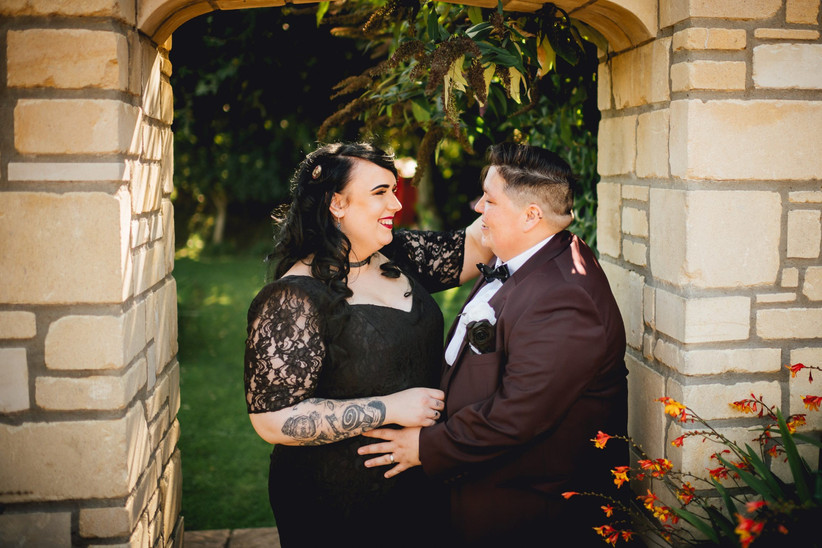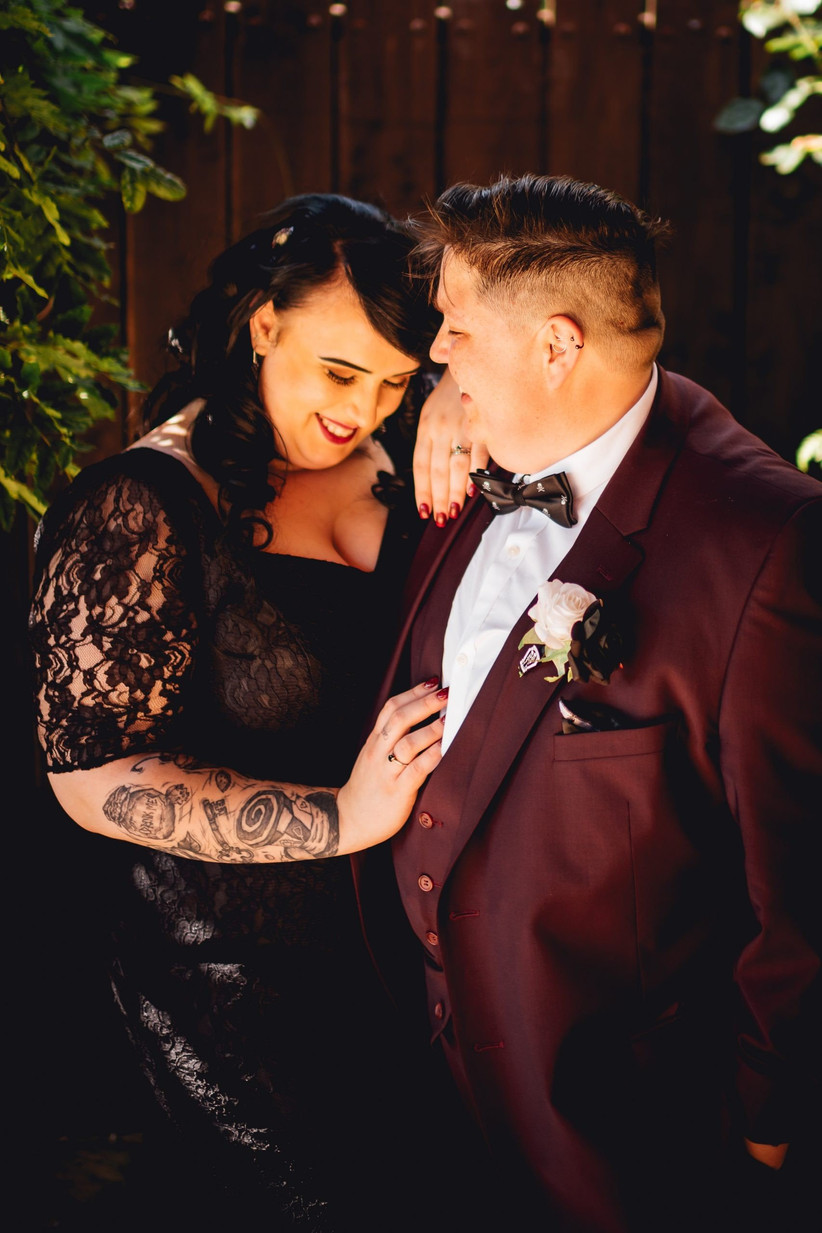 The Ceremony
Lana and Juss couldn't stop smiling and laughing throughout their ceremony thanks to their hilarious registrars.
"We're not religious and being a same-sex couple changes things. But, we were married, we did our own vows, and we had a bit of a giggle with the registrars!
"Our registrars were so funny. They made it light and talkative – she even read a poem that neither of us knew about but it was really sweet and an awesome surprise. The look on my brother's face when he was asked to be a witness was priceless – I didn't tell him beforehand!
"The ceremony went too quickly, of course, but it was amazing to see all of our favourite people in one place – different families and friends. It was a little strange too. It was an emotional rollercoaster as I'm sure it is for most people!
"I wouldn't change anything about the day. The highlight for both of us was that first glimpse of each other after spending a night apart – it made everything okay. Walking down the aisle was scary, I know music was playing but I think I was so focused on not falling over I forgot to listen! I walked with my Mum, she's my rock.
"Juss had a personalised ring made by sand blowing recycled white gold. Mine was a little difficult to source as I wanted a black one. I managed to find a set – the engagement ring and wedding ring both have black diamonds."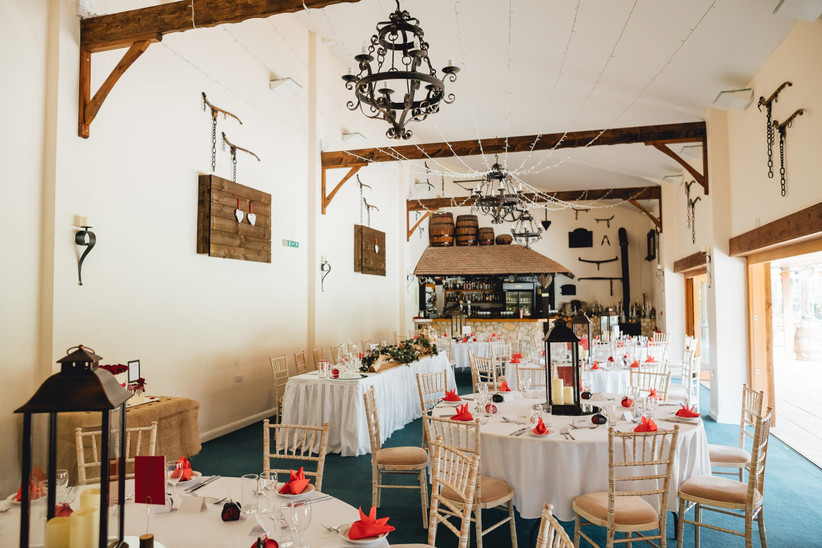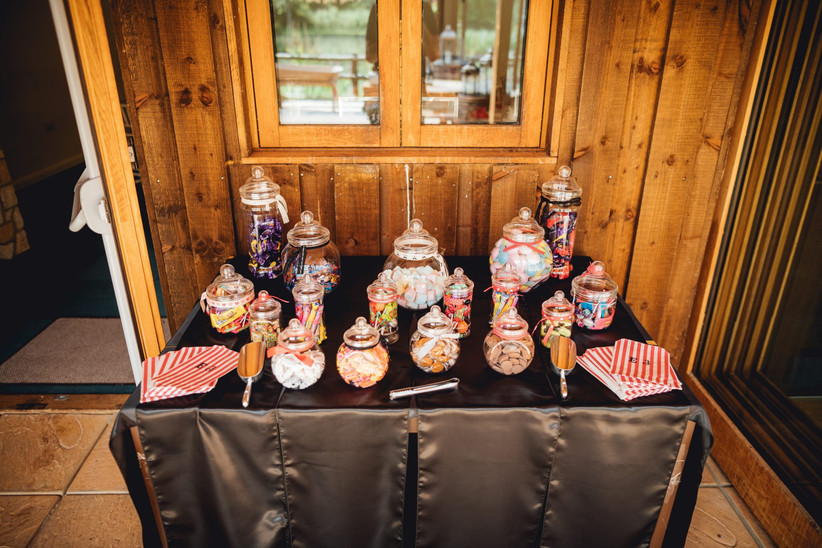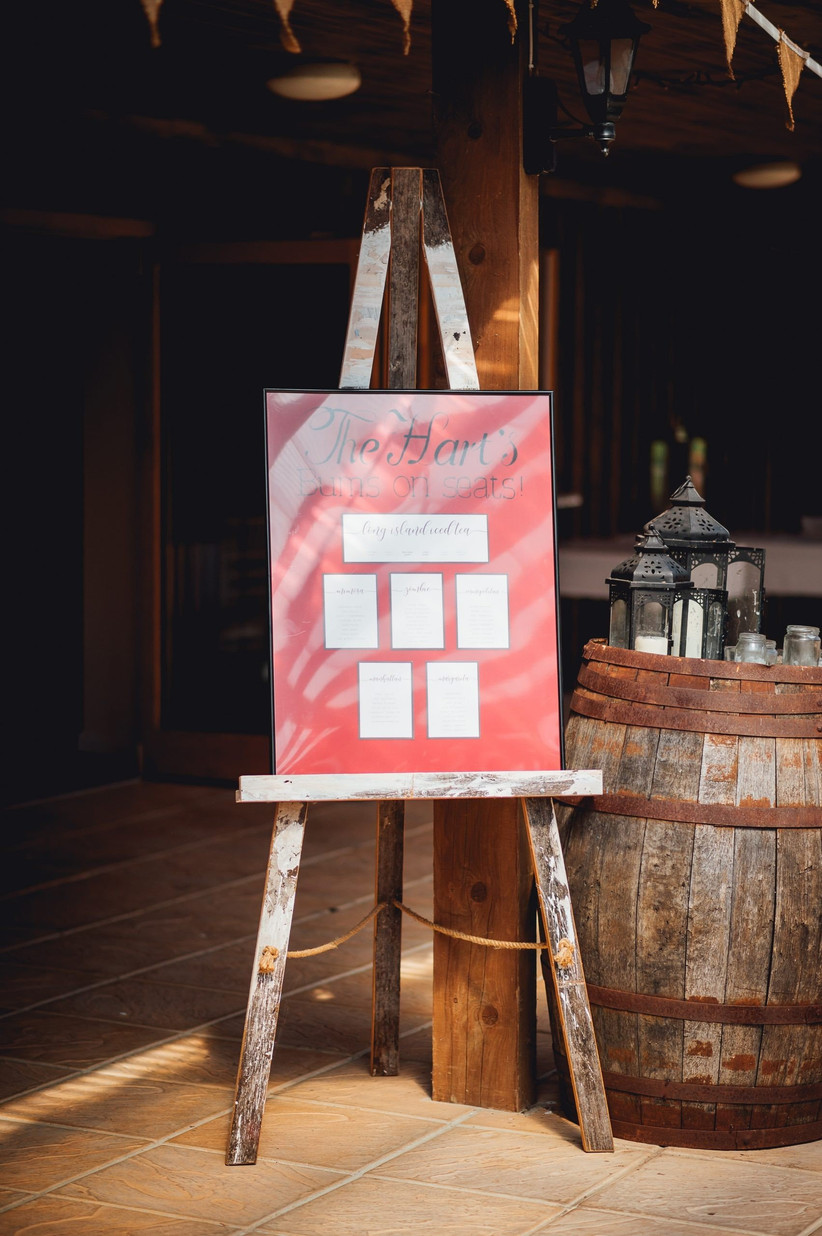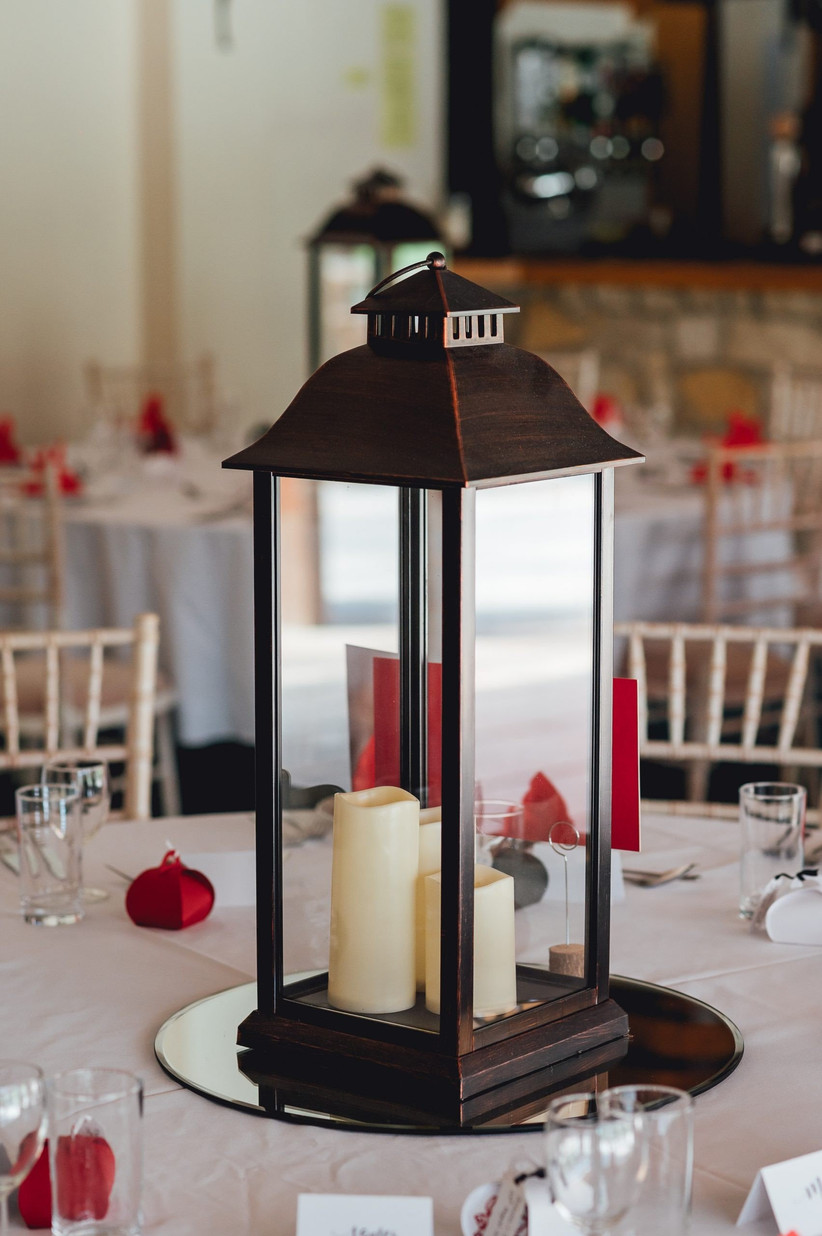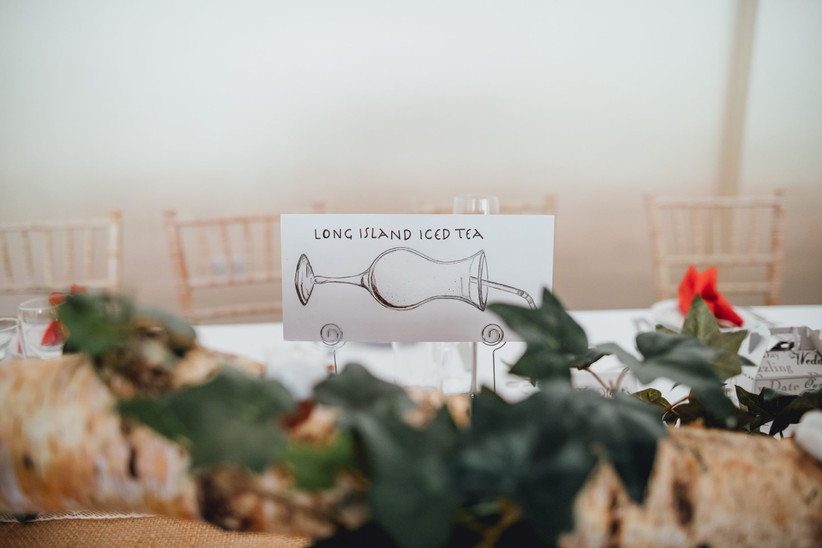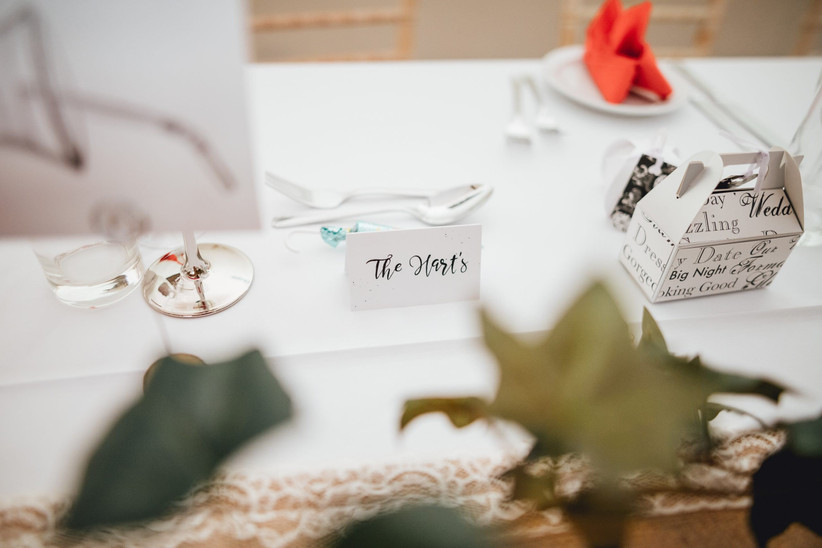 The Reception
The couple held their ceremony and reception at Yarlington Barn and chose a black, red and white colour scheme.
"We chose Yarlington Barn because they do everything for you! We bought a package that included not only the hire of the location but also all of the food, drinks, fireworks, games, table linens, and the entertainment! It literally had everything.
"The owner, Mark, was intense and regimented, but on the day he makes it worth it. He ran everything, made sure everything was in order, and it allowed us to relax and enjoy our day.
"The best thing about our venue was the view – it's an old cider farm and absolutely beautiful. Juss loved the fireworks at the end of the night, they finished off the day with a bang and they were worth every penny. It was worth having the professionals in to do it properly.
"We had three cakes, all different shapes and sizes. One cake was chocolate with ganache, one was vanilla with jumbleberry jam, and the largest was lemon-infused gin with red berry. They were all gorgeous! They were made by Becci Bakes. We found her on Instagram and she's just starting up her business so we had a session with her in her house. She was amazing."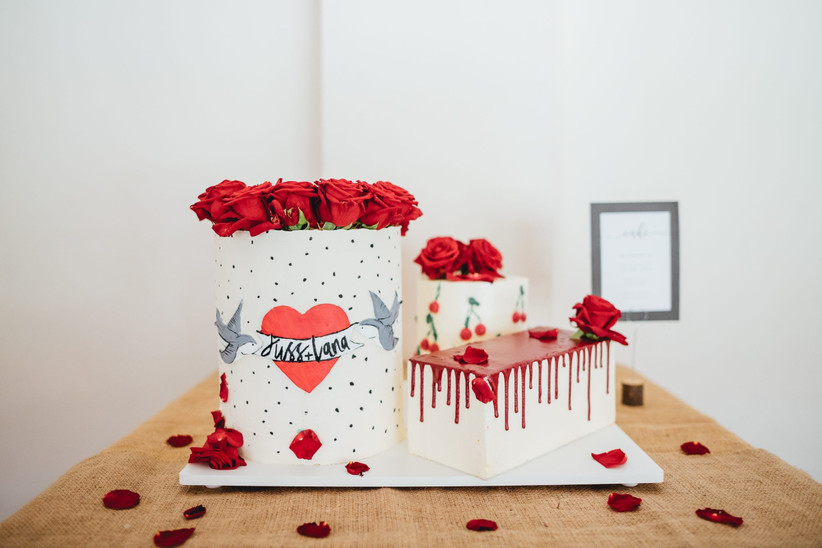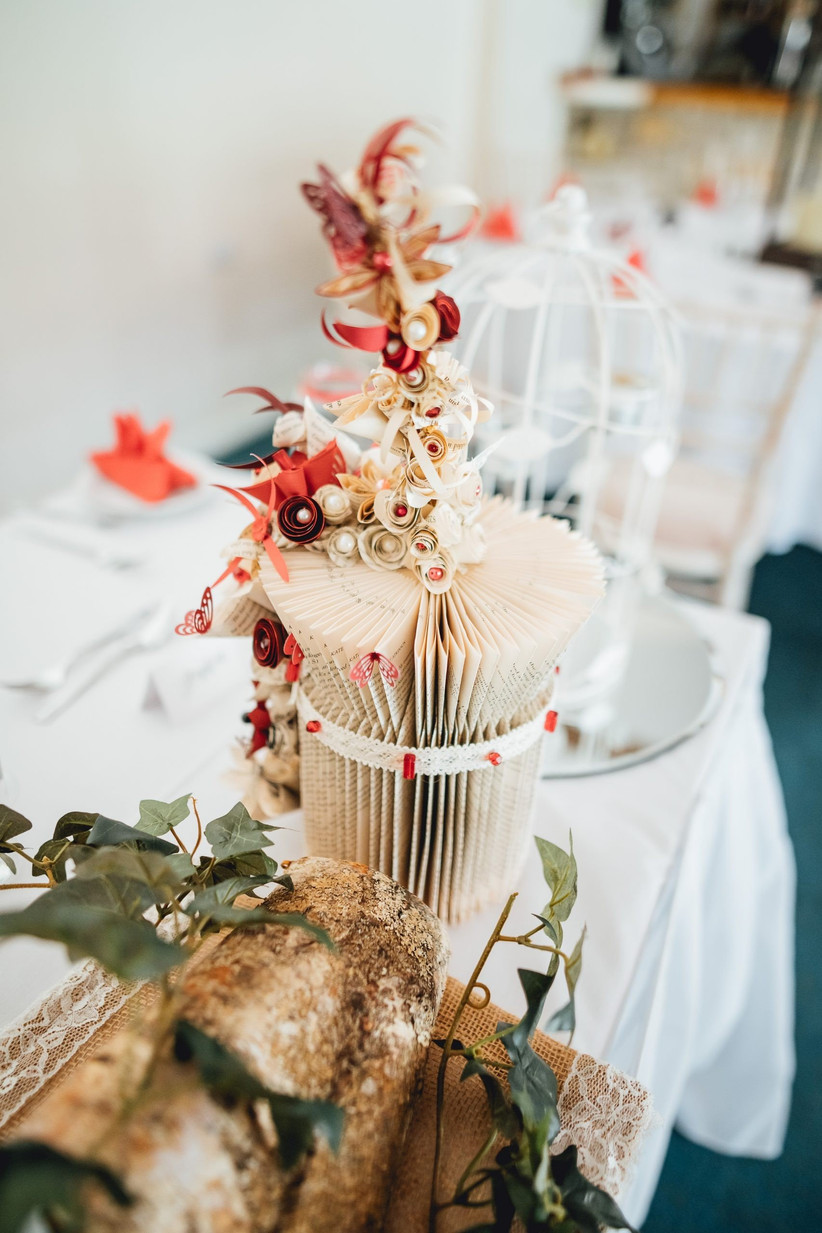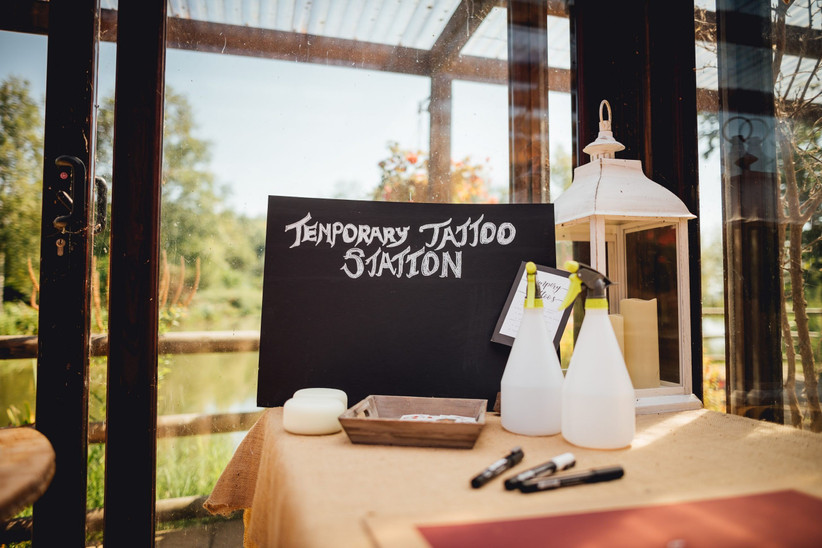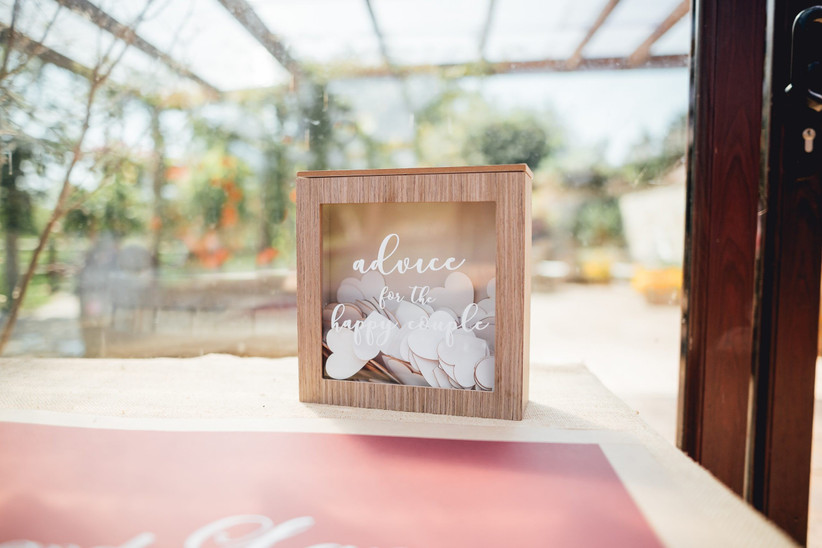 The Décor
The couple decided against using flowers in their venue décor to keep things simple and Lana even arranged her bouquet and the buttonholes herself.
"I chose red and black roses with white calla lilies, red berries and a bit of greenery. I bought faux ones that looked awesome!
"Our centrepieces were provided by the venue which had a variety of choices. We chose large candle lanterns. We used cocktails to name the tables!
"Instead of favours, we had a sweet/chocolate table. Our save the date was simply a polaroid photo with our picture and the date at the bottom. Our invites matched our cakes and had red polka dots with cherries on from Etsy."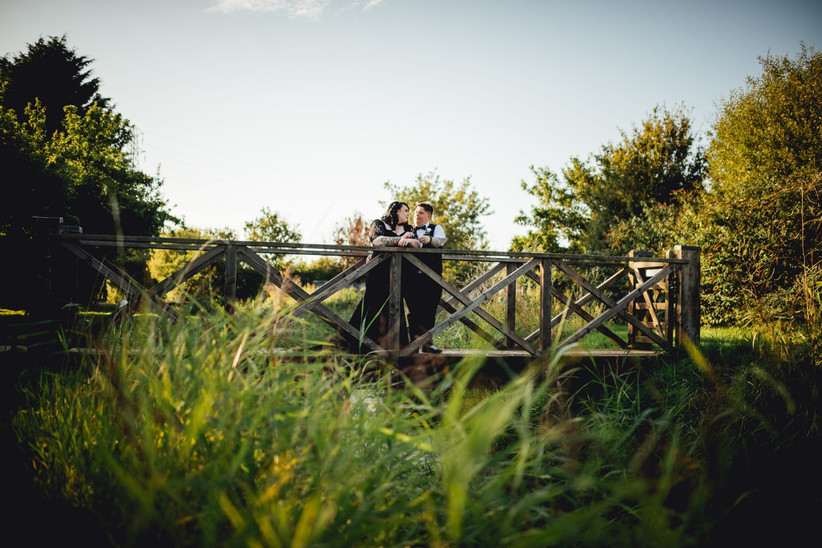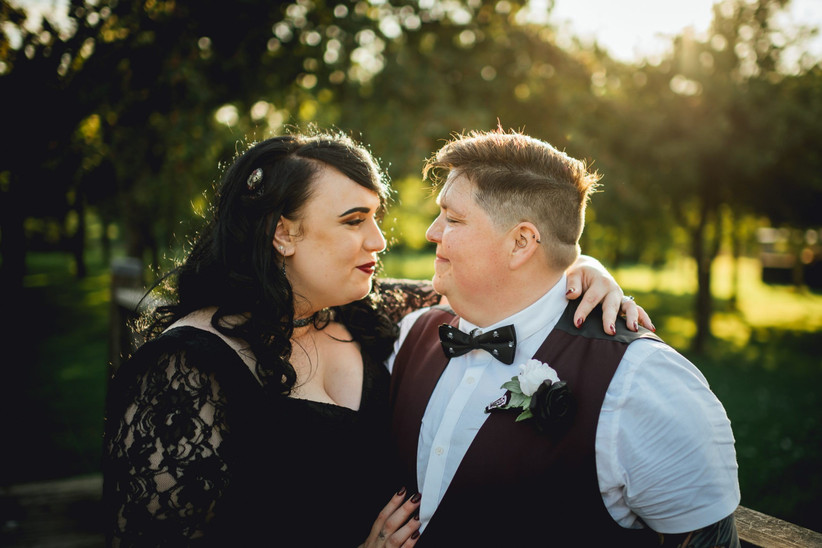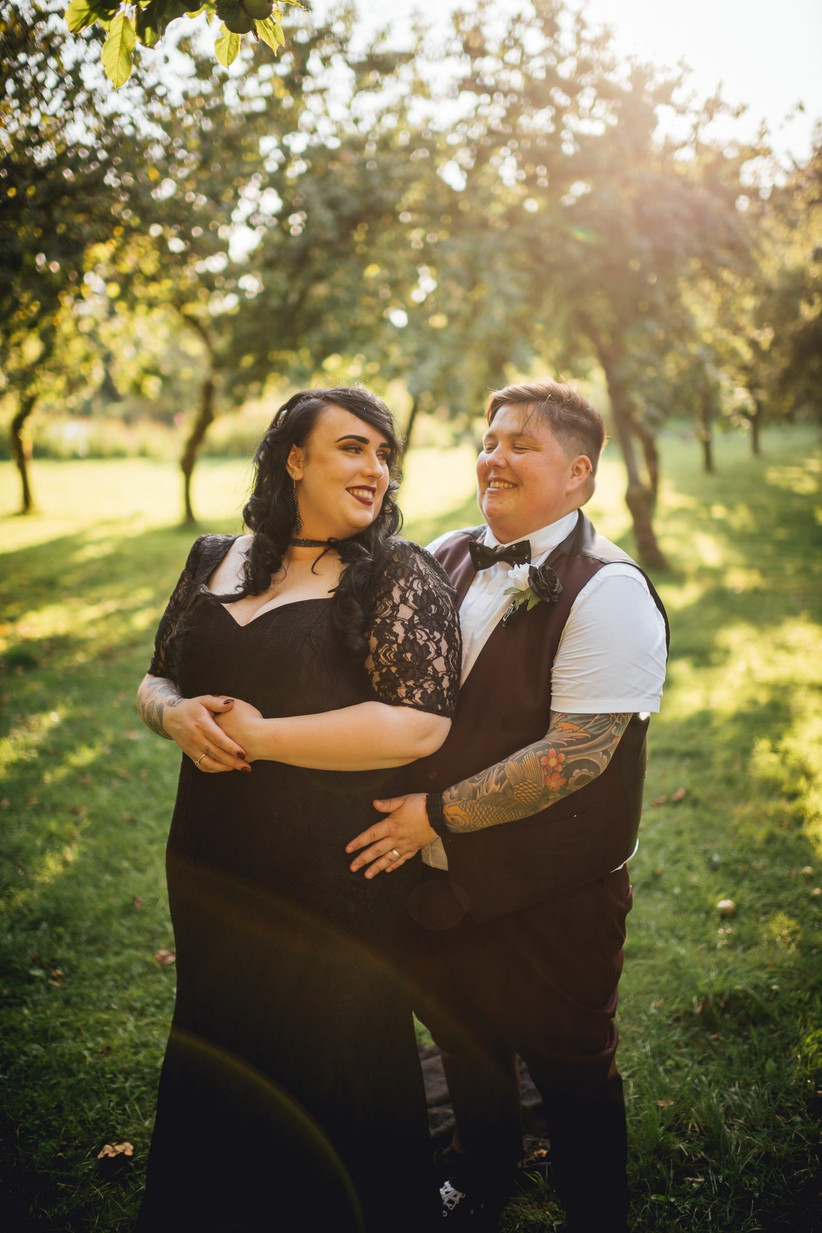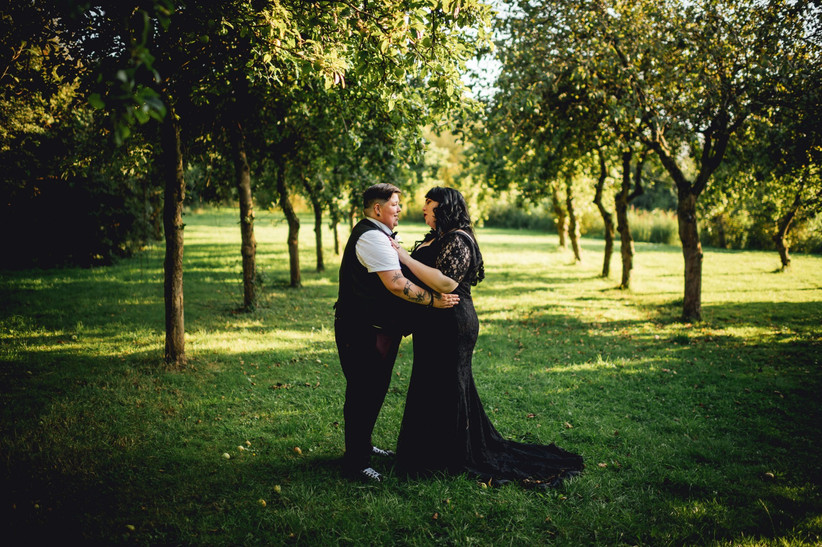 The Honeymoon
The couple headed to Sorrento in Italy for a much-deserved honeymoon!
"We needed somewhere affordable and romantic, obviously, and we always wanted to see Pompeii. We chose the hotel because its restaurant had a cocktail bar which sold it for us!
"It was absolutely stunning and just what we wanted although I did rip the ligament in my ankle falling over at Pompeii on the third day! But we still managed to get around, had amazing food and drink, and added to our tattoos."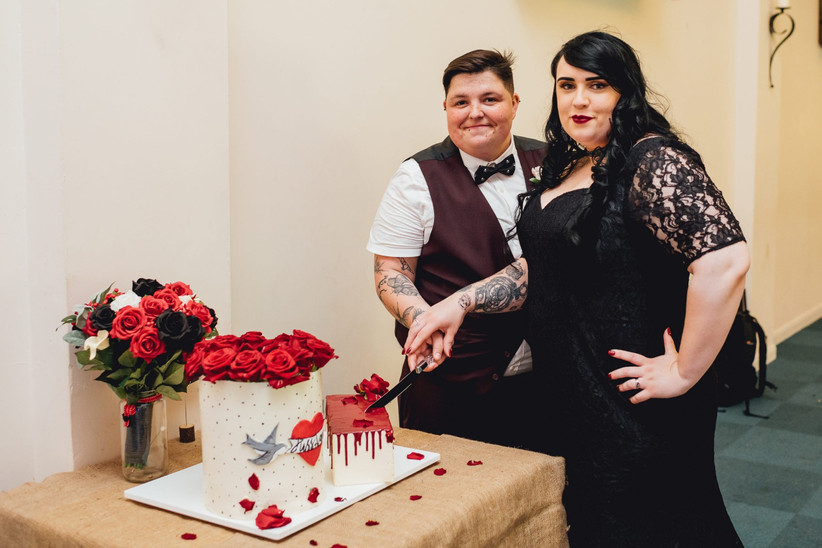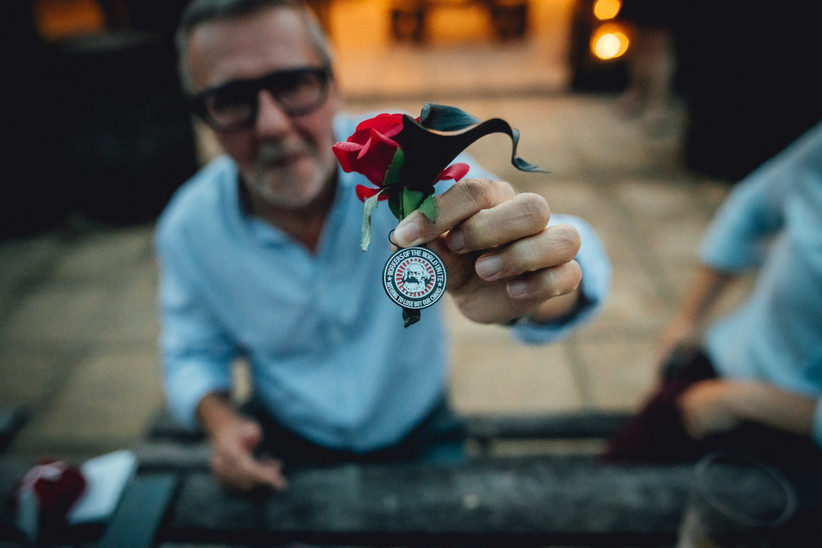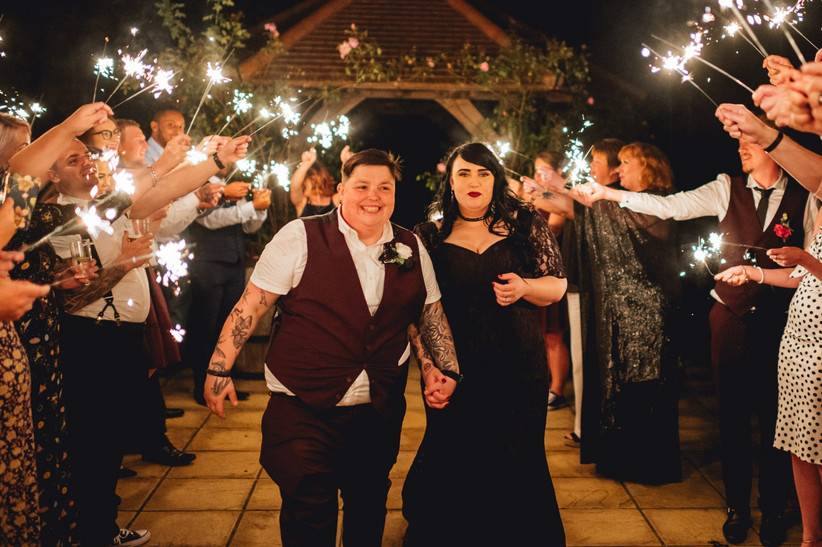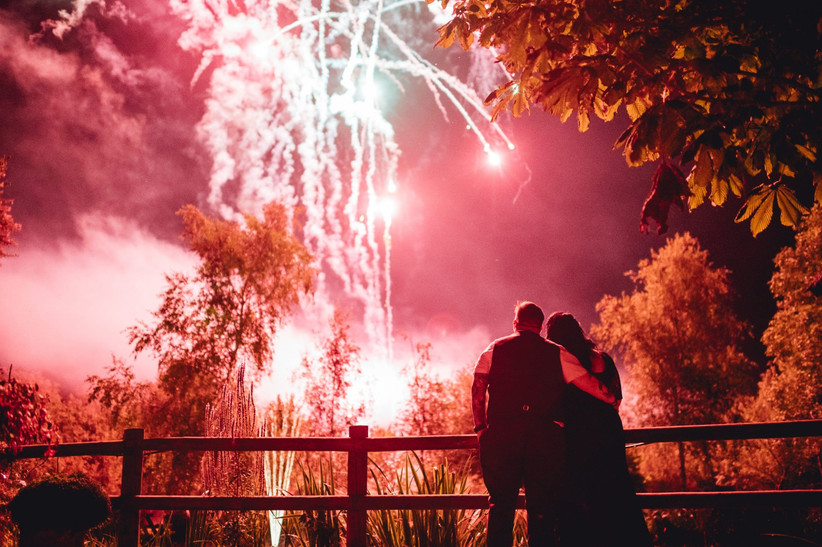 Suppliers
Photographer: Che Birch-Hayes Photography
Ceremony and Reception Venue: Yarlington Barn
Accessories: Swarovski
Hair: Charisma Hair and Beauty Salon
Juss' Suit: Slaters
Bridesmaids' Dresses: Amazon
Wedding Cakes: Becci Bakes
Invites: Etsy
Gift List: John Lewis
A huge thank you to Lana and Juss for allowing us to share their gorgeous big day!