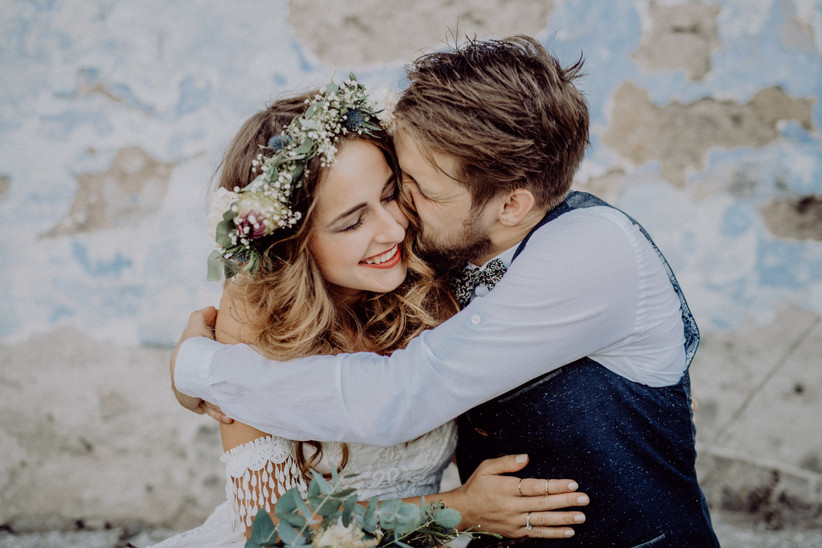 Since most of you are planning your wedding by yourselves without the help of a professional planner, there's not always a lot of people you can turn to when you've got questions. So we decided to solve that problem.
The Hitched team have joined up with a crack team of experts to answer your burning questions, worries and 'Agh, what on earth do I do?!' scenarios.
READ MORE: How Can I Fire a Bad Bridesmaid?
Everything from bridesmaid politics to changing your name on your passport, and guest entertainment to invite ideas – you want to know, we'll answer. You might discover something you hadn't thought of before….
If you want to check out all the questions you've asked, visit our Wedding SOS page.
Q: Any Ideas of Things to Go in a Wedding Welcome Box in Guests' Rooms?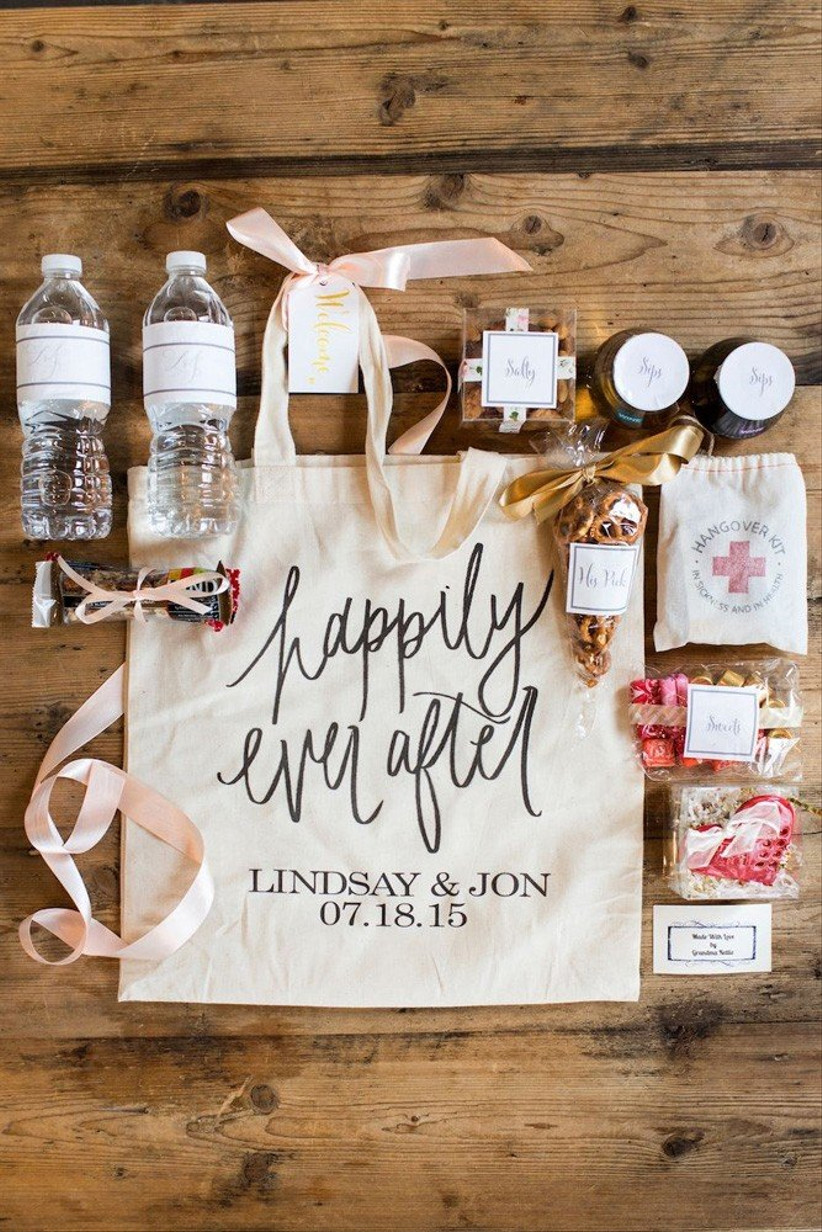 Image: Pinterest
There's no better way to welcome guests who are staying over before or after your wedding day – or weekend – than a wedding welcome box in their room. A few hand-picked surprises will make them feel extra special, and they're particularly great for destination weddings.
READ MORE: 101 Amazing Wedding Favour Ideas Guests Will Love
Firstly, set a budget so you know whether to save or splurge. If it's tight, then maybe only make them for important guests like grandparents or those who've made an extra effort to travel there. You can spend big on monogrammed wicker boxes, cheaply print some tote bags with your initials or buy cute boxes and baskets. Fill with tissue paper, a personalised label with your guest's name and your wedding date, your treats and any extra decorations like petals or pebbles.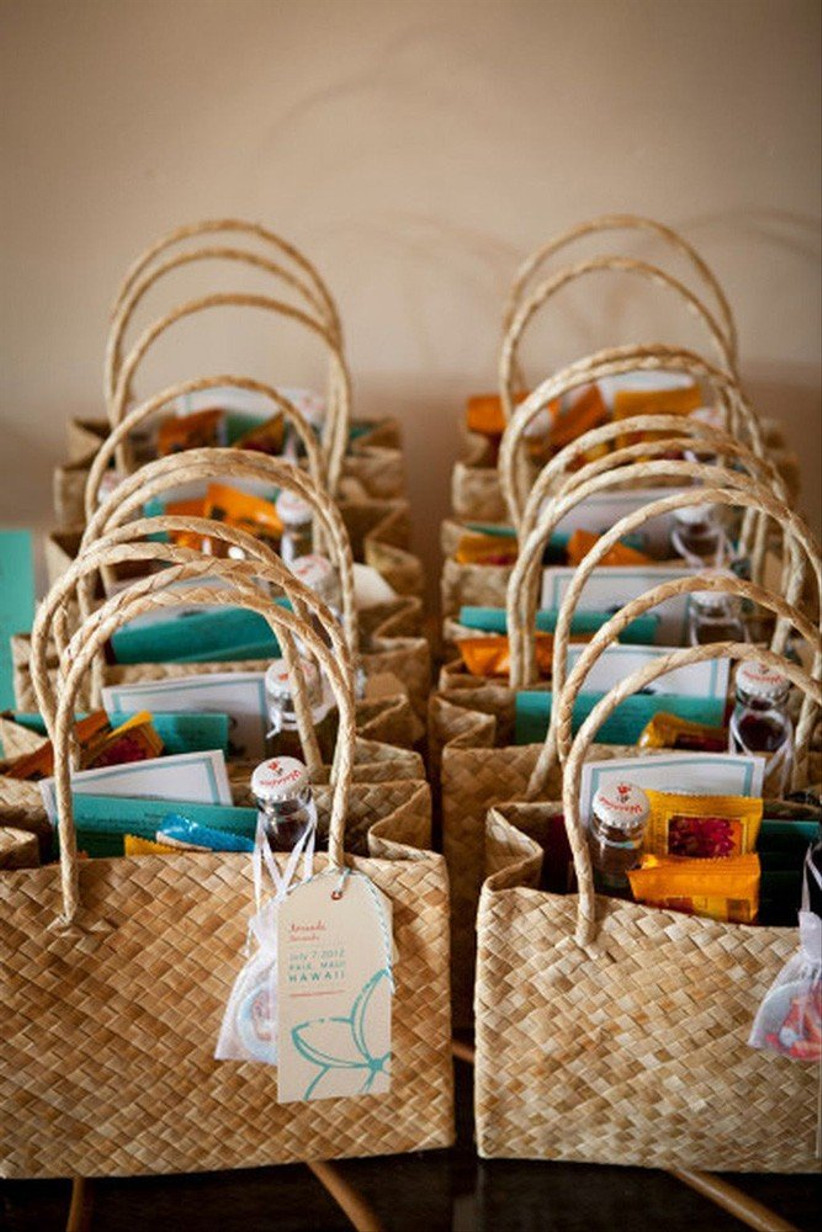 Image: Pinterest
One thing that's always essential to include is an itinerary and guide – include details on how to get to the venue, checkout times and the plan of your big day. A handwritten thank you note is a nice touch but a little printed card is fine too.
Here's some of our favourite ideas of what to put inside.
Water, snacks and tea or coffee sachets to refuel after a long journey
A miniature of your favourite spirit
Mini bottle of bubbles/a local beer
A local speciality (if they're from abroad or out the area)
Maps and tourist information (essential for a destination wedding)
A nice-smelling soap, candles or toiletry
A small box of chocolates
READ MORE: 33 Ways to Keep Guests Entertained at Your Wedding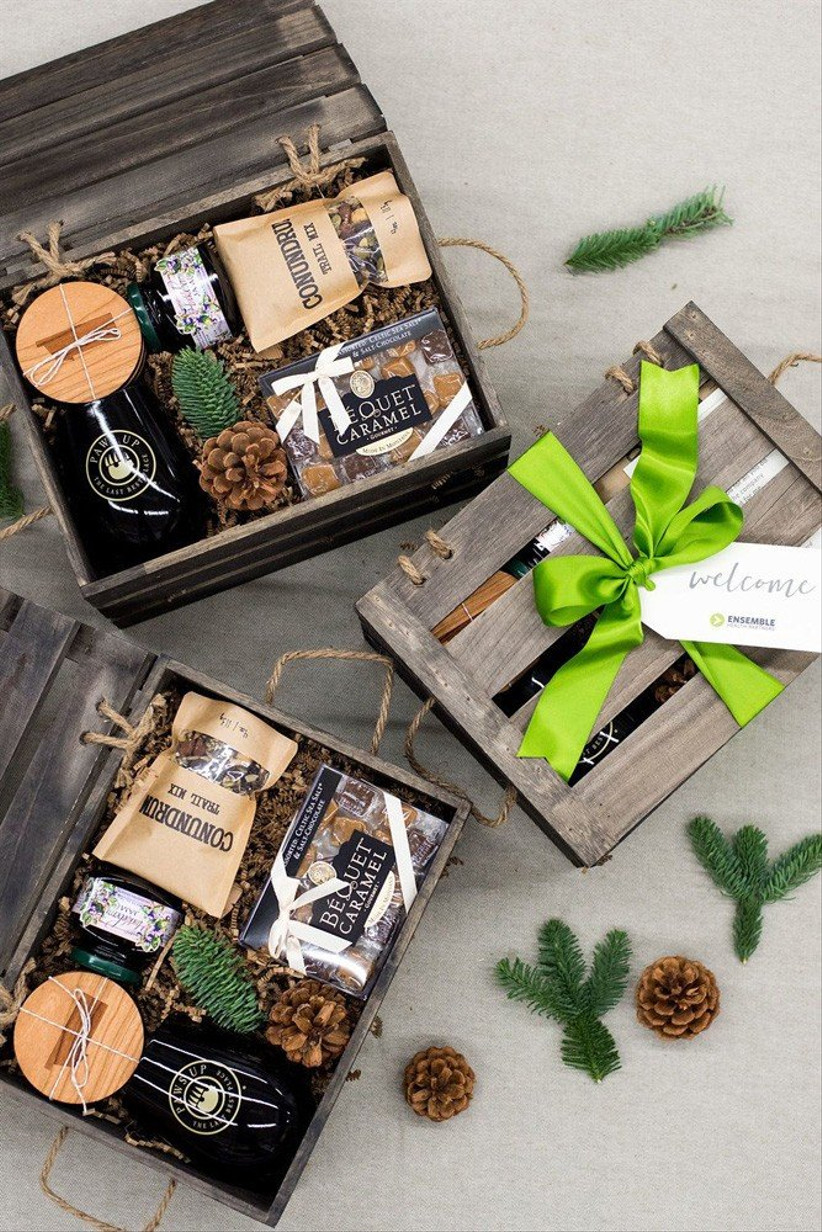 Image: Pinterest
Cheap sunglasses, lip balm and flip-flop (for a destination or beach wedding)
Eye masks
Small notebook
Disposable camera
An activity pack or colouring book for kids
A hangover kit for the morning after: rehydration salts, paracetamol, water, cereal bar, plasters.
READ MORE: 29 Bridesmaid Gift Ideas for Every Budget
It's easiest if you plan the contents around your wedding theme, destination or season. For example, botanical theme: mini potted cactus, pot of natural lip/sleep balm, herbal tea sachet, flower seeds, candle. Italian destination wedding: mini bottle of Italian wine or Campari, postcard, amaretti biscuits, can of San Pellegrino, sunscreen. Autumn: dried fruit, popcorn, fudge and a little bottle of spiced rum.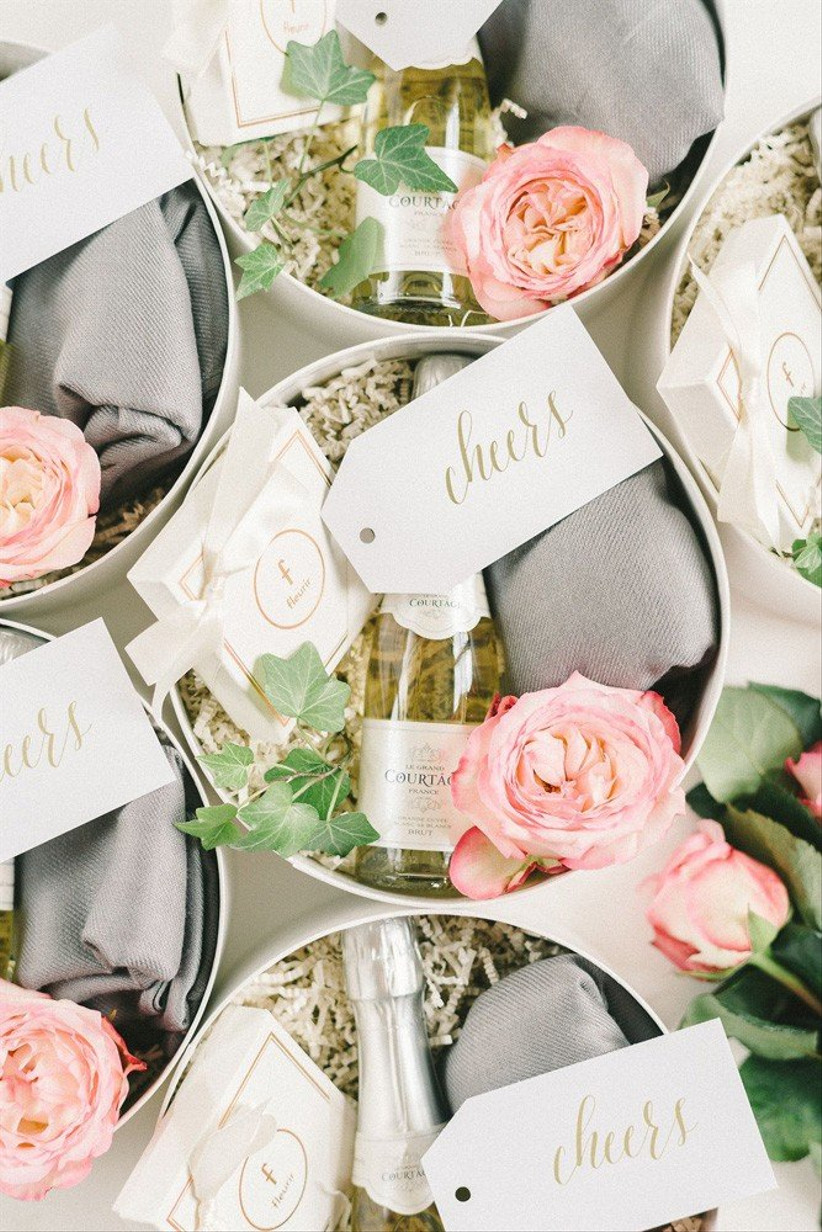 Image: Pinterest
Call ahead and check with the hotels how you'll be allowed to deliver the wedding welcome boxes. Can you have them waiting in guests rooms or will they need to collect them from reception when they check-in? Your bridesmaids can help with the drops – just schedule a time with the hotels.
Q: How Friendly Do You Have to Be With Your Guests to Be Obliged to Invite Their Partner?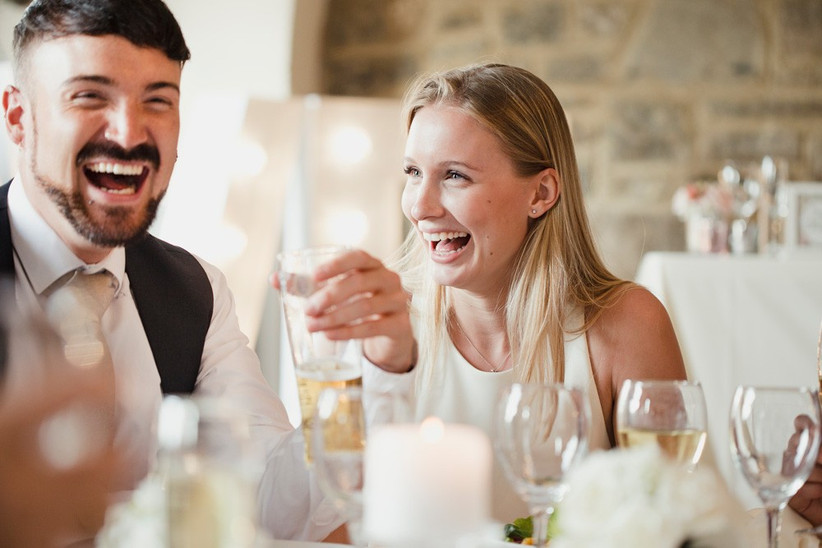 Image: iStock/Getty
This is something almost every bride has wondered, whether that's because you've got to cut down your guest list or you don't want your colleague's latest Tinder boyfriend in all your wedding photos.
If you're considering a blanket 'no ring, no bring' policy, we've covered all the rules you need to know so you don't lose any friends.
If you're happy for certain guests to bring partners then we suggest a 'no meet, no seat' policy. If you've met your guest's partner on several occasions, know them by name and would happily have a one-on-one conversation with them, go ahead and invite them!
READ MORE: The New Trend to Charge Guests to Attend Your Wedding 
If you've met them once (or not at all if they're new), you couldn't pick them out a crowd and the thought of forcing small talk makes your blood run cold, it means they shouldn't be part of your big day.
The only exception to this rule is if your guest won't know anyone else and it might be uncomfortable for them. In this case, it actually saves you worrying about them all day.
Most guests will understand budget and number restrictions. We spoke to an expert on how to reduce your guest list and break the news to a guest they're not invited.
Q: Abroad vs UK?!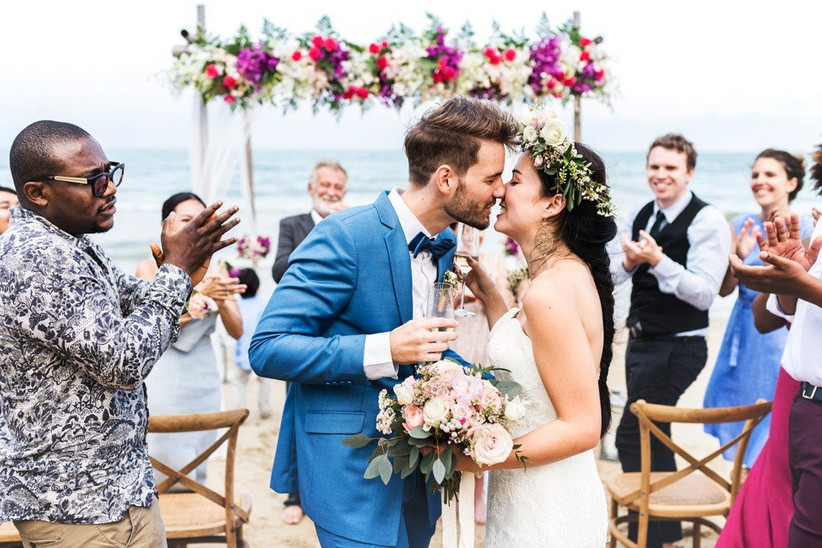 Image: iStock/Getty
Let's be honest, no one wants rain on their wedding day and you can't guarantee that in the UK. The lure of sun, sea and a potential big saving in costs convinces a lot of people to have a wedding abroad.
Kuoni found that the average destination wedding costs £7,500, which is a huge saving from the £32,000 average UK wedding cost. Bear in mind, this will be for a much small wedding (usually less than 10 guests) and won't include guests' travel, catering and accommodation costs.
READ MORE: 19 of the World's Best Beach Wedding Destinations
If you're deciding between a UK or destination wedding, ask yourself this first:
Is this realistic for you and your guests? Going abroad might mean family can't afford to come, your grandparents are too frail to fly, or your sister can't take holiday during term time. If having everyone there matters, it probably isn't right.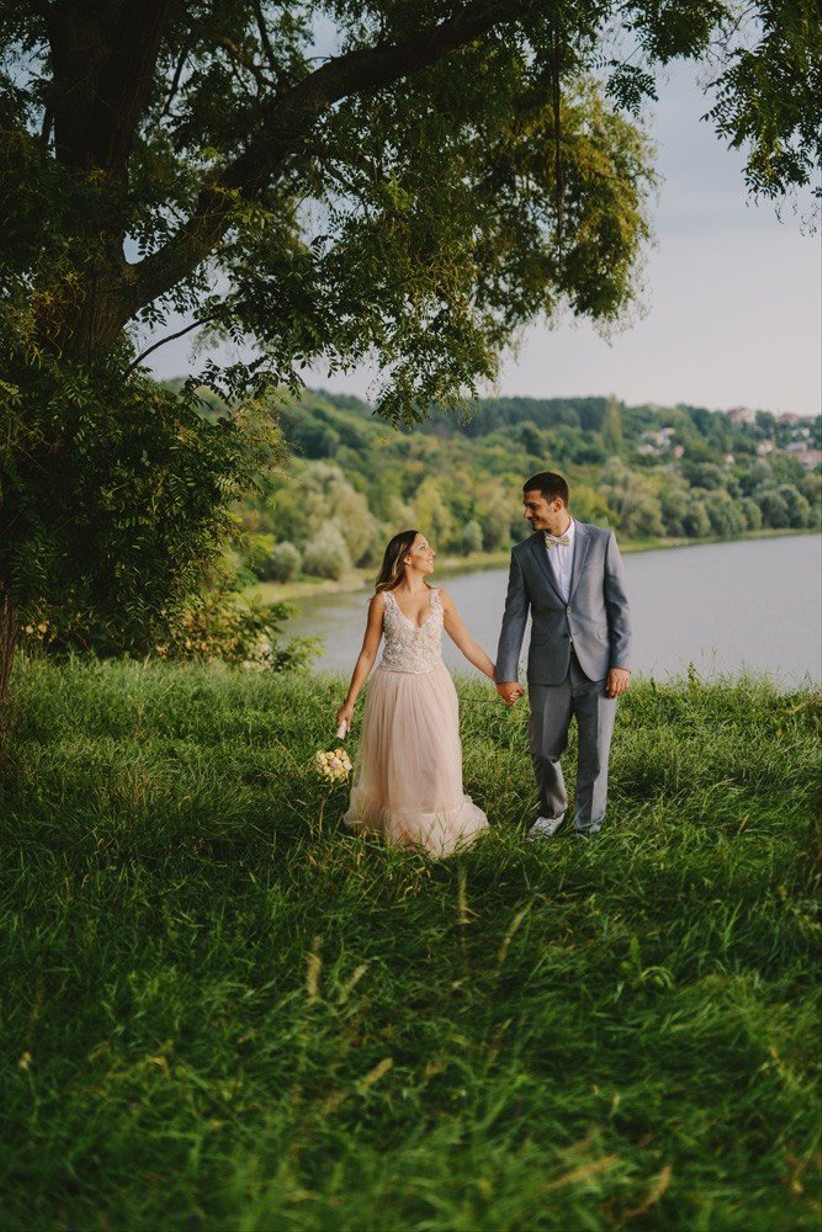 Image: IStock/Getty
Secondly, is there somewhere that means something to you? This isn't a deal breaker, but it can be influence your decision. Maybe one of you or your family is from abroad; you'd like to return to the place you had your first holiday or where the proposal took place; or perhaps it's a bucket list destination for you both? If going abroad could make your day even more special, it's worth considering.
READ MORE: Everything You Need to Know About Destination Weddings
Lastly, are you aware of any marriage restrictions? Certain legal requirements must be met to legally marry abroad, whether that's residency requirements, document translations or even medical tests. A wedding planner will be able to help you with all of this but it can take months to complete. You may need to legally marry in the UK first, which makes it easier to arrange a symbolic ceremony abroad and means you can have a small celebration her first – perhaps for family who won't make it abroad.
If you think you can afford a destination wedding, the guests you want can come, the location is right and the logistics won't stress you out, there's no reason not to seriously consider a wedding abroad.
If you've got a question, check out our Wedding SOS archive to see if we've tackled it before or visit the @hitcheduk instagram account to ask your own.