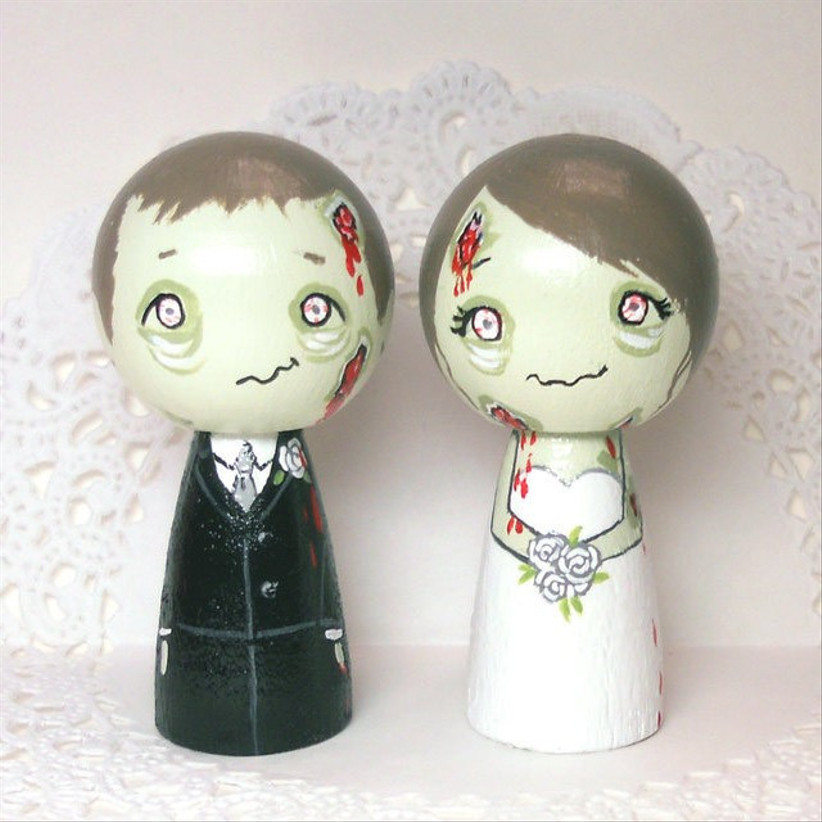 Are your favourite films Dawn of the Dead and 28 Days Later? Is Walking Dead always your box set of choice? Then you are going to love these zombie wedding ideas – from subtle decor ideas right through to full on blood-fests, there are zombie wedding ideas here for every level of fan.
Plan a Zombie Hen or Stag Party 
If you are looking for the ultimate hen party idea or you're planning an adrenaline fueled stag do then how about sending your group to Zombie Boot Camp?
Hen and stag planners Chillisauce let you live the life of a survivor in a post-apocalyptic world. On arrival you will have basic training in close quarters battle skills and how to use a rifle (aka paint-ball gun!), you and your team mates will then be sent by vehicle and on foot to seek and destroy those infected by the deadly virus. Not a hen or stag do for the faint-hearted, this is an energetic one!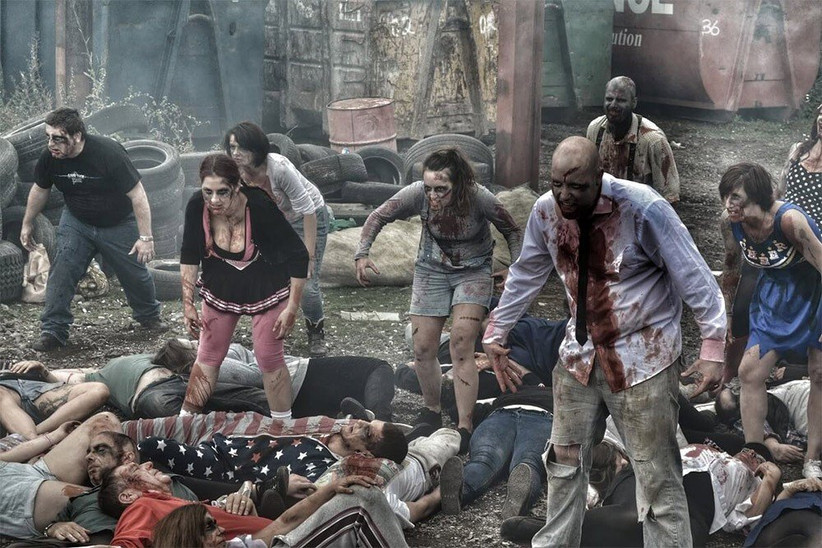 Hire a Gothic Wedding Venue 
A zombie themed wedding needs the perfect setting – Chichester Harbour Hotel has the most amazing wedding breakfast room that is decorated with elaborate mirrors and black furniture – the perfect backdrop for your zombie wedding.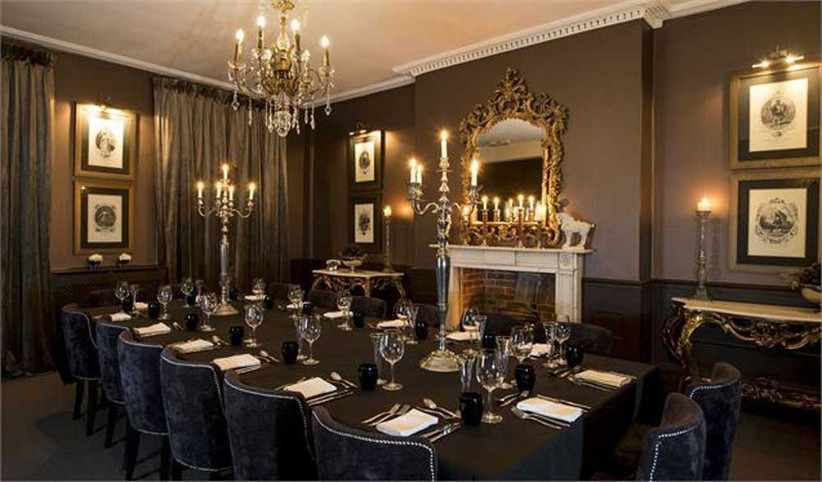 READ MORE: Gothic Wedding Ideas: 33 Items Every Alternative Couple Needs
Choose a Zombie Cake Topper  
Zombies have never looked so adorable! This cute zombie couple from Etsy will be the perfect finishing touch to an elegant wedding cake and can be a subtle nod to your love of zombies without being too over the top.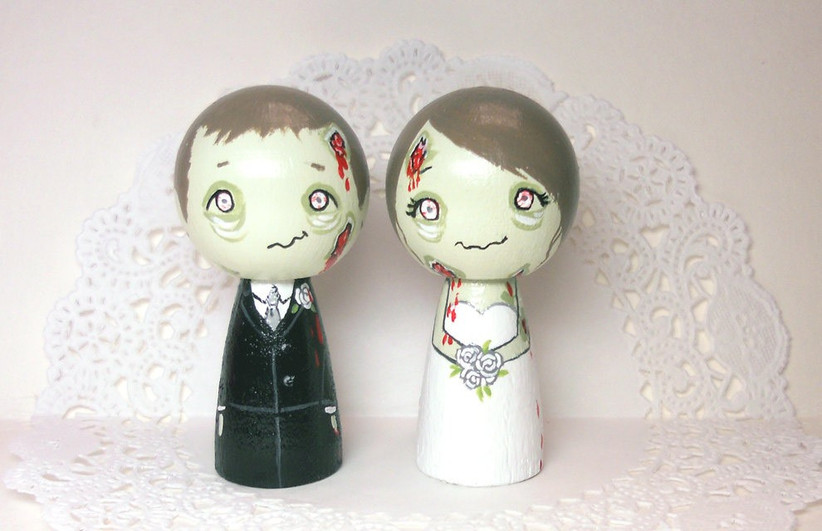 Write Some Realistic Wedding Vows
If you're writing your own wedding vows then perhaps it's time to add in a few truly realistic wedding vows – such as "I vow to be your zombie fighting partner when the apocalypse comes". Who says romance is dead!?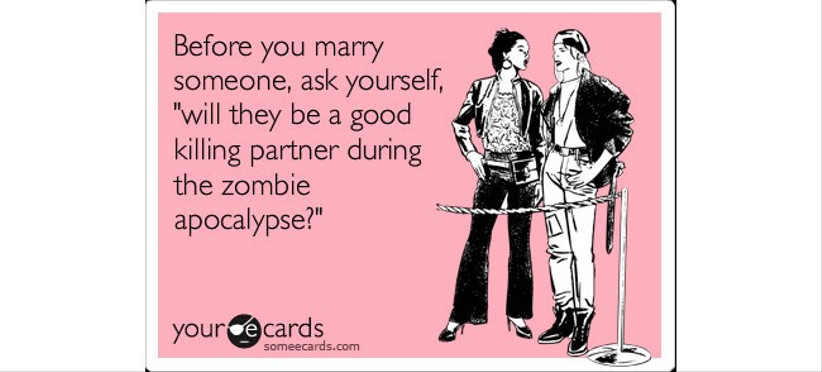 Be Inspired by this NFL Star's Zombie Wedding Video
We are both intrigued and terrified by this zombie wedding video. NFL star Deangelo Williams is a huge Walking Dead fan and wanted to add a touch of the undead to his wedding day. Cue the scariest wedding video of all time where the wedding couple are running from the wedding guests who have all turned into "walkers". Rick would be proud… 
Have a Walking Dead Photo Shoot 
We love how this wedding couple transformed one of their treasured wedding pictures into "The Wedding Dead" – if you have a particular theme or TV show you love then talk to your wedding photographer for ideas and see what magic they can work on your wedding pics.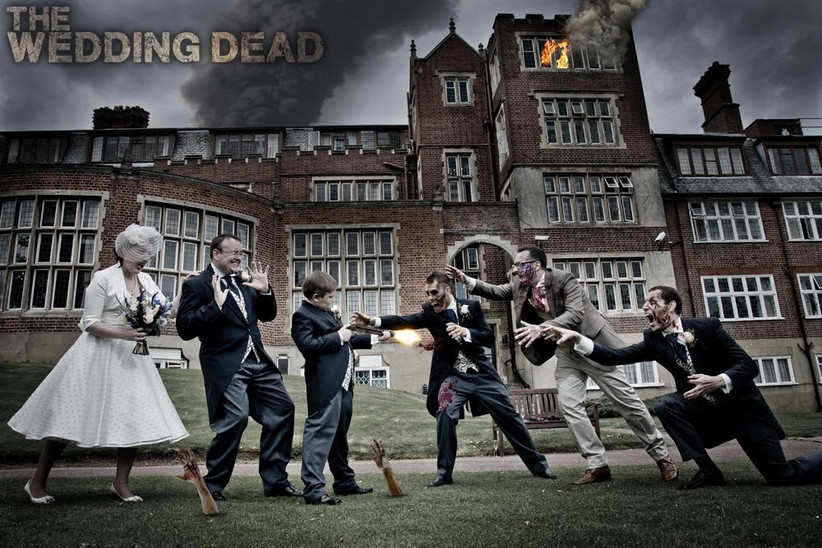 Image credit: Andrew Dobell Photography
Hold a Zombie Ceremony
This couple went all out for their zombie themed wedding – even mimicking the voices of zombies as they said their wedding vows. The couple's wedding coincided with the launch of zombie videogame Dead Island Riptide and stylish wedding venue One Mayfair in London and was transformed to look like 'a Caribbean paradise gone to hell'. 
Wear a Zombie Hair Accessory
If you love the idea of a retro wedding day then embrace some 1950's wedding style with retro wedding hair that is completed with an oversized bow made up from a Halloween Zombie Movie Poster. Priced at just £6 is also super wedding budget friendly!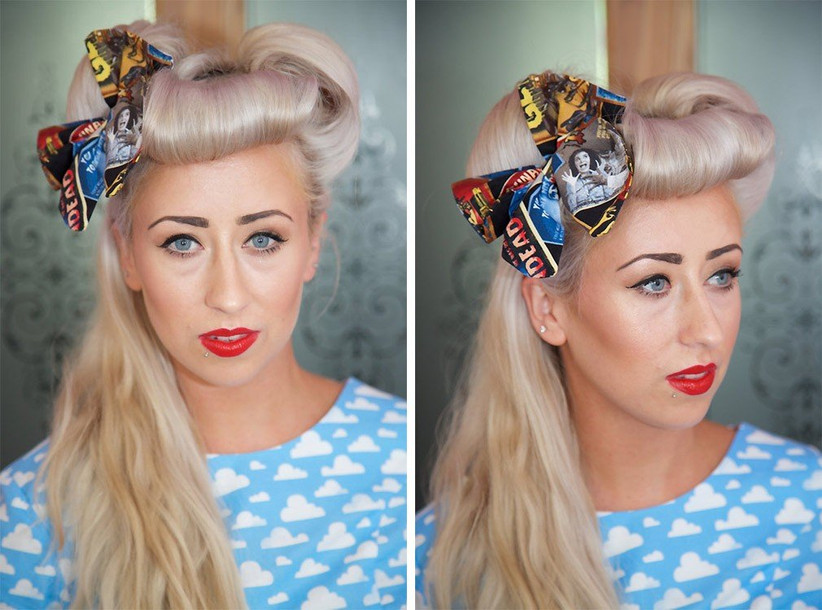 Serve Some Zombie Cocktails
Who doesn't love a cheeky cocktail? They'll be a hit with your wedding guests and can work out much cheaper per drink than serving champagne. Give your cocktails a Walking Dead twist by naming your chosen drinks after your favourite characters – Hershel's moonshine anyone?
…And Use Zombie Ice Cubes 
Complete your awesome wedding cocktails by asking your caterers to use this zombie hand mould for creating the ice, the creepy fingers will just be peeking out the top of each drink!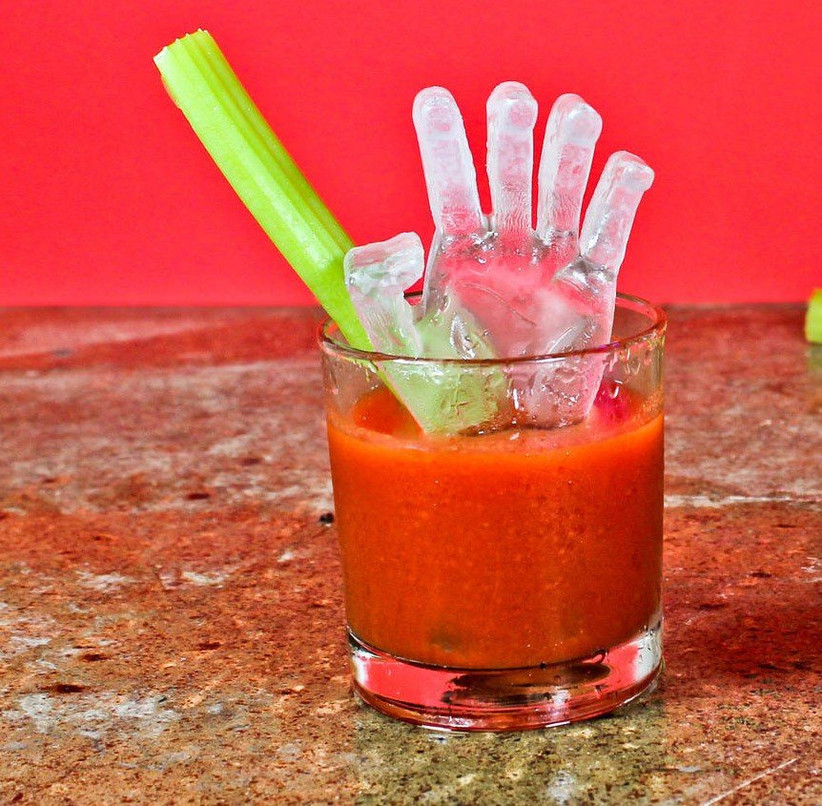 Decorate Your Venue with Walking Dead Posters  
Forget floral wedding décor and glitzy finishing touches, decorate your day with these replica Walking Dead posters. We love this map pointing your guests to Terminus.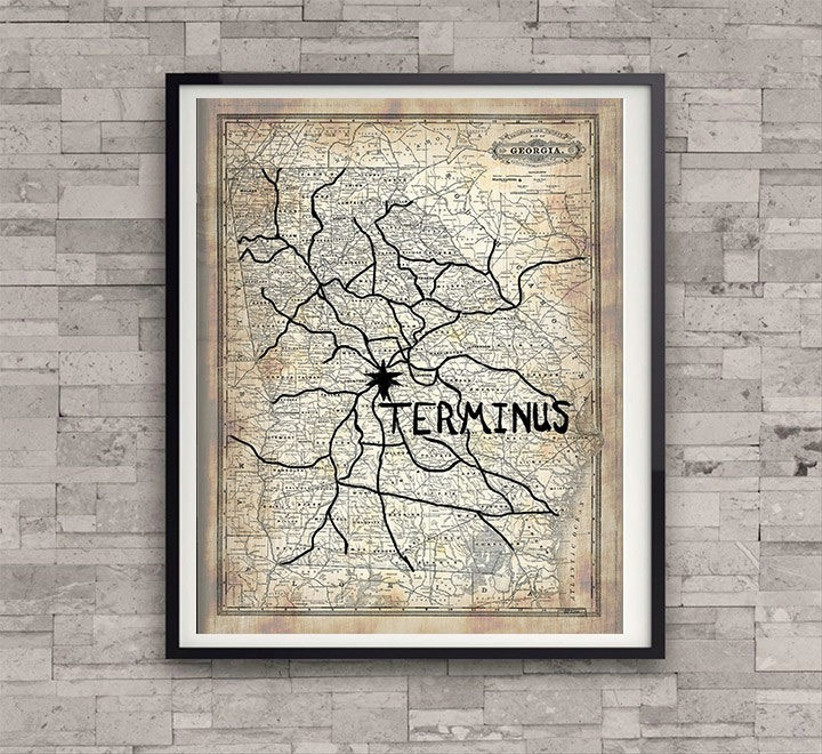 Give Your Groomsmen a Survival Hip Flask 
If you are looking for the perfect gifts for your groomsmen then this leather-bound survival hipflask is the ideal zombie inspired gift for the special guys in your life.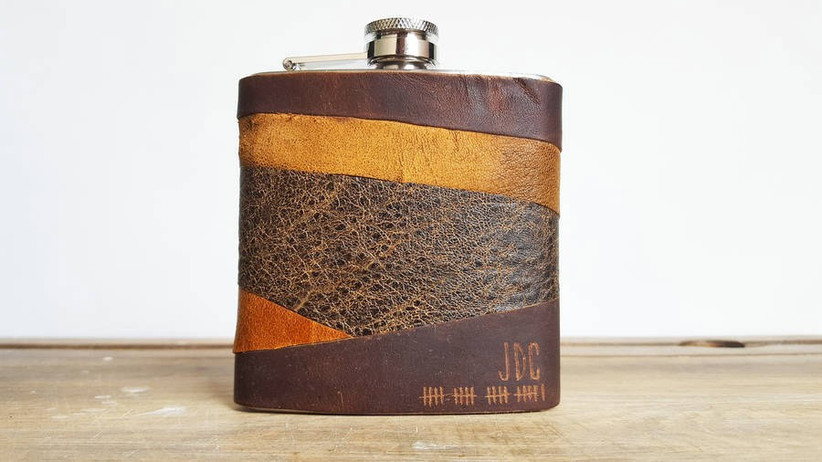 Wear Zombie Cufflinks
If you love the idea of a zombie wedding theme but you really don't want to go OTT then just a few subtle touches to your favourite theme will be more than enough. These silver zombie cufflinks are a great subtle style for the groom to wear.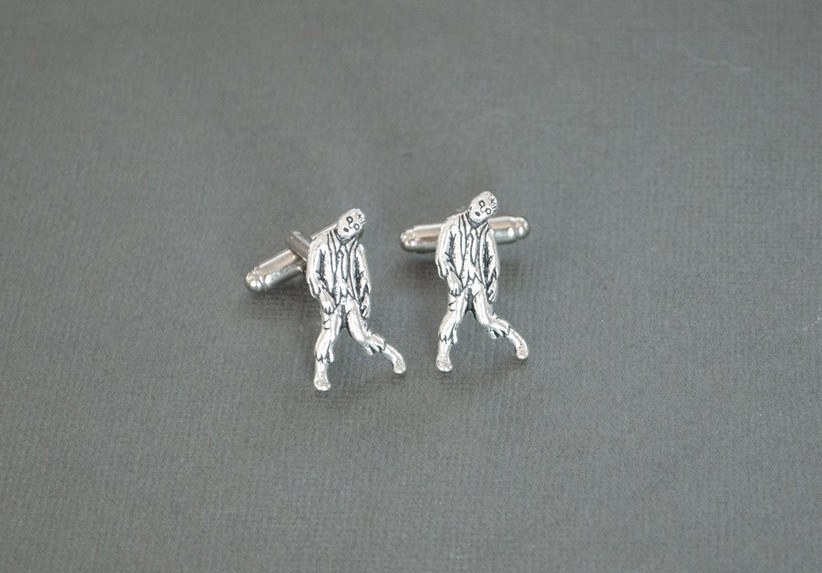 Create a Zombie Photo Booth
If you are looking to create an unusual wedding photo booth then why not by masks of all your favourite Walking Dead characters from Party Delights for your guests to take pictures with. Plus how awesome is your wedding if Darryl is in attendance!?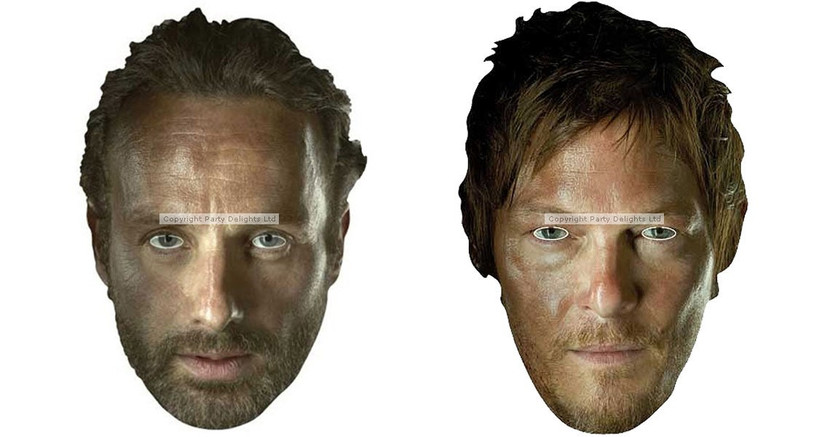 Swap Zombie Fighting Partner Bracelets 
These cute silver bracelets from Etsy would be fun gifts for your bridesmaids or they make a great hen party bag filler.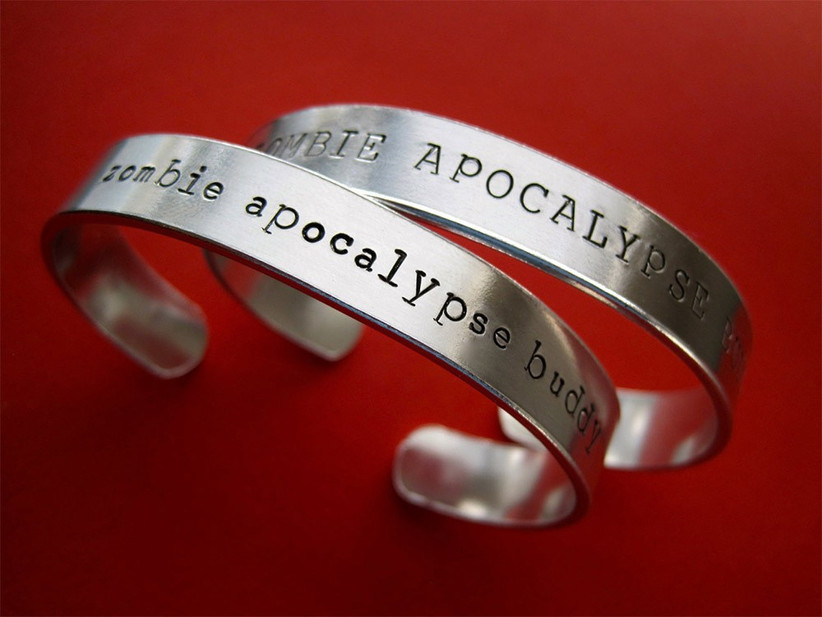 Wear a Blood Spattered Garter  
If you want to keep your zombie theme subtle on the day then why not wear a secret blood spattered garter, it will be a funny surprise for your other half at the end of the wedding!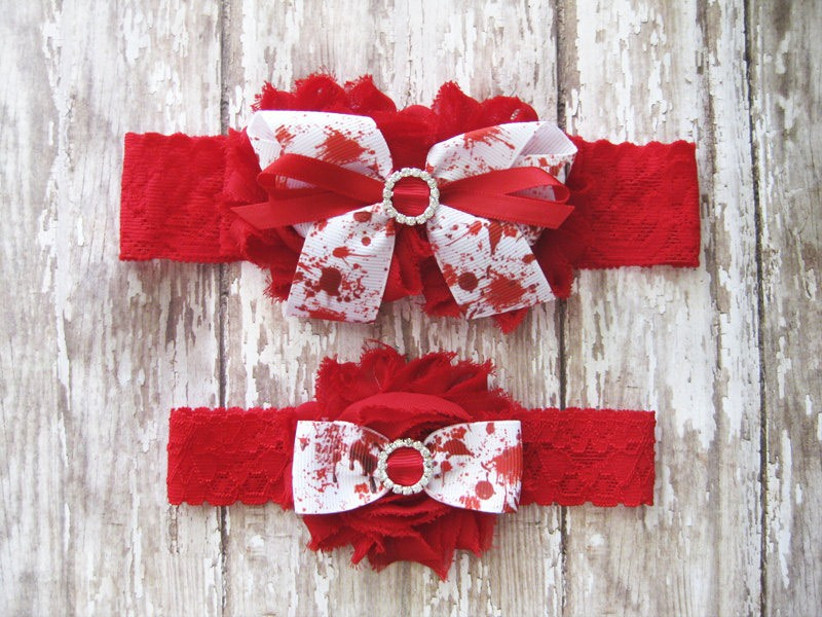 Have a Zombie Wedding Cake
How incredible is this Walking Dead themed wedding cake by Dragons & Daffodils Cakes? What we love even more is that it is a reversable cake, so you can have more traditional wedding photos with the red and white side of the cake, then suprise your guests with the big reveal!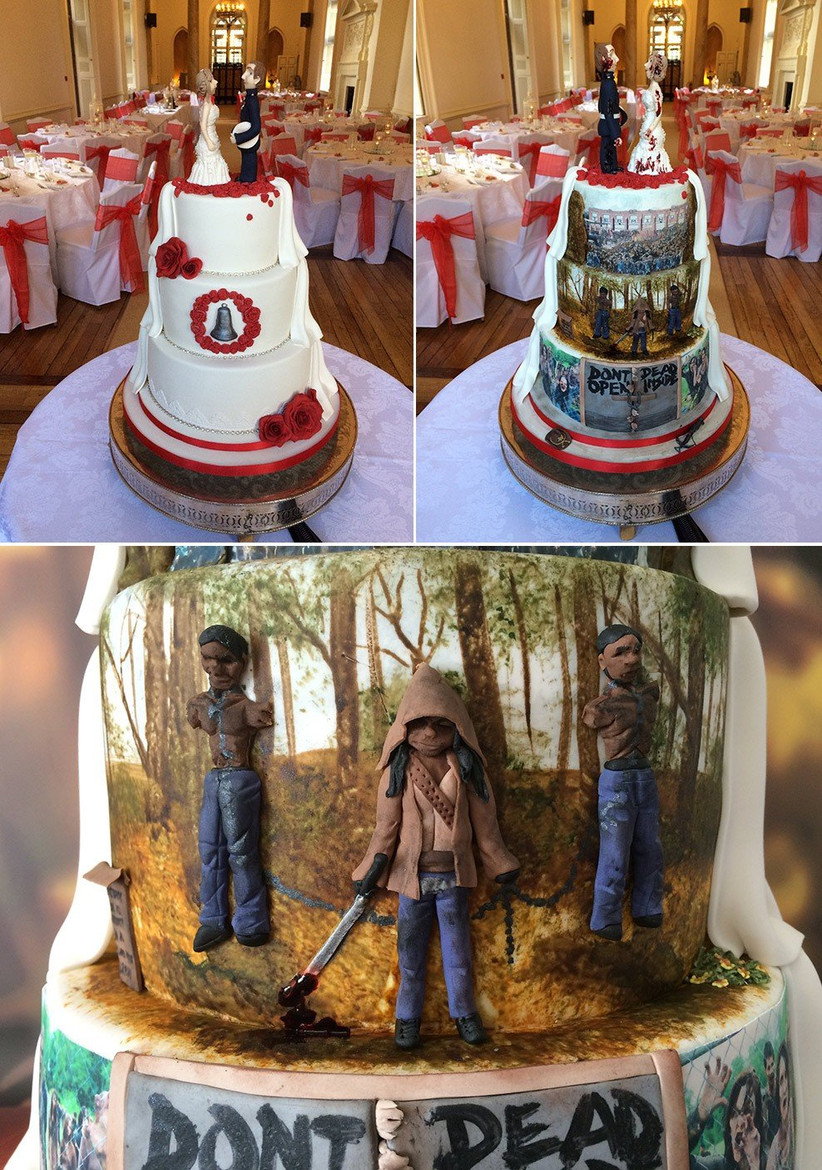 Zombies not quite your thing? Take a look at some of the weirdest and wackiest wedding themes ever!