13 Wedding Horror Stories That Will Chill You to the Bone
Sometimes scary things happen at weddings - they can be awkward, cringe-worthy or downright horrifying. We've got 13 to scare you with...
We have included third party products to help you navigate and enjoy life's biggest moments. Purchases made through links on this page may earn us a commission.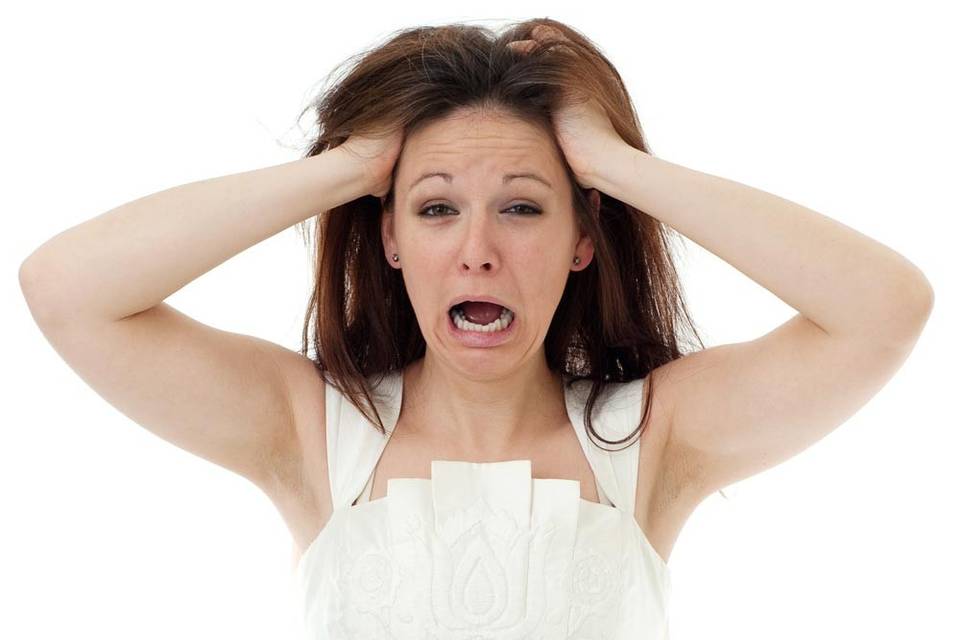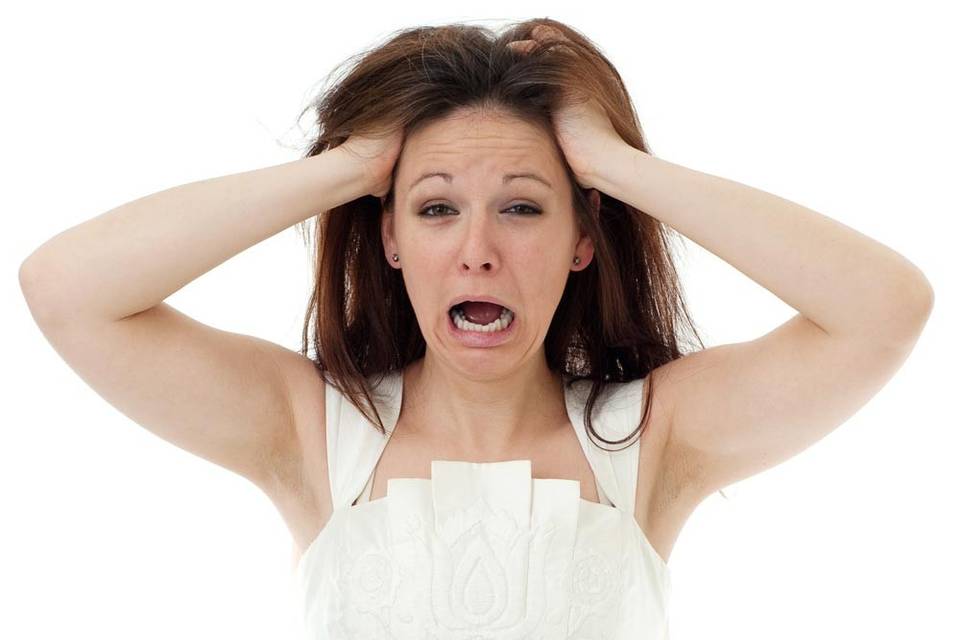 Disclaimer: whilst all these wedding horror stories are totally true, they're very unlikely to happen to you so don't be alarmed – you have enough unreasonable wedding worries to be getting on with.
We've rounded up the most chilling, outrageous and downright unbelievable wedding horror stories that will have you gasping in shock. Whilst names may have been changed to protect those who have been wronged, all the following stories really happened…be warned.
"A bride I knew ordered her bridesmaid dresses online and we were so excited to see them when they arrived. Until we opened them and they were the size of Barbie doll dresses…the price did seem too good to be true!" Carla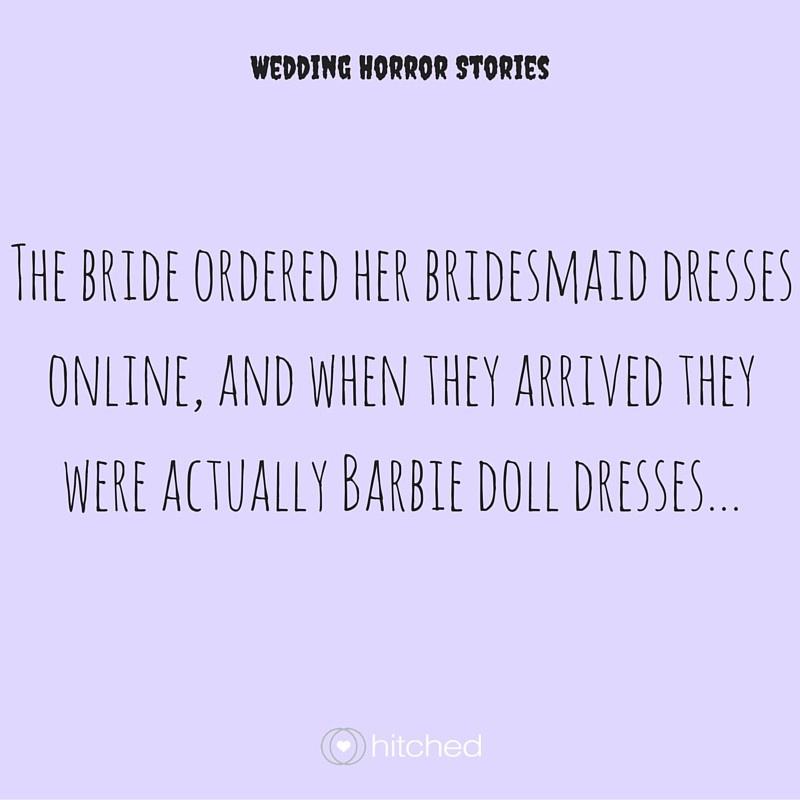 "I attended a wedding where the ceremony room was located right next to the kitchen – this was pretty bad planning as you could hear pots and pans crashing about as the caterers prepped the wedding breakfast, and the vows were drowned out by the kitchen radio. Also the whole room smelled like burnt toast." Sophie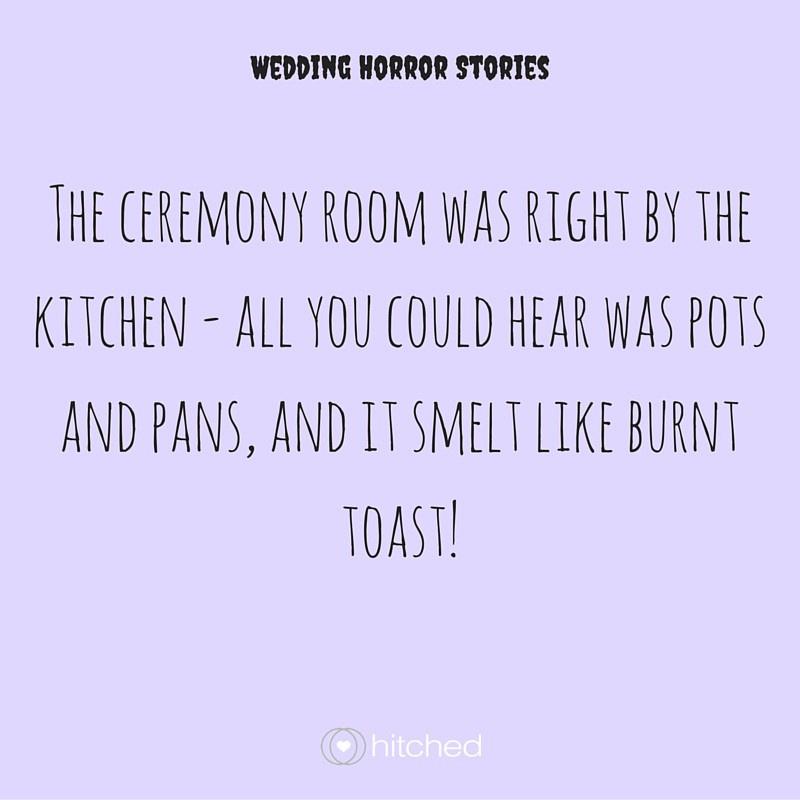 "I wasn't really a fan of the best man's girlfriend (who is now his wife, but at the time they weren't even engaged). This was cemented for me as I walked down the aisle to Pachelbel's 'Canon in D' and she was sat in the congregation trying to catch her boyfriend's eye whilst hissing 'This is my song!' Handily the videographer got it on all film too so I can relive it time and time again…" Jennifer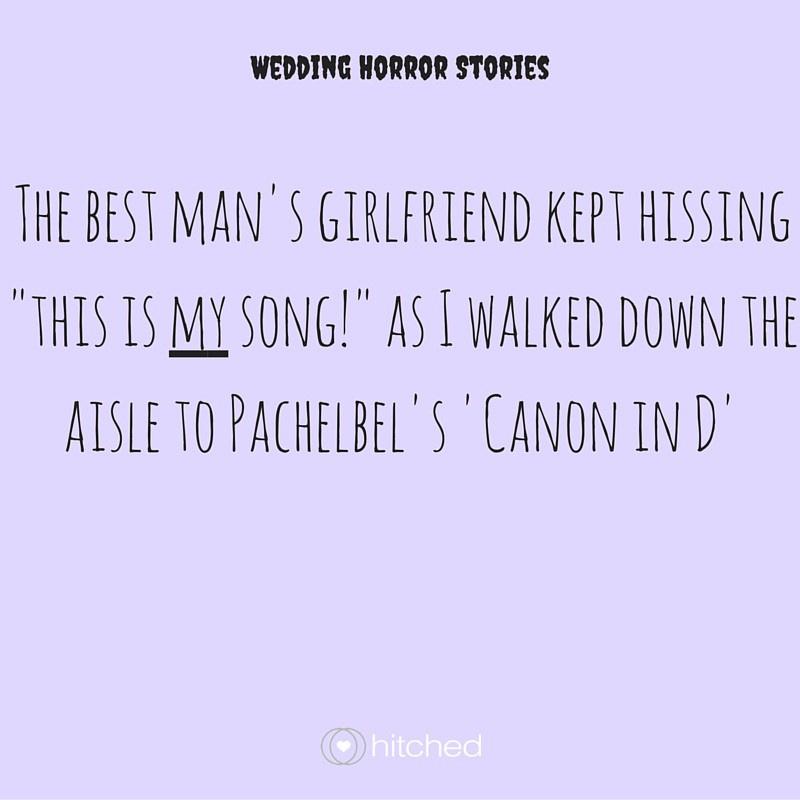 "I was invited to a distant family member's wedding and I wasn't really sure why I was there. Then I witnessed a drunk second cousin lean on the cake table with a little too much pressure. The cake table tipped over. It was awkward and horrible and I kind of wished I hadn't gone at all in the end." Leanne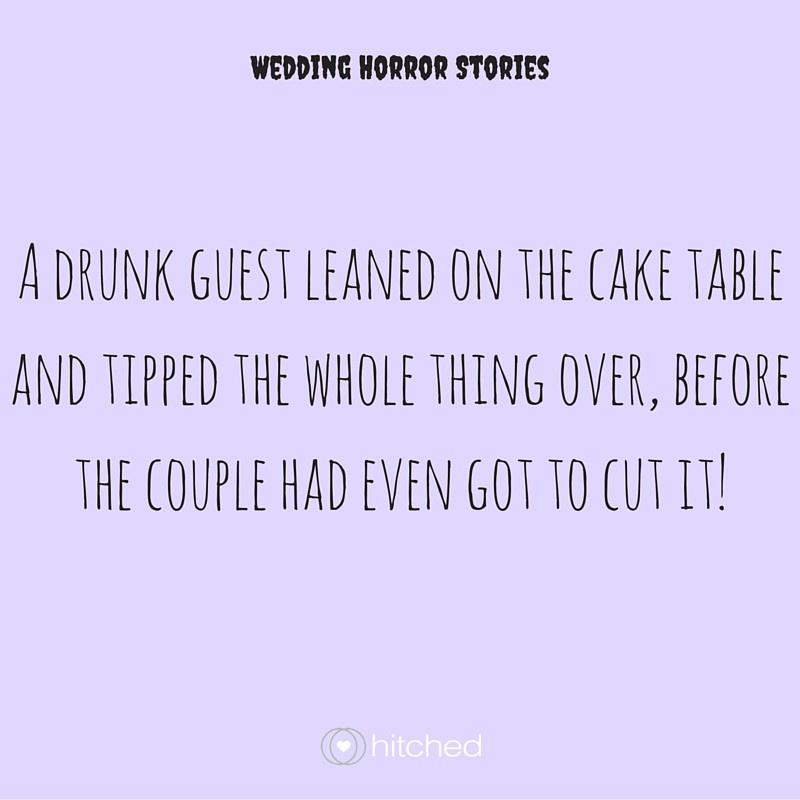 We all know the drunk wedding guest – check out the rest of the wedding guest types and figure out who's coming to your wedding.
"The couple asked a friend of theirs to sing during the wedding ceremony. She did, but was so emotional she kept crying and had to choke the song out. It was really off-key and I felt like it lasted forever…" Sam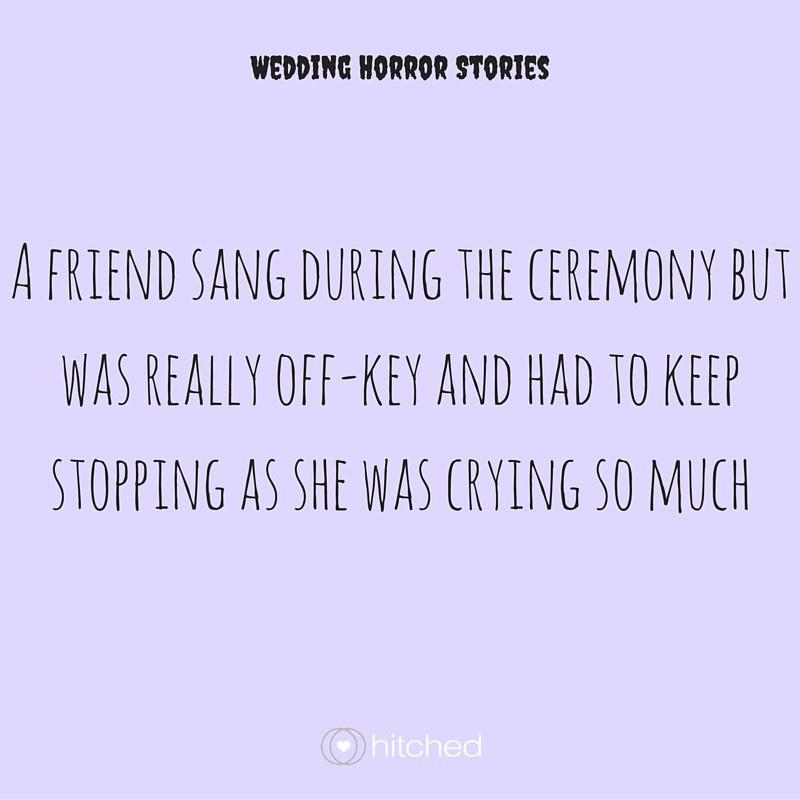 "Having a big white wedding has never been a big thing to me, so I was so relaxed during the planning. I just wanted everyone to be happy, so I let my three bridesmaids choose what they wanted to wear. My bestie, BM1, chose a gorgeous dress. I loved it, BM2 loved it and as far as we knew, BM3 was happy too.
"A few days later I received an email from BM3, which was meant to go to BM1 and BM2 – she'd hit 'reply all' by mistake – and it was an attack on me and the bridesmaid dresses. She criticised how I'd been planning my wedding and said the dresses would make the girls 'look disgusting'. She didn't realise BM1 and BM2 had picked the outfits. It was so awkward – and on the day she changed out of her dress right after the wedding breakfast!" Emma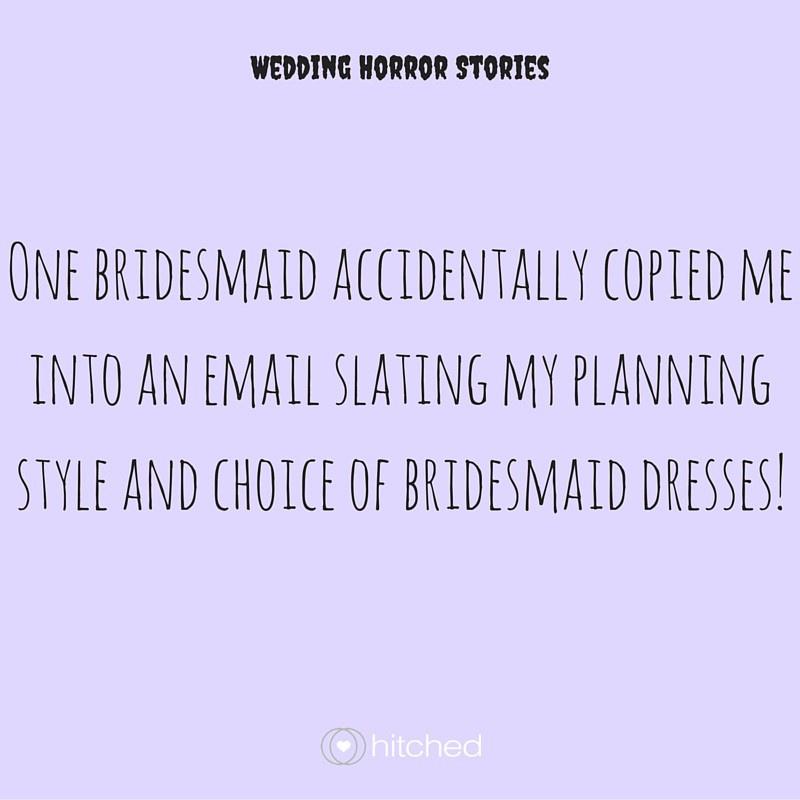 "I was at a wedding I didn't really want to attend, due to a messy family situation, but I agreed to go to support my friend's partner, as it was his daughter getting married. Before the evening reception had even properly begun, my friend's ex-wife barrelled over and ordered us to leave, in front of everyone. The crime? Having the audacity to tell her she looked nice, when we weren't supposed to talk to her…" Jessica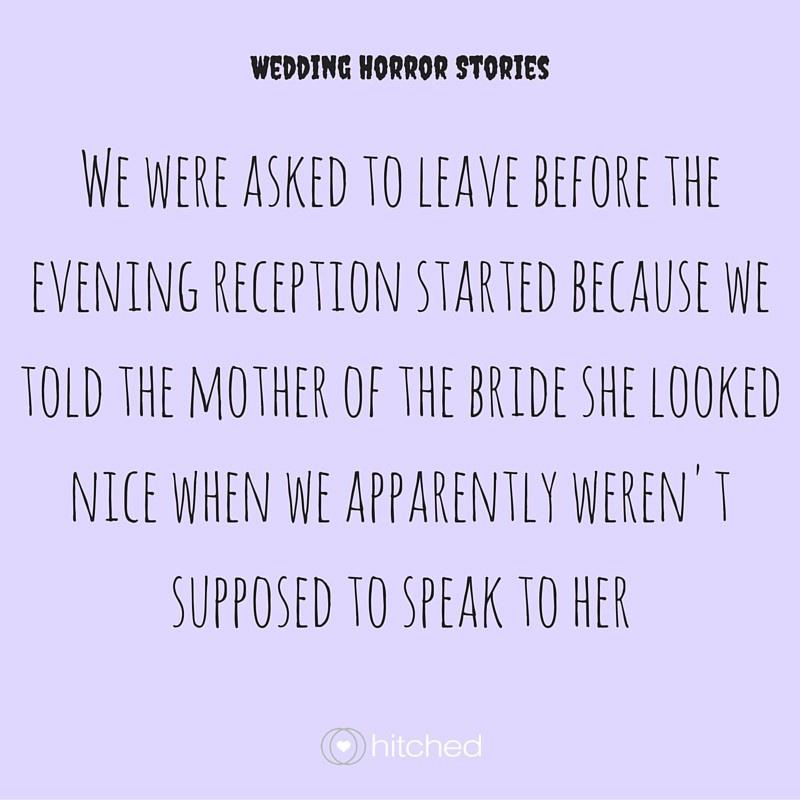 "The worst thing I've ever seen at a wedding is when a bridesmaid had a bit too much to drink during dinner, and grabbed the centrepiece vase and promptly threw up in it. I don't think that worked with the bride's décor plan…" Hannah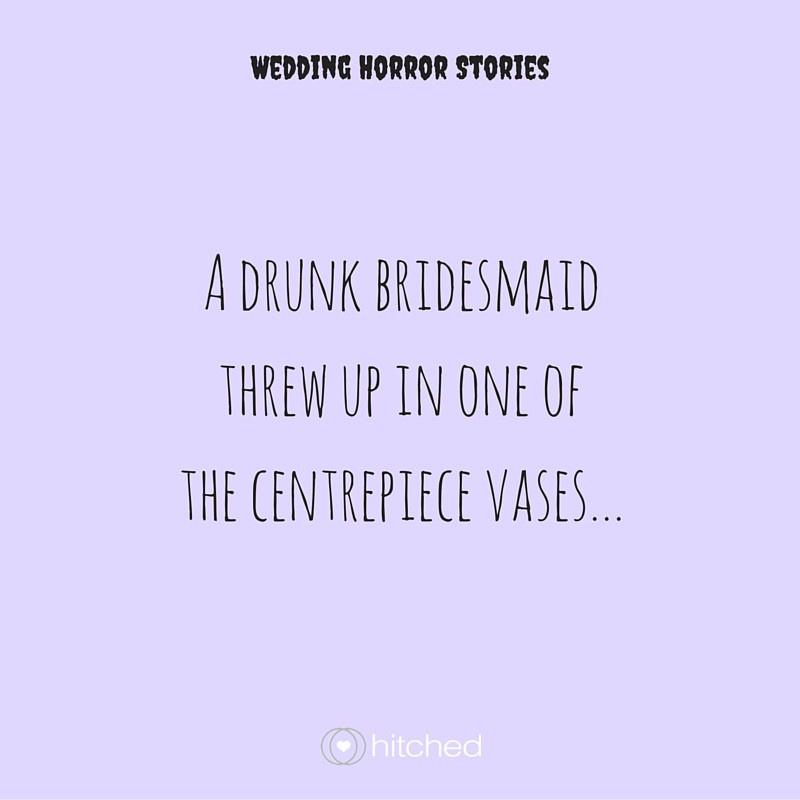 "My friend was a bridesmaid for someone who sent out a list of approved fake tans the bridesmaids could use, and a list of ones they weren't allowed to use." Emily
That is not what we'd class as a legitimate bridezilla moment…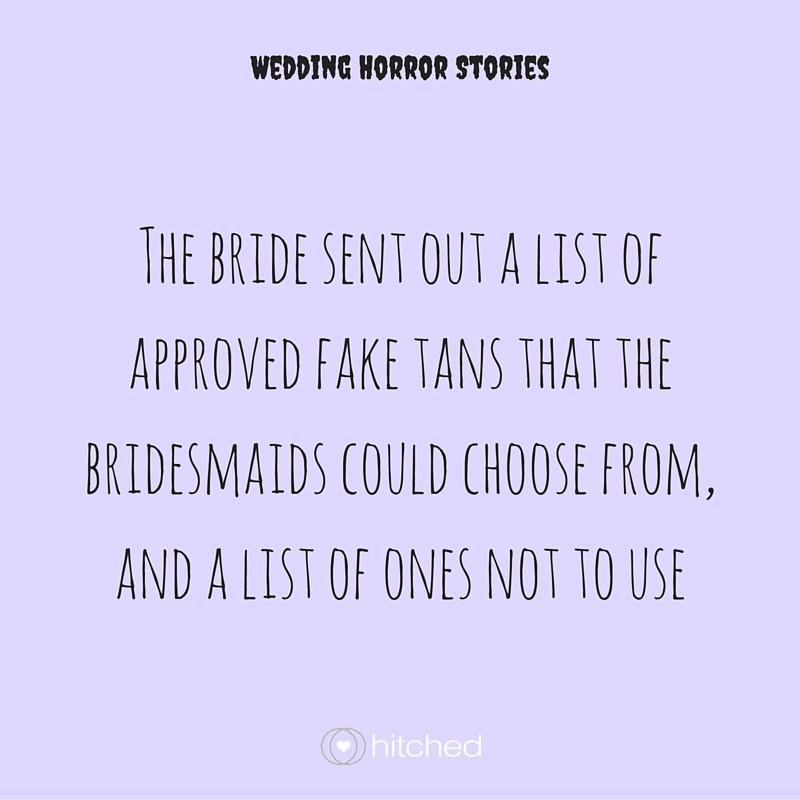 "At my oldest friend's wedding, the groom and best man had been out drinking the night before. And they drank a lot. The best man hadn't even written his speech and had no time to prep, so when it came to the speeches he got up and said: 'Hi everyone, I'm Luke, I'm the groom's best mate. I've known him for 30 odd years. Err, yeah, cheers!' And sat back down. It was cringe-worthy and the bride was furious that after years of friendship that was all he could muster up." Hayley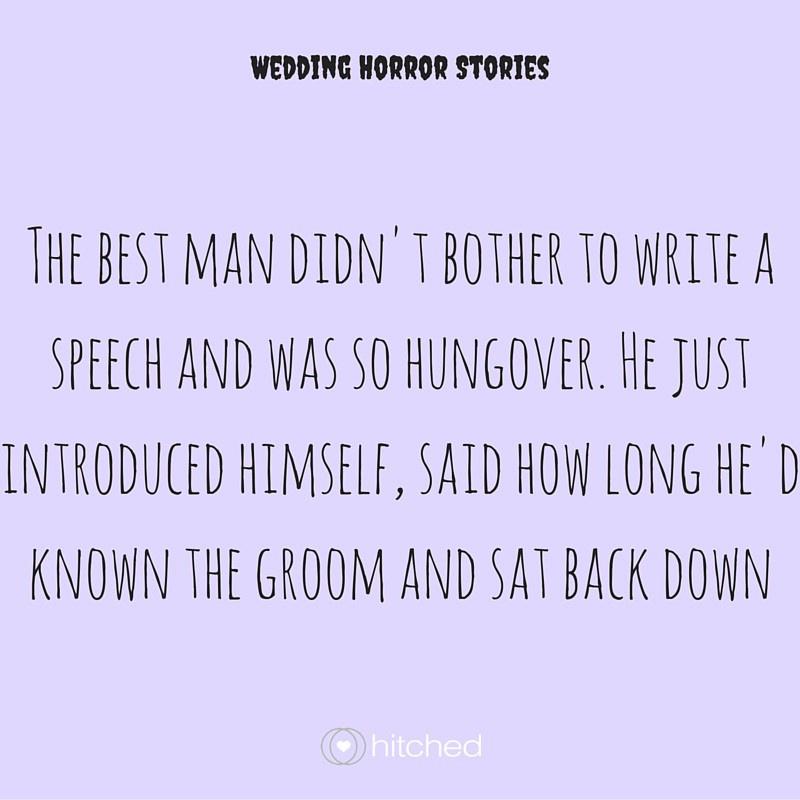 This next story, from Hitched team member Simon, may have you frantically searching for no-fly honeymoon ideas…
"We were getting married in Kos and the plane was struck by lightning on the way out. We were diverted to Rome so the plane could be checked over, and somewhere along the way we lost our passports. We didn't realise this until we got off the replacement plane in Kos…
"My now-wife went into a melt-down as we tried to reason with the people at immigration. It was two in the morning and we had her parents and our wedding planner on the phone. Finally, with scans of our passports and a lot of begging, we made it through.
"By this time our driver had given up and gone home, so we had to get a lift off our wedding planner's husband. The next day I spent about three hours on the phone to various people trying to smooth things over. Luckily we'd covered all the legalities regarded our marriage before we set off, so there was no problem with that going ahead.
"On the day of the wedding we got a speedboat to the ceremony. The driver of the speedboat turned out to be one of the immigration officers who had told us we couldn't come into the country – he worked on the side as a boat driver!" Simon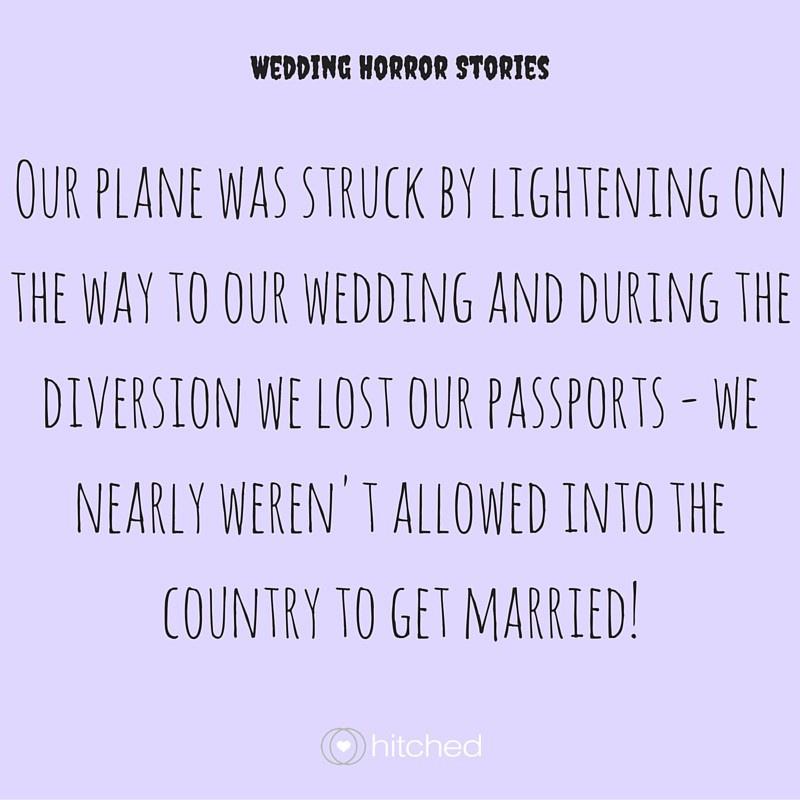 "I attended a wedding where the bride's dress was so big with so many layers to her skirt that her father had to walk in front of her instead of beside her as they both couldn't fit down the aisle together. There were candles along the aisle in lanterns and her skirts knocked them all over one by one and no one knew what to do about it." Alison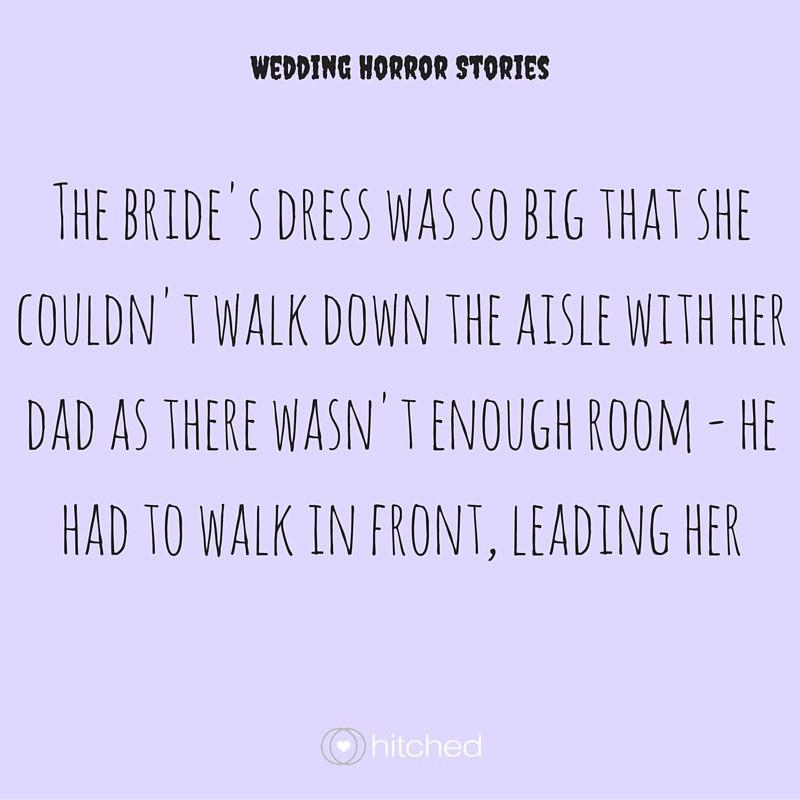 "The décor was really simple at this one wedding I attended – just tiny fishbowls filled with gel beads and a candle in each one as the centrepieces. One by one the gel beads caught fire on every table and started smoking, and the staff had to come in and take all the blackened centrepieces away." Kat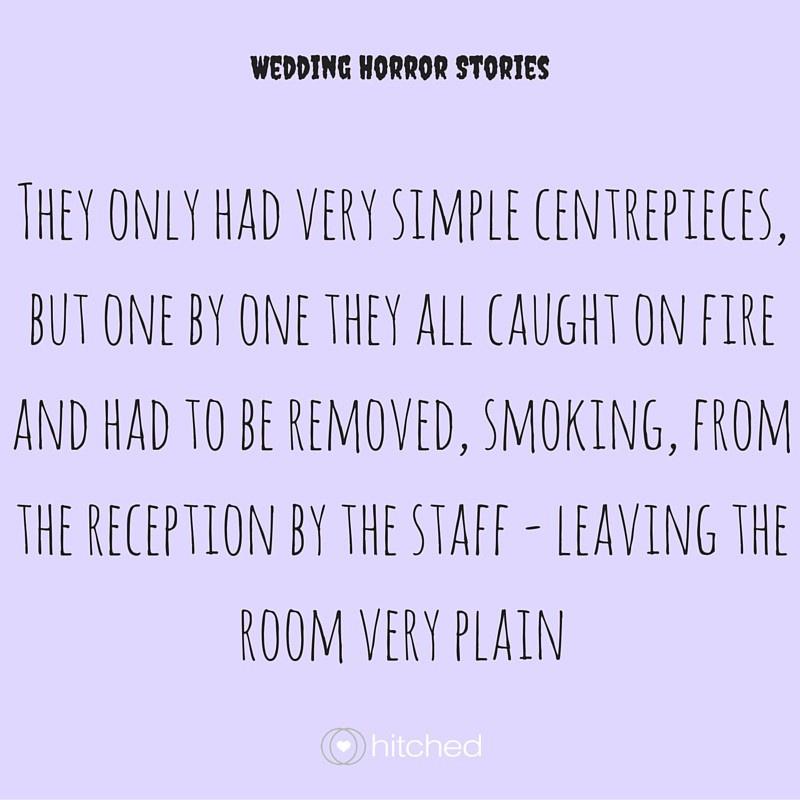 Feeling a bit stressed out now? Sorry…maybe check out the nine things you should never do at a wedding and share it with your guests to avert any potential disasters on your own big day!