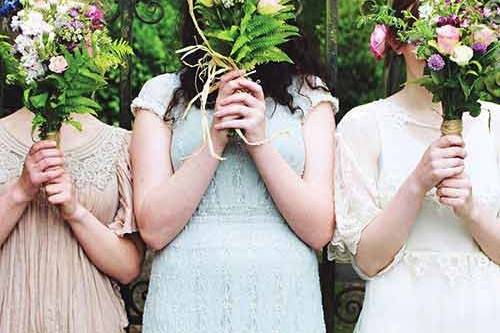 There's plenty of talk about how stressful it is being a bride, and the crazy, emotional stages of planning a wedding – but what about bridesmaid stress? 
The bridesmaid roles are so important when it comes to planning a wedding, and they get pretty emotional too.
From getting over the shock and excitement of your best mate getting engaged, to dealing with all the, shall we say, awkward deliberations over the right bridesmaid dress, here are a few of the emotional stages you can expect to encounter!
OMG! My BFF is Engaged
FINALLY! She got the ring and you literally couldn't be happier for your bestie.
READ MORE: Signs You're About to Get Engaged
It's Time to Buy a Million Magazines & Drink a Lot of Prosecco
Celebrations are definitely in order. Buy every copy of You & Your Wedding and Perfect Wedding magazine you can possibly find (oh and a few bottles of bubbly… )!
Hang On, One Sec, Hold Up… Am I a Bridesmaid?
Hold on, what if you're not one of the chosen ones… What if that promise you made to each other in primary school that you'd always be each other's bridesmaids was all a lie?
READ MORE: Adorable Ways to Propose to Your Bridesmaids
Yessss, I AM a Bridesmaid!
Panic over, you're officially a part of the bridesmaid squad. Phew, and breathe.
Oh No. What if I Don't Like the Other Bridesmaids?
You know you're a great human and easy to get along with, but what if the other bridesmaids are totally weird and nothing like you? What if they're all secret supermodels that will overshadow you, eh hem, the bride on the big day? 
Ok, Ok, I Like the Other Bridesmaids
What were you so worried about? They're great and way more normal than you were expecting. Maybe you'll make some new pals out of all this wedding business?!
ALERT: Inbox Full
Erm, where did all of these emails and spreadsheets come from? Oh wait, that'll be the bride, again.
Bridesmaid Dress Shopping Day Arrives…
The day has come, the one you've watched in the movies a thousand times where all the BM's love their dresses and drink champagne and bond and stuff. What could possibly go wrong?!
READ MORE: The Emotional Stages of Bridesmaid Dress Shopping
I'm Going to Hate my Bridesmaid Dress. I Know it. 
Panic kicks in as soon as you walk into the first shop. Everything looks poofy and frilly, and you're just not sure about all this… Plus what if all the other bridesmaids look amazing in a dress that makes you look like a toilet roll topper? What if they make you choose a horror?! Argh! 
SEE MORE: Bridesmaid Dress Inspiration
Also, When Did the Bride Become SO Annoying?
That girl who was once your super-chilled, super-fun best friend has now become a miniature dictator. Is this what planning a wedding does to normal human beings?
And Then There's the Hen Do… 
This is a great distraction from the bride's demands – no less annoying, but definitely a distraction.
READ MORE: The Emotional Stages of Planning a Hen Do
Wait, Where's All My Money Going?
Oh right, on being a bridesmaid. Since when did this role entail spending your life savings on bridesmaid drinks, bridesmaid dinner, bridesmaid date night and don't even start on how much the hen party is costing!
READ MORE: How to Save money as a Wedding Guest
Hen Do: Let's Do This
Because what's not to love about escorting a group of slightly intoxicated women, including the bride's mum and mother-in-law, around a major city wearing shashes and singing at the top of their lungs?  
I'm So Bored of DIY
Why can't the bride just BUY this stuff. Why do we have to have craft nights and make 150 envelope liners and pompoms? Somewhere must sell this stuff!
So THIS is What a Bridezilla is Like
Oh god, it's getting worse and worse by the day and you're one email away from resigning as bridesmaid.
READ MORE: 15 Bridezilla Moments That Are Totally Legit
The Wedding Day is Here
This is what makes all those late night phone calls and support worthwhile. Your best friend is getting married and standing by her side at the altar feels fabulous! (Plus, you ended up with a really rather fantastic dress after all!)
Let's Do This All Over Again Please
Anyone else need a bridesmaid? Anyone? I have a dress and some finely tuned DIY skills ready to go…
Now you've been pre-warned about all the emotional stages of being a bridesmaid, here's a step-by-step guide to planning the hen do – this should ease the pain a little!