The Ultimate Guide to Booking a Surprise Singing Waiter Act
Find out everything you need to know here about the wedding industry's biggest entertainment trend
We have included third party products to help you navigate and enjoy life's biggest moments. Purchases made through links on this page may earn us a commission.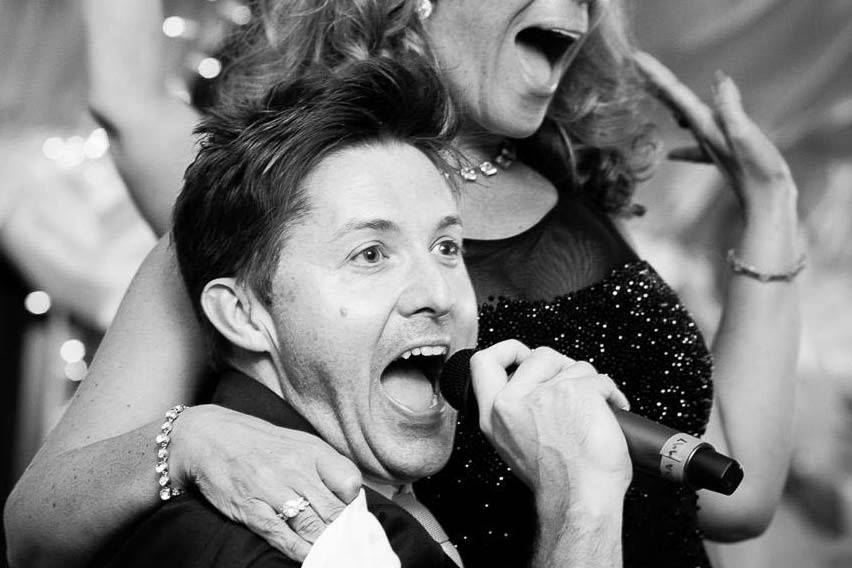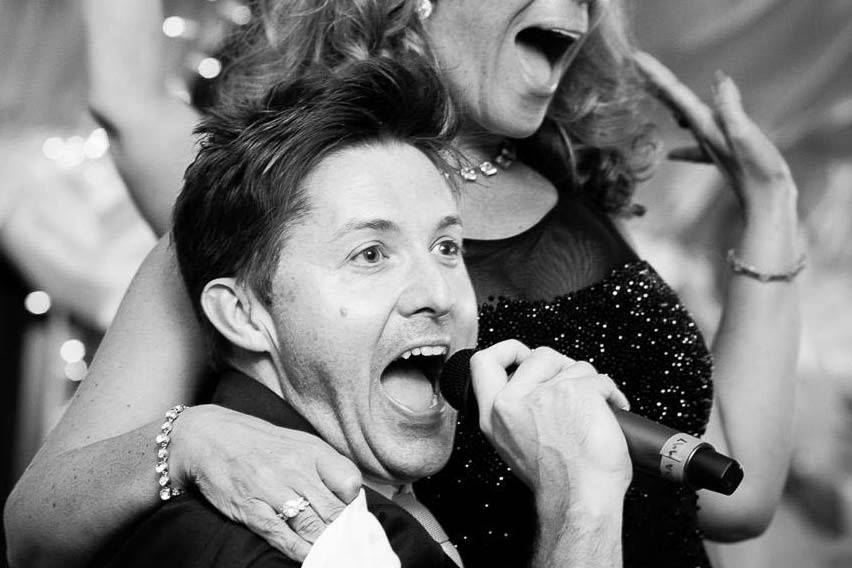 Entertaining your wedding guests is something that is really important at weddings, and couples are constantly striving to find something that is new, different and totally unique for their wedding.
Hiring a singing waiter is an emerging trend that is taking the wedding industry by a storm – the novelty of having a hidden performer amongst the catering staff or even the guests who then bursts out into song is rather popular with UK couples.
We got talking to Gavin from The Singing Waiter Masters who let us in on everything you need to know when hiring a singing waiter…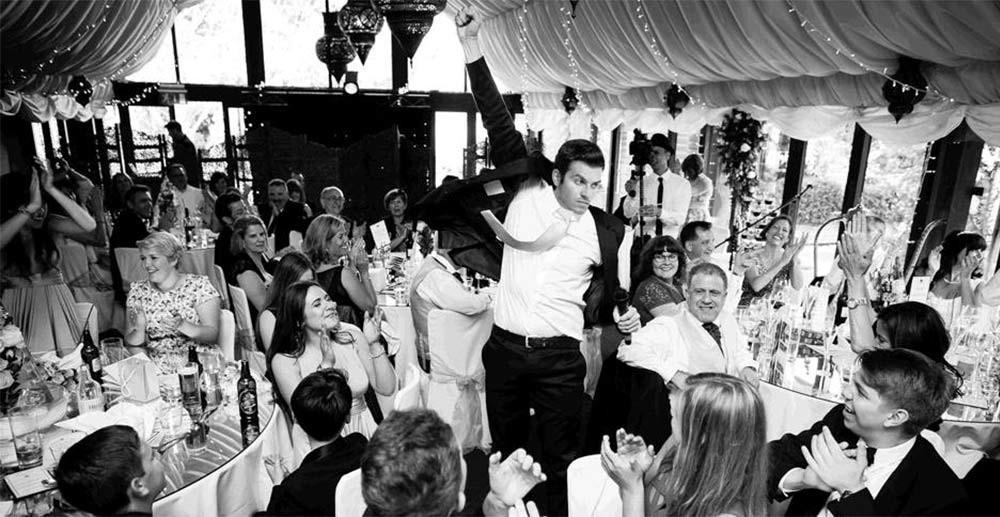 Why should couples hire a singing waiter act?
Singing waiters are a brilliant surprise for your bride or groom to be as well as for your guests. No one would ever expect the venue staff, who has been serving your wedding party all day, to burst into a professional live performance!
Our trained actors are or have been West End or opera leading roles so their voices are incredible and it truly is a once in a lifetime opportunity to have stars of the stage perform privately to you and your wedding party.
READ MORE: 21 Romantic Ways to Surprise Your Partner on Your Wedding Day
How does the singing waiter act usually work?
We perform during your wedding breakfast where there tends to be a lull; guests are full and beginning to tire from the busy day and are waiting for the evening entertainment to get revved up again. This is where we come in…
An actor will create a 'scenario' that allows them to burst into song and wow everyone in the room. This leads to an incredible show which takes you and your guests on a journey starting with stunning vocals and leading to a party where everyone is up, dancing and having a fabulous time.
This is an atmosphere like no other as more and more actors continue to surprise everyone with their sophisticated, interactive and entertaining show – but remember to keep it a secret!
Can you hire more than one singing waiter?
Of course! We have found that two or three performers works best as the actors can bounce off of one another as well as the audience.
This also allows you to have a range of vocalists in one show; a rock/pop singer, a principal opera singer and a leading West End vocalist. This gives greater depth to the performance and caters for all guests' tastes in music, however you can choose to have as many as you like.
READ MORE: 10 Top Tips for Hiring Wedding Entertainment
Can you choose your performers in advance?
Providing that we have enough notice, yes! We have singers from shows such as 'We Will Rock You', 'Les Miserables', 'Phantom of the Opera' and singers who have worked for The Royal Opera House and national opera companies and that's to name a few.
If there is a particular performer you would like from seeing our video footage, we will try our best to ensure they are free on your date and we will let you know this for definite very early on in the planning process.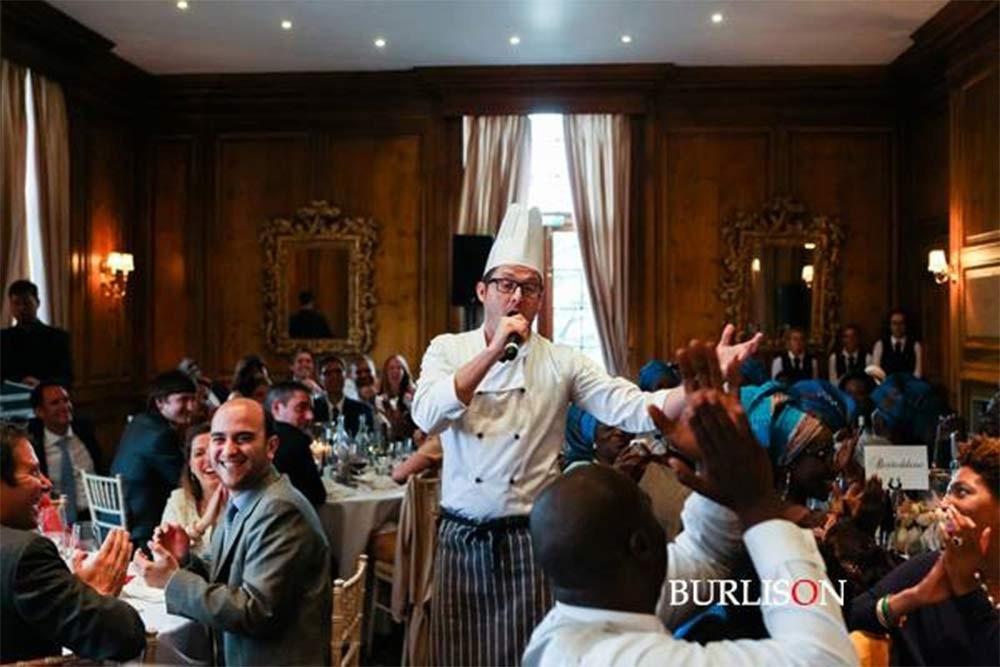 How much does hiring a singing waiter cost?
To have a high quality singing waiter act where the performers are trained actors, not just singers, the average price starts at around £950. For our company, this price includes an established West End or opera lead actor and a sound technician who provides all of the equipment and ensures the best sound quality. We create a West End style show at your wedding.
READ MORE: How to Choose Between a Wedding DJ or Band
What different services do The Singing Waiter Masters offer?
You can choose to have one, two, three or more performers depending upon the size of the wedding and your budget. As we understand weddings are expensive, we offer a range of packages which can help to make it cheaper rather than booking individual acts separately.
Some examples of these packages include a DJ for your evening entertainment, a 'Night at the Musicals' evening show, string quartets, pianists and other musicians for your ceremony, drinks reception or wedding breakfast. Please chat to us if there is anything you would like in particular and we can arrange this for you.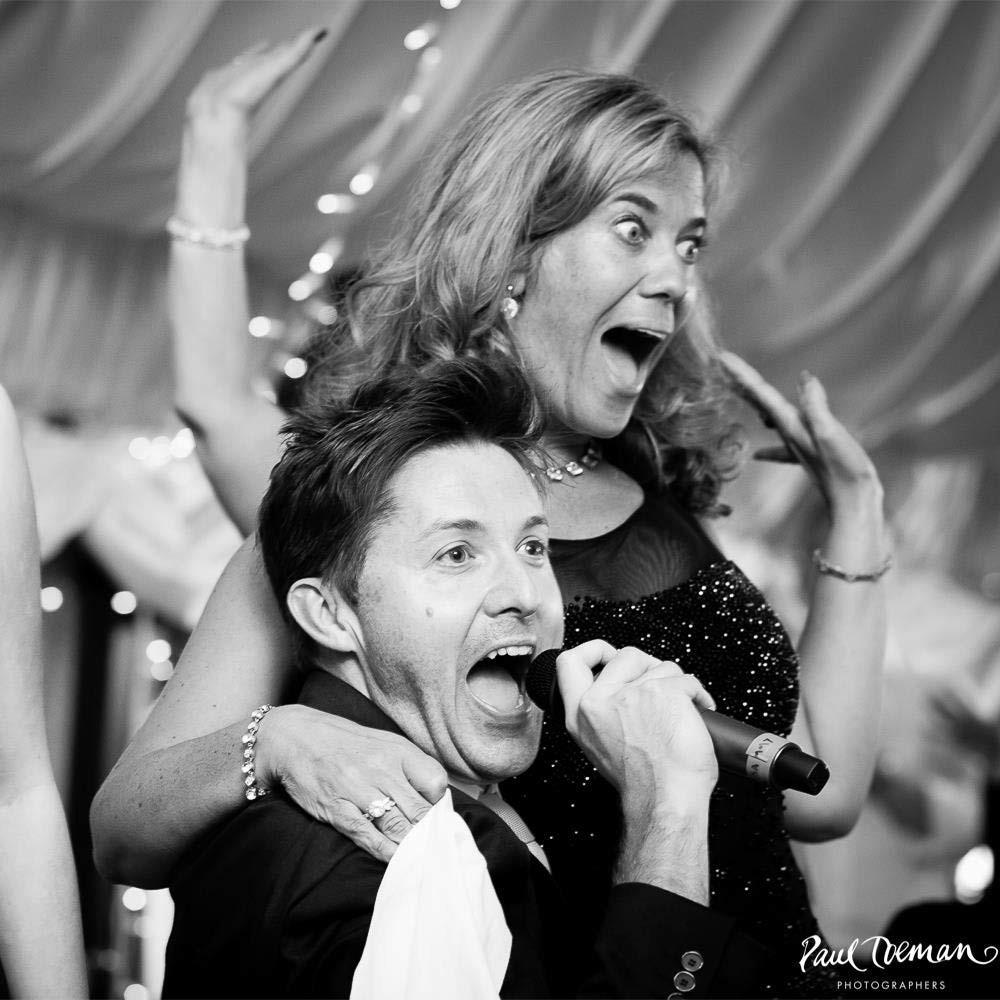 How can people make the performance specific to their wedding?
We cater every wedding to the couple's personal taste or request although we offer our experience in making sure the performance blows everyone away.
Couples often ask for a 'special song' for us to perform, and the parents of the bride and groom might request particular songs.
You can even choose the characters which the actors will play, whether it be an Italian singing chef, planted guest or waiter AND you can choose the scenario which triggers the performance – there's so much choice! However, if you prefer to leave us to decide how the show will pan out, that's absolutely fine.
READ MORE: The Most Amazing Wedding Ceremony Songs
What kinds of music can you perform?
We like to mix it up! Our performers are extremely versatile and we ensure our show goes through the gears, starting with the wow factor, turning into a party and then building to a crescendo of incredible vocals.
We perform classics such as 'That's Amore', musical numbers such as 'Phantom of the Opera', popular songs such as ABBA hits and operatic arias like Nessun Dorma.
We've been requested to sing Elvis songs, traditional musical hits as well as modern musical numbers from shows such as the romantic movie 'Moulin Rouge' and even recent chart hits such as Taylor Swift songs.
How long does the performance last?
The show starts the minute we arrive! The artists will be acting as waiters, venue staff, event managers, chefs and guests from whenever is appropriate during your wedding day (for example, a 'guest' would be there from the ceremony whereas a waiter would be at the drinks reception).
These characters act throughout the day and are entirely believable – no one will know what's about to happen! After getting to know your wedding party and mingling in with staff, friends and family, they choose the right moment to surprise your guests and burst into a West End show.
The show lasts for around 30 minutes with a vast range of songs and musical genres.
Do the couple need to do anything once they've booked with you?
Nope – we want you to sit back and relax! Once we have all the details of your wedding, we liaise with the venue, your wedding planner, catering companies, staff etc. ensuring that all the relevant people know about the surprise.
We organise timings, equipment and costumes so you have nothing to worry about.
Do you do a rehearsal at the wedding venue?
Our performers have private rehearsals that can be adapted to any venue. We undertake a sound check and do a walk around to see the lay out of the room way before any guests arrive so we can get use to the space and ensure the best sound quality for the venue we're in.
Search for your wedding venue here.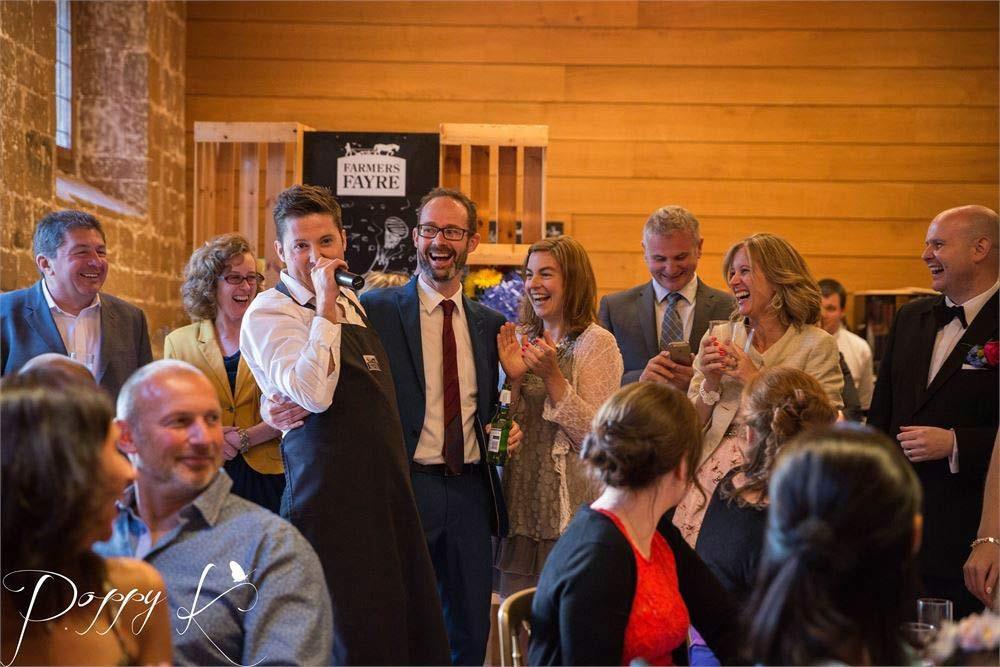 Are there any health and safety risks with your act?
No, but in case of any mishaps, we have full public liability insurance.
Can you be hired for other occasions?
Of course, we perform at corporate events, birthday parties, anniversaries, engagement parties, awards ceremonies, retirement parties, bar and bat mitzvahs, christenings, proms, family gatherings, garden parties, celebrations of any kind – you name it and we've done it!
Do you meet with couples beforehand?
We often meet up with couples for a friendly chat and a cup of tea to discuss what their preferences are, what scenario they'd like and to talk about the plans throughout the day. However, we understand wedding planning is a busy time so if couples prefer to liaise by phone or email, that's absolutely fine too.
At The Singing Waiter Masters, we pride ourselves on being a friendly, approachable team who will go the extra mile for their clients to ensure their wedding day is extra special. It's a once in a lifetime occasion after all, so you deserve a once in a lifetime performance!
What should a couple consider when booking a singing waiter act?
Always make sure the singing waiter company provides a sound technician with the show. This ensures the best sound quality and a flow to the act. They can also work around any potential issues such as sound limiters (which many venues have).
Make sure that the performers are not only fantastic vocalists but also excellent actors with a wealth of experience. Even if they are used to being on the stage, it doesn't mean they'll interact with people and this is what is so important! It has to be believable to guests so it leads up to the best surprise in store for them. It's an undercover operation after all.

Our performers will interact and create small talk making the guests believe they are the characters they are portraying, from quirky waiters to playing a +1 guest. Our performers will build up a believable story line throughout the day leading up to the show and then all of a sudden, your humble, shy waiters or planted guest who has been sitting at a table turn into an opera and rock stars right under everyone's noses.

Ask how the guests will be surprised. Make sure the scenario is to your taste and not too cheesy as this is the starting point of the performance.
For more information and tips on wedding entertainment, check out our article on how to have live wedding entertainment for less!