Following in the footsteps of other high street names like Primark and ASOS, H&M have launched a gorgeous new wedding range.
Stocked full of classic and modern-looking wedding dresses, bridesmaid dresses and wedding guest dresses, this range is everything you've been waiting for as wedding season approaches.
With prices starting at just £2.99, the H&M wedding range is great for brides on a budget who still want to look stylish and on-trend. From lace gowns to floral suits and stunning accessories, there's so much to love here!
Here are our favourite picks from H&M's new collection.
H&M Wedding Dresses
Long Lace Dress With Sleeves – £149.99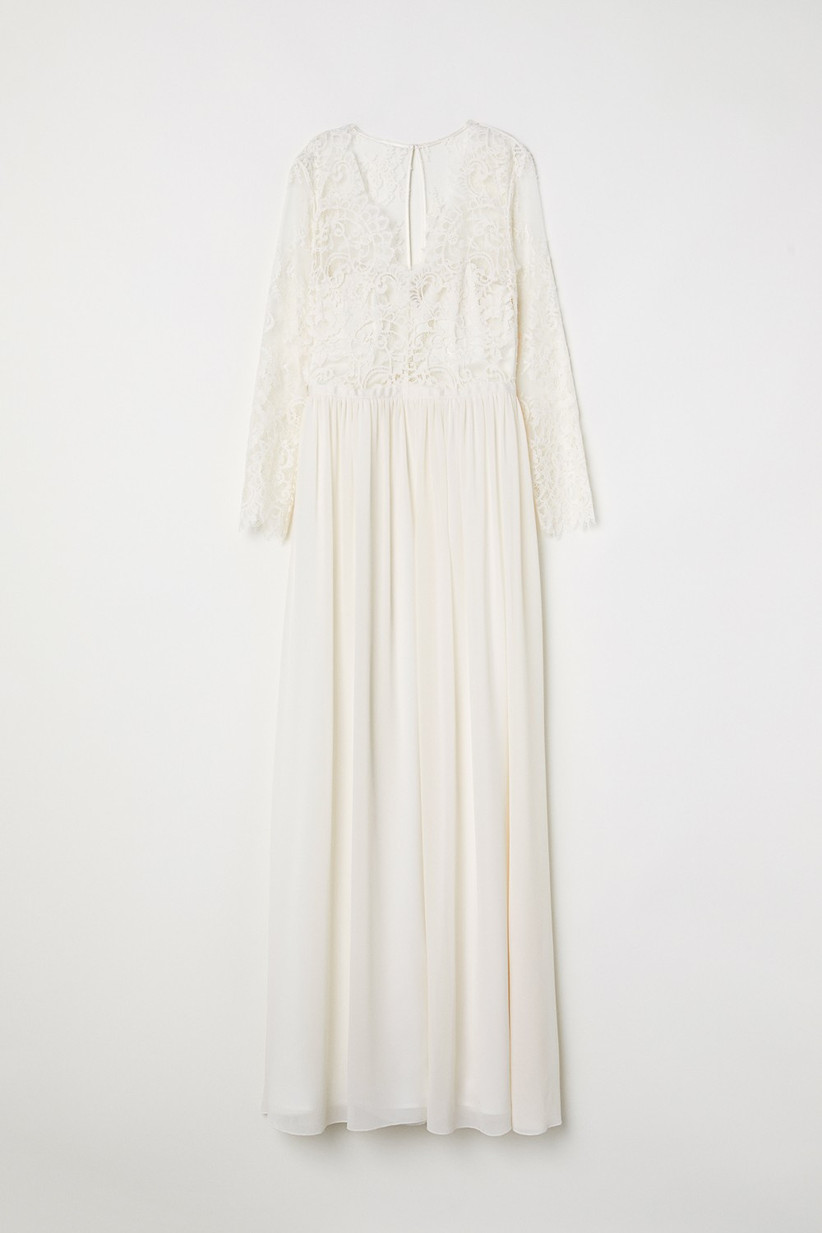 This romantic, flowing cream maxi dress is great for a boho summer wedding.
Wrap Dress With Embroidery – £79.99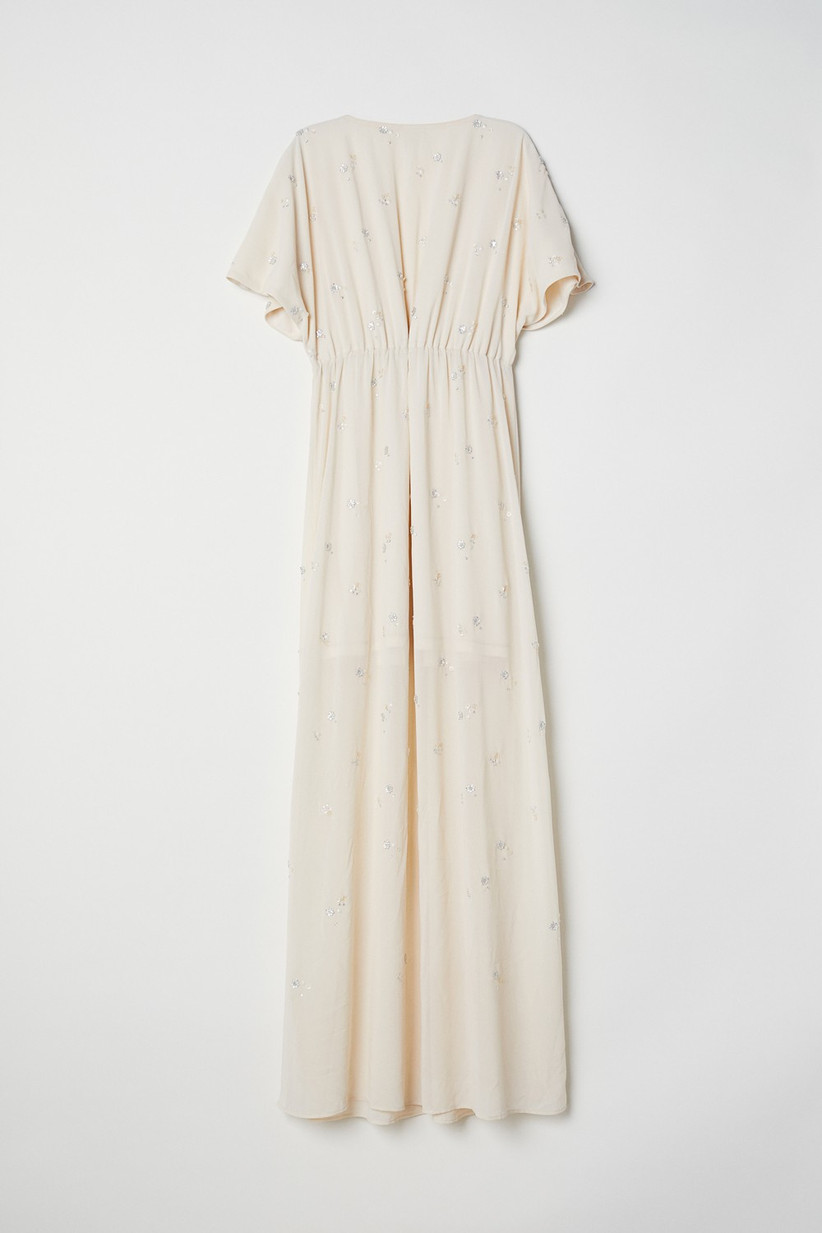 We love the sequin and beading embellishment on this light chiffon maxi. Plus, sleeves!
Long Lace Dress – £139.99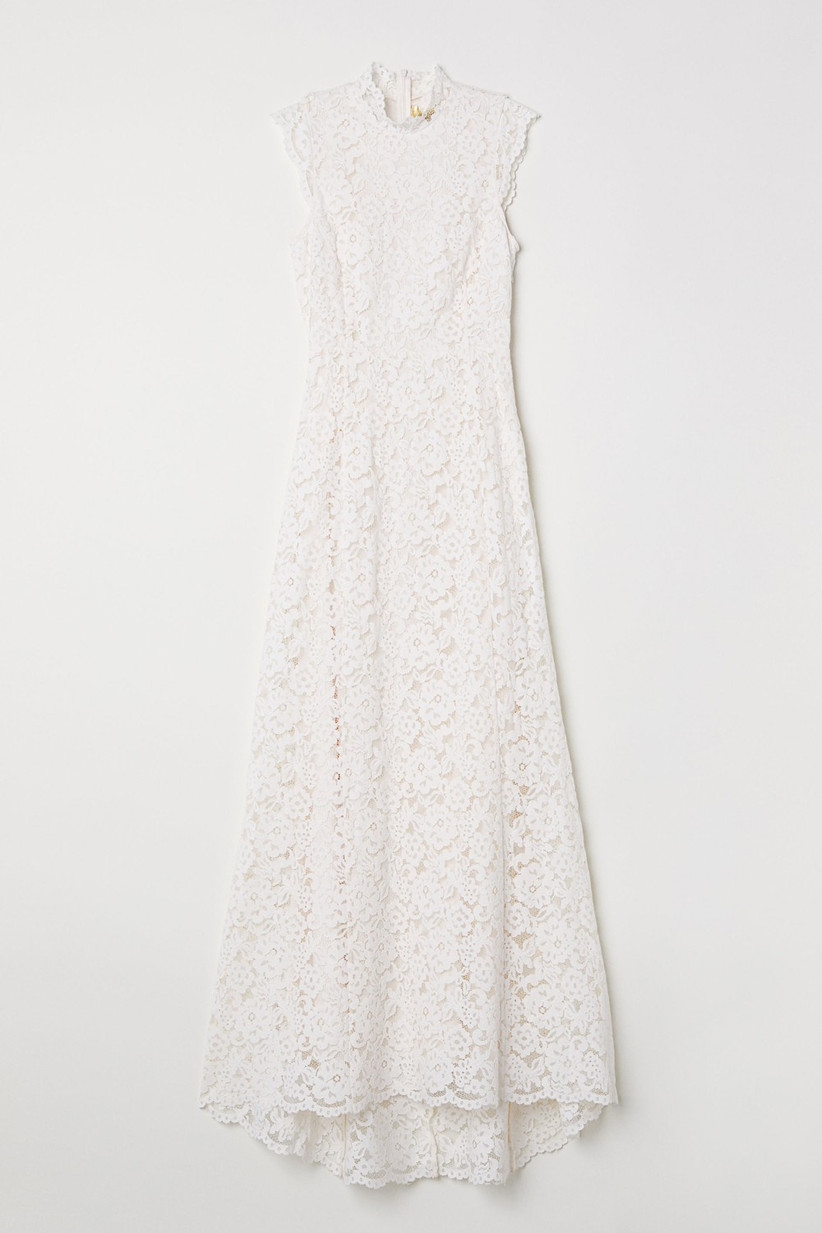 The Victoriana-style high neck on this dress is totally on-trend and the back has a daring cut-out which we know you'll love.
READ MORE: Amazing Wedding Dresses For Under £100
Frill-Trimmed Mesh Dress – £119.99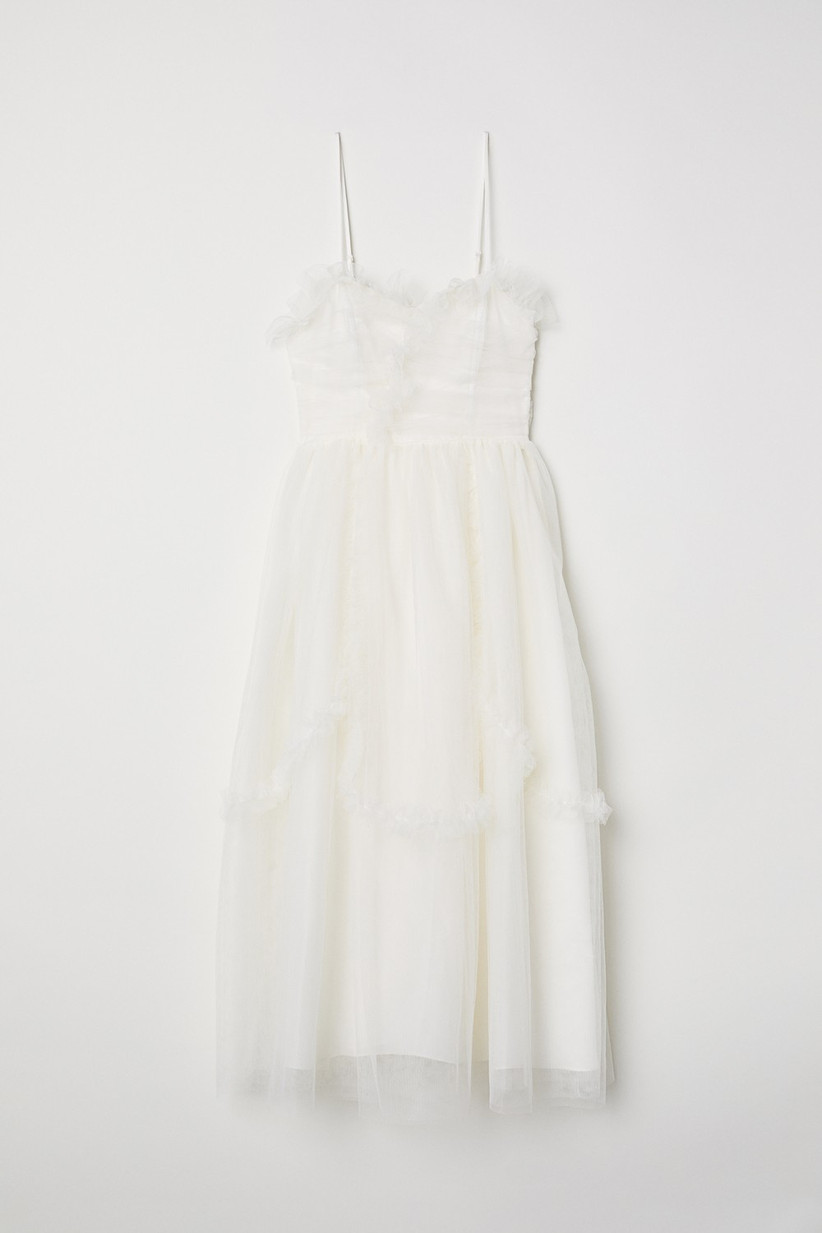 Three layers of airy tulle with decorative frills make this a gorgeous choice for brides who love a bit of romance and whimsy. It's calf-length too, if a floor-length dress isn't your look.
Long Lace Dress – £79.99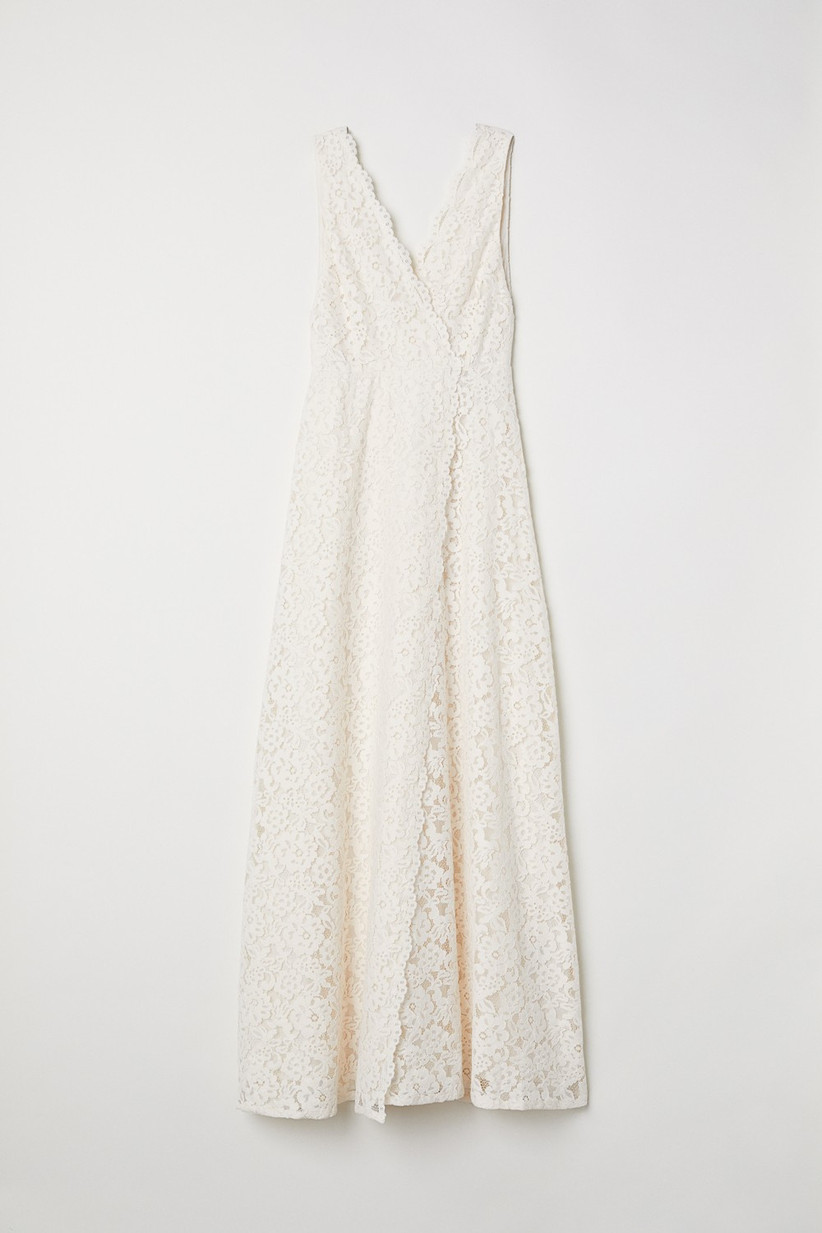 Lace, floor-length, slight plunge? We love this cream maxi dress. The waist has a wrap dress-style look that's super flattering on all body shapes.
Short Lace Dress – £39.99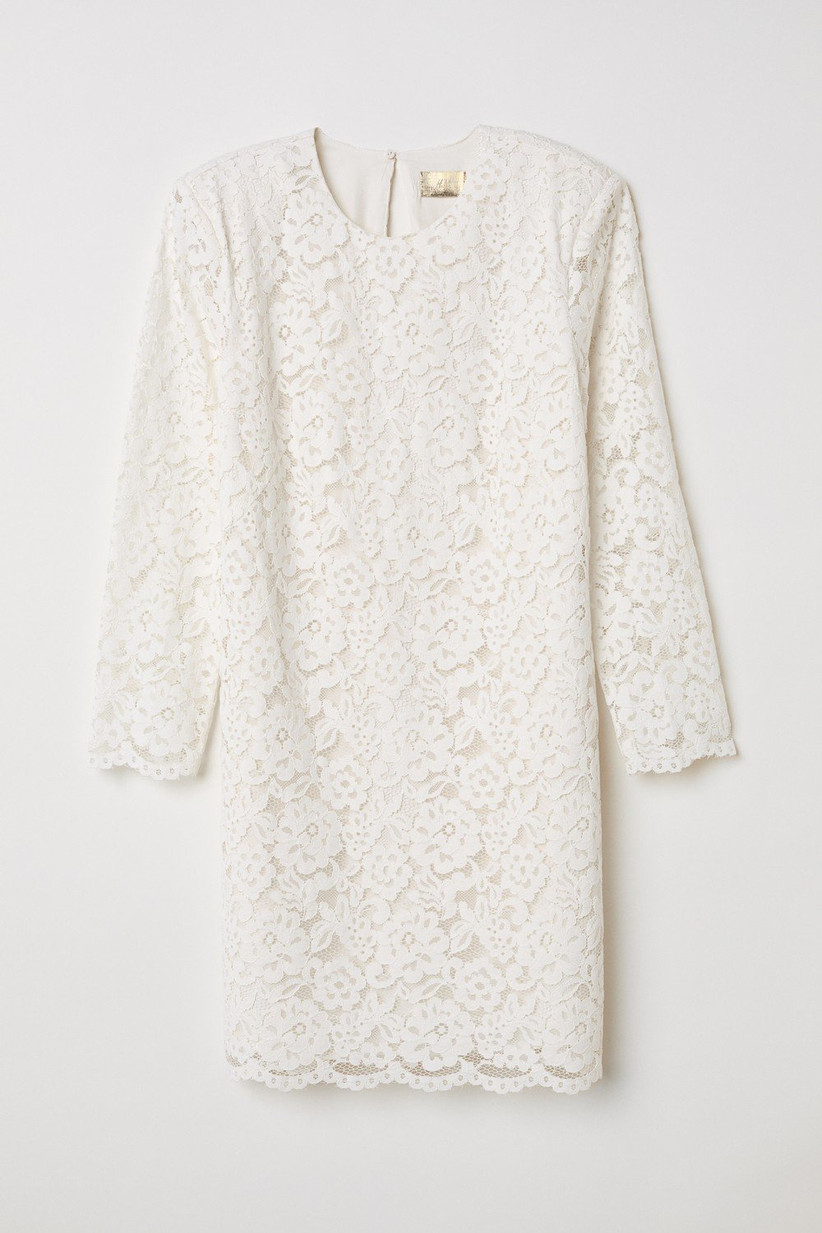 This white short dress is great for a bride who wants to ditch the traditional floor-length look or for a petite bride who doesn't suit a maxi style. The lace 3/4 length sleeves look fantastic too.
H&M Bridesmaid Dresses
Pink Long Dress With Lace Back – £59.99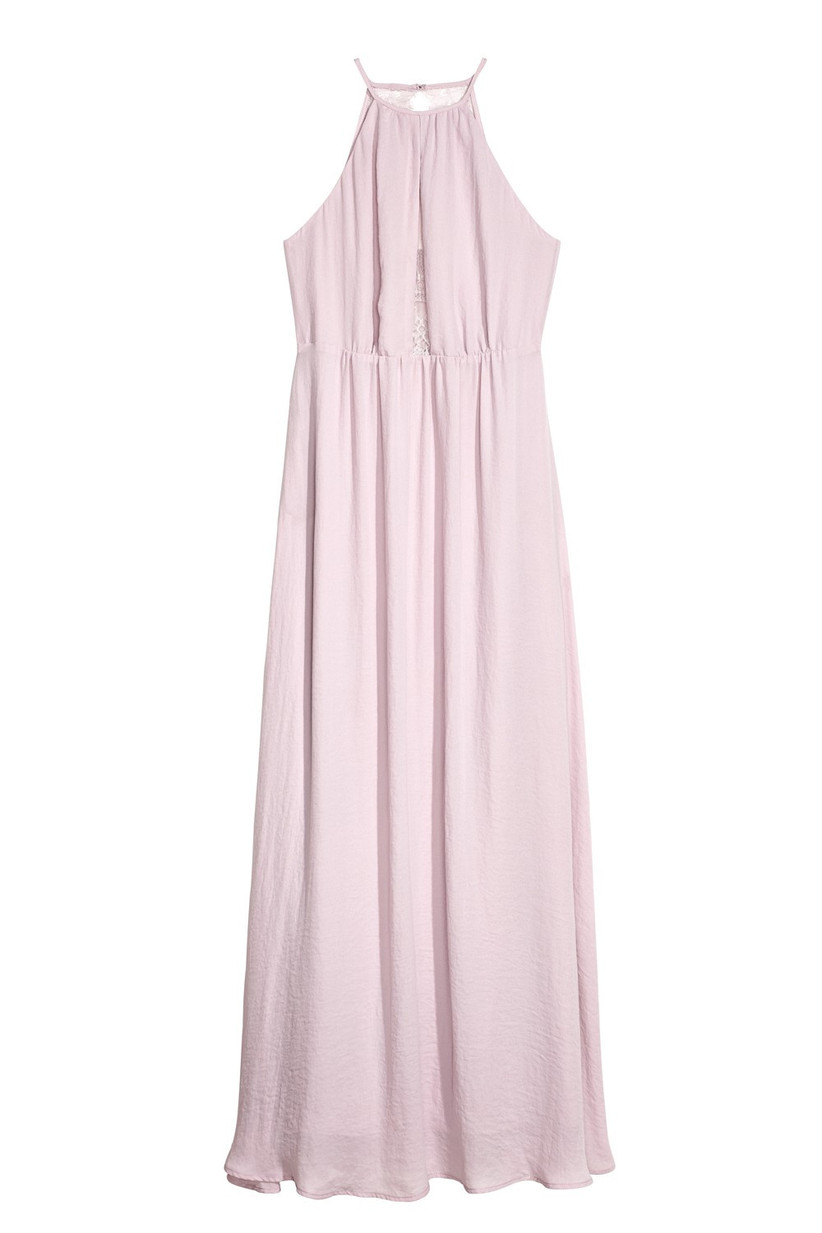 Available in a dusky blue or this light heather colour, H&M have designed a fabulous simple bridesmaid dress, with a beautiful lace back.
Pleated Long Dress – £69.99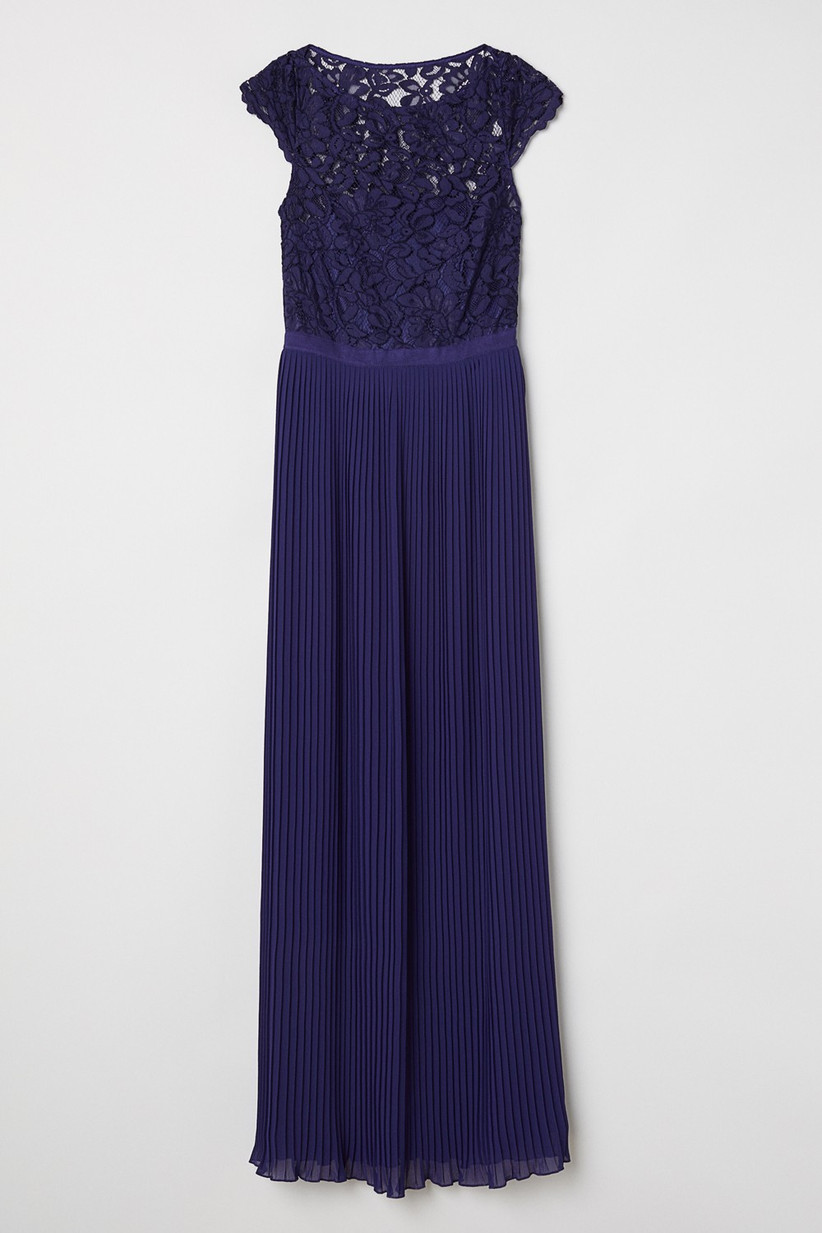 This floor-length maxi comes with a stunning lace bodice, flattering pleated skirt and cute cap sleeves if you'd like to cover your shoulders. Available in pink and light dark blue too.
Draped Dress – £49.99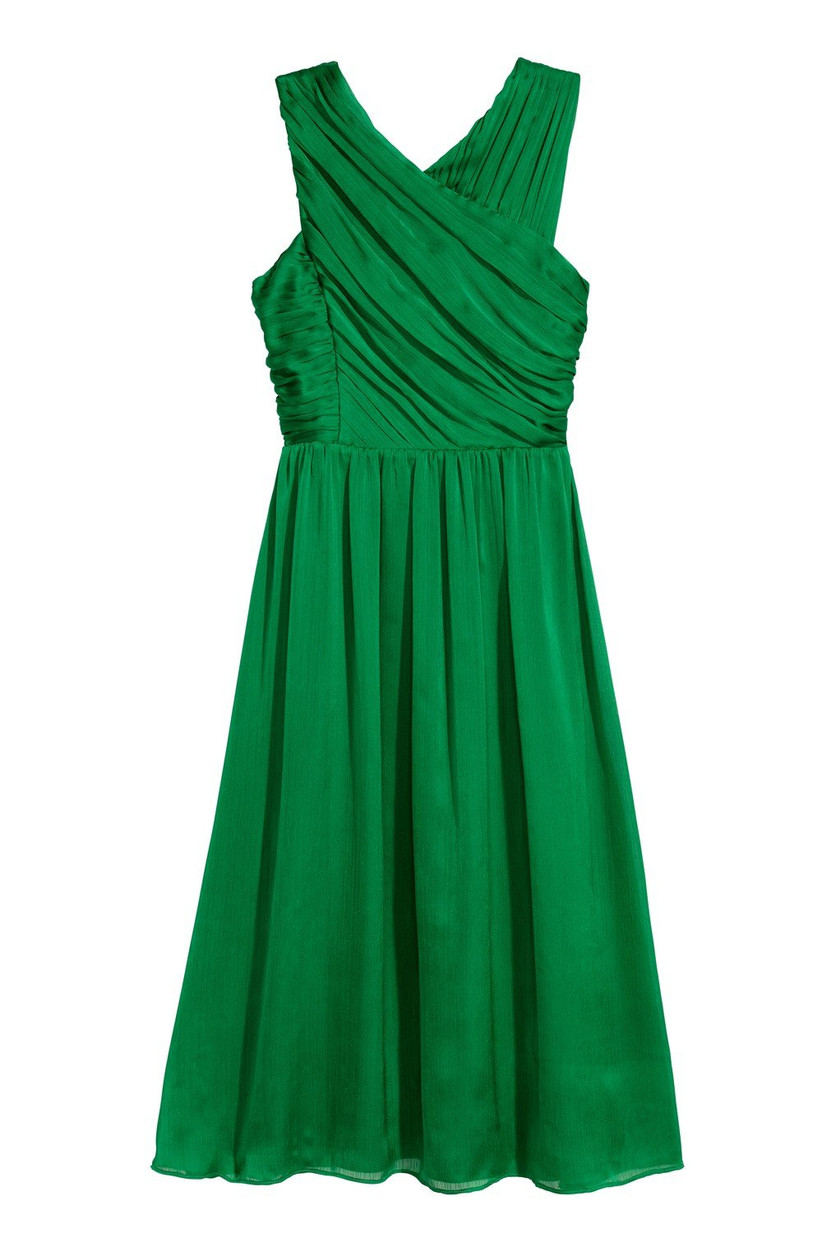 Coming in apricot, green and dark blue (you could mix two bridesmaids in apricot and two in blue for example) this flattering wrap-esque style will suit bridesmaids of every shape. It's calf-length too so great for petite bridesmaids.
READ MORE: 26 Gorgeous Grey Bridesmaid Dresses
Long Wrap Dress – £49.99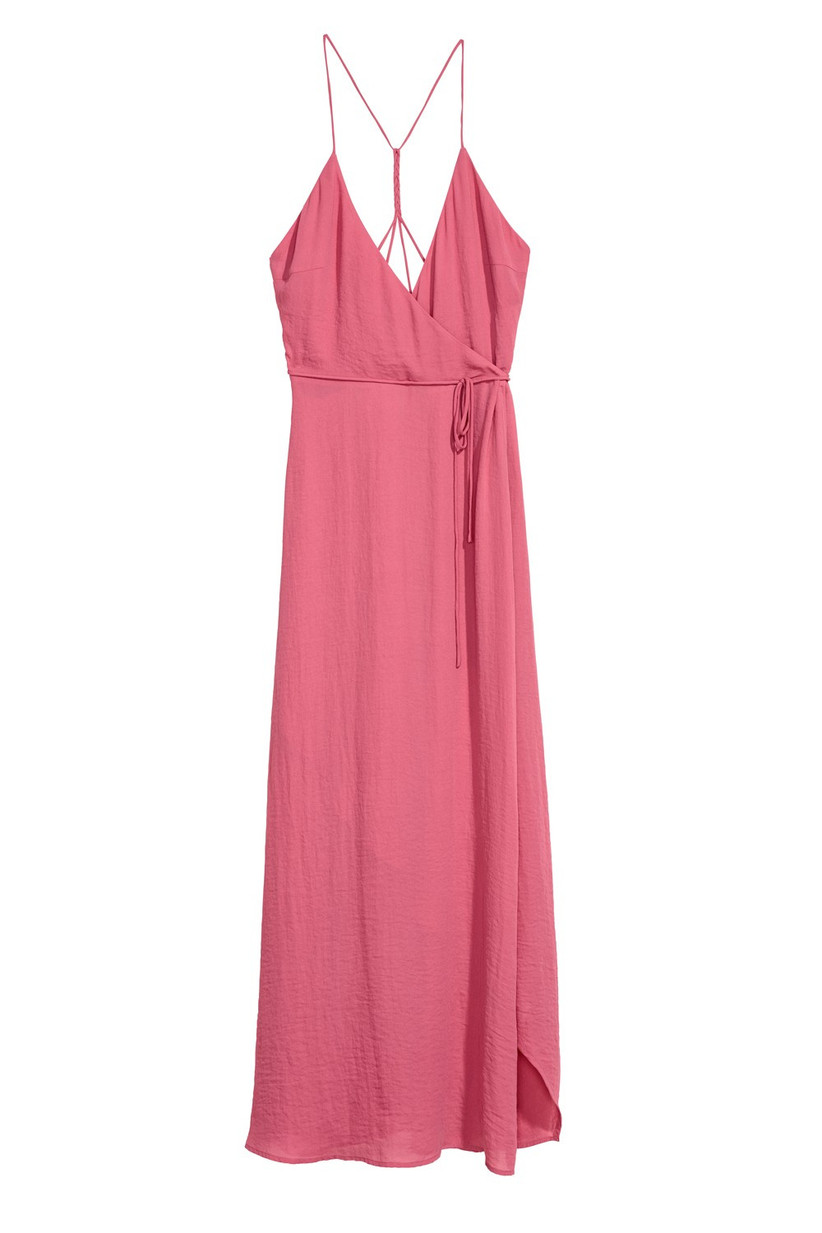 This simple maxi dress is ideal for a boho or rustic wedding. Accessorise it up with a gorgeous flower crown or statement heels and jewellery.
Long Satin Dress – £49.99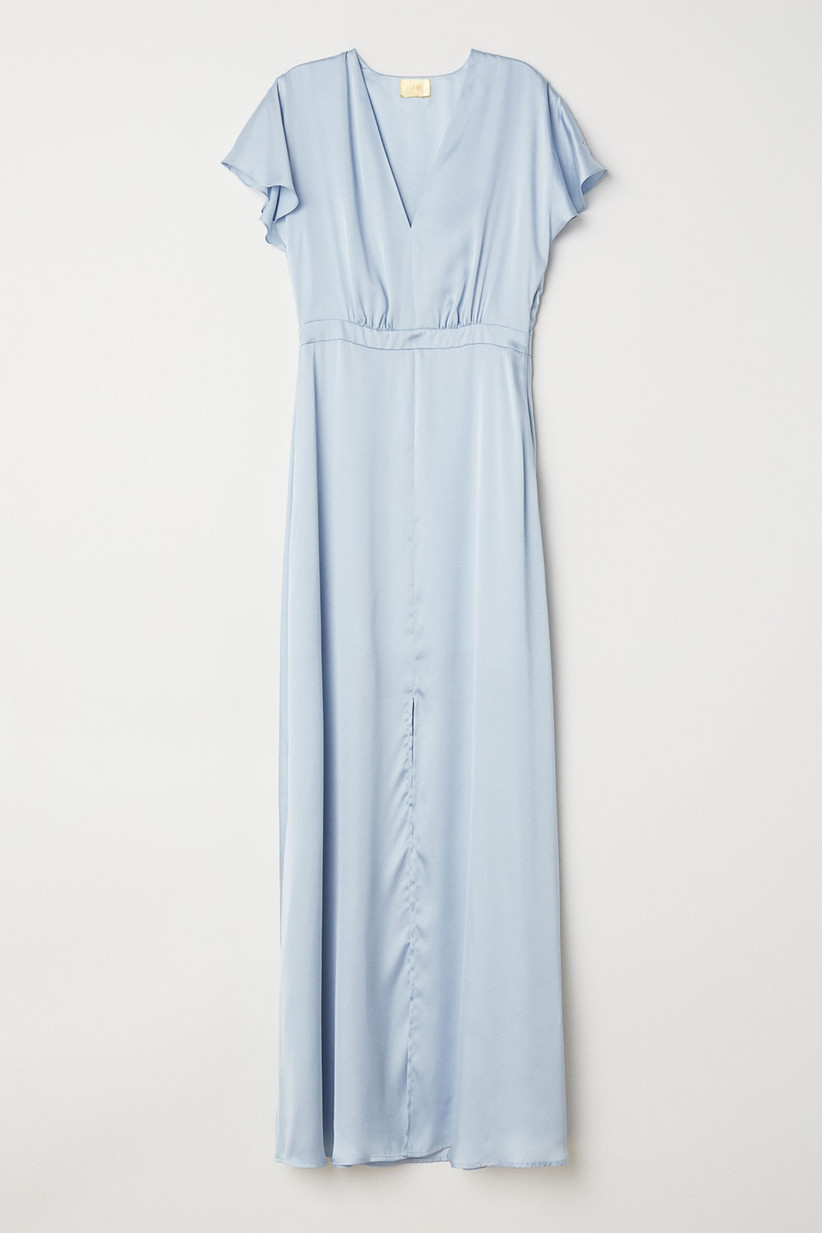 A great value satin dress, this luxe fabric is ideal for a glamorous wedding and will look fabulous under the party lights of a wedding reception. The pastel colour is great to team with a bright bouquet.
Ombre Tulle Dress – £29.99
We adore this ombre dress for flower girls! This flared skirt has a Tinkerbell feel to it and is perfect for a Disney wedding, plus the top features the cutest flower applique and sequins.
Pink Tulle Dress – £19.99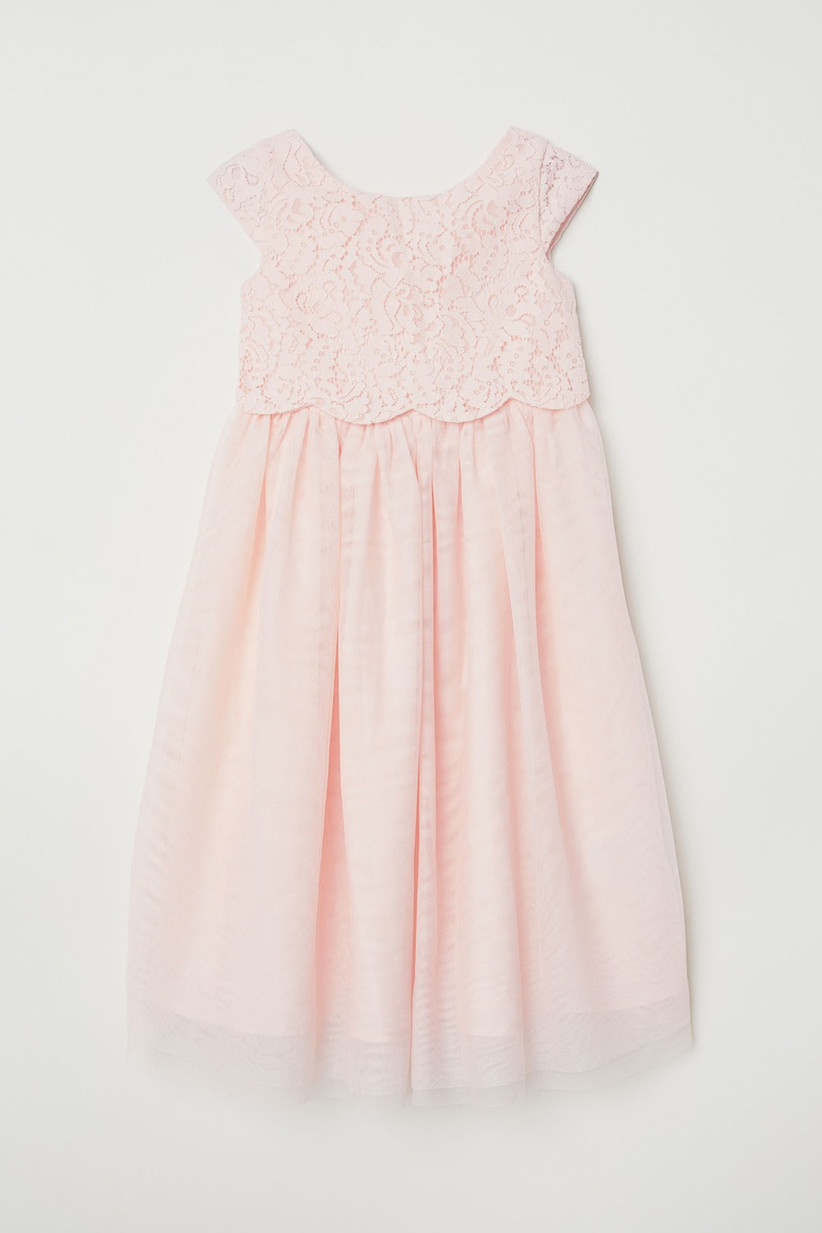 Match your older bridesmaids with your flower girls by putting them in this floaty dress. The best bit: the big satin bow at the back.
H&M Wedding Guest Outfits
Patterned Peplum Top – £24.99 and Tailored Floral Trousers – £29.99
This full floral peplum top and silky trousers set is bright, playful and ideal for a spring or summer wedding.
Off-The-Shoulder Floral Dress – £49.99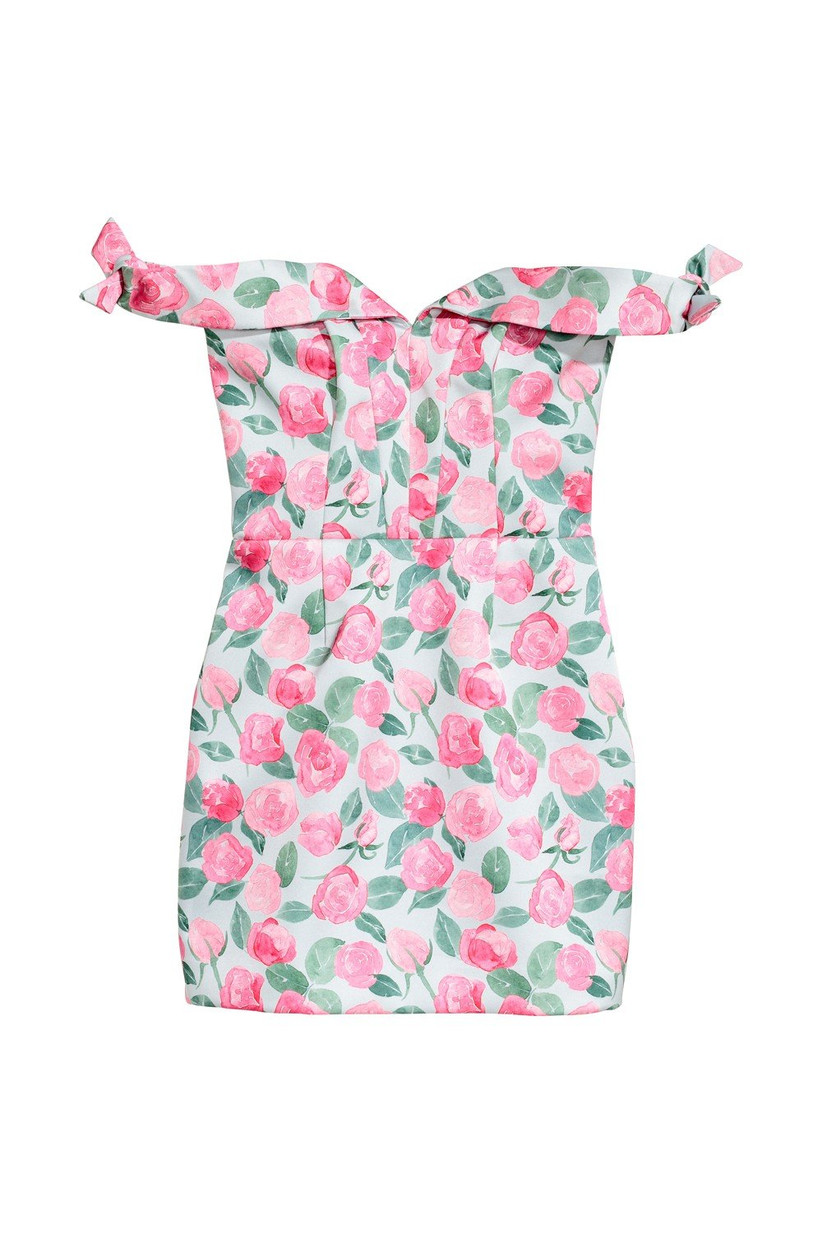 If you want a dress instead of trousers, this fabulous dress is available in the same rose pattern, with dropped shoulder strap topped off with cute bows. This dress is short though, so beware if the summer weather isn't quite as warm as you'd like!
READ MORE: Perfect Wedding Dresses For Older Brides
Tulle Dress with Lace – £59.99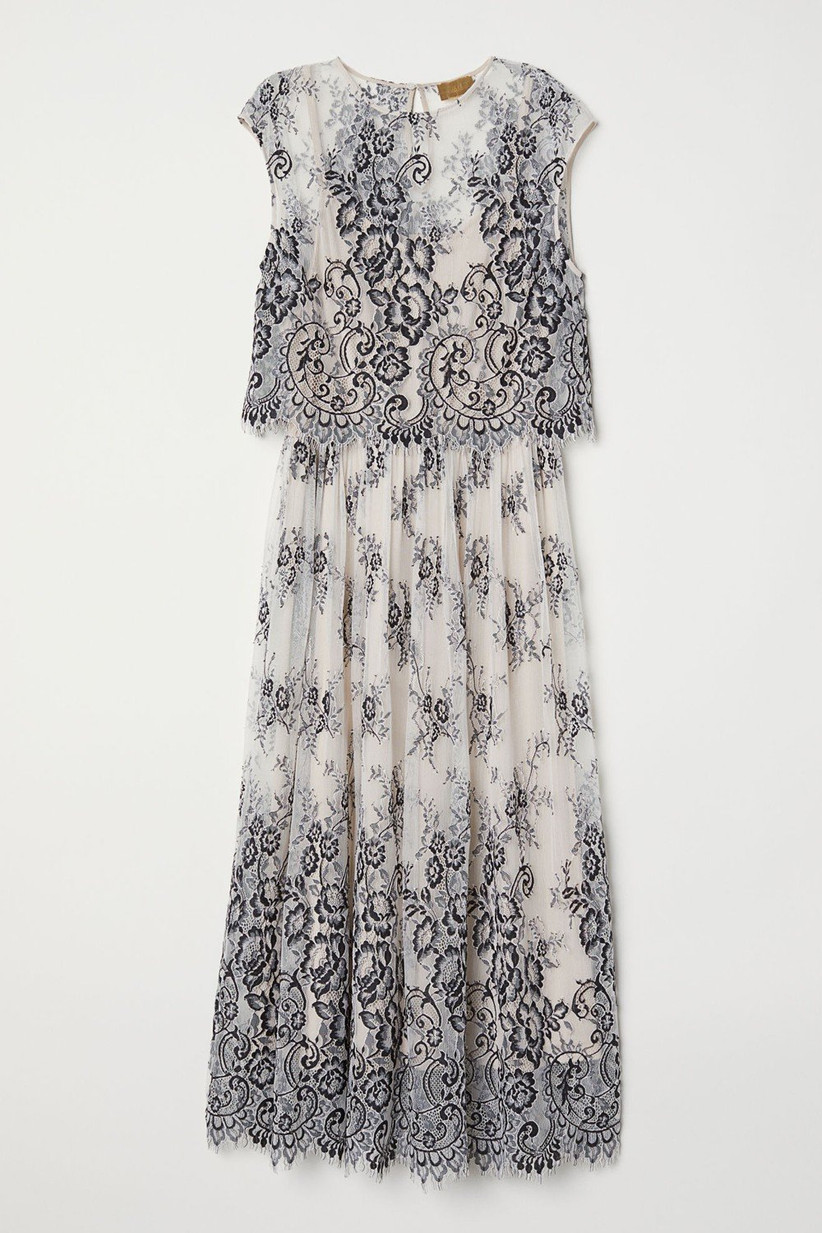 Soft, flowing and feminine, this calf-length dress comes in a gorgeous design and is a great choice for wedding guests.
Black Floral Dress – £39.99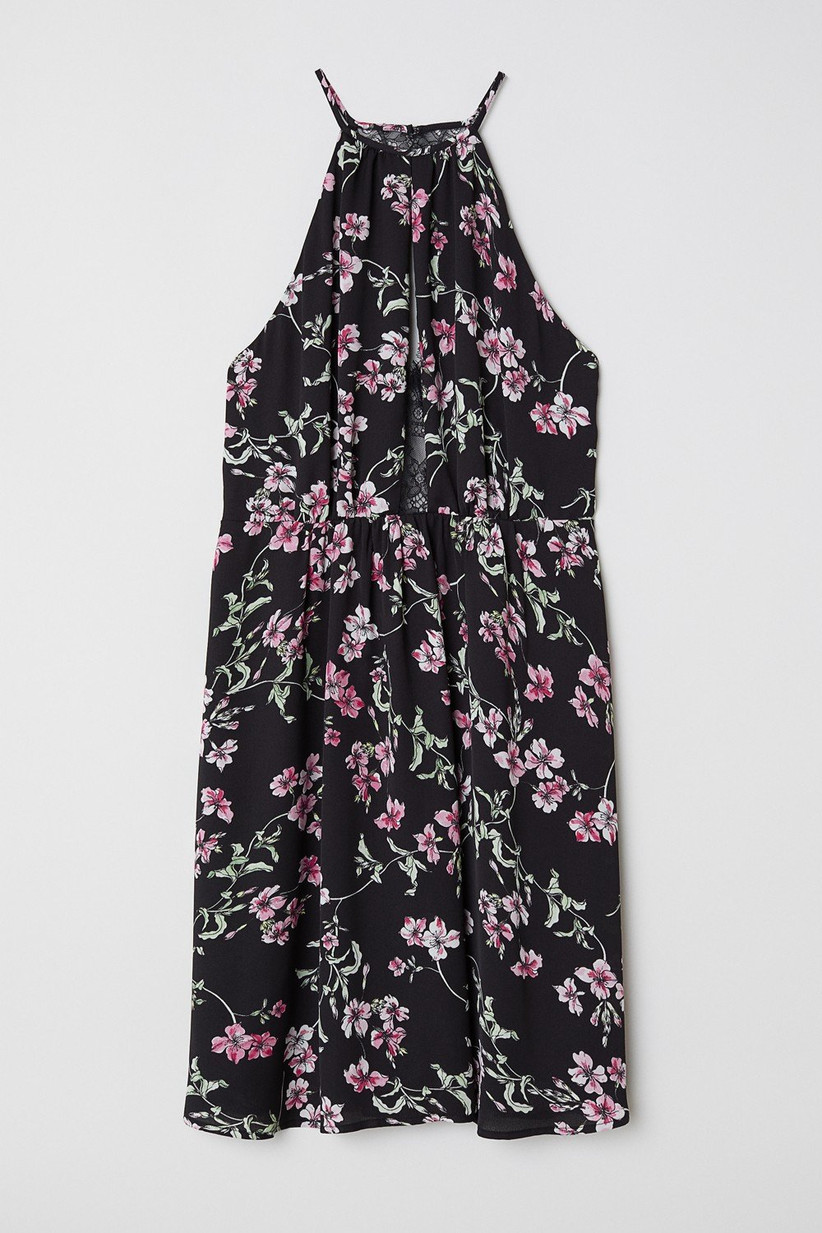 This dress has the same great lace back as the long pink bridesmaid dress but, with the cute floral pattern, it really works for a wedding guest dress.
Halterneck Jumpsuit – £49.99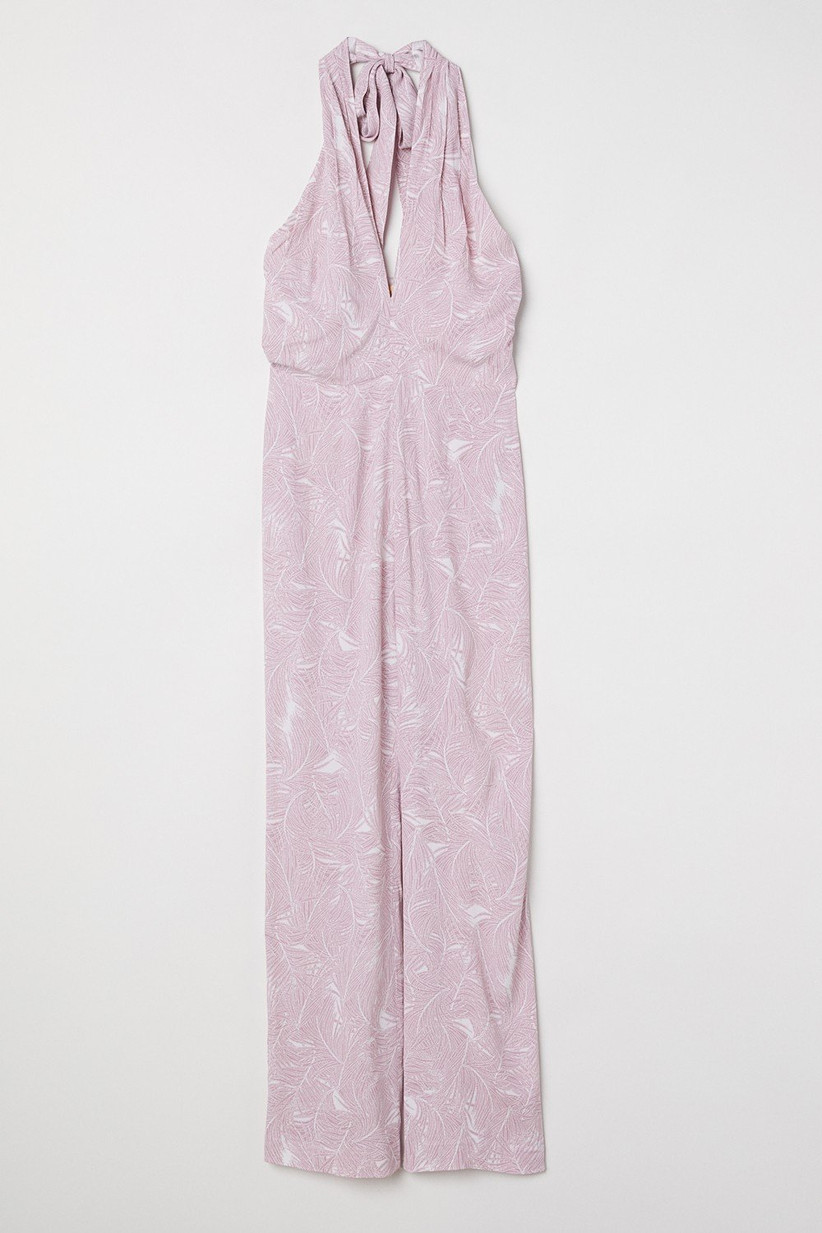 This party-ready lilac and white foliage patterned jumpsuit is perfect for a summer wedding. We love the halterneck top and deep plunge neckline!
Dusky Blue Satin Top – £34.99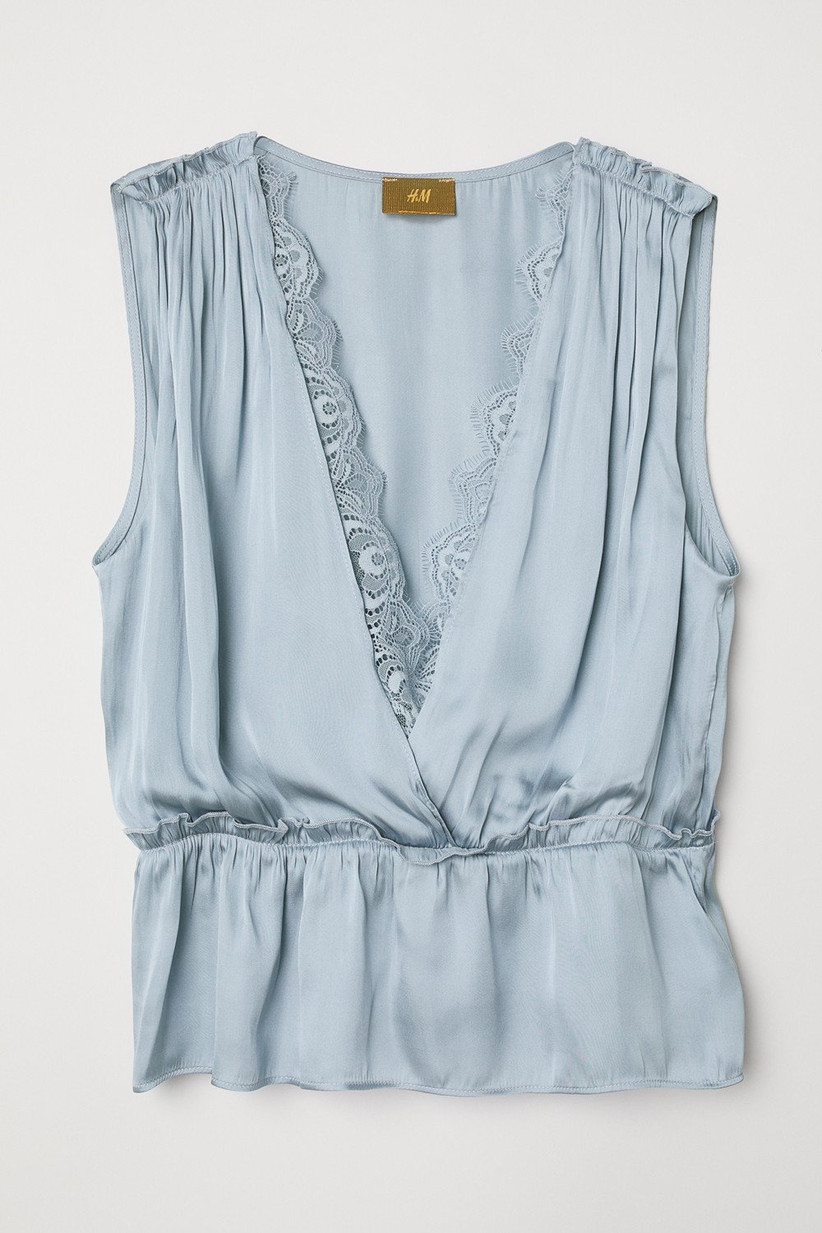 Team this soft satin top with smart pencil trousers. With a wrap-over style and lace trim, this beautiful top is great wedding-worthy separate.
Sleeveless Lace Dress – £39.99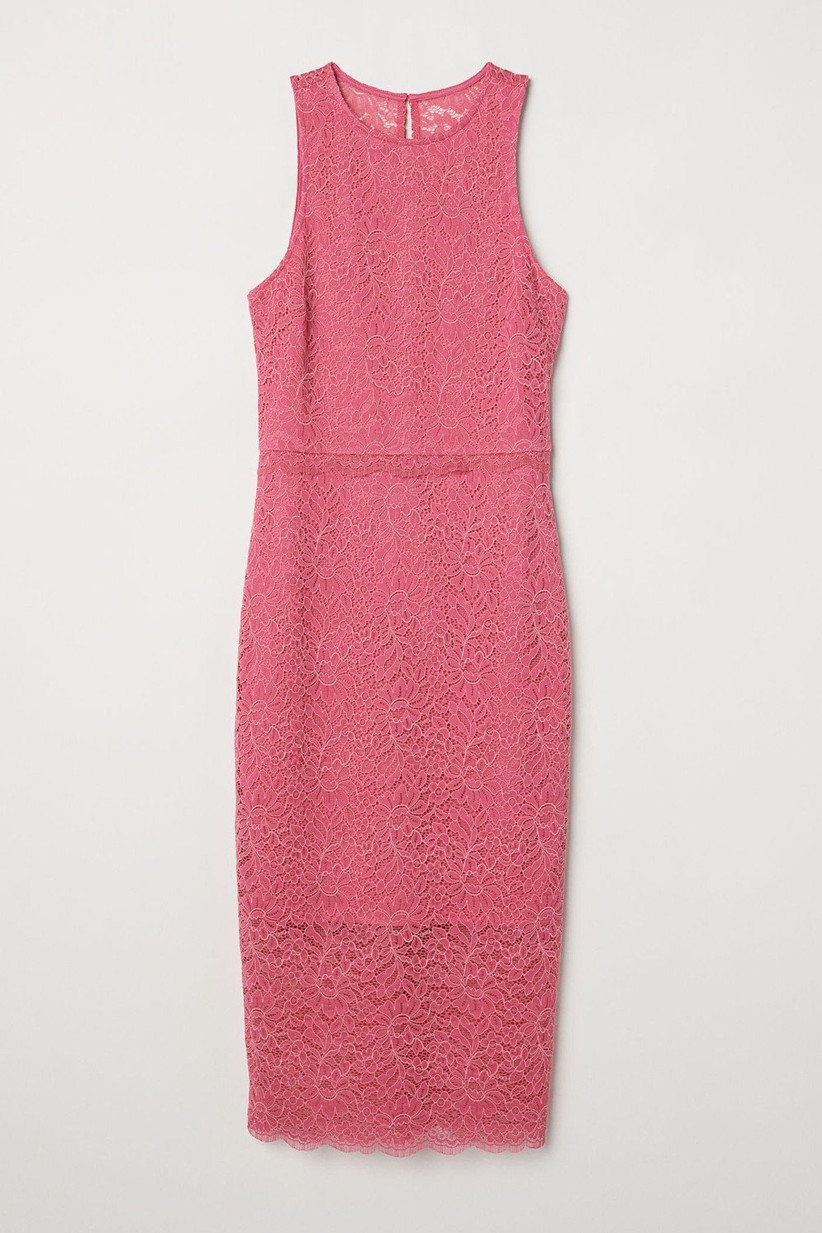 This fitted bodycon dress in a delicate lace is a sexy, showstopping choice for a summer wedding.
Patterned Long Dress – £49.99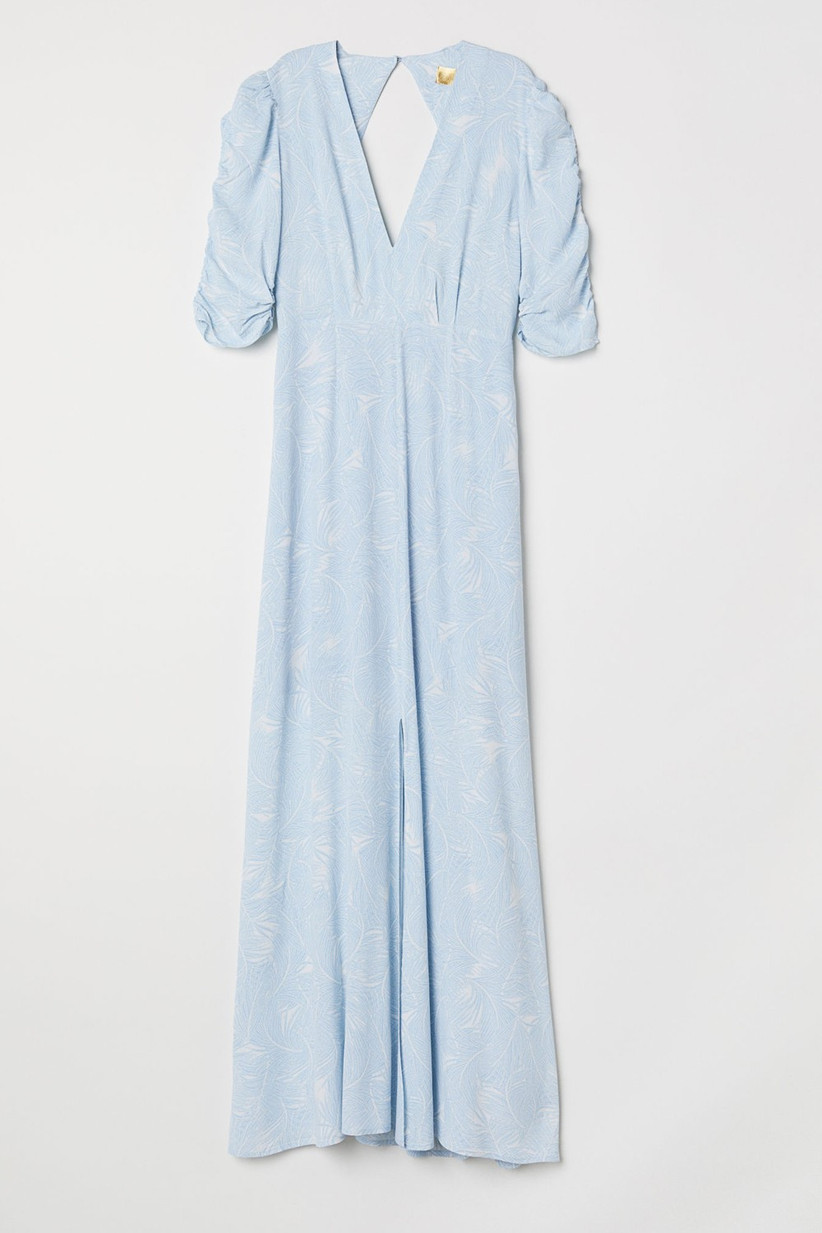 This dress features the same tropical leaf pattern as the beautiful jumpsuit above. We love the plunge neck and slit at the front, plus an open back and cool puff sleeves makes for a totally on-trend look.
H&M Wedding Accessories and Shoes
Floral Alice Band – £2.99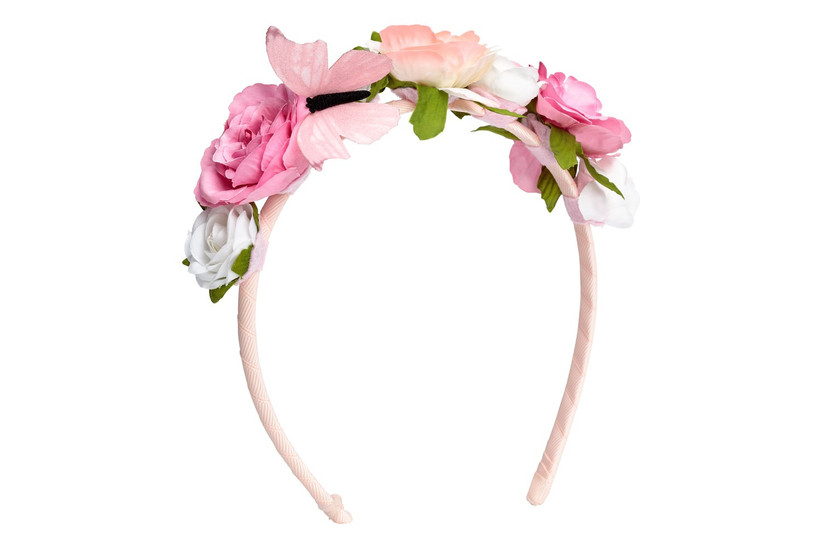 Coming in bright pink or pastel shades, this alice band sports sweet fabric flowers and a butterfly, which make it a great addition to top off the hair of bridesmaids and flower girls. Ideal for a boho, festival or garden wedding.
READ MORE: 11 Genius Ways To Save Money As A Wedding Guest
Floral Block Heel Sandals – £29.99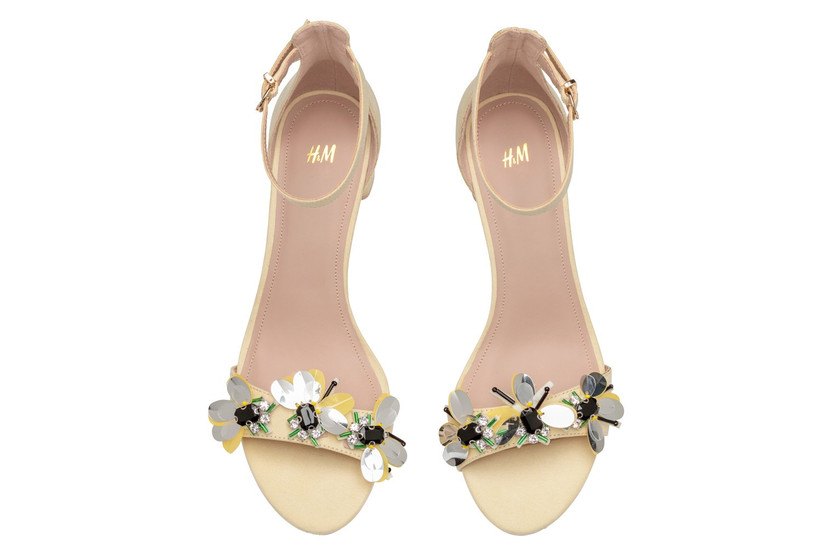 Sequins and beads in this bright floral design add interest to these simple suede sandals. We love the honey bee-hued yellow and black colouring that's perfect for a summer wedding.
Suede Court Shoes – £49.99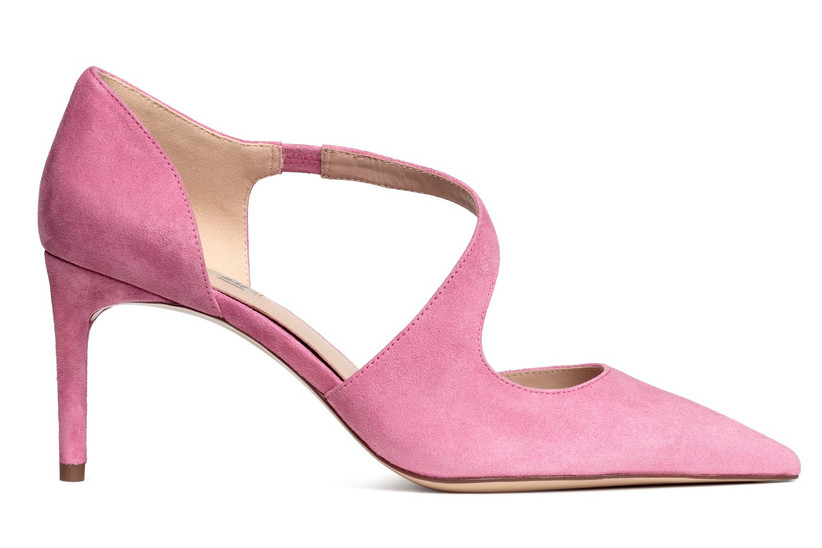 The gorgeous, angled strap on these dusky pink suede shoes make for a statement look that would look great teamed with one of the bridesmaid dresses or as a pop of colour to an all-black outfit.
Simple Sandals – £17.99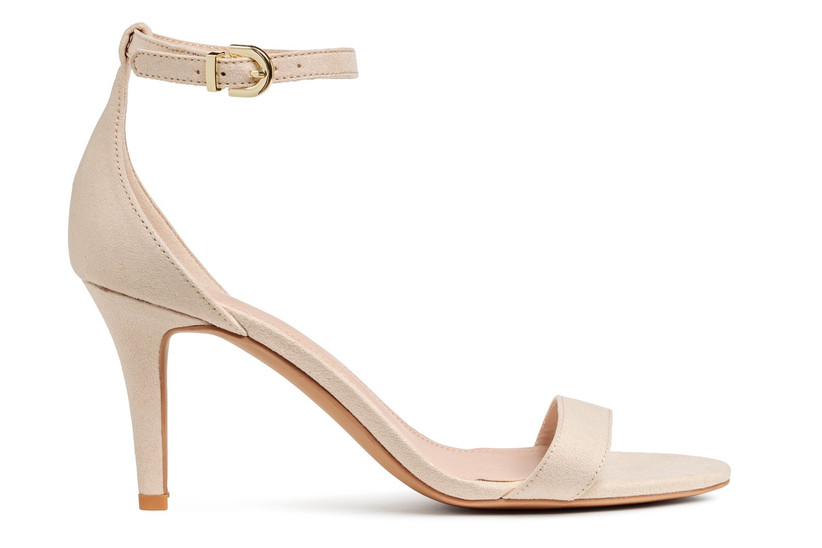 Coming in sexy black or powder pink, these elegant strappy sandals look far more expensive than their budget price tag.
Block-Heel Sandals – £22.99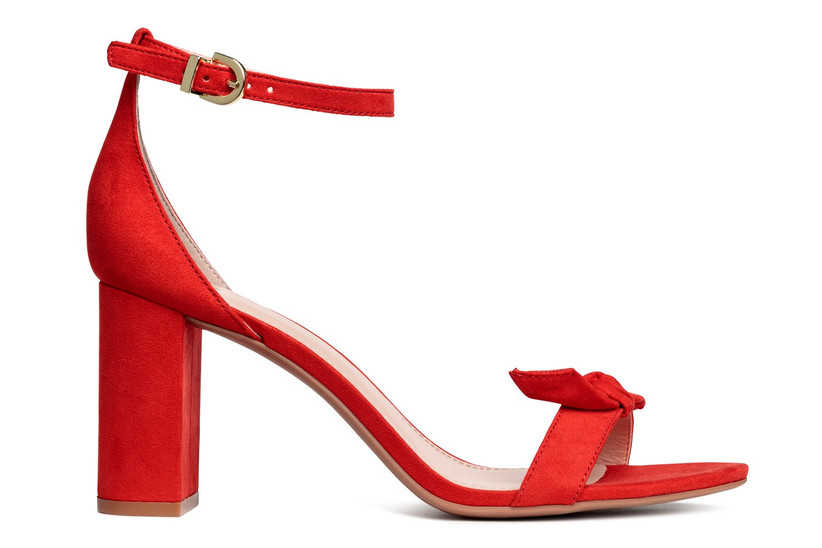 Wedding at an outdoor space? You won't sink into the grass in these block-heeled suede sandals with a cute bow detail at the front. They come in pink, vintage red or chic black.
Court Shoes – £39.99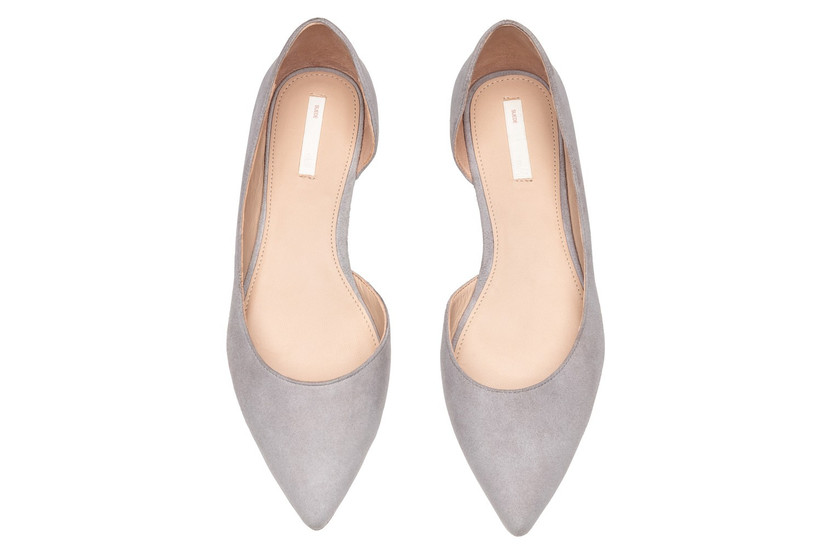 For a classic look, opt for a court shoe. This H&M pair are great quality and will last you through the wedding season and beyond.
Flower Ballet Pumps – £14.99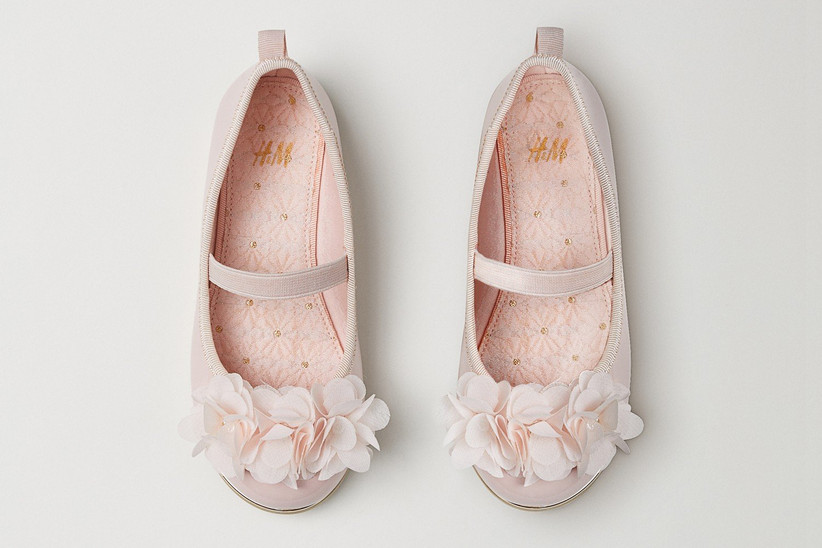 Little flower girls will adore these light pink pumps with cute decorative flowers across the front. The elastic strap means there'll be no tripping up down the aisle either!
Ballet Pumps – £7.99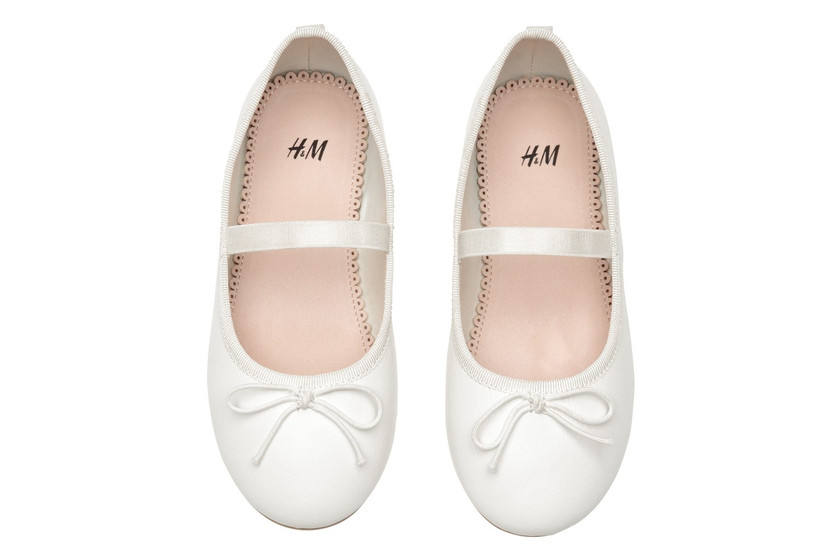 Coming in a variety of colours from rose gold to patent navy, these pumps are perfect for a flower girl outfit or for little wedding guests.
For more budget bridalwear, check out our favourite wedding dresses under £1,000 and bridesmaid dresses for under a bargain £50.