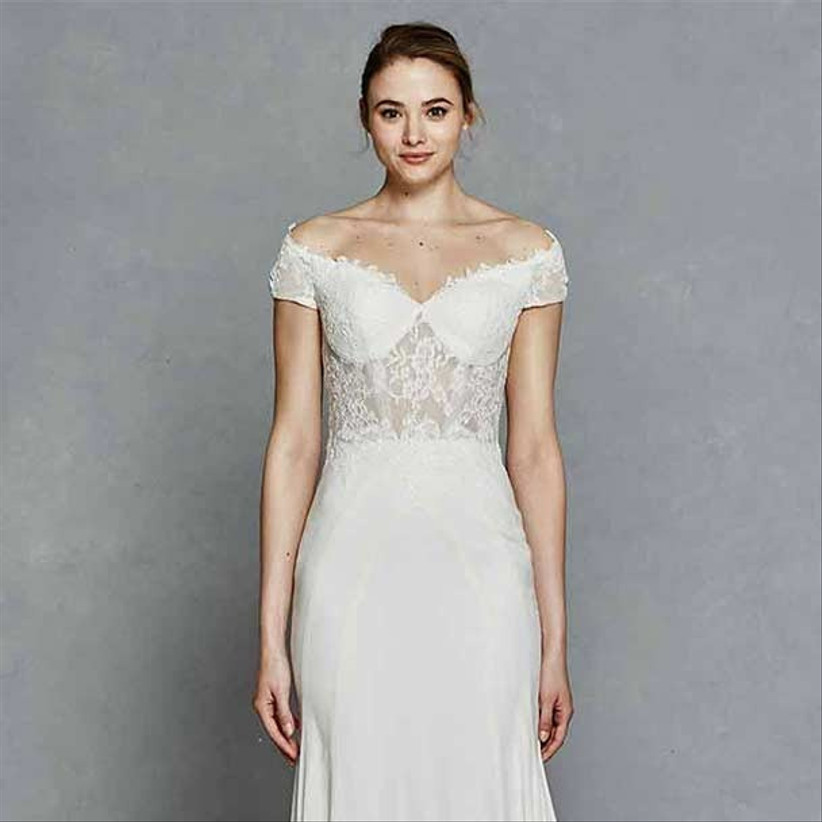 Shopping for the perfect wedding day outfit factors in so many different things from the price of the wedding dress to the style and shape.
To make sure Hitched brides don't make any of the classic mistakes brides make when shopping for their wedding dress, we have put together the ultimate style guide to help you find the perfect wedding dress to suit your body shape.
Straight Body Shape
Females who have a straight body shape will find they have a less defined waist than most. Your bust and hips tend to be pretty balanced and you are not as curvy. This is known as more of a 'sporty' body shape, and it is important, when picking a wedding dress for a straight structure, to enhance your waistline.
Avoid: Strapless dresses can make your shoulders look broader than they are so avoid harsh necklines and column wedding dresses that have no definition in their shape as they won't give you a defined waist.
Look for: Wedding dresses with full skirts gives the illusion that the hips are wider than they are and add a feminine shape to you. Look for wedding dresses with embellishment around the bust and necklines that are a V or U shape as they will add more angles to your body shape. Another style which can look amazing on this type of figure is a bridal suit, a tailored jacket and ankle grazer trousers can really look stylish.
Best Styles: Ball gown wedding dresses, embellished wedding dress, wedding suits.
Justin Alexander – Style 8888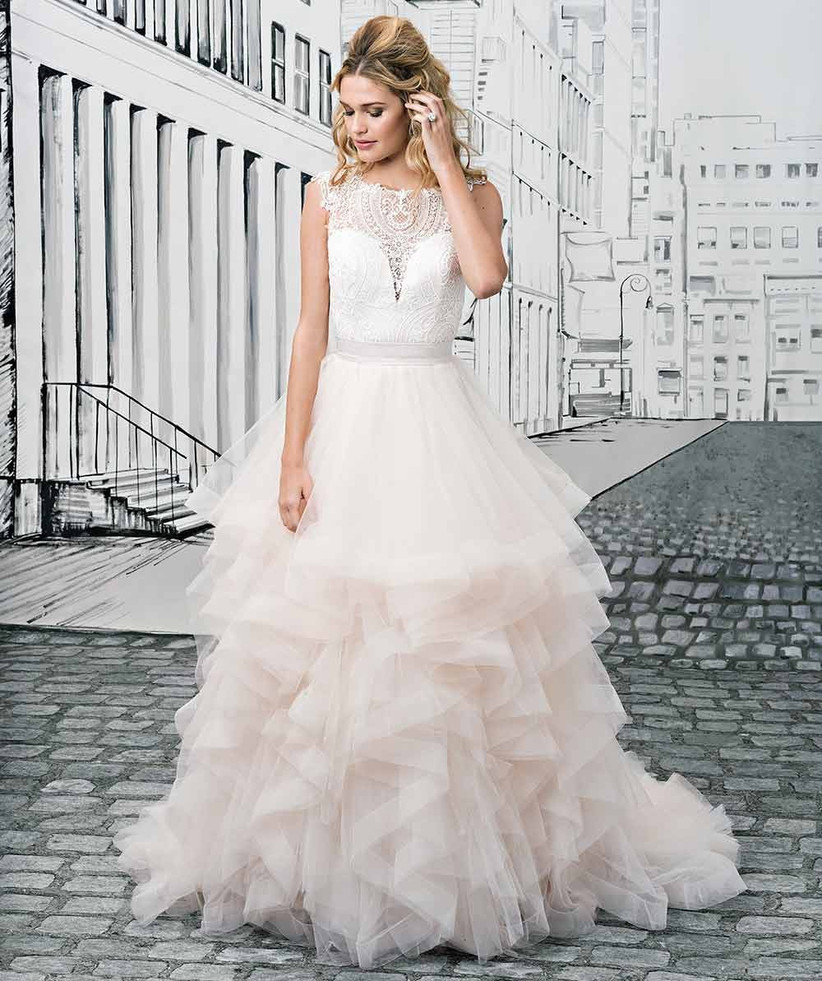 Bridal Suit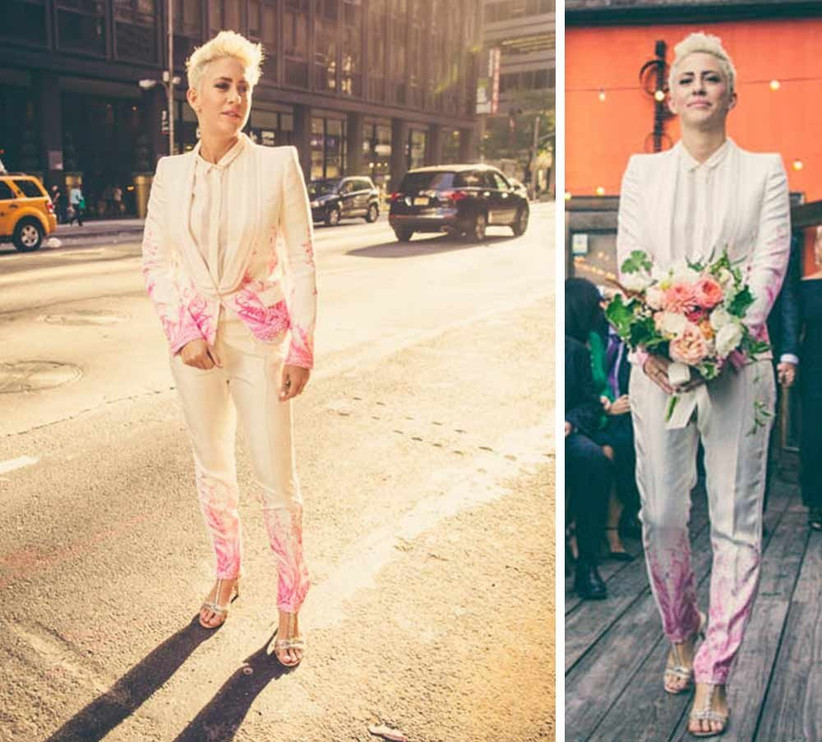 Image Credit: Erica Camille 
Pear Body Shape
Brides with a pear body shape will tend to have hips that are wider than their bust and a really nicely defined waist. Pear–shaped women usually have very feminine neck and shoulders that are quite narrow and dainty.
Avoid: Loosely fitted dresses or empire line wedding dresses. These styles won't show your figure at its best and will tend to make you look bigger than you actually are.
Look For: Wedding dresses that are fitted all the way down will show off your girly curves and bring attention to the smallest part of your body, your waist. Opt for dresses with sleeves or shoulder detail to balance out your smaller shoulders with your slightly wider hips.
Best Styles: Fishtail wedding dresses, wedding dresses with sleeves, wedding dresses with cap sleeves.
Alfred Angelo – Style 2540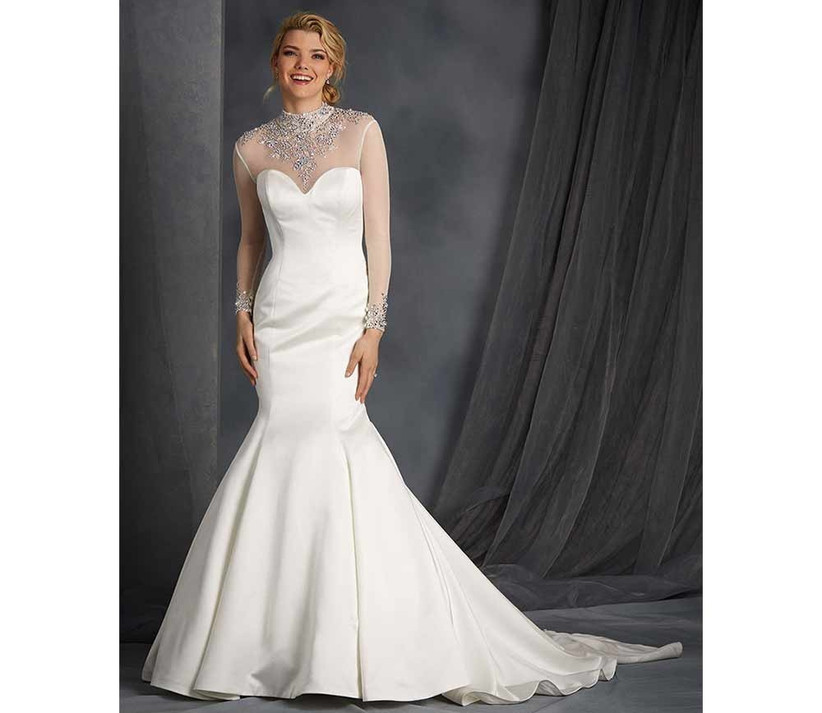 Kelly Faetanini – Antionette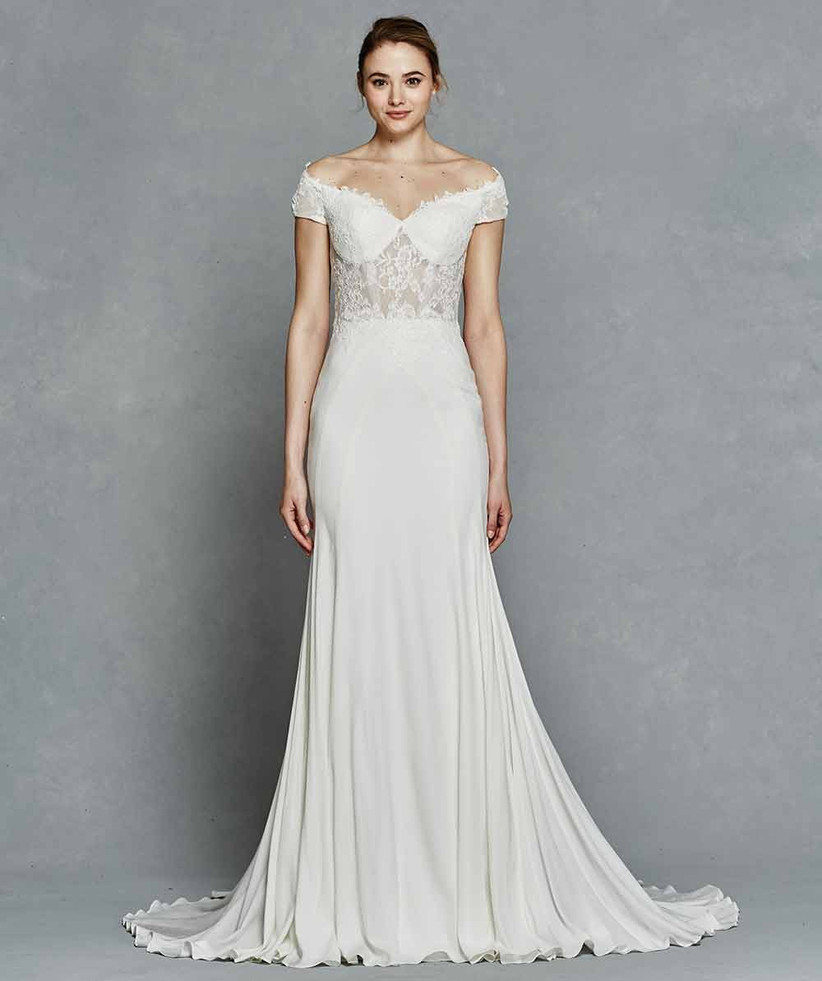 Hourglass Body Shape
An hourglass figure is similar to the pear body shape, however the shoulders and hips are perfectly balanced and the bust is more apparent. Brides with this body shape tend to have an extremely defined waist and very curvaceous assets.
Avoid: Try not to add weight to your bust or hips as they are already perfectly balanced. Empire wedding dresses and dresses with really heavy and princess-style skirts will usually be much less flattering than other styles.
Look For: Dresses that are very fitted around your waist will look the most attractive and corset backs as opposed to button-ups or zips will be the best choice for you. Opt for a sweetheart neckline, it's feminine and works well for keeping the bust and hips balanced.
Best Styles: A-Line dresses with dropped hem, fit and flare wedding dresses, strapless or spaghetti straps.
Enzoani – Karissa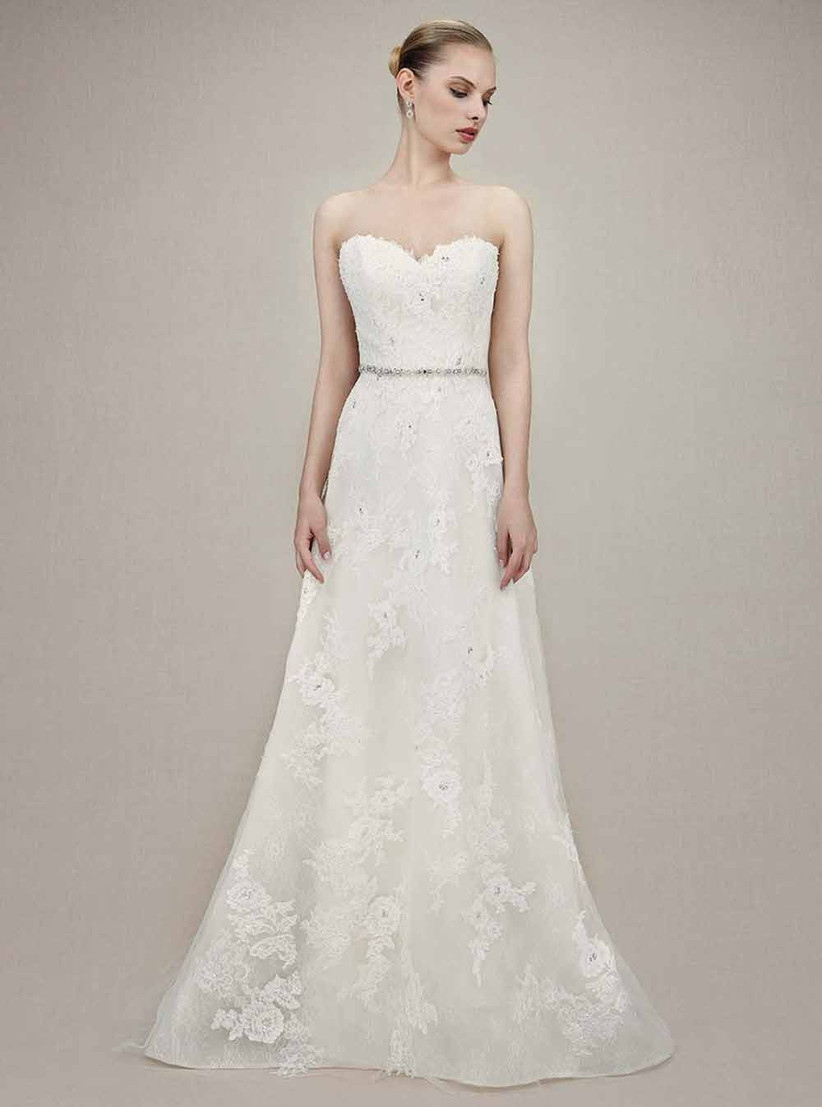 Sincerity Bridals – Style 3940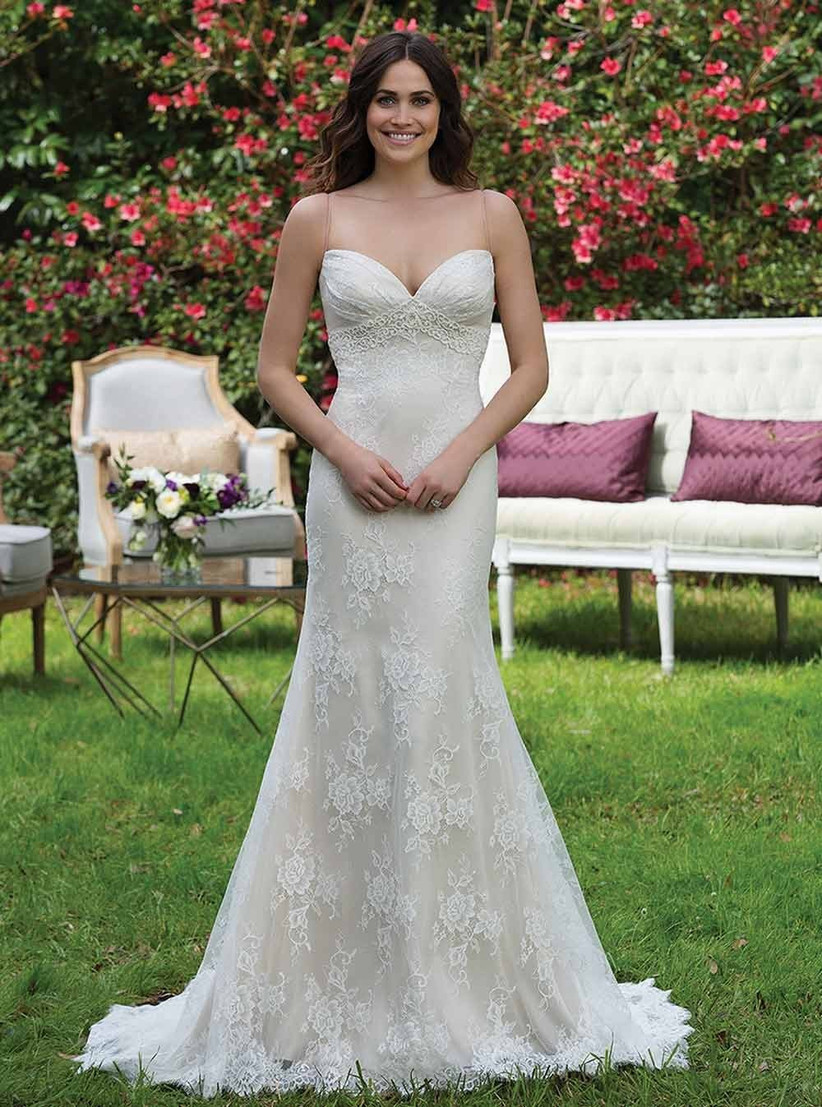 Inverted Triangle Body Shape
This particular body shape is where the shoulders and upper body are proportionally larger than the lower body. Your shoulders tend to be broad and your hips and waist have a slim, column shape.
Avoid: Try to steer clear of halter neck and off-the-shoulder dresses as they will draw attention to your wider shoulders and lots of detail around the neckline won't help either.
Look For: V-neck wedding dresses are perfect for inverted triangle body shapes. Opt for thick straps or sleeves to make the shoulders more subtle. To balance out the shape, look for a wedding dress with lots of detail and or an all over lace pattern as it will veer the eye downwards instead of concentrating on your broader upper half.
Best Styles: V-neck wedding dresses, sheath wedding dresses, embellished dresses.
Justin Alexander – Style 9839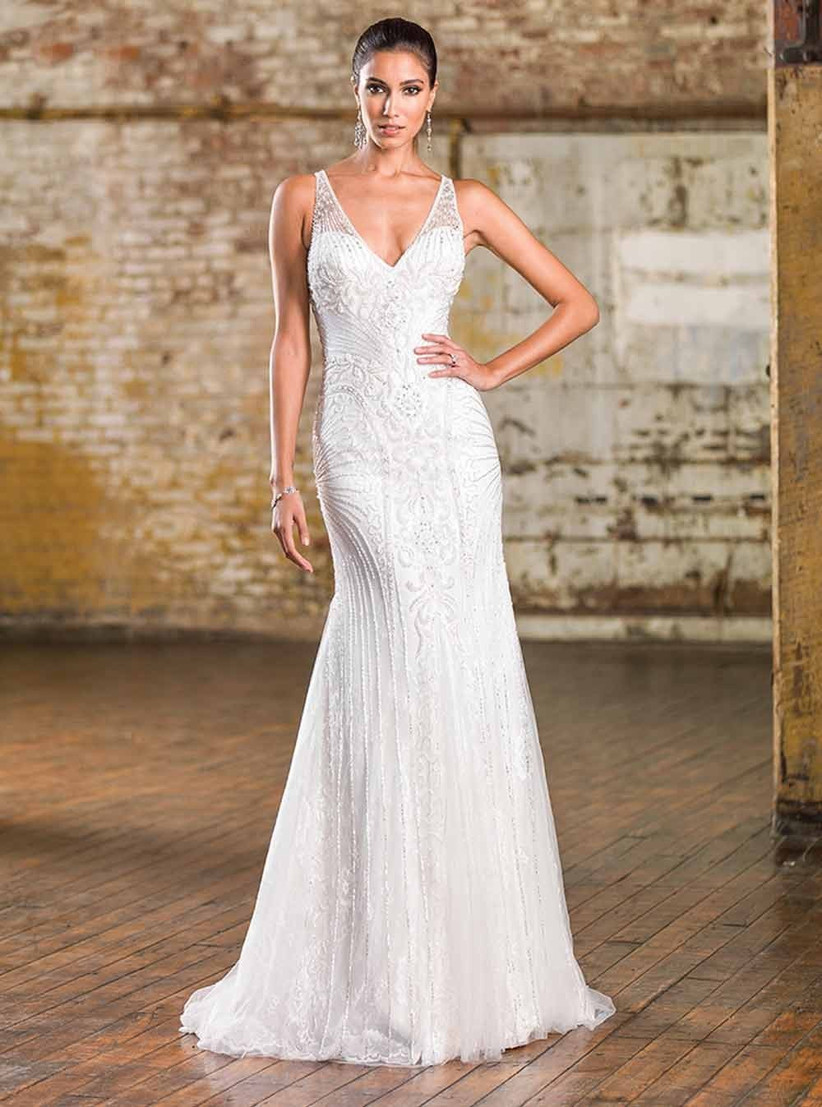 Jennifer Regan Del Amor – Catalina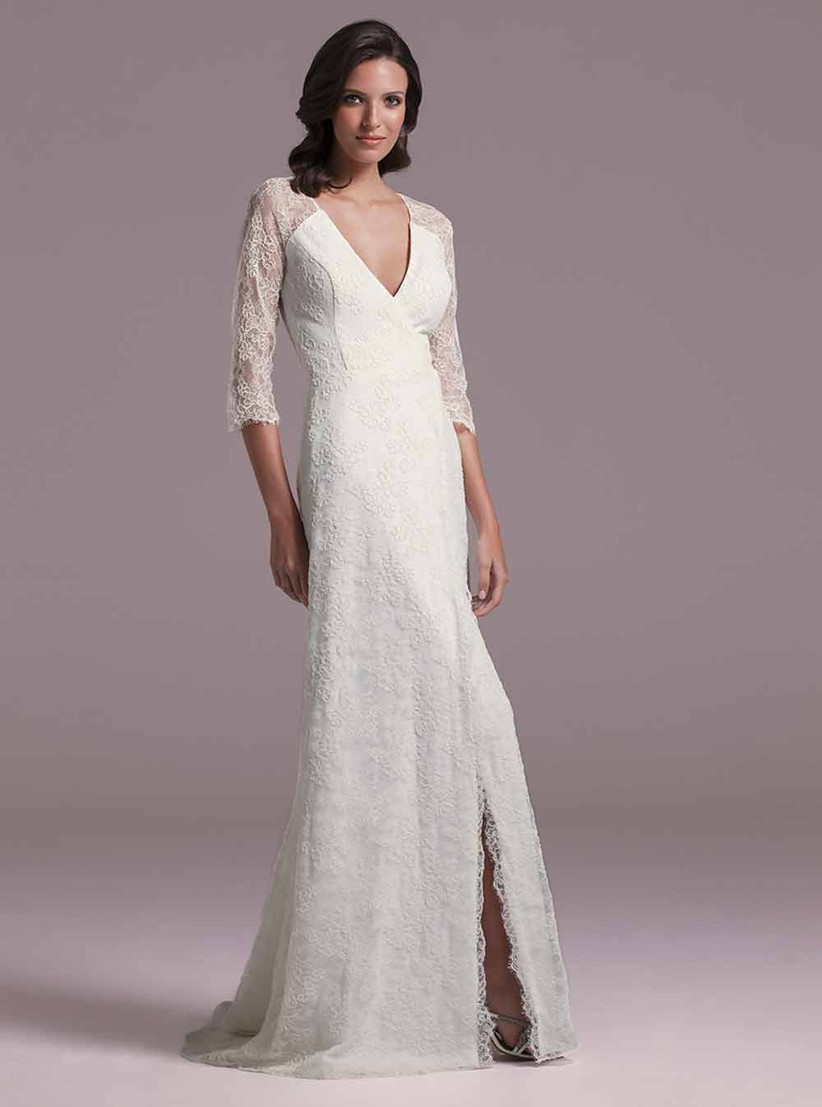 Oval Body Shape
Sometimes known as the 'apple' body shape, oval shaped women tend to have a large bust, narrow hips and a fuller midsection which is wider than your bust and hips. They also tend to have slender legs and arms.
Avoid: High necklines will drown your chest and give the different sections of your body no definition. Try to keep the definition of the dress away from the waist and don't opt for pleats as they are much less flattering.
Look For: Straight and subtly flared skirts and dresses which flow through the waistline is what you should be looking out for with an oval body shape. Look for dresses with lower necklines and plenty of upper-body detail to take the attention away from the midsection and embellished patterns that travel in vertical lines are extra flattering.
Best Styles: Straight/slim wedding dresses, embellished necklines, v-necklines.
Jenny Packham – Montana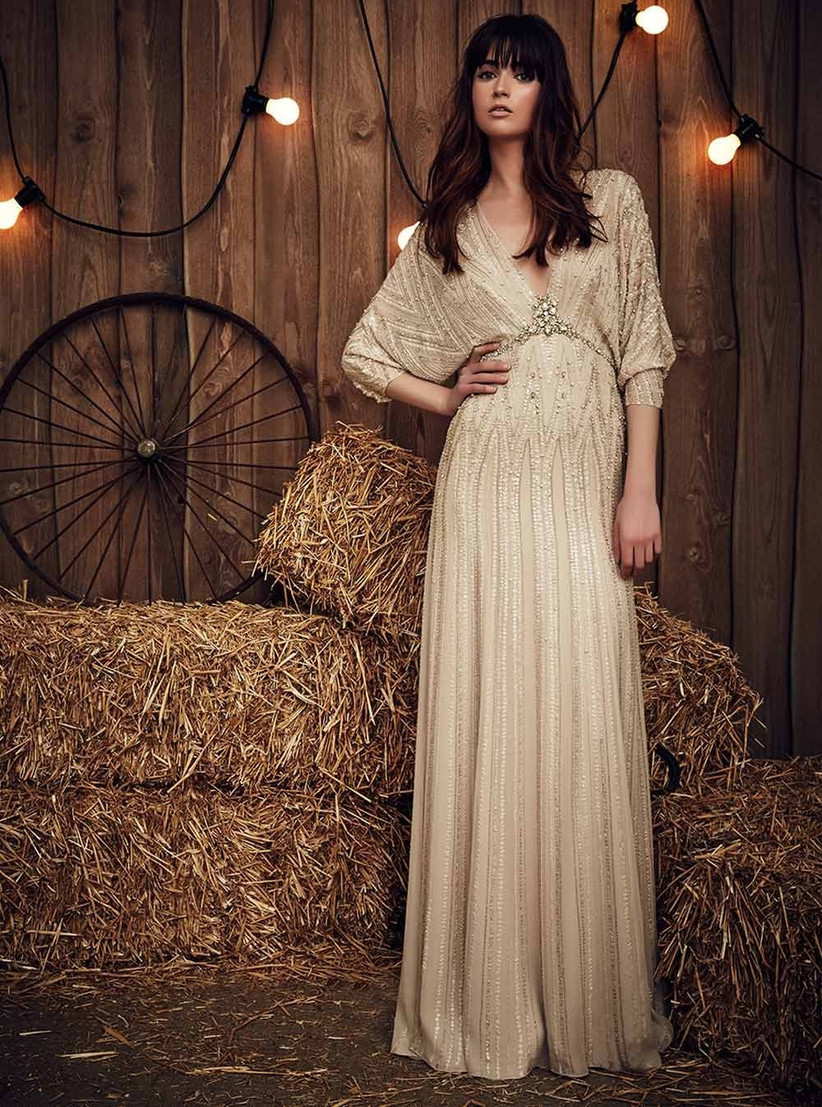 Casablanca Bridal – Style 2258, Violet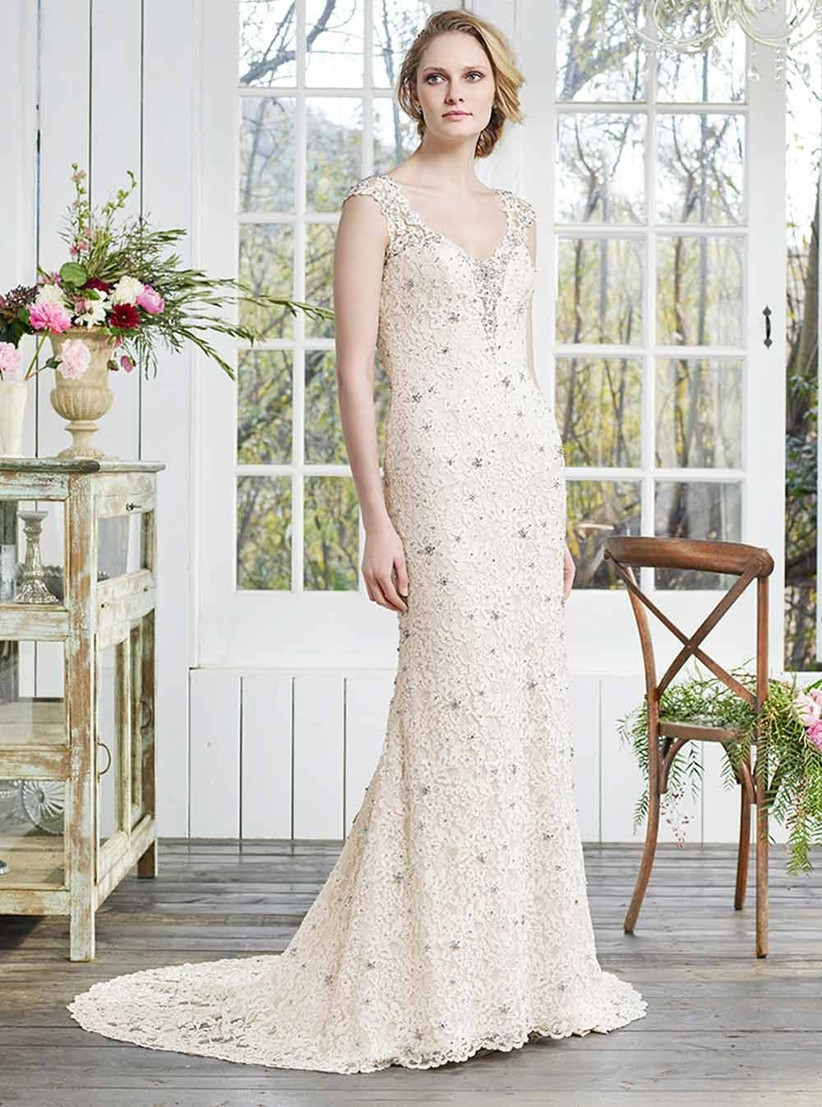 Busty Body Shape
Brides with a bigger bust may find it hard to pick a wedding dress that leaves them feeling really supportive but it is definitely possible.
Avoid: Stay away from low necklines, strapless dresses and backless dresses. They will have the least amount of support and won't have you feeling at your most comfortable. Dresses which skim over the bust will be less flattering as well.
Look For: Styles of dress that have high necklines and are fitted under the bust are more flattering for women with larger breasts. If you want a more open style neckline with the support as well, illusion neckline dresses are a great choice.
Best Styles: Illusion neckline dresses, mermaid wedding dresses, wedding dresses with sleeves.
Alfred Angelo – Style 960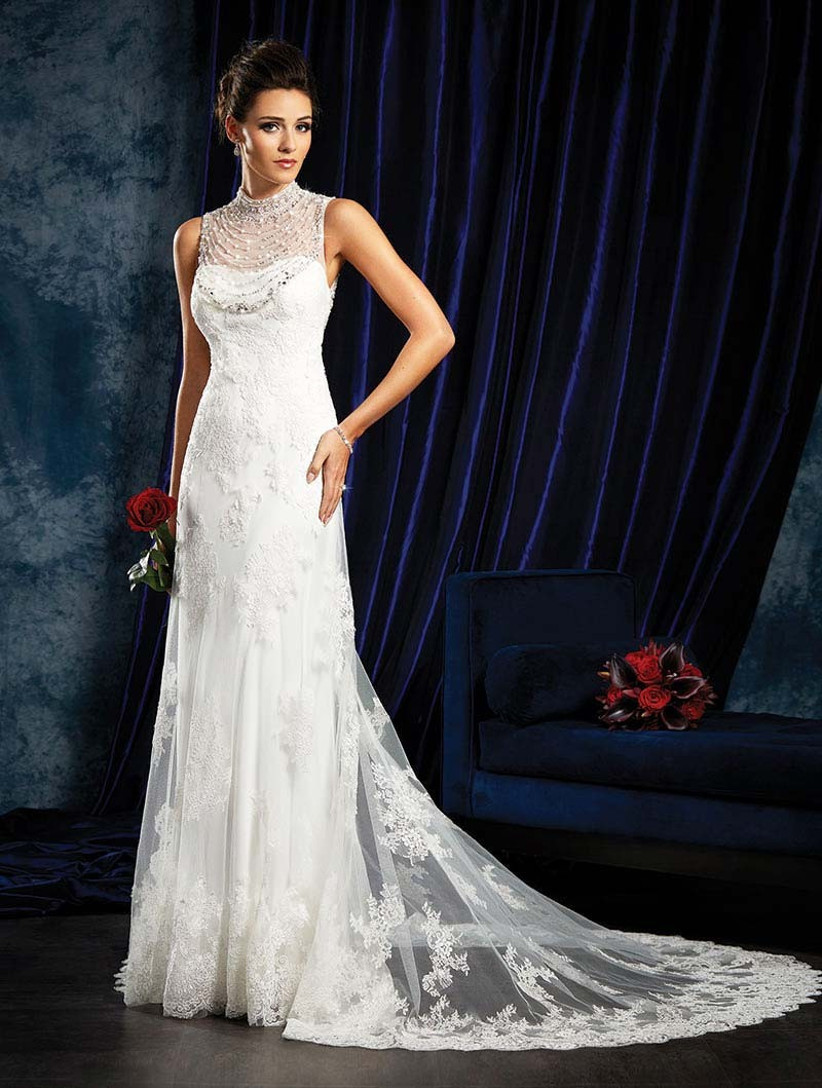 Cosmobella – Style 7775
Small Busted Body Shape
Brides with a smaller bust have more option when it comes to styles, but need to make sure there is enough detail/style in the top half of the dress to balance out the small size of their upper body.
Avoid: Sweetheart necklines on a strapless dress may not be the most flattering thing to wear if you have a smaller bust.
Look for: Dresses with lots of upper body detail are much easier to wear with small boobs and you even have the option of wearing backless dresses as less support is needed. Slender designs are really flattering and the more embellishment, the better.
Best Styles: Backless wedding dresses, dresses with plunging necklines, dresses with amazing backs.
Pronovias – Orsola
Martina Liana – Style 773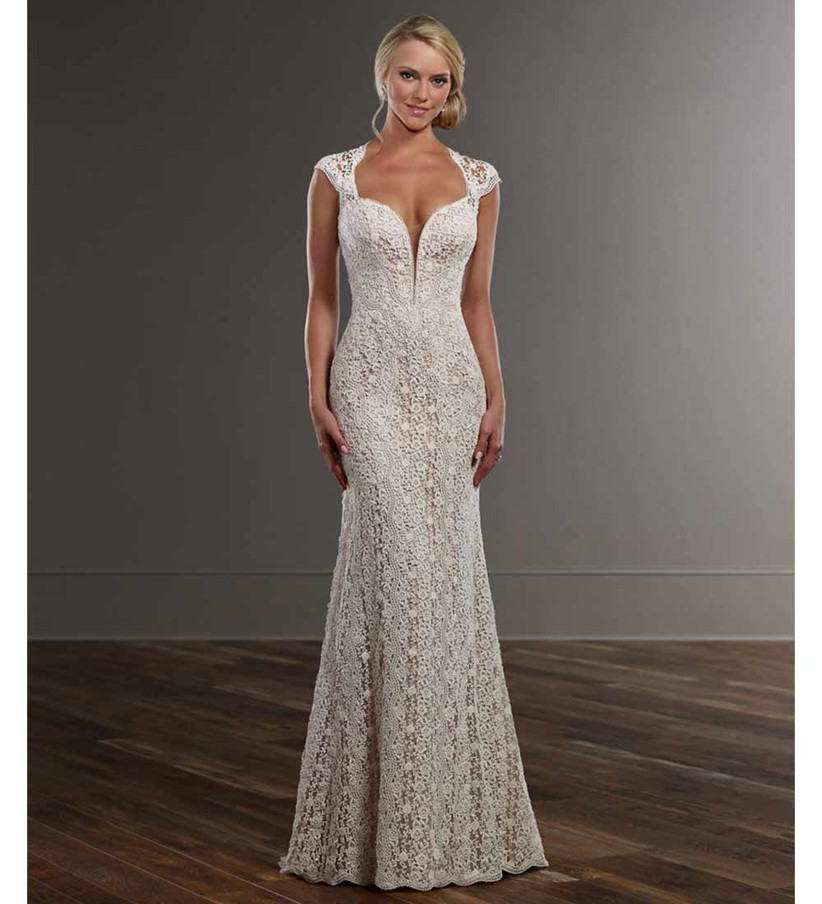 Height
When it comes to height, there are some styles which suit brides more than others.
Petite Brides
For extremely petite women we would recommend steering away from wedding dresses that have voluminous skirts such as ball gowns and princess style dresses. Tea length dresses can look super cute on shorter women and are a really pretty design to wear.
Special Day – Style 803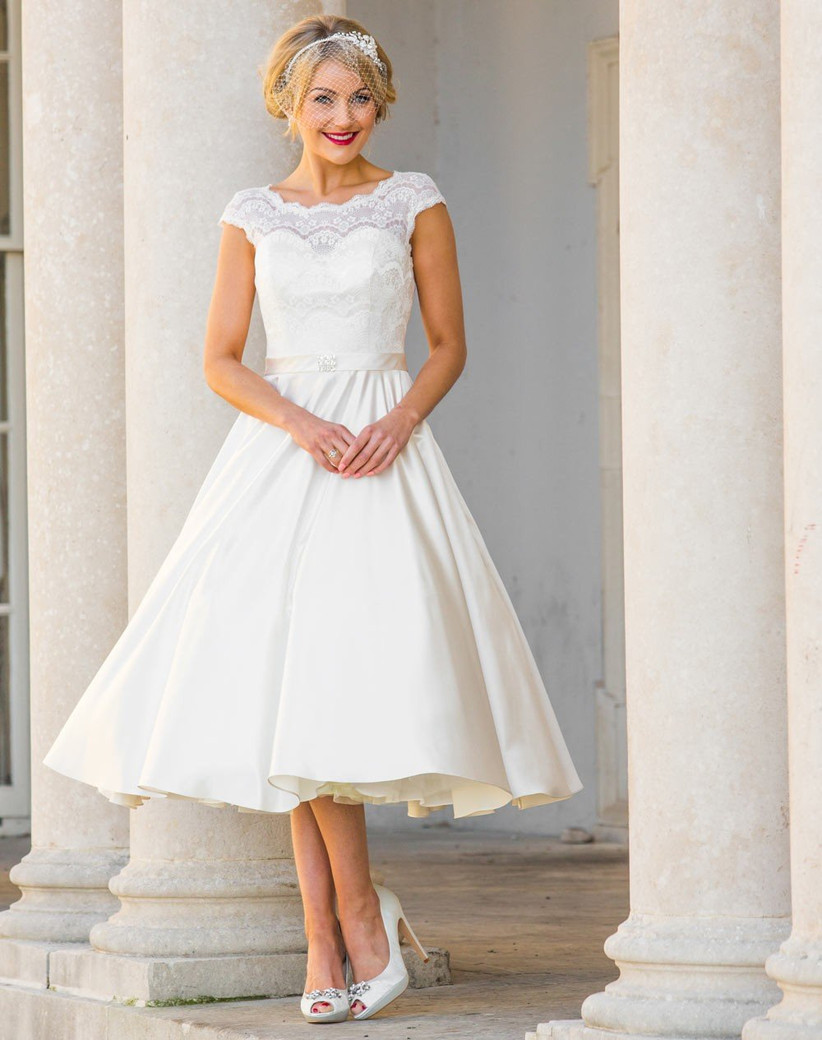 Tall Brides
Brides who are much taller should avoid empire line wedding dresses as they can sometimes look like one long bit of fabric rather than a beautiful dress. Tall brides usually have longer legs and what better way to show them off than by wearing a dress with a stunning slit in the skirt.
Monique Lhuillier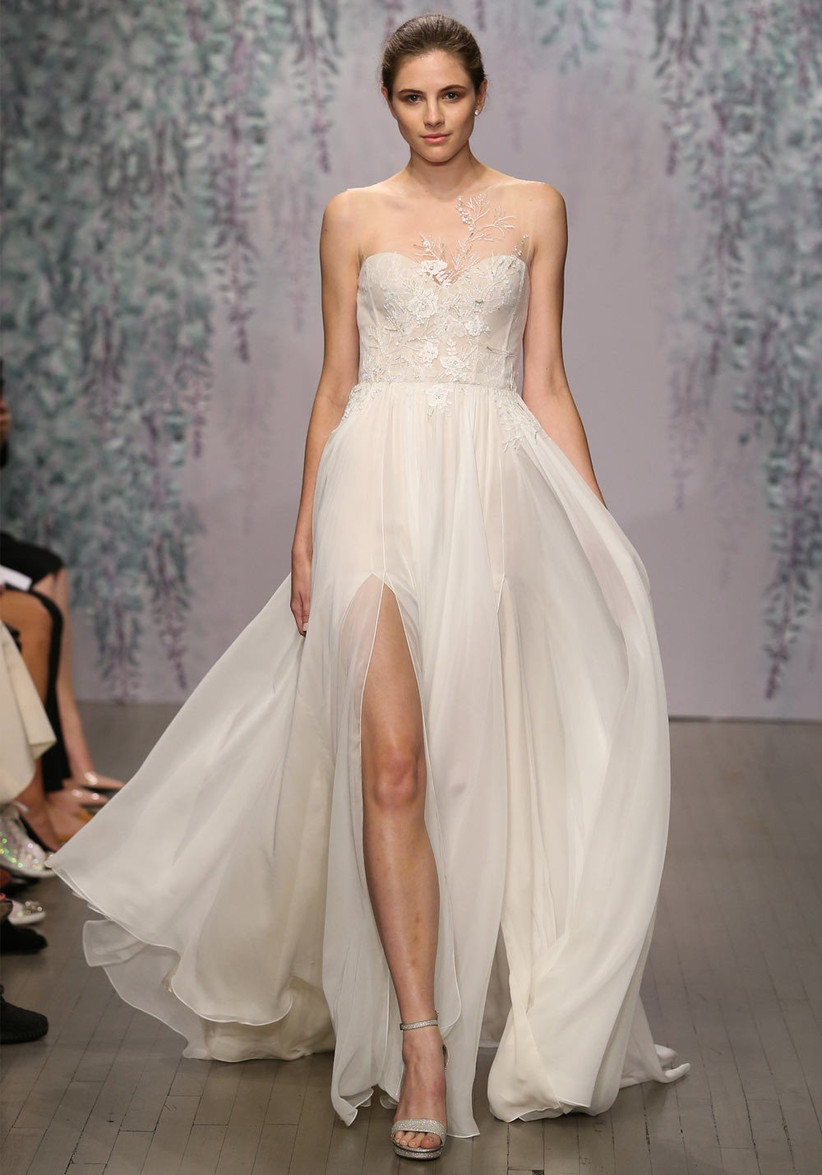 Now you know which style to opt for, why not have a look at our colourful wedding dresses, brides who love to break the rules will adore these designs.