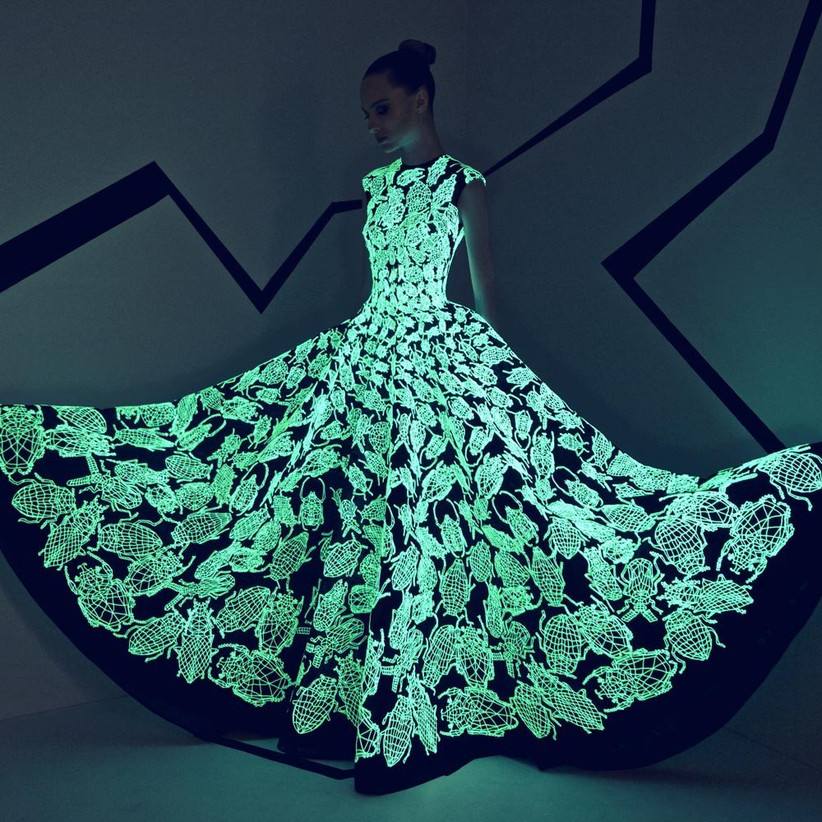 When it comes to bridalwear, there are no real rules and any bride can wear any dress, or not-dress, on their wedding day. Alternative wedding dresses is a scary term for most brides, but breaking away from wedding traditions can be really fun.
If you don't like the idea of wearing a stereotypical wedding dess, then you will love our selection of the best unusual wedding dresses the world has to offer.
Rami Kadi – FW15-26
Couture gowns are really worth considering if you are looking for an unusual wedding dress and this magnificent tulle design by Rami Kadi is one worth trying. The pale blue and gold patterns are so tasteful and we love the subtle incorporation of star shapes to bring some real glam to the bridal look. If this style of dress is the one for you, have a look at our guide to couture wedding dresses.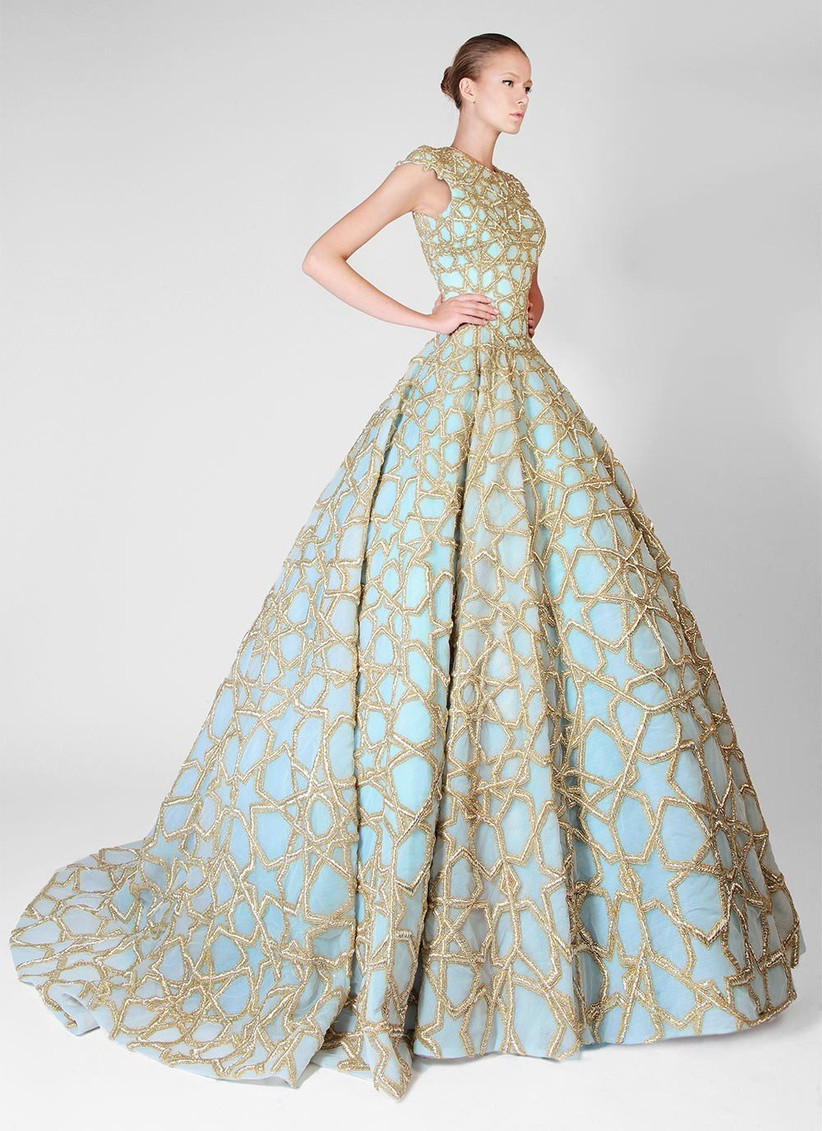 Paolo Sebastian
This high fashion design by Paolo Sebastian quite frankly took our breath away. The combination of crochet seams and high end intricate embroidery is a pairing which rarely happens. The edge which this dress has is undeniable and we absolutely love the risqué sheerness to the bodice and skirt. Any bride who dares to dine in this dress will turn heads and feel fabulous.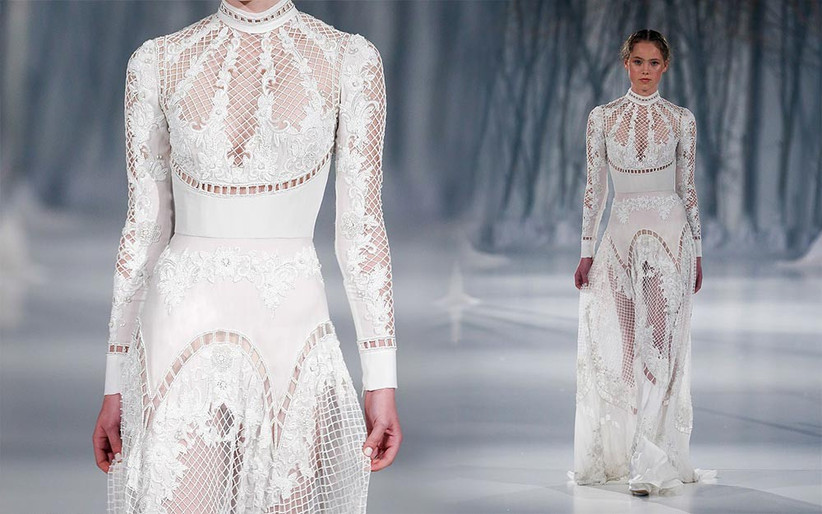 Image Credit: Zak Kaczmarek
Kelly Faetanini – Gwendelyn
We are so blown away with how beautiful this gold dress is by designer Kelly Faetanini. The colour is impeccable and we can honestly say that this dress is fit for a royal! We already loved the dress as it was, but with the added sheer train and stunning lace appliqué – it really has gone into new rankings. Being able to transform a dress between two different looks is a bride's dream, and so is this dress.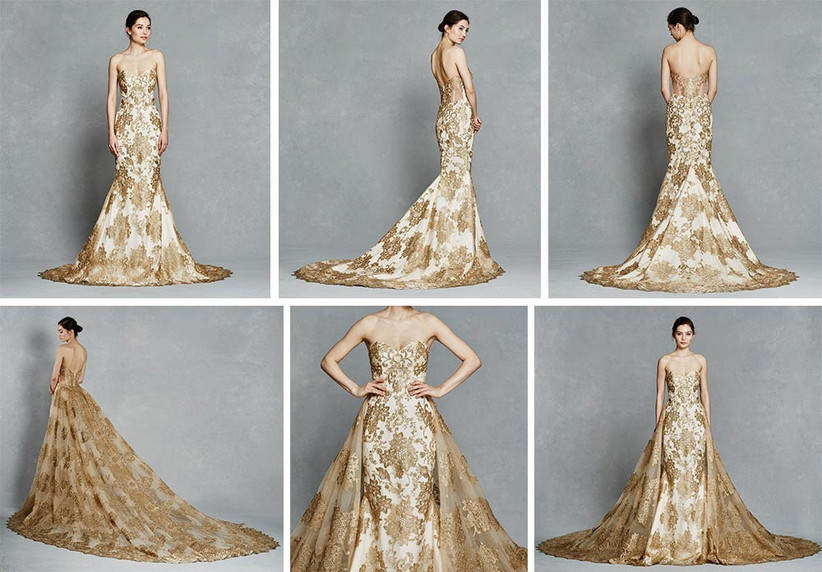 Jenny Packham – JP660 Apache
Jenny Packham has graced us all with a stunning green dress which is full of desirable embellishments that are so perfectly done. If your wedding is home to a rustic theme, we highly recommend finishing the look with this stunning gown. We love the sheer sleeves, they add even more detail to what is truly a gorgeous design. Put your bridesmaids in mint green dresses to keep the colourful vibes flowing.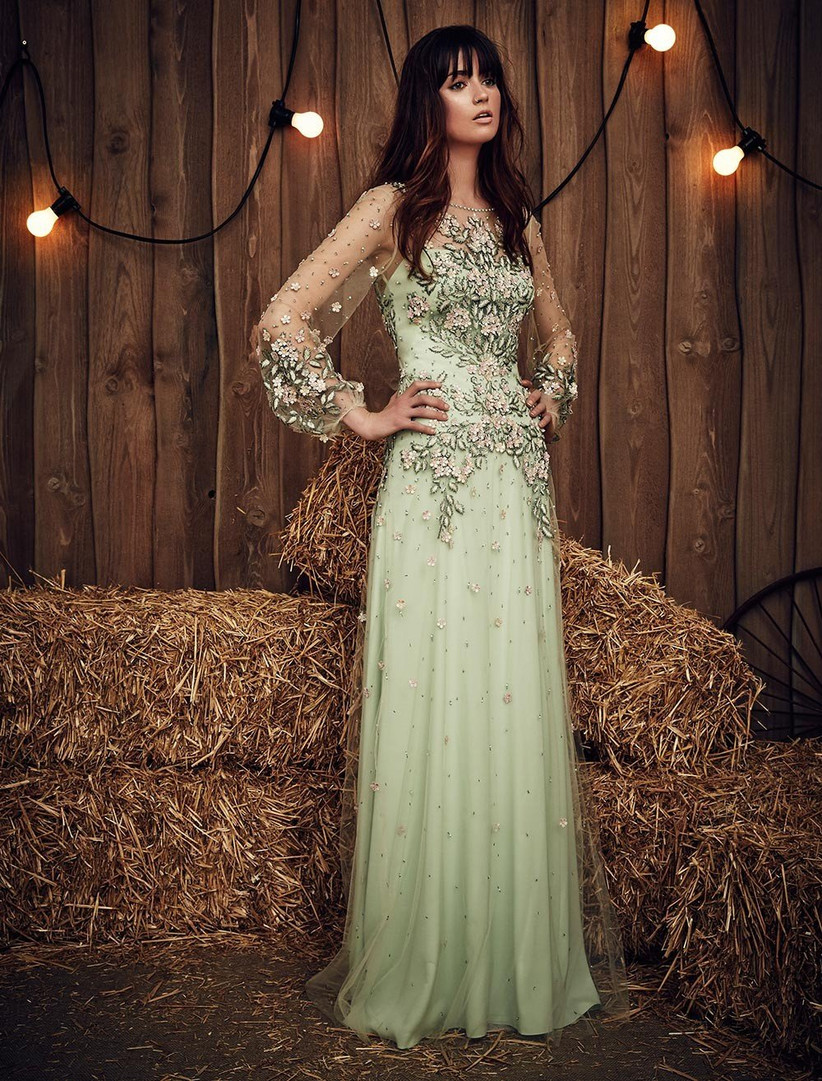 Rami Kadi – Campay 05
If you've been dreaming of showing off your curves in a gorgeous silhouette, have a look at this utterly stunning floral wedding dress. The corset gives an amazing waist to whoever is lucky enough to wear this dress and we love the blush pink colour. Off the shoulder dresses are a really pretty style to wear for your wedding day and unusual wedding dresses don't get much prettier than this.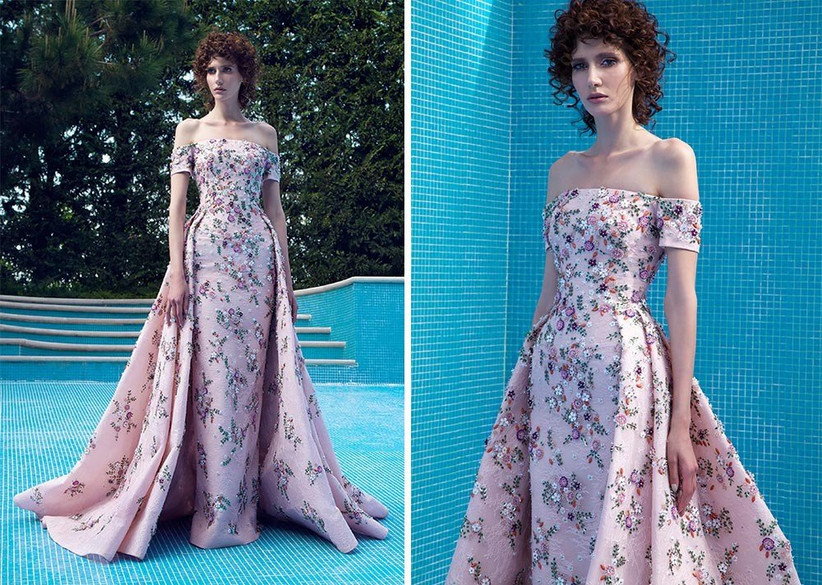 Alfred Angelo – 972
Alfred Angelo has created a truly beautiful wedding dress here with a classic shape and deep v-neckline. However the design really comes to life when you see the eye-catching detail on the bodice and even more stunning caged sparkly detail on the back. Sparkly wedding dresses are always a big winner and never fail to amaze.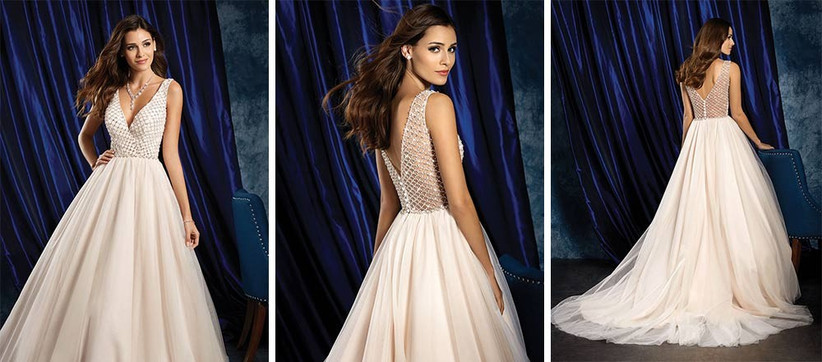 Francesca Miranda – Nina
This funky design by Francesca Miranda is the perfect example of how tiered wedding dresses can create so much drama and volume and look utterly fabulous whilst doing so. If you are daring when it comes to fashion, why not try this strapless statement gown?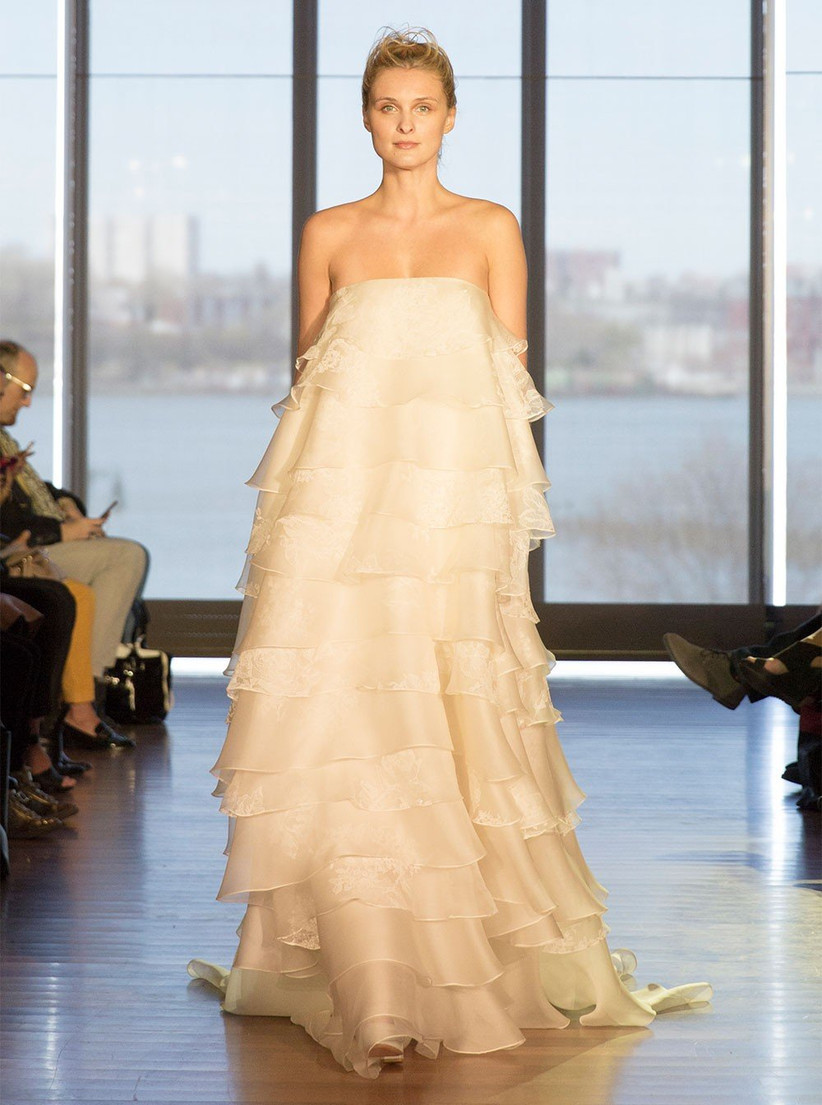 Paolo Sebastian
No one ever said brides can't wear red wedding dresses, and we are so thankful for that because this deep V-neck bridal gown is just stunning. The colour oozes romance and it's the ideal gown to grace a winter wedding with your man dressed in an all-black tuxedo – we can picture it now!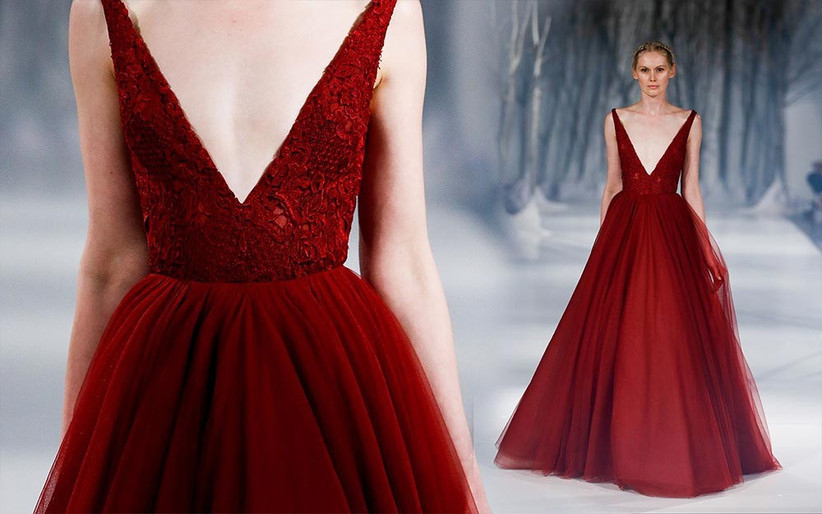 Image Credit: Zak Kaczmarek
Kelly Faetanini – Olga
Feathers are such a stunning addition to a wedding dress and something which is sure to make a statement. Something else which also makes a statement is Olga by Kelly Faetanini – what a gorgeous feathered wedding dress. We are obsessed with the statement gold bodice and the feather pattern flatters the textured skirt so perfectly. We here at Hitched envy any bride who gets to walk down the aisle in this unusual wedding dress.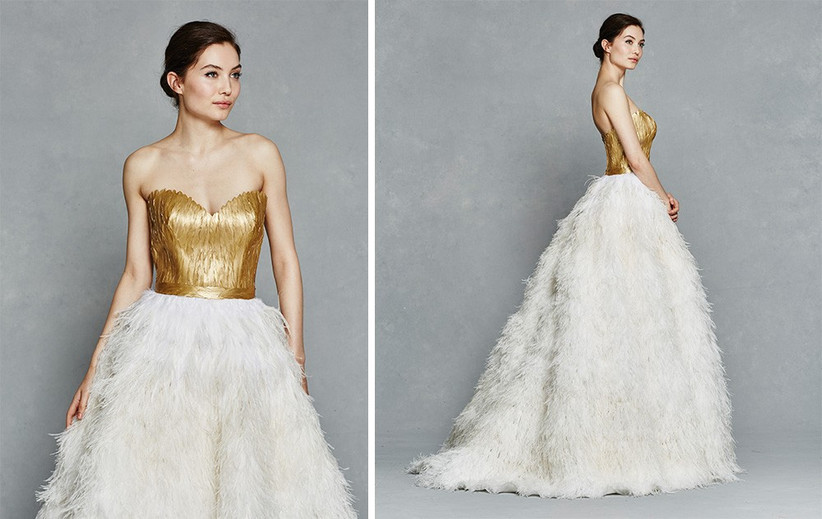 Rami Kadi – FW16-4
This show-stopping dress is a completely transformable wedding dress as the exquisite beetle embellishment becomes a racy fluorescent green in the dark.  Alternative brides who want to break the mould should test the waters with this incredible design by Rami Kadi. It would make the perfect gothic wedding dress for sure.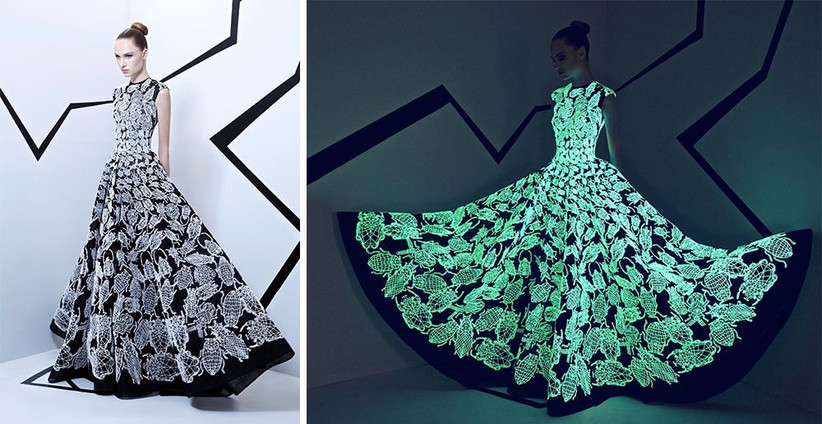 Martina Liana – James Jacket, Cora Corset & Sanji Skirt
This trio is sleek and sexy and shows that wedding dress don't have to be 'dresses'. The stunning sweetheart corset is covered in fine lace and compliments the crepe skirt famously. The addition of the jacket gives this bridal outfit a unique edge and enables it to be a dress which can easily transform. We really love wedding separates for the modern bride, especially this one by Martina Liana.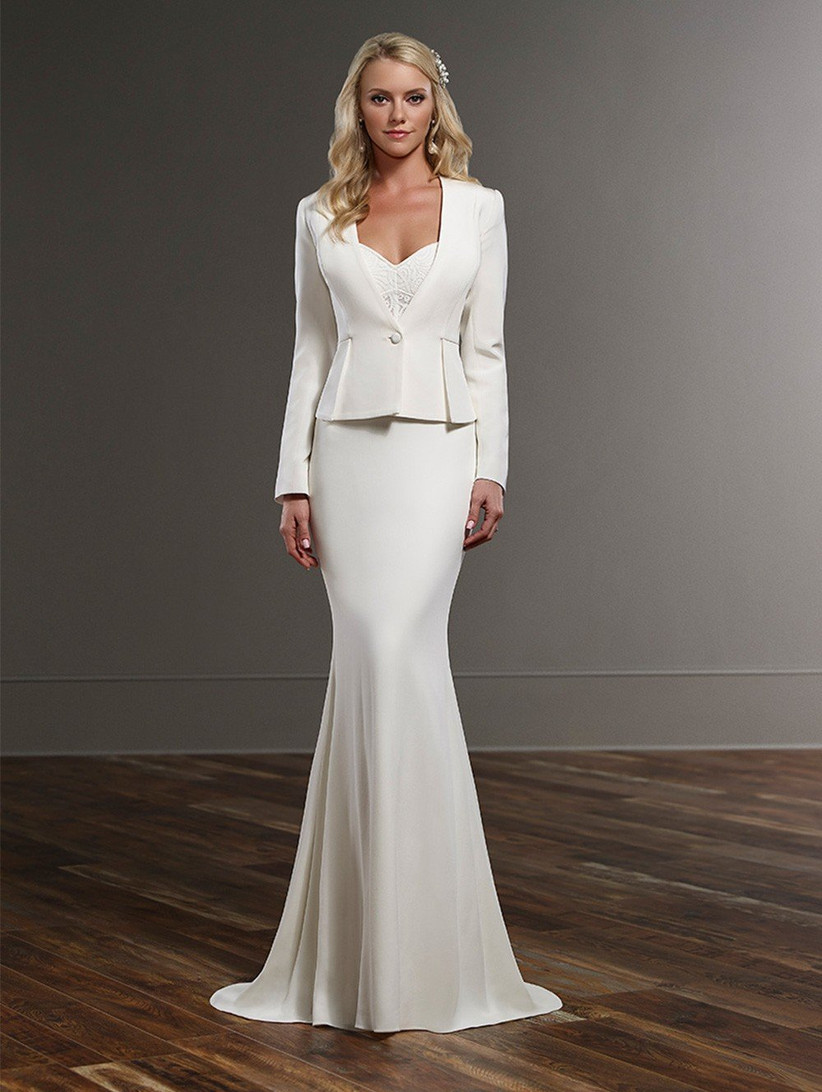 Kelly Faetanini – Florence
Sometimes you fall in love with a person, sometimes you fall in love with a dress, and in this case it's the latter. We cannot get enough of this romance-filled blush pink wedding dress. The sweetheart neckline is a classic flattering addition to what is a beautiful bridal gown. The colour makes it more unusual than the ivory wedding dresses more commonly seen but for that reason, we love it even more.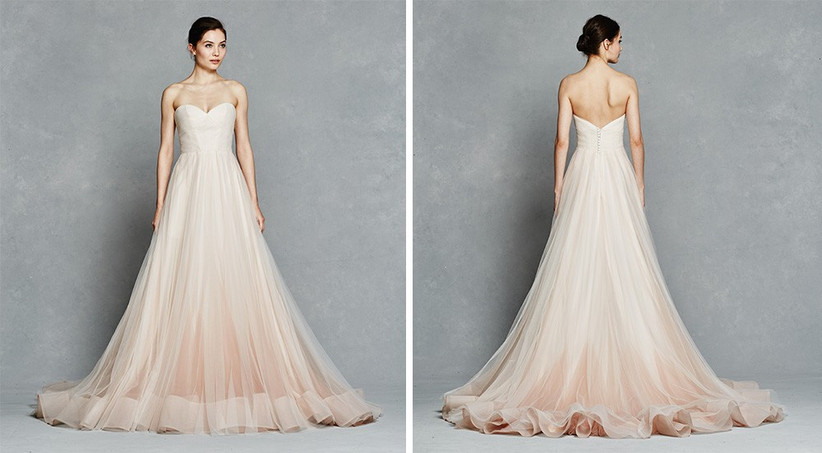 Francesca Miranda – Mirabi
Mirabi by Francesca Miranda is an empire line, strapless tiered bridal gown with shimmery circular adornment. The abstract theme to this dress is super modern and so feminine with the gorgeous champagne colour it's made with. We love the raised hem at the front – it is the perfect dress to show off your hot wedding heels.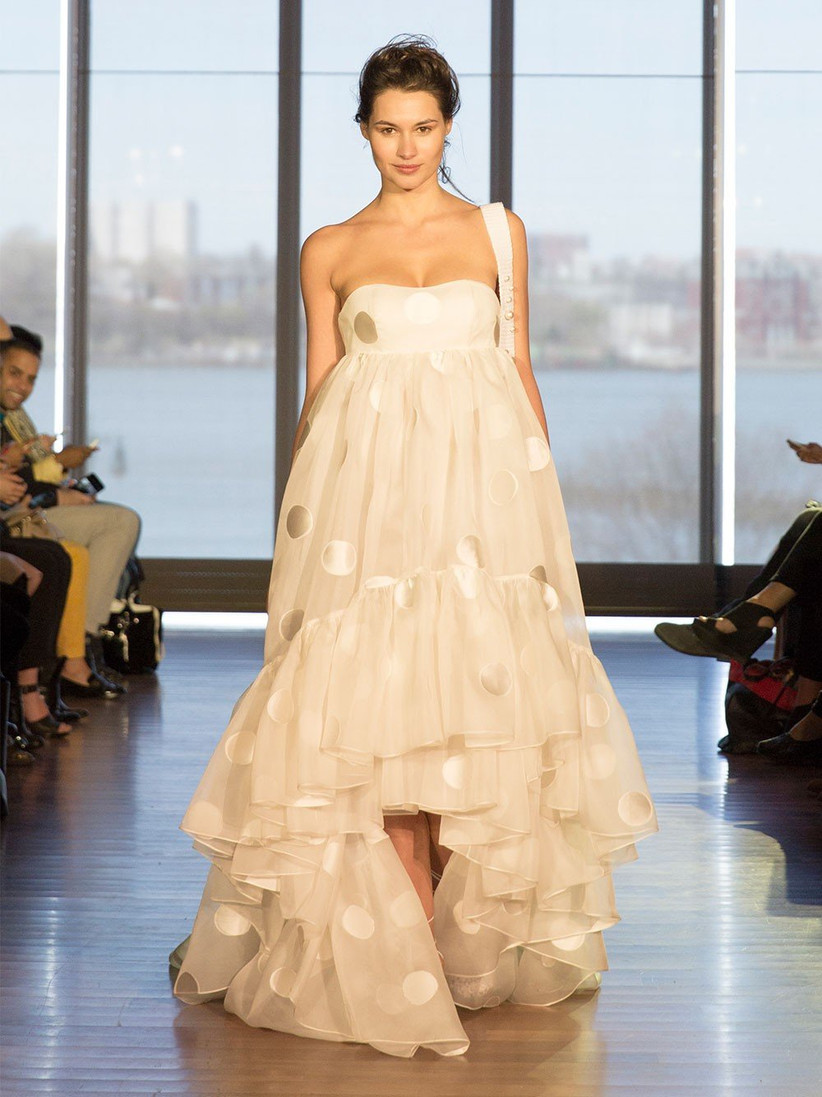 Eliza Jane Howell
Any gown covered in sequins and glitter is bound to be stunning, but add red into the mix and you have a whole new level of beauty. Wow your guests on your wedding day with this gorgeous Eliza Jane Howell dress and accessorise with some glamorous bridal head wear.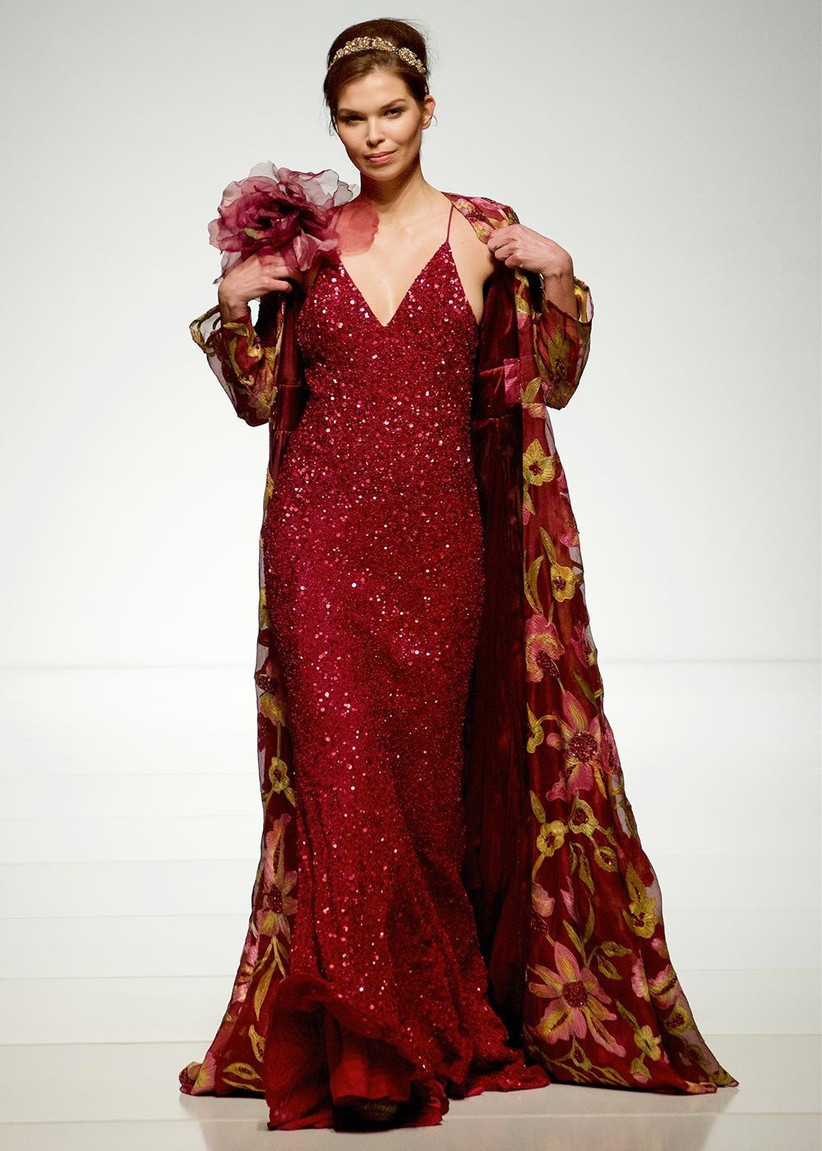 Sassi Holford – Marilyn
We are such a big fan of this gown by Sassi Holford for so many reasons. It is a true English rose design and we love the organza overlay and stunning shoulder detail. For any bride having a country garden wedding, this has to be your dress.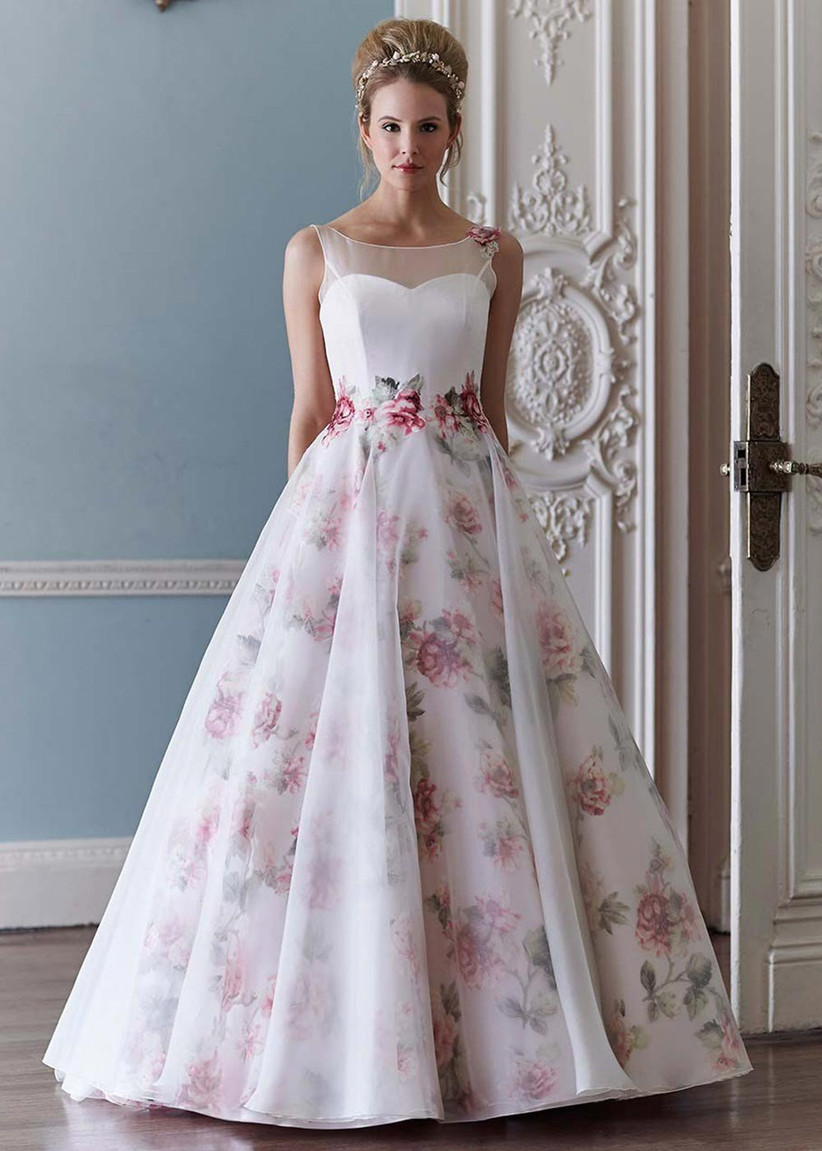 Paolo Sebastian
How stunning are the colours on this Paolo Sebastian gown? The grey shade of purple, and black embroidery are so pretty and are made even more beautiful by the impeccable detail which lies on the hem of this dress. We are obsessed with the sheer top and choker neck. Winter weddings need this dress, and so do you.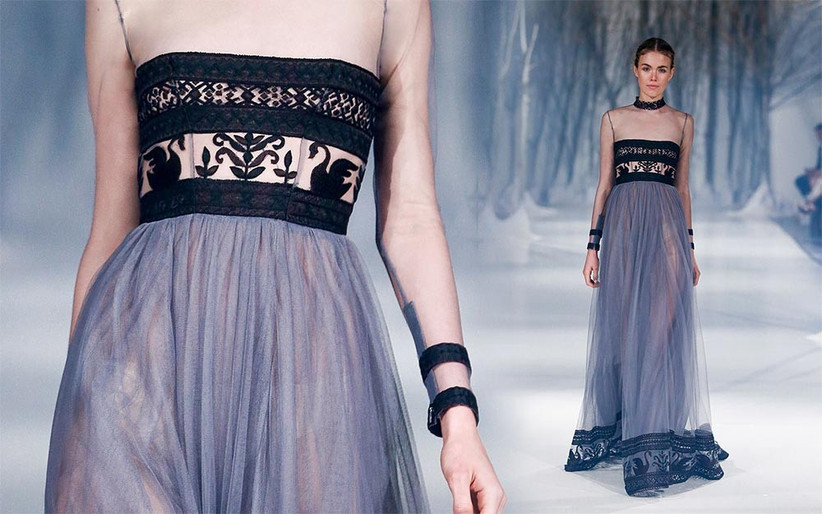 Image Credit: Zak Kaczmarek
Rami Kadi – SS16-03
Gold wedding dresses are classic and tasteful and this dress is all of that and more. The edgy laser cut sequins which cover the design give the dress a gorgeous texture which will fall beautifully as you walk down that aisle. Alternative wedding dresses are all the rage these days and we love them.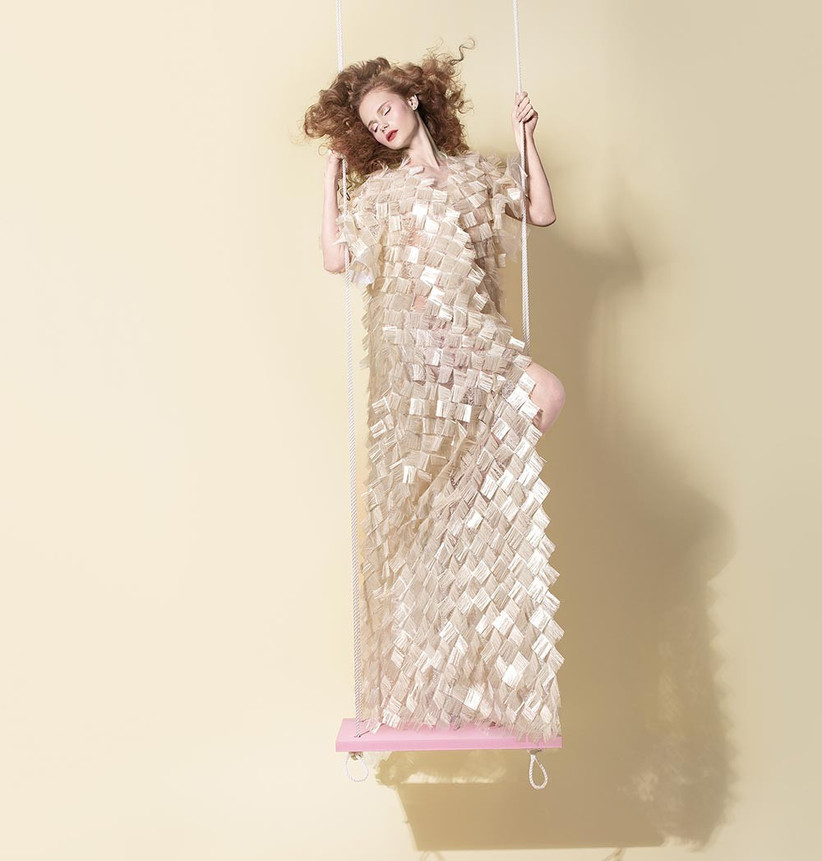 Alan Hannah
Brides who like the simple look, but still want to be a little different can fulfill all their desires with this design by Alan Hannah. This simple wedding dress has a shape which is so sleek and details such as the plunge neckline, round waist belt, and cape sleeves are what brings this dress into this category – for all the right reasons.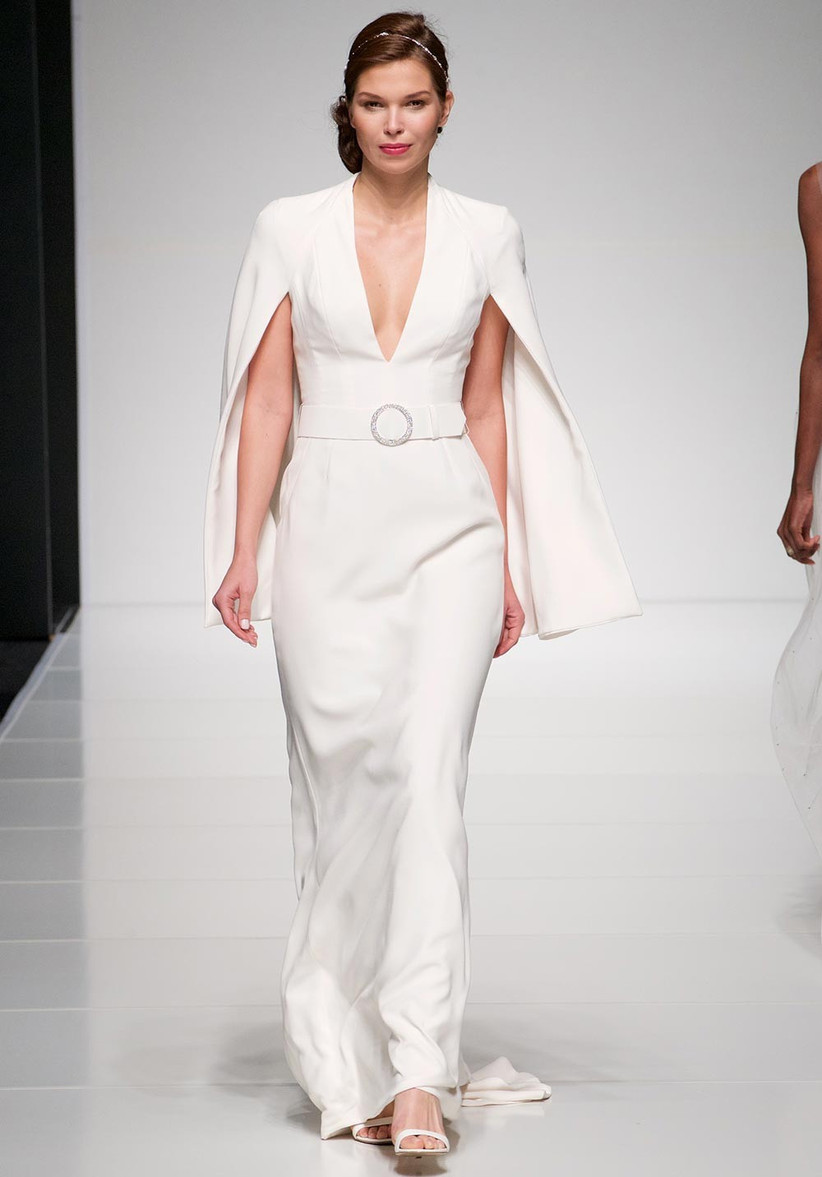 Alfred Angelo – 8543
Vintage wedding dresses are the perfect style to add a bit of colour and uniqueness to. This Alfred Angelo design is classy and timeless with the elegant gold detail throughout the dress, we can't fault it.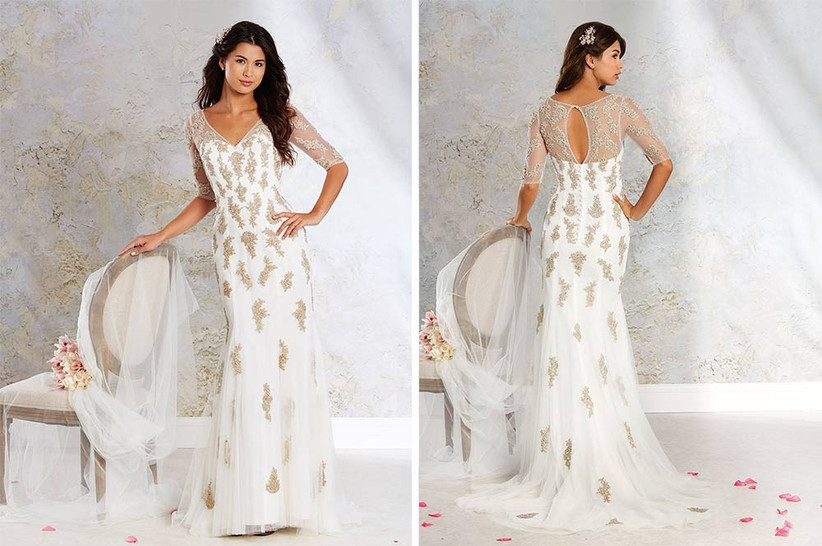 Ruth Milliam – Orphelia
This dress by Ruth Milliam just takes our breath away every time we look at it. It has stunning heavily encrusted gold beading and is also covered in sparkling crystals – what more could a girl want? The frothy ruffled skirt gives the dress body and it also has a gorgeous cascading train which makes it the perfect glamorous wedding dress. We are in love – for real.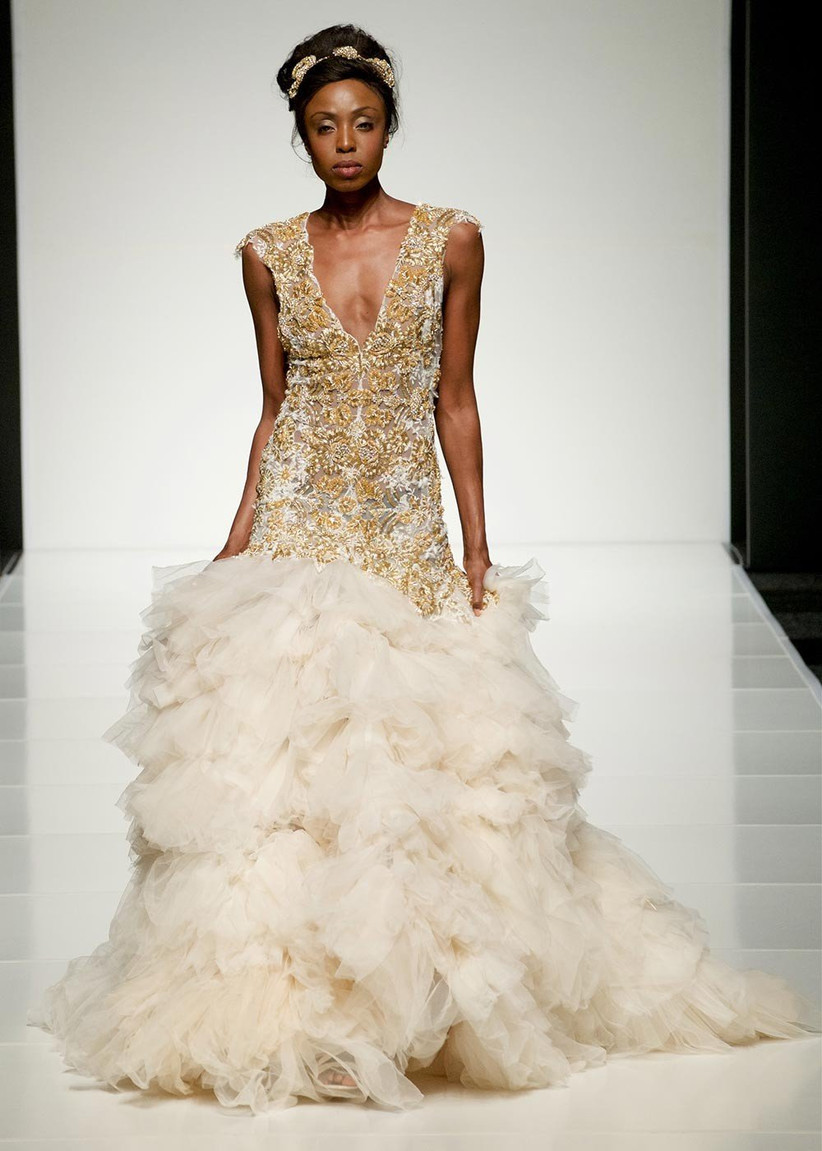 Minna
Our boho brides will love this cream and green natural design from Minna's Indie Bride collection. The shorter length and leafy patterns make this dress the ideal wedding wear for brides who want a more understated look and don't like the bouffant bridal image. We love bohemian styled wedding dresses and this totally fits the bill.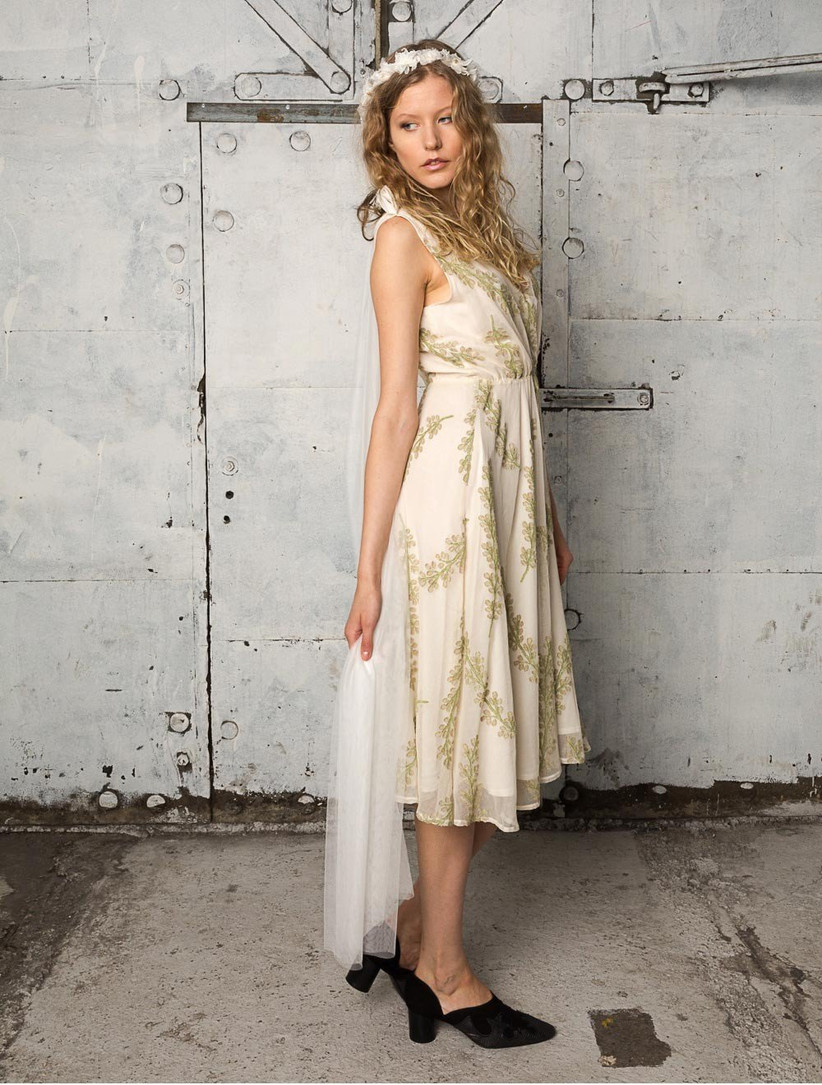 Francesca Miranda – Yoko
We absolutely love the sexiness of this dress. The feathered adornment is so intricate and covers the bust in a racy, yet very tasteful way with its gorgeous attention to detail. The sheer bodice is perfectly paired with a floaty organza skirt that has the perfect amount of elegance and shine.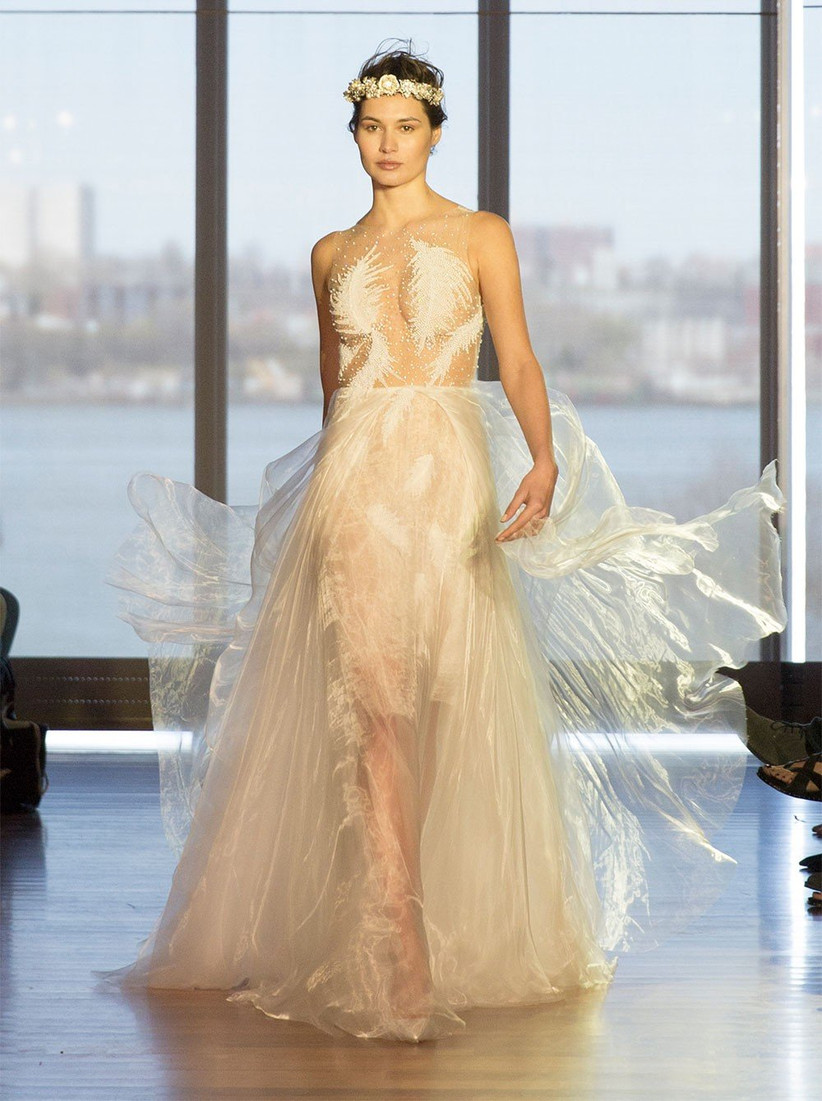 Sassi Holford
This satin gown has the perfect amount of drama with its full skirt and puffed sleeves which give it real character as a wedding dress. The shimmery texture will look stunning in the wedding photos.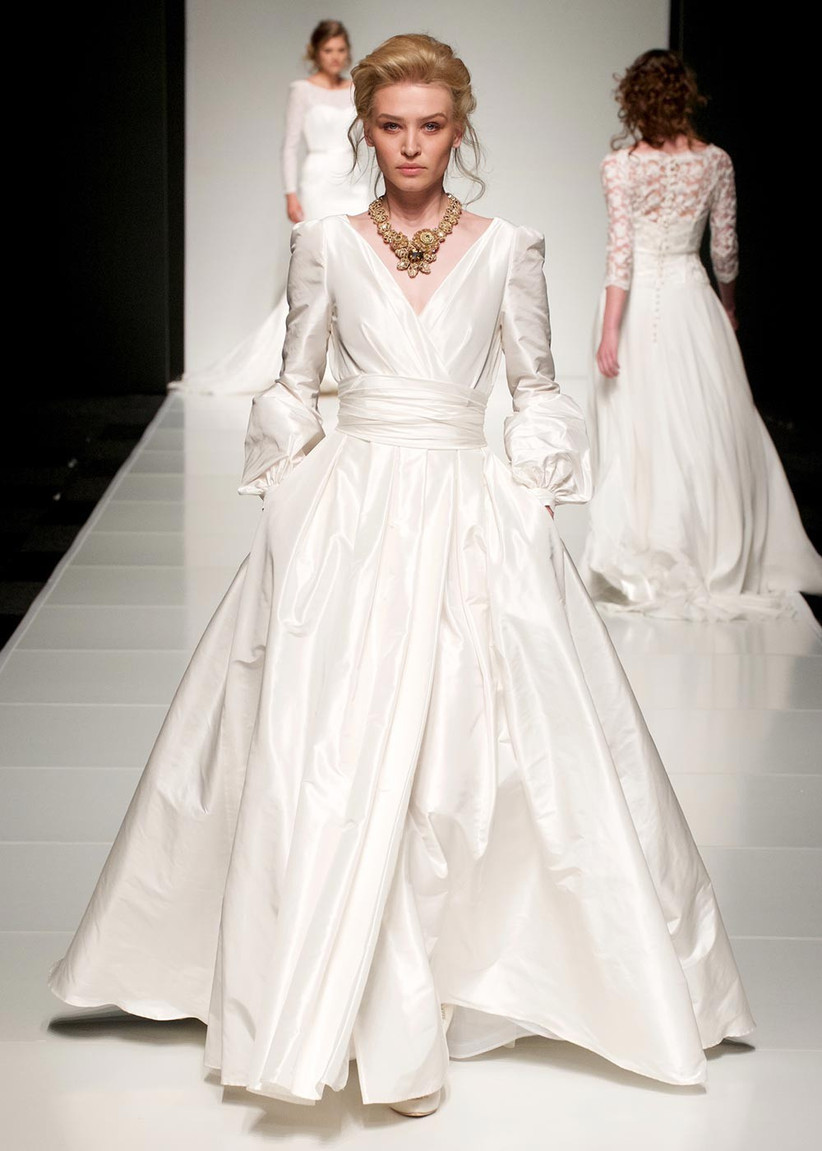 Wendy Makin – Katelyn
This stunning design from Wendy Makin's couture collection is a handmade exquisite gown with so much grace to it. The floral pattern which covers the whole dress is so feminine and totally fit for a summer bride who wants to embrace her theme.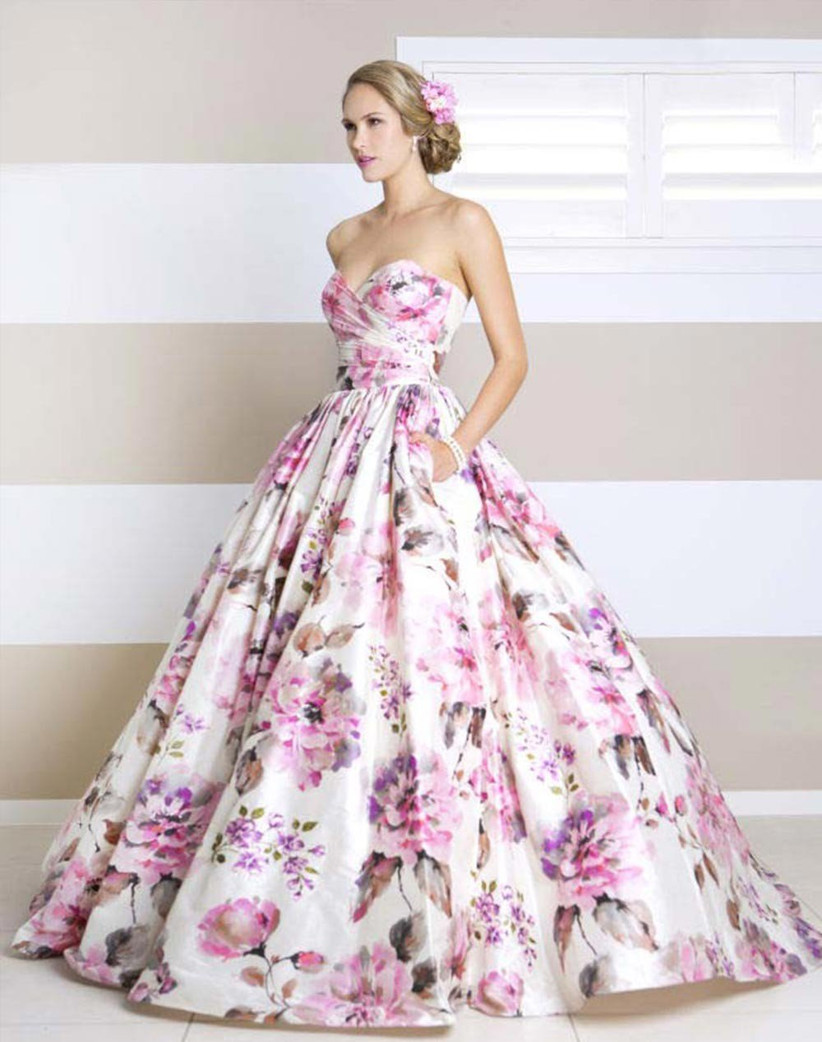 Rami Kadi – SS16-06
You wouldn't usually expect to see birds on a wedding dress and like it, but we love the detail on this gown. The fabric and embellishment together give a soft feel to the look and shape is so flattering. This dress would look stunning with a vintage hairstyle.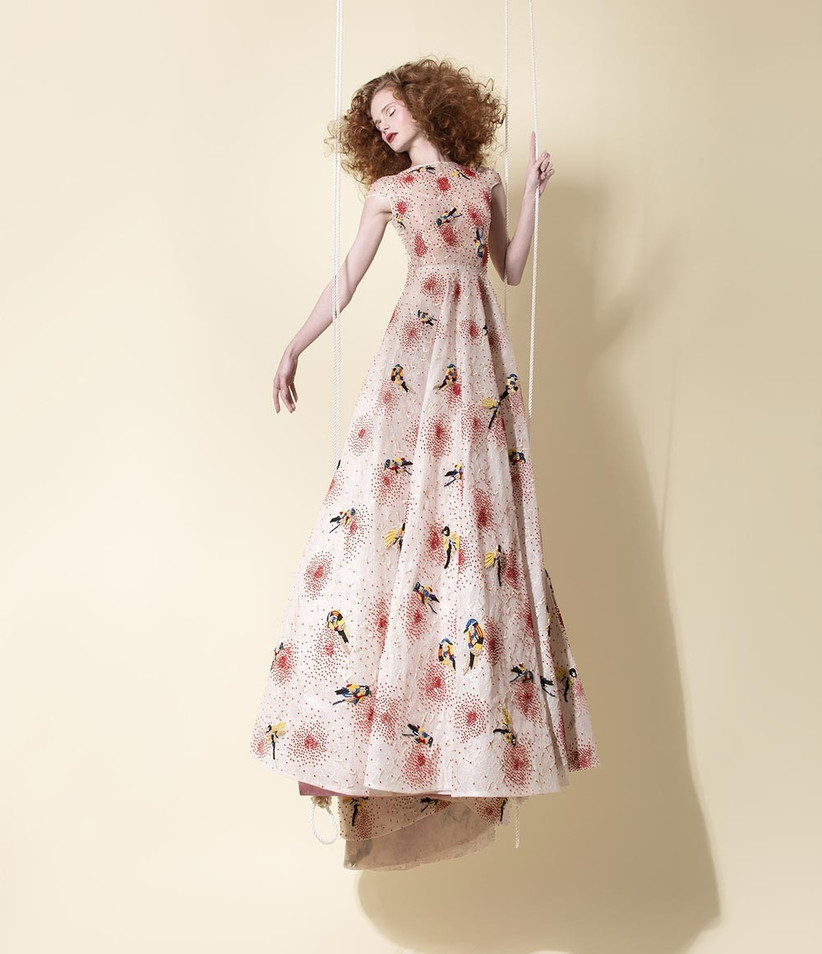 Paolo Sebastian
This regal embroidery with stunning bright colours and undeniable taste is everything you could want in a dress and more. Paolo Sebastian has created a true statement dress which needs to be worn with a statement hairstyle to carry on the daring look. This dress breaks all the rules of bridal and we wouldn't have it any other way.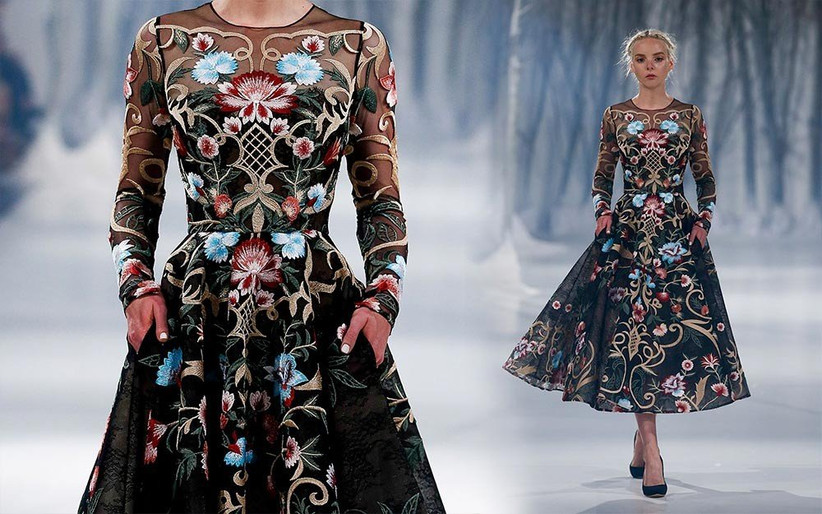 Image Credit: Zak Kaczmarek
Jenny Packham – JPB645 Jolene
This star theme truly is out of this world and the colours are to die for. Neutral golds and browns are super flattering to any skin tone and the illusion neckline is a really feminine touch. This dress is completely adaptable to different wedding themes as the colours are warm and autumnal but the sparkle gives it that wintery touch.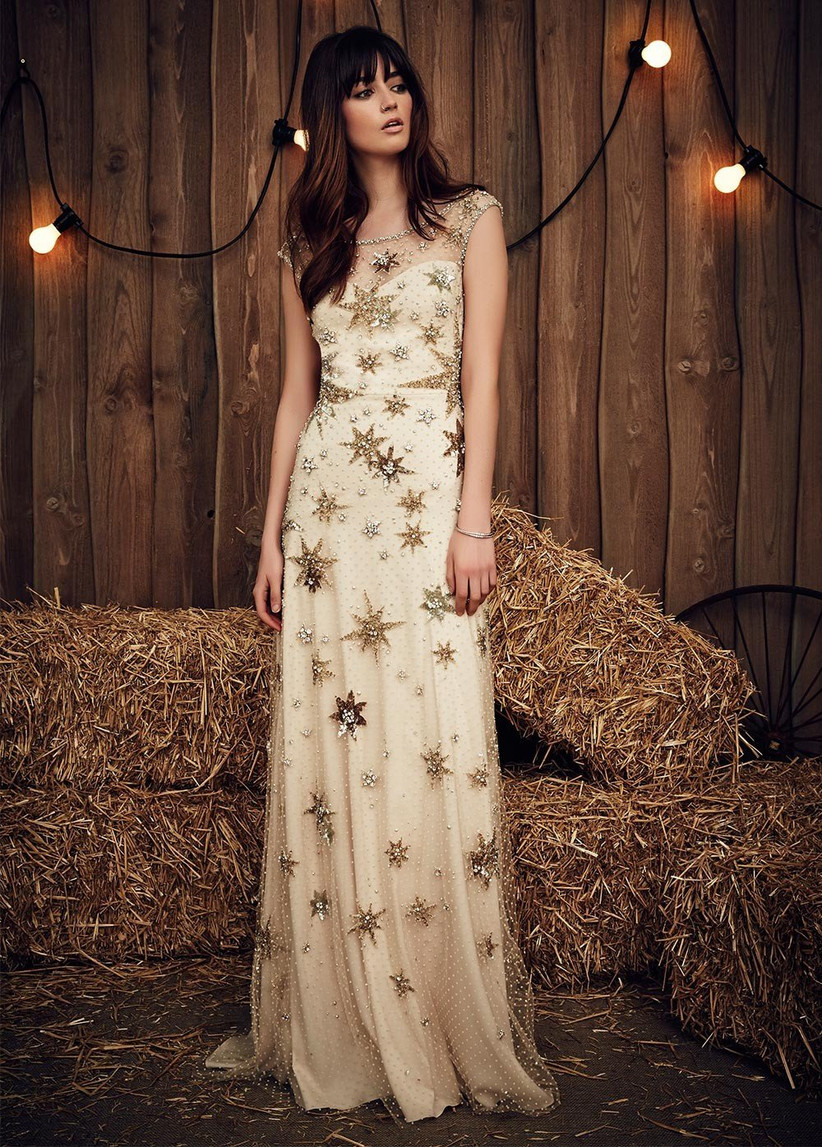 Claire Pettibone – 01 Laguna
Boho wedding dresses are hugely popular and very on trend for 2016. We love the way this dress by Claire Pettibone uses heavy crochet detail to make brides stand out from the crowd. Finishing this look is easy – add some chic jewellery and put some flowers in your hair and you will be ready to rock and roll.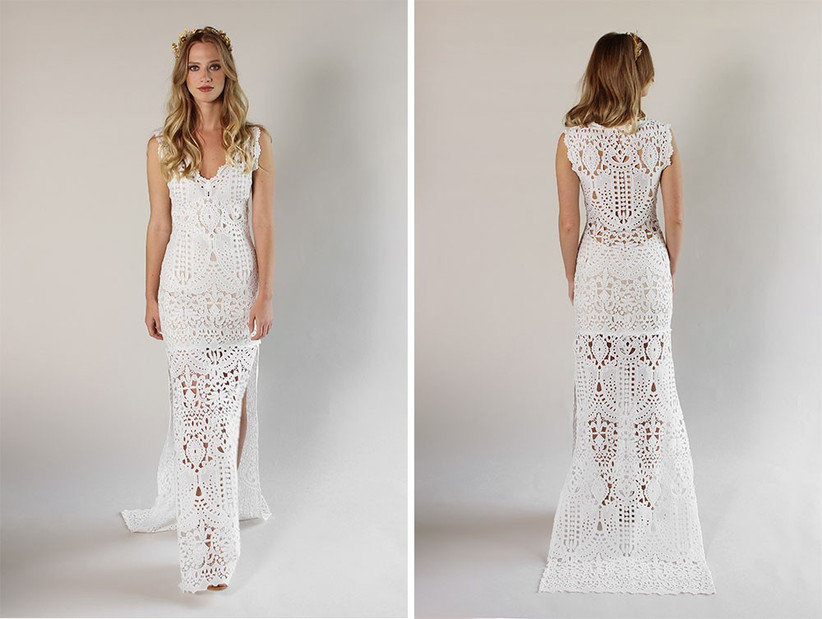 Rami Kadi – SS15-5
Calling all disco divas, we've found your wedding dress. This is a super daring, hand embroided leather dress made for the cutting edge bride. As well as being the coolest wedding dress ever, it would also make for the perfect wedding reception dress to change into after the ceremony.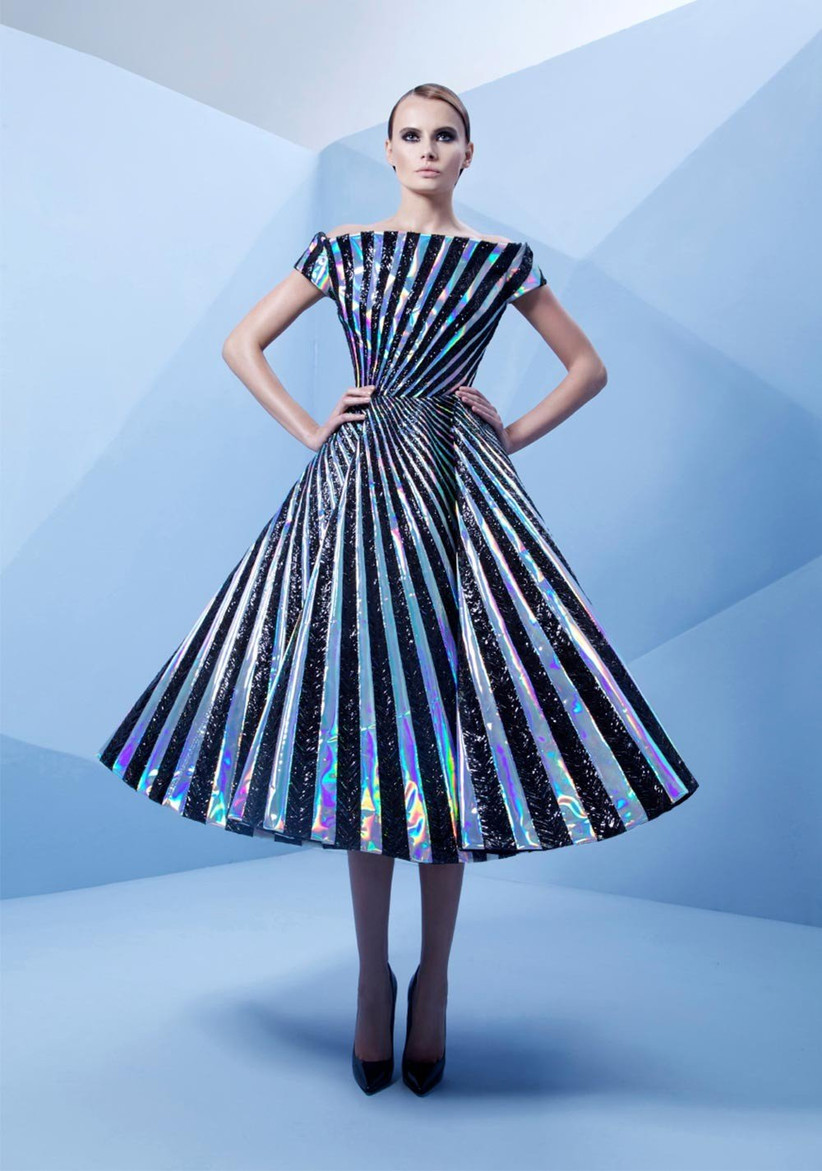 Paolo Sebastian
The heavy embroidery on this amazing gown is so so beautiful, and is made even more feminine with the addition of spaghetti straps and some soft frayed lace on the neckline. If you want to stand out in your wedding gown and just don't fancy ivory as your top choice, trade it in for this undeniably gorgeous dress.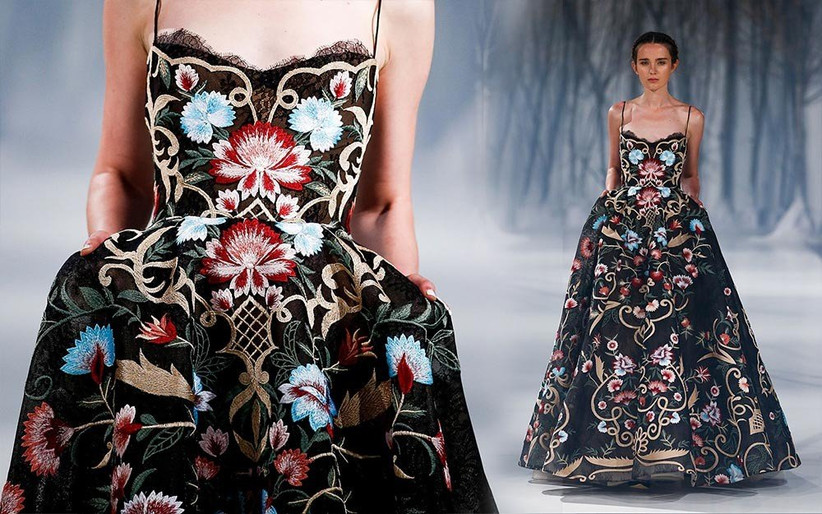 Image Credit: Zak Kaczmarek
Badgley Mischka – Daria
This design by Badgley Mischka has the most stunning detail throughout its body and the embroidery is so chic. The fishtail shape is a common bridal trend with added tiers to enhance the look and make it super unique. Tiered wedding dresses are always full of style and body for brides who want to make a statement.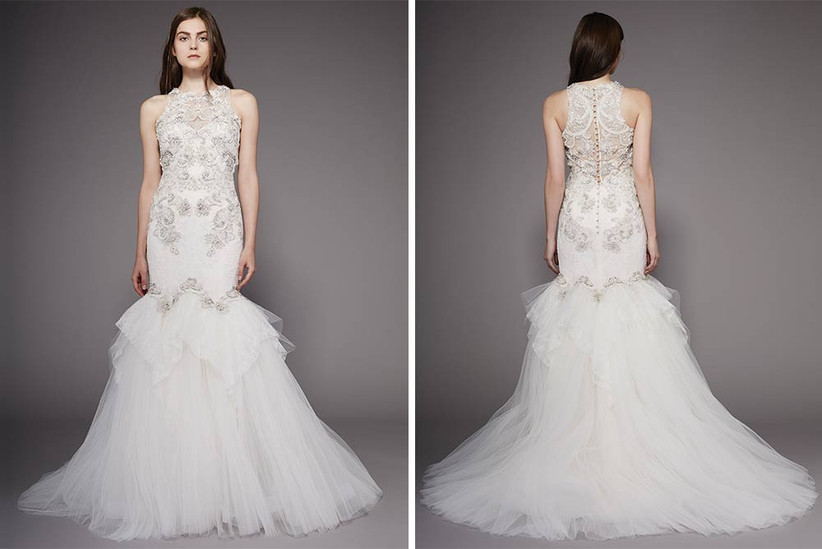 Monique Lhuillier – 1230 Lacey
This bridal jumpsuit designed by Monique Lhuillier is so beautiful we can't take our eyes off it. The continuous rose embroidery throughout the design adds bags of romance and defines the art of fashion, especially bridal fashion.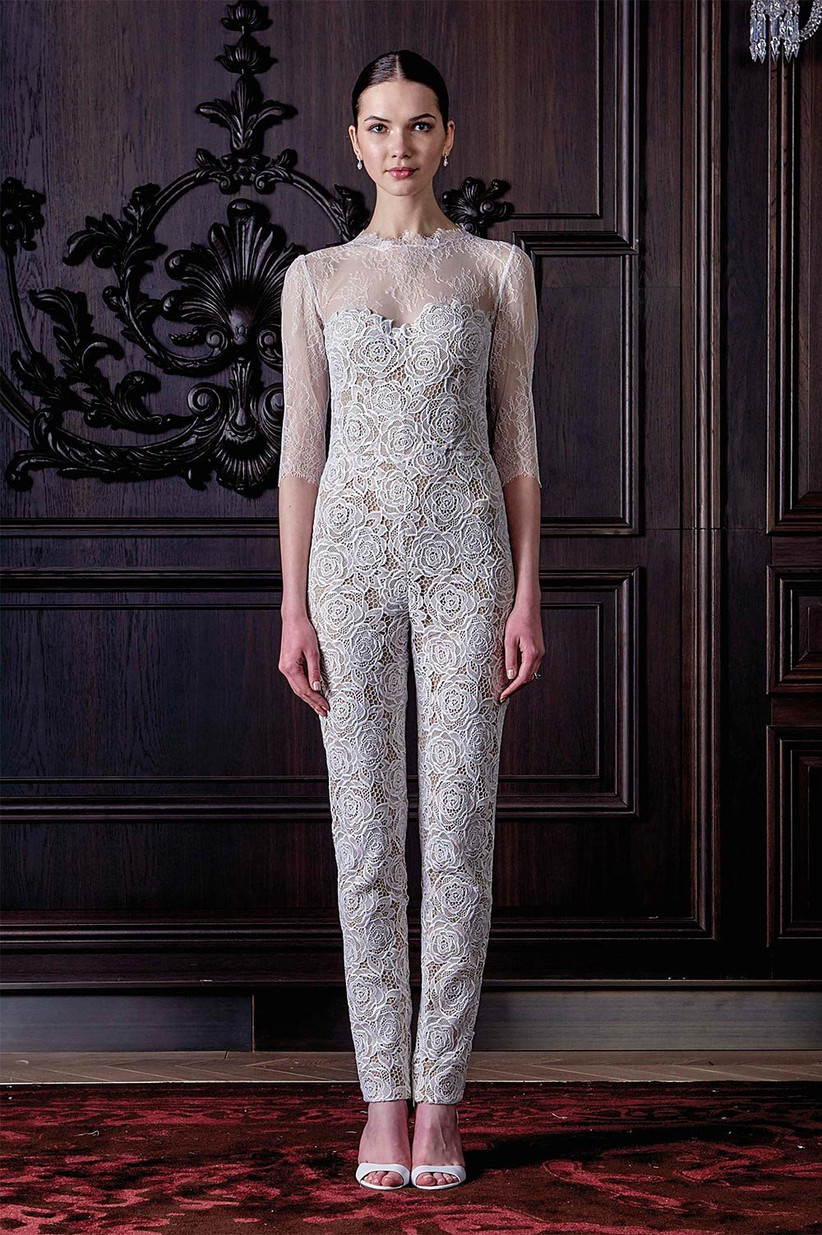 Kelly Faetanini – Leona
Gold and ivory together are a match made in heaven and this is perfectly shown in Leona, the design by Kelly Faetanini. The gold detail brings out every bit of beauty within this dress and we love how the back dips for a stunning shape. Complete the look with a classy up-do so no detail on this dress is missed.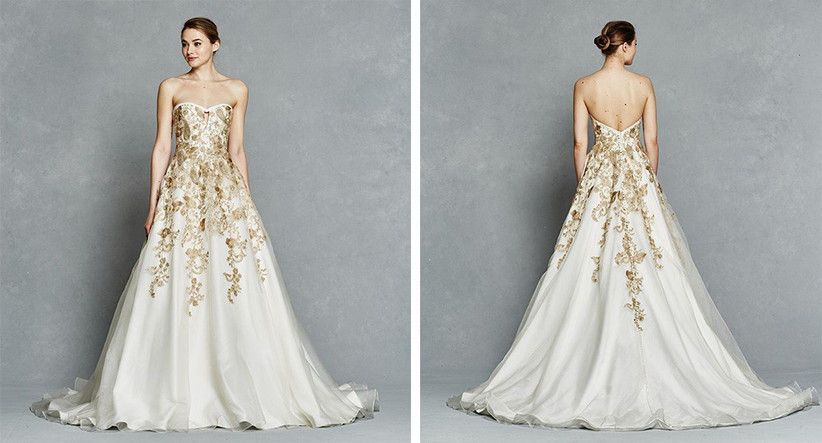 Qiana Bridal
This cute tea length dress is made in a stunning blue colour which would look amazing with some blue bridal shoes. We love the tulle layered skirt and the body that it gives to the design. The cute bow finishes off the look and we are sure that any vintage bride would happily wear this Qiana Bridal design with pride and confidence.
Sassi Holford
How stunning is this two piece by Sassi Holford? We love the difference in the height of the hem so you can show off your stunning wedding shoes and the feathered detail at the bottom of the top is so pretty and will move well when you strut down the aisle.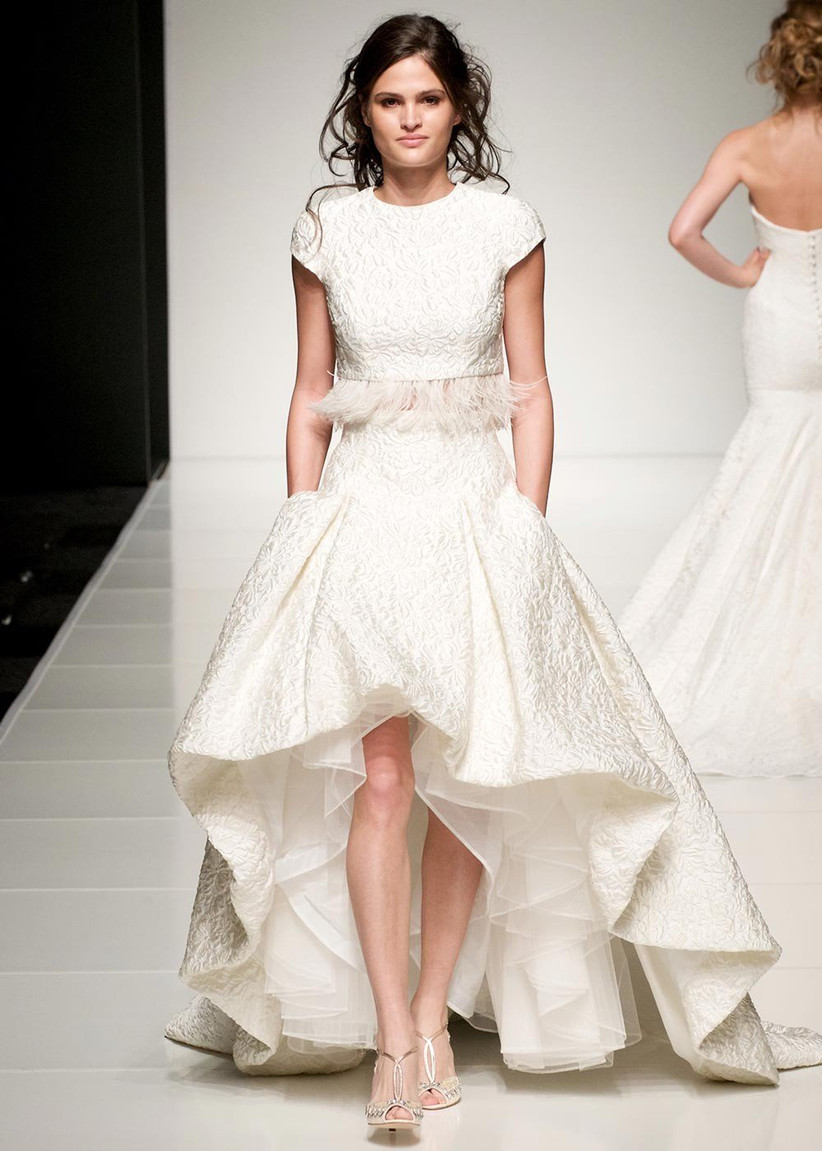 Claire Pettibone – 08 Olvera
Lace is a classic bridal material and always looks so stunning, especially on this Claire Pettibone gown. The bright and vibrant flowers above the hem add the perfect amount of colour to an already gorgeous gown and will enable any bride to make a statement. Summer weddings are a perfect home for this dress and it will go perfectly with any other colourful wedding ideas you may have.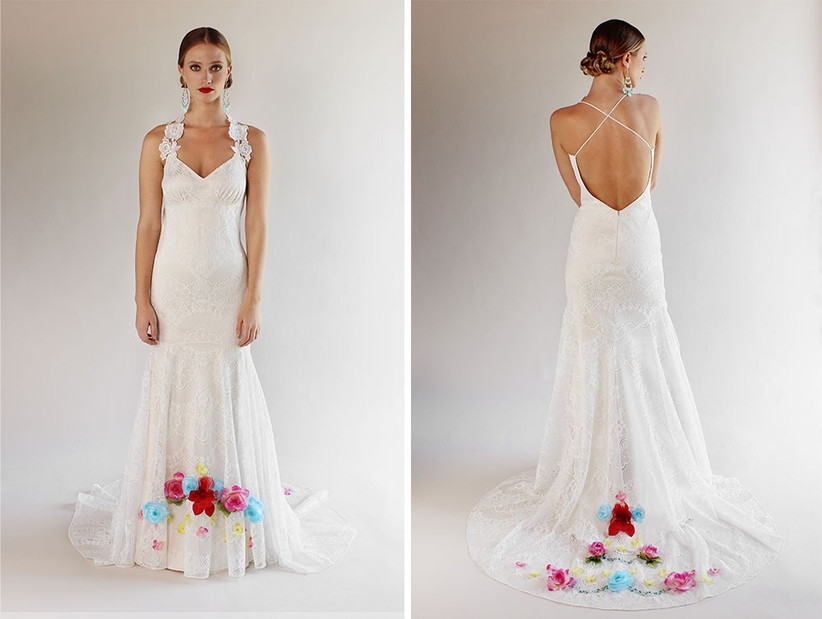 Alan Hannah
The jumpsuits are really making their mark on the bridal industry and that includes this sleek design by Alan Hannah. We love the halter-neck and waist belt combo and the outfit is topped off with an amazingly stylish sheer, high neck overlay.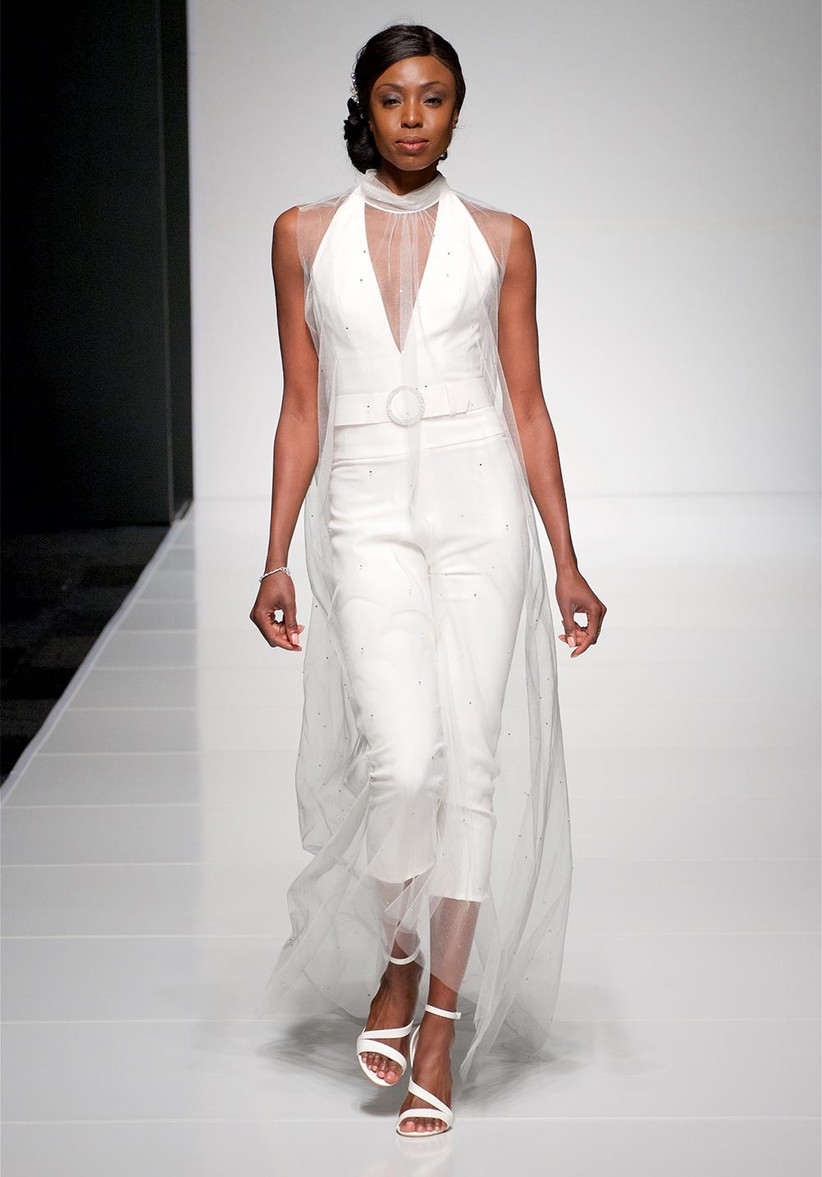 Rami Kadi – SS1608
This is a really interesting design by Rami Kadi. He has created a super pretty dress in the style of a long coat with buttons from the neckline to the hem. The embroidery has a nature theme and would suit a country garden wedding or anywhere with stunning surroundings to match this stunning design.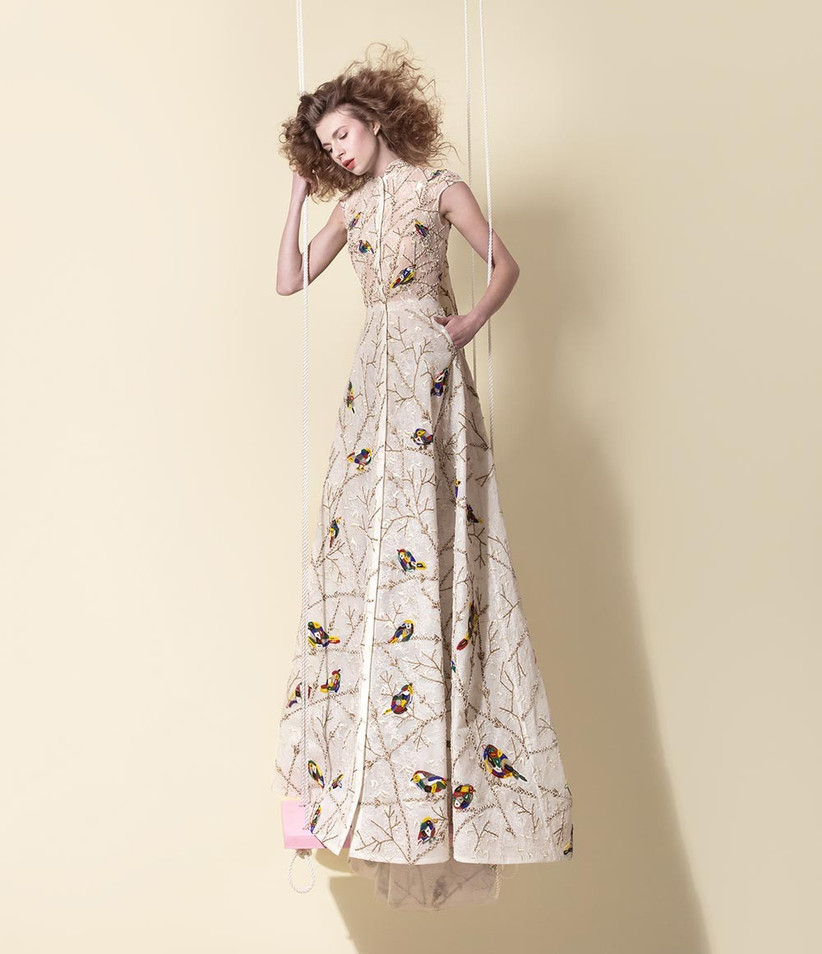 Savin London
This amazing pink wedding dress by Savin London had the most stunning plunge neckline and beautiful lace adorning it. We would love to see a bride pull this look off with her girls in floral bridesmaids dresses – that would be a wedding picture that is definitely Pinterest-worthy.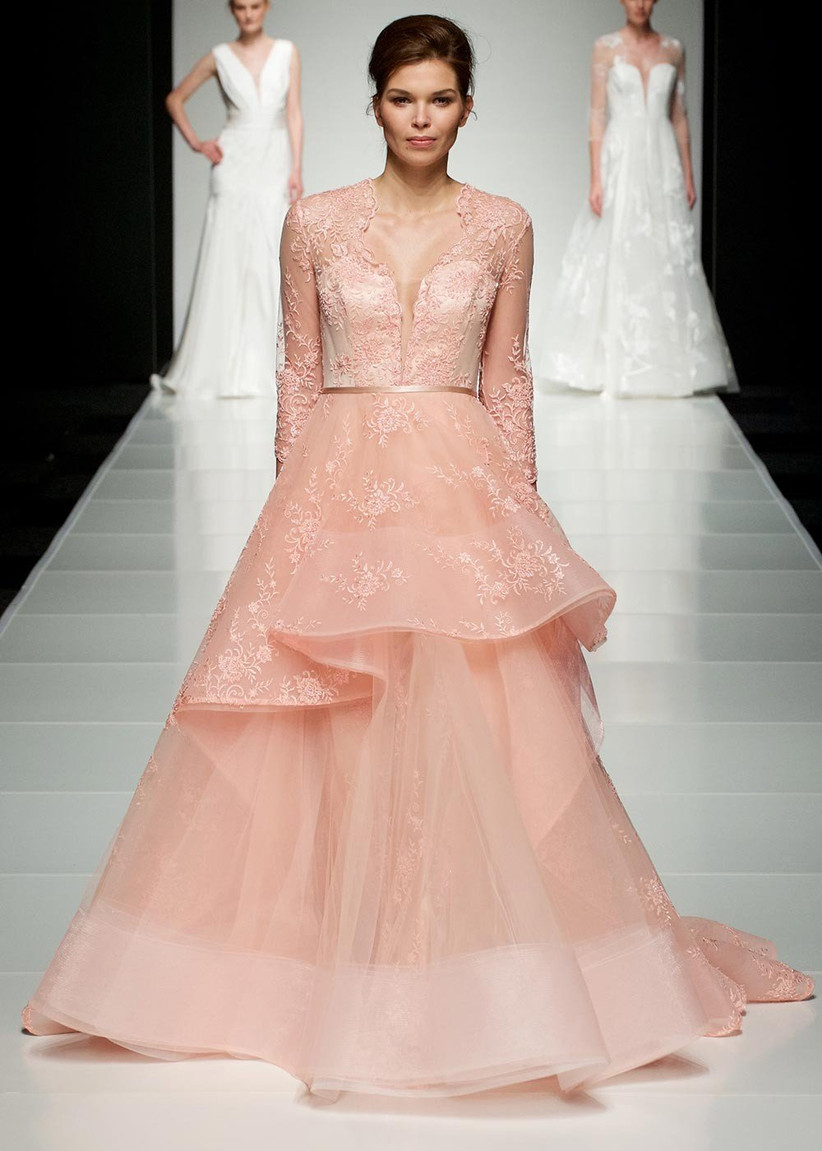 Monique Lhuillier – 5
We love the way this dress provokes femininity and allure, with so much glamour. The feathered effect on the skirt is so luxurious and playful and it goes perfectly with the lace appliqué on the sheer neckline. Lace is always stunning when it comes to wedding dresses and this design is no exception.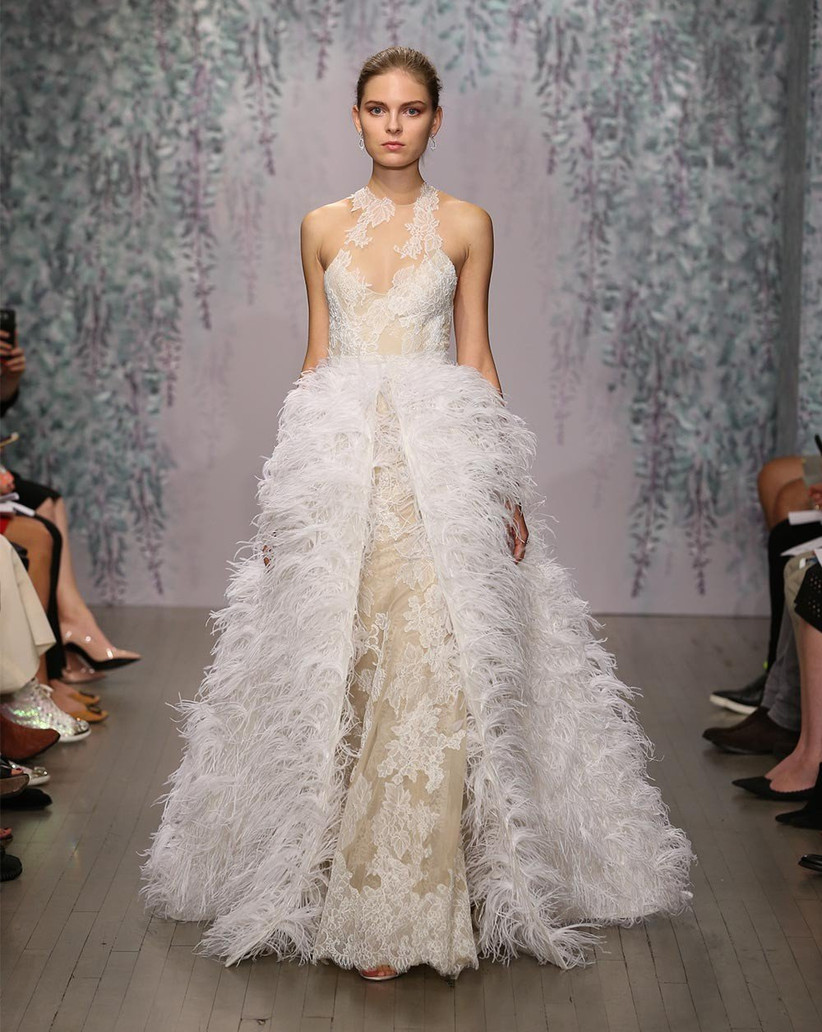 Rami Kadi – FW15-21
We are so obsessed with this wool stitched dress with so much detail and character to it, it is one of the most unusual – yet amazing dresses a bride could wear. The colours are very royal and the high neck detail makes the look very high fashion. Any modern brides who want a statement dress should seriously consider this one – it is definitely a wow-factor dress!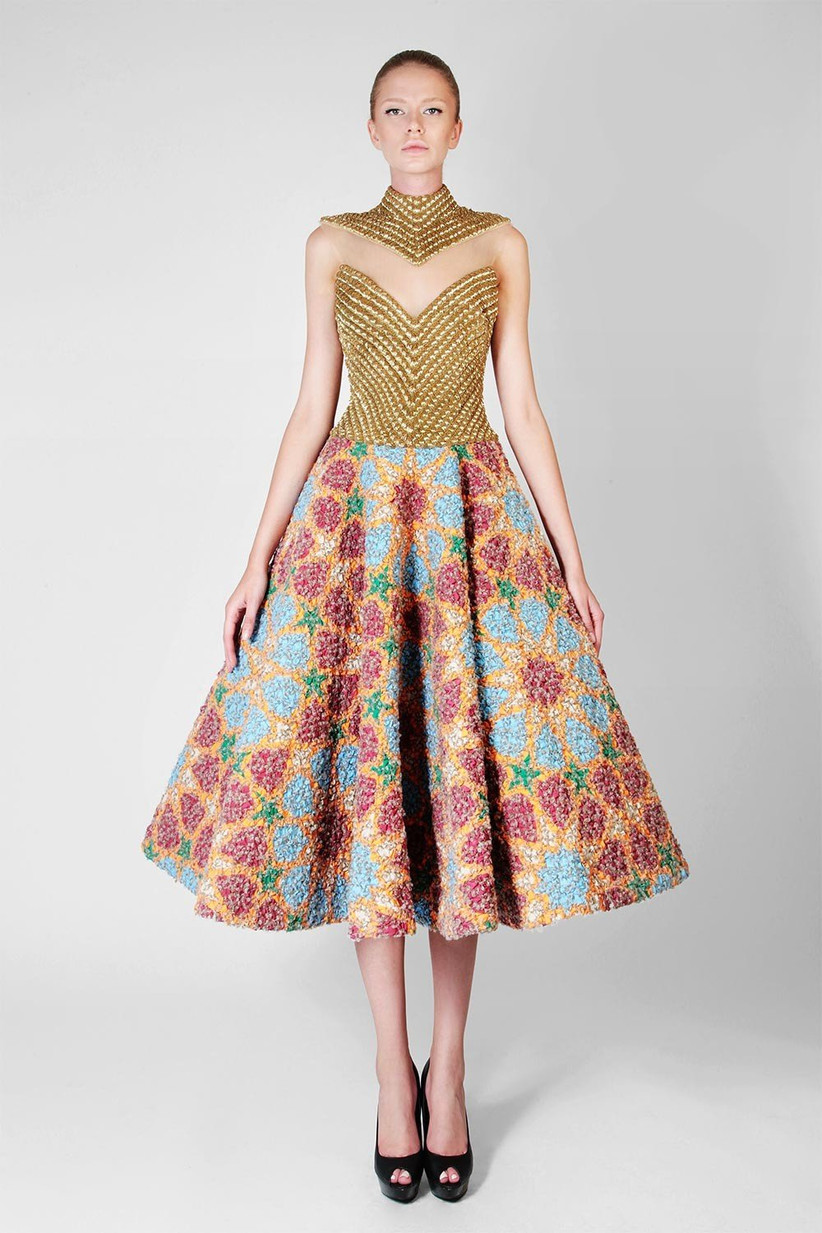 Martina Liana – James Jacket, Tait Top, Sachi Skirt & Tait Top
This bridal outfit is cute, flirty and fashionable. Tea length dresses are perfect for summer weddings and the separates theme seems to be a real trend for 2016 bridal.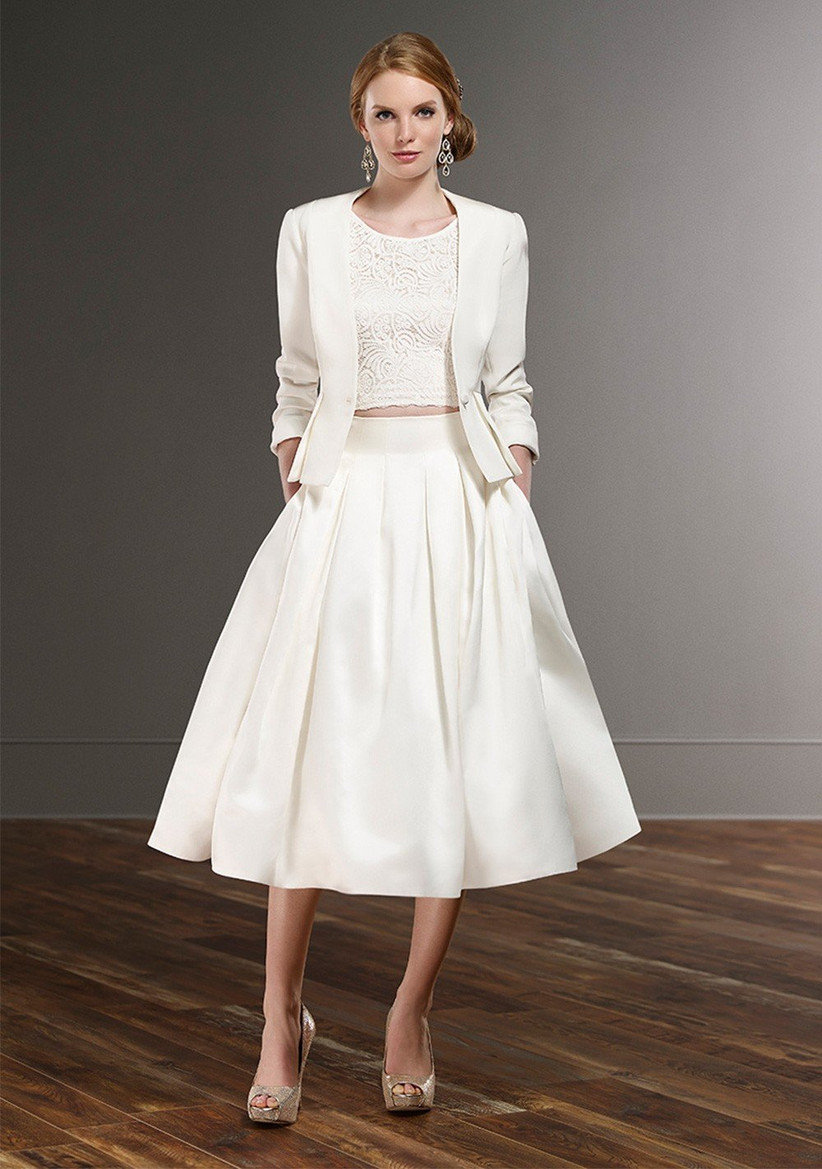 Inmaculada Garcia
We were stunned when we set our eyes on this gown by Inmaculada Garcia. The design is so unique and the print on the front of the dress has oriental vibes which are truly stunning. The best bit about this dress is the caged vest which accompanies it, what a unique way to wear a wedding gown. We totally love this look.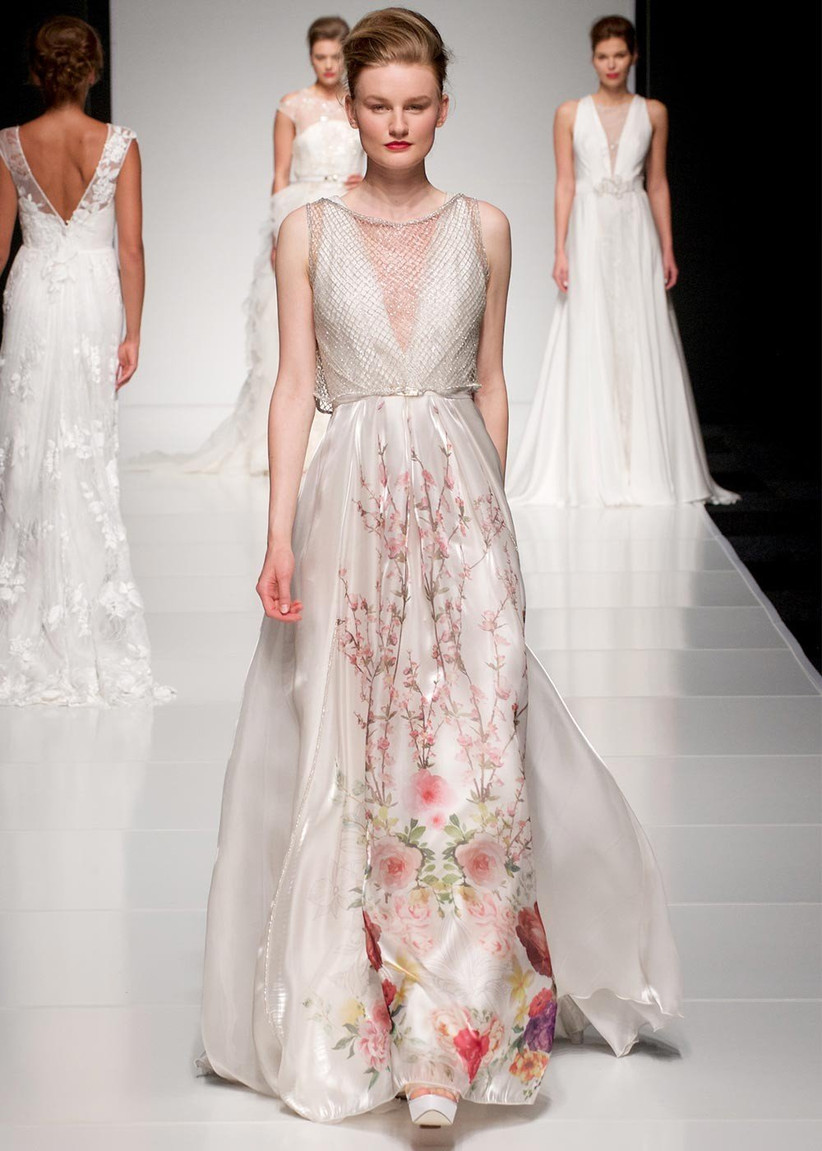 Paolo Sebastian
Paolo Sebastian has done it again and just as we thought he couldn't do any better, he did. There is nothing we love more than some serious style and this tea-length coat dress is full of it. The boning in the bodice creates such an amazing shape and the long sleeves and high neck are super chic. There is nothing we would change about this dress, apart from the fact that we don't own it.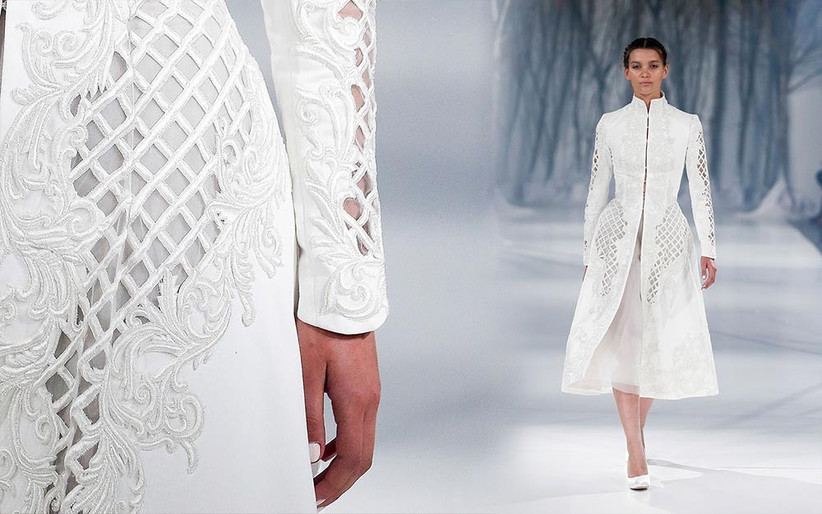 Image Credit: Zak Kaczmarek
Charlotte Balbier
We love this super summery dress by Charlotte Balbier, it's a showstopper in all its floral glory. We love how the full skirt gives the dress the perfect amount of body, but doesn't at all take away from the design. The floral pattern is subtle and the pastel colours are the perfect tone for the material.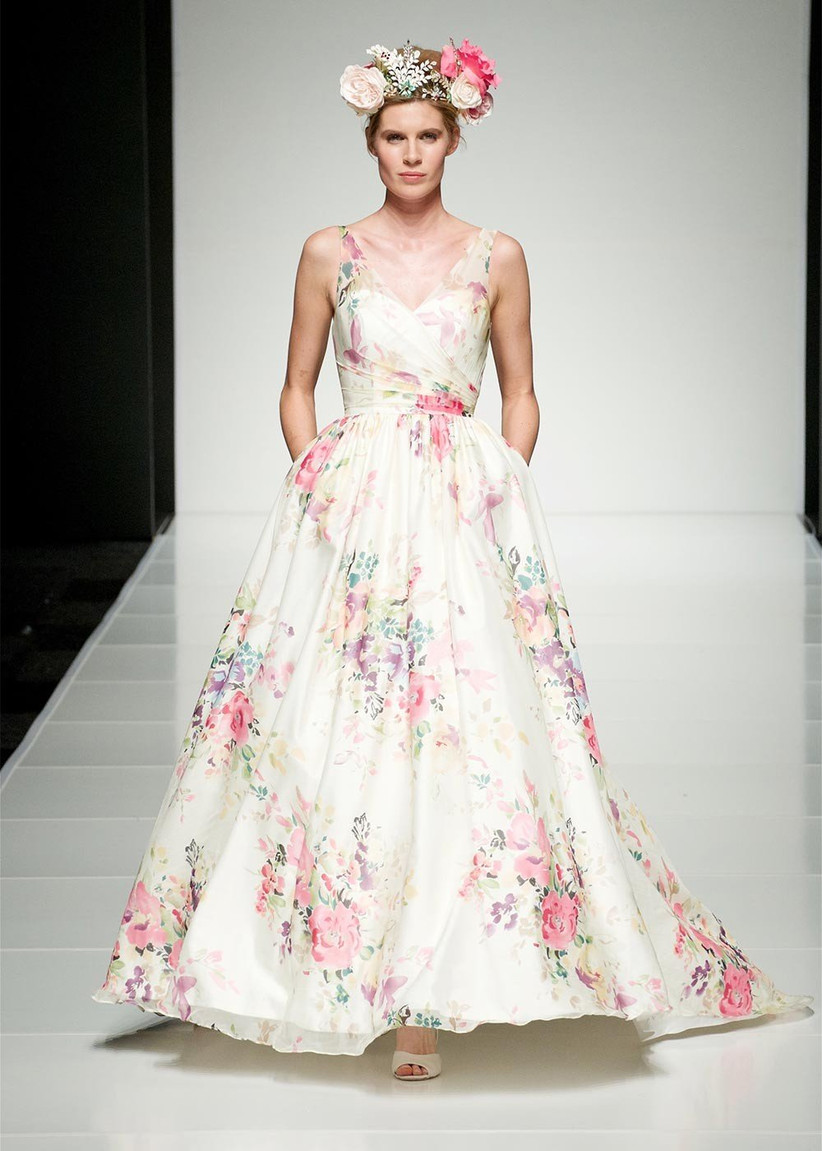 Monique Lhuillier – 977 Bleu
We love coloured wedding dresses and this pale blue gown is no exception. The detail around the neck is so pretty and means that minimal accessories are needed as the dress is perfectly detailed and we love the overlay of lace applique. It falls so beautifully and has elegance written all over it.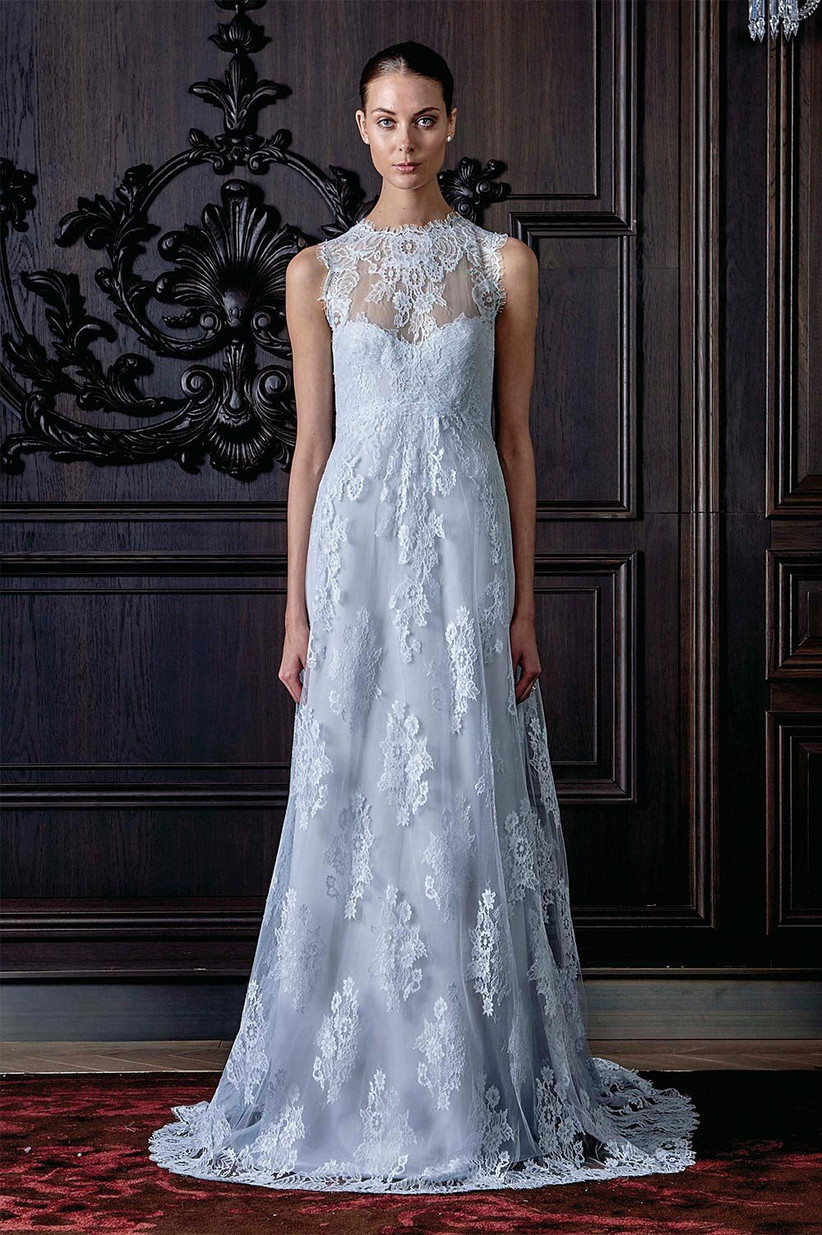 Rami Kadi – SS16-09
Figure flattering wedding dresses are always popular, but this Rami Kadi design stands out from all of the rest with its gorgeous hand embroided detail and unique ostrich feather cape. Feathered wedding dresses are so chic and we love how distinctive this design is.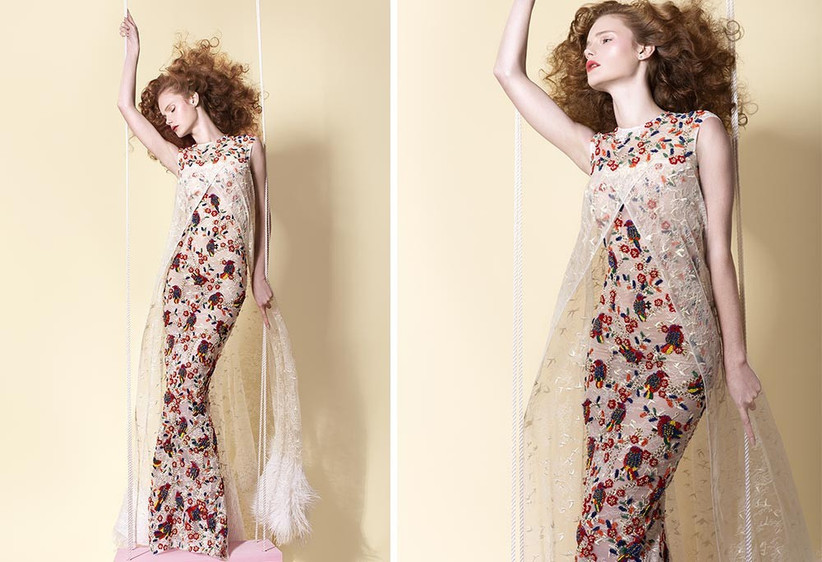 Even traditional brides could be swayed by that unbelievable array of gowns, but if they weren't alternative enough for you, have a ook at our gothic wedding dresses.