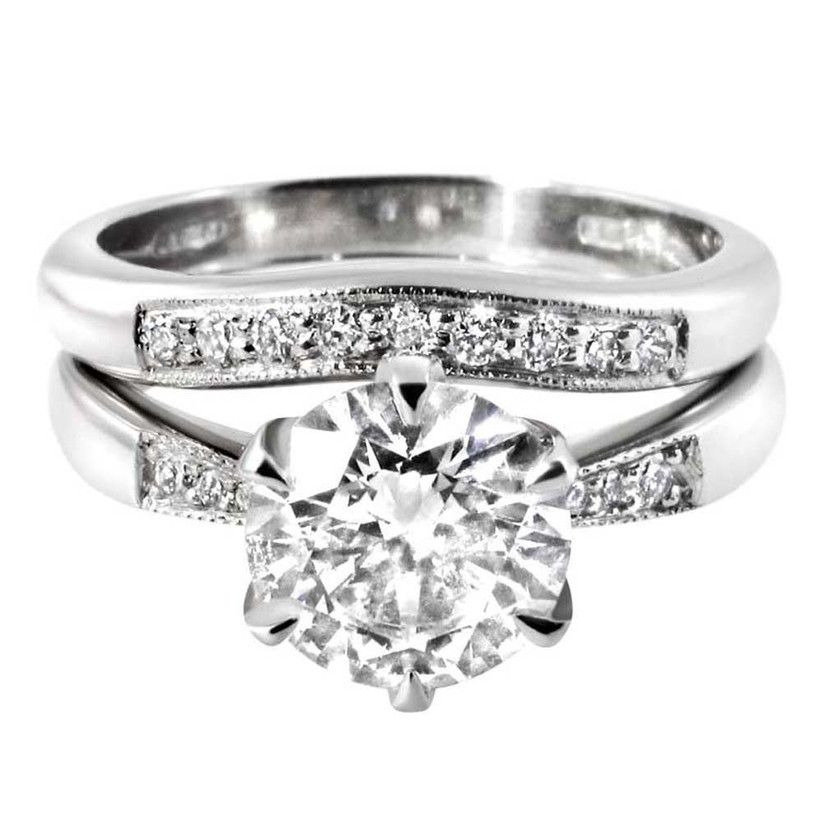 If you have an alternative engagement ring with an unusual shape, then it may seem impossible to find a wedding ring that's an exact fit. Whether your other half bought you the ring or you're wearing a vintage one passed down as a family heirloom, it can be tough to find wedding rings with a design as unique as your untraditional engagement ring.
Fortunately, today's technology means that it is now possible to design a completely bespoke wedding ring that is not only the perfect fit for your engagement ring, but also designed to your personal tastes too.
We spoke to two experts in the jewellery industry who share their top tips for buying shaped wedding rings and the clever tech behind how it's all done.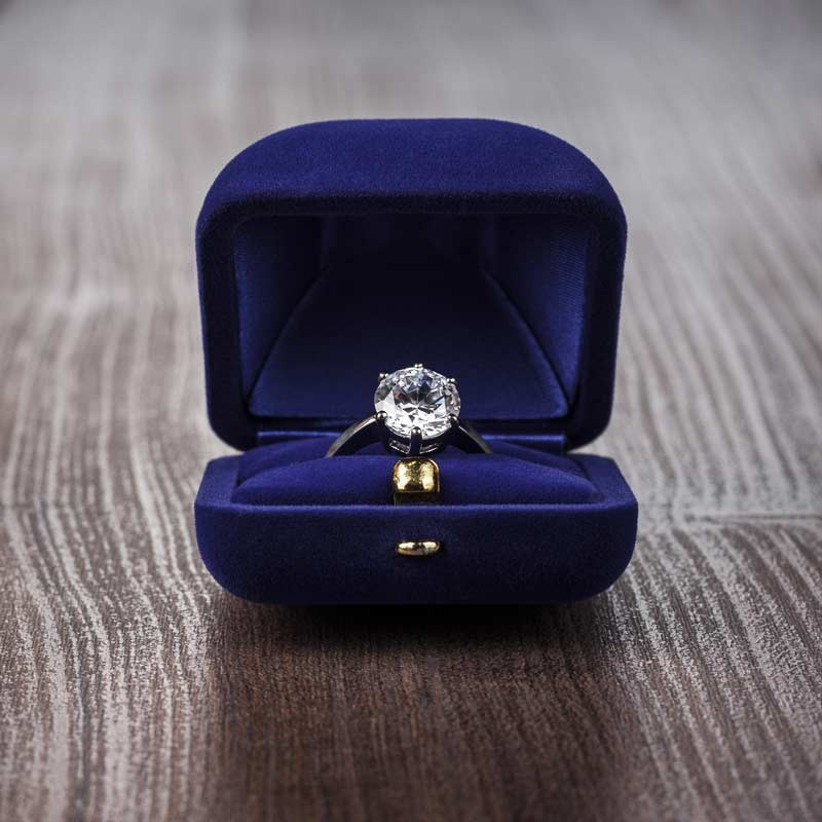 Most wedding rings are usually round in shape, which is obviously not good news if your engagement ring has curves or grooves.
However, many companies now provide a shaping service, enabling you to buy a shaped wedding ring that matches your engagement ring perfectly.
We spoke to Lee Buxton, an expert jeweller from COO Jewellers in Hatton Garden, who talks us through the process of choosing wedding rings to fit an unusually shaped engagement sparkler: "Here at COO Jewellers, we take great pride and skill in our crafting of shaped-to-fit bands. The process begins with the bride, who will first choose the style of wedding ring she would like. 
"We then compile a checklist that includes the width of the band, a preferred precious metal (normally this will match the engagement ring), diamond size and shape, and finally the setting style for the diamonds. At this point the team will have all the basic information needed to create a wedding band that fits perfectly."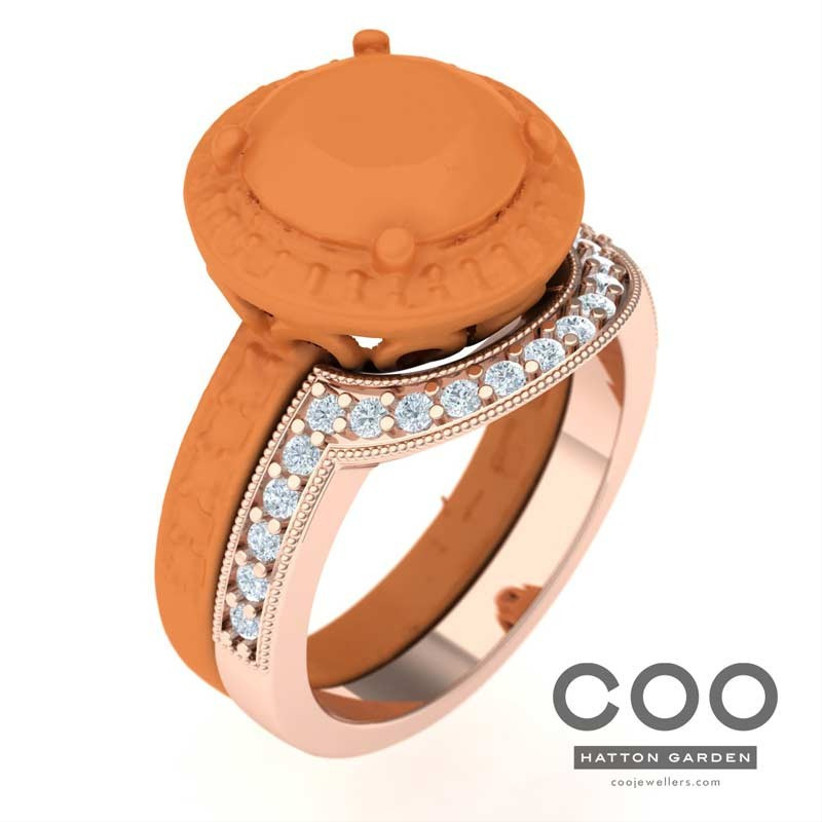 At COO Jewellers, both traditional and modern methods are used when it comes to the careful process of creating a perfectly fitted wedding band.
"Traditionally, shaped wedding rings are created by hand by one of our skilled jewellers," explains Lee. "They carefully cut a wax model (to cast the new wedding band from) that fits perfectly with the engagement ring. This process makes sure there are no gaps and that the engagement ring and new wedding band look as though they were created at the same time.
"Whatever the shape of the engagement ring, a changeable wax model is the perfect template for creating an exquisitely shaped wedding ring that will last a lifetime."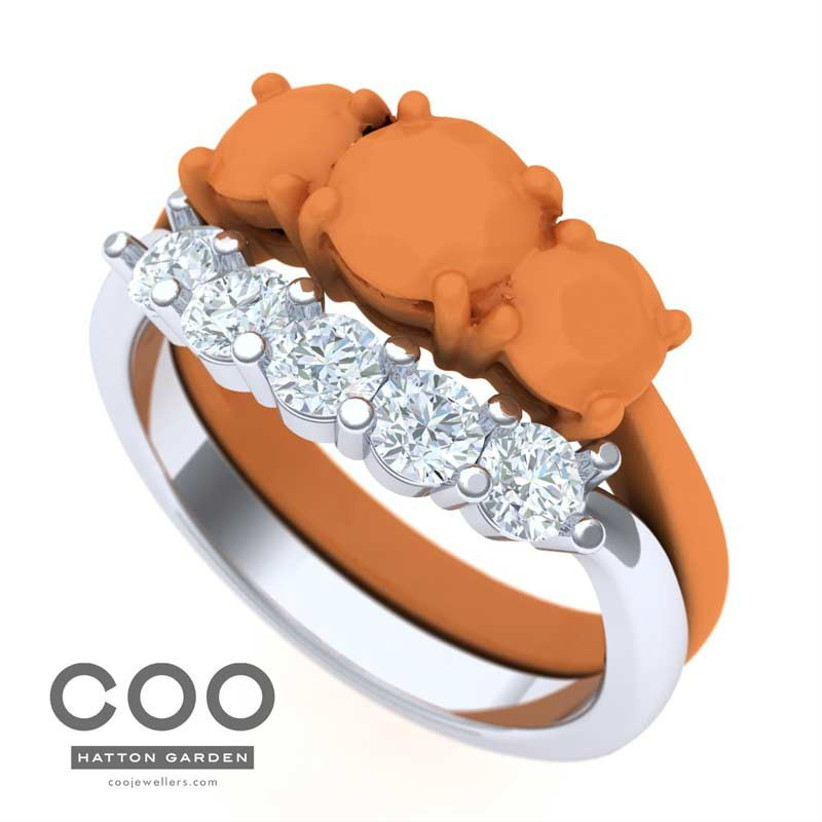 As for the modern shaping techniques that have revolutionised COO's shaped wedding ring service, this involves a slightly more complex sounding process. Over to Lee to explain more: "New technology is helping to cut down on the time that we need to keep hold of a bride's engagement ring for the shaping process."
"At COO, our cutting edge 3D imaging technology means that we can digitally scan a bride's engagement ring and create the perfect fitted band from a 3D model using CAD (computer aided design) technology. This means that brides only need to be apart from their engagement ring for about an hour whilst the ring is being scanned."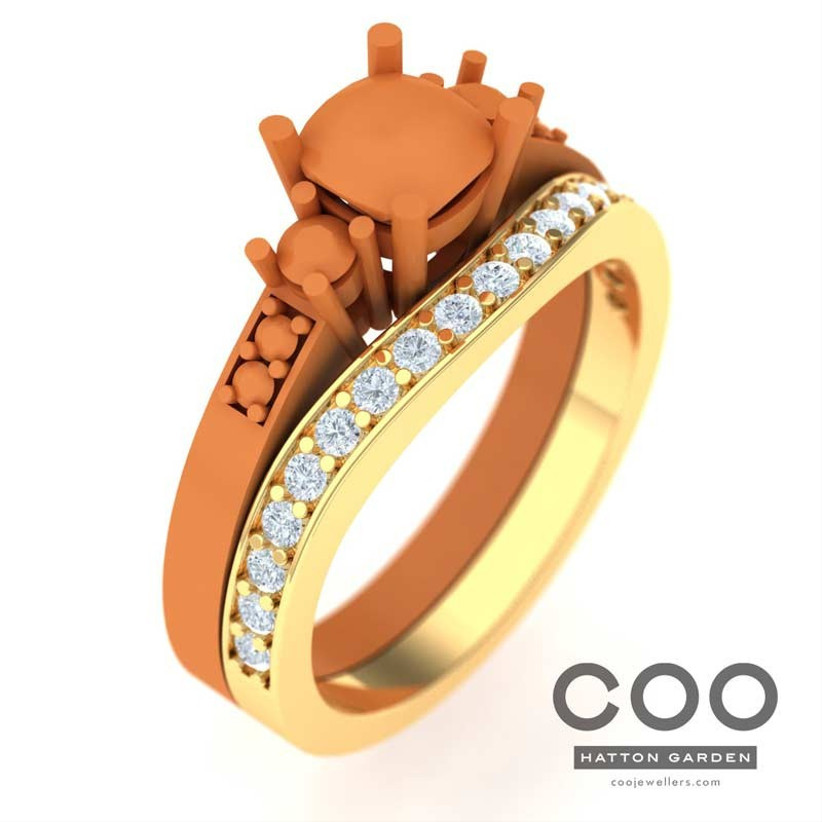 Another company that are leading the way for shaped wedding rings are ethical jewellery brand Ingle & Rhode. Co-founded by David Rhode and Tim Ingle, the brand ethos is all about creating the finest bespoke wedding and engagement rings using ethically sourced materials.
We spoke to Tim Ingle, one of the brand's co-founders, who explains more about their shaped-to-fit ring service: "At Ingle & Rhode, we're frequently asked by clients to design and make wedding rings that are shaped to fit against an untraditional engagement ring when a straight wedding band just won't sit.
"Often, the preferred solution is to create a wedding ring that follows the outline of the engagement ring," continues Tim. "However there will always be different options to consider. If a client doesn't have a clear idea of what they'd like at the outset, we might start by sketching a few different concepts for them to consider.
"Once we've found a design concept that they're happy with, we usually go on to model the wedding ring very precisely using CAD. This enables our clients to visualise the design from all angles before we actually make their wedding ring for them."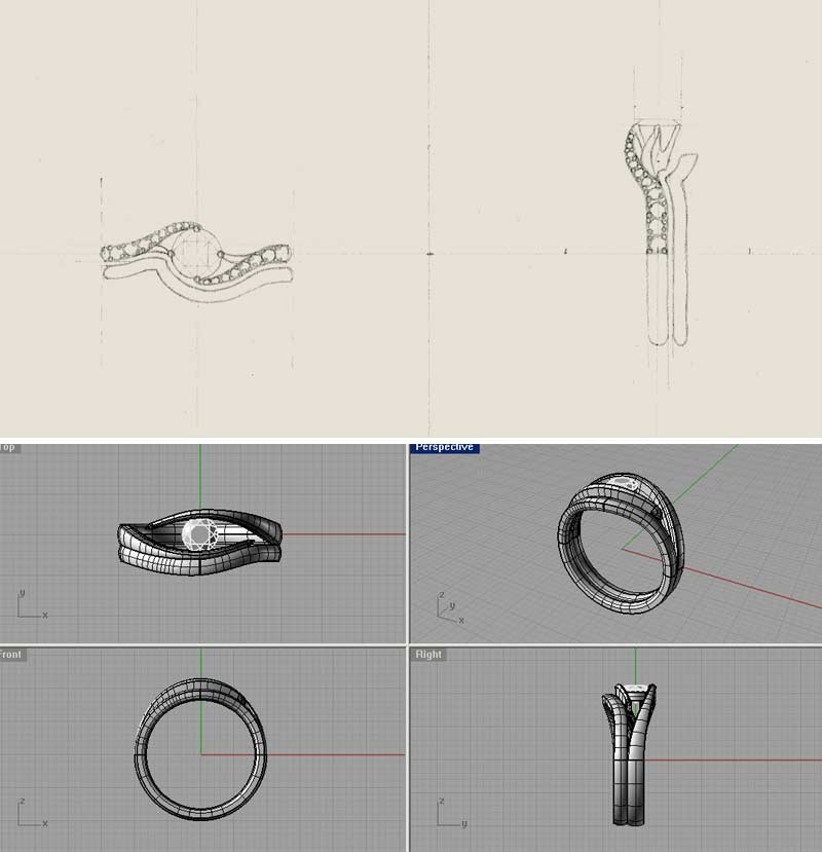 There are a few important factors to remember when having such a specific piece of jewellery created, suggests Tim.
"Our advice to any couples looking for custom shaped wedding rings is to make sure that you are very comfortable with the jeweller and the design before committing."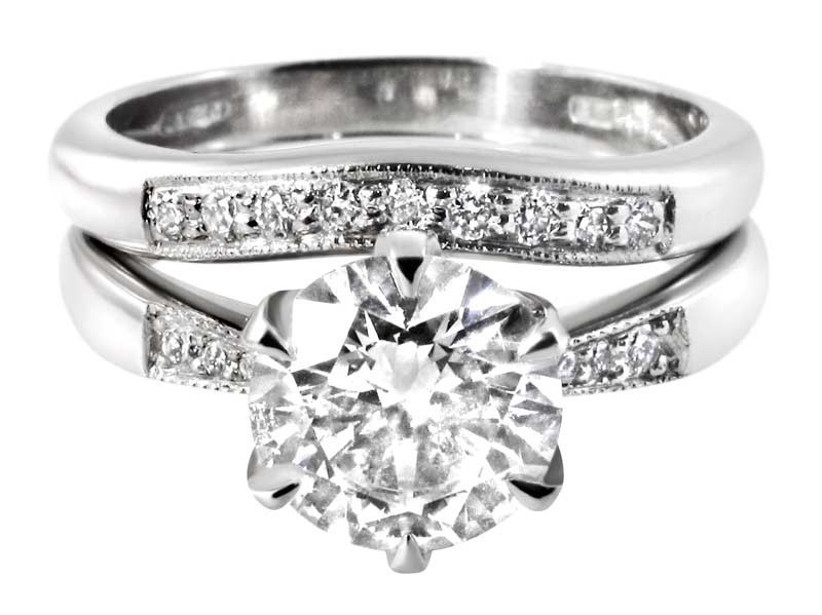 As not every jeweller offers a shaped wedding ring service, it's likely that you'll have to choose a different company than the one that created your engagement ring – so always do your research before you commit.
"Always ask to view examples of jewellery in person to ensure the quality is up to scratch," recommends Tim. "Make sure that you also approve of the design images before they start making your ring.
"When it comes to choosing the right jeweller, it's always good to ask for personal recommendations from your friends and family. Failing that, check online to see which jewellers have the most positive reviews."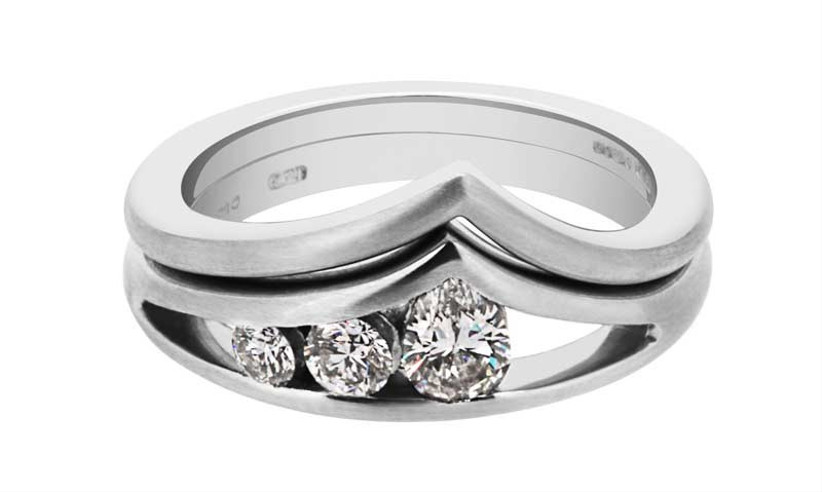 If you're secretly not keen on your engagement band and don't know what to do (eek!) then don't panic – just follow these things you could do if you hate your engagement ring.