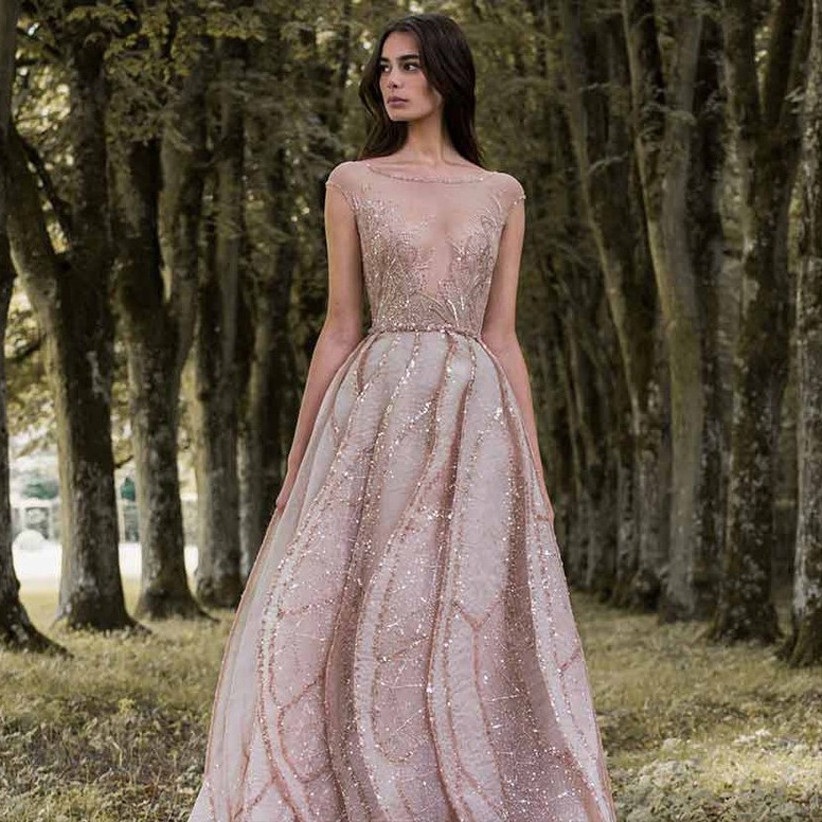 One colour scheme which is becoming more and more trendy in bridal is the nude palette.
Neutral wedding décor is now more popular than ever, and keeping in with that theme sometimes means that a white, blush or ivory dress just doesn't fit.
Nude wedding dresses are the perfect shade for elegance and poise on your special day and we've picked 17 of the most gorgeous designs for brides who love sophistication.
Justin Alexander – Style 8815
This Justin Alexander tea-length wedding dress is a stunning mix of vintage and modern. The white lace and shorter length give it the style of a vintage wedding dress whilst the sleek voluminous skirt and thick waist band keep it fresh, chic and modern.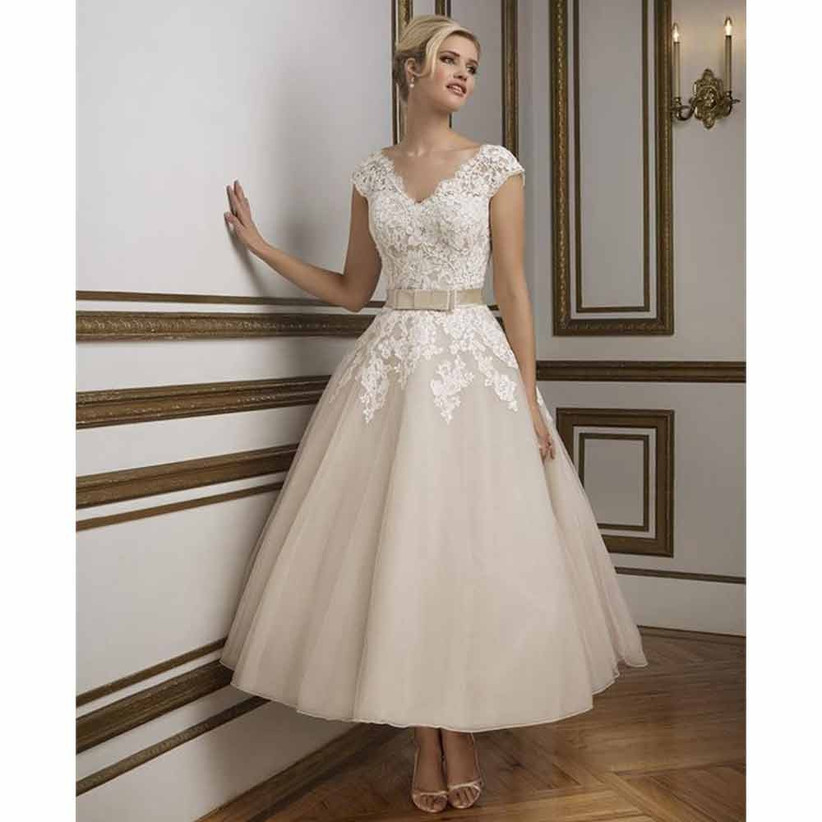 Claire Pettibone – Eloquence
If you're a lover of all things lace, but want something that is unique, this Claire Pettibone wedding dress could be the one for me. The fit and flare shape is casual and less figure-hugging than you'd expect but we love it. Scallop shaped lace patterns always look lovely in a warmer colour just like this nude wedding dress shows.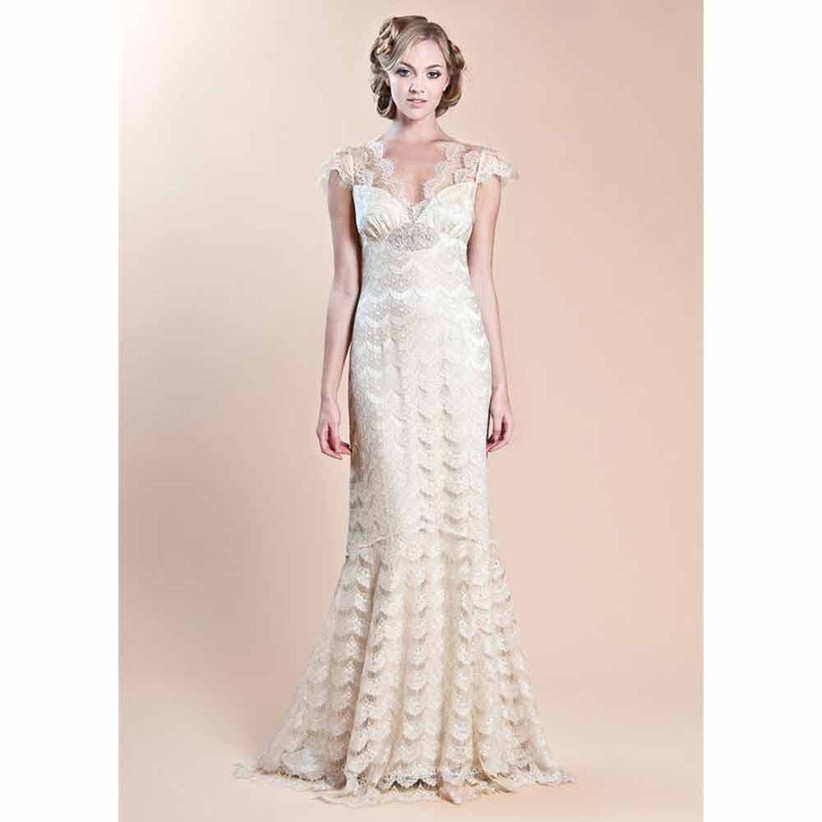 Elio Abou Fayssal
If there was ever a show-stopping nude wedding dress in the market, this has to be it. Elio Abou Fayssal has created some of the most unique designs that brides who are looking to stand out will love. We absolutely love the heavy floral detail and tulle batwing arms which give it a real mythical feel.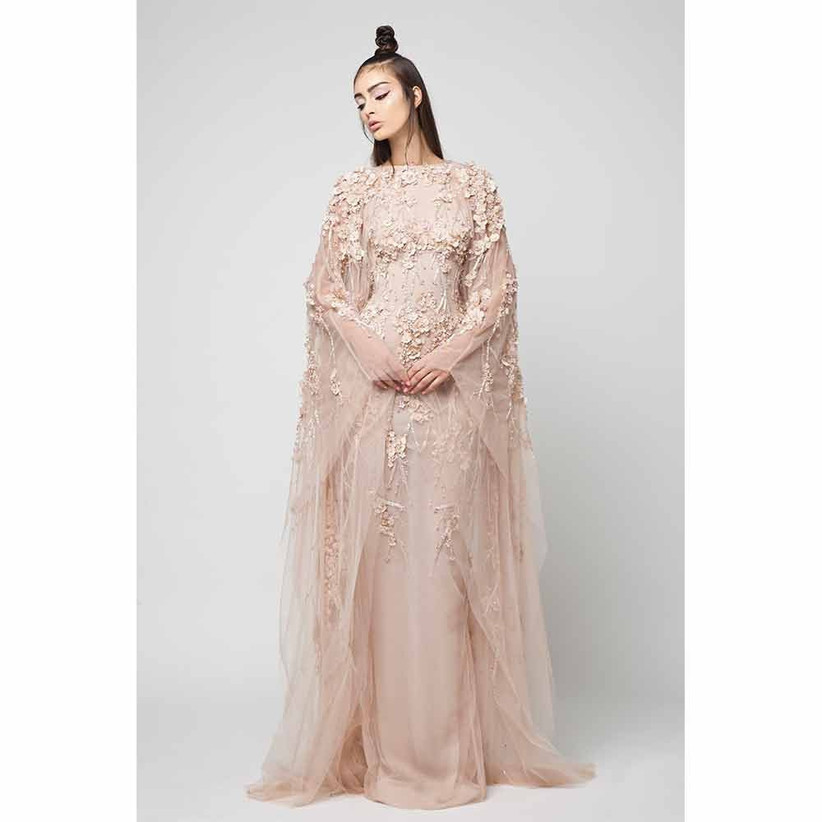 Ronald Joyce – Style 69154
The sleek shape of Ronald Joyce's design 69154 is untouchable. The fabric used has a beautiful shine to it and the waistband gives the nude wedding dress a perfect amount of sparkle. The deep thin V-neck makes the design look modern and shows a little more skin than a simple high-neck wedding dress.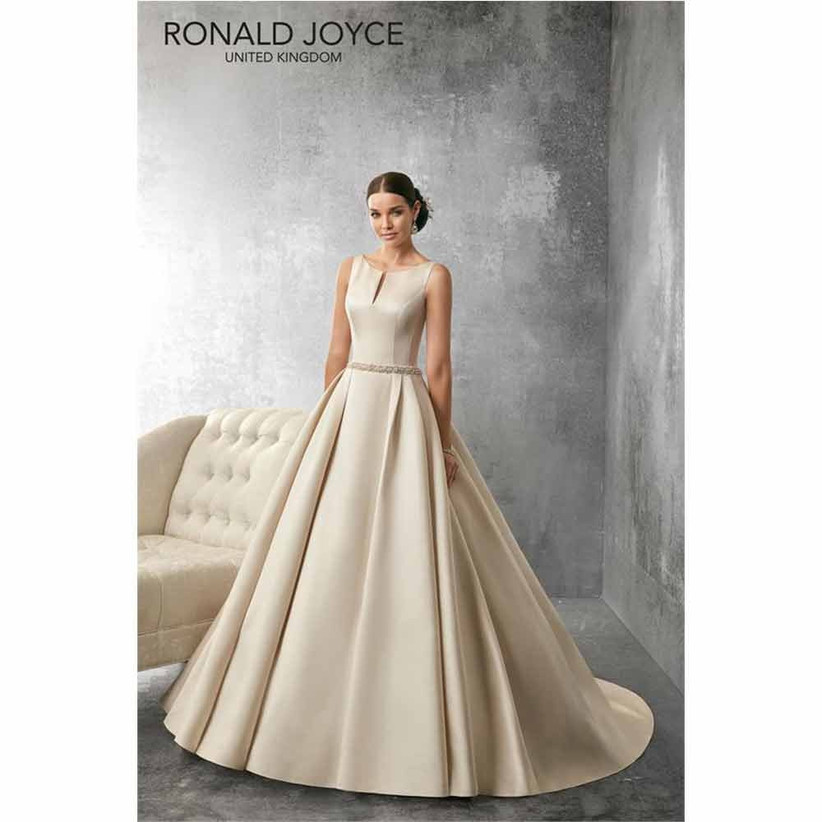 Gemy Maalouf – Style W2865
Brides who would consider wearing a sexy wedding dress should definitely explore designs like this one from Gemy Maalouf. The leg slit is sultry and will look absolutely beautiful as you walk down the aisle – very Angelina Jolie! The fabric falls beautifully and the ruched detail around the waist and bust is a lovely element of the design.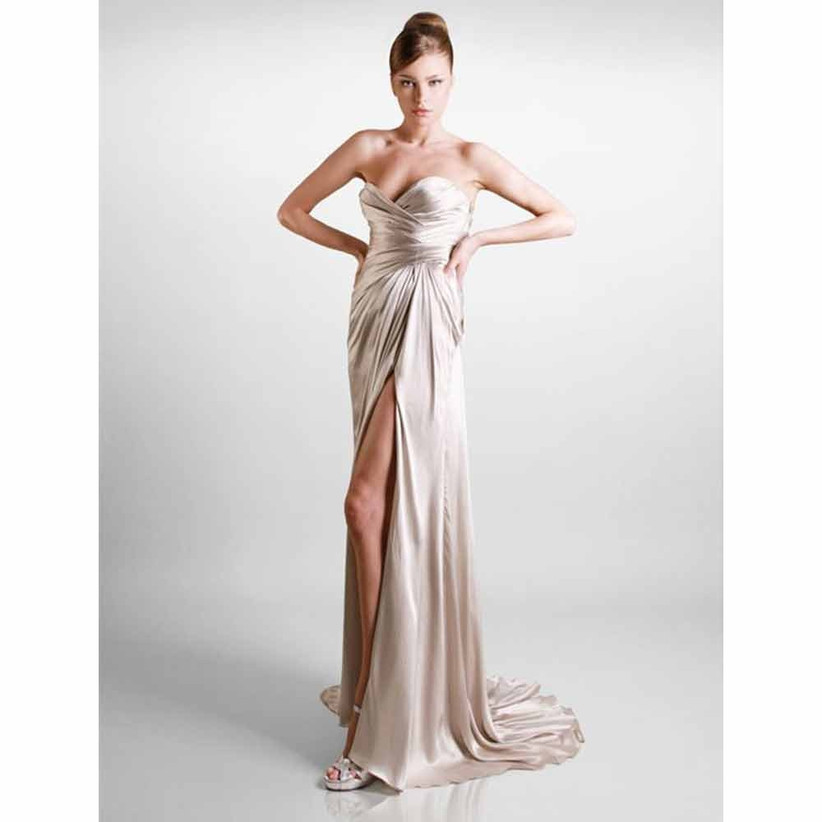 Essence of Australia – Style D1874
Fancy channelling your inner princess at the wedding? If so, one way to make your wedding even more Disney is to wear a ball gown wedding dress just like this stunning Essence of Australia nude design with feminine off the shoulder detail and a glitzy waist belt worthy of royalty.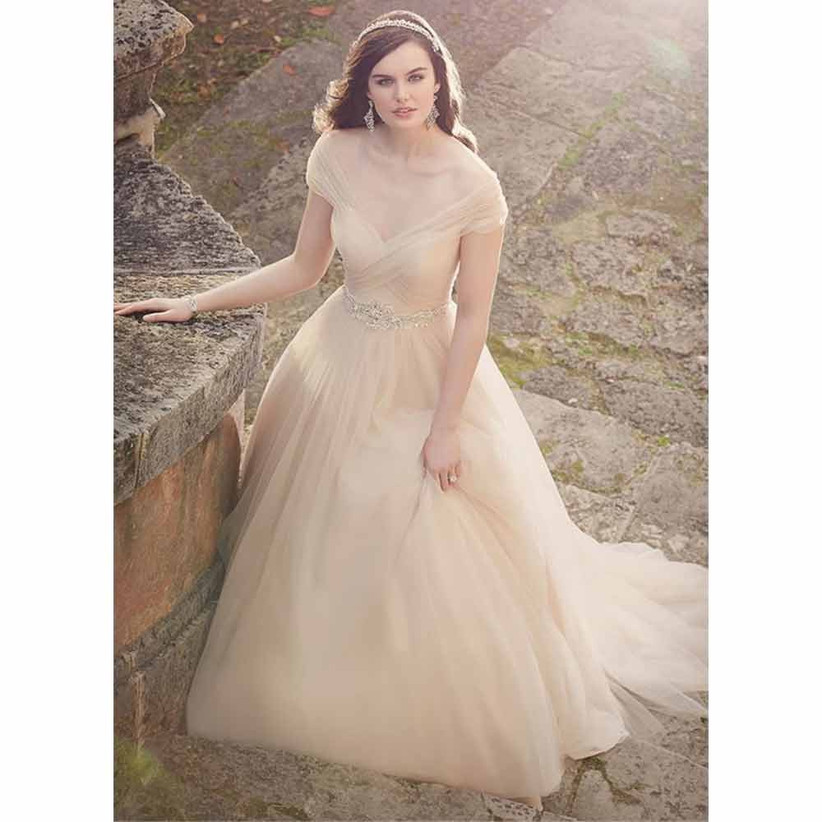 Paolo Sebastian
Whimsical and wonderful are the perfect way to sum up Paolo Sebastian's design from the Gilded Wings collection. The tone is just beautiful and the cascading pleated skirt has exquisite sparkly detail on each layer which is equally as lovely to look at as the sheer bodice with pretty Sabrina neckline.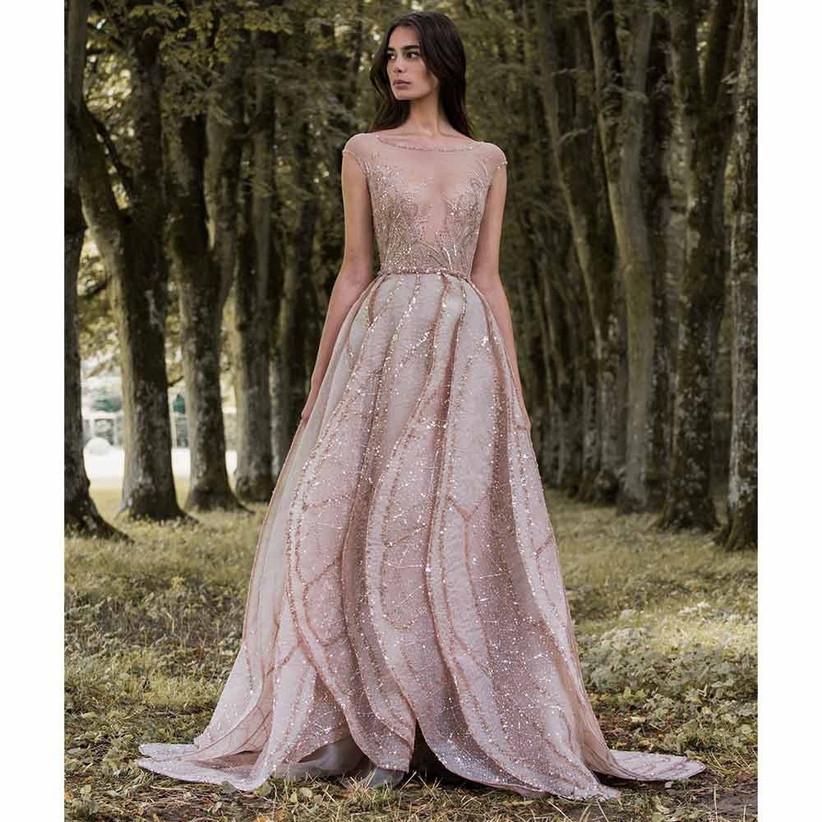 Monsoon Bridal – Iola
Monsoon not only provide beautiful clothing and accessories, but wedding dresses as well and we love them for it. They really have made dreams come true in the form of styles like Iola – a demure beaded nude wedding dress with flattering floaty cap sleeves and a feminine neckline. The vertical embellishment is very figure flattering as it draws the eye in a downward direction which is slimming – yay to that!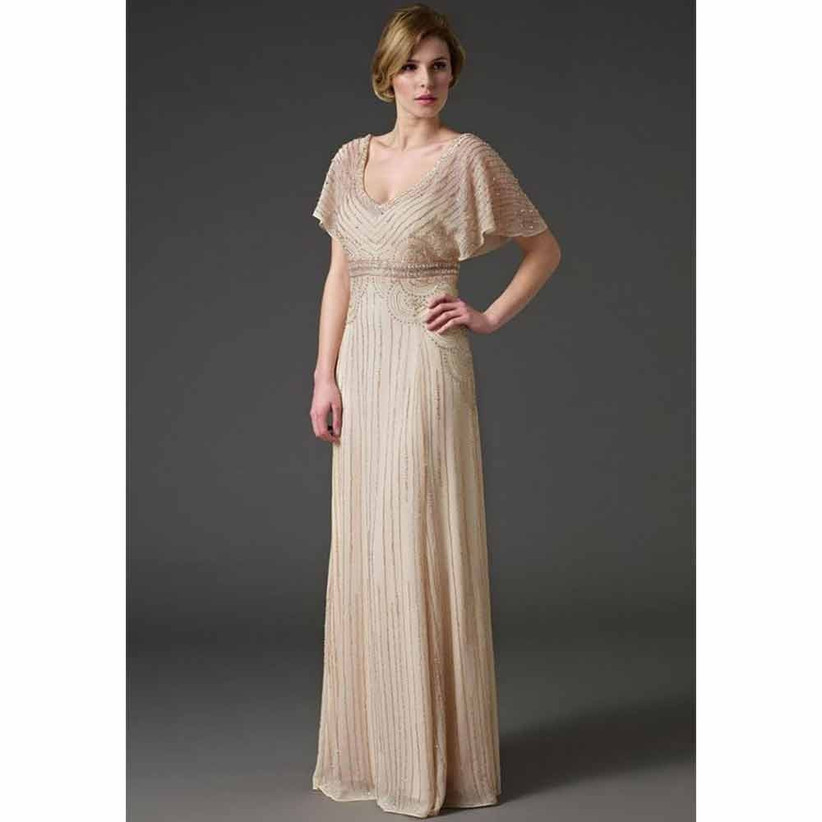 Mira Zwillinger – Mimosa
This racy wedding dress from Mira Zwillinger is a tulle-lovers dream. It makes for the perfect winter wedding dress with the frosty twig shaped bodice embellishment and we love the tulle sash which adds a bit of coverage and ties in perfectly with that incredible tulle skirt.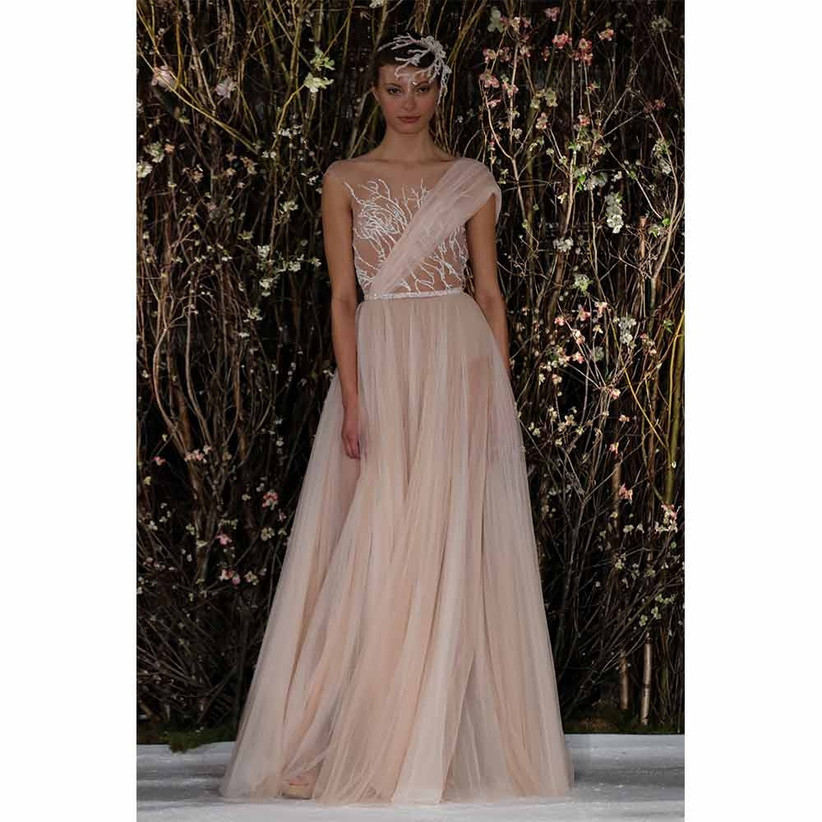 Elio Abou Fayssal
Knee length wedding dresses are super fun and fancy – perfect for brides who are looking for playful and stylish vibes for their wedding day look. The bird embellishment is a very similar colour to the dress fabric so they look subtle but add a lovely element to this short wedding dress.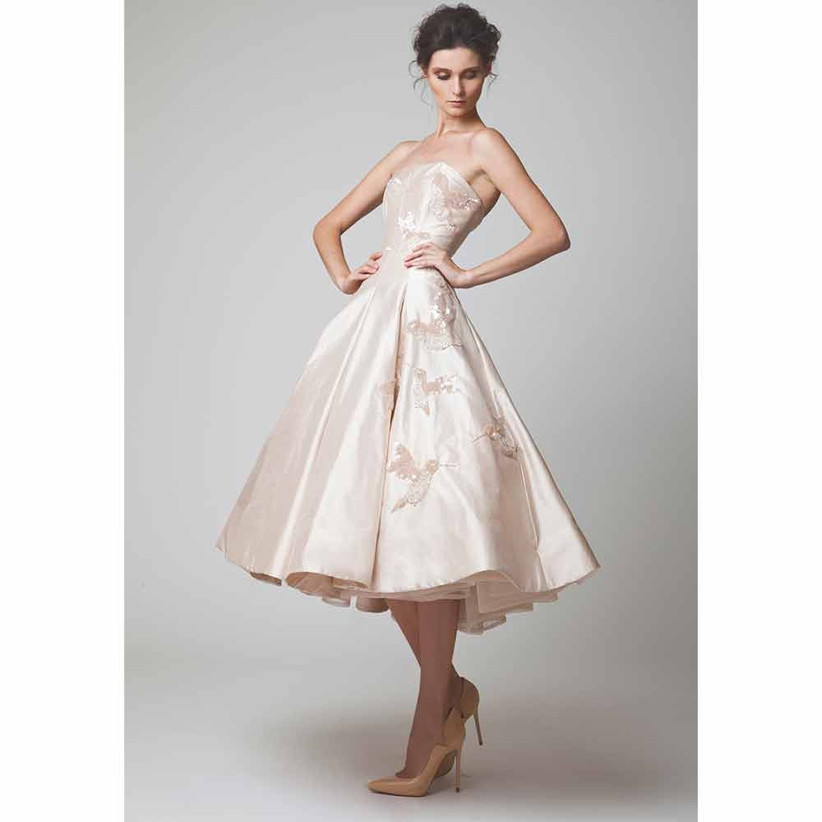 Jenny Packham – Lucky
Designer Jenny Packham never disappoints with her elegant wedding dresses and Lucky is no different. The strapless base is accompanied by a magical overlay with some seriously stunning embellishment. Looking for more star wedding ideas? If so, this design should be top of your list.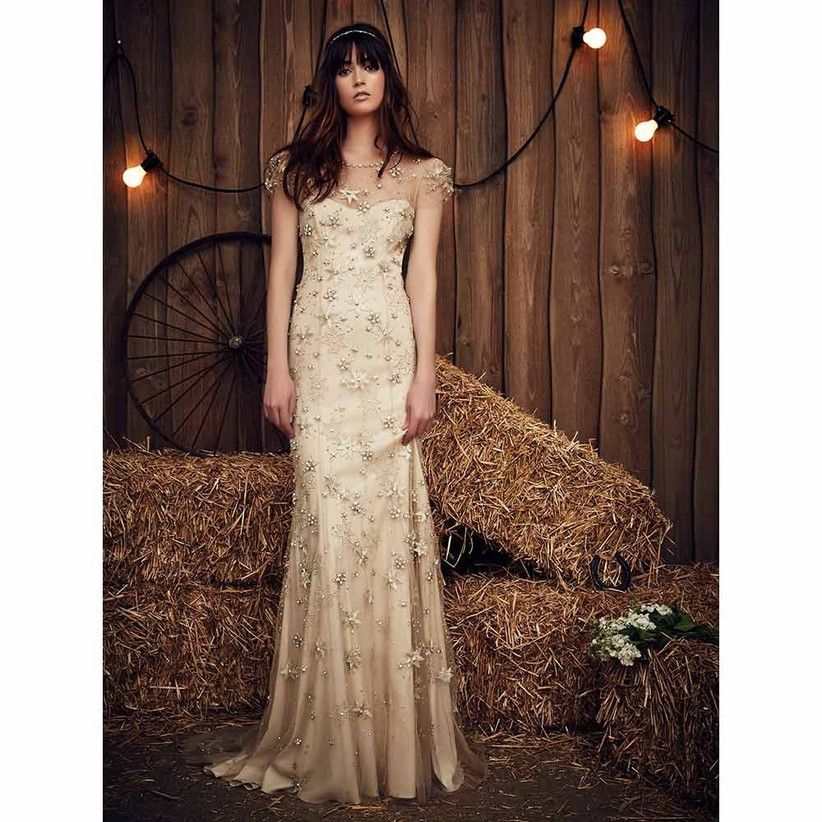 Kelsey Rose – Style 80035
This unique wedding dress from the Kelsey Rose Bridalwear collection has a sophisticated shape which would be figure flattering for most brides. Although the colour is white, the nude inserts really warm the dress up and keep it modern with the netting finish and soft zig-zag pattern between the two fabrics.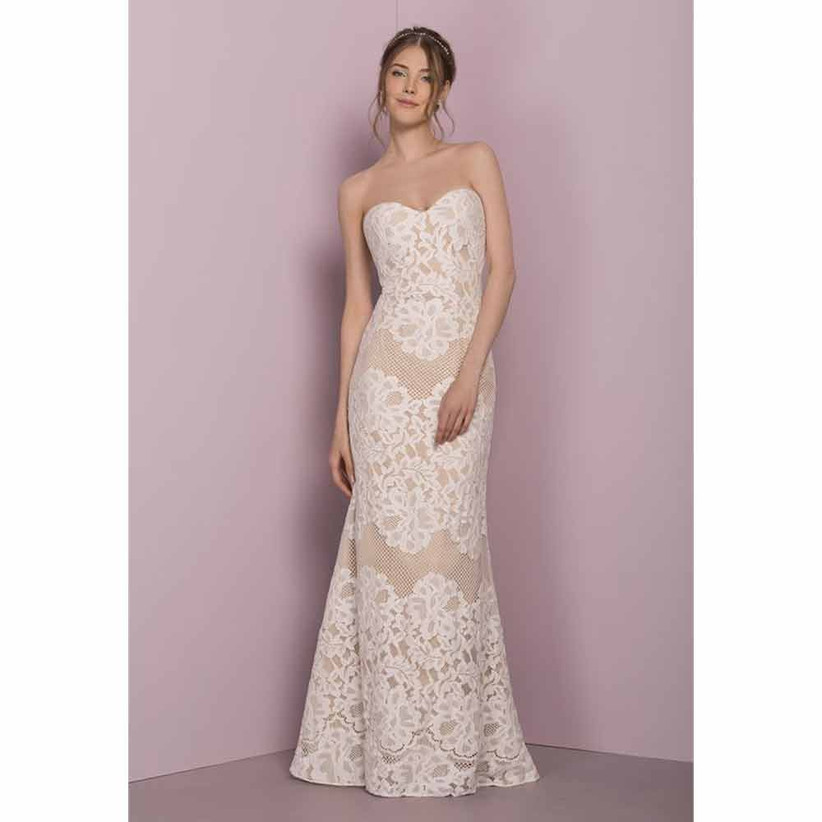 Essence of Australia – Style D2017
We love the style of lace used in this Essence of Australia design. It's soft, feminine and really beautiful to look at. The all-over lace fabric is broken up by a delicate waist band which makes all the difference and the sweetheart neckline was a great choice too. The colour is the most beautiful nude shade, perfectly versatile for so many different bridal styles.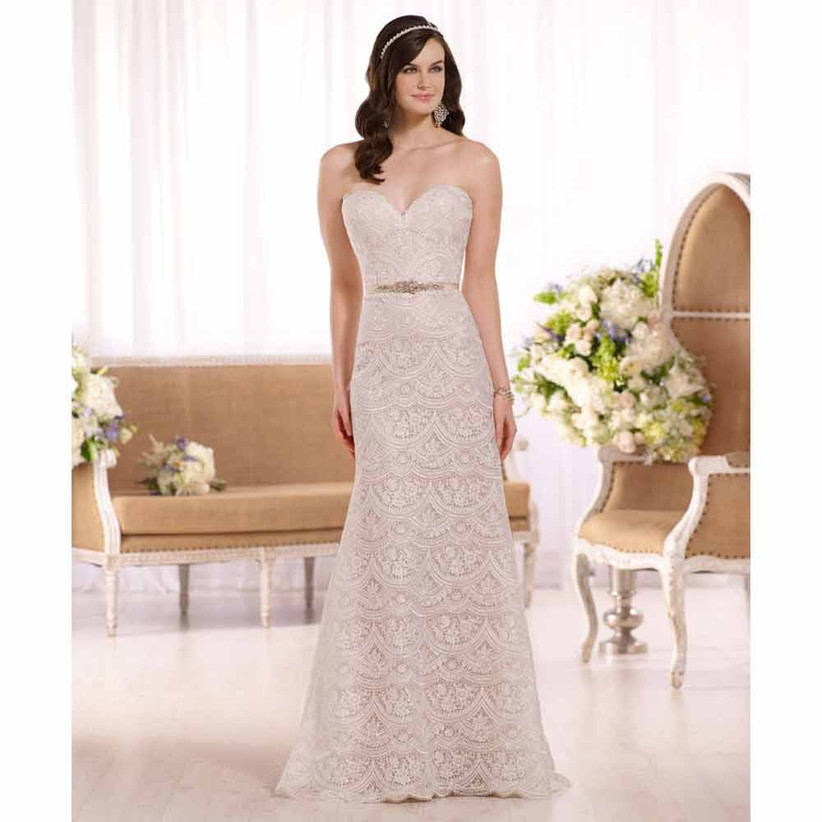 Martina Liana – Style 761
This simple wedding dress designed by Martina Liana is a lighter nude shade and boasts the most enviable shape. This is definitely a wedding dress that will flatter your figure no matter what shape or size you are and the organza overlay gives it a pretty sheen which will look lovely in the sunlight.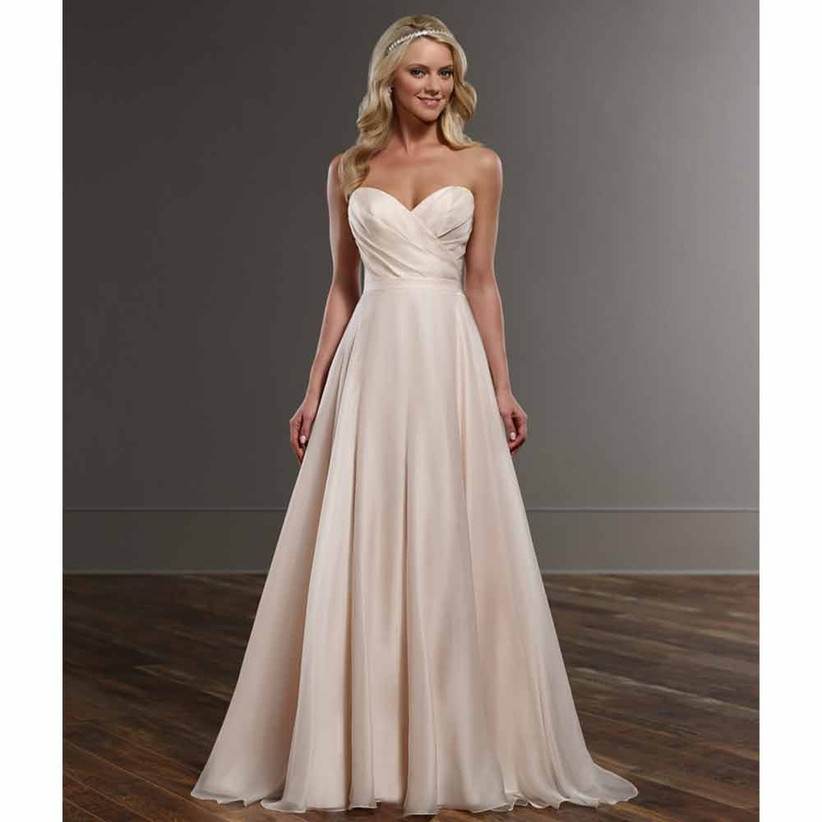 Minna Bridal – Lavender
The Lavender dress by Minna exerts bohemian vibes perfect for a festival wedding in the height of summer. If you love this style and dream of walking down the aisle in a boho wedding dress then this style has to be on your shortlist. The nude colour brings out every bit of detail in the sheer overlay with white patterns and who doesn't love wedding dresses with plunging necklines?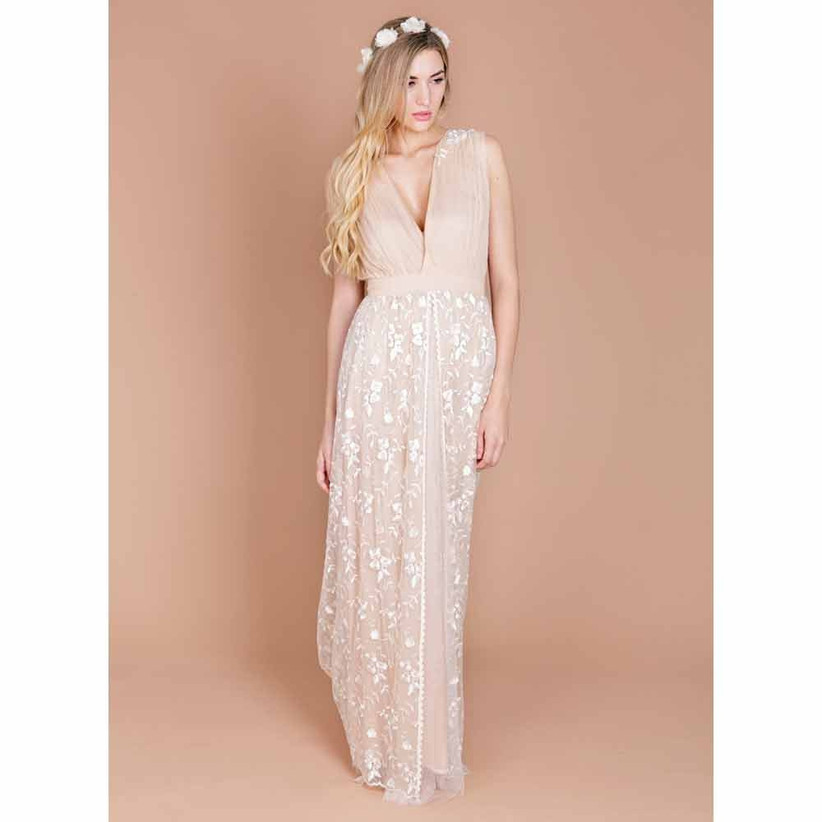 Mira Zwillinger – Anastasia
Anastasia by Mira Zwillinger has a racy neckline which would get anyone's heart racing in an instant. The romantic tulle skirt is just exquisite and just by looking at it you can tell how beautifully it would move as brides walk it down the aisle. We adore the embellishment around the neckline, it keeps the look feminine and delicate.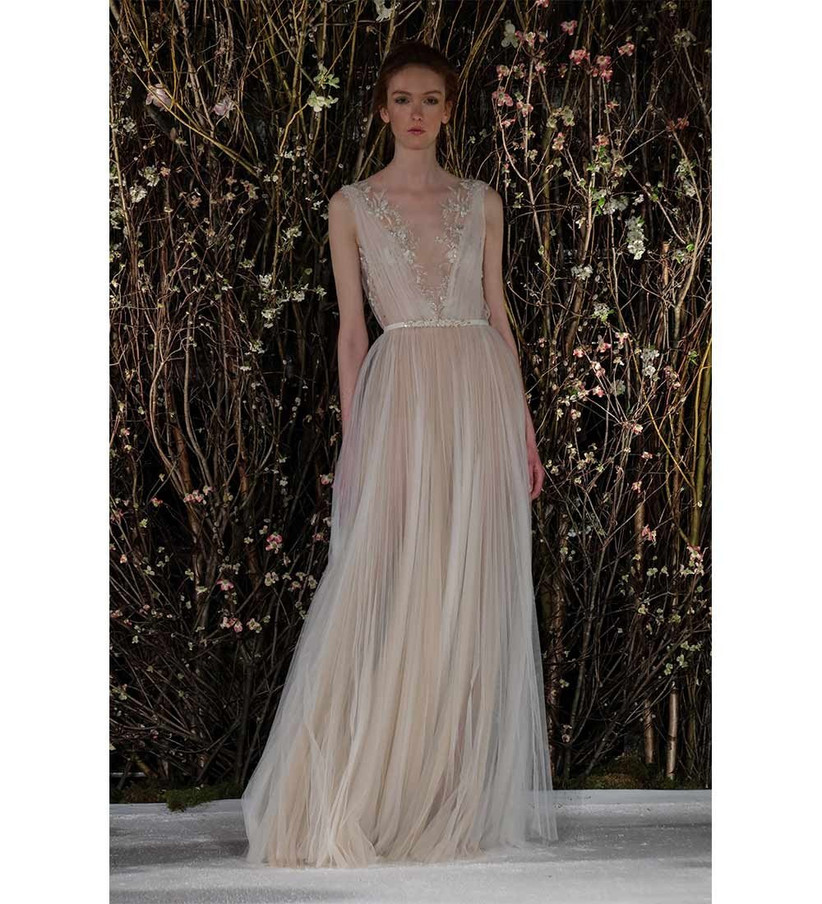 Justin Alexander – Style 8814
Style 8814 by Justin Alexander is a vintage bride's dream, and for so many reasons. From the satin fabric, to the lace hem and off the shoulder detail – it's just stunning. The beige nude colour is our favourite tone for vintage dresses because it looks timeless and a wedding dress like this is something you can look back on in years to come and still love just as much as you did the first time you set eyes on it.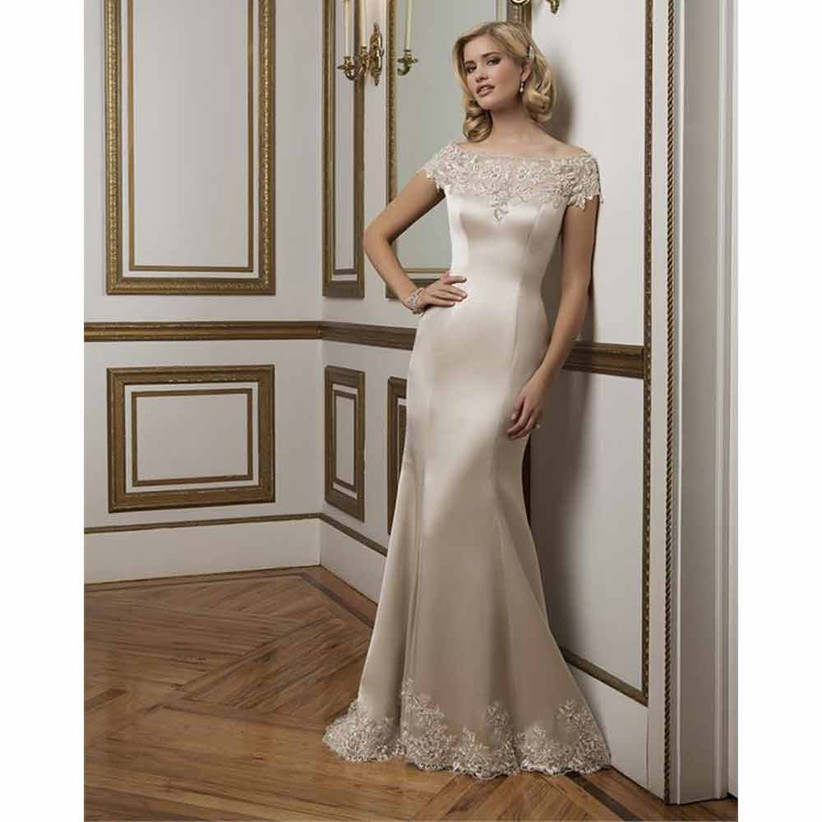 For even more bridal inspiration, check out our amazing edit of celebrity wedding dresses that we all want to wear!