The Complete Guide to Choosing Your Wedding Shoes
We spoke to the experts for their top tips on picking out your perfect wedding shoes!
We have included third party products to help you navigate and enjoy life's biggest moments. Purchases made through links on this page may earn us a commission.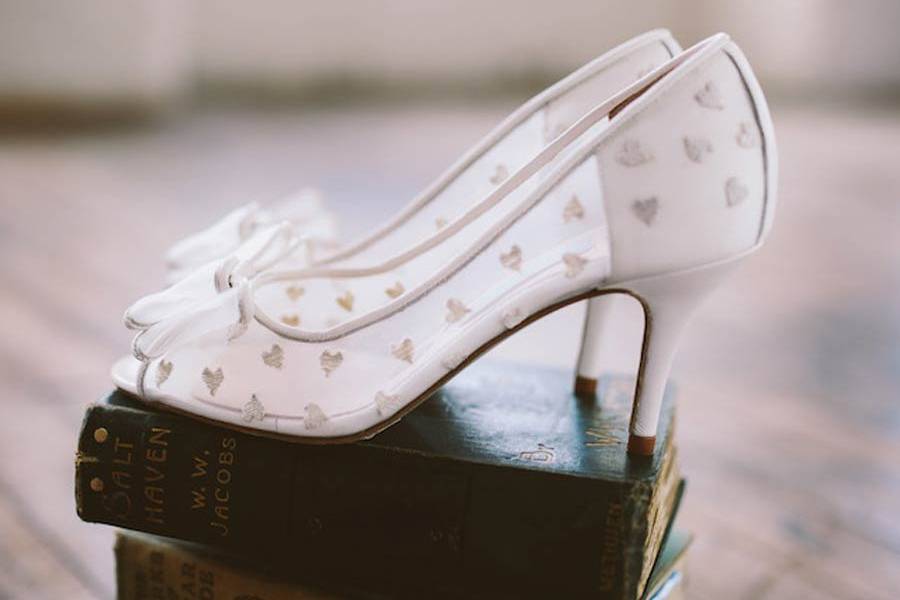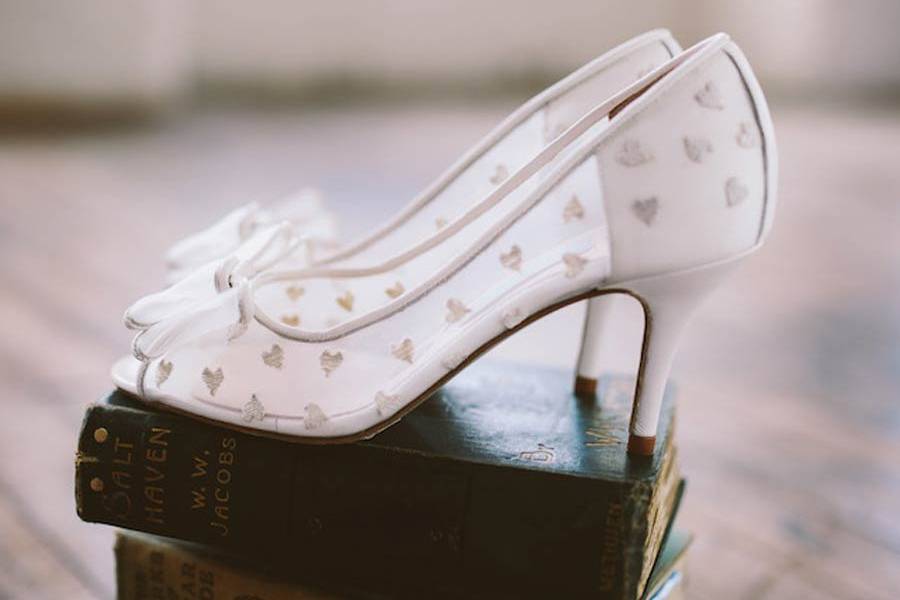 Choosing the perfect wedding dress will probably be top of your agenda when you get engaged, but don't forget that you'll need to pair it with some beautiful wedding shoes!
It's understandable that buying your shoes may throw up a few questions, like what height to go for or whether you should wear them in beforehand. If this is you then don't panic, we spoke to a handful of shoe experts to get their best advice on picking your bridal footwear!
If you're looking for shoes that are a bit out of the norm, then quirky brides simply must check out our round up of unusual wedding shoes!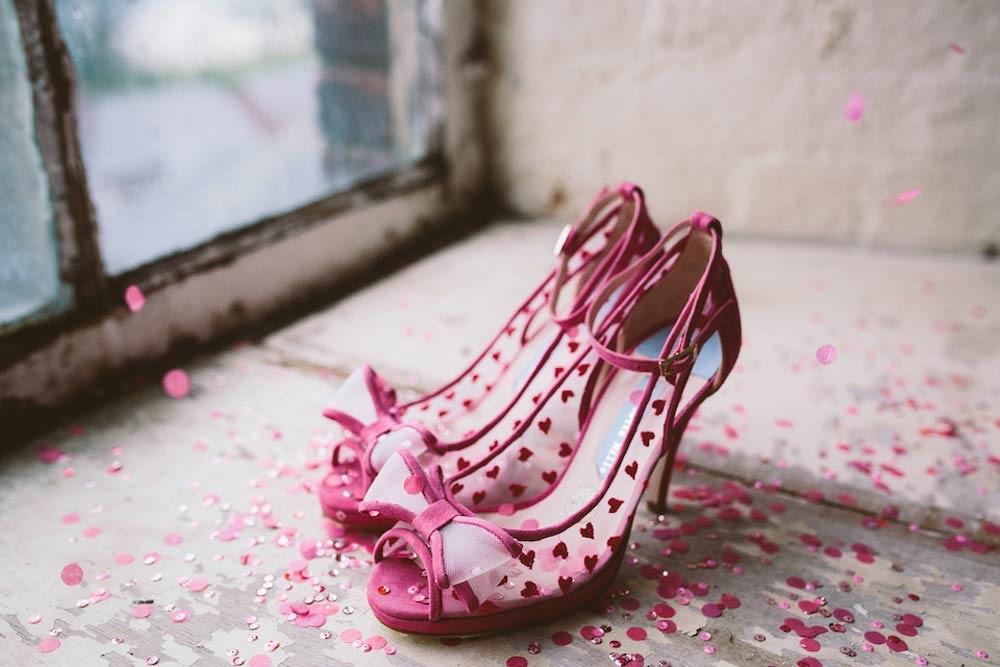 Image Credit: Charlotte Mills
Should I choose my wedding shoes before or after the dress?
It depends which is more of a priority to you: the dress or the shoes. Emmy Scarterfield, Creative Director of Emmy London, thinks brides should choose the dress first so that you can pick your wedding shoes accordingly.
'As tempting as it is to dive straight in to an exciting shoe shop for your wedding, it is always wise to choose your dress first,' says Emmy. 'The dress will dictate the mood, colour, embellishment and heel height of your wedding shoes.'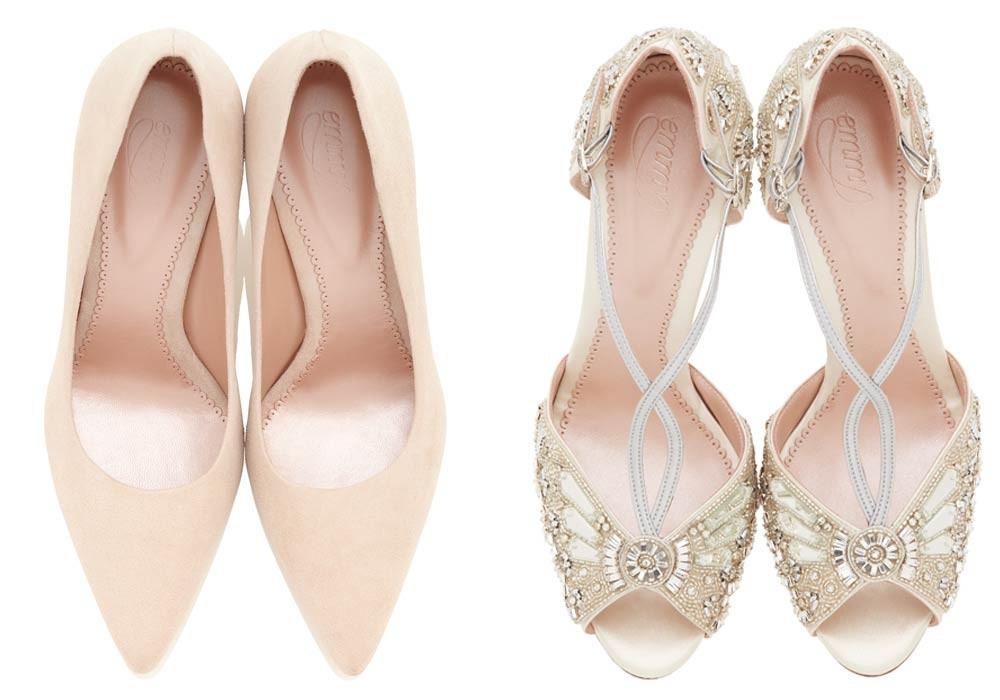 Image Credit: Emmy London
However, shoe designer Charlotte Mills believes that it doesn't always matter whether you choose the dress or the shoes first. 'Most Brides come to us after selecting the dress,' says Charlotte. 'However we do have girls who start with the shoes and work up – girls after my own heart!' Check out the beautiful range of shoes from Charlotte Mills's listing here on Hitched!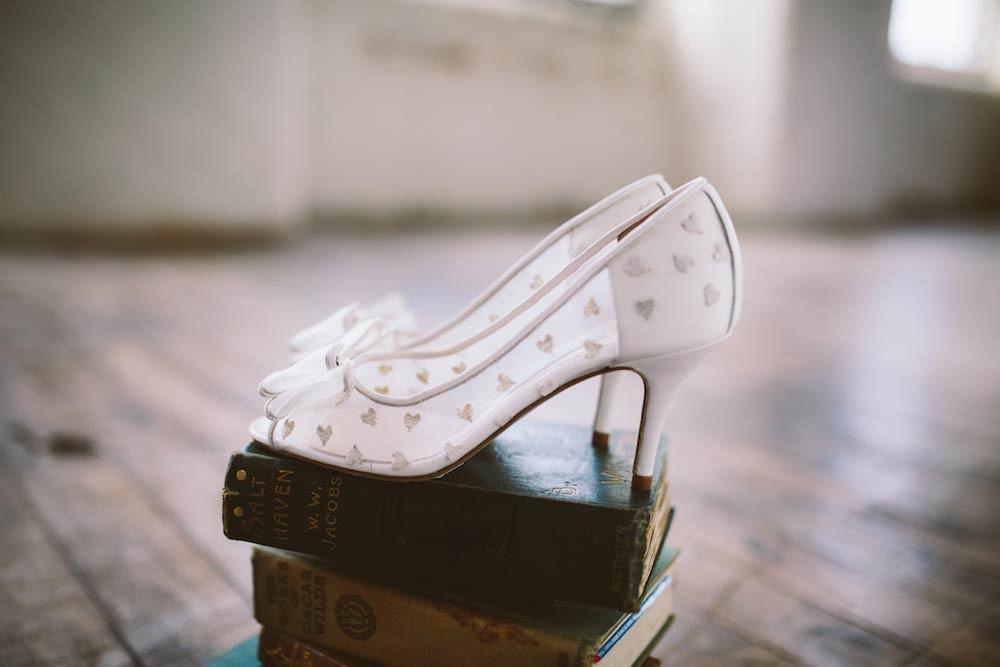 Image Credit: Charlotte Mills
Which heel height should I go for?
Adam Benjamin, Creative Director of Benjamin Adams, believes that you should go for the height of the heels that you normally wear and feel most comfortable in. 'One of the most important things to consider when choosing your wedding shoes is heel height and comfort,' he says. 'You will be wearing your shoes for a full 12 hours so go for a heel height that you are used to wearing.' To see the brand's exquisite range of footwear head to the Benjamin Adams listing on Hitched!
It's also important to consider the length of your wedding dress – you don't want any tripping disasters if you have a long train! Flat wedding shoes and kitten heels are without a doubt the most comfortable choice of footwear.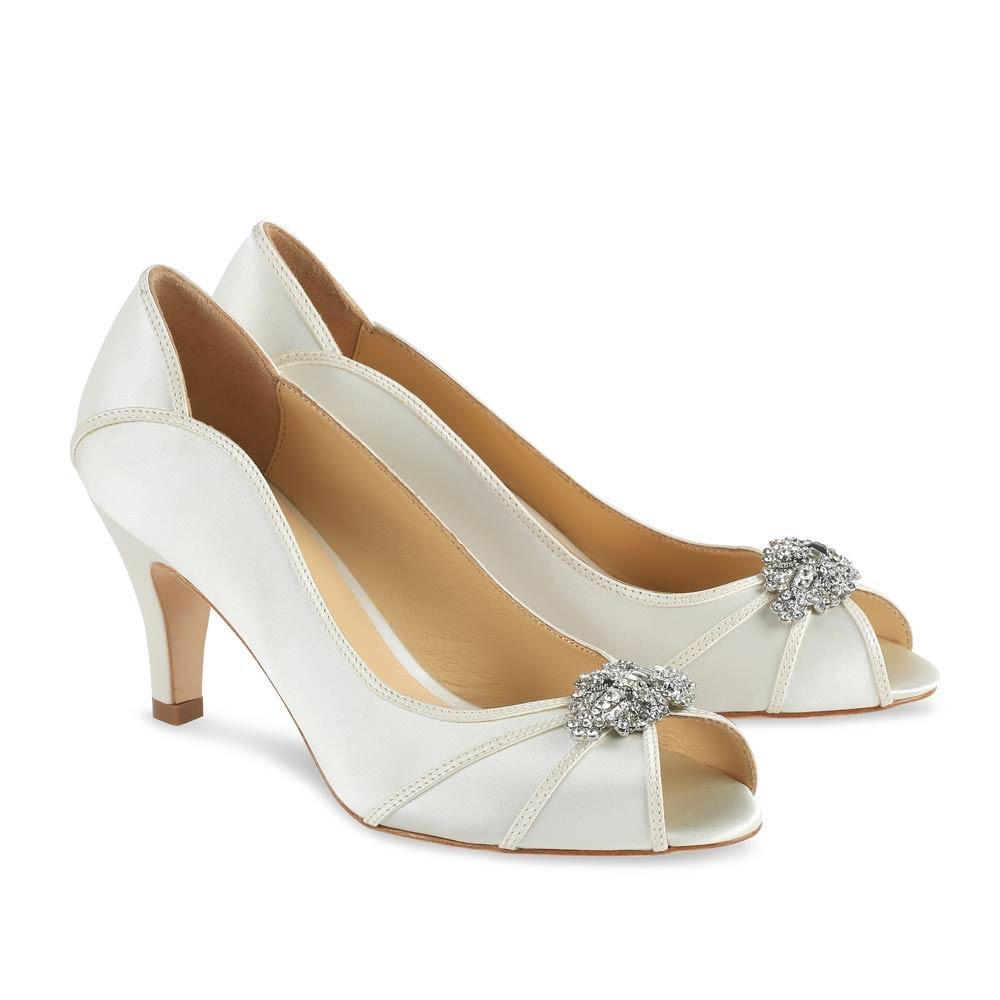 Image Credit: Benjamin Adams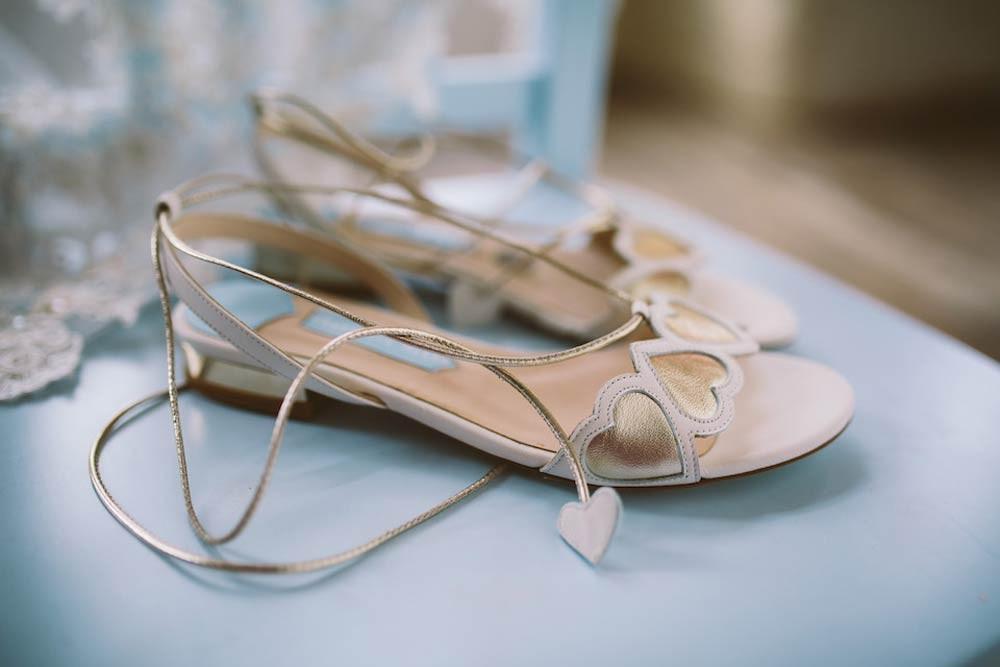 Image Credit: Charlotte Mills
Do my shoes have to be white?
'Not at all, our coloured styles are really popular,' says Charlotte. 'Blue is our most popular colour, as Brides often use this as their something blue!' There's no rule against brides straying from the traditional white or ivory wedding shoes – just make sure that the colour will complement your dress!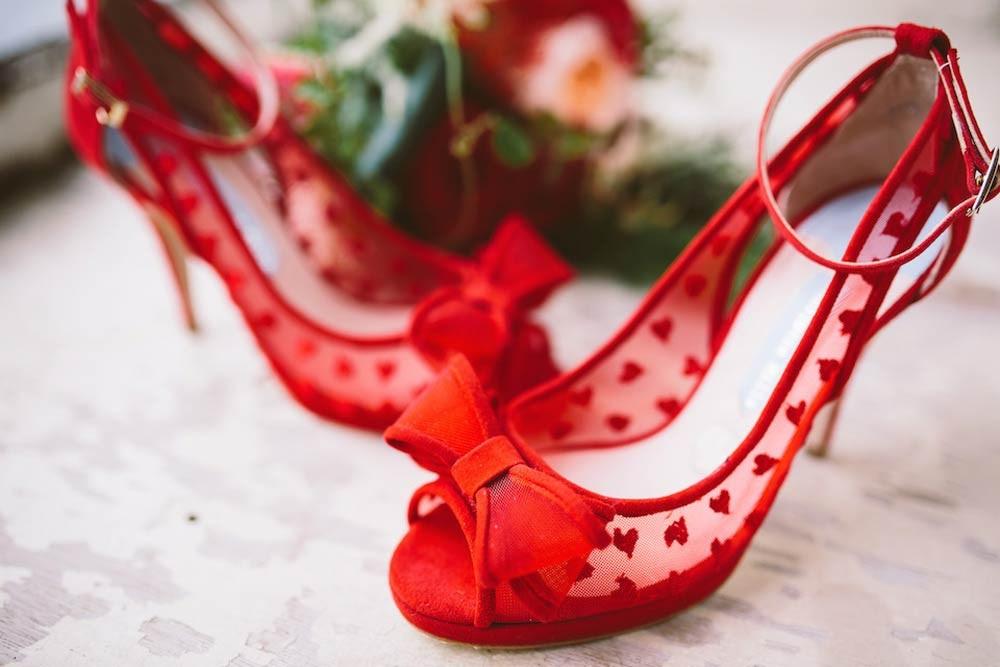 Image Credit: Charlotte Mills
Kym Hall, the CEO and head designer of Jakii, thinks that choosing coloured shoes is an excuse to stretch the budget further. 'Choosing a colour you can wear again means you are able to splurge a little,' she says. 'Some great wedding colours at the moment are blue, pale or fuchsia shades of pink, mint and my personal favourite, aqua.'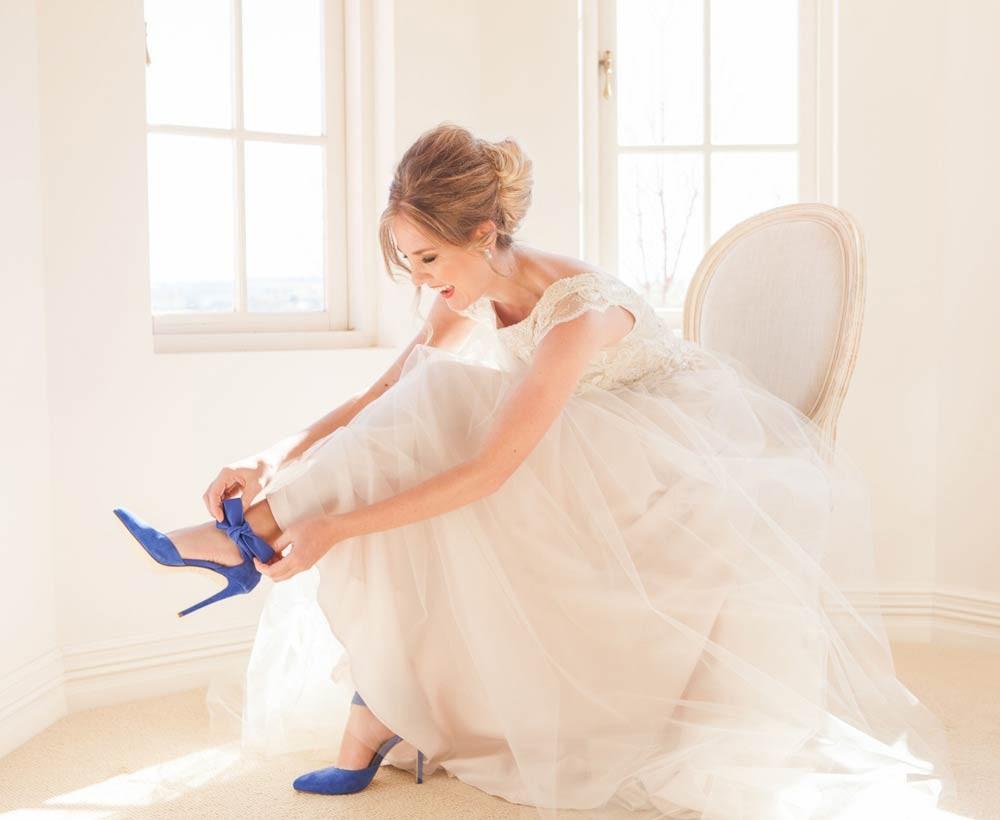 Image Credit: Lola Images
Should I wear my shoes in?
Wearing the shoes in beforehand means that you can decide fully if they'll be right for you and if you need to make any adjustments, such as a different size or adding extra padding and shoe inserts.
'Wear your shoes a few times so that they mould to your foot shape,' says UK shoe designer Freya Rose. 'Ensure your shoes come with extra padding for comfort and a protective plastic film on the sole, so it will not get marked or damaged. This can then be removed on your special day.'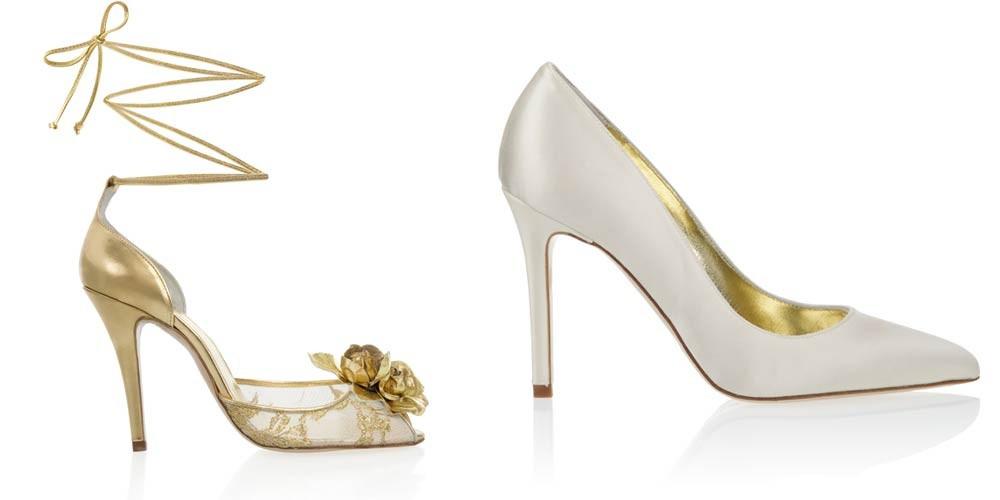 Image Credit: Freya Rose
Which shoes would go with a vintage style wedding dress?
Whatever vintage era you are incorporating when deciding on your dress or theme, choose a pair of vintage wedding shoes that are inspired by the same era for consistency. Look out for kitten heels and bright pops of colour for a gorgeous 50s feel or opt for sparkly wedding shoes to lend a 1920s twist! 'If your dress is tea length or shorter, go for bolder styles that make a statement,' says Adam. Shoes that make a dramatic statement look great when paired with a short vintage wedding dress!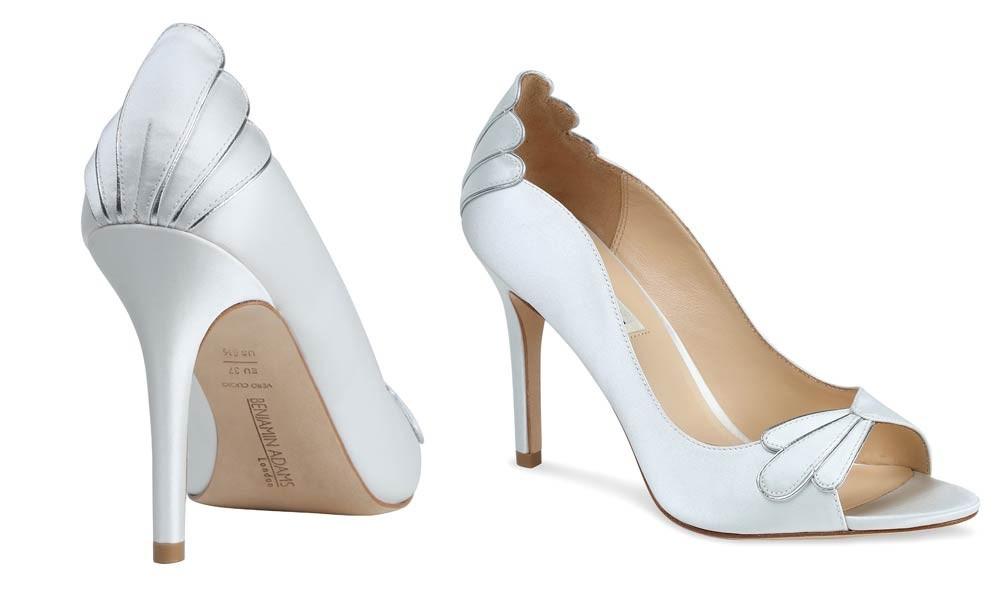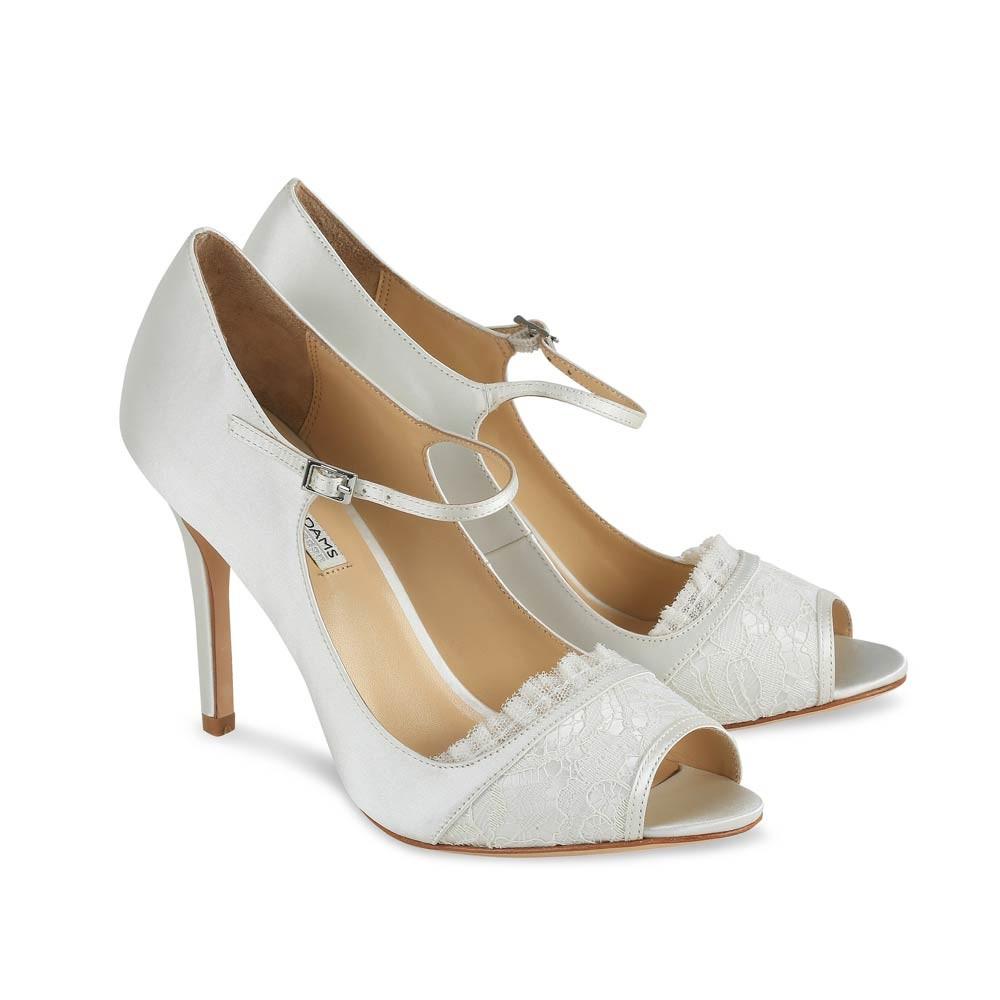 Image Credit: Benjamin Adams
What about a statement dress?
When you have a beautiful statement wedding dress, Emmy believes that you can choose to go either end of the scale with your wedding shoes. 'A statement dress with a lot of detail could be finished off beautifully with a simple, elegant court shoe in a soft tone to create a chic statement,' says Emmy.
'Alternatively, just go for it and go all out with your wedding shoes to make as much as much of a statement as the dress – you only do this once! To make the most of your statement shoes opt for a shorter hemmed statement dress.'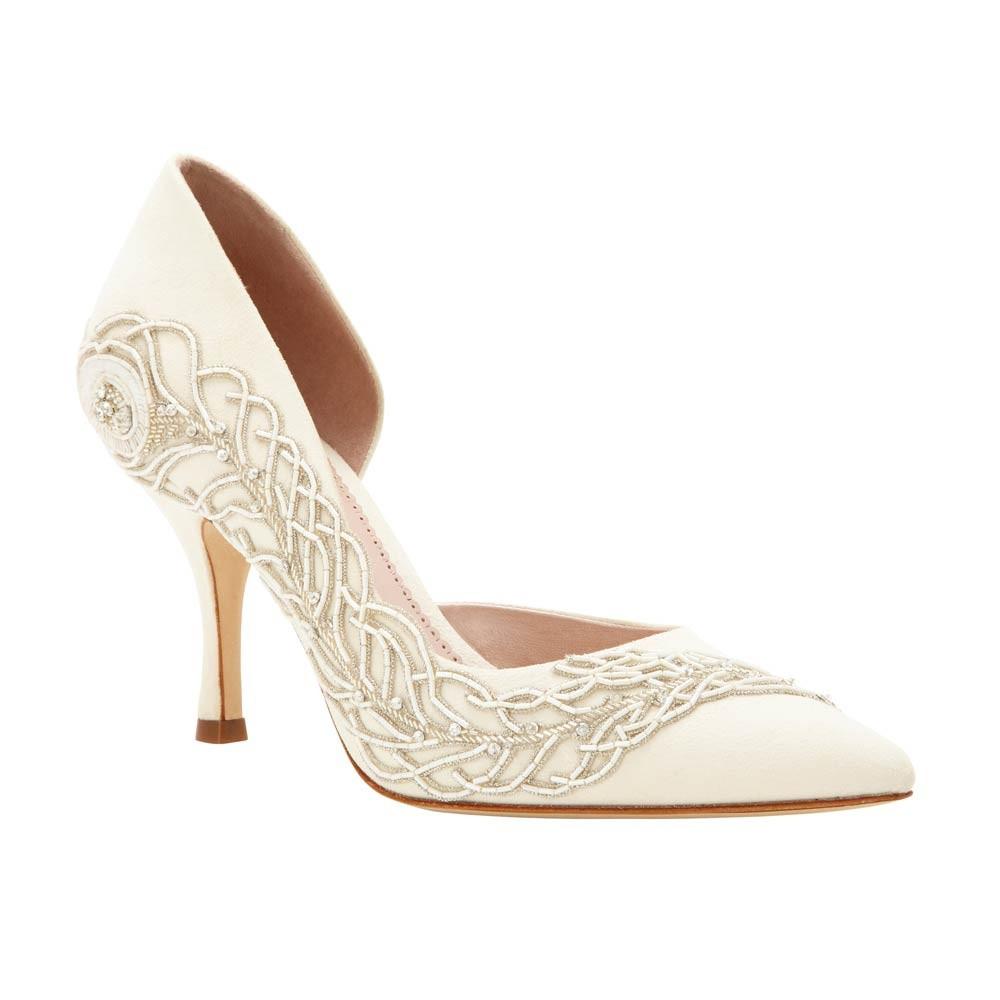 Image Credit: Emmy London
Should I consider the venue when buying my shoes?
It's a good idea to think about how much walking you will need to throughout the day when you buy your shoes. If you're holding your entire wedding in one venue then you don't need to worry too much about it. Freya also points out that you should consider the season that you'll be getting married in.
'Open sling backs are better if you are getting married in a hotter climate and peep toes are good all year round,' she says. 'If you will be wearing your heels on a grassy or muddy surface you should be aware that they might get stained. A great way to stop your heels sinking into grassy surfaces is to use heel protectors. '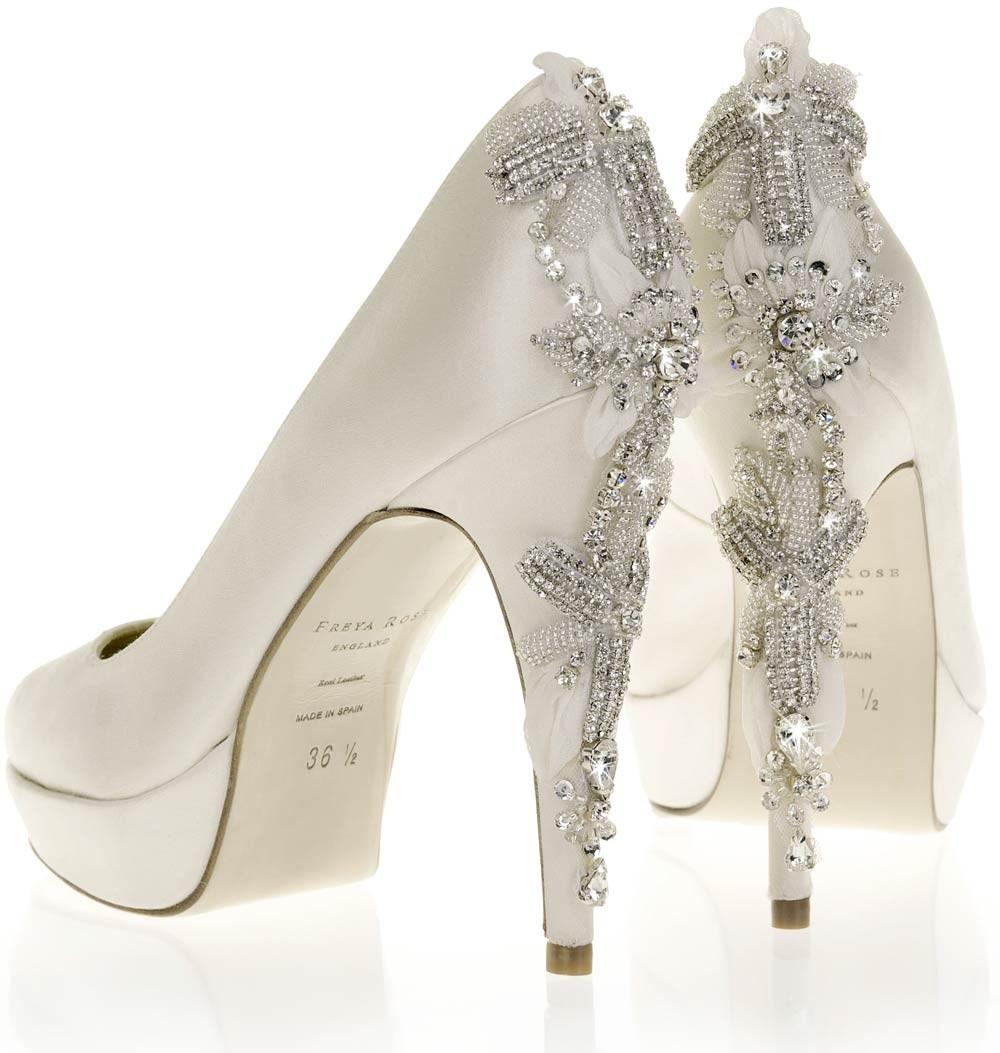 Image Credit: Freya Rose
What does the silver sixpence tradition mean?
In your hunt for a pair of heavenly wedding shoes, you may find that a lot of styles come with a silver sixpence in the sole. This is actually a bridal tradition and Charlotte Mills includes a silver sixpence in every pair of her bridal shoes.
'A silver sixpence in the bride's shoe is an old custom to bring you good luck,' says Charlotte. 'The sixpence symbolises prosperity, love and happiness. The tradition says that having this with you on your wedding day will bring you all these things throughout your marriage.'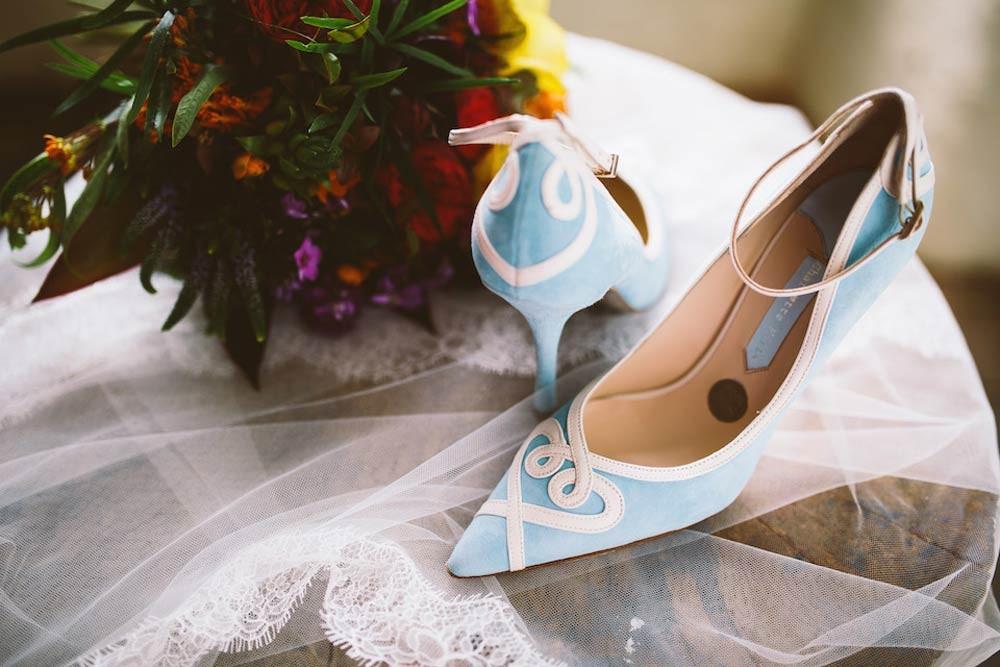 Image Credit: Charlotte Mills
What if I don't want to spend too much on my shoes?
If you've splurged most of your budget on the dress and don't have a lot left for the wedding shoes then don't worry, you can still find some gorgeous bridal shoes on the high street at an affordable price tag! Monsoon have a selection of stunning shoes in bridal colours such as ivory, rose gold and silver – all with prices that won't break the bank!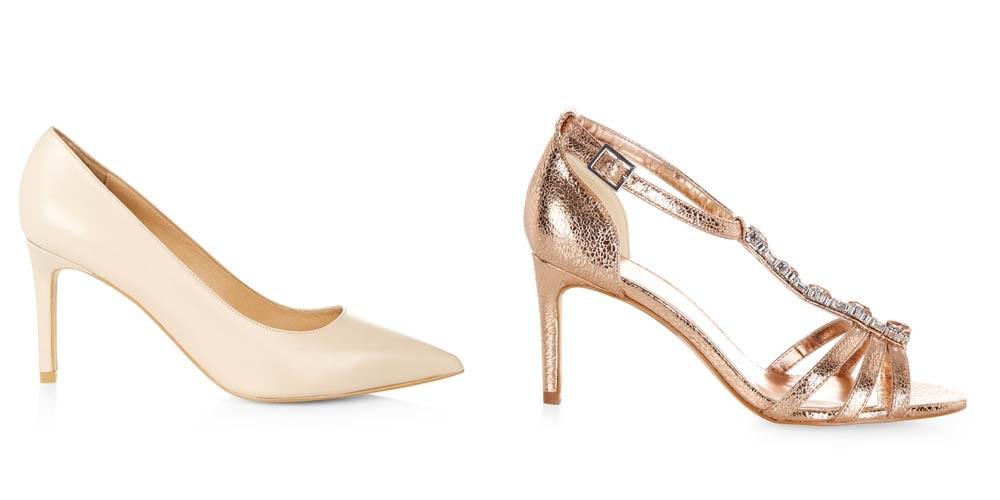 Image Credit: Monsoon
Can I customise my own pair of wedding shoes?
Can't find a pair of shoes that you like? Why not customise an existing pair instead! Sonia Brown, founder and designer of Le Soulier, will do just that if you send her a plain pair of shoes. She'll transform them into something incredible and unique by hand painting and illustrating a personalised design onto the shoes. 
'The aim is to bring beauty and art to your wedding with a striking pair of bespoke, hand-painted shoes,' says Sonia. 'We showcase the wedding theme, names and dates, personalities and love story of the couple onto each pair of shoes, making this an item that you'll treasure forever.' Like the concept? Find out more on Le Soulier's listing on Hitched.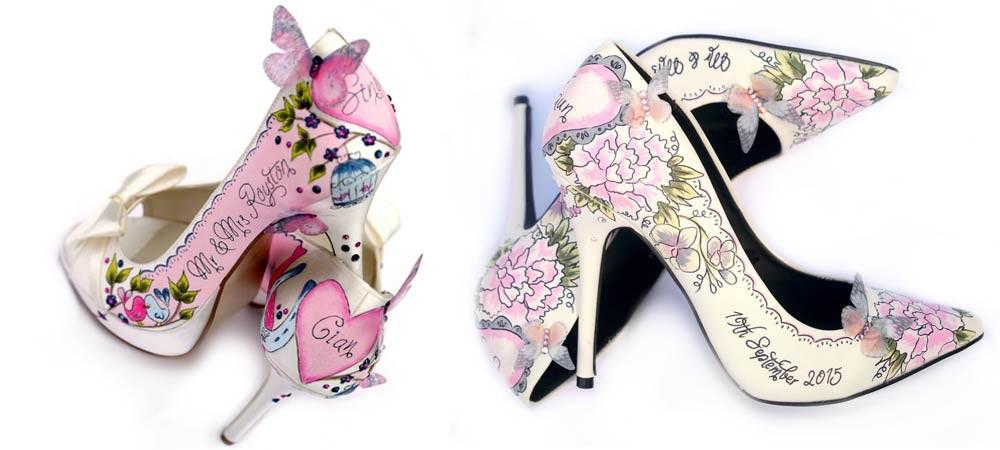 Image Credit: Le Soulier
What if I want to wear my wedding shoes again?
If you want to wear your bridal shoes again but don't feel like they fit with your day to day wardrobe, why not consider dyeing them? However, only do this if you have a pair of dyeable wedding shoes and are absolutely sure you want to change them!
'If you choose to change your shoes, make sure that they are an ivory silk which can easily be dyed,' says Freya. 'All of our shoes are made in the finest duchess ivory silk and come with a swatch for you to test for dyeing if required.'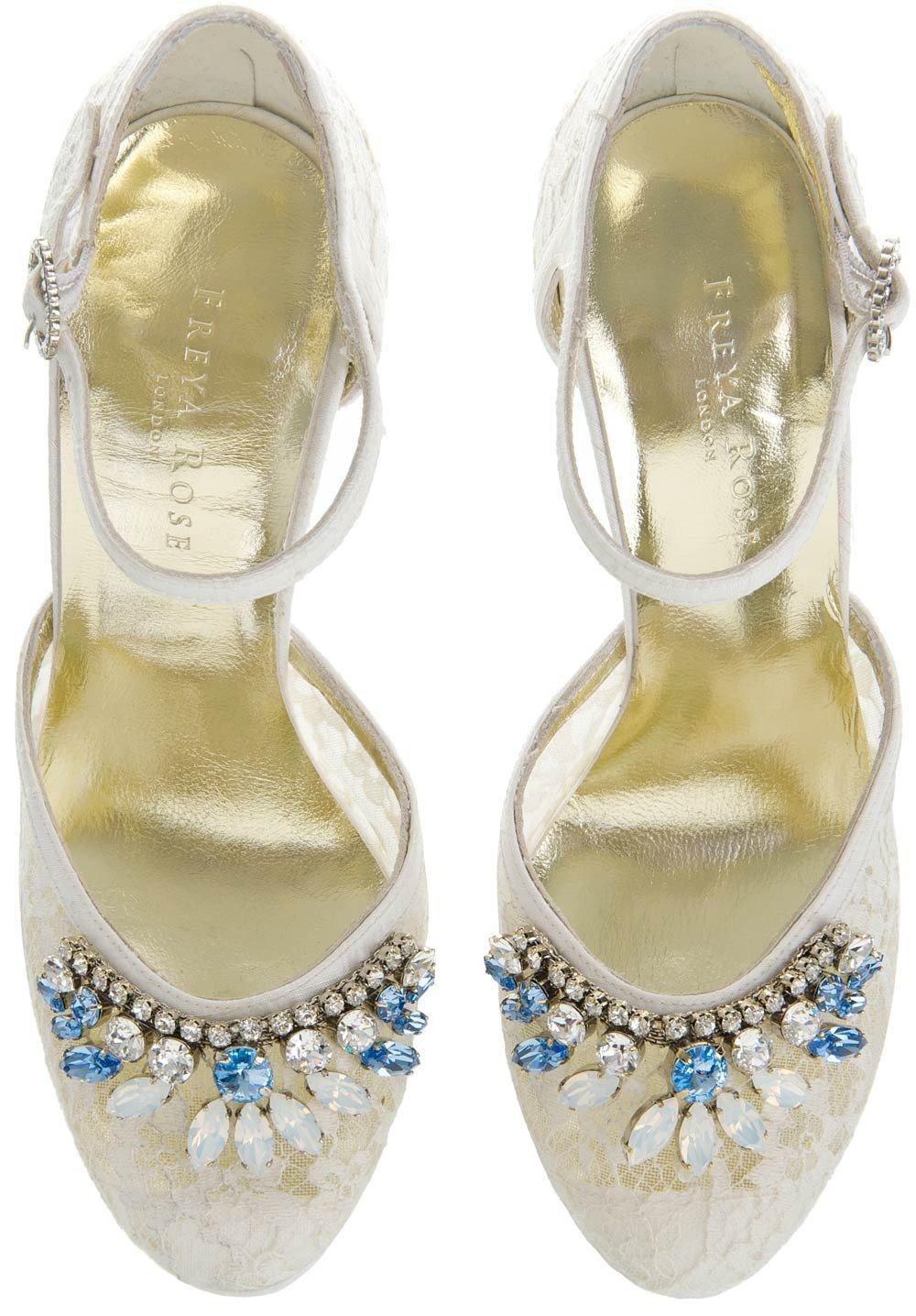 Image Credit: Freya Rose
Finally, don't forget your actual feet…
Don't forget to treat your feet – you'll want to feel your best from head to toe on your big day! After all, a stunning pair of wedding shoes would be nothing without a soft, pampered pair of feet! 'Remember to schedule a lovely pedicure before your big day, says Freya. 'Slip your feet into your gorgeous wedding shoes with soft skin, neat cuticles and glossy painted nails!'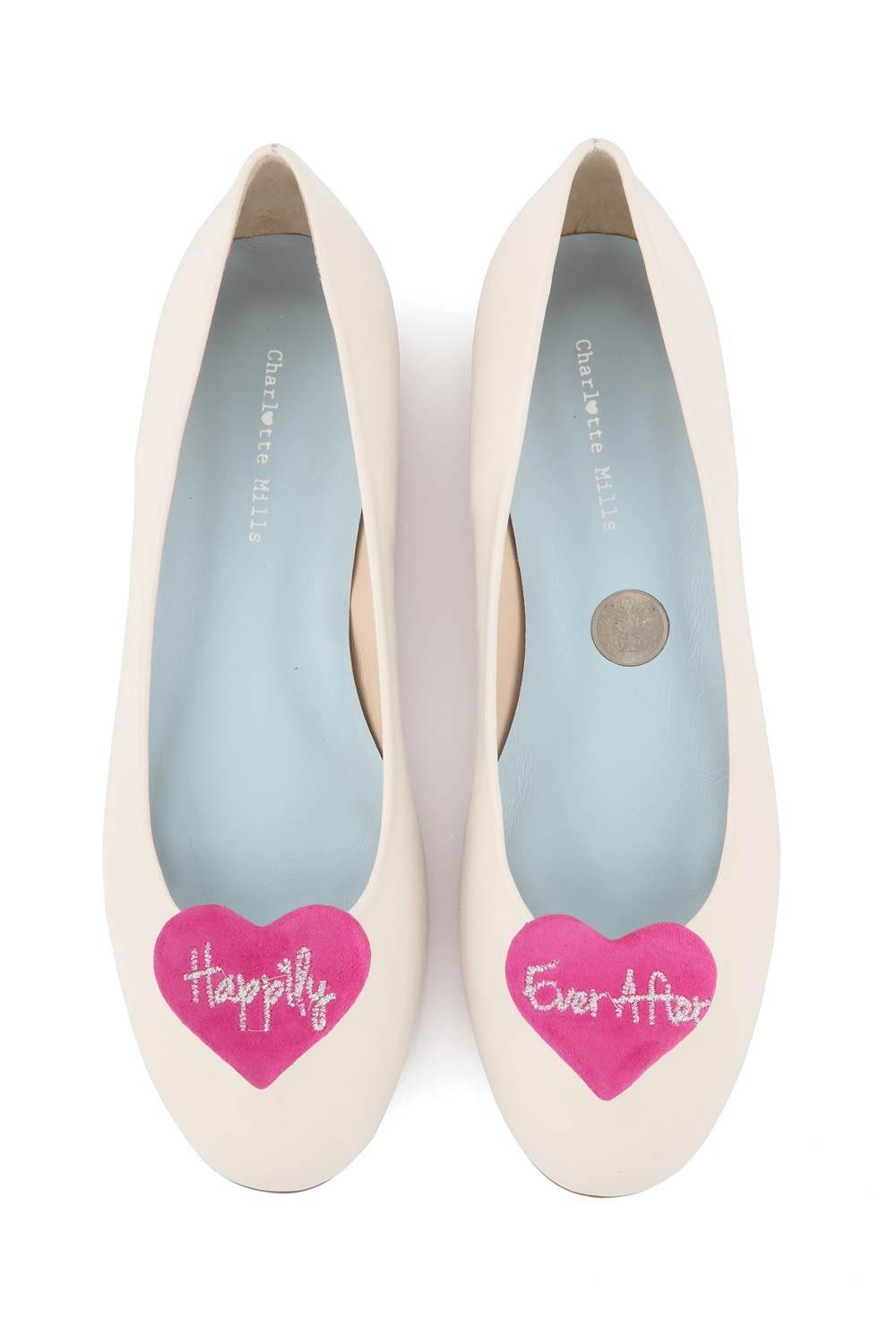 Image Credit: Charlotte Mills
To see more gorgeous wedding shoes, check out our shoe section on Hitched! Once you've got the footwear sorted, add the finishing touch to your look with bridal headwear and jewellery.