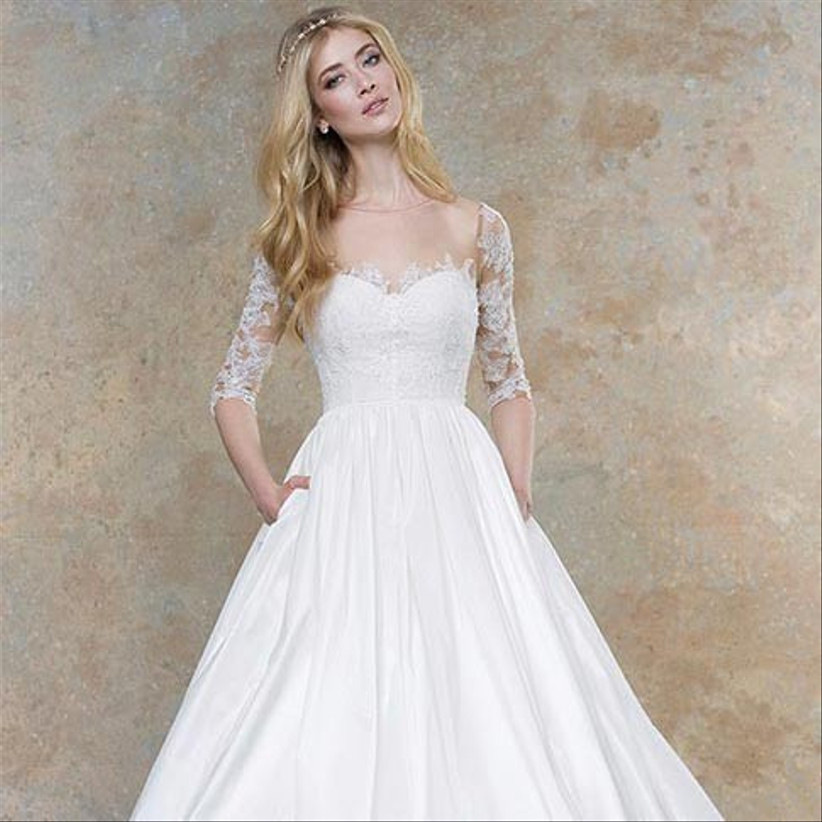 Are you getting married in a church? Whether you're having a traditional church ceremony or you've picked a wedding venue with a chapel, it's important to make sure your wedding dress is church appropriate.
We've rounded up the best church wedding dresses to make sure you look appropriate for your religious wedding ceremony, but still totally radiant.
2914 – Allure Bridals
Brides looking for a classic wedding dress will love the 2914 from Allure Brides. The lace bodice is fitted but modest as it covers the shoulders and décolletage, and the full skirt and traditional train adds a princess feel.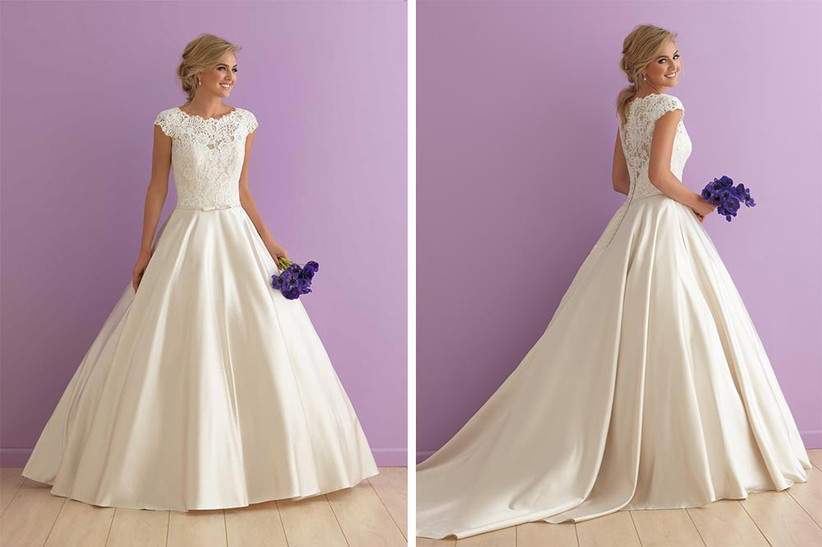 Beverly – Claire Pettibone
The Beverly from Claire Pettibone is a dream come true for those who love lace wedding dresses. The long sleeves and full length skirt are balanced out by the open back detail – you can show some skin but spare the vicar's blushes.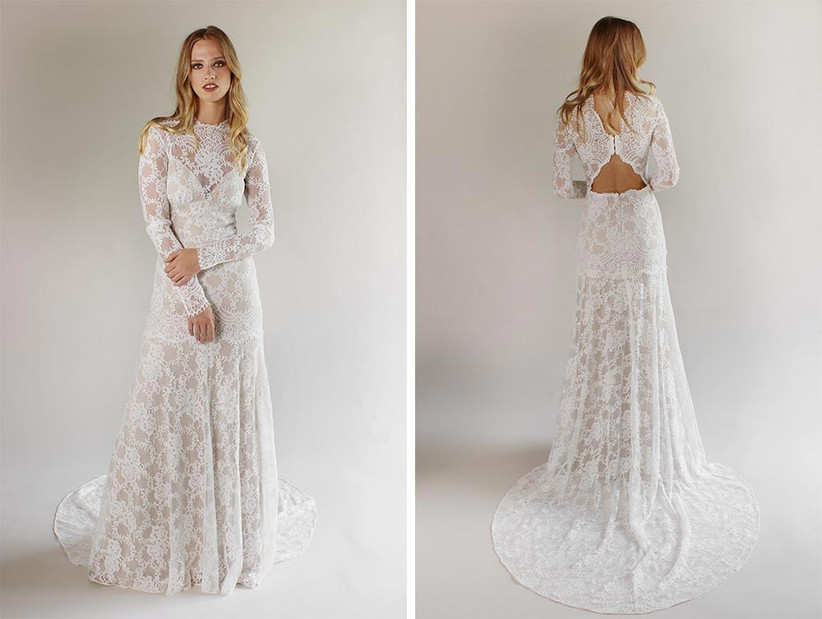 2540 – Alfred Angelo Collection
We love the fabulous fishtail shape of the 2540 from the Alfred Angelo Collection. It's the perfect choice for a bold bride who wants to make a statement with her wedding dress without revealing too much. We love the glam detailing around the neckline and cuffs.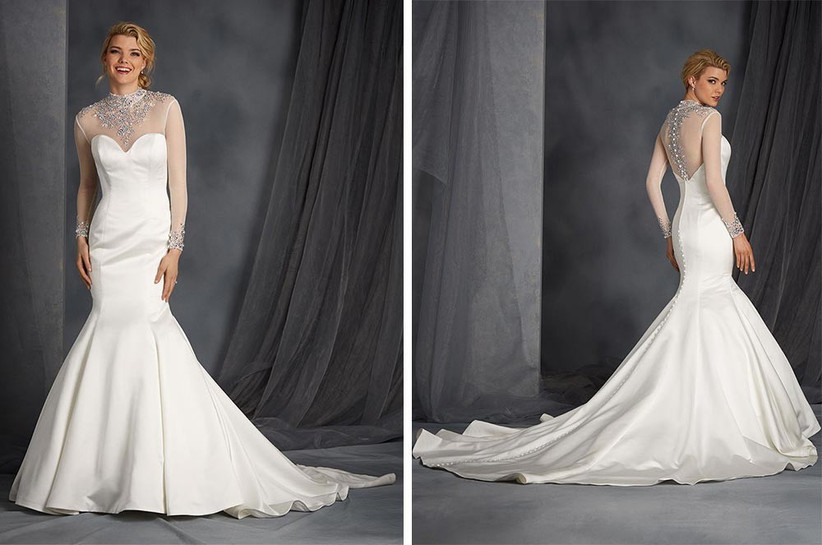 368 – Allure Couture
Did you love Kate Middleton's wedding style? Go for similar with this Allure Couture beauty, which features lace sleeves and a full skirt. If it was good enough for Westminster Abbey, you know it'll be perfect for your dream day.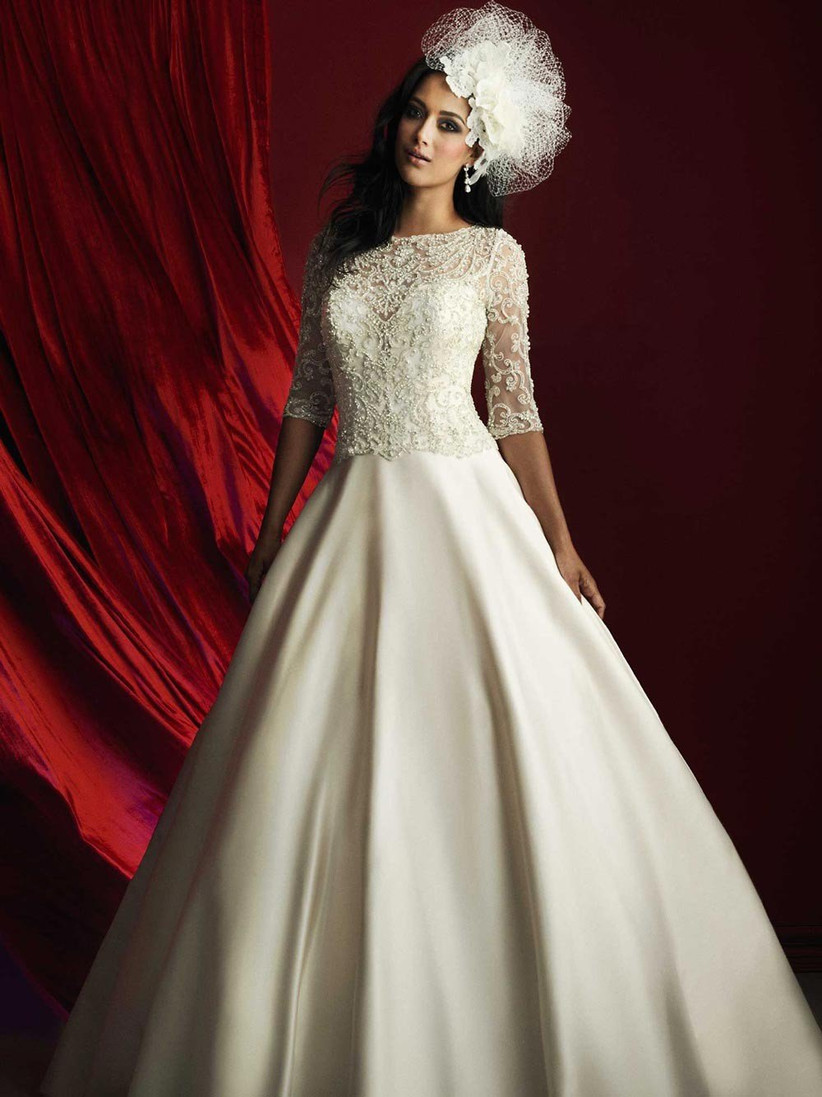 Vonnet – Charlie Brear
If you want a sleek and simple gown, take a closer look at the Vonnet from Charlie Brear. We love the pleated detail at the neck and the three-quarter length lace sleeves. This lightweight gown is ideal for dancing the night away in.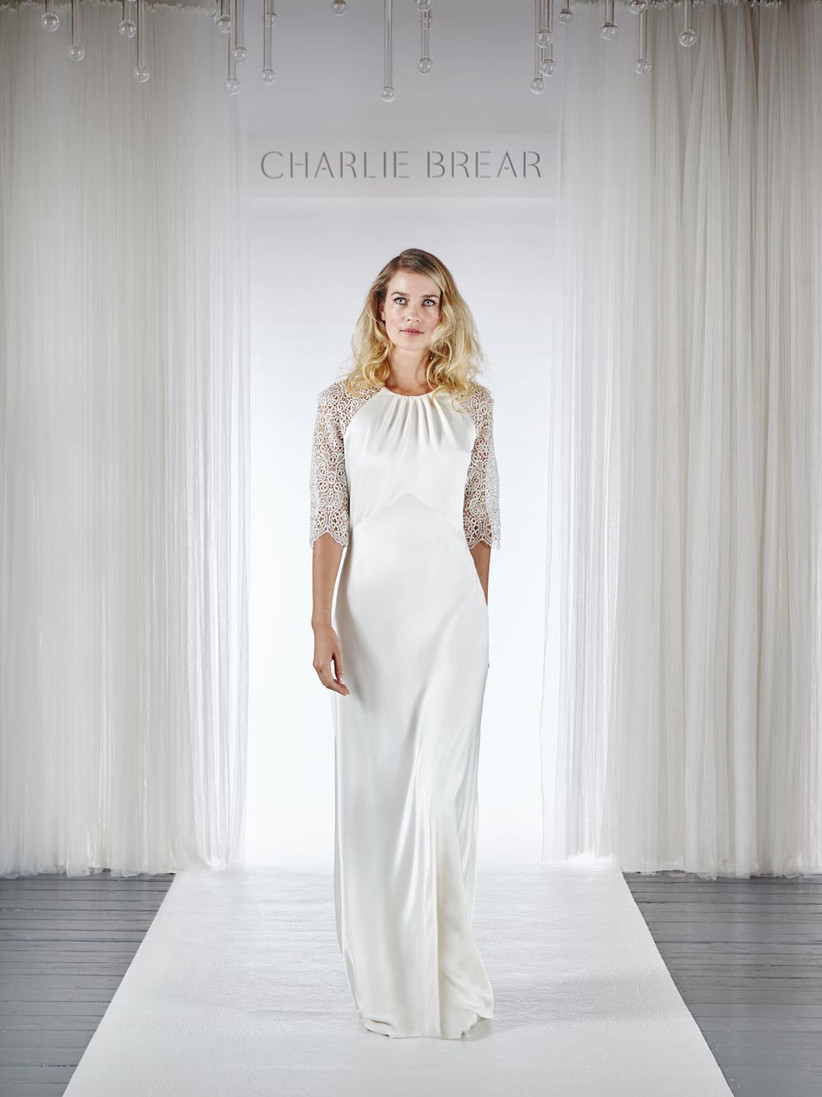 2561 – Alfred Angelo Collection
We love this Grecian style wedding dress from Alfred Angelo. The lightweight fabric is perfect for a beach wedding dress, and the glitter embellishment across the bodice keeps it from being too plain.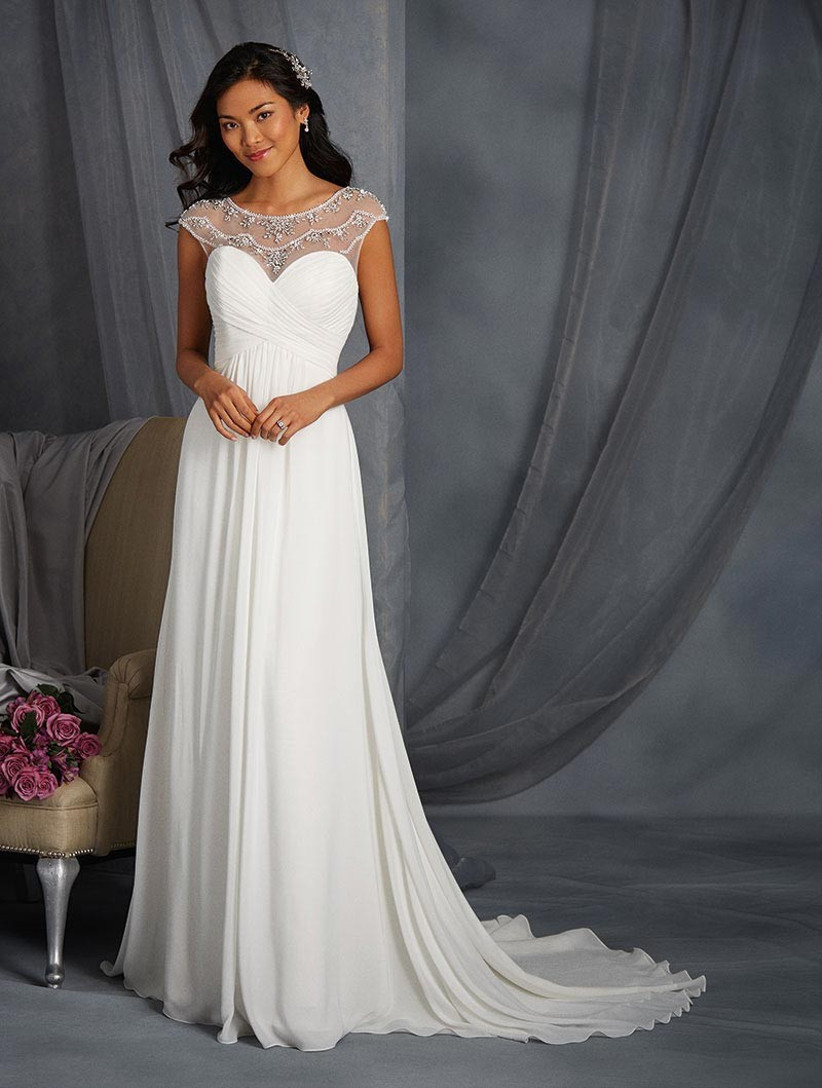 2910 – Allure Bridals
Lovers of lace will adore the 2910 from Allure Bridals. The slim-fitting shape and subtle fishtail flare will appeal to understated brides looking for a gown that is as elegant as it is pretty.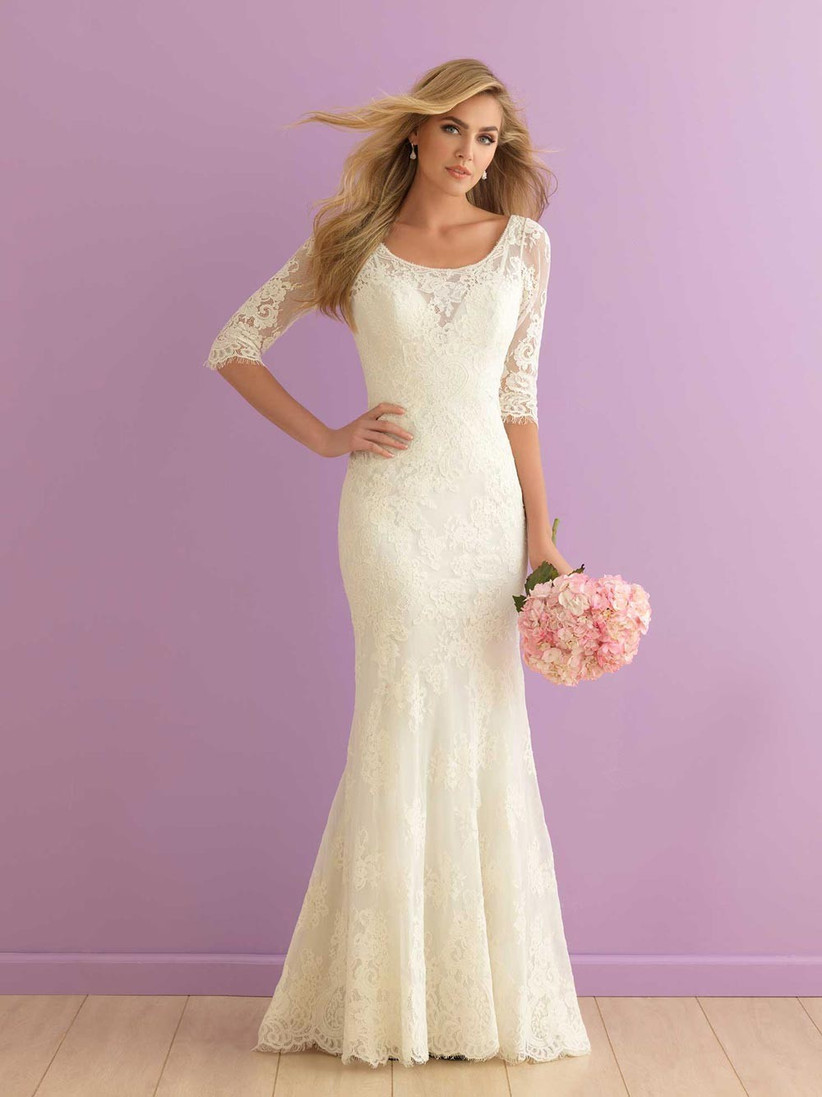 Iris – Elise Hameau
This beautiful boho wedding dress from Elise Hameau is perfect for a summer wedding. Stay cool as you celebrate with the lightweight fabric, illusion back and the pretty sheer sleeves.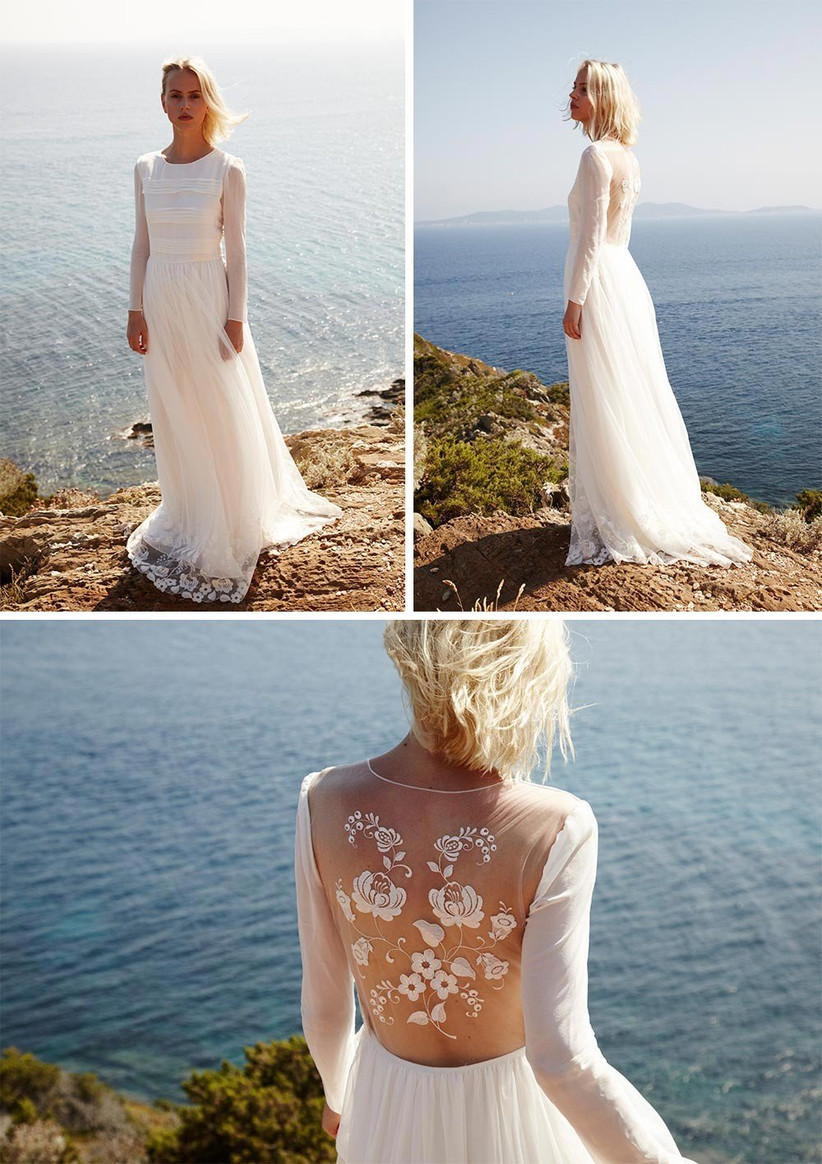 Sierra – Anna Campbell
If you want serious drama and glamour, consider the Sierra from Anna Campbell. The fishtail shape and intricate beading make it a stylish choice, but the cap sleeves and lace train ensure it's still church appropriate.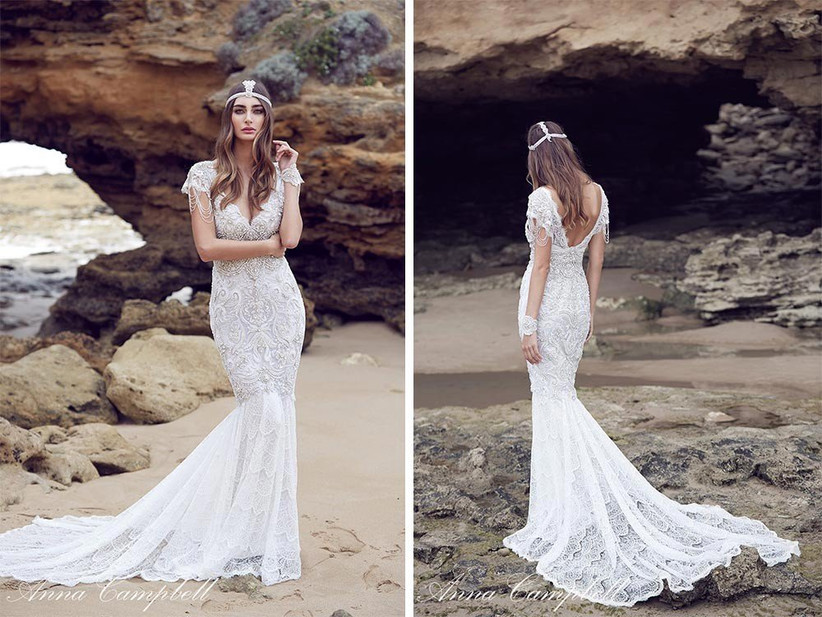 8540 – Modern Vintage by Alfred Angelo
A two-in-one wedding dress is a good choice when it comes to picking a gown that's suitable for church. This gown from Alfred Angelo's Modern Vintage collection comes with a detachable sheer overlay, which conceals your shoulders and makes the strapless neckline more modest.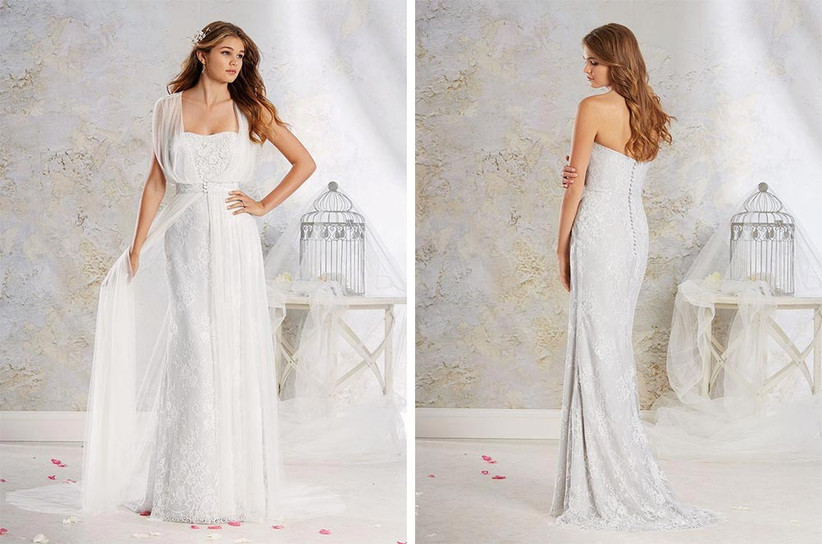 9231 – Allure Bridals
Have you been dreaming about a tiered wedding dress? We can't get enough of the 9321 from Allure Bridals – it has a subtle pink hue and a skirt made up of full, frothy tiers. It's the ideal gown for brides hunting for a princess wedding dress.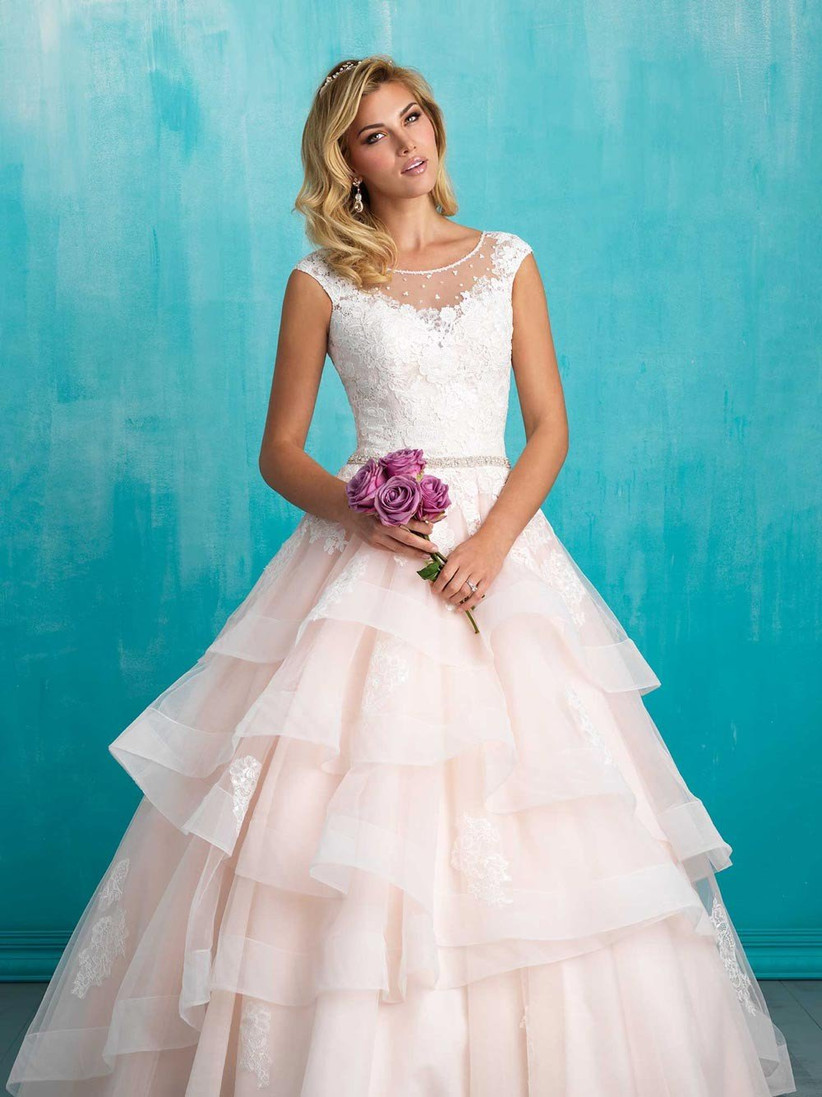 Lorna – Badgley Mischka Bride
The Lorna from Badgley Mischka Bride is a gorgeous example of a floral wedding dress. We love the figure hugging shape of this gown, and the fabulous illusion back which is framed with flowers.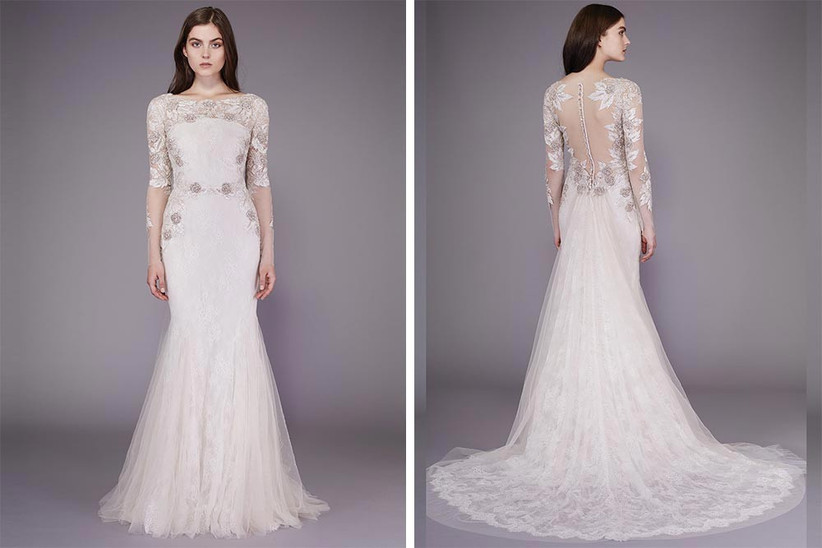 Aster – Belle & Bunty
The Aster from Belle & Bunty is a gorgeous 1920s wedding dress. We love the lace detailing on the bodice and around the cuffs, as well as the silk sash which helps to define the waist.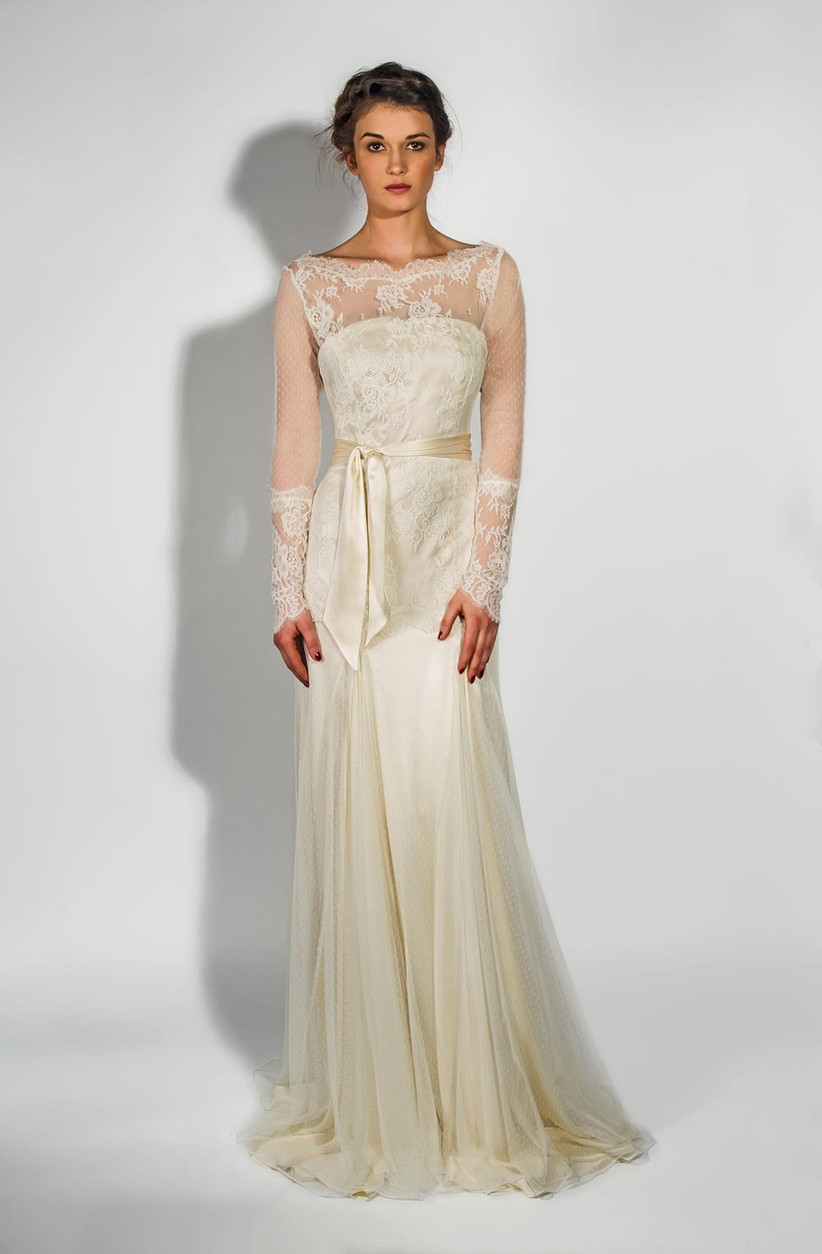 18019 – Ellis Bridals
The lace detailing on this Ellis Bridals wedding dress is simply exquisite. Make sure you go for a wedding up do to really show off the detail and the fabulous low-cut back. Browse our guide to wedding hairstyles for more inspiration.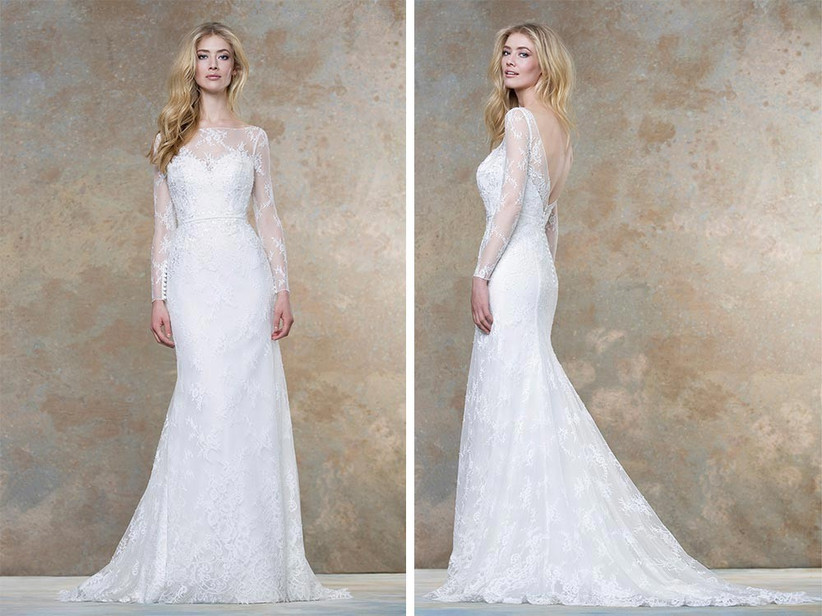 Kacey – Enzoani
Wear the Kacey by Enzoani with the embellished jacket in the day to make it appropriate for the church wedding ceremony, before removing it for the evening party to dance the night away in the sleek, satin, strapless dress. Browse even more two-in-one wedding dresses to inspire you.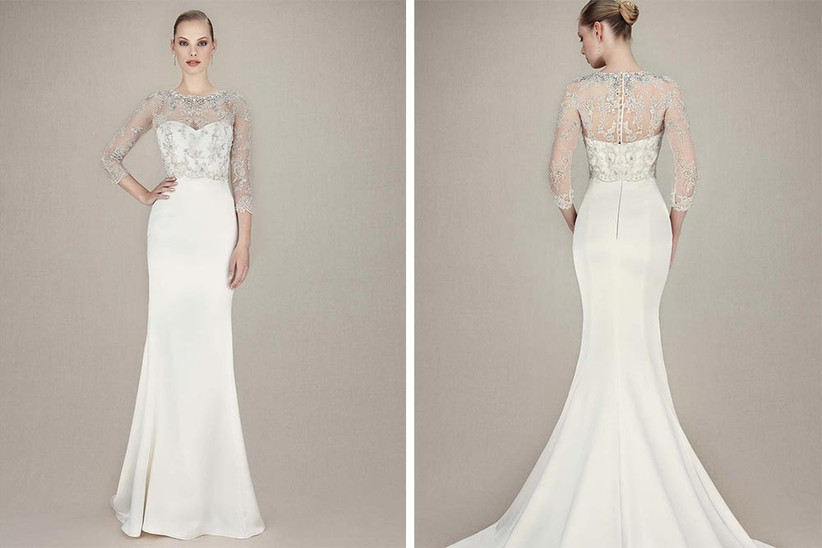 551 – Madison James
How pretty is the scalloped lace hem on this Madison James wedding dress? The V-neckline and lace three-quarter length sleeves means this traditional gown is ideal for a church wedding.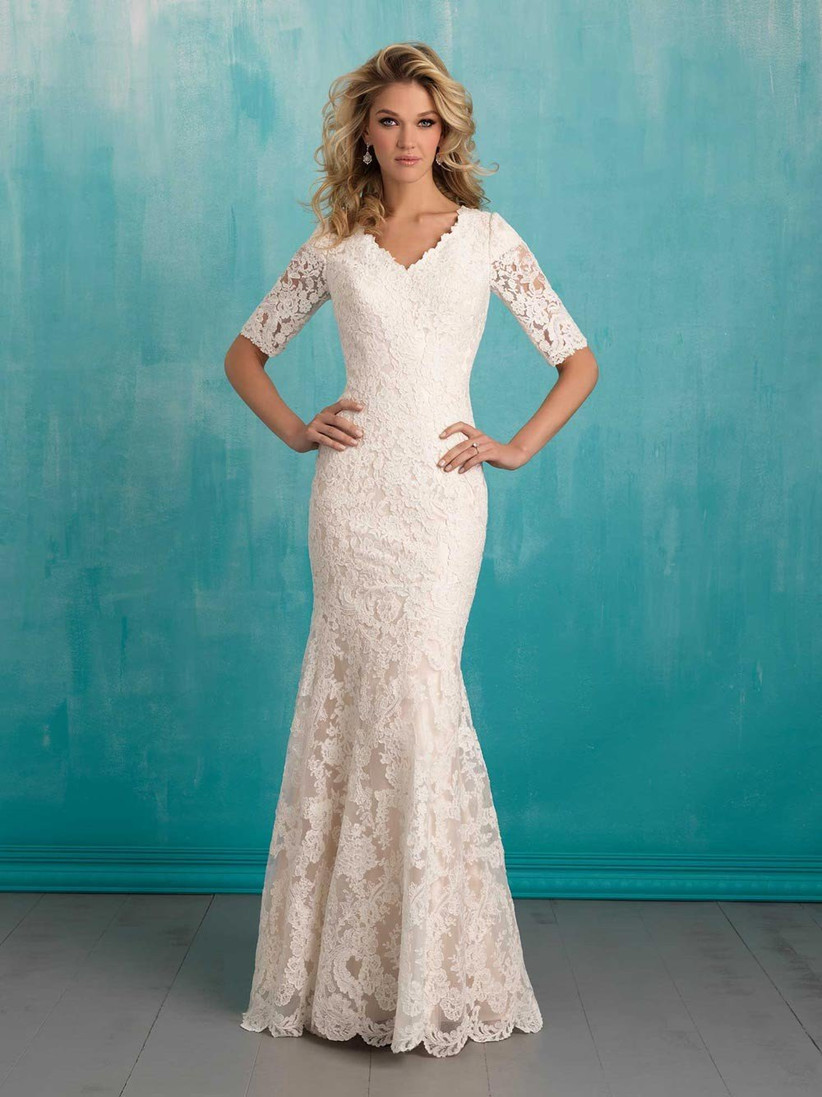 Monique Lhuillier Bridal
If you're after a high-fashion wedding dress, take a closer look at the Fall 2016 collection from Monique Lhuillier bridal. We love the sheer sleeves on this ball gown, and how the pretty detail appears to flutter from the bodice across the desk.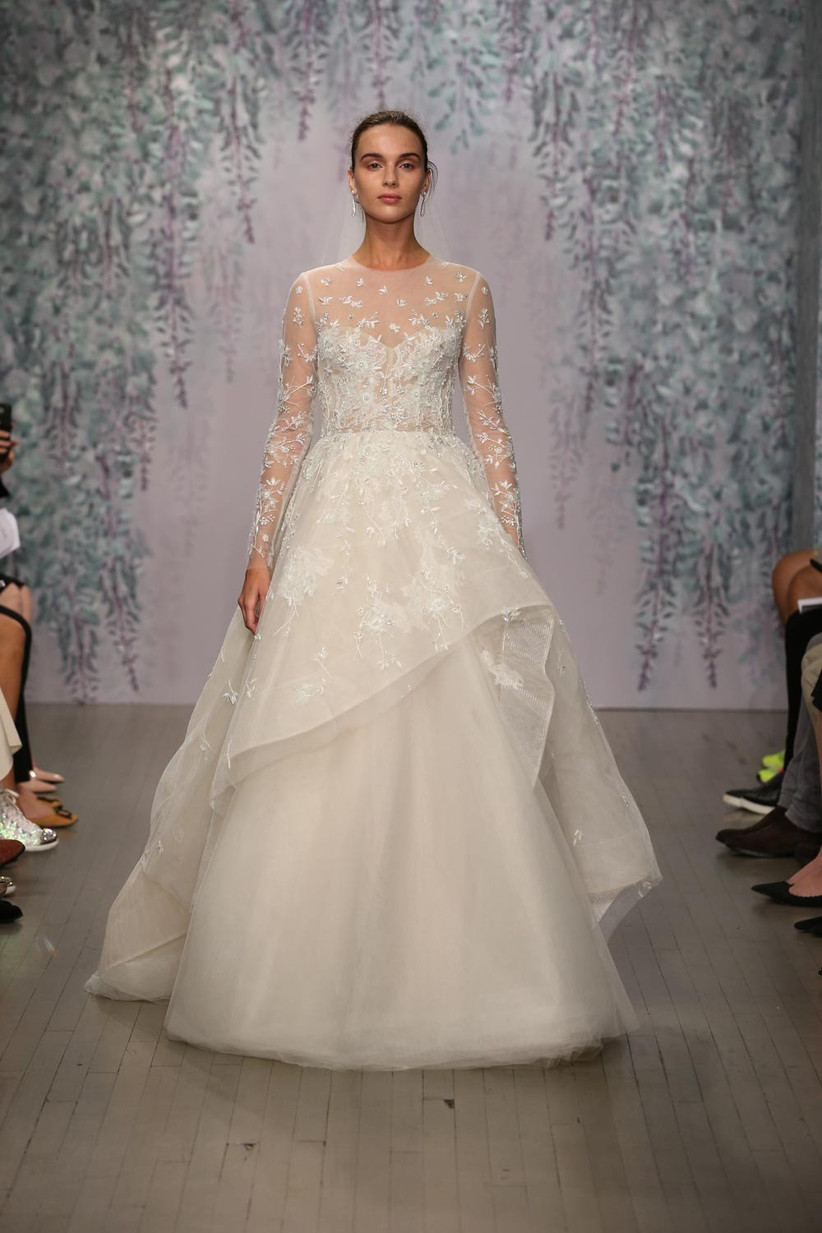 Olivia – Minna
Retro brides will fall in love with this 70s inspired wedding dress from Minna. Pair it with a flower crown and pretty shoes and you'll be appropriate for church and ready to dance the night away.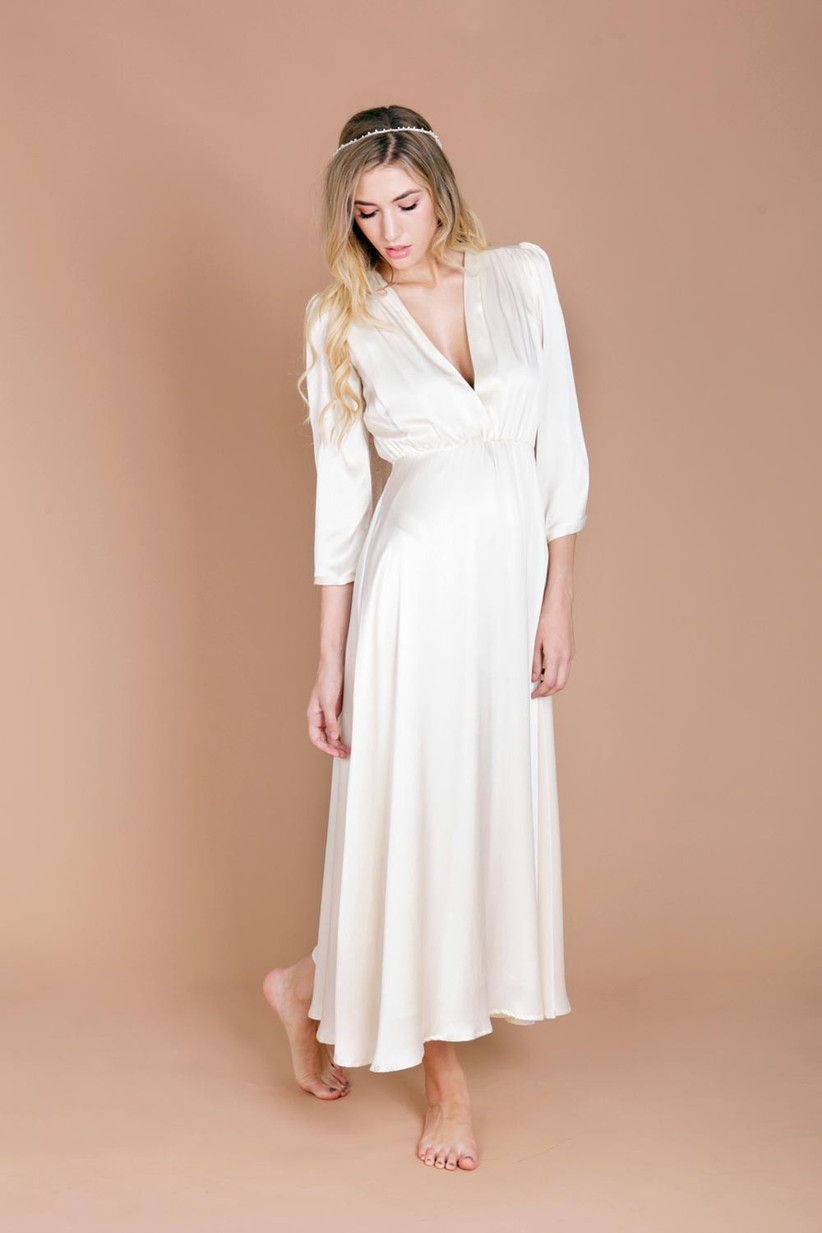 3875 – Sincerity Bridal
Tea length wedding dresses can still be appropriate for church weddings! Don't go too short, and pick one that covers your shoulders and doesn't show off too much cleavage, like the 3875 from Sincerity Bridal.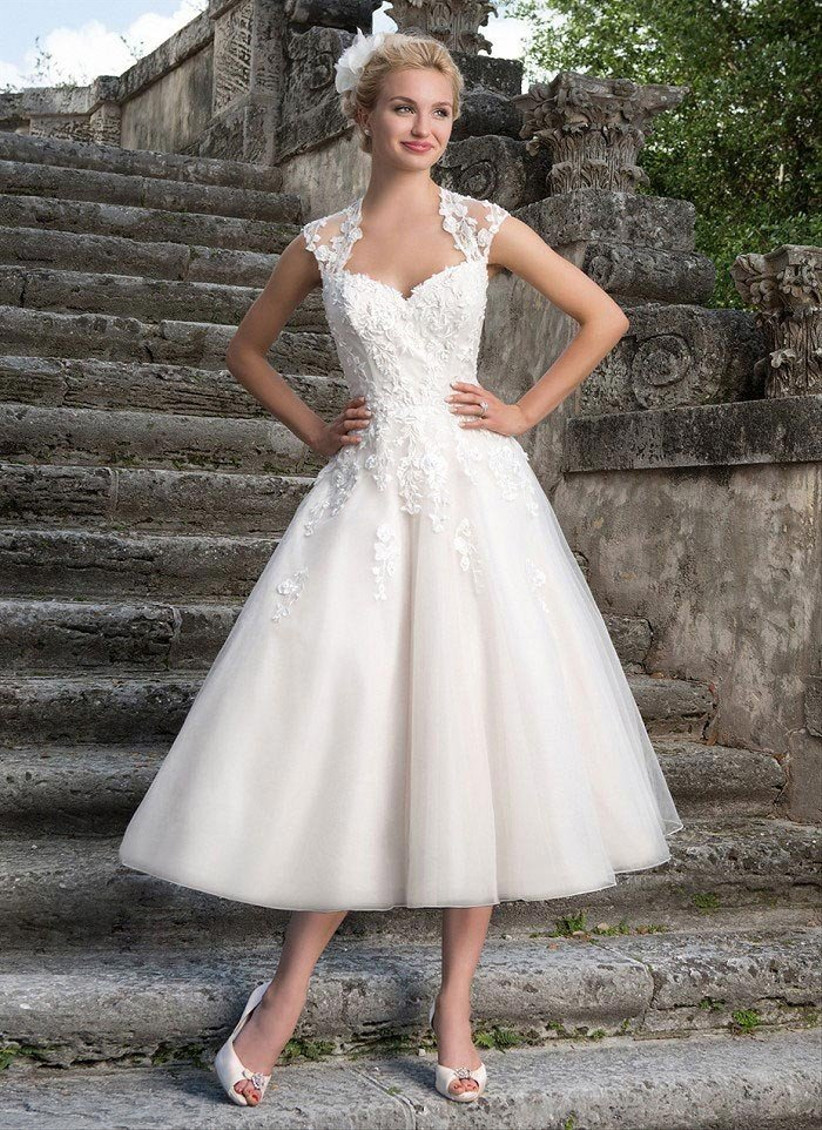 8543 – Alfred Angelo Modern Vintage
We love the glamorous gold detailing on this Alfred Angelo dress from their Modern Vintage collection. It's a great option for brides who want an elegant dress but don't want to shy away from bold details.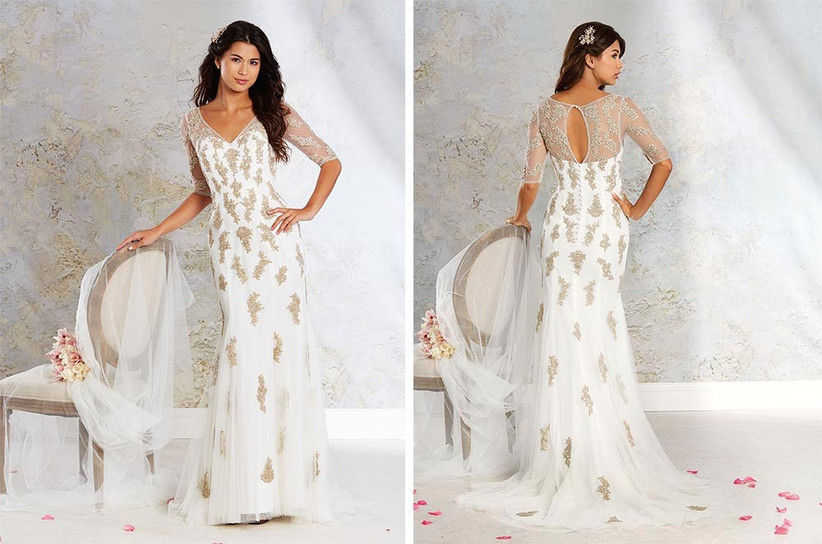 Lacey – Monique Lhuillier
The lace jumpsuit from Monique Lhuillier is an unusual but practical option – it provides lots of coverage but is a fun, fashionable choice. If you love this, don't miss our edit of wedding jumpsuits where you can view plenty more!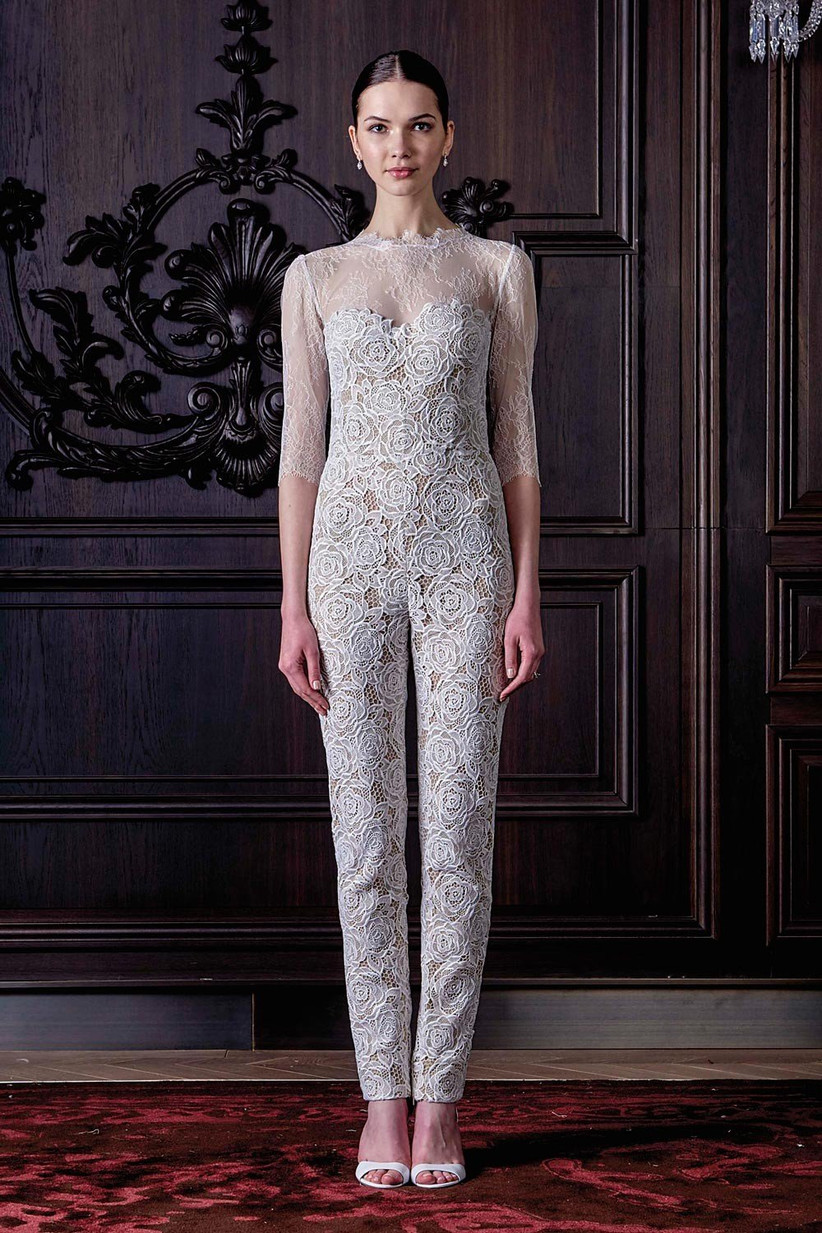 554 – Madison James
Make your guests do a double take with this beautiful Madison James wedding dress. It looks classic at first glance, but then the subtle pastel skirt will grab everyone's attention. We adore it.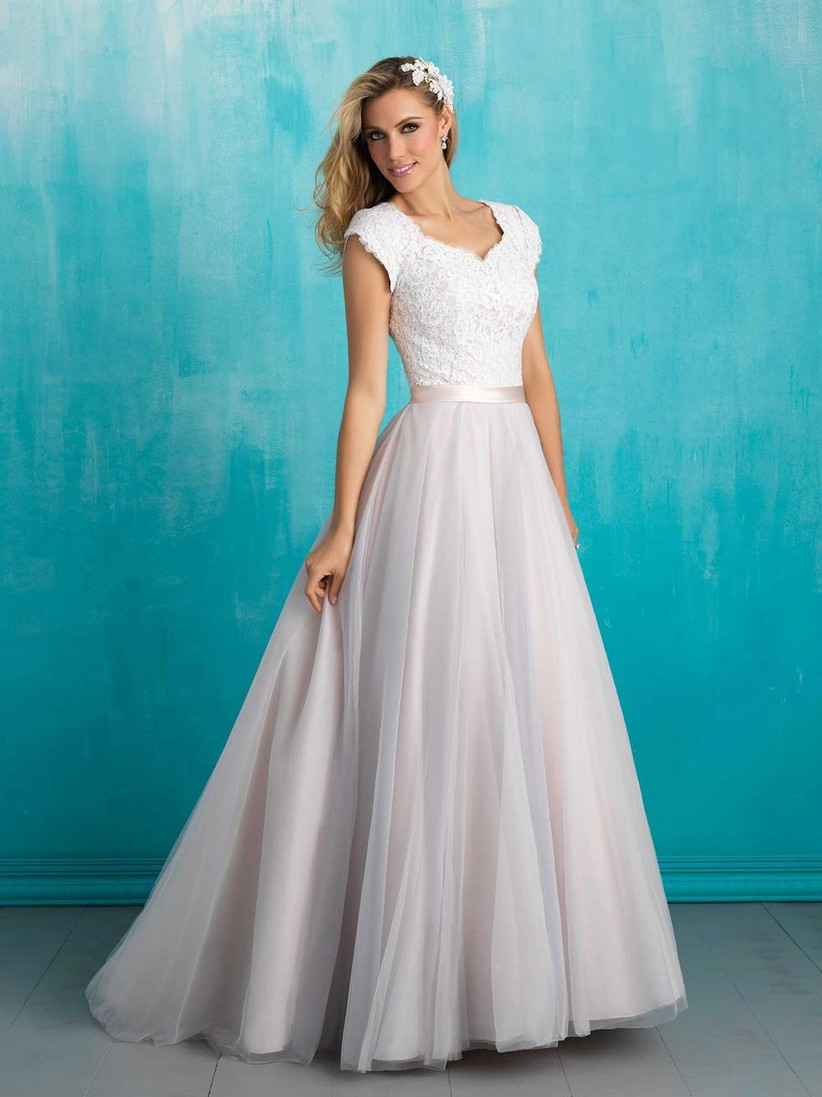 Dolores – Badgley Mischka Collection
Do you love off the shoulder wedding dresses but want one that is church appropriate? We recommend the Dolores from the Badgley Mischka collection. It appears to be off the shoulder but actually a fine layer of fabric provides further coverage.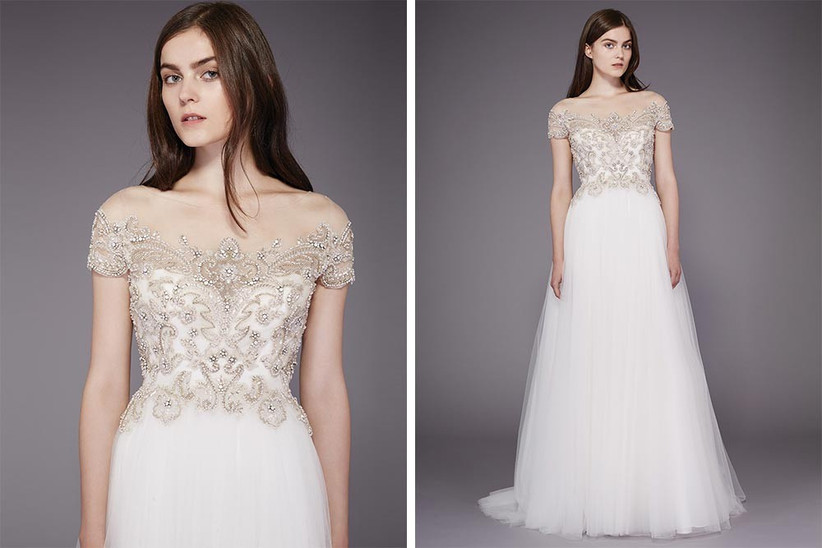 18023 – Ellis Bridals
We love the princess feel of this Ellis Bridals gown. It has beautiful lace sleeves, an illusion back and a full skirt that will look just perfect in your 'just married' snaps outside the church!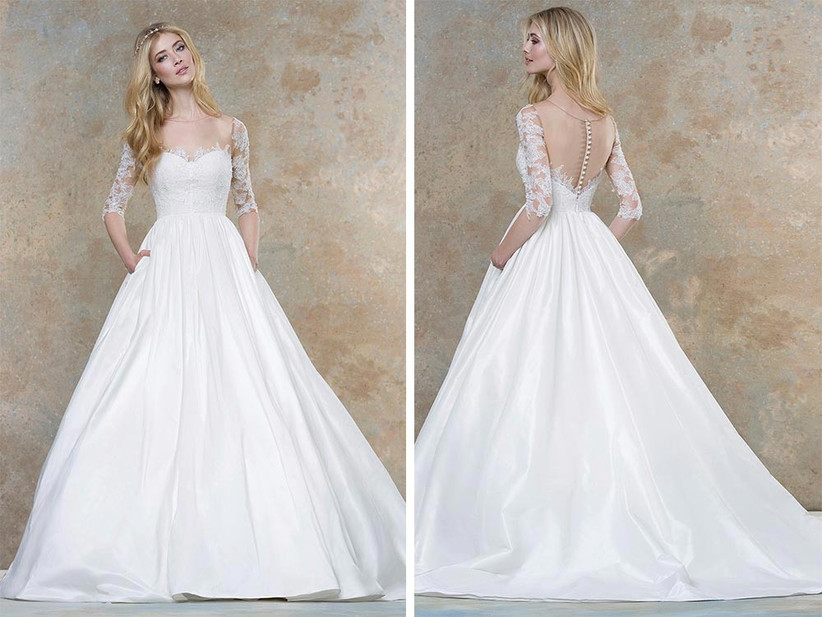 Bordeaux – Monique Lhuillier
Those looking for an alternative wedding dress should consider the Bordeaux from Monique Lhuillier. We are big fans of the high neckline, subtle rose inspired lace and the demure length which still allows you to show some skin.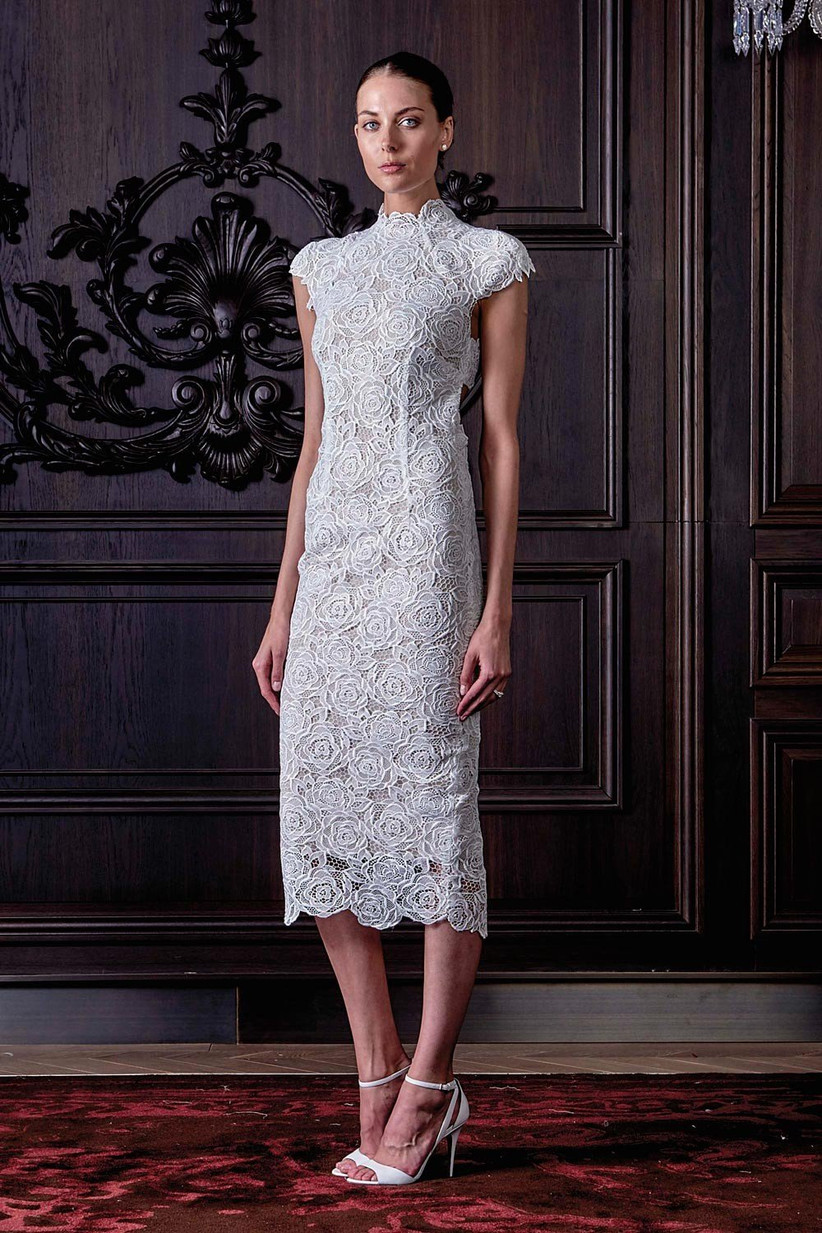 970 – Sapphire Bridal by Alfred Angelo
The unusual, swirling fabric makes this beautiful wedding dress really stand out. We love the long sleeves and the full skirts. The 970, from Alfred Angelo's Sapphire Bridal collection, is a great choice for a winter wedding.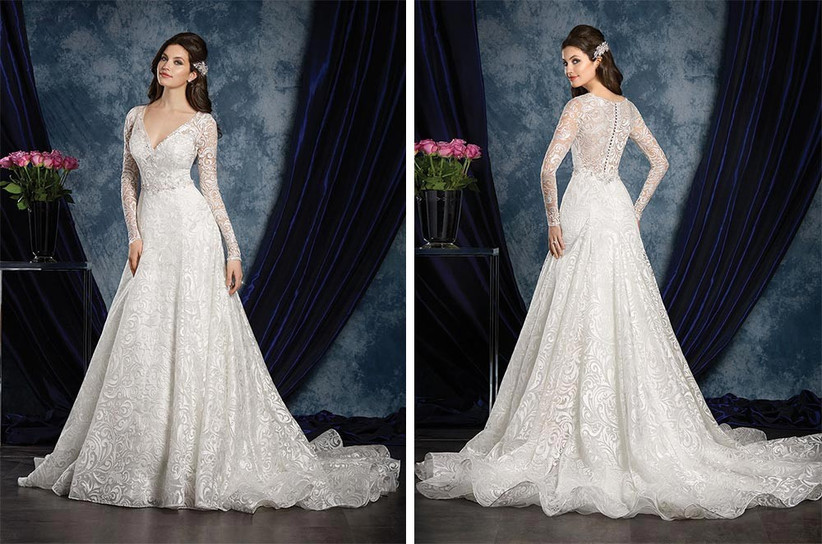 Jean – Badgley Mischka Collection
You won't need bridal jewellery if you choose to wear this fabulously adorned wedding dress from Badgley Mischka. We love the simple fabric and the heavily detailed shoulders and bodice.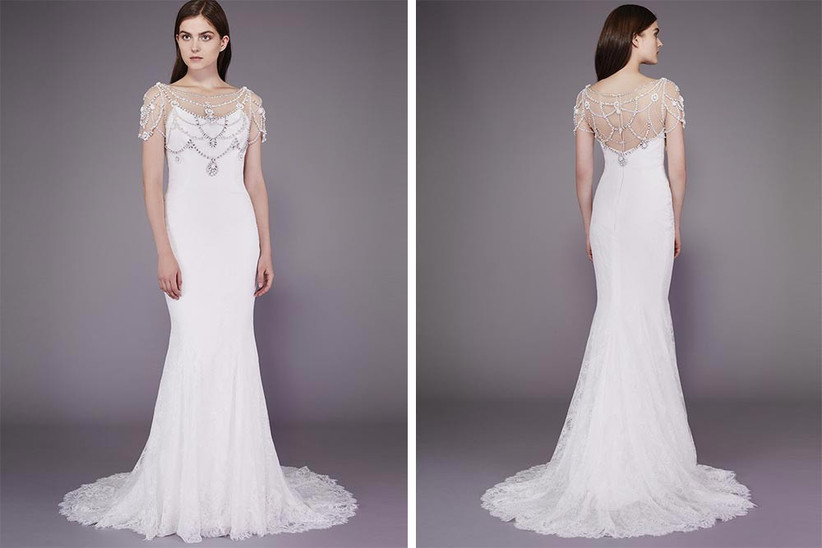 8552 – Modern Vintage by Alfred Angelo
This dress from the Modern Vintage collection looks very classic at first glance, but on closer inspection you'll see hints of silvery detail on the fabric which helps to distinguish the lace pattern. The key hole back adds interest – remember, you back will be to your guests at the altar and as you do your first dance!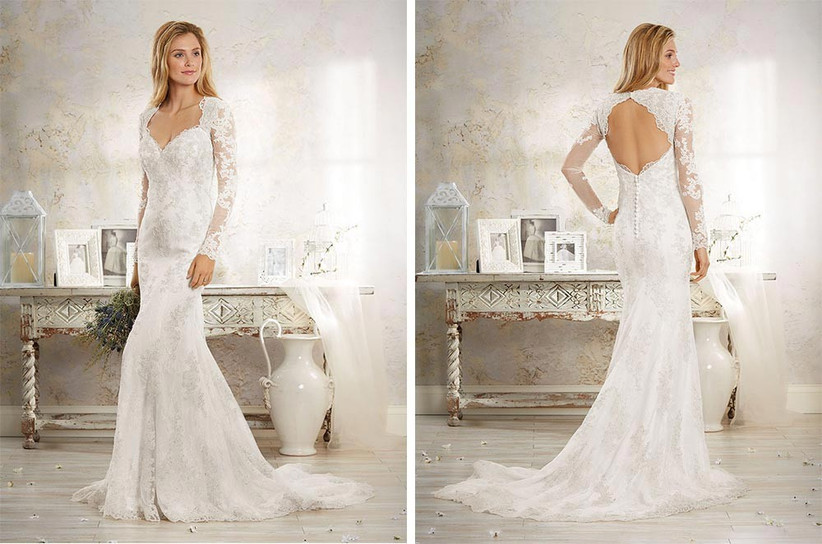 Breeze – Monique Lhuillier
The addition of the lace cape to this Monique Lhuillier gown makes it ideal for a church ceremony. The split in the front of the skirt keeps it from being too much fabric, and you can discard the cape later in the night for partying!
If you've already got your perfect wedding dress, why not consider a bridal cover up to make it more appropriate for your church wedding ceremony?