If you want your maids to look gorgeous (or you're a bridesmaid looking for essential fashion tips) give our 20 inspirational ideas for beautiful bridesmaid styling a try…
1.
Fifty Shades of Red…or Blue…or Pink…
Whatever your colour scheme, the modern approach is dressing bridesmaids in varying shades of the same colour. This fresh styling method allows you to choose a dress to suit each bridesmaid's figure, height and skin tone. You can still bring the look together harmoniously with a clever touch like these statement white hydrangea bouquets by Claire Weeks Flowers.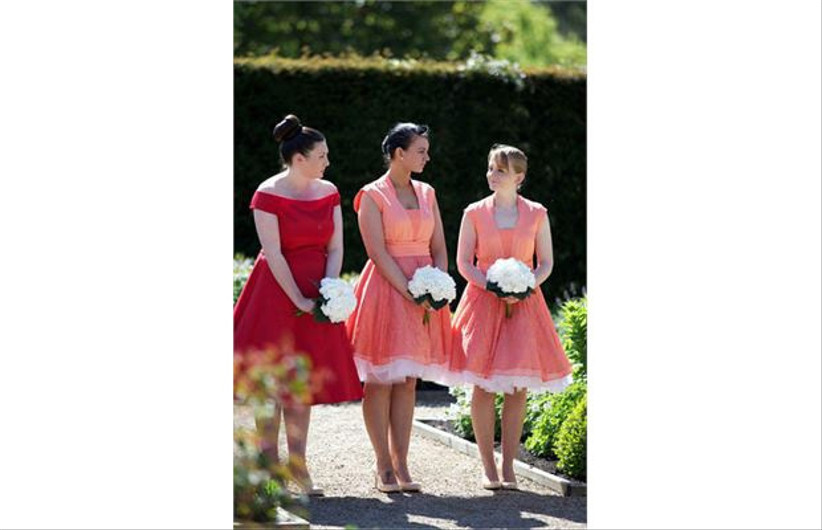 2.
Tie-in Texture
Matching texture, rather than colours and design, is another great way to coordinate a bridal party. For example, if your dress has lace details, choose the same type of fabric as an overlay for your bridesmaids' gowns.
3.
Get Shorty
If you want to look supremely elegant, style your maids in a fun, girly way as a contrast. Choose shorter dresses, such as this fabulously flirty design by Mori Lee Bridesmaids, to allow your full-length bridal gown to take centre stage (or vice versa).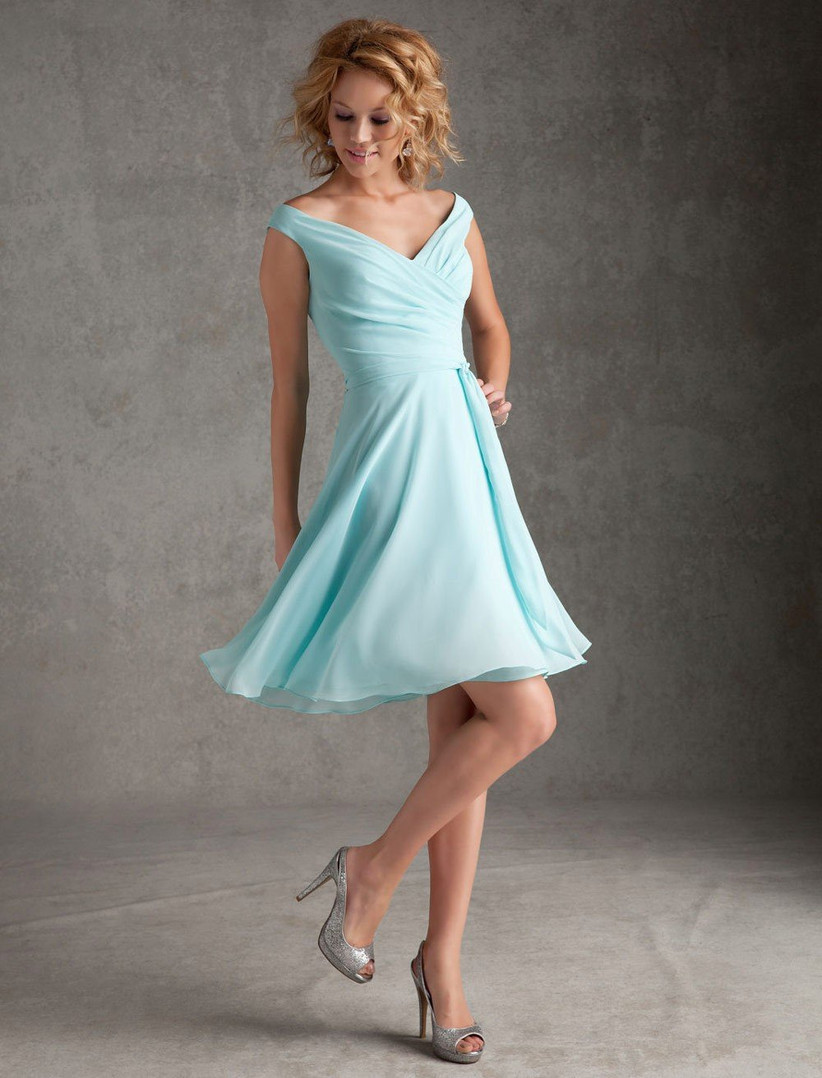 4.
Natural Beauty
Nude is a key trend in the fashion world and if your bridesmaids are fun, bubbly and beautiful they can really be themselves in this shade. Match cream, beige, caramel or blush gowns with messy up-dos and minimal make-up; add big smiles and reportage photography (such as this example from ASRPHOTO).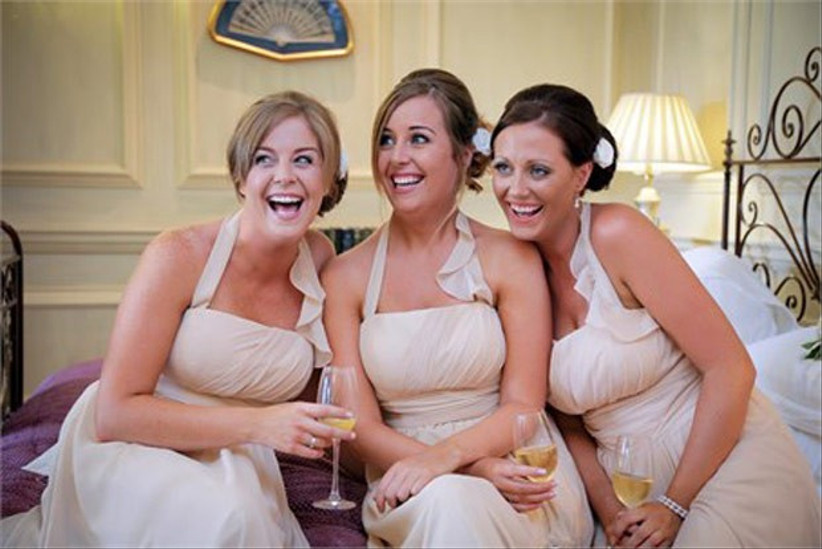 5.
Grecian Elegance
The popularity of the Grecian-style dress is going nowhere. It's a fantastic choice for bridesmaids because it's comfortable and easy to dance in, as well as being beautiful. We love this coral creation by Dessy, styled with vintage-style hair and silver accessories. Add silver gladiator sandals for the perfect finishing touch.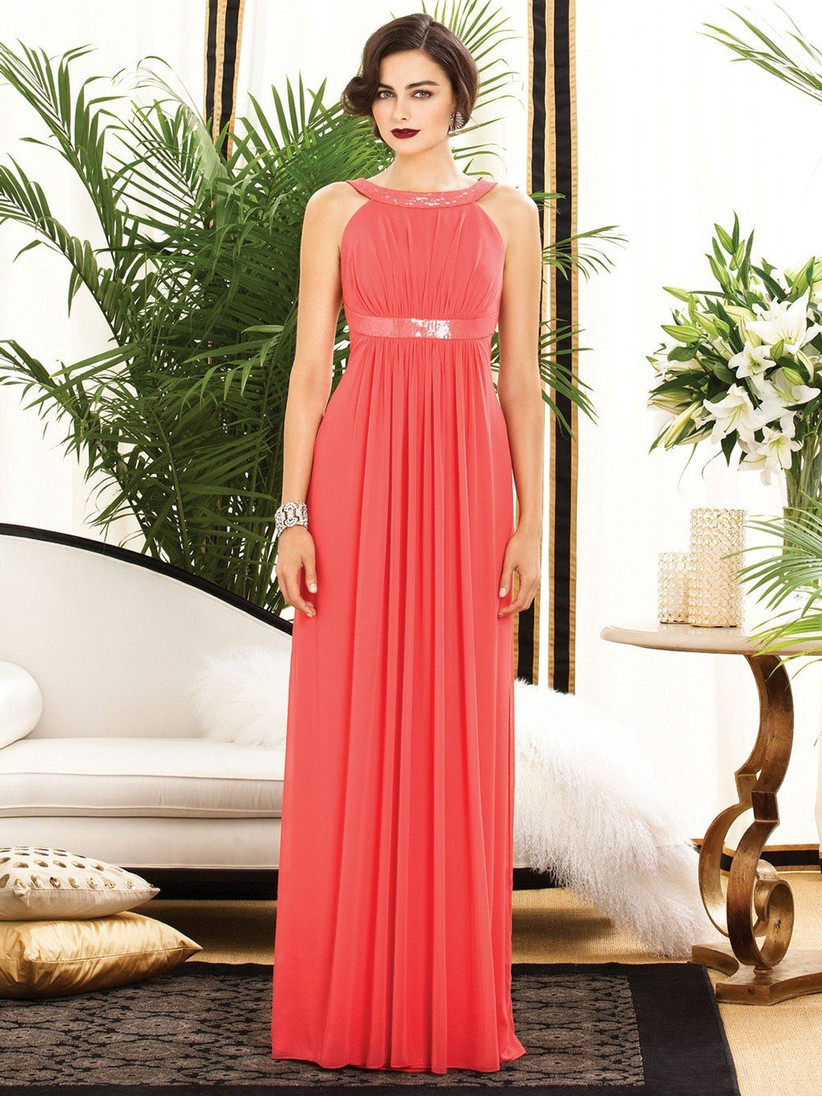 6.
Beautiful Bangle
As well as being the perfect, unobtrusive accessory, a bangle is also a great gift for bridesmaids. Rather than waiting for the speeches, present your bridesmaids with their beautiful bracelets in the morning so they can wear them all day. We love the Bridesmaid Idiom Bangle by Kate Spade.
7.
Hair Today…
Nothing is worse than flyaway hair causing a photo shoot distraction. Make sure your maids style their hair in a way that can be controlled with lots of product, so it looks perfect all day.
8.
Two Tone Style
There's nothing to say a bridesmaid dress can't indulge in a bit of colour blocking. This must-have design by Sorella Vita is all kinds of glamorous.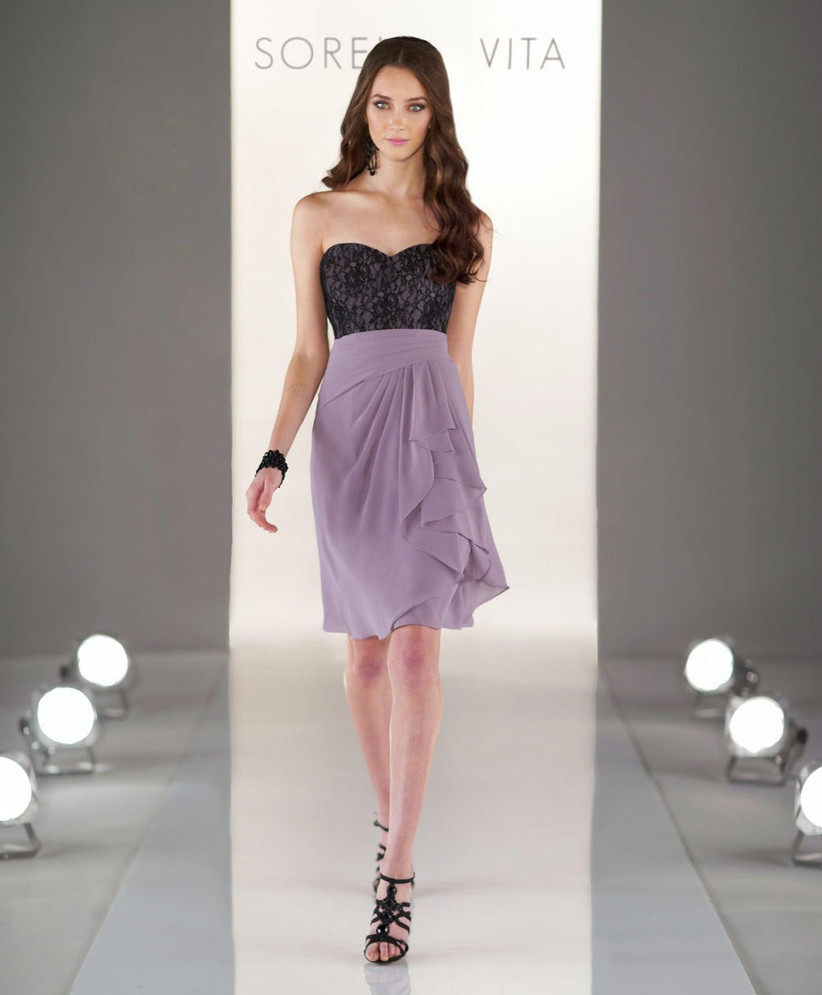 9.
Colour Collision
If you really want to make a statement with bold and eye-popping styling, consider a rainbow of vibrant colour. No shrinking violets here; the look is best in deep shades of purple, fuchsia, emerald and azure. Captured perfectly by Julian Marment Photography, this bridal group used colour to blend vintage touches with daring, modern style.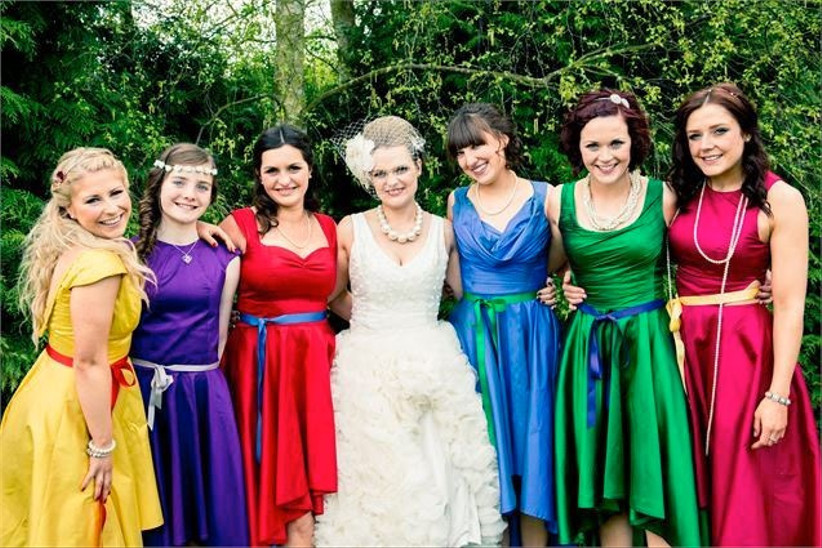 10.
Perfect Pastels
If you'd rather choose more subtle shades, pastel tones look lovely for summer weddings. The Sherbet Dip Collection from Kelsey Rose evokes gorgeous sunny memories of favourite ice cream and candy flavours; lemon, pistachio, lavender, mint and rose. Delicious!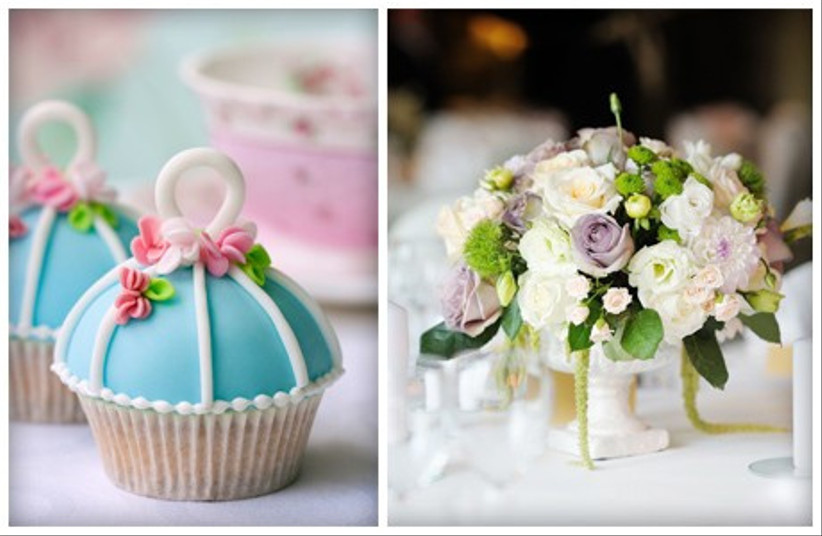 11.
Solo Style
If you're only having one bridesmaid (or a maid of honour) her dress should be show-stopping in its own right. Think bright colours, a striking print, or a brave silhouette such as a mermaid or A-line. Red works particularly well in this capacity; a maid of honour could really rock this fabulous asymmetric design from Jim Hjelm Occasions.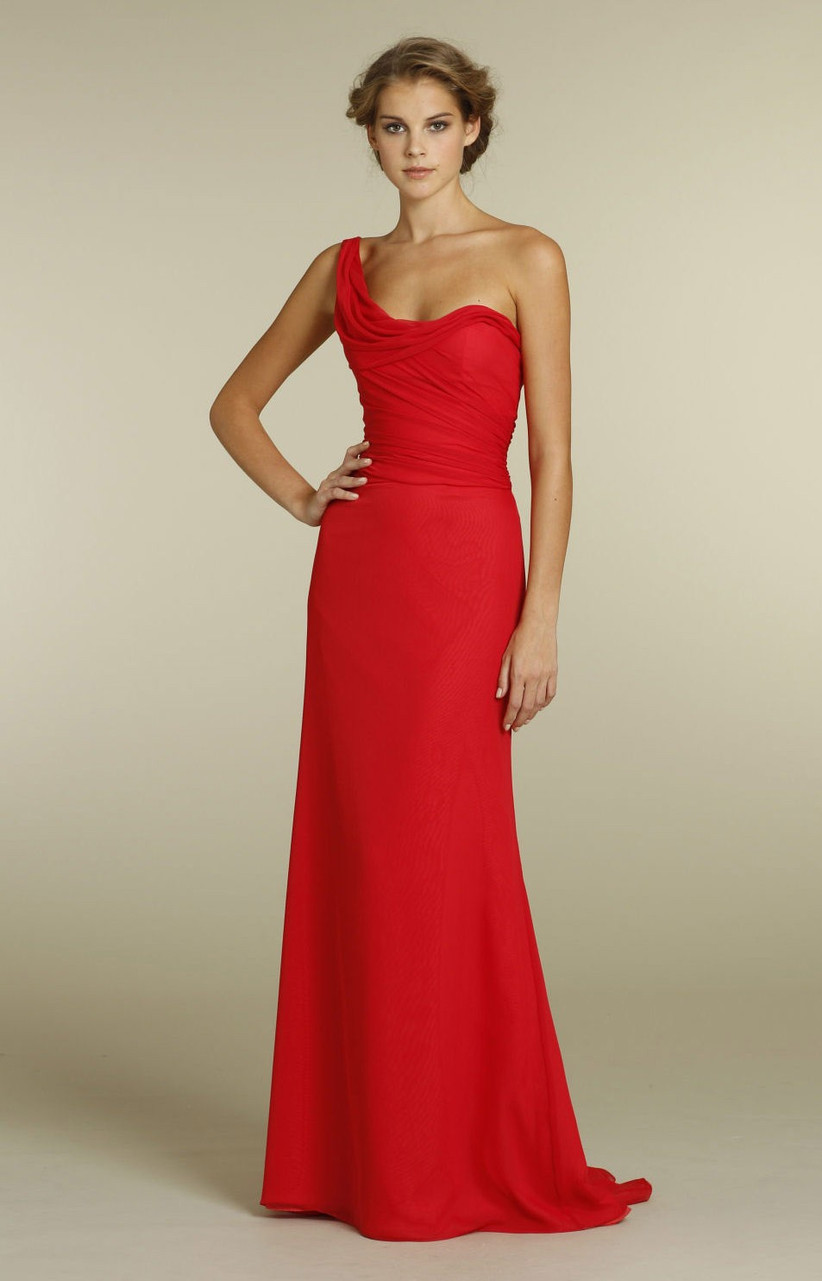 12.
Flawless Fragrance
Another great present idea, buying perfume for your maids is practical too. The bride wants her own fragrance to be dominant and special; by choosing a complementary scent for all the bridesmaids to wear, you'll prevent a cloud of contradicting fragrance from coming down the aisle.
13.
Back in Black
Black is a brave choice for bridesmaids as it's non-traditional and never an easy colour to wear. But if you're having a stylish, minimal wedding, and your bridesmaids are bold enough, it can create a dramatic and incredibly chic effect. Check out the Noir by Lazaro collection at hitched.co.uk for inspiration.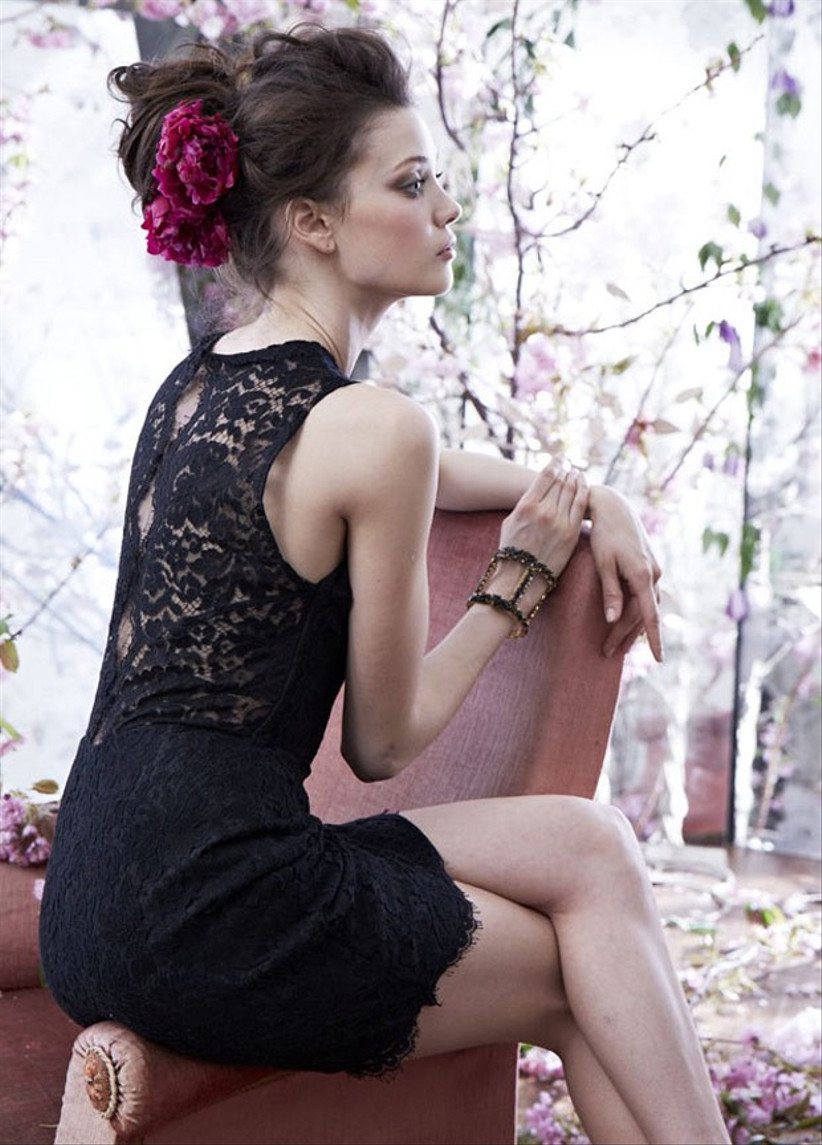 14.
Agreed Accessories
It can be tempting to go overboard with accessories when bridesmaids know they'll be in the spotlight, but too much bling detracts from the bride. Discuss accessories beforehand and agree on the jewellery your maids will wear.
15.
No "Tango"
When it comes to self-tan, less is definitely more. Too much can change the way a dress works with skin tone, so ask your maids to apply the false tan they want to wear on the day at one of the fittings, so you can see how it looks.
16.
Think Print
Bridesmaids' dresses don't have to be plain — in fact, choosing a print fabric can actually make your bridal gown stand out and look more stunning. Classic prints like polka dots and florals are great for vintage themes too.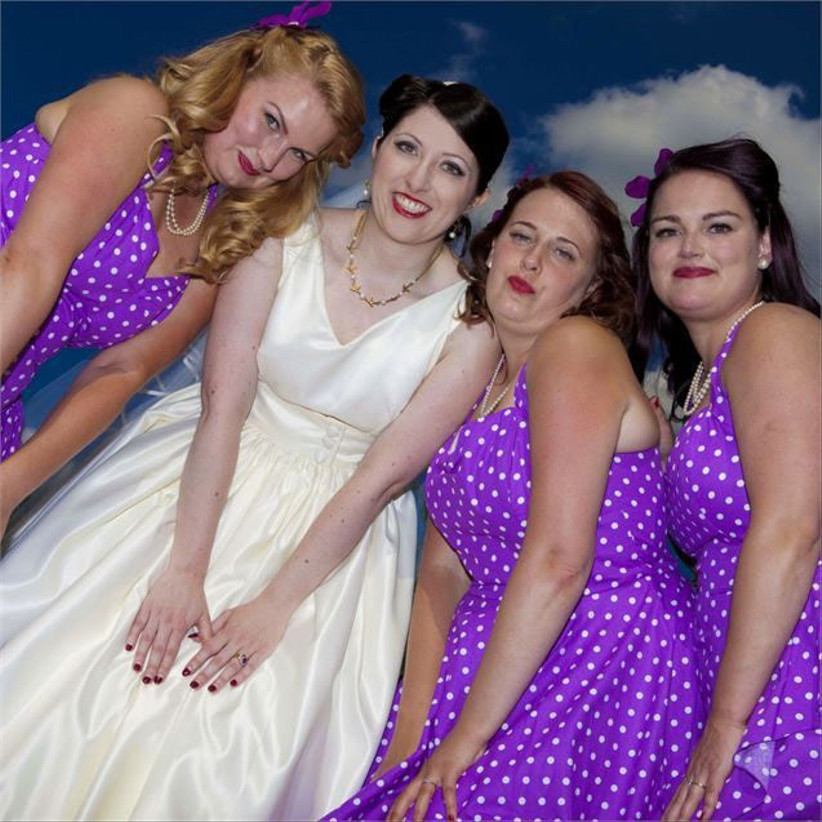 17.
Stunning Silver
Silver is a big hit with bridesmaids. Like nude, it works well with natural hair and make-up — but can be glammed-up with voluminous curls, dramatic 60s-style eyes and diamanté details. Framed beautifully by Harry Elliott Photography, this clever styling shows just how well a touch of pink works with this palette.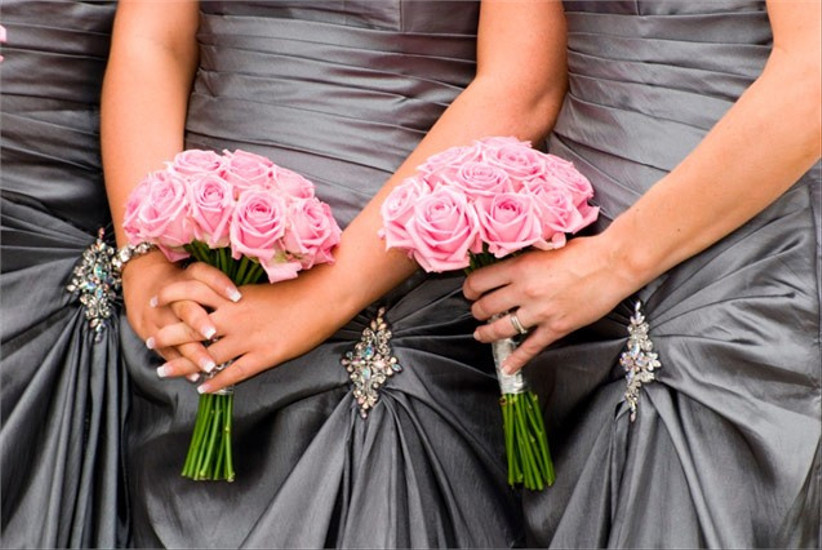 18.
Forget the Falsies
False eyelashes are very 2013…if you want a less obvious look for your maids, try fibre lash extensions instead. ModelCo Fibre Lash Brush on False Lashes give lashes lots more length than mascara alone and can be washed off at the end of the day.
19.
Divine Details
Bridesmaids love details just as much as brides — so don't skimp on them! Look for at least one inspiring dress detail such as lace-up corsets, asymmetric hems, beaded straps or tiered skirts. Try capturing the details in your wedding photography for a fashionable twist (as shown here by Juliet Eden).
20.
Reuse, Recycle
Your bridesmaids will always thank you for choosing a dress they can wear again and again — like this gorgeous Anisa dress in ivory from Monsoon, perfect for posh summer picnics, special nights out and holidays.