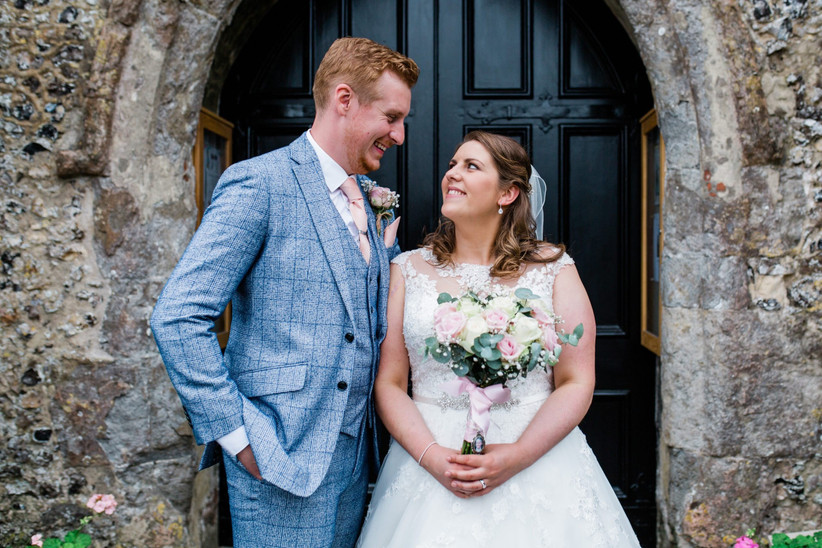 Childhood connections and traditions were a key feature of Lauren and Sam's charming August wedding. Lauren followed in the footsteps of her younger self, walking from her parent's home to the church that she had frequented as a child, where she exchanged vows with the love of her life.
It didn't take long for Lauren and Sam to realise that they had found 'The One' when they first met. The pair were introduced on a dating website at the end of 2011 and, after spending some time chatting online, decided to meet in person in early 2012. "From that moment, it was love at first sight."
After four years, involving the couple travelling the two-hour distance between them to see each other, Sam got down on one knee.
"We travelled to London on 6th December 2016 for a birthday treat to see Harry Potter and the Cursed Child. We decided to stay for two nights and had planned to visit Winter Wonderland in Hyde Park, something we had done for a few years at this point.
"When arriving at Hyde Park, Sam decided to take us on a detour round the gardens first. It was then by a gorgeous tree that Sam got down on one knee and popped the question: 'Lauren Amy Elizabeth Price, will you marry me?' I honestly could not believe this moment had come, and immediately said 'yes'.
"It was at this point that a lady walked towards us, this was the wonderful Gemma. Sam, being the amazing man he is, had asked Gemma to hide and photograph the whole proposal! Those pictures I will treasure for the rest of my life, seeing both our reactions is just incredible. Not only did Gemma capture that moment, she then took the time to take some more pictures around the lake and Winter Wonderland itself. It was a truly magical day."
When it came to the engagement ring, Lauren had made sure Sam knew exactly what she liked during the course of their relationship. The ring was a French pave, platinum band with diamonds down each side and a larger centre-stone, with the stones selected and the design commissioned by Sam. It certainly didn't disappoint.
After 18 months, the couple tied the knot in the quaint village of Elham, Kent.
Photographer: Gemma Giorgio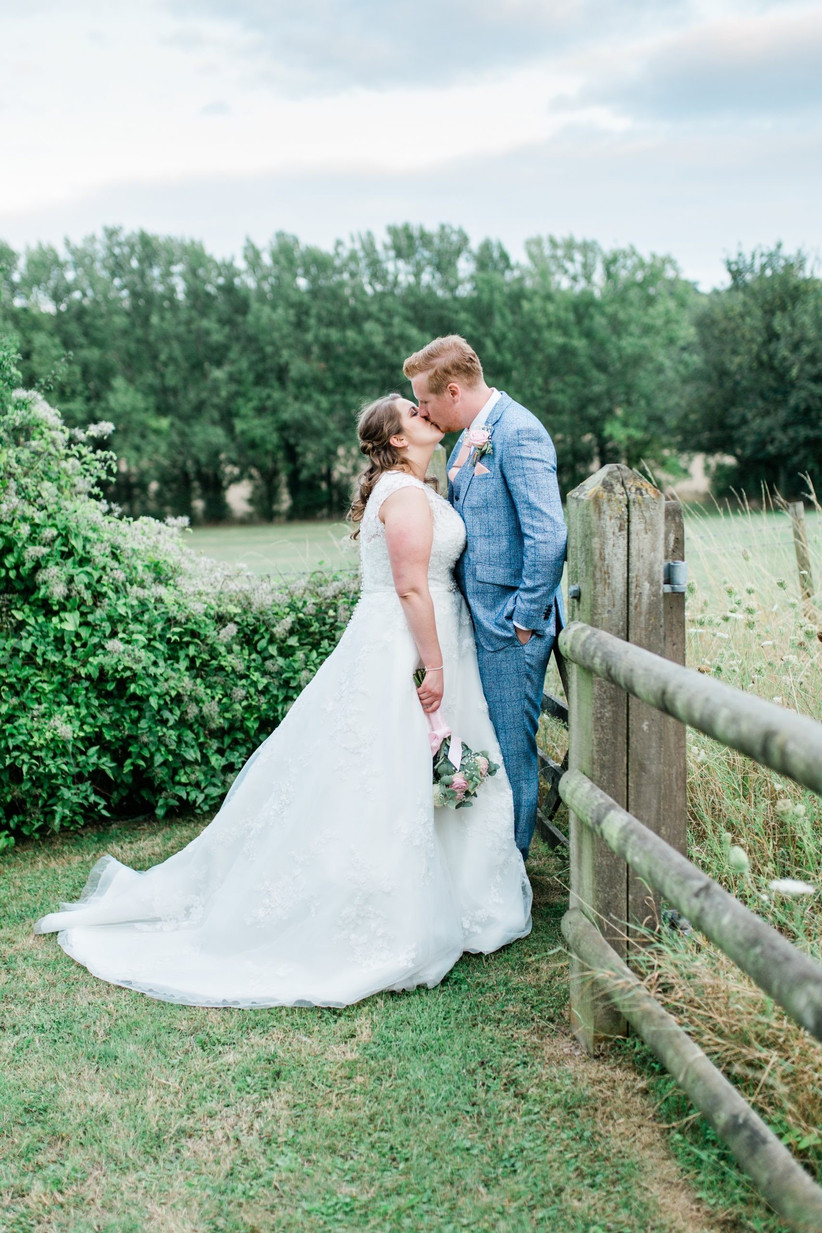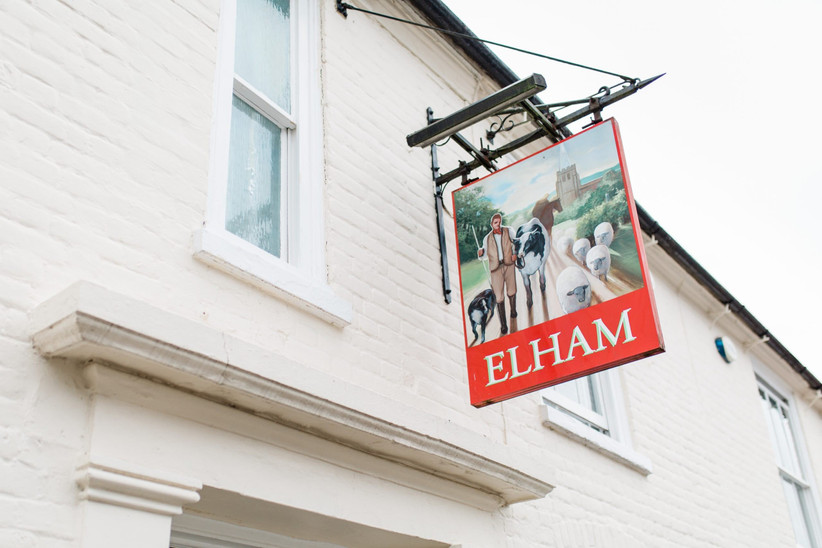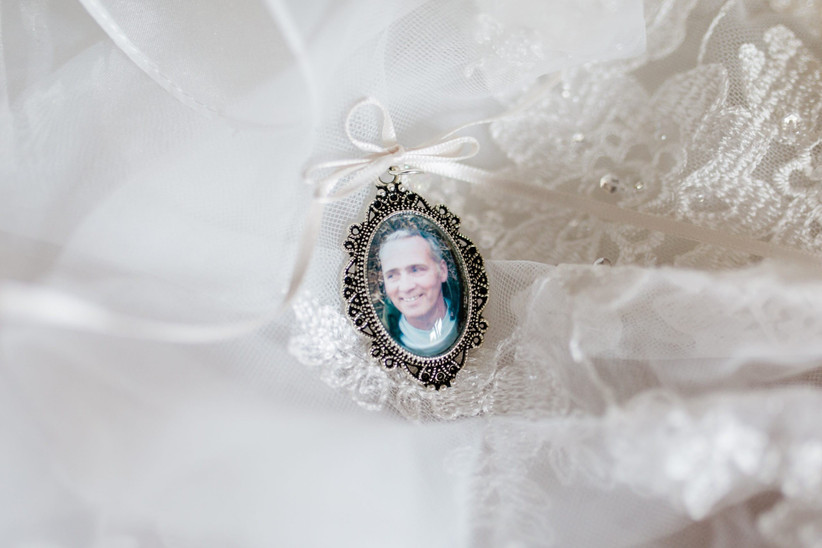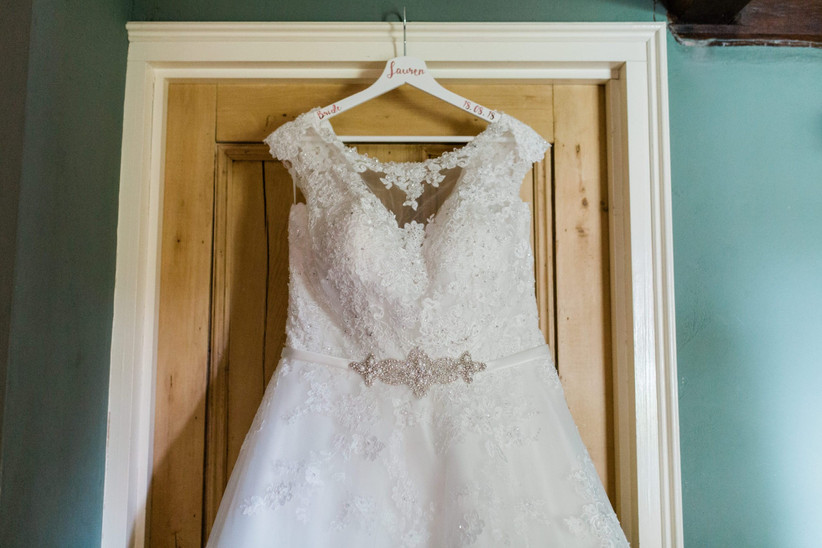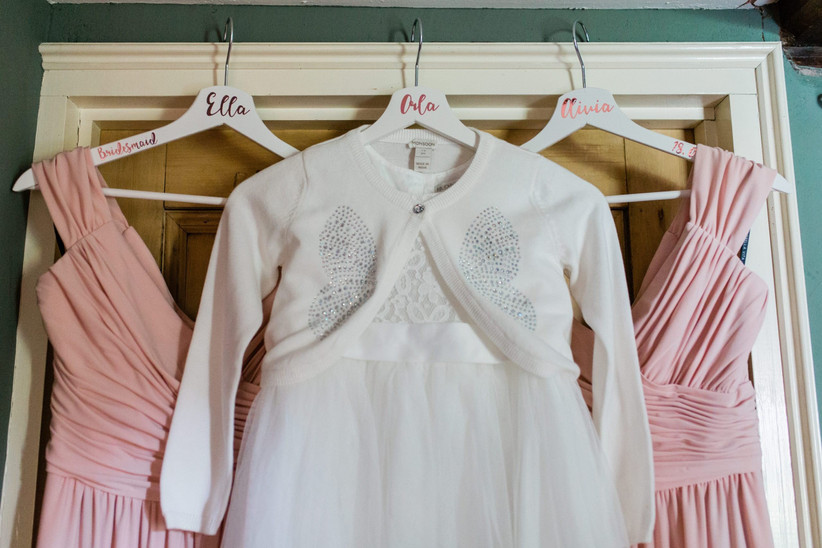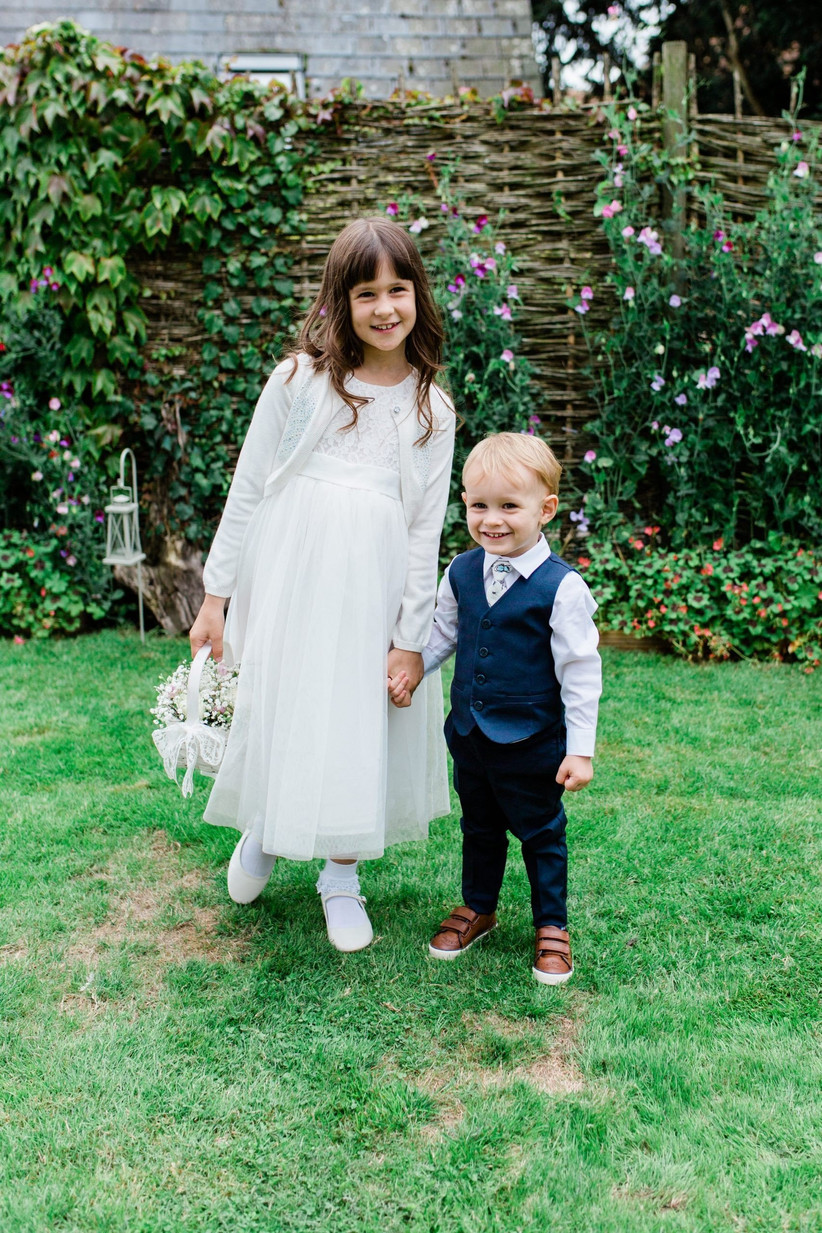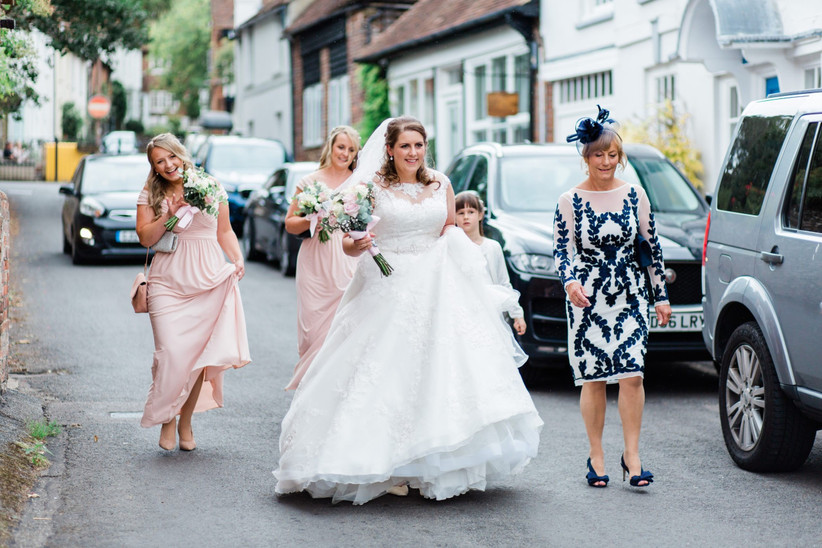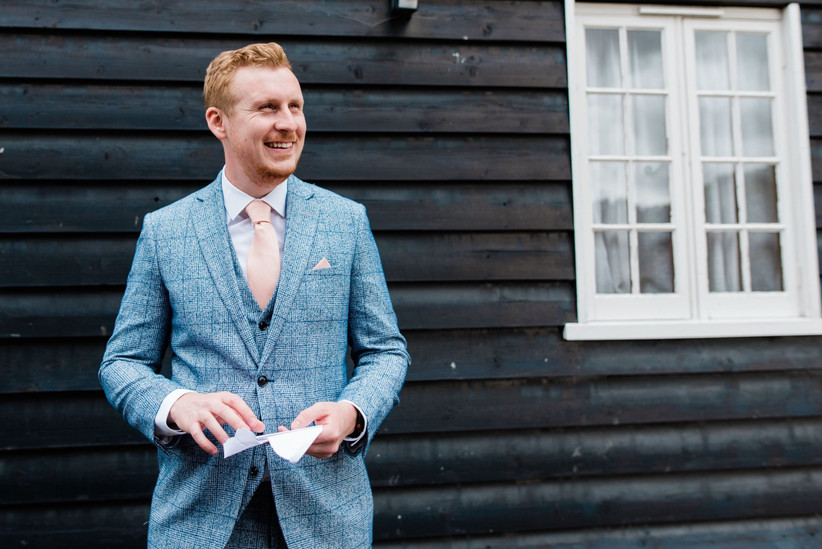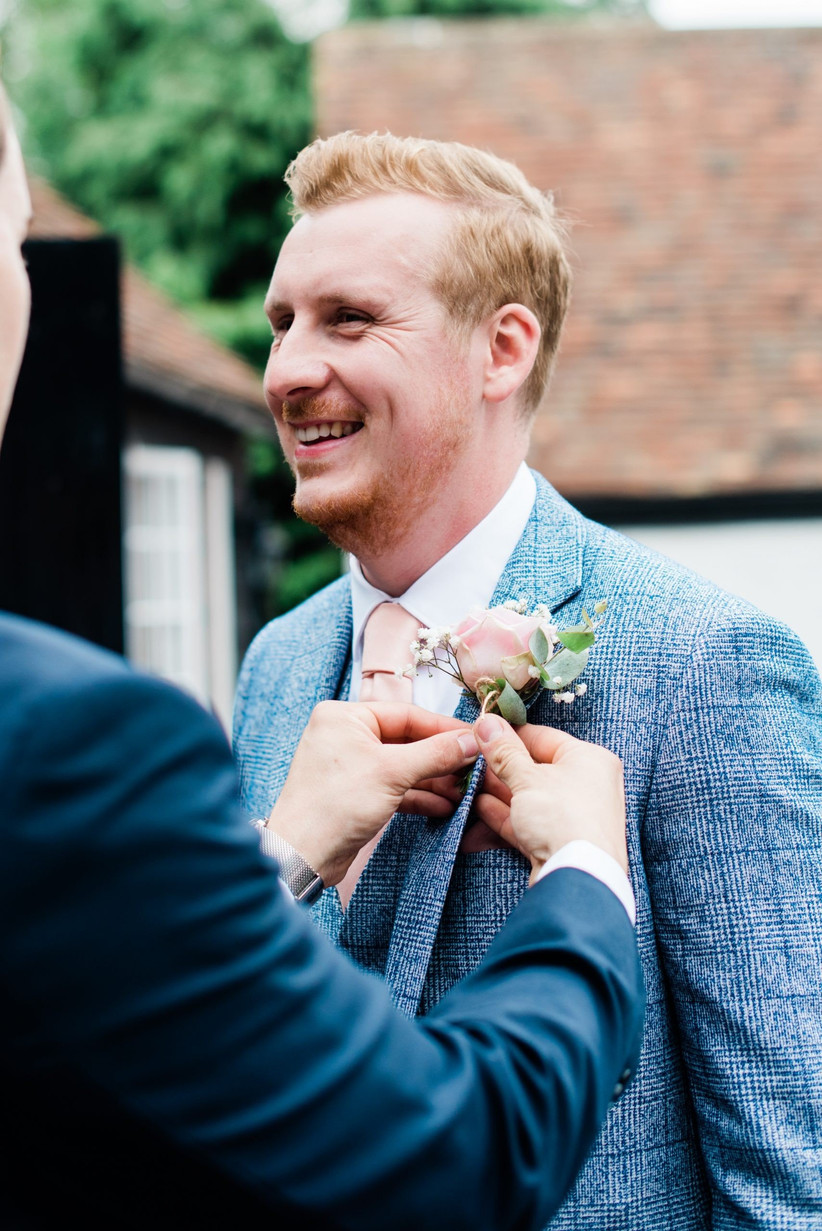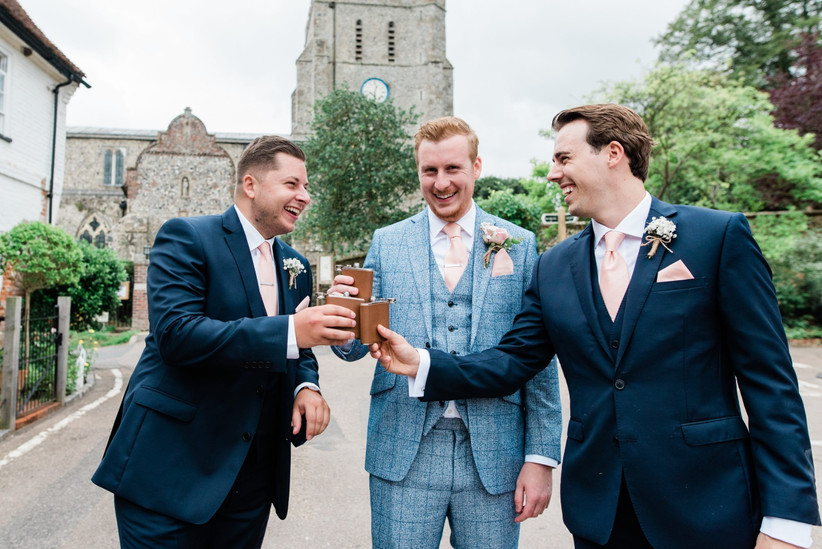 The Wedding Dress
Lauren chose a Ronald Joyce gown from a small bridal boutique in Kent. She tried on around six dresses before finding 'The One' and knew her gown was special because of the way it made her feel.
"My wedding dress was INCREDIBLE. When I put that dress on the first time and on my wedding day, it made me feel incredible and beautiful. I thought I knew what type of dress I wanted, but when I tried on dresses I was completely thrown. Finally, after a few sessions of trying on dresses I found the perfect one.
"It was a princess style with a sweetheart neckline, mesh and lace around the chest to the neck with a slight capped sleeve of lace. It had a beautiful train already attached, but also came with a lace train which attached to the back. It was absolutely beautiful."
Lauren finished the look with the additional lace train and a short veil, allowing the stunning train to take centre stage.
"I had bought a large mirror to have in the front room as we got ready in the family house that I grew up in. I remember putting on my dress and the look being completed. I looked into the mirror and felt the happiest I had ever felt, not only because I felt beautiful but because I was about to marry my best friend."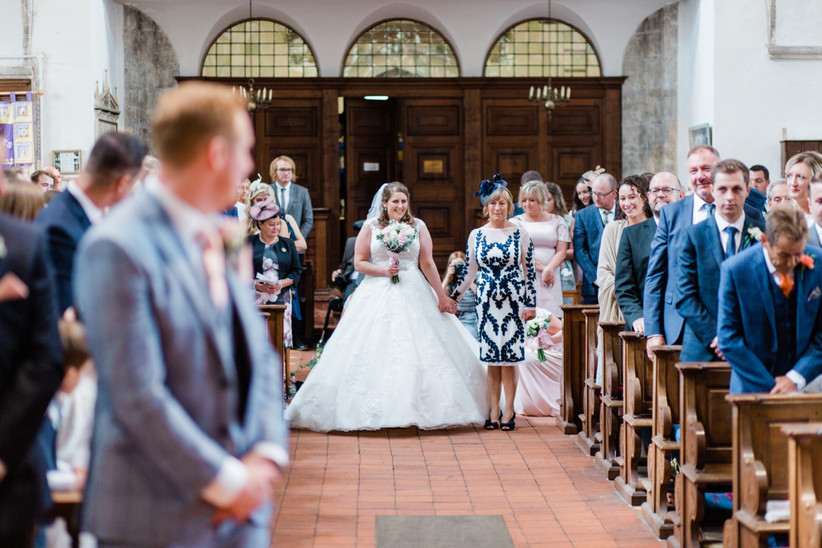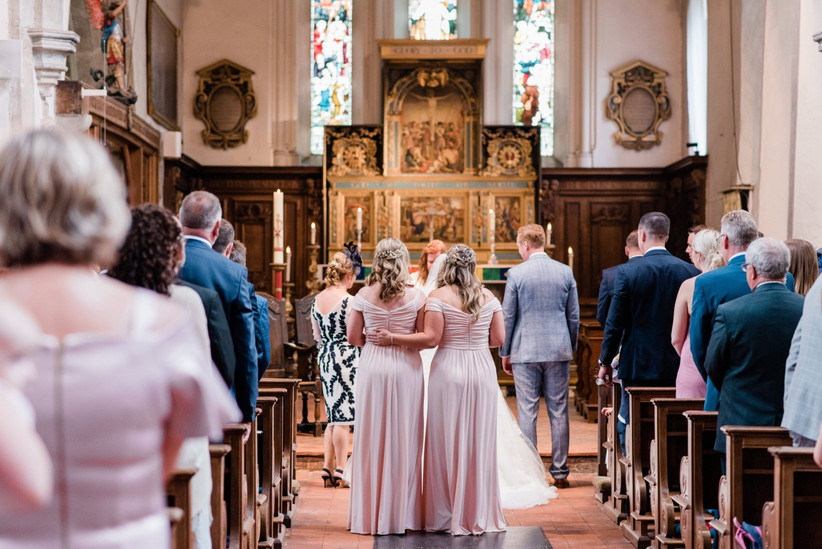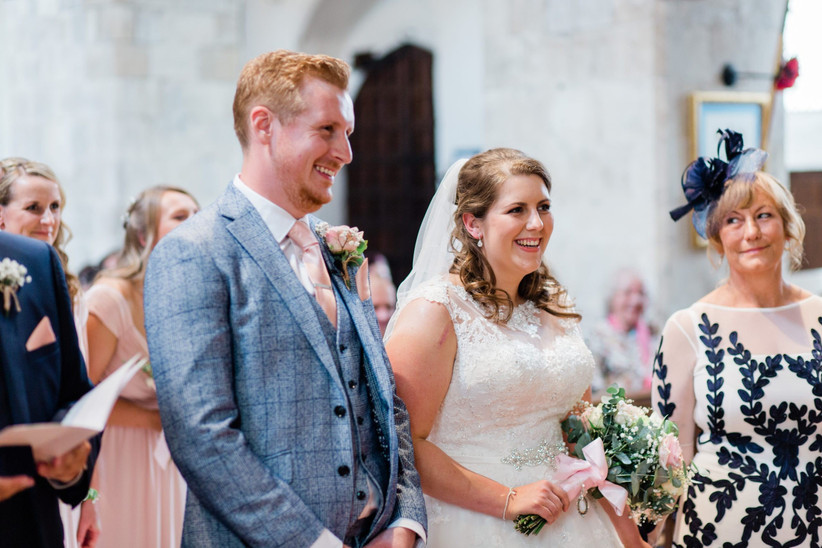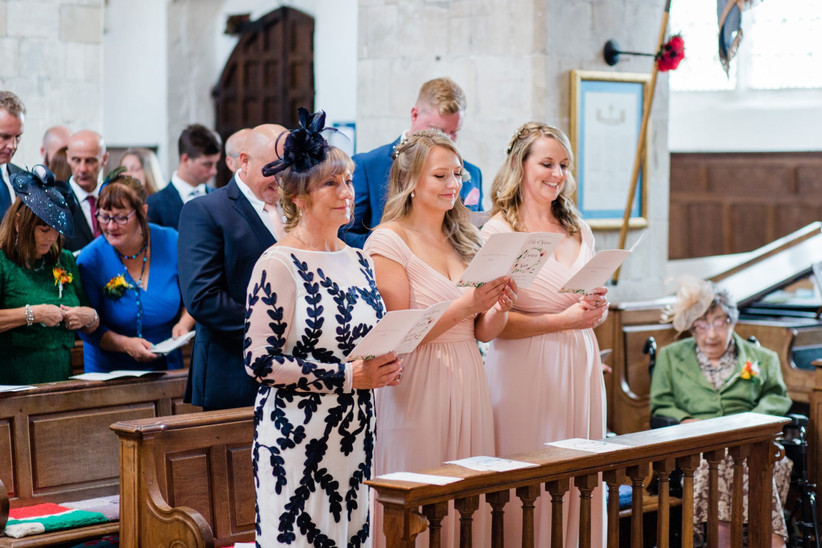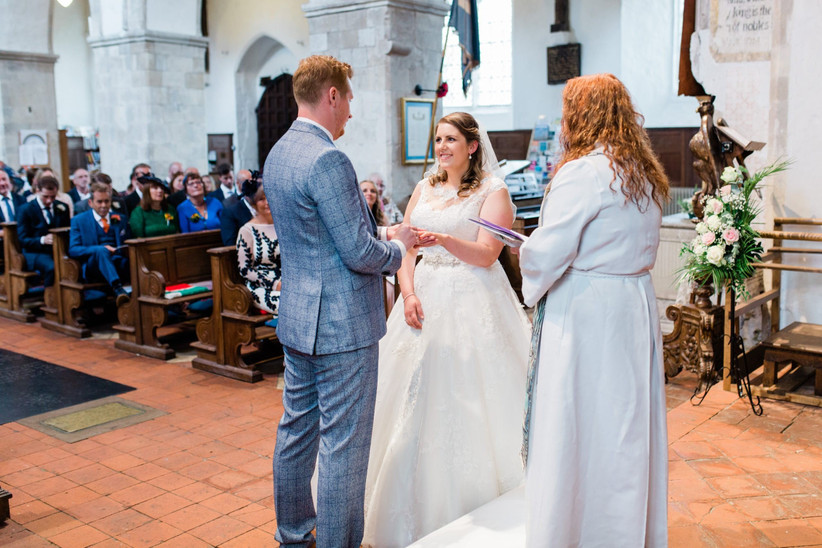 Bridal Beauty
Lauren's hair and makeup were done by Emma Smisson and it only took one trial for Lauren to decide on her bridal beauty look.
"It was very similar to my normal look. I wanted to feel comfortable with my style. I had my hair curled and half up with the jewelled headband and I went for a classic brown smokey eye."
A stunning jewelled headband, silver bracelet and some pearl and diamond halo earrings complemented Lauren's classic bridal style beautifully.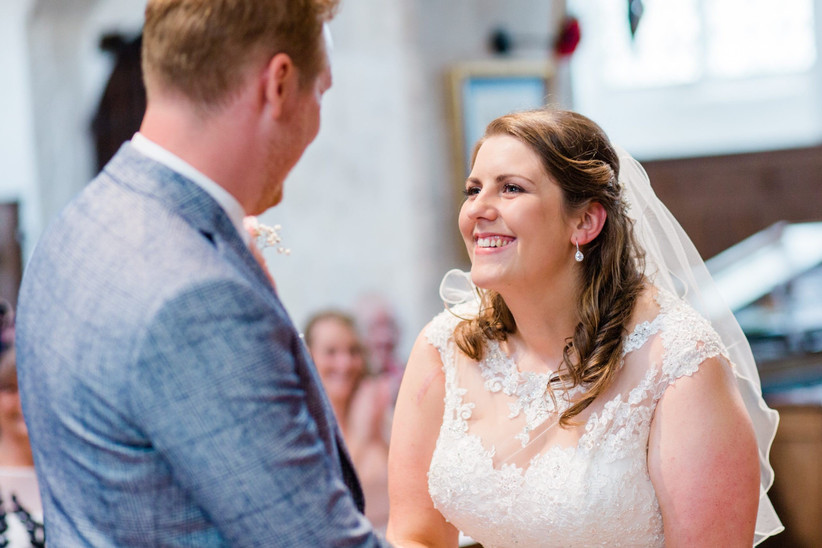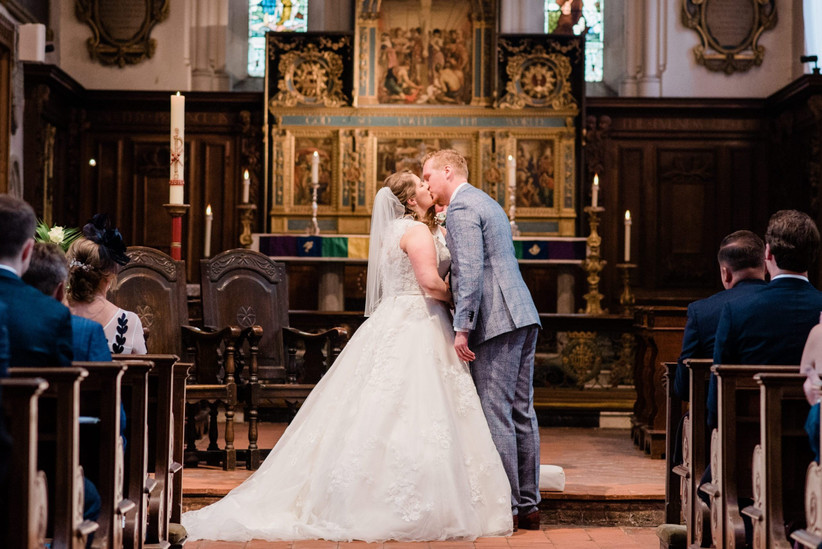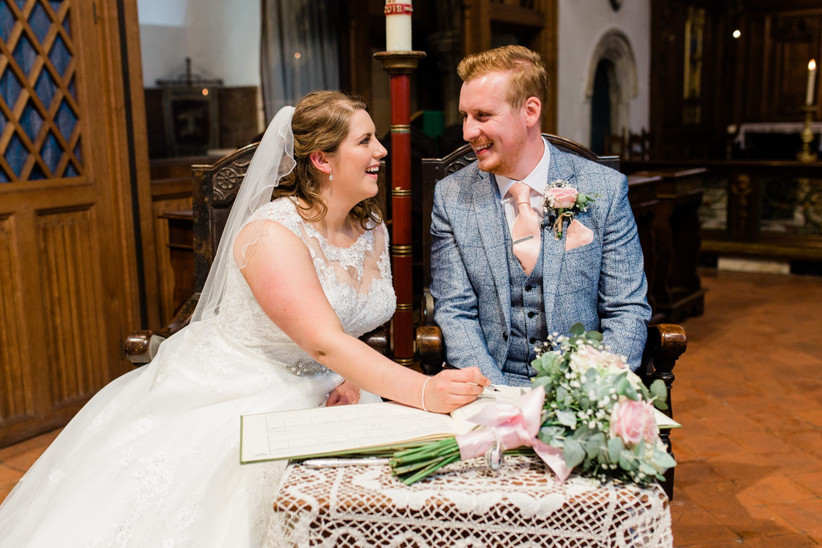 The Wedding Party
Lauren's sister, Olivia, was the maid of honour and her soon-to-be sister-in-law, Ella, was a bridesmaid. Niece Orla and four nephews served as the adorable flower girl and pageboys.
The bridesmaids helped Lauren to choose pastel pink gowns by Sorella Vita from the same boutique as Lauren's dress.
When it came to the groom and his groomsmen, Lauren and Sam chose blue hues to contrast with the pastel pinks in the flowers and bridesmaid dresses.
"Sam decided he wanted to stand out from the groomsmen and therefore chose a different suit. He opted for a blue chequered three-piece suit with white shirt, pale pink tie and handkerchief. The groomsmen wore navy blue three-piece suits with white shirt, pale pink tie and handkerchief."
The Moss Bros suits were chosen by Sam, Lauren and the groomsmen and Sam's suit was tailor-made while the groomsmen's suits were hired.
Sam's suit was finished with a tie clip, personalised with his initials, given to him as wedding gift from Lauren.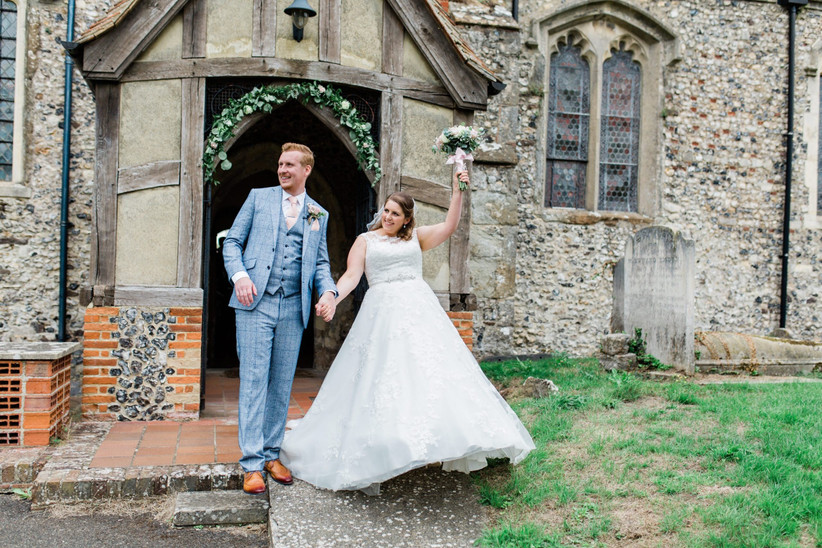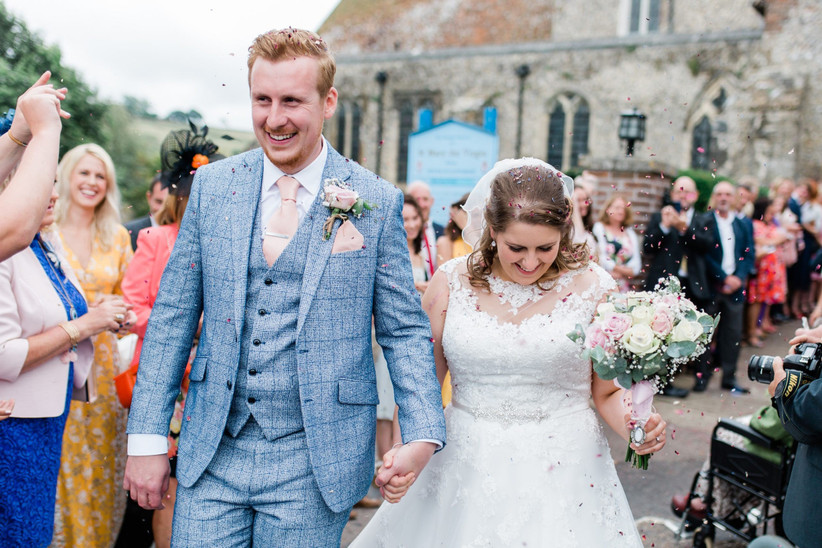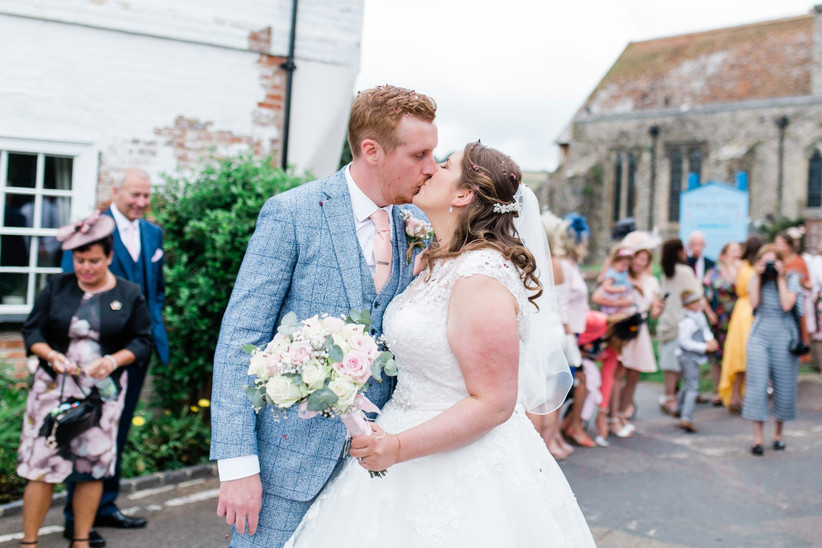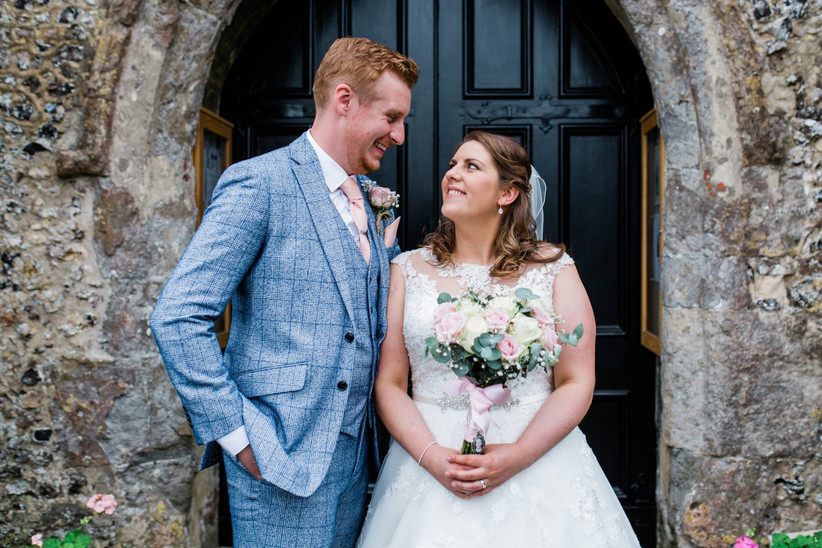 The Wedding Ceremony
After getting ready at her childhood home, Lauren walked to the St Mary the Virgin Church in Elham. Sam had already arrived, having got ready at the pub across the road and squeezing in a cheeky drink with his groomsmen.
"I absolutely loved walking to the church to get married, it was a walk I was familiar with and did most Sundays when going to church. It felt so special that day, walking in my dress with my bridesmaids and mother, many people from the village stood outside as we walked down.
"What made it more magical is that generations of family have been married in the same church, going back to my great, great grandparents and beyond."
Lauren was walked down the aisle by her mum to Pachelbel's Canon in D: "This was a very emotional moment as my father passed away in 2011."
The ceremony was filled with family ties and personal details, including a beautiful speech from the vicar.
"We had several hymns and during the signing of the register the pianist had learnt our favourite song Clair de Lune by Debussy. We had two readings, one was a reading which my parents had at their wedding in the same church. In the months running up to the wedding, we had sessions with the vicar to discuss our understanding of marriage etc, from this she learnt about Sam and I and wrote a beautiful synopsis of our relationship."
The wedding bands were purchased from Smooch Rings. "It was a fab service; the sales representative came to our house with so many styles of wedding bands for us to try."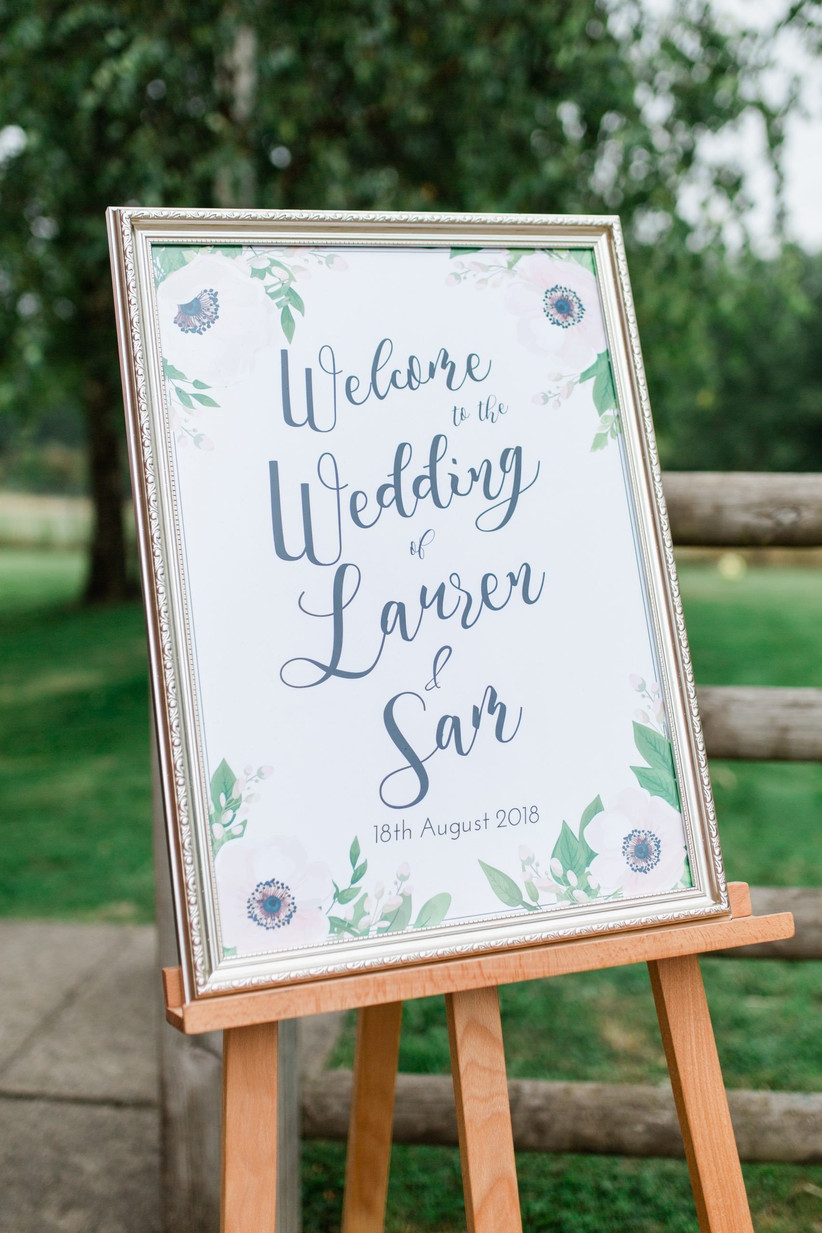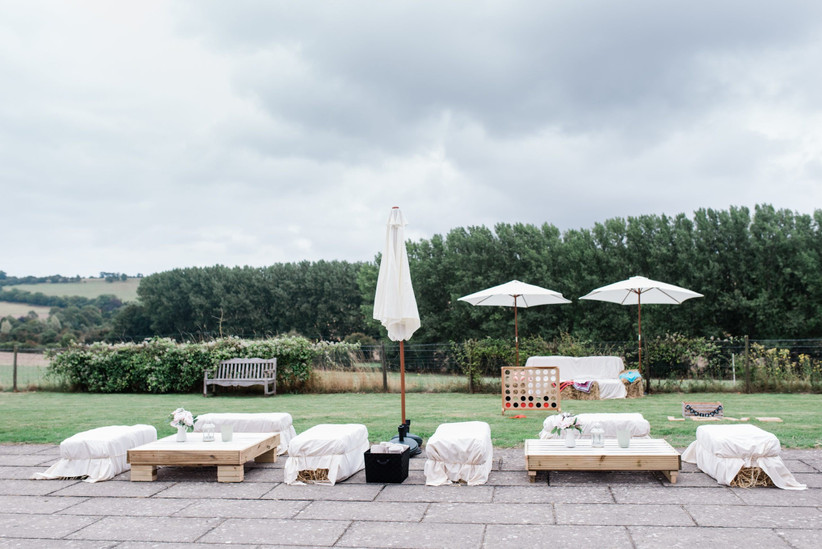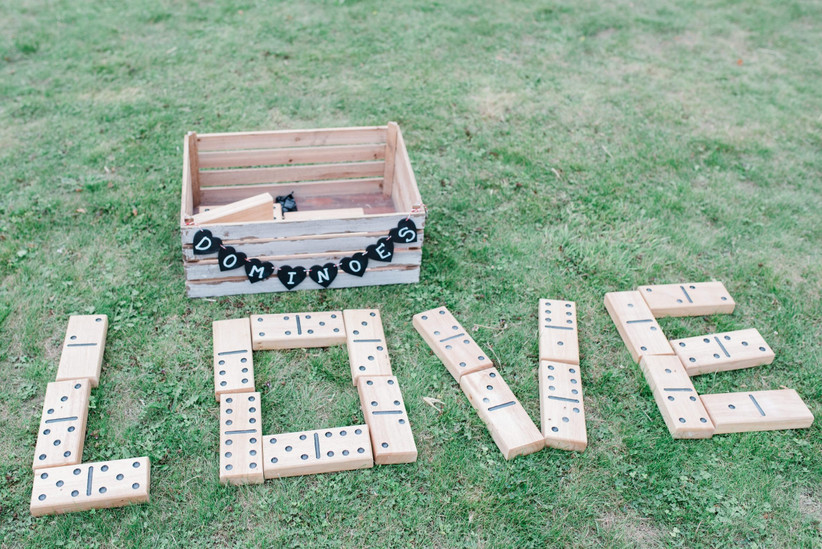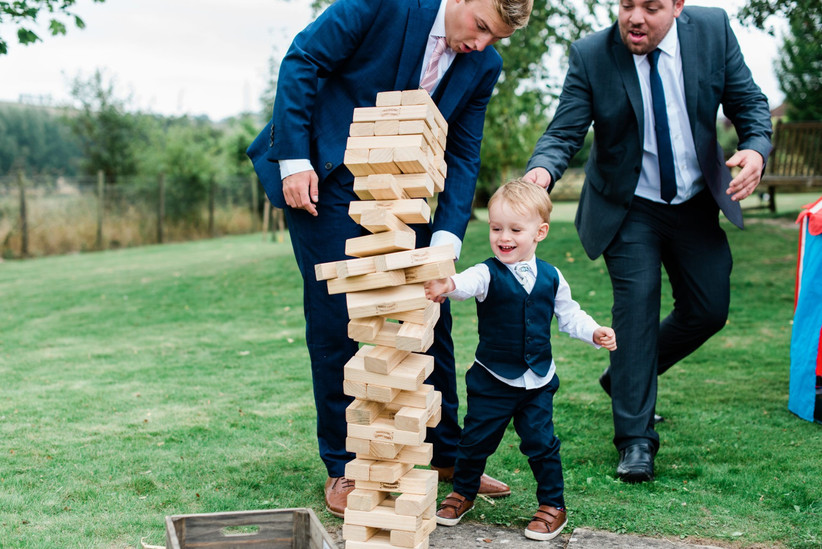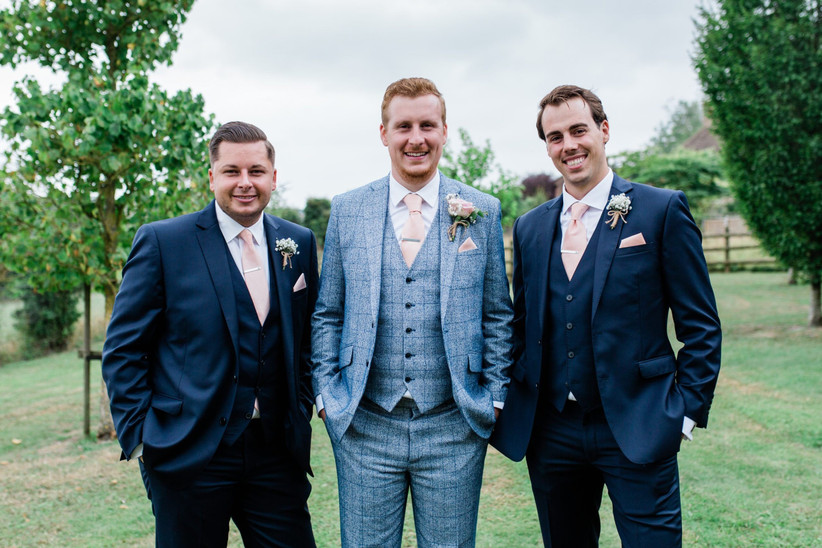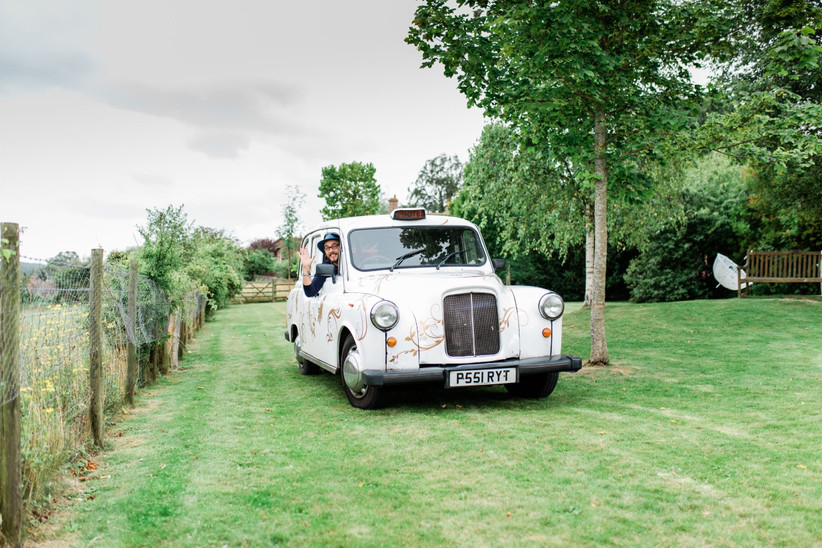 The Wedding Venue
Lauren and Sam chose Elham Village Hall as their wedding reception venue and it was the views of the Elham Valley and the short distance from the church that first attracted them to the venue.
"We wanted everything to be local and, with the village hall being in walking distance of the church, we thought it would be a brilliant idea. Also, it was a blank canvas, meaning we could make it exactly how we wanted it to look."
The look the couple went for was a country vibe with pastel hues. Haybales made great rustic outdoor seating, perfectly positioned for watching the garden games and enjoying a drink from the Chin Chin Mobile Bars, and white drapes gave the hall a marquee effect.
Canapés and drinks were served as guests got involved in the outdoor fun and mingled before everyone was called inside for a three-course meal prepared by Pomegranate Catering.
Guests were given a choice of salmon terrine or antipasti starters, followed by lamb or chicken mains, and black forest chocolate mousse or tarte au citron for dessert.
Although the couple didn't use the services of a wedding coordinator, a toastmaster was present on the day to keep things running smoothly.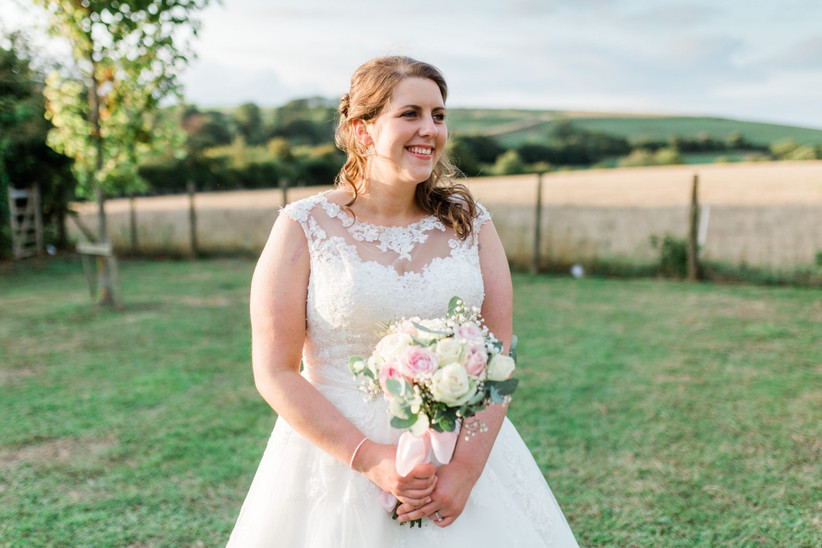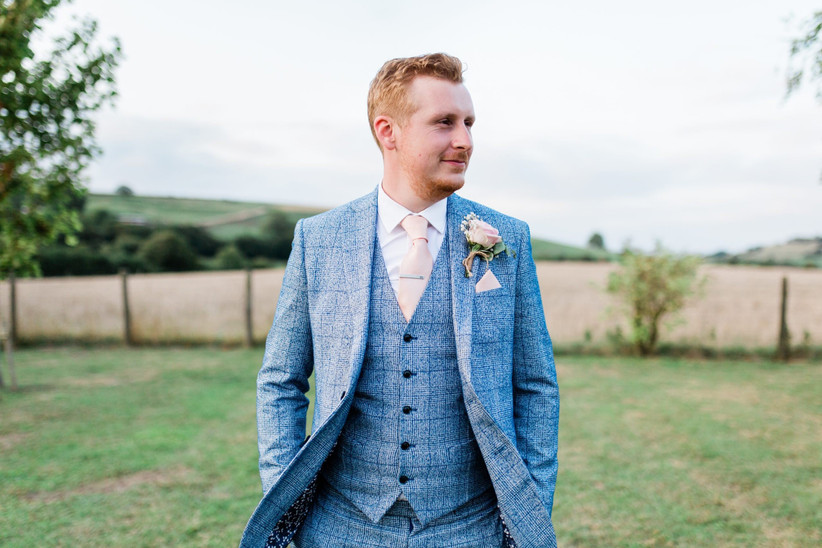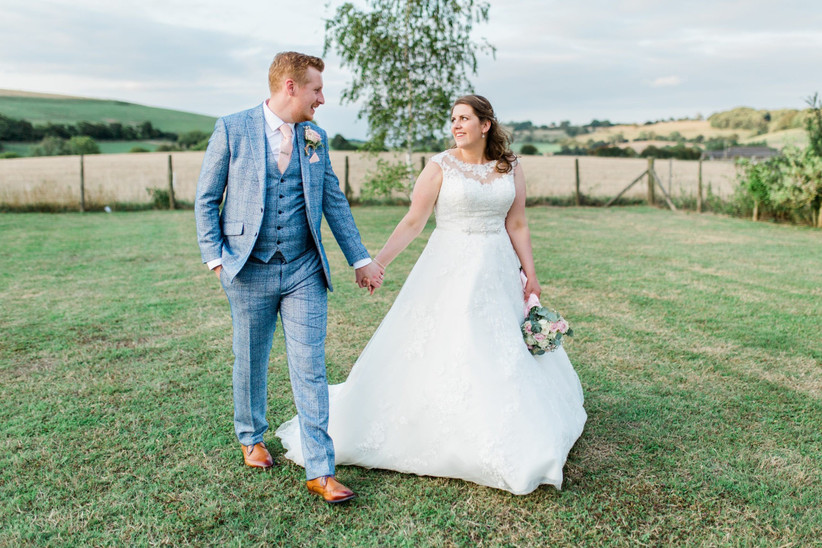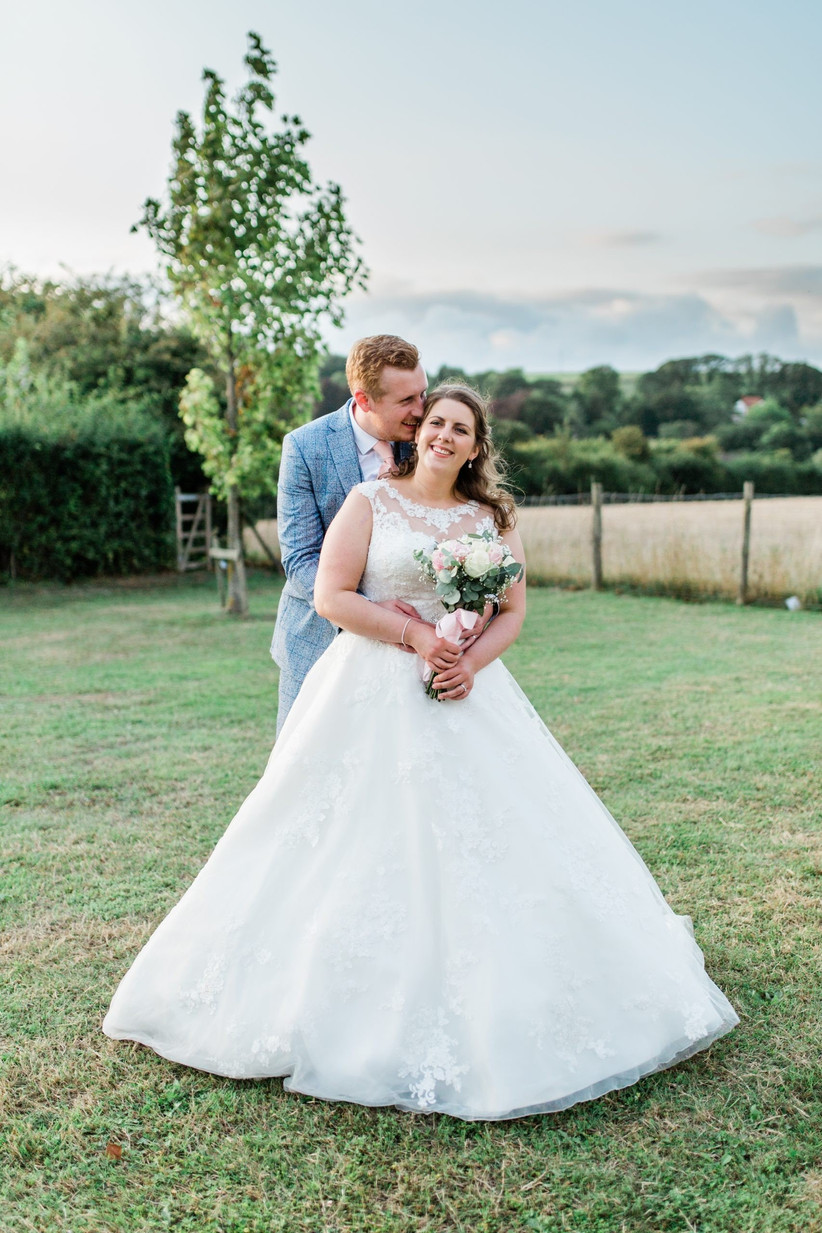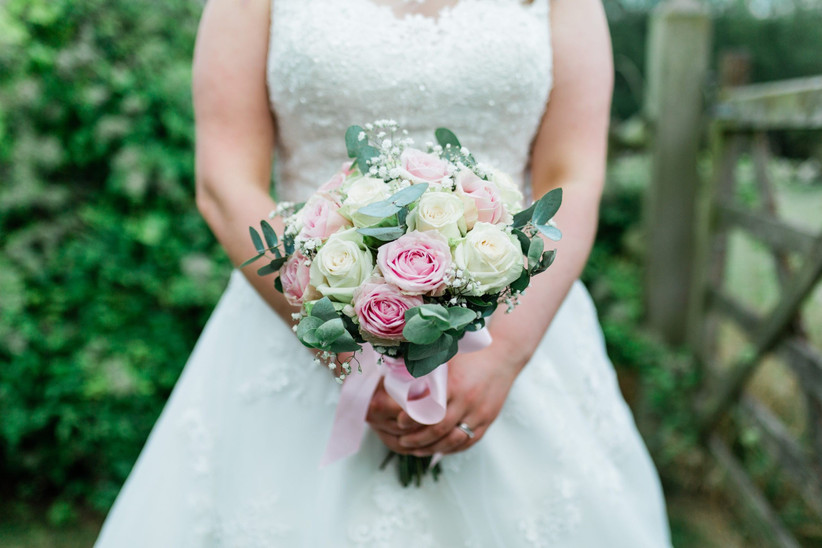 The Wedding Flowers and Cake
Lauren's bouquet featured pink and white roses, eucalyptus leaves, green foliage and gypsophila and was created by Serendipity.
"We had a flower banner on the arch of the church and then bought artificial bouquets for outside. Inside the venue we had a flower arrangement on the top table, the same as the bouquet, and then gypsophila on the other tables."
The beautiful three-tiered wedding cake, created by Fairy Dust Bakery, was frosted with buttercream icing and was adorned with real roses and placed on a wooden slice.
"We went for three layers of sponge as we're not fans of fruit cake. We chose lemon sponge with lemon curd, Victoria sponge with strawberry jam, and chocolate and Oreo sponge with Oreo buttercream."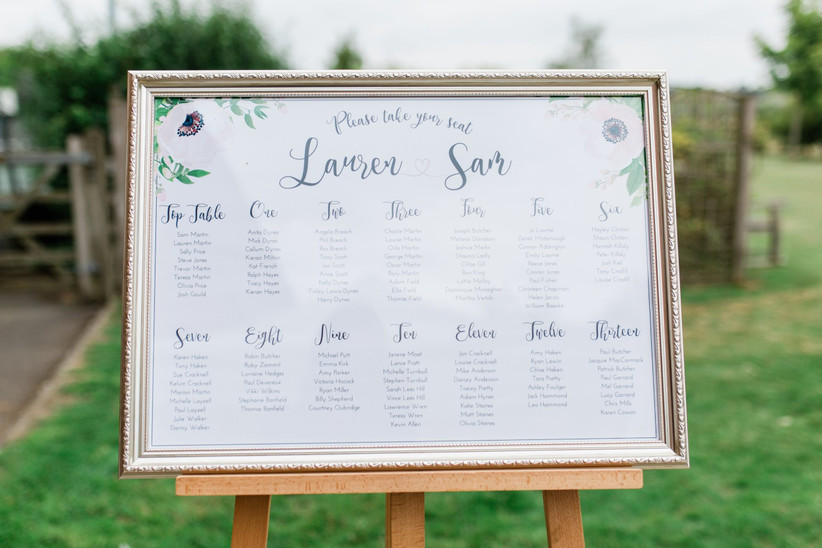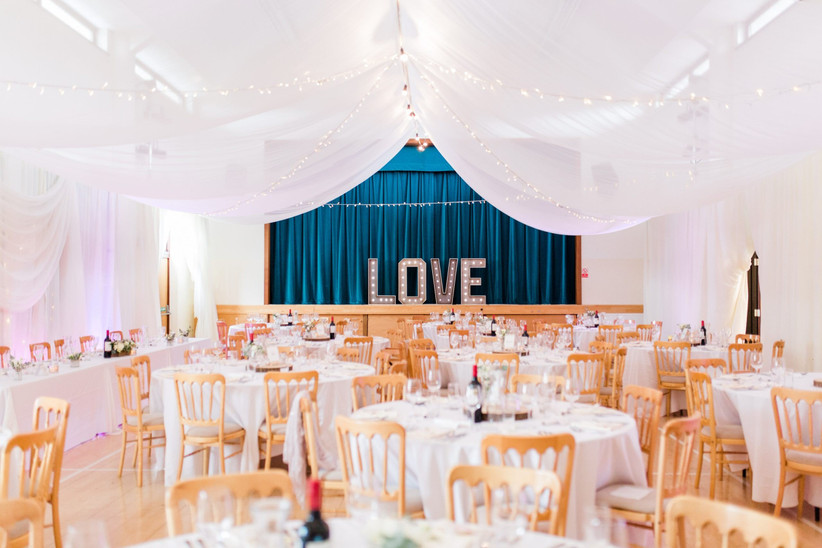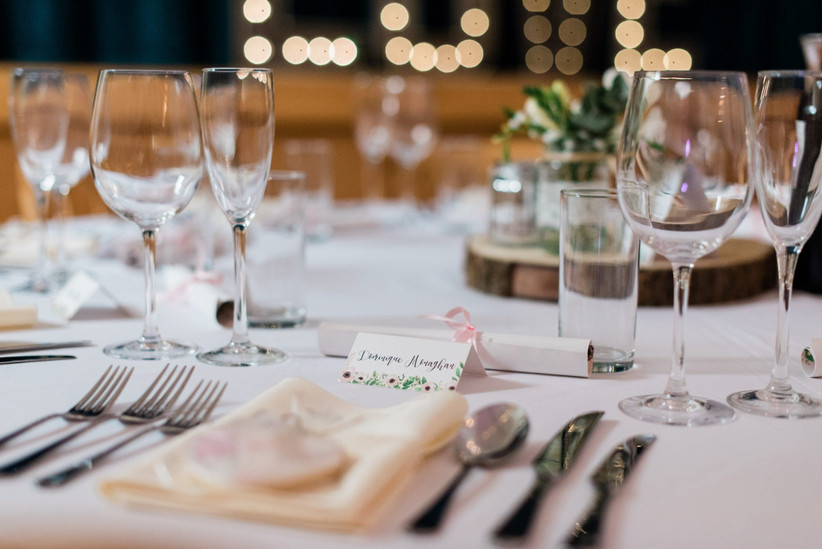 The Décor and Special Touches
The special touches of the day were mostly crafted by the couple themselves, with the help of a talented colleague.
"A wonderful work colleague made heart-shaped biscuits iced with 'Lauren & Sam 18.08.18' as wedding favours. It was a lovely touch for the tables and they tasted great!
"Sam is a designer and so he designed all of our wedding invitations. We found samples of designs we liked and then made our own using our colour scheme. We had pink envelopes and put a stamp on each one for the RSVP to be returned. My favourite thing was a stamp I bought from Hobbycraft that said 'Mr & Mrs' which I stamped on every envelope.
"We also made the name places, table plan, table numbers and order of service all in the same design. I loved being able to put our own mark on these as they were truly unique."
A taxi photo booth from Coco Photo Booths and a light-up LOVE sign gave the reception décor extra wow-factor.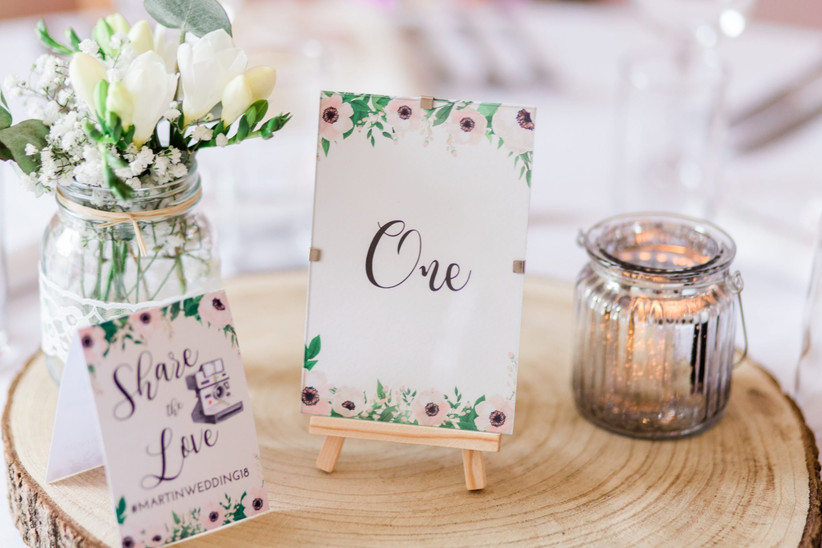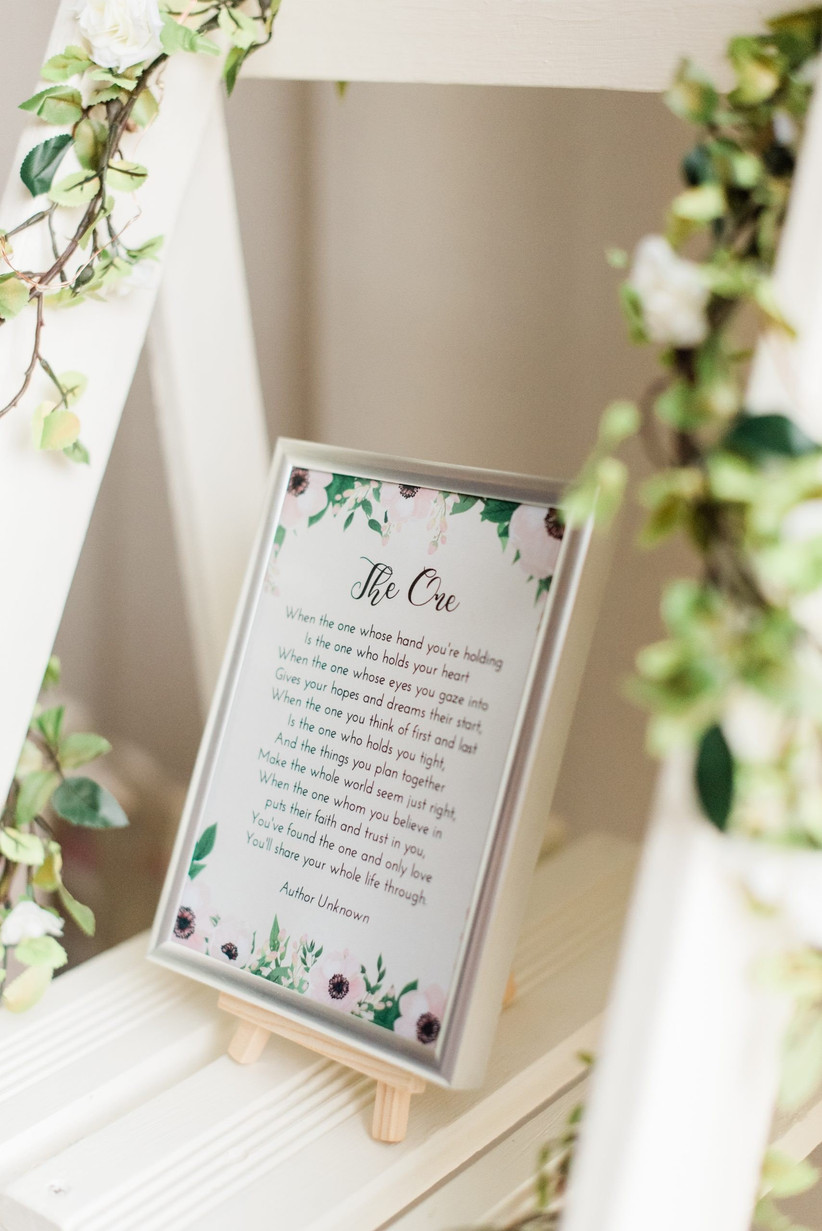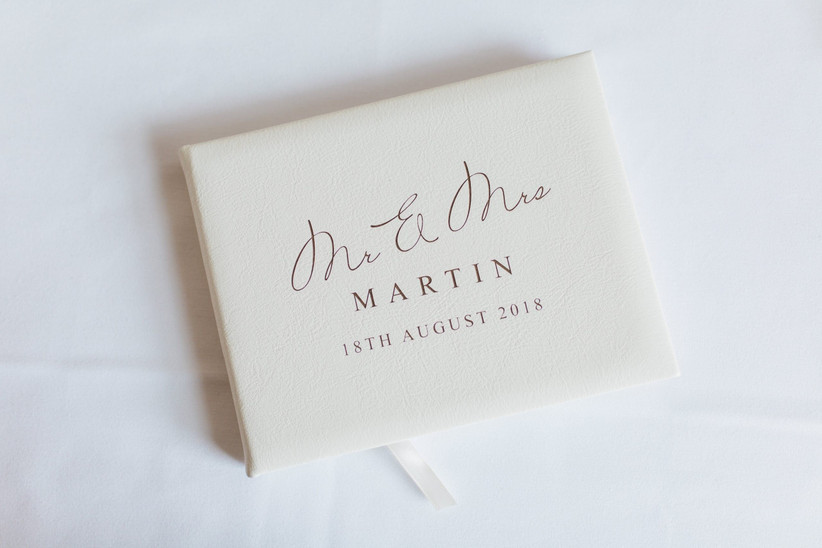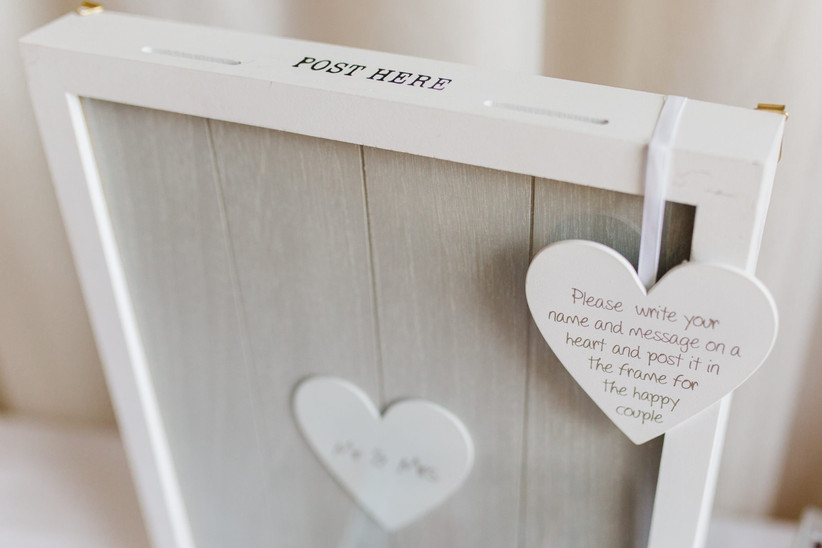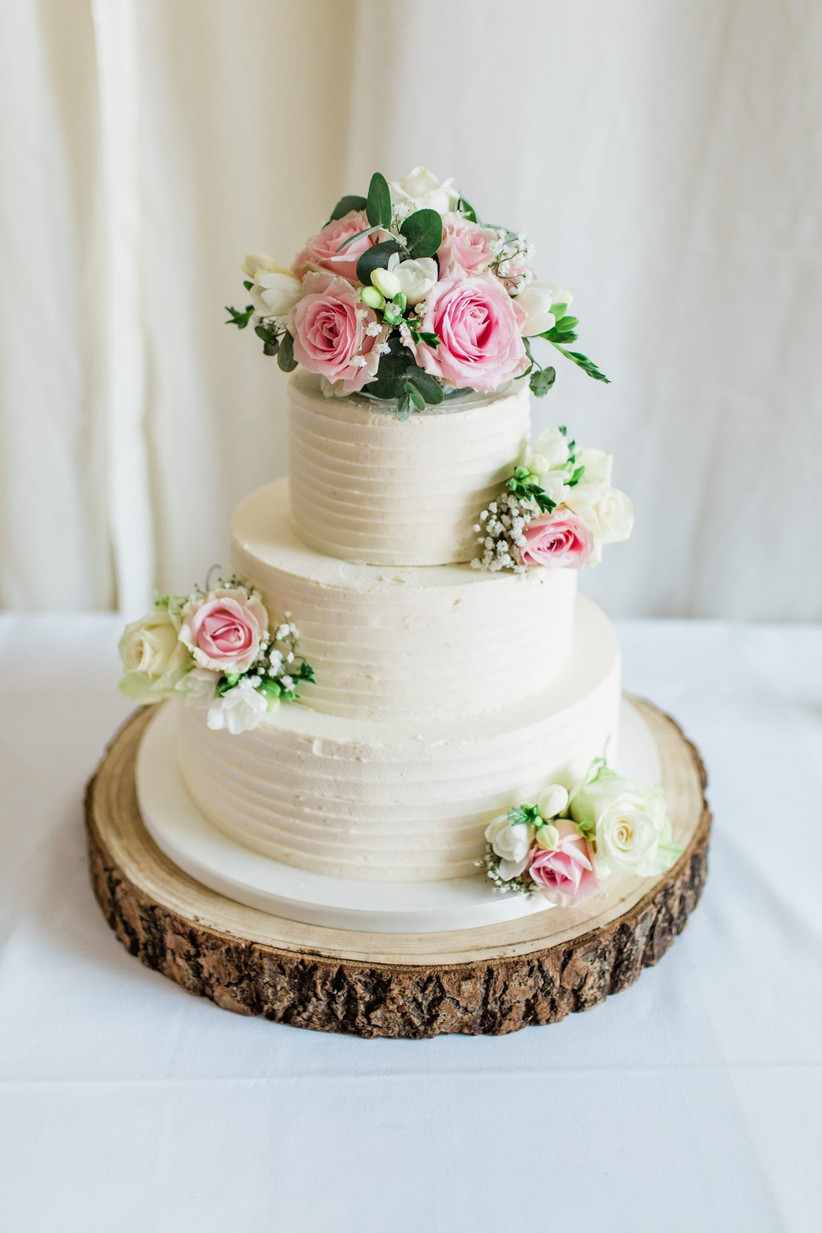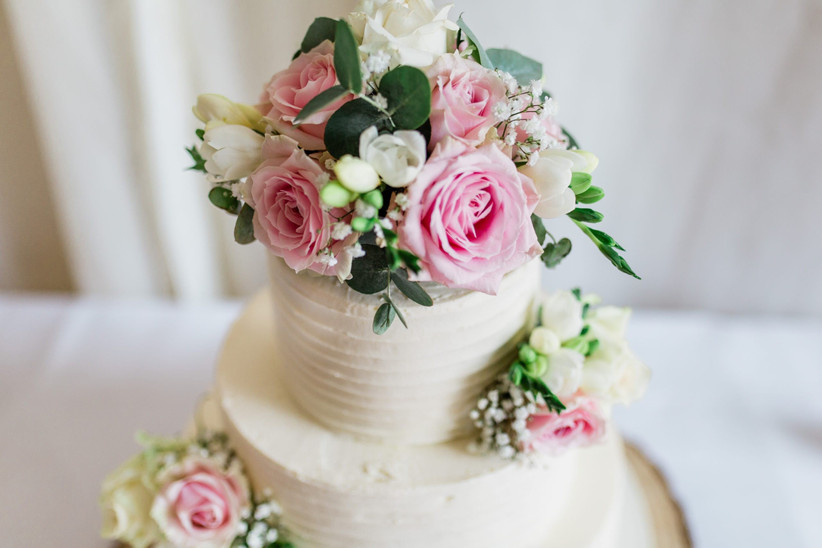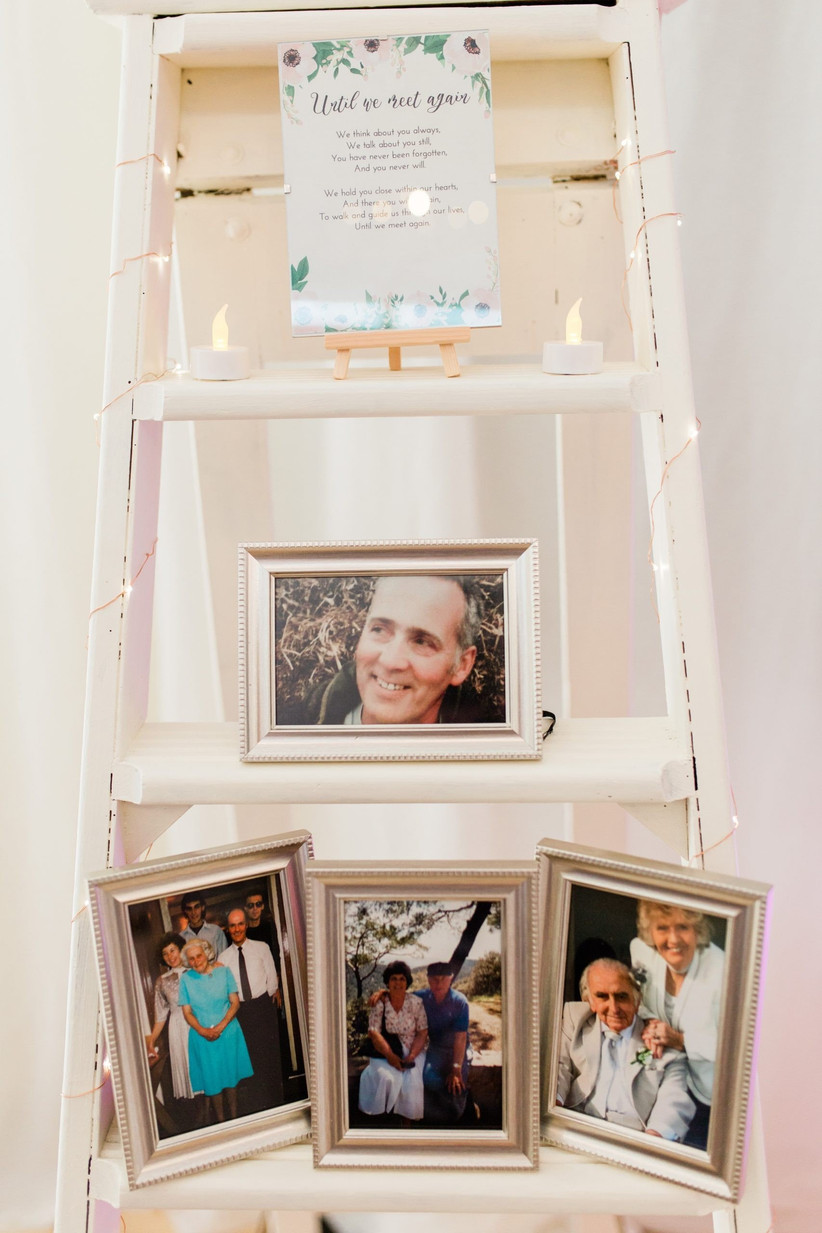 The Entertainment
"At the beginning of the reception when we arrived after the ceremony, we had a wonderful musician play the guitar and sing, it was so lovely and really set the mood. We love music so decided to have a band and a DJ for the evening. The band played three sets, in between the sets, the DJ played and then took over at the end until the finish. We love music and a live band is always brilliant to see, we really wanted it to be fun and have a great music selection."
To kick off the evening, the bride and groom took to the dance floor to the band's cover of When I Fall in Love by Nat King Cole.
"During our first dance we had two confetti cannons that the best men set off during the song, it was so beautiful and romantic."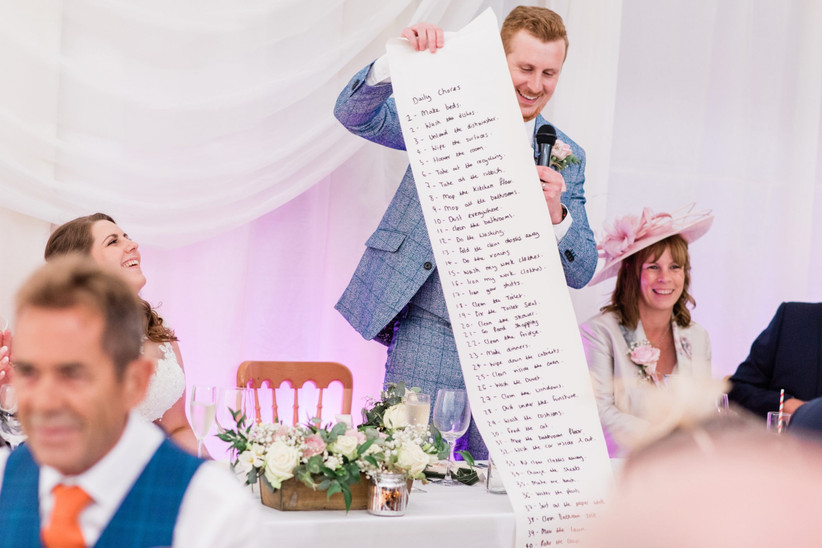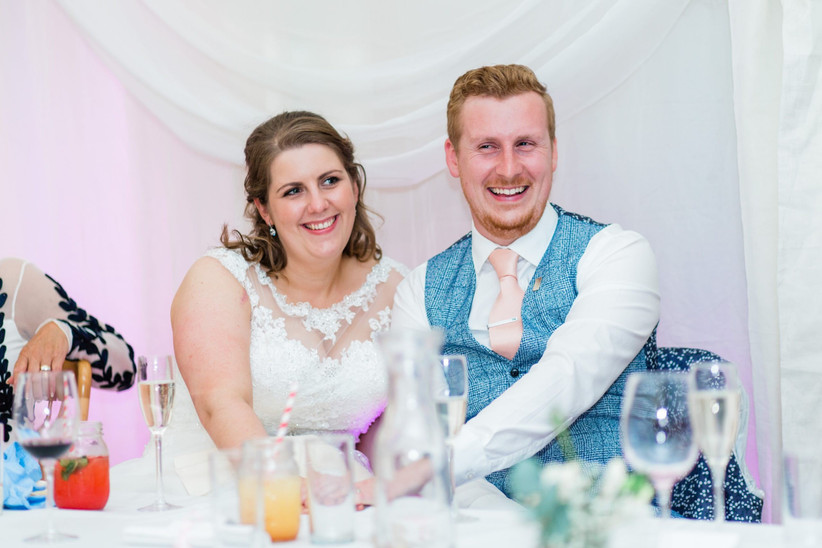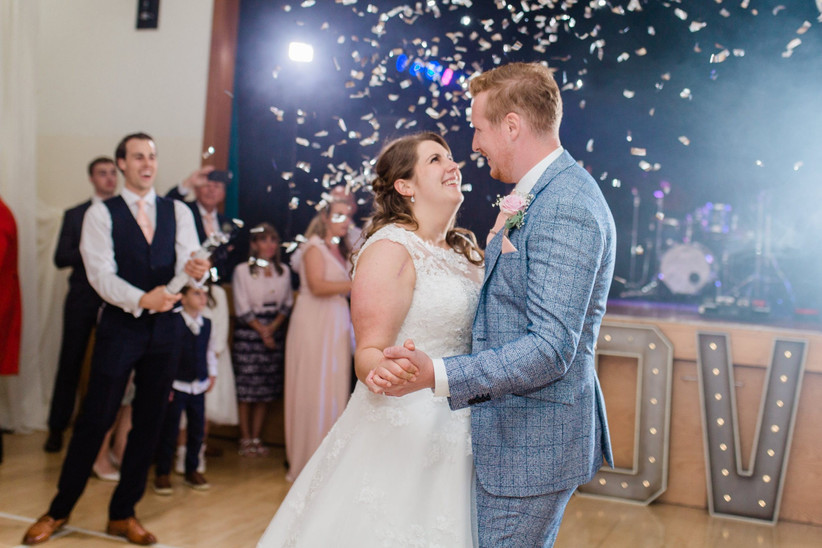 The Honeymoon
"We flew to Italy and travelled by train to a few cities over 17 days. We visited Rome, Florence, Venice and Lake Garda.
"We both had always wanted to visit Italy and thought it would be great travelling around. We aren't the type of people to sit on a beach all day, I love history and Italy just fitted with our plans. We organised the whole trip.
"It was incredible. We saw some beautiful historical buildings, museums, churches. The trains are so easy to use, extremely comfortable and provide some stunning scenery between the cities. Lake Garda was absolutely breathtaking and was the 'chill' part of the honeymoon: swimming the lake, visiting historical ruins by boat and chilling by the rooftop pool. It was the perfect end to the honeymoon."
And their post-wedding advice for engaged couples?
"Have your wedding how you both want it. Individuals, whether that be family or friends, will always have ideas and want something a certain way; but at the end of the day it is your special day and if it doesn't fit, or you don't like it, then don't have it. This goes for anything from food to guest list." We couldn't have put it better ourselves!
The Suppliers
Photographer: Gemma Giorgio
Venue: Elham Village Hall
Wedding dress: Ronald Joyce
Hair and Makeup: Emma Smisson
Groomswear: Moss Bros
Bridesmaid dresses: Sorella Vita
Entertainment: The Soundouts and Doug Panton
Wedding bands: Smooch Rings
Cake: Fairy Dust Bakery
Videographer: Ground Films
Photobooth: Coco Photo Booths
Caterer: Pomegranate Catering
Mobile bar: Chin Chin Mobile Bars
Thanks so much Lauren and Sam for sharing your gorgeous day with us!