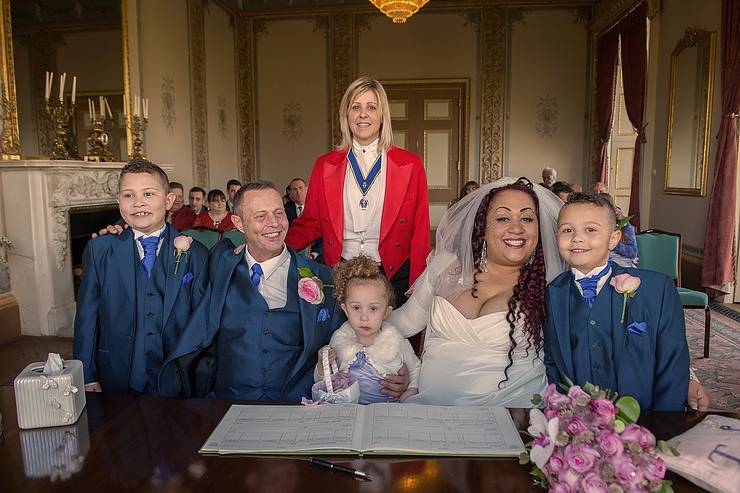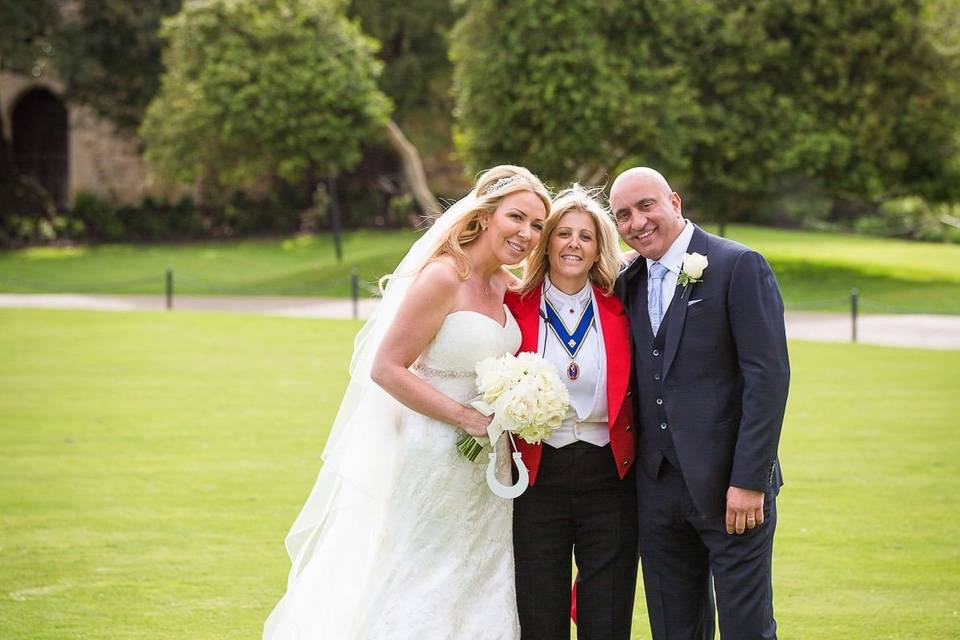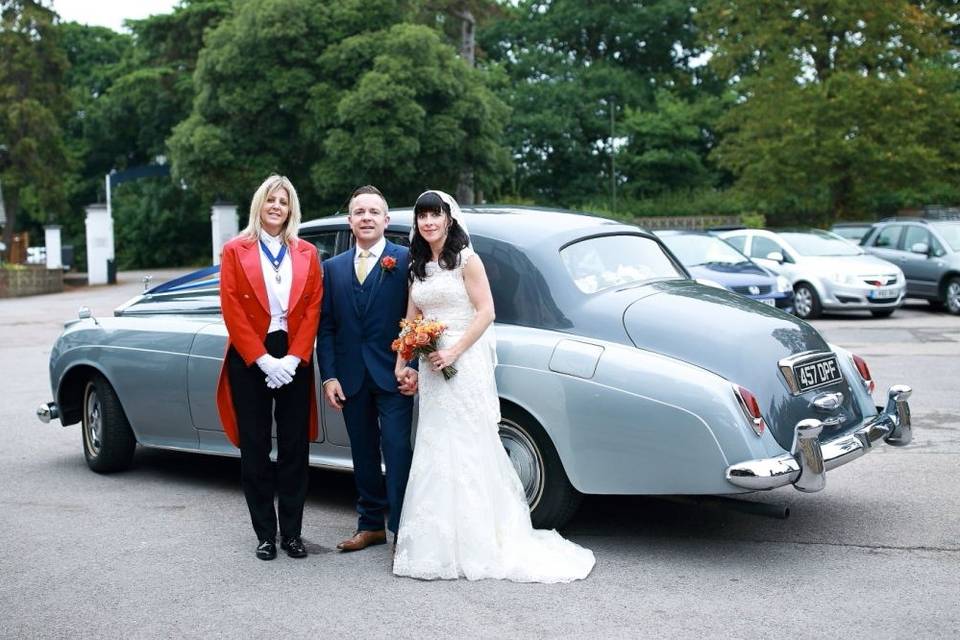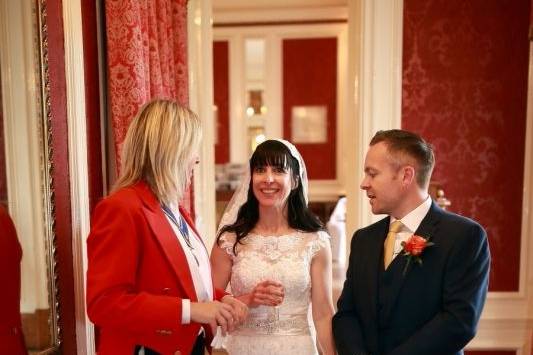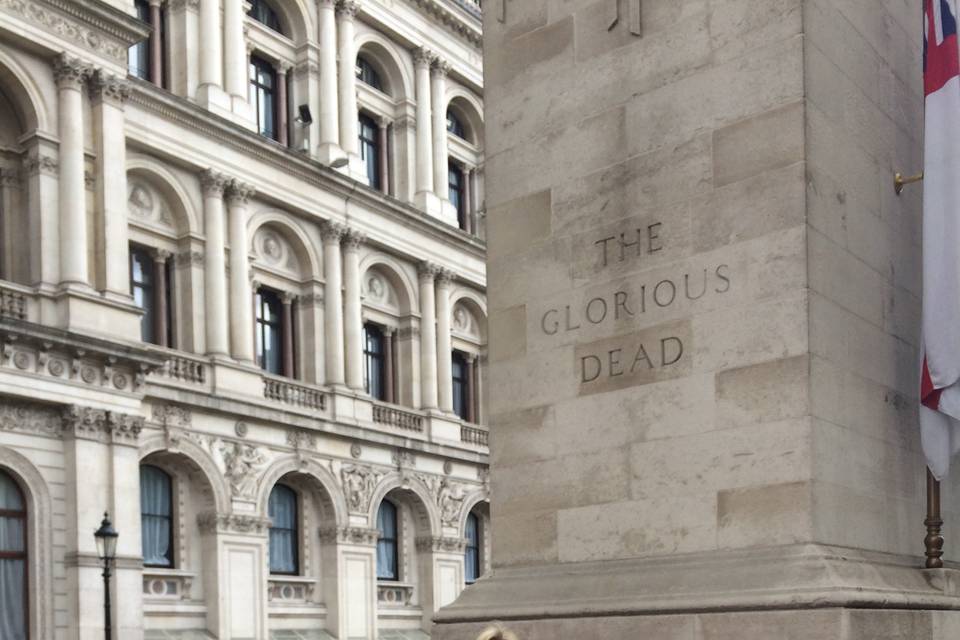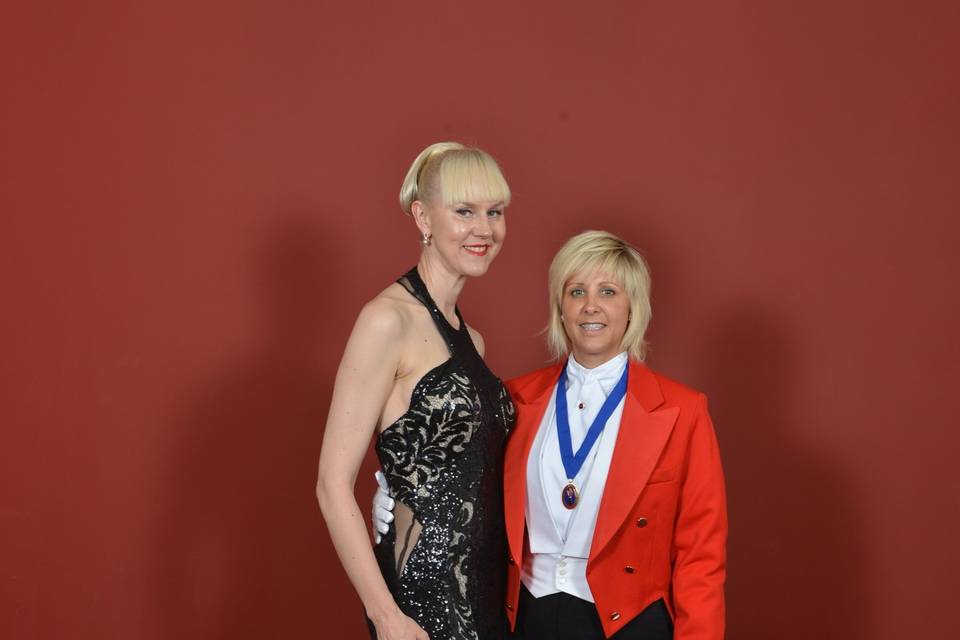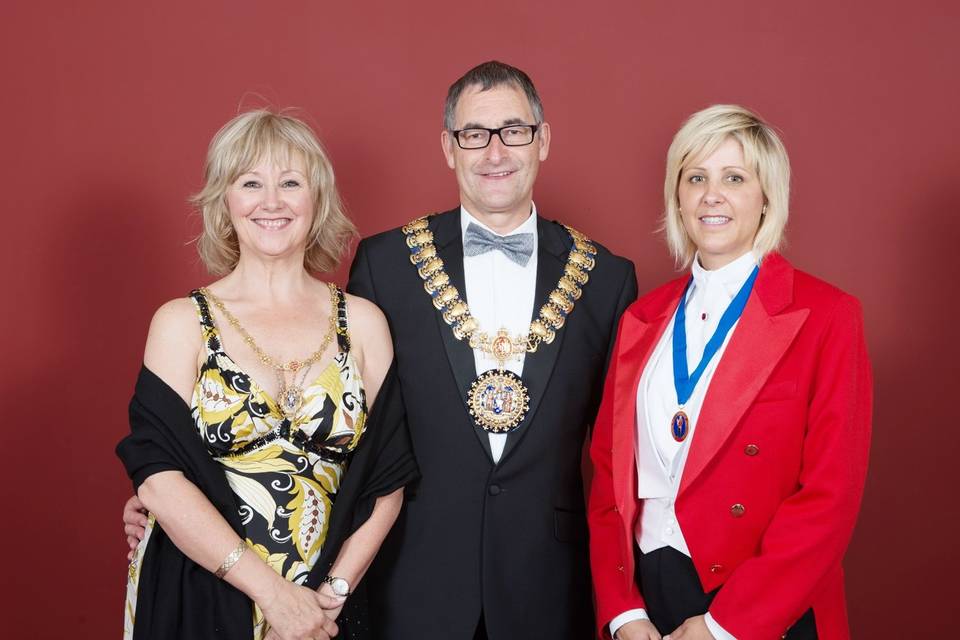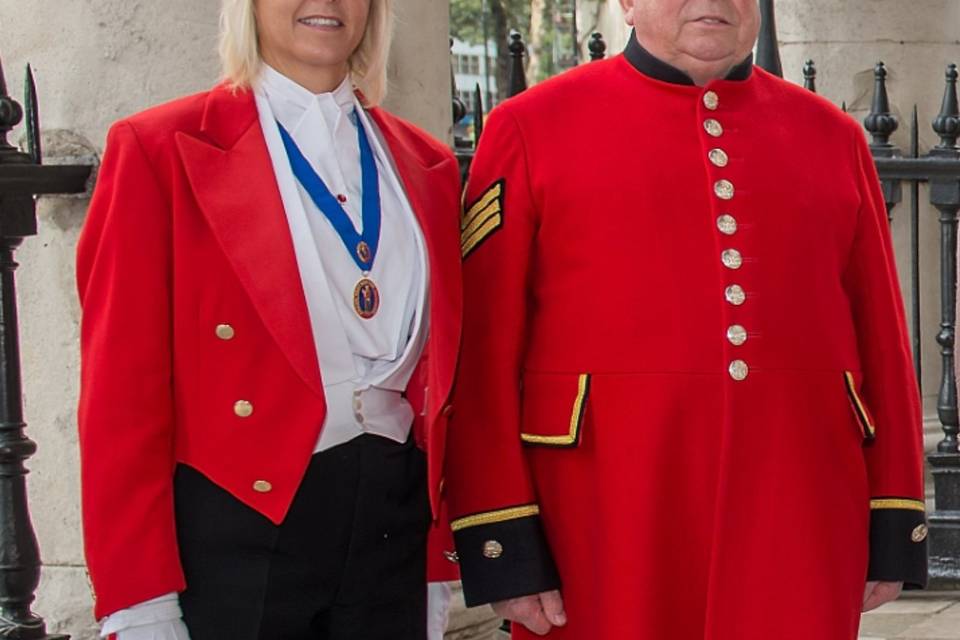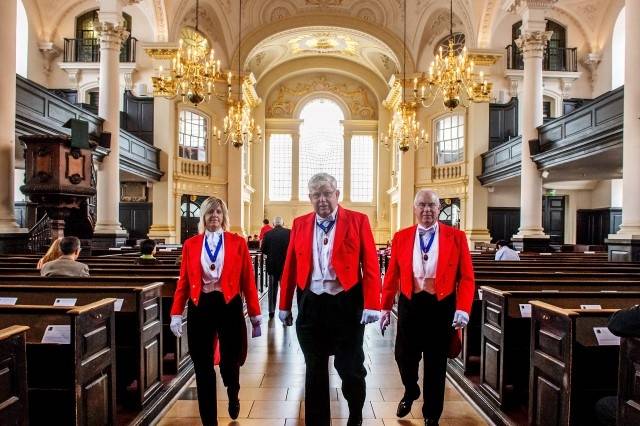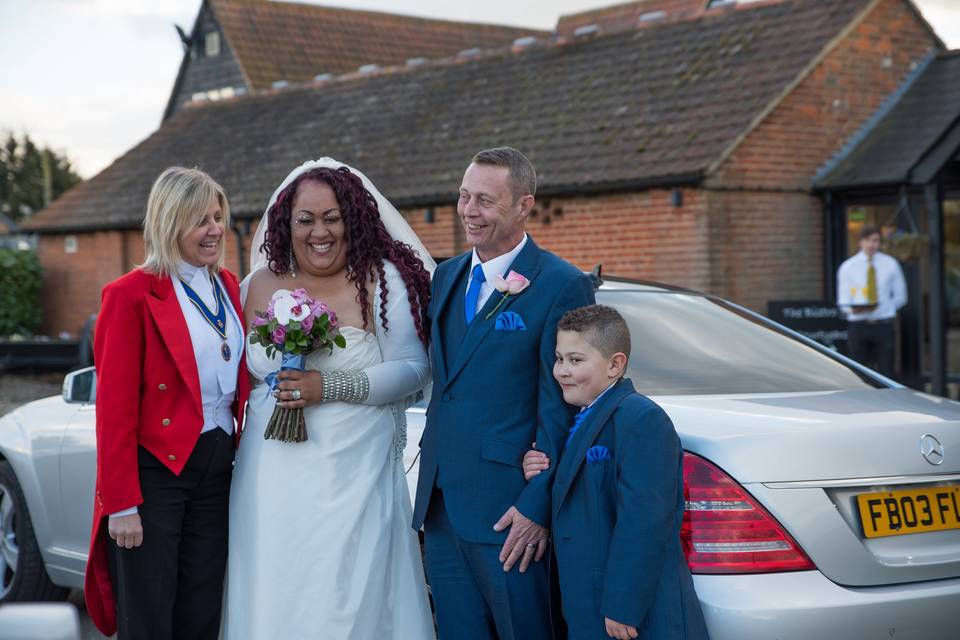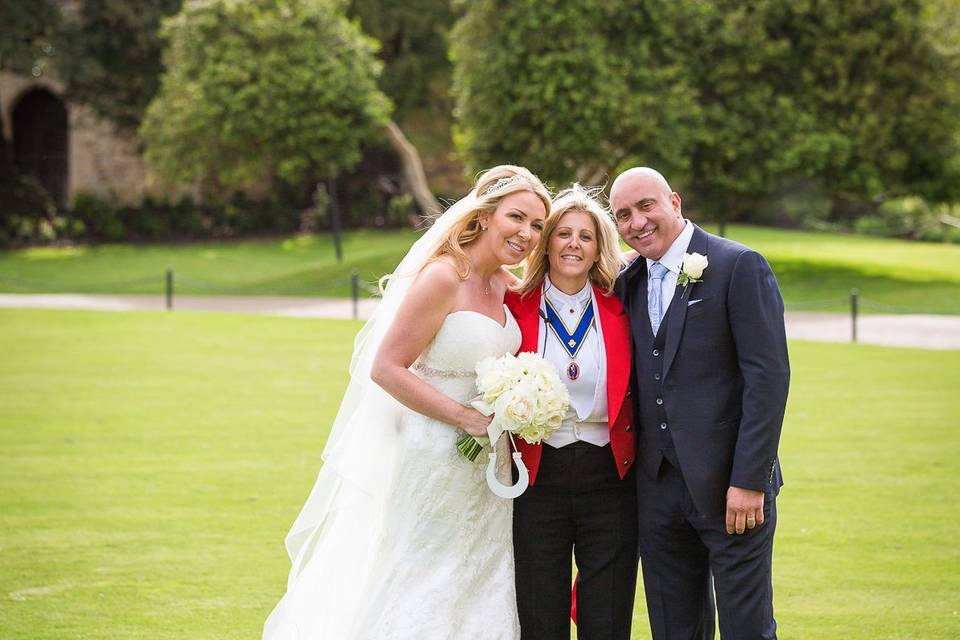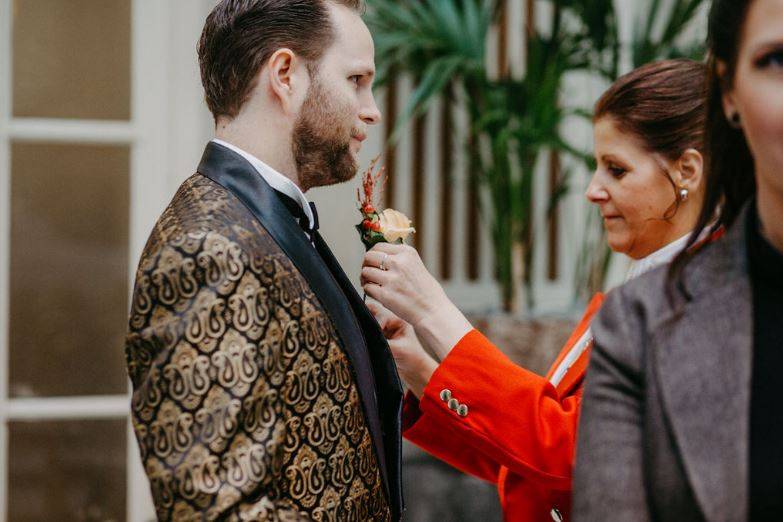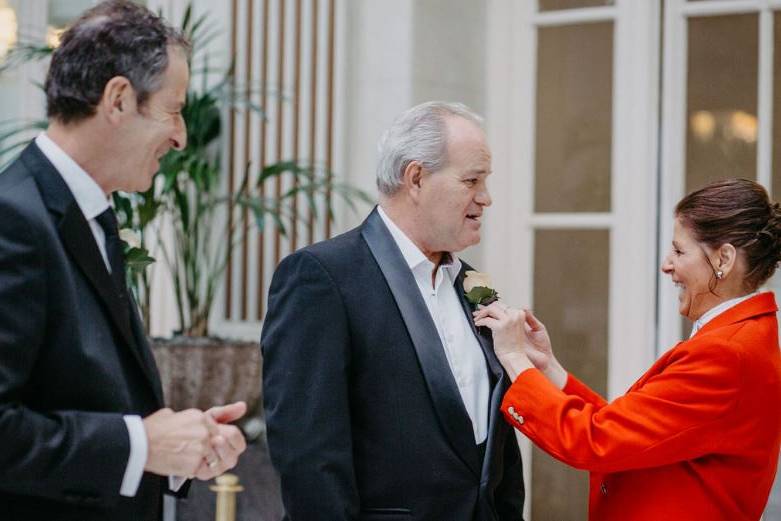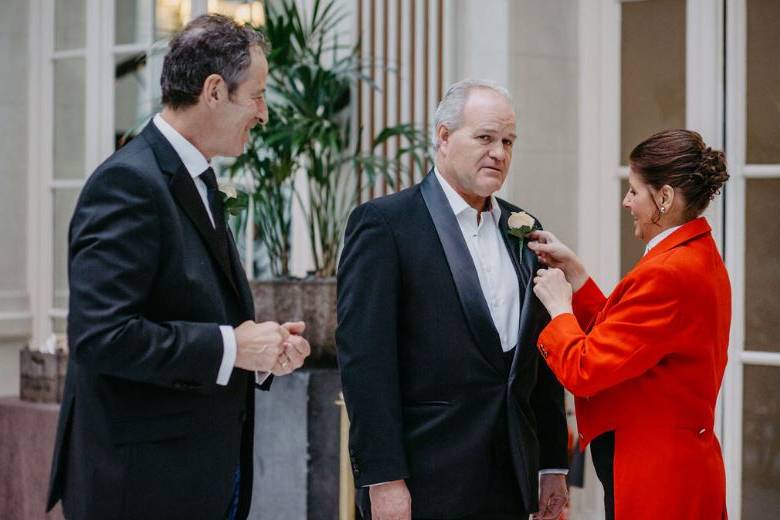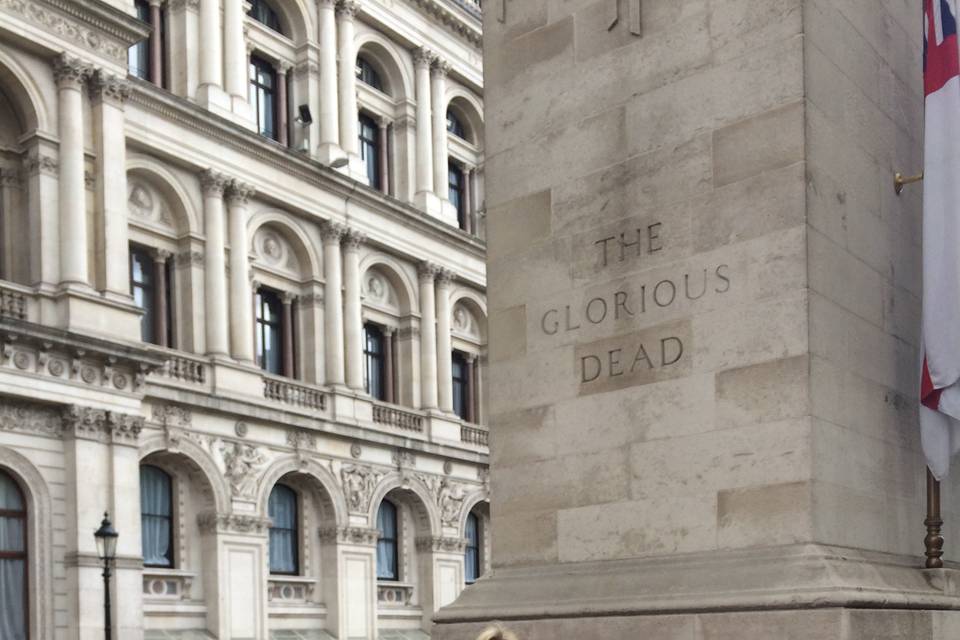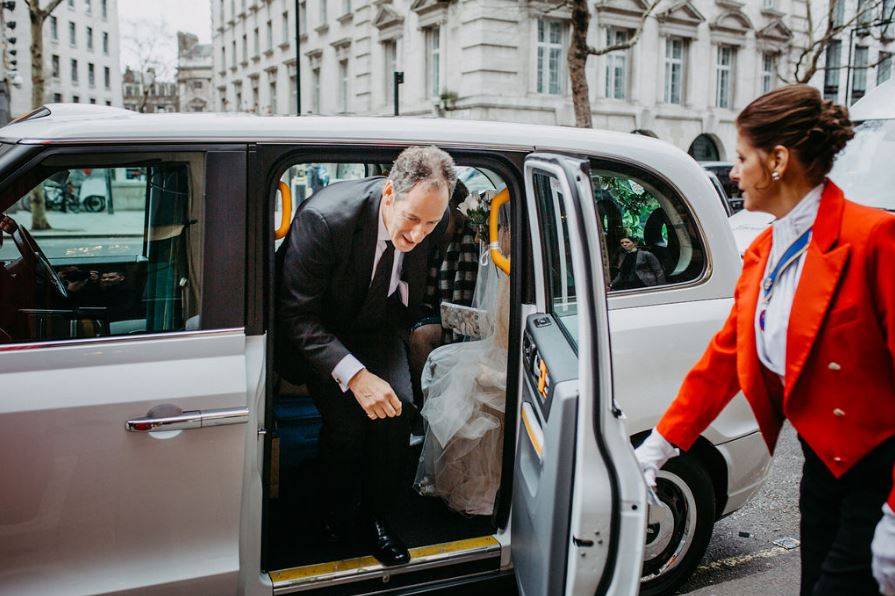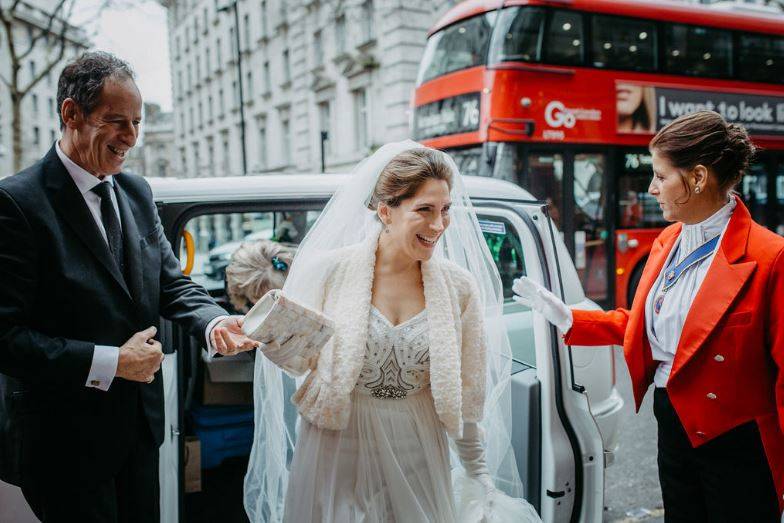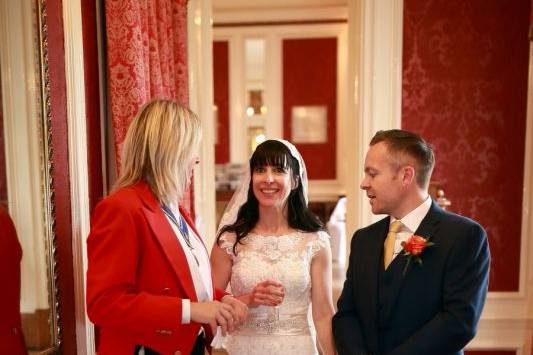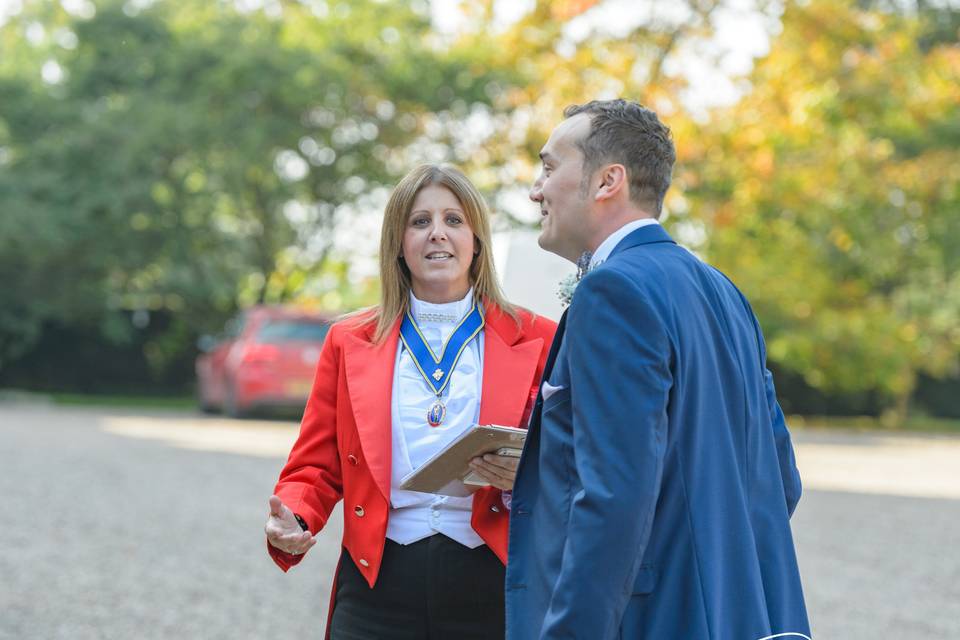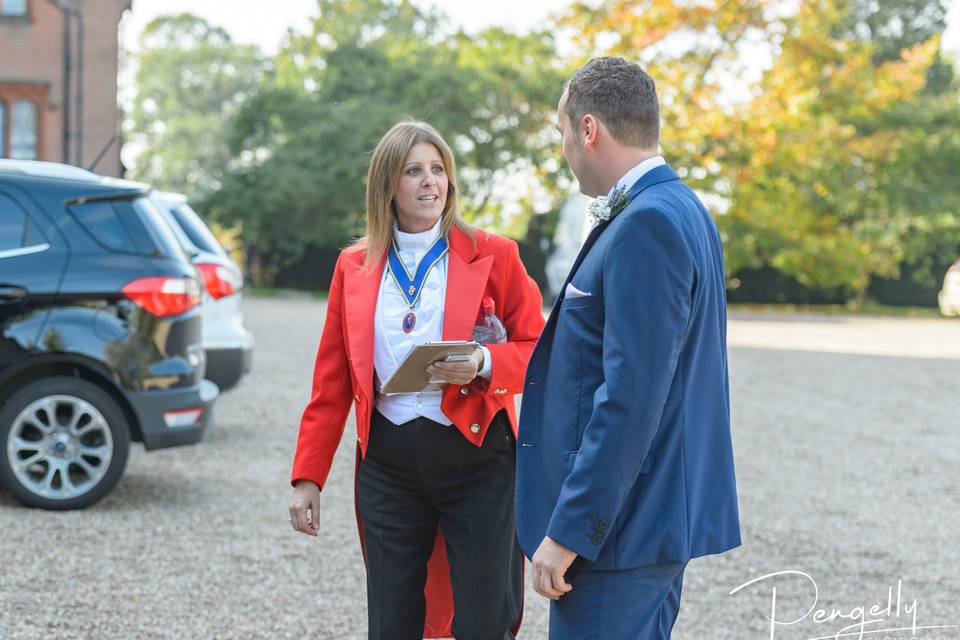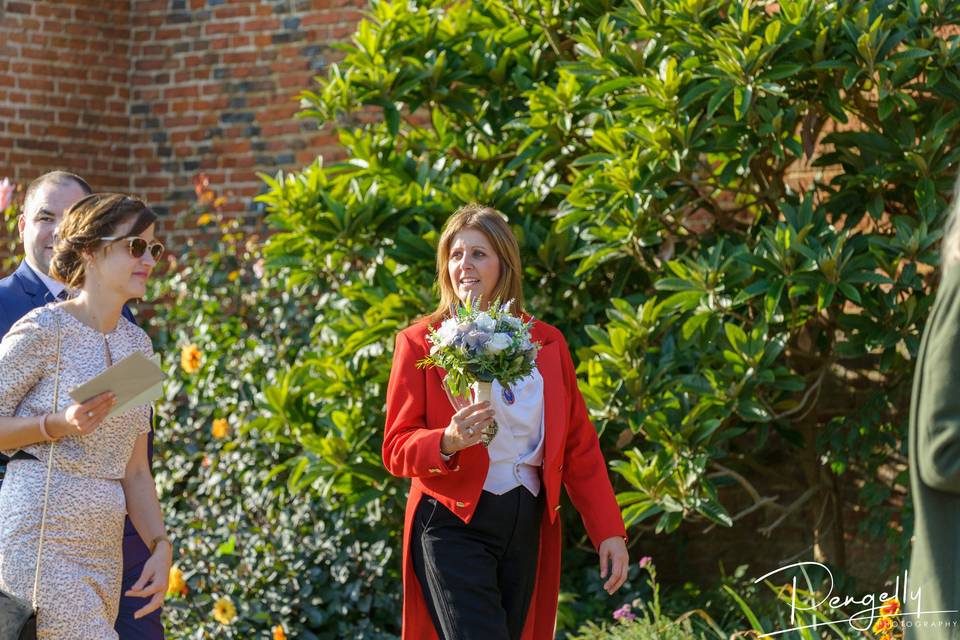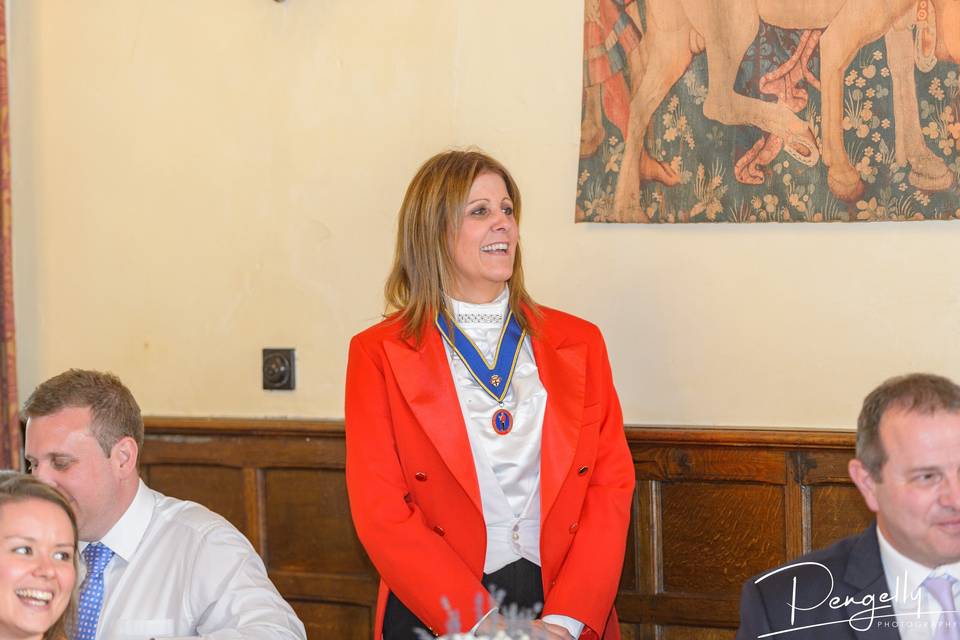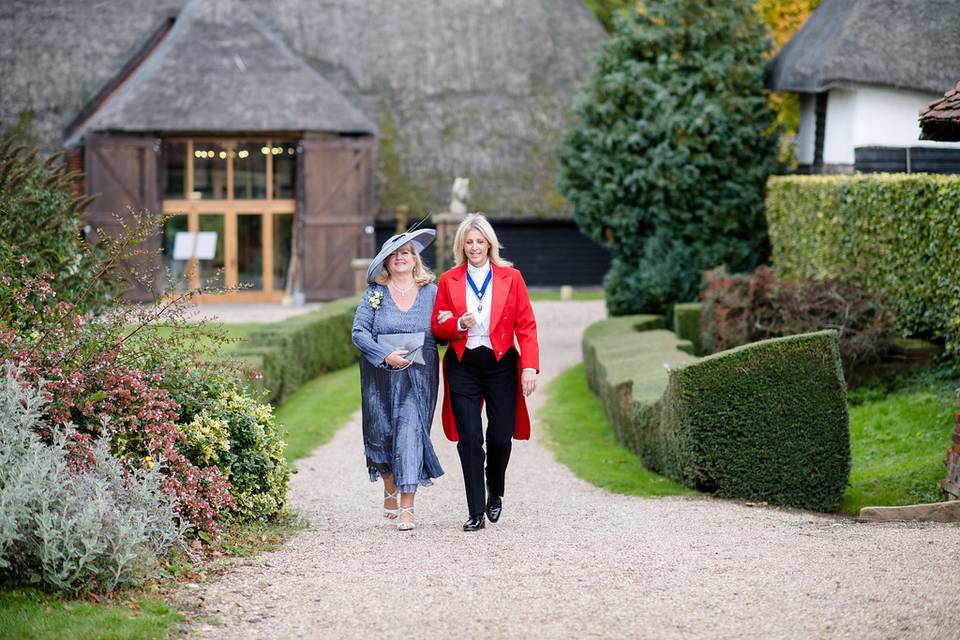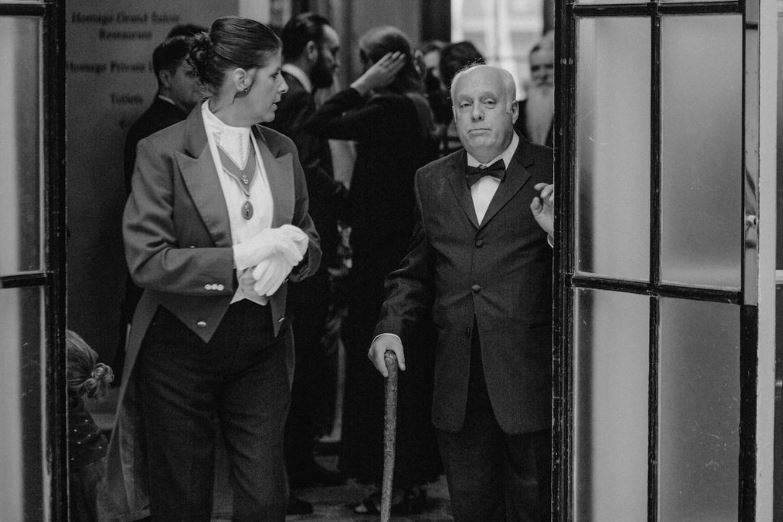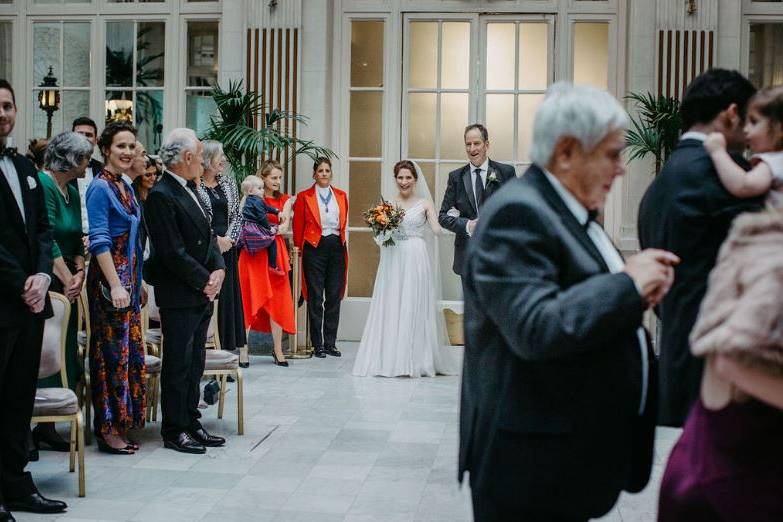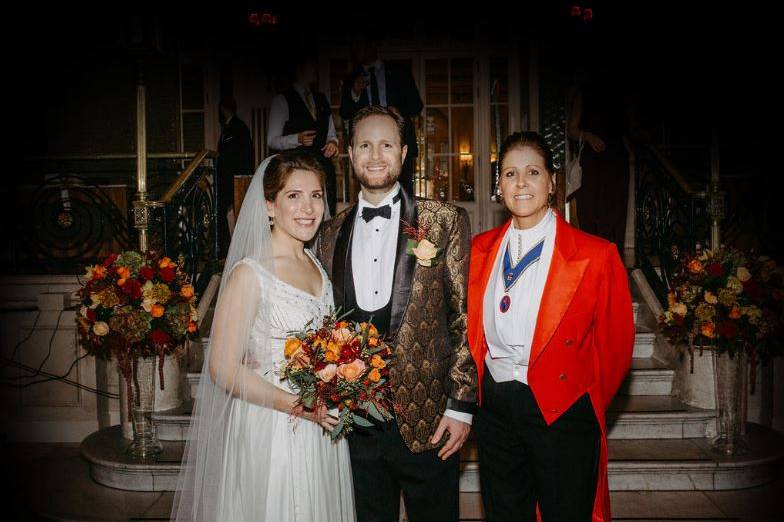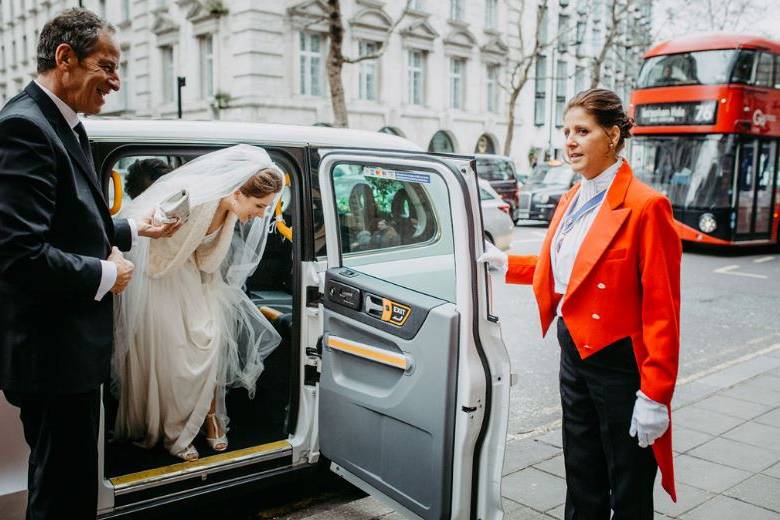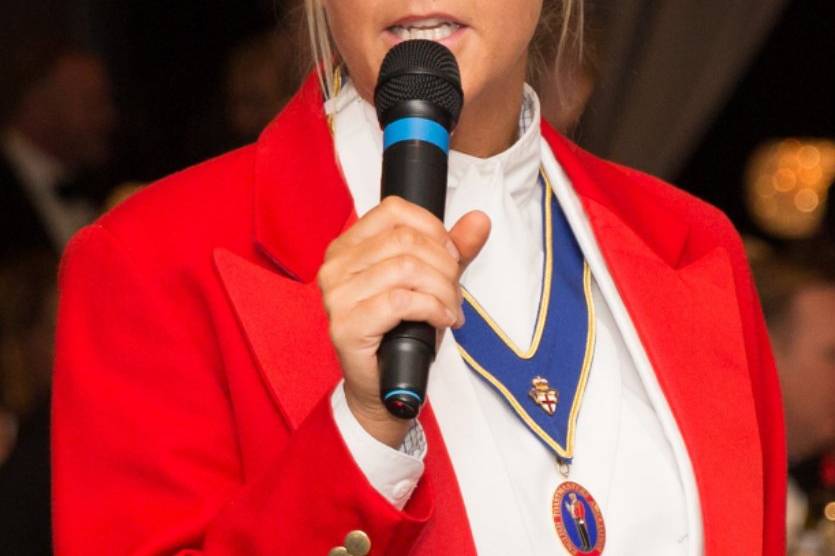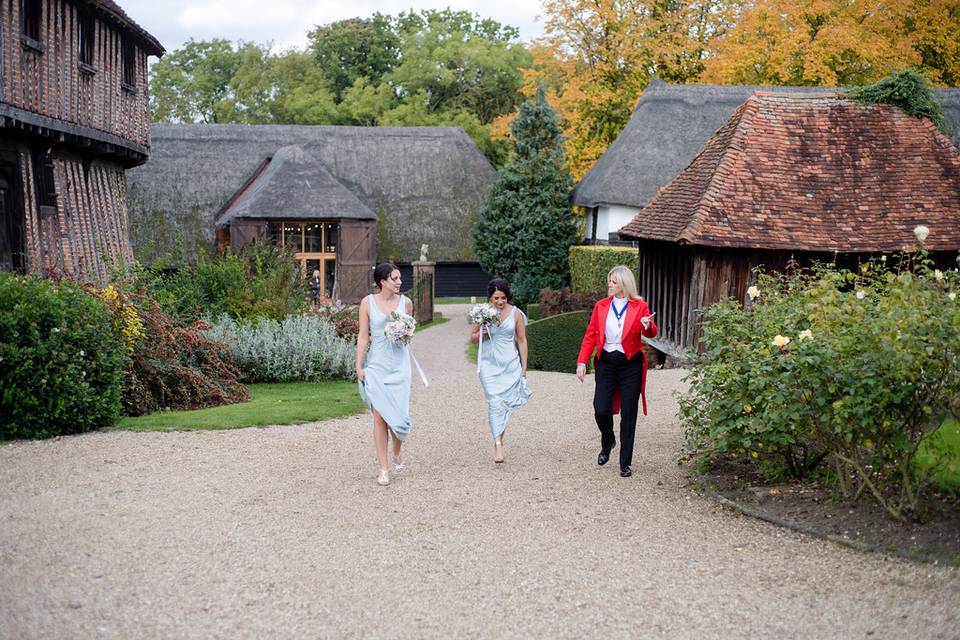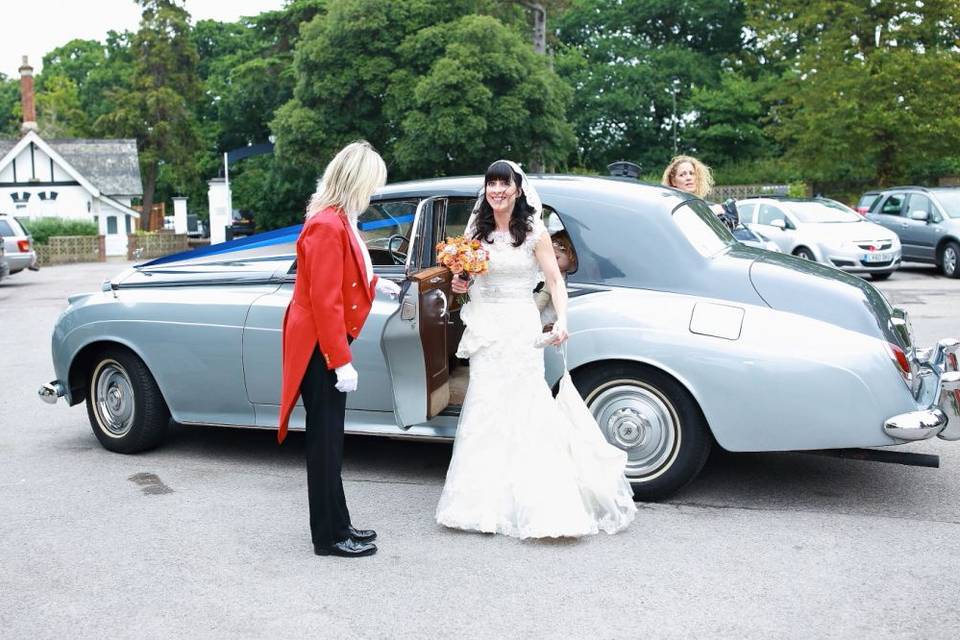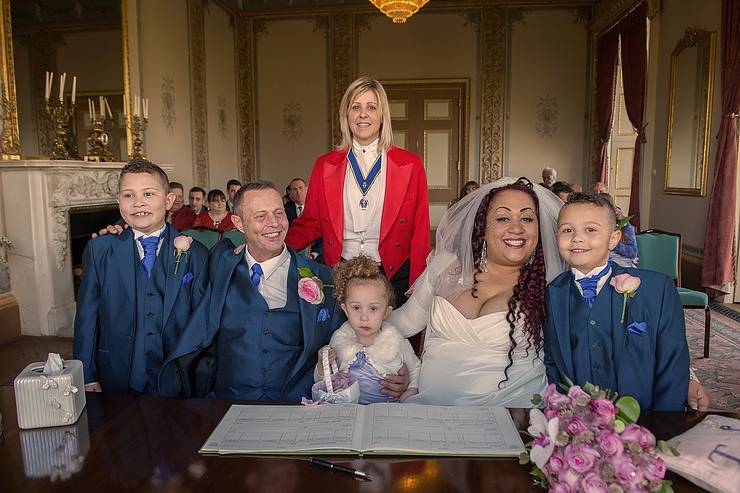 About
If your mind was on a Toastmaster, then look no further. I am here to make sure you have the best day possible.
I am based in Southend-on-Sea in Essex, and have been a Toastmaster for 5 years now. I am also the only double award-winning female toastmaster in the UK. I am professionally and fully trained and a full member of the English Toastmasters Association with £10 million liability insurance.
Whilst a toastmaster is a long-standing tradition for most formal weddings there is a common misconception that toastmasters shout a lot at your guests, and don't get me wrong, many of them do, but not me. I prefer to take a more holistic approach.
With that said, I treat your guests with the utmost respect that they deserve and usher them to the right places at the right time with kindness and a calm approach whilst maintaining an approachable, efficient, and professional manner which I feel is much more fitting for today's style of wedding, regardless of how formal it may be.
I wear the formal red tailcoats that give your guests a central point of contact, ensuring the smooth running of your day by making all the necessary announcements. I work with all your suppliers and your photographer on the day and take away any worries you have and make sure your day runs like clockwork and stress-free.
More importantly, as an independent supplier not connected to your venue, so I work for you both making sure that your day is perfect in every way.
From helping with buttonholes to announcing toasts to supplying tissues to being your personal assistant and much more, I shall be there for you right through to your first dance.
If you want a perfectly managed wedding day, then get in touch and allow me the honour of helping make your day a day to remember.
Frequently Asked Questions
Religion:
Anglican
Buddhism
Catholicism
Hinduism
Islam
Judaism
Methodist
Mormon
Orthodox
Protestant
Sikhism
Type:
Celebrant
Officiant
Master of Ceremonies
Toastmaster
Do you have any questions?
Request pricing
Recommended by 100% of couples
Quality of the Service

Rating 5 out of 5

Response time

Rating 5 out of 5

Professionalism

Rating 5 out of 5

Value for Money

Rating 5 out of 5

Flexibility

Rating 5 out of 5
Hayley

Cannot recommend enough

When we decided we were going to have a DIY wedding reception in a farmers barn we were nervous about the risk we were taking, but wow it paid off and we couldn't of done it without Sian's' help! Everyone commented on how incredible it looked..

What we got was over and above what we expected. Sian came and visited our venue to run through our vision and timeline of the day and where we wanted everything to be set up, we soon realised how fortunate we were to have found her. Her experience means she has lots of lovely ideas, and helped us with things we hadn't thought of - such as the size of the generator we needed, ours was too small and Sian was able to get a larger one, at discount, last minute in peak wedding season! Our fear prior to hiring Sian was that Jack would need to be at the barn to coordinate suppliers arriving and setting up then rush to get ready to make the service, we didn't want the stress of this and having Sian took all that worry away! She coordinated all the suppliers and then was there to greet everyone and sort out the last minute details.

Our wedding day was incredible; everyone commented on how smoothly everything ran and Sian managed to keep Jack and I on time! She is also so thoughtful and made sure we both had drinks and were happy with how the day was going, if there was anything that went wrong on the day I still don't know about it as Sian handled everything.

I cannot recommend BusyBrides enough, our wedding day wouldn't of been the same without Sian and we are so grateful for all you did.

Sam

Couldn't be happier!

I couldn`t imagine having the Wedding of my dreams without you.

From the first meeting BusyBrides made everything simple and made suggestions for things that I hadn`t even considered, creating and adjusting my timeline to ensure the entire day would run smoothly.

Sian contacted every single one of my many suppliers to take away any stress and her on the day co-ordination service meant the day was flawless. From hanging pinatas, to dressing tables and making sure my music worked throughout the ceremony

Sian was by far the best support I could have asked for and I honestly believe anyone trying to organise a wedding would benefit from her array of knowledge, contacts and advice. Thank you from the bottom of our hearts xxx

Adele

Without doubt our saving grace!

We had no wedding planner until about 2 weeks before the wedding. Sian was without doubt our saving grace! She pulled all of the loose ends together and made the day run as smoothly as possible (Even after we were running late due to our Camper van getting lost from the church to the venue). She was truly amazing and fully deserves her title as 'Multi award winning wedding planner'

Did the reviews win you over?

Send a message

Rachel

Above and Beyond

We could not recommend Sian highly enough. From the initial introductions through to the day itself, Sian was responsive, alert and her attention to detail was something to behold!

On the day itself, she took complete charge and managed our various suppliers, meaning we didn't have to worry about a thing other than having the best time! She also worked above and beyond, ensuring that everything ran perfectly.

We really cannot thank her enough for everything that she did for us.

Kevin

Wedding Fairy Godmother!

We decided to search for a wedding planner as our work schedules were pretty busy in the lead up to our wedding and we thought we could do with an extra pair of hands to help us enjoy the big day.

What we got when we found Sian at Busy Brides was much much more than that. Sian became the person we relied upon most and a bit of a wedding fairy godmother.

Sian was calm, collected, and a total professional. Sian really knows the business of weddings and yet, was always personable, really took time to get to know us and really kind.

We met Sian 6 weeks before our wedding. We had planned everything but were really struggling bringing all the elements together. Sian tied up all loose ends, thought of other brilliant things we had never considered, managed to save us money by advising us with ordering and then on the day Sian ran the event perfectly.

We felt our big day was totally safe in Sians hands and it was. This left us completely free to enjoy the day we had spent so long saving and planning for.

THANK YOU SIAN XX

Kevin

Wedding Fairy Godmother!

We decided to search for a wedding planner as our work schedules were pretty busy in the lead up to our wedding and we thought we could do with an extra pair of hands to help us enjoy the big day.

What we got when we found Sian at Busy Brides was much much more than that. Sian became the person we relied upon most and a bit of a wedding fairy godmother.

Sian was calm, collected, and a total professional. Sian really knows the business of weddings and yet, was always personable, really took time to get to know us and really kind.

We met Sian 6 weeks before our wedding. We had planned everything but were really struggling bringing all the elements together. Sian tied up all loose ends, thought of other brilliant things we had never considered, managed to save us money by advising us with ordering and then on the day Sian ran the event perfectly.

We felt our big day was totally safe in Sians hands and it was. This left us completely free to enjoy the day we had spent so long saving and planning for.

THANK YOU SIAN XX

Andrea

Getting you on side was one of the best decisions I made!

Sian, I cannot thank you enough for all your help and hard work both in the run up to my daughter's wedding, and on the day itself. Getting you on side was one of the best decisions I made!

You had so many useful tips, helpful suggestions, and long list of tried and trusted suppliers - which not only saved me a lot of work, but often got better prices too.

You were always quick to answer the many questions that I had, and your pre wedding meetings invaluable.

Having the wedding at home meant that there was everything to arrange from scratch, and without your experience and expertise there are many important things which I would have completely overlooked. It was also reassuring to know that you had contacted all the suppliers beforehand to confirm arrangements, arrival times etc.

On the day itself, I was able to relax and enjoy myself, safe in the knowledge that the day would run smoothly in your very capable hands!

Thank you for being such a big part of a truly memorable occasion. Many people have said it was the nicest wedding they have been to, and you most certainly played a big part in making it happen.

I will certainly be back in touch if my other daughter decides to get married, and I wouldn't hesitate to recommend you to anyone else looking for a wedding co-ordinator. Not only a complete professional, but a very nice person too - they won't be disappointed!

Myuran

100% Recommended!

Firstly Sian is a fun and lovely person to be around with a great sense of humour. She takes great pride in her work and went above and beyond to ensure our day went to plan. Knowing we had Sian gave us huge peace of mind and allowed us to relax on our wedding day.

We had a number of external suppliers and Sian dealt with them all expertly, both before the event to ensure they knew what was expected of them, and on the day itself. There were hiccups on the day (not her fault!), but Sian dealt with them brilliantly and did her best to ensure our guests did not notice anything.

Sian met up with us multiple times before the day to make sure she understood our vision and made excellent suggestions on how best to make it a reality. She is a great sounding board and we knew she always had our best interests in mind. Sian was absolutely invaluable and is worth every single penny! 100% recommended!

Amy

Sian is much more than just a toast master

Planning for our big day was a journey we will never forget as it lead to the happiest day of our lives. Along the way there were so many wonderful people who helped us to navigate the world of wedding planning, and Sian from Busy Brides was most definitely one of those special people. As the wedding day drew closer we realised that with our large guest list we would need a toastmaster for the day to keep everything running smoothly or, as I said, someone to 'be on our side'. We found Sian through hitched.com and are so grateful for the quick google search for a 'modern toastmaster'. From the first meeting it was clear that we were getting much more than a toast master. Sian has a wealth of knowledge of the wedding business and helped us consider details about the day we didn't even know we had to think about. Sian also has painstaking attention to detail and made sure that all of our decisions were well documented. On the wedding day itself we completely switched off from wedding planning mode and just enjoyed our day, but always out the corner of our eyes we could see Sian in action working with the staff from the hotel and making sure all of our guests were where they should be throughout the day. Thank you Sian for making our day so special, we highly recommend your services to any wedding planners!

Mr

If you are looking for an experienced, thoughtful and down to earth Toastmaster, look no further!

Sian took up the role of our Toastmaster very last minute, 11 days before our wedding, when we were unhelpfully let down by a Kent based Toastmaster.

And how lucky were we at this turn of events! It was meant to be! We knew from the first time we met Sian over a good old cuppa we were going to get along just fine. Sian has a relaxed and flexible yet structured and organised approach which suited us perfectly.

Sian was the up-most professional throughout our day, whilst adding a very personal and human touch - the bride's Grandfather especially loved her! Nothing was too much trouble and we were delighted to have her as an integral part of our day.

If you are looking for an experienced, thoughtful and down to earth Toastmaster, look no further!

Rachel

10 star service!

When it came to the actual big day you was the sticky glue that made it all work, even when my venue had messed up (more than once!) you made me feel at ease and got it all back on track again! And I will be forever grateful for that. I can not even put into words how talented you are, I didn't have any stresses on my big day where things like getting to the venue earlier than us to make sure it was all set up to how we wanted, and getting all the pictures we wanted with the people we needed when we needed them with us and the photographer.
The precise planning and premeeting with us at the venue before he big day and the organization that went into planning when everything would happen. Even down to giving me advice on how you think doing things would make it better for us, which never felt overwhelming but like a friend giving advice.

Even though when we met you at the wedding fair, we loved how relaxed you were because you love your job and thats what makes you even more amazing. And we may of only met you a few times before the wedding but your got to know what we wanted by asking us questions and getting to know us.

Thank you for helping us, and you will always be a friend to our family for how special you made our big day. I have already been telling everyone about you whenever I talk about the wedding, its hard not to really. You are a true 10 star service!

Anonymous

Tara & Darren

Gift of a Wedding approached me to ask if I could help with a wedding for a terminally ill lady. The wedding had been set for the 5th March 2014 and I had been approached in February with next to nothing organised. Not only was this a challenge, it was something I knew I wanted to be a part off.



I met Tara and Darren to jot down their brief and I instantly saw the beautiful relationship they had together. I didn't know how long Tara had to live, but I was humbled by them both and their gratefulness that they showed me. I knew that I was going to go all out to help them, but I didn't expect such an overwhelming response from local suppliers when I put a call out for help on my business FB page.

?

The response was truly phenomenal and i was really proud of working in this industry that day and how charitable everybody was to help out. Sadly Tara has passed away now, such a beautiful woman, inside and out. RIP Tara.



Here are e a couple of messages from both the couple and Gift of a Wedding.

?

Hi Sian



We certainly did have a wonderful day, Tara and I spent Saturday morning laughing and crying because we were so happy.



I know you know how much our wedding meant to Tara and myself. and we knew that we were going to have an wonderful day. but you gave Tara and myself a wedding beyond our wildest dreams and we will be forever grateful to you for that. words can't express what the day meant to us and the wonderful memories I will be able to share with the children in years to come.



here is a link to our taster video if you would like to see it our wedding video



Many Thanks



Darren and Tara xxx

?

And here is an email I got from Gift of a Wedding!

?

Sian, I truly dont know what we would have done without you yesterday, you have been magnificent from the start to finish. You truly got on board with the charity and found us some totally amazing suppliers.



Not only that but we got two for the price of one with you - and more!! Donating your time and knowledge is one thing, providing favours and toastmaster duties (plus getting HUGE discounts) is another - and way beyond what we expected from you. I am so grateful you offered to support our charity and I hope you've got as much out of supporting Tara and Darren as we at Gift of a Wedding have.



You're an absolutely lovely person and I've enjoyed working with you.



Will chat to you at some point today.



Lisa Taylor

Information & Assistance Manager



Gift Of A Wedding

Anonymous

Rachelle & Russ

We first met Sian at the Excel centre wedding show, from the moment we met her she was bubbly, friendly and very welcoming.



Sian made first contact with us in a very detailed email explaining all her services again along with everything we had discussed from our first meeting. In the lead up to our wedding I never anticipated how much organising, time management and coordinating skills go into the actual day and I was completely freaking out, I have never planned a birthday party let alone a wedding.



We heard from Sian about a month before are big day and organised a meeting at her house which was around 2 and half hours long. From that moment I knew we had hired the right person from the job.



She sat with me and my husband and went over the day with fine tooth comb even mentioning things I hadn't heard of even realised would need planning. We left feeling like a weight had been lifted from our shoulders and completely as ease that our wedding was in very experienced and capable hands.



Sian rang around all of our suppliers and organised what time they would be turning up at the venue on the day. On the day of the wedding Sian had our list from the meeting of where everything needed to be, table plans, decorations from the ceremony etc., she even took photos of the finished venue and text them to me so that I could be at ease whilst getting ready.



Throughout the entire day she went above and beyond making sure the whole day rang without a single hiccup.

?

There are not enough ways for me and my husband to say thank you for everything she did in the lead up to the wedding and on the wedding day, she exceeded all of our expectations.



Through the whole wedding planning experience, we went to many wedding shows and met many suppliers and without a doubt Sian is one of best she really knows how to connect with not only her brides but the grooms as well.

Anonymous

Andrea & Ben

'We booked Sian as toastmaster for our wedding as we wanted to feel reassured that day would run smoothly. She didn't disappoint us.



On our first meeting Sian had some great ideas and she really took charge of the meeting with the venue to ensure we got the best out of our day.



Myself and Ben came out of that meeting feeling confident that we had made the right decision in having Sian as our Toastmaster. She came across as very organised and efficient but still warm and friendly


On the day Sian made sure that everything was in it's correct place and people were where they should be, as well as making sure that me and Ben had everything we needed and we're happy.



Sian even gave us a new cake knife for the cutting of the cake when the one provided by the venue wasn't up to spec.



Just having Sian there meant that we could relax and enjoy the day as we were confident the day would run as planned. '

Anonymous

Ian & Julie

We met Sian at a couple of Wedding fayer's and although we had our venue booked which had there own Wedding Planner we liked the idea of the Toastmaster aspect to make the day that extra special.



When we spoke in more detail with Sian we realised that with her Wedding Planning knowledge both her and the venue would work well together. We had a planning meeting at the venue and ran through everything we wanted and Sian had some great suggestions and ideas being she was independent of the venue.



Leading up to the day Sian contacted all our suppliers to make sure everything was ready and going to plan. On our Wedding Day Sian arrived early in the morning and helped out making sure everything was going how it should be including checking that everything was set out correctly for the Wedding Breakfast.



Sian looked amazing in her Toastmaster Regalia as she greeted and mingled with our guests. Sian was so attentive all day checking that everything was going as it should. She made sure that both my wife and I had a drink and set some canopies aside whilst we were busy with the photographer so we did not miss out. Then came the Wedding Breakfast and Sian came into her own as the Master of Ceremonies, announcing us into the room and introducing the speeches.



Sian stayed with us until after our First Dance and we would both like to say that Sian looked elegant, was professional, attentive and left nothing to chance and was just fantastic throughout.



Sian you made our day even more special and we have found a friend for life and words are not enough but thank you love Ian & Julie xx