Our Top Wedding Jewellery Picks from Ernest Jones
Your wedding day is the time to really let your love shine! For those sparkling finishing touches you'll both treasure forever, Ernest Jones is the jewellery destination to know, from timeless wedding rings to meaningful gifts for brides and grooms.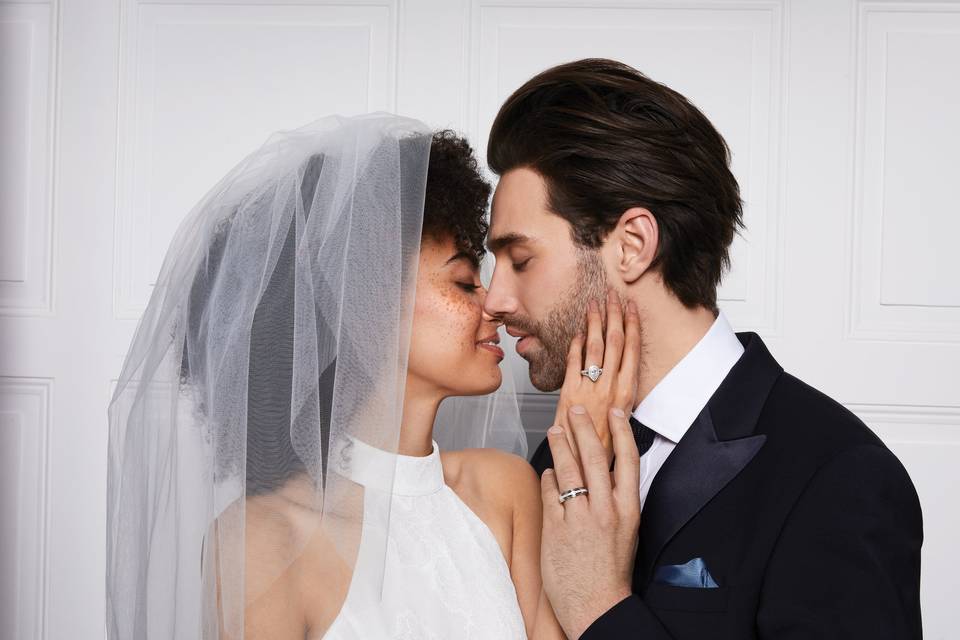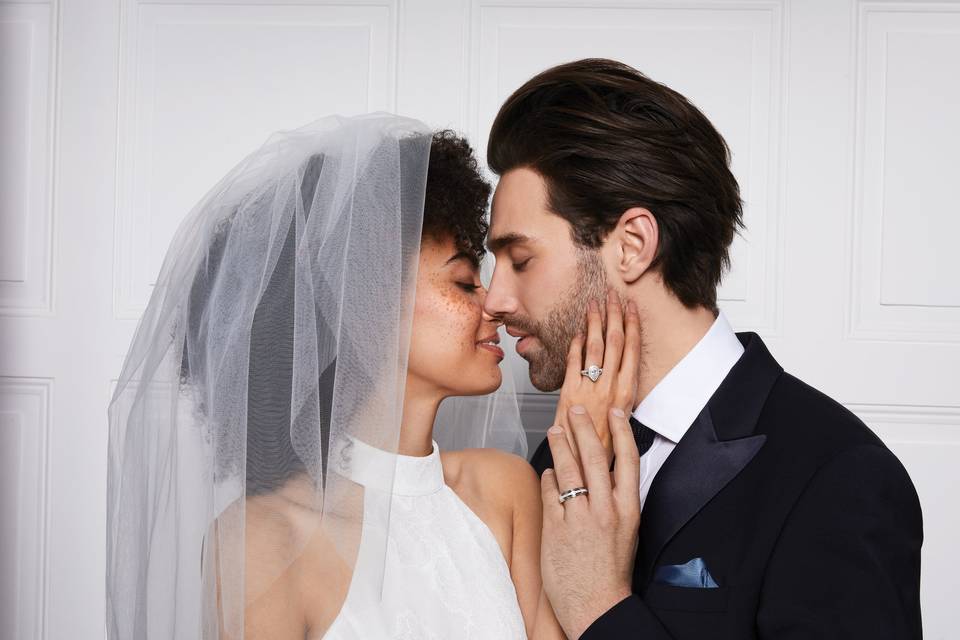 There are 7.9 billion people in the world. Out of all those billions, you've found the person you want to share your life with, and who wants to share their life with you.
That's certainly worth celebrating.
At Ernest Jones, you'll find the right jewellery to honour that special bond on your wedding day - and for years to come.
For the unforgettable moment when you've both say 'I do', Ernest Jones has wedding rings to suit every style, from glittering diamonds to sleek and simple bands.
But that's not the only type of forever jewellery to bring extra sparkle to your day. You'll also find heart-meltingly lovely gifts for the one you love.
Just picture your groom's face lighting up when he opens his wedding morning present to find the most stylish cufflinks he'll ever own. Or imagine how your bride will feel when you give her a dazzling diamond bracelet the night before you get married - just because.
To help you get inspired, here are some beautiful rings and gifts from Ernest Jones, carefully selected to let you carry the magic of your wedding day with you, always.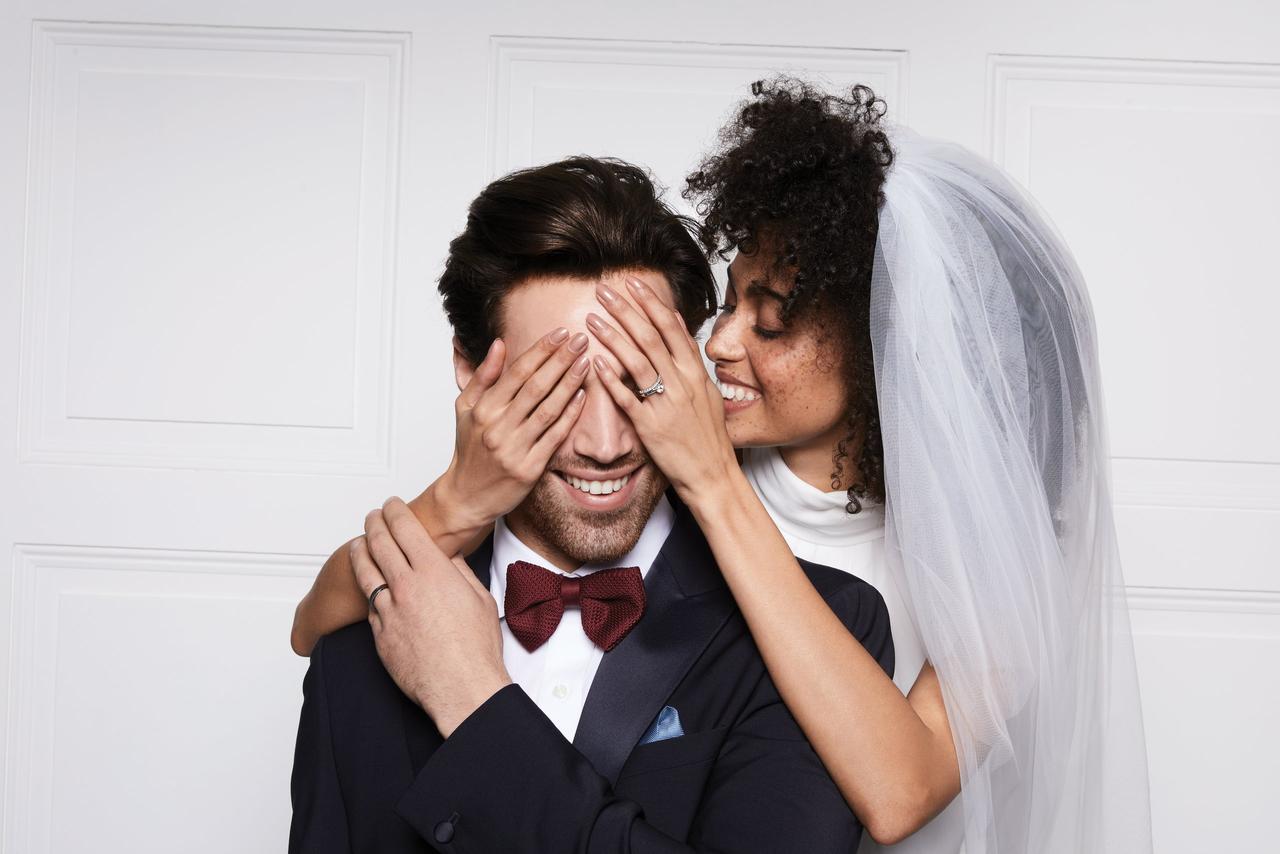 Wedding Rings for Her
Platinum 0.25ct Diamond Ring – £1,150
This classic wedding ring will suit a bride who loves sophisticated sparkle - those claw-set diamonds look so refined against the platinum band.
If you'd prefer to shop for jewellery online, Ernest Jones makes the process seamless. There's a live chat function so you can explore the design details, a virtual 'try-it-on' tool to see the ring on your finger and you can also make a virtual appointment for expert advice on choosing your perfect piece.
18ct White Gold 3mm Extra Heavyweight Court Ring – £425
This wedding ring is ideal for the modern minimalist. The band is slim - 3mm width - yet crafted from sumptuous 18ct white gold.
If you're ordering a ring online, Ernest Jones offers sizing advice to help you find the right size. You can also book an appointment to get measured at an Ernest Jones store.
18ct White Gold 0.15ct Diamond Shaped Ring – £750
For a fresh take on the classic wedding ring, consider a shaped band. This diamond wedding ring feels both contemporary and timeless.
Wedding Rings for Him
Platinum 5mm Super Heavyweight Court Ring – £1750
This luxurious wedding ring is wonderfully sleek yet substantial - the perfect pared-back design for a groom who prefers subtle sophistication.
Platinum 5mm Matt & Polish Ring – £1299
Some grooms prefer the contrast of matt against polished metal - and this white gold wedding ring is a stylish, easy-wearing option.
Vera Wang Men's 18ct White Gold 0.23ct Diamond Band – £2,499
Make a style statement with this glorious Vera Wang wedding ring. The row of dazzling, delicate diamonds contrasts perfectly with the wide white gold band.
Wedding Gifts for the Bride
9ct White Gold 0.25ct Total Diamond Earring & Necklace Set – £650
A co-ordinating jewellery set is such a thoughtful wedding gift. The bride can wear this sparkling set on the big day - assuming she hasn't already chosen her bridal jewellery, of course! - and for all those future date nights.
Michael Kors Layton Ladies' Two Tone Bracelet Watch – £189
We're all for wedding gifts that are both practical and stylish - like this Michael Kors watch. It's the kind of design she can wear every day but that still feels incredibly special.
Omega Constellation Ladies Stainless Steel Bracelet Watch – £2590
18ct White Gold 1ct Total Diamond Double Halo Earrings – £2,500
9ct White Gold 1ct Diamond Bracelet – £1,999
For a bride who loves sleek, contemporary style, this Omega watch is a smart choice.
Diamond earrings are a classic wedding morning gift for the bride, and we think you can't go wrong with this pair of studs that are fit for a princess.
Is she more of a bracelet wearer? We love the icy beauty of diamonds against white gold - and this beautiful bracelet demonstrates why. It's a piece of jewellery that's all about romantic refinement.
9ct White Gold 0.10ct Diamond Heart Pendant – £300
This heart-shaped necklace is a delicately pretty piece that will suit any bride who favours subtle sparkle.
Wedding Gifts for the Groom
BOSS ID Men's Silicone Frame Bracelet – £69
This men's bracelet is an update on the classic ID design, a designer piece for a groom who loves chic yet pared-back accessories.
Gucci Interlocking Gg Silver Cufflinks – £265
Gucci Interlocking Gg Silver Tiebar – £200
When it comes to covetable accessories, Gucci never fails to impress. These silver cufflinks would be the perfect finishing touch for a groom's outfit, and for special occasions to come.
It's the finer details that elevate a man's outfit from smart to dashing - like this Gucci tiebar. Simple and impeccably stylish.
Montblanc Men's Stainless Steel Onyx Cufflinks – £315
Montblanc Meisterstuck Classique Ballpoint Pen – £340
These Montblanc cufflinks are effortlessly slick, combining onyx and stainless steel for an effect that's both elegant and powerful.
He can use this stylish pen to sign the register on your wedding day - and have it as a sleek keepsake afterwards!
Discover the full collection of wedding-perfect jewellery at Ernest Jones.