New Changes Proposed for Weddings in England & Wales: What Does it Mean?
New changes for weddings in England and Wales have been proposed by the Law Commission in an attempt to overhaul dated wedding laws - what does it mean for couples today?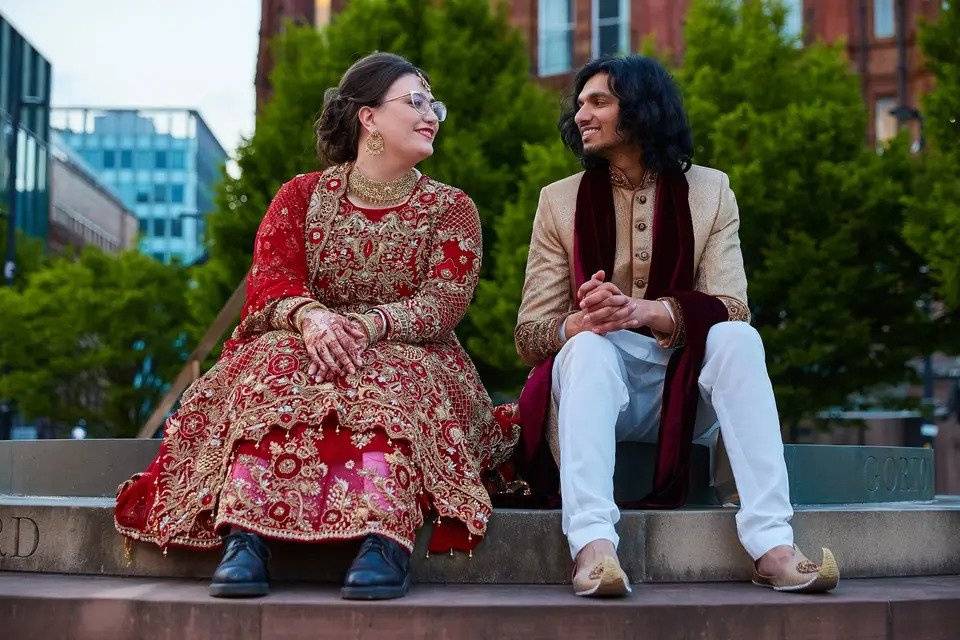 A new report published today by the UK Law Commission proposes huge changes to how couples get married.
The report suggests that couples should have more freedom of choice when it comes to where and how they marry. Whilst it's just a proposal, should the law change, it could see couples able to wed in gardens, on beaches or even on cruise ships.
The report advises that the existing law on weddings in England and Wales is "stuck in time", and the "confusing, out-of-date and restrictive marriage laws" should be revised.
The main law that governs marriage in England and Wales dates back to 1846, and therefore is no longer relevant to modern couples. Citing "needless regulation", the report argues that as it currently stands, the laws prevent couples from being able to marry in meaningful and special locations, and doesn't easily enable fair treatment for all beliefs.
What Does the Proposed Weddings Law Reform Mean for Weddings?
Well, first things first, it is important to remember that it's just a proposal and it doesn't necessarily mean that the law will change. But should it change, it could mean the following for couples in England and Wales:
Freedom to choose where you host your wedding ceremony - similar to how marriage law works in Scotland, the suggested reform would allow for the person conducting the ceremony to hold the licence, rather than the location to be licenced. This would allow for couples to marry in their garden or on the beach, for example.
Humanist ceremonies could become legally binding in England and Wales - this would allow for couples to choose ceremonies that are more personal to them, without having to also have a 'legal ceremony'.
Couples would be able to give notice to marry online - making the process of getting married more contemporary and convenient.
Could We Get Married Anywhere in England & Wales?
The scheme proposes that couples can marry in any type of location, providing their officiant agrees to it. The responsibility would lie with the officiant to consider whether the location is safe and 'dignified' for the wedding.
This could see couples marry in parks, beaches, forests, gardens and in smaller, more affordable venues such as village halls and privately at home.
Should this be made into law, couples could also wed on the water - both coastal waters for England and Wales, and on cruise ships, providing they have a home port in England or Wales.
What Does This Mean for Same Sex Weddings?
The proposal includes allowing civil weddings to take place on Ministry of Defence sites, which would mean that most military sites can offer same-sex weddings for the first time.
What is the Current Law for Weddings in England & Wales?
Until a very recent change in wedding law following the pandemic, most legally recognised weddings in England and Wales had to take place indoors or under some kind of licenced, covered structure. Now you can marry outdoors, providing that your venue already holds a wedding licence. This opens up more freedom of choice for couples, but it's still fairly restrictive. The Government has said it plans to introduce similar reforms for religious weddings - allowing religious ceremonies to take place in the grounds of registered places of worship or Anglican churches or chapels, but this is yet to be actioned.
Jewish weddings and Society of Friends weddings are currently allowed to take place outdoors.
Humanist wedding ceremonies - which are not currently legally binding in England and Wales - often take place outside and are chosen by couples who want more flexibility and a more personalised feel at their wedding ceremony. However, for their marriage to be legally recognised, the couple must then have another 'legal' ceremony.
Will This Make Weddings Cheaper?
The average cost of a wedding in the UK is currently around £17,600. This includes a number of different aspects, from your venue choice to your outfits - but it's not an attainable budget for everyone. For couples looking to cut costs on their wedding (especially in the midst of the cost of living crisis), this change, should it come into law, could allow couples to make savings by:
Removing the requirement for Government pre-approval/registration for wedding venues - removing extra costs for wedding venues
Allows couples to choose lower-cost options, should they want to, such as their own home or garden
It will give religious groups more flexibility on where weddings are held - meaning for many couples who want a specific ceremony in line with their religious beliefs (or those wishing for a humanist ceremony) would no longer have to pay for an additional legal ceremony in order to become married.
How Do Wedding Laws in England and Wales Currently Compare to Other Countries?
Lots of jurisdictions offer couples much more choice and freedom in where they marry and how personalised their ceremony can be. In Scotland, Northern Ireland, Ireland, Jersey and Guernsey, laws have recently been reformed to allow couples more choices when it comes to how they marry.
In countries such as the US, Canada, New Zealand and Australia, regulation is focused on the wedding officiant or celebrant, rather than the location.
Professor Nick Hopkins, Family Law Commissioner at the Law Commission, commented: "The current law on weddings is not working for many couples. Needless restrictions and outdated regulations mean that thousands each year are denied having a wedding that is meaningful to them.
"Our reforms for Government are designed to protect the established practices and dignity of weddings, while offering couples more choice on where and how they marry.
"There is widespread precedent for our reforms around the world. By giving couples more control over their weddings and ensuring greater parity for all beliefs, the law can support those who want to get married, rather than putting unnecessary barriers in the way."
What Does This Mean for Humanist Weddings in England & Wales?
Whilst the proposed reform suggests more responsibility lies with officiants, and not with venues, it could be years before any kind of reform takes place. Humanists UK - a national charity working on behalf of non-religious people - issued a statement by their Chief Executive Andrew Copson following the publication of the report, saying: "Fundamental marriage reform, if it even happens, may take many years. The good news is that the Government doesn't have to wait to give legal recognition to humanist marriages. It can do so now, without delay – and it should.
"The Marriage Act 2013 allows the Government to legally recognise humanist marriages without needing a new Bill. We urge the Government to enact this now, and give couples in England and Wales the freedom to choose a marriage that aligns with their beliefs and values.
"For thousands of couples it is hugely frustrating that something as uncontroversial as legal recognition for humanist marriages has been delayed for almost a decade."
Their statement notes that in 2019, there were more humanist marriages than Christian for the first time ever in Scotland, following the legalisation of humanist ceremonies, with 23% of couples in Scotland - almost a quarter! - opting for this kind of marriage ceremony.
Couple Kate Harrison and Christopher Sanderson, lead claimants in the 2020 High Court case, also commented: "Though the High Court ruled largely in our favour, it was a huge disappointment to be made to wait a further two years for the Law Commission to report.
"For more than a decade, we've postponed our wedding day. We're waiting for a legally recognised ceremony that reflects who we are as committed humanists to become an option. We hope that the Government will now act immediately to recognise humanist marriages, and in doing so bring joy and happiness to thousands of couples like us."